Archive for September, 2010
Share:

The 'Independence Starts Here' mural on the side of Hahnemann University Hospital.
Share:

Green Thing friends (see our little creature behind Heather above?) international artists
Ackroyd and Harvey
have a new project in the works. They're returning to their roots in Dorking, Surrey alongside
Anne Brodie
and
Amanda Loomes
. Although all four of the artists have lived in the area, collectively over 100 years, they have never exhibited together in their hometown. The artists will be transforming a vacant shop into a gallery and will be exploring habit and habitat, and what local means to the artists. The exhibition 'Artists in Residence, Dorking' is taking place at 13 St Martins Walk Shopping Centre, Dorking, Surrey, RH4 1UT and will be open to the public for the first 3 weekends in October. It all kicks off tomorrow, October 1st. To find out more, or reserve tickets for talks by the artists, you can call the box office: 01306 881717.
Share:

Panda Labs 3rd Quarter 2010 threat
report
(PDF) found that 95% of all email is spam. It also said that
Trojans
constituted 55% of all new threats but infections via email are declining in favor of increased attacks via social networking sites including attacks associated with Facebook's "Like" button.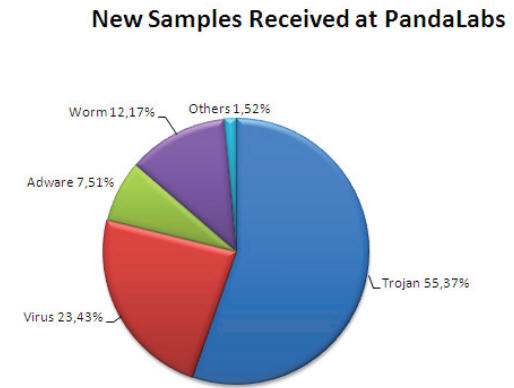 The Facebook Like button allows developers to use Javacript which can also be used by bad guys who use clickjacking exploits, to trick users into "liking" a page and then automatically recommending it to all their Facebook friends. There are also increased attacks via Google's Android phones including scams that cause people to rack up phone bills with dubious services and attacks that disclose users' geolocation to a third party.
Monsters of a Different Kind
The report also said there were
Black Hat SEO
attacks aimed at searches for Moshi Monsters, a very popular search term for children interested in "adopting their very own pet monsters." Trouble is, some kids were encountering monsters of a different kind — ones that put malicious software on their computers. Blackhat SEO is when sites get optimized for search engines…
Read more…
Share:

Today's the day writers everywhere celebrate the 
! – . , – ; – :
and the ?, right? Hopefully, though, as writers even if we don't consciously celebrate punctuation, we at least practice it correctly. The sad fact is, though that not all writers follow the rules! (What do you think? A bit too much emphasis there?) As a writer, Strunk & White and style guides galore dominate my life. When you longingly thumb through
the latest edition of 
The Chicago Manual of Style
marveling at the tissue-thin paper bound within that thick tome, hoping upon hope that someone will buy it for you for the next holiday (National Punctuation Day would be a timely holiday, I think), you know your love of words and punctuation may have crossed a line.
Jeff Rubin
, founder of all things punctuation, offers up a few ideas on how to celebrate. Here's a game plan for your celebration of National Punctuation Day®. A few words of caution: Don't overdo it.
Sleep late.
Take a long shower or bath.
Go out for coffee and a bagel (or two).
Read a newspaper and circle all of the punctuation errors you find
…
Read more…
Share:

Tibetan woman spinning prayer wheel in Litang
We have been traveling for two weeks. somehow it seems much longer. Chengdu and the Tibetan Plateau are very different places, in landscape and people. Chengdu is a very large city of Han Chinese, and the Himalayan west of Sichuan is sparsely populated with Tibetans. Many people think of the Tibetan people and the Tibetan Plateau as being only within the lines drawn by the Chinese government, the Tibetan Autonomous Region. Both the Plateau and the Tibetan people are spread over several other provinces. The government  encourages Hans to move into Tibetan lands with various incentives, and by building new cities deep in formerly exclusive Tibetan lands. But the fingers of Himalayas we crossed to climb the Plateau, and the difficulty in building and maintaining roads, have kept this part of Tibetan land Tibetan. We will now turn south, remaining on ridges of the Plateau for a few hundred kilometers, with at least one pass higher than any we have yet crossed, nearing 16,000 feet. Not far from here, the great rivers of SE Asia are given birth; the Yangtze and the Mekong are the two we…
Read more…
Share:

The North Carolina Arboretum is ablaze with color in fall. One of the highlights is the annual show by the North Carolina Chrysanthemum Society, set for October 16 and 17, 2010. The popular annual show showcases hundreds of chrysanthemum blooms in vibrant and varied colors. The exhibits will be judged by National Standards by expert Accredited National Chrysanthemum judges from all over the United States and Canada. The Chrysanthemum Show is free for Arboretum Society members or with the standard parking fee ($8 per personal motor vehicle). Visitors are encouraged to explore the Arboretum's 65 acres of cultivated gardens, 10 miles of hiking and biking trails, engaging exhibits, and bountiful opportunities to connect with nature.
Share:

Here is Charlene Li, principal analyst and co-founder of the
Altimeter Group
talking about her background and social media within the context of business. She is interviewed by Pehong Chen, the CEO of
BroadVision
, which offers a business collaboration service called Clearvale. The event was video recorded by a crew from Sina.com, the Chinese Internet giant, on the second floor of BroadVision HQ in Redwood City. This interview kicks off the first in the "SecondFloor" series of interviews with key thought leaders. I'll be conducting some of the future interviews.
Here are some notes from the evening:
- Charlene Li spoke about her latest book
Open Leadership: How Social Technology Can Transform the Way You Lead
. -She spoke about her upbringing in Detroit as the daughter of parents from Taiwan and Hong Kong. She said she felt very much an outsider, living in the heart of a working class community of Polish, Irish and Italian. This outsider feeling has proved useful to her career in being able to gain insights into companies and trends. - Charlene Li worked for many years as a reporter. She joined the…
Read more…
Share:

Last night Xconomy presented a "face off" between Jonathan Bush of
athenahealth
and Girish Navani of
eClinicalWorks
. While the two companies started with very different approaches, they have both ended up as serious players in the growing electronic medical records business. Navani said he set out to start a "lifestyle company" with the goal of hiring "five engineers to service five hundred doctors in five years." The company became significantly larger and grew to 45,000 doctors without raising any outside capital or taking on debt. In contrast, Bush raised $50M with the ambition at the outset of becoming the major provider of EMR. While there are some subtle differences in their offerings, both companies were successful in their bid to upset what they characterized as a moribund industry whose products (with the exception of
Epic
whom they said they respected) were overpriced and difficult to use. In fact, they both said that the Affordable Care Act's subsidy for
meaningful use
of EHR was actually counter-productive as it prolonged what they predicted was the inevitable demise of their competitors. What was especially interesting was that both companies described their
…
Read more…