Archive for February, 2011
Share:

Share:

Matt Marshall
talked to Qualcomm on the
DEMO Spring stage
this morning in a one-on-one chat. He talked about the
QPrize competition
they've been working to uncover innovative technologies in different regions of the world, including India, China, Europe and the U.S. Qualcomm awards $500,000 in seed financing across the finalists, the winner in each region gets $100K and the winner overall receives an additional $150K. The QPrize has been so successful that Qualcomm has decided to expand the regions and they've now added Israel and korea and expanded the funding to $750K. The technologies range from clean technology to healthcare and mobile technologies. After listening to the six finalists from various pockets of the world (North America, Europe, China, India and elsewhere), listen to video below, enterproid was announced as the winner. An app that enables professionals to consolidate work and personal life onto a single device without compromises, tey'll present on the DEMO stage tomorrow.
Share:

Parisians raised dining to an art form centuries ago, and visitors to the City of Light have been enjoying the results ever since. From that first sip of cafe au lait in the morning, through a croque monsieur lunch and on to a four-course dinner capped with a snifter of cognac, eating out is meant to replenish both the body and the soul. Don't expect a quick bite, unless you're selecting a crêpe from a sidewalk vendor or picking up a baguette filled with sliced meat and cheese in a bakery to eat sitting on a nearby park bench. Dining is leisurely in Paris: savor the experience. There are many choices, and it's fun to select different kinds of restaurants. On a recent trip, I found a whole new-to-me group of restaurants to recommend, from Thai to classic bistro to tourist mecca.
Chez Georges
Some restaurants are so popular that they don't always answer their telephones (and, with some, it's not possible to make a reservation online). One of these is the venerable Chez Georges (1 Rue du Mail, Paris, 2nd arondisement). After calling several…
Read more…
Share:

The Economist recently announced their annual list of the 140 most livable cities in the world.  Their ranking is based on several factors including health care, personal safety, environment, education, etc.  In other words, all the good things we all strive to have and aim to perfect.  
Incredibly but overall not surprisingly, three Canadian cities were in the top 5 (Vancouver #1, Toronto #4, Calgary #5).  But does this matter to the average person
who wakes up in the morning, rushes to get ready, take their kids to school and deal with the stresses of health and bills?
Probably not.
Especially not to those who commute in the Toronto area.
But what a list like this really does is confirm to Canadians that this country really is something to behold.  Although many don't need a list like this to confirm what they already know, many others don't realize it until they travel abroad and start missing the comforts and structured ways of going about simple tasks.
They include, getting medical care when needed, walking down the street with
…
Read more…
Share: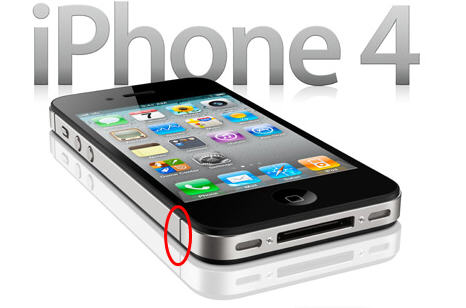 Consumer Reports says that touching the gap on the left side (photo from Verizon shows right side gap) can cause reception problems
For the second time in about seven months, Consumer Reports has
taken a swipe
at the iPhone 4′s antenna flaw. The non-profit organization's
review
of the Verizon iPhone 4 which appears free on its site (not all CR reviews are available online to non-subscribers) points out that like the AT&T version of the iPhone 4, the Verizon model "has a problem that could cause the phone to drop calls, or be unable to place calls, in weak signal conditions." In testing, the researchers at CR found that "covering tiny gaps in the metal band that runs around the skinny edge of the Verizon iPhone caused "meaningful decline in performance." The flaw only manifests itself in areas of marginal reception and — as the magazine points out — can be completely avoided by not touching that part of the phone or by placing a rubber bumper around the case to prevent such contact. As a result of this flaw, the magazine has proclaimed that "we are not including the…
Read more…
Share:

Despite
Burlington, Vermont's
winter snow and wind, bicycles are quickly taking over as the method of transport of choice. This is largely down to one small bike recycling business:
Bike Recycle Vermont
. BRV takes used bicycles, repairs them and then sells them, along with a helmet, lock and lights and ten mandatory hours of bike maintenance lessons, for just $25 to people who otherwise could not afford a bike. Even those who can't afford $25 have the option of paying for their bike in labour in the shop. As a result, since BRV was established in 2004 nearly 3,000 bicycles have been sold to refugees, ex-convicts and the homeless.
Burlington is slowly becoming a more bike friendly place thanks to efforts from local and state governments. Improvements to bike lanes, an increase in bike racks, better laws to protect cyclists from other road-users and an extension to the Burlington Bikeway, which travels along the waterfront to the surrounding islands and farmland and includes a weekend bicycle ferry, have all contributed to making the humble bike the method of…
Read more…
Share:

Five snapshots from a day spent wandering the streets of downtown Calgary in August 2010.
These steel trees on Stephen Avenue were constructed to reduce wind speed between the buildings. Calgary's biggest outdoor pedestrian mall is known for its fine restaurants, pubs, cafes, and bars. Stephen Avenue is also known for its beautiful historic buildings.
Share:

There are lots of good reasons to learn Japanese. A few have hit me over the years. I wish I could see the original versions of Hayao Miyazaki's films, for instance. It'd come in handy at the sushi bar. And it just sounds pretty cool. But the main reason is the literature. Some of my favorite authors are Japanese: Haruki Murakami, Banana Yoshimoto, and Yoko Ogawa. The images are so crisp, so unique. They stun me with their prose. And the food – the food! How can you read KITCHEN and not immediately call your favorite Japanese restaurant to order up some pork katsudon? And who doesn't crave grapefruit marmalade after reading PREGNANCY DIARY? I made it – it is
good
. But of course I might be deluding myself. I don't speak Japanese  - except "the girls are eating" and similar variants. It might just be spectacular translation. But somehow I don't think so.