Archive for November, 2011
Share:

Anglo-Vernacular School, Karachi – 1873
Anglo-Vernacular School, Karachi – 1873
Exterior of St Patrick's School, Karachi in Sindh – 1873
Exterior of the Parsi Virbaiji School, Karachi – 1873
Female prisoners winding cotton on spinning wheels in Karachi Prison – 1873
Girls' Class at St Patrick's School in Karachi in Sind – 1873
Group portait of female pupils, with their teacher, in the European and Indo-European School at Karachi in Sind – 1873
Photograph of a Class in the Parsi Virbaiji School at Karachi in Sind – 1873
Photograph of Carpet Weavers in Karachi Jail – 1873
potters at work, near Karachi – 1873
Prisoners Winding Cotton onto Spinning Wheels in the Prison at Karachi – 1873
Pupils in classroom in the Anglo-Vernacular School, Karachi – 1873
Students taking lesson in a classroom in the Anglo-Vernacular School – Karachi 1873
Share:

This year was the first time I had experienced a real winter since 2007.  I gave winter a miss during my years in Ecuador, which has what is colloquially referred to as a winter, describing the part of the year you might call the rainy season.  I suppose people from different parts of the world have different concepts of what winter looks like.  For me, coming from Ohio, I could never think of it as being anything less than icily cold, cloudy, and often snowy.  But admittedly, after a few years in the eternally springlike climate of the Sierra in Ecuador, my personal tolerance level for cold weather had shifted.  A night in the 50s started to feel downright cold to me, and I had taken to the Ecuadorian custom of wearing a jacket when I left the house on many mornings that in Ohio, around April, would feel practically balmy. So, once we came to Chile, and the days began getting shorter, I started to wonder just how cold the winter in Santiago would be.  Come July and August, winter had fully set in, and one morning in particular, we awoke to the…
Read more…
Share:

Porto is not like any other city I've traveled. Having experienced Lisbon's imperial beauty and flashy personality, and regaled with stories of Port wine tasting and cellar tours, I'd imagined a city with oodles of pristine monuments and grapevine-entangled terraces overlooking a sparkling, cerulean ocean. And indeed, one could venture into Porto and spend a holiday ducking from wine cellar to wine cellar, learning about the different fermentation methods and variations on oak barrels, sipping varietals on terracotta terraces, and taking in picturesque vistas of the River Douro from the Solar do Vinho do Porto, set amidst the Jardins do Palácio de Cristal. But while there is an element of 'old folks wine touring' about holidaying in Porto, the city's rich history as an historical centre of viticulture forms only part of a broader story about Porto as a veritable 'port' in every sense of the word. And it's this history as a port which gives the city its working town vibe and sets Porto apart from any preconceived ideal of a tranquil, vinho-enthusiast's paradise. …
Read more…
Share:

I met the folks behind the
Riverdance
in Dublin recently and given that its a show — or rather a performance, which is more electric and intense than a show — I've been wanting to see for awhile, I was thrilled to learn that it was coming to the Bay Area within a month. Last week, close and center, I took it all in — from the incredible colors of the costumes, to the dance numbers themselves. Scene one (photographed above) started out with an eerie blue blackdrop, cloud-like smoke emerging from the floor. The background and its meaning? In a primitive and powerful world, Ireland's ancestors knew fear and joy and fire, worked wood and stone and water to make a place they could call home. The first peoples knew the world as a place of power, their songs and dances and stories are negotiations with elemental powers. The first half of this performance shows them coming to terms with the world and with themselves. Some of my other favorite scenes including the powerful playing of a lone piper who mourns Cú Chulainn, the implacable Bronze Age warrior, the great hero of Celtic myth. In…
Read more…
Share:

With the worst flooding it has seen in over 70 years, Thailand has had its fair share of tragedies as of late. Many on the outskirts of Bangkok are still wading through water at waist high level. Yet, the people of Thailand continue to show relisence in the face of adversity and have come up with ingenious solutions to their water problems.
Can't get to your local supermarket because of a flood? Walk on trollies, obviously!
Got a flooded road? Cross it on a water bottle raft.
Keeping your pooch safe is pretty important too.
Plastic bag flotation devices.
Plastic stool stilts-the perfect solution to keeping your feet dry.
Worried about your car getting ruined in the floods? Wrap a large car sized plastic bag around it and you'll be sorted! For more on people hacking when under pressure check out All-Consuming Egypt. (All images Tumblr)
Share: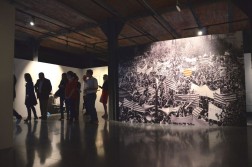 My first visit to Barcelona in 2008 was very love-at-first-sight in nature. As a result, even though my second trip to Spain's most-visited destination was mostly consumed by work-related activities — I was writing up something for the fantastic gay traveler social network QGuide, which you should check out if you haven't already — I couldn't imagine that Madrid would come close, let alone surpass Barcelona as one of my favorite cities in Europe. In many ways, however, it did. Of course, as was the case in last week's "City War" that pitted Beijing against Shanghai, making a direct comparison between Barcelona and Madrid is difficult: Barcelona natives don't even consider themselves to be Spanish, for starters. Indeed, which of these two fantastic cities you end up preferring depends more on your own tastes and preferences than the city itself, but both have a treasure trove of awesomeness to offer potential visitors.
Cityscape
Barcelona is situated…
Read more…
Share: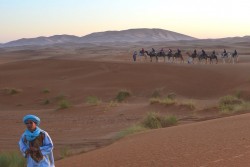 As my taxi pulled into Cairo International Airport in advance of my flight to Casablanca, Morocco, the driver informed me of one destination I'd missed during the marathon two weeks I spent in his country. "Camping in the Western desert near the Libyan border" he said, "is something you must do the next time you're in Egypt." Never one to wait for a "next time" — or to count on it, for that matter — I began researching trek's into the Moroccan Sahara almost immediately after landing. Although the dune-y portion of the Sahara desert within Morocco is small by African standards, a huge variety of tour options exist. Decide on how many days you want to spend in the Moroccan Sahara, what you want to do there and where you want to sleep before you commit to a tour to ensure your expectations match up with what you find among the dunes.
How Many Days?
…
Read more…
Share:

One of the many gifts available at Christmas Village in LOVE Park.