Archive for March, 2012
Share:

Following is a link to a 50-minute film by William Dalrymple. Introduced to it by
Folk Punjab
, the film is a personal journey that he undertook into the mystical and musical side of Islam as he charts traditions of Sufi music in Syria, Turkey, Pakistan, India and Morocco. Travel to these exotic destinations has been a long-held desire of mine. One day, Insha'allah…
The Mystic Music of Islam
For hundreds of millions of Sufi followers worldwide, music is at the heart of their tradition and a way of getting closer to God. From the Whirling Dervishes of Turkey to the qawwali music of Pakistan, Sufism has produced some of the world's most spectacular music celebrated by Muslims and non-Muslims alike. Dalrymple's film traces the shared roots of Christianity and Islam in the Middle East and discovers Sufism to be a peaceful, tolerant and pluralistic bastion against fundamentalism. It includes footage of performances by Youssou N'Dour, Rahat Fateh Ali Khan, Mercan Dede, Abida Parveen, Sain Zahoor, Galata Mevlevi Ensemble, Kudsi Erguner, Goonga and Mithu Sain, Junoon and Abdennbi Zizi.
Share: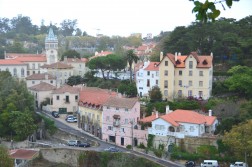 My friend Alex was kind enough to let me stay at his home in Cascais, about 30 minutes north of Lisbon, when I visited Portugal last November. Although I was thankful beyond words to have a free place to stay, I was less than inspired by my residential surroundings, views of the nearby North Atlantic notwithstanding. Alex had to work my first full day in Portugal, so he drove me to nearby Sintra, a town whose pictureseque historical center dates back to the 19th century. Don't let its location in the sterile suburbs fool you: Sintra is absolutely steeped in authentic Portuguese character.
History of Sintra
Although most of its historical buildings and sites only date back to the 19th century, evidence exists that Moors may have began urbanizing the area around Sintra as early as the 11th century. The Castle of the Moors, which sits atop the largest hill in Sintra, was built somewhere between the 8th and 9th centuries. Beauty and charm aside, Sintra's role…
Read more…
Share:

The Mtkvari river carves its way through the lush and dramatic cliffs of Georgia.  Its course runs like a tour through Georgian history.  Ancient fortresses and castles loom over the river, and ancient trading sites attest to Georgia's rich history as a crossroads between Europe and Asia.  Eventually, the river's meandering course passes by the hidden tunnels leading to one of Georgia's most remarkable sites: the cave city of Vardzia. It doesn't look like a city or a monastery at first.  In fact, the porous, honey-combed rock face looks more like the set of a sci-fi movie.  But even today, you can see monks making their homes in this sprawling, 13-story cave complex.  Carved into the Erusheli mountain, Vardzia's nearly 6,000 caves include residences, a church, a throne room, and steep stairways connecting them all together.  The site even has its own irrigation system and terraced farming fields.
At nearly 1,000 years old, this cave city has seen a number of changes throughout its history.  Giorgi III built the sites as a fortress. With the only entrance being hidden tunnels near the Mtkvari river, the caves…
Read more…
Share:

(Image: Chemistryland
) In honour of all things Plugged Out, we've decided give you a run down of our Top 10 Plugged Out products. Here we go: 10.
A mechanical clock
. When it comes to electricity free clocks, sun dials are great but for those dark and rainy days, this wind up clock is perfect. 9.
Solar panel wallpaper
. Why not power your home with some solar panel wallpaper or window blinds? The technology
is
out there.
(Image: Paul Cocksedge)
8.
Plugged out speakers
. Amplify your music without a power source, using this clever design. A must have for all hipsters. 7. 
Your personal energy generator
. Power up this little device as you move around during the day, whether that be walking, skipping or forward rolling and then use it to charge your gadgets. 6. 
The good timer
. This smart plug can be set on a timer so that if you know your phone will take an hour to charge, then it'll only be on for that time and no longer.
Read more…
Share:

"Hundreds of millions of people, businesses and governments around the world unite each year to support the largest environmental event in history – Earth Hour.
More than 5,200 cities and towns in 135 countries worldwide switched off their lights for Earth Hour 2011 alone, sending a powerful message for action on climate change.
It also ushered in a new era with members going Beyond the Hour to commit to lasting action for the planet.
Without a doubt, it's shown how great things can be achieved when people come together for a common cause."
Earth Hour 2012 takes place on Saturday March 31, 2012 – the idea is to raise awareness about the impact which climate change is having on our planet.  Although it is difficult for one individual or organisation to make a meaningful impact on the world, it is through the collective consciousness of many that positive change can be brought about.
Share:

After an afternoon visit to
Highgate Cemetery
, wander down Swains Lane towards Parliament Hill and you'll come across a small estate of gorgeous Gothic houses. This is Holly Village. Erected in 1865 for philanthropist Baroness Angela Burdett-Coutts (grand-daughter of Thomas Coutts – founder of the bank which requires its new customers these days to have a deposit of £500000), and designed by Gothic-loving architect Henry Astley Darbishire. As an aside, the two were also involved in the building of the now disappeared enormously Gothic Columbia Market in Bethnal Green in 1869, which was disgracefully pulled down in 1958. This was a charitable venture, intended to provide an open food market in the East End but closed in 1885 due to the power of a local monopoly in the food business. Back to Holly Village – there is debate about whether the houses were built for Burdett-Coutts' servants as another attempt at charity, or for purely economic reasons. The village consists of a group 8 buildings gathered around a green. There isn't an awful lot of privacy for the…
Read more…
Share:

Exploring the Midwest One Bite at a Time
is a foodie's dream of an academic conference. Held April 27 through 29, 2012, at the School of Culinary Arts, Kendall College, 900 North Branch Street Chicago, Illinois (
map
), by the
Greater Midwest Foodways Alliance
, this fifth symposium examines culture and food on the road. Topics covered include Route 66, food trucks, drive-in restaurants, Midwest supper clubs and the Shawnee Hills Wine Trail. The Greater Midwest Foodways Alliance celebrates, preserves and promotes the diverse food cultures of the American Midwest from the Great Lakes to the Great Plains.
Share:

How many cherry blossom festivals will still have cherry blossoms on the trees by the time the scheduled dates roll around?! Oh, well: it's spring and we can celebrate the new season, even if the annual pink blooms are just a memory! The Northern California Cherry Blossom Festival is scheduled for two weekends next month: April 14 and 15, 2012, and 21 and 22, 2012. More than 200,000 people typically attend this celebration of Japanese culture in San Francisco's Japantown, centered at Post and Buchanan streets. Among the traditional arts and crafts will be bonsai and flower-arranging demonstrations, along with dancing, martial arts and taiko drumming. Climax of the 45th annual event will be a grand parade on April 22 that begins at San Francisco City Hall and ends at the corner of Post and Fillmore streets.
(Photo courtesy of the Northern California Cherry Blossom Festival)