Archive for August, 2012
Check out this hilarious video mocking the swarms of shiny-new-Apple obsessives that covet the latest, barely changed version of iPhones whilst simultaneously laughing at their constant Plugged In, food-snapping existence, stopping them from actually enjoying real life. You know, the life that doesn't involve a little screen and constant access to the internet. And endless photos of your food. (Spotted on
Gizmodo
)
To the extent that vodka is all about purity, Jewel's unique and characteristic smoothness objectively makes it one of the best spirits on the market. Five times distilled and five times filtered before the final pass through peach and apricot stones which imparts a summery aroma with understated sweetness, and also cleverly subdues the raw bouquet common to many other lesser vodkas. Deep well artesian water and a balanced mix of premium wheat and rye hardened by cold…
Read more…
I would have almost missed out being personally pampered by Hari and his kitchen staff at Matt & Meera, had I not had taken the earlier flight out of Boston, that afternoon. A very elaborate debrief from the chef on directions, a couple of train-changes later, from Newark Airport to Hoboken, and a leisurely stroll of 6 blocks from the station to Washington Street brought me to this friendly, almost economical in decor yet, very stylish  restaurant. 
When you see M&M from a block's distance, its clustered among the several rows of the mile-long chain of restaurants on that road. Its only when you cross the road, and enter the small enclave that you realize how unique and different this place is from the rest of its counterparts along the same side of the road. I almost immediately spotted my favorite corner in the restaurant. I could right-away imagine myself at that table in the corner of the room against the vast glass pane facing the street, a book tucked in one hand, a glass of pomegranate ginger beer to…
Read more…
Read more…
Check out the 8th annual
Copenhagen Cooking Food Festival
 in Denmark, Northern Europe's biggest food festival. The schedule includes more than 140 culinary events between August 24 and September 2, 2012. Look for a gentleman's gourmet tour, an oyster safari in the Port of Copenhagen, chocolate dinners and wine tastings. You will miss today's official opening: a chance to sample the culinary delights of Kødbyens Fiskebar (a fish bar located in the meat-packing district), an opportunity to meet René Redzepi from noma, and the chance to talk to gastronomic event managers Nikolaj Danielsen from Madeleines Madteater (Madeleine's Food Theatre), Bo Lindegaard from I'm a Kombo and Mikkel Sander from Roskilde Festival. Highlighted events still ahead include the "Nordic Taste" at Carlsberg, a street fair at Jægersborggade and pancakes at Copenhagen City Hall. Lessons in behaving as a "true gentleman" include a gourmet tour and a dinner at Kokkeriet. Also on the agenda are urban garden adventures, a "crash course" in bread baking and an oyster cruise in the Port of Copenhagen.
(Photo courtesy of Copenhagen Cooking)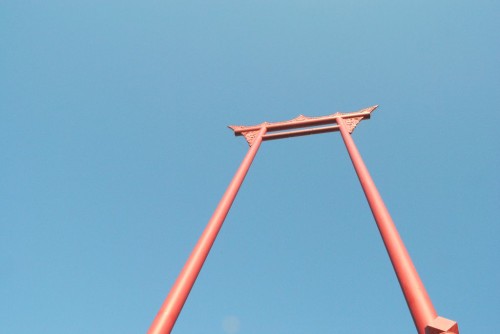 The most memorable travel experiences are often those we come upon by chance. This isn't to say that planned excursions and day trips can't be fulfilling, but there is something to be said about having zero expectations. As you can imagine, I've made several such accidental travel discoveries of the past several years. Some are attractions thousands upon thousands of others travelers have seen, but I would like to think a couple are places only myself a few adventurous others know well. Care to reminisce with me?
My Own Personal Cliff in Palolem, Goa, India 
I was initially disappointed upon my arrival in the coastal state. This is because I made the mistake of starting in North Goa, at extremely commercial Candolim Beach. I was delighted heading south to idyllic Palolem Beach, whose half moon backed up to a veritable palm forest, as sparsely inhabited by locals as the beach itself was by tourists. To be sure, being at Palolem Beach alone for the week I spent there would've been enough. But one day my curiosity got the…
Read more…
Incidents such as these are generously sprinkled throughout Minakshi Chaudhry's latest offering, More Ghost Stories of Shimla Hills. A collection of 16 stories about the supernatural, which have their origins in local folklore, as well as, from Shimla's days as the summer capital of the British. It appears that the supposedly haunted foothills of the Himalayas present an ideal backdrop for sinister happenings; as also the endless source that whets the author's insatiable appetite for the spirit world. A believer of ghosts herself, as stated at the onset in the preface, Chaudhry has dedicated this book to the ghosts, spirits and chudails of the Shimla Hills! The fictionalized narrative, based on facts and experiences shared by real people, also showcases the cultural and religious life of hill folk; with many a generation growing up on a steady diet of phantoms, ghosts and apparitions. The spirits in question are mostly of the endearing and benevolent variety; harmlessly going about their ghostly business. Like…
Read more…