Archive for November, 2012
Share:

We are making a list and checking it twice – but this list has nothing to do with toys, Christmas, or St. Nick. Instead this list is filled with things that we already have – but we simply need to remember to pack on our latest adventure. And as you can tell by my use of "our" and "we" – I am not going alone on this trip. My father and I are a few days away from leaving for South America to begin our journey to Antarctica!
Meaningful Travel
This trip is special to me for many reasons. This is my 3rd trip with my father who is now 76 years old. When we went to China, I honestly didn't know if I would be able to handle my dad one-on-one for days on end – but I pretty quickly realized that traveling with my father was fun, so much so that I decided to do it again in Nepal! We survived Nepal and put Antarctica on our radar – and now 3 years later we are finally doing it! In fact this whole trip was…
Read more…
Share:

Photographed and submitted by Sarah Bloom
Share: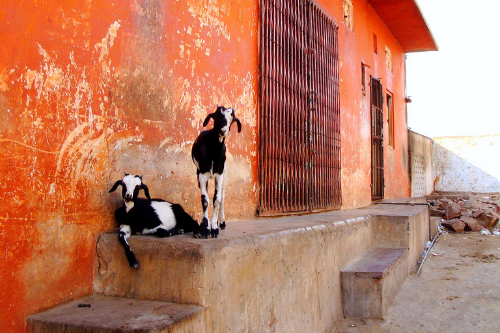 India can be cheap to travel through but it can also be expensive: Many palaces in the state of Rajasthan near Jaipur have been converted into so-called "7-star hotels," which are in fact among the most expensive lodging in the world. Unless you are want to drop a boat load of cash in India, your daily travel expenditures will remain very low.  If you really want to, you can survive in India on around 20 U.S. dollars per day and quite well on $50. But prices aren't what bankrupts people when they travel in India — scams are. I should know: I fell victim to a pretty awful one. Like most other people who travel to India, my friend Dora and I were eager to see the Taj Mahal. And since Agra is just a few hours from New Delhi, we headed immediately to the New Delhi Railway Station upon landing at the airport. "Stop!" A poorly-groomed man standing to the left of the station entrance began approaching us. "I need to see your tickets." "He's a con artist." I rolled my eyes…
Read more…
Share:

In Lahore, the Shahi Hammam or also known as the Wazir Khan Hammam is the only public place for bathing or refreshment of the Mughal period. The hammam was used by the royal families including emperors in the time of Shah Jahan, the fifth emperor of the Mughal Empire from 1628 until 1658.
The Shahi Hammam was built inside the Delhi Gate by Hakim Sheikh Ilmuddin Ansari, a native of Chiniot, commonly known as Wazir Khan, who rose to be the court physician to the emperor and a governor of Lahore. The Delhi Gate, one of the twelve gates of Lahore, was built by Jalal-ud-Din Muhammad Akbar, the third Mughal emperor.
The Delhi Gate is one of the most well-preserved gates and one of the liveliest with numerous markets. One of the most interesting features of the historically significant site is its Turkish style bath that is popular throughout the Islamic world, which provided reservoir fountains, dressing
…
Read more…
Share:

There are some destinations in the world which, while mentioned, will give any traveler goose bumps. The kind of places that evoke paradise on earth and make the regular nine to five worker dream of a better life, where warm white sand will heat his feet and a mango cocktail refresh his belly. The Seychelles are one of those destinations. The number one destination for newlywed's honeymooners and lovers form all horizons is world-wide famous for its romantic long powder-fine sand beaches, its clear turquoise blue water, its 30 degrees year round climate and is synonym with calm and relaxation. 
But, with more than a hundred islands, the archipelago has more to offer than just laying down on a deckchair. If you are a quite the adventurous kind of travelers, the ones that wants to explore and discover every corner of a new place and want to fully enjoy your holidays in the Seychelles, then, you have to try island hopping.
Mahé Island
Mahé is a great way to start your journey, being the biggest Island of the Seychelles but host of the smallest capital city in the world: Victoria! This is also where…
Read more…
Share:

(All images: Hoyan Ip)
Hoyan Ip makes buttons that look so tasty you'll want to bite them off your coat. But don't. She's put a lot of work into them.
Made from food waste that has been cooked, dried, crushed, blended and molded, these fashion accessories are both beautiful and sustainable. You might not realise it but manufacturing items like buttons use a lot of materials and create a lot of waste. But not Hoyan's buttons. The Bio Trimmings Collection includes shoulder pads, buckles, buttons, and sequins (made from the holes of the buttons) and are all made from food that would otherwise have gone to waste.
We've never seen food waste look so good. (Spotted on GOOD)
Share:

One of National Geographic's cover stories in 1999 was on global culture – with an image juxtaposing the traditional and modern in a developing country: India. The idea of a "global culture" certainly permeates much more than our outward appearance, but the way we think and act as "global citizens". In a
Tampa Bay Times
exclusive by David Jacobson, who directs the Citizenship Initiative at the University of South Florida in Tampa, the idea of a global culture is described as the "next frontier" – one of the next machinations on our planet's path of globalization:
The arc of human history shows a continuous ratcheting up in the scale of community. Hunting bands were…replaced by agricultural societies. Agricultural societies coalesced into empires. From roughly the 17th century we see the emergence of centralized states and cohesive nations.
What next? A global order, suggests Jacobson. A culture that is shared by a significant number of the Earth's inhabitants – complete with a set of values and behavioral norms that inform the way we think and act. A guidebook that defines what's right and wrong between people from countries around the…
Read more…
Share:

After a few days of luxurious relaxing on Lana'i I was ready to get dirty and really explore the island so I set out to learn more about the history of Lana'i and quickly learned that South Lana'i's Kaunolu trail is where you can find all of the stories of the past.
This trail on South Lana'i is only accessible by 4 wheel drive so I headed out with Steve Gelakoski from Island Adventure Fitness for a hike and a little history. Steve knows the island so well, it was quite amazing to simply hear his stories and learn more about the landscape, the wildlife, and the conservation/eco projects that were happening in Lana'i. On a side note – one of the things that the new owner of the island, billionaire Larry Ellison, wants to do is make it a sustainability lab – I found most of the locals cautiously optimistic about his 'green' plans. We started at the top of the ridge hiking down the red dirt road ruts until we arrived at some old placards pointing out some historic sites. The signs and sites had honestly not been…
Read more…