Archive for October, 2013
Share:

The other day, a cab driver recalled his days living on Amber Road before the ECP (a major highway) existed, where the sea greeted him right in front of his doorstep. We also talked about his life as a rugby player in school, his grandfather and fishing. And how the tug at the end of the reel would tell him what kind of fish he's caught. The other time, it was a man whose family lives simply but believes in investing in gold.
Today, it was a very stern but well-versed, articulate cab driver, a citizen of the world with a booming voice who's in between logistics assignment. When I mentioned the recent earthquake, he said he knows earthquakes well. "I was under the rubble for 16 hours, not knowing if I was going to live or die. I lost many of my friends that day in Christchurch. Before that, I was the kind of man who thinks only in black or white. That day, I learned to relax, and changed my attitude about things." Cab ride: $13. Life story: absolutely priceless.
Share:

When traveling through the Middle East, one not-to-miss dish is foul. Sometimes spelled fuul or ful, this hearty dish is traditionally eaten for breakfast and features a slow cooked mash of brown beans and red lentils or fava beans gowned in cumin, lemon and olive oil. In certain places you'll also find other topping options, like chili pepper and sumac. Middle Eastern Foul. Photo courtesy of avlyxyz.
Share:

A school of 20 sleek, fast-moving blacktip reef sharks may elicit a few frights all year-round, but even the marine life of Baltimore's National Aquarium's new Blacktip Reef Exhibit deserve a special treat this Halloween.
An under-water pumpkin carving for "Hallowmarine" on Thursday, October 31, will give the 700+ animals of Blacktip Reef — which opened this summer — a Halloween show of their own with delicious pumpkins carved into the likeness of some of the 65 species in the $12.5 million aquarium.
Visitors will judge the best underwater pumpkin carvings of sharks, fish, and the exhibit's resident matriarch, the 500+ pound sea turtle Calypso, as part of the aquarium's Halloween celebrations. The pumpkins themselves will be quickly devoured by the exhibit's marine life, which also includes 5-foot wide whiprays, camouflaged ornate wobbegong sharks, and the aquarium's beloved zebra sharks Zeke and Zoe. The underwater Jack-o-Lanterns will be viewable from a 27-foot viewing window that curves four feet into the underwater reef itself.
Share:

After 7,000 years of conquering and political unrest, the people of Ukraine look for any excuse to celebrate the country they've fought long and hard to protect. Christmas, Easter and weddings are all lively affairs, filled with succulent meals of varenyky (perogies) and horilka (vodka) and exuberant bandura music and kalyna dancing. To give you some insight into this colorful culture, here is a guide to festive Ukrainian traditions.
Christmas
As an Eastern Orthodox nation, Christmas is one of the most important holidays of the year and is celebrated on January 7th. While gift giving generally does not play a large role in Orthodox Christmas, Saint Nicolas day is also celebrated on December 19th, where children receive gifts for jolly old Saint Nick. Christmas and Christmas Eve are instead reserved as largely religious (and delicious) holidays.
Food
Christmas celebrations begin on Christmas Eve (January 6th) with the Holy Supper. This event begins as soon as the first star appears in the night sky. Once this happens, families sit down in front of a kolach loaf of braided bread and a beeswax candle is placed in its center to represent the Star of Bethlehem.…
Read more…
Share:

It was the next day that I drove from Wexford to neighbouring Cork, and to the port of Cobh, where there is a large museum, The Cobh Heritage Centre, on the dock to recreate and honour the emigrant experience. More than 2.5 million Irish left Ireland from Cobh
(formerly Queenstown)
during the famine years (1845-50). My ancestors left many years before, but I am sure the experience was very similar.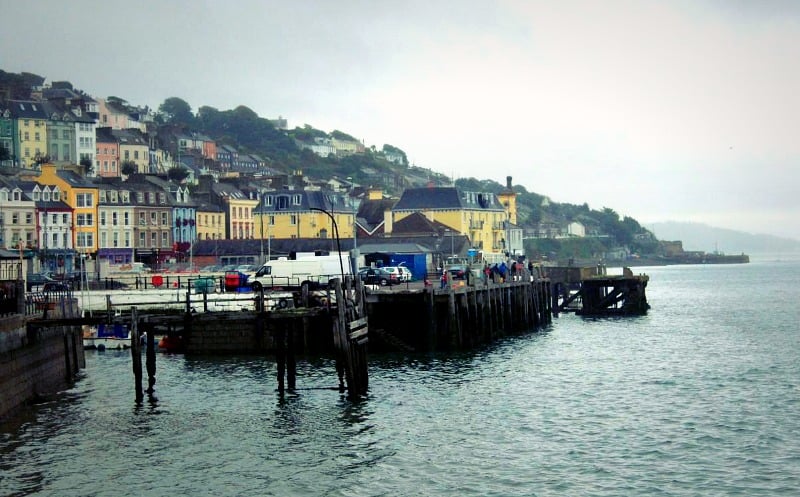 There is also a Titanic Museum in town, as Cobh was the location of the White Star Line office and the last port of call for the doomed ship before it embarked on its fated voyage across the Atlantic. I was in Cobh on an overcast day, and the atmosphere in the Victorian seaside town was evocative. I walked through the museum, past the statue of Annie Moore — the first Irish emigrant processed at Ellis Island in the USA — and along the waterfront to the existing piers. No doubt these were not the same piers that existed in 1800 when John and Clara walked them to board a ship for British North America (now Canada). But the layout of…
Read more…
Share:

Below is a video I shot in September at the Remota Resort just outside Punta Arenas in Chile of the ballet troupe doing a creative dance performance.
Share:

One of my
New York City
bucket list items got checked off recently was to take a stroll inside
Gramercy Park.
 While I can say with much certainty that there's no fountains of youth, chocolate filled ponds, or other such exciting features one might expect to find in a locked park in an elite hood, it was still exciting to finally be able to take a peak around.
As the only truly private park in Manhattan, Gramercy Park can be accessed only by key holders.  These elite few either rent or own property directly on Gramercy Park (as in, have windows that overlook the park itself), or are members of good standing at the National Arts Club, the Players Club, the Brotherhood Synagogue, or Calvary-St. George's Church.  If none of these apply to you, there is another route in…you can splurge on a stay at Gramercy Park Hotel, and be escorted in and out of the park by hotel staff.
My entry point was a friend who is a member of the National Arts Club.  You have to go inside the club to leave…
Read more…
Share:

If you're wandering California's San Joaquin Valley stop by the Pomegranate Festival at the Madera Municipal Airport, 4020 Aviation Drive, Madera, California on November 2, 2013. Admission and parking are free for the fest, which runs from 10 a.m. to 5 p.m. (Don't miss the tastings of pomegranate wine or the announcement of the winners of the pomegranate recipe contest!) (There's also a Pomegranate Festival today in Azerbaijan's Goychay region. But methinks it's too late to get to that one.)
(Photo courtesy of Madera Pomegranate Festival)