Archive for December, 2013
Share:

There was more to our time in Buenos Aires than I've reported recently. The time we spent roaming Palermo and other residential neighborhoods. The various parks and green spaces, the pizza, grilled meats, and traditional Argentine dishes. The trip by train to the nearby river town of Tigre.
But we'd better keep the story moving forward. After a week in Buenos Aires, we boarded a large ferry boat and headed across the estuary separating Argentina from Uruguay. It's famously called the Río de la Plata, or as it is sometimes translated into English, the River Plate. But let's be realistic, it's really more estuary than river. As we headed out onto the water, we were granted a nice view of the city we were leaving behind.
There are two kinds of ferries you can take across the border. There's a smaller, faster boat that takes an hour and has seats much more like an airplane's to relax in during your short voyage. The other option is a slower vessel designed more like a cruise ship, with an open air deck on the top, a bar and café, and even live music on…
Read more…
Share:

There are many ways to enjoy fiestas in Benidorm. Photo courtesy of stvcr. Spain loves its fiestas. While these party's are hosted throughout the country, from Madrid to Barcelona, the Valencian small town of Benidorm has possibly the most fiestas of any other part of Spain, with at least one for almost every month of the year. If you fancy a trip to this little Spanish town, you can check out what deals are being offered online. For example, you can book a holiday to Benidorm with First Choice or use another reputable holiday site. So have a look through the following list of Spanish fiestas, see what you fancy, and head to Benidorm. It's easy to get to; the weather is almost guaranteed to be better than elsewhere in the U.K., and you'll find a range of accommodations and tours that fit almost any budget.
The Fiesta Schedule Throughout the year
January
January has two fabulous religious festivals; Three Kings (Cabalgata de Reyes) and the Fiesta of Saint Anthony Abbot. In Spain, the Three Kings arrival at the manger on 5th of January is the main gift-giving day of the Christmas celebrations and…
Read more…
Share:

Planning for your New Year's Eve party? Here's a yummy idea from the folks at Nielsen-Massey: milkshake shooters! Surprise your guests with ice cream-based Vanilla Mocha Latte Shooters. Infused with extracts and garnished with vanilla sugar this delicious drink packs a flavorful and festive punch in a single shot glass. Here's the recipe:
Vanilla-Mocha-Latte Shooters
(Serves 8) Ingredients ½ teaspoon Nielsen-Massey Pure Chocolate Extract
½ teaspoon Nielsen-Massey Pure Coffee Extract
½ teaspoon Nielsen-Massey Tahitian Pure Vanilla Extract
½ cup chilled vodka
2 tablespoons Nielsen-Massey Madagascar Bourbon Pure Vanilla Sugar (for rimming glasses)
½ cup heavy cream
3 cups firmly packed vanilla ice cream (about 6 large scoops) Directions
In a small bowl, combine chocolate, coffee and vanilla extracts and vodka; cover and place in freezer until chilled. In a small shallow bowl, add just enough water to moisten glass rims. In an additional small shallow bowl, add vanilla sugar. Dip each shooter glass rim into water and then into sugar; set aside. Add cream and ice cream to an electric blender container, cover and blend on high, about 10 seconds. Add chilled vodka-mixture, cover…
Read more…
Share: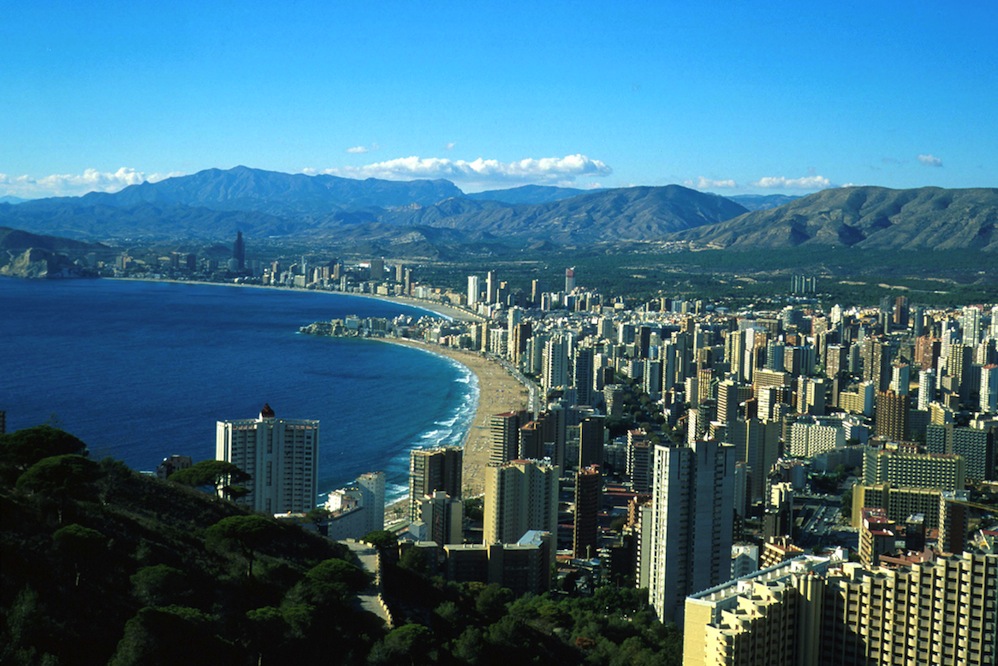 Renowned for its lively atmosphere, Benidorm is not just for those looking for a heady nightclub scene; it's also home to some great cabarets and themed entertainment venues. From drag acts to Latin beats, you're guaranteed to find somewhere to while away the hours being entertained by the best entertainers Benidorm has to offer. Some great places to visit while in Benidorm are:
Cuba Dancing Bar Albir
With Latin and Caribbean beats, steamy salsa and flirty cha cha, this is the place to visit if you love to dance. At this lively dance bar, you can relax and enjoy the music and cocktails, dance the night away and even learn to dance thanks to the weekly classes.
Steptoes II
Off the beaten track, this popular little cabaret bar offers a great Elton John tribute act show, popular with locals and tourists alike.
Jailrock
If you're a fan of 50′s rock n roll you'll love this themed bar. Featuring three acts a night, this is a great place to go for a fun night out.
Grande Old Opry Benidorm
This is a fabulous place to visit if you're a country and…
Read more…
Share:

My undergraduate Asian Art class would have been more aptly named "Inspired Daydreaming."  Sitting in the dark, listening to the comforting click of the old-school slide carousel projector, my imagination ran wild imagining the exotic locations that inspired paintings, sculptures and ancient architecture.  I was particularly seduced by Cambodia's mighty temples, a playground for impish monkeys, partially swallowed by greedy jungle greenery, which skyrocketed Siem Reap to the top of my travel bucket list.
A Short Stint Of Temple Tourism
Despite being groggy from jet lag, I hire a driver for sunrise at Angkor Wat for my first full day in Cambodia. Before going, I imagined sitting peacefully as the sun stretched pastel-colored fingers across the sky, slowly illuminating the largest religious monument in the world. This naïve romantic notion evaporates as hordes of Chinese tourists in matching neon hats following flag-waving tour guides push me out of their way to flash peace signs for photographs. Disappointed — but still hopeful — I follow my driver to some of the lesser-known temples, hoping to find redemption in the serene smiles at Ankor Thom and the oozing roots of the tomb-raider temple at Ta…
Read more…
Share:

Ow, what were you thinking? Here are some places to help heal you on New Year's Day.
~CHAMBERS EAT + DRINK~
is offering a recovery brunch, along with requisite beverages from their three full bars on New Year's Day. Brunch is served from 10:30am-3pm, and seating will be available by the pool, weather permitting. 601 Eddy St. at Larkin, 415-829-2316.
~NAMU GAJI~
will be rocking a brunch menu of both sweet and savory options, many of them with their signature Korean-inflected flava. You'll also find mimosas by the glass or pitcher, micheladas, and Bloody Marys. No reservations. The Marina's
~BIN 38~
is serving their "Classic Rock Sunday Brunch" on New Year's Day, plus everyone who comes in between 11am-3pm gets a free mimosa or glass of bubbles. They've also got bottomless mimosas for $14. 3232 Scott St. at Lombard, 415-567-3838. For a whole lotta pancakes, check out the pancake brunch at
~BLUESTEM BRASSERIE~
. There are bottomless mimosas available, in addition to a whole slew of other cocktails, and a…
Read more…
Share:

As the Digital Lifestyle engulfs society, the convergence between fashion and technology is accelerating. And one Digital Lifestyle trend is one trend that's not going away any time soon is wearable technology.
According to IMS Research wearable technology sales are expected to grow from 96 million devices in 2012 to 210 million devices by 2018, creating a $30 billion market. ABI Research is even more optimistic, predicting a 2018 market of as many as 485 million wearable devices. Core market segments driving all this wearables growth include healthcare, fitness, infotainment, industrial and military. Major wearable tech categories for consumers include:
Activity trackers – Of all wearable technology devices, 61% are fitness related. Arguably the best-known brand in this emerging segment is Fitbit, whose Fitbit Classic was launched in September 2008. That device, a clip-on, has been largely subsumed by the popularity of bracelet-type trackers, like Fitbit Force, Jawbone UP and Nike FuelBand.
Augmented reality – No product category has done more to propel wearables than Google Glass, a product that even at its lofty developer price of $1,500 has garnered a huge amount of publicity. The technical description for Google Glass is a wearable computer with an
…
Read more…
Share:

Holidays mean time with family and friends and I can't think of a better place to spend time than Disneyland. I had the fun opportunity to attend a press preview of the Disneyland Holiday events and with a full line-up of cross-cultural activities there was lots of holiday cheer to go around. Beyond my regular delight with being at Disneyland, it was great to experience holiday surprises in many of the attractions, yummy holiday treats and decorations that sparkled beyond belief. Here are details, including my favorite events and tidbits from the press releases and a video made with my partner in "video" Kimberley Clayton Blaine, TheGoToMo. Disney ¡Viva Navidad! The newest celebration at the Disneyland Resort is "Disney ¡Viva Navidad!" -Nov. 15 2013 through Jan. 6, 2014 in Disney California Adventure Park. I had the chance to see the beautiful parade with music that made me want to get up and dance (I was wishing I had one of those amazing skirts to dance in). Then I learned more details from the press release: "Disney ¡Viva Navidad! is a merry celebration inspired by the warmth and joyous spirit of the Latino culture, filled with holiday traditions, jubilant dancing and exciting music. Based in and…
Read more…