Archive for the year 2014
Share:

The Polish passport that started Mr. Bergstrom's unique collection It started with the passport of a young Polish woman named Zofja. Scott Bergstrom, author of the novel The Cruelty, discovered it in an antique store in Austria and bought it for a few euros. "I remember thinking it was odd and a little tragic to have something so personal sell for so little," he notes. Today, Scott has over thirty official passports, ID cards and journals in his rare historical documents collection. Most are from Europe, dating from the 1920s to early 1950s, representing a time of unprecedented growth and innovation as well as the deadliest military conflict in history. Each document is unique with an individual story to tell. A few have family photos tucked inside and some may be the last remaining record of a life once lived. As Maya Angelou said, "There is no greater agony than bearing an untold story inside of you." Here Scott talks about why our stories are important and his personal quest to ensure the lives glimpsed in these documents are never forgotten.
Why this collection?
I'm fascinated by history, and more specifically, political history.…
Read more…
Share:

1. Its Capital Has A Very Modern Downtown
Amman is a city of contrasts. While they have the Old City with the 6th century Roman Amphitheater, ancient citadel, Abu Darwish Mosque and traditional souk, there's also a modern downtown — with the hub being Rainbow Street — with upscale hotels, swanky rooftop bars and an array of local and international restaurants. You can enjoy sipping handcrafted cocktails on candlelit terraces, sampling sustainable cuisine with a view and smoking fragrant shisha.
2. The People Are Genuinely Friendly
While you'll find friendly locals in many countries, often they want something from you, for example, money or for you to purchase something from them. In Jordan, people will invite you for tea to chat or give you a local gift for free so you have something to remember Jordan by. Schoolchildren will ask you your name to practice their English, and both young and old will ask to have their photo taken with you in excitement. They genuinely want to get to know you and tell you about their country.
3. Jordan Isn't All Desert
While over 80% of…
Read more…
Share:

Jade Mountain Resort — with more than 1000 cocoa trees on the resort estates — is Saint Lucia's only bean to bar, organic, single estate boutique chocolate maker. For the past three years, Soufriere's Jade Mountain has hand-crafted Emerald Estate Chocolate. With the opening of its chocolate laboratory, guests are now able to not only taste but participate in the making of the chocolate. Those staying at Jade Mountain and at its adjoining "sister" property Anse Chastanet can now choose from a variety of chocolate infused activities like chocolate sensory tastings, educational estate trips and truffle making classes. Chocolate lovers will be further enticed by chocolate inspired dishes, cocktails and body treatments in the resort restaurants, bars and spa. If you're really a chocoholic,schedule your visit during their annual Discover Chocolate Festival from October 10 through 14, 2014.

(Photo of a chocolate drink courtesy of McKenzie News Service)
Share:

"When doing the Japanese onsen you'll bring a small and big towel to the locker room where you can leave the big towel in a locker or basket. The baths are separated by male and female. You'll then remove your clothes and bring your small towel with you to the public bathing area to wash yourself with soap, shampoo and conditioner. You'll be sharing the mineral waters with other people, so please make sure to do this. The onsen isn't for cleaning yourself, it's for relaxation. Also, don't bring the small towel you used to wash yourself into the public baths."
Naked. Onsens are an important part of Japanese culture. They are geothermally-heated public baths — although you don't actually wash yourself in the baths, but before you enter them — heated to at least 25°C / 77°F. They can be located either indoors or outdoors and, by definition, must contain at least one of 19 possible elements, including radon, gypsum and metabolic acid. There are over 3,000 of these public baths in Japan. While in my home of Brooklyn, New York, I love flaunting my glittery body piercings and body mural…
Read more…
Share:

The privately-held
Darang Tea Estate,
roughly midway between Palampur and Dharamsala, is synonymous with warmth, hospitality and heavenly home-grown, home-cooked organic food. For pretty much every ingredient that goes into your meals comes freshly produced from their farm:  fruits, vegetables, juices, dairy products, you name it. The gracious hosts, Neeru and Naveen, leave no stone unturned to ensure your stay is
completely comfortable. They are assisted in no small measure by their three friendly canines: Layla, Simba & Brandy. And that lovely
machaan
that Naveen has built for his grandchildren is bound to be a big draw for other kids, too. All meals are served in the family dining room in the main house, though guests are welcome to enjoy a cuppa in the veranda, or snacks around a cosy fireside. Neeru's finger-licking cakes, sandwiches, jams, pickles, preserves and cereals are the kind legends are made of. As accommodation, the 70-acre estate offers two quaintly rustic cottages with two bedrooms each, as well as, one room in the main house that justifiably claims heritage status. A tiny old-fashioned factory, woodlands, forested hillsides, tea-gardens, and…
Read more…
Share: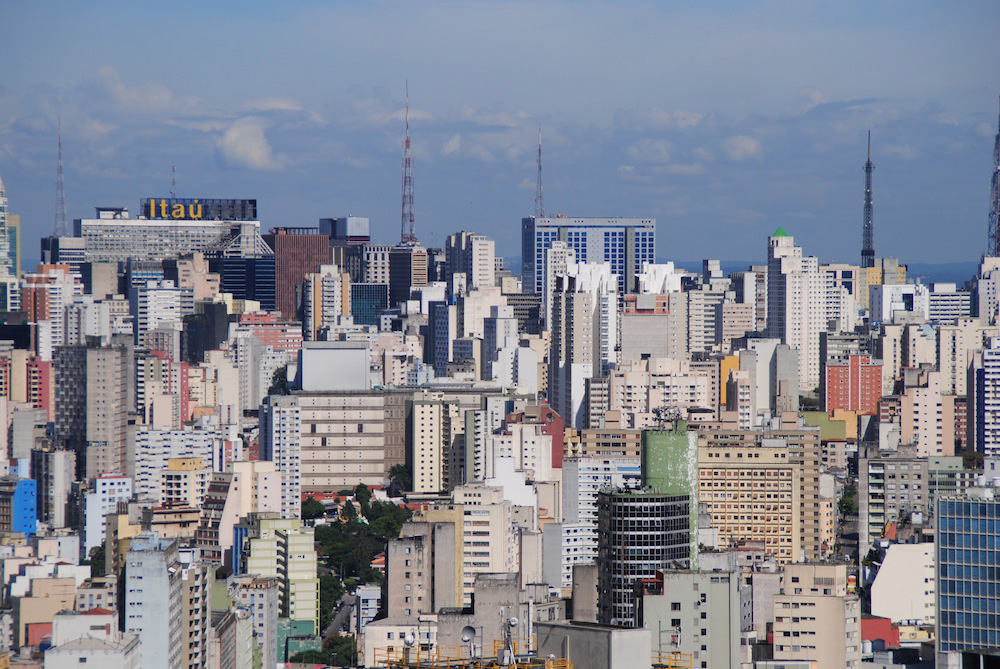 Brazil is an intimidating country to visit, owing to its size, its linguistic homogeneity and its questionable level of personal safety, to name just a few factors. In fact, after my most recent visit there, I can say it's one of the most difficult places I've ever traveled, for these reasons and many others. On the other hand, most if not all the difficulties I experienced traveling in Brazil would've been much worse had I not been so adept at setting and executing travel goals so, using combined experiences from my two trips there, I've assembled a sample itinerary for three weeks in Brazil. Follow it exactly for a standalone three-week trip to Brazil, or use it as a framework for the Brazil portion of your larger South America trip.

São Paulo
São Paulo has the worst reputation of all the cities in Brazil among foreigners – and a fair few Brazilians as well. Although I understand complaints about the city, which begin with the level of crime there but also include pollution, climate and overcrowding, I can't help it: I absolutely love São Paulo. (top photo)
 Stay along Avenida Paulista, a cosmopolitan boulevard whose skyscrapers, swanky cafés
…
Read more…
Share:

Sure you can have a breakfast taco or a breakfast burrito or huevos rancheros, but why not opt for a dish that's a favorite from Tex-Mex restaurants north of the border and all the way south into Old Mexico? Yes: chilaquiles. Its what Mexican moms have been serving up every morning that leftover tortillas and salsa have turned up in their larders. The basic ingredients are these: sliced or quartered corn tortillas, salsa (green or red), queso blanco, maybe some onions, fresh coriander and sour cream — all topped by scrambled or fried eggs. Try the
La Cueva del Chango
in Playa del Carmen, Quintana Roo, Mexico in the Riviera Maya. Their chilaquiles (pictured) hits all the right taste markers with the added fillip of avocado slices. Heaven! Especially when served with a cup of their signature cappuccino.
Share:

In the heart of fashionable Soho The James hotel protrudes into the skyline in all its tall and shiny glory. I stroll in past the bowls of organic dog food and water as the handsomely rugged doorman greets me G'day ma'am from the chic stone and glass-clad lobby and directs me up to the reception a level above.
The glossy elevator slides upwards, chilled house music pumping from the speakers, and pings excitedly as I'm immersed into the tastefully decorated reception lounge with a sophisticated-beach feel. The lights look like they are made from tubes of softly-lit melting cotton wool, the gold-ish curtain panels resemble fishing net and the cushions and chairs are covered with gauze. It's very nicely done. I'm welcomed by the helpful and friendly receptionist who takes my Amex in return for a tan leather wallet holding my key card and informs me the lounge serves tea, coffee and fruit during the day; wine and cheese in the evening and cookies before bed.
Ten minutes later I enter my home for the next few nights with a simple…
Read more…