Archive for the year 2014
Share:

Welcome to the
Medieval Ages
….well sort of. Shared by medieval historian Veronica Domagalski, I learned more in a half day about medieval cathedrals, saints and stained glass than I ever thought I would in a lifetime. I had the pleasure of this historical account of the times during a recent "
spiritual
" trip to
Normandy
in
France
, where Chartres was one of the stops. For those who are not familiar with
Chartres
and its magestic cathedral with 4,000 sculpted statues and 5,000 figures in 2,600 square meters of stained glass from the 12th and 13th centuries, its a place of deep history and spiritual amazement. From April to October, the city of Chartres transforms at night with
The Festival of Lights
, a creative project that transforms how the cathedral looks at night.
Before and during this cathedral transformation, I learn that they had 32 banks in the Middle Ages and each town had its own money.  I also learn a number of fascinating facts from my guide that is astonishing even to the most astute historian.
Did You Know?
There are 200 Mary's on the windows and frescoes?
The Wings date back to 1194? 
…
Read more…
Share:

Every country has them…abandoned scary places. Places that give you goose bumps and make the hair on the back of your neck prickle. For Halloween I thought I'd compile my best scary and creepy pictures from around the globe. It's heavy on abandoned buildings and cemeteries since those are two things I love to photograph. Let's hope you don't ever get stuck in some of these place alone at night! Trick or Treat! Just in time for Halloween.
The abandoned cafeteria of Beelitz Heilstätten, a sanatorium for tuberculosis treatment methods in the early 20th century near Berlin.
An old crumbling house in Connemara Ireland
Graves in Delhi India
Situated in old East Berlin, the abandoned Alte Fleischfabrik (Old Meat Factory) was owned by the Konsumgenossenschaft (KGB), a consumer association, and was established in 1899.
Graves of the sisters at the Presentation Convent Cemetery in Cork Ireland
A broken lock at one of the many buildings of…
Read more…
Share:

Chocolate is deeply embedded into Saint Lucia's culinary culture. It's said that ancient Aztecs and Mayas were the first to grow cacao, touted as "The Food of the Gods"; however, when Spaniard explorers went to Mesoamerica they brought the cacao back to Spain, where it spread through Europe. The British held control over Saint Lucia for different periods of time throughout the 18th and 19th centuries, bringing with them cacao in 1660. Saint Lucia's hot yet wet climate paired with its soil rich in nutrients allowed the cacao to prosper, and today you'll find chocolate plantations all over the island. While there's really no bad time to savor chocolate, Halloween is especially perfect. Chocoholics seeking a cocoa-infused menu for this year's holiday will be inspired by recipes that incorporate chocolate into both sweet and savory dishes. Saint Lucian-born Chef Nina Compton, also a "Top Chef New Orleans" alum, has created a menu of chocolate recipes that are not only fun and delicious, but highlight Saint Lucia's most notable food. Says Chef Compton, "Cacao has been cultivated on Saint Lucia for hundreds of years. It is one of the island's most notable foods and…
Read more…
Share:

If you haven't been to the
North Shore
of Massachusetts before, it needs to be on your must list. Of everywhere I've been (and that list is growing by the day), I have a soft spot for Massachusetts, largely because I lived there for ten years and because it exudes all things New England, which is clearly….in my blood. The towns along the North Shore are even more charming because they all have picturesque ports that make you want to give it all up and become an artist simply so you could go to a place like this and paint in front of it every day. It's no surprise then that
Gloucester Massachusetts
, which is roughly a 45 minute drive north of Boston, is one of America's oldest working artist colonies. As you approach the art colony from the main downtown area of Gloucester, you pass the harbor on your right.
We decided to go by bike since it made stops to take photos and observe the glorious views all…
Read more…
Share: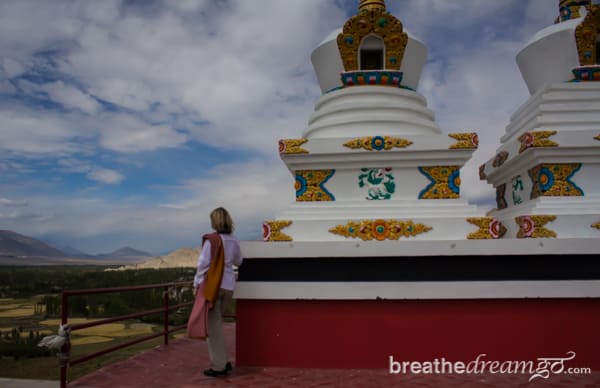 My seventh trip to India happened this past September. Every time I come here, I don't know what to expect. For one thing, I'm different. It's a different me that arrives each time. For another, India is different. India is changing, and probably faster than any society on earth. Above, staring out at the Ladakh immensity from Thiksey Monastery chortens. When I first started travelling in India nine years ago, the Delhi airport was basically a big, old shed and women almost universally wore swathes of fabric, in the Indian style. Now the Delhi airport is new and glitzy and could be in Houston; and many young women here wear jeans and t-shirts. In my own journey as an India traveller, I too am changing. When I first travelled in here, I was completely mesmerized by the novelty, and all the things about India that foreigners usually cite (colour, chaos, crowds, spirituality, historic sites, etc). I had a long and fruitful honeymoon stage. India was my muse, and I wrote thousands of words. But like all love affairs, it has become complicated.…
Read more…
Share:

On the outskirts of a rural town called
Livarot France
in southern Normandy lies
Le Village Fromagerie
or otherwise known as
Graindorge
. What you'll find at this charming cheese farm is a wealth of knowledge about cheese making, as well as a delightful array of cheese to taste. The Graindorge cheese dairy includes the following cheese offerings, some more known than others:
Livarot, Pont l'Eveque, Camembert of Normandy
and
Neufchatel.
Before you taste however, you're taken through an educational tour of the facility, which shows you exactly how the cheese is made, walking you through the process step-by-step.
The dairy prepares its PDO cheese from milk from grass-fed Norman dairy herds. They encourage dairy farmers to breed mainly Norman cows because of the simple fact that Norman cows are known for their quality in making and maturing PDO cheese in Normandy and to keep a well-adapted breed in the area it belongs to. Makes sense! They grass feed their cattle and barely add many supplements to their meals because they feel it is more natural for the animals. The Graindorge dairy farm collects milk from 160…
Read more…
Share:

Boutique Colombian coffee company, Devocion (an innovative Nueva Colombian approach to coffee) arrives in the United States for the first time this month with opening of a 3,600-square foot roasting facility and "Botica del Cafe", 69 Grand Street, Williamsburg, Brooklyn, New York. Devocion journeys deep into Colombia's most isolated, unspoiled and dangerous regions seeking out a diverse selection of beans. These journeys have led to longterm relationships with local farmers — micro-farms and small producers. Devocion then takes those beans and roasts them to exacting specifications in their local cafés. Now there'll be a chance to try their coffee outside Colombia.
Share:

Heading to Normandy? Then
Lisieux
is bound to be on your list. For stays,
Hotel Saint Louis,
which conveniently sits in the center of Lisieux is a great choice for those who are looking for unique and boutique blended into one. Hotel Saint Louis isn't a luxury hotel, nor does it have the bells and whistles you might need from a chain if you're traveling on business, although they do have reliable wifi. It is all things quaint and charming however in more ways than one. The outside courtyard below is in the front of hotel, which immediately faces the infamous historical cathedral across the street. It's a great place to sip that morning coffee during warmer months.
The place is run and managed by a highly energetic local woman who is not only hospitable and friendly, but she seems to be able to "do anything," so if you have a quirky problem, run it by her and chances are she'll come up with a solution. Below is the ever so French breakfast they serve in the morning in a delightful side room where guests meet…
Read more…