Archive for the year 2014
Share:

Finally, I checked Portland off my travel bucket list only to discover that I want to check it off again and again. This city is effortlessly fascinating and everything from the gritty street art to the farm to table culinary scene tops the charts. If you're from Portland you probably already know that it's the epitome of cool but for those of you who are planning a visit, hopefully this gets you in the Portland mood. I'll be doing a neighborhood guide soon enough but for those travelers who are on a time crunch, I'd stick to a few main areas to see Portland's hippest areas. I'd recommend stopping by Powell's Books in the Pearl District and biking to the Alberta Arts District for graffiti, boutique fashion stores, artisanal ice-cream and food trucks. Don't leave town without passing through Mississippi Avenue for more bars, restaurants, beer gardens and stores selling knickknacks. In case you need an extra push to visit Portland this year, here are 10!
1) The street art is inspiring and will put you in a positive mood. Can you think of better advice than this?
Read more…
Share: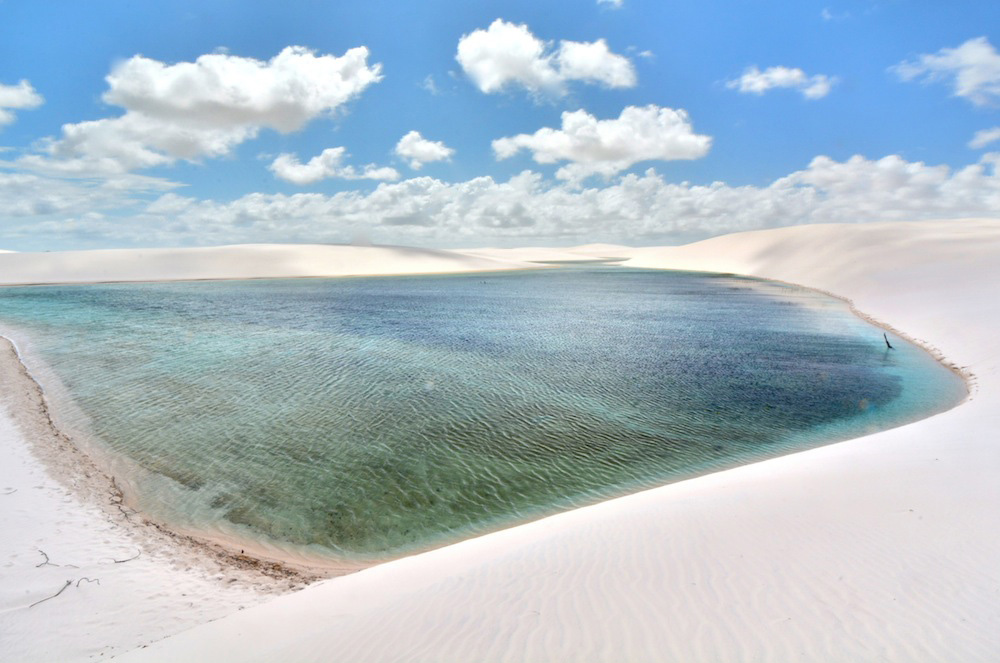 Meet Brazil's Lençóis Maranhenses National Park, which has been one of my must-visit destinations since I first learned of its existence. As I arrived my pousada in the sleepy village of Santo Amaro, the sky was too dark for me to even see my surroundings, so I went to bed unsure of whether the 48 hours I'd spent in transit was worth it. I'm happy to report, after having trekked nearly 40 miles through rolling sand dunes, swum in freshwater lagoons of nearly a dozen different hues and enjoyed the hospitality of people who are largely oblivious to the existence of the outside world, that the answer is yes. In fact, I would go so far as to say the Lençois Maranhenses is the single most spectacular place I've ever visited. If there's just one destination you add to your travel bucket list, make it the Lençóis Maranhenses. Whether you board the next place to Brazil, or save your trip for a special moment in your future, Lençóis Maranhenses National Park is one place you absolutely must see before you die. Here's the story of how I spent my time here.
Day
…
Read more…
Share: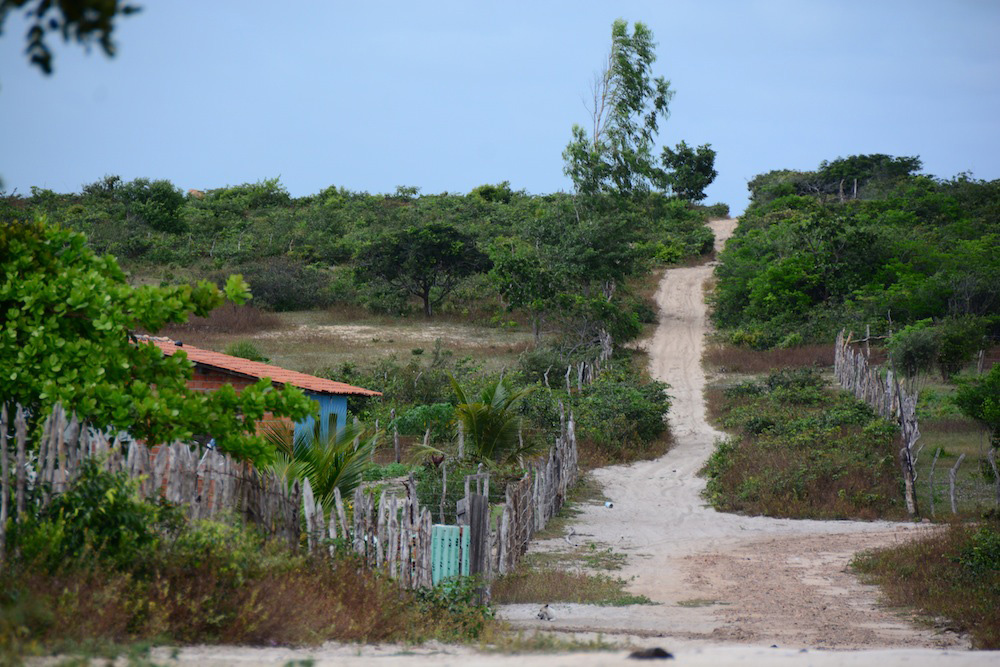 I was trepidatious when I left Rio Monday – and not just because I got into a taxi at 5:30 in the morning. My experience getting pickpocketed on the second day of my trip had put a serious dent in my confidence, the fact that I had only a vague idea of the trajectory I'd be taking to my next destination notwithstanding. Actually, that's a lie. I knew very specifically how I was going to reach the Lençóis Maranhenses National Park, a strange, dreamy wonderland located along Brazil's northern coast. After flying from Rio de Janeiro to the city of São Luis, I would immediately board a bus bound for the city of Barreirinhas, then disembark an hour before the terminus at the town of Sangue, where I would catch a 4×4 to the town Santo Amaro. It was just one sentence, which required only four actions, but something in my gut told me it would be easier said than done. The first three steps were relatively simple, even if my flight departed nearly an hour late and it took longer to reach Sangue than it should've taken to go all…
Read more…
Share:

I've attended a few
GlazedCon
events now and find them to be incredibly useful from both a content and networking perspective. They are specifically focused on an area that is exploding and isn't going to slow down anytime soon: Wearables.
We're proud to be a media partner again and this time, GlazedCon is expanding to London on October 22, 2014
,
where they'll gather together Wearable and IoT executives, along with other top tech thought-leaders to debate the real business opportunities for the hottest emerging tech ecosystem. The event is instrumental for key executives, startups, media, mobile warriers and investors. In conjunction with GlazedCon London, they will be holding the first annual
Wearable World Expo
where over 50 of the hottest Wearable Tech companies will showcase products so cool you'll actually want to leave with them….or at least let the world know about them! We have a special 30% discount code for those interested in attending below:
Discount Code:
30% off tickets
glazed_weblogtheworld

Eventbrite:
www.glazedlondon2014.eventbrite.com
Share:

You can take Slow Food tours of Tuscany, Venice, the Amalfi Coast and Sicily, Italy, with Sceptre Tours, which has three new Slow Food escorted vacations in Italy which focus on the regions of Tuscany plus Venice, the Amalfi Coast, and Sicily. Slow Food is a global grassroots movement linking the pleasure of good food with a commitment to local communities and the environment. Slow Food was founded in 1989 to counter the rise of fast food and a fast pace of life. The movement was ignited by the disappearance of local food traditions and people's dwindling interest in the food they eat, where it comes from, how it tastes and how food choices affect the rest of the world. (Photo
courtesy of Sceptre Tours)
Share:

A foodie is a gourmet, or a person who has an ardent or refined interest in food and alcoholic beverages. A foodie seeks new food experiences as a hobby rather than simply eating out of convenience or hunger. (Wikipedia)
I can't put my finger on an exact time when I realized that I was a foodie. It has come on slowly over the years as I learn about new foods. I adore learning about culture through food and how it is a part of their traditions. Here are 5 signs you might be a foodie. YOU FIND THE WEIRDEST THING ON THE MENU AND PROCEED TO ORDER IT. It may not even be unusual to some people, but maybe it's something you have never tried before. Case in point, one time while in Colorado, I ordered a Yak burger.
Yak Burger YOU TAKE A LOT OF PICTURES… OF YOUR FOOD Me: Hey, do you want to see a picture of this amazing dessert I had? Or how about this one with the alligator meat? You: Um, sure… Most people don't get super excited about what they put in their mouths, but a foodie…
Read more…
Share:

My recent trip to Jamaica was filled with so many memories that it's hard not to recount them all. Everything from the picturesque beaches to the inventive culinary scene is impressive, not to mention extremely appealing to millennials. During my short but sweet stay in Jamaica I explored both Negril and Montego Bay. Although they are only about an hour or so apart by car, they felt very distinct from each other so I can only imagine what the rest of Jamaica has to offer travelers. Many people heading to Jamaica spend a good amount of their time relaxing at the all-inclusive resorts and while there's absolutely nothing wrong with that, I wanted to highlight a few additional ways to see a more cultural side of Jamaica. As tempting as it is to sleep by the beach all day drinking piña coladas (don't worry, I've been there!) spend at least a day or two getting out and immersing yourself in the colorful culture waiting just outside your hotel's door.

Volunteering at the Negril All Age School
By far the most rewarding experience while in Jamaica was getting to spend a few hours volunteering at the Negril All Age School. Whether you're a seasoned volunteer or…
Read more…
Share:

Recently I went to the Boston Ballet. A childhood ballerina myself, I had no doubt I was going to adore the dances going in, but had little hope for the hubby.  "Please just stay awake, and I promise we'll go to The Smith afterwards and order all your favorite things!", I pleaded.
Come to find out, the Boston Ballet at Lincoln Center was a game changer.  He LOVED it*.  And honestly, I had never seen a ballet quite like it, it reminded me of the edgier troupe at the end of Center Stage that stole the audiences heart…a little less ballet that we think of in the traditional pink tutus and toe shoes, double pirouettes sense, and more theatrical performance art accompanied by techno rock music that keeps you on the edge of your seat wondering, "What's next?"  We saw the performances The Second Detail (my fave), New Work, and Cacti (the hubby was completely enchanted by this one!) As promised, we did stop by the UWS's Smith for a dinner of all his favorite things: cheesy grits, french fries, gnocchi, and baguettes.  Carb-loading for a full night's sleep, darlings!
Read more…