Archive for May, 2014
Share:

Most travelers heading to Botswana want to see zebras, which is Botswana's national symbol. Away from the famous Okavango Delta and the deserts of Botswana, sits a charming and prosperous capital city by the name of Gaborone.  
After a bus from Pretoria and crossing into Botswana from South Africa  at Tlokweng, I based myself in Gaborone for a few days. 
Gaborone has international bus routes to South Africa and Zimbabwe.
1. Botswanese Parliament:
 In an area known as the government enclave, sits the elaborate Botswanese Parliament. It sits in a leafy area and the colours of the Botswanese flag adorn even the roadside pillars.
Outside the Botswanese Parliament in Gaborone There are statues in the parks and boulevards and some visitor information. The first President of the nation Sir Seretse Khama sits proudly in the path that leads to the parliament.
Sir Seretse Khama statue in Gaborone, Botswana.
2. Debswana Diamonds:
 Botswana is famous for diamonds. Indeed three of my mates from Gaborone work in the diamond industry. Tours are…
Read more…
Share:

On the way to Austin from Houston we wanted to stop somewhere authentic for lunch. Bar-B-Q always sounds good so a roadhouse just before we left I-10 beckoned.
One half BBQ joint, one half monument to taxidermy, Jerry Mikeska's Bar-B-Q is just one outpost belonging to a member of "Texas' First Family of Barbecue." The children of a Czech immigrant have been serving up specialty BBQ since the 1960′s, each with their own style.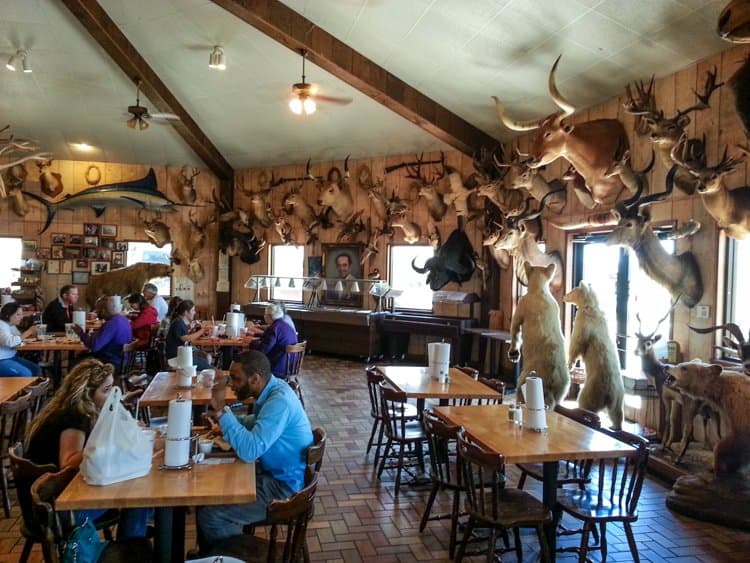 We indulged in tender, succulent pork ribs, sausage and boiled potatoes. The sauce was delicious and we enjoyed the atmosphere of locals filtering in and out.
Jerry Mikeska himself was circulating around the room as we prepared to leave, handing out little trinkets to customers and shaking people's hands. He gave us a couple of business cards and thanked us for coming in.
Tummies full, we enjoyed the rest of the drive to Austin, with the seasonal bluebonnets guiding our way…
Share:

Summer is fast approaching and festival season is beginning. There is no better way to make the most of the sunshine of the months between June and September than packing your shorts and sunglasses, and jetting off to one of Europe's many different festivals. When people think about festivals, they are most likely to mention the well established ones like Glastonbury or the Isle of Wight Festivals.
We have gone and found those festivals that are off the beaten track. It's not just music festivals as well that we have found, there are a number of exciting and cultural events in countries like Germany, Italy and France, as well as unique festivals in the UK. You might be travelling across the continent by car, train or even bike. No matter how you're getting about, there's no excuse not to take a detour and indulge in the festivities that a festival brings. The atmosphere, the food, the drink and the people, all gathered in unison with an aim – to enjoy themselves and have a good time! You could choose to stay in Britain and don your wellies, before dodging the English summer rain, wading your way…
Read more…
Share:

When you're in a rickshaw, only one person can drive a Rickshaw which means half of the time you are a passenger.  As a passenger, the back seat wasn't very comfortable, but somehow we managed to sleep, eat, drink, and backseat drive all from the rear seat.  A few days when I had the energy I got out my camera and tried my best to capture what we saw from the view of our rickshaw.  It was fun shooting out of a moving vehicle as it was the only way I could really capture the excitement and confusion of the people who saw us, two foreign women, driving the rickshaw. People were constantly taking photos of us every time we stopped the rickshaw.  I became really curious as to what happened to those photos of us on people's phones.  Did they take them and show them off to their friends?  How did they tell the story of us eating at their restaurant to their friends?  Did they show up on their Facebook page where their friends commented on the crazy foreigners?  It bugged me that I would never know the story…
Read more…
Share:

You would think a show so tellingly titled
"Bullets Over Broadway"
would fit the "Great White Way" smoother then Cinderella's glass slipper. It's not that it lacks for an evening of entertainment – especially strong are the formidable dance numbers. Yet ultimately you leave the theater puzzled ("Huh?") rather then pleased ("Wow!") For those of you not familiar with the film, you may very well see this show thru a different lens… yet not necessarily a clearer, brighter one. I saw this show some 6 weeks ago ( yes, I have seen the film) and it finally dawned on me, after much deliberation, what's wrong here.
But the good stuff – and there is much – first. When you base a musical – replete with song and dance numbers – on a hit movie written by Woody Allen and Douglas McGrath, the odds are substantially good that the transition will be a successful one. The book is terrific, set in the roaring 20s of NYC, the story centers around a struggling, serious playwright who, at long last, has his play financed and produced – and here's the rub – by a goon of a…
Read more…
Share:

I've been learning about German wines from Rudi Eilers, a German-born wine expert. He started off by asking the class what came to mind when they thought of German wines to help us start making a list of characteristics one can relate to the region. One thing he absolutely wanted us to eliminate from our minds was the idea German wines were all sweet. "German wines are not all sweet, just like not all Rieslings are sweet," he said. "One thing you can always expect from a Riesling is flavor and aromatics. They're never dull." Germany is a cool climate wine region, so far north it's a miracle they can even produce wine. Luckily, the wine regions are located never rivers, which moderate the climate. Moreover, as 80% of Germany's vineyards are on hills the sunlight can reflect off these rivers like mirrors and help cultivate the vines. As Germany is a cool climate, one can typically expect high acid, freshness, fruitiness and low alcohol (about 8-12%) wines. Whether the wine is sweet or not depends on the winemaker and how long they decide to leave the grapes on the vine, how long…
Read more…
Share:

Can you imagine a life as a victim of gender based violence and discrimination where you are living in constant fear? With a military regime that uses sexual violence against women as a weapon of war this way of life is an all too familiar reality for Burmese women refugees. To the soldiers it seems women are seen purely as entertainment. Some are openly kept as sex slaves or impregnated and left behind with no support, often suffering from pre and postnatal complications. Acts of rape, abuse, torture, and human trafficking are all a reality for those who are trying to seek a safe haven from a distressed home in neighboring countries.
Assessing The Situation
Myanmar, otherwise known as Burma, has an estimated population of 57.6 million people and is one of the most ethnically diverse countries in Southeast Asia. According to Irin News, over half the population are Burmese with the rest being made up of Shan, Karen, Rakhine, Chinese, Chin, Akha, Danu, Kachin, Kokang, Lahu, Naga, Palaung, Pao, Rohingya, Yavoyan, and Wa people. While they battle against a brutal military regime, internal conflict between many of…
Read more…
Share:

Why settle for afternoon tea in London when you can add a Bloomsbury walk to the experience? The Montague on the Gardens, 15 Montague Street, Bloomsbury, London, England, has launched a series of historical afternoon tea walks. Participants will learn about some of the most significant landmarks in literary and Georgian Bloomsbury before tucking into a traditional tea back at the hotel. Tea walks will take place on various Sunday afternoons through October 2014. The tours depart the hotel at 12:30 p.m. and last for approximately one hour. What will you see, Road Trips Foodies? The British Museum, The Cartoon Museum, Bloomsbury Square (one of London's first squares), The Brunei Gallery (exhibiting art from Africa and Asia) and The Weiner Library, which houses archives on the Holocaust. All tours are led by Aly Mir, a guide who has escorted more than 20,000 people on tours of London. The tour concludes at the hotel, where afternoon tea is served in the hotel's conservatory. The Montague on the Gardens is located right next to the British Museum, and its surrounding area of Bloomsbury was the traditional haunt of some of London's most influential…
Read more…