About Andrea Spirov
Andrea Spirov is a content developer and entrepreneur currently travelling the world with her husband, John, and living as an expat when she isn't. With a Masters in Media and Communications, Andrea is a specialist in online and is fascinated by the intersection of conversations and technology. Born in the United States, Spirov is a dual American and Australian citizen and has travelled extensively in North and South America, Europe, Australia and New Zealand. She currently blogs at InspiringTravellers.com and also takes on freelance projects and consulting work in social media and community management.
Latest Posts by Andrea Spirov
Share:

On the way to Austin from Houston we wanted to stop somewhere authentic for lunch. Bar-B-Q always sounds good so a roadhouse just before we left I-10 beckoned.
One half BBQ joint, one half monument to taxidermy, Jerry Mikeska's Bar-B-Q is just one outpost belonging to a member of "Texas' First Family of Barbecue." The children of a Czech immigrant have been serving up specialty BBQ since the 1960′s, each with their own style.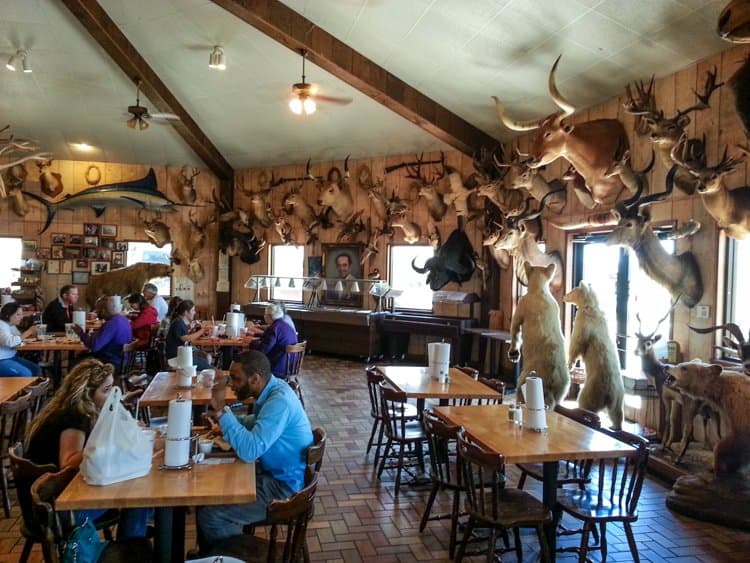 We indulged in tender, succulent pork ribs, sausage and boiled potatoes. The sauce was delicious and we enjoyed the atmosphere of locals filtering in and out.
Jerry Mikeska himself was circulating around the room as we prepared to leave, handing out little trinkets to customers and shaking people's hands. He gave us a couple of business cards and thanked us for coming in.
Tummies full, we enjoyed the rest of the drive to Austin, with the seasonal bluebonnets guiding our way…
Share:

Before arriving in Austin, we both had Banger's Sausage House & Beer Garden (79 & 81 Rainey St, 512-386-1656) on our to-do list and we weren't disappointed. Rocking up at a touch after and despite the threat of rain, we sat at the long wooden tables in the beer garden ready to sample the diverse menu. There's even a fenced area for dogs to hang out while their masters revel in sausages and local beer.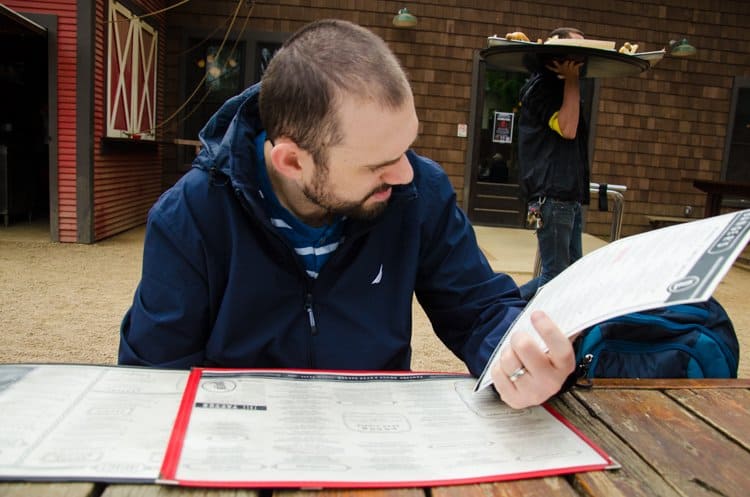 Every main dish comes in sausage form and the vast selection of beers on tap has anything you could want. Andrea started with the more traditional Bockwurst: a Berlin original pork and veal sausage in a bun, while I went with the BBQ Bacon & Shrimp that came with white cheddar grits and house-made BBQ sauce.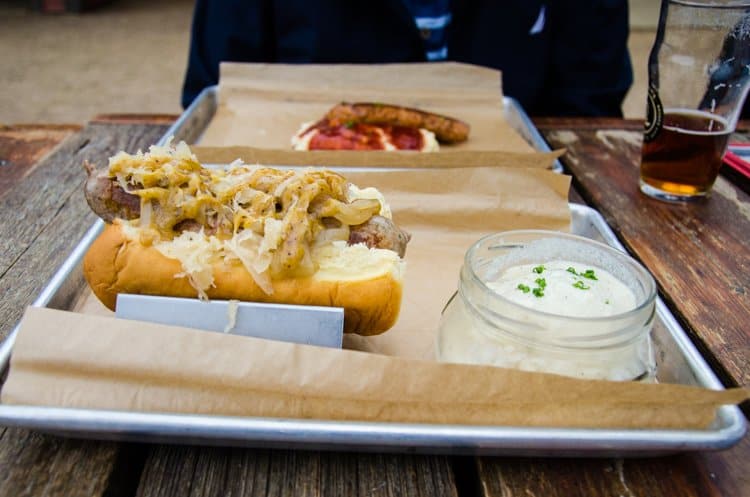 Having heard of Austin's great craft brews and already trying the 512 Pecan Porter (6.8%) the night before, I accompanied my sausage with the Thirsty Planet Thirsty Goat Amber (5.5%). This was quickly followed by the Revolver Bock (6.5%), that made the cool breeze more bearable while we perused the menu some more.
We shared the delectable Fried Chicken, with horseradish mustard, honey and Chef's Momma's biscuit. Any description of this sausage will not justify just how good it is, so it's a must-try if you're there. The Independence Convict Hill Oatmeal Stout (8.0%) completed my meal and I was ready for day of walking…and it wasn't even 1pm yet.
Share:

When people told us that Austin has a lot of food trucks, we expected to see a few however they are literally everywhere, scattered through the city. Apparently more than 2,000 licensed eateries on wheels span across the city (approximately one for every 500 residents according to Austin Insider). While some don't open until the evening, others are serving up tasty, interesting fare all day long.
Share:

If Morocco is on your travel agenda, first of all, it should be and secondly, if it already is, make sure that Marrakech is on your itinerary. These eight restaurants should make it onto your to-do list.  While dining out is certainly about the food, in Marrakech it's also about the scene: after all, this city is the vacation playground for the fashion set. Hit up all of these spots for a well-rounded mix of tasty cuisine and glitzy nightlife.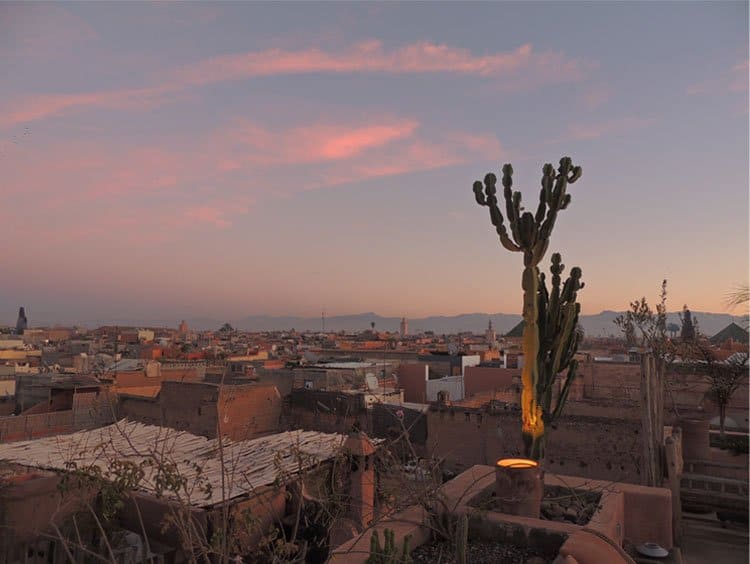 Le Comptoir Darna
Walking into Le Comptoir was like stepping into another world: beautiful people gathered around the bar and a smoky haze filled the air, while belly dancers moved wildly on the actual tables while people were eating. Make reservations well in advance for a prime time dinner at Le Comptoir, and prepare to splurge in exchange for a spectacle. This lounge slash restaurant is a staple of the city's scene. It's not the newest or the hippest, but Le Comptoir certainly can't be missed. (Avenue Echouhada, +212 5244-37702)
Bo-Zin
This stylish hotspot in the new city of Marrakech is another good place to get your night started. The food is a fusion of Moroccan, French and Asian-inspired cuisine, although the restaurant is more of a trendy nightlife destination than a place for serious foodies. As the night goes on, Bo-Zin gets livelier so err on the later side when making reservations. Don't be surprised by loud dance music and a general celebratory atmosphere. (012Douar Lahna, Route de l'Ourika 3,5 Km, +212 (0) 524 388 )
Kafe Fnaque Berbere
Escape from the souks to this French-owned café above a Berber bookstore in the medina. They offer WiFi, an affordably priced menu of simple French and Moroccan dishes, and coffee. You can choose to dine inside on the comfy wrap around couch or on the rooftop overlooking the bustling souks. As it was down the street from my hostel, this café was my favorite place to get coffee and use the Internet to plan the day's adventure. The friendly atmosphere also makes meeting and chatting with other travelers easy, and they serve iced espresso, a real treat on a hot day. (Derb Ksour, Medina, +212 649-583165)

Kechmara
The new city of Marrakech seems like it's reserved just for the glamorous elite, so I was thrilled to discover this hipster-esque gem. After eating Moroccan food for a week, I couldn't have been more excited to take a big bite of a burger. And what a delicious burger it was! During my stay in Marrakech I became a repeat customer at Kechmara. I couldn't get enough of the contemporary French bistro menu with an American twist, the small plates for sharing and the cocktails. In warm weather, they also have a lovely rooftop terrace. (3 rue de la liberté – guéliz, + 212-524-422532)
Azar
Owned by the same folks as Le Comptoir, newer restaurant Azar also offers a show with dinner. The menu consists of Mediterranean food with Moroccan and Asian influences. So you can enjoy hummus and falafel, as well as traditional Moroccan pastilla and a more modern artichoke & scallops tart. Unlike many other scene-y restaurants in Marrakech, the food at Azar is actually delicious. (Rue de Yougoslavie (côté boulevard Hassan II) Guéliz, +212 524-430920)
Dar Moha
If you are planning to eat a traditional Moroccan meal at a restaurant, Dar Moha is the place to do it. Set in a beautiful old Moroccan home, once owned by fashion icon Pierre Balmain, this restaurant offers poolside dining in the garden or indoor tables in the richly decorated dining room. I would recommend starting off with the small plates appetizer, where you can get an array of tiny, bite-size dishes to share. It was fun to try so many new things without having to commit to a whole dish. For an entrée, I had the Seffa Medfouna, a Morooccan dish of steamed vermicelli mixed with meat and sweetened with raisins, cinnamn, almonds and powdered sugar. (81 rue Dar el Bacha, +212 5243-86400)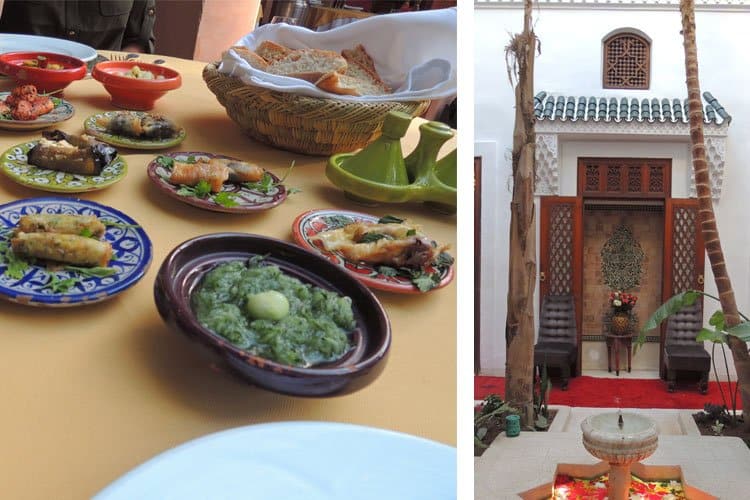 Café Henna
A short walk from Dar Moha, Café Henna is a small and casual rooftop café serving an extensive tea menu along with hummus, Moroccan salads, sandwiches and falafel. The café also offers safe, reputable henna tattoos (done right at your table!) and serves as a community center, providing free education such as English lessons to locals. I made it a point to stop by as I thought their mission to educate and employ locals was fantastic, and was pleasantly surprised that the food was also quite good. (Arset Aouzal Rd, +212 658-028697)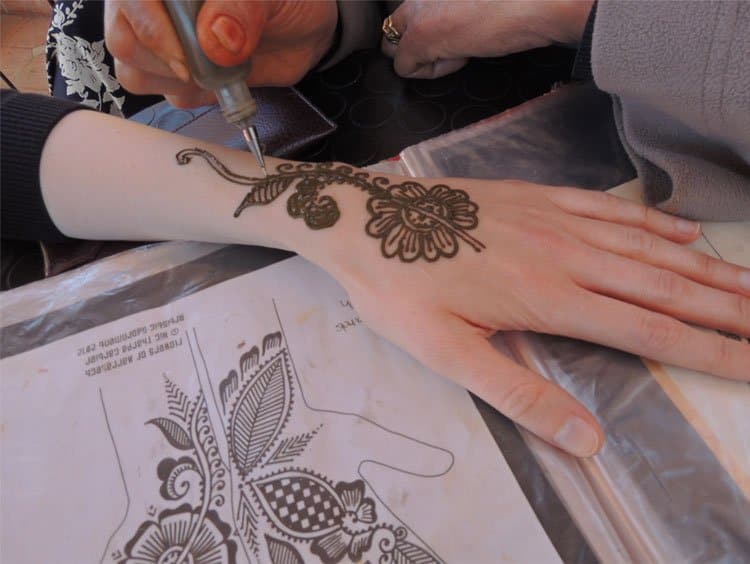 Terrasse Des Epices
This stylish café is another laid back spot, where you can escape from the madness of the medina for a bit of calm. Go for lunch and enjoy the sun, or make it a destination for watching the sunset from the rooftop. The food is reasonably priced but just OK – the real reason to come here is the view. It's the ideal place to relax with a freshly squeezed juice after a long day of haggling! (15, souk Cherifia. Sidi Abdelaziz. Médina, +212 5243-75904)
Contributed by guest post writer Anna Rice, the writer behind The Blonde Banana.  
Share:

Despite the prevalence of steakhouses, barbecue joints and Tex-Mex restaurants, I have been pleased to discover that Houston has its share of healthy, organic restaurants. Corner Table (2736 Virginia St, cornertablehouston.com) features a hearty paleo menu among other delicious offerings and desserts.
Eating paleo means that you eat food that is inspired by the way our ancestors used to eat, choosing foods that are available only by hunting and gathering. The philosophy is that humans were intended to eat only food that could be hunted and gathered, not the processed garbage that dominates our Western diets. I was eager to check out this restaurant and try chef Bruce Molzan's exciting cuisine.
We began with two appetizers, Squash Blossoms and Pork and Duck Confit Spring Rolls off the regular menu. Both were served with delicious sauces and the blossoms were particularly tasty.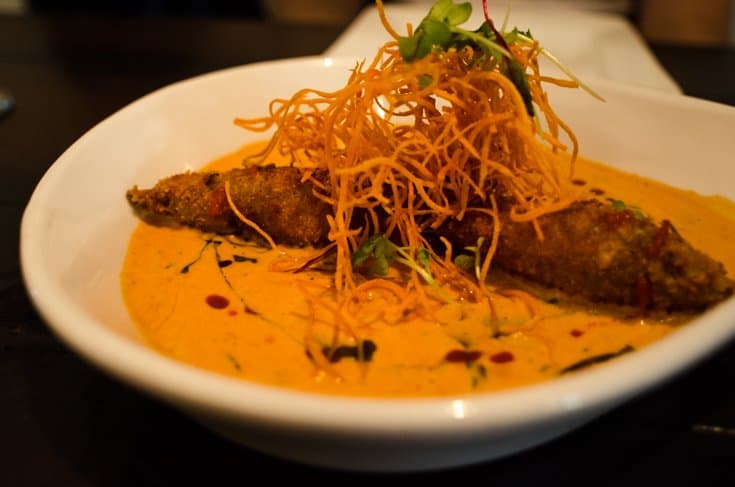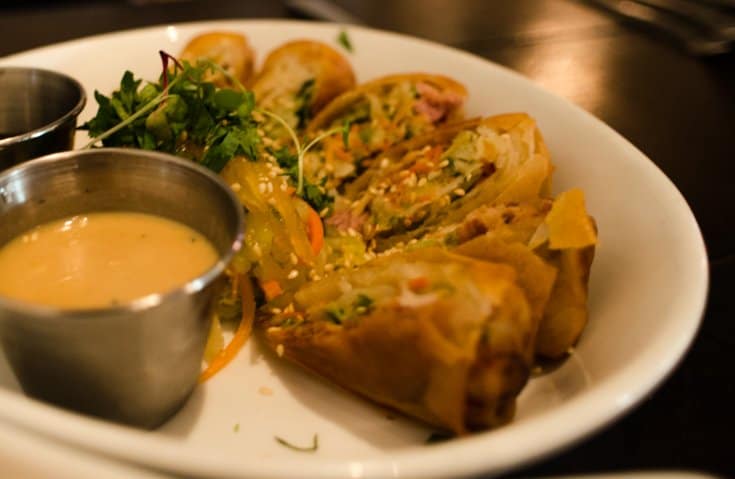 While I don't eat strictly paleo, I do try to eat gluten free as much as possible, so I was really excited about the paleo menu. I wasn't disappointed by the paleo Fried Chicken, dusted with almond flour and served with fresh vegetables and cauliflower mashed potatoes.
John tucked into the Corner Table Burger, which included crispy shallots, cheddar cheese, lettuce, pickles and the chef's special sauce.
In between courses we relaxed and took in the fun atmosphere. It was actually Halloween the night we dined here and the staff were wearing elaborate face paint. We could hear preparations being made for the party that would start later on that evening. Corner Table is actually located within the Corner Entertainment complex which is also home to a couple of bars and other venues.
We were so surprised when the dessert tray came around, piled with cakes and sweet treats. All of them were paleo! We chose the Chocolate Cheesecake, which arrived with pretty sauces and coconut milk ice cream. It was delicious! If you eat paleo or are just looking for a healthy restaurant in the Upper Kirby/River Oaks area, definitely check this place out for lunch or dinner.
Share:

Just so we could say that we have gone to a party at a $14.5 million dollar mansion, we attended a unique event in early December. Tucked away in one of Houston's most affluent neighborhoods, River Oaks, is this over-the-top resort style estate that was designed for entertaining. We practically forgot that we were in Houston wandering around the grounds, which feature three swimming pools, a tennis court, an outdoor party pavilion and walking paths.
The reason for the evening was an installment of the "Sunday Suppers with the Pope" series, featuring delicious food from chef Monica Pope of Sparrow Bar + Cookshop. The parties combine refreshments and real estate, with wines from around the world, beer and a signature cocktail on offer as the guests explore the property, followed by a light meal and the chance to chat with other guests in a communal setting. Everyone brought their own plates from home, allowing for an interesting ice breaker.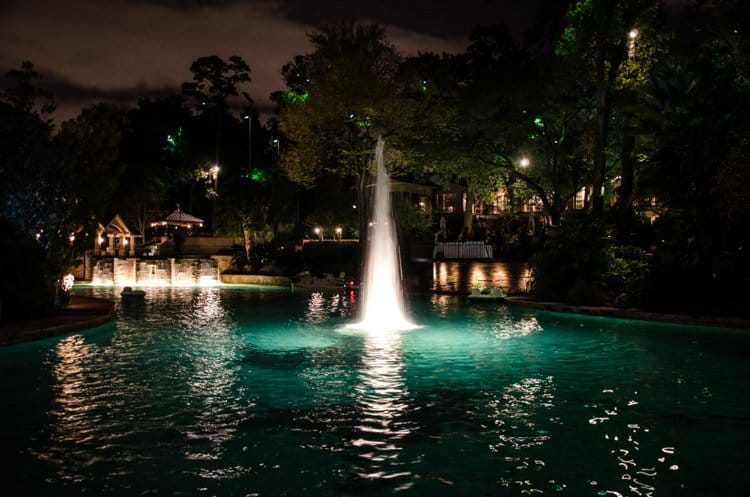 This week John Daugherty Realtors were showcasing 3940 Inverness (more photos at the link), a renovated 1958 home that was featured in the 1973 film, The Thief Who Came to Dinner. We snuck up to the panoramic back windows for a peek at the interior before heading off for a long walk around the pools, one of which may be the largest private pool in the United States. It had a boat moored in one corner so I believe it!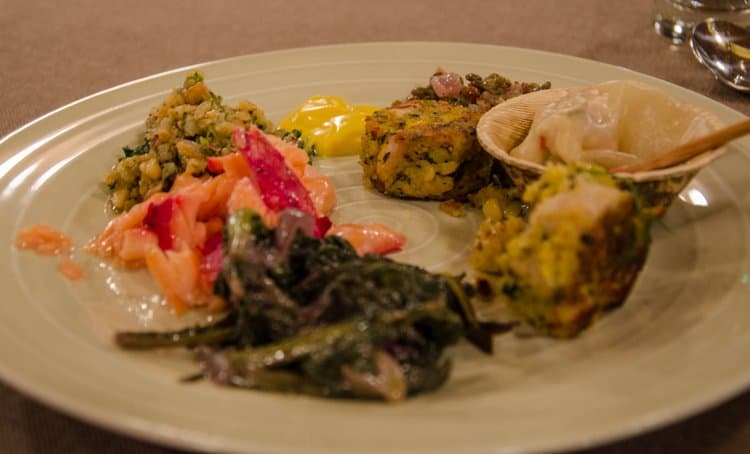 Dinner featured Beet Cured Salmon with hazelnut pesto, Creamed Greens with pickled stems and radishes, Turkey Hash, Crab Wonton and spicy shrimp broth and Lentil Salad with quince, pecans and herbs. Dessert offerings were White Chocolate-cranberry Cookies, Mini Gingerbreads and Cardamom Thumbprints. Tickets to this engaging evening for real estate buffs and foodies usually go for $75 each.
We were guests of this "Friendsgiving" Sunday supper event but all opinions are our own.
Share:

We're enjoying our recent foray into Houston's best restaurants so it was lovely to receive an invitation to Line & Lariat's media dinner on Friday. Settled in under the grand ceiling of what was once the Union National Bank building, we nibbled on a variety of tasty bar bites as the evening got under way. First, shots of Dripping Springs Vodka and Raw Oysters, which I have never paired together before but quite enjoyed. The next few bites reminded us of the restaurant's theme: modern Texas cuisine from the state's "coast, waterways, farms and ranches."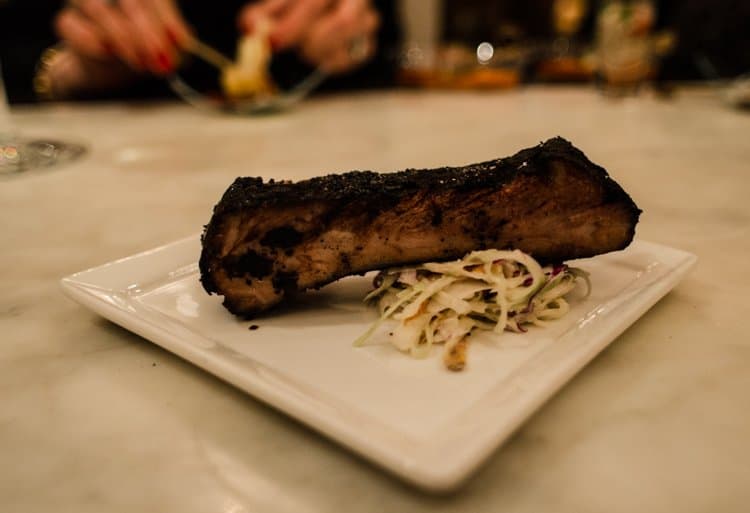 Chef Tyler Malson doesn't shy away from spice. We encountered jalapeños and chilies a couple of times during the evening, beginning with Bacon Wrapped Jalapeños with Oaxaca Cheese and Lavender Syrup, then Beer Battered Texas Cheese Curds with Chipotle Ketchup and Ranch. Coffee Crusted Baby Back Ribs had a lovely flavor, reminding me that we don't eat nearly enough Texan fare.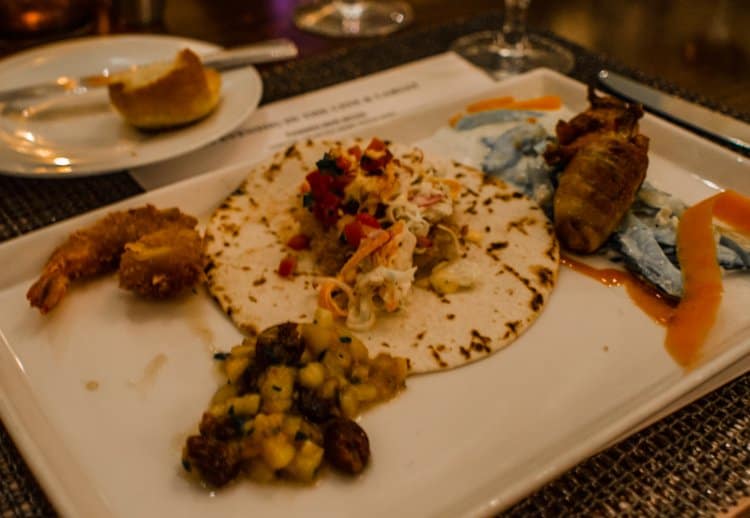 Malson came out to greet us before dinner, demonstrating a passion for his craft and an enthusiasm for the menu to come. The space occupied by Line & Lariat was formerly a Jean-Georges restaurant, so Malson mentioned that he had inherited a traditional French kitchen with coveted equipment. The food was certainly distinctive and original, presented to us in three courses of sampling plates with three dishes each.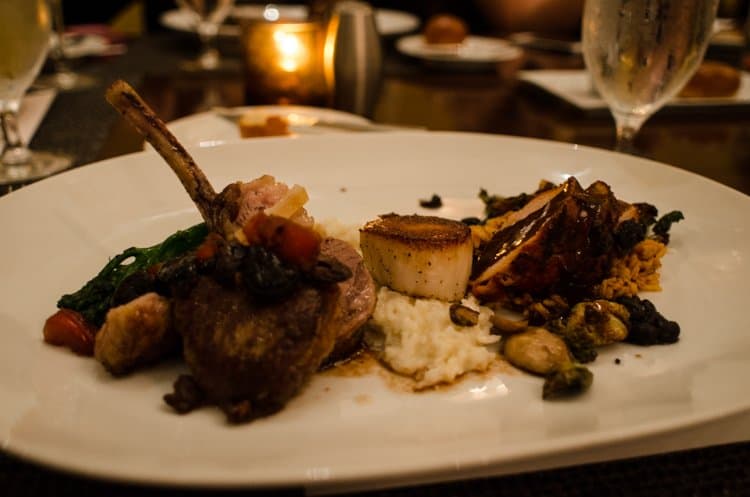 The starter course featured Bacon Wrapped Grilled Quail "Wings Style", Fried Oyster Tacos with ginger coleslaw, pico de gallo and scallion remoulade, and Gulf Coast Coconut Shrimp with a spicy tropical fruit relish. Main dishes were the Roasted Rack of Lamb with olive and tomato demi, candied lemons, potato puree and broccolini; Chile Marinated Grilled Pork Tenderloin with red rice, crispy brussels sprouts and black bean demi; and Pan Seared Scallops served with Texmati rice, aged Parmesan cheese and sautéed mushrooms. A collection of cocktails were also presented, including one featuring brown gin that I had never tried before but was delightful.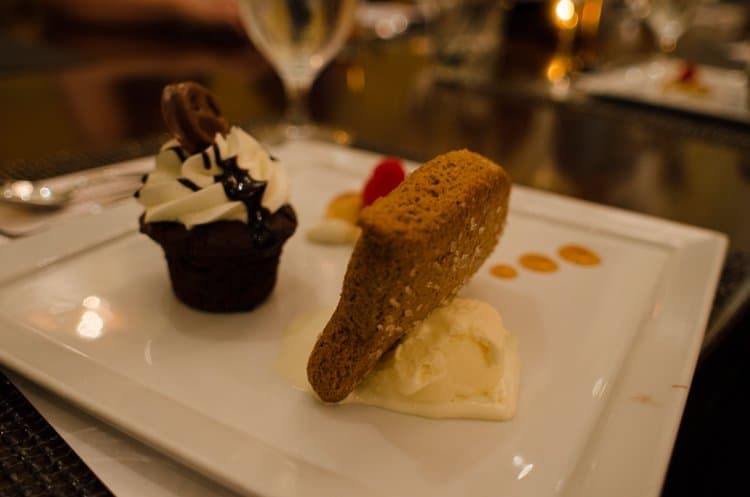 Dessert brought a Texas Gingerbread Pig with cinnamon and sugar, a Dark Chocolate Cupcake topped with vanilla butter cream and a chocolate jalapeño and Pumpkin Panna Cotta with maple syrup and spiced pecans. It was my birthday weekend so I indulged in all of it!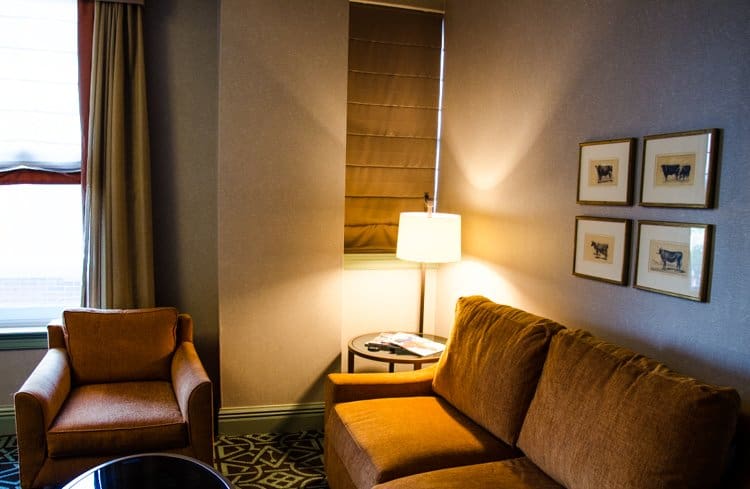 Afterwards we tucked in for the night upstairs at the Hotel ICON, a unique historic hotel housed in one of the earliest skyscrapers in the United States. The building was finished in 1912 but the hotel was renovated in 2012 and features modern amenities like free wireless internet throughout. The location is right downtown and along Houston's light rail so you have access to everything along that line. There is also a complimentary downtown shuttle service providing easy access to all the centrally located attractions. Nearby are Buffalo Bayou Park, Minute Maid Field, Toyota Center, BBV Compass Stadium, trendy bars and the theatre district among others.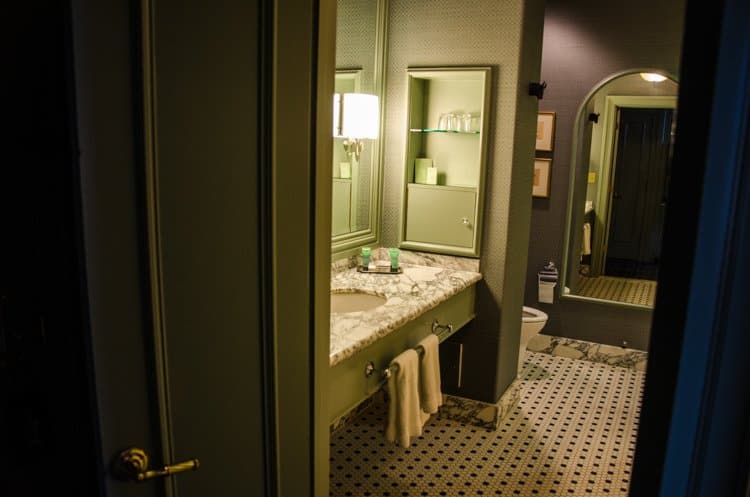 Our room was equipped with a stereo CD/iPod/MP3 clock radio, mini-fridge, safe, robe, TV and work desk. The hotel also has a spa, fitness center and a variety of event venues and meeting rooms. We loved the Texas-inspired artwork hanging on the walls, the comfy bed and the over-sized bathroom complete with a large spa tub and rubber ducky. All in all, a delicious evening in the heart of Houston and celebrating Houston's heart.
We were hosted but all of our opinions are our own.
Share:

Japanese cuisine has become one of our staple favorites and we get especially excited when we find a restaurant that serves compelling dishes aside from just sushi and sashimi. So we decided to celebrate a birthday at the Houston outpost of Uchi.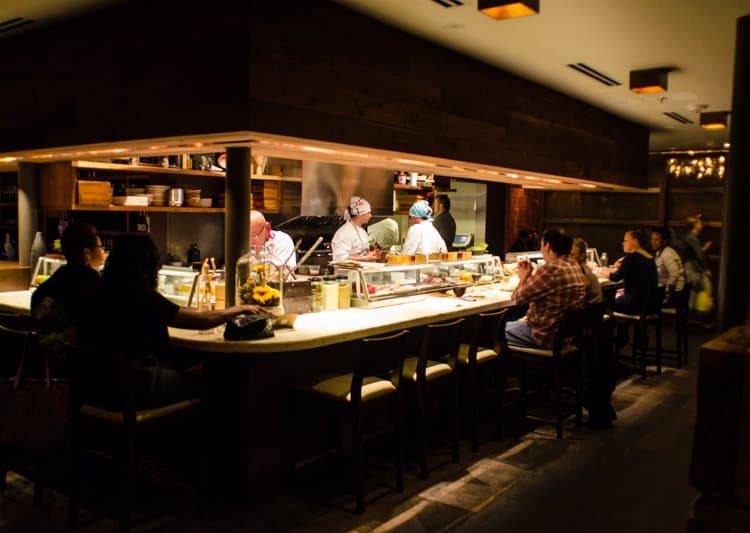 I should note that most of the exciting restaurant action in the Houston metro area takes place downtown or close nearby. We live a bit further out in the Energy Corridor, so when we want to get out and have a few drinks, we have to hire a taxi. We've been looking into some Houston hotels over that way so we can make more of a night of it and have fewer miles to trek home afterwards when we want to go out and celebrate a special occasion.
Uchi was worth the journey, however, with friendly service and a huge menu of inventive dishes. We began with Uchi's answer to nachos, Machi Cure. We ate this smoked baby yellowtail, yucca crisp, marcona almond, asian pear and garlic brittle concoction with our hands. The yucca crisps had a buttery, almost bacon flavor and the cool, succulent yellowtail complemented it perfectly, a sweet and salty delight that was the perfect start to our meal.
After that came the Komorebi, with dayboat scallops, potato, tomato and a quail egg. We loved the large, juicy scallops (John's favorite!) with tiny potatoes and a runny, delicious quail egg.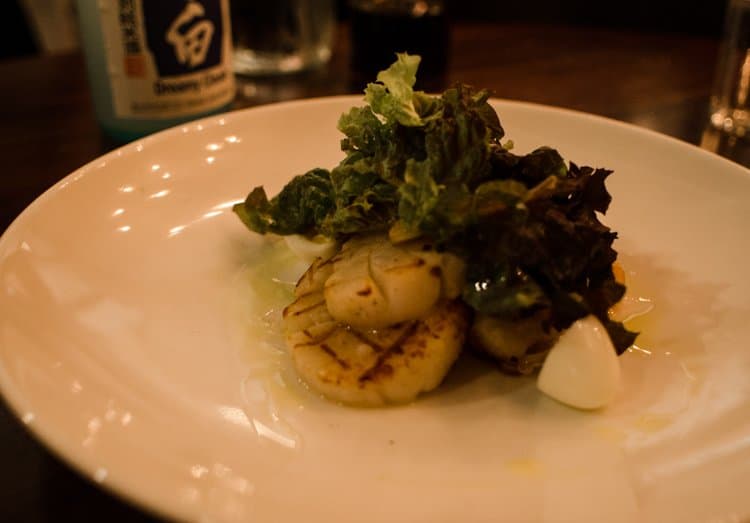 Next up was Yokai Berry, with little morsels of Atlantic salmon, crisp fried dinosaur kale, Asian pear and yuzu. I've been obsessed with deep fried, crispy kale since first trying it at Fathom in Bar Harbor, Maine so I was delighted to see it appear on our table, slid in between pieces of delicious fresh salmon, sweet pears and tiny berries.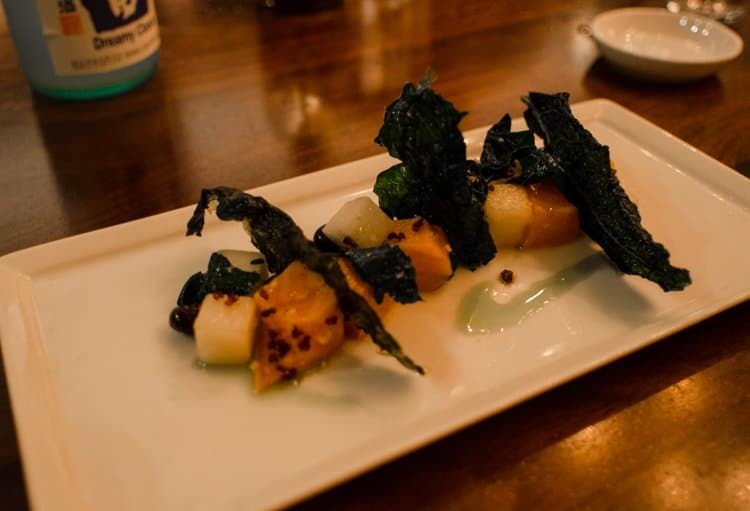 Our last dish before the sushi rolls was the Bacon Tataki, which was composed of pork belly, black lime, cilantro, scallion and an espresso fish caramel. Who can resist pork belly on a menu? These generous chunks melted in our mouths and the only wish we had for this plate was more of the incredible sauce.
Our Mustang roll was the first one to arrive, filled with freshwater eel, yellowtail, tobiko and avocado. Served with a generous helping of eel sauce for dipping, this is just the way I like my sushi rolls: simple, small and with my favorite kinds of seafood rolled inside.
This was followed by Uchi's California roll, with krab, avocado and cucumber. We made a mistake here and didn't specify that we wanted the more expensive version, which is made with snow crab. This roll was nice but I'm sure we would have preferred the snow crab.
The desserts at Uchi are as delicious as they look and so beautifully presented. We ordered the Lime Ash Sorbet with chocolate croquant, meringue and kefir lime, as well as the Peanut-butter Semifreddo, served with apple-miso sorbet. I'm not sure if they did this because of John's birthday or they read my mind as I tossed between the lime ash and the lemon gelato, but when the desserts came out the Lemon Gelato with pistachios and white balsamic was with them, on the house. Every bite of these treats was heaven.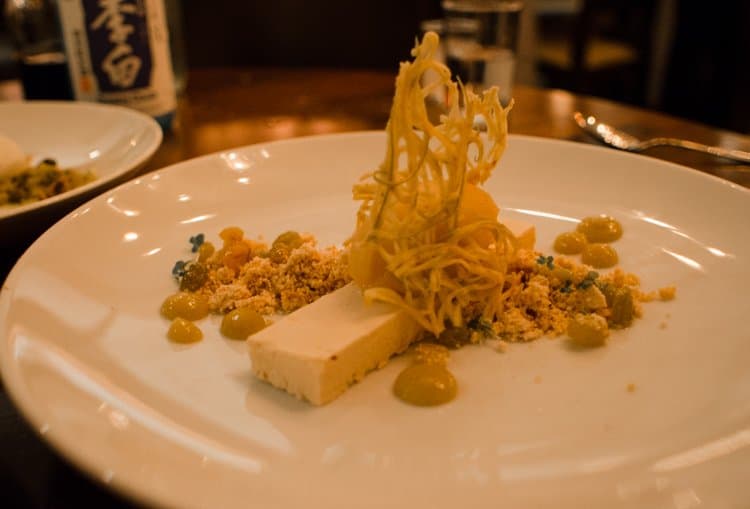 John and I are huge Nobu fans and I think the rule we always have when we dine there applies to Uchi as well. The sushi rolls are delicious but I think there are so many incredible things on the rest of the menu to try that we never get sushi at these places. After all, one can find sushi rolls at any other Japanese restaurant. What Uchi is doing with their inventive cold and hot plates makes those dishes worthy of trying as many as you have room for. An exception here would be the fresh sashimi selections shipped to them directly from Japan and sold in limited quantities at the top of the specials menu. We missed out on those but were definitely intrigued.