About Andrea Spirov
Andrea Spirov is a content developer and entrepreneur currently travelling the world with her husband, John, and living as an expat when she isn't. With a Masters in Media and Communications, Andrea is a specialist in online and is fascinated by the intersection of conversations and technology. Born in the United States, Spirov is a dual American and Australian citizen and has travelled extensively in North and South America, Europe, Australia and New Zealand. She currently blogs at InspiringTravellers.com and also takes on freelance projects and consulting work in social media and community management.
Latest Posts by Andrea Spirov
Share: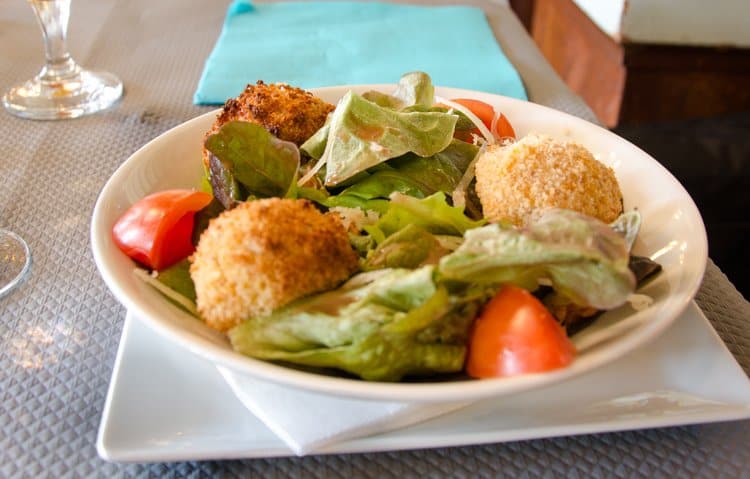 Aside from being France's wine capital, Bordeaux is also a premier gourmet city. We found so many restaurants on offer that it was difficult to choose. Not to mention the fine food shops and gourmet staples like canelé cakes, lamb, oysters, foie gras and cured meat. It's just as easy to get excited about the food in Bordeaux as it is the regional wines. Here's a quick guide on where to eat well in Bordeaux (it won't be difficult!)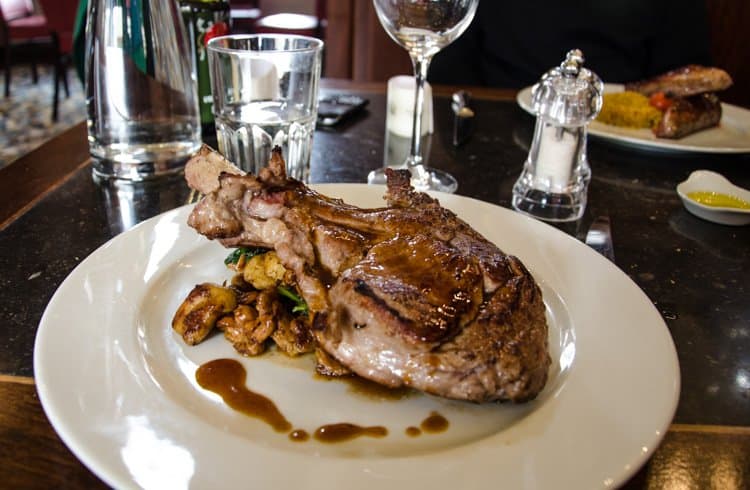 Roasted veal from Cafe Lavinal in Medoc
What To Eat
If it's authentic dishes from the region you are after, be sure to enjoy a rib steak (entrecote) with Bordelaise sauce or any of the fresh fish and shellfish on offer. Near Bordeaux are important meat producing regions like Bazas (for beef) and Pauillac (for lamb). Traditional French fare like snails, tripe, foie gras, duck confit and, of course, cheese are plentiful and everything is fresh. Vegetable lovers are also catered for with delicious Blaye asparagus, truffles and mushrooms (cepes). Local specialties continue with eel, chicken, Medoc pork belly, canelé cakes and macaroons.
Lobster cooked in fricassee; mashed potatoes with vanilla and Sauternes stock juice at Les Pavillon des Boulevards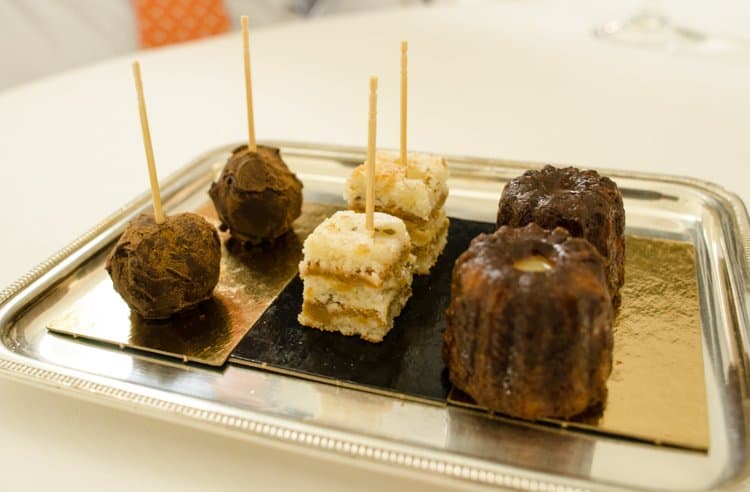 Where To Eat
Start your day as the French do and (if you choose not to take breakfast at your hotel) enjoy a simple coffee and croissant at a café or bakery. Save that appetite for lunch where you can linger over a three course meal.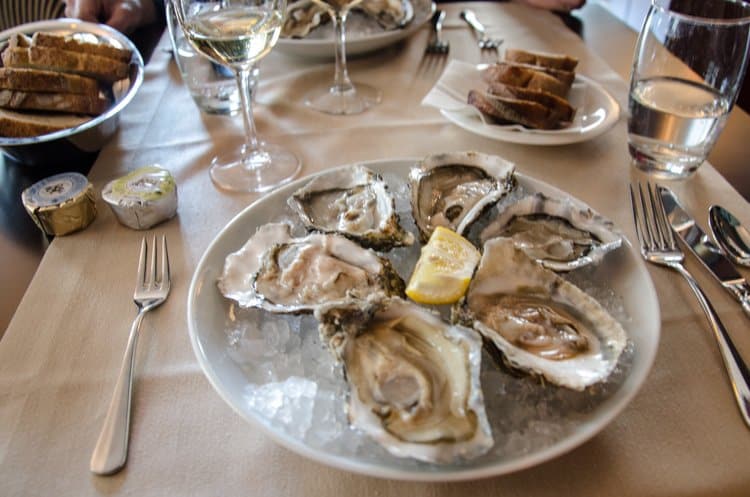 If you're hungry in between, or trying to eat cheap, you'll have no trouble on your holidays anywhere in France. Simply head to one of the supermarkets, which will have plenty of fresh ingredients for a picnic, including ready-made sandwiches and salads.
Dinner in Bordeaux is usually between 7.30 and 9pm and it will be difficult to choose a venue. From brasseries to Michelin-starred restaurants, Bordeaux is full of delicious places to dine. Le Bordeaux brasserie has incredible dishes in an unbeatable historic atmosphere, or tuck into Cote de Boeuf for two and a well-priced bottle at La Brasserie Bordelaise (50 rue Saint Rémi, www.brasserie-bordelaise.fr) – be sure to book ahead as this place is always packed. For a fine dining experience, we recommend Le Pavillon des Boulevards (120, rue de la Croix de Seguey, 05 56 81 51 02).
Where To Shop
Don't miss the many gourmet food shops around town for your picnic along the quays or souvenir shopping. Bordeaux also has quite a few markets, the main one being Le Marche des Capucins at Place des Capucins (every day except Monday).
For cheese, Baud et Millet (19 Rue Huguerie) and Fromagerie Deruelle (66 Rue du Pas St George) both have excellent selections. Bread lovers must visit Fabrique Pain et Bricoles (47 Pas St Georges) while those with a sweet tooth will enjoy Palais des Saveurs (69 Rue du Palais Gallien) and Antoine (19 Cours Portal). You're sure to find more of your own favourites around town. For spices, check out Dock des Epices (20 rue Saint-James). We were hard pressed to walk a street that didn't have some sort of shop offering exquisite edibles, so just use your senses and explore.
Pair your selections with a bottle from any of the fine wine shops around town and just enjoy the day!
Share:

If you do only one thing in Lyon, be sure to eat. Eat a lot. Spare no expense. Try everything, even if you've never heard of it before or it falls outside your normal gastronomic comfort zone. Just eat.
Lyon is home to 2,000 restaurants, 14 of which have been awarded Michelin stars for 2013. The tradition of incredible cuisine in Lyon began in the late 19th and 20th centuries with a group of women called the 'Mère Lyonnaises,' or "Lyon mothers." Wealthy families at that time had to let their cooks go and some of these women went on to find work in local restaurants or to start their own. And so began the 'bouchons,' which are the small traditional restaurants of Lyon that serve up local specialties in a convivial atmosphere. You'll often be eating at long tables with family-sized portions of at least some of the dishes to be shared.
The region is known for its excellent produce. So what you're eating didn't come from very far away. It doesn't matter where you eat or at what price range; the food will be fresh and local. We had dinners at both a bouchon and a brasserie, and one lunch and one dinner each at Michelin-starred restaurants. Perhaps I'll stop talking now and just do a little show and tell about what we ate. We paid for these meals on our own, by the way, so there is no bias here. The food was absolutely sensational.
Beginnings
A long dégustation lunch at Mère Brazier (12, Rue Royale, lamerebrazier.fr, two Michelin stars) is a foodie must. Just relax as we did and ask them to choose some wines to pair with each course and you cannot go wrong. Long lunches are a French birthright and you can rationalize away the bill by reminding yourself that this isn't just a meal, it's a cultural mainstay.
I have been enjoying my review of these photos and the menus that accompany them (don't forget to ask for your 'copie du menu' as you leave) because I speak enough French to get around and I really try hard to speak as much of the language as possible when I'm in the country. It's particularly helpful in France because even in the large cities you will encounter many people who don't speak much or any English. Of course, in the finer restaurants English is almost always spoken and you can often get an English menu. But I am stubborn! Anyway, sitting here now translating the menu at home, I had no idea there were frogs accompanying the snails in this dish but it was absolutely delightful. As were the two seafood dishes that followed. Above Snails and frogs on watercress with raw and cooked asparagus and a garlic emulsion at Mere Brazier.
Crustaceans with a citrus emulsion at Mere Brazier
Scallops with lemon, green pepper and fennel at Mere Brazier.
At a bouchon, the first course may be a trio of salads, as we found at the wonderful Le Bouchon des Filles (20, rue Sergent-Blandan, 04 78 30 40 44). Typical bouchon dishes include (in English): chitterling sausage, dumplings, different chicken dishes, roasted pork and all kinds of offal. I had actually never seen a "triperie" until visiting Lyon.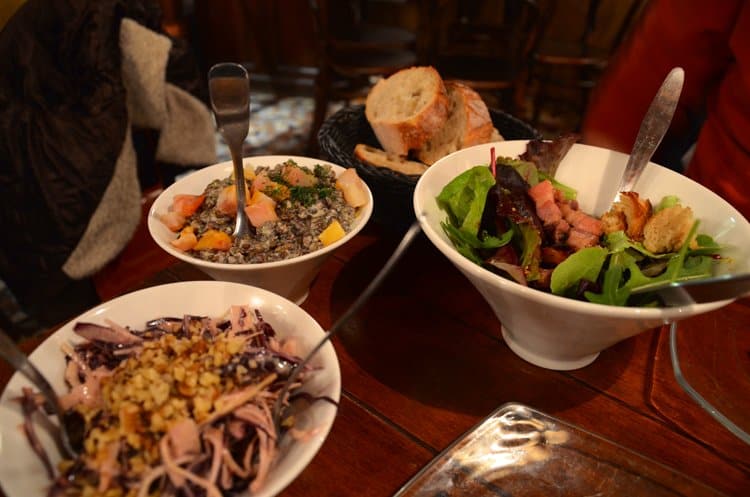 Salads at Le Bouchon des Filles included a traditional 'salade Lyonnaise' (right), one that was like a coleslaw with spicy mustard and another with lentils. They're all delicious but don't fill up!
Our second Michelin-starred experience was at Le Gourmet de Sèze (129, Rue de Sèze, le-gourmet-de-seze.com, one star). Here I had one of my most memorable dishes in Lyon. Again, I did not know what it was and could not figure it out with the waiter due to a language barrier but I should have known it was one of my all-time favourite things to eat: sweetbreads.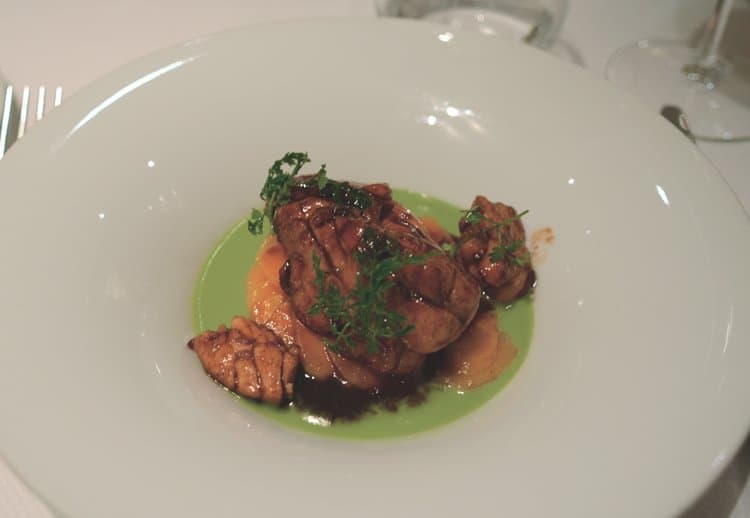 Veal sweetbreads with a creamy Port glaze, creamed peas and glazed carrots at Le Gourmet de Seze.
Main Dishes
Main dishes are always a bit heartier, even more so at the bouchons…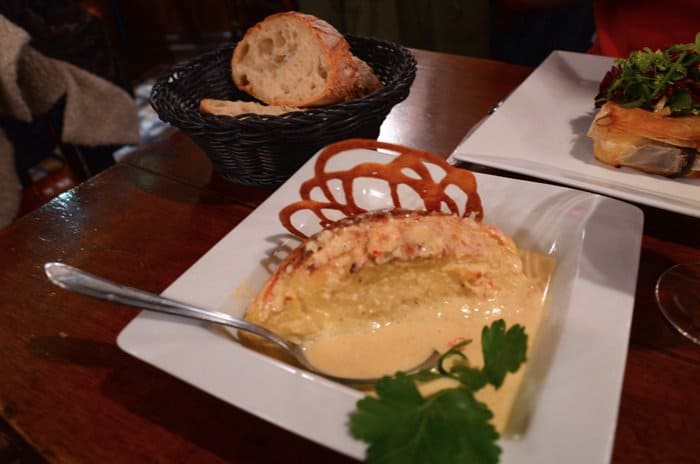 A large quenelle (ground fish dumpling) at Le Bouchon de Filles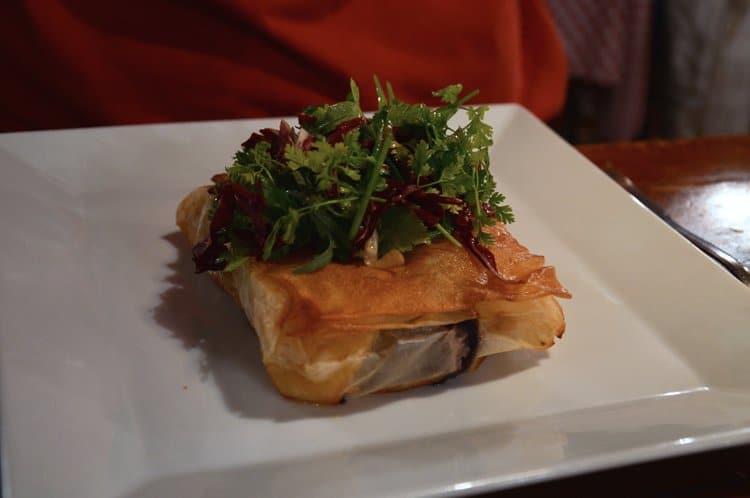 Blood sausage with apples in a crispy puff pastry at Le Bouchon des Filles
Move over Argentina. This blood sausage was the best I've ever tasted and the pairing with warm baked apples in a pastry was divine. The blood sausage (boudin noir) is traditionally served with apples (pommes). Look out for it. Back at Mère Brazier, we were enjoying pigeon during the main course, which I've never had before but thoroughly enjoyed.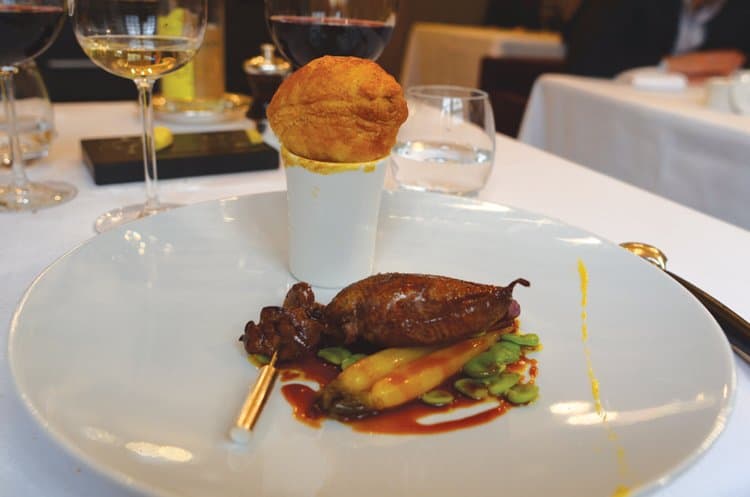 Pigeon breast with glazed turnips; the puff pastry sits atop a portion of giblet consomme with wasabi and lime – at Mere Brazier
Mère Brazier is an important historical restaurant in Lyon. Mère Brazier was the first woman to receive three Michelin stars. It was here that France's most famous chef, Lyon-based Paul Bocuse, did his apprenticeship. Since 2008 the executive chef here is Mathieu Viannay – and he is doing a spectacular job.
Tender delicious roasted lamb with a cauliflower tart at Le Gourmet de Seze
Endings
We really should skip the cheese course but that is impossible for us when in France – we love it too much. At least if you are eating so much at lunch you have the evening to recover…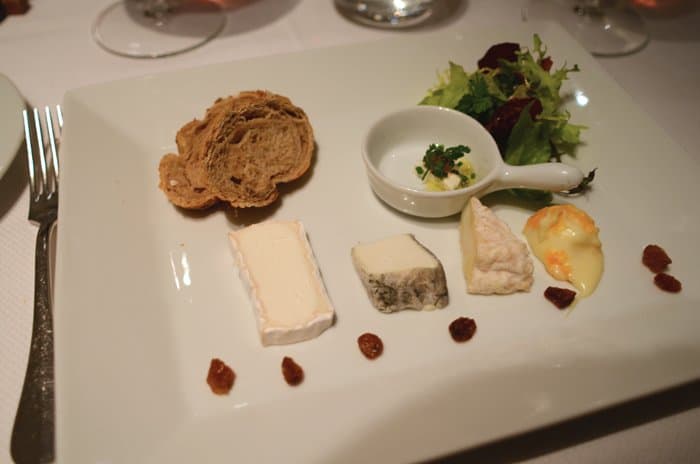 Cheese plate at Le Gourmet de Seze
The reason to skip the cheese becomes apparent when you realize how seriously the French take dessert. The sweets never stop coming, each one more beautiful and decadent than the last. The French are also obsessed with chocolate fondant, which is great because we are too.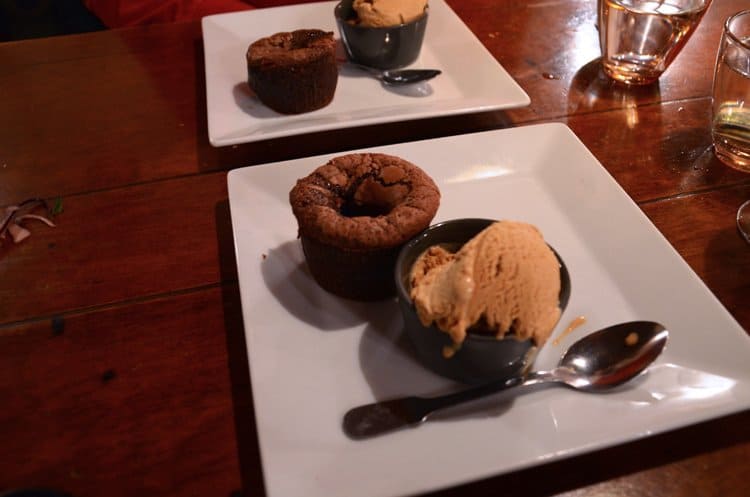 Chocolate fondant with caramel ice cream at Le Bouchon des Filles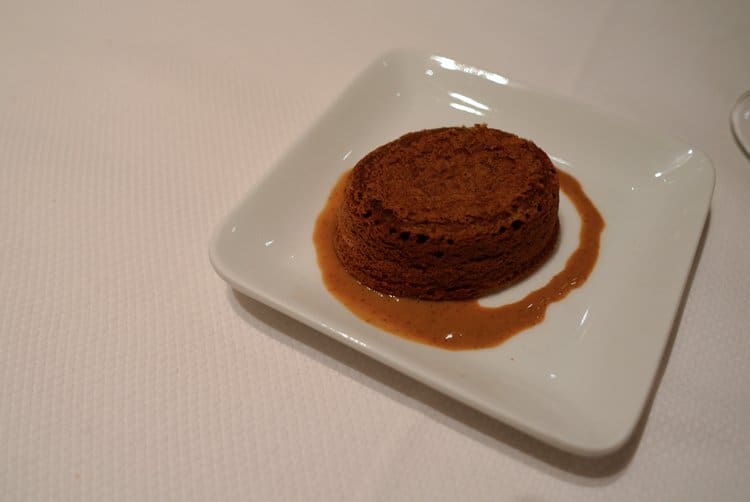 Chocolate fondant at Le Gourmet de Seze
The best madeleine I've ever had at Mere Brazier, with other sweets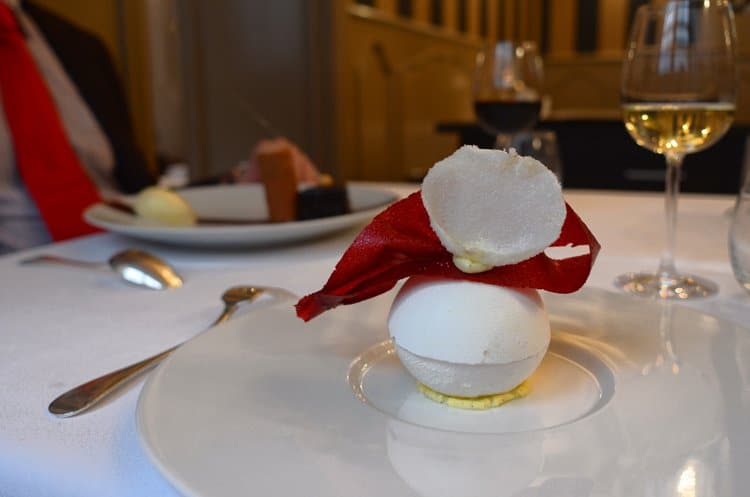 My beautiful lychee and grapefruit dessert at Mere Brazier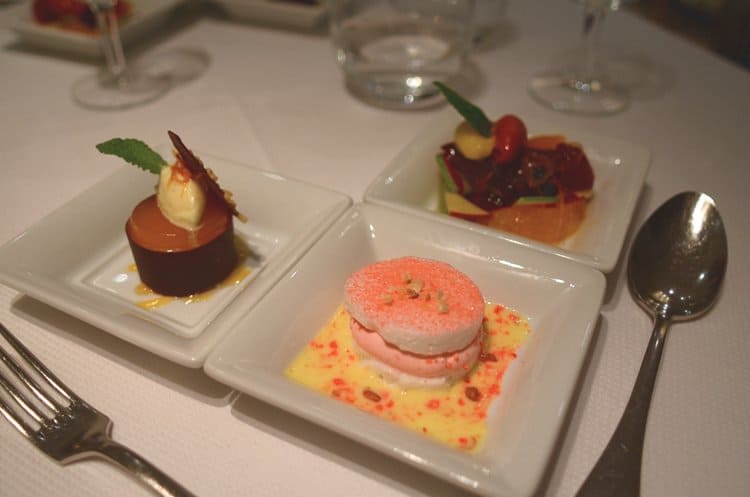 Three more desserts at Le Gourmet de Seze
It's also fun to try new things when dining in a foreign country. Our big discovery in Lyon was a drink called Chartreuse. It's green.
And it's 54%. Something I would only try after already having an aperitif and sharing a bottle of Pinot Noir with my husband.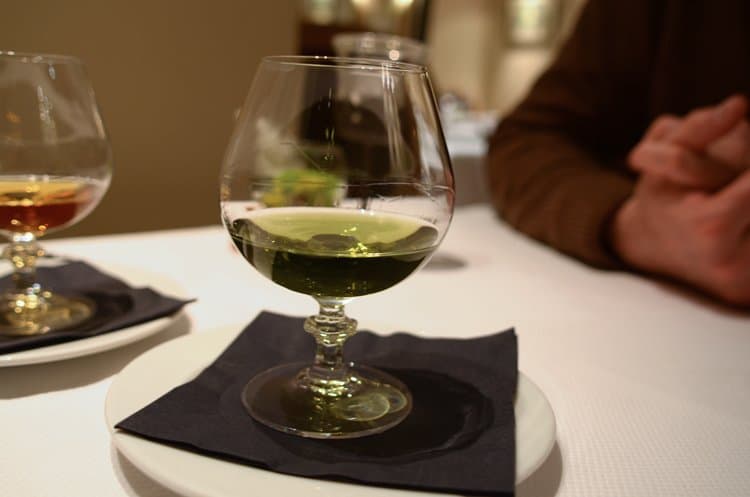 It's made, surprisingly, by monks from Grenoble with 130 different herbal extracts. If you're thinking a medicinal taste, I might say yes but that would be doing this liqueur a tremendous disservice. It's pretty delicious, starting out very sweet in your mouth but with a powerful, extremely complicated finish. I couldn't have more than one or two sips, albeit big sips. But I couldn't believe how much I liked it.
Bon appetit!
Share:

I know I'm not alone in my enjoyment of visiting foreign grocery stores and markets when I travel. Today I thought I'd take you on a little tour of a typical supermarket in Norway, which I visit once a week to buy our groceries. We have several major chains in Norway and they pretty much dominate the food shopping scene for better or worse. In Stavanger I'm familiar with ICA, Co-op, Rimi, Kiwi, Rema 1000 and, my personal favourite, Helgo Meny. Meny has the best selection of international brands and food though the prices can sometimes be a bit higher than the others. Rema 1000 is the bargain store for me, but that doesn't mean it's bad. These photos are from there and Co-op.
The first thing to remember on a visit to a Norwegian supermarket is to bring along a 10 kr coin because you'll usually need it to provide a deposit for the shopping trolley if you wish to use one. Otherwise just grab a plastic basket at the front of the store when you enter.
I've only photographed the things that I find to be unique to supermarkets in Norway for this post. The rest of the items can usually be found elsewhere in the world. I find the selections in some of the stores to be quite limited, both in the range of brands and also in the availability of sizes. As I mentioned in a recent post you don't find a lot of bulk items in Norway. In some shopping categories, however, the selection is tremendous. Look at the range of fish cakes, fish balls, shrimp, caviar in a tube and other fish products available here, for example.
In this section you'll also find that mayonnaise in a tube that is popular in Europe, a variety of prepared cold salads and quite a few varieties of jarred fish. I really need to be more adventurous in my eating habits here in Norway and try some of this stuff. I assume these are Norwegian dietary staples because this section exists in every supermarket. I rarely eat processed foods so this is the main reason I haven't explored the cold seafood section.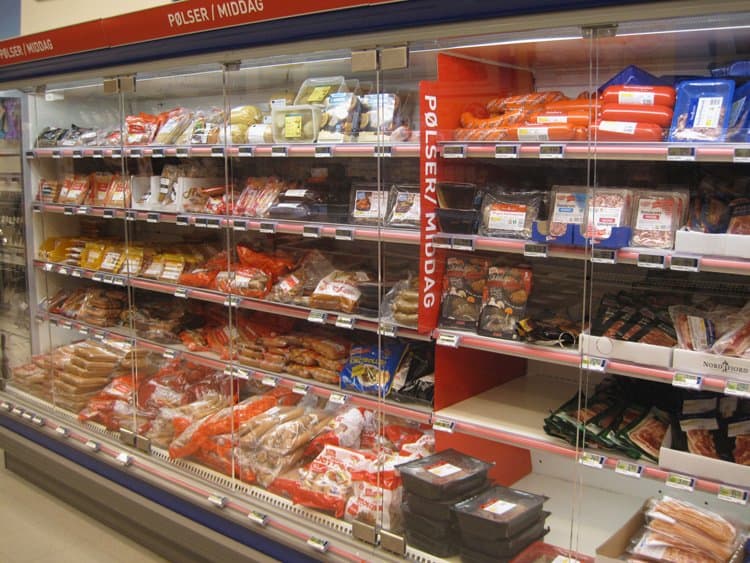 Norwegians love their sausages so there is also always a large sausage and cold meats section of the supermarket. The bacon here is delicious, though I do prefer to buy my sausages and bacon at the butcher in Stavanger town centre.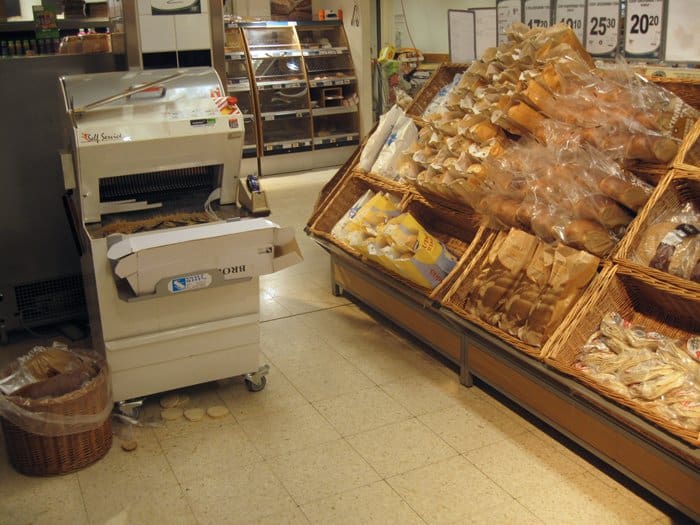 I am in love with the bread section of the store. We've been stupidly buying packaged sliced bread until I recently started exploring the fresh bread loaves and the slicing machine. Just select your loaves from the huge variety, remove from the paper wrapping, place the entire loaf into the automatic slicer and close the lid. The bread is cut automatically and then you simply place it onto the metal rack (see it sitting at an angle there?) and slide the paper wrapper back on. Most shops have plastic bags that you can put the bread in before placing the paper back on (the cashier will need the barcode on the outside so don't forget) – handy if you want to freeze the bread.
Another must-try for me…sandwich spread in a tube. These are flavoured cheese spreads that come in varieties like ham and bacon. I'm wary of products like this in any country, but should probably give it a go…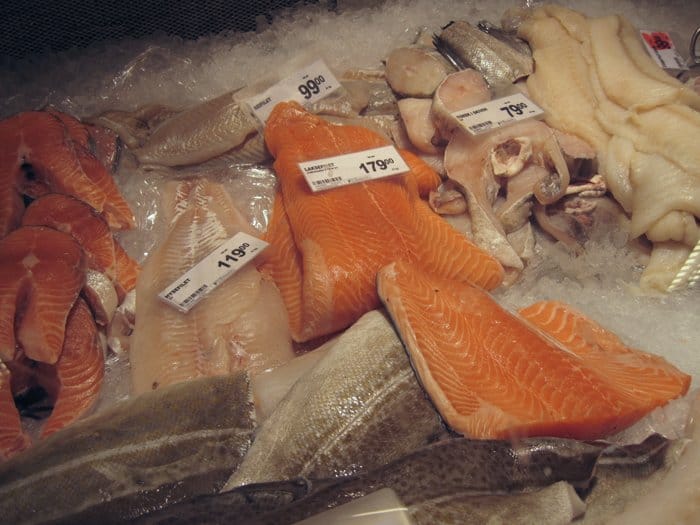 If you're after fresh fish, some of the grocery stores will have a counter where you can ask to have fillets sliced from the large pieces. I serve ørrefillet once a week – it's trout and it's delicious, especially when the skin is crisp. Salmon is also available. We've only tried another white fish once – because I don't really know what they are, I just stick to the ones I know are good. Norwegians also eat lutefisk, which you can sometimes find in this section of the supermarket. Sometimes this is translated as 'rotten fish.' It's made using air-dried or salted whitefish and lye, giving it a gelatinous texture. John tried this in a restaurant with his co-workers once but I have not been so adventurous. I also see things like fish organs at the counter. As you would expect, Norwegians enjoy their fish. I recommend Helgo Meny if you want to explore this section of the supermarket – their counters usually have the widest variety and, I think, some of the freshest offerings.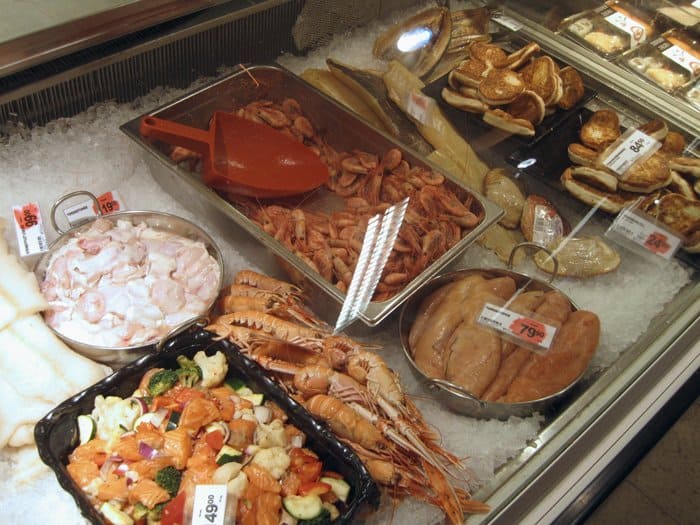 I tried making this the other day – it translates to paella rice but is actually more of a porridge that requires a ton of milk to make. It's tasty enough but I find it to be more of a meal than a side dish. Perhaps for breakfast on a cold morning?
Most Norwegian supermarkets have large Asian sections, which is wonderful for some variety. If you want to make sushi, Thai or Indian food, you won't have trouble finding ingredients. Though I prefer the smaller Asian grocery stores for these items. Mexican food is also popular and several brands of Tex-Mex staples may be found.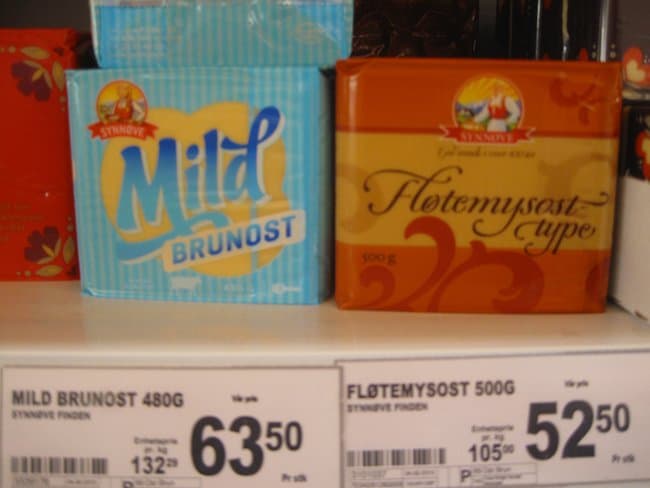 Apologies for the blur but it wouldn't be a Norwegian supermarket post of I didn't show you the famous Norwegian brown cheese. Brunost is a caremelised whey cheese that tastes a little like hardened peanut butter to me. It's slightly sweet and usually served in thin slices, perhaps on a piece of toast. The Fløtemysost is a variation made from cow's milk that is more mild, though as you can see from this photo, there are several varieties of Brunost to choose from.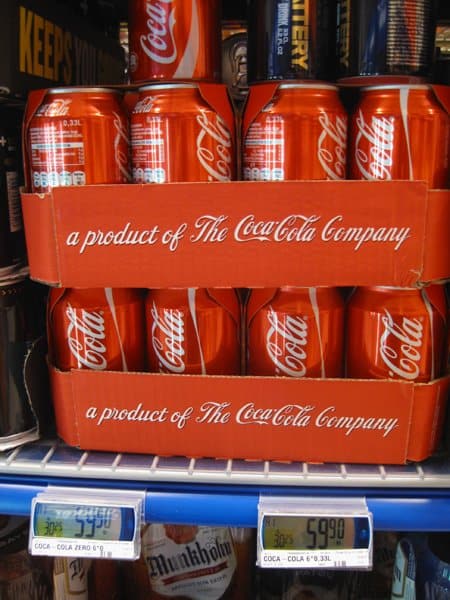 It can be easy to avoid products that are bad for your health in Norway for a couple of reasons. The first is price. Here you can see that a six-pack of Coca-cola costs around $10. So we don't drink soda here. Ever. The prices help me avoid the candy aisle as well (John is not so good about this). Another reason I feel I'm eating healthier in Norway is the requirement for labelling of GMO food.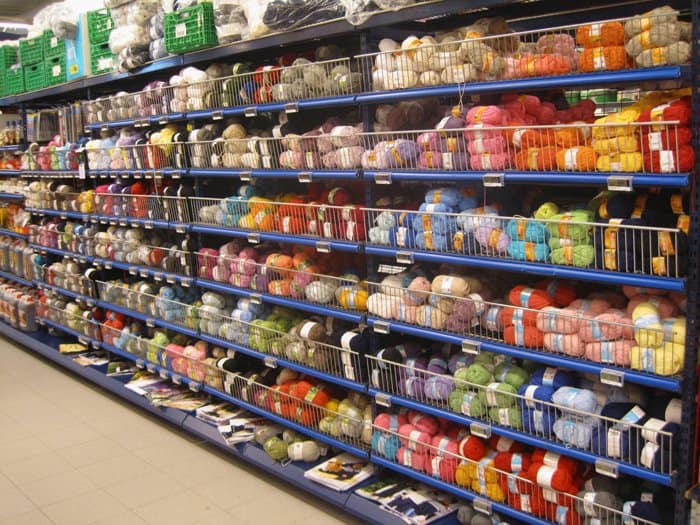 Sometimes you'll find random things in a supermarket, like this almost entire aisle side devoted to yarn at my local Rema 1000.
Once you've finished shopping it's time to head to the checkout counters. This is my least favourite part of the shopping experience because there is usually a line. Cost-cutting is a must for businesses here so I've never seen more than two cashiers working at the same time. Once it's your turn, prepare for the mad scramble if you buy a lot of stuff at once. Norwegian cashiers must be some of the highest paid in the world but I'm pretty sure they also have the easiest job. They don't bag anything so you have to hurry to pack all of your things. It's a race because you only have the one person behind you as a buffer. If they are slow in packing, you have to move faster so the purchases of the person after him don't start crowding yours on the conveyor belt. Some of the cashiers don't even have to count change. They simply insert each bill into the correct slot on a large machine and the correct amount of change is spit back out. How's that for progress?
Share: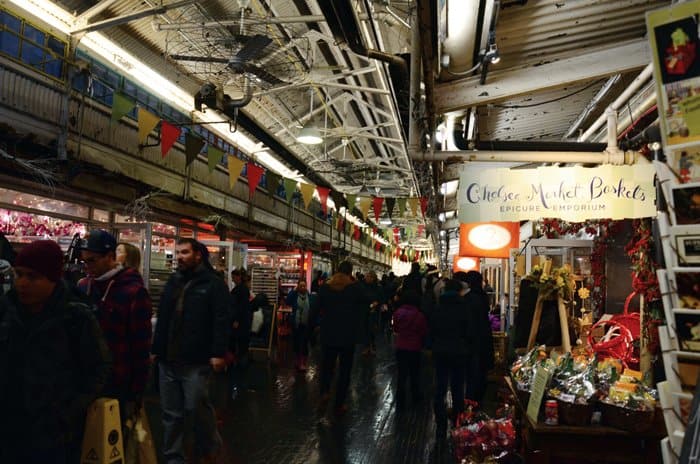 Denied by a local beer bar and restaurant that apparently doesn't serve between lunch and dinner, we found ourselves in the pouring rain with no other business out on 10th Avenue. I had completely forgotten about the Chelsea Market, looming over the border between Chelsea and the Meatpacking District. We popped inside for a quick look and, being a Saturday, joined the masses already congregating inside.
The Chelsea Market complex is huge, covering two city blocks. It's definitely a hybrid – part indoor mall, part food court, part office complex – built within the old National Biscuit Company factory, which is over a hundred years old. I love it because it's an excellent hangout for foodies.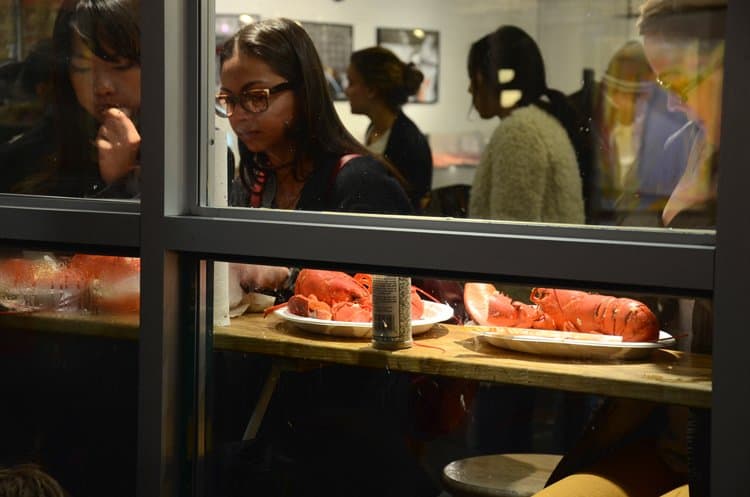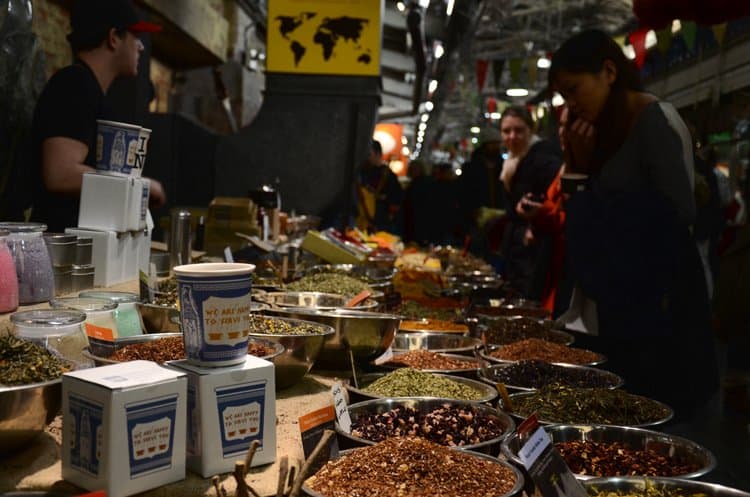 What can a hungry person find at the Chelsea Market? Pretty much anything. We didn't spend too much time here because crowds kill our buzz, but on our quick tour we saw succulent lobsters, craft beer, delicious cakes and pastries, gourmet cheeses and a wonderful spice table, among many other yummy things.  And hey, if it's good enough for the Food Network (who film shows like Iron Chef America here)…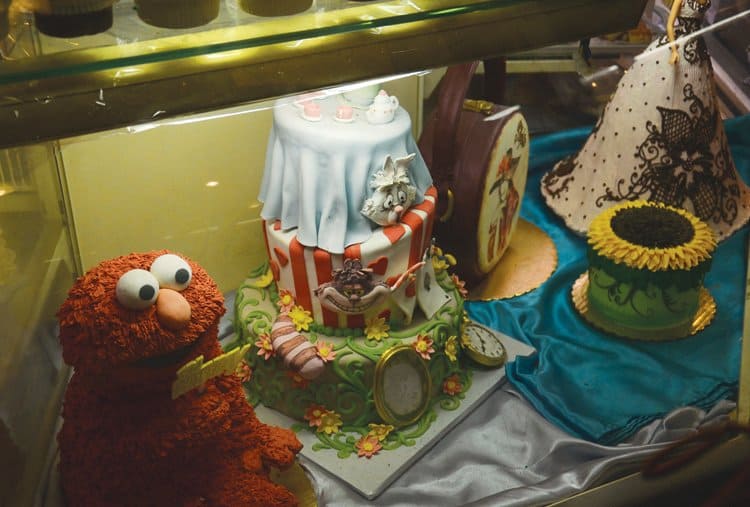 Visit: Chelsea Market is open daily from 7 am until 9pm (8-8 on Sundays). Find it at 75 9th Ave between 15th and 16th streets. You can pick up the High Line here as well.
Share:

New York is definitely a great place to eat. One of the things I love about visiting mega-cities like this is the vast array of options. Almost every world cuisine is represented and there's something delicious in every price range.  It becomes a case of trial and error, though who can complain when the challenge involves food? Let's see where our gastronomic explorations took us on this latest trip to the Big Apple…
Fedora (239 W 4th Street)
Arriving in the West Village late in the afternoon on our first day in the city, we were after something close and happening.  Fedora's interesting American menu had us interested at first glance and we headed over for a somewhat early reservation, the only one we could get at such late notice. Here the bar takes up almost as much space as the dining area, with a boisterous yet friendly atmosphere.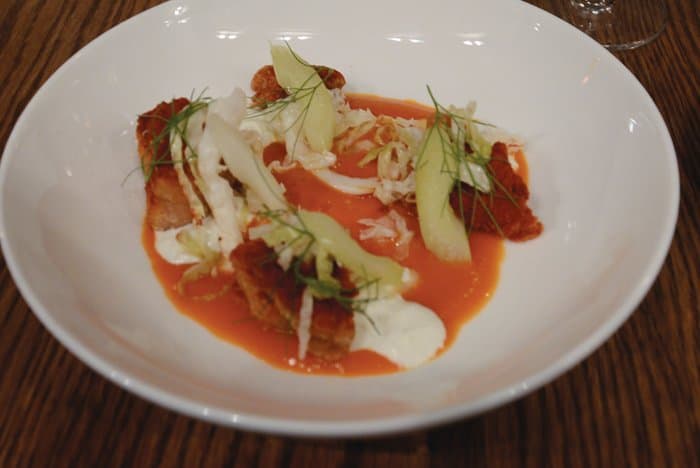 The menu was hit or miss for us. I'm a huge fan of sweetbreads, though I found the sauce presented here to be a little overpowering. John tried one of the specials: toast served with a delicious pate-style spread that stole the show for both of us.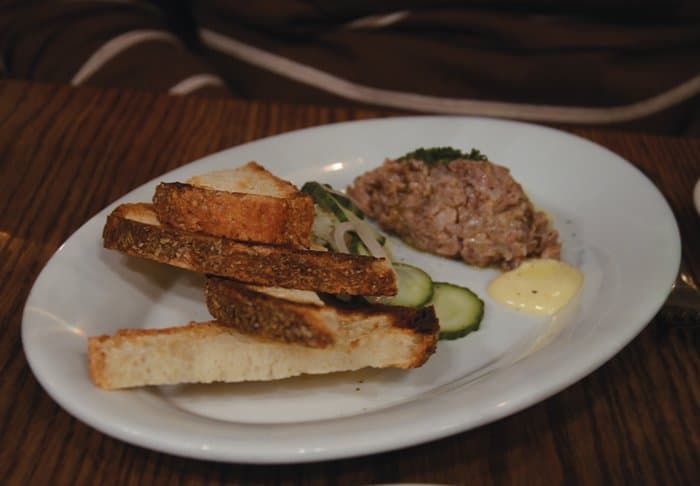 For my main, I enjoyed my dish of 'Krispie Fried Chicken,' presented right along with the chicken foot. John was less impressed with his Pressed Pork Sandwich, served with gruyere cheese and chipotle mayo and a side portion of shoe string potatoes. We still had a nice evening at Fedora, but had expected a bit more overall from the food, which felt a bit more like picnic lunch fare than a proper supper.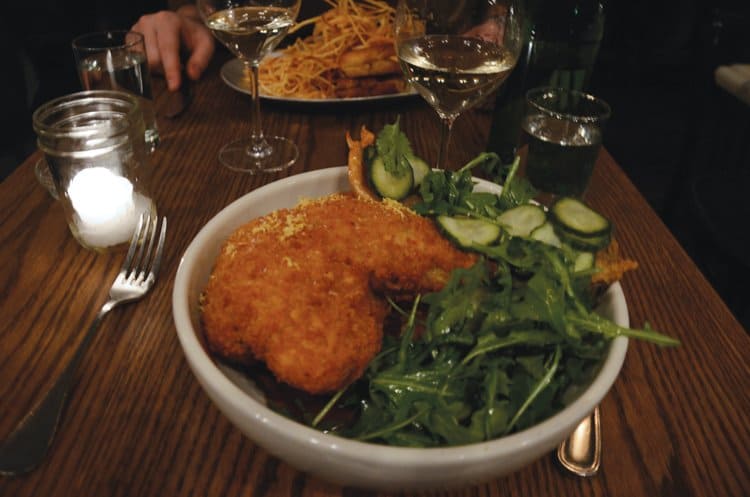 Blue Ribbon Sushi (308 W 58th Street)
I would not file any of the Blue Ribbon restaurants under 'trendy.' Back when I lived in New York City, the original Blue Ribbon Brasserie used to be (and perhaps still is) THE place for the city's chefs to eat. It's open until 4am. so naturally the area's culinary talent could flock there after their shifts finished. I loved it because of the diverse menu and fresh, delicious produce. The same restaurant group also operates Blue Ribbon Sushi, which is my favourite place for high-end sushi in New York. While the first location opened in SoHo on the same street as the brasserie, they now have another outpost in Midtown West, inside the 6 Columbus Hotel.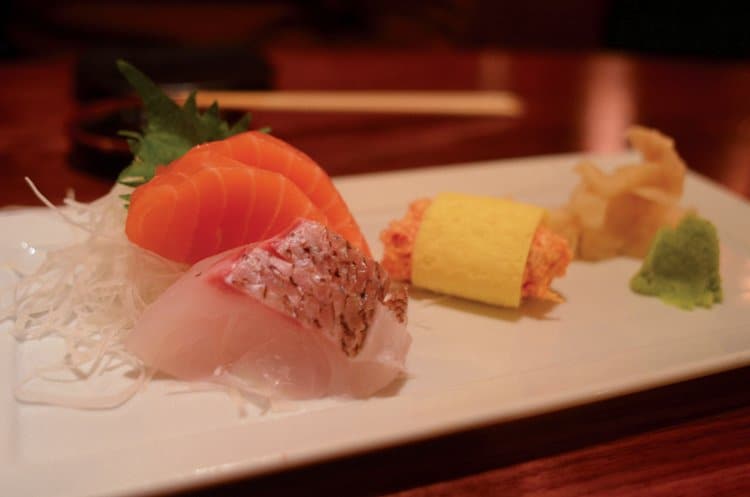 I was not disappointed by my return to Blue Ribbon sushi. Simply fresh sashimi and sushi, along with carefully prepared cooked Japanese dishes are what you'll find here. We enjoyed a delicious bottle of sake and relaxed after seeing a Broadway show. Most of all I love the variety of fish on offer at Blue Ribbon Sushi. A list of daily specials is a great place to start your journey.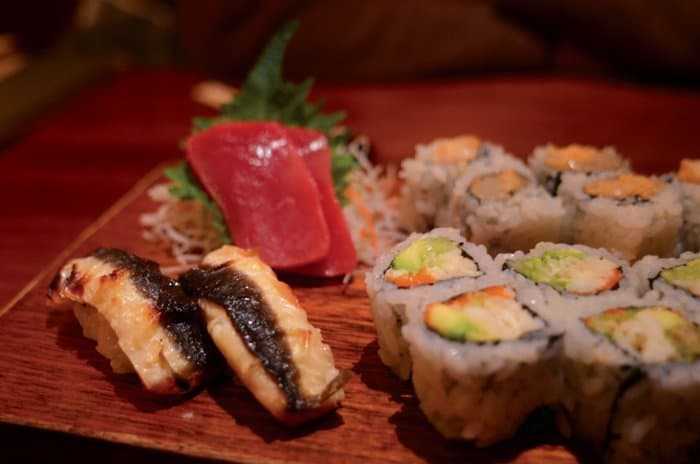 Quality Meats (57 W 58th Street)
Steakhouses are abundant in New York City. While Peter Luger is always my first choice, we didn't want to make my father trek out to Brooklyn  because he was only in town for one night. So we thought we'd try a new place, which seemed a good bet because it was part of the Smith & Wollensky group. Unfortunately we were pretty disappointed with the entire experience. My father's baby back ribs arrived already separated and weren't to his liking. John and I both had the Aged Rib Steak, which was good but not excellent.
The side dishes were unique and not too bad; the restaurant divides them into "sides" and "new classics," and I actually really enjoyed the corn creme brulee. But when you go to a steakhouse, you want the steaks to shine. Service was chilly yet efficient, but I wasn't happy with the way staff hovered over us as we lingered to enjoy the rest of our conversation after we had finished eating. I know they probably wanted to go home, but when you drop a few hundred dollars on a meal and no one is waiting for your table, I think you should be allowed to stay until closing if no one else needs your table.
Share: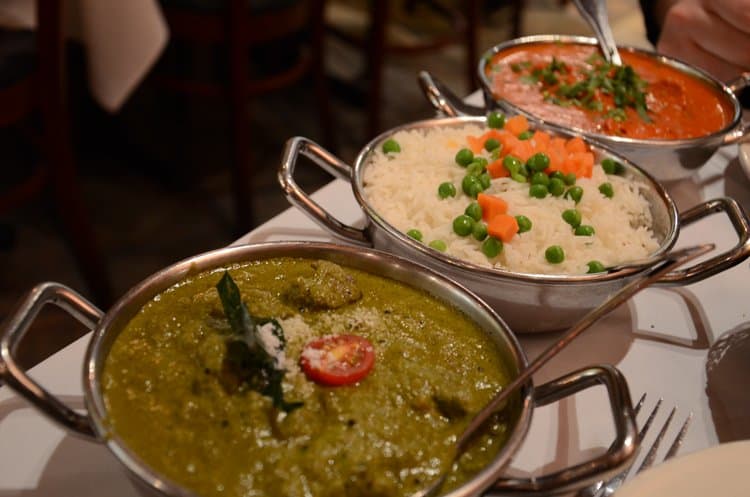 We love Indian food, especially curries. Before reaching the States, we had stopped off for a few days in London, where we always find the most delicious Indian fare. So we were attracted to Brick Lane Curry House because of its association with that famous street in London that can pretty much be thought of as an Indian cuisine marketplace. Above is Brick Lane Curry House on 306-308 East 6th Street in New York City.
With a large traditional menu of tandoor specialities and curries that can be made with chicken, lamb, goat, fish, shrimp, paneer, tofu or vegetables, it was difficult to choose what to have for our meal at Brick Lane. We settled on the Butter Masala with chicken and  goat Nilgiri Korma. The curries were delicious with generous portions of meat. Serious lovers of spice will no doubt be intrigued by Phaal, which actually requires a disclaimer before the restaurant will serve it. Brick Lane also has locations in Midtown, the Upper East Side and New Jersey.
Ilili (236 Fifth Ave, www.ililinyc.com)
Ever since we visited Jordan I've been obsessed with Jordanian food, along with that of Lebanon, Syria and Palestine, which have similar cuisines. So whenever I'm in a city large enough to have such diversity, I investigate our chances to enjoy one of my favourite types of food in the world. Ilili offers Mediterranean-inspired authentic Lebanese dishes in a fine dining atmosphere. Personally I prefer smaller and more "family-style" restaurants for this type of food, but the menu looked delicious and so we gave it a try.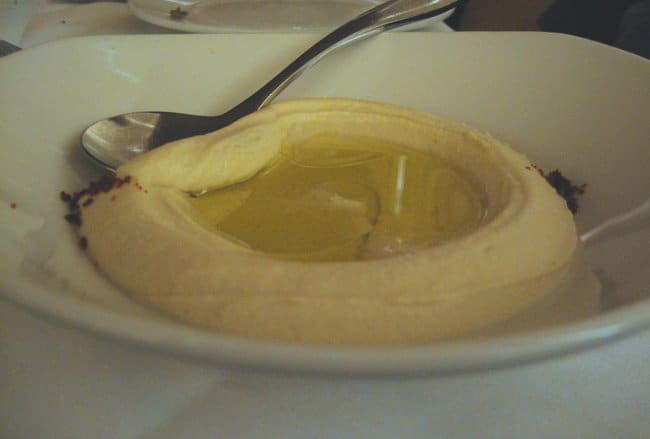 Ilili is massive inside. High ceilings and stylish decor dominate the large downstairs dining room while other guests are seated in the upstairs dining area or a smaller room adjacent to that. We ordered some hommus while we perused the menu and questioned our server about the selection of Lebanese wines on offer. We ended up sipping the 2003 Chateau Muscar red, which was a marvelous introduction to wines from this region.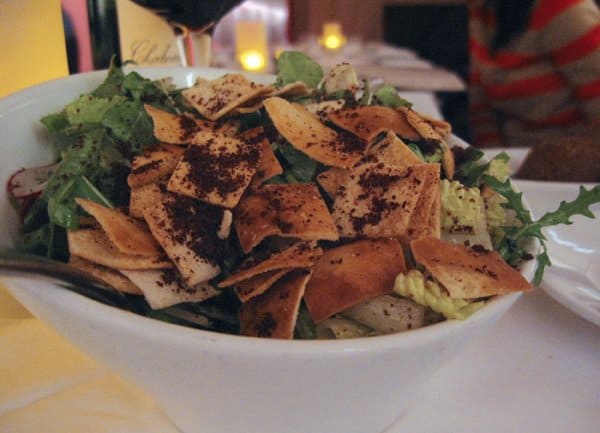 The hummos was really tasty and served with delicious Lebanese bread, which kept appearing at the table any time our basket became empty. Fattoush, a tangy traditional salad, was just ok. For our main we shared the Lamb Shank Makloubeh, which was served with egglplant, spiced rice and toasted nuts. This was a very tasty dish, the lamb tender and succulent with a perfectly balanced sauce.
If we didn't love Ilili, it wasn't because of the food. I'm a little hard on my Middle Eastern food, having had such amazing experiences with the cuisine when travelling in the Middle East. I have yet to find food anywhere outside the region that compares. The dishes at Ilili are tasty, if not a little pricey for this kind of fare. I'm not a big fan of massive restaurants with DJs and crowds, so this was a drawback for me. But if you're after a hip and buzzing restaurant for a big night on the town, and you enjoy this type of food, you'll probably be pretty happy with Ilili.
Gastropubs
Here is a category in the city that rarely disappoints. John will be presenting his reviews of craft beer from the region next week and we encountered some pretty awesome places to eat while trying all the great craft beer around Manhattan during his research. He'll talk more about the different bars in his posts, but I want to highlight three recommendations if you're after yummy food in an unpretentious atmosphere while out drinking on the town.
The Stag's Head (252 E 51st St, www.thestagsheadnyc.com)
This Midtown pub promises "all American craft beer with the deer." Indeed the atmosphere inside feels like the living room at your uncle's hunting lodge in the mountains, making it the perfect setting to enjoy 16 rotating drafts of American craft beer (check their homepage for the current pours). We got a bit hungry while exploring that menu so we ordered up some bar snacks: Philly Cheesesteak Spring Rolls and the chef's special chicken and waffles, which were incredible: tender breaded chicken tenders on top of mini waffles with a delicious sweet and tangy sauce drizzled over. A further exploration of the menu revealed some pretty inventive nibbles along with sophisticated takes on the standard pub fare.
Earl's Beer and Cheese (1259 Park Ave, www.earlsny.com)
Yes, a place like this does exist. As with other boutique spots devoted to the best examples of the substances they serve, our only complaint was that this place could be bigger. Gourmet cheese-based fare like Mac & Cheese with goat cheese, rosemary and shredded chicken and unique variations on the grilled cheese sandwich lead the menu. You can wash those down with delicious local beer selections.
Cooper's Craft & Kitchen (87 2nd Ave, coopersnyc.com)
We came for the beer and stayed for the food. Truffled hand cut fries, gourmet burgers, Mac n Cheese with gruyere, cheddar, bacon and a jack mornay sauce…but don't stop there. Cooper's has a tremendous list of craft beer on offer and plenty of tasty dishes like these to accompany them. They also do brunch.
And last but not least…
Our favorite meal of the trip was, unfortunately, consumed without the presence of our cameras. While it might have been so good because of the company we enjoyed it with, I'm pretty sure it could have stood on its own as our favourite without the presence of our close friends. Local ingredients feature heavily in the dishes at the Indian Road Cafe (600 W 218th St, www.indianroadcafe.com), some from the nearby Inwood farmer's market. We shared the Traditional Caesar Salad and Farmhouse Baked Goat Cheese, served with crusty bread, to start. Then there was joy around the table when our mains arrived, from fish to lamb to toasted paninos. The menu changes often and to sweeten it all, the cafe boasts an incredible craft beer list. Here's a fun bit of trivia: one of the owners spent a decade producing The Sopranos before deciding to give Inwood this incredible neighbourhood cafe.
Share:

First-time visitors are faced with a minefield of options, from trendy restaurants and bars to old classics to traps that annoy both locals and tourists alike. I often head to Time Out, Trip Advisor and travel blogs for recommendations when planning a city break, but when a new guide comes across my desk I'm always keen for some alternative inspiration. This trip to London we spent some time with the Secret London: Unusual Bars & Restaurants  guide to find a few hidden gems.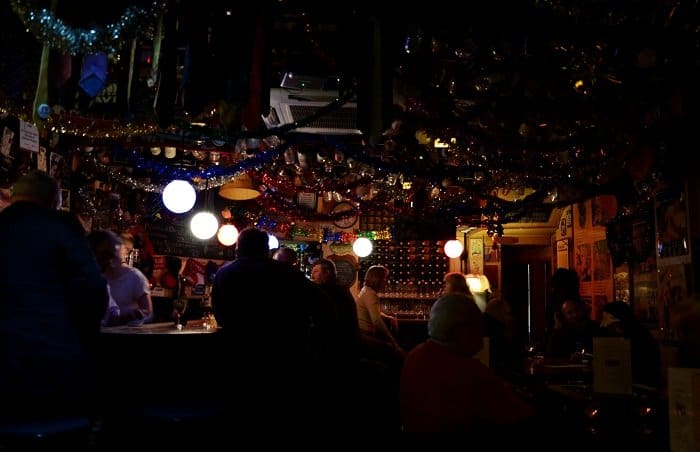 As author Rachel Howard notes in her introduction, this book is a "collection of unusual places in unlikely locations," celebrating local, independent institutions. Carefully curated, it includes restaurants or bars with fascinating owners and decor, incredible food and hidden locations, barring those considered "too trendy, tacky, classic, unwelcoming, or downright ghastly." We only had time to visit a few out of over 100 featured but from what we sampled, this guide does a great job of helping people avoid bad bar fads and truly awful eateries. Most of all, I loved reading all the little stories about the different places we visited; how they came to be, who runs them, why they are decorated the way they are and more. I can't wait to return to London and visit more places in the guide, which you can now get as an iPhone app as well.
Le Beaujolais (25 Litchfield Street, Covent Garden, 020 7836 2955) was one of our stops for a drink after a day of shopping and exploring London's Christmas markets. This might be the first French wine bar in London, packed by 5pm with local regulars and expats. The decor is cluttered – beer tankards and French bric-à-brac hang from the ceiling, along with an interesting collection of ties that the book claims are taken from customers of the members-only restaurant next door after they loosen them up.
We ordered our glasses of wine (French, of course!) from the French-speaking bartender and managed to squeeze into the one of the last remaining tables by the door. I enjoyed the ambiance of this place the most, dark, cosy and filled with chatty Francophiles. Visitors will find wine from all over France here and, if you can get a seat, it's a great place to people-watch.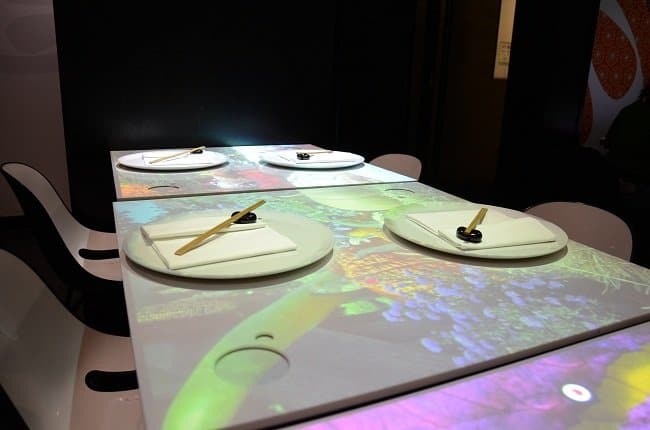 Inamo (134 Wardour Street, Soho, www.inamo-restaurant.com) Given its gimmicky premise, I did not expect to love the food at this "high concept" restaurant as much as we did. Each table is outfitted with an overhead projector and touch pad, which transforms your seat into an interactive dining extravaganza. Each person at the table can browse the menus, add items to your order, change your virtual tablecloth, spy on the cooks in the kitchen and much more with a single click. Items are then brought to your table, which saves you having to hail a waiter. After enjoying this experience so much, I've decided that every restaurant should operate this way.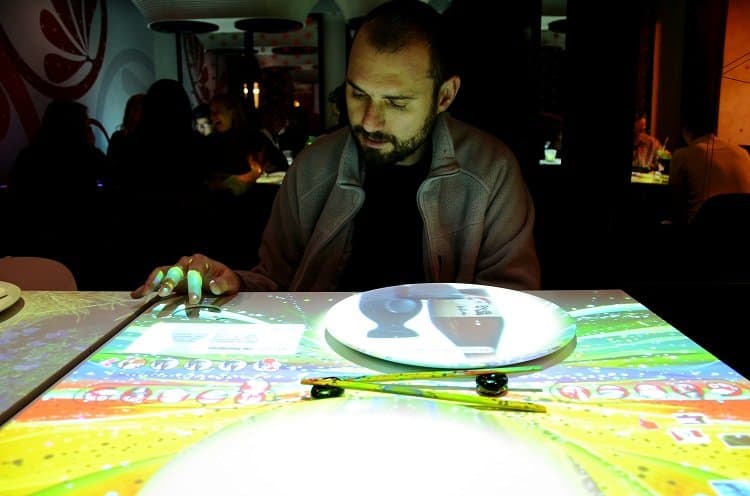 Not only is dining at Inamo a fun experience, the food is also delicious and carefully prepared. The cuisine is pan-Asian, which allowed us to enjoy tasty dishes like sushi rolls, satay, grilled seafood and their incredible Cinnamon Chicken. Getting the check was as easy as clicking a button and we were able to constantly review our total bill to see how we were going. The food isn't cheap, so you have to be a little careful (it's easy to get carried away here), but it's also nice to be free to order as you go without having to keep clunky menus at your table or have to keep asking a waiter to bring them back.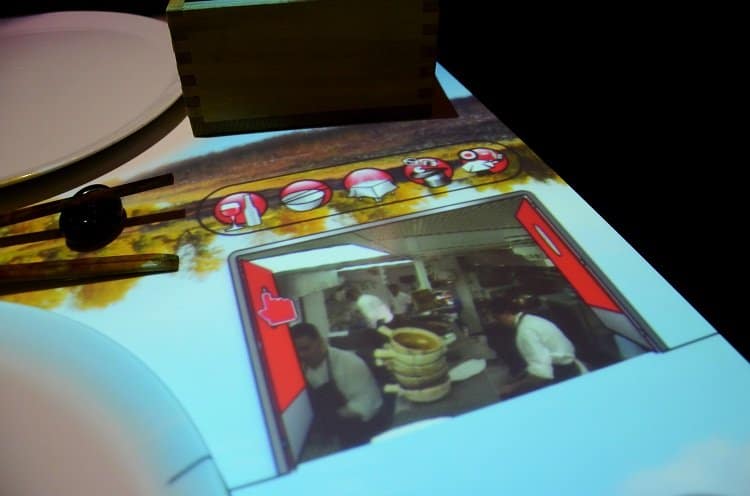 Next on our list was the Courthouse Hotel Bar (Courthouse Doubletree Hotel, 19-21 Great Marlborough Street, Soho, www.courthouse-hotel.com), another place I thought might be more gimmicky than good given its concept. I was happy to be wrong again, thoroughly enjoying cocktails and food in one of the three holding cells that have now been converted into private drinking rooms at this hip Soho bar.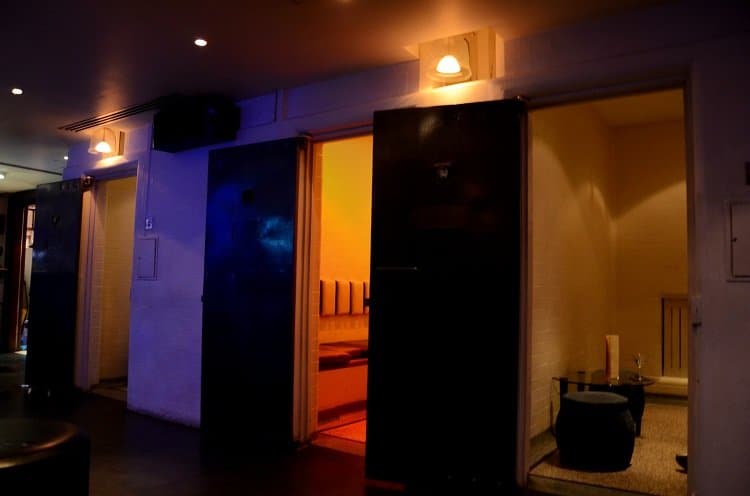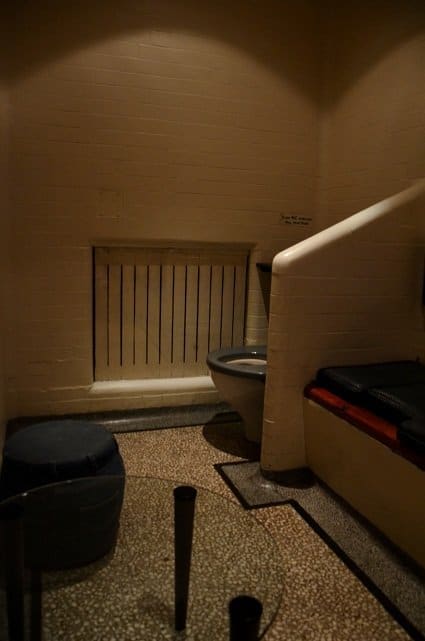 In 2005 the Great Marlborough Street Magistrates Court was converted into a Doubletree hotel. It was the second oldest magistrates court in Britain and the building has seen some very interesting people within its halls, including Charles Dickens, who used to cover criminal trials here when he was a reporter, and Oscar Wilde. The three cells have given shelter to the likes of Mick Jagger, Johnny Rotten, Francis Bacon, Keith Richards and Bob Marley, who have all spent a night here at one time or another (guess who was the worst offender of those five?) The cocktails are excellent and we feasted on a delicious trio of bar snacks here (chorizo, spring rolls and cheese biscuits), so there's more to this bar than just fascinating history.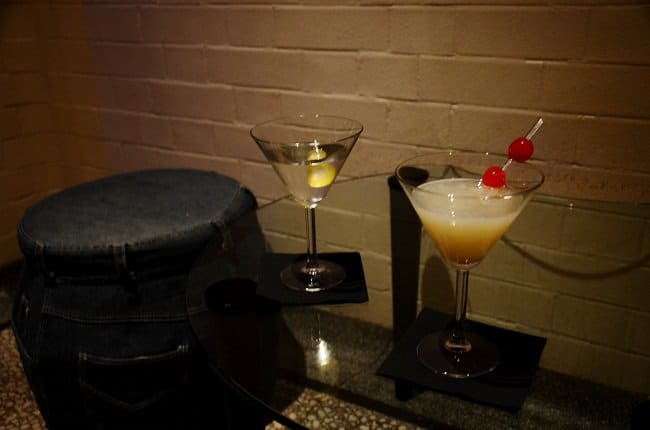 On the day we visited Portobello Road we sought out another gem from the book, Notting Hill institution, Books For Cooks (4 Blenheim Crescent, Notting Hill, www.booksforcooks.com) As its name suggests, this is a cook's comprehensive book store, filled with every type of food-related book imaginable (over 8,000 titles). I was super-impressed with their international cookbook selection and even more impressed with the little test kitchen at the back. We're still smacking ourselves on the head for not coming at lunch time because apparently this is THE place to be for excellent-value two and three course set lunches.
Every day the shop's three chefs test recipes from the cookbooks in the kitchen, tweeting the selections in the morning to customers who swarm in droves at lunchtime (it's noon sharp if you're headed there – the food sells out FAST!) While we didn't taste anything, I'm going to take the fact that the shop is quickly selling out of their "best of" compilation cookbooks at every edition as a vote of confidence in the cuisine. The shop also offers cookery classes and workshops in the demonstration kitchen upstairs – check the website for listings.
JonGlez Publishing provided us with a review copy of  Secret London: Unusual  Bars & Restaurants for our trip to London but all opinions are always our own.
Share:

It's been a long time since I visited beautiful Bali, but I still remember its beautiful beaches and friendly locals. Snorkeling and scuba diving are two of my favorite adventures to experience while traveling. Having been to over 100 countries, I have had ample opportunity to see amazing sites underwater. When I say that the snorkeling in Northern Bali has been incredible, I am saying it with some knowledge of various sites around the planet.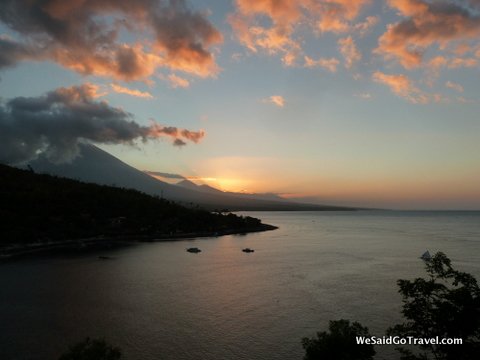 When we arrived in Bali in, I imagined we would stay a few days in the Kuta area and be off to snorkel the Toggian Islands of Sulawesi, a spot I really wanted to see. For a variety of reasons including health, religion and technological dramas, we have been here the entire time. And when I heard it was Ramadan, I knew it would be better to stay in Bali (98% Hindu), rather than any other part of Indonesia (98% Moslem). I traveled in Oman once during Ramadan and did that trip from a cruise ship where we could easily eat breakfast and dinner without upsetting anyone's religious observances.
Staying on the island of Bali has been a wonderful choice. So far we have spent seven nights in Tulamben and ten nights in Amed at several very different hotels. What has been consistent is the great snorkeling.
USAT (United States Army Transport) Liberty Wreck, Tulamben
This snorkel site is directly across from the Puri Madha Hotel. This 120m long American ship was built in 1915 and came to Indonesian waters to battle for World War II. On January 11, 1942 it was torpedoed by the Japanese, then dragged to deep water because the wreck was a hazard to navigation. After the volcanic explosion of Mt. Agung in 1963, the ship was now closer to shore, as the lava greatly shifted the coast line. The snorkeling here is fantastic and there is so much to see. Colorful soft and hard corals as well as fish make their home in this wreck, which is in three large pieces. Sometimes over 100 divers visit the site at the same time so it can be crowded!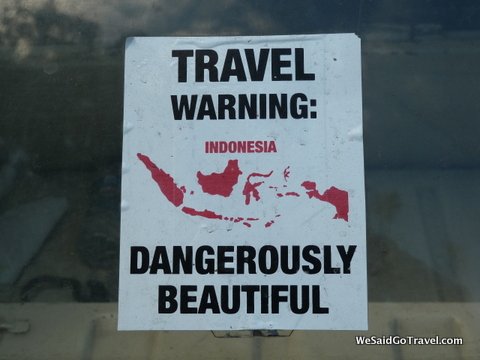 DROP OFF snorkel site, Tulamben
This site has a rocky entry but is often calm, especially around the pinnacles. We saw lion fish here, as well as eels, clams and trumpet fish. The variety of colors and types of hard and soft corals is impressive. The snorkeling is great and the divers love that they can get a bit deeper here. Remember to wear water shoes or booties with your flippers, as the lava rock pebbles are a challenge to bare feet. Access from the end of town by rocky beach or down the steps from the temple at the top of the hill.
Japanese Wreck, Amed
This rocky entry can be a bit tricky if there is surf but it is worth the effort. The beach, like all in the area, is covered with hauled fishing boats. A buoy with a line helps you find the wreck and also to pull yourself to the right spot when strong currents flow. We went twice by motorbike, once from Bali Amed in Lipah and once from Deddy's Bungalows in Amed. We always travel with masks and snorkels but in Northern Bali they do rent the necessary gear nearly everywhere. I think this wreck might be easier for snorkelers to see than USA T Liberty as it is smaller and closer to the surface and closer to shore. However we did not find the conditions as consistent as in Tulamben.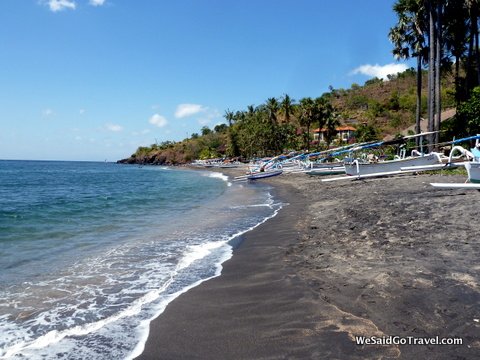 Lipah Beach
This is a black sand beach. I would almost say it was my favorite even if the snorkeling wasn't great. I love the fact that there is real sand on this beach and no booties required! Signs everywhere tell tourists how to protect the live corals. As one man we met said, "This beach, this coral is my life! Do not step on it! No walking on the coral!" George was here fifteen years ago and was concerned that the snorkeling would not match his memories, but due to conservation efforts this area does have phenomenal snorkeling. It is my top pick for snorkeling in Northern Bali!
Contributed Guest Post by Lisa Niver Rajna.