About Beth Blecherman
Beth Blecherman started her career in application development then Senior Manager, Computer Process Integrity, for Deloitte. After senior management she took on family management blogging as her career 2.0. She is a Co-Founder of the Silicon Valley Moms Group, a collaborative of mom blogs across the country, and their first international blog Canada Moms Blog.

Blecherman founded her personal blog, TechMamas.com, as a platform to discuss technology and gadgets for families. Beth vlogs with other female tech bloggers at Gadgetspin.com. She also consults with companies on blogger outreach and social media strategies and speaks at conferences on parenting, social media and technology. TechMamas.com was chosen as one of the Nielson Power Mom 50 influencers. On Twitter as @TechMama she was chosen as one of the 25 Influential Moms to Follow on Twitter and BizTechDay's 25 Influential Business Women in the Bay Area. Beth is on the Board of Advisors for MommyTech at CES.
Latest Posts by Beth Blecherman
Share:

Lately I have been busy trying to help my family really understand how to live a healthy lifestyle. I realized it is not only about exercise or eating food that seems "healthy". It is also about understanding what are the right foods to eat and to control things like the amount of sugar being consumed.
We have a history of diabetes in our family so it is especially important. I really did get "Fed Up" with the type of foods in the schools, restaurants and even grocery stores that have moved so far away from whole food ingredients.
We just recently started cooking from scratch, adding more plant foods and even making my kid's lunches for school. I am also trying new nutritional apps and websites that I am excited to talk more about in future posts.
But for today, I am excited that Katie Couric took her amazing background in investigative journalism and worked with Laurie David (Oscar winning producer of AN INCONVENIENT TRUTH) and director Stephanie Soechtig, to create a documentary on the truth behind the obesity crisis in America called Fed Up opening in Theatres across the country today starting May 9, 2014.  This was the topic of the Katie Couric Show on May 8 as well. I wanted to share some of this information to help spread the word in the hopes that everyone will take the time to learn more about this important topic.
Photo Credit: Credit: Disney/ABC. Katie Couric Show #2148 with Stephanie Soechtig, Laurie David, Dr. Mark Hyman and Dr. Margo Wootan.
On the May 8 episode of the nationally syndicated daytime talk show "Katie,", Laurie David and Katie discussed their documentary "Fed Up" on obesity in America and the truth behind one of the greatest health crisis of our time.   Director Stephanie Soechtig joined the conversation along with Dr. Mark Hyman and Dr. Margo Wootan, Director of Nutrition Policy at the Center for Science In The Public Interest. Find out what you should be doing to live healthier and longer and how this obesity crisis happened." 
Everything we've been told about food and exercise for the past 30 years is dead wrong. FED UP is the film the food industry doesn't want you to see. From Katie Couric, Laurie David (Oscar winning producer of AN INCONVENIENT TRUTH) and director Stephanie Soechtig, FED UP will change the way you eat forever. The film opened in theaters across the country on May 9th.
Share:

Holidays mean time with family and friends and I can't think of a better place to spend time than Disneyland. I had the fun opportunity to attend a press preview of the Disneyland Holiday events and with a full line-up of cross-cultural activities there was lots of holiday cheer to go around. Beyond my regular delight with being at Disneyland, it was great to experience holiday surprises in many of the attractions, yummy holiday treats and decorations that sparkled beyond belief. Here are details, including my favorite events and tidbits from the press releases and a video made with my partner in "video" Kimberley Clayton Blaine, TheGoToMo.
Disney ¡Viva Navidad!
The newest celebration at the Disneyland Resort is "Disney ¡Viva Navidad!" -Nov. 15 2013 through Jan. 6, 2014 in Disney California Adventure Park. I had the chance to see the beautiful parade with music that made me want to get up and dance (I was wishing I had one of those amazing skirts to dance in). Then I learned more details from the press release: "Disney ¡Viva Navidad! is a merry celebration inspired by the warmth and joyous spirit of the Latino culture, filled with holiday traditions, jubilant dancing and exciting music. Based in and around the Paradise Garden area of Disney California Adventure, the special activities include crafts and face-painting for children, live Latino music, dance lessons, holiday foods, the "Disney ¡Viva Navidad! Street Party" and, of course, appearances by some popular Disney characters".
"Micky Mouse, Minni Mouse and  Goofy will have festive costumes along with the Three Caballeros: Donald Duck, Panchito from Mexico and José Carioca from Brazil.  It takes place at Paradise Garden several times a day (check the daily schedule for timing). You can watch a great performance at the Disney ¡Viva Navidad! Street Party that includes "Mexican folklorico dancers, samba dancers and drummers, plus giant "Mojiganga" puppets, including Santa Claus and Mrs. Claus" Jan. 3 Through Jan. 6 2014 will be the grand finale of "Disney ¡Viva Navidad!" with a special celebration of Three Kings Day (Dia de los Reyes).
If you are hungry, you can also head out to dining locations in Paradise Garden to try popular Mexican dishes such as "such as pozole (hearty stew), chicken mole drumettes, pescado (fish) Veracruzano, champurrado (Mexican-style hot chocolate), sweet tamales, torta al pastor (pork sandwich), buñuelos (deep-fried sweet treat) and choco flan".
World of Color Holiday Winter Dreams:
The new version of the after-dark Paradise Bay (Disney California Adventure) experience called  "World of Color − Winter Dreams" features a new story including new characters from the Walt Disney Pictures animated motion picture "Frozen" hosted by Olaf the snowman. There are also new special effects, advanced technology, music and methods for utilizing the "massive "stage" of water, color and light on which "World of Color" is presented".
The new World of Color – Winter Dreams has seven sequences that was explained in the press release.
1. "The Pre-Show: Glow Honor Choir Wonder – Season's Greetings:  features the "World of Color" Honor Choir singing "Glow," written especially for this new show. Then Tinker Bell's traditional greeting from "Wonderful World of Color" summons Old Man Winter and the skating Frost Fairies. more than 500 singers representing all 50 United States appear in the pre show! Disneyland Resort teamed with Grammy®-winning composer Eric Whitacre, who has joined hundreds of voices online in similar "virtual choirs." More than 1,400 submissions from around the country were received for the "World of Color" Honor Choir.  Other Disney fans designed holiday cards and submitted them online to appear in the "Glow-A Season of Light" sequence.

2. Snow – A Winter Wonderland: Olaf takes guests on a breathtaking winter sleigh ride, encountering Bambi, Thumper and, from "Frozen," sisters Anna and Elsa.

3. Glow – A Season of Light: The holidays are celebrated with images of holiday cards created by Disneyland Resort guests and cast members.

4. Enchantment – The Toy Story Nutcracker:  This familiar ballet is danced in some delightful, offbeat renditions by favorite "Toy Story" characters.

5. Spirit-Holiday Sing-Along: Snowman Olaf has always loved the idea of a warm summer. He innocently imagines himself enjoying the sunshine, then leads the audience in a holiday sing-along.

6. Finale – Merry & Bright Holiday Lights": Olaf welcomes a surprising Santa as 700 newly installed lights blaze to life for a colorful finale around the lagoon.

7. After Glow: Finale (Honor Choir): "World of Color – Winter Dreams" features more than a dozen songs, ranging from familiar holiday tunes such as "Jingle Bells," "Feliz Navidad" and "The Dreidel Song" to musical numbers from "Frozen" and original compositions such as "Glow.
Those interested in the "behind the scenes" will be excited to know that the programming for the new "Winter Dreams" show took three months to create the 17 million pixels in the "World of Color – Winter Dreams" screen.  The surrounding area was enhanced with "700 high-power, color, LED strobe lights were installed along the side of the California Screamin' roller coaster, 16 narrow-beam moving lights within the sun-ray sculpture on Mickey's Fun Wheel, plus 21 narrow-beam movie lights within the viewing area. To add to the Winter Dream theme were six snowflake generators within the viewing area produce giant snowflakes in six different shapes. The beautiful sparkle effects were created with ten mirror balls installed on the speaker and lighting towers."·
The existing "World of Color" technology (already amazing in itself) includes "a platform composed of nearly 1 full acre of engineered superstructure, longer than a football field and capable of settling on three levels – one for the performance, one under the water surface and one for maintenance. There are nearly 1,200 powerful and programmable fountains, and a vast underwater grid with more than 18,000 points of control.  Each fountain has multiple points of control for lighting, color intensity, water angle and height".
Steve Davison, creative director of the original "World of Color" show in Disney California Adventure, also staged "World of Color − Winter Dreams." Davison, parades and spectaculars, executive for Walt Disney Imagineering Creative Entertainment, said: "I'm thrilled and amazed to see 'World of Color – Winter Dreams' come to life on the Paradise Bay. Each night as we worked on the programming, it was fun to see the magic happen as we blended the new music, animation, lasers and special effects into a dazzling holiday show."
Disneyland Park – Here is information from the press release about the other Holiday fun at Disneyland and California Adventure Parks:
* Fantasyland, guests meet the enchanting sisters from "Frozen" – the fearless and optimistic Anna, and Elsa, who has the power to control snow and ice.
* Sleeping Beauty's Winter Castle – A sensational holiday lighting and special-effects show carries the magic of the holidays from the castle all the way to the 60-foot tall Disneyland Christmas tree in Town Square. The finale of the show includes the legendary "Believe … in Holiday Magic" fireworks show, ending with a touching rendition of "White Christmas," along with a climactic snowfall swirling upon Main Street, U.S.A., "it's a small world" Mall and New Orleans Square.
* Tomorrowland, Thor: Treasures of Asgard invites guests into a column of light and color which magically transports them from Disneyland to the home world of Thor, the Mighty Avenger.
* A Christmas Fantasy" Parade – On Main Street, U.S.A., Disney characters celebrate the magic of the season, wrapping gifts, baking holiday treats and preparing for the arrival of Santa Claus, who shouts a jolly greeting to spectators along the parade route. New for 2013, winter skiers (on roller skis) glide around a frost-covered pine tree, Princess Tiana and Prince Naveen from "The Princess and the Frog" join the Candlelight Costume Ball, and a corps of Finale Dancers in gorgeous Dickens-era costumes lead  the way for Santa and his reindeer.
*"it's a small world" Holiday becomes  a worldwide celebration of the season, boasting more than 300,000 glittering lights on its façade and, inside, the children of many nations in their holiday attire. New for 2013, the smiling clock at the front of "it's a small world" reveals a sparkling, new projection show. After dark, on every quarter hour, the façade of the attraction is transformed into an enormous clockwork mechanism with advanced 3D-projection technology. The gears and springs pull back to reveal a world of holiday wonders hidden behind the clock.
* Haunted Mansion Holiday presents a madcap celebration as the traditions of Halloween and Christmas collide.  The ghoulish but well-meaning Jack Skellington from the film "Tim Burton's The Nightmare Before Christmas" has come to Haunted Mansion to transform it with his skewed vision of the holidays.
* Santa Claus and Mrs. Claus greet Disneyland guests at Jingle Jangle Jamboree in Big Thunder Ranch, in Frontierland.  Children and families can chat with St. Nick, meet Disney characters, and enjoy games, music, crafts and seasonal entertainment.
California Adventure:
* Carsland: Adventure A whimsical "snowcar" (the Radiator Springs version of a snowman) stands at the entrance to Cars Land, and each address along Route 66 – Flo's V-8 Café, Fillmore's, Cozy Cone Motel, Luigi's Casa della Tires and more – features holiday décor that reflects the personality of the "Cars" character who lives there.
Buena Vista Street: A dazzling, 50-foot Christmas tree adorns Carthay Circle along Buena Vista Street. The tree and surrounding buildings, inspired by Los Angeles as it appeared when Walt Disney arrived in the 1920s, are decorated with vintage-style ornaments. Children of all ages may visit a classic department store Santa at Elias & Co., the main department store along Buena Vista Street.
* Mad T Party: Wintertime fun rocks the night at "Mad T Party" as Alice and the Mad Hatter add their own brand of off-kilter holiday spirit to the nighttime celebration in Hollywood Land.
* "a bug's land" transforms as Flik and his bug buddies spread giant Christmas lights and oversized ornaments throughout their realm.
* A Holiday edition of the street show, "Phineas and Ferb's Rockin' Rollin' Dance Party," includes festive décor, costumes and holiday tunes. The show invites guests of all ages to "seize the day," dancing and singing on Paradise Pier with the Disney Channel's inventive animated boy geniuses.
*We found Hanukkah Decorations at a store on Buena Vista Street which I promptly purchased to celebrate Hanukkah in Mickey style. The stores at Disneyland have a wide assortment of holiday décor.
*Guests in the Downtown Disney district get into the holiday spirit at the Downtown Disney Winter Village, visiting the quaint cottages, browsing for gifts in the "shopping chalets" and enjoying a 30-foot Christmas tree. Guests also lace up their skates to make spirits bright along the newly themed Olaf's Frozen Ice Rink. The rink hours are scheduled for 3 p.m. to 10:30 p.m. Monday through Thursday, and 3 p.m. to 11:30 p.m. Friday through Sunday.
I was thrilled to bring a new TechMamas.com writer, Jennifer. She is not only my friend but also one of the most knowledgeable people I know about all things Disney with great tips about the park and rides. Here are some of her tips from the Disneyland Holiday 2013 press event:
Disneyland: The Haunted Mansion has been transformed into Nightmare Before Christmas in the most entertaining, eye-catching way.  I found this attraction so amazing that it alone was worth the trip to Disneyland!  The creativity and artistry was truly impressive, and I became attached to Zero, the darling ghost dog who appears throughout the ride.
If you are traveling with a child who can handle just a little spookiness in the not-so-dark amidst a ton of visual delights, then I would label this attraction kid-friendly. If a fast pass is offered when you are visiting the park, I suggest grabbing one and making the Haunted Mansion a priority.  Check in at the information booth on Main Street to ask about the fast pass option or wait time.
It's a Small World is another must-see on your holiday to-do list at Disneyland.  How could you do just relax and enjoy with a big smile as you sit back and tap your feet to the musical beat on this boat ride through a wide assortment of singing dolls?  I loved singing along to the usual "It's a Small World" tune perfectly mixed with Jingle Bells to give it that holiday spark.  Disney went all out with the holiday decor for this attraction, both inside and out.  Even with its popularity, this ride handles large crowds. Rarely is there much of a wait. But, if you want to avoid a line, consider visiting in the morning or later in the evening for your best chance of walking right on. For Hidden Mickey fans, keep your eye out on the ride for two extra Mickeys this holiday season.
California Adventure:
World of Color: I've seen the World of Color show many times, and it's always a delight.  Without a doubt, the new World of Color show, "Winter Dreams", is my all time favorite!  Olaf, the Snowman in Disney's upcoming movie, "Frozen", is the host of this spectacular. Now, I cannot wait to take my family to see the movie Frozen.  A couple of things to keep in mind…you can pick up a free Fast Pass for this show earlier in the day to reduce your time in line for a great standing spot.  Alternatively, you can purchase a dinner package, which is a great way to enjoy a delicious sit-down dinner followed by a short wait for this fabulous show!  Just call Disney's dining for more information on this.
Of course, you're not required to do either of these and can just show up an hour or so prior to show time.  Ask a Disney employee when people start lining up. Once you arrive, choose to stand in the front section if you enjoy a good spray of water.  Alternatively, there are plenty of good viewing spots slightly back which allow you to stay dry. When planning out your souvenir purchases, keep in mind that it's fun to pick up a pair of Mickey Ears for this show because the ears light up and change colors in sync with the show.  I was impressed with the comfort and (light) weight of my set of ears.
Buena Vista Street:
I just loved experiencing the festive holiday cheer from every direction, both in sight and sound. Many times, I heard the music of a quartet singing holiday songs or discovered a gorgeous array of wreaths loaded with attractive colors.
I have to admit…I'm a shopper.  I couldn't help but recognize this as an opportunity to pick up holiday gifts of adorable plush characters decked out in cute holiday outfits!  And, who can resist the yummy sweet treats in the candy shops?  I certainly couldn't.  A little chocolate is a great way to end a fabulous day!  It always tastes better when in the shape of a favorite character, of course.
For more information about the Disneyland Resort, visit www.disneyland.com/holidays.  For ticket and hotel offers, visit www.disneyland.com/offers.
Disclosure: This was a press event.
Share:

Heading out the door to catch a plane, like many busy women, I stopped on the front steps and went through my mental packing checklist. Airplane tickets were in my briefcase, as was my trusty little technology bag. Arriving at the airport 45 minutes later, I discovered one of my most important travel tools was missing. Public and hotel Wi-Fi can be unreliable and lack proper security. Time for Plan B.
I decided to jot down some notes and write the blog post later at the hotel. Arriving at my destination several hours later, the slow and spotty hotel Wi-Fi forced another change of plans. I quickly acknowledged that my writing, like many day-to-day tasks, depends on access to online research and I was starting to hyperventilate, thinking of missed work deadlines due to poor quality connectivity. I longed for my mobile Wi-Fi device on my desk back home, realizing just how dependent I am on that small piece of electronics and how confident I felt with it in my briefcase.
Whether I am heading out to work, meetings or business trips I review my technology travel list before heading out the door. Here's my technology travel list – what on your list? 
1. Tech Devices: I usually bring my laptop with me on business trips but powerful tablets may change that habit. I also bring other devices such as a video or digital camera depending on the event.
2. Smartphone: It's like one of the family.
3. Backup charger: My favorite is a universal charger that works for both my laptop and my smartphone.
4. Mobile WiFi: Uninterrupted work on the go requires connectivity. The AT&T Unite (powered by Netgear) not only gives me a secure network but it also has a battery life up to 10 hours, which is enough to get me through my day.
5.  Travel Cases:  Keeping technology like chargers, cords and memory organized is essential. I have a stash of different zip cases and travel bags with zippers to store technology within my laptop bag and stay organized on the go. One case contains power cords, another has my smartphone, mobile Wi-Fi, backup battery and digital camera.  A final small case holds my extra business cards. In my purse I also have items separated in zip cases. One case contains my lipsticks and face powder. Another case holds odds and ends like mints, pens, bandages, pain relievers and basic travel items. For trips require a large amount of technology (such as the Consumer Electronics Show (CES) in Las Vegas), I put my devices in separate cases with their chargers and accessories. Or sometimes I put all of my technology accessories in a few cases of their own.
6.  Travel Documents: As a backup, I have paper printouts of key travel and work information I need on the business including hotel reservations, driving directions and meeting agendas.
7. Memory:  Even though I store my documents in the cloud, I like to bring an extra flash memory cards (if I bring a camera) and USB Flash drive. Having a second copy of my presentation on a flash drive gives the comfort that if something goes wrong I always have a backup copy. But there is something ironic about having "memory" as a step in my checklist to remember what to bring to business trips.
8. Power Plug: I find that many hotels do not have enough plugs to charge up my tech each night. So I travel with a plug that has three outlets and two USB slots and that plugs into one wall outlet. Of course, if I am traveling in a different country, I bring the international plug. 
Share:

Over the next few weeks I will be covering new phones that I think offer great features for busy travelers. The first is the new Moto X by Motorola.
I was invited to a media event at Google a few weeks ago to learn about the Moto X.
Guy Kawasaki opened the event, starting with a few opening remarks followed a presentation by Rick Osterloh, the SVP of Product at Motorola Mobility. I must admit, I had arrived on the Google campus curious how Motorola could differentiate a new smart phone from the really good Android phones already available. Well, the presentation helped me appreciate some new features that are perfect for busy travelers and parents (and everyone else!).
The unique features of the Moto X  were discussed during the media event. Listed below are some of the key points.  I will update my blog when I have a chance to spend more time using the phone.
Touchless Control: The Moto X responds to your voice (there is a 3 step training process) and is always on listening mode. To engage the controls, you just need to say "OK, Google Now" (for example "Google Now, navigate to 1234 Smith Drive, Mountain View CA"). Even when the screen is off, the phone is still in listening mode. The architecture of the phone allows it to be in listening mode without draining the battery.
Quick Capture: With the Moto X, it only takes a few seconds to take a picture.  With two twists of your wrist when holding the phone, the phone goes right into one-hand operation camera mode. Then press anywhere on the screen to take photo or video. The quick shutter speed is perfect for catching kids on the move. During the demo, the pictures appeared very clear on the phone's screen.
Active Display: A feature called "Active Notifications" allows you to turn the phone over and see texts, calls and other content on the screen without going into the specific app. Another convenience is that you can listen to recent calls on your desktop using the Chrome Extension.
Hands Free Authentication:  Devices that are authenticated can be connected to your phone without typing in a password.
Fits in your hand: Motorola did studies to find a form factor that fits nicely in your hand.
Assembled in the US: Always great to bring more jobs to the USA.
Custom Colors: Here are details from the Motorola press release "Through our online studio, Moto Maker, you choose the colors, and decide on the details: front, back, accents, memory, wallpapers, even add a name or a short message. When you're done, we assemble your Moto X right here in the USA and ship it to you for free in 4 days or less (*Subject to parts availability)." I am happy that the colors include my favorite TechMama Turquoise (well that is the name I call it at least)..

Lots of Accessories: I was trying to take quick notes during the media event, but there is an extensive list of accessories available from brands including: Belkin, Sol Republic, Speck, Incipio, Lifeproof, Otterbox, Casemate, Griffin, Powersupport, M4DE, So-earphones & deck bluetooth,  JAX headhpones and speakers….
Price/Timing: Check carriers for specific pricing, but the Motorola press release stated price of $199 for the Moto X with a 2 year contract. Moto X will be available in the US, Canada and Latin America starting in late August/early September.
I'll be posting additional information on the Moto X after a trial run with the phone. I'm excited by the opportunity to have a smartphone that actually listens to me. Maybe my kids will take notice and follow the phone's example, responding obediently to the verbal command, "OK Kids Now". What do you think?
Disclosure: This was a media event.
Share:

Time goes by so fast, and as a Mom and the family historian I want to make sure I am keeping track and sharing family memories. The first step in this effort was learning to copy all digital pictures from numerous cameras to my PC in a timely manner. Next was the challenge of sharing photos and movies with family and friends.
A big time-saver in this content management exercise, with multiple devices taking pictures and offering quick connection with cell or WiFi access, is to send pictures directly to the cloud. I store my digital photos and documents all in one place in the cloud using SkyDrive, which allows me to send a link to these great memories if I want to share. I not only have SkyDrive on my PC, but also have the SkyDrive app on my phone to enable photo loading to the cloud no matter where I am!
Skype compliments SkyDrive in family archiving. Video calls with family and friends are just a click away, and if I want to give them a peek at the kids' homework, art work or class projects, Skype easily allows screen sharing.
Both sets of Grandparents know that the only way they will be able to keep up on what is going on in our busy lives is with regular Skype chats while viewing our family SkyDrive digital photo albums at the same time.
Share:

I am excited to share that on Tuesday, February 26th the documentary called "MAKERS: Women Who Make America" is debuting on PBS (check local listings) and includes a powerful list of inspiring women that are "groundbreakers who have sparked change, been firsts-in-their-fields, and paved the way for those who followed". I had the opportunity to attend a press event months ago where they had some of the amazing Makers Women  in attendance (including Gloria Steinem and our own local Lisa Stone of BlogHer ) while they showed us some clips from the documentary.F
Along with the ones I mentioned above, some others highlighted in the documentary are Katie Couric, Linda Alvarado, Brenda Berkman, Judy Blume, Carol Burnett, Ursula Burns, Hillary Rodham Clinton, Ellen DeGeneres, Geraldine Ferraro, Theresa Kane, Billie Jean King, Maya Lin, Susan Love, Marissa Mayer, Robin Morgan, Sandra Day O'Connor, Maria Pepe, Michelle Rhee, Condoleezza Rice, Faith Ringgold, Ileana Ros-Lehtinen, Zainab Salbi, Sheryl Sandberg, Phyllis Schlafly, Barbara Smith, Martha Stewart, Kathrine Switzer, Diane Von Furstenberg, and Barbara Walters.  The Makers.com program description from the PBS website explains: "Review the story of how women have helped shape America over the last 50 years through one of the most sweeping social revolutions in our country's history, in pursuit of their rights to a full and fair share of political power, economic opportunity and personal autonomy. The documentary builds on the unprecedented multi-platform video experience from PBS and AOL: MAKERS.com."
The red-carpet premiere event in NYC was star studded and included interviews with many of the amazing women in the documentary:
The press release also had a quote from one of my inspirations "The future depends entirely on what each of us does every day; a movement is only people moving." ~ MAKER, Gloria Steinem.
Having the opportunity to meet Gloria Steinem at the press event even inspired me even more to do my part to contribute to the movement. To start, I will be watching MAKERS: Women Who Make America on Feb. 26 on PBS !
Disclosure: This is a press update.
Share:

Earlier this month, I had the fun and fabulous opportunity to accompany Author and Producer Nicholas Sparks and Co-Star Josh Duhamel of the movie "Safe Haven" as they toured some local SF Bay Area tech companies. I'm a fan of Josh Duhamel movies, where he delivers great performances as a romantic lead actor, and I also look forward to movies made from Nicholas Spark's romantic books. While comedies and action thrillers have their place, I can't resist a good romantic movie in a beautiful setting where the main characters sizzle, experiencing romance and transformation through a suspenseful story line.
A private screening of "Safe Haven" that day helped me realize that the movie delivers on all of that (and more!!). Here is information about the movie Safe Haven from Nicholas Sparks website: "When a mysterious young woman arrives in a small North Carolina town, her reluctance to join the tight knit community raises questions about her past. Slowly, she begins putting down roots, and gains the courage to start a relationship with Alex, a widowed store owner with two young children. But dark secrets intrude on her new life with such terror that she is forced to rediscover the meaning of sacrifice and rely on the power of love in this deeply moving romantic thriller."
The movie is inspired by Nicholas Spark's book of the same name "Safe Haven". Both Josh Duhamel and Julianne Hough brought their characters alive with that special chemistry that makes you root for them being together.
Josh's and Nicholas' onscreen work is very entertaining. Would they be as engaging offscreen in real life interaction with their fans? To my delight, they delivered – and much more. Social media professionals appreciate the importance of engaging with the online community. I am thrilled every time I meet someone in real life who follows my online tech parenting columns and social media updates.
From what I witnessed, Nicholas Sparks and Josh Duhamel were authentically excited to meet with fans throughout the day and greeted each and every one with the same enthusiasm, even though the line at some locations to take pictures with them was very long (such as the stop at Popsugar). They laughed, talked and made everyone feel at ease, even the gal at one of the tour stops who cried (of joy) when she saw Josh Duhamel.
Disclosure: This is a press update.
Share:

One of the top tech categories I planned to look into at CES 2013 (Consumer Electronics Show) was new kitchen concepts. I was excited to find some fantastic new kitchen concepts that will not only simplify, add more style, save energy, add new options to listen to music but also change the process of buying and storing food in the home.
While at the Whirlpool CES Booth, I had the opportunity to learn about exciting new concepts. The first is something I would call "Fireplace 2.0! The Whirlpool website explained that "The Fireplace concept which seeks to center people around a new central heart of the home with a common area for relaxing and sharing real experiences around food and fire". I find this concept the most fascinating of all because it takes the experience of socializing around a fireplace or campfire to the kitchen table. The surface could keep food warm or cold, as well as an air circulation system in the hood. Because the kitchen table is the one place many families gather each day, adding new features to it adds value to home design and enhances family time. The new technology would also enable new social eating experiences, such as fondue to smores, right from your kitchen table.
Here is a picture of the Whirlpool "Fireplace" Concept.
Kimberley Clayton Blaine aka TheGoToMom and I could already see how the fun it would be to socialize around the Fireplace concept table.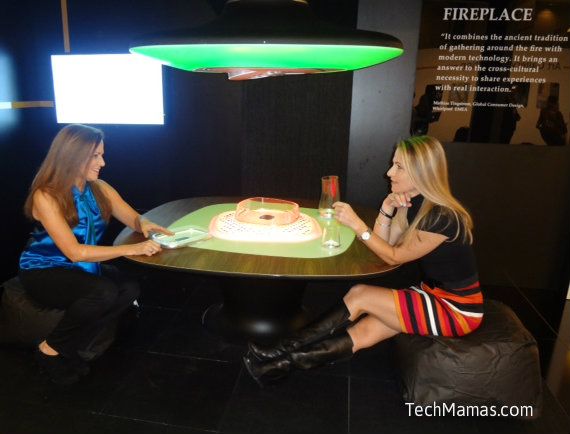 I had the opportunity to join in Fireside chats in the Fireplace concept area of the Whirlpool booth with other social media moms and Tanu Grewal, Senior Brand Manager from Whirlpool. We were all so comfortable, we did not want to leave even after the chat was over!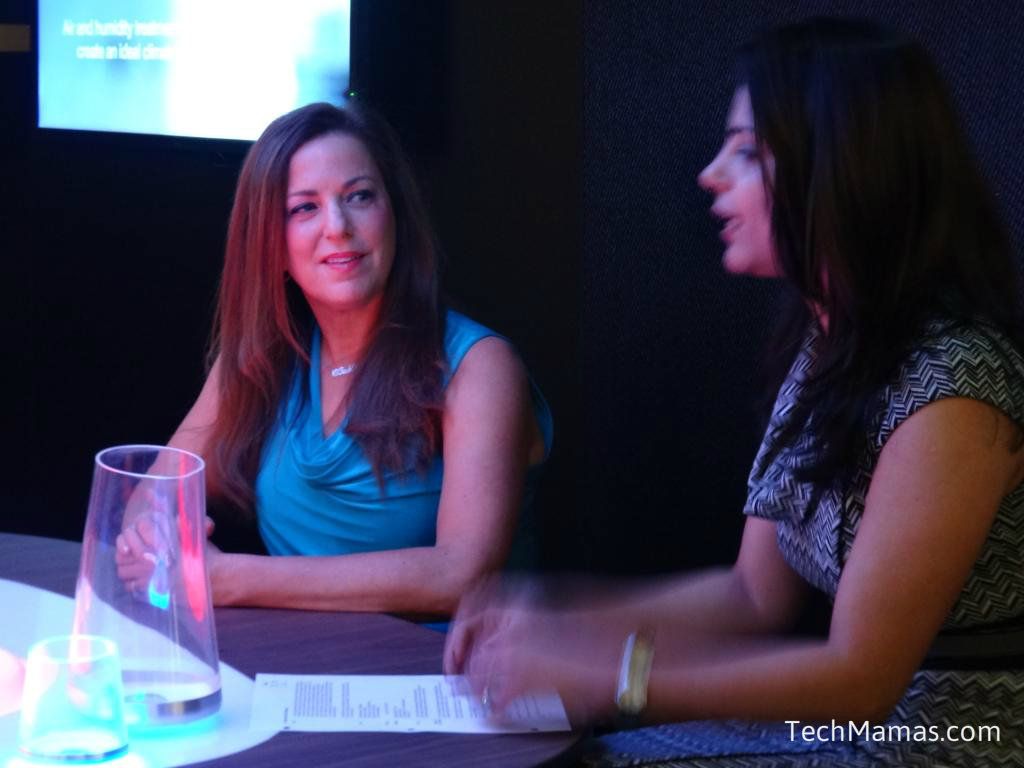 When I saw the Fresh Connect from Whirlpool section of the CES2013 Whirlpool booth, I realized it could not only help families keep food fresher but also change food storage as a whole. What if you could have separate units to store food, each paired with other food that requires the same temperatures (no more frozen lettuce)? We can already order food from our mobile devices, but what if we had a system at home that let us order food that would be delivered in bags that would keep it fresh until we got home? The Fresh Connect concept would help create "a seamless shopping experience from the palm of your hand to the foot of your door.. and streamlined access to a select network of food suppliers".
Here is picture of the Whirlpool Fresh Connect concept flow: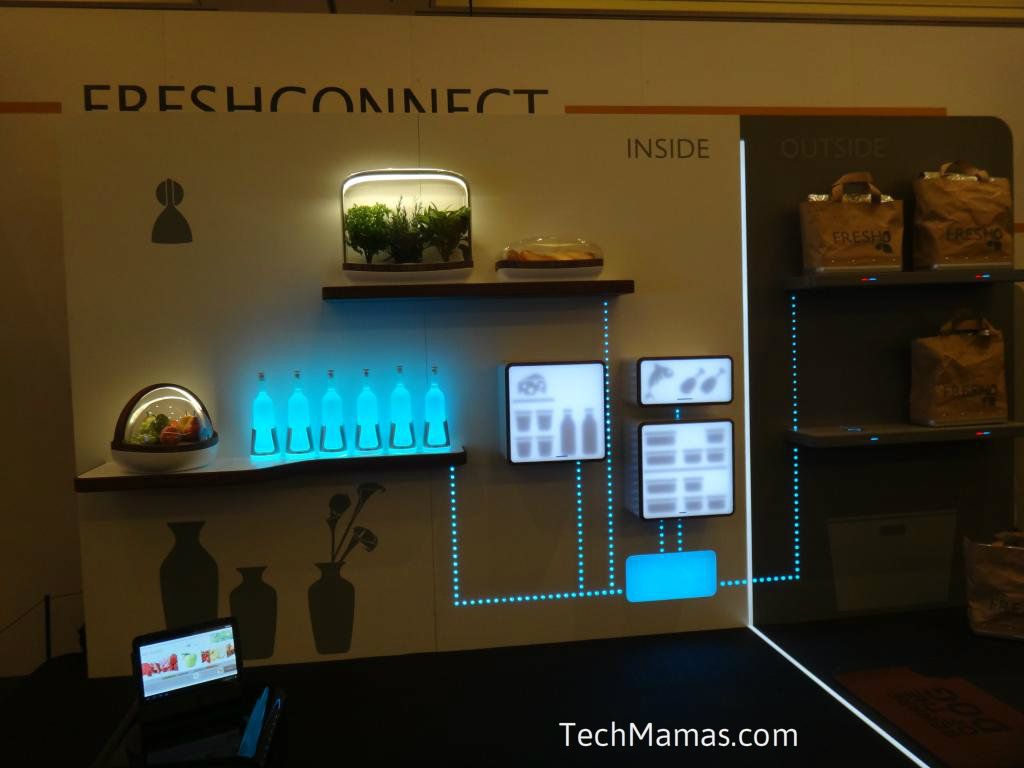 Food is not only organized by the temperature needs, but also in a modern style that could take food storage out of the kitchen into any room in the house. My sons would love to have food storage of their snacks in the family room!
This concept could also create spaces to grow herbs from inside the house. This would enable us to finally grow herbs without the little critters that live outside from eating it!
Containers would store fruit in a temperature that would let it ripen but keep it fresh. This concept would enable me to buy more fruit without worrying about it going bad (and my boys eat lots of fruit!).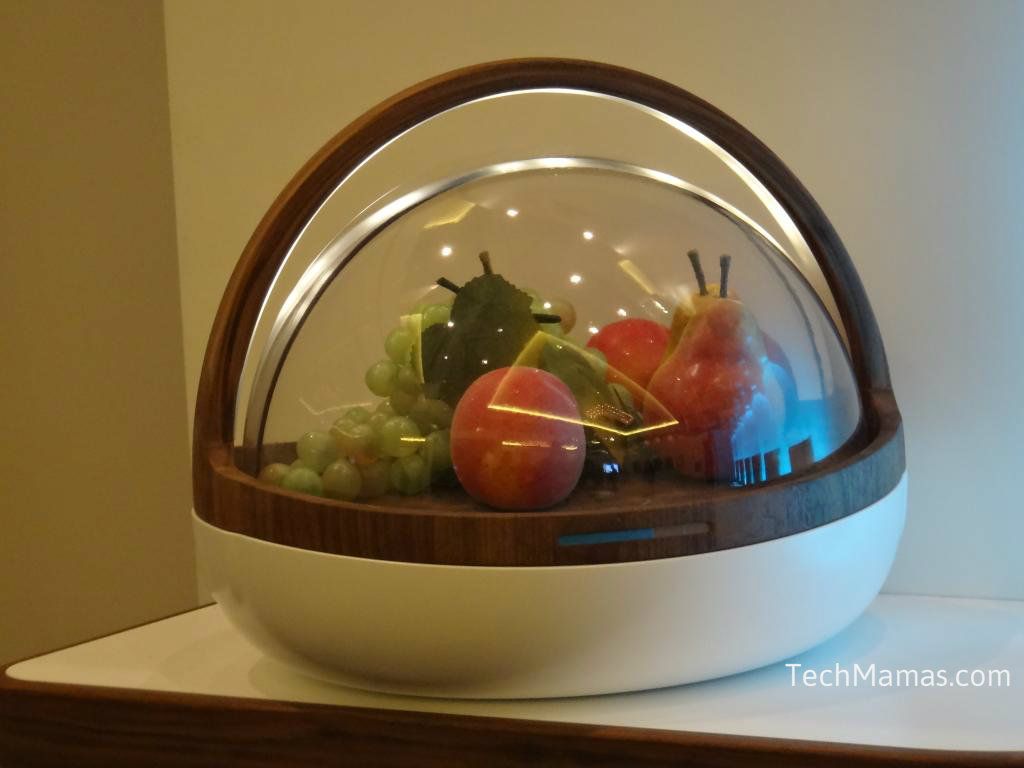 Apps could be used from any mobile device to order and manage the food in your house. This would enable a process for me to schedule food delivery and plan meals.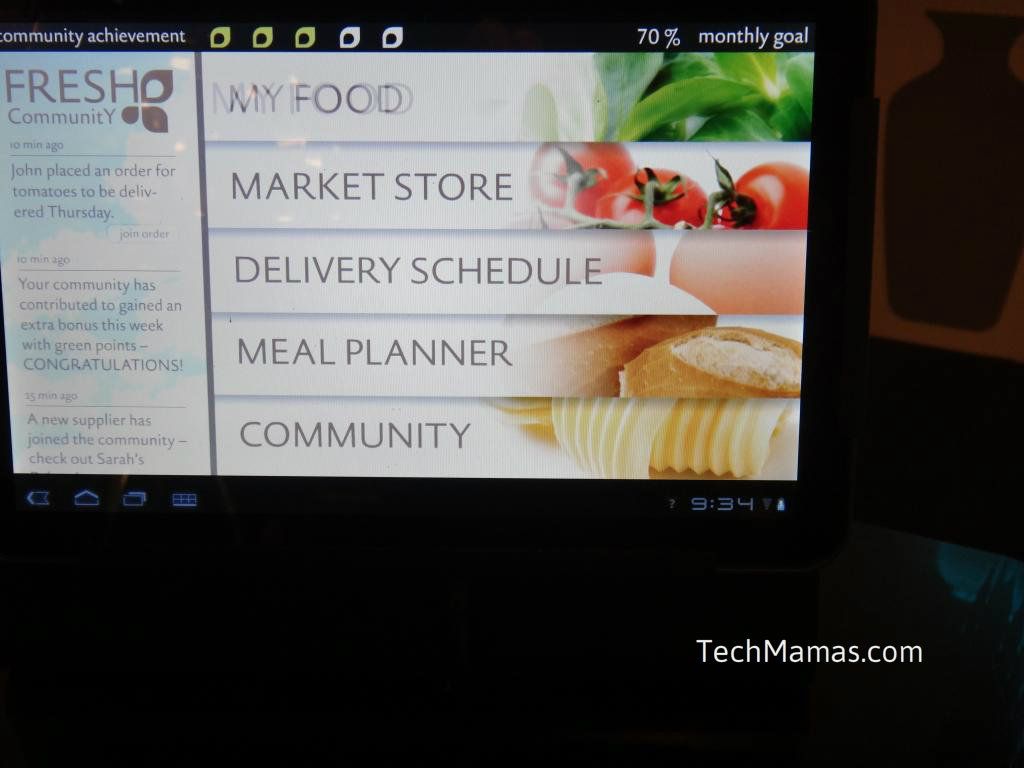 Another concept that enables families to manage their home from anywhere is the Whirlpool® Appliances with 6th Sense Live™. Families can manage things such as "refrigerator temperature, locking your dishwasher control console, knowing when your cycle is done and managing energy costs". I would be able to save energy costs by using the mobile app to run the appliances during off peak times even if I was not at home. Or when my kids leave the refrigerator door open (like they do daily), I will get an alert even if I am not at home. This would enable a future where I don't have to worry about coming into my kitchen and noticing that the freezer door is open and ice cream is now in liquid form!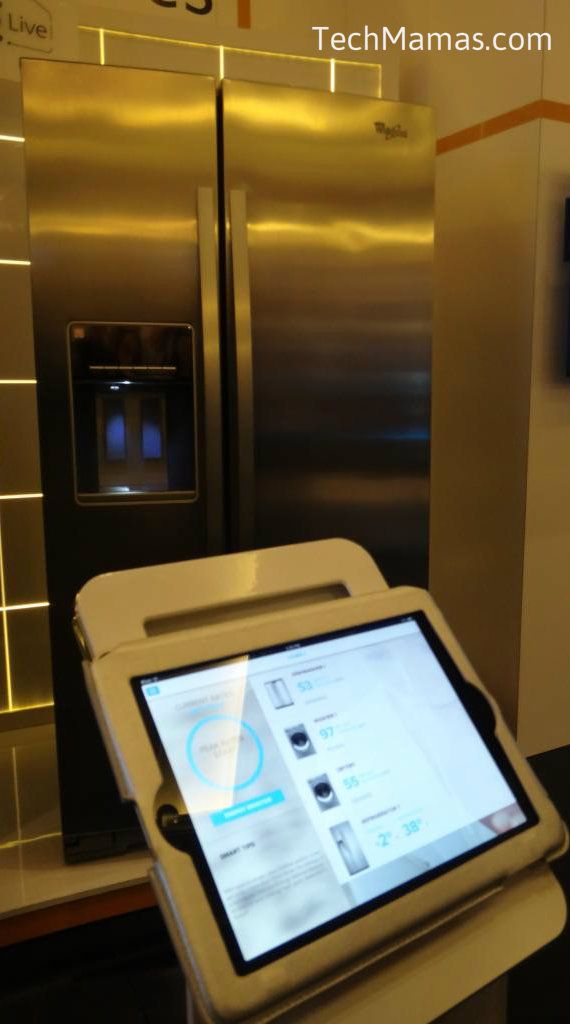 Anyone looking to create add beautiful art and modern, streamlined style to their kitchen will want to take a look at the Whirlpool Art Gallery Collection (stove) Hoods. There is a selection of 12 hood panels with original graphics themes that are easy to install. I especially appreciate incorporating art into appliances because I have a small kitchen.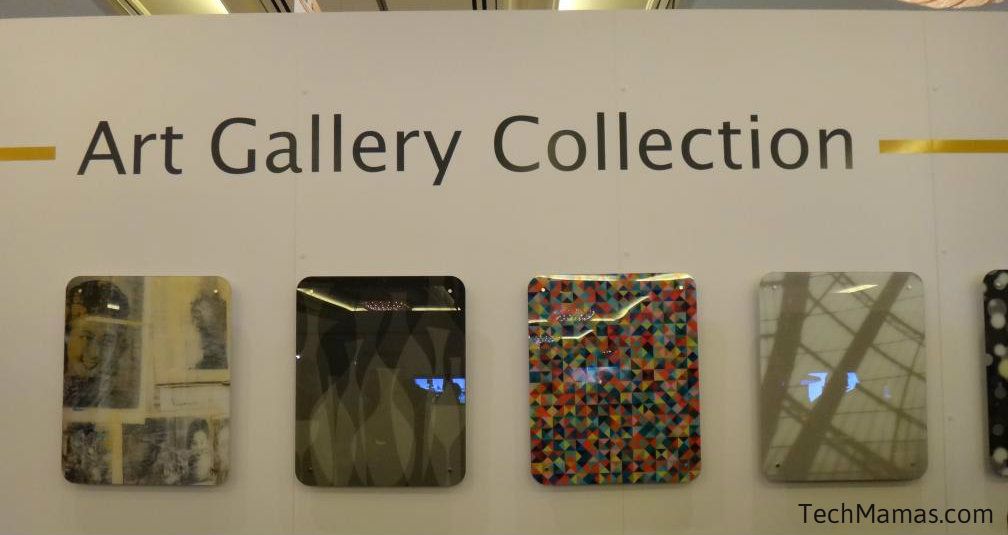 My favorite design: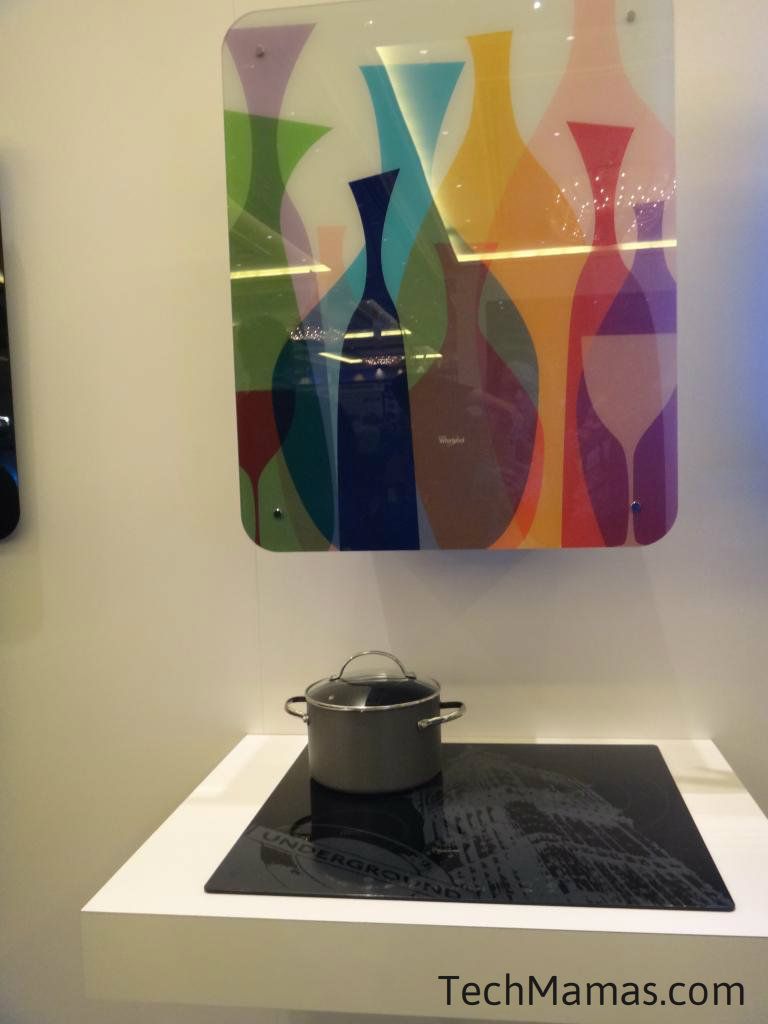 Another new concept that helps streamline kitchens by adding new features to appliances is the CoolVox refrigerator concept. This new concept utilizes Bluetooth technology to play music directly through the refrigerator from an app on an iPhone/tablet/etc. Families can use any music or MP3 recordings from their device players, so this means I could even listen to recipe podcasts while cooking. Or my 10 year old son who loves to cook can rock out to his favorite tunes.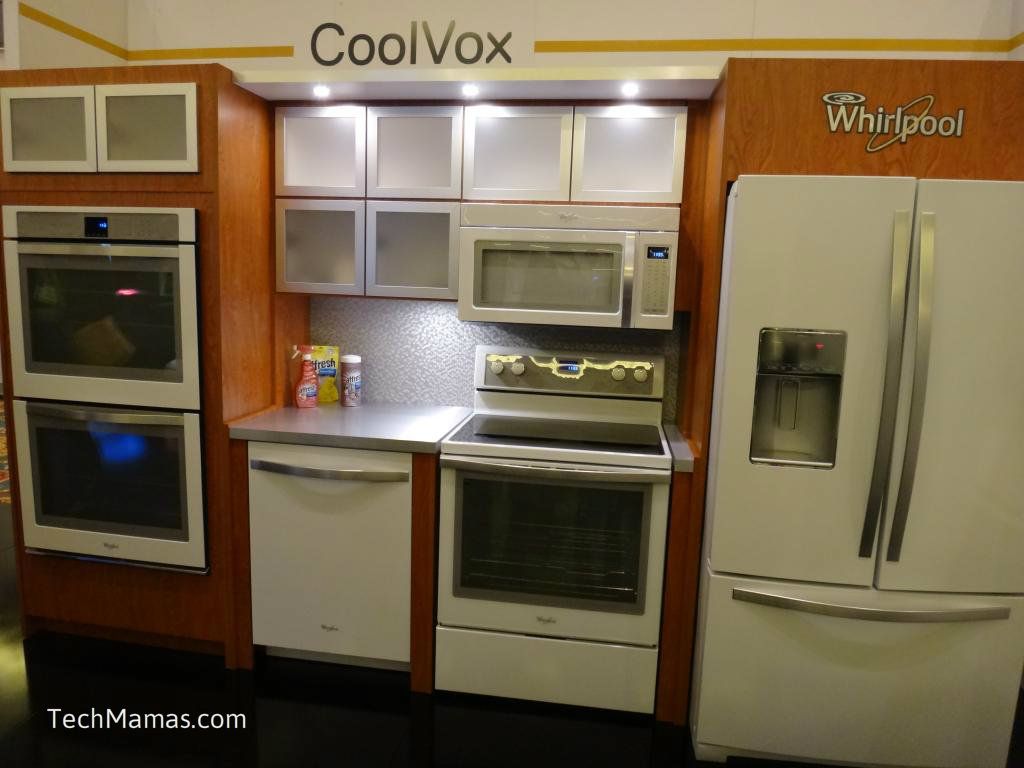 What do you see in the kitchen of the future? I see new features and appliances that will help me save time, simplify household processes and have more flexibility around how I manage my home. I can also see a future where mufti-function appliances allow me to save space,  add style to my kitchen and create new social environments to enjoy my family time.
 Disclosure: This is a sponsored post. My words are my own.