About Carol Rolnick
Carol Barbier Rolnick grew up in Japan and Southeast Asia, traveling extensively as a child through Asia, the Mideast and Europe on family vacations. In her so-called adult life, Carol extended her roamings to North, Central and South America and southern Africa with repeat trips to Europe. They spent the summer of 2011 in the Netherlands and Carol and her husband, Michael are aiming towards Australia and Antarctica to round off their continental travels.
Latest Posts by Carol Rolnick
Share:

Workers on top of the Olympic Cauldron, Sochi, Russia, with Caucasus Mountains in the background.
The final countdown to the Winter Olympics is on, but all is not well in Sochi. A few weeks ago I wrote about the why and wherefores of Sochi being chosen as the site for the 2014 Winter Games, and the multiple problems plaguing Russia's preparations for the events. Here's an update:
Hundreds of people have arrived in Sochi to find their paid-for accommodations unfinished or non-existent. Not to worry, President Vladimir Putin himself has swept in to take the situation in hand, even if the majority of the disaffected visitors (thus far) have been reporters. (Putin holds the free press in deep disregard.)
Angry journalists are tweeting pics of their unfinished hotel rooms, and relating their Sochi horror stories on line. One New York Times reporter was woken in the middle of the night by a strange man in his bedroom, key in hand, sputtering with indignation. The hotel staff had assigned both men the same room.
Amidst all the protests of Russia's homophobia, the mayor of Sochi declared quite emphatically that there are no homosexuals among Sochi's citizenry. Drag queen Madame Zhu-Zha contradicted the mayor, saying there is a gay community in Sochi, and s/he was living proof. (Don't believe me? Check out BBC World News.) And the BBC reporter who procured that mayoral nugget had gone to a Sochi gay bar the night before interviewing the mayor. Another local official called the mayor's claims "laughable."
Nevertheless, the mayor offered that warm and fuzzy Russian hospitality we know so well – and love – and said gays were "welcome" at the Games, as long as they "respect Russian law." (Oh yeah, those anti-gay laws ….)
And, the Georgian prime minister is concerned about Russia expanding the Sochi security zone into neighboring provinces that used to be part of Georgia. Most recently the PM threatened to take unspecified actions if Russia supports these breakaway provinces. (This is in addition to earlier terrorist threats to "disrupt" the Winter Games in Sochi.)
Meanwhile, President Obama has sent two U.S. Navy warships which are hovering outside of Sochi in the Black Sea, on standby. Exactly what the Navy will do and under what circumstances is unclear.
The Times' February 3 article reported, with restraint, that Sochi is "a work in progress," which seemed facetiously optimistic. The Times and other on-line news organizations have described Sochi as looking like a giant construction lot, noting that this is on-going building, not punch-list activities, in the days before the Winter Games begin. Some of the unresolved problems:
Uncompleted hotels and shortage of rooms (check – got that!
Power outages that interfere with construction as well as security efforts.
In the "finished" hotel rooms, exploding electrical outlets, handles that come off doors, lack of hot water
Olympic housing and dining facilities unnamed and unnumbered, with temporary, numbered paper signs taped to building fronts
Elevators that don't work
BUT, the new $8.7 billion road and rail system from the coastal Olympic area to the mountain venue seems complete and functional. The athletes' facilities and sporting venues are more or less ready for business, even if much of the public areas are still under construction. The Olympic Committee and Sochi authorities have arranged for cruise ships to dock in both Sochi and Adler, site of the Coastal Cluster of Olympic venues, to provide additional and very much needed "hotel" facilities. And there IS snow! So if nothing else, the views of the Caucasus Mountains will be gorgeous.
But, what to do about all those pesky stray dogs?!
Like any construction sites, the Sochi area's frenetic building activity has attracted thousands of stray dogs. Orders came recently from City Hall that the strays will be rounded up and exterminated, as the dogs have become a bit of a nuisance. The "director general" of pest control for the company given the extermination contract bemoaned the wily strays after a dog managed to crash an opening ceremony rehearsal and join the participants. "God forbid something like this happens at the actual opening ceremony. This will be a disgrace for the whole country." Oh, horrors!
Last year, Sochi's city hall shelved similar canine extermination plans after wide-spread protest from animal activists. The authorities subsequently back-pedaled and vowed to build a shelter instead of annihilating the dogs, but activists claim these promises have not been fulfilled. City Hall also hasn't explained how their contract killers will "dispose" of the dogs, although shooting strays is a common practice in Russia.
So, Sochi is turning out to be a bigger story than just the actual athletic events. The public in general and interest groups in particular will have plenty to crow about: Will there be enough hotel rooms and will they have hot water? Will there be a terrorist attack? Will Georgia and Russia go to war — again? And – last but not least – will Sochi actually follow through on shooting gays – BIG whoops! – I meant, strays?
Stay tuned…and let the Games begin! And as the irrepressible Effie Trinket always tells the competitors, "May the odds ever be in your favor!" Unfortunately, I fear, everyone in Sochi will need them.
Paul Gilham, Getty Images
Share:

Caucasus Mountains outside of Sochi. The outdoor Olympic events will be held in these mountains. This past summer our ship had a port of call in Sochi, Russia, site of next month's 2014 Winter Olympics. Disembarking, the first thing I noticed about Sochi was…palm trees. And the warm, humid weather, despite an overcast sky.
I did a quick fact check on Sochi.  Per Wikipedia, Sochi is "one of the very few places in Russia with a subtropical climate, with warm to hot summers and mild winters."  Sochi obviously isn't called the "Russian Riviera" because of its snowfall.
Okaaay. So, with "mild winters," where's the snow? Is there any? I mean, I grew up in tropical and sub-tropical climes, and snow…well…the closest we got to snow was ice cream, which melted pretty damn fast in that weather. "Mild" winters to me just don't conjure up visions of snowflakes and Frosty the Snowman.
Reading on, I found that Sochi is, in euphemistic terms, "a domestic destination," meaning this largest of Russia's summer resorts, with its 4 million visitors every year entices – overwhelmingly – native Russians. Wikitravel notes, "only three percent of this visitors' crowd are international travelers." The website continues to paint a rather unattractive picture of Sochi as a travel destination, noting that the city is "somewhat lacking in appropriate international infrastructure and having the same language barrier most regional centers of Russia do." Sochi is also referred to as a "one lane town."
That the city has a poor infrastructure was readily admitted by our guide. Not that we needed verbal confirmation. Taking in our surroundings as we crawled through downtown Sochi's jam-packed traffic in our mini-van, I noticed a lot of residential buildings going up, streets clogged with construction equipment and debris – as well as mired vehicles with angry drivers. I did not see any stadium-like structures, nary a one in sight. Some of us started nudging others, raising eyebrows and shoulders in question. The guide prattled on about Sochi's tourist sites, its growth, its modern shops, casinos. Everything except the Olympics just six months away.
Not to be deterred, some of us, after exchanging whispered astonishments, girded our loins and asked our guide, oh so casually, "So how's it going, preparing for the Olympics? Does Sochi actually get snow?"
The guide admitted that the construction of the Olympic villages and sports facilities was behind schedule, and that the train line to the ski resort in the mountains, about 30 miles away, was nowhere near completion. Gesturing at the unfinished buildings and vehicular gridlock we'd sat in for several minutes, she said, "All this is for the Olympics," and noted that a lot would have to be "cleaned up" before the Olympics began in six months. Her next words left us agape: "But they're already making snow. There will be plenty of snow by February."
What? The site of the Winter Olympics has to manufacture snow? Doesn't look promising, boys and girls.
So Why Sochi?
So just how did Sochi get picked as the site of the Winter Olympics? In two previous attempts at grabbing the crown, Sochi had been turned down by the International Olympic Committee (IOC) specifically because of its lack of infrastructure. This time around, the IOC Evaluation Committee didn't seem to have an issue with that deficiency when they visited this humid, subtropical capital.
Jean-Claude Killy, France's 1968 gold medalist in skiing and member of the IOC Evaluation Committee admitted, after the 2007 site visit, "It's probably the most challenging Olympics ever, as far as what has to be built to deliver these Olympic Games. We have a lot of work to do together."
The answer to "Why Sochi?" is probably a combination of politics and pressure from Russian President Vladimir Putin. An ardent skier, Putin may not be a capitalist with a capital "C" but he certainly knows how to capitalize on his goals while applying political muscle and wealthy connections. (More on his "connections" later.)
In reality, the Caucasus Mountain range, looming on the horizon northeast of Sochi, does get a fair amount of winter snow.  Krasnaya Polyana, the mountain region at 7,600 feet where the outdoor events will be staged, has had basic skiing facilities for nearly 10 years. And per skiers who've made the trek to this formerly isolated and under-developed ski area, Krasnaya Polyana has some of the best skiing in Europe. However, infrastructure remains the bugaboo in this wintry tale. Krasnaya is about 30 miles away from the city of Sochi on the coast. The two are connected only by a single roadway that is quite obviously not able to handle the Olympian sized traffic that will descend on it. Not to worry, the Russians are building hundreds of miles of new roads and rails, including a high-speed train to connect Sochi and Krasnaya. Let's just hope it all gets finished in time to be of use.
And then there is the cost. Certainly Putin was willing to shell out the rubles for the honor of hosting the Winter Olympics, but the price tag has exceeded all expectations. Russia's initial estimate of the cost of preparing the Sochi area for the games was $12 billion. At the time the IOC awarded Russia the honor of the Winter Olympics, Krasnaya Polyana had only four ski lifts. To build this "resort" up to Olympic standards for all the skiing, ski jumping, snowboarding, luge and other events has so far cost $2.6 billion.
The road from Adler, the site of the coastal Olympic Village, to the mountain Olympic Village at Krasnaya Polyana cost about $8.7 billion, once you add up the costs for the roads, railways, bridges and tunnels necessary to transport people and equipment to and fro. The "Ice Palace," as our guide called it, at Adler, about 15 miles south of cental Sochi, cost a mere $302.9 million to build – what a bargain – and will house the "indoor" winter sports, mostly skating.
All told, the Russians thus far have poured over $51 billion into preparing Sochi and the surrounding areas for these Olympics, making it the most expensive Olympics to date. By contrast, the 2010 Winter Olympics in Vancouver, Canada, cost $7 billion, and the over-the-top Summer Olympics in Beijing in '08 cost a whopping $40 billion.
Looking south of central Sochi to Adler, where the indoor Olympic events will take place
Unfortunately, the story of the making of the 2014 Winter Olympics doesn't end with questions of sufficient snow and infrastructure. A major player in these political and construction games has been the so-called Russian Mafia, some very bad boys in the organized crime fraternity. The path to Sochi is littered with bodies, as different crime bosses have bumped off rivals for a share of the Olympic pie. And, of course, there are the kickbacks and graft, with not a few of Putin's inner circle receiving lucrative contracts. According to an article in February's Vanity Fair, the Sochi Internal Affairs department has been busily investigating "numerous" charges of criminal complaints having to do with kickbacks, graft and even stolen Olympic funds. Unsurprisingly, not one of these cases has made it to court.
What was the IOC thinking?
But wait! There's more! Remember those two suicide terrorist bombings recently in Volvograd that killed 34 people? Just the tip of the iceberg, folks. Volvograd, formerly Stalingrad, is directly northeast of Sochi as the crow flies – right on the other side of the Caucasus Mountains. And in between are some pretty nasty Islamic insurgent groups who have trumpeted their goal of "disrupting" the Winter Olympics. Three hundred miles to the southeast of Sochi, the province of Dagestan "shootings of police and other officials have become a daily occurrence in the region." And in between lies Georgia, whose post-Soviet relations with Russia have been rather militant for years.
So it's no surprise that the U.S. State Department has issued one of its dire travel warnings, stating, that the "terminally unsafe areas of the country include Sochi and border areas near other Russian provinces." "Terminally unsafe"? You've got to be kidding that we're sending our best athletes there.
But, as Vanity Fair points out, "Russians do security well, and they do it all the way." Ah. "Russian security." (Not so fond memories of the Cold War inevitably spring to mind.) Part of the "security" plan is to close the borders with one of Russia's more explosive neighbors, Georgia, to the east. The duma (Russia's national legislative body) is expected to pass severe anti-terrorism legislation before the games open. Additionally, a tight security net will be set up around greater Sochi – which is 1300 sq. miles in size and extends 90 miles along the Black Sea coast, and drones will be patrolling the skies above. It will be interesting to see if the heightened level of "security" in the Olympic villages will quell the usual tsunami of athlete hook-ups which are as endemic to the games as medals.
And then, there's the whole troubling issue of Russia's very strong anti-gay sentiments – and laws. With plans on to have a "gay pride" parade on opening day of the Winter Olympics, it will be interesting to see Sochi's — and Putin's – reaction. Putin couldn't do much about President Obama purposefully sending openly gay Olympic "ambassadors" to the games, but having a bunch of lawless, godless homosexuals marching the streets of Sochi and garnering world-wide attention may be a bit more than the diminutive Russian dictator – Oh! Sorry! – "president" will tolerate.
The Tourist Side of Sochi (Yes, there is one. Sort of.)
Sochi Art Museum.
Our guide took us on two long walks through Sochi, much to our delight as we were sick of sitting in traffic gridlock. In central, downtown Sochi stands the Art Museum, constructed in the late 1930's in a neo-classical style. We didn't enter the museum, just strolled through the gardens, admiring scattered sculptures. Michael decided to have a conversation with one of them.
The other walk was in Riviera Park, with beautiful tree-lined paths and walks. Many of the bushes were flowering, and the scene was quite peaceful after the traffic jams. At least until a Sochi babushka went after some of our group.
According to Michael, he and another guy in our group were trailing at the rear when a young woman and an old woman, walking together, passed us by. The old woman, as she passed and heard English being spoken, whipped around and marched at them, screaming in Russian and waving her fist. The younger woman, probably her granddaughter, quickly grabbed the older one and pulled her away, still grumbling. An interesting display of undying Cold War sentiment!
Stalin's dacha
Stalin's Dacha
Josef Stalin's favorite summer resort was Sochi, so it's no surprise that he had a dacha in the hills overlooking the resort. Painted green for camouflage on the treed hillside, the house would never win even a booby prize for either aesthetic or architectural design; I've seen more appealing boot camps.  But it's what Stalin called his home away from home. The interior was dimly lit, with heavy, blocky furniture, floor-to-ceiling drapes, and exuded a repressive feeling. However, the interior furnishings are just as they were in Stalin's day, and include a wax figure of Stalin, seated at his desk. Interestingly, he kept a narrow, single bed by his desk in his office; perhaps he needed frequent cat naps. And I just couldn't resist sneaking into the bathroom and snapping a photo of old Josef's "throne."
Stalin (wax figure) at his desk
Stalin's "throne"
Surprisingly, the house is used today as both a restaurant and guesthouse. People actually pay as much as 300 euros to spend the night in one of the guest bedrooms. That pronouncement from our guide received a few strange looks for sure. The dacha lacked any remote shreds of ambience.
Let the Games Begin
So, bottom line on Sochi: as a tourist destination, it didn't do much for me. Maybe freezing Muscovites find the town delightful, but I'll take a pass on returning. As for the Winter Olympics, I can only hope that the Russians are better at security than construction, for the sake of all the athletes, spectators and citizens of Sochi. No one wants another Munich. On the other hand, with bombings and shootings an everyday occurrence in the surrounding area, the odds of having at least one or two terrorism attempts seem high.
And as for snow? From what I've read, sufficient snow shouldn't be a problem up in the mountains. But just in case, Putin's got 700,000 tons of it stockpiled and ready to be dumped on the slopes. What I can't figure out is how they'd apply it.
************************
Note: The opinions expressed in this blog are my own. I did considerable research on Sochi and the upcoming Winter Olympics.
Share: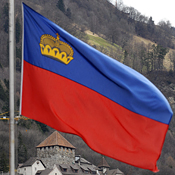 "What country has only 35,000 inhabitants?" my husband wondered as he scrolled through an information sheet on Liechtenstein.  "How can that be?"
Take 62 square miles, the vast majority of it a near-vertical,uninhabitable, mountainous mass, plunk it between similarly sheer peaks in Austria and Switzerland, and you have Liechtenstein, the sixth smallest country in the world.  And its population really is about 35,000 people.  (Anyone care to guess the smallest country?  Answer forthcoming at end of this posting.)
In one of my family's several road trips through western Europe, we'd driven through the southern tip of Liechtenstein, but that and a picnic lunch were about as much time as I'd spent there.  My husband had never been anywhere near the country.  So as much out of curiosity as anything we decided to stop overnight in Liechtenstein.  And promptly wished we'd booked for at least two nights.  Little Liechtenstein wields a walloping big impression.
To say that Liechtenstein has steep terrain is definitely an understatement.  Their mountains are not among the tallest peaks in Europe, but their striking beauty comes from their sharp vertical rise above the Rhein valley.
With much of the country's topography slanting at angles above 60°, I could easily understand why the majority of Liechtenstein's residents chose to live in the towns scattered on lesser inclines or along the Rhein River.  Seldom have I seen such beautiful if impenetrable mountains, with verdant meadows nestled between huge stands of pines, crystalline air — and roadway switchbacks so tight that I'd have called them intertwined noodles rather than hairpin turns.  Our first foray up the road to our hotel had me clutching both the door and the ceiling handles as Michael swung into the turns.  Very seldom to I holler, "Slow down!!" as Michael's driving; this was one.
We stayed at the Hotel Oberländ inTriesenberg, about halfway up the mountains between the capital, Vaduz, on the Rhein, and Malbun, about the last town you can drive to in mid-country before you run out of roadway.  The hotel (once we found it) turned out to be one of the best little finds we've come across during our summer in Europe.  Family-owned and operated, the Hotel Oberländ offered a sparkling clean room, the best shower we've found thus far, and, of course, spectacular views.  I'll just let the pictures speak for themselves.
The ski lift ride to the top of Sareiserjoch Peak in Malbun proved just the ticket.  Standing at a mere 2,000 meters above sea level on Sareiserjoch Peak, gazing up at nearby mountains that soared to narrow spines and needles reaching 3,000 meters, I couldn't even spot a mountain goat on any of those mountains.
From the little restaurant at the top of the mountain we sipped the most expensive cups of coffee ever (about $6 apiece), and wished we had time to hike back down the mountain to the car.  As it was, we had to check out of the hotel by 11, so back down the chair lift we went.
We descended on the ski lift, agreeing that next time — and there will be a next time — we will plan on hiking down the mountain to Malbun below, an approximately 45 minute walk.
From the Hotel Oberländ we drove down to Vaduz, which perches above the Rhein River.  We strolled around the town while we waited to take the little (fake) "train" tour of the capital city.  Let me just say that while the 21 CHF (roughly $40 USD) spent on this 35 minute "tour" may have not been the wisest expenditure, it did provide for a fair amount of entertainment.  For starters, the "interlude music" between canned narrations was the (in)famous "Liechtenstein Polka" blasting at ear-pummeling volume.  We were in the same "train" car as some Italians and their shnoodle (one of those tiny, white, furry-floppy things that thinks it's a dog), so we got the whole nickel tour in both Italian and English.  That is, until halfway through and the driver, distracted by an attractive passenger, forgot to punch the "Italian" button, so we listened to the second half in English and German.  Bless them, the four Italians never complained once – except when the driver slammed on the brakes and the furry doggy-thing slammed into the back of our seat.  (If it suffered any brain damage, I couldn't tell.)  I did get a giggle out of some of the Italian cuss words.
We did learn a few items of interest on the tour, besides new Italian words.  Vaduz's most significant landmark is the Vaduz Castle, home to the reigning Prince of Liechtenstein and his family.  According to the programmed spiel (see, I know German!), this is one of the oldest royal families in Europe, and the castle one of the longest lived-in-by-royalty on the continent as well.  Unfortunately, because it is the prince's family home, we could only do photo ops from afar, much less have a tour.  But we still managed to get some fairly decent pictures of the castle.
We also gleaned from the canned "tour" that tiny Liechtenstein has a "democratic monarchy", which is another term for "constitutional monarchy", and has a 25-member Parliament.  No lie.  They have their very own parliamentary building:
That's Michael in the foreground to give you a bit of perspective.  It's really not that small.
We further learned that Liechtensteing's currency is the Swiss franc and much of its services are tied to Switzerland; that it has the second highest gross domestic product per person in the world; and has the world's lowest external debt.
(Just kidding about the in-depth information source; I learned the last two items from Wikipedia…)
Along with the blasting polka and bilingual narration, we were entertained by watching the driver flirt with the very attractive German passenger at a 12-minute stop that ate up one-third of the 35-minute tour.  But we were in such good moods from our overall pleasurable experiences in Liechtenstein, it didn't really matter.  So in conclusion:  do try to get to Liechtenstein and stay for a few days at the Hotel Oberländ.  Plan on hiking in the summer or skiing, both downhill and crosscountry, in the winter, and having a lovely enjoying some of the most spectacular mountain views in Europe.
But skip the City Tour Train Ride.  And you may want to wait until the U.S. dollar is a tad stronger against the Swiss franc.  (But I wouldn't bet a CHF on that!)
Travel Notes
While getting to Liechtenstein can take some planning, it is well worth the effort, and we highly recommend staying at the Hotel Oberland in Triesenberg, rather than in lower-lying Vaduz.  The hotel recently changed ownership and management six months ago.  Dorothee Bloch and her husband run a tight ship:  the rooms are spotless, the beds incredibly comfortable, and the showers the best we've had in Europe over the last three months of travel.  The views from our room's little balcomy were stunning, showing the entire Rhein River valley.
The Blochs were extremely friendly and helpful, offering little niceties such as inquiring if we preferred a shower or tub bath, asking repeatedly if we had all we needed, if we needed maps, directions, etc.
The views from the restaurant balcony are lovely.  Triesenberg is about halfway up the mountain  between Vaduz, Liechtenstein's capital city along the Rhein  River, and the hiking/ski resort town of Malbun at the top of the mountain.
While it is possible to take a bus to Triesenberg, we rented a car and drove from Zurich.  Buses run regularly from Feldkirch, Austria or Sargans, Switzerland  believe the nearest train stations) Vaduz, and buses seemed to run regularly from the capital to Triesenberg and Malbun.
We wished we'd planned a longer stay in Liechtenstein and when we return, we'll definitely stay at the Hotel  Oberland.
The answer to the question as to the smallest country in the world:  Vatican City, which is an independent country of 0.2 square miles, entirely surrounded by the capital city of another country:  Rome, Italy.
Share:

Too often artists of tremendous talent and beauty are not recognized in their lifetimes.  I'd like to help change that for at least one artist.
In this blog I'd like to introduce my faithful readers and friends to a Dutch artist of unique vision and broad talent, and who just happens to be someone who has become a close friend.  Corinne van Bergen sculpts in glass, wire, bronze, elastic and combinations thereof.  She also is darn good with paint and pencil, but it's her sculpting that caught my attention and admiration.
The work pictured above, Solo Swimmer, part of a series of glass sculptures she has completed, and in my opinion, is the best thus far.  The methods by which Corinne sculpted the swimmer makes him appear as if he were flying through the water.  In fact, upon first seeing Solo Swimmer, I blurted, "That looks like Superman's Flight!" — referring not to the superhero but to a memorable drift scuba dive that resembled the thrill of uninhibited flight through the water.
How Corinne crafts the glass sculptures is a painstaking, remarkably unique process.  She conceives and sketeches out the image she wants to portray, then draws each bodily segment on a sheet of plastic, which, ultimately, guides her as she carves each pane of glass.  As each etched glass piece is pressed to the next, they collectively begin to form the body Corinne's envisioned.  Or at least this is my simplistic understanding of what she does.
Think of a CT head scan where each "slice" of the brain reveals an intricate pattern of whorls, squiggles, and noodly shapes (sorry, I got fired as Artistic Editor on the school newspaper!).  When all the CT slices are put together, they would form a picture of the head, brain casing and inner brains, etc, included.  (Sorry again, non-marine science wasn't my strong suit either!)  The point is:  each "slice" or piece of glass is intricately carved to be part of the whole sculpture, and performed in a medium which is fairly common — glass — but when completed, presents a piece of art which is as unique in concept and execution as it is in beauty.
Corinne's other work as an "expressive artist" is similarly intriguing.  Her use of commonplace items such as metal-coated string, wire, or even elastic bands, produces small sculptures which are indeed as expressive as many anatomical drawings. Many of the wire figures she has used in story-telling tableaus or "sculpture plays" (my definitions) in exhibitions, while others are expressive as solo pieces.  As of this summer she has started an interesting series of cast bronze scuptures of little "B'Angels" which in Dutch loosely translates to "mischevous" or "naughty" angels that nevertheless posses a smidgen of vulnerability.  The first shows a young angel full of piss and vinegar perched on a spool.  Peek behind her and you see her clutching the thread to the spool for dear life.
To construct her wire figures, Corinne begins twisting and turning the wire in her fingers, and eventually what emerges is a figure:  man or woman, dog, ear, or — my favorite — a little whale:
I am particularly fond of this piece as Corinne made this especially for me as a combination 60th birthday and farewell present.  We had become close friends during our sojourn in the Netherlands and this was such a touching and individualistically "Corinne" way of expressing  to me great friendship and caring.  Indeed, Michael and I had become good friends with both Corinne and her husband, Martin, spending many an evening over wine, Dutch kaas (cheese), and dinner, including our last night in Holland.
In a previous blog I enthused about three other Dutch artists whose work I admire greatly:  Vermeer, Van Gogh, and Escher.  Their styles and indeed epochs varied widely, but they had one thing in common, besides being Dutch:  they were all deceased.  It's a shame so many artists only achieve fame once they've passed on to the Great Artists' Haven in the Sky.  Let's try to get Corinne van Bergen some deserved attention and praise now rather than later.  Her singular talent and work deserve it.
Share:

It's a sad conclusion to reach that the highlights of a world-famous city were a bejeweled skeleton  and a glockenspiel, but that's how we felt about Munich.  Alas, the city we encountered fell so far short of fond childhood remembrances I couldn't wait to get back on the train.
Emerging from the U-Bahn in time to catch most of the noon performance of the glockenspiel in the Rathaus (town hall) tower on the town square, we snagged a café table as the crowd dispersed and planted ourselves in chairs directly in front of the clock tower.  Thankfully, before the 1 p.m. performance, the waitstaff put up the café umbrellas, which helped displace the incoming crowds from implanting themselves in our laps.  Meanwhile, a traditional Bavarian oomp-pah band, complete with lederhosen and dirndl skirts, entertained the crowds between performances.  We tucked into lunch, sipped good German beer, and enjoyed the 1 p.m. performance of the clock's dancing figurines while the people packed into the town square baked like anchovies on a pizza.
Glockenspiel performances and an ooompah band.  Corny as it was, I had hoped they were the beginning of a wonderful day in Munich, which I'd been touting to Michael for the last several months as a "must-see" stop on our way to Budapest.  What we found was a city center packed with tourists pushing and shoving their way into every tourist attraction within sight as they flipped through their guide books, looking for the next place to go.  Tour groups abounded, traveling in rolling waves akin to fish bait balls. At least fish have a fifth sense that allows them to divert direction or part in the middle if they come upon an immovable object, such as another person.  These tourist groups just bowled on through the crowds.  More than once I felt like the last ten pin standing.
We sought refuge in St. Peter's, Munich's oldest church, off the main square to have a gander at the jeweled skeleton of the martyred St. Munditia, allegedly the patron saint of spinsters.
Below a portion of the sumptuous interior of St. Peter's Church. The church predates the foundation of Munich in 1158, but the current interior was redone in the baroque style in the 17th century.
The highlight of the bus tour was the Nymphenburg Palace and extensive gardens in western Munich where the tour bus stopped again for the requisite photo op and to allow tourists to hop-on or hop-off.  The elegant palace, commissioned in 1664 by a Bavarian prince, is centered in a loose horse shoe array of pavilions, stables, and an orangerie.
Baroque mansions built by lesser royalty extend the arms of the palace
complex, encircling a man-made lake complete with swans and lily pads.
We now regret not taking the opportunity to disembark and take a tour of the palace or at least walk around the famous gardens, but at the time we had just plain had it with the tour, the crowds, the heat and Munich in general and wanted – literally – off the bus. Munich had lost its appeal somewhere between the jeweled skeleton and the palace, and nothing – not even a cold beer at a café – could induce us to stay another minute in the city center.
We departed the next morning for Budapest without returning to the city center for another attempt at sightseeing.  I felt tremendously unsettled by the stopover because I held Munich with such great fondness from my one and only earlier visit as a child, and the previous 24 hours had been a disappointment to say the least.  I guess when you're eight, the life-sized glockenspiel figurines are all you need to engender a sense of
wonder about a city.
Conclusion:  Munich has a lot to offer, but you should visit Munich in the off-season if you want to avoid the crowds, and if you take a city bus tour, don't go with the Gray Line hop-on, hop-off outfit.  You're better off with a good guidebook, map, and a multi-day pass for Munich's excellent public transportation.
Travel Notes
Because we planned to stay in Munich just one day and night with an early second day departure,  we chose a hotel close to the main train station rather than the "old city" center.  Hotels are also  much cheaper near the station than in the Alstadt, or old city.  For those who want to remain near the train station, I can recommend where we stayed, Best Western-Cristal, 1 ½ blocks from the station.  The neighborhood has zero ambience and amenities but seemed safe enough.
As it turned out, the only two true restaurants – not counting kebab take-out counters and dubious Asian "cuisine" all-you-can-eat buffets – were (surprisingly) in our hotel and the Courtyard Marriott across the street.  We chose the latter restaurant for its outside garden and Mediterranean menu, not realizing it was part of the hotel, and had an absolutely delightful, well-prepared meal.  Of course, there is no shortage of good restaurants and cafés in the center of Munich as well.
Munich has an excellent public transportation system and it's easy to use.  Remember that if you hold a Eurail Pass, that will serve as a "ticket" on the S-Bahn trains (not to be confused with U-Bahn trains) as the Deutsche Bahn national train system owns the S-Bahn as well.  There are also single and multiple day passes one can purchase to use on all forms of public transport.
Share: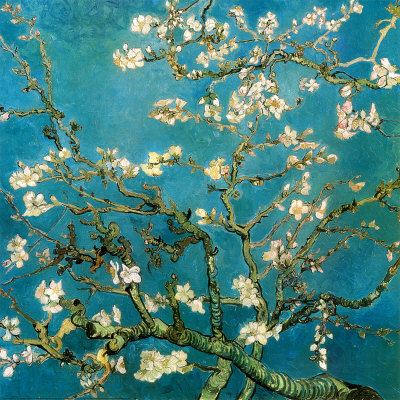 (Van Gogh's painting of an almond tree in bloom.)
Van Gogh, Rembrandt, Vermeer, Escher.  All notable Dutch artists whose talent was recognized in their lifetime (to varying degrees) and whose influence and fame continue to this day.  How is it that a country as small as the Netherlands has managed to produce so many talented artists of such a wide range of productivity and styles?
That is a question I am not prepared to answer or even speculate upon intelligently.  I do know that my two favorite painters happened to be Dutch (Van Gogh and Vermeer), and after seeing the works of several others while in Holland, notably Escher and numerous others from the Haarlem and Utrecht "schools", I am suitably impressed.
But first, a word of warning.  Since this is foremost a travel blog, and I am nowhere near being an art "critic", I do not pretend to have any great insight or commentary on the work of any of the artists I mention in this posting.  In other words, the opinions expressed are my own, perhaps uninformed, but to paraphrase Popeye, "I yam what I yam and like what I like."  I will strive to relate my own experiences and impressions of a few museums and collected works – nothing more.  For any of you more knowledgeable art connoisseurs who would like to comment on what follows, be my guest.  I'd love some input as well as insight.  But these are my impressions, no more.
Van Gogh Museum, Amsterdam
First off, let me point out that 99.9% of us have been mispronouncing this great artist's last name. It is not "van go" (as in doe, female deer) but "fan  gkocchk" (or something close to that).  After all, he was Dutch and his name was – naturally – pronounced correctly in that language.  (For those of you new to this blog and/or Dutch, read my earlier posting, "Dutch is a Pirate Language.")
So it was no surprise that when the "fan gkocchk"  museum was pointed out to us on our bus tour of Amsterdam several moons ago, it took a while to register that the guide was referring to the Van Gogh Museum.  (It was at that point that our English version of the tour conked out on us, hence the brief interlude of Dutch – and confusion – as to what we were craning our necks at out the window.)
Once this rather comical translation mishap was straightened out and we actually got to the Van Gogh Museum, we found the experience worth our while.  Moderately-sized for a museum dedicated to one artist, the VGM  has an excellent collection of Van Gogh's work.  What was startling to remember is that this artist only painted for about ten years before ending his life at age thirty-seven, and to witness the changes in his work from his early attempts and style to the blazing colors and strokes of his final months was amazing. Even more stunning than Van Gogh's range of styles was his productivity:  in all, he is estimated to have painted over 900 canvases and 1,100 drawings. Of this body of work, he sold only one painting during his short lifetime.
I was particularly intrigued with his paintings of almond blossoms and other spring-blooming trees that reflect the influence of Japanese art on his style for a short period of time.  Another revelation was that at one time Van Gogh had seriously contemplated following his father into the ministry.  Trying to juxtapose those earlier intentions with his last years in Paris and Arles was a tad disorienting but gave this complexartist an even greater depth than I had realized before.
No display of Van Gogh's work is complete without some of the colorful,  even splashy canvases from his last 2-3 years.  Sadly, most of his best known canvases are housed in other collections, but there were a couple of sunflowers and wheat fields, and the famous purple irises round out this eclectic collection/display.
Definitely a "must-see" for any lover of Van Gogh's work.
Vermeer's Delft
At the other end of the productivity spectrum is Johann Vermeer (1632-1675) who was known in his lifetime as a talented but painstakingly
slow artist.  According to the Vermeer Center in the artist's home town of  Delft, he produced (an estimated) 40 or so canvases, of which only 35 have survived to this day. Although Vermeer was locally appreciated and sought after during his day, he did not receive world-wide accolades until well into the 19th century and has remained popular ever since. He is now most famous for his painting, Girl With a Pearl Earring, thanks to the novel and movie of the same title.
What makes Vermeer such an incredible artist is his use and conveyance of light in his paintings. The light, usually coming from the left, is both suffuse yet also seems to spotlight the subject.  Many of his portraits, such as the Girl With a Pearl Earring seem incandescent with light.
If you like Vermeer I highly recommend a trip to the Vermeer Center in Delft.  This is not a museum that displays any of his original work.
Instead, there is a gallery of large, quality photographs of each of his
surviving paintings.  The value of seeing each reproduction sequentially is to trace his emerging style and use of light, as well as be able to get an appreciation of how much of his work reflected everyday life in medieval Delft.
I had had my reservations about paying to see just photographs, but in the end I felt I had learned and understood so much more about Vermeer and his work.  The center also has a brief video on his life and times,  exhibits that show contemporary artifacts of Delft, and a reproduction of his studio.  Most interesting was the series of exhibits that detailed his use of light in every aspect from its shading and coloring of human skin to how it both illuminates and reflects from still objects.
The town of Delft itself is delightful.  Ribboned with small canals and traversed by cobbled streets and bridges, Delft is a charming and pleasant way to spend an afternoon.
The main canal in Delft with the flea market on either side.
The House of Escher
The Escher Museum in den Haag ("The Hague" to the non-Dutch) is housed in one of the former palaces of the Dutch Royal Family.  The high-ceilinged rooms, with their crystal chandeliers spectacularly shaped into carnival masks, guitars, skulls and more, are a beautiful showcase of Escher's evolving art.
Like most people, I was familiar primarily with Escher's tessellations.  I emerged from the museum with a greater knowledge of the man and the breadth and depth of his work.  It is impressive.
After viewing the museum, I highly recommend a brief respite at the Hotel des Indes a few yards to the right as you exit the museum.  High tea is served daily in the domed lobby of this elegant hotel, complete with silver service and a timer for proper steeping of the tea leaves.  (You can also  have just plain old "low" tea and/or "spirits" and bar snacks if you prefer.)
The Escher Museum in one of the former Dutch royal palaces.
Share:

Berlin came full of surprises for me.  Despite having read the guide books, I was unprepared, mentally, for the newness, the raw edge to the city, and what seemed an architecturally sterile atmosphere. Intellectually, I knew most of the city had been rebuilt after being bombed to smithereens in WWII, and what the Allied bombers didn't destroy in the eastern end of the city, the East Germans finished by leveling huge swathes of land to create a "dead zone" around the Berlin Wall.
I am no big fan of post-WWII architecture, so the modern architecture of Berlin, coupled with the remaining Soviet-style, block-buildings of former East Berlin, left me unimpressed.  With some lovely exceptions, the area in which we stayed in the former East Berlin was all constructed within the last 20-30 years.  Nearby Alexanderplatz, the "most visited spot in Berlin", according to one guide, truly reflects the East German-style:  an all concrete plaza surrounded by concrete block buildings — very sterile.
Thankfully, much of "old" Berlin survived both the Allied bombs and the former DDR (East Germany). The Brandenburg Gate reigns magnificently at the eastern end of the beautiful Tiergarten, the Reichstag has been restored and amplified with a glass dome, and Charlottenburg still retains its old world charm.
We spent a lot of time just walking around the city, occasionally taking
the S and U Bahn trains to the further sections, although we also did the usual tourist "thing" by taking both a city bus tour as well as river boat  tour.  Both were interesting and informative, and we engaged in some spirited conversation with both an American expat and a young German student whose knowledge of U.S. history and current politics was
surprisingly excellent.
No visit to Berlin would be complete without at least stopping by Checkpoint Charlie, the mosst famous of the former border gates between the U.S. sector and East Berlin.  For those of you who remember the television footage of the days leading to the "fall" of the Berlin Wall, much of the crowds from West Berlin had gathered either at Checkpoint Charlie or the section of the Wall next to the Brandenburg Gate.  Tall murals line the sidewalks of several streets coming into Checkpoint Charlie, telling the story of the division of Berlin following WWII, the Soviet domination of East Germany, the crisis over the construction of the Wall, and highlighting several of the East Germans who lost their lives trying to escape to the West.
Checkpoint Charlie itself seems almost a child's playhouse, it is so small.  The white clapboard hut stands by itself in the median of a busy Berlin street.  At first glance I thought it was still being manned by U.S. military personnel, but then I realized that the individuals dressed in imitations of U.S. WWII uniforms were just more street "actors" trying to skim a Euro or two off the tourists by posing for pictures in front of the guardhouse. More on this form of "entertainment" later.
We did spend one afternoon strolling through the largely residential
section of western Berlin known as Charlottenburg.  This large neighborhood was once the heart of old West Berlin, but lost its popularity to the novelty of East Berlin shortly after the Wall came down.  It is still a
popular residential and shopping district for those who can afford it, and much of its charm (to me)is due to the fact that it was less heavily bombed than the central and eastern sectors of the city, and thus retains a great number of architecturally historical buildings. Among the loveliest is the 17-18th century Charlottenburg Palace with its formal gardens and acres of attached woodlands along the River Spree. The Schloss (castle or palace) was originally intended as a summer residence by Queen Sophie Charlotte, wife of Prussia king Frederick I; as you can see, the good queen's intentions swiftly grew out of hand.
One museum I feel is worth recommending to any of you planning trips to Berlin.  The fairly new "Topography of Terror" museum is a block away from Checkpoint Charlie.  It is free and has exhibits both inside and
outside, where they incorporate a bit of the former Wall into the exterior exhibits.  The interior exhibits, in both German and English, start the tale of "terror" by detailing the rise of Nazism, the developments of the camps, on through the end of WWII and the prosecution of several Nazi war criminals.  I was impressed at how this museum's exhibits did not at all shy away from the issue of citizen complicity in the Nazi witch hunts of first their political enemies, then the long list of "undesirables", from Jews to gypsies, homosexuals and the mentally disabled.
The effect of the exhibits was overwhelming and, quite frankly, we could not absorb it all in just a couple of hours. It will definitely be on my list of places to revisit upon a return to Berlin.  I walked away with the sense
that in this museum, at least, Germany was not going to let the past be swept under the rug.  And the horrors of the Nazi "terror" was not lost on the visitors. In looking around at the mostly German crowd, or eavesdropping on any conversations, you could see the shock and revulsion in virtually each visitor's face or in their strained whispers.
And the photographs were not graphic; it was the text of the exhibits,
simply laying out fact after fact, that seemed to stun and overwhelm the crowds, as it did me.
In reflecting about our experiences in Berlin, I found that I was a lot more comfortable than I had thought I would be in the city and with Berliners.  Berlin is definitely a young city. Forty-five percent of the population is single, and much of the city's buildings are less than 20 years old.  To me there definitely was a progressive vibe, a sense of moving forward, of young people saying, "This is our world, we are taking it from here.
Share:

In Amsterdam the red light district is hard to miss once you're in the midst of it. There are both neon-lit and colorfully painted signs advertising brothels, sex shops, head shops, and even an Erotic Museum.  What most people do not know is that Amsterdam's red light district has been ensconced in the central area of the old city since the 14th century.  Yep. Over 700 years. And, yet, throughout the centuries, the district has always thrived with families, tradesmen and business living cheek to jowl with the brothels and bars.  In fact, my guide book says the area was so full of rich folks, that this stretch of canals and streets was known as the "Velvet  Canal".  While the area may not be quite so prosperous now — prostitution is now controlled by the government – every block will have at least one establishment with huge, ground-level windows in which the ladies display themselves to attract potential customers.  However, because it is so mixed in with business, bars, restaurants and dwellings, the windows' interiors sometimes aren't visible until you are literally standing in front of one of them.
Oh – just to set the record straight, the triple-X flags all over Amsterdam aren't advertising the location of brothels or sex shops.  The red flag with the three white crosses of St. Andrew on a black band is the emblem for Amsterdam and thus the city's flag.
Nearly an Incident
Having now spent four days in Amsterdam – it's a quick 25 minutes by train from Utrecht – I've become pretty good at navigating through the city.  A few days ago I managed to get five of us through the warren of side streets to several destinations, one of which was the red light district.  It seems like the three people with us, Matt & Caralynn and Veronica, all visiting medical professionals from the States, hadn't been to Amsterdam before but all had heard of the famous red light district.  And of course, everyone wanted to go to the most sought-after tourist destination in the city.  We are, after all, tourists.
Let me point out something I have learned here:  there is a certain
etiquette that is intrinsic to the red light district.  No native of Amsterdam stops and gawks at the scantily clad women lounging, standing, preening, reading or whatever in their individual display windows.  For Amsterdammers, it's just business as usual.  Tourists on the other hand, tend to come to an abrupt standstill, point open-mouthed, giggle, turn red, throw elbows at each other and otherwise make fools of themselves.  For the most part, the ladies just ignore these ignoramuses, but there is one activity that incenses the ladies – and their brothel's bouncer:  taking pictures.
I can understand this. Who wants to be made fun of or belittled?  And the guidebooks warn you:   you start snapping pictures of the ladies in the windows, the bouncers or ladies themselves may rough up the witless tourists, and smash their cameras in their fury or toss them in the nearest canal.
So it was with major trepidation I suddenly hear behind me one of our merry band loudly exclaim in sudden revelation: "What?  This is the red light district?  Oh, I gotta get a picture of this!"
I whipped around and hollered, "No!  No pictures!  Stop!"  I had visions of our group being rushed by half naked women and Turkish bouncers and pricey smart phones and digital cameras summarily tossed into the nearest canal.
Thankfully, she did stop.  I explained how taking pictures was considered a gaffe, at best, all the while eyeing some tough looking men lounging under nearby brothel windows and scowling at us:  the bouncers.
So, we did what everyone does:  stand at a distance and pretend to take pictures of scenic canals amid throngs of gawking tourists while hoping to catch in the frame — at long distance — at least one of Amsterdam's "window ladies".  The rest of the day went without incident.
Back in Utrecht
So, back to Utrecht.   Where was the red light district?
To be sure, it couldn't possibly be the size of Amsterdam's, but still.  Turns out, it's similar to Amsterdam's, albeit smaller by far:  all mixed in with family dwellings, general shops and restaurants.
Last week I found it, purely by accident, ambling down a narrow side street I'd walked upon a couple of times before.  A twitch of movement caught the corner of my eye and I turned my head to find a red head in a bikini with garters and fishnet stockings lounging on a chaise in a large picture window.  Bingo.
As I gazed up and down the street, I realized that about half the establishments had the oversized, ground level windows and there was a tough looking, muscular guy hanging out by himself about half way down the street – all of which should have given me a clue.  At a little after noon, about a fourth of the windows were occupied, the others had interior curtains drawn over them.  It also dawned on me that the earlier times I'd walked this street, it had been on my early morning excursions to the local supermarket, way too early for the women to be on display.
I looked up to check the name of the street so I could later identify for Michael which of the tiny side streets the red light district was on.  I started laughing out loud and just had to take a picture.  I think you will all agree with me that a street name has seldom been so descriptive:
Hardebollenstraat.
And here's a look at Hardebollenstraat in the morning, about the only time it is safe to take pictures: