About Ewan Spence
Ewan Spence is a blogger, author and writer based out of Edinburgh, Scotland. In addition to his own blog, he has contributed and contributes to BBC News, BBC Magazine (online), The Stage (UK Arts and Entertainment Newspaper), Computing (VNU), iProng Magazine, IT Pro, O'Reilly's Make Magazine, Palmtop Magazine, Podcast User Magazine, UK Tech and UK Mobile Blognation, PDA Essentials, Mobile Messaging 2.0 and All About Symbian.

He wrote the book Rapid Mobile Enterprise Development for Symbian OS and has audio program commissions for BBC Radio 5 Live – Through the Night and Pods and Blogs, Computer Outlook Talk Radio Show and Talk 107. He also regularly speaks at and moderates panels at high profile technology conferences around the world.
Latest Posts by Ewan Spence
Share:

Kindle review takes a look at why DRM is still such a big thing in eBook markets:
DRM means permanent lock-in. Once you get permanent lock-in, readers don't switch. They don't switch because the cost of switching is losing all existing books bought from the vendor. Readers are locked-in – once again at the mercy of Gatekeepers. Authors too are at the mercy of the new Gatekeepers. If people don't leave the two biggest stores because of DRM related lock-in, then we've just replaced The Big Six with The Terrible Two.

Authors have no means to get to readers without 'pleasing' these two big ebook stores.

This is why Amazon never puts in that extra effort to make its hardware superb. It doesn't have to. This is why B&N never goes out of its way to match Amazon prices – it doesn't have to. This is why eReaders are evolving at a snail's pace. Amazon and B&N know that they could add ZERO new features in the next 5 years and their readers would still be reluctant to switch because they have $500 to $2,000 to $5,000 worth of books locked into the ecosystem.

Photo credit: blog.adblaze.com.
Share:

There's a new design of folder from Filofax, and for a moment I got my hopes up:
Instantly recognizable, but with a twist. Iconic design with a simple one-piece thick leather cover, slightly rounded corners and strap with gel popper cap. Beautiful in its simplicity, with perfectly balanced proportions. Working with extra thick leather and using traditional construction techniques, these personal organizers are made by our UK factory who piece together the components by hand, using thick thread to carefully stitch them together.
Unfortunately it's still the 25mm (7/8 inch) ring size. I'm still waiting for a new Filofax with a Winchester sized 31mm (5/4 inch) ring size.
No doubt changes are taking place in design and otherwise, given the announcement in April. According to the Telegraph, a Canadian entrepreneur has teamed up with the current chief executive of Filofax to buy the leather organiser company for an undisclosed sum. The new tie-up is expected to help Filofax, which is based in Dalkeith in Scotland, benefit from "economies of scale", according to sources close to the deal.
Share:

Stand-up comic Susan Calman:
At least one side of the debate will be disappointed in just over a year.  Either we will get Independence or we won't.  If we don't attempt to have some lighthearted opinion in the mix the country will be shit to live in whatever happens.

Photo credit: Onlinecasinoarchives.co.uk.
Share:

Sony has put out a phone that knows exactly what it wants to be. Sony wants to be a player, it wants to be established, and for that it needs to be seen as a stable and worthy manufacturer. The Xperia S proved that Sony could build a good phone, the Xperia T showed an iterative approach and a new found confidence in styling and advertising, and the Xperia Z is a handset that delivers everything you expect, has the style, and gives you the confidence it will not be out of date in six months time.

Which is good, because Sony has run out of model letters at the end of the alphabet.

Sony's latest Android handset, announced at CES 2013 and reaching a number of markets during February this year, is an impressive continuation of Sony's Android line of smartphones. While it is not the Android device to rule over all other Android devices, it shows a steady progression from Sony's first Android handsets last year. The Japanese company know how to build up all the elements of a solid smartphone. While I might lack a spark that makes it special, it's capable and dependable handset that I can recommend.

Naturally the recently announced Samsung Galaxy S4 sneaks ahead in the spec stakes, but that's about the only phone that does. Compared to the other flagship handsets around the smartphone the world, the Xperia Z is in the top class with a 1.5 GHz Quad Core CPW, an Adreno 320 GPU, and 2 GB of Ram. Perhaps the sole memory option (at 16 GB) is a bit weak, but microSD cards are supported for extra storage.

At 5 inches on the diagonal the screen is a delight. Powered once more by Sony's 'Bravia Engine 2′ it is a sharp 1080p display that smashes through Apple's definition of a retina screen with 440 pixels per inch. One sacrifice for that density might be in the viewing angle, with colours starting to fade at a relatively small amount of angle, although information does remain readable. It's more than enough for one person to cope with on a jostling train or jogging down the street, but with the 5 inch HD screen you would expect to be sharing videos at some point in time.

The battery is sealed into the handset, and while it has a high capacity (2,400 mAh), the screen along with the 4G LTE radios will place a lot of demand on the power source. Thankfully Sony has worked on the software so that the handset can easily get through the day. This comes down to the 'Stamina' mode, which in essence is a strict guardian of power. If the phone's screen is off, then background tasks are going to be suspended, data transmissions limited, and the phone will try to draw as little power as possible, on the assumption you're not actually doing anything with the phone. Apps can be white-listed to ignore Stamina mode if required.

See the full review of the Xperia Z, on Forbes.

Photo credit: hypebeast.com.
Share:

Anyone following the world of mobile phones will know that 'something' is up from Facebook tomorrow/Thursday. The chances are we're going to see an updated Android application, potentially one that takes over the launcher UI of a handset, thus creating a 'Facebook phone'. We might even see a handset with this code bundled in from the factory. But if you want to see what a Facebook Phone would be capable of, you should be reaching for a Windows Phone.
Thanks to Microsoft's blank sheet of paper approach (and a few accurate guesses as to the direction the market would be going) support for social networks were baked into Windows Phone from the get go. Nowadays you sign in to your Microsoft account when you first switch on a device, and you can then sync data from a wide range of social networks and services, including Twitter, Google, Linked In, Yahoo, Sina Weibo, and of course your Microsoft account. And Facebook.
There is a lot of buzz and information out there on what Facebook's plans could be – a good example of this is Android Police's alleged examination of the code-base of the new launcher – but most commentators are in agreement that a phone geared towards integrating Facebook into the user's life will have lots of options to share content, be it web pages, pictures and video, status updates, locations, and more.
It would pull in information from your friends online so you can see at a glance what they are up to. It would give you access to your news feed to give you an overview of what is happening in your social circle. It would let you chat on IM with friends, and would act as your address book.
With a few exceptions, you can do all that with your Windows Phone. Jump into the settings screen, remove the other social media accounts, and stop updating your Hotmail inbox. Boom, you've got yourself a Facebook Phone. And this is ignoring the capability of third party applications (including, obviously, the Windows Phone Facebook client)….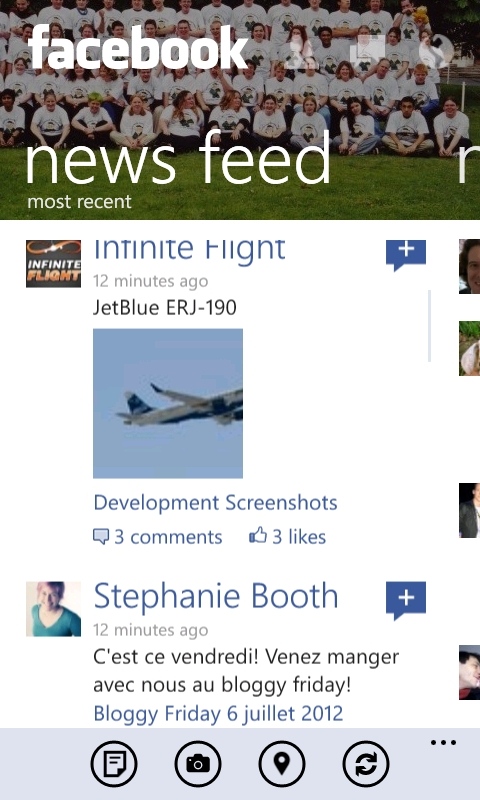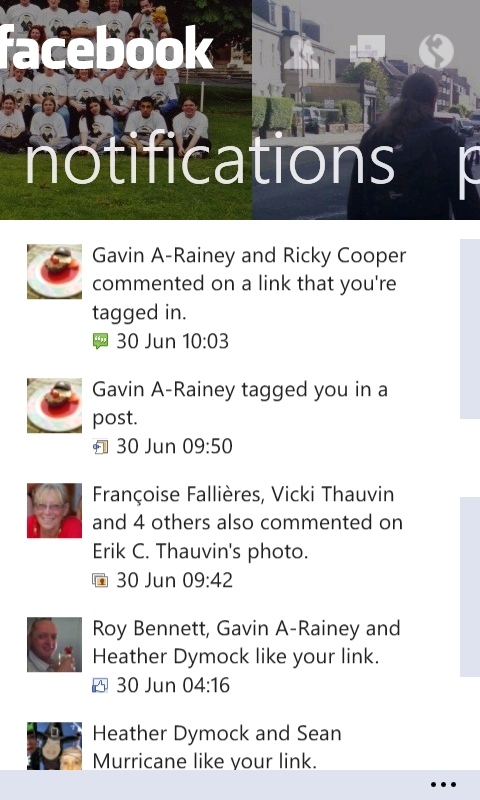 The Facebook app on Windows Phone – let's not use this
Okay, it's not perfect, and there a few holes that would need filling. Facebook's messaging system does not have POP3 or IMAP access, so the Windows Phone email client is redundant in our Heath Robinson affair. Given that Facebook's messaging system is a hybrid of IM and email, you still have partial access to the system through the chat option in the People hub.
The other area which is a big miss is that Facebook is not just about people – the 'Groups' and 'Pages' of Facebook provide vital community functions that are simply not accessible using the core software of Windows Phone. This makes sense from a design point of view, every network has some sort of grouping feature, but each of them does it in a different way. Making a universal system that would work in the Windows Phone environment would be tricky at best.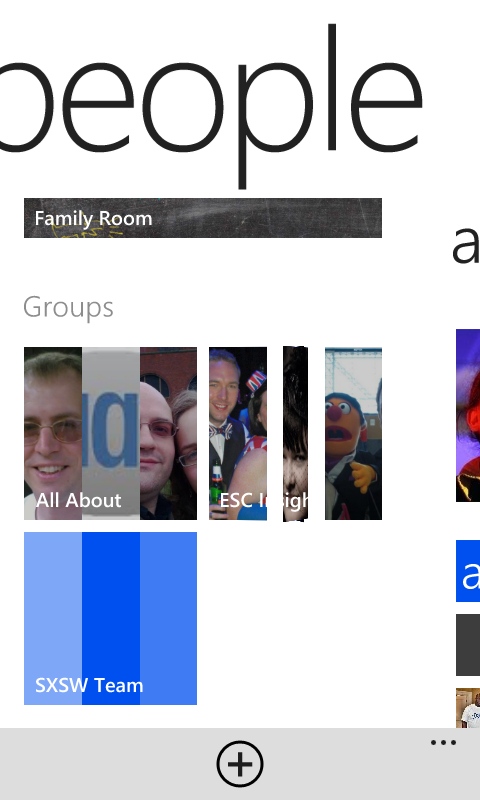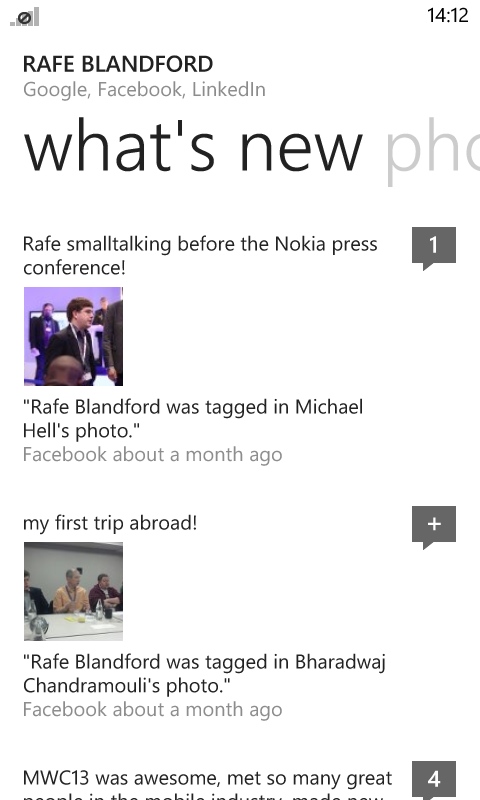 From a technical point of view, use Windows Phone purely for Facebook and you can see how all the pieces work together. You have a huge amount of information coming in, much of it relevant for that moment in time. The live tile for the People Hub will give you an overview of Facebook notifications waiting for you, while you can pin your own lists of people to the start screen (it's just a shame these don't sync with Facebook, just with your Microsoft account). And you can pin individuals, too, so you can reach out to them quickly and easily.
Move into the content side of your Windows Phone and you'll already know that whenever you have a piece of content, the chances are that in the menu there will be an option to share it, and Facebook will pretty much always be there. Either as a text note, a link, or a piece of media, moving information from your handset onto Facebook is as easy as a menu choice… because that's how it was designed.
I've no doubt that, technically, Facebook's latest mobile project is going to be a wonderful piece of code, and there will be a lot of people testing out a replacement UI, an improved Android application, and eager to see what Facebook do when they have a whole phone to play with.
I would love to know the engagement numbers, and how many people would consider switching over to an all-Facebook world, be it hardware or software. The value for me in Windows Phone and especially in the People Hub is how it looks at all my networks online, and brings in information from disparate sources. When I share, I have the choice of where to share, and if I want I can bypass them all and send a direct text or email to an individual.
Me? I'll carry on using my multi-function tool, as opposed to switching to a single blade.
Share:

The Lumia 620, Nokia's mid to low range Windows Phone 8 handset, is a pretty attractive prospect:
It's not that threatening a smartphone. Its svelte size combined with the live tiles make it easy to use for those starting out on a smartphone path, and while the smartphone geeks of the world aren't going to throw away their existing handsets, I can see a lot of them picking up the Lumia 620 just to see what all the Windows Phone fuss is about, and use it as a second handset.

If you want the definition of an good all-round smartphone for a smart price, then I don't think you need to look beyond the Lumia 620. It hits just above average in the hardware and software stakes, and it excels at just one thing – being great value for money.

The Lumia 620 is a low to mid range Windows Phone 8 device from Nokia. Its status as the cheapest WP8 device from Nokia did not last long, as the Lumia 520 announced at MWC took that crown. But the 620 is available now, and is doing sterling service at the cheaper end of the market.

A look at the tech specs does not show anything stunning. The CPU is a 1GHz dual-core Snapdragon, the han?dset has 512 MB of RAM, and ships with 8GB of internal storage (of which around 5.7GB is available to the user out of the box after the OS takes its share). The battery capacity is 1300mAh, which feels utterly middle of the road, and the camera is a 5 megapixel unit, with an LED flash, and capable of shooting in 720p.

That might have been top of the line a few years ago, but in a spec comparison on the High Street it's clear this is a low to mid range phone. But all of this misses the point. The specifications can be lower on Windows Phone than a comparable Android device because the operating system is efficient enough to allow it. That gives the Lumia 620 a strong advantage when being checked out and in initial use.

The UI is fast and reactive, it handles all the built in applications well, presenting them with a similar speed to the higher end WP8 devices and with no graphical slowdown as everything spins and move around the screen. That's a testament to the OS code, and to the hardware.

You should note that the Lumia 620 supports microSD cards for additional storage. Rated up to 64GB, you can drop all your pictures, music and videos to the card, along with pictures and videos taken by the phone. This frees up the internal drive for working area and application storage.

With Windows Phone 8 still having an issue in terms of reclaiming storage space from temporary data, that 8GB of internal storage is going to fill up over a few months. Nokia have already pointed out they are working on this issue, and a fix is due, so I'm not going to mark down the handset around this issue too much, but if there's no fix by the end of Q2 then I'm going to get angry.

A lot of that anger would arise because I really like the physicality of the Lumia 620. While the device is small, it feels smaller than even the 127g weight of the device would imply. Sporting a 3.8 inch 800×480 sized LCD screen, it's a shade larger than the screen on the Lumia 800, but Nokia have reduced the excess casing around the sides to make a slightly smaller phone.

The screen does come with Nokia's ClearBlack technology, to create a better contrast between black and colours, and one of the side benefits of this is an ability to still make out what is going on in strong sunlight. That I had to test this in Texas and not Scotland is one of the perks of All About Windows Phone (I think). Where the screen is let down is in the colours on show. They do not feel vibrant at all, in fact they have a muted and washed out tone when compared to other Lumia devices. It's only something I notice when doing a direct comparison, but it is certainly duller than other handsets. [To be fair, this is usual for LCD screens when compared to AMOLED, generally - Ed]

This is one of two areas where the price point of the Lumia 620 affected the experience. The other is in the camera.

There's nothing actually wrong with the camera, it's just that every other area of the Lumia 620 delivers more than you would expect for a smartphone at this price point. The camera is the weakest link in the whole smartphone. With a regular Nokia lens (as opposed to Carl Zeiss), a lens cover essentially open to the elements when placed on a table, and a notable delay between hitting the camera shutter button and the picture being saved to disk, the results are workmanlike, at best.

Put it in a situation with a decent amount of light and the reproduction is good, but as the light levels drop and the action increases, the camera will struggle to capture enough light to take a good image in anything but the brightest indoor setting.

On the plus side, Nokia have included the High Amplitude Audio Capture technology on the Lumia 620, so the audio reproduction is second to none. The light at a music gig might not be wonderful, but the music will be captured. And when you're looking back, the audio will have a far greater impact on your perception of the video than a slight pink tinge thanks to the stage lighting at long range to a band on stage.

Anyone who knows me will know that my preference is for very small form factor smartphones, coupled with high end specifications. While the Lumia 620 is slightly larger than my sweet spot (go for a ClearBlack Display 3.5 inch screen in a slightly smaller footprint and I am there), and the specs are a touch lower than I would like, of all the Windows Phone 8 devices I have tried, the Lumia 620 is the one that has made the biggest personal connection with me.

Part of that is down to the shape. While Nokia's 'blown pillow' design will be familiar to those of you coming from the Lumia 800 and 900, the Lumia 620 goes for a more 'bathtub' like approach with a flat screen and forward front, with the sides all curving down quickly (but not too aggressively) to a flat rear. It fits comfortably in my hand, and everything is reachable for one-handed operation.

One issue I did have was that while I was using the handset on the move (as good as doing it one-handed as possible), there were moments on reaching over the screen to one edge that the crook of my hand triggered the touch-screen. Thankfully with a universal 'back' key that's not a huge issue in terms of losing data or my place in an app, but it's a touch annoying.

This is more than made up for by the colourful 'bathtub' exterior shell of the Lumia 620. Because this is completely removable and exchangeable for another shell. So I can start the day with a white shell suitable for use in an office environment, before popping it off and switching in a bright yellow case to go out with in the evening. It's a simple touch, and Nokia has a long history with different cases and covers for their phones, but they've pushed the boat out with the Lumia range to make it a major selling point.

One thing I appreciated on the Lumia 620 is that switching out the case does not cause the handset to reboot – which really does encourage switching cases as often as possible. I do wonder how durable the cases will be after two years of use (after all, this handset is available on a twenty four month contract). The buttons on the side of the Lumia 620 are going to be pushed past the lip of the device every time a case is changed, which could weaken what is a bendy piece of plastic.

Also, the headphone jack is part of the casing, and has six contacts on the rear that need to make contact with the sprung legs in the chassis. This is necessary to get the amount of curvature on the shell and still allow the standard 3.5mm jack plug to fit into a socket, but I'm worried that the sprung legs will not stand up to years of punishment.

It's here that I would trust Nokia's extensive testing and reputation for build quality, but it is an area that I'm going to watch rather carefully.

Out in the real world, the Lumia 620 acts like pretty much any other Windows Phone, albeit one with Nokia's extensive range of additional applications. We've touched on these countless times before at All About Windows Phone, so there's no real need to go into them again, but I want to highlight HERE Maps/Drive (built-in from moment one) and Nokia Music as being highlights of the software package which will cost you nothing extra over and above the cost of the phone.

Nokia have now hit their stride with Windows Phone, just over two years after publicly announcing the switch away from Symbian. While the Lumia 920 gets all the attention in the media, it's going to be the Lumia 620 that is pushed in the stores as the best value handset out there. The Lumia 620 has enough hardware and power to cope with all the regular tasks a smartphone needs to do (albeit with the usual caveats about Windows Phone and the occasional workarounds we're all familiar with).

Yet it's also not that threatening a smartphone. It's svelte size combined with the live tiles make it easy to use for those starting out on a smartphone path, and while the smartphone geeks of the world aren't going to throw away their existing handsets, I can see a lot of them picking up the Lumia 620 just to see what all the Windows Phone fuss is about, and use it as a second handset.

If you want the definition of an good all-round smartphone for a smart price, then I don't think you need to look beyond the Lumia 620. It hits just above average in the hardware and software stakes, and it excels at just one thing – being great value for money.
First photo credit: www.gsmarena.com, others from Ewan Spence. Originally posted over on All About Windows Smartphone.com. 
Share:

Another notable app for Microsoft's mobile platform.
As an exclusive promotion Pandora, when used on Windows Phone, will be ad-free and have no monthly streaming limits. Pandora usually charges a $3.99 per month subscription (or $36 a year) for ad-free listening and limits free mobile listening to 40 hours per month, but there will no charge or limits for Windows Phone users throughout 2013…
Pandora is a significant addition to the Windows Phone app catalogue because it's a well known app and service on other mobile platforms. In July of 2012 Pandora announced that it had 54.9 million user, a number that continues to grow. Like Instagram, it has sometimes been cited as a reason not to switch to Windows Phone.
Windows is encouraging people to explore the world of music on their Windows phone. They are offering ad-free Pandora when you listen on your Windows Phone through 2013.  Only Windows phone has Pandora with no ads and no monthly streaming limit– for free.
Windows is providing Pandora and giving it a unique twist which allows you to pin your favorite station to the start screen, see what's playing by glancing at your Pandora Live Tile, and basically encouraging a more personalized radio service on a Windows Phone.
Share:

The day after I left Austin, Texas, 'Bring Me The Head Of Alfredo Garcia' played at the Alamo thanks to the Badass Digest. Damn.
[Sam] Peckinpah gets a lot of love for The Wild Bunch and Straw Dogs and The Getaway – and rightfully so. But Alfredo Garcia holds a special place in the Peckinpah canon. It's his grimiest, sickest, weirdest movie but also his most personal. It's about how Bennie, an ex-pat American living in Mexico, learns that a local crimelord wants the head of the gigolo who knocked up his daughter.

The reward: a cool million. But Bennie has some inside info: this gigolo, Alfredo Garcia, was actually killed in an accident some weeks back. All Bennie has to do is go to the graveyard, dig up the corpse and become rich. Or so he thinks.
America may have forgotten the Peckinpah film, but for Radio 4 comedy fans, it never really went away. It just made an appearance at every society ball Humphrey Lyttleton announced.
Photo credit: bodmanlive.