About Gino Yu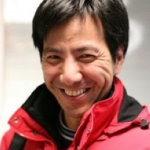 Dr. Gino Yu has taught and established multimedia programs and initiatives at institutions including the University of Southern California, the Hong Kong University of Science and Technology, and the Hong Kong Polytechnic University. He is currently an Associate Professor and Director of Digital
Entertainment and Game Development in the School of Design at PolyU where he develops meaningful game projects at PlayLab, a commercial digital entertainment entity he co-founded that provides consulting, research, instruction and new ideas for the industry. Dr. Gino Yu

He also founded the Asia Consciousness Festival and is hosting the 2009 edition of the Toward a Science of Consciousness Conference. His main area of research interests involve the application of media technologies to cultivate creativity and promote enlightened consciousness.

Dr. Gino Yu received his BS and PhD at the University of California at Berkeley in 1987 and 1993 respectively and has over 60 conference and journal publications.
Latest Posts by Gino Yu
Share:

What started out as an annual conference dubbed an "extended dinner party" 26 years ago has become a global phenomenon.  Over the past several years, I've enjoyed attending the
TED Conference
, watching TED talks online, and viewing the many TEDx live streams as they were broadcast live from around the world. Participating as a spectator has been educational and also inspiring. I've certainly had my share of "TED Moments" and have made many new friends through the TED community who have enriched my life.
This year provided new perspectives of TED as an organizer of TEDxHongKong. The "behind the scenes" perspective has given me a deeper appreciation of what TED is and its importance in today's society, not as online media content or a big event, but as an institution that promotes empowerment on a global scale. With this article, I'd like to share my personal experience and encourage anyone who has watched a TED talk to get involved with the growing community.
TEDx was created as an extension of the TED Conferences that promote "ideas worth spreading." With over 30 million views a month, the TED talks online have inspired people all around the world to come together, share, and celebrate our creativity, compassion, innovation, and grace. In the past year and a half, over 600 TEDx events across 98 countries have been organized by individuals inspired to bring people together to share ideas and celebrate local visionaries, artists, and thinkers who are working to make a difference in the World. TEDx offers a unique platform for building local community and celebrating local talent.
TEDxHongKong — "Creativity in Action" came together as a few Hong Kong participants of the TED Conference got together with groups that include Mind and Matter, the Hong Kong Polytechnic School of Design, MENSA Hong Kong, Suchen, and the Jane Goodall Institute earlier this year.
TEDxHongKong showcases amazing lineup of speakers and performers including environmentalists Jane Goodall, Martin Tam, and Doug Woodring, activist Christine Loh, technologist Robert Yung, futurist Ben Goertzel, designer Lorraine Justice, bridge builder Edward Ng, adventurer Camaron Dueck, author and comdian Nury Vittachi, health advocates Dr. Susan Jamieson and Mylene Khoo, educator Coco Wong, solicitor Jonathan Cheng, pianist and vocalist Howard McCrary, comedian Vivek Mahbubani, The Snow Choir, Theatre Noir, rapper Rebearth, and a few surprise performances. If you have never seen her in person, Jane Goodall is one of the most inspiring speakers I know. I'm also excited to see the world premiere of Doug Woodring's new talk that reframes our relationship with the ocean. It will surely be a thought provoking afternoon.
Although I have lived in Hong Kong for nearly fifteen years, I haven't ventured much outside of work and family life. Developing TEDxHongKong has made me a lot more aware of the remarkable and inspiring people that live right here in Hong Kong.
Volunteers and sponsors, inspired by the ideas and format of TED, have come together to co-create this event. Although we may not have the same level production values that the TED Conferences have, our local event has just as much passion and hope for the future. It is testimony to the impact that the TED talks have made to affect people's lives. Contributing to a local event is a way of "giving back" and growing the community. Nothing is more powerful than bringing together different people with a common goal and vision of creating positive change.
TEDxHong Kong will be held on August 31st, 2010. For details, see
TEDxHong Kong.
Share:

Had a great turnout at Startup Saturday here in Hong Kong with over 500 attendees for a full day pitches (startups) and panels.  While there was nothing really earth-shattering, it was definitely fun to see Hong Kong developers riding the wave of social media / ipad / location-based services that is sweeping the rest of the world.  There were a few success stories who shared their experiences (6 Waves, Pixel Media, etc.) and there were a few angels lurking around the audience.
You can check out the tweets from the event (hashtag #sus2010).  Its great to see a healthy developer community emerging here (we are hosting Barcamp 2010 at the Hong Kong Polytechnic University on September 18th).  The talks should be available online sometime next week.
Share:

Summer is upon us in Hong Kong and along with it comes hot, humid weather, rain, and blasting air conditioning everywhere, from the shopping malls to public transportation.  Despite living in Hong Kong for nearly fifteen years, the rapid transition from the hot and humid out-doors to the refrigerated conditions in doors invariably leads to a cold and often followed by bronchitis every year.  My standard attire of shorts and a Hawaiian shirt doesn't help the situation.  The combination of perspiration and humidity leaves your body completely vulnerable in Hong Kong's heavily air-conditioned indoor environments, something to be mindful of if you plan on travelling to Hong Kong or Southeast Asia in the summer.