About Jim Bamboulis
Jim Bamboulis has held several posts over the past 12 years, including National Sportscaster, Food Host and Writer, Talk Show Host, Olympic Researcher and Travel Film-maker.

Born and raised in Toronto, Jim learned early on that the combination of travel and food meant ultimate living. Combining his insatiable creative spirit and desire to document his travels, Jim took his unshakable travel bug and set off to explore. Add the fact that Jim also grew up in a Greek household and he learned that not only does Mom always make the best meals, but as importantly learned the importance of understanding and appreciating the countless beautiful cultures and the integral role food plays in every corner of the World.

In August 2009, Jim founded Travel Mammal, a site that brings together his travels and experiences (both good and terrifying) with the hope that others are inspired to share their own. We are all storytellers, especially when it comes to travel and food. He urges everyone to be inspired, explore and love the world and the people that share it with us. Or in other words, Live to Travel and travel to live!
Latest Posts by Jim Bamboulis
Share:

The chunks of breaded chicken are beautiful and the tomatoes thick and juicy. The chew is long and flavourful. I'm in Mezza Luna Pizzeria in New York City.
When it comes to travel and food, I hardly claim to experience 'the best' because the world is full of amazing food. As for pizza and a fantastic slice, well that relies heavily on the favours of the end-user. Such as:
the number of toppings
the type of toppings – meat or veg or both
crust thickness
baking style/dough thickness, et al
One of three Manhattan Mezza Luna Pizzeria locations stands at 98 – 8th Avenue and 15th Avenue. The hunter green facade looks like any other business; there's a sign, windows spotted with hand-written signs on bright bristol board, and a door. Inside is a low-ceiling, odd tables and chairs, mirrors, and of course the pies guarded by finger-printed plexiglass casings.
As for atmosphere, the employees appear to enjoy their work; talking, teasing, joking, laughing, and yelling! The greet is immediate and welcoming while the customers already seated, chowing down, look pleased.
The first bite of a slice is often one of my favourites. The chicken is cooked perfectly, the tomato's fresh. My bites are huge, I like the crust and my belly is full.
That's Mezza Luna. That's pizza. And that's all you need to know.
Contributed by Matt James.
Share:

Iceland is an incredible place to visit — the nature is stunning, the landscape picturesque, it's rugged and it's otherworldly. But most of all, it's probably unlike anywhere that you've been before – and that's exactly what drew me there.  That said Iceland can be very pricey for dining out.
It makes sense: Iceland doesn't produce a lot of food or alcohol locally, so they have to ship it in. Once you factor in the flights, boat trips and the mark-ups of the restaurants, it adds up quickly.
First tip:  if you're planning on having a night on the town, consider buying your booze at the airport. You'll notice when you arrive that basically your entire flight will head straight for the duty-free shop once they've grabbed their luggage. Alcoholic drinks in both stores and bars are shockingly pricey so most locals will have a few cocktails at home before heading out for the night, choosing to buy only one or two drinks at the bar. Also: don't feel the need to buy a 'round' of drinks for your friends and new acquaintances.   Since it does tend to be expensive, no one expects you to do that – and likely won't reciprocate. Seriously.
Second tip:  grocery stores are your wallet's best friend. Reykjavík is sprinkled with options that suit this purpose so find one or two close to your hotel and make sure you check them out.
A few things to keep an eye out for at the grocery stores:
- Skyr:  Pronounced 'skeer'. This favourite is a classic Icelandic yogurt (actually 'soft, fresh cheese' but really, yogurt) that is sadly only available in Iceland (aside from a handful of Whole Foods in Manhattan). It comes in a lot of flavours and as a bonus to all of us utensil-less travelers, it comes with it's own spoon. It's a generous portion and if you're not too ravenous, you can pair it with a piece of fruit or a baguette and it could serve as your entire lunch. I fell in love with Skyr while I was in Reykjavík and I'm still pining over it today. Some days I seriously start to weigh the cost of jumping a flight there just to be able to taste it again… (Sigh)
- The packaging:  From milk to juice to the supermarket logos themselves (I'm talking to you Bónus and your drunk pig mascot), marketers in Iceland love to put cartoons on everything. Aside from just picking up something to eat, make sure you tour around the store looking at all the interesting packaging manifestations. Special mention goes to Cool Ranch Doritos, which have somehow been re-cast as Cool American. It's a pretty awesome take-home souvenir – if you can find room in your luggage.
- Kleina:  This is a traditional fried dough pastry, akin to a dense donut, that is often served at breakfast. It's tasty – though perhaps not show stopping – but worth a try at least once with your morning coffee.
- Hot Dogs:  Known as pylsur on the island, hot dogs are an institution in Iceland. No respectable Friday night on the town can end without a piping hot tube steak and the locals do it best: wrapped in bacon.   I'm not the biggest pylsur fan save for perhaps at the ballpark but I will say that the Icelandic enthusiasm for this particular dish is catchy.   You'll be able to find it all over town – including grocery stores – but I'd recommend watching someone make it fresh if possible and avoid the ones that have been glistening on rollers under heat lamps for goodness-knows-how-long.
This brings me to dinner, an expensive proposition at best. There are all sorts of restaurants that offer what they call 'authentic' Icelandic food which, based on traditional recipes and current availability, can range anything from minke whale skewers to smoked puffin. If you're feeling adventurous and have the cash to back it up, it might be fun to take advantage of the unusual offerings and you'll likely come away with a fantastic story to bring home to your friends. Just know that it'll decimate your pocket-book and I've yet to hear someone say, 'Wow, that hákarl (putrescent shark meat) was friggin' delicious!'
If you're aiming for the more frugal end of the spectrum, rest assured that with a little planning and inside knowledge, eating out on a budget CAN be done! A few options that we discovered in Reykjavík on our trip:
- Krua Thai:  Located right downtown by the water, this tucked-away spot has big portions of pad Thai and stir fry for a relatively low-cost. It's not fancy but it's hearty.
-  Austerlanda Hradlestin (Indian Street Food):  I never imagined that I'd get some pretty darned tasty Indian food in the heart of downtown Reykjavík but I did, and for a reasonable (by Icelandic standards) price to boot. The trick here is that there is also a full-service restaurant called Hradlestin but make sure you're looking for the Austerlanda Hradlestin which is the take-out kiosk located around the corner from the downtown location. There are a few tables inside where you can enjoy your meal but mainly it's a walk-up counter for ordering and there are no wait staff.
- Grái Kötturinn:  This tiny coffee shop located a step down from the street behind a bright red door is closed during typical dinner hours but if you're up to see the sun rise after a night on the town (or you've just arrived on the red-eye), this is a great spot to get a delicious and reasonably priced American-style breakfast.
So don't let the hype get you down. Iceland IS an expensive country to visit. But if you're willing to put in a bit of research beforehand and can relish the joys of wandering the grocery store aisles while you're there, you can stretch your krona (Icelandic dollars) pretty far. And trust me, it's absolutely worth the trip.
One final note: water. I'm the kind of girl who won't drink the tap water anywhere outside my area code. It's not snobbery; it's purely gastro preservation. But the first time I landed in Reykjavík was in the middle of the night; all the shops were closed and I was reaching a raisin-status of dehydration. That is the ONLY reason I found myself getting talked into taking my water bottle into the bathroom and filling-up at the tap. What can you do at that point but lift the bottle to the heavens with a hopeful/cringing 'bottoms up!' Aside from the fact that I obviously lived to tell the tale, I actually liked the water.
By: Jennifer Renaud
Share:

By: Matt James Australia's East coast.  540 feet above the Coral Sea (Indian Ocean). I'm attached to 'FlyMaster', Tony, who steers the hang glider. While we hover high above the sea, it's peaceful and I feel small. In the early morning of a beautiful, sunny day, a gnarly little camper van picked me up at […]
Share:

Mexico, unfairly in my opinion, gets a repetitively bad rap. Sure, it has its problems but beneath the constant barrage of media reports, is a beautiful country full of life, passion and spirit. Not to mention food that will make you full…of life, passion and spirit.
During one trip to Mexico, I can remember eating so much that every time our car went over a rough patch of road, my belly would rattle and roll.
At that point, I knew that I had to kick my fitness into high gear but I also knew that the food ride was a good one.
Northern Mexico is known for its love of meat.
If you don't eat meat in northern Mexico, you're out of luck eating much at all. Sure there are salads but nobody seems to take them, or their health benefits seriously.
Meanwhile, in the south, meat still plays an important role but the cuisine in general isn't so heavy.
But right in the middle, lies the sweet spot.
In a place like Tepoztlan, located about an hour south of Mexico City and is a.k.a Pueblo Magico, all sorts of great food is consumed and savoured. For me, it's all about eating up real quesadillas at the local market. Tortillas hand-made and fresh, with Oaxaca cheese at the ready and chorizo on the grill at any given second.
If you're not hungry yet, you may start to feel your stomach calling for you after watching this video. Enjoy!
Share:

Every time there's a chance to travel to Montreal, I jump on it. Love this city! Locals are passionate, seem to enjoy life a bit more and take pride in their out-of-this-world food scene.  After all, what's not to love. Unique,  delicious, French.  Going on a 24 hour food bender in this town is essential.
Start with breakfast.  I got a recommendation to hit a cafe/bakery about 3 km northeast of downtown, near Mount Royal Park and the eastern edge of historic McGill University.  Stomach growling, I ordered one of the house specialties.  Over-easy egg resting nicely on a croissant. Genius. Efficient. Combines the beauty of both worlds.  And it avoids a mess.
Food being one of my weaknesses, it didn't take long for me to have my next meal. 45 minutes later, I had lunch.
For years, when in Montreal, I'd hit up Schwartz's deli on St. Laurent. An institution in Montreal and famous the world over, this place is always jammed, with a lineup out the door sprinkled with a hectic eating atmosphere.  This time around, I thought to change it up.
I went across the street. The Main. More serene, same price, same portion, equally awesome.
Ordered 2 dishes. Montreal smoked meat and of course, poutine.
Classic Canadiana.
These are the meals that you feel euphoric about while you're sitting there stuffing your face, then painfully regret eating after you've had some time to realize the amount of fat you've just ingested.
No regrets.
Montreal Smoked Meat
Poutine consists of French fries, topped with gravy and cheese curds. If those curds don't squeak when you bite down on them, then it's not really poutine.
These days, restaurants around Canada have  their own version of this artery-clogging beauty, including pulled pork poutine, Mediterranean inspired poutine, even ancho braised beef short-rib poutine….and the list goes on and on.
To me, poutine is best in its classic form.  With me?
Classic Poutine
But sometimes, I like to try a variation.
Dinner-time.
I hit up another recommended restaurant in NE Montreal, Au Pied de Cochon (Pig's Foot). Packed for a reason, the food here is considered to be legendary. Their speciality (among other things which we'll get to in a second), is Foie Gras Poutine.
Foie-gras poutine
Delicious and disgusting at the same, time, this dish is a whopping $25! Definitely not on the cheap but definitely worth the wait and worth the experience. If you can, I recommend sitting at the bar at Cochon. Yes, the space is tight but you get a front row seat and see for yourself how the kitchen here operates (well oiled machine) and how exactly they prep and plate.
Whether you're looking for fine dining or quick and classic, Montreal has what you're looking for. Where else in Canada can you order a pig's head, served on a platter, eaten in full (eyeballs and all, I assume) and left with a skeletal head of said pig on said platter all in one sitting?
Same place. Au Pied de Cochon. That's where.
Order a Pig's Head for 2.  Market Price.  Here's what the end result looks like.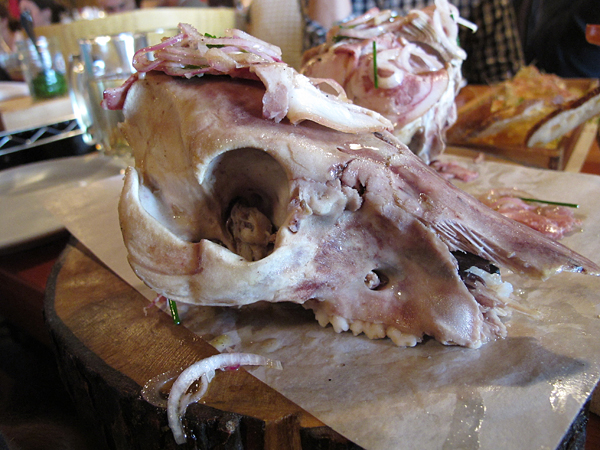 Pig's head – Photo courtesy http://www.willtravelforfood.com
If that sounds and looks appetizing to you, you've got balls of steel.
Either way, if you're a traveler who believes that food is part of the travel experience, you'll take the gamble and love it!
Share:

Every year, right before Christmas the flagship Hudson's Bay store in Toronto puts together an incredible display of Christmas celebration and cheer. 5 windows along very busy Queen Street West (just west of Yonge Street) are decorated with elaborate, detailed and festive Christmas scenes that conjure all sorts of warm, fuzzy feelings to all those who walk by them.
You can't help but stop, take a pic or two and admire how the craftsmanship is done!
Snowy scene
Letters and lists
Clocks ticking
Long list
Singing Carols
Feast
Sleeping
They're only around for a limited time and are definitely worth the visit!
Share:

On days like this, people generally stay inside, read a book, watch a movie, maybe get drunk or write a blog post.  Sometimes in that order, sometimes not.  Many though decide to venture out.
Some drive.  Here's what Toronto roads look like when it snows.
Sure, turn around on a hill
It may not look bad but the first one is always the toughest
Sure, if you must drive you have little choice but to battle the traffic. Yes, tempers flare and yes Toronto does have hills. They aren't San Francisco type hills but this city has inclines that, on days like this, make it feel like you're tobogganing in a car with plenty of backsliding, and back bumper to front bumper accidents.
Let me just go ahead and cause a potential shit storm
Causing a shit storm. Can you hear the honking horns?
There are particular parts of the city that cause greater chaos than others. This hill in mid-town Toronto is notorious for slipping, sliding and all sorts of chaotic activity. In the past, there have been people who have gotten the balls to do this…and make it successfully!
In fact, when the snow is really bad, as it is today, the TV cameras show up. Filming the chaos and gathering sound bites for everyone to see, hear and judge those who decided to drive on a day like this.
We're the News.
Now, back to that book, bag of chips, movie and drink.  Potentially in that order.
Share:

A while ago, I wrote about the Great Gum Wall of Seattle.  Yummy. And in my quest to see unusual attractions, I was told to drive a bit north of the downtown Seattle core…to find the Emerald City's Fremont Troll.
You wonder? It is an 18 foot high sculpture built by 4 Artists nearly 25 years ago.  Their goal was to create something that would help clean up this area of the city, through art. It worked.
The Fremont Troll is a major attraction. And as you'll see, young and old still like to climb  on it, pose in front of it and just stare at it.