About Jim Bamboulis
Jim Bamboulis has held several posts over the past 12 years, including National Sportscaster, Food Host and Writer, Talk Show Host, Olympic Researcher and Travel Film-maker.

Born and raised in Toronto, Jim learned early on that the combination of travel and food meant ultimate living. Combining his insatiable creative spirit and desire to document his travels, Jim took his unshakable travel bug and set off to explore. Add the fact that Jim also grew up in a Greek household and he learned that not only does Mom always make the best meals, but as importantly learned the importance of understanding and appreciating the countless beautiful cultures and the integral role food plays in every corner of the World.

In August 2009, Jim founded Travel Mammal, a site that brings together his travels and experiences (both good and terrifying) with the hope that others are inspired to share their own. We are all storytellers, especially when it comes to travel and food. He urges everyone to be inspired, explore and love the world and the people that share it with us. Or in other words, Live to Travel and travel to live!
Latest Posts by Jim Bamboulis
Share:

Fall is a great time of year to cycle nearly everywhere, but particularly in Canada. Specifically, Toronto is a pretty great place if you're a cyclist. There are several bike paths on city streets and several parks throughout the city that allow you to explore the off the beaten path gems. Among my favourite biking routes is through High Park and along the lakeshore. There's plenty to see all while breathing in some fresh air.
Here are some of the sites I took in recently in Toronto.
The last one was a bit of a surprise. It was a Naval graduation ceremony.
Have some favourite biking trails in Toronto or in your own backyard?
Share:

By: Jim Bamboulis Newfoundland is known for its history, unique geographic location and even culture. In fact, few in North America can beat this place when it comes to culture. Newfoundland has a tradition that you won't find anywhere else in Canada, much less anywhere else in the world. It involves drinking screech and getting […]
Share:

Quebec City is quaint, intimate and compact. But before we get into the details of what to see and do, consider some quick facts:
If you're the type of traveler who prefers to arrive, check in, drop everything and hit the ground running, then you can do QC is 1-2 days. It's a very walkable city.
It's one of the oldest cities in North America (over 400 years old).
The ramparts surrounding  Old Quebec are the only remaining fortified city walls that exist in the Americas (north of Mexico).
The Historic District of Old Quebec is a UNESCO World Heritage Site.
The Plains of Abraham is considered to be the birthplace of Canada!
Bring comfortable and durable walking shoes – you'll need them.
The winters here are as you would expect, very cold. But if you can tolerate a bit of a chill, you can enjoy some great adventures. There's the annual Winter Carnival, the Ice Hotel and plenty of skiing to be done. But I prefer the summer, where you can walk around comfortably and enjoy the boat ride up the St. Lawrence with some great skyline views.
Do – Walk around Vieux Quebec
Walking and entering the Old City through one of its gates is a thrill in and of itself.  The incredible stat about QC is that there are 37 National Historic Sites of Canada in this city and its enclaves!
A funicular and "neck-breaking" steps connects the Upper and Lower Town. Throughout both, you'll find museums, narrow walkways with boutiques, art galleries and restaurants all encompassed with beautiful Old World architecture.
The Chateau Frontenac dominates the city skyline. A château style hotel, it was built for the Canadian Pacific Railway company with the aim of luring wealthy travellers and bringing in luxury tourism bucks both throughout its trains and subsequently to QC. For some of the better views of the Chateau and of the St. Lawrence River, be sure to take a walk along the Dufferin Terrance, a long boardwalk at the edge of Upper Town beside the Chateau. You can't miss it.

Do – Take a boat ride up the River
To get a great overview of Quebec City and get a sense of what it must have been like to approach this port hundreds of years ago, hop on a chartered boat and take a tour along the St. Lawrence. There are several excursions to pick, some even offering alcohol onboard.  All are accessible along the waterfront, pick your style and time and you're off.
See – Plains of Abraham + The Battlefield Park
The Dufferin Terrace leads you to the Citadel of Quebec and the Plains of Abraham. Known to be the birthplaces of Canada, it was here where the British took Quebec from France.  It's hard to imagine that there was a great battle here more than 250 years ago because today, this space is a large and beautiful park, perfect for a walk, jog, bicycle ride or even a picnic.
Tip  – If you're flying into QC be aware that the best way to get to the Old City is to take a taxi which will run you only around $35.
If you decide to arrive by train, you're in luck.  The train station is centrally located and is a few minutes walk (uphill) to the old, fortified city.
Bring your stamina.
Have your own travel and cultural experiences in Quebec City? Share the love.
Share:

Every time there's a chance to travel to Montreal, I jump on it! I love this city!
Locals are passionate, seem to enjoy life a bit more and take pride in their out-of-this-world food scene.  After all, what's not to love.
Unique,  delicious, French.  Going on a 24 hour food bender in this town is essential.  And that's exactly what I did.
Started with breakfast.  Got a recommendation to hit a cafe/bakery about 3 km northeast of downtown, near Mount Royal Park and the eastern edge of historic McGill University.
Stomach growling, I ordered one of the house specialties.  Over-easy egg resting nicely on a croissant. Genius. Efficient. Combines the beauty of both worlds.  And avoids a mess.

For years, when in Montreal, I'd hit up Schwartz's deli on St. Laurent. An institution in Montreal and famous the world over, this place is always jammed, with a lineup out the door sprinkled with a hectic eating atmosphere.  This time around, I thought to change it up.
I went across the street. The Main. More serene, same price, same portion, equally awesome.
Montreal smoked meat and of course, poutine.
Classic Canadiana.
These are the meals that you feel euphoric about while you're sitting there stuffing your face, then painfully regret eating after you've had some time to realize the amount of fat you've just ingested.
No regrets.
Poutine consists of French fries, topped with gravy and cheese curds. If those curds don't squeak when you bite down on them, then it's not really poutine.
These days, restaurants around Canada have  their own version of this artery-clogging beauty, including pulled pork poutine, Mediterranean inspired poutine, even ancho braised beef short-rib poutine….and the list goes on and on.
To me, poutine is best in its classic form.
I hit up another recommended restaurant in NE Montreal, Au Pied de Cochon (Pig's Foot). Packed for a reason, the food here is considered to be legendary. Their speciality (among other things which we'll get to in a second), is Foie Gras Poutine.
Delicious and disgusting at the same, time, this dish is a whopping $25! Definitely not on the cheap but definitely worth the wait and worth the experience. If you can, I recommend sitting at the bar at Cochon. Yes, the space is tight but you get a front row seat and see for yourself how the kitchen here operates (well oiled machine) and how exactly they prep and plate.
Whether you're looking for fine dining or quick and classic, Montreal has what you're looking for. Where else in Canada can you order a pig's head, served on a platter, eaten in full (eyeballs and all, I assume) and left with a skeletal head of said pig on said platter all in one sitting?
Same place. Au Pied de Cochon. That's where.
Order a Pig's Head for 2.  Market Price.  Here's what the end result looks like.  And good luck with that.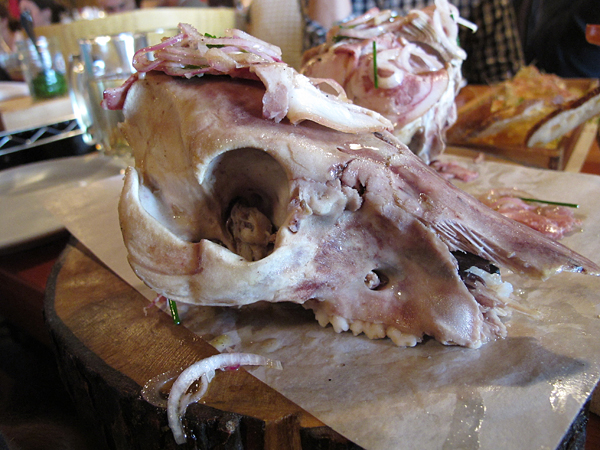 If that sounds and looks appetizing to you, you've got balls of steel.
Either way, if you're a traveler who believes that food is part of the travel experience, you'll take the gamble and love it!
Share:

Let's be honest, Guadalajara isn't on your travel bucket list. It certainly wasn't on mine.
But maybe after reading this post, you may consider penciling it in. Do people even use pencils anymore?
Here's the truth. Guadalajara is Mexico's 2nd largest city. It stands up to the competition quite well. Sure, it has a long-standing arch nemesis (Mexico City), but it plays second fiddle to nobody.  It's classy, sophisticated and takes care of itself just fine.
Nicknamed the "Pearl of the West", Guadalajara is considered a major cultural centre.  It has several universities, two culinary institutes and 22 museums. In 2005, it was named an American Capital of Culture.
That being said, it's tough to narrow down what to see and do in a city this influential.  But here's a list of 6 must considers.
See – Historic Centre. Not only is this where all the action is with plenty of hustle and bustle, the historic centre of Guadalajara is beautiful, colonial and grand.
The main centrepiece is Guadalajara Cathedral. You can't miss it. Since the mid-16th century, it has been built, destroyed by both fires and earthquakes and rebuilt again. It is the iconic image of the city.
And no, this isn't a crime-free zone. Don't be paranoid, relax. But do keep your eyes open of course and if you care about your valuables, you should keep them close.
See – Tlaquepaque
Located a few kilometres south of the historic centre, you find arguably one of the most picturesque towns in this region.
Tlaquepaque (pronounced Tla-ke-pa-ke) is a municipality that got swallowed by the urban sprawl of Guadalajara and has now become a neighbourhood within the  city itself.
The main features include 2 main churches and a large public square, lined with restaurants and shops. Speaking of shopping, Tlaquepaque is known for its pottery and blown glass.
Quaint and fairly quiet, it's a perfect place to relax a bit, stroll its narrow streets and have a drink all while listening to a Mariachi band or two.
See – Mariachi bands
Speaking of which, Mariachi of course was born in Guadalajara and over the span of the past 100 years, has become the unifying and proud symbol of Mexico and of Mexican identify as a whole.  Making a point to listen to the lively, passionate sounds of this great folk music tradition is a must.
If you can make it to Guadalajara in early September, you can catch the annual 10-day International Mariachi Festival where 500 mariachi perform throughout the city.
Do – Tequila
Is there a better way to listen to a Mexican national tradition than by drinking the Mexican national drink?
I'm talking about tequila, of course. And the answer is no, there isn't. It's perfect. Tequila was born in Guadalajara, but if you find that you want to escape the city, you can go  about 70 kilometres west to the town of Tequila itself. It makes for a great day trip.
To see the Tequila Trail, which is home to some of the world's most popular tequila distilleries, you have several options. One being the Jose Cuervo Express which is a train that runs directly from Guadalajara to Tequila.
The Tequila Express is another train that takes you from Guadalajara to the Tequila Herradura distillery in the municipality of Amatitan, roughly between GDL and Tequila. It takes you through the land of blue agave all while listening to a live Mariachi band on board. This option is available on weekends and features tastings, tours, dinner – a complete experience.
Or if you're a free spirit, you can always drive about an hour to reach your destination and take it in your way.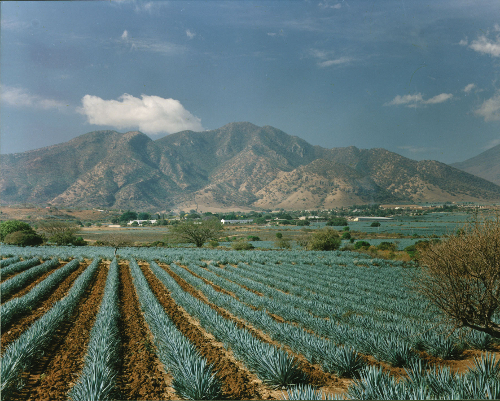 See – Chapala
If you're looking for another day trip idea, consider heading about 50 kilometres south of Guadalajara to the city of Chapala.
Located along the north shore of Lake Chapala, Mexico's largest freshwater lake, Chapala is a great place if you want to explore a bit more of Mexico's small town charm and join the many city dwellers who come here on weekend getaways.
It's relaxing and the swimming is pretty good.
Do – Torta Ahogada
Hungry yet?
Ya, you are.
A trip to Guadalajara isn't complete until you've eaten a Torta Ahogada (aka "Drowned Sandwich), a dish native to the city.
Made with biroti bread, the sandwich has a thick, crunchy crust and a softer interior and is often stuffed chopped fried pork and then fully submerged into either a dry chili pepper sauce (spicy or mild) or a tomato based sauce.
It's meant to be eaten with bare hands and because of the amount of sauce, it's inevitable that you will make a mess. Not to worry, making a mess and getting dirty is part of the experience.
Have any other suggestions about what to see and do in Guadalajara, Mexico? Share the love.
Share:

From 15,000 feet up in the air, as we approach the airport, the first word comes to mind when I first gaze upon this city is,  heavy. Heavy, because I can't imagine what all of this development along with 22 million people weighs. Weird thought, right?
The second word that comes to mind is, shit. Oddly enough, I thought about where all the shit that these millions of people extract from their bodies goes everyday?
Another weird thought, right?  Yes.
But think about it.
A third thought. More of a question. More normal. How am I going to navigate through this blob and see the 3 major sites on my itinerary? After all, many friends who had been to Mexico City before told me to avoid public transit. That the best (and safest) way to get around was by taxi. And to make sure that the taxi was reputable.
Ok. I know that adventures can be had with cabs but I wanted to see how a wider population lives and breathes in this city….and to prove to my concerned friends that traveling within Mexico City, by public transit, was another way to go.
Heads up – A taxi won't cost much. Even in glamorous and infamous Mexico City traffic, a cab ride from the airport (which is pretty much at the centre of the city) to Zocalo (which is one of the main and largest squares in the Latin world)  will cost you around 195 Pesos (about $20 Canadian).  And while a reputable taxi offers reliability and safety, the subway offers a wider glimpse into the local experience.
Mexico City has 12  subway lines, 195 stations sprawling over 225 km (140 miles). It's the largest subway system in Latin America.  You won't have a problem finding and getting on the subway in this town and going wherever you need to go. It's also very cost-efficient.
Heads up – Getting from point A to point B will cost you 5 Pesos which is equivalent to about 50 cents Canadian.  Yup, 50 cents!! Considering the Toronto subway system costs an outrageous $3 for 2 1/2 subway lines, Mexico City offers convenience at a low price.
Now, you should exercise caution no matter where you are. And of course, Mexico City is no exception. Although the subway system itself is pretty easy to navigate, you have to keep your eyes open and turn on your street-smarts. Do that, and it will be a fun, safe adventure.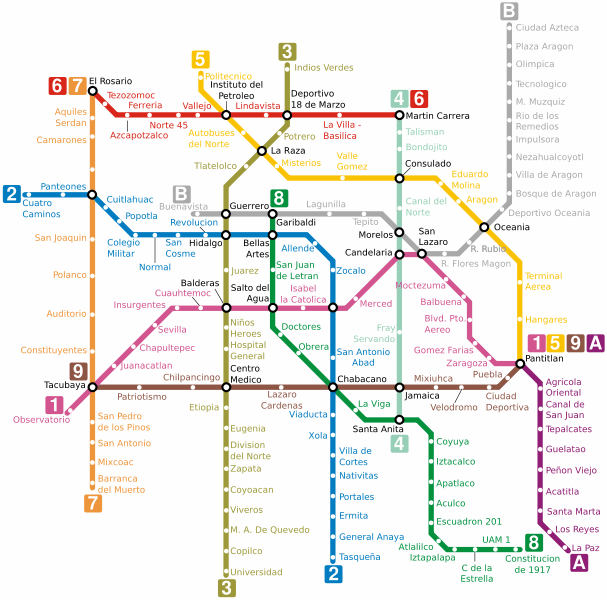 Tip – If you plan on taking the subway from the airport, getting to the subway station itself is a bit of an adventure in and of itself. If you're arriving from Terminal 1 at Benito Juarez International airport, you will have to walk all the way to the end of the terminal, to Puerta 1.  When you exit from Puerta 1, make a left turn and walk along a concave walkway. When you get to the end of that, make another quick left and you should see a sign directing you into the subway station. It's easy to miss it, but when in doubt ask someone official and they will guide you along.
The subway station you will find outside Terminal 1 is called Terminal Aerea. It's on the yellow line (Line 5).
Heads up - When you enter the station and buy your ticket, you will have to go through a metal detector before getting on to the platform. Your bags also go through a security check. I was shocked to see this initially, then reminded myself that yes, this is a big city with big city threats. Taking these measures is probably the smartest thing to do. Once that business was taken care of, it was a matter of getting to Zocalo.  To me, this is the ideal starting point.  Take the subway towards Pantitlan station, transfer to the dark pink line (Line 1), get off at Pino Suarez and then take the blue line (Line 2 towards Cuatro Caminos) up one station to Zocalo.
The whole trip should take you about 20-25 minutes. Take in the experience. Enjoy it. When you get to street level, you'll be immersed with an energy only a city like Mexico City can provide.  People, history and a wide open space.
One of the largest squares in the World, Constitution Square aka Zocalo is lined with important buildings including the National Palace on the east side. However for me, the main feature of the Zocalo is the Cathedral on the north side. Historically and culturally significant, it is the largest cathedral in the Americas. Beautiful inside and out, grand and majestic, I spent a couple of hours here absorbing the atmosphere of colonial Mexico.
For the next leg of my journey, I opted to walk. Another favourite pastime of mine when exploring.
And in this city, walking is recommended. Plenty of distractions along the way no matter where you decide to go. Including The Monument of the Revolution, my second site.
Located west of Zocalo, it's about a 15-20 minute subway ride and depending on what route you zig zag through, an hour walk.
There are 3 main streets that head west from Zocalo. 5 de Mayo on the far NW side, 16 de Septiembre on the SW side and Av. Francisco I. Madero which runs parallel to the entrance of the Cathedral entrance.
I took the latter. Madero (which turns into Juarez  street) allows you to see beautiful old churches,  the Palace of Fine Arts, Museum of National Architecture and Alameda Central, the oldest public park in Mexico City. It  features fountains, flowers and the Hemiciclo a Juarez, a monument celebrating Benito Juarez, one of Mexico's most beloved Presidents.
Walking further west, I get to Paseo de la Reforma, one of the city's major arteries. Crossing the street (no easy task considering pedestrians are considered target practice any time they're near a major road), I manage to get to De La Republica, a beautiful open street that leads you straight to the Monument of the Revolution, built to commemorate Mexico's 1910 revolution.
This area in general was once considered to be one of the seediest in the City.  This plaza in particular was neglected and abandoned on-and-off for several years until recently when some investment bucks were poured in. The result: visitors and locals alike have returned and now enjoy the space.
This monument features an observation deck, houses exhibitions and is home to the National Museum of the Revolution.
And speaking of revolution, it's only fitting that my third and final site to see before heading out would be another symbol of the revolution and one of the quintessential symbols of Mexico City itself.
The Angel of Independence.
Walking southwest along Reforma, you can't miss the almost 120 foot Corinthian-style capital column in the middle of a roundabout topped with a 22 foot high statue of the Greek Goddess Nike, symbolizing victory and freedom.
Hopefully one day there will be a separate walkway built for pedestrians to get to what is one of the most important symbols of the country but until then, do your best to cross the street and get to this column because it's well worth it.
You can climb this column (equivalent to a 12 story building), walk around it and see the bronze sculptures illustrating War, Peace, Law and Justice or simply sit on one of steps and watch the world go by.
These were my 3 chosen sites. There are plenty more to see in this deeply historic, proud and ever-evolving metropolis that is Mexico City.
Share:

The chunks of breaded chicken are beautiful and the tomatoes thick and juicy. The chew is long and flavourful. I'm in Mezza Luna Pizzeria in New York City.
When it comes to travel and food, I hardly claim to experience 'the best' because the world is full of amazing food. As for pizza and a fantastic slice, well that relies heavily on the favours of the end-user. Such as:
the number of toppings
the type of toppings – meat or veg or both
crust thickness
baking style/dough thickness, et al
One of three Manhattan Mezza Luna Pizzeria locations stands at 98 – 8th Avenue and 15th Avenue. The hunter green facade looks like any other business; there's a sign, windows spotted with hand-written signs on bright bristol board, and a door. Inside is a low-ceiling, odd tables and chairs, mirrors, and of course the pies guarded by finger-printed plexiglass casings.
As for atmosphere, the employees appear to enjoy their work; talking, teasing, joking, laughing, and yelling! The greet is immediate and welcoming while the customers already seated, chowing down, look pleased.
The first bite of a slice is often one of my favourites. The chicken is cooked perfectly, the tomato's fresh. My bites are huge, I like the crust and my belly is full.
That's Mezza Luna. That's pizza. And that's all you need to know.
Contributed by Matt James.
Share:

Iceland is an incredible place to visit — the nature is stunning, the landscape picturesque, it's rugged and it's otherworldly. But most of all, it's probably unlike anywhere that you've been before – and that's exactly what drew me there.  That said Iceland can be very pricey for dining out.
It makes sense: Iceland doesn't produce a lot of food or alcohol locally, so they have to ship it in. Once you factor in the flights, boat trips and the mark-ups of the restaurants, it adds up quickly.
First tip:  if you're planning on having a night on the town, consider buying your booze at the airport. You'll notice when you arrive that basically your entire flight will head straight for the duty-free shop once they've grabbed their luggage. Alcoholic drinks in both stores and bars are shockingly pricey so most locals will have a few cocktails at home before heading out for the night, choosing to buy only one or two drinks at the bar. Also: don't feel the need to buy a 'round' of drinks for your friends and new acquaintances.   Since it does tend to be expensive, no one expects you to do that – and likely won't reciprocate. Seriously.
Second tip:  grocery stores are your wallet's best friend. Reykjavík is sprinkled with options that suit this purpose so find one or two close to your hotel and make sure you check them out.
A few things to keep an eye out for at the grocery stores:
- Skyr:  Pronounced 'skeer'. This favourite is a classic Icelandic yogurt (actually 'soft, fresh cheese' but really, yogurt) that is sadly only available in Iceland (aside from a handful of Whole Foods in Manhattan). It comes in a lot of flavours and as a bonus to all of us utensil-less travelers, it comes with it's own spoon. It's a generous portion and if you're not too ravenous, you can pair it with a piece of fruit or a baguette and it could serve as your entire lunch. I fell in love with Skyr while I was in Reykjavík and I'm still pining over it today. Some days I seriously start to weigh the cost of jumping a flight there just to be able to taste it again… (Sigh)
- The packaging:  From milk to juice to the supermarket logos themselves (I'm talking to you Bónus and your drunk pig mascot), marketers in Iceland love to put cartoons on everything. Aside from just picking up something to eat, make sure you tour around the store looking at all the interesting packaging manifestations. Special mention goes to Cool Ranch Doritos, which have somehow been re-cast as Cool American. It's a pretty awesome take-home souvenir – if you can find room in your luggage.
- Kleina:  This is a traditional fried dough pastry, akin to a dense donut, that is often served at breakfast. It's tasty – though perhaps not show stopping – but worth a try at least once with your morning coffee.
- Hot Dogs:  Known as pylsur on the island, hot dogs are an institution in Iceland. No respectable Friday night on the town can end without a piping hot tube steak and the locals do it best: wrapped in bacon.   I'm not the biggest pylsur fan save for perhaps at the ballpark but I will say that the Icelandic enthusiasm for this particular dish is catchy.   You'll be able to find it all over town – including grocery stores – but I'd recommend watching someone make it fresh if possible and avoid the ones that have been glistening on rollers under heat lamps for goodness-knows-how-long.
This brings me to dinner, an expensive proposition at best. There are all sorts of restaurants that offer what they call 'authentic' Icelandic food which, based on traditional recipes and current availability, can range anything from minke whale skewers to smoked puffin. If you're feeling adventurous and have the cash to back it up, it might be fun to take advantage of the unusual offerings and you'll likely come away with a fantastic story to bring home to your friends. Just know that it'll decimate your pocket-book and I've yet to hear someone say, 'Wow, that hákarl (putrescent shark meat) was friggin' delicious!'
If you're aiming for the more frugal end of the spectrum, rest assured that with a little planning and inside knowledge, eating out on a budget CAN be done! A few options that we discovered in Reykjavík on our trip:
- Krua Thai:  Located right downtown by the water, this tucked-away spot has big portions of pad Thai and stir fry for a relatively low-cost. It's not fancy but it's hearty.
-  Austerlanda Hradlestin (Indian Street Food):  I never imagined that I'd get some pretty darned tasty Indian food in the heart of downtown Reykjavík but I did, and for a reasonable (by Icelandic standards) price to boot. The trick here is that there is also a full-service restaurant called Hradlestin but make sure you're looking for the Austerlanda Hradlestin which is the take-out kiosk located around the corner from the downtown location. There are a few tables inside where you can enjoy your meal but mainly it's a walk-up counter for ordering and there are no wait staff.
- Grái Kötturinn:  This tiny coffee shop located a step down from the street behind a bright red door is closed during typical dinner hours but if you're up to see the sun rise after a night on the town (or you've just arrived on the red-eye), this is a great spot to get a delicious and reasonably priced American-style breakfast.
So don't let the hype get you down. Iceland IS an expensive country to visit. But if you're willing to put in a bit of research beforehand and can relish the joys of wandering the grocery store aisles while you're there, you can stretch your krona (Icelandic dollars) pretty far. And trust me, it's absolutely worth the trip.
One final note: water. I'm the kind of girl who won't drink the tap water anywhere outside my area code. It's not snobbery; it's purely gastro preservation. But the first time I landed in Reykjavík was in the middle of the night; all the shops were closed and I was reaching a raisin-status of dehydration. That is the ONLY reason I found myself getting talked into taking my water bottle into the bathroom and filling-up at the tap. What can you do at that point but lift the bottle to the heavens with a hopeful/cringing 'bottoms up!' Aside from the fact that I obviously lived to tell the tale, I actually liked the water.
By: Jennifer Renaud