About Lainie Liberti
Lainie Liberti is a recovering branding expert, who's career once focused on creating campaigns for green - eco business, non-profits and conscious business. Dazzling clients with her high-energy designs for over 18 years, Lainie lent her artistic talents to businesses that matter.  But that was then.

In 2008, after the economy took a turn, Lainie decided to be the change (instead of a victim) and began the process of "lifestyle redesign," a joint decision between both her and her 11-year-old son, Miro. They sold or gave away all of of their possessions in 2009 and began a life of travel, service, and exploration. Lainie and her son Miro began their open-ended adventure backpacking through Central and South America. They are slow traveling around the globe allowing inspiration to be their compass. The pair is most interested in exploring different cultures, contributing by serving, and connecting with humanity as 'global citizens.'

Today Lainie considers herself a digital nomad who is living a location independent life. She and her son write and podcast their experiences from the road at Raising Miro on the Road of Life.
Latest Posts by Lainie Liberti
Share: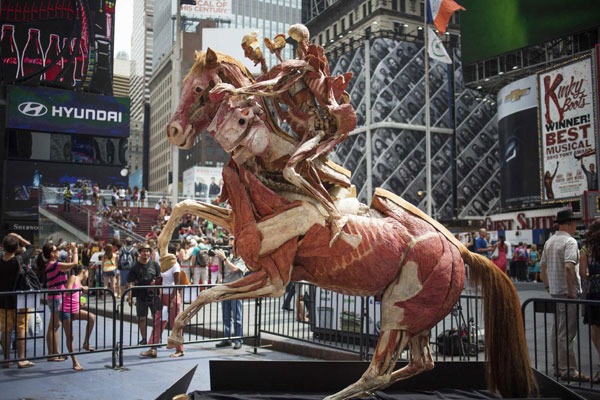 One of my roles as a parent is to serve as a guide and partner in learning. Through this partnership, we discover new ideas within the context of travel and explore how these experiences relate to our own lives. Additionally, I continue to be an integral part of his feedback loop, allowing him to process and express his own reactions to the world around us. This has become one of the milestones of our parent-child relationship and has contributed to our close relationship.
We were recently talking about the experience and with a little research, we realize there is a new exhibit right now in New York called Body Worlds: Pulse which we are considering attending later this year.
Throughout the exhibit's history, it has been fought against, heavily criticized, and widely protested. It may even be an exhibit some parents may choose to shy away from, Miro and I are excited to explore it once again. The Body Worlds exhibit offers an intense (educational) experience that people of any age can find inspiration from.
The Body Worlds in the Making
Meet Gunther von Hagens, creator of the controversial process known as plastination. This process became the foundation for traveling Body Worlds exhibition. In the late 1970s, the German anatomist invented this technique used to preserve cadavers for further study. Without this invention, the unique Body Worlds exhibits would never have been possible.
The Exhibit's Many Controversies
All of the Body Worlds exhibits have been under fire by several different groups. People from a wide variety of backgrounds actively protest the display, for not only because of their religious beliefs, but also from medical, ethical, and legal standpoints. Catholic leaders and Jewish rabbis have made it publicly known that they object to the exhibit. They claim that Body Works demonstrates a lack of reverence for the human body. Von Hagens does not agree with those viewpoints. To the contrary, he considers the exhibit to be an honor to the human body, not a show of disrespect. Miro and I both agree.
Exploring the Body Worlds: Pulse Exhibit
Each of the Body Worlds exhibits takes on a different theme. Body Worlds: Pulse is about the story of the human body in the 21st Century. As the newest in the series, this particular exhibit demonstrates the latest developments in von Hagen's plastination technique.
The Body Worlds: Pulse exhibit focuses on displaying the potential within the human body and the vulnerabilities as well. There are displays that show bodies in distress and others showing them in health. It reinforces the thought of living life mindfully, finding meaning in it, and promoting vitality. The exhibit embodies a rich multimedia experience, intriguing metaphors and progressive storytelling, inviting each visitor to create their own narrative of the experience. Both Miro and I are anxious to explore this show first-hand.
Important Take-Away Lessons
In spite of the many controversies surrounding the exhibit, Body Worlds: Pulse offers many important lessons to all who attend. It goes without saying, one cannot help to learn a little about the human biology and serve as an immersive anatomy lesson. Through the highly visual and multimedia experiences, attendees become familiar with the many parts of the body and how they function.
But more importantly, the exhibit also inspires everyone to contemplate life around them a part of the greater system. Our lives and our bodies somehow have a deeper meaning through this experience. I am certain that many walk away from the show with newly found resolve and appreciation for their own existence.
Share:

To simply read about a location, an event or a cultural practice is indeed interesting, but to be immersed in the experience is to breathe it in and make it a part of yourself. This type of immersive learning has become our life-learning curriculum, guided simply by our combined interests. The world is our classroom, and our interests are our guide.
We are in a golden age of information, where with a click of the mouse, the internet has opened up our world. Unfortunately for many, the exploration stops there. As in this series, we hope our readers use this as a platform for information, but encourage everyone, old and young, to venture out into the world and feel, smell, experience all that you've imagined and use this information as your personal inspiration. And, as inspiration guides, Miro and I were inspired to explore one of Paris' historic wonders, The Arc de Triomphe.
The Arc de Triomphe
Traveling to Paris, immediately conjures up romantic visions in my mind of the iconic Eiffel Tower, quaint city streets lined with cozy sidewalk cafes and the endless homage to art displayed in galleries and museums scattered throughout the city. But nothing compares in grandeur to the impressive Arc de Triomphe located on the right bank of the Seine.
Image courtesy of Paul-W, based on a Creative Commons license.
The Arc de Triomphe is one of the most famous landmarks in Paris. Seeing it in person is the only way to understand its power. In my early twenties, I visited Paris on my year-long-round-the-world trip. Twenty years later, my memories of the Arc de Triomphe remain constant, awe-struck with it's grandness in contrast to the surrounding intricate delicate details.
Image courtesy of PLF Photographie, based on a Creative Commons license.
The Arc is in the center of a gigantic roundabout and traffic fed by twelve major streets. Entering the center of the roundabout from the underground walkway, you find yourself at the Place Charles De Gaulle where the Arc stands. Only there, can you will get a sense of the sheer massiveness of the monument. The large crowds were not discouraging to me, as I noticed there was enough space to wander about and be wowed. My secret tip: Look up.
The internal coffer of the Arc de Triomphe offers intricate patterned carvings that cast shadows and play with the light. As my eyes traveled down the side pillars, I found myself reading the inscribed names. There are over 600 generals listed, the underlined names signify the commanders that lost their lives in battle.
As you walk around the Arc, you will find a few familiar faces carved, including an image of a victorious Napoleon and an interesting human representation of Paris with her crown of city walls.
View From Above
Image courtesy of Pauldc, based on a Creative Commons license.
One of most unforgettable part of my visit including walking up the the 280 stairs to see a birds-eye view of Paris. I felt as if I was in the center of the world with every famous Paris landmark within view. Even the traffic on the circle below became mesmerizing.
Honoring the Dead
Timing is everything. Twenty years ago, by chance, I arrived at the Arc de Triomphe late afternoon, about two hours before the Tomb of the Unknown Soldier was honored. I had not planned it, but after learning this ceremony takes place daily, I waited to witness this for myself. I learned that below the arch lies this tomb was placed. I found myself wondering who he might be, how old he was when he died and what his hopes and dreams must have been. At 6:30pm I witnessed the eternal flame being relit with much fanfare and reverence. I was moved more than I had expected and with tears in my eyes, I knew I made the right decision to stay for this ceremony.
History
After my visit, I researched the history of the Arc de Triomphe with much passion. Not expecting to be touched as deeply as I had, I was inspired to I read and learn and discovered a checkered history. Although the monument appears to strictly be a celebration of war, I was delighted to learn that it acknowledges the need and value of peace. The Arc de Triomphe was built to honor Napoleon's victory in 1805 at Austerlitz. Unfortunately, Napoleon never had the chance to see the arch finished. Of the four groups of sculptures, Antoine Etex's Resistance and Peace along with Peace of 1815 tell the story after the fall of Napoleon.
Image courtesy of peirz, based on a Creative Commons license.
Throughout its history, the Arc de Triomphe has become the rallying point of French troops parading after successful military campaigns and for the annual Bastille Day Military Parade. Famous victory marches around or under the arch have included the Germans in 1871, the French in 1919, the Germans in 1940, and the French and Allies in 1944 and 1945.
The Tomb of the Unknown soldier was added after World War I in 1920. It stands as a symbol of the armistice signed between France and Germany. The french inscription reads, "Here lies a French soldier who died for the fatherland 1914 to 1918." For an unknown person to be buried at the base of such a grand structure is awe-inspiring and humbling.
Important Lessons Learned from the Arc de Triomphe
A visit to the Arc de Triomphe is not just a tourist attraction, rather experienced as a transformative experience, living time and history. One cannot take away a profound learning simply through reading about it or seeing images. Twenty years ago, I experienced the power of presence, the living history and a rich cultural heritage only accessed through a full immersive experience. I felt the reverence for past wars and the value of peace contrasted with the supposed inner conflicts of a French citizen from long ago.
Share:

Traveling the world presents countless educational and developmental opportunities, as immense as the world itself. However it seems not many researchers have studied the effects travel has on children from an educational perspective, however I have witnessed first-hand the benefits of a world education, including developing an open mind, immersive learning, boosting confidence and contributing to greater creativity, curiosity, and problem solving skills. In fact, family travel benefits the family as a whole, regardless of age.
For us, the world is our classroom. Immersive learning is a completely different experience than simply reading about some thing or some place. Experiencing history, culture, science and art first hand can create a more profound sense of learning. Armed with our interests as our guide, the world is literally transformed into our classroom.
Getting to Know Buckingham Palace
Buckingham Palace did not begin as the structure we are accustomed to seeing in today's media. Over the centuries, the palace has gone through several physical transformations as well as a few name changes. In 1705, it was simply a large townhouse built for the Duke of Buckingham on a land that had sat for about 150 years, being held in private ownership. This impressive home that still pales in comparison to all that Buckingham Palace is today was called Buckingham House.
A little over 50 years after the townhouse was built, the property was purchased by George III to serve as a private residence for Queen Charlotte. At that time the name was changed to The Queen's House. It wasn't until 1837 that the property finally became the official palace of the British Monarch.
Today, Buckingham Palace contains 775 rooms and is the base of Britain's lasting constitutional monarchy, serving as the location of the office of England's Head of State as well as The Queen's residence. The furnishings and décor it contains are absolutely priceless, much of it can be seen by tourists as they visit the palace's 19 state rooms. The palace's garden is also a breath-taking environment to be in, with its 350 varieties of wildflowers and amazing view of famous lake.
England's Royal Family: A Deep History
It was during the eighth and ninth centuries that monarchy developed in Britain. The earliest times saw the reign of the Angelo-Saxons, including King Alfred the Great. After this rose the Normans, Angevins, Plantagenets, Lancastrians, Yorkists, Tudors, Stuarts, Hanoverians, Saxe-Coburg and Gotha, and finally the House of Windsor, which is ruling today. Each of these houses represents a new generation of the same family line.
The current queen in England, Queen Elizabeth II has the second longest running reign of any monarch in the UK. Eldest daughter of King George VI and Queen Elizabeth I, she was born on April 21, 1926 and became Head of the Commonwealth on February 6, 1952 at age 25.
The Intriguing Experience Buckingham Palace Offers Guests
In spite of the many changes that it's seen over the centuries since it was first built, much of its original architecture remains. The palace has been long a key symbol of the UK's rich history. Visitors to the palace get to see first-hand the beauty and grandeur of the palace and the artefacts contained within. They get the opportunity to stand in places where significant events took place in the UK's history and impacted the rest of the world.
There are 19 staterooms that were designed specifically for receiving dignitaries and rewarding subjects. These rooms remain as designed by architect John Nash, reflecting the taste in décor had by King George IV who reigned from 1820 to 1830 and was affectionately titled "the First Gentleman in England" because of his charm. There are many important works of art contained within these rooms, including a sculpture by Canova, paintings by Van Dyck and much more.
Image courtesy of Leonard Bentley, based on a Creative Commons license.
Buckingham Palace's Painting Gallery is one of the 19 staterooms. The exhibit is constantly changing as paintings are often lent out to other exhibitions around the world. Some of the paintings that can be seen in this room include works from Rembrandt, Van Dyck, Rubens, Claude, and Titian.
The rich décor and furnishings of Buckingham Palace offers guests an excellent cultural experience. Hundreds of thousands of tourists enter the palace every year. One of the sights that continues to be the most popular with guests is the Changing of the Guards.
The Tradition and Significance of the Changing of the Guards
The Changing of the Guards of Buckingham Palace dates back to 1837 when Buckingham House officially became Buckingham Palace and Queen Victoria took up residence there. The ceremony has remained the same throughout all the years, although visiting regimens from other branches of the armed forces are invited to join in, sharing with the Queen's guards the pleasure and privilege of guarding the Queen.
The Changing of the Guards is the ceremony that takes place as one regiment ends their shift and another marches in to replace them. The ceremony takes about 45 minutes and is usually done every two days, weather permitting. This colourful, musical, and entertaining event continues to be the top attraction in London, attracting millions of more spectators annually than visitors to tour Buckingham Palace itself.
Important Lessons Learned from Buckingham Palace
A visit to Buckingham Palace isn't just entertaining, but has proved to be a life-changing experience for many. At heart, The Royal Family is a family indeed, one that has stood strong throughout the ages. This in itself holds an important lesson for visiting families touring Buckingham Palace.
There are many inspiring stories told about struggles and triumph, as visitors come to develop a deeper appreciation for history, art, and culture. Also are the high morals and standards displayed and learned; such as respect, prosperity, honor, bravery, loyalty, and so on. The takeaway is different for each visitor to Buckingham Palace, but no one leaves being exactly same as when they came. The Buckingham Palace is high on our list to learn from.
Photo courtesy of Jimmy Harris, based on a Creative Commons license.
Gabriela Beese contributed to this article. She is versed in a wide variety of topics and has been particularly interested in travel journalism for the last 10 years.
Share:

Words and symbols are all around us. Sometimes they are part the environment but they always part of the culture. Often times, we find the messages contained universal. Street art has always been my favorite way to get a sense of  the local culture. I hope you enjoy this series of street shot around Lima, Peru.
Share:

Most travelers come to Cusco and the Sacred Valley for one reason and one reason only. Over 2 million tourists visited Cusco on route to the ancient ruins in 2013. Miro and I have been living in Cusco now for more than a year and the question we receive most often from friends, family, travelers alike is "how do I get to Macchu Pichhu?"
The ruins of Machu Picchu, (although not my favorite site here in the Sacred Valley) are quite impressive and indisputably Peru's hottest tourist destination. Countless people flock there every day of the year, despite the fact that there are no roads that lead directly to Machu Picchu. The only way to reach the scenic beauty of Machu Picchu is by train, guided hiking tours, or trekking it up the mountainside trails. The question remains, "I want to go to Machu Picchu, but how do I get there?" So for you, my fellow traveler, I wrote this post.
Macchu Picchu or Aguas Calientes
First of all, some people call the town "Macchu Picchu" and others refer to it as "Aguas Calientes", guess what? It's the same thing. It's confusing if you don't know that, so that's the first bit of information I'll share with you. Aguas Calientes is a fairly small pueblo with no direct roads in or direct roads out. Over the years the peublo has been transformed primarily into an over saturated tourist trap.
The majority of travelers spend one night there, mainly since there is no reason to visit the town other than using it as a launching pad for your visit to the archeological ruins. Aguas Calientes is indeed the closest access point to the historical site, which is only 6 kilometres (3.7 mi) away.
The town itself is split in two by a river, and on both sides of the river, you will find hotels, restaurants and shops covering all price ranges, all to serve the traveler on their way up to the site.Most people arrive the day before they plan on visiting the ruins. They stay in one of the many hotels, hostels or resorts. Then, early the next morning they ascend up to the archeological site either on foot or by shuttle.
There a shuttle bus that zig-zags up the side of the mountain, cost is $9 each direction (tickets available at the bus stop just next to the river). Many budget conscious travelers opt to walk up the hill on the stair case designed especially for those who prefer this option. The hike up the hill takes the average person about an hour and a half.
Accommodations in Machu Picchu
Whoa. This is a big subject since there is no shortage of options once you get there. The good thing is, there is no shortage of options once you get there. The bad thing is there is no shortage of options once you get there. There are luxury hotels to dorm rooms in hostels, so it depends on your budget, needs and preferences. I personally cannot recommend a hotel since they are pretty much  just designed to accommodate people for one night and one night only and many I've spoken too have felt there is no sense of service in a lot of these places. That's not to say there aren't some really nice hotels and accommodations, but I suspect they are at a different price point than Miro and I are accustomed to paying for.  Overall, there really isn't much of a reason to stay in Machu Picchu (Aguas Callientes) beyond a single night's rest before you head up to the archeological site.
But still, the question remains, "how do I get to Machu Picchu?"
Below are the three options to get there. The best option to get to Machu Picchu will depend on your desired experience, allotted time, destination, budget, endurance, and personal preference.
1. The Train Route to Machu Picchu (Aguas Calientes)
The easiest way to get to Machu Picchu is to take the "train option". Many travel agents in Cusco offer this option as a complete package. Packages usually include transport from Cusco to Ollantaytambo, train from Ollantaytambo to Aguas Callients, 1 night in a hostel (1-2 star rating), entrance into the archeological site, a guide and back to Cusco. These packages are sold in any of Cusco's hundreds of travel agents for $210 – $250 USD.
But let's break down these costs individually in case you'd like to book everything yourself.
Cusco to Ollantaytambo
There are basically two options to get to Ollantaytambo from Cusco.
Option 1.) take the public collectivo, located just off Avenida Grau. The fare is 10 soles per person and you will be transported in a shared van. The trip is about one and half hours and Miro and I recommend trying to sit up front. The roads are windy and if you are prone to car sickness, the front seats are the least traumatic.
Option 2.) take a private taxi to Ollantaytambo from anywhere in Cusco. You will need to negotiate with your driver but rates can cost you anywhere from 70 soles to 150 soles. But make sure you negotiate the price first with your driver before getting into the cab.
Train to Machu Picchu (Aguas Calientes)
96% of the trains to Machu Picchu are operated by the company PeruRail . PeruRail offers trains throughout the early morning to the mid afternoon. The travel time to  Machu Picchu is approximately 1.5 hours. If you opt for an early morning train,  it  is possible to arrive in Aguas Calientes and explore the ruins the same day. Many, however, seem to book the later afternoon train, arrive around mid day, explore the town a little then retire early to visit the archeological site early the next morning.
View from the train
Perurail offers 3 levels of services you can purchase for your train ride; Expedition, Vistadome, and Hiram Bingham. Expedition is the starting class and costs approximately $115+ U.S round trip. The view is nice, the seats are comfortable, but there are no perks involved. The mid-range option, Vistadome, costs approximately $140+ and includes non-alcoholic beverages and snacks.
The most expensive option is the *Hiram Bingham, first class, which includes a gourmet brunch on the way there, bus connections, guided tour at Machu Picchu, plus dinner and cocktails on the way back to Cuzco. This luxury options costs approximately $800 USD round trip.
*Note: The first class Hiram Bingham option is the only train leaving directly from Cusco (Poroy).  Other options that leave from Cusco (Poroy) are really bus from Cusco to Ollantaytambo, then you board the train at Ollantaytambo. On the PeruRail site, the "Sacred Valley" starting off point is Ollantaytambo to avoid any further confusion. If you are interested in taking any train other than the Hiram Bingham and want to save a little money, get yourself to Ollantaytambo and leave from there.
2. The Backpacker Hiking Route to Machu Picchu
(Note: During the rainy season, this route is considered extremely dangerous due to slippery windy roads)
If you are looking for a less expensive and more adventurous option, you can take the budget- backpacker hiking route. Many travel agents in Cusco have put together packages for this route and usually run between $100 – $125 USD including the transportation, 1 night in a cheap hostel in Aguas Calientes, entrance to the archeological site and a guide. But like the option above, it's possible to arrange this route yourself. Here's what you will need to consider when arranging the trip yourself:
1.) You can do one of two things, either take the bus or collectivo from Cusco to Ollantaytambo (aprox 1.5 hours). See above, and as listed you can arrange your own transportation to Ollantaytambo. There is is even the option to take the public bus from Cusco to Ollantaytambo if you want to save 3 soles (aprox $1.15) Then you will have to wait for a local bus in Ollantaytambo to Santa Maria. Local buses are often crowded and don't have a reliable schedule. But it's the cheapest way to get there. This is a great option if you want to visit the ruins at Ollantaytambo first, spend the night there and get up early to catch the first bus to Santa Maria.
2.) Another options is to catch a collectivo (aprox 4 hours) in Cusco directly to Santa Maria from Cusco (30-40 soles) next to the Qillabamba bound buses at the Santiago bus depot.
3.) Even cheaper, from Cusco take public bus (aprox 6.5 – 7 hours) from Cusco, towards Quillabamba and get out at Santa Maria (25 soles). The public bus departs at 8:00am daily and passes through Ollantaytambo, Urubumba and Santa Maria. t´s an 7 hour journey from Cusco to Santa Maria.
4.) Once in Santa Maria take a connecting bus (aprox 6 soles) to Santa Teresa (1.5 hours) or a taxi (10-30 soles) and about a 1 hour drive.
5.) Once you've reached Santa Teresa, you will need to get to hydro electric plant (planta hidroeléctrica) which you can do by either walking for 2 more hours, take a taxi or local bus.
6.) From Hidroeléctrica you will walk for 1.5 to 2 hours along the railroad tracks until you reach Machu Picchu (Aguas Callientes).
It's not really that complicated and many tourists / backpackers are following this route. When we had the group of unschooling teens here they opted for this route, and had no problems at all.  Anywhere along this route, people will recognize you as a traveler who is trying to get to Machu Picchu and will assist you along your way.
3. Trekking the Trails to Machu Picchu
There are two main scenic trekking routes that will take you to Machu Picchu if you are up for the challenge.
1.) Inca trail is by far the most famous trek in South America and is rated by many to be in the top 5 treks in the world. With a reputation like that, as you might have guessed, it's in demand and expensive. The only way you can do the Inca trail is with a tour company on a guided trek. The trail itself is just 26 miles (43km)and combines a beautiful mountain scenery, lush cloud-forest, subtropical jungle and, of course, a stunning mix of Inca paving stones, ruins and tunnels. The path of course ends at the archeological site, Machu Picchu. The cost for this trek will set you back anywhere from  $450-$650 USD.
2. ) The Salkantay Trek is quickly gaining in popularity as an alternative to the Inca trail. Both trails bring your through an impressive mix of lush vegetation, subtropical jungle, and stunning landscape that can only be seen in the region of Machu Picchu. However, the Salkantay trek allows you to see the snow-covered Salkantay mountain range and the impressive Andean jungle. There are guided treks available on the  Salkantay trek being offered from anywhere from $325 – 550 USD.
If you are planning an upcoming trip to Machu Picchu, make sure to evaluate the three options above carefully before making your decision. The train ride may seem like the ideal choice but,  it is a little expensive for the budget traveler. On the other hand, you will certainly arrive there quickly. On the other side of the coin, the backpack hiking route might fit better for your budget, but it will take a significant amount of time and possible discomfort. Trekking the trails to Machu Picchu allows you to soak in all the scenic beauty, but it may be costly to with a tour,  and definitely physically challenging.
You travel option choice will ultimately depend on what you want to get out of the trip, how much you can afford, and your personal endurance level. Regardless of which way you take to get to Machu Picchu, it will be worth it once you arrive.
Share:

"Geh fort."
Those were the last words I heard my father speak. Now, at 53, those two words are etched deeply into my consciousness. Even though it's been over 40 years and the quality and tone of his voice have faded in my mind, the combination of those two words produce a distinct sensation in my body, able to rattle the depths of my soul.
I have total recall of the weeks leading up to our escape.
Over the years, I have watched the scenes play the over and over in my mind's eye, have added different melodies creating a soundtrack to my early memories.
Often times the movie-memories play in excruciating slow motion, seemingly my mind's way to not forget a single detail of my mother and father and a link to my own humanity. And this memory has the power to evoke inside of me, the most intense olfactory sensations, releasing burned memories of wet concrete combined with the smell of fear and blood, from the neighboring slaughterhouse.
I was only eleven years old then, but for all the boys in East Berlin, our childhood did not include laughing or lighthearted playfulness. We were under socialist rule and still hadn't recovered from World War II. All we knew were the realities of the Cold War.
I was born the year the wall was constructed, whose threaded barbed wire and cold concrete barracks had been designed to keep our city separated in two. It was also the same year of the famous American- Soviet standoff at one of the walls borders, affectionately called Checkpoint Charlie. But in 1951, all I was solely concerned with suckling on my mother's breast for comfort and warmth.
My dad always said, "This great wall must serve as a symbol for your life, son. You were born the same year and you must live up to it's greatness." For many years, I believed I was connected to that wall, but always feared I could never be that strong.
The official purpose of the Berlin Wall was to keep Western "fascists" from entering East Germany and prevent them from undermining our great socialist state. And this rhetoric, the same rhetoric was repeated over and over in our classrooms and for most of my "schoolmate comrades" it was all we knew.
My father was born in East Berlin, not far from where I spent the first 11 years of my life. He served in the Third Reich under the Nazi regime during WWII before he met my mother. Berlin was almost completely destroyed during the last year of the war, under siege by constant bombing. It was there, my father sustained an injury to his right leg, in which shrapnel filled up his side causing him to almost bleed out. Miraculously, he was pulled out of the rubble and brought to the unscathed nurse station, just a few hundred feet from the bomb site. Most of the shrapnel from his leg was successfully removed, however it did not prevent the injuries from shaping the rest of his life. The profound limp was my father's most defining trait, which unfortunately served as a constant reminder of those wartime years.
I had many years to reflect on my father and dredge up the lost memories of our time together. But never once, do I recall my father speaking of the war.
My mother was from Dresden. She was a small, soft spoken fair haired woman. Her spirt was shattered at 16, when her entire family was killed during an ally bombing. Some say she roamed war torn streets in a psychotic state for months, not able to consolidate the reality of her world. Not knowing how, my mother surfaced in Berlin just as the war ended.
My mother and father met just two months after the war was officially over, and married just a few weeks later. I never knew the reason they married so quickly, but I suspect it was a deep need that each one of them felt, two half people coming together to make a whole person. My mother was just 17 years old then married to a man 11 years her senior.
Six years later I was born.
I can still taste the stale grayness of East Berlin during the Cold War.
Because Berlin was almost completely destroyed during the war, my father's focus was on the rebuilding of a stronger, more capable Berlin. He was firm in his purpose. A purpose that was provided by the promise of the socialist government knows as German Democratic Republic.
My father worked every night, proudly guarding the border from infiltration of Western fascists into our midst and preventing the shame of East Berlin defectors from escaping. It was an honorable job.
My memory echoes the sounds of rhetoric repeated over the loud speakers anchored to the street corners. Daily messages reminded us of responsibility to the republic, working for the republic, serving the republic. Each day of my childhood, my day started with the same rhetoric repeated at the breakfast table, words mechanically articulated from my Father's lips. My mother never spoke a word at the table, her eyes often glazed as she attempted to swallow her morning gruel.
The only warmth I recall from my early years were the cold nights spent tightly wrapped in my mothers thin arms. We slept in the same small bed, and I looked forward to her embrace.
Throughout my life, I never saw my mother's smile and she remained defeated to her own memories until the end of her life. My mother never showed any expression on her face but at night, I could feel her heart beat against my back and that's how I knew her humanity. I didn't mind the scratchy wool from the blanket or the musty smell of the house. It is all stored safely in my memories for safe keeping, my connection back to those days.
About a week before our escape, I recall the unusually cold night. I remember my mother holding me tighter than usual. She whisper into my ear, "Glen, don't speak, just listen to me." My eyes widened and I felt my mother's thin body stiffen. "We are leaving here Glen. I have arranged it. We are leaving here in 1 week."
"Where, Momma?" I asked in a soft whisper.
"Hush boy!" my mother whispered harshly. "You must not speak of this to anyone. You classmates or your father. We are seeking….." her voice trailed off.
An entire week passed and my mother never spoke of that conversation again. I didn't dare to bring it up again, in fear that I had dreamt the whole thing. Then, early Friday morning, just before dawn, my mother shook me out of a sound sleep. "It is time, my son," she spoke quietly. "Get dressed now quickly and don't say a word."
I was only eleven years old, but I knew this was to be the most defining moment in my life. We exited our small apartment and walked downstairs to the street below. There was a truck parked out side of our building with the motor running. It was a truck from the slaughterhouse, and from the smell of it, cargo contained freshly slaughtered pigs. The driver cleared the fog from his window and pointed to the back of the truck where the "cargo" was stored. I looked at my mother, but her eyes would not meet mine. Instead, she wrapped the scratchy blanket from our bed around me and told me not to say a word. I remained silent.
The driver got out of the truck and started raising the pig carcases and motioned for us to crawl underneath. We did as we were told, wiggling and writhing to situate ourselves under the dead pigs. We felt the dead weight of the cargo adjust on top of us, it becoming harder to breathe. My mother curled up next to me and managed to pull the blanket over our heads. My heart was racing. Cold tears stained my cheeks. We both knew defectors were shot or jailed, and sometimes both.
The smell of smoky diesel and dead pig was overwhelming. I felt as if I was going to gag, but my mother held me so tight trying to comfort me. This was my only connection to sanity. I swallowed hard every few moments and choked down the urge to vomit.
Finally the grumbling of the truck motor came to a timid roar and the motion stopped. We were at the border. My heart raced so fast I thought for sure the guards would hear the sounds of "thump, thump, thump" played by the deepest drum. I swallowed again.
Guards poked their guns into the pile of dead pigs. We felt the pressure of their bodies adjusting around us. We heard the muffled sound of conversation between our driver and the guards. Then we heard the sound of boots walk to the back of the truck once again. Then the world stopped. All sounds ceased. Just he smell of cigarette smoke filled the air.
After an eternity, we heard the words, "Geh fort."
Those were the last words I ever heard my father speak.
Share:

Edvard Munch and archaeology aren't two names you'd normally find side-by-side in an article. Right now, the art world is abuzz combining the two, re-examining the origins of inspiration behind Edvard Munch's iconic piece 'The Scream'. Apparently the inspiration leads straight here to Peru, a place Miro and I find highly inspiring. It is believed 'The Scream' was inspired by a mummified Chachapoyas warrior, frozen in time with a look of terror.
Writer Arthur Lubow, in an article for the Smithsonian, describes Munch's iconic piece 'The Scream':
"Munch defined how we see our own age — wracked with anxiety and uncertainty. His painting of a sexless, twisted, fetal-faced creature, with mouth and eyes open wide in a shriek of horror, re-created a vision that had seized him as he walked one evening in his youth with two friends at sunset."
(Photo: Alessandro Currarino/ El Comercio)
Is is possible 'The Scream' is indeed inspired by Peru's archeology?
In college, I studied the art of many contemporary masters including the works of Picasso, Munch, Kandinsky, Klee and of course Miro. Many artists drew inspiration from the naïve art of the past including African sculptures, native textiles, and indigenous ceramics to create many of the world's top modern sculptures and paintings known today. But I had never read of any significant works being directly influenced through archeology. Once again, I am reminded how the world isn't broken into subjects and through exposure to the richness of life, inspiration can come from anywhere.
One of the reasons I'm such a supporter of natural learning (unschooling or worldschooling) through travel, is the opportunity to be exposed to a variety of stimulations including environmental, cultural and traditional nuances that become life-long inspirations. You just never know what will inspire. Who would of thought that an ancient Peruvian warrior would become the inspiration for a popular seminal art piece?
A Popular Mummy
'The Scream' is now one of the most reproduced and most iconic pieces of art in the world, and art historians believe it was based on the mummy of this warrior which was discovered 130 years ago. The mummy was found near the Utcubamba River and then taken to Paris where it was displayed at the Ethnographic Exchange Museum in a popular exhibit.
Wayne V. Anderson, a renowned art historian, declared that the mummy had inspired the French Post-Impressionist artist Paul Gauguin, which was later confirmed by Stefan Ziemendorff, an investigator who discovered a number of sketches of the mummy. Robert Rosenblum, also a respected art historian, then suggested that Munch's famous artwork was also inspired by the mummy.
So there you have it.
Edvard Munch
Edvard Munch was born in Norway in December 1863 and was the son of a doctor who served in the military. He is known for his disturbing Expressionist paintings, and an artist who incorporates bold colors and brush strokes into his work. Munch revealed that the inspiration behind 'The Scream' was based on a past event in his life when he was walking with friends. The piece of art is based on the anxiety he felt this day when he saw that the sky had become engulfed in fiery red flames, which triggered feelings of panic and despair in him. Astronomers now believe that the red sky was the result of a volcanic eruption on the other side of the world. Debris thrown into the atmosphere from an eruption in Indonesia caused the sky to turn angry and red throughout Europe in late 1883 and early 1884.
It is now believed that Munch was inspired by a mummy that he had seen at an exhibition in Paris. The artist used the mummy as a way to recreate the feelings of fear and dread that he felt when the sky turned red. Since his death, 'The Scream' has become one of the most famous paintings in art history, and one that still triggers debate today. This piece of art has also influenced Western popular culture, most notably in the movie Scream, where the mask of the killer is based on the frightening image in Munch's work. Other works painted by Munch include 'The Dead Mother', 'The Dance of Life', 'Self-portrait with Burning Cigarette', and 'Ashes'. 'The Scream' was on display at the New Year Museum of Modern Art until April 2013.
Chachapoyas in located in Peru, near the Amazon river, and is famous for its ruins of the Kuelap Fortress and several mummies of powerful warriors. Miro and I have not visited the site yet, but it's on our must-see list for 2014. Now, we have another reason to visit the Chachapoyas region, to see one of the warriors that is now thought to be the inspiration behind 'The Scream', the painting that continues to fascinate and frighten people from all over the world.
References:

http://www.peruthisweek.com/news-the-scream-was-inspired-by-peruvian-mummy-101707

http://latinalista.com/2013/12/scream-inspired-peruvian-mummy

http://www.projectbritain.com/calendar/May/scream.html

http://en.wikipedia.org/wiki/Paul_Gauguin

http://en.wikipedia.org/wiki/Edward_Munch
Share:

Translated as the Star Snow Festival, Qoyllur Rit'i is a spiritual and religious event, held annually in June, in the Sinakara Valley in the Cusco Region of Peru. Every year, more than 10,000 participants attend the festival strengthening their ties to their ancestors, ancient traditions and cultural connections.
Attending the festival is not for the faint of heart. There are no roads or vehicles to transport you to the festival site. Along with thousands of other committed pilgrims, I walked for six hours, in the high Andes altitude. We kept a steady pace, traversing up and down the sides of mountains and walking through the valley passes.
It wasn't easy. Passing me on the narrow paths were entire families, children, old men and young mothers carrying babies tied in bundles on their backs. Dozens and dozens of horses, laden with contents to construct temporary villages made the trek as well. Dance troupes in full costumes playing instruments and singing effortlessly breezed up the mountain side, elated in spirit.

The festival site is at 4,600 meters or just over 15 thousand feet, & the glacier above, where many of the ceremonies take place, measures almost a full 500 meters higher.
The majestic glacier becomes the crossroads between the earth and the stars, the water and the spirit.
The valley below, stages all other festivities, bustling dance performances, processions, effigies, alters and numerous other ceremonies.
The Qoyllur Rit'i festival has ancient and Colonial roots combined, equally honored in today's modern festival.
Pre-Columbian History
The ancient roots stem from a time before the Incas, where the sacred mountain, Apu Ausungate, was revered as containing the spirit of Viracocha. Legend tells the tale of a white-skinned boy with blond hair resembling the god Viracocha who would frequently appear to the surrounding villagers. Additionally, early pan-Andean traditions focus on the Pleiades constellation, which is also directly related to the wanderings of the mythical god Viracocha.
Later, the Incas who also honored the Pleiades constellation (or the Seven Sisters) noticed the constellation disappears sometime in April or May and reappears in June. The Inca associated the disappearance and the reappearance of this constellation to agricultural abundance, thus the Qoyllur Rit'i festival happens in June, signaling the time of the coming harvest.
Catholic Church Origins
The Colonial version appears to be an adaptation of ancient lore. According to the Church, sometime in 1780, a young indigenous shepherd named Mariano Mayta had a chance meeting with a fair-haired boy called Manuel in the snow-covered Sinakara Valley. The fair-haired boy, dressed in white and shined as a brilliant light.
Mariano Mayta, who looked after his father's herd on the slopes of Qullqipunku was mistreated by his brother at home, so he often wandered off the snow fields to meet his friend Mario. Manuel would often give Mariano food so he could spend more time with him on the snowy slopes. One day, Mariano's father was worried about his son and went out to look for the boy. He had found that his heard had  increased. As a reward, he gave Mariano some money to buy some new clothes.
Mariano felt guilty his best friend Manuel always wore the same clothes,  so he asked his father if he could buy some new clothes for him as well.  Mariano's father approved since he was grateful for the increased number of his heard.
Pleased for himself and his friend, Mariano set out to Cusco to buy  a new set of clothes in Cusco. Before leaving, Mariano took a sample of the material from the white garment Manuel always wore with him to Cusco so he could have his new garment sewn with the same fabric
In Cusco, Mariano searched for the matching cloth. To Mariano's surprise, the fabric that matched his friends garment was a unique cloth and at this time, only used by  the Bishop. Mariano approached the Bishop with hopes he could buy more of the material. The surprised Bishop ordered an inquiry on this strange boy in the mountains to find out how he could have possibly acquired the holy material. Manuel became investigation under the direction of the priest of Ocongate.
On June 12, 1783, together  the Bishop and his commission went to find Manuel in the mountains. Along with Mariano and his father, the Bishop's people found Manual in he mountains dressed in his battered white clothes. Only this time, the boy was shining with a bright light. More and more people gathered to so this brilliant light that had become Manual.
Manual's friend was bewildered too. In the witness of his family and the Bishop, Mariano approached Manuel. Mariano  touched his friend and suddenly Manuel was transformed into a tayanka bush with an apparition of Christ.
According to the legend, the event was too much to bear for Mariano, who was feeling anguish  that his friend was harmed. Mariano, dropped dead on the spot from grief. The villagers a  buried Mariano under rock near the bush  where Mariano was last seen.
Word got out about this great transformation. The rock attracted a great deal of devotees who started to light candles before it in honor of Mariano, the shepherd boy. The Church then ordered the image of the crucified Christ to be painted on the rock and this has become known as the Lord of the Qoyllur Rit'i.
This trend has continued through the efforts of the church-sanctioned Roman Catholic brotherhood who, as the shrine's custodians, dominate the cult, chapel, and processions of sacred images, and who strive to impart an ever stronger Christian appearance to all the proceedings. This ancient and multi-cultural use of the sacred site of Qoyllur Rit'i is a clear example of a pattern found throughout Latin America (and indeed the world): the usurpation of one culture's sacred spaces by a conquering culture.
Today the festival is participated by "nations", defined by their geographical regions.Each nation has its own unique ritual costume and dance routine. Also each nation appoints their most honored men to be "Ukukus", mythical half-man, half-bear creatures. Dressed in black masks and black costumes covered in fringes, they carry whips and act as intermediaries between the people and the gods.
At 3 a.m. before the principal day of the festival, the Ukukus scale the peak of the mountain in the light of the full moon, dancing on glaciers, hoping to bring blessings to their villages for the coming year. Then early the next day marks the main event, where the Ukukus, climb up the glaciers carrying crosses and bringing back blocks of ice that are said to have medicinal properties. This is followed by a Catholic mass in the valley with processions and sermons.
I have been touched by the spirit of Qoyllur Rit'i, its deep ties to this place of power, ancient traditions and meaningful customs.
I am forever changed.