About Lainie Liberti
Lainie Liberti is a recovering branding expert, who's career once focused on creating campaigns for green - eco business, non-profits and conscious business. Dazzling clients with her high-energy designs for over 18 years, Lainie lent her artistic talents to businesses that matter.  But that was then.

In 2008, after the economy took a turn, Lainie decided to be the change (instead of a victim) and began the process of "lifestyle redesign," a joint decision between both her and her 11-year-old son, Miro. They sold or gave away all of of their possessions in 2009 and began a life of travel, service, and exploration. Lainie and her son Miro began their open-ended adventure backpacking through Central and South America. They are slow traveling around the globe allowing inspiration to be their compass. The pair is most interested in exploring different cultures, contributing by serving, and connecting with humanity as 'global citizens.'

Today Lainie considers herself a digital nomad who is living a location independent life. She and her son write and podcast their experiences from the road at Raising Miro on the Road of Life.
Latest Posts by Lainie Liberti
Share:

This is a photoessay of our trip through the Oldest Archeological site in the Americas, Caral.
Share:

Ecuador is a country we've yet to explore in depth even though we've been there 3 separate times.  Like Peru, Ecuador boasts gilded Spanish cathedrals, breezy colonial palaces, tropical jungles, mountain villages and sprawling beaches.  Culturally rich as well, Ecuador promises  vibrantly dressed natives filling the colorful markets with exquisite handcrafts and archeological sites to ponder and explore.
Although Miro and I have spent a total of four months in the country, we tend to travel deeper than wider making our experiences more immersive. We've only really sampled the beaches of Montañita, volunteered in the mountain town of Banos and marveled at the culturally rich Quito including a stop to the center of the world.
Puerto Lopez
Puerto Lopez  was once a small fishing village, however in recent years, Puerto Lopez has been able to take advantage of it's spot along the Ruta del Sol.  Now, Puerto Lopez has become a delight for eco-tourists. The Parque Nacional Machalilla is close inland and promises to be the perfect place for  hiking. Puerto Lopez also offers numerous eco-tourist lodges offering exclusive windows into the biodiversity and archeological nature only found within   the coastal rainforests.
The Silver Island or Isla de la Plata is also in close proximity. This is the only place other than the Galapagos Islands where you can see many exotic sights, including the Blue Footed Boobies living in their natural habitat.
Also, between July & October, you might see  Humpback Whales brought by Pacific's Humboldt current. Whale watching is one of the most popular activities in Puerto Lopez during these months.  I'm told, it's a breathaking site, something on our to do list for sure.  The Humpbacks are know for slapping their tails in order  to attract mates. I imagine it is something to  remember for a lifetime.
As we've just returned from our third visit to Montañita, my interest has sparked to explore the entire Ruta del Sol (Sun Route). Our trip was cut short this time due to my passport issues (which I will write about soon) but I wanted to share with you my research in hopes you too will find inspiration to follow the route of the sun.  We plan on returning sometime in the next 6 months, so here are some of the beautiful destinations that inspired me to research more:
Ruta del Sol (Sun Route)
Map of the Ruta del Sol
Click map for a larger view
Manta
Manta is home to Ecuador's largest seaport. It has many attractive beaches making it a popular stopping point for cruise ships.
Manta was originally known as Jocay.The Maya people arrived in Manta around five hundred years A.D. However, they found that it was inhabited by other people and left. By this time Jocay was an important trading centre for the Inca and its inhabitants. The first Spanish explorer arrived in 1526. Other Spaniards followed and took the Chief Ligua Tohalli as a prisoner. They found large quantities of precious stones, gold, silver and emeralds.
During the colonial period Manta was part of Guayaquil until the 18th century when it became part of the Canton of Montecristi. There are two wonderful beaches to explore in this area. The are Mucielago Beach and Tarqui Beach
Mucielago Beach
This picturesque beach has a board walk that has many restaurants where you can sample the best dishes from the region. Murcielago beach is a popular tourist destination. People got to this beach for the  surfing, wind surfing, sky diving and sunbathing.
Tarqui Beach
This is the best place to watch boat builders and fishermen as they carry on with their daily business. The beach has many open air boat yards. I think it's definitely worth a trip.
Canoa
It is located on the Western coast of Ecuador in Manabi Province. Canoa has beaches that stretch for miles. The town has magnificient palm trees. The best part is that the town centre is near the beaches. You do not have to worry about moving around since everything is a walking distance from the town centre.
Canoa was originally known as Pantaguas o Pintagua. The original inhabitants escaped from the beach when they saw the invaders approaching and hid in the hills. A century later priests arrived , they included the beach to be part of Canton Sucre in the twentieth century . This led to changing of the name to Canoa.
One of Conao's best known celebrations is the festival of San Pablo.This festival is held in August. You will enjoy the music and the lively crowds as everyone comes out to enjoy this spectacular festival.
The beaches in Canoa have some of the best waves for surfing in the Pacific. There is also paragliding, surfing, kite surfing and kayaking on the great waves of the Pacific ocean. Other draws to Conoa for the  outdoor or hiking enthusiast, are the great  hiking routes in the country side.
San Lorenzo
San Lorenzo is a small town located in the northern part of Esmeraldas. Many years ago, when Europeans arrived in Esmeraldas, San Lorenzo became an important trading centre. It was a major slave trading centre which led to its growth.
San Lorenzo is known for its lively Marimba festival.  The festival draws large crowds eager to hear traditional Ecuadorian music fused with Afro beats.
Esmeraldas
Esmeraldas province is located in the north western part of Ecuador, thought of as quite cosmopolitan since it is inhabited by many ethnic groups.
The first Europeans to reach Ecuador arrived in Esmeraldas. They called it Esmeraldas since they believed it had vast quantities of gems. San Lorenzo became the main town and trading centre. Slaves from Colombia were brought to work in the province of Esmeraldas.
Not only do people flock to the Esmeraldas province for the beaches, they come to explore the jungles too. You can move through the dense mangroves using a canoe since rivers are the only way to move around. Nature lovers will enjoy bird watching and seeing unique mangrove species.
Located within Esmeraldas' jungle areas is the Mataje-Caypas Ecological Reserve. The reserve has many unique plant and animal species. It is home to the world's tallest mangroves. The reserve has uninhabited beaches, mangrove forests and other species that are native to Ecuador.
Another attraction within Esmeralda is the Caypas River. This river has spectacular falls, gorges and unique species. At the Zapallo Grande you will see indigenous architecture and clothing.
A little farther down is the Santiago River.  On the upstream side of this river you will find the Playa del Oro community. The community runs an eco lodge where you can spend the night and relax.
Montañita
Our favorite stop along the Ruta del Sol is of course, Montañita, which  is just an hour's drive from Puerto Lopez.  As we know, Montañita  is popular with tourisits and surfers alike. There  is a small downtown area packed with many restaurants, shops, bars and clubs.  Montañita is famous worldwide for its nighttime beach parties and incredible surf. The high season is  is between December & March, but Miro and I prefer to visit during the low season April through November.
Salinas
Exploring Ecuador's Ruta del Sol would not be complete without a trip to Salinas. Salinas is about two hours south of Montañita by bus.  Like many of the beaches along the Ecuadorian coast, Salinas promises many beautiful  white sandy beaches. But the town itself has  modern towering shopping complexes, chic stores, restaurants and condos. Some say Salinas has a "Miami touch" as it is often described as "retro, yet modern with a funky vibe and high-end choices. One day we'll see it for ourselves.
Guayaquil
Finally, the most southern stop on Ecuador's Ruta del Sol will bring you to Guayaquil. Guayaquil is one of the largest and most populated  cities in Ecuador, but don't let that dissuade you from exploring its wonderful attractions.  The famous  Malecon is a beautifully remodeled waterfront along the tidal estuary flowing past Guayaquil. The Malecon stretches 2.5 kilometers offering many cultural exhibits along the way, like lush gardens, docks for boats, restaurants, artisan markets,  chic boutiques and nightclubs. There is even  an Imax theater to pass the time.  Guayaquil seems like the perfect place to wrap up the journey down the Ruta del Sol.
Creative Commons license – Manta- Johnny Chunga,  Canoa -  vtoxic,  San Lorenzo-  (-J. Nilsson Photo) , Esmeraldas-  Rinaldo W., Puerto Lopez- Szymon Kochanski, Salinas -  Johnny Chunga, Guayaquil -  Yassef,
Share:

Before we left on our trip to South America, things were different. I worked with technology every day. But I do remember a time before my laptop and I were fused together. I had computers, yes, but back then, I refused to own a laptop.
Why?
Because I knew myself. I owned and ran a busy a design / branding agency and I was a workaholic. I spend at least 60+ hours a week in front of my duel giga-something apples in the office loft, (which for many years also happened to where I resided).
For what reason could I possibly need a laptop too?
My fear was, I'd take the laptop into my bed and never get any separation from work, technology and being connected. I'd never have a break.
Yes. I know myself. Well.
I was a self proclaimed work-aholic for oh so many years. Prior to our travels, it was worse. I am committed, I am passionate and I am focussed. And I knew one thing for sure: Back then, I would have taken my laptop into bed with me. Without a doubt.
I bought my first laptop for our trip and for the last five years, my laptop has been my lifeline. I use my laptop to earn a living, to stay connected with friends and family and even to provide entertainment watching movies and tv shows and listening to music.
I couldn't imagine traveling long-term without a laptop. I couldn't work without one, support ourselves, or manage to stay connected. So, when Miro and I decided to travel to Ecuador for 10 days and we decided to both go without our personal laptop computers, it was a monumental decision for both of us. (I am not saying we didn't use the internet cafes once a day to check in, but it was an intentional choice at that point, rather than wasting hours in front of our computers.)
So, what happened as a result of this little experiment?
Besides the obvious (not being in front of the computer all day and night) I noticed some miraculously wonderful side effects of being computer-free:
We did not have to worry about leaving our valuable computers in our hostel room while we were out enjoying the beach.
We spent all of our time together interacting and playing (multiple card and chess games) with one another
We laughed so much together, the days seemed to be filled with nothing but laughter and joy
We experienced the days as being longer and we had more time.
We were more present at every meal, every interaction, every activity.
We exercised creative ways to entertain ourselves; taking walks, pretending we were super-spies, drawing in the sand and making new friends.
Sometimes, you gotta just take a break.
Sometimes you gotta give yourself a few computer-free days, whether you are traveling or not.
Photo credit top photo: www.gdefon. com.
Share:

Since certain ingredients are used as a result of both history and geographic conditions, one of the best ways to educate yourself about a country is to sample its food. As well as treating your taste buds to exotic culinary delights, eating in a new country is a great way to truly immerse yourself in the culture of a new country, and meet new friends.
Chicken is eaten everywhere
The humble fowl really does have widespread international following. From China to Peru you'll discover that every country on the planet has a different way of preparing chicken. You can stir fry it, or you can let it cook in an oven as a casserole. The chicken is perfect as a dish for curries or as a tempting recovery meal for anyone who has been ill.
French chicken classic
A classic French dish that is easy to prepare is chicken in white wine sauce. Simply buy some chicken breasts, fry them in a deep pan or casserole dish, add equal measures of chicken stock and white wine and then add 4 cloves of whole garlic and place the whole mixture to simmer for around 40 minutes. You can check if the chicken is properly cooked by just piercing the breast with a thin knife and making sure that it's no longer pink. Mushrooms added in the last ten minutes of cooking time will enrich this recipe. You should also add herbs as well as salt and pepper for extra taste. Reduce the sauce by removing the lid and boiling quickly. This is when you add the cream.
Sample some Andean culture in Peru
In Peru they cook fiery chicken dishes using chillies, cumin and evaporated milk. This unlikely sounding combination is in fact delicious. It's a one-pot recipe so once you've boiled your chicken and shredded it you can then fry the onion, chillies, pecan nuts and garlic and spices. Add evaporated milk to the spices then combine with the chicken. All that's left to do is enjoy this meal while learning about the Incas and the lost civilizations of this fascinating part of the world.
Try Middle Eastern chicken recipes
Turkey is renowned for its incredible fusion of cultures, astonishing monuments and its mysterious Hittite people. It's also famous for its beaches and bazaars. Chicken dishes from this country can incorporate cardamom, paprika and nuts. Simply boil your chicken pieces for around 20 minutes and then strain through a sieve. Whiz up the walnuts, onion and the water/stock from the chicken, adding paprika, some crusts of bread and a sprinkling of salt and pepper. Smear the paste over the chicken and you'll have a delicious meal.
Research:

http://allrecipes.co.uk/recipe/9691/chicken-in-a-creamy-white-wine-sauce.aspx

http://www.theguardian.com/lifeandstyle/2014/feb/20/martin-morales-aji-de-gallina-peruvian-recipe-chicken

http://www.theguardian.com/lifeandstyle/australia-food-blog/2013/aug/22/ottolenghi-10-best-chicken-poultry
Share:

Chiclayo, also known as the "city of friendship", is located near the northern coast of Peru. It is the fourth largest city in Peru and probably the most modern. Its sunny climate, desert oasis and fresh sea breeze are pretty welcoming. The city offers its visitors a number of tourist attractions, from cultural sites to natural wonders. The ancient history from the area adds color to Peru's already stunning legacy.
During our last trip to Chiclayo, Miro and I  visited Túcume, Museo Tumbas Reales de Sipan, Lord of Sipan tomb, Ferrenafe Musuem, Museo Sicán, and the Brüning Museum in Lambayeque.
This time, according to Miro, he has already visited all the sites and remembered having a cultural overdose last time we were there. So this time, with our 8 hours layover, he said "NO WAY " to revisiting any of the same sites.
Fair enough.
Our first visit was to the capital of Sican culture, the complex of Túcume. The site is located 35 Kilometers from the Chiclayo. It is believed that Túcume was built later after the Sicán abandoned and burnt their capital of Batán Grande in A.D. 1050. Commonly referred to as Valle de las Pirámides, the area is easy to understand mainly from the lookout on Cerro Purgatorio. This offers an excellent view over the entire complex which has a small but interesting museum, opened 9 a.m. to 4:30 p.m. daily.
Lord of Sipan Tomb
Our next destination was one of the most significant archeological sites in the region – the Tomb of the Lord of Sipan . It was discovered close to the coast, in the middle of Lambayeque Valley, just 35 kilometers east of Chiclayo. The Lord of Sipan (or Señor de Sipán) ruled about 1600 years ago and was thought to be only  30 to 40 years old when he died. The Lord  was buried in traditional Moche  funeral clothes which adorned with gold, silver and jewels and on display at Museo Tumbas Reales de Sípan.
Museo Tumbas Reales de Sípan
Miro and I  toured the Museo Tumbas Reales de Sípan which is the principal museum in Lambayeque. The museum was inaugurated on  November 8th, 2002,  is considered to house one of the nations leading archeological collections. The impressive building has been designed to reflect that pyramid-like sanctuaries of the Moche culture. Its multi-level interior, meanwhile, is a world-class showcase for the region's many pre-Columbian artifacts. At the centerpiece, there is the Señor de Sipán collection (from the site of the same name, also called Huaca Rajada, outside Chiclayo), that features exquisite items that have been taken from the tomb of the Lord of Sipán.
Visitors enter the museum through the top floor and then descend to the second and first levels. Several tour guides are readily available but at an extra fee – if you aren't familiar with the cultures of the northern coast, a guide can help you get the most from the museum.
Museo Sicán
Miro and I also visited  the Museo Sicán during our visit.  Located in Ferreñafe, about 20 kilometers from Chiclayo city, Museo Sicán is located along the road leading to Bosque de PómacSanctuary. This museum display  various aspects of the daily life within the Sican culture including metallurgy and ceramics. Additionally, the Museo Sicán has a display of the Sican royal tombs.
The name Sicán is used to refer to the culture that flourished in Lambayeque area about 750 AD. The culture traces its roots to the Mochica culture and to some other contemporary cultures like the Wari, Cajamarca and Pachacamac.
Museo Brüning
The Brüning Museum marked the end of our tour of the Chiclayo region in Peru. Located in Lambayeque , the Brüning Museum was built to house the collection of German-born archaeologist and ethnographer Hans Heinrich Brüning Brookstedt. Brüning spent much of his life in northern Peru, exploring and recording the culture of the region and its past civilizations. In the 1920s, the Peruvian government purchased much of Brüning's collection, including his photographs, sketches and an ever-growing assortment of ceramics and other archaeological artefacts. Brüning Museum has more than 1,500 pieces from various cultures of northern Peru that includes the Moche, Chimú, Vicús and Lambayeque civilizations. Many of these pieces show scenes of everyday life, including rituals and fishing scenes which is a vital occupation along the desert coast.
Share: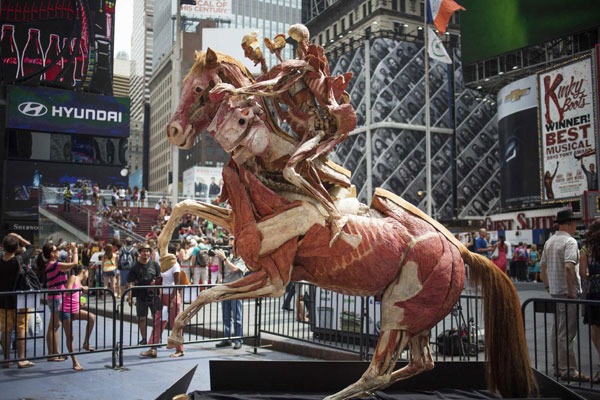 One of my roles as a parent is to serve as a guide and partner in learning. Through this partnership, we discover new ideas within the context of travel and explore how these experiences relate to our own lives. Additionally, I continue to be an integral part of his feedback loop, allowing him to process and express his own reactions to the world around us. This has become one of the milestones of our parent-child relationship and has contributed to our close relationship.
We were recently talking about the experience and with a little research, we realize there is a new exhibit right now in New York called Body Worlds: Pulse which we are considering attending later this year.
Throughout the exhibit's history, it has been fought against, heavily criticized, and widely protested. It may even be an exhibit some parents may choose to shy away from, Miro and I are excited to explore it once again. The Body Worlds exhibit offers an intense (educational) experience that people of any age can find inspiration from.
The Body Worlds in the Making
Meet Gunther von Hagens, creator of the controversial process known as plastination. This process became the foundation for traveling Body Worlds exhibition. In the late 1970s, the German anatomist invented this technique used to preserve cadavers for further study. Without this invention, the unique Body Worlds exhibits would never have been possible.
The Exhibit's Many Controversies
All of the Body Worlds exhibits have been under fire by several different groups. People from a wide variety of backgrounds actively protest the display, for not only because of their religious beliefs, but also from medical, ethical, and legal standpoints. Catholic leaders and Jewish rabbis have made it publicly known that they object to the exhibit. They claim that Body Works demonstrates a lack of reverence for the human body. Von Hagens does not agree with those viewpoints. To the contrary, he considers the exhibit to be an honor to the human body, not a show of disrespect. Miro and I both agree.
Exploring the Body Worlds: Pulse Exhibit
Each of the Body Worlds exhibits takes on a different theme. Body Worlds: Pulse is about the story of the human body in the 21st Century. As the newest in the series, this particular exhibit demonstrates the latest developments in von Hagen's plastination technique.
The Body Worlds: Pulse exhibit focuses on displaying the potential within the human body and the vulnerabilities as well. There are displays that show bodies in distress and others showing them in health. It reinforces the thought of living life mindfully, finding meaning in it, and promoting vitality. The exhibit embodies a rich multimedia experience, intriguing metaphors and progressive storytelling, inviting each visitor to create their own narrative of the experience. Both Miro and I are anxious to explore this show first-hand.
Important Take-Away Lessons
In spite of the many controversies surrounding the exhibit, Body Worlds: Pulse offers many important lessons to all who attend. It goes without saying, one cannot help to learn a little about the human biology and serve as an immersive anatomy lesson. Through the highly visual and multimedia experiences, attendees become familiar with the many parts of the body and how they function.
But more importantly, the exhibit also inspires everyone to contemplate life around them a part of the greater system. Our lives and our bodies somehow have a deeper meaning through this experience. I am certain that many walk away from the show with newly found resolve and appreciation for their own existence.
Share:

To simply read about a location, an event or a cultural practice is indeed interesting, but to be immersed in the experience is to breathe it in and make it a part of yourself. This type of immersive learning has become our life-learning curriculum, guided simply by our combined interests. The world is our classroom, and our interests are our guide.
We are in a golden age of information, where with a click of the mouse, the internet has opened up our world. Unfortunately for many, the exploration stops there. As in this series, we hope our readers use this as a platform for information, but encourage everyone, old and young, to venture out into the world and feel, smell, experience all that you've imagined and use this information as your personal inspiration. And, as inspiration guides, Miro and I were inspired to explore one of Paris' historic wonders, The Arc de Triomphe.
The Arc de Triomphe
Traveling to Paris, immediately conjures up romantic visions in my mind of the iconic Eiffel Tower, quaint city streets lined with cozy sidewalk cafes and the endless homage to art displayed in galleries and museums scattered throughout the city. But nothing compares in grandeur to the impressive Arc de Triomphe located on the right bank of the Seine.
Image courtesy of Paul-W, based on a Creative Commons license.
The Arc de Triomphe is one of the most famous landmarks in Paris. Seeing it in person is the only way to understand its power. In my early twenties, I visited Paris on my year-long-round-the-world trip. Twenty years later, my memories of the Arc de Triomphe remain constant, awe-struck with it's grandness in contrast to the surrounding intricate delicate details.
Image courtesy of PLF Photographie, based on a Creative Commons license.
The Arc is in the center of a gigantic roundabout and traffic fed by twelve major streets. Entering the center of the roundabout from the underground walkway, you find yourself at the Place Charles De Gaulle where the Arc stands. Only there, can you will get a sense of the sheer massiveness of the monument. The large crowds were not discouraging to me, as I noticed there was enough space to wander about and be wowed. My secret tip: Look up.
The internal coffer of the Arc de Triomphe offers intricate patterned carvings that cast shadows and play with the light. As my eyes traveled down the side pillars, I found myself reading the inscribed names. There are over 600 generals listed, the underlined names signify the commanders that lost their lives in battle.
As you walk around the Arc, you will find a few familiar faces carved, including an image of a victorious Napoleon and an interesting human representation of Paris with her crown of city walls.
View From Above
Image courtesy of Pauldc, based on a Creative Commons license.
One of most unforgettable part of my visit including walking up the the 280 stairs to see a birds-eye view of Paris. I felt as if I was in the center of the world with every famous Paris landmark within view. Even the traffic on the circle below became mesmerizing.
Honoring the Dead
Timing is everything. Twenty years ago, by chance, I arrived at the Arc de Triomphe late afternoon, about two hours before the Tomb of the Unknown Soldier was honored. I had not planned it, but after learning this ceremony takes place daily, I waited to witness this for myself. I learned that below the arch lies this tomb was placed. I found myself wondering who he might be, how old he was when he died and what his hopes and dreams must have been. At 6:30pm I witnessed the eternal flame being relit with much fanfare and reverence. I was moved more than I had expected and with tears in my eyes, I knew I made the right decision to stay for this ceremony.
History
After my visit, I researched the history of the Arc de Triomphe with much passion. Not expecting to be touched as deeply as I had, I was inspired to I read and learn and discovered a checkered history. Although the monument appears to strictly be a celebration of war, I was delighted to learn that it acknowledges the need and value of peace. The Arc de Triomphe was built to honor Napoleon's victory in 1805 at Austerlitz. Unfortunately, Napoleon never had the chance to see the arch finished. Of the four groups of sculptures, Antoine Etex's Resistance and Peace along with Peace of 1815 tell the story after the fall of Napoleon.
Image courtesy of peirz, based on a Creative Commons license.
Throughout its history, the Arc de Triomphe has become the rallying point of French troops parading after successful military campaigns and for the annual Bastille Day Military Parade. Famous victory marches around or under the arch have included the Germans in 1871, the French in 1919, the Germans in 1940, and the French and Allies in 1944 and 1945.
The Tomb of the Unknown soldier was added after World War I in 1920. It stands as a symbol of the armistice signed between France and Germany. The french inscription reads, "Here lies a French soldier who died for the fatherland 1914 to 1918." For an unknown person to be buried at the base of such a grand structure is awe-inspiring and humbling.
Important Lessons Learned from the Arc de Triomphe
A visit to the Arc de Triomphe is not just a tourist attraction, rather experienced as a transformative experience, living time and history. One cannot take away a profound learning simply through reading about it or seeing images. Twenty years ago, I experienced the power of presence, the living history and a rich cultural heritage only accessed through a full immersive experience. I felt the reverence for past wars and the value of peace contrasted with the supposed inner conflicts of a French citizen from long ago.
Share:

Traveling the world presents countless educational and developmental opportunities, as immense as the world itself. However it seems not many researchers have studied the effects travel has on children from an educational perspective, however I have witnessed first-hand the benefits of a world education, including developing an open mind, immersive learning, boosting confidence and contributing to greater creativity, curiosity, and problem solving skills. In fact, family travel benefits the family as a whole, regardless of age.
For us, the world is our classroom. Immersive learning is a completely different experience than simply reading about some thing or some place. Experiencing history, culture, science and art first hand can create a more profound sense of learning. Armed with our interests as our guide, the world is literally transformed into our classroom.
Getting to Know Buckingham Palace
Buckingham Palace did not begin as the structure we are accustomed to seeing in today's media. Over the centuries, the palace has gone through several physical transformations as well as a few name changes. In 1705, it was simply a large townhouse built for the Duke of Buckingham on a land that had sat for about 150 years, being held in private ownership. This impressive home that still pales in comparison to all that Buckingham Palace is today was called Buckingham House.
A little over 50 years after the townhouse was built, the property was purchased by George III to serve as a private residence for Queen Charlotte. At that time the name was changed to The Queen's House. It wasn't until 1837 that the property finally became the official palace of the British Monarch.
Today, Buckingham Palace contains 775 rooms and is the base of Britain's lasting constitutional monarchy, serving as the location of the office of England's Head of State as well as The Queen's residence. The furnishings and décor it contains are absolutely priceless, much of it can be seen by tourists as they visit the palace's 19 state rooms. The palace's garden is also a breath-taking environment to be in, with its 350 varieties of wildflowers and amazing view of famous lake.
England's Royal Family: A Deep History
It was during the eighth and ninth centuries that monarchy developed in Britain. The earliest times saw the reign of the Angelo-Saxons, including King Alfred the Great. After this rose the Normans, Angevins, Plantagenets, Lancastrians, Yorkists, Tudors, Stuarts, Hanoverians, Saxe-Coburg and Gotha, and finally the House of Windsor, which is ruling today. Each of these houses represents a new generation of the same family line.
The current queen in England, Queen Elizabeth II has the second longest running reign of any monarch in the UK. Eldest daughter of King George VI and Queen Elizabeth I, she was born on April 21, 1926 and became Head of the Commonwealth on February 6, 1952 at age 25.
The Intriguing Experience Buckingham Palace Offers Guests
In spite of the many changes that it's seen over the centuries since it was first built, much of its original architecture remains. The palace has been long a key symbol of the UK's rich history. Visitors to the palace get to see first-hand the beauty and grandeur of the palace and the artefacts contained within. They get the opportunity to stand in places where significant events took place in the UK's history and impacted the rest of the world.
There are 19 staterooms that were designed specifically for receiving dignitaries and rewarding subjects. These rooms remain as designed by architect John Nash, reflecting the taste in décor had by King George IV who reigned from 1820 to 1830 and was affectionately titled "the First Gentleman in England" because of his charm. There are many important works of art contained within these rooms, including a sculpture by Canova, paintings by Van Dyck and much more.
Image courtesy of Leonard Bentley, based on a Creative Commons license.
Buckingham Palace's Painting Gallery is one of the 19 staterooms. The exhibit is constantly changing as paintings are often lent out to other exhibitions around the world. Some of the paintings that can be seen in this room include works from Rembrandt, Van Dyck, Rubens, Claude, and Titian.
The rich décor and furnishings of Buckingham Palace offers guests an excellent cultural experience. Hundreds of thousands of tourists enter the palace every year. One of the sights that continues to be the most popular with guests is the Changing of the Guards.
The Tradition and Significance of the Changing of the Guards
The Changing of the Guards of Buckingham Palace dates back to 1837 when Buckingham House officially became Buckingham Palace and Queen Victoria took up residence there. The ceremony has remained the same throughout all the years, although visiting regimens from other branches of the armed forces are invited to join in, sharing with the Queen's guards the pleasure and privilege of guarding the Queen.
The Changing of the Guards is the ceremony that takes place as one regiment ends their shift and another marches in to replace them. The ceremony takes about 45 minutes and is usually done every two days, weather permitting. This colourful, musical, and entertaining event continues to be the top attraction in London, attracting millions of more spectators annually than visitors to tour Buckingham Palace itself.
Important Lessons Learned from Buckingham Palace
A visit to Buckingham Palace isn't just entertaining, but has proved to be a life-changing experience for many. At heart, The Royal Family is a family indeed, one that has stood strong throughout the ages. This in itself holds an important lesson for visiting families touring Buckingham Palace.
There are many inspiring stories told about struggles and triumph, as visitors come to develop a deeper appreciation for history, art, and culture. Also are the high morals and standards displayed and learned; such as respect, prosperity, honor, bravery, loyalty, and so on. The takeaway is different for each visitor to Buckingham Palace, but no one leaves being exactly same as when they came. The Buckingham Palace is high on our list to learn from.
Photo courtesy of Jimmy Harris, based on a Creative Commons license.
Gabriela Beese contributed to this article. She is versed in a wide variety of topics and has been particularly interested in travel journalism for the last 10 years.