About Larry Magid
Larry Magid is a technology journalist and an Internet safety advocate. He serves as on-air technology analyst for CBS News, is co-director of ConnectSafely.org and founder of SafeKids.com and SafeTeens.com. He also writes columns that appear on CNET News, CBSNews.com, Huffington Post and the San Jose Mercury News.

His technology reports can be heard daily on CBS News and CBS affiliates throughout the U.S. and he has a daily tech segment on KCBS radio in San Francisco. He's a regular contributor to BBC World Service and an occasional guest on National Public Radio's Talk of the Nation. He is often called upon for commentary by CBS television news, CNN and Fox News and has appeared on the CBS Evening News, ABC World News Tonight, the Today Show and CBS Early Show. He has also been a frequent contributor to the New York Times and was, for 18 years, a syndicated columnist for the Los Angeles Times.

He has written several books including the best-selling Little PC Book and is co-author (with Anne Collier) of MySpace Unraveled.

Larry served on the Obama Administration's Online Technology Working Group and the Berkman Center's Internet Safety Technology Task Force.
Latest Posts by Larry Magid
Share:

I started thinking about Android tablets the moment Apple introduced the iPad back in January 2010. After all, if Apple could find a way to make its wildly successful iPhone operating system work on a larger device, it seemed only logical that Google could as well.
Even before Google software engineers adapted Android to run on tablets, Samsung and some other manufacturers figured out ways to shoe-horn the phone version of Android to work on larger devices. The results were mixed. But some products, like the Samsung Galaxy Tab, did a pretty good job taking the Android phone experience to a larger platform.
Then in February, Google took the wraps off Honeycomb, a version of Android optimized for tablets. Motorola was the first to employ Honeycomb with its Xoom tablet at a starting price of $800, which was $300 more than the least expensive iPad at the time. True, unlike the cheapest iPad, the $800 Xoom worked with 3G cellular service. But when Motorola started shipping its Wi-Fi only version, it priced it at $599 and, by that time, you could get a Wi-Fi only iPad for $399 or an iPad 2 for $499. At those prices, Motorola didn't have a chance of competing with the iPad. Not only was the iPad a lot cheaper, it had already established itself as the runaway leader. For anyone to seriously challenge Apple, they have to figure out a way to make their product either cheaper or better.
For more on Acer Android, check out more in-depth analysis on Larry's World.
Share:

On the second day of the Google I/O developers conference in San Francisco, PC makers Samsung and Acer announced that they will be shipping "Chromebooks" that run Google's Chrome Operating System. Instead of running traditional PC software, Chromebooks will boot into the Chrome browser to run web-based applications like Google Docs and Spreadsheets.  The devices don't have much storage, but the Internet has infinite storage.
Starting about $349, the devices are going to be less expensive than most laptop PCs and, according to Google, will boot up in a few seconds since they don't have to load a large operating system. Some models will have Wi-Fi only while others will have 3G cellular connectivity.
For more: Mike Swift's report in the San Jose Mercury News
CNET: "Samsung to unveil details of Chromebook"
CNET: "Acer Chromebook: A sold-state Netbook for $349"
Share: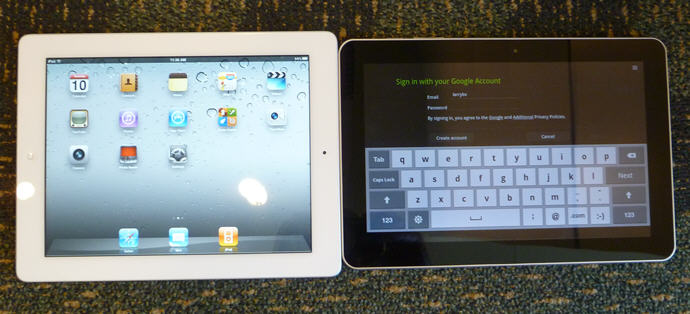 Samsung Tab 10.1 (right) is lighter and thinner than the iPad 2 (Photo by Larry Magid)
San Francisco — Day one of the annual Google I/O developer's was all things Android. The day began with a recap of Android's growth in the two and a half years it's been on the market. Google says that there are now 100 million activated Android devices, 400,000 new devices activated every day, 200,000 apps in the Android market and that Android users have so far downloaded and installed 4.5 billion apps. Those numbers aren't as gargantuan as what Apple can claim, but they're respectable and indicate enormous growth for the only serious competitor to Apple's popular iOS operating system that runs on iPhones, iPads and iPod touch devices.
The company announced update to Honeycomb, the version of Android optimized for tablets but also said that later this year they'll ship a new version of the operating system, called Ice Cream Sandwich, that supports both phones and tablets. The just released Honeycomb 3.1 adds resizable widgets and a new task switcher. Google also announced an update to its Google TV platform which will soon run applications from the Android marketplace. For more on the specs and the whys, more in depth on HuffPost.
Share:

The recent break-in of Sony's PlayStation Network underscores the need not only to have strong passwords but not to use the same password on each site you visit. Below are links to some resources and advice, but here are a couple of quick tips:
Create phrases that you can remember and use the initials of each word in your passwords. Make sure to include numbers, upper and lower case letters and symbols. For example, I graduated from Lincoln High School in 1985 could be "IgfLHSi#1986. Then you can vary that password for each site with something you'll be to remember. For example if the branch of your bank is on Hamilton Street, add an H for your bank's password. More information including some useful tips and resources can be found here.
Share: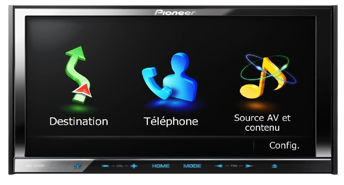 In October I purchased a 2010 Prius with a basic radio instead of the factory navigation and audio system that would have cost about $2,000 extra.
At first I just used my Android phone, which has Google Maps Navigation and the ability to play audio through the car speakers. It worked OK but is a bit awkward to use in the car, so I decided to upgrade to an after-market system that would be built-into the dash yet be cheaper and have more features than Toyota's premium entertainment and navigation system.
Pioneer AVIC-Z130BT Audio and Navigation System
I held off until I could see the 2011 systems at the Consumer Electronics Show in January, where Pioneer Electronics announced one that had all the features I was looking for, plus the ability to access and control an iPhone and stream Internet audio from Pandora and Aha Radio. A few weeks ago, Pioneer sent me an AVIC-Z130BT in-dash receiver and navigation system to test out for a review and arranged for installation from AMS Car Stereo in San Jose. I've decided to keep and pay for the unit because, despite some initial challenges with the user interface, I like its features and versatility. This model, which has a 7-inch touch screen, sells for $1,200, but installation and a custom car kit, steering wheel controller and cables will add to the cost. If you don't care about the Internet streaming feature, you can get less expensive models from Pioneer and other companies. For more on Pioneer and car audio and navigation systems, click here.
Share:

Last Thursday I took the 4:00 PM Megabus from Boston to New York. I knew where I was going as did a few of my friends. AT&T has a record of the cell towers I accessed along the way, but they're not allowed to disclose that information without a court order. However, thanks to a tracking file stored on my iPhone and a recently released piece of software, anyone with access to my phone or my computer can find out exactly where I've been.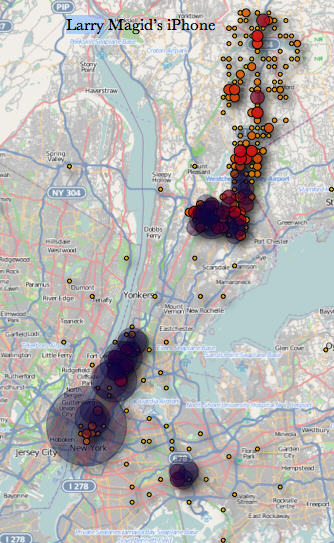 Tracking software was able to follow me from Boston to New York. The software can zoom in for far more detail
The presence of this tracking file was discovered by researchers Alasdair Allan and Pete Warden who disclosed their findings on the O'Reilly Radar blog and presented them at the Where 2.0 Conference in San Francisco (scroll down for a video of their presentation)
The pair had been working on data visualization projects including creating a map of radiation levels in Japan and were looking into ways to visualize mobile data when they discovered the file. Allan said that he was looking for data on contact information and "I started poking around backups on the Mac and I stumbled across a directory named location d." He looked around and found a file called "consolidated.db" which was full of latitudes and longitudes and time stamps and cell IDs. "The file," added Warden "was a plain SQI file" that was not encrypted."
Allan said that the phone contained "a year's worth of data for every cell that we've been through since we upgraded to IOS 4." And the data persists even if you change phones assuming you follow Apple's recommendation to backup and restore your phone to a computer via iTunes.
Free OS X software lets iPhone users create their own maps….

To enable iPhone users to visualize their location data, the researchers created a Mac OS X application called iPhone Tracker that quickly displays your location based on the data from your iPhone backup. Before you download and run the application, you should backup your iPhone via iTunes. To learn more and read more about his experience regarding maps and tracking, click here including the video.
Share:

In a statement issued Wednesday morning, Apple said "The iPhone is not logging your location. Rather, it's maintaining a database of Wi-Fi hotspots and cell towers around your current location, some of which may be located more than one hundred miles away from your iPhone, to help your iPhone rapidly and accurately calculate its location when requested."
Apple CEO Steve Jobs and other executives also talked about the indecent with All Things Digital blogger Ina Fried and with the New York Times. Apple admitted that there was a "bug" in the software that kept the file for too long and prevented users from keeping the data from being collected when turning off location services. Steve Jobs insisted to the New York Times that "We haven't been tracking anybody" and added, "Never have. Never will." Alasdair Allan and Pete Warden, the researchers who originally found the file on their phones praised Apple for fixing the problems but commented on the O'Reilly Radar blog that "Apple doesn't address our claim that this reveals sensitive information about your travels. At this point we're just relieved to get an explanation and a fix." More on this can be found over on Larry's World.
Share:

As you may have heard, Cisco recently discontinued its Flip camcorder. The Flip was a small video camera with internal memory that transferred files to a PC or a Mac via a little USB adapter that "flipped" out of the unit. It was an ingenious and revolutionary product that, last year, was the top-selling video camera with 26 percent market share. Some analysts are saying Cisco killed the Flip — which it acquired about two years ago — so it could better focus on its core networking business, but, if someone were to do an autopsy on the little camcorder, I have a feeling that the cause of death would be blamed, at least in part, on smartphones.
Just about all of today's smartphones, digital cameras — and now even tablets and the new iPod touch — have video cameras, and some of them are quite good. And with smartphone cameras, you're able to upload or email those videos and still pictures without having to connect to a PC. The iPhone 4, for example, has an excellent video camera that makes it very easy to share your masterpiece on YouTube with a single tap to the screen.
As I contemplated the passing of the Flip, I realized that pocket camcorders are not the only product category that's at risk because of smartphones. Though small digital cameras aren't yet on the endangered species list, it's only a matter of time before cellphone cameras are just as good for the types of photos people typically take with pocket cameras. Already, I see many people using their iPhones and Androids instead of stand-alone cameras to snap pictures of their friends.
One reason, of course, is that you always have your phone with you while most people only think to take their camera along for special occasions. But it's also very cool to be able to take a picture and immediately post it on Facebook or email it to friends. The portable GPS is also in danger. I have a little Magellan navigation unit in my car that I used to also carry with me on trips to use in rental cars. But I never use it anymore because Google (GOOG) Maps — which is built into my Android phone — is actually better and always with me. Not only has Google done an excellent job with its navigation software but, because it's connected to the Internet via the cellular system, it always has up-to-date maps, points of interest and traffic information. I recently used it to locate a restaurant that had only been in business a few weeks.
Sure, you can purchase annual updates for stand-alone navigation systems, but they'll never be as up-to-date as Google. (For more of a read on this piece, check out the Huffington Post piece).