About Mariellen Ward
Mariellen Ward is a freelance travel writer whose personal style is informed by a background in journalism, a dedication to yoga and a passion for sharing the beauty of India's culture and wisdom with the world. She has traveled for about a year altogether in India and publishes an India travel blog, Breathedreamgo.com. Mariellen also writes for magazines and newspapers.
Latest Posts by Mariellen Ward
Share:

I wake in Vrindavan.
I wake with two problems on my mind: money and food. I slept without dinner and no breakfast is available; and the day before, I tried two ATMs and both were out of money. So, with a mixture of hope and trepidation, I haggle for an auto and go straight to the ATM. The sound of the money dispensing is more delightful to me than all the temple bells in this moment. Even in a holy city like Vindravan, money is necessary.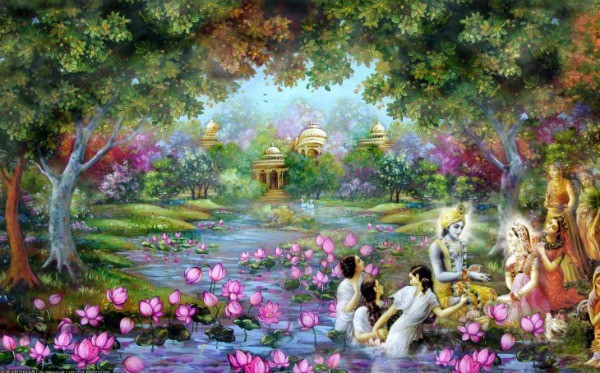 Above, Krishna and his gopis in the Vrindavan of myth and legend.
From there I go directly to Govinda's Restaurant at the ISKCON Temple for breakfast. As it is an "ekadasi day" — a day without grains — I have a strange breakfast of fruit, juice, a mango lassi and kind of potato dosa. Then I have their thick herbal tea and a coconut laddu.
With money in my wallet and food in my tummy, I feel so much better about life and about the day. These things do matter, and I don't agree with the spiritual people who turn their backs on embodied life.
In Vrindavan, I find myself thinking that if all the effort that goes into prayer, darshan, and parikrama were put into cleaning up the city, creating an irrigation system so more plants and trees can grow, installing proper plumbing, sterilizing the stray dogs, educating all the children, and addressing all the other social and environmental problems, than you would have a much more lovely, harmonious Vrindavan — the kind in myth and legend.
The ceasless Vrinadavan Parikrama passes Gopinath Bhavan
But in the meantime, it's a very crowded, dirty, dusty place — no different to me than any other Indian town. I hail a bicycle rickshaw outside ISKCON and fall into the usual negotiations over the price. They say 100 rupees, which is two or three times the price that Indians pay. A young woman joins in and bargains one driver down to 50 rupees to take me to the Mirabai temple. He stops and buys two small bags of water from a street stall.
We ride through a long, narrow market area — it's fascinating to see the stores, the old buildings, some carved, and the crazy traffic jams. Bullock carts, a camel cart, every type of vehicle, all vying for space in a very narrow street. We pass tiny children playing and open-air barbers and groups of devotees walking parikrama in their bare feet. Finally, we get there. Because of the distance and the heat, and the man's advancing age, I decide to give him 100 rupees after all. He isn't sure whether I mean for him to keep it. I feel his sweetness and humility in my heart, I feel humbled.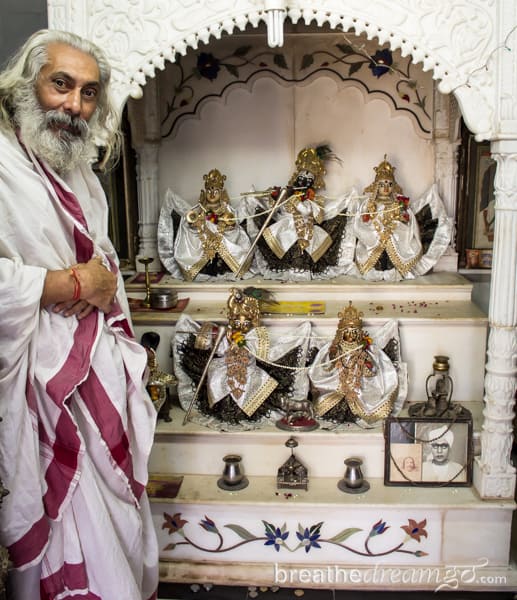 Praduman hands me a piece of 45-year-old paper
Immediately on stepping through the old, rusty gate, and entering the small residential temple, I feel cooler and calmer. I love the feeling in this shady, airy house, full of light and greenery, painted pale blue and white. The bearded man appears, this time in a more priestly garb, a white robe trimmed in red, and we sit down to talk.
He gives me a piece of paper, tells me it's at least 45 years old, and that I should have it translated and copied. On it, he has carefully printed his name and address:
Praduman Pratapsingh,
Meerabai Temple
Govind Bagh, Vrindaban
Praduman tells me, in simple English, what's written on the paper, which is in Hindi. He goes through the main details of Meerabai's life, and how she was rejected by her husband's family because of her devotion to Krishna, her dancing and singing. This is why she came to Vrindavan — to find peace and to devote her life to Krishna.
Praduman's ancestor built this temple for her to live in, and she lived here for about 15 years. Apparently she wrote many poems in this temple. He continues to tell me her life story. Meerabai went from Vrindavan to Dwarka. While she was living in Dwarka, when she was about my age (around 50), there was a drought in Rajasthan. Some of her family members travelled to Dwarka to entreat Meerabai to return, but she refused. That night, according to Praduman, she dissolved in Lord Krishna — and the drought ended.
Praduman talks about Meerabai with conviction and enthusiasm, and though he must do this several times every day, he seems very passionate. He has an open face, large eyes, and he is very expressive. He is very accommodating to me, and shows me around the temple, poses for me and even opens the altar grate so I can photograph the statues. He tells me that he is the ninth generation of his family to be born here, and to maintain the temple. He has a son and daughter — they are the 10th generation (but his son is an artist and animator in Mumbai).
"People come here for peace, love and spiritual strength," Praduman says. "This is the real place of Meerabai. She lives in this temple. People who come here can feel Meerabai and Gopal (Krishna) in their hearts."
Though I am not a Krishna (Gopal) devotee, I do feel a light, happy atmosphere in this temple. It's a great start to my Meerabai expedition to find this lovely temple and this warm and helpful man.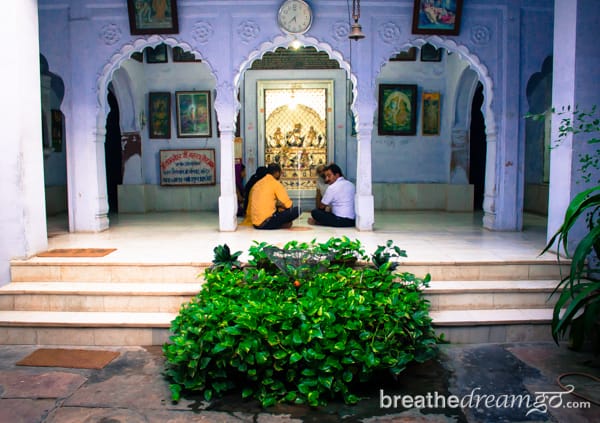 The interior of the Mirabai Temple in Vrindavan
Day 3: Moving on
I wake up on the third day of the Mirabai expedition feeling satisfied. Meeting Praduman and basking in the delightful energy of the Mirabai Temple is such a great start.
I'm also very grateful for the opportunity to stay at Gopinath Bhavan. It is a lovely red sandstone building, run by warm women, most of whom come from European countries such as France and Holland. They gave me a top floor room with a view of the Yamuna River, and the Parikrama parade. I slept very well on a simple bed, and had the luxury of an AC unit in my room.
Nevertheless, I find Vrindavan a difficult place. Very hot and dusty, menaced by grabby monkeys, stray dogs, wild pigs, cows and the natural substances they leave behind, and filled with auto drivers who try to extract maximum cash from foreigners as a matter of course.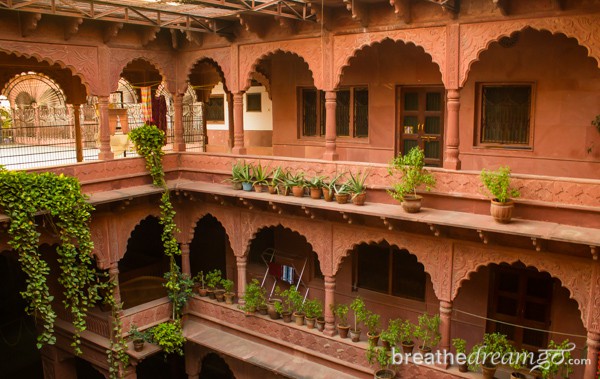 The lovely interior of Gopinath Bhavan, Vrindavan
Vrindavan in myth and legend is a fecund place of peace and harmony, a kind of garden-of-Eden where Krishna and his gopis (milk maids) cavorted in innocence, bathed in love. Vrindavan in reality cannot be further from this image. It must take enormous faith for the many devotees who flock here to feel the spiritual energy of this place.
I feel a bit bad about not feeling Krishna's energy in Vrindavan. But when I was discussing the Mirabai expedition with a woman I met at Gopinath Bhavan, she said it's great that I am giving attention to one of the female players in the Krishna story. So be it.
I am happy to move on.
I decide to leave early on my third day in Vrindavan. I have to be in Agra to take the train to Rajasthan at 5 p.m., so I make plans for a taxi to drive me there in the late morning. I consider seeing the Taj Mahal (for the third time), and decide to stop at the ITC Mughal hotel. I stayed here previously for a few days so it feels a bit like a homecoming.
I get a warm reception from Jyoti, the PR Director, who invites me for lunch with her in Peshawar, their signature restaurant. She offers me a room to get refreshed, and I swim in the pool, instead of seeing the Taj Mahal.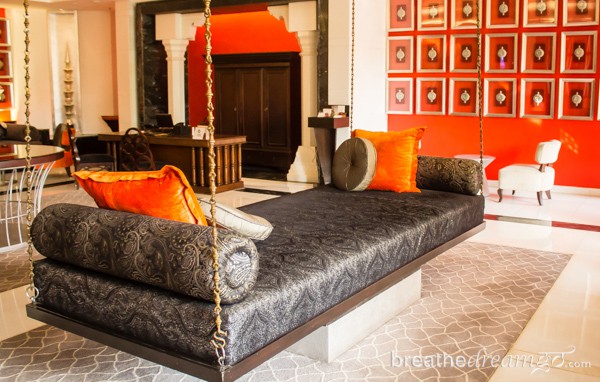 The ITC Mughal hotel in Agra captures the luxurious Mughal era design
The Mirabai expedition takes an unplanned detour into luxury and it feels right, too. Mirabai was a princess who lived in a sumptuous palace before striking out on her own, to both escape the cruelty of her husband's family, and to follow the voice of her soul, the call of her devotion to Krishna. There is synchronicity in this visit too, as the ITC Mughal celebrates the era of Emperor Akbar — who visited Mirabai in disguise, and praised her talent and devotion, bestowing upon her a valuable necklace.
So, as Mirabai left her palace home, I have to leave the comfort of the ITC Mughal to brave the chaos of the Agra train station. Upon arriving by taxi, I try and negotiate a porter to carry my bags to the somewhat distant platform and help me find my berth, but the female (!) porter demand 350 rupees, probably three or four times the regular rate. Luckily, I never carry more luggage than I can handle in India, so I grab my bags and find my platform myself.
A broken heart, a spiritual journey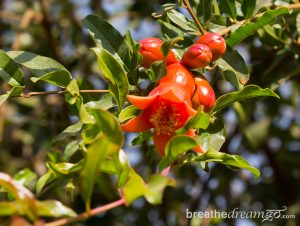 A pomegranate flower, ITC Mughal garden
The train is late, but eventually it arrives, I find my berth and settle in for the journey to Ajmer in Rajasthan. I'm in a lower berth, in the second-class compartment. Though it is not that clean, the bathrooms are a bit scary and I am surrounded by Indian men burping and snoring, somehow I like taking the train in India. I like the gentle movement and knowing I am going somewhere fascinating — plus I like it better than driving. The roads in India are a chaotic obstacle course and you really do feel you are taking your life in your hands.
Somehow, the movement of the train makes me philosophical. I started out on the Mirabai expedition with feelings of sadness and vulnerability. I didn't like Vrindavan, I doubted my self and the expedition and I was missing my friends in Delhi.
I am wondering why am I travelling at all? Unlike Mirabai, I was not rejected and threatened by my family, though I did feel abandoned as a teenager after my parents divorced; and again after my parents died. But I still have my siblings and their families at home in Canada.
Heartache was one of the things that originally propelled my travels in India. Heartache also propelled my spiritual longing. But I think, perhaps, my heart is finally mending.
In Vrindavan, surrounded by bhaktis, I realized I want to live in the world. I don't want to reject the embodied experience. I like a clean and aesthetically pleasing environment, a touch of luxury, some jewelry and makeup.
Some of the women devotees in Vrindavan seem to delight in dressing up in saris and looking pretty, reminding me of Krishna's gopis; but others seem so thin and colourless, and I find myself concerned about them.
There must be a way to be spiritually aware and yet of this world. I would love to see spirituality and materialism come together, so that people increase their consciousness about daily life, about use of resources, garbage disposal, how we treat animals, the planet and each other; and also continue to enjoy the sensuality of life, and the aesthetics of art and nature.
I take out my iPad, to read The Great Railway Bazaar by Paul Theroux (perfect reading for a train journey in India). I'm on this train until I arrive in Ajmer at about 1:15 a.m. Though I have made careful plans, to have a reliable and reputable driver waiting for me on the train platform, it is always unnerving to arrive late at night at a train station in India.
NOTE: THE MIRABAI EXPEDITION is a cultural journey to follow in the footsteps of Mirabai, a 16th century poet and Krishna devotee. I undertook the expedition in October 2014 by travelling to all of the primary sites associated with her in India. It was made possible by an Explorer's Grant from Kensington Tours, as part of the Explorers-in-Residence program.
Share:

LADAKH IS THE NORTHERN most region of India, a high-altitude desert of stark beauty, arid landscapes, Tibetan influenced culture and mountain passes that can get snowed in almost all year round. Below, is the Tibetan Buddhist temple at Matho Monastery.
It's a dream destination for photographers, Buddhists, trekkers, motorcyclists, people interested in Tibetan culture and those on the hippie trail. The landscapes are vast, the sky moody and the international borders loom. It's place that gets seared into the souls of many who make the effort to visit.  Below, the Matho Monastery is home of the Matho Museum project.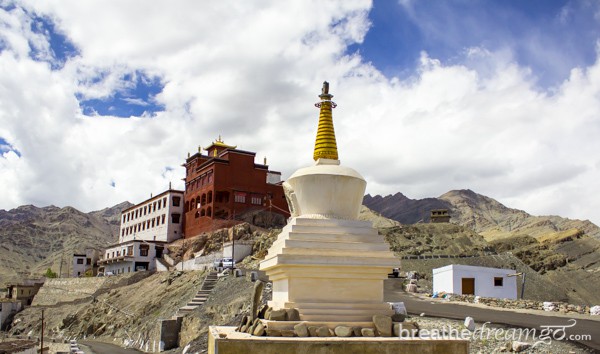 Here, I learned how a French Thangka restoration export, a Buddhist nun and the founder of a women's fair trade store were reviving Ladakh's Culture.
I went to Ladakh in September, just at the end of the tourist season, with my eyes open — to witness the beauty of the landscape and discover another face of India. I toured the monasteries and markets, visited chortens and chai shops.
Though I loved what I saw of Leh and Ladakh, it was the women who interested me. I'd heard Ladakh was a good place to be a woman in India; that women have more power and autonomy there than other places "down south." While I was in Ladakh, I met and interviewed three women, one foreign, two local, who are contributing immensely to the local culture and the livelihood of women.
Preserving the Past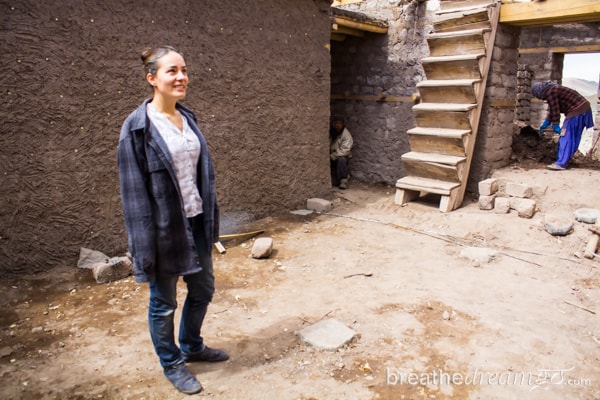 Nelly Rieuf at the Matho Monastery museum site
Nelly Rieuf, Matho Museum Project
My second day in Ladakh. With driver Tenzing and guide Tashi, we drove along a flat, dry desert, ringed with jagged mountains, past lonely chortens, grazing yaks and wild donkeys. I couldn't breathe deeply because of the high altitude, but I inhaled the austere beauty. It looked like Tibet and felt like the roof of the world.
After about two hours we reached 500-year-old Matho Monastery outside of Leh. Matho Monastery, up a hill above Matho Village, is a small serene place whipped by winds and home to 30 monks. I toured the ornate temple and the museum that contained a snow leopard skin, the hat and mask of an Oracle and religious ornaments made from human bones and skulls, and exulted in the panoramic views of the Indus Valley and distant mountains.
Then, as I was leaving, I noticed some foreign women painting flower pots, and they told me they were volunteers, living at the monastery in a guest house, and part of a restoration and museum project. They pointed to a row of windows above the temple and said I should go up and take a look at the workshop that employed local women and foreign volunteers. So I did. And there I met Nelly Rieuf and her team.
Nelly is a young woman from France, and though only in her late 20s, she's already a Thangka restoration expert and has lived and worked in India and Nepal for more than six years. She learned the art of Thangka restoration from her aunt when she was only 18, in Paris. Thangkas are paintings on cotton, or silk appliqué, usually depicting a Buddhist deity or mandala.
For about four years, Nelly has been spending part of each year here at Matho Monastery, restoring Thangkas with the help of women from Matho village, whom she has trained; and acting as project manager for the Matho Museum initiative. I saw several of the local women, working meticulously on ancient, intricate images. When I asked why women, and not men, Nelly said the women are more reliable. She also employs foreigners, as researchers, and I saw three of them lined up against a wall, working on laptops.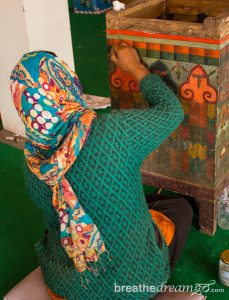 A local woman restoration expert
Nelly was lured to Matho Monastery from Nepal, where she lives in Mustang with her Nepalese husband, by the promise of treasure. She was told the monastery had six, unopened boxes of art and artifacts. When she opened them, she found, among other things, one of the oldest Thangkas in Ladakh. "It's Kashmiri style, totally unique, from about 1150," Nelly told me.
But the Thangka restoration is only part of Nelly's work at Matho. She is also helping to build a museum, to hold the six boxes of treasures. We walked through the construction site, at the back of the monastery, which Nelly said will be ready by June 2015. Even here some of the workers are local women.
I told Nelly how impressed I was by her work, and her team, and all they are doing to preserve the culture. She's very passionate about the project, and also realistic about daily life.
"It's not an easy place to live," Nelly said. "We have no proper toilet, we have to bathe in the icy cold river and in winter there is very little food, just rice, potatoes and dal. But I am surrounded by the best of people. The women from the village are proud of their work here, they see themselves as protectors of their culture. They have hope and confidence, they are earning, they can now consider buying a sewing machine. It makes me feel emotional, to think I have made a difference."
Nelly walks me part way down the barren hill to where my car is waiting. The wind whips our hair around our faces, and dries our eyes. Mine might otherwise be moist at meeting this energetic, frank and seemingly fearless young woman.
Nelly lives in harsh conditions, doing work she loves, and inspiring many people around her to trust in her and her team, to believe in the work and its value, and to join her in helping preserve and protect the unique and beautiful culture of Ladakh. She is giving local women undreamt-of opportunities to learn and earn and, perhaps most of all, leading a life of meaningful work and passion. Such people, such lives, inspire us all.
Giving Women Hope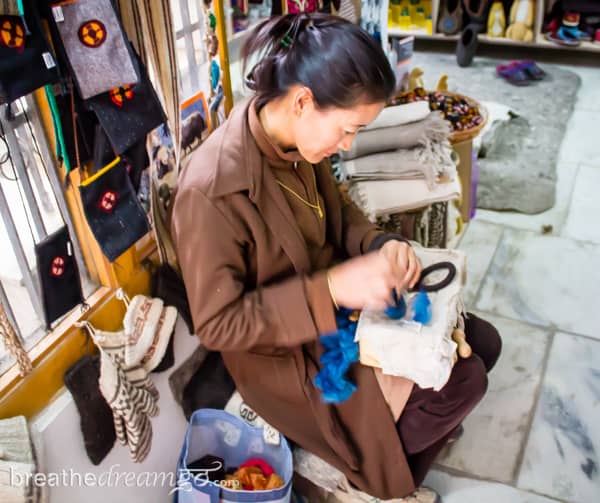 Tsering Dolma at Ladakh Nature Products
Tsering Dolma, Ladakh Nature Products
It took two or three visits to the main market in Leh before we found Ladakh Nature Products open. It's not easy to find, especially as the main market was torn apart for roadwork. We walked gingerly on haphazard planks strew across crevasses in the road, past withered ladies in shawls, Israeli hippies in flowing harem pants and bands of Muslim youths raising money to help the Kashmiri flood victims.
The market is a long L-shaped street lined with cafes, street vendors and shops selling the usual assortment of scarves, bangles, bags and turquoise jewelry you find in all Indian tourist towns. Almost none of it is made in Ladakh. Above the street, the imposing 17th century Leh Palace, etched against the mottled sky, gives the scene its distinctive Himalayan atmosphere.
Finally at the end of the L, we find Ladakh Nature Products. It's a very small shop, tucked under a sloping roof, and the shelves are jammed with wool products — from hats to shawls, from toys to slippers. All of the products are fair trade, made by rural women using local materials and traditional skills.
Sitting just inside, working with a felting awl on her lap, is Tsering Dolma, a slim, elegant woman who is the driving force behind the store and the Ladakhi Rural Women's Enterprise.
Tsering founded the Ladakhi Rural Women's Enterprise in 2012 to help empower Ladakhi women and preserve Ladakhi culture, largely through training women artisans. The store opened in June 2013 to retail the products the women make. Profits are put back into the organization to train and support women artisans across Ladakh.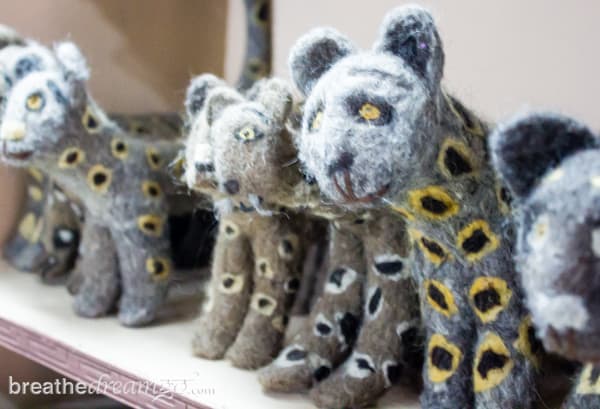 Some of the fair trade fibre arts on sale at the store
I sat down carefully on a stack of felt to talk to Tsering Dolma about the social enterprise organization she runs, and how it came to be. Through my guide Tashi, who interpreted both my questions and her answers, I learned that she worked for 20 years with rural woman, in ecological development groups, with an organization called Ladakh Ecological Development Group (LEDeG).
Tsering has been training Ladakhi women in fibre arts since 2001 — teaching skills such as spinning, knitting, weaving, sewing, felting and natural dyeing. She told me that traditional culture is disappearing rapidly in Ladakh, and without this kind of organized effort it could be lost in a generation.
It seemed only natural to Tsering to start her own organization, and continue to build on the work she was doing with LEDeG. The Ladakhi Rural Women's Enterprise currently keeps about 70 women, from all over Ladakh, busy making fibre arts to be sold at the Ladakh Nature Products store.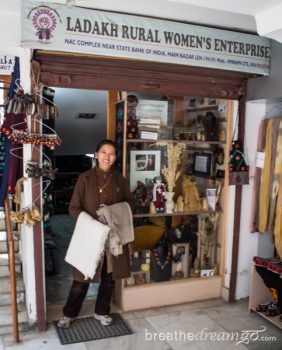 Tsering Dolma holding two pashmina shawls
While Tsering is telling me the story of her social enterprise, she also shows me some of the products. I ask to see pashmina shawls, of course, and she takes two from the shelf, both in natural colours of beige and off-white, very simple, with no embroidery. These are all she has left, and they are expensive — about $150 each.
If you don't know, pashmina wool comes from the underside of a Himalayan mountain goat, and is closely related to cashmere, a wool that comes from Kashmir, a neighbouring region to Ladakh. Pashmina is said to be a finer wool than cashmere. Unfortunately, the word pashmina has come to be associated with a wide range of shawls — some that have no wool in the mix at all. If someone is trying to sell you a "real pashmina" for $10, it is not a real pashmina. It is just a shawl made from wool, silk, a synthetic fibre, or a blend.
I am very tempted to buy one of the shawls, as I know for sure they are real pashmina, and luxuriously soft to the touch. But I balk at the expenditure and instead buy a pashmina toque for about $20. I also pick up a bottle of apricot oil, for dry skin.
I have to agree with the Ladakh Nature Products website: "Leh is full of souvenir shops, but Ladakh Nature Products stands out as an authentic local gem!" And so does Tsering. It's heartening to meet women like her, and see how they are bolstering the local economy, giving women opportunities and preserving traditional skills. If you go to Leh, be sure to save your souvenir money, and seek out Ladakh Nature Products.
Gender Equality in Religion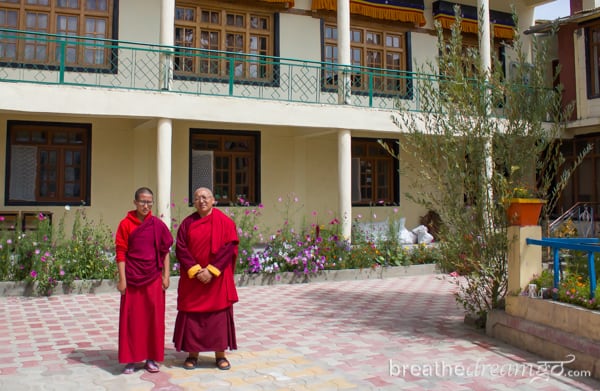 Dr. Tsering Palmo, right, with a top student
Dr. Tsering Palmo, Ladakh Nuns Association
Awhile ago, I read a blog post by Shivya Nath of The Shooting Star about her visit to a nunnery near Leh, called Living with the nuns of Ladakh. I loved this post, and wanted to meet the young nuns myself when in Ladakh. But I didn't note the name of the nunnery, or place, thinking I would look it up on the internet once I was in Ladakh.
I was in for a shock. There was no internet access in Ladakh whatsoever due to the terrible floods ravaging Kashmir, and my prepaid phone was barred from cellular access due to security concerns. I was completely unplugged in Ladakh, living off the communications grid, open to only the people, places, ideas and experiences in front of me. It was exhilarating … but it meant I didn't get to the Thiksey nunnery Shivya wrote about.
Instead, I went to meet and chat with Dr. Tsering Palmo of the Ladakh Nuns Association about the experience of being a Buddhist nun in Ladakh. She is a cheerful woman with a robust laugh and obvious strength of character. In a quiet, modest way, she instills in the visitor instant respect — much in the same way as the Dalai Lama.
Dr. Palmo founded the Ladakh Nuns Association (LNA) in 1996. It was given encouragement from His Holiness when he visited Ladakh in 1999, and "expressed his support for nuns, and stressed the need for the uplifting of nuns in Ladakh."
Sitting in her LNA office, in a building that also houses a training centre, Dr. Palmo explained to me that nuns do not get the same opportunities and support that monks receive. The LNA is trying to rectify the imbalance, and both keep the tradition of nunneries alive and give the nuns more opportunities for education, especially in traditional Tibetan medicine.
"We've been a neglected group," Dr. Palmo said. "There were no facilities for nuns, no training, no accommodation at temples (unlike for monks). And many nuns were also exploited. Some families just want one daughter to become a nun so they make her into a housemaid. We established this organization to change these traditions."
Dr. Palmo said that women in her community traditionally become Tibetan medicine practitioners, and the LNA is encouraging this field of study. They offer training for women and health clinics to the community — and she is especially interested in mental and emotional health.
"We are lacking in people who listen from their hearts," she said. "We want to offer a space for every woman to come and receive treatment for emotional and spiritual health. It is a Buddhist practise to listen. It's important for us to develop compassion within ourselves, so we can listen to students, and try to transform negative thinking."
I am very moved by her words, and ask her if the LNA offers any opportunities for foreign volunteers. "Yes, we welcome tourists to share their knowledge and experience," she responds enthusiastically. "We are interested in having volunteers with medical skills, and softer skills too, to come and teach us. They can also stay in the two-room guesthouse if they want."
If you want to learn more about the many activities of the vibrant Ladakh Nuns Association, and how you can help (you can donate, volunteer or contribute to a scholarship program), visit the website.
I left Dr. Palmo's office, and Ladakh, uplifted as much by the soaring hearts and spirits of these three remarkable women as by the crisp mountain air and soaring Himalayan peaks.
Note: Thank you to India Tourism for giving me the hospitality to visit the Ladakh region.
Share: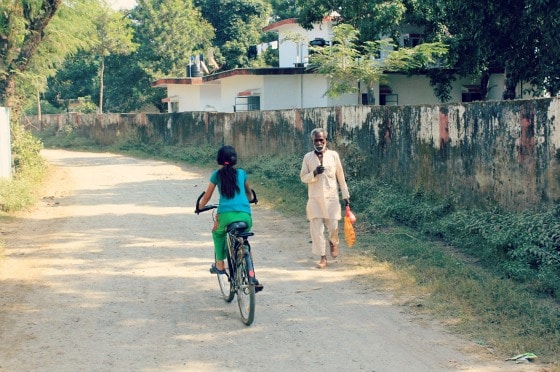 Over the past several years, I've been traveling extensively and achieved some great milestones and goals. This year, while things seemed to be going great, something felt wrong and I couldn't put my finger on it until I had a revelation at Aurovalley Ashram in November. Above, on the road to Raiwala Village, outside Aurovalley Ashram.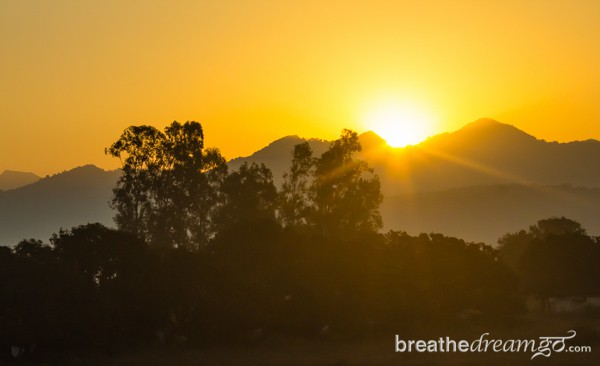 Sun rise from the roof of the World Temple, Aurovalley Ashram
Warmed by the Sun
The sun glows gold behind the Shivalik Hills of Rajaji National Park before it appears to shine its life-giving rays on the meadows and fields, villages and ashrams of Rishidwar. It's a profoundly peaceful time at Aurovalley Ashram, with only the sounds of temple bells and bird songs in the air. The ashramites wrap themselves in shawls to keep away the fresh, morning chill as they walk in silence to the circular meditation hall.
It is here at this garden-like ashram, in the foothills of the Himalayas, where I unplug from worldly life, and plug into spiritual energy, each year. This year more than ever I almost desperately needed the tranquility, the time to be with my inner self, the guidance of Swami Brahmdev and most of all, a spiritual recharge.
For the past few years, I have been struggling much more than I was willing to admit, even to myself. I knew something was wrong because I was tired. It wasn't the kind of tired that goes away with a good night's sleep. I was deeply tired. I could feel my posture collapsing, my abdominal muscles giving way, my neck compressing. I had aches and pains, stiffness, and felt lethargic. I was depleted.
How could this be? I was following my dreams, but not feeling a lot of joy. Where did I go wrong?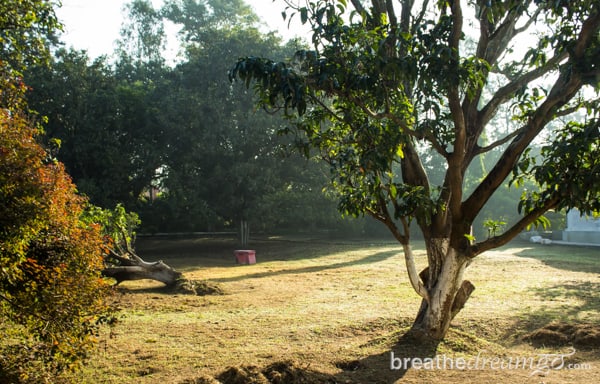 Morning sun shines on at Aurovalley Ashram
Waking up in India
At Aurovalley, I walked in the tulsi-scented meadows, meditated in the temple, listened to inspiring talks, soaked up the peaceful, energizing atmosphere and, most of all, listened to myself. In silence, I sensed the presence of the divine, and I heard my heart and my soul speak. Then, almost suddenly, I felt that I "woke up." It was like a light went on.
I realized how deeply disconnected I had become from my vision and sense of purpose; from myself and the source of my being. I was living in a state of fear and tension, and hadn't fully realized it. I saw strong currents of negativity and bitterness within me, and I didn't like the person I was becoming. It was a very painful, but very necessary, awareness.
My insecurities were doing their destructive work.
---
The founder of Aurovalley Ashram, Swami Brahmdev (Swamiji), says that all the forces, even the negative and hostile forces, are actually trying to help us — but they have to help using their nature. So negative and hostile forces help us in a negative and hostile way. You might get sick, and then realize how much you needed rest. You might get fired and then find the job or career of your dreams. You might get criticized and realize there is a useful message mixed in with the hostility.
So my negativity, tiredness and dire financial situation were trying to help me see that I was on the wrong path.
A Long and Winding Road
Before I discovered travel writing, I had never really tried to do anything. As a young woman, I was plagued with anxiety, insecurity and lack of confidence. With help from a boyfriend, I earned a degree in magazine journalism when I was in my 20s. But after graduating, I drifted from job to job, mostly in communications or as an editor. I was going through life without focus, ambition or goals; my dreams were buried a mile deep.
In my 30s, I started searching, questioning, healing. I studied Gestalt Therapy and became a yoga student. I took an active role in my career and tried to steer it towards writing. But then, at 37 years of age I was hit with a devastating trauma — the sudden death of my mother. Several other terrible losses piled up, including my father's death from cancer, and I sank into a deep depression for several years.
It was regular yoga practice and a six-month trip to India that helped get me out of the depression. And it was travel writing during that six-month trip that kick-started my writing career.
I started off with great passion and enthusiasm. I wanted to share with the world how travel had transformed me, and how India and Indian spirituality had inspired me, and I was committed to mastering my craft.
But over the years, I found I was enjoying writing less and less. There was always way too much other stuff to do — proposals, social media, technical issues, etc. The downward pressure on writer's fees also created a lot of tension in my life. My income halved; then halved again.
I prayed for a lucky break — a great contract, investor, business partner. I searched for a viable business model. I became a certified travel agent. I tried many, many things that would enable me to make a living income as I pursued my dream career.
But here was my mistake: I was looking outside for the answer.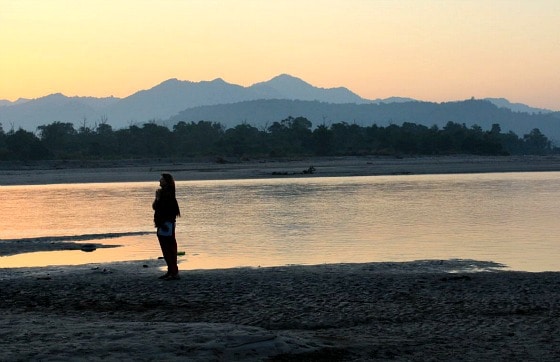 Watching the sunrise on banks of Ganga near Aurovalley Ashram, India
Within You, Without You
When I had the revelation at Aurovalley Ashram, I realized that I had completely lost faith in spirituality. I had lost touch with the divine energy that is the source of all life, and that binds and connects us all. At Aurovalley, this energy is often depicted and referred to as The Mother — both symbolically, as representing the feminine energies, and in reference to the French woman who was the spiritual partner of Sri Aurobindo.
I was at Aurovalley this year to help celebrate the 25th anniversary of the founding of the ashram, on November 24. This also happens to be the date of my own mother's birthday. And it was my mother's sudden death (I found her body after she had died unexpectedly at night of heart failure) that originally sent me into a trough of depression and grief, and eventually to India, to heal.
So, all the stars lined up, and I feel I received a blessing from The Mother in the form of a revelation about my life. I saw my negativity and bitterness fomenting, and I decided I had to stop it. I had to allow spiritual energy to re-energize me, and stop the downward spiral. I decided I needed radical positivity. By that, I don't mean walking around with rose-coloured glasses, but with a positive, hopeful and trusting attitude.
My friend Kim Hammer said on my Facebook page that whether or not you see the world as abundant — as providing for your needs — is the key question. I agree. When you feel cared for, you relax; you don't try so hard; you become less abrasive; you let the divine do its work. And you trust that things will work out the way they are meant to.
By the way, I think there's a connection between lack of confidence and negativity, and I want to explore confidence and creativity.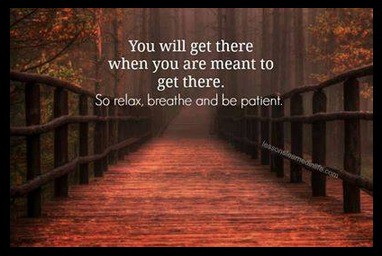 An Attitude of Gratitude
I know very well that I am blessed to be able to lead a life that has self-actualization as the driving force. It is a rare privilege, and one that I take seriously. I am actively cultivating an attitude of gratitude everyday. And if my words inspire you at all, then I am doubly blessed.
I wrote about this revelation on my Facebook page and writer Amy Gigi Alexander wrote:
"While places and others can be teachers, I think we are the ones who have to be ready for that teaching. There's nothing wrong with not being ready, either, for the state of unreadiness is necessary to become the person we are supposed to be … There is no time to be bitter. Congratulations on your revelations, bless you in your journey, for shame anyone who criticizes you after you have had the courage to be more forthcoming than most: the gift is in the listening. Being unhidden is the journey, right?"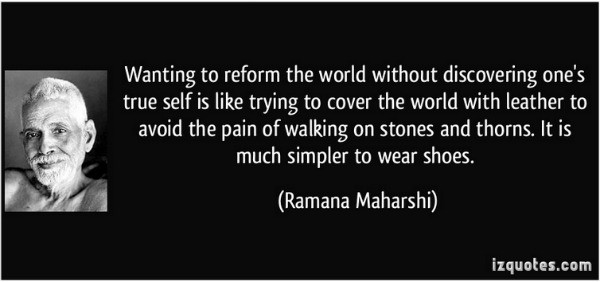 Lessons Learned
1. The dream IS the journey
I thought that once I found my passion in life — what I feel I was put here on earth to do — that I would be on easy street. Everything would fall effortlessly into place including money, partners, community. Maybe that's what it's like for some people, but that's not what it's been like for me.
What I've learned is that finding your passion is not a destination — in fact, it's just the beginning of the journey. I think you need to keep the same attitude of openness, humility, acceptance and yearning that you had at the beginning of the search. Life, and your dreams, may lead you in a new direction, and you need to be attuned to sense this — instead of hanging on to something that's not working and bringing you down.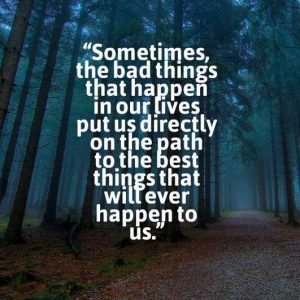 2. Unpack your bags
I thought that finding my passion would "fix" my life. I was facing two big issues — intractable grief over my mother's sudden death and a deep and inescapable feeling of insecurity — and I brought them along with me on the journey. In retrospect, I think I was trying to run away from these problems. All that happened is they went underground.
What I've learned is that you have to face your issues, you can't run away from them. Finding your passion, and even finding success, won't get rid of emotional baggage. It's like trying to build your house on quicksand.
3. All you need is love
Finding my passion, and living the life of my dreams, was so important to me that I lost sight of the really important things in life.  If your ideas about your dreams become too fixed, you can lose the plot, lose your way. That's what happened to me.
Relationships, community staying attuned to yourself, staying healthy and giving back are the most important things. If attaining your dreams means sacrificing any of these things, it's probably not worth it.
In the end, love is all that matters. Love your family, love your friends, love your community, love your work and love yourself. Let your dreams grow from a seedbed of love.
The real contradiction of capitalism is that it arouses enormous ambition, but it doesn't help you define where you should focus it. It doesn't define an end to which you should devote your life. It nurtures the illusion that career and economic success can lead to fulfillment, which is the central illusion of our time. David Brooks, from Chris Guillebeau's site.
Share: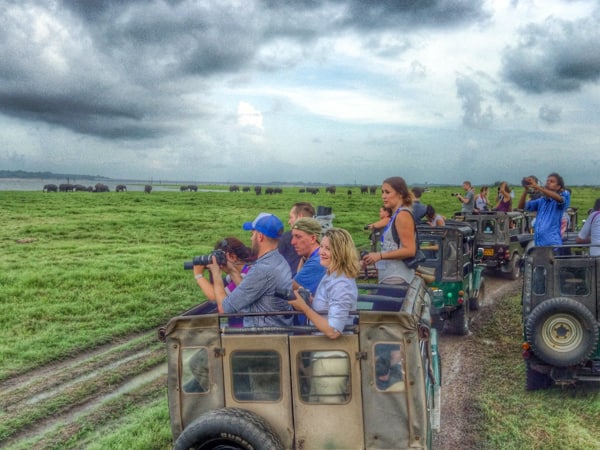 SERENDIP WAS THE name of ancient Sri Lanka — before Sri Lanka, and before Ceylon. And yes, it is the root of serendipity, one of my favourite words. Here's the full story from an edited Britannica entry:
Serendip, name for the island of Sri Lanka (Ceylon). Arabic in origin, the name was recorded in use as early as 361 AD and for a time gained considerable currency. It is best known to speakers of English through the word "serendipity," which was invented in the 18th century by Horace Walpole. Walpole was inspired by a Persian fairy tale, "The Three Princes of Serendip," whose heroes often made discoveries by chance. Arab traders originally borrowed the name Serendip from Indian traders — it is in fact a corruption of the Sanskrit compound Siṃhaladvīpa ("Dwelling-Place-of-Lions Island").
Over the past nine years of travelling extensively in India, I have wanted to visit Sri Lanka. But the opportunity never seemed to arise … until my application was accepted to join 40+ other professional travel bloggers at the Travel Bloggers Conference Asia (TBCAsia).
TBCAsia was the first professional travel bloggers conference in Asia and it was held in Sri Lanka in mid-November 2014.   So here are some of my "discoveries made by chance" while I was in Serendip, er, I mean Sri Lanka!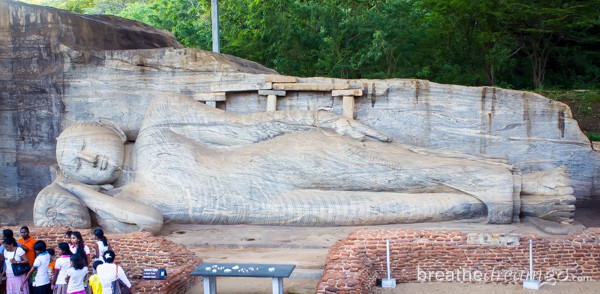 Sleeping Buddha evokes loving kindness, at Polonnurawa, Sri Lanka
Buddha's timeless serenity
With some of the other travel bloggers at TBCAsia, I cycled through the ancient city of Polonnurawa. Polonnurawa was the royal city of the Polonnaru Kingdom, largely built in the 12th century and abandoned about a century later. The site was declared a UNESCO World Heritage site in 1982 and is one of the leading historical attractions in Sri Lanka.
Throughout the extensive site, I was astounded by the beauty of the Buddhist carvings. In one dark temple, I felt like I was entering a portal to antiquity. Several large Buddhist statues seemed to shimmer and glow in the dim light, and I was told they were each made of a different stone — so that each glistened differently. The effect was uncanny, and when I walked outside into the bright sunshine and saw the clear blue sky, I felt like I had returned from somewhere.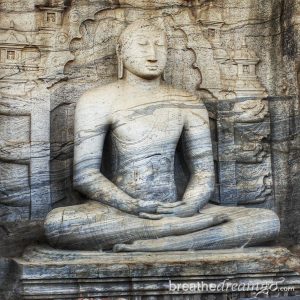 The best experience of Polonnurawa was yet to come. Near the end of the site, we parked our bikes and walked to into a parkland setting to see three massive, beautiful and serene Buddha statues on display. I read that just seeing them evokes loving kindness in the viewer, the mute statues doing the work of sage teachers and meditation practise.
Perhaps it was their influence that made me connect with a large family of Sri Lankans who were seated on a big rock, facing the sublime statues. I smiled at them, they smiled at me, and the next thing you know, I was seated among them, linking arms and getting our photos taken together. We laughed together and enjoyed the lovely spot, lit by the slanting rays of a warm afternoon sun.
These are the moments that make being a tourist worthwhile — when you reach across language and cultural barriers to just BE together in a common humanity. We were all devotees there together.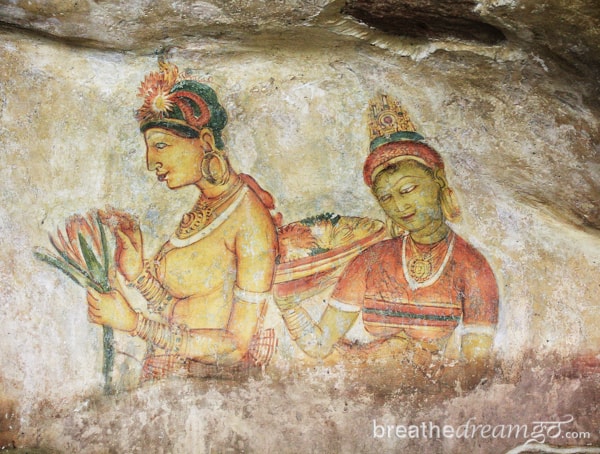 The timeless beauty of the 1,500 year old "damsel" frescoes at Sigiriya, Sri Lanka
Sigirya's divine damsels
You can see the ancient Sigiriya rock citadel from a distance, in every direction, as it pokes up above the lush tropical forests and gently rolling hills of central Sri Lanka. Sigiriya means Lion's Rock, and the whole thing is one big rock, outfitted with huge lion's paws (the head is long gone) sitting on a massively big rock.
We arrived early to climb the 1,000 steps to the top and I was worried I wouldn't make it. I knew it would be a hot and sweaty climb, there would be narrow stairs and one worrying place where bees sometimes swarm without warning. Then I saw elderly women, middle aged monks, tourists from Japan wearing completely inappropriate shoes: if they could do it, so could I.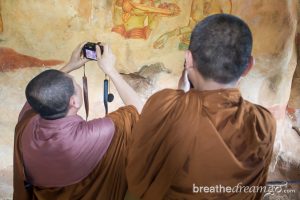 Monks snapping photos of the delicate damsels
And of course I did make it to the top, though it was not the top that was tops for me — it was the beautiful and delicate "damsels" frescoes. These lovely ladies, more than 1,500 years old, adorn a wall about halfway up. And while there are only a fraction left of the original number (about 21 of 500), they make up for it with their grace and beauty. It's delightful to see the topless women, adorned with ropes of jewels, cavorting on the rock face. And delightful to see the chaste monks snapping photos right along with the rest of us.
Along with beauty and grace, these frescoes have an air of mystery as there is contention around who they are: some say they were courtesans of King Kassapa (who built Sigirya as a palace fortress in the 5th century), others claim they are representations of the goddess Tara and still others say they are celestial nymphs.
Sigiriya is considered to be one of Sri Lanka's leading historical sites, and was declared a UNESCO World Heritage site in 1982. According to the UNESCO site, "The Maidens of the Clouds are comparable to the most beautiful creations of Ajanta."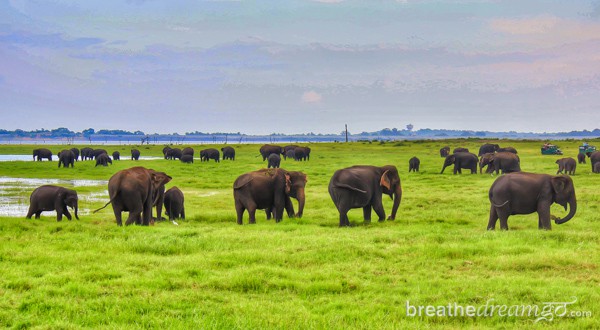 Elephants' Abbey Road in Kaudulla National Park, Sri Lanka
Elephants free and wild
On the first day of the TBCAsia Sri Lankan tour, I dutifully climbed into a jeep along with about five other travel bloggers, and set off in a convoy of jeeps for Kaudulla National Park in central Sri Lanka. I had no idea what to expect as we rode along a dirt track into a bright green field surrounding a pale blue lake.
Suddenly, I saw them in the distance, dark smudges on the landscape, moving rhythmically together, and I was mesmerized. I scanned the horizon and did a quick count, realizing that we were heading right into a herd of 200 or more Asian elephants.
I've never had an experience like this before and I was exhilarated to see so many unchained and free elephants. Usually in Asia you see elephants in chains, ridden by mahouts, and used for work and tourism. But these wild elephants were wandering freely in small groups. After my initial excitement died down and I got to work, trying to take photos of them from a moving jeep while all the other travel bloggers were also jostling their cameras, I witnessed a bull elephant charge a jeep, let out a bellowing howl, and stop just in the knick of time.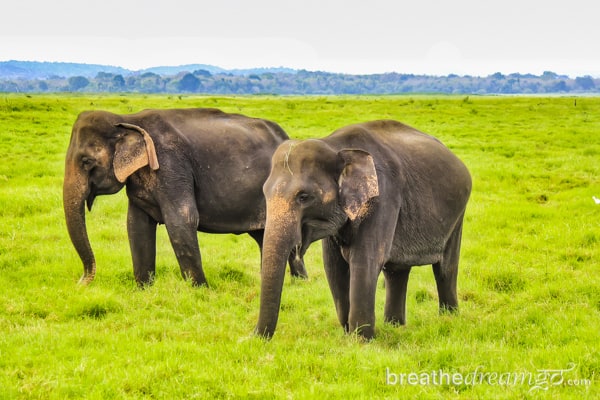 Elephants running free in Kaudulla National Park, Sri Lanka
We soon realized the jeep was between the bull and a small family group. In other words, we were in the way. My colleague Michael Turtle wrote a comprehensive post about this experience and the status of elephants in Sri Lanka Sri Lanka's elephant gathering — which also has stunning photos.
Though I loved seeing the elephants wandering free and wild, I felt conflicted about being part of a dozen or more jeeps trespassing on their territory. Seeing such a magnificent sight does indeed inspire wonder and motivate the visitor to care about their welfare, but at what cost? What do you think? Is this sustainable and responsible tourism? Or can we be doing something better to protect wild animals in their natural habitat?
I was very impressed by this entire experience and by my travels in Sri Lanka. It was a great first trip, and I hope the first of many.  Sri Lanka would be a great introduction to South Asia as it is more relaxed, tropical, quieter and cleaner than India, more accessible than Bhutan, and has more tourism infrastructure than Nepal.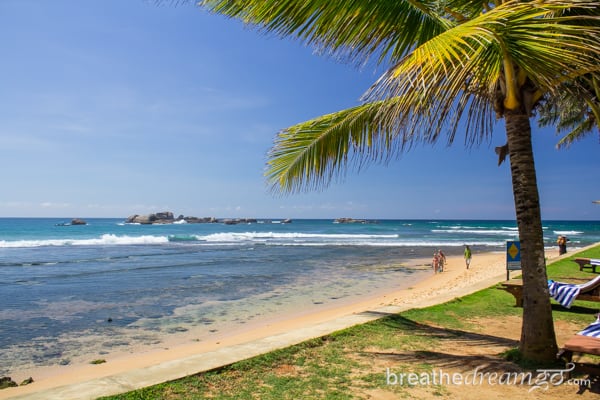 The gorgeous beach at Chaaya Tranz Hikkaduwa.
Top photo — Elephant safari photo courtesy Derek Freal of HoliDaze
Share: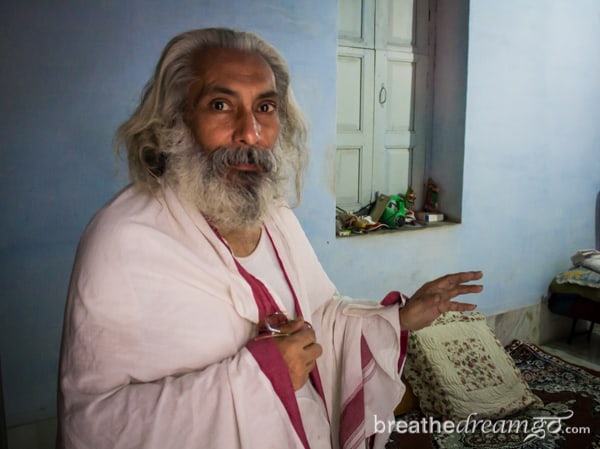 The early morning taxi to Nizamuddin train station, leaving behind friends, leaving behind Delhi and festival time, leaving behind Ajay. Last night we walked in the park at dusk with the sounds of Ravanna burning, and bursting in fireworks, all around us. Trees filled with unseen birds making a roof of noise. The Shiv Mandir in the park delicately lit, only Panditji inside, Ajay and he finally meeting after so many years.
THE MIRABAI EXPEDITION is a cultural journey to follow in the footsteps of Mirabai, a 16th century poet and Krishna devotee. I undertook the expedition in October 2014 by travelling to all of the primary sites associated with her in India.
---
I arrived at the station and was greeted by porter who demands way too much money, and I don't have very much fight in me. He seems nicer than most, less hard, so I capitulate at an exorbitant 150 Rs, about two or three times what I should be paying. But he is going to wait with me for the train, find my car, my seat and put my bags on the rack. It's very convenient and frankly worth the money.
We stand on the dirty, crowded platform and I watch children garbage pickers with bags slung over their backs, like small Santas, walking the tracks. They are all between 10 to 15 years old, very small, wearing torn and filthy clothes. A family sits on the ground in front of me, and the baby pees, leaving a puddle. The tiny mother, in a shiny bright yellow sari covered in glitter, lets him sit naked on the platform while she changes him.
I peel an orange and hand my porter a slice, which he accepts with a smile. He's sitting on a stack of big sacks filled with something like rice.
On October 2, India's Prime Minister Narendra Modi launched a nation-wide Clean India campaign on the birth anniversary of Mahatma Gandhi. The campaign makes me notice how dirty India is like never before. There is garbage everywhere, wrappers, bottles, plastic bags, and open sewers, animal shit, red streaks of pan spittle. India is impoverished, but does it need to be so dirty? Can people change? Just as I am wondering this, a middle class man drops a wrapper on the platform about a metre from a dustbin.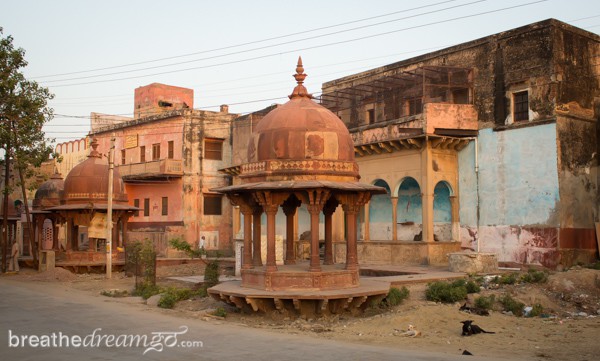 The Parikrama Road in Vrindavan.
The train arrives on time and I find my seat, beside a large and assertive couple. I sense they would like to spread out and take all three seats and I feel I have to fight for my space as first her elbow, and then his (after they change seats) appears in front of my face.
I try to read my book about Mirabai but it's hard to concentrate on the flowery language, full of descriptions about her devotional fervour. I don't feel this kind of spiritual intensity so it's hard to imagine or grasp. Is belief an act of faith? Is it a feeling, like falling in love?
As I set out on my Mirabai Expedition to trace her route, her journeys and try and get a sense of her life, I wonder how similar we are, and how different. I was born into a kind of freedom she could never have imagined as a woman in traditional India. But I cannot imagine her religious fervour, and her courage in striking out on her own to travel the dusty roads of India.
The train ride from Delhi to Mathura Junction is only two hours, and it arrives pretty much on time. I'm hungry as I have only munched on some fruit, an Indian milk drink and a cup of railway chai — which comes in a small cup, with milk, sugar and tea bag for 7 Rs. I forgot to pack my thermos.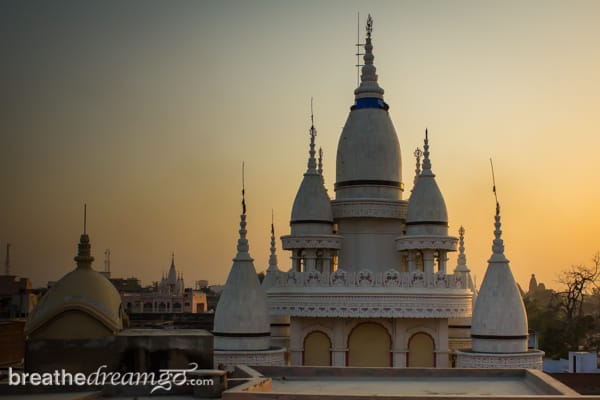 Rooftops of Vrindavan, a sacred city filled with temples devoted to Krishna.
The Taj Express stops in Mathura only for three minutes, and a large group has piled up their suitcases in the door. They notice my concern and make way for me to move to the next door. After I get down, I notice someone has been calling me on the phone, and before I can answer, a smiling young man says my name — actually a word that sounds "enough" like Mariellen for me to know it's Pupendra, the person I am supposed to meet. He takes my bags and we walk a long distance down the train platform to the car park, where masses of green-and-yellow autorickshaws are waiting.
I notice they are larger than their Delhi counterparts, and many are decorated with leather applique of large flowers. I wonder if this is a good sign. Pupendra tells me Vrindavan is "a special place, best place in India, most sacred city." Then he hands me over to his friend, whose name sounds like Sagar, and whose auto is perhaps somewhat less "smart" than the others. Sagar is going to take me to Gopinath Bhavan in Vrindavan, where I'm staying.
It's a long, hot, dusty bumpy ride — first out of Mathura and then through a stretch of country side and into Vrindavan, which does seem a bit different than your typical Indian town. We drive down narrow cobbled streets, and everything is dry and dusty and a kind of pale ochre colour that reminds me of Italian Renaissance paintings.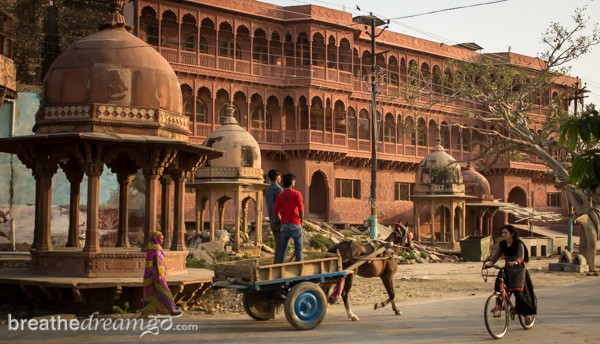 The facade of Gopinath Bhavan, ladies ashram in Vrindavan.
Finally, the river Yamuna appears on our left and we drive along a narrow road with a line of intricately carved temples and ashrams on the right, facing the water. Some of the buildings are quite lovely, with cupolas and spires and carved facades. We stop at one of the loveliest, a large three-story building made of deep rose sandstone and carved in traditional haveli style. This is Gopinath Bhavan, a ladies ashram in Vrindavan that looks old but is actually quite a new building. Out front, cows are gathering to drink, I see monkeys above in the single tree, and groups of devotees walking, barefoot.
Inside, the courtyard is cooler and rosy-hued, with some plants and flowers hanging down from the balconies. I am met by Tungavidya Dasi, who I only know from Facebook, and she signs me in and shows me my room. I'm very happy to meet her in person, she is a warm and sweet-faced Dutch woman with white hair in a pale sari.
I'm on the top floor with a view of the river and the Parikrama Road — the road the devotees walk along as they do their circle of the town. The room is really a small apartment with some Indian furniture and an Indian-style kitchen and bathroom. It has a screened-in balcony — the whole place is monkey proof — and reasonably comfortable, but it needs a good cleaning. Tungavidya kindly arranges the cleaning and supplies me with sheets and a towel while I go out to find the ISKCON Temple and eat lunch at Govinda's restaurant.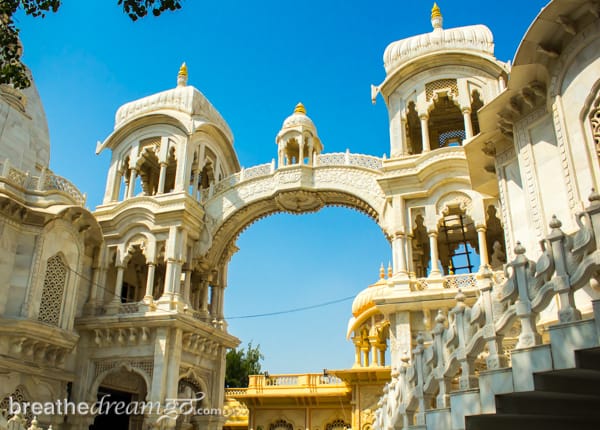 The ISKCON Temple in Vrindavan.
At Govinda's, I eat a big vegetarian lunch, in the company of a Russian woman who looks, with her round face and head scarf, like a stereotypical Russian peasant woman. She tells me she's been coming here for 25 years, and she explains the food I am eating is not Indian, it's Vedic. The waiter has fixed up to bring me a thali, though it's not on the menu. I get a little of everything, and it's very good, followed by their signature herbal tea, a rich and satisfying drink.
Though having seen only a bit of the town and not really experiencing it — especially not the spiritual side of Vrindavan — I am wondering what the attraction is. The auto drivers, the usual touts, and others who work in these kinds of tourist and pilgrim centres all seem alike, and Vrindavan is no exception. They try and get as much money as they can from you, they happily give you misinformation and they seem, for the most part, apathetic.
After failing to buy an umbrella and finding only empty ATMs, I go back to the ashram with almonds, water and Limca, very happy to see my room cleaned, and I promptly fall sound asleep. Which seems like the sensible thing to do between 2 and 4 pm, when the sun is baking hot.
At 5 pm, the scene outside my window seems milder, the long slanting rays adding a picturesque quality to the Indian version of Canterbury Tales. It's time for me to find the Mirabai Temple, so I grab my camera bag, make sure I am monkey proof and headed out into the melee.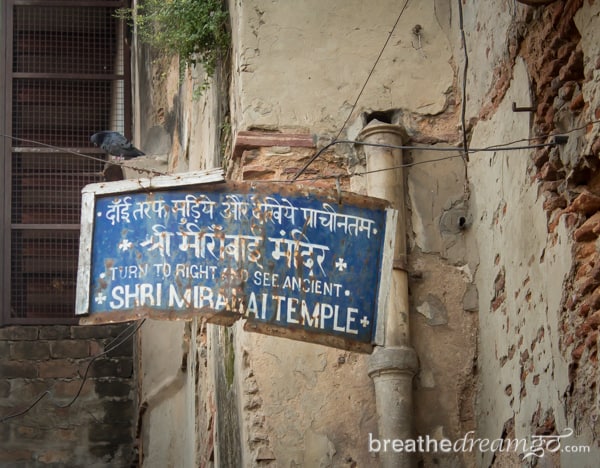 The half-hidden sign for the Mirabai Temple in Vrindavan.
Walking in the heat and dust, avoiding the cows, cow shit, pilgrims, monkeys, bicycles and autos, trying to keep ahead of the touts and finding people who could point me in the direction of the Mirabai Temple is quite trying. The narrow river and few dusty trees supply very little respite.
After walking for about 15 minutes and asking many people, I find myself in a narrow, ancient street. A sewage drain runs down the side of the cobbled lane, brick shows through the crumbling ochre-tinged plaster, scalloped door frames surround heavy, wood doors, and again I am reminded of medieval Europe — except with monkeys and eastern architecture. Finally, a small sign, and a door to an even narrower lane. Another false start, another tribe of menacing monkeys, and I find it.
Through a rusty gate and I'm in a small, cool, serene, blue-and-white courtyard. Charming, fresh and modest, the Mirabai Temple is more like a home. A small group of Indian pilgrims sit in front of a grate where a white bearded man is talking to them. They are all very engaged. Unfortunately, it's Hindi and I understand only a fraction. However, the bearded man speaks English and agrees to repeat what he's said.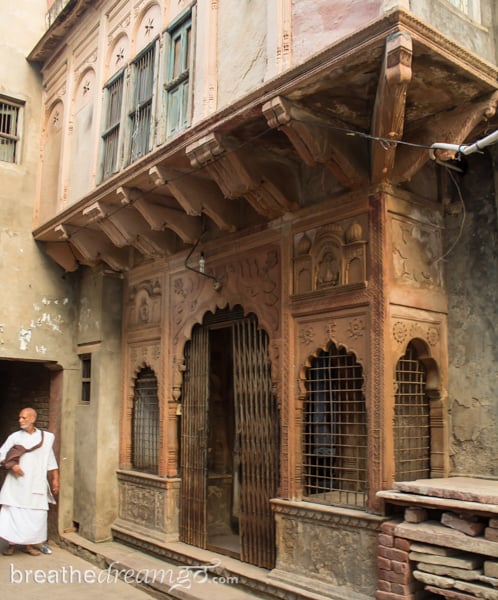 The Mirabai Temple in Vrindavan is not well-marked, not easy to find.
He explains that his ancestor built this home for Mirabai, five centuries ago, and she lived here in this spot for 15 years, before going to Dwarka. I am absolutely delighted to find such a charming spot and such an articulate, open and fascinating man. I can't believe that I have been so lucky on the very first day of my pilgrimage expedition.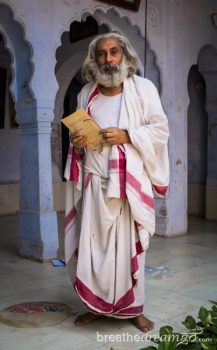 Praduman Pratapsingh of the Mirabai Temple in Vrindavan.
I take photos and a short video and realize I have not brought a notebook. I tell the man I will be back tomorrow to interview him and I leave at sunset. As I walk back along the busy road, I take a detour along the river bank, avoiding the monkeys but putting myself in the way of the river boat touts. It's worth it to take some stunning photos of the huge orange ball of the sun sinking into the river, and the colourful small boats gliding along the surface. A boy rides a huge black water buffalo across the river and as I take a video they suddenly emerge right in my path and I run.
Everywhere, there are animals and people in this dry landscape. A manic, naked holy man suddenly appears and runs down to the boats. He is wearing only a Brahmin's thread. He doesn't surprise me at all.
I pick my way carefully back to the ashram and dive into the quiet and safety of my room — which luckily, and surprisingly, has an A/C unit — to think about my day.
I realize that I desperately need a sanctuary to be in India, I can only expose myself to the heat and the crowds and the challenges and the noise for so long. It's hard on my nerves, and it's also emotionally draining.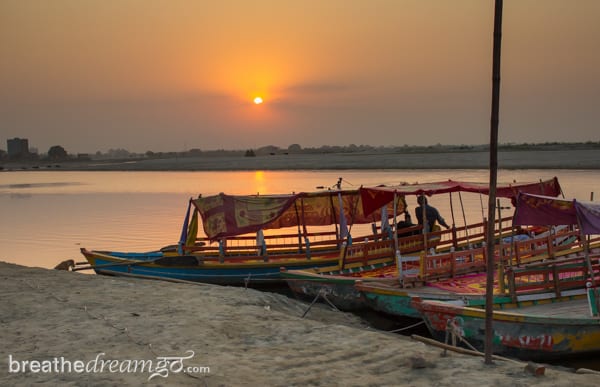 Sunset on the Yamuna River in Vrindavan.
During lunch at Govinda's, I listened to the Russian woman talk about Vrindavan, and the mythical lore of this place — where Krishna and his gopis cavorted on the river bank — with bemusement. The classical image of  pastoral, lush and harmonious Vrindavan are so far removed from the dirty, polluted, over-crowded, dry, monkey-menaced, scorched-earth reality of today that it's shocking.
I read that Mirabai was also shocked when she arrived in Vrindavan in the mid 17-th century because she didn't expect any buildings. She too was expecting a pastoral paradise. Is this what faith is all about? That we hold up an ideal to hang onto in the face of the disappointments of reality?
Anyway, I'm here, and I'm lonely, and I don't love Vrindavan, I don't feel I have found a sanctuary, and I'm not sure what I'm doing here. Except dedicating myself to the discipline of the pilgrimage, to stick with it, and go through whatever ups-and-downs, emotional roller coasters and life lessons are in store for me. Perhaps this is my first glimpse into what it may have been like for Mirabai — to leave the comfort and safety of home to follow her heart and the call of her soul.
Top photo: Praduman Pratapsingh is the 9th generation in his family to live in the Mirabai Temple in Vrindavan. The trip was made possible by an Explorer's Grant from Kensington Tours, as part of the Explorers-in-Residence program.
Share: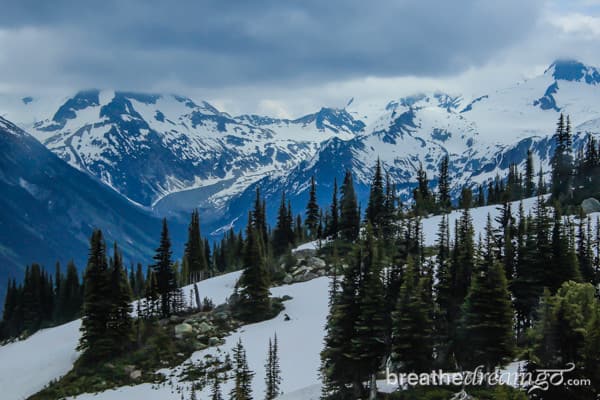 The hulking mountain looked like a lair for mythical, winged creatures. The misty blue islands seemed to be floating freely in the placid grey waters. Huge boulders were no longer just rocks, but the remnants of a battle between giants. And the highway I was travelling on, the famous Sea-to-Sky that runs between Vancouver and Whistler, bore traces of an ancient trade route.
My visit to the Squamish Lil'wat Cultural Centre in Whistler had literally changed the way I saw the world.
The Sea-to-Sky corridor is much more than spectacular scenery — it is also a Cultural Journey.
Looking out the window of the bus at mystical Howe Sound, everything looked different than it did just three days before, when I road the bus up to Whistler, along this same highway. The land was the same, but I was different.
On the drive back to Vancouver, I looked at the mountains, the ocean and the trees and saw them as sacred, as alive, and as active characters in the story of this beautiful landscape. I was excited to remember some of the mythology I learned, and dug the Squamish Lil'wat Cultural Centre (SLCC) brochure out of my pack. Inside, there's a map of the Sea-to-Sky corridor showing many of the landmarks of their story, and you can stop at kiosks and lookouts on a self-guided journey.
My visit to the SLCC literally changed the way I saw the world — which is a lot to be said for a short visit to a cultural centre and museum.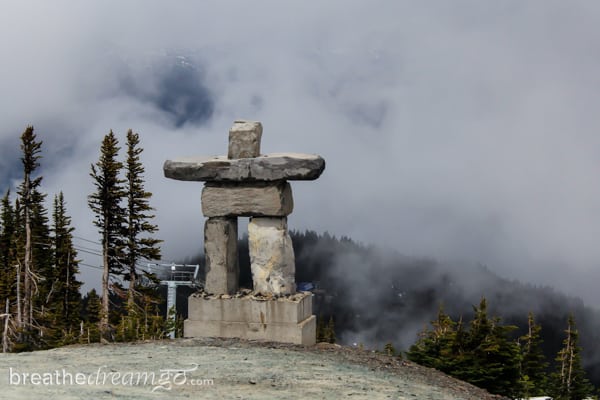 Inukshuk at the top of Whistler Mountain
A showcase for the legends, culture and people
I went to Whistler, British Columbia expecting to visit a top-rated mountain resort and enjoy the many recreational and fine dining options. And I did. I stayed at the elegant Four Seasons Hotel, rode the spectacular Peak-to-Peak and soaked at the Scandinave Spa — and they were all wonderful experiences.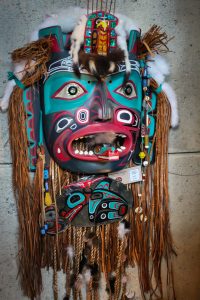 But I discovered something much more exciting and profound in Whistler, and something frankly unexpected. My visit to the Squamish Lil'wat Cultural Centre opened my eyes to the spirit of this ruggedly beautiful land.
The Squamish Lil'wat Cultural Centre (SLCC) showcases the aboriginal history, culture, art and spirituality of this region. Whistler — the mountain and surrounding area — is the borderland between the Squamish and Lil'wat First Nations, and the land historically belonged to both, which is why the museum and cultural centre was built here.
The stunning, glass-fronted building houses exhibitions, artifacts, a cafe that serves native-inspired foods and a store that sells locally made arts and crafts. The grounds feature walking trails and traditional dwellings, including a longhouse, where you can try your hand at making a cedar bracelet.
Arriving at the SLCC, you are welcomed by a local guide from the Squamish or Lil'wat First Nations. The youthful guides are ambassadors for their people, and the centre gives them both employment opportunities and helps teach them about their own cultural heritage, keeping it alive in the face of increasing encroachment.
My guide, a young woman named Charlamain Mersades Jim, is one of four siblings in the same family who work at the SLCC. My tour started with Charlamain performing a Women's Warrior Song. It was followed by a short and informative movie, a guided tour of the building and exhibits and finally a chance to experience making a craft by (a cedar bracelet).
The land is our people. It speaks to us and tells us who we are and where we're going. The mountains were gifts from the creator. We were given the responsibility to look after them. To understand us, you must see our relationship to the land, rivers, forests.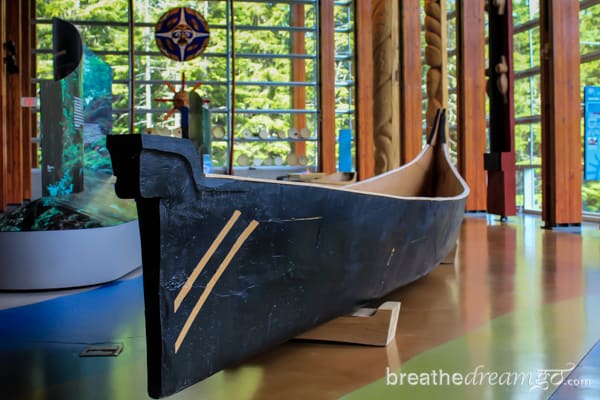 The stunning lobby of the Squamish Lil'wat Cultural Centre, Whistler
Charlamain and some of the other staff members I spoke with explained to me how the Squamish and Lil'wat people lived in close connection with the land. For example, if they needed cedar wood for making household objects, they stripped only two hand-widths of bark from each tree, ensuring the trees would heal.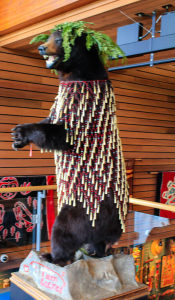 They spoke extensively about their spiritual beliefs, and I was surprised to learn they believed in reincarnation. Each person belongs to a clan, named for a totem animal, and it is believed you will come back as that totem animal. So, if you are a member of the bear clan, you will not hunt and kill bears.
There are so many good reasons to visit the Squamish Lil'wat Cultural Centre, from learning about the First Nations culture to helping support an organization that has revitalized the people of these nations. The building of the SLCC solved a land dispute between the Squamish and Lil'wat; it has provided training, skill development and employment opportunities for the youth; and it has preserved the cultural heritage of two of Canada's First Nations.
Visiting the SLCC is a Canadian Signature Experience. You can learn more about it by checking out their website here.
A recreation destination for every season
To get to Whistler from Vancouver by car, you drive about two hours along the Sea-to-Sky highway. This appropriately named roadway wends its way along the dramatic coastline of British Columbia as it ascends into the Coast Mountains. The views around each curve are more stunning than the last, making the journey almost as rewarding as the destination. And it is a journey worth taking for may reasons.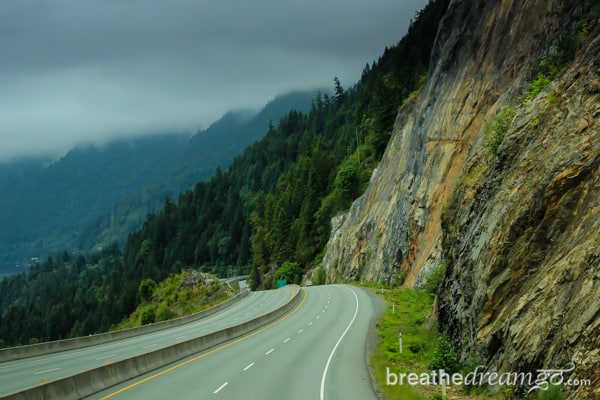 One of the many dramatic curves on the Sea-to-Sky Highway, British Columbia.
Whistler's reputation as one of the world's top-ranked ski destinations is beyond question. Many of the 2010 Winter Olympics events were held here, and it's consistently ranked the number one mountain resort in North America.
But I visited in summer, which draws even more tourists and recreation enthusiasts. Hiking, wild life viewing, mountain biking, relaxing and dining are some of the main draws. The name Whistler comes from the sound a hoary marmot makes. Apparently, hoary marmots whistle.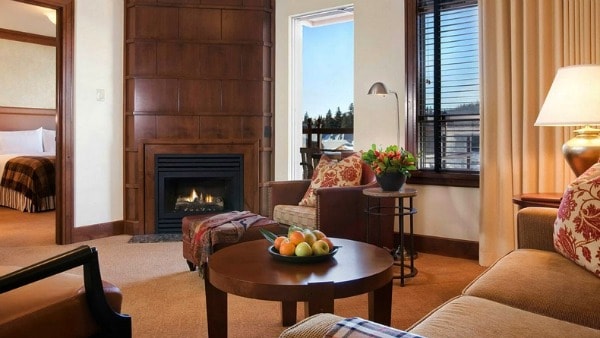 Every room has a fireplace at elegant Four Seasons Hotel, Whistler
Whistler is not only surrounded by spectacular mountain scenery, it is spectacularly clean and well-maintained. When I got off the bus in the centre of the small town, another smaller shuttle bus was waiting there to take me to the Four Seasons Hotel. The driver of the big bus smiled at me as I got down, and the driver of the shuttle bus smiled at me as I got in. After the gorgeous scenery, the second thing I noticed about Whistler is that everyone smiles. A lot.
The Four Seasons is at the far edge of town, at the base of Blackcomb Mountain, and it's a spectacular destination on it's own. A handsome wood-and-stone structure, the Four Seasons is the top-rated, luxury resort in town. It's elegantly captures the mountain resort look-and-feel with native art and other artifacts on display. I especially loved the outdoor swimming pool and spa with, yes, spectacular mountain views and all the service and amenities that Four Seasons is famous for around the globe.
Thrilling ride on the Peak-to-Peak between mountains
I was in Whistler for two specific reasons, both Canadian Signature Experiences: the Squamish Lil'wat Cultural Centre and the Peak-to-Peak gondola ride from Whistler Mountain to Blackcomb Mountain. So, after unpacking and enjoying the views from my suite, I headed for the centre of Whistler village and the gondola ride up to the top of Whistler mountain.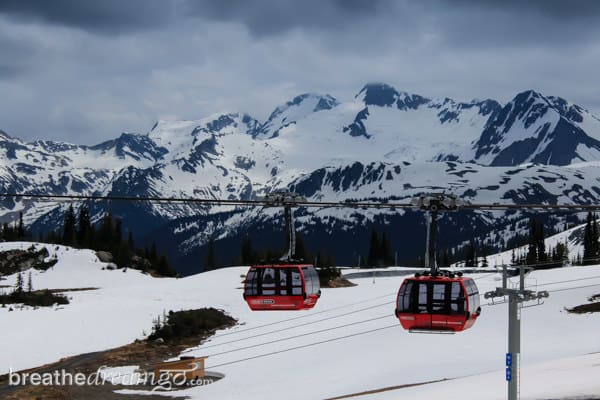 The famous Whistler gondolas.
I am not a skier (nor do I want to be) so I was really surprised by the height of Whistler mountain and the extensive infrastructure that supports the sport. Standing at the top, by the Olympic rings, it was chilly and brisk even on a warm June day. You definitely need a warm jacket for this trip.
While taking the requisite photos of the Olympic rings, I met a family from Bombay, and I rode the Peak-to-Peak gondola with them to the other side, to the top of Blackcomb Mountain. It's a thrilling ride to be suspended from a cable between two mountains, with views in every direction, from the valley floor to the village of Whistler, to the mountain range in the distance. Even when you are the lowest point between the mountains, you are still higher from the ground than the height of the Eiffel Tower in Paris.
On either side, there are cafes and shops, washrooms and indoor and outdoor seating. You can easily make the Peak-to-Peak trip a fun half-day experience, which the entire family will enjoy.
My last and final special experience in Whistler was soaking in the waters of Scandinave Spa. I spent a couple of hours at dusk soaking in the outdoor pools, set in an evergreen forest on the outskirts of Whistler. Scandinave Spa combines two things I love: nature and wellness. Alternating hot and cold water, called hydrotherapy, is very relaxing and by the end of my time there, I was in a bliss state.
Thanks so much to the Four Seasons, Scandinave Spa, BC Tourism and especially Whistler Tourism for hosting me on this very special weekend.
Share: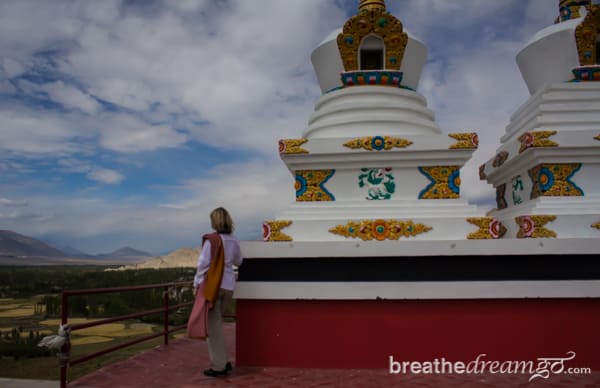 My seventh trip to India happened this past September. Every time I come here, I don't know what to expect. For one thing, I'm different. It's a different me that arrives each time. For another, India is different. India is changing, and probably faster than any society on earth. Above, staring out at the Ladakh immensity from Thiksey Monastery chortens.
When I first started travelling in India nine years ago, the Delhi airport was basically a big, old shed and women almost universally wore swathes of fabric, in the Indian style. Now the Delhi airport is new and glitzy and could be in Houston; and many young women here wear jeans and t-shirts.
In my own journey as an India traveller, I too am changing. When I first travelled in here, I was completely mesmerized by the novelty, and all the things about India that foreigners usually cite (colour, chaos, crowds, spirituality, historic sites, etc). I had a long and fruitful honeymoon stage. India was my muse, and I wrote thousands of words. But like all love affairs, it has become complicated.
On the continuum from Alice in Wonderland towards Paul Theroux, I am moving towards a much more realistic, unvarnished and sometimes grumpy view of travel in India. (Also a grumpy view of trying to make a living as a travel writer and blogger ….but that's another story … and I will be announcing a new venture soon to hopefully make this a more prosperous career path…)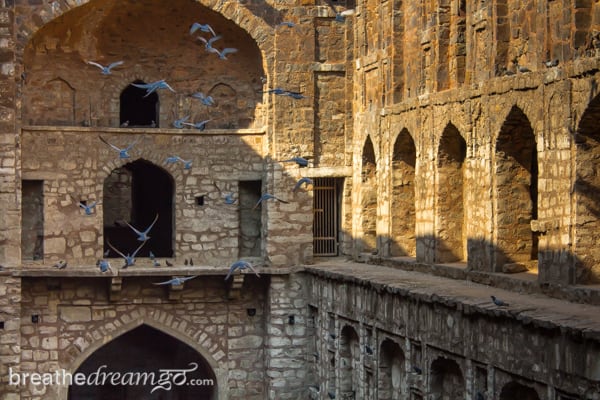 Ugrasen ki Baoli is an ancient stepwell in the heart of Delhi. Very evocative place.
The world's most transformative travel destination
I am still besotted by what I see as the essence of the experience of travel in India — radical transformation. India will change you, if you let it. It will challenge you on just about every level and "broaden your horizons," as my Mom used to say. It may also give you a renewed sense of faith in the universe, in the mysterious workings of the cosmos and the underlying truth that connects us all.
Sometimes, when you are completely frustrated, exhausted, disoriented and sensory-overloaded, India will surprise you with a moment. The veil draws back, a woman smiles, a man hands you a flower, the sky turns pink, incense and temple bells waft by on the breeze. Everything is okay, and it always was, and always will be.
These are the "magic moments," and what we Indophiles live for. But they don't come easy. On this trip, it took me quite a long time to recover from jet lag, and a much longer time to recover from culture lag. I had to re-adjust to being in India, and I was rusty. I had to re-remember so many things, from shutting my mouth tight in the shower to negotiating for autorickshaw rides.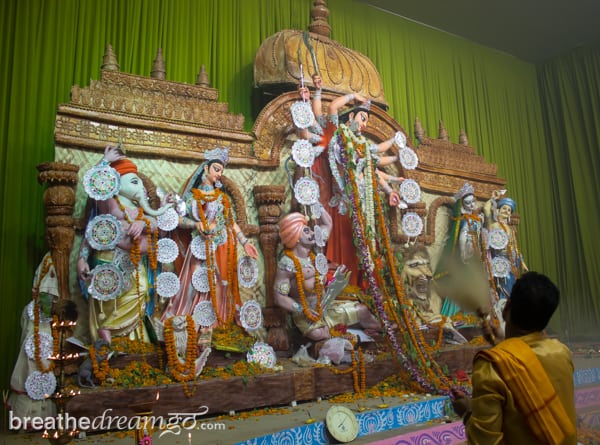 Durga Puja in Chittarajan Park, Delhi
But more than that, I had to get in contact with the Indian version of me. I am a different person in India than I am in Canada — I have to be to live and travel here with any ease. From my perspective, the Indian worldview is much more fluid and present-centred; more relationship oriented and less achievement driven; much less controlling and and more accepting, it accords a much larger role to the presence of the unseen. "God knows best," I have heard people in India say many, many times.
Travel highs and magic moments
My travels in India on this trip has had plenty of highs and lows, which is par for the course. But I got off to a good start. I was given a business class upgrade from Jet Airways, and a coveted single seat. This is a great configuration for the solo traveller: when you press the button to make your seat a bed, you are alone, with no one sleeping beside you. Being able to lie down and sleep really makes the very long journey from Canada (almost 24 hours door-to-door) much more bearable.
My next high happened when I arrived at the shiny new Indira Gandhi International airport in Delhi. While flying, I was thinking a lot, for some reason, about my first trip to India, back in 2005, and how anxious I felt about all the unknowns facing me. I remember peering out the window into the midnight blackness and realizing I had no idea what to expect from India and from my impending six-month journey.
When I arrived in India for the first time, on December 5, 2005, an old acquaintance was waiting for me at the airport. I hadn't seen Ajay in 13 or 14 years, could barely remember what he looked like. But there he was, and he drove me back to his family home in South Delhi, and he and his family became a very important part of that trip — and my life, from then till now.
This time, by chance, Ajay was in India ahead of me, and waiting for me as I arrived for the seventh time. When I walked out, with my luggage, and saw him standing at the exit, and smelled the sultry, acrid air of Delhi, I had a full-circle feeling. Life has seemed so chaotic and challenging in the years since I first landed in India, I didn't expect this lovely, satisfying feeling; as if everything was unfolding perfectly, and I was exactly where I was supposed to be. It was a gift, this feeling, and it hasn't left me. It feels like some era ended when I landed this time, on September 2, and a new era has begun.
Thikana is Delhi's top guest house
My third high arrived shortly thereafter. One of my readers put me in touch with Atul and Sheetal of Thikana in Gulmohar Park, South Delhi and they very kindly hosted me for my first week in Delhi. Thikana is one of the leading guest houses of Delhi, a place I had long wanted to visit, and I wasn't disappointed. Regular readers will know that I love Delhi, it's my home-away-from home and my favourite city in India.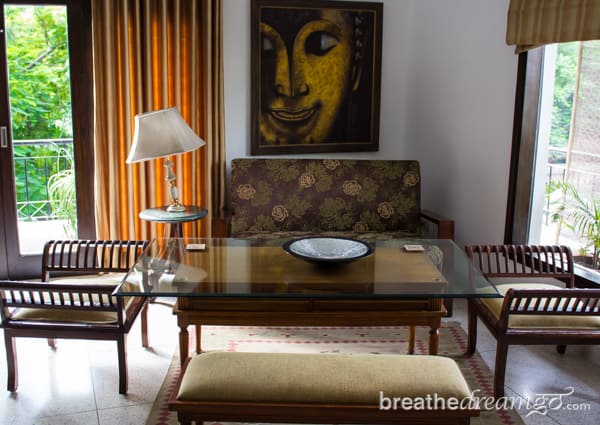 One of the many lovely public spaces at Thikana guest house in South Delhi.
I can now absolutely recommend Thikana to readers. It's exquisitely decorated in high Indian style, the rooms are comfortable and modern, the location is good (closer to a metro station would make it ideal) in one the most upscale colonies of South Delhi and best of all is Sheetal and Atul, the hosts and owners. They, and their staff, go out of their way to make people feel at home and comfortable, and to answer questions and help with anything and everything, from laundry to bank machines to restaurant recommendations.
Plus, they're fun. On my second or third night, Atul invited me to have drinks on their roof top terrace, a great place to hang out. Two other guests joined, I put my duty-free bottle of Bombay Sapphire on the table, and we enjoyed the very warm Delhi evening, under a waxing moon.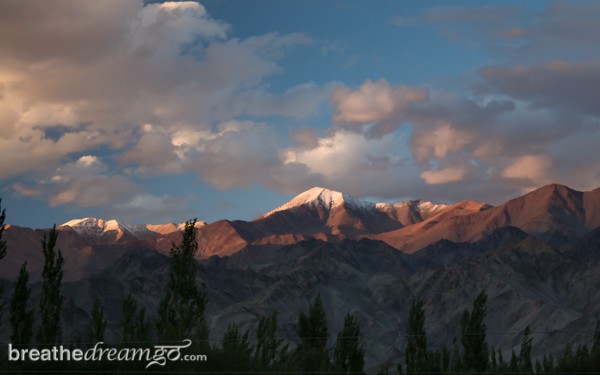 Outside Leh, surrounded by Himalayan mountains, at sunset.
The challenge of jet lag and high altitude
My first low was jet leg. I cannot exaggerate how bad the jet lag is, for me anyway, that results from travelling across half the world. I was a wreck, and I made the mistake of not giving myself enough time to recover. I ran around getting a SIM card, an Internet dongle, and running errands, and then gave a presentation at the Indian Association of Tour Operators convention only three days after landing.
My second low was the Kashmir floods. I was scheduled to fly to Kashmir on September 6, but the floods were worsening and the situation was growing dire. My own disappointment about not getting to Kashmir was dwarfed of course by the humanitarian crisis. The floods in Srinagar Valley, exactly where I had hoped to go, were the worst in 60 years.
The trip to Kashmir and Ladakh was hosted and arranged by India Tourism, so I met with them in Delhi and rearranged my itinerary. Luckily, a seat was available to fly directly to Ladakh, and away I went, to the top of the world.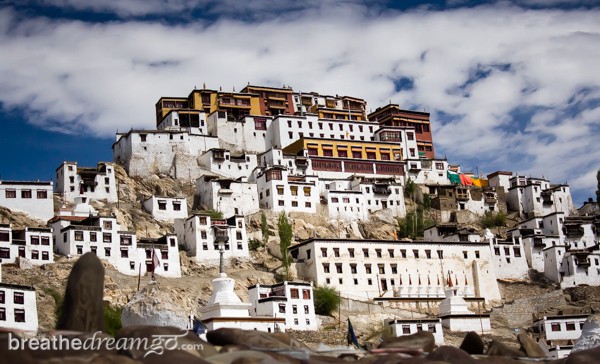 Thiksey Monastery is one of the treasures of Ladakh.
On the roof of the world
If you look at a map of India, Ladakh is right at the top, the part that sticks up and is surrounded by Pakistan, China and several of the "stan" countries. Culturally and geographically, it is tied to Tibet. Like Tibet, you feel you are on the roof of the world, and about half the population are Tibetan Buddhists (most of the rest are Shia Muslims).
The Himalayan mountain range runs through Ladakh, and the altitude of the capital city, Leh, is 3,500 metres — going up to 4,500 metres if you cross passes outside of Leh. This means, without proper acclimatization, you can develop acute mountain sickness (altitude sickness). Some people are more sensitive to AMS than others — and I, unfortunately, am one of those very sensitive people. I was sick with AMS in Colorado and Bhutan, so I took every precaution possible for Leh. Ideally, you should move slowly up to these altitudes. The sickness usually occurs when people fly to Ladakh (like I did). Seriously, do not underestimate AMS. It kills tourists every year, usually people who land and start trekking without adjusting properly first.
Research and plan your trip to Ladakh very carefully. Altitude sickness is one danger, and another is weather. It gets very cold and very snowy in Ladakh early — sometimes in late September — and passes close, airports are shut. Tourists sometimes get trapped there for days and weeks.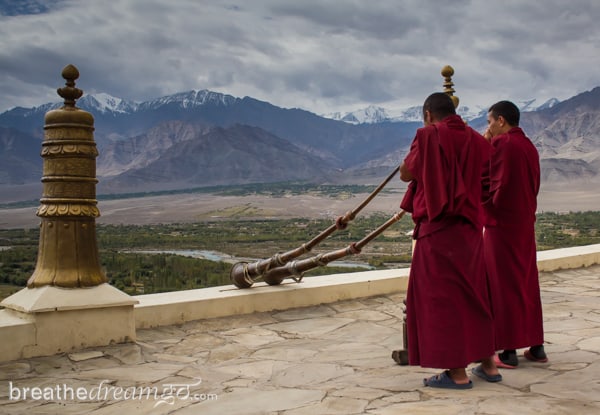 On top of the world at Thiksey Monastery
Summer is the ideal time to go, of course. It's warm — up to 30 C. — and the roads are clear. When I was there, I was based in Leh for about five days, and just made day trips into the countryside to see monasteries, chortens, palaces and the stark and beautiful landscape. Ladakh is a high altitude desert. The Himalaya mountains create a "rain shadow," which prevents monsoon clouds from reaching Ladakh and releasing rain.
Many times in Ladakh, I felt I was in Tibet, especially of course when visiting Tibetan Buddhist monasteries. In fact, Ladakh and Tibet are very closely tied both culturally and geographically, and in former times, politically also. Though I have not been to Tibet in China, I imagine that Tibetan culture is better preserved in Ladakh.
After I returned from Ladakh, I relaxed in Delhi for a few days before heading down to Kerala for the Kerala Travel Mart and a wonderful week at Kaiya House in Varkala, Kerala. Kerala is one of my favourite states in India.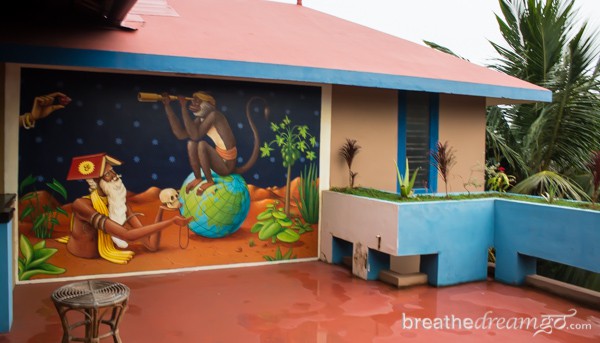 Stunning painting on the lovely roof top lounge of Kaiya House, Varkala, Kerala.
Kaiya House is one of those special places I look for in India — places that hit that sweet spot between basic and luxurious; that are run by caring owners; and that have a special ambience that inspires creativity. Kaiya House, the number 1 guest house in Varkala according to TripAdvisor, does indeed hit the spot.
The "secret sauce" at Kaiya House is the owner/ manager Debra, an energetic and detail-oriented American transplant. I have never experienced a more helpful and caring guest house owner. Debra makes sure all your needs are met and that you receive a thorough orientation.
After a week of relaxing and working in Varkala, I headed back up north to get ready for the Mirabai Expedition.
More on all these trips later, the Ladakh stories, and of course Mirabai Expedition … as soon as I stop moving.
Share: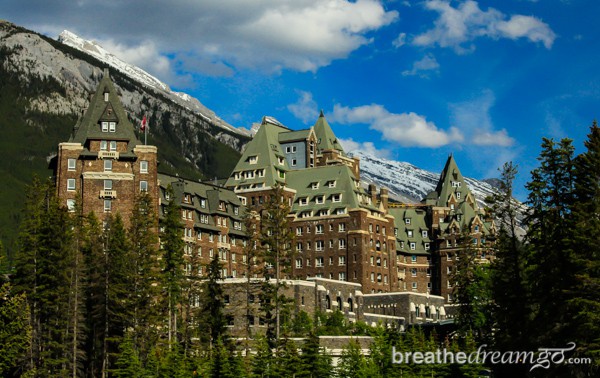 These hotels RISE LIKE medieval castles above historic ports and bustling cities, among soaring mountains and thickly forested retreats. Fairmont Hotels are some of Canada's oldest, most iconic and most majestic hotels. Many were built in the late 19th century, along the burgeoning railroad line, to attract wealthy tourists and entertain visiting dignitaries. Many are part of the nation's history, woven into the Canadian tapestry as a social centrepiece. Above - The Fairmont Banff Springs Hotel, Banff, Alberta. 
Fairmont Hotels can be compared to the Taj Group Hotels in India. The Fairmont Royal York in Toronto is Canada's equivalent to the Taj Mahal Palace Hotel in Mumbai. The Fairmont Chateau Lake Louise is equivalent to the Taj Lake Palace Hotel in Udaipur. In other words, they provide a similar level of service, a similar above-the-norm experience and occupy a similar position of social relevance within their respective communities. Read on to find out about some of the special experiences I had at Fairmont Hotels across Canada.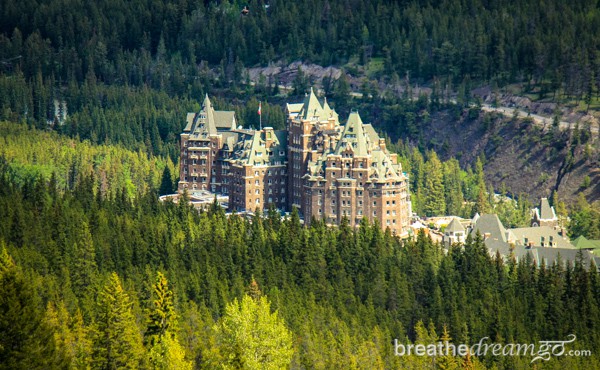 The Fairmont Banff Springs Hotel, Banff, Alberta
A baronial castle in The Rockies: The Fairmont Banff Springs Hotel
The Fairmont Banff Springs Hotel rises above the evergreen forests of The Rockies like a Scottish castle. You can see it from a great distance, and it doesn't lose its grandeur up close. Originally built in 1888 by the Canadian Pacific Railway, the Fairmont Banff Springs Hotel opened up tourism in western Canada.
I saw this hotel for the first time when I was a student, many years ago, and I went to Banff to work for the summer. I never imagined I would be coming back as a special guest.
From the moment I entered the baronial lobby, I really did feel I was in a castle. Grand staircases, suits of armour, plush furniture and family crests completed the picture. My room, modern in decor, framed a million-dollar view of The Rockies. On the first night, I sat with the lights out and watched a summer storm light up the snow-topped mountains.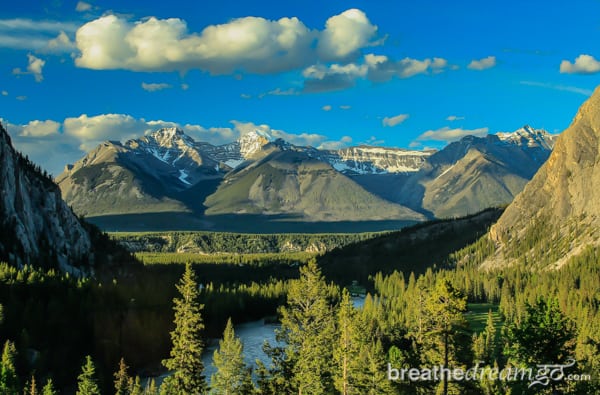 The view from my room at the Fairmont Banff Springs Hotel
The next day, I made a beeline for the hotel's award-winning Willow Stream Spa. Banff is famous for the "Banff springs" — hot mineral water that flows down from the mountains and is piped to soaking pools. The hotel spa celebrates this ritual, with a large pavilion housing several pools and cascading waterfalls that evoke the Victorian era.
I literally could have stayed all day in the massive spa, which also includes saunas, steam rooms, resting rooms, treatments rooms and an outdoor hot water pool and terrace. However, an invitation to have high tea was beckoning and I made my way to an airy room with white-table-cloth covered tables set against large picture windows framing the same spectacular view of The Rocky Mountains I could see from my room.
There are few hours in life more agreeable than the hour dedicated to the ceremony known as afternoon tea. – Henry James
Within moments of sitting down, tea sommelier Bernice arrived with a cart of 12 teas and two champagnes to choose from. The teas ranged from green to black to herbals, and came from a range of countries of The East. I settled on the Eclipse Blend, a mix of second flush black teas from India, Sri Lanka and China.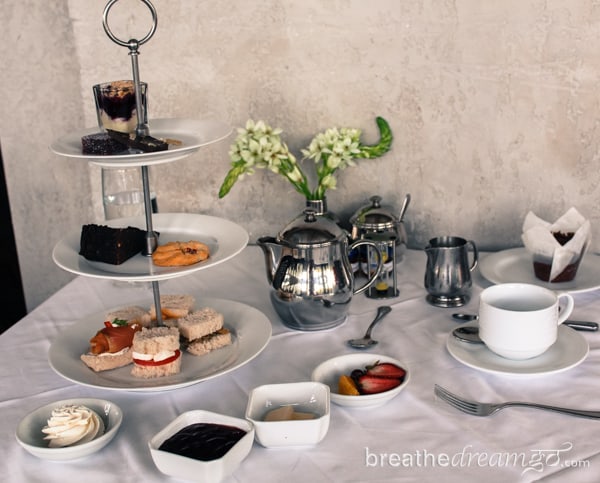 Hight tea at the Banff Springs Castle
As I had called ahead and told them I was obliged to eat a gluten-free diet, they had prepared a variety of tasty gluten-free treats. I have had gluten-free high tea elsewhere, but none as good as at the Fairmont Banff Springs Hotel. Kudos to the Fairmont for moist and delicious ginger-molasses muffins, flourless chocolate cake, salmon, egg salad and vegetarian sandwiches on gluten-free bread and berry compote. High tea at the Banff Springs "castle" was a meal fit for a queen.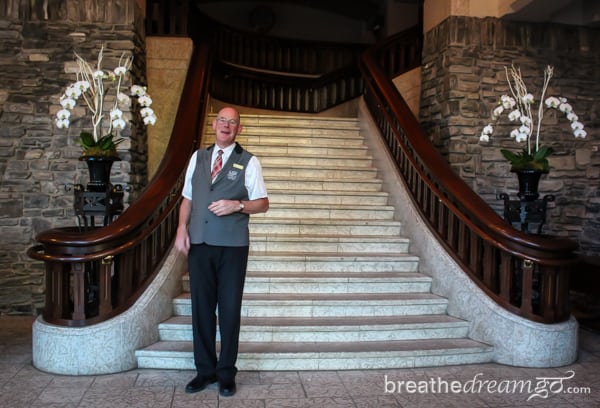 Concierge Robert Jones in baronial lobby of Fairmont Banff Springs Hotel
A final highlight of my stay at the Fairmont Banff Springs Hotel was a tour by long-time concierge Robert Jones. He relished telling me about the history of the hotel and pointed out many details such as the Tiffany fixtures, Mount Stephen Hall and the Spanish-inspired El Hombre Room. "People are awestruck when they come here," he said. "You can see it in their faces." I am sure my face, too, revealed my delight at finally experiencing the Banff Springs Castle.
Experiencing Alberta's culture: The Fairmont Jasper Park Lodge
The Fairmont Jasper Park Lodge has a very different look and feel from its baronial sister down the other end of the Icefields Parkway in Banff. While still elegant and luxurious, it is has a more authentic Rocky Mountain atmosphere. Instead of a castle and baronial lobby, you will find cabins and a lodge.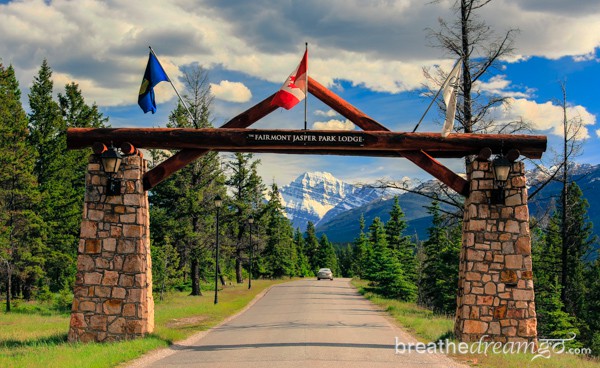 Arriving at the Fairmont Jasper Park Lodge
This hotel takes advantage of its location on Lake Beauvert, and among the pristine wilderness of Jasper National Park. Recreational opportunities abound. I had checked in only moments before, and had barely even opened my suitcase, when I was on the dock and arranging for a canoe ride. I canoed around the lake, enjoying the perfect weather, fresh air and beautiful views. I felt instantly relaxed, and quickly fell into the rhythm of the Jasper Park Lodge.
Afterwards, I ate on an outdoor terrace overlooking the swimming pool, lawns and the lake, with the soaring mountains in the distance. At sunset, I joined several women originally from India, who were travelling with a large group. We sat in lawn chairs and watched the sunset, drinking wine and enjoying the company and the view.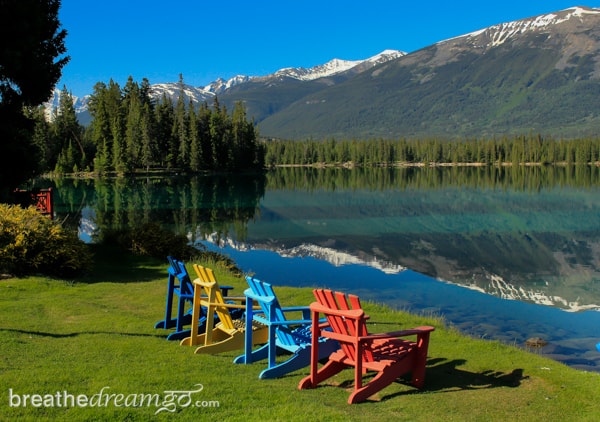 Relaxing on the lawn at The Fairmont Jasper Park Lodge
The next day after breakfast, I walked to a horse ranch on the hotel property. The Fairmont Jasper Park Lodge covers 700 acres, with an impressive main lodge and 56 cabins, a large spa and many other facilities. After saddling up, I went on a two-hour trail ride accompanied by highly experienced guides. We rode at a gentle pace, allowing me to take photos and enjoy the forest scenery. This is something almost anyone could enjoy — previous experience on a horse is not necessary.
By the time I left, I felt I had immersed in the unique Canadian Rocky Mountain culture, perfectly captured by the Fairmont Jasper Park Lodge.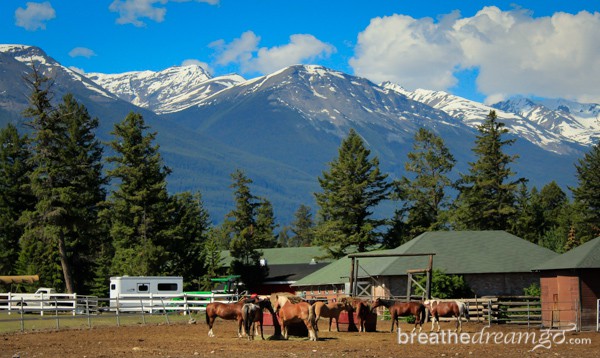 The horse ranch at The Fairmont Jasper Park Lodge
Canada's most scenic lake: The Fairmont Chateau Lake Louise
The most photographed lake in Canada has got to be Lake Louise, as seen from the The Fairmont Chateau Lake Louise terrace. Much like the famous Taj Lake Palace Hotel in Udaipur, this vista sums up all that is romantic and beautiful about Canada. I spent an afternoon here, canoeing on the glacial lake and having lunch in the elegant restaurant that gives diners one of the most spectacular views in Canada.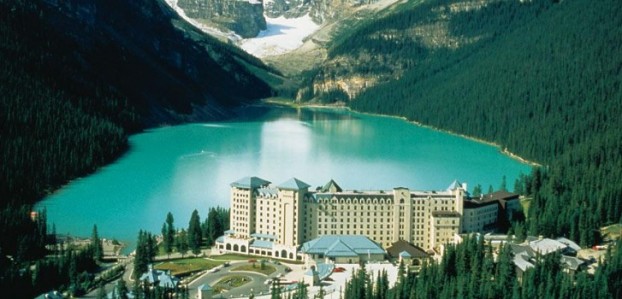 Fairmont Chateau Lake Louise with the famous lake and the Rocky Mountains
The Castle in the City: The Fairmont Hotel Vancouver
Fairmont Hotels has three hotels in downtown Vancouver, and one near the airport, but the grandaddy is the The Fairmont Hotel Vancouver. This 75-year-old hotel is known as the 'Castle in the City' and it is indeed a grand edifice with an elegant, recently renovated lobby, rooftop restaurant, ballrooms and more. It also has an ideal location right in the heart of downtown, beside the grand Art Gallery of Vancouver.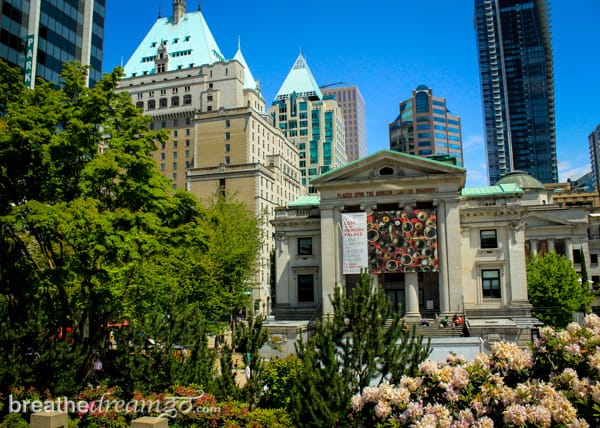 The Fairmont Hotel Vancouver soaring above the Art Gallery of Vancouver
Medieval charm in Old Quebec: The Fairmont Chateau Frontenac
I stayed at the 100-year-old Fairmont Chateau Frontenac when I visited Canada's Ice Hotel last winter. It is one of the most magnificent hotels in Canada, inspired by the medieval castles and regal chateaus of Europe and ideally located on a bluff overlooking the mighty St. Lawrence River and Vieux-Quebec (Old Quebec). From here, you can easily walk to many fine restaurants, bakeries and cafes offering French pastries, chic shops selling fashion and art and areas of historical interest.
Fairmont Chateau Frontenac overlooking Vieux-Quebec
The heart of Canada's capital: The Fairmont Chateau Laurier
Last year, I travelled to Canada's capital city, Ottawa, as part of my search for my Irish roots, and stayed at the Fairmont Chateau Laurier. This is the pre-eminent hotel of Ottawa, an historic site in its own right, ideally located on a bluff overlooking the Rideau Canal and the Ottawa River, and with a million-dollar view of the magnificent Parliament Buildings. I loved the elegant wood-paneled lobby, my spacious room with iconic view of Parliament Hill and Gold Room service that included a separate check-in and lounge.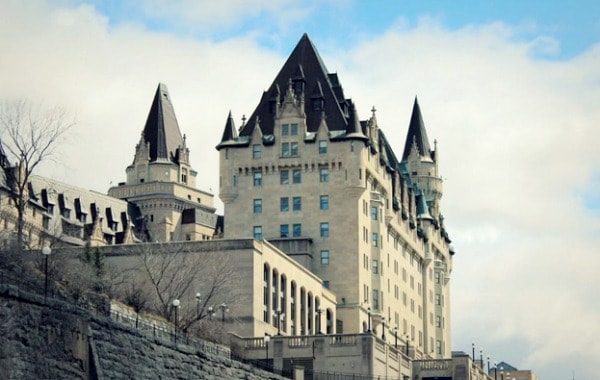 The Fairmont Chateau Laurier in Ottawa, Canada's capital
Bollywood in Canada: The Fairmont Royal York Hotel
In June 2011, the International Indian Film Academy (IIFA) Awards hit Toronto and the Fairmont Royal York Hotel was "ground zero." I was an embedded blogger at Toronto's grand old hotel during the IIFA Awards, and wrote a number of blog posts about my Bollywood in Toronto adventures. It was an exciting, thrilling time to be staying at the Fairmont Royal York Hotel, as most of the stars were also staying there and I actually ran into Shahrukh Khan, Priyanka Chopra, Dia Mirza, Arshad Warsi, R. Madhavan, Sharman Joshi and many others in the lobby.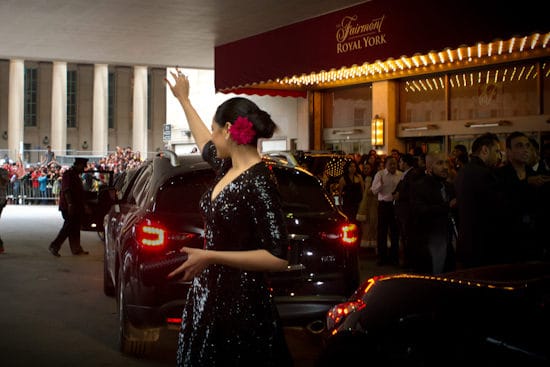 Sonakshi Sinah at the Fairmont Royal York Hotel during IIFA Awards. Photo courtesy Andrew Adams of Katha Images.
 NOTE: Thank you to Canadian Tourism Commission, Travel Alberta, Banff Lake Louise Tourism, Jasper Tourism and Fairmont Hotels for hosting my stays.