About Mariellen Ward
Mariellen Ward is a freelance travel writer whose personal style is informed by a background in journalism, a dedication to yoga and a passion for sharing the beauty of India's culture and wisdom with the world. She has traveled for about a year altogether in India and publishes an India travel blog, Breathedreamgo.com. Mariellen also writes for magazines and newspapers.
Latest Posts by Mariellen Ward
Share: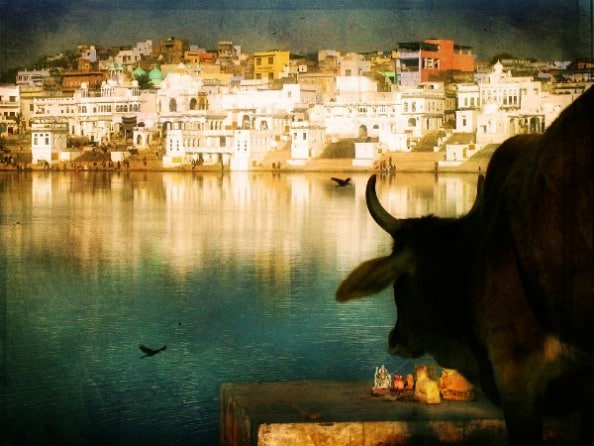 I fell in love with India, its culture and the people, and wrote from my heart. I never attempted to be objective, but to be honest about what I felt and saw, within the bounds of a respectful attitude. Over the years, as I've travelled more, honed my skills and brought more conscious thought to my work, I've come to realize that travel writing is a tricky business.
I've grappled with how to write respectfully, express my truth, tell a good story and stay true to my values — without offending locals. What I've learned is that it takes conscious effort and technical know-how to write effective travelogues. In this post, I asked some of the pros to share their tips and their wisdom for avoiding the cringe-worthy cliches and stereotypes that often subconsciously invade travel writing.

Sometimes you have to challenge your beliefs to get beyond the stereotypes
In Travel is an experience in perception, I tried to grasp this idea that we see the world through our own window, our own set of assumptions, ideas about reality, biases, etc. There's nothing wrong with this — it's just about recognizing that your truth is YOUR truth and may not be THE truth.
My photography teacher Tony Makepeace, who regularly visits Nepal and takes portraits of the people he meets there, said, "It's worthwhile to think about your intentions, reflect on your role as an outsider, and recognize the difference in privilege and empowerment between you and your subjects."
These first five tips are about how to dig in while travelling and challenge yourself while writing.
Tip 1. Blend in.
"Merge with the place," Anuradha Goyal recommends. "It helps on two levels. One, with regards to safety and security issues, it helps protect you as you do not stand out. Two, it helps local people feel comfortable with you, and they open up more easily when they see you are making an effort to be one with them." Anuradha Goyal is a travel blogger & writer, the author of The Mouse Charmers – Digital Pioneers of India (published by Random House) and a voracious reader. She writes a series of Travel Stories on her blog that she says, "would not have happened if I had not connected well by not standing out."
I completely agree with Anuradha on this one. From my first days in India, I tried my best to adopt the dress and the social etiquette of the culture. When in Rajasthan, do as the Rajasthanis do, was my motto. I found it helped win me respect and trust, and opened up the culture to me.
Tip 2. Talk to locals.
Dan Noll and Audrey Scott of Uncornered Market have been travelling the world for many years, and sharing their stories and photos on their blog. They are driven by a desire "to humanize the places we visit, drawing our readers in through photographs and stories, so they connect with people and places they might otherwise never hear about or actively disregard." Dan and Audrey's work exemplifies a respectful attitude, and they have inspired me more than any other travel bloggers.
I asked Audrey to share advice and tips. "I think the main way to write without offending the locals is to expose yourself to a diversity of experiences and people so that you can get a better understanding of a place and breakdown the assumptions that you may make from first impressions." She offers these writing tips:
Talk to several people about a topic (or about the culture/history/politics of that country) so that you get different perspectives from a variety of people (e.g., different backgrounds, ages, genders). This allows you to understand better the diversity of opinions (if there is one) and prevents you from taking one person's viewpoint and making it sound like it is representing the whole country. Use accurate quotes and avoid generalizations.
Imagine that your best friend was of that culture. What would he or she think — were you being fair (note: not always pollyanna positive) and that you were respectful in your writing.
You know you are on the right track when you get comments like this one, in response to Bangladesh: Frequently Asked Questions: "I'm a Canadian-American Bengali currently visiting Bangladesh and the way you handled these questions with class really made me happy. It brought a tear to my eye to see how open and nonjudgmental you guys were to the average Bengali. Many people see Bangladesh as a dirty, poor, corrupt, chaotic, dysfunctional mess of a country, fellow Bengalis included." And here are three more articles from Uncornered Market that reveal their unique, refreshing and respectful approach:
First impressions of Ethiopia
The forgotten women of the Dead Sea
Immigration stories from Central America
Tip 3. Avoid cultural imperialism.
In my opinion, the western mainstream media is almost universally based on the underlying notion that western ideals, standards and ethics are de facto superior. Because I often travel in India — a country in the late stages of a post-colonial hangover — I try very hard to avoid this practise, which I call "cultural imperialism."
It's one thing to think, as I do, that, overall, women have more freedom and opportunity in Canada than they do in India, but it's another to unconsciously believe that everything about the west is "right" and other countries are "wrong."
It's also worthwhile to challenge media stereotypes, and not digest them whole. Case in point: India has had a bad rap in the media because of some high-profile rape cases, but in the same period that two foreign female tourists were raped in India, many more were raped in Mexico, Greece, Spain, Turkey and elsewhere. "The number of Britons sexually attacked or raped abroad rose to 10% last year from 310 to 281 cases in 2011. Greece Spain and Turkey had the worst records," from an article in The Mirror.
Tip 4. Write from your own experience.
While the mainstream media struggles to present objectivity and balance in journalism, as a personal narrative (or creative non-fiction) travel writer, you are under no such restrictions. Your experience is your truth and it cannot be argued. If you travelled on an overnight train and saw cockroaches on the wall just inches from your face and you couldn't sleep; or if a child dressed in rags and selling flowers in the market smiled at you and you melted — these are your experiences. You needn't make sweeping, judgmental statements about what your experiences mean or draw from them conclusions about the culture. You can simply describe them.
As a matter of fact, I don't actually believe in objectivity. Everything is subjective, everyone has an agenda. I don't think objectivity is a worthy goal, either. I think the de-humanizing tendency of the media is part of the problem, and that personal voice and personal experience is much more powerful, real and true. As travel writers, we give people a window through which to see the world, and it is our window, with all of our ideas, biases, experiences, hopes and dreams woven in. It's okay to have biases and opinions, as long as you are aware of them and honest / transparent about presenting them.
Tip 5. Show interest, respect and humility.
We all walk around with a set of assumptions about the world and an idea of what we think reality is. Travel gives us the opportunity to examine them, and gain a much broader sense of perspective.
Don George is a well-known travel writer, the author of Lonely Planet's Guide to Travel Writing and a travel writing instructor. Here's his approach: "Being humble, curious, and respectful of local cultures and peoples — trying to understand and evoke them on their level — is a cornerstone of how I travel and how I write about travel. As a guest in someone else's house — that is, country and culture — I always try to be mindful of how little I know and what a great opportunity I have to learn!" In these pieces, Don shows how you can write descriptively about engaging with the local culture without making any assumptions or generalizations. These are all good examples of story-telling in travel writing, too.
Road lessons around the bend in Bali
Making roof tiles in Peru
Building bridges in Mostar
Photographer Jim Kane wrote about taking culturally sensitive photos on Transitions Abroad: "…responsible photography is very much like responsible travel. With a thorough knowledge of the place you're visiting, a genuine interest in sharing and not just taking, an alert intuition, an open mind, enough time, and a little luck, photography abroad—just like travel itself—can be a vehicle to build bridges. Ultimately, photography is ideally a form of exchange." Read his eight guidelines here.
Sympathetic interpretation seldom evolves from a predatory attitude. The common term, 'taking a picture,' is more than just an idiom; it is a symbol of exploitation. 'Making a picture' implies a creative resonance, which is essential to profound expression. – Ansel Adams
And sometimes, it's just a matter of artist technique to transcend the cliches
The following three tips are about how to use writing techniques to support respectful travel writing.
Tip 6. Tell a story.
And speaking of stories, don't forget to tell one. I wrote about this after attending a workshop given by Spud Hilton and Stephanie Yoder at TBEX Colorado. In my post, Top 10 Travel Writing Tips, here's point #1:
Have a point. Without a point (or premise) you are re-hashing your diary. You need to make a bigger point than simply you were there. Spud Hilton gave the example of traveling in wine country and then writing a piece about what ELSE you can do there, aside from wine related activities.
Travel writer and "story consultant" Mike Sowden on his site Fevered Mutterings has lots of resources for travel writers, including a course in story telling for bloggers, a page of story telling resources and an insightful post that explains Why 99% of bloggers give up from which I grabbed this inspiring quote: "As Andrew Evans explains so succinctly in this video, when you're doing your best to convey what you really see, without the benefit of 20/20-hindsight, and if you do so with a very clear idea about what you want to be writing, unedited reality can be as compelling as a well-crafted story. In fact, it can be a good story. That's the essence of quality non-fiction."
Tip 7. Use the tools of fiction writing.
Paul Theroux is one of the great writers of travel literature. Talking about his unique style, he once explained that he wanted to inject dialogue and discomfort into travel writing as he felt these were largely missing. He has a point. Travel writers often skip writing about characters and conversations. Yet this technique, and others from the fiction writers tool kit, can give you a sense of the people, the place and what happened in a very direct and powerful way.
It is worth reading fiction or even taking some courses to learn about character, dialogue, description, plot development, narrative, and other techniques. These will not only add voice and colour to your writing, they will help give you the discipline to stick to the story, and keep you from wandering into the lazy habits that lead to cliched writing.
This piece about Varanasi from David Farley in Afar Magazine includes some of the characters he met in the ancient city.
Tip 8. Throw out your first idea and your second idea when you write; wait for the third idea.
This is a piece of writing advice I heard once, and can't remember where. Everyone will have thought of the first one, it won't be original, and it will originate in the "cliche" layer of our engagement with life. The second idea will also be something others may have thought of. But your third idea is likely to be more interesting, unique, fresh and thoughtful.
What do you think? Do you care about avoiding cliches and stereotypes? How do you achieve fair and accurate travel writing?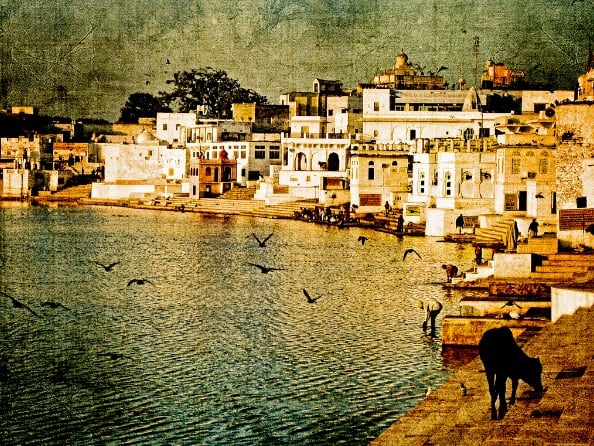 Cow in India – Photo Credit: Nick Kenrick .
Share: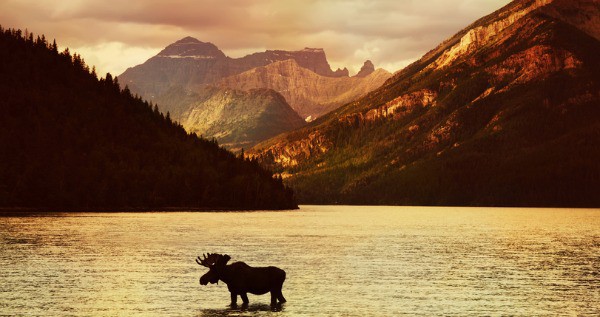 Roughly an hour outside of Jasper, as I was settling into my private cabin on the train, a moose appeared outside my window, as if stationed there on purpose by the Via Rail company.
There he stood in all his lumpy majesty alone, a dark figure silhouetted against a golden field. In the distance, the tips of the Rocky Mountains were lit up by the last rays of the sun. It was the most Canadian of moments and I froze in a kind of northern induced rapture. A second or two later and we had moved on, inexorably pushing forward across the Canadian landscape.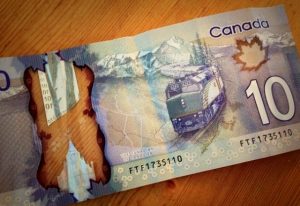 The Canadian is so iconic that it's pictured on the back of the Canadian $10 bill.
The Canadian has been serving up moments like these since April 25, 1955, when the Canadian Pacific railway inaugurated its new stainless steel, scenic-domed transcontinental passenger trains to traverse the 4,446 kilometres between Vancouver and Toronto.
Best train in Canada
An American train aficionado I met on The Canadian, Tom from New Jersey, told me it's his favourite train in Canada, and one of the two best in North America in terms of food, amenities and the epic-ness of the journey. Tom was travelling aboard The Canadian for the third time this year. He has forgotten how many times he's taken it in total, but he remembers the first time: 1957.
I could well understand Tom's enthusiasm. I boarded The Canadian in Vancouver for the first time, to begin the four-day journey to Toronto, at the end of June — a wonderful time to see the country at the height of summer's early fecundity. I was filled with anticipation, imagining myself relaxing alone in my private room, with Canada's rugged natural beauty speeding by, rousing myself only when the porter chimed, "Second seating is now being served in the dining car, second seating!"
And yes, this did happen several times over the course of four days on the train. And yes, it was wonderful.
The last two cars on The Canadian, at sunset.
The Canadian crosses time and space
I felt I was not only transported across the breadth of Canada, but also back in time, to a more relaxed pace of life.
If the train survives the 20th century, it will own the 21st.
The Canadian starts from Vancouver two or three times per week, depending on the season, at about dinner time. We pulled out as the sun was just beginning to start a long descent over the big Canadian sky. There was a sense of palpable excitement among the passengers. For many, including myself, this journey was a dream trip, a trip-of-a-lifetime.
The dining car on The Canadian.
Via Rail, the company that's been running The Canadian since the 1970s, is well aware that this is a big trip, across a big country. They support the excitement and anticipation in so many ways, from announcements about passing landmarks through on-board activities and superb menu options.
We ate our first meal in the dining car that evening as we left Vancouver. I had halibut, cooked to order without breading, vegetables, salad, a gluten-free chocolate mousse dessert and peppermint tea. I was seated with jovial Emma from Britain, a lawyer turned exuberant tourist. We talked for a long time, over several cups of tea, about many things, some surprisingly candid. Travel talk is like that, it throws strangers together for brief intimate moments.
In the meantime, the attendant had lowered the bed in my room, tucking away the chairs underneath, and leaving me a shower kit with soap and towels and a single chocolate on the turned-down bed. I retired to my private room, nothing else to do but crawl into bed and read, everything I needed within arm's length distance. I slept very soundly in a surprisingly comfortable bed, rocked to sleep by the motion of the train.
I expected the diverse scenery we passed to be a highlight of the journey. But what I didn't expect is that the culture inside the train is even more absorbing than the passing scenery.
View from the train in British Columbia.
Train travel is civilized. It allows travellers to eat and talk together. There is time for a drink before dinner. Time to read a newspaper. And, most of all, time to get to know the other passengers and crew.
I got to know several other single passengers on the train, like Tom, the 74-year-old train nerd, who taught us to talk like tough guys from New Jersey. And Emma from Britain, seeing Canada for the first time, and entertaining us with wildly diverse talents like palmistry and African-folk singing. Steve, a music-loving engineer from Edmonton, was our ring leader, who led Emma in a demonstration of the Bee Dance when we stepped down for a few minutes at one of the station stops.
At meals, we singles all started arranging to sit together, sometimes thwarting the mysterious algorithm the dining staff used to seat people. The food on The Canadian is better than you will find on most trains because it is cooked fresh, to order, in a compact but efficient kitchen.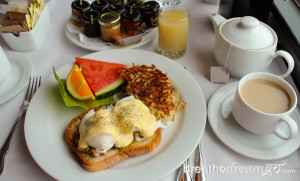 Breakfast on The Canadian is made to order.
I talked to chef Binoy, originally from Kerala, India who told me that as well as offering the set menu items like fish, pasta and eggs, they can cook specialty meals to order, if given enough time and a large party. "We can make dosa, dal and rice, and other Indian and Asian foods," he said. "But in any case, there are always vegetarian options on the menu."
Meal times are the main events around which the daily routine seems to revolve. Each day, passengers are given the choice of first or second (or sometimes third) seating. But there are other diverting activities arranged, usually taking place in one of the activity cars. These cars are outfitted with tables and they offer games and videos for kids and things like wine and beer tastings for adults. The cars are manned by personable activity coordinators who are there to keep passengers entertained and briefed on all aspects of the train, the itinerary and the passing landmarks.
The Canadian also hosts a kind of Visiting Artist program. A train model builder from New Brunswick, Dave Gunn, set up in the activity car to demonstrate his techniques and show photos of the 40-foot-square "layout" he's built in his home. Dave's layout, designed to look like a small town in 1950s Canada, is the most ambitious train set I've ever seen. Not only does Dave, a retired engineer, make all the buildings, he even builds some of the locomotives, too.
4,466 kilometres to catch your breath: In the space of four days, you'll get to see the lush boreal forest, the lakes in Northern Ontario, the western Prairies, and the magnificent Rocky Mountains. On board The Canadian, you'll discover the beauty of Canada's landscape and cities at a pace that allows you to be in-tune with the nature around you.
Even with so much to do on the train, there were times when the beauty of the landscape sent me running up to the Panorama car to take photos. This was especially true about halfway through the first day when the train started to wend its way through the foothills of the Rocky Mountains. The outside scenery shifted to became the focus of attention.
Jagged mountains, dark green forests and the chance to see wildlife — bear, elk, moose and deer — captured the attention of most of the passengers.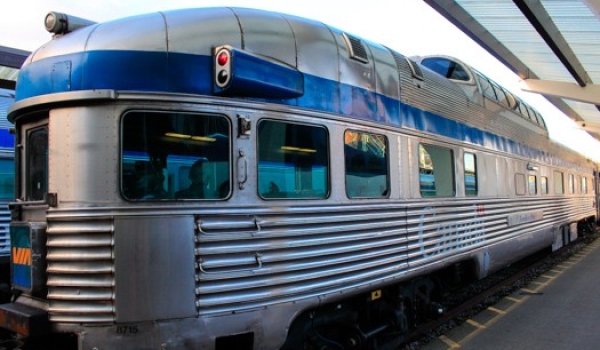 Pyramid Falls was a highlight, and the train both announced their appearance and slowed down to let us take them in. As we approached Mount Robson, the highest point in the Canadian Rockies , we were told by the activity coordinator that the summit rarely appears; it is usually hidden by mist and clouds. Our anticipation was high and we were thrilled by the rare sight of the handsome peak.
The staggering line of Rocky Mountains, the flat wheat fields of Saskatchewan, the forest-hemmed lakes of Ontario — so much of Canada's natural beauty paraded past us as we relaxed on the train.
By the time we arrived in my home town, and caught sight of the CN Tower, Toronto's punctuation mark, I felt I had lived an epic journey. We drank ice wine in the Park Car to celebrate as we watched the last of the 4,466 kilometres of track unroll behind us. We all knew we had been through something special together.
It seems to me that train travel itself is the journey, that the appeal of an epic journey is to live life fully while moving. After four days on The Canadian, you become part of the cycle of the train and the unfolding landscape. Time is marked by the change from mountains to plains to lakes, by the daily routine of meal sittings and bed turn-downs, and by the sense of movement. On The Canadian, passengers and crew move in a syncopated rhythm across the vast Canadian landscape as they have done for almost 60 years
The Logistics
The Canadian offers passengers several classes of service, from economy seating to cabins with private toilets. Check the Via Rail website for more information.
All Sleeper Plus Class passengers are entitled to use of the activity cars, panorama cars, Park cars and the dining car. Three meals per day in the dining car is included in the fare. Snacks, tea and coffee are available all day in the activity cars and park cars, at no charge. Alcoholic beverages are extra. Showers are available, but not private.
Be prepared to spend most of the journey, which is almost four days, aboard the train. There are only a few stops where you can get off the train, and most of these are just for a few minutes. If the train is running on time, you can get off for an hour or more at Jasper and in Winnipeg. However, the train is often delayed, sometimes by several hours, because it has to stop regularly and let freight trains pass. WiFi is only available at station stops, so bring a book or two!
Here's a list of things that I found handy to have on the train:
light-weight, slip-on shoes like these by Skechers
shower shoes and a shower cap
personal thermos and water bottle
a shawl or light traveling blanket
travel clock
stretchy clothes, like sweat pants
Share: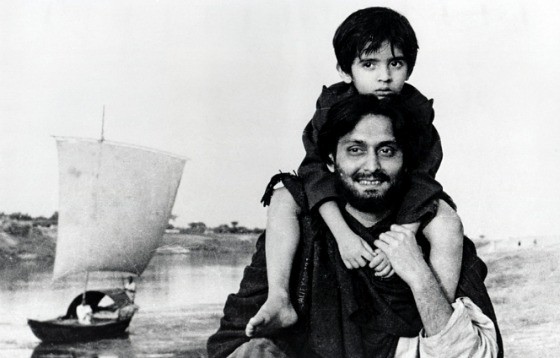 There are two scenes in the Satyajit Ray film The World of Apu (Apur Sansar, 1959) that sent me into the bathroom crying at the end of the film. One has to do with the birth of Apu's son, and the other, the last scene of the movie, when they reconcile. More than that I don't want to tell you if you haven't scene this classic of world cinema. When I came out of the stall, tears still wetting my face, I struck up a conversation with a white-haired woman who had a kind and gentle face. I knew immediately she was someone I could cry in front of, and indeed she understood, she had just seen the same film.
Not to have seen the films of Ray would mean existing in a world without the sun or the moon. – Akira Kurosawa
Carol and I were to see each other several times more as we were both attending the same film series at Toronto International Film Festival headquarters, the TIFF Bell Lightbox. The Sun and The Moon: The Films of Satyajit Ray is a massive retrospective, "one of the most important and influential bodies of work in international cinema … includes a raft of restorations and rarities," according to the press release.
The boy Apu in Pather Panchali This series is special in so many ways. It's special because the films themselves are so good, and so illustrative of a style of humanism in filmmaking that is long out of fashion. The first time I saw Pather Panchali (1955) — the first film Ray made, and the first of his films that I saw — my jaw was on the floor. I had never seen anything so lifelike and natural on the screen before. It's a stunning achievement and to me possibly the best film ever made. It's also the first in the Apu Trilogy of films (The World of Apu is the last). It's special because of the community it is creating among film-goers. Carol told me she was in India in 1969 to visit her husband and traveled alone while he was working.
She re-enacted an incident where a street beggar grabbed onto her leg as she tried to walk away, laughing at the darkly comic memory. I also met a man who travelled widely in South India in the 70s collecting art and artifacts, which he has since donated to the Royal Ontario Museum.  Director Satyajit Ray And it's special because the works of this giant of cinema were almost lost to the world due to film deterioration. I was lucky to be at several screenings with special guests who spoke before the film began. Prior to the screening of Charulata, University of Toronto Lecturer Kathleen O'Connell examined Ray's status within both Indian and world cinema, and the profound influence Bengali Nobel laureate Rabindranath Tagore had on Ray.
It was interesting to find out that Ray was an illustrator who worked in advertising, and that he exerted a great deal of control over all his films, from designing costumes and sets to editing and and illustrating the posters (as well as directing of course). Michael Pogorzelski, who is with the Academy of Motion Pictures Arts and Sciences Film Archive, spoke at the start of Three Daughters (Teen Kanya, 1961) about the lengthy and painstaking process of restoring the entire Ray oeuvre. It was a monumental task.
"In 1992, the Academy Film Archive in Los Angeles heroically embarked upon the Satyajit Ray Preservation Project, a comprehensive program to restore all of the director's work. Collaborating closely with the Satyajit Ray Society, a group of Ray's former producers, the National Archives of India, the Merchant and Ivory Foundation, Martin Scorsese's Film Foundation and the Satyajit Ray Film and Study Center at the University of California, Santa Cruz, the Academy restorations of Ray's essential films (complemented by restorations from the RDB Corporation of Calcutta) ensure a sublime experience during this rare retrospective." From the TIFF website. Michael Pogorzelski showed us photos of what the films looked like before restoration. The hot, humid climate in India was literally eating the films. They were either disintegrating or covered in mould.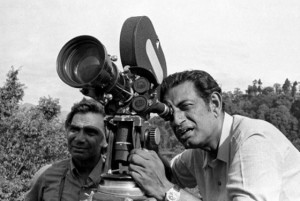 For each film, a separate journey was required, to find the best print available as in some cases, the original negative was lost.  Teen Kanya film poster As well as the Apu Trilogy of course, I particularly loved Teen Kanya, an anthology of three short films commissioned for the centenary of Rabindranath Tagore's birth centenary. Each of the films is based on a Tagore story, and each centres around a woman or girl. The Postmaster, Monihara and Samapti were all good, but I loved Samapti, which features actor Soumitra Chatterjee, who I thought was astoundingly natural and moving in this film and The World of Apu (he plays the grown up Apu).
Monihara is a ghost story, and the film was almost lost, until the Satyajit Ray Preservation Project rescued it. The series is running all summer long, and includes 34 films in total. It is accompanied by another series, about how foreigners see India. Passages to India: India seen by Outsiders, includes a couple of my favourite films: The River and Black Narcissus. Watching films about India and by Indians is a good way to begin to get to know this spectacularly colourful and complex culture. I also recommend reading books, too, and I have several resources on Breathedreamgo to get you started.
Share:

Would you love to see crocodiles up close, in the wild? Or go horseback riding to hidden waterfalls at the base of a volcano? Or sink into a natural hot spring, covered in mineral-rich, warm clay? These are just some of the special moments I had in Costa Rica, where I experienced the best of both worlds:  the comfort of a luxury, guided tour and the excitement of authentic, cultural and wilderness adventures.
1. A boat ride into the wild
After driving for an hour down remote dirt roads, we arrived at the Rio Tempisque in Palo Verde National Park, Costa Rica. My guide, Jose, unloaded a cooler, binoculars and a few other supplies from the SUV and we walked the few steps to a small dock, where a boat was waiting for us. Though the boat held about a dozen seats, we had it to ourselves — Jose, the captain and I. I was immediately struck by how unspoiled the park was, truly a pristine wilderness reserve, with no sign of human habitation.
We pushed off and spent a couple of hours slowly cruising the river, spotting umpteen lazy crocodiles, several godzilla-like iguanas and countless glorious tropical birds such as egrets, storks, kingfishers and herons. I quickly learned why Rio Tempisque has earned the reputation for being one of the best wildlife and bird watching spots in Costa Rica. Everywhere I looked I saw National Geographic worthy scenes of wildlife in action, crocodiles basking on sand banks, birds with massive wing spans swooping across the water. I wore out my trigger finger snapping the best photos of birds and animals I have ever taken. It was the closest I have ever come to feeling like a professional wildlife photographer — a dream realized.
2. Discovering the women's corner of the forest
We could see the mountain emerging from the plains from a far distance. This was before I knew it was a volcano. And before I knew the story of the volcano, Rincon de la Vieja, which means "woman's corner of the forest."
As we got closer, my guide, Jose, told me the myth: Once upon a time, the daughter of a chief fell in love with a man deemed inappropriate by her family. The couple ran away to the forest, but they were chased and found, and the man was killed. The chief's daughter lived the rest of her life in a remote corner of the forest and became a renowned natural healer. Tribal people would go to her for healing, saying, "We are going to the corner of the old lady."
At the base of the volcano, we rode horses into the lush, tranquil "women's corner of the forest." Our guide led us along a narrow path to a waterfall deep in the think forest. The canopy of trees blocked out the light, and the sound of the water filled the air. Water pooled in a dark circle at the base, where I stood in quiet meditation, breathing the fecund, moist air. With my imagination sparked and my senses alive, I felt the life of the forest and experienced one of those transcendent moments that usually only happen in places of natural beauty.
3. Immersion into the good earth
We rode our horses back to the Borinquen Mountain Resort and Spa stables, from where we picked them up, and headed for the spa. The Borinquen Spa is built on a natural hot spring that erupts here thanks to the geothermal activity of the nearby volcano. Literally piping hot mineral-rich water gushes from the ground and fills the air with mist. A natural sauna is built above one such pool, the hot steam hissing up through the wooden floor boards, and a building housing the massage rooms sits above a warm water stream.
After a pore-opening steam in the very hot sauna, I slathered myself with rich, warm clay, scooped from the sides of the stream. Then, I chose the hottest of three man-made pools, each holding a different temperature of water from the hot springs. I sank into the pool to enjoy the heat, the sun, the natural environment and the peace. Before showering off the mud, my guide Jose helped me take some fun photos of my "Swamp Thing" look to post online. It was a fun moment, and relaxing too. And my skin glowed for days.
4. Stopping to smell the coffee
Up we drove, through wildly winding streets, until we reached the elaborate wrought-iron gate of Finca Rosa Blanca, a boutique hotel and organic coffee plantation. I felt immediately that I was entering a different world. The mountain top setting, artfully designed gate and lush greenery, set off with huge tropical flowers, created a unique, whimsical ambience from the first moment.
But then I saw the hotel. Imagine Gaudi designed a hotel in The Shire and Georgia O'Keefe painted it. Bold amorphous white shapes covered in murals of flowers bursting with colour. Each room completely unique, like characters in a play, and featuring all sorts of charming amenities. My room had a massive blue-tiled tub with a sky light above it, a mural behind the bed of sun-drenched fields, and a small balcony overlooking an entire valley and mountain range.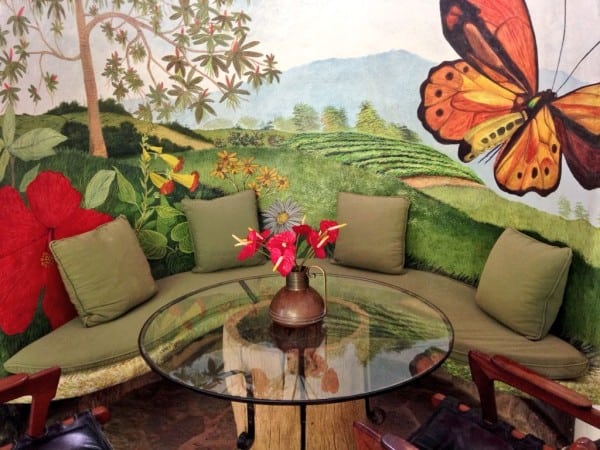 Sitting room at the Finca Rosa Blanca
Dotted throughout the property: a salt water pool with overflowing waterfall; an outdoor restaurant with the same magnificent view; a gourmet dining room ranged around a children's book fireplace; a hot tub secluded in the jungle; and a walking trail through the coffee plantation. Delights around every turn of the meandering pathways, no straight lines here at all.
I soaked up as much atmosphere as I could in the short time I was there, feeling the creativity, the life-giving force of the organic garden and the care owners Teri and Glenn Jampol put into Finca Rosa Blanca. I felt I had found somewhere sacred and magical and I imbibed it fully, until it was time to leave. A wonderful last stop on my Costa Rica adventure.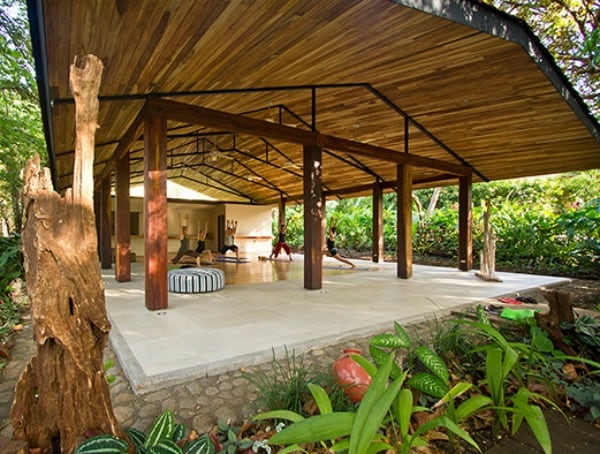 Cala Luna Hotel yoga platform
5. Taking a deep breath with yoga in Costa Rica
While staying in a spacious villa at the lovely Cala Luna Hotel in Tamarindo, I joined the morning yoga class, among the  foliage. Under a simple awning and surrounded by luscious, tropical gardens, it was easy to breathe deeply and enjoy the tranquil setting. Distracted only by bird songs and the sight of butterflies lighting on bright flowers, I found myself feeling very peaceful and at one with the natural environment. The delightful experience continued with a healthy breakfast by the glistening turquoise pool afterwards, and then a long walk on the rugged nearby beach. It was the perfect way to start a perfect day in paradise.
Breathing deeply, and with consciousness, is an essential element of yoga and it really helps when the air you breathe is pure and richly oxygenated. This is no doubt one of the reasons there are many yoga classes and retreats all across Costa Rica. The Cala Luna lists their upcoming yoga retreats here, and you can contact Kensington Tours to find out about private guided yoga experiences in Costa Rica and around the world.
Share:

Right at the edge of Niagara Falls water seems to throw itself over with an abandon of mythical proportions. The sheer force is mesmerizing: a mighty, terrifying spectacle of millions of litres of water dropping 30 stories, landing with a thunderous roar and sending up a churning tumult of foam and mist.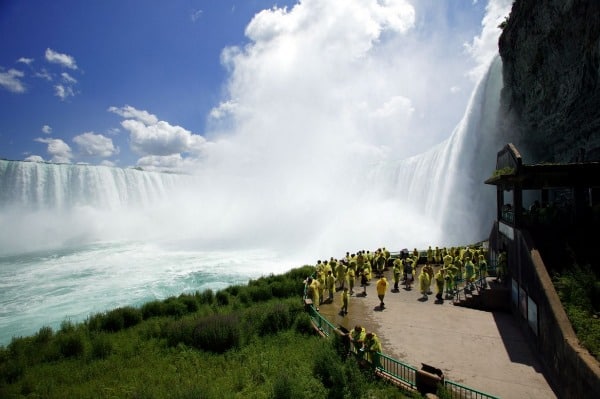 All along the promenade, tourists from every part of the world gazes in hypnotic wonder, getting soaked by the mist when the wind changes, and clicking photos like there's no tomorrow. An old stone parapet, the only barrier between the tourists and a misstep of doom, lines the walkway.
Watching this scene, it occurs to me that the tourists are, in fact, awestruck. Like so many things about Niagara Falls, the cliche just seems to fit.
But is the desire to feel awestruck enough to make Niagara Falls one of the top tourist attractions in the world today? Or, is there something more?
Each year, about 12 million people make the journey to a small town in southern Ontario, a couple of hours drive from Toronto, to visit Niagara Falls. There are 500 waterfalls in the world higher; there are many that are far more picturesque. But there are none that are more powerful. In terms of width and volume of water, Niagara Falls is number one.v
What makes Niagara Falls a World Class Tourist Attraction?
As I sat in Elements on the Falls restaurant, at a table overlooking the Falls, my Niagara Parks guide, Holly, said, "A million bathtubs full of water a minute go over the edge." I stared at the Falls. I was having trouble seeing a million bathtubs of water. But I was having no trouble falling into a hypnotic trance.
The Falls seem to do that to people. And they've been doing it for a long time. Niagara Falls may in fact be one of the world's first tourist attractions. I don't know about the habits of the Aboriginal people who are native to southern Ontario, but early European settlers have been going on excursions to picnic on the banks of the Niagara River where the mighty falls drop 52 metres since the mid-1600s. The first sketch by a European appeared in a book published in 1697.
During the 18th century, tourism became popular, and by mid-century, it was the area's main industry. By the 1900s, going to Niagara Falls was considered the trip of a lifetime. The 20th century saw the era of daredevils — did you know the first person to go over in a barrel was a woman? – and the rise of the honeymoon capital of the world.
Growing up in nearby Burlington, I too went on many excursions to Niagara Falls. Though in my case, "because it's there" might well have been the motive.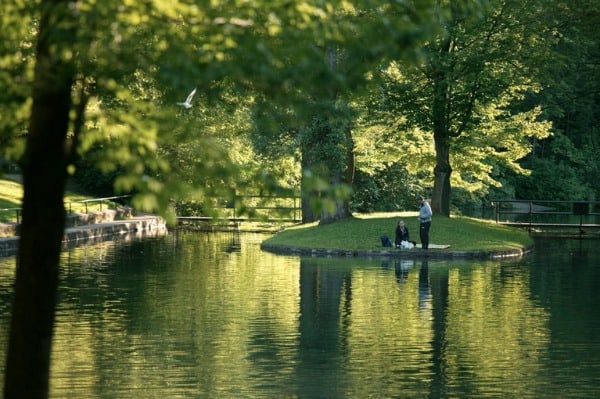 Picnic near the Falls. Image courtesy of The Niagara Parks Commission
There are certainly many things to see and do, when you tire of being mesmerized by moving water. There's the town of Niagara Falls, Ontario — the tourist town that sprang up alongside the 'Horseshoe Falls,' which are the more spectacular Canadian falls.  The town offers a multitude of distractions for visitors who are in a holiday mood from bizarre museums and themed restaurants to a casino and more souvenirs than you can shake a snow globe at.
And the surrounding region, administered by the Niagara Parks Commission, features a multitude of diversions, from the Butterfly Conservatory and the Whirpool Aero Car to about half a dozen gardens and picnic areas and a cluster of heritage sights, including the quaint Laura Secord homestead. Niagara Parks is also responsible for the nightly illumination of the Falls and the summer fireworks series.
Holly was outlining all that Niagara had to offer when the waiter arrived bearing a plate of samosas. Tasty Indian treats were just the thing I needed as I pondered.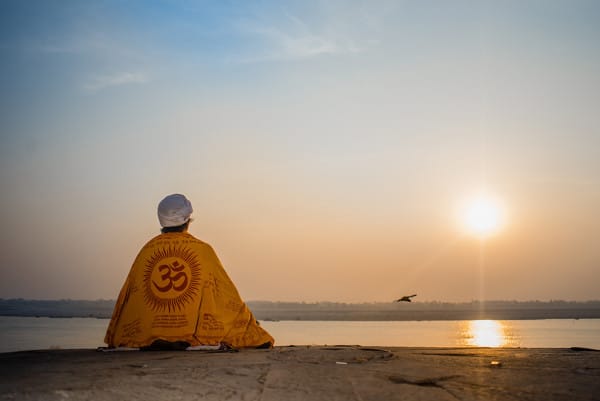 Photo Credit: carbajo.sergio via Compfight cc
Earlier that day, I had explored the Falls and talked to people. I stopped lots of tourists from India, mostly families and couples, and asked them, "What's the draw? What made you want to see Niagara Falls?" Answers ranged from, "we studied it in school" to " because it's so famous."
But one thoughtful couple, with a small boy, from Delhi stopped and chatted with me after we went through the Journey Behind the Falls together. They explained that to Hindus in India, the five elements — earth, air, fire, water and ether — are venerated as the sacred building blocks of life. Water in particular is revered as "the river of life." Perhaps, they suggested, this deep connection with the water element could be part of the draw.
After much pondering, exploring and discussing, I decided that the water is what Niagara Falls is really all about, after all. I think there's a primordial attraction to water, especially water of this magnitude and power.
So that's what I did on my weekend in Niagara Falls. I let my fascination with the thundering onslaught be my guide and discovered the best ways for getting up-close-and-personal with Niagara Falls.
Journey Behind the Falls. Image courtesy of The Niagara Parks Commission
Share:

The temperate rain forests of the West Coast of Canada are magnificent to behold. You could say that forests are our sacred groves. In a young and secular country with a small population and vast expanses of pristine wilderness, our forests are our natural temples.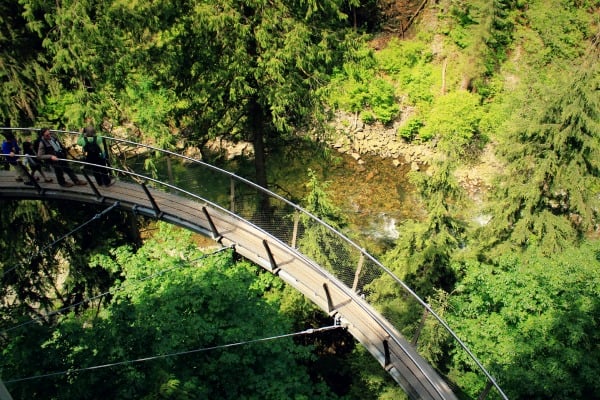 This is where we go to worship the beauty and majesty of nature, and what attracts many of our visitors. But you don't have to be a rugged explorer to appreciate our northern paradise. The West Coast temperate rainforest can be found lovingly preserved at Capilano Suspension Bridge Park.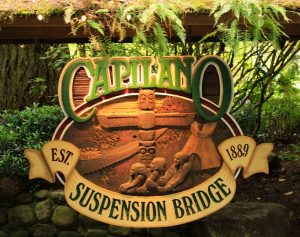 Just a short drive across the famous Lion's Gate Bridge from downtown Vancouver, and located in a well-to-do suburb, 27-acre Capilano Park is truly a delight and well worth the visit. The park is 125 years old, and has a rich and interesting history with interwoven strands of both Native and immigrant cultures, all of which are particularly well displayed.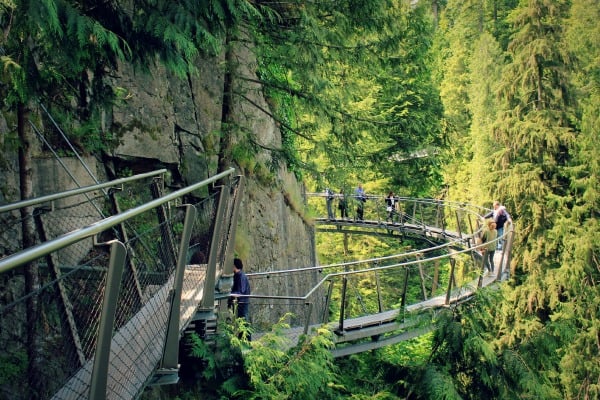 But what I enjoyed most was the atmosphere and the natural environment. For, though Capilano Suspension Bridge Park is a tourist attraction, it is a rare one. It actually preserves the special ambiance of the natural environment, while making it accessible with displays, signage, interactive exhibits and nature and history tours.
As you walk softly on a thick carpet of reddish pine needles you feel enveloped by the lushness, moist air and sun-dappled greenery. Iridescent ferns, bright mosses, and trickling streams of fresh water catch your eye at ground level. Crowds of evergreens — cedar, pine and fir trees — soften the middle distance. And majestic Douglas Firs thrust upwards, ram-rod straight, creating a lofty canopy. Birds twitter among the branches, while squirrels gambol up and down tree trunks and butterflies alight on lush ground-level foliage. There is a quiet sanctity, a reverence in the air that slows the gait and lowers the voices of casual visitors.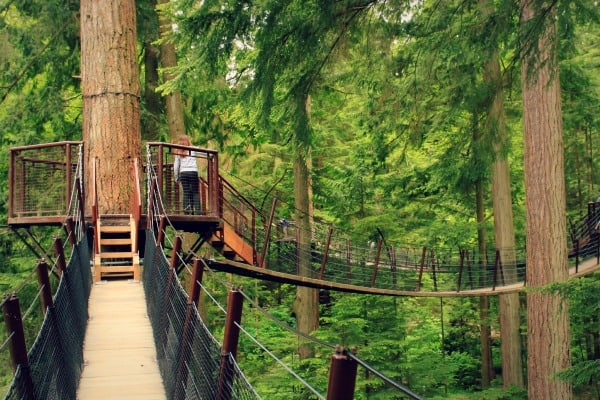 Up in the trees on the Treetops Adventure.
I met a couple from Kerala, both biologists, who were very enthusiastic about the park and about the new and different species they were encountering. Like me, they felt they truly were in the forest — a slice of forest well managed, maintained and easy to explore.
Capilano is an especially interesting destination for families and foreigners, I think, because there are so many opportunities to experience and learn about the natural environment in this part of the world. Elders can stroll the well-maintained paths while kids can climb up to the Treetops adventure and along the Cliffwalk. In fact, I met several families from India at the park, all three generations enjoying different activities. A family from Gurgaon told me they loved the warm people, the nature and greenery of British Columbia, and that "people are not in a rush." Families from Bombay and Gujurat told me they loved the freshness and cleanliness.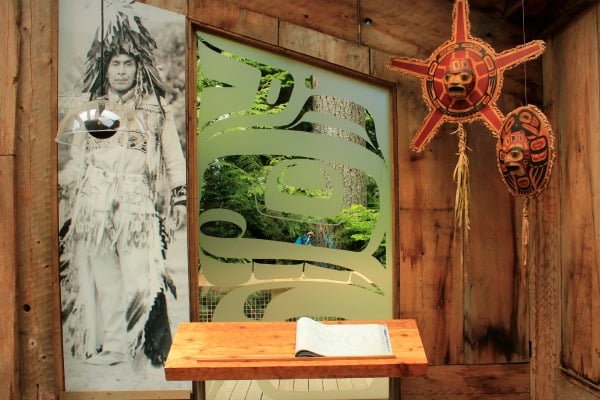 A Chief Joe Capilano exhibit at the Story Centre.
Where the forest is an open book
The first thing I did after reaching Capilano was walk slowly through the Story Centre, a well-produced and interactive pathway designed to teach you about the park's history, in an entertaining manner. I learned that in 1888, a Scottish engineer named George Grant Mackay bought 6,000 acres along the Capilano river and built the first suspension bridge. A sturdier bridge replaced the original, and the site became a tourist attraction in the 1920s and 30s. In 1953, a new owner, Rae Mitchell, built the current bridge, developed the park and aggressively promoted it. His daughter, Nancy Stibbard, spent about 10 years (from 1983-1993) working on the park to bring it up to the high standard you see today.
I also learned there was indeed a connection with the Native people of this area. In fact, the word Capilano is derived from Kia'palano, a Squamish word for "beautiful river." And Chief Joe Matthias Kia'palano was hired in the 1930s to tell stories and teach visitors about the Native way of life.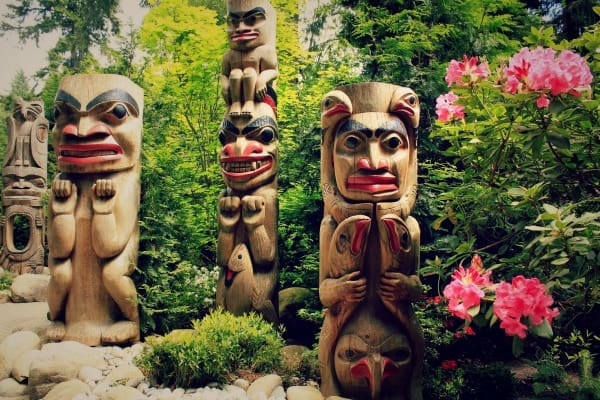 Some of the many Story Poles at Capilano, each with their own story.
More recently, in the 1980s, local Native artist Wayne Carlick was hired to create most of the Story Poles (often referred to as "totem poles") you see around the property. Each is carved from a single cedar log and each tells a story through symbolism and imagery. My guide, Alex, told me the story of his favourite pole — all about how all the light of the world was held within a box until the chief saw that his daughter was beautiful, and released the light. Alex is a history tour guide, an anthropology student who knows a lot about Native art and culture.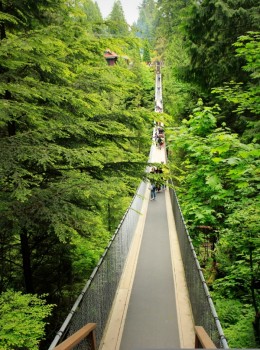 The suspension bridge.
The Story Centre and Story Poles are located on the east side of the Capilano river, along with a cafe, restaurant, the Trading Post store and the Cliffwalk. This is the park's newest and most impressive attraction: a cantilevered walkway clinging to the granite cliff high above Capilano Canyon. It really is a marvel, and like just about everything else at Capilano Suspension Bridge Park, built with sustainability and the environment in mind. Only one tree was cut down to make it and all the materials used are renewable. In fact, it was built off-site to lower the impact on the fragile environment.
The forest is on the other side, and to get there you have to walk across the swaying suspension bridge — 137 metres across and 70 metres above the Capilano River. On the forest side you will find trails, a trout pond, a rainforest exhibit and the Treetops Adventure — seven suspension bridges that take you 30 metres above the forest floor and give you a "squirrel's eye view."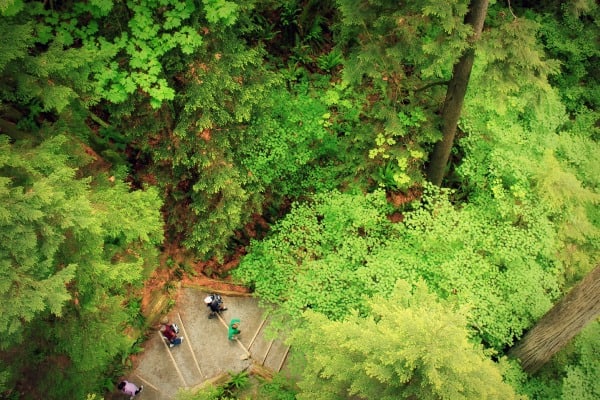 In the rain forest canopy, looking towards the forest floor.
Walking among the canopy in the Treetops Adventure or suspended over the canyon on the Cliffwalk gives you a unique and special perspective on the forest. You can see it bursting with life at every level. Sun shining on the tips of evergreen trees make them look like intricate stained-glass designs. Water in the river far below sparkles and sings as it burbles over the rocks. A large bird with a wide wingspan soars over head, seemingly in slow motion. It is like being in a living temple, and it makes you feel part of the whole, part of the oneness that pervades all.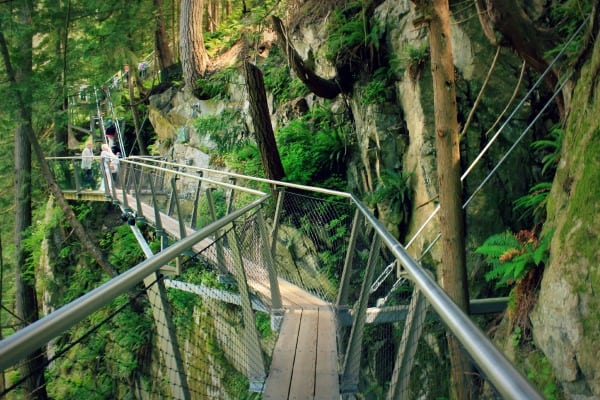 The Cliffwalk is a sustainable and low impact activity.
Fresh, clean and well-maintained
I was truly impressed with this park, which preserves and displays the natural environment using taste and sensitivity. It's spotlessly clean, well-maintained, very comfortable and offers visitors an astounding array of options. If you just want to eat and shop, you will find top-quality, local items for sale. If you want to dive into the forest and soak up the natural environment, who will find long trails winding through the woods. If you want some thrills, the suspension bridge and Cliffwalk will give you an eagle's eye view of the river, way below. If you want to learn about nature, history or culture, you can join the guided tours.
There is something for everyone here. And long after you leave, if you are like me, you will remember how you felt surrounded by the majesty of nature, and by people who actually really care.
Share: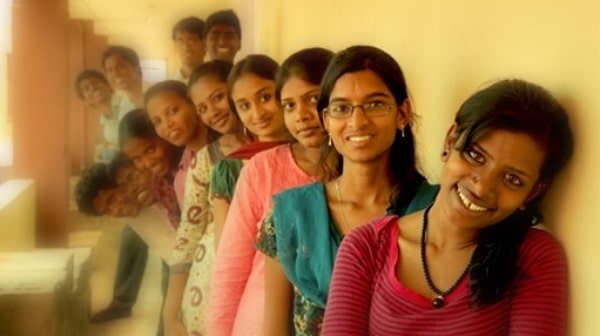 Recently, the two most prominent news items from India in the North American media recently were the sweeping election win for Narendra Modi and the BJP party in the world's biggest democratic election; and the horrific rape and murder of two teenage girls, who were left hanging from a mango tree, in Uttar Pradesh.
Ever since the high profile Delhi Gang Rape in December 2012, the status of women in India has been under the spotlight, not just in India but around the world. I was in India during the paradigm-shifting backlash to the rape of the 23-year old medical student aboard a moving bus in Delhi and it affected me very deeply. It affected everyone very deeply. There were riots and calls for changes to the law and changes to attitudes towards women.
The deeply felt need for change was one of the reasons that the long-time ruling Congress party was ousted, in a landslide victory for Modi and the BJP. People in India are fed up with corruption, inefficiency and oppressive attitudes towards women and people from the Other Backward Class, including Dalits (formerly called Untouchables).
India is caught in the throes of great change, and certainly the new government has a huge number of massive challenges on many fronts, including the economy, national security, poverty relief, environmental degradation. But what the world is watching most closely, in my view, is the way India handles violence against women and women's rights to education, opportunity and safety.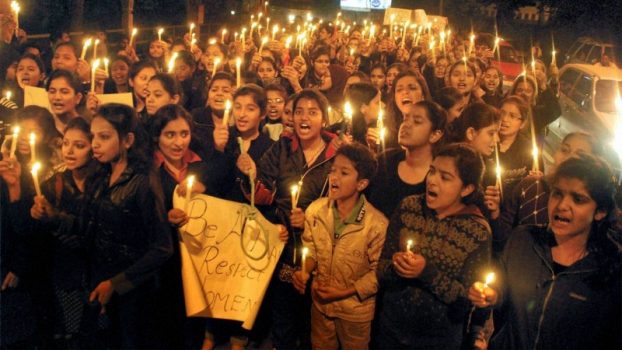 Massive protests erupted in the streets of Delhi.
The protests and the fast-track courts are a step in the right direction. In less than a year, the four surviving adult perpetrators of the Delhi Gang Rape were sentenced to death by hanging; and the villagers in Uttar Pradesh would not leave the scene of the crime, staging a sit-in under the hanging bodies of the girls until officials took action. (Several police officers were fired and one was charged with the crime within a day or two of the murders.) After the Delhi Gang Rape, the city erupted in mass riots that continued for weeks. This is better than can be said for many countries around the world with terrible rates of rape and violence, including western countries.
But of course India has a long way to go, and this story of violence against women in India — whether it's against local women or foreign tourists — has captured the world's media. There are much worse rape statistics for many other countries including Kenya and South Africa, and more female tourists raped in other countries, but for whatever reason, the media is now equating rape and India, and closely watching how the progression of women's rights unfold. I have my own ideas about why the media insists on equating India with rape — ideas rooted in colonialism, racism and a penchant for pointing the finger at other societies rather than facing problems in our own — but that's a whole other story and an article I will one day write. In the meantime, you can read Look westward in disgust for a courageous look at this particular example of media sensationalizing.
So, it's against this backdrop that I recently watched two movies that highlight the challenges facing women and people from disadvantaged backgrounds, lower castes and Dalits. They are both equally well made films, highly watchable and important. And, interestingly, both made by Canadian women. First up, The World Before Her; followed below by a review and interview with the makers of The Backward Class, which recently won the 2014 Hot Docs Audience Favourite Award.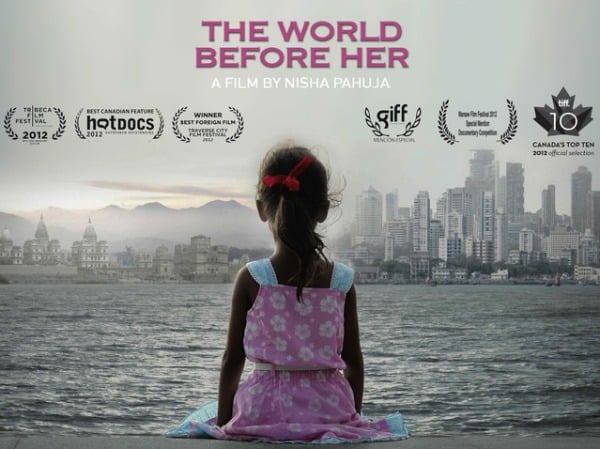 The World Before Her
Canadian filmmaker Nisha Pahuja spent years making the documentary film, The World Before Her. And you can tell. She gained intimate access to the worlds — including the hopes, dreams and emotions — of two very different young women in India. One, Ruhi Singh, 19, is a Jaipur girl intent on winning beauty pageants, and the film follows her to the Miss India Pageant.
And the other, Prachi Trivedi, 24, is a Durga Vahini activist. (The Durga Vahini (DV) is the women's youth wing of the Vishwa Hindu Parishad.) In both cases, Nisha gained behind-the-scenes access to both the pageant and the camp; as well as into the family homes of both girls. The result is a riveting picture of the narrow opportunities for women in India, and the confining dictates of tradition and culture. Though the girls could not be more different, the similarities in their stories are eye-opening.
The film won the Best Canadian Feature Award at Hot Docs in 2012, but that was just the start of the journey for The World Before Her. After showings all over the world, Nisha wanted the film shown in India. Encountering many obstacles, she started an India Campaign, which included a Kickstarter campaign to raise funds to get the film shown in India. (You can donate to the India Campaign here.)
That's when I got involved, I donated to the Kickstarter campaign and was thrilled when they met — and exceeded — their goal. And then I went to a fundraising screening for the film and participated in a Skype interview with Nisha, who is from Toronto, but currently based in Mumbai. Nisha talked about the making of the film and her passion and integrity came through loud and clear. She is a thoughtful, dedicated documentary filmmaker and I became an instant fan.
The film opened in India on June 6, 2014, and my hope is that many people see it, talk about it, write about it, and that it helps affect change. Please, if you are reading this, share the website, Facebook page, Twitter  and YouTube channel for it, and get people watching and talking about it. It's films like this one that will help attitudes in India change and give millions of girls and women a better life.
The World Before Her India trailer
The Backward Class
The other excellent India-related film I saw recently was The Backward Class. It won the Audience Favourite Award at HotDocs 2014, and I was there for the final screening. This film was made by Madeleine Grant, a Canadian filmmaker who travelled in India and volunteered at Shanti Bhavan, a very special school near Bangalore for Dalit children from poor families. Shanti Bhavan is unique in that it provides excellent quality education to a small, select group of children who would otherwise get little to no education at all. The film follows the first 12 students — six boys and six girls — to graduate from Shanti Bhavan as they study for the Indian School Certificate exams, which will enable them to pursue higher education.
It's a story filled with drama and tension as the students face tremendous pressure to succeed from all sides. They are tasked with making history, proving the school is viable and worthwhile and hoping to be able to someday support their families, and raise them up, by eventually landing well paying jobs. While the sub-themes of the film are important social causes including the deeply entrenched caste system, poverty and a complete lack of opportunities for underprivileged children, the reason this film succeeds is the against-all-odds story and the disarming charm of the students themselves.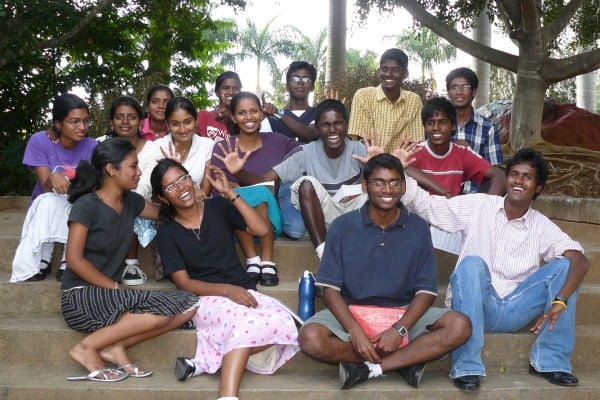 The brave, hard working students in The Backward Class.
The Backward Class follows several of the students in particular, including charismatic Mala and hard-working Vijay. Both were actually in Toronto for the film's premiere at Hot Docs, and I sat down with Madeleine and Vijay after a screening and talked to them about the making of the film, and how the process was both a labour of love and an organic unfolding. Madeleine and a small crew shot for several months in India over the course of several years at Shanti Bhavan, where she had previously volunteered as a teacher. "I didn't know how it would turn out," Madeleine said. "It was in the editing process that the story came into focus."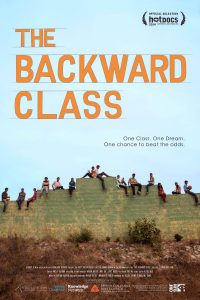 The film reveals the struggles the students face, and even takes us into their very modest family homes. And it also shows the pressures the dedicated and passionate school founders and teachers are under to raise funds for the school and to deliver on their promise of a better life for the students.
You really get the sense they are all in this together, and by the end of the film, you are cheering them along, caught up in the drama of their fight to succeed. In fact, this is one of the reasons it one the Audience Favourite prize, no doubt. The majority of the students made First Class, went on to top-quality universities and are now working at global firms. Vijay is at Goldman Sachs in Bangalore, Mala is at Ernst and Young.
Madeleine told me she really enjoyed travelling around India, and loved living and volunteering at Shanti Bhavan. Like me, she is aware that so many of the international stories about India are negative, and she wanted to make a positive and hopeful film. She more than succeeded.
This warm-hearted and inspiring film shows what can be done, how even age-old systems can change, and what happens when you believe in someone and give them a chance. It's a very inspiring film and I totally recommend watching it if you get the chance. If you want to  support Shanti Bhavan, check out their website for volunteer or other support opportunities at Shanti Bhavan Childen's Project.
Share:


I SEE THE CN TOWER virtually every day, as it rises above my hometown, Toronto, like a giant, concrete tree trunk dominating a forest of glass shrubs. But it's been many years since I felt any excitement about it, and many years since I'd been up to the top. You get used to things, even if one of those things is — or was — the world's tallest structure. The CN Tower (553.3 metres) held the record for world's tallest freestanding structure for 32 years, from when it was built in 1976 until it was eclipsed by the Burj Khalifa (829.8 metres) in Dubai in 2007.
And though it has lost its crown as tallest, still, more than 1.5 million people visit the CN Tower every year. There must be something special about it, I reasoned, reminding myself that many visitors to Toronto didn't grow up in the shadow of a super structure. So I traveled the short distance by streetcar to spend an afternoon and evening there with an open mind and a spirit of adventure. And I discovered that, yes, there are three very good reasons to visit the CN Tower — aside from it's iconic status of course.

When I was there, I chatted with several visitors from India, including a family of four from Malabar Hill, Mumbai. I asked them why they were visiting the CN Tower and they told me that, after Niagara Falls, it's the place they most wanted to see in Ontario. "We don't have any tall towers in India," daughter Sangita, 14, said. Her mother added, "You just have to see it."
So here are my reasons why you just have to see it and below that are some fun facts.
Reason for visiting the CN Tower #3: To be on top of the world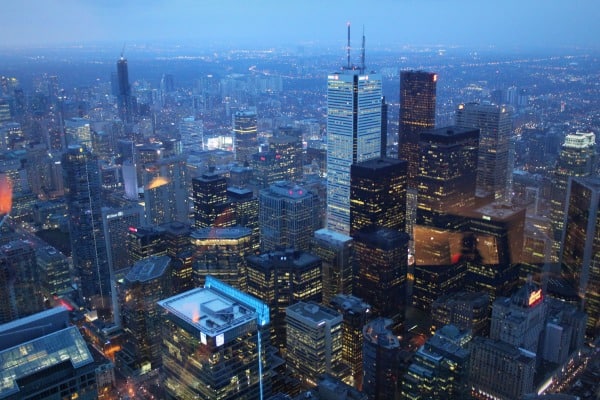 View of the Toronto skyscrapers from the CN Tower.
Simply going up to one of the viewing decks is well worth the price of admission. There are other things to do at the CN Tower, but let's face it, riding a glass-enclosed elevator 346 metres up to the LookOut, or 447 metres to the SkyPod, is THE thing to do. It's exciting to be that far up, way above all of Toronto's skyscrapers.
Both the viewing platforms give you the opportunity for a 360 view of Toronto and Lake Ontario. From the higher SkyPod, you can see up to 160 kilometres on a clear day — all the way to Niagara Falls. Near the base is the Billy Bishop Toronto City Airport, on the Toronto Island. My favourite thing to do was watch the planes take off and land — from way above them.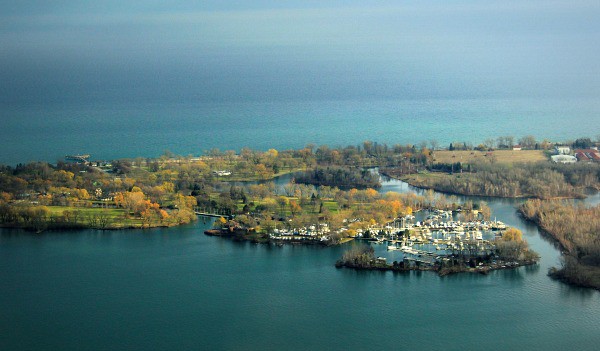 The Toronto Island at dusk, as seen from the CN Tower.
I also had fun pushing my fear of heights to the limit by walking out on to the Outdoor SkyTerrace (one level below the LookOut) and standing on the Glass Floor. I didn't hesitate to go outside, but the Glass Floor was a bit much, I admit it. Of course, there's really no reason to be afraid, it's absolutely safe — apparently it can withstand the weight of 14 hippos — but looking straight down 342 metres is a bit … unusual … to say the least.
Originally, the CN Tower was intended to be a just a transmission tower, but the designers and builders started to dream big. They added elevators, viewing platforms, restaurants, shops, activities — and made it into one of Canada's top tourist attractions. You can read all about this history, and the building of it, here.
Reason for visiting the CN Tower #2: To walk on the edge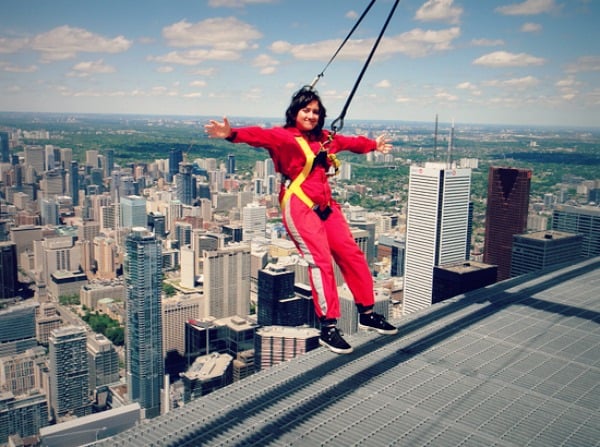 Shivya Nath doing The EdgeWalk high above Toronto.
The newest attraction at the CN Tower is also, by far, the most spectacular. The EdgeWalk will test your nerves like few other tourist activities on the planet. It's the highest outdoor walk in the world at 356 metres and was even given a Guinness World Book of Records award.
Luckily for me, the day I was there, the weather wasn't cooperating but here's what Shivya Nath said about stepping out onto the very narrow platform:
"I can feel the breeze caressing my face and blowing through my hair as I lean my body back, 1168 feet above Toronto! My mind says I should trust my harness and let go off the rope I'm clutching, but my heart may be thinking otherwise in its rapid beats. Let go of those hands, our walker calls out. And slowly, I do. Only the front part of my feet are in contact with solid ground now, the rest of me floats in the air. I close my eyes for just a second, and feel like I'm flying far far above the earth."
If you want to know how people feel about being strapped into a harness and walking on the edge of a narrow platform way above the Toronto skyline, check out the 200 or so reviews on TripAdvisor. Almost every single reviewer writes, "exhilarating," or "awesome!" or "best buzz ever." So, if you've got the nerve, I would say this is a must-do on your visit to the CN Tower during the months it's open (approximately April to October, weather permitting). One ticket price gives you a 1.5 hour experience that includes training, a 30-minute EdgeWalk, a video clip, plus access to all the other CN Tower attractions.
You can find out everything you need to know about the EdgeWalk here, on the website, including who's eligible to do it and what you need to know.
Reason for visiting the CN Tower #1: Food with  view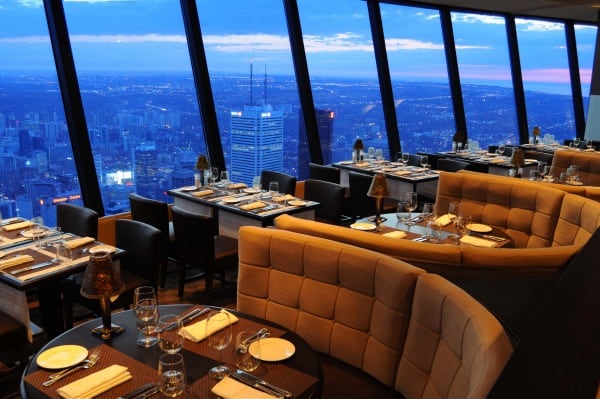 The luxurious 360 Restaurant at the CN Tower.
The view from the SkyPod is superb and the EdgeWalk is a truly thrilling activity, but eating dinner at the 360 Restaurant with friends or family is my top reason to visit the CN Tower. I met my friends Parmjit Parmar and Priya Chopra at the 360 Restaurant for dinner just before dusk. We settled into our window seats and immediately felt the magic. The view of the city, 351 metres below, the attentive servers, the fresh, tasty food, and of course our lively conversation combined to make for a very special evening.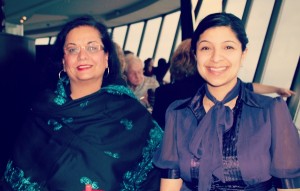 Parmjit Parmar and Priya Chopra at the 360 Restaurant.
The 360 Restaurant revolves, which adds to the fun and the drama of the unfolding scenery. It takes about 72 minutes to make a complete rotation and we stayed for three, watching the sky darken and the city become a mass of twinkling lights.
My friend Parm is a freelance travel and food writer and Priya is a freelance journalist and together, we tried a number of the signature dishes on the menu. My favourites dish was a radicchio salad with pear, figs and blue cheese. But I also loved my dessert, Maple Three Ways, which offered up small portions of maple cheesecake, maple crème brûlée and maple-pecan tart with ice cream. Yummm, Canadian-themed and so delicious.
The prix fixe menus gives diners a wide variety of choices, including seafood options and a complete vegetarian feast – an abundance of inspired and truly delicious choices for vegetarians. Regional Canadian ingredients and market fresh cuisine is the specialty of chef Peter George, who runs a "scratch kitchen" (he makes everything from scratch, including his own broth). Apparently, fishermen call him literally from their boats to find out what he wants!

As we were happily enjoying our dinner-with-a-view, I asked Parm and Priya if they thought the CN Tower and 360 Restaurant would appeal to visitors from India. "Oh yes, Indians would love dinner here," Parm said. "It's a very special-occasion kind of place. They would love the luxury atmosphere and sense of a celebratory evening in a really special restaurant."
I had to agree. The 360 Restaurant is one of Toronto's top fine dining options. This place has it all. Elegant dining room decor, first-class food, professional service and the best ambience in the city. The revolving view, plus all the other amenities, makes dining at the 360 Restaurant a truly special event. Celebrities and dignitaries regularly dine here, and locals come to celebrate personal occasions and holidays like New Year's Eve and Valentine's Day.
If you go out for one special dinner in Toronto, my advice is to make a reservation, get dressed up and go to the 360 Restaurant. Your dinner includes access to the LookOut, complimentary coat check and use of a specially designated elevator to whisk you up.
CN Tower fun facts
At 553.33 m (1,815ft, 5 inches) the CN Tower held the record as the tallest building, tower, freestanding structure for over three decades. It remains the tallest in the Western Hemisphere.
In 1995 the CN Tower was designated a Wonder of the Modern World by the American Society of Civil Engineers.
Lightning strikes the CN Tower an average of 75 times per year. Long copper strips, running down the CN Tower to massive grounding rods buried below ground level ensure that each lightning strike safely finds its way to ground.
The upper reaches of the CN Tower are built to withstand turbulent winds with a wind resistance factor of up to 418 km/h.
The CN Tower was built with the strength and flexibility to withstand an earthquake of 8.5 on the Richter scale.
Guinness World Records over the years include:
World's Tallest Self Supporting Building and Free-standing Structure on land, excluding guyed masts (1974-2009)
World's Tallest Tower (1974-2010)
World's Highest Wine Cellar (2006-present)
World's Highest Outdoor Walk on a Building (2011 – present)