About Mariellen Ward
Mariellen Ward is a freelance travel writer whose personal style is informed by a background in journalism, a dedication to yoga and a passion for sharing the beauty of India's culture and wisdom with the world. She has traveled for about a year altogether in India and publishes an India travel blog, Breathedreamgo.com. Mariellen also writes for magazines and newspapers.
Latest Posts by Mariellen Ward
Share: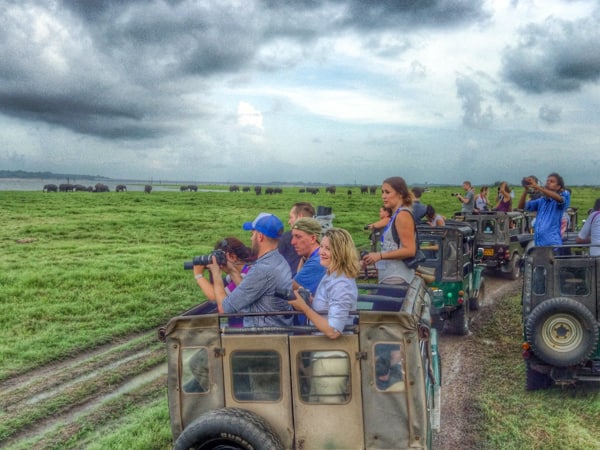 SERENDIP WAS THE name of ancient Sri Lanka — before Sri Lanka, and before Ceylon. And yes, it is the root of serendipity, one of my favourite words. Here's the full story from an edited Britannica entry:
Serendip, name for the island of Sri Lanka (Ceylon). Arabic in origin, the name was recorded in use as early as 361 AD and for a time gained considerable currency. It is best known to speakers of English through the word "serendipity," which was invented in the 18th century by Horace Walpole. Walpole was inspired by a Persian fairy tale, "The Three Princes of Serendip," whose heroes often made discoveries by chance. Arab traders originally borrowed the name Serendip from Indian traders — it is in fact a corruption of the Sanskrit compound Siṃhaladvīpa ("Dwelling-Place-of-Lions Island").
Over the past nine years of travelling extensively in India, I have wanted to visit Sri Lanka. But the opportunity never seemed to arise … until my application was accepted to join 40+ other professional travel bloggers at the Travel Bloggers Conference Asia (TBCAsia).
TBCAsia was the first professional travel bloggers conference in Asia and it was held in Sri Lanka in mid-November 2014.   So here are some of my "discoveries made by chance" while I was in Serendip, er, I mean Sri Lanka!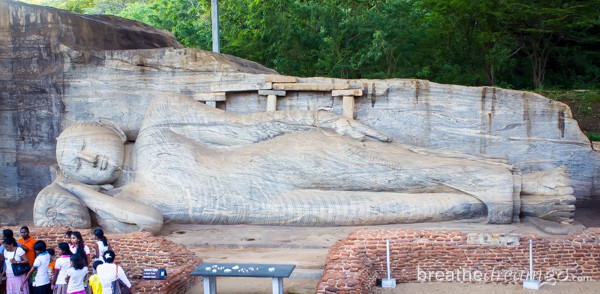 Sleeping Buddha evokes loving kindness, at Polonnurawa, Sri Lanka
Buddha's timeless serenity
With some of the other travel bloggers at TBCAsia, I cycled through the ancient city of Polonnurawa. Polonnurawa was the royal city of the Polonnaru Kingdom, largely built in the 12th century and abandoned about a century later. The site was declared a UNESCO World Heritage site in 1982 and is one of the leading historical attractions in Sri Lanka.
Throughout the extensive site, I was astounded by the beauty of the Buddhist carvings. In one dark temple, I felt like I was entering a portal to antiquity. Several large Buddhist statues seemed to shimmer and glow in the dim light, and I was told they were each made of a different stone — so that each glistened differently. The effect was uncanny, and when I walked outside into the bright sunshine and saw the clear blue sky, I felt like I had returned from somewhere.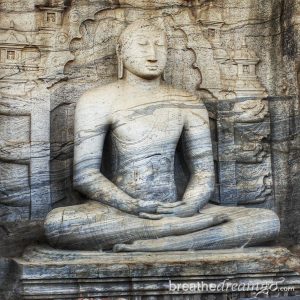 The best experience of Polonnurawa was yet to come. Near the end of the site, we parked our bikes and walked to into a parkland setting to see three massive, beautiful and serene Buddha statues on display. I read that just seeing them evokes loving kindness in the viewer, the mute statues doing the work of sage teachers and meditation practise.
Perhaps it was their influence that made me connect with a large family of Sri Lankans who were seated on a big rock, facing the sublime statues. I smiled at them, they smiled at me, and the next thing you know, I was seated among them, linking arms and getting our photos taken together. We laughed together and enjoyed the lovely spot, lit by the slanting rays of a warm afternoon sun.
These are the moments that make being a tourist worthwhile — when you reach across language and cultural barriers to just BE together in a common humanity. We were all devotees there together.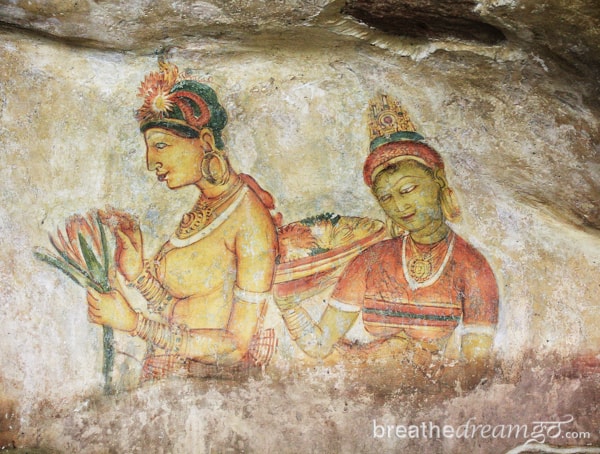 The timeless beauty of the 1,500 year old "damsel" frescoes at Sigiriya, Sri Lanka
Sigirya's divine damsels
You can see the ancient Sigiriya rock citadel from a distance, in every direction, as it pokes up above the lush tropical forests and gently rolling hills of central Sri Lanka. Sigiriya means Lion's Rock, and the whole thing is one big rock, outfitted with huge lion's paws (the head is long gone) sitting on a massively big rock.
We arrived early to climb the 1,000 steps to the top and I was worried I wouldn't make it. I knew it would be a hot and sweaty climb, there would be narrow stairs and one worrying place where bees sometimes swarm without warning. Then I saw elderly women, middle aged monks, tourists from Japan wearing completely inappropriate shoes: if they could do it, so could I.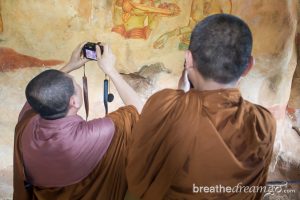 Monks snapping photos of the delicate damsels
And of course I did make it to the top, though it was not the top that was tops for me — it was the beautiful and delicate "damsels" frescoes. These lovely ladies, more than 1,500 years old, adorn a wall about halfway up. And while there are only a fraction left of the original number (about 21 of 500), they make up for it with their grace and beauty. It's delightful to see the topless women, adorned with ropes of jewels, cavorting on the rock face. And delightful to see the chaste monks snapping photos right along with the rest of us.
Along with beauty and grace, these frescoes have an air of mystery as there is contention around who they are: some say they were courtesans of King Kassapa (who built Sigirya as a palace fortress in the 5th century), others claim they are representations of the goddess Tara and still others say they are celestial nymphs.
Sigiriya is considered to be one of Sri Lanka's leading historical sites, and was declared a UNESCO World Heritage site in 1982. According to the UNESCO site, "The Maidens of the Clouds are comparable to the most beautiful creations of Ajanta."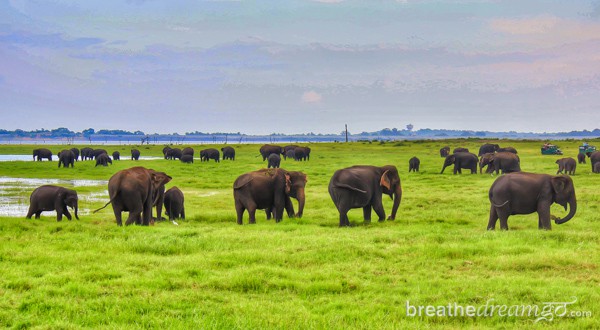 Elephants' Abbey Road in Kaudulla National Park, Sri Lanka
Elephants free and wild
On the first day of the TBCAsia Sri Lankan tour, I dutifully climbed into a jeep along with about five other travel bloggers, and set off in a convoy of jeeps for Kaudulla National Park in central Sri Lanka. I had no idea what to expect as we rode along a dirt track into a bright green field surrounding a pale blue lake.
Suddenly, I saw them in the distance, dark smudges on the landscape, moving rhythmically together, and I was mesmerized. I scanned the horizon and did a quick count, realizing that we were heading right into a herd of 200 or more Asian elephants.
I've never had an experience like this before and I was exhilarated to see so many unchained and free elephants. Usually in Asia you see elephants in chains, ridden by mahouts, and used for work and tourism. But these wild elephants were wandering freely in small groups. After my initial excitement died down and I got to work, trying to take photos of them from a moving jeep while all the other travel bloggers were also jostling their cameras, I witnessed a bull elephant charge a jeep, let out a bellowing howl, and stop just in the knick of time.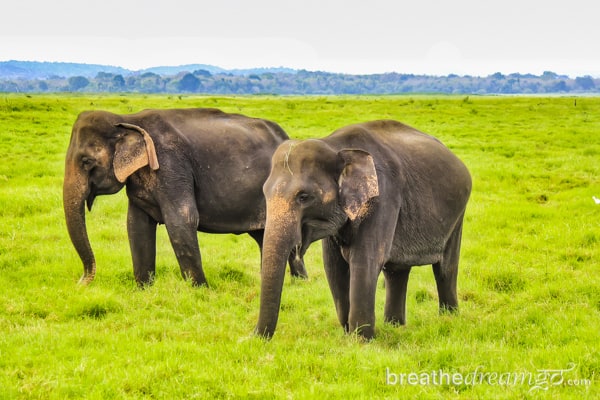 Elephants running free in Kaudulla National Park, Sri Lanka
We soon realized the jeep was between the bull and a small family group. In other words, we were in the way. My colleague Michael Turtle wrote a comprehensive post about this experience and the status of elephants in Sri Lanka Sri Lanka's elephant gathering — which also has stunning photos.
Though I loved seeing the elephants wandering free and wild, I felt conflicted about being part of a dozen or more jeeps trespassing on their territory. Seeing such a magnificent sight does indeed inspire wonder and motivate the visitor to care about their welfare, but at what cost? What do you think? Is this sustainable and responsible tourism? Or can we be doing something better to protect wild animals in their natural habitat?
I was very impressed by this entire experience and by my travels in Sri Lanka. It was a great first trip, and I hope the first of many.  Sri Lanka would be a great introduction to South Asia as it is more relaxed, tropical, quieter and cleaner than India, more accessible than Bhutan, and has more tourism infrastructure than Nepal.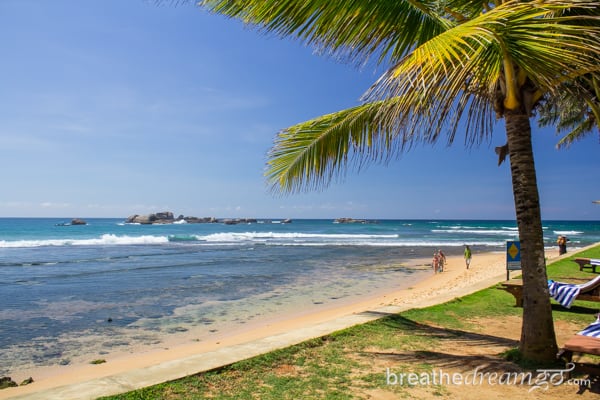 The gorgeous beach at Chaaya Tranz Hikkaduwa.
Top photo — Elephant safari photo courtesy Derek Freal of HoliDaze
Share: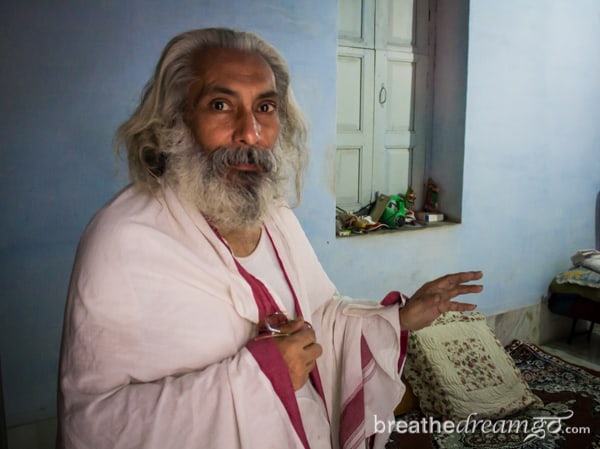 The early morning taxi to Nizamuddin train station, leaving behind friends, leaving behind Delhi and festival time, leaving behind Ajay. Last night we walked in the park at dusk with the sounds of Ravanna burning, and bursting in fireworks, all around us. Trees filled with unseen birds making a roof of noise. The Shiv Mandir in the park delicately lit, only Panditji inside, Ajay and he finally meeting after so many years.
THE MIRABAI EXPEDITION is a cultural journey to follow in the footsteps of Mirabai, a 16th century poet and Krishna devotee. I undertook the expedition in October 2014 by travelling to all of the primary sites associated with her in India.
---
I arrived at the station and was greeted by porter who demands way too much money, and I don't have very much fight in me. He seems nicer than most, less hard, so I capitulate at an exorbitant 150 Rs, about two or three times what I should be paying. But he is going to wait with me for the train, find my car, my seat and put my bags on the rack. It's very convenient and frankly worth the money.
We stand on the dirty, crowded platform and I watch children garbage pickers with bags slung over their backs, like small Santas, walking the tracks. They are all between 10 to 15 years old, very small, wearing torn and filthy clothes. A family sits on the ground in front of me, and the baby pees, leaving a puddle. The tiny mother, in a shiny bright yellow sari covered in glitter, lets him sit naked on the platform while she changes him.
I peel an orange and hand my porter a slice, which he accepts with a smile. He's sitting on a stack of big sacks filled with something like rice.
On October 2, India's Prime Minister Narendra Modi launched a nation-wide Clean India campaign on the birth anniversary of Mahatma Gandhi. The campaign makes me notice how dirty India is like never before. There is garbage everywhere, wrappers, bottles, plastic bags, and open sewers, animal shit, red streaks of pan spittle. India is impoverished, but does it need to be so dirty? Can people change? Just as I am wondering this, a middle class man drops a wrapper on the platform about a metre from a dustbin.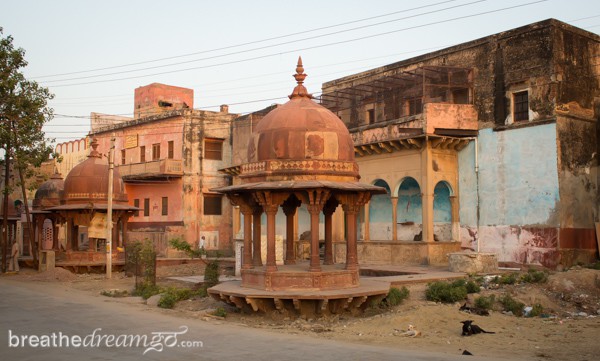 The Parikrama Road in Vrindavan.
The train arrives on time and I find my seat, beside a large and assertive couple. I sense they would like to spread out and take all three seats and I feel I have to fight for my space as first her elbow, and then his (after they change seats) appears in front of my face.
I try to read my book about Mirabai but it's hard to concentrate on the flowery language, full of descriptions about her devotional fervour. I don't feel this kind of spiritual intensity so it's hard to imagine or grasp. Is belief an act of faith? Is it a feeling, like falling in love?
As I set out on my Mirabai Expedition to trace her route, her journeys and try and get a sense of her life, I wonder how similar we are, and how different. I was born into a kind of freedom she could never have imagined as a woman in traditional India. But I cannot imagine her religious fervour, and her courage in striking out on her own to travel the dusty roads of India.
The train ride from Delhi to Mathura Junction is only two hours, and it arrives pretty much on time. I'm hungry as I have only munched on some fruit, an Indian milk drink and a cup of railway chai — which comes in a small cup, with milk, sugar and tea bag for 7 Rs. I forgot to pack my thermos.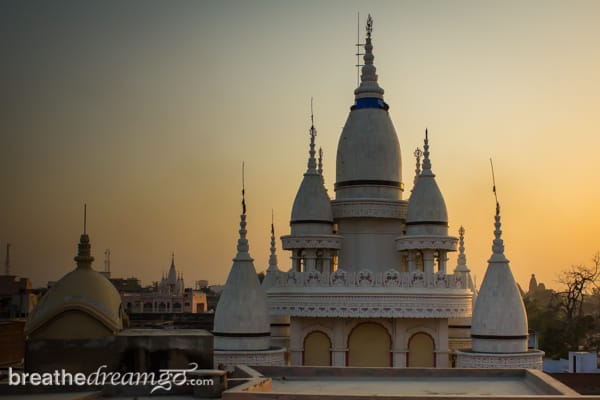 Rooftops of Vrindavan, a sacred city filled with temples devoted to Krishna.
The Taj Express stops in Mathura only for three minutes, and a large group has piled up their suitcases in the door. They notice my concern and make way for me to move to the next door. After I get down, I notice someone has been calling me on the phone, and before I can answer, a smiling young man says my name — actually a word that sounds "enough" like Mariellen for me to know it's Pupendra, the person I am supposed to meet. He takes my bags and we walk a long distance down the train platform to the car park, where masses of green-and-yellow autorickshaws are waiting.
I notice they are larger than their Delhi counterparts, and many are decorated with leather applique of large flowers. I wonder if this is a good sign. Pupendra tells me Vrindavan is "a special place, best place in India, most sacred city." Then he hands me over to his friend, whose name sounds like Sagar, and whose auto is perhaps somewhat less "smart" than the others. Sagar is going to take me to Gopinath Bhavan in Vrindavan, where I'm staying.
It's a long, hot, dusty bumpy ride — first out of Mathura and then through a stretch of country side and into Vrindavan, which does seem a bit different than your typical Indian town. We drive down narrow cobbled streets, and everything is dry and dusty and a kind of pale ochre colour that reminds me of Italian Renaissance paintings.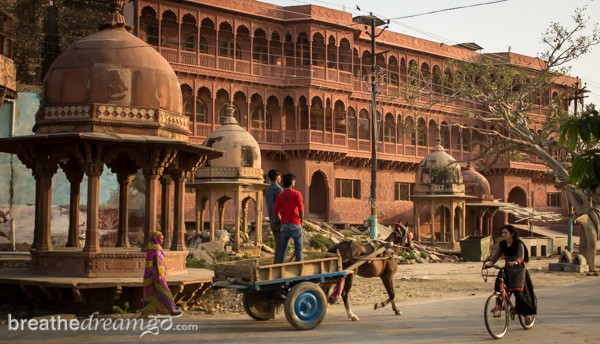 The facade of Gopinath Bhavan, ladies ashram in Vrindavan.
Finally, the river Yamuna appears on our left and we drive along a narrow road with a line of intricately carved temples and ashrams on the right, facing the water. Some of the buildings are quite lovely, with cupolas and spires and carved facades. We stop at one of the loveliest, a large three-story building made of deep rose sandstone and carved in traditional haveli style. This is Gopinath Bhavan, a ladies ashram in Vrindavan that looks old but is actually quite a new building. Out front, cows are gathering to drink, I see monkeys above in the single tree, and groups of devotees walking, barefoot.
Inside, the courtyard is cooler and rosy-hued, with some plants and flowers hanging down from the balconies. I am met by Tungavidya Dasi, who I only know from Facebook, and she signs me in and shows me my room. I'm very happy to meet her in person, she is a warm and sweet-faced Dutch woman with white hair in a pale sari.
I'm on the top floor with a view of the river and the Parikrama Road — the road the devotees walk along as they do their circle of the town. The room is really a small apartment with some Indian furniture and an Indian-style kitchen and bathroom. It has a screened-in balcony — the whole place is monkey proof — and reasonably comfortable, but it needs a good cleaning. Tungavidya kindly arranges the cleaning and supplies me with sheets and a towel while I go out to find the ISKCON Temple and eat lunch at Govinda's restaurant.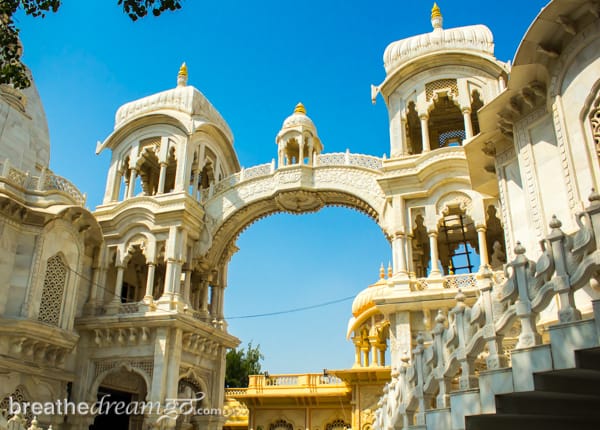 The ISKCON Temple in Vrindavan.
At Govinda's, I eat a big vegetarian lunch, in the company of a Russian woman who looks, with her round face and head scarf, like a stereotypical Russian peasant woman. She tells me she's been coming here for 25 years, and she explains the food I am eating is not Indian, it's Vedic. The waiter has fixed up to bring me a thali, though it's not on the menu. I get a little of everything, and it's very good, followed by their signature herbal tea, a rich and satisfying drink.
Though having seen only a bit of the town and not really experiencing it — especially not the spiritual side of Vrindavan — I am wondering what the attraction is. The auto drivers, the usual touts, and others who work in these kinds of tourist and pilgrim centres all seem alike, and Vrindavan is no exception. They try and get as much money as they can from you, they happily give you misinformation and they seem, for the most part, apathetic.
After failing to buy an umbrella and finding only empty ATMs, I go back to the ashram with almonds, water and Limca, very happy to see my room cleaned, and I promptly fall sound asleep. Which seems like the sensible thing to do between 2 and 4 pm, when the sun is baking hot.
At 5 pm, the scene outside my window seems milder, the long slanting rays adding a picturesque quality to the Indian version of Canterbury Tales. It's time for me to find the Mirabai Temple, so I grab my camera bag, make sure I am monkey proof and headed out into the melee.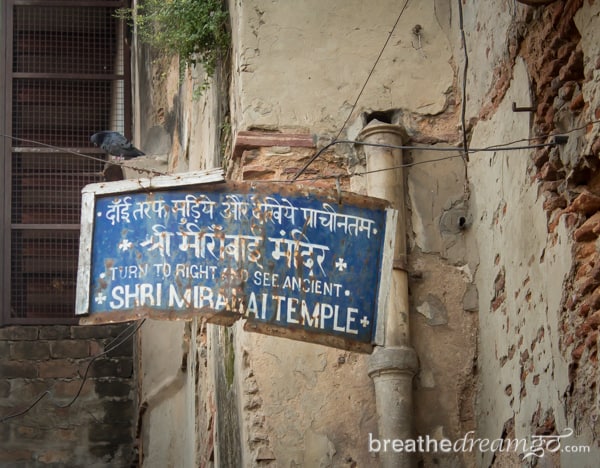 The half-hidden sign for the Mirabai Temple in Vrindavan.
Walking in the heat and dust, avoiding the cows, cow shit, pilgrims, monkeys, bicycles and autos, trying to keep ahead of the touts and finding people who could point me in the direction of the Mirabai Temple is quite trying. The narrow river and few dusty trees supply very little respite.
After walking for about 15 minutes and asking many people, I find myself in a narrow, ancient street. A sewage drain runs down the side of the cobbled lane, brick shows through the crumbling ochre-tinged plaster, scalloped door frames surround heavy, wood doors, and again I am reminded of medieval Europe — except with monkeys and eastern architecture. Finally, a small sign, and a door to an even narrower lane. Another false start, another tribe of menacing monkeys, and I find it.
Through a rusty gate and I'm in a small, cool, serene, blue-and-white courtyard. Charming, fresh and modest, the Mirabai Temple is more like a home. A small group of Indian pilgrims sit in front of a grate where a white bearded man is talking to them. They are all very engaged. Unfortunately, it's Hindi and I understand only a fraction. However, the bearded man speaks English and agrees to repeat what he's said.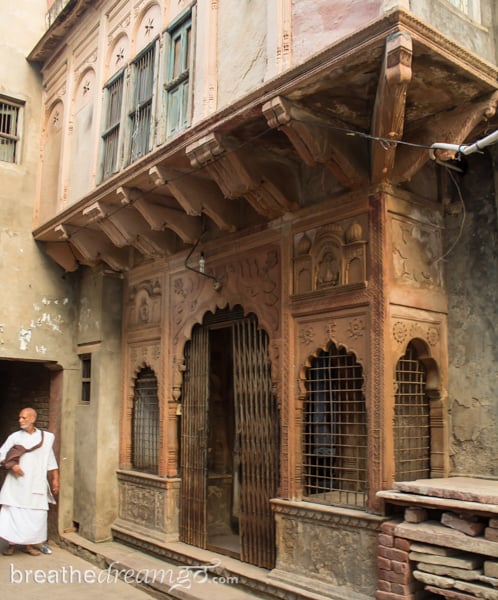 The Mirabai Temple in Vrindavan is not well-marked, not easy to find.
He explains that his ancestor built this home for Mirabai, five centuries ago, and she lived here in this spot for 15 years, before going to Dwarka. I am absolutely delighted to find such a charming spot and such an articulate, open and fascinating man. I can't believe that I have been so lucky on the very first day of my pilgrimage expedition.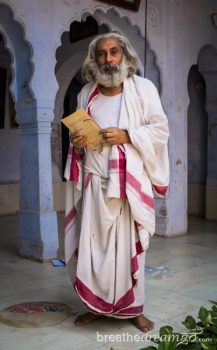 Praduman Pratapsingh of the Mirabai Temple in Vrindavan.
I take photos and a short video and realize I have not brought a notebook. I tell the man I will be back tomorrow to interview him and I leave at sunset. As I walk back along the busy road, I take a detour along the river bank, avoiding the monkeys but putting myself in the way of the river boat touts. It's worth it to take some stunning photos of the huge orange ball of the sun sinking into the river, and the colourful small boats gliding along the surface. A boy rides a huge black water buffalo across the river and as I take a video they suddenly emerge right in my path and I run.
Everywhere, there are animals and people in this dry landscape. A manic, naked holy man suddenly appears and runs down to the boats. He is wearing only a Brahmin's thread. He doesn't surprise me at all.
I pick my way carefully back to the ashram and dive into the quiet and safety of my room — which luckily, and surprisingly, has an A/C unit — to think about my day.
I realize that I desperately need a sanctuary to be in India, I can only expose myself to the heat and the crowds and the challenges and the noise for so long. It's hard on my nerves, and it's also emotionally draining.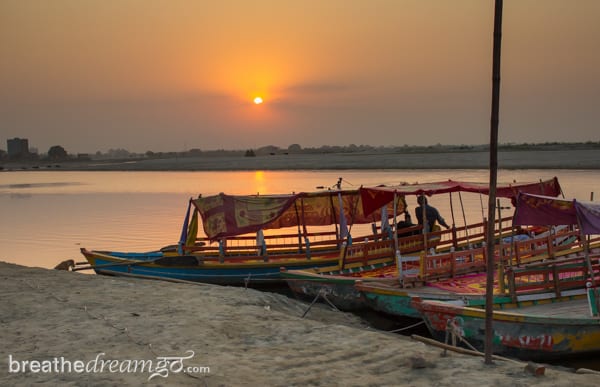 Sunset on the Yamuna River in Vrindavan.
During lunch at Govinda's, I listened to the Russian woman talk about Vrindavan, and the mythical lore of this place — where Krishna and his gopis cavorted on the river bank — with bemusement. The classical image of  pastoral, lush and harmonious Vrindavan are so far removed from the dirty, polluted, over-crowded, dry, monkey-menaced, scorched-earth reality of today that it's shocking.
I read that Mirabai was also shocked when she arrived in Vrindavan in the mid 17-th century because she didn't expect any buildings. She too was expecting a pastoral paradise. Is this what faith is all about? That we hold up an ideal to hang onto in the face of the disappointments of reality?
Anyway, I'm here, and I'm lonely, and I don't love Vrindavan, I don't feel I have found a sanctuary, and I'm not sure what I'm doing here. Except dedicating myself to the discipline of the pilgrimage, to stick with it, and go through whatever ups-and-downs, emotional roller coasters and life lessons are in store for me. Perhaps this is my first glimpse into what it may have been like for Mirabai — to leave the comfort and safety of home to follow her heart and the call of her soul.
Top photo: Praduman Pratapsingh is the 9th generation in his family to live in the Mirabai Temple in Vrindavan. The trip was made possible by an Explorer's Grant from Kensington Tours, as part of the Explorers-in-Residence program.
Share: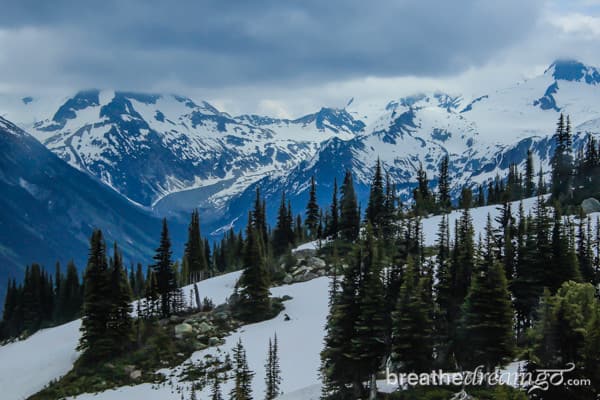 The hulking mountain looked like a lair for mythical, winged creatures. The misty blue islands seemed to be floating freely in the placid grey waters. Huge boulders were no longer just rocks, but the remnants of a battle between giants. And the highway I was travelling on, the famous Sea-to-Sky that runs between Vancouver and Whistler, bore traces of an ancient trade route.
My visit to the Squamish Lil'wat Cultural Centre in Whistler had literally changed the way I saw the world.
The Sea-to-Sky corridor is much more than spectacular scenery — it is also a Cultural Journey.
Looking out the window of the bus at mystical Howe Sound, everything looked different than it did just three days before, when I road the bus up to Whistler, along this same highway. The land was the same, but I was different.
On the drive back to Vancouver, I looked at the mountains, the ocean and the trees and saw them as sacred, as alive, and as active characters in the story of this beautiful landscape. I was excited to remember some of the mythology I learned, and dug the Squamish Lil'wat Cultural Centre (SLCC) brochure out of my pack. Inside, there's a map of the Sea-to-Sky corridor showing many of the landmarks of their story, and you can stop at kiosks and lookouts on a self-guided journey.
My visit to the SLCC literally changed the way I saw the world — which is a lot to be said for a short visit to a cultural centre and museum.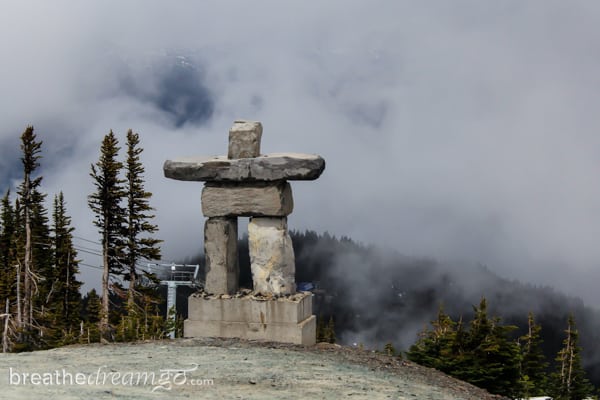 Inukshuk at the top of Whistler Mountain
A showcase for the legends, culture and people
I went to Whistler, British Columbia expecting to visit a top-rated mountain resort and enjoy the many recreational and fine dining options. And I did. I stayed at the elegant Four Seasons Hotel, rode the spectacular Peak-to-Peak and soaked at the Scandinave Spa — and they were all wonderful experiences.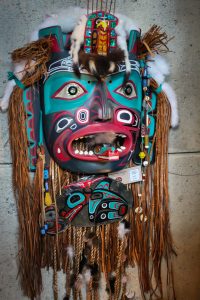 But I discovered something much more exciting and profound in Whistler, and something frankly unexpected. My visit to the Squamish Lil'wat Cultural Centre opened my eyes to the spirit of this ruggedly beautiful land.
The Squamish Lil'wat Cultural Centre (SLCC) showcases the aboriginal history, culture, art and spirituality of this region. Whistler — the mountain and surrounding area — is the borderland between the Squamish and Lil'wat First Nations, and the land historically belonged to both, which is why the museum and cultural centre was built here.
The stunning, glass-fronted building houses exhibitions, artifacts, a cafe that serves native-inspired foods and a store that sells locally made arts and crafts. The grounds feature walking trails and traditional dwellings, including a longhouse, where you can try your hand at making a cedar bracelet.
Arriving at the SLCC, you are welcomed by a local guide from the Squamish or Lil'wat First Nations. The youthful guides are ambassadors for their people, and the centre gives them both employment opportunities and helps teach them about their own cultural heritage, keeping it alive in the face of increasing encroachment.
My guide, a young woman named Charlamain Mersades Jim, is one of four siblings in the same family who work at the SLCC. My tour started with Charlamain performing a Women's Warrior Song. It was followed by a short and informative movie, a guided tour of the building and exhibits and finally a chance to experience making a craft by (a cedar bracelet).
The land is our people. It speaks to us and tells us who we are and where we're going. The mountains were gifts from the creator. We were given the responsibility to look after them. To understand us, you must see our relationship to the land, rivers, forests.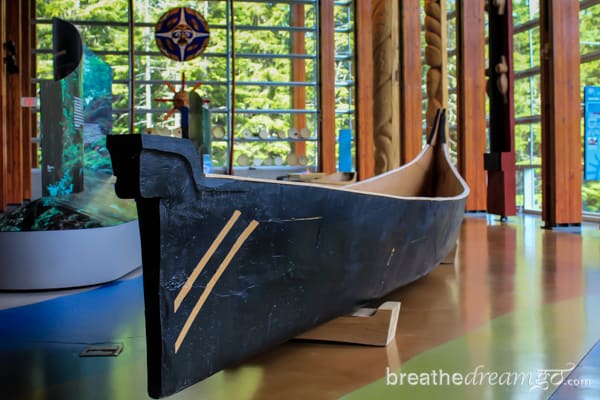 The stunning lobby of the Squamish Lil'wat Cultural Centre, Whistler
Charlamain and some of the other staff members I spoke with explained to me how the Squamish and Lil'wat people lived in close connection with the land. For example, if they needed cedar wood for making household objects, they stripped only two hand-widths of bark from each tree, ensuring the trees would heal.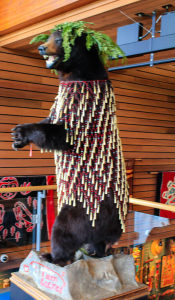 They spoke extensively about their spiritual beliefs, and I was surprised to learn they believed in reincarnation. Each person belongs to a clan, named for a totem animal, and it is believed you will come back as that totem animal. So, if you are a member of the bear clan, you will not hunt and kill bears.
There are so many good reasons to visit the Squamish Lil'wat Cultural Centre, from learning about the First Nations culture to helping support an organization that has revitalized the people of these nations. The building of the SLCC solved a land dispute between the Squamish and Lil'wat; it has provided training, skill development and employment opportunities for the youth; and it has preserved the cultural heritage of two of Canada's First Nations.
Visiting the SLCC is a Canadian Signature Experience. You can learn more about it by checking out their website here.
A recreation destination for every season
To get to Whistler from Vancouver by car, you drive about two hours along the Sea-to-Sky highway. This appropriately named roadway wends its way along the dramatic coastline of British Columbia as it ascends into the Coast Mountains. The views around each curve are more stunning than the last, making the journey almost as rewarding as the destination. And it is a journey worth taking for may reasons.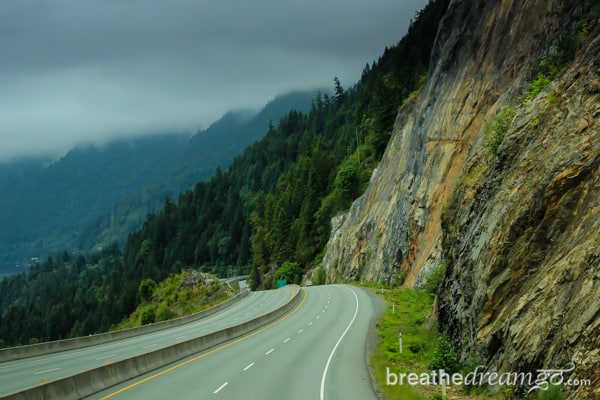 One of the many dramatic curves on the Sea-to-Sky Highway, British Columbia.
Whistler's reputation as one of the world's top-ranked ski destinations is beyond question. Many of the 2010 Winter Olympics events were held here, and it's consistently ranked the number one mountain resort in North America.
But I visited in summer, which draws even more tourists and recreation enthusiasts. Hiking, wild life viewing, mountain biking, relaxing and dining are some of the main draws. The name Whistler comes from the sound a hoary marmot makes. Apparently, hoary marmots whistle.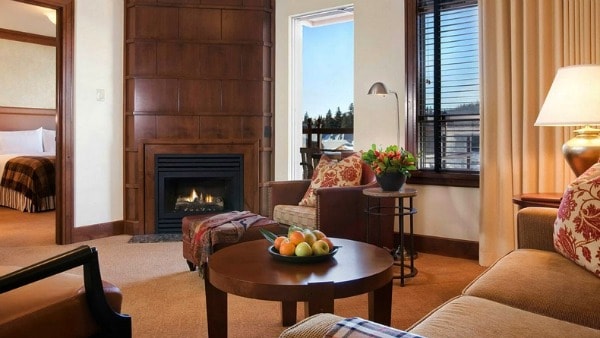 Every room has a fireplace at elegant Four Seasons Hotel, Whistler
Whistler is not only surrounded by spectacular mountain scenery, it is spectacularly clean and well-maintained. When I got off the bus in the centre of the small town, another smaller shuttle bus was waiting there to take me to the Four Seasons Hotel. The driver of the big bus smiled at me as I got down, and the driver of the shuttle bus smiled at me as I got in. After the gorgeous scenery, the second thing I noticed about Whistler is that everyone smiles. A lot.
The Four Seasons is at the far edge of town, at the base of Blackcomb Mountain, and it's a spectacular destination on it's own. A handsome wood-and-stone structure, the Four Seasons is the top-rated, luxury resort in town. It's elegantly captures the mountain resort look-and-feel with native art and other artifacts on display. I especially loved the outdoor swimming pool and spa with, yes, spectacular mountain views and all the service and amenities that Four Seasons is famous for around the globe.
Thrilling ride on the Peak-to-Peak between mountains
I was in Whistler for two specific reasons, both Canadian Signature Experiences: the Squamish Lil'wat Cultural Centre and the Peak-to-Peak gondola ride from Whistler Mountain to Blackcomb Mountain. So, after unpacking and enjoying the views from my suite, I headed for the centre of Whistler village and the gondola ride up to the top of Whistler mountain.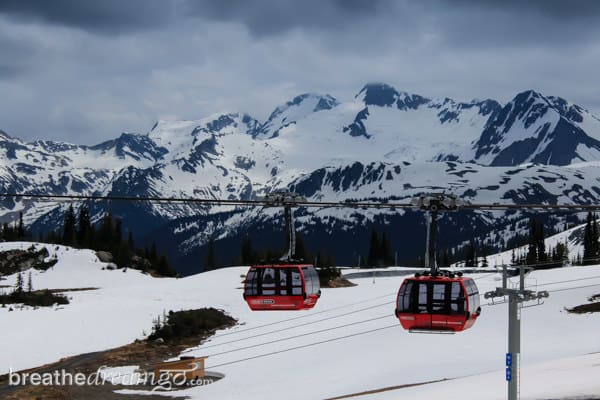 The famous Whistler gondolas.
I am not a skier (nor do I want to be) so I was really surprised by the height of Whistler mountain and the extensive infrastructure that supports the sport. Standing at the top, by the Olympic rings, it was chilly and brisk even on a warm June day. You definitely need a warm jacket for this trip.
While taking the requisite photos of the Olympic rings, I met a family from Bombay, and I rode the Peak-to-Peak gondola with them to the other side, to the top of Blackcomb Mountain. It's a thrilling ride to be suspended from a cable between two mountains, with views in every direction, from the valley floor to the village of Whistler, to the mountain range in the distance. Even when you are the lowest point between the mountains, you are still higher from the ground than the height of the Eiffel Tower in Paris.
On either side, there are cafes and shops, washrooms and indoor and outdoor seating. You can easily make the Peak-to-Peak trip a fun half-day experience, which the entire family will enjoy.
My last and final special experience in Whistler was soaking in the waters of Scandinave Spa. I spent a couple of hours at dusk soaking in the outdoor pools, set in an evergreen forest on the outskirts of Whistler. Scandinave Spa combines two things I love: nature and wellness. Alternating hot and cold water, called hydrotherapy, is very relaxing and by the end of my time there, I was in a bliss state.
Thanks so much to the Four Seasons, Scandinave Spa, BC Tourism and especially Whistler Tourism for hosting me on this very special weekend.
Share: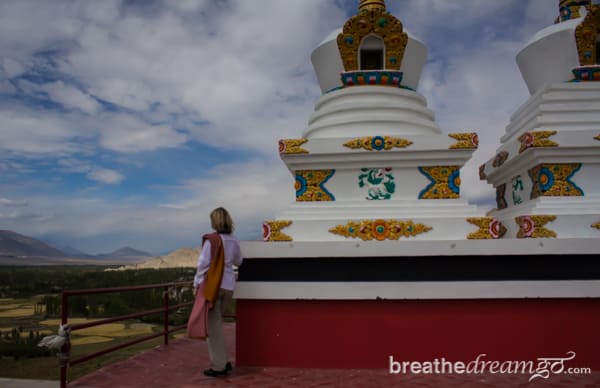 My seventh trip to India happened this past September. Every time I come here, I don't know what to expect. For one thing, I'm different. It's a different me that arrives each time. For another, India is different. India is changing, and probably faster than any society on earth. Above, staring out at the Ladakh immensity from Thiksey Monastery chortens.
When I first started travelling in India nine years ago, the Delhi airport was basically a big, old shed and women almost universally wore swathes of fabric, in the Indian style. Now the Delhi airport is new and glitzy and could be in Houston; and many young women here wear jeans and t-shirts.
In my own journey as an India traveller, I too am changing. When I first travelled in here, I was completely mesmerized by the novelty, and all the things about India that foreigners usually cite (colour, chaos, crowds, spirituality, historic sites, etc). I had a long and fruitful honeymoon stage. India was my muse, and I wrote thousands of words. But like all love affairs, it has become complicated.
On the continuum from Alice in Wonderland towards Paul Theroux, I am moving towards a much more realistic, unvarnished and sometimes grumpy view of travel in India. (Also a grumpy view of trying to make a living as a travel writer and blogger ….but that's another story … and I will be announcing a new venture soon to hopefully make this a more prosperous career path…)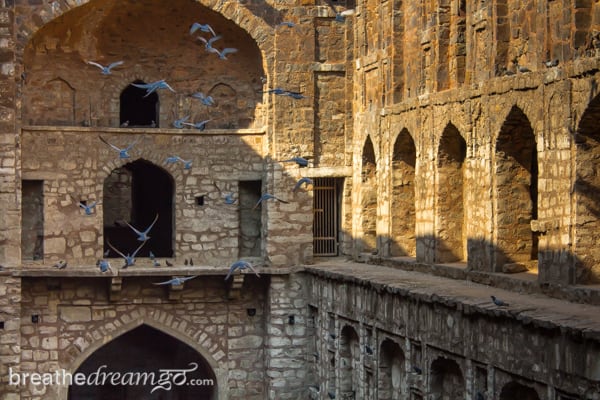 Ugrasen ki Baoli is an ancient stepwell in the heart of Delhi. Very evocative place.
The world's most transformative travel destination
I am still besotted by what I see as the essence of the experience of travel in India — radical transformation. India will change you, if you let it. It will challenge you on just about every level and "broaden your horizons," as my Mom used to say. It may also give you a renewed sense of faith in the universe, in the mysterious workings of the cosmos and the underlying truth that connects us all.
Sometimes, when you are completely frustrated, exhausted, disoriented and sensory-overloaded, India will surprise you with a moment. The veil draws back, a woman smiles, a man hands you a flower, the sky turns pink, incense and temple bells waft by on the breeze. Everything is okay, and it always was, and always will be.
These are the "magic moments," and what we Indophiles live for. But they don't come easy. On this trip, it took me quite a long time to recover from jet lag, and a much longer time to recover from culture lag. I had to re-adjust to being in India, and I was rusty. I had to re-remember so many things, from shutting my mouth tight in the shower to negotiating for autorickshaw rides.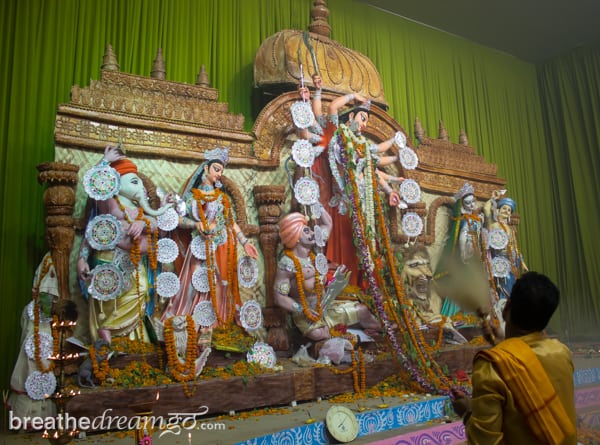 Durga Puja in Chittarajan Park, Delhi
But more than that, I had to get in contact with the Indian version of me. I am a different person in India than I am in Canada — I have to be to live and travel here with any ease. From my perspective, the Indian worldview is much more fluid and present-centred; more relationship oriented and less achievement driven; much less controlling and and more accepting, it accords a much larger role to the presence of the unseen. "God knows best," I have heard people in India say many, many times.
Travel highs and magic moments
My travels in India on this trip has had plenty of highs and lows, which is par for the course. But I got off to a good start. I was given a business class upgrade from Jet Airways, and a coveted single seat. This is a great configuration for the solo traveller: when you press the button to make your seat a bed, you are alone, with no one sleeping beside you. Being able to lie down and sleep really makes the very long journey from Canada (almost 24 hours door-to-door) much more bearable.
My next high happened when I arrived at the shiny new Indira Gandhi International airport in Delhi. While flying, I was thinking a lot, for some reason, about my first trip to India, back in 2005, and how anxious I felt about all the unknowns facing me. I remember peering out the window into the midnight blackness and realizing I had no idea what to expect from India and from my impending six-month journey.
When I arrived in India for the first time, on December 5, 2005, an old acquaintance was waiting for me at the airport. I hadn't seen Ajay in 13 or 14 years, could barely remember what he looked like. But there he was, and he drove me back to his family home in South Delhi, and he and his family became a very important part of that trip — and my life, from then till now.
This time, by chance, Ajay was in India ahead of me, and waiting for me as I arrived for the seventh time. When I walked out, with my luggage, and saw him standing at the exit, and smelled the sultry, acrid air of Delhi, I had a full-circle feeling. Life has seemed so chaotic and challenging in the years since I first landed in India, I didn't expect this lovely, satisfying feeling; as if everything was unfolding perfectly, and I was exactly where I was supposed to be. It was a gift, this feeling, and it hasn't left me. It feels like some era ended when I landed this time, on September 2, and a new era has begun.
Thikana is Delhi's top guest house
My third high arrived shortly thereafter. One of my readers put me in touch with Atul and Sheetal of Thikana in Gulmohar Park, South Delhi and they very kindly hosted me for my first week in Delhi. Thikana is one of the leading guest houses of Delhi, a place I had long wanted to visit, and I wasn't disappointed. Regular readers will know that I love Delhi, it's my home-away-from home and my favourite city in India.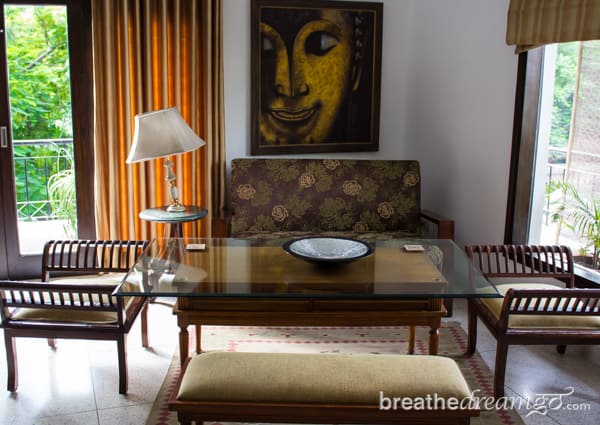 One of the many lovely public spaces at Thikana guest house in South Delhi.
I can now absolutely recommend Thikana to readers. It's exquisitely decorated in high Indian style, the rooms are comfortable and modern, the location is good (closer to a metro station would make it ideal) in one the most upscale colonies of South Delhi and best of all is Sheetal and Atul, the hosts and owners. They, and their staff, go out of their way to make people feel at home and comfortable, and to answer questions and help with anything and everything, from laundry to bank machines to restaurant recommendations.
Plus, they're fun. On my second or third night, Atul invited me to have drinks on their roof top terrace, a great place to hang out. Two other guests joined, I put my duty-free bottle of Bombay Sapphire on the table, and we enjoyed the very warm Delhi evening, under a waxing moon.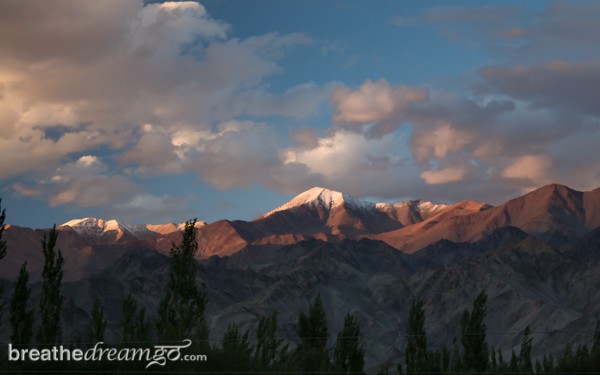 Outside Leh, surrounded by Himalayan mountains, at sunset.
The challenge of jet lag and high altitude
My first low was jet leg. I cannot exaggerate how bad the jet lag is, for me anyway, that results from travelling across half the world. I was a wreck, and I made the mistake of not giving myself enough time to recover. I ran around getting a SIM card, an Internet dongle, and running errands, and then gave a presentation at the Indian Association of Tour Operators convention only three days after landing.
My second low was the Kashmir floods. I was scheduled to fly to Kashmir on September 6, but the floods were worsening and the situation was growing dire. My own disappointment about not getting to Kashmir was dwarfed of course by the humanitarian crisis. The floods in Srinagar Valley, exactly where I had hoped to go, were the worst in 60 years.
The trip to Kashmir and Ladakh was hosted and arranged by India Tourism, so I met with them in Delhi and rearranged my itinerary. Luckily, a seat was available to fly directly to Ladakh, and away I went, to the top of the world.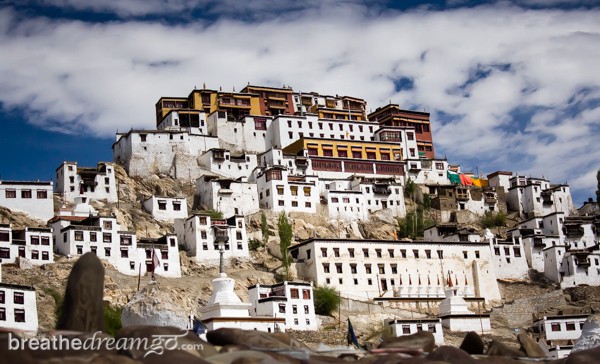 Thiksey Monastery is one of the treasures of Ladakh.
On the roof of the world
If you look at a map of India, Ladakh is right at the top, the part that sticks up and is surrounded by Pakistan, China and several of the "stan" countries. Culturally and geographically, it is tied to Tibet. Like Tibet, you feel you are on the roof of the world, and about half the population are Tibetan Buddhists (most of the rest are Shia Muslims).
The Himalayan mountain range runs through Ladakh, and the altitude of the capital city, Leh, is 3,500 metres — going up to 4,500 metres if you cross passes outside of Leh. This means, without proper acclimatization, you can develop acute mountain sickness (altitude sickness). Some people are more sensitive to AMS than others — and I, unfortunately, am one of those very sensitive people. I was sick with AMS in Colorado and Bhutan, so I took every precaution possible for Leh. Ideally, you should move slowly up to these altitudes. The sickness usually occurs when people fly to Ladakh (like I did). Seriously, do not underestimate AMS. It kills tourists every year, usually people who land and start trekking without adjusting properly first.
Research and plan your trip to Ladakh very carefully. Altitude sickness is one danger, and another is weather. It gets very cold and very snowy in Ladakh early — sometimes in late September — and passes close, airports are shut. Tourists sometimes get trapped there for days and weeks.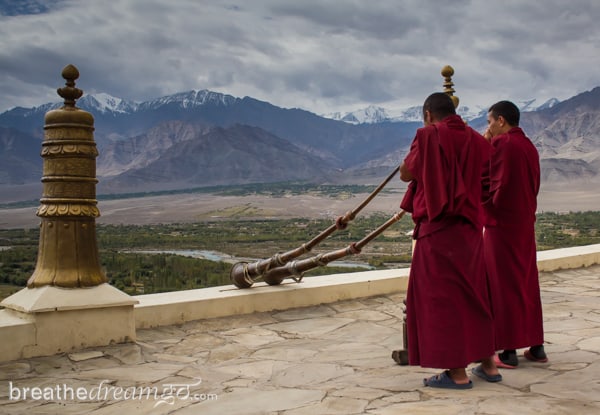 On top of the world at Thiksey Monastery
Summer is the ideal time to go, of course. It's warm — up to 30 C. — and the roads are clear. When I was there, I was based in Leh for about five days, and just made day trips into the countryside to see monasteries, chortens, palaces and the stark and beautiful landscape. Ladakh is a high altitude desert. The Himalaya mountains create a "rain shadow," which prevents monsoon clouds from reaching Ladakh and releasing rain.
Many times in Ladakh, I felt I was in Tibet, especially of course when visiting Tibetan Buddhist monasteries. In fact, Ladakh and Tibet are very closely tied both culturally and geographically, and in former times, politically also. Though I have not been to Tibet in China, I imagine that Tibetan culture is better preserved in Ladakh.
After I returned from Ladakh, I relaxed in Delhi for a few days before heading down to Kerala for the Kerala Travel Mart and a wonderful week at Kaiya House in Varkala, Kerala. Kerala is one of my favourite states in India.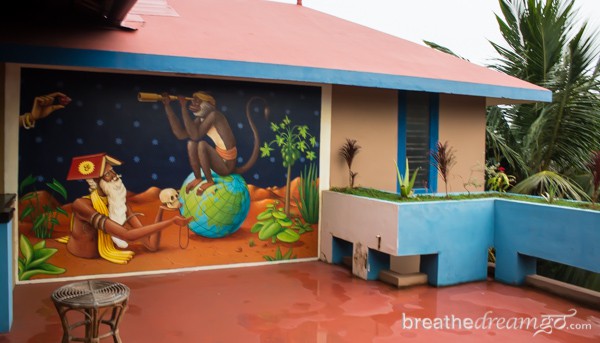 Stunning painting on the lovely roof top lounge of Kaiya House, Varkala, Kerala.
Kaiya House is one of those special places I look for in India — places that hit that sweet spot between basic and luxurious; that are run by caring owners; and that have a special ambience that inspires creativity. Kaiya House, the number 1 guest house in Varkala according to TripAdvisor, does indeed hit the spot.
The "secret sauce" at Kaiya House is the owner/ manager Debra, an energetic and detail-oriented American transplant. I have never experienced a more helpful and caring guest house owner. Debra makes sure all your needs are met and that you receive a thorough orientation.
After a week of relaxing and working in Varkala, I headed back up north to get ready for the Mirabai Expedition.
More on all these trips later, the Ladakh stories, and of course Mirabai Expedition … as soon as I stop moving.
Share: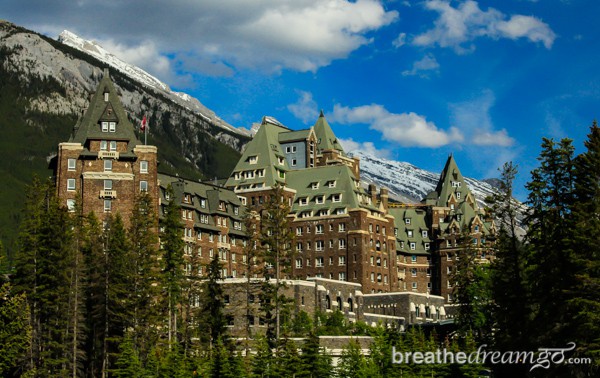 These hotels RISE LIKE medieval castles above historic ports and bustling cities, among soaring mountains and thickly forested retreats. Fairmont Hotels are some of Canada's oldest, most iconic and most majestic hotels. Many were built in the late 19th century, along the burgeoning railroad line, to attract wealthy tourists and entertain visiting dignitaries. Many are part of the nation's history, woven into the Canadian tapestry as a social centrepiece. Above - The Fairmont Banff Springs Hotel, Banff, Alberta. 
Fairmont Hotels can be compared to the Taj Group Hotels in India. The Fairmont Royal York in Toronto is Canada's equivalent to the Taj Mahal Palace Hotel in Mumbai. The Fairmont Chateau Lake Louise is equivalent to the Taj Lake Palace Hotel in Udaipur. In other words, they provide a similar level of service, a similar above-the-norm experience and occupy a similar position of social relevance within their respective communities. Read on to find out about some of the special experiences I had at Fairmont Hotels across Canada.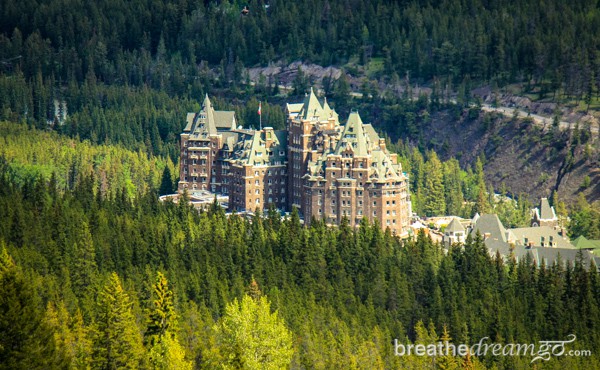 The Fairmont Banff Springs Hotel, Banff, Alberta
A baronial castle in The Rockies: The Fairmont Banff Springs Hotel
The Fairmont Banff Springs Hotel rises above the evergreen forests of The Rockies like a Scottish castle. You can see it from a great distance, and it doesn't lose its grandeur up close. Originally built in 1888 by the Canadian Pacific Railway, the Fairmont Banff Springs Hotel opened up tourism in western Canada.
I saw this hotel for the first time when I was a student, many years ago, and I went to Banff to work for the summer. I never imagined I would be coming back as a special guest.
From the moment I entered the baronial lobby, I really did feel I was in a castle. Grand staircases, suits of armour, plush furniture and family crests completed the picture. My room, modern in decor, framed a million-dollar view of The Rockies. On the first night, I sat with the lights out and watched a summer storm light up the snow-topped mountains.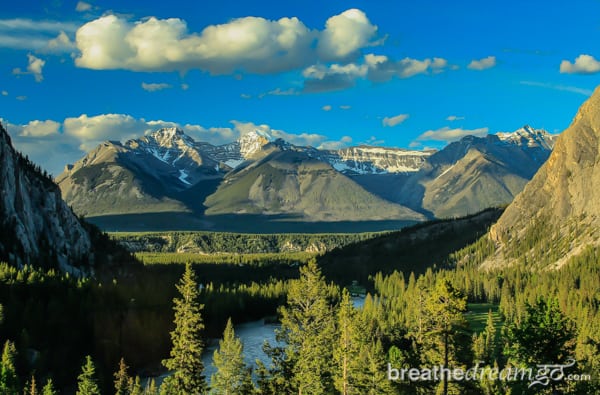 The view from my room at the Fairmont Banff Springs Hotel
The next day, I made a beeline for the hotel's award-winning Willow Stream Spa. Banff is famous for the "Banff springs" — hot mineral water that flows down from the mountains and is piped to soaking pools. The hotel spa celebrates this ritual, with a large pavilion housing several pools and cascading waterfalls that evoke the Victorian era.
I literally could have stayed all day in the massive spa, which also includes saunas, steam rooms, resting rooms, treatments rooms and an outdoor hot water pool and terrace. However, an invitation to have high tea was beckoning and I made my way to an airy room with white-table-cloth covered tables set against large picture windows framing the same spectacular view of The Rocky Mountains I could see from my room.
There are few hours in life more agreeable than the hour dedicated to the ceremony known as afternoon tea. – Henry James
Within moments of sitting down, tea sommelier Bernice arrived with a cart of 12 teas and two champagnes to choose from. The teas ranged from green to black to herbals, and came from a range of countries of The East. I settled on the Eclipse Blend, a mix of second flush black teas from India, Sri Lanka and China.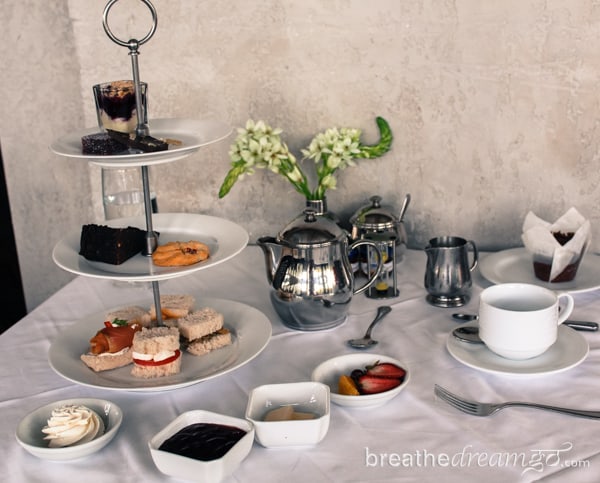 Hight tea at the Banff Springs Castle
As I had called ahead and told them I was obliged to eat a gluten-free diet, they had prepared a variety of tasty gluten-free treats. I have had gluten-free high tea elsewhere, but none as good as at the Fairmont Banff Springs Hotel. Kudos to the Fairmont for moist and delicious ginger-molasses muffins, flourless chocolate cake, salmon, egg salad and vegetarian sandwiches on gluten-free bread and berry compote. High tea at the Banff Springs "castle" was a meal fit for a queen.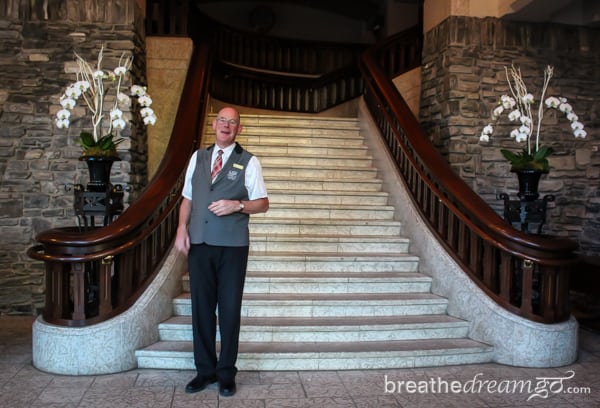 Concierge Robert Jones in baronial lobby of Fairmont Banff Springs Hotel
A final highlight of my stay at the Fairmont Banff Springs Hotel was a tour by long-time concierge Robert Jones. He relished telling me about the history of the hotel and pointed out many details such as the Tiffany fixtures, Mount Stephen Hall and the Spanish-inspired El Hombre Room. "People are awestruck when they come here," he said. "You can see it in their faces." I am sure my face, too, revealed my delight at finally experiencing the Banff Springs Castle.
Experiencing Alberta's culture: The Fairmont Jasper Park Lodge
The Fairmont Jasper Park Lodge has a very different look and feel from its baronial sister down the other end of the Icefields Parkway in Banff. While still elegant and luxurious, it is has a more authentic Rocky Mountain atmosphere. Instead of a castle and baronial lobby, you will find cabins and a lodge.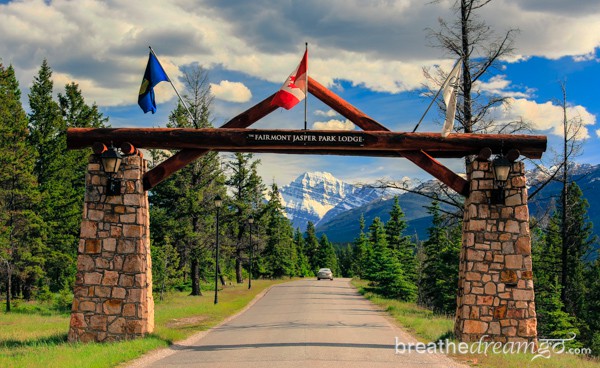 Arriving at the Fairmont Jasper Park Lodge
This hotel takes advantage of its location on Lake Beauvert, and among the pristine wilderness of Jasper National Park. Recreational opportunities abound. I had checked in only moments before, and had barely even opened my suitcase, when I was on the dock and arranging for a canoe ride. I canoed around the lake, enjoying the perfect weather, fresh air and beautiful views. I felt instantly relaxed, and quickly fell into the rhythm of the Jasper Park Lodge.
Afterwards, I ate on an outdoor terrace overlooking the swimming pool, lawns and the lake, with the soaring mountains in the distance. At sunset, I joined several women originally from India, who were travelling with a large group. We sat in lawn chairs and watched the sunset, drinking wine and enjoying the company and the view.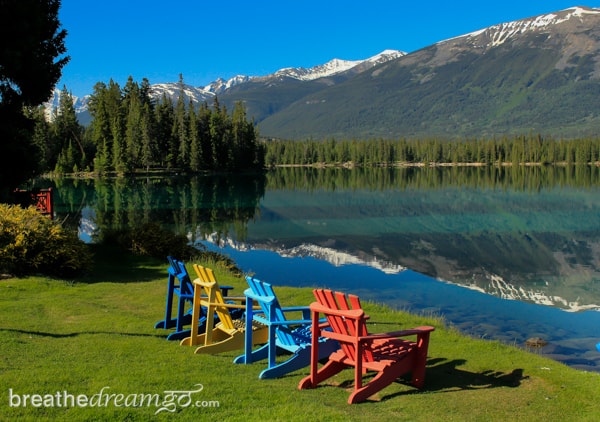 Relaxing on the lawn at The Fairmont Jasper Park Lodge
The next day after breakfast, I walked to a horse ranch on the hotel property. The Fairmont Jasper Park Lodge covers 700 acres, with an impressive main lodge and 56 cabins, a large spa and many other facilities. After saddling up, I went on a two-hour trail ride accompanied by highly experienced guides. We rode at a gentle pace, allowing me to take photos and enjoy the forest scenery. This is something almost anyone could enjoy — previous experience on a horse is not necessary.
By the time I left, I felt I had immersed in the unique Canadian Rocky Mountain culture, perfectly captured by the Fairmont Jasper Park Lodge.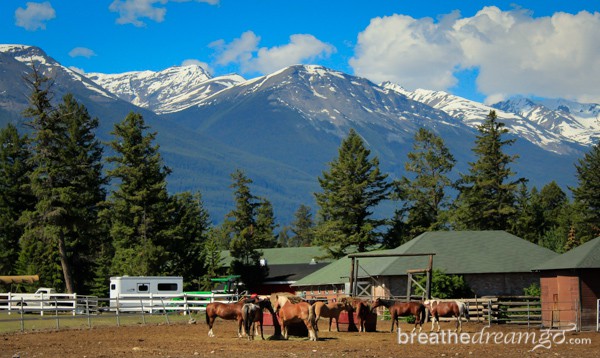 The horse ranch at The Fairmont Jasper Park Lodge
Canada's most scenic lake: The Fairmont Chateau Lake Louise
The most photographed lake in Canada has got to be Lake Louise, as seen from the The Fairmont Chateau Lake Louise terrace. Much like the famous Taj Lake Palace Hotel in Udaipur, this vista sums up all that is romantic and beautiful about Canada. I spent an afternoon here, canoeing on the glacial lake and having lunch in the elegant restaurant that gives diners one of the most spectacular views in Canada.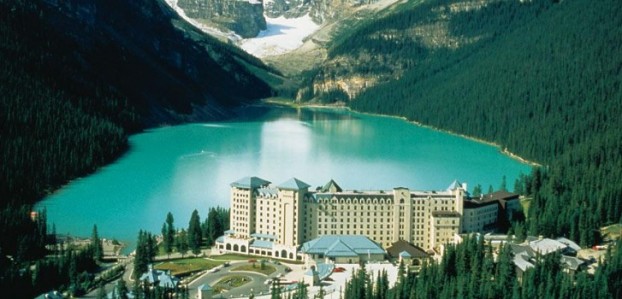 Fairmont Chateau Lake Louise with the famous lake and the Rocky Mountains
The Castle in the City: The Fairmont Hotel Vancouver
Fairmont Hotels has three hotels in downtown Vancouver, and one near the airport, but the grandaddy is the The Fairmont Hotel Vancouver. This 75-year-old hotel is known as the 'Castle in the City' and it is indeed a grand edifice with an elegant, recently renovated lobby, rooftop restaurant, ballrooms and more. It also has an ideal location right in the heart of downtown, beside the grand Art Gallery of Vancouver.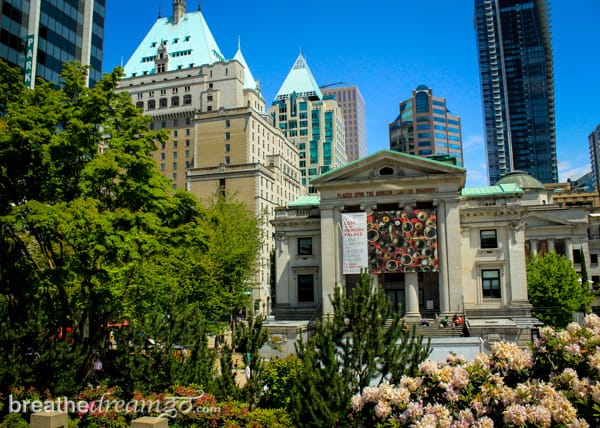 The Fairmont Hotel Vancouver soaring above the Art Gallery of Vancouver
Medieval charm in Old Quebec: The Fairmont Chateau Frontenac
I stayed at the 100-year-old Fairmont Chateau Frontenac when I visited Canada's Ice Hotel last winter. It is one of the most magnificent hotels in Canada, inspired by the medieval castles and regal chateaus of Europe and ideally located on a bluff overlooking the mighty St. Lawrence River and Vieux-Quebec (Old Quebec). From here, you can easily walk to many fine restaurants, bakeries and cafes offering French pastries, chic shops selling fashion and art and areas of historical interest.
Fairmont Chateau Frontenac overlooking Vieux-Quebec
The heart of Canada's capital: The Fairmont Chateau Laurier
Last year, I travelled to Canada's capital city, Ottawa, as part of my search for my Irish roots, and stayed at the Fairmont Chateau Laurier. This is the pre-eminent hotel of Ottawa, an historic site in its own right, ideally located on a bluff overlooking the Rideau Canal and the Ottawa River, and with a million-dollar view of the magnificent Parliament Buildings. I loved the elegant wood-paneled lobby, my spacious room with iconic view of Parliament Hill and Gold Room service that included a separate check-in and lounge.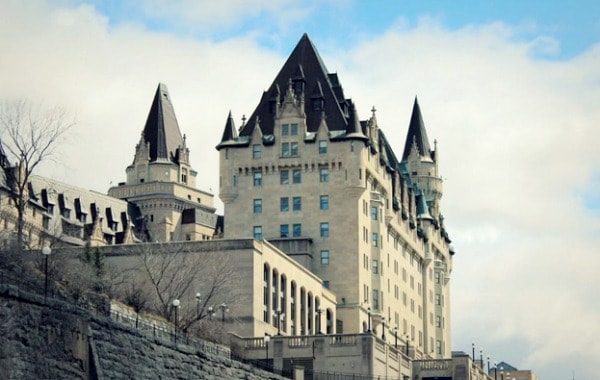 The Fairmont Chateau Laurier in Ottawa, Canada's capital
Bollywood in Canada: The Fairmont Royal York Hotel
In June 2011, the International Indian Film Academy (IIFA) Awards hit Toronto and the Fairmont Royal York Hotel was "ground zero." I was an embedded blogger at Toronto's grand old hotel during the IIFA Awards, and wrote a number of blog posts about my Bollywood in Toronto adventures. It was an exciting, thrilling time to be staying at the Fairmont Royal York Hotel, as most of the stars were also staying there and I actually ran into Shahrukh Khan, Priyanka Chopra, Dia Mirza, Arshad Warsi, R. Madhavan, Sharman Joshi and many others in the lobby.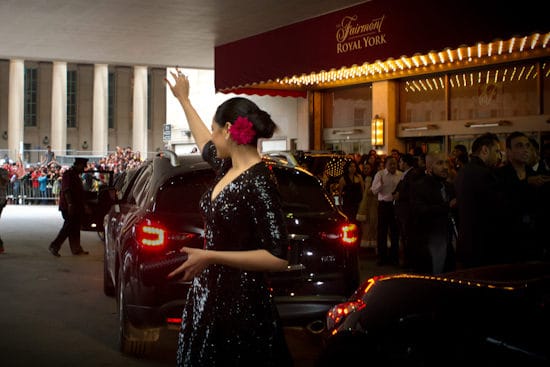 Sonakshi Sinah at the Fairmont Royal York Hotel during IIFA Awards. Photo courtesy Andrew Adams of Katha Images.
 NOTE: Thank you to Canadian Tourism Commission, Travel Alberta, Banff Lake Louise Tourism, Jasper Tourism and Fairmont Hotels for hosting my stays.
Share:

The Icefields Parkway is the legendary 232 kilometre highway that runs through both Jasper and Banff national parks in Alberta Canada. This is smack in the middle of the Canadian Rocky Mountains, the North American equivalent of the Himalayas. Though not as high they are nevertheless spectacularly beautiful, jagged, rocky peaks streaked with bright white snow against Canada's big blue sky.
I drove the Icefields Parkway both directions, from where I got off the train in Jasper to Banff, and back again, over the course of five sunny, warm days in June.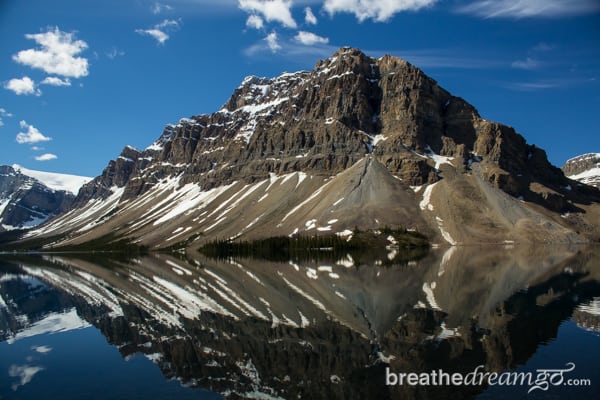 Mirror reflection on the Icefields Parkway. The Rockies
During the course of my drive, I saw several golden-fleece grizzly bears nibbling grasses by the side of the road, herds of big horn sheep, a lone elk silhouetted against the dusky sky and graceful deer crossing the road like ladies of leisure. I also saw majestic mountains serenely reflected in mirror-like lakes, forests of dark evergreen trees, waving golden grasses by the roadside.
A Grizzly bear by the side of the Icefields Parkway
The entire drive is a pristine, picture-perfect postcard of scenic beauty, very carefully maintained by the national parks service. It is indeed a Canadian treasure, one of the most special and beautiful tourism experiences you can have in this vast nation.
This is more that just traveling a mountain road; it's a journey of the self and a celebration of protected wilderness grandeur. Icefields Parkway.
There is so much to see and do along the Icefields Parkway, I could write a book — and in fact many books have been written about this region. However, in this blog post I am going to just highlight two of the amazing experiences you can have.
Walking on air on the Glacier Skywalk
Walking on air: The Glacier Skywalk
Opened on May 1, 2014, the Glacier Skywalk is a brand new way to truly appreciate the Rocky Mountains. The attraction is right on the Icefields Parkway, very easy to find, about halfway between Banff and Jasper.
Head straight for the Columbia Icefield Glacier Discovery Centre, where you park your car, buy tickets and take a very short bus ride to the Skywalk. Once there, a walkway with interpretive displays and an audio tour leads to a glass-floored observation platform 280 metres (918 feet) over the Sunwapta Valley.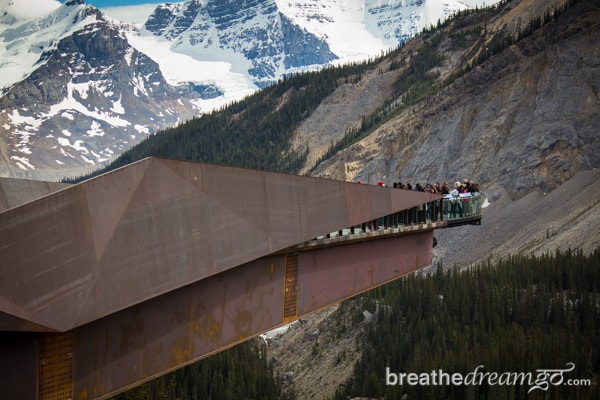 The Glacier Skywalk was designed to blend into the environment
When I arrived at the soaring viewing platform, I stepped gingerly on the glass floor — and saw just about everyone else doing the same thing. It is eerie and disorienting at first, but when you get used to it and relax, you have all the time in the world to take in the sweeping views and feel you are almost soaring in air.
The Glacier Skywalk is an engineering marvel, and cleverly designed to be as unobtrusive as possible. It was also built offsite, to minimize the environmental impact as much as possible.
Stopping at the Columbia Icefield Glacier Discovery Centre is also a good idea to take a rest and have lunch. There's a restaurant and cafe, and a large outdoor terrace ideal for a picnic. When I was there, I got really lucky! I met a group of 34 travellers from India who brought their own lunch, and invited me to join. We sat on the terrace in the sun, and ate spicy dal, rice, curd, pickle, sweets and talked about Canada and how much they loved the "natural, pure, untouched beauty," as one young woman, Shreya, said.
NOTHING. ABSOLUTELY NOTHING. No sound at all. No hum or buzz of electricity, no car engines, no bird songs or even wind. That's the thing I was most aware of when I was up on top of a Rocky Mountain somewhere off the Icefields Parkway to try heli-yoga for the first time.
What the heck is heli-yoga, you might ask? A helicopter whisks you, a yoga teacher and another student or two up to the top of a remote, untouched mountain and leaves you there. You watch as the helicopter flies away, and while the realization dawns that you are (almost) completely alone in nature. There's no quick way to get back to civilization, no roads, no stores, no toilets, no telephones …
You are essentially alone with yourself and in connection with the divine forces of nature and the universe, beautifully visibly manifest in the spectacle of the jagged mountains lined up against the big clear-blue Canadian sky.  In fact, though it took a marvel of modern technology to get us up here, the heli-yoga experience does in fact capture the essence of yoga — the pristine and undistracted oneness of connection.
We rolled out our yoga mats one fine June day on the scrubby mountain-top grass and took in the grand vista of the unending mountains as we settled into our practice.  The uncanny silence made it easy for me to reach a deep meditative state, and before any time at all seemed to pass, yoga was over. It was time for lunch, a hike in the mountains and before we were ready to leave this silent sanctuary, we could hear the sounds of an approaching helicopter.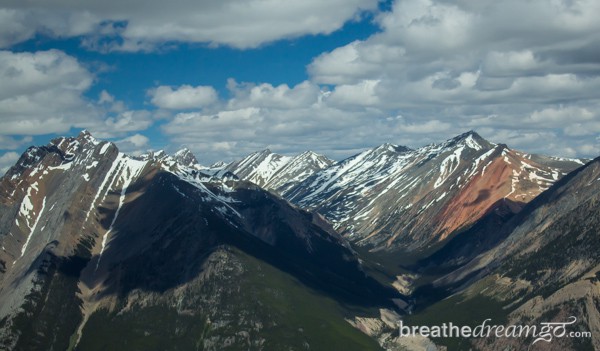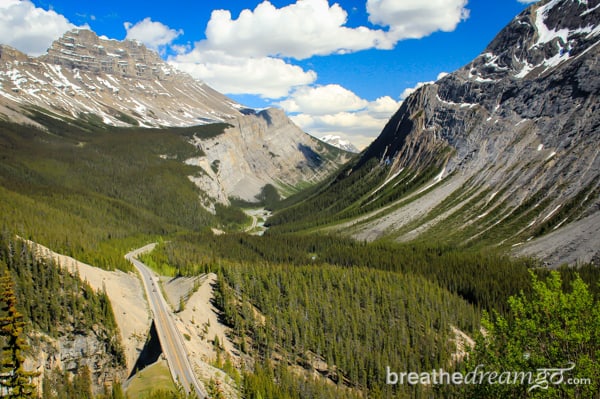 The Icefields Parkway, Alberta
Share:

Vancouver Canada is a stunning city, set between the mountains and the sea. Wrapping around Burrard Inlet, and bounded by the Georgia Strait and the Coast Mountains, Vancouver offers sky watchers many spectacular views and vistas. Red streaked sunsets from English Bay beaches, a panorama of skyline and coastline from Grouse Mountain and the thrilling sight of seaplanes taking off and landing in Coal Harbour.
Below the harbour at Ganges, Salt Spring Island
On my first trip to Vancouver, many years ago, my hotel room faced Coal Harbour, which is an inner harbour surrounded on all sides by the urban sprawl of Vancouver. Watching the slender sail boats, whale-like cruise ships and agile seaplanes on the inner harbour delighted me. They spoke of the exotic allure of an ocean seaport and the history of rugged Canadian exploration. When I was in Vancouver this summer, I was thrilled to get a chance to take a flight from Harbour Air Seaplane's Coal Harbour terminal to Salt Spring Island in the Gulf Islands and back, after a few lazy days on the laid-back island.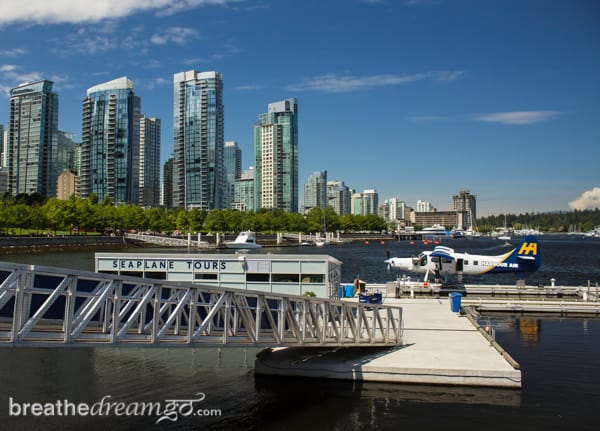 Harbour Air Seaplane's Coal Harbour terminal.
Flying into Ganges, Salt Spring Island
From the moment you arrive at the Harbour Air Seaplane terminal in Coal Harbour, in downtown Vancouver, the adventure begins. Check in at the glass-enclosed terminal building and enjoy free coffee and healthy snacks in the comfortable lounge with stunning harbour views. When it's time to board, you simply walk out onto the dock and hand your luggage to the attendant, who puts it into a very small cargo hold.
On my flight out, I was one of about seven passengers aboard a DeHavilland Canada DHC-3 Single Turbine Otter. The small plane can hold about 10-14 passengers. It's a different experience than flying on your average commercial flight. For one thing, you can't bring any luggage in the cabin. There's no food or drinks served. And the safety demonstration was a video shown on a tablet computer. Here's A passengers guide to seaplanes.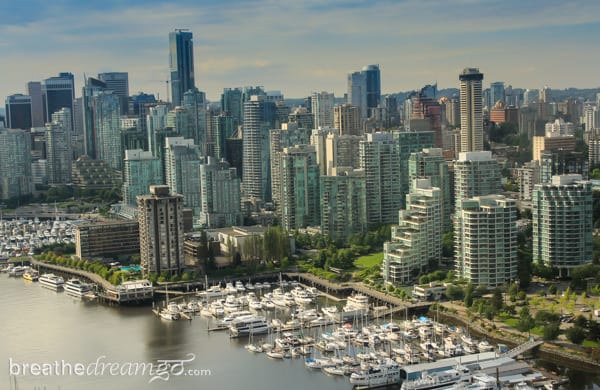 View of Vancouver and Coal Harbour from the air.
Once strapped in, we jet-skied across the inner harbour and gently ascended, banking sharply, to fly over the Lion's Gate Bridge and out towards the open waters of the Georgia Strait towards the Gulf Islands. Views of the city skyline filled the windows on the left and the Coast Mountains filled those on the right. Ahead, the undulating curves of the islands rose out of the shining sea. Flying at speed of about 110-130 miles per hour, and at a low altitude (under 3,000 metres), it takes about 20 minutes to get to Salt Spring Island and the views are non-stop gorgeous.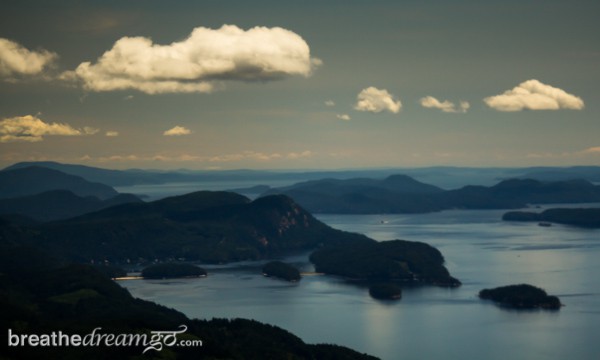 Gulf Islands from the air.
I was lucky, I flew in both directions on sunny, clear days. But if the weather's really bad, we would have been grounded. From the Harbour Air Seaplane site: "…our seaplane pilots fly by Visual Flight Rules (VFR), which mean that they have to be able to see where they're going to fly safely. Unlike larger commercial land-based aircraft, these amazing pilots can't use complex electronic instruments to see in the dark, the fog, or the clouds, in part because they have to land the aircraft on the water. For this reason, our pilots and ground operations teams have a constant eye on the sky. If the weather conditions are not optimal, it may cause us to cancel or re-route our flights for safety reasons."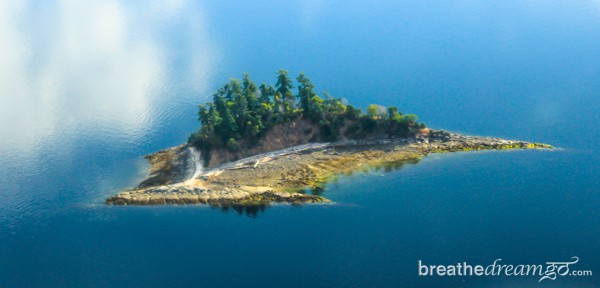 Dolphin shaped island
Arriving by seaplane in Ganges' picturesque harbour on a sunny Saturday morning in June, just in time for the famous artisan's and farmer's market, was the highlight of the trip. Ganges is a village, and the centre of Salt Spring Island. You may be interested to know that Ganges was named after the British naval ship HMS Ganges. The HMS Ganges that visited Salt Spring Island was built in in Bombay, India. Construction was of Malabar teak and she was launched on November 10, 1821.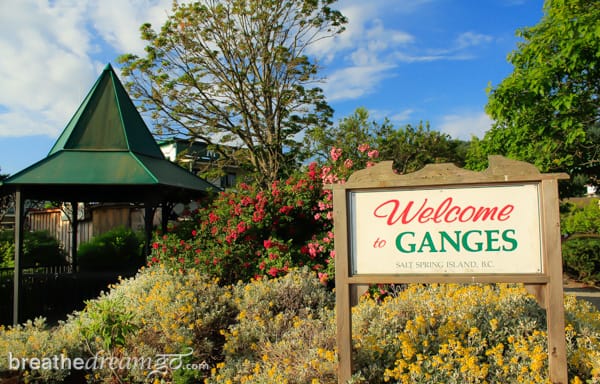 Arriving in Ganges, Salt Spring Island, BC
A word about the Beaver
On my flight back from Salt Spring Island, I was lucky to fly aboard a DHC-2 Beaver — and in the co-pilot seat. This small-but-mighty bush plane, which only seats 5-6 passengers, is legendary in Canada. Several years ago when I was in Sault Ste. Marie to discover Algoma, Group of Seven territory, I stopped into the Bush Plane Heritage Centre for a tour and learned about the history and significance of the Beaver, which was in production from 1947-1965.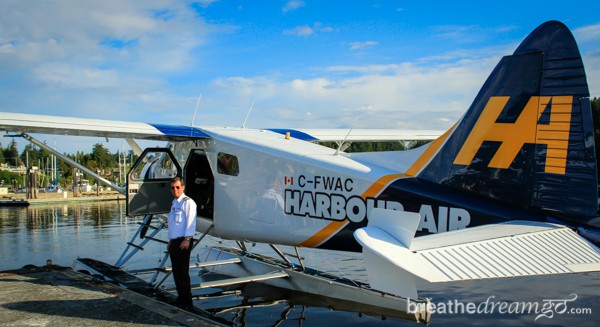 Pilot, Beaver aircraft and Ganges Harbour, Salt Spring Island
From the Bush Plane Heritage Centre site: "A true jack-of-all-trades the Beaver flew with floats, wheels or skis. Amongst its many uses were forest patrol, waterbombing, parachute drops, aerial photography, aerial fish stocking, transportation and cargo delivery.  The name Beaver was consistent with de Havilland's practice of giving their Canadian designs animal names, and like its animal namesake, the Beaver was a hard bush worker.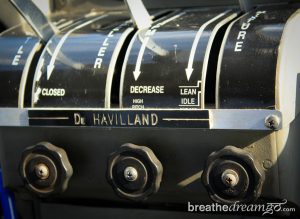 The success of the design is well illustrated by the fact that before production ended in 1967, 1,631 standard Beavers had been produced and delivered to 62 countries around the world. In 1978 the Canadian Engineering Centennial Board selected the Beaver as one of Canada's most outstanding engineering achievements."
Here's a fascinating history of bush planes on the CBC site, which says: "The de Havilland DHC-2 Beaver is considered by aviation historians to be the classic Canadian bush plane, a single-engine, short takeoff and landing utility transport aircraft."
To see the Beaver taking off and landing in Vancouver harbour, check out this video that shows various operators flying, including Harbour Air Seaplanes.
A Canadian Signature Experience
The Harbour Air flight from Vancouver to Salt Spring Island is the company's Canadian Signature Experience. You can stay for a few days on the island, as I did; or simply go for a tour, there and back. Harbour Air lists their routes and schedules here and some of the tours they offer here. I would say a seaplane tour is a MUST-DO activity when in Vancouver.

Share: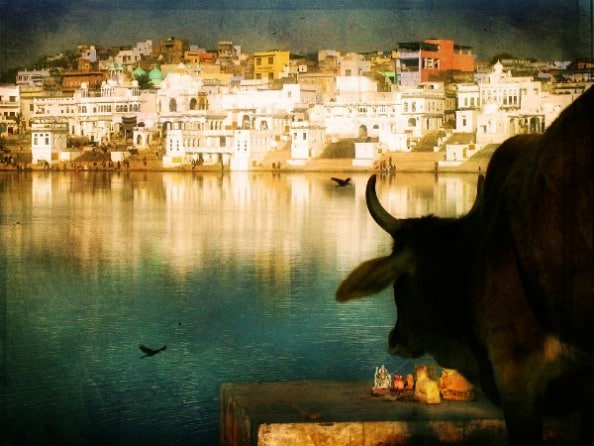 I fell in love with India, its culture and the people, and wrote from my heart. I never attempted to be objective, but to be honest about what I felt and saw, within the bounds of a respectful attitude. Over the years, as I've travelled more, honed my skills and brought more conscious thought to my work, I've come to realize that travel writing is a tricky business.
I've grappled with how to write respectfully, express my truth, tell a good story and stay true to my values — without offending locals. What I've learned is that it takes conscious effort and technical know-how to write effective travelogues. In this post, I asked some of the pros to share their tips and their wisdom for avoiding the cringe-worthy cliches and stereotypes that often subconsciously invade travel writing.

Sometimes you have to challenge your beliefs to get beyond the stereotypes
In Travel is an experience in perception, I tried to grasp this idea that we see the world through our own window, our own set of assumptions, ideas about reality, biases, etc. There's nothing wrong with this — it's just about recognizing that your truth is YOUR truth and may not be THE truth.
My photography teacher Tony Makepeace, who regularly visits Nepal and takes portraits of the people he meets there, said, "It's worthwhile to think about your intentions, reflect on your role as an outsider, and recognize the difference in privilege and empowerment between you and your subjects."
These first five tips are about how to dig in while travelling and challenge yourself while writing.
Tip 1. Blend in.
"Merge with the place," Anuradha Goyal recommends. "It helps on two levels. One, with regards to safety and security issues, it helps protect you as you do not stand out. Two, it helps local people feel comfortable with you, and they open up more easily when they see you are making an effort to be one with them." Anuradha Goyal is a travel blogger & writer, the author of The Mouse Charmers – Digital Pioneers of India (published by Random House) and a voracious reader. She writes a series of Travel Stories on her blog that she says, "would not have happened if I had not connected well by not standing out."
I completely agree with Anuradha on this one. From my first days in India, I tried my best to adopt the dress and the social etiquette of the culture. When in Rajasthan, do as the Rajasthanis do, was my motto. I found it helped win me respect and trust, and opened up the culture to me.
Tip 2. Talk to locals.
Dan Noll and Audrey Scott of Uncornered Market have been travelling the world for many years, and sharing their stories and photos on their blog. They are driven by a desire "to humanize the places we visit, drawing our readers in through photographs and stories, so they connect with people and places they might otherwise never hear about or actively disregard." Dan and Audrey's work exemplifies a respectful attitude, and they have inspired me more than any other travel bloggers.
I asked Audrey to share advice and tips. "I think the main way to write without offending the locals is to expose yourself to a diversity of experiences and people so that you can get a better understanding of a place and breakdown the assumptions that you may make from first impressions." She offers these writing tips:
Talk to several people about a topic (or about the culture/history/politics of that country) so that you get different perspectives from a variety of people (e.g., different backgrounds, ages, genders). This allows you to understand better the diversity of opinions (if there is one) and prevents you from taking one person's viewpoint and making it sound like it is representing the whole country. Use accurate quotes and avoid generalizations.
Imagine that your best friend was of that culture. What would he or she think — were you being fair (note: not always pollyanna positive) and that you were respectful in your writing.
You know you are on the right track when you get comments like this one, in response to Bangladesh: Frequently Asked Questions: "I'm a Canadian-American Bengali currently visiting Bangladesh and the way you handled these questions with class really made me happy. It brought a tear to my eye to see how open and nonjudgmental you guys were to the average Bengali. Many people see Bangladesh as a dirty, poor, corrupt, chaotic, dysfunctional mess of a country, fellow Bengalis included." And here are three more articles from Uncornered Market that reveal their unique, refreshing and respectful approach:
First impressions of Ethiopia
The forgotten women of the Dead Sea
Immigration stories from Central America
Tip 3. Avoid cultural imperialism.
In my opinion, the western mainstream media is almost universally based on the underlying notion that western ideals, standards and ethics are de facto superior. Because I often travel in India — a country in the late stages of a post-colonial hangover — I try very hard to avoid this practise, which I call "cultural imperialism."
It's one thing to think, as I do, that, overall, women have more freedom and opportunity in Canada than they do in India, but it's another to unconsciously believe that everything about the west is "right" and other countries are "wrong."
It's also worthwhile to challenge media stereotypes, and not digest them whole. Case in point: India has had a bad rap in the media because of some high-profile rape cases, but in the same period that two foreign female tourists were raped in India, many more were raped in Mexico, Greece, Spain, Turkey and elsewhere. "The number of Britons sexually attacked or raped abroad rose to 10% last year from 310 to 281 cases in 2011. Greece Spain and Turkey had the worst records," from an article in The Mirror.
Tip 4. Write from your own experience.
While the mainstream media struggles to present objectivity and balance in journalism, as a personal narrative (or creative non-fiction) travel writer, you are under no such restrictions. Your experience is your truth and it cannot be argued. If you travelled on an overnight train and saw cockroaches on the wall just inches from your face and you couldn't sleep; or if a child dressed in rags and selling flowers in the market smiled at you and you melted — these are your experiences. You needn't make sweeping, judgmental statements about what your experiences mean or draw from them conclusions about the culture. You can simply describe them.
As a matter of fact, I don't actually believe in objectivity. Everything is subjective, everyone has an agenda. I don't think objectivity is a worthy goal, either. I think the de-humanizing tendency of the media is part of the problem, and that personal voice and personal experience is much more powerful, real and true. As travel writers, we give people a window through which to see the world, and it is our window, with all of our ideas, biases, experiences, hopes and dreams woven in. It's okay to have biases and opinions, as long as you are aware of them and honest / transparent about presenting them.
Tip 5. Show interest, respect and humility.
We all walk around with a set of assumptions about the world and an idea of what we think reality is. Travel gives us the opportunity to examine them, and gain a much broader sense of perspective.
Don George is a well-known travel writer, the author of Lonely Planet's Guide to Travel Writing and a travel writing instructor. Here's his approach: "Being humble, curious, and respectful of local cultures and peoples — trying to understand and evoke them on their level — is a cornerstone of how I travel and how I write about travel. As a guest in someone else's house — that is, country and culture — I always try to be mindful of how little I know and what a great opportunity I have to learn!" In these pieces, Don shows how you can write descriptively about engaging with the local culture without making any assumptions or generalizations. These are all good examples of story-telling in travel writing, too.
Road lessons around the bend in Bali
Making roof tiles in Peru
Building bridges in Mostar
Photographer Jim Kane wrote about taking culturally sensitive photos on Transitions Abroad: "…responsible photography is very much like responsible travel. With a thorough knowledge of the place you're visiting, a genuine interest in sharing and not just taking, an alert intuition, an open mind, enough time, and a little luck, photography abroad—just like travel itself—can be a vehicle to build bridges. Ultimately, photography is ideally a form of exchange." Read his eight guidelines here.
Sympathetic interpretation seldom evolves from a predatory attitude. The common term, 'taking a picture,' is more than just an idiom; it is a symbol of exploitation. 'Making a picture' implies a creative resonance, which is essential to profound expression. – Ansel Adams
And sometimes, it's just a matter of artist technique to transcend the cliches
The following three tips are about how to use writing techniques to support respectful travel writing.
Tip 6. Tell a story.
And speaking of stories, don't forget to tell one. I wrote about this after attending a workshop given by Spud Hilton and Stephanie Yoder at TBEX Colorado. In my post, Top 10 Travel Writing Tips, here's point #1:
Have a point. Without a point (or premise) you are re-hashing your diary. You need to make a bigger point than simply you were there. Spud Hilton gave the example of traveling in wine country and then writing a piece about what ELSE you can do there, aside from wine related activities.
Travel writer and "story consultant" Mike Sowden on his site Fevered Mutterings has lots of resources for travel writers, including a course in story telling for bloggers, a page of story telling resources and an insightful post that explains Why 99% of bloggers give up from which I grabbed this inspiring quote: "As Andrew Evans explains so succinctly in this video, when you're doing your best to convey what you really see, without the benefit of 20/20-hindsight, and if you do so with a very clear idea about what you want to be writing, unedited reality can be as compelling as a well-crafted story. In fact, it can be a good story. That's the essence of quality non-fiction."
Tip 7. Use the tools of fiction writing.
Paul Theroux is one of the great writers of travel literature. Talking about his unique style, he once explained that he wanted to inject dialogue and discomfort into travel writing as he felt these were largely missing. He has a point. Travel writers often skip writing about characters and conversations. Yet this technique, and others from the fiction writers tool kit, can give you a sense of the people, the place and what happened in a very direct and powerful way.
It is worth reading fiction or even taking some courses to learn about character, dialogue, description, plot development, narrative, and other techniques. These will not only add voice and colour to your writing, they will help give you the discipline to stick to the story, and keep you from wandering into the lazy habits that lead to cliched writing.
This piece about Varanasi from David Farley in Afar Magazine includes some of the characters he met in the ancient city.
Tip 8. Throw out your first idea and your second idea when you write; wait for the third idea.
This is a piece of writing advice I heard once, and can't remember where. Everyone will have thought of the first one, it won't be original, and it will originate in the "cliche" layer of our engagement with life. The second idea will also be something others may have thought of. But your third idea is likely to be more interesting, unique, fresh and thoughtful.
What do you think? Do you care about avoiding cliches and stereotypes? How do you achieve fair and accurate travel writing?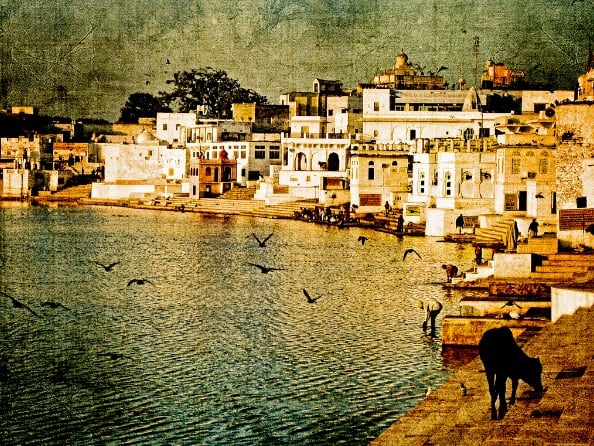 Cow in India – Photo Credit: Nick Kenrick .