About Mariellen Ward
Mariellen Ward is a freelance travel writer whose personal style is informed by a background in journalism, a dedication to yoga and a passion for sharing the beauty of India's culture and wisdom with the world. She has traveled for about a year altogether in India and publishes an India travel blog, Breathedreamgo.com. Mariellen also writes for magazines and newspapers.
Latest Posts by Mariellen Ward
Share:

Ahh yes, the English garden. Below is a United Kingdom Garden Tour – here's our top five.
The first time I visited the United Kingdom, many years ago, I was struck by their abundant beauty. A moist, temperate climate seems to be the perfect recipe, and the English are appropriately one of the most garden loving nations on earth. I have been to several well-known gardens in London and the south-west of England on previous trips, but for this post, I have picked the top 5 most stunning gardens in the land.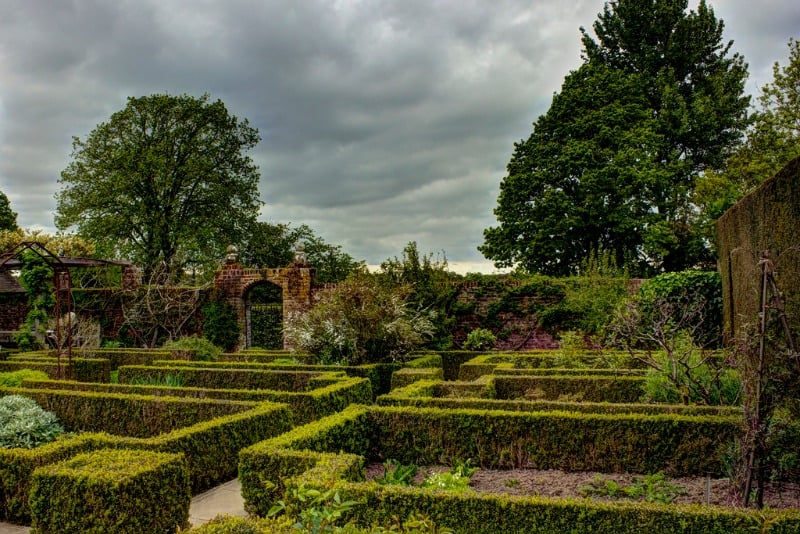 Sissinghurst Castle Garden. Photo 1.
Sissinghurst Castle Garden. Photo 2.
Sissinghurst Castle Garden
One the of the UK's most iconic gardens, Sissinghurst Castle was designed by poet and writer Vita Sackville-West and her husband Harold Nicholson. After falling in love with the castle, they wanted to create a realm that reflected the romance and intimacy of her poems.
The grounds are dedicated to beauty with colourful, abundant planting and themed areas. The castle itself has a rich history from its time as a prison in the 1700's, to a family home and then to a residence for the women's land army. Today, you can stroll through the uninhabited original buildings, view the glorious vistas from the top of the Tower and wander through the Vita and Harold's charming garden, retained for posterity.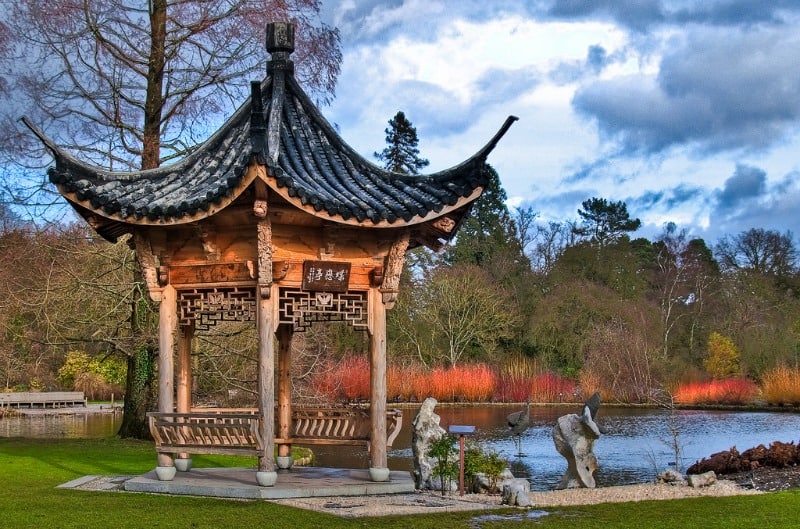 RHS Garden Wisley. Photo 1.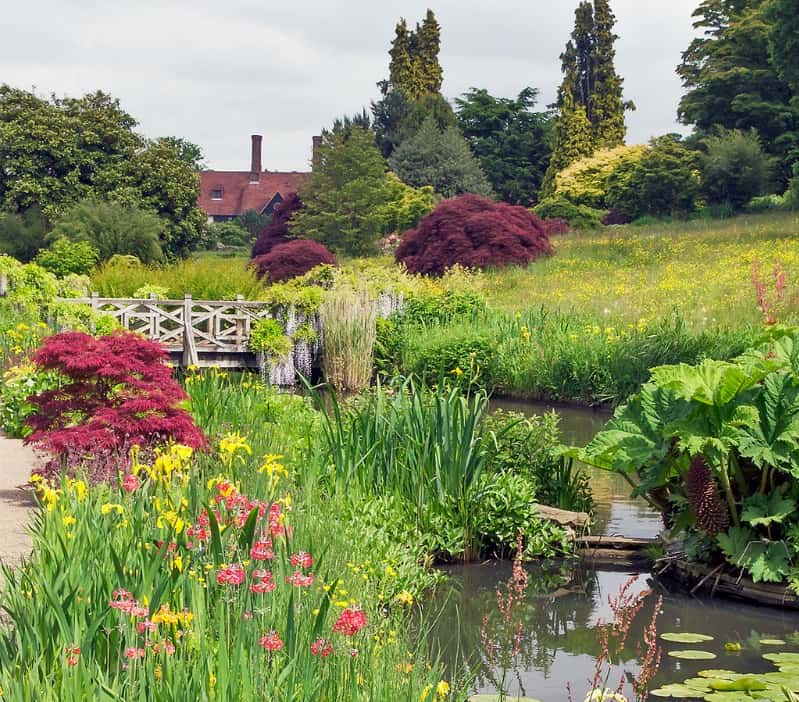 RHS Garden Wisley. Photo 2.
RHS Garden Wisley
On the outskirts of London, the RHS Garden Wisley, located in Surrey, has been a truly exquisite showcase of gardening expertise for more 100 years. In the springtime, the daffodil display is one of the major drawcards for many tourists and locals alike, while in autumn the fruit fields are alive with delectable harvests. RHS captures the imagination with its densely planted borders, whimsical rose gardens and impressive glasshouse.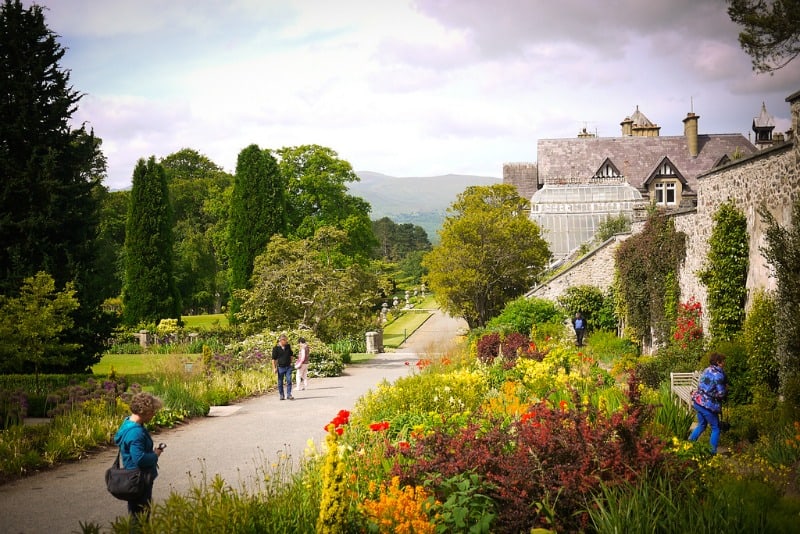 Bodnant Gardens. Photo 1.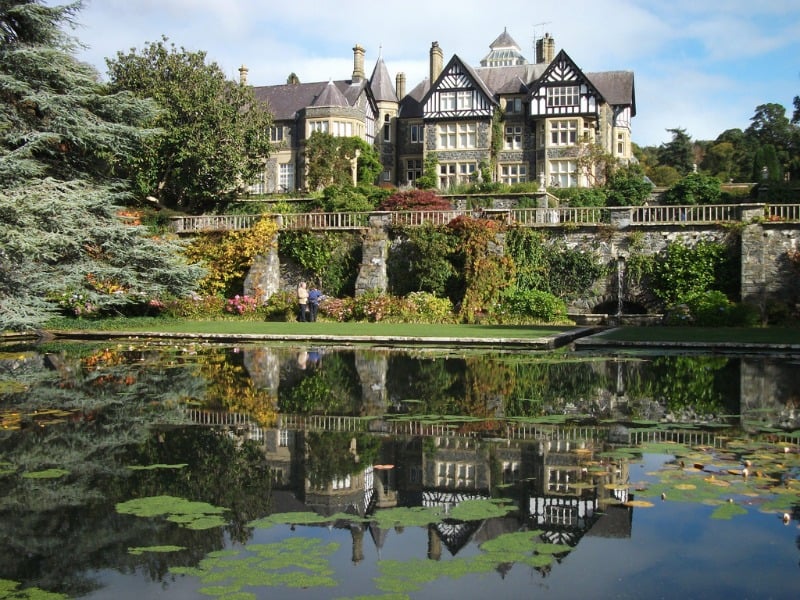 Bodnant Gardens. Photo 2.
Bodnant Gardens
Bodnant Gardens looks like it could re-ignite your senses! Located above the River Conway, this 32-hectare botanical garden features expansive lawns and romantic corners, idyllic ponds and inspiring terraces, with stunning views across Snowdonia. The flowers release their scents into the air, the cool, moist aire tingles and the eyes are delighted by the seasonal colour changes.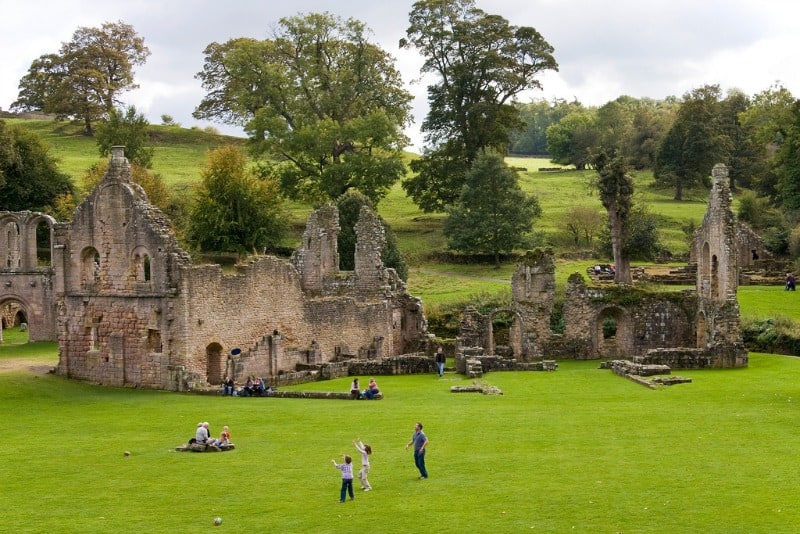 Fountains Abbey and Studley Royal Water Garden. Photo 1.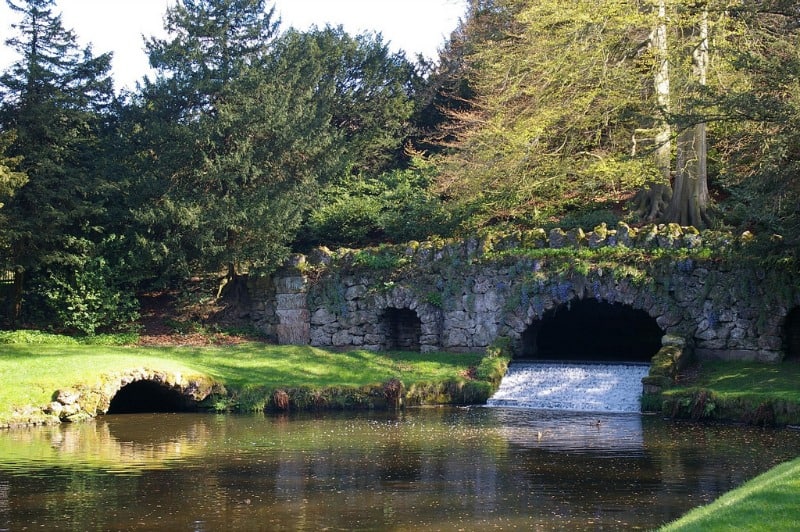 Fountains Abbey and Studley Royal Water Garden. Photo 2.
Fountains Abbey and Studley Royal Water Garden
This 900-year-old Cistercian monastery is Britain's largest, and claims the title of North Yorkshire's only UNESCO World Heritage Site. The adjoining Studley Water Garden is a feast for the eyes with elegantly landscaped foliage complete with neo-classical statues, a Victorian church, bridges that overlook the tranquil pond, ruins and, to top it all off, a medieval deer park.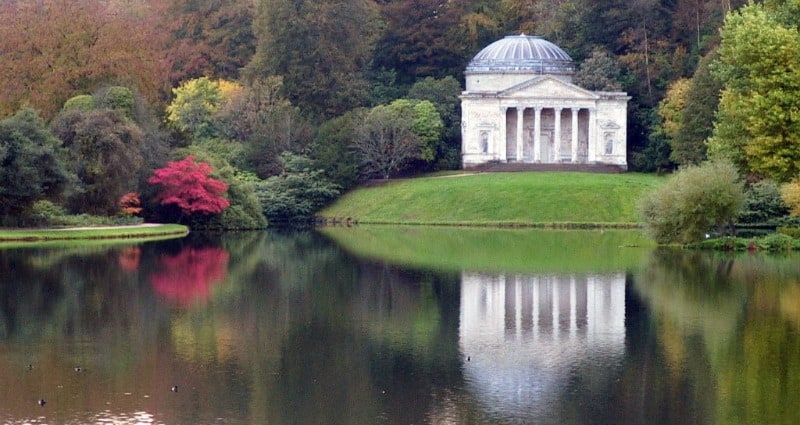 Stourhead. Photo 1.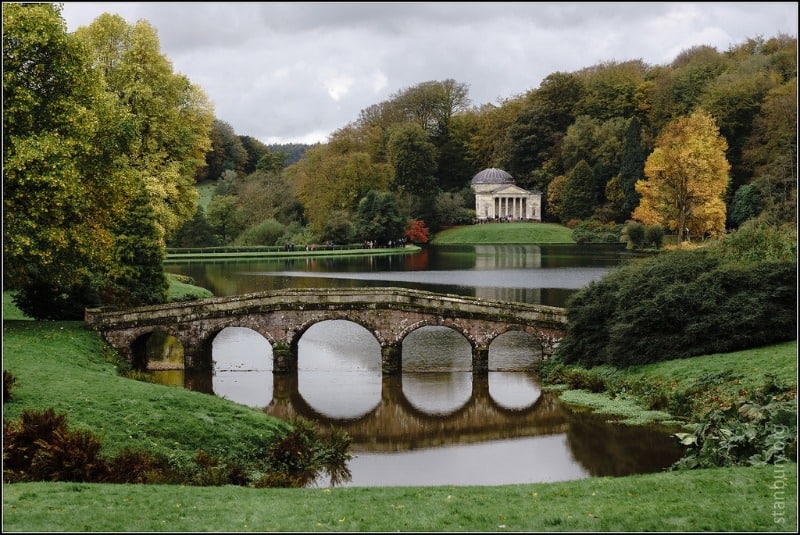 Stourhead. Photo 2.
Stourhead
Stourhead embodies 18th century landscaping at its finest and has been described as a work of living art. Unlike the other gardens mentioned, blooming flowerbeds do not dominate this allotment. The main features are sweeping lawns, a picturesque man-made lake, classic temples and mystical grottos. You could spend a day here discovering the exotic trees and enjoying the wonderful display of rhododendrons.
All gardens mentioned are open to the public and make for a great day out. While some charge an entry fee, tours can easily be organised through websites like My Adventure Store or through the official National Trust UK.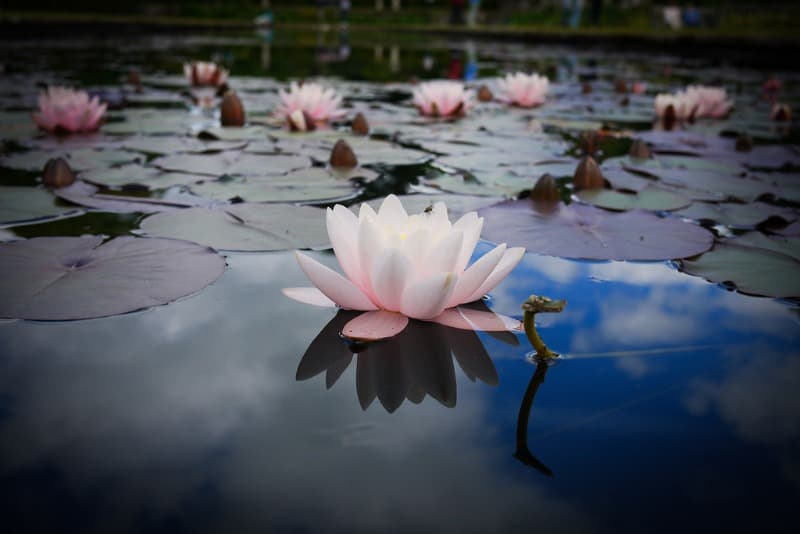 Bodnant Gardens. Photo 3.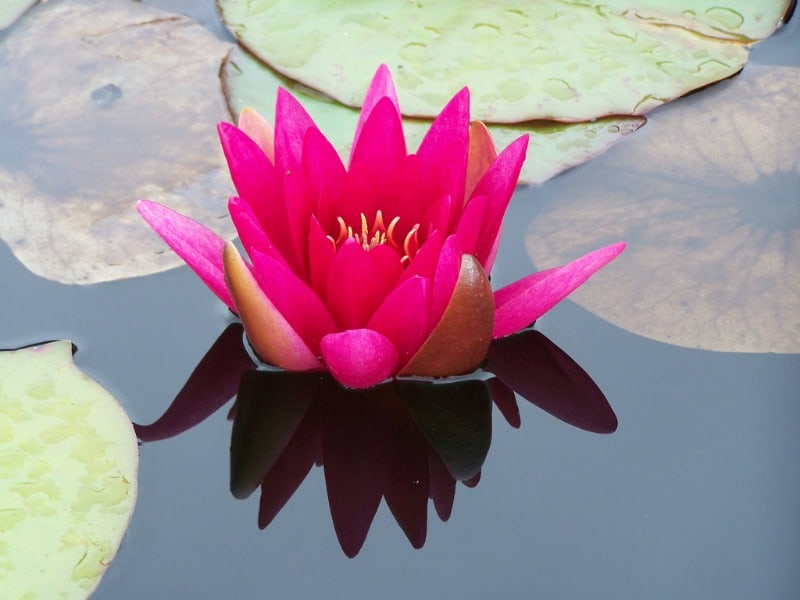 RHS Garden Wisley. Photo 1.
Photo credits
Sissinghurst 1: Photo Credit: JohnBWilson via Compfight cc
Sissinghurst 2: Photo Credit: UGArdener via Compfight cc
Wisley 1: Photo Credit: Anguskirk via Compfight cc
Wisley 2: Photo Credit: ukgardenphotos via Compfight cc
Bodnant 1: Photo Credit: Jaypeg via Compfight cc
Bodnant 2: Photo Credit: Bryn Llewelyn B&B Betws-y-Coed via Compfight cc
Bodnant 3: Photo Credit: Jaypeg via Compfight cc
Bodnant 4: Photo Credit: Bryn Llewelyn B&B Betws-y-Coed via Compfight cc
Fountains 1: Photo Credit: tallpomlin via Compfight cc
Fountains 2: Photo Credit: dvdbramhall via Compfight cc
Stourhead 1: Photo Credit: Owen Benson Visuals via Compfight cc
Stourhead 2: Photo Credit: FlickrDelusions via Compfight cc
Share: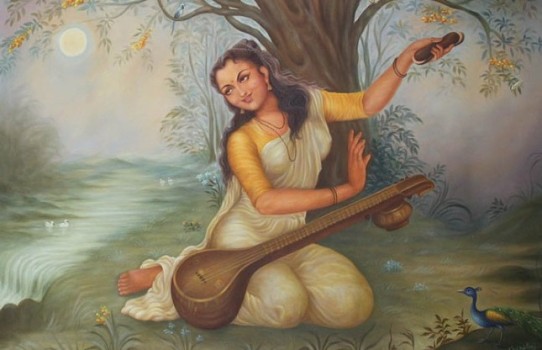 Painting of Mirabai by GR Sharma
Cultural expedition to walk in the footsteps of Mirabai
Mirabai was a 16th century Rajasthani princess, a composer of devotional songs and a mystic who fought against convention to give voice to her spiritual yearnings. She travelled widely in Rajasthan, Gujarat and Uttar Pradesh in north India, and I will be tracing her life through her journeys.
Mirabai's life has relevance today because her story parallels the struggle many women have to live a fulfilled, creative life — when society pressures them to settle down, marry and devote their lives to their domestic obligations and "duties."
A Symbol for Women Trying to Gain Their Voice Today
Mirabai was  known for the incomparable beauty of the poems and bhajans she composed and sang in devotion to her beloved god, Krishna. Born in Rajasthan in 1500 AD, she was married against her will to a prince of Chittor, near the fabled city of Udaipur. Her life was marred by persecution as she struggled to manifest her ardent desire to compose, sing and pursue spiritual studies. Though she was renowned for her talent, her family felt she was bringing dishonour by not behaving the way a courtly lady should — and they tried to poison and drown her.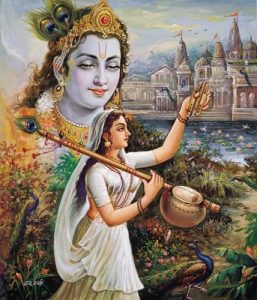 Mirabai escaped and travelled widely, journeying across country to Vrindavan and Mathura, playground of Krishna, and to Dwarka in Gujarat, site of an important Krishna temple. Eventually, a deputation of men from Chittor found her in Dwarka, but before they could abduct her, she disappeared while singing in the temple. All that was found was her sari, draped around the Krishna murti.
Many legends swirl around the myth Mirabai. It was said a sadhu (holy man) gave her a tiny statue of Krishna when she was a child, and that was when her love for the god was born. It was said she survived attempts to take her life through divine intervention: poison turned to nectar, a bed of blades turned to petals. It was said Emperor Akbar came to hear her, in disguise as a sadhu.
Today, Mirabai is considered one of the great female saints of India and her songs are still sung. Moreover, there have been hundreds of songs composed in her honour and there are festivals devoted to her that take place around the time of Dusshera in Rajasthan. She is still very much alive today in the hearts of Indians.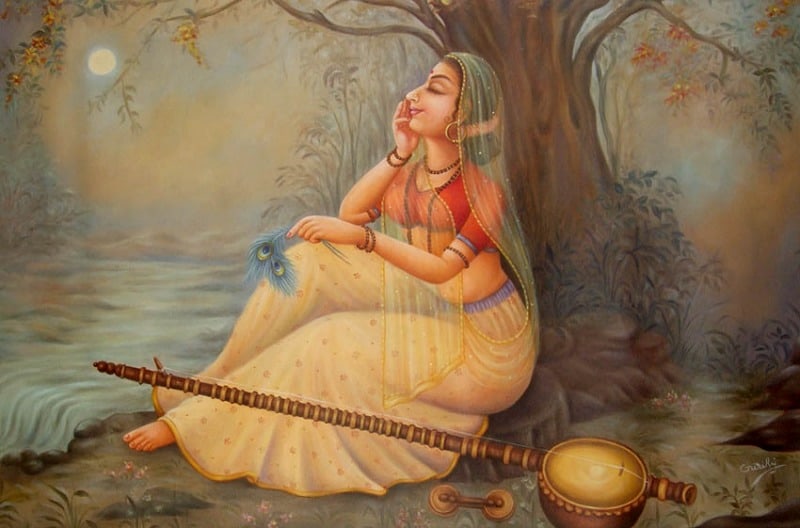 The route and itinerary
My plan is to create a four-week itinerary and travel the region around the time of the Mirabai celebrations in October 2014, concluding with a week spent at Rohet Ghar, near Pali. Rohet Ghar is a heritage hotel with a prestigious writer's pedigree: among other notable writers who stayed at Rohet Garh — like Patrick French, Simon Winchester and Geoffrey Moorhouse — William Dalrymple wrote City of Djinns here and Bruce Chatwin wrote Songlines.
The places and events I want to visit on my cultural expedition include:
Mirabai temple in Vrindavan, U.P.
The festival in her honour, taking place this year on October 7-8 in Merta
Mirabai temple and museum in her hometown, Merta, Rajasthan
Mirabai temple at Chittogarh Fort
Udaipur and Pali, Rajasthan
Krishna Temple in Dwarka, Gujurat, where she has said to disappear
Rohet Garh Heritage Hotel, near Pali, for a writer's retreat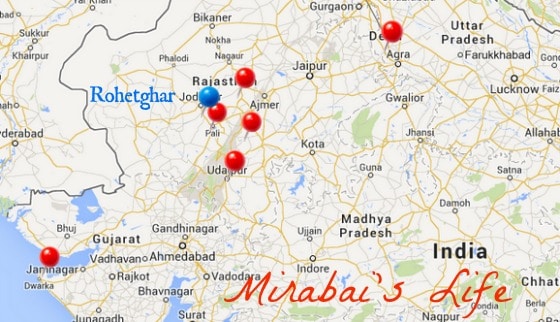 Mirabai's poetry
Mirabai's poetry was unique in her day — much more straightforward, emotional, honest and vulnerable. The strength and power of her words stand to this day, a testament to her courage, love and talent.
NOTHING IS REALLY MINE
Nothing is really mine except Krishna.
O my parents, I have searched the world
And found nothing worthy of love.
Hence I am a stranger amidst my kinfolk
And an exile from their company,
Since I seek the companionship of holy men;
There alone do I feel happy,
In the world I only weep.
I planted the creeper of love
And silently watered it with my tears;
Now it has grown and overspread my dwelling.
You offered me a cup of poison
Which I drank with joy.
Mira is absorbed in contemplation of Krishna,
She is with God and all is well !
It is extremely difficult to find a parallel to this wonderful personality – Mira – a saint, a philosopher, a poet and a sage. She was a versatile genius and a magnanimous soul. Her life has a singular charm, with extraordinary beauty and marvel." – Swami Sivananda
DO NOT LEAVE ME ALONE
Do not leave me alone, a helpless woman.
My strength, my crown,
I am empty of virtues,
You, the ocean of them.
My heart's music, you help me
In my world-crossing.
You protected the king of the elephants.
You dissolve the fear of the terrified.
Where can I go? Save my honour
For I have dedicated myself to you
And now there is no one else for me.
Share: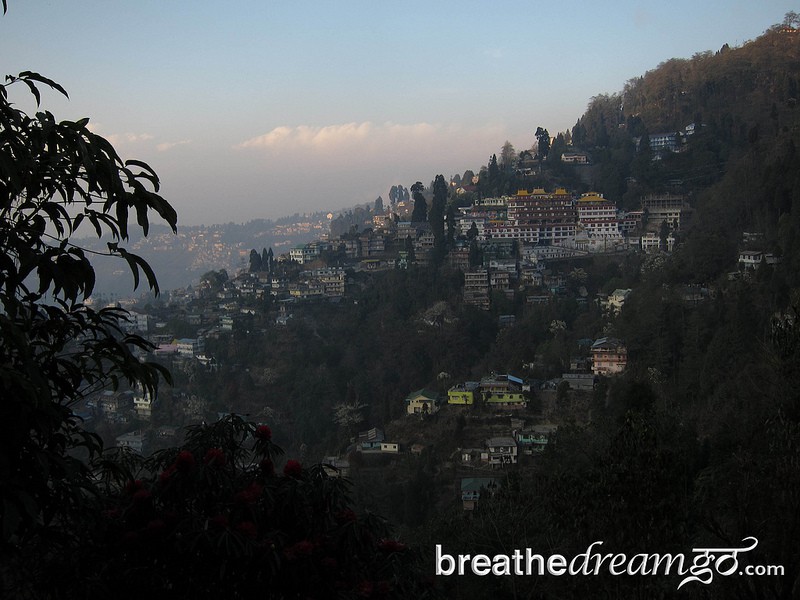 Darjeeling at dawn
Discovering the true nature of tea in Darjeeling
TEA HAS A MAGICAL effect. It instantly refreshes and soothes the soul. But, for me, it also carries an aroma of nostalgia — as if the past is steeped into the leaves, along with hope and optimism.
Is it the nature of tea leaves to impart this effect, I wondered, before I made my pilgrimage to Darjeeling? Or did I feel this way about tea because of tender memories of tea parties with my Nana when I was a child?
This is what I travelled to Darjeeling to find out. I wanted to ascend to the heights of one of the world's great tea growing regions, the home of the "champagne of teas," and to experience the spirit of tea first hand.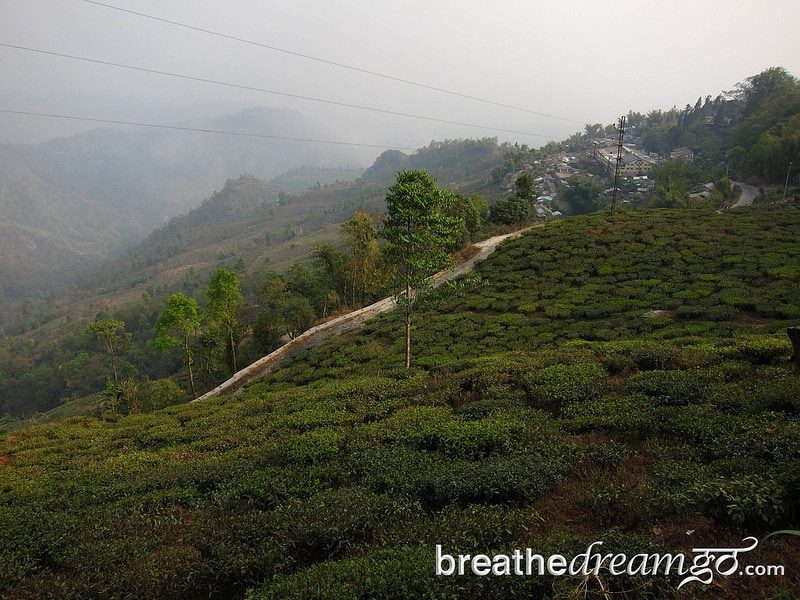 Tea gardens of Darjeeling
Tea with the Thunderbolt Rajah
I stand in anticipation before the row of white porcelain teacups. The King of Tea, Swaraj Kumar "Rajah" Banerjee – known in Darjeeling as the Thunderbolt Rajah – flourishes his arms as he speaks excitedly about silver tips, muscatel flavours, the movements of clouds and the secrets of growing the world's most expensive tea. His quiet assistant, in an apron emblazoned with the green Makaibari logo, deftly pours a different tea into each cup, the colours ranging from pale straw to rich honey.
I am sampling some of the world's finest teas – organically grown on the Makaibari tea estate in Darjeeling, land of the thunderbolt. Makaibari is the oldest tea estate in Darjeeling, the first to go organic and one of the most successful: they supply tea to the Tazo company, sold at Starbucks. As I hold the earthy, fragrant flavours in my mouth, I gaze out the window on the rolling green tea gardens, lit up by the late afternoon sun. I suddenly realize I am having the perfect Darjeeling moment: stimulating, refreshing and deeply satisfying.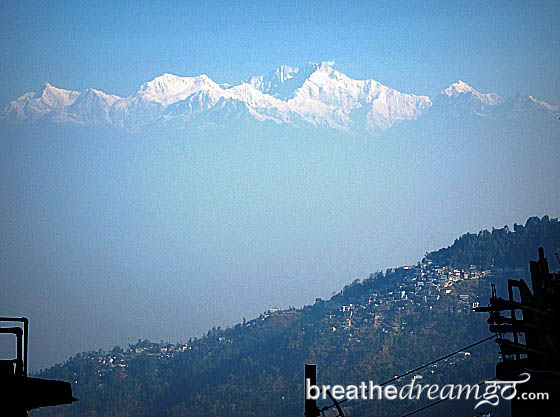 Mount Kangchenjunga presides over Darjeeling on a clear day
The scent of far-off lands
Though my grandmother, Nana, loved to bake and tell stories, there her resemblance to story-book grandmothers ends — for Nana was very elegant. She smoked with a tortoise shell holder, had long painted nails, wore Wallis Simpson-inspired A-line taupe dresses and drove a matching taupe-coloured car.
From the time I was about three years old, Nana and I had tea parties together. At first, she gave me a plastic tea set, and I remember drinking from the tiny cups. When I was about six or seven, she gave me a white-and-gold china tea set fit for a princess.
Nana lived with us when I was growing up. She had a way of making occasions special, and our tea parties are among my earliest childhood memories. We had tea together, just the two of us, in Nana's small apartment, built onto the side of our house. She wore full make-up, ropes of thick costume jewelry around her neck and an enormous emerald-coloured glass ring, and served the tea on an antique table, on her last remaining Persian carpet. The tea was always accompanied by bread, honeybutter and stories.
Nana's stories and the scent of tea – grown and harvested in a far-off land of mist-covered hills – transported me. Those tea parties were the first of many steps that eventually took me to India, and then, after an arduous journey from Delhi that included a bone rattling, four-hour drive up a steep road and into the clouds, to Darjeeling.
Tea on the terrace at the Windamere Hotel in Darjeeling
The story of tea
Darjeeling, the town, sidles precariously up a steep mountain face in remote northeast India. The region of Darjeeling spreads out for many miles in all directions beneath the town, and encompasses many tea plantations: tea cannot grow at the altitude of the town, it must be 1,000 metres lower.
The history of how tea came to India and the west is fraught with intrigue and adventure.  It all starts in China in the 18th century when British traders began bringing crates of it back to England. The English acquired a taste for tea and soon demand far outstripped supply, and Britain began running a trade deficit with China.
British adventurers came up with the idea of growing tea on Indian soil, and began importing tea bushes from China into the regions of northeast India that had the most suitable growing conditions – namely, the hilly regions of Assam and Darjeeling. In fact, they discovered that tea grew indigenously in this region, and experimented with both the imported and natural varieties to achieve the best flavours and yields. As the British Raj flourished in India, so too did the tea trade.
During these wild east frontier days, Rajah Banerjee's great-grandfather, G.C. Banerjee, escaped the confines of Calcutta to seek his fortune in the hills. He prospered at a very young age – by 20 he was already wealthy – and a friend bequeathed his estate to him. It was on this estate, Makaibari (which means corn field) that Darjeeling first's tea plantation came into being, under the leadership of G.C.
Three generations later, when Rajah Banerjee was a graduate in England, intent on a future there, he went home to Darjeeling for a visit. While riding his horse among the tea plantations and forests of his ancestral home, he fell, and as he thudded to the ground had a life-altering, thunderbolt of an experience: "Beyond time and space, I saw a brilliant band of white light connecting me to the trees around me. The woods sang out melancholically in an incredible concerto, 'Save us! Save us!'"
That was on August 21, 1970, and from that day to this, the "Thunderbolt Rajah" has put his heart and soul into saving the vanishing woodlands, and protecting and nurturing the people and culture of his Himalayan region.
Drinking tea in Darjeeling
I dutifully tried each of the teas that Rajah Banerjee laid out before me, and began to appreciate the subtle and distinct differences between them. "What champagne is to wine, Darjeeling is to tea," he said. From light and golden, to rich and flowery, Darjeeling tea is delicate and delicious. The differences in colour and flavour are the result of many factors, such as the season it is harvested.
Over the course of an afternoon, Rajah explained the art and science of Darjeeling tea to me. "This is a magical, mystical land," he said, "and the tea is symptomatic." As a long-time student of Rudolf Steiner, the founder of biodynamic agriculture (precursor to organic farming), Rajah has been a tireless pioneer and advocate of human, cultural and environmental sustainability in Darjeeling. When he converted Makaibari in 1980, and had it certified in 1988, it became the first organic tea plantation in Darjeeling. Now, about 35% of the gardens are organic.
"Makaibari is an oasis," he said. "We are not seeking to be a leader, but an inspiration. We have the tools here at Makaibari for a much better world, a sustainable world."
For Rajah Banerjee, the end result is the flavour of the various teas Makaibari produces, such as their top-of-the-line Silver Tips Imperial, apparently the most expensive tea in the world — and my favourite of the ones I tasted (I bought a bag of it at the Makaibari store). But the process is equally important and it includes a long list of innovations in agriculture and in creating a sustainable human environment that protects the culture and the people who live and work on the estate.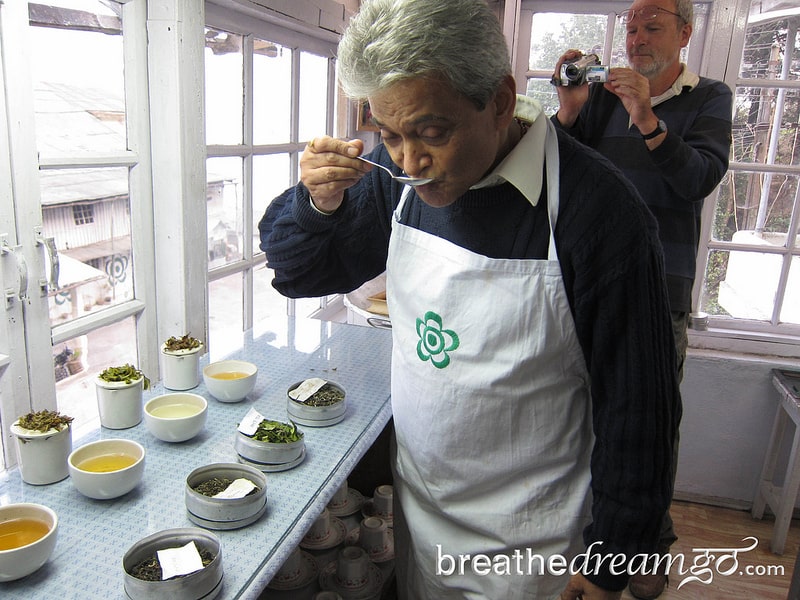 Rajah teaches me to slurp, swish and spit the tea.
By the time we were finished talking, and drinking endless cups of white tea, served straight up, my head was spinning with the profound and deeply spiritual ideas of this caring, knowledgeable and charming man. "All problems of humanity are questions of harmony," is a typical Rajah Banerjee statement, tossed off with a just-slightly-eccentric flourish.
I couldn't wait to get out into the garden and experience the living tea plants for myself, and see if I could discern the harmony of Makaibari I had tasted in the cup. After getting some instruction on direction, I walked out into the garden closest to the office and factory — the large shed where the tea is dried, rolled, fermented, sorted, graded and packed.
I was in Darjeeling in March, almost in time for the "first flush" picking. The tea pickers, usually women, walk through gardens that resemble lush carpets picking just the top two leaves to make the finest teas. But when I was there, the tea leaves were not quite ready for harvesting, and when I walked through the Makaibari garden, I was alone.
As I walked along narrow tracks among the tea bushes, enjoying the scenery, I began to realize that I felt very peaceful, and not at all alone. In fact I had walked for quite a ways, and couldn't see another soul. All I could see was an undulating tapestry of tea bushes, stands of forest, a ridge in the distance and the blue sky swept with the misty clouds that envelope this high altitude domain.
I stopped to look closely at the bushes, which came up to about my waist, to take in the tender top leaves glistening and bright in the afternoon light. I heard birds singing and took a deep breath of the fresh mountain air spiked with a green and earthy scent.
Everything we need is in this garden, I spontaneously thought.
Tempest in a tea pot
While writing this story, I braved a packed storage cupboard to unearth a box of half-forgotten treasures. Since my mother's sudden death 15 years ago, I have recoiled from reminders of her, and Nana. I boxed up most of my mementos and pictures, and even banished some to my sister's out-of-town attic. But I decided it was time to again hold the china teapot that my Nana gave me, and which I have carefully kept, sealed in bubble wrap, all these years.
As I held the familiar object in my hand, it was as if a piece of me returned from exile. Memories, and a bittersweet mixture of grief and longing for the past, washed over me. I could hear my Nana laughing, a light, quick laugh, and almost smell her spicy perfume, Shalimar. The happiness of those early tea parties, and the feeling of being surrounded by a loving family, resurfaced like a long-lost treasure. Such is the power of an object, even a child's teapot, when it is infused with tea and love.

TEA LEAF GRADING
Most people are familiar with the orange pekoe designation, to denote tea, but probably have no idea what it means. Though there is no consensus on exactly how the term originated, we do know the word pekoe is derived from the Chinese word "pak-Ho" meaning "hair" or "down" (referring to the light white down on the bud leaves). In fact, grading tea leaves is a complicated affair, and is not consistent from country to country. Black teas are most extensively graded, followed by green teas.
Orange Pekoe (OP) is the most basic grade, and it describes the best, most tender leaves plucked from the tips of the plant's young shoots.
Black tea is classified into four different categories (whole leaf, broken leaf, fannings and dust).
a
Share: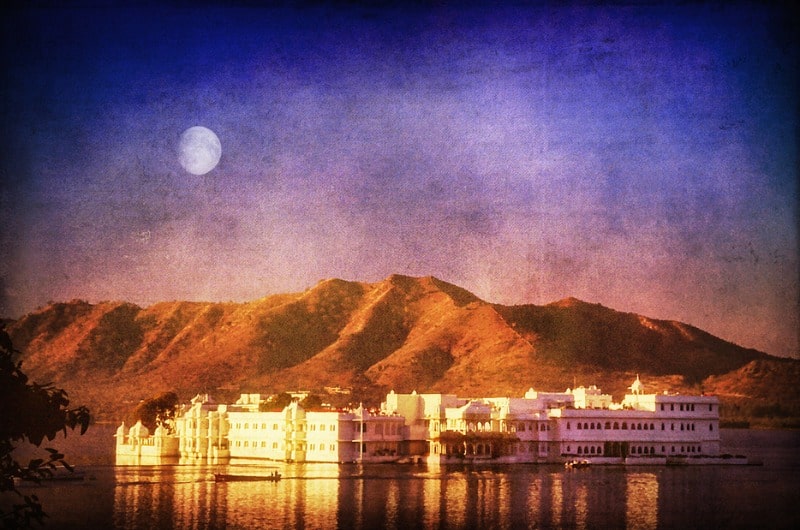 Udaipur. Photo Credit: Nick Kenrick .. ZedZap.. via Compfight cc
For Valentine's Day, here are my top 5 most romantic places and hotels in India
THE CALL OF adventure, and especially travel to distant lands, is my idea of romance. I can think of nothing more romantic than waking up to dawn splashed over the Himalayas or sleeping on a Rajashtani sand dune under the glittering night sky. India is also a great destination for the other kind of romance, with the allure of ancient marble palaces, mist swirled hill tops and lazy, humid boat rides casting a spell of enchantment over unwitting lovers. I've travelled the length and breadth of India, and these are my picks for top five most romantic places.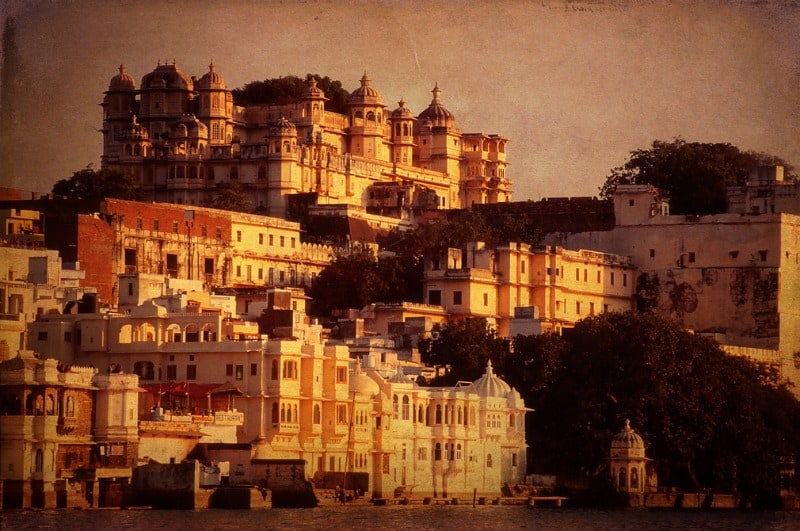 Udaipur. Photo Credit: Nick Kenrick .. ZedZap.. via Compfight cc
1. Udaipur
Udaipur is widely considered India's most romantic city, and for good reasons. Set like a jewel in the arid Rajasthani desert, the city winds it's palaces and terraces around shimmering Lake Pichola. And in the centre rises the Lake Palace Hotel like a mirage. I could fall into a life-long trance on the edge of this lake, and spend my days dreaming, roaming the markets and alleyways and exploring the surrounding Aravali range.
Travel Tip: If you can't afford the Taj Lake Palace Hotel, stay in a more affordable hotel with lake views, such as the Jagat Niwas Palace or Jaiwana Haveli.
Photo Credit: Nick Kenrick .. ZedZap.. via Compfight cc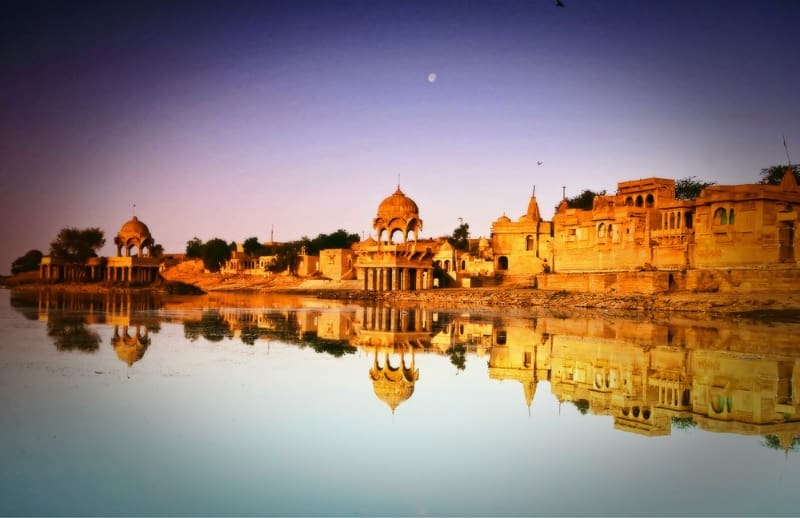 Jaisalmer. Photo Credit: Nick Kenrick .. ZedZap.. via Compfight cc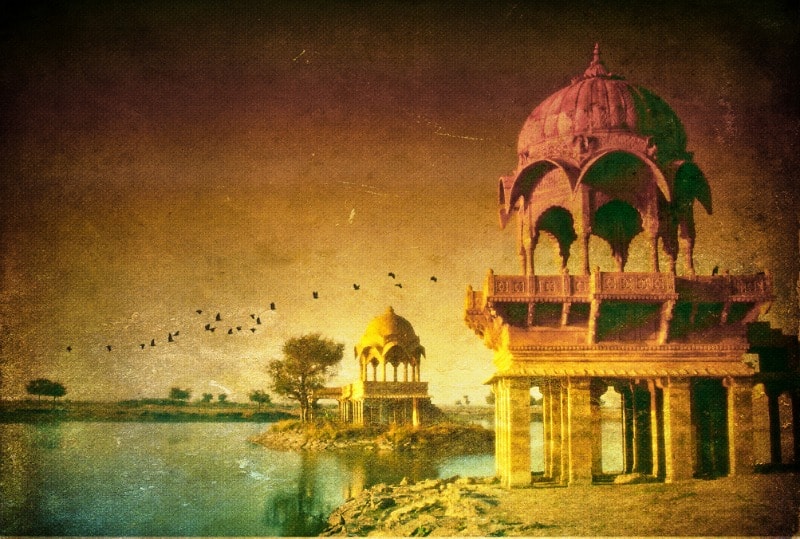 Jaisalmer. Photo Credit: Nick Kenrick .. ZedZap.. via Compfight cc
2. Jaisalmer
Jaisalmer is a dream in golden hues, a sand castle write large. To walk among her intricately carved havelis, peek into life inside the 11th century fort or sip tea while seeing the Golden City from a distance is to enter a land stopped by time. The overland trade routes used to stop in Jaisalmer, bringing wealth and artistry to the town. Now, tourism is the only real industry, and they do it well. Read 1,001 tales of the Jaisalmer Desert.
Travel Tip: Go on an overnight camel safari to the Thar Desert. There are many operators who can arrange this for you, such as the Fifu Desert Camp, who do a particularly good job.
Photo Credit: Nick Kenrick .. ZedZap.. via Compfight cc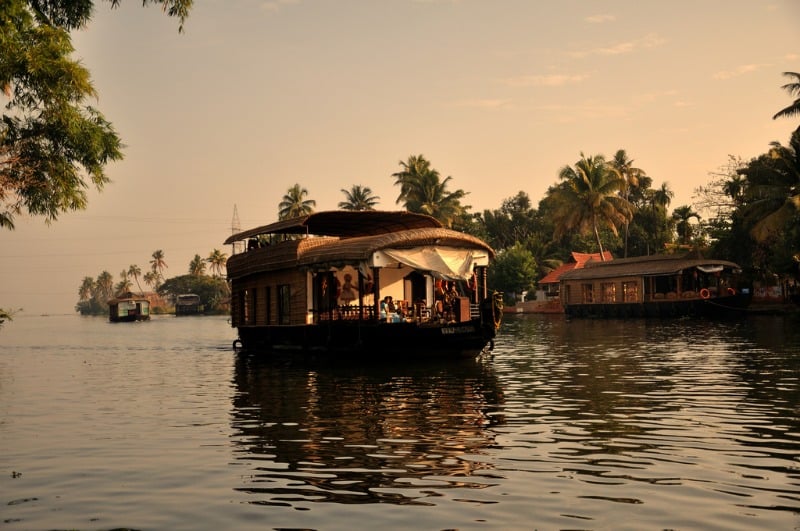 A houseboat on the Backwaters of Kerala
3. The Backwaters, Kerala
There is something hypnotically tranquil about boating on the Backwaters of Kerala, like drifting into a watercolour painting. The boats are graceful and come with everything you need, including staff. There's literally nothing to do except relax and be one with the gently unfolding scenes of traditional life on the rivers.
Travel Tip: Inspect the boat you rent before agreeing to a price. You can always find boats available in Alleppey, where there are hundreds to choose from.
Photo Credit: iamrawat via Compfight cc
Toy Train, Darjeeling. Photo Credit: Matt Paish 2013 via Compfight cc
4. Darjeeling
Bliss in a swirl of haze is the name of a book about the Windamere Hotel in Darjeeling and I cannot find a more apt description. I stayed there for three wonderful days so I could watch the sunrise from Tiger Hill on a red-letter birthday, and I was not disappointed. The morning dawned crystal clear and I marvelled at one of the world's great natural spectacles as the white Himalayan range turned multi-colour hues. But after that, the region was swathed in mist and haze, which lent a dreamy charm to the rambling town.
Travel Tip: Take the Toy Train up from New Jalpaiguri – the roads are skeleton-jarring. Stay at the Raj-era Windamere Hotel, or at least take afternoon tea there. This romantic retreat sits very near the top of Darjeeling, on Observatory Hill, and the views from the terrace, dining room and some of the suites are astounding when the mist clears. But it's so romantic, you won't care if the mist clears.
Photo Credit: Matt Paish 2013 via Compfight cc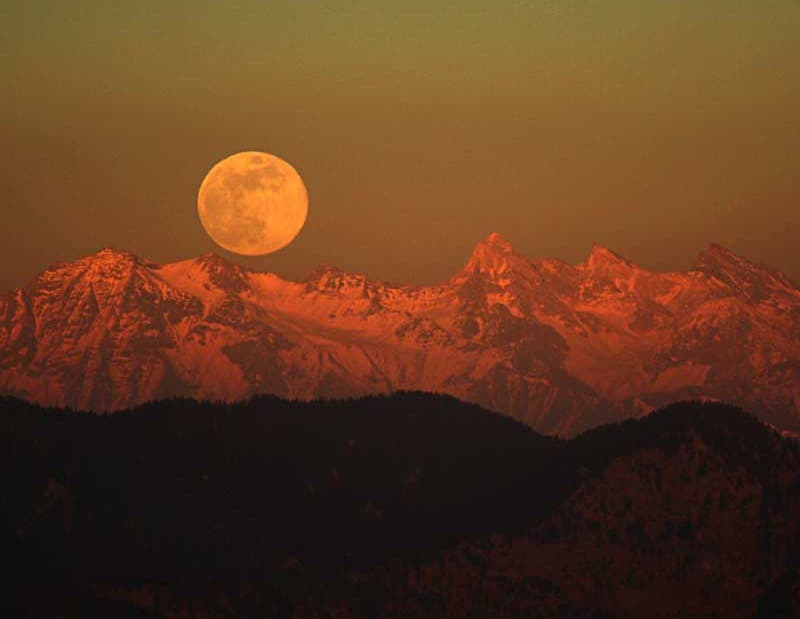 View of Himalaya from Shimla. Photo Credit: swamysk via Compfight cc
5. Shimla
At one time, a very large portion of humanity was ruled from this quaint hill station in Himachal Pradesh, north-east of Delhi, in the foothills of the Himalayas. The British Raj retreated to the cool climes of Shimla in summer when the heat on the plains, where Delhi is located, became unbearable. A pedestrian Mall runs along the ridge through town and it's lined with cafes and shops, and still retains an aura of British cosiness. It's a popular spot for Indian honeymooners now, which adds to the air of romance.
Travel Tip: Take tea at the Oberoi Cecil Hotel and, if you can afford it, stay at the Oberoi Wildflower Hall in nearby Mashroba.
Photo Credit: swamysk via Compfight cc
Share: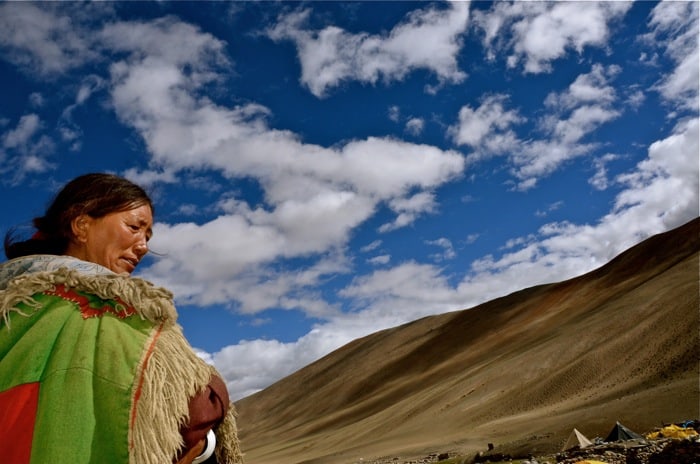 A nomadic head-woman, who depends on pashmina goats to remain autonomous. Photo courtesy Jeff Fuchs.
Interview with Himalayan explorer Jeff Fuchs
I MET OTTAWA-BORN explorer Jeff Fuchs several years ago at a tea shop in Toronto where he was giving a talk about Puerh tea from China and promoting his book, The Ancient Tea Horse Road. I was instantly smitten. The event combined my favourite beverage (tea), my favourite part of the world (the Himalayas) and an adventurous travel tale told by a charismatic explorer. It just doesn't get any better, for me.
Jeff has lived for most of the past decade in Shangrila, northwestern Yunnan, upon the eastern extension of the Himalayan range where tea and mountains abound. His work centres on indigenous mountain cultures, oral histories and an obsessive interest in tea. His book The Ancient Tea Horse Road details his eight-month ground-breaking journey traveling and chronicling one of the world's great trade routes, The Tea Horse Road. Jeff is the first westerner to have completed the entire route, stretching almost 6,000 kilometers through the Himalayas.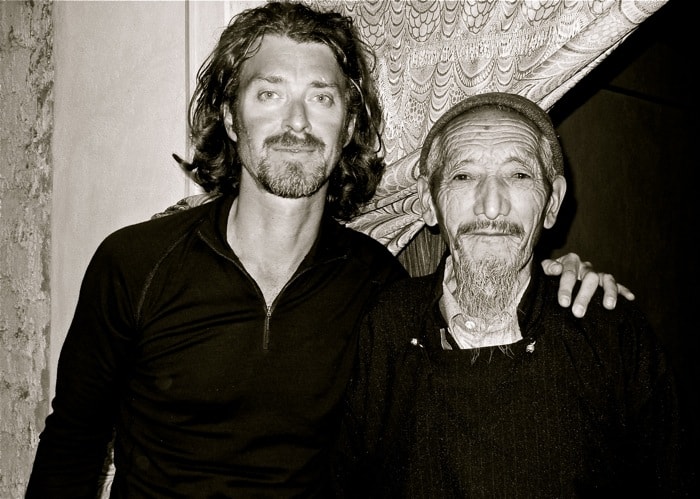 Jeff and Abdul, an elder from Ladakh. Photo courtesy Jeff Fuchs.
More recently, Jeff completed an expedition called The Route of Wind and Wool. This route traced one of the ancient world's long lost trade routes, through some of the planet's most daunting and stunning geographies – the desolate magnificence of the India Himalaya. The team was searching for the remains of the route – and the memories along it – in an odyssey by foot and mule through ice, over stone, and back into time on a 33-day journey by foot. It was the fourth such exploration in Fuchs' series to revisit the lost Himalayan trade routes.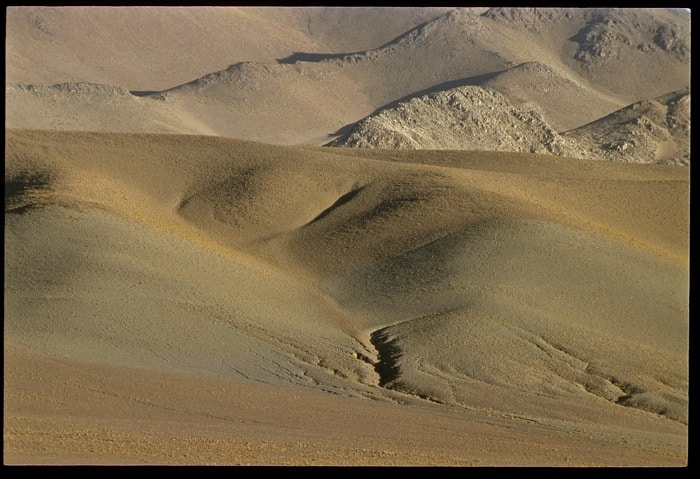 Landscapes in the mountains that render the mind numb. Photo courtesy Jeff Fuchs.
1. In this day an age, the idea of being an explorer seems like a romantic anachronism. Did you always want to be an explorer? How did you get started?
I grew up with a fair amount of moving, and with moving comes seeing and smelling, touching, and listening and expecting. I suppose there was always exploration in the blood without necessarily thinking that I was an 'explorer'. Much time in my childhood was spent in the snow, and in the mountains and there was always the notion that there was all of this life, and all of these life stories to peak into that were 'just over there' beyond the ridge-lines. There was always an idea in me that one needed to live standing up, getting out there, and engaging. There was a time though when I realized that for me at least, it wasn't simply enough to simply be stimulated and engaged; I wanted to be able to bring something back and to perhaps open up some of those worlds that I was fortunate enough to see, and feel. There is a kind of responsibility to exploration…and a kind of relentless hunger and persistence. Sometimes exploring bludgeons you, but it never leaves you alone.
2. You've done four expeditions in the Himalayas to revisit lost trade routes. Why the Himalayas? What's the draw?
The Himalayas' and their cultures, their huge spires and hints at ancient isolated worlds, really do take you into their folds without releasing. Years ago I was on an expedition (one of the first major Himalayan odysseys) cutting over a mountain pass at almost 6,000 metres and as I crested, I looked down into this snow-crusted valley and was struck to see a community of yak wool tents billowing in the winds. Apart from what I'd read, that moment and knowing that a culture was living on this very cusp of mother nature's every mood hooked me to try and peer into how these people arrived and what kept them in such splendid isolation. A fascination I suppose with a community so isolated and autonomous appealed to so much of my being.
Since then I've focused on the trade routes that have passed, virtually unbeknownst to the west, through the mountains to open up the world of not simply trade, but DNA, linguistics, the environment, and a wider context of what makes the Himalayas such a vital crossroads. I've spent the last years living on the eastern extension of the Himalayas in Yunnan and simply being there one encounters, by extension from locals, other routes and fables. Part of my own root system has become entrenched in the region and with language and time, a region starts to become far more than simply a landscape of quick sensations; it becomes a place of entrenched feelings, facts, and memories. The Himalayas are now being regarded (as they should) as one of the globe's most crucial zones for study, to fear for, and act upon, particularly given the whole global warming topic, so in some ways this region is a kind of vortex of magnificent life, culture, and risk, and it needs more attention.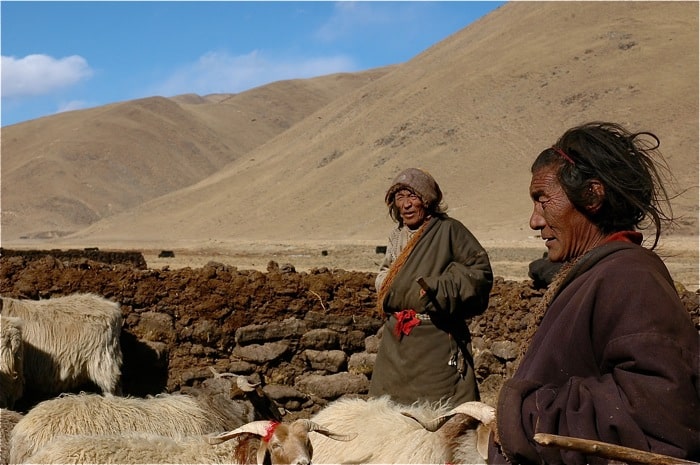 Elders hold the memories of the great trade routes. Photo courtesy Jeff Fuchs.
3. How did you decide to do The Route of Wind and Wool? What inspired you to follow this route?
An old nomad first spoke of the route when I was researching another route, this one of salt. This wind and sun-scarred old warrior's face and his words, remained in me for years until I heard from another source about this Route of Wind and Wool, which sort of confirmed the ancient's' words and urged me on. It had all of the ingredients if you will, of what I found so vital about the mountains themselves: a virtually unknown and misunderstood bastion (outside the regions it passed through), entirely local and time-honoured narratives, and a kind of history that wove people, climate, and products together in this big rainbow of life on the top of the world.
The wool in question, pashmina, has become almost iconic in the great market towns of the world that cater to luxury clothing, and yet this special wool (at its best) is sourced from rugged nomads who live in the most remote, high-altitude landscapes on the planet. Sourced and transported through terrain that tests the body and will like few others, the pashmina goats, and the wool they produce allow those very isolated communities to remain where they are, and how they are. It seemed a great, slightly risky quest, to open up a part of the globe that for many is simply a series of high peaks.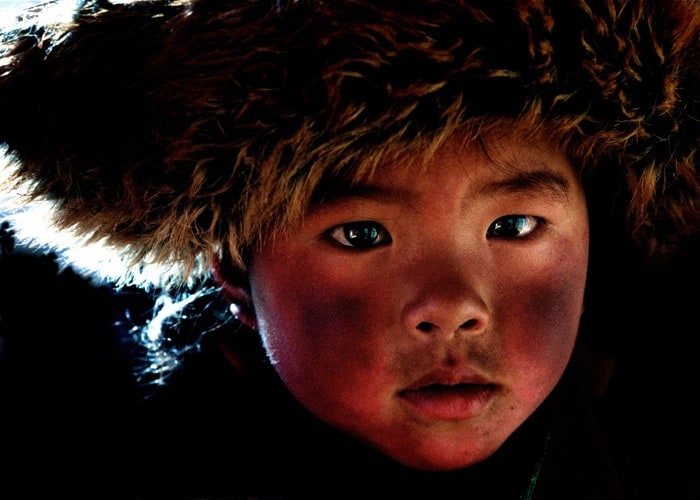 A young nomadic girl gives a fleeting glimpse of something timelessly mortal in Qinghai province. Photo courtesy Jeff Fuchs.
4. What did you discover on The Route of Wind and Wool? What experiences could other, perhaps slightly less intrepid travellers, enjoy along this route?
One thing that always affects me in the mountains generally is how these regions of daunting risk, utterly isolated lands, and barriers are in fact zones of protected micro-climates cultures, and safe channels. There are worlds within worlds that are seldom mentioned or referred to within the great snow peaks. The area we travelled through is basically long strips of mountain ranges through Ladakh and within the folds there are monasteries, and fertile valleys that prepare themselves for the winter onslaughts at which time the region shuts down entirely.
There is much that is utterly soft and humane amid such power. I think anyone is capable of wandering and enjoying the cultural elements along with the vast landscapes that are ruled by skies and winds. The market towns of old still hum and buzz with a dozen tongues, and they really still do have tints of their former selves. One only has to get away from the tourist veneer and peak behind it to see remnants of a past world that lives in the present.
5. What was the most difficult part of the expedition? How was the altitude? And what was the most rewarding?
What's inevitably difficult for me about these expeditions is the return from them. Contrary to races to cross terrain in record time or summiting a peak in a couple of adrenaline fuelled days, these long expeditions of a month, two months, or longer, tend to grind a different way of seeing and processing into the being. Leaving these feelings and the giant spaces and elements feels at times like a stifling bag has been draped atop the body and mind. There are dips as the sensations and raw elements get knocked around by the speed sometimes necessary upon reentry into society.
I try to keep those mountain moments in a little mind-vault to be retrieved whenever possible and whenever needed. Altitude for me isn't an issue and we only hit a mid 5,000 metre range — it is the length of time and the daily grinding that is what can take a toll. In terms of rewards, I simply marvel that a team (or solo) can still travel in relative autonomy, off-grid, and content for so long needing only each other and the sky for company and that vignettes of other worlds can remain so perfectly within our world of perpetual speed.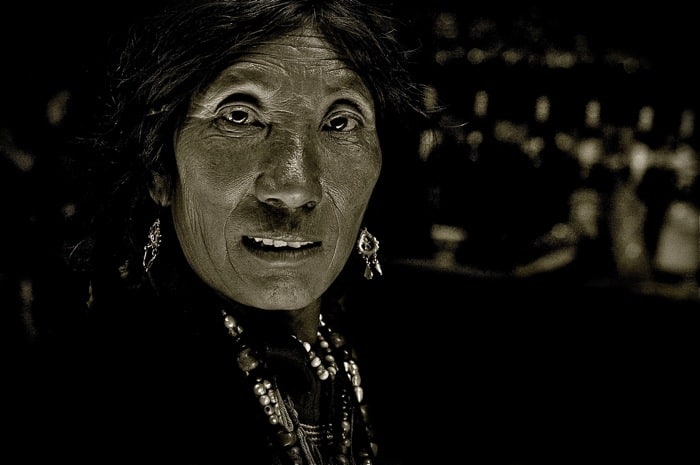 A nomadic matriarch (and our team's hostess) in Central Tibet. Photo courtesy Jeff Fuchs.
6. Can you tell us something about the culture of the region you were travelling in? Is there a danger this culture will be eroded or diluted? What challenges are they facing, and can readers do anything?
Most of our expedition took place in Ladakh, which is a stunning land and a crucible of cultures of Central Asia, Tibet, and India. Pockets of  nomads, trading peoples from Yarkhand, remnants of the great Muslim trading families, and from every point of a map, and a dozen cultures and languages all fuse together and yet remain distinct. All of this exists in a rich area of peace and diversity largely based upon where ancient trade routes bisected and funnelled into.
There are of course risks with every culture, no matter how insulated they might be that there will be an ebbing away of culture and of memory and that thing of the old world, oral narratives but the very altitudes and physical conditions sometimes act as a guardian against too much incursions. Much of the risks that affect the regions have to do with global warming and ever-quickening levels of glacier melt, so for better or worse there actually needs to be studies. I think travellers simply have to travel lightly — if that is even something we humans can do. People will never cease to physically travel, but perhaps we might tread a little more gently and spend time interacting with local cultures rather than racing through them on our
7. What advice would you give to someone who wants to be an explorer, or to travel adventurously in places like India, China, the Himalayas?
Be curious and relentless, take chances, and learn to look twice at everything … and never turn down a cup of tea!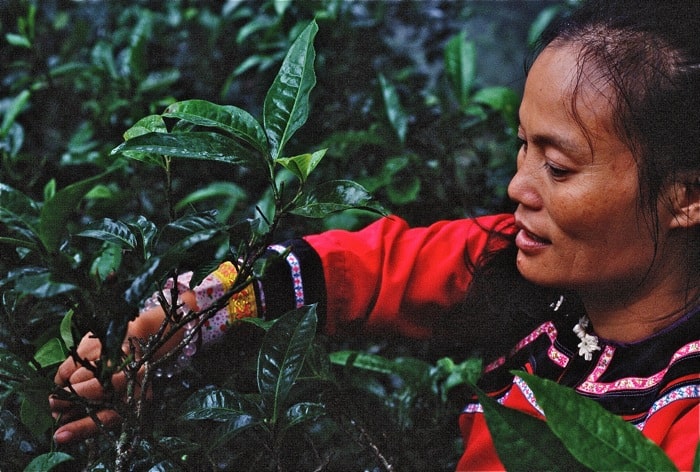 A tea harvester plucks tea leaves from a tea tree in southern Yunnan province. Photo courtesy Jeff Fuchs.
8. You import teas from China. Why tea? What drew you to the "world's most magical beverage?"
Though tea has been, in some form or another, in my life since I was young, it is only since I visited Taiwan's world of ferocious and stunning Wulongs that I've been a happy and slightly neurotic dedicate of the leaf. [ED. NOTE: Nothing neurotic about it!] Beyond the fables, and the colourful ,historical aspects of tea, I was smitten with its stimulant, almost narcotic effects during a proper tasting high in Taiwan's Nantou County almost 15 years ago. It is a fuel and medicine whose effects hit my own bloodstream with a rush of good and since then it has been the basis for much of my travel and seeking.
This interaction between a vegetal complex and us (humanity) is quite marvellous, and beyond simply the storied names and titles, and complex ceremonies, tea is still essentially something utterly simple for everyone. I recall sitting in one of the most famed of villages that produce Puerh's (in southern Yunnan) in a tea harvesting family's home on the floor and being served a tea that was that particular year's most expensive and sought after tea. It was selling at ridiculously inflated prices in the tea towns and being fawned over as if it was a sacred item. The hostess of the family simply through the tea leaves into a pot that burbled on the floor. This was a tea that would have been snapped up at a few hundred dollars a kilogram, but was being casually slung about and served up with a wonderful kind of simplicity. It was a moment when tea (my version of it anyways) became clear in my mind. An utterly simple liquid gift of the earth that fuels, binds together, and cleanses … anytime and anywhere.
9. What's next?
A lot more tea and another trade route later this year. The tea company model has slowly gained momentum: hand-sourced, limited quantity teas that rarely see much beyond the regions they're grown in, served up in a monthly tea subscription. I don't think the Himalayan trade routes (nor tea for that matter) will ever really ever be out of my system.
NOTE: You can join the tea club, and try a new tea every month, by visiting the Jalam Tea website.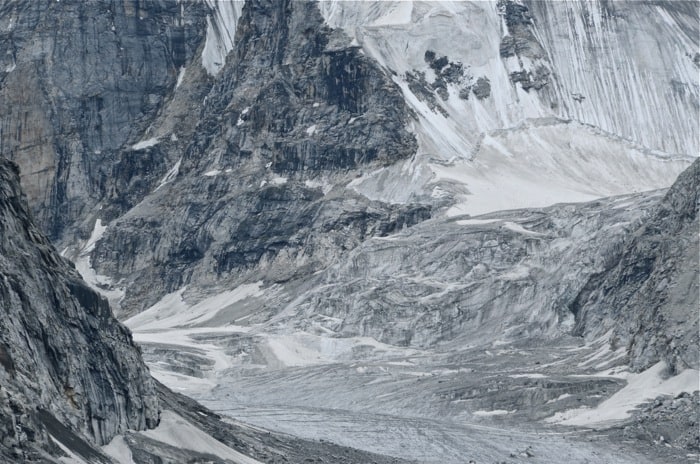 Here atop the Lasermo Pass in Ladakh upon the Route of Wind and Wool. Photo courtesy Jeff Fuchs.
Share:

Flowers are just one of the many beauties of nature that Costa Rica is famed for. This post is a collection of EcoAdventureMedia's best flower photos, a sure antidote to the travails of winter in a northern climate if there ever was one.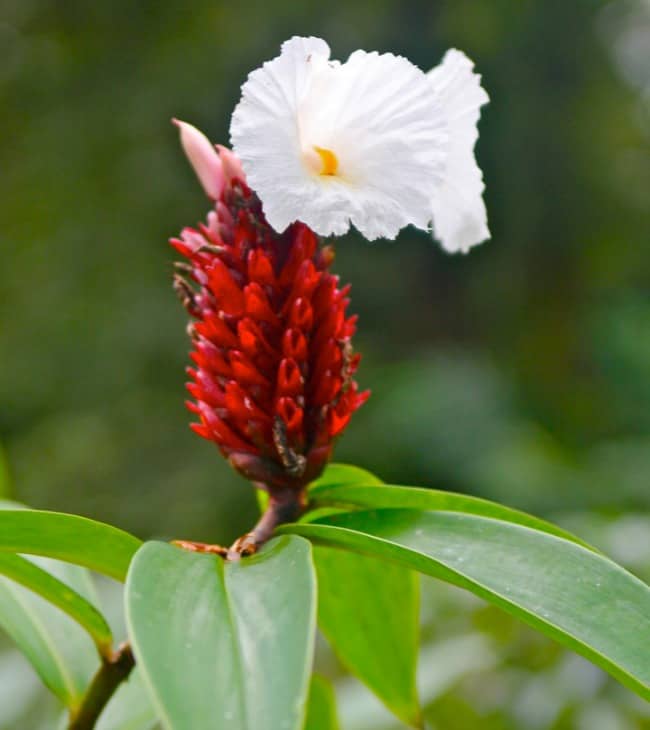 In the Finca Rosa Blanca garden
A rose by any other name…
The earth laughs in flowers. Ralph Waldo Emerson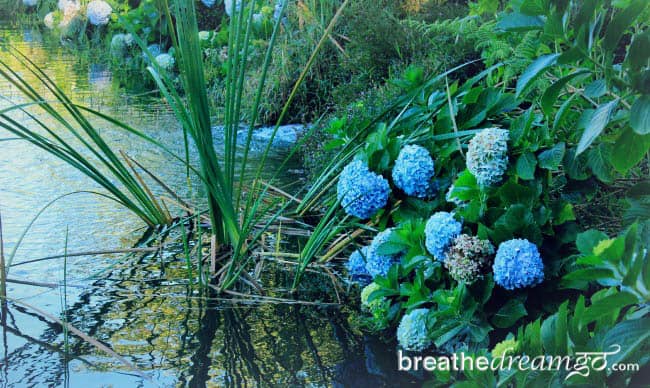 Hydrangeas around a pool at El Establo Cloud Forest Hotel in Monteverde
In the garden of the Arenal Kioro hot springs resort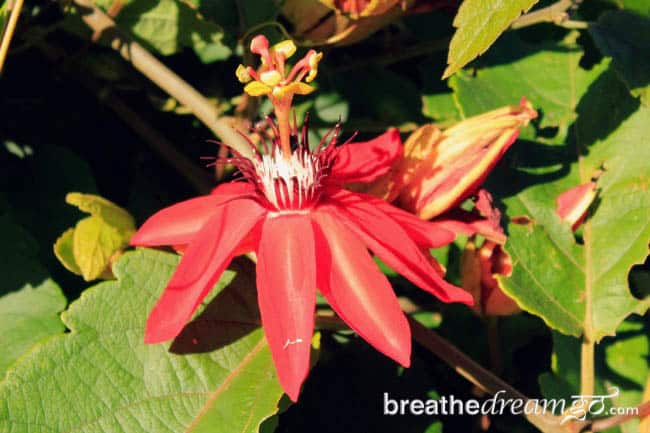 Tropical flower bursting with life
Dreaming of flowers
Jim O'Donnell travelled as part of the EcoAdventureMedia team and he published this glorious post about Lankester Botanical Garden in Costa Rica. He says, "I'm a sucker for flowers and gardens of any kind. My dreams are full of them." His dreams come true in the following flower photos he snapped in Costa Rica
A flower blossoms for its own joy. Oscar Wilde
Award-winning writer and photographer Jim O'Donnell is the author of Notes for the Aurora Society: 1500 Miles on Foot Across Finland.  He can be found at his website Around the World in Eighty Years.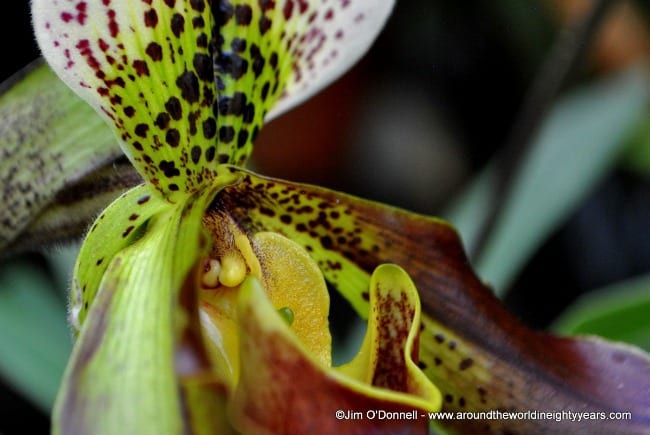 Trichopilia occidentalis. Photo courtesy Jim O'Donnell.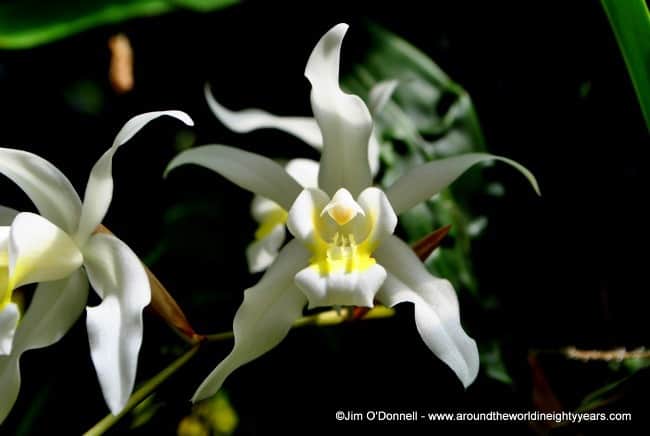 Vanda Tricolour. Photo courtesy Jim O'Donnell.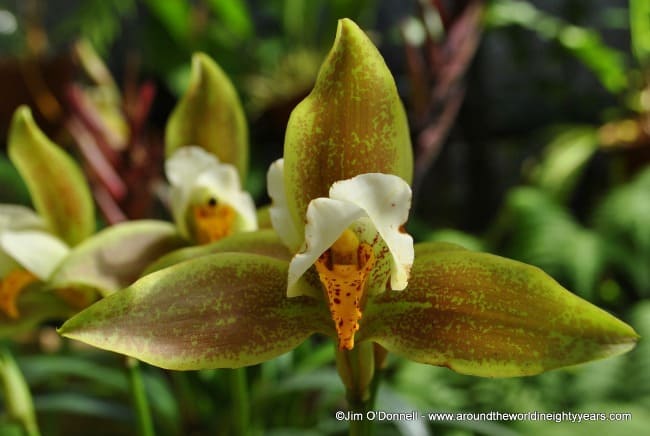 Lycaste deppei. Photo courtesy Jim O'Donnell.
Fragrance and flowers
I will be the gladdest thing under the sun! I will touch a hundred flowers and not pick one. Edna Saint Vincent Millay
For nearly two decades, Ethan Gelber has agitated for responsible/sustainable travel practices, a focus on keeping things local, and quality and relevance in publishing and destination marketing.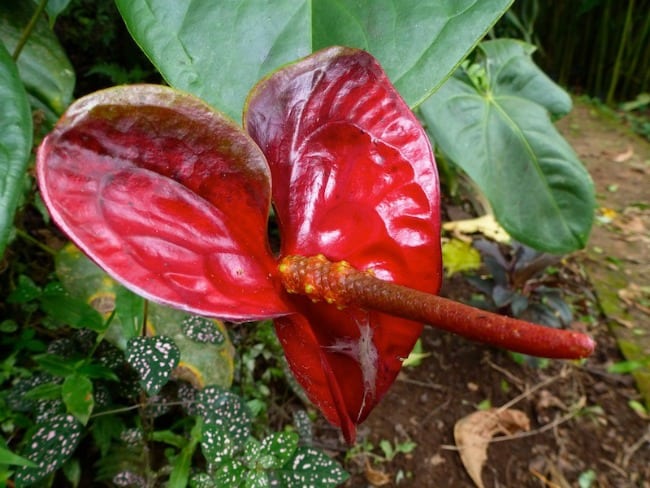 The extravagant flamingo flower. Photo courtesy Ethan Gelber.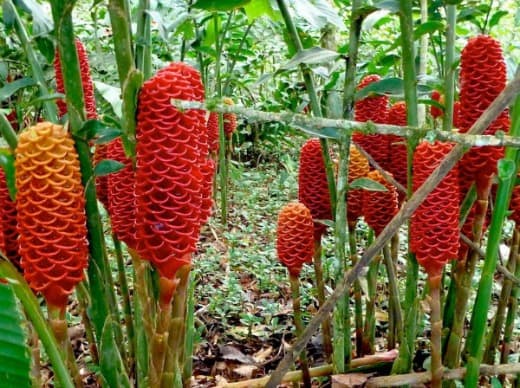 The pine cone ginger. Photo courtesy Ethan Gelber.
Peaceful and beautiful
Michael Turtle tells us about the photos he snapped in Costa Rica, below: "These flowers are commonly referred to as Peace Lilies and most people know them to be white. But here you can see two right next to each other but one is completely green. They can change colour to make themselves more or less attractive to birds and insects if they have no pollen to share. The other is a colourful and striking flower found in the mountains of Bajos del Toro in the centre of Costa Rica."
Nobody sees a flower – really – it is so small it takes time – we haven't time – and to see takes time, like to have a friend takes time. Georgia O'Keefe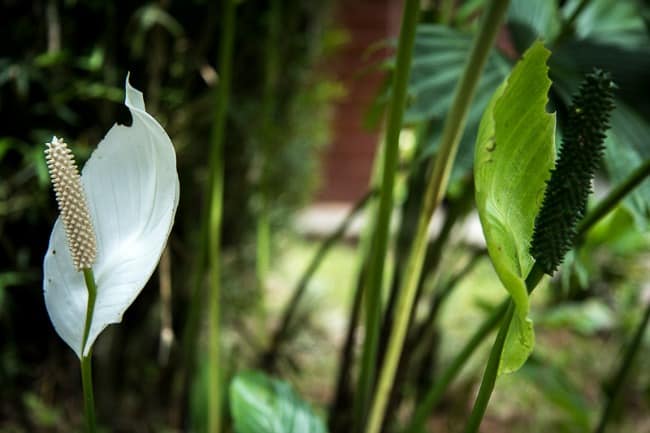 Peace Lilies. Photo courtesy Michael Turtle.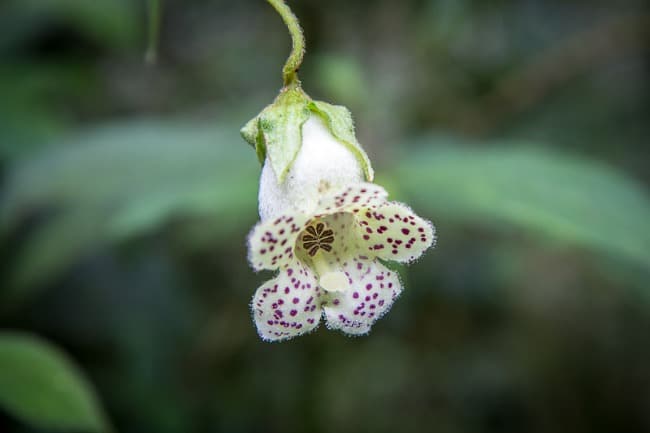 Photo courtesy Michael Turtle.
A Commitment to Sustainability & Green
If we could see the miracle of a single flower clearly, our whole life would change. Buddha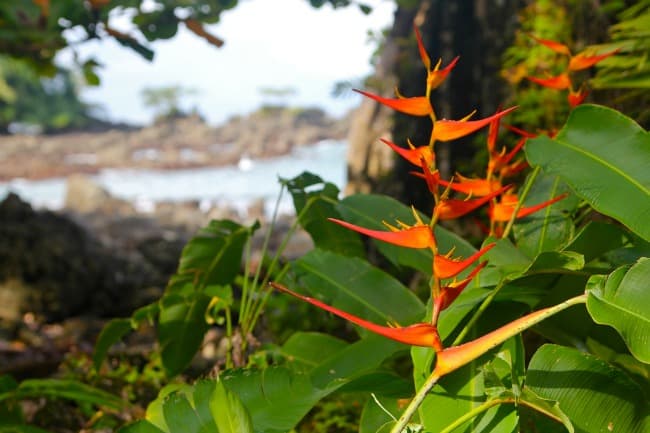 Photo courtesy Bret Love and Marry Gabbett as well as the top photo credit.
Share: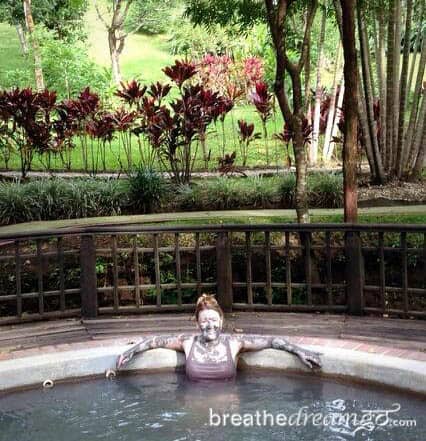 There are many reasons I loved my week-long private guided tour of Costa Rica. Shortly after Jose picked me up in the Guanacaste region of Costa Rica, we drove along Carillo Beach, an inviting beach if there ever was one. As we drove past a coconut seller on the roadside, I asked my guide Jose to stop. We got out and while buying fresh coconuts to drink there, on the perfect beach, Jose struck up a conversation with the woman in Spanish — and Jose turned a commercial exchange into a rich cultural experience.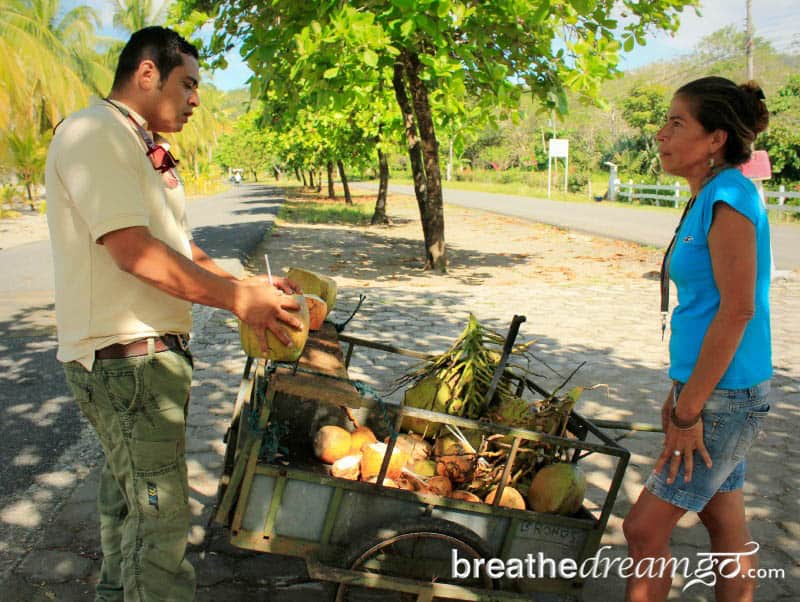 Jose and Itzel discussing the coconut business in Costa Rica
Itzel is a strong, wiry woman who hacks open coconuts with a machete while a cigarette dangles from her lips. Jose learned that she and her partner Andrey, boyish and athletic, have permission to pick coconuts from the palm tress that line the beach and sell them in return for helping to keep the public beach clean. Itzel's hard-worn looks belie her enthusiasm and charm. "I'm so blessed," she gushed, "Some tour buses stopped and I have already made my money for the week!" Then Andrey showed us how he climbs the palm trees and hacks down the coconuts — and was patient with me as I video-taped it!
It was a small moment, and a precious one, and I knew I was going to have a great week, touring gorgeous Guanacaste with Jose. In this video, you can see Andrey demonstrating his palm tree climbing prowess.
A week of adventure
Beach near Cala Luna, Tamarindo, Costa Rica
After settling into the Cala Luna in Tamarindo, on the Pacific coast, Jose and I set out for our first adventure. We drove inland, and north, to Rincon de la Vieja volcano and the Borinquen Mountain Resort and Spa. As we drove, Jose told me the legend of the volcano whose name translates to "woman's corner of the forest." Once upon a time, Curubanda, daughter of a chief, fell in love with the inappropriate Mixcuat.
They ran away to the forest, but were found by Curubanda's father and Mixcuat was killed. She lived the rest of her life in a remote corner of the forest and became a renowned natural healer. Tribal people would go to her for healing, saying, "We are going to the corner of the old lady." Jose added that the people still believe her soul reappears at Easter time.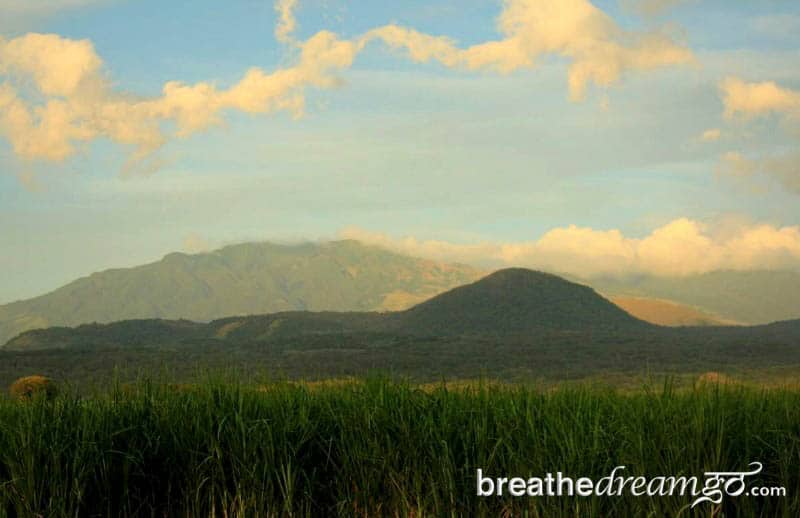 Rincon de la Vieja volcano, Guanacaste, Costa Rica
During our day at Borinquen, we rode horses deep into the forest to several hidden waterfalls, had lunch on the verandah of the resort and I spent the afternoon frolicking in the natural sauna, hot springs and mud baths. I fell in love with Borinquen, and felt transported back in time by the dark wood villas and bungalows spread across the extensive property. The decor and forest setting were reminiscent of a safari lodge from a long-past age.
It was at Borinquen that I began to appreciate the style of a Kensington private guided tour. The customization and hand-picked activities did indeed make me feel that I had been transported back to the Golden Age of travel, and the atmosphere at Borinquen helped.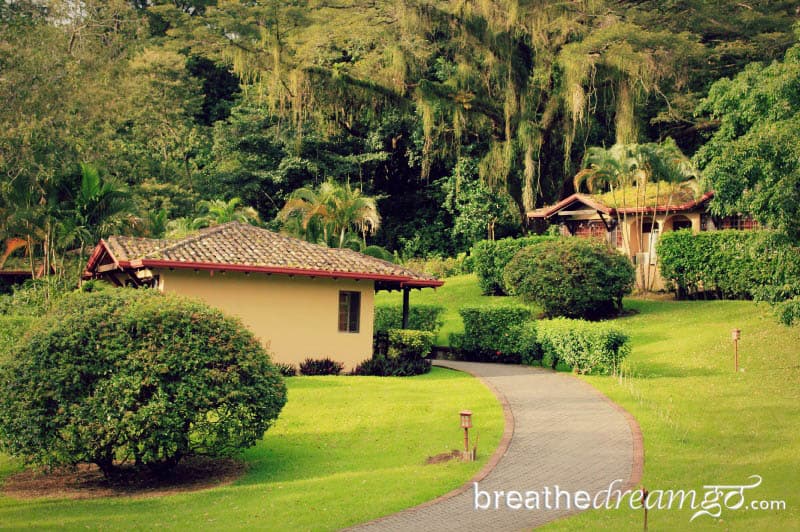 The villas of gracious Borinquen Mountain Resort & Spa
Bird watching on the Rio Tempisque
The next day, Jose and I headed out for another adventure, and had a great day driving around Guanacaste in a comfortable SUV that helped smooth out some of the bumpy roads. We stopped on the way at a "hidden" outdoor restaurant that served up delicious, fresh local food in an outdoor setting that had just the right amount of comfort. And then we picked up our boat captain in a village on the way to the Palo Verde National Park and Rio Tempsique.
The Rio Tempisque, a remote wetland sanctuary, is one of the best places for wildlife and bird watching in Costa Rica. It's the most important migratory bird site of the Mesoamerican Pacific and is home to one of Central Americas largest concentrations of aquatic birds.
I loved our boat ride up this river, and deep into the park, just the captain, Jose and me. They had timed the boat ride so there were no other boats on the river, and at times I felt I was truly miles away from human civilization, and there were moments when I could hear the music from that old Humphrey Bogart – Katharine Hepburn film, The African Queen, playing in my ears.
I lost count of the birds I saw — various herons, egrets, storks, kingfishers — and the number of crocodiles basking on the banks. I also saw several huge green iguanas, small bats asleep along a tree trunk and of course the natural vista of think jungle, green water and bright blue sky.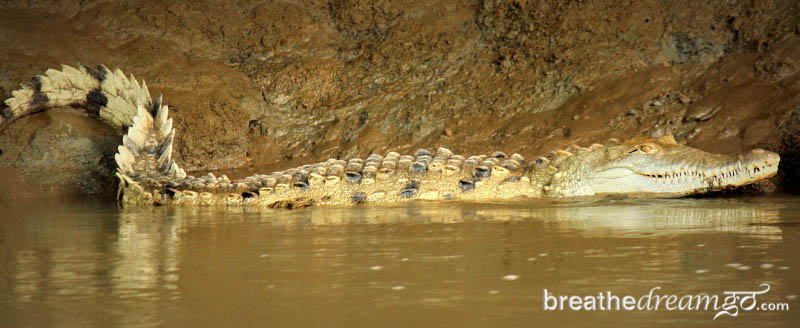 Crocodile in the Rio Tempisque
On the way back, we had one more adventure, though this time of the cultural kind. We stopped at Guatil, a potter and artisan's village, where I met the father and son team at Willy's Pottery. The people of Guatil are descendants of the Chorotega Indians, who lived in western Costa Rica in pre-Columbian times. They continue to make pottery using the traditional methods and materials, handed down for generations, and try to preserve their culture in the face of modernism and Spanish-influenced Costa Rican culture.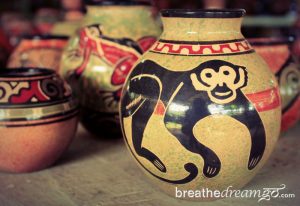 Guatil Village Pottery
I learned how they make the pottery by hand, out back of the store, and even something about the symbolism of the pre-Columbian designs they still use:
Monkey: good luck
Crab, butterfly, frog: fertility
Toucan, iguana, crocodile, parrot, owl: beauty
One of the most interesting aspects of the pottery making, to me, was learning they mix clay with "iguana sand" — the sand an iguana digs up when it makes its hole in the ground. I also learned there was a traditional Chorotega belief in reincarnation, and that people would do ceremonies to find out what animal they will be reincarnated as in the next life.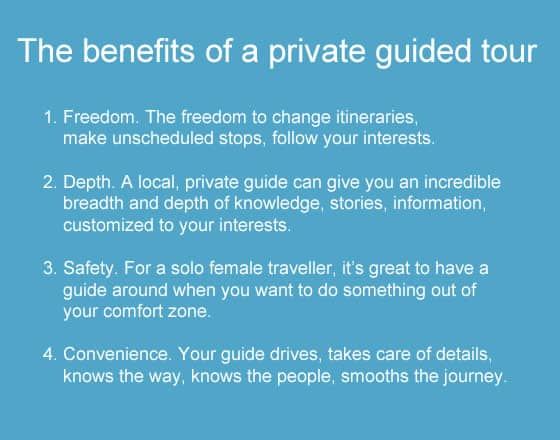 Kayaking and coffee
My final adventure experience with Jose in Guanacaste was kayaking among mangrove swamps on the Tamarindo estuary. There is nothing like being in a kayak, at eye level with crocodiles and feeding herons, to make you feel you are experiencing nature!
It was a great way to end a fun week in Guanacaste — which of course included playing in the surf, swimming in the private pool of my villa, and enjoying fresh food and the local drink, Guara Sour, poolside at Cala Luna.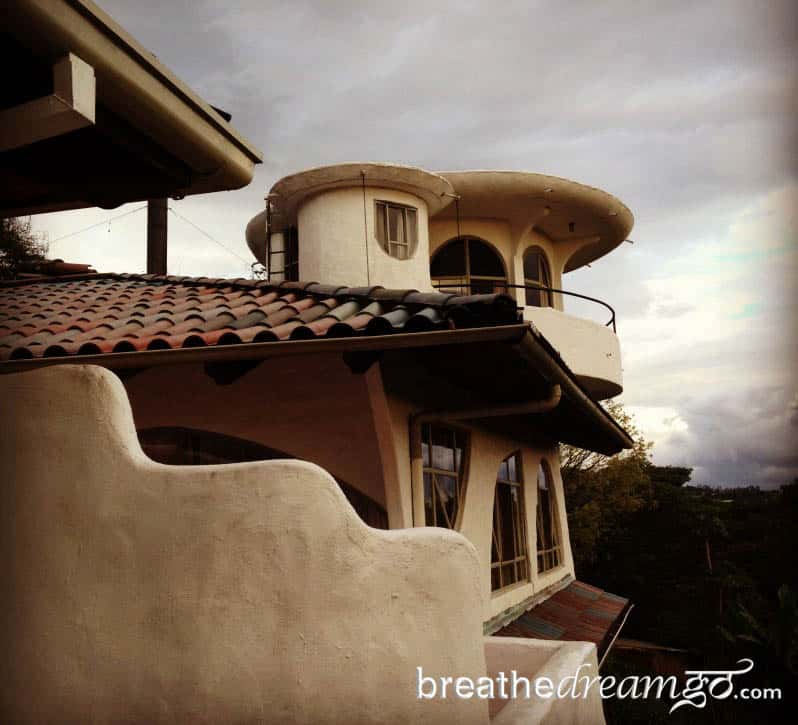 Wonderful and whimsical Finca Rosa Blanca, Costa Rica
From the tiny airstrip, surrounded by farmer's fields, I flew back to the capital, San Jose, in a 10-seater plane, over mountains, lakes and volcanoes.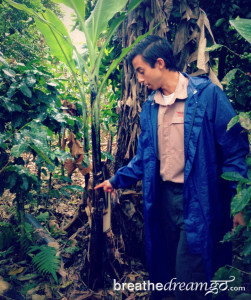 My guide, Ulysses, on coffee tour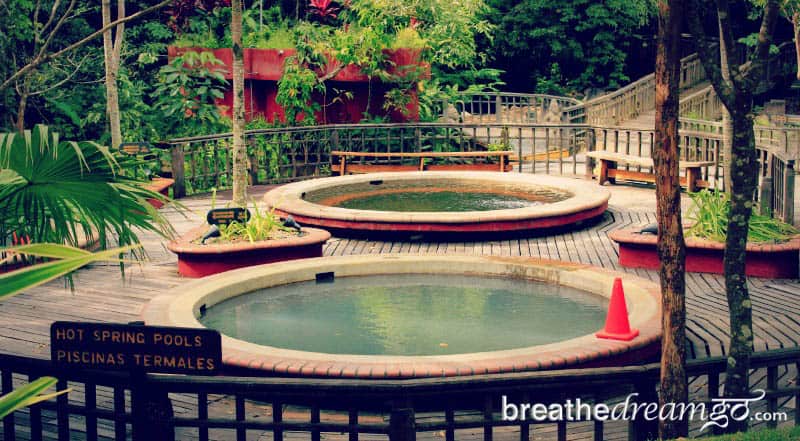 Hot spring pools at Borinquen Mountain Resort & Spa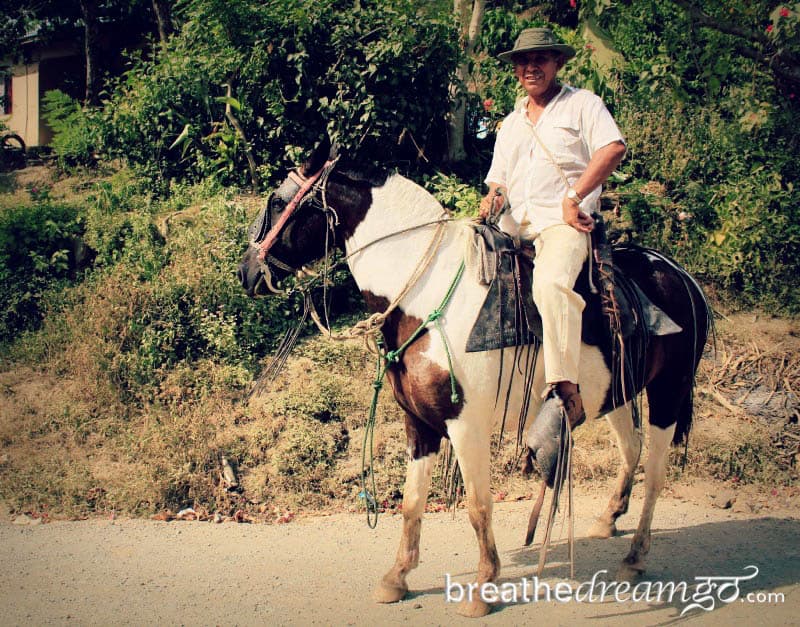 A "sabanero," or Costa Rican cowboy of the Guanacaste savannah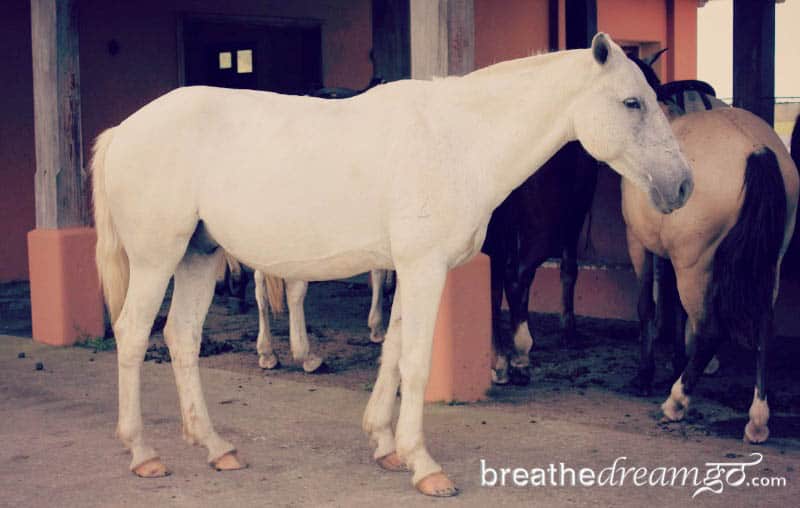 My horse, Tormento, at Borinquen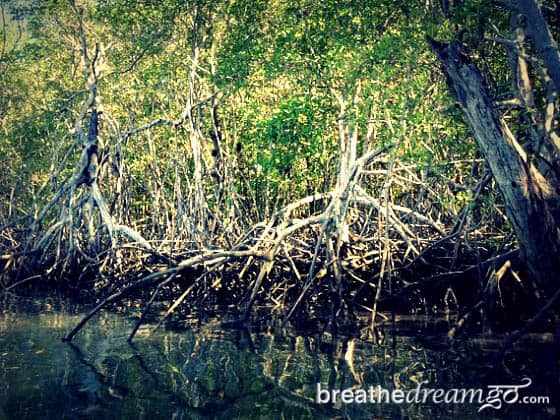 Mangrove trees in Tamarindo Estuary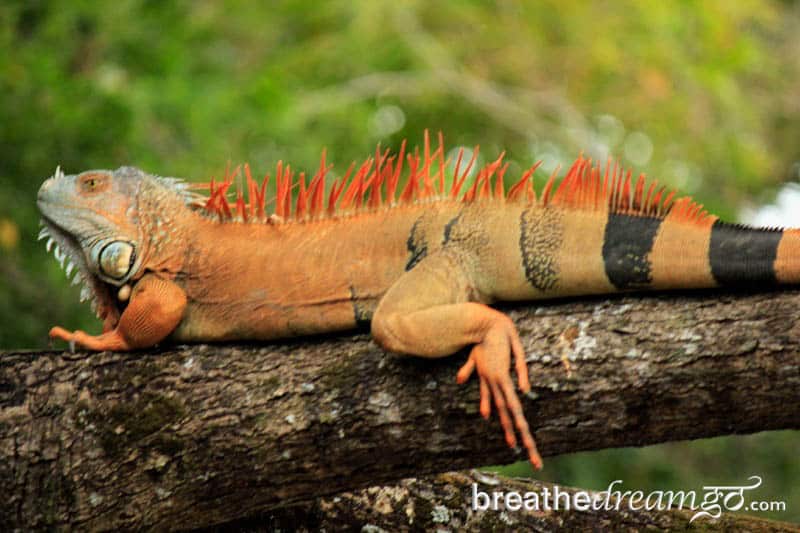 Male green iguana, on a brach overhanging Rio Tempisque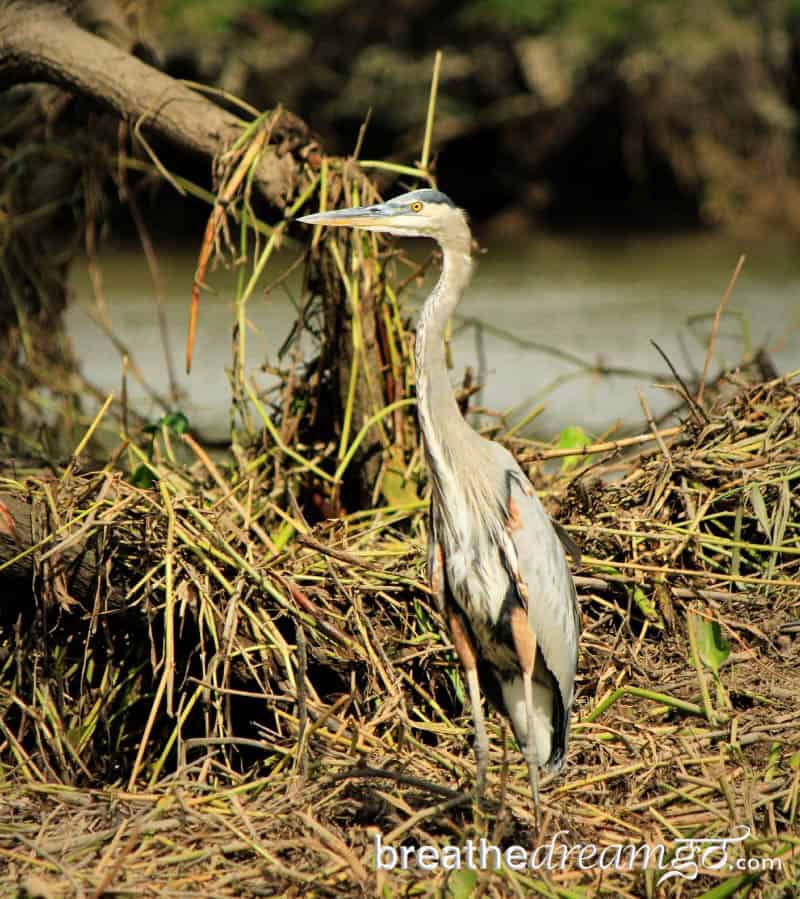 Great Blue Heron, Rio Tempisque
Share:

I avoided Goa on the coast of India for a long time, travelling the length and breadth of India on several trips, but never making it to the vacation hot-spot known for beaches, sunsets and parties. But when I decided it was time to at see what all the fuss was about, I was still intent on doing it my way. This is what happened.
Famous for full moon beach raves, a hippie-run night market and the kind of laid-back tropical vibe you can really only find in Asia, Goa is one of India's most touristy areas. The combination of Portuguese colonialism in the past and a high influx of foreigners in the present, make Goa seem like the least Indian part of India, to me. Which is pretty much why I had avoided it on my first three lengthy trips to India.
Palolem Beach, Goa
But on my fourth trip to the subcontinent, I decided it was time to experience Goa, if only for-once-and-for-all. I carefully chose the Bhakti Kutir, an eco-resort that seems to grow organically out of a banana grove. Sanskrit for "a home for devotional meditation," the Bhakti Kutir is ideally situated on a small hill between two beaches in south Goa. Because it isn't on the beach, it's quiet, and because of the lush vegetation, it's semi-hidden. Clouds of mosquitoes at dusk are the only damper on this small piece of tropical eco-paradise.
On arrival, I fell immediately in love with my "nature cabana," and especially the outdoor bathroom, which I wrote about in Beach side in Goa. After exploring the charmingly eccentric grounds of the Bhakti Kutir, I lit out for the beach. Or, I should say, beaches.
Beaches north and south
Palolem Beach was a short walk down a gentle slope to the north; and Patnem Beach was a 10-minute walk down a back country road and through a tiny fishing village to the south. They were both close by, they were both fabulous Goan beaches with names beginning with "p," but there the similarities ended. Patnem and Palolem beaches were only minutes away from each other — but world's away in terms of atmosphere and facilities.
According to my trusty guidebook, Palolem was described as a recently discovered gem, "one of Goa's most beautiful spots with a friendly, laid-back vibe." And it is a stunning crescent-shaped beach with rocky outcroppings at each end, perfect for watching the sun sink into the Arabian Sea, and a wide expanse of sand with plenty of room.
But it's also lined with small beach hut resorts, outdoor restaurants, souvenir shops and all the other paraphernalia of a tourist trap for beach bums. Most of the people on the beach were deeply tanned foreigners, swimming, playing volleyball, walking along at the edge of the surf or relaxing with beers in the outdoor restaurants. There was a distinct party vibe in the air. I could easily imagine this beach as a setting for moonlit raves.
Palolem Beach, Goa
The beach that tells you who you are
After walking the length of the three kilometre beach and back it was late and I had to wait for the following day to check out Patnem Beach. Right after breakfast I made my way along the sunny back road, stopping to chat with some local girls selling beach fashions. One girl said, about my fair complexion, that I looked like a milk bottle.
Then, to cool down, I bought a tender coconut from an elderly toothless man, who never stopped smiling at me. Passing through the small village, I stopped at a booth selling spices and handicrafts and talked to some local women about how to use the spices to make teas and sauces.
Then I got to the beach. Delight dawned. For almost as far as I could see, a billowy white sand beach spread out before me, lapped by the gentle waves of a calm, protected bay. There was about one person for each of my fingers on the beach, plus a few stray dogs. Mostly, it was sea, sand and birds flying, darting and playing in the surf.
The sea was bathwater warm and the very few, very modest establishments serving drinks and snacks were astonishingly relaxed. You were welcome to lay down your towel and beach bag on a lounge chair; no one would harass you to buy; no one was on this beach to make money.
Here was a place I could just be; a place where my thoughts could float and bob along with the incoming waves. I lolled in the tepid waters, drank coconut water under an umbrella and meditated beside a big rock at the remote far end of the beach.
There are things in life that are like a litmus test; they tell you who you are. Palolem and Patnem beaches are like that. You can only be on one at a time, you have to walk north or south, you have to choose. And every day after breakfast for seven days, I picked up my bag and towel and walked south.
[Note: This story was originally published in Travel+Escape.]
Thank you for reading. Please visit Breathedreamgo or stop by my Facebook page at Breathedreamgo</>.