About Mariellen Ward
Mariellen Ward is a freelance travel writer whose personal style is informed by a background in journalism, a dedication to yoga and a passion for sharing the beauty of India's culture and wisdom with the world. She has traveled for about a year altogether in India and publishes an India travel blog, Breathedreamgo.com. Mariellen also writes for magazines and newspapers.
Latest Posts by Mariellen Ward
Share: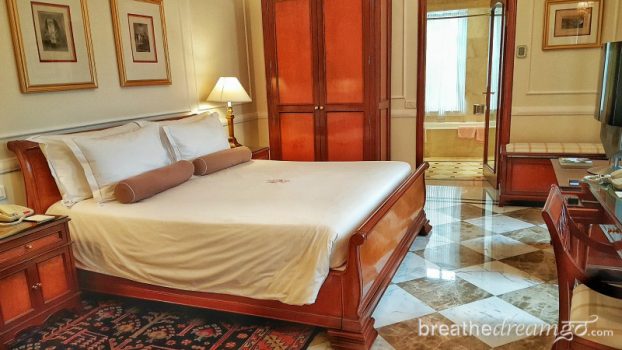 Have you ever been to a hotel that enchanted you? That enveloped you in an atmosphere completely apart from the world you left behind? That made you feel like a different version of yourself? That's how I feel about The Imperial Hotel in Delhi, India. When I walk through the door, flanked by robust men wearing scarlet braid on their jackets and fantastic turbans, I feel different. I feel like the storybook version of me.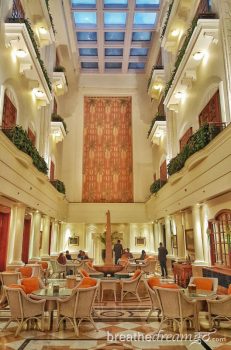 The Atrium lounge
The Imperial Hotel's elegant Art Deco-inspired architecture, sprawling green lawns and glamorous palm trees exemplify a bygone era. It's an integral part of the planned city of New Delhi, built by the British Raj between 1912 and 1931. This is the commercial and political centre of Delhi, where wide leafy boulevards, white colonnaded buildings and symbols of power predominate.
The Imperial is my favourite hotel in Delhi because of its unique combination of historical significance, luxurious elegance and abundance of recreational and fine dining options. Here are my top 8 reasons to love The Imperial Hotel.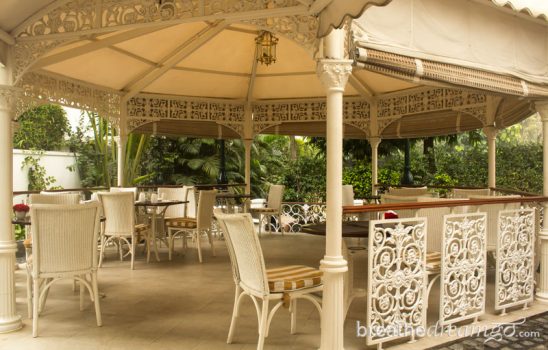 Outdoor fine dining at The Imperial Hotel
A Jewel in the Crown
In 1911, King George V declared that the capital of India — the British Raj's "Jewel in the Crown" — would move from Calcutta to Delhi. A year later, British architect Sir Edwin Lutyens and a huge team began work on the planned city. Villages were razed and hills flattened in a 26-square kilometre area south of Old Delhi. It was here that Lutyens laid out his vision, underscored with both mathematical precision and imperial splendour. It took 18 years to complete, and was finished in 1931. India won her independence in 1947, which means the British had only 16 years to enjoy the opulent new capital.
The Imperial was part of Lutyens vision, and from opening in 1936, it was THE hotel in New Delhi, and the Garden Room restaurant was THE place to see and be seen. The Imperial has played host to many royals, heads of state and important events, but perhaps none so momentous as the partition talks leading up to India's independence. Gandhi, Mountbatten, Nehru and Jinnah met in The Imperial ballroom, and what is now the 1911 Restaurant, to decide the fate of modern India.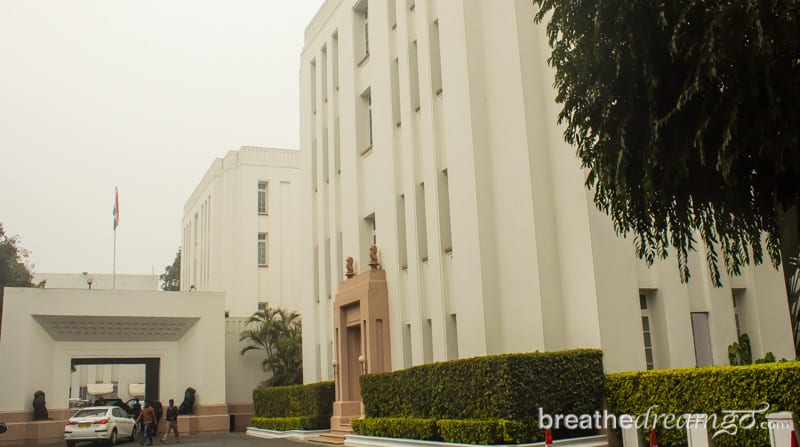 Art Deco entrance to The Imperial Hotel
Art Gallery, Museum and Hotel in One
The Imperial was built by Sardar Bahadur Ranjit Singh, one of the contractors who worked to build New Delhi. Singh was a passionate collector of art and memorabilia, and the hotel opened with an art gallery on the premises. Today, two of Singh's grandsons own and run the hotel, which was closed for refurbishment from 1996 to 2002.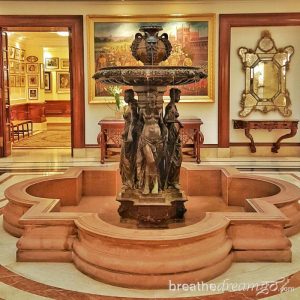 Statue fountain at The Imperial Hotel
The Imperial re-opened 14 years ago as both a gleaming five-star hotel and a living piece of modern Indian history. The entire hotel is decorated with the family's priceless collection of art, artifacts, historical photos, statues, memorabilia and more — more than 5,000 pieces on display.
While I was at the hotel, I was taken on an art tour. I walked up and down long corridors lined with works from the late 17th century to the mid 20th, most from the perspective of the British in India. There's also a huge collection of military awards and decorations, and orders bestowed by the King, the Emperor of India to the Princely Rulers of India.
I would recommend going to The Imperial for tea and taking an art tour. It's a great way to spend an afternoon in Delhi, soaking up the atmosphere and the history while getting a respite from the chaos of the city. When in India, you sometimes need to escape to peaceful sanctuaries, and The Imperial is ideal.
The Eliza Floor For Women Only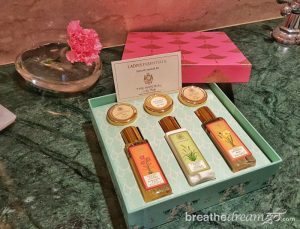 Loved the Forest Essentials gift box
I had the pleasure of staying overnight at The Imperial, and I was booked into a room on the Eliza floor. This corridor is for women only and caters to solo female travellers. My room was gorgeous, with a comfortable king sized bed, large windows overlooking the garden, a soaker tub in the bathroom and all kinds of special amenities.
From a CCTV screen that showed me the hallway to a pink silk robe and a box of Forest Essentials products, staying in the Eliza corridor made me feel special, and cared for. They hit the sweet spot of fun and glamorous that you want in a five-star hotel.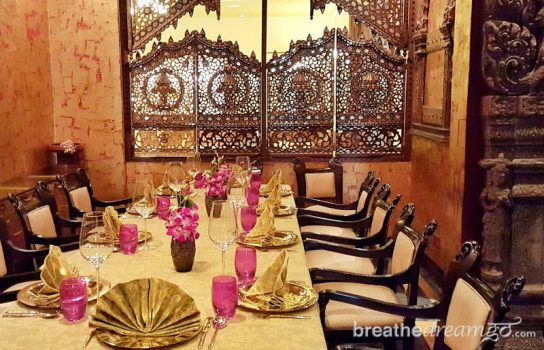 The gold room, Spice Route restaurant
World's Most Beautiful Restaurant
Often voted one of the world's most beautiful restaurants, Spice Route is a very special place. The stunning interior is decorated with temple art from South India and covered in murals that took more than seven years to complete. The artifacts and paintings represent the journey of life, and each section of the restaurant embodies a life stage.
The cuisine also represents a journey — a journey along the spice route of south and south-east Asia. I ate Som Thum Chae (papaya salad) from Thailand and Malu Thel Dhala (spicy fish) from Sri Lanka, with fresh tender coconut water followed by Carmen Dua (coconut flavoured creme caramel) from Vietnam.
This is the place to go for a very special occasion lunch or dinner.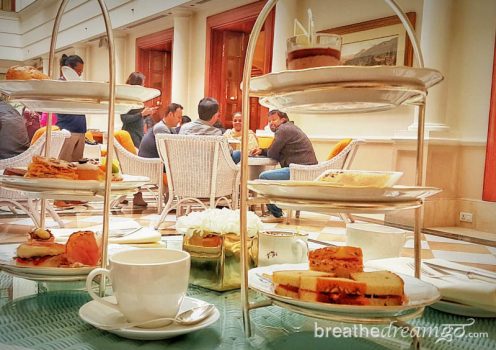 High tea in the Atrium Lounge
High Tea: A Divine Interlude
I'm crazy for tea and High Tea is truly my idea of decadence. The light-filled Atrium Lounge is the perfect locale for enjoying this most British pastime. With white wicker furniture and potted ferns, it's like walking into an Edwardian era painting.
I ran a social media contest to have High Tea at The Imperial with a reader and was delighted that Christine won — she publishes a blog called Delhi Diary. We chatted, drank very fine tea — I had a rich Assam Golden Tips — and ate cakes and patisseries off three-tiered trays. The Imperial was able to provide me with a gluten-free version that contained treats that were delicious and hit the spot such as chocolate mousse and crème caramel. Definitely the best tea lounge in Delhi.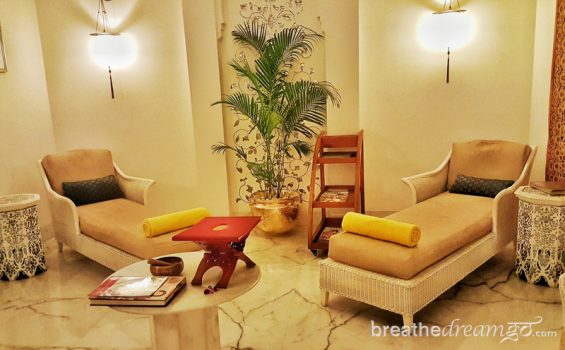 Divine divans at The Imperial Salon and Spa
An Imperial Spa Journey
My stay at The Imperial included a visit to the full-service spa for a massage. The decor of The Imperial Spa and Salon is inspired by the Taj Mahal: elegant, white marble opulence with inlaid design work, fountains, carved screens. The women's change room includes a beautiful whirlpool and sauna. I had the 90-minute Imperial Depth massage and chose an aromatherapy oil called Meerabai — by chance a blend of rose and sandalwood, my two favourite scents. It was very relaxing and apparently a great "jet lag buster." Afterwards I was invited to relax on a divan while served herbal tea and a tray of healthy snacks such as cashews and dates.
The Imperial has many leisure, recreational and spa options available, for guests only, including an outdoor swimming pool, squash courts, yoga, pilates and a wide range of salon services. You can even have a wellness retreat at The Imperial or Ayurvedic treatments.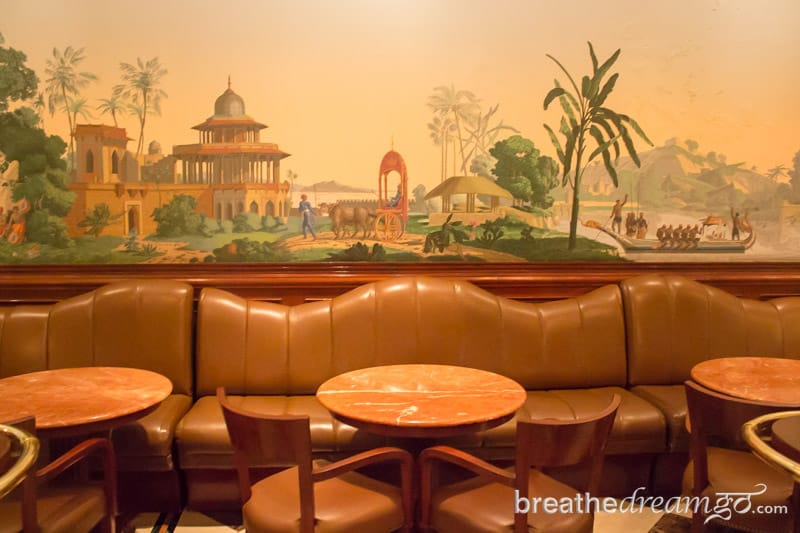 In the 1911 bar…
Retro Dining at Nostalgia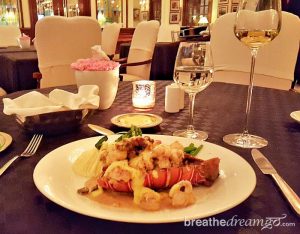 Lobster Thermidor
The social heart of The Imperial is the 1911 restaurant and bar (named after the year of the magnificent Delhi Durbar during which King George V proclaimed Delhi to be the new capital of India). I had breakfast in 1911, and was impressed by a huge selection that included gluten-free bread and lots of healthy options — as well as the standard hearty breakfast choices.
But it was my evening meal in 1911 that was truly memorable. At night, the room is transformed into Nostalgia, and recreates a classic French restaurant from the 1950s. It really was like stepping back in time as my waiter set up a station to make me Lobster Thermidor, with Frank Sintara tunes playing in the background. They also make Crepes Suzettes and other flambéed showstoppers.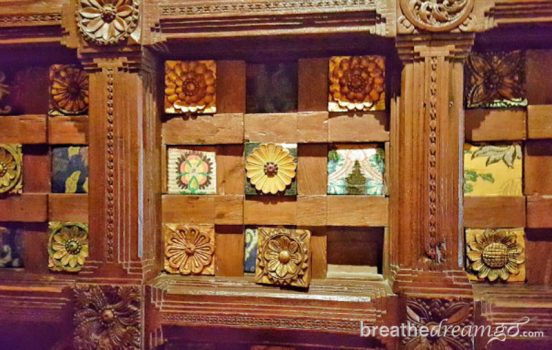 The wall of destiny at Spice Route
Magical Moments at The Imperial
The Imperial is the kind of place where magic happens. When I was having a tour of the Spice Route restaurant, we came to a wall of block images that represent destiny. Rohit, my restaurant guide (and a wonderful storyteller), said that only 11 of the hundreds of blocks on the wall can actually can be taken out, demonstrating we have some control over our destiny. He picked one out and said it's the only loose one he has ever found. Without thinking, I went directly for another one, and it came out immediately. We both stopped breathing for a second and had to pick our jaws off the floor.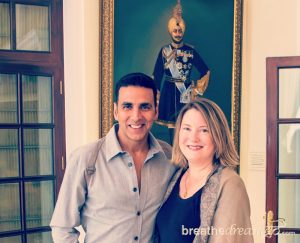 With Akshay Kumar
Later, I learned that Bollywood star Akshay Kumar was at the hotel for an event and I asked his publicist if I could meet him. Luckily for me, she said yes, and I spent about five minutes chatting with him. I've met my share of Bollywood stars but this guy is special. Akshay Kumar is a genuine, down-to-earth nice guy … plus he loves Canada. He owns a house in Oakville and has many friends there. It was very nice of him to take time out from promoting his new movie "Airlift" to meet me. Consider me smitten.
These were just a couple of magical moments from my stay at The Imperial Hotel. Thanks so much to Ruchi, Aparupa, Rohit and everyone else who made my complimentary stay such a wonderful experience.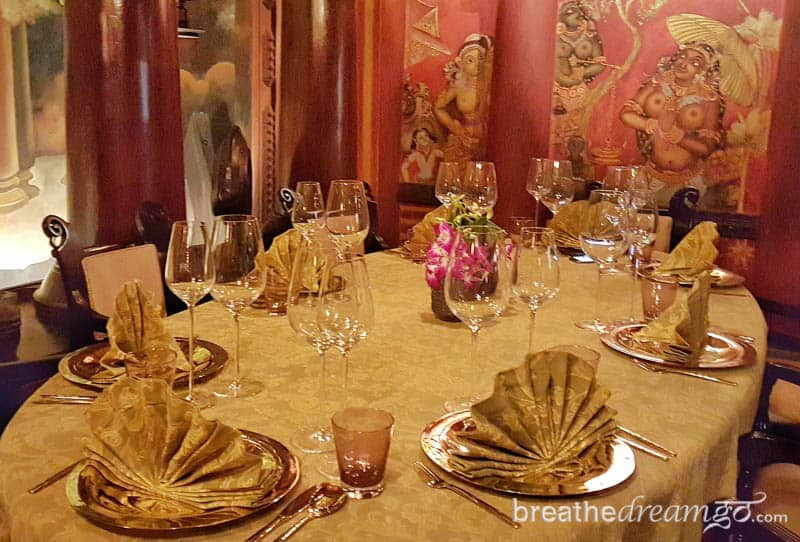 The Spice Route Restaurant is truly a work of art!!
Share: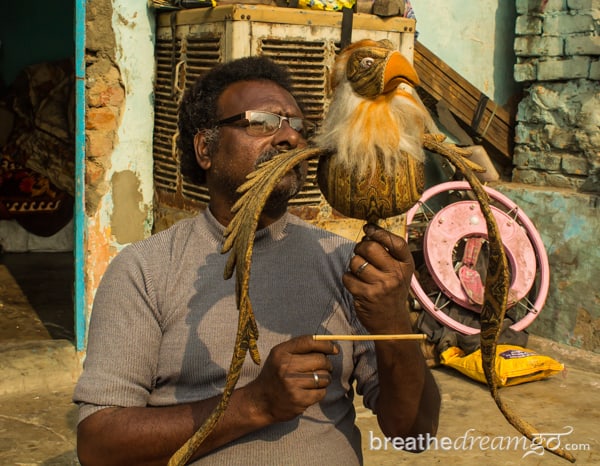 How renowned puppeteer Puran Bhatt saved his home, the Kathputli  artist's colony
WE WALK THROUGH narrow, twisting alleys, stepping carefully over open sewer drains, as we try to keep up with the young man who is leading us to the home of Puran Bhatt, one of the most well-known puppeteers in India. This is a place where neither GPS nor Google can guide you. It's the Kathputli colony – the artists' ghetto of Delhi – and we are most definitely off the map.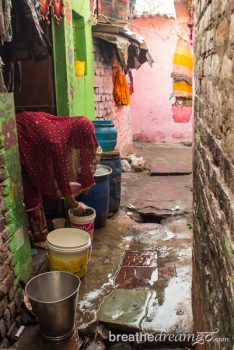 I notice the astonishing narrowness of the lanes, a rising stench from the open sewers, the cramped quarters that force women into the alleys to cook and clean and children to play in crumbling and dilapidated structures. It's a cool-ish, sunny winter day in Delhi, and I wonder what it would be like here in the heat of summer or during the monsoon rains. I try to reserve judgment, but the thought comes to me: I wonder how hellish this slum could become under those conditions.
We round a final corner and enter a low-roofed building where women are cooking over an open fire and washing clothes in a bucket. Water sloshes across the cement floor under our feet as we ascend a tiny staircase up to the roof. There sits Bhatt, on a relatively spacious and airy terrace, a puppet master who is clearly lord of his domain. Large and round, with a commanding presence in spite of wearing baggy sweatpants and a mended sweater, Bhatt is a man on a mission: he's determined to save his home and work space from bulldozers.
When Bhatt and his family, along with the other puppeteers, magicians, acrobats and artists of the Kathputli colony originally settled here 50 years ago, the land was fallow and vacant. But as Delhi has grown around them, real estate prices have surged and they now find themselves on a desirable piece of land only a few blocks from a shiny new metro station. It was only a matter of time before developers would start eyeing the colony, depicting it as a slum and offering to build a gleaming, hygienic alternative.
"I'm a traditional puppeteer, and I also do contemporary theatre," Bhatt says as he introduces himself to us on the roof of his home. "It's all I have ever known, I was born into a family of puppeteers and I have no other skill."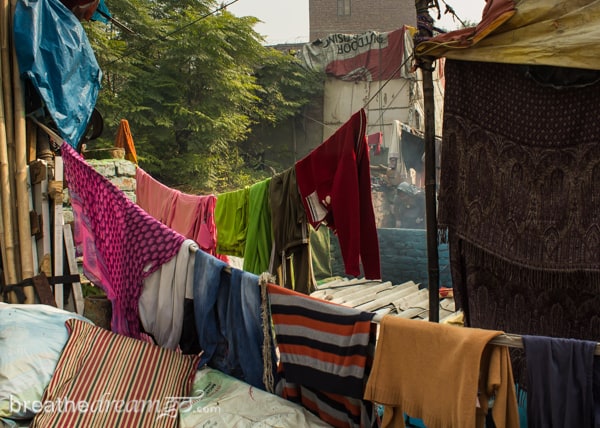 As we talk, I notice the world of Kathputli around us, laundry lines more numerous than tree branches, rooftop structures pieced together with plywood, tarp and string and the screams and cries of children playing. It's a crowded, noisy, bustling world, far from the sanitized and spacious western ideal of home and community. And yet, to the thousands of residents, this is home. And the place that inspired the magician's ghetto in Salman Rushdie's masterful Midnight's Children.
"This is my workshop, my office, my home, everything is stored here – this place is everything. You can see there is one house only for the puppets," he says, and points to the storage rooms behind him.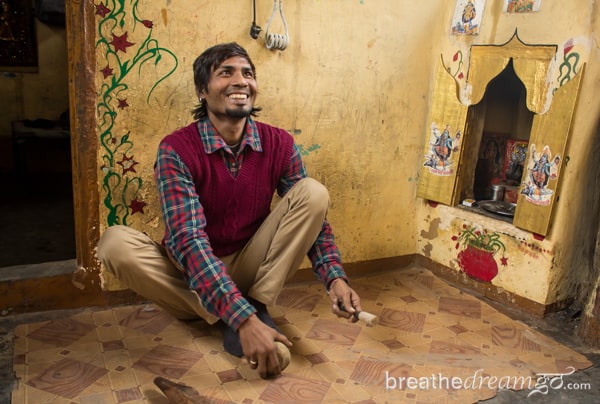 There are about 3,000 families living in the Kathputli colony, and all work in the performing arts, Bhatt explains. "We are artists, not poor persons, not servicemen. Our work starts in the evening, finishes late at night. We live like gypsies."
Bhatt tells me in no uncertain terms that he believes the plan to move the Kathputli residents – the developers call them slum dwellers – into transit camps, and then modern flats, will kill their arts.
"Definitely after one year of living in these flats, the art will be finished. Everything will be clean, egos will develop, styles will change, flat prices will go up, they will sell the flats, and there will be no need to work as artists."
And this is precisely why Bhatt and other artists have been fighting back. A contingent of outspoken residents circulated petitions and sought legal advice to stop the forced relocation, and encouraged others in the colony to resist signing an agreement to move.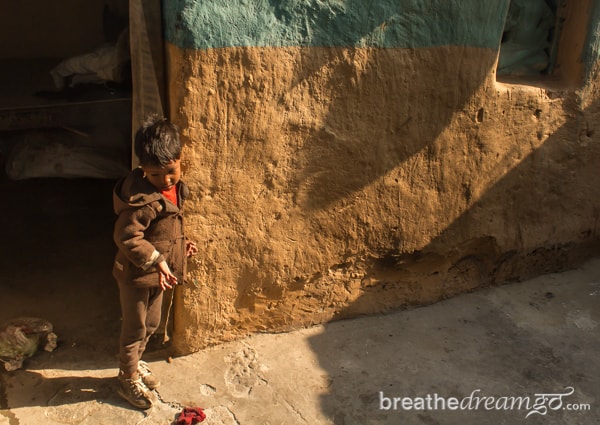 The Kathputli cause has also attracted considerable media attention and ardent supporters in India and around the world, including a couple of young American filmmakers, Jimmy Goldblum and Adam Weber, who made an award-winning documentary about the battle called Tomorrow We Disappear, starring Bhatt. I learned about the film during the Kickstarter campaign to finance it. I contributed a small sum, was sent a "magic ring," and found myself engaged with the story, and the improbable cause. (You can read amore about this in Will Magic Disappear Tomorrow.)
At a screening of the film in Toronto, Adam Weber said that Midnight's Children was his favourite book. In 2010, he Googled magician colony, and saw a tiny squib that mentioned the Kathputli Colony. Then he met a magician on Facebook who said he was from there. That was enough to intrigue both Weber and Goldblum, and to get them started planning a trip to India. The success of the film — the awards and press coverage it's received — has helped highlight the Kathputli cause, and put it in the spotlight.
I ask Bhatt if the film helped his cause. "Tomorrow We Disappear definitely helped, and so has all the media attention. People are not calling it a slum anymore, but an artist colony."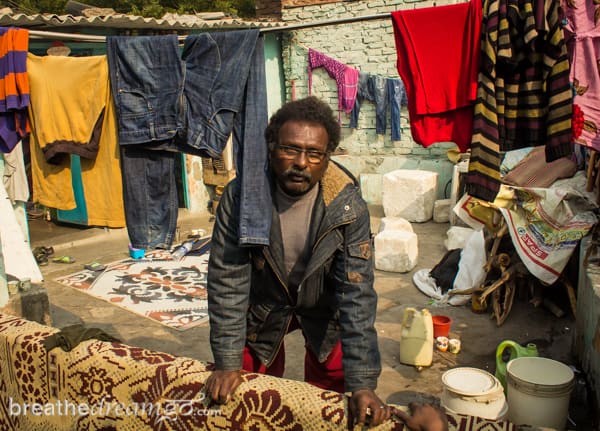 Puran Bhatt at home in the Kathputli colony
Bhatt is just as passionate about preserving the traditional arts of India as he is about saving his community from demolition. "We would like to see an artist village developed, where we can live, and many different traditional skills can be preserved and taught, with performances in the evenings. A lot of kids don't even know what a puppet is today. So we also need to educate people about these traditional arts."
He gets excited when we start talking about having a showcase centre for visitors in central Delhi and proudly shows us a design and blueprint. As he's laying out his blueprints, one of his sons serves us tea in small china cups, remarkably delicate for such a boisterous and rough-and-tumble place.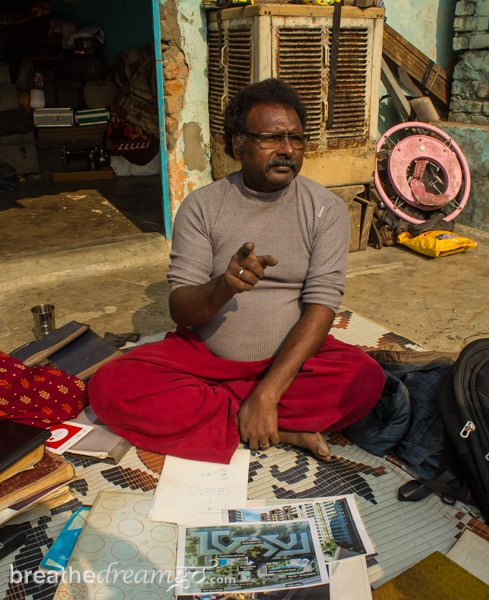 His design includes a school and hostel so people can come and learn the traditions. "A proper global centre," he says in Hindi, and I can hear 'Taj Mahal' in the stream of words. His plans involve creating a village-in-the-city, where the artists live, teach and perform. At the centre is a large theatre where people could come and watch performances by the puppeteers, acrobats, musicians and other artist residents. I remark that it looks like the Globe Theatre, from Shakespeare's time, and he laughs heartily, "Yes, same idea!"
Bhatt is sharing his dream with us, a dream he has thought about, planned, showered with detailed attention and loved.
After we say goodbye to Bhatt, one of his sons takes us on a tour of the colony as we leave. I now see Kathputli differently. Instead of dirty drains and dank alleyways, I see busy people living in small but often very tidy homes – some decorated with traditional designs – and a community of artists working together to preserve both their arts and their lifestyle.
Epilogue
A few months after my visit to Kathputli, I was delighted to learn that the forced relocation and demolition of Kathputli has been halted. Several reasons have been put forward. For one, a scam was uncovered that revealed developers had paid much less than the land was worth, suggesting corruption. For another, Delhi's governmental land-holding agency (Delhi Development Authority) declared the rehabilitation scheme a failure, and proposed a new plan, which will require that 70% of the residents must have buy in before any rebuilding can move forward. I prefer to think it was magic that saved Puran Bhatt's home.
[NOTE: A version of this story appeared on BBC Travel as The puppeteer who saved a slum.]
Share:

TINY, TROPICAL GOA, on the south west coast of India, was an obligatory stop on the hippie trail of the 1960′s and became known internationally for wild, full-moon parties on the beach. Though there is much more to Goa than hippies on the beach, it's a reputation the state has never been able to shake. Even I avoided Goa, except for two short beach vacations in the quieter southern half of the state. Above photo: Venite Bar in Fountainhas, the Latin Quarter of Panjim.
But finally I decided to give Goa a chance, and spent almost two weeks touring the state and looking for places and experiences that show the more interesting, sophisticated and discerning side of Goa. What I discovered is that Goa is a historical, cultural, wellness and leisure treasure house. Here are my top five picks.
Panjim and Fontainhas
Mustard Cafe
Goa Arts and Literature Festival (GALF)
Koi Asian Dining and Bar
Old Goa
For starters, Goa has a completely unique flavour in India due to colonization by the Portuguese. In fact, the Portuguese have influenced Goan culture for hundreds years, and as a consequence the state has a large population of Catholics and a profusion of Portuguese designed churches and gracious old homes. I love these charming homes, painted in bright colours, and dream of someday owning one with a wide white verandah on a hill overlooking the Arabian Sea.
Goa is also a cultural hub, with writers and artists from all over living there, or wintering there. There's a palpable sense of multiculturalism and being at a crossroads of the world. "Everyone comes here," my friend writer Anuradha Goyal told me. She moved to Goa after living in some of India's biggest cities.
So here are some of the highlights of my tour. I hope they give you an idea of all the things you can see and do in Goa that don't require shaking your groove thang on the beach. Though you can still do that if you want, at beaches like Calangute, Baga, Anjuna and the hippie stronghold, Arambol. (The all-night-long full-moon raves of yesteryear have been outlawed, however.)
BDG TIP
I used the Love Guide to Goa as a resource and guidebook (gifted to me by Yogesh Naik of Goa Tourism!). The book helped me find those things that "make you love" Goa. This is the guiding principle of the Love Guides, which are also available for Delhi, Mumbai, Jaipur, Bangalore and more. Published by Fiona Caulfield. I also relied on Sharell Cook from About India for information and ideas. She really knows her way around Goa and just about everywhere else in India.
1. Panjim and Fontainhas
Panjim (also known as Paniji or Panji) is the capital of Goa, a small city of only 100,000 people. It strategically and picturesquely occupies the spot where the mighty Mandovi River meets the Arabian Sea. I started my tour with three days in Panjim, which most tourists bypass. I fell in love with this small city, with the colours of the houses, the expanses of water, the colonial character and the thriving arts scene.
Directly behind my hotel, the Panjim Residency (which faces the Mandovi River), is Fontainhas, Asia's only Latin Quarter. The Portuguese moved here, and settled around a spring-fed tank, fountain, in the 18th and 19th centuries and many of the houses remain in good condition. The epicentre of Fontainhas is the beautifully restored Panjim Inn and Art Gallery.
Even after dark, I felt completely safe wandering alone around Fontainhas. I ate on the balcony of the Panjim Inn, and stopped by the quirky Venite Bar. The area reminded me a little of both Havana and New Orleans, especially by the way light spilled into the streets from small, lively restaurants, and the by the way everything was enveloped in the warm tropical night air.
2. Mustard Cafe
There's much more to Goan cuisine than beach shacks that serve up Goan fish curry and western favourites like pizzas and fries. In fact, there's a growing foodie scene and a range of fine dining restaurants. One beautiful evening my friend Anuradha Goyal of the travel blog Inditales and I went to Mustard Cafe, in the Calangute area.
Seated in a candle-lit outdoor courtyard, we sampled a rich, spicy and delicious combination of Bengali and French cuisine, spiced with Goan flavours. Owner Poonam Singh told us she wanted to please both the people who like continental food and those who are happiest with a traditional Indian cuisine. The alchemy works, and I enjoyed every rich, flavourful dish I savoured.
Mustard was my favourite restaurant in Goa, for the romantic ambience and really flavourful, satisfying food. It's obvious a lot of care, research and attention to detail has gone into every dish. I also liked the live music, a soulful singer named Vamsee Krishna who covered Leonard Cohen's Hallelujah (making me, a Canadian, feel very at home!).
3. Goa Arts and Literature Festival (GALF)
One of the most surprising things I learned about Goa is how artsy it is. Numerous artists, writers, photographers, designers — and bloggers — make their home in Goa. As a consequence, there's also a lot of arts events and festivals. I happened to be in Panjim for the Inaugural Function of GALF, which was held at charming and historic Maquinez Palace.
The speakers referred to Goa as a peaceful cultural centre of India. They talked about how writers interact warmly at GALF, and how the festival provides a stress-free place to relax. They also referred to the multicultural aspect of Goa: "From a sand and surf destination to a place where east and west meet."
After listening to the opening night speakers — poets, artists, authors and journalists — I only wish I had time to attend the entire festival.
GALF highlights a couple of countries each year, and in 2015 it was Singapore and Bangladesh. (I hope they put the spotlight on Canada one of these days as we have many fine homegrown and immigrant writers from Michael Ondaatje to Rohinton Mistry.)
4. Koi Asian Dining & Bar
The most sophisticated of the fine dining restaurants I experienced in Goa, Koi is a journey through Southeast Asia. Owner Shefali and her team lavished careful attention to detail on Koi to create a chic restaurant right in the heart of bustling Calangute. From specially designed crockery to stunning murals to an inspired and comprehensive menu, Koi takes a bespoke approach to fine dining.
Though not on the beach, Koi is a destination restaurant with a stunning interior space and garden seating. My lunch date Anuradha Goyal of Inditales and I sampled an array of their dishes, focusing on vegetarian and fish. I was particularly delighted to find Japanese favourites like sushi on the menu — though we both agreed that the Thai curry was the most outstanding dish. But I also loved deep fried sushi, crackling spinach and sticky rice.
Kudos to Koi for creating a sophisticated space that serves inspired Southeast Asian cuisine that's both beautifully presented and full of authentic flavour. A visit to Koi is a journey through the Spice Route of Asia.
5. Old Goa
The 15th century Church of Bom Jesus is the centre of the UNESCO World Heritage Site called Old Goa. Several churches and a cathedral range around a wide expanse of lawns and gardens. This was the power base of the Catholic Church during the Portuguese colonial era.
Bom Jesus is known for being the final resting place of St. Francis Xavier, who died in China in 1552 and wanted to be buried in Goa. After his remains were shipped to India, it was discovered his body miraculously showed no signs of decomposition. The body apparently has remained intact and is now on display in a glass casket that sits above eye level in an alcove to the left of the altar. I was actually quite reticent to visit this church, as I find this quite ghoulish, but the casket is tastefully removed from close inspection. Thank goodness.
The other churches, and the general area, are quite lovely and of course historically significant. I enjoyed walking leisurely among them and stopping for a cold drink at a simple stand under a huge tree with a massive canopy. Goa is lush!
Share:

Camels, crowds, culture and conmen gather under the full moon in Pushkar. 
I WAS ATTRACTED TO the Pushkar Camel Fair by romantic ideas about camels and camel traders journeying across the vast deserts of Rajasthan in a time immemorial fashion to meet, socialize and trade. And indeed that is the historical truth of the Pushkar Camel Fair. There was a time in storied Rajasthan when camels were an integral part of every day life.
Camels were an agricultural mainstay; they supplied milk, leather and other products; they were elaborately decorated for weddings and other rituals. The romantic image of camels loping across the desert in Rajasthan is based in truth and fact. But, sadly, this way of life is waning as mechanization, water shortages and government policies against camel grazing are taking their toll. explore the Camel Fair, the town and much more.
The Pushkar Camel Fair continues to celebrate the camel's place in Rajasthan. It is only one of many camel fairs in Rajasthan (and not even the biggest), but it is the one that has become a tourist attraction. Yes, camel traders still do come here to do business, but not in the same numbers (and mostly before the fair even starts). And the tourism part of the fair — the ferris wheels, displays, competitions and cotton candy — have eclipsed the original purpose. It is said there are now more photographers than camels at the Pushkar Camel Fair.
Ashok Tak, "the Camel Man," with Raj his beloved camel in full regalia
The Pushkar Camel Fair is also timed to coincide with the Kartik Purnima (full moon). At this time, Hindu pilgrims flock to Pushkar to take a dip in the sacred lake, which they believe will cleanse them of their sins.
Pushkar is the site of the only Brahma Temple in India, and the small town rings lovely Lake Pushkar, which is a deeply serene place to be at sunrise — and one of my favourite Incredible India experiences. However, during the five days leading up to Kartik Purnima, the small town of 15,000 swells to at least 250,000.
I had to stand on a truck to get this shot of the camel decorating contest
So, because of the combination of pilgrims, sadhus, camel traders, tourists and ubiquitous Pushkar hippies, the narrow market lane, ghats and mela (fair) grounds swarm with people, and the town's usual serenity is lost in the melee. It's still fun and interesting to be in Pushkar at this time, but beware that hotel rates go up (in some cases, way up), there are way more than the usual assortment of beggars, street kids, conmen and gypsies scamming for money and the authenticity factor of the fair may be lacking for some.
In the end, I enjoyed the town of Pushkar (as I always do), meeting some camel traders, attending a concurrent cultural festival called The Sacred Pushkar, taking part in spiritual rituals, and staying at the brand new Zostel hostel … but the Camel Fair … not so much. It mostly consisted of pale-skinned foreigners pushing and shoving each other to get a good camera angle for the camel decorating contest or the moustache competition or whatever. Poor organization meant that you had to jostle to see what was happening in the competition "pit."
But for this post, I am highlighting two of the things I enjoyed the most.
The ferris wheels at the Pushkar Camel Fair
From the camel's mouth
First and foremost, I wanted to hear from the camel traders themselves. So one morning early in the fair, I went out to the mela grounds and by luck or chance met Gopal. A local man, Gopal takes tourists around the fair on a cart pulled by his camel, Raj. While I wasn't interested in hiring his camel taxi for touristic reasons, I did want someone to take me out into the desert, someone who could help me interview camel traders and translate. Gopal understood perfectly, so away we went, away from the fair, into the beautiful scrubby desert outside of Pushkar.
The first man we stopped, Ratnaram, was lean and taciturn, and reminded me of an American cowboy, like Gary Cooper in a kurtah. He had a green pagri (turban) wrapped around his head, deeply lined face and when I shook his hand, it was like touching the roughest sandpaper. The sand of desert parches the skin — even I noticed it in a few days, and lathered myself with oil after showering each day.
Ratnaram with hisone remaining camel
Ratnaram told me, through Gopal, that he brought five camels to the Pushkar Camel Fair and sold four. He was left with just one camel, a female named Shelly. He said he was happy with the price the camels fetched, and really enjoyed the Camel Fair. It's the most famous, he said, it's the best. But he doesn't enter any of the competitions.
Ratnamram
I was interested in finding out more about the life and prospects of a camel trader, and Ratnaram told me he doesn't buy camels because of the Rajasthan drought. He still has 10 females and one male at home in his village, and will take most of these camels to the Nagur camel fair.
I also wanted to know who bought his camels, as I had heard many were bought by Muslims and slaughtered for meat. Ratnaram told me Hindus bought his four camels. Just at that moment, we saw a Muslim camel trader inspecting some nearby camels.
I thanked Ratnaram, and gave him 10 rupees to take his picture — the standard price at the Pushkar Camel Fair — and he obligingly posed for me.
Kanaram wanted 250 rupees to take his photo. I clicked this one while negotiating.
From there we moved out further into the desert, which was beautiful and peaceful, and met Kanaram. He was making a very delicious looking dish over an open fire, and was willing to talk to us, but wanted 250 rupees to take his photo. Kanaram brought 120 camels to the fair, and sold 40 to a business man who is going to use them for farming, he said. He pointed to some pregnant camels and a couple of baby camels.
I offered him 25 rupees, far above the standard rate, for his photo, but he declined and I walked away. Nearby, we met Ganpatram, who brought 15 camels to the fair and sold 7. He said he was happy with the price, and was generally happy with being a camel trader because his village has a well and they had good rains this year.
Ganpatram is a man with a twinkle in his eye
Ganpatram is a man with a twinkle in his eye, and he enjoyed posing for me with one of his camels. He said he really enjoyed the camel fair, and was thinking of entering the camel race competition for the first time. He twinkled even more when he said this, then we posed together, and I left him as the sun was casting long shadows on the desert.
I felt a great sense of satisfaction for having crossed the divide between tourists and camel traders, thanks to the adept skills of Gopal. Until this interaction, there was no exchange whatsoever, due in part to the language barrier but in larger part due to suspicion and skepticism. When I had walked through the camel grounds before, I heard only "money, money" from every local person I met. It was disheartening, though I understand their struggle to survive, and how they must feel about the onslaught of camera-toting tourists.
Gopal translating my questions to Ganpatram
The Sacred Pushkar Festival of Music, Yoga and Meditation
During one of the busy religious rituals in Pushkar, I got caught up in a swarming crowd of pilgrims pushing through the narrow market lane towards the lake. To avoid the crowd, which was causing me some panic, I sprinted towards the much-less crowded ghats on the far side of the lake. A crew of people were setting up VIP seating, which blocked my way. I investigated and discovered they were setting up the first event of The Sacred Pushkar Festival of Music, Yoga and Meditation.
Just then, I caught sight of Sanjoy Roy, the energetic and personable managing director of Teamwork Arts, the company organizing The Sacred Pushkar. I had met Sanjoy at the Jaipur Literature Festival last January, and luckily he remembered me. He very kindly gave me an invite to the evening's performance and put me on the guest list for the other events. So I left the ghats with a skip in my step, marveling at the way things change in India so fast, and how moments of magic happen out of nowhere.
That night, my colleague Derek Freal of The Holi Daze travel blog accompanied me to the first event, an evening of music on Raj Bohra ghat. We took our place on cushions behind the stage, and facing the lake, and settled in for an incredible night. The evening started with a Maha Aarti and Vedic chanting as the sun set. Afterwards, drummers from Rajasthan performed on a different ghat, and then the scene switched back to the Raj Bohra ghat for flautist Sunil Kant Gupta and singer Shubha Mudgal. Fireworks over the lake marked the end of an amazing night.
Six more events in and around Pushkar were lined up over the next three days and I managed to make it to two of them. The following night, Derek and I headed out to the sand dunes on the edge of town for a very different musical evening. This one was more like a concert and featured the Jaisalmer Boys, Pandit Vishwa Mohan Bhatt and pop singer Kailash Kher. It was also a great evening though perhaps less sublime than the music on the ghats. I especially like the music of Vishwa Mohan Bhatt, who invented the Mohan Veena and played with incredible intensity and mastery.
Vishwa Mohan Bhatt plays at The Sacred Pushkar festival
The following morning, I was walking through the market in Pushkar when Sanjoy Roy of Teamwork Arts appeared again, somewhat like the Mad Hatter in Alice in Wonderland, and swept me up with some others who were on their way to join the Heritage Walk. In fact, I had forgotten about it … but when Sanjoy asked if I was lost and looking for it, I said yes — as I had wanted to join in. So, I found myself on the ghats, along with about a dozen others, with Ravi Sharma of Roots of Pushkar Records as our guide. (Readers may remember Ravi as the man who helped me during The Mirabai Expedition when I was looking for the nearby Mirabai temple and museum.)
Ravi Sharma and local musicians guide us on a heritage walk in Pushkar
Rajasthani musicians played to get things started and accompanied us around the town as Ravi told stories about the town's mythical and historical past. We learned that Lake Pushkar was created when Brahma dropped a lotus flower there, and that it's the site of the only Brahma Temple in India because his wife Savitri cursed him after he married a local girl, Gaytri, for religious religions. Pushkar was the first place the Gaytri Mantra was recited, in honour of her.
For about two hours we walked around the lake as Ravi related stories and showed us ancient monuments and exquisite temples I never knew existed, despite having spent a considerable amount of time in Pushkar. Ravi explained how some of the ghats got their names, why Pushkar is famous for roses, and how the five days leading up to and including the full moon in the Hindu month of Kartik are by far the most powerful for gaining Brahma's blessings. Even the Indian journalists who were on the tour were impressed by some of the things we saw and learned — particularly the Chandraghat Temple, the only moon temple in India.
Traditional Rajasthani musicians play at temple on the heritage walk
Like everything The Sacred Pushkar presented, the heritage walk was extremely well-organized and well-presented and rich with thoughtful substance. Sanjoy Roy told me it was planned to complement the Camel Fair, and add cultural depth and texture. It does that, they have definitely achieved the goal, and much more. In fact, it's much better and more enjoyable than the touristy, elbow-butting, crowded and disorganized Camel Fair. I would plan to attend The Sacred Festival again, no question. But I have no desire to experience the Pushkar Camel Fair again.
At the end of the heritage walk, Ravi invited me to take part in a puja on Varah Ghat, where he is one of the presiding pandits. I went that night, and sat right at the front, next to the pandits, on the edge of the lake. I was fully immersed in the sacred element of Lake Pushkar, and felt elated by the energy. Likewise, on the full moon night, Derek and I hiked up to the top of Savitri mountain, to the temple, and watched the moon rise over the town below. These were some of the very special, spiritually oriented experiences that I love Pushkar for. The Camel Fair notwithstanding.
The full moon — Kartik Purnima — over sacred Pushkar
NOTE: I was a guest of Zostel Hostel and in Pushkar for the Camel Fair to help promote the new location. However, this arrangement did not, and will never, influence my opinion or my remarks. I write this blog with my readers firmly in mind at all times.
Share:

DIWALI IS INDIA'S Christmas, a festival that's celebrated in spectacular fashion all across the country by people of all religions, though it's actually Hindu. Families gather to enjoy time together, to perform Lakshmi Puja, to create rangolis, eat sweets and light candles and fireworks. The origin of Diwali is the epic Ramayana, the tale of Lord Rama, and the lights are meant to help guide him back from exile.
There are five days of Diwali, each with a different significance, and the festival culminates on the night of the new moon, the darkest night of the year. Diwali is also known as the Festival of Light because on this night, diyas (small clay lamps) are placed in rows all along balconies, stairs, rooftops, walls and other places outdoors. After dark, the diyas are lit and people shoot fireworks into the night sky. The entire country lights up in a spectacular display that signifies the triumph of light over dark, and the victory of good over evil.
The dining hall of Aurovalley Ashram lit up for Diwali
I've spent three Diwali's in India — two with my Indian family in Delhi, and the most recent one at Aurovalley Ashram near Rishikesh. I chose to spend Diwali at the ashram because Delhi becomes clogged with traffic and ultra-high levels of air pollution (due to the millions of fireworks ignited) — and because Aurovalley is my other home in India. I'm so glad I did.
On the day of Diwali, everyone staying at the ashram (about 20 people, from Canada, England, Colombia, Russia and of course India) spent the day cleaning, decorating and affixing small candles along pathways, stairs, balconies and walls.
The Meditation Hall at Aurovalley decorated for Diwali
As always, we spent one hour in collective meditation before dinner. The Meditation Temple was elaborately decorated with flowers and candles, and shone with incredible brightness that seemed to penetrate my consciousness.
Just before dinner, we lit the outdoor candles and watched the ashram glow, while the sounds of firecrackers from the nearby village broke the usual stillness. After dinner, we all went into the World Temple where we watched a music and dance performance. Then we went up to the roof and danced with sparklers and lit fireworks, everyone including Swami Brahmdev beaming with joy and happiness, like children. Finally, someone started playing Bollywood dance tunes and Bhangra, and all the women ran downstairs, onto the World Temple lawn, to dance into the night.
Fireworks on the roof of the World Temple during Diwali
Spiritual significance of Diwali
Swami Brahmdev during Diwali. Photo Ashleigh Holman.
It was a fun night, and also a significant one. During Satsang, the daily question-and-answer period, I asked Swami Brahmdev (Swamiji) for the spiritual significance of Diwali, and he said: "You are made of light. But you forget. Diwali helps you discover that you are light. The ritual helps to awaken the light within. It helps you journey from darkness to light.
Diwali should be each moment of life.
"Light means consciousness, wisdom. It refers to your higher self, your best self, your true nature. The whole year, you should be remembering your light, not just one day.
"This is the darkest night of the year, and the festival reminds us to light a candle within. Burn your candle on the inside. We are habituated to look outside, but the real work is to burn the inner light. Diwali should be each moment of life."
I have written about Aurovalley Ashram, as I have been visiting this lovely, peaceful spot for almost 10 years. For those who are cynical about spiritual centres, like ashrams, and "godmen" as they are called in India, I can certainly empathize. There are so many frauds, and so many superficial retreats. In India, there are people who dress up like swamis to cheat the innocent and vulnerable. Among westerners, there are those who take one-month yoga teacher training courses, set themselves up as gurus and open yoga studios and retreats.
Satchidinanda during Diwali. Photo Ashleigh Holman
Others may not be as cynical, but just may wonder about the purpose of time spent at an ashram. They may think they don't need it, or that it's unnecessary, and they don't see the point.
Well, of course, if you're not drawn to visit an ashram, there's probably no point in going. But if you are curious, you may find, like me, there is a kind of luxury at an ashram you won't find anywhere else, not even at a seven-star tropical resort.
At a place like Aurovalley, there is the luxury of time to be with yourself. By yourself, I mean your inner self, your higher self. An ashram is the one place where you are encouraged to sit quietly and ponder questions such as:
How should I live my life?
What is the purpose of life?
Who am I?
How can I bring more consciousness to my life and my work?
What is my gift, what am I supposed to manifest in my life?
Aurovalley is a particularly special place because it offers two things in ample amounts: peace and freedom. I would not be surprised to learn there is no other ashram like it in India. It is physically and materially very well made and comfortable, with spacious clean rooms and hot showers, two asana classes per day in a beautiful yoga hall and a stunning library, among other amenities. It's also well-located halfway between Rishikesh and Haridwar, surrounded by fields, close to the Ganga River and ringed with the mist-covered hills of Rajaji National Park.
Sunrise at Aurovalley Ashram
But much more importantly, it is a deeply peaceful place, where your entire being can unwind. There is a daily routine, which you are expected to take part in, and you are given the freedom to discover your own unique spiritual path.
As far as we can discern, the sole purpose of human existence is to kindle a light in the darkness of mere being. – Carl Jung
Ashrams give you a break from the daily grind of life — but much more so than any vacation can offer. This is hard to explain if you haven't experienced it. At Aurovalley, the silence and peace allow you to hear your innermost thoughts, to feel your deepest emotions, to sense the movements of your soul … and "to kindle a light in the darkness of mere being."
Your cares are lifted for a time and you have the opportunity to reflect and meditate, and gain increased awareness about your life. Every time I come to Aurovalley, I undergo an important paradigm shift in awareness, and I feel my consciousness expand a little. Cares seem to grow smaller and become more manageable, and I leave with a spring in my step.
Photo courtesy Ashleigh Holman
Relevance in times of tragedy
You may also wonder: What's the use of sitting around meditating when there is war, poverty, terrorism and other horrors in the world. Are ashrams and places like them an anachronism is today's modern world?
The day after the Friday the 13th attacks on Paris, I asked Swami Brahmdev about how we should respond. He said:
"Any kind of catastrophe, horror, attack, tragedy shakes us up. They make us ask ourselves about finding sense and purpose in life. These attacks are a clear sign that we need to grow our consciousness. Sometimes people learn from these incidents.
"We are social animals, and social animals fight. But we have the chance to be more. Every day we have the chance to make changes, to progress, to learn. Change is the most beautiful secret to life. Consciously participate in positive change."
Then Swamiji recited a short Hindi poem, and translated it. He said, about life, "You've given me many ups and downs. But now I'm in charge, I'm calling the tune!"
This powerful and radical message lit a spark in me and has helped move me forward more positively and confidently. I now feel better able to deal with some major challenges in my life. Personally, I think most of us could benefit from a better understanding of how truly powerful we are. And how capable of igniting change.
Share:

Roughly ten or so years ago I was getting ready to attend a Yoga Conference in Toronto. I flipped through the brochure and saw one teacher from India: Yogrishi Vishvektu. As I was then in throes of planning for my first trip to India, I decided to take his class. It was a revelation, the best asana class I had ever experienced. He led us through the five koshas and by the end, I was in a state of bliss. I walked straight up to him and said, "I am going to study with you in India."
We have been friends ever since, and I have benefitted from his wisdom, teachings and good humour over the past 10 years. Recently, Vishva-ji (as he his known to friends and students) published a book called Yogasana: The Encyclopedia of Yoga Poses. It was a great excuse to interview him, find out more about his life story, feature some of the extraordinary photos from the book and expand the meaning of yoga for those westerners who think yoga is only exercise.
Yogrishi Vishvketu demonstrating asana
Q: How and where did you begin to learn about yoga? What's the essence of yoga for you?
Vishva-ji: I started yoga in childhood. I was practicing at the early age of three. I already knew some things about yoga from my previous lives. And three of my uncles were yogis and that helped to stimulate my interest in yoga. I learned in the foothills of the Himalayas. Vishva-ji: The essence of yoga is to bring freedom. And to believe and trust, to practice, and to help people to connect to their true nature of being fearless, blissful, joyful and playful.
Q: How are your teachings different, or the same, as other types of yoga?
Vishva-ji: When I came to the West, I noticed that the style of yoga practiced by most people was either asana or meditation based, but not both together in the holistic manner. To my understanding asana and meditation are not separate things. In each yoga class we must do all things together to experience Akhanda, whole and indivisible; knowledge, asana, breathing, singing, chanting, meditating. All must be done together, not separately. Asana helps your meditation practice and meditation helps your asana practice. In both we practice and cultivate mindfulness. Also in Akhanda Yoga we are conscious of what we offer the body in the form of food. The best quality of food is optimal for the body. This is also part of yoga.
Yogrishi Vishvketu demonstrating asana
Q: Is yoga in the West different than in India? How?
Vishva-ji: In the west, most of the practice focuses on the physical aspect of yoga. In India, yoga practice is for internal liberation; it is a spiritual practice. In bringing Akhanda Yoga to the West, I hope to inspire Westerners to practice holistic yoga.
Q: Where do you teach yoga now?
Vishva-ji: My time teaching is divided between India and Canada. In India, I lead Yoga Teacher Trainings (YTT) at Anand Prakash Yoga Ashram where I also offer classes, workshops and retreats. In Canada, I am based in Ottawa, Ontario and I teach at various locations. I also offer retreats and trainings all over the world.
Q:What about your book, Yogasana: The Encyclopedia of Yoga Poses. How did it start?
Vishva-ji: When I came into the West, people were doing so many different yoga asanas and calling them names that do not make sense based on ancient yogic knowledge and Sanskrit language. I often heard people calling different asanas by the wrong names. I realized that there was no single book in existence containing the proper names or which addressed the energetic aspect of yoga.
As a lifelong yoga practitioner with a PhD in Yoga Philosophy and with a background in Sanskrit, I felt it important to share my knowledge and expertise to provide a resource where practitioners of all levels and yoga teachers could learn the correct names and the variations and pronunciations of the asanas. Everyone who worked on the book was a scholar with a PhD or expert in the fields of yoga and Sanskrit.
Yogrishi Vishvketu demonstrating Surya Namaskar
Yogasana is very visual and easy for teachers and practitioners to see the benefits of the pose. The book features 850 poses from beginner to advanced postures. In addition to the English and Sanskrit names and it includes charts describing the properties of each chakra, and graphics highlighting which chakras are activated by each asana.
It was important to me to make this book because there was a need. I felt the yoga community was struggling with the names of the asanas and their variations. As there is no other reference book like this, I had to do this work and so I did. I wanted the names of the poses to be honoured and pronounced properly. Writing this book was an opportunity to use my knowledge and experience as well as professional connections. This makes it unique, educational and accessible for all levels of practitioners and teachers.

Himalayan Yoga Master and Founder of Akhanda Yoga, Yogrishi Vishvketu (Vishva-ji) is known for his infectious laughter, playfulness and approachable teaching style. He offers Western teachers, a grounded, knowledge and experience-based and approach to yogic spiritual life and teachings.
Vishva-ji has dedicated his life to sharing the teachings and spirit of Akhanda Yoga to inspire people to connect to their true nature of being fearless, blissful, joyful and playful. He combines all aspects of yoga in a holistic approach including asana, pranayama, meditation, chanting, cleansing kriyas, yogic philosophy, and Ayurveda.
Yogrishi Vishvketu demonstrating asana
Vishva-ji was born into a family of yogis and Ayurvedic practitioners, and has been immersed in the teachings of Yogic wisdom and science since childhood. Practicing yoga since he was three, he began his formal yogic studies at the early age of eight. He completed an M.A. in Yoga Philosophy as a gold medalist scholar followed by a PhD in Yoga Philosophy at Gurukul Kangri University in Haridwar, India, a major global spiritual center.
His teacher Baba Premnāt once stated, "You will never have a job. You will create jobs for other people." Yogrishi Vishvketu has since trained thousands of teachers through his Yoga Alliance registered 200 and 300-hour Yoga Teacher Training (YTT) programs in Rishikesh, India and around the world.
Vishva-ji has lead hundreds of workshops, trainings and retreats globally including in Italy, U.K., India, Singapore, Hong Kong, Japan, Australia, U.S., Canada, France and Ireland, creating an international family of yoga practitioners and teachers.
He continues his father's legacy of charitable works in local communities; In 2007 Vishva-ji co-founded the Anand Prakash Yoga Ashram Charitable Trust in Rishikesh and in 2013 founded Sansar Gyaan Pathshala, a free school for over 250 underserved children in rural Uttar Pradesh, India.
Share:

This guest post is by writer, editor, Indiaphile and India traveller Elen Turner, who moved from Australia to Nepal sight unseen to start a new job. Here's what she discovered, and her tips for first time travellers to Nepal.
I ARRIVED IN KATHMANDU for the first time in the middle of the monsoon. The rain lashed the airplane's windows as we descended into the grey clouds, eliminating any hope of the famous Himalayan views I'd been told to expect. Instead, my first glimpse of my new home was of the hills of the Kathmandu Valley, bright green and lush, and haphazard brick structures crammed together, fighting for space.
At Tribhuvan Airport I clambered into a beat-up taxi that felt, to me, as if it belonged more in sub-Saharan Africa than the South Asia I knew from my previous visits to India. The ring-road to Patan, where I would be living, was muddy, pot-holed and extremely congested. As we crossed the Bagmati River, we encountered a group of military police, clad in blue camouflage and combat boots, breaking up an altercation. We passed one United Nations office after another, many international NGOs, and shared the road with numerous UN and USAID jeeps.
All of this was a surprise to me.
A typical guesthouse for trekkers in the Langtang Valley
While Kathmandu was to become my home for the next year, I'd never been there before. My friends and family in Australia knew better than to ask why I would drop everything and move to a country to which I'd never been. I didn't even stop to ask myself that question. I knew India, and how different could Nepal, its land-locked northern neighbour, be?
Very. I felt it immediately.
Nepal felt unrecognizable. I knew better than to expect a mountain Shangri-la, but I had expected something much more familiar, more like India. Much of the difference between the countries comes down to the fact that Nepal is extremely poor, and is classified as a 'least developed nation.' India does a poor job of equitably distributing its wealth, but it does have a lot of wealth and resources.
The Diwali market at the Janaki Mandir in Janakpur said to be the birthplace of Sita
Here are the differences between India and Nepal that you need to know before visiting.
1. The power situation
Unless you visit during monsoon, which isn't advisable, Kathmandu suffers from crippling power shortages of the sort that apparently used to be common throughout India, but are not any longer. The hydro dams that produce electricity are low outside of the monsoon months, meaning that scheduled power in the middle of winter can be as little as two hours per day. At other times of the year, this can rise to 8-12 hours per day.
If you're staying in a hotel in Kathmandu or Pokhara, you're likely to be supplied with sufficient power from a back-up generator. Be aware that most Nepalis do not have this luxury.
2. If you're a woman, your experience will be much easier in Nepal
While I'm a staunch supporter of women's travel in India, the truth is that travelling in Nepal is much more comfortable, most of the time.
In general, Nepalis are a very laid-back people who don't invade one's personal space, male or female. Nepali men are not prone to staring or making audible or muttered comments to foreign women. There is less likelihood that a casual chat with a man on a bus or elsewhere in public will be misinterpreted, thus making it easier for foreign women to have genuine, interesting and harmless conversations with Nepali men. It's still a good idea to dress modestly, but Nepali women—especially the young, in Kathmandu—often show more skin and wear tighter jeans and t-shirts than is common in India. Although still a very patriarchal and male-dominated society, Nepal does not have the same unwritten prohibitions against women in certain parts of the public sphere that India does. If, as a woman, you stumble into a down-market restaurant that's patronised by men, you shouldn't feel intimidated.
At first, I thought that these more relaxed gender codes were a mountains-plains divide, as it is often said that travelling in India's mountainous areas is 'easier' as a woman. However, I visited Janakpur, a city on Nepal's plains, very near the border with Bihar, and I found the atmosphere there very comfortable. Despite looking like a very poor, dusty, flat Uttar Pradeshi or Bihari town, in Janakpur I wandered freely, alone, without even a sideways glance.
A market in the ancient Newari city of Bhaktapu
3. Vegetarianism
Although the majority of Nepalis are Hindu, most are not vegetarian. As one myself, I love travelling in India as it's one of the few places in the world where I'm spoilt for choice when I pick up a menu. The same doesn't always apply in Nepal, where chicken and buffalo are very popular. But it's still easy to get by, as veg curries and momos are available almost everywhere, even deep in the mountains.
4. The infrastructure
In some respects, such as the network of trekkers' lodges throughout the mountains, Nepal's tourism infrastructure is good. In most others, it really is not. The quality of the roads in Kathmandu is extremely poor, as they are in much of the rest of the country. Local buses are old, over-crowded and slow, although very cheap. Faster tourist buses only run along a couple of routes, namely, between Kathmandu and Pokhara. There are practically no railways in Nepal apart from a short strip in the Terai that connects with India, and domestic flights, although frequent and cheap, are often cancelled due to bad weather in the mountains.
Nepal is a very poor, very mountainous country, so this poor infrastructure is entirely understandable. But it does mean that when visiting Nepal, it's not a good idea to try to do too much, too quickly.
5. It's not OK to lose your temper
Sometimes, in India, stomping your foot and raising your voice is the only way to get what you want, or be treated the way you should be. In Nepal, this doesn't fly. In this respect, Nepalis are temperamentally more similar to their East Asian neighbours, where losing one's temper in public is considered an embarrassment, and the quickest way to alienate people. (Of course, this doesn't apply to politics, which is governed by its own set of rules and non-rules!)
At the Neydo Tibetan Monastery in Pharping
6. The permeation of Buddhism
Although more than 80% of Nepalis are Hindus, Buddhism is a very visible part of Nepal's cultural landscape. Lumbini, on Nepal's plains, is said to be the birthplace of Gautama Siddhartha Buddha, and the country has several ancient Buddhist pilgrimage sites. In Kathmandu, there are numerous Buddhist stupas, adorned with the elegant, languorous and ever-watchful eyes of Buddha. Fluttering, primary-coloured Tibetan prayer flags are a common sight. The native people of the Kathmandu Valley, the Newars, practice a form of Buddhism that has been strongly influenced by Hinduism. Tibetan Buddhism is visible throughout the high Himalaya, which is inhabited by ethnic groups related to Tibet, and also in Kathmandu, with its significant population of Tibetan refugees.
I shouldn't have been surprised by all these differences, but because Nepal rarely features in international news (before the earthquake this year), it's too easy to assume that it is just a more mountainous version of India. Nepal is fascinating and unique, and has as many reasons to return again and again as its larger, harder-to-overlook southern neighbour.
In Bhaktapur
Contributed by Elen Turner, a New York state based editor and writer who has led previous lives in Nepal, Australia, Japan, New Zealand, the Czech Republic, Sierra Leone and the UK. 
Share:

THE SEA IS A moving thing. Just now, outside my window in Twillingate, it's steel grey with snow-white edging. The horizon blurs softly against the dove grey sky, while the jagged dark rock of the Newfoundland coastline breaks into the ocean like a ship plowing through ice. The wind howls, the rain lashes and streaks of light pick up the mossy green of the hill opposite. The sea surrounds and encompasses this island, and inside too, in the Iceberg Alley Bed and Breakfast, the folks talk about the sea and the industry that depends on it, the fishery.
I'm here in Newfoundland for the first time as a guest of the first annual Twillingate Unscripted Digital Arts Festival. The festival brought together a variety of digital artists and explorers, from photographers and filmmakers to outdoor adventurers and ipad illustrators. And me, representing travel blogging. I'm giving a presentation about my travel blogging career, and teaching a three-hour workshop on blogging.
My experience has confirmed my feeling that the Unscripted Festival was a stroke of genius. It brought together creative people in a picturesque and inspiring spot — a Newfoundland outport known for scenic beauty and the towering icebergs that float past in late spring and early summer.
It's my first time here in Newfoundland, the Canadian province known as "The Rock" for reasons that quickly become obvious. A rocky island that thrusts eastward into the North Atlantic ocean, Newfoundland's unique landscape and culture is formed by remoteness, rough weather, and dependence on the sea.
Twillingate, Newfoundland
This morning at breakfast, my hostess Thelma talks in a thick Newfoundland accent — like an Irish brogue coated in molasses and spiked with salt — about the tragedy of the cod, and the farce of the seal protesters. Someone remarks they're yarnin' — they're spinning yarns — which seems to be the favourite local past time. It's a joy to listen to.
Listening to the locals talk in their distinctive style, about the issues they care about, has been one of the highlights of being here, and makes me wish I could stay longer and listen to the stories, and go out on a fishing boat, and find out what makes hearts beat in this place.
Another highlight was a day-long workshop with renowned local photographer Dennis Minty and his talented wife Antje, learning to see this landscape. We spent the morning at the Anchor Inn Hotel and Suites in Twillingate — the central hub for the Unscripted Festival — learning the basics of photography and then went out into the wind and sunshine on a photography walk. We didn't have to walk far to find scenic beauty, just across the street and down a lane to the outer coast.
Here we practiced applying the tips we learned about colour and composition, lines and lights, as we tried to capture the natural beauty and cultural whimsy of Twillingate. Afterwards, we trooped back to the Anchor Inn where I ate a bowl of fresh fish chowder for lunch, followed by a hands-on session in choosing and editing the photos we took.
This synergy, to me, is the essence of the Unscripted Festival and the genius. Our work was inspired by the locality and created onsite with the help of a talented and generous presenter — and I learned to see this unique place with new eyes and new photographic appreciation.
Twillingate, Newfoundland