About Mariellen Ward
Mariellen Ward is a freelance travel writer whose personal style is informed by a background in journalism, a dedication to yoga and a passion for sharing the beauty of India's culture and wisdom with the world. She has traveled for about a year altogether in India and publishes an India travel blog, Breathedreamgo.com. Mariellen also writes for magazines and newspapers.
Latest Posts by Mariellen Ward
Share: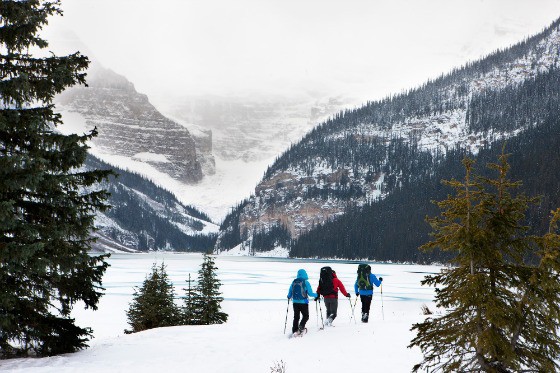 Maple Key Canadian Itinerary
If you land in Toronto, the Maple Key route takes in Canada's biggest city — Toronto — and the country's number 1 tourist attraction, Niagara Falls. But that's not all. The route can take you into Canada's famous wilderness, for hiking and/or camping adventures in Algonquin Park; along Lake Ontario to the quaint historic town of Kingston; north to the nation's capital city, Ottawa; and east to "La Belle Province," Quebec, for cities that have a distinct European flavour.
Quebec's largest city, Montreal, and the most historic, Quebec City, are on this route, so you can make it an entirely urban adventure if you're not ready for the rugged outdoors. A significant percentage of Canada's total population lives along this corridor, so you will never feel far from civilization! And the Via Rail train can take you along most of this route (except for up to Algonquin Park).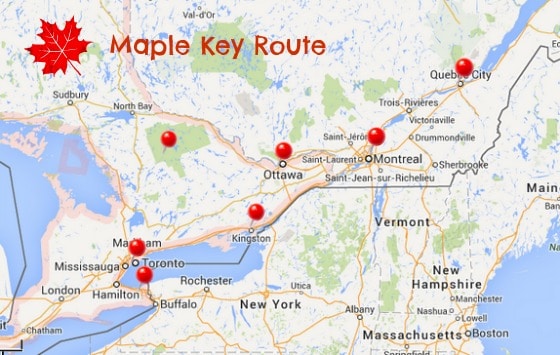 You can completely customize an itinerary based on this route, depending on the season and your interests. Spend at least three days in Toronto, and take a one-day side trip to Niagara Falls. You can drive there and back, or take a bus tour, in one day, easily. Toronto is Canada's largest city, the economic engine of the country, and an exciting, vibrant city. There is no end of things to see and do, but my top suggestions for Toronto are:
Taking the ferry to Toronto Island
Spending an afternoon at the Art Gallery of Ontario and the Royal Ontario Museum
Visiting the various neighbourhoods of Toronto and sampling the cuisines, from the Greek Danforth to Chinatown to Little India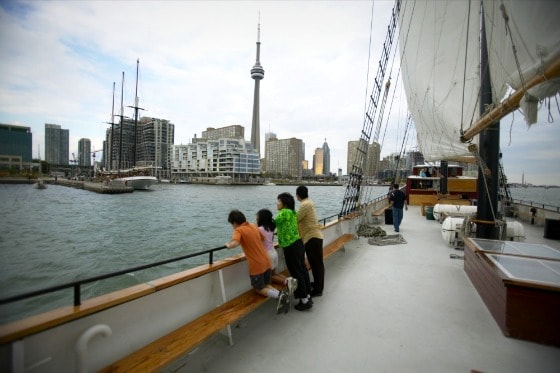 If it's summer, you may want to head north up to Algonquin Park from Toronto and stay in a cabin, lodge or even go camping. Outfitters have everything you need to rent when you get up there. Or, you can drive along the north shore of Lake Ontario towards Ottawa and Montreal, and stop in Kingston. Historic Kingston is the gateway to the 1,000 Islands, a picturesque tourist destination with lots of boating and lodging options.
After Kingston, you can head to the nation's capital Ottawa, or choose to go directly into the province of Quebec. Ottawa is a small city with tons of options for cultural visits to museums, the House of Parliament and art galleries. You can also get out into the beautiful countryside surrounding Ottawa, such as the Gatineau Hills, very easily.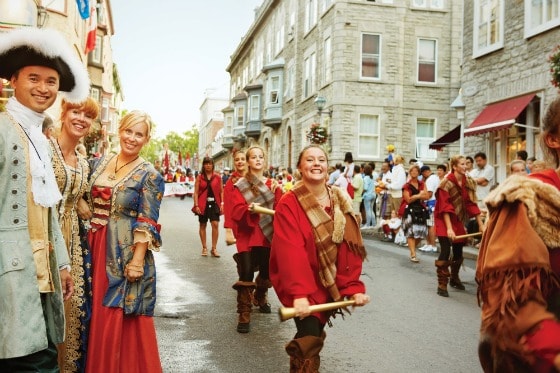 In Quebec, make sure you spend some time in Montreal. It is a fun, culturally rich city with great shopping, dining and festivals. Quebec City is very old, with an historic quarter that will make you feel you are in Europe.
Rockies Road Canadian Itinerary
If you land in Vancouver, the Rockies Road itinerary takes you through the country's most spectacular scenery, from the Pacific ocean to the jagged, spectacular Rocky Mountains. This itinerary can include taking the ferry over to Victoria on Vancouver Island or taking a drive up into the mountains outside of Vancouver to see Whistler, one of Canada's most famous, and charming, ski resorts. From Vancouver, you can drive or take the Via Rail train right across the mountains and into the Rockies to Calgary. Stops at Banff and Lake Louise are a must! Lake Louise is probably the most photographed lake in Canada — and it really is as spectacular in real life as it is in the photos. You actually feel you are in a picture postcard.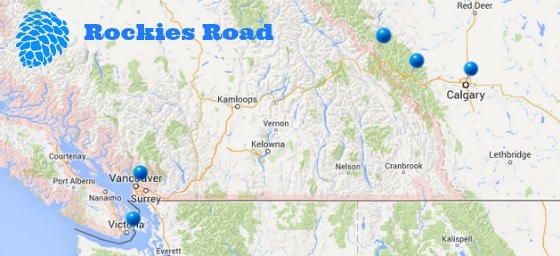 Vancouver is set between mountains and sea, so it offers vistas and recreation options like no other city in Canada. My favourite Vancouver activity is walking the seawall in Stanley Park. Though an urban park, you can really feel at one with the wild elements of ocean and forest.
From Vancouver, you can drive just about an hour or two south to get to Tsawwassen where the ferry terminal is. I love taking the ferry through the Gulf Islands and over to Vancouver Island. You can stop at any of them, or keep going and drive to Victoria, a quiet city on the ocean known for a temperate climate and lush gardens.
Going the other direction from Vancouver, taking the train through the Rockies is probably one of the most romantic and exciting things you can do in Canada! The train runs from Vancouver to Jasper, Alberta; from there you can drive to Lake Louise and Banff. Treat yourself and stay at the Fairmont Chateau Lake Louise, one of the grand old hotels built by the railway about 100 years ago (see top photo). Lake Louise is arguably the most picturesque spot in Canada — and you will have a never-ending view of it from the hotel.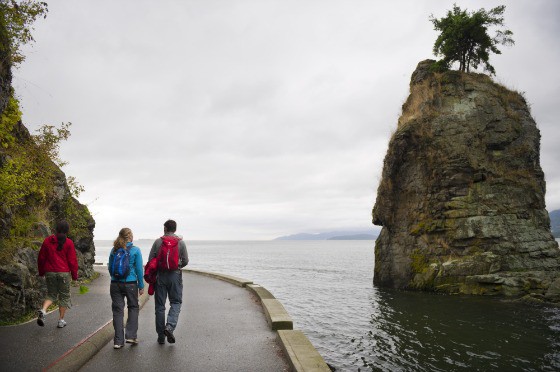 Banff is a small town in the mountains surrounded by a national park. It is gorgeous all year round and offers a very wide range of recreation opportunities from hiking, horseback riding and skiing to soaking in hot springs, dining and shopping. A sojourn in Banff is an immersion in the Canadian experience. Finally, you can end your itinerary in Calgary, home of the famous Calgary Stampede, and annual summer festival that celebrates cowboy culture. Calgary has an international airport that can connect you to your onward flight.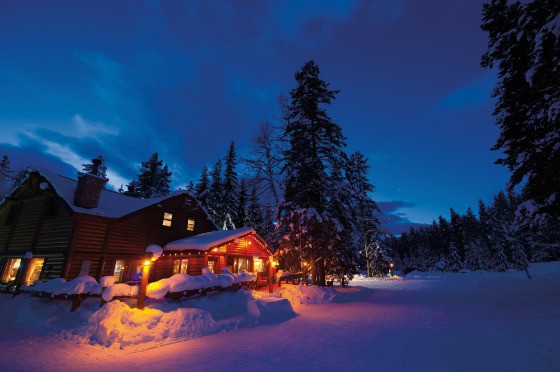 Share:

Recently, National Geographic Travel published Canada's 50 Places of a Lifetime. It was an ambitious project to choose 50 special places in Canada, and then one photograph to represent each spot. If you click the link to the site, you will see the entire collection of 50 photos, thumbnail size. Seen together like this, one thing becomes more than evident: Canada is stunning. Canada is gorgeous. Above photo is of the aurora borealis, or northern lights, above a houseboat frozen in the ice of Great Slave Lake in Yellowknife, Northwest Territories, Canada. Photograph by Jason Pineau from Canada's 50 Places of a Lifetime.
Canada positively drips with natural beauty from coast to coast to coast.
Pristine icebergs. Turquoise mountain lakes. Mauve soaked sunsets. You will come away from viewing this photographic feature with dazzled eyes. I learned a lot about this project, and about photography in general, when I met Director of Photography for National Geographic Travel, Dan Westergren.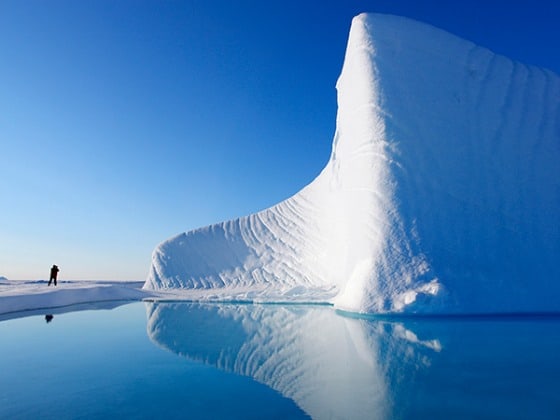 A pristine iceberg stands out starkly against Nunavut's blue skies. Photograph by John E. Marriott, Corbis. For Canada's 50 Places of a Lifetime
Behind the lens in Toronto
I had the chance to meet Dan Westergren when he was in Toronto in October 2013 to promote Canada's 50 Places of a Lifetime by hosting a couple of Google Hangouts in partnership with 500px. Dan very generously shared his knowledge of photography in several ways: one, by explaining how they narrowed down and chose some of the spectacular shots for Canada's 50 Places of a Lifetime; and two, by leading a live photo walk through Toronto's historic Distillery District.
In Dan's words they had, "two simple goals in mind: to show how different photographic personalities capture the essence of a place in pictures — and to share the experience with the world in real time. A live broadcasted photo essay, if you will." You can watch these Google Hangouts below.
I am always curious about how professional photographers work in urban environments, and how they get photos of people that look natural, not posed. If you watch the Google Hangouts, you will see Dan in action, engaging with people on the street, and inspiring them to become part of what he's doing. He says, "Explain to them what you're doing and why you think it's important." Good advice, which I will try out next time I am shooting on the street.
Walk through Toronto's Distillery District, Part 1
Walk through Toronto's Distillery District, Part 2
Growing up in one of the 'Canada's 50 Places' Photos
Growing up, we had a family cottage on a Lake Simcoe, about halfway between Toronto and Algonquin Park, pictured below. This iconic scene of a canoe hauled up on the rocks of a fresh water lake, ringed with pine trees, is deeply etched into my psyche. I grew up canoeing on an Ontario Lake, listening to the cry of loons, feeling the fresh breezes, seeing the sun sparkle or the white caps froth on the lake, watching the stars come out as the sky darkened each night. It was idyllic to spend the entire summer, year in and year out, at a cottage on an Ontario Lake. It was simply the best time of my life. I wrote about it longingly in this essay, Twilight at the Cottage.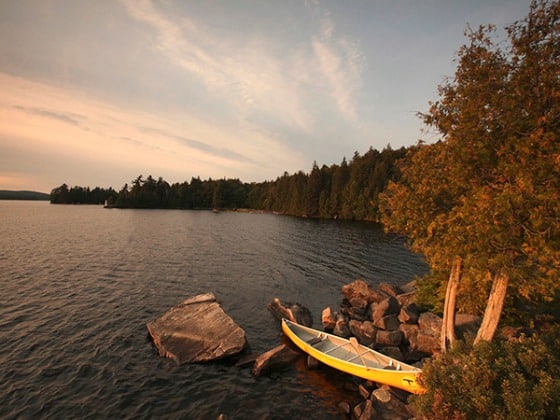 Algonquin Provincial Park's Canoe Lake is a paddler's paradise. Photograph by Chris Rainier for Canada's 50 Places of a Lifetime
Share: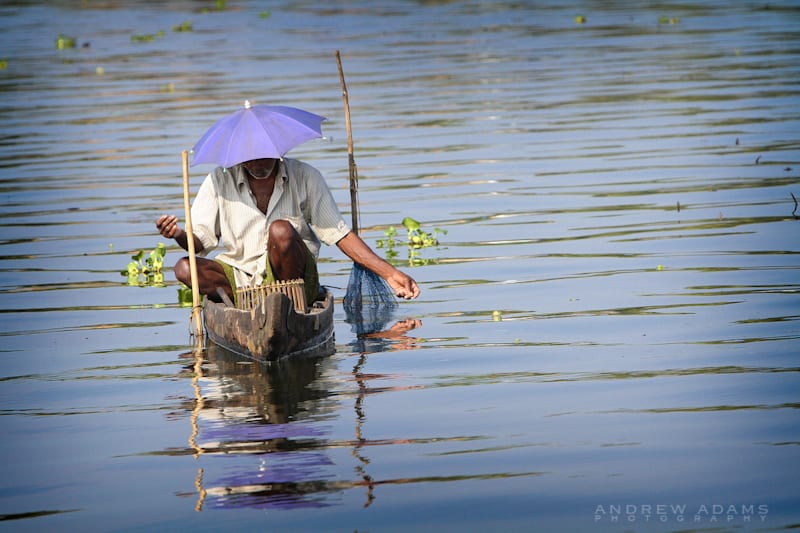 Below, Thrissur Pooram Festival, Kerala, is one of India's largest cultural festivals.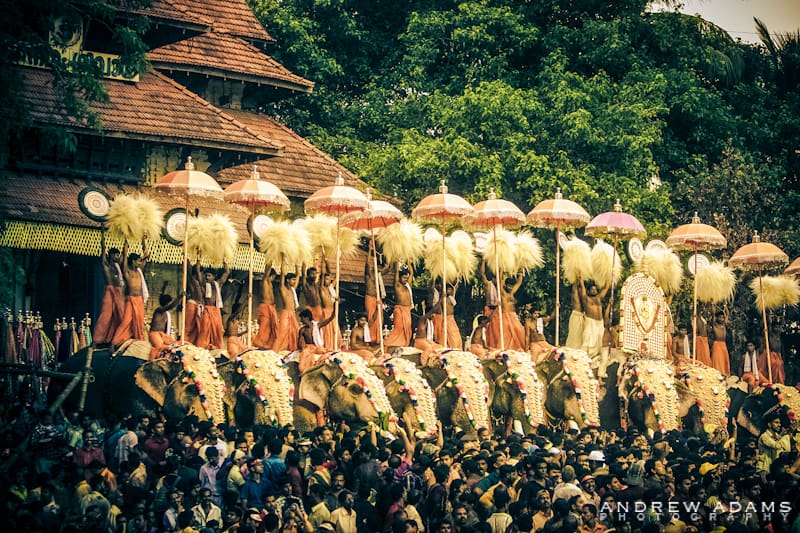 Lonely Planet recently named Kerala one of the top destinations for family travel in 2014. And I agree. Soft, white sand beaches, gentle people, a tropical climate, fresh spices, tea plantations, India's highest literacy rate, a unique culture … there are so many reasons to love Kerala. When asked, I often recommend starting a first trip to India in Kerala as it provides for a soft landing.
Photographer Andrew Adams shares my love of Kerala, and in this photo essay shows us several views of this beloved state, which shares the southern tip of India with Tamil Nadu. For my top Kerala travel tips and recommendations, please keep reading.
Flying down to Kerala
On my first trip to India, I landed in Delhi in December 2005 and by the end of the month, I was chilly! Delhi can drop to 5 C. at night in winter, and the houses are not heated. I was staying with Indian friends, who were all huddled in layers of warm clothing around room heaters, and I decided enough is enough. I did not leave Canada and travel all the way to India to be cold. I called a travel agent I knew and booked a flight to Trivandrum, Kerala. I flew on December 31, the only flight available, and I cannot tell you how happy I was to arrive in Kerala on a sun-kissed, balmy day. From that day to this, I have had a special place in my heart for this lush, tropical state.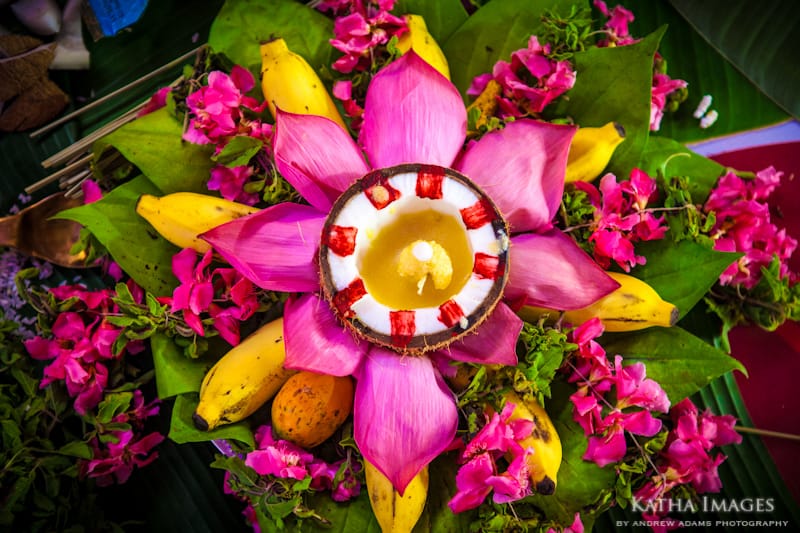 Colourful floral offering at a wedding in Kerala.
God's Own Country
The motto for Kerala, "God's Own Country," refers to the rich heritage, lively culture, lush topography and positive socio-political climate. A Yahoo! answer to the question "Why is Kerala called God's own country" turned up this: "Nestled between the pristine waters of the Arabian sea on the west and the lush Western Ghat mountains on the east, its intense network of rivers and lagoons, thick forests, exotic wildlife, tranquil stretches of emerald backwaters and a long shoreline of serene beaches make it a traveler's paradise."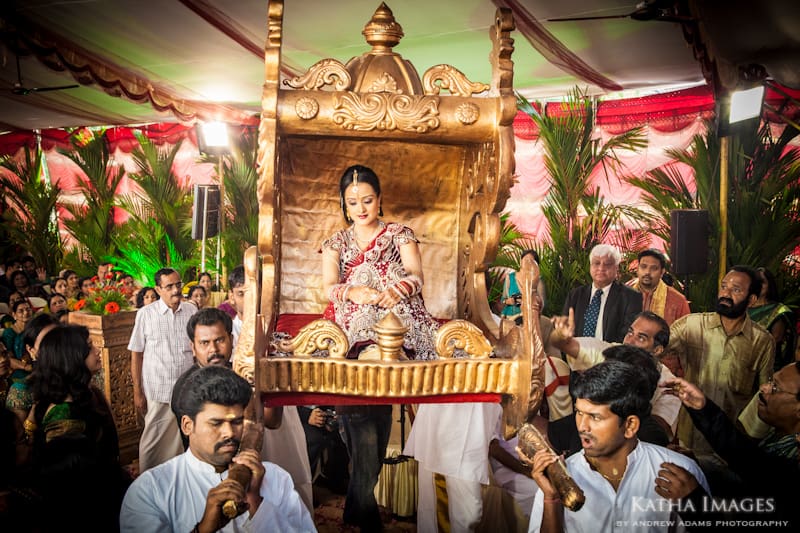 The bride makes her grand entrance on guilded Palanquin, Kerala.
Top travel recommendations in Kerala
I've been to Kerala twice, once to stay at an Ayurvedic resort, and once to visit the Backwaters and Cochin. I have also driven along the coast, making several stops along the way — including to get a hug from Amma, "the hugging saint," whose ashram is in Kerala. Based on my experience and those of others, here are my top suggestions for a trip to Kerala.
1. Take the treatments at an Ayurvedic resort. I stayed at Shinshiva Ayurvedic Resort for two heavenly weeks in 2006 and often dream of returning to relax on the beach, enjoy daily oil massages and eat fresh, healthy food. There are many Ayurvedic resorts and hospitals in Kerala to choose from, from the serious and austere to luxurious resorts on the beach that cater to tourists.
2. Float along the Backwaters. The Backwaters of Kerala are one of the state's top tourist attractions and for a reason. It's a unique way to relax and enjoy a traditional culture on board your own boat.
3. Ascend to the tea plantations of Munnar. Recently featured to great affect in Life of Pi, the lush hill station of Munnar is a centre of the coffee, tea and spice gardens of Kerala. A great place to find cooler weather and to commune with the natural beauty of the region.
4. Track wildlife at Peryiyar. Periyar Wildlife Sanctuary is one of India's most popular nature reserves, home to bison, sambar, wild boar, langur, elephants and about 46 tigers, at last count.
5. Visit the old port of Cochin / Kochi. Kerala has long been a seaport, attracting traders from the Middle East and beyond, and Cochin was a major port of call. The old part of the city is fascinating, and features boutique hotels, great restaurants, many cultural attractions, a spice market, the famous Chinese fishing nets and a wonderful atmosphere.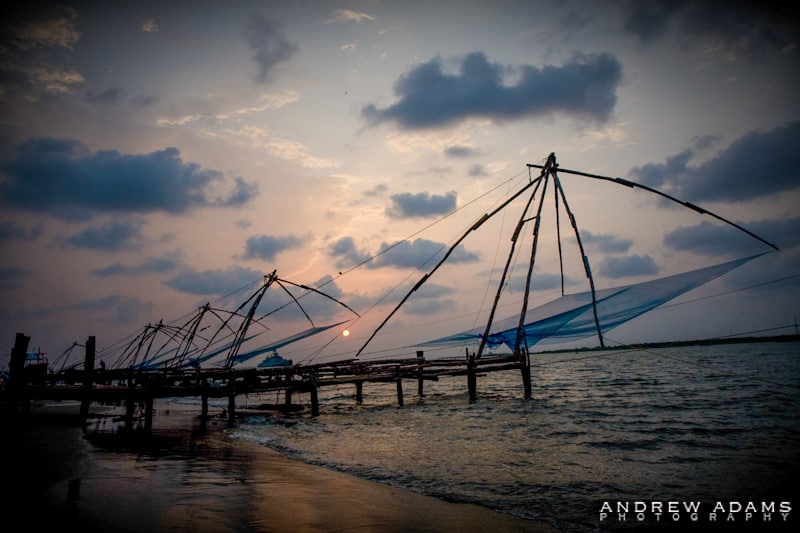 Traditional Chinese fishing nets are still used today in Cochin.
6. Bask on the beach in Varkala. This is Andrew Adams' favourite spot in Kerala, and perhaps all of India. Dramatic cliffs, gorgeous sunsets and a relaxed vibe combine to make it a great spot to unwind and unplug.
7. Enjoy the festivals. Kerala has its own unique culture, distinct from the other states of India, and many of its own festivals. Onam, for example, is an exuberant festival that takes place in August/September to celebrate the abundance of nature.
8. Celebrate monsoon season. I have been besotted by the idea of being in Kerala when the monsoon arrives since seeing a documentary about it, called Chasing India's Monsoon. While it is the off-season, and extremely hot and humid, it is considered a special time to be in Kerala. Many festivals take place and apparently Ayurvedic treatments are more effective.
9. Stay at a homestay. Try a homestay for something different.
10. Eat fresh food and glorious spices. Kerala is the spice bowl of India, and you can visit, and even stay, at the spice gardens. The local cuisine is rice-based, spiked with fresh spices and often eaten off a large, bright green banana leaf.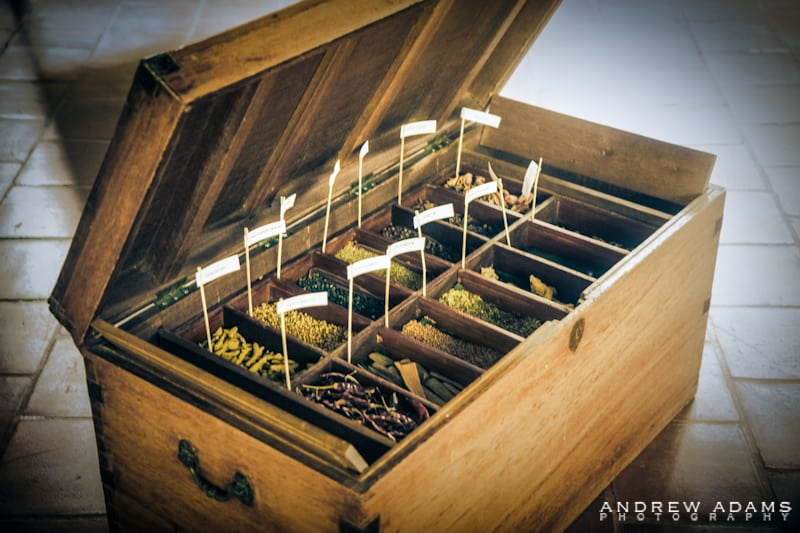 Kerala is the spice bowl of India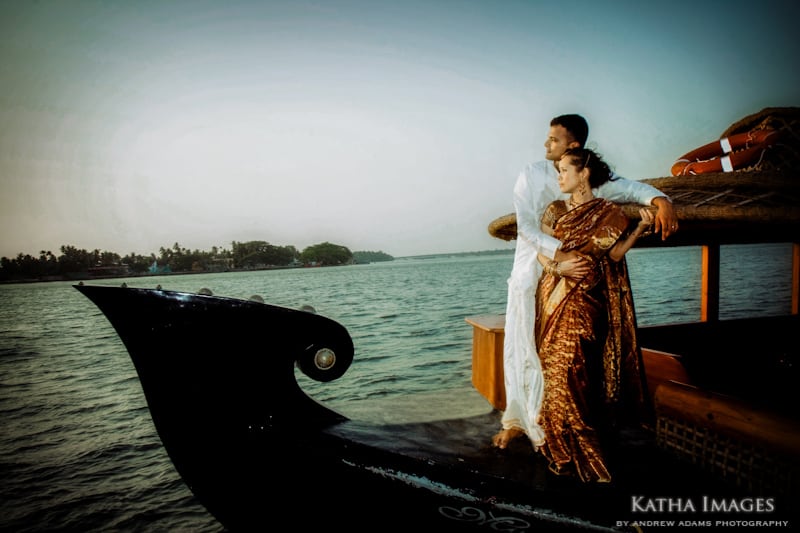 A wedding couple take a romantic sunset cruise on the Backwaters in Kerala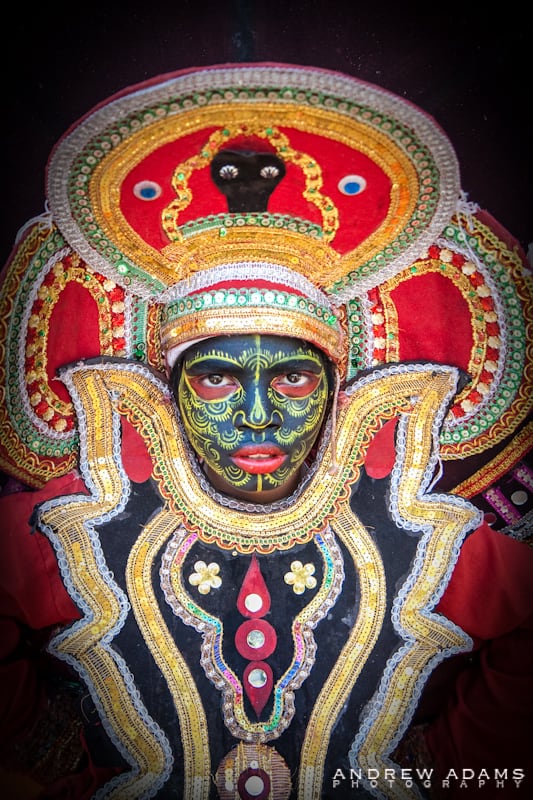 Colorful painted faces, a tradition you will find in most Kerala festivals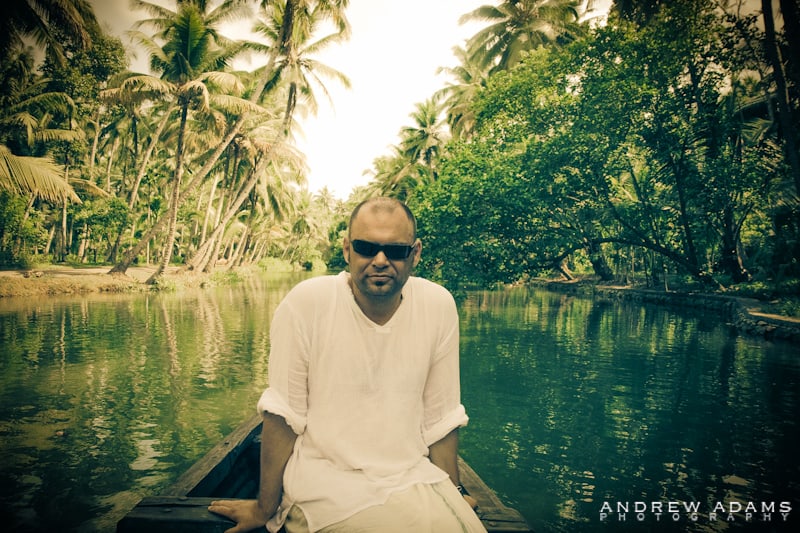 The creative eye behind the images, Andrew enjoying the simple life on the backwaters.
Share:

It was the next day that I drove from Wexford to neighbouring Cork, and to the port of Cobh, where there is a large museum, The Cobh Heritage Centre, on the dock to recreate and honour the emigrant experience. More than 2.5 million Irish left Ireland from Cobh (formerly Queenstown) during the famine years (1845-50). My ancestors left many years before, but I am sure the experience was very similar.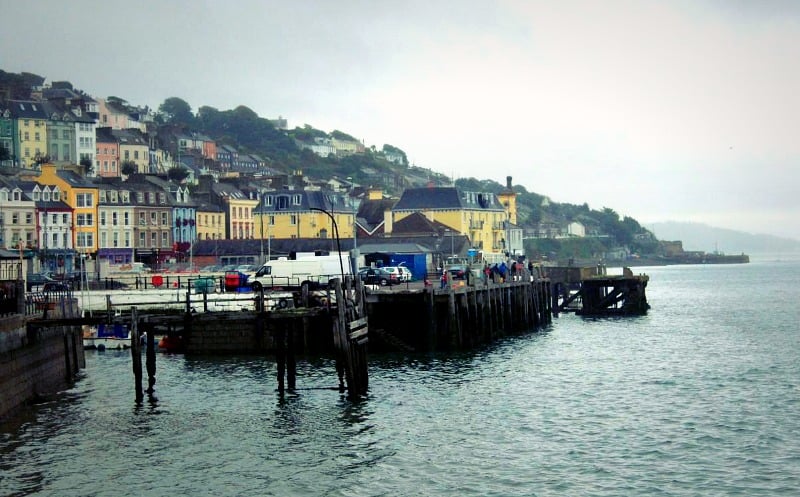 There is also a Titanic Museum in town, as Cobh was the location of the White Star Line office and the last port of call for the doomed ship before it embarked on its fated voyage across the Atlantic.
I was in Cobh on an overcast day, and the atmosphere in the Victorian seaside town was evocative. I walked through the museum, past the statue of Annie Moore — the first Irish emigrant processed at Ellis Island in the USA — and along the waterfront to the existing piers. No doubt these were not the same piers that existed in 1800 when John and Clara walked them to board a ship for British North America (now Canada). But the layout of the town and even some of the buildings and churches was the same.
So I walked the street and the pier thinking of them, and I found it to be a very emotional experience. It seemed incredible to me that 200 years after they left, I could easily fly to Dublin, drive a car to Cobh and walk in their footsteps. I felt like I was closing a loop; or reconnecting to my past in a visceral way.
I stopped and ate seafood chowder at one of the many quayside pubs; and picked up some sweets in a traditional Irish sweet shop. And I couldn't shake the feeling I had stepped back in time. I liked the quaintness of Cobh and the distinctive atmosphere, and would love to go back and stay at one of the old hotels that face the harbour.
But I had to move on for there were more goose bumps to come.
Walking into the past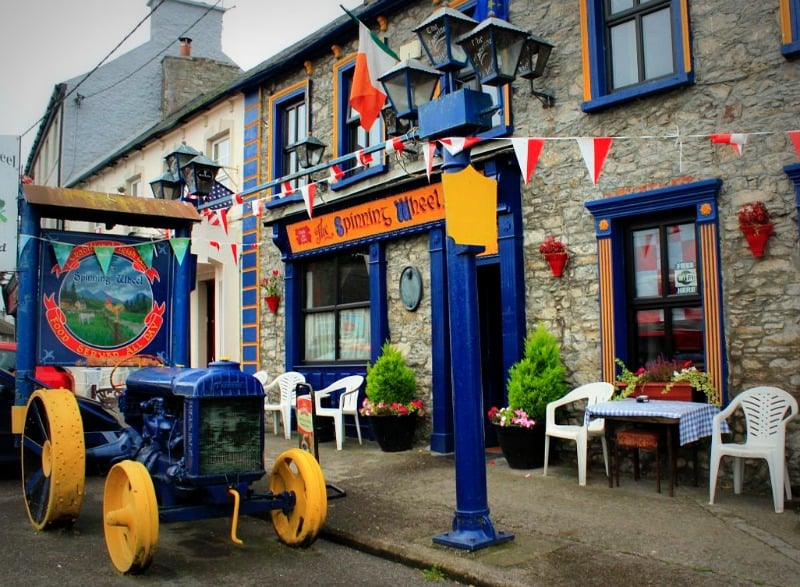 The Spinning Wheel pub, founded 1791, Castletownroche
After driving through south east Ireland, visiting the Dunbrody Famine Ship and the Cobh Heritage Centre, I already felt full. But still, my big Gathering moment was ahead of me, because a day or two later (after a much needed two-day stop at a writer's retreat, called Anam Cara, in the Beara Peninsula that I will write about in a separate post). I drove to Castletownroche, north of Cork City.
Though I enjoyed many sunny days in Ireland — contrary to expectation — the day I drove into my ancestral village was somewhat overcast. My excitement was high as I drove along the main street and stopped to park in front of The Spinning Wheel pub.
I had called ahead to make an appointment to see Blackwater Castle, and owner Patrick Nordstrom suggested I make a point of seeing The Spinning Wheel, as it was founded in 1791. That means my ancestors were living in Castletownroche when the pub opened. Incredible.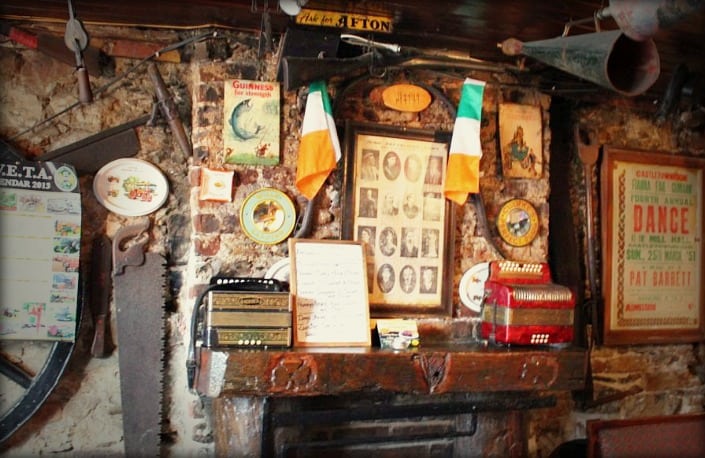 The 1916 martyrs hold pride of place above the mantle at The Spinning Wheel pub
The small rooms were crammed with paraphernalia, and indeed some of it did look 220 years old! I couldn't help note that a photo of the 1916 Easter Rising Martyrs held pride of place above the fire: Cork prides itself on being the "rebel county." I chatted with employee (and former owner) Majella O'Connell, who said she knew several Roches in the village; and crossed the street to visit another old pub, called the Rockforest. Proprietor Michael O'Riordan told me it was only about 100 years old. That's practically new in this part of the world!
At the suggestion of these local people, I walked down the hill to the edge of town to visit a stark, old church in a gloomy and frankly spooky cemetery. I still don't know how I worked up the nerve to open the gate and enter, completely alone, to visit this lonely spot. My mother would have loved this experience — she delighted in the dark side — so perhaps she was quietly bolstering me from the other side.
The graveyard had lots of very old tombstones, from before the time when Catholics were allowed to be buried in Catholic cemeteries. The names were long gone, eroded by time, but still I felt some ancestors must be buried there. I walked reverently through the graveyard and spoke quietly to any residing spirits there. I said, "We are all fine. The voyage to the new world was a success. They founded a big, healthy family, and we are all doing well." I cried as I mouthed these words, aware of the dreadful sorrows that lurks in these old places in Ireland.
From there I walked to the other end of town to visit the new and central Catholic Church. I hoped the Parish Priest could help me with church records, but alas, no one opened the rectory door; and the church was empty to. I went in, and grabbed a small bottle of holy water, though.
"I'm the queen of the castle!"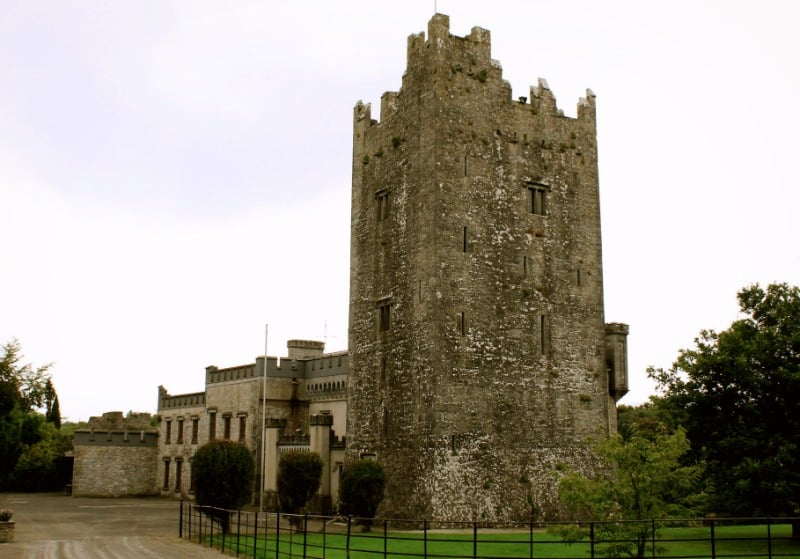 Blackwater Castle, Castletownroche
My final stop in Castletownroche was to visit Blackwater Castle. Owner Patrick Nordstrom met me and gave me a tour of the refurbished castle, that he now rents out by the week. The first thing he told me was that Blackwater was a Roche Castle; and it was at the centre of a huge land area called Roche's Land many hundreds of years ago.
I immediately got goose bumps because I am descended from Roches. Today, the castle sits on 45 stunning acres, right on the edge of Castletownroche village. It is a green oasis surrounded by rich farmland.  As we walked around the picturesque property — surrounded by ancient forest, at the edge of a bluff above the beautiful, lush Blackwater Valley — Patrick told me the history of the castle that his father bought on a whim in 1992, when real estate prices in Ireland were at a low.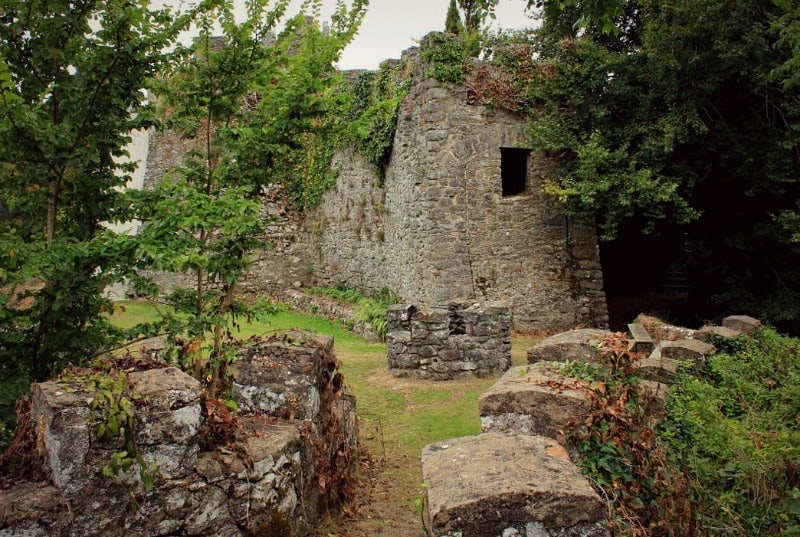 Blackwater Castle, Castletownroche,
Settlement on the site where Blackwater Castle sits dates from more than 9,000 years ago. The present castle was begun in 1170, and it became the seat of Lord Roche, Viscount of Fermoy. When Cromwell's forces attacked Ireland in 1650, Lord Maurice Roche was away and his wife Lady Ellen Roche bravely defended the castle. However, it eventually fell to Cromwell's forces and Lady Ellen Roche was eventually hanged in 1652 (possibly on trumped up murder charges). In 1666 Lieutenant Colonel John Widenham received the Castle as a reward it was thus renamed Castle Widenham — ending the reign of the Roches.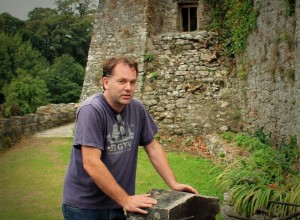 Patrick Nordstrom, current owner of Blackwater Castle
Patrick is a loquacious speaker who kept me entranced for hours with stories about the castle and the region as we walked the grounds. I got goose bumps when he told me about Ellen Roche — possibly a namesake? And decided on the spot that Blackwater is "my castle." (In fact, it could be mine, for a week at least, as Patrick rents out the castle to groups. It has nine bedrooms, sleeps 23 and is in good condition and nicely furnished, too.)
I walked up to the top of the 12th century tower, up very worn, narrow, slippery steps, past rooms filled with cobwebs and an ancient Sheela Na Gig. From the top, I could see Castletownroche, the mill and the countryside, billowing fields of green and gold in every direction. It looked like rich land, and a sense of prosperity and peace hung over it. I found this very gratifying.
I also found being at the top of a castle tower tremendously fun. I looked down at Patrick below and yelled, "I'm the king of the castle and you're a dirty rascal!" Couldn't help it. Felt like the right thing to do. And feelings of joy and serenity arose. And completeness. Being on top of that castle was the peak of a satisfying experience.
With my eyes I saw the land my ancestors left. With my heart I felt the trauma and sorrow of the journey. And with my mind I made connections to the culture and the people that helped me understand myself better — especially my love of lyrical writing and my innate rebellious streak.
Share: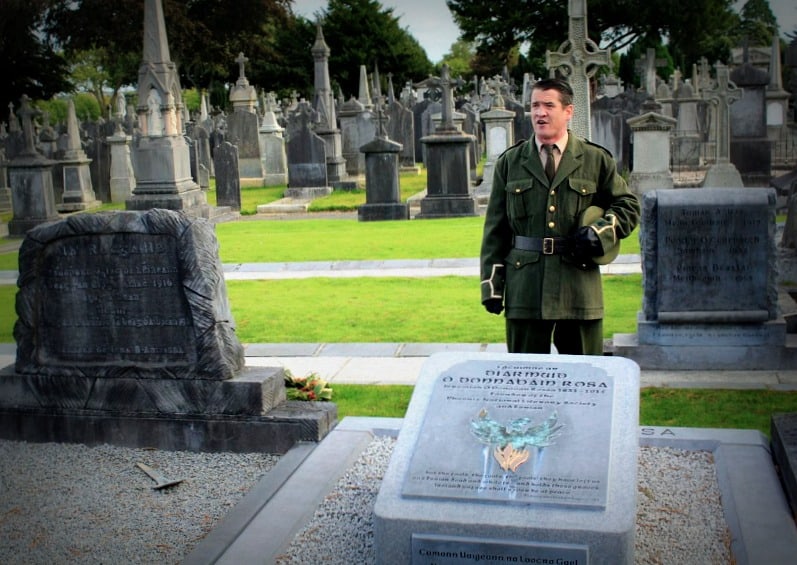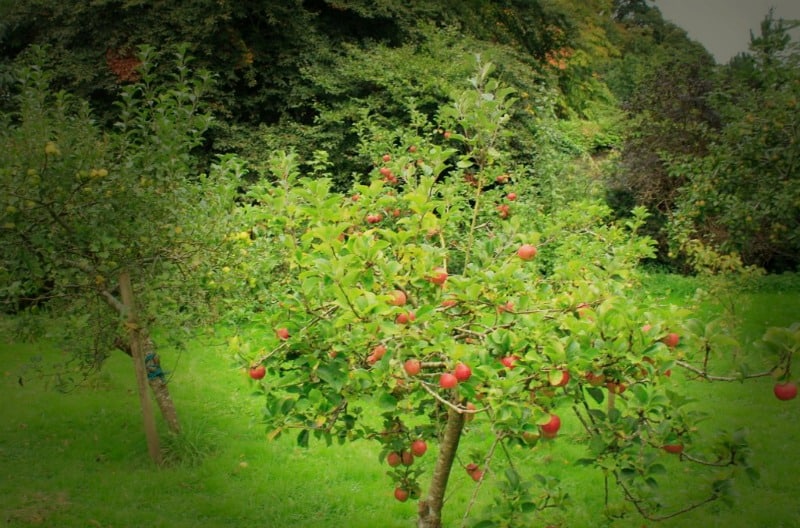 As I wrote this post in Dublin, I was eating a crisp apple that came from an orchard on the Blackwater Castle estate in Castletownroche, Ireland. It was perhaps the best apple I have ever eaten — certainly the most significant, for I picked it myself just a day or two before. Climbing the 12th century tower of Blackwater Castle to survey the village and environs of Castletownroche in Cork was one of the highlights of my Gathering trip to Ireland — for it was from Castletownroche that my ancestors left Ireland, more than 200 years ago.
The Gathering 2013
The Gathering is a year-long festival of events all across Ireland to entice and entertain visitors, especially the Irish diaspora. It's a celebration of Irish culture, history, people and places.
The Center of Dublin
When I arrived in Dublin, before my road trip to the south east to "walk the ground of my ancestors," I made a couple of stops to research my family history. The first was to visit Glasnevin Museum and Cemetery during the week of the Glasnevin Whelan Family Gathering, which I wrote about in My link with Ireland. I went on a cemetery tour that was gripping, informative and just creepy enough: I highly recommend it as an entertaining way to learn about modern Irish history.
Most of the major figures in Irish history and culture are buried in the vast cemetery, and there are plenty of stories about their lives and deaths to fill a two-hour tour. Glasnevin is the largest cemetery in Ireland, and more people are buried there (1.5 million) than currently live in Dublin (1.2 million).
We like to say we are the dead centre of Dublin." Glasnevin Deputy CEO Mervyn Colville
Afterwards, Mervyn Colville showed me around the museum and even into an off-limits research room filled with ancient, brittle record books. The museum is surprisingly state-of-the-art, and was designed by someone with a dark sense of humour. I think the tour and museum are a must-visit in Dublin. However, though there are 10,000 Whelans buried in Glasnevin, and though I was there during the week of the Whelan Family Gathering, there were no gatherings scheduled and I was not able to make contact with any potential living relations.
Learning to walk the goose bump trail
The next day, I met up with genealogist Helen Kelly at the National Library of Ireland, one of those many stately Georgian buildings in Dublin that give the city its character. Helen is a professional genealogist who was assigned to me via Failte Ireland. Among her other roles, Helen is the Genealogy Butler at the historic Shelbourne Hotel.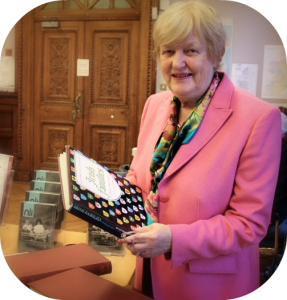 Genealogist Helen Kelly
Helen showed me the resources in a second floor room devoted to genealogical research, and we talked about my "case" and the difficulty of tracing old records. Added to the difficulty is the fact that the names I am tracing are relatively common — it's much easier to trace an uncommon name.
For a list of resources to help trace your family in Ireland, please scroll down.
Helen's modus operandi is to empower people to do their own research. She said she tells people to: "identify the place and take themselves to it." Her best advice is to, "cradle yourself in the landscape of your ancestors" and that's what I decided to do. Instead of spending my time in Ireland chasing paper, I chose to visit the counties associated with two of the names in my Nana's family tree: Whelan (Waterford and Wexford) and Roche (Cork).
This is what it's all about for the Diaspora," Helen said. "I call it the goose bump trail."
I worked with Helen and a copy of a family history to ascertain that my Whelan ancestors came from south east Ireland and my Roche ancestors from Castletownroche (see my blog My link with Ireland). So it was to these areas that I drove with scant information, just points on a compass, really; plus a map, an open mind, a trusting heart and a desire to connect with my past.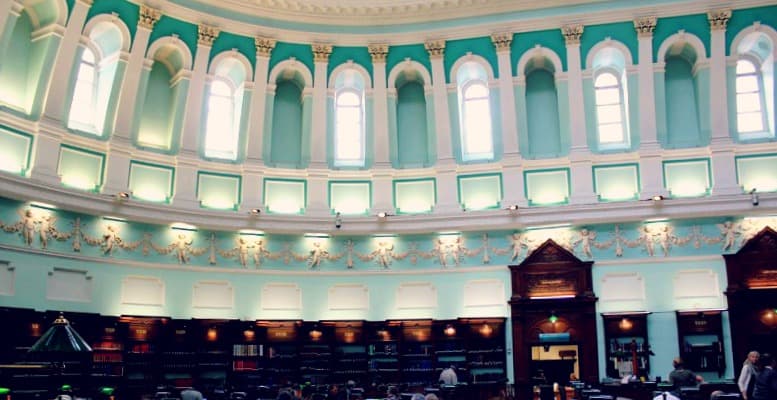 The reading room at the National Library of Ireland, Dublin
Pier of The Sorrows
More than 200 years ago, my ancestors Clara Carty and John Whelan made the short journey to the port of Queenstown in Cork, Ireland to escape living under harsh conditions following the 1798 Rebellion. I wrote about their tragic history some months ago, before I left for Ireland, in The Journey From Ireland … and Back.
In September 2013, I also made the journey to Queenstown, now called Cobh, on the southern coast of Ireland. For me it was a reverent journey, accompanied by the deep feelings that all true pilgrimages engender.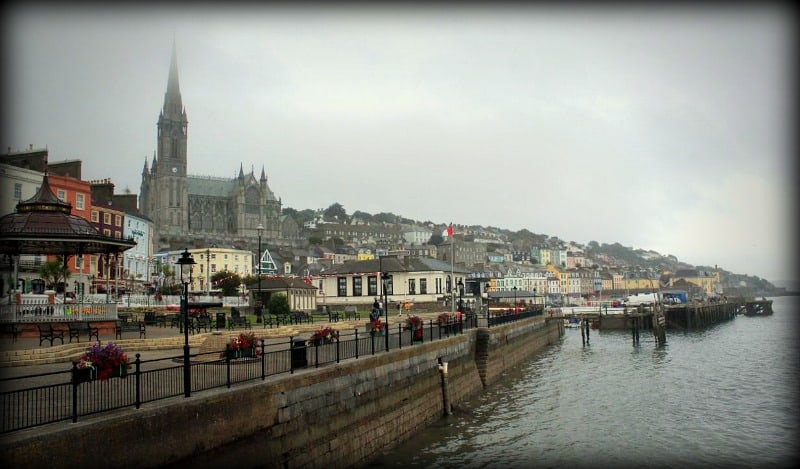 The pier at Cobh, formerly Queenstown
As I drove the long, winding road that follows the River Lee towards Cobh — one of the world's finest natural and deepest harbours — I tried to imagine how it might have been for my ancestors as they prepared to leave their homeland forever. And it was impossible. How can we know — in this age of jet air travel and instant communication — how people felt when they left Ireland in the 19th century, knowing they would never see their country or kin ever again? They used to hold wakes for people leaving Ireland, because they were as good as dead.
When John and Clara left Ireland, there was just a trickle of people boarding flimsy wooden boats for the two-month journey across the Atlantic Ocean to the new world. By the mid-19th century, when the famine was devastating the land, the trickle grew to a flood. This period, called "The Great Hunger," cut a swath through the history of Ireland, and the deep gash is still felt: before 1840, there were eight million people in Ireland. After 1850, there were four million. Many died of hunger, and many emigrated to Canada, the USA and Australia.
Today, the population of Ireland is still only about six million; it has never fully recovered. But the Irish Diaspora totals about 80 million worldwide — which is why Ireland is holding The Gathering this year, to bring people of Irish descent home.
And I was one of them.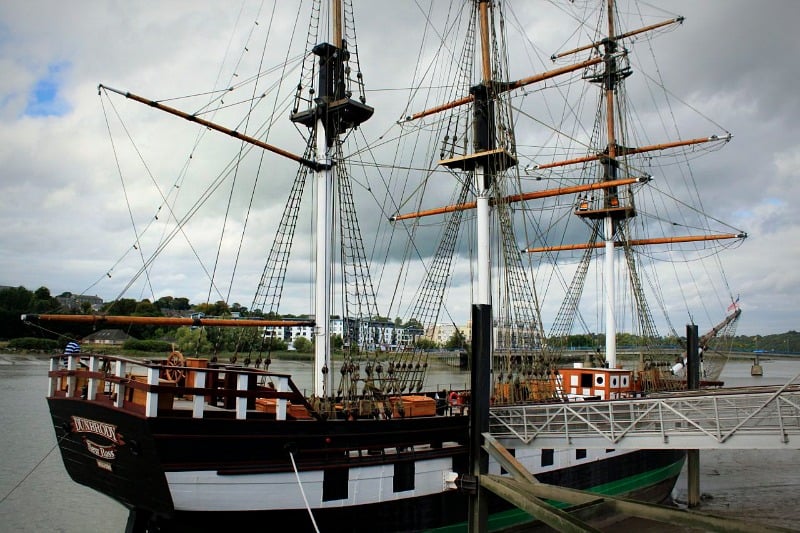 Dunbrody Famine Ship
Boarding a coffin ship
Today, there are many sites in Ireland set up so that you can experience the country's history. Before driving to Cobh, I stopped in New Ross, Wexford — just a few kilometres from the site of the John F. Kennedy homestead — to tour the Dunbrody Famine Ship. The Dunbrody is a replica of a ship built in Quebec in 1845 for transporting timber from Quebec to Ireland. It was pressed into service as a passenger ship to help transport some of the millions who left Ireland during the famine years.
Visiting the Dunbrody museum — built to resemble a quayside warehouse from the 19th century — and then the ship, was a surprisingly moving experience. They've done an excellent job of trying to recreate the experience. I was given a passenger ticket with a name on it, and encouraged to find "my bunk." While below decks, the tour guide explained how harsh the conditions were, and why many people died enroute — giving rise to the term "coffin ships." A couple of actors appeared to complete the verité experience. The actress who played the peasant woman, Anne White, was eerily good. She rocked a baby doll, told us she had four more children with her, and had already buried two — and was going on the voyage to British North America because she didn't want to bury any more.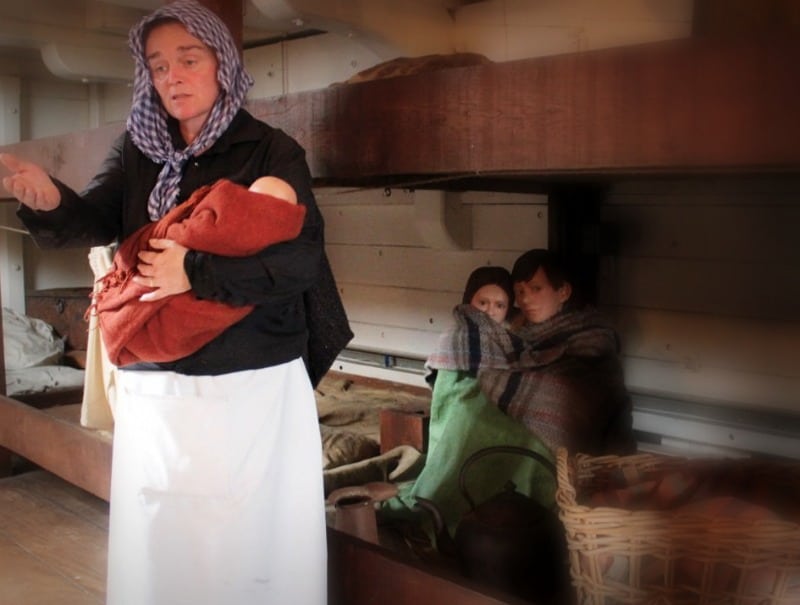 Actress playing passenger Anne White aboard Dunbrody ship
After stories about being locked downstairs for most of the day and only being allowed on deck for half-an-hour; of having to use a bucket toilet; of rations of hard-tack biscuits; of entire families being crammed into small bunks, I was suitably horrified. You can say what you want about tourist attractions, but this one really did give me a deeply felt idea of what my ancestors endured to go in search of a better life for themselves, their children, and their descendants — me.
To say I was humbled and grateful by the experience is an understatement.
Genealogical Resources for finding your family history in Ireland
Glasnevin Cemetery
The Gathering
National Library of Ireland
Share:

My search for the world's best — and most elusive — oyster
"The thing you need to know about oysters is that there is more than one species," John Petcoff, proprietor of Oyster Boy in Toronto tells me. "The crassostrea virginica is the species found all up and down the east coast of Canada and the USA. On the Pacific coast you find crassostrea gigas. The gigas is native to Japan and was imported in 1915. Then there's the varietals, like malpeque, the oyster from Prince Edward Island." Above: Raspberry Point Oyster farm, Prince Edward Island, Canada.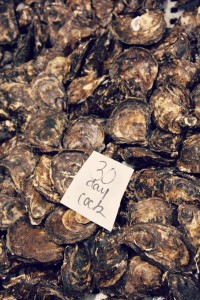 Prince Edward Island is to oysters the way France is to wine. They're the best.
John is telling me this in the middle of a rowdy party known as the Shucker's Ball, held in Charlottetown the night before the Raspberry Point International Oyster Shucking Championship at the PEI International Shellfish Festival.
"What about Irish oysters?" I ask, as I'm two days away from leaving for the Emerald Isle.
"In Ireland you get the ostrea edulis, though they're bringing in the gigas," John explains. "You can tell the difference because the ostrea edulis is round and flat; the gigas is oblong and has a scalloped edge."
I make a mental note, so I can discern the difference when I'm in Ireland.

In the pearl of the oyster universe
I look around the Claddagh Room of the Olde Dublin Pub, with it's backdrop of flowing water and a bar topped with oysters and other shells embedded in plastic. Each man standing is a character, and I whisper to myself, "this is oyster royalty." Amazingly one of the shuckers hears me, and I feel I've landed on the other side of the looking glass.
Last year's winner, Robert Daffin of Florida, tells me about the competitors and he looks around the room and starts pointing out the odds-on-favourites. The first man he points to is Patrick McMurray of Starfish in Toronto, who won the World Championship in Galway, Ireland about 10 years ago.
The world is your oyster. It's up to you to find the pearls.
I met Patrick (Paddy), earlier in the day when my media tour met up with a chefs tour of Raspberry Point Oyster farm. Owner Scott Linkletter, a lanky man with a Mark Twain mustache and a quiet, gracious charm to match, took us out on a barge to rake up some oysters from the ocean floor to eat on the spot.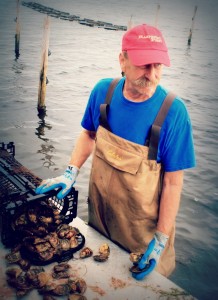 I felt fully immersed in the Prince Edward Island experience, standing on that small, flat barge, surrounded by dove grey colours of sea and sky, and feeling a gentle sea-salt breeze on my skin. Scott told us about growing and harvesting oysters, and showed us the cages he uses in the bay near Raspberry Point; and then we motored further along to shallower water, where oysters grow in beds, among the seaweed. Scott jumped out of the boat — the water was only thigh-high, and raked up some oysters which he dropped on the barge.
Patrick proceeded to open them, and share them around, as he enthusiastically exclaimed their quality. His passion for oysters is palpable and added to the sublime moment of pouring the creature and its briny bath into my mouth to savour the freshness, the sweet-salt flavour and of course the taste of the sea.
That was it, my Prince Edward Island moment. The moment when the maritime essence of the Atlantic province was squeezed into a prehistoric looking bivalve served up fresh and raw in its natural habitat.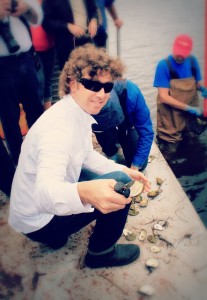 Forcing myself back to reality from my sea tinged reverie, I listen as Patrick tells us about the unique character of the Prince Edward Island malpeque oyster. He points out the slight tinge of sage green to the milky grey creature, and the red earth that clings tenaciously to the shell. Using the point of his knife — the oyster knife he designed himself — he digs out a bit of red soil from the shell of the oyster Scott just combed up from the shallow floor of the ocean bay.
Listening to Scott and Patrick, I realize I'm just starting on my journey to appreciate the intricacies of the oyster, a seafood delicacy that I have until now largely taken for granted — enjoying the taste but not the subtlety.
The sublimity of the oyster experience takes on a more robust character at the Shucker's Ball because though these men — and they are mostly men — are friends and companions, sooner or later their competitive nature gets the better of them, as I discovered when I told Patrick I was getting ready to go.
"Wait," he says, and after a confab with the Olde Dublin owner, strides to the bar and yells out for every shucker in the room with a knife to come forward. About half a dozen step up, hooting and hollering and getting ready for competition. A box of oyster appears, and each person — for two of the shuckers in this competition are women — gets four. At the start signal they go to work, each with their own style and their own knife.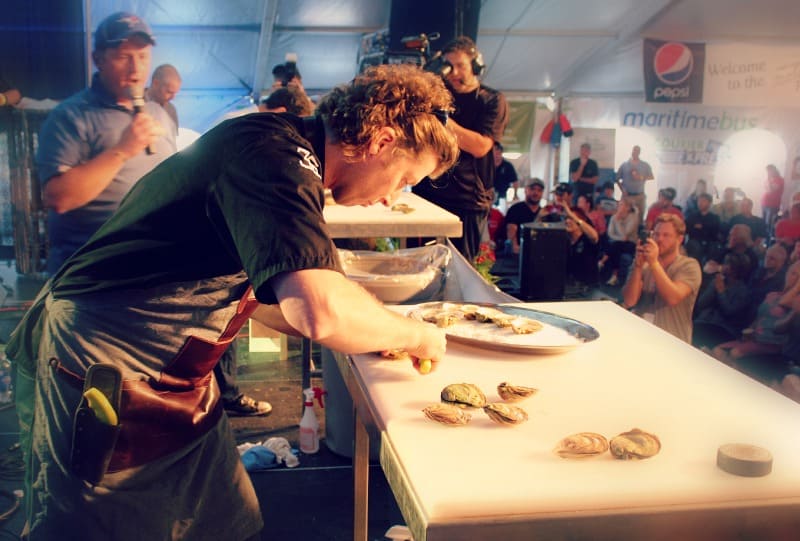 It's not clear who wins, but it doesn't matter as everyone starts consuming the oysters, along with pints of beer, and more hootin' and hollerin' takes place as one fellow starts singing and stomping out a bawdy song about lobsters and private parts and after that another fellow yells out, "Let us now read from the book of oyster" as he proceeds to open Patrick's book.
It's all great fun as the shucker's egos jostle for ascendance among the Gaelic / Canadian maritime atmosphere of the Olde Dublin pub, and I feel I have landed smack in the pearl centre of the oyster universe.
Never mind the mollusks
The next day, I attend the Raspberry Point International Oyster Shucking Championship at the PEI International Shellfish Festival, arriving at the big white tent on the edge of Charlottetown just as the competitors arrive and the tension starts to build. I am amazed at the level of intensity and the drama. Patrick McMurray is backstage engaged in a series of martial arts-like exercises while other competitors relax among the crowd.
With my media pass in hand, I station myself onstage to see the action close up as the flamboyant contest emcee introduces each pair of competitors. They are timed and judged on both speed and several other factors including the cleanness of the cut and the presentation of the oysters on the plate. I stay for the entire competition but have to leave before the winner is announced. Toronto hometown favourite Patrick McMurray clocks in as the speediest shucker, but later I learn he lost the competition to Daniel Notkin from arch-rival city Montreal.

The Walrus and the Carpenter by Lewis Carroll
"It seems a shame," the Walrus said,
"To play them such a trick,
After we've brought them out so far,
And made them trot so quick!"
The Carpenter said nothing but
"The butter's spread too thick!"
"I weep for you," the Walrus said:
"I deeply sympathize."
With sobs and tears he sorted out
Those of the largest size,
Holding his pocket-handkerchief
Before his streaming eyes.
"O Oysters," said the Carpenter,
"You've had a pleasant run!
Shall we be trotting home again?'
But answer came there none–
And this was scarcely odd, because
They'd eaten every one.
Irish breakfast: Oysters and Guinness
Two days later, I landed in Ireland for the first time with many things on my mind — especially my Gathering trip to "walk the ground of my ancestors." But eating oysters, preferably washed down with Guinness, was also on my mind. Armed with a list of preferred oyster establishments in Dublin, courtesy Patrick McMurray, I went in search of ostrea edulis.
On one of my first nights in Dublin, I went to Boxty's, in Temple Bar, and ordered the seafood platter and a few extra oysters. They were plump, fresh and tasty — but they weren't the Irish native species — and I could tell at a glance by the size and shape, thanks to the education I got in PEI.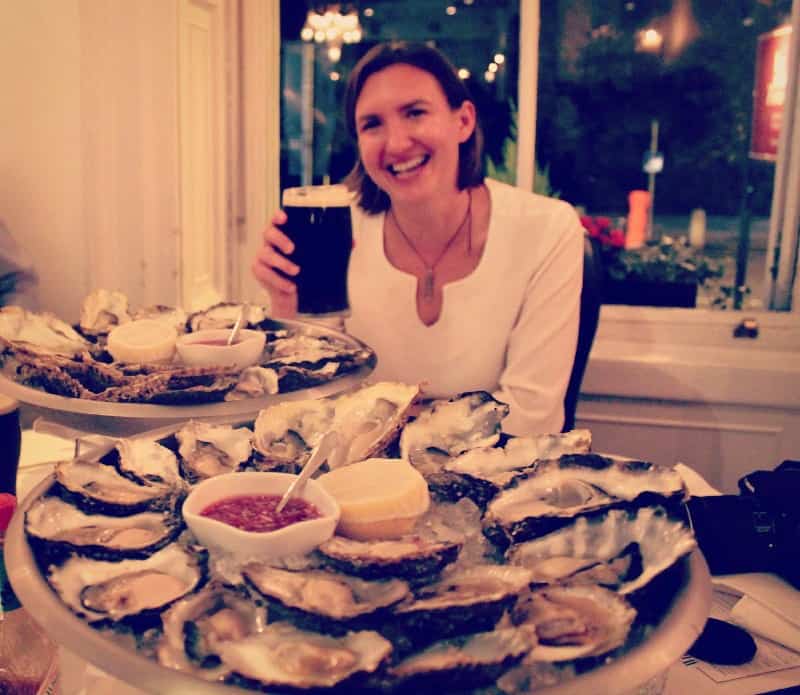 The pearl of oysters
It wasn't until about two weeks later, at the end of my trip to Ireland that I finally tasted the ostrea edulis of Ireland, reputed by some to be the world's best. On the last night of the Travel Blogger's Exchange Conference (TBEX) in Dublin, I went with some friends to Cliff House, an elegant seafood restaurant and oyster bar in an elegant Georgian building just a few doors from The Shelbourne Hotel and across from St. Stephen's Green. Cliff House put on a great show with two big platters of three types of oysters arranged on shaved ice and served with hot sauce, shallot sauce, lemon and pepper.
Dave of TBEX, Dan and Audrey of Uncornered Market and Tammy of Travel+Escape all agreed: Of the three types of oysters we were served, the native mollusk was the best. Flat, round and on the small size, these little gems carried the wild, storm-tossed scent of the sea in their flesh. Our second favourite were the Galway oysters — much larger, with a serrated shell, I knew at once they were of the crassostrea gigas species. The third type, also good, were farmed Carlingford oysters. Cliff House manager Conor explained that the gigas oysters are much easier to cultivate, more reliably harvested and therefore about half the price.
In the elusive Irish oyster, I felt I had found the world's best oyster. However, both gigas and ostrea were happily consumed, along with creamy pints of Guinness, by the five of us on a happy night in Dublin. And before we knew it, we had eaten every one.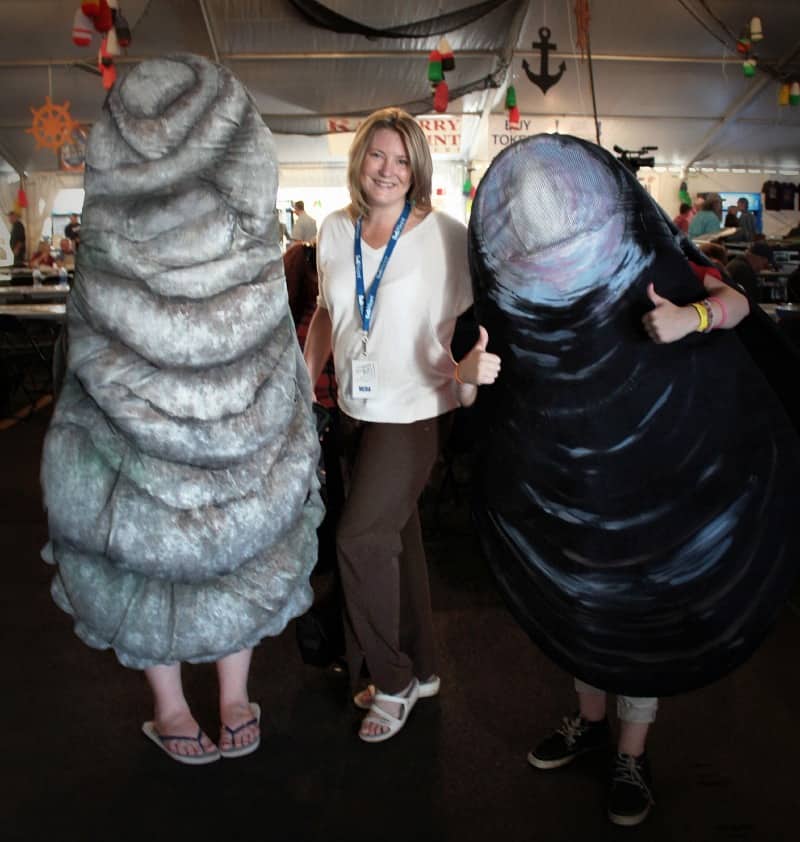 Share: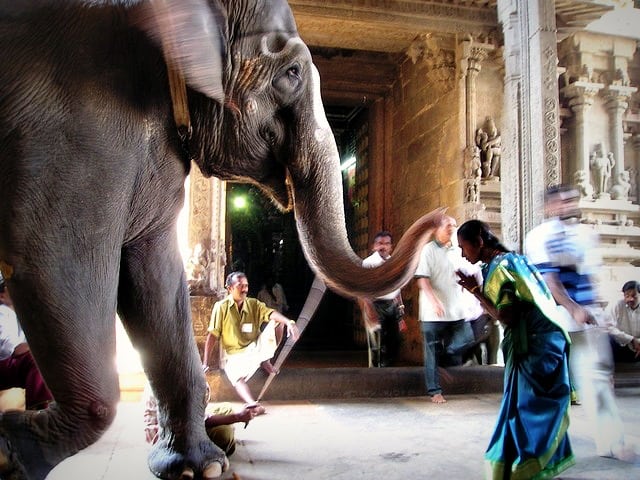 As long as you know English, there will be few communication issues in India. Most Indians know some English, however some will not be able to converse as fluently as you would prefer including taxi drivers, waiters, porters and hotel staff. This is where some basic Hindi words, phrases and sentences can come handy.
Where exactly is Hindi spoken?
Hindi can be spoken in most parts of India, especially the urban areas. It is the main language of the states of Delhi, Uttar Pradesh, Bihar, Jharkhand, Haryana, Madhya Pradesh, Chhattisgarh, Himachal Pradesh and Rajasthan. Hindi is the national language of India and it is thought that 60% of India's population speak Hindi. The other 40% can understand Hindi to some extent.
In most North and Central Indian states where Hindi is not the main language — such as West Bengal, Gujarat, Punjab, Orrisa, Maharashtra and states in the North East — you should be able to get away with speaking Hindi. People belonging to these states have no objections to Hindi and Hindi is even taught as a secondary language.
In some South Indian states such as Andhra Pradesh and Karnataka many people will respond if you speak Hindi with them. However, two South Indian states where Hindi is not spoken, and even discouraged, are Tamil Nadu and Kerala. But, in recent years, even people from these states are watching more Hindi movies than ever before and getting to know the Hindi language. So if you were to polish up on some Hindi before going to India, it will prove to be a valuable asset no matter where you are going.
Hindi can be quite challenging for the average English speaker. It is a phonetic language, so it's spoken as it is written. Hindi uses a lot of English words so you can often replace Hindi words with English. For example, there are no words for "station" or "doctor" in Hindi (if there is one, I am not aware of it and have been speaking Hindi all my life). Some other commonly used English words include railway, hospital, train, cycle, motor, bus, cricket, karma, thug, guru, jungle, bungalow and so on. [NOTE: some of these English words originated in India.] If you are stuck on a Hindi word, then replace it with its English equivalent.
Below are some common Hindi words, phrases and sentences widely used in India. Just pronounce the words the way they're written.
Basic Hindi words, phrases and sentences
Hello – Namaste or Pranam
Hello Amit – Namaste Amit ji (ji at the end of the name is used to show respect)
Me – Mai
I am from USA – Mai USA se hum
Mine – Mera
This is mine – Ye mera hai
Yours – App ka
Is this yours – Kya ye aap ka hai
Who – Kaun
Who are you – Aap kaun hai
Clothes – Kapra
Where are my clothes – Mera kapra kaha hai
Tea – Chai
I need a cup of tea – Mujhe ek cup chai chahiye
Water – Paani
I need a bottle of water – Mujhe ek bottle paani chahiye
Food – Khana
Give me food – Mujhe khana do
Do you speak English – Kya apa English bolte hai
Speak slowly – Dheray boliye
Yes – Haa
No – Nahi
Please – Kripya
Thank you – Dhanevaad
More basic Hindi sentences
How are you – App kaise hai
I am fine – Mai thik hu
Nice to meet you – Aap se milkar khusi hui
Who are you – App kaun hai
What is your name – Aap ka kya naam hai
My name is Mariellen – Mera naam Mariellen hai
Where are you from – Aap kaha se hai
I am from Canada – Mai Canada se hu
Where is the station – Station kaha hai
Where is the bus stand – Bus stand kaha hai
Where is the toilet – Toilet kaha hai
Can you help me – Kya aap meri madaad karenge
What's this – Ye kya hai
I want to buy this – Mujhe ye kharidna hai
How much is this – Ye kitnay ka hai
Lower the price – Daam kum kijiye
There are some things that make learning Hindi challenging. Hindi has gender nouns (masculine or feminine); it is perhaps the most difficult part of learning Hindi. Also, the various states of India speak Hindi differently. For instance, my Bihari Hindi is different from Hindi spoken in Delhi. It's only when we write Hindi that we use the formal methodology. Finally, though India is a country where English is spoken widely, it is still useful to learn some basic Hindi for your travels to India. I suggest you memorize some of these key words Hindi words and phrases and don't be afraid to use them. - Shalu Sharma
Contributed by Guest Author Shalu Sharma, author of "Essential Hindi Words And Phrases For Travellers To India."  
Top Photo of temple elephant in India by Shalu Sharma. 
Share:


I'm in a sprawling white tent on a red sand beach watching a vivid sunset over the Atlantic Ocean and eating a plump lobster, freshly cooked in a briny bath of seawater. Celebrity chef and island local Michael Smith gets up to talk to us, a group of travel media from Canada and around the world. He stands, tall and rangy with a mop of wild hair, and addresses us in a booming voice brimming with passion for food and for his adopted homeland, Canada's smallest province.
"Prince Edward Island is a great big giant green farm, surrounded by an abundant deep blue sea and filled with people and stories," he booms out. I'm having my first defining moment of PEI.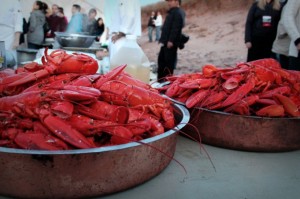 Michael Smith went on to tell stories of many of the people he has met on the island, people who are also passionate about cultivating PEI's natural treasures. Dubbed the "million acre farm," PEI is famous for its various land harvests, including corn, apples and of course potatoes; and its harvests from the sea, especially lobster, oysters, mussels and clams. PEI potatoes and Malpeque oysters are two of the island province's most renowned exports — along with everyone's favourite feisty red-head, Anne of Green Gables.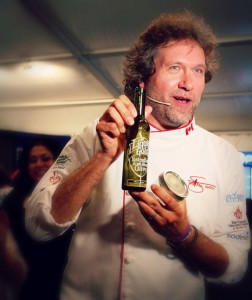 It was while Michael Smith was talking that I felt I sensed the essence of PEI. And the following week, as I toured the island, met locals and collected my own stories, my experiences confirmed my sense that Prince Edward Island is indeed a gentle island; home base to thriving natural and creative industries driven by passionate, talented people.
It's also extremely picturesque.
(See how Michael recommends cooking a lobster in the video below.)
Stories from the land and sea
Prince Edward Island really does live up to its billing. I really did see lots of charming clapboard houses in cheery hues perched atop the rolling verdant landscape that's hugged by gently rugged low red cliffs and a strip of red sand lapped by the teeming waters of the ocean. It's all true. I saw story book apple orchards, sheep nibbling emerald green turf, white sail boats in Charlottetown Harbour, towering cloud banks over the coast. The whole island in September was washed by the golden tones of end-of-summer bounty, with just a tinge of nostalgia for summer memories. Many of PEI's visitors return year after year to holiday on the gentle island — and it is easy to see why.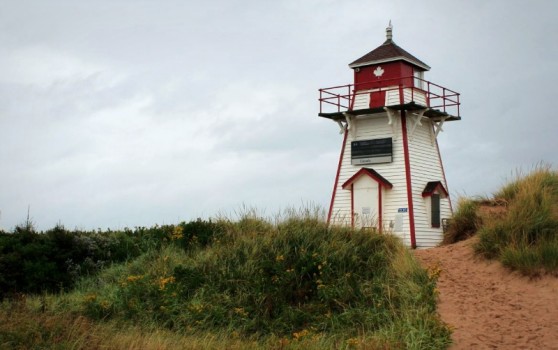 In fact, our family too came to PEI, many years ago when I was four; and when we drove past an old Tudor-style "haunted house" I recalled being there many years ago. Bittersweet feelings of nostalgia washed over me like waves from the sea. I was very happy to finally be back in PEI and happy to be enjoying the modern stories of how the people and the land are collaborating and thriving.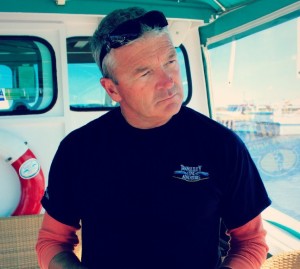 My second defining moment in Prince Edward Island was going out on a refitted lobster boat with Captain Perry Gotell on the most perfect day for a seafaring adventure in Atlantic Canada. The sky was maritime blue, splashed with high white clouds and the rolling ocean waves provided just the right feeling of the sea beneath the boat.
I loved the salt air and being surrounded by a natural landscape of sea and shore almost entirely free of signs of human habitation. Captain Perry, a red-cheeked Hemingway character, was a lobster fisherman for 28 years, the third generation of his family to fish the relatively tranquil waters of a large PEI bay off the coast of Georgetown on the eastern side of the island. He is retired from fishing, and now takes tourists out to experience the life of a lobster fisherman, and he is having the time of his life.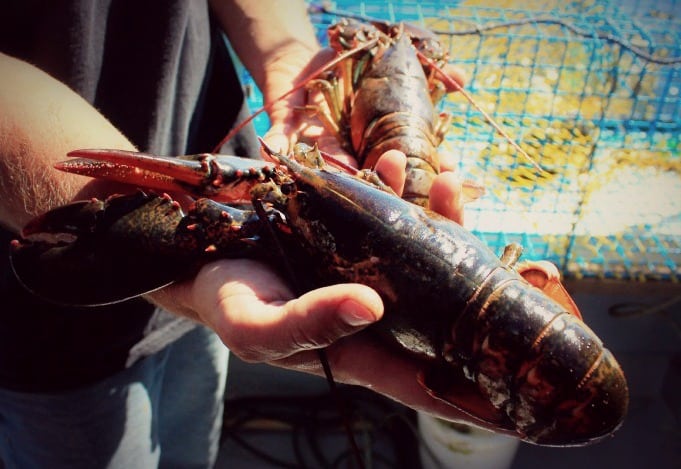 Perry and his mate Lucais helped haul in a lobster trap, mussel sock and rock crab cage to show us how they are caught; but the highlight was fishing for mackerel. We caught several small ones and Perry made ceviche, which we ate immediately. Fish just can't get fresher than that, and it was exciting to eat a "raw" fish dish right out of the sea.
Fish and seafood is one of the big industries of Prince Edward Island and one of its big tourists draws too, and on my food tour I had lots more in store. My third defining PEI moment was also centred around seafood, spiced with the warmth of the island people.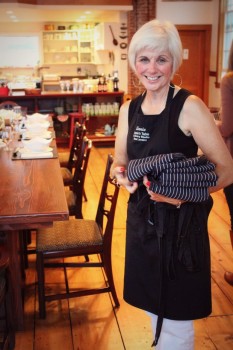 Our small group of travel journalists were invited to spend the evening at Annie's Table, which is a culinary studio in New London, in the centre of Prince Edward Island. Annie greeted us at the door and ushered us into a converted church, which she has decorated with beautiful pieces of furniture and artifacts hand-picked at island auctions. The back half of the room is a large kitchen outfitted with everything a cook could want, and probably more. She introduced us to chef Norman Zeledon, originally from Nicaragua, but who now seems to have caught the island passion for PEI seafood.
With Norman's help, we shucked some oysters — a first for me — and helped make a dish of mussels. Then the lobster delivery arrived and as we marveled at the pre-historic looking creatures, I grew a bit wary about killing them to eat them. However, I overcame my resistance and watched as Norman put them in a pot of boiling salted water (not too much water, as he was in fact steaming them). The lobsters in the pot banged against the sides after Norman put down the lid, which was quite eerie.
Alas, somewhat like The Walrus and the Carpenter by Lewis Carroll, I helped shuck my own lobster — another first — and ate it with gusto, along with the mussels and oysters. And clarified butter.
"I weep for you," the Walrus said:
"I deeply sympathize."
With sobs and tears he sorted out
Those of the largest size,
Holding his pocket-handkerchief
Before his streaming eyes.

"O Oysters," said the Carpenter,
"You've had a pleasant run!
Shall we be trotting home again?'
But answer came there none–
And this was scarcely odd, because
They'd eaten every one.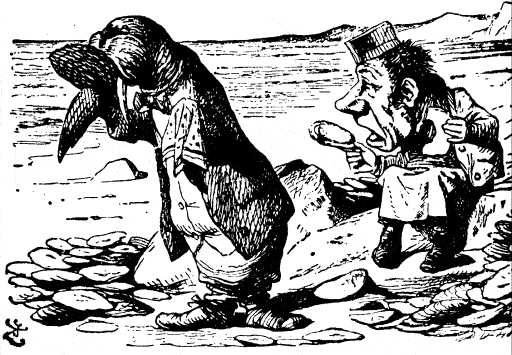 Two more defining Prince Edward Island moments and this story is done (for now!). On the next day, I took a side trip to Cavendish, to visit the home that inspired the setting for Anne of Green Gables. The book by PEI-born writer Lucy Maud Montgomery is of course an international sensation (especially in Japan, where it is on the curriculum), and the Campbell family home has been restored and preserved to honour the writer, the book and most of all her fictional character Anne "with an e" Shirley.
I am one of the many who identified with the feisty young heroine's struggles to find her identity and fit in. And as an adult, I identify with the author's struggles to get published and gain recognition and a livelihood from her creative endeavours. I also identify with someone whose inner world of imagination is often more important and vibrant than the so-called real world; and I admire her ability to see the world of wonder that is so aptly depicted in the Anne of Green Gables books.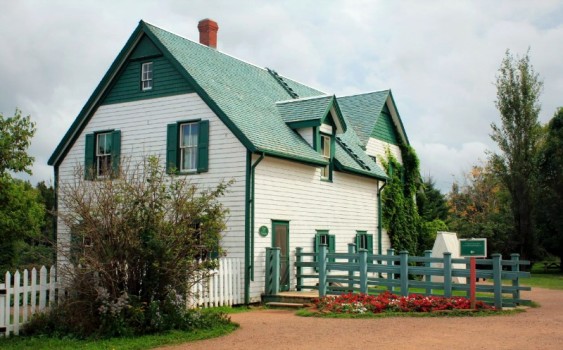 I do admit to feeling a bit teary as I toured the home and gardens. They have been very carefully restored, and even recreated, to match descriptions in the book. A middle-aged woman was slightly overcome when we stood in the kitchen together. "This is where she wrote!" she exclaimed. In fact, Montgomery never lived there, but she lived nearby and spent a lot of time in the house; and named Green Gables after it due to the ivy that grew (and still grows) along roof line.
Everything was invested with a kind of fairy grace and charm emanating from my own fancy." L.M. Montgomery
Finally, one last defining Prince Edward Island moment before the sun sets. Together with Tara, one of the wonderful people from PEI Tourism, we drove a short distance from the Anne of Green Gables Museum to the north shore, kicked off our shoes, rolled up our jeans and walked in the water along the beach.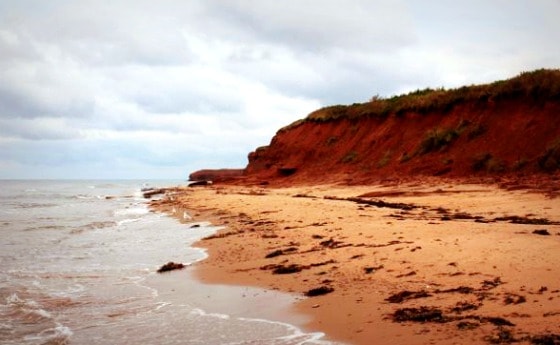 This is PEI, I thought, fresh air, gently dramatic scenery, a relaxing stroll along the beach with memories of ocean fresh seafood and the product of a local creative imagination freshly imprinted on me. Prince Edward Island is indeed a gentle island, and also abundant in every way. And I have found my soul relaxing here, along with my body, and my heart beating a slightly redder PEI hue, tinged by the beauty of the landscape and the genuine hospitality of the people.
Disclosure: I was hosted by Prince Edward Island Tourism, the Canadian Tourism Commission and Isabel MacDougall.