About Mariellen Ward
Mariellen Ward is a freelance travel writer whose personal style is informed by a background in journalism, a dedication to yoga and a passion for sharing the beauty of India's culture and wisdom with the world. She has traveled for about a year altogether in India and publishes an India travel blog, Breathedreamgo.com. Mariellen also writes for magazines and newspapers.
Latest Posts by Mariellen Ward
Share:

Travel Writer Paul Theroux at the Jaipur Literature Festival.
MY LONG TIME DREAM to attend the Jaipur Literature Festival came true this year. I pitched Conde Nast Traveller India on interviews with Eat, Pray, Love's Elizabeth Gilbert and travel writer Paul Theroux, and arrived in Jaipur with a media pass in hand on a cool, late January day. Also wanted to meet and interview Devdutt Pattanaik, well known in India for many books on mythology.
A week before the JLF started, Gilbert had to cancel due to medical reasons. I was disappointed, but held out hope for interviewing Theroux. On the first day, I saw him on the media terrace and introduced myself. He seemed stern but reasonable. He was talking to a train enthusiast about taking trains in India, and we chatted about The Great Railway Bazaar, one of my favourite travel books.
Me, a train enthusiast and Paul Theroux at JLF
I waited. Newbie mistake.
The next day, I was in the front row for his travel writing talk (summarized below in Day 2). And then ran up to the media terrace. He never appeared. I then spent the next three or four days of the JLF chasing him around.
I sat next to him at his son Maurice Theroux's session on writing about family. I asked politely if I could interview him for Conde Nast Traveller. "Maybe later," he said.
I was taking photos of the Rambagh Palace Hotel when I saw him having lunch on the lawn with his wife Sheila and son Maurice. I felt compelled to sit down and order lunch myself, and then got up the nerve to go over to his table and ask again. "Maybe later," he said.
(It was worth the 1,000 rupee lunch when about 20 minutes later, renowned writer V.S. Naipaul was wheeled out on the lawn, and Theroux walked quickly up to him and invited him to his table. If you don't know, these two had one of the more infamous literary feuds in recent history, only making up in the last year or so. Theroux was very deferential to his former mentor, which was really nice to see.)
Later never happened.
However, over many interactions and watching his talks, I was able to cobble together a piece about not interviewing Paul Theroux for CN Traveller India, which you can read here: When you travel you need to have terrible things happen to you.
Here are my day-to-day updates on the JLF below.
Devdutt Pattanaik at the Jaipur Literature Festival
Day 1: The power of myth
First day of Jaipur Literature Festival was sensational. One of the best sessions I attended was The Power of Myth with mythologist Devdutt Pattanaik. In his talk, he made the difference between western and Indian thought very clear, and talked about both the overpowering influence of western thought today; and the destructive power of our obsession with objective truth.
He defined mythology as "subjective truth." In other words, subjective truth is transmitted via stories, symbols and rituals. He said one of the problems today is that people are spellbound by the idea of objective truth. But … objectivity is an idea that keeps us from appreciating each other's subjective truths. Politicians, journalists etc all want to tell you the "truth." Meanwhile, people look to science for truth, but science only deals with what it can measure.
"We have become an intolerant society because we are obsessed with 'what is truth?' When we listen to everyone's truths, we become a pluralistic society. Indeed, life is about looking at others' truths."
The Dress: Search for objective truth leads to intolerance
Devdutt explained the difference between people who think you only live once, and therefore need to achieve (westerners) and people who think you live again and again and grasp the idea of infinity, in terms of time (Indians).
Indians say, "this is right, and this is also right. Who knows?" In other words, they recognize more than one truth operating — and this is the basis of the Indian head wag.
This is important because it leads to tolerance, and Devdutt said this is how India should move forward
"If I want to worship a mountain, why shouldn't I? What's it to you?"
Afterwards, in our interview, Devdutt talked about this is idea of western thought overtaking Indian thought with more force. He said it's a kind of intellectual or philosophical colonialism.
When I mentioned Joseph Campbell, he said he had a very romantic notion of mythology, and didn't include the idea of subjective truth.
Very interesting man, who clearly thinks deeply about these things.
wife Sheila, Paul Theroux and son Marcel at Jaipur Literature Festival
Day 2: Paul Theroux on travel writing
The most exciting session for me so far was listening to travel writer and novelist Paul Theroux talk about travel writing.
He said he started travel writing out of necessity. He devised the railway journey in The Great Railway Bazaar because he thought it was simple and easy, no one had done it, and because he needed to pay the rent. "My advice is sometimes you have to leave home to find something to write about.
"I wanted something easy to do… at the and of the journey, I'll have a book."
He talked about the difficulties of travel — "the common denominator of travel is that it's a nuisance" — and said that travel hardship makes a good story, but delays and comfortable stays in luxury hotels do not.
"The difference between a traveller and a tourist is that travellers are not in a hurry," he said. "Speed and efficiency mitigate against your ability to observe. Comfort is the enemy of observation."
Everyone laughed when he said his greatest travel experiences were the life-threatening ones. "When everything's fine, there's nothing to write about!"
He also stress the need for anonymity and humility. "Travellers should be able to eavesdrop. The last thing you want is to be noticed. Travel should teach you that you're very small. You should cultivate your humility," he said.  "I travel for pleasure, not to suffer, but to find something out. I travel our of curiosity and the pleasure of discovery."
He quoted Joseph Conrad who said, 'Above all in writing, I want to make you see.' He said he wants to write books that give pleasure. Travel writing is a modest but difficult profession. It takes a long apprenticeship.
Towards the end of the session he talked about truth in travel writing. "A travel writer has an obligation to tell the truth, otherwise you're just being clever and calling attention to yourself. I can tell when a writer is gilding the lily."
His advice to travel writers: "You need to be alone. You need to take risks. You need to be lonely. When you're alone and lonely and uncomfortable, things happen. Nothing happens when you're shepherded around."
Very inspiring. I will be thinking about these thoughts for a long time.
William Dalrymple and Paul Theroux at the travel writer's session
Day 3: William Dalrymple
On Day 3, I interviewed Jaipur Literature Festival founder and co-director, writer William Dalrymple. This was a festival highlight for me because I am a huge fan of his books — I've read City of Djinns, about my adopted city Delhi, three times. The first question out of my mouth was, "Does International Backside taxi stand still exist?" (The answer is no.)
Dalrymple is known these days for extremely well-researched historical books about India, the Mughals and the Arab world, but he started as a travel writer. The epic journey of his life was traced in the book In Xanadu, and he told me he doesn't foresee any more such vast journeys. It's a great book, and a great read, and I especially love the youthful, wide-eyed enthusiasm that pervades it.
Dalrymple said that his last real travel book was written 20 years ago, and he doesn't have a clear sense about where travel writing is going. When I asked him about the digital revolution and blogging, he said a travel book remains a travel book.
We also talked about India, and how he fell in love with India when he first arrived as a very young man. He told me he went back to university in the U.K. and all he could think about was, "Last year in India I was doing this at this time."
He said it's "a genuine love affair" with India, and he loves India for the "great beauty, gentleness of the people, richness of the culture and how it never disappoints me. It always holds my interests."
I couldn't agree more.
I have long wanted to meet William Dalrymple. He is a robust, fun, energetic and tireless supporter of Indian culture and writing, and a damn fine writer. I admire him both for his writing and for the achievement of the Jaipur Literature Festival.
Paul Theroux and VS Naipaul at lunch during JLF
Day 4: Day of the Lions
It was the Day of The Lions at Jaipur Literature Festival. On the day of the biggest crowds in the history of the JLF, Shashi Tharoor, V.S. Naipaul and Dr APJ Abdul Kalam drew huge numbers of people to the largest free literary festival on earth. And the overwhelming majority seemed to be about 20 years old. In his talk, Dr Kalam spoke directly to the young people of India, urging them to dream big, cultivate righteousness in their hearts and help change society in a positive way.
The other big event of the day was a talk with V.S. Naipaul about his life's work. This was meaningful for me because his book India: A Million Mutinies Now was the first book I ever read about India. Paul Theroux, with whom he had a famous feud, was sitting in the front row, obviously delighted to have patched things up with his former mentor.
The chai walas saved the day.
For me, though, it was a series of small moments that made the day. I saw with Vedica Kant at lunch who wrote a book about the forgotten Indian soldiers of WWI, called If I Die Here, Who Will Remember Me? and I told her about my grandfather who fought at the Battle of Ypres. Later, in a session on Writing the Family, Paul Theroux's son, Marcel Theroux, talked about the tragedy of a character in his book, who was searching for identity in his family, but remained a bachelor and had no family of his own. Both of these experiences brought up bittersweet feelings for me about my own family life.
In spire of all of this, I tweeted out that the chai walas were the most important people at the JLF. They kept us warm and sustained in the chilly mornings and huge milling crowds.
Wrap-Up
For so many reasons, going to the JLF was a dream come true for me. In spite of some chilly, damp weather, massive crowds, a whirlwind schedule, and not getting the interviews I hoped for, I had a great time.
I finally met William Dalrymple, who is fun, energetic, robust, talented, dedicated … and who loves India as much, or more, than me. One of my favourite moments of the entire Festival was dancing madly behind him, as he was dancing even more madly, at the closing night party. As someone once said about my brother-in-law, and I quote, Dalrymple "kisses life on the lips!"
Share:

Aurovalley Ashram in north India is a place for seekers to find peace. Aurovalley founder Swami Brahmdev describes the ashram as an experiment in consciousness living. It's also an experiment in conscious eating and sustainable food production.
Three times every day, several of the women who live and work at Aurovalley Ashram line up behind the counter and ladle mild, vegetarian food, like rice, dal, and sabzi (vegetable) onto the stainless steel thali (plates) each person carries. The basic fare is usually enlivened by the addition of things like fresh salad, fruit, home made curd (yoghurt), hot ginger tea, buttermilk or home made pickles.
Fresh, healthy, vegetarian lunch at Aurovalley Ashram
It's not food that's going to win any awards, and it's not what foodies dream about, but it is simple, healthy, nutritious and vital. At Aurovalley Ashram, food is part of the spiritual life. People are expected to eat in silence, and clean their own plates afterwards.
Aurovalley Ashram founder Swami Brahmdev explains that eating in silence gives ashramites the opportunity to experience food as a divine gift. "When you're eating, you are in direct contact with the divine. By eating in silence, you show gratitude for life-giving food."
I have found eating in silence to be more difficult than it sounds. In fact, it can be a life-changing experience to eat in awareness. I remember the first time I did it, at the ashram several years ago, and I actually started crying. I discovered that I was eating in a state of anxiety, and this "experiment" released a lot of pent-up emotion.
Since then, I have learned to love peaceful mealtimes. When the weather permits, which is most of the time, I sit outside at the base of a large tree, or on the tiled roof, among the palm tree branches.
Outdoor dining at Aurovalley Ashram
A conscious approach to food
Food is also part of the spiritual life in the sense that it is collected and disposed of in a responsible manner. Swami Brahmdev and Dhyana — a woman from Colombia who has been helping run and manage Aurovalley Ashram for about 12 years — and the others who are involved in buying and cooking the food are all keenly aware of making sustainable choices. The fruit and vegetables grown on the ashram grounds, and the dairy goods produced, are all organic.
A large kitchen garden is planted throughout the year with fruits and vegetables in season. Carrots and potato in winter; lettuce in spring; bindi (lady fingers) and jack fruit in monsoon; pumpkin in the fall — as well as cabbage, bengal (eggplant), tomatoes, strawberries.
When the buttery soft lettuce is growing, green salads are common and very welcome. In India, salad is often a risky thing to eat due to hygienic concerns. But at Aurovalley, the food is absolutely clean, safe and organic.
Just on the periphery of the ashram grounds, a gaushala (cow shed) is home to half-a-dozen cows. When I was there recently, one of the cows had given birth, which meant milk was readily available. Every day, we were treated to completely fresh milk products, like curd, buttermilk, ghee and lassis. I watched one of the local men milk the cow, using simply his bare hands a clean bucket.
The vegetable walla
Kitchen staff, including long-time cook Mohan, make pickles from the fruit of the ashram trees. When I was there in February, the amla trees had borne fruit, and I ate amla pickles almost every day. During summer, the dozens of mango trees on the ashram property come into season, and are picked and eaten right from the trees, and also made into chutney, pickles and juice, and added to lassis and salads.
If they have to buy foods to supplement what they produce — things like rice, beans and bananas — they choose organic foods when possible, and either avoid or reuse plastic containers. Periodically, a vegetable walla shows up, with things like big heads of cauliflower and small sweet apples piled up on a wooden cart.
Water is of course a big concern to Indians and travellers alike. Tap water is deemed to be unsafe and plastic bottles litter the landscape. At Aurovalley, a large reverse osmosis filter provides clean water. Residents simply fill up their reusable bottles.
Responsible and sustainable food production includes garbage disposal. At Aurovalley, all the organic waste is fed to the cows and dogs, paper is burned and gardening waste is composted. There is almost nothing left, except for plastic and glass, which is reused.
A girl from the ashram delivering lettuce from the kitchen garden
Back to Earth
It's very satisfying for a city girl like me to be so close to the food I am eating, and to eat such astonishingly fresh food. One morning, I saw one of the girls who lives on the ashram grounds with her mother pick lettuce that we ate shortly afterwards at lunch. It wasn't cut, but served as full leaves, which I ate with my hands. It seemed to be filled with sunlight and goodness, happy food from a peaceful garden.
At lunch, sitting on the roof eating the lettuce salad, I noticed a drop of water hanging at the end of a palm tree leaf, and reflecting eternity from its tiny mass. A glossy green parakeet landed on a nearby branch. Looking further, I saw mist floating on the ruddy, golden field and turning the distance forest into cloud. All I could hear were the sounds of birds singing and palm leaves rustling in the warm breeze.
This is harmony, I thought as my heart expanded with love for the perfection of nature all around me — the palm trees, the parakeets, the mist-covered forest and the golden lettuce.
Learning to live with more consciousness is the goal of Aurovalley Ashram, and that includes raising awareness around food choices.
The garden at Aurovalley Ashram
Laxmibhai helps pick marigold flowers to decorate the meditation temple
Flowers grow in profusion at Aurovalley Ashram
Share:

I'M ON AN INDIAN TRAIN, tucked into a second-class berth, lower. Above me a man is snoring loudly, and across from me a handsome man with greying hair, in a crisp kurtah, is reading "The Secret," in English, which seems like an incongruous book for an Indian man to read in India. It's late, the train is dark but for running and reading lights, and I'm relaxing with an e-book. I can't fall asleep because I have to get down at Ajmer in central Rajasthan in the middle of the night.
The train is late. Not much, but instead of arriving at 1:15 a.m. in Ajmer, I arrive at 2 a.m. Arriving so late at a train station is my biggest worry about this itinerary, but my travel agent arranged for one of their best drivers to meet me there. And sure enough, Avtaar is waiting when I step down. So relieved.
I'm not settled into my hotel in Pushkar — Inn Seventh Heaven — until 3 a.m. I chose to stay at Inn Seventh Heaven in Pushkar because I was there before. It's a five-storey haveli, all in white, with a whimsical inner courtyard that features birds playing in a fountain, swing seats and a device that sends food from the kitchen on the main floor up to the rooftop restaurant by pulley. It's on to my first list of  favourite hotels in India.
I'm in Mishti, the same room I loved before, with its stained glass windows, heavy wood furniture and Rajasthani decor. And, like before, I eat all my meals on the roof. One of the waiters from 2010, Raju, is still here, though he seems older. I learn that he's had two kids since then.
It's nice to be back at Inn Seventh Heaven, but it's not the same. Either I've changed or the place has changed, or perhaps both. It's still beautiful, but I find the staff a bit more jaded and laconic (except Raju) and the renovations to the roof, to add a storey, ruins the open-to-the-sky atmosphere of the restaurant that I previously loved. Back then, I was recovering from heartache and staring up at the sky was my solace.
Ravi of Roots of Pushkar
On my first day in Pushkar, Avtaar meets me and we walk together through town to meet someone that Anoop, owner of Inn Seventh Heaven, suggests I talk to about Mirabai. So we walk out of the haveli, around the corner and we are in the busy market that wraps around most of the lake. We go straight to meet Ravi, of Roots of Pushkar music store, and luckily he's there and happy to chat.
As a music lover, Ravi knows Mirabai primarily through the songs and bhajans she wrote, or that were written about her. He brings out three CDs, two beautifully produced (by Roots of Pushkar) with great cover art and booklets, and I buy them all. Then he calls his brother-in-law, Milap, in Merta City, and arranges for me to have a tour of the Mirabai temple the next day.
I have come to expect this kind of over-the-top helpfulness in India, but I hope I never take it for granted. India can be challenging and frustrating in so many ways, but the people usually make up for it. I have never met more warm and helpful people anywhere.
Merta City is about an hour's drive from Pushkar (top photo) and I actually arranged my trip to be there for the annual Mirabai Festival. Somehow, I missed it but Ravi says it's not worth attending because the music is electronic. And then he makes a face, like he has just discovered a fat fly in his chai, and that says it all. So, I no longer feel bad that I missed the festival and give myself up to enjoying being back in Pushkar, back in Rajasthan and hot on the Mirabai trail.
Together, Avtaar and I walk around Lake Pushkar just as the sun begins to set. Sunrise and sunset on Lake Pushkar are both magical times. Temple bells ring, people leave their worldly concerns behind to gather peacefully on the ghats and the mirror-like lake glistens in the soft and changing light. The only disturbance is a "fake priest" who tries to extort money from me, unsuccessfully, in exchange for a fake puja "for your family." I can't understand why Pushkar hasn't clamped down on these guys. They really make a trip to Pushkar annoying.
But after successfully dodging a couple more, we do a complete circumnavigation of the tiny lake and it's dark when I arrive back at Inn Seventh Heaven.
Moon over sacred Lake Pushkar, Rajasthan
Finding Mirabai at Merta City
Avtaar and I meet the next day for our drive to Merta City, Mirabai's birthplace. I'm really excited to explore the second stop on the Mirabai Expedition, and the unknown journey that awaits. We drive out of Pushkar and past the vast desert-like fields that host the annual Pushkar Camel Fair. Within an hour, we are in Merta City and look to meet our guide.
We park in a very narrow lane, beside a temple, and find Milap and his young son waiting for us. They escort us upstairs to their home, a spotlessly clean, light-filled and spacious flat over an electronics store. We meet his wife and daughter, too, and enjoy chai together.
The Mirabai Temple in Merta City, Rajasthan
Milap, his son and his daughter accompany Avtaar and me to the Mirabai Temple. I started as one, and now I am part of a five-person entourage. We walk for about 10 minutes along a narrow road through a busy market in the hot sun, and suddenly, in the middle of all that bustle, we are at the Mirabai Temple.
I am immediately impressed with the place — by the size, the design, the beauty of the temple. Inside the atmosphere is tinged with green light because of the green plastic roof. A serene statue of Mirabai faces across a checkered tile courtyard towards the inner sanctum, the Krishna temple. She is frozen in an adoring gaze of love and devotion.
Women gather to sing Mirabai's songs in Merta City, Rajasthan
A group of women sit in the courtyard playing music and singing Mirabai songs. After darshan in the Krishna Temple, I join them on the floor to experience the camaraderie of women and the music of Mirabai. It's a wonderful and exhilarating experience. I feel warmly welcomed by them. One woman hands me a pair of cymbals while others move aside to make room for me. The woman leading the singing catches my eye and signals for me to join in.
I am beginning to get an idea of Mirabai — the joy and love she engendered, and the femininity of her creativity and devotion. And I am delighted to see that she is still honoured today in her birthplace, in a very real and kinesthetic sense.
As we are leaving the Mirabai Temple I feel very full, very satisfied with my Mirabai experience. But much to my surprise, Milap tells me we are going to the Mirabai Museum next door. This is news to me. I had no idea. The Mirabai Museum never came up in my research.
The Mirabai Museum is housed in the palace she called home until marriage.
Striking gold at the Mirabai Museum
I discover it's a fairly new museum in a very old building. The Mirabai Museum is in fact housed in the former palace that was her home. I am dumb struck, because I thought her house was in ruins. It turns out the house she was born in is now in ruins, but the red sandstone building I am entering is where she grew up.
We enter through a thick, medieval-looking gate, into a sizable courtyard. At the back of the courtyard is the palace. It is not a big palace, but it is impressive enough. Even more impressive is the care and thought that went into preserving the name of Mirabai in this museum. Her life is plotted with signboards, portraits and paintings throughout the lofty rooms. In the main room — perhaps the throne room? — there is a beautiful, gold-coloured statue of Mirabai placed behind a railing and in front of a portrait of Krishna.
An unexpected boon: discovering the Mirabai Museum
I am really impressed with this display; it evokes the quality of devotion and reverence that Mirabai represents. As I'm standing at the barrier, paying homage to Mirabai and also trying to imagine her actually living within these rooms, I am introduced to two local journalists. It seems like a coincidence they are at the museum at the same time as me.
I continue to walk slowly through the museum, enjoying the spacious rooms, naturally cool even in the heat of the day, and filled with delightful images of feminine beauty and heartfelt devotion. My entourage continues to grow as I walk, with the journalists and several young local people joining us.
In one room, a kind of hallway filled with portraits of Mirabai, painted in wildly differing styles, the locals point at a romanticized oil painting with an unmistakably European air. "Mona Lisa," they say, indicating that the painter of Mona Lisa also painted this portrait. "I don't think so," I say, unsure about whether to burst this beloved myth.
Garden exhibit at the Mirabai Museum shows her with her beloved Krishna
I make my way through about four or five rooms filled with displays on the life of Mirabai, and enter a bookstore and library, where I am asked to sit at a table. Soon after being seated, a local politician strides in and takes the central seat with an air of self-importance, aided and abetted by his youthful sidekick. He's introduced to me as Anil Thanvi, chair of Merta City council.
We sit around the table, me beside the Anil Thanvi, the two earnest journalists across from us, and Avtaar, Milap, his children, and the rest of the entourage milling around us. The journalists — C.R. Prajapati from the Rajasthan Pratikia and Arif Ansari from the Navjot Daily News — begin interviewing me about my interest in Mirabai, and I start talking, first with tentative, polite and praiseworthy remarks about Indian culture and spirituality. But soon I'm launching into a robust diatribe about women's rights.
"Mirabai was a strong woman who followed her calling. She gave voice to her gifts and we still honour her today for her devotion. She is a role model for Indian women today, who deserve to be supported and respected."
By the end of my speech, I am practically fillibusting. When I stop, I briefly think about how this will play in Rajasthan. "Crazed foreigner criticizes India," screams the headline in my mind.
Sign at Mirabai Museum
Meanwhile, the politician is ignoring all of this and insisting I visit his home and accompany him to a function. I insist that my program is set, pointing to my driver, and shrugging helplessly. Then they hand me a statue of Mirabai, shake my hand and take photos. I feel like I'd been given the key to the city — which, in a way, I have. For this was Mirabai's birthplace, the city of her youth.
As I walk out through the massive, medieval museum gate into the glare of the noon day sun, I remember the story about how Mirabai stood in this same spot, with her mother, and watched a passing marriage procession. "Where is my groom? Who will I marry?" she innocently asked her mother, who pointed to an image of Krishna, and said, "Krishna is your groom." This idea stuck with Mirabai for the rest of her life.
Milap's 10-year-old daughter and I take pictures of each other posing as "strong women," with our hands on our hips and I hope she takes the attitude with her, for the rest of her life.
Share:

WHAT DO YOU THINK about women explorers? It is my view that men and women have have a different approaches to exploring. While men seek to conquer, women seek to understand. Perhaps this is the reason that women explorers traditionally get short shrift.
I didn't discover my "inner explorer" until I was in my 40s. After several personal losses left me feeling depressed, I packed up my apartment, lit out for India and spent six months traveling from one end of the subcontinent to the other. Since then, I've been back to India six times, and many other places, too.
What I discovered is how alive traveling and having adventures makes me feel. And I'm not the only woman who feels this way. There's a scene in the second Lord of the Rings movie, The Two Towers, when Aragorn asks Eowyn, "What do you fear, m'lady?" and she answers, "A cage." Laura Dekker, who sailed around the world when she was 16, said in her blog she was far more haunted by memories of Dutch social services threatening to lock her up than she was scared of pirate kidnappings, treacherous seas or being shipwrecked.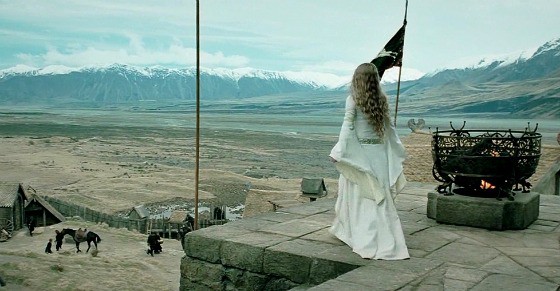 But when you think of an "explorer," who do you picture? Someone like Marco Polo or Christopher Columbus? Maybe David Livingstone or Edmund Hillary? Chris Hadfield or Neil Armstrong? These brave men are all household names. But how many female adventurers, travelers and explorers can you name?
If you google "explorers" or "famous explorers" you get lists of male names. To find out about female explorers, you have to specifically search that phrase. Travel TV shows and adventure magazines are often dominated by men, too. The Explorers Club, founded in 1905, only started to admit female members in 1981 (read the impassioned letter Carl Sagan wrote on this subject).
Though women are just as indomitably curious as men, and have been out exploring the world for just as long, they just don't get the same press. But spirited women are certainly out there. Here are some of my favourites.
Mirabai: 16th century poet wandered in India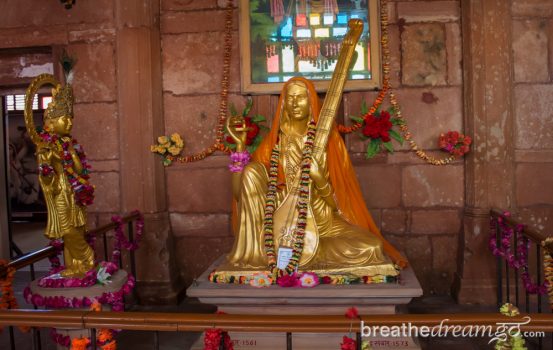 A princess born in India in 1501, Mirabai was married against her will to a prince of Chittor, near the city of Udaipur in Rajasthan. Her life was marred by persecution as she struggled to manifest her ardent desire to compose, sing and pursue spiritual studies. Though she was famed for her talent, her family felt she was bringing dishonour by not behaving the way a courtly lady should — and they tried to poison and drown her. She escaped and travelled widely, journeying across northern India to Vrindavan, and eventually to Dwarka in Gujurat, where she disappeared under mysterious circumstances at age 50.
NOTE: I followed Mirabai's footsteps across North India with the help of an Explorer's Grant from Kensington Tours in October 2014, and I've been writing about my journeys in a series of instalments:
1. Lost in Vrindavan
2. Finding my way
Alexandra David-Néel: First European woman in Lhasa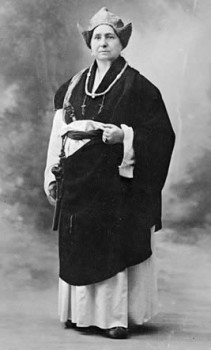 Alexandra David-Néel (1868 – 1969) was a Belgian-French explorer, spiritualist, Buddhist, anarchist and writer. Alexandra married for convenience and then, leaving her husband behind, began travelling in India, China, Sikkim and Tibet in 1904. After a love affair with the Maharajah of Sikkim ended tragically when he died from poisoning, she lived in a cave for two years and apprenticed with a Tibetan Buddhist teacher. Her mastery of the language and culture of Tibet allowed her to travel, disguised, throughout the country. Following a long, arduous journey, she finally reached the capital, Lhasa, in 1922, along with her disciple Lama Yongden. It was an amazing feat because at that time Lhasa was closed to foreigners. Back in France, Alexandra wrote dozens of books and continued to lecture and travel until well into her nineties. Her book My Journey to Lhasa, became an instant adventure travel classic when it was published in 1927.
Freya Stark: Woman of Arabia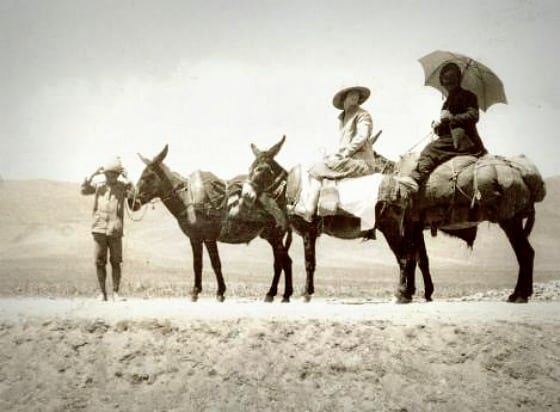 Dame Freya Madeline Stark (1893 – 1993) DBE was a British explorer and travel writer. Born in England, Freya moved to Italy with her mother and worked as a nurse there during WWI. She had no formal education, but followed a passionate interest in Arabian culture that was probably born from her love of The 1,001 Tales of the Arabian Nights. After the war, she attended the School of Oriental Studies in London and began travelling extensively in the Middle East. She lived in Baghdad and travelled into remote parts of Iran and the Arabian deserts that no Westerner — male or female — had ever visited. During WWII she worked for the British Ministry of Information in Cairo, and after the war resumed her travels — this time to Turkey and Afghanistan. Dame Freya continued to travel and write well into old age, and published many travel books including Baghdad Sketches, The Valleys of the Assassins and several volumes of memoirs. She was made Dame Commander of the Order of the British Empire in 1972.
Dervla Murphy: Full tilt from Dublin to Delhi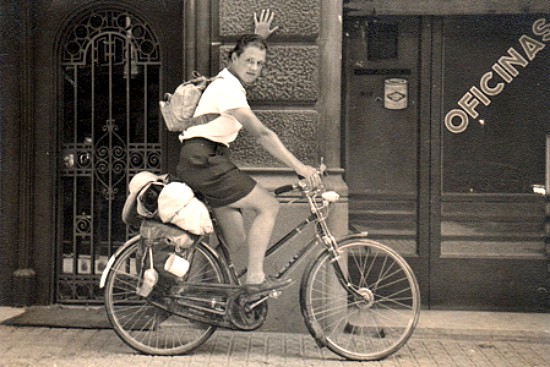 In 1963, when she was 32 years old, Dervla Murphy rode her bike from Dublin to Delhi, alone. She rode clear across Europe, Turkey, Iran, Afghanistan and Pakistan. She survived snow storms, a wolf attack, attempted rape, a bus accident and severe dehydration. And she had the time of her life. She wrote about her adventures in a rousing book, Full Tilt: Ireland to India with a Bicycle. But this was just the beginning for Dervla, who felt a sympathetic affinity for the Tibetan people in exile, and worked with them as a volunteer on several trips to India and Nepal. Since then, she has travelled widely on four continents, with her daughter Rachel when she was young, often using pack animals and usually avoiding tourists by seeking out remote and untouched regions.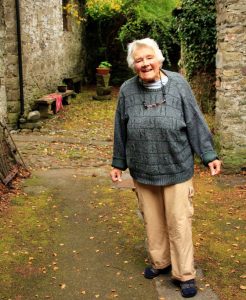 Some of her adventures include walking across Ethiopia with a mule, travelling on horseback through Cameroon with Rachel, and cycling from Kenya to Zimbabwe. She's written about 25 books in total, about her travels and various political issues. Now in her 80s, Dervla lives in Ireland and continues to passionately write about the things that matter to her.
I had the great fortune to visit Dervla Murphy in her home in Lismore, Ireland in 2013, and interview her about her travels, books and approach to life. She was very warm and welcoming, and I stayed for a couple of hours in her unique home — which used to be an open-air market, and is now a jumble of enclosed spaces around a rambling garden, up an alleyway from the street. Dogs run freely around, the outdoor and indoor spaces converge and piles upon piles of books cover tables, chairs and floor space. When I asked Dervla how she managed to find the courage to travel as she did, alone and across vast distances and foreign lands, she said, "Naaah, you don't need courage, you just need curiosity!"
Share:

3 reasons to travel in undiscovered India: Tribal culture, ancient ruins and the Sirpur Festival
OVER THE COURSE OF FOUR DAYS in remote and undiscovered Chhattisgarh, I toured 2,600 year old ruins, watched soul stirring Indian classical music performances under the stars and had a brief glimpse into the intriguing tribal cultures of the state. But the moment I remember most was in the Raipur hotel parking lot. It's the moment that will make me go back to Chhattisgarh again and again.
I was in the car, along with several other travel writers and bloggers, getting ready to depart for the airport and fly back to Delhi. We had just said goodbye to our hosts in Chhattisgarh, three people from the state tourism board. To my surprise, they literally ran after us as the car started to pull out of the drive, waving, smiling and thanking us with a level of warmth and gratitude that was completely unexpected, and completely genuine.
Chhattisgarh is a very special place, with much to offer the intrepid traveler who loves to get off the beaten tourist trail. Under the direction of Chhattisgarh Tourism Board's Managing Director Santosh K. Mishra, IAS, the state is very intelligently positioning itself as an up-and-coming tourist destination for those interested in eco-tourism, hiking, biodiversity, ancient civilizations, tribal cultures and experiencing an undiscovered and unspoiled slice of India. I am sure they will do a good job.
But the secret ingredient, the USP, the magic of Chhattisgarh is what we felt in the parking lot of the Babylon Inn. It's the genuine warmth of the people. These are not people hardened by tourist footfalls, they do not think of their state as a product, they do not see visitors as walking wallets. Rather, they genuinely want to share their forests and history, their arts and culture, their temples and ruins.
In Chhattisgarh, I found an India waiting to be discovered. For an adventurous traveller, who yearns to travel off the beaten path, like me, going to Chhattisgarh was like striking gold. This place has it all: vast ruins that date back 2,600 years, extensive forest cover (44% of the state) resulting in extreme biodiversity, an incredible Tribal belt with more than 30 separate and distinct tribes and a savvy, passionate state tourism director who's committed to developing tourism that makes sense. I am coming away from Chhattisgarh extremely excited about the potential I sensed and saw.
Chhattisgarh is just waiting to be discovered
I was invited to attend the 2015 Sirpur Dance and Music Festival in Chhattisgarh, and jumped at the chance to visit a state that I might otherwise miss. For me, if offered the perfect combination of adventure and culture.
Though tourism is Chhattisgarh is in a nascent stage, the success of the annual Sirpur Dance and Music Festival is a testament to what these people can do. I have been to the renowned Konark Dance Festival and Sirpur is on par. And this is only after three years of operation. I will be writing in detail about the Festival shortly.
Each day of the three day Festival, we drove 80 kilometres from Raipur to Sirpur, an ancient capital of this region. Sirpur is a small town with a big past. It's a vast heritage site that dates back about 2,600 years, rich in Buddhist, Hindu and Jain temples and ruins, surrounded by rolling countryside and bisected by a major river. It's the perfect place for an extravagant cultural festival, on the lines of the Konark and Khajuraho festivals.
Luckily for us, we had the opportunity to tour the vast site with noted archaeologist Dr. Arjun K. Sharma, who has directed the excavation for the past 15 years with wit and vigour that belies his 80 years. A slim, elegant man with a movie star mustache and thick white hair, he sprints among the ruins with the agility of a mountain goat.
I feel blessed to have been introduced to this site by this man, who has made it his life's work, and who shows no signs of slowing down. He walked us through only a few of the temples, monasteries and markets that have been excavated, and all of us — about 15 travel writers and bloggers — agreed. We would love to have a week here with him.
He knows every carving, every brick, every stone like they're his children. And in a way, they are, he has dug them out of the earth with his hands. I asked him who helped in all this work, and he replied, "About 60 local people. We trained the local people in a month. They're more intelligent than you. This is their home, they know this place."
As we walked through Sirpur, he told us the stories living in the stones. He showed us carvings of the deities of at least three religions, Hinduism, Jainism and Buddhism. He pointed out small stories in the secular carvings, a honeymoon couple, a man walking a dog. At the site of the ancient market, we discovered the foundations to a very large and sophisticated settlement. Dr. Sharma showed us an Ayurvedic spa, with a bathtub that drained into an underground system, and a locker for valuables.
What is the reason for erotic temple carvings in India?
The ruins at Sirpur paint a picture of a vibrant capital city dating from 2,600 years ago. The famous Chinese traveller Hsuan Tsang visited in the early 7th century. Buddhism was practised here at one time and important gurus meditated here. The many Buddhist statues and monasteries (viharas) pay testament to the importance of Sirpur as a Buddhist heritage and pilgrimage site. In fact, the Dalai Lama has visited here twice recently.
Reality check in Chhattisgarh
I will long remember attending the Sirpur Dance and Music Festival for the magical evenings of brilliant dance and music performances. Unfortunately, I will remember it for another reason, too. I had an unpleasant run-in with the security at the Festival, which almost marred the evening for me. Security was very, very tight due to the presence of high-profile political guests, including the Chief Minister. Everyone was carefully checked, especially at the VIP entrance where we, as media, entered. As I was standing there waiting to go in, one of the over-zealous security guards pushed me out of the way, to make way for the dignitaries who were arriving.
I understand that security is a very real concern in India. Some areas of Chhattisgarh have unfortunately been the site of Naxalite attacks, which have tarnished the state's reputation. However, it's sometimes quite a shock for a Canadian, like me, to run into the realities of life in India — in this case, the need for tight security and the traditional hierarchical society that places some people above others. It's so different from the values I was brought up with in Canada. I struggle with respecting some aspects of the culture and traditions of India, which perhaps arose for good reasons in times past, but which are out of step with modern notions of human rights and equality.
I'm proud of myself for speaking up and not letting this happen without comment. After addressing my complaint, the tourism people and organizers apologized profusely, and as usual, the incredibly warm people of India came to my aid when they saw I was distressed. The woman sitting beside me in the audience gave me her VIP pass. This is why I don't worry about traveling in India. I know what the people are like, I know they are very warm and very helpful, I know that no matter what happens, amazing people will step out of the crowd to assist me.
We were also briefed by the tourism department about the attacks in Chhattisgarh, which were aimed at specific political targets, and have been confined to an area of Chhattisgarh that is not under tourism development, and therefore should not be a concern. I personally feel, having met them, that the people in the tourism department of Chhattisgarh would not steer visitors wrong.
My testimony to my experience in Chhattisgarh is that I will go back. I will go back to spend time in the forests. I will go back to learn from the tribal people about how they live in harmony with nature using sustainable practices that would be the envy of eco-experts anywhere in the world. And I will go back to again experience the genuine, unspoiled warmth of the people.
NOTE: Thanks to the Chhattisgarh Tourism Board for hosting me.
Share:

I wake in Vrindavan.
I wake with two problems on my mind: money and food. I slept without dinner and no breakfast is available; and the day before, I tried two ATMs and both were out of money. So, with a mixture of hope and trepidation, I haggle for an auto and go straight to the ATM. The sound of the money dispensing is more delightful to me than all the temple bells in this moment. Even in a holy city like Vindravan, money is necessary.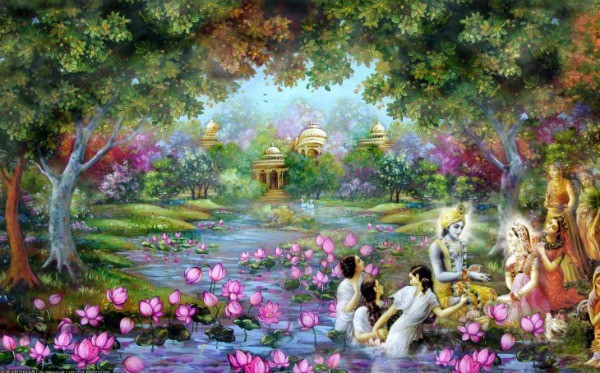 Above, Krishna and his gopis in the Vrindavan of myth and legend.
From there I go directly to Govinda's Restaurant at the ISKCON Temple for breakfast. As it is an "ekadasi day" — a day without grains — I have a strange breakfast of fruit, juice, a mango lassi and kind of potato dosa. Then I have their thick herbal tea and a coconut laddu.
With money in my wallet and food in my tummy, I feel so much better about life and about the day. These things do matter, and I don't agree with the spiritual people who turn their backs on embodied life.
In Vrindavan, I find myself thinking that if all the effort that goes into prayer, darshan, and parikrama were put into cleaning up the city, creating an irrigation system so more plants and trees can grow, installing proper plumbing, sterilizing the stray dogs, educating all the children, and addressing all the other social and environmental problems, than you would have a much more lovely, harmonious Vrindavan — the kind in myth and legend.
The ceasless Vrinadavan Parikrama passes Gopinath Bhavan
But in the meantime, it's a very crowded, dirty, dusty place — no different to me than any other Indian town. I hail a bicycle rickshaw outside ISKCON and fall into the usual negotiations over the price. They say 100 rupees, which is two or three times the price that Indians pay. A young woman joins in and bargains one driver down to 50 rupees to take me to the Mirabai temple. He stops and buys two small bags of water from a street stall.
We ride through a long, narrow market area — it's fascinating to see the stores, the old buildings, some carved, and the crazy traffic jams. Bullock carts, a camel cart, every type of vehicle, all vying for space in a very narrow street. We pass tiny children playing and open-air barbers and groups of devotees walking parikrama in their bare feet. Finally, we get there. Because of the distance and the heat, and the man's advancing age, I decide to give him 100 rupees after all. He isn't sure whether I mean for him to keep it. I feel his sweetness and humility in my heart, I feel humbled.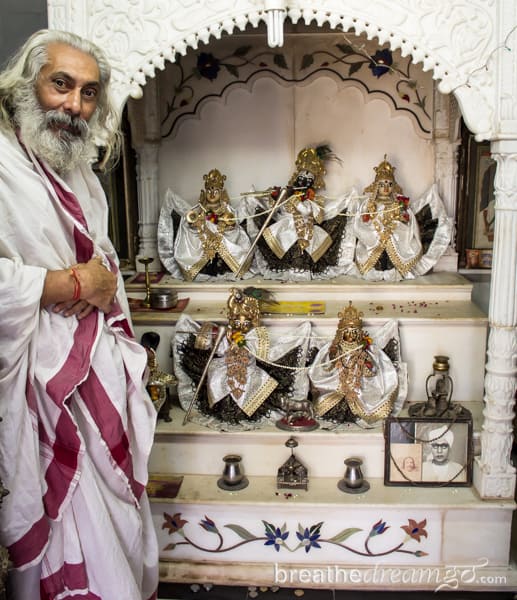 Praduman hands me a piece of 45-year-old paper
Immediately on stepping through the old, rusty gate, and entering the small residential temple, I feel cooler and calmer. I love the feeling in this shady, airy house, full of light and greenery, painted pale blue and white. The bearded man appears, this time in a more priestly garb, a white robe trimmed in red, and we sit down to talk.
He gives me a piece of paper, tells me it's at least 45 years old, and that I should have it translated and copied. On it, he has carefully printed his name and address:
Praduman Pratapsingh,
Meerabai Temple
Govind Bagh, Vrindaban
Praduman tells me, in simple English, what's written on the paper, which is in Hindi. He goes through the main details of Meerabai's life, and how she was rejected by her husband's family because of her devotion to Krishna, her dancing and singing. This is why she came to Vrindavan — to find peace and to devote her life to Krishna.
Praduman's ancestor built this temple for her to live in, and she lived here for about 15 years. Apparently she wrote many poems in this temple. He continues to tell me her life story. Meerabai went from Vrindavan to Dwarka. While she was living in Dwarka, when she was about my age (around 50), there was a drought in Rajasthan. Some of her family members travelled to Dwarka to entreat Meerabai to return, but she refused. That night, according to Praduman, she dissolved in Lord Krishna — and the drought ended.
Praduman talks about Meerabai with conviction and enthusiasm, and though he must do this several times every day, he seems very passionate. He has an open face, large eyes, and he is very expressive. He is very accommodating to me, and shows me around the temple, poses for me and even opens the altar grate so I can photograph the statues. He tells me that he is the ninth generation of his family to be born here, and to maintain the temple. He has a son and daughter — they are the 10th generation (but his son is an artist and animator in Mumbai).
"People come here for peace, love and spiritual strength," Praduman says. "This is the real place of Meerabai. She lives in this temple. People who come here can feel Meerabai and Gopal (Krishna) in their hearts."
Though I am not a Krishna (Gopal) devotee, I do feel a light, happy atmosphere in this temple. It's a great start to my Meerabai expedition to find this lovely temple and this warm and helpful man.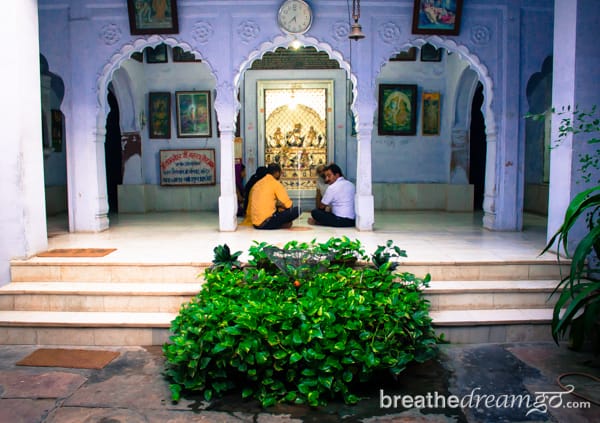 The interior of the Mirabai Temple in Vrindavan
Day 3: Moving on
I wake up on the third day of the Mirabai expedition feeling satisfied. Meeting Praduman and basking in the delightful energy of the Mirabai Temple is such a great start.
I'm also very grateful for the opportunity to stay at Gopinath Bhavan. It is a lovely red sandstone building, run by warm women, most of whom come from European countries such as France and Holland. They gave me a top floor room with a view of the Yamuna River, and the Parikrama parade. I slept very well on a simple bed, and had the luxury of an AC unit in my room.
Nevertheless, I find Vrindavan a difficult place. Very hot and dusty, menaced by grabby monkeys, stray dogs, wild pigs, cows and the natural substances they leave behind, and filled with auto drivers who try to extract maximum cash from foreigners as a matter of course.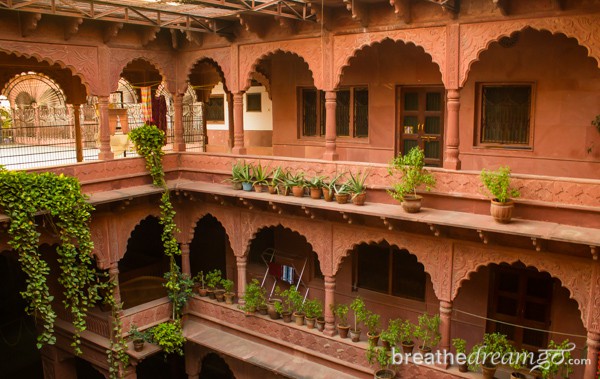 The lovely interior of Gopinath Bhavan, Vrindavan
Vrindavan in myth and legend is a fecund place of peace and harmony, a kind of garden-of-Eden where Krishna and his gopis (milk maids) cavorted in innocence, bathed in love. Vrindavan in reality cannot be further from this image. It must take enormous faith for the many devotees who flock here to feel the spiritual energy of this place.
I feel a bit bad about not feeling Krishna's energy in Vrindavan. But when I was discussing the Mirabai expedition with a woman I met at Gopinath Bhavan, she said it's great that I am giving attention to one of the female players in the Krishna story. So be it.
I am happy to move on.
I decide to leave early on my third day in Vrindavan. I have to be in Agra to take the train to Rajasthan at 5 p.m., so I make plans for a taxi to drive me there in the late morning. I consider seeing the Taj Mahal (for the third time), and decide to stop at the ITC Mughal hotel. I stayed here previously for a few days so it feels a bit like a homecoming.
I get a warm reception from Jyoti, the PR Director, who invites me for lunch with her in Peshawar, their signature restaurant. She offers me a room to get refreshed, and I swim in the pool, instead of seeing the Taj Mahal.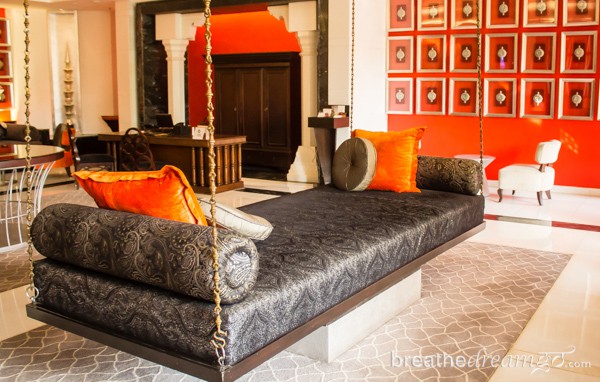 The ITC Mughal hotel in Agra captures the luxurious Mughal era design
The Mirabai expedition takes an unplanned detour into luxury and it feels right, too. Mirabai was a princess who lived in a sumptuous palace before striking out on her own, to both escape the cruelty of her husband's family, and to follow the voice of her soul, the call of her devotion to Krishna. There is synchronicity in this visit too, as the ITC Mughal celebrates the era of Emperor Akbar — who visited Mirabai in disguise, and praised her talent and devotion, bestowing upon her a valuable necklace.
So, as Mirabai left her palace home, I have to leave the comfort of the ITC Mughal to brave the chaos of the Agra train station. Upon arriving by taxi, I try and negotiate a porter to carry my bags to the somewhat distant platform and help me find my berth, but the female (!) porter demand 350 rupees, probably three or four times the regular rate. Luckily, I never carry more luggage than I can handle in India, so I grab my bags and find my platform myself.
A broken heart, a spiritual journey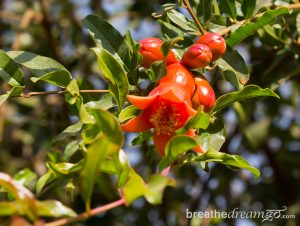 A pomegranate flower, ITC Mughal garden
The train is late, but eventually it arrives, I find my berth and settle in for the journey to Ajmer in Rajasthan. I'm in a lower berth, in the second-class compartment. Though it is not that clean, the bathrooms are a bit scary and I am surrounded by Indian men burping and snoring, somehow I like taking the train in India. I like the gentle movement and knowing I am going somewhere fascinating — plus I like it better than driving. The roads in India are a chaotic obstacle course and you really do feel you are taking your life in your hands.
Somehow, the movement of the train makes me philosophical. I started out on the Mirabai expedition with feelings of sadness and vulnerability. I didn't like Vrindavan, I doubted my self and the expedition and I was missing my friends in Delhi.
I am wondering why am I travelling at all? Unlike Mirabai, I was not rejected and threatened by my family, though I did feel abandoned as a teenager after my parents divorced; and again after my parents died. But I still have my siblings and their families at home in Canada.
Heartache was one of the things that originally propelled my travels in India. Heartache also propelled my spiritual longing. But I think, perhaps, my heart is finally mending.
In Vrindavan, surrounded by bhaktis, I realized I want to live in the world. I don't want to reject the embodied experience. I like a clean and aesthetically pleasing environment, a touch of luxury, some jewelry and makeup.
Some of the women devotees in Vrindavan seem to delight in dressing up in saris and looking pretty, reminding me of Krishna's gopis; but others seem so thin and colourless, and I find myself concerned about them.
There must be a way to be spiritually aware and yet of this world. I would love to see spirituality and materialism come together, so that people increase their consciousness about daily life, about use of resources, garbage disposal, how we treat animals, the planet and each other; and also continue to enjoy the sensuality of life, and the aesthetics of art and nature.
I take out my iPad, to read The Great Railway Bazaar by Paul Theroux (perfect reading for a train journey in India). I'm on this train until I arrive in Ajmer at about 1:15 a.m. Though I have made careful plans, to have a reliable and reputable driver waiting for me on the train platform, it is always unnerving to arrive late at night at a train station in India.
NOTE: THE MIRABAI EXPEDITION is a cultural journey to follow in the footsteps of Mirabai, a 16th century poet and Krishna devotee. I undertook the expedition in October 2014 by travelling to all of the primary sites associated with her in India. It was made possible by an Explorer's Grant from Kensington Tours, as part of the Explorers-in-Residence program.
Share:

LADAKH IS THE NORTHERN most region of India, a high-altitude desert of stark beauty, arid landscapes, Tibetan influenced culture and mountain passes that can get snowed in almost all year round. Below, is the Tibetan Buddhist temple at Matho Monastery.
It's a dream destination for photographers, Buddhists, trekkers, motorcyclists, people interested in Tibetan culture and those on the hippie trail. The landscapes are vast, the sky moody and the international borders loom. It's place that gets seared into the souls of many who make the effort to visit.  Below, the Matho Monastery is home of the Matho Museum project.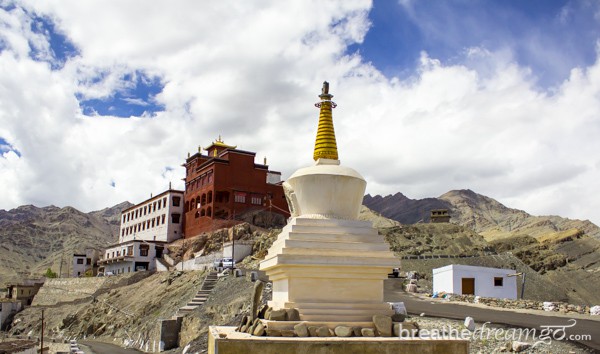 Here, I learned how a French Thangka restoration export, a Buddhist nun and the founder of a women's fair trade store were reviving Ladakh's Culture.
I went to Ladakh in September, just at the end of the tourist season, with my eyes open — to witness the beauty of the landscape and discover another face of India. I toured the monasteries and markets, visited chortens and chai shops.
Though I loved what I saw of Leh and Ladakh, it was the women who interested me. I'd heard Ladakh was a good place to be a woman in India; that women have more power and autonomy there than other places "down south." While I was in Ladakh, I met and interviewed three women, one foreign, two local, who are contributing immensely to the local culture and the livelihood of women.
Preserving the Past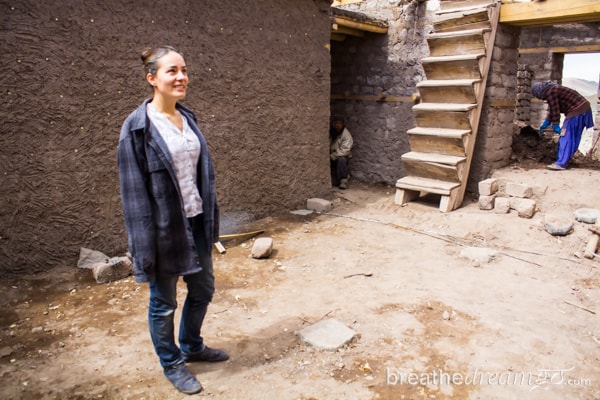 Nelly Rieuf at the Matho Monastery museum site
Nelly Rieuf, Matho Museum Project
My second day in Ladakh. With driver Tenzing and guide Tashi, we drove along a flat, dry desert, ringed with jagged mountains, past lonely chortens, grazing yaks and wild donkeys. I couldn't breathe deeply because of the high altitude, but I inhaled the austere beauty. It looked like Tibet and felt like the roof of the world.
After about two hours we reached 500-year-old Matho Monastery outside of Leh. Matho Monastery, up a hill above Matho Village, is a small serene place whipped by winds and home to 30 monks. I toured the ornate temple and the museum that contained a snow leopard skin, the hat and mask of an Oracle and religious ornaments made from human bones and skulls, and exulted in the panoramic views of the Indus Valley and distant mountains.
Then, as I was leaving, I noticed some foreign women painting flower pots, and they told me they were volunteers, living at the monastery in a guest house, and part of a restoration and museum project. They pointed to a row of windows above the temple and said I should go up and take a look at the workshop that employed local women and foreign volunteers. So I did. And there I met Nelly Rieuf and her team.
Nelly is a young woman from France, and though only in her late 20s, she's already a Thangka restoration expert and has lived and worked in India and Nepal for more than six years. She learned the art of Thangka restoration from her aunt when she was only 18, in Paris. Thangkas are paintings on cotton, or silk appliqué, usually depicting a Buddhist deity or mandala.
For about four years, Nelly has been spending part of each year here at Matho Monastery, restoring Thangkas with the help of women from Matho village, whom she has trained; and acting as project manager for the Matho Museum initiative. I saw several of the local women, working meticulously on ancient, intricate images. When I asked why women, and not men, Nelly said the women are more reliable. She also employs foreigners, as researchers, and I saw three of them lined up against a wall, working on laptops.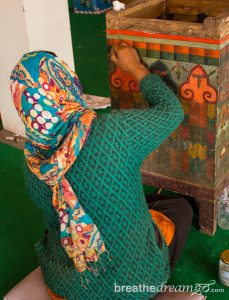 A local woman restoration expert
Nelly was lured to Matho Monastery from Nepal, where she lives in Mustang with her Nepalese husband, by the promise of treasure. She was told the monastery had six, unopened boxes of art and artifacts. When she opened them, she found, among other things, one of the oldest Thangkas in Ladakh. "It's Kashmiri style, totally unique, from about 1150," Nelly told me.
But the Thangka restoration is only part of Nelly's work at Matho. She is also helping to build a museum, to hold the six boxes of treasures. We walked through the construction site, at the back of the monastery, which Nelly said will be ready by June 2015. Even here some of the workers are local women.
I told Nelly how impressed I was by her work, and her team, and all they are doing to preserve the culture. She's very passionate about the project, and also realistic about daily life.
"It's not an easy place to live," Nelly said. "We have no proper toilet, we have to bathe in the icy cold river and in winter there is very little food, just rice, potatoes and dal. But I am surrounded by the best of people. The women from the village are proud of their work here, they see themselves as protectors of their culture. They have hope and confidence, they are earning, they can now consider buying a sewing machine. It makes me feel emotional, to think I have made a difference."
Nelly walks me part way down the barren hill to where my car is waiting. The wind whips our hair around our faces, and dries our eyes. Mine might otherwise be moist at meeting this energetic, frank and seemingly fearless young woman.
Nelly lives in harsh conditions, doing work she loves, and inspiring many people around her to trust in her and her team, to believe in the work and its value, and to join her in helping preserve and protect the unique and beautiful culture of Ladakh. She is giving local women undreamt-of opportunities to learn and earn and, perhaps most of all, leading a life of meaningful work and passion. Such people, such lives, inspire us all.
Giving Women Hope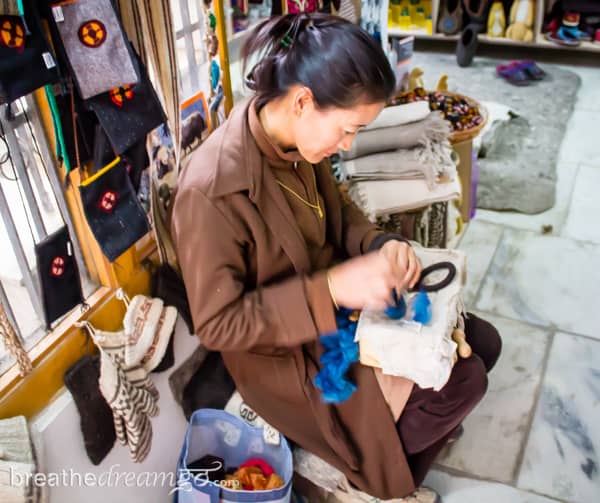 Tsering Dolma at Ladakh Nature Products
Tsering Dolma, Ladakh Nature Products
It took two or three visits to the main market in Leh before we found Ladakh Nature Products open. It's not easy to find, especially as the main market was torn apart for roadwork. We walked gingerly on haphazard planks strew across crevasses in the road, past withered ladies in shawls, Israeli hippies in flowing harem pants and bands of Muslim youths raising money to help the Kashmiri flood victims.
The market is a long L-shaped street lined with cafes, street vendors and shops selling the usual assortment of scarves, bangles, bags and turquoise jewelry you find in all Indian tourist towns. Almost none of it is made in Ladakh. Above the street, the imposing 17th century Leh Palace, etched against the mottled sky, gives the scene its distinctive Himalayan atmosphere.
Finally at the end of the L, we find Ladakh Nature Products. It's a very small shop, tucked under a sloping roof, and the shelves are jammed with wool products — from hats to shawls, from toys to slippers. All of the products are fair trade, made by rural women using local materials and traditional skills.
Sitting just inside, working with a felting awl on her lap, is Tsering Dolma, a slim, elegant woman who is the driving force behind the store and the Ladakhi Rural Women's Enterprise.
Tsering founded the Ladakhi Rural Women's Enterprise in 2012 to help empower Ladakhi women and preserve Ladakhi culture, largely through training women artisans. The store opened in June 2013 to retail the products the women make. Profits are put back into the organization to train and support women artisans across Ladakh.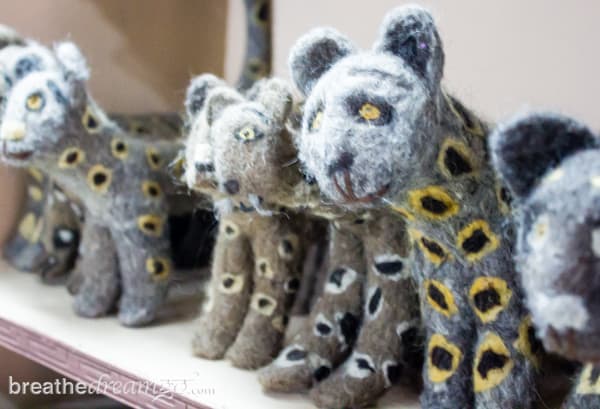 Some of the fair trade fibre arts on sale at the store
I sat down carefully on a stack of felt to talk to Tsering Dolma about the social enterprise organization she runs, and how it came to be. Through my guide Tashi, who interpreted both my questions and her answers, I learned that she worked for 20 years with rural woman, in ecological development groups, with an organization called Ladakh Ecological Development Group (LEDeG).
Tsering has been training Ladakhi women in fibre arts since 2001 — teaching skills such as spinning, knitting, weaving, sewing, felting and natural dyeing. She told me that traditional culture is disappearing rapidly in Ladakh, and without this kind of organized effort it could be lost in a generation.
It seemed only natural to Tsering to start her own organization, and continue to build on the work she was doing with LEDeG. The Ladakhi Rural Women's Enterprise currently keeps about 70 women, from all over Ladakh, busy making fibre arts to be sold at the Ladakh Nature Products store.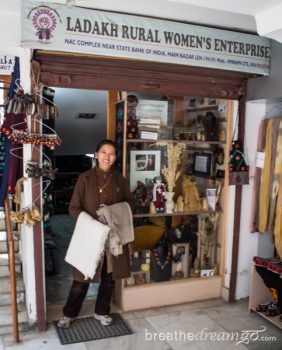 Tsering Dolma holding two pashmina shawls
While Tsering is telling me the story of her social enterprise, she also shows me some of the products. I ask to see pashmina shawls, of course, and she takes two from the shelf, both in natural colours of beige and off-white, very simple, with no embroidery. These are all she has left, and they are expensive — about $150 each.
If you don't know, pashmina wool comes from the underside of a Himalayan mountain goat, and is closely related to cashmere, a wool that comes from Kashmir, a neighbouring region to Ladakh. Pashmina is said to be a finer wool than cashmere. Unfortunately, the word pashmina has come to be associated with a wide range of shawls — some that have no wool in the mix at all. If someone is trying to sell you a "real pashmina" for $10, it is not a real pashmina. It is just a shawl made from wool, silk, a synthetic fibre, or a blend.
I am very tempted to buy one of the shawls, as I know for sure they are real pashmina, and luxuriously soft to the touch. But I balk at the expenditure and instead buy a pashmina toque for about $20. I also pick up a bottle of apricot oil, for dry skin.
I have to agree with the Ladakh Nature Products website: "Leh is full of souvenir shops, but Ladakh Nature Products stands out as an authentic local gem!" And so does Tsering. It's heartening to meet women like her, and see how they are bolstering the local economy, giving women opportunities and preserving traditional skills. If you go to Leh, be sure to save your souvenir money, and seek out Ladakh Nature Products.
Gender Equality in Religion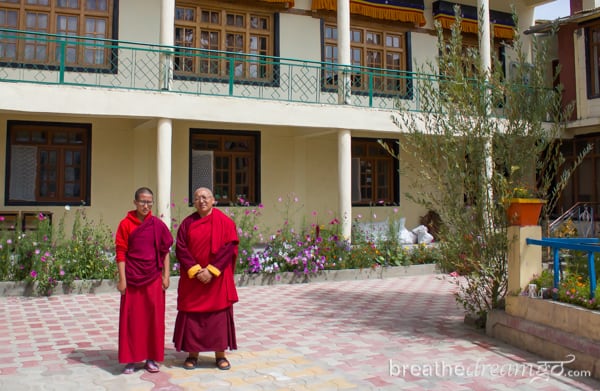 Dr. Tsering Palmo, right, with a top student
Dr. Tsering Palmo, Ladakh Nuns Association
Awhile ago, I read a blog post by Shivya Nath of The Shooting Star about her visit to a nunnery near Leh, called Living with the nuns of Ladakh. I loved this post, and wanted to meet the young nuns myself when in Ladakh. But I didn't note the name of the nunnery, or place, thinking I would look it up on the internet once I was in Ladakh.
I was in for a shock. There was no internet access in Ladakh whatsoever due to the terrible floods ravaging Kashmir, and my prepaid phone was barred from cellular access due to security concerns. I was completely unplugged in Ladakh, living off the communications grid, open to only the people, places, ideas and experiences in front of me. It was exhilarating … but it meant I didn't get to the Thiksey nunnery Shivya wrote about.
Instead, I went to meet and chat with Dr. Tsering Palmo of the Ladakh Nuns Association about the experience of being a Buddhist nun in Ladakh. She is a cheerful woman with a robust laugh and obvious strength of character. In a quiet, modest way, she instills in the visitor instant respect — much in the same way as the Dalai Lama.
Dr. Palmo founded the Ladakh Nuns Association (LNA) in 1996. It was given encouragement from His Holiness when he visited Ladakh in 1999, and "expressed his support for nuns, and stressed the need for the uplifting of nuns in Ladakh."
Sitting in her LNA office, in a building that also houses a training centre, Dr. Palmo explained to me that nuns do not get the same opportunities and support that monks receive. The LNA is trying to rectify the imbalance, and both keep the tradition of nunneries alive and give the nuns more opportunities for education, especially in traditional Tibetan medicine.
"We've been a neglected group," Dr. Palmo said. "There were no facilities for nuns, no training, no accommodation at temples (unlike for monks). And many nuns were also exploited. Some families just want one daughter to become a nun so they make her into a housemaid. We established this organization to change these traditions."
Dr. Palmo said that women in her community traditionally become Tibetan medicine practitioners, and the LNA is encouraging this field of study. They offer training for women and health clinics to the community — and she is especially interested in mental and emotional health.
"We are lacking in people who listen from their hearts," she said. "We want to offer a space for every woman to come and receive treatment for emotional and spiritual health. It is a Buddhist practise to listen. It's important for us to develop compassion within ourselves, so we can listen to students, and try to transform negative thinking."
I am very moved by her words, and ask her if the LNA offers any opportunities for foreign volunteers. "Yes, we welcome tourists to share their knowledge and experience," she responds enthusiastically. "We are interested in having volunteers with medical skills, and softer skills too, to come and teach us. They can also stay in the two-room guesthouse if they want."
If you want to learn more about the many activities of the vibrant Ladakh Nuns Association, and how you can help (you can donate, volunteer or contribute to a scholarship program), visit the website.
I left Dr. Palmo's office, and Ladakh, uplifted as much by the soaring hearts and spirits of these three remarkable women as by the crisp mountain air and soaring Himalayan peaks.
Note: Thank you to India Tourism for giving me the hospitality to visit the Ladakh region.
Share: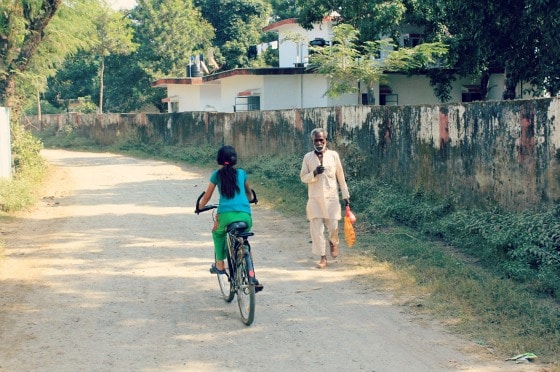 Over the past several years, I've been traveling extensively and achieved some great milestones and goals. This year, while things seemed to be going great, something felt wrong and I couldn't put my finger on it until I had a revelation at Aurovalley Ashram in November. Above, on the road to Raiwala Village, outside Aurovalley Ashram.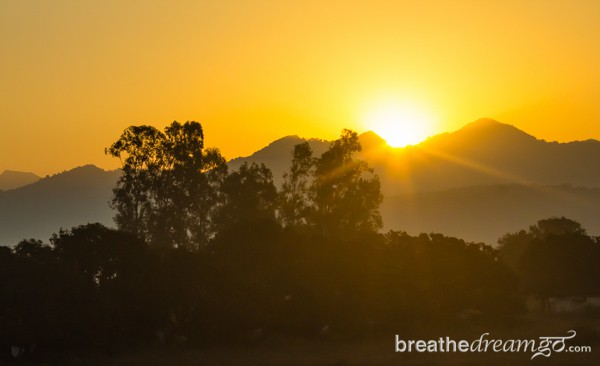 Sun rise from the roof of the World Temple, Aurovalley Ashram
Warmed by the Sun
The sun glows gold behind the Shivalik Hills of Rajaji National Park before it appears to shine its life-giving rays on the meadows and fields, villages and ashrams of Rishidwar. It's a profoundly peaceful time at Aurovalley Ashram, with only the sounds of temple bells and bird songs in the air. The ashramites wrap themselves in shawls to keep away the fresh, morning chill as they walk in silence to the circular meditation hall.
It is here at this garden-like ashram, in the foothills of the Himalayas, where I unplug from worldly life, and plug into spiritual energy, each year. This year more than ever I almost desperately needed the tranquility, the time to be with my inner self, the guidance of Swami Brahmdev and most of all, a spiritual recharge.
For the past few years, I have been struggling much more than I was willing to admit, even to myself. I knew something was wrong because I was tired. It wasn't the kind of tired that goes away with a good night's sleep. I was deeply tired. I could feel my posture collapsing, my abdominal muscles giving way, my neck compressing. I had aches and pains, stiffness, and felt lethargic. I was depleted.
How could this be? I was following my dreams, but not feeling a lot of joy. Where did I go wrong?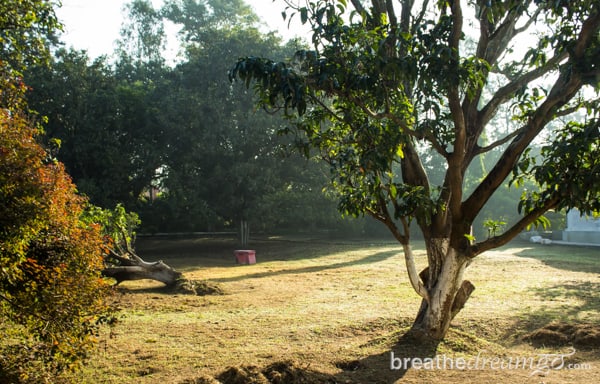 Morning sun shines on at Aurovalley Ashram
Waking up in India
At Aurovalley, I walked in the tulsi-scented meadows, meditated in the temple, listened to inspiring talks, soaked up the peaceful, energizing atmosphere and, most of all, listened to myself. In silence, I sensed the presence of the divine, and I heard my heart and my soul speak. Then, almost suddenly, I felt that I "woke up." It was like a light went on.
I realized how deeply disconnected I had become from my vision and sense of purpose; from myself and the source of my being. I was living in a state of fear and tension, and hadn't fully realized it. I saw strong currents of negativity and bitterness within me, and I didn't like the person I was becoming. It was a very painful, but very necessary, awareness.
My insecurities were doing their destructive work.
---
The founder of Aurovalley Ashram, Swami Brahmdev (Swamiji), says that all the forces, even the negative and hostile forces, are actually trying to help us — but they have to help using their nature. So negative and hostile forces help us in a negative and hostile way. You might get sick, and then realize how much you needed rest. You might get fired and then find the job or career of your dreams. You might get criticized and realize there is a useful message mixed in with the hostility.
So my negativity, tiredness and dire financial situation were trying to help me see that I was on the wrong path.
A Long and Winding Road
Before I discovered travel writing, I had never really tried to do anything. As a young woman, I was plagued with anxiety, insecurity and lack of confidence. With help from a boyfriend, I earned a degree in magazine journalism when I was in my 20s. But after graduating, I drifted from job to job, mostly in communications or as an editor. I was going through life without focus, ambition or goals; my dreams were buried a mile deep.
In my 30s, I started searching, questioning, healing. I studied Gestalt Therapy and became a yoga student. I took an active role in my career and tried to steer it towards writing. But then, at 37 years of age I was hit with a devastating trauma — the sudden death of my mother. Several other terrible losses piled up, including my father's death from cancer, and I sank into a deep depression for several years.
It was regular yoga practice and a six-month trip to India that helped get me out of the depression. And it was travel writing during that six-month trip that kick-started my writing career.
I started off with great passion and enthusiasm. I wanted to share with the world how travel had transformed me, and how India and Indian spirituality had inspired me, and I was committed to mastering my craft.
But over the years, I found I was enjoying writing less and less. There was always way too much other stuff to do — proposals, social media, technical issues, etc. The downward pressure on writer's fees also created a lot of tension in my life. My income halved; then halved again.
I prayed for a lucky break — a great contract, investor, business partner. I searched for a viable business model. I became a certified travel agent. I tried many, many things that would enable me to make a living income as I pursued my dream career.
But here was my mistake: I was looking outside for the answer.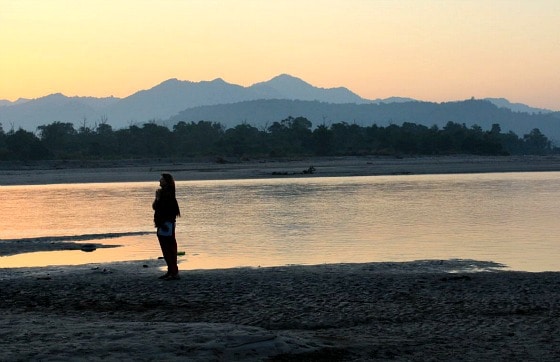 Watching the sunrise on banks of Ganga near Aurovalley Ashram, India
Within You, Without You
When I had the revelation at Aurovalley Ashram, I realized that I had completely lost faith in spirituality. I had lost touch with the divine energy that is the source of all life, and that binds and connects us all. At Aurovalley, this energy is often depicted and referred to as The Mother — both symbolically, as representing the feminine energies, and in reference to the French woman who was the spiritual partner of Sri Aurobindo.
I was at Aurovalley this year to help celebrate the 25th anniversary of the founding of the ashram, on November 24. This also happens to be the date of my own mother's birthday. And it was my mother's sudden death (I found her body after she had died unexpectedly at night of heart failure) that originally sent me into a trough of depression and grief, and eventually to India, to heal.
So, all the stars lined up, and I feel I received a blessing from The Mother in the form of a revelation about my life. I saw my negativity and bitterness fomenting, and I decided I had to stop it. I had to allow spiritual energy to re-energize me, and stop the downward spiral. I decided I needed radical positivity. By that, I don't mean walking around with rose-coloured glasses, but with a positive, hopeful and trusting attitude.
My friend Kim Hammer said on my Facebook page that whether or not you see the world as abundant — as providing for your needs — is the key question. I agree. When you feel cared for, you relax; you don't try so hard; you become less abrasive; you let the divine do its work. And you trust that things will work out the way they are meant to.
By the way, I think there's a connection between lack of confidence and negativity, and I want to explore confidence and creativity.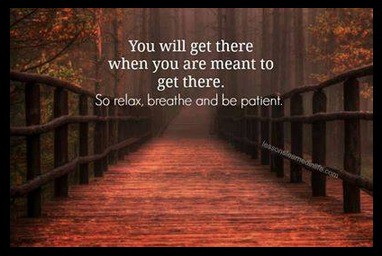 An Attitude of Gratitude
I know very well that I am blessed to be able to lead a life that has self-actualization as the driving force. It is a rare privilege, and one that I take seriously. I am actively cultivating an attitude of gratitude everyday. And if my words inspire you at all, then I am doubly blessed.
I wrote about this revelation on my Facebook page and writer Amy Gigi Alexander wrote:
"While places and others can be teachers, I think we are the ones who have to be ready for that teaching. There's nothing wrong with not being ready, either, for the state of unreadiness is necessary to become the person we are supposed to be … There is no time to be bitter. Congratulations on your revelations, bless you in your journey, for shame anyone who criticizes you after you have had the courage to be more forthcoming than most: the gift is in the listening. Being unhidden is the journey, right?"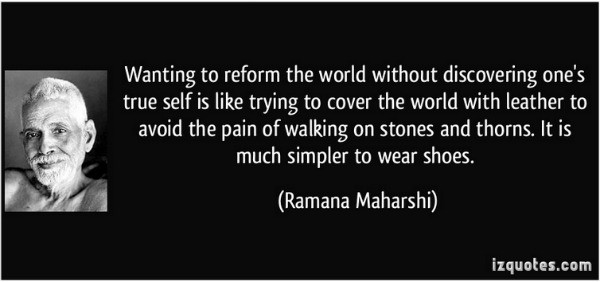 Lessons Learned
1. The dream IS the journey
I thought that once I found my passion in life — what I feel I was put here on earth to do — that I would be on easy street. Everything would fall effortlessly into place including money, partners, community. Maybe that's what it's like for some people, but that's not what it's been like for me.
What I've learned is that finding your passion is not a destination — in fact, it's just the beginning of the journey. I think you need to keep the same attitude of openness, humility, acceptance and yearning that you had at the beginning of the search. Life, and your dreams, may lead you in a new direction, and you need to be attuned to sense this — instead of hanging on to something that's not working and bringing you down.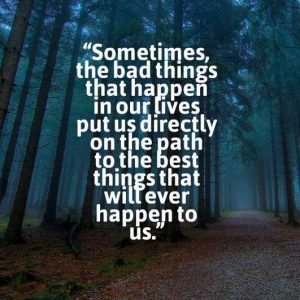 2. Unpack your bags
I thought that finding my passion would "fix" my life. I was facing two big issues — intractable grief over my mother's sudden death and a deep and inescapable feeling of insecurity — and I brought them along with me on the journey. In retrospect, I think I was trying to run away from these problems. All that happened is they went underground.
What I've learned is that you have to face your issues, you can't run away from them. Finding your passion, and even finding success, won't get rid of emotional baggage. It's like trying to build your house on quicksand.
3. All you need is love
Finding my passion, and living the life of my dreams, was so important to me that I lost sight of the really important things in life.  If your ideas about your dreams become too fixed, you can lose the plot, lose your way. That's what happened to me.
Relationships, community staying attuned to yourself, staying healthy and giving back are the most important things. If attaining your dreams means sacrificing any of these things, it's probably not worth it.
In the end, love is all that matters. Love your family, love your friends, love your community, love your work and love yourself. Let your dreams grow from a seedbed of love.
The real contradiction of capitalism is that it arouses enormous ambition, but it doesn't help you define where you should focus it. It doesn't define an end to which you should devote your life. It nurtures the illusion that career and economic success can lead to fulfillment, which is the central illusion of our time. David Brooks, from Chris Guillebeau's site.