About Michelle Kraus
Dr. Michelle Kraus writes on regulatory and political issues concerning the environment, the economy, technology, social networks and the political landscape. After pioneering the use of advanced search and data applications for the 2004 political campaigns, she is often referred to as a "Google Ninja" working behind the scenes to build communities, craft messaging and reach out to voters with new and innovative technologies.

Covering the Clinton Global Initiative in 2007, Dr. Michelle started the "quiet voices" series illuminating the monumental work of many of the participants across the globe who are quietly affecting change in health care and poverty alleviation. Invited to help with the grassroots outreach for the Dali Lama and the human rights community, she has covered the initiatives at humanitariandream.com.

She is also an experienced Internet executive who has built large companies, created profitable divisions within large companies and founded start-up ventures. As the CEO of one of the first open source companies, she helped to establish commercial applications and licensing standards. She has published two books that have received critical acclaim, and has written for many industry publications. She speaks nationally on politics, regulation and technology.
Latest Posts by Michelle Kraus
Share:

Egypt may have made their single biggest strategic blunder by attempting to shut down the Internet and cell networks. Indeed, by doing so they may have sealed their destiny. Yeah, yeah, yeah of course Facebook and Twitter are organizing tools for crowd sourcing. But so what! Let them come out in the streets, but do not incite violence or attack the protesters.
Violence begets violence plain and simple. Wasn't it Senator John Kerry this morning who echoed the words of Gandhi and Martin Luther King? Egypt, the Internet is the safety valve. Yep, and by shutting it down you may have quashed all opportunity for a peaceful resolution of the unrest in Cairo. The challenge for Egypt's President Hosni Mubarak is whether he and his regime will step up by turning the Internet back on; or revert back to silence and terror. This government, and others like it, fails to grasp the new and all-powerful role of the Internet, and specifically social media in bringing people together, promoting discourse and potentially halting violence.
Alas, if all of the world would only fight in cyberspace. Nation would not lift up the sword against other nations, or their own people. And, we might never again have to live through the wholesale slaughter of a Tiananmen Square. But sadly, only a handful of even our political leaders appear to have embraced the full ramifications of the future which beckons.
Remarkably, again Senator John Kerry, chair of the powerful Senate Foreign Relations Committee, got it as echoed in his further remarks this morning calling for Egypt to "immediately restore communications and access to social networking sites" in the hope of a viable resolution. Ironically, our own Vice President Joe Biden (another strong veteran of the Senate Foreign Relation Committee) appears to have some inner or external conflict about Egypt, and further the social media train seems to have forgotten to stop at his station.
So will this nation and others like North Korea or Yemen to name a few, continue to reign in silence by the sword? Or will Egypt come along kicking and screaming with a little encouragement (and money) from President Obama and Madam Secretary of State Clinton? Moreover, what roles can micro-blogging platforms like Facebook, Twitter or their ilk play?
In fact, will their role evolve beyond broadcasting, and early warning systems to the media? Consider that that there could be a new kind of revolutionary or agent of change; one that is armed with keyboards and smart phones – rather than stones, knives or guns. If WikiLeaks, and their supercilious leader, Julian Assange taught us nothing else, it is that the skillful use of cyberspace is a worthy weapon in the war for change. It seems that there is more here than meets the eye with this Facebook and Twitter. Otherwise why would foreign affairs honchos sorts sit at the helm of at least Facebook? Assuredly, there must be more, and not just for those drinking Kool-Aid from the Internet water fountain.
Share:

WikiLeaks raises some of the most poignant questions of our time about the power of cyber warfare, the role of hackers, and the future of the Internet. It is not a coincidence that Madame Secretary of State Hillary Clinton has created a whole new effort to explore and fight cyber terrorism. In fact, WikiLeaks and Assange may represent the first of the wholesale anarchists using today's information highway to do battle. Consider that instead of taking to the streets in protest, this generation may take to the Internet to wage their battles and carry their message. We are living a time represented by the power of Facebook that links over 500 million people together. And if this is true, we may have unleashed a whole new generation of cyber warlords on the world's information centers.
Many of our brethren are writing about democracy, liberty and the freedom of information pivoting off what they believe WikiLeaks stands for. Julian Assange has been elevated to the "Man of the People" as filmmaker Michael Moore contributes to his bail fund, and the Huffington Post sets up a whole section devoted to whistleblower Fantasy Land. You know, we all need something valiant to believe in during the difficult days of Obama. The obnoxious wealthy are dancing on the heads of US lawmakers. The banks are still doing the Texas two-step, and the Middle Class continues to suffer in silence with simmering rage. There are two deeply divisive wars. China is rising and scaring the heck out of us. The liberals of the Democratic Party continue to act like toddlers, and Sarah Palin is making hay laughing all the way to her off-shore accounts. So Julian Assange, or whoever is backing him, could not have picked a better moment of discontent. They are evoking new archetypes of good and bad in a world that is increasing grey.
Assange is the anti-hero. He has been personified as a man with no country who is a metrosexual kind of guy willing to risk it all to uncover the truth. Yet, we don't really know much about this man, or what makes him tick. Is he really the wizard behind or the curtain, or there really someone or something else pulling the strings. Is he a hacker extraordinaire, or just a man that is a brilliant online community organizer? In fact and most importantly, what does it mean to be a hacker? Are hackers by definition anarchists, or is it just Julian that wants to topple the establishment at any cost. Or are there droves of these cyber-sleuths trolling the black lands of the Internet looking for back doors into silos of information? Remember Assange was a cryptologist of sorts which is the super duper folks that develop the ways to tunnel into software code. And it may be fair to assume that these same hackers were probably responsible for the DOS (Denial of Service) attacks on Visa, Master Card and others. And if this is true then who is really pulling the strings since these were very, targeted attacks on specific corporations that shut out the money flow for WikiLeaks? The bottom line is that we still don't know how the WikiLeaks information is gathered and/or obtained. Does it come from this new breed of whistleblowers, such as Private Manning that had a rare blend of tech talents and access? If so; does this new breed even resemble our beloved archetypical whistleblowers circa Daniel Ellsberg, or even Erin Brockovich? And I ask again, have we grappled with the ramifications of an Internet that is locked down in response to WikiLeaks? Are we ready to usher in a new age of restrictions? This sadly will make the debate around net neutrality seem like child's play if cyber war erupts.
Please note that a selection of the reference material used for this article and others in the past on WikiLeaks is included in the complex pearltree below.
Share:

So much for making nice Mr. President, the gloves are off as the Republican leadership comes out swinging. These folks don't want to work with you, or your minions or any of us. Just tune into FOX News at any random moment, and the disdain is visceral. And to be blunt, what's to keep them from starting impeachment proceedings as — a tactic to erode your precious time and focus? Not much, if you listen closely to the Senate Republican leadership, the soon to be Speaker of the House, and all the other hooligans over the last few days, and even on the Sunday morning talk shows. Senator Mitch McConnell's words sure don't sound like a lullaby to me. Do not be fooled, it may be more than making sure that Obama is a one-term President. These are fighting words: "The only way to do all these things is to put someone in the White House who won't veto…"
And if that's not bad enough, there's dissent and discontent (as usual) among our fellow Democrats. The so-called Blue Dog Democrats are acting out by attempting to distance themselves from the prevailing incumbent-rage by attacking now Speaker Pelosi. Have they no shame? This is self-serving hypocrisy at its worst. Not now kids. Go back to your corner and sing "Kumbaya" to keep from shooting off your big mouths at this fragile time. Enough of your ranks have been lost in this recent election. Stop with the posturing, and the "Anti-Pelosi Caucus." These types of shenanigans only fuel the fires, and distract us from our goals. Realize that we are under an unprecedented assault from the rabid Republican leadership. They will attempt to sink the Obama ship at any cost.
Democrats (Blue Dogs, Moderates, and Progressives) hunker down. Put a stop to the malarkey from the newly anointed Republicans. This "lame duck" session is vital. We have barely two months to protect Social Security for the elders, unwind Don't Ask Don't Tell, and fund many, many programs. Consider that the Congress may be deadlocked for two years with very little emerging from gridlock, and Pelosi's steam rolling machine has taken heavy artillery hits. If you feel compelled to beat up on someone or something, go after the bad guys. And pray that all attempts to bring impeachment proceedings against Obama are quashed. This would be a travesty filled with hate and racism from which this country might never recover. Do not let them steal our President away.
Share:

The Bristol Palin story is like that of a modern day Cinderella as she debuts before millions of viewers on prime time television. Her mother, former Governor Sarah Palin and her advisors are completely brilliant. Thank you very much Frank and Company. This is a media doctor's wet dream. Using Bristol as Cinderella, they have successfully reached into the hearts and minds of everyday folks across the country.
Think about it. Is there a better way to seep into the mainstream than reality television? This move is one of the most brilliant tactics of twentieth century political messaging. Sarah Palin becomes the archetype of everyone's mom, and paradoxically her daughter is the modern day rags to riches and success story. Here was a chubby, single mom lifted out of the obscurity of her receptionist job in a strip mall in godforsaken Alaska. It does not get better!
Consider that after the debacle of former Republican leader Tom Delay on the same show, these spin masters were smart. They knew it probably would not have worked out to use Sarah herself. But who could resist her kid? She's likeable, and works very hard for herself and her adorable child. Bristol is the single mom personified. They even show the footage of the storefront from which she was plucked.
Oh my, this is every girl's cherished dream sans the out-of-wedlock pregnancy. And momma Palin can just stand back, and watch it unfold. Who could accuse her of manipulation? She was just the proud momma. What better image could there be? Not much and it is working. No wonder her daughter has been voted back each and every week by viewer support – not the judges until one of the final evenings when she showed real talent.
There is something going on here, and we didn't even see it coming. Oh woe is me; I think we have been duped yet again. Somehow, the American public perceives that the Democrats are unfeeling, out of touch with Middle America, and arrogant. How did this happen? We are Middle America! Yet somehow, Sister Palin has her thumb on the pulse. We need to look carefully at the subliminal messaging that is going on, and wonder how and why we could have missed it.
Call it what you may, but Sarah Palin and her movement – the Tea Party and their advisors are running circles around us. We are losing the game of public opinion. So it is not proposed that we put the Vice President's son, Beau Biden on Survivor; but rather that we look hard and long at the messaging and how it is being delivered. Further, we need to embrace what it will take for us to reach back out and connect. This is the teachable moment. May we reach out and own it.
Share:

Today begins the days of John Boehner, aka the Orange Man. Listen, you can hear his horse approaching. Oh my, it's like a new Marlboro commercial. Guess he and Obama can grab a smoke together outside the Oval Office. Yikes! That's a real Hallmark moment.
Early this morning, my pal Progressive blogger, Dave Johnson extolled the virtues of the Progressive bloggers that "were right," and he and they were correct. "It was about the jobs, jobs, and jobs." But let's be blunt — there are no jobs; there is no money being loaned; employment is rampant; the banks are paying a whopping 1% interest on savings; and now there is NO hope and the inmates have taken the keys!
Yeah, we know that a loss was anticipated in an incumbent year, but not one that lost hope. Sadly, the American people either stayed home, or voted for the lunatics that were responsible for the situation. Obama and all those Democratic spin masters blew it big time. They allowed the Tea Party — fueled by Frank Luntz's rhetoric– to harness this rage and win the day. How the heck did that happen? Now, the every person in this country has just had a profound temper tantrum, and the collateral damage is huge.
Share:

The 911 of the Middle Class is the consumer credit debacle. It is the gift that keeps on giving. The reality is that the housing crisis is just one piece of this really big, ugly mess. It seems to me that our President MUST call for immediate reform and take action through executive order. Call me politically naive, but we need action.
Unemployment continues to hover close to 10% – and it's higher in badly hit areas. Interest paid by the banks on savings ranges from less than 1% to maybe 2.5% on a good day. The consumer credit card companies, though regulated now sort of, ran naked through the streets jacking up everyone's interest rates to over 15 to 30%. Yes they have to notify the poor, irresponsible slobs now before they do things, but the banks still get to burn kerosene in the town square with no permits. And we haven't even gotten to the health insurance yahoos that have four more years for their trickery. Oh Nelly, bar the door! It's the Wild West again as the cattle are corralled – only this time it's the American people being herded to ruin by the giddy-up bankers and health insurance companies, not just the mortgage guys.
People are getting sick from worry. Their backs hurt, their necks are out, and they are grinding their pearly whites. Few sleep well at night. Pharmaceutical sales are up. The banks we saved are savaging us. They are bulldozing the Middle Class under mountains of debt. People are losing their homes, divorces are up, businesses are closing, and unemployment is rampant.
The consumer credit world and their FICO scores are broken. They are based on a world that no longer exists. In two short years, many consumers have watched their scores collapse under an avalanche of debt. The FICO scores were calibrated for a different time when consumer credit cards were not the only source of money available, mortgages were not under water, and unemployment was not soaring. If we are ever to unwind this situation, these algorithms must be reset. Otherwise the banks will never lend again. The Middle Class needs a do-over, just like the banks got.
Yes sir, Obama stood up against the broad sweeping foreclosure legislation, and Bank of America seized the moment halting foreclosures nationwide. But we're all holding our breath waiting for the other shoe to fall as even Progressive strategist Mike Lux gens up the netroots to re-engage with the President and Congress.
It is inconceivable that people have not taken to streets in protest over their lost pensions and the absence of any kind of interest-bearing bank account — except on consumer credit cards. In fact, this week Robert Sheer wrote brilliantly about Obama's "No Banker Left Behind" — while every normal person has been thrown under the bank bus. How did we allow the bail-out of every financial institution, while abandoning the common folk? Why are Democrats — whether conservative, moderate or netroots – not able to channel this collective anger, rage and disappointment other than to take aim at one another?
Given the data, there is no way out for the once resilient Middle Class without a do-over. Instead of "No Banker Left Behind" let us heal the Middle Class by fixing the credit industry; restricting the health care industry now, not in four years; and making those banks lend the money we gave them and not hide behind FICO scores. All of the Democrats are writing, but no one is demanding change now. The Tea Party has successfully harnessed the anger and rage, but has no plan. Frankly, they are just another distraction taking our attention away from the gravity of the problems.
Mr. President, come back to us as Mike Lux laments. We need you. We, in the Middle Class, are living this nightmare everyday of our lives. Figure it out, and get the Middle Class out from under. The numbers do not lie. This is our emergency, our call to action, our 911. Friends and neighbors are collapsing from the stress when they can ill afford it. Unemployment is not going away. Consumer debt is skyrocketing.
Mr. Obama, Americans are not being frivolous and irresponsible as Dr. Summers would like you to believe. They are boxed in with no escape hatch. Consider enacting a nationwide job core like the WPA, putting the banks on real notice, corralling those nasty health insurance folks, redoing the credit industry, and loosening up cash. No one is sleeping at night. People are nervous and cannot see a future.
Please, inspire us again, show emotion, get messy, and let the wrinkles show. Mr. President raise your voice in outrage. Give us voice. Come back to us. The time is now.
See the pearltree below for the references for this article.
Share: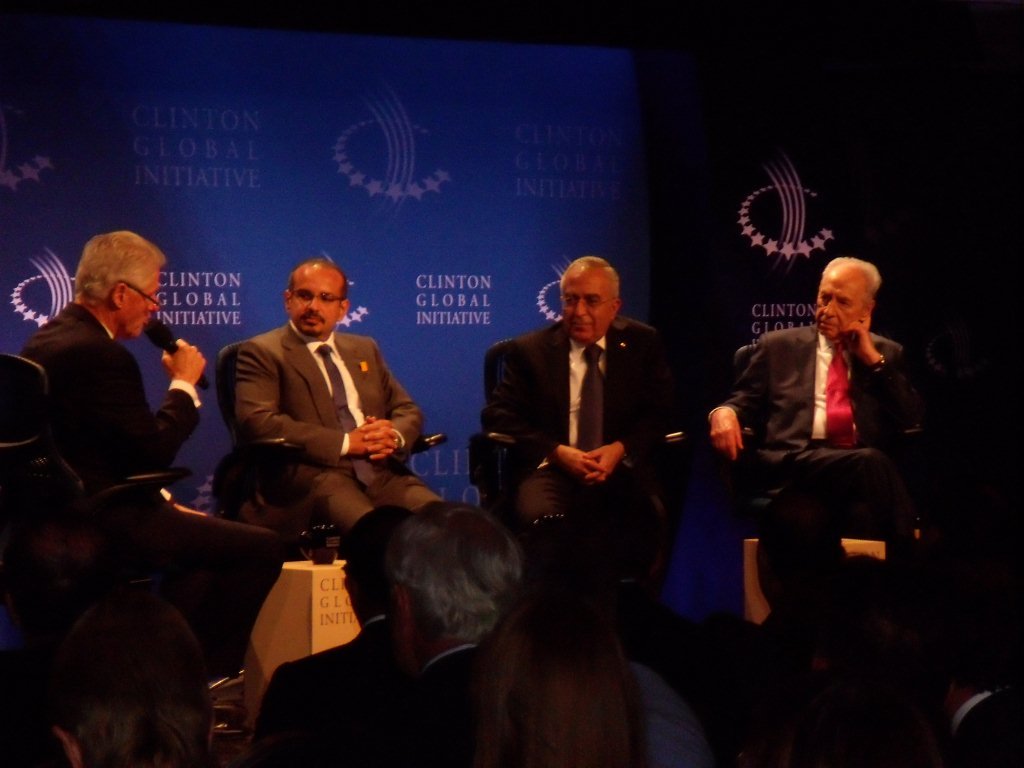 The annual meeting for the Clinton Global Initiative this year was a place where politics converged with philanthropy. Since its inception, this venue has been the change agent for philanthropic work throughout the world. The commitments made have been massive and have provided millions of people worldwide with clean drinking water, mosquito nets, eyeglasses, vaccines, and education — among many others. The foundation can be credited for ushering in new social philanthropic models, involving private industry, the wealthy and government working together with nonprofit organizations.
Remarkably, the topics at the CGI meeting this year spanned Empowering Girls and Women (see the prior post) to market-based solutions, clean tech, jobs, manufacturing and world peace. What an extraordinary venue it was, where the participants could experience a panel with the Crown Prince and Deputy Supreme Commander of the Kingdom of Bahrain, Prime Minister of the Palestinian National Authority, and the President of Israel discussing rebuilding the region after peace.
Where else – and with whom else other than former President Bill Clinton – could one see and hear such a constellation of world thinkers delving into the issues of our time. Many of us bloggers, writers and journalist bustled through the high security and put up with the fanfare – just to be inspired and sustained for the coming year.
It was a rare gift from the universe to be able to hear the Middle East session up close. It is curious that there was not enormous media coverage of this landmark discussion, because all the bad stuff gets air time. Even CNN's Fareed Zakaria did not mention it. Rather, he focused on the fabricated photograph of the President of Egypt from the White House for the Arab press. It is perplexing because here sat the leaders of those enmeshed in the real peace talks. In this small room, they and former President Clinton were talking gracefully with one another about rebuilding the region. Only the former President could command such authority and respect.
Remember, it was Bill Clinton that attempted peace between Israeli Prime Minister Yitzhak Rabin and Palestine Liberation Organization Chairman Yasser Arafat so long ago. It was that fateful handshake on the White House lawn that in many ways led to the assassination of Rabin. And now Madame Secretary of State Hillary Clinton is officiating the peace talks. Perhaps this discussion is a good sign for things to come later this year.
If they can talk peaceably in front of Bill Clinton, maybe there is hope for a just and final resolution. Few of us get to see our dreams come to fruition, but it appears that the Clintons both have long reach, big memories and staying power. All this woman can say is: may it be so.
Share:

Meg blinked for the first time in an almost flawless campaign. Until this week, it appeared that the GOP had successfully rolled out their new product — a conservative, ambitious businesswoman with a big checkbook. Her branding was effective and her television advertising brilliant. Political consultant Mike Murphy earned his money. Team Meg was launched, and they were relentless. Nothing really hampered or stuck to them until "the blink" — involving her domestic help in her Atherton hacienda (no pun intended).
To be blunt, Jerry Brown sure caught a big break this week. The race was in a dead heat with Brown moving slightly ahead, and many independents still on the sidelines. To be frank, Brown had virtually run an invisible campaign until right after Labor Day. Many Democrats thought he could afford the luxury of sitting on his laurels (maybe) because of his legacy.
But the reality was that Meg could not and she had to spend early and often to create her brand. Many feared that she a runaway train in hand-to-hand combat with the invisible man. Talk about a scary election for Democrats. It is one that will become a case study in politics and branding for years to come.
Well the wheel spun and the dice were thrown. Lady luck came down on Jerry this week. It's kind of like watching Apple's latest iPhone launch and their goof. The question is will Team Meg will have the staying power to sustain a frontal attack.
Their campaign is now playing defense, and under fire that the candidate never saw coming. The domestic help issue is a big no-no. It has taken down many political candidates and appointments over the years. She probably did not understand the severity because if she had it would have been cleaned up.
Let's face it, Meg is a political virgin but her advisors are not. It remains to be seen how this potentially fatal crisis is handled by Team Meg. How will this react, and how will the Brown campaign handle itself? Dancing a jig on an open casket won't cut it for them. Will Team Brown leverage the avalanche of earned media? Will they play well with social media? Or will they sit on the sidelines? It remains to be seen as this California soap opera continues to unfold.
Please see below the pearltree of some of the references used in this article.