About Mike Shubic
Latest Posts by Mike Shubic
Share:

Opened in 2010 Chef Justin & Michelle Beckett launched a 'new' vision including 'old' favorites.  Nestled between the elegance of the Biltmore area and the hip and trendy Arcadia neighborhood, Beckett's Table is an upscale dining experience with a comfortable casual feel.  The restaurant owners and Chefs strive to support local farms and the culinary community by creating gastronomic dishes inspired by the soul food of the south using local Arizona produce and other ingredients, right down to regional vino on their extensive wine list.
The restaurant décor has a modern and cozy feel, with an inviting brick-lined bar, block walls, subway tile, distressed concrete floors, and leather-capped, comfy cushioned chairs.  In the cooler months of the year, the patio has an inviting fireplace for guests to gather around to share their stories.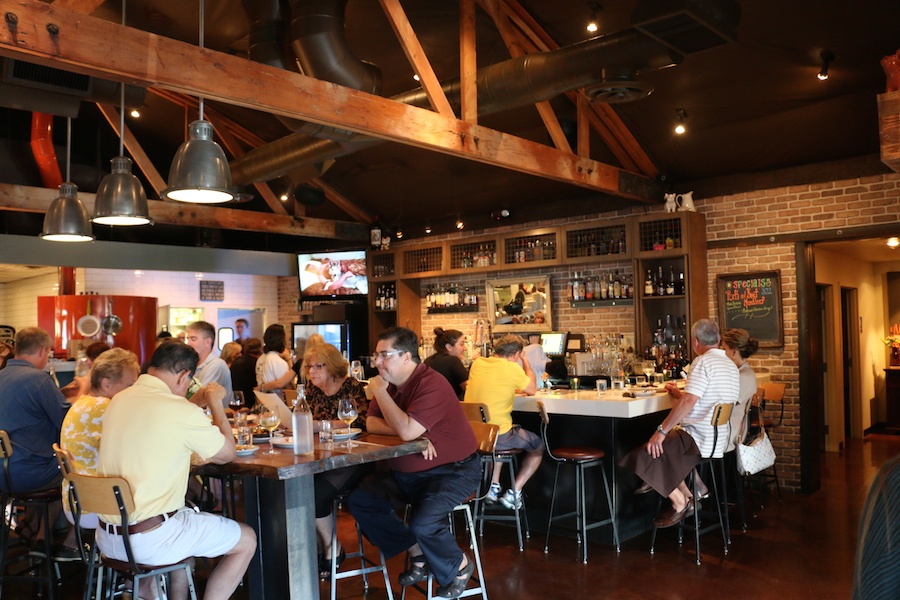 We began our soulful culinary journey with a few cocktails and wine, then we moved on to several tantalizing appetizers and salads…eventually savoring several mouth-watering entrées and finishing with a couple signature desserts.
DRINKS
Legend City Cocktail- A tribute to Phoenix nostalgia named after the long-gone amusement park! This was a wild ride of Woodford Bourbon, House-Made Honey Syrup and Lemonade, Ricard, Peychaud Bitters and a twist of lemon.
Farm to Glass- An ever changing and always fresh; seasonal organics muddled and mixed into a happy beverage.  The special this day included a mix of lemon and bourbon topped with a grilled lemon garnish.  This tasted like I should be sitting on a porch with my granddad in a rocking chair. Old fashioned fun.
Palmaire- Beckett's home, the little house located on Palmaire, was the inspiration for this magenta-infused cocktail.  Ketel One Orange Vodka, pomegranate liquor, pomegranate juice, house-made honey syrup and lemonade soda, garnished with pomegranate seeds & fresh mint.  A cooling summer delight.
Duckhorn Pinot Noir- A glass full of berries with a hearty finish.  Not your traditional Pinot!
APPETIZERS
Heirloom Tomato Salad – heirloom tomatoes, lavender, gina's feta, puffed quinoa
Veggie Chopped Salad – seasonal vegetable gems, seeds, fruit, champagne basil vinaigrette
Deep Fried Deviled Eggs, hot sauce aioli, pickled fresno.  Sinfully delightful!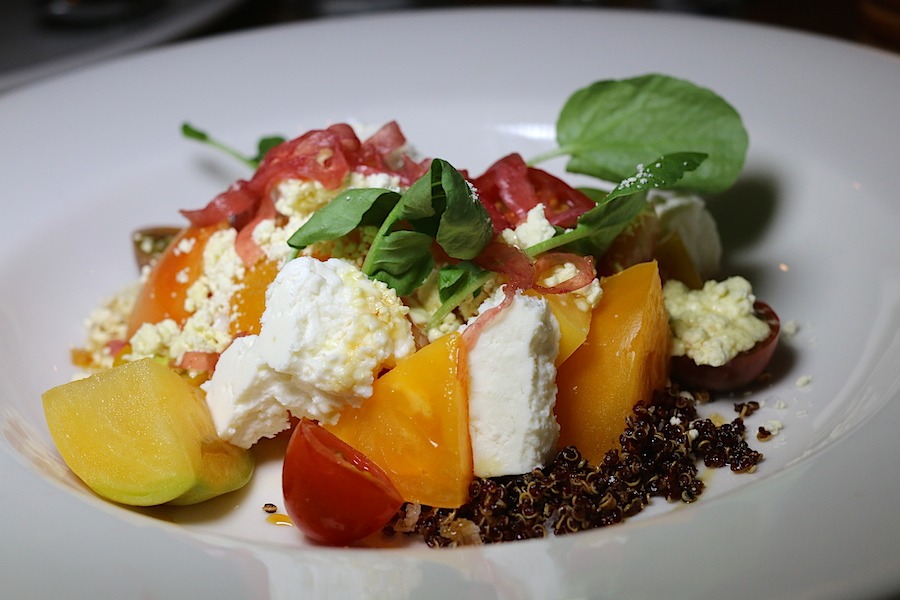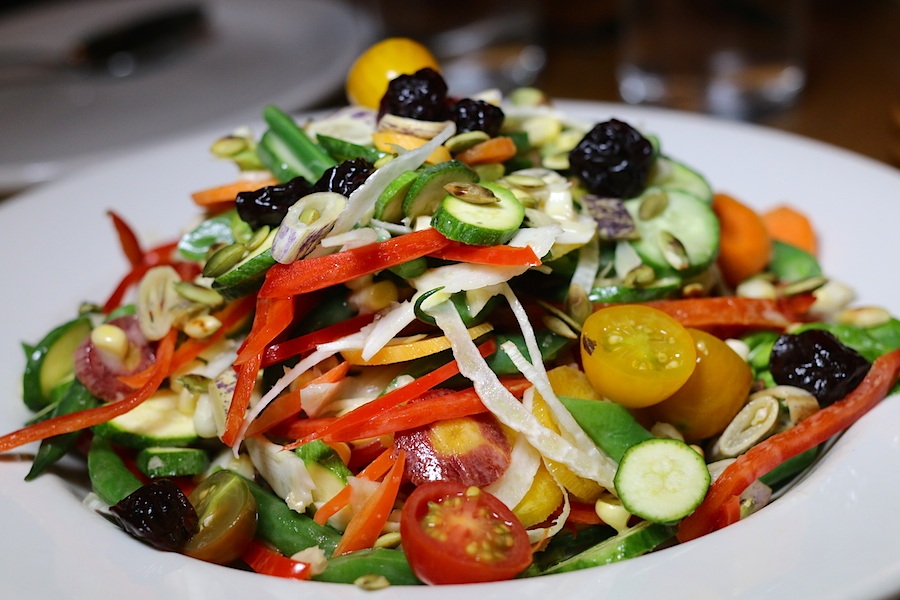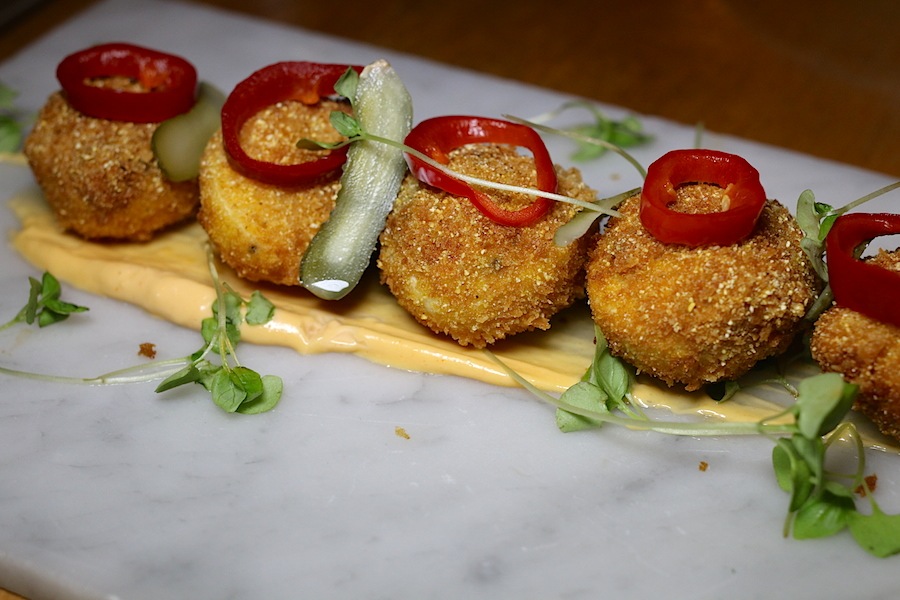 ENTRÉES
Red Rock Cod -quinoa tabbouleh, preserved lemon yogurt, chimichurri quinoa and pesto.
Scottish Salmon, garden vegetable ragout, pesto, blistered tomato.  Fresh to the last nibble.
Steamed White Bass, mcclendon's select organic vegetables. A light but fulfilling and flavorful dish.  Try it with a touch of cracked pepper as a garnish.
The Special of the Day:  Meatloaf with mashed potatoes and green beans with mushroom gravy- Comfort food at its best.  Our friend threatened to lick his plate after the last bite.  It's just that good!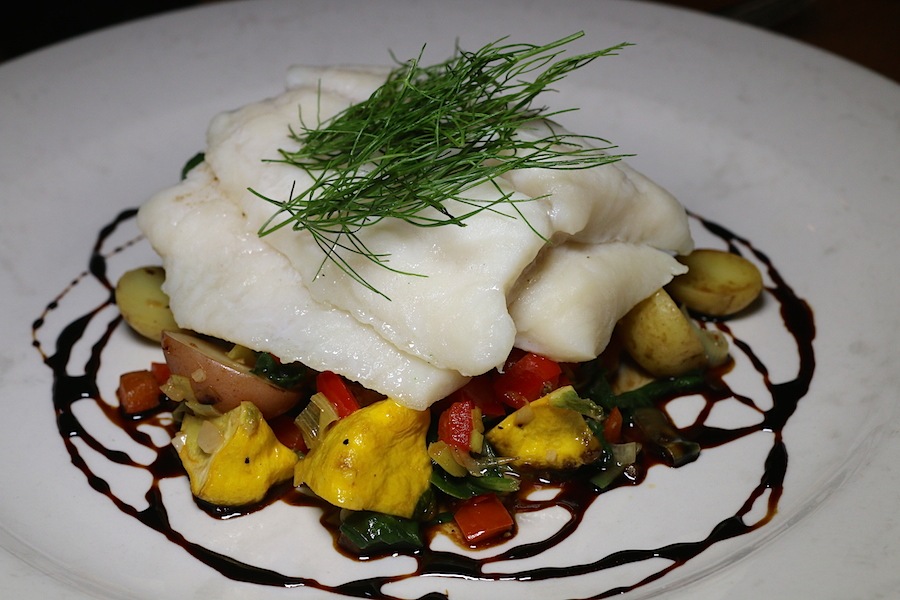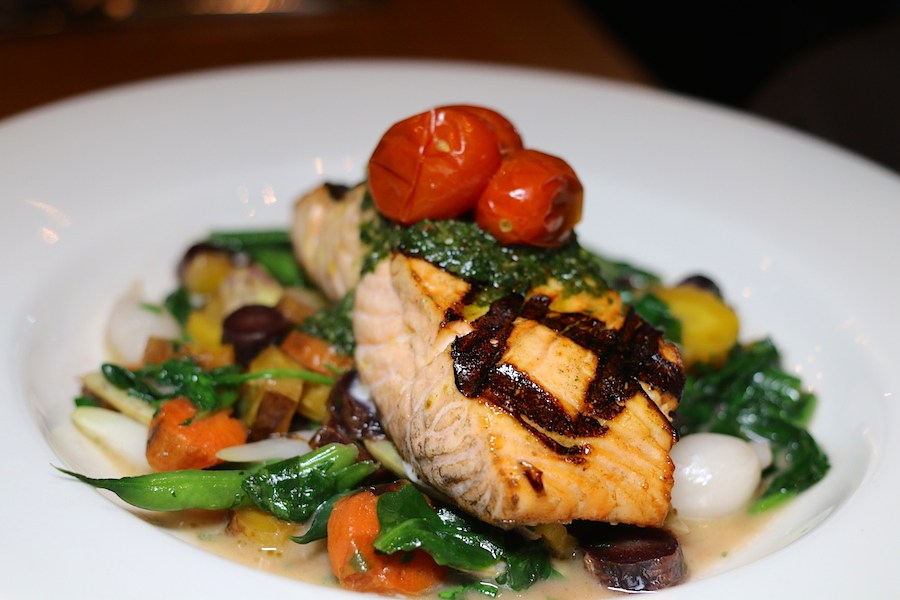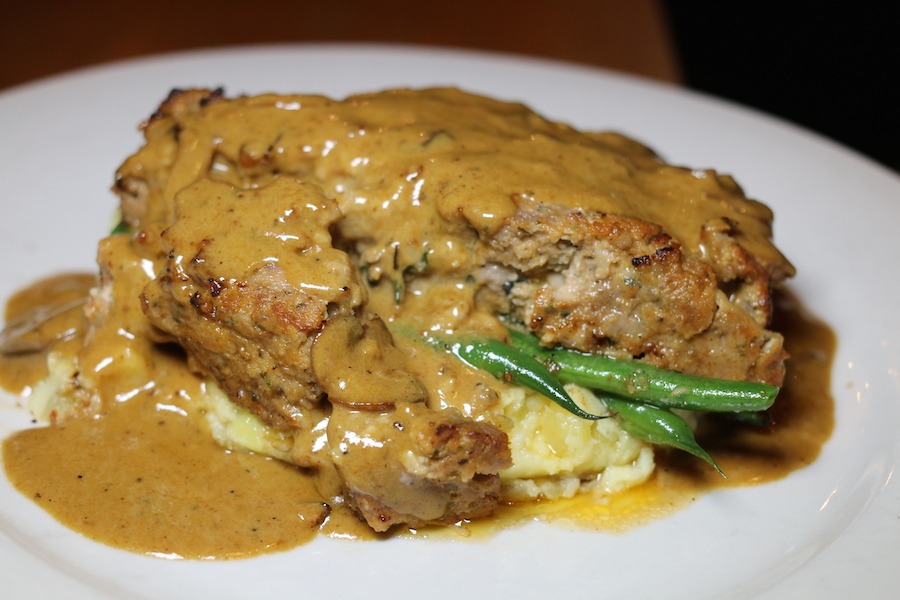 SIDES
Cheddar biscuits with apple butter.  In a word, YUM!  The apple butter in combination with the cheddar and bacon made this a culinary trip for the taste buds.  Savory, salty and sweet!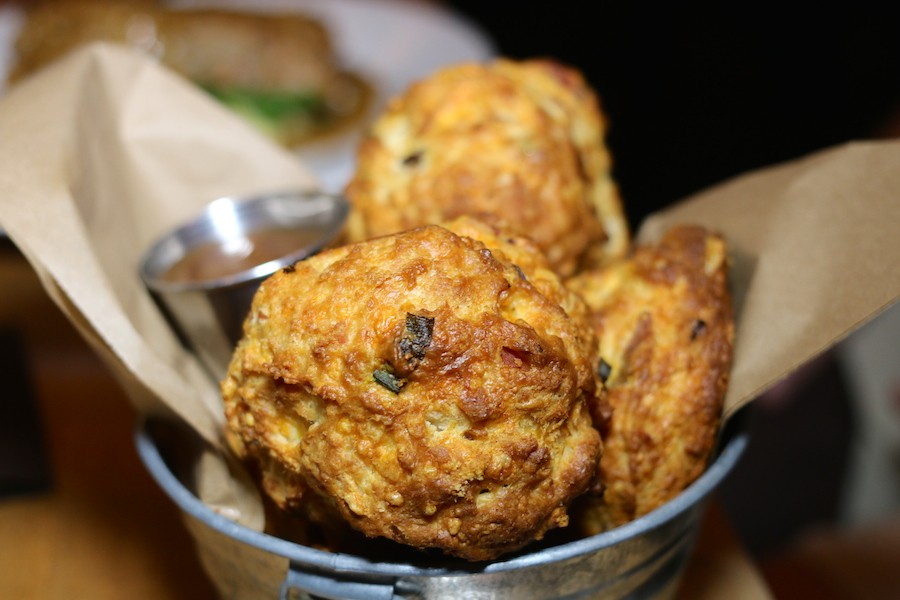 DESSERTS
Strawberry "shortcake"- maple bourbon ice cream, cookie crumb, praline.  Tasty, but… Where was the cake? It must be a play on words…
Toasted Coconut Cake, brown butter ice cream, coconut pudding, smoked cashew.  A moist mouth-watering sensation of the tropics.
Chocolate Dipped Bacon S'mores, caramel, house made marshmallow, whipped peanut butter, graham cracker.  I was not a fan of the chocolate covered bacon, but the combination of peanut butter with toasted marshmallows and graham crackers tasted like I was sitting around an old fashioned campfire. A flashback to childhood.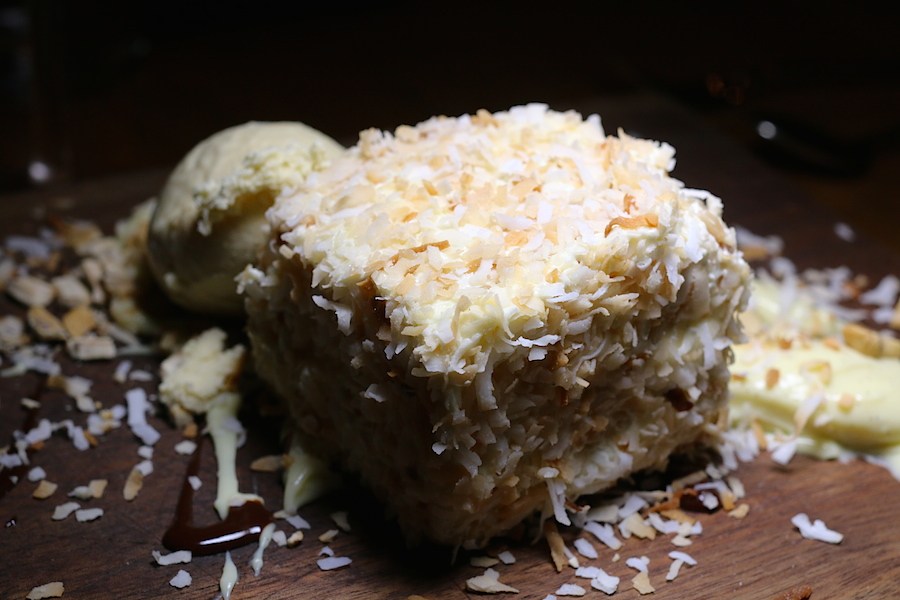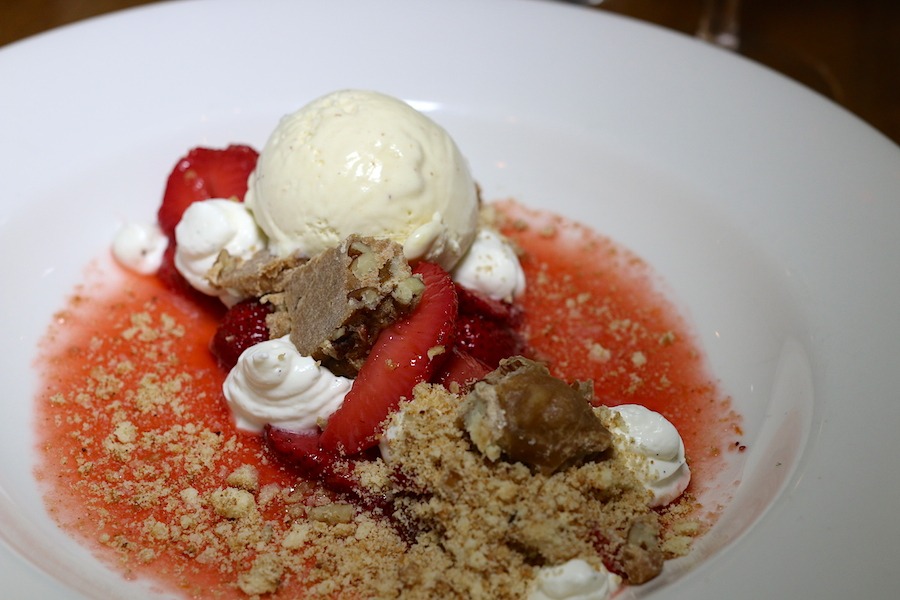 BOTTOM LINE: Beckett's Table is a casual hip neighborhood restaurant with a touch of elegance…where, when you enter, you feel right at home.  Beckett's Table, is a must when visiting the Phoenix area.
Beckett's Table Contact information:
Phone: 602-954-1700
Address: 3717 E. Indian School Rd | Phoenix, AZ 85018
Email: info@beckettstable.com
Website: http://BeckettsTable.com
Hours: 5pm to 10pm Tuesday – Saturday – Sunday 5pm to 9pm
Written by: Terri Campbell
Share:

Arizona is recognized for some of the most amazing resorts in the world.  Sanctuary, located in the heart of Scottsdale is an upscale resort at the top of that list. In addition to the breathtaking scenery, tranquil spa and modern classic rooms, Sanctuary houses the award-winning restaurant, "elements" and "Jade Bar".
The decor has an Asian flare, clean and modern. This theme carries through the entire restaurant, from the bamboo accents to the Yin and Yang shaped salt and pepper dishes atop each table.
The menu consists of farm fresh American cuisine with an Asian influence. "elements" is home to Executive Chef and television personality Beau MacMillan. As stated by the Food Network, "Beau MacMillan inspires his staff with his passion for fresh ingredients. His ingenuity in the kitchen is stimulated by his belief that food should not be overworked, but rather appreciated for its simplicity and natural perfection."
Chef Beau keeps things fresh by implementing menu changes that pair with each season (3-4 times annually).  We were fortunate enough to sample the brand new summer menu and all it has to offer.  We began our culinary journey of the menu with a couple of signature cocktails and tantalizing starters.
STARTERS
Hamachi Sashimi – the watermelon, jalapeño and yellowtail is a refreshing summer sensation of flavor to help cool the brazen Arizona heat.
Salt Roasted Beets – the Asian pear, roasted beets, sunflower seeds and creamy boursin cheese created a potpourri of texture and flavor.  A brilliant array of color designing an artistic masterpiece.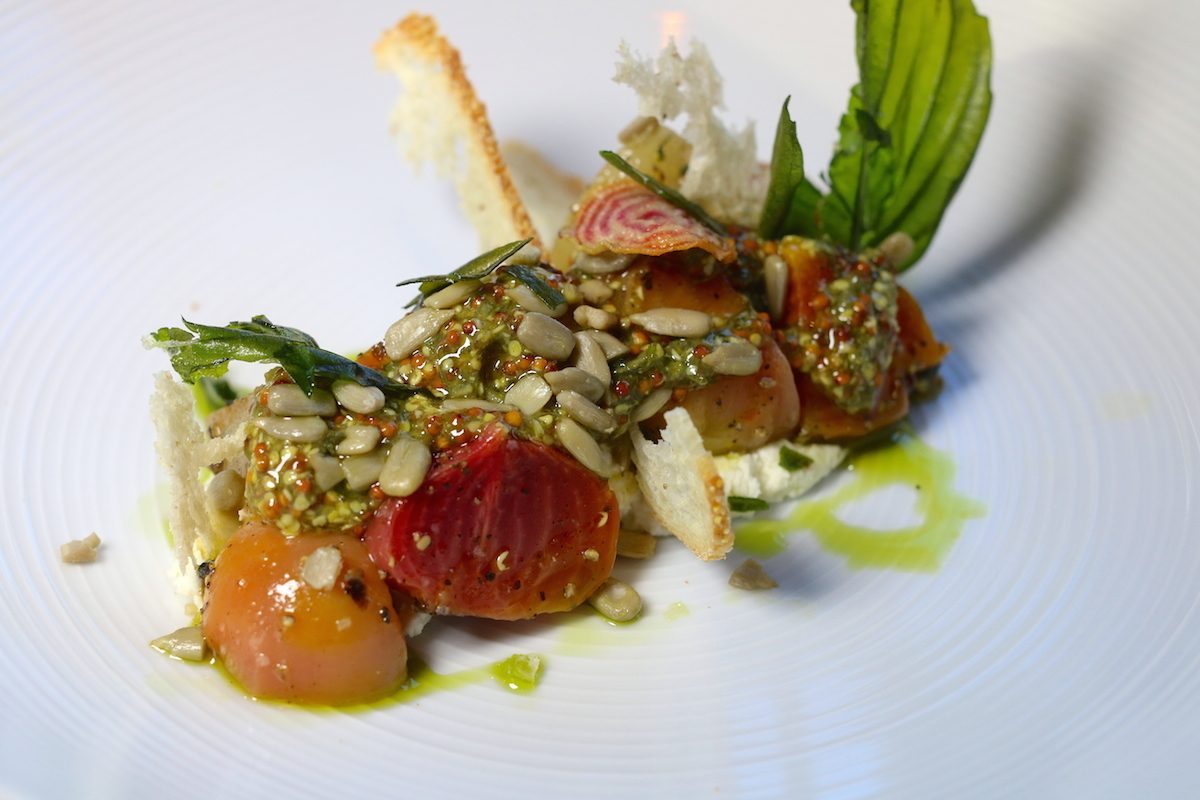 ENTRÉES
Bacon Wrapped Filet of Beef- titillating steak spice atop the tender filet, charred onion, oyster mushrooms with a balsamic chili glaze. A mouth-watering amusement ride for your taste buds.
Hawaiian Nairagi – the sticky rice, avocado, lobster and mango kimchee produced a cornucopia of seasonally inspired ingredients that beautifully accentuate the delicate fish.  Served medium rare, neither of us was familiar with this native Hawaiian fish, but we were particularly impressed with the mild flavor and tender texture.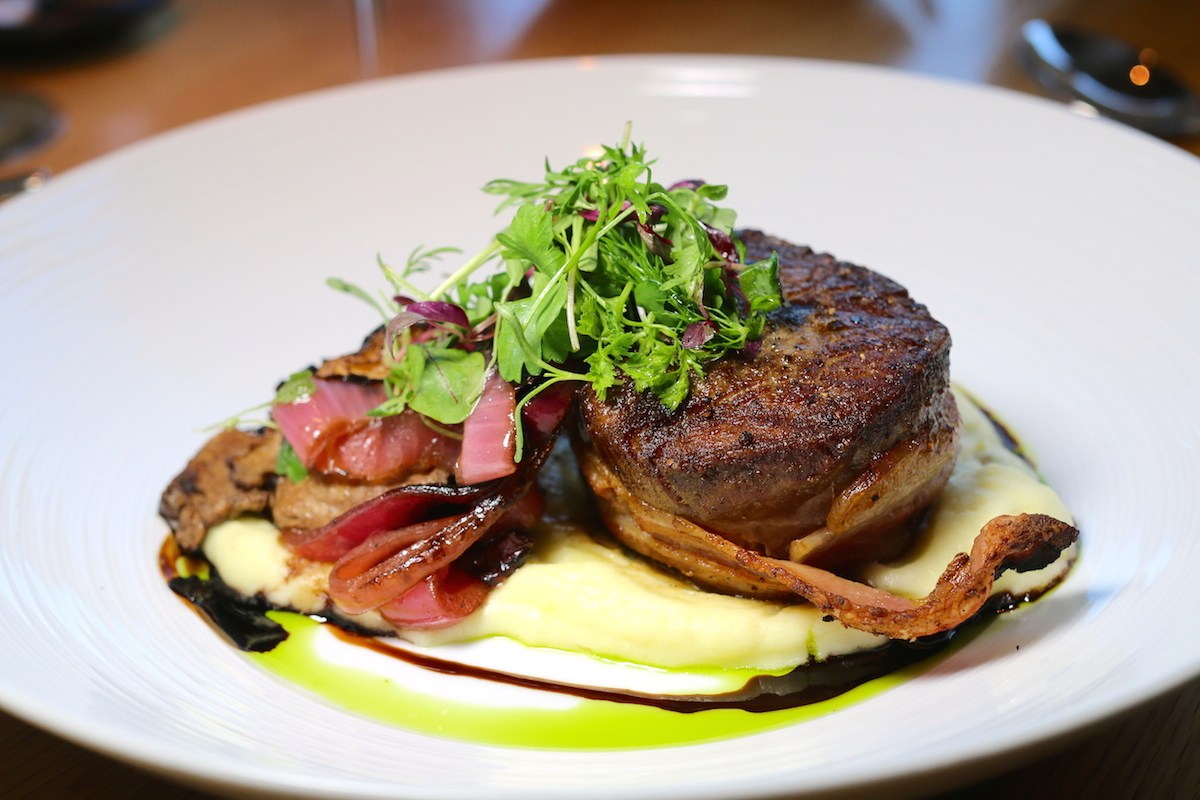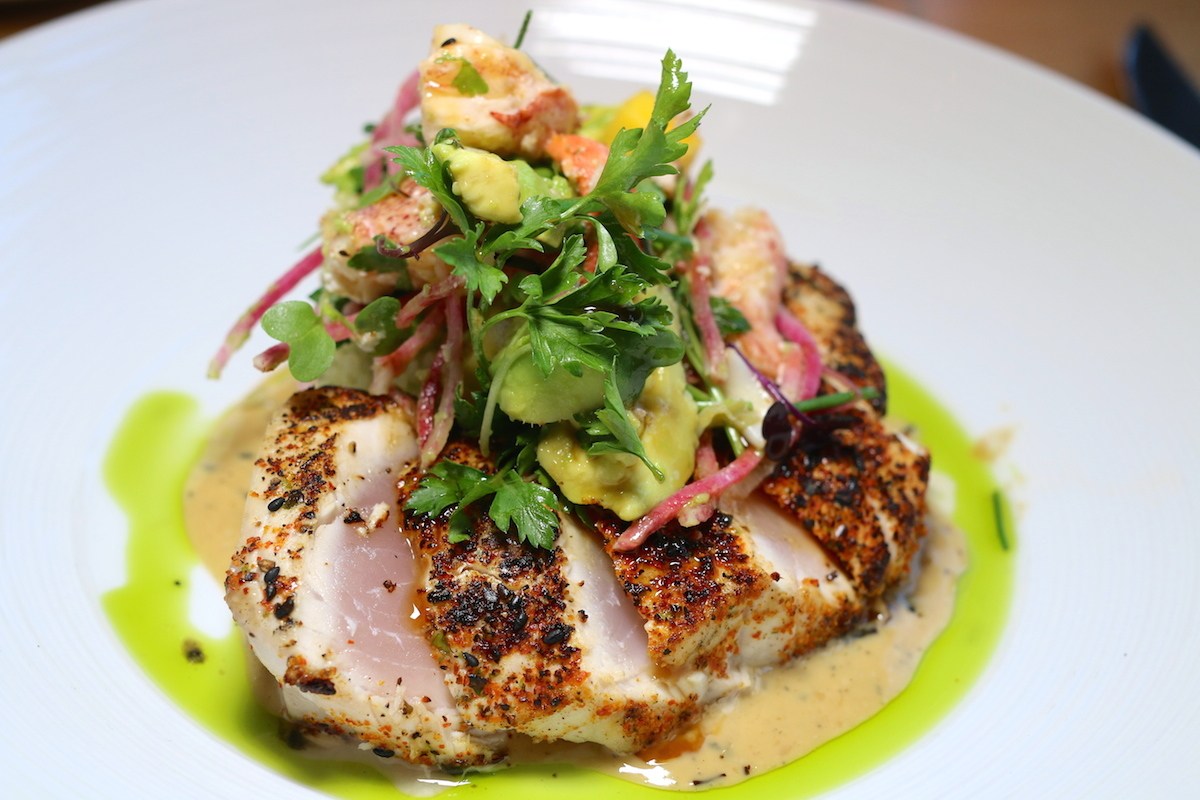 SIDES
Brussels Sprouts and Pork Belly Hash- the al dente vegetables paired nicely with the salty savory pork.
Lobster Mac n' Cheese with Mushrooms- richly decedent…a few bites was more than enough to satisfy the richest of palates.
DESSERTS
Honey Poached Apricots with citrus sponge cake, almond granola and orange sorbet.  Tangy and sweet with the granola topping to add a touch of crunch.  Another well balanced set of ingredients marrying the restaurant's yin and yang theme.
Chocolate Stout Torte- dark chocolate mousse, malt crumble and salted caramel gelato, a chocolate lover's dream.  But what drew us to this dessert was the Caramel gelato, a melt in your mouth creamy delight.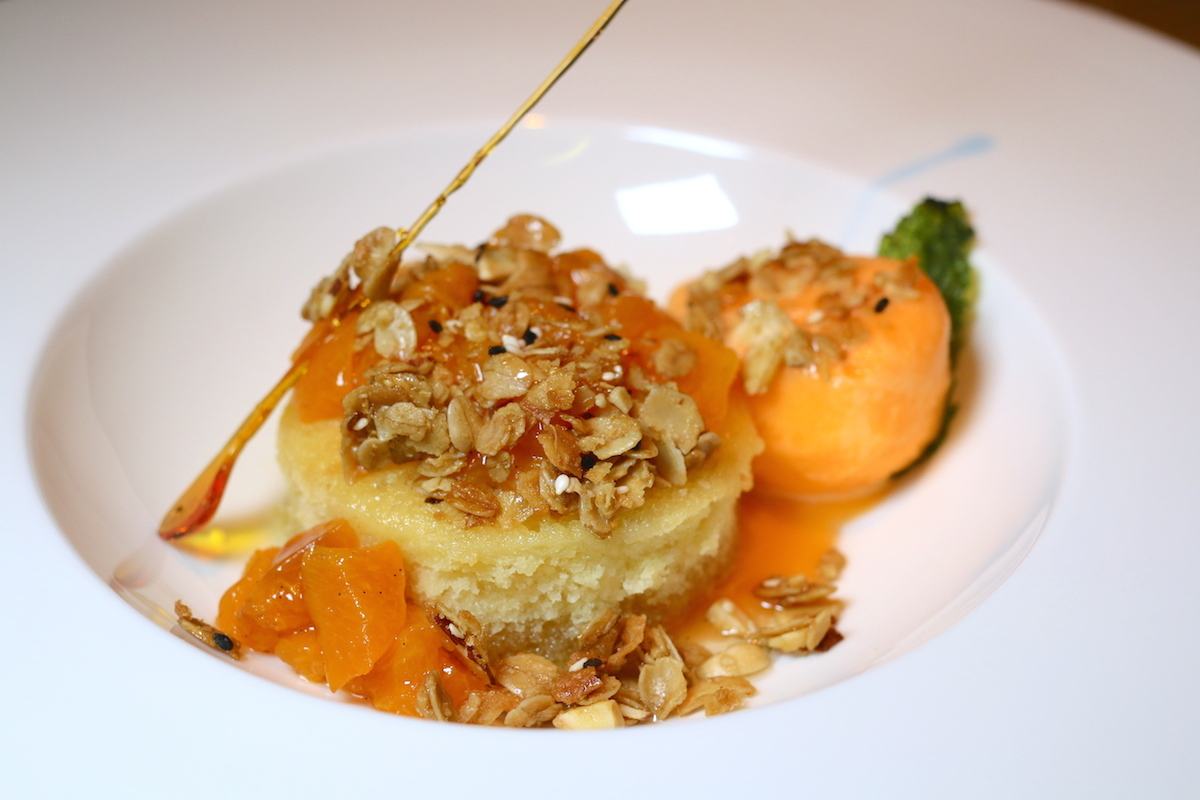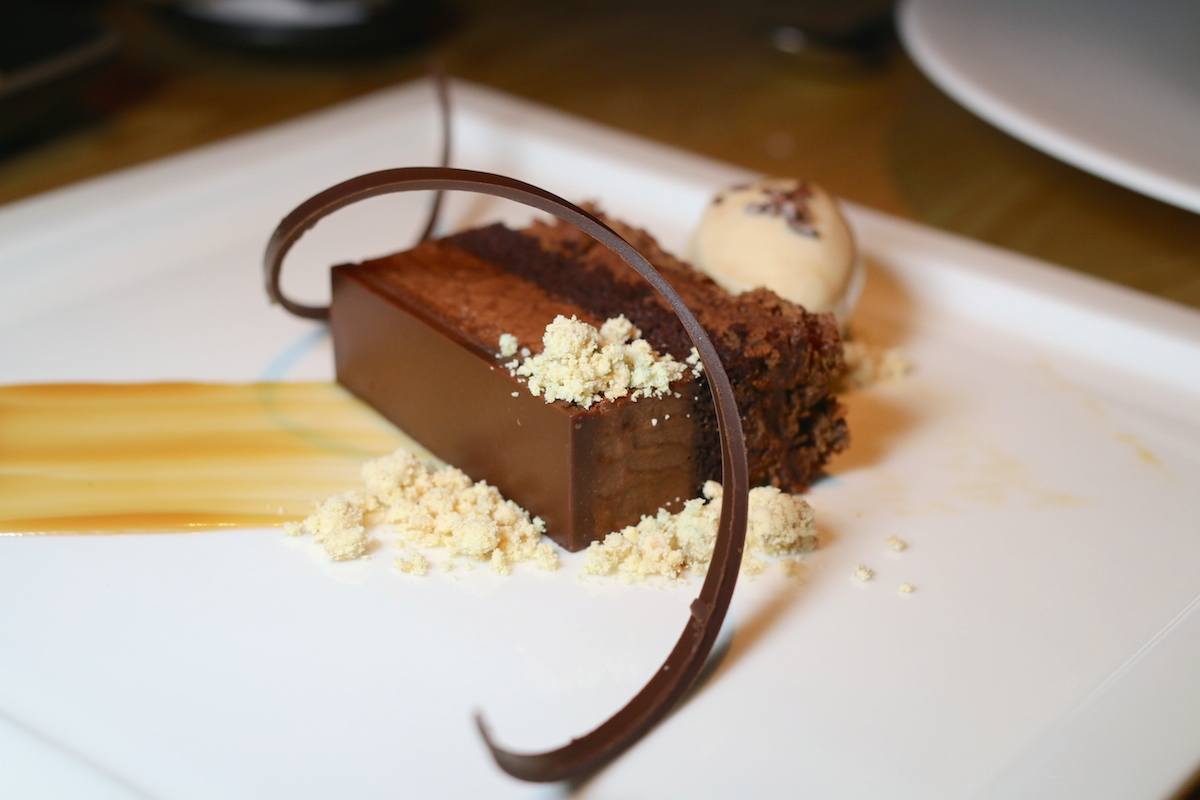 BOTTOM LINE:
The grounds, the décor and the menu items, were a visually appealing culinary journey.  The well-balanced unique and fresh ingredients piqued our senses creating a very memorable and romantic dining experience.   Sanctuary's "elements"…it's where Yin meets Yang.  If you've been to "elements" before, please leave a comment below and share your dining experience.
Sanctuary's 'elements' Information:
Address: 5700 East McDonald Drive – Paradise Valley, Arizona 85253
Reservations: 480.607.2300
The resort grounds: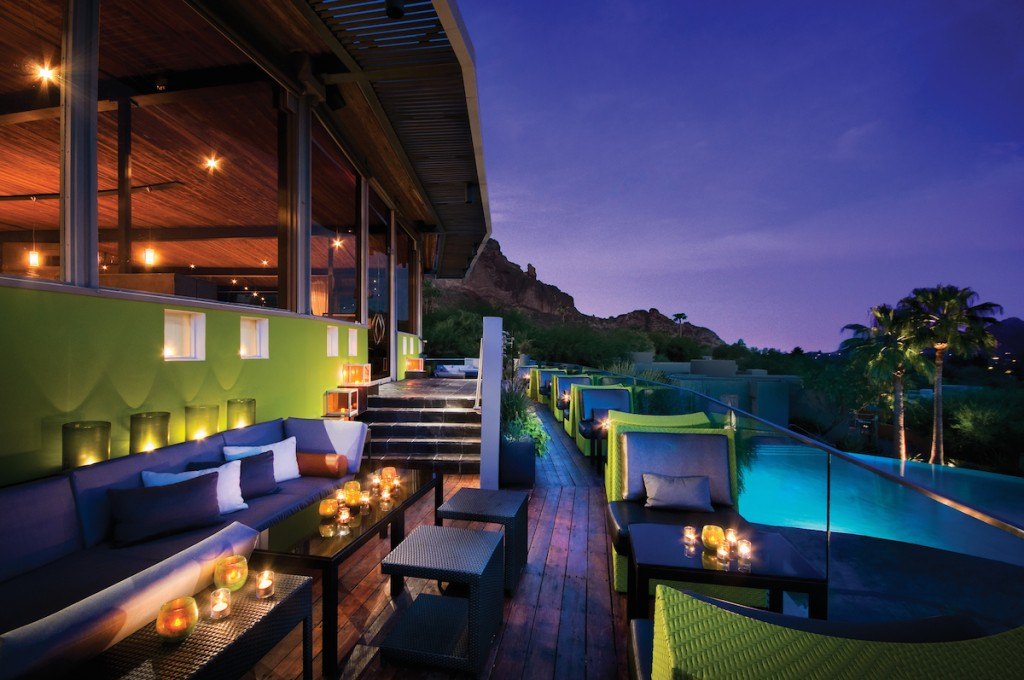 Atop Camelback Mountain with jaw dropping views of Mummy Mountain, "elements" has wall-to-wall windows that showcase the setting sun flickering on the swaying palms, an inviting negative edge pool, ambient music and private/secluded booths… a recipe for romance. Below the Jade Bar.
COCKTAILS
Jade Bar's  Botticelli – American harvest vodka, aperol Italian bitters, freshly pressed lime and grapefruit juice topped by 2 oz. of champagne.  This beverage was a refreshing sensation of bubbly fun!
'elements' The Fiery Mandarin – vodka, serrano pepper, orange zest, cranberry and lemon. A unique combination of sweet and spicy ingredients, which fits perfectly within the well-balanced yin and yang theme.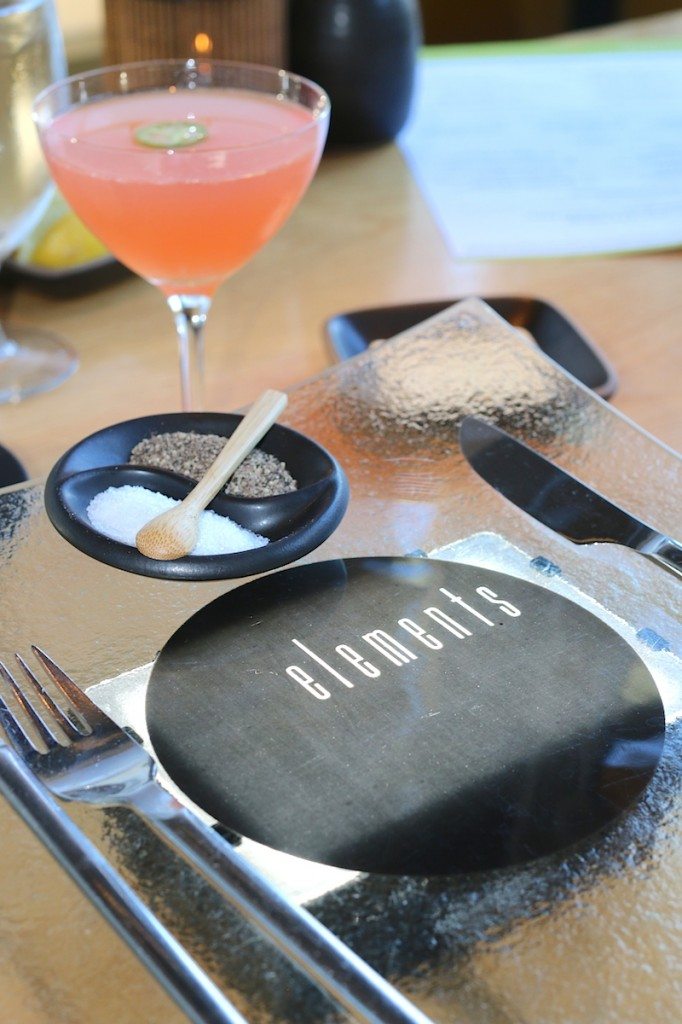 Written by: Terri Campbell
Share:

Foodie alert for those who have Arizona on their list. I'm presently on a culinary tour of Scottsdale, Arizona. This past weekend I got to take my girlfriend and a couple friends to two sensational restaurants, both at top-notch Scottsdale resorts. Friday night we went to "Elements," which is located at the Sanctuary Resort at the base of the famed Camelback Mountain, near Echo Canyon Park.  The fantastic cuisine was matched only by the outstanding views.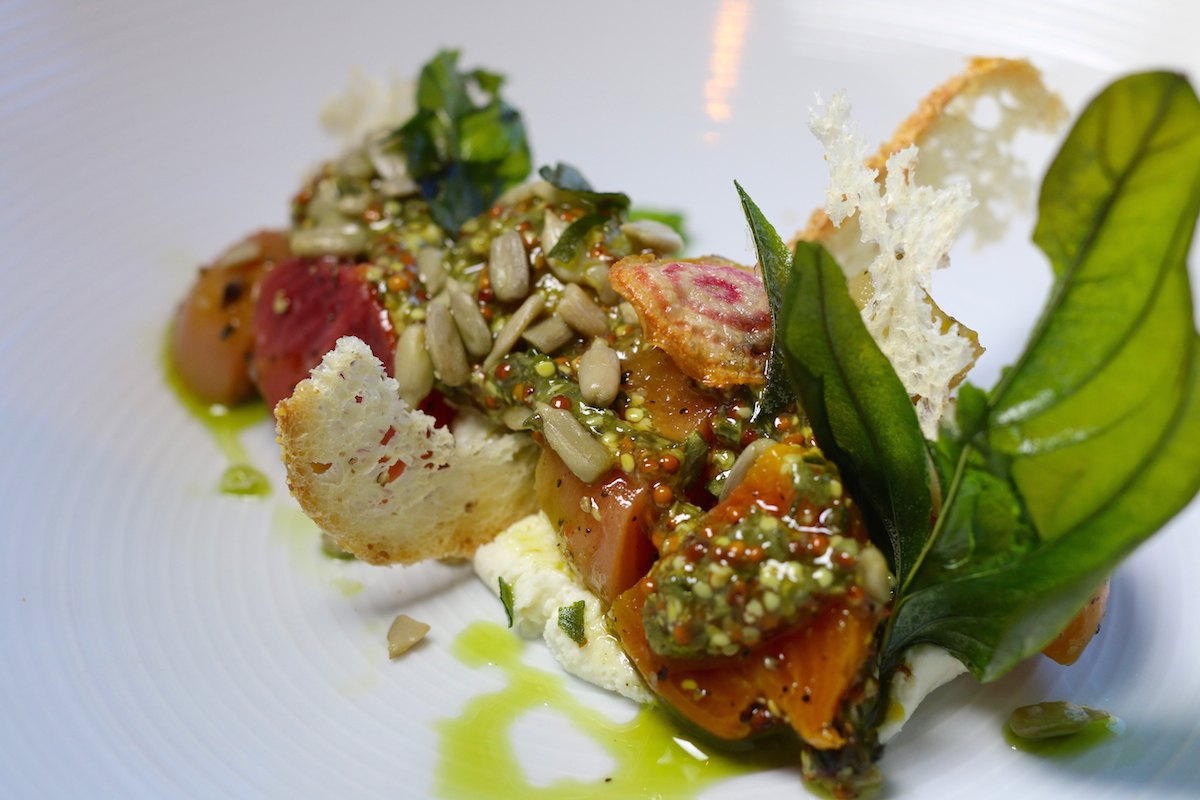 On Saturday night, we headed toward North Scottsdale to the Pinnacle Peak area where we dined at the Four Seasons Talavera Steakhouse. At Talavera you feel the memories from Scottsdale's frontier days, with its vibrant Southwestern décor woven throughout. The textures, materials and colors are a cornucopia of design elements…rustic, yet highly refined in its Southwestern style. The views of the city lights and the culinary concoctions are simply sensation.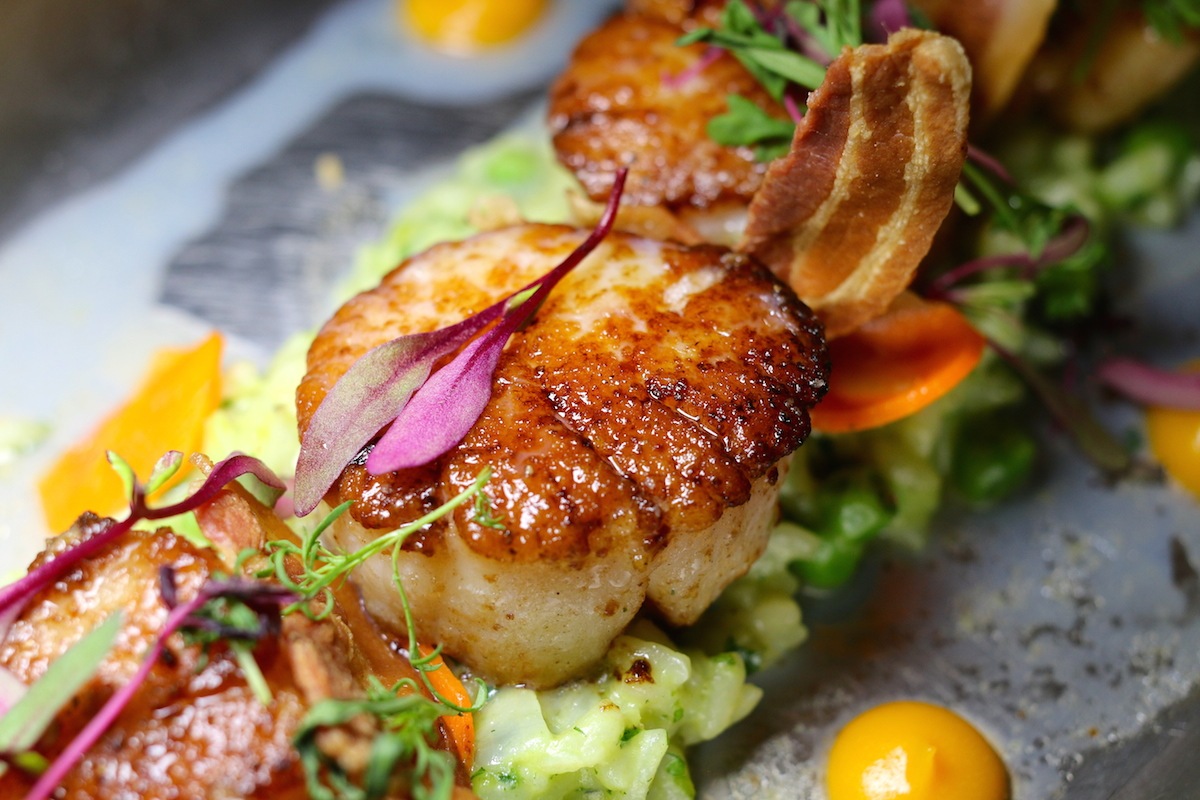 Share:

The Four Seasons is synonymous with luxury and uncompromising quality…the Scottsdale location in the northern part of the city embodies those guiding principles that make the brand so coveted. Nestled at the foothills of Pinnacle Peak (an iconic rock formation and historic North Scottsdale area), amid towering saguaro cacti and giant boulders, the resort embraces the desert's rugged landscape through its thoughtful design. The property provides a desert sanctuary and momentary sojourn for its guests and visitors.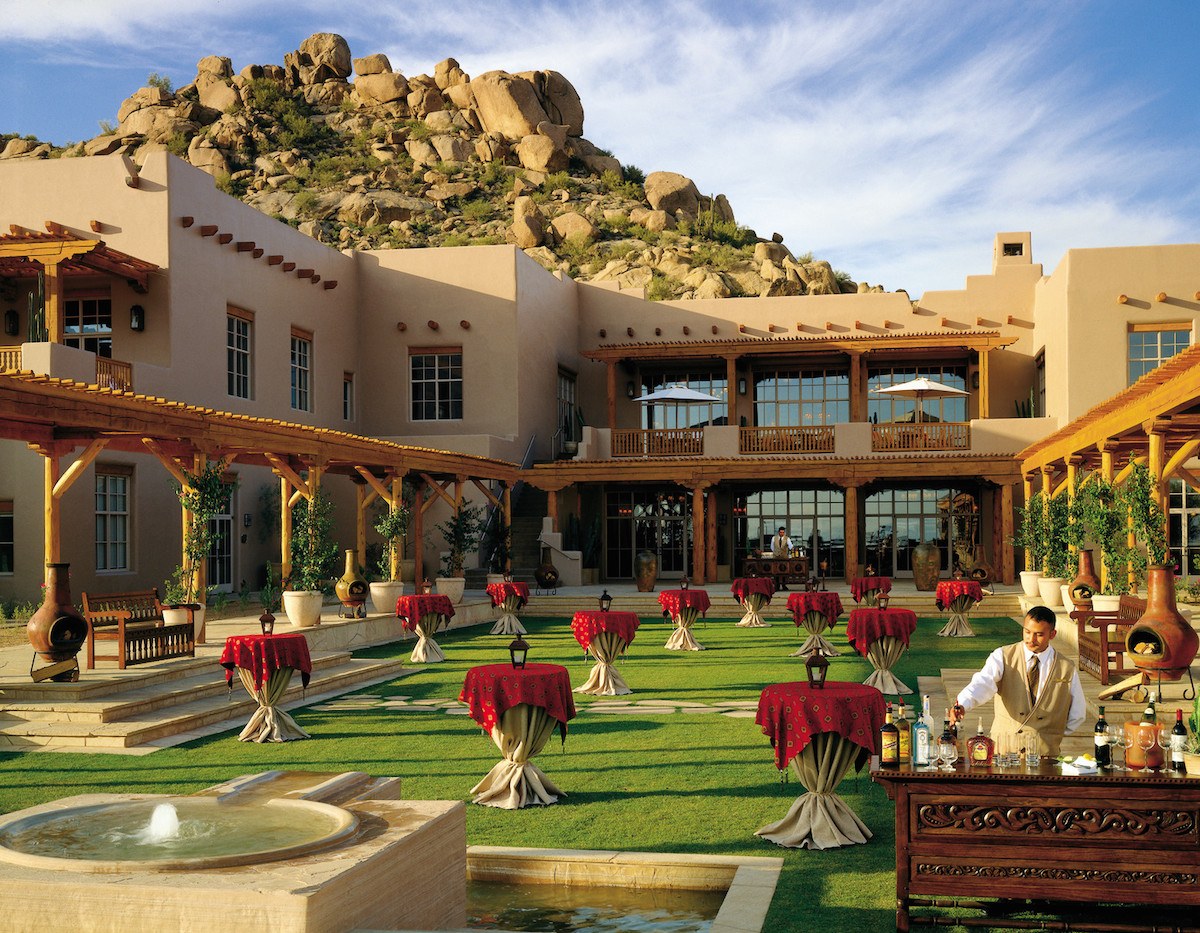 I recently embarked on a Scottsdale culinary journey and wanted to make sure that Talavera (The resorts fine-dining restaurant) was one of those stops. Scottsdale is well-known for its diverse and high quality collection of outstanding restaurants—as you will see and read, Talavera lives up to the community's restaurant reputation. The seasonally-inspired dishes that are artfully presented, along with a world-class setting, make Talavera a destination that certainly summons the gastronomic enthusiast.
Scottsdale locals, as well as many tourists, will be familiar with the drive to the Four Seasons Scottsdale—it shares the same route as the historic Scottsdale dining attraction, Pinnacle Peak Patio. Since the six decades when the Scottsdale landmark was built, the area has grown up into one of the most coveted places to live in Scottsdale. The desert landscape and elevated surroundings of Pinnacle Peak certainly provide a sensational resort and dining setting for the Four Seasons and its Talavera Restaurant.
As soon as you enter Talavera and its adjacent lounge, you can feel the memories from Scottsdale's frontier days, with its vibrant Southwestern décor woven throughout. The textures, materials and colors are a cornucopia of design elements…rustic, yet highly refined, in its Southwestern style. My girlfriend Terri and I remark at how intricate the decor was and that many of the design combinations were so unique that we would never have thought to put them together…yet they work with great synergy.
Terri and I were joined for dinner by another couple, which allowed us to try several dishes during our dining experience.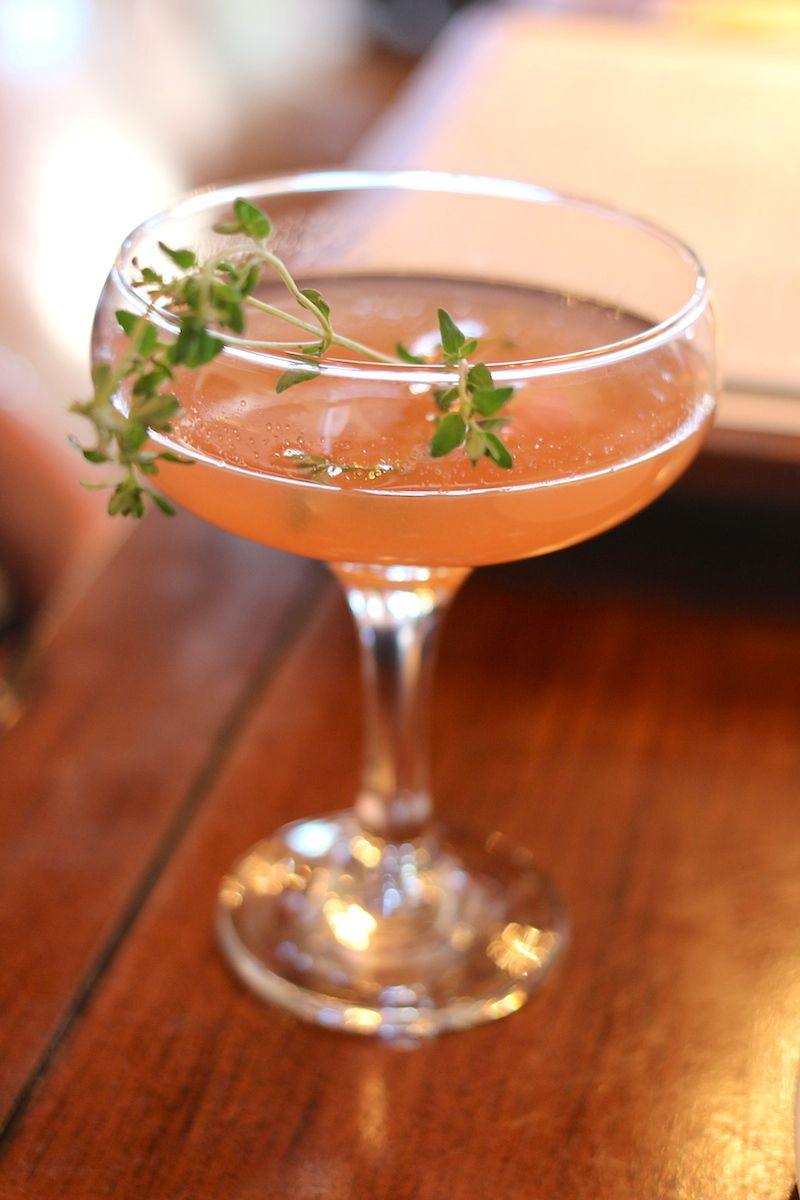 We started the evening out with a few of their crafted spirits while we delved into the menu. Our cocktails included:
Springtime Lemonade – Ciroc, lemon, rosemary, simple and lemonade…a crisp clean concoction.
Sonoran Oasis – Absolute Pear, Canton, house lemon cello, orange juice and pineapple…a taste of the tropics and Italy all in one.
Hanger one cocktail – Sunizona, tomato, grapes, thyme and agave…a unique combination playing homage the Southwest.
Jalisco Heat – Partida blanco, strawberry with Jalapeno and lime. This was the biggest surprise and perhaps our favorite drink…the heat from the Jalapeno provided the cocktail a perfect yin and yang affect.
We then began to dive into the menu. First up was:
Iceberg wedge salad with avocado, lump crab, blue cheese and Nueske's bacon…a seafood lovers delight.
White Asparagus Salad with Maine Lobster, corn panna cotta, chorizo and lemon truffle was a refreshing summer sensation with a Mexican flair.
Lobster & Corn Bisque with short rib croquette and charred corn was an interesting combination of surf meets turf, but with far too few lobster bites.
Roasted artichoke hearts with bacon and olives was a savory sensation.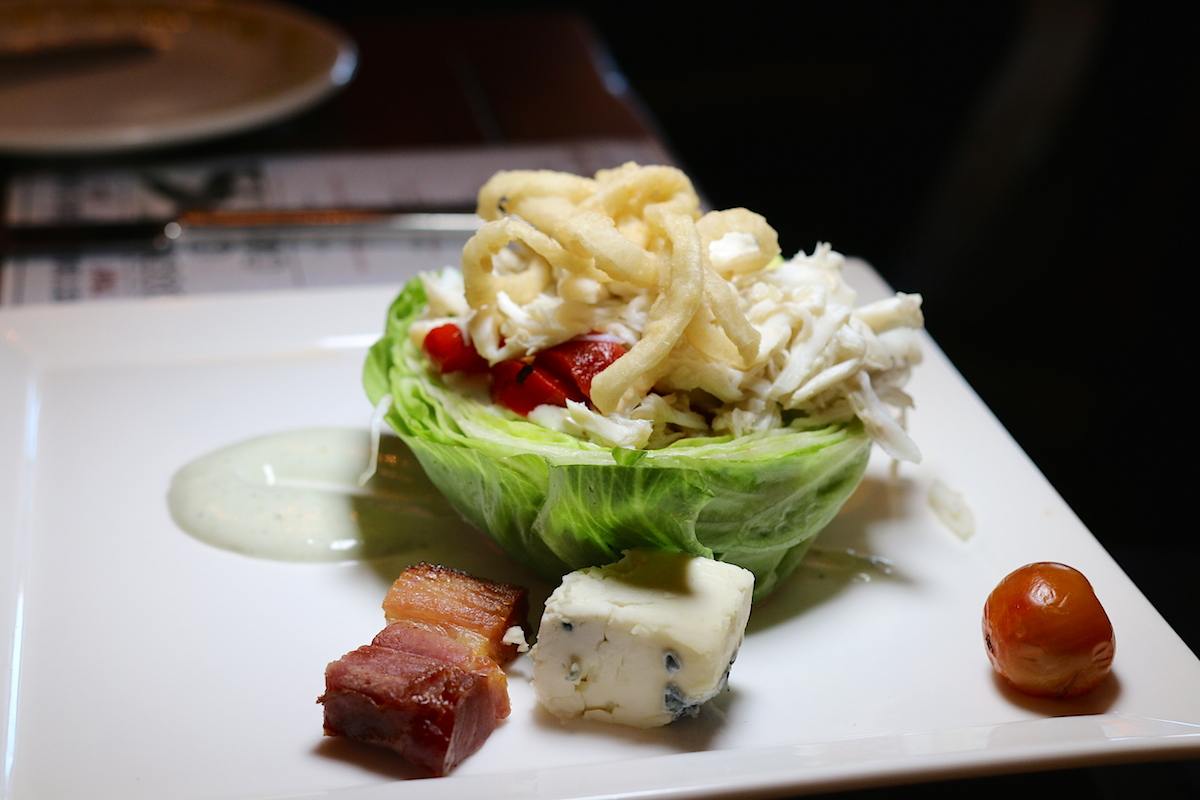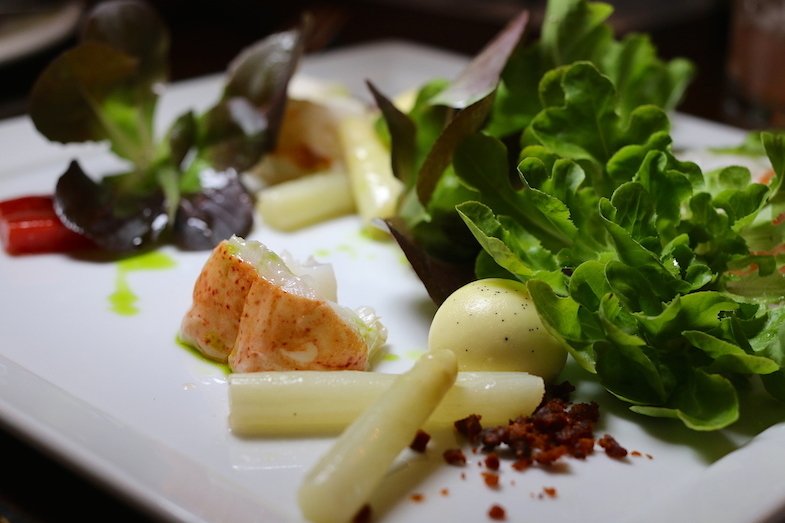 Entrées included:
8oz Buffalo Tenderloin wrapped in bacon with a purple sweet potato mash and a brandied cherry glacé. This filet was so lean and tender…the bacon and cherry combination set the dish off masterfully.
Chilean Sea Bass with a potato risotto, artichokes and braised oxtail. Tender white fish takes a dip in a flavorful potato risotto.
Diver Scallops with spring pea risotto and crispy pancetta was another savory surf meets turf combination…where the sea and land collide, creating an explosion of flavor.
Copper River Salmon with Oregon truffles, ramps in a mushroom broth was a delicately prepared dish full of gastronomic gusto.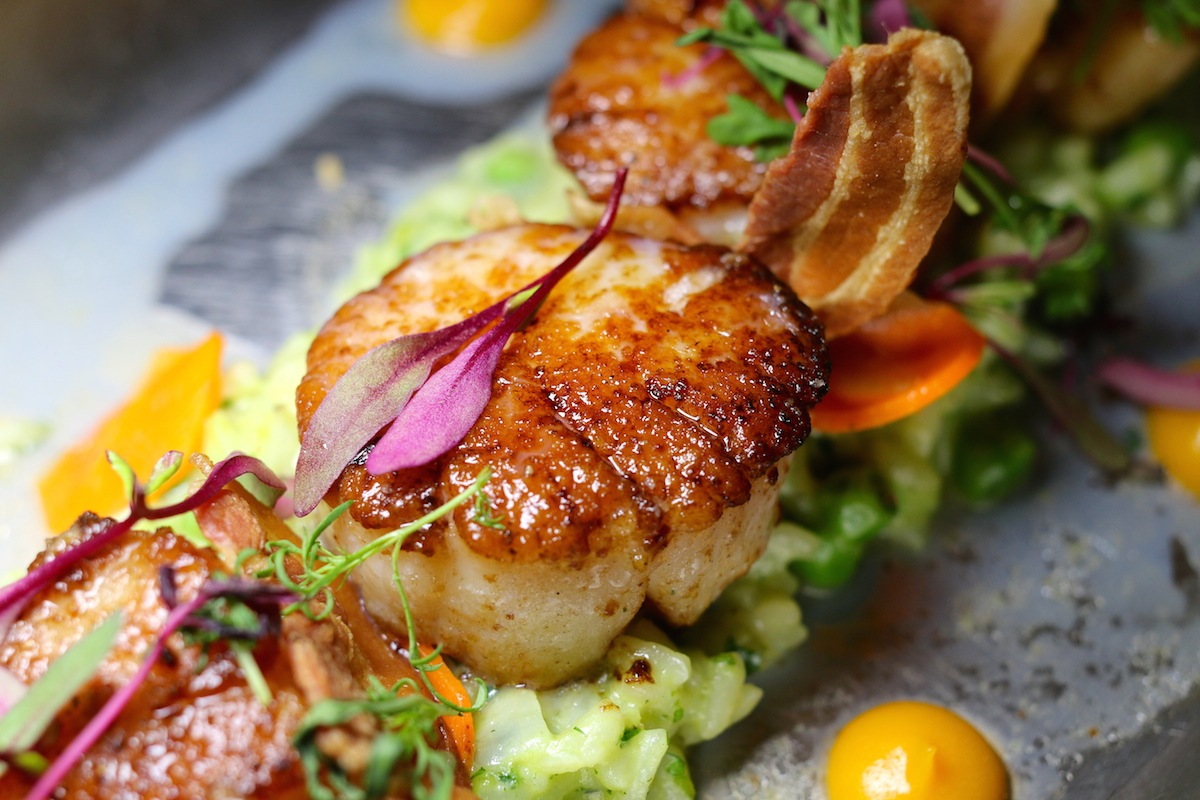 Desserts:
Fresh Seasonal Berries with a frozen yogurt and honey Florentine was a perfect palate cleanser to a decadent meal.
Grilled Strawberry shortcake with a cheesecake mouse and caramel powder…need I say more.
I really wanted to try the Croissant crusted Crème Brûlée with berries and crispy orange, but no one else did and I just didn't think I could finish it given the extraordinary dishes that preceded it.
We also had some locally roasted coffee presented in a large stainless steel French Press that was so aromatic and delicious.
Dining at Talavera really is an experience…in addition to having many wonderful entrees to choose from, they also have creative tasting menus and pairings to explore. You can dine both inside or out on the patio to take in the extraordinary views.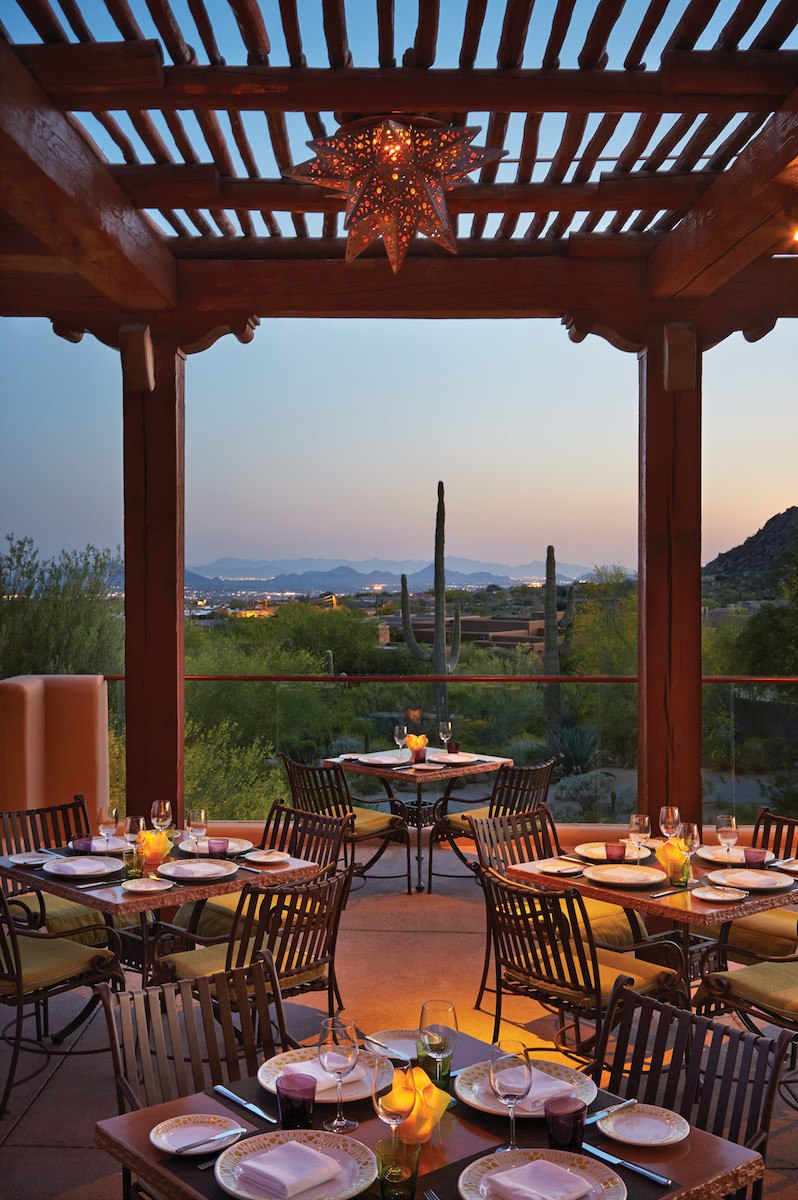 We thought it would be a bit warm to dine outside, so we opted to stay in. In hindsight, we wish we had chosen the patio as the weather soon cooled off and was quite comfortable outside. After dinner Terri and I checked out the lounge patio where some excellent acoustic music was being performed. We then strolled the grounds and sat next to a mesmerizing water and fire feature, as a once-in-a-100 year "Honey Moon" rose over the mountains and illuminated the dark surroundings like a giant spotlight.
Over all, it was a fantastic evening had by all. Our only critique was that of the service…while our server was well informed and personable enough, he did seem quite busy and left us waiting much too long between courses. We did like however that the restaurant manager came by each table during the main course to make sure everything was satisfactory. If you've ever dined at Talavera Steakhouse at the Four Seasons Scottsdale location, please leave a comment below and share your experience or favorite dish.
Contact Information for Talavera Restaurant at the Four Seasons Scottsdale
Address: 10600 East Crescent Moon Drive, Scottsdale, Arizona 85262
Reservations: (480) 515-5700 | Open Table
Hours: [September-May] Tuesday to Sunday 5:30 pm – 9:30 pm [June-August] Thursday-Sunday (same hours)
Website: Talavera Restaurant
Attire: Resort casual
Share:

Scottsdale, Arizona has long been a hotbed for innovative culinary cuisine and trendy nightclubs, especially clustered within the downtown/old town area. I recently received a suggestion from one of my readers encouraging me to try one of the latest gastronomic experiences, Citizen Public House (CPH).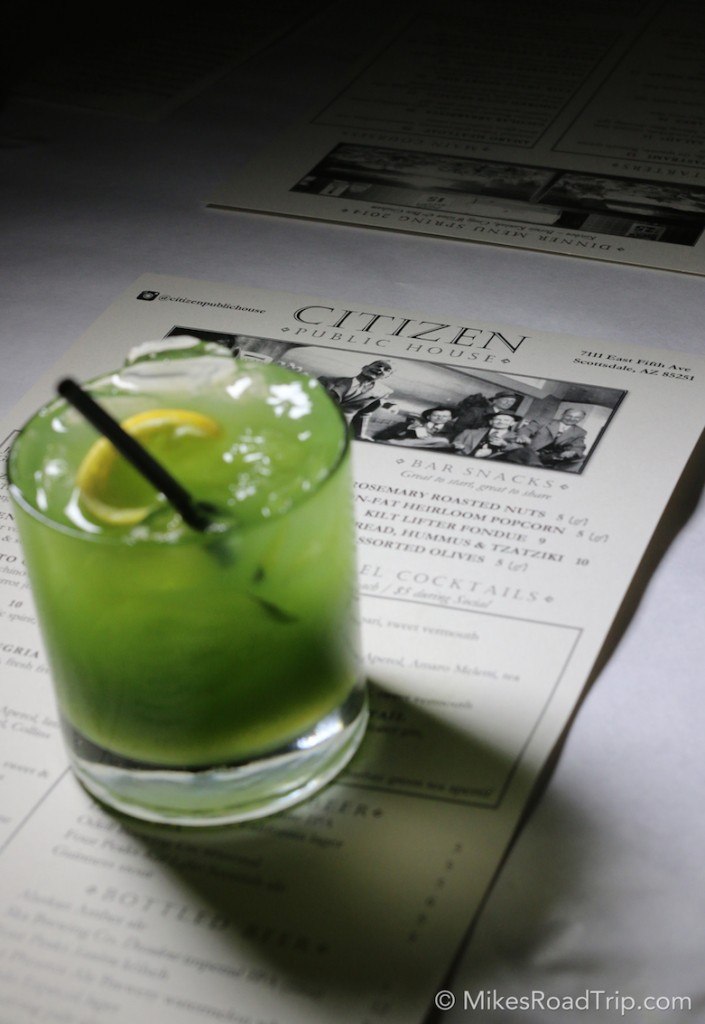 Nestled in the heart of Old Town Scottsdale, Citizen Public House does not have a flashy exterior or entrance, but what it lacks in glam and glimmer, it makes up for with vivacity. CPH is not fancy or pretentious, like some Scottsdale establishments…it just feels good. It's a journey that begins with that first step over the threshold…the warmth of the staff in the open and airy space envelopes you.
The tables and cozy seating niches flank the central focal point of the restaurant…the bar—also known as, mixology central. Here, the artisan cocktail makers create concoction you've likely never experienced before.  There are no everyday drinks from which to imbibe. Each cocktail creation has its own distinct personality and killer looks, the libations traverse the landscape from rich and warm, to light and tart. The bar resides underneath the building's original large slanted wooden beams overhead. The interior is slightly modern with a mild industrial feel. While the floor plan is wide open, there is an intimate patio and semi-private dining alcove for larger parties.
Because creative cocktails are part of the CPH DNA, my guests and I decided we'd order a variety of drinks throughout the night and share each of them. One thing you'll notice as you enter the restaurant is a cluster of barrels across from the bar…smaller than wine or whiskey, but similar nonetheless. The mixology professors have created a series of cocktails, which are age for up to six months in the barrels. In other words, they are blending various spirits together to make truly unique cocktails.
We tried two barrel-cocktails and really enjoyed the Boulvadier, we however would not order the Negroni again.
Boulvadier – Maker's 46 Bourbon, Campari with sweet vermouth.
Negroni – Beefeater 24-gin, Campari and Sweet Vermouth.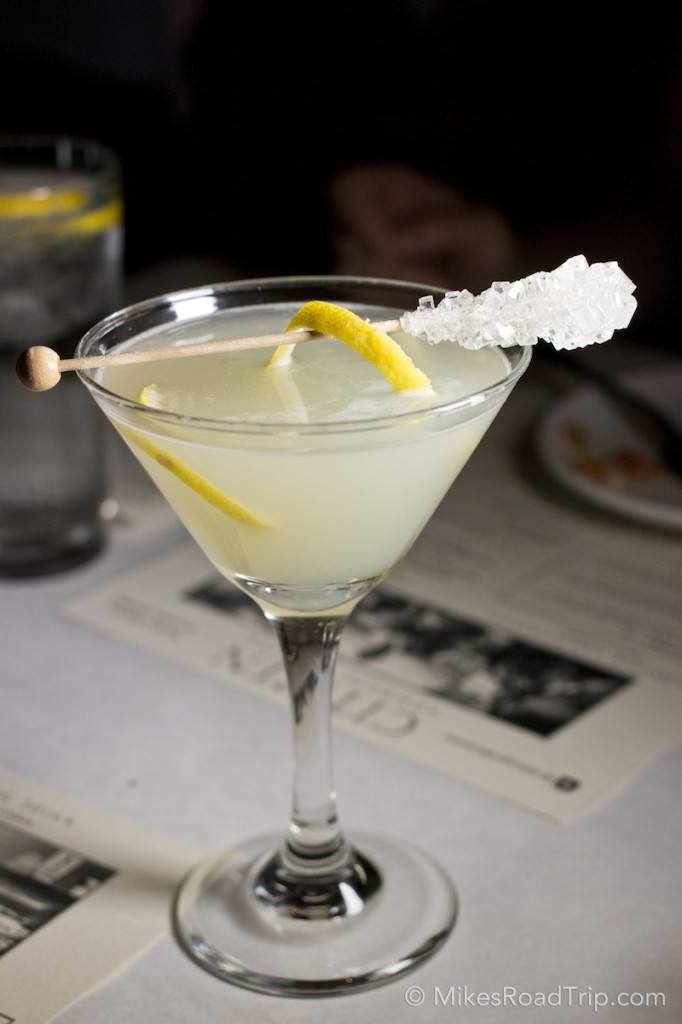 We then tried several of their "house" cocktails:
The Persian – Absolute Wild Tea vodka, elderflower liqueur, sweet and sour, Persian cucumber juice, lemon peel served on the rocks.
Citi-zen – Absolut Pear vodka, Domaine de Canton ginger liqueur, sweet & sour, rock candy, lemon twist, served straight up in a martini glass.
The IM-Port – Jameson Irish Whiskey, Tawny Port, tobacco bitters, Guinness stout foam, smoked sugar rim on the rocks.
Real Irish Crème coffee for dessert…coffee, Irish whiskey with thick, rich, sweet cream on top.
The Persian was really good, full of flavor and uniqueness. The namesake "Citi-zen," was good, but a bit on the bland side and we'd probably not order that one again. The IM-Port was the biggest surprise…none of us would have ordered it if it were not highly suggested by AJ (our server).
As soon as the drink hit my taste buds, I was pretty sure I wasn't going to like it. But then, just a second or two later, as my palate began to process the wild mix of flavors, I was pleasantly surprised…enthralled even. My guests all had pretty much the same reaction and assessment. For dessert, many folks will order a Baileys with coffee, but at Citizen Public House, they make a real Irish Coffee with Irish Whiskey and a sweet extra rich cream on top…it was delicious!
The dishes to follow continue the adventure, each plate its own family of uniquely unexpected textures and tastes that command engagement of all the senses. Sophisticated, yet accessible, the menu invites guests to open their minds and palates.
The food menu is split into the following categories: Bar Snacks, Starters, Sandwiches, Entrees and Dessert. We decided we'd try at least one items from each of the four categories.
Bar Snack:
Bacon fat heirloom popcorn – chunks of bacon with popcorn tossed in bacon fat. Addictive…need I say more?
Starters:
Pork Belly Pastrami, which was a tender pork belly, rye spaetzle, Brussels sprout sauerkraut and mustard jus. A little on the fatty side, but tender and full of flavor.
Deep sea crab cakes with smoked red pepper aioli and celery root slaw…absolutely delicious!
The Orginal Chopped Salad so famous it has its own Facebook page. Let me tell you, this salad is a MUST! It has cold smoked salmon; freeze dried roasted corn, chopped arugula, Israeli couscous, Roma tomatoes, black currants, pepitas and asiago cheese. The salad is tossed/blended with the perfect dressing right at your table.
Sandwiches:
Truffle Grilled Cheese – White truffle scented mashed potato, Emmental melted onion, French bread with a simple field of greens. I thumbed my nose at this item, but the ladies I was with really wanted to try it, so I acquiesced and was so glad I did.
Entrées:
Pan seared scallops with Tender Belly Hampshire bacon, roasted corn grits, wilted snow pea greens and cola gastrique. Outstanding dish…highly recommend it.
Fair-Trade Short Ribs with a local coffee rub, roasted parsnip puree, dried cherry BBQ sauce and sautéed greens. Similar to the Pork Belly Pastrami in that it was a bit on the fatty side for my tastes, but this dish goes well with the CPH gourmet pub motif. No question full of flavor and I loved the roasted parsnip puree.
Featured special was a Sauteed Branzino (European Seabass) with beet puree, sautéed spinach, charred yellow tomato vinaigrette, fried leeks with micro celery. This dish was so artfully plated and an item I'd never had before. Branzino is thinner than other Seabass (i.e. Chilean) I've had and they prepare it with the skin on, and, in a way in which it is eatable. It was both unique and delicious.
Capping off the evening were desserts created by renowned pastry chef, Tracy Dempsey, celebrating several childhood classics in a grownup wardrobe.
Dessert:
Apple Turnover with apple crumble ice cream topped with a vanilla glaze…this was good, but the PB&B was better.
PB&B Pudding Jar – banana, caramel & vanilla pudding, vanilla wafers and peanut butter shortbread fingers. Decadent…enough said.
Real Irish Crème coffee for dessert…coffee, Irish whiskey with thick, rich, sweet cream on top. Stronger than Baileys, but equally intoxicating.
Service:
I usually don't go out of my way to talk too much about the service at a restaurant, but in this case, I'd be remise.  My guests and I collectively agreed that AJ was one of the best servers we all had ever experienced. From his knowledge of the menu and its collection of complex ingredients, anticipating our needs before speaking a request, to his personality, passion, and downright enthusiasm for his job. AJ made sure our experience would not be one we'd soon forget…this gentlemen could write a manual on the craft of service.
Bottom line:
An evening at Citizen Public House cannot be contained within the word "dinner" or even in the phrase "dining out." It's a place where comfort meets class. The food and cocktail ingredients are as imaginative, as they are delicious.
If you've ever been to the Citizen Public House in Old Town Scottsdale, please leave a comment below and share your experience and/or favorite dish or cocktail.
Citizen Public House Restaurant Contact Information:
Address: 7111 E. 5th Avenue Suite E –Scottsdale, AZ 85251
Phone: 480.398.4208
Website: CitizenPublicHouse.com
Email: info@citizenpublichouse.com
Hours: Open 7 days a week 3 pm to 11 pm
Late Night: Thursday – Saturday 'til 1:30 AM
Share:

As you travel just six or seven miles northwest of downtown Tucson, Arizona, you'll find yourself in a sparsely populated area in the foothills of the majestic Tucson Mountains—here, is where I discovered the marvelous Blue Agave Bed and Breakfast.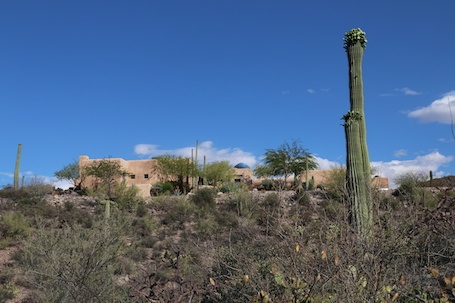 The Blue Agave is situated on fifteen acres and is perched atop a bluff, in one direction overlooking the city of Tucson, in the other, peaks of the Tucson Mountains.  As I made my way up the declivitous driveway, I was struck by the sumptuous architecture and landscape…the Blue Agave was grand, with varying lines that indicated a truly unique layout and design.  I later discovered that famed architect, Frank Lloyd Wright, inspired many of the home's design elements.
After parking my vehicle, I made my way toward the entrance…the hefty and beautifully designed iron gate opened to a large courtyard that was impressively landscaped with plants indigenous to the Southwest.  Original artwork accents the property throughout, much of which has been created by owner/innkeeper extraordinaire, Dana Smith, who is a highly accomplished artist. The Blue Agave is a fair size at 5500 square feet.
However, the home looks much, much larger with all its covered outdoor open space. From the courtyard, you can head in one of three directions; to the right will take you down a breezeway to the four guest quarters, each with a private entrance, and each with its own private patio to take in the extraordinary views. As an early riser, I found myself gravitating toward the patio each morning for a cup of coffee to enjoy the sunrise over the butte in front of the B&B.
As you head toward the opposite direction of the guest rooms, you'll enter the kitchen, dining and living areas. The living room is quite expansive and handsomely decorated. French doors lead one onto an extensive patio with a large outdoor fireplace and plenty of places to sit, relax and enjoy the views. I imagine during the cooler months, breakfast must be served on the patio, but as it was during my visit, it was already getting quite warm by 8am.
As you meander around the exterior of the home from the main patio, there is a barbecue area, and as you continue, you come to the pool area which makes you feel like you're at a top-notch resort. Not only is the pool beautifully designed with a near negative edge, but the décor includes a number of comfy chaise lounge chairs on which you can relax. Just beyond the pool is a covered area with outdoor furniture to provide a reprieve from the sun.
One of the many impressive aspects of the Blue Agave is how you are immersed in nature. During the construction of the home, many of the enormous Saguaro cacti were left in place and the home designed around them. As a matter of fact, the location of the Blue Agave within Tucson Mountain Park, has probably the highest density of Saguaro Cactus you'll likely ever see. From the B&B you can walk to miles of hiking trails throughout the park, which allow you to get up close and personal with the Sonoran Desert.
There are also a number of nearby things to do while at the Blue Agave…here are just a few you may want to consider:
Arizona Sonoran Desert Museum encompasses 21 acres and fuses a botanical garden, zoo, art gallery, natural history museum, aquarium and restaurants into a wonderful educational excursion.
Old Tucson Studios is an old western movie set not far from the Desert Museum. It's now closed to the general public, but still worth a drive by. Old Tucson is open to tour groups and special events.
International Wildlife Museum highlights over 400 species of insects, mammals and birds from around the globe.  Some of the collections are more than 100 years old and all the animals found at the museum were donated by various government agencies, wildlife rehabilitation centers, zoos and individuals.
Saguaro National Park is home to the nation's largest cacti, the giant saguaro, which is the universal symbol of the Southwest. At Saguaro National Park you'll have a chance to see these enormous cactus up close, and, during the evening, see them silhouetted by the beauty of a magnificent desert sunset.
Grants Pass – There is a fantastic spot just a few miles from the Blue Agave, near the top of Grants pass, to which you'll want to take your sweetheart to watch the sunset. Click here for map.
Toward Tucson (east of the above activities) you'll find an array of art galleries, live music, horseback riding, historic tours to world-class restaurants and many more activities to excite and thrill.
Back at the Blue Agave you can wind down and find solace on your own patio, or in one of the many common areas. Wildlife is abundant, and so too are the changing skies, casting vibrant light that accentuate the rugged, yet beautiful desert landscape that surrounds the property. Each morning you'll be treated to a hearty breakfast that celebrates the culinary influences of the Southwest. In the evenings, you'll likely see guests enjoying a glass of wine or a cold cervesa on the patio near the fireplace.
The four guest rooms are only slightly different from one another, the main difference is in color scheme, which takes decorative cues from the vibrant Southwest color palate. The accommodations are relatively modest in size and luxury…in comparison to the rest of the property, but comfortable nonetheless. Standard amenities accompany each room, but what's nice is each has a mini-refrigerator—which allows guests to pick up snacks and refreshments, limiting the need to venture out as often and simply enjoy the property and stellar surroundings.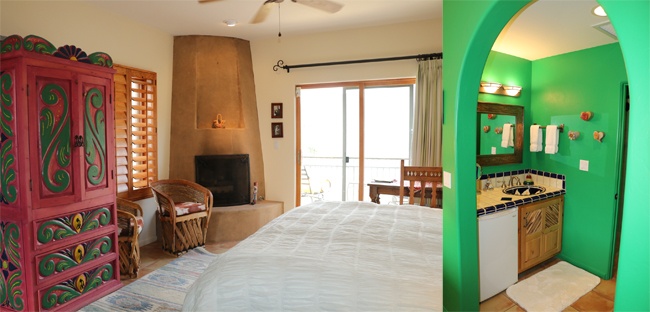 The bottom line is that the Blue Agave Bed and Breakfast is a fantastic property I highly recommend. Every aspect of your stay will be a memorable one, including your interaction with the innkeepers, Dana and Peter—both of whom are very personable and attentive, not to mention absolutely fascinating.
As I mentioned, Dana is a highly accomplished artist, as well as registered nurse…the compassion from being in the health care industry translates well into accommodating guests. Peter is a well-known planetary scientist and professor emeritus at the University of Arizona, where he played an integral role in the Phoenix Mars Mission. He also plays a mean tambourine, as you'll hear toward the end of the video above.
If you've ever stayed at the Blue Agave Bed and Breakfast in Tucson, Arizona, please leave a comment below and share your experience with my readers and me.
Blue Agave Bed and Breakfast Information:
Address: 455 N. Camino De Oeste – Tucson, AZ 85745
Website: BlueAgaveBB.com
Phone: 520-250-2202
Email: click here
Rates: $220-$245 per night, two night minimum
Share:

Welcome to Tucson Arizona, where I've been having a fantastic time staying at the Blue Agave Bed and Breakfast for several days.

Share:

Page, Arizona is located in northern Arizona near the Utah border and is home to one of my favorite recreational lakes…Lake Powell.  This stunning body of water has more coastline than the entire west coast…with finger inlets of turquoise blue water stretching for miles.
Lake Powell is encompassed within the Glen Canyon National Recreation Area and is at the mouth of the Grand Canyon.  The lake is extremely scenic with tall canyons, red rock formations and sand dunes—it's a wonderful place for recreation such as house-boating, water skiing, kayaking, fishing, hiking, camping, exploration and so much more.
Recently, over the Memorial Day weekend, I took my girlfriend Terri to Page, where I had a fantastic time showing her around this wondrous area in which I've explored many times. While there are a number of lodging options in Page, we opted to camp under the stars since we both really enjoy the outdoors. Whether you want to camp by the water, in a developed campground, or in a remote area like we did, there are plenty of options.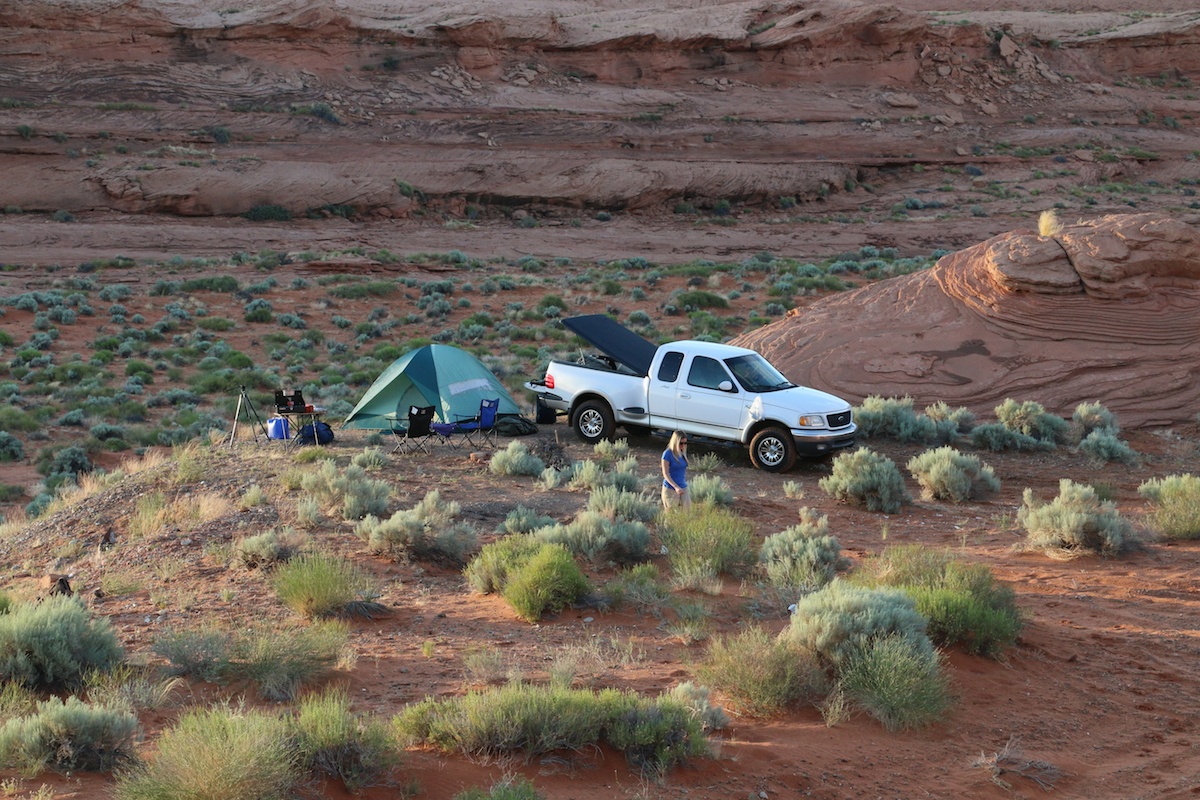 Our first two days were spent right in the Page and Lake Powell area, where we toured the Glen Canyon Dam, a local museum and took a cruise of the lake. The next day, we hopped aboard a converted transport vehicle en route to Antelope Canyon,  a popular sandstone slot canyon made up of unique formations and light castings that only nature can provide. On our third day we headed to the North Rim of the Grand Canyon, about a 2.5 hour drive from Page.
The North Rim is only open a few months out of the year, with far fewer people visiting. While my girlfriend hails from Canada, she's lived in Arizona most of her life and had never seen the Canyon before. Her expressions of the awe-inspiring sight were priceless—I was excited to share the experience with her.
As the afternoon waned, we left the park in search of a new spot to camp…this time at nearly 8000′ where the landscape contrasted that of our previous two days. We found a remote site nestled among tall pine trees, where we quickly hung a hammock and relaxed as we watched a gentle breeze move clouds past the swaying the tree tops.
The next day we headed back toward Page down highway 89a, where in what seemed like only a matter of moments, we dropped from the dense forest, to a vast vista of red rock. Along the way are some really interesting Navajo sites to see, including an area with giant eroded boulders in which the native people utilized by laying smaller rocks to create walls, while the boulder acts as a roof.
These structures are open to explore, while you'll often find Native Americans selling their handmade jewelry. As we continued, we veered off and took a road down to Lee's Ferry, which is located on the banks of the Colorado River. This area is popular with folks interested in fishing and to be near the water…while also being the starting point for many rafting expeditions.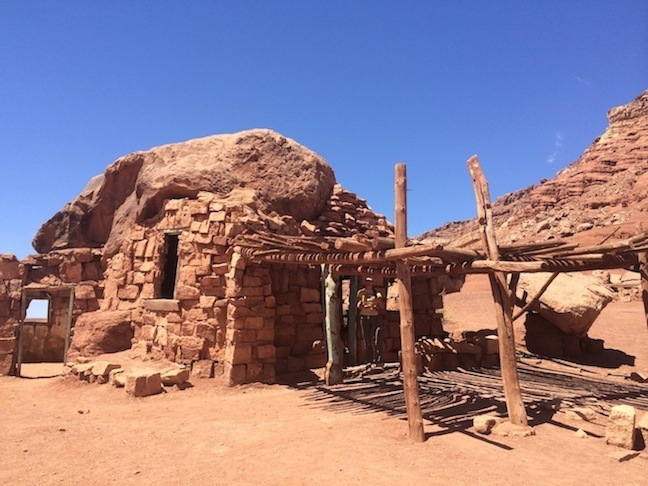 It was a fantastic introduction to Northern Arizona for Terri, however we clearly have to go back as there are so many activities and sights to explore.
Here are 10 ideas of things to do when visiting Page Lake Powell:
Rainbow Bridge – Access is by boat only…if you don't have your own, there are a couple of tour companies offering excursions.
Tour the lake – Again, if you don't have your own boat, do yourself a favor and hop on a tour boat for the Antelope Canyon Cruise…a short introduction to the lake.
Dam tour – You can visit the Glenn Canyon Damn both atop and below…both are very interesting.
Lone Rock – Located at the north-end of the lake with great access for boats with sand dunes and cliff-jumping, this is a cool place to explore.
Hiking – You can chose from difficult routes like West Canyon or the White Canyon hikes, or, enjoy a more leisurely stroll along the beaches and into side canyons. There are a number of hiking tours companies available…depending on skill level and duration desired.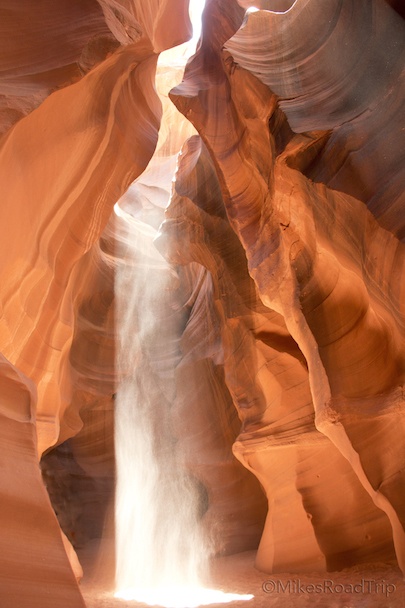 Fishing – Catch small-mouth bass, striped bass, walleye, catfish and bluegill in the lake's various canyons and bays.
Kayaking – Renting a kayak or taking a tour and exploring some of the remote canyons is a great solace experience.
Antelope Canyon – You've probably seen the amazing pictures of Antelope Canyon before, but probably didn't know where it was located. This is an fantastic experience and a must when visiting Page / Lake Powell. Tip: for photographers…try and get on a tour that puts you in the Canyon around noon for the best light. Also, there are tours for both upper and lower Antelope Canyon…I've done both and would give the edge to the lower.
Wesley Powell Museum – Learn about the canyon before, and, after the damn was built.  John Wesly Powell was the first person to traverse down the mighty Colorado River.
Relax – Don't forget to just relax and take in all of the scenery.  Take lots of pictures and video. The sky is always changing, so no two pics are ever the same.
If you have ever been to Page and/or Lake Powell, please leave a comment below and share your favorite activities.