About Robert Aiudi
Robert Aiudi, a.k.a., The Language Chef, has been known to his friends and family as a "language junkie" nearly his entire life. He is fluent in many, conversational in others and can fake it through another large amount of some of the most exotic languages in the world. He has taught and tutored many happy students, and annoyed people over the years by asking "how do you say that?".

From his young years surrounded by speakers of three different dialects of Italian, to university in France and German and extensive work in Asia, China, Taiwan, Japan, Robert has picked up languages and breathed in the cuisines of many countries. Translating from 27 languages into English, Robert is a repository of anecdotal and factual information about languages of all sorts which adds flavor and depth to the Language Chef.

An expert amateur cook, Robert has worked in Paris in small bistro, made pizzas in Florence, wrangled recipes out of the hands of German grandmothers in the Black Forest, worked in a Chinese restaurant and had ad hoc cooking lessons in restaurants in China, Taiwan and Japan as well as various Chinatowns. Most importantly, Robert, his mom and dad, two grandmothers and lots of aunts from Italy have made culinary magic in their kitchens for generations.
Latest Posts by Robert Aiudi
Share:

First and foremost, the French spoken in Quebec is FRENCH!  I have such a pet peeve about people saying that it's different.  French people from France and people in Quebec can totally understand each other… well usually.    To me it's the same as saying that the English of North America is 18th century English (which may be true), but GEESH! we can still understand Downton Abbey, right?
The French started exploring Canada or what they called 'New France' at the beginning of the 16th century and found basically the same things the English found when they started to explore the future US of A, native peoples, lots of wild animals and trees.  The name 'Canada' even came from the French who heard the Iroquois use the word 'kanata' to describe their villages.   Jacques Cartier is the first to pen the word in his journals.
Along with the language, the French brought their recipes and adapted them.  A large part of the French explorers came from north and south-western France, ie, Normandy and Brittany, as well as Aquitaine and Auvergne and so the food reflects influences from those provinces.
Tourtière, a French-Canadian specialty, is a big meat pie filled with pork, beef and vegetables, mashed potatoes and the requisite crust.  The word, tourtière, has origins in Latin of course (notice it looks like tarte or torte) and refers to basically what we call a Dutch oven.  It was used as an oven by explorers to bake and then became synonymous with the pie.
Tarte au sucre, or sugar pie, one of my favorites, is similar to a pecan pie without the pecans.   This pie has its origins in France and Belgium and as the French-speaking explorers moved south exploring the Mississippi, the recipe morphed into sugar-cream pie and is common in Indiana and Pennsylvania.
Speaking of sugar, maple syrup, figures prominently in French-Canadian cooking.  First referenced by one of André Thevet, a chronicler of the French explorations of the Americas, maple syrup was a large part of the native people's cuisine and was embraced by the French.  There are few things as delicious as Pain perdu (lost bread) or as Americans know it, French toast, slathered with butter and maple syrup.  
Oreilles de crises (oh ray de krees), literally, Jesus' ears is another French-Canadian specialty.  Deep fried pig jowls and skin, this marvel of human culinary experience is normally served with maple syrup in 'cabanes à sucre,' sugar cabins set up to boil down the maple sap.
It would be totally remiss to write about French-Canadian cooking without mentioning Poutine.  Poutine, a heavenly concoction of French fries, cheese curds, and meat gravy, is hands-down Canada's contribution to the world of comfort food (great as a hangover remedy).  The word, most agree, is related to the English word, pudding, although similar sounding words that come from France claim the origin.
And in our days, French influence on the food of Quebec is stronger than ever with restaurants in Montreal and Quebec City featuring foods that fuse the best of cooking technique from France with the local richness of Quebec products and culinary history.
Share:

Yes, New York City is frikin' expensive!!!  Why do I live here?  Prices are nuts!  Especially at Christmas.
I live downtown in Chelsea, formerly a very gay and low income area, now a fancy, espresso and Pinot Grigio-soaked, wine bar neighborhood full of 20-something, rich kids whose parents have bought them million dollar apartments.  The Christmas trees here, trucked in from Canada, are also frikin' expensive, at least $80 bucks for the small ones.
So this year, say I to myself, I will beat these downtown tree prices!  I'm going uptown to Harlem to get my tree!  I have a great friend who lives  in Harlem on 121st and Frederick Douglass.  He is constantly telling me… "Robert, move up here! you'll cut your expenses in half!!"   He's right and I should.
So I text my friend, also named Rob, telling him about Operation Christmas Tree and he writes back 'Come on up!"  Hopping on to the A Train, I arrive at the Harlem 125th street Station and walk to his apartment taking in the sights.   Harlem is going through changes these days as so many parts of the city are.  A lot of white YUPs are moving in and also it's getting gayer.  If you could see the stately brownstones that line Harlem's avenues, you'd see why people are moving up.  Harlem is simply beautiful.
Rob lives in a very typical NY apartment that I love.  It's a shotgun style place in an old, slightly rundown brownstone.  His place has all the fixins of the stereotypical, inner city abode.  Fire escape, old fireplace that is sealed up, fancy molding on the ceiling which is slightly cracking and needs some paint, a bathroom that has the quintessential NY black and white tiled floor and a toilet that is probably from the early 60s.  His cat is very happy there.
After I arrive, we chat, have a quick bite and we're off to the Christmas tree shack.  The shacks sprout up just after Thanksgiving all over the city.  Our shack is owned by a guy from Vermont.  I could tell he wasn't from NY because his skin was so crisp and pink.  He looked healthy.  All us New Yorkers look pale and gray – the stress, the pollution and of course the frikin prices!
We quickly find a nice 5 footer for only $30 dollars!!   YIPPEE!! My theory was correct! A $30 dollar tree! YIPPEE!  I win!  I felt like shouting "Hey all you downtown tree sellers!  Screw you and your $80 trees!!   HAHA! I win! !
So with sheer pride and pure joy that I had bought my tree at such a cheap price, we head to the subway.  With me in the front and Rob in the back, we bring the tree through the turnstile and get into a train.  No one takes notice of two men, one black, one white and a tree.  Well two guys speaking Spanish quickly glance over and giggle. I look back and wish them a 'Feliz Navidad'.
Once home,  we have  the best tree trimming party ever.  10 friends, 20 bottles of white, 100s of cookies, 2 large pizzas with  lots of laughter, dancing and typical Christmas merriment.  (I love that word – merriment)
The next day I wake up with a huge headache and long desperately for a healing cup of joe.  But there's no milk!  Oh Shit, now I have to go out and get some.  So I clumsily wrap myself in sweatpants and my coat, throw my scarf around my neck and head to the Korean market on the corner.  It's cold as I leave my building and hurry across the street.  I go in quickly and get my milk, pay Mr. Li and turn towards the door.
And to my utter shock, horror and disbelief, I see a line of Christmas trees just outside the door of the market, bigger and way taller than mine with a small sign flapping in the early morning breeze.
ANY TREE 30$! Merry Frikin Christmas everyone!
Top photo credit: fullhdwpp.com.
Share:

Let's explore the words of Christmas - in many languages!
In English, Christmas obviously is a contraction of Christ's Mass.  Early Christians most probably chose the time around the 25th of December because it was approximately 9 months after the date they believed the Archangel Gabriel came to Mary to announce Jesus' arrival.
Coincidentally, the date fell during the time of the Roman Winter Solstice celebrations dedicated the the God Saturn called Saturnalia.    Along with huge feasts,  Romans also gave each other gifts .(sound familiar?)   And as the Empire became increasingly Christian, Saturnalia turned into the feast of the birth of Christ.
As the Western world became more and more Christian and more and more peoples converted, Christmas celebrations were adapted from pagan rituals, winter festivals celebrating the return of the sun morphed into days dedicated to the Christ child.
There are few places in the world where Christmas is celebrated as well as in Northern Europe. Our traditions of the Christmas tree and the wreath come from Northern Europe.  Also Santa Claus or Sinter Klaas (from Dutch) come also from these regions.
As tribes of Goths, Teutons, Franks and Frisians were converted to Christianity, their lively and boisterous Solstice celebrations began to celebrate Christmas.  Jul, or geol (pronounced yool) was the name Scandinavians gave to the winter time.  And still today they wish each other, God Jul (got yool) or Merry Christmas.  The Yule log traditions come from them as well.  A huge log or even a whole tree that would burn for a week of the celebration representing the light from the sun.
In Spain and Italy, the words for Christmas refer to birth. La Navidad in Spanish and Natale (Nat Ah lay) in Italian.  In French, Noël is also related to the word for birth in Latin, natalis, and its latter form nael.  In German, Weihnachten means 'holy night'.
In southern Europe, the nativity scene is the main Christmas ornament and is a tradition attributed to St. Francis of Assisi.  He is credited with creating the first Christmas scenes first with live humans and then with small, carved figurines.
Time to go a-waisaling!  Merry Christmas everyone!
PS.  Waissail is from Anglo-Saxon, wæs hæl, and means 'be healthy"
Share:

There is a small Mexican restaurant near my apartment.  Most of the waiters are from Brazil.   They run around the place, chatting, yelling, and laughing.  As you're eating your burrito or taco and sipping a cold, salty Margarita, you are rocked and lulled  by the twangy, yet soothingly dulcet sounds of Brazilian Portuguese.  You're in New York.
Luckily all of the kitchen staff is Mexican -100 percent.  And they're proud of it, so the Yucatan Sauce is the real deal.  I imagine that this sauce is what an ancient Mayan would have made: roasted tomatoes and tomatillos ground up by hand with poblano peppers and laced with cumin, cilantro and, of course, chilies.  They spread it over half of a roasted chicken and serve it along with tortillas and rice and beans.  It's mouth watering. 
And yet, the food here really plays second fiddle to the atmosphere.   It's close to the Fashion Institute of Technology and a few acting schools so it's normally populated by students who are looking for a quick, cheap meal or a quite  buzz.  The waiters flirt with them in a darling way offering them shots of tequila and free glasses of wine.
I come here because I get out of my apartment where I work. And when the weather is good, I love to sit and watch the people passing by on 7th Avenue.  New York is a place where you watch people.  And I do.  And what I appreciate so much about this city is that I feel comforted knowing that there are so many people around.  I often think of what it must be like to live in a place far from society. I'd hate that.
Today I'm having a Caesar Salad with anchovies – not very Mexican but definitely delicious accompanied by a bowl full of chips of different colors.  Red, Yellow and Black.  The salsa that goes with it is really spicy and piquant.  It's perfect.
Sipping on my glass of wine from France, my mind wanders…. 
A dark,  crimson red glass of wine from France, a crisp, green salad named for a King of Rome, hearing rapid Spanish and wafting Portuguese.  This, I realize, is what an eatery in Rome — ancient Rome  -  must have felt like.  Languages from all over the Empire with everyone using a language that is not their native one but one they adopt — one they learn well enough to communicate.  It makes them feel a part of something a bit larger than themselves.  This is New York.
Share:

After coming out of a great Dim Sum feast last weekend, I walked by a fruit stand with a few of my friends and one exclaimed "Oh my God! That hairy thing looks so wacky! What is it?"   "It's kind of like a lychee", I said.  And then I thought –  I really need to write about these weird looking fruits you see in Chinatown.    So common in Asia, many of these fruits are grown in places like California and Florida and then shipped to Chinatowns all over North America – never making it to the local Stop & Shop.
Along with Blueberries, Strawberries, Pineapples, Bananas and a huge amount of vegetables, are hidden several unusual looking and strange tasting fruits.  Strange tasting YES, but not bad tasting!  Most of them I love and buy regularly. (I'm not into sour fruits – pucker issues)    I wanted to write this blog so that the next time you wander around Chinatown or go to your local Chinese market, you'll know what that fuzzy, funny, odd- looking fruit is and give it a whirl.
The first one is one of my favorites because it looks so funny – like a plastic fuzzy toy or as some think, a Sea Urchin.  It's called a Rambutan and is common in Southeast Asia.  Once open, its fruit is sweet and similar to a lychee.  Thought to be originally from Malaysia, it is widely grown in most of Southeast Asia.
Bananas that small?!  Yes!  These are called Chuoi Sim Bananas and are common in Vietnamese cuisine.  There is a great recipe for Banana pudding I found using these bananas. The ones in the photo are green but when ripened they turn a nice bright yellow.
Mangosteens!  This sounds like the name of family of four from Amsterdam.  Well it's not!  It is however a very hard fruit that once opened has a sweet, meaty inside.   The name is Dutch and means 'mango stone' because it really does look and feel like a stone.   In Chinese, it's called a 山竹 (shan zhu) which means 'mountain bamboo' and although I've tried to find out why – I came up short.
Next, Yellow Skin Fruit (黄皮 – huang pi), a small round fruit that has yellow skin – hence the simple, yet clear name.
The guy I bought these from told me that they are eaten normally by women for digestion when they are pregnant.   I found them to be sour mostly, but some are sweet.  Really unusual taste, but worth the adventure!
Jack Fruit is one that a few people have asked me about before.  Not named after the guy with the beanstalk, Jack Fruit gets its name from the Portuguese who called it 'jaca'.  Jaca comes from the Malay word 'chakka' which is how they call it in Indonesia and Malaysia.  It's quite big and kind of looks like a pineapple.  Taste wise, it's a bit like a sour apple.
Speaking of sour, the next fruit is called Sour. The Sour Sop is one of the funniest looking ones I found.  I've that its flavor is like a combination of strawberry, pineapple and has a little tang of citrus.
At first I wasn't sure if this was a fruit and the vegetable stall man said very loudly  'It's delicious! And tastes like pineapple!"
And finally, the famous Dragon Fruit!  This one is just simply beautiful and is so-called obviously because it looks like the head of a fiery Dragon.
It is actually the fruit of a cactus that grows in Southeast Asia and southern China.  Some say it tastes like a watermelon, but oftentimes, I just don't want to eat it because it looks so cool on my table!
I loved tooling around Chinatown to find all these weird and wondrous fruits.
I really hope that this blog posting gives you a bit of courage next time you're in your local Asian market or Chinatown to sample some of the truly unusual and magical fruits!
Share:

To mark the 100th Anniversary of the Titanic tragedy recently, there has been a lot in the media about the sinking, the passengers who both perished and survived and about the ship itself and why the unsinkable sunk.   As with most things, my mind turns toward food, and I wondered what they were eating or planning to eat.  Then luckily I discovered actual menus from the first, second and third class sections. All reveal much about the people aboard and are really treasure troves of culinary and linguistic tidbits from the past.
At first glance the first class lunch menu from April 14th (hours before the tragedy would start) was really simple compared to today's standards and even had things on it that would make us giggle.  One dish that seemingly attempted to be considered classy was Chicken a la Maryland.  At first I thought it might be the invention of the Head Chef but it actually is a real dish.
It's basically fried chicken with gravy sometimes served with corn fritters. What distinguishes it from its southern cousin is that it is not deep-fried but pan fried, and with the leftover drippings, the white gravy is made. Today we would never imagine that fried chicken would be on a menu destined for any first-class anything.  Can you imagine going into Le Cirque in New York City and seeing fried chicken on the menu?  How things have changed.
Another notable menu item was Cockie Leekie Soup.  Huh?  On the first class menu?  First of all I wasn't sure what it was and so I found a recipe.  It's simply chicken soup with leeks and oddly, prunes are added. YES prunes.. Again, this was on the First-class menu!   Originating in Scotland in the 16th century, the soup is made of a cockie (a cock, ie rooster, no giggles please) and leekies or leeks. At some point prunes were added to boost nutritional value.  In any case, a good chicken soup is good during difficult times, so I like to think that someone had a nice warm bowl before the fateful events began to unfold.
The evening meal's menu was a tad more upper crusty and featured some dishes that we would easily see on a higher-end menu.  A 10 course meal was served and included oysters as a hors d'oeuvres, filet mignon, sirloin steak and potatoes Parmentier.  The sweets were as classy and one notable standout, Waldorf Pudding, not only was unusual but to this day, we are not sure what it was exactly.  Along with the 1500 plus passengers that perished, so did the recipe for this pudding.  Many speculate what it was but I found it really interesting that the recipe also was lost.
As for the second-class 'saloon' as they called it then, the menu was more mundane but food was clearly abundant – one thing that we still on cruise ships today.  The lunch menu for April 12th featured some very common things such as pea soup, corned beef, and roast mutton.  One of my favorite things on the planet was Tapioca served as a sweet along with Apple tart and biscuits.
And finally, it's very much worth mentioning the third class bill of fare that featured some curiously named items.  Jacketed potatoes were served which was simply the name for what we call today a baked potato.  Cabin biscuits and cheese were also served.  Cabin biscuits simply are salted crackers, thicker than a Saltine, but a staple among the second and third-class passengers. One of the funniest things I noticed was what was going to be served in the evening on April 14th.  Gruel.  Yes Gruel!  They actually used that word.  Today to serve gruel and to call it that would be considered cruel!
What reveals itself to me as I looked through these menus served on the Titanic is the real human side to those who suffered unimaginably as the famous ship sank into the cold Atlantic.
They were real people full of hopes and dreams excited about being on such an amazing vessel.
Sadly, as we know, the dream was to be gashed but what remains is evidence that they enjoyed life right up to the end.  They danced and laughed and most importantly enjoyed eating even in their final hours.   Cheers to their memory!
Share:

Recently my friend Susanna bought fresh turmeric and texted me soon after cutting it up exclaiming 'My hands are all yellowwwww!!'.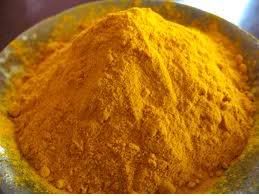 Known as Indian Saffron, Turmeric is a plant native to south Asia and came to the West by way of the marauding Dutch, British and Portuguese who sailed back and forth to Europe. The explorers knew saffron as it was a common ingredient in Arab and southern European rice dishes and associated it to turmeric when they found it in southern India. Southern India is still the largest exporter of turmeric in the world.
Taste-wise it is subtle and not as strong and distinctive as saffron but it does the color well.  So it can be easily substituted for saffron if you're making a paella or a risotto Milanese and is way less expensive than the golden saffron stamens.
The word 'turmeric' is often misspelled as 'tumeric'. Both spellings are accepted but I'd suggest to remember the R!  Although I initially thought the word might be of Arabic origin, it's actually from Middle Latin.  Middle Latin?  Indeed, after the collapse of the Roman Empire, Latin still remained the language of the Church and scholars.
When something new was found, they needed to name it.  That's what happened with turmeric.
Crusaders invading the Holy Lands found all sort of new items that needed names in Latin.   They named it  'terra merita' meaning  'worthy earth'.  Slightly odd, it is still unclear where this name comes from.  Then as with many other words, the Latin word morphed as it was incorporated into other languages. Terra merita, turned into 'turmeryte' in Middle English and then to present day English as Turmeric.
So back to my friend Susanna.  She texted me a photo of her fresh turmeric and wow does it look like ginger or what?   Indeed, it is related to ginger and belongs to the family of rhizomatous plants.   Another cool word, rhizome comes from Greek and means  'mass of roots'. The roots of the ginger and turmeric plant are clumps of intertwined roots.
Nowadays, you can find turmeric added to many foods mostly for coloring and of course it is still a key ingredients in Indian 'masalas'.  Masala refers to a mixture of spices or rubs that are very popular South Asian food.
Bottom line with turmeric, if you don't want yellow hands, wear gloves!
Share:

What does liver pâté have to do with a lemon meringue pie?  Lots actually -  well at least word-wise.  Say what?
Well it has to do with the Greeks…. who made a mean lemon meringue pie?  NO! They did however make good dough or at least a thick pot of barley gruel which they called 'pastà' with emphasis on the final a.  OK Language Chef, where are you going with all this?
The ancestor of the word 'pasta' first appeared in Greece and described a barley dish that the Romans adopted.   The Romans began describing any mixture of flour and water, flour and eggs, flour and water and eggs as 'pasta' as well.  These combos made porridges, doughs and eventually what we've come to know as spaghetti, macacroni and tagliatelle.  Around the 12th century, the word pasta appears in texts to describe the aforementioned.   Also still in modern Italian, the word pasta means both pasta and dough.
The Romans also used the word pasta to describe an adhesive made with ground wheat and water.  Ask any 5th grader making a paper-mache volcano as a science project and he'll tell you that he makes a mixture of flour and water to apply to the strips of newspaper.   So the Romans ate glue?  Well sort of, and of course, it depended on the cook – some things never change.


As the word moved from Latin into French, the early speakers of French started to lose the 's' and pasta probably started to sound more like 'paht' or 'patay'.   And as it described any sort of amalgam of flour and water or eggs similar to Italian, adding sugar or butter to make dough didn't make a difference.   Making a pâte sablée, looked and seemed a lot like making glue or paste so the word 'pâte' – pronounced 'pahT' was used to describe 'dough' or 'paste' and still is. However, the word for 'glue' in modern French is 'collant' refering to its sticking capability, not it's ingredients.
So why the hat above the â, known as a circumflex?  Well sometime during the Middle Ages as French monks were writing this new French language, they started to add the circumflex over letters that in Latin had an S following it, but was no longer pronounced in French. So Pasta or Paste became Pâte or Pâté.  
So liver pâté?  Well one must understand how pâté is made.   It's a mixture of meats, offals, wines, cognacs, meal, and seasonings.  Making pâté is similar to making dough in that you mix all these ingredients into a sort of ball which looks like dough.  And that's where the relationship exists between pâté and lemon meringue pie.  Well not the lemon ot meringue part but the crust part.  The word for pastry dough and pâté share a common past.
But comedian, Rita Rudner still wonders…"if you add flour and water, you get glue?  Right?  But if you add eggs and sugar you get pastry — where did the glue go?"
'