About Robert Dolan
Pretty standard story really. I couldn't find a decent job in any other strata of commerce or industry, so I'm in show business, which makes me unemployable in about 48 other states.

I am an actor and mighty proud of that fact; I even get hired from time to time. In 2006, I became a producer, helping produce the independent film DOWN FOR LIFE with Danny Glover, Snoop Dogg, Elizabeth Pena, Kate Del Castillo, Emily Rios and Jessica Romero.

I currently have other projects in the pipeline.

I have a wide range of likes and desires: music (blues, classic rock, jazz, classical), love to play the drums, clarinet and some sax; I'm an avid reader, and, as everyone has probably guessed, a true movie freak. A term I use proudly.
Latest Posts by Robert Dolan
Share:

Broadway is a grand and glorious avenue that runs the full length of New York City.  At 27th Street, Broadway narrows and becomes filled with storefronts that serve as the entrance to wholesale import businesses.  It's a strange place to find a hotel, and yet, that is where you will find the Broadway Plaza: 1155 Broadway, to be exact.  It's lobby is as tight and narrow as the buildings that surround it, but this lobby had one grand and glorious moment.  Though there is no plaque or statue to commemorate it, it was here that a momentous historical event took place that would have a profound effect on American culture: here, on April 14, 1894, commercial cinema was born.
The Holland Brothers opened a Kinetoscope Parlor at 1155 Broadway.  They had ten machines, set up in parallel rows of five, each showing a different moving image.  For 25 cents, a viewer could see all the images in either row; half a dollar gave access to the entire bill. The machines were purchased from the new Kinetoscope Company, which had contracted with Thomas Edison for their production.  This event predates, by one year, the date often cited as the birth of cinema, the Lumiere Brothers' historic screening of their films on December 28, 1895, at the Salon Indien du Grand Cafe in Paris.
The story of how cinema went from a machine in which people would plunk a quarter (no small amount in 1894) to view moving images, to a multi-billion dollar industry that has had a profound effect on American, and European, culture, is an amazing story involving a vast array of disparate and unique individuals, both genius and mercenary: Eadweard Muybridge, Thomas Edison, Etienne Jules-Marey, Louis Le Prince, William Friese-Greene, Auguste and Louis Lumiere, R.W. Paul, Georges Melies are all names that should be known to everyone, particularly if you are a filmmaker (and if you don't, shame on you).  These men, and so many more, were all responsible for the invention of that most remarkable of art forms, the motion picture.
Film is a true art form that has the power of all great art: to delight, to challenge, to entertain, to mesmerize. It can hold a mirror up to us and let us see our triumphs, our foibles, our joy and despair. It can even have a profound impact on our culture and open the door to others.
My love affair with films began when I was 12 years old.  I was home from school, for the 3rd day straight, with the flu.  Lying on the couch in the den, tossing and turning, trying to find a position in which I would feel less nauseous, I was channel-surfing the family Zenith (a turn-knob connected by a cable to the TV sat on an end table so I did not actually have to get up).  A black-and-white film appeared.  I was not averse to black-and-white films: Abbott and Costello, and some of the creature features, I loved and that constituted the total of my film-watching, were in black-and-white.  This was different, however; nary a short, chubby man shouting "Hey Abbboootttt!" or a huge furry or large scaly creature in sight.  Nevertheless, I did not change the channel.  I was mesmerized.  Time literally stood still for me.  Before I knew it, two hours had flown by and I had forgotten my nausea and illness.  The film, I found out, was ON THE WATERFRONT.
I had never seen anything quite like Marlon Brando, Rod Steiger, Lee J. Cobb, Karl Malden and Eva Marie Saint in her white slip.  I just understood that film: Terry Malloy's need for love and respect, and to belong to something; his desire for the one good thing that has happened to him (Eva Marie Saint in her white slip again).  I looked around for someone to talk to about what I had just seen, but no one was around (my father was in a far-off place called Vietnam, my mother was tending to my little sister somewhere in the house).  I found, however, that I liked keeping my thoughts to myself, that this incredible event belonged to just me.  After that, I would watch every film I could see, every weekend, no matter the film, no matter the age.  So began the longest love affair of my life.
There are images and stories from cinema that will stay with me always: the beauty of a young Shirley MacLaine running down the street to reach Jack Lemmon in THE APARTMENT; Scarlet realizing that tomorrow is just another day; Bette Davis warning us that tonight will be a bumpy night; Judy and pals following the Yellow Brick Road; Jimmy Stewart awakening from a sleep to see the intense beauty of Grace Kelly hovering over him in REAR WINDOW; Marlon knowing he coulda been a contender in a cab; on and on and on.  Film has enriched my life, kept me company, left me with feelings of elation, happiness, loneliness, despair, outrage.  They have opened my mind to other cultures, languages, people.  They have even educated and offered me a career that I am passionate for.  I consider myself a lucky man for this.
So happy birthday 117 to the Motion Picture!  May you rock on and provide many more years, decades, centuries of joy!
I am often asked by friends, family, and people who know of my love of film, what movies they should watch, whether for sheer enjoyment or for the purpose of learning more about the craft of filmmaking.  In the days, weeks, months, and maybe years to come (if we make it that far), I will be posting the films that I believe to be the keystone films; the influential, the movies that furthered the progress of film.  Watch the films you wish, or be truly adventurous and watch them in chronological order, to get the full impact of how films have evolved and influenced the movies we watch and revere now.
I envy those who will be seeing some of these films for the first time: they could change your life, as well!
Share:

Bawdy, beautiful, vulgar, glamorous, unpretentious, wild, tempestuous: one-of-a-kind. These words, and more, have all been used to describe that force of nature known as Elizabeth Taylor. The immortal Miss Taylor has died at the age 79. Her death comes as no surprise, having suffered a succession of illnesses for so long; for lovers of film, however, it is sadness, indeed, that such a talent has left us. Few deaths can be said to end an era, but hers truly does. She commanded so much attention for so long and for so many different reasons: her beauty, her talent, her eight marriages, her charitable work, her health problems that plagued her for decades and threatened to take her life more than once.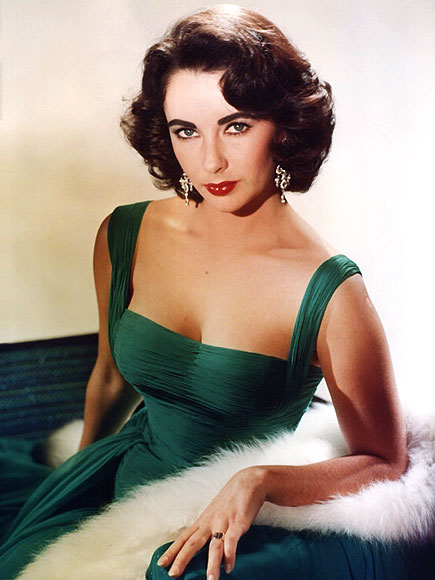 Elizabeth Taylor was a great actress and a great star and always had been. Born in Hampstead, London, to American parents, she made her first film at the age of nine in "There's One Born Every Minute," her only film for Universal Studios. MGM bought her out with one of its infamous seven-year contracts, and promptly cast her alongside Roddy McDowall (with whom she would remain life-long friends) in "Lassie Come Home." It was her role as Velvet Brown in "National Velvet," however, that made her a star at the age of 12. She had been a star ever since.
Miss Taylor never outgrew her talent, as happens with numerous child stars. Her first adult role was in the film "Conspirator."  The film was a failure at the box office, but 16-year-old Elizabeth playing a 21-year-old debutante won critical praise. Her first box office hit as an adult was with Spencer Tracy in "Father of the Bride," but it was her role as Angela Vickers in George Stevens' "A Place in the Sun" (1951), that catapulted her into the ranks of the immortal.
"A Place in the Sun" is the film that I first came into contact with Elizabeth Taylor. I was 17 when I saw it and the effect she had on me was like a sledgehammer to the chest. When Montgomery Clift is lining up a shot at the pool table, and looks up, thunderstruck, as Elizabeth walks into the room, achingly beautiful, violet eyes boring into his heart and soul (and regions down south), Clift was a goner. And so was I.
It was this incandescent beauty that consigned her to a string of lightweight films that capitalized on her physical attributes. She once said of her looks: "If you were considered pretty, you might as well have been a waitress trying to act – you were treated with no respect at all." She fought long and hard for meatier roles that eventually came her way, earning her Best Actress nominations in "Raintree County" (1957), "Cat on a Hot Tin Roof" (1958) and, most remarkably, in "Suddenly, Last Summer" (1959) which contains one of her all-time great performances.
She won numerous awards, including Best Actress Oscars for "Butterfield 8″ (1961) and "Who's Afraid of Virginia Woolf?" (1967). In 1960 she became the highest paid actress up to that time, signing a million dollar contract to play Cleopatra (the film that made women everywhere break out their eyeliner). In 1993, she won the Academy's Jean Hersholt Humanitarian Award for her tireless charity work.
When her friend Rock Hudson died of AIDS, she began the National AIDS Research Foundation, which later merged into the American Foundation for AIDS Research (AMFAR) in 1985, becoming one of the world's largest charity events, long before this became "trendy." By 1999, her charity had raised an estimated $50 million to fight the disease.
Miss Taylor once remarked that she was immune to criticism and that certainly appears to be the case. She marched to her own tune and defied convention, from her sense of style (Mr. Blackwell placed her on his infamous worst-dressed list for years), to her wit and ability to toss out some cherished pearls of wisdom, such as:
"Success is a great deodorant. It takes away all your past smells."
"The problem with people who have no vices is that generally you can be pretty sure they're going to have some pretty annoying virtues."
"When people say, 'She's got everything', I've got one answer – I haven't had tomorrow."
"I am a very committed wife. And I should be committed too – for being married so many times."
"I fell off my pink cloud with a thud."
"I have a woman's body and a child's emotions."
"I've only slept with men I've been married to. How many women can make that claim?"
Elizabeth Taylor possessed courage and strength, not just to fly in the face of convention or her detractors, but when it came to matters of her health. She had an emergency tracheotomy in 1959 during a battle with pneumonia, and a brain tumor in the 1990s. Later, she was plagued with chronic back problems that can be traced back to a fall she took from a horse in "National Velvet."
When the retrospectives of her work start airing, watch her work, her progression from amazing child star, to great actress. Among the work listed above, try to catch her and Marlon Brando in John Huston's "Reflections in a Golden Eye" (1967). A severely overlooked film, it shows the risks Elizabeth was willing to take as an actress, for it is her work that is most important.
She will be remembered for her eight marriages, her health issues, her unflagging loyalty to friends, her charity work, her love of jewelry (diamonds in particular) and, Oh Lord, her incredible beauty. But it is for her talent and work as an actress and in the greatness of the many performances she has left us, that she will, rightly, endure in our memories and our hearts.