About Robert Schrader
Robert Schrader is a travel writer and photographer who's been roaming the world independently since 2005, writing for publications such as "CNNGo" and "Shanghaiist" along the way. His blog, Leave Your Daily Hell, provides a mix of travel advice, destination guides and personal essays covering the more esoteric aspects of life as a traveler.
Latest Posts by Robert Schrader
Share:

Florida is a popular place amongst tourists for decades. There's a wide range of beaches along the Florida peninsula with warm sea waters and powder fine sands – they're the perfect place to relax and soak up the sun.
Walt disney world RailRoad Photo Credit – Recently the park celebrated its 40th Birthday
In addition, there's a wide range of tourist spots and popular attractions, from the fantastical Walt Disney World in Orlando to the buzzing nightlife in Miami. But away from the crowds of tourists and hotspots there lies a wilder side to the sunshine state.
The semitropical climate and varied environment provides a rich home for a range of different animals and wildlife. If you're thinking of exploring the landscapes and discovering the wildlife for yourself, here are some places you might like to visit.
Paynes Prairie
Possibly the best place to see bison, cracker horses and alligators as well as a range of different bird species is Paynes Prairie. This geologically unique area became Florida's first state preserve in 1971. There are eight trails for hiking, horseback riding and cycling through the reserve as well as 50-foot-tall observation tower – offering visitors a panoramic view of the area.
Everglades National Park
Despite only being a short distance away from the buzzing metropolis of Miami, the Everglades couldn't seem further away from a busy urban centre. Covering 2,500 square miles of land, this swampy environment is home to a whole host of wildlife.
Marine wildlife at Everglades NP FL Photo Credit
Adventurous explorers will enjoy walking the mile-long Anginga Trail through the marsh land, which offers the opportunity to see the wildlife up close.
Big Cat Rescue
This huge sanctuary is home to a number of nature's wildest felines. Working to protect these majestic creatures from being held in miserable zoos or being kept as pets, the sanctuary offers visitors an educational tour through the park.
Ocelot kitten receives its first veterinary exam at a US Zoo Photo Credit
Here, you'll learn all about the wide range of felines in the sanctuary including bobcats, lions, tigers, leopards, lynx and ocelots. You can even take a tour of the sanctuary at night, to really see these fascinating creatures in the wild.
St. Mark's National Wildlife Refuge
This unique refuge was established in 1931 and provides a safe habitat for migratory birds. A patchwork environment of marshland, islands and creeks, there's plenty to discover here. Between October and November, the monarch butterfly inhabits the area, surrounding the old lighthouse – which is truly a sight to behold.
Share: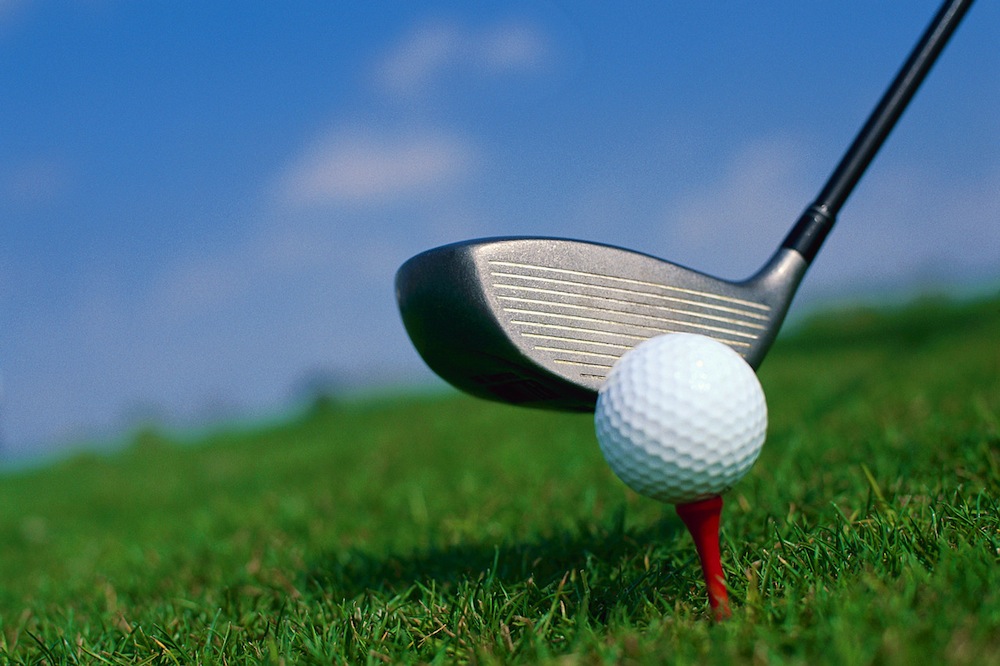 One thing you might not know about me is that, after taking my sister to Thailand last year, I want to go on a trip with every member of my immediate family at some point. When it comes to my father, a golf holiday is definitely my top choice – nearly all of my early memories of my Dad involve him golfing!
Below is a short list of some places I think my Dad would really enjoy golfing. If you're a golfer like him, can you think of any others?
Portugal's Algarve
Portugal's Algarve is not entirely dissimilar from a popular North American golf destination, Florida. The Algarve has great green golf courses to enjoy, but also the azure-colored ocean, which in Algarve is particularly brilliant.
Another commonality the Algarve shares with Florida is incredible seafood. The only thing I can imagine my Dad enjoying more than aiming for holes-in-one with vistas of the mighty North Atlantic is following up successful games with sumptuous fish and shellfish.
Turkey
Turkey is another alluring prospect for me, when it comes to planning a golf holiday with my Dad. Turkish golf destinations, whether we're talking about Suenos, Cornelia or Bodrum, offer the same combo of sun, sand and sea that Portuguese ones do, but visiting Turkey would give my Dad an opportunity to see and, perhaps, understanding a culture that's entirely different from anything he knows.
Spain
Spain is another potential choice for a golf holiday destination with my Dad. Having worked in Texas in the early 1980s, my father knowns a bit of español, and I think it would be endearing to watch him put it to the test, nearly 30 years after the fact. Plus, on the culinary side, I can't imagine him not loving Paella, whether we're golfing near Barcelona, Madrid or in the Spanish isles.
Share: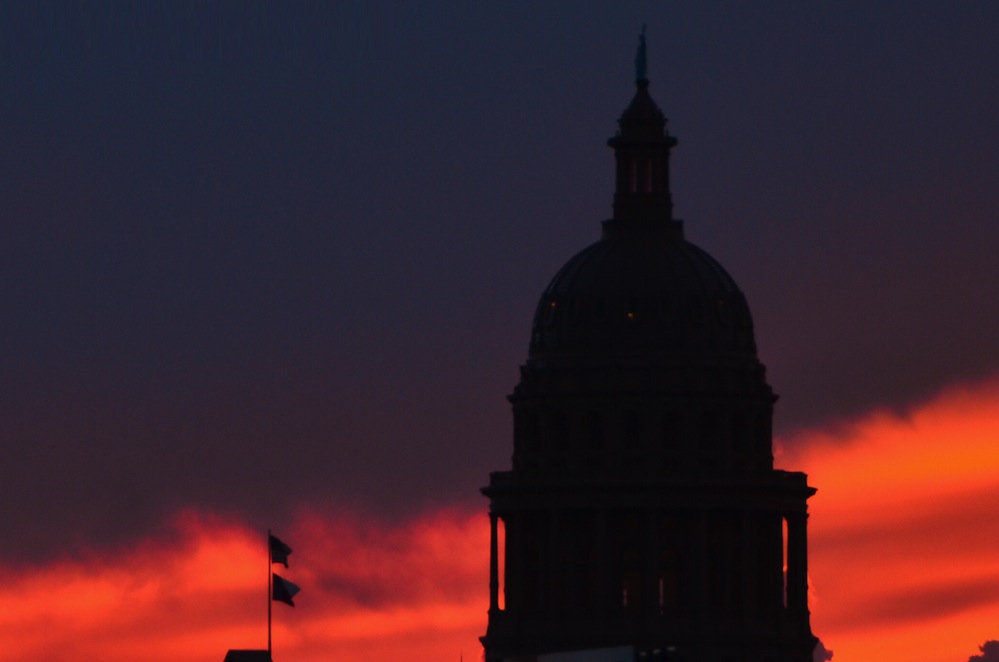 While I travel internationally the majority of the time, there are many reasons I choose to base myself in Austin when I do come back to the states, which I and many others consider to be the quintessential 21st-century American city. Do you love Austin as much as I do?
Smart-ish Urban Design
A grid-patterned city with 90% of everything that matters concentrated in a dense urban core, Austin is the picture of efficient urban design. Well, for pedestrian/cyclists like me, anyway: Austin's horrendous roads (it was recently ranked third in the nation for bad traffic) and public transport leave a lot to be desired.
Great Airport
One of the reasons I love staying in Austin is that it's so easy to get out! Although Austin's non-stop flights are limited, the small Bergstrom International airport makes getting on a flight to take me somewhere else (most often, nearby megahub Houston) extremely quick and painless.
Austin Happy Hours
Speaking of food and bev, Austin is second-to-none when it comes to happy hours, both from a price and deliciousness perspective. My personal favorites are modern Mexican hot spot Takoba, 6th Street sushi bar Maiko and El Alma, another Mexican joint.
Coffee Shops!
Austin is not only great for getting full and intoxicated, but also for getting amped up. I have four incredible coffee shops within walking distance of my house alone. No, five. No, six. Seven? I can't even count them, actually. I don't know how Starbucks operates in this city, with places like Vintage Heart, Jo's and Halcyon in existence.
Amazing Weather
Austin is scorching hot for at least eight months out of the year, which is perfect for someone like me, who used to recreationally lay on hot pavement as a child. Although Austin's winter, which will soon start, is cold, grey and dreary, the red-hot Austin summer more than makes up for it.
Natural Beauty in the City
Barton Springs Pool, a natural cold spring and one of the most beautiful watering holes I've ever visited, is so close to downtown Austin you can see skyscrapers as you swim. Mount Bonnell, a cliff that towers over the Colorado River, also provides great skyline views. From urban parks like Auditorium Shores and Zilker Park, to the Barton Creek Greenbelt and Red Bus Isle Dog Park, Austin's proverbial city limits are filled with nature.
Share:

It's no secret that I'm a train junkie, whether I'm galavanting through Europe during the summer or fleeing to Thailand from Laos after nearly dying of food poisoning.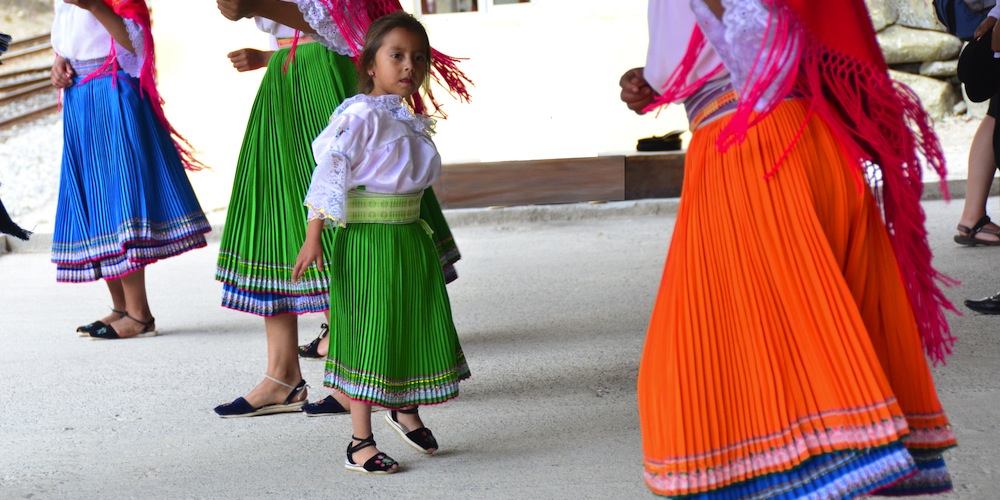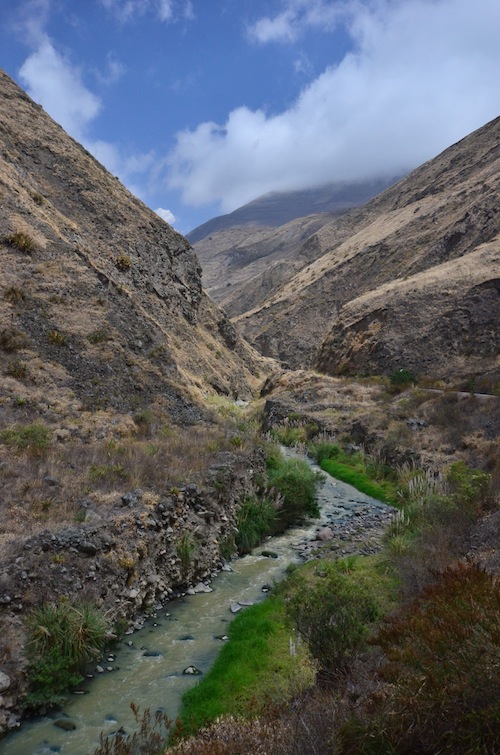 It should thus come as no surprise that I jumped at the opportunity to experience one of the most important stretches of railway in South America and, arguably the world: The Nariz del Diablo historical train route in Ecuador.
One of the most impressive feats of engineering ever at the time of its construction in 1902, the Devil's Nose (as it's known in English) circuit is named after one of the mountains the train passes by as it winds through the Ecuadorian Andes, which it traverses en route from Quito to Guayaquil.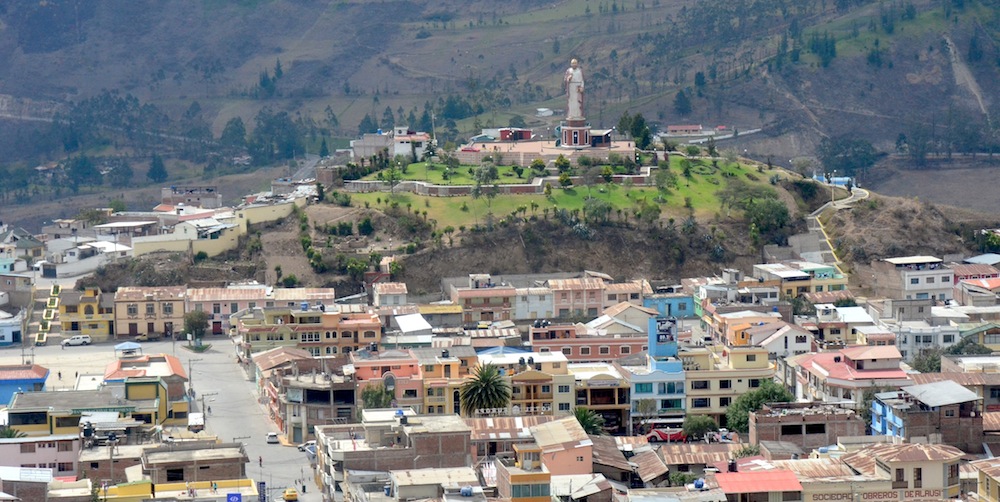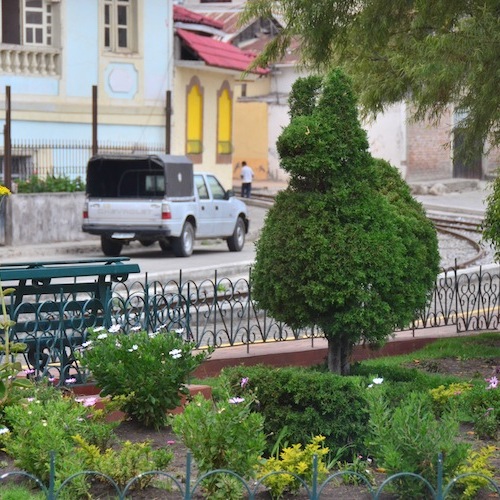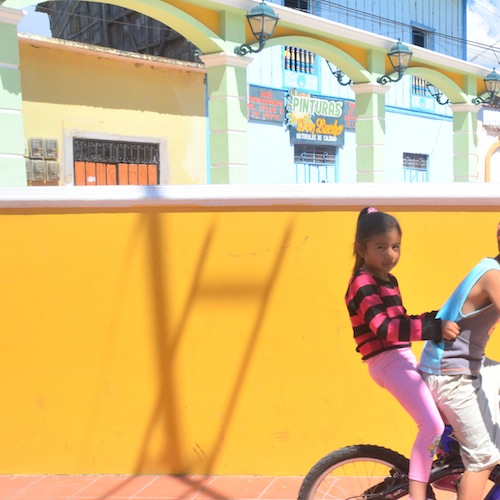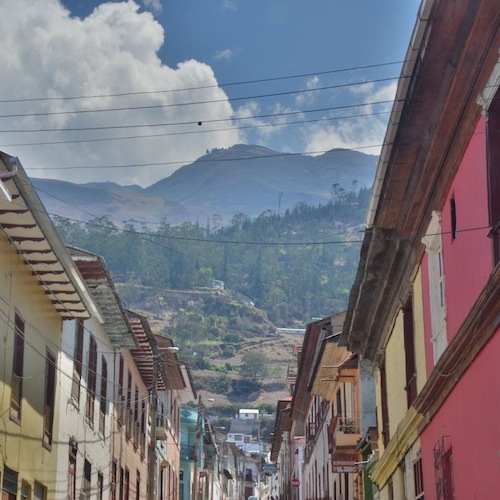 I departed Guayaquil, where I arrived after having spent the first five days of #ecuadorobert exploring the Galapagos islands, at an ungodly hour of the morning, which put me in the Andean city of Alausí around lunch time.
Like the Andean cities and towns of Perú and Bolivia, Alausí has a charm that came over me slowly. From admiring its brightly-colored buildings, to shaking hands with its friendly locals, to standing in the shadow of its ubiquitous, huge religious monument, I could've wandered around Alausí for a whole day – but my train was waiting!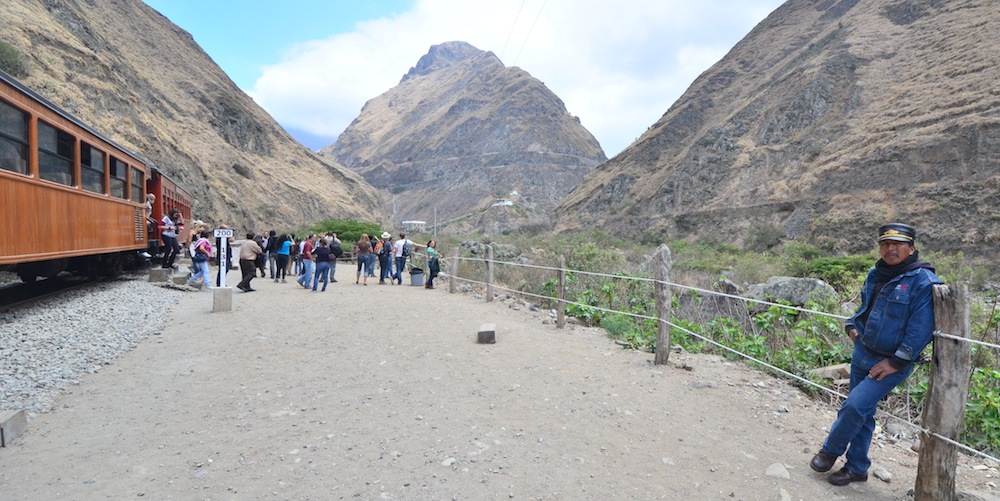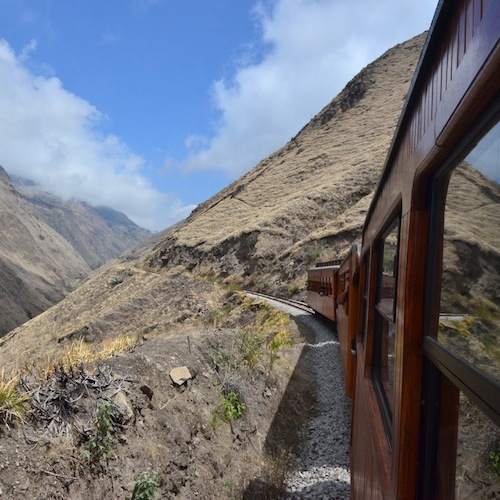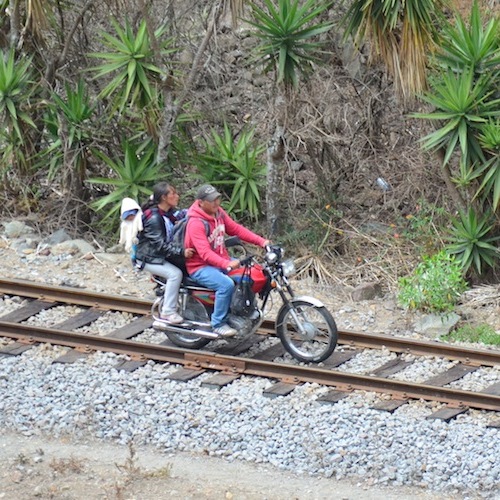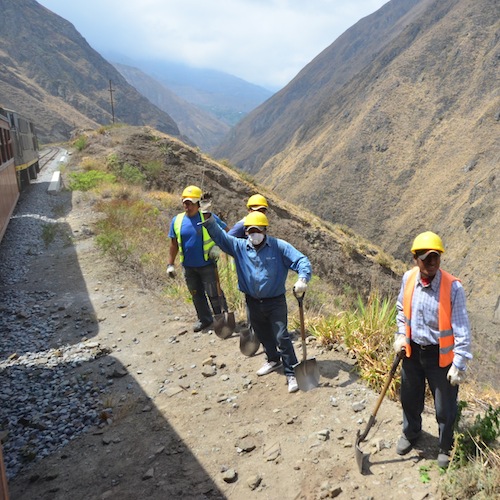 Upon boarding the train, the on-board guide informed us that the Nariz del Diablo is known as the "most difficult train in the world," due to the complicated engineering required to build it over a century ago, the huge human and financial costs notwithstanding.
Practical note: The Nariz del Diablo train is extremely popular, so buy tickets at Alausí station as far in advance as possible – if, of course, you don't book an Ecuador tour with Contiki.
During the first half hour or so of the train ride, I enjoyed a rapid descent into the picturesque valley below, punctuated by interesting information from the guide. So much dynamite was used during the construction of the route, for example, that a boulder lodged between two sides of the canyon to form a natural bridge.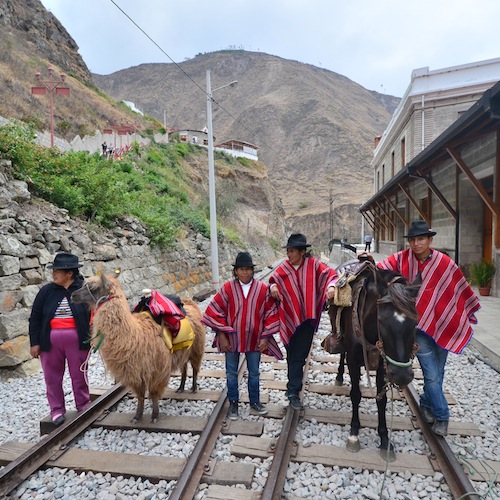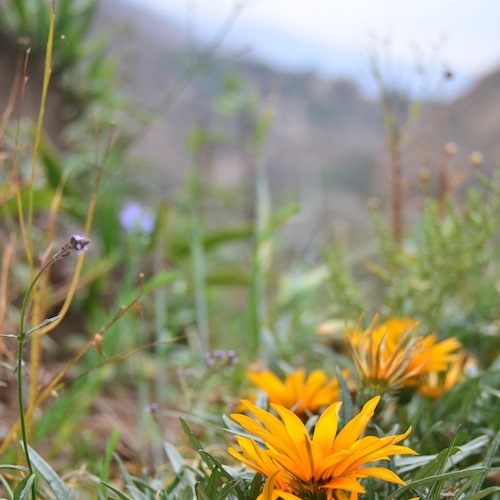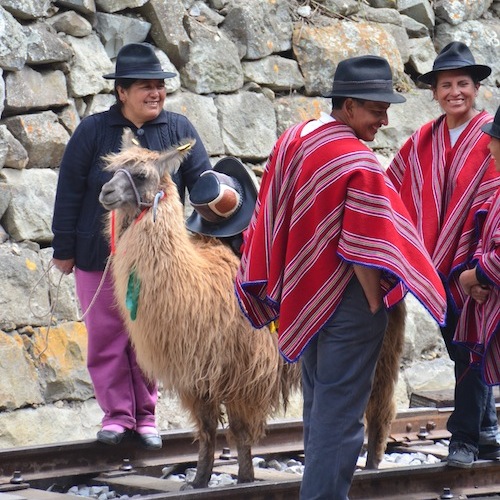 After a brief stop at the proverbial end of the line to take in a view of the massive Devil's Nose itself, the train traveled to Sibambe station, where I enjoyed a quick lunch and a performance from indigenous dancers. I also managed to snap a ubiquitous "Inca woman with llama" photos (and paid the requisite tip as well!).
In all, the circuit took about two hours and not only satisfied my train travel urges, but provided me with a great appreciation for the sacrifices made to build modern Ecuador, a country I love more and more each day I'm here. Speaking of which, I have to go – I'm about to hike beneath Cotopaxi, the third-highest volcano in the world!
Share: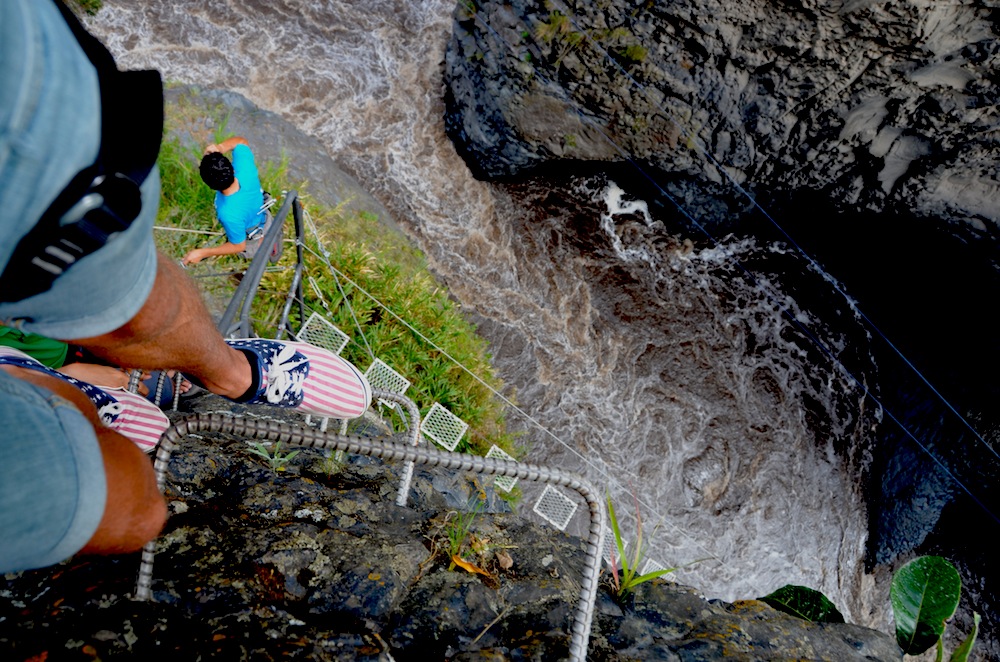 I've had death on my mind a lot lately. It all started last month, when I commemorated the anniversary of my dog's passing with writing about the impact her death had on my decision to pursue life full-on.
In the days and weeks that followed, I felt myself constantly reminded of my own mortality, from that incident in New York where a man's wife got diagnosed with (and, eventually, died of) cancer, to an ad I saw one night, at my friend Kim's, for the Showtime end-of-life documentary series Time of Death, to fleeting (but frequent) dreams about every single person I love dying.
Last Monday, as I careened 1,000 feet over an Andean canyon, kept alive only by a couple hundred dollars worth of zip-line equipment and the careful work of an engineer who obviously knew his shit, thoughts of the wire snapping, my harness breaking and the brakes at the end of the taut cable failing all crossed my mind. But in my heart of hearts, none of them scared me.
I am dying. Not, so far as I know, in the immediate future. But day by day, the eventual end of my time on this planet draws closer, and although that particular moment remains my greatest source or fear and anxiety, I find myself less concerned, the longer I live, with avoiding situations that might hasten its arrival.
I find myself focused on doing, rather than thinking, speculating, wishing, worrying or wondering, although I do still engage in all those activities a fair bit. I find myself, not surprisingly, focused on travel.
But more than simply roaming the globe aimlessly (although I am often aimless as I roam), a goal that supersedes my desire to fill my passport for the third time is my desire to live my life in as fearless a manner as possible.
In March, for example, I flew to Las Vegas and spent a week driving across California with a man I'd only just met and about whom I knew essentially nothing, except that (A) I was prepared to give him my heart and (B) he would probably break it.
I flew west anyway, and put entire heart into it, and although it hurt more than anything when he finally did stomp all over it, as people who are given stewardship of a human heart usually do, the pain I felt served as undeniable evidence that bloody organ was still beating.
Three months later, I flew west again, this time extremely far west (east?) to Sri Lanka. I'd always wanted to visit Sri Lanka – I'd booked a trip there in 2012 – but the fear the person I was supposed to go with had of the venomous snakes that apparently live there had made me afraid, too.
I didn't end up seeing a single snake in Sri Lanka, but even if I had – hell, even if I'd been bitten or hospitalized – I'd have felt glad I confronted my fear and made the trip. The beautiful experience I had in Sri Lanka definitely would've been worth a snake bite or two!
My July jaunt to Québec, my summer stints in Europe and Israel and my just-finished trip to Ecuador have all born countless more examples of the huge truth traveling has revealed to me: It is not so much death, but the idea of dying never having lived, that terrifies me.
You are dying, probably in a very similar manner to me: Slowly, gradually and with an expiration date and time you won't know until much closer to your final breath than now. You're dying but thankfully, you're still alive.
How are you going to make the rest of your life count?
Share: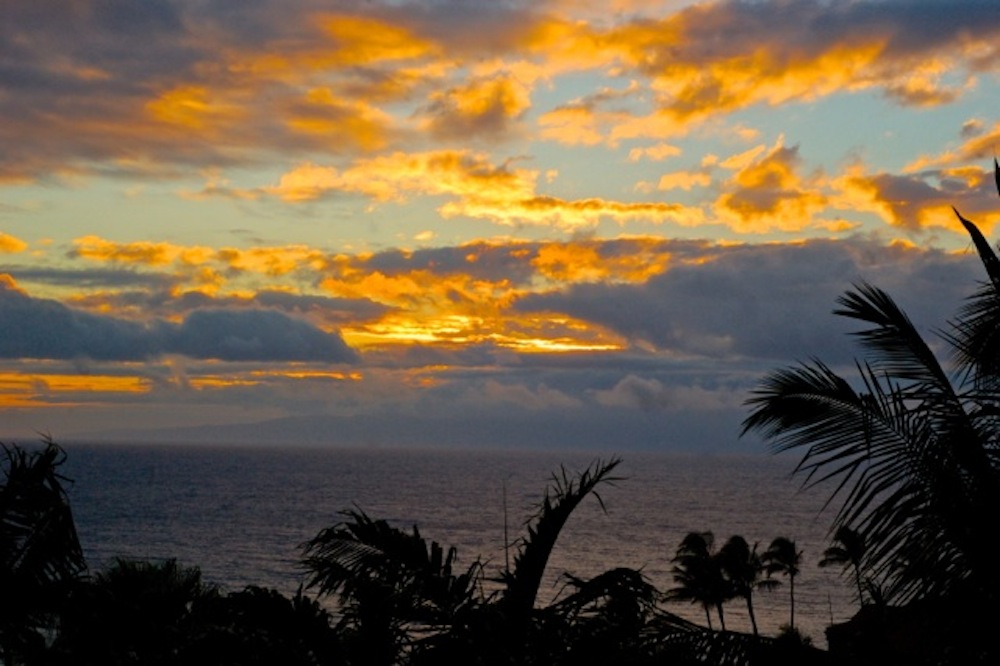 I can't tell you the exact reason why just yet, but I might be traveling to Hawaii for the very first time during the first months of 2014. Hawaii is a place I've wanted to visit for a very long time (my family was supposed to take a trip there the summer my parents ended up divorcing), so if this trip ends up coming to fruition, I will be as happy as a 15-year old!
My trip isn't set in stone, but I thought I'd share with you a list of all the places in Honolulu (and surrounding Oahu island) I'm dying to see.
Pearl Harbor
One of the most important sites in American history, Pearl Harbor has been near the top of my travel bucket list for as long as I can remember. I mean, I can't live my entire life with that horrid early 2000s movie being my only impression of Pearl Harbor!
Haiku Stairs
Also known as the "Stairway to Heaven," Haiku Stairs is an Oahu hiking trail which numbers, according to some, nearly 4,000 steps. Historically significant as a communication station, the Haiku Stairs have gained famed today as one of the world's most scenic hikes.
Diamond Head
Hawaii is full of active volcanoes, but Honolulu's Diamond Head certainly isn't one of them. A so-called "tuff cone," the young volcano has been dormant for 150,000 of its 200,000 years in existence. I definitely want to visit some active volcanoes when I'm in Hawaii, but Diamond Head is nonetheless a must-see.
Iolani Palace
As is the case for much of the rest of the U.S., the story of Hawaii is one of indigenous people being conquered and subjugated by white Europeans. One relic of Hawaiian history that thankfully survived the slaughter was Iolani Palace, built in 1879 as a residence for Hawaii's last two monarchs.
Honolulu Sunsets
Honolulu is world-famous for its sunsets and whether I'm enjoying a moment of silence at Pearl Harbor, sipping a cocktail on Waikiki Beach or hiking the Haiku stairs, seeing one of them is a massive priority for me.
NOTE: Photo courtesy of Leah Travels
Share: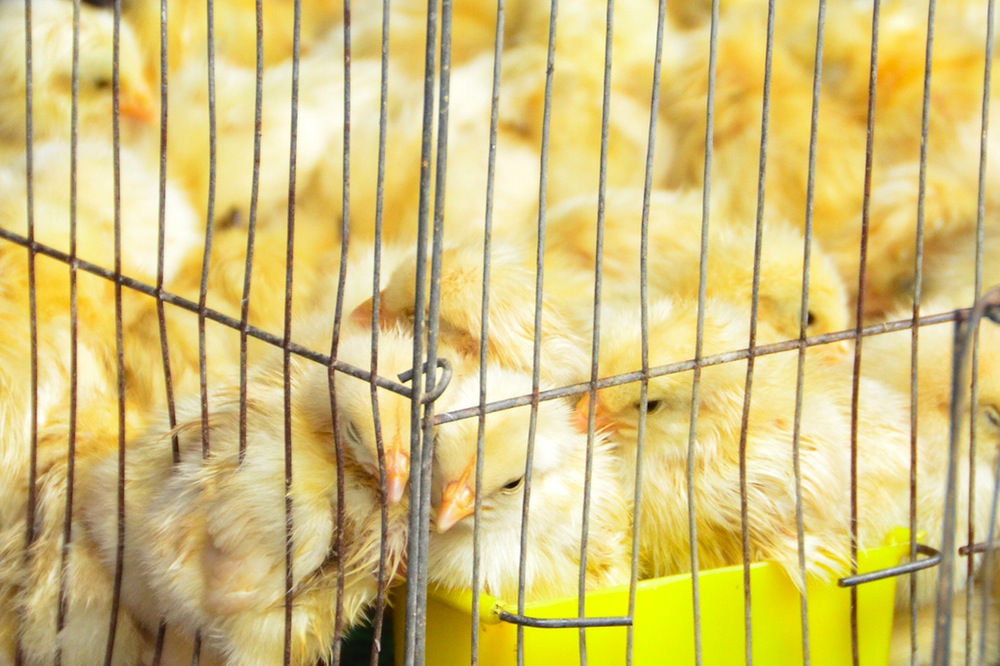 If you read this blog often, you'll know that Bangkok is my very favorite city in the world. If you've ever thought about a trip to Thailand, you'll probably heard a chorus of voices urging you to avoid Bangkok at all costs.
Your Thomson flight to Thailand is going to stop in Bangkok anyway, so why not take a chance and discover one of the largest cities in the world? Even if you don't love Bangkok as much as I do, it'll be an experience you never forget.
1. Bangkok is massive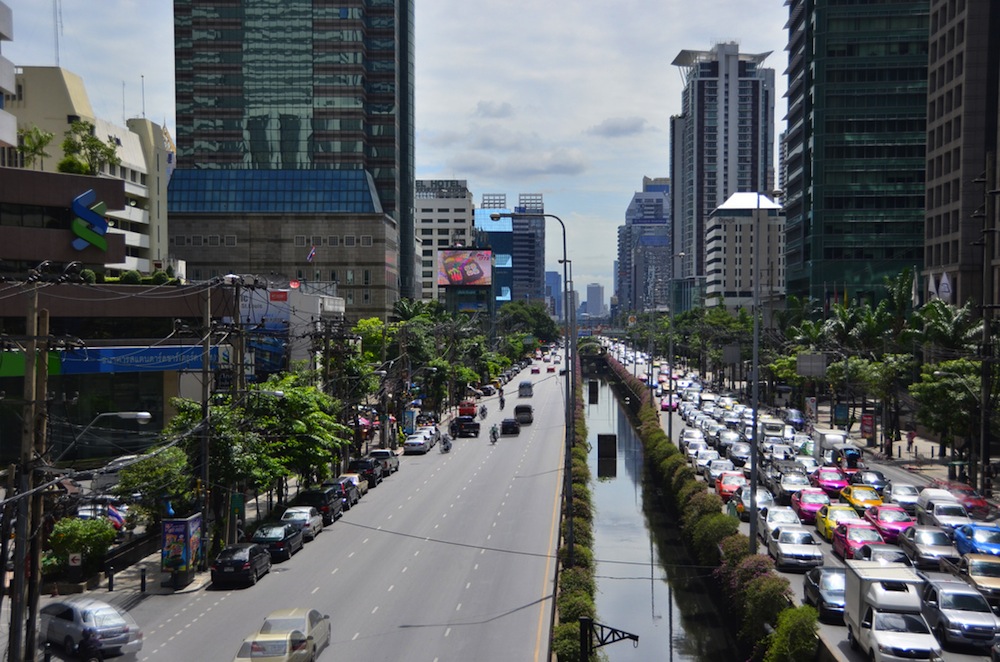 Home to at least 10 million inhabitants and sprawled across an area that makes LA look tiny, Bangkok is one of the biggest cities in the world by any measure. The sheer scale of Bangkok alone will wow you, regardless of how you feel about it when you leave!
2. Bangkok is about contrasts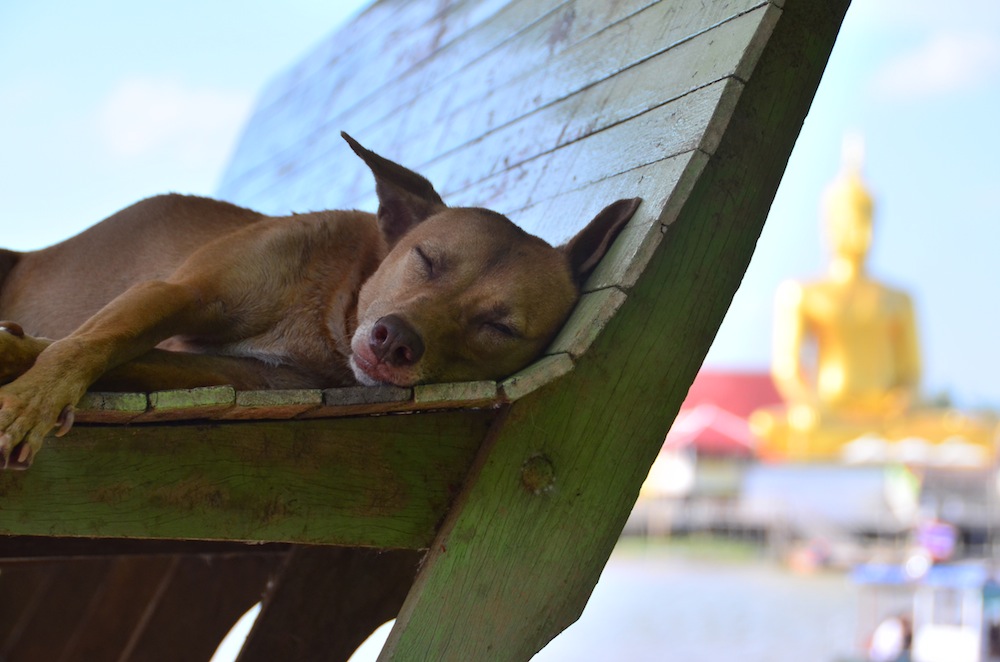 Bangkok's old city, known as Rattankosin, is close enough to the modern city centers of Silom, Sathorn and Sukhumvit that you can literally see modern skyscrapers rising above ancient temples. Likewise, although Bangkok has earned a reputation as one of the world's most polluted cities, lush, tropical vegetation lines its urban boulevards, providing beautiful contrast against the sometimes abysmal air quality.
3. Bangkok is cheap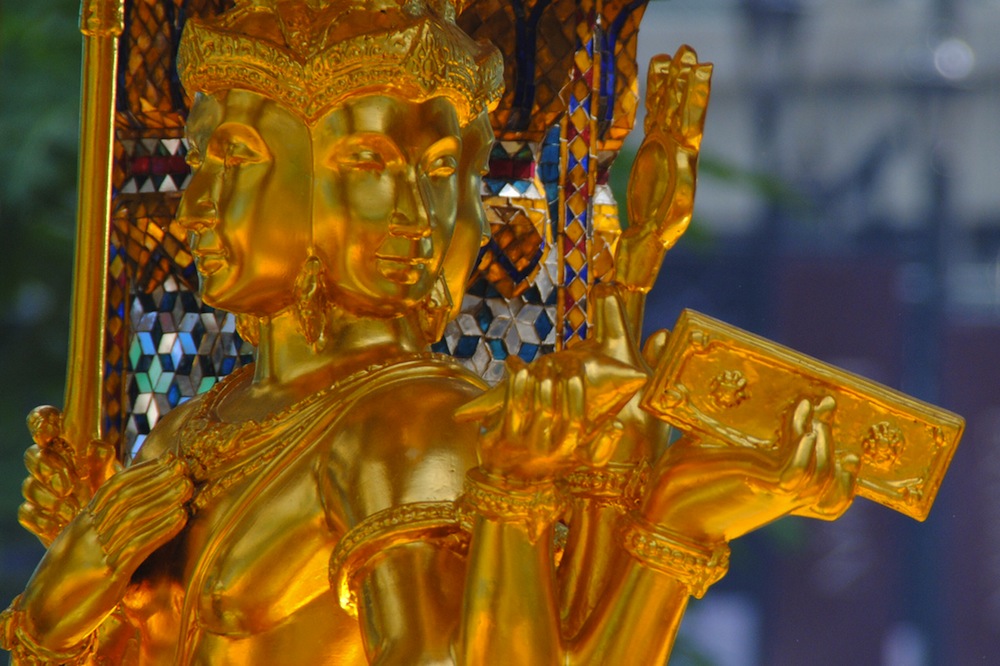 Bangkok is one of the only cities in the world where I've never stayed in a hostel, and the reason for this is simple: Nice hotels can be had for as low or $20-30 per night – and you can stay in a five star for under $100, no problem, to say nothing of dirt cheap food and shopping in Bangkok.
4. Bangkok is delicious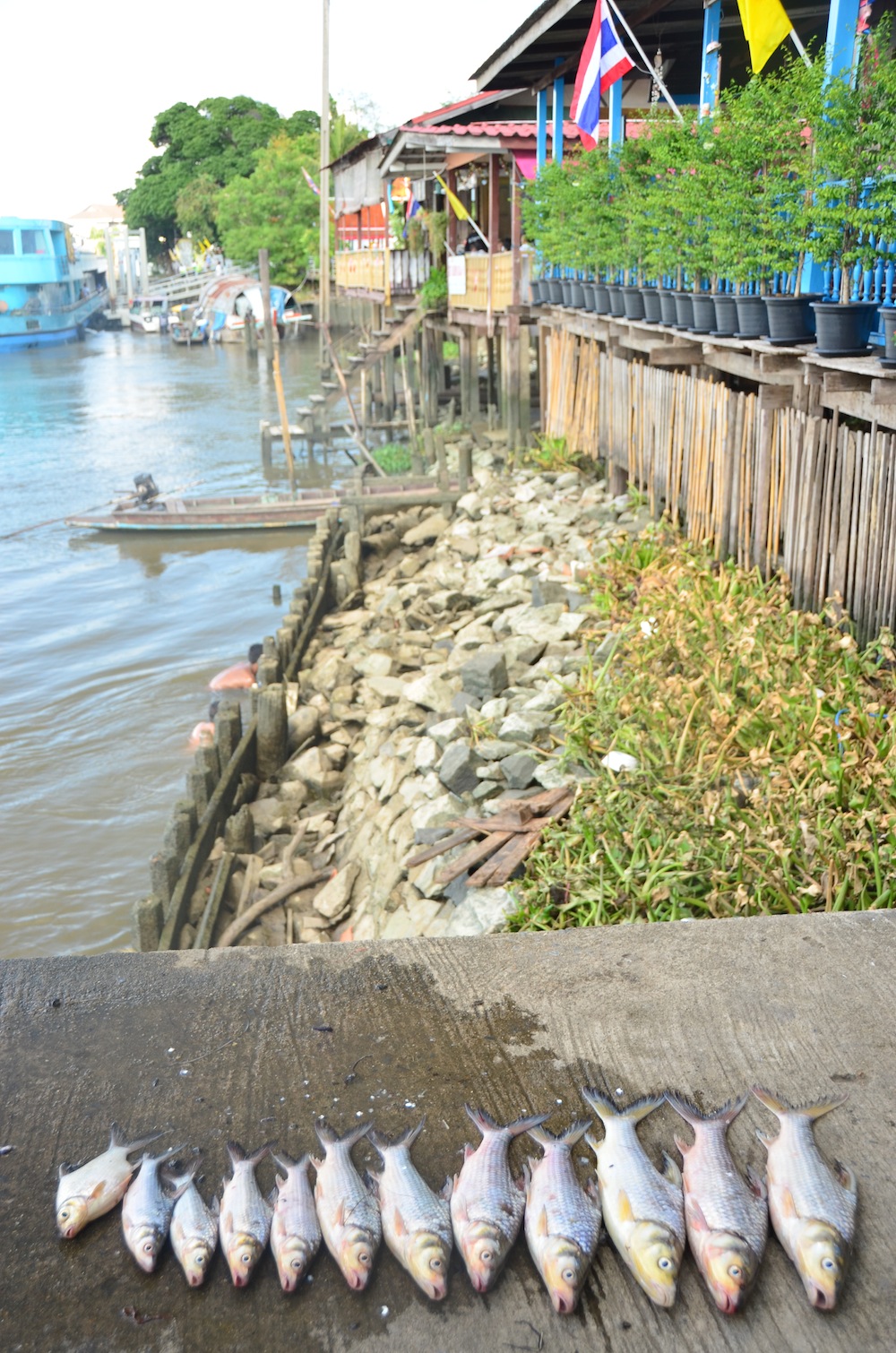 Speaking of food, Bangkok is not only the capital of Thailand, but an epicenter for delicious cuisine from all over Thailand. Enjoy classics like Pad Thai, green curry and Thai Iced Tea, or branch out and enjoy Thai fusion, vegan Thai food and more.
5. Bangkok is fun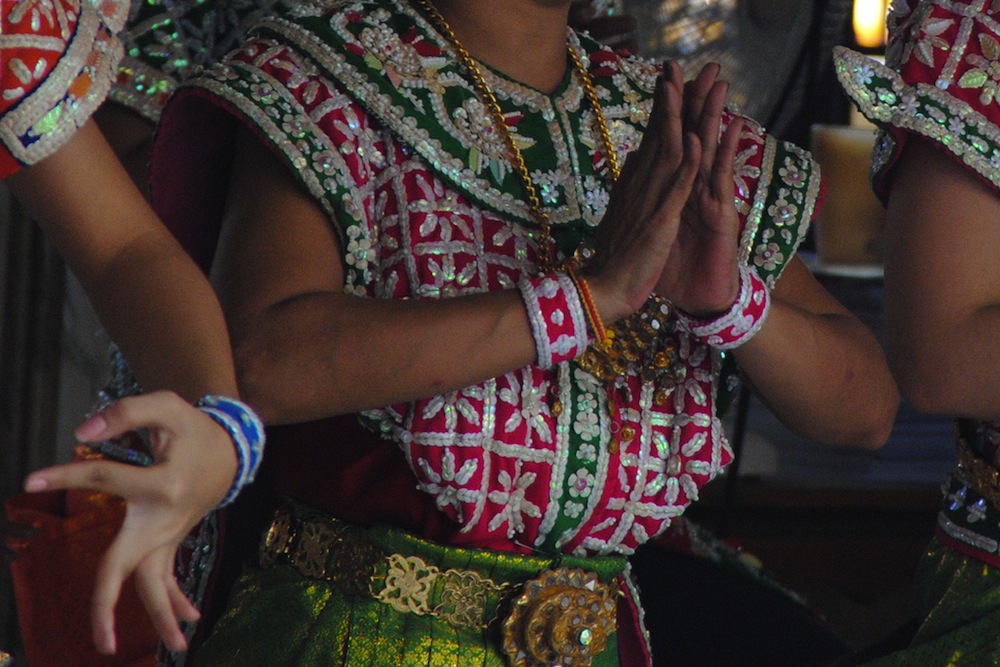 Bangkok is a ton of fun, whether you enjoy family fun by day when you take a Chao Phraya River cruise or visit the top of Baiyoke Sky, Thailand's tallest building, watch a traditional Thai dance performance or hit up happening districts like Silom, Sukhumvit and Khao San by night.
6. Bangkok is happening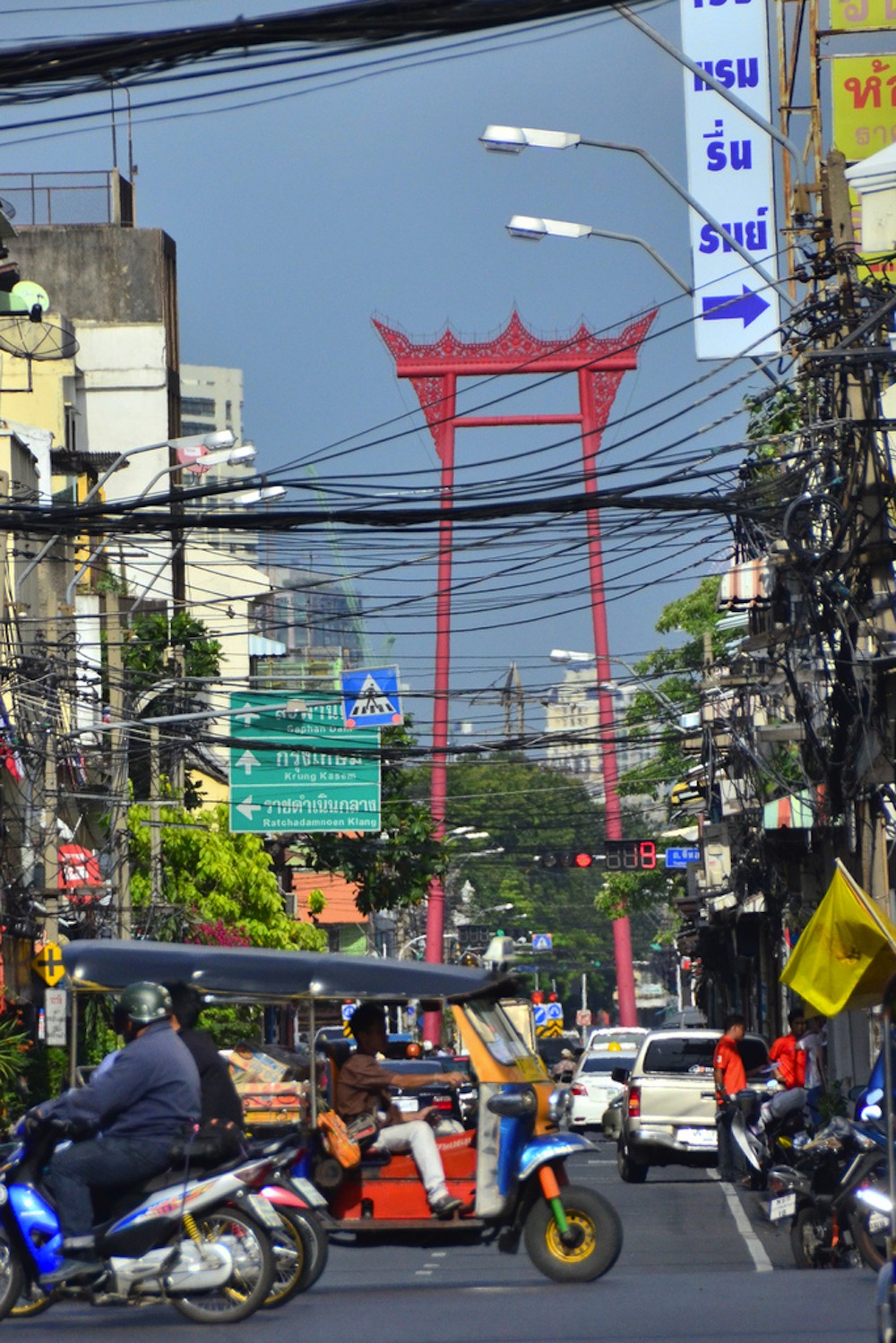 Bangkok has recently been voted as the world's best city for both travelers and expats, for the reasons I've listed above and others. Come to Bangkok and discover why yourself!
7. Bangkok is your gateway to Thailand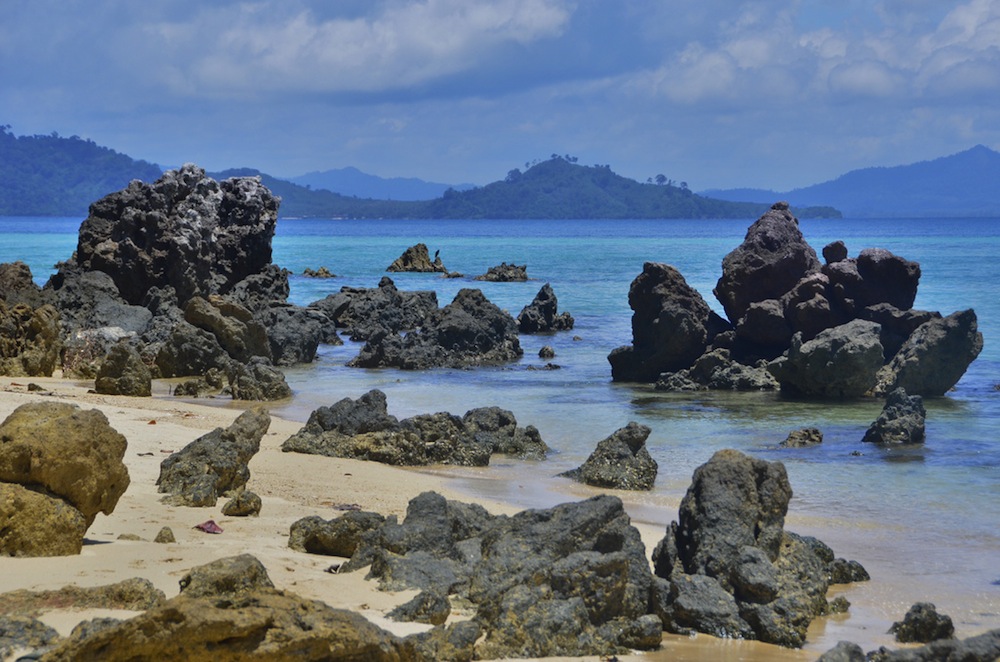 Even if you don't fall as deeply in love with Bangkok as I do with each subsequent visit, Bangkok is your gateway to other Thai destinations like Chiang Mai and the tropical paradises of Krabi, Phuket and Koh Chang.
Share: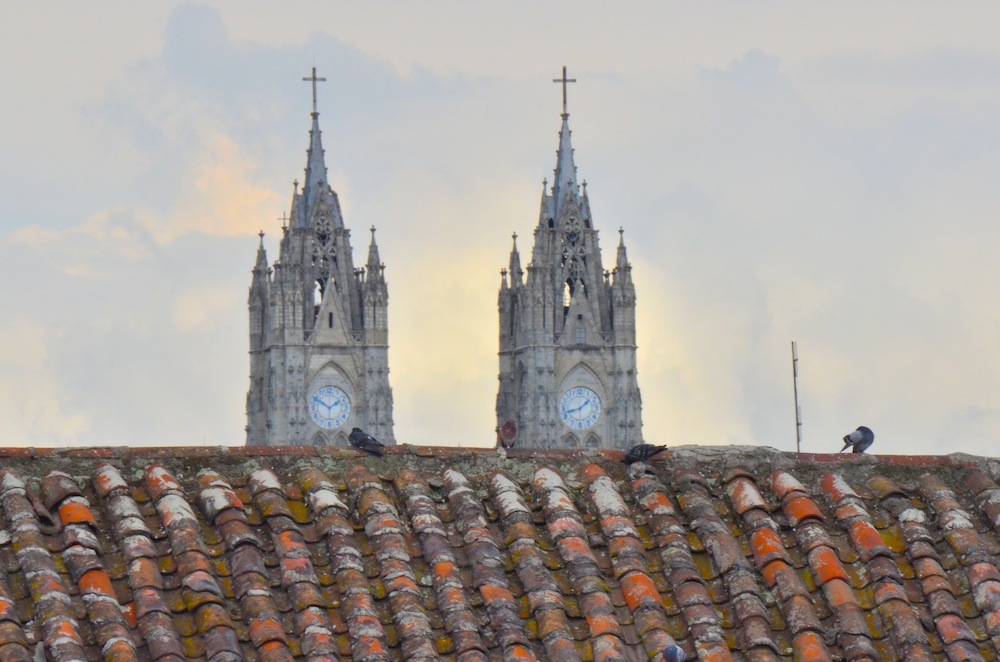 I knew Quito in Ecuador was going to be huge, because although my bus driver said I was still more than an hour from my hotel, the signs along the road were labeled with "Quito" insignia. Volcanoes towered around the bus in all directions, and as I traveled further northward, I became more and more enchanted by the city splayed out in the bowl-shaped valley between them.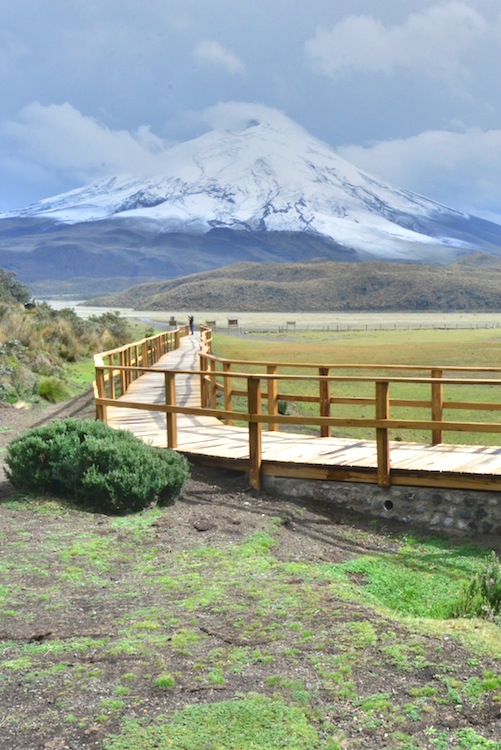 Speaking of volcanoes, it is at the most ubiquitous of Quito's many nearby volcanoes, Cotopaxi, that the story of my short love affair with the city actually begins. After having left Ecuador's adventure capital, Baños, early in the morning, I enjoyed a picnic lunch on the shores of a lake in the shadows of Cotopaxi, the world's third-highest active volcano.
If you have ever traveled to South America, you know that virgin statues are a dime a dozen. But as my bus sped away from Cotopaxi and ever closer to Quito, I couldn't take my eyes off the one that rises above the Ecuadorian capital, which the signage I mentioned above designated as "La Mejor Ciudad del Mundo" – the best city in the world.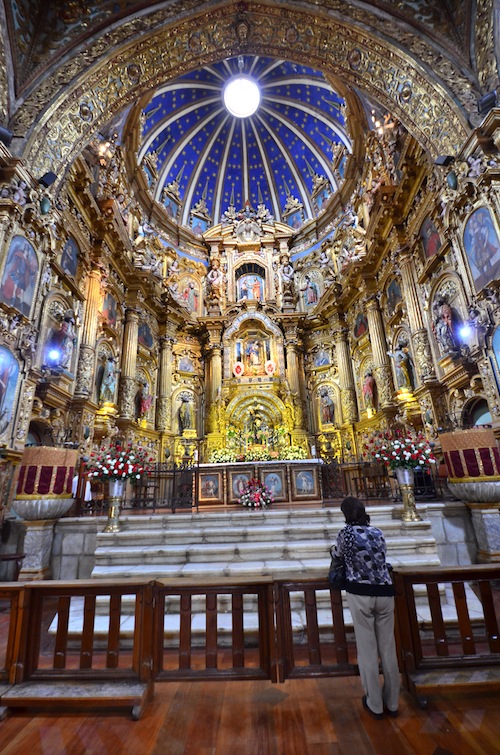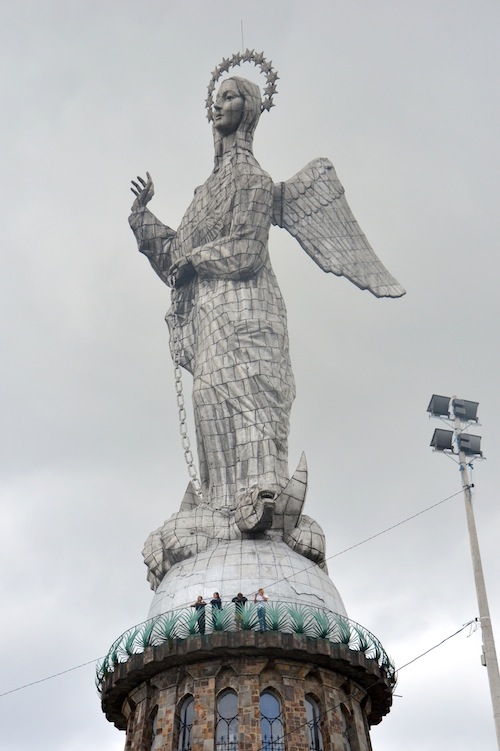 After a brief stop at the equator the following morning, I got my chance to see if this assertion was correct. My first destination within Quito itself? El Panecillo, the high mount on top of which Quito's proverbial virgin sits.
The meaning of the statue, which literally depicts la virgen stepping on some kind of apocalyptic dragon, is open to interpretation, although my local guide told me it symbolized the Mother Mary's protection of Quito from the volcanoes which surround it.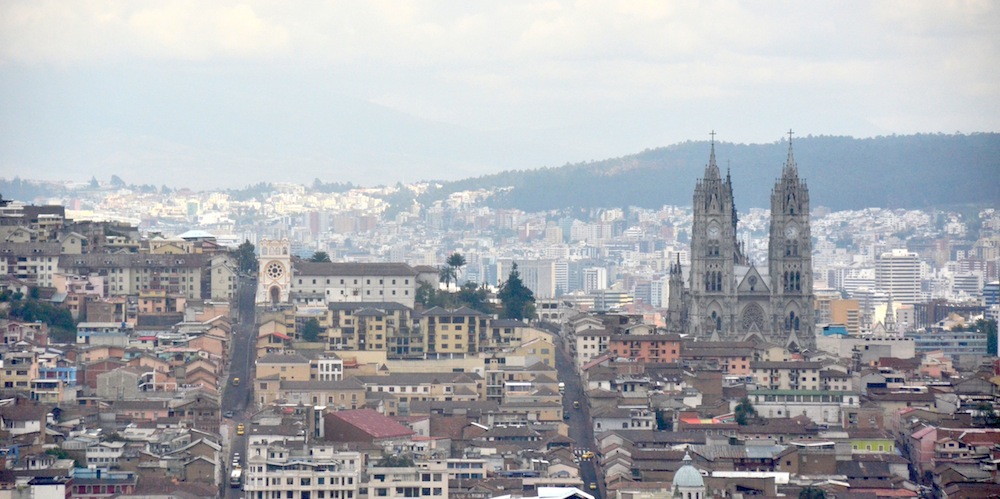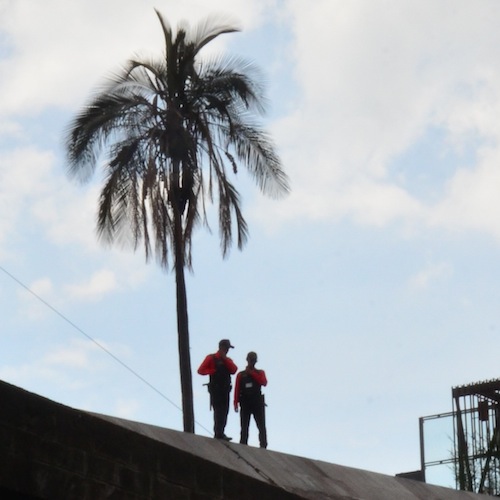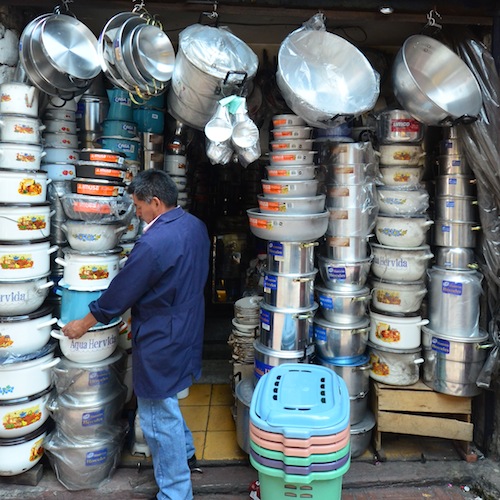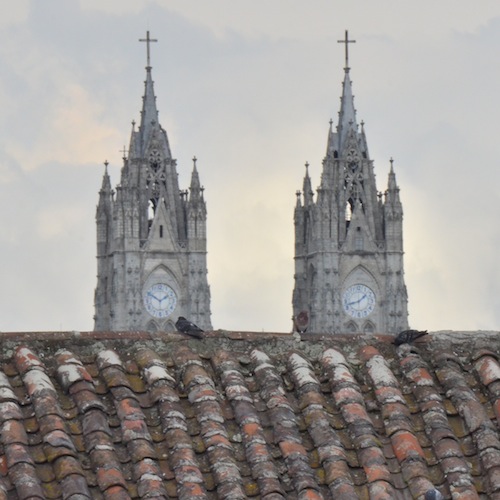 From El Panecillo I headed lower in elevation, and northward in latitude to Quito's historical center, with the highlight of my two-hour stroll through el centro being a stop inside the San Francisco cathedral, an architectural marvel which is currently being restored.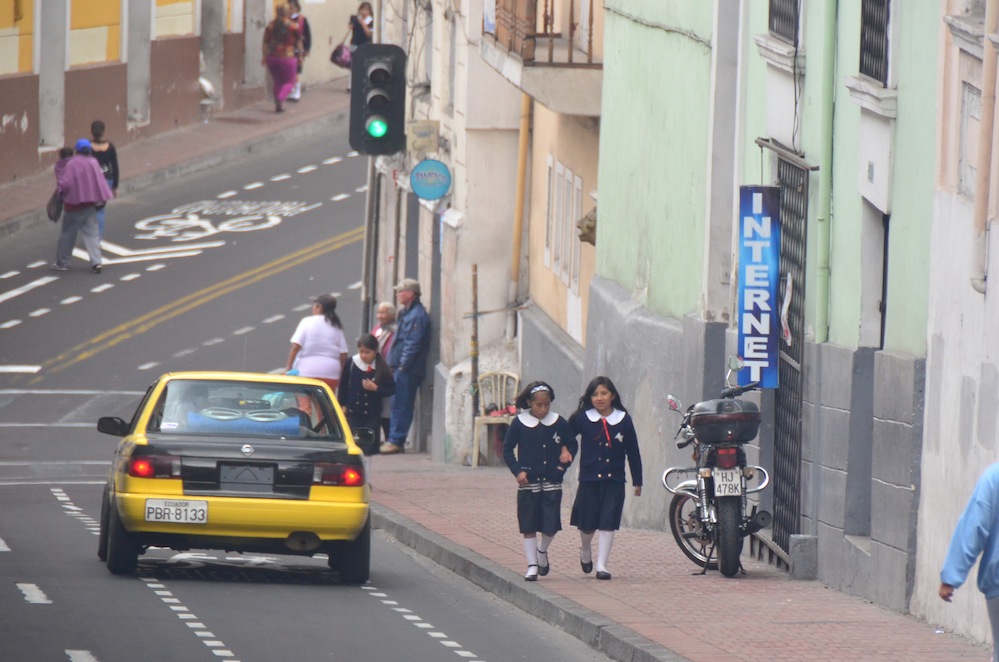 The unfortunate part is that while I managed to get some great shots of Quito, as well as to put my finger at least partially on the city's pulse, constant reminders of Quito's status as a relatively dangerous city prevented me from fully exploring it.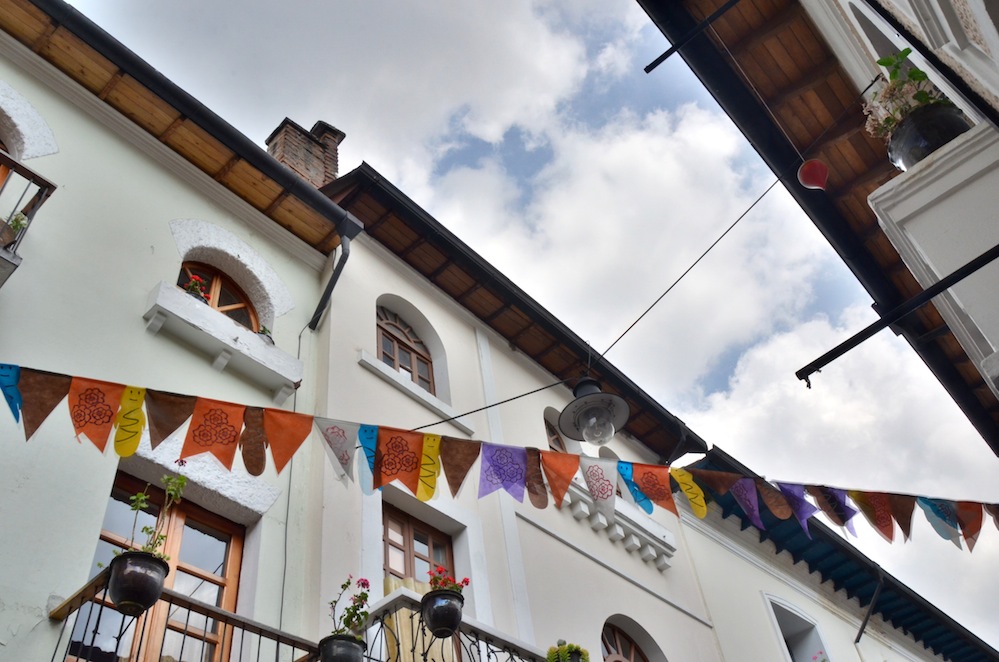 Local police, which are installed on practically every street corner, frequently warned me against wandering down particular streets, some of which actually had messages of caution painted, in English, over them.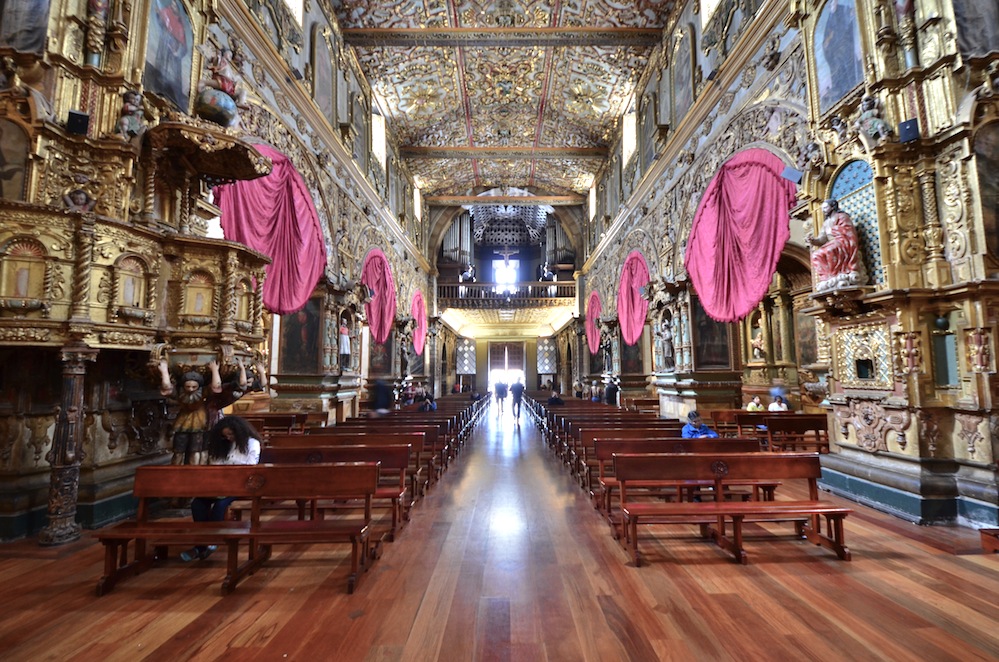 To be sure, Quito's dangerousness, whether it lies more in fact or in paranoid gringo tourist fiction, is the one thing that prevents me from thinking it might soon become the best city in the world. I hope that one day, this non-volcanic dragon is slain, by a virgin or some other force, so that I might succumb to the seduction that lured me into its serpentine streets and alleyways.