About Robert Schrader
Robert Schrader is a travel writer and photographer who's been roaming the world independently since 2005, writing for publications such as "CNNGo" and "Shanghaiist" along the way. His blog, Leave Your Daily Hell, provides a mix of travel advice, destination guides and personal essays covering the more esoteric aspects of life as a traveler.
Latest Posts by Robert Schrader
Share:

I always keep a running list of places I want to visit, so when folks from a festival called Hogmanay contacted me about coming to Scotland to celebrate the New Year, I was tickled: The top entry on my list was "Edinburgh—in winter." A decade earlier, during my first—and only—trip to the U.K., I'd spotted Edinburgh Castle out my window on a train trip from Glasgow to Newcastle, and immediately vowed to return some day to see it in person.
Not surprisingly, the magnificent fortress was among the first places I visited during the three days in Edinburgh that preceded my sojourn to the Isle of Skye. But Edinburgh is much, much more than its famous castle and even its picturesque Old Town, as much as I love it.
Even if you can't make it to "Auld Reekie" to celebrate a traditional Scottish Hogmanay (and I highly recommend you do for 2017, which is the 40th anniversary of the modern celebration), here's how to make your three days in Edinburgh as colorful and enchanting as mine were.
Day 1: Edinburgh Castle and the Royal Mile
Its beauty and eclecticness notwithstanding, there are two main things I love about Edinburgh: 1) It is extremely walkable and 2) Thanks to the height of the castle (and another landmark I'll mention in just a moment), you can never, ever get lost. Start day one by walking your happy ass to Edinburgh Castle, whether you're staying south of it in the Old Town or north of it in the New Town.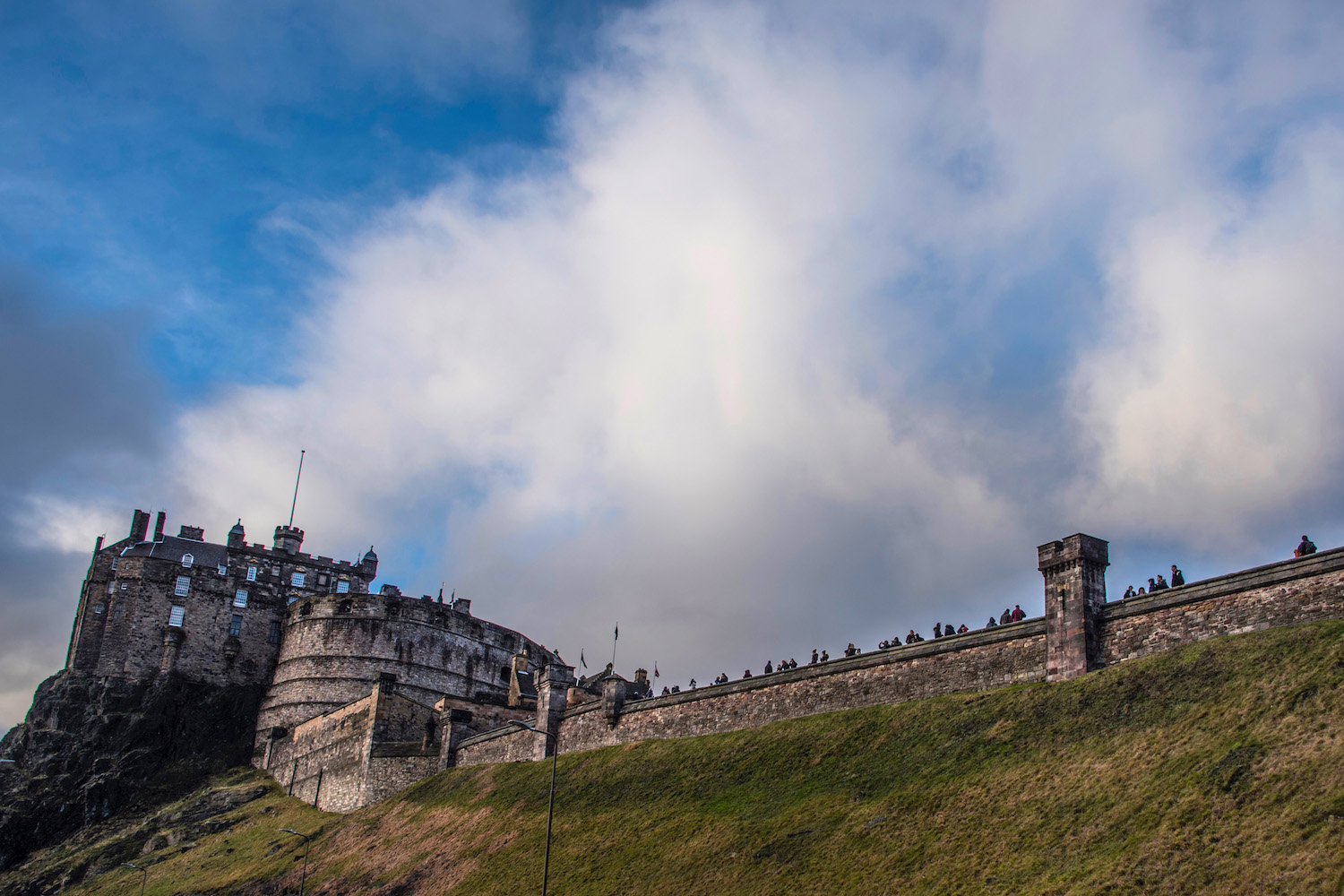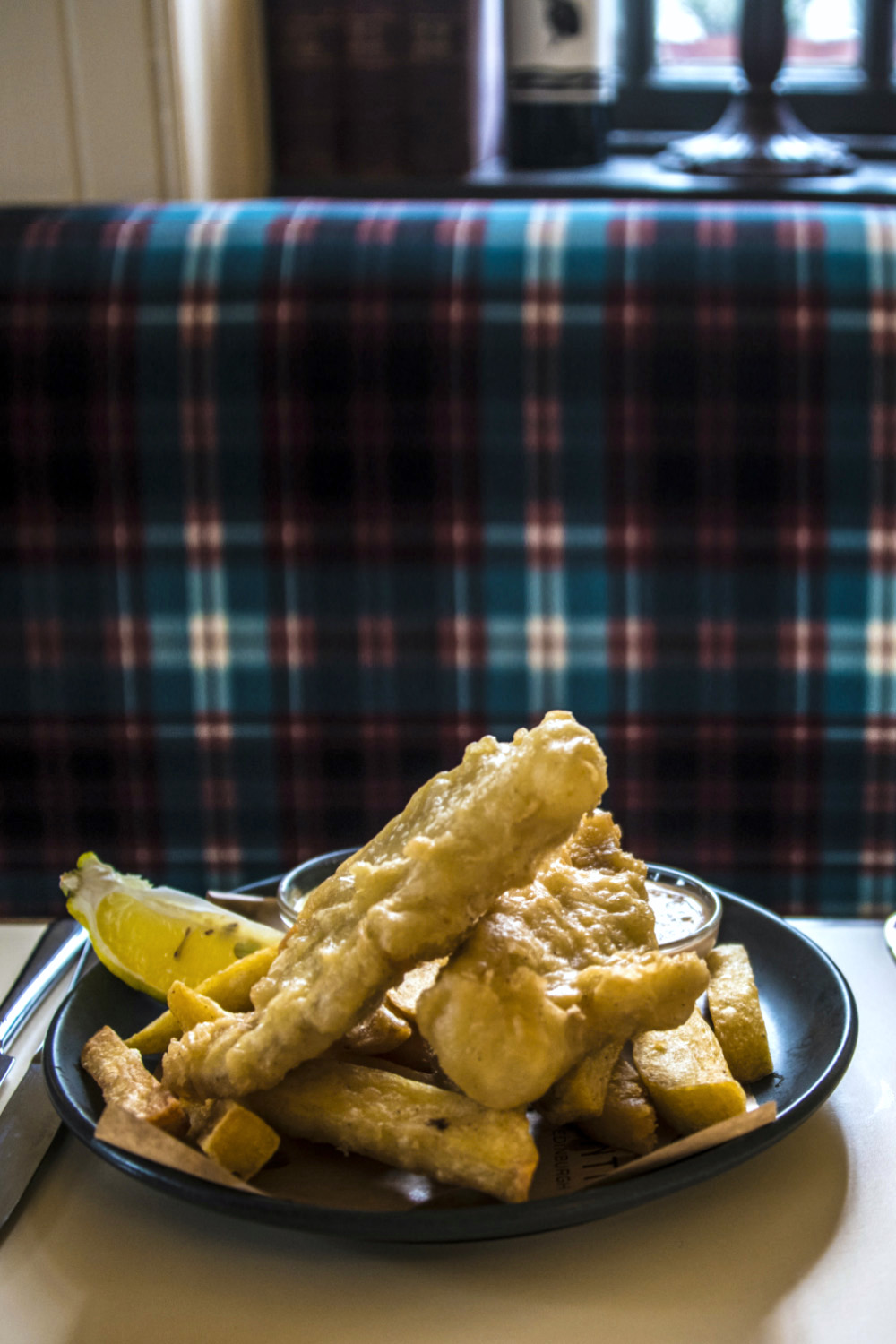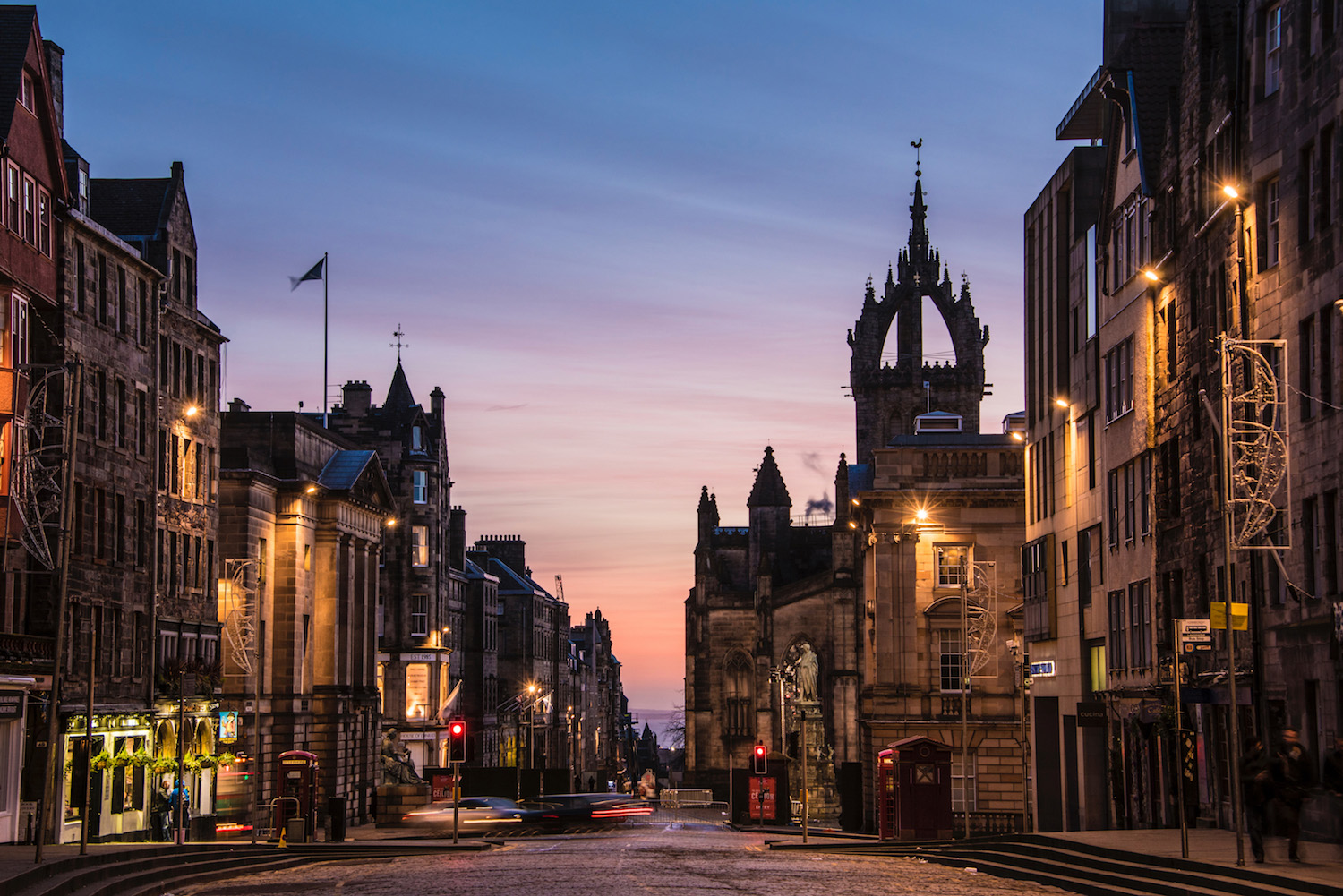 The castle is actually not incredibly exciting inside, so I imagine you'll probably get done with it quickly. This is just as well, since there's so much for you to see and do along the Royal Mile, which is the road that extends eastward from the castle, ending down the hill at the Scottish Parliament building. Among other activities along the Royal Mile, sample single malts at the Scotch Whisky Experience, unleash your inner voyeur at Camera Obscura or take in amazing architecture such as St. Giles Cathedral.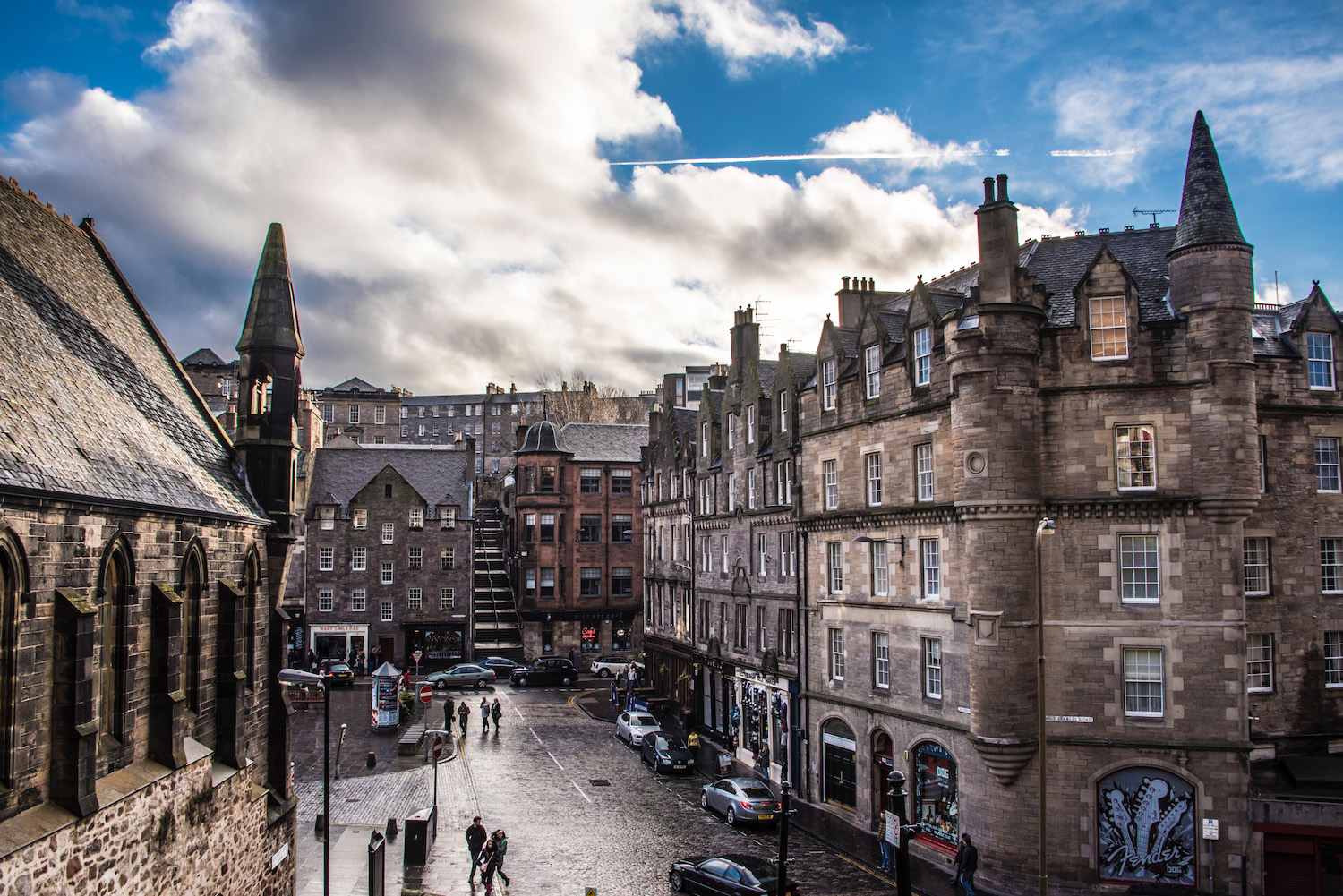 One spot to enjoy lunch with an outstanding view of the castle is Contini Cannonball—the fish and chips here are to die for! Alternatively, walk south down the stairs from the castle and into the bohemian Grass Market, which is not only a great place to eat, but is incredibly photogenic as well.
Day 2: "New" Edinburgh and the Port of Leith
It's only after exploring old Edinburgh that you can understand how the 300-year old Georgian houses north of Waverley Station are considered to be the "new" town. Start your second of three days in Edinburgh here, making sure to visit the Scottish National Gallery and the Scott Monument, at the bare minimum. A walk down George Street is also a good idea, as is a stroll up Calton Hill, although if you're blessed with a clear day the hill may be a better bet for sunset.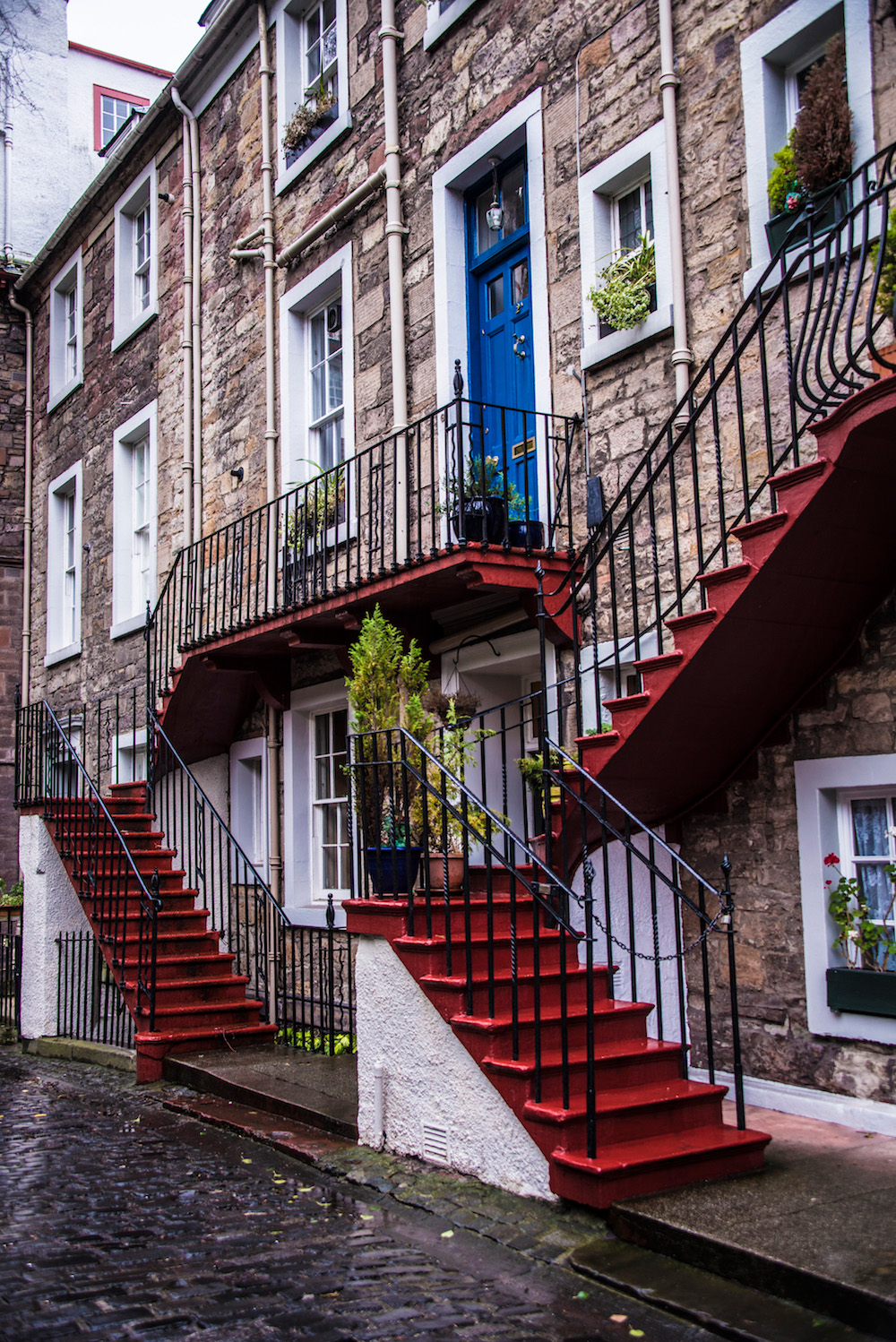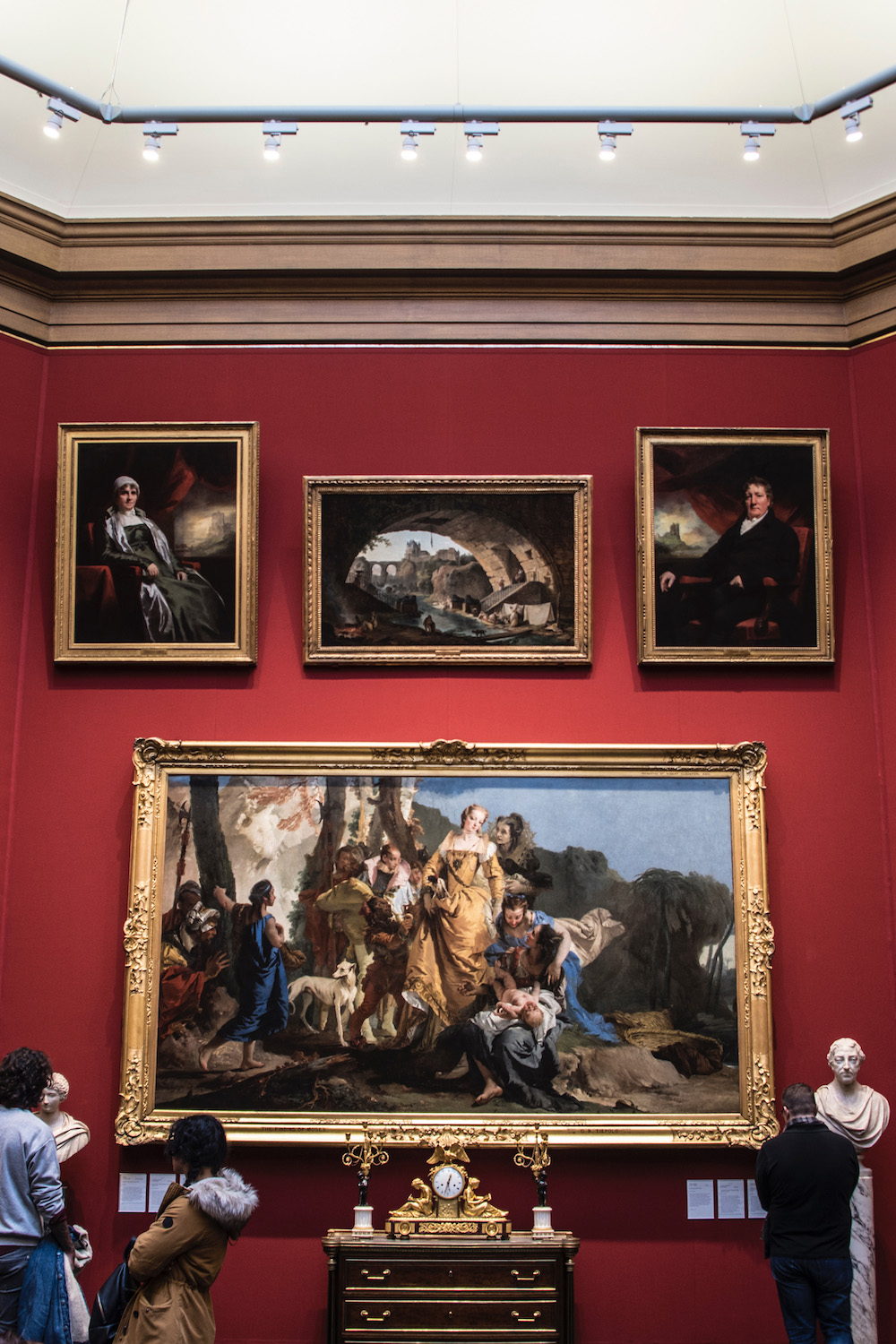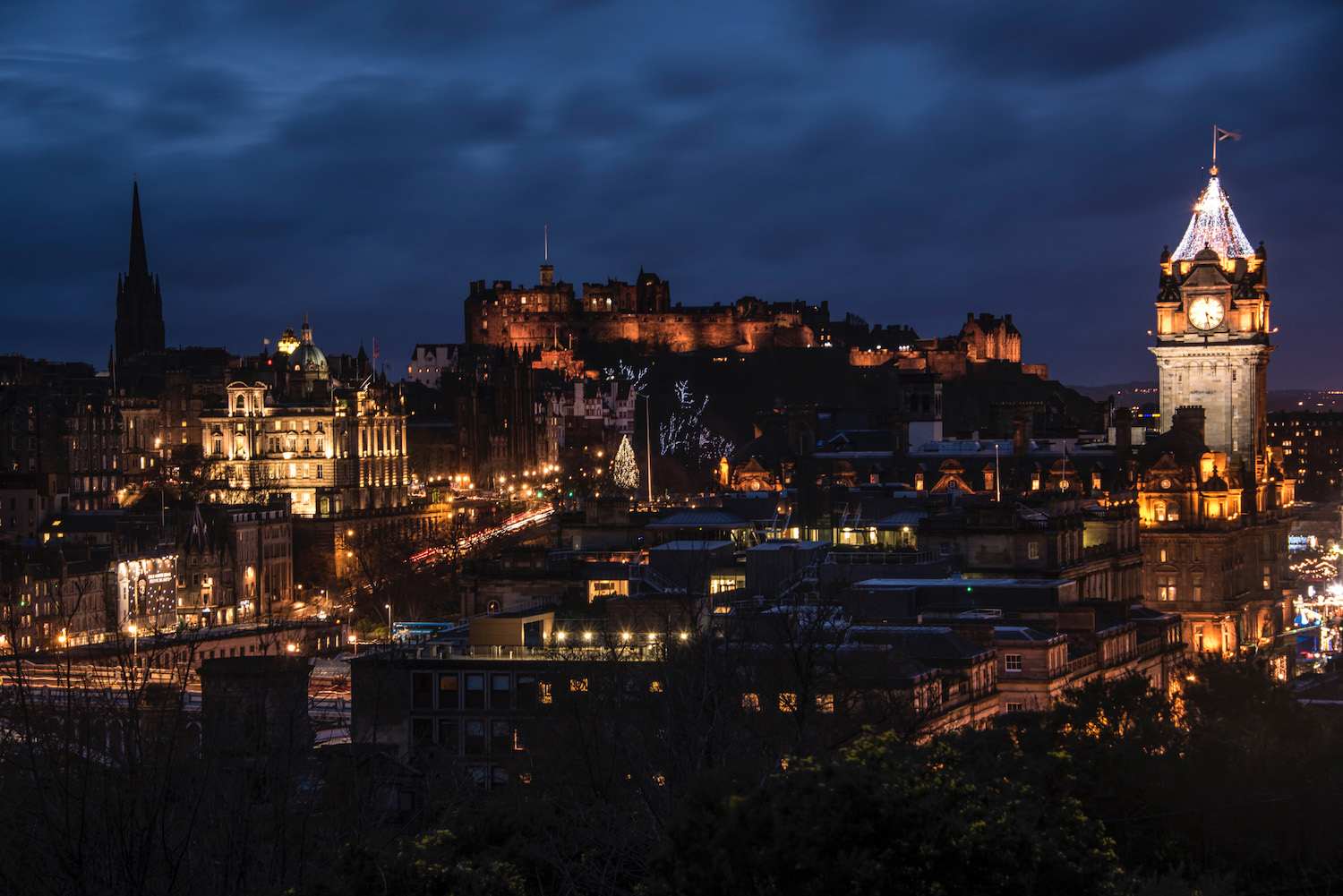 Before that, head northward into Leith, Edinburgh's coastal district and port, either on foot via Leith Walk or via taxi or bus. Although some people head to the magnificent Royal Yacht Britannia (which is located inside a not-as-magnificent shopping mall), I find the most alluring thing about Leith wandering through its colorful streets and along its charming canals.
Day 3: Lunch With Nessie
Make no mistake: You could easily spend three days within Edinburgh's city limits and not get bored. I always like to recommend some sort of day trip as day three of these itineraries, however, and Edinburgh just so happens to be within day trip distance of Scotland's most ubiquitous attraction: Loch Ness.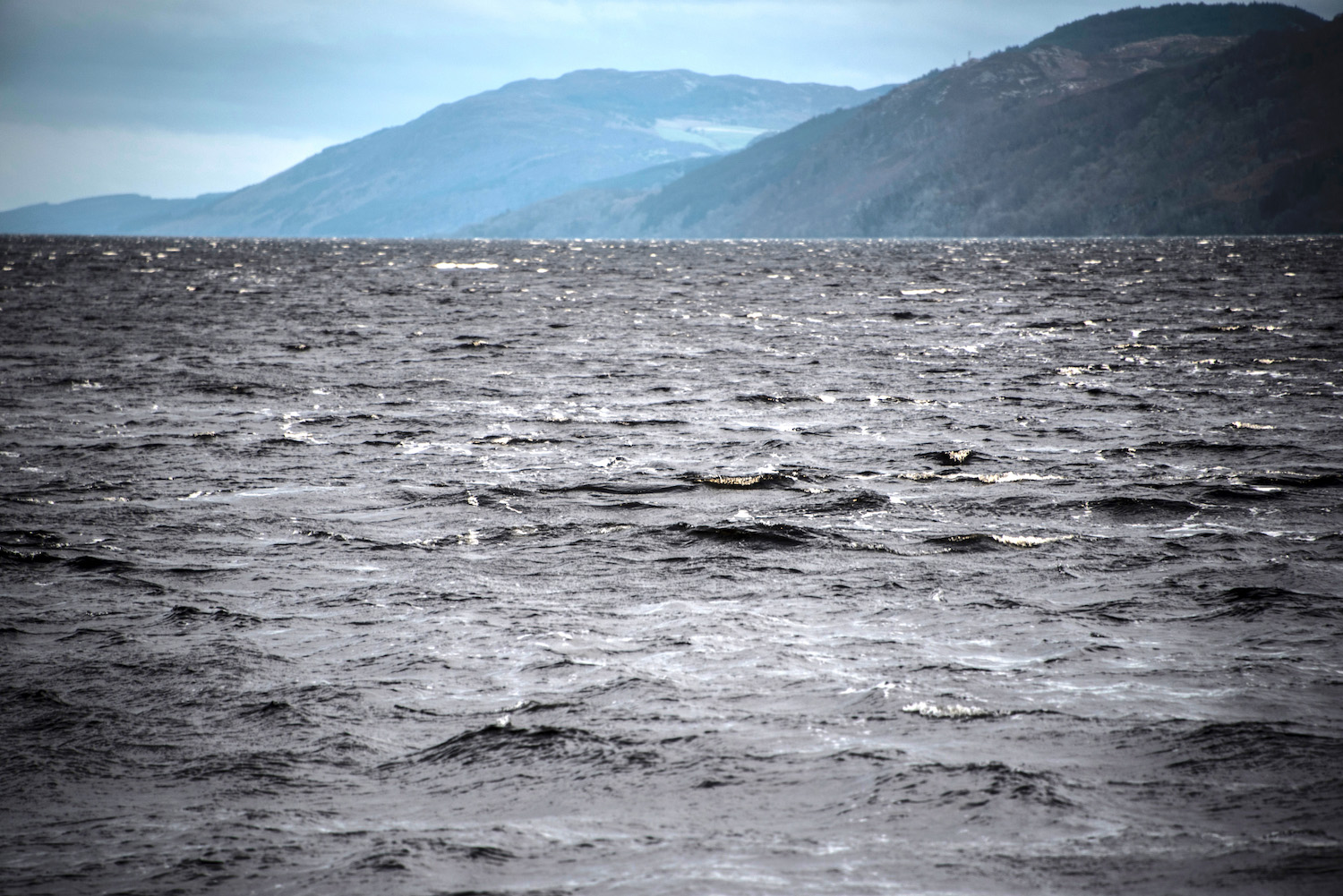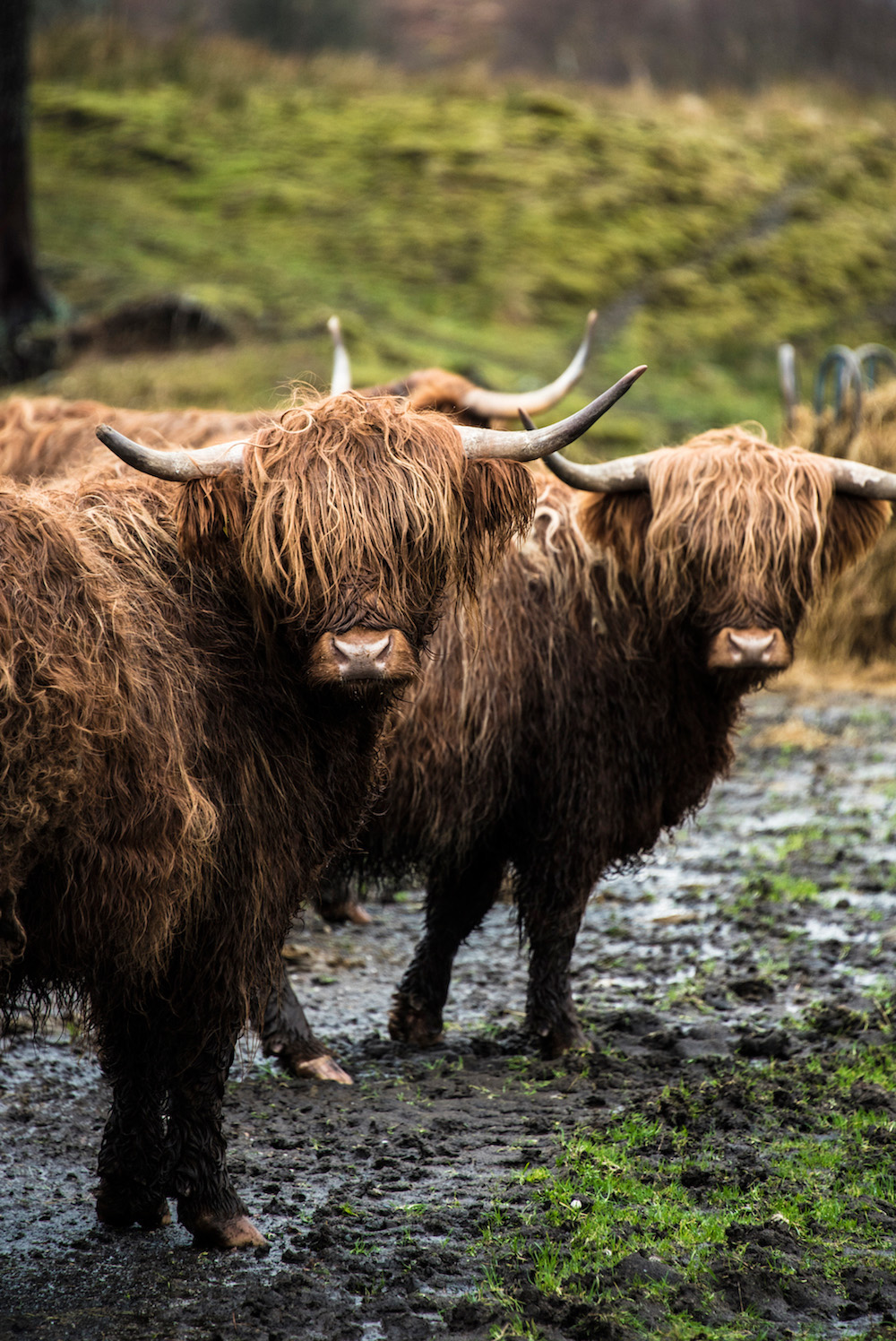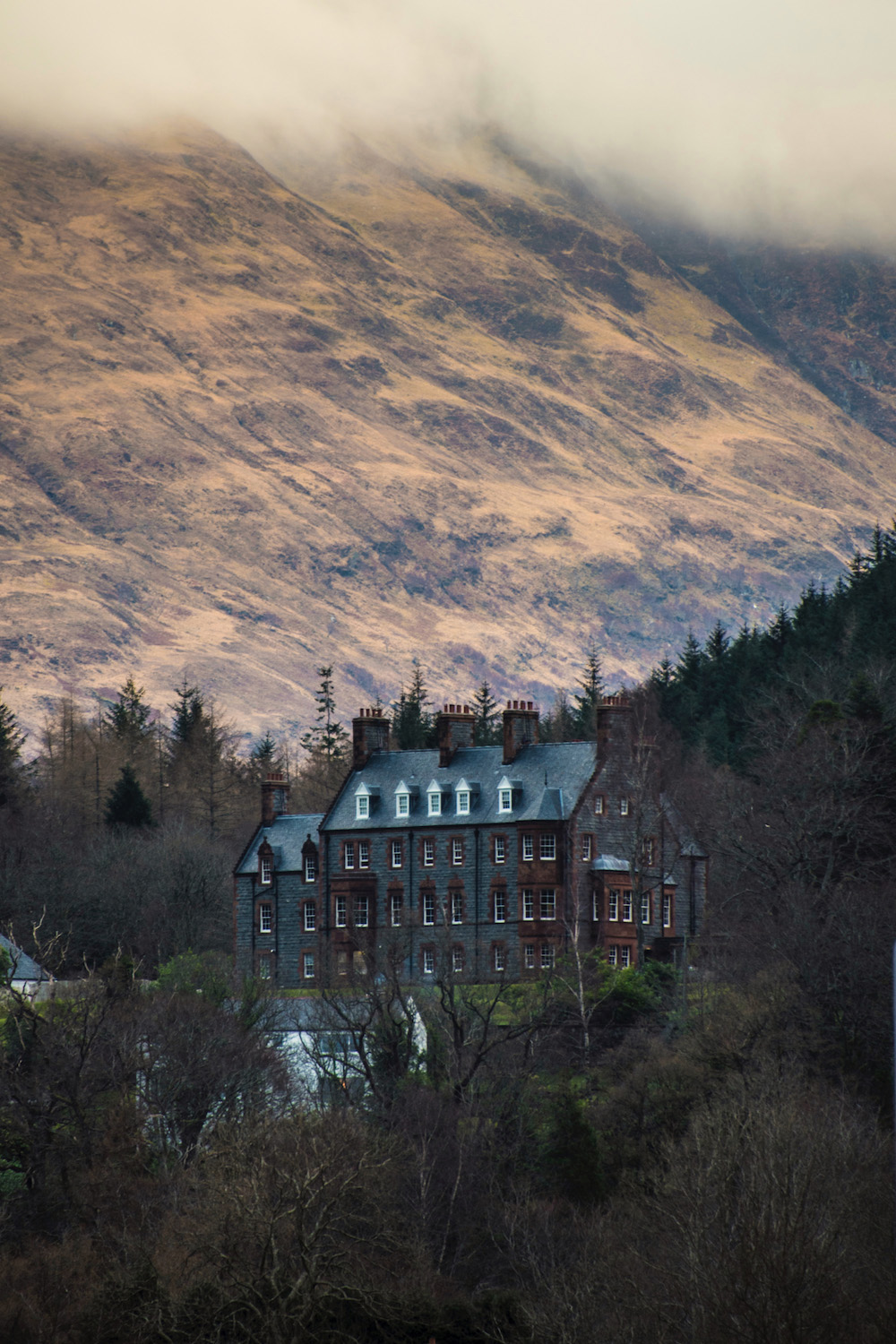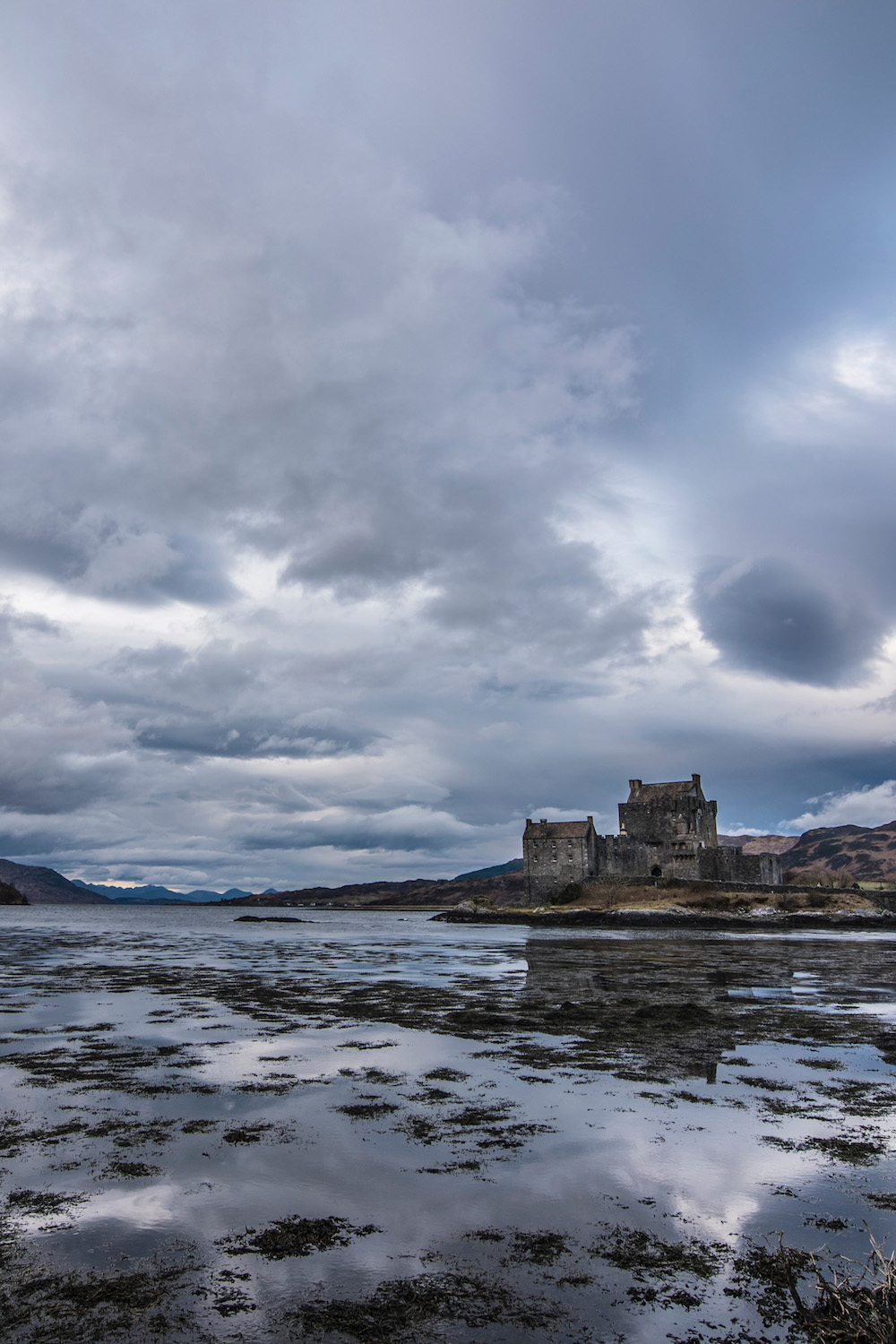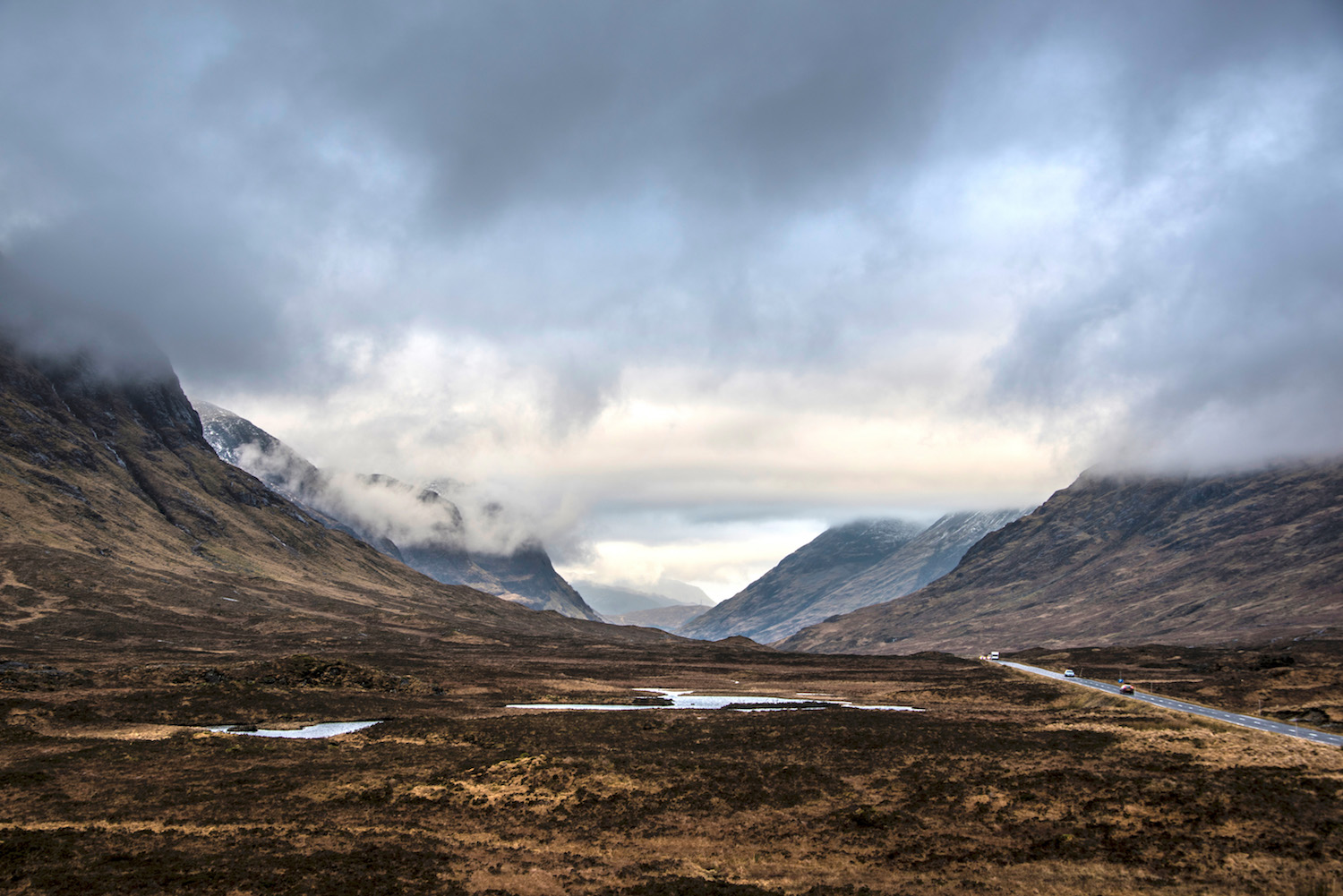 blogmanay is brought to you by Edinburgh's Hogmanay and is supported by ETAG, The Scottish Government, VisitScotland, Edinburgh Festivals, Marketing Edinburgh, Rabbies Tours and co-creators Haggis Adventures. Created and produced by Unique Events. As always, all opinions expressed here are entirely my own.
Share: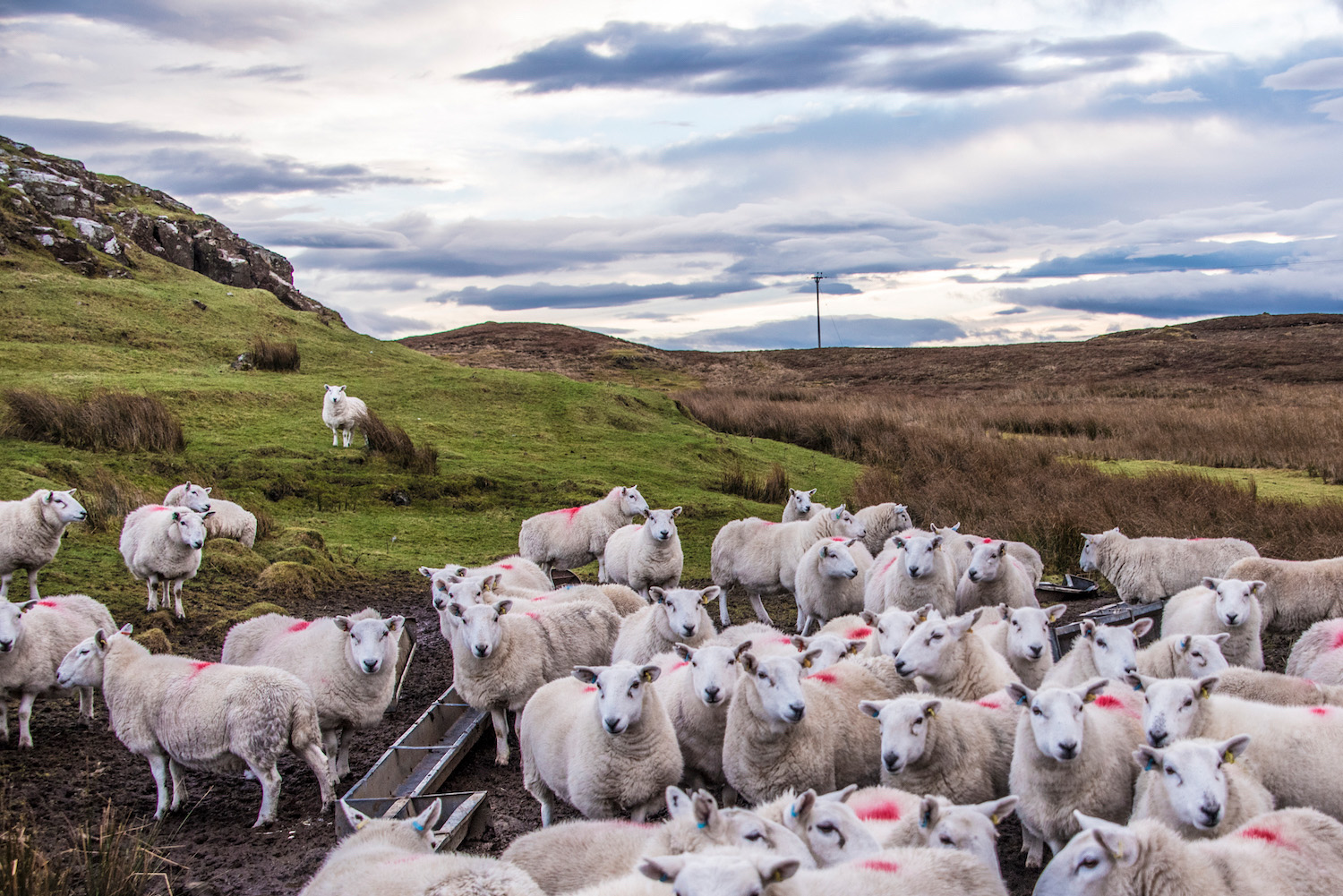 This month, I embarked on an excursion to the Isle of Skye, a journey which began along a portion of the so-called
"Notice," my guide Matt said, after having explained the tragic life story of Scotland's most infamous ruler, "that she's always referred to as 'Mary, Queen of Scots'—not 'Queen of Scotland.' Our rulers rule over us, but the land rules itself."
This was a poignant observation, and an apt one. Just then, the mostly flat ground west of Edinburgh began to rise and fall dramatically, fields of winter crops replaced with thick evergreen forests, and castles like Lochleven, where Mary was imprisoned prior to her forced abdication of the Scottish Throne, became as numerous as the majestic lochs that began dotting the landscapes: We had arrived in the Scottish Highlands.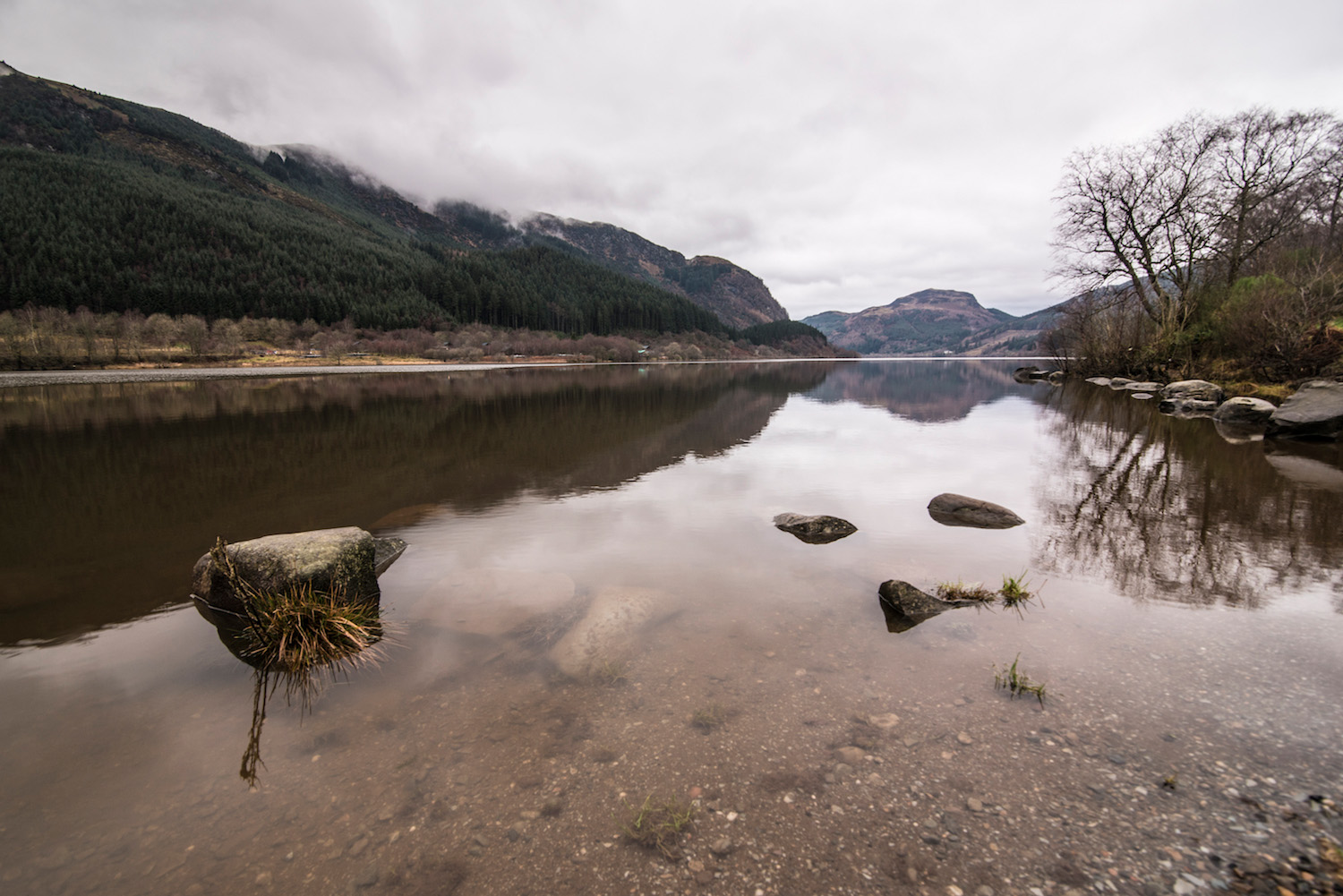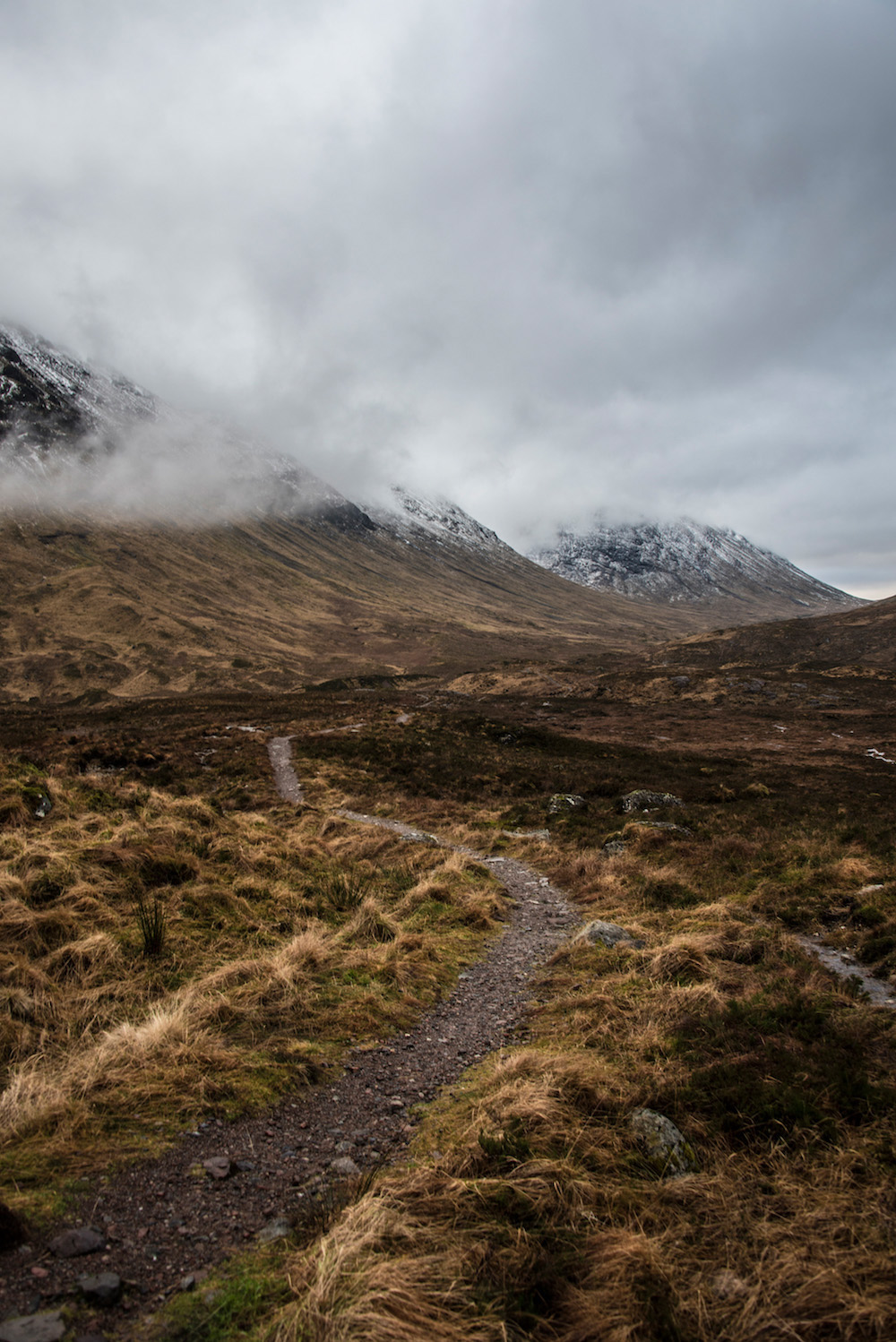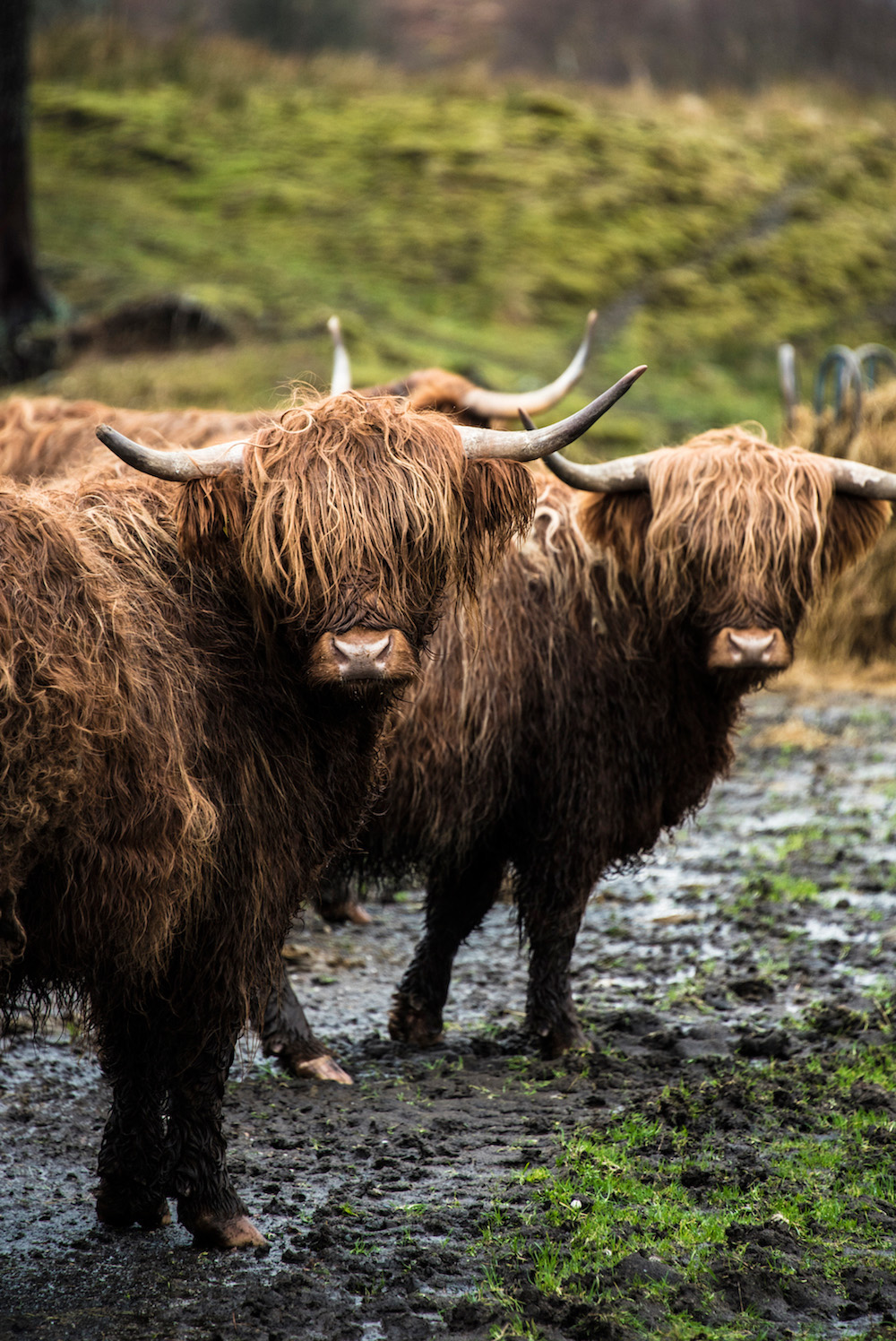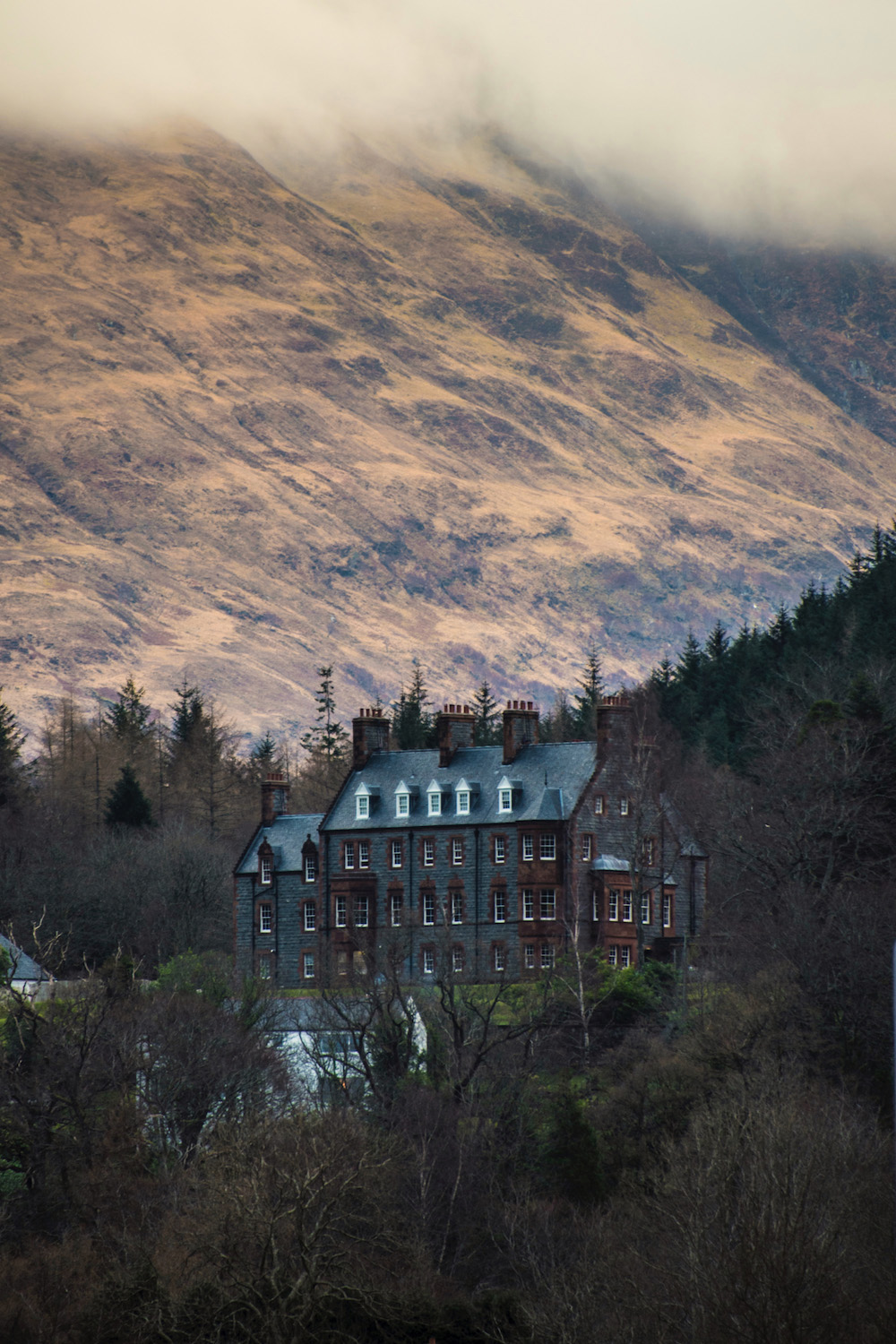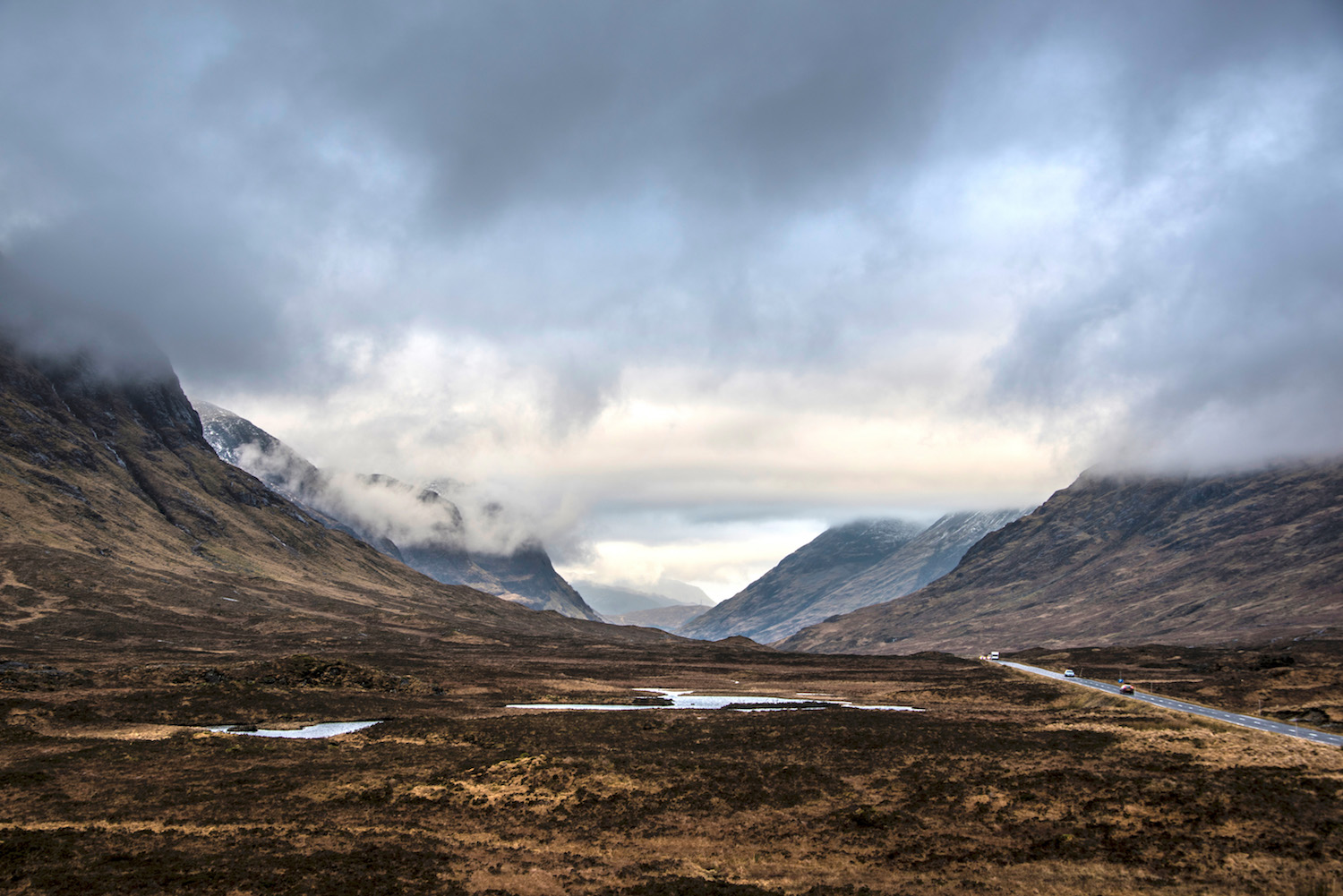 Mary's reign over Scotland is a matter of historical fact, but her place in the Scottish cultural lexicon seems as mythical as the selkies I imagined basking on the rocks far beneath me as I hiked to Skye's Neist Point Lighthouse the following afternoon.
I'm not a superstitious person—not at all—but the scenery in this part of the world makes it easy to understand why the people who've lived here for centuries are. Plus, I've heard on more than one occasion that denying the existence of faeries in Celtic countries is cause for an ass-kicking—not something I want to endure on an island with so many high cliffs.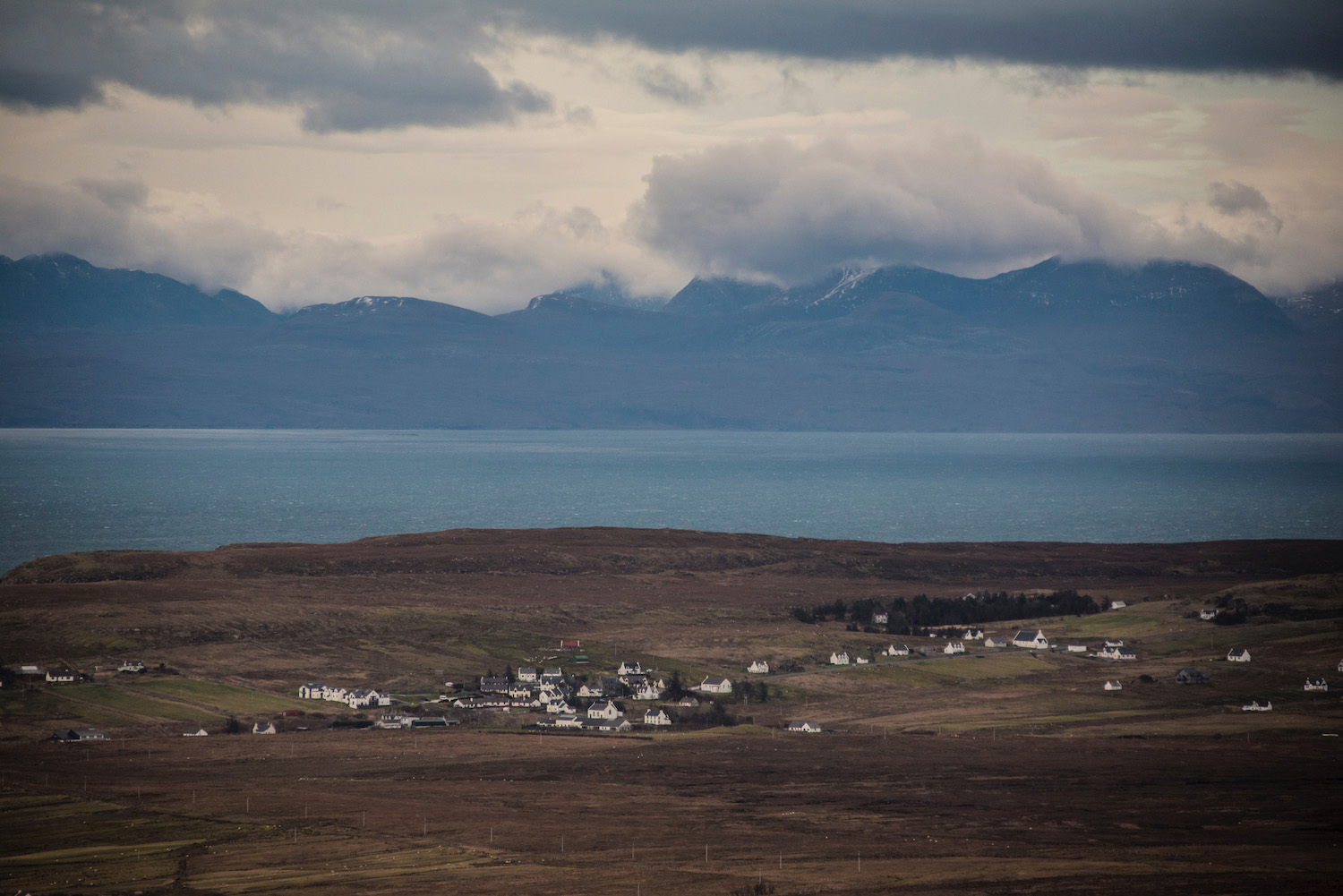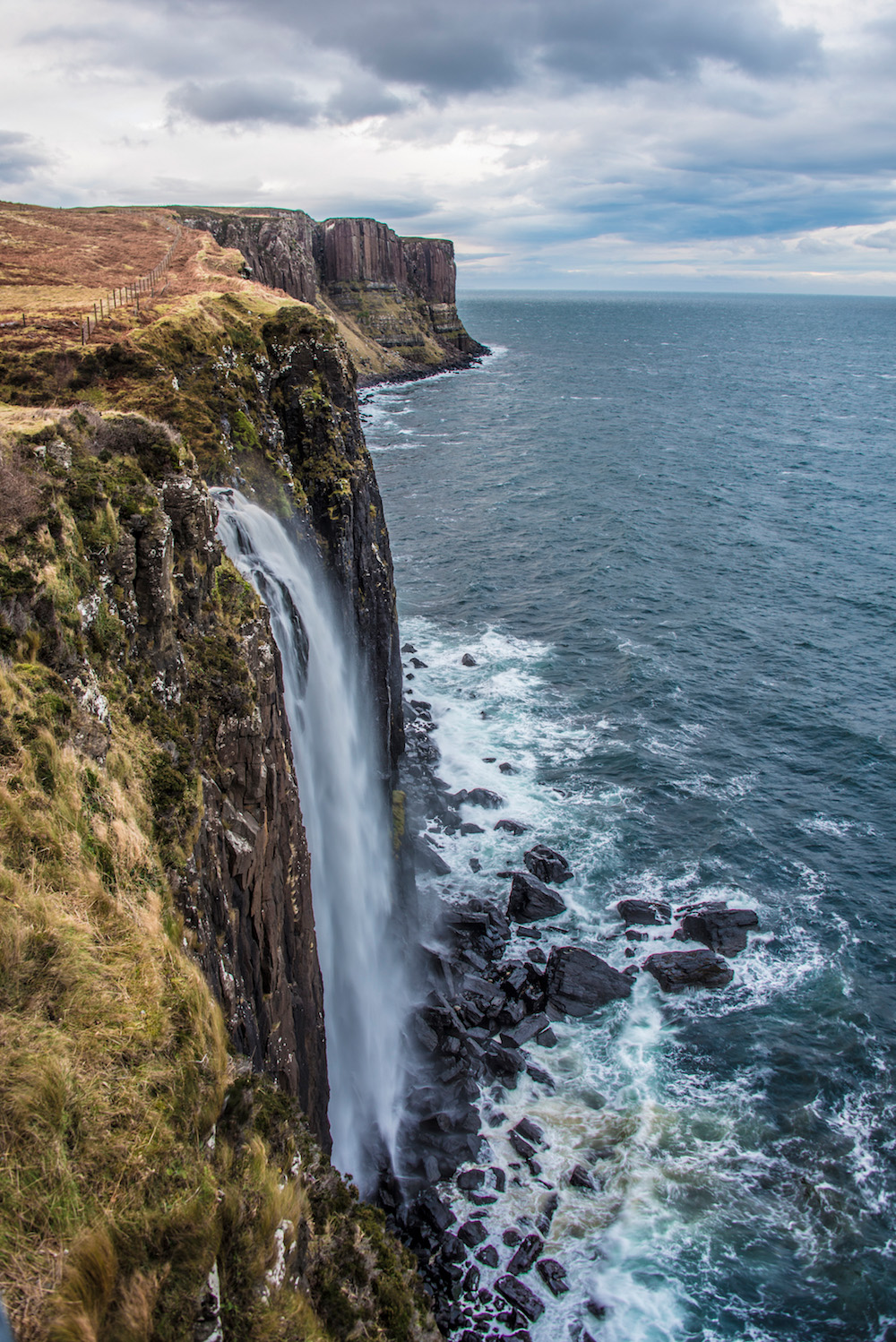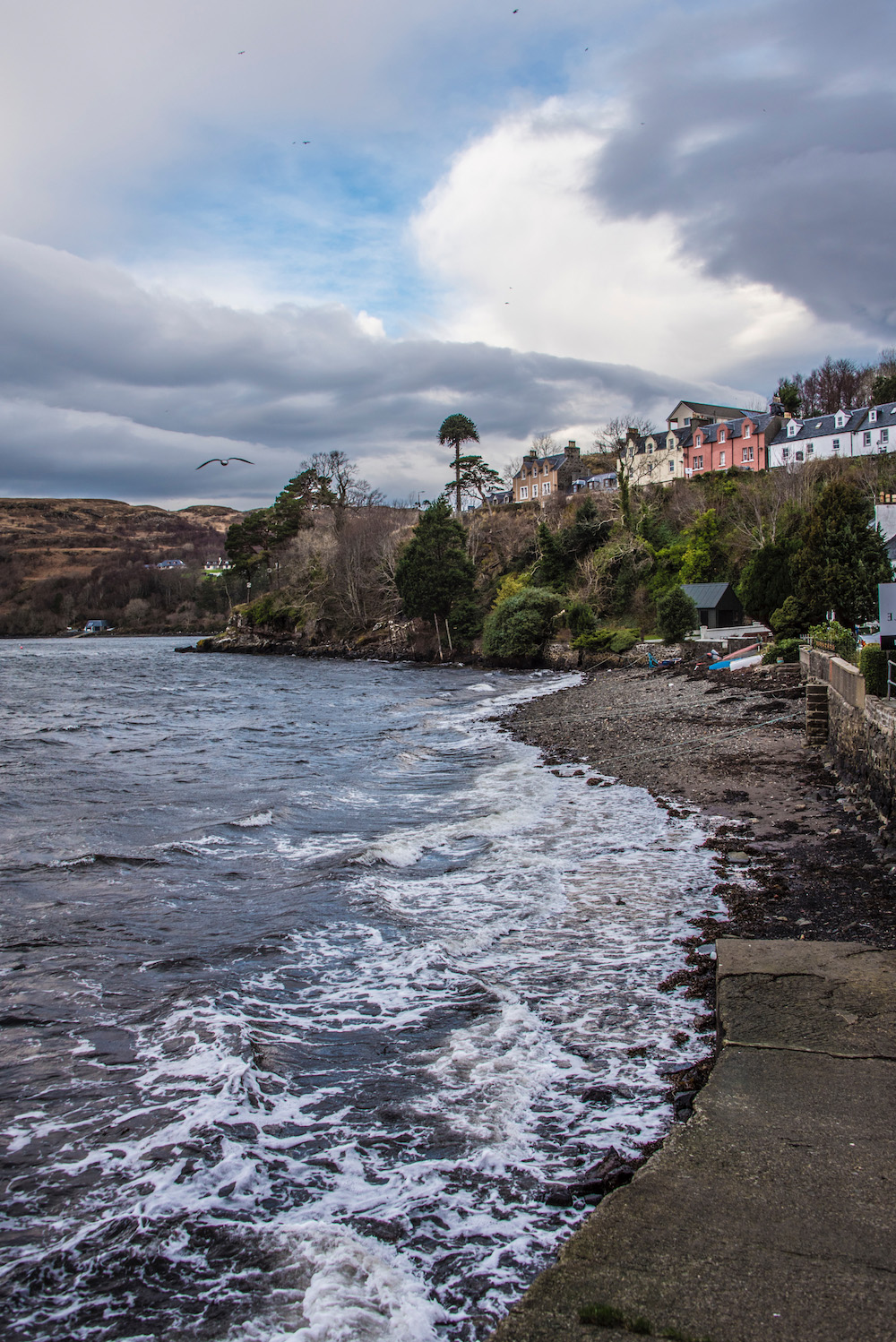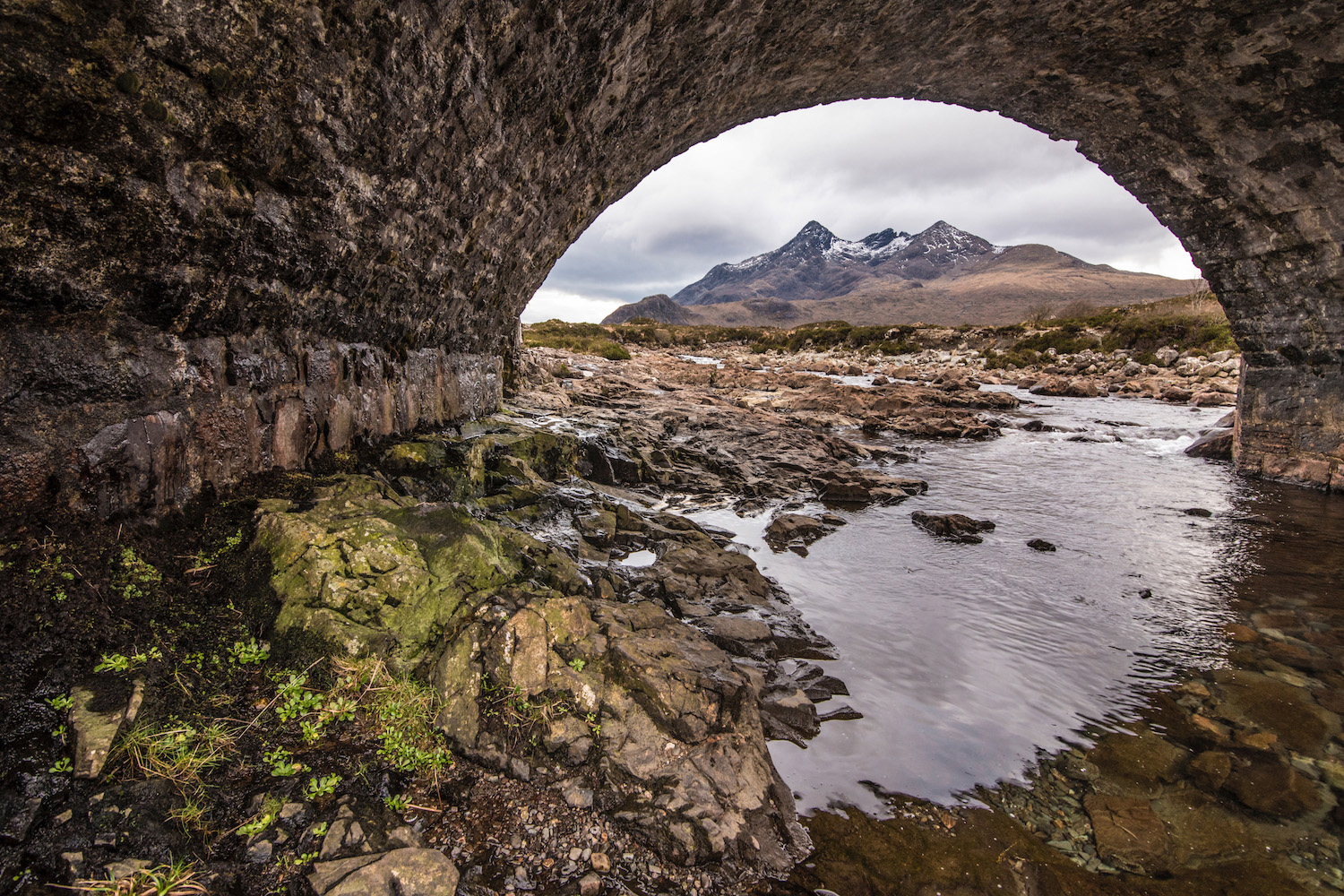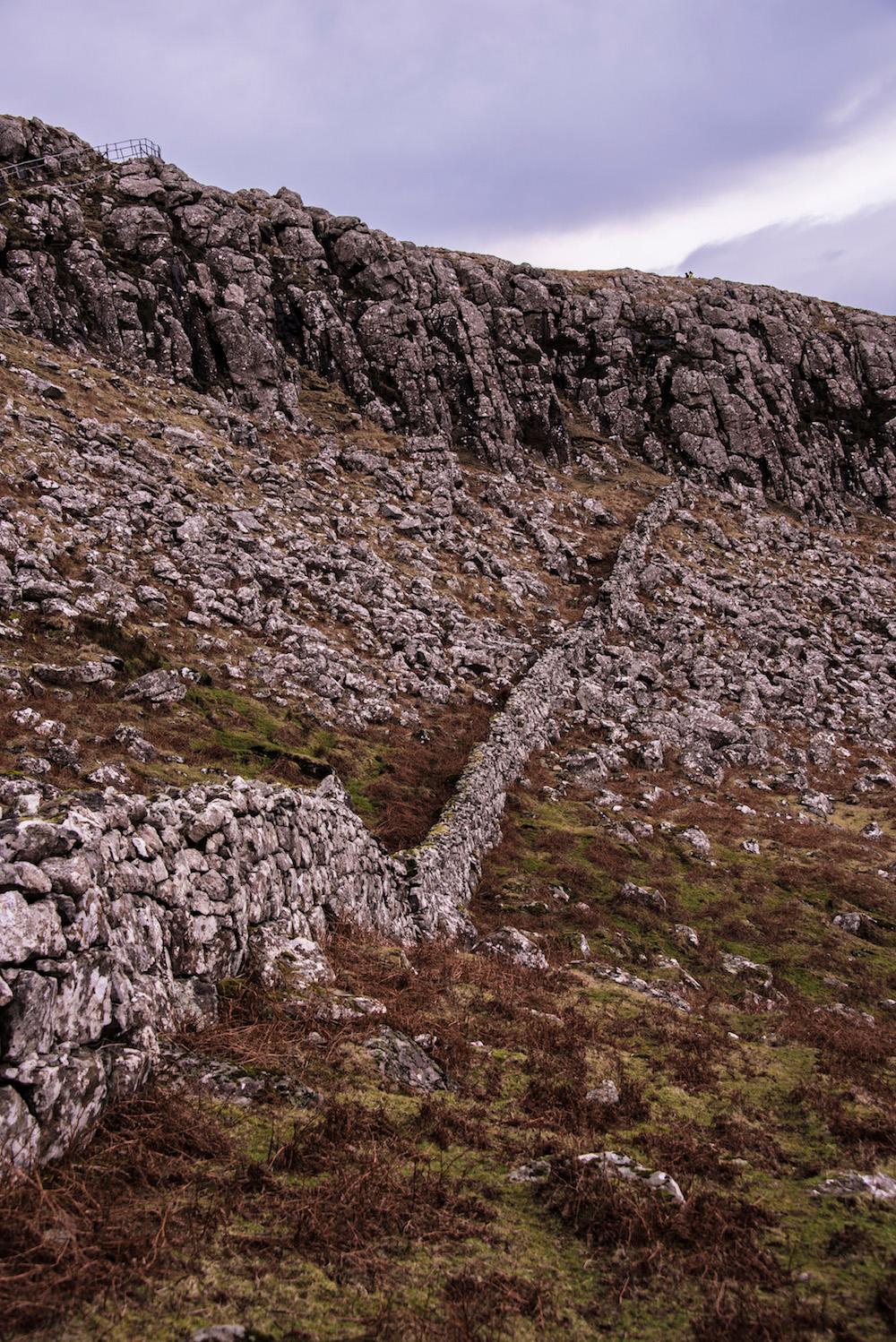 On the other hand, both the spiritual energy of the land and Scots' willful disavowal of ownership over it makes even more curious the ubiquity of churches (and churchgoers) in Scotland, particularly on the Isle of Skye.
"Free Presbyterians are some of the strictest—well, in their mind, purest—Christians on the planet," Matt explained, as he pointed to a nondescript building I would've never recognized as a house of worship near the town of Glendale. "And a staggering number of people in Skye still adhere to this faith in one form or another."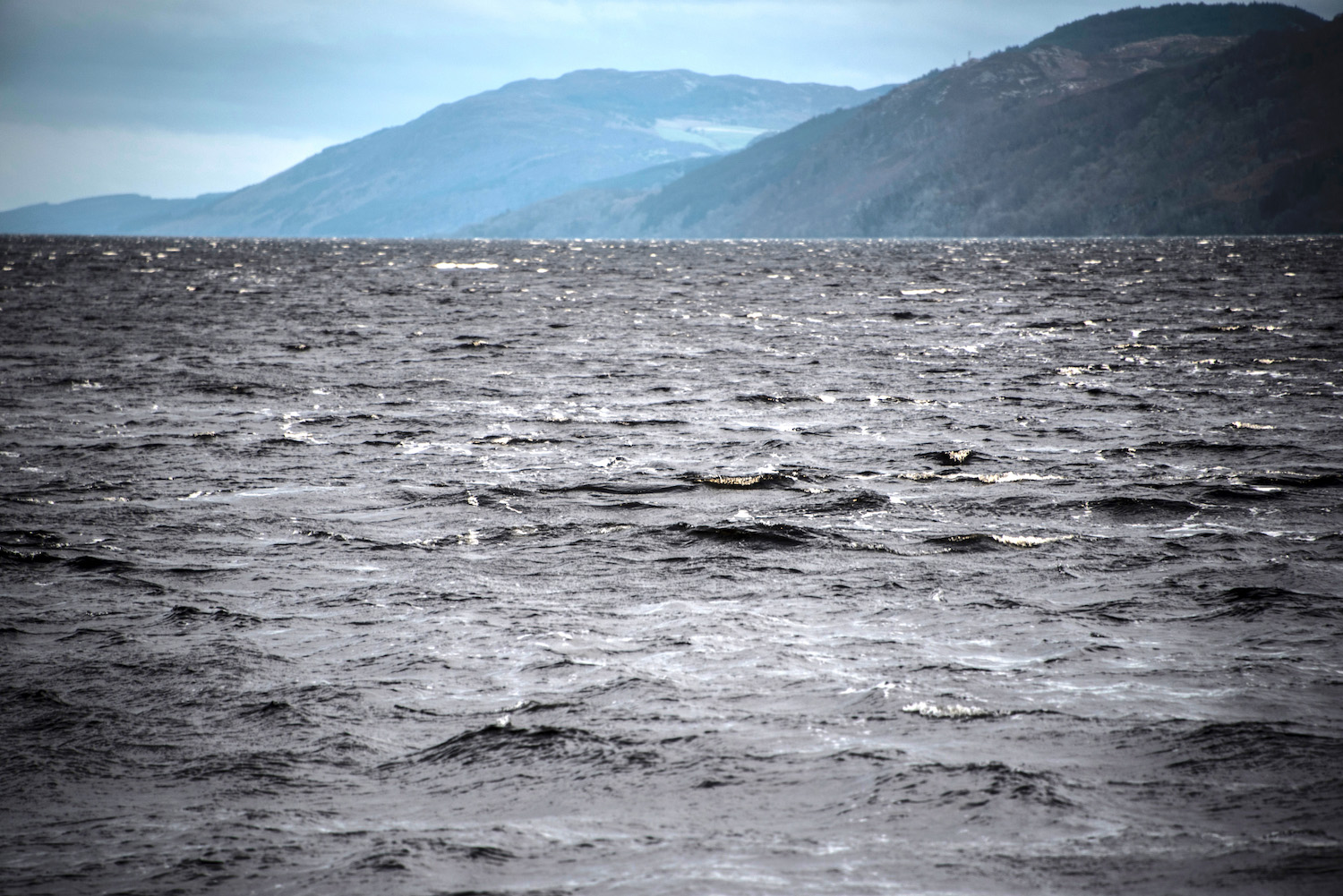 Protestants, Catholics and Pagans haven't agreed upon much throughout Scotland's history. But one matter of unanimity, perhaps surprisingly, is the Loch Ness Monster.
"People are careful not only to avoid confirming belief in the existence of Nessie," Mark noted, as we approached Loch Ness on our way back to Edinburgh. "But also, not to explicitly deny it. Not so much because we actually believe she exists, of course, but because her intrigue is in the questions about her, not any of the possible answers or explanations."
"Her intrigue," I laughed. "And Loch Ness' tourism revenue."
Mark smiled slyly. "There's that, too."
Indeed, the appeal of Scotland is as much about its unreal beauty and surreal folklore as it is the contradictions that carpet the country like its iconic green grass. Which, it turns out, is not even natural: The land was once covered in twisted, towering Caledonian pines—and they're all but extinct now.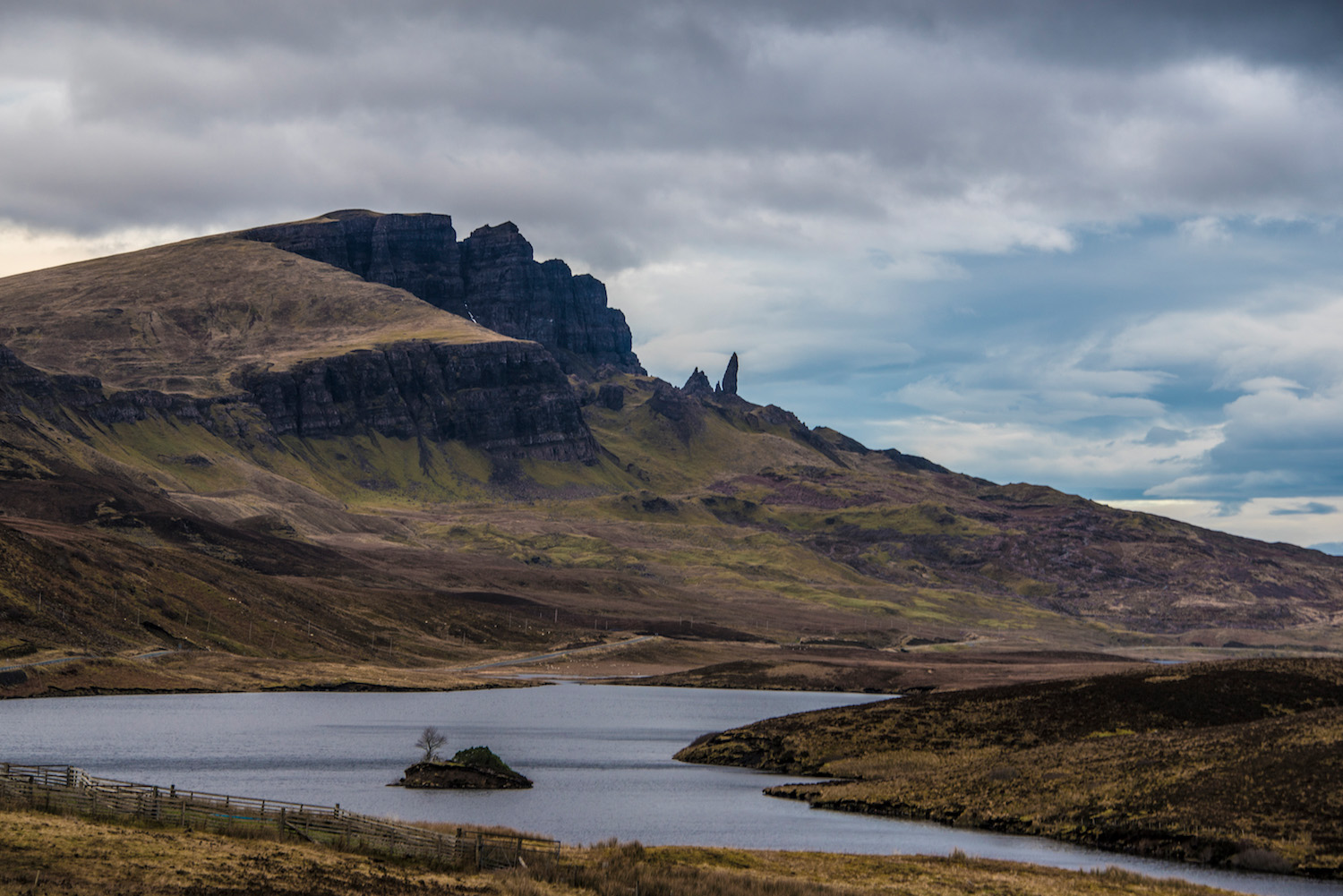 Rabbies Tours kindly offered me a complimentary excursion through the Scottish Highlands and to the Isle of Skye. More broadly, my trip to Scotland was possible thanks to an invitation from Edinburgh's Hogmanay, which is supported by ETAG, The Scottish Government,VisitScotland, Edinburgh Festivals, Marketing Edinburgh and Haggis Adventures, and is created and produced by Unique Events. As always, all opinions expressed here are entirely my own.
Share: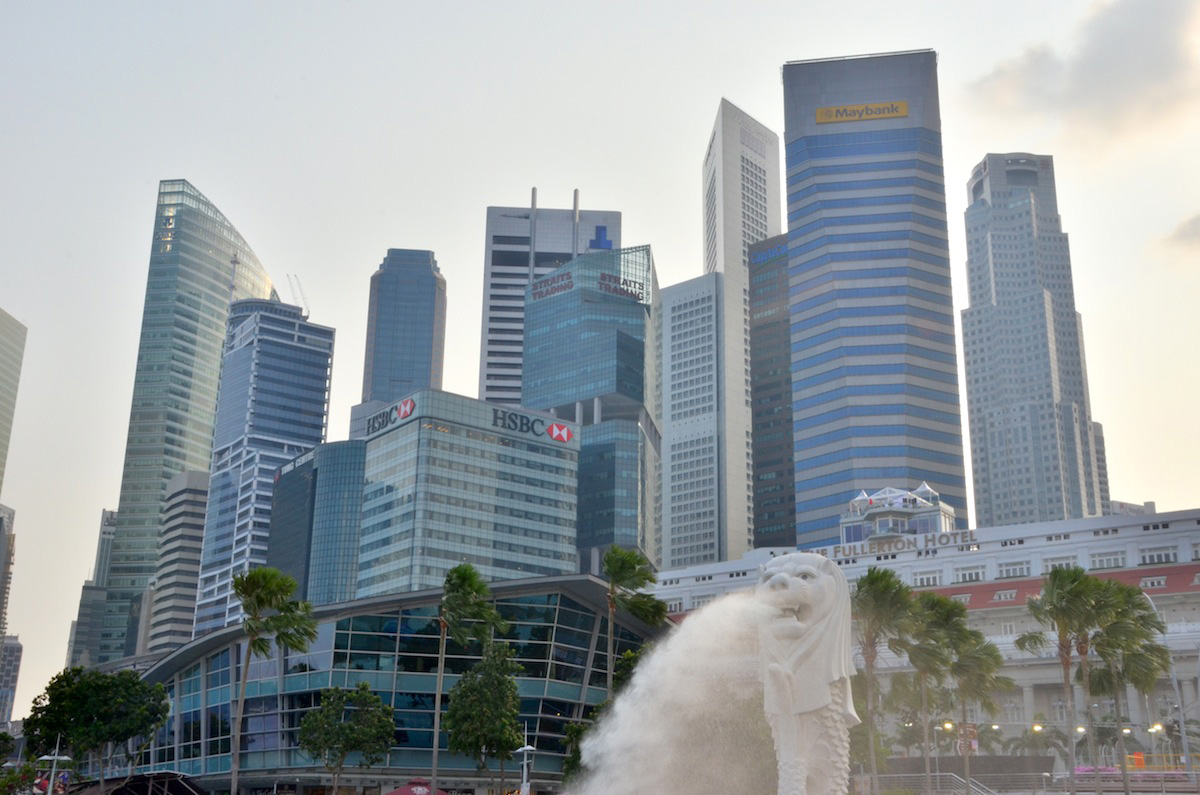 Singapore may be tiny, but it packs a big travel punch. A tiny speck of order in the middle of chaotic Southeast Asia, it's a city—and a state—of contrasts, constraints and constant stimulation, whether you explore its culture, natural splendor, history or architecture.
Here are 7 reasons you should consider paying a visit to Singapore in 2016. Can you think of any others?
1. The Original Singapore Sling
When you think of Singapore, one of the first phrases that probably comes to your mind is "Singapore Sling." What better way to enjoy both of these delights together than by ordering the cocktail at its birthplace, the Raffles Hotel bar?
2. Asia's Most Delicious Chinatown
Singapore's Chinatown is not only visually stunning, but also culinarily so, featuring a variety of Chinese foods from around Asia, whether you sample Taiwanese noodle hawkers or sit down for Singaporean chili crabs. Plus, Chinatown is the place to be during Singapore's Chinese New Year celebrations in February.
3. Singapore Art Week
Speaking of special events in Singapore, why not check out the city's artistic side? Singapore Art Week, which will be held between 16-24 January, celebrates Singapore's very best art and artists.
4. A Little Piece of India
Singapore is nothing if not a tapestry of cultures—Chinatown is only the beginning! Make a stop in Little India not only to sample delicious Indian cuisine, but indeed to step into India without setting foot on the subcontinent. On February 3, Little India comes alive with the colors of the Thaipusam Festival.
5. Gardens by the Bay & Not by the Bay
Forget the name: When you visit Singapore's Gardens by the Bay, Marina Bay will be the farthest thing from your mind. In fact, when you combine the Gardens' spacey sculptures with the futuristic skyscrapers of Singapore's skyline, you might feel like you're on a different planet. Of course, Singapore is also home to more traditional, terrestrial gardens, namely the Singapore Botanic Gardens. Make a special stop at the Orchid Garden, which showcases Singapore's national flower in dozens of vibrant colors.
6. Singapore Zam-Zam
Your Singapore culinary adventure continues on Arab Street. Here, you'll find the beautiful Sultan Mosque and also, one of Singapore's most underrated restaurants: Singapore Zam-Zam, whose savory "Murtabak" will have you speaking Arabic as you stroll away.
7. Merlion
Singapore is as timeless as it is modern, and nothing in the city-state reflects this more than Merlion, the national symbol. The Merlion fountain is a perfect place to Instagram, whether you capture yourself beneath it, or use its plume of water to frame the Singapore skyline.
Share:

I never really knew my grandfather on my father's side. I spent the first decade of my conscious life across the country from him, and by the time we were all living in the same city again, he was deep in the throes of Parkinson's Disease. All I really remember about Grandpa is the image of him lying on his back, suspended somewhere between asleep and awake—and, I hope, between his dreams and the bleak reality of his later life. That, and a picture of him taken after he finished his World War II service.
"The plane that took him home flew over Scotland when he was on his way back from Germany," my grandmother often recounts to me, when we're talking about trips I've recently taken. "He thought it looked so green and beautiful—he always said he wanted to go someday, but never did.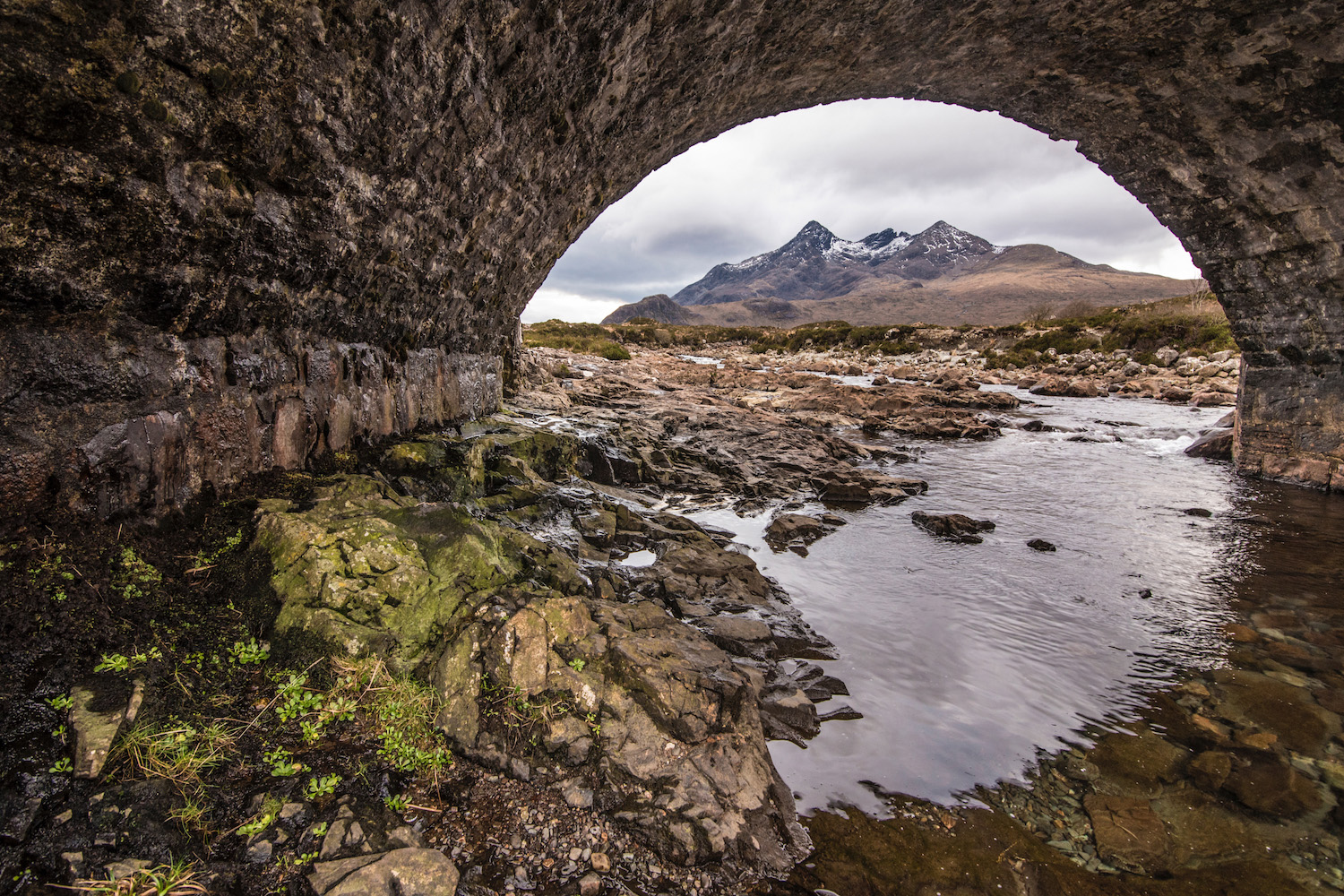 "Have you ever been to Scotland, Robert?" she'll finish wistfully, almost as if she's talking to her long-dead husband.
I typically shake my head, omitting the fact that I have indeed been to Scotland before—to Glasgow, for two days in 2005—mostly because I remember as little about my first trip there as I do about my grandfather.
When Grandma asked me this question again a couple weeks ago, however, I had a different answer.
"As a matter of fact," I smiled subtly, not unlike Grandpa is his army portrait. "I'm headed there on Tuesday."
Grandpa never gave any specifics about what he saw of Scotland from the air, aside from the aforementioned comment about its green color and beauty: He could just as easily have been flying over the outskirts of Edinburgh or Glasgow as the towering mountains of the Highlands or the enchanting coastlines of the Isle of Skye.
For all he knew, he could've been looking down at England, Wales or even Ireland and not realized it—without modern technology, I doubt passengers had any way of knowing exactly where their plane was.
Although many of my subsequent posts on Scotland will be of an informative nature, I wanted this one to honor not only my grandfather's unfulfilled desire to visit Scotland, but the imagery that likely led him to that conclusion. 71 years after the end of the second World War, Robert Schrader has finally set foot upon the land of Scots—I hope these pictures inspire you to do the same.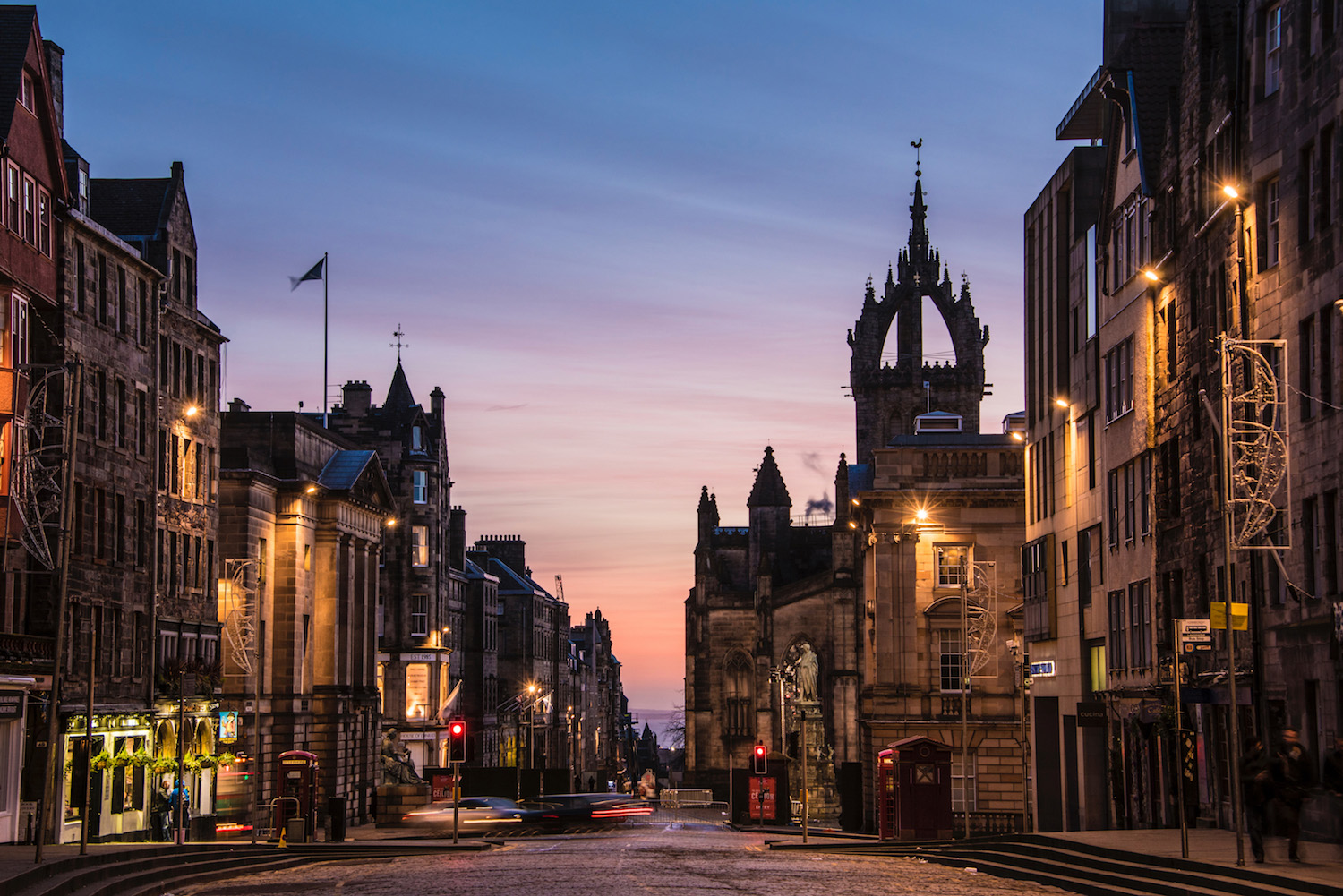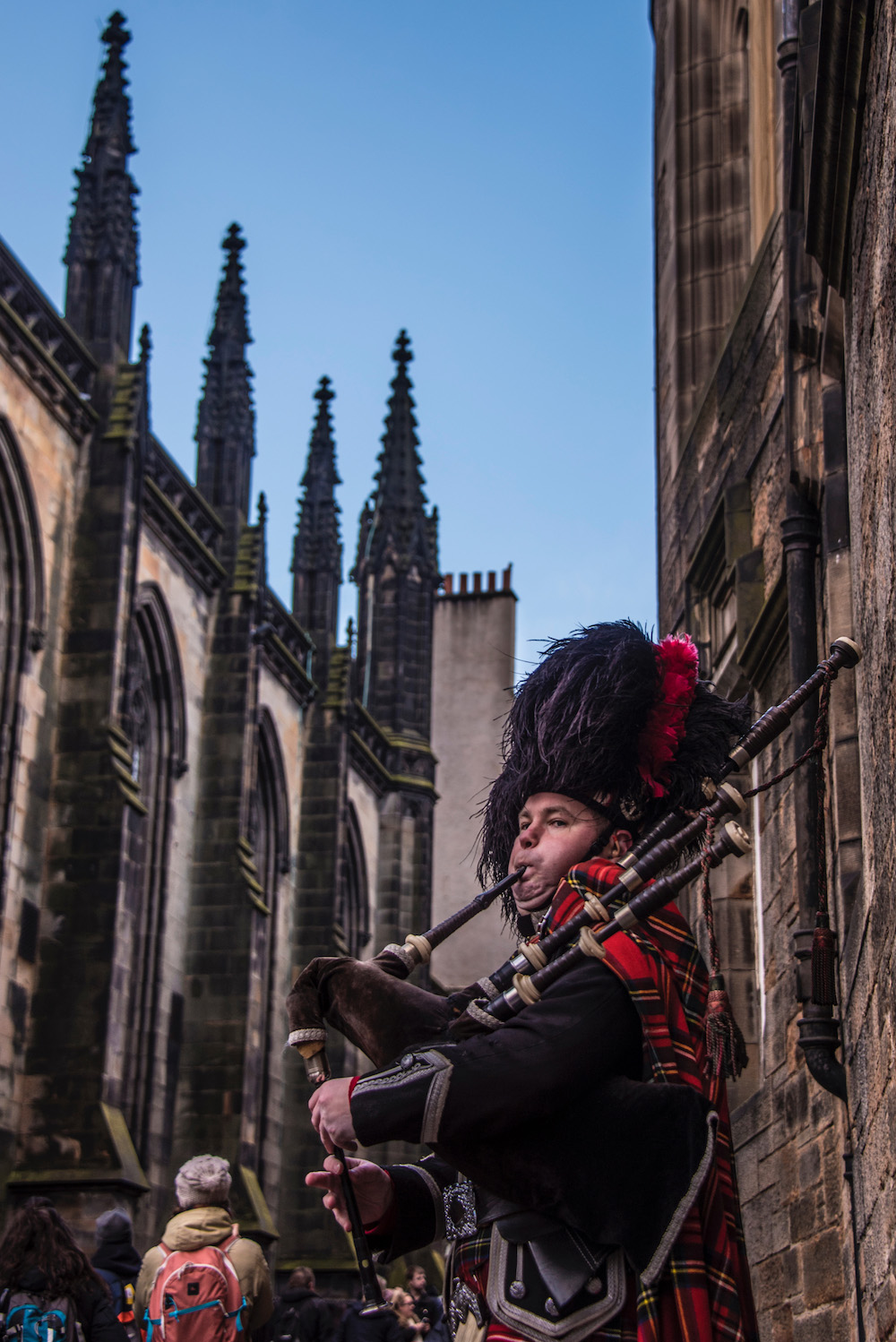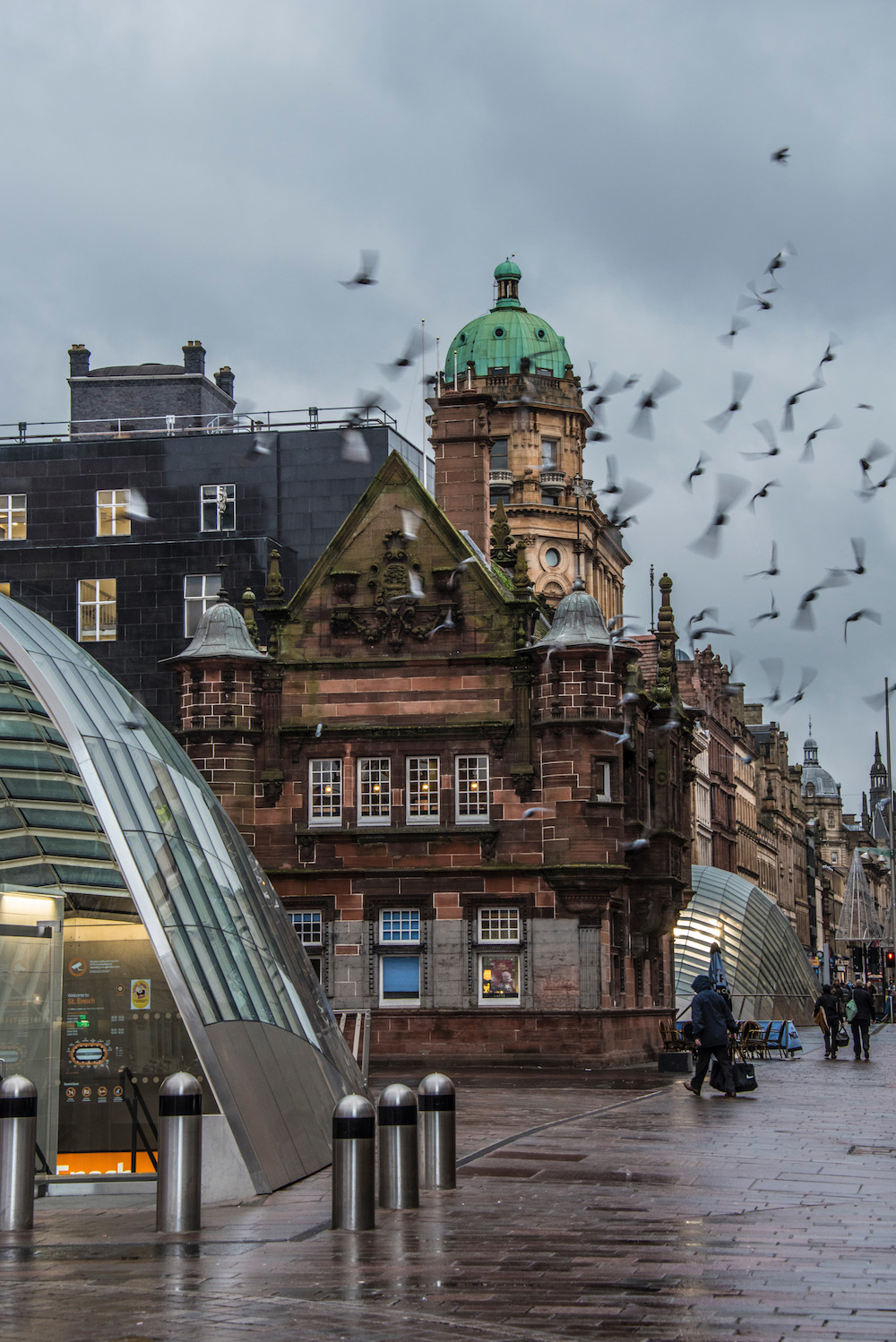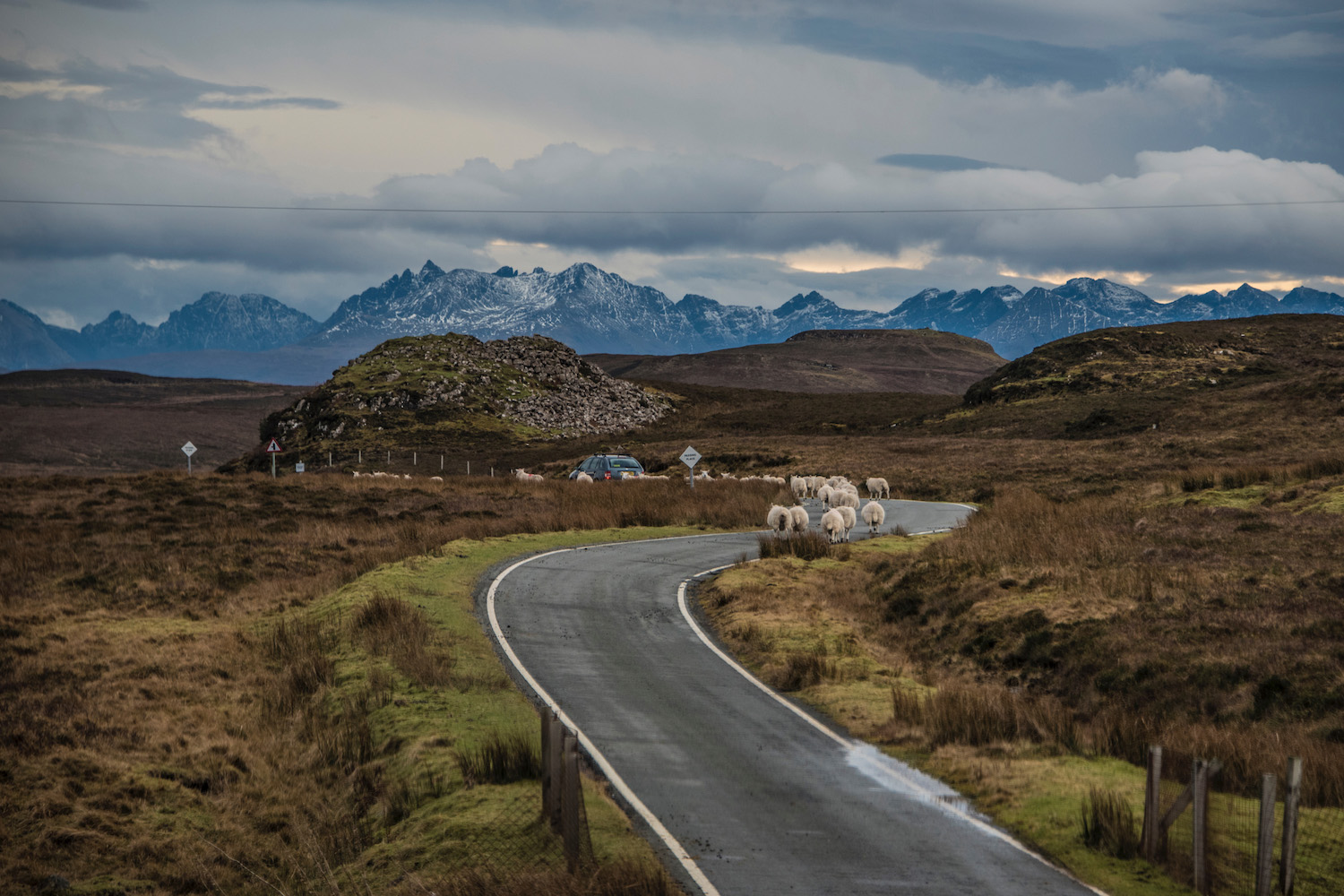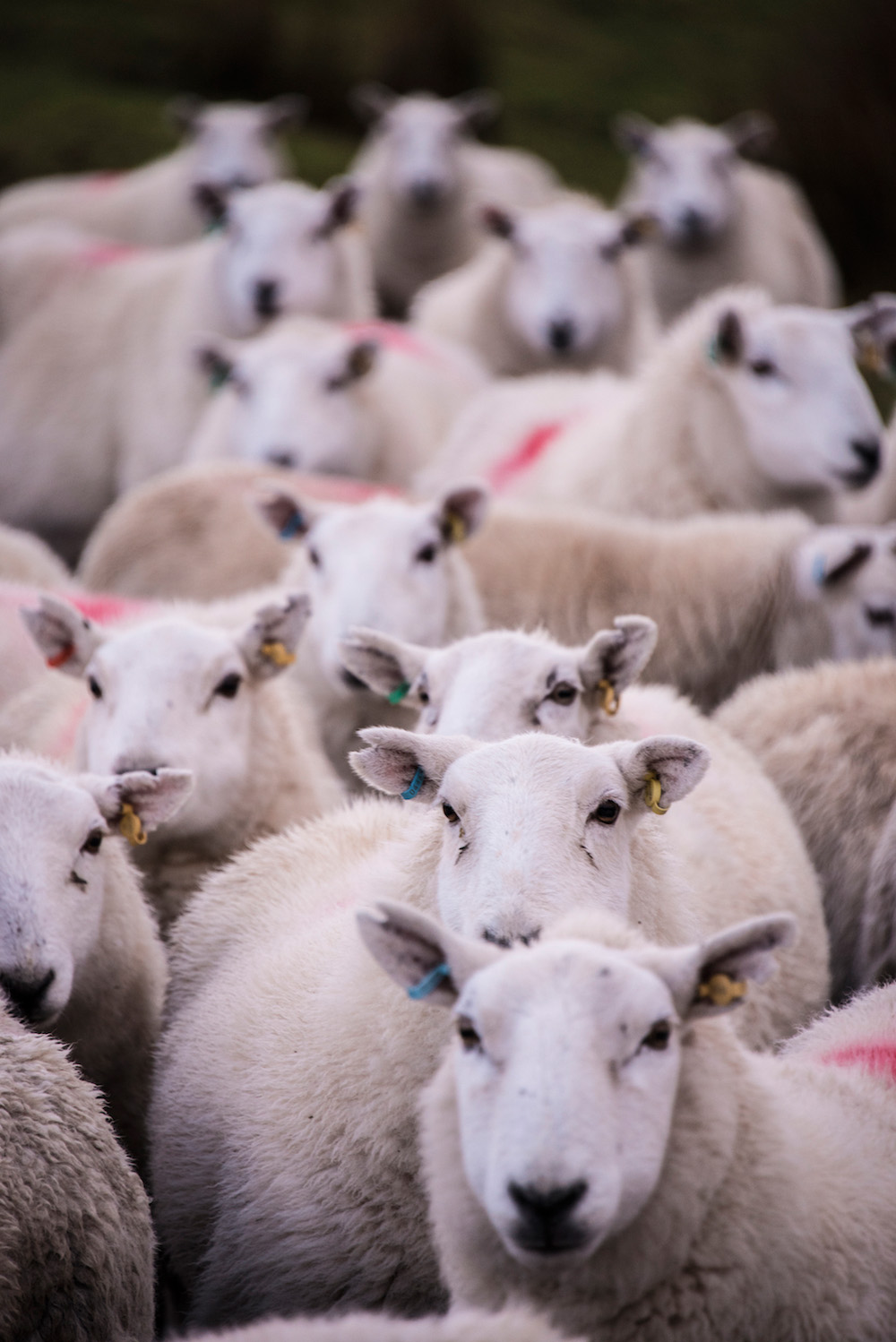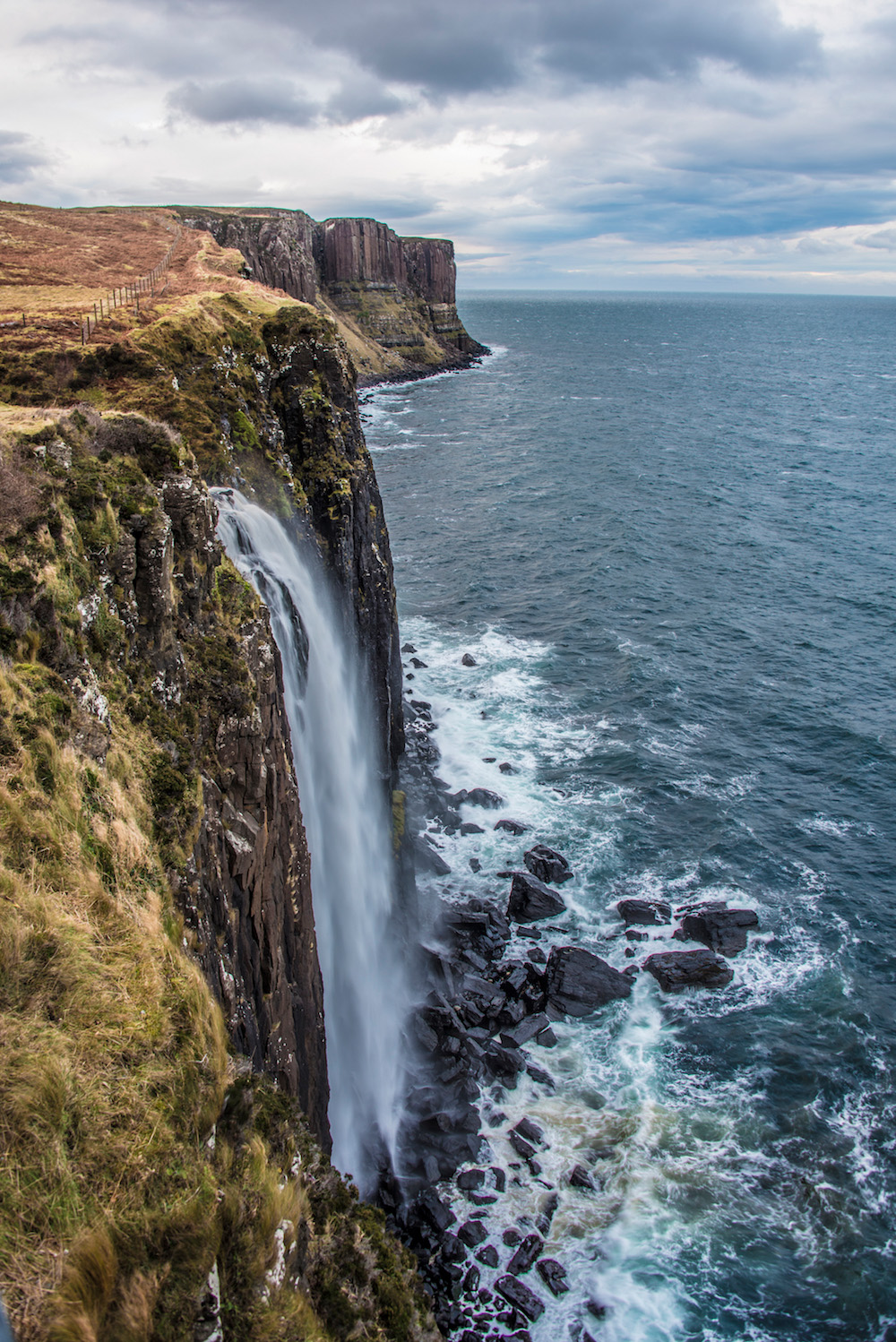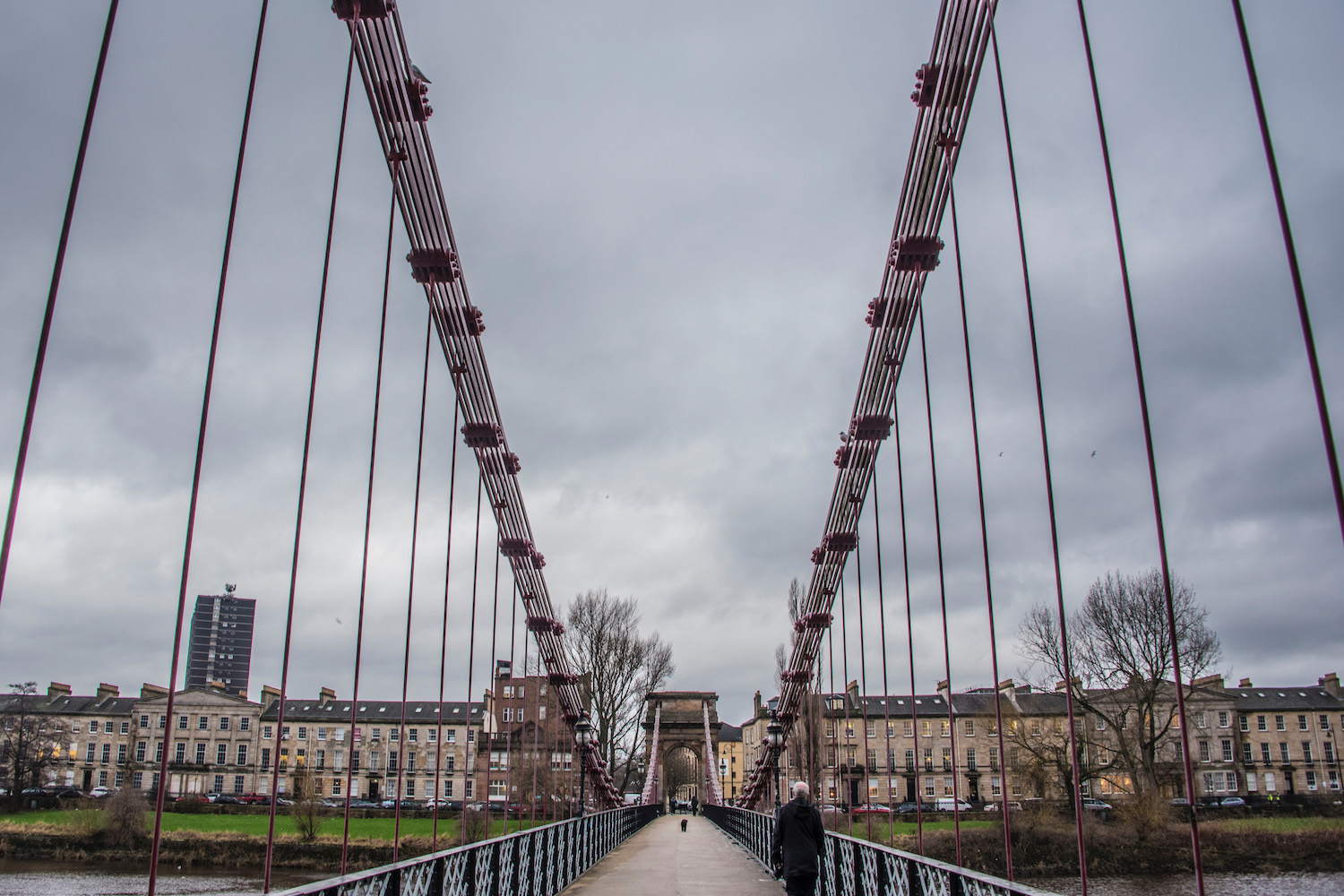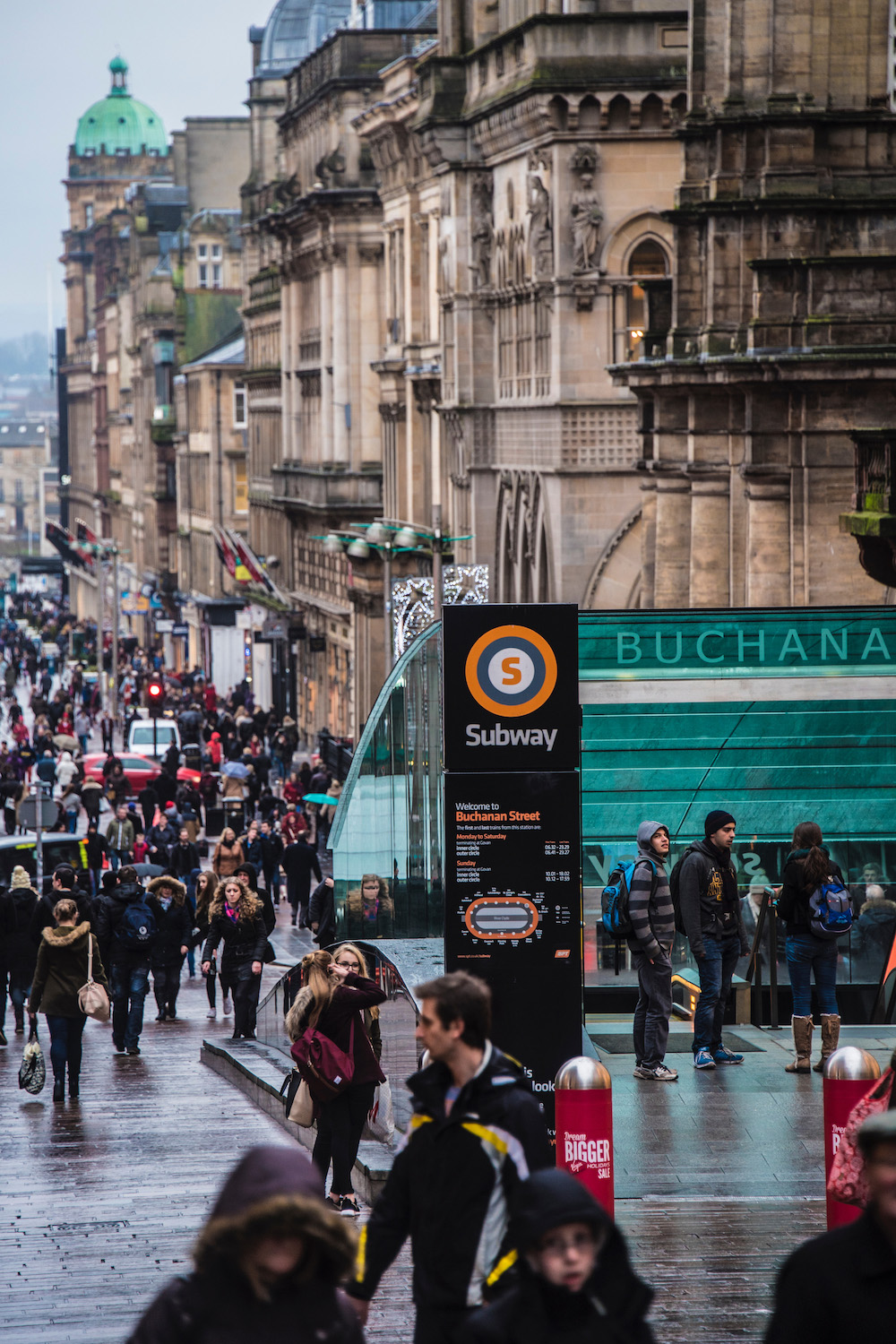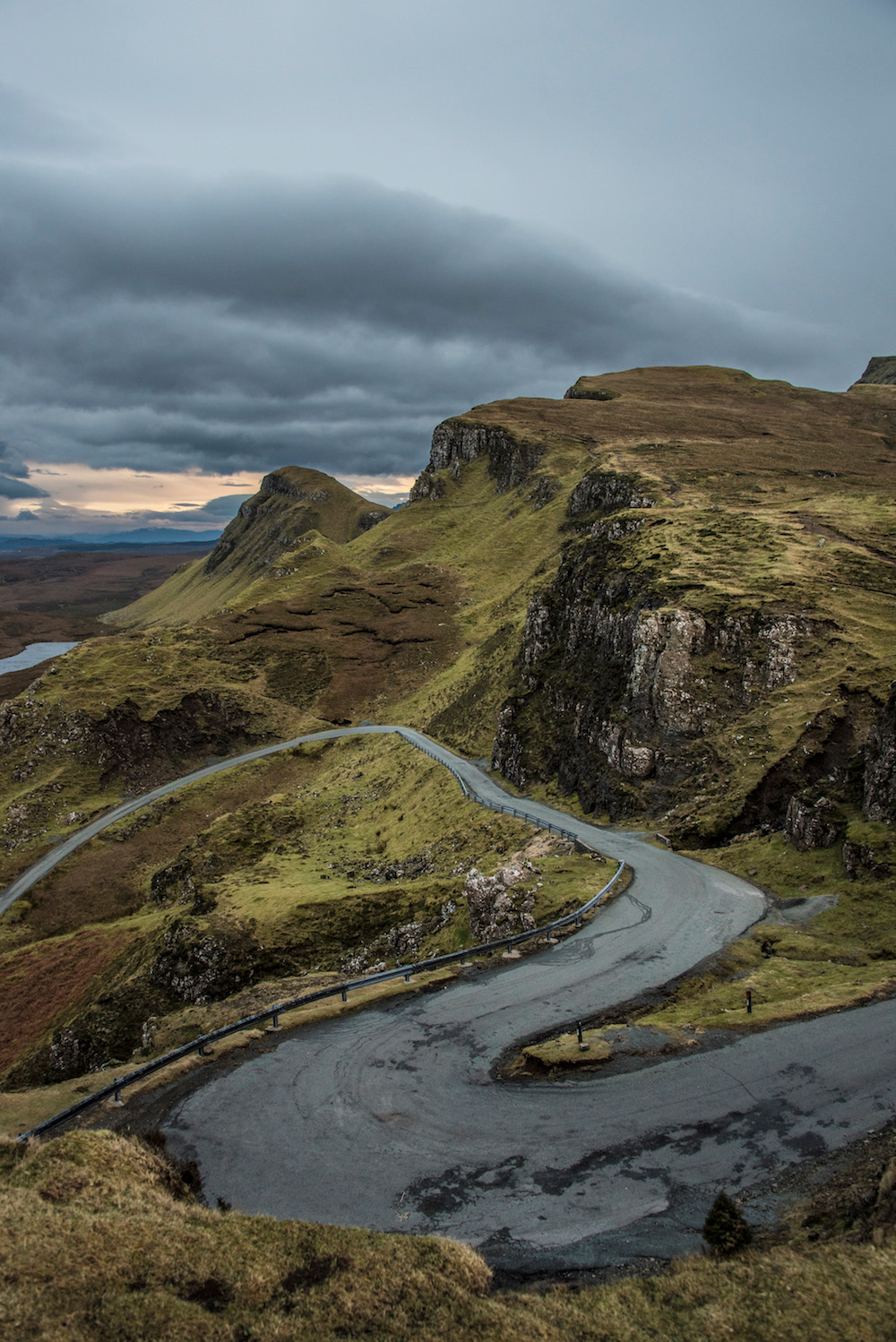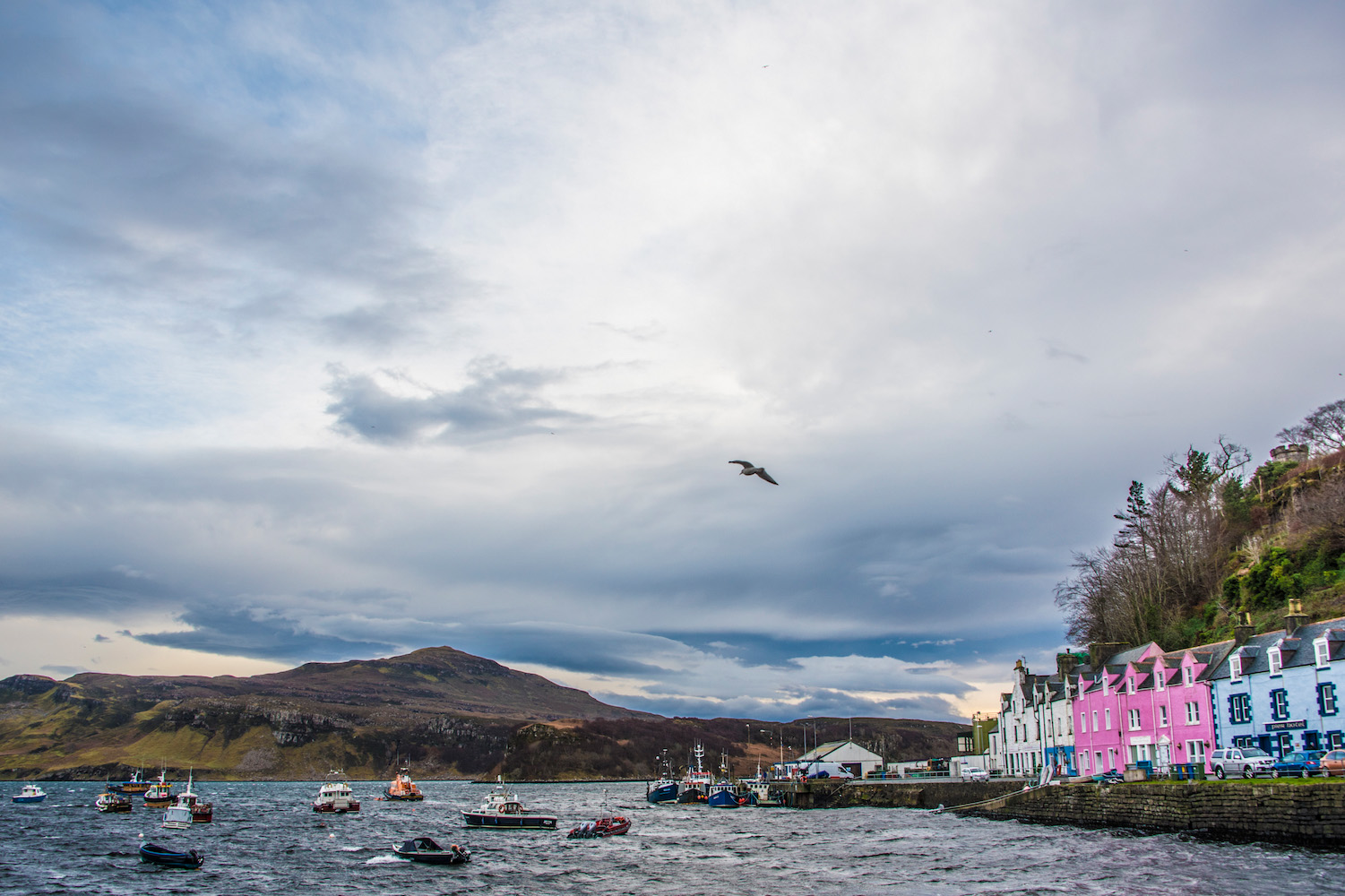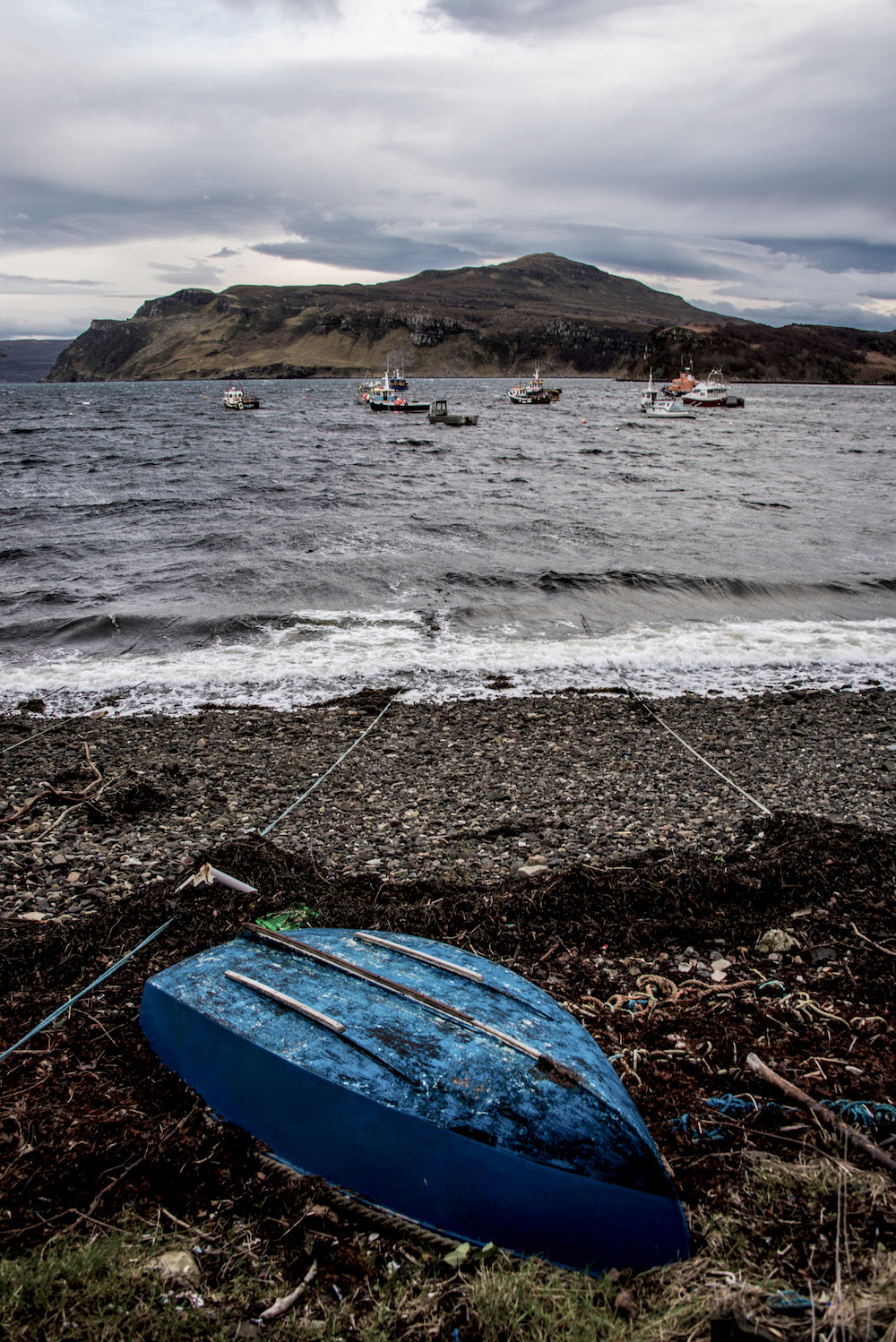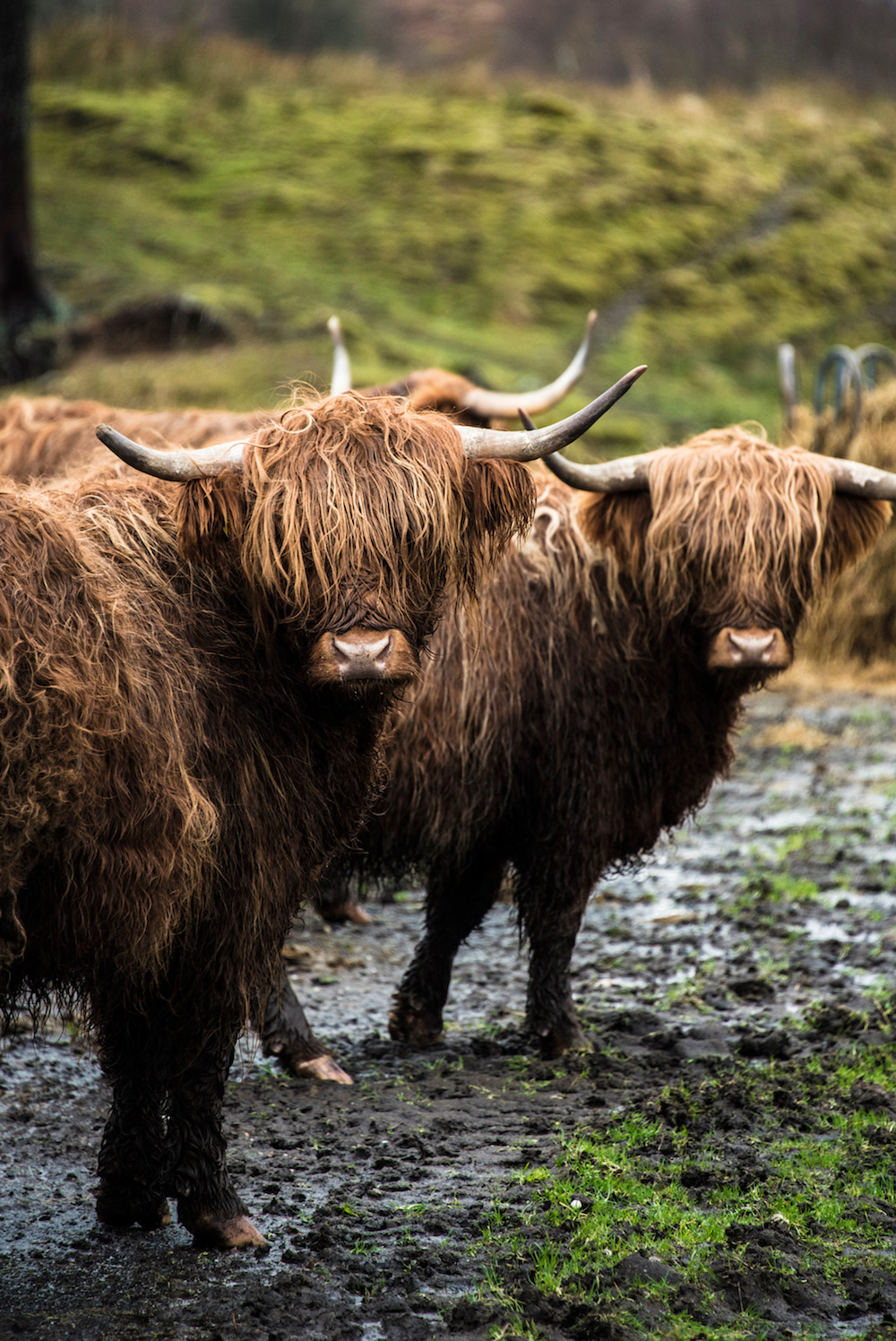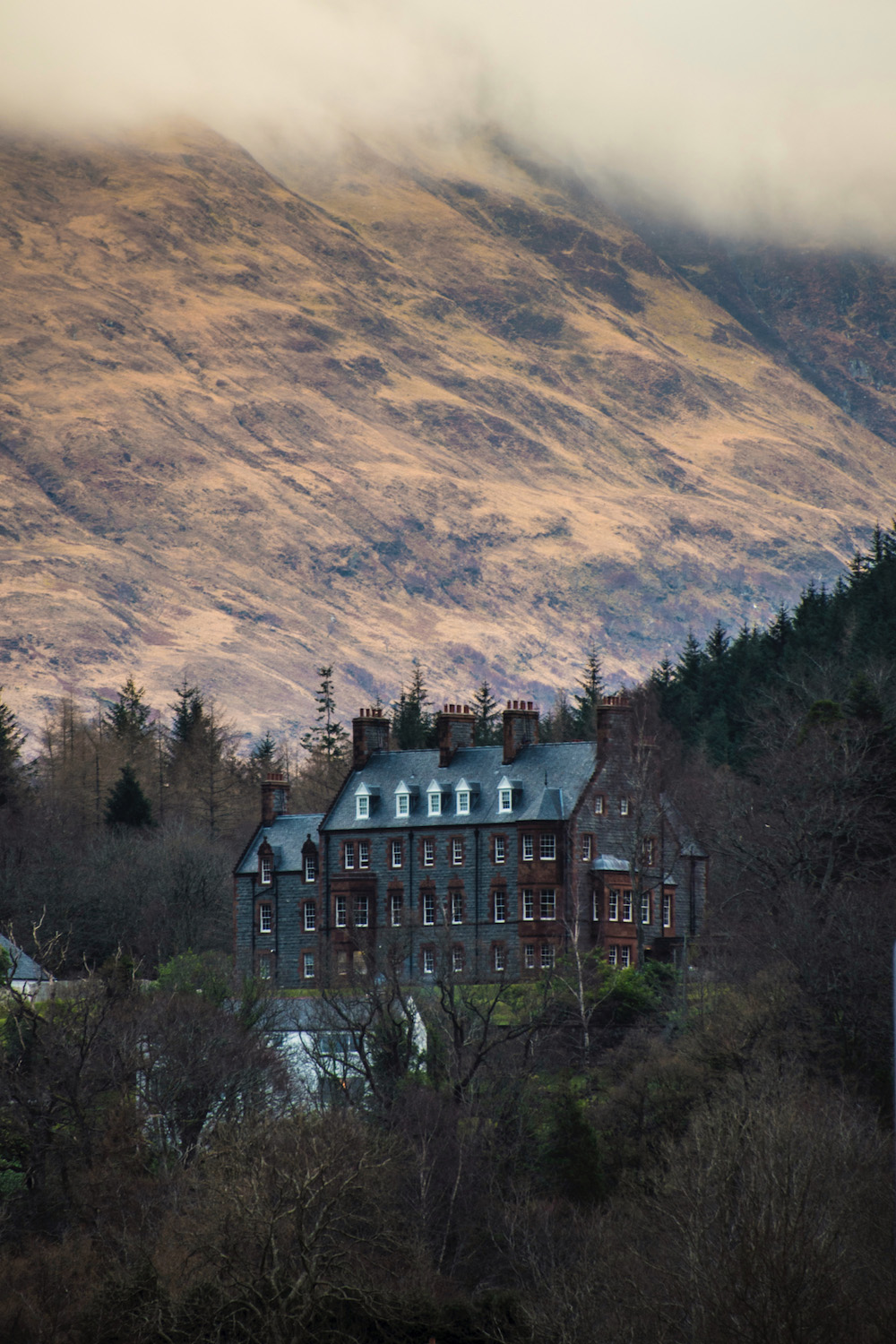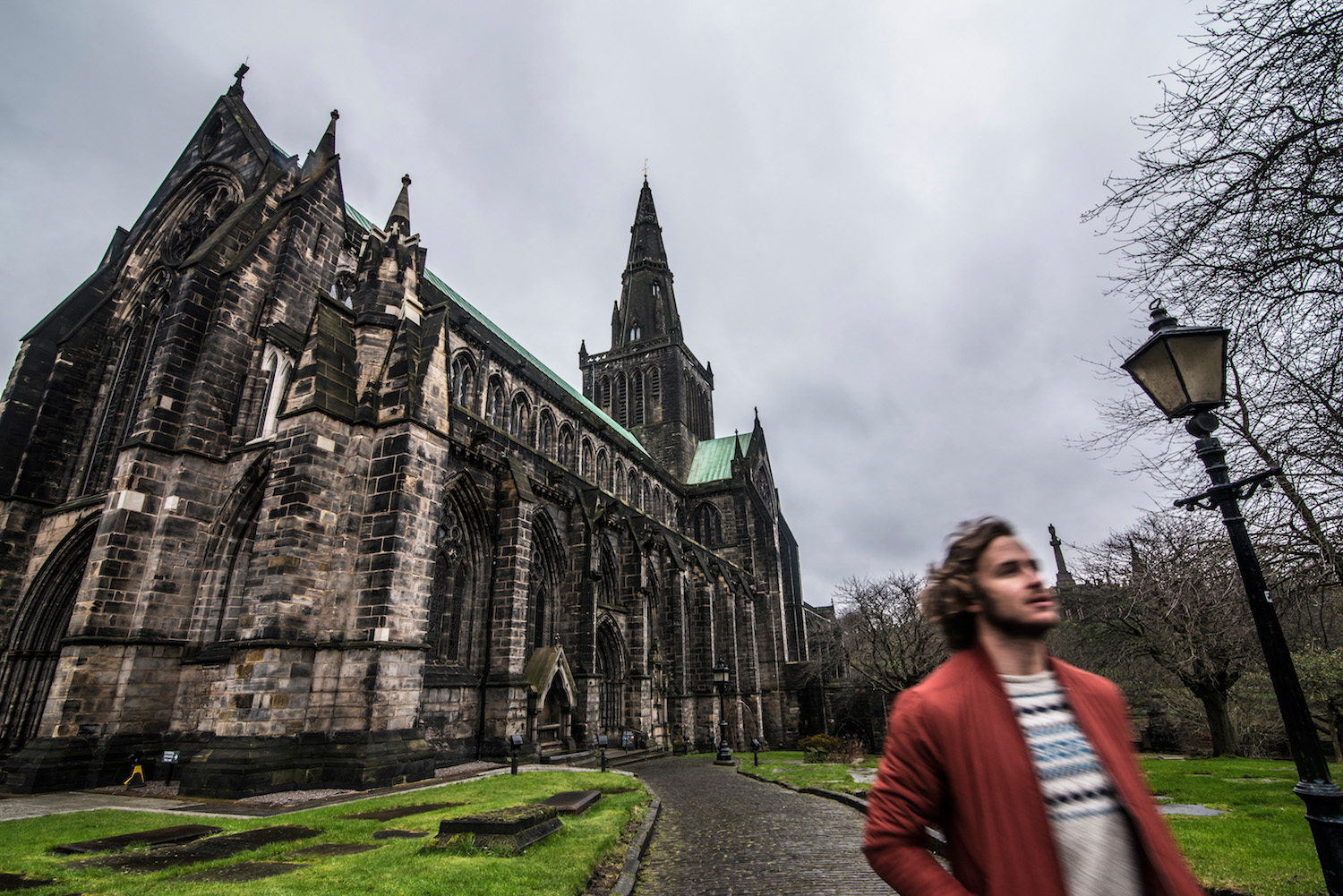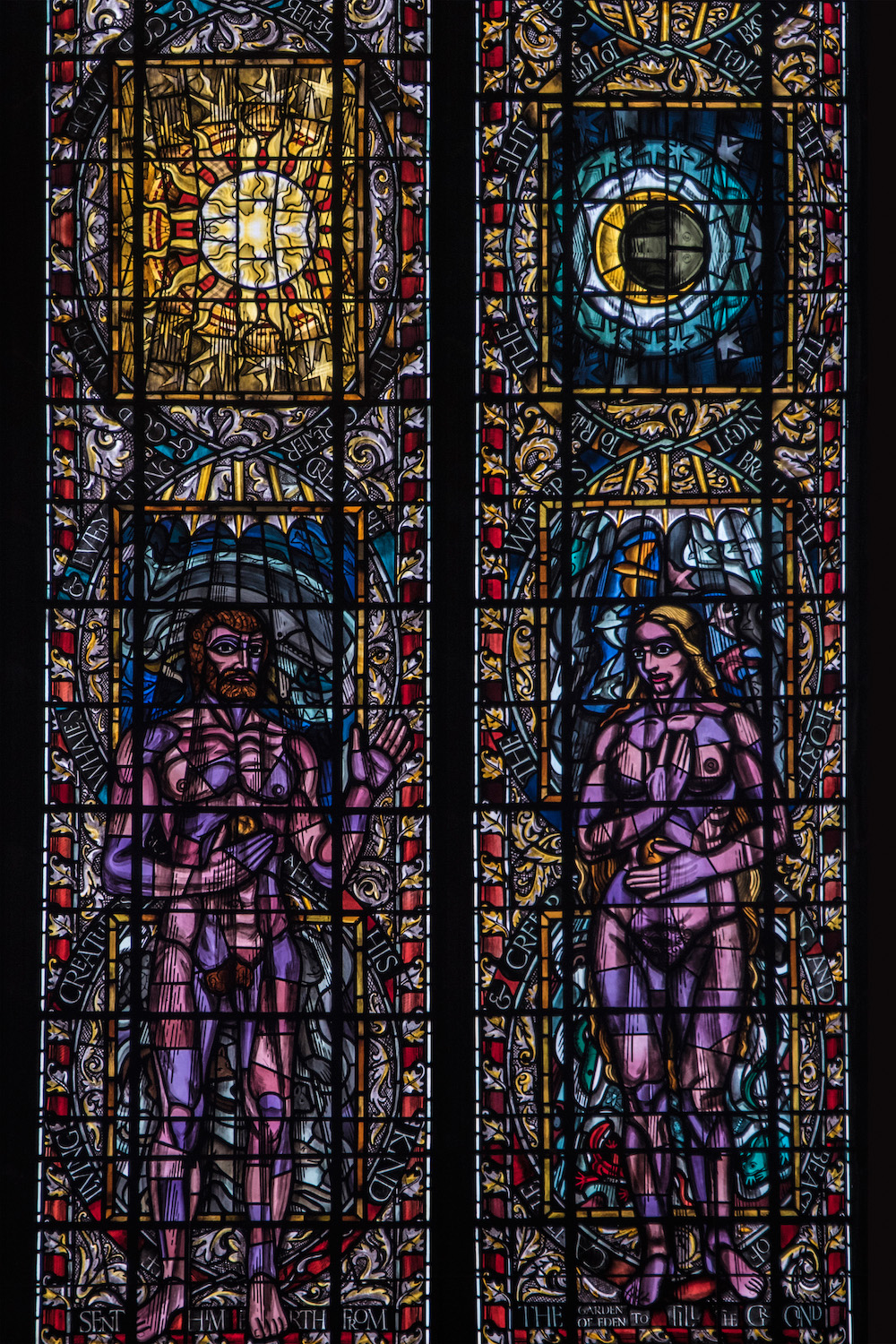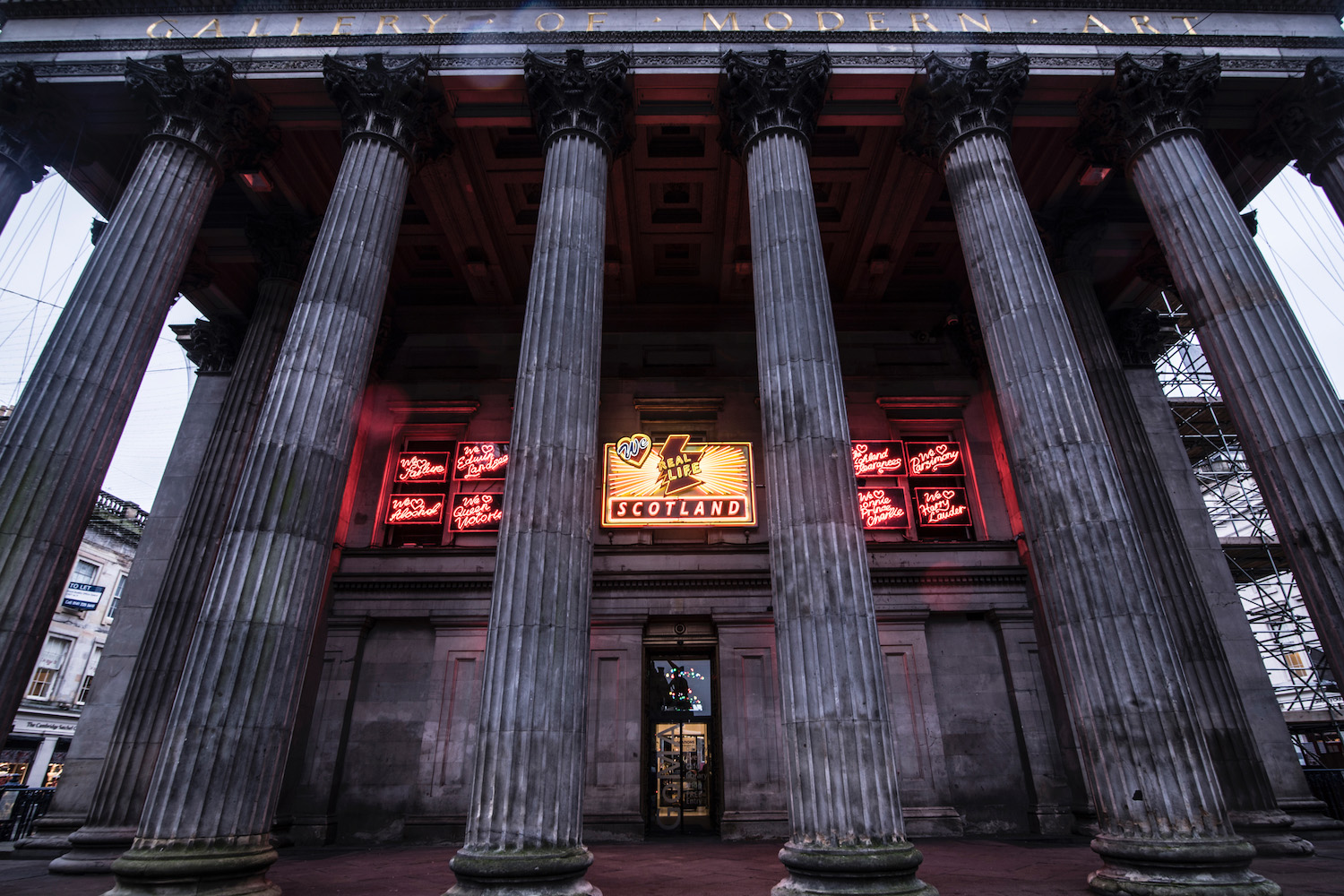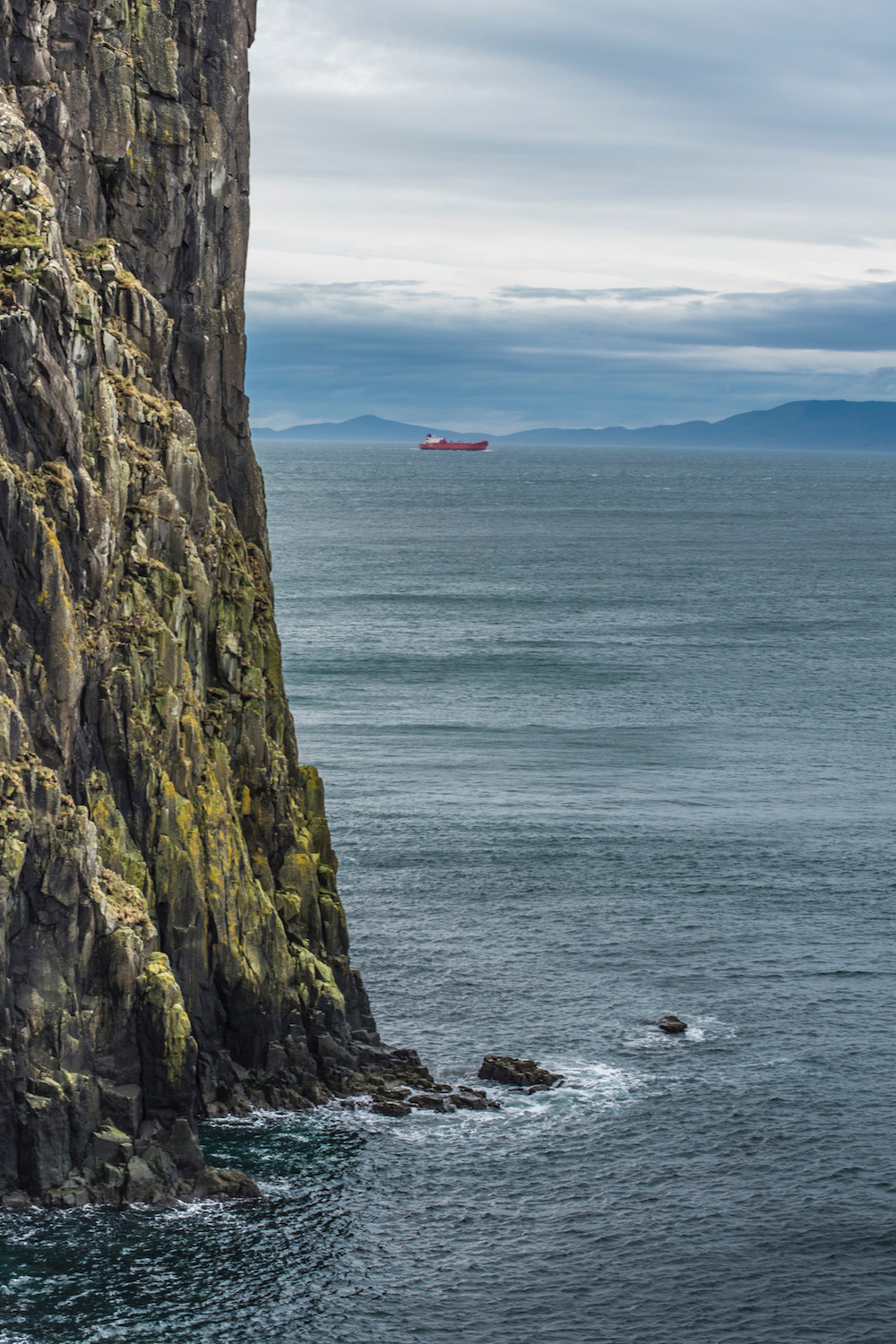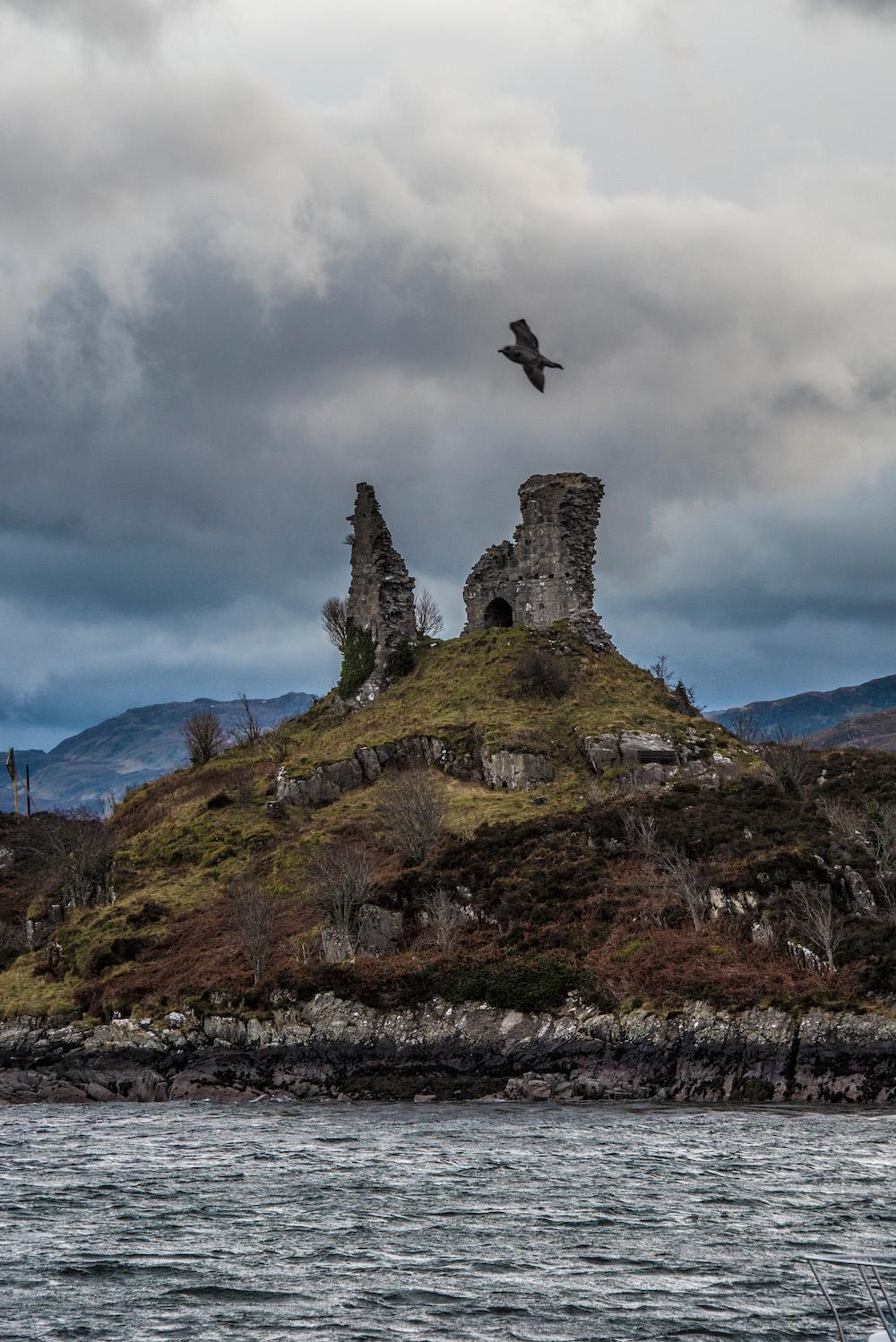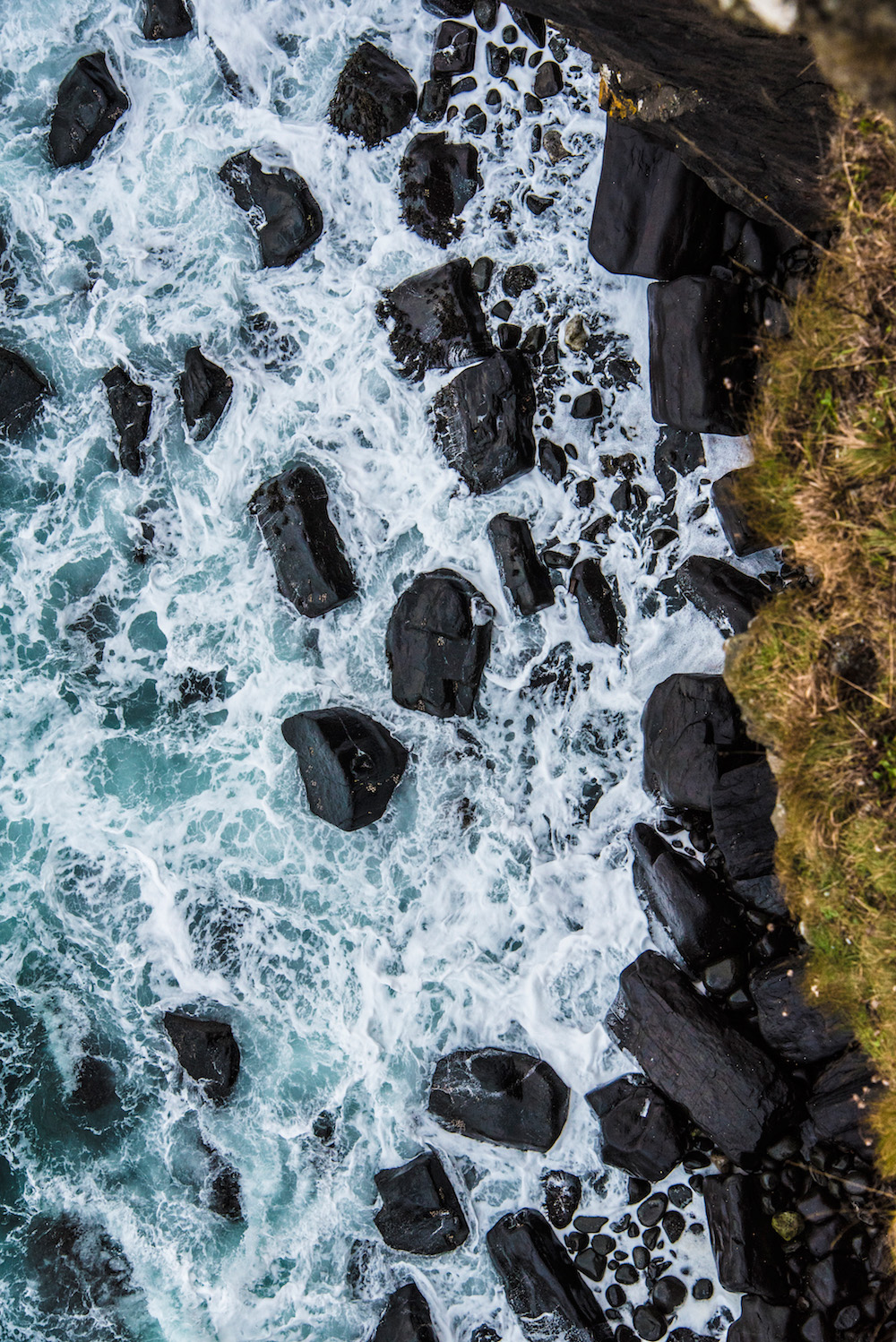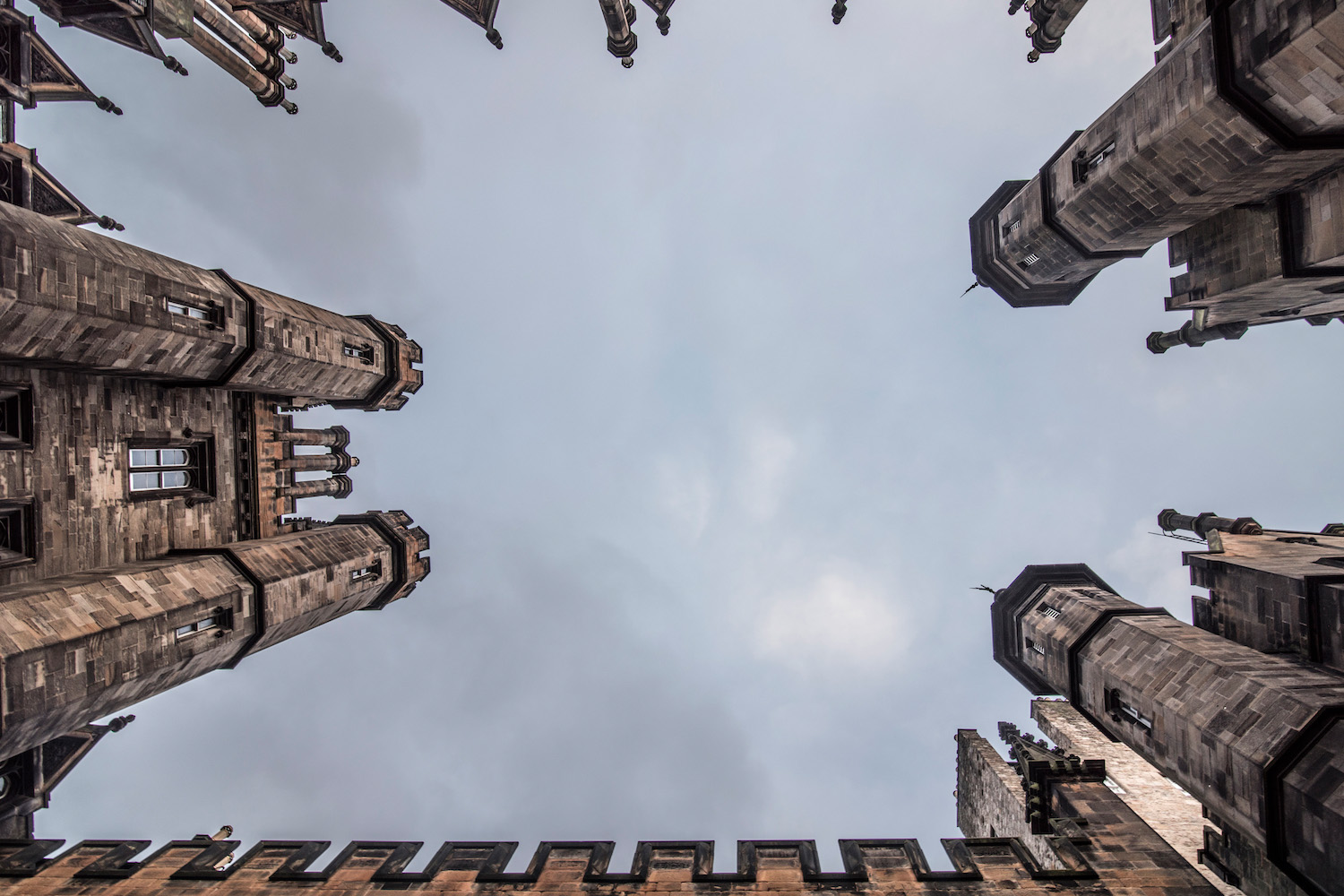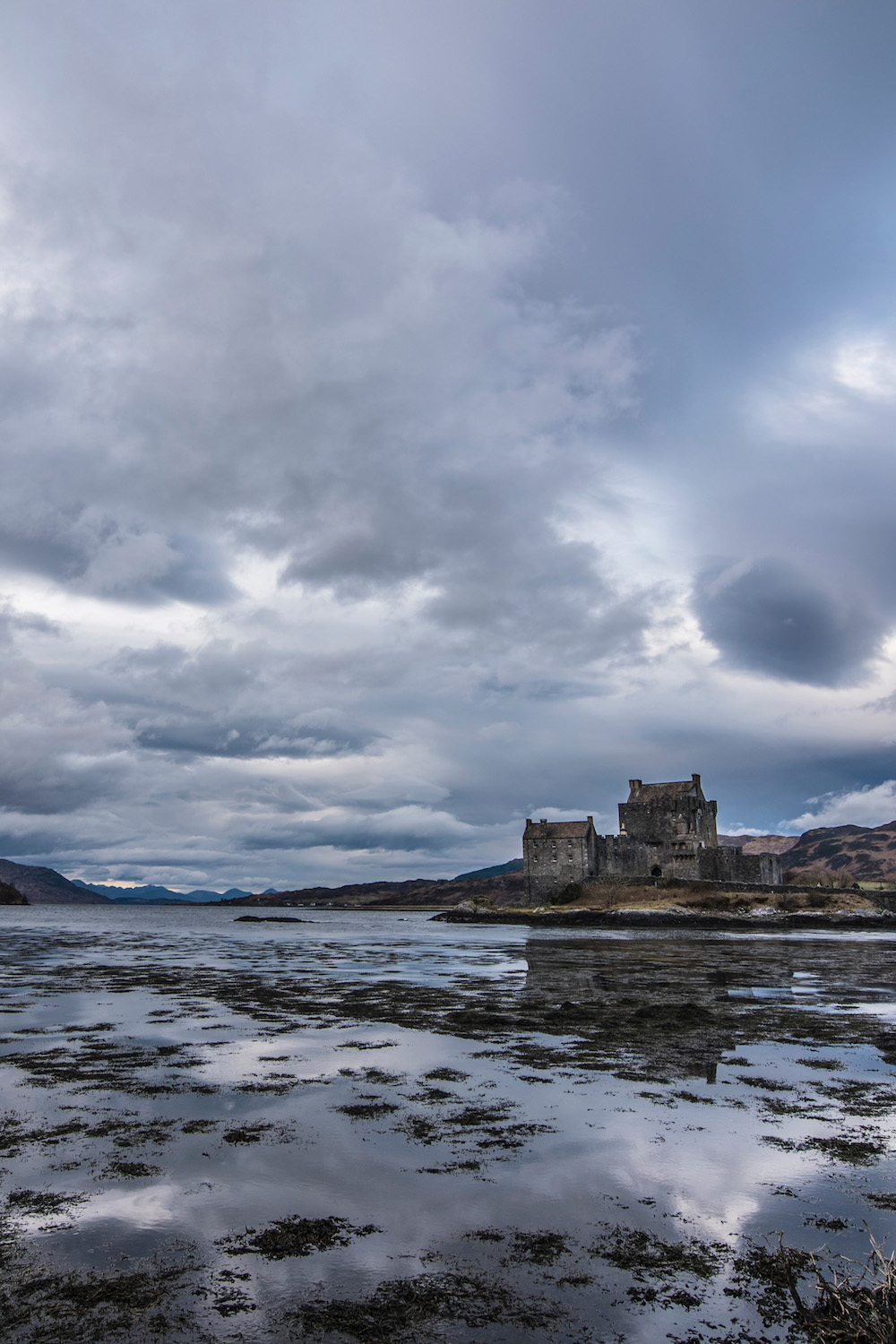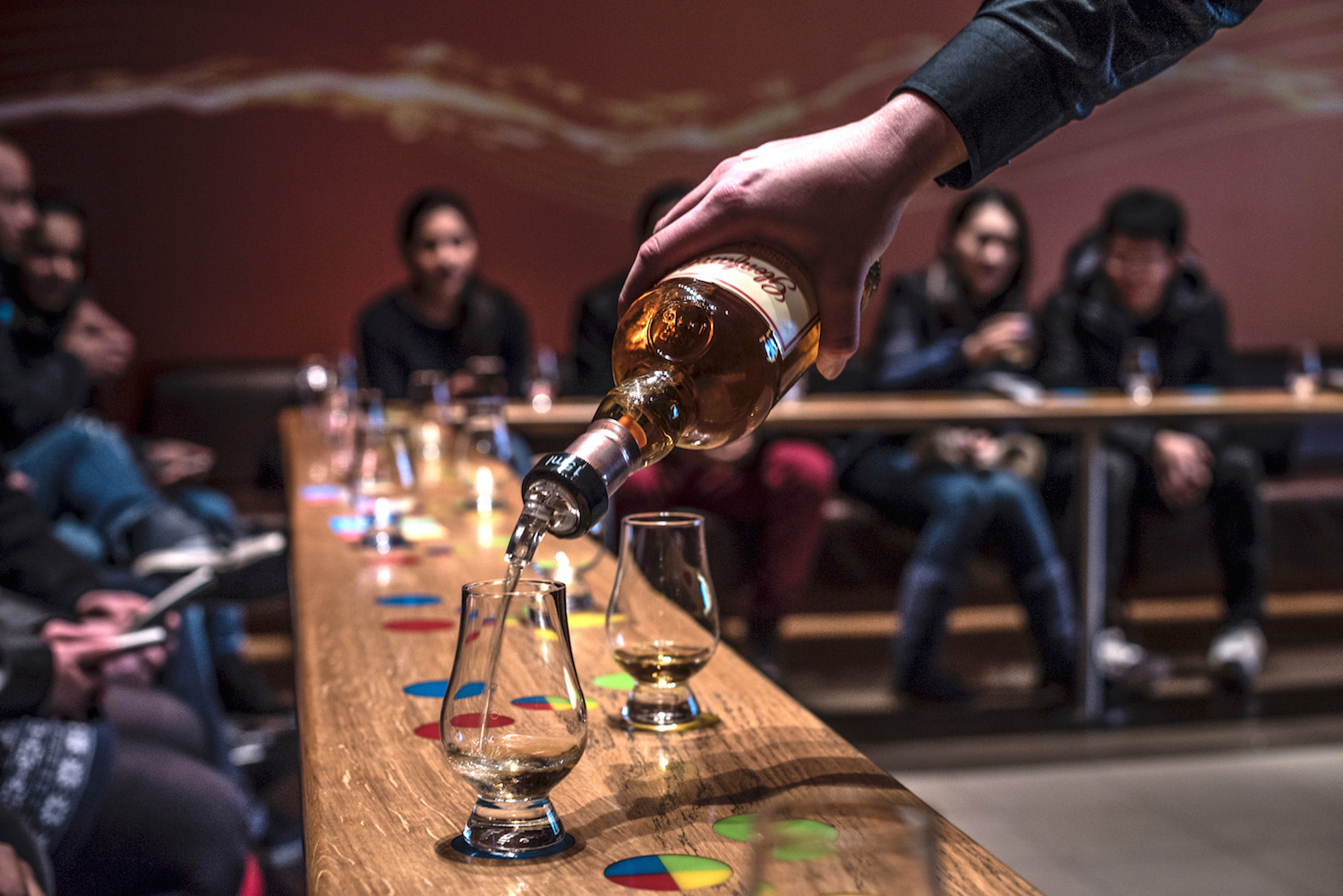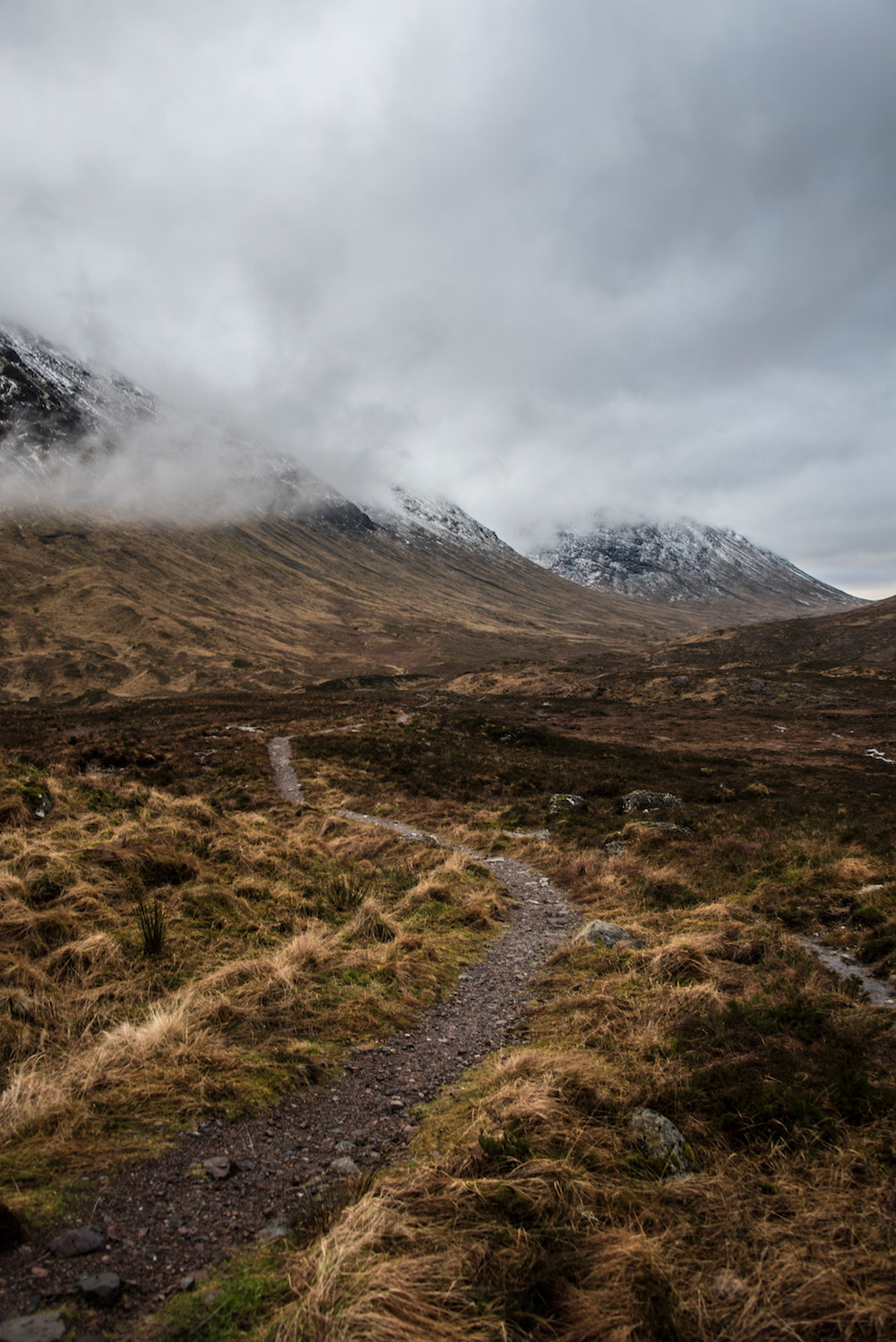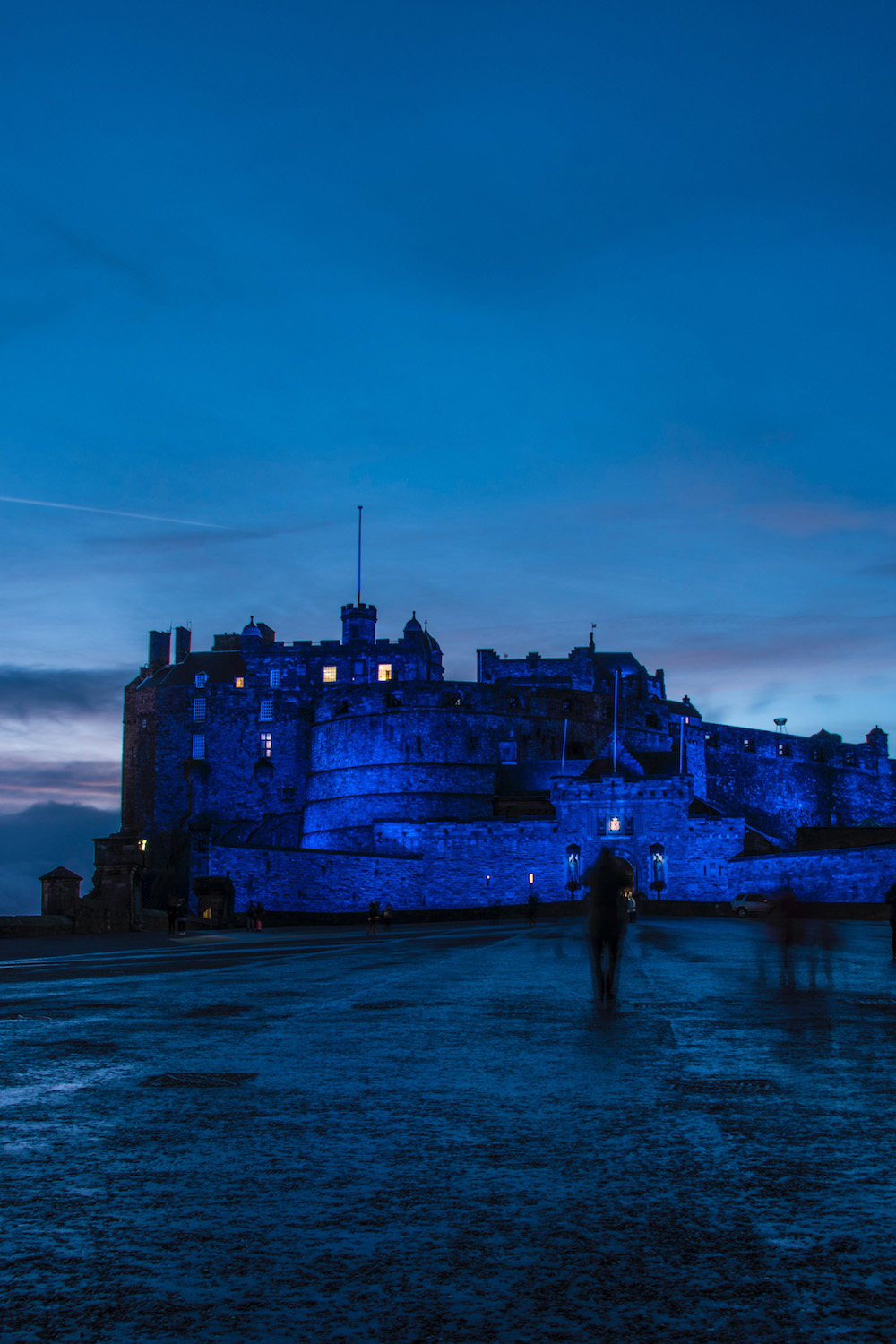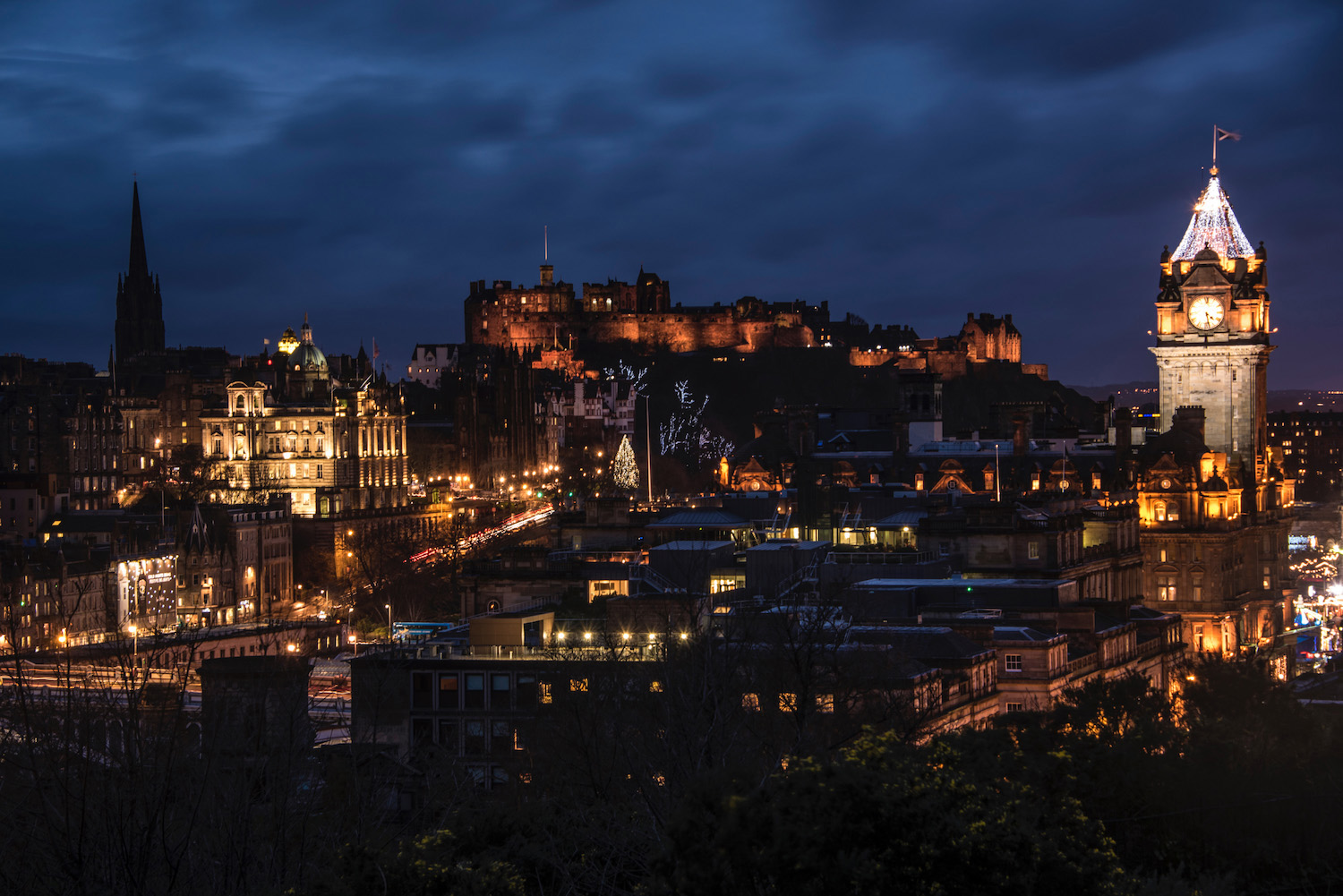 My trip to Scotland was made possible by Edinburgh's Hogmanay, who is supported by ETAG, The Scottish Government, VisitScotland, Edinburgh Festivals, Marketing Edinburgh, Rabbies Tours and co-creators Haggis Adventures. Created and produced by Unique Events. As always, all opinions expressed here are entirely my own.
Share:

The sun is a dim, orange blur as my plane lands perpendicular to its struggling rays. I board a train. It speeds toward the city center and the sun—or what's left of it—has nearly descended beneath the horizon, the smoggy air tinged a delightful rosy color that belies its toxic composition.
The sky has darkened by the time I exit the station and begin walking toward Houhai Lake, but to a deep, blood-red color instead of black. I feel like I've arrived on a different planet but really, it's just a different year.
To hear the media tell it, of course, Beijing is both another world and another time: The Earth of a dystopian, destroyed future. But being in China's capital has always brought me an existential sense of satisfaction, shit-talking heads and shitty air quality be damned. I can't explain it.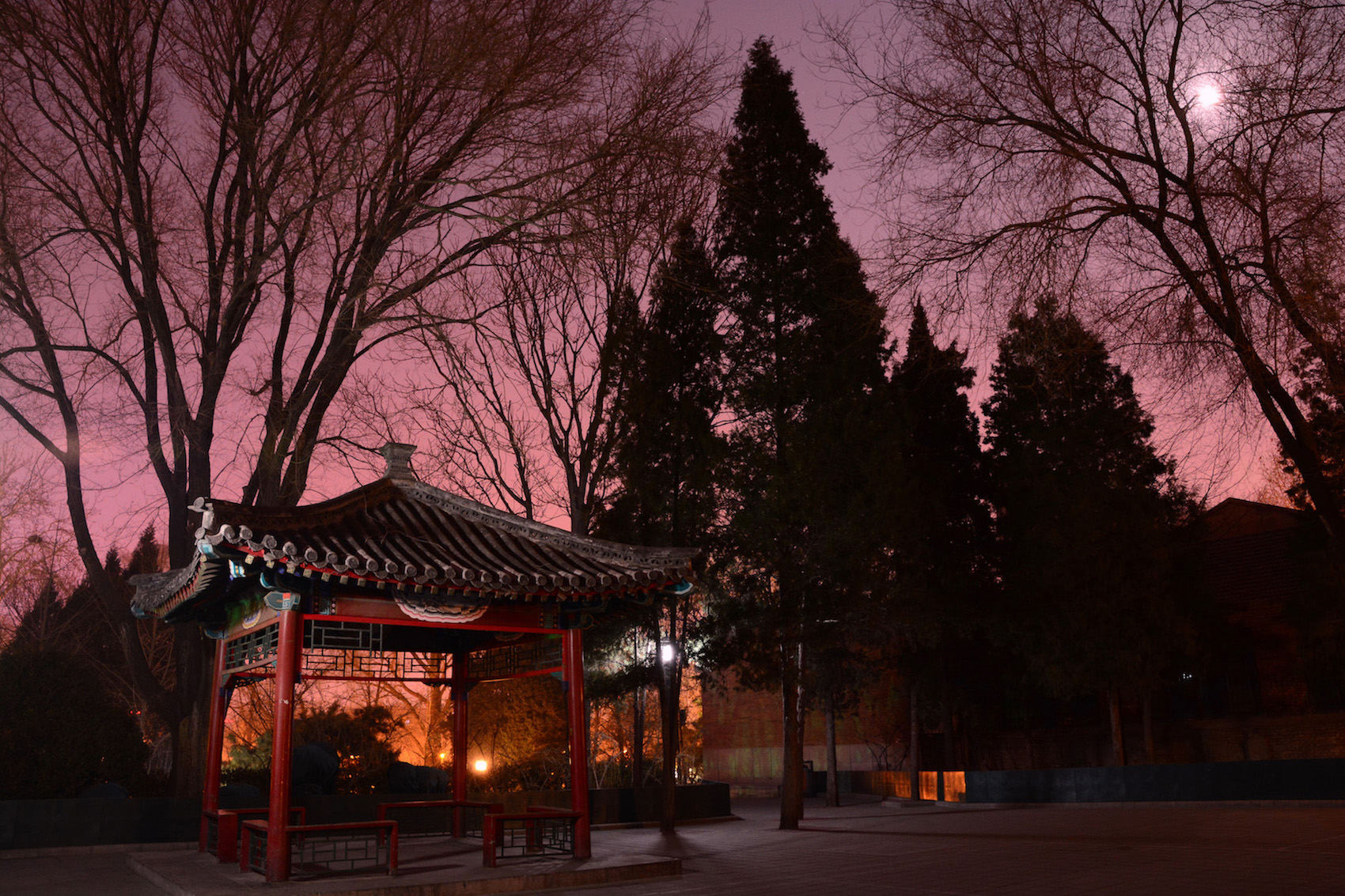 If there is one thing has defined 2015 for me, in my travel and otherwise, it's the dissonance (and often, the complete contradiction) between what should make me happy and what actually does.
By and large, my most contented experiences this year were the ones I had alone. Discovering the charms of cities like Washington, D.C. and Osaka, Japan. Risking life and limb as I drove under the aurora in Iceland or in search of amethyst beaches along the central California coast. Flying in international business class for the first time. Communing for the 11th, and then the 12th, and then the 13th time with my spiritual home of Bangkok. The various epiphanies and realizations I had with regard to my travel photography and the sweet fruit putting them into action bore. The unstrained, unashamed hedonism of my triumphant return to Tel Aviv.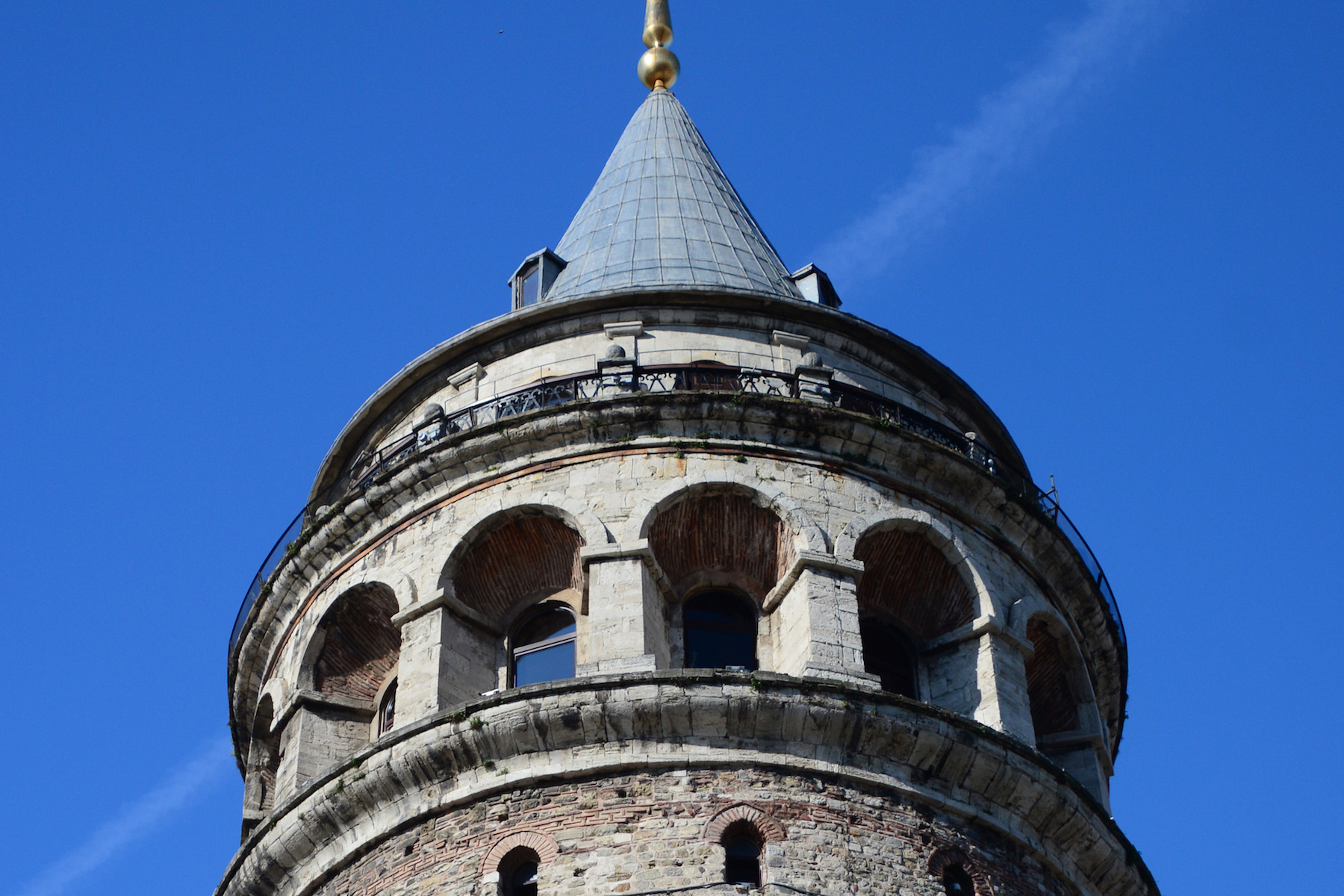 It's early one Sunday morning in May and I'm in Istanbul's Taksim Square, about to head down Istiklal Street toward the Golden Horn. I've just been on an exclusive trip of Turkey—"VIP" doesn't come close to describing what I experienced—yet strangely, the inconsequential discoveries I make along my walk are infinitely more fulfilling: The family of cats that has made a home of a shuttered fast food stall; the hungover club kids ordering Turkish tea off a traditional merchant's copper tray; the timeless sight of Galata Tower, pricelessly without a single other tourist.
Indeed, some of my biggest frustrations of the year came in conjunction with "press trips," i.e. the ones people who aren't bloggers (potentially, you) refer to as "getting paid to travel"; the sort of trip I used to dream about getting invited on when I was a new blogger. Note that this frustration comes not from a sense of ungratefulness—in most cases, press trips do actually entail getting paid to travel, often quite handsomely—but because the style of travel such trips necessitate—tour guides, set-in-stone itineraries and a minimal amount of alone time—just doesn't fit with who I am.
My apologies to the tourism authorities of Israel, Antigua and yes, even Thailand; to Turkish Airlines; and to the GMC corporation: It's not you, it's me.
It's not your generosity, which empowers me to see the world with you; but my acceptance of it, which obliges me to experience it in the way you want me to. I'm neurotic. I'm sorry.
And it's not just tourism boards and airlines and big companies: I travel much better by myself than anyone else at all, even with people I know well and love dearly. Exploring Cuba with my long-time travel buddy Dora; getting to know Costa Rica with a very special stranger; and, especially, driving through the pristine Canadian province of Alberta with my sister Stephanie, who is far and away the most important person in the world to me—all of these trips made me happy, I admit, but there was something missing from each of them.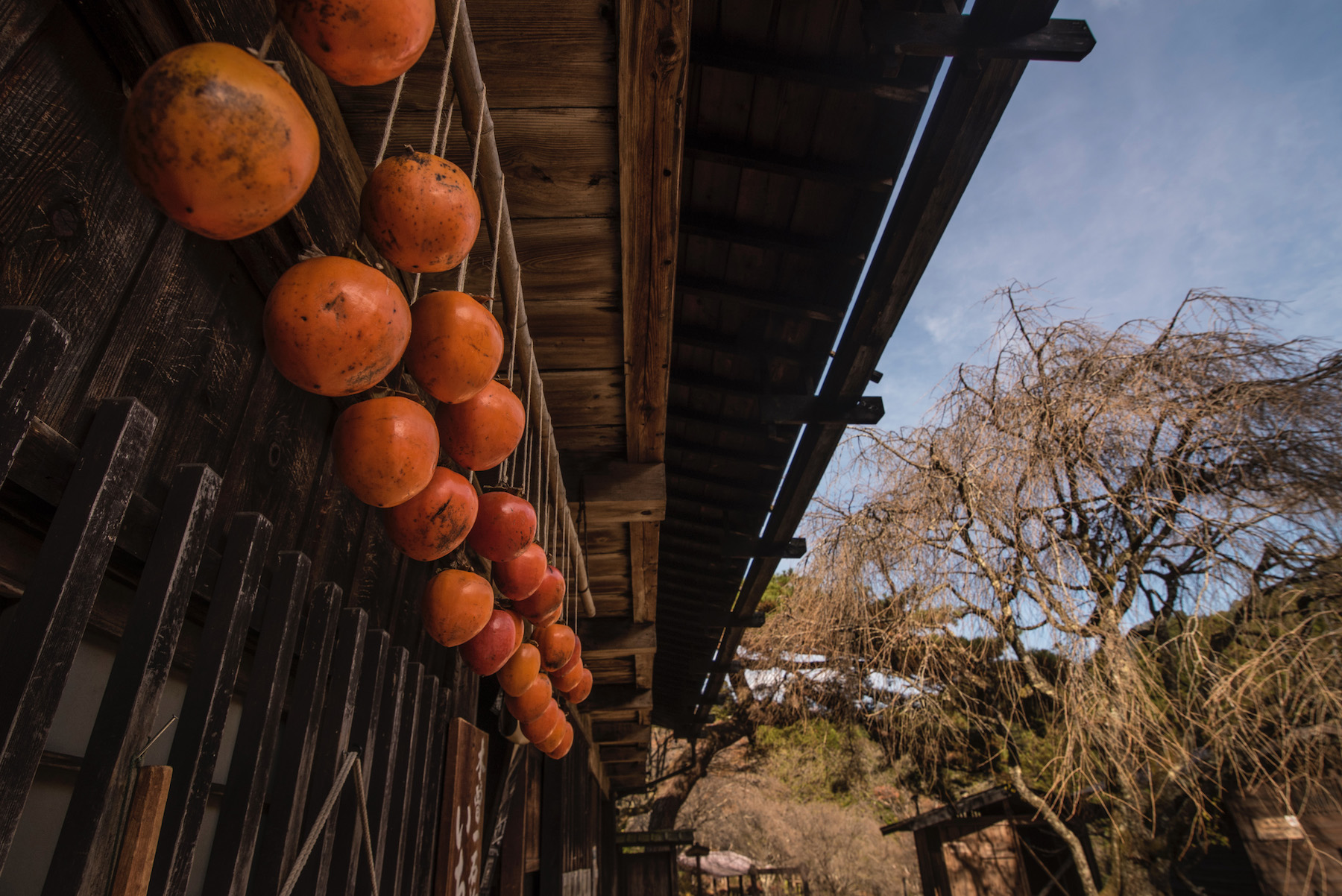 November 12. I'm walking along the remnants of Japan's Nakasendo, an ancient trading route between Kyoto and Tokyo. I'm supposed to be awestruck by the juxtaposition of fall colors with the Edo-era buildings that line the trail, but instead I'm hurried and horrified.
Just seconds after having heard the buzzing of an oriental hornet, the kind whose stings leave wounds like bullet holes, I see the sign. Ring bell to alert bears, it read, in calm Times New Roman.
The closest thing I've seen to a person the previous hour is a dozen persimmons one left drying on a string outside his house (I guess that's what attracted the hornets) and I'm fearful for my life. But more than that I'm thankful for it.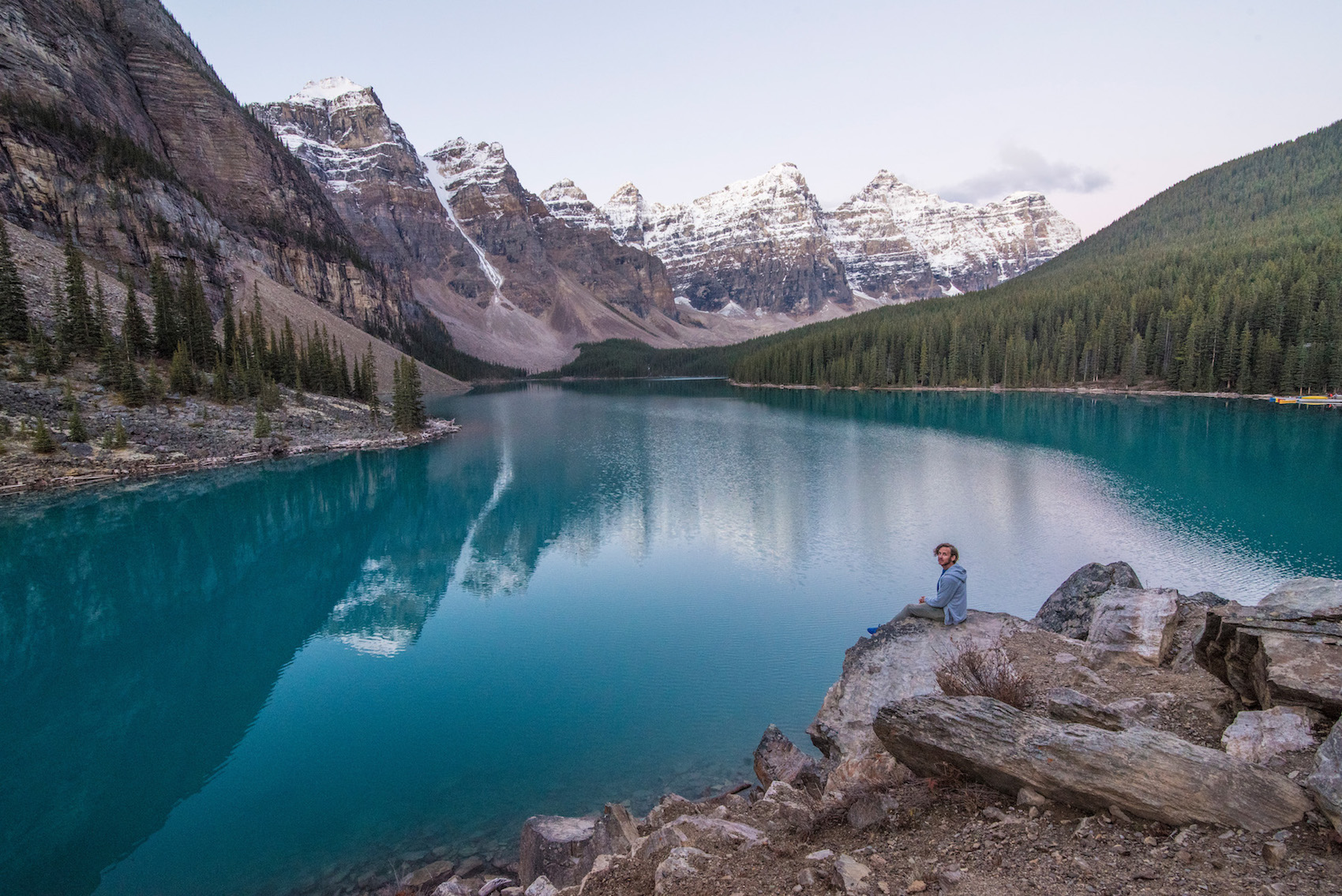 There is a difference—a small one, to be sure, but one profound and pronounced enough that it has kept me up on more than one occasion—between happiness that resides on my face and in my heart and the inexplicable, existential satisfaction places like Beijing and Sunday morning walks down Istiklal Street and brushes with death in the Japanese Alps make me feel in every cell of my body, even the ones that haven't been born yet.
And as I wait to board my last plane of 2015, one that will take me to the city of Edinburgh, Scotland for a huge party that would totally terrify me if I wasn't being paid to attend it, I hope for one of two things in 2016.
Ideally, my definitions of happiness and satisfaction will begin to converge. More likely, however, I will wake up to the fact that I can only truly have one of these, choose it and jettison the other—probably happiness. If I'm honest with myself, I'd rather be able to write an essay like this every year—or a list like this—then spend 365 days in bliss.
I'll learn how to breathe in Beijing, so I can continue feeling as rosy as its delightful, toxic skies.
Share:

Since returning from Iceland recently, I've had time to outline the particulars of my trip, including notes about where I wish I would've chosen a different route or a different destination altogether. My Iceland road trip was comprehensive without being overwhelming, fast-paced but not rushed and in-depth but never redundant. Whether you reproduce my itinerary exactly, or simply use it as a jumping-off point for your own, most of what you'll want to see in Iceland is here.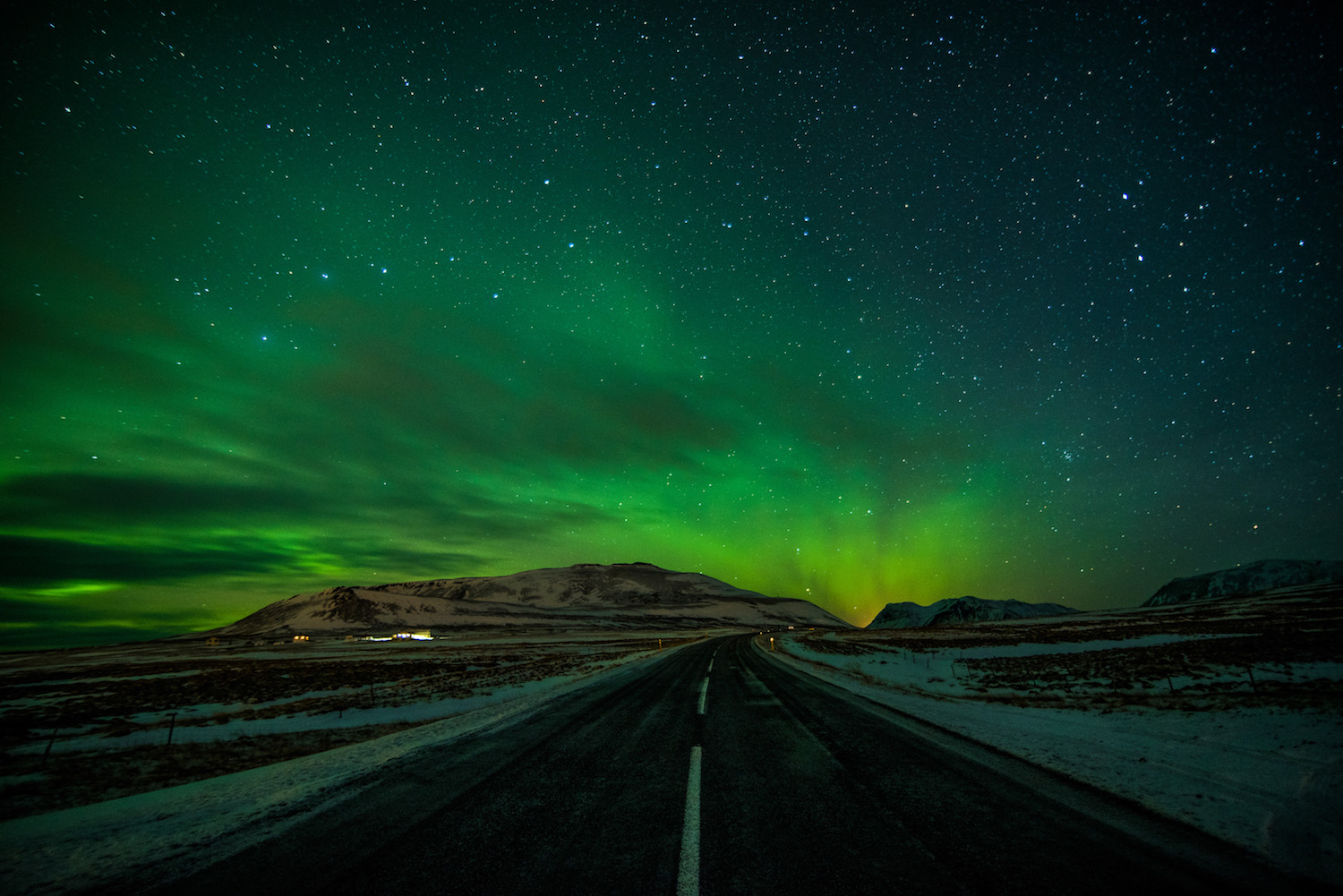 Before we get into the nitty-gritty of my Iceland road trip itinerary, we need to talk about three big generalities—transport, lodging and money—as well as to answer the important question of whether summer or winter in Iceland is best for you.
Rental Cars in Iceland
I'm going to assume most of you are already committed to taking a road trip through Iceland, but if you're not, please change your mind. While it's possible to see Iceland via public transport or an organized tour, you lose a big part of the Iceland experience—namely solitude and the freedom to explore—if you don't rent a car. If you visit in winter like I did, renting a vehicle with 4×4 capabilities is an absolute must.
Money in Iceland
Iceland is one of the most expensive countries I've ever visited. Between my rental car and gas, accommodation and meals (I usually only choose to eat one per day, besides breakfast at my guest house, if it was included), I spent between 200-300 USD per day—and y'all know I don't travel luxuriously. Your costs will obviously be lower if you bring a friend or two, or if you opt not to rent a car (although again, I would never recommend that), but there's no way around how expensive Iceland is.
The good news when it comes to money in Iceland is that you needn't withdraw any Icelandic Króna: Literally everywhere in the country takes credit cards, always Visa and Mastercard, and surprisingly American Express and Discover in quite a few places. Another piece of good news is that the vast majority of attractions in Iceland have no entry fee.
Summer or Winter?
I traveled to Iceland during winter and it was a magical—if at times terrifying—experience. In addition to the fact that the country looked magical in its snow-cover, there were almost no tourists outside of Reykjavík. I frequently had guest houses and entire tourist attractions to myself!
With this being said, taking an Iceland road trip in winter comes with its own unique set of challenges. There's only 3-5 hours of daylight, for example, and while these daylight hours are beautiful (imagine an all-day sunrise or sunset!), they don't provide a lot of room for error. On the other hand, while winter in Iceland is chilly, it's not extremely cold. It was rarely colder than -5ºC (23ºF) during my trip, even in the middle of the night
To be sure, driving at night in Iceland is possible, but I don't recommend it when you can avoid it. Road conditions outside of Reykjavík (in terms of snow/ice cover, not the road itself) tend not to be good, and street lights are very rare as well. Regardless of when you visit, check road conditions every day before you leave at Road.Is.
The good news is that if you decide to take your Iceland road trip in summer, this itinerary will suit you as well: If I was able to accomplish this during the darkness of winter, it'll be easy for you to do using the midnight sun as your guide!
DAY 1: ARRIVAL AND REYJKAVÍK
After arriving at Keflavík International Airport, pick up your rental car and drive to your hotel in Reykjavík. Check in, then get to exploring—quickly, if it's winter! It'll probably be dark by the time you arrive and temperatures will drop rapidly.
For me, the main—and, perhaps, only—highlight of  Reykjavík was Hallgrímskirkja, a massive church that looks like some kind of Viking worship hall, but is actually Lutheran in its origins. Reykjavík's surrounding Old Town is also quite charming and the city, like much of the rest of Europe, is home to more museums per-capita than anyone could ever want. Especially me!
DAY 2: REYKJAVÍK TO VÍK
Indeed, it is only when you get out of Reykjavík that Iceland truly starts to get awesome. On Day 2, you'll begin heading east on Iceland's Ring Road toward to the town of Vík. Like Reykjavík—and in my opinon, all towns and cities in Iceland—Vík itself is nothing special. In Iceland more than perhaps anywhere else I've been, it is about the journey and not the destination.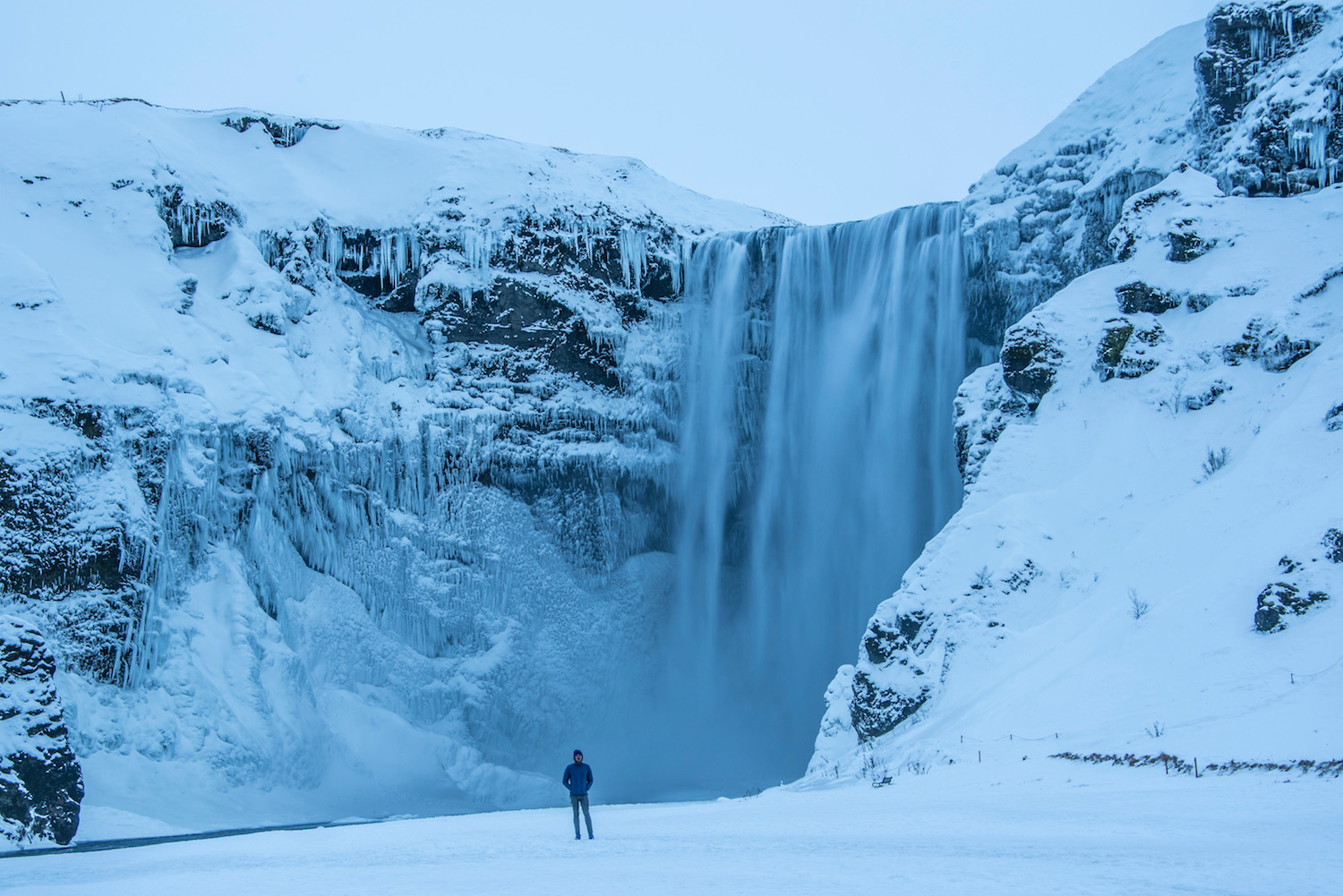 Just outside of Reykjavík sits Kerid Crater and then, about halfway through your drive, you'll pass a pair of waterfalls—Seljalandfoss and Skógafoss. A few minutes before arriving in Vík, you can stop at two coastal treasures: Dyrholaey, a massive rock that rises out of the sea, and Reynisfjara, a black lava beach.
DAY 3: VÍK TO JÖKUSÁRLÓN
Don't cry if you can't make it to Reynisfjara: Many of the beaches onward from Vík are made of black lava, to say nothing of all the waterfalls and other dramatic scenery you'll see. It was on Day 3 where I really begin to let go of my "planned" itinerary and instead, to stop when and where I felt the urge to.
Well, except for one destination—two, really: Jökusárlón, a "glacier lagoon" that, as its name suggests, is filled with floating icebergs; and Breiðamerkursandur, a beach covered in icebergs that float out to sea from the lagoon. For my money, these are the two most photo-worthy attractions in Iceland, particularly if you can catch the aurora over them.
DAY 4: JÖKUSÁRLÓN TO EGILSSTAÐIR
If day 3 emphasized the importance of journey over destination, day 4 hammers home how (sadly) forgettable the towns and cities of Iceland are, from Höfn, which is a couple hours up the coast from Jökusárlón, to my my destination ofEgilsstaðir, which made for little more than a place to sleep.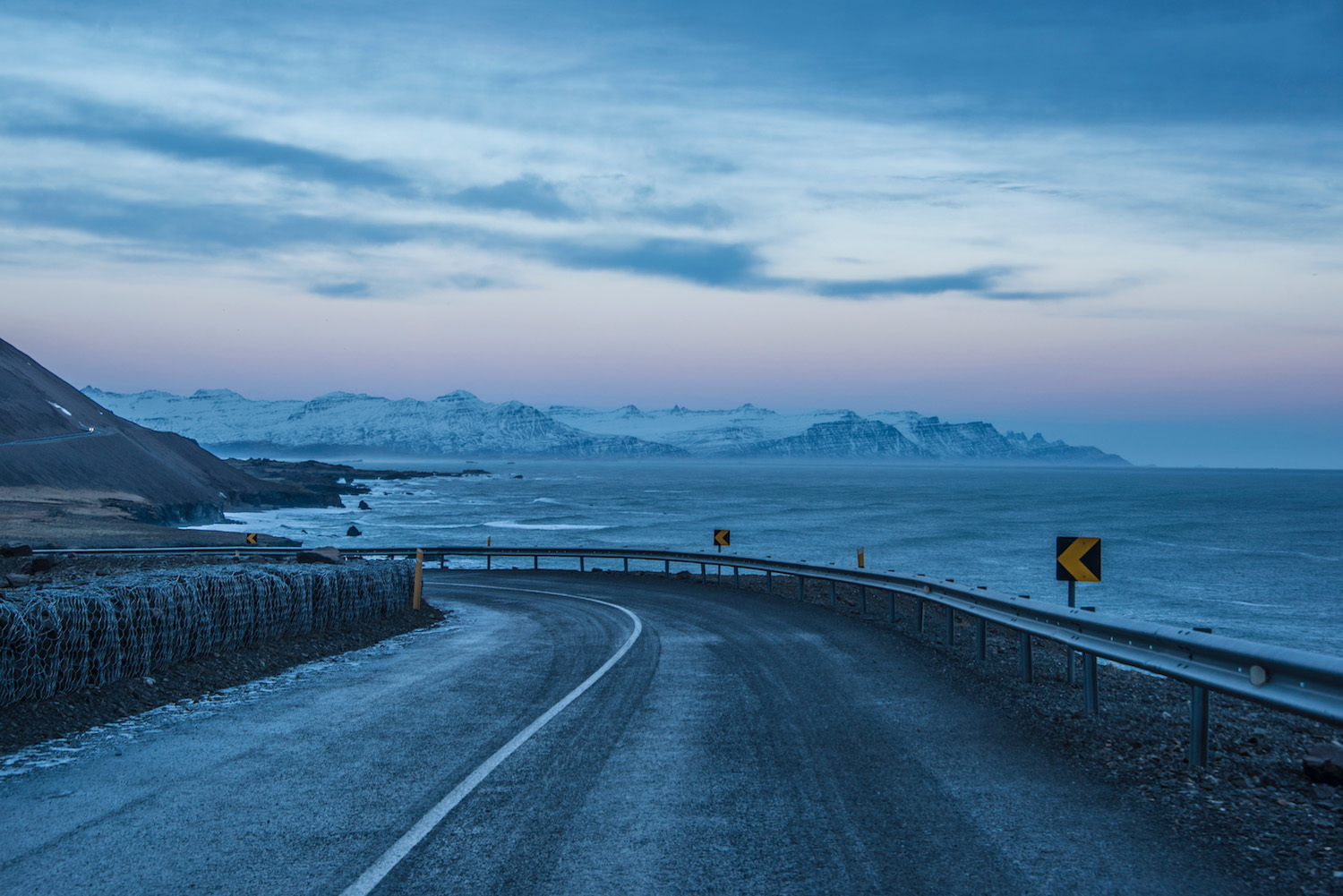 Instead, the highlight of day 4 is driving through Iceland's Eastern Fjörds, which are particularly stunning if you happen to get a sunny day. They can also be terrifying if it's snowed or iced recently, and not just in your head: It's along this route where you'll realize Icelanders are not the biggest fan of guard rails.
DAY 5: EGILSSTAÐIR TO AKUREYI
Actually, I take what I said in the last section back. Not all cities in Iceland are boring, at least not visually. Akureyi is quite beautiful, even if most of the activities on offer there—namely, whale watching—are unavailable during the winter.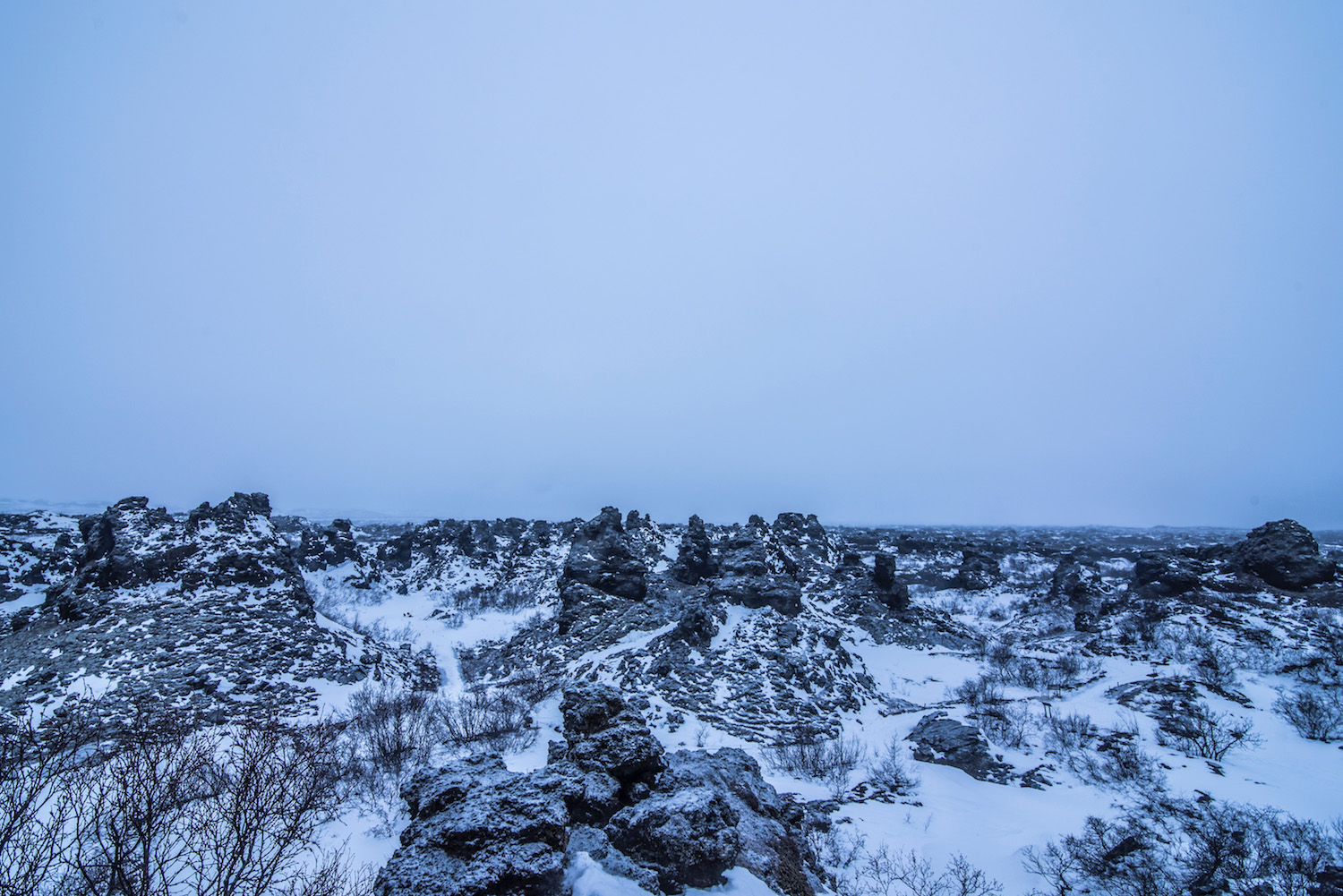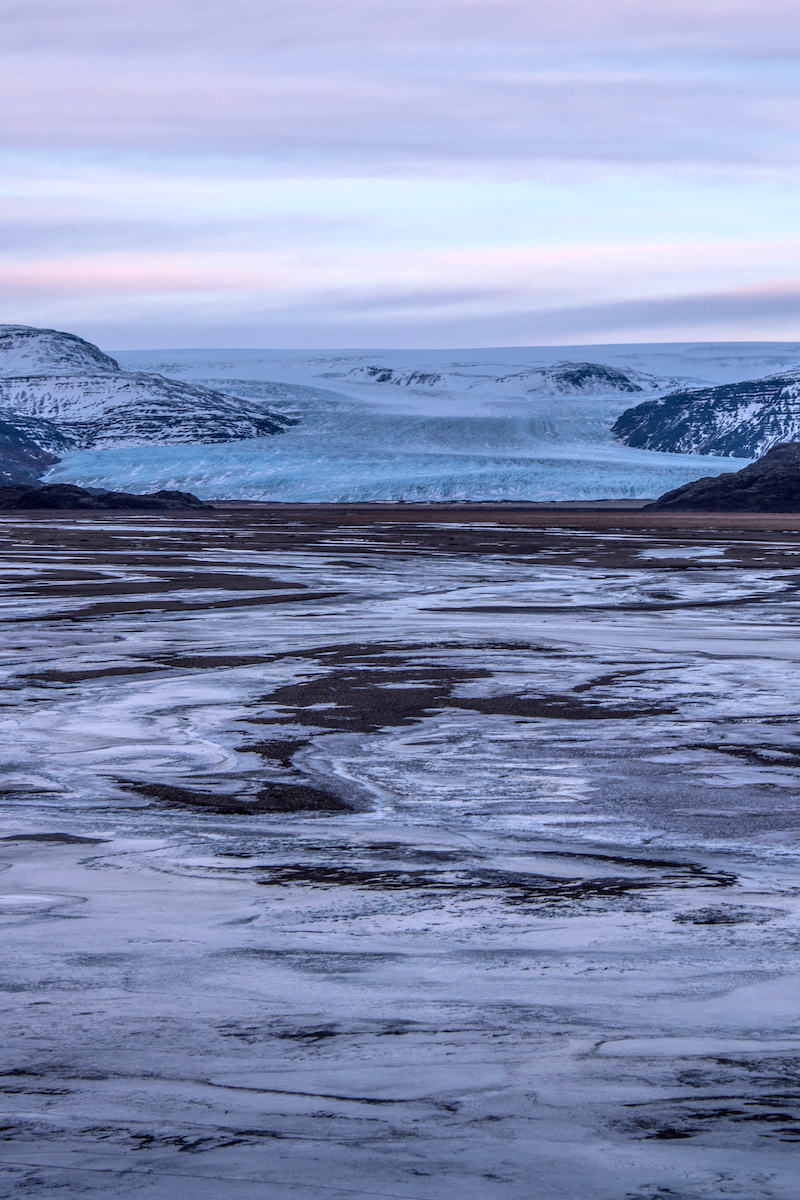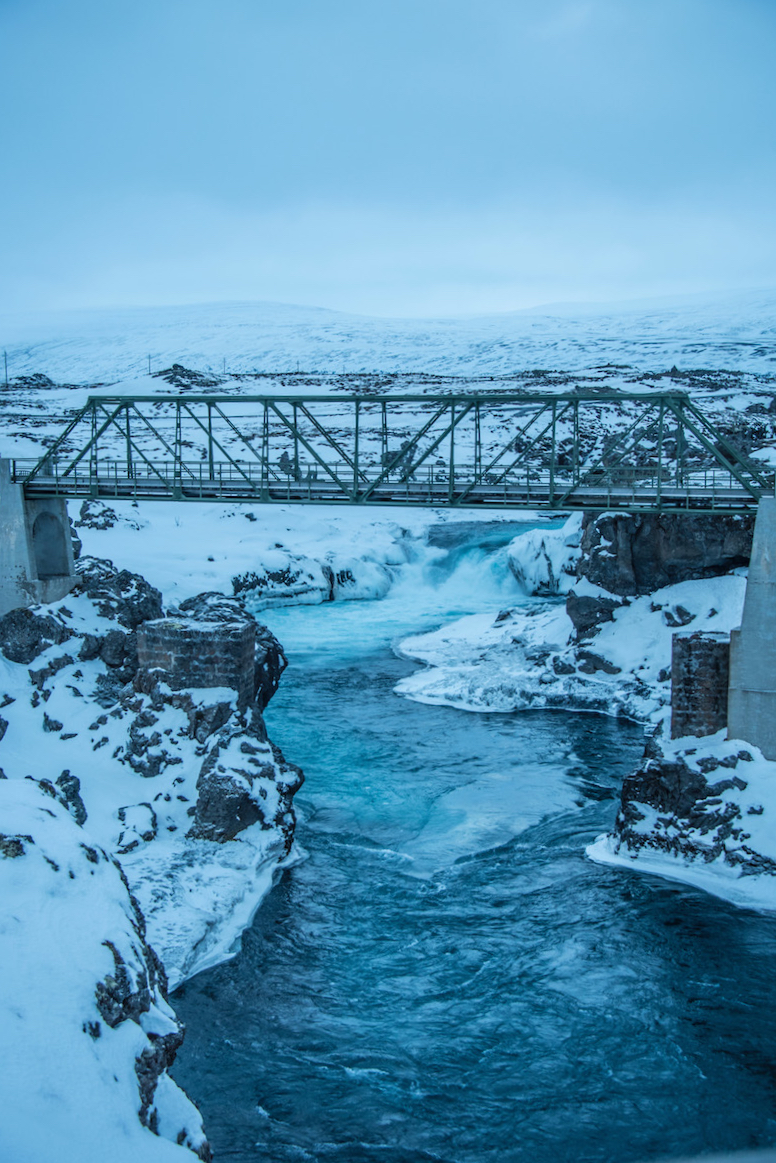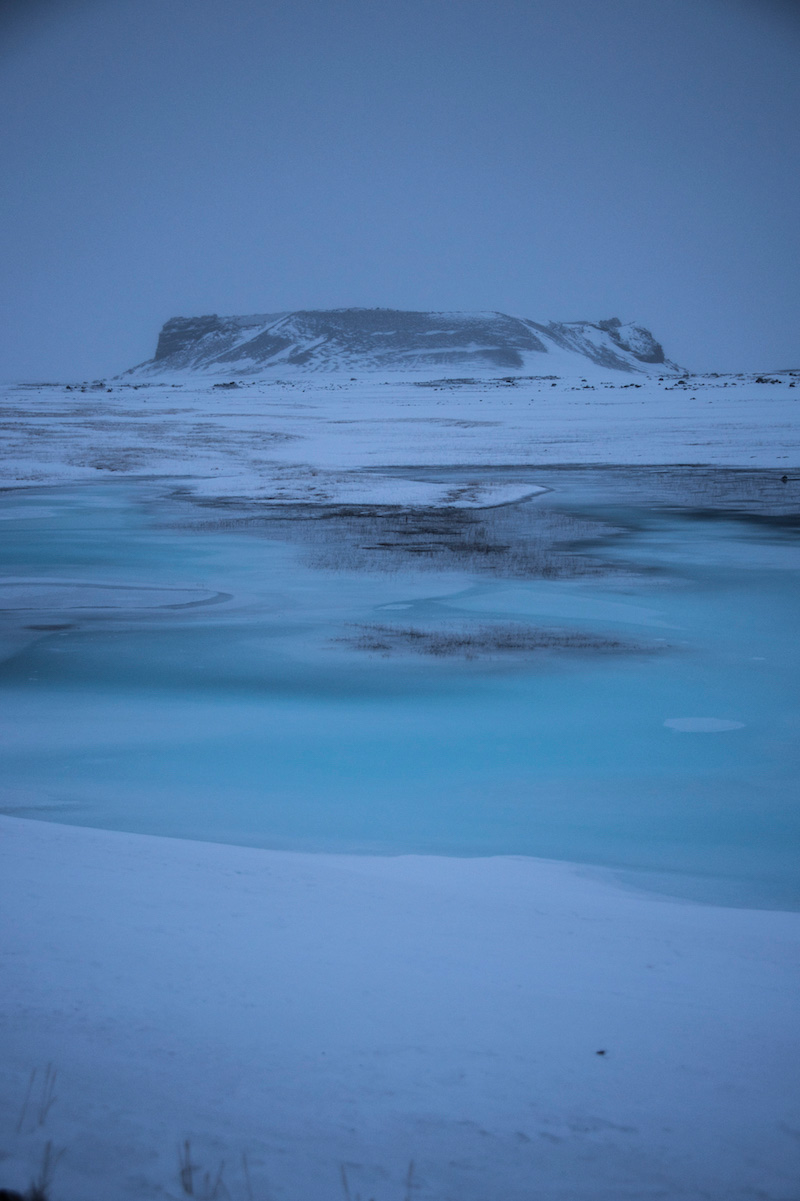 The terrain from Egilsstaðir to Akureyi is probably the flattest I saw in all of Iceland; many of the attractions along the route are of the volcanic sort, from the Dimmuborgir Lava Fields, to Namaskarð Geothermal Field, to the Myvatn Nature Baths, a less-crowded (but much more expensive!) alternative to the Blue Lagoon, near Reykjavik. About an hour before arriving in Akureyi you'll pass Godafoss, which for my money is the most beautiful waterfall in Iceland.
DAY 6: AKUREYI TO BLÖNDUÓS
I'd originally planned to spend two days in Akureyi—one seeing the attractions I described above and the second driving to nearby Husavík for whale watching—but winter made that all but impossible. Instead, I cut my long journey to the Snæfellsnes Peninsula in half and spent my day making the quick drive to Blönduós.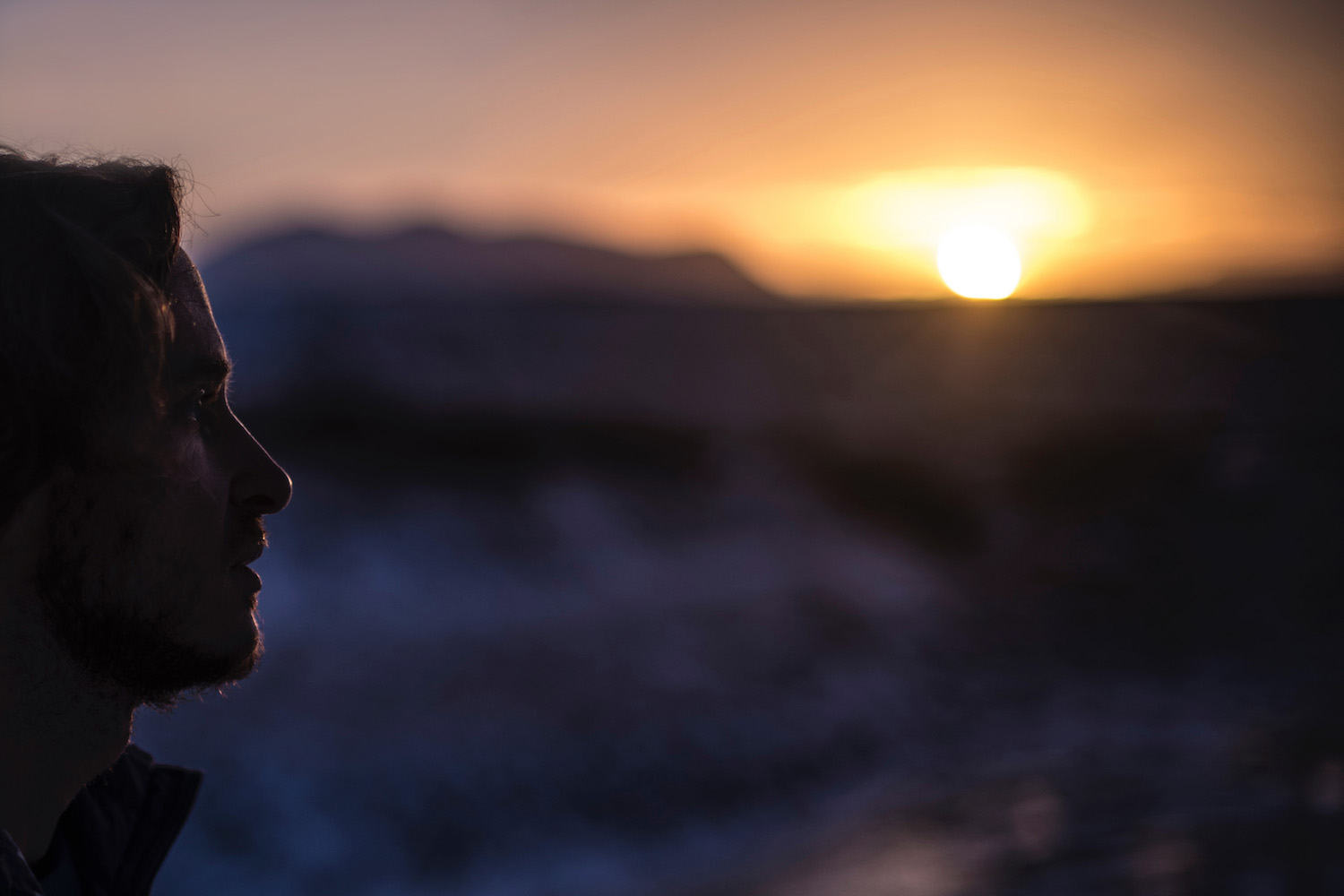 There isn't a lot to see between Akureyi and Blönduós, but by this point in your trip you'll probably want/need an "easy" day, particularly if you take your Iceland road trip in winter like I did.
DAY 7: BLÖNDUÓS TO GRUNDARFJÖRÐUR
NOTE: If you have an extra day to devote to your Iceland road trip, you could drive from Blönduós up into Iceland'sWest Fjords, then continue following my itinerary to Grundarfjörður from there.
I mentioned earlier that Jökusárlón and the nearby ice beach were my two favorite attractions of my Iceland road trip, but if there's one region whose scenery is the most spectacular overall, it's the Snæfellsnes Peninsula, which you enter shortly after departing Blönduós. Many people describe this as a microcosm of all of Iceland, thanks to its many volcanoes, waterfalls and fjords.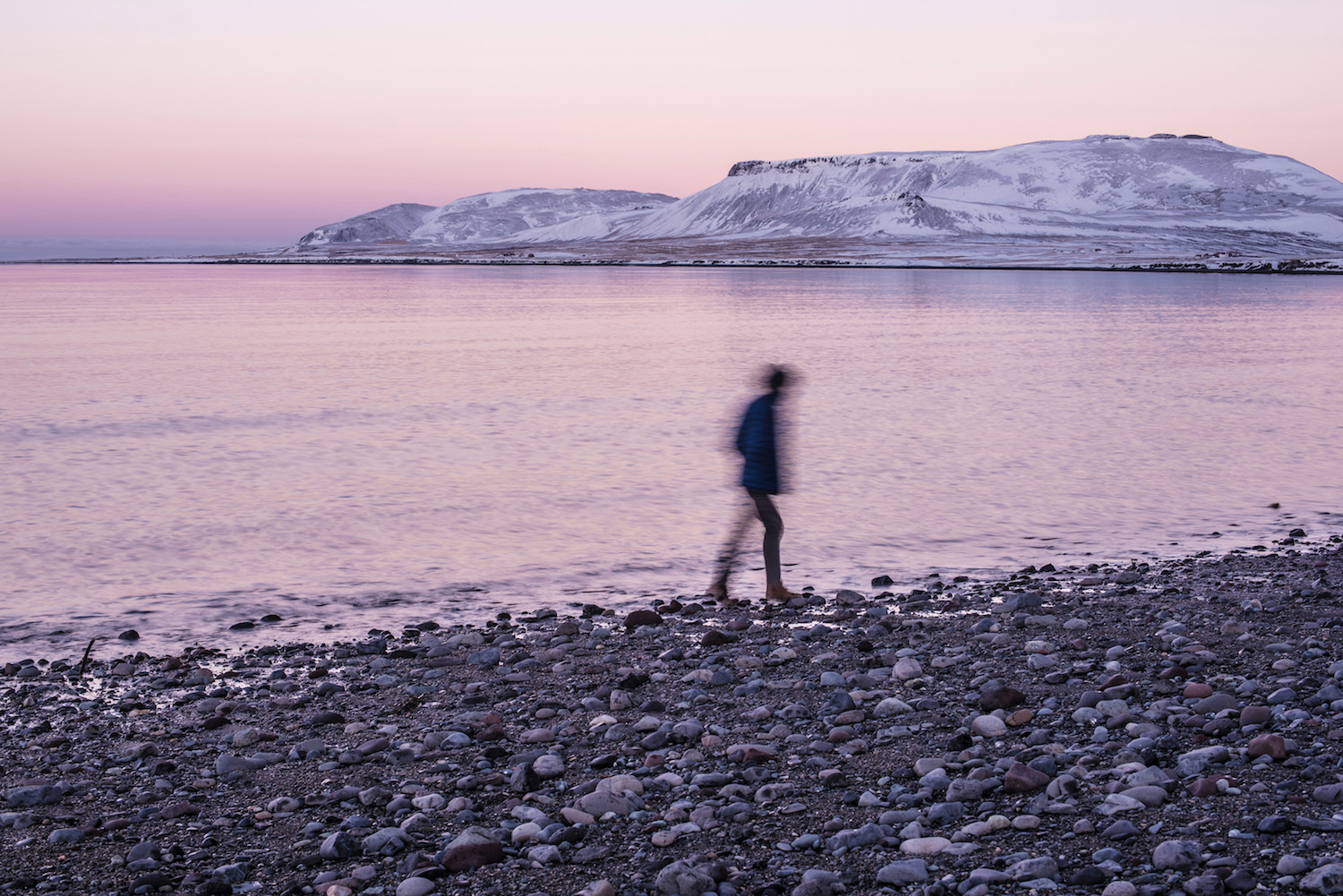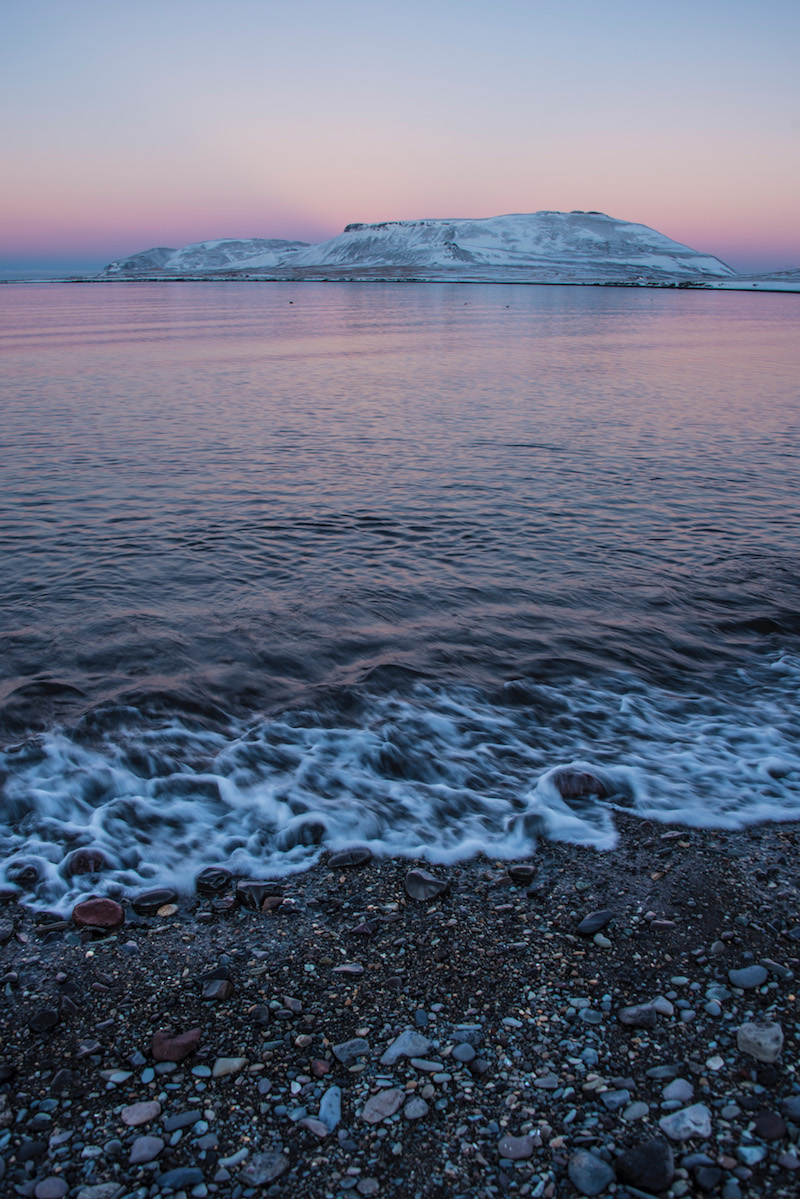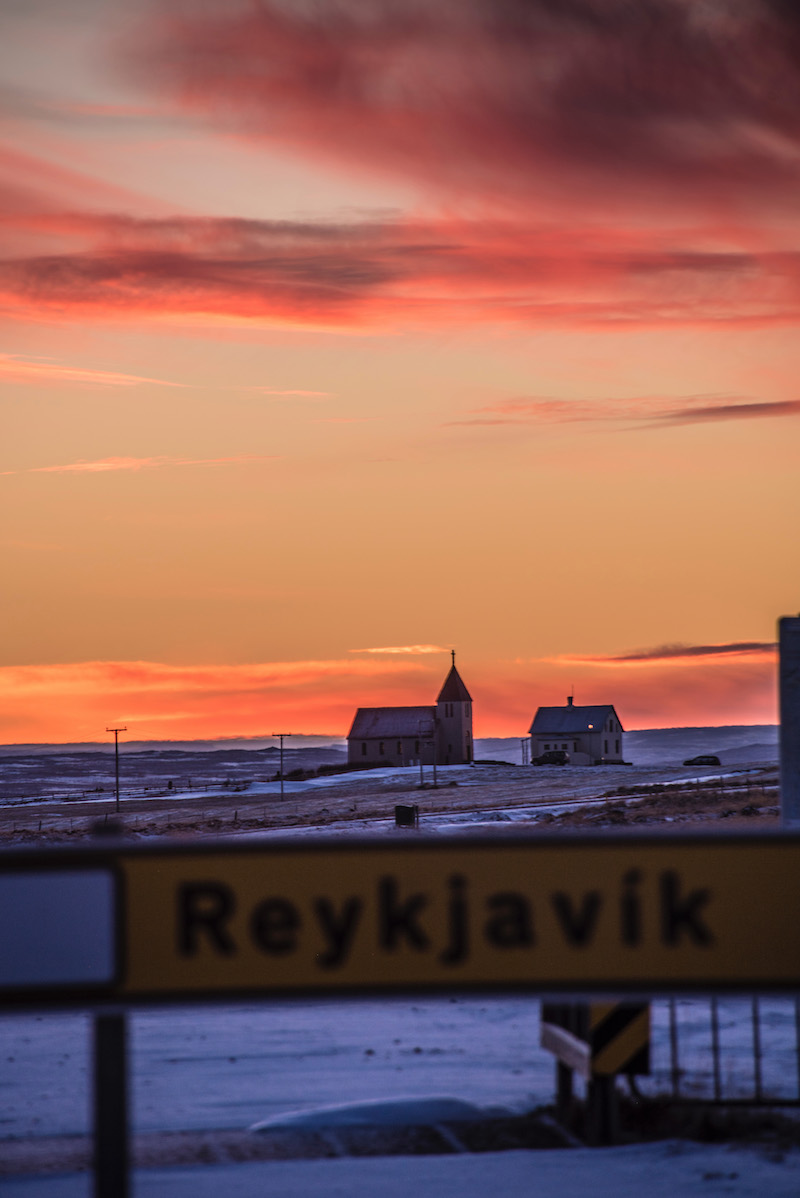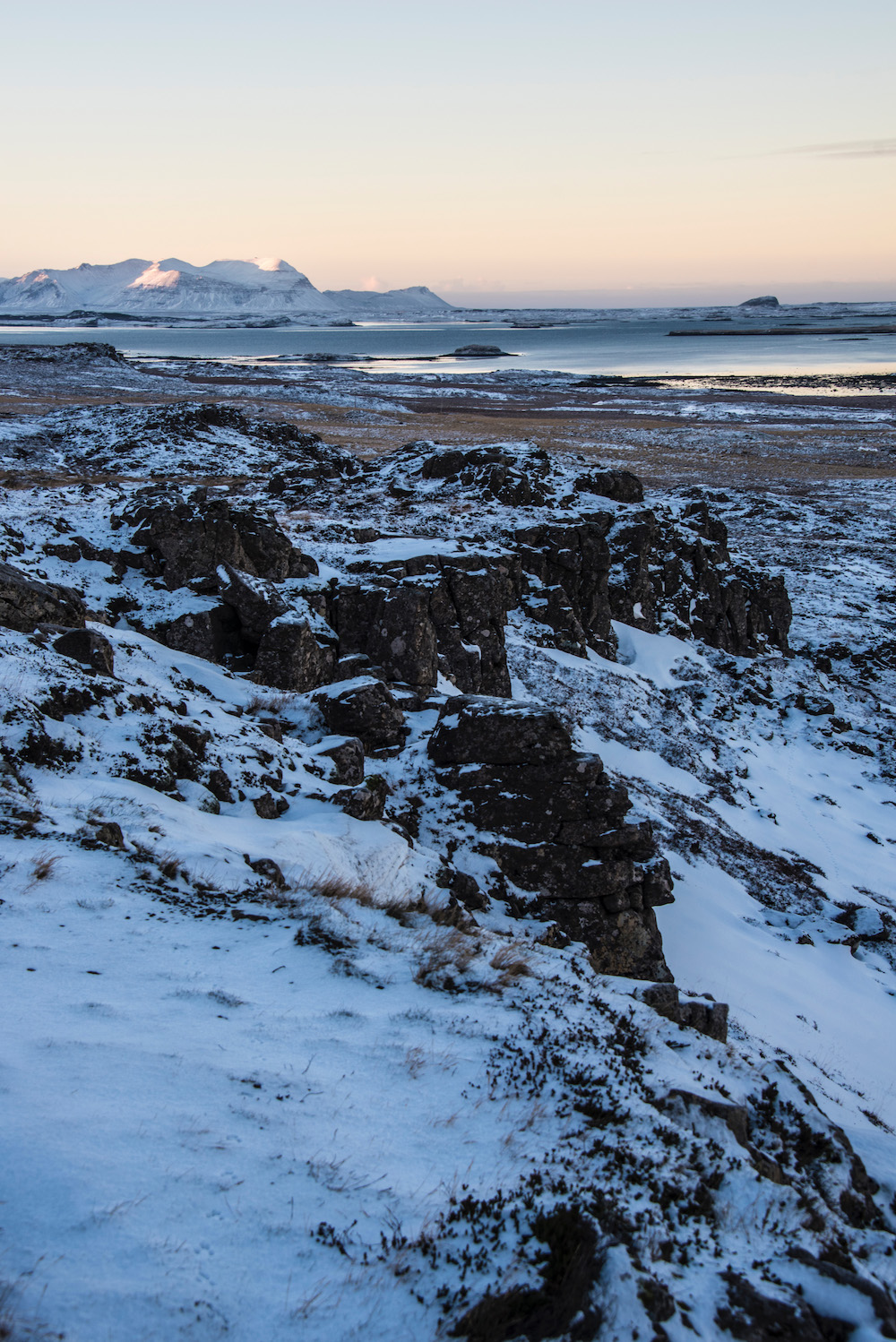 The towns of Snæfellsnes are also the most picturesque in Iceland, in my opinion, from Grundarfjörður (where I stayed) to Olafsvík, which you'll actually explore tomorrow. Additionally, Snæfellsnes is perhaps the best place in Iceland to see the Northern Lights. (see first photo of the post).
DAY 8: GRUNDARFJÖRÐUR TO BORGARNES
Grundarfjörður is only about halfway down the northern side of the Snæfellsnes Peninsula, so you'll spend most of today driving to its tip and then back east toward the town of Borgarnes.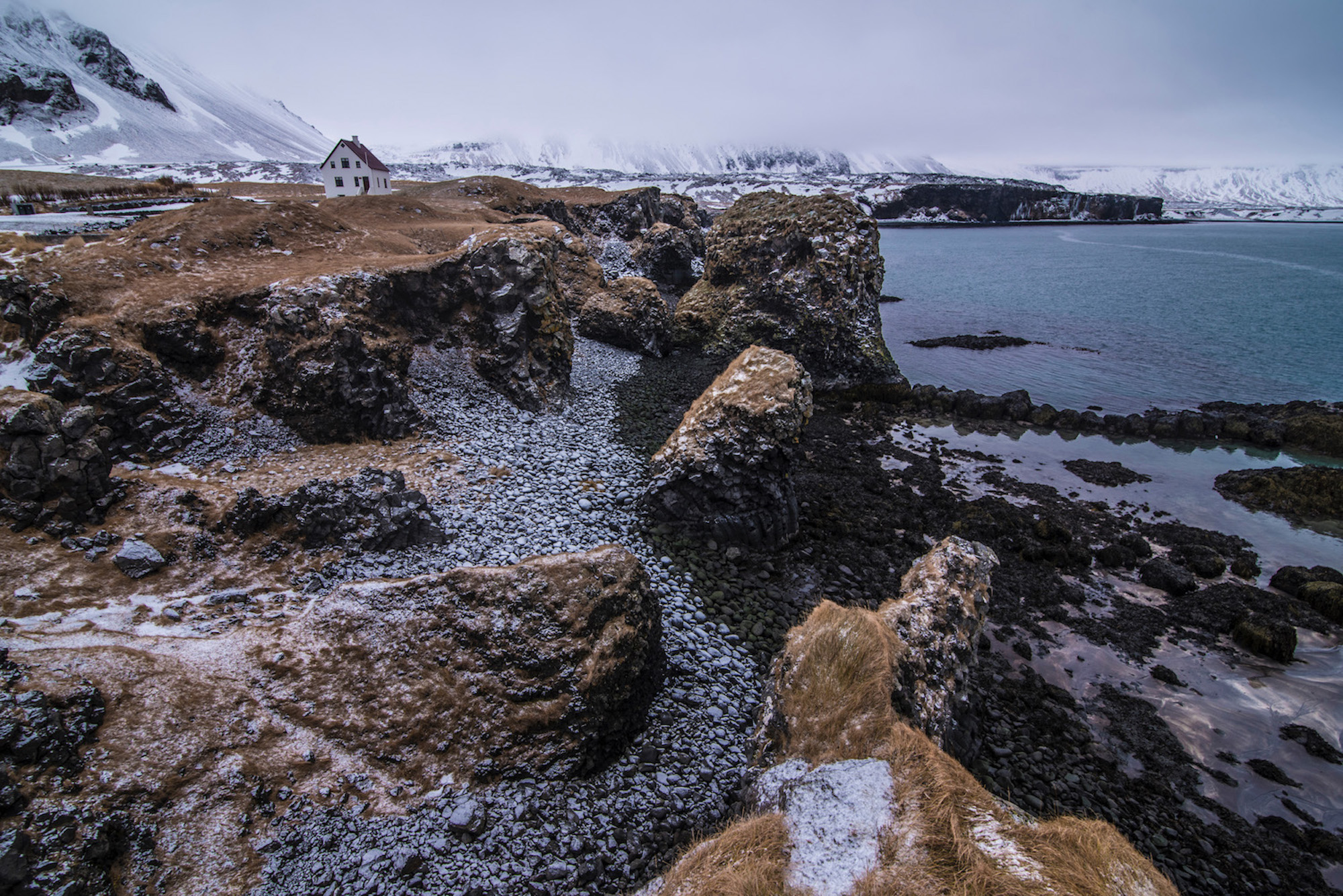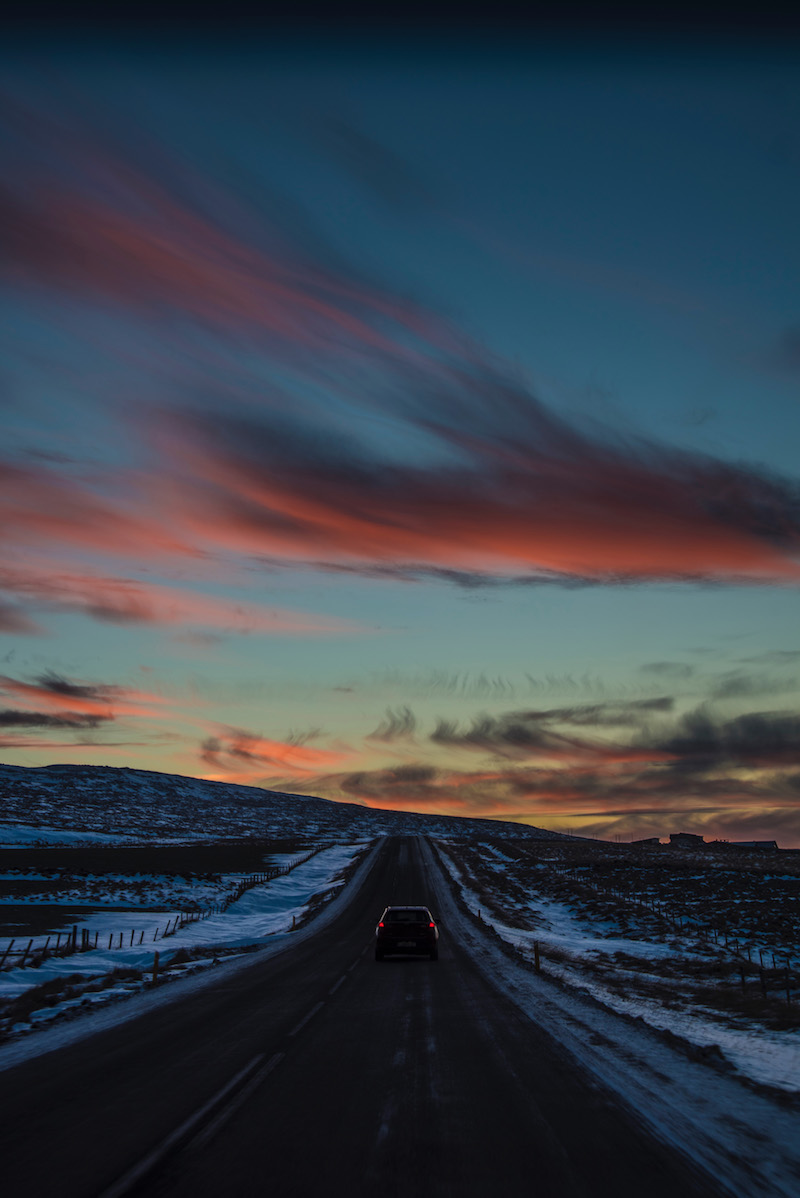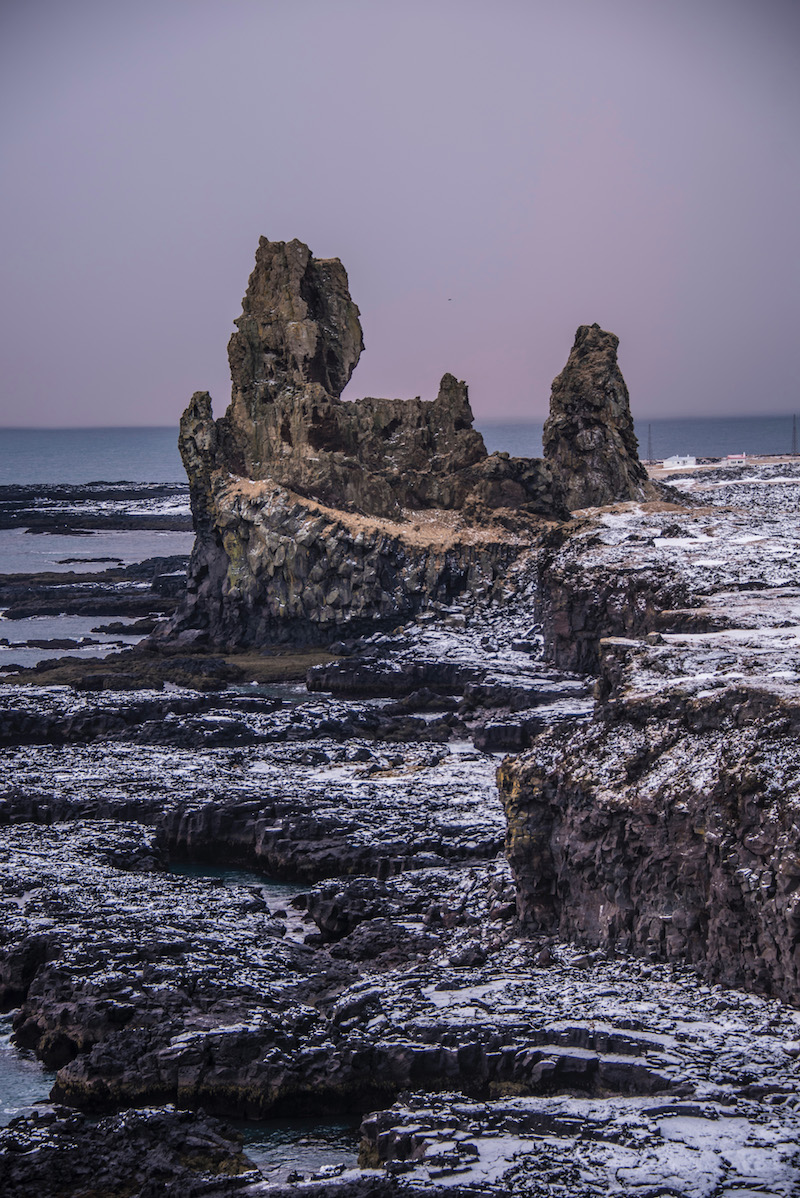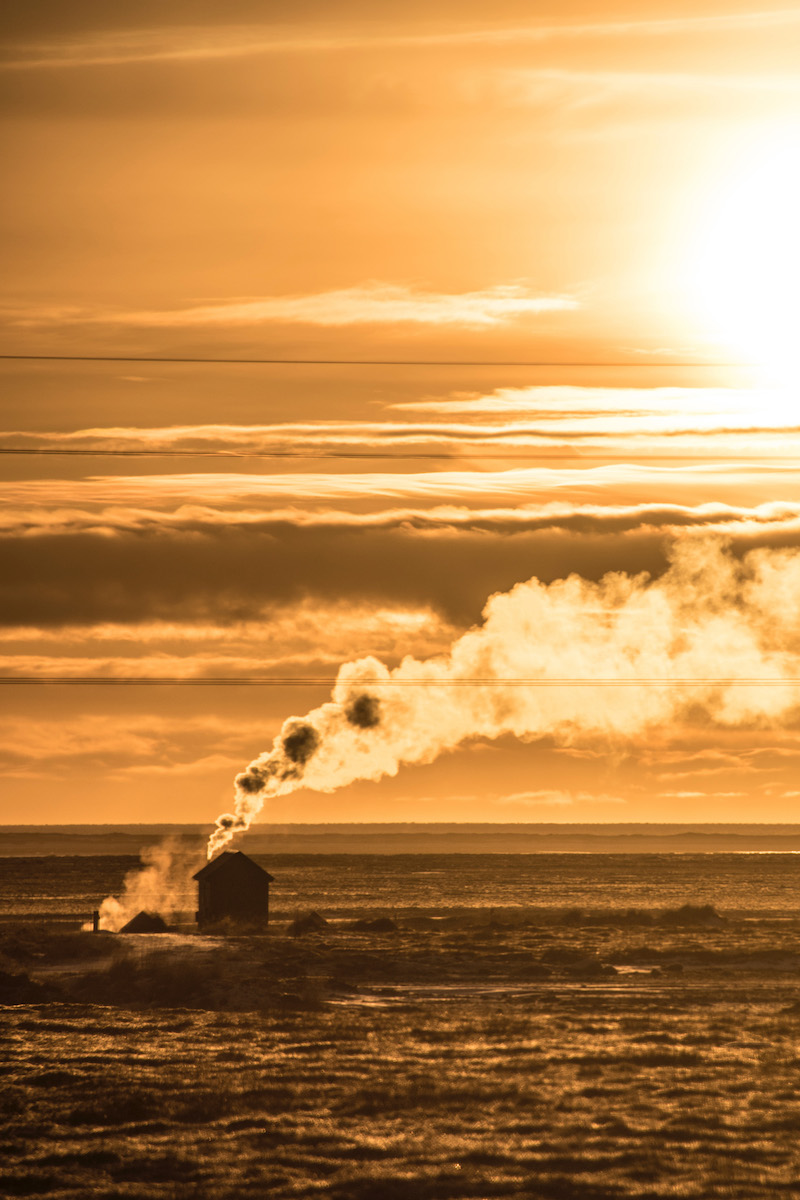 Everything you see today, most of which is in Snaefellsjökull National Park and scattered around a volcano of the same name, is spectacular, but my personal favorite was Londrangar, a massive rock column that juts out of the sea. The towns of Arnarstapi and Hellnar are also rather special.
DAY 9: BORGARNES TO KEFLAVÍK
I spent the last day of my Iceland road trip entirely inside my car. The weather was incredibly shitty, and although I'd planned to stop back through Reykjavík on my way to Keflavík Airport, it just wasn't going to happen.
To be honest, I was also very tired, a feeling you'll probably have as well. In travel as in life, all good things must come to an end, and while I don't think I could ever get enough of Iceland, I was content in what I'd seen by this point—I imagine you will be, too.
Share: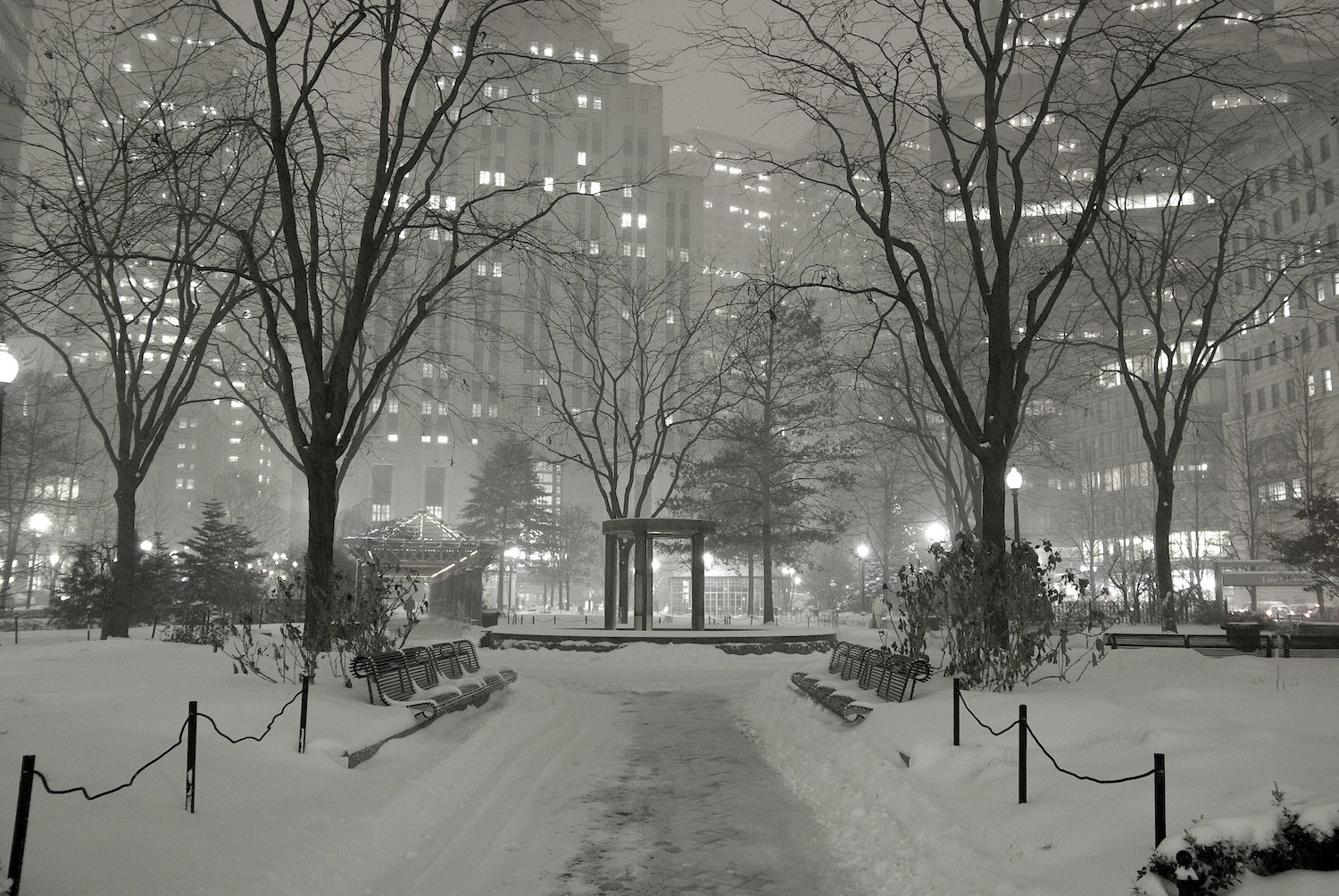 When you think of traveling to New England, you probably think of autumn, when bursts of red, orange and yellow ignite on trees throughout the region. One thing you might not realize is that New England is also a beautiful, delightful place to travel in winter. Just make sure to pack your warmest clothes—you're going to need them. Then again, New Englanders are such warm people you might forget it's wintertime.
Warm Your Soul With Wine
New England is no Napa Valley, but that doesn't mean you can't enjoy delicious wine here. While winter is the wrong time to tour the lush vineyards of Flag Hill Wineries, which is located just outside of Portsmouth, NH, it's the perfect time to warm up inside with a glass of pinot noir or cabernet. Chances are you're going to need it, given that Portsmouth's average winter high is a chilly 33ºF.
Catch a Broadway Show Off Broadway—Way Off Broadway
New York City is a four-hour drive from Providence, but when you spend your winter in Rhode Island's capital, you don't need to bother with Broadway. That's because the Providence Performance Arts Center boasts a spate of legendary performances, from holiday classics like The Nutcracker, to your favorite musicals from on and off Broadway, to stand-up comedy performances, concerts and more.
Explore Vermont's Lake Champlain Valley
If cold and snow doesn't intimidate you, New England's got plenty of Great Outdoors. For example, Vermont's Lake Champlain Valley (not to mention, the lake itself) offers plenty of winter ambiance, even if you prefer to build things out of the snow instead of skiing on it. The best part about the valley is that it's just a stone's through from Burlington, with its wide variety of hotels and busy airport.
Brave a Winter Sea Breeze
Connecticut's coastline is less famous than those of its neigbhors, but the coastal community of Mystic was at the forefront of 19th century shipbuilding and seafaring. While it will probably be freezing when you vist the open-air museum at Mystic Seaport, the trade-off is the incredible amount of knowledge you'll acquire, to say nothing of what great photo ops the authentic reconstructions afford.
Dine on Succulent Maine Lobster
"Lobster" is almost certainly the first word that comes to your mind when you think of Maine, but one fact that might surprise you about Maine Lobsters is that their primary season is in summer, not winter. In spite of this, a juicy Maine lobster makes for the perfect winter meal, particularly if you stay in Bangor. While it's difficult to imagine any lobster from Maine's cold waters tasting less than incredible, the ones one offer at McLaughlin Seafood have earned particularly notable accolades.
With activities as hot as these ones, who cares how cold it's going to be this winter in New England? If these suggestions haven't yet warmed you up to the idea, keep this final fact in mind: Rates on hotels throughout New England are uniformly lower during winter, since it's the low season.
Main image credit: https://commons.wikimedia.org/wiki/File%3A2007_Boston2116453076.jpg.
Share: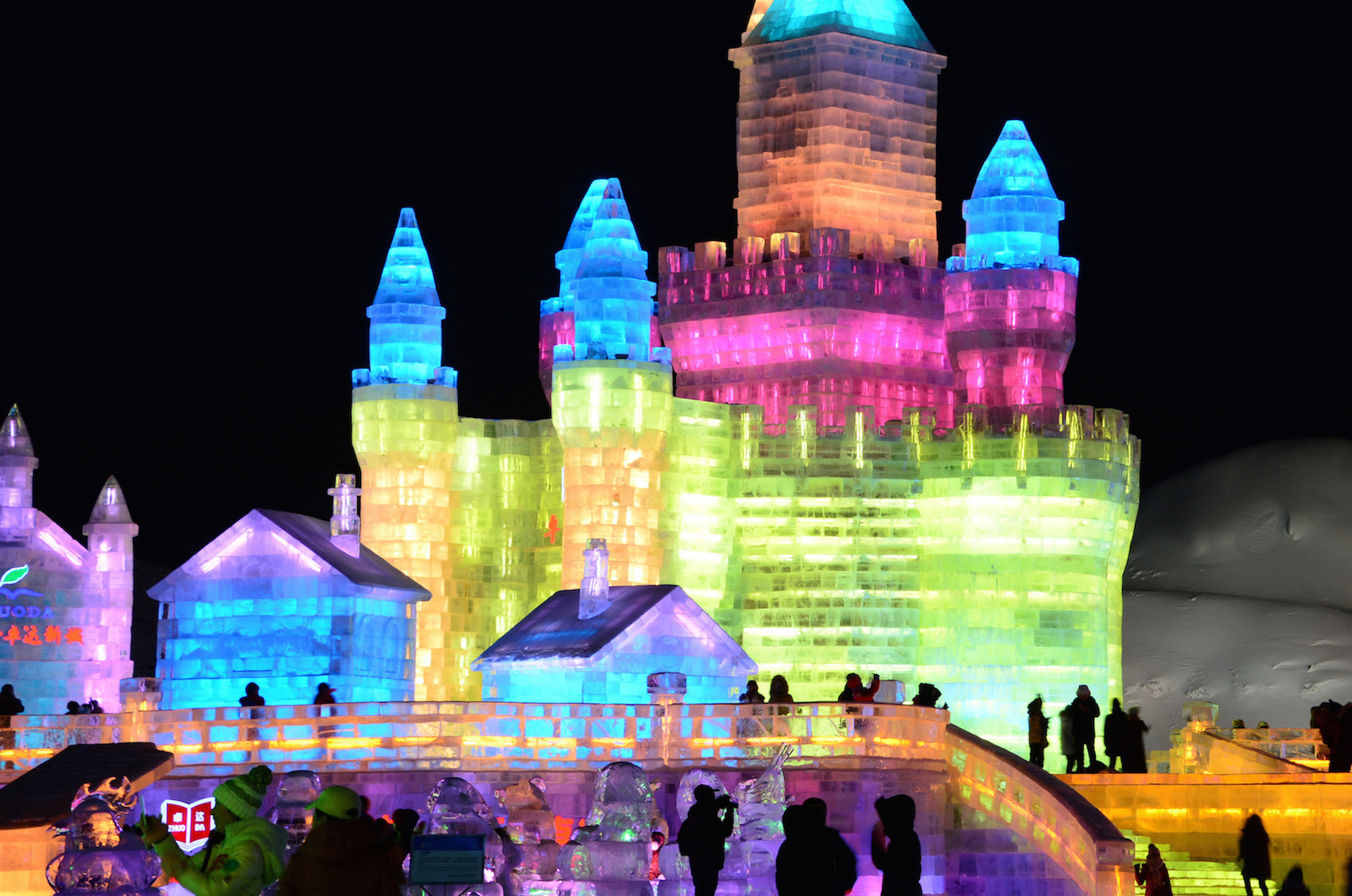 The purpose of this list is not only to highlight the best places to visit in 2016, but the most unforgettable activities to partake in once you arrive.
 Freeze Your Ass off at a Manchurian Ice Festival
Where: Harbin International Ice and Snow Sculpture Festival, Harbin, China
When: Until February 25, 2016; or starting again in late December
Why: Each year, the festival's sculptors create a veritable city out of ice and snow, one that lights up at night in dozens of brilliant colors. With temperatures as low as -40ºC (don't worry, that's part of the fun!), it's the world's ultimate winter wonderland, a fact you can also see in the main image of this article.
How: Fly nonstop to Harbin via Beijing, Shanghai, Seoul, Tokyo and dozens of other Asian cities.
Ride a Boat Through a Lake Filled With Lotus Blossoms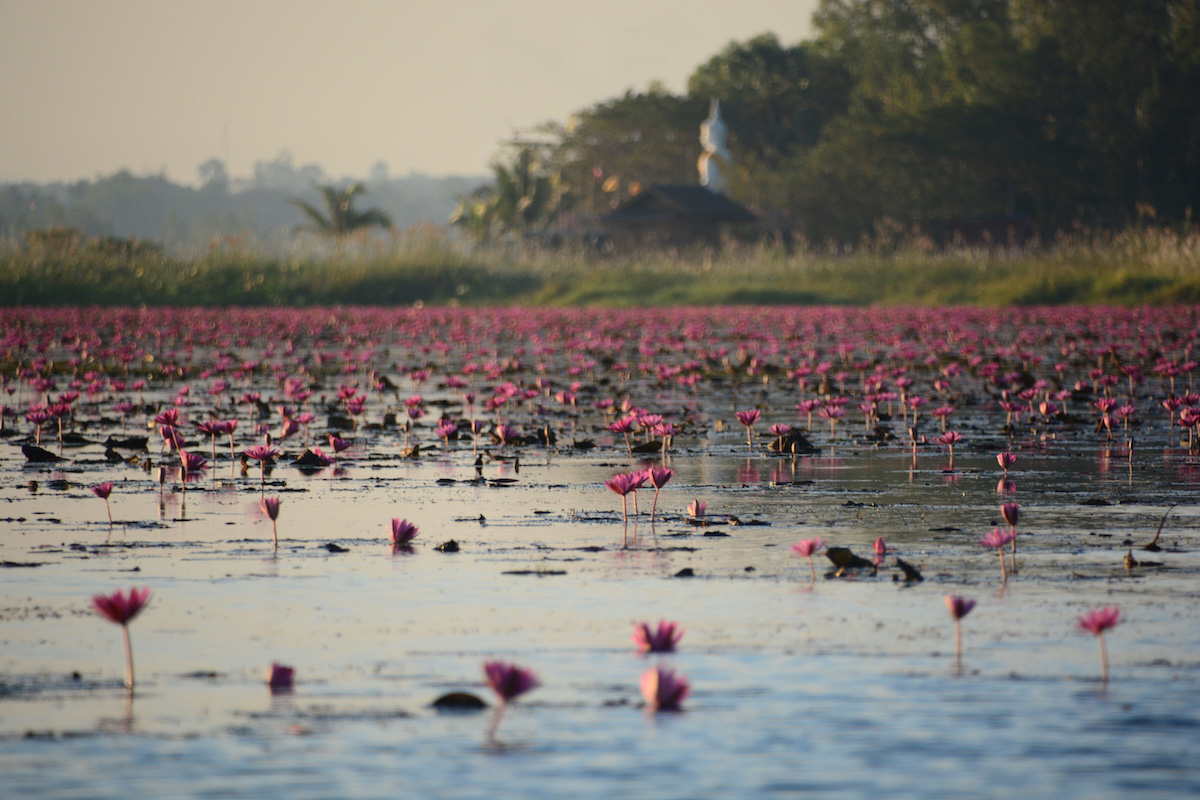 Where: Red Lotus Sea, Kumphawadpi Reserve, Udon Thani, Thailand
When: Before the end of February
Why: The otherwise unremarkable Lake Hong Nan, located just south of Udon Thani city, fills to the brim with bright pink lotus blossoms, creating one of Asia's—and the world's—most beautiful spectacles.
How: Fly from Bangkok to Udon Thani, then get a taxi from your hotel to the lake (ideally no later than 5 a.m.) to catch sunrise.
Learn to Ski—or Don't—in the Swiss Alps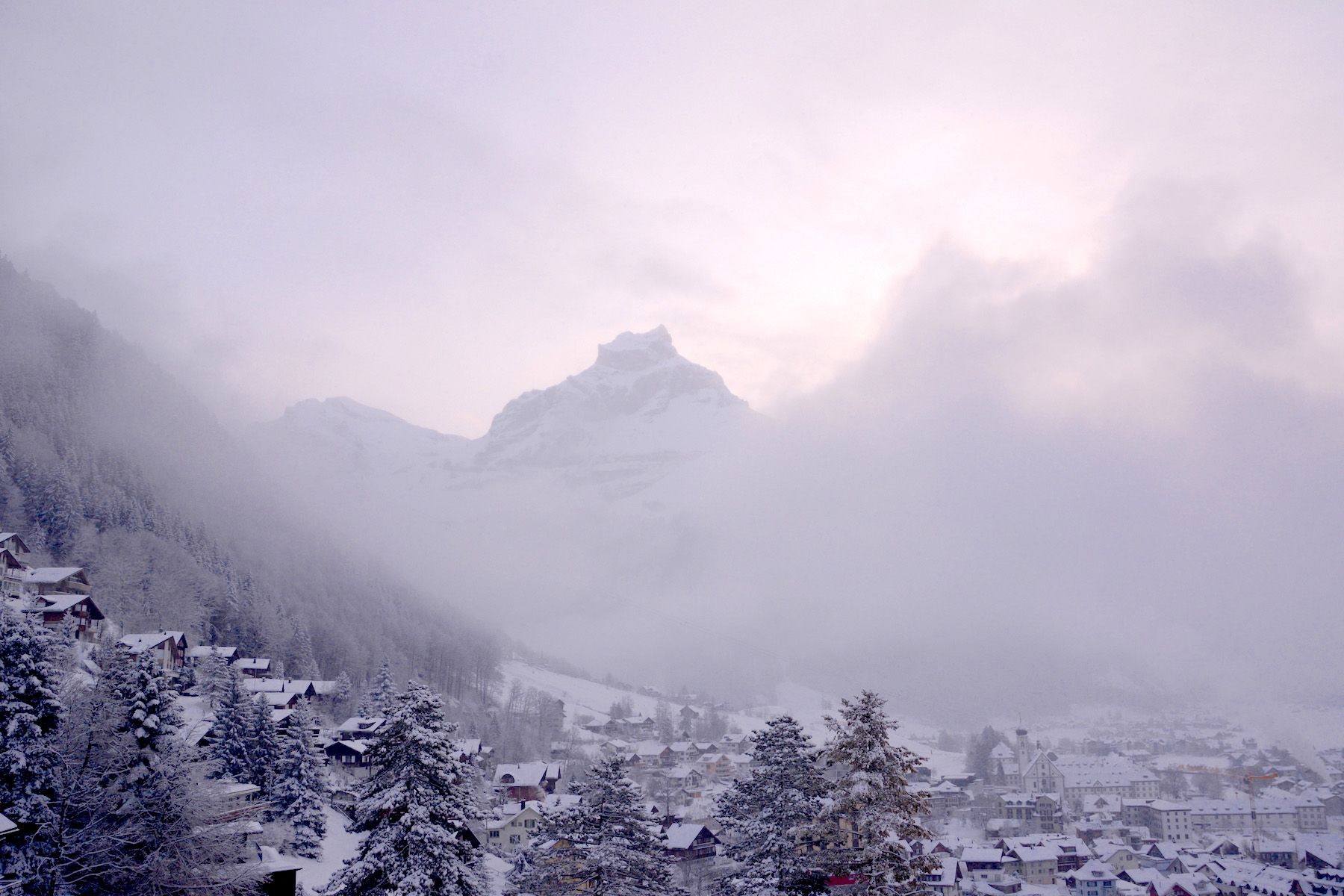 Where: Engelberg, Obwalden, Switzerland
When: Before Easter or after U.S. Thanksgiving
Why: It's never too late to learn, and if you're going to attempt to ski at 30 like I did, you might as well go to the best place in the world for it. If you fail like I did, there's a super fun sled track made of solid ice that's way harder to suck at.
How: Drive or take a train from Zürich, Geneva or anywhere else in Switzerland.
Take a Walk Through a Real-Life Jurassic Park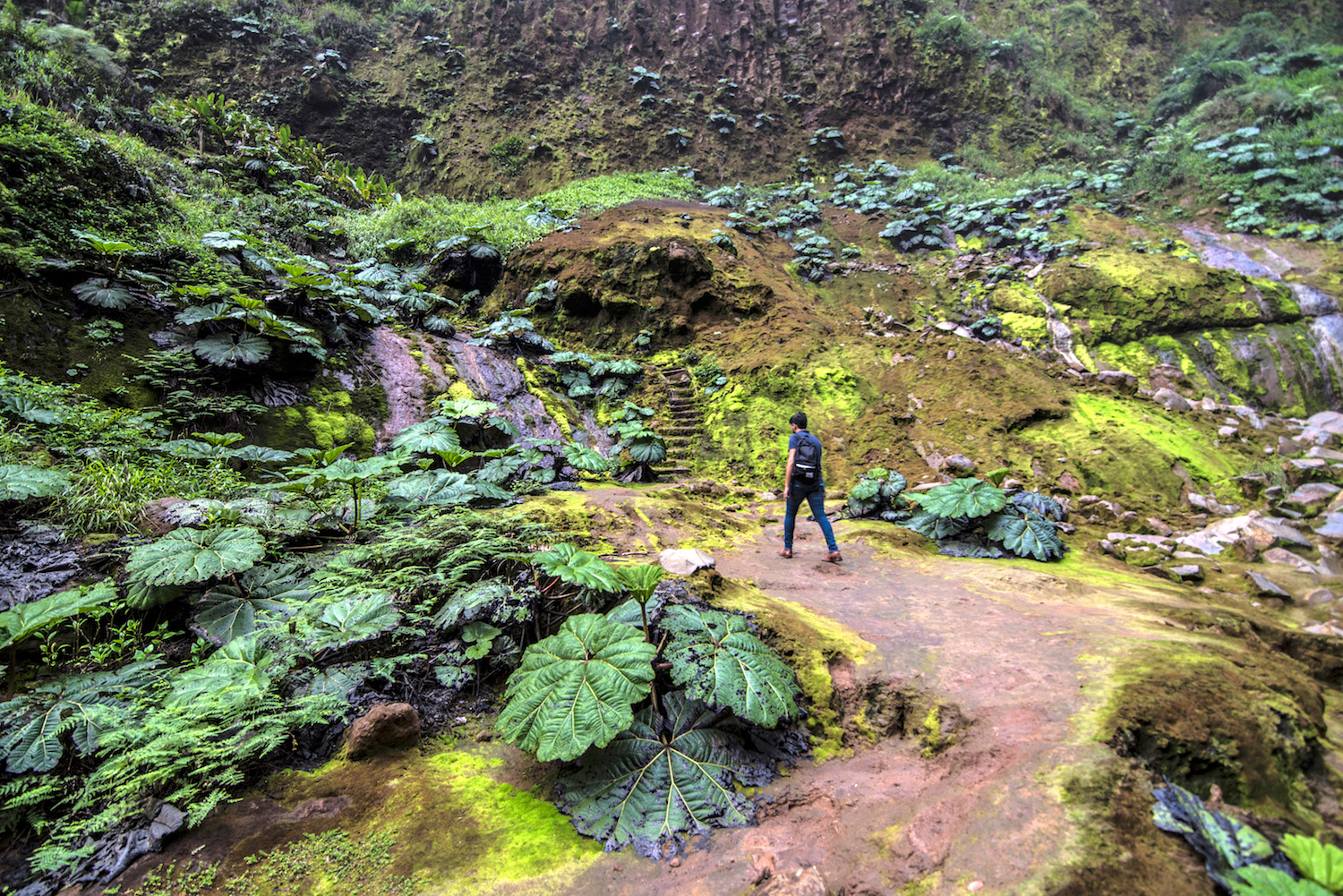 Where: Bajos del Toro, Costa Rica
When: All year
Why: I'm not being hyperbolic: The scenery here looks like Jurassic Park! And that's before you even get to the 300-foot waterfall.
How: If you're driving, take a day trip from San Jose; if you take a bus, plan to spend the night.
Experience This Place Before Everybody Else Does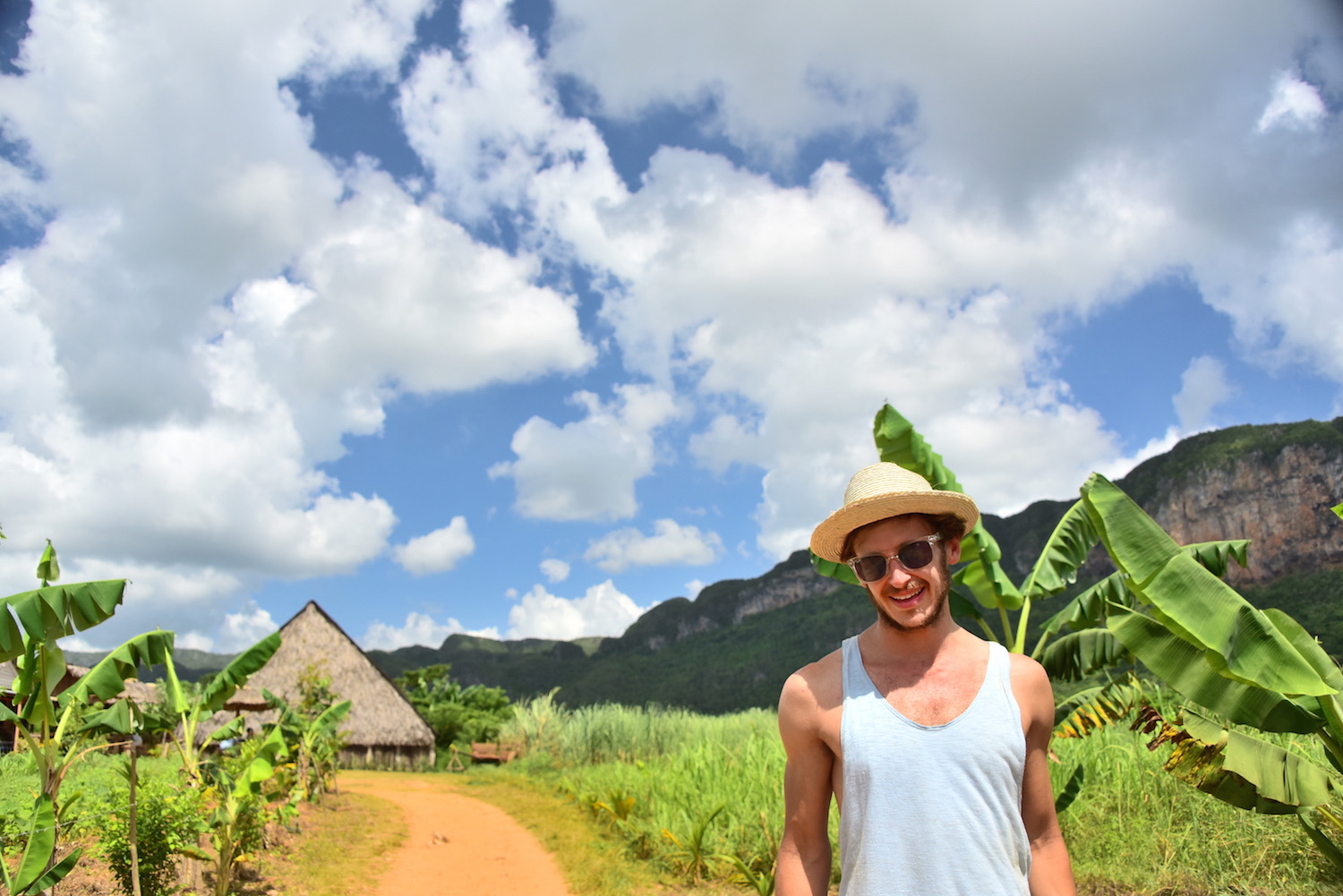 Where: Cuba; specifically Havana, Viñales, Trinidad and Baracoa
When: All year
Why: Although Cuba's been "open" to non-Americans for decades, most stay in the capital and the (terrible) beach resort of Varadero. Unless Marco Rubio makes it to the White House in November, further normalization of relations between the U.S. and Cuba will mean more Americans exploring Cuba, which means fewer opportunities to wander off the beaten path.
How: Fly to Havana from Canada, Mexico, Europe or limited U.S. gateways; travel on Viazul buses.
Explore the World's Most Chinese City—It's Not in China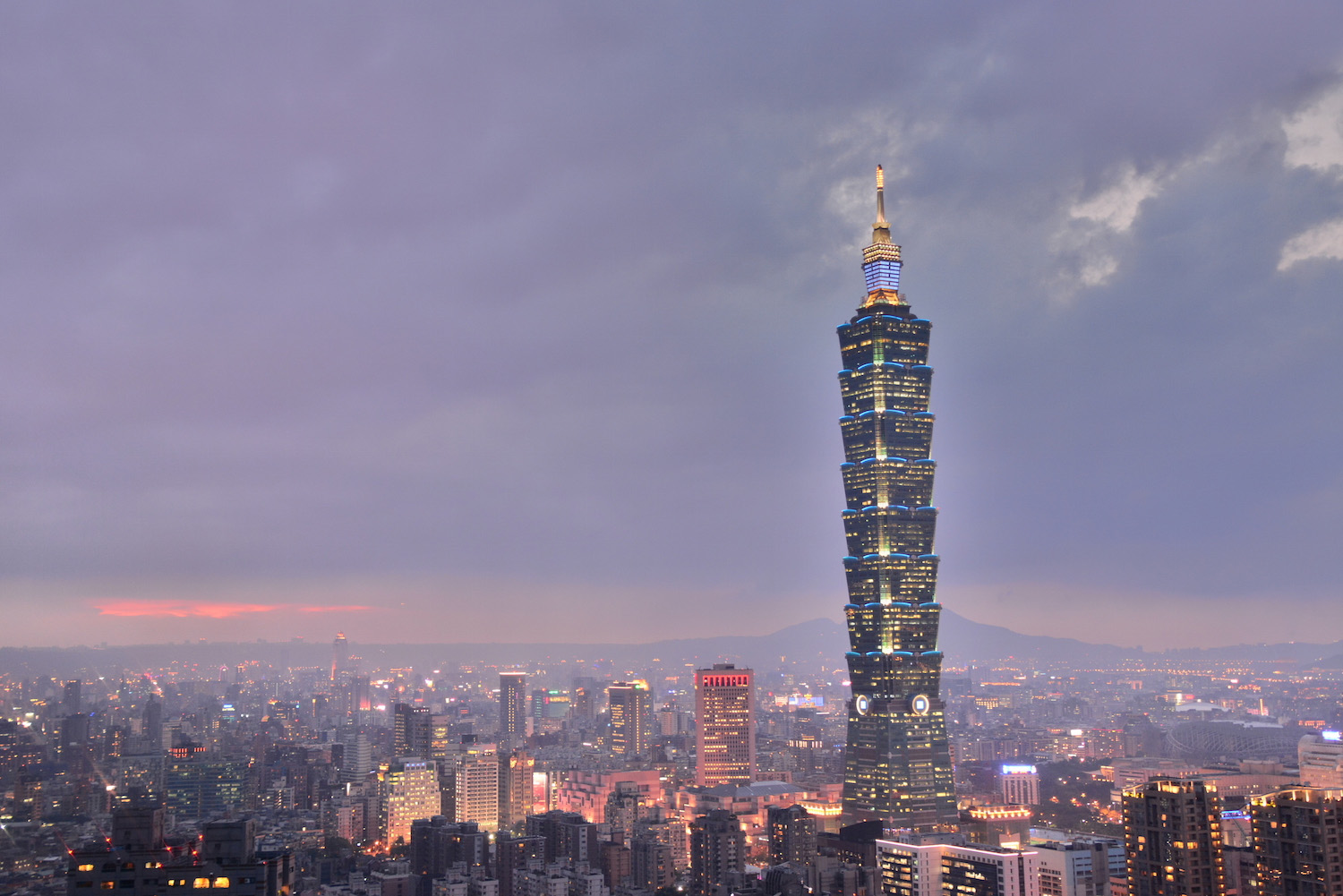 Where: Taipei, Taiwan
When: July to September ideally, but most of the year is fine
Why: The government of Taiwan (i.e. the Republic of China) backs up its claim to being the legitimate Chinese nation with a capital city that blends the ancient and modern better than anywhere on the mainland.
How: Fly nonstop to Taipei from dozens of cities in Asia, Europe and North America.
More info: The Real China?
Visit the Home of Facebook's Most Quoted Poet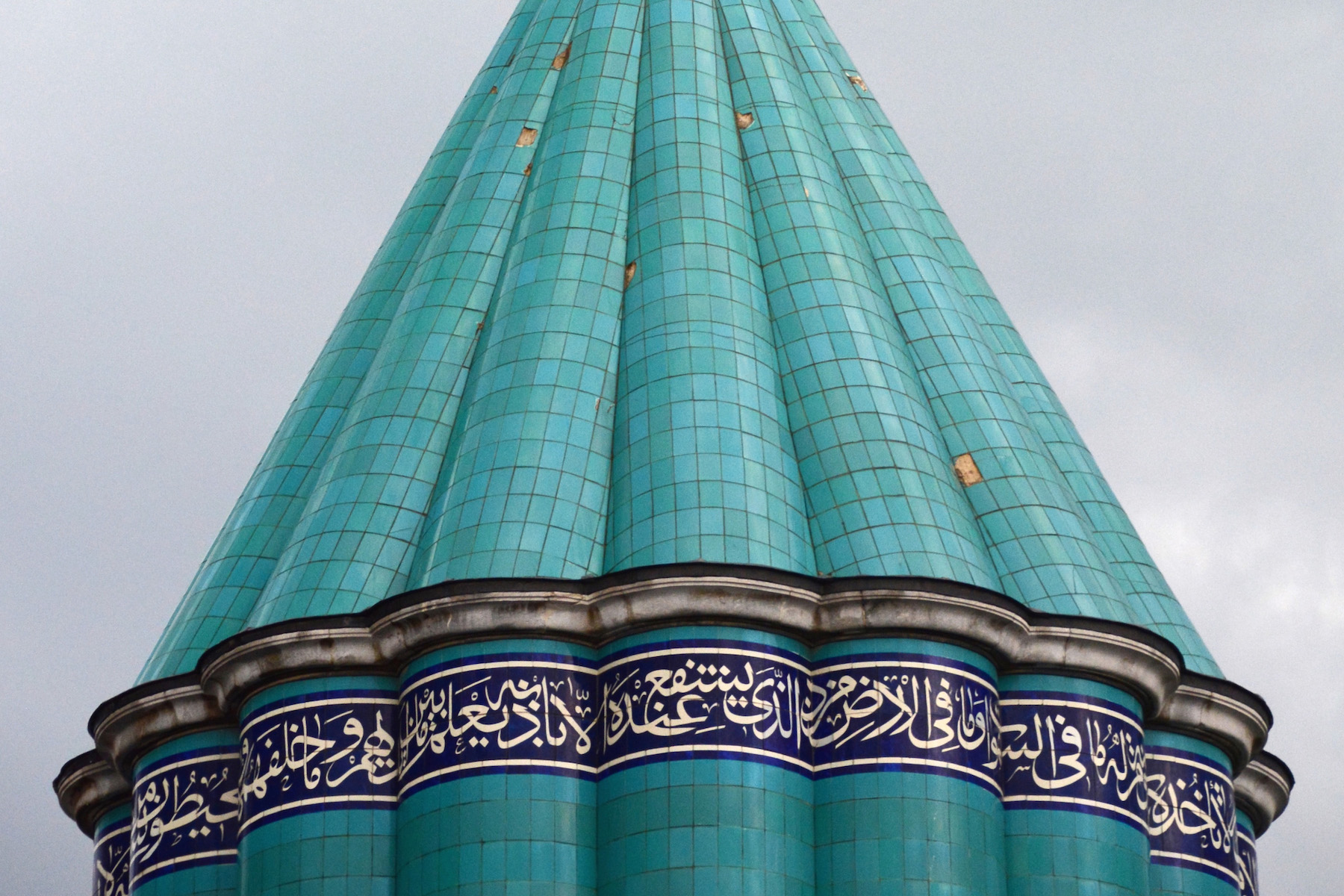 Where: Konya, Turkey
When: All year
Why: Turkey's been an "it" travel destination for many years, but most people avoid the conservative interior part of the country, barring Cappadocia. The highlight of Konya is the Green Mausoleum, dedicated to Sufi poet Rumi, whose words you've almost certainly seen in your Facebook feed.
How: Fly nonstop to Konya from Istanbul.
Eat Yourself Sick With Japanese Street Food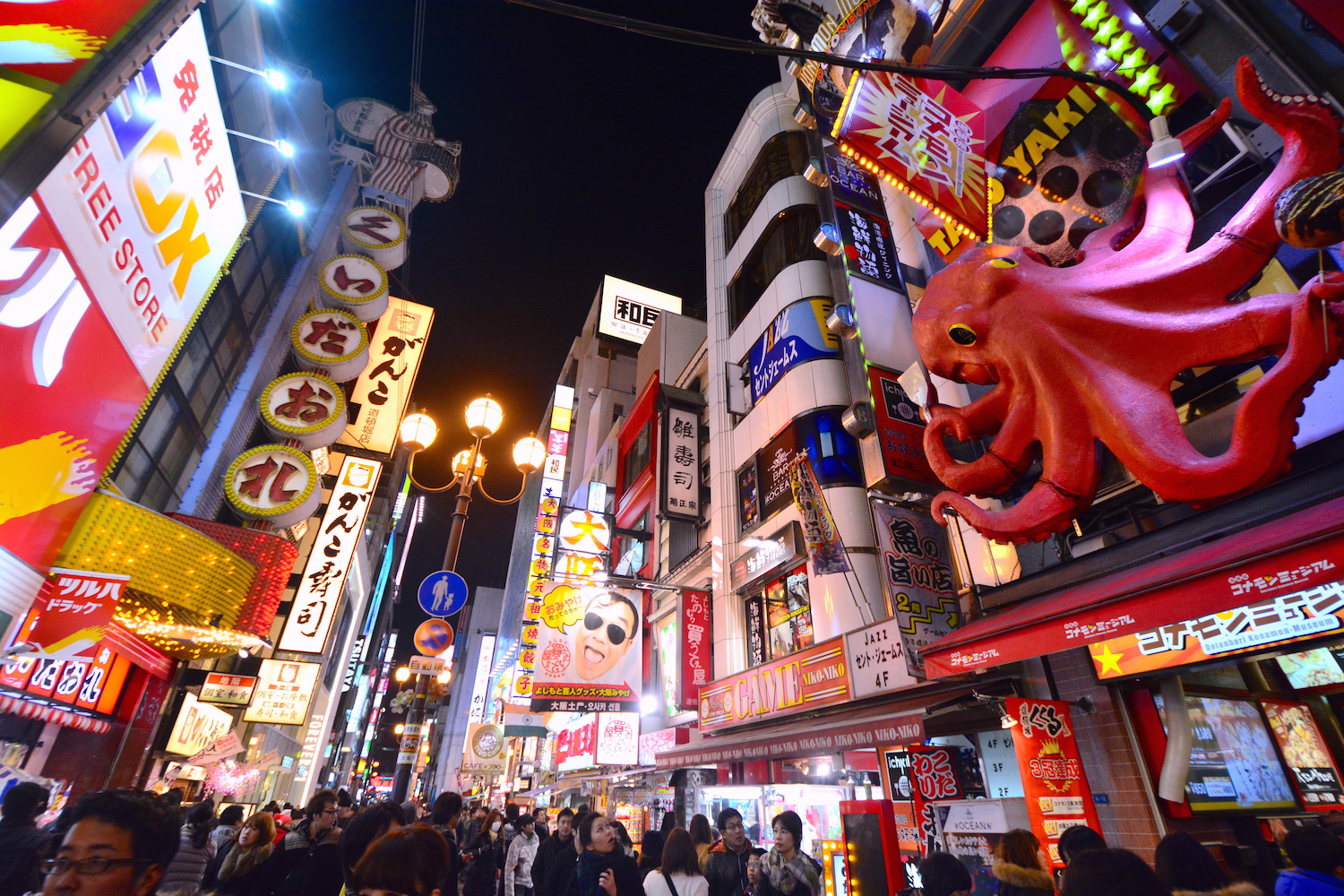 Where: Osaka, Japan
When: All year
Why: Japan's third-largest city often gets the shaft, but it's arguably home to the best food—and, especially, street food—in the country. Local favorites like takoyaki octopus fritters and gyoza dumplings are all over the city, but start at Dotonbori pedestrian street to save your sanity—and to enjoy grilled crab (kani) from a street stall.
How: Fly nonstop to Osaka from anywhere in Asia, many places in Europe, Los Angeles or San Francisco; take a Shinkansen from Tokyo.
Hear Both Sides of the Israeli-Palestinian Story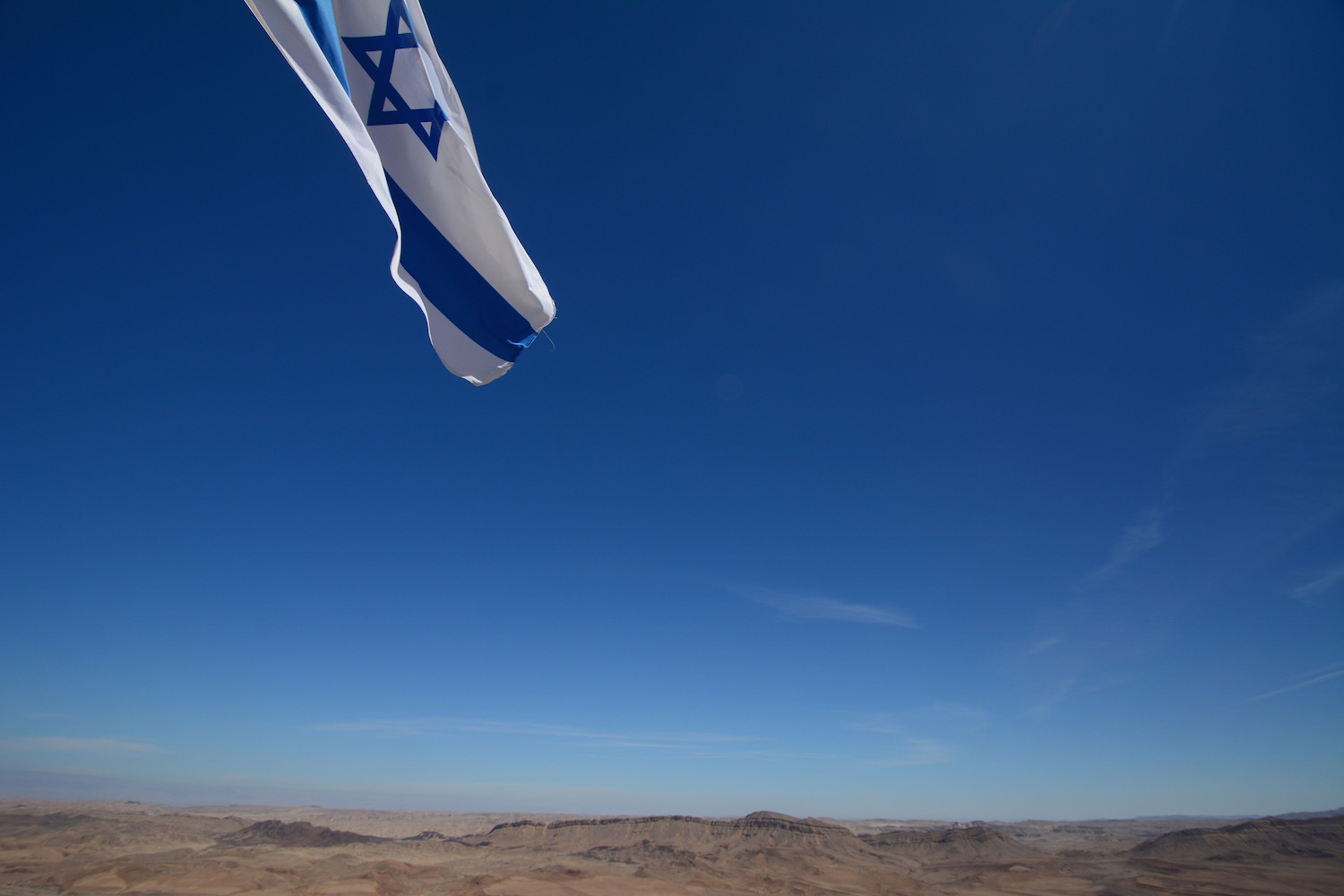 Where: Between the Jordan River and the Mediterranean Sea
When: All year
Why: The only way to (attempt) to understand the most important conflict of our times is to see it for yourself—and to see both sides. A trip to Israel without a trip to Palestine (or vice-versa) is pointless.
How: Fly to Tel Aviv, then take trains and buses within Israel; use a service like Abraham Tours to explore the West Bank.
Drive Amid the Glaciers of the Canadian Rockies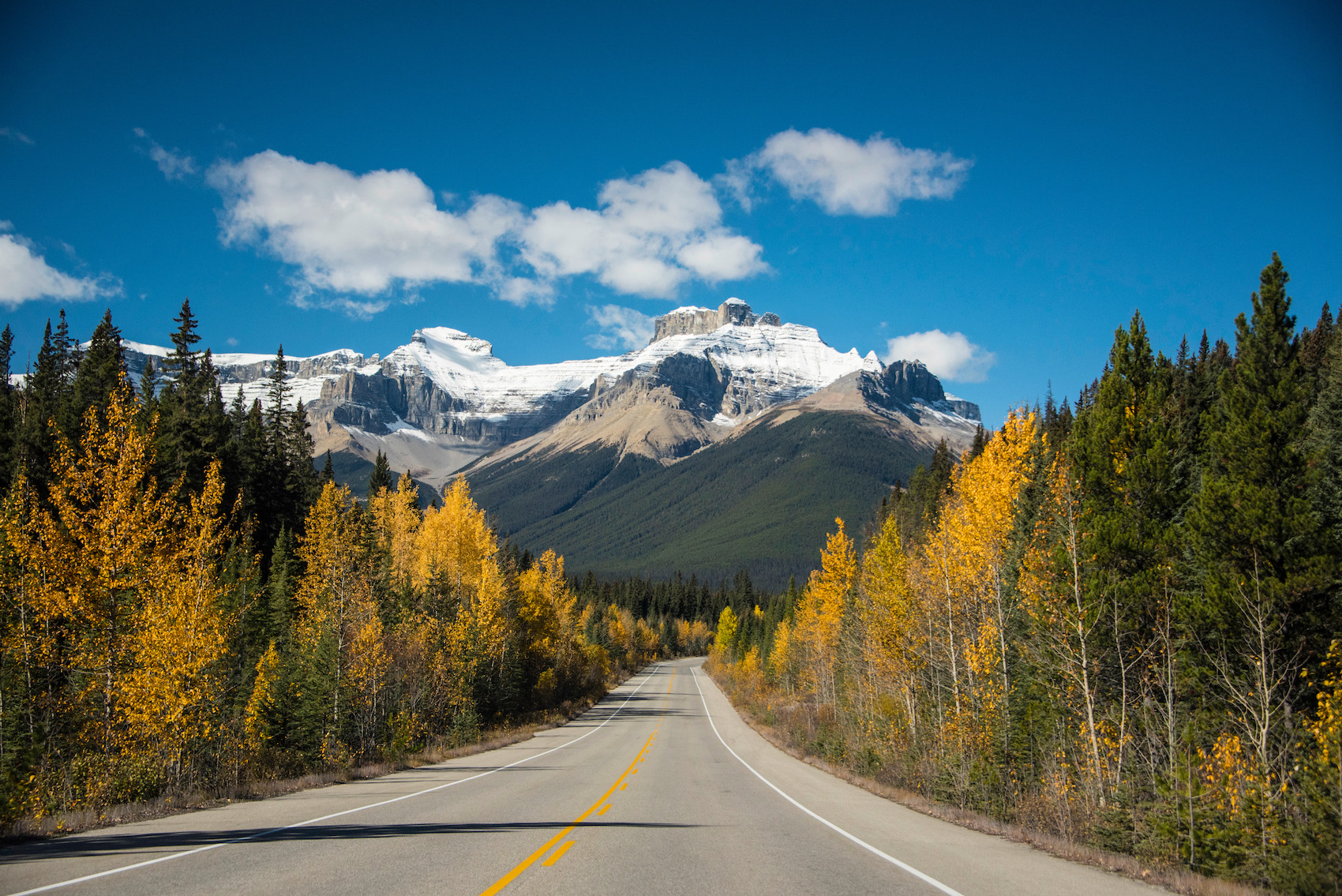 Where: Canada's Icefields Parkway, between Banff and Jasper National Parks in Alberta
When: All year, but autumn is particularly lovely
Why: Glaciers, mountains and, potentially, fall colors—what more reason do you need? Add in friendly Canadians and adorable roadside wildlife and…well, if you're not convinced yet, you never will be.
How: Fly to Calgary, then drive to Banff; or fly to Edmonton, then drive to Jasper. I recommend sleeping in Banff, and driving up and down the parkway as a day trip, but you could sleep in Jasper and go at a slower pace instead.
Share Rum and Tall Tales With Papa Zouk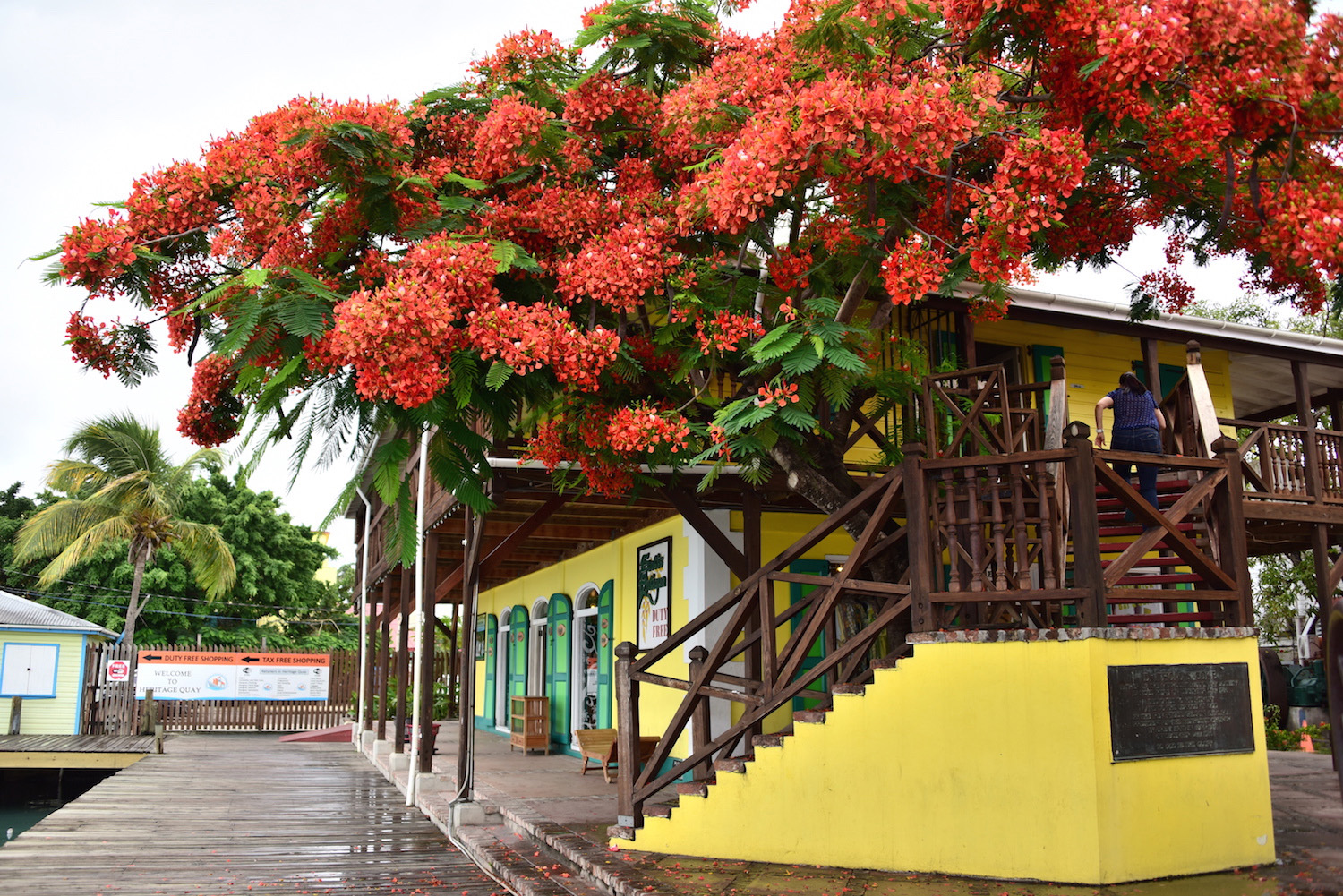 Where: Antigua, Caribbean
When: All year, but avoid hurricane season (May-October) if possible
Why: As one of the lesser-visited islands of the lesser Antilles, Antigua is filled with characters, first among them a German expat who serves up what is perhaps the best seafood—and rum—on the island. After a day on Ffryes Beach and sunset at Shirley Heights, enjoy dinner at Papa Zouk's Fish and Rum—and keep an open mind.
How: Fly nonstop from U.S. gateways like Miami, New York or Charlotte; or from London.
See Different Colors of the California Coast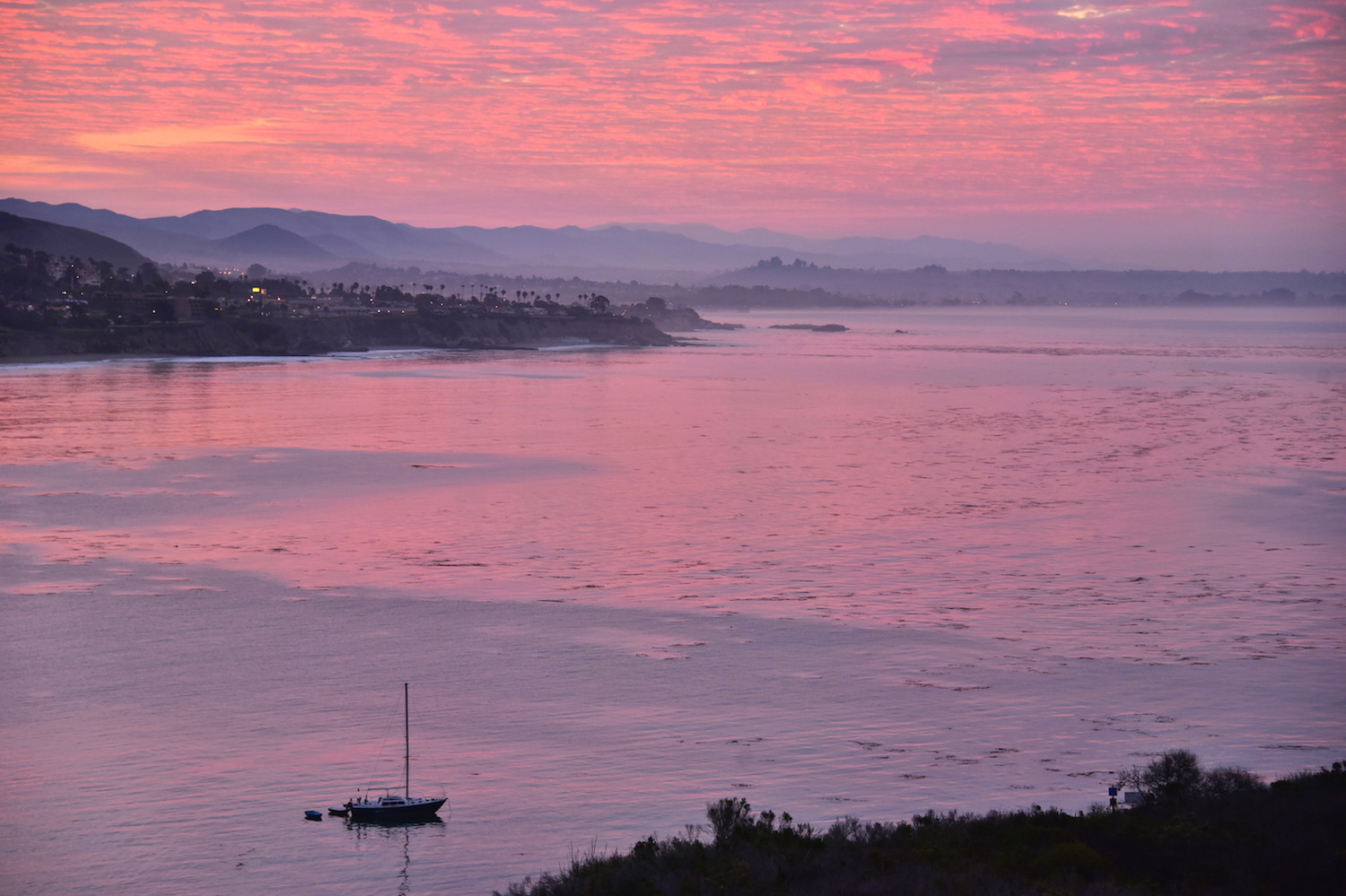 Where: California's Highway 1 Discovery Route, in San Luis Obispo County
When: All year
Why: California's big coastal cities—and Big Sur—get all the love from tourists, but the state's central coast is where the magic is, from the unique farm-to-table cuisine on offer at the Gardens of Avila, to America's answer to the Rock of Gibraltar—and the Pacific's best oysters—in Morro Bay, to towns like Cambria, Cayucos and Ragged Point.
How: Rent a car in San Luis Obispo; stay in Morro Bay or Avila Beach.
Get Lost in the Mists of the North Atlantic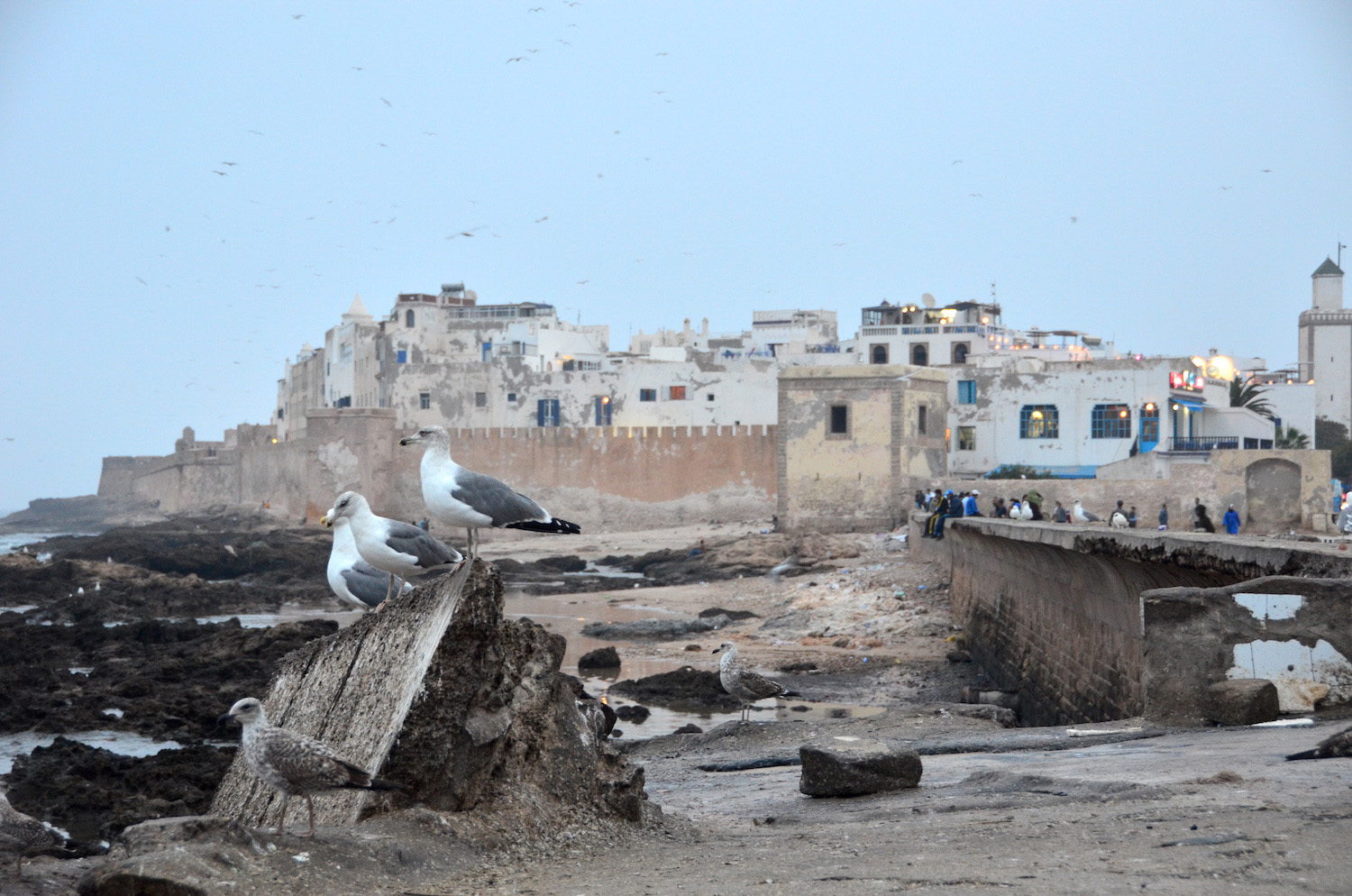 Where: Essaouira, Morocco
When: All year
Why: Morocco is uniformly magical, but the cool breezes, misty ambiance and crazy quantity of seagulls you find as you explore the medina of Essaouira, perched on the shores of the North Atlantic, is one of the most unique places not only in Morocco, but on the planet.
How: Take a bus or grand-taxi from Marrakech.
Capture the Colors of Autumn in the Japanese Alps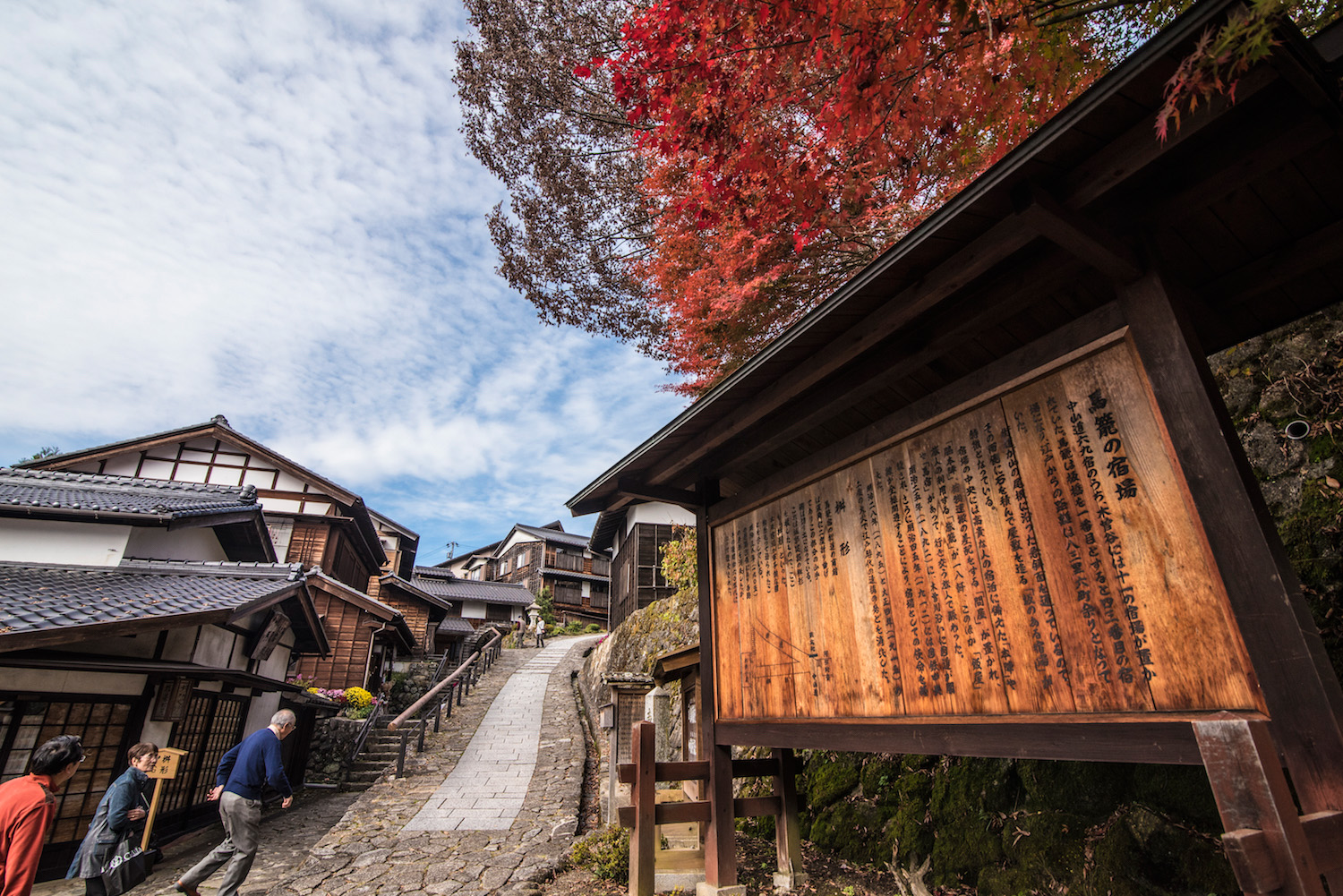 Where: Central Honshu, Japan: The Nakasendo Trail; Takayama; and Shirakawa-go
When: November
Why: The only thing more magical than walking along an ancient Japanese trading route? Doing it as thousands of trees—and indeed, the entire Japanese Alps—blaze in bright colors all around you.
How: Buy a Japan Rail Pass and visit HyperDia.com to plan your train routes.
Take a Terrifying Road Trip Under the Northern Lights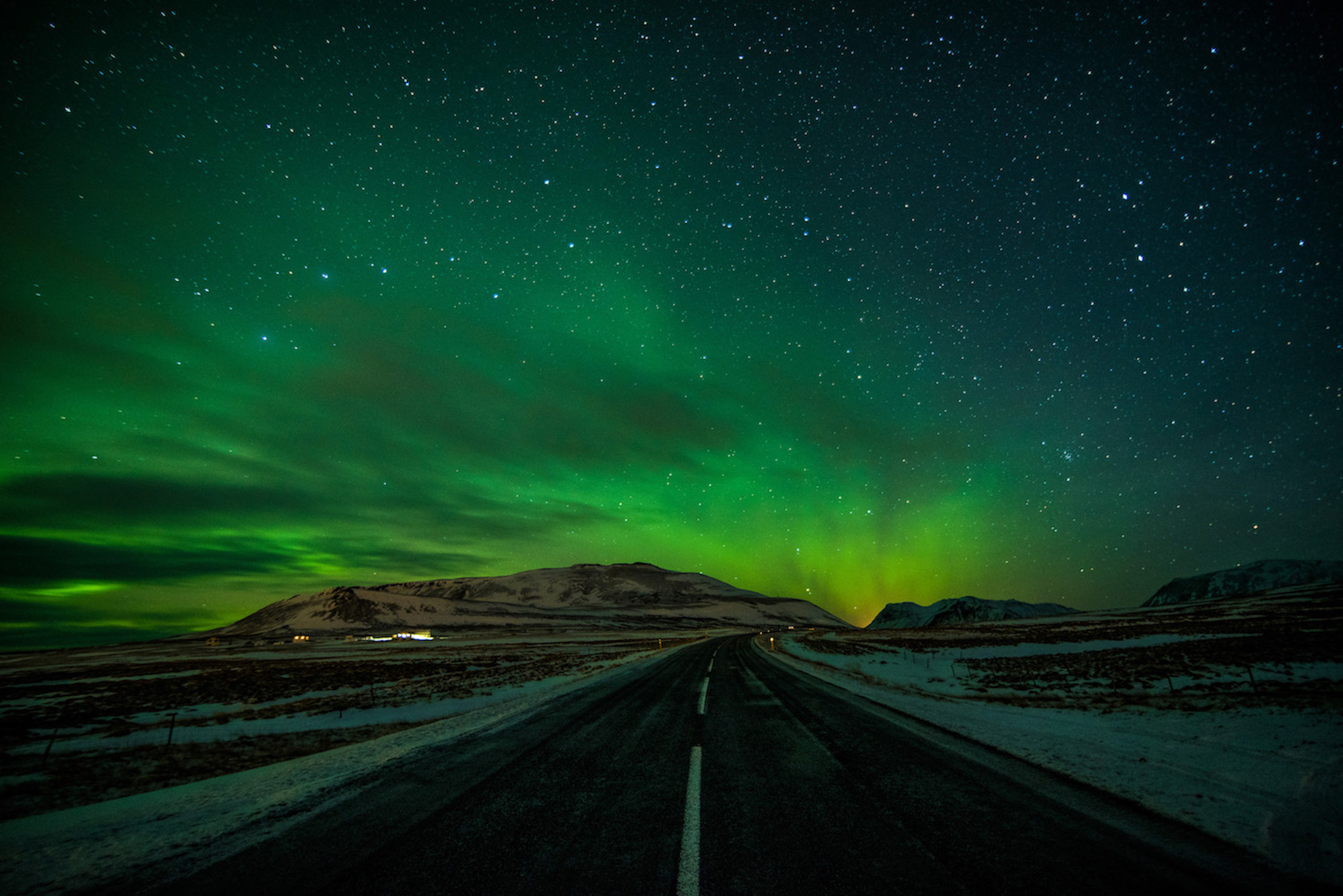 Where: Iceland's Ring Road; in particular, the country's East Fjords and Snæfellsnes Peninsula
When: December, January or February
Why: Most travelers visit Iceland in the summer, but the Northern Lights aren't the only reason to take a road trip in winter. The glistening snow cover is gorgeous and the pastel light is priceless, but the true highlight of Iceland during the colder months is the abject—and, sometimes terrifying—solitude you enjoy here.
How: Fly from the U.S. or Europe to Reykjavík; rent a car at the airport.