About Robert Schrader
Robert Schrader is a travel writer and photographer who's been roaming the world independently since 2005, writing for publications such as "CNNGo" and "Shanghaiist" along the way. His blog, Leave Your Daily Hell, provides a mix of travel advice, destination guides and personal essays covering the more esoteric aspects of life as a traveler.
Latest Posts by Robert Schrader
Share: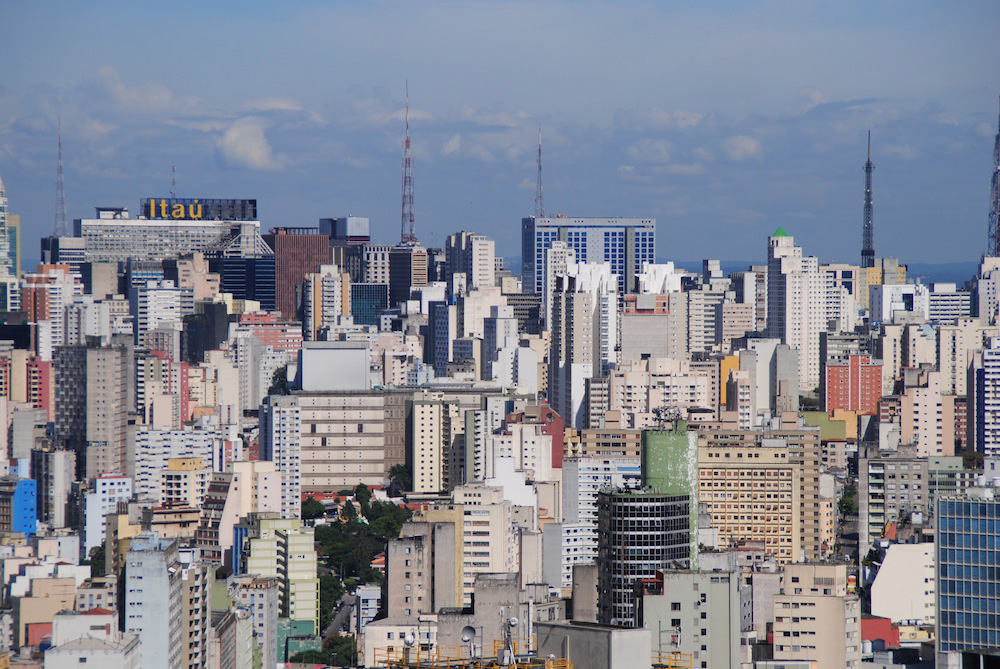 Brazil is an intimidating country to visit, owing to its size, its linguistic homogeneity and its questionable level of personal safety, to name just a few factors. In fact, after my most recent visit there, I can say it's one of the most difficult places I've ever traveled, for these reasons and many others.
On the other hand, most if not all the difficulties I experienced traveling in Brazil would've been much worse had I not been so adept at setting and executing travel goals so, using combined experiences from my two trips there, I've assembled a sample itinerary for three weeks in Brazil. Follow it exactly for a standalone three-week trip to Brazil, or use it as a framework for the Brazil portion of your larger South America trip.

São Paulo
São Paulo has the worst reputation of all the cities in Brazil among foreigners – and a fair few Brazilians as well. Although I understand complaints about the city, which begin with the level of crime there but also include pollution, climate and overcrowding, I can't help it: I absolutely love São Paulo. (top photo)
 Stay along Avenida Paulista, a cosmopolitan boulevard whose skyscrapers, swanky cafés and high-end shops might have you feeling like you're in New York City. Here, you'll not only find a bevy of hotels and Airbnb properties, but the incredible Museu de Arte de São Paulo (MASP), a building that's a work of art in and of itself.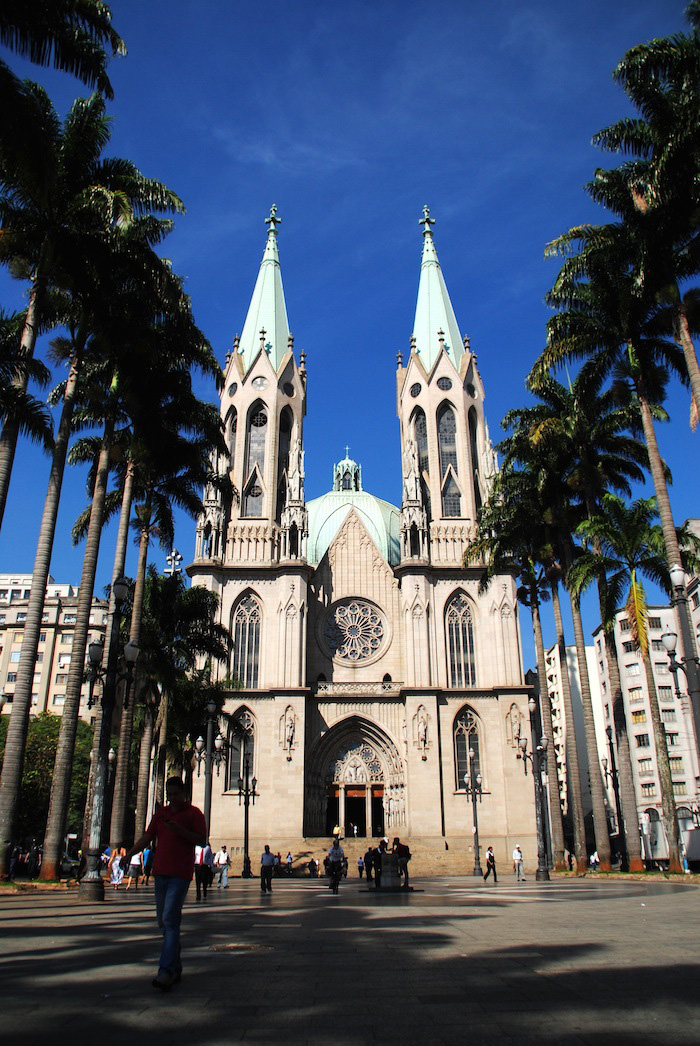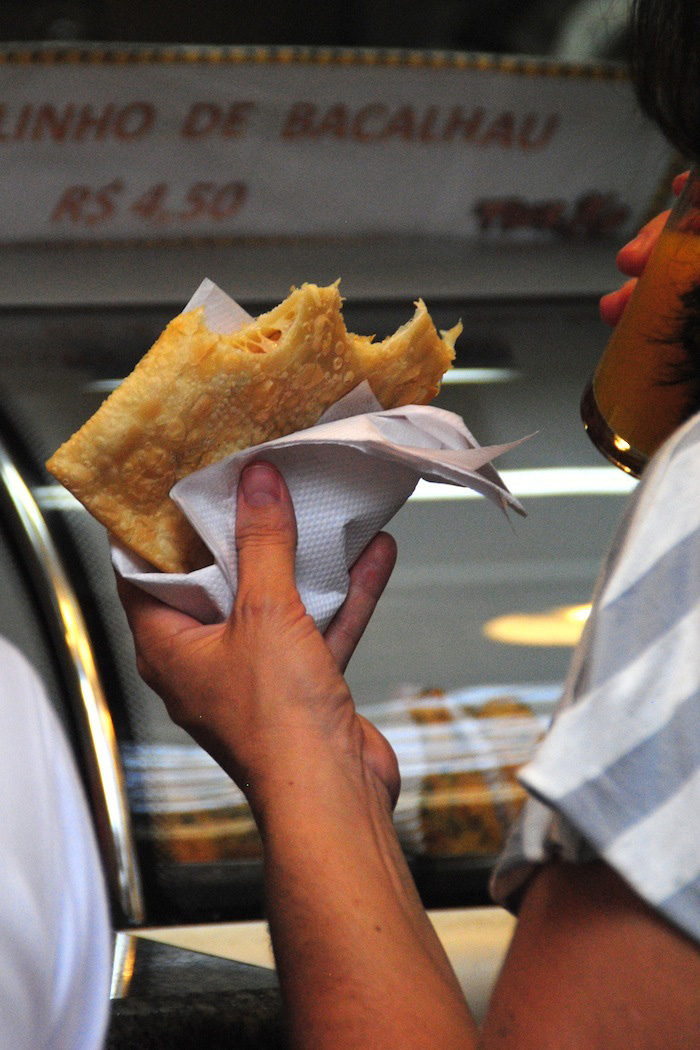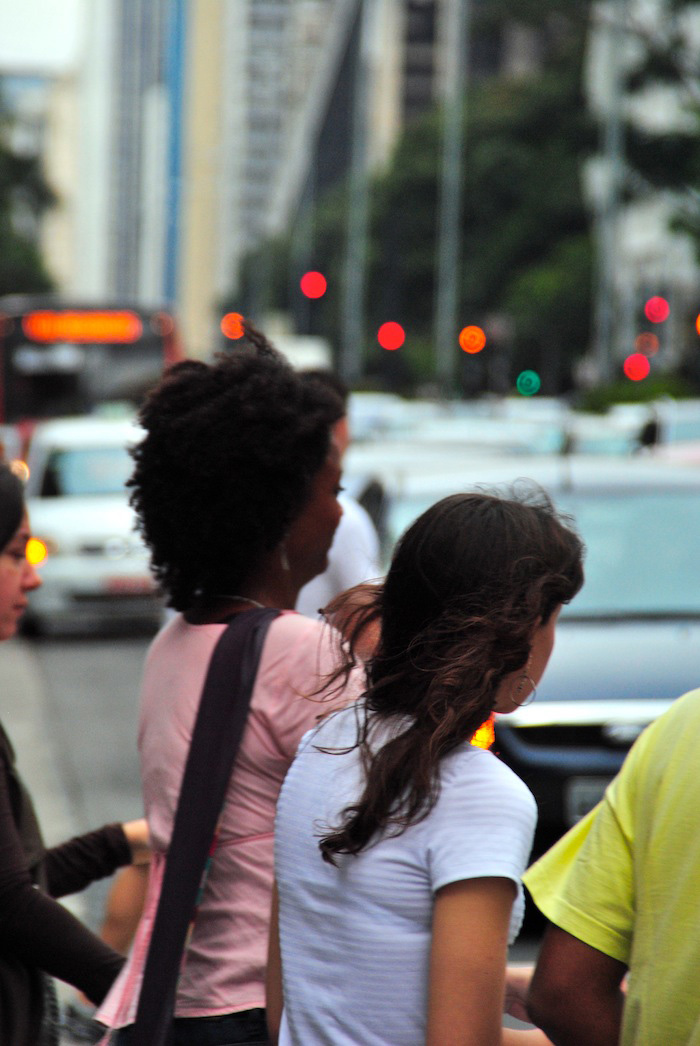 Other notable São Paulo attractions include the Banco do Estado de São Paulo (Banespa) Building (Brazil's highest building and a great spot for an urban panorama), Sé Cathedral, Mercado Municipal (where you can sink your teeth into a delicious pastel bacalhau, a cod pie that tastes way better than it sounds) and Ibirapuera Park. In total, I recommend spending 5-7 days of your three weeks in Brazil in São Paulo, although you could easily spend more.
Lençóis Maranhenses
When I learned that a mysterious desert-like landscape existed less than an hour's flight from the Amazon Rainforest, I immediately become more interested in visiting said mysterious desert than the rainforest which, call me a snob, is someplace everyone visits when they go to Brazil. No one goes to the Lençóis Maranhenses, however – no foreigners, certainly – which is just one of the many reasons this bizarre landscape is the most beautiful place I've ever seen in my life.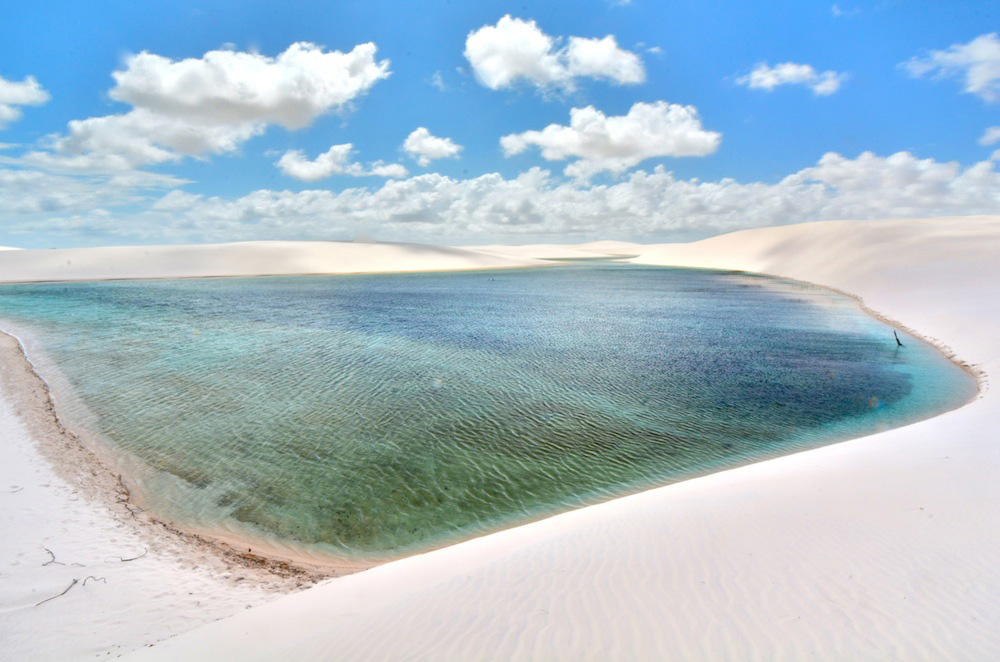 Due to the complicated logistics of getting to the deepest, best portions of the Lençóis Maranhenses (which I detail in this post) I recommend devoting 5-6 days of your three weeks in Brazil to Lençóis Maranhenses, which is best reached via the airport of São Luis, and best seen from the small town of Santo Amaro, rather than the tourist trap of Barreirinhas.
Salvador
Salvador is a city I desperately wanted to visit during my first trip to Brazil but unfortunately, it just wasn't in the cards at the time. I'm happy I waited, however, if only because Pelourinho, its colonial gem of an old city, demands an incredible camera if you want to document it probably – I had a crap one the first time I went to Brazil.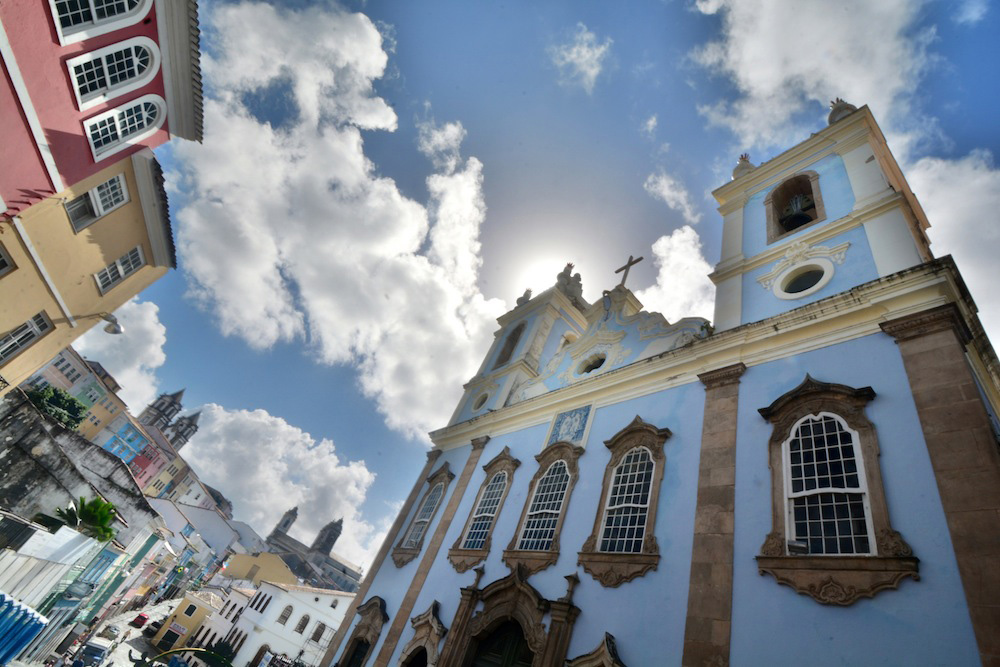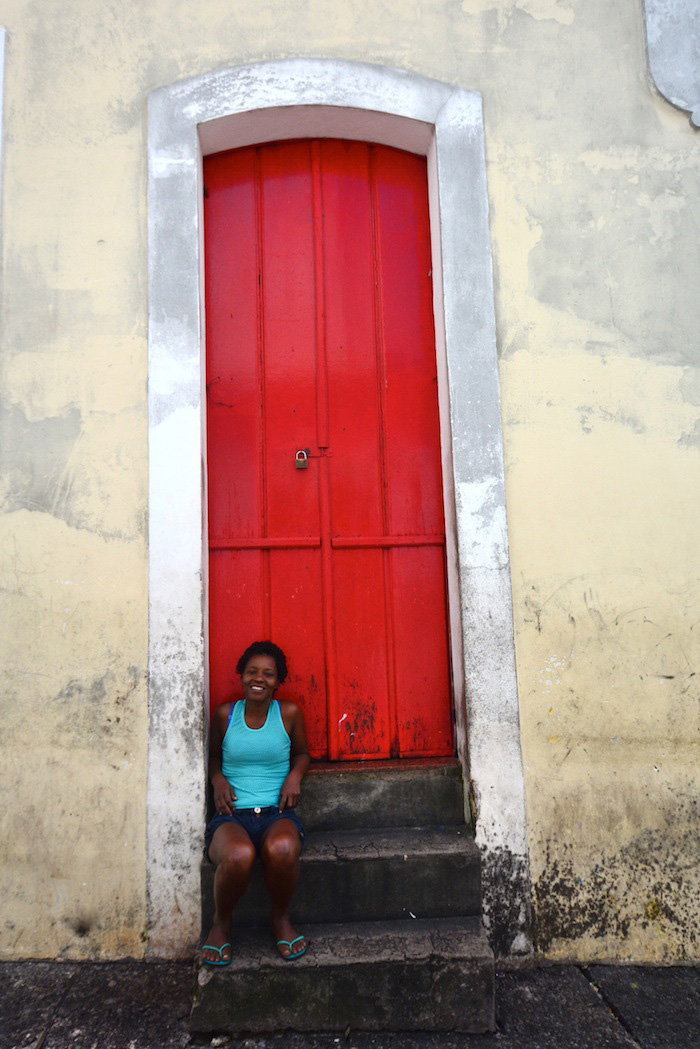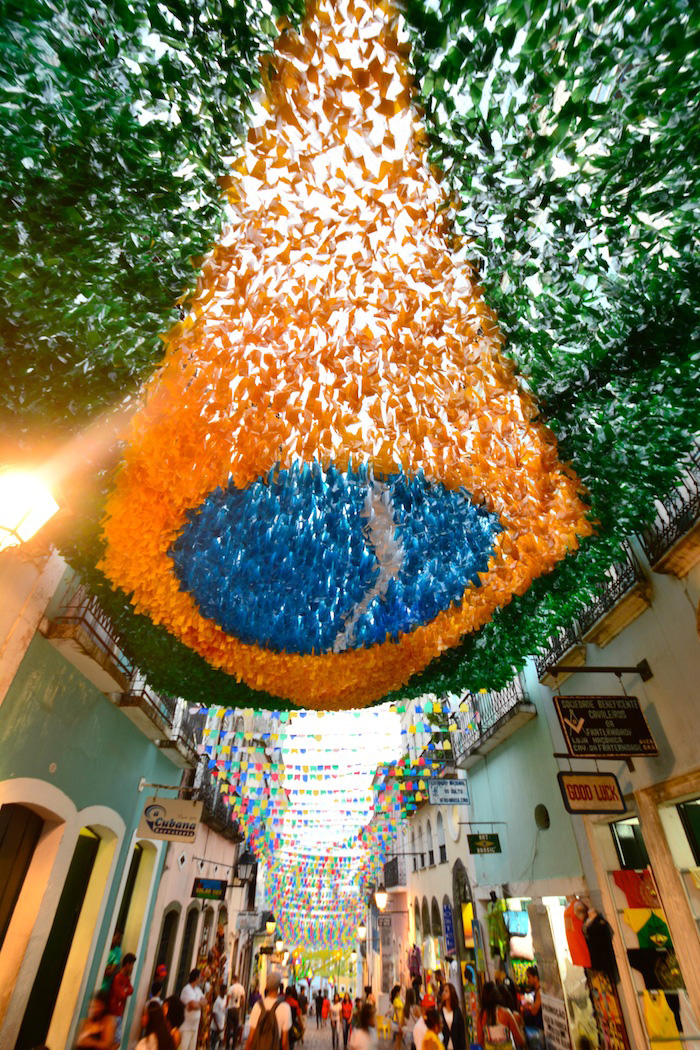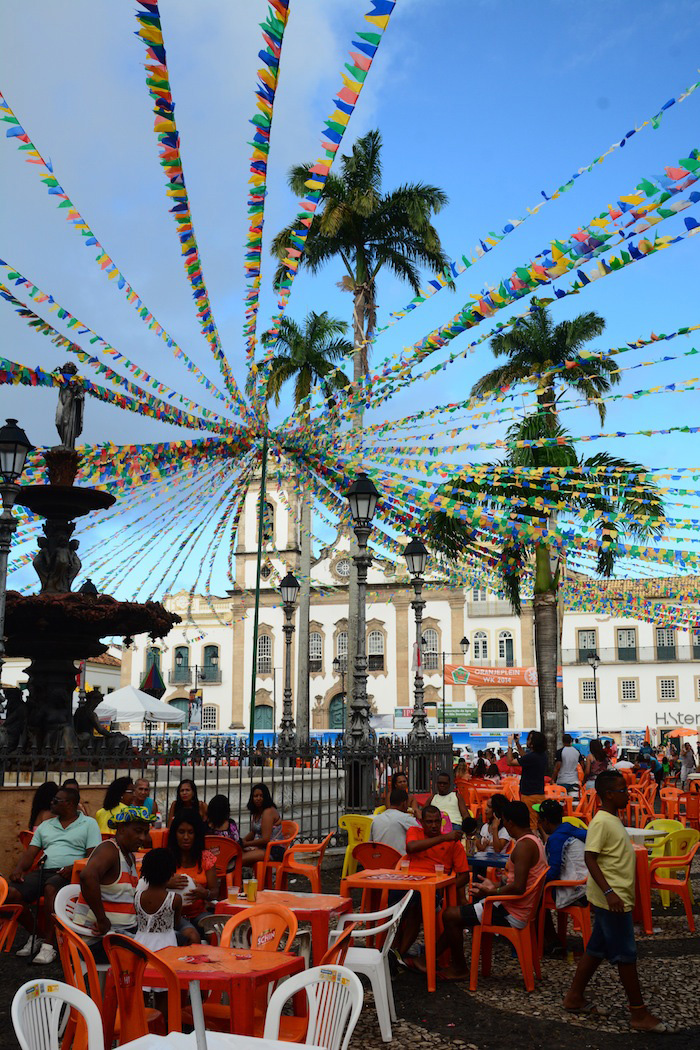 How long you spend in Salvador depends upon what you end up doing there. If you only explore the historical old town, then a couple days might suffice. If you take advantage of beaches such as Praia do Porto da Barra, you might add another day or two, if the weather is conducive to sunbathing. If you add in day trips to nearby islands to Itaparcia or Morro de São Paulo, you could easily spend an entire week of your three weeks in Brazil in Salvador – it's up to you!
Rio de Janeiro
In my own travels, I have a tendency to work before I play – and I think every traveler should have the same mindset, which is why I've saved Rio de Janeiro for the finale of your three weeks in Brazil. If you're extremely tired, prioritizes lazy days on beaches like Ipanema, Copacabana and Leblon, or if you've still got energy for sightseeing, visit the Santa Teresa historical district, take a cable car up the Sugar Loaf, walk under the Lapa Arches, stroll through the Botanical Gardens and, of course, see Christ the Redeemer.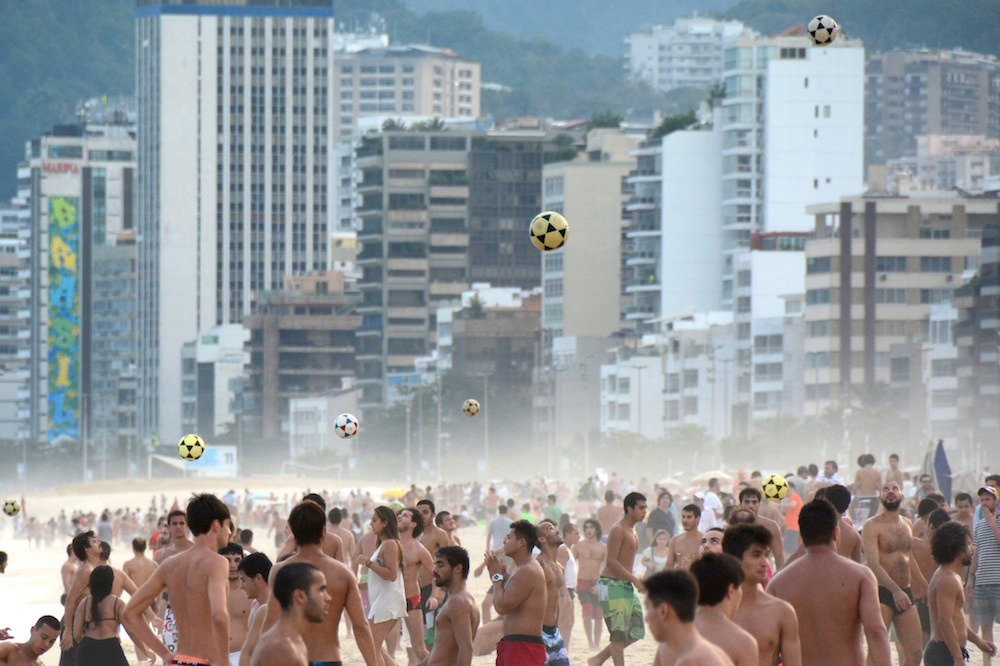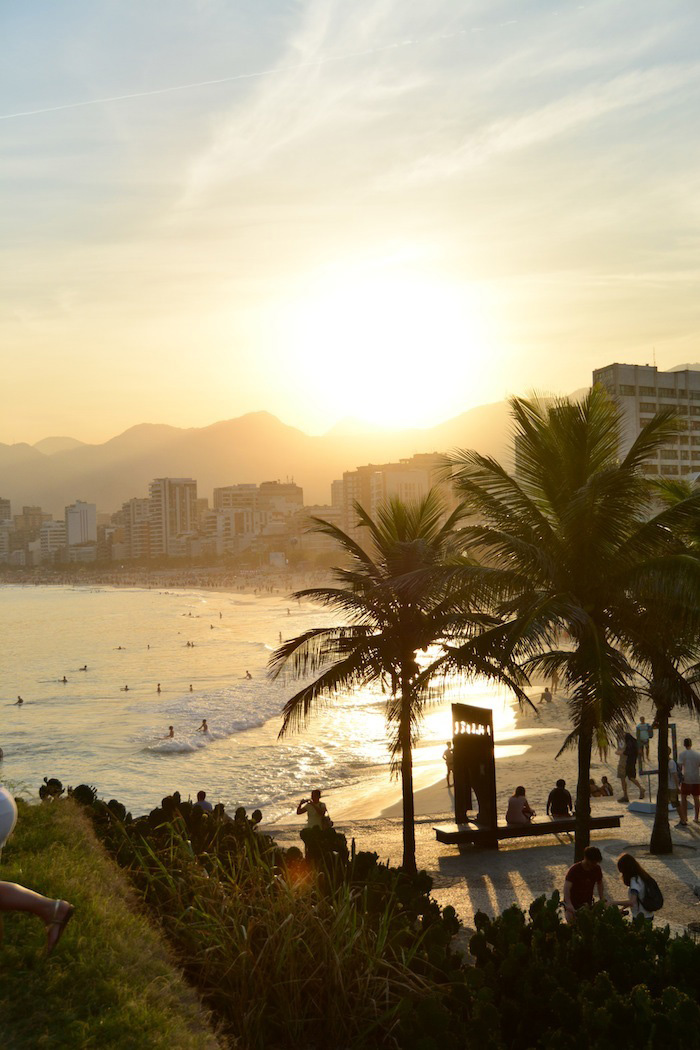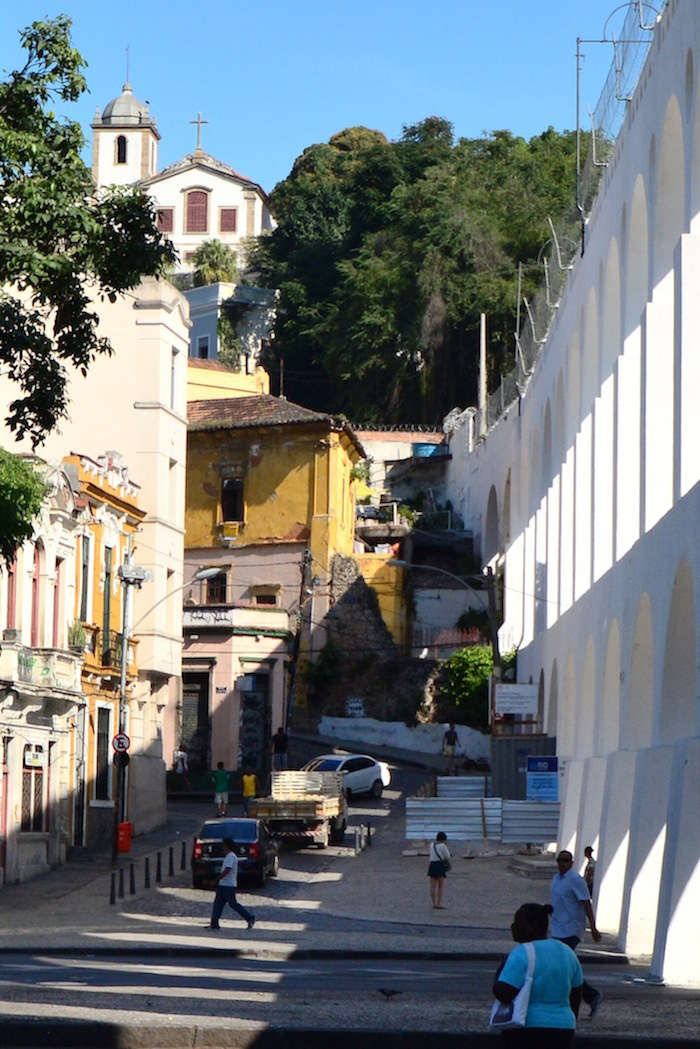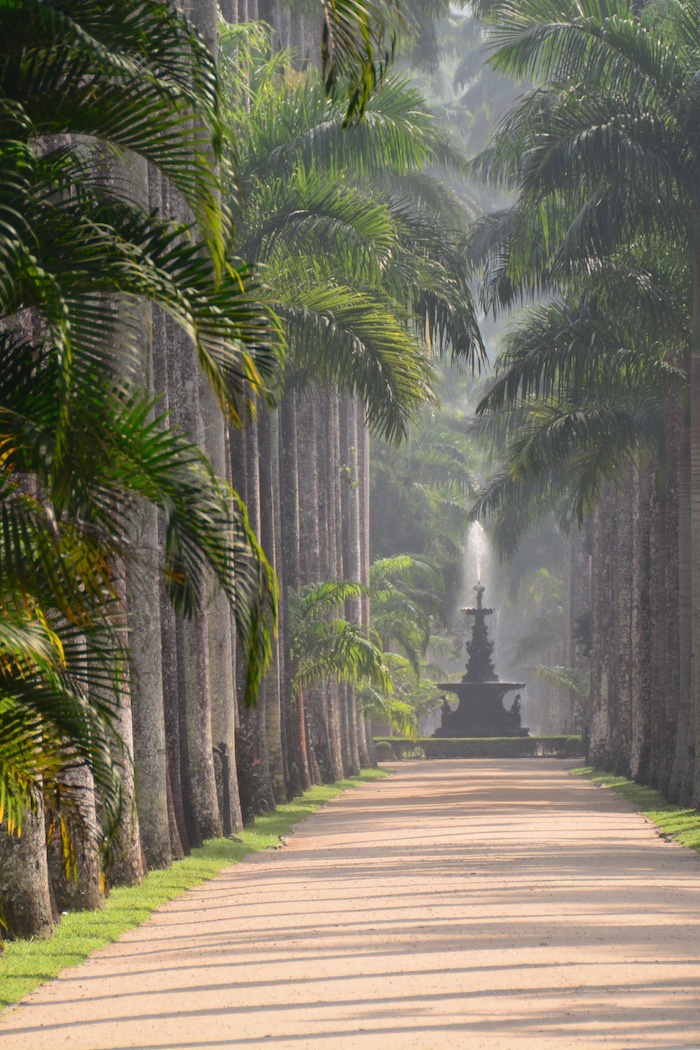 No matter what you end up doing there, Rio is the perfect place to spend at least 4-6 days out of your three-week Brazil itinerary. And, if you don't extend your trip using some of the options I'll list below, it's the ideal destination to end your Brazil trip.
Other Brazil Destinations
If three weeks in Brazil is not sufficient for you, there are plenty of other places to see, extending your Brazil trip to a month or even longer. From São Paulo, you could travel south to iconic Iguassu Falls, or to the idyllic coastal city of Florianopolis or, after you finish up trekking in the Lençóis, fly to Belém or Manuas and use either as your gateway to the Amazon. Coastal cities like Recife and Fortaleza are similar in ambiance to Salvador while Brasilia, the national capital, is a modernist planned city that many people hate, but is intriguing nonetheless.
Share: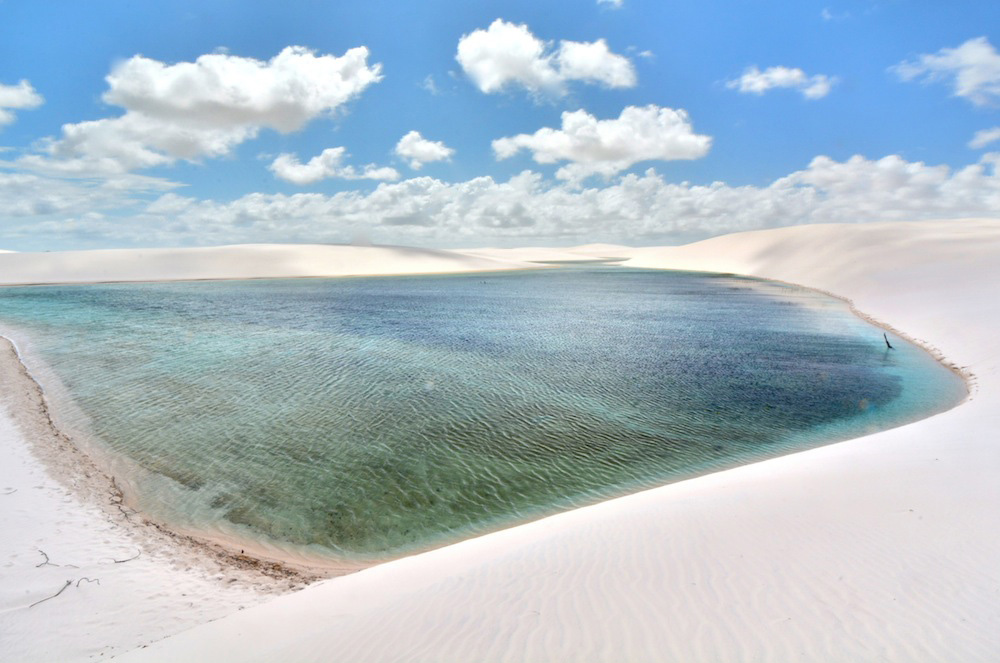 Meet Brazil's Lençóis Maranhenses National Park, which has been one of my must-visit destinations since I first learned of its existence. As I arrived my pousada in the sleepy village of Santo Amaro, the sky was too dark for me to even see my surroundings, so I went to bed unsure of whether the 48 hours I'd spent in transit was worth it.
I'm happy to report, after having trekked nearly 40 miles through rolling sand dunes, swum in freshwater lagoons of nearly a dozen different hues and enjoyed the hospitality of people who are largely oblivious to the existence of the outside world, that the answer is yes. In fact, I would go so far as to say the Lençois Maranhenses is the single most spectacular place I've ever visited.
If there's just one destination you add to your travel bucket list, make it the Lençóis Maranhenses. Whether you board the next place to Brazil, or save your trip for a special moment in your future, Lençóis Maranhenses National Park is one place you absolutely must see before you die. Here's the story of how I spent my time here.
Day Trip to Lagoa Betânia
As I mentioned in my previous post, I made it to Santo Amaro largely due to the good graces of a Rio man named Alexander and his family, so I was delighted upon waking up the morning after I arrived to have a call from him waiting at reception.
"We're going on a day trip to a beautiful lake," he said. "Betânia. Would you like to come?"
I couldn't have answered "yes" faster than I did. Within about 30 minutes, Alexander, his family and I, along with two Brazilian couples and two guides, were on a 4×4 again, this one headed away from Santo Amaro. The surrounding terrain remained green and brushy for the first hour or so of the bumpy ride. I was a bit puzzled, maybe even disappointed, until I noticed that the horizon was a stark, snowy white.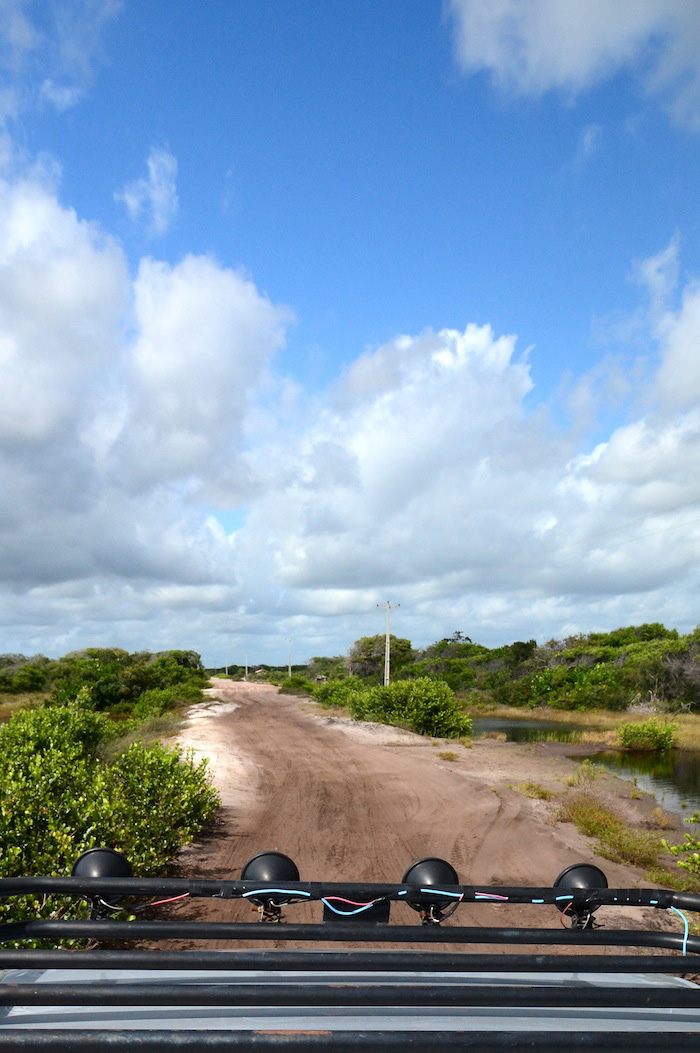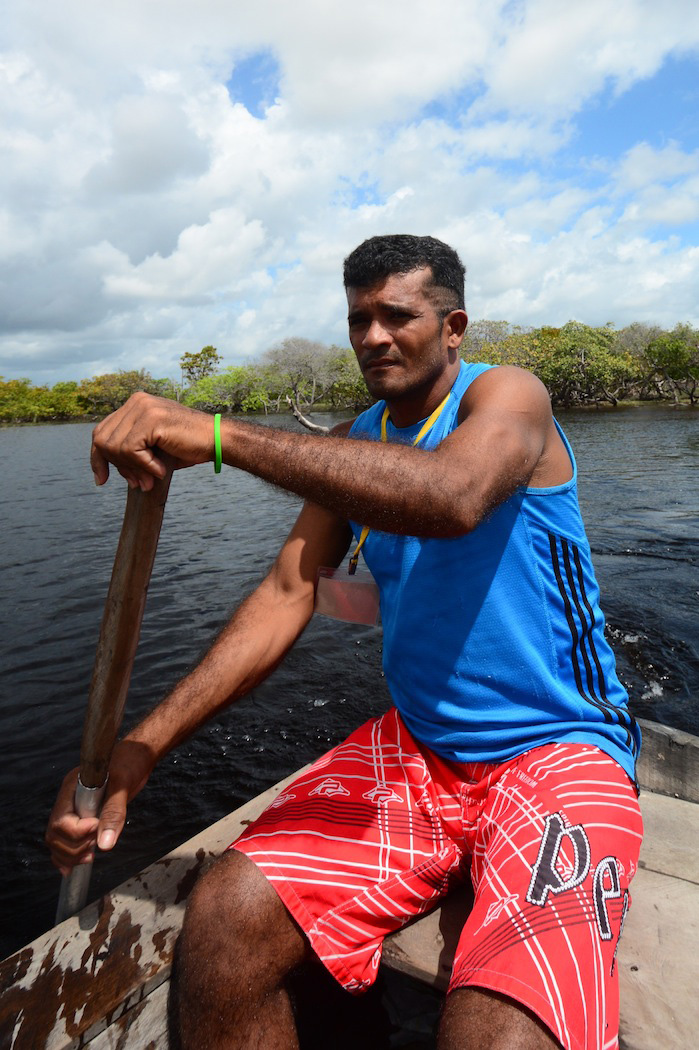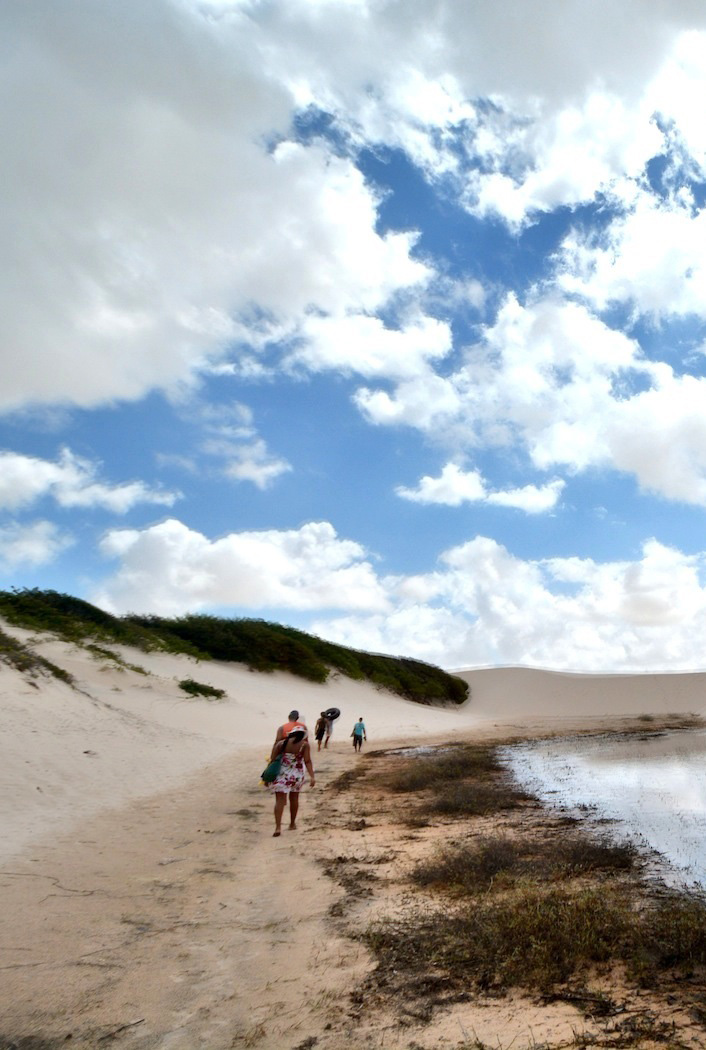 Before we reached it, however, the 4×4 stopped at a small straw hut on, where we got off and into a canoe that took us across a red-tinged lake. From there, we hiked about 10 minutes, during which all of the surrounding brush disappeared. The now-sandy path banked up sharply and when we arrived, I was greeted by the most fantastic view I've ever seen.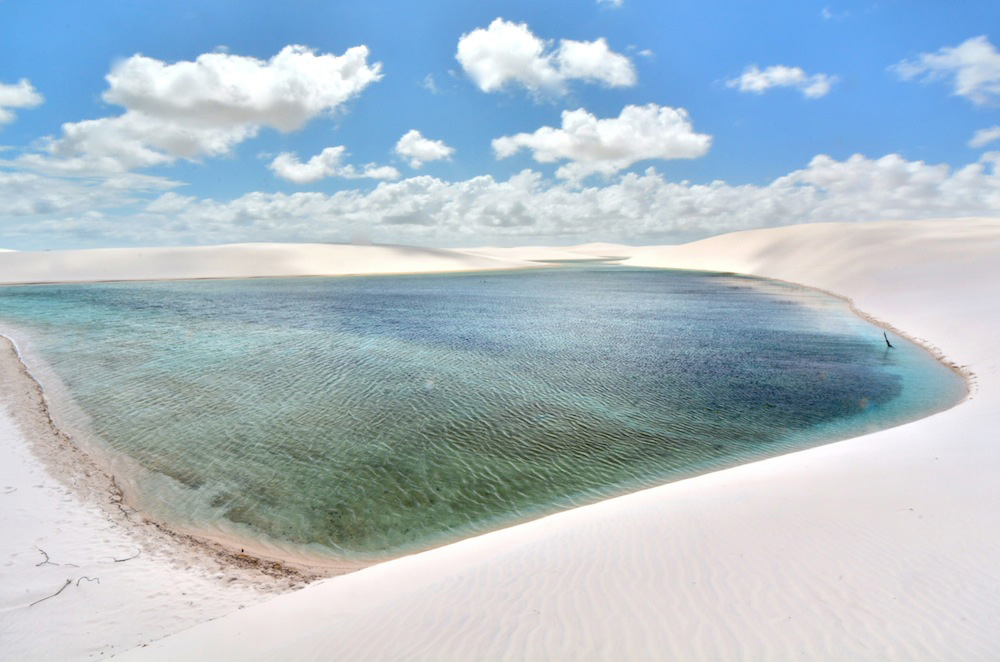 While my new friends and the rest of the people who'd come with us immediately started swimming, I headed off with my camera to explore the strange landscape.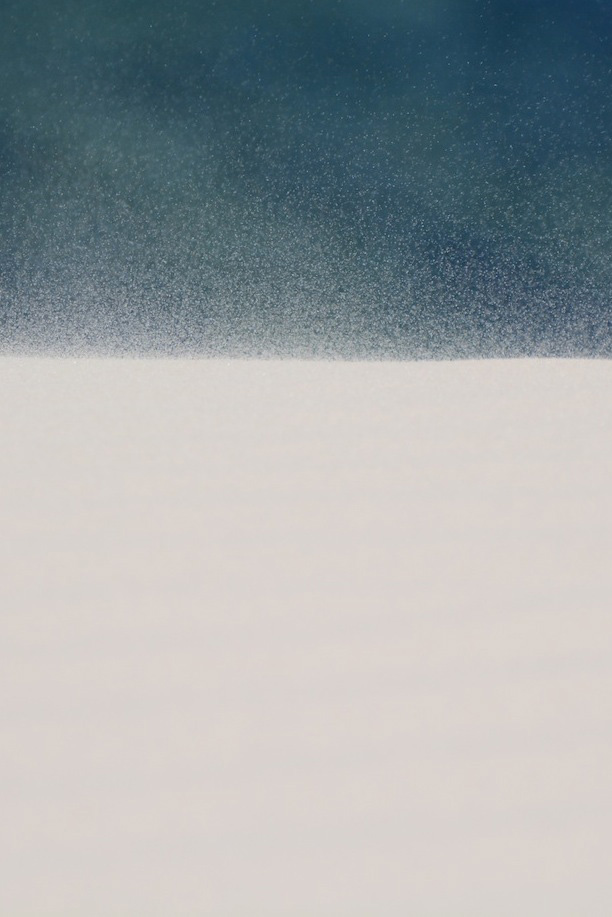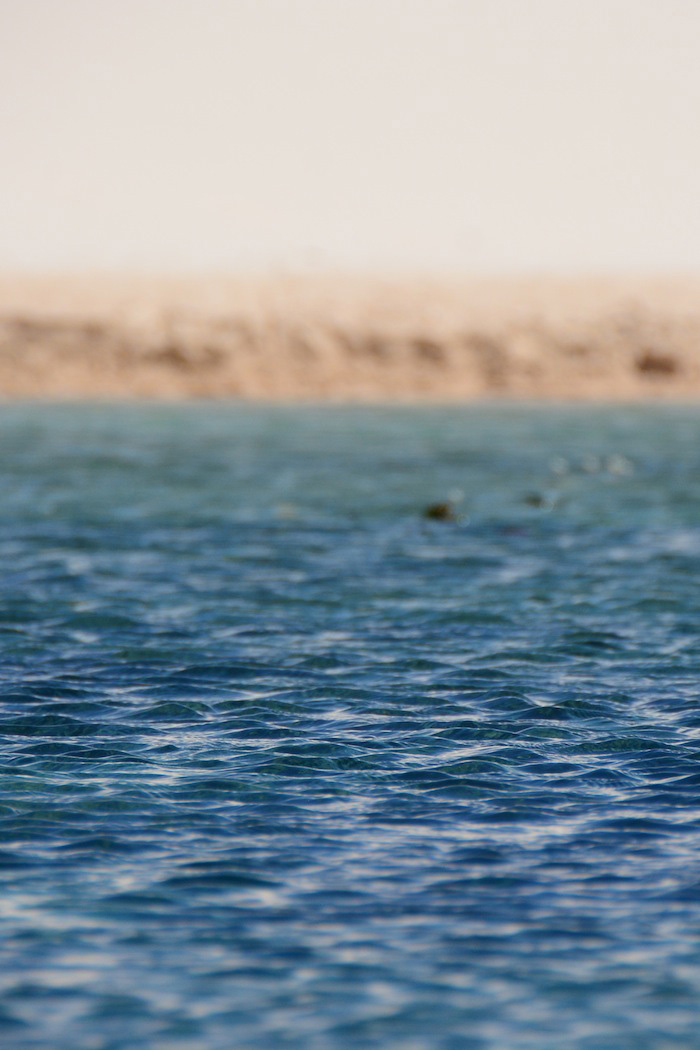 How could it be that, less than an hour's flight from the Amazon Rainforest (and even closer to the Caribbean Sea), a veritable desert, complete with blowing sand, existed? And how could it be that in the crystalline, ocean-looking freshwater lakes that formed between the massive dunes for just a few months out of the year, an intricate ecosystem of aquatic plants, flowers, insects and even birds manifested itself?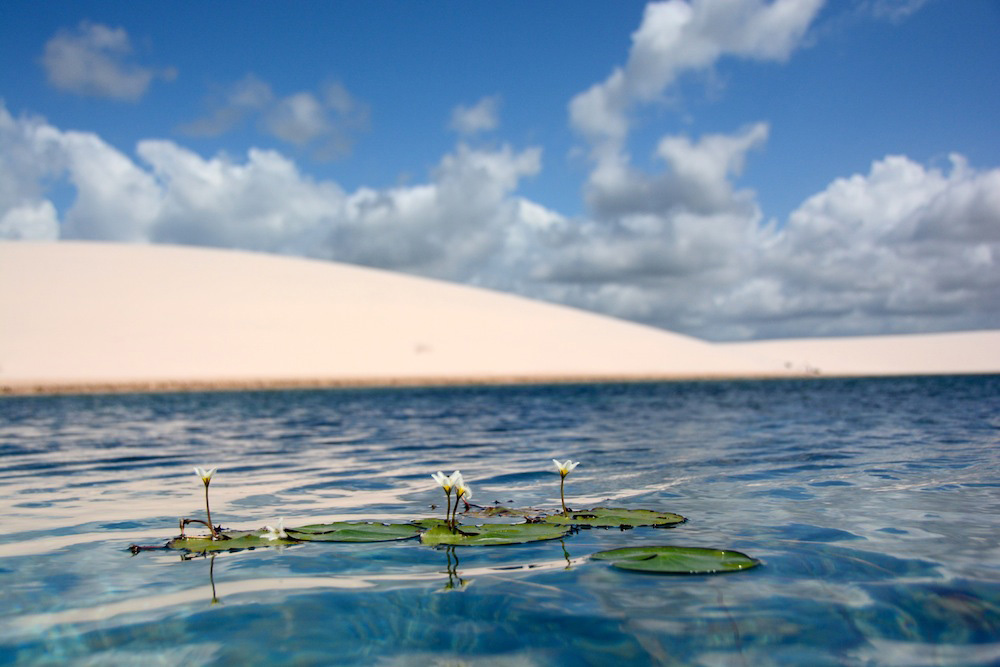 The answer to this question would be better explained by a scientist than by a writer like me, but regardless of why the Lençóis Maranhenses currently exists where it does, it is definitely the most alluring landscape I've ever walked across, swum in or, indeed, photographed.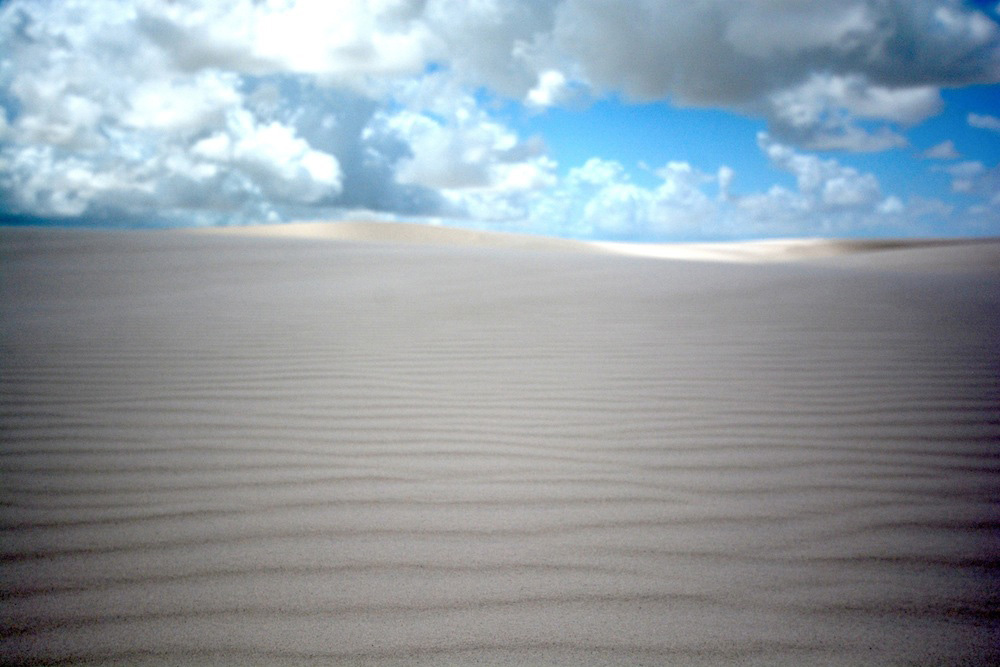 It's got the forlorn beauty of the desert, without the oppressive dryness of the Sahara (or the less-distant Atacama). And while swimming in its lagoons evokes the sea in terms of color, the lack of salt makes doing so much more refreshing than in any ocean.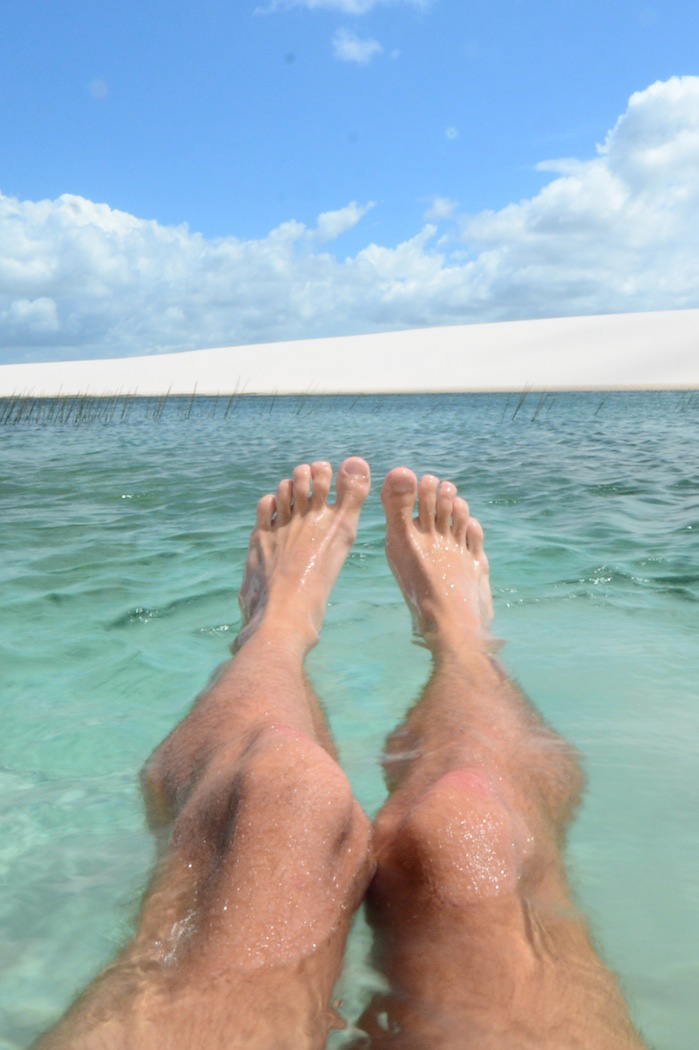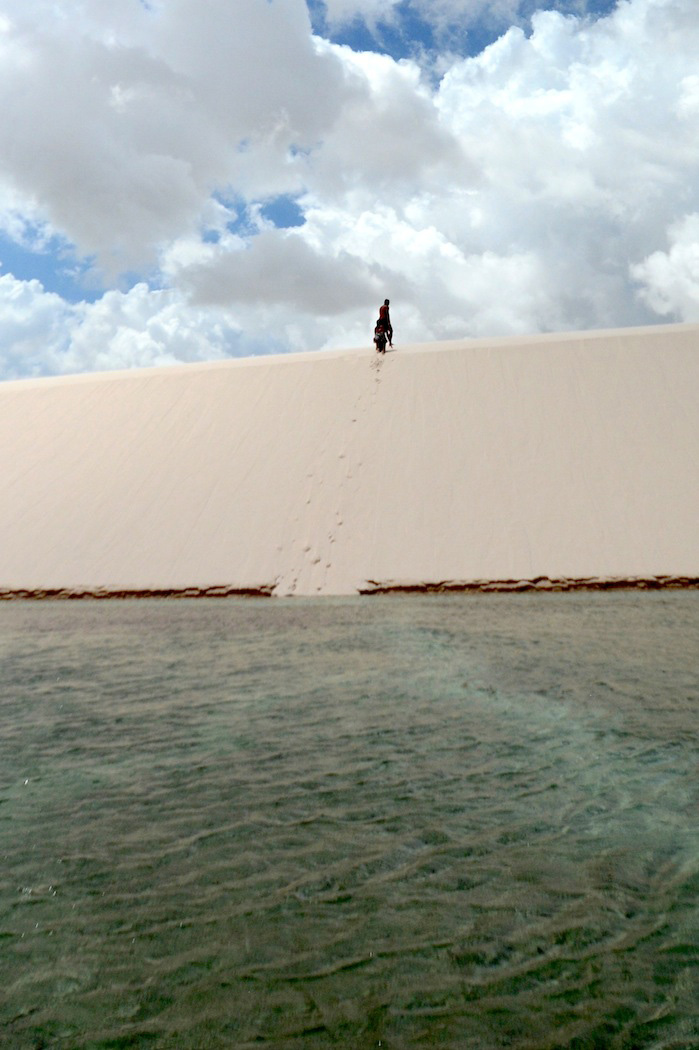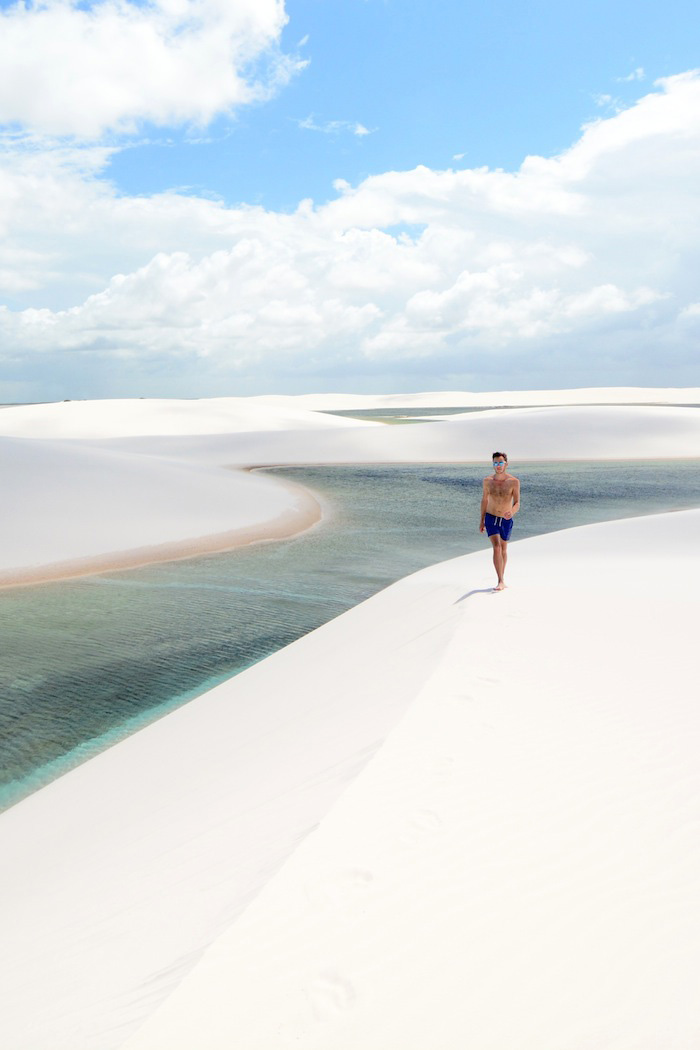 After enjoying about three hours at Lake Betânia (about half of which I spent alone, cataloging and documenting everything in sight, like a grown version of my five-year old self), we headed back to the hut where our 4×4 was parked and enjoyed a delectable, yet simple dinner of fried fish, rice and beans, washed down with the only substance more refreshing than the Lençóis Maranhenses itself: Coconut water, straight from the fruit.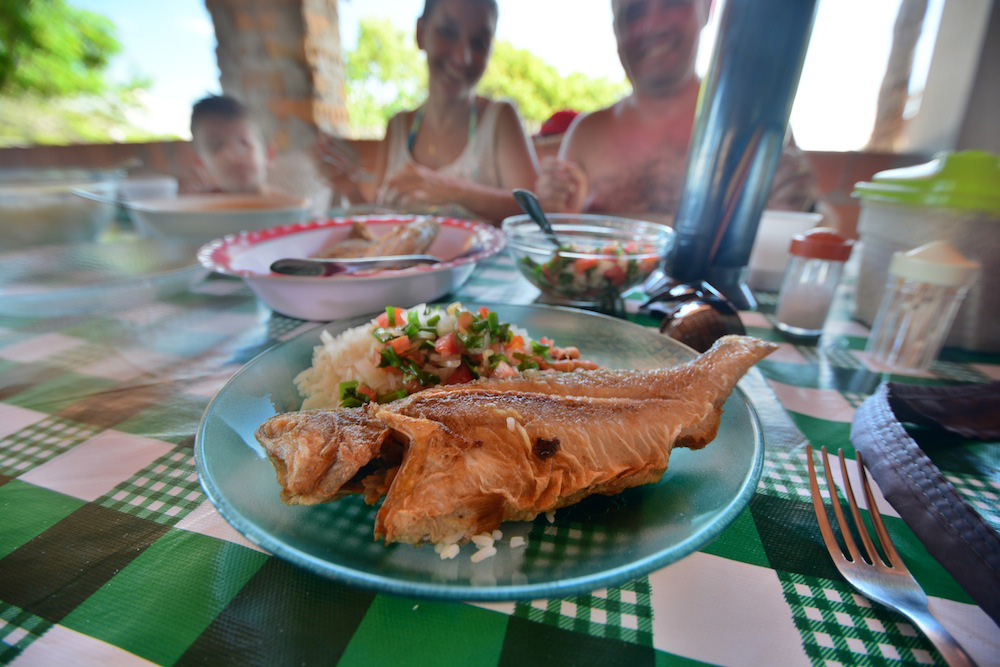 Trekking in the Lençóis Maranhenses
It was absolutely wonderful to be able to spend more time with Alexander and his family but, truth be told, I'd come to the Lençóis Maranhenses looking for something a bit more exhilarating than a day-trip in a 4×4. Thankfully, one of the girls who went on the trip with me spoke extremely good English, and helped me arrange a more extreme excursion with one of the guides.
The next morning at 4 a.m. sharp, I met a 40-something local man named Willan in front of my pousada for what I knew would be at least a 7-hour hike, the first of two in as many days. Willan spoke no English (and I, you might remember, speak only slightly more Portuguese), but I figured we would be too physically exhausted most of the time to speak anyway. Plus, I'd still managed to form a bond with Muslianto, who trekked with me through Borneo in search of Orangutans in February, so I was optimistic.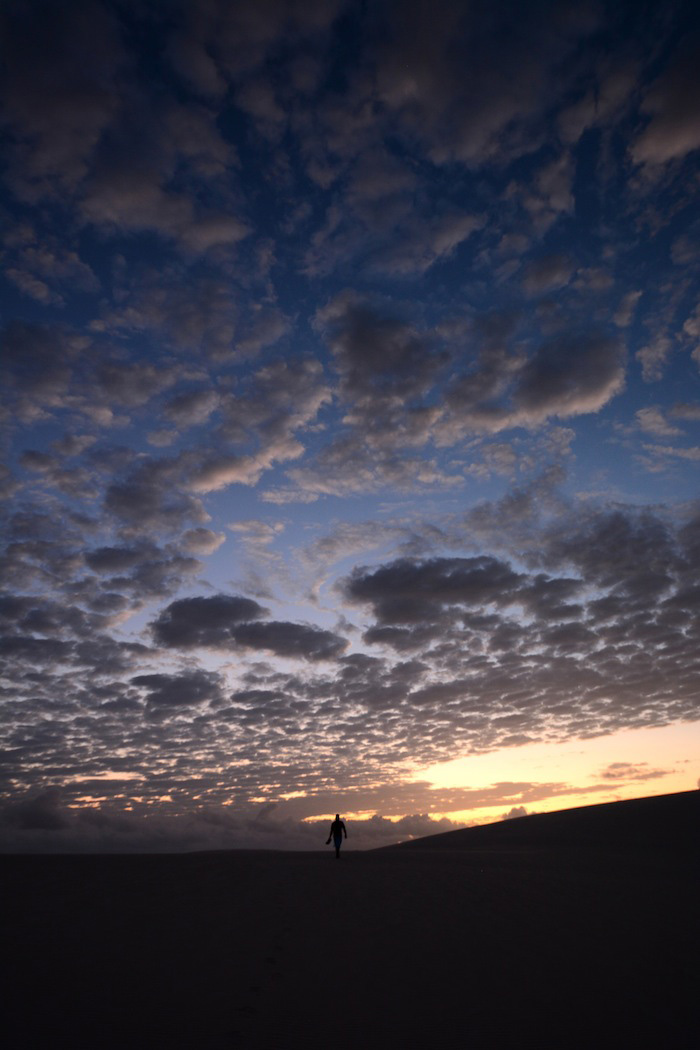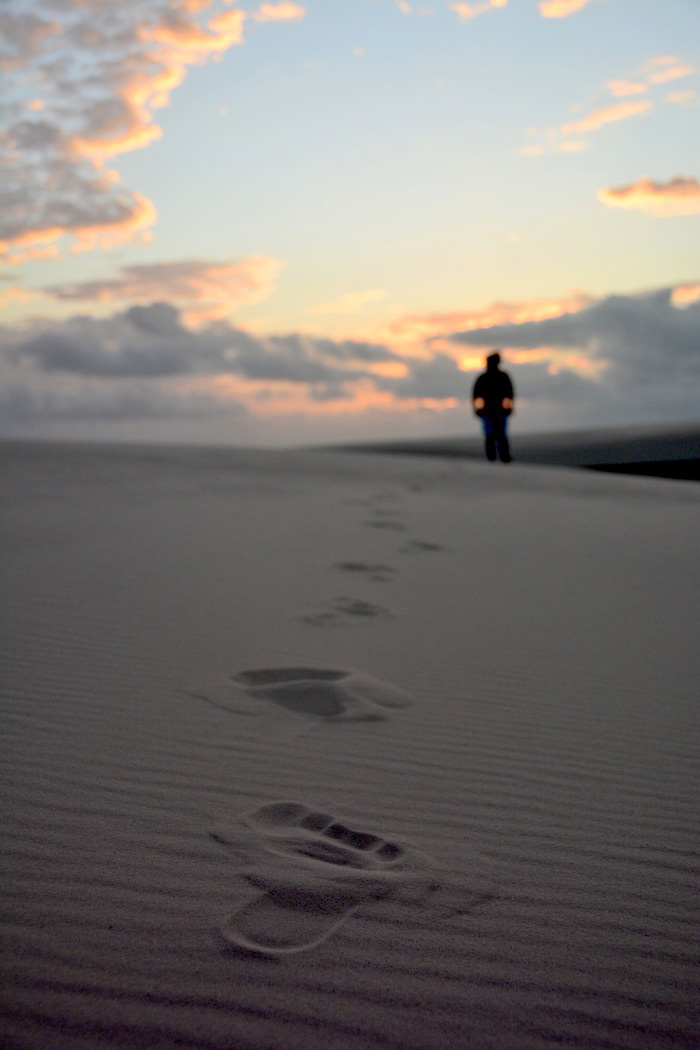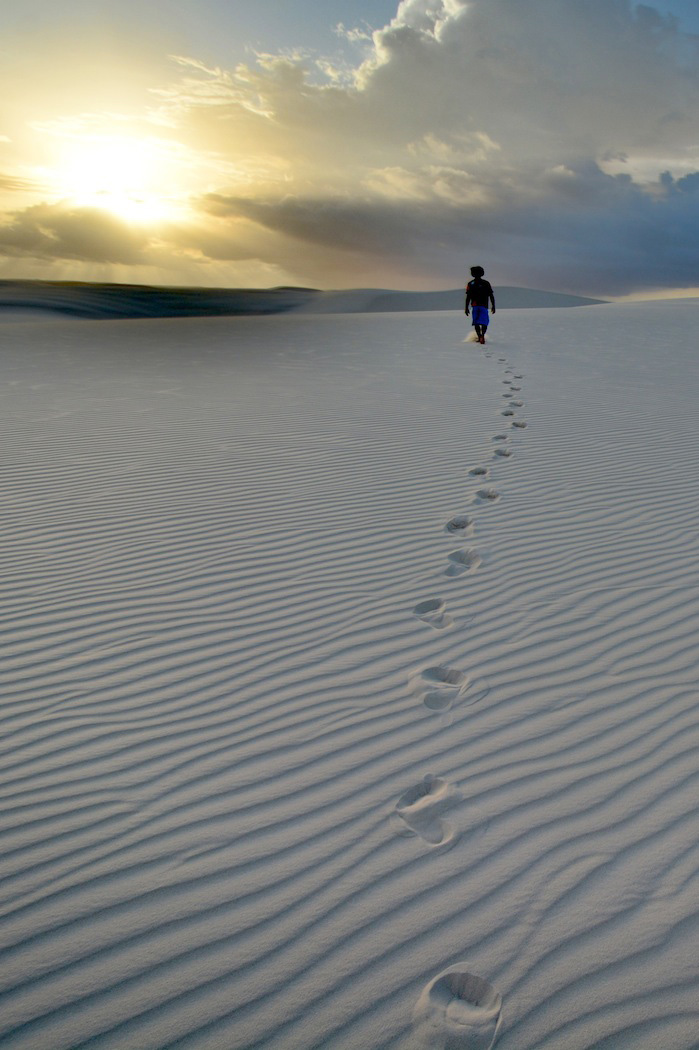 Willan and I had been hiking for nearly an hour by the time the sun began to rise, and reveal that we were already deep into the Lençóis Maranhenses. Within a matter of minutes, the dense sea of black that had enveloped us transformed, starting as a deep purple-orange gradient, before cooling into more soothing blue and yellow colors. As the last of the night's darkness disappeared, the clouds took the form of a large archway, as if they were welcoming us into the park.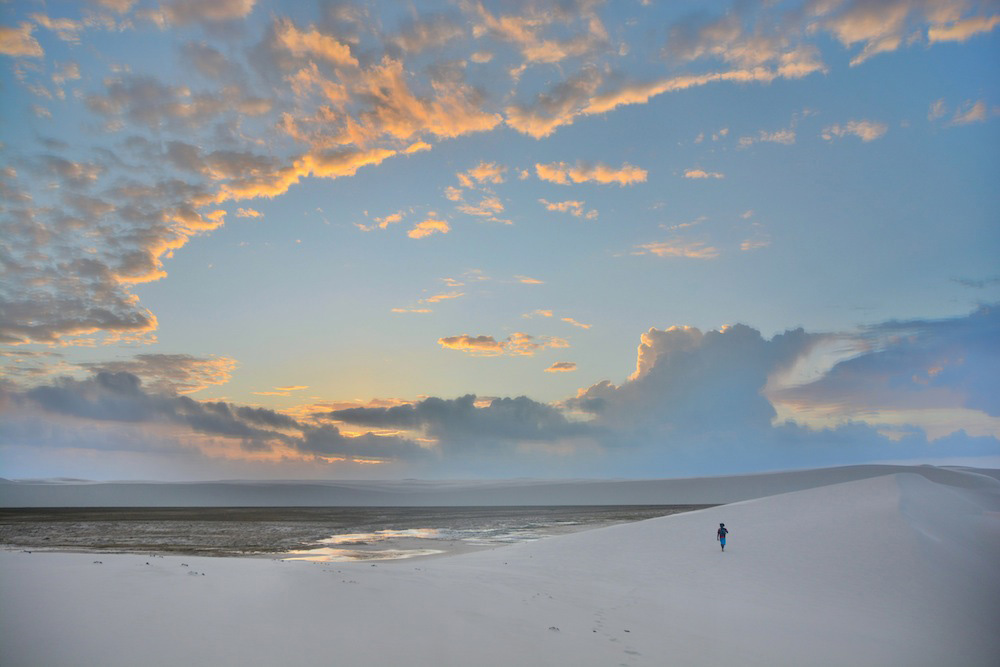 The next hour or so of our hike saw us surrounded by largely uniform elevation, color, temperature and light situations, until I noticed that one of the fast-approaching clouds was much darker than the others. I also noticed that a group of animals far off in the distance had dramatically increased their pace of movement.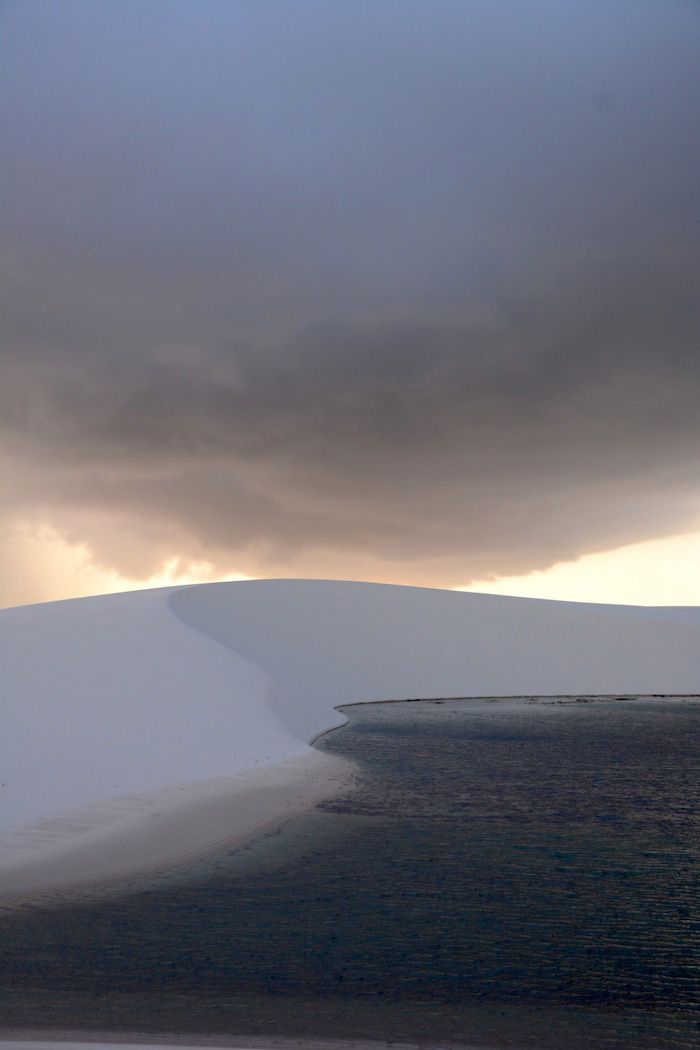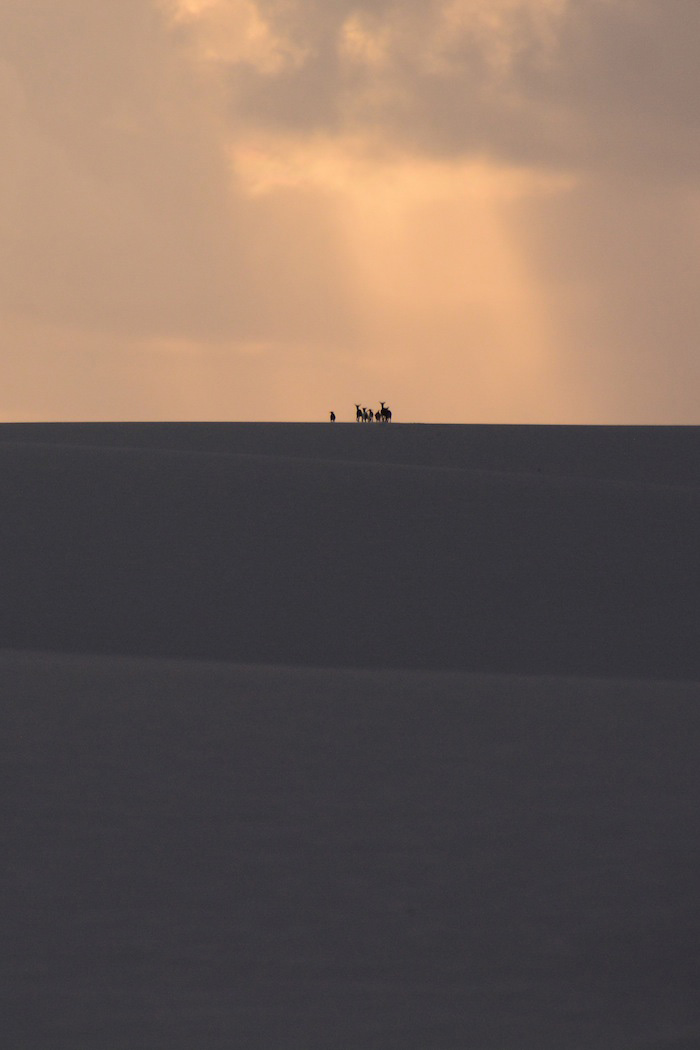 A cool, impossibly quick wind began blowing over the dunes and before we knew it, Willan and I were being drenched by a sudden downpour – the source of the lagoons in the Lençóis Maranhenses.The rain disappeared as quickly as it had shown up and we got back on our way without any further ado. Just as my clothes had finished drying, however, Willan motioned to me to put my backpack on top of my head – and walked straight down into the lake in front of us.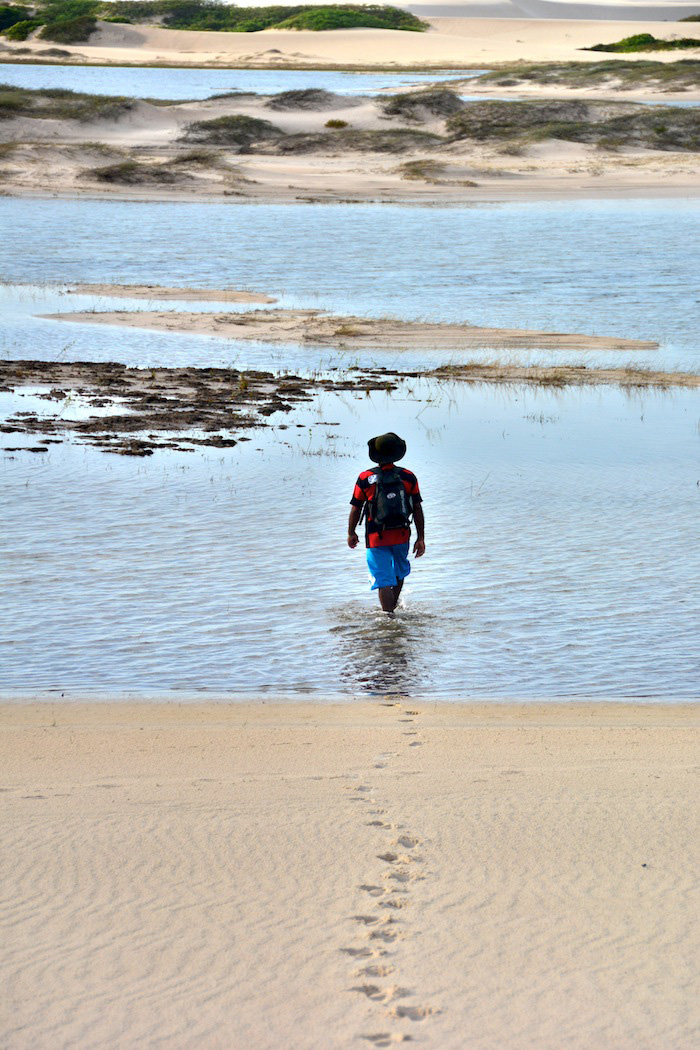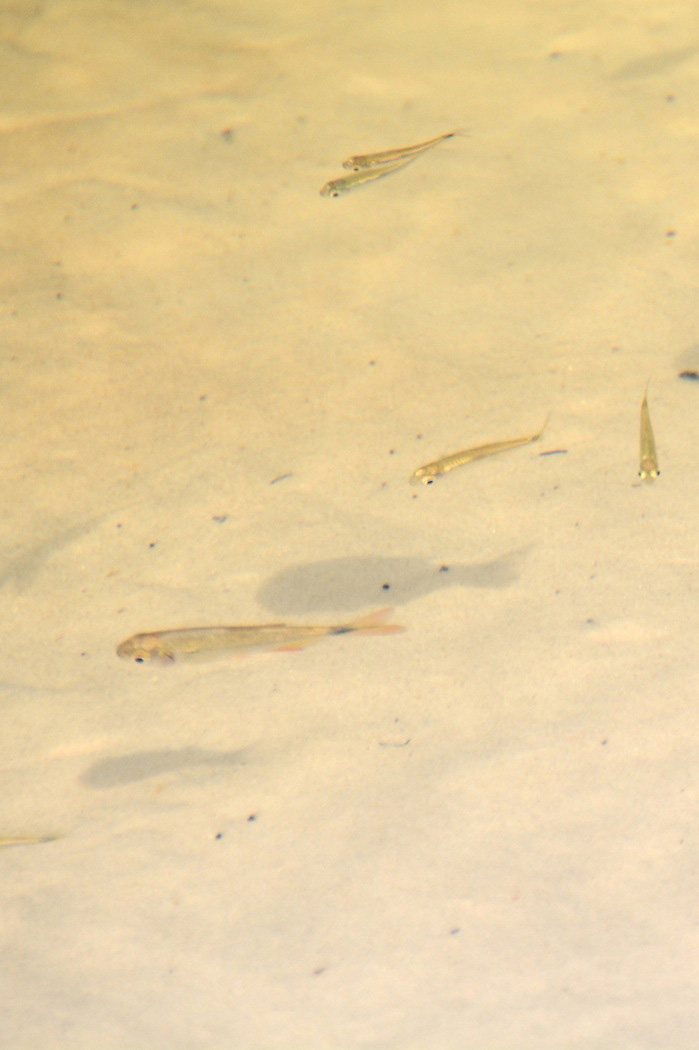 It was clearly one of the several permanent bodies of water in the natural park, not only because of its chest-high depth, but due to the complexity and scale of the plant and animal life that had taken root in it – there were even small fish!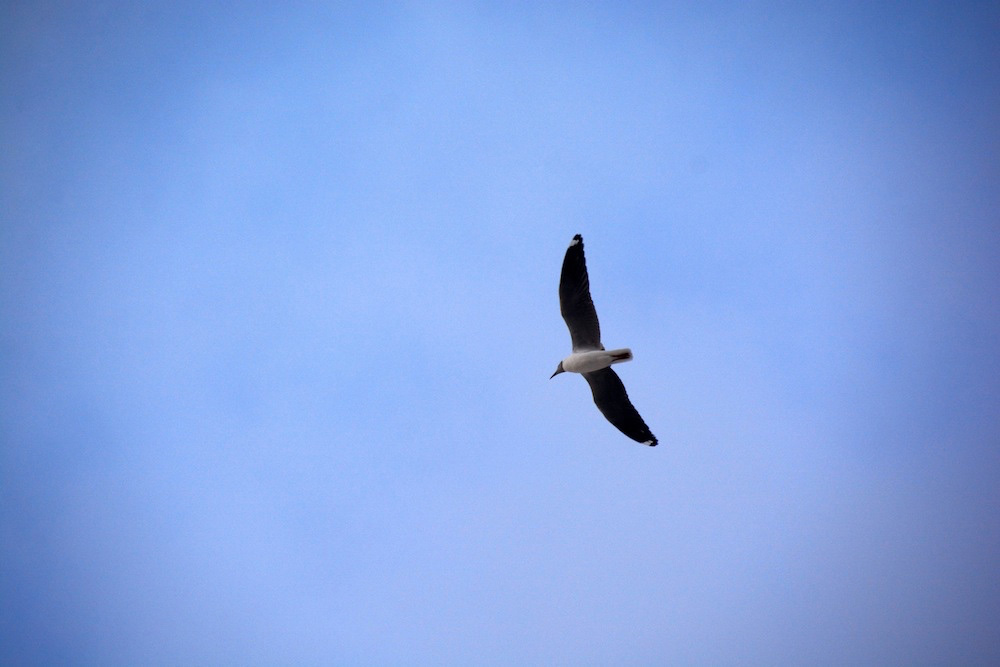 Speaking of animals, once we got dry for the second time, I noticed that a beautiful, white bird seemed to have taken a liking to us. Now, again lacking the vocabulary to ask what it might be, I wrote my own answer to this question in my head. Unfortunately, it was precisely that – my head, this is – that the bird was after.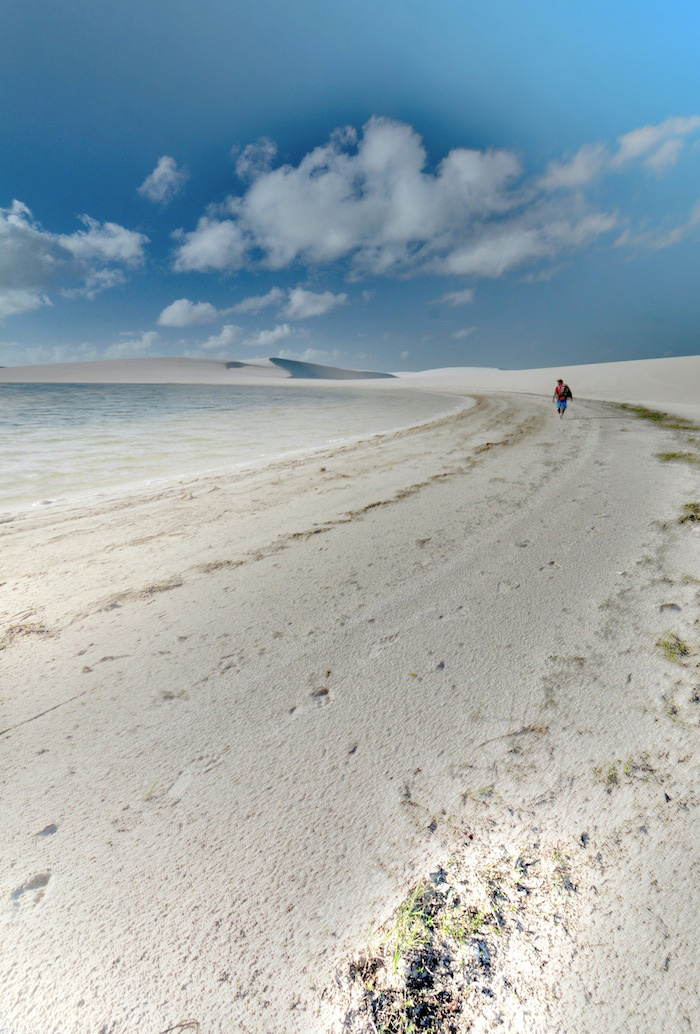 It seems that our trek had taken us right through the nesting areas of these birds (I hope a biologist among you can look at the picture above and recognize them), such that they literally behaved like kamikazes for the next two to three hours of our hike, occasionally coming so close to the tops of our skulls that we could hear their wings – they sounded like airplanes.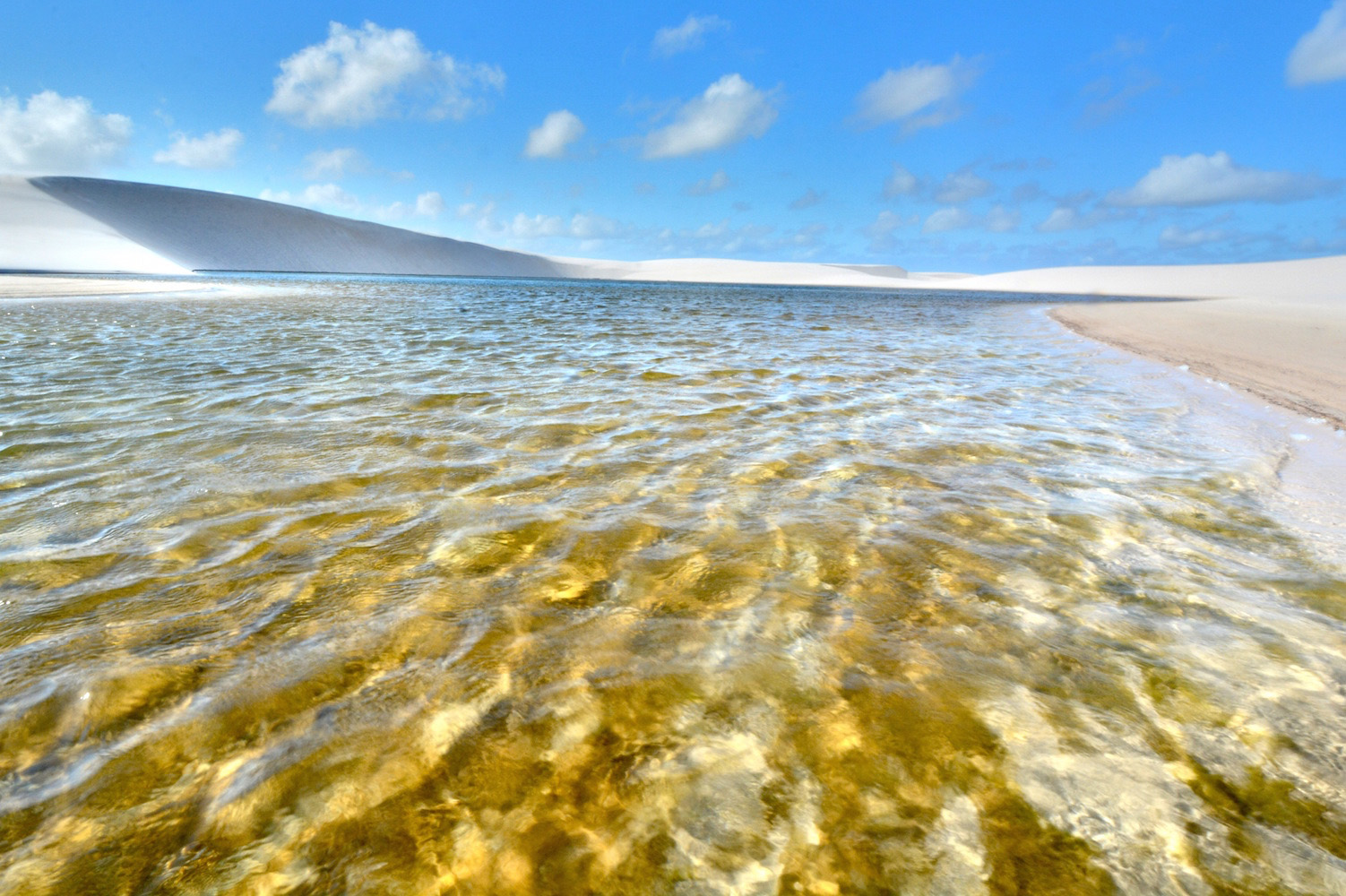 Not that I could really be bothered to care much, given how gorgeous my surroundings had become. By this time, it was full daylight out, and the only thing more vivid in color than the azure sky was the variety of shades the lagoons took under it.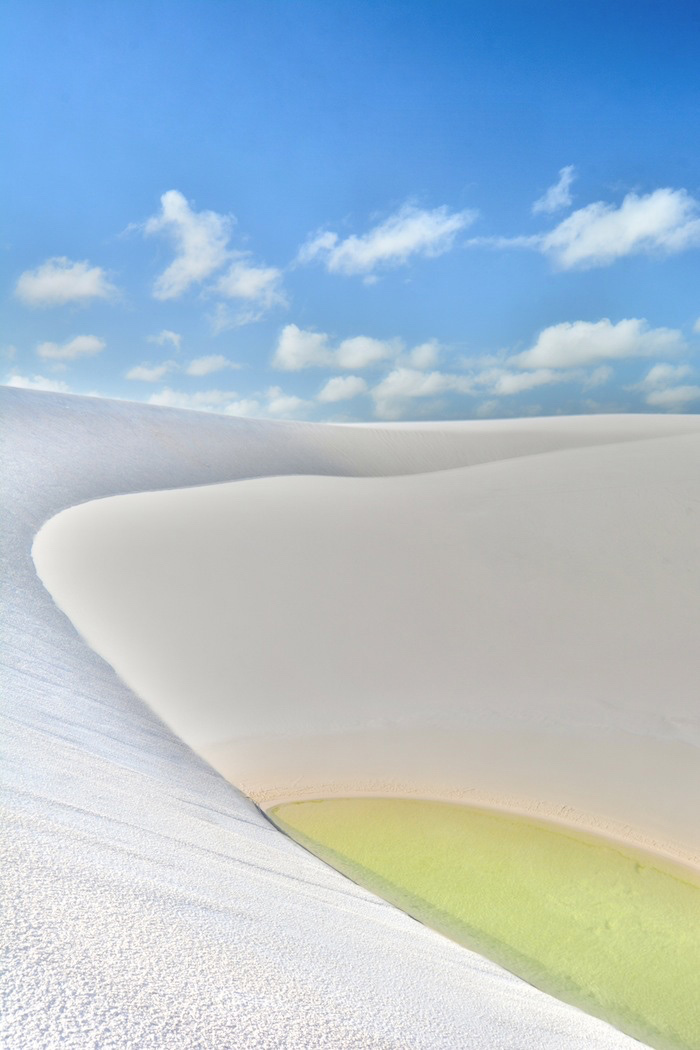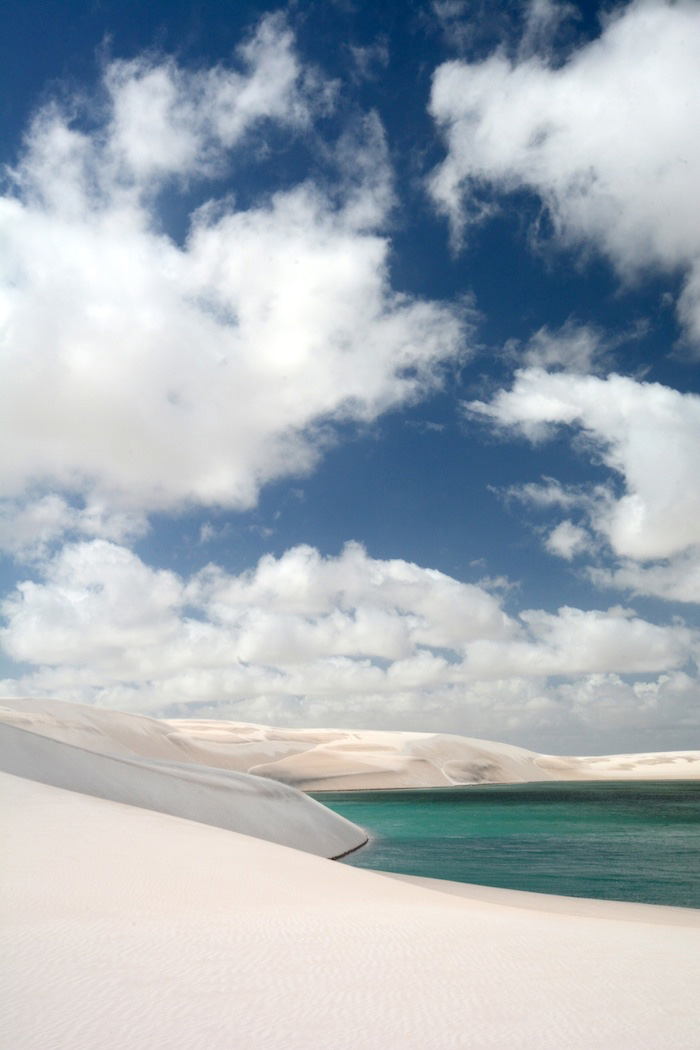 While some were a standard Caribbean or Mediterranean color, others were darker or lighter, while some took on strange hues like chartreuse or iron red. I wanted to stop and swim in all of them, but I could tell from his eyes that Willan was exhausted.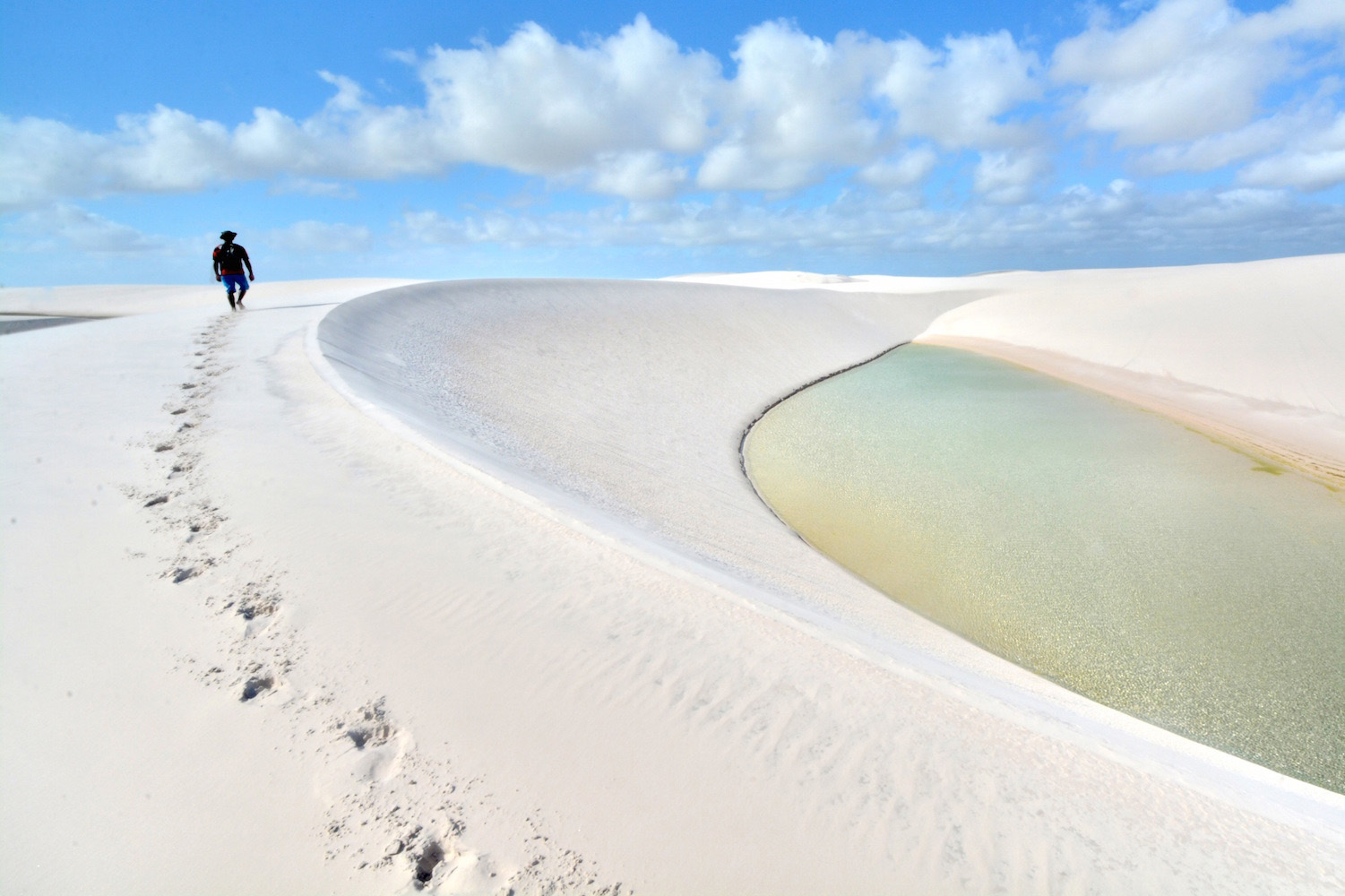 It was right around this time that I started to realize my feet, which I'd been walking on for almost six hours at this point, were also tired. Thankfully, it was also around this time that I noticed tire tracks on the sand. Within about 45 minutes, after trekking through an increasingly lush lagoon of the permanent sort, Willan and I arrived in the lilliputian village of Santa Luzia, which is so small it makes tiny Santo Amaro look like São Paulo.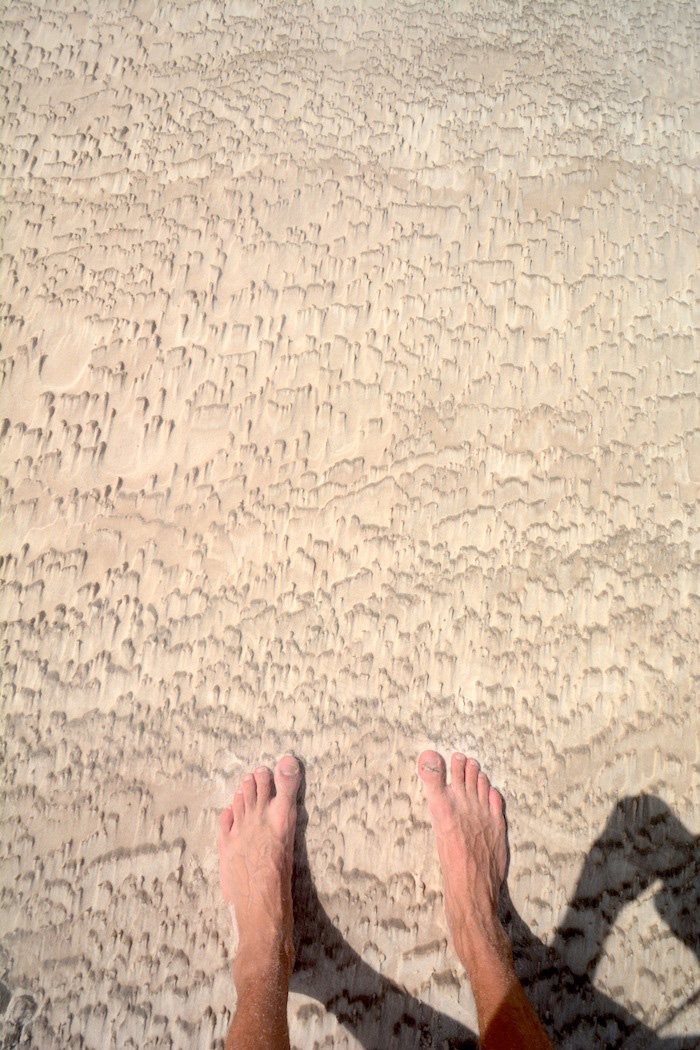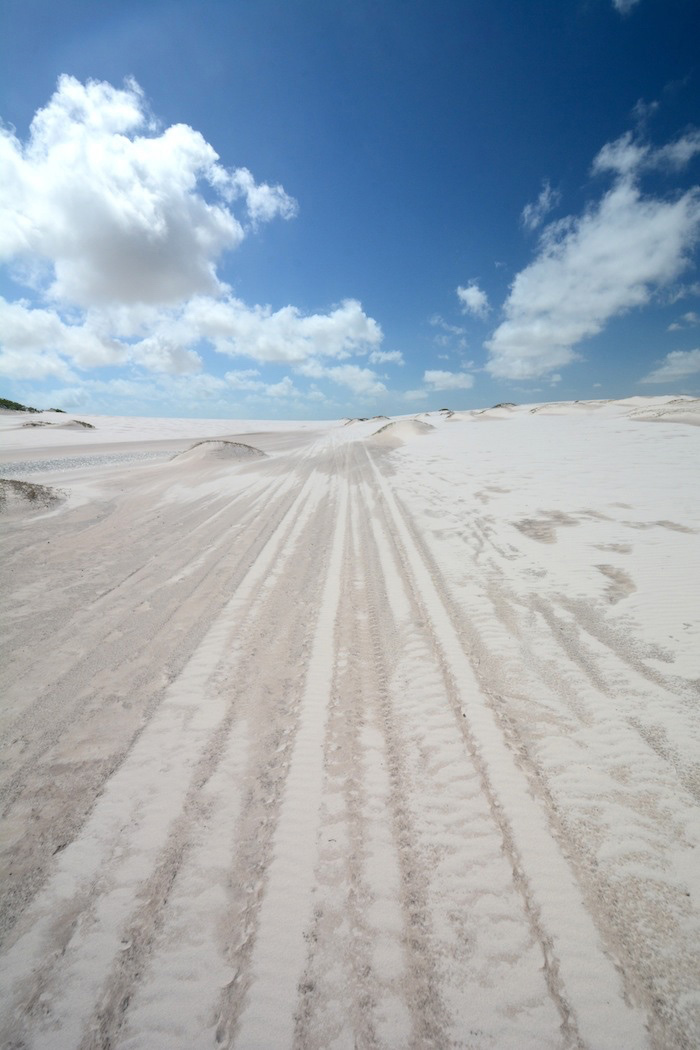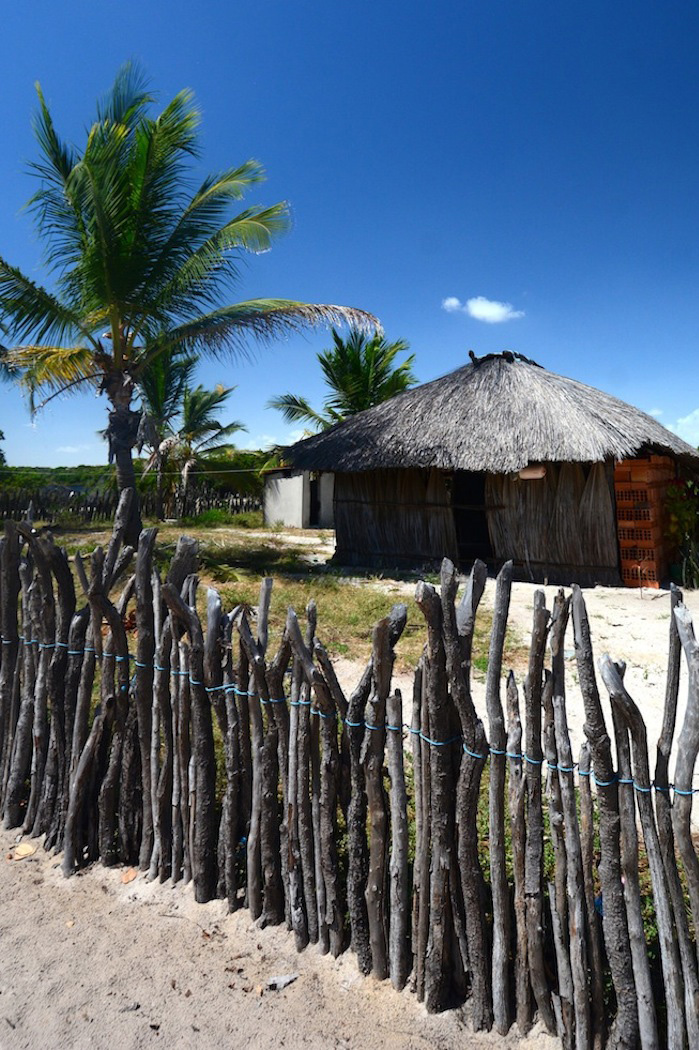 I had planned to explore the village some, and try my Portuguese with the locals, but my creative will proved no match for the hammock at the pousada, so I crashed out. I did get a chance to eat some fresh chicken (really fresh, as in killed just for me!) and visit with/thank the family who made it, but most of what occurred between arriving in Santa Luzia and heading back the next morning (again at 4 a.m.) was a blur.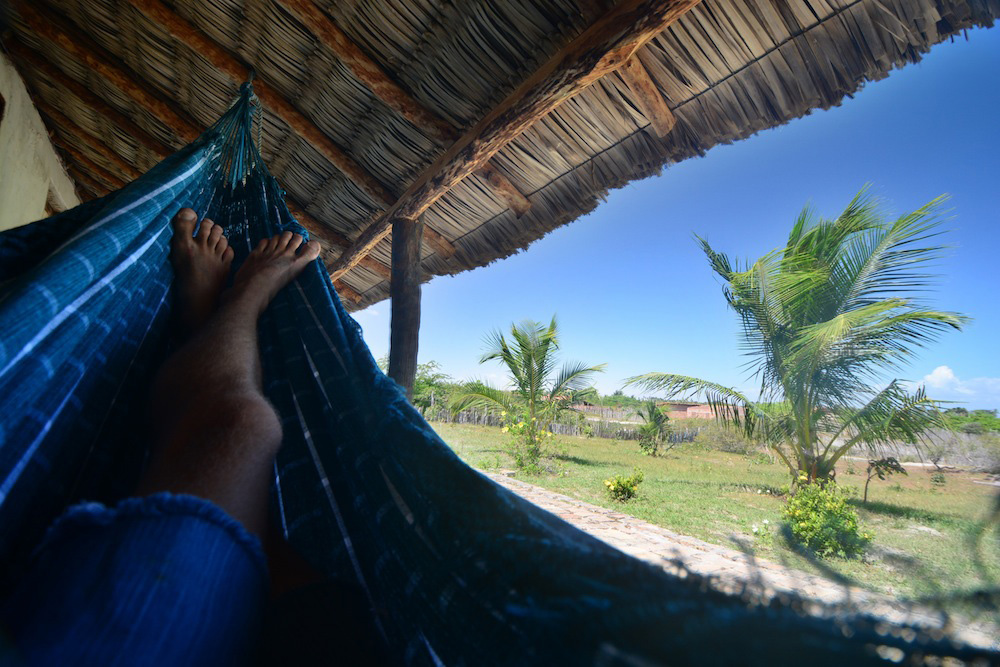 Arriving back in Santo Amaro after having hiked a whopping 36 miles (60 km) put into perspective why getting to the Lençóis Maranhenses had been so difficult. And why that's a good thing: Were it not for the remoteness of this vast wonderful, it would've long since been destroyed by resort developers.
How to Reach Lençóis Maranhenses National Park
To reach Lençóis Maranhenses National Park, fly to São Luis (SLZ) and take a Denilson Viagens van to the town of Sangue. There, you'll transfer to a 4×4 truck, which will take you to the town of Santo Amaro, located about two hours into the Lençóis Maranhenses. Check in at a local pousada (I recommend booking one in advance, if only because they can sort your transfer from São Luis out for you) and ask the staff about either or both of the activities I did.
Or, if you're feeling really adventurous, you can hike for three days instead of two, and instead of returning to Santo Amaro like me, you can continue on to the city of Barreirinhas, where you can take one of several daily buses back to São Luis to catch a flight or, alternatively, travel eastward by land to destinations such as Jericoacora or Fortazela. You could also do this journey in reverse, starting in Fortaleza or Jeri.
Please note that while most travelers begin their Lençóis Maranhenses journeys in Barreirinhas, I made a conscious decision not to due this. First and foremost because Barreirinhas, as I learned during the night I spent there against my will, is disgusting. And secondly, because Santo Amaro is much, much closer to the best scenery of the park, its smaller and slightly more charming nature notwithstanding.
Share: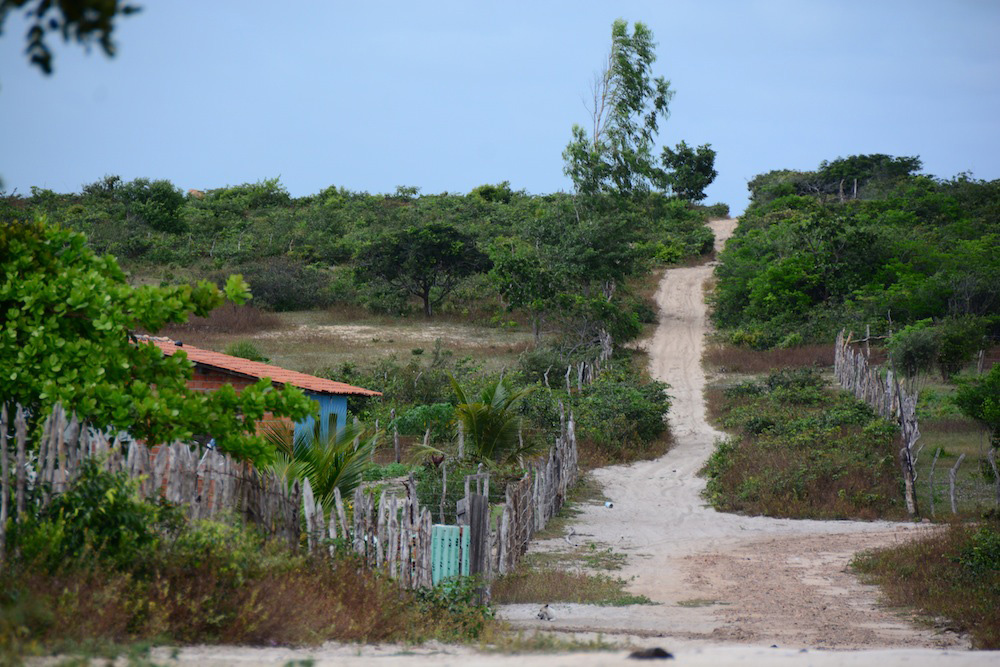 I was trepidatious when I left Rio Monday – and not just because I got into a taxi at 5:30 in the morning. My experience getting pickpocketed on the second day of my trip had put a serious dent in my confidence, the fact that I had only a vague idea of the trajectory I'd be taking to my next destination notwithstanding.
Actually, that's a lie. I knew very specifically how I was going to reach the Lençóis Maranhenses National Park, a strange, dreamy wonderland located along Brazil's northern coast. After flying from Rio de Janeiro to the city of São Luis, I would immediately board a bus bound for the city of Barreirinhas, then disembark an hour before the terminus at the town of Sangue, where I would catch a 4×4 to the town Santo Amaro. It was just one sentence, which required only four actions, but something in my gut told me it would be easier said than done.
The first three steps were relatively simple, even if my flight departed nearly an hour late and it took longer to reach Sangue than it should've taken to go all the way to Barreirinhas. There was even an empty 4×4 waiting in across the street from where the bus dropped me off. I guess all that worry was for nothing, I thought smugly.
Or not.
"Amanhã," the weathered-looking driver shouted at me immediately as I walked toward his vehicle, as if he knew the only thing a gringo like me could be doing on his turf was looking for a ride to Santo Amaro. The word, so far as I could tell given my anemic Portuguese skills, meant "tomorrow."
No problem, I thought, and attempted to tell the man as much in my broken Português. I walked toward the witchy-looking older gal who'd been watching me from the nearby shop, which seemed to be the main or even only business in the town. "Pousada?" I asked, hoping she had a small row of rooms behind her convenience store.
No such luck. "Não tenho," she said, without even a hint of empathy in her gaze, which seemed deliberately mean once she elaborated. "Eu não tenho – e Sangue não tem."
I was speechless. Granted, this stemmed largely from the fact that I'd already exhausted my Portuguese-language vocabulary several times over by this point, but she had given me basically the worst news I could've gotten that point. The sun was setting on the shithole of a town I'd been dropped off in (and it was the last bus of the day) and I had neither an official place to sleep, nor the linguistic prowess to ask if I might kindly use her concrete floor, to say nothing of my fear that deadly creatures might eat me as I slumbered.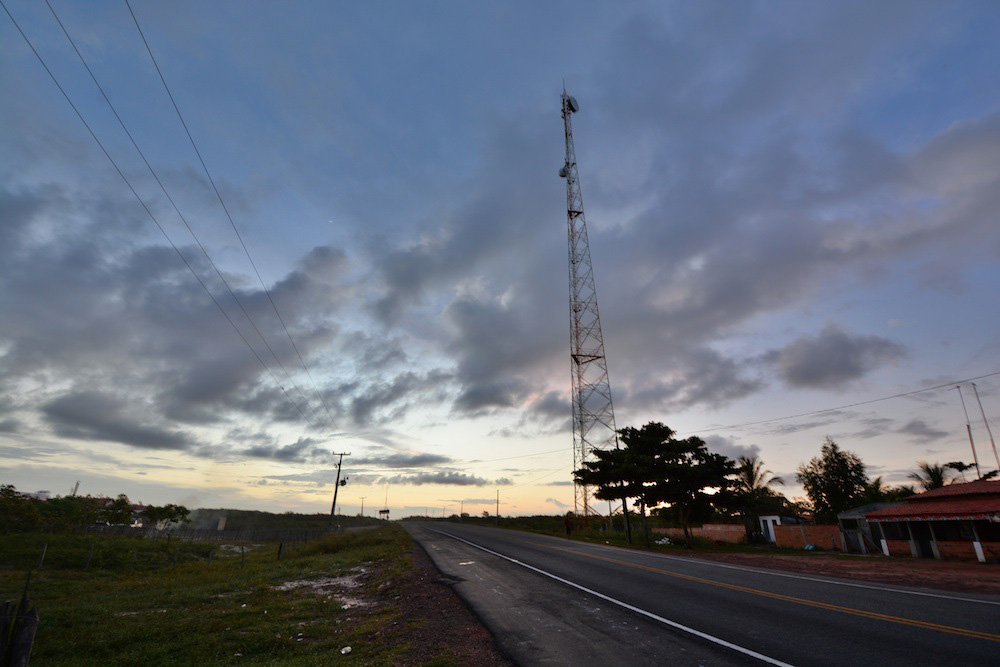 And so, I did what any deaf mute would do when faced with the prospect of being totally and completely fucked: I sat still, said nothing, heard nothing and got completely lost inside my own paranoia.
Brazil has really done it this time, I said, thinking back on how angry and out-of-control I felt upon realizing my phone had been stolen a few nights earlier and struggling, in spite of my cerebral knowledge that doing so would be inaccurate, not to attribute either (or both) incidents to the fact that I was in Brazil, more than any other country. Yeah, fuck you Brazil.
Likewise, I did my best not to extrapolate the indifference I observed among every single person I'd met in Sangue (there were, for the record, two) to Brazilian people in general, toward a conclusion – that Brazilian people are not really very friendly – I already once held as truth and had swiftly disproven.
Left, so it seemed, without any action to take, there were few other avenues for resolution – at least in my mind – than blaming my circumstances and the people who were currently part of them.
But the fact is that I was at least partially to blame. I mean, I could've just continued on to Barreirinhas instead of attempting to make it all the way to Santo Amaro, in spite of the fact that everything I read said that Barreirinhas was a toilet (and Santo Amaro wasn't), and in spite of knowing for a fact I could only see the dunes of the Lençóis by Jeep in the former and preferring the prospect of trekking, which was apparently possible in the latter.
I was fated to end up there anywhere, it seemed. After she took some kind of delivery from the man who'd parked in front of her shop about an hour after I arrived, the old witch had informed me that he was headed to Barreirinhas – and that I had essentially no choice but to go with him.
There was no point in feeling disappointed. Next time, I thought as I threw my bags into the back of his pickup, I'll take the path of least resistance to begin with.
***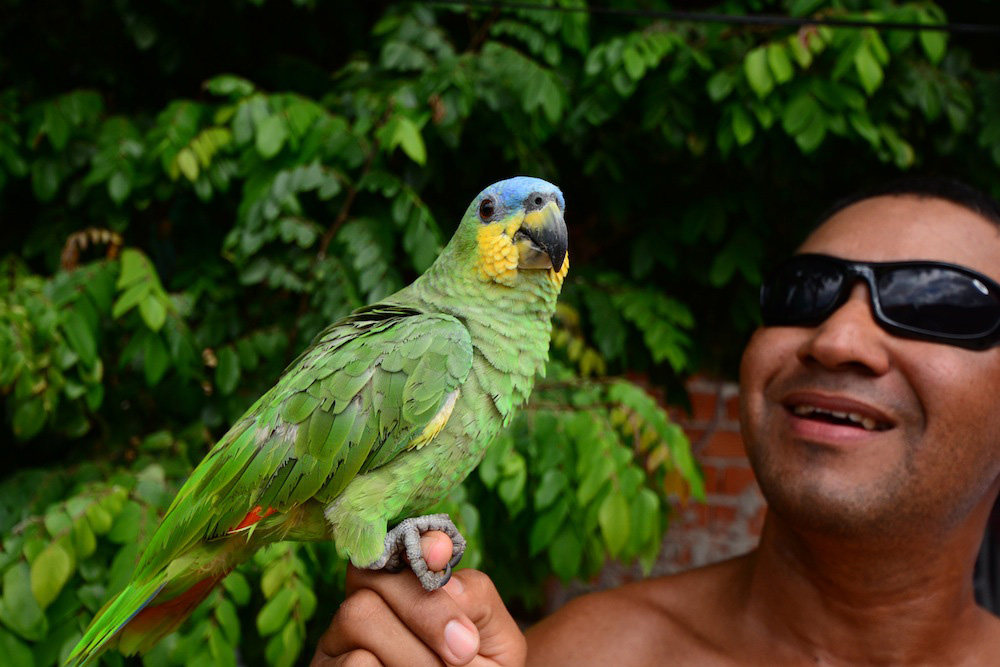 I giggled when I found out the parrot, whose colors matched the Brazilian flag exactly, was named Lauro – the only other living creature I'd ever met with that name was a recent one night stand.
Lauro was the second living thing (the first was a scruffy, black dog) I met upon arriving at the home of Gilson, the man who'd driven me to Barreirinhas, early the morning after my dramatic exit from Sangue. Gilson had dropped me off at a pousada just outside the city limits on his way to his house the night before, and had surprised me by explaining that he would be taking me back to Sangue the following afternoon to catch that day's 4×4.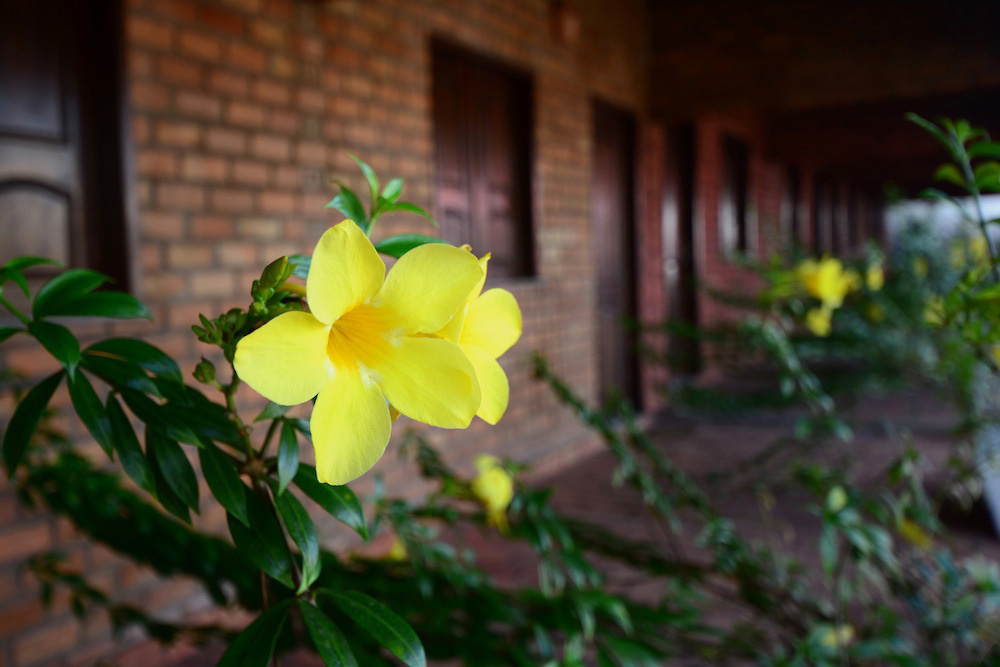 Or at least, that's how it had sounded: Gilson would pick me up at 9 a.m. and take me back to Sangue – and that would be the end of that. I had a feeling something was up when we started driving in the wrong direction; I strongly suspected it when we went to the local market and he asked me whether I would prefer bisteca or peixe; and I knew it for a fact when I walked into his home and he introduced me to his pet parrot and pet dog (And, shortly thereafter, all four of his children).
Realistically, I knew this man had no incentive to hold me hostage and would eventually make good on his promise to get me back to Sangue. So, I leveraged all the sensibility and optimism within my being and focused only on how thankful I was to him for saving my ass. There were a few moments, as we walked on the banks of the beautiful Preguiças River, where I hallucinated that he might be trying to swindle me into booking one of the expensive resorts on its shores, but those thoughts swiftly dissipated once we headed back to his place for lunch.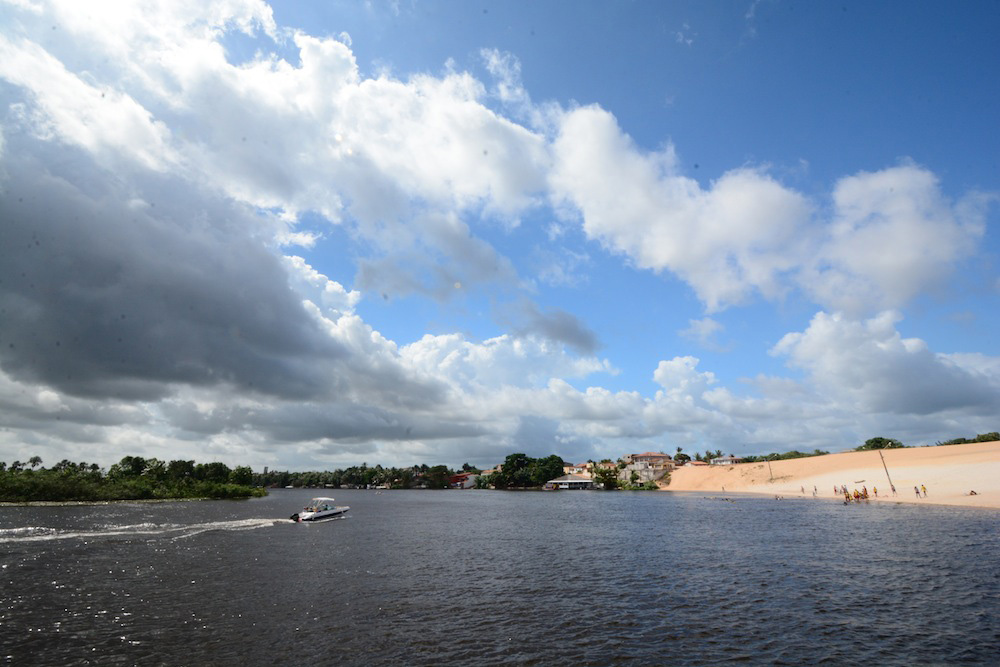 Indeed, from the time I met him in Sangue to the time we said goodbye less than a day later, I felt genuinely humbled by the kindness of Gilson and his family, from the delicious food they fed me, to the extent to which they attempted to make conversation with me, in spite of the language barrier between us, to the constant reassurances Gilson would give me when I'd forget important details he told me on account of them not being in my own language.
Here was a person who had absolutely no reason to be kind to me, let alone to treat me like his own child for the better part of a day, and he single-handedly restored all the faith I'd lost in humankind.
And yet, I couldn't shake the same paranoia that had overtaken me while sitting in the Rio airport 24 hours before: That things simply weren't going to go smoothly for me.
***
The old witch was smiling when I returned to Sangue, which was a very good sign – I had never so much as seen her teeth during our previous interaction. Initially, I'd been scared that I missed the 4×4 (Gilson had not, in fact, driven me back to Sangue but rather, to the rodoviária, from which the bus departed quite late) but this alone calmed my anxious heart.
"Santo Amaro?" The handsome man who got off the bus at the same time I did asked.
I nodded. "Sim."
"Quatro horas," he said, and walked inside to watch the football match with the local men. "O ônibus sai a quatro horas."
It's been a while since I traveled independently in Latin America, you see, so it makes sense that I've partially forgotten how time works here. When Gilson said I'd leave Barreirinhas at 2 to arrive in Sangue by 3 to catch the 4×4, what he meant is that I would arrive sometime in the 3 o'clock hour, then leave at 4 p.m., which I now imagined would be closer to 5 (which, interestingly enough, would have been almost late enough for me to have caught the day before). But I digress.
A 4×4 vehicle did indeed show up just after 4 p.m., only a curious thing happened: Everyone disembarked, but nobody went anywhere. The old witch (I feel bad calling her that at this point, because she was being so friendly toward me) told me to put my bags by the others' bags, I assume to hold my place on the vehicle.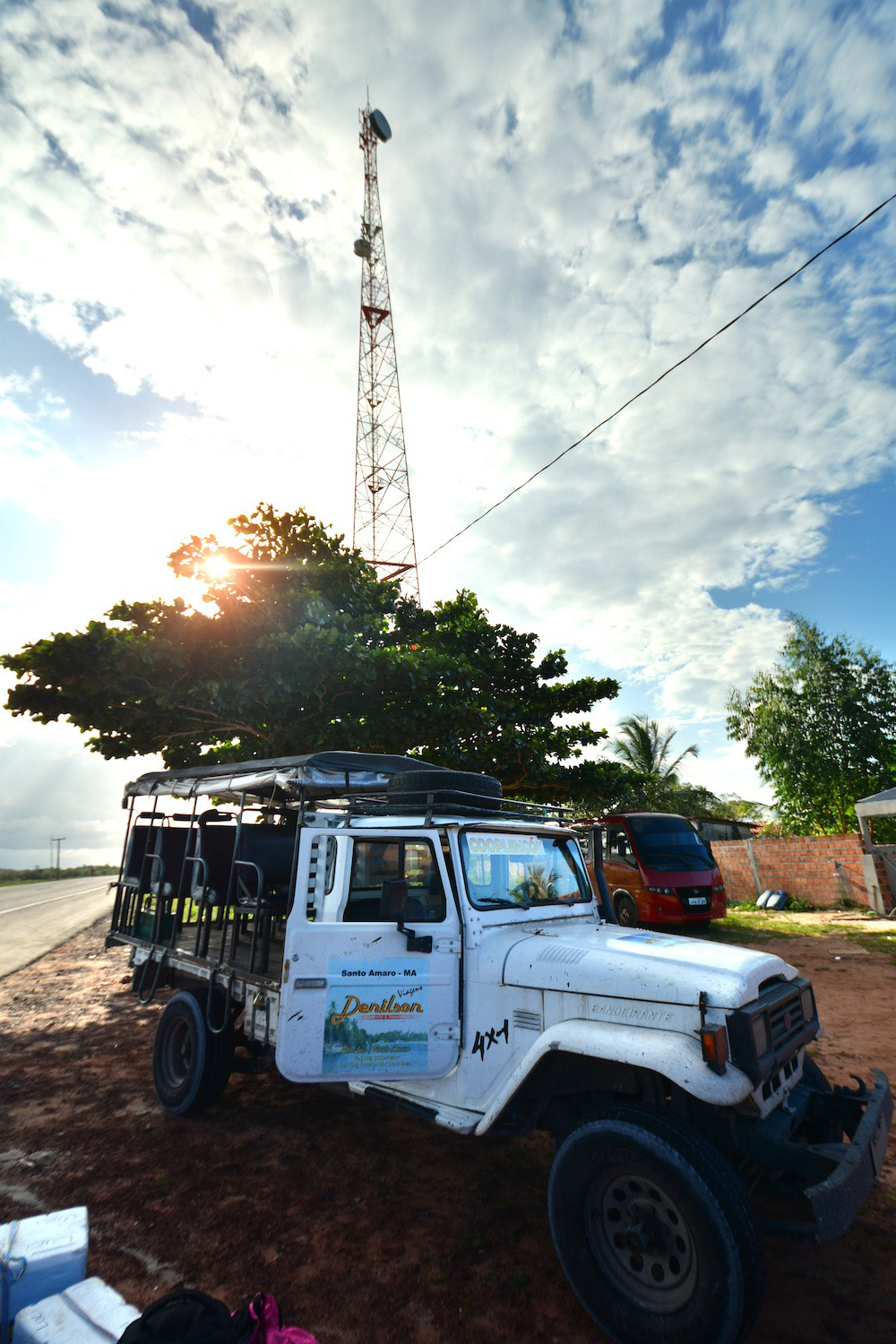 But 15 minutes passed, then 30, then 45 and place held or not, nobody was getting onto the empty vehicle. And unfortunately, I lacked the faculty with Portuguese to inquire on a deeper level, so I decided to do what would've served me in every other trying situation I encountered up to that point and just wait.
Eventually, a van bearing the "Denilson Viagens" (the same brand as the 4×4) arrived, carrying a full load of passengers – and an even fuller load of cargo. The scene initially perplexed me, but it soon became clear what was happening: The van was coming from São Luis (edit: Why hadn't information about this van's existence been available on the English-language Internet?) and all of its passengers were boarding the now-empty 4×4.
Only it wouldn't be empty anymore. Quite full, in fact. Actually, completely full.
Slightly panicked, I handed my bag up to the handsome man who'd ridden the bus in with me, who was packing other bags on top of the vehicle.
He laughed and shooed it away, and whispered something in Portuguese under his breath. I handed it up to him again and he once again disregarded it, motioning to the older lady standing next to me to explain what was going on.
"Ele disse que não há espaço," she said, confirming my worst fear. "Você tem que esperar até amanhã."
But I already fucking waited until "tomorrow!" I thought, shouting inside my head but powerless to say anything that wouldn't make me sound stupid. So again I waited, until the vehicle was literally so full it looked like nothing else could fit on it. In the distance the witch was looking on, with an impossibly sad gaze – her eyes looked to be ready to burst with tears. Likely on my behalf. I knew what that meant.
I had emotionally thrown in the towel of getting to Santo Amaro that day (and, thus, ever – I wasn't going to that rodeo again), when a linguistic fountain bubbled up in me. "Eu voei do Rio ontem e eu já esperei 24 horas!" I shouted in the general direction of the 4×4. "Não mais de uma vez!"
I was afraid all the other passengers, who'd up to that point had remained silent, would start laughing at me. But instead, one immediately voiced her support.
"Temos espaço aqui," she said softly, and moved the bags that were taking up the seat next to her to the floor. "Por favor, sente-se aqui."
Not wanting to receive a "no" vote from the driver, who already seemed stressed due to the load the van would be carrying, I got on the vehicle without asking, and began attempting to the thank the woman, whom I soon discovered had also come from Rio de Janeiro, and her husband, whom in addition to moving bags had also relocated their son to another part of the vehicle to accommodate me.
I doubted after all I'd been through that the 4×4 would actually be able to leave but sure enough, after more than a day of only sort-of-patiently waiting, I was on my way down the rough, sandy road to the Lençóis Maranhenses.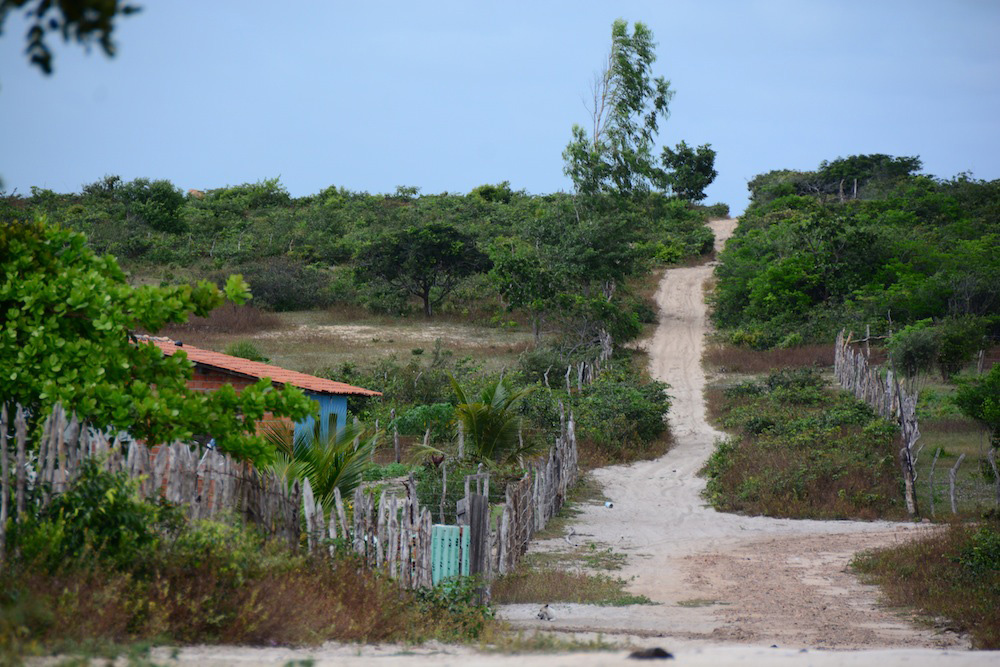 How to Get to Lençóis Maranhenses
KEY POINTS: That was long, huh? Imaging living through it! In any case, if you navigate to this article simply for the purpose of discovering how to reach Lençóis Maranhenses, here is the information you need.
1. Fly to São Luis airport, code SLZ
2. Take a taxi to the bus station ("rodoviária" in Portuguese), then a bus to Barreirinhas
or, if you want to take a road less traveled and see better dunes…
2. Contact Denilson Viagens before your flight arrives in SLZ and book one of their transfers to Santo Amaro
or, if you want to risk several heart attacks like I did…
2. Get off your Barreirinhas-bound bus at Sangue and pray to God the 4×4 is still there
Share: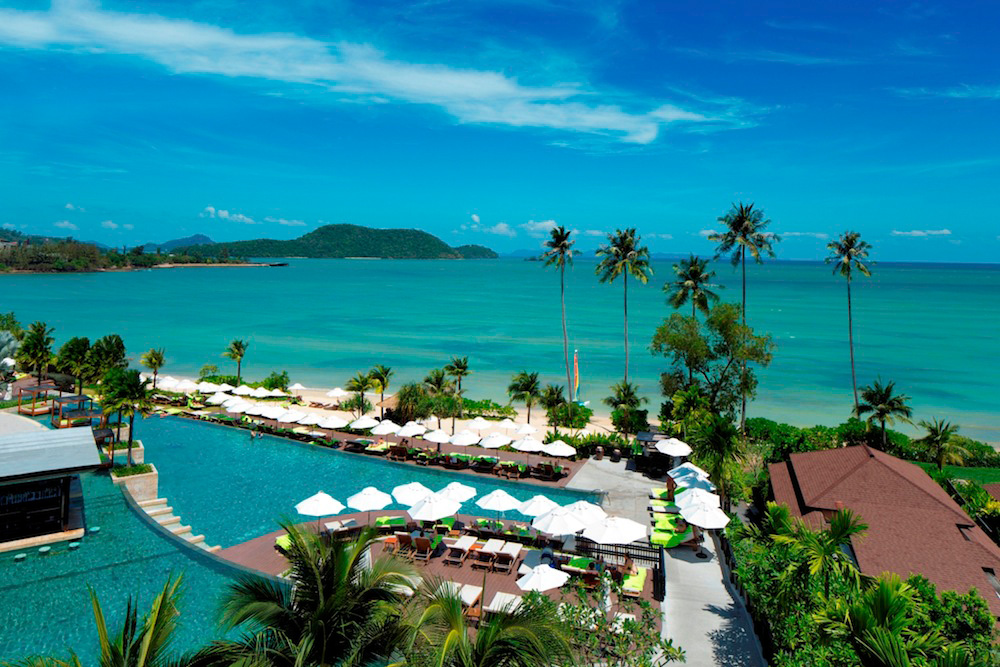 Regardless of how you want to spend your own Thailand honeymoon, here are some of Thailand's best honeymoon hotels.
Four Seasons Resort Chiang Mai
Times change, but the dedication of the Four Seasons brand to perfecting the travel experience never will. When you stay at Four Seasons Resort Chiang Mai, you enjoy highly personalized 24-hour service, combined with authentic, elegant surroundings of the highest quality – a home away from home for those who know and appreciate the best.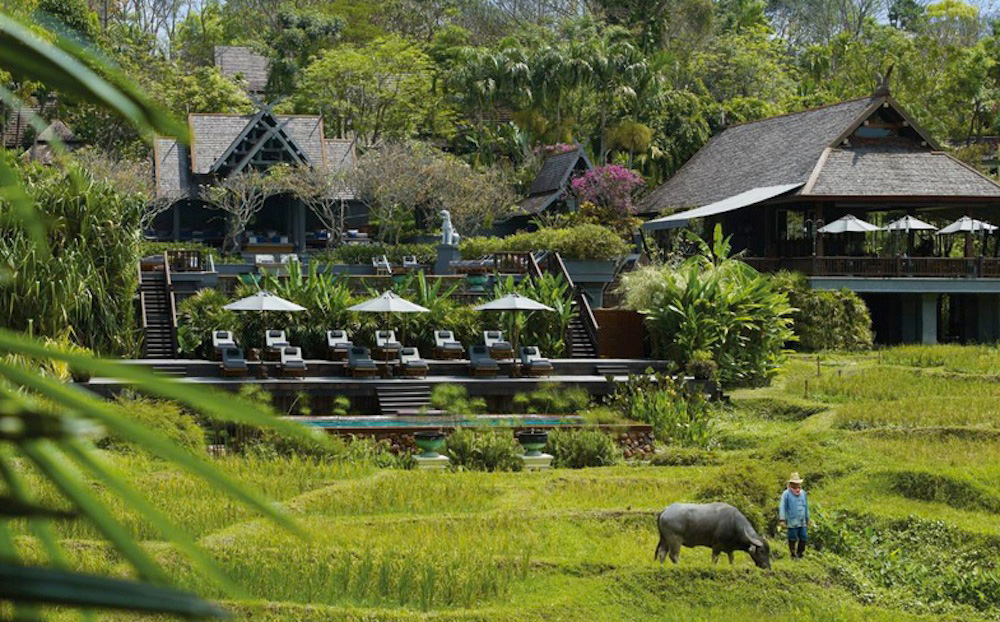 As the company has grown from a single hotel to 92 in 38 countries, its deeply instilled culture, personified by its employees, continues to get stronger. Over more than 50 years, Four Seasons built an unrivalled depth of reliability, trust and connection with our guests – a connection the brand will steadfastly uphold, now and always.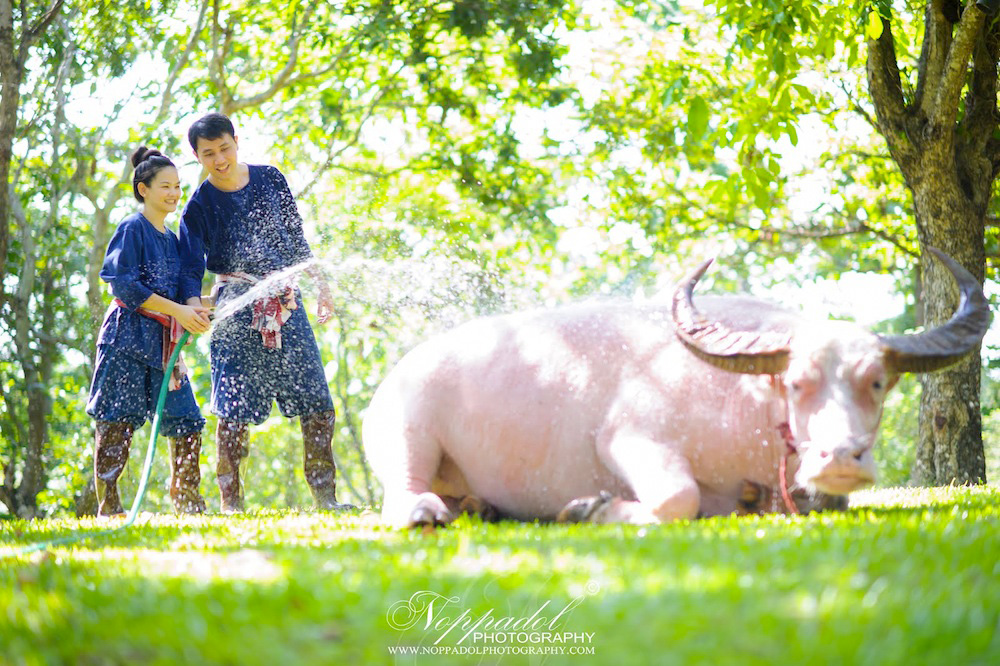 Sheraton Hua Hin
Sheraton Hua Hin Resort & Spa is a unique destination where memories are made at every turn. From the natural atmosphere that helps to relax, and stay connected with what's important to you. Whether you choose to simply bask in the sunshine, be surrounded by our tropical landscaped gardens or enjoy refreshing dip into our unique lagoon shaped pool, our team is on hand to ensure the finest services and a complete getaway.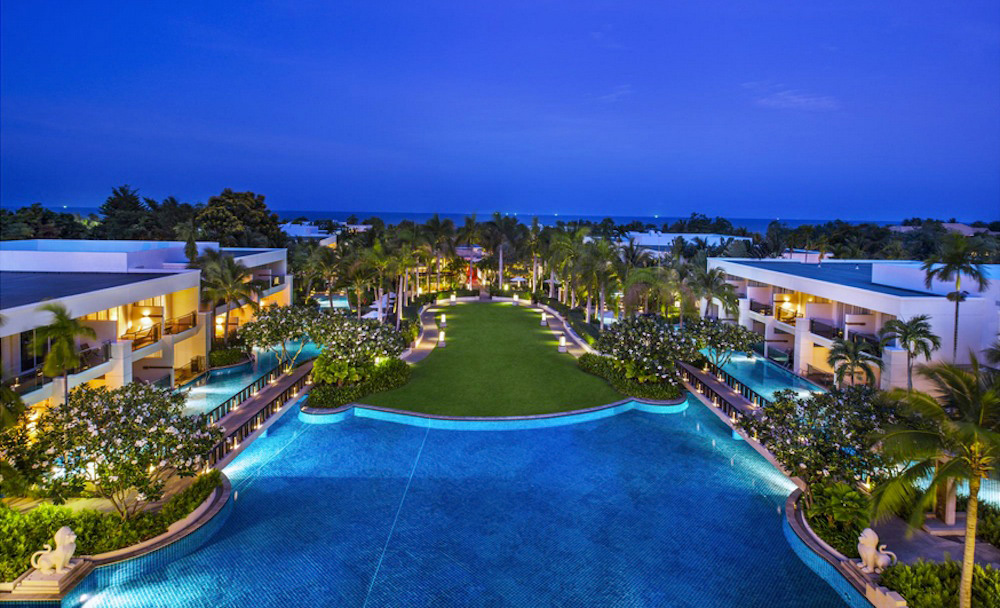 All 240 guest rooms and suites offer an immediate sense of comfort. Enjoy the Sheraton Sweet Sleeper™ bed in spacious modern décor rooms, with a fully-equipped bathroom featuring conservatory windows facing a private balcony, ample amenities and sustainability features.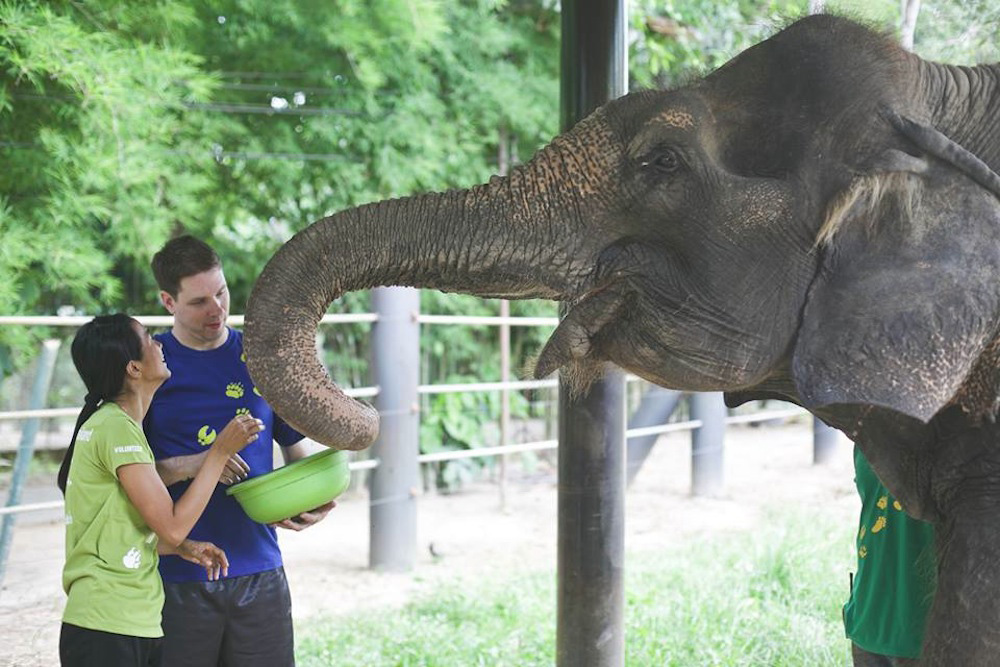 Radisson Blu Plaza Phuket Panwa Beach
Set on Phuket Island's picturesque turquoise blue bay in a white sand paradise, Radisson Blu Plaza Resort Phuket Panwa Beach offers all the pleasures of a private beachfront resort combined with gracious and friendly Thai hospitality. Away from the crowds in a serene and relaxed environment yet only 15 minutes to Phuket Town, markets and nightlife, this Phuket resort offers guests the best of both worlds. A five-star beach resort, Radisson Blu boasts amazing panoramic ocean views, three extra large free-form swimming pools, an award winning spa, modern gym, versatile kid's club with water slides and a variety of restaurants that cater to families and couples.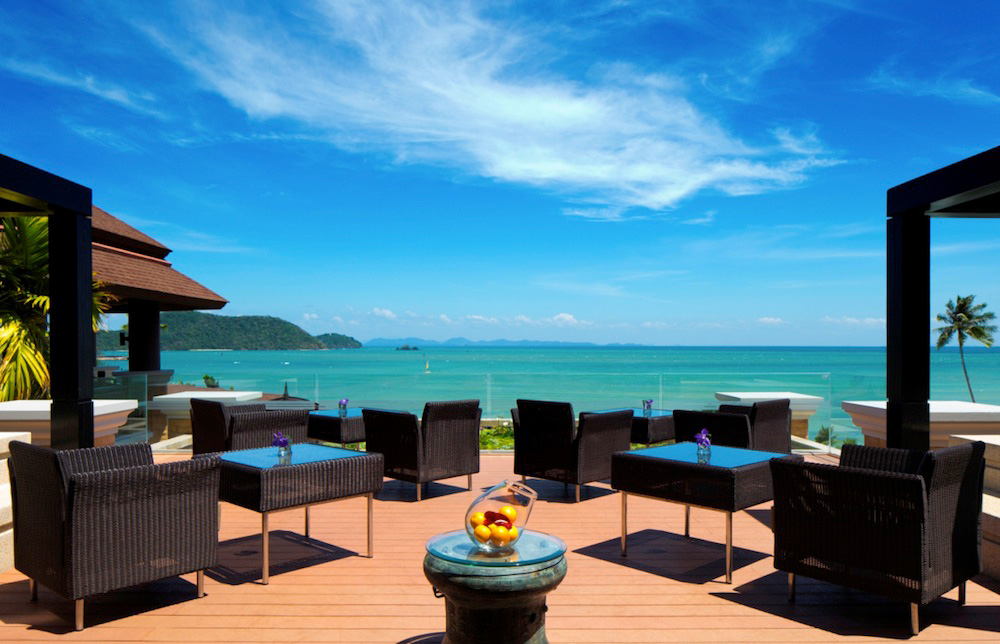 Spend the day basking on the secluded white sand beach or catch a boat directly from the Panwa Beach resort's beach to explore destinations for deep sea fishing, scuba diving and the surrounding small islands.
 Spread across acres of pristine property on the beach, this resort in Phuket is perfect for a relaxing getaway, family holiday, wedding or business meeting.
All stylish rooms feature private balconies and a unique blend of distinctive Thai culture while villas boast a spacious interior with beamed ceilings and a large terrace area leading to a private infinity pool. While in Phuket, enjoy a variety of international cuisines in the  on-site restaurants, including upscale, casual or private romantic tables on the beach.
Featuring one of the largest lagoon swimming pools in Phuket, complete with a swim-up bar and infinity edge, as well as an activity swimming pool with water slides, this accommodation in Phuket keeps everyone entertained and relaxed while on holiday.
Host an event or wedding by the beach, on the Seaside Pool's lounging deck or in the vast tropical gardens that can be transformed into an unforgettable outdoor venue.
A selection of indoor  meeting rooms with natural light, including a ballroom that can cater up to 250 people for a reception, are also available for conventions, meetings, incentives, brand launches or executive retreats. The resort is only a five-minute walk to Cape Panwa Esplanade, featuring a variety of shops, tailors, restaurants and Phuket Aquarium. World-class golf courses, day tours to Phuket attractions, local markets, Phi Phi Island and many more activities can be arranged through the 24-hour concierge.
Click here to learn more about Radisson Blu Plaza Phuket Panwa Beach's Honeyteering package.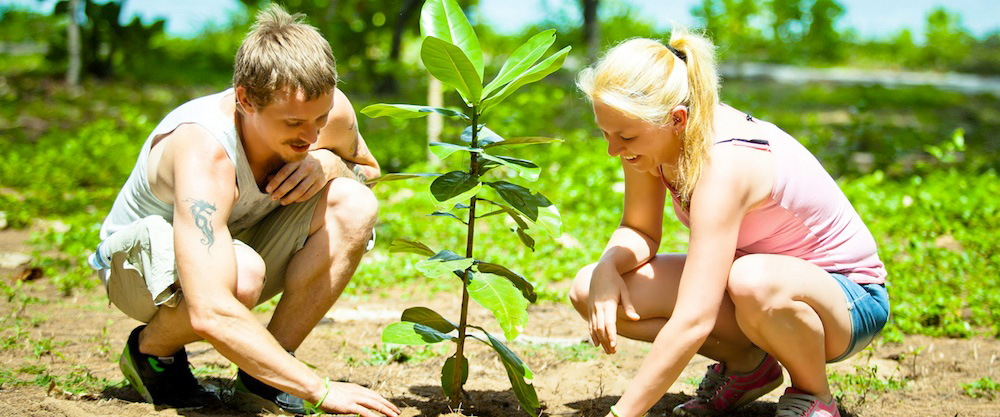 Banyan Tree Koh Samui
Escape to a secluded haven on one of Thailand's most beautiful islands Koh Samui, the paradise island famous for its inviting sapphire waters and white beaches offers a destination that combines pampering with tranquillity – at Banyan Tree Samui. Overlooking the scenic Lamai Bay, the resort is nestled in a series of cascading terraces on a private hill cove in the south-eastern coast of Koh Samui.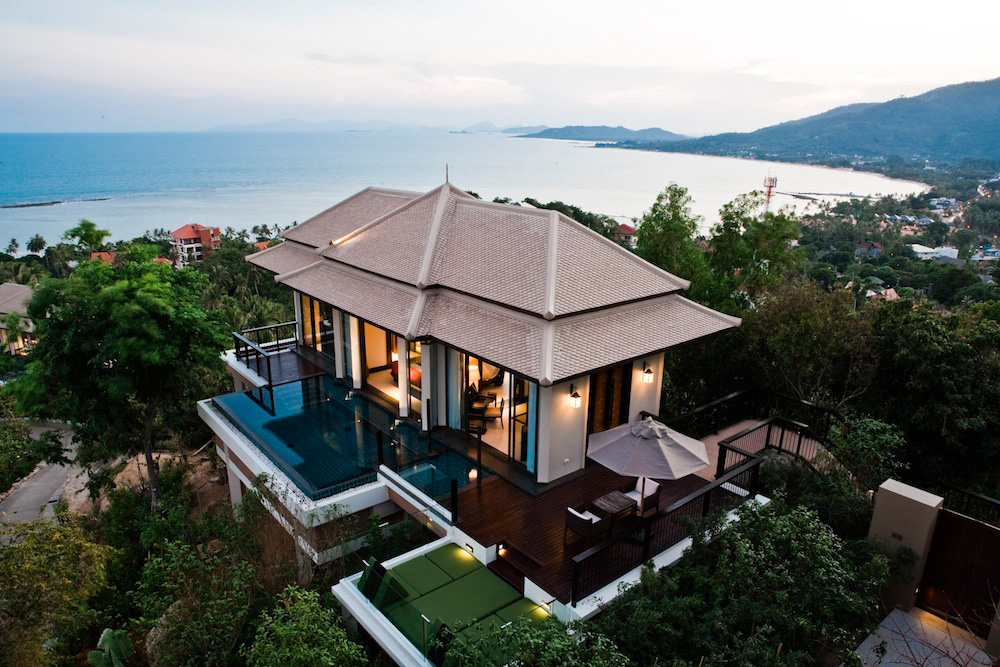 Banyan Tree Samui combines the best elements of a tropical getaway with seclusion and privacy synonymous with Banyan Tree. Retreat from the bustle of the outside world into a secluded haven where your days pass in a gentle flow of relaxation. Be serenaded to sleep by the deep blue swells of the Gulf of Thailand and cool sea breezes.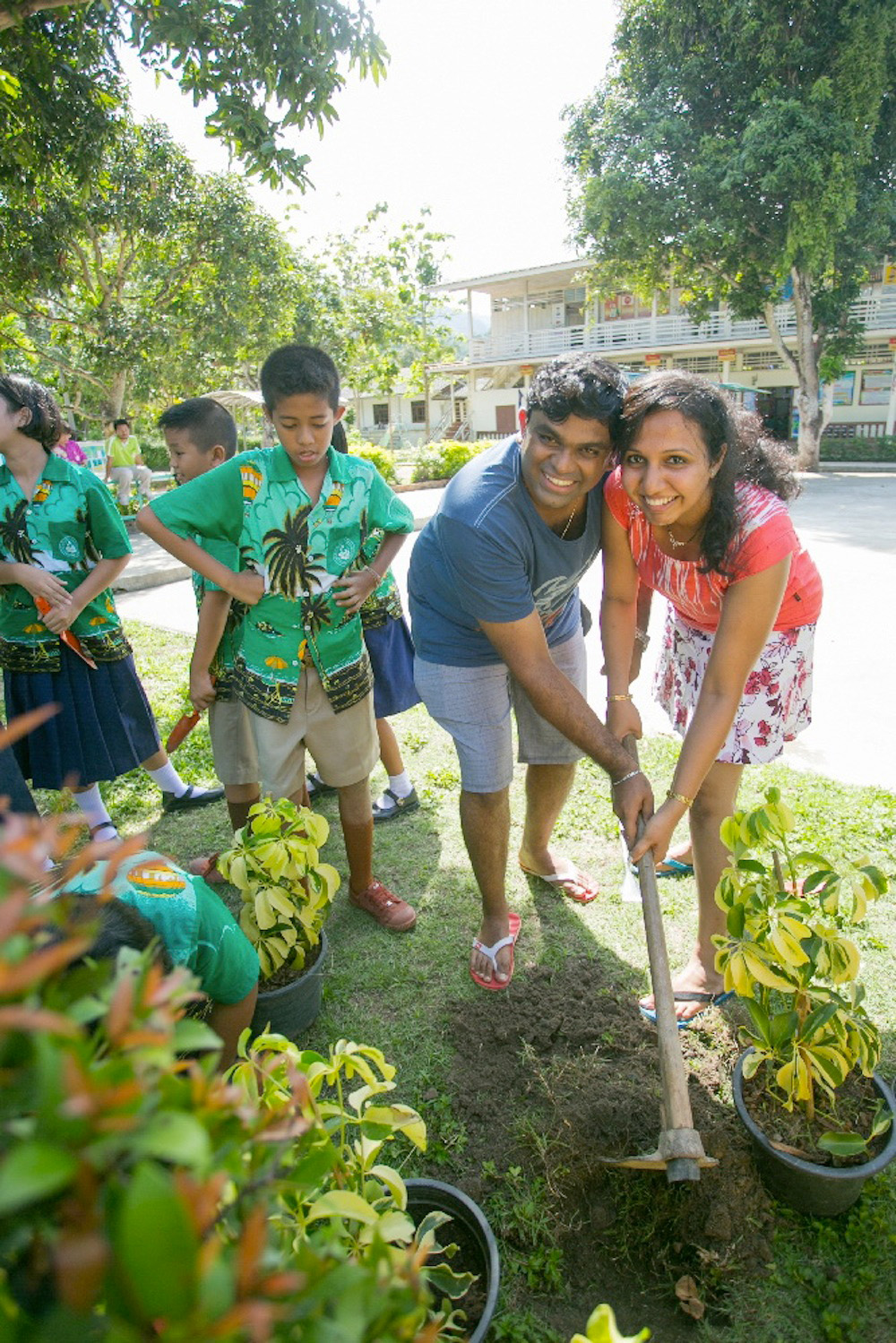 Share: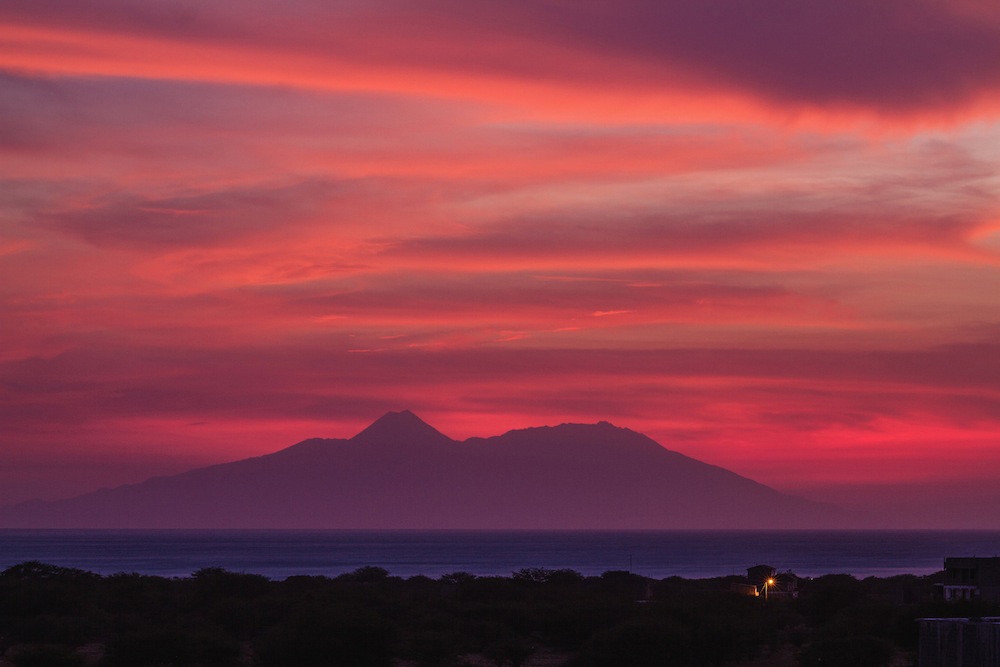 The Cape Verde Islands often get a bad rap in the media, due to the fact that many of the most devastating hurricanes in history have originated as tropical disturbances over them. But in fact, Cape Verde is one of the most alluring holiday destinations you can choose.
Whether you're already planning to head to Cape Verde, or are just getting inspiration for your next trip, here are some fun things to do in the Cape Verde Islands.
Cape Verde Beaches
Being that that it's an island nation, Cape Verde is home to some of the most beautiful beaches in the world, whether you enjoy a daytime stroll under swaying palm trees, to take in a picture-perfect sunset with a drink in hand. The real difficulty is choosing just one island to see during your holiday.
For example, head to Sal island if you want not only to enjoy the idyllic beauty of the beach, but also to take part in water sports and cultural activities. In Boa Vista, on the other hand, the beaches themselves take center stage, with very few tourists venturing here. They're the very picture of "unspoiled."
Hiking in Cape Verde
The Cape Verde Islands are also mountainous, which makes them a great destination for hikers. You'll hike through pristine forests on some islands, while others allow you to explore – and even go inside – active volcanoes. It doesn't get much more adventurous than this.
The volcano on Fogo island, for instance, erupted as recently as 1995. Sulfur fumes still steep through its vents, in fact, which creates a somewhat unpleasant aroma as you hike up it. But don't worry: The view from the top is more than worth it!
Culture of Cape Verde
Another interesting aspect of the Cape Verde islands, their incredible nature notwithstanding, is their rich cultural fabric. A former colony of Portugal, the official language of the island is Portuguese, a culture which also seeps into the identity of the island in terms of its architecture and cuisine.
As for the people themselves, they are a bit of a mix. Comprising both African and Portuguese heritages, they are somewhat similar in their ethnic makeup to the people of the Brazilian coast, which is especially unsurprising when you consider the islands' role in the Slave Trade, for which Brazil was often the final destination. Many of the cultural attractions in Cape Verde, particularly in the city of Mindelo, center on educating visitors about this period of history.
Image courtesy of noraincorp, via Creative Commons.
Share: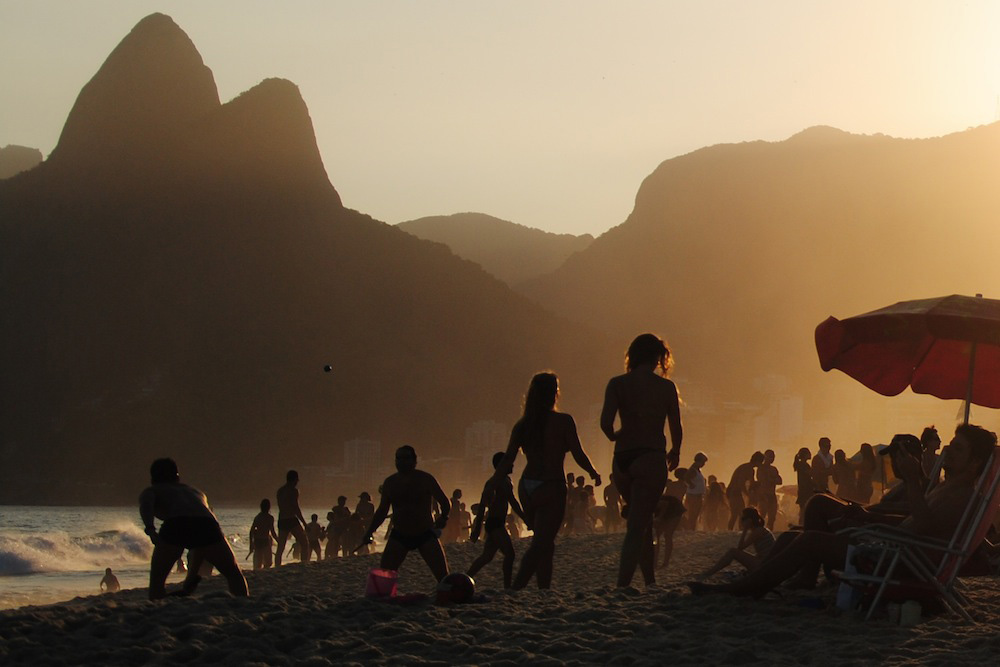 Welcome to Rio de Janeiro in Brazil, the vainest city in the world – I imagine even models feel self-conscious there. Unfortunately, I didn't fit the part when I first arrived in Rio back in 2011. A freak haircut in Buenos Aires the week before had left me nearly bald, which says nothing of how exhausted and out-of-shape nearly two months in South America had left me. And pale – most of said trip had been in the Andes.
Still, I proudly marched down to Ipanema Beach my first day in Rio, resolved not only to enjoy myself, but to feel as sexy as the Gods and Goddesses who turned their noses up at me. Except, no one was really turning their noses up at me.
In fact, in spite of how disgusting I felt (and, according to all the mirrors I'd made the mistake of gazing into, looked), people were being extremely friendly to me. By the time the sun set that evening, in fact, I felt so comfortable – and I was so drunk on caipirinhas – that I didn't look in a single mirror on the way back to my hotel.
(This is a very good thing.)
You see, the sunscreen I'd bought on my way down to the beach that morning had apparently not agreed with my skin, and so in addition to my pale body being scorched the color of the umbrellas that run the length of Copacabana, my face was dotted with no less than 100 blemishes, each of which would've been insignificant on its own, but had the combined effect of completely unraveling the confidence I'd built up since my arrival in Rio.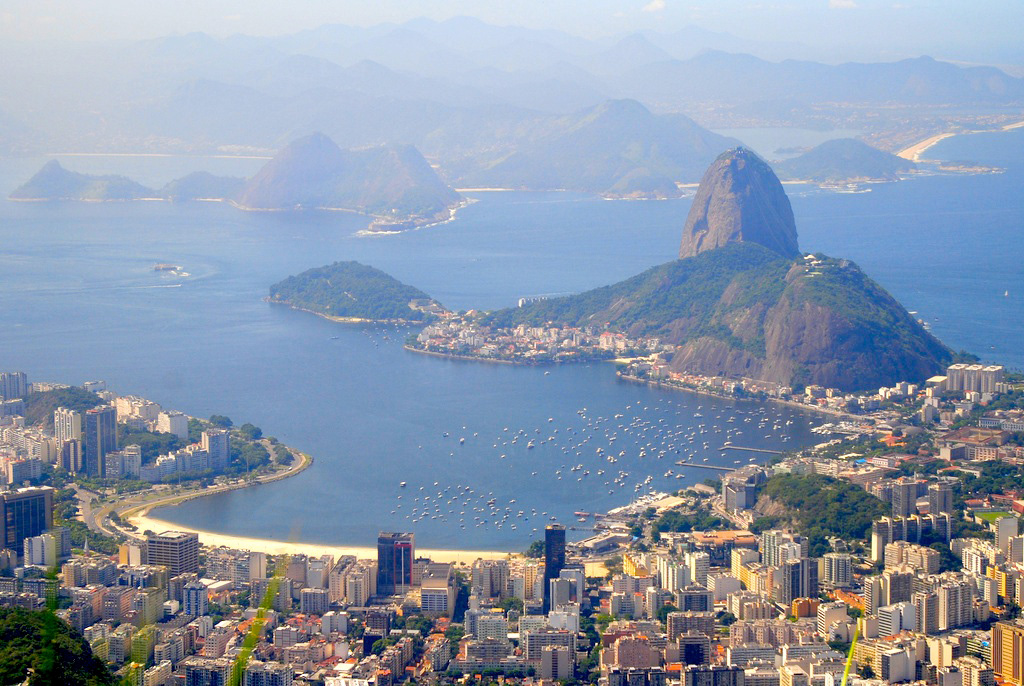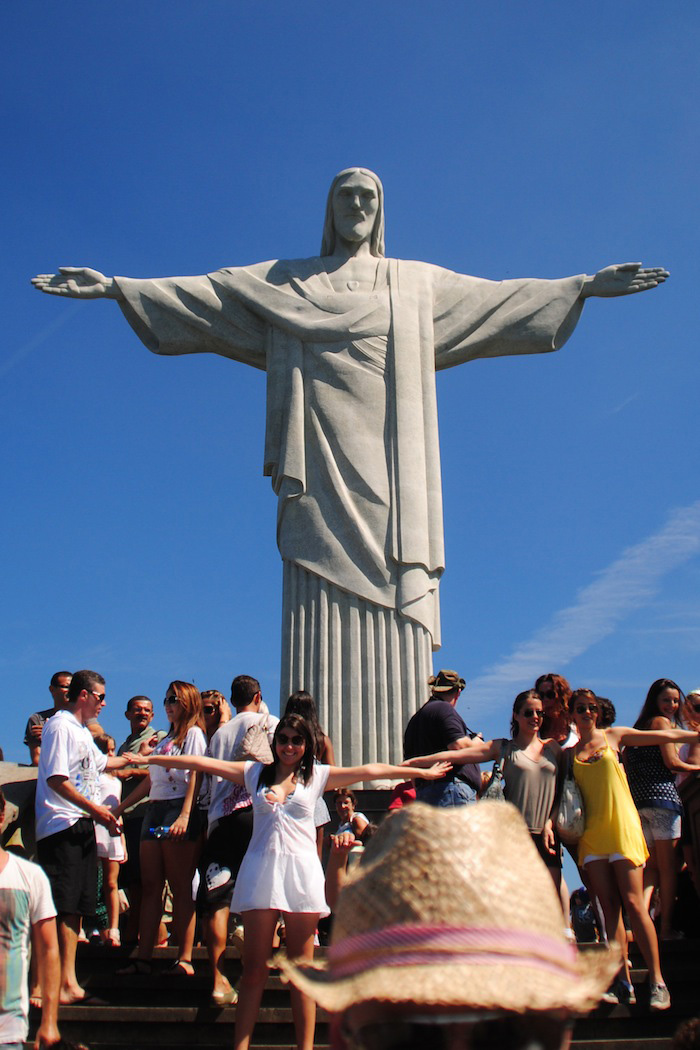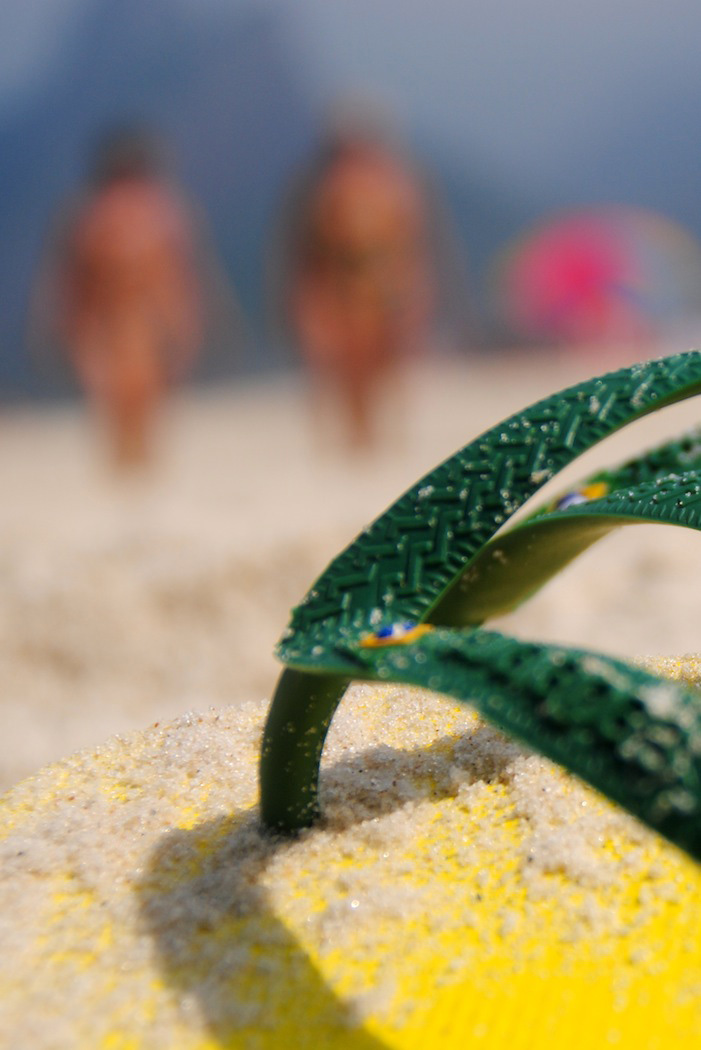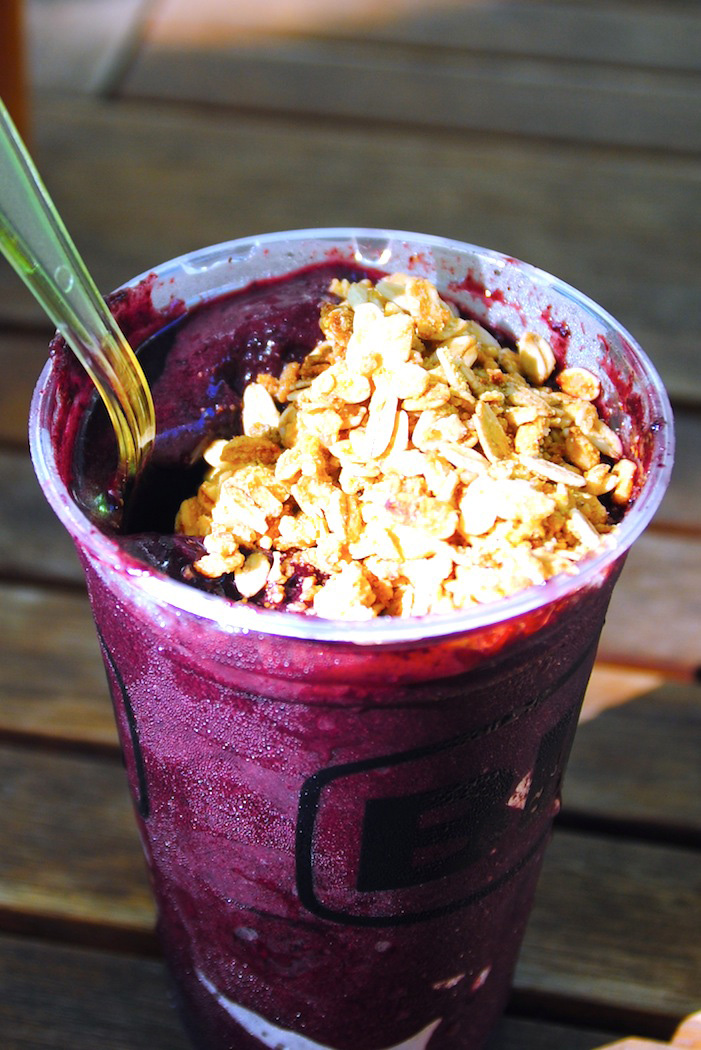 As the next few days passed, I found myself once again surprised at how friendly and even flirtatious locals acted toward me, in spite of me feeling even more unattractive than I'd even felt before. Their company and words (and, occasionally, hands and other body parts) were so warm that I occasionally forgot about my leper-like appearance long enough to enjoy myself.
But as I waited for my flight back to the U.S. at Galeão International Airport one week later, I felt run down like the facilities, not triumphant like the gate agent, who yelled out the boarding announcements because her intercom had stopped working.
With my return to Brazil looming just 48 hours in the future, I can't deny how happy the thought of walking on the sands of Ipanema tan, in-shape and with a luscious head of hair makes me feel. I'm righting a wrong that has irked me every time I think back on my first trip to Brazil. The real issue, to be sure, is not whether Rio de Janeiro is the vainest city in the world, but the extent of my own vanity.
Only it's not an issue – at least not this time around, thankfully.
Share:

Welcome to one of the most stunning and remarkable countries – Ecuador, the land of sea turtles.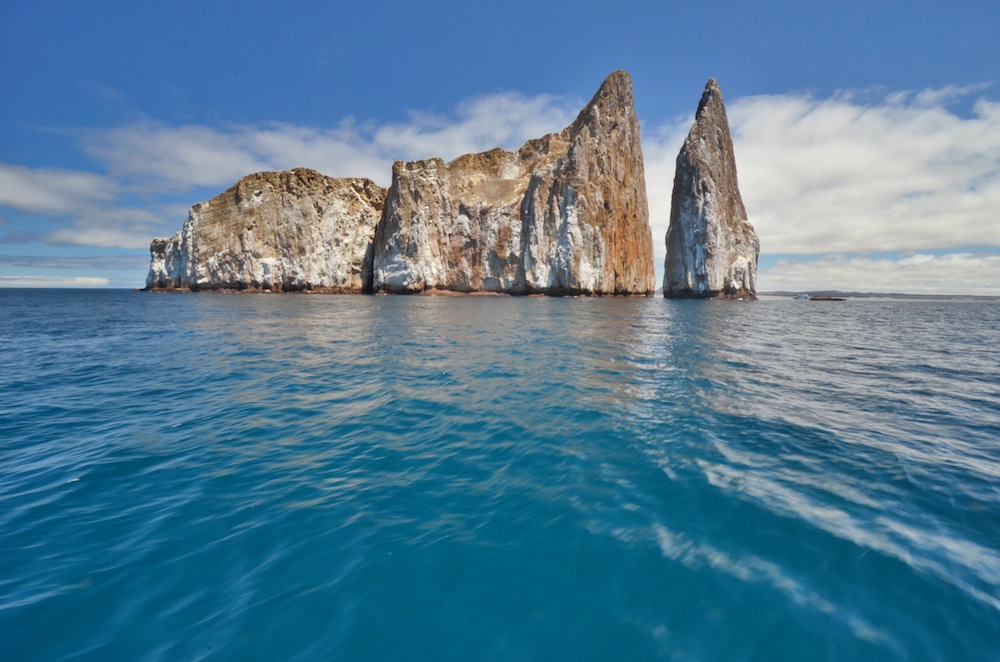 Did I say sea turtles? There are a lot of them and they're protected.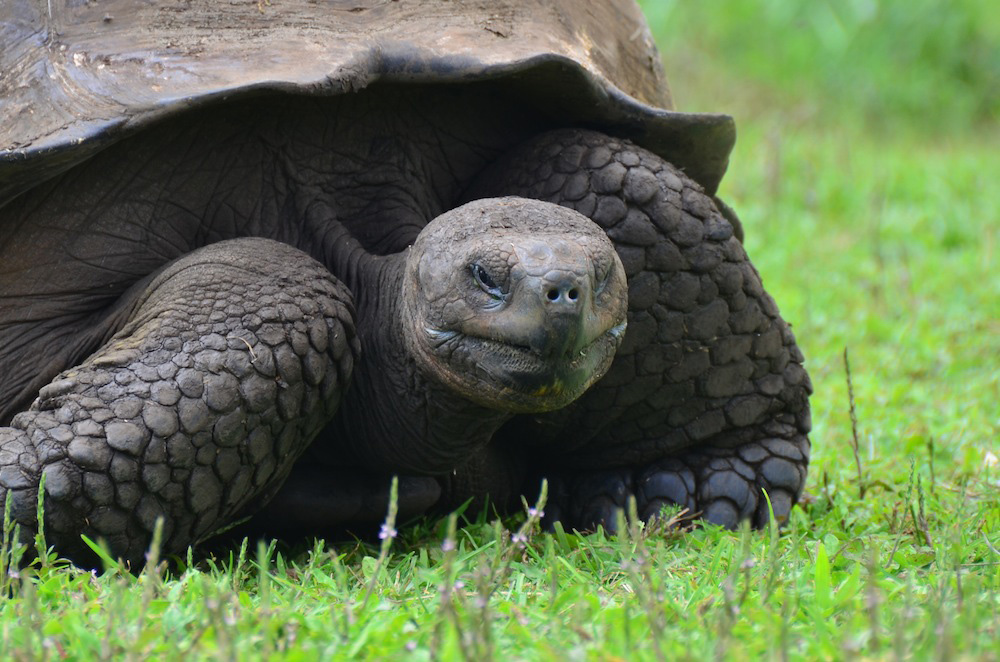 I vividly remember swimming with sharks around the Kicker Rock, off San Cristóbal Island in the Galapagos. The great news is that there were so many sharks all around me that I lost count. The even better news? Getting up-close and personal with these incredible creatures instantly dispelled many of the unfair myths and rumors humanity has propagated about them. Sharks are not vicious, deadly predators, but gentle, graceful, beautiful animals – the sea would be a sad place without them, and so would the world at large.
Share: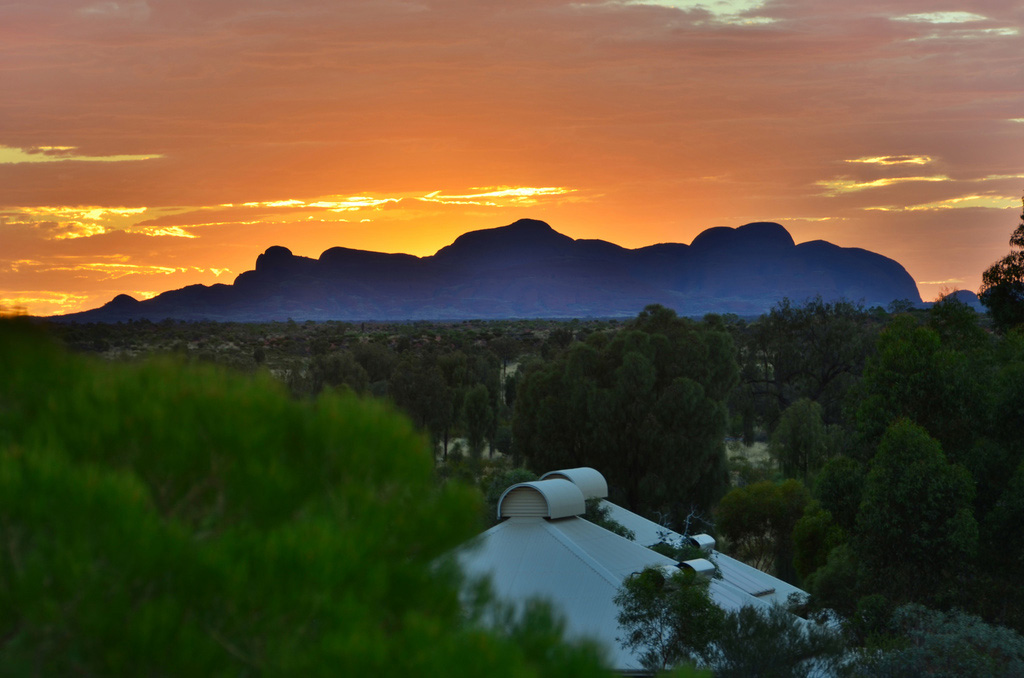 Initially, I hatched the idea to take a trip to Australia back in 1992, thanks to one of my eccentric teachers Mrs. Fraley, who designed our entire school year around her love of The Land Down under, from science units on the life cycles of marsupials, to traditional folklore myths and songs, to geography lessons about the Outback and what was known, at the time, as Ayer's Rock. (She even took us to Outback Steakhouse, although I now know that place is anything but Australian!)
On account of being young (and very middle-class) at the time, it took me exactly 20 years to take my first trip to Australia, where I saw koalas and kangaroos up-close, traipsed through the red sands of the Outback, ate real Australian food and hummed along to "Waltzing Matilda" the first time I heard it. I'm eager to return to Australia to cover the vast amounts of the country I missed during the six weeks I spent there, but for now, use my pictures are inspiration to plan your own trip to Australia.