About Robert Schrader
Robert Schrader is a travel writer and photographer who's been roaming the world independently since 2005, writing for publications such as "CNNGo" and "Shanghaiist" along the way. His blog, Leave Your Daily Hell, provides a mix of travel advice, destination guides and personal essays covering the more esoteric aspects of life as a traveler.
Latest Posts by Robert Schrader
Share:

Guadalajara was a hot mess, at least the portion of it I looked upon as I made my way toward its Spanish Renaissance-style cathedral. For every respectable looking restaurant, there was some garish café selling soft-serve; most every worthwhile edifice was obscured in some way, usually by a crane or construction barriers. It was Sunday, of course, so no work was happening—just the mess left behind.
It was Sunday, and I was already an hour into a 44-hour trip to Mexico's second city, made possible by the kindness of Volaris, who'd invited me on the inaugural flight of the route they'd launched to my city that very morning. It was Sunday, and most everything I wanted to see was either already closed or had never opened, namely the Instituto Cultural Cabañas and Teatro Degollado, although the steps of the latter made a nice place to take dramatic kissing selfies with Danilo.
Danilo, my boyfriend, who seemed unfazed by the cacophony of the city, at the same time that I was feeling pulverized by it, who with a single tap on the screen of his smartphone managed to capture what we saw better than I could in two dozen clicks of my DSLR shutter. I felt distracted by Guadalajara, even angered by it. I felt jealous of my boyfriend, even a little sad that he seemed to be doing my job so much better than I was.
I wish all the plastic and cheap wood in here would metamorphosize into marble and mahogany, I clasped my hands together inside Parroquia de San Juan de Dios, simultaneously charmed by the mariachi music I could hear coming in, and aghast at how cheap the altar looked compared to the façade of the church. That's my prayer.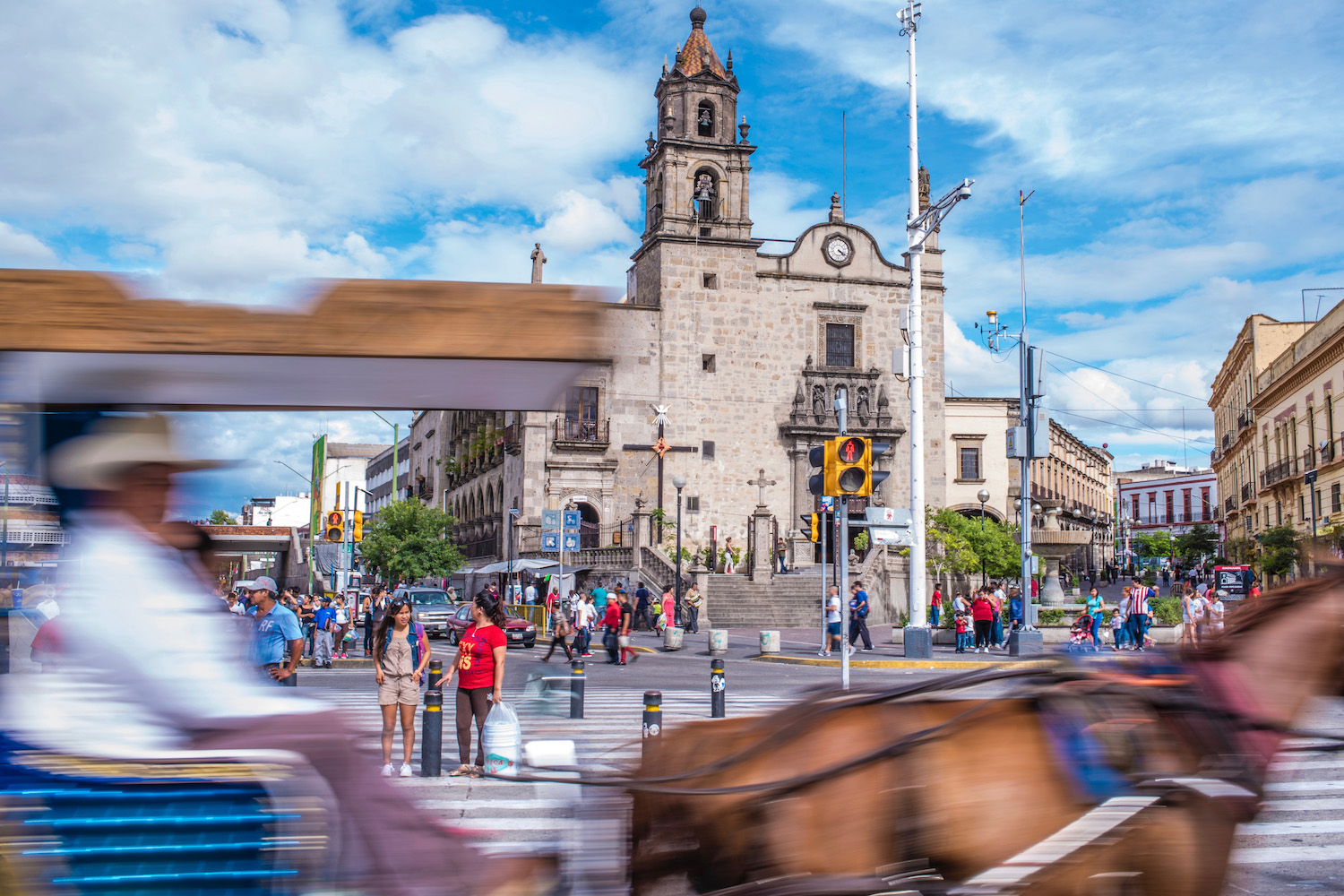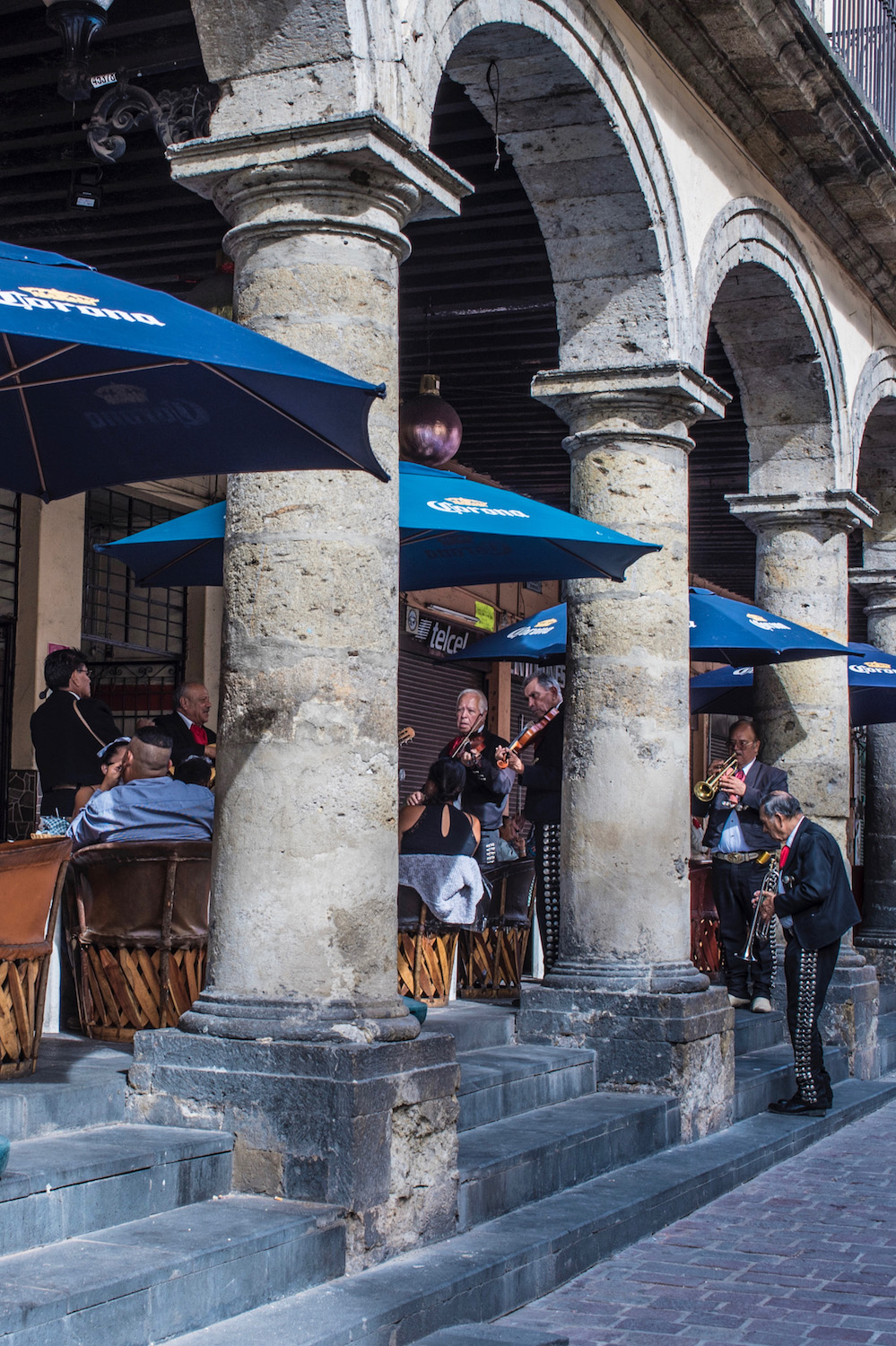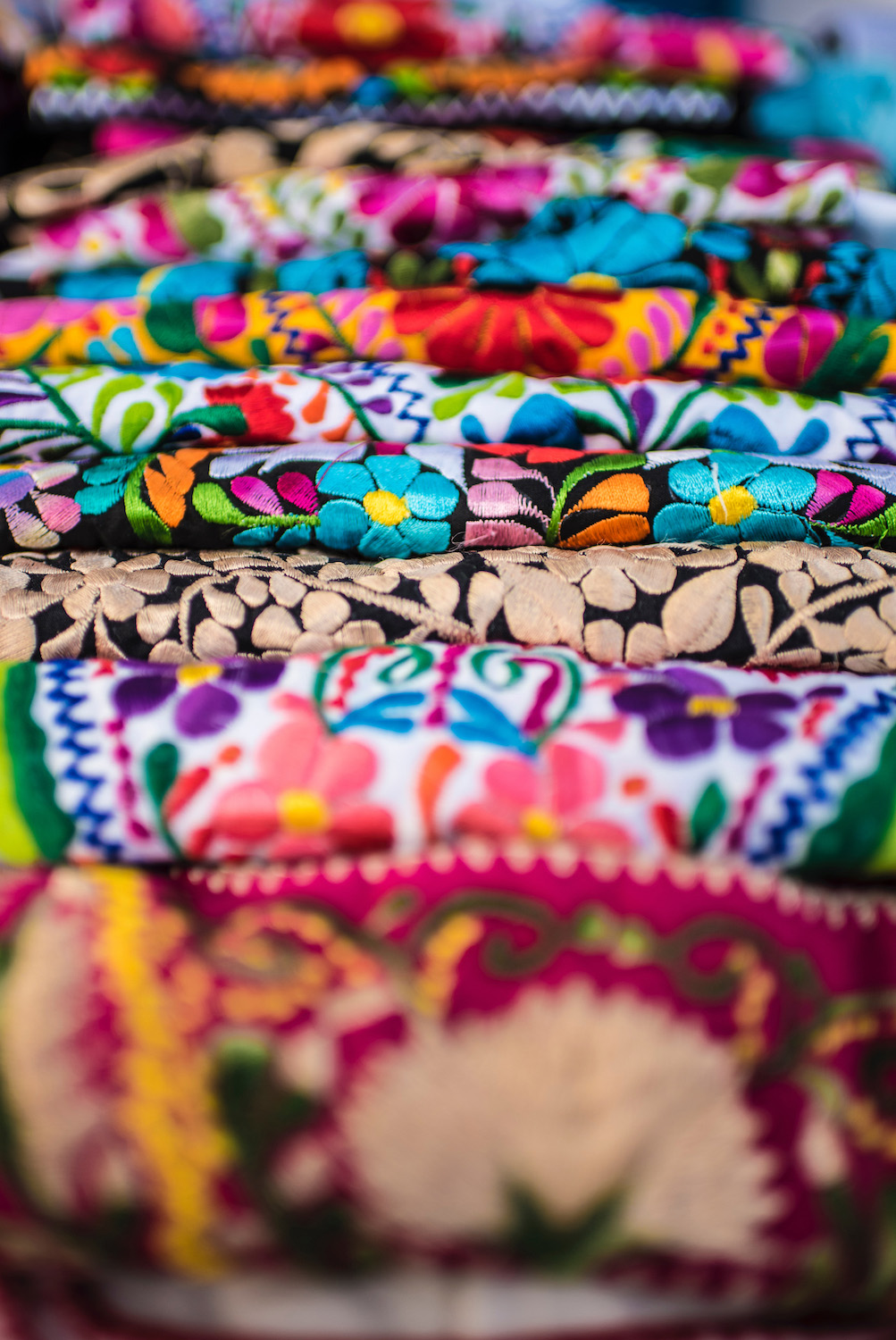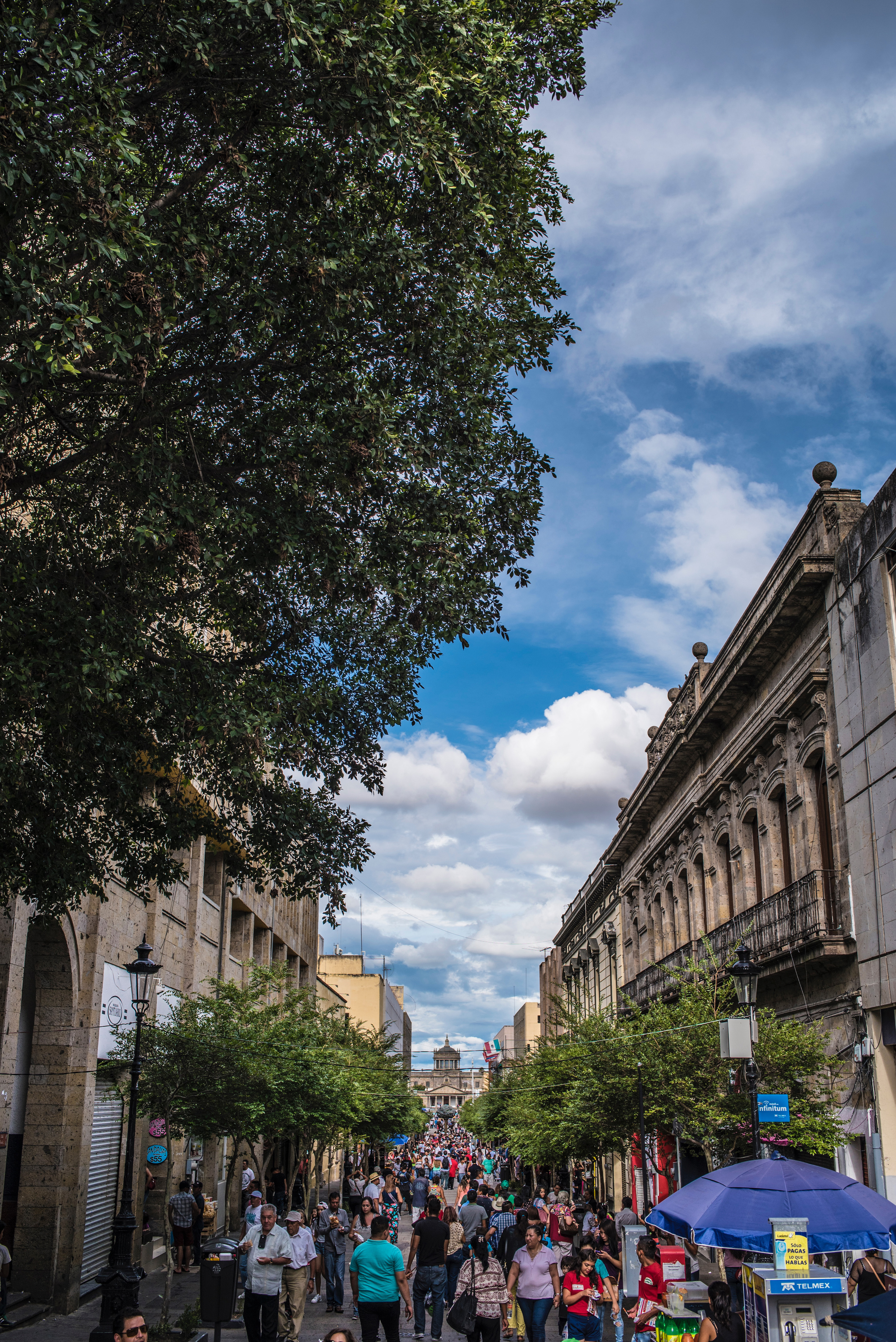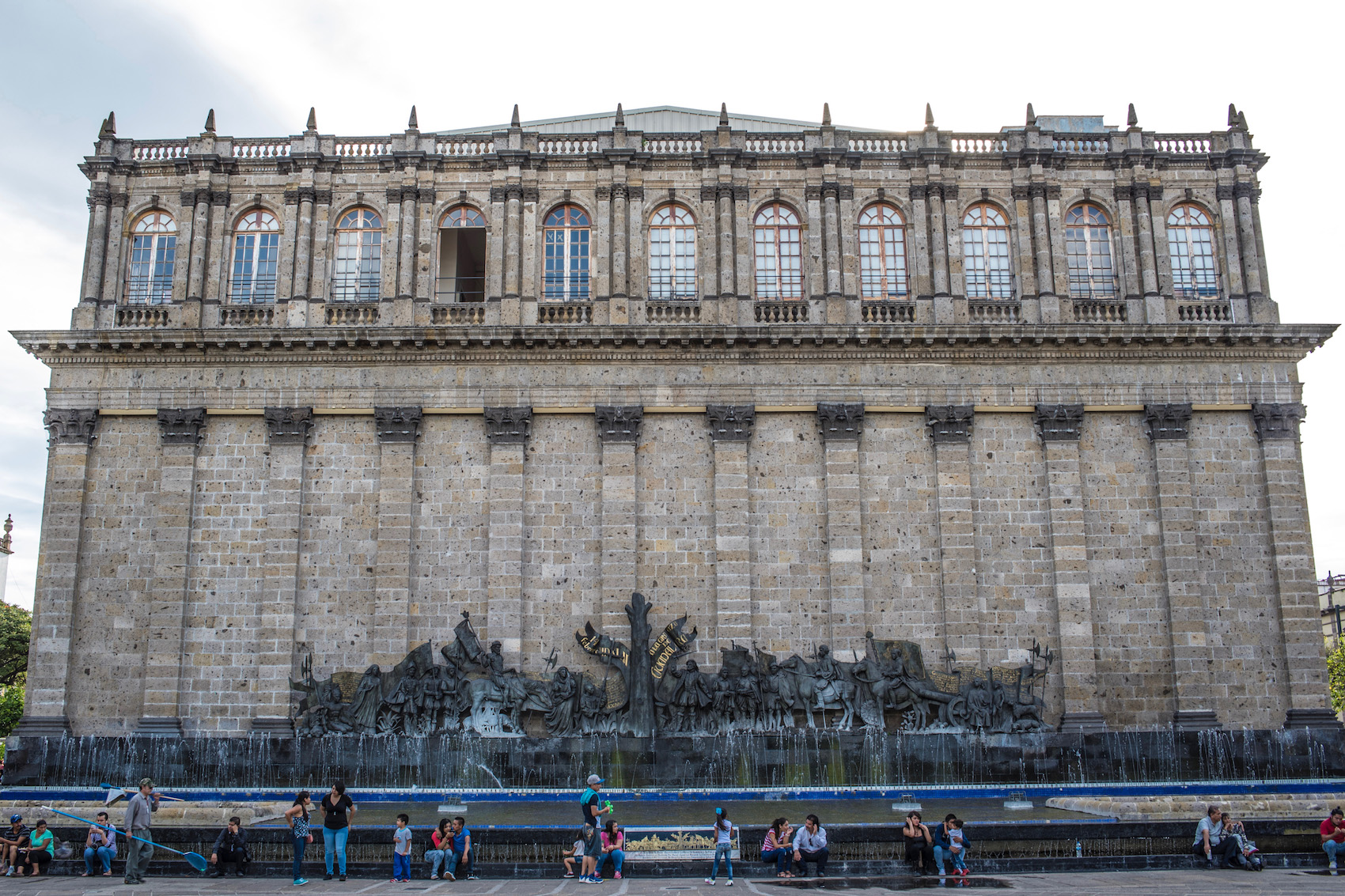 Danilo gasped just moments after having recommended I climb into a tree to get the right angle for my shot, so my first instinct was that the branch I rested on was giving way. But he was walking away from me—backwards—and I was still safely in my perch.
"What's wrong?"
He pointed to the ground and continued backing up.
"I can't see anything," I said, noticing how close he was getting to a nearby succulent.
"A scorpion," he shuddered, stopping just before the first prickly leaf pierced his skin.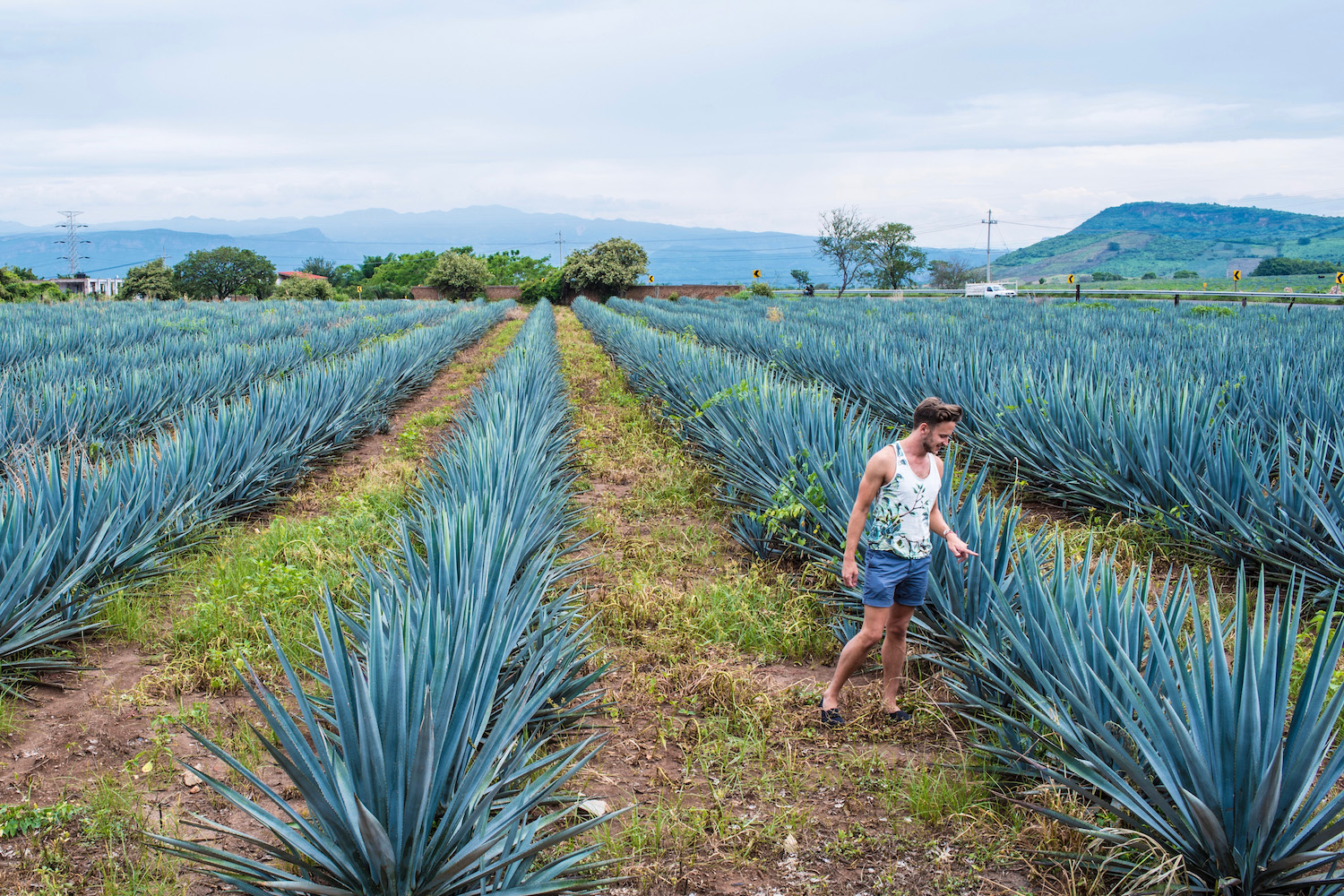 Ordinarily, I'd have also been terrified, but I had several fires lit under my ass. We now had less than 24 hours in the Guadalajara area; our driver to Tequila, Flavio Reyes of Sinaloa, was patiently waiting in the car for us as we attempted to document the rolling fields of blue agave, me from several feet above the ground, on our way to the town of Tequila—I'll buy you a margarita if you can guess why this place is famous.
I hung my tripod inside the tree and dismounted—directly on top of the arachnid, I hoped—then grabbed Danilo's hand.
"Stand by that plant," I walked with him toward my focus point, as the first of nine self-timed shots exposed, "and kiss me."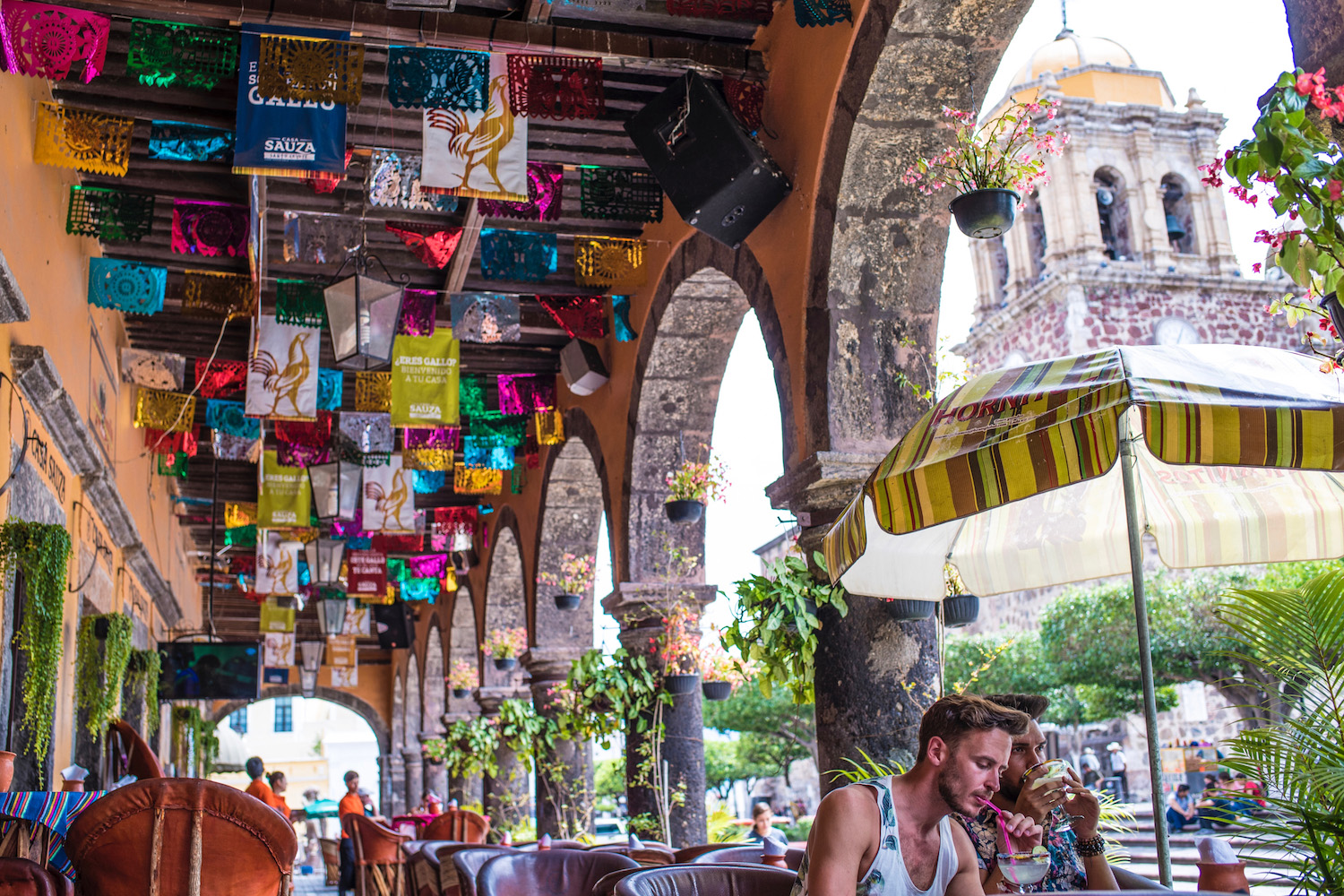 Having originally been settled in the mid-16th century, Guadalajara existed in five other locations before its current one. From attacks by natives, to drought, to famine, to fire, Guadalajara's early history had been one tragedy after another—it's not surprising at all that it's still a hot mess, or that it's so filled with religious imagery.
"Are you enjoying yourself yet?" Danilo asked me, and fed me one of the four flautas we'd had delivered to our suite at the colonial Hotel Morales.
"I am," I bit into it, amused by the fact nearly all of my favorite things about Mexico thus far—kitschy Tequila; five-star hotels at one-star prices; and the fact that Jalisco food just so happens to be what all my favorite Austin taquerias serve—were among the most superficial ones. Amused and disappointed, and not surprised at all.
"Are you?"
Danilo paused and savor his own rolled, fried taco before answering. "Today, I am, but I have to be honest: Your jealousy yesterday—and your breakdown because of it—that was tough for me. It was tough for me to stand by your side."
"But you did," I began rubbing his shoulder.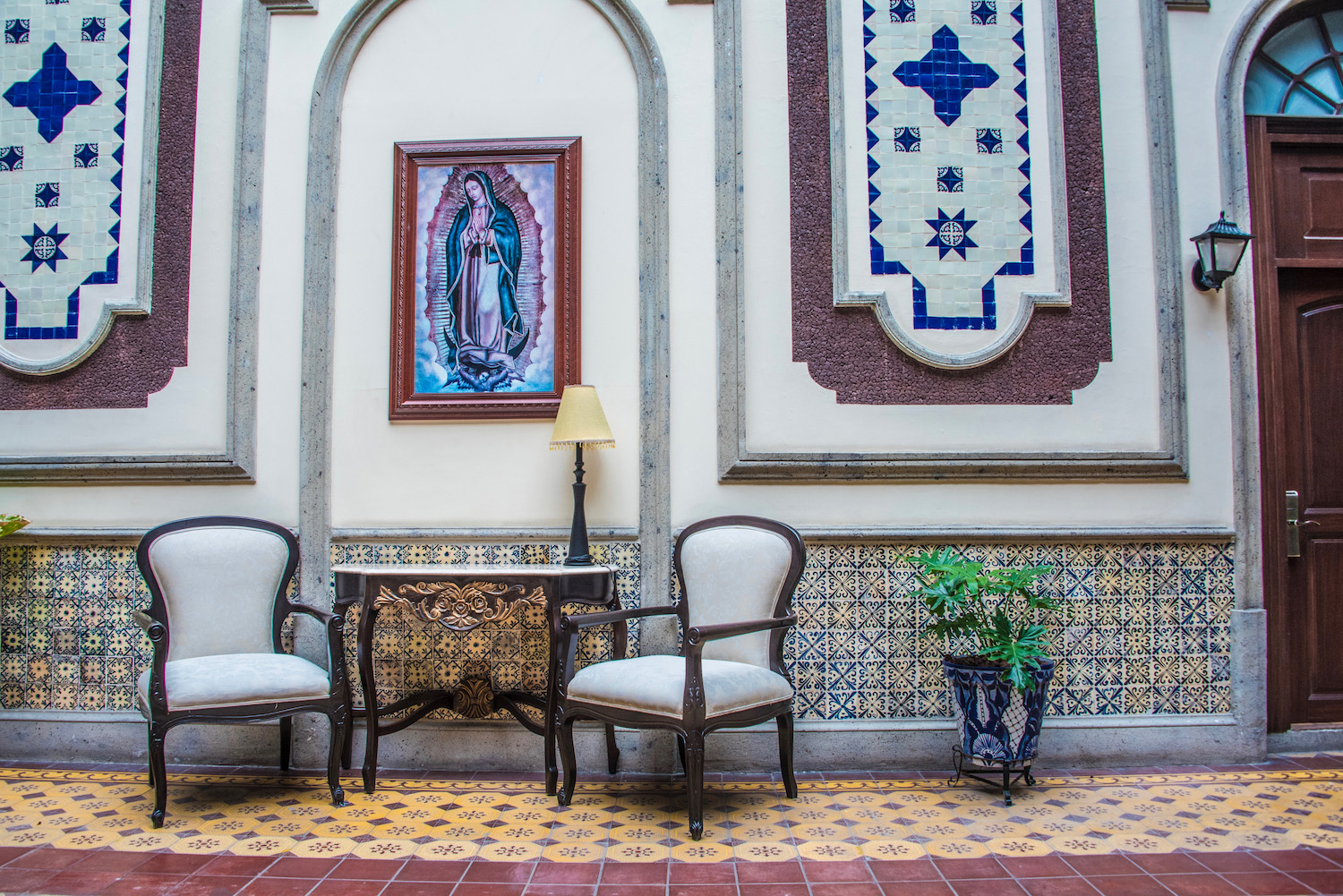 "No creo," I said defiantly as the Uber driver asked me about my religious beliefs during ride to Zapopan, the final place Danilo and I would have the chance to visit during our 44 hours in Guadalajara.
Ordinarily, the conversation would've ended there, but two things were different in this case. First, the conversation was mostly one-sided, both because our loquacious chauffeuse couldn't fucking shut up and because I was as linguistically prohibited from replying as Danilo was by his timidity and reluctant faithfulness.
Secondly, her eyebrows! They were perfectly shaped and dyed the same drugstore-red color as her hair, and the way she looked at me with them through the rearview mirror put the fear of God in me, albeit with her as God.
It was fitting that we were on our way to yet another cathedral as we took this exorcistic diatribe on our chins, zealous Elizabeth smiling the whole way as she shot it toward us.
I don't believe—never have. I remember taking communion at age 5, repeatedly lying to the catechist at my church's parish school of religion shortly after that and singing the words to early 90s alternative songs as the rest of the congregation sang hymns, all for the purpose of proving to myself that nobody was going to strike me dead if I disobeyed.
I've come to live by my own moral code, of course, and I try to do right by it. But no zombie pseudo-messiah is going to stop me from walking into a church during the middle of mass and exposing a shot for 30 seconds.
"Don't you think that's rude?" Danilo asked hours later, as we walked into Templo Expiatorio del Santísimo Sacramento on our way back to the hotel, dozens of people on their knees inside.
I chuckled, albeit not loud enough to disturb any of the faithful. "I believe it is."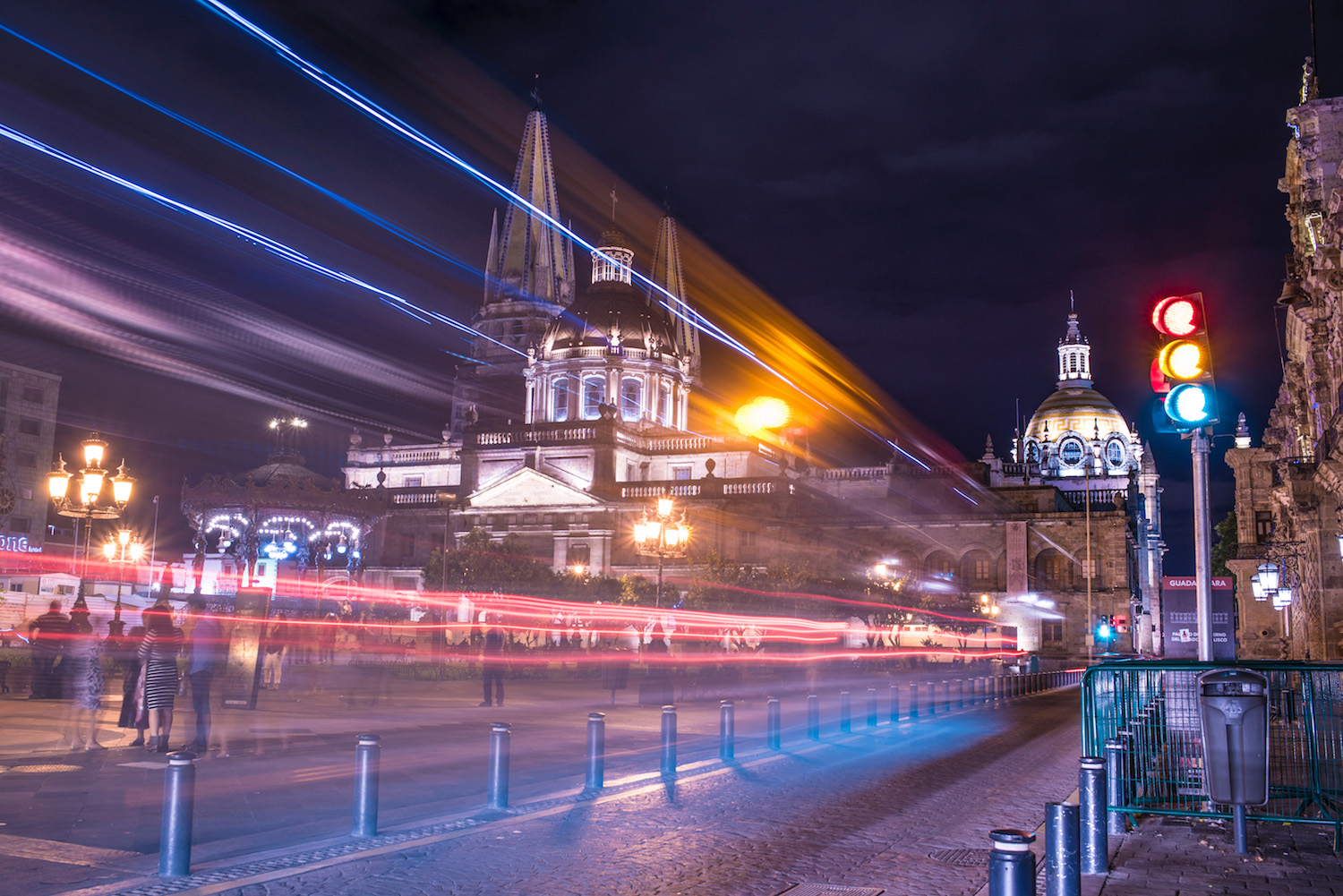 As Danilo and I walked into Guadalajara Airport for our flight back to Austin, just 44 hours after we arrived, I felt simultaneously amused and disappointed at the thought of my trip, but not surprised at all.
I'd followed the professional-travel-blogger M.O. precisely: Write the story and take the photos before I even get on the plane; arrive and feel devastated that my words and pictures are nowhere to be found; seek out ubiquitous, obvious experiences that allow me to get the photos I need; give up on the story I thought I was going to write and just tell the fucking truth.
This trip, of course, was different from almost all my others, because Danilo was with me. It isn't easy to be the partner of a professional travel blogger, let alone one whose success has largely hinged on his ability to spend all his time and energy on blogging, and for whom that success remains at least as great a priority as said partner's contentment.
And it isn't easy to be a travel blogger with a partner, at least not when you spend the first six years of your travel blogging career as a travel blogger without one. It is a lot happier, though, for you if not for your partner—in pictures and, sometimes, when you tell the truth.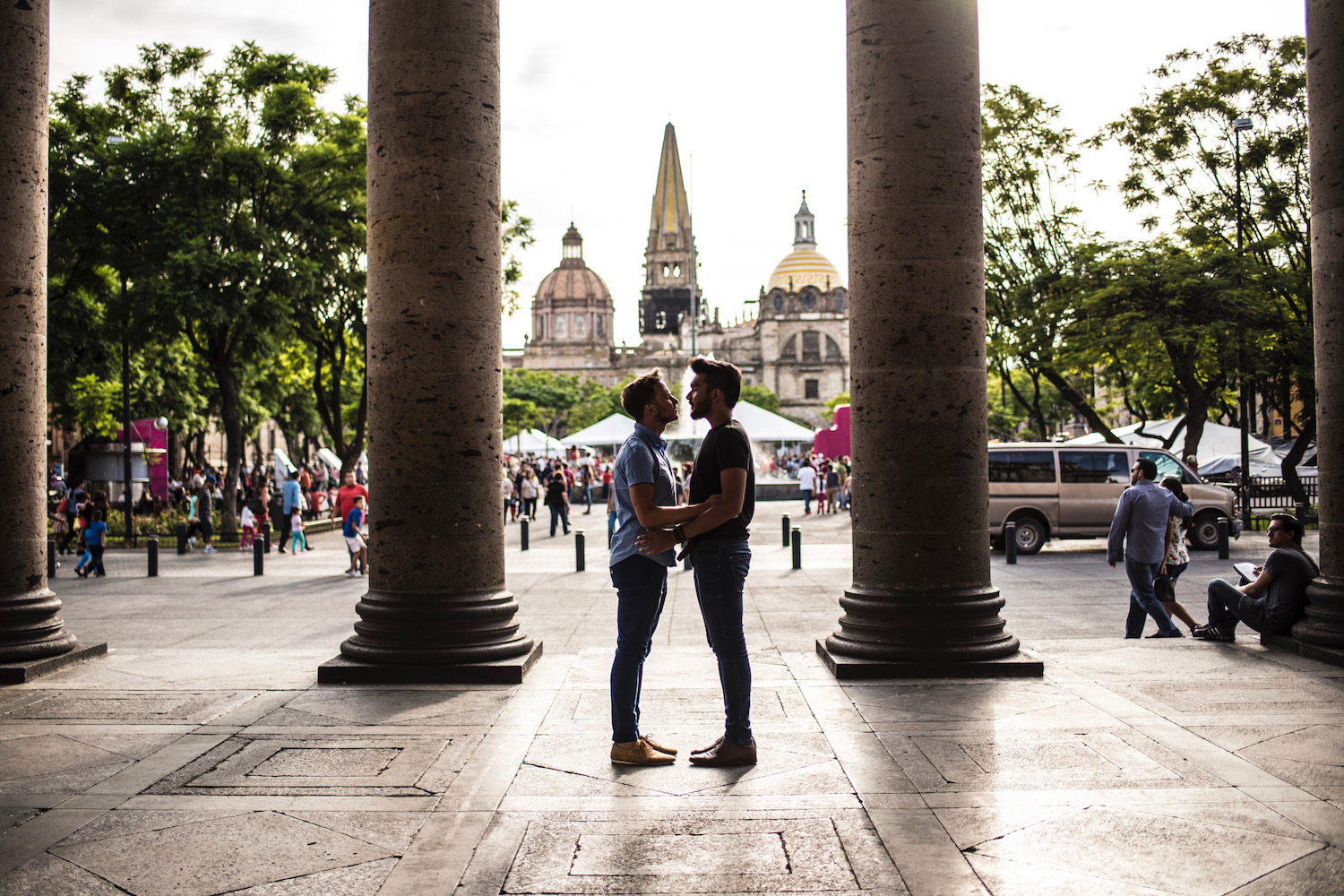 Danilo and I have made a habit of assessing the state of the ruellia we planted together, upon coming home from the three trips we've now taken together thus far, starting with the one to New Mexico a couple weeks ago. That time, the most robust of our four plants was flowering for the first time, which was serendipitous given where we were in our relationship.
We kept an eye on the plants even when we weren't traveling, of course, and quickly realized that the flowers of ruellia, which is also known as "Mexican petunia," go even more quickly than they come—often, the same day they appear.
To be sure, while we counted more than 10 flowers the afternoon of our return to Austin, every single one of them had fallen off by the time the sun rose again. Our relationship, too, had been stripped of its plumage.
(I don't happen to think these occurrences were coincidental, as agnostic as I claimed to be under the watchful, painted eye of Elizabeth Rocio, although I do imagine their synchronicity is more biological than beatific.)
"And what does this mean for us?" Danilo asked, and picked up a wilted blossom from the concrete.
"That if we wait long enough," I said, "probably just until tomorrow, it will bloom again."
He smiled, but then looked wistfully out the window at the plants. "They'll fall off again tomorrow, too."
"And the next day," I reminded him, "there'll be more flowers—the cycle will continue. I mean, even Guadalajara had to be built six times."
A big thanks to Volaris, who currently operates Austin's only year-round, nonstop service to Mexico, for inviting me to participate in the inauguration of their flight.
Share: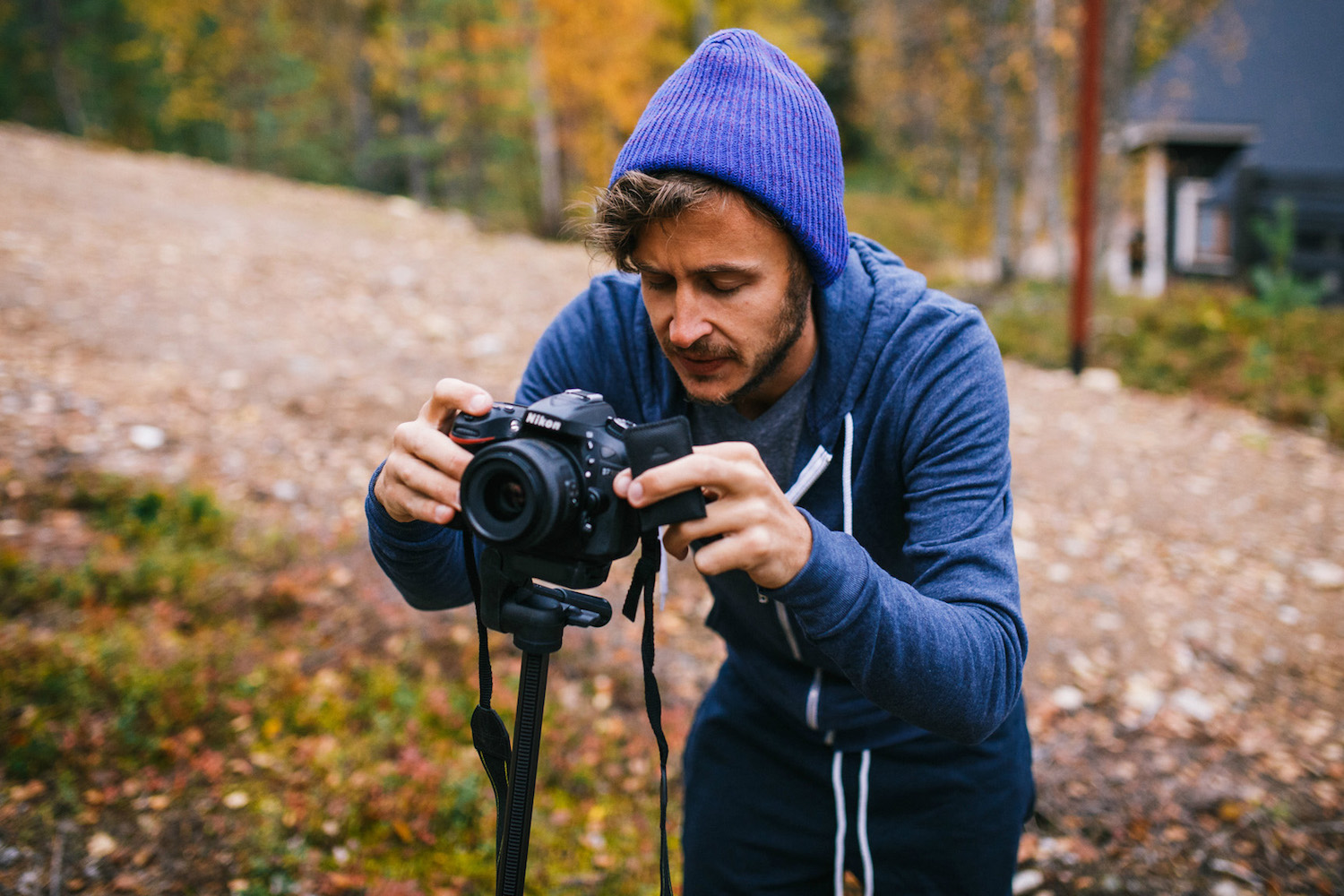 Typically, when I offer travel photography advice, it's creative in nature. On the other hand, today's tips are just as much about making your life easier as making your travel photography better. Although some of these may seem obvious for frequent photographers, other might feel counterintuitive, or even wrong. But trust me—this works!
Shoot in RAW—But Only Store JPEGs
I've recently become a big advocate for shooting in RAW, a format that allows you to make big edits to your pictures with only a small change in their quality. Unfortunately, the edits you can make to RAW files aren't the only thing "big" about them: They can easily exceed 50 MB in size, each. (By contrast, average JPEGs tend to come out of the camera around 5 MB or so.)
Unless you carry an extra hard drive with you (more on that in a second), these files will overload your computer extremely fast, so delete them from your machine after you're done editing. Reduce the burden of your travel photos on your hard drive even further by using an image resizer, which doesn't necessarily reduce their physical dimensions, but removes unnecessary information within the file and, thus, reduces the file size, optimizing them for online sharing.
Back-up Your Photos in Multiple Places
Of course, deleting your RAW files outright precludes you from going back, in the future, and re-editing them if necessary. Instead, delete them from your computer itself only after you've backed them (and the JPEGs themselves) up to an external hard drive or even an auxiliary memory card. Additionally, back the contents of your computer up to the cloud so that you have your travel photos in three places, decreasing the likelihood that they'll ever be "gone for good."
Go Through Your Photos Daily
Speaking of memory cards, you've probably noticed that you can store tens of thousands of images on them, slightly less if you shoot in RAW. Although this feature of modern digital storage is attractive on paper, it can be disastrous for your sanity—can you imagine getting back from two weeks in Cuba and suddenly having 20,000 photos to edit? Go through your photos as you take them.
And Delete Your Memory Card Every Day, Too
Remember how I promised this post would be more practical in nature than esoteric? Well, I just can't keep myself from going all New-Agey. Indeed, deleting your memory card every day might seem counterintuitive, practically-speaking, unless of course you've taken my back-up advice above. But I find that deleting old images, and in particular those who didn't make the "final cut" onto your computer, frees you up creatively, allowing each day to truly embody a unique expression.
Remember That Less is More
Yes, I did just suggest that only a certain percentage of your photos should ever make it onto your computer. And I do believe that only a certain percentage of those should be seen by other people. In fact, although I advocate taking as many photos as possible during a given trip, I would say that realistically, only about 1-2% of them should ever see the light of day. Harsh? Maybe. But it's downright humane compared to how it would've been back in the film days.
What about you? Can you think of any additional travel photography tips? If so, share them in the "Comments" section.
Share: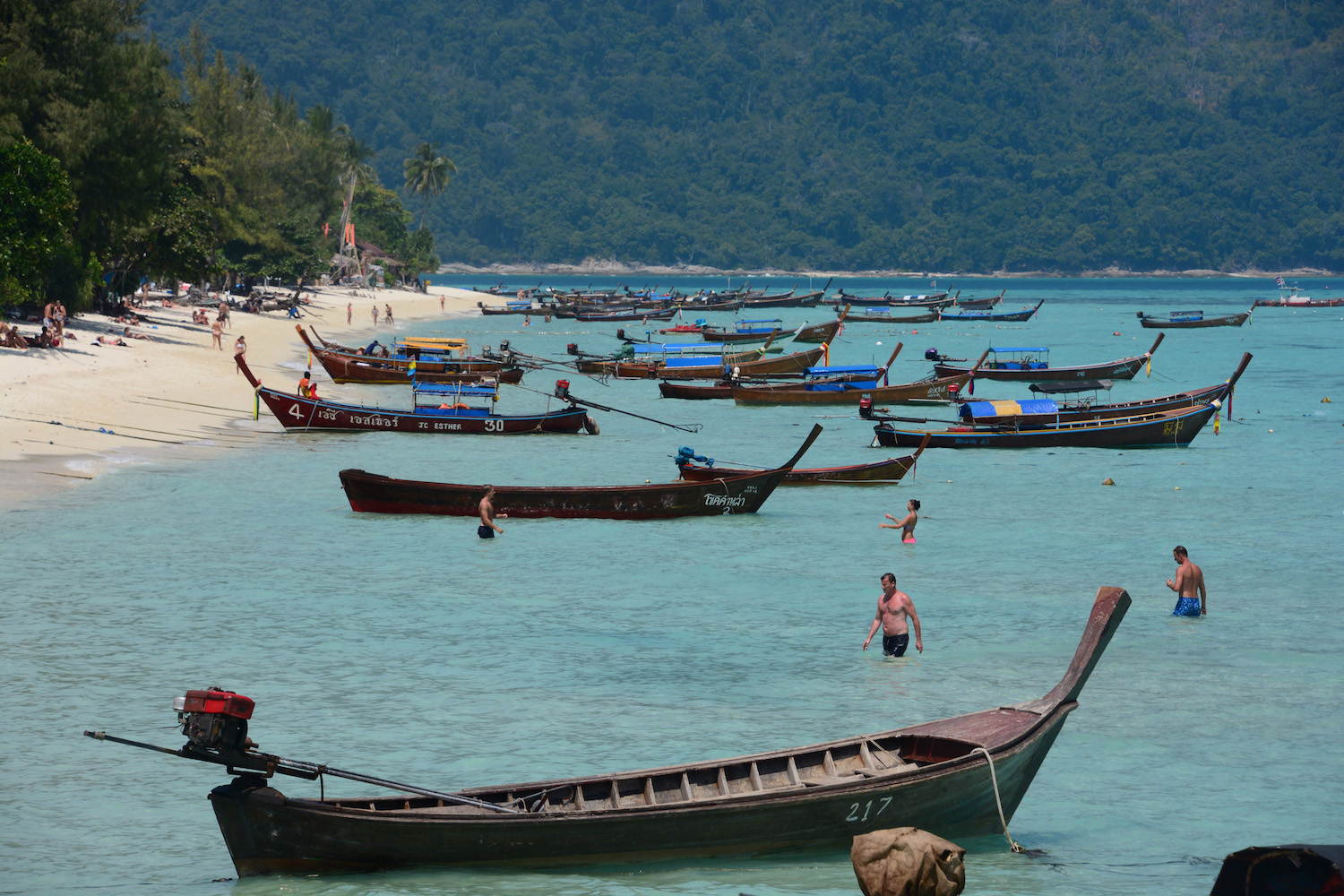 For many travelers, the words "Phuket" and "Thailand" are synonymous. From Australians and Europeans, who've been visiting the paradise island for decades, to Americans who first heard about it during the tragic 2004 tsunami, Phuket is the first place most think of when they imagine a beautiful beach in Thailand. And with good reason: Phuket boasts more than a hundred kilometers of coastline, much of which is flanked by sugar-white sand, swaying palm trees and water so clear it looks like it came from a bottle. On the other hand, Phuket is much more than just a beautiful beach destination.
Phuket is Many Beaches—and Islands
Firstly, Phuket is many beach destinations—the so-called "James Bond Beach" at Phang Nga Bay is only the beginning. Whether you party on Patong Beach, take a day trip to the Phi Phi Islands, or take an even longer long-tail boat trip to nearby Andaman Sea islands like Koh Kradan, Koh Mook, Koh Lanta or even the mainland city of Krabi, Phuket is just as much a gateway to Thailand's beaches as it is a single destination to experience the best of them.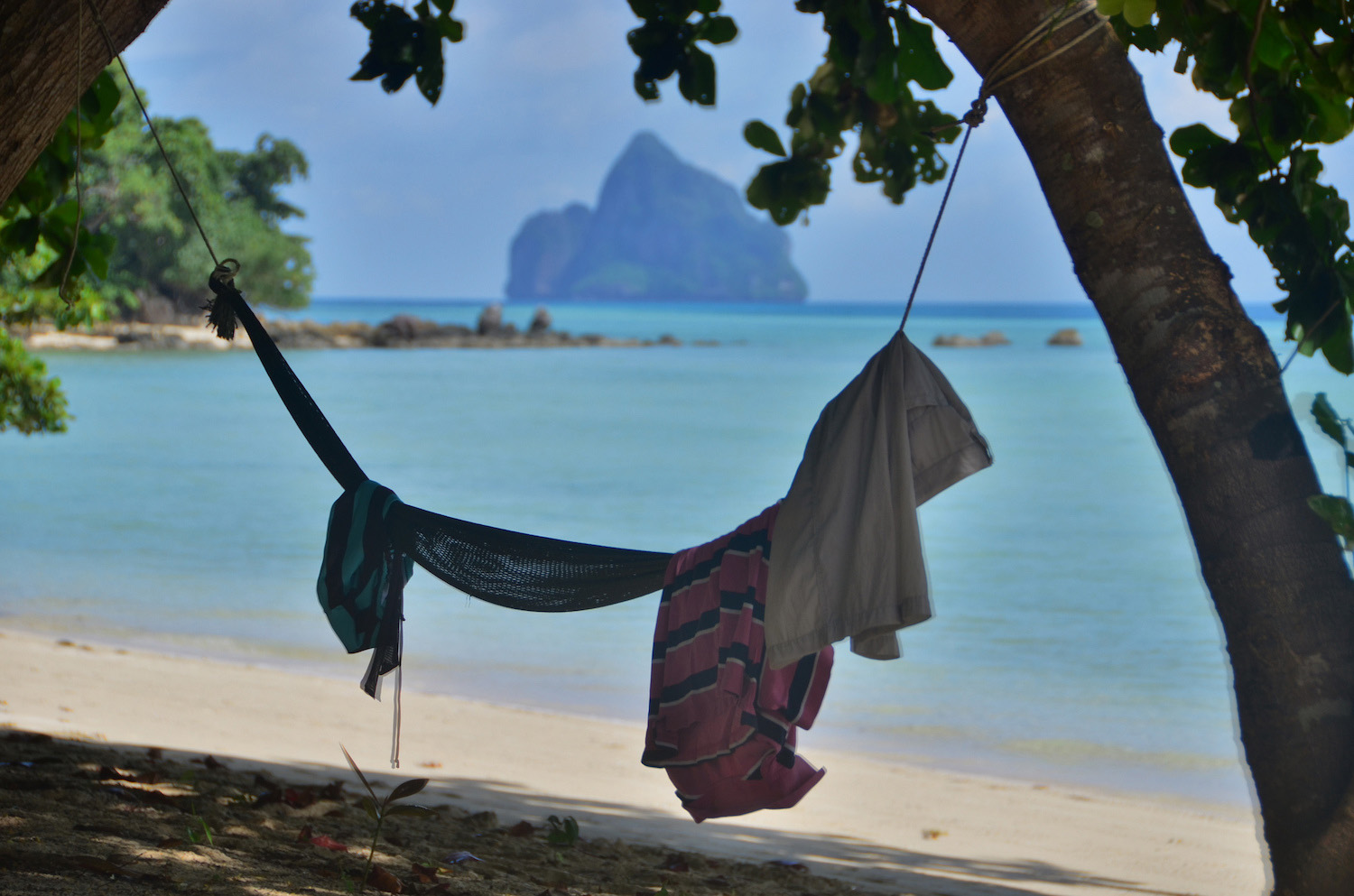 Phuket is a Bustling City
Of course, things to do in Phuket don't have to revolve around the beach at all. By day, Phuket Town is a spectacular display of history, from the heritage buildings of these Chinese whose ancestors make up much of the population here, to the wild parties and night markets for which Phuket has gained notoriety in the history book of today, i.e. the Internet.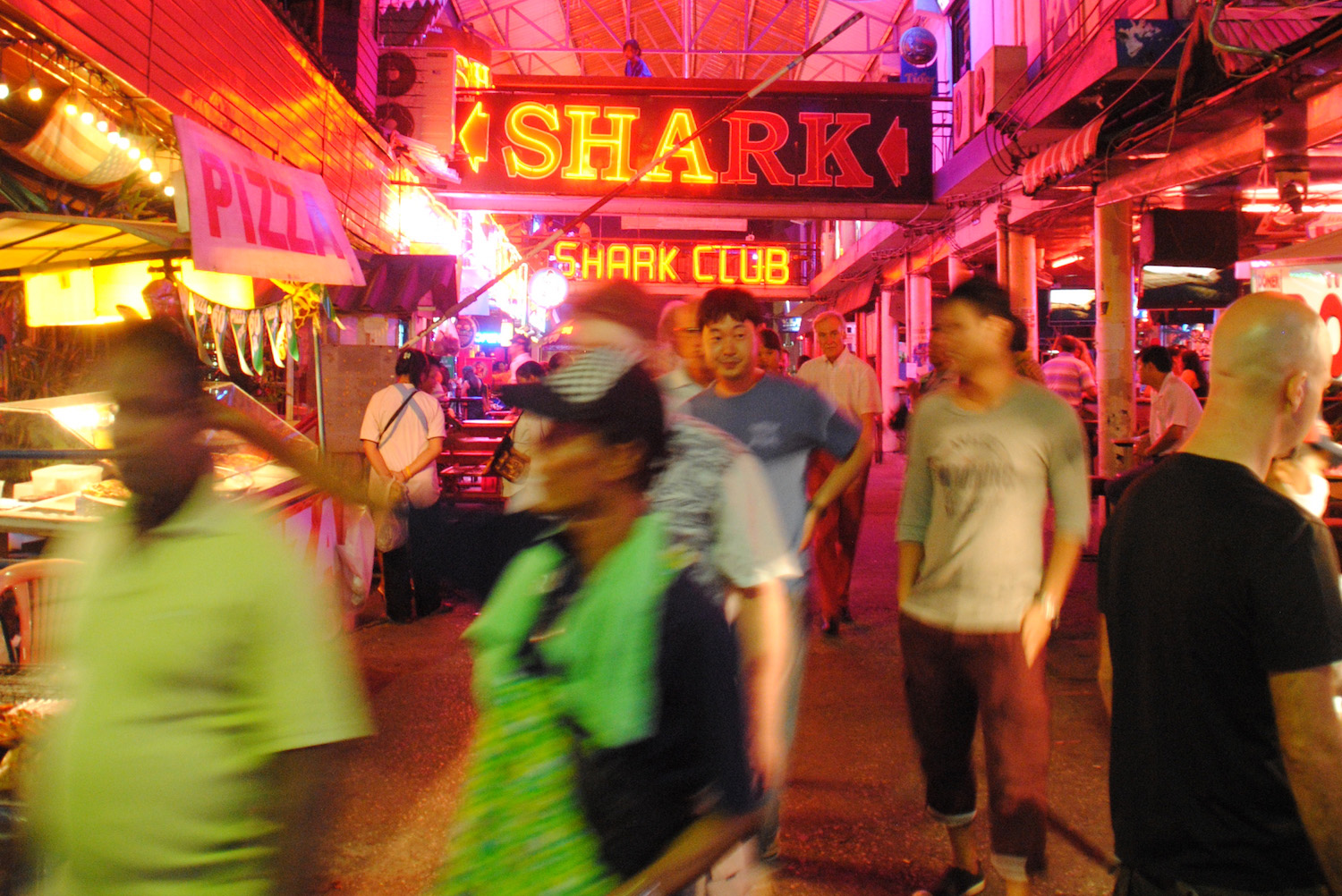 Phuket is Paradise for Business Travelers
When you think about hotels in Phuket, you imagine luxurious resorts on the beach, overwater bungalows and cute apartments with sweeping views of the sea. One thing you might not realize, however, is that doing business in Phuket is just as much a pleasure as traveling here for leisure. In addition to the fact that many of the top properties in Phuket offer world-class meeting and event space, the government of Thailand has designated Phuket as one of five MICE (meetings, incentive trip, convention and exhibition) cities in the Kingdom—traveling in Phuket can be serious business!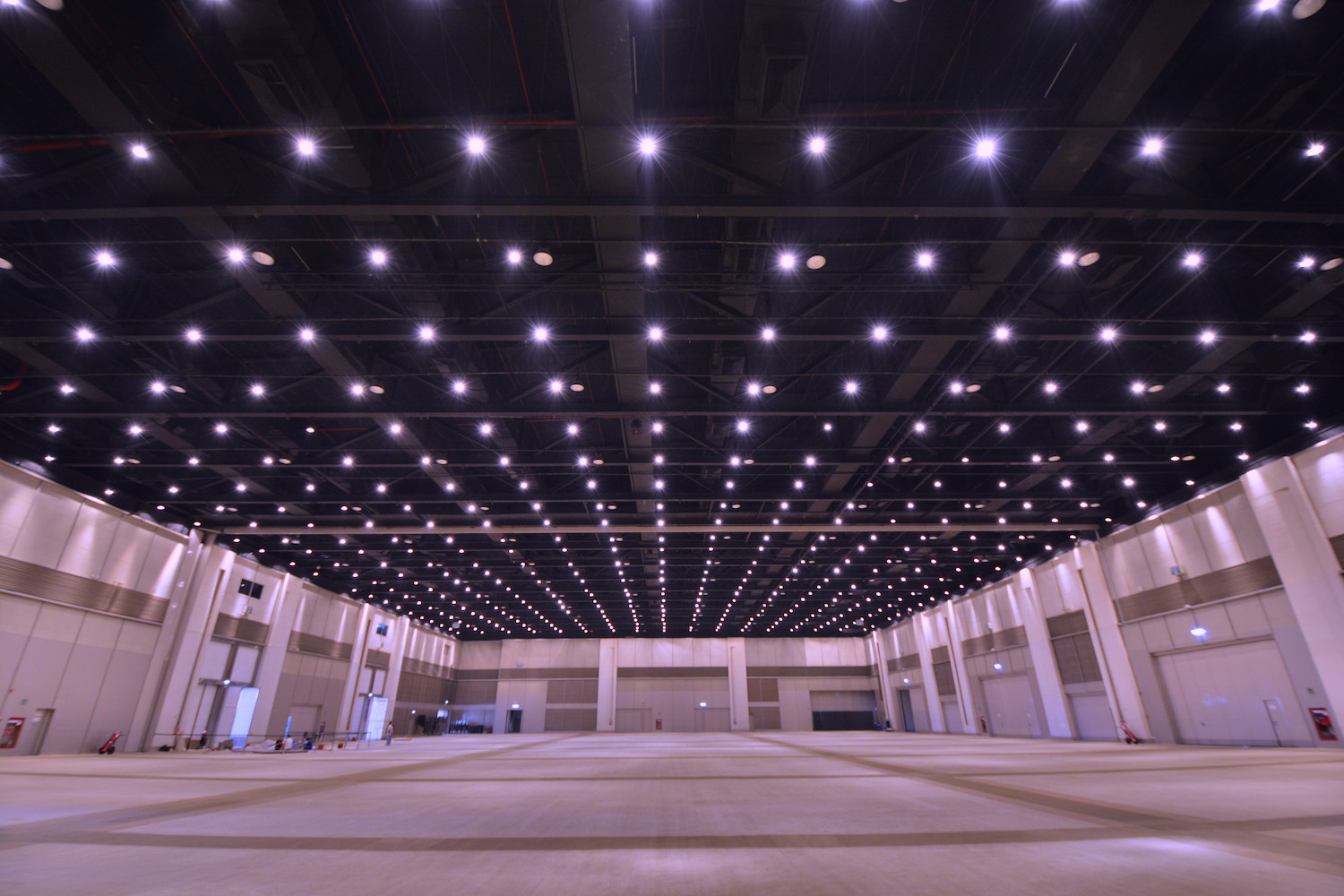 Phuket is Only the Beginning of Thailand
Although Phuket embodies much more than the beaches for which it's famous, even a completely exhaustive exploration of the island is only a small taste of all Thailand has to offer. Whether you crave the jungles of Chiang Mai, the temples of Bangkok or the strange landscapes and bizarre subcultures that dot the Land of Smiles, the biggest disservice you can do yourself is limiting yourself to one—or even a few—destinations. In fact, while two weeks in Thailand makes for an optimal introduction to the country, the fact is that you could spend two months or even two years here and still only scratch the surface. Whether you make Phuket your first destination, your last one or somewhere in-between, commit yourself to taking your time in Thailand and savoring every moment.
Share: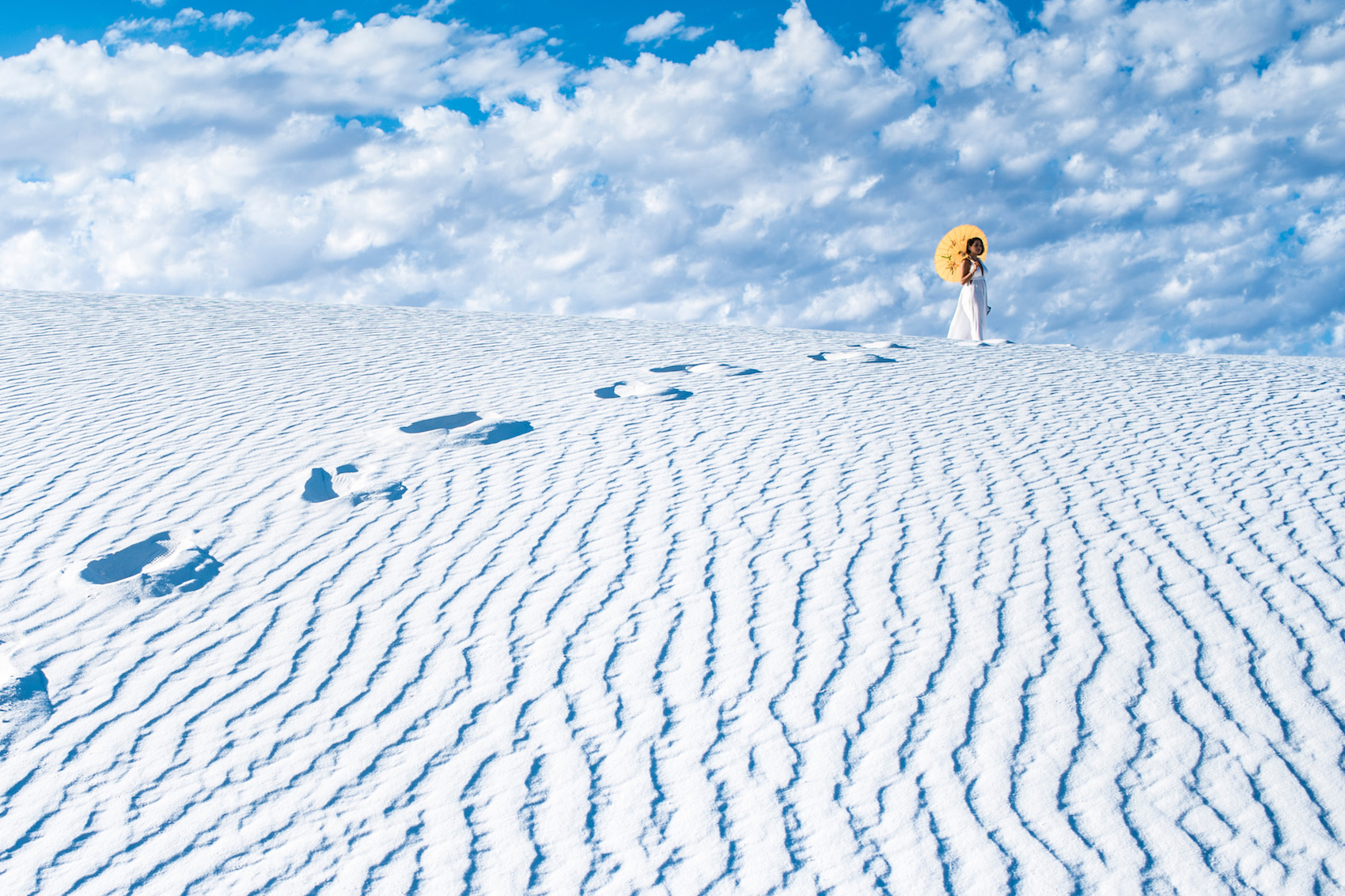 It was snowing the last time I drove through West Texas on I-10, which made me think I could avoid nostalgia this time—it's July now, after all. The bugs are so thick in the night air this time of year, though, and they look so much like melted snowflakes do when they smoosh on the windshield. This past Friday could've been the same Friday I headed out of town the January before last.
At least, if I hadn't woken up with him. We've been together all but a few of the past hundred or so mornings, but this one was different. I'll just set a timer for 20 minutes, I laughed and laid back down on his chest, only to find myself awakened in what seemed like the same instant my eyes closed.
Saturday morning was different, too. When I woke up, the three of us—Danilo, myself and our friend Dora; and her dog Frankenstein, who I guess makes four—had just crossed the New Mexico state line, a fact I knew in spite of having discarded my disposable contacts before nodding off just before El Paso: When you cross into New Mexico from Texas, the air suddenly smells like cow shit.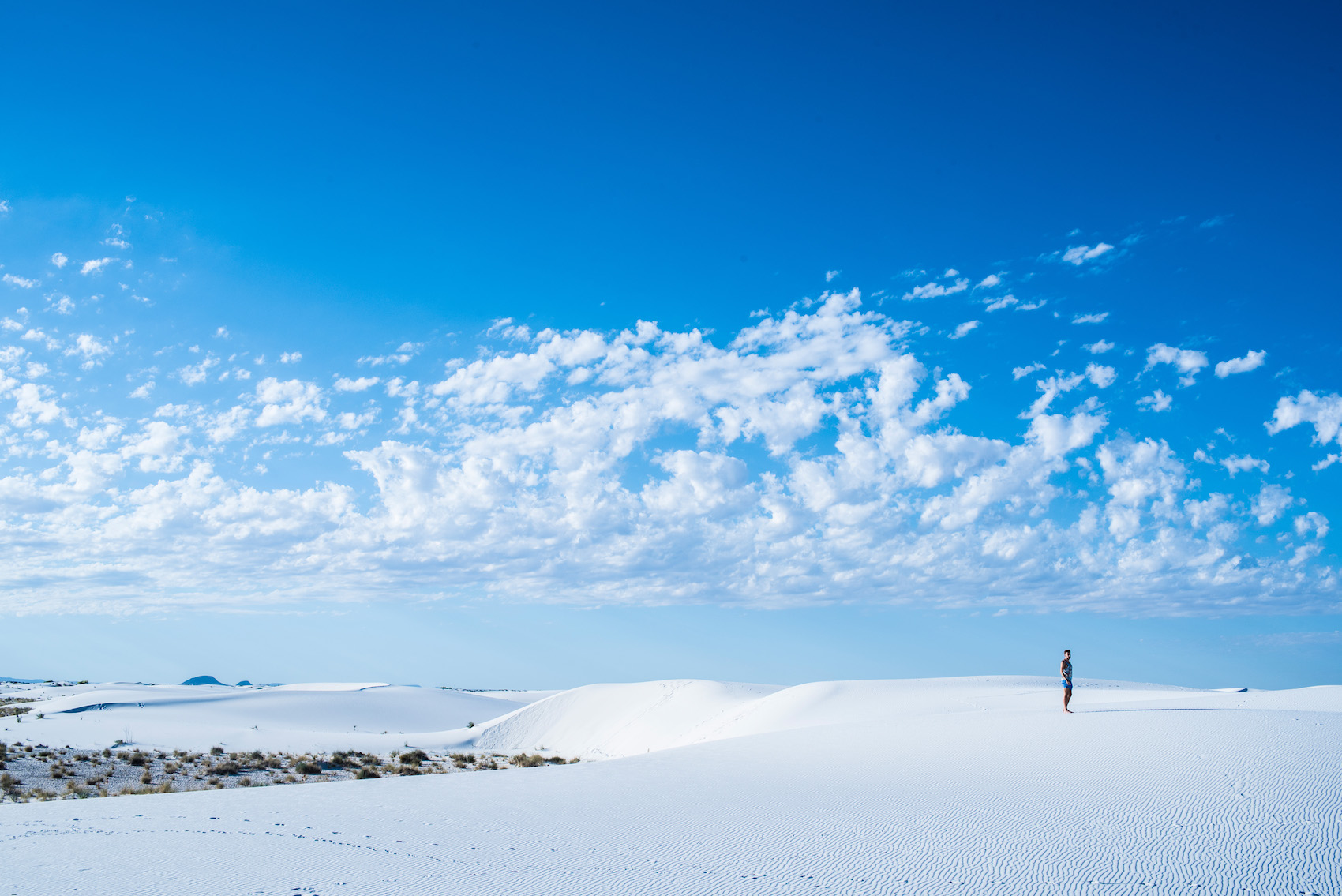 "About 20 minutes," Dora said, when I asked her how long I'd been asleep. But it felt like 20 eternities, I thought, and shuffled through my duffel bag to find my glasses. Or at least 20 months.
It had technically only been 18 months—exactly 18, to the day, since the last time I was on this road—but I was the only one counting.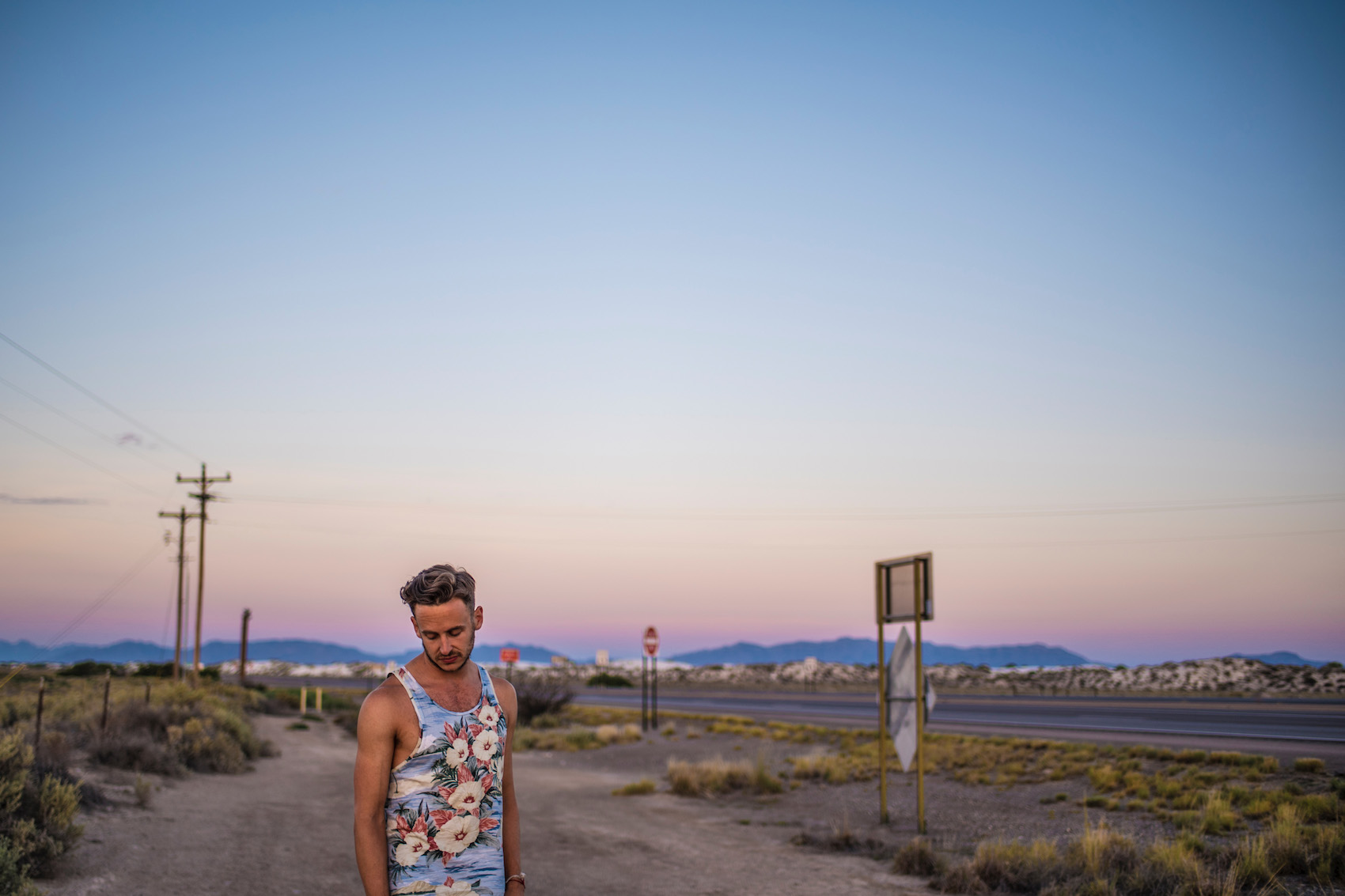 18 months ago, I'd been in a U-Haul (my friend Kim's, not mine) and continued west on I-10; this time, Dora's Mercedes headed north on I-25 and then east on New Mexico 70 toward Alamogordo. We arrived in the dead of night, on account of the fact that both of us have lead feet, so we parked across the highway from the barricaded entrance to White Sands National Monument to catch some extra z's before heading inside.
Or at least Dora and Danilo did—I was waiting for the sun.
Not wanting the Houston Rockets shirt I was wearing to be immortalized in photos, I brought my duffel with me and rummaged through it in search of something more suitable. I eventually settled on a tank top a hibiscus or two shy of Hawaiian, but kept my bag outside a few minutes longer and admired how scientifically I'd packed it.
I miss doing this, I remembered thinking as I rolled my clothes the previous morning. I miss going far away.
Nothing takes very long in the desert, neither truth, nor death, nor sunrises, and so before I knew it the three of us (four if you count Frankenstein—we really should) were promenading through the snowy-looking dunes I'd first decided I wanted to visit upon seeing the music video for a mid-90s song about a relationship on the verge of ending.
Actually, Dora is the only one who deserves to use that verb, promenade. Her parasol seemed more befitting of Hanoi or Phnom Penh than Paris, this was true, but she could just as easily have been on La Grande Jatte in the Impressionist period as in a gypsum desert a stone's throw from a missile testing site in the epilogue of the Atomic Era. Such grace!
We only spent an hour or so in the sands—any longer and we'd've ended up as fried as the poor souls the nukes tested here end up getting dropped on. Then, it was my turn to get behind the wheel, and I drove us up into the Sacramento Mountains, where a New Mexico-native acquaintance of mine told me we could get a bird's eye view of the desert.
My photos suggest this was true and I'll have to take them for their thousands of words. Aside from kissing Danilo, watching a couple of yellow swallowtails dance and dine in a grove of milk thistle, waiting 30 minutes at the Walgreens in Ruidoso (I had to prove I wasn't going to make meth out of the Sudafed I purchased) and a raucous "Bohemian Rhapsody" karaoke session somewhere near the junction of highways 54 and 285, I've forgotten everything about the drive to Santa Fe.
(Ascending a few thousand feet in a few minutes is never a good idea, but especially not when your sinus cavity is infected and you don't know it yet.)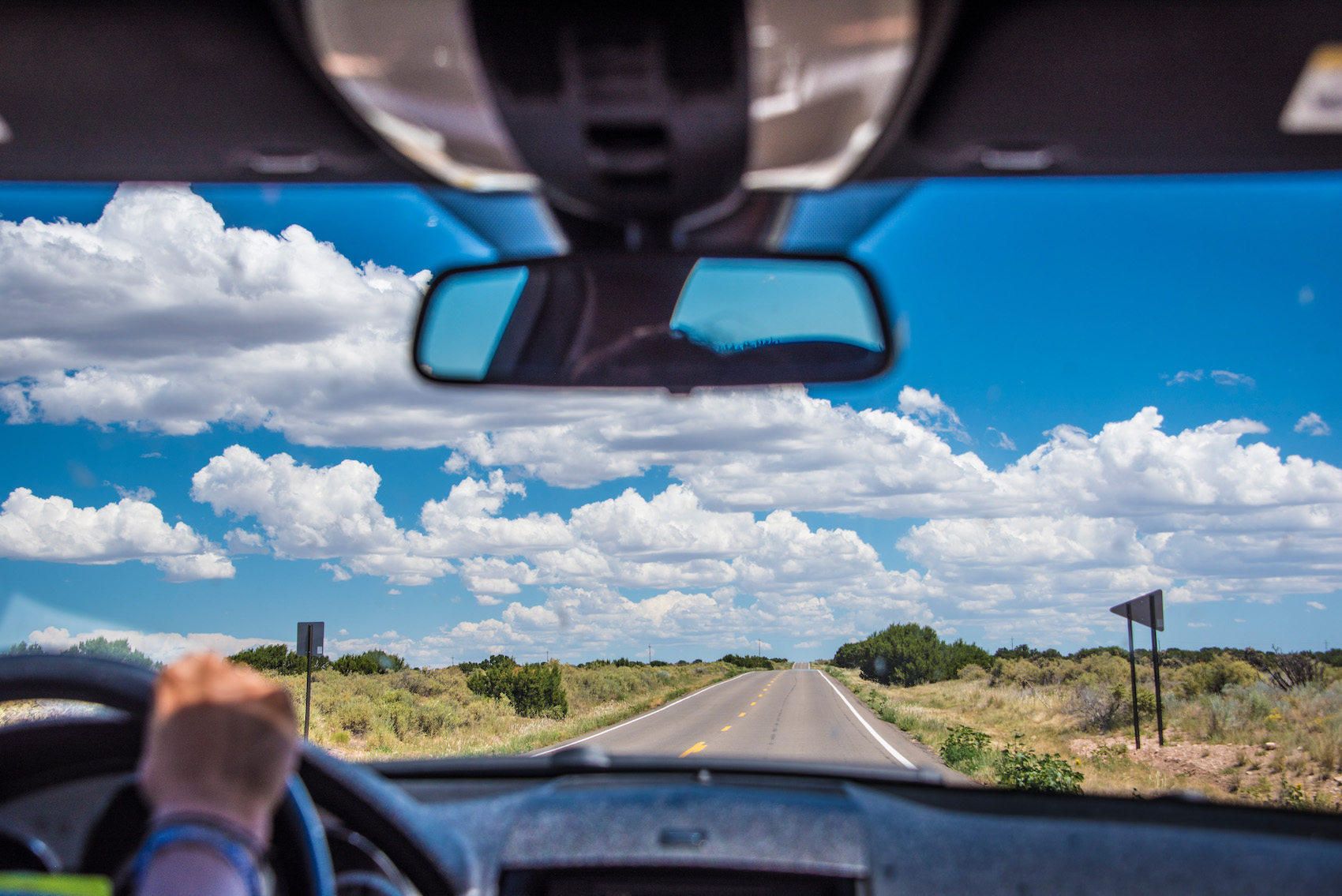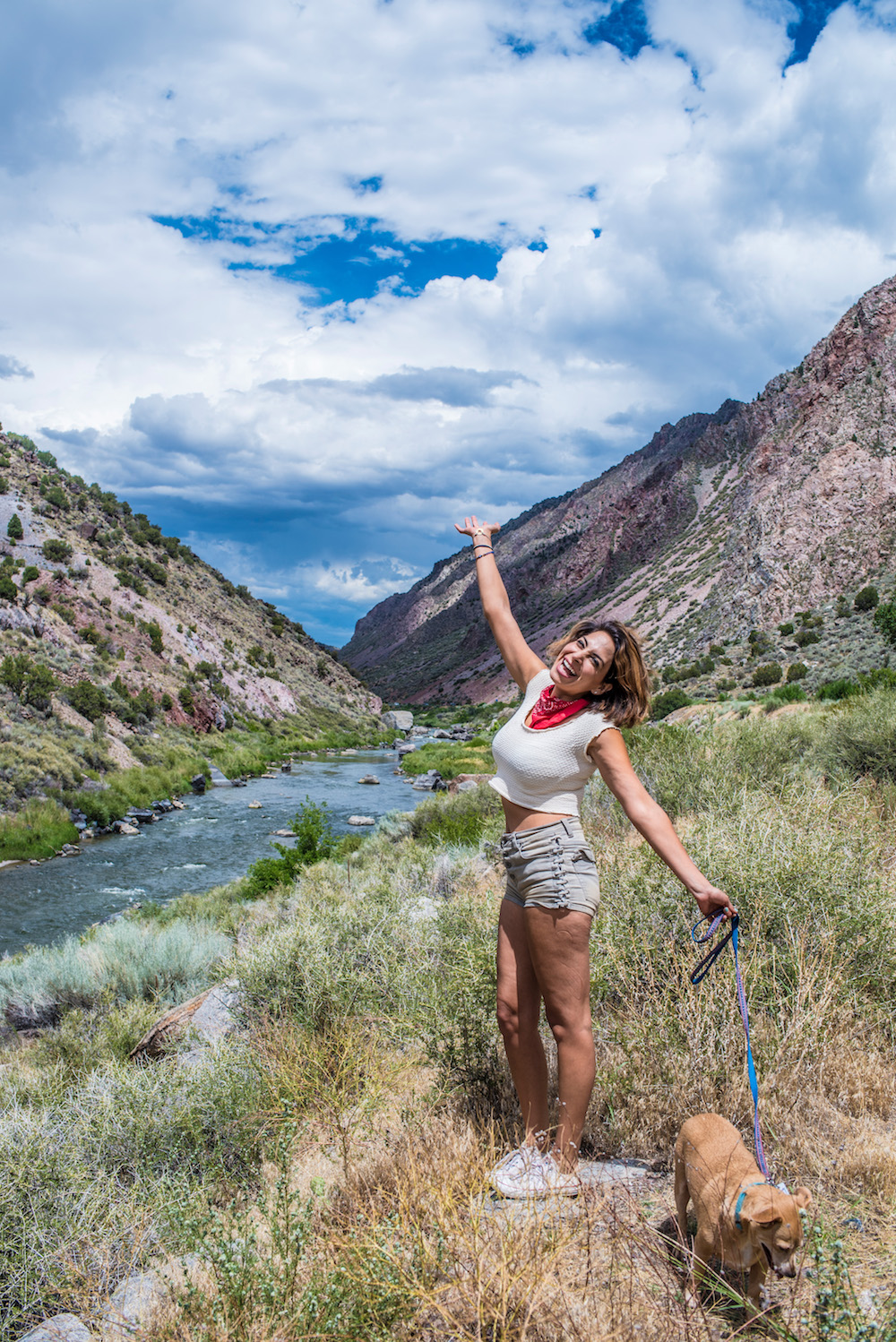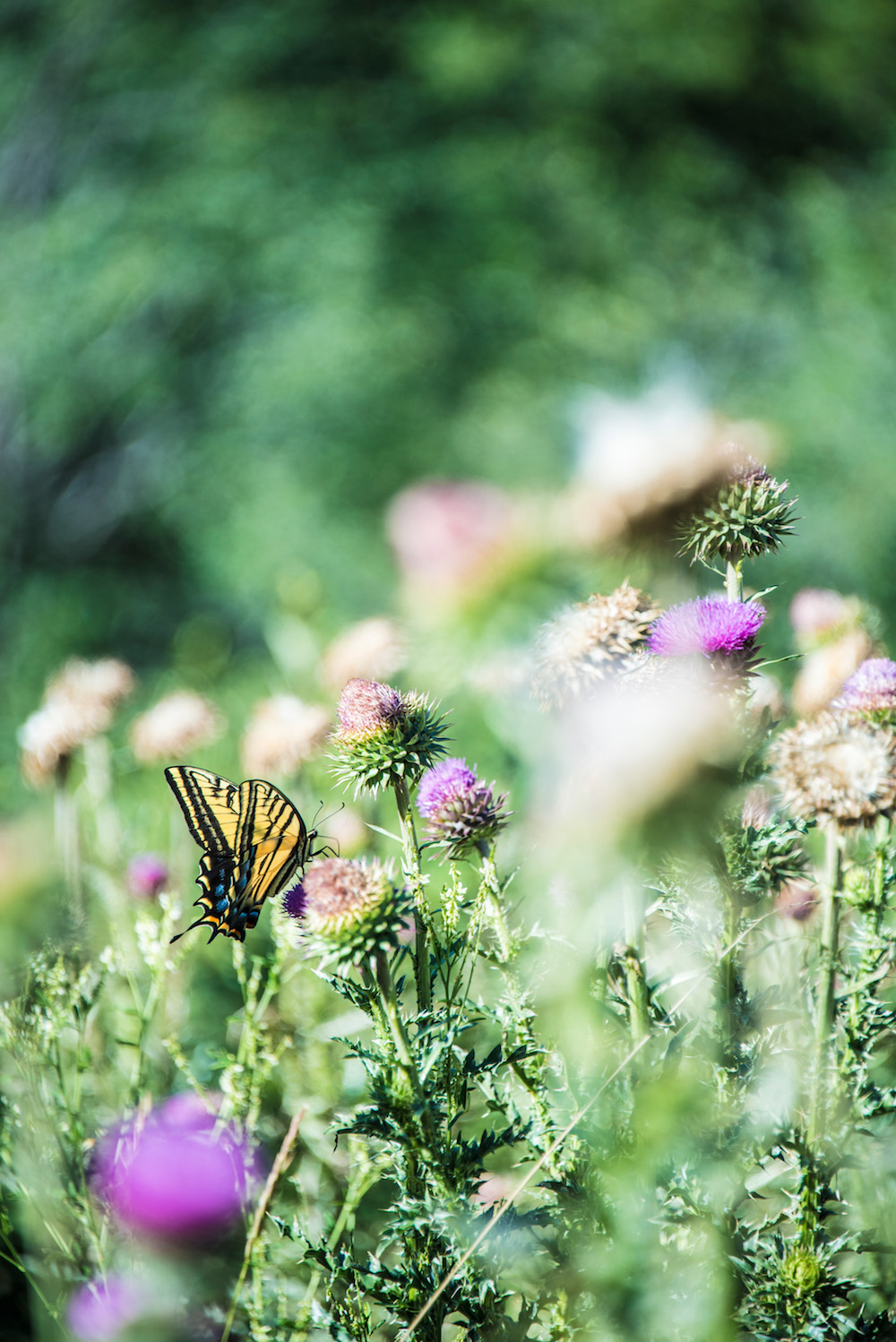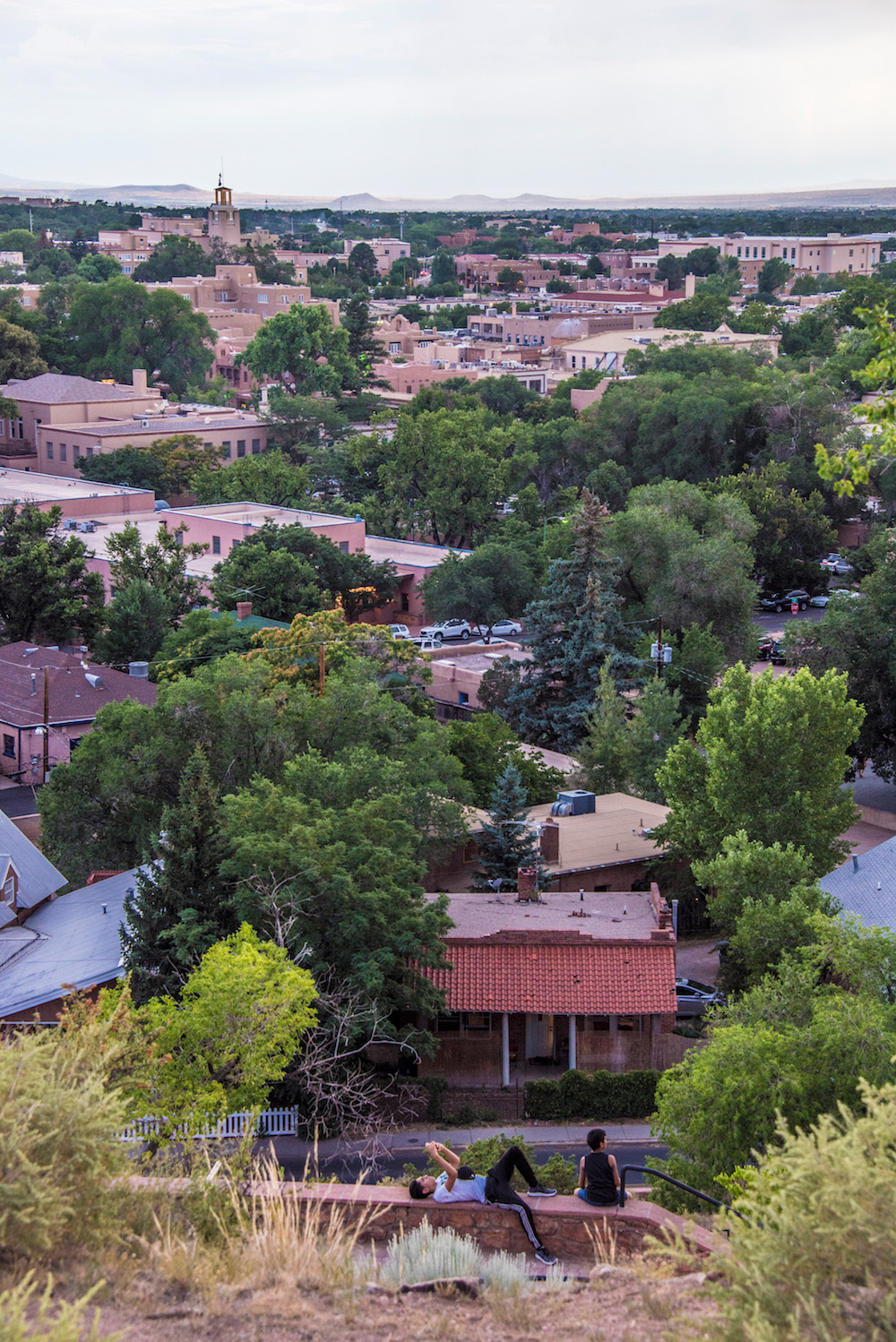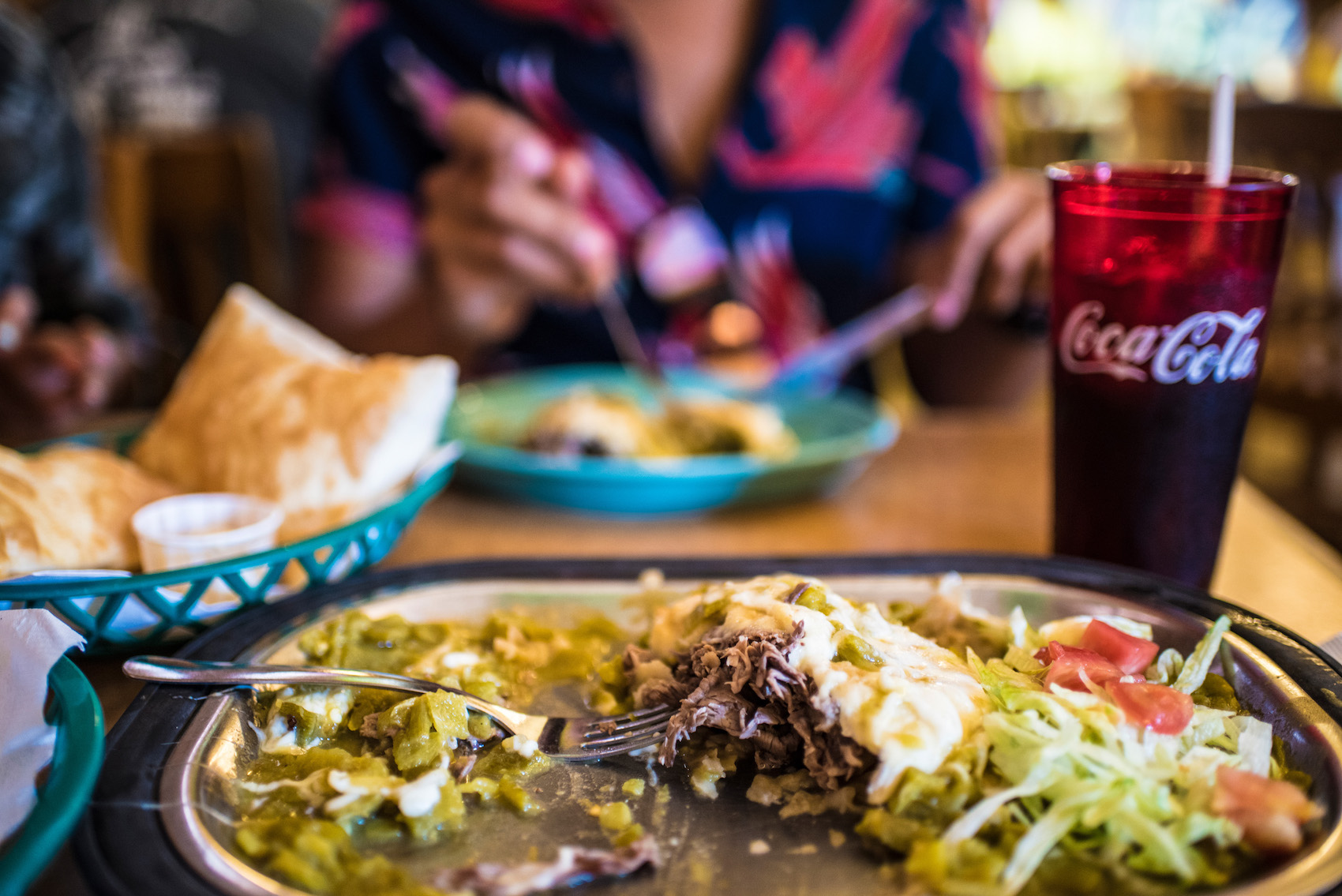 Santa Fe was miserable, if I'm honest, with only two exceptions (three actually, but I'll get to the third in a minute): My first and second real sopapillas and my first legitimately impressive sunset of 2016.
"It's because of the altitude," Dora, who spent part of her childhood in New Mexico, said as we walked north on Guadalupe Street into downtown—and not to explain my continued respiratory misery. "Sopapillas are only sopapillas in New Mexico—they just don't cook the right way near sea level."
Santa Fe was miserable, in a way I found strangely similar to only one other city I've visited, a city clear on the other side of the planet: Yerevan, Armenia.
Both are among the oldest continuously inhabited cities in their catchment areas and both have been home to people who bear the scars of genocide, two facts that should, on their own, make them interesting in ways that nullify the misery sown into their streets.
But in fact, these cities are just miserably boring: Yerevan because nearly all of interesting architecture that must've once existed there was replaced by Soviet shit; Santa Fe because tacky reproductions of the building style that draws so many people here overshadow the few original structures that still stand. I guess that's the same reason.
(Yes, I know I'm being superficial in the shadow of mass murder, but I'm sick enough at this point that death is preferable or at least comparable to being here.)
The saving grace of our late-day stroll was that eagle-eyed Danilo spotted a cross perched above the city. Although the climb up to it nearly killed the two of us (he was ill, too), the view it gave of the thunderstorm rolling in would've redeemed Santa Fe, had we not descended back down into its mediocrity before the setting sun painted its dark skies fuchsia at the very last minute.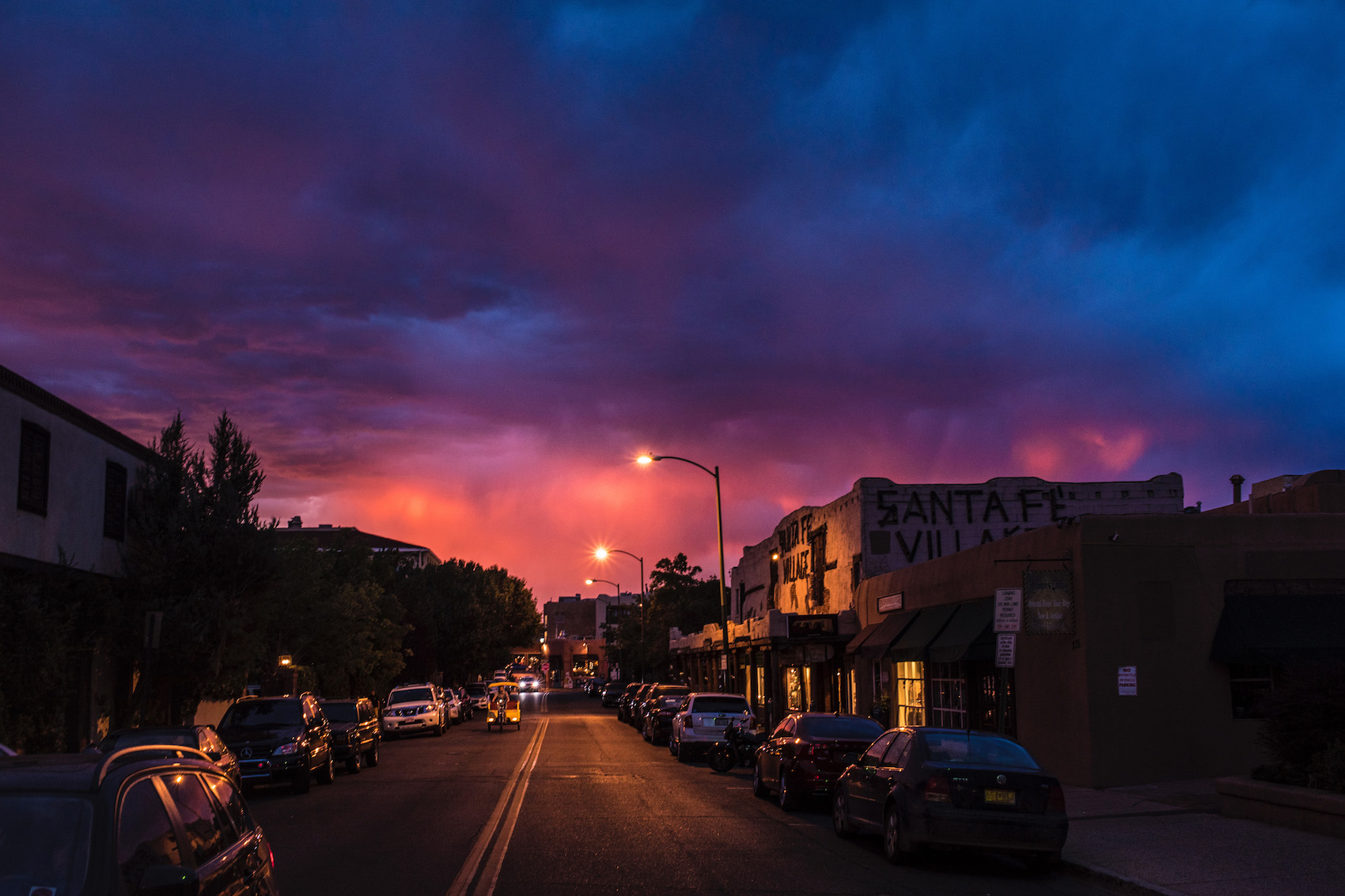 I can't believe this almost didn't happen, I thought as I laid with Danilo late that night, my hair greasy from the Vick's Vapor Rub on his chest, the dream I was dreaming before getting up for the dozenth time to blow my nose trippy from the likely toxic combination of pharmaceuticals pumping through my system.
We'd almost broken up the previous Tuesday, and about a dozen times prior to that for dozens of different reasons, the most notable a subconscious (and inaccurate) resentment I harbored toward him: Our relationship was keeping me away from the more exciting reaches of the world. But something (and, agnostic as I am, I have to believe it was something bigger than us) kept us together, that time and all the others.
Just then, he woke up, almost as if he could hear my thoughts.
"Is everything OK?"
"It's better than OK," I said at full volume, which came out as a whisper due to my congestion. "The best, actually."
He kissed my forehead and pressed me harder into him. His lack of verbal response was likely due more to the pain speaking would've caused him than anything else, but I like to think he knew that our sick slumber had made me happier than most of the trips I'd taken, excitingness notwithstanding.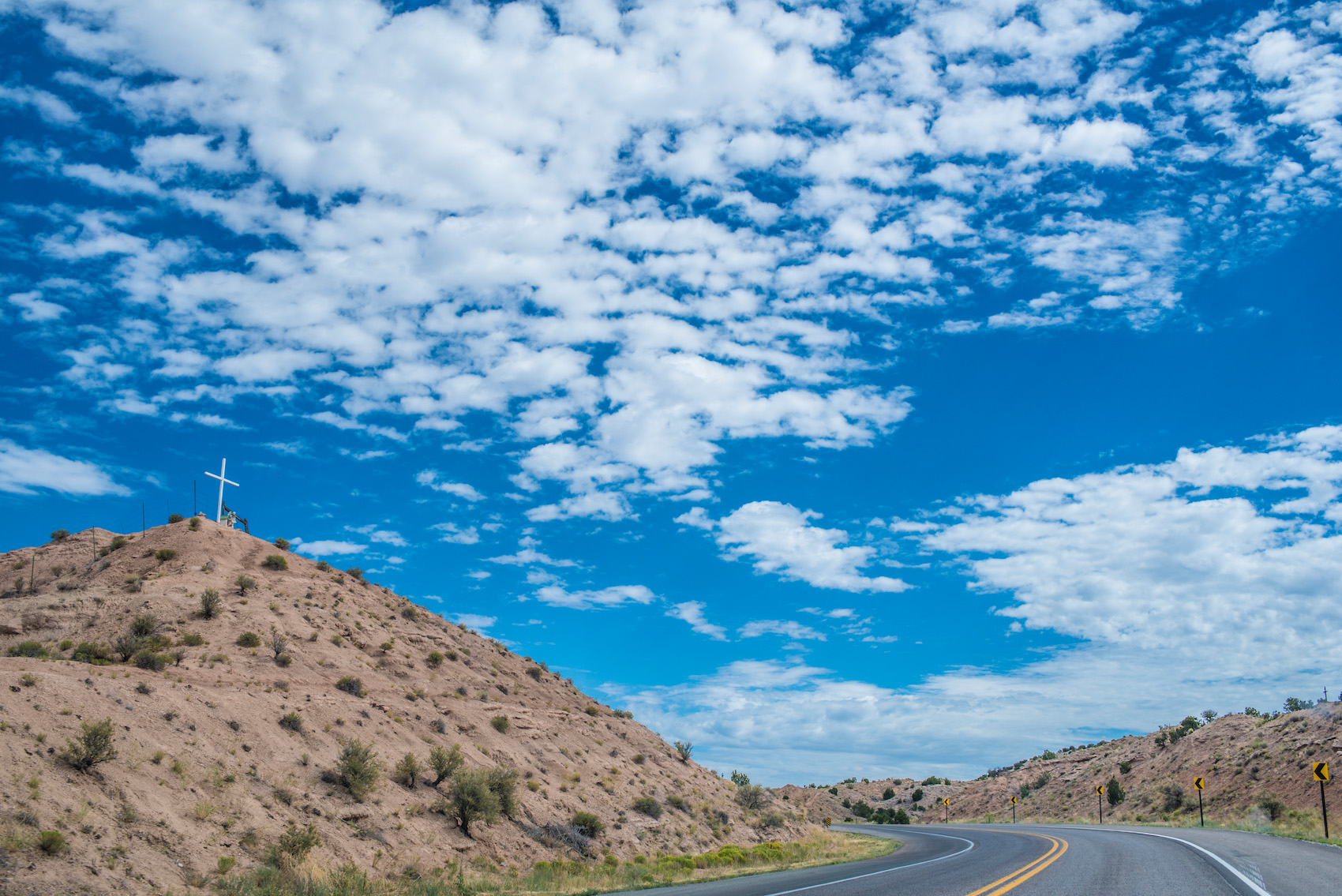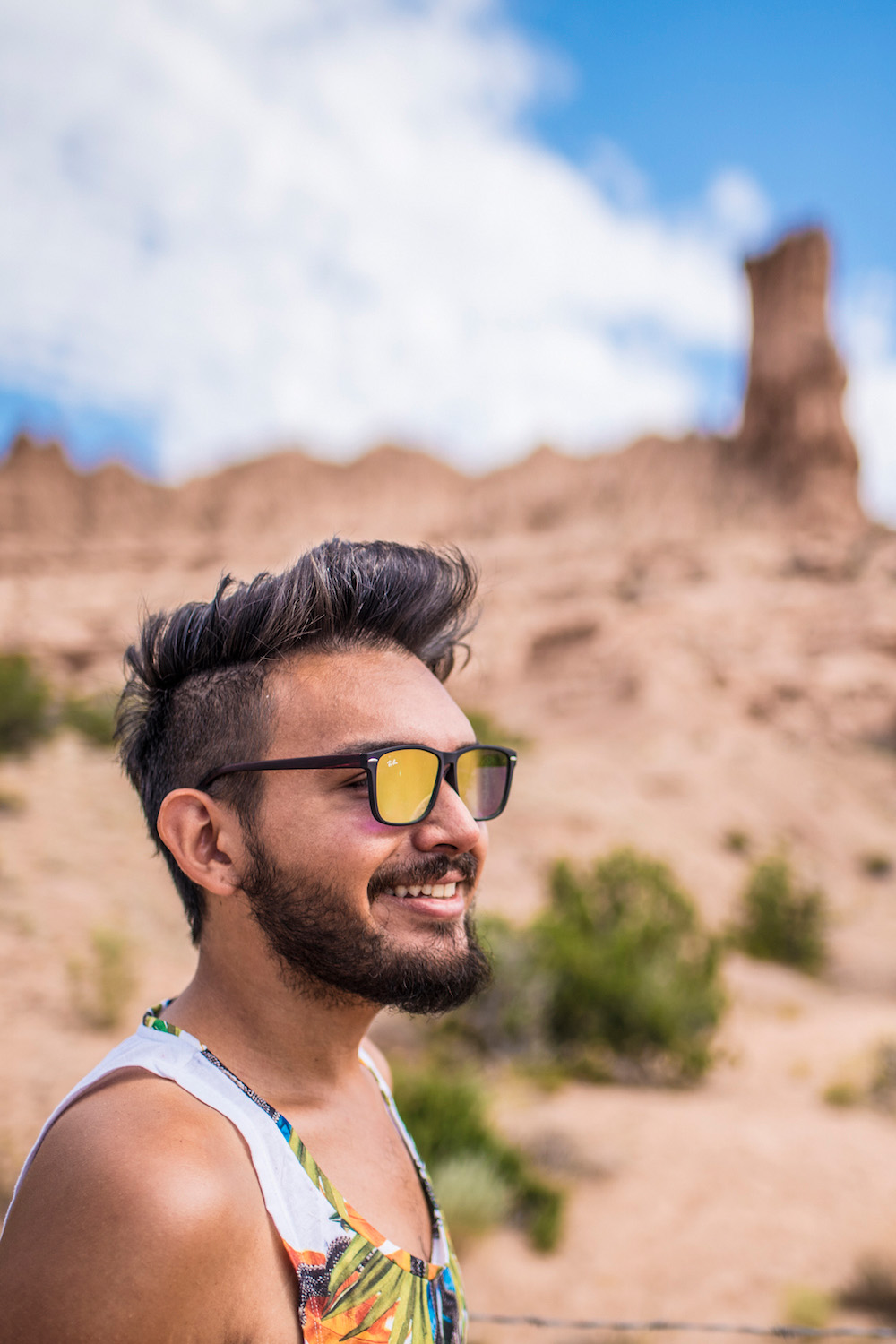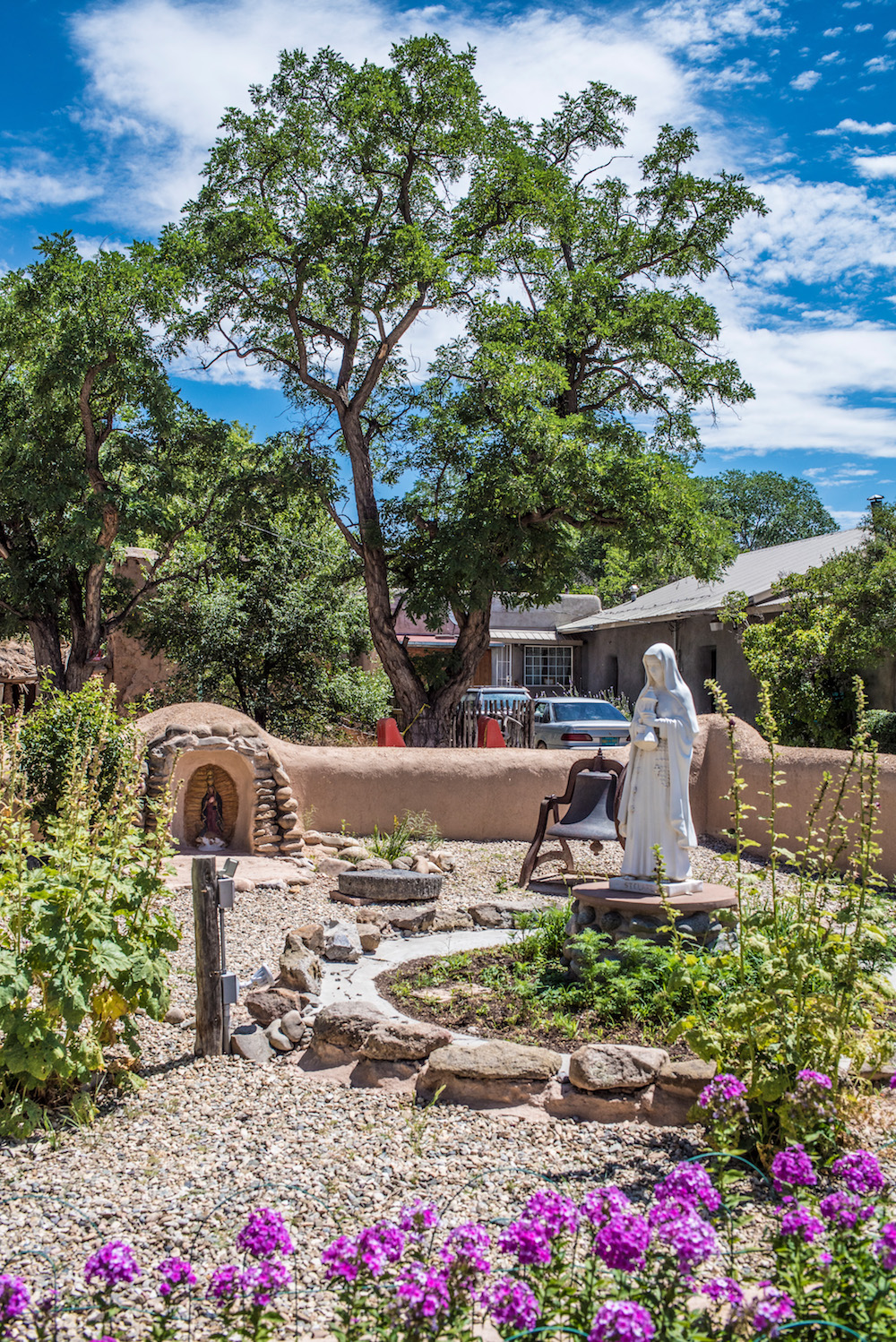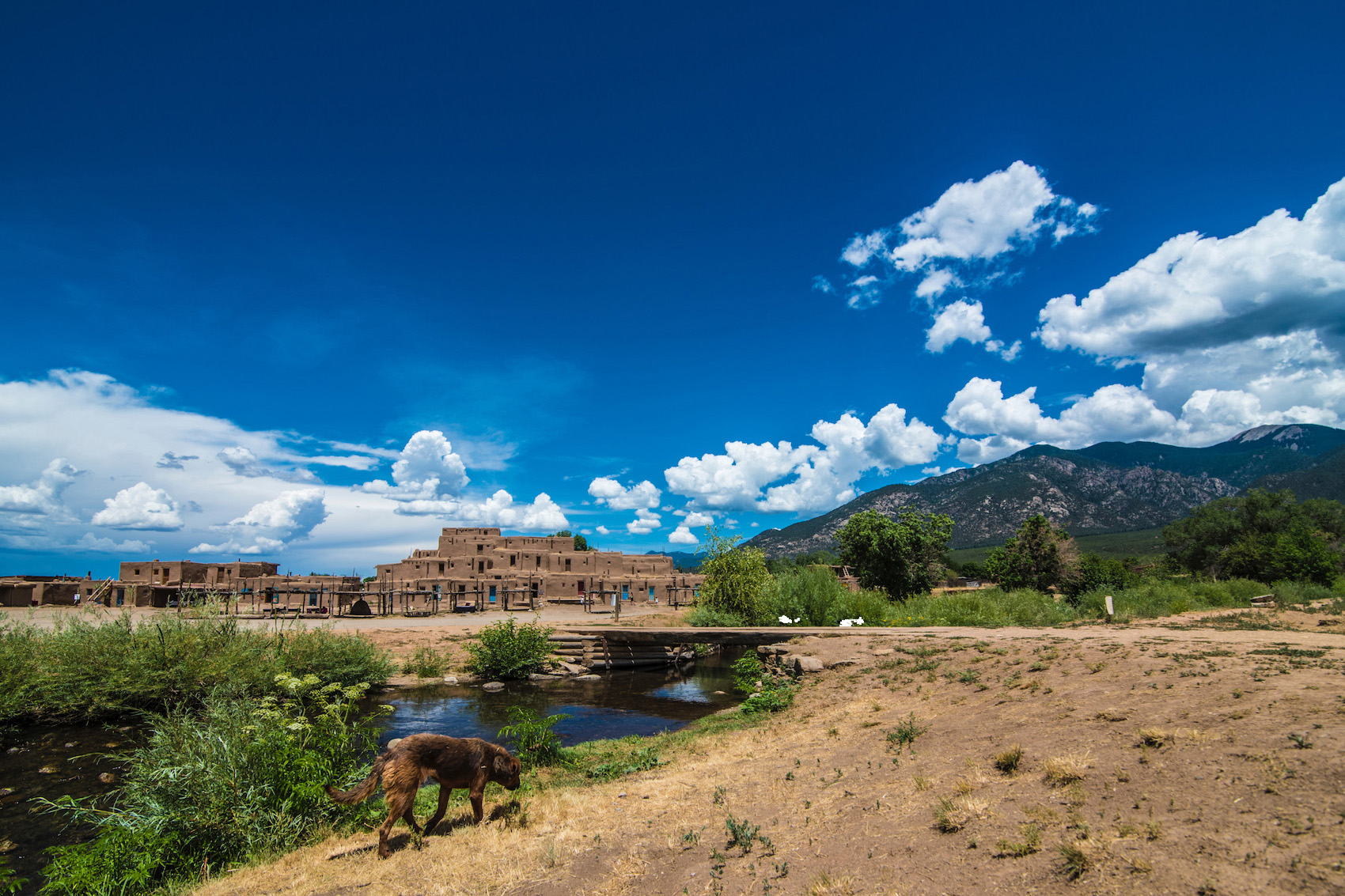 Four words pop into my head every time I think of the desert: "Aujourd'hui, maman est morte." I realize today, of course, that much of the Algeria where Camus set L'Etranger was greener than New Mexico, but reading that book makes me feel like I have sand flowing through my veins.
(Location-wise, of course, Georgia O'Keefe would've been the appropriate art reference, but after having spent time in Santa Fe, I understand why she mostly painted vaginas.)
Had it just been me and Danilo in the car, I would've been blasting Tori Amos' seminal 1994 album Under the Pink as we drove the aptly-named High Road to Taos, where that record was written and put to tape. Dora hates Tori's music, however, so I sang silently as we passed the missions that lined the highway hillsides.
Taos itself was beautiful, if unremarkable, aside from the shouting match I got into with the "native" man (Danilo swears he was just Mexican) who exploded at me for supposedly taking a picture inside his shitty mud hut. As we headed south and into another sleepless night of driving through West Texas, the scenery contrasted dramatically with the experience I'd had in the inhabited portions of the so-called Land of Enchantment, which had mostly been soul-depleting.
This is the perfect occasion for quoting Camus, of course, who has a way of conflating soul depletion and self-actualization. "There is no love of life," he once wrote in an essay arguing the necessity of travel in one's pursuit of happiness, "without despair of life."
I arrived home to Austin feeling physically healthy, but as emotionally neutral about my trip as the color of the sky, a blinding white almost as bleached as the dunes of White Sands. The bleakness permeated the entire air, land and waterfront my apartment sits along, which is why I imagine the purple blossom emerging from our previously barren garden stood out so starkly.
Danilo and I had killed most of what was in it—deliberately—when we weeded it upon my return from my ill-fated Malaysia trip, discarding everything apart from three massive succulents and a large ruellia we split into five smaller ones, whose roots had grown long enough to transplant just before we set off to New Mexico, after our most recent of many near break-ups.
We considered explaining to Dora why such a seemingly quotidian sight (these plants are literally everywhere around these parts) brought both of us so close to tears, but only the way Danilo squeezed my hand in his could tell the story the right way.
Instead, I simply asked for her help. "Please don't let Frankenstein piss on that flower!"
Share: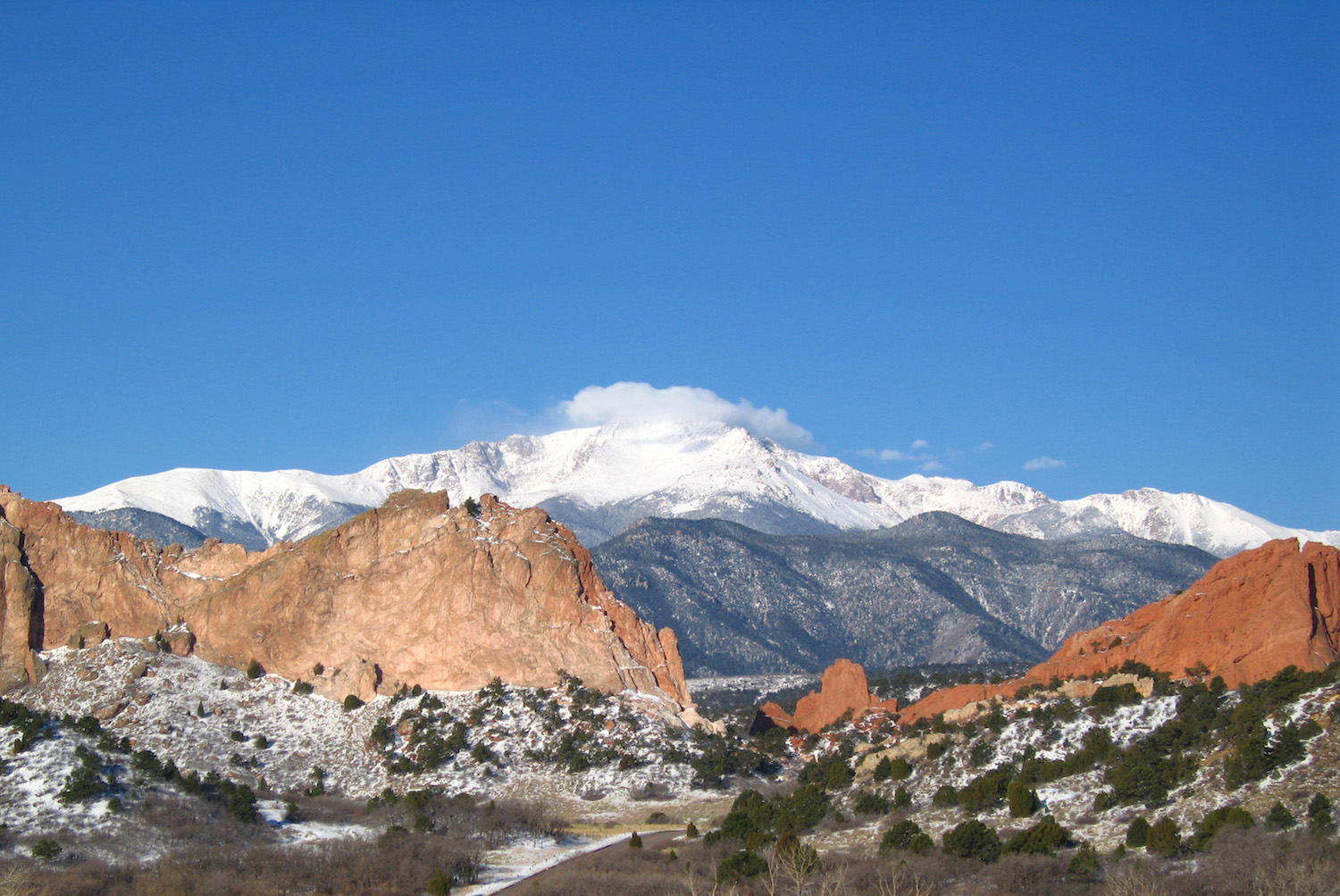 Photo credit https://commons.wikimedia.org/wiki/File%3APikes_Peak_from_the_Garden_of_the_Gods.jpg
Colorado is a square — or a rectangle, more accurately — which can lead some people to believe that what exists within its four well-defined borders is boring. Of course, the Rocky Mountain state is anything but, due only in part to the towering peaks of the Continental Divide. Whether you rough it in nature or live the posh life in one of Colorado's sophisticated cities, its hotel selection is as well-rounded as the things to do and see here.
Colorado Springs
If you're like most travelers, you come to Colorado Springs for the world-class skiing, which promises breathtaking views of Pikes Peak as you careen down the mountainside. Of course, summer is just as wonderful in the Colorado Springs region, whether you hike through the Garden of the Gods or cool off at Seven Falls.
Keystone
Like Colorado Springs, Keystone is a skiing hot-spot — not surprising in a state dominated by mountain peaks. But Keystone differentiates itself as a sportsman's paradise, offering fishing all year, thanks to its wide array of clean, clear lakes and reservoirs. Keystone is also a decidedly upmarket destination, which means that you're going to find a luxurious place to rest your head, whether you sleep at Pines Condominiums or River Run.
Lakewood
Located just southwest of downtown Denver, the suburb of Lakewood combines the convenience of a major American city with such proximity to nature that you'll feel like you're living in it. Imagine eating breakfast at your favorite chain restaurant, taking in a matinée showing of a blockbuster movie, then having a late afternoon picnic in the mountains. A couple of options include Lakewood hotels like Hyatt House Denver or Best Western Denver Southwest.
Grand Junction
Its name and the history behind it notwithstanding, Grand Junction is most famous these days for being close to the Colorado National Monument. Beyond that, this small city in Colorado's far west has a laid-back vibe coupled with a sort of Western-front hipness you can only find here. Grand Junction hotels won't set you back a lot compared to the rest of Colorado,but there is also the boutique Bookcliffs Bed & Breakfast.
Steamboat Springs
Steamboat Springs offers two main ski areas — the Steamboat Ski Resort and Howelsen Ski Area — as well as a wide variety of summer activities, such as Yampa River Botanical Gardens and Fish Creek Falls. No matter which time of year you visit this small settlement of just 12,000 permanent residents, peace and quiet are never far away. This is especially the case if you stay somewhere fancy, such as Saddle Creek Townhomes or Trails at Storm Meadows.
The best news? These five Colorado cities are just the beginning of the amazing destinations on offer here. Have you visited anywhere else in Colorado and, if so, where did you stay and what did you do, besides ski that is?
Share:

Let's face it: gallivanting around Madrid or conducting business in San Francisco, you'll need to be a smart packer if you want your trip to go well. Even though packing is universal to travelers, packing well isn't necessarily a skill that we all share. That's where these packing hacks come in. Each of these smart tips comes recommended by master travelers and promises you an easier trip from start to finish.
Bubble Wrap 
It might seem counter-intuitive to fill up space in your suitcase with something you don't actually need, but hear us out: Packing a few sheets of bubble wrap on the way to your destination means you can remove it and have extra space for carrying souvenirs on the way home. And if those souvenirs are breakable, then even better: Simply keep the bubble wrap and use it as protection.
Hide Valuables in Toiletry Bottles 
What respectable thief would ever reach for an old tube of Chapstick or a bottle of sunscreen? Before leaving for a trip, empty out a few old toiletry bottles and use them as storage containers for valuables such as keys, cash, and credit cards.
Prevent Liquid Spills 
Fly often enough, and eventually you'll experience the misery that is a burst shampoo bottle in a suitcase full of clothes. Avoid the suffering by cutting out a square of plastic wrap and placing it underneath the lid on your liquid toiletry bottles. (Just screw the lids back on on top of the plastic wrap.) That way, even if the lid comes open, liquids won't seep out. It's also a good idea to further secure toiletries in a plastic bag.
Ahhh Yes, Shoes 
Shoes can be one of the most cumbersome items to pack, but a few hacks can make a big difference. Start by packing small items (think socks, underwear, bracelets, watches, etc.) into the shoes themselves in order to save valuable space and prevent these items from sliding around inside the suitcase. Then stick the soles into a shower cap so they don't soil any of your clothes. Finally, be sure to pack shoes foot-to-toe at the bottom of your bag in order to save additional space and keep the suitcase balanced.
Bring Smaller Bags 
Packing light is a valuable goal, but sometimes bringing along a few extra items is worth it for the convenience they'll offer during your trip. Case in point: If you envision needing to carry around any large-ish items (e.g. a laptop) while you're away, then remember to bring along a bag in which to carry them. That way you won't be stuck lugging your suitcase around a foreign city when all you really need is a messenger bag.
Avoid Tangled jewelry 
Save yourself a massive headache upon arriving at the hotel by packing jewelry so it doesn't get tangled en route. Lay flat a piece of plastic cling wrap, carefully arrange your necklace(s) or earrings on top, and then cover it all up with another layer of cling wrap. Then slide the whole shebang in between clothes for extra protection.
Wrangle Ear Buds & Power Cords 
Anyone with a smartphone or an MP3 player knows what a hassle it can be to manage all the cords that keep our devices humming. Even more frustrating is having to tear through a bag searching for said cords (which inevitably seem to make their way to the bottom). Keep everything in one place—and tangle-free—by stashing small cords in a sunglass case. Wrap them up neatly, tuck them in the case, and assign the case to a spot near the top of your bag for maximum ease of use.
Take Photos 
Once you've packed everything into your suitcase, take a picture of both the inside and the outside of your bag. If (heaven forbid) your bag gets lost or stolen, this way you'll be able to easily describe it to the appropriate authorities.
Whether you're still finding your packing stride or you travel often enough that you could pack a carry-on in your sleep, these tips will help you maximize space and eliminate stress wherever you find yourself traveling next.
Share: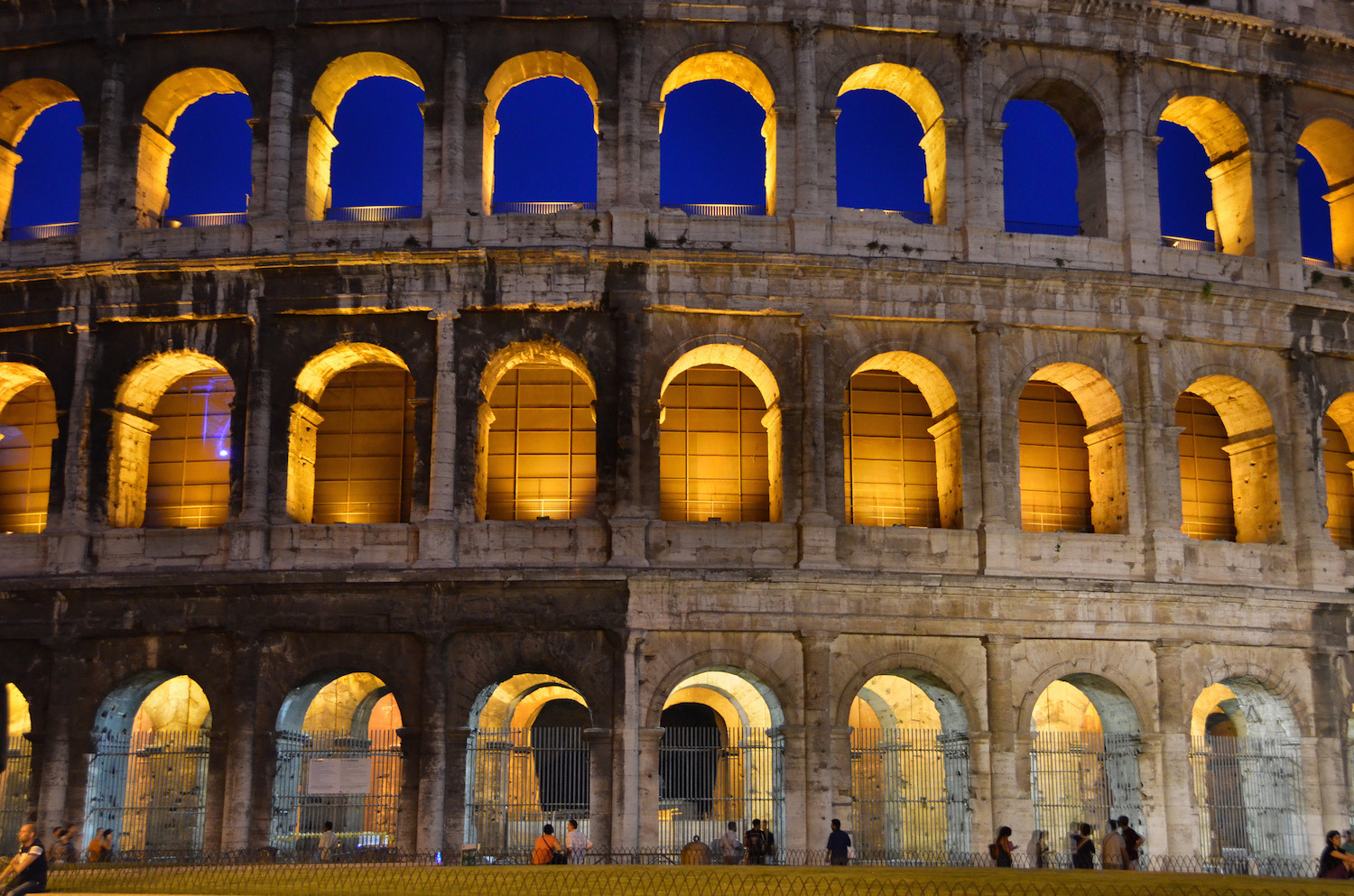 Ah, Rome. Known as the Eternal City, it's a city of infinite possibilities for travelers. While you could happily spend eternity within the city's imperfectly demarcated borders, the Italian capital also sits in close proximity to a number of day trip destinations. An exciting excursion is never more than a train trip away from Rome, whether you seek history, relaxation, or even a sparkling beach.
Tivoli
Image via Flickr by dalbera
Want to feel what it was like to be an aristocrat during the Renaissance? A day trip to the exquisite Villa d'Este, located in the city of Tivoli, gives you a delectable glimpse. Here, you can also see Villa Adriana, a UNESCO World Heritage Site and pet project of Roman emperor Hadrian, which is about 1,400 years older than Villa d'Este. Tivoli sits just to the east of Rome, with a one-way train journey from Tiburtina station taking about 45 minutes.
Sabina Hills
Although the Sabina Hills sit just over an hour from the center of Rome, this area feels like a different world entirely. The fortress-topped hills of this region will have you feeling like you've gone back to medieval times, which is especially true due to the lack of fellow tourists. There won't be any selfie sticks or smartphones to bring you back to the present day. To reach the Sabina Hills, take a train from Rome's Tiburtina station to Passo Corese, then catch one of the many daily buses onward to Fara in Sabina.
Ostia Lido
The beach is probably the last thing you think of when you imagine the crowded, hot streets of Rome, but many are surprisingly close to the city. Ostia Lido offers crystalline Mediterranean waters, golden sand, and plenty of options to indulge in great Italian wine or Peroni beer. Although its proximity to Rome makes it unlikely to be particularly quiet, the locals love it. Ostia Lido station is just 30 minutes from Rome via direct train from Porta San Paolo station.
Ostia Antica
If it's heritage rather than hedonism you're after, get off the Ostia Lido-bound train a few stops earlier at Ostia Antica. The ancient port of Rome, Ostia Antica bears architectectural similarities to the ruins of Pompeii, located far to the south in Naples, but it's guaranteed not to have the same sorts of crowds. Visit outside of the peak summer season for an even more tranquil trip back in time.
Orvieto
Orvieto is due north of Rome in Umbria province, and the journey here takes around an hour and 15 minutes via direct train from Termini station. The old town and its stunning Duomo cathedral will transport you to somewhere in history between the Middle Ages and the Renaissance, although you'll need to utilize a rather modern technology to get there. A charming funicular railway takes you up the hill from the main station to where you want to be.
The best part? These ideas are just the beginning of the amazing day trips you can take from Rome. If you've taken an amazing Rome day trip I haven't mentioned, tell me about it in the comments section below!
Share: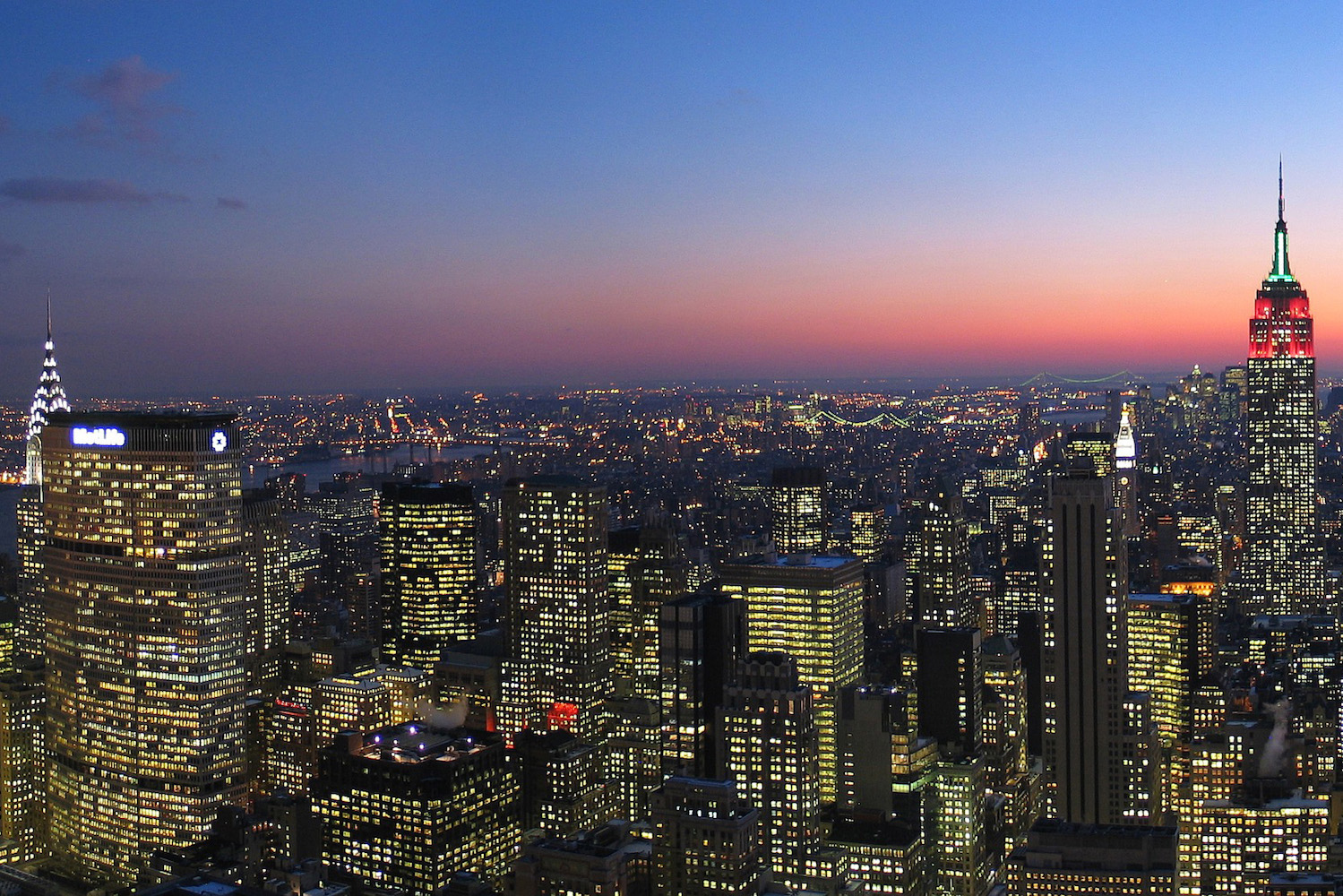 Let's face it — New Jersey is much more than a backyard to New York City. In reality, much of New Jersey is rural, possessing a bucolic charm that's as far away from Manhattan's concrete jungle in spirit as Kansas or Wyoming are in geography. Even the more built-up parts of the Garden State have an identity all their own, to say nothing of the great stays throughout New Jersey.
Weehawken
Weehawken is so close to Manhattan, you're practically there. In fact, you just have to cross over the Hudson River, and you'll almost be in Times Square. Weehawken is spectacular for a stay, both in terms of its furnishings and its view of the City That Never Sleeps. The Sheraton Lincoln Harbor Hotel and Sky City Apartments at Riverview stand out as top choices.
North Bergen
Like Weehawken, North Bergen is just minutes away from New York City. Since this New Jersey city offers plenty of cheaper lodging options, its location isn't necessarily a bad thing. Indeed, North Bergen hotels tend to be significantly lower in price than their New York City counterparts, especially the Howard Johnson North Bergen as a good family option.
Seacaucus
Seacaucus boasts many of the same benefits as Weehawken and North Bergen do, along with one notable advantage. Secaucus is less than 15 minutes by train from Newark Liberty Airport, a hub for United Airlines and its Star Alliance partners, which offer nonstop flights to almost anywhere in the world. Seacaucus hotels allow you to rest your head in style during your stay in this semi-urban sort-of suburb, whether you choose the Embassy Suites Seacaucus or the Meadowlands River Inn.
Galloway
If you want to travel somewhere that's convenient to the casinos of Atlantic City but more easily accessible to the relaxation and cool breezes of the Atlantic Coast, look no further than Galloway. Although you might never have heard of this small city before, it won't take much to sell you on staying here. The lodging selection alone is enough to make your decision for you, as this city offers comfortable, affordable options like the Relax Inn or the Highlander Motor Inn Atlantic City, affordable for families.
Jersey City
Jersey City is yet another alternative place to stay if you're traveling to or doing business in NYC but don't want to see your money disappear in a New York minute. Jersey City's hotel options, including the Courtyard Jersey City Newport and The Westin Jersey City Newport, set it apart from other New Jersey destinations.
Now it's your turn. Have you traveled somewhere in New Jersey that surprised or delighted you? Whether you've got a specific suggestion or feedback on any of the above, leave it the comment section.