About Robert Schrader
Robert Schrader is a travel writer and photographer who's been roaming the world independently since 2005, writing for publications such as "CNNGo" and "Shanghaiist" along the way. His blog, Leave Your Daily Hell, provides a mix of travel advice, destination guides and personal essays covering the more esoteric aspects of life as a traveler.
Latest Posts by Robert Schrader
Share: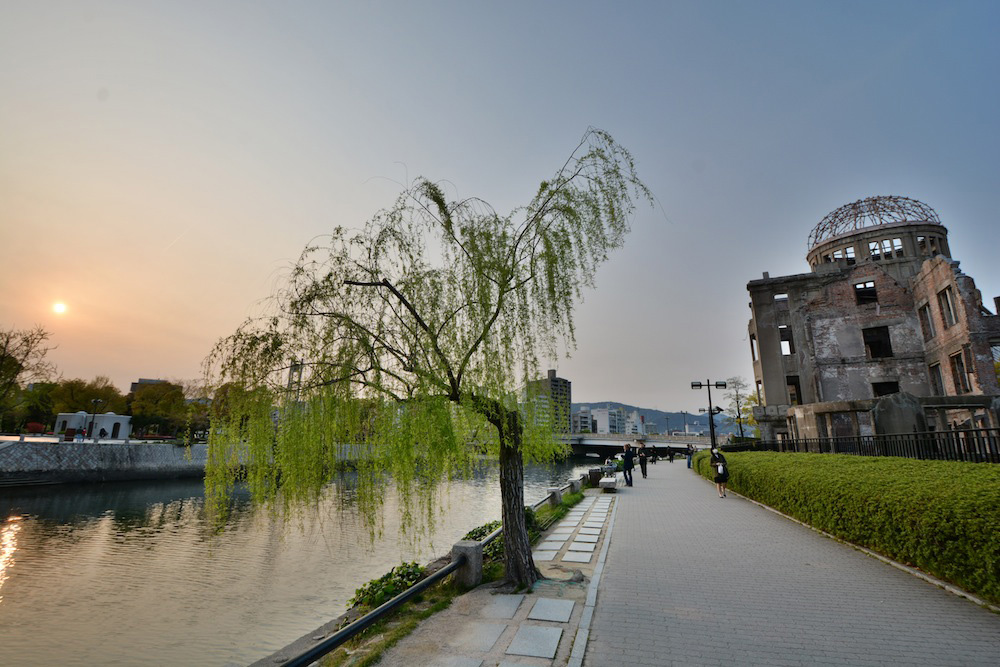 One of the first places I visited back in July 2010, literally hours after I officially become location-independent in fact, was the Vietnam War Museum in Saigon, Vietnam. I hadn't particularly wanted to go to the museum, but the couple I was traveling with were eager to go, and since I was still shell-shocked from my decision to leave Shanghai on such a moment's notice, I didn't raise any objections.
I heard weeping behind me as I stood before an exhibit on the use of Agent Orange. "I can't believe those heathens did that," the male voice whimpered. He sounded American, but the content and tone of what he was saying made it clear that he was Canadian.
"And to think," his female companion said, "many of them have the gall to come here. Can you imagine what a Vietnamese person would say if they met an American?"
I can. They wouldn't give a fuck, because the majority of them weren't alive when the Vietnam War happened; neither were the majority of Americans who visit Vietnam, myself included. Come to mention it, I was relatively certain both of the people accusing my entire country of being "heathens" had been born well after the Vietnam War ended.
I decided to hold my tongue, if out of respect for all the people who still managed to be moved by the museum in spite of the verbal diarrhea that nearly ruined my visit. But although nearly four years have now passed (and although I, unlike these assholes, refuse to make generalizations about entire nationalities based on history I wasn't around to witness), the incident has left a bad taste in my mouth when it comes to the general area of war tourism.
The good news is that this particular piece of history did not repeat itself during my short stay in Hiroshima, Japan at the end of last week, excepting of course the parallels in past atrocities against humanity. There were a few people who lost their shit walking past the Atomic Bomb Dome and looking upon various memorials in the Hiroshima Peace Park, but in general, it was a civil affair.
Thing is, it all felt a little superfluous, and not just because the modern city of Hiroshima that rises around the Memorial Park leaves little indication that any war ever occurred here. In spite of how solemn the scene should've been, due not only to the aforementioned dome and memorials, but from a purely energetic perspective, I left feeling cold and disconnected.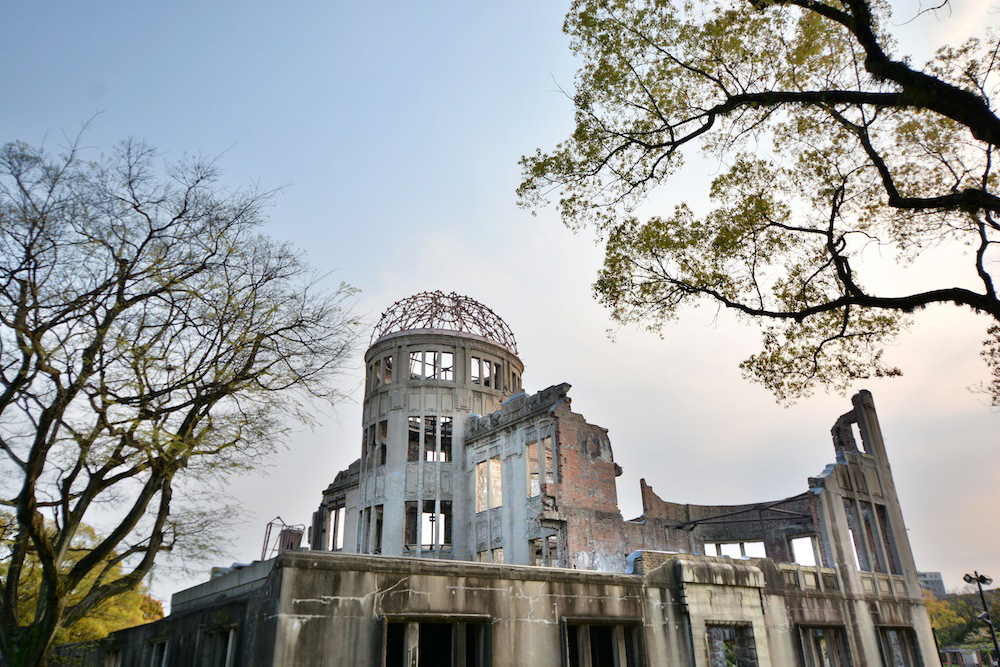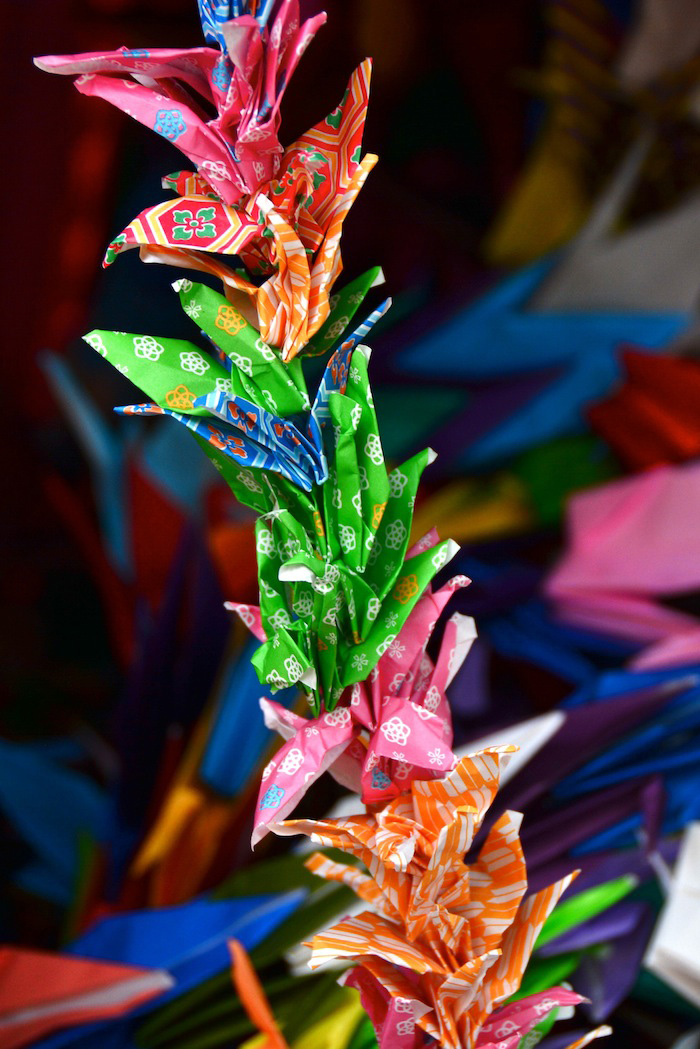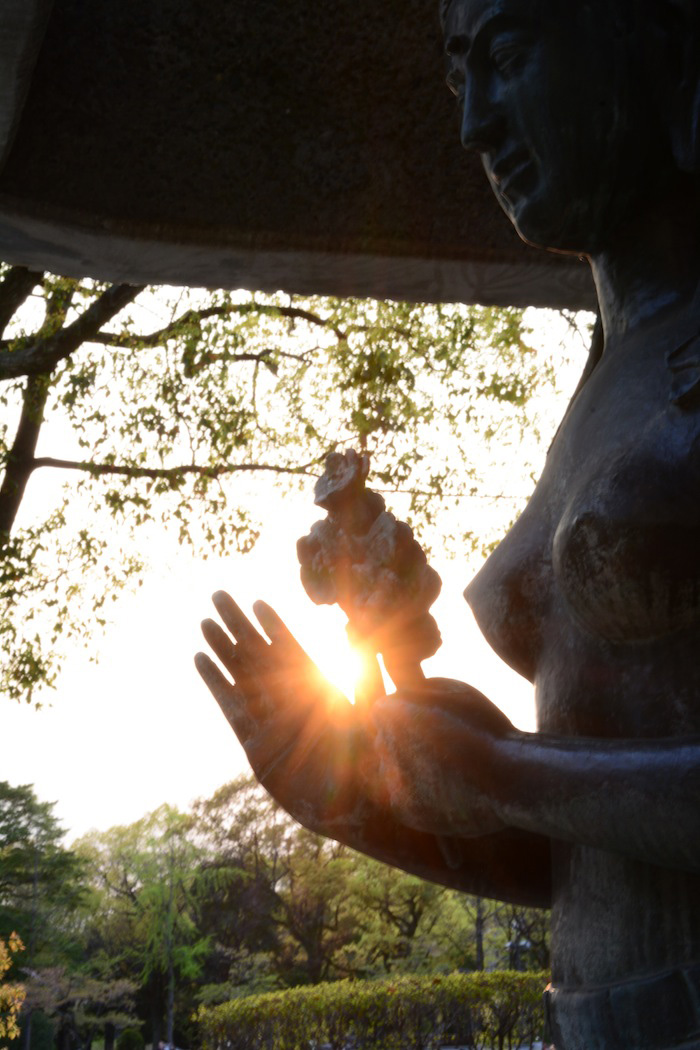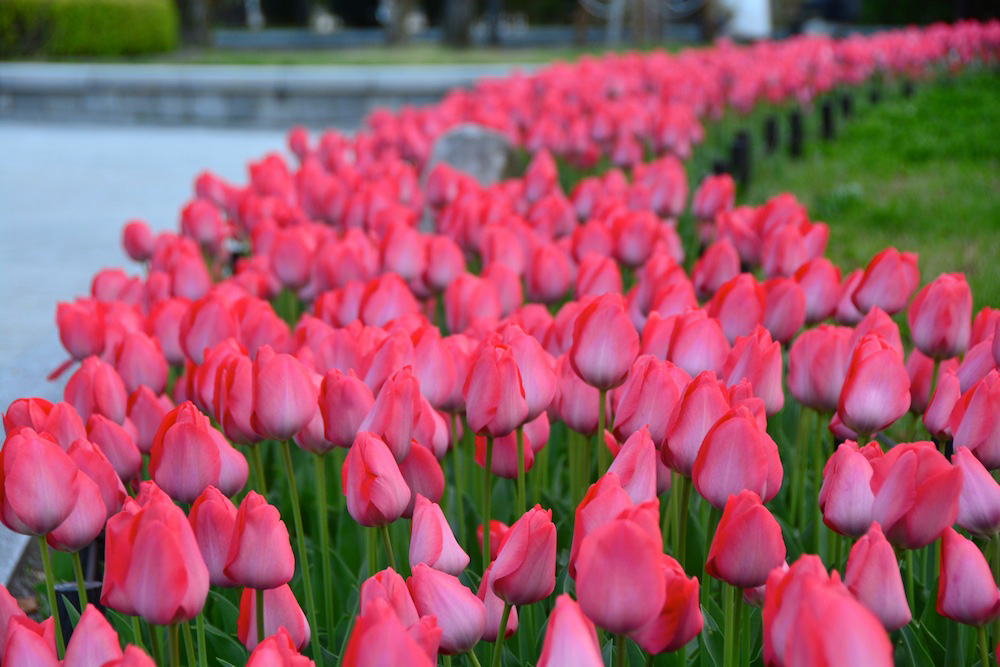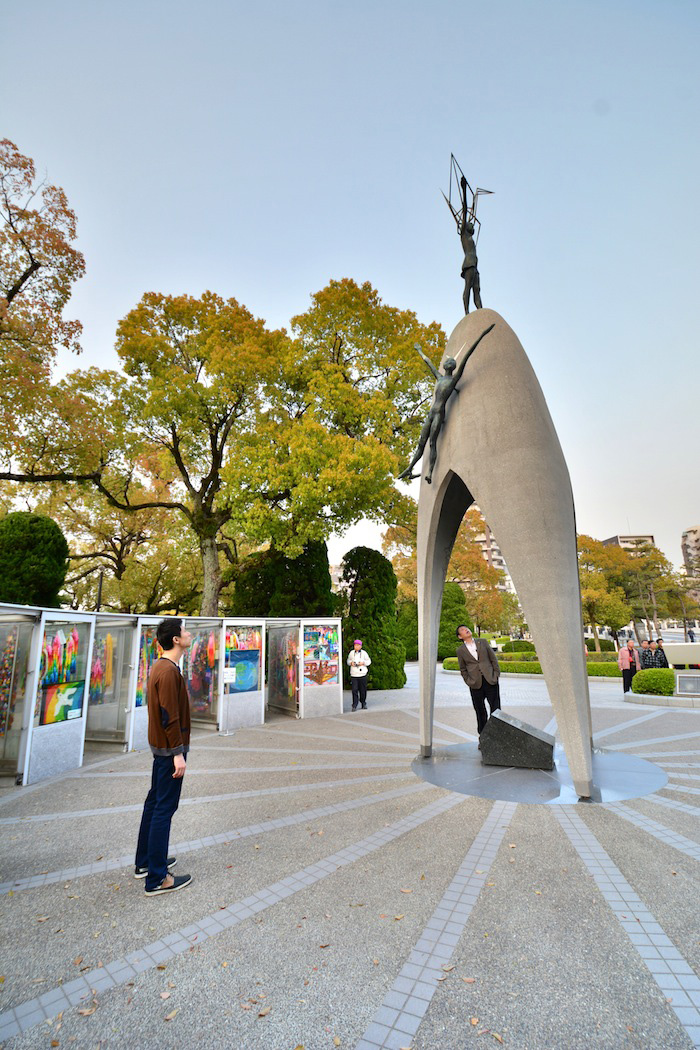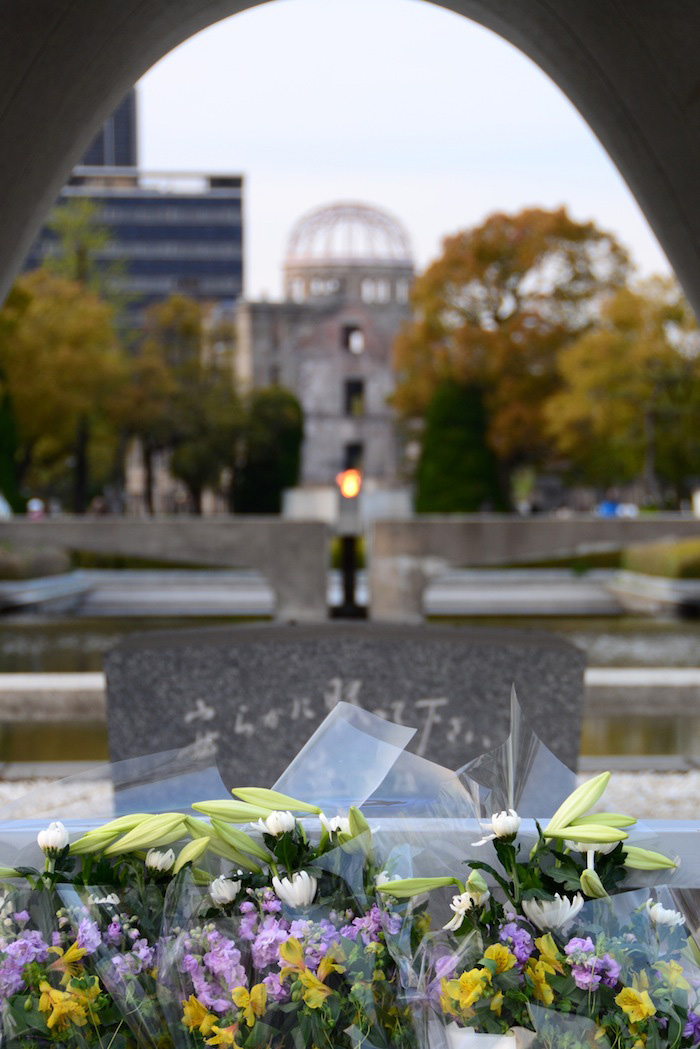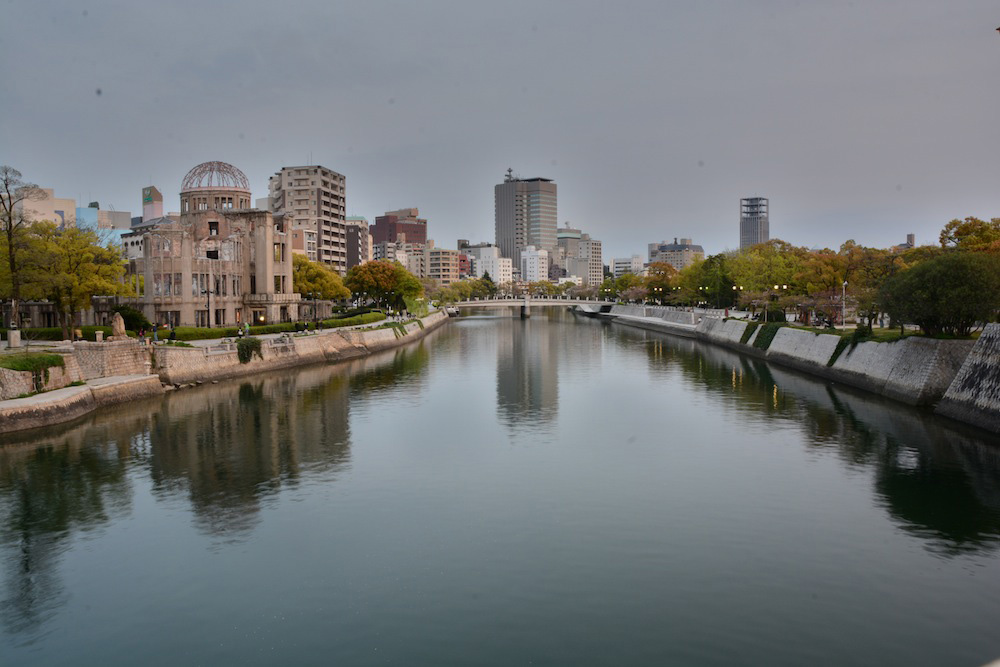 Part of this stems from my general disinterest in museum-like attractions (a tendency which, on a side note, is a bit strange due to my general interest in history itself). But another part of it is that I can't help but find the importance placed upon remembering (or, as is the case with my country's recent past, vowing to "Never Forget") grotesque tragedies counterproductive.
While I don't think there's any inherent problem with honoring what happened in Hiroshima, Saigon or New York City, I don't believe for a second that doing so achieves anything.Thousands of years of education in history, the effect of said history being filtered to suit a particular country's current propaganda scheme notwithstanding, has done little to slow the forward momentum of war's destructive power.
Peace requires forgiveness and a willingness to let go, so that we might break the chain of abuse, pain and suffering that has linked all the human generations thus far together. Instead of constructing more memorials to war, why don't we engineer pathways to peace? I mean, what good is a monument commemorating the heinousness of past wars if visitors walk past one another, making judgmental remarks and feeding into the black hole of "us vs. them."?
If you're considering a trip to Hiroshima and it's convenient for you to visit, I definitely suggest you come here, if only to see if for yourself and to form your opinion. But I definitely don't believe you should go out of your way to come here or agree with the statement some make, that it's a place everyone should visit once in their lifetime.
Instead, why not just try being nice instead of mean? That's what I plan to do the next time I feel like being an asshole to someone – and God knows I'm guilty of that more than I should be!
Share:

Think of Rio de Janeiro and images of sun, sea, sand, and ladies in skimpy bikinis are likely to appear. Delve a little further into your brain and you're likely to think football. Football is to be the centrepiece for Rio this summer, but whether you like the sport or not, it's all set to transform Rio into an even livelier party atmosphere, in what will be an unforgettable summer.
During the summer, it's likely you won't be able to move for fan parks, events, and replica shirt wearing revellers, but in the build-up and aftermath, it's all set to be an exciting time for Brazil's second largest city.
Of course a must is the heady climb up to Christ the Redeemer. Located at the peak of the Corcovado mountain, the 98ft statue has become an icon for Brazil, depicting Jesus looking down upon the city, probably now green with envy in what is such a happening place.
And nothing is quite happening as much as on the Copacabana. One of the world's most famous beaches, as well as being a place to kick back, it's hosted the Rolling Stones and Live Earth.
June and July are generally the coolest months for Rio, with temperatures averaging around 25°C, making the heat a little more bearable. A trip through the Tijuca Forest during this period is a great way to escape the hustle and bustle of the city or the crowded beaches.
Claimed to be the world's largest urban forest, it is home to hundreds of species of plants and wildlife, and can be discovered on the journey up to Christ the Redeemer. Along the route are some incredible attractions that seem too pretty to be in the heart of a city.
The Mayrink Chapel is a peaceful stop, with its gloriously coloured pink exterior built in 1855, whilst inside the murals painted by Candido Portinari add even more beauty.
However, it will be no doubt impossible to avoid football if you're planning a trip to Rio over summer. The kids will be playing on the beach and the pundits will be talking on the television. It's an important part of Brazilian culture, and there's no better way to discover it than by visiting the infamous Maracana Stadium.
It'll be the centrepiece of the World Cup and also the Olympic Stadium when thousands of athletes roll into the city in 2016. You can tread the corridors the likes of the great Pele, Ronaldo, and Dunga have walked, capping off an incredible trip that samples every aspect of the fabulous Brazilian culture.
Share:

I was so certain I would see a geisha as my train rolled into Kyoto Station that I didn't even allot time for it as I mentally planned out my evening.
"They'll be everywhere in that one district, what's it called?" I looked at my map. "Gion. I'll just stroll through Gion on my way up to Kiyomizu Temple and be done with it."
The receptionist at my guest house was kind enough to aid me further. "Avoid the main avenue in Gion," she advised, and circled an adjacent, smaller road within the district. "You'll see lots of geishas here, but not so many tourists."
In spite of the extent to which she fed my optimism, the young woman did reveal the sobering fact that geishas don't tend to emerge until after nightfall, so that it would be best for me to watch sunset first and head down to Gion later.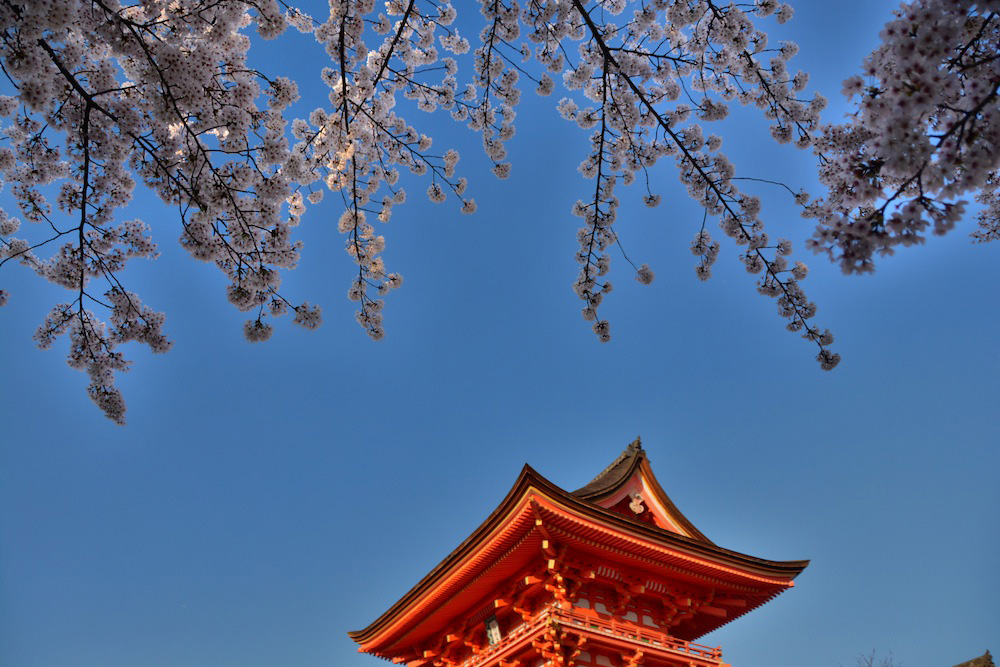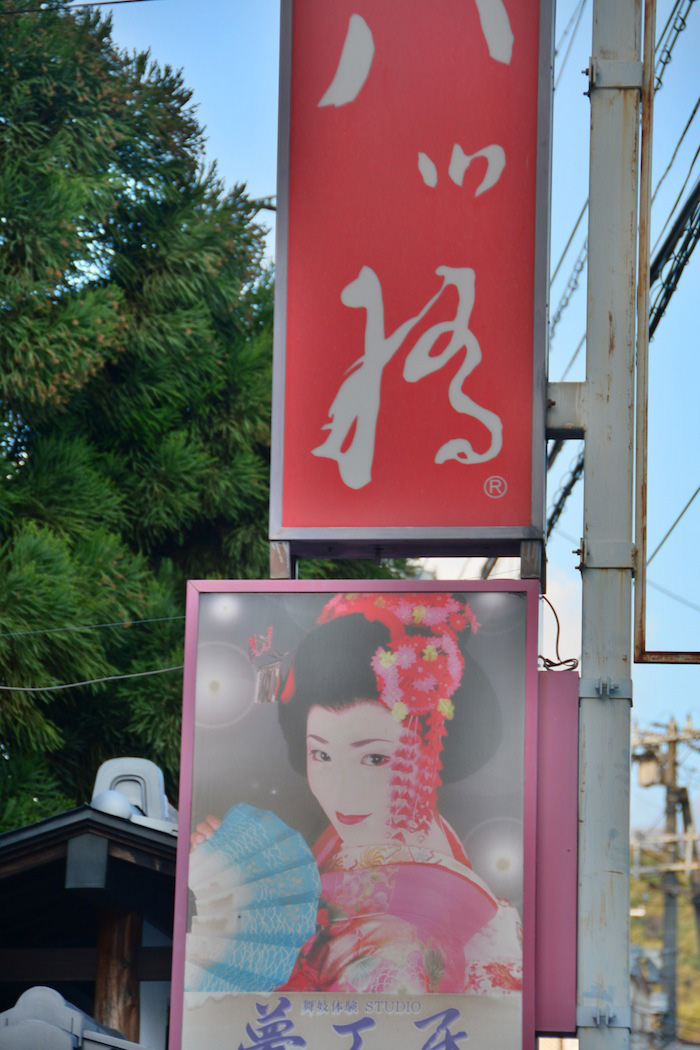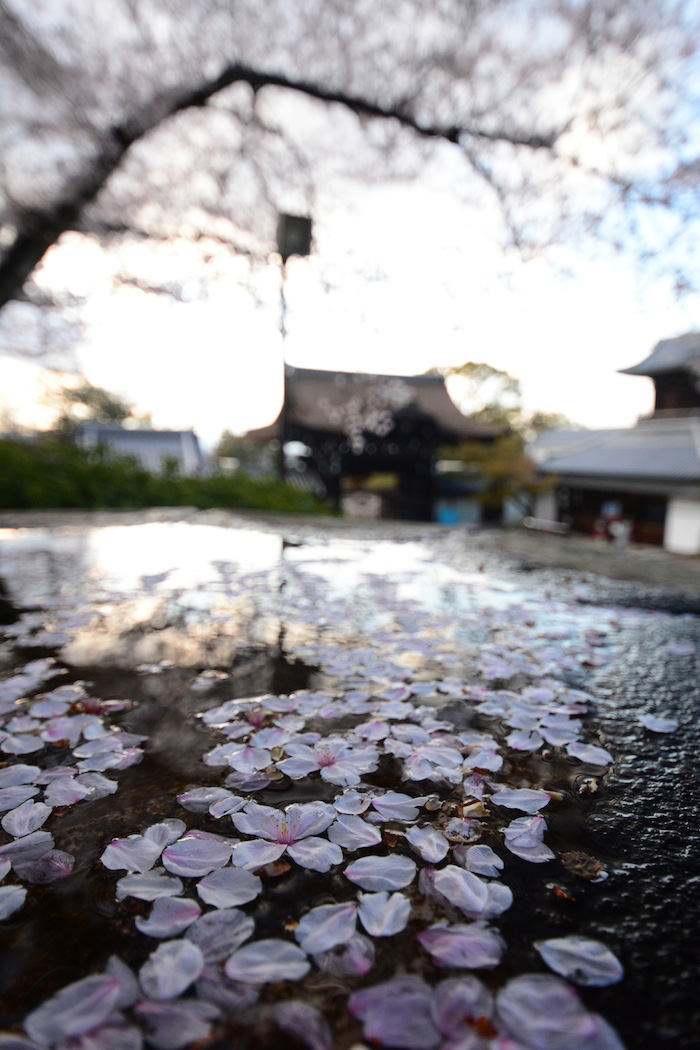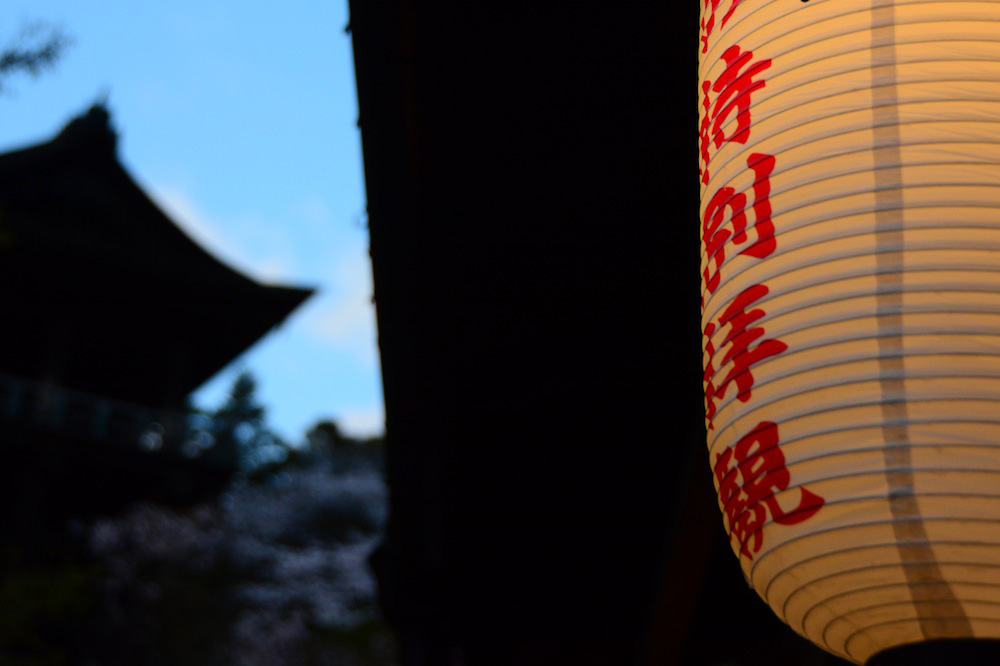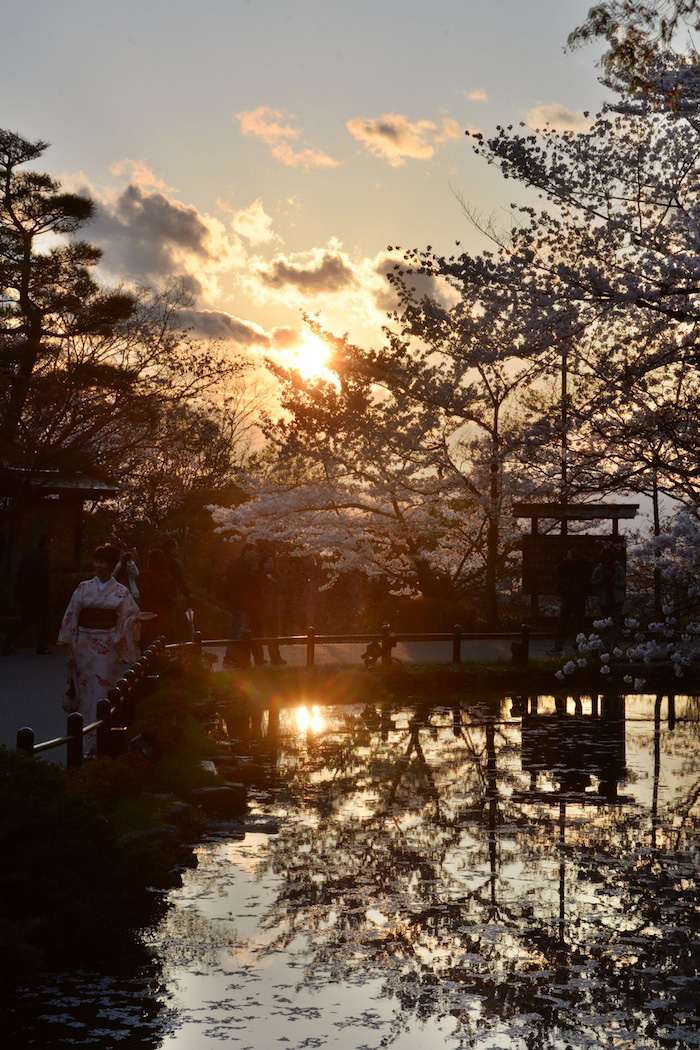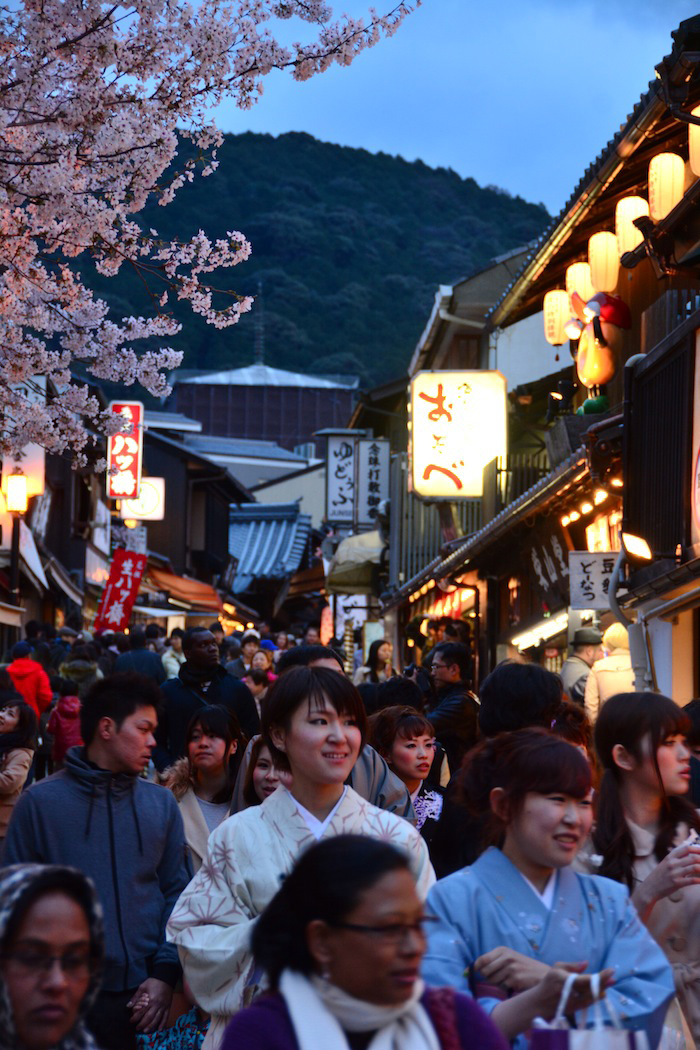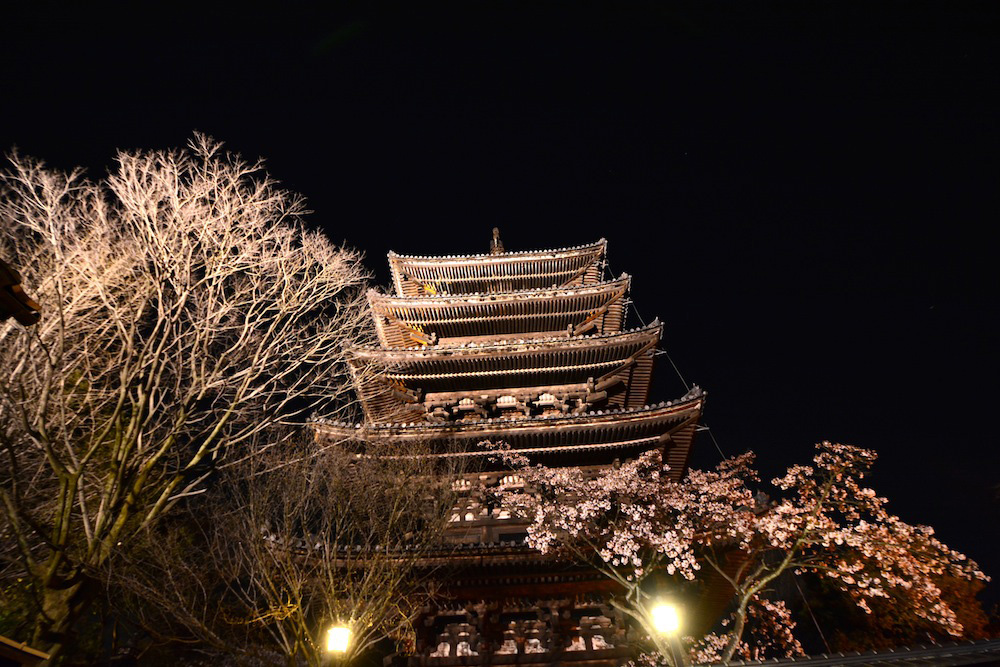 The dusty orange and rose hues of the sky proved the perfect accompaniment to the pale, pink sakura trees rising through Kiyomizu, an eight-century Buddhist temple complex that provides perhaps the best sunset view of Kyoto.
But as I walked down crowded Matsubara Dori Street back into the city, I was as indifferent to the fading daylight as I was to the matcha tea rooms, takoyaki vendors and the special edition Hello Kitty plush I probably should've bought for my sister: I wanted to see a geisha!
(I should mention at this point that I don't have any particular emotional tie to geishas – I simply wanted to snap some amazing pictures of one or many roaming the streets of Kyoto, perhaps assembling an entire photo essay dedicated to them.)
Back to the story, I got to Gion as fast as I possibly could, to precisely the street my guest house receptionist had told me to go. She was right about one thing: There were absolutely no tourists here!
Unfortunately, there were also no geishas.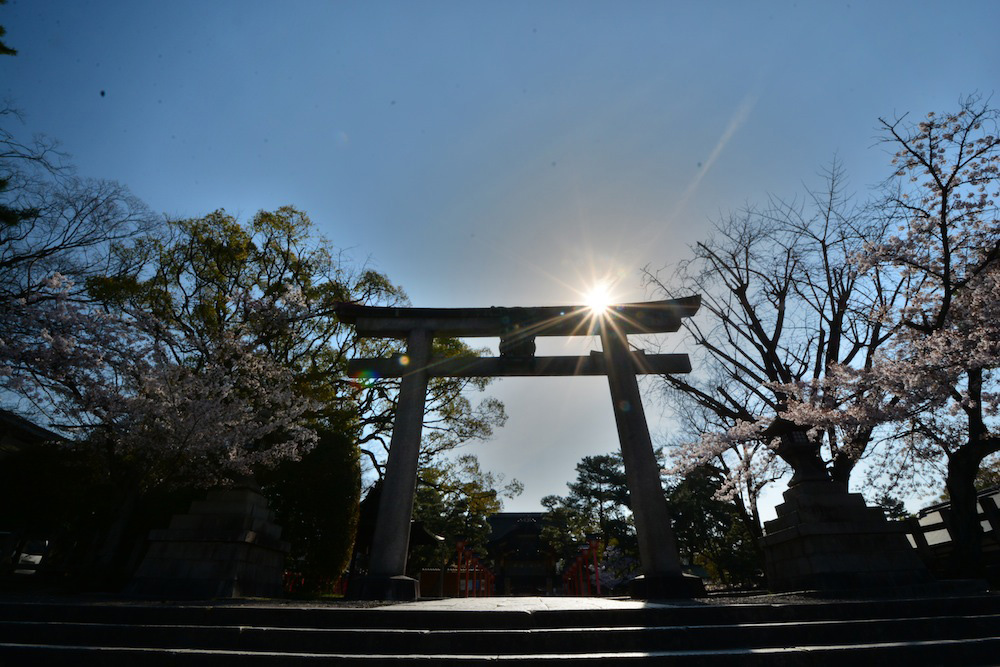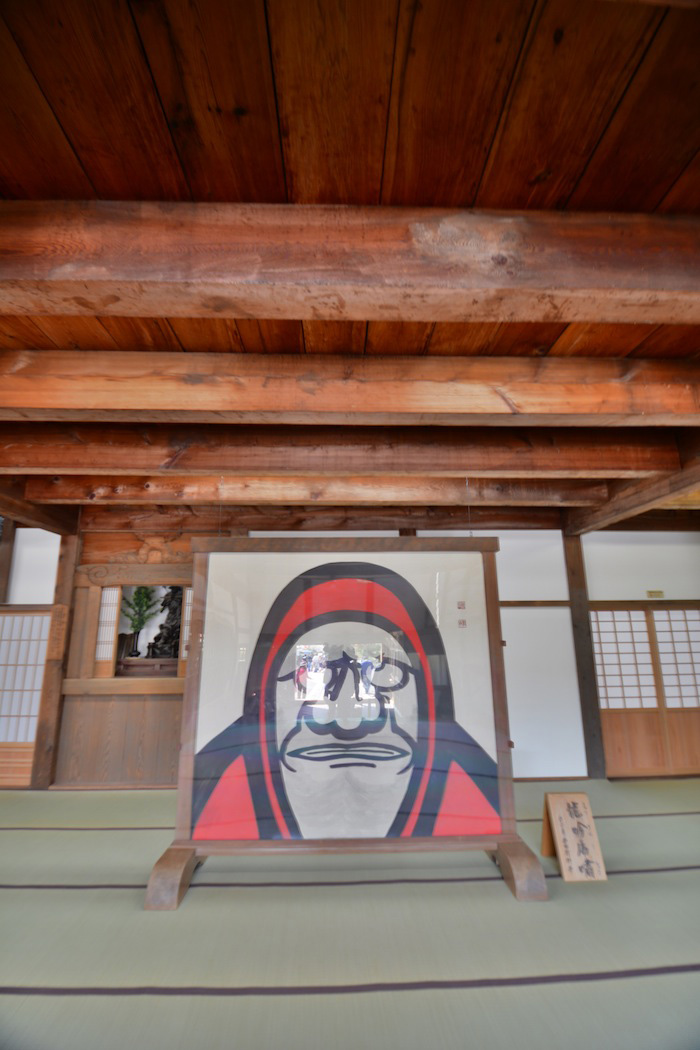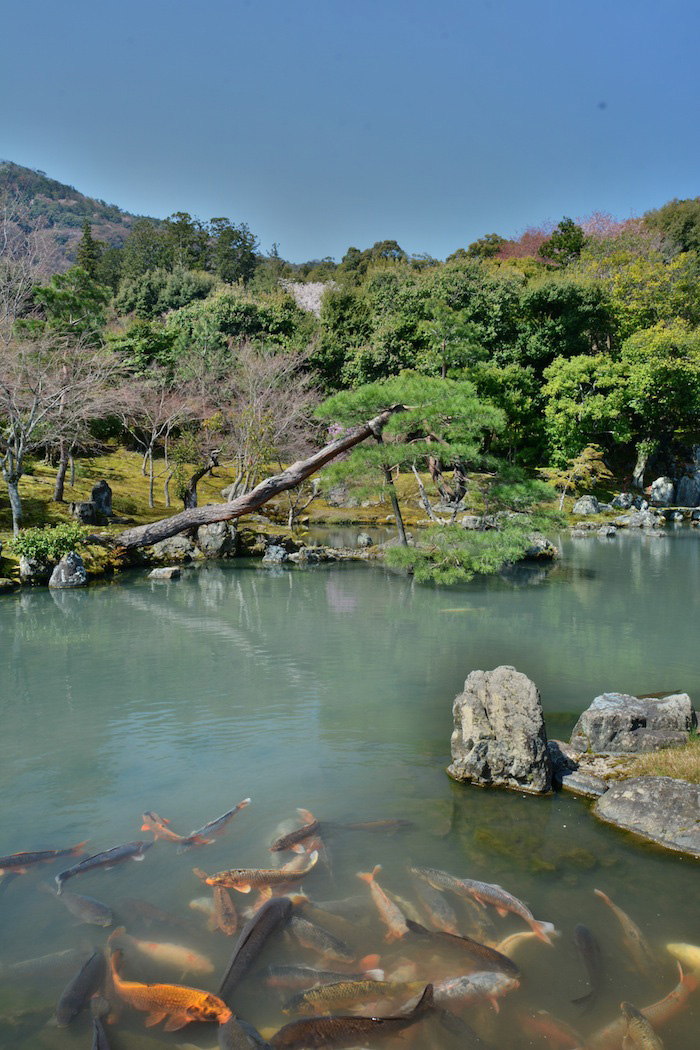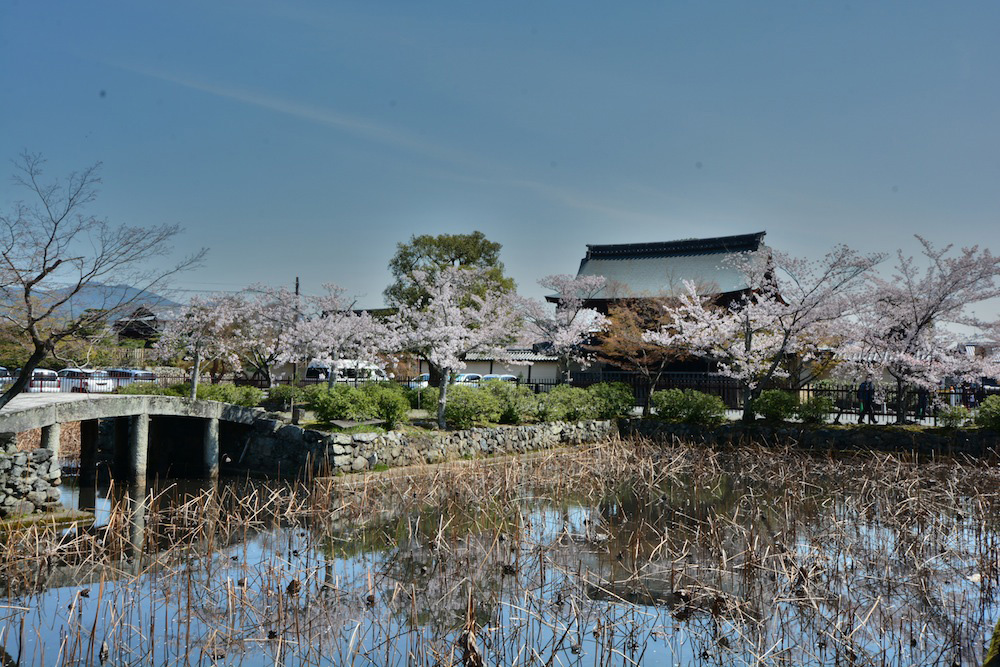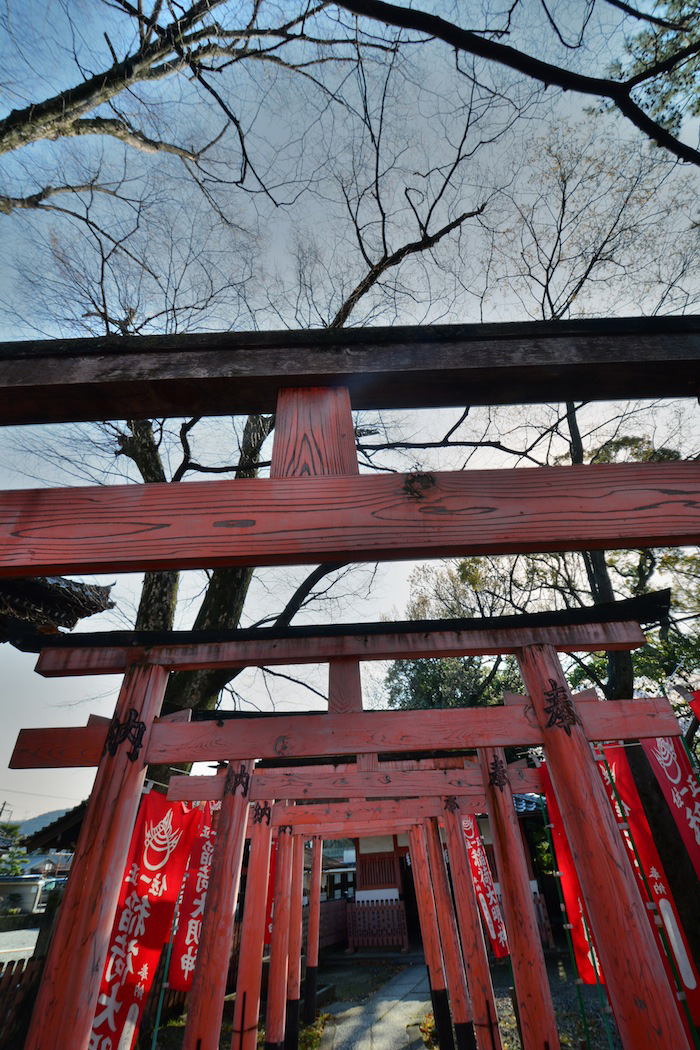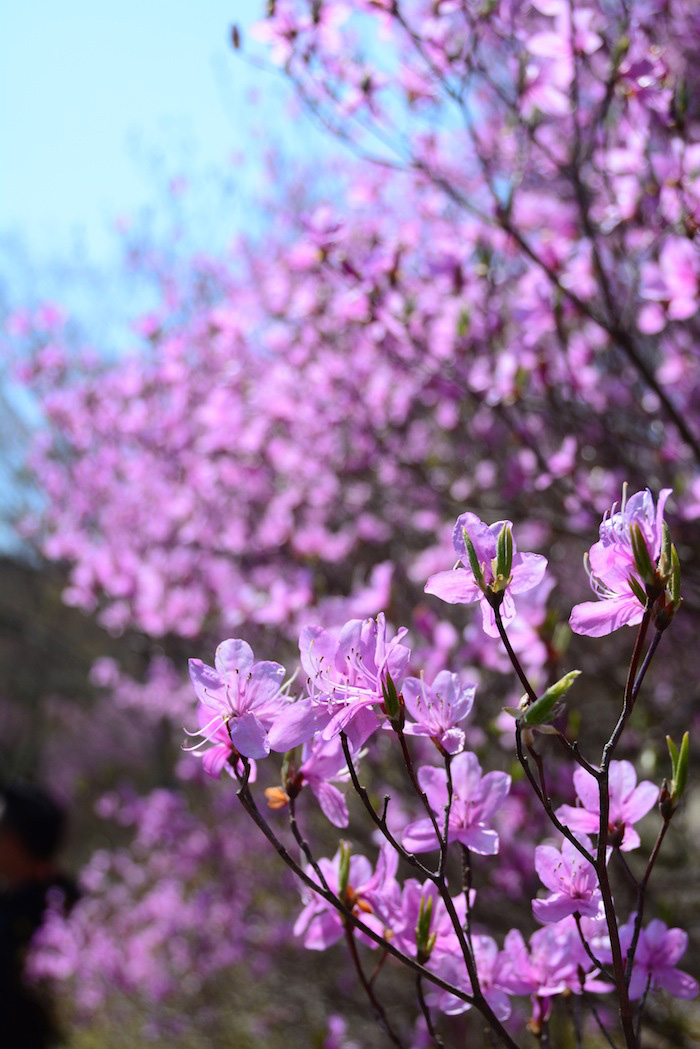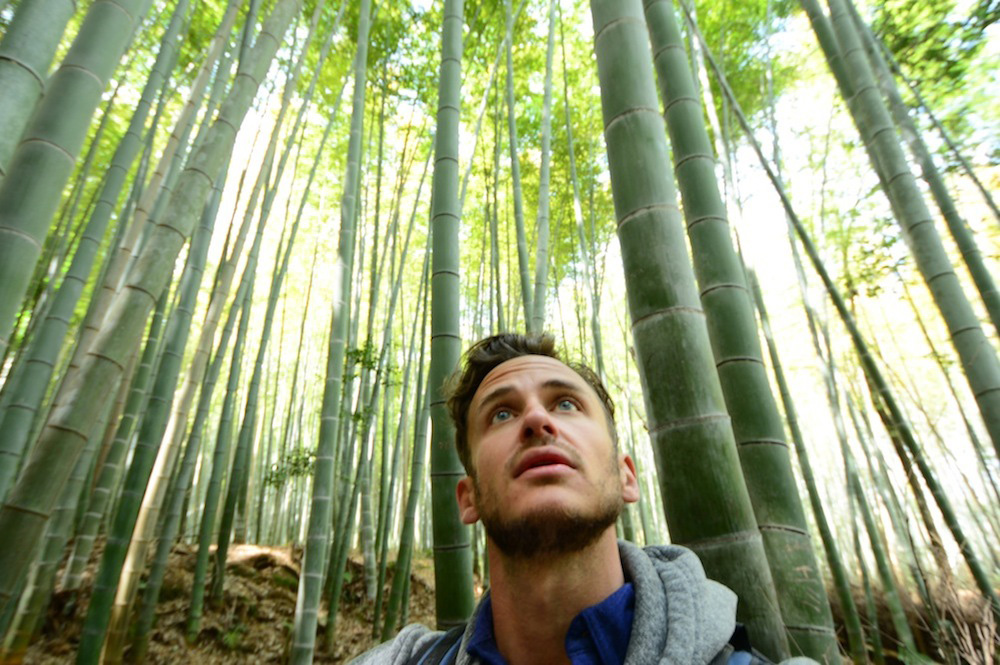 Initially, I thought it might've just been a matter of waiting, kind of like spotting orangutans in Indonesia or the "Big Five" African game on a safari. But minutes turned to tens of minutes turned to hours – and very slowly at that, due to the unseasonable cold passing through Kyoto that particular night – and I saw nary a single geisha, except of course the occasional young, female Asian tourist who was half-heartedly dressed like one.
I couldn't help but feel disappointed as I walked back to the guest house. On one hand, it wasn't shocking – I'm certainly no expert on the nighttime migration patterns of females – yet it was still a failure of sorts.
But this is a pretty nice consolation prize, I smiled as I bit into my very first takoyaki, which was drizzled in ume plum sauce.
To be sure, the lesson I learned not seeing a geisha in Kyoto is that these white-faced women, as iconic a symbol of Japan as they might be, are superfluous when it comes to the larger story I picked up on the ground in Kyoto.
Which is that, in spite of how compelled you might feel to stalk geishas, or to see every single shrine and temple in the city, or take so many day trips you're better off sleeping in the train station, Kyoto is about carving your own path through the history, heritage and chaos, not following the established tourist trail.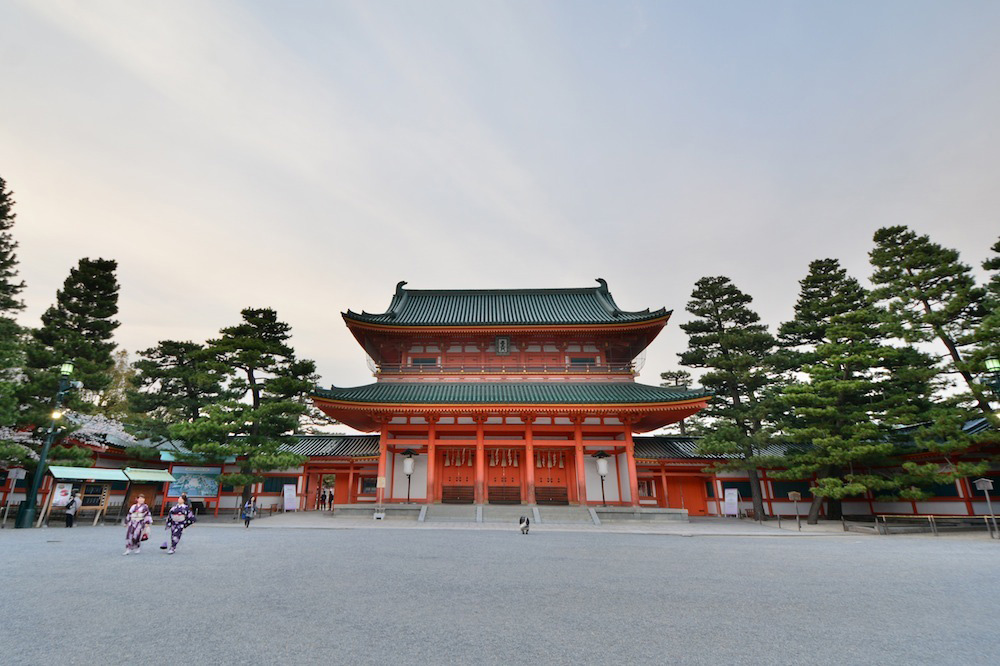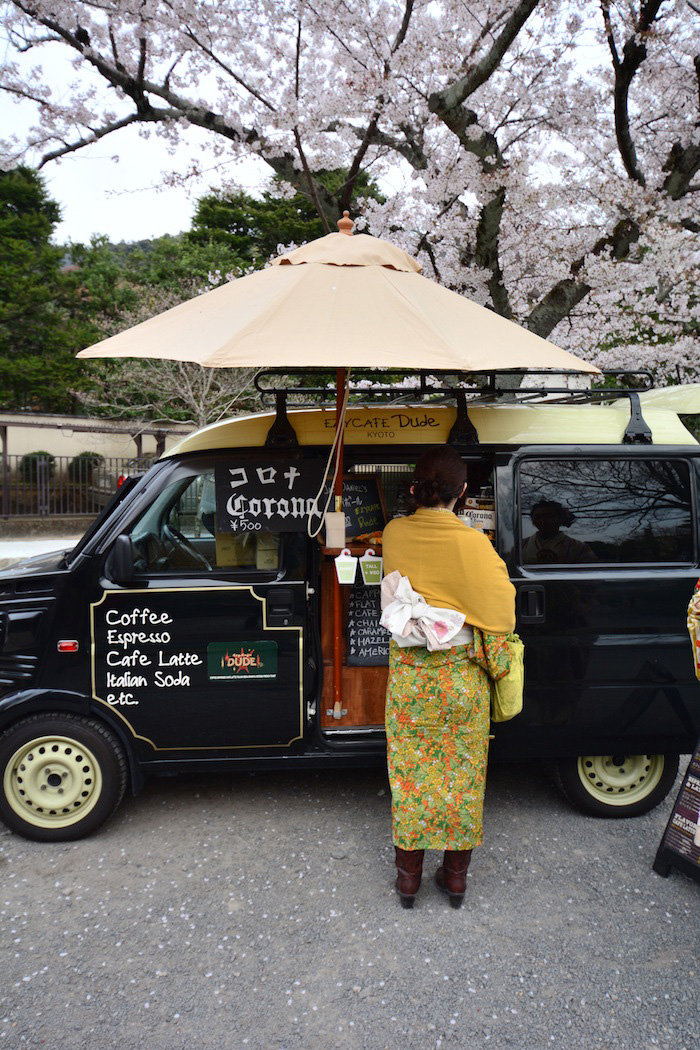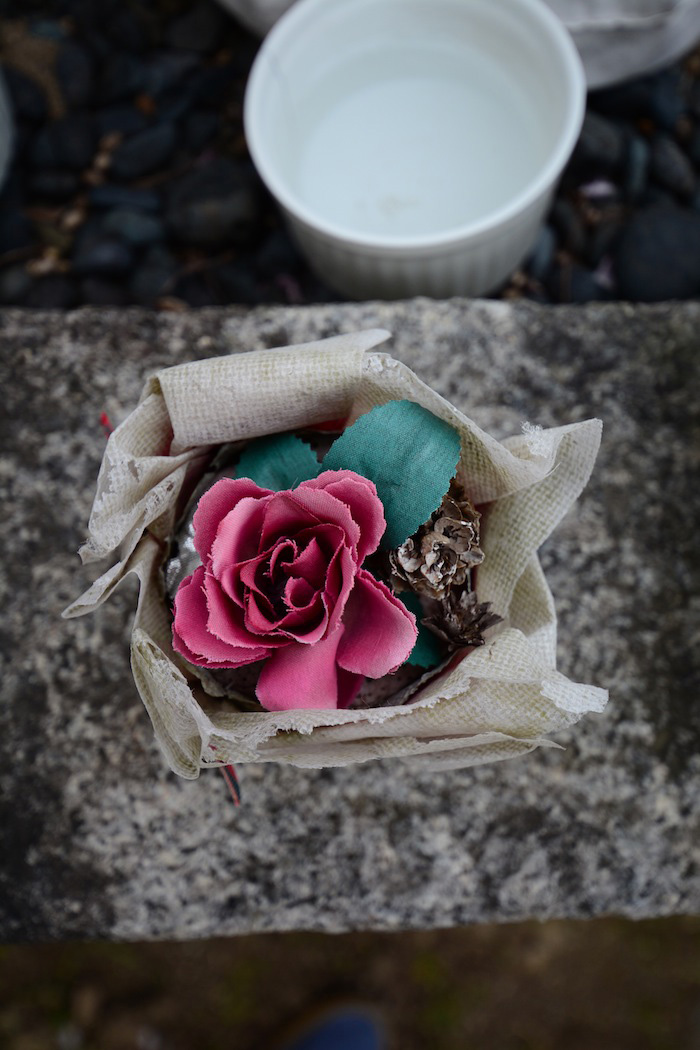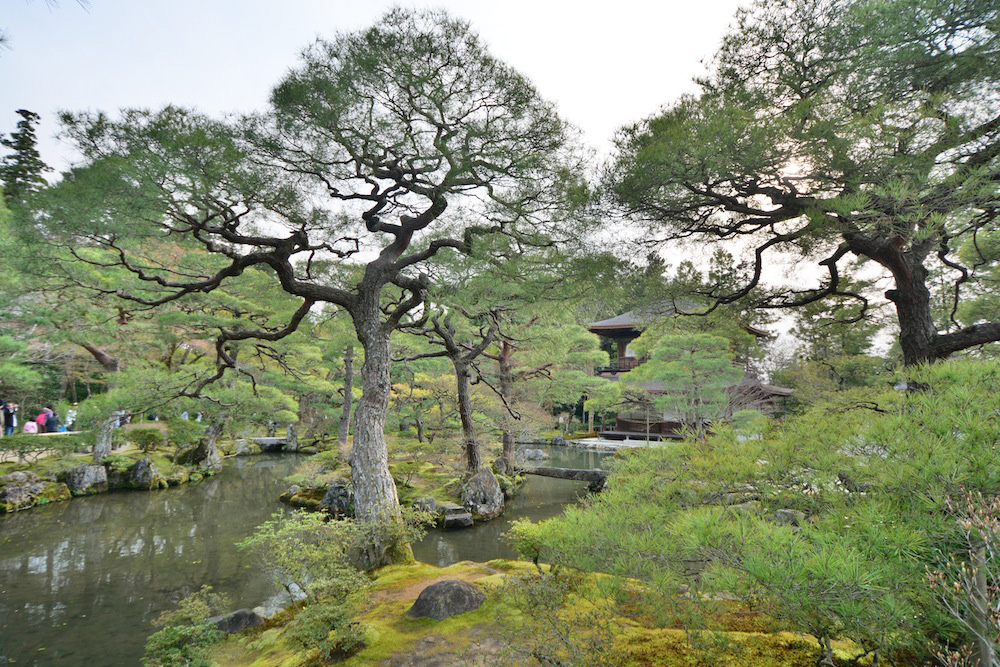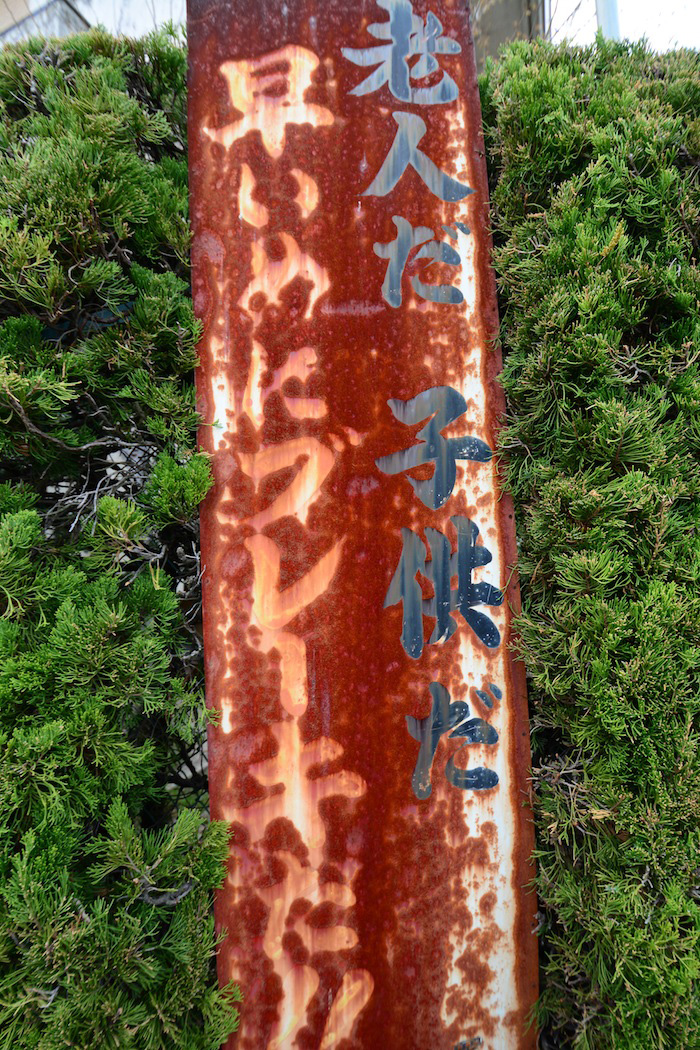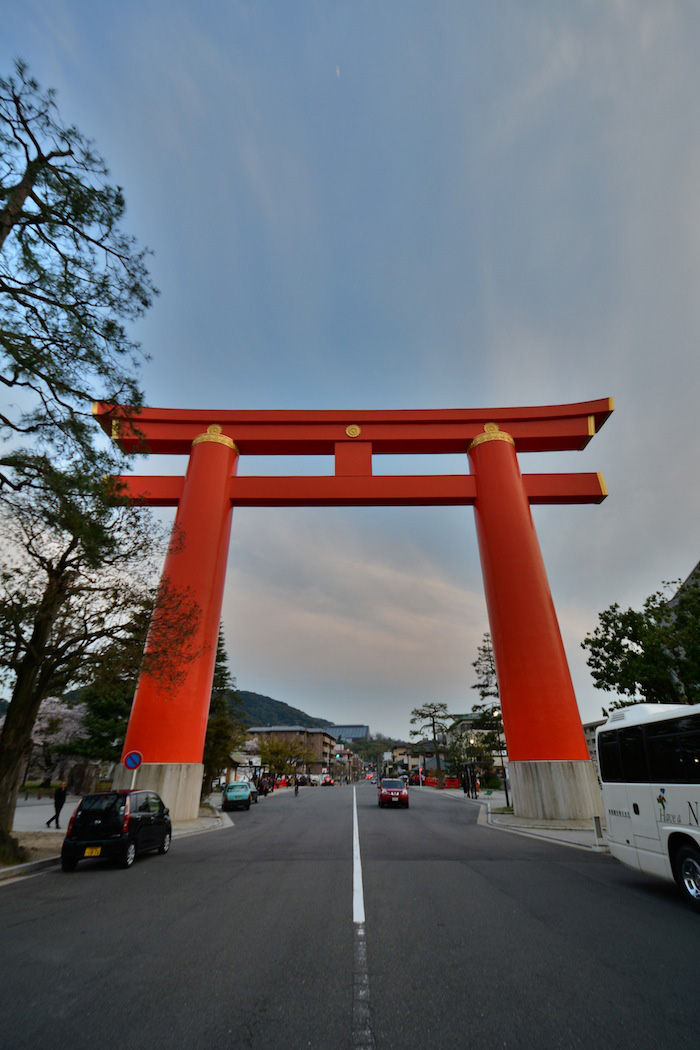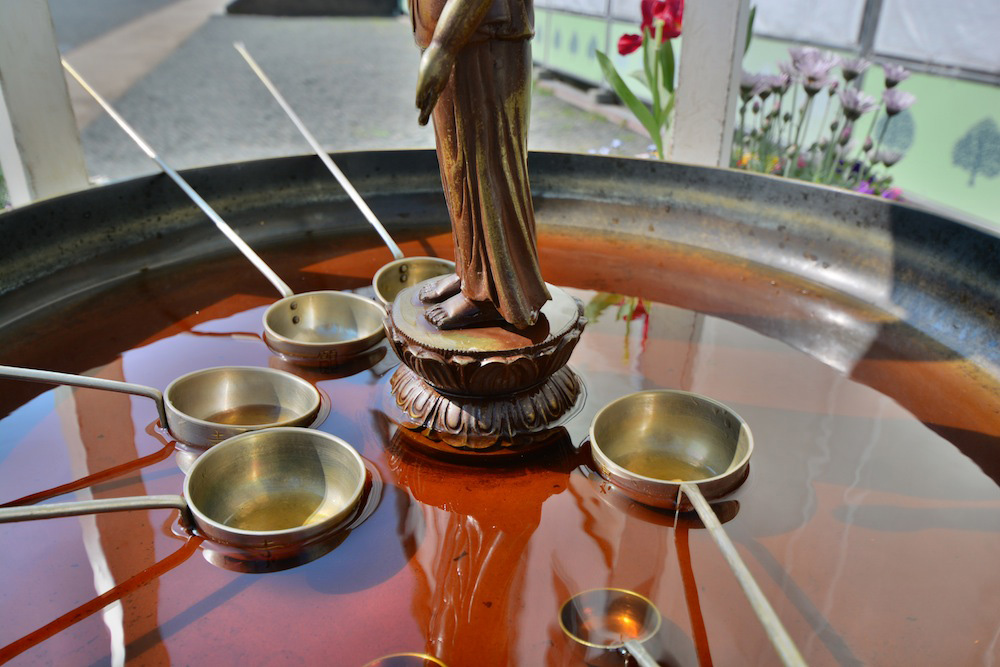 This is not to say I saw or did anything revolutionary while in Kyoto. Kiyomizu Temple notwithstanding, I spent my second morning seeing temples (and a giant, but far from obscure bamboo forest) in Arashiyama, in the northwestern part of the city. I finished the day at the Ginkakuji Pavilion and then, with a walk along the sakura-lined "Path of Philosophy," accompanied by no less than 1,000 other tourists – probably many more.
But in spite of how typical the sights I visited were (and perhaps because of the fact that I defied typical tourist logic and cherry-picked the ones I wanted to see, rather than enduring them all), I was able to create my own narrative about a city that's almost become cliché in the years since the movie whose name inspired me and this post.
Share:

Spring is my favorite time of year in Texas and a perfect time to go on a hike to McKinney Roughs Nature Park outside of Austin.
A gifted naturalist (not to be confused with "naturist," you dirty person!), my friend Megan is like a walking encyclopedia when it comes to the plants and animals of Texas, a trait made all the more astounding by the fact that she has a heart as golden as the fields of mustard that blaze in the Texas spring. Megan's friend Carla, who is also a flippin' genius when it comes to central Texas wildlife, joined us as well.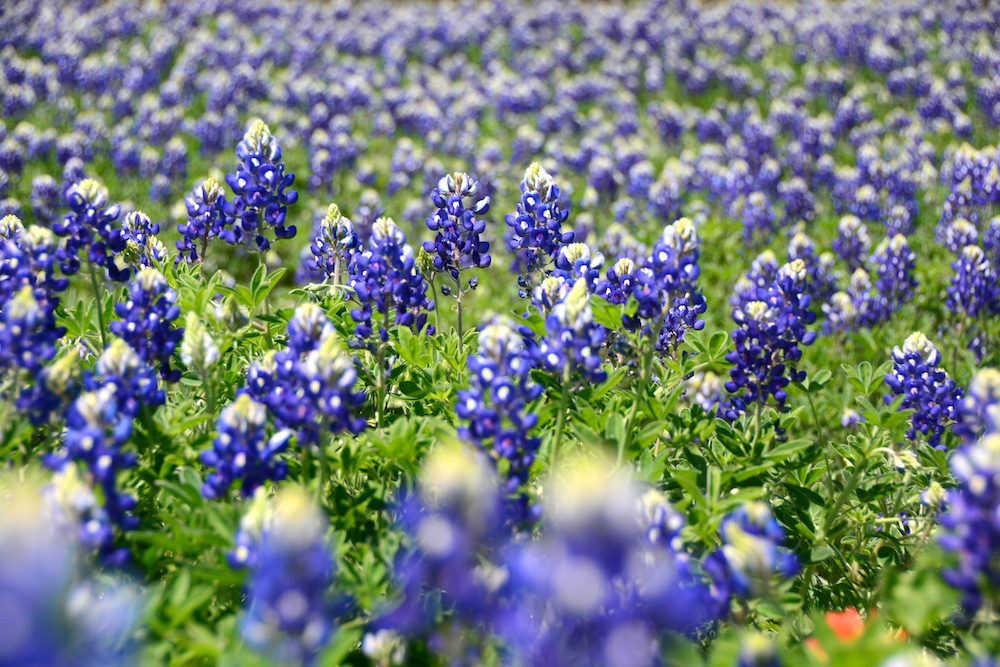 As the three of us traipsed through the countryside yesterday, we came upon a veritable rainbow of red cardinals, orange Indian Paintbrush, green leaves and underbrush, wild blue and indigo Texas bluebonnets and purple phlox. I felt lucky not only to be at home in Texas during this beautiful time of year, but to have the privilege of exploring the natural beauty of the Lone Star State with such amazing people beside me.
If your only image of Texas is the deserts and cowboys of western films, it might surprise you to learn how lush and colorful Texas is in the spring. I invite you to enjoy these photos of my beautiful Texas spring day. I hope they inspire you to make a visit to the Lone Star state next time you're in the southern U.S. and also, to take a hike around wherever it is that you live during this amazing time of year. Sometimes, the normal can become novel when you least expect it!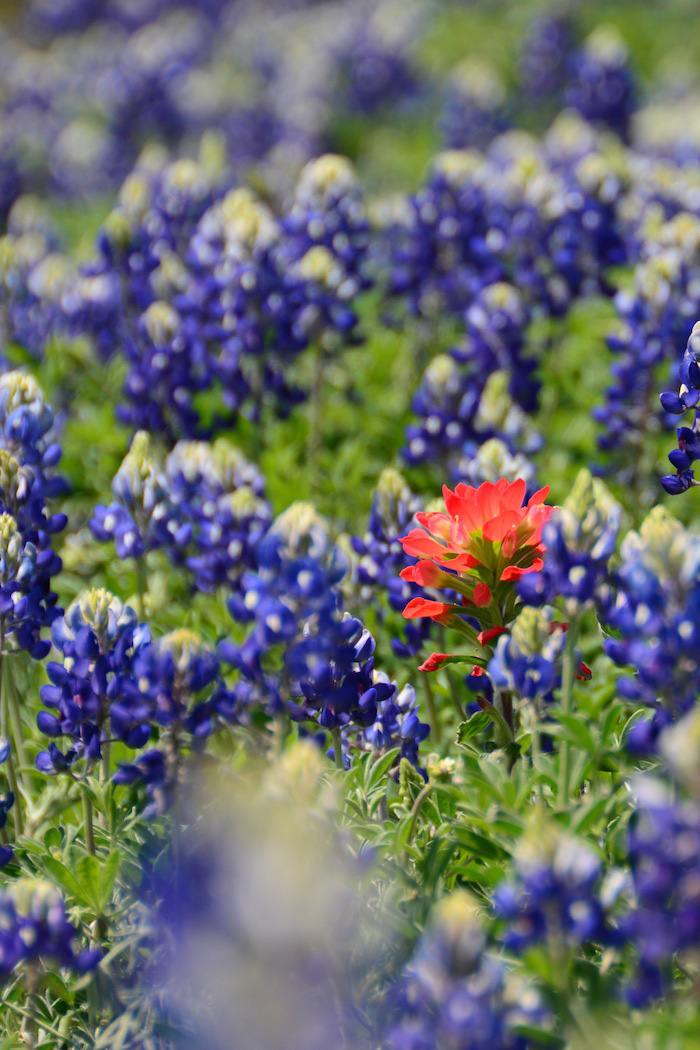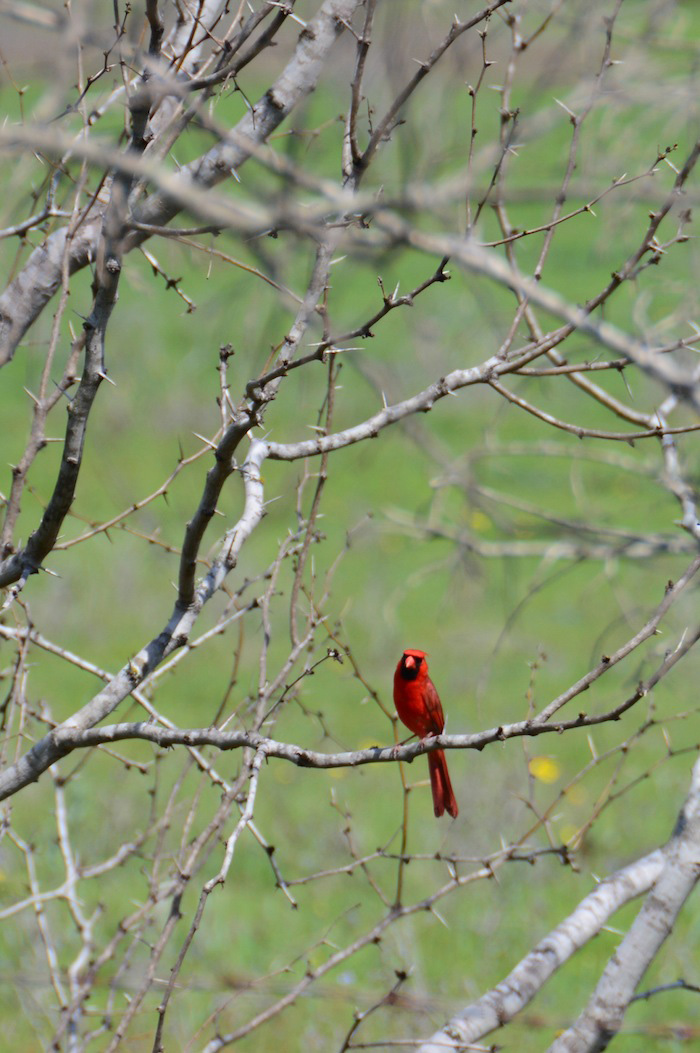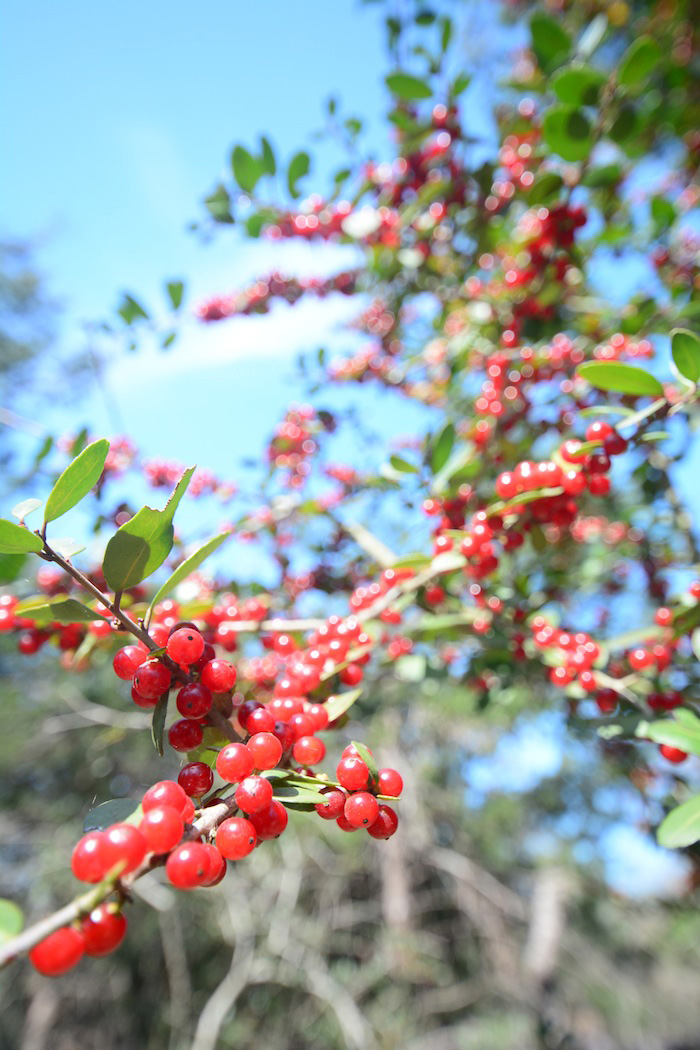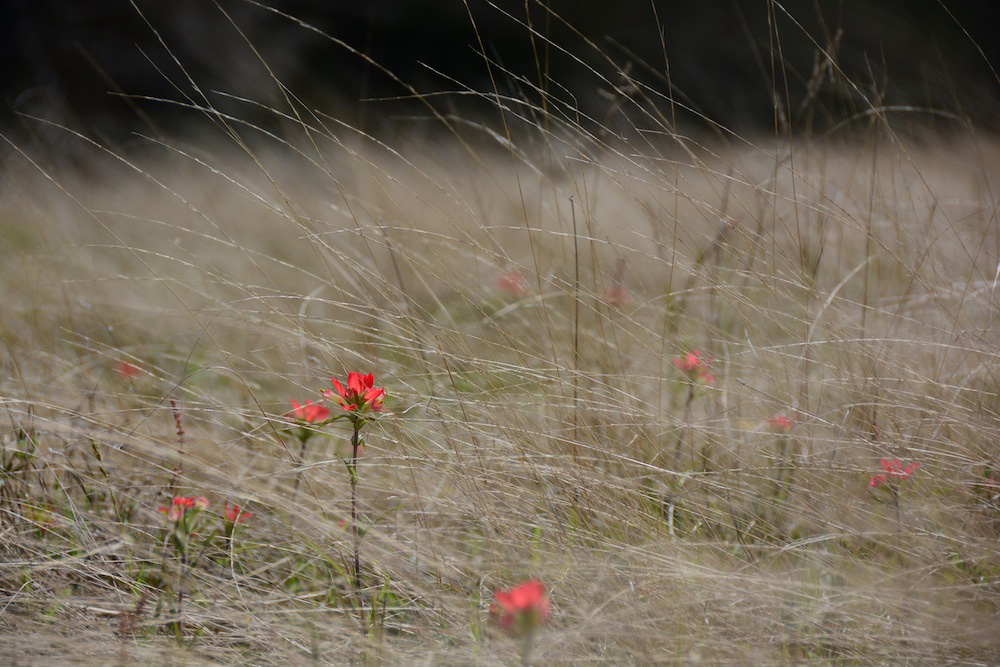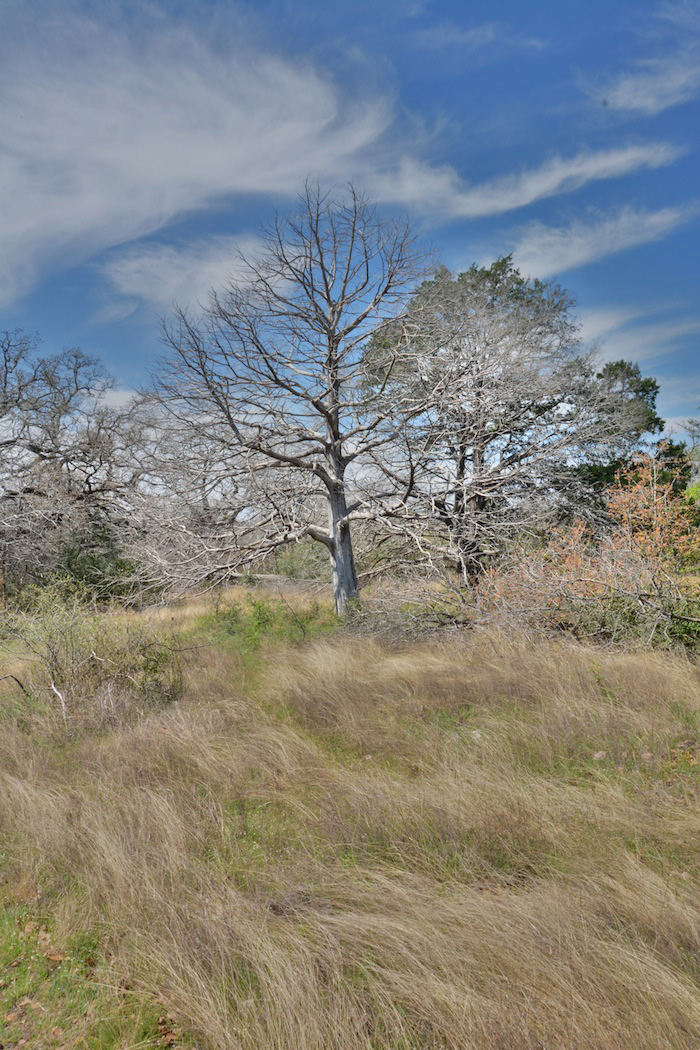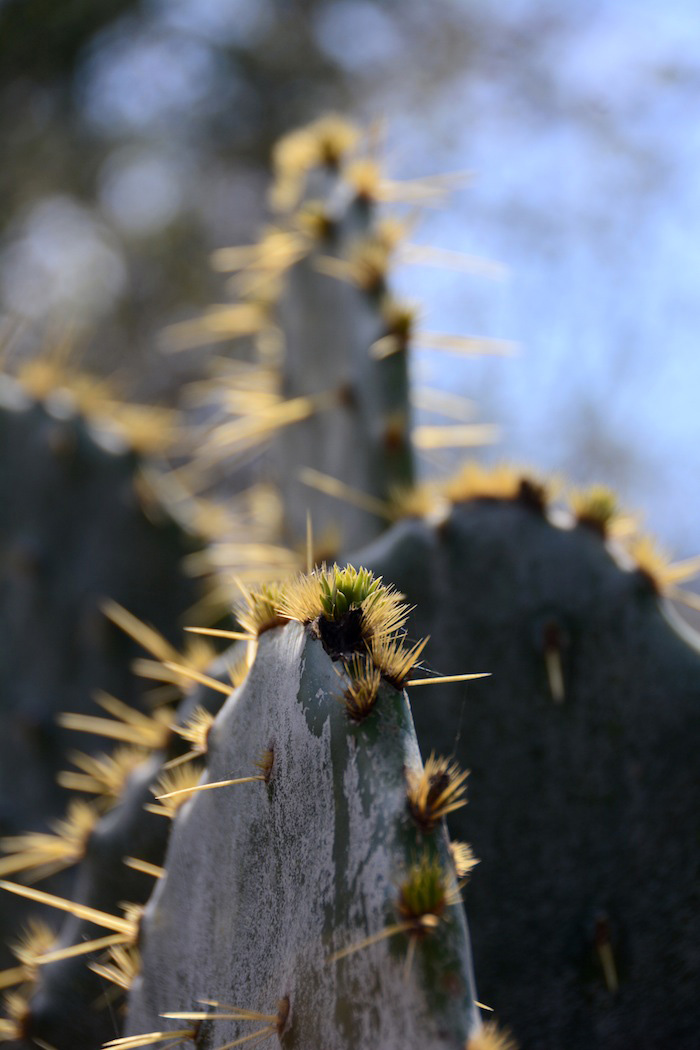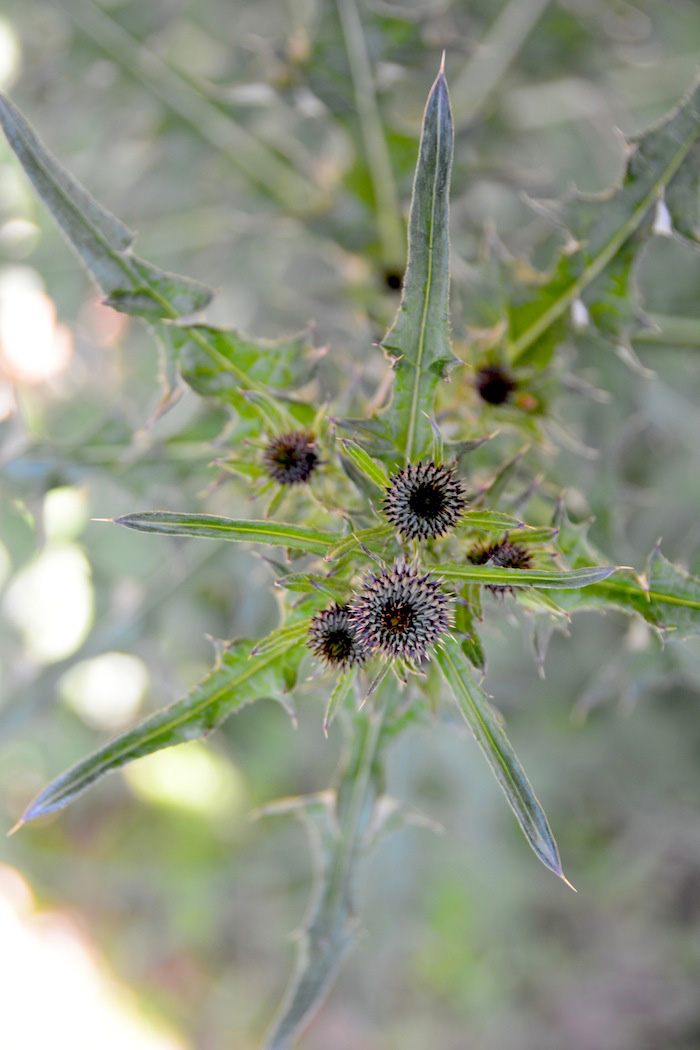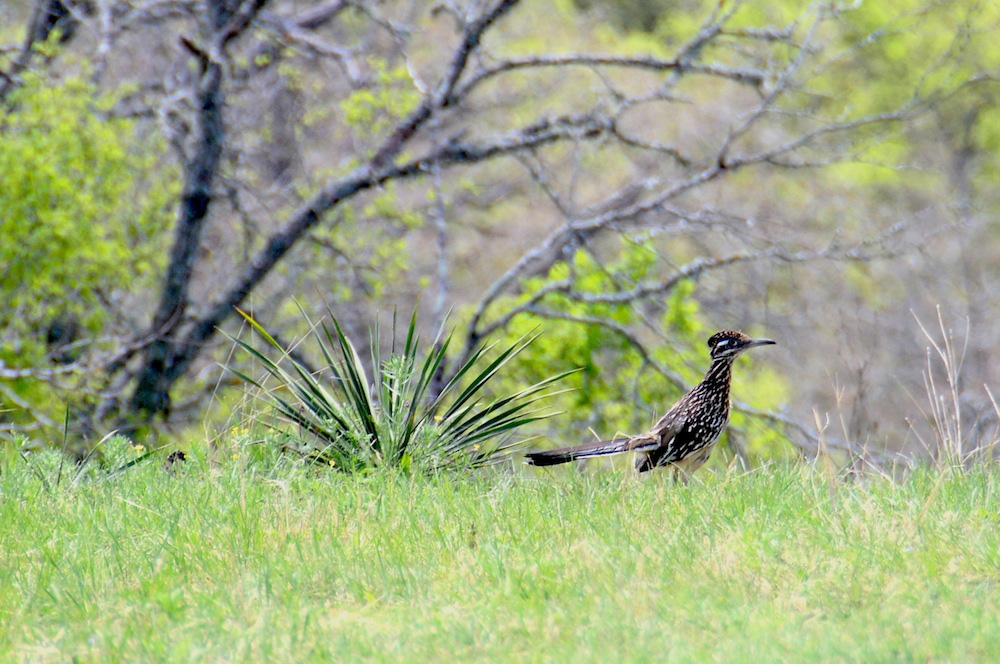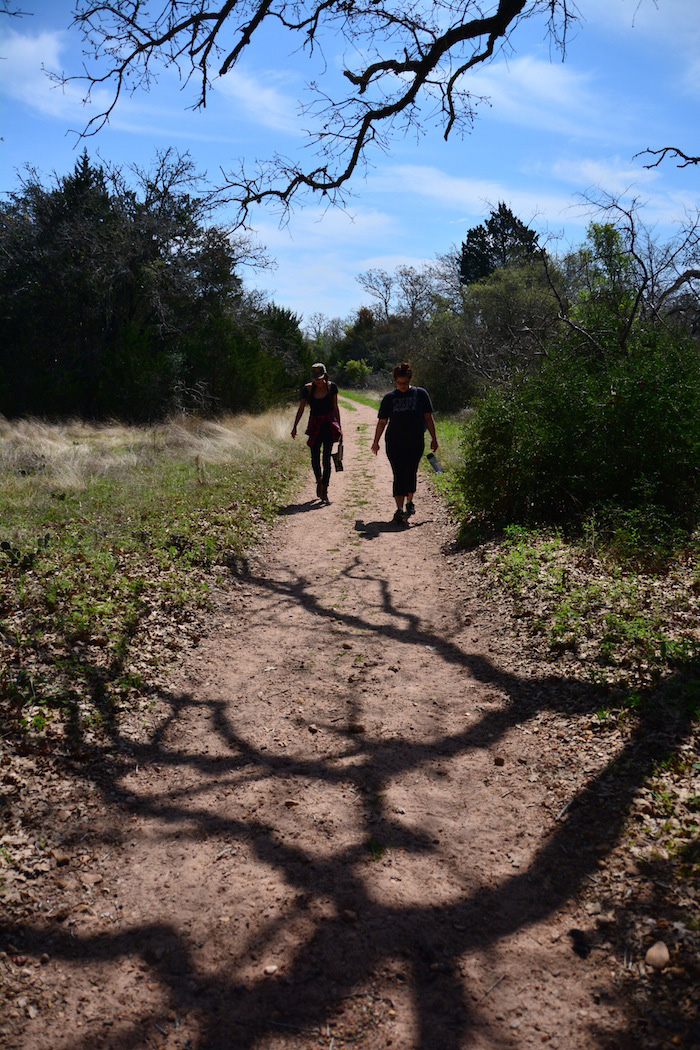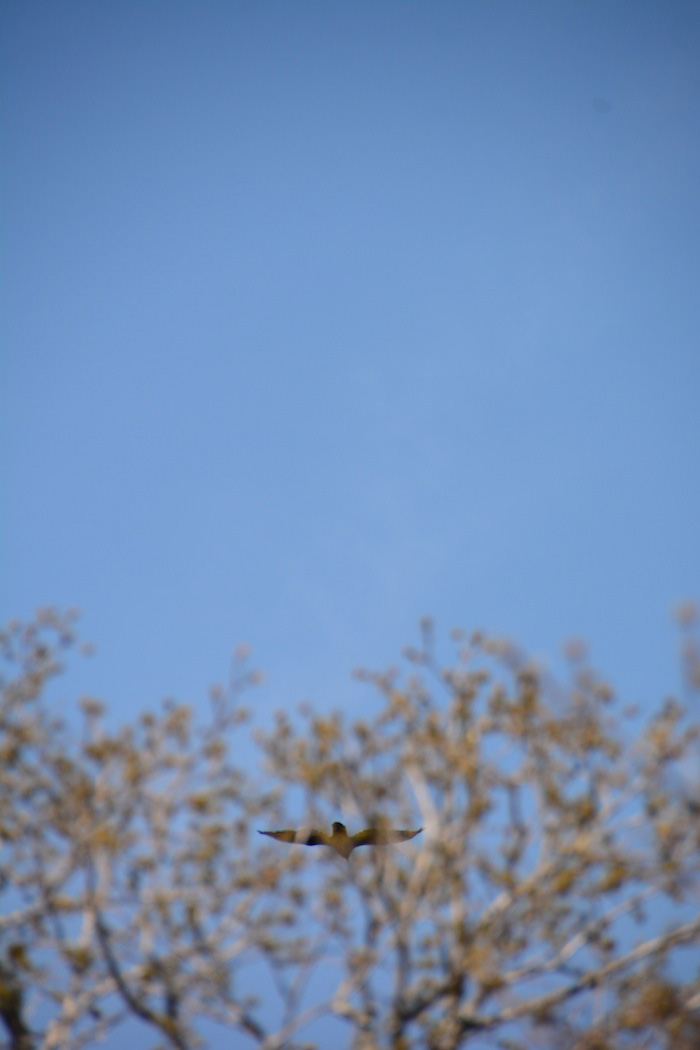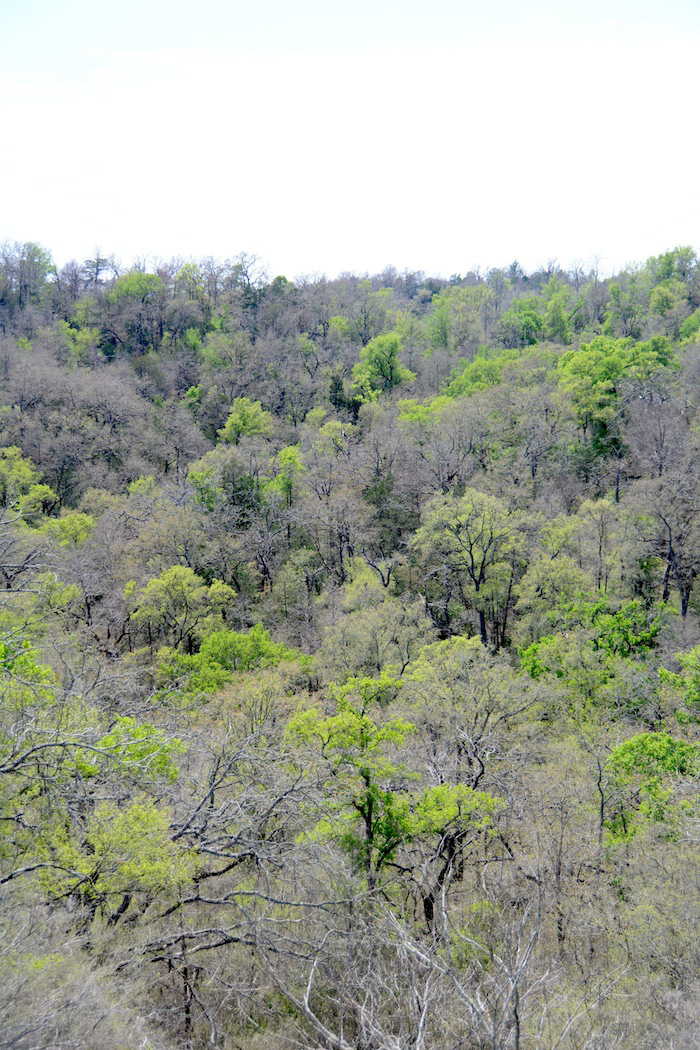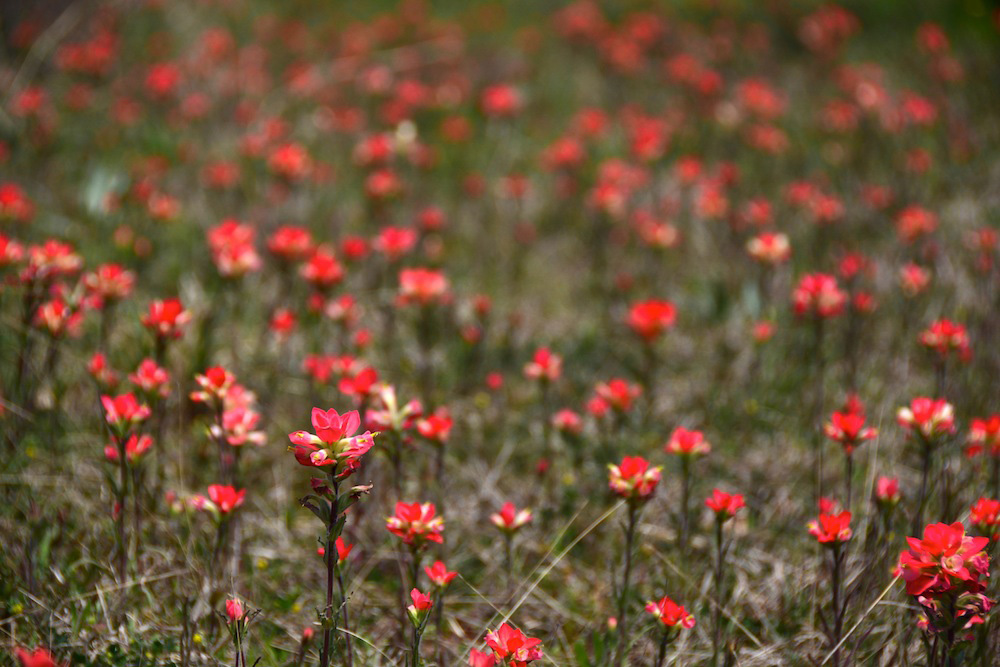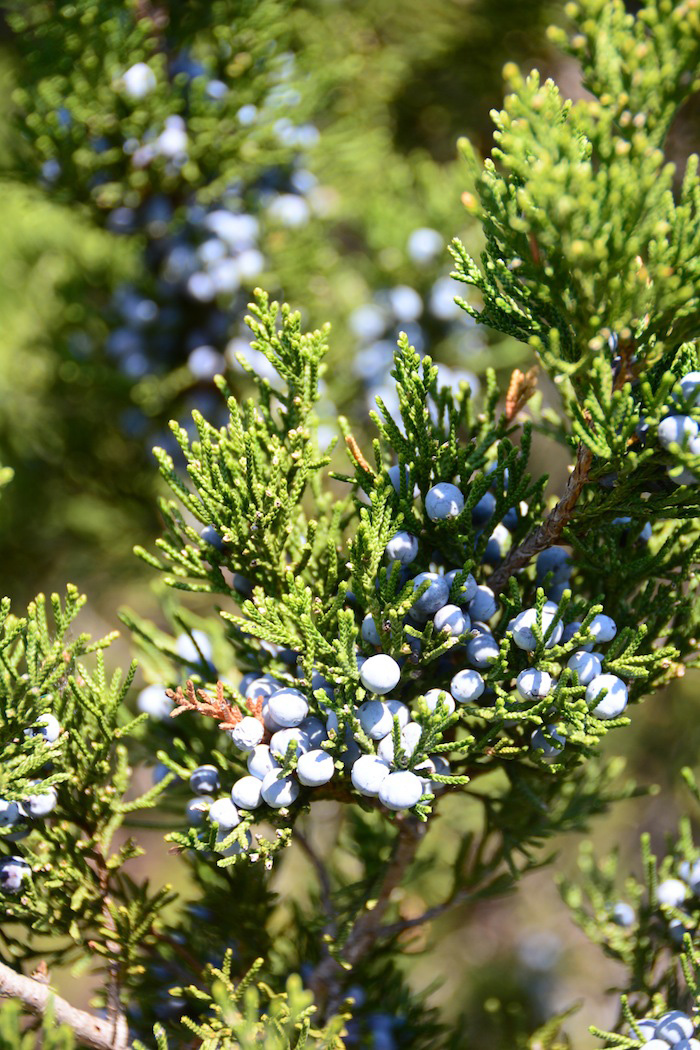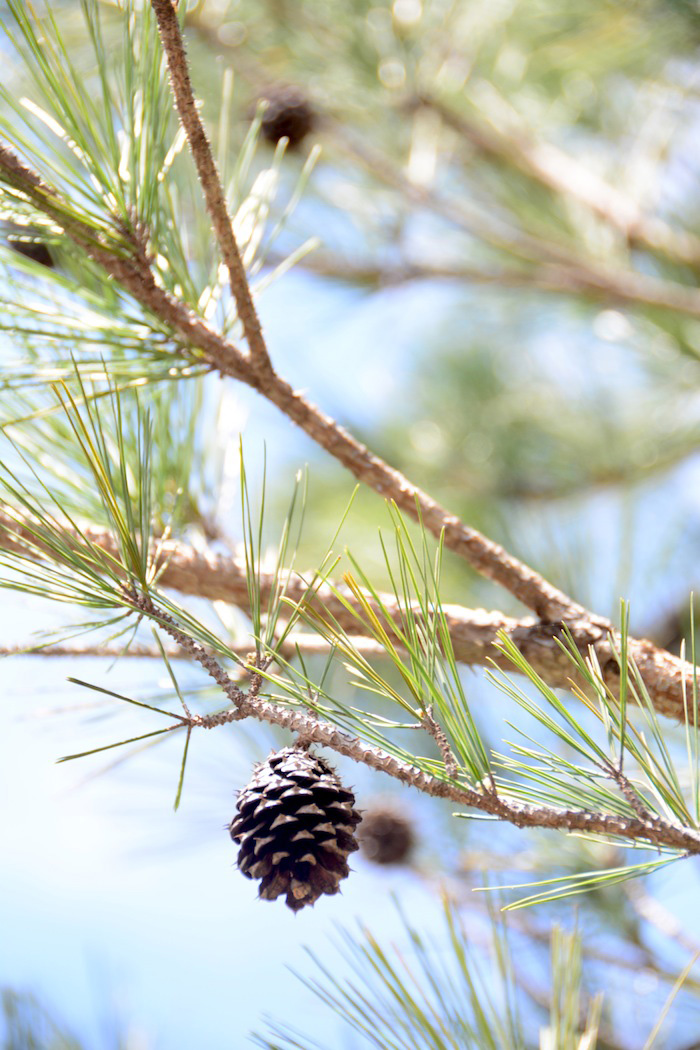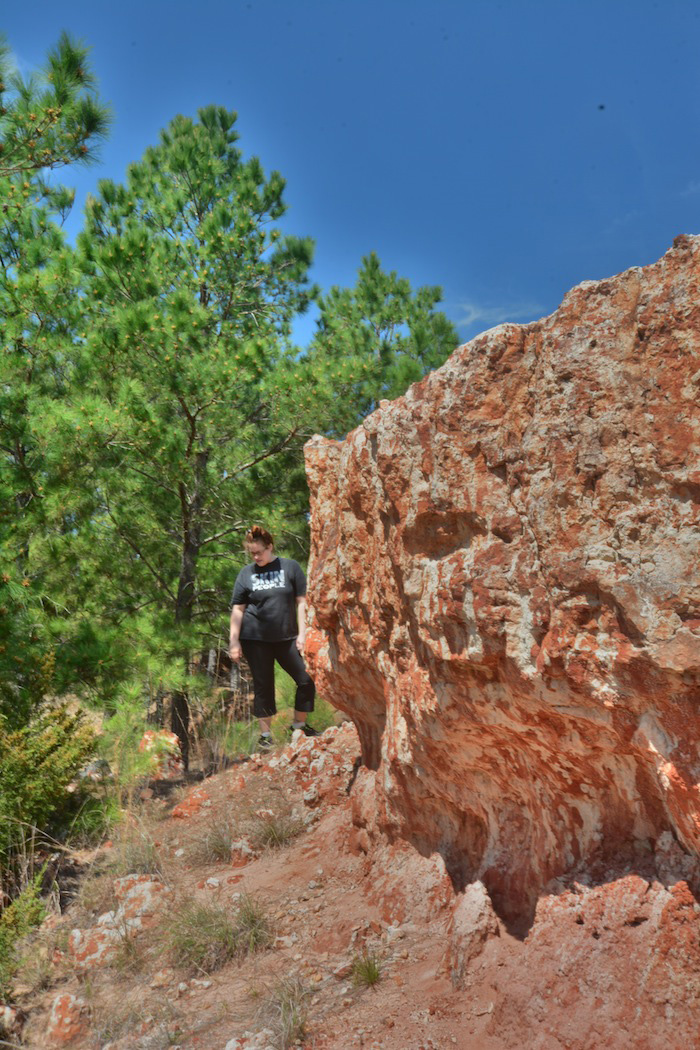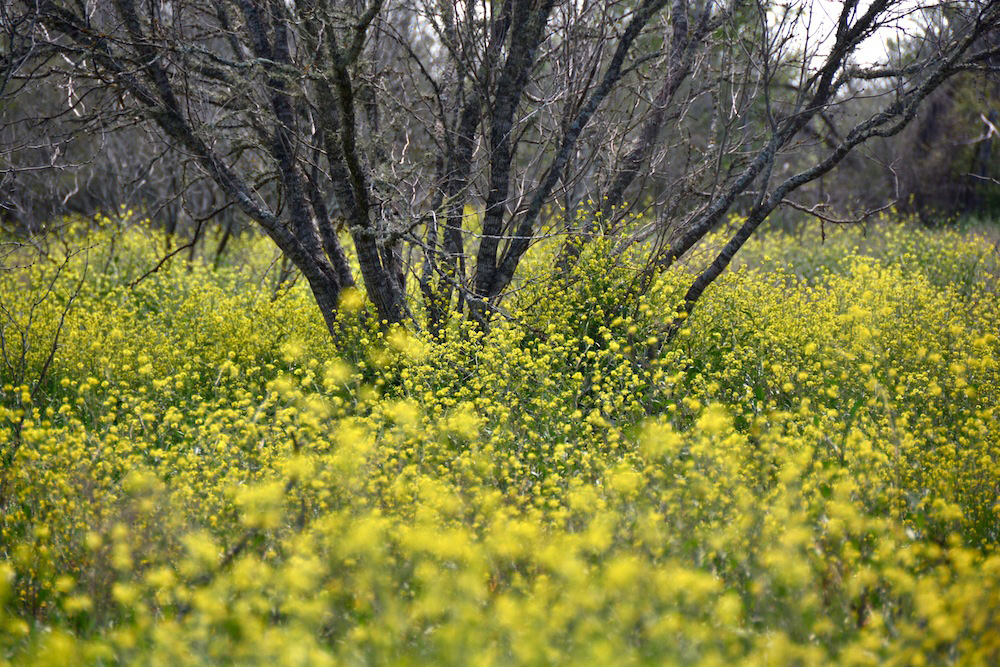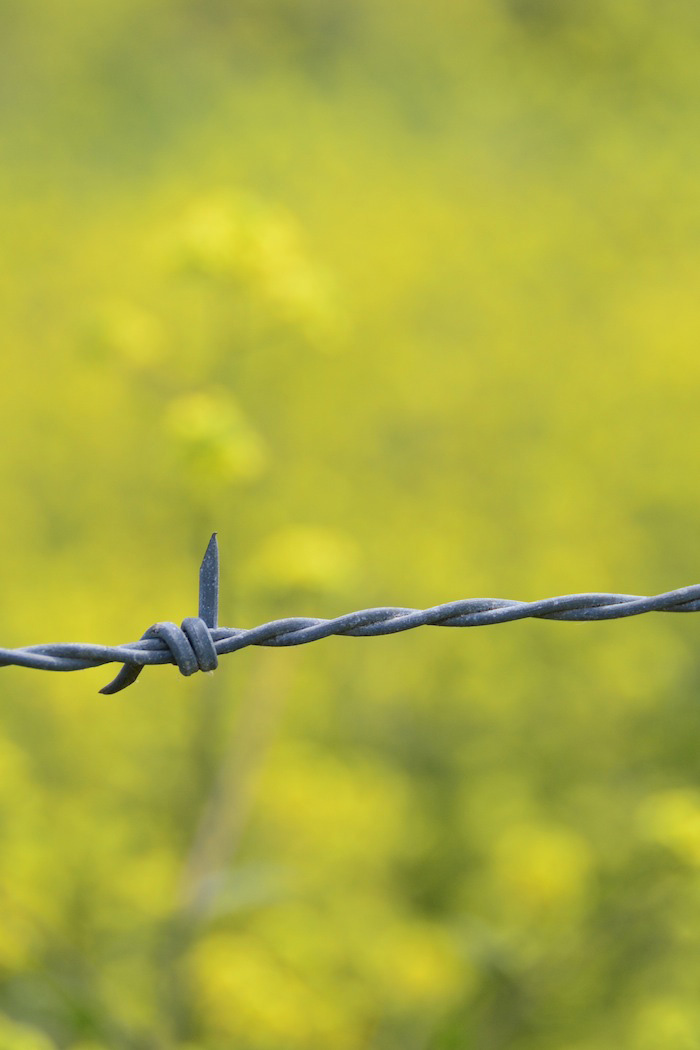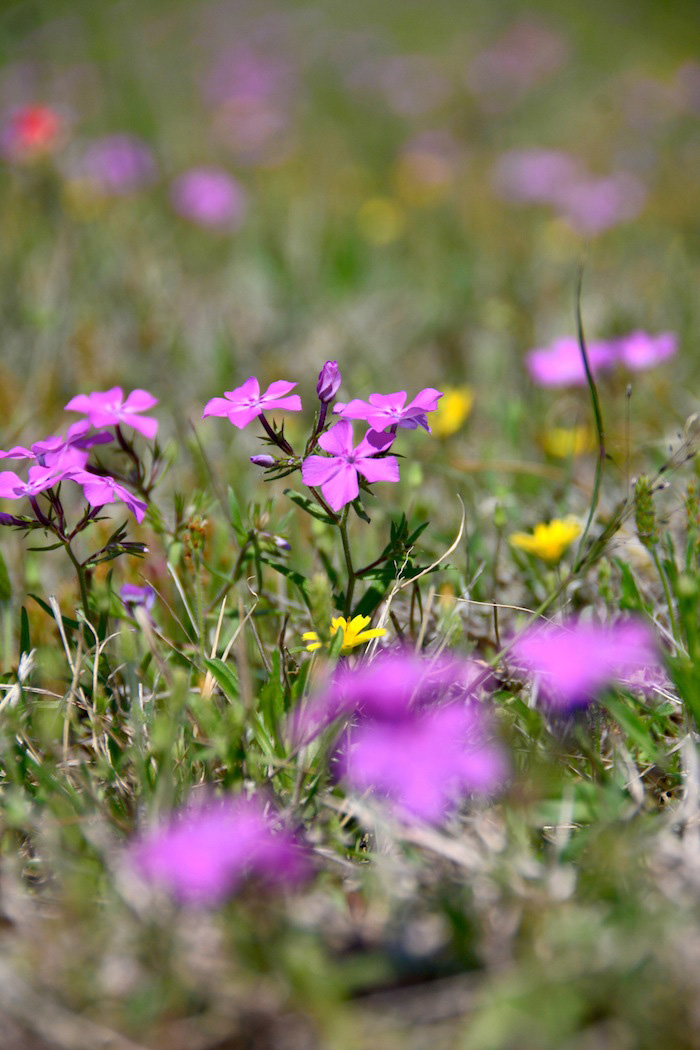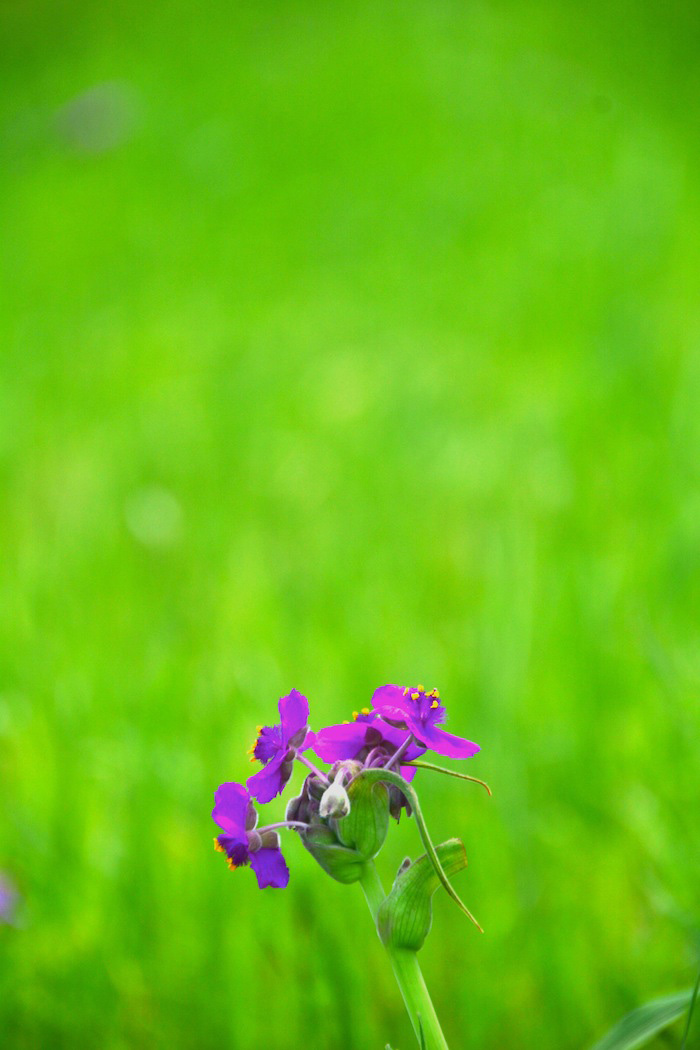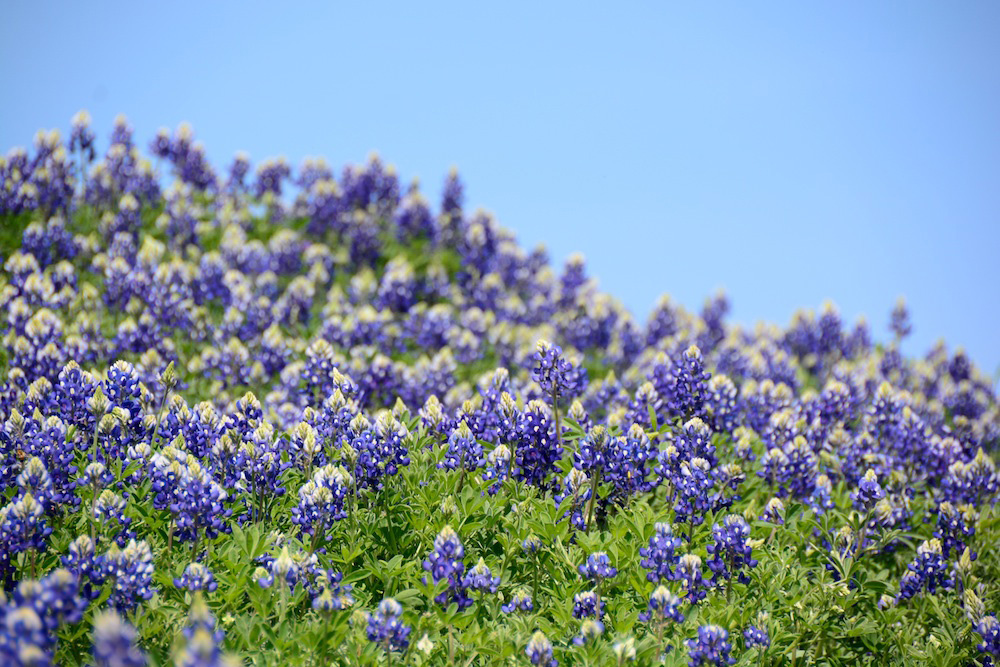 Share:

It's difficult to find a place in Thailand to dislike, but if you've only got a short time to spend in the Land of Smiles, it's important to choose the right destination. If you want to ride elephants and hike in the mountains, for example, it might not be a good idea to travel to a tropical island.
Today, I'm going to introduce you to three of the most popular destinations in Thailand, each spectacular for its own special reasons – that's the good news.
Hua Hin

Located about two hours south of Bangkok, the beach resort of Hua Hin has gained fame as a favorite vacation spot of the king of Thailand. Even if you don't run into his majesty while you're hitting the surf, enjoy all that Hua Hin has to offer, from romantic beachside dinners, to perfect sunsets, to opportunities to get up-close and personal with wildlife like elephants, gibbons and bears.
Chiang Mai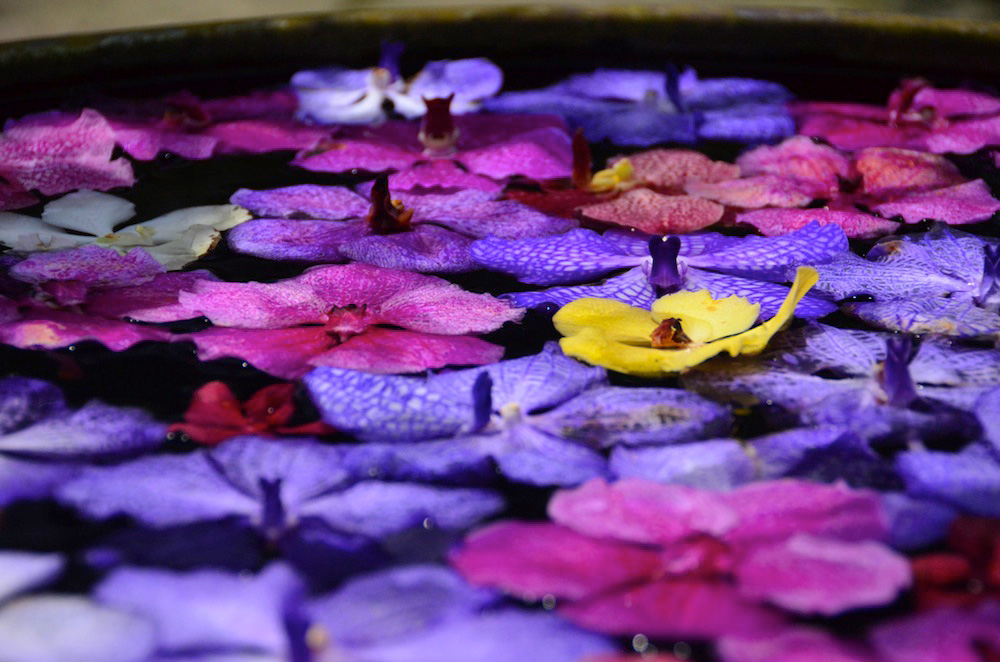 I've written extensively about Chiang Mai since it's one of my favorite destinations in Thailand. If you visit Chiang Mai, take a break from iconic attractions such as Doi Suthep Temple, Tiger Kingdom and the Ping River, pay a visit to the Warm Hearts Foundation, which helps local children escape from poverty.
Phuket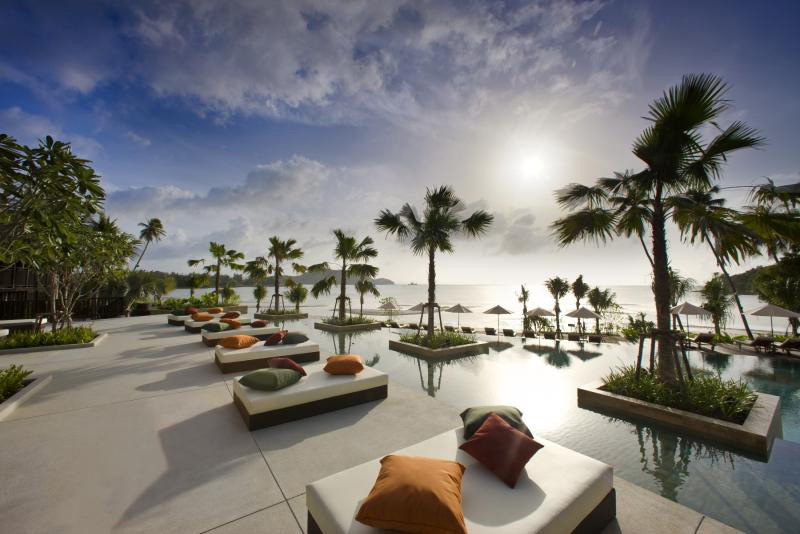 Phuket gained infamy following its feature in a James Bond film, and in spite of the fact that millions of tourists now travel to the island every year, it's still a special place to visit. Hang out on iconic Patong Beach, take a day trip to the Phi Phi Islands or get involved with local conservation efforts, whether you release sea turtles or work to protect mangrove forests.
Images of Hua Hin and Phuket courtesy of Tourism Authority of Thailand
Share: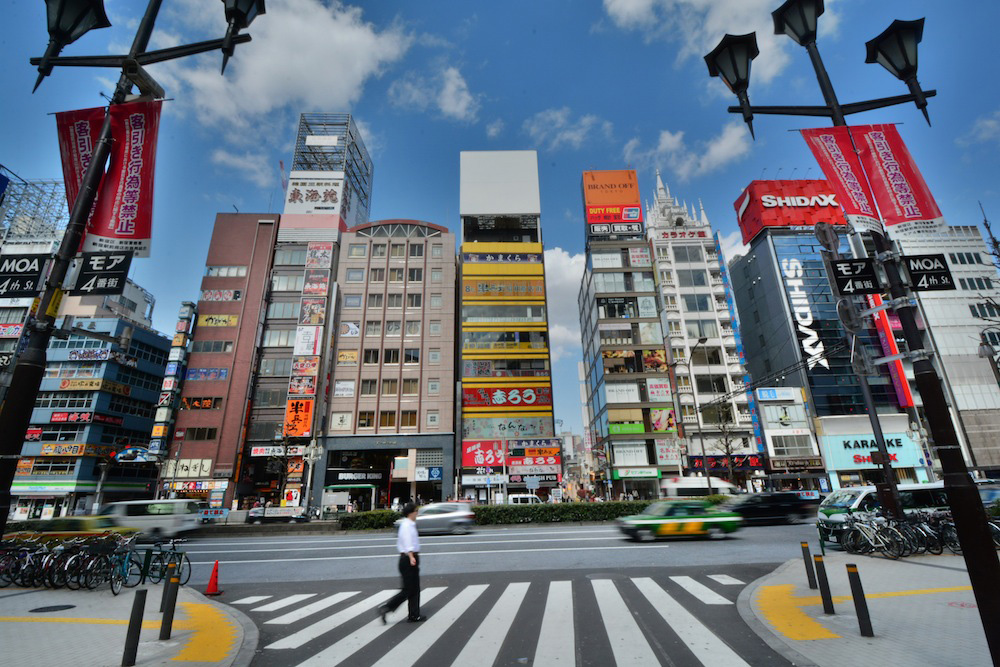 I was overjoyed when I landed in Tokyo this month and was greeted with a city carpeted in stunningly beautiful cherry blossoms, but I was also concerned. You see, I'd been telling myself that I had a week in Tokyo, which made the task of seeing and doing all the things I wanted to see and do in a massive megacity seem slightly less daunting. As I sped toward central Tokyo, however, it occurred to me that this was not exactly true.
At that moment, the sun was just moments from setting – my "first" day in Tokyo would last only a few hours, perhaps not even that long, depending on the extent of my jet lag. Ditto for my final day in Tokyo, which I would actually be spending mostly in my second Japanese destination, Kyoto. In point of fact, I would have only four full days in Tokyo, but as my train arrived at Tokyo Station, I vowed not to dwell on how short my stay in the world's largest metropolis would be.
If you're interested to learn how I spent my time in Tokyo, or you're simply trying to decide how many days to spend in Tokyo during your own trip to Japan, today's post will assuage your curiosity – in brilliant technicolor, of course.
Day One: Shinjuku, Shibuya and Sabrina
A couple days before I arrived, Sabrina of Just One Way Ticket contacted me to let me know she and her boyfriend would be in Tokyo at the same time as me. I'd known Sabrina virtually for a long time, and was eager to meet her in-person. There was just one catch.
"We're going to Kyoto the night you arrive," she explained. "So, can you meet us at 7:30 at Shinjuku Station?"
This would be extremely ambitious – my plane was scheduled to land at 3:30, which meant that even with a fast immigration line I wouldn't make it into to my hotel until at least 6, let alone Shinjuku. Plus, Shinjuku is the world's busiest railway station, with more than 200 exit gates, so I feared that even if I was on time, I wouldn't find Sabrina.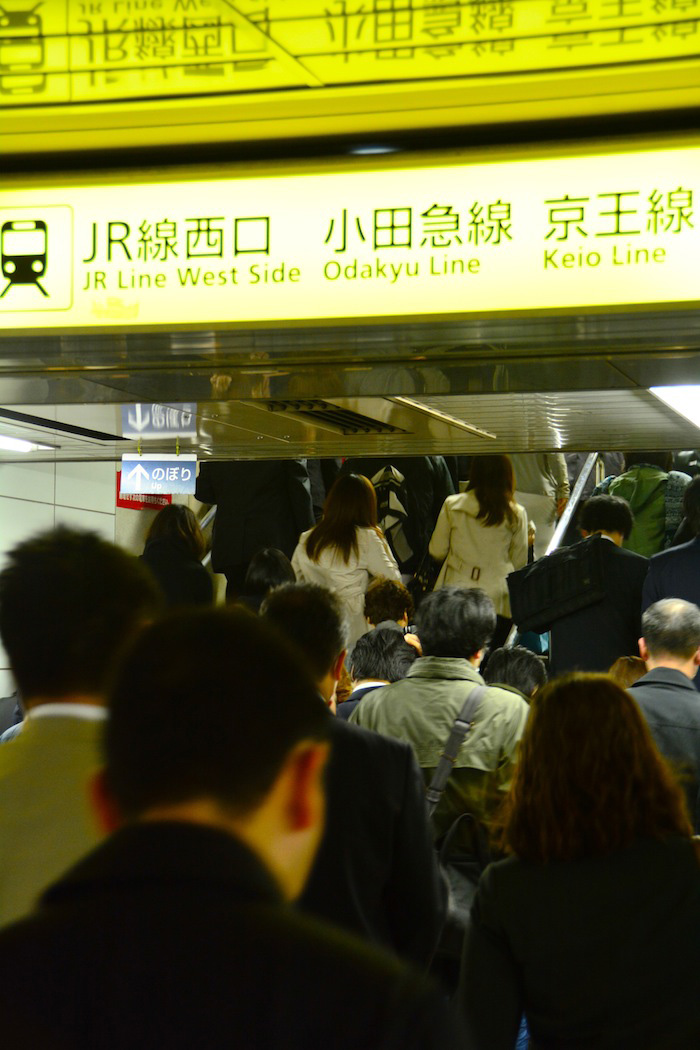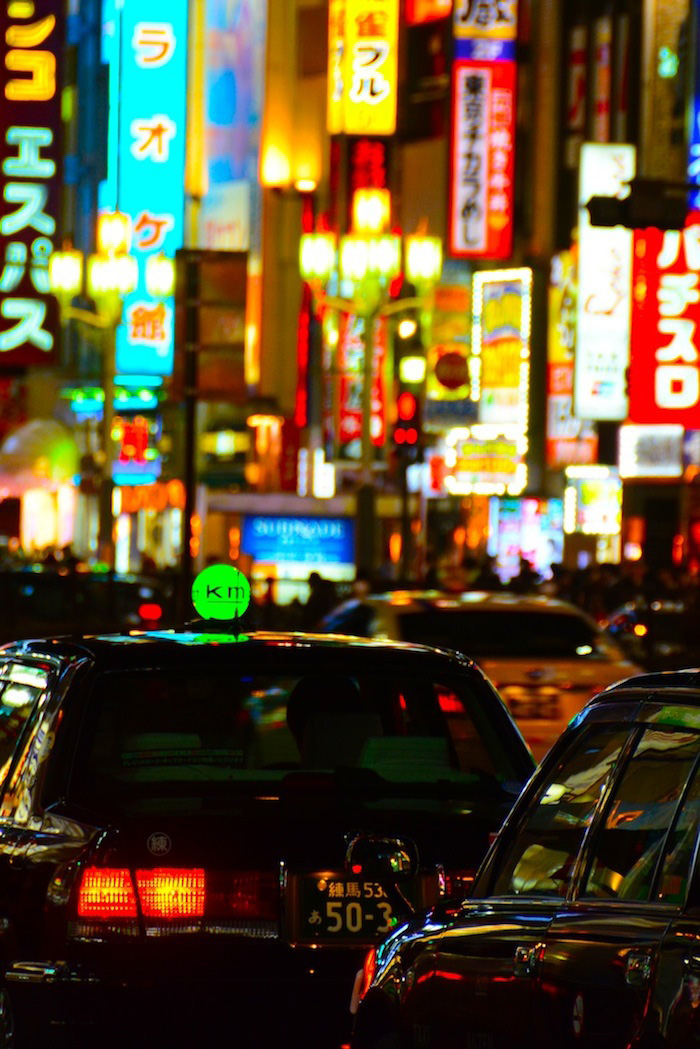 The good news is that my fears were unfounded, so at 7:30 on the dot, the three of us set out into Tokyo's famous nightlife, entertainment and shopping district for a snack. After a couple hours in Shinjuku (FYI, this is all you need to get the picture), I sent them off with a kiss and headed on my own to Shibuya, home to Tokyo's craziest intersection. Like Shinjuku, Shibuya is a place it doesn't take long to get to know. An hour or so is all you need!
Day Two: Cherry Blossoms, Cats and Conveyor Belt Sushi
I purposely planned my trip to Japan to be during the cherry blossom season – and Japan during cherry blossom season did not disappoint! As you saw if you read my latest post, Tokyo was an absolute revelation painted in the pinks and whites of the legendary sakura along the stately canals of Chidorifaguchi, one of the best spots in Tokyo for hanami, cherry blossom viewing.
I could've spent the whole day photographing this exquisite beauty (and to be sure, I did spend at least half the day doing so) but I had other items on my Tokyo to-do list as well. After all, at this point, I had just three days in Tokyo left to go!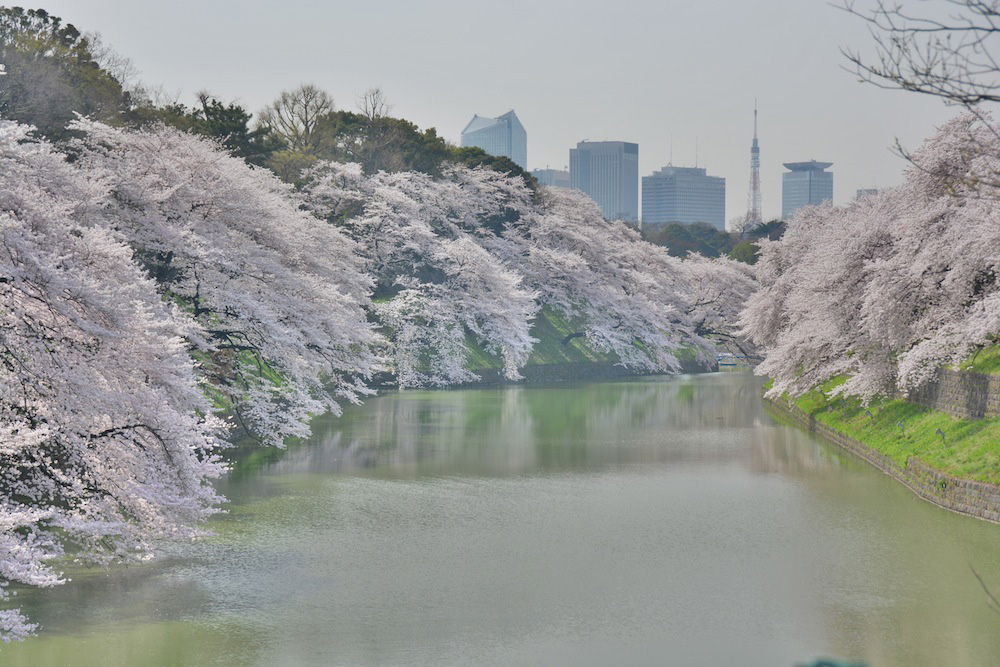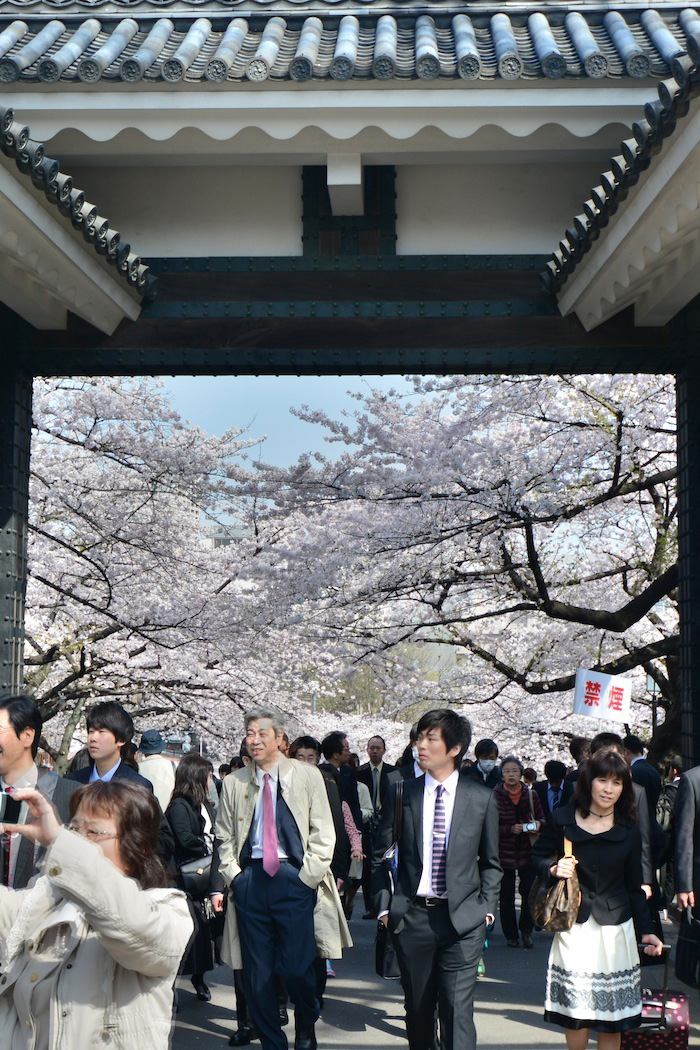 After traipsing through the East Gardens of the Imperial Palace back to Tokyo Station, I took the metro to Ikebukuro, a district of Tokyo famous for prostitution and "love hotels." I got lucky, but not in the ways you might expect.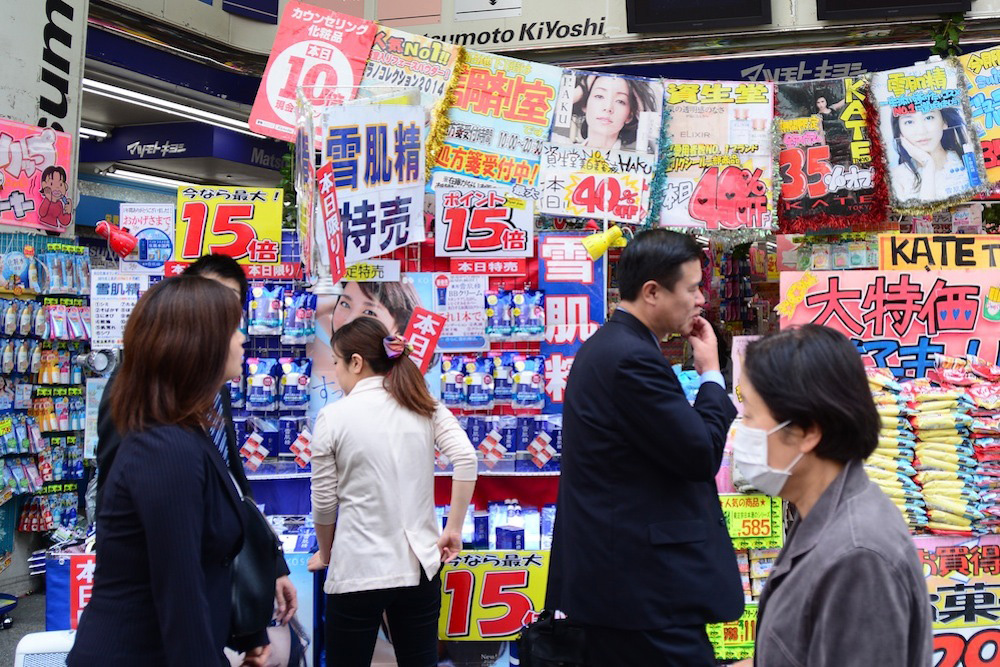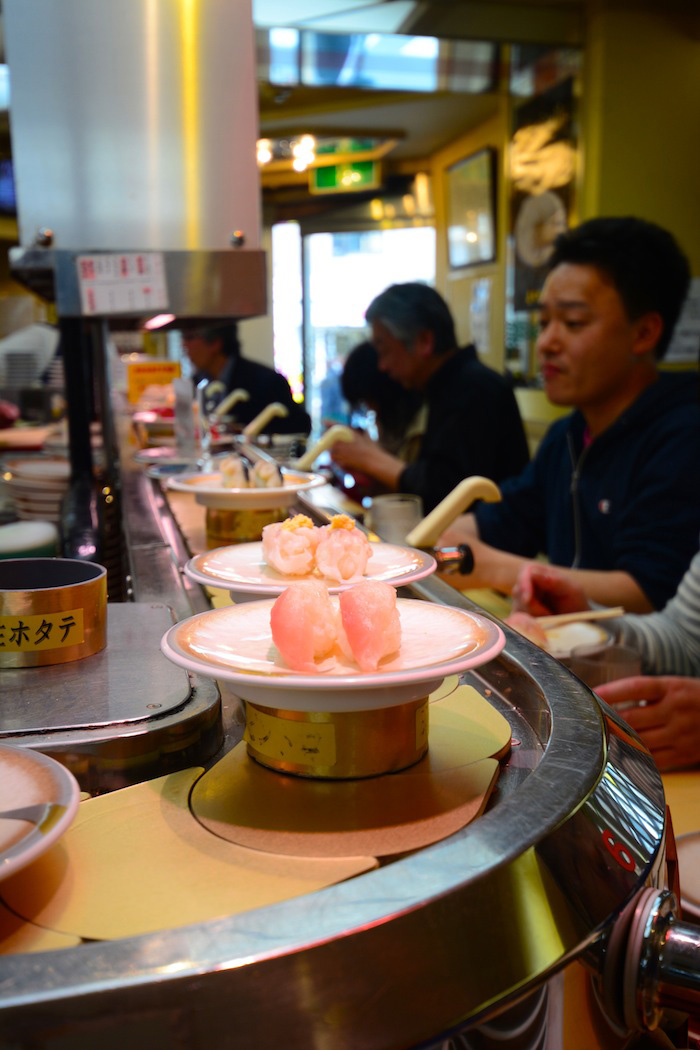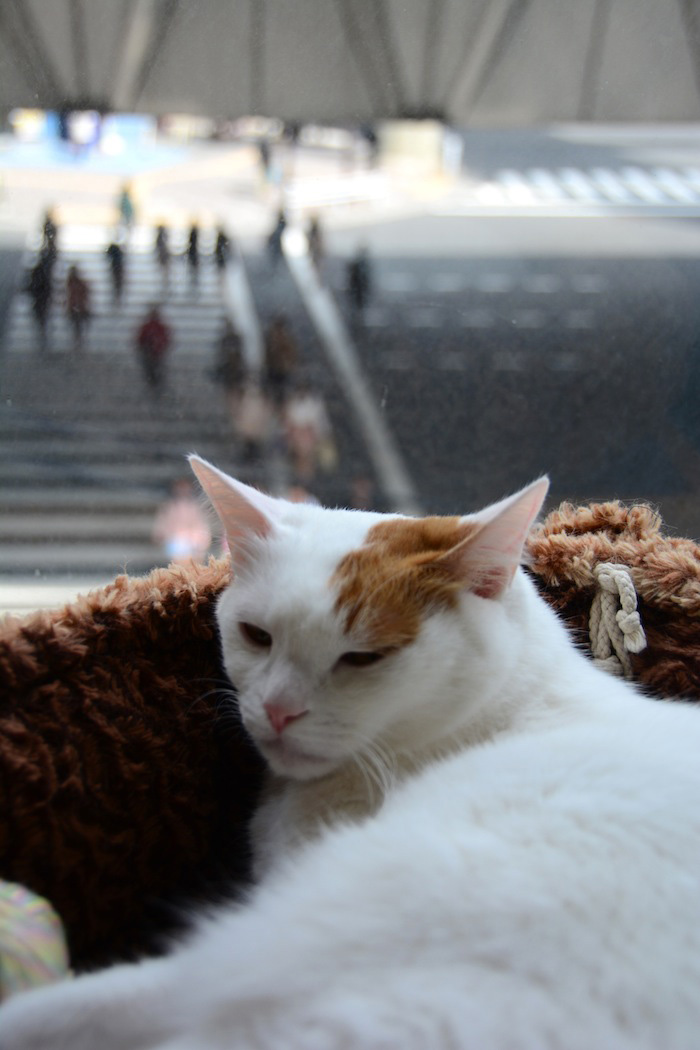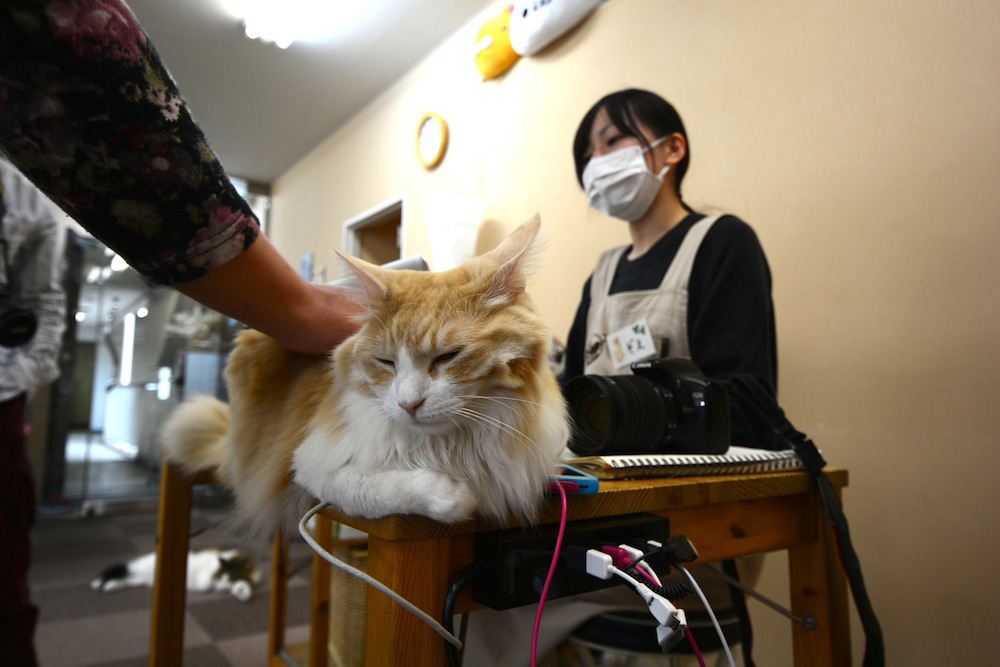 My first stop was Tenka Sushi, one of Tokyo's famous conveyor-belt sushi restaurants. This is an awesome way to eat sushi not only because you can choose whatever you want off the conveyor belt, but because it's cheap. Each piece is just ¥170, or less than $2. The real object of my visit to Ikebukuro, however, lied elsewhere.
My mother, as you may or may not know, is a self-proclaimed crazy cat lady, so I felt it was my familial duty to enjoy a cup of joe in the company of several dozen felines. I personally visited Nekorobi Cat Café, although many others exist through Tokyo.
Day Three: Rain, Rain, Go Away
I'd planned to ascend Mori Tower, in Tokyo's posh Roppongi Hills district, upon finishing up with the cats, but it wasn't meant to be: The sky opened up the moment I exited the Tokyo Metro at the base of the tower and didn't close until nearly 36 hours lately. I thus spent the entire next day, my third in Tokyo, sleeping (which was fine – I was still exhausted from the flight!).
Day Four: Sunrise, Sunset and Sushi for Breakfast
It was fitting that I spent my third day in Tokyo unconscious, because the morning of my fourth, I had to wake up at 3 a.m. Why, you ask? Although the famous tuna auction at Tsukiji Fish Market, one of the largest fish markets in the world, does not begin until 5:25 a.m., only 120 people per day are admitted, which means that you need to arrive by 4 a.m. if you want a chance to see it for yourself. I arrived at 3:20 and barely did!
The auction itself was cool, if a bit short, lasting just 30 minutes. The real treat of coming down to Tsukiji Market early in the morning, however, is getting to enjoy delicious sushi for breakfast, which is a great consolation prize if you aren't among the 120 admitted.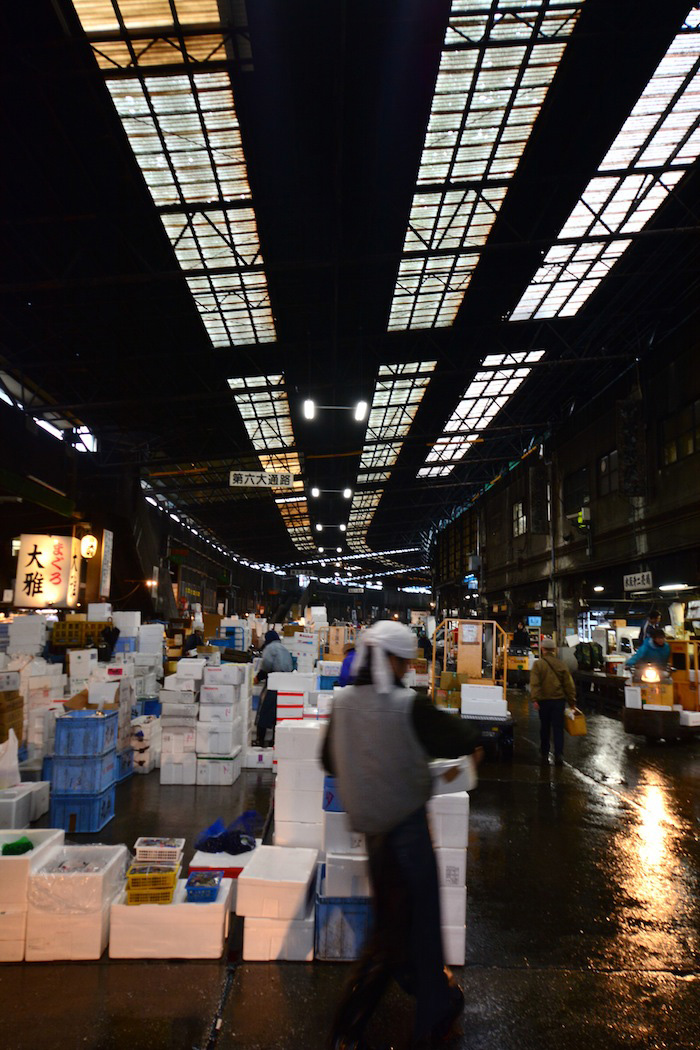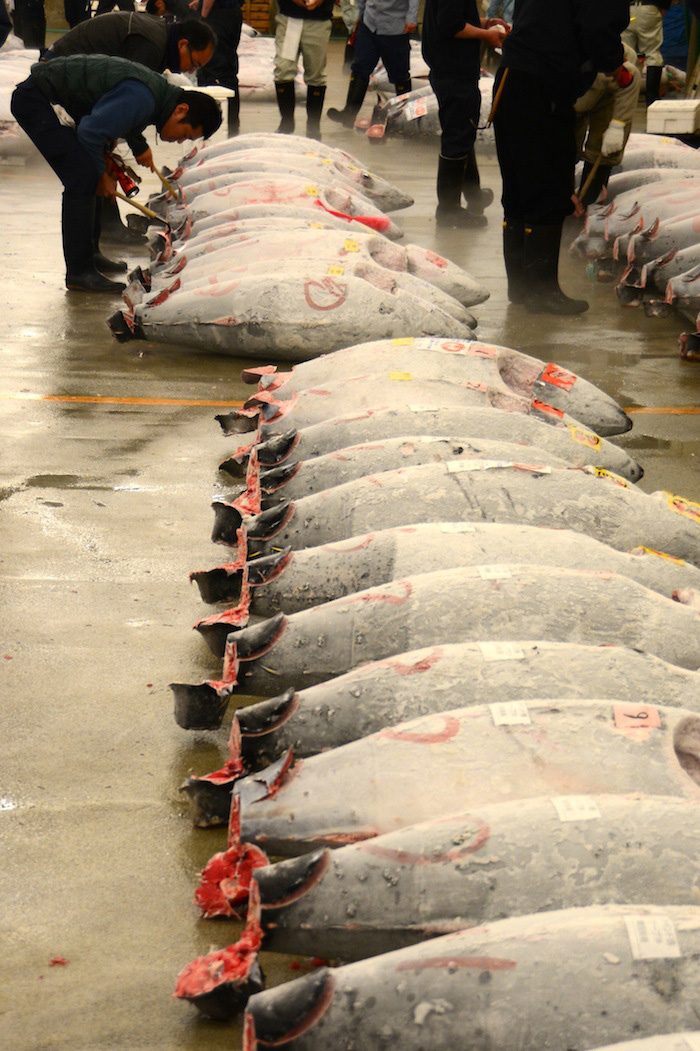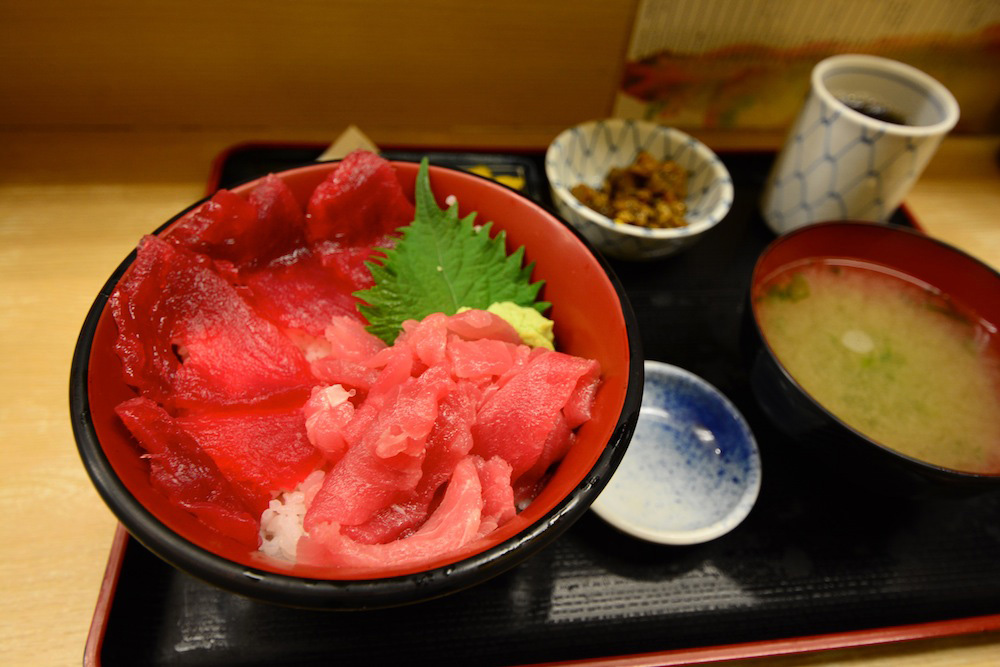 I headed back to my hotel after my fishy first meal of the day. I was originally intent on resting until later in the afternoon, which would see me connect with a trio of friends old and new, but decided to bite the bullet and visit Asakusa. Although the shrine, which is one Tokyo's most famous attractions, was beautiful, it was also kind of a clusterfuck as you can see below.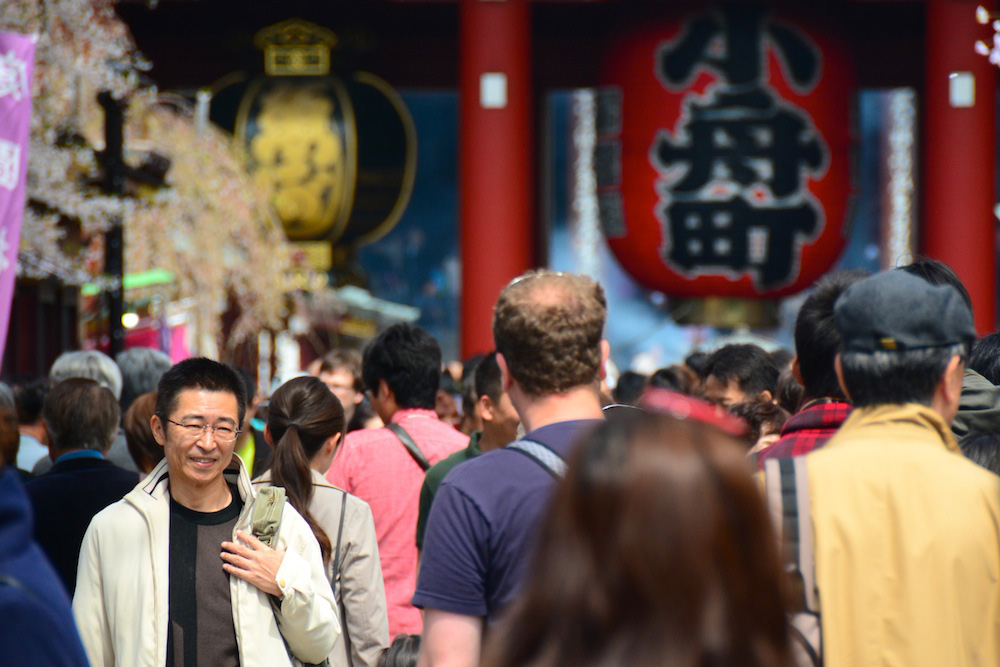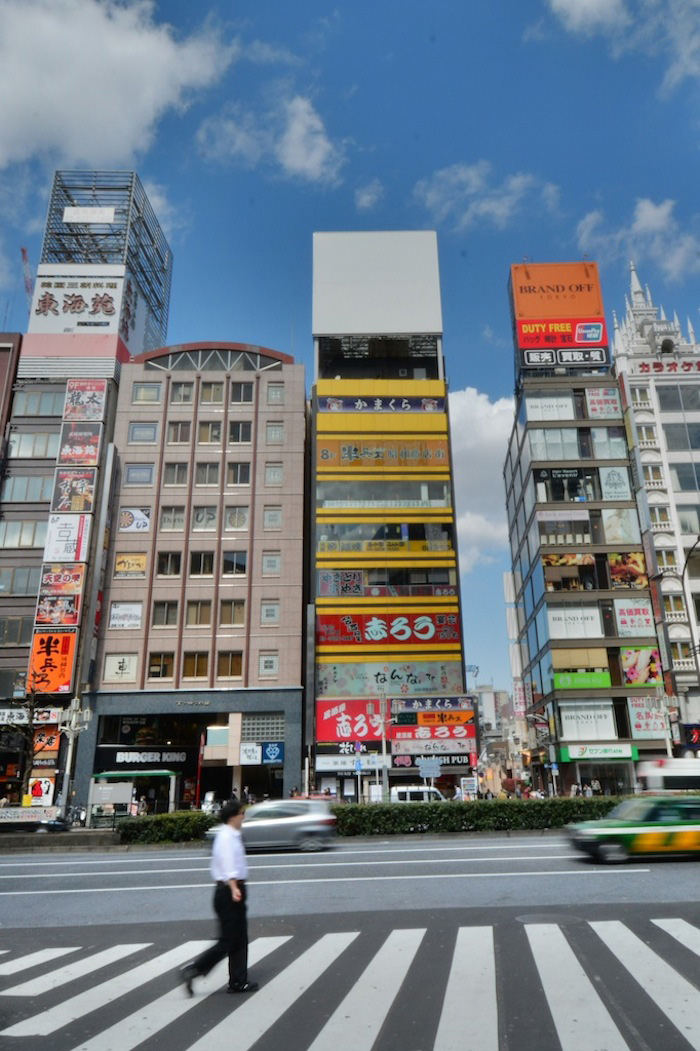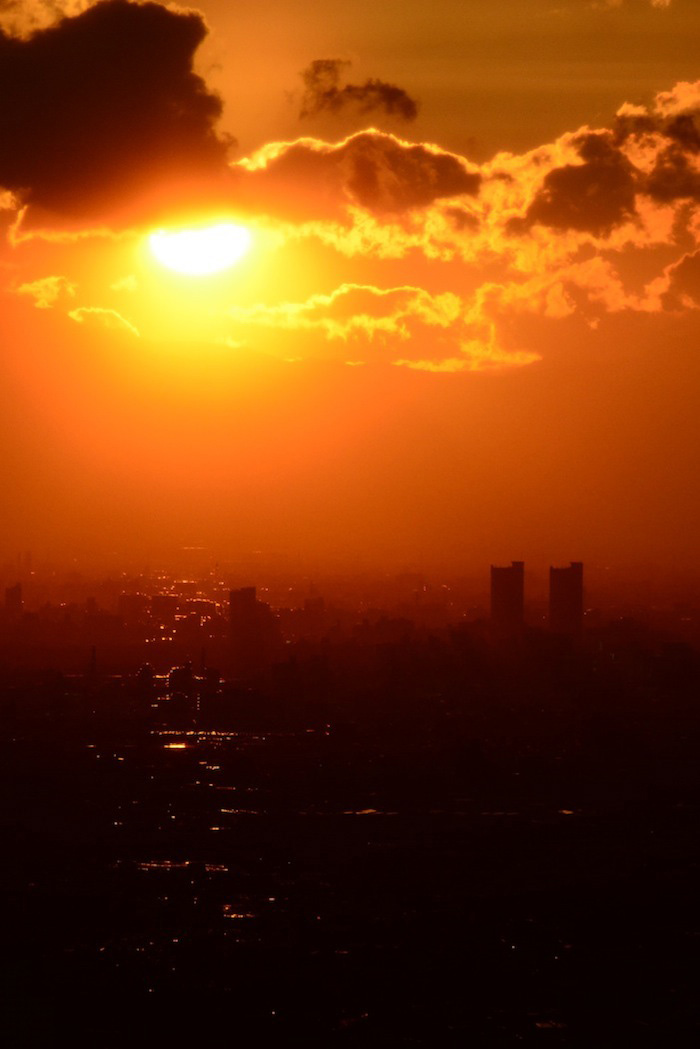 I then met Andika from Indonesia, for lunch at his favorite ramen place in town. He handed me off to Yuta, a Japanese friend I'd met a whopping seven years ago in Paris, who took me to the top of Mori Tower to watch night fall over Tokyo. After enjoying a simple, delicious dinner with Yuta, I met up with my third friend of the day, Nela, who is also from Indonesia. 
Day Five: Nikko
Initially, I was very excited about my day trip to Nikko, a UNESCO World Heritage site located about 150 km north of Tokyo in the foothills of the Japanese Alps, what with the message of the marketing propaganda – "Nikko is Nippon," Nippon being another word for Japan – plastered all over the inside of the train that took me there. As the train slowly filled with retiree tour groups, however, I became decidedly less excited.
I'm happy to report that my un-excitement was un-founded and disappeared the moment I got off that God-forsaken train. The majestic scenery around Nikko sold me immediately, which says nothing of how enchanting it is to see the dozens of shrines, temples and gates built right into its majestic cedar forests.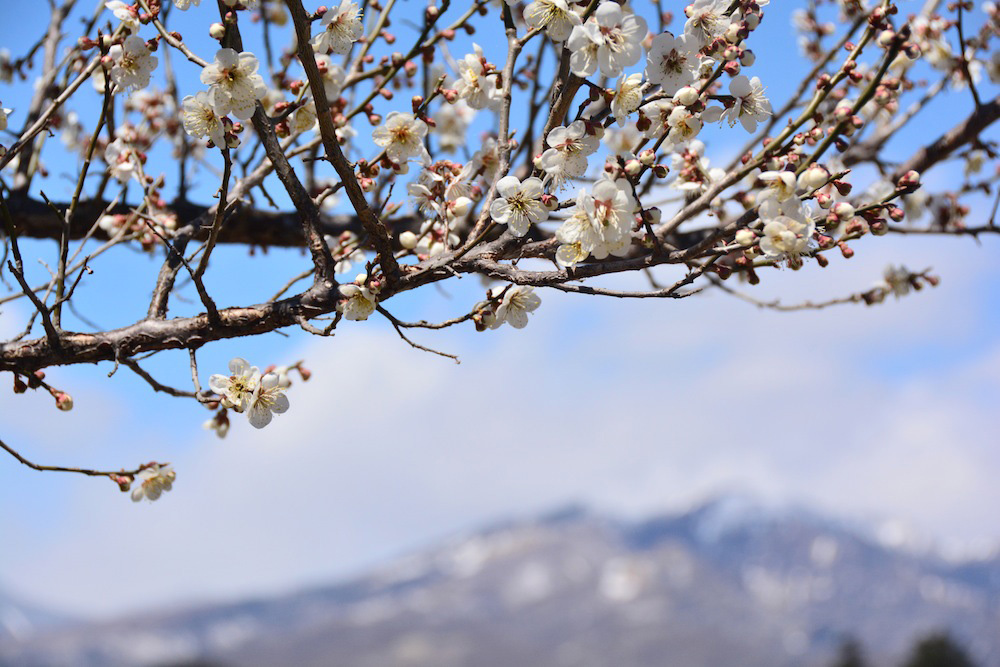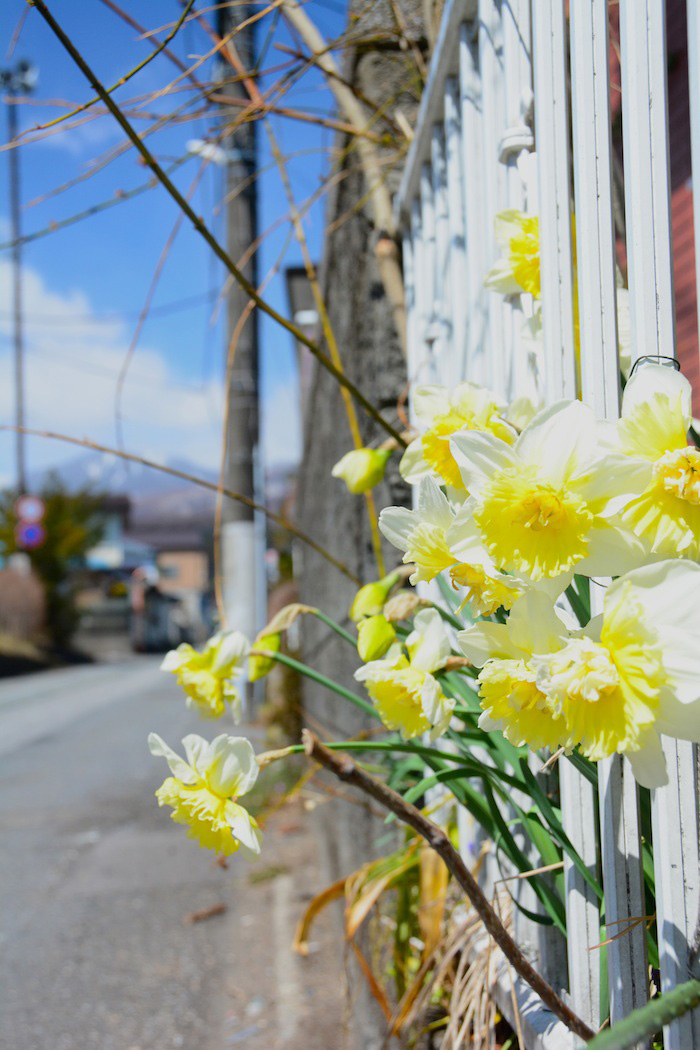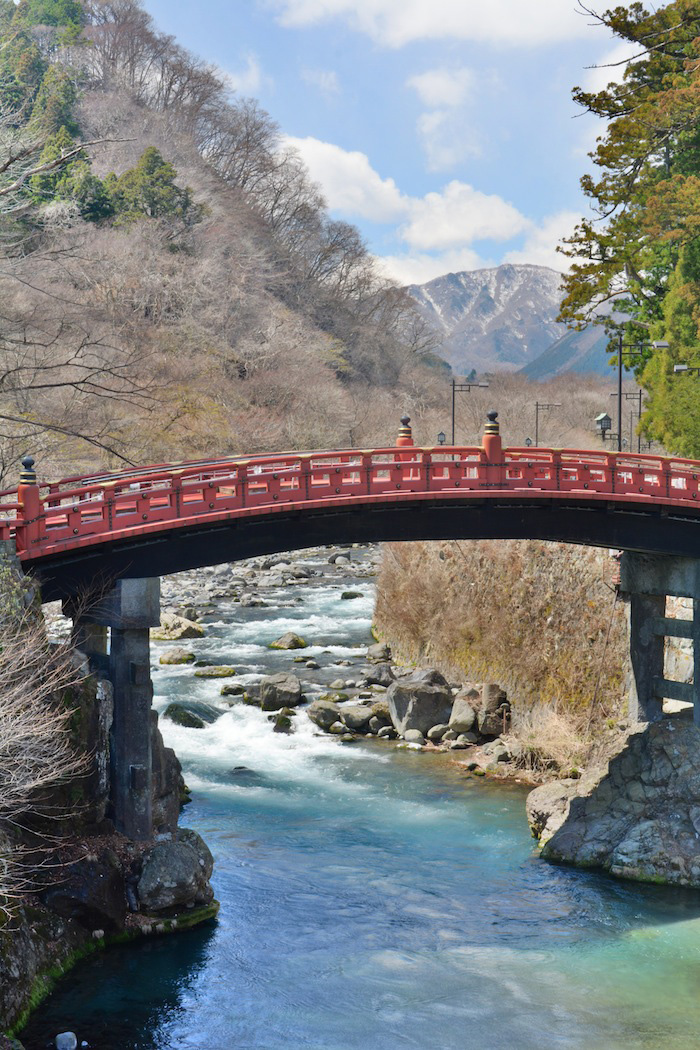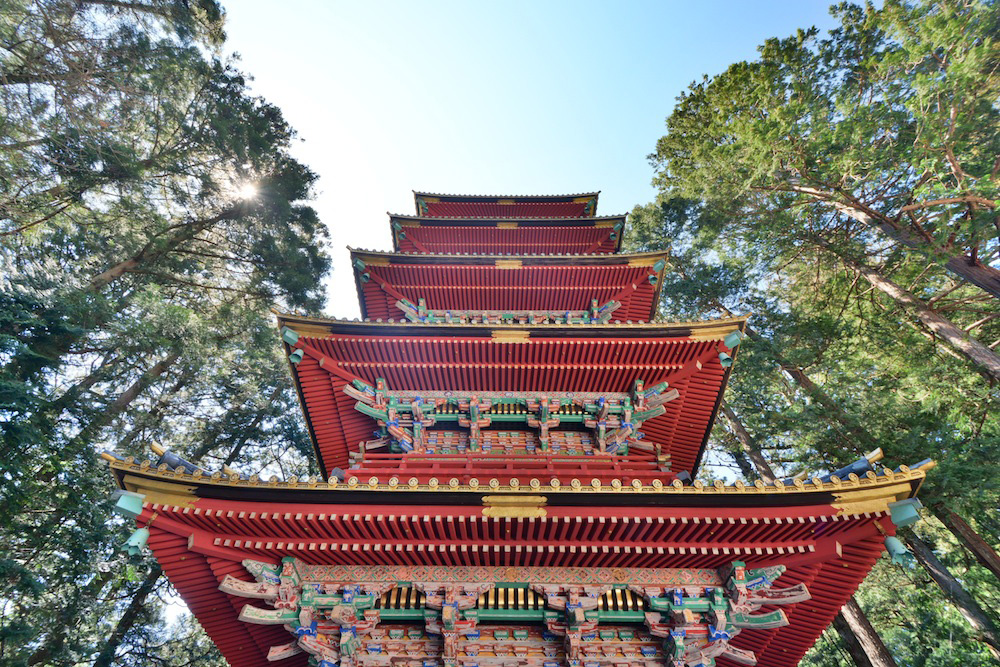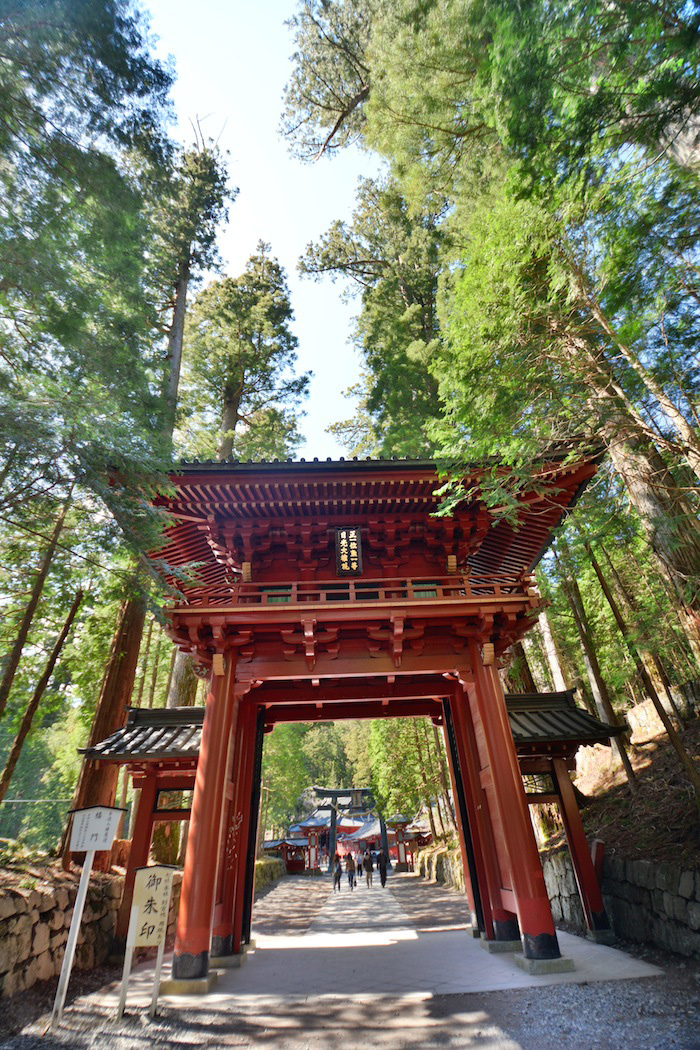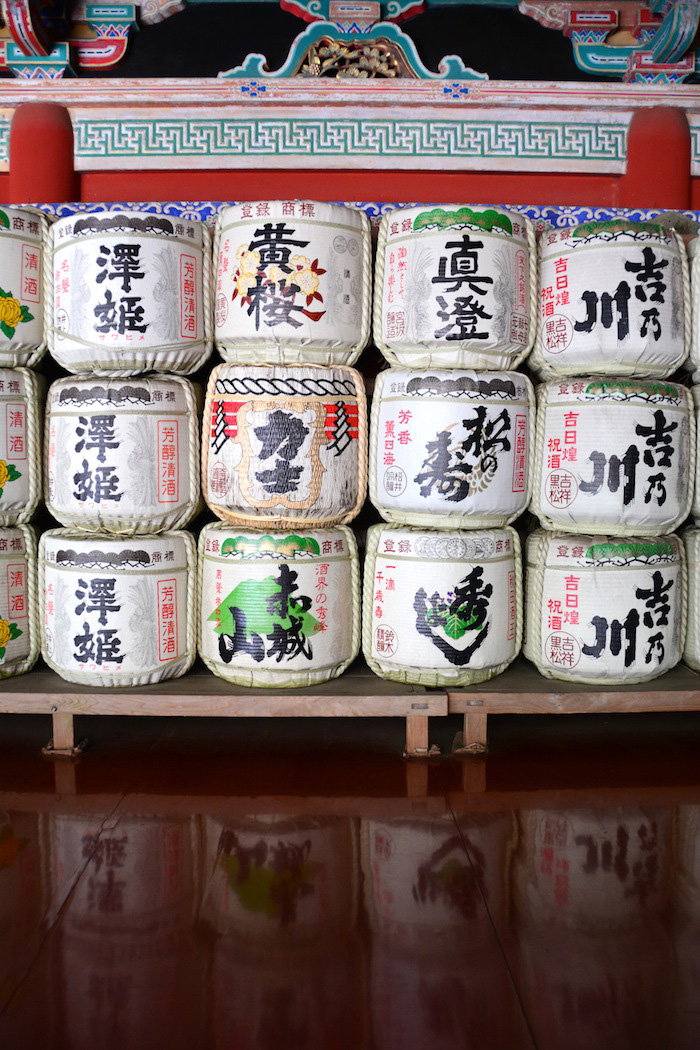 I was literally speechless as my train pulled away from Nikko and can't recommend highly enough that you take your own day trip there during your time in Tokyo, whether you spend three days in Tokyo, four days in Tokyo or more.
Day Six: Harajuku Girls, You Got Some Wicked Camouflage
It's hard to believe, but it's been almost a decade since Gwen Stefani was culturally relevant. Incidentally, approximately the same amount of time has passed since she debuted the "Harajuku Girls," a quartet of Japanese fashionistas whose subservient behavior earned her accusations of racism. Stefani's bigotry (and her deceased career) notwithstanding, I embarked in search of said girls on my last day in Tokyo.
My research told me that Sunday was the best day to spot Harajuku fashion and that nearby Yoyogi Park, rather than Harajuku itself, was the best place to spot them. Imagine my surprise upon arriving in park to find it literally occupied by families and young people dressed in ordinary clothing, the only thing bizarre about them their penchant for picnicking on blue tarps.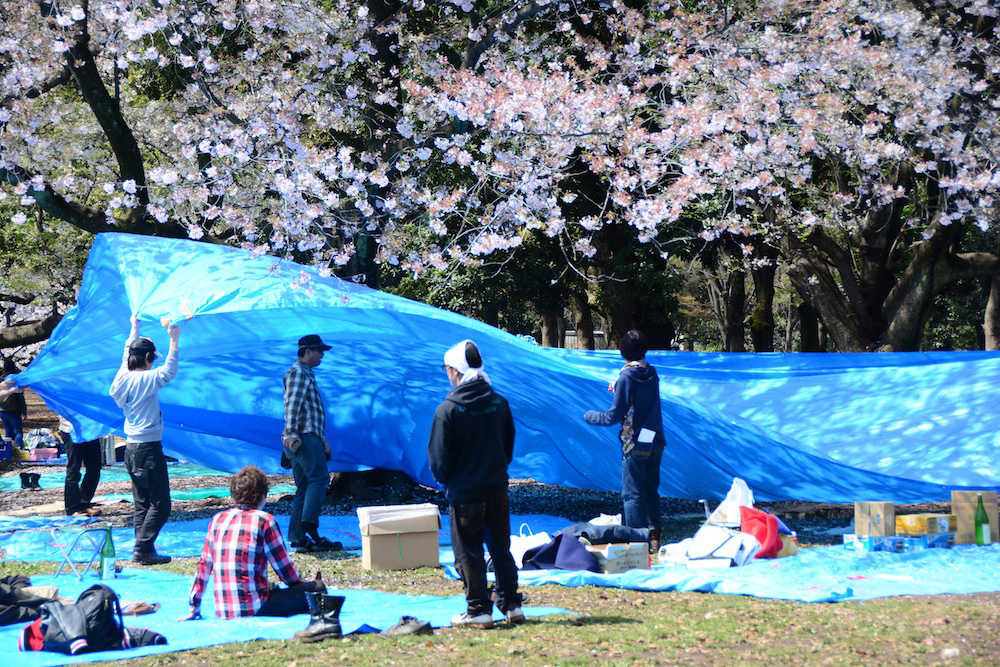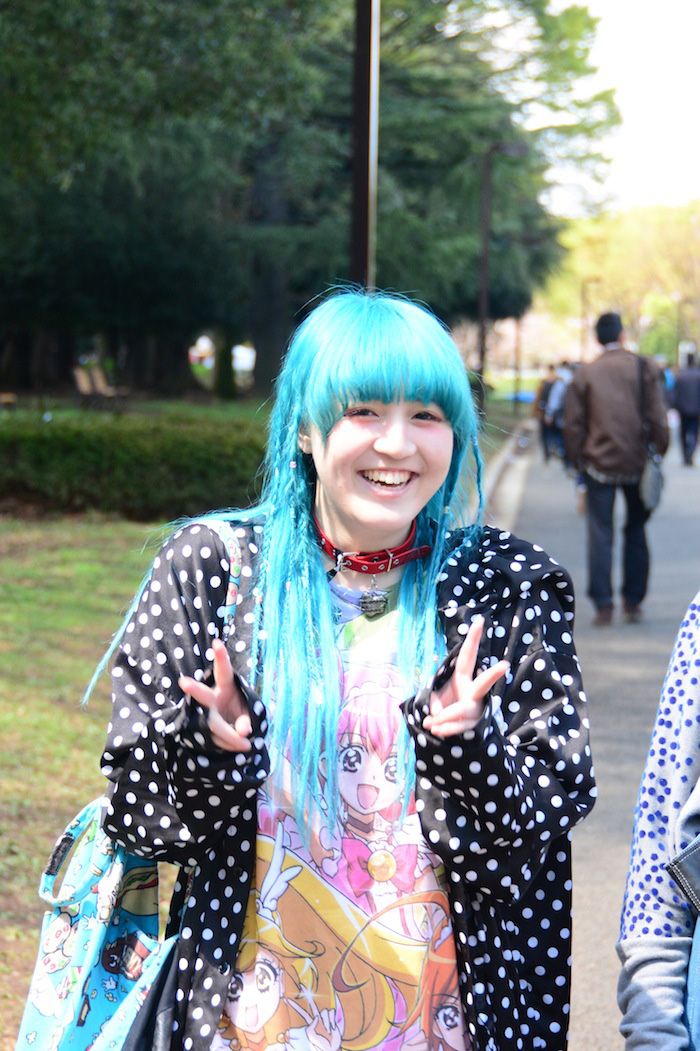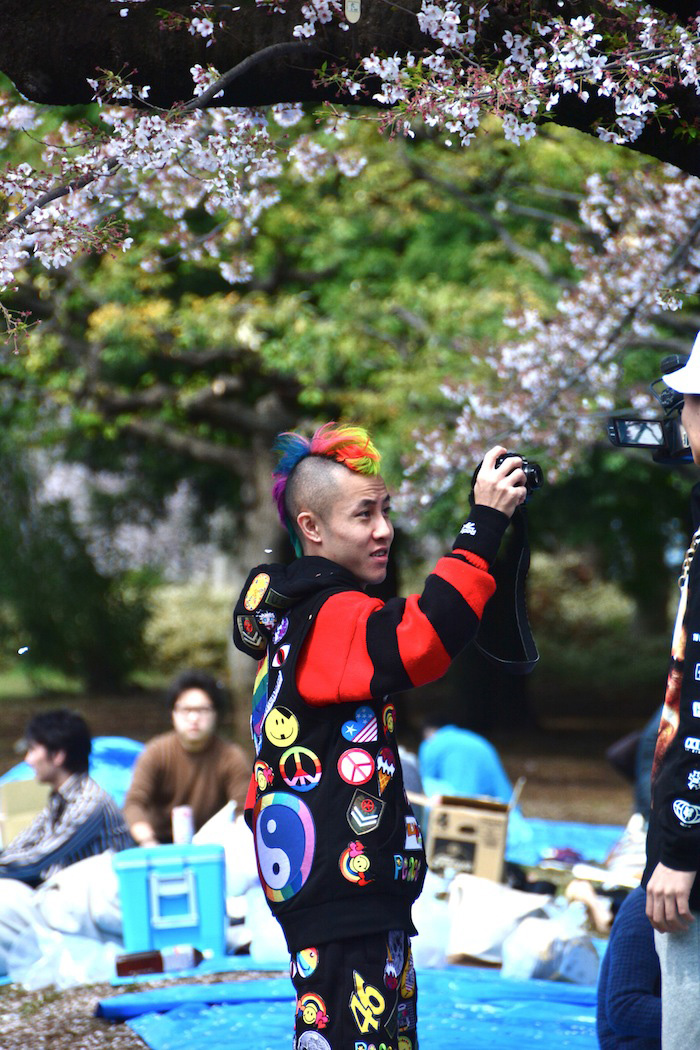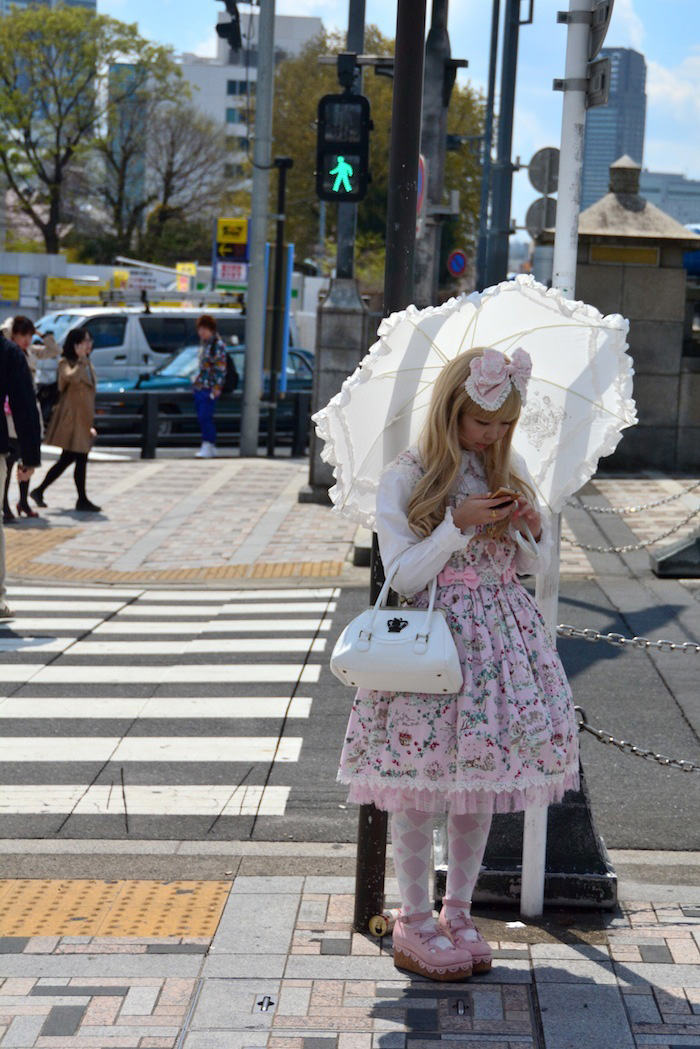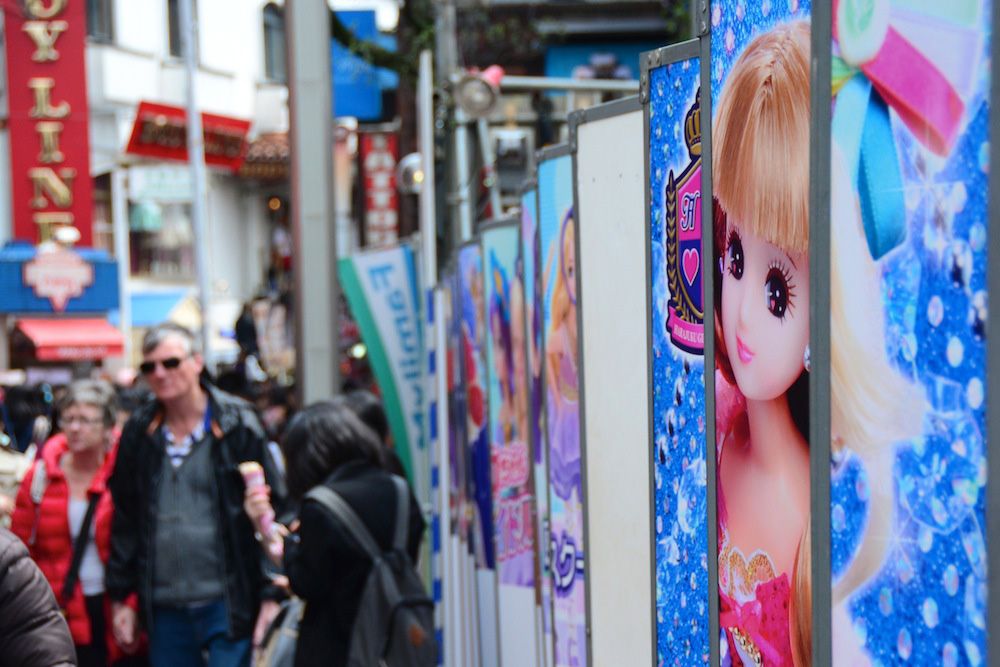 While it's true that I did eventually come upon some "wicked style," I left Harajuku feeling disappointed. I'd had to look extremely hard for Harajuku Girls on what was supposed to be the day they like coming out most. Moreover, the ones I did spot were shy and mostly reticent to pose for pictures, which is strange. I mean, why would you dress like Little Bo Peep if you didn't want attention?
So, How Many Days in Tokyo?
I don't feel like I missed out on anything during my four (full) days in Tokyo, but many locals, expats and know-it-all visitors would argue otherwise. The fact is that Tokyo is a massive city, so even if you spend a lifetime here you're going to overlook something. My advice is to make a list of must-sees, as well as attractions you'd like to experience but that aren't make or break (hint: this article provides a good starting point), then check items off it according to their importance to you.
For lodging: although traditional Japanese ryokan are more characteristic of rural areas, Homeikan provides you with this charming, rustic experience right in the heart of the city, just four stops north of Tokyo Station near the university.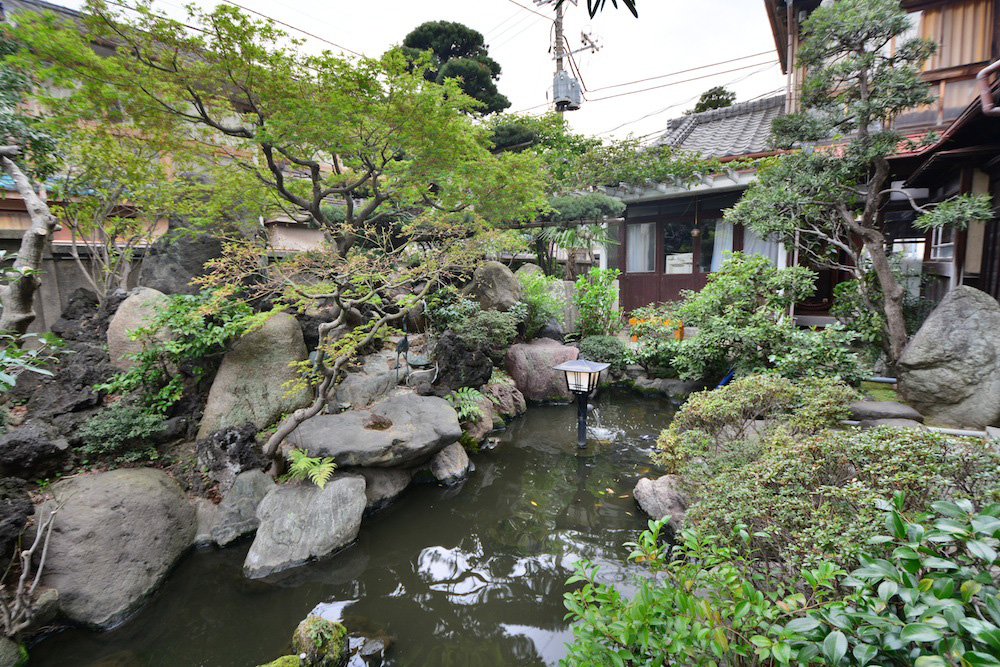 Homeikan is not only picturesque but also houses its own tranquil garden and even an onsen hot spring, albeit an artificial one. Additionally, while its location makes it easy accessible, it's far enough away from the chaos enough that you're able to relax at night, which is really important in a crazy city like Tokyo.
Getting Around in Tokyo
I bought a Japan Rail Pass to take me from place to place while I'm here, but that unfortunately doesn't cover Tokyo's 13 metro lines. Unfortunately, there's no Tokyo Metro discount card for tourists, but it is possible to transport yourself in Tokyo conveniently, using one of two transport cards: Suica or PASMO. You can buy your card, which is good not only in Tokyo but in most major cities in Japan, at any Tokyo Metro ticket machine.
Share: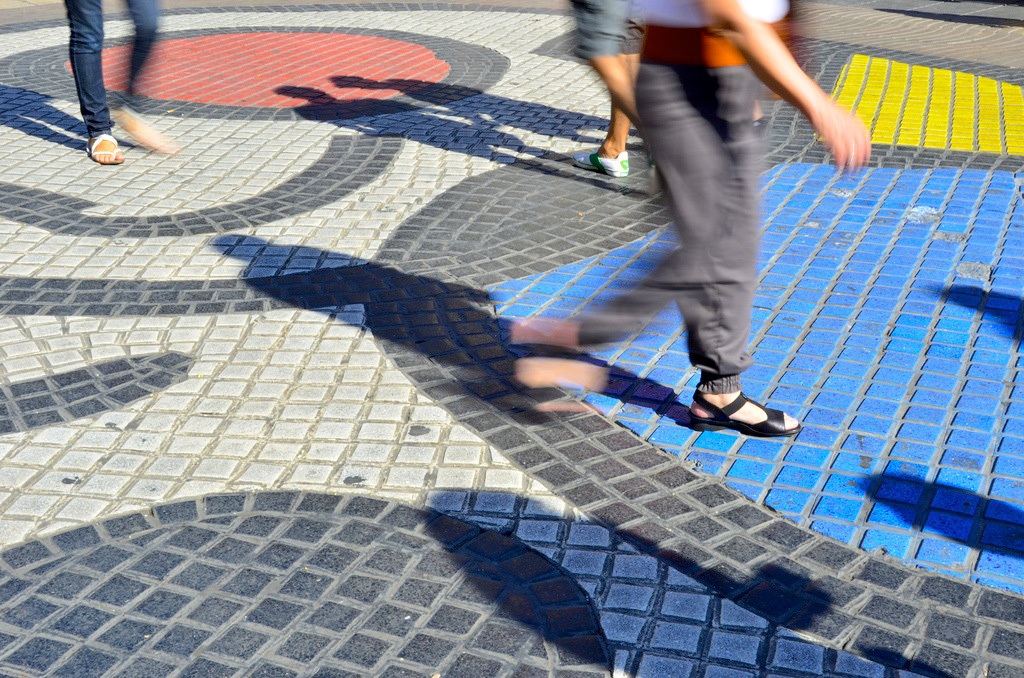 If you think everyone you know has been to Barcelona, you're probably right. With more than 7 million foreign tourists in 2012, Barcelona ranked fourth among Europe's most-visited destinations.
In spite of how ubiquitous the city has become among travelers, it's still possible to enjoy a holiday in Barcelona that's all your own. Continue reading to learn my top tips for a unique trip to Barcelona.
1. Plan loosely
You're going to want to see iconic Barcelona attractions like the Sagrada Familia, Las Ramblas and the seaside neighborhood of Barceloneta, especially if it's your first visit. Avoid getting caught in the tourist trap by planning your days as loosely as possible – leave room for spontaneity.
2. Get lost
Barcelona, at least in the center, is a city of grid-patterned streets, with the occasional diagonal avenue, so why not venture off the beaten path into a local neighborhood? You never know when you'll happen upon an architectural treasure, an amazing shop or restaurant or a stunning viewpoint you'd never have seen otherwise.
3. Learn about the work of Joan Miró
Antoni Gaudí is Barcelona's best-known artist, but Joan Miró's work was just as significant. Whether you visit Parc Joan Miró, home to the "Woman and Bird" sculpture, check out his red, yellow and blue mosiac on Las Ramblas or visit the Fundació Joan Miró museum in Parc de Montjuic, take time to appreciate Barcelona's less-famous local legend.
4. Rent a Barcelona Apartment
Barcelona's home to some of the best hotels in the world but you can also rent a beautiful apartment.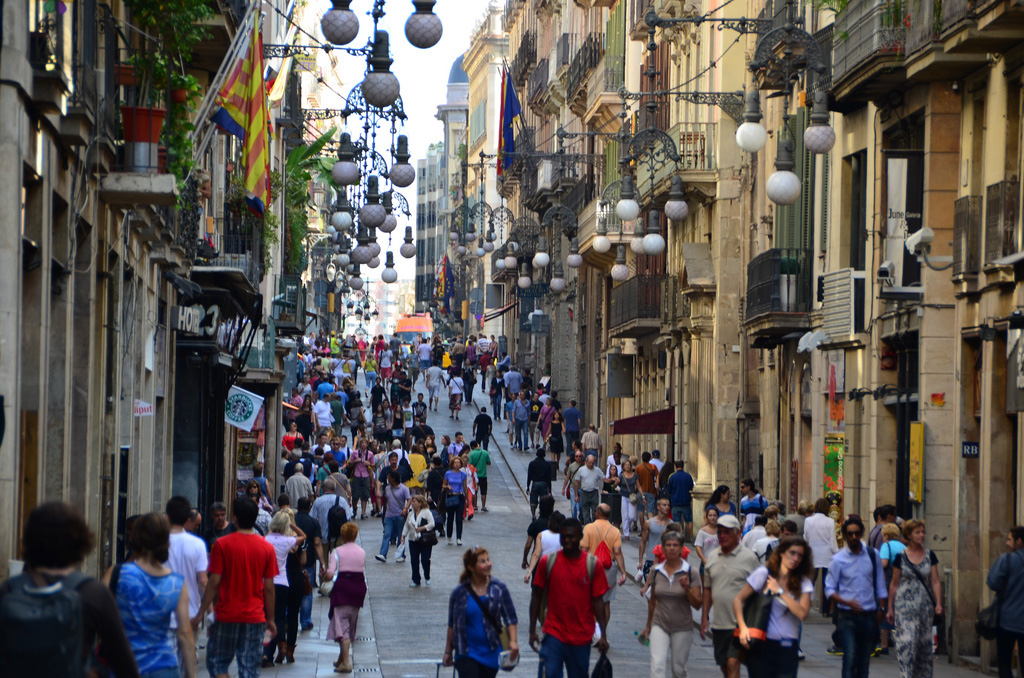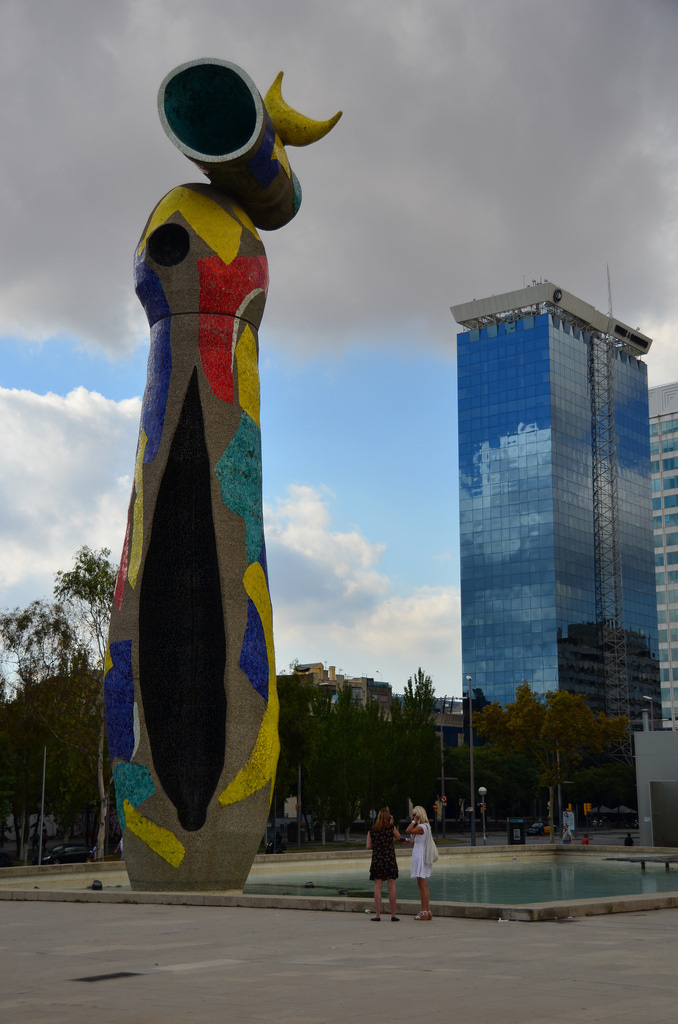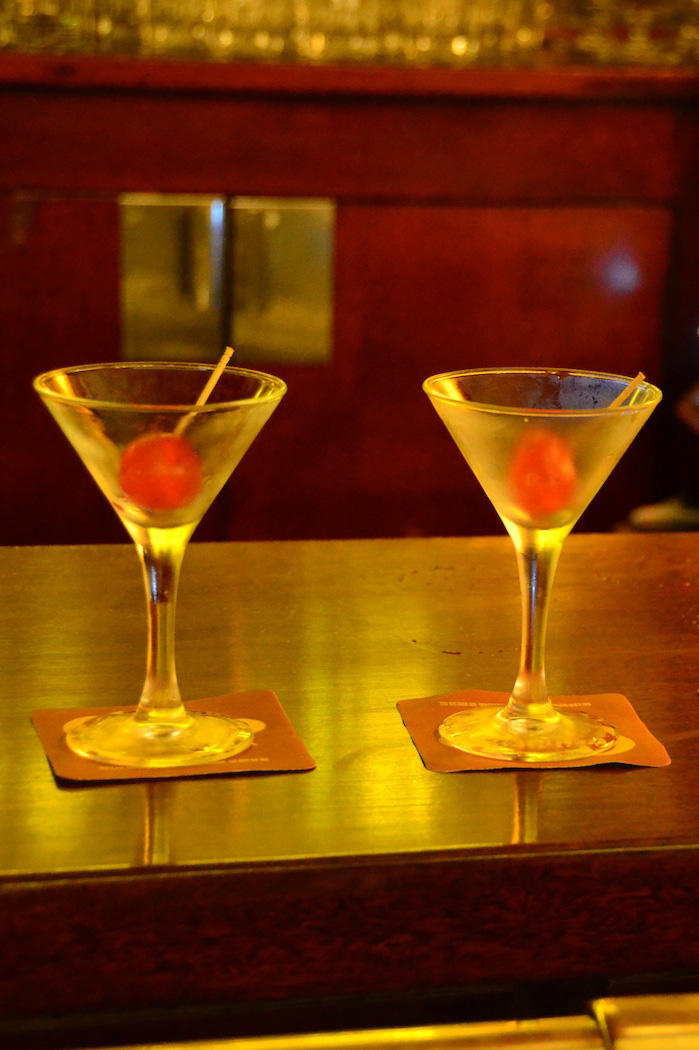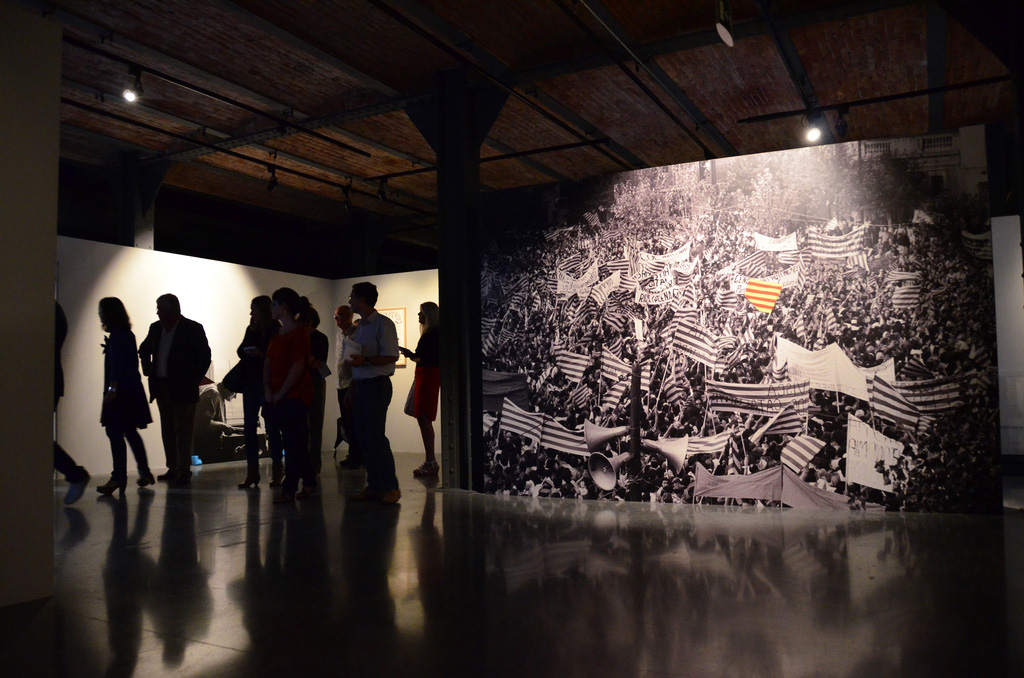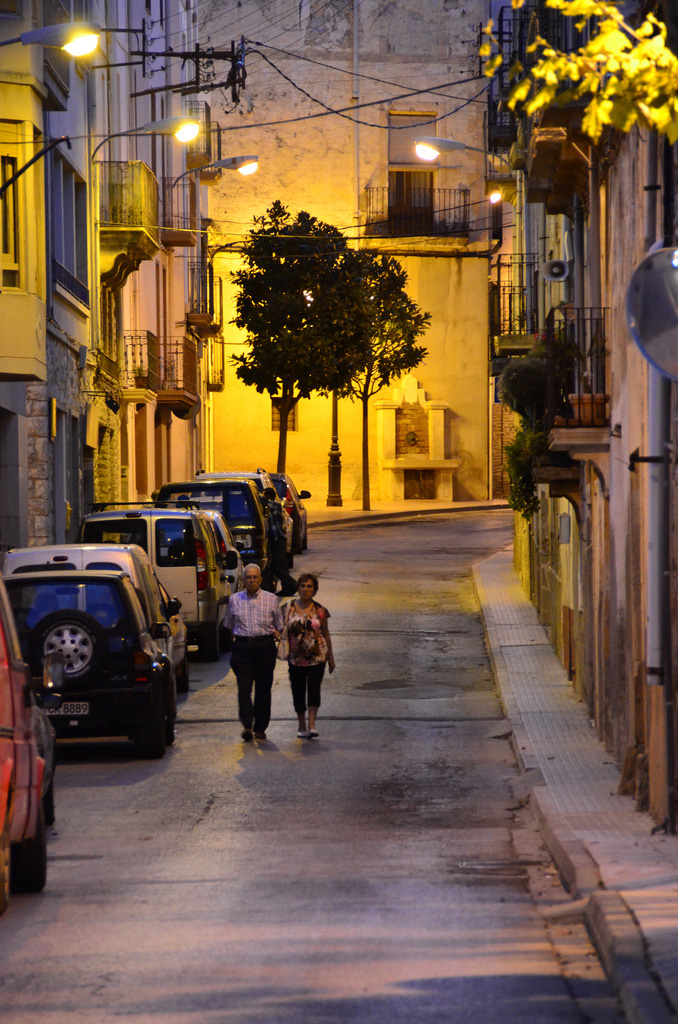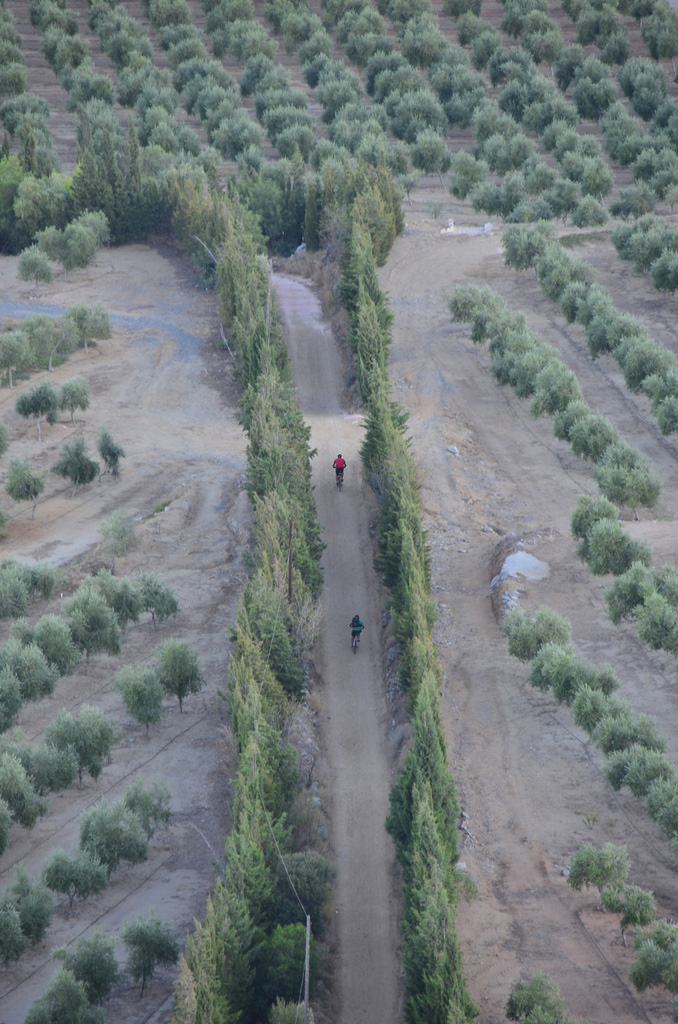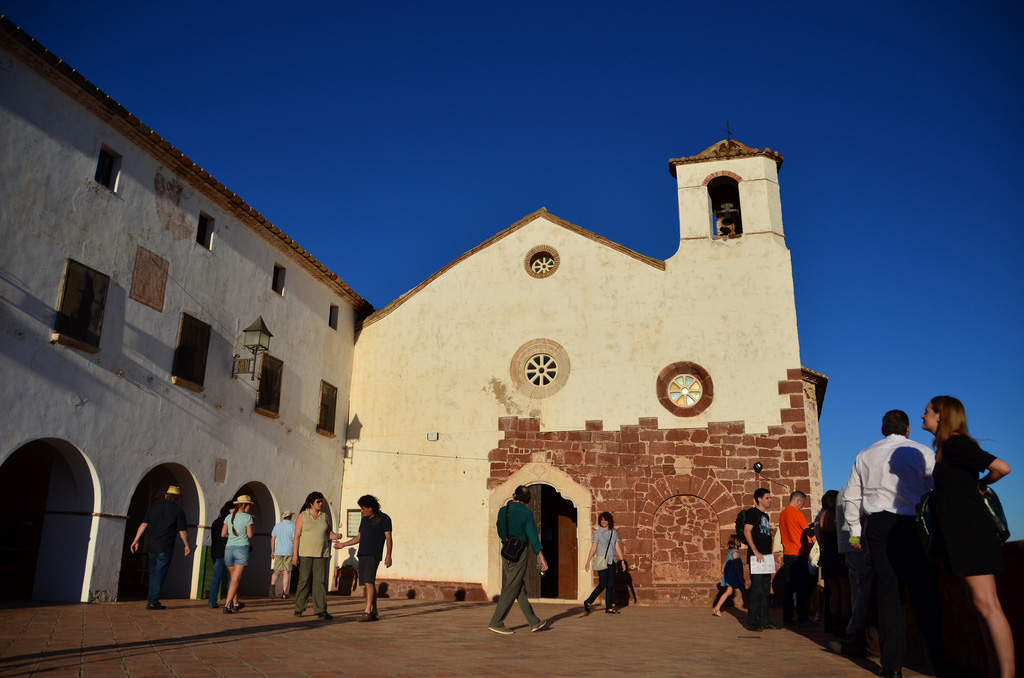 5. Strike up a conversation with locals
Barcelona is technically part of Spain, but its citizens are very proudly Catalan. Even if you don't know much Catalán, a language roughly halfway between French in its grammar, pronunciation and sound, do your best to greet locals in their mother tongue – they'll absolutely love you for it!
6. Relax as much as you sightsee
If you ever feel like Barcelona is too much for you, just point your gaze toward the sea and remember – the beach is never very far! Whether you take time out to sun yourself, enjoy sumptuous paella or dance the night away in any of Barcelona's hundreds of nightclubs, Barcelona is as much a place to visit as it is a place to rest.
7. Take a day trip or two
Barcelona is the largest city in Catalonia, but it's just the beginning of what to see there. Take the train to the beach town of Sitges, delve deeper into the life of Miró in Mont-Roig del Camp or explore other Catalan cities such as Girona, Tarragona and Figueres, home to the Salvador Dalí Museum.
Share:

Since this is my first trip to Japan, it would be foolish for me to declare that visiting Japan in one month is better than any other. That said, the photos below, which show Tokyo blanketed in sakura cherry blossoms, will make a strong case that April is a fabulous month to visit Japan.
From the first moment I laid eyes upon them, the sea of white and pink cherry blossoms covering the Japanese capital became one of the most beautiful things I'd ever seen. Whether you're curious about when to visit Japan, or simply want a gorgeous reason to take a break from your day, continue reading to see why millions of travelers from around the world come to Japan for hanami – cherry blossom viewing.
Where to See Cherry Blossoms in Tokyo
Japan is literally painted pink and white during early April. I saw my first cherry blossom tree before my plane even touched down at Narita Airport – by the time I started my official search the next morning, I'd lost count of how many I'd seen!
You can see cherry blossoms in Tokyo simply by showing up. The trick is finding the right place to see them. Many visitors to Tokyo enjoy cherry blossoms in popular parks such as Shinjuku Gyoen, near the nightlife and entertainment district of the same name, Ueno Park and Yoyogi Park, located in iconic Harajuku.
For no particular reason, I chose to head to a place called Chidorigafuchi, on the opposite site of the Imperial Palace from Tokyo Station. I think this ended up being a good decision – I'll let you judge based on the pictures below.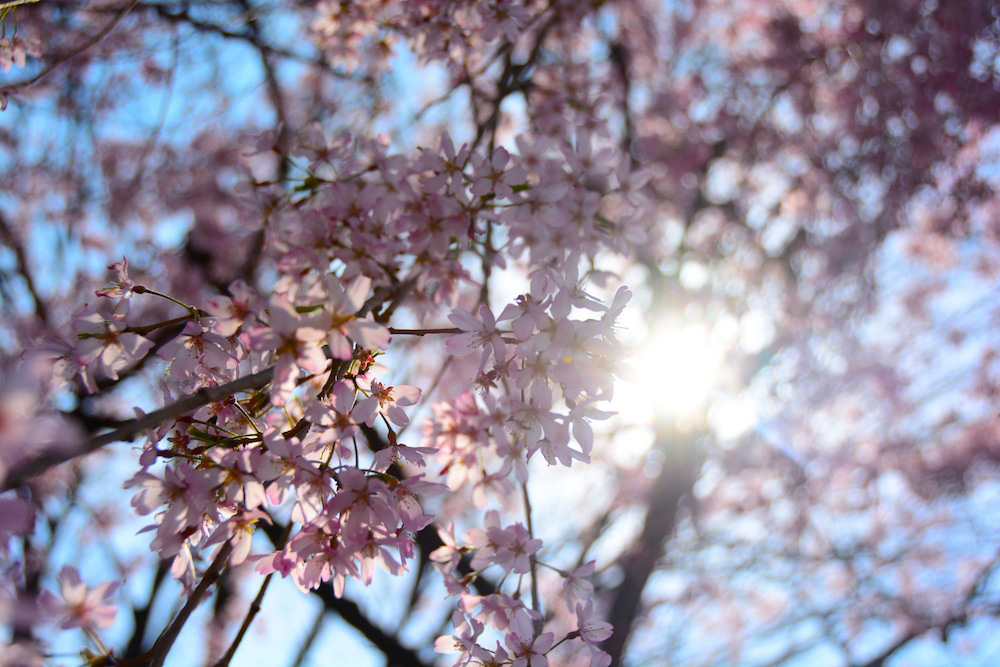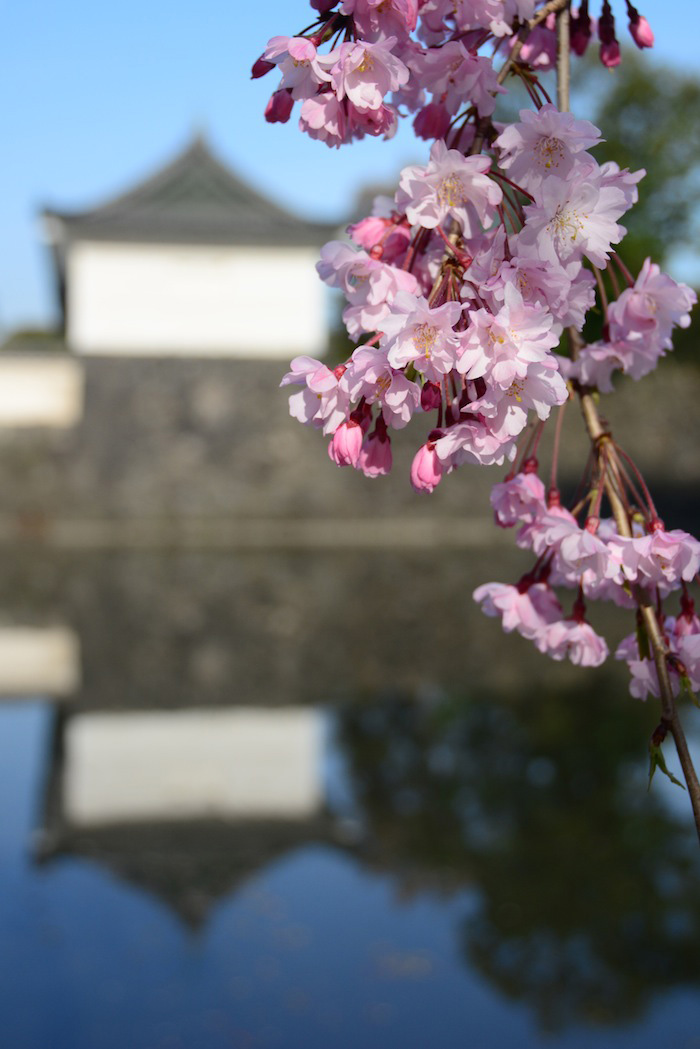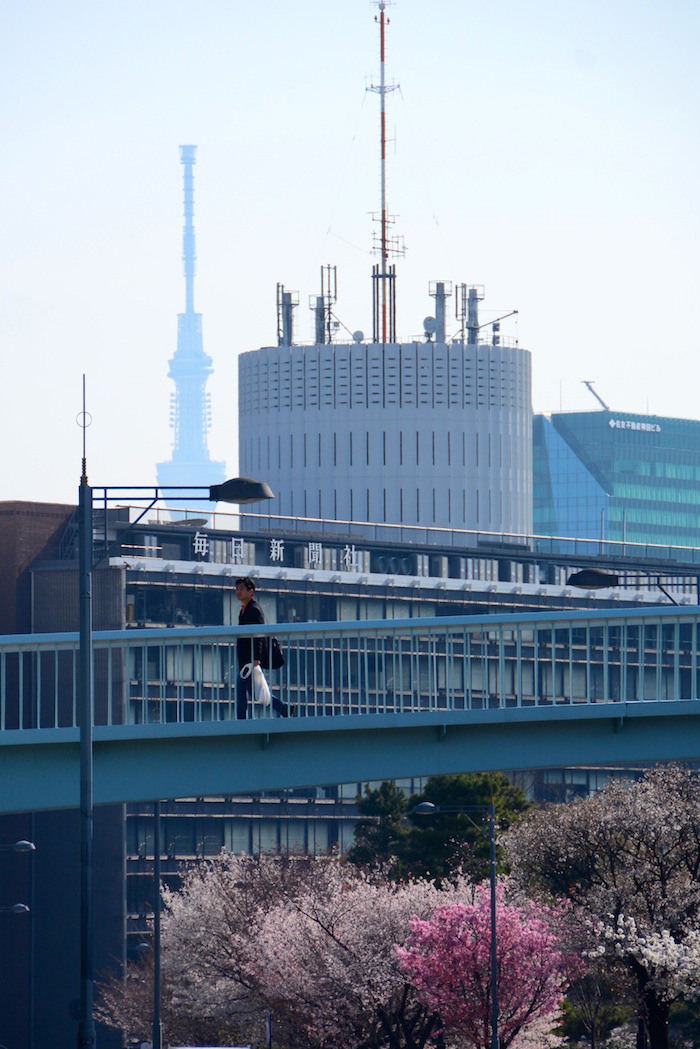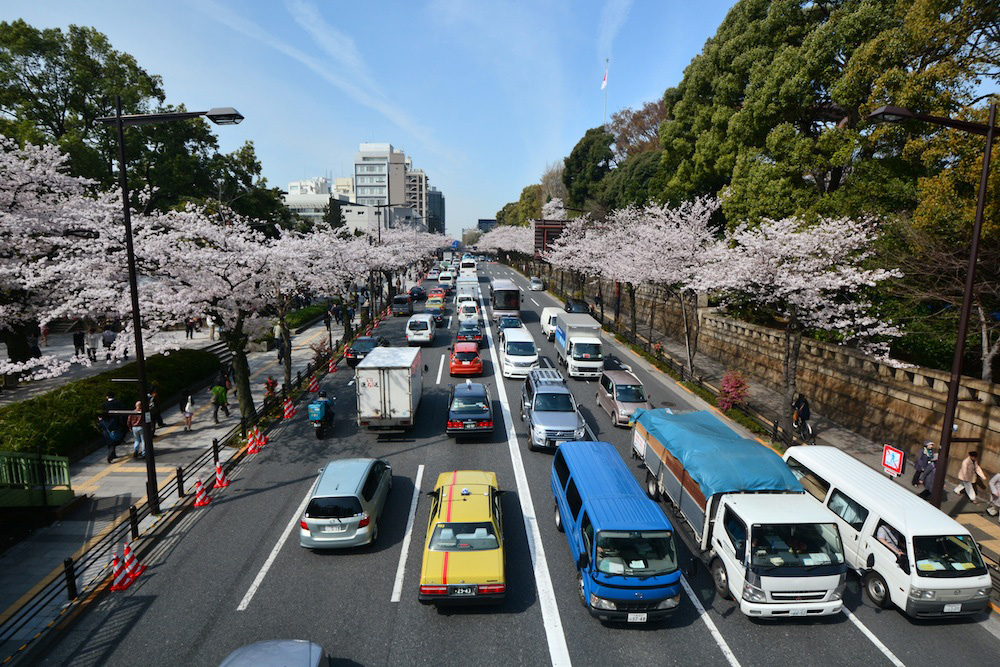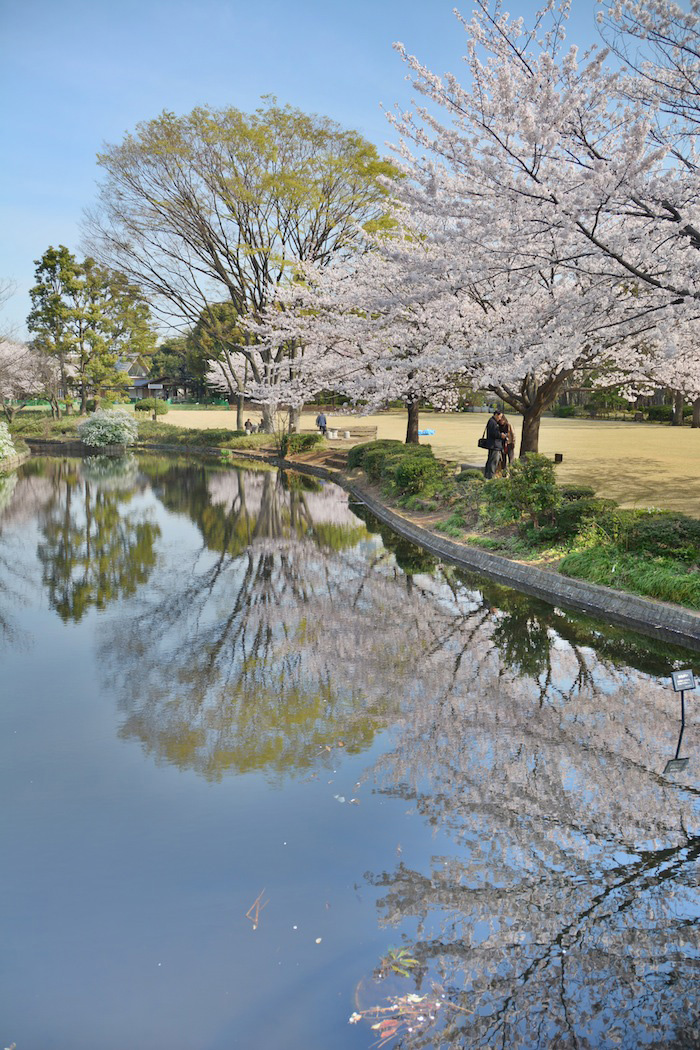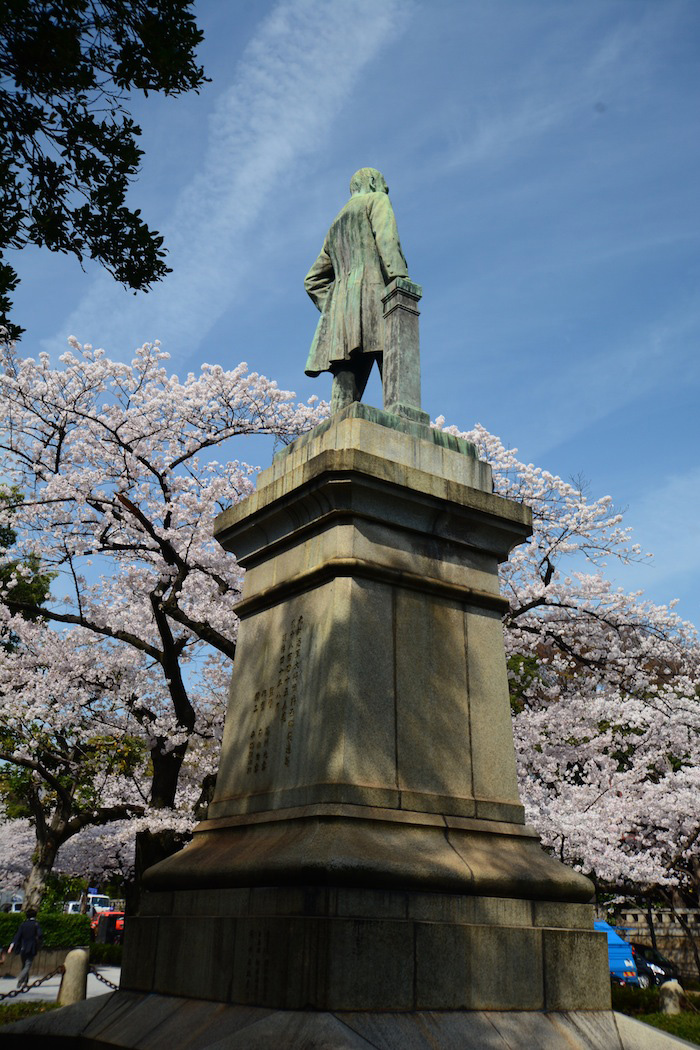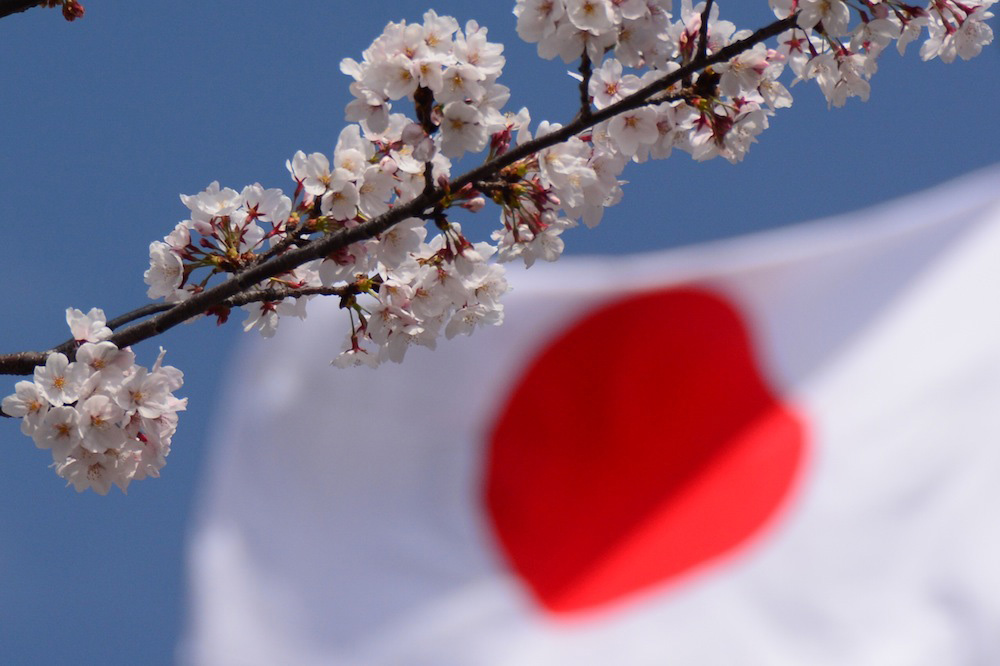 Hanami is a busy period, but one reason I think it's the best time to visit Japan is that everyone in the crowd is grinning from ear to ear – I lost track of time traipsing around Chidorigafuchi! I know I smiled long enough that it hurt, so I must've spent a good two to three hours there.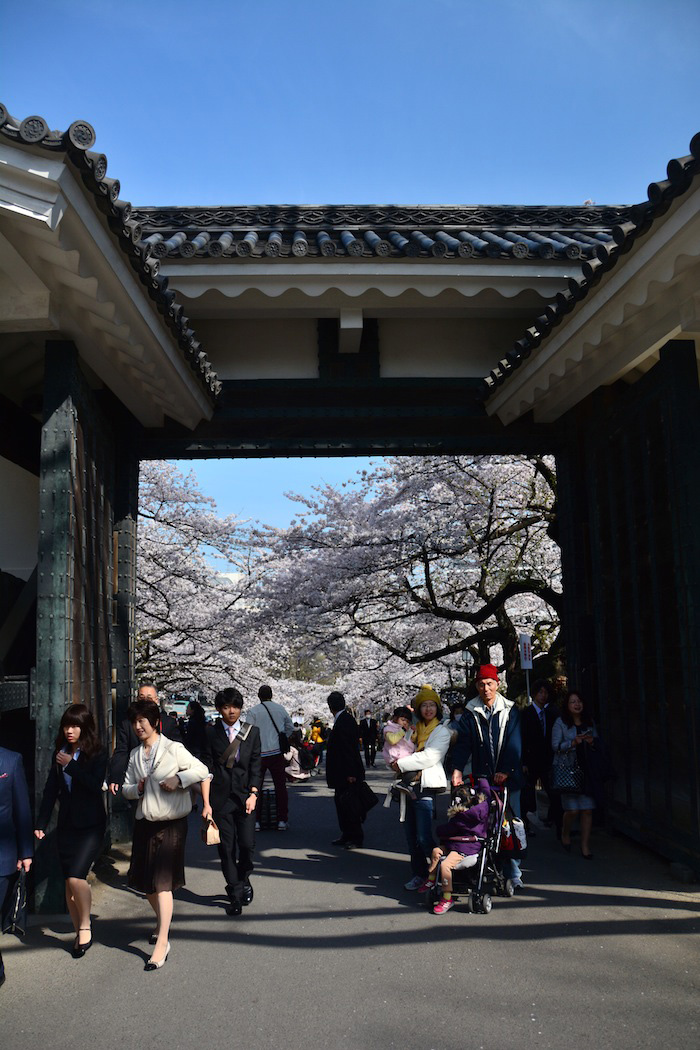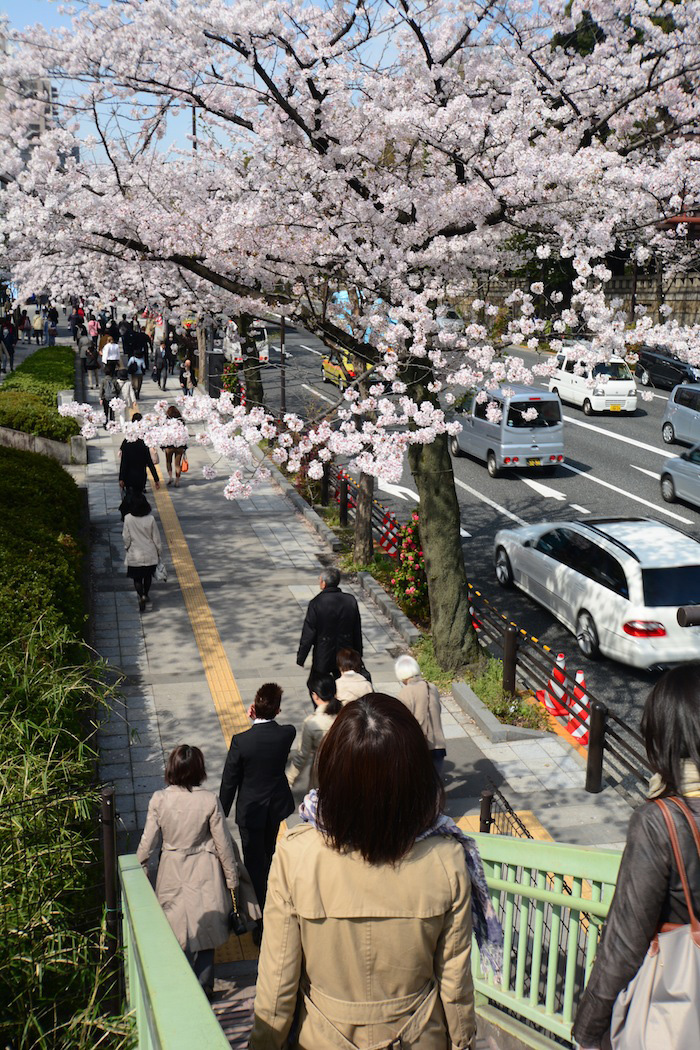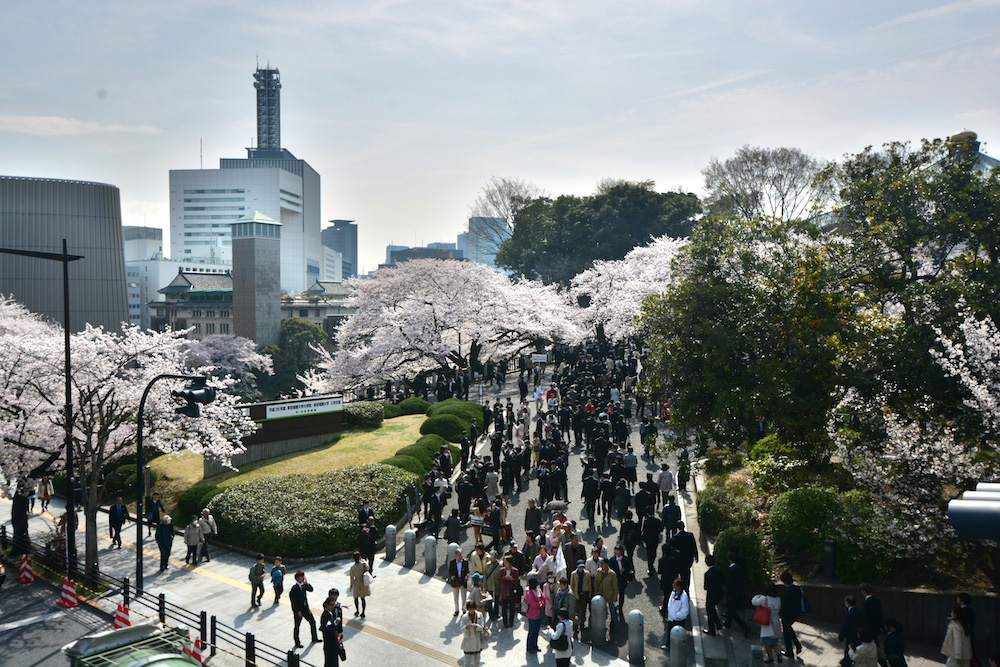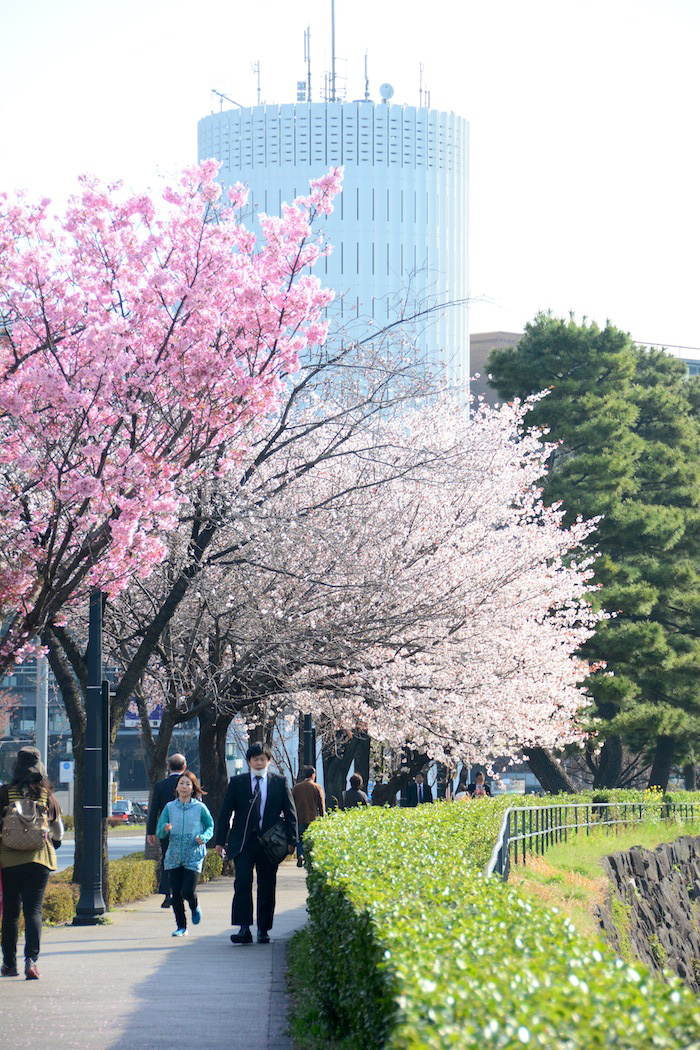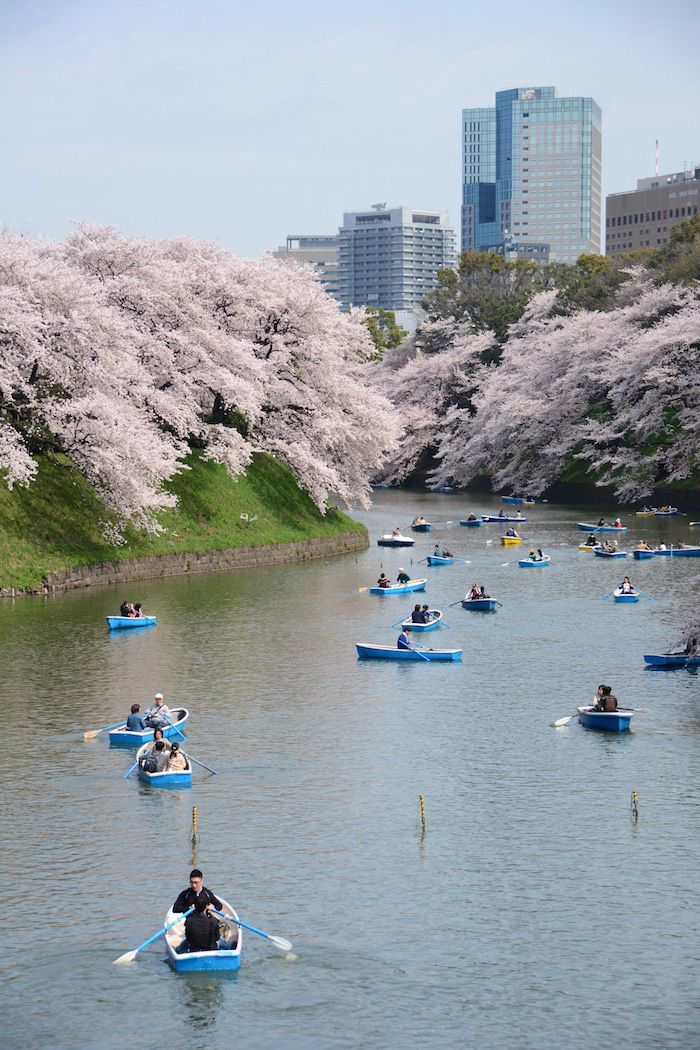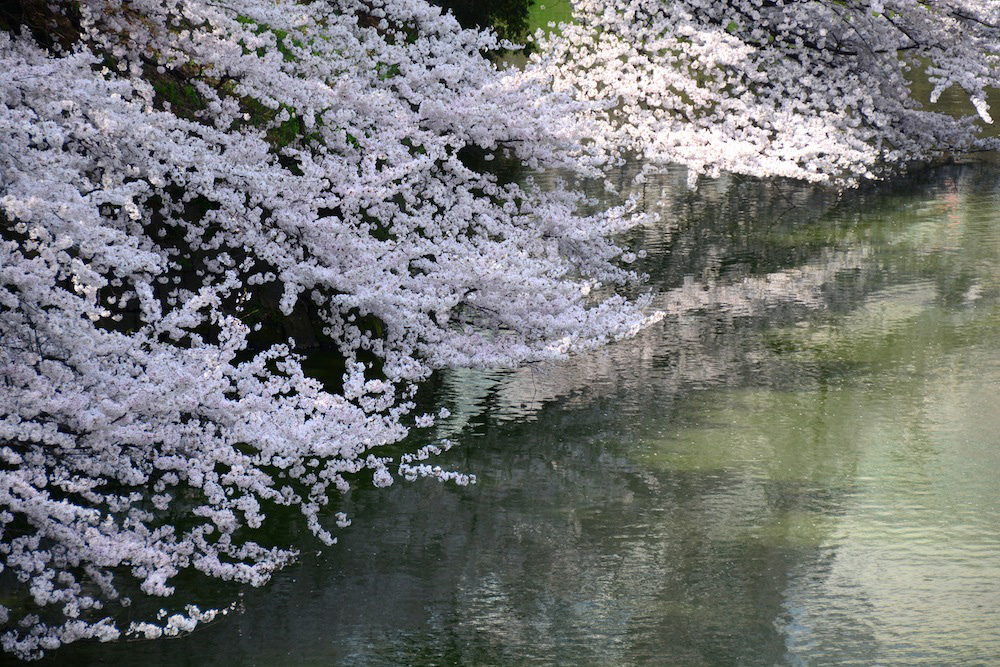 Cherry Blossoms Outside of Tokyo
Tokyo looks gorgeous washed in shades of pink, but it's really just the beginning when it comes to seeing the sakura trees in bloom. Probably the most popular place to see cherry blossoms in Japan (or at least, the most talked-about) is Kyoto, the stunning historical city located to the southeast of Tokyo.
Of course, you'll need to make your decision on when to visit Japan where based on the date you arrive. Cherry trees bloom from south to north, starting in mid-to-late March in Kyushu and finishing up in mid-to-late April in Hokkaido. One resource I recommend checking out is the blooming calendar published by Japan Tourism.
Not sold on visiting Japan in hanami season yet? If these last few photos of Tokyo speckled with sakura don't convince you, nothing will!