About Robert Schrader
Robert Schrader is a travel writer and photographer who's been roaming the world independently since 2005, writing for publications such as "CNNGo" and "Shanghaiist" along the way. His blog, Leave Your Daily Hell, provides a mix of travel advice, destination guides and personal essays covering the more esoteric aspects of life as a traveler.
Latest Posts by Robert Schrader
Share:

Let's face it: gallivanting around Madrid or conducting business in San Francisco, you'll need to be a smart packer if you want your trip to go well. Even though packing is universal to travelers, packing well isn't necessarily a skill that we all share. That's where these packing hacks come in. Each of these smart tips comes recommended by master travelers and promises you an easier trip from start to finish.
Bubble Wrap 
It might seem counter-intuitive to fill up space in your suitcase with something you don't actually need, but hear us out: Packing a few sheets of bubble wrap on the way to your destination means you can remove it and have extra space for carrying souvenirs on the way home. And if those souvenirs are breakable, then even better: Simply keep the bubble wrap and use it as protection.
Hide Valuables in Toiletry Bottles 
What respectable thief would ever reach for an old tube of Chapstick or a bottle of sunscreen? Before leaving for a trip, empty out a few old toiletry bottles and use them as storage containers for valuables such as keys, cash, and credit cards.
Prevent Liquid Spills 
Fly often enough, and eventually you'll experience the misery that is a burst shampoo bottle in a suitcase full of clothes. Avoid the suffering by cutting out a square of plastic wrap and placing it underneath the lid on your liquid toiletry bottles. (Just screw the lids back on on top of the plastic wrap.) That way, even if the lid comes open, liquids won't seep out. It's also a good idea to further secure toiletries in a plastic bag.
Ahhh Yes, Shoes 
Shoes can be one of the most cumbersome items to pack, but a few hacks can make a big difference. Start by packing small items (think socks, underwear, bracelets, watches, etc.) into the shoes themselves in order to save valuable space and prevent these items from sliding around inside the suitcase. Then stick the soles into a shower cap so they don't soil any of your clothes. Finally, be sure to pack shoes foot-to-toe at the bottom of your bag in order to save additional space and keep the suitcase balanced.
Bring Smaller Bags 
Packing light is a valuable goal, but sometimes bringing along a few extra items is worth it for the convenience they'll offer during your trip. Case in point: If you envision needing to carry around any large-ish items (e.g. a laptop) while you're away, then remember to bring along a bag in which to carry them. That way you won't be stuck lugging your suitcase around a foreign city when all you really need is a messenger bag.
Avoid Tangled jewelry 
Save yourself a massive headache upon arriving at the hotel by packing jewelry so it doesn't get tangled en route. Lay flat a piece of plastic cling wrap, carefully arrange your necklace(s) or earrings on top, and then cover it all up with another layer of cling wrap. Then slide the whole shebang in between clothes for extra protection.
Wrangle Ear Buds & Power Cords 
Anyone with a smartphone or an MP3 player knows what a hassle it can be to manage all the cords that keep our devices humming. Even more frustrating is having to tear through a bag searching for said cords (which inevitably seem to make their way to the bottom). Keep everything in one place—and tangle-free—by stashing small cords in a sunglass case. Wrap them up neatly, tuck them in the case, and assign the case to a spot near the top of your bag for maximum ease of use.
Take Photos 
Once you've packed everything into your suitcase, take a picture of both the inside and the outside of your bag. If (heaven forbid) your bag gets lost or stolen, this way you'll be able to easily describe it to the appropriate authorities.
Whether you're still finding your packing stride or you travel often enough that you could pack a carry-on in your sleep, these tips will help you maximize space and eliminate stress wherever you find yourself traveling next.
Share: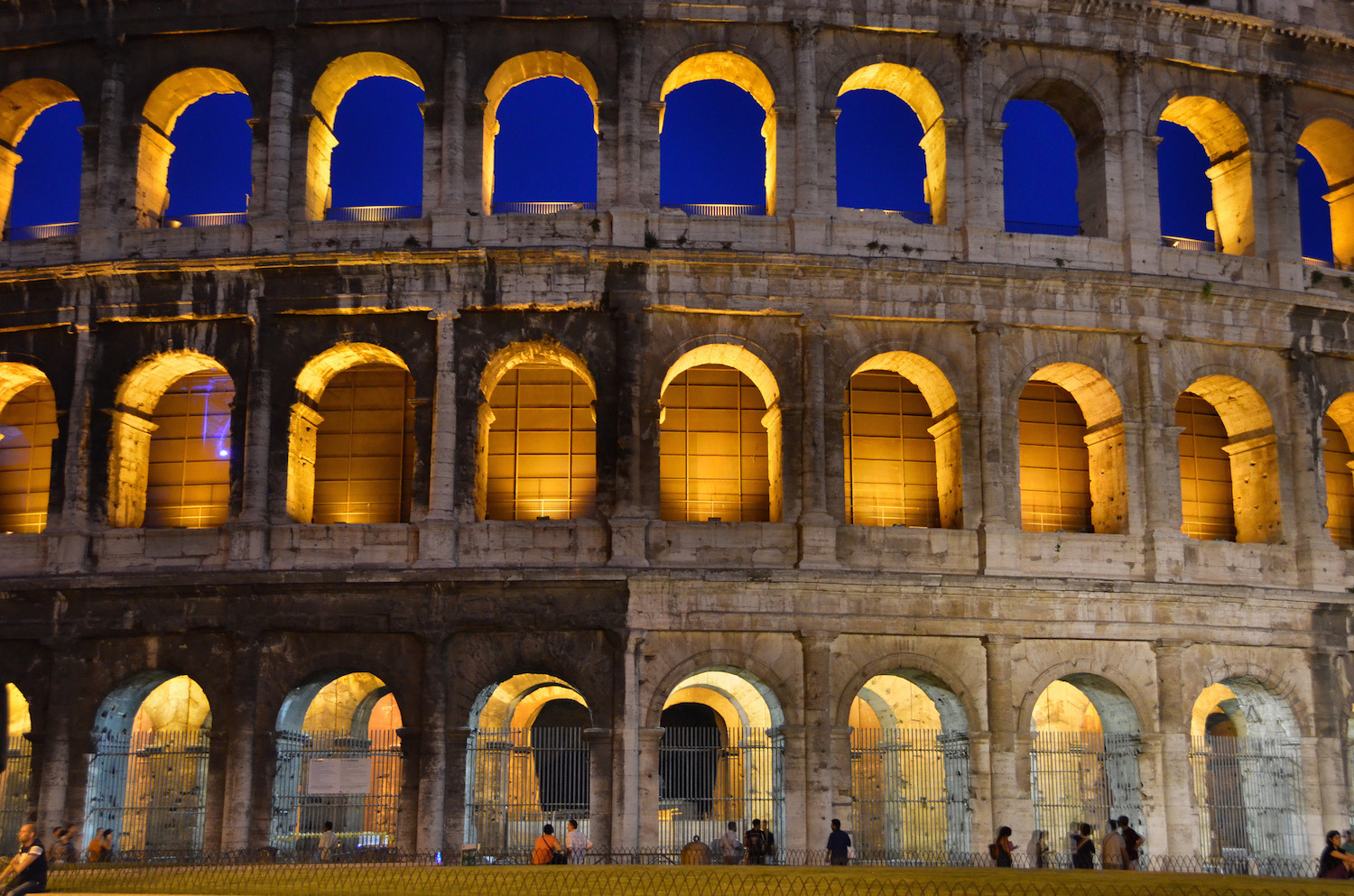 Ah, Rome. Known as the Eternal City, it's a city of infinite possibilities for travelers. While you could happily spend eternity within the city's imperfectly demarcated borders, the Italian capital also sits in close proximity to a number of day trip destinations. An exciting excursion is never more than a train trip away from Rome, whether you seek history, relaxation, or even a sparkling beach.
Tivoli
Image via Flickr by dalbera
Want to feel what it was like to be an aristocrat during the Renaissance? A day trip to the exquisite Villa d'Este, located in the city of Tivoli, gives you a delectable glimpse. Here, you can also see Villa Adriana, a UNESCO World Heritage Site and pet project of Roman emperor Hadrian, which is about 1,400 years older than Villa d'Este. Tivoli sits just to the east of Rome, with a one-way train journey from Tiburtina station taking about 45 minutes.
Sabina Hills
Although the Sabina Hills sit just over an hour from the center of Rome, this area feels like a different world entirely. The fortress-topped hills of this region will have you feeling like you've gone back to medieval times, which is especially true due to the lack of fellow tourists. There won't be any selfie sticks or smartphones to bring you back to the present day. To reach the Sabina Hills, take a train from Rome's Tiburtina station to Passo Corese, then catch one of the many daily buses onward to Fara in Sabina.
Ostia Lido
The beach is probably the last thing you think of when you imagine the crowded, hot streets of Rome, but many are surprisingly close to the city. Ostia Lido offers crystalline Mediterranean waters, golden sand, and plenty of options to indulge in great Italian wine or Peroni beer. Although its proximity to Rome makes it unlikely to be particularly quiet, the locals love it. Ostia Lido station is just 30 minutes from Rome via direct train from Porta San Paolo station.
Ostia Antica
If it's heritage rather than hedonism you're after, get off the Ostia Lido-bound train a few stops earlier at Ostia Antica. The ancient port of Rome, Ostia Antica bears architectectural similarities to the ruins of Pompeii, located far to the south in Naples, but it's guaranteed not to have the same sorts of crowds. Visit outside of the peak summer season for an even more tranquil trip back in time.
Orvieto
Orvieto is due north of Rome in Umbria province, and the journey here takes around an hour and 15 minutes via direct train from Termini station. The old town and its stunning Duomo cathedral will transport you to somewhere in history between the Middle Ages and the Renaissance, although you'll need to utilize a rather modern technology to get there. A charming funicular railway takes you up the hill from the main station to where you want to be.
The best part? These ideas are just the beginning of the amazing day trips you can take from Rome. If you've taken an amazing Rome day trip I haven't mentioned, tell me about it in the comments section below!
Share: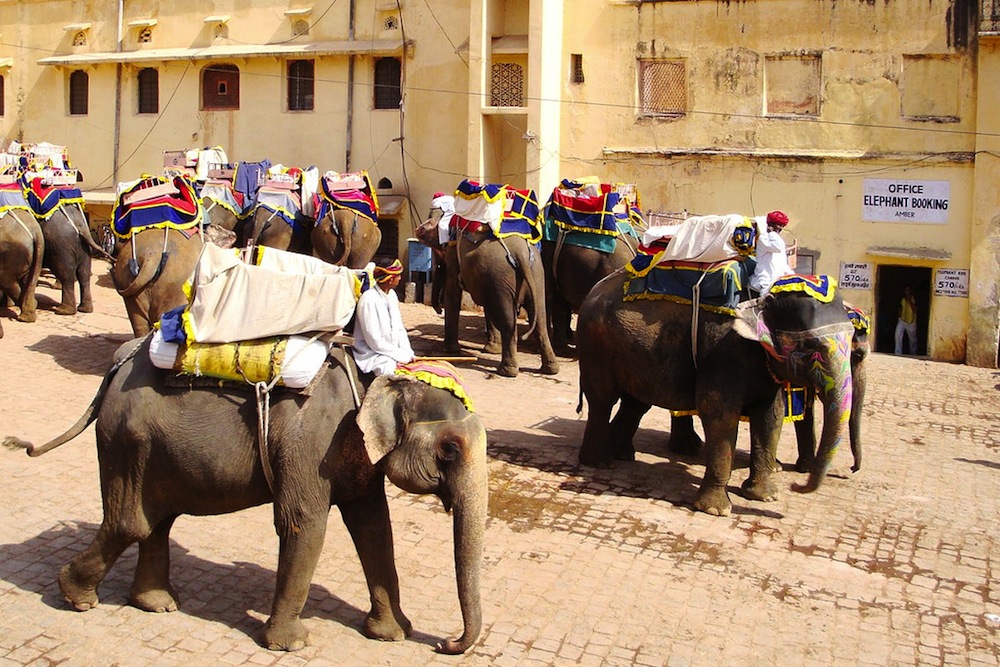 To say India's a chaotic place is an understatement. With as many different languages and ethnic groups as landscapes and culinary styles, India is diverse enough that thinking of its as a single country almost seems counter-intuitive, to say nothing of its long history.
The great news is that in spite of the chaos and schizophrenia that defines India culturally, physically and historically, it's remarkably well connected. Here are some of the most popular ways to travel in India—and a couple you probably wouldn't expect.
Train
India maintains one of the world's most extensive train networks, much of which is leftover from the British period. You can travel almost anywhere in India by train, from the beaches of Goa, to the vast urban expanses of Kolkata, to the Himalayan peaks of Darjeeling. Fares are low, but while the bureaucracy of the English has remained, the promptness they're known for is often overlooked. Don't be surprised if you have to enjoy several cups of chai at the station before your train finally rolls in!
Motorcycle
Although India's highway network is not nearly as modern as Western countries or even China, the massive subcontinent has roads that are nonetheless far-reaching. As a result, while you might not initially think of India as a suitable place for a motorcycle tour, it's actually not a bad idea, nor one that's particularly difficult to execute.
One advantage of traveling through India this way is that you can stop in the little towns—and restaurants!—public transport passes by. Just make sure to drive with caution and to wear a helmet. It's a poorly-kept secret that Indian drivers can be some of the most reckless in the world!
Animals
Many people know India as a Hindu majority country, but did you know that India actually has the world's largest population of Muslims? I bring this up not to start a discussion on religion, but to illuminate that the cow (and its sacredness) is not the end-all, be-all of interesting animal traditions in India.
In the Thar Desert of Rajasthan in India's northwest, for example, animals like camels and elephants provide traditional transport for local people. Tourists can ride these animals, too (such as to go up the Amber Fort in Jaipur), although some ethical questions about doing so exist.
Boat
Although India has one of the longest coastlines in the world, you might not think of it as a marine destination. In fact, boat is not only one of the most common ways to travel in India, but also among the most picturesque. If you visit Kerala, for instances, which is located in southwestern India, staying on a houseboat is a relaxing and beautiful way to enjoy the backwaters that are so important to this region.
Can you think of any other ways to travel in India? Leave your answer below in a comment, no matter how off-the-wall you think it might be.
Share: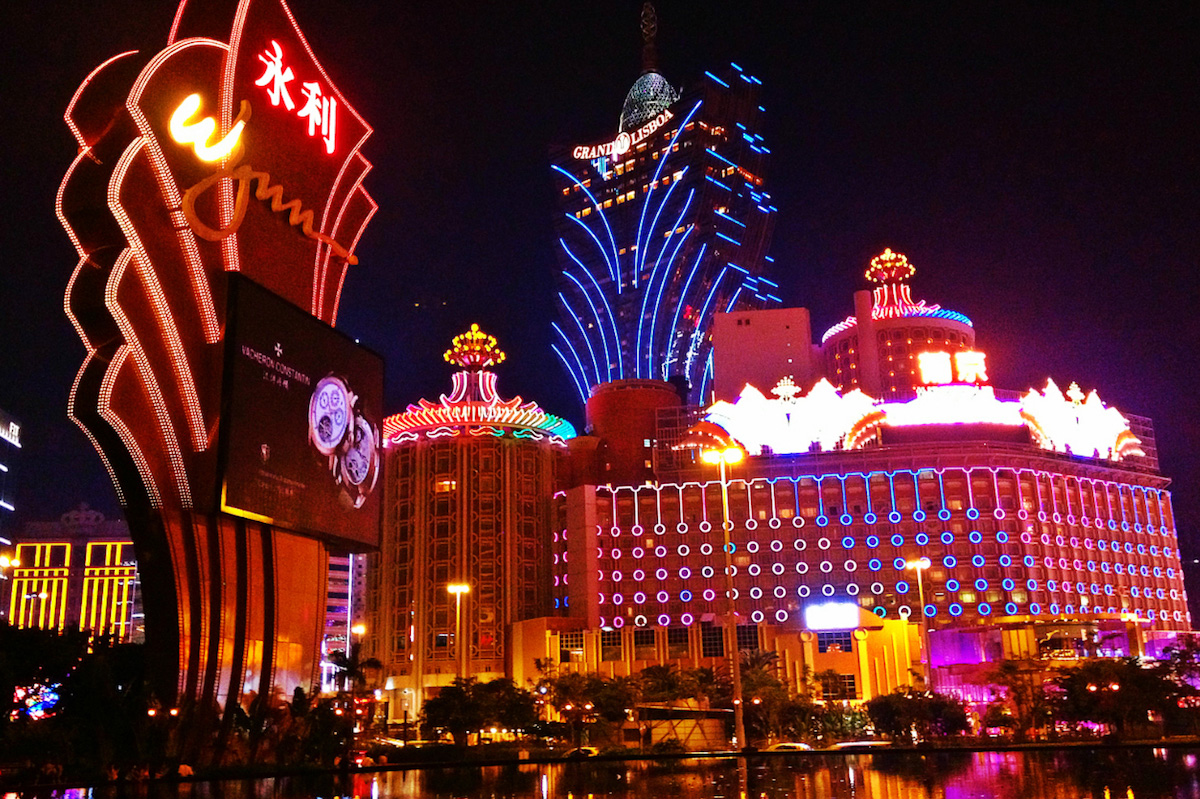 When you think about premier global gaming destinations, which cities spring to mind? Maybe it's Monte Carlo in Monaco, small but perfectly-formed, with a classy air and vintage feel that appeals to those less keen on neon.
Or perhaps you've got your eye on up-and-coming Singapore, the island city-state that neighbors Malaysia. Although gaming here hasn't long been legal, casinos and large-scale resorts are already being combined with theme parks, nightclubs and other significant leisure complexes to create an all-round dream destination with gambling at its heart.
However, for most people, whichever continent they hail from, Las Vegas is the last word in iconic gambling destinations. Rising triumphantly from the hot, dry sands of the desert and built specifically to appeal to far-flung visitors and boasting a veritable jungle of destination casinos, all vying for your dollar, Las Vegas is an incredible city. Hot-colored lights flash and glare, architects run wild with outlandish designs and the atmosphere pulses with expectation in Sin City.
But what if there were a pretender to Las Vegas' throne? Could a very different city in a very different country hope to steal Sin City's glory? Welcome to Macau.
Over 7,000 miles from Nevada, on a Chinese peninsula across the Pearl River Delta from Hong Kong, this glitzy city stands like a beacon, welcoming gamers from all over the world to try their hand each night. Known by many as the "Vegas of China," Macau's aspirations to become the globe's number one gambling city are no secret—and if visitor numbers are anything to go by, it's well on its way.
Each year, the city opens its arms to welcome an astronomical 14.96 million international visitors. That figure puts Macau ahead of fellow Chinese city Shanghai (6.3 million), Miami (7.3 million), Rome (8.8 million) and, incredibly, Dubai (11.4 million).
So, what is it about Macau that appeals to such vast numbers of people? It could be the stunning architectural design of Macau's casinos and resorts or the New Century's fun ancient Greek-themed hotel, The Venetian, complete with canals and gondolas, or the Grand Lisboa, with its ornate façade and stunning interiors.
Another of Macau's most amazing complexes is the City of Dreams. Its architectural highlight is the hotel tower, which has an external skeleton and an organic form that includes three huge holes penetrating the building's full girth to create an effect that looks almost impossible. Designed by Zaha Hadid Architects, this building seems to have been turned inside out, so complex and fascinating are its lines and curves.
Of course, when it comes to incredible casino design, Macau has stiff competition in Las Vegas. The Nevada city has treated its patrons to such delights as heritage-drenched Caesars Palace, the fun-loving Golden Nugget, the sumptuous Bellagio and the somewhat surreal Luxor.
However, Macau is the new kid on the block. And it could be that in these times when everyone's constantly looking for the next fresh idea, the Vegas of China may usurp the original.
Image credit: https://en.wikipedia.org/wiki/Gambling_in_Macau#/media/File:Casino_Lights_In_Macau.jpg
Share: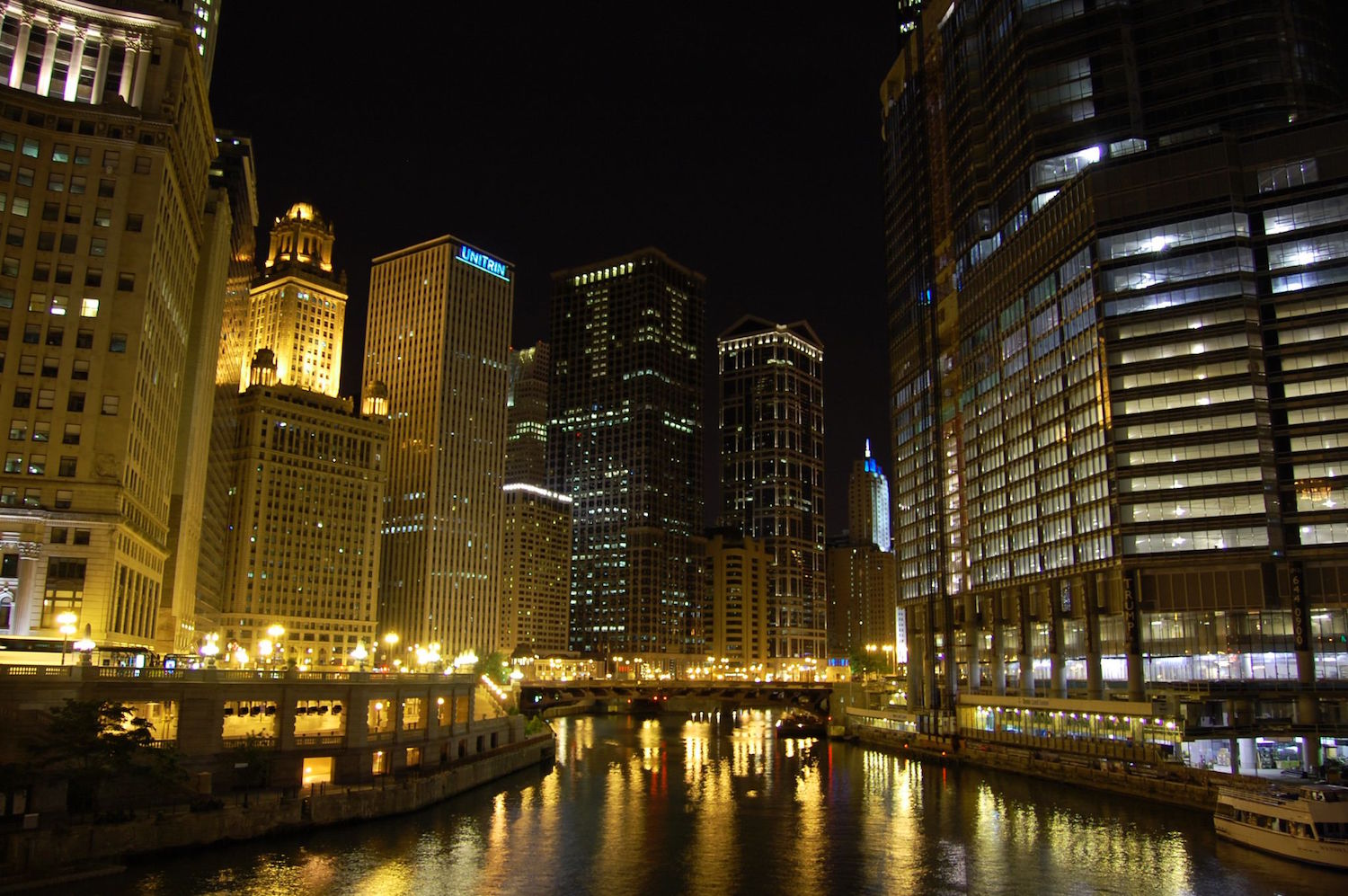 Image via Flickr by ifmuth
The hub of the Midwest and America's third-largest city, Chicago has a well-deserved reputation as one of the world's most important cities, whether you travel there for business or for pleasure. One fact about the proverbial "Windy City" travelers often miss, however, is its diversity — Chicago is world-class, no matter what you hope to accomplish on your trip. Here's how your ideal trip to Chicago might look, based on what type of traveler you are.
The Adventurer
One aspect of Chicago that often surprises travelers as they land at one of the city's airports is how vast the skyline is. Specifically, how vast and how tall. The Willis Tower (formerly known as Sears Tower) is the second-tallest building in the U.S., rising to a height of 1,450 feet. If enjoying a panorama from the glass-bottomed Sky Deck is not thrilling enough, consider riding one of the record-breaking coasters at Six Flags Great America in the Chicago suburb of Gurney.
The Homebody
The idea of staying inside in a sprawling city like Chicago might seem counterintuitive, particularly if you visit during the pleasant spring and autumn months. But whether the trademark wind keeps you off the streets, or you simply find an amazing Chicago hotel that's too comfy not to curl up in, Chi-town is just as great for ordering room service as it is exploring restaurants and food halls.
The Creative
Chicago's penchant for theatrical excellence reached world fame thanks to the Broadway shows of the same name, but its own creative scene rivals New York's — and most everywhere else, for that matter. Take in a show ("Chicago" or otherwise) at the iconic Chicago Theatre, update yourself on the latest design trends at the Museum of Contemporary Art Chicago, or snap a selfie at the iconic Chicago "Bean," which transforms the reflection of the city into a stretched and skewed work of art.
The Foodie
Latin American food might not be the first cuisine that comes to your mind when you think of Chicago, on account of its northerly location, but when you step foot into the Latinicity food hall, you'll feel transported into the street food scene of South or Central America. Then again, Chicago's food scene is as varied as its population, whether you pop pierogies in the Polish Downtown, chase carbonara in Little Italy, or slurp down pho beef soup in Little Saigon, Chicago's Vietnamese quarter.
The Urban Explorer
Few American cities are as well laid out for urban explorers as Chicago. Downtown — and most of the central city, for that matter — is flat, which makes neighborhoods like Hyde Park, The Loop, and Uptown easy to explore on foot. Or, put on a wider lens and take advantage of Chicago's impressive public transportation network, the CTA Bus and Train System, and gain an understanding of the city on a broader level.
Of course, since travelers are as diverse as a box — the big, big box — of crayons, this list is only the beginning of the eclectic adventures you can have in Chicago. Have you ever been to Chicago? If so, what are your favorite things to do here?
Share: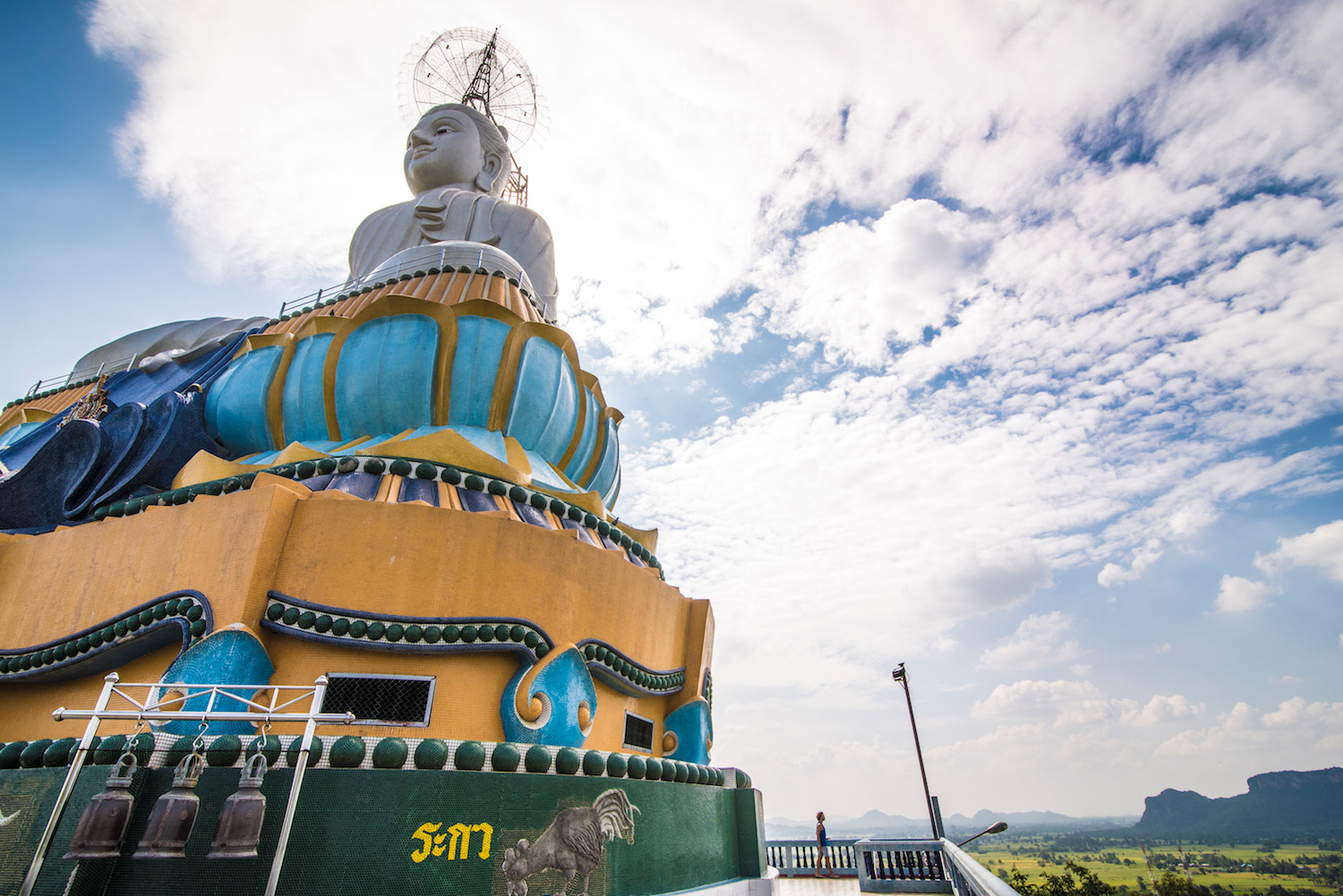 When you think of special events, the event is typically the most "special" part. While it's true that many cities and countries have invested in unique and high-quality venues, events just as often take place in soulless convention halls in central business districts that are otherwise dead after sunset.
These destinations are different. Whether you choose them for a business event or for a personal extravaganza such as a wedding, you'll be just as delighted to discover your surroundings as you are to take part in the festivities.
Thailand
Did you know that Thailand has one of the most robust MICE (meeting, incentives, convention and exhibition) industries in Asia? From the skyscrapers of Bangkok, to the temples of Chiang Mai, to the palm-fringed shores of paradise islands like Phuket, Thailand can accommodate any business event you can imagine. Speaking of islands, Thailand is also a great spot to get married on the beach for a fraction of what you would pay in, say, Hawaii.
South Africa
If you know anything about the economy of Africa (namely, that Johannesburg is the continent's financial hub), it probably isn't a surprise to learn that South Africa is a premier destination for business events. What you might not realize is that the aptly-named Rainbow Nation specializes in events of all stripes, whether you get married on safari at Kruger National Park or celebrate a milestone at the wineries just outside of Cape Town.
Chile
Although the Chilean capital of Santiago isn't as important to the South American economy as Johannesburg is to the African one, it's nonetheless a hub of business and innovation—the largest one West of the Andes, by far.
To be sure, whether you're looking out onto the Andes as you do business in one of the sky-scraping venues in Santiago's financial district, getting festive amid the lunar landscapes of the Atacama desert in the north, or any combination thereof at Concha y Toro Winery in the central valley or the national parks of Chilean Patagonia, Chile's capacity for special events is as large as its geographical footprint is long.
New Zealand
Like South Africa and Chile, New Zealand is home to a spate of wineries whose spacious acreages welcome events that range from romantic to rousing in ambiance. On the other hand, if your event is on the more professional end of the spectrum, more traditional venues in Auckland and Wellington might suit you better. Meanwhile, the adventure activities on offer in Queenstown (skydiving with NZone, anyone?) are the perfect venue for an incentives group.
United Arab Emirates
Can you imagine negotiating deals from a conference center overlooking the Dubai skyline, with the Burj Khalifa towering overhead? Or getting married and then frolicking onto Jumeirah Beach in your tuxedo or wedding dress? Whether you choose better-known Dubai or alternative Abu Dhabi, the United Arab Emirates is a colorful, eclectic place to hold your next event. Even better, many special events are also exempt from the country's strict laws on alcohol consumption!
Of course, the places are only the beginning of the exotic event destinations you'll find around the world. Can you think of any others?
Share: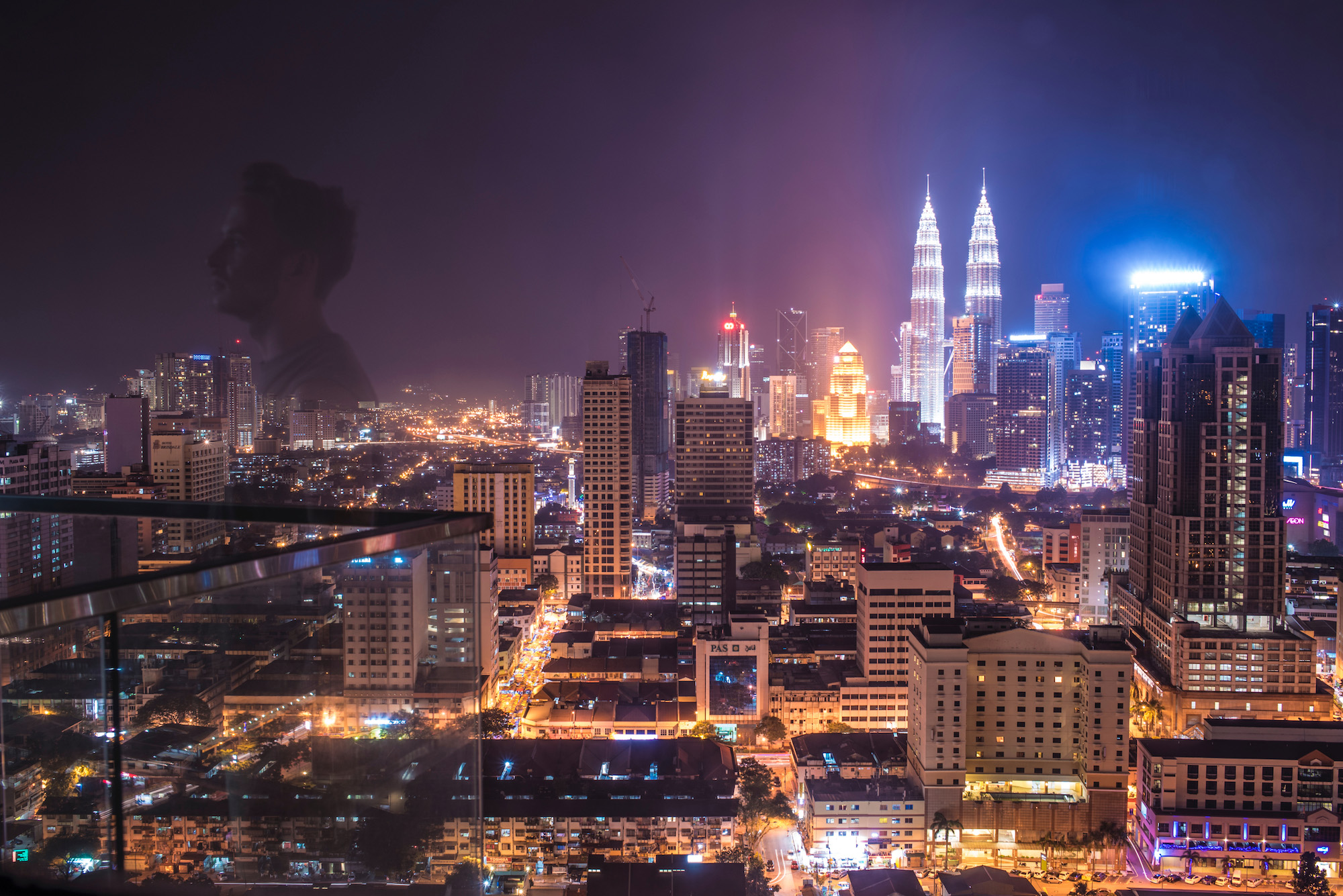 June 23 didn't exist for me.
Only the engines of a 787 Dreamliner and a nightmare in all my cells. The overflying of half a billion people and the solitude of being suspended at 35,000 feet. The falling away of the eastern Pacific Ocean and then the sinking in: If only the emerald mountains of the Malay peninsula had been taller, the clouds that blanketed them less like whipped cream and more like merengue, the palm groves wild and un-manicured instead of latticed and oil-producing, then I could've mistaken the piece of land where I touched down for Central America.
"They voted 'Leave'?" the twenty-something Englishman, who'd been stuck in the same pressurized time capsule as me, gasped as we stepped into the airport people mover early on the morning of the 24th.
The rest of Britain wishes June 23 hadn't existed either, I smiled, but only halfway—I would soon be faced with a referendum of my own.
I fell in love recently, you see. Actually, it was a long time ago, as the loves of my life go, but what's important about this love and my fall into it was that I had recently compromised it.
I considered explaining this to my driver, to account for the rude way I ignored his attempt at playing tour guide as we sped into the core of Kuala Lumpur. Instead, I tuned in every third or fourth minute to give him the impression I cared about what he was saying.
"The National Mosque," I completed his sentence, not because I'd actually looked at the building he was preparing to introduce, but because I remembered it was approximately as far from KL Sentral station as we would've traveled at highway speed.
He laughed. "I see you need no help."
If you only knew, I thought, looking down at my phone to see if my partner had said anything—he hadn't.
Following some good old-fashioned fit-throwing—in spite of being advertised as "Best KL City View," the first room I was taken to had a view of absolutely nothing—I settled in to my skyline-facing apartment to ask Danilo if he wanted to take a video tour.
No, he replied with a full stop, explaining that hearing my voice (or, worse, seeing my face) would actually make the distance between us harder to bear. Enjoy your day.
That would be a tall order: I was despondent in my longing for him. We'd spent the entirety of the previous eight weeks together, him having stayed with me in Texas after a planned four-day visit from his native Costa Rica.
But it wasn't just that I missed him: My trip was predicated on a broken promise. I'd agreed, when Danilo told me he would live with me this is, to cancel all travel until August. Although he told me before we said goodbye that he'd made peace with my reneging, the cancer I planted in his heart had managed to metastasize straight through the Earth to mine.
I thought a nap would aid in my acceptance of it all. But when I awoke sometime after nightfall, the Petronas Twin Towers flickering outside my window like a pair of giant interrogation bulbs, I knew there was only one way to cut the tumor out—and it didn't involve seeing any more of Malaysia than what I could take in from my 29th-floor perch. I took a deep breath, turned my back to the skyline strobing behind me and pressed the "Call" button
"Yes," I answered and stopped talking, after an hour and a half of maybes, might-coulds, should'ves, would'ves, wishes, hopes and second-guesses. "I'll come home to you."
Yes: I shaved 13 days off a two-week trip, and flew halfway around the world (and back!) in two days so that I could make things right—and garden, bake brownies and watch the season finale of Veep—with the love of my life.
I feel redeemed, but also terrified: It will be August, four months since my last trip, before Danilo and I take our first one together. Going four months between trips could ruin my image as a tireless road dog and the credibility I've earned along with it.
But it probably won't. And I won't dwell on my aborted ghost vacation anymore than I will on how the specter of subsonic air travel deleted a day from my life. Like the U.K., I chose to leave my better half, and I only hope Europe's love remains as strong as Danilo's when Lady Brittania has the sense to come back home.
Share: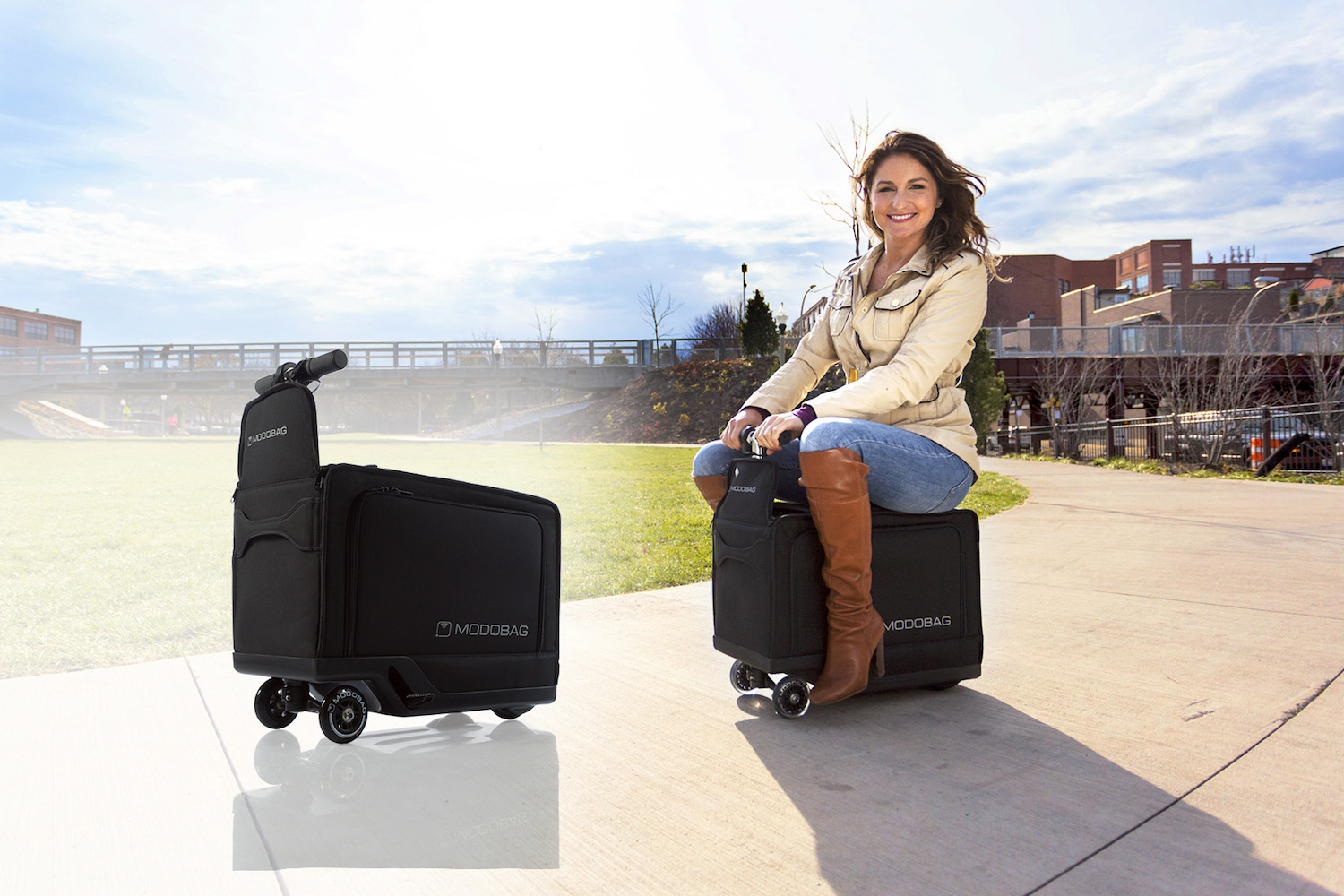 Technology is weird by definition and travel, as you can observe by clicking through the articles on this channel, can be pretty darn weird, too. It should come as no surprise, then, that travel tech is a decidedly weird sphere.
Then again, the following weird travel tech items are nothing, if not surprising. OK, perhaps occasionally a bit scary and mind-boggling, as well. You might find it difficult to pinpoint exactly which of these pieces of weird travel tech shocks and amazes you the most.
1.  The Suitcase You Can Ride
Are you too lazy to drag a rollaboard suitcase behind you, but too strapped for time to rent one of those motorized carts every time you visit an airport? If so, Modobag is the luggage for you. Although Modobag boasts a host of interesting features in addition to its ridability, its main selling point is that it allows fully-grown adults to play choo-choo in crowded public places. The epitome of laziness—and of fun!
2.  Movie Theater Glasses
More and more airlines are installing seat-back entertainment systems, but if you want the ultimate private viewing experience, buy PowerLead's "Movie Theater Video Glasses," which project the equivalent of a 52″ image directly in front of your face. The glasses let you access movies in several ways, be it by inserting an SD Card into the glasses themselves, or by connecting to smartphones such as Samsung Galaxy S7 Edge with its powerful Snapdragon 820 processor, tablets such as the Apple iPad, or even your laptop computer.
3.  A Terrifying Sleep Aid
Most travel neck pillows look obnoxious at their worst. The Ostrich Pillow, however, not only has nothing in common with its namesake animal, but is actually terrifying to look at—isn't this the type of device they used to restrain Hannibal Lecter in The Silence of the Lambs? You'll get a good night's sleep wearing this, but the rest of us will be in fear for our lives. Thanks a lot!
4.  Personal Seat Covers
No, not personal toilet seat covers, personal seat covers for 15K or 34J. Even better is the fact that airplane seat covers by NewSeat.com come in multi-packs and also include wet wipes, just in case you're scared the germs that probably aren't on your seat to begin with will travel through antimicrobial fabric of the cover. Note that these covers are designed for economy-class seats, so if you happen to be a germophobe that can afford $5,000 for business class, well, you probably still have more money than the rest of us have germs.
5.  Shewee
Women travelers have it hard in a lot of ways, including the most fundamental, which is an inequity Shewee hopes to correct. It's on you to visit Shewee's website and learn more about the particulars of how to use the device, but it isn't inaccurate to say that you'll feel like one of the boys after you use this baby for the first time. The good news is that while the Shewee is functional, it's not anatomically accurate, so you won't look like one of the boys.
6.  Wenger's "Giant" Swiss Army Knife
If an ordinary Swiss Army knife is not functional (or confusing) enough for you, try this "giant" variant on for size. Its seven-pound weight and nine-inch length notwithstanding, Wenger's largest Swiss Army Knife has 87 implements and boasts 141 functions, including a cigar cutter, a mineral crystal magnifier, and a toothpick, in case you eat at a restaurant that doesn't have them. Obviously, you should check this puppy if you plan to travel by plane—there's no way it's getting through security.
The craziest part? Since weird things get weirder every day, and travel is among the world's fastest-growing industries, you know this is only the beginning of the bizarreness when it comes to travel tech. Can you even imagine what the 2020 or, God forbid, 2026 version of this list would look like?