About Robert Schrader
Robert Schrader is a travel writer and photographer who's been roaming the world independently since 2005, writing for publications such as "CNNGo" and "Shanghaiist" along the way. His blog, Leave Your Daily Hell, provides a mix of travel advice, destination guides and personal essays covering the more esoteric aspects of life as a traveler.
Latest Posts by Robert Schrader
Share: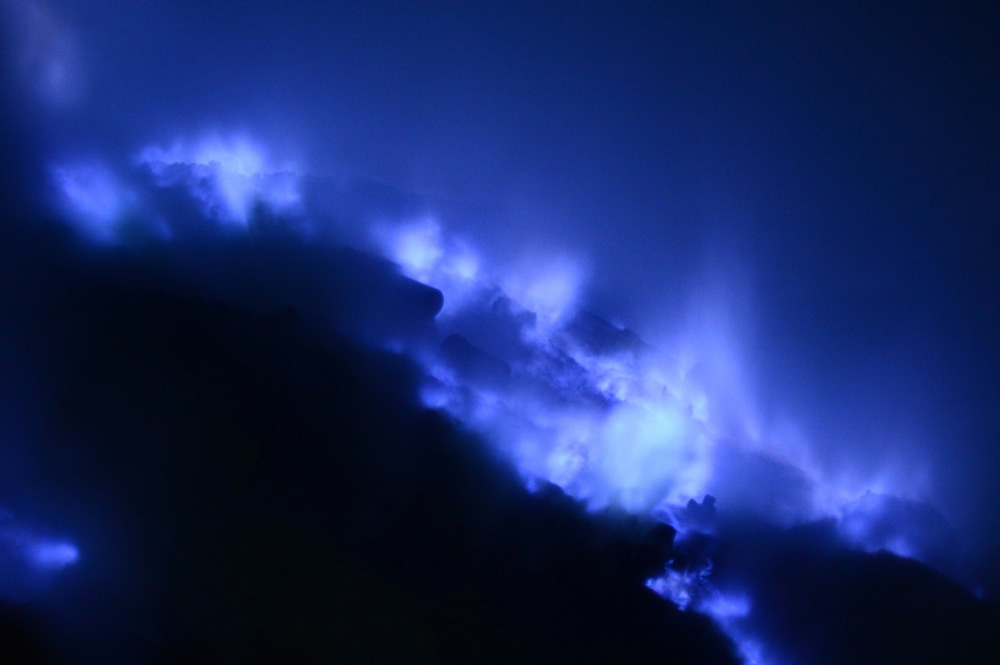 Like the vast majority of Internet users around the world, I recently happened upon a viral photo set that showcases an Indonesian volcano whose flames glow blue in the middle of the night. Unlike the majority of Internet users, however, I was just days away from a trip to Indonesia.
And so last weekend, after having landed in Jakarta, chased orangutans in Borneo and explored the historical city of Yogyakarta, I caught a train to eastern Java island and hiked down into Kawah Ijen, where blue fire was but the beginning of my shock – and delight.
Blue Sunday
Kawah Ijen became a non-negotiable part of my Indonesia trip the moment I learned of its existence – largely, I'm not ashamed to admit, because my favorite color is blue. It is for this reason that I kept my commitment to visit Indonesia's blue-fire volcano, even though one of its neighbors erupted just two days earlier, dousing Yogyakarta in ash just hours before I planned to buy my train ticket.
Which says nothing of the risks I took upon reaching Ijen's summit, some three kilometers above the coastal city of Banyuwangi. Along with a local guide who goes by the name of Sam, I ascended quite literally in the middle of the night, with only moonlight and Sam's dim torch to guide my way.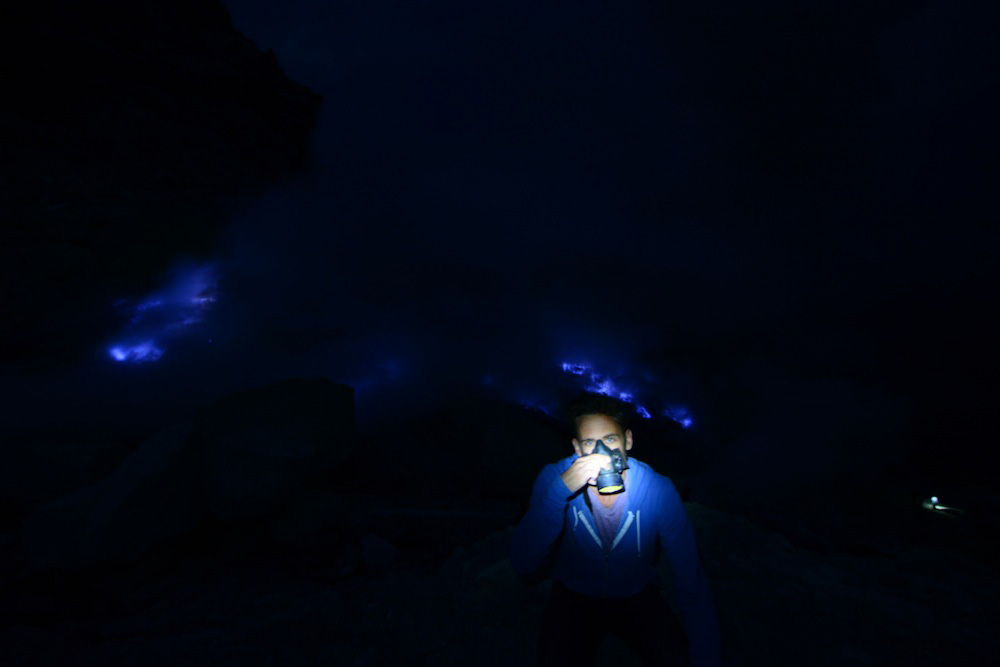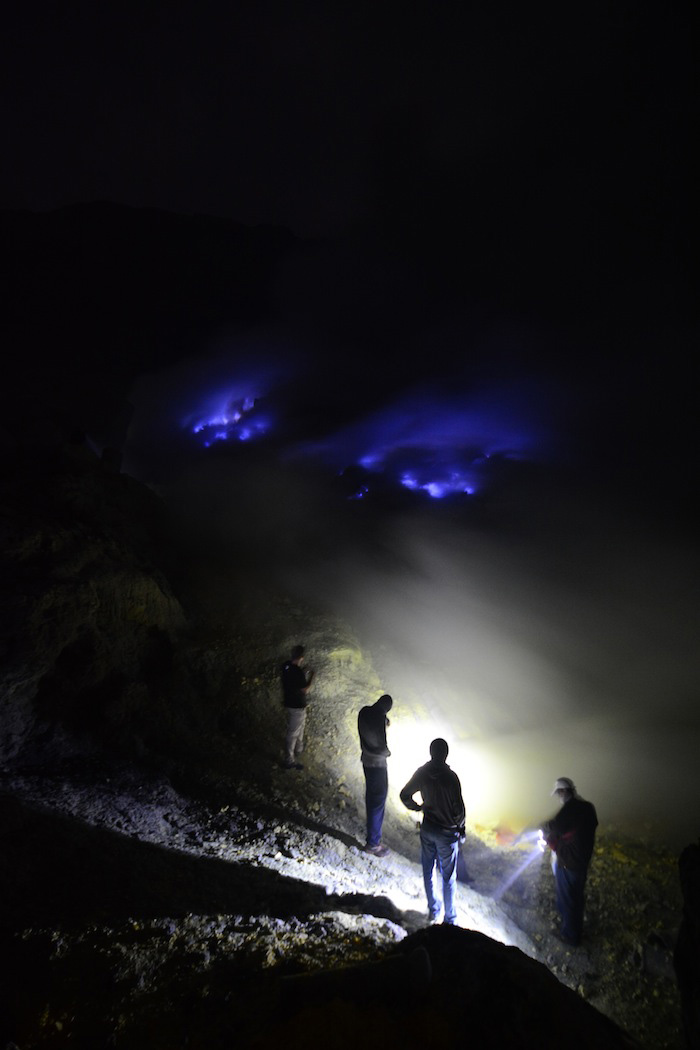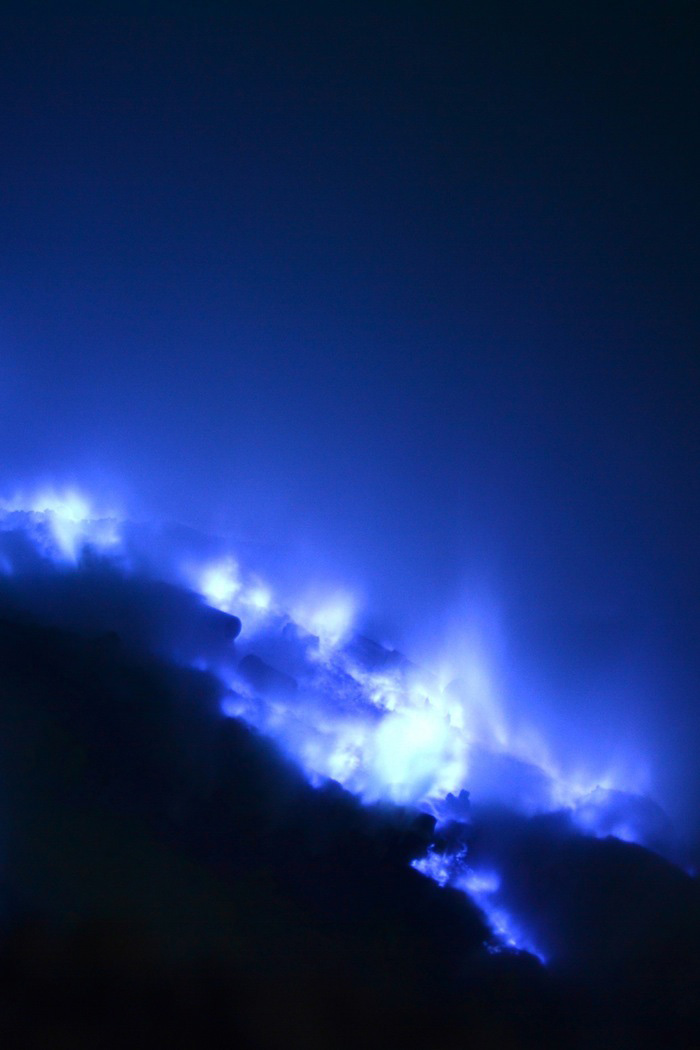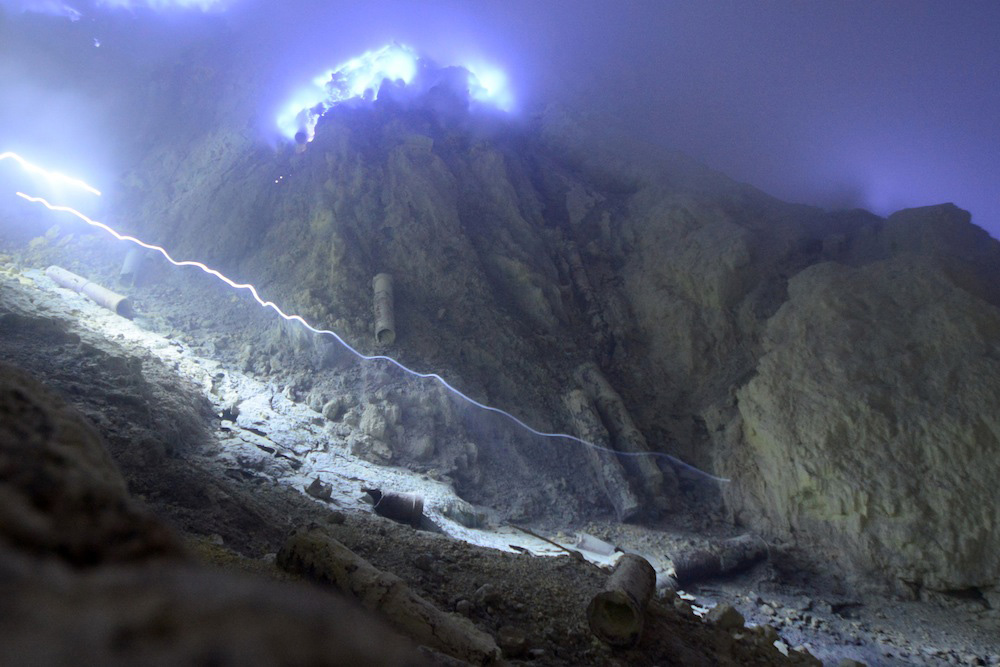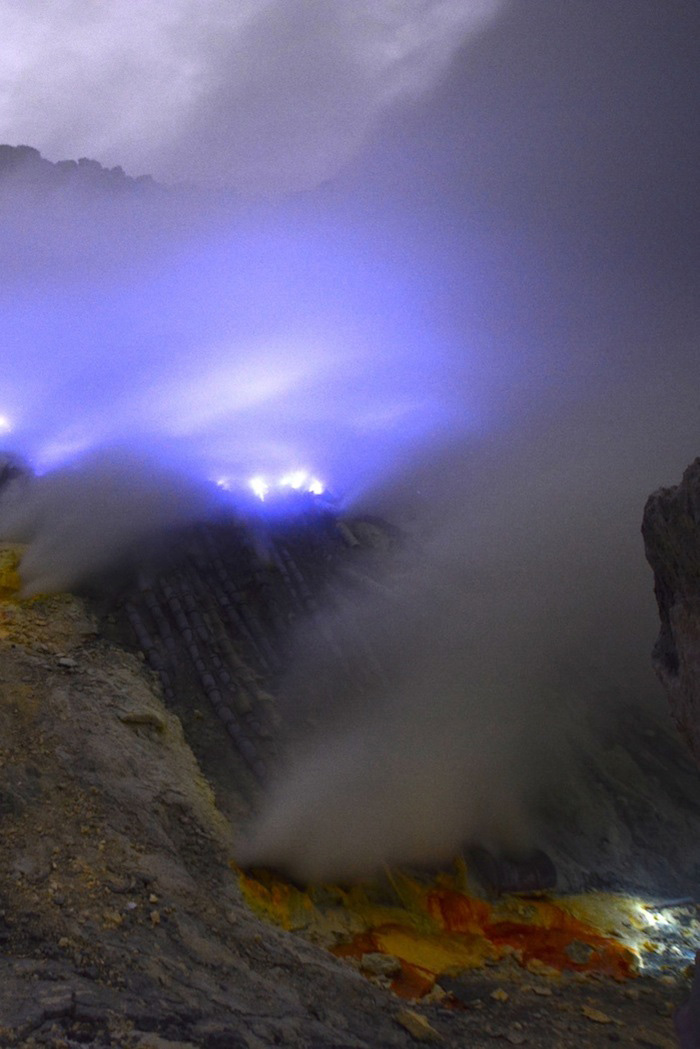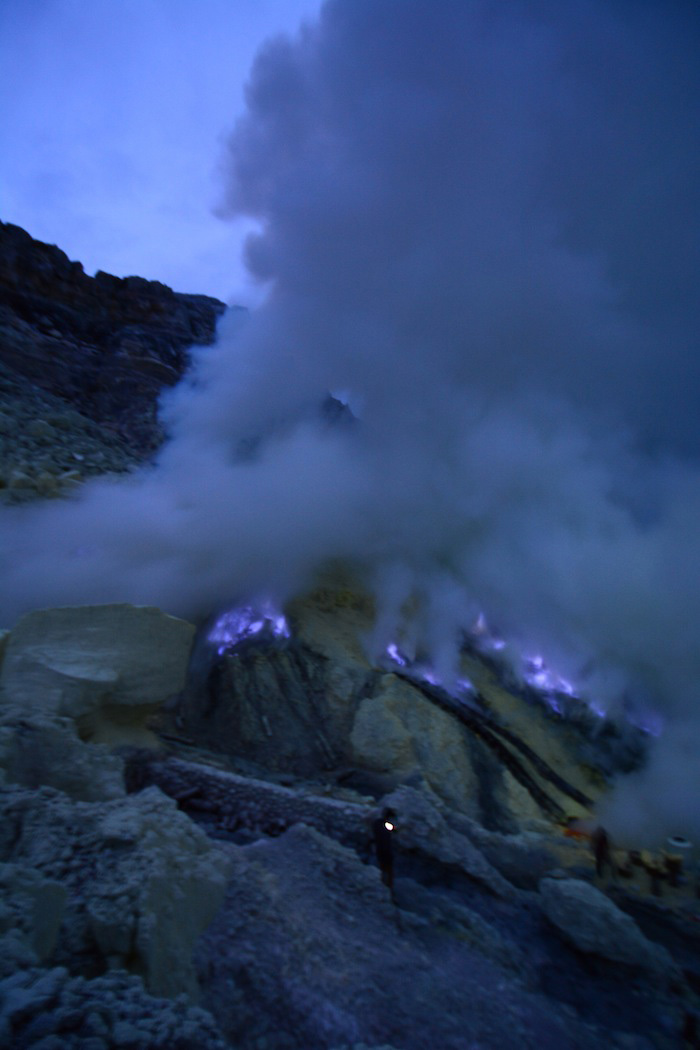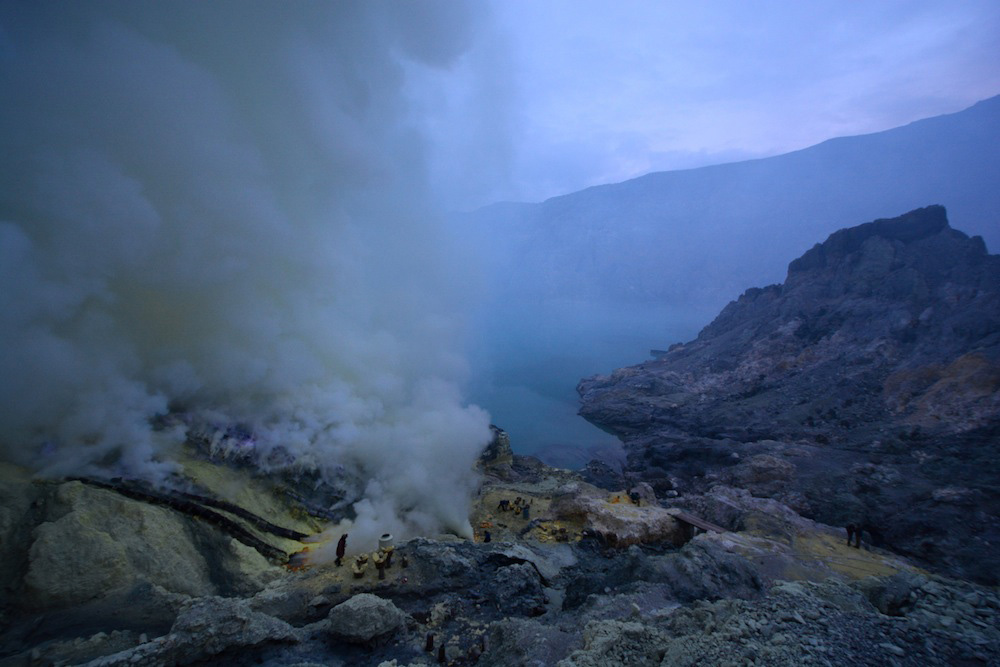 Almost immediately upon descending into the crater, noxious sulfur fumes began blowing upward, forcing Sam and I to don gas masks as we tiptoed just inches from death (or, at best, crippling injury) in our quest for blue flames. So great was our enthusiasm upon finally reaching them (Sam, you see, is just as passionate a photographer as I am) that we stood mere inches from a molten substance that could blind, burn and/or kill us for several minutes just for a chance to get the perfect shot.
The sulfur miners, whom Sam told me had been at work for three hours already by the time we arrived, seemed less than thrilled with our shenanigans.
A Smelly Place
My favorite book during college was A Small Place, a work by Jamaica Kincaid that is actually, by some reviewers' accounts, a novella-length rant, the subject of which is the impact of colonialism (and, by association, tourism) on Kincaid's native Antigua. One particular quote from the book has always stuck with me, especially since I became location independent: "A tourist is an ugly human being [...] visiting heaps of death and ruin and feeling alive and inspired at the sight of it."
It rang particularly relevant as I photographed the blue flames of Kawah Ijen, and not just because the mound of sulfur I was marveling at could easily have become a heap of my own death and ruin. It was also not just because of how annoyed the sulfur miners seemed, although that is certainly the beginning of it.
You see, although I photographed a few of the miners (for the sole purpose of highlighting their plight in this article, to be fair), I couldn't help but notice the extent to which other tourists seemed to be taking delight in their dangerous working conditions.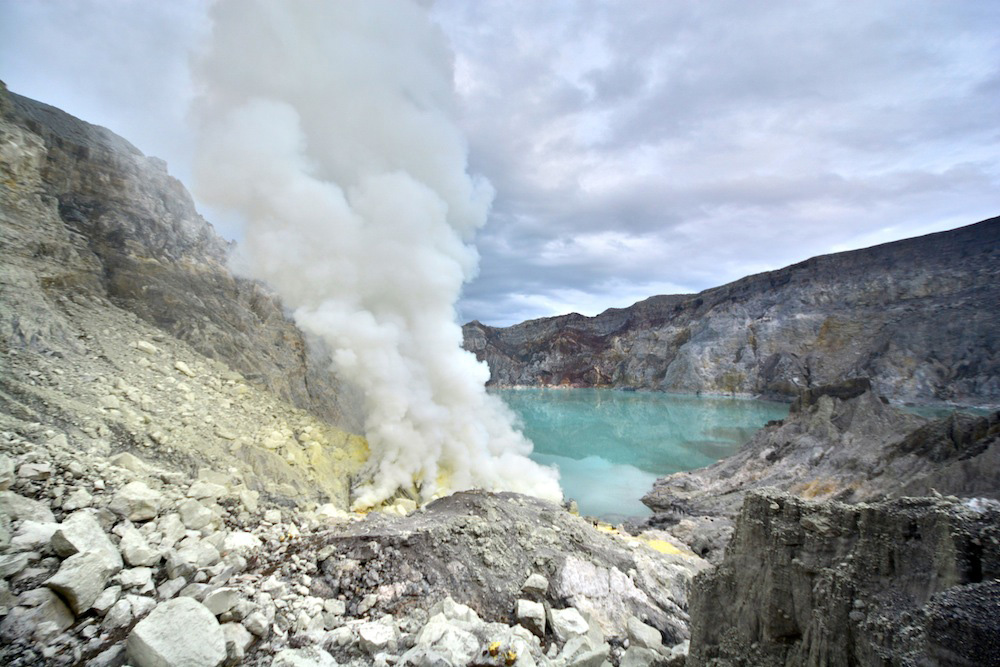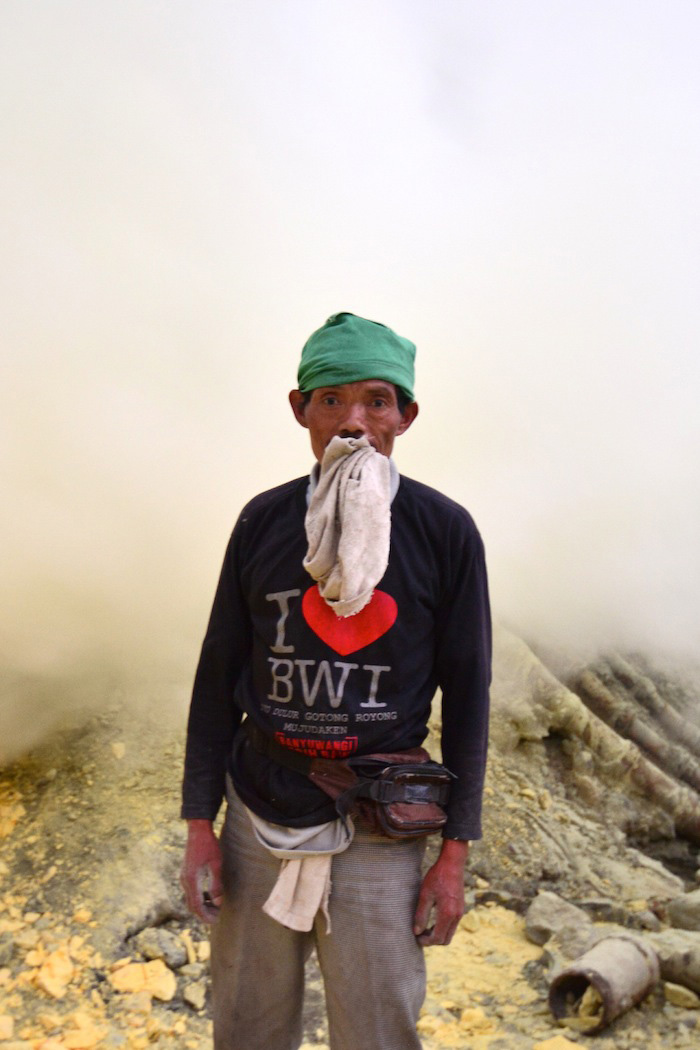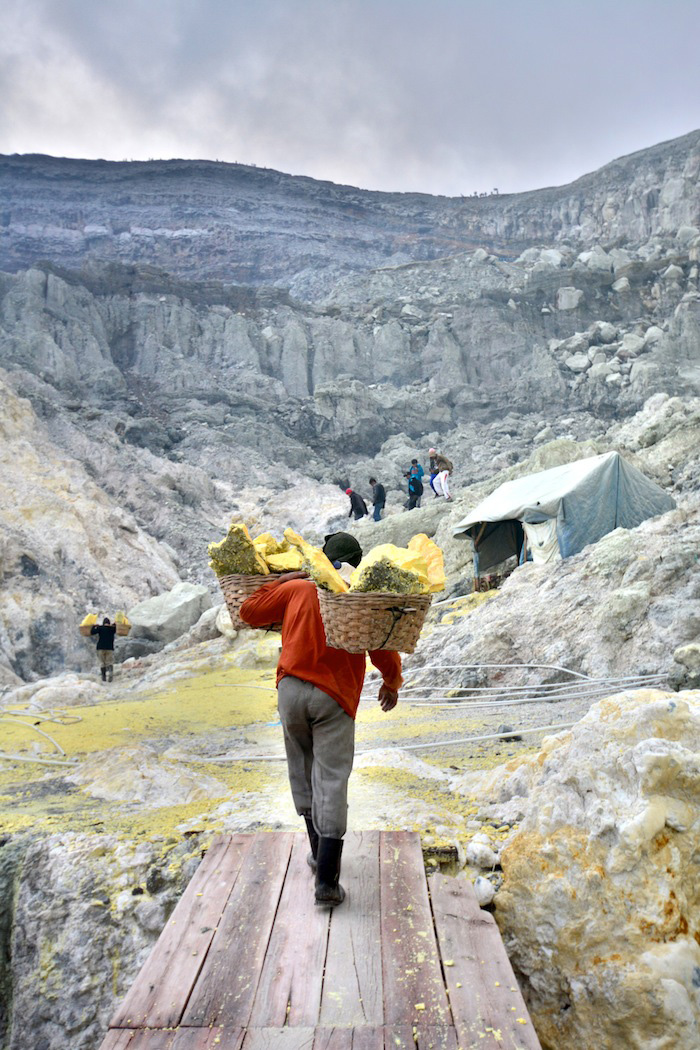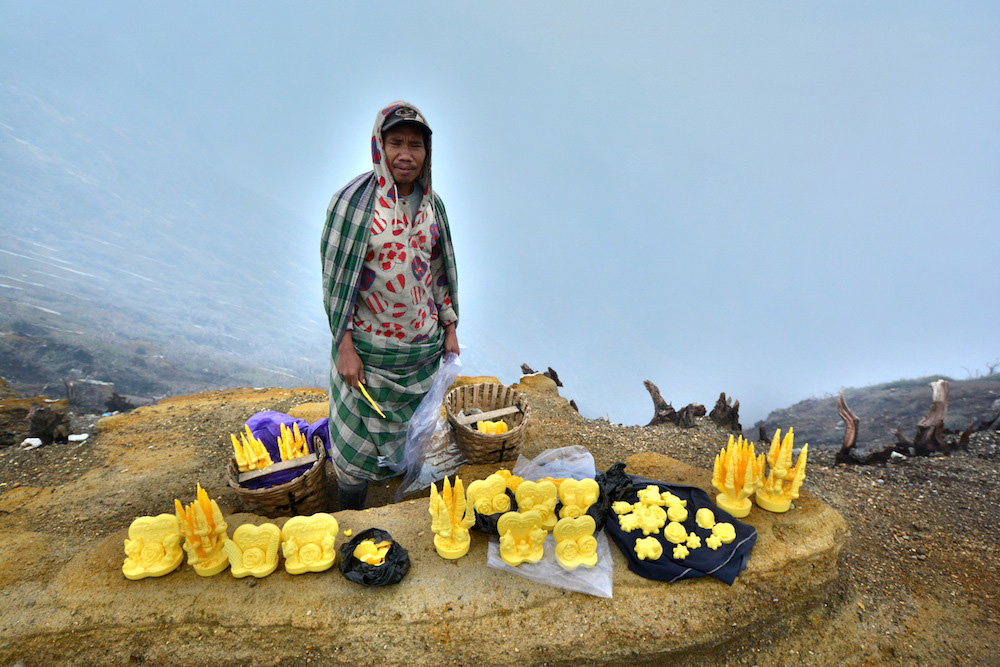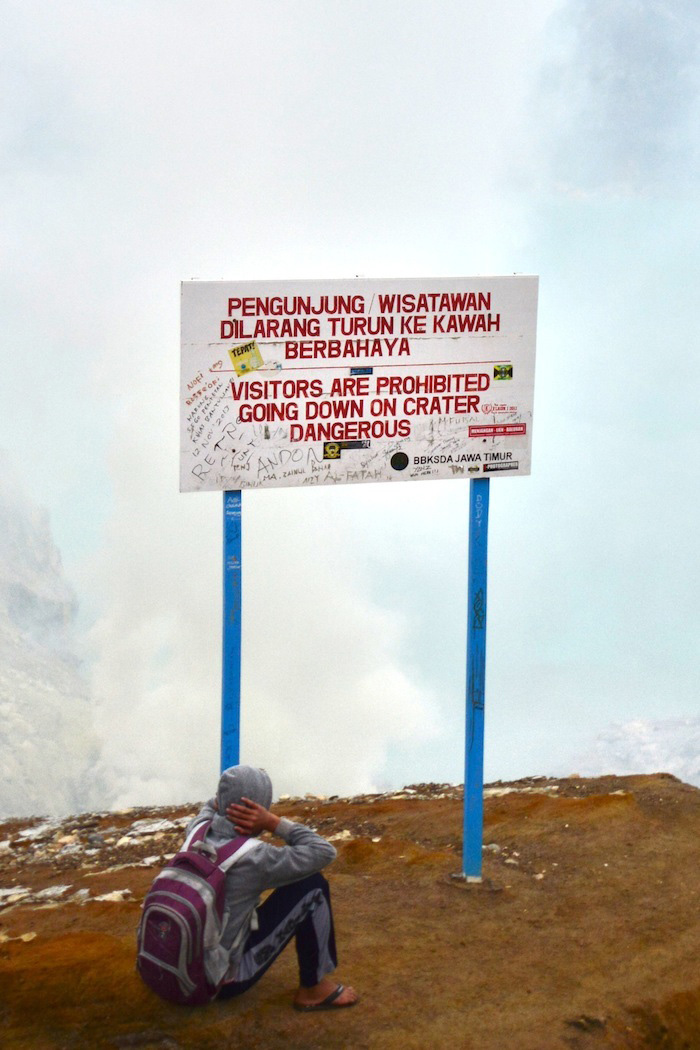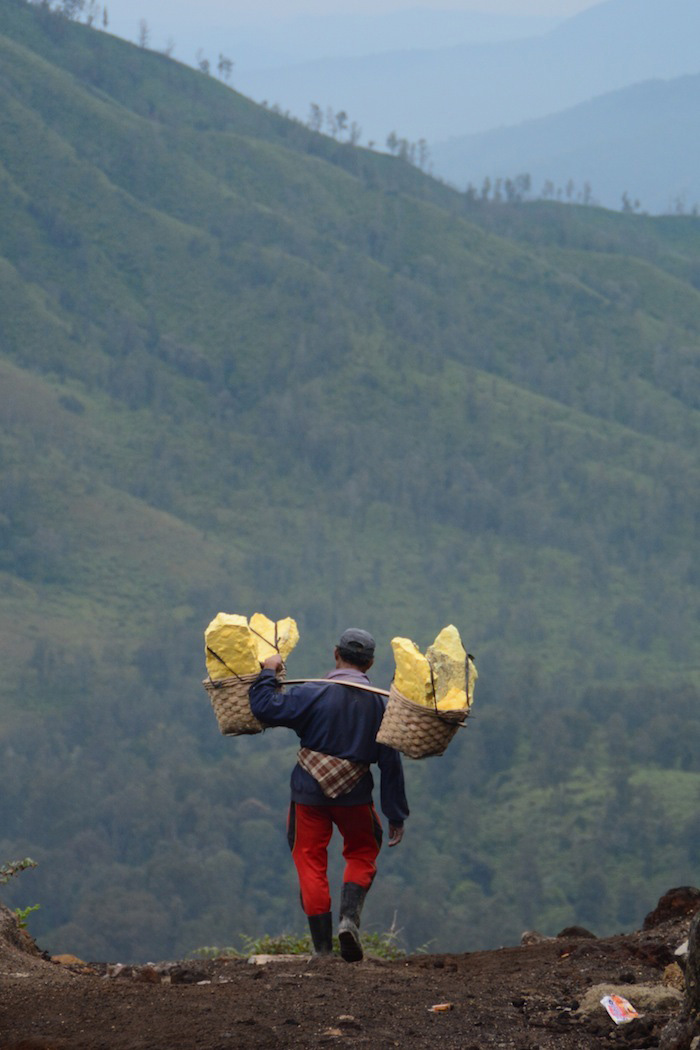 Each grief-arazzo would offer a particular miner cash or cigarettes in exchange for humorous poses. Or, if he was extremely lucky, the chance to try and balance a heavy load of putrid sulfur on his own shoulder for just long enough to have his picture snapped.
When I say "heavy," I mean it. According to Sam, whose father worked in the mines for nearly two decades, each basket (there are two) weighs a minimum of 40 kg, which must be hand-carried up three kilometers and then down another three kilometers, impossibly treacherous treks even for tourists – I fell three times heading back down, and I never, ever fall while hiking.
And the kicker is that they only make 800 Indonesian rupiah per kilogram, which translates to approximately $5.41 for no less than three hours of life-threatening work. I'm not sure how much profit their labor nets the Chinese-owned factory that processes the sulfur into cosmetics, insecticides and other highly-lucrative products, but I do know that none of the park entrance fees have thus far gone to make worker conditions any safer.
Village of the Water Palace
As uneasy as I felt upon reaching the base of Kawah Ijen, my visit to Indonesia's blue-fire volcano would soon come full-circle. "After you rest up a bit," Sam explained to me, having dropped me off at a cozy local guest house, "I'm going to introduce you to my family and the rest of the community."
I would soon learn the name of this community to be Taman Sari, or "water palace," a title it shares with a former royal residence in Yogyakarta. The experience I had getting to know the men, women and children of Sam's hometown made me feel royal, alright, but not in the same way the Sultan of Yogakarta's 100 virgins did to him.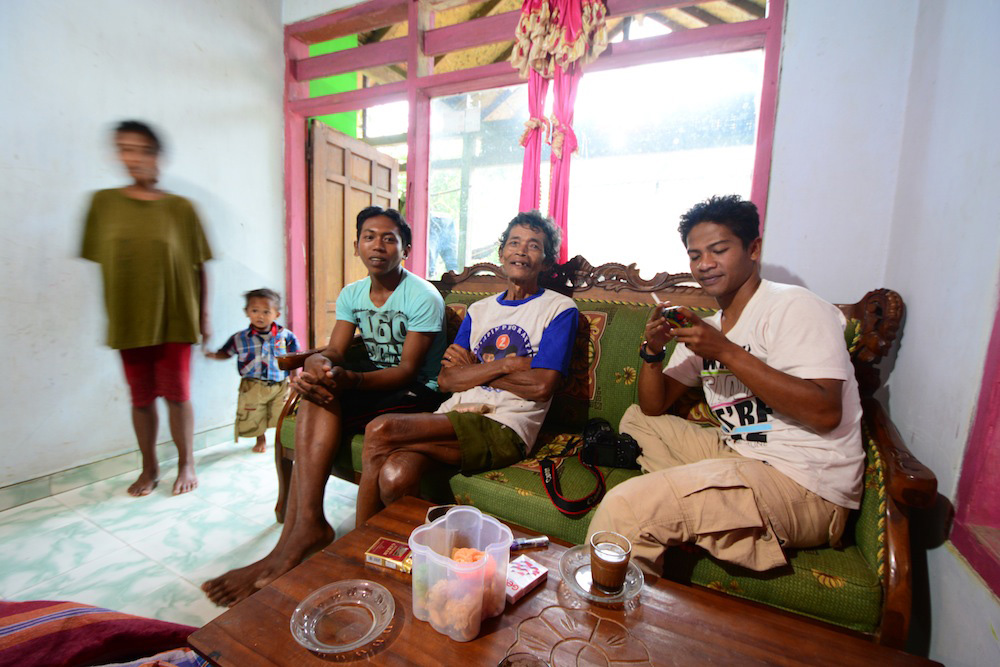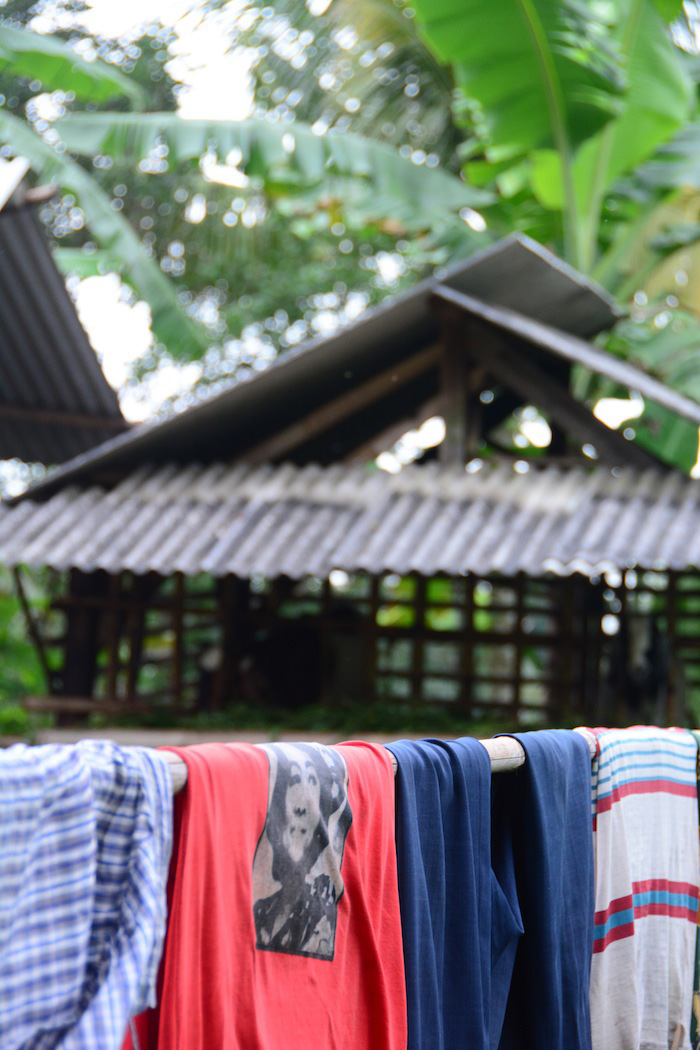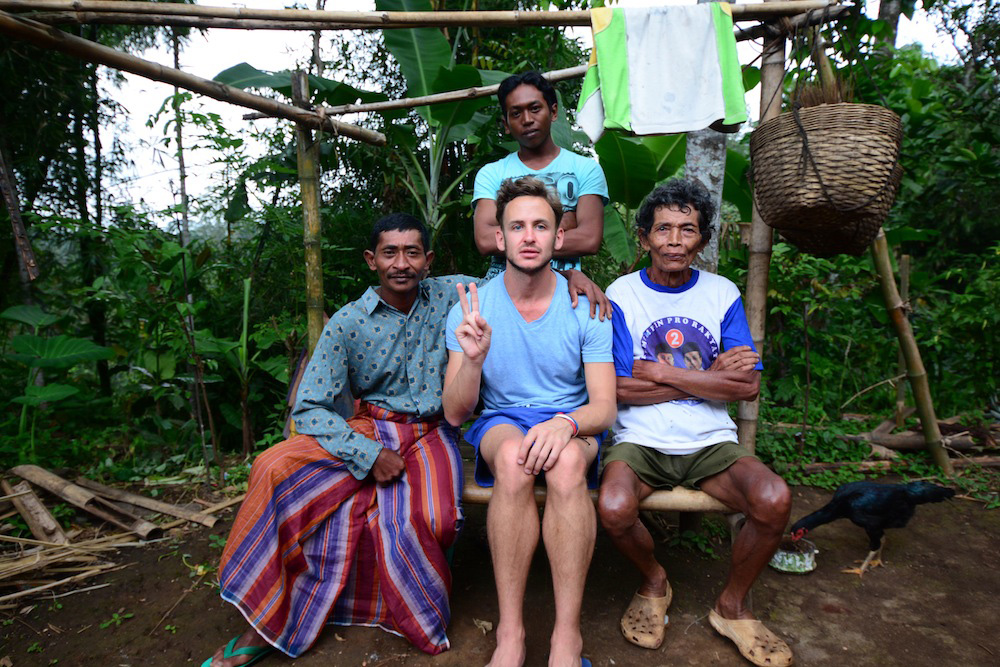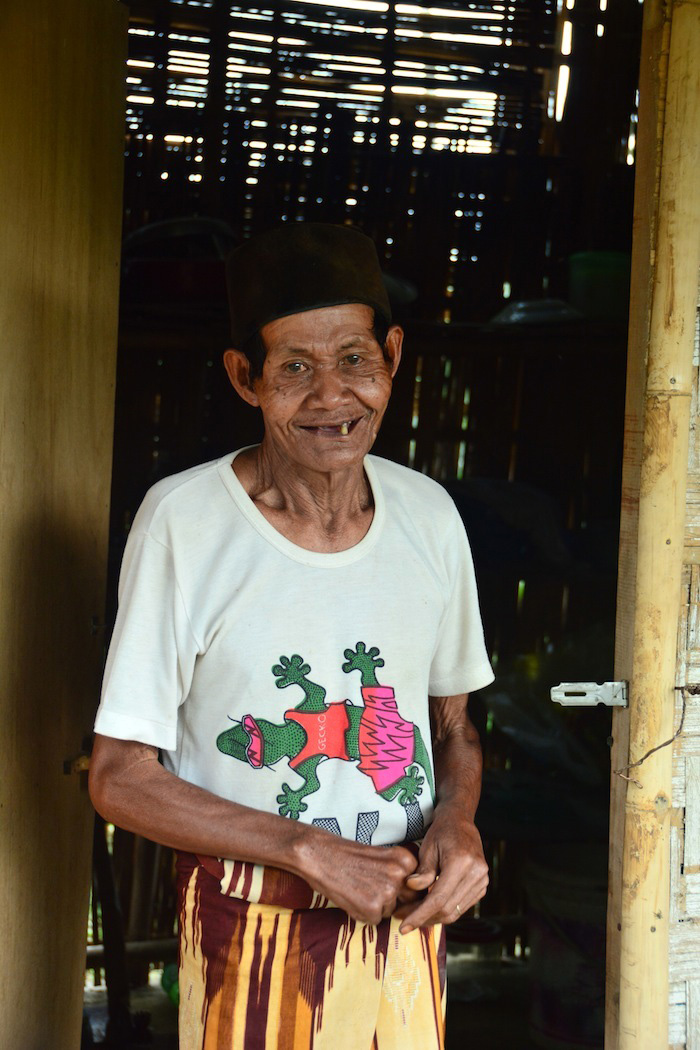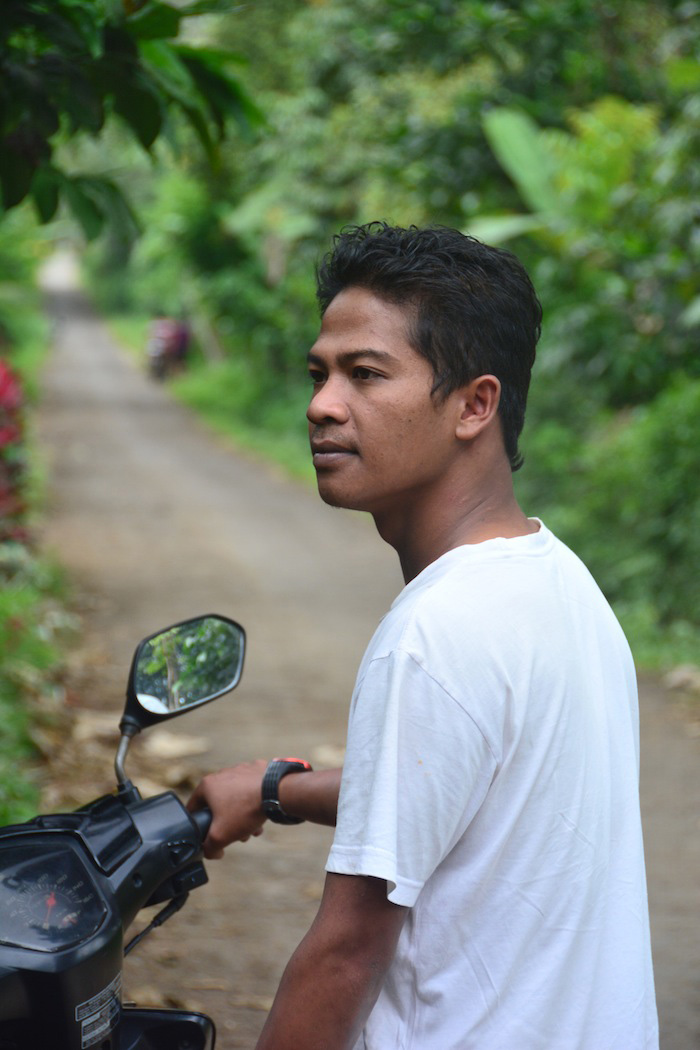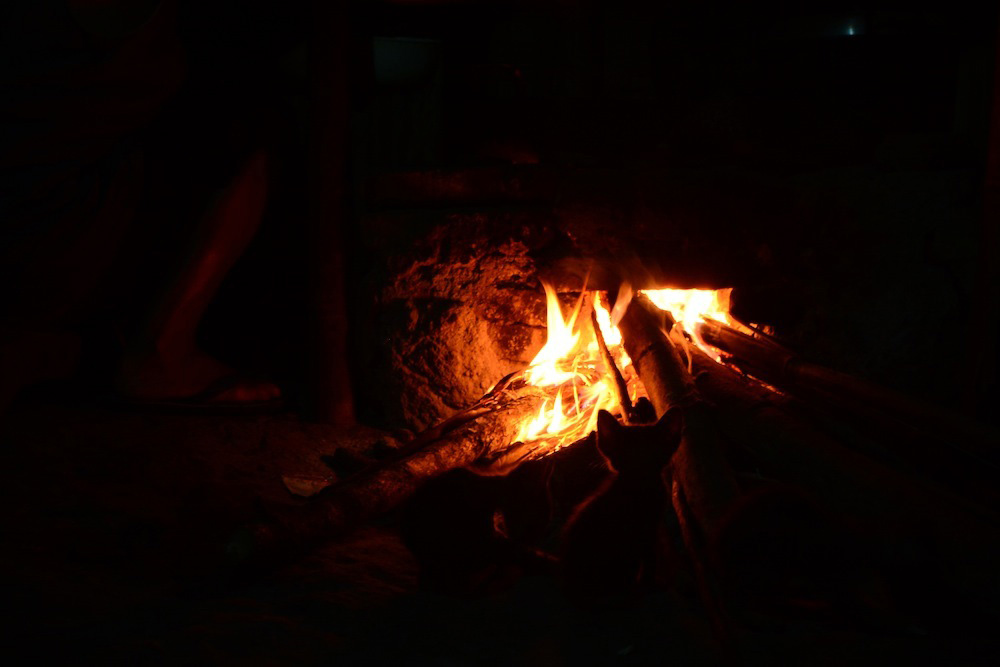 Over the course of several hours, from just before lunchtime to just after sunset, I oscillated no less than a dozen times between the widest smile that has ever graced my face and gushing cascades of tears. From being cordially invited into the homes of sulfur miners I'd photographed earlier in the day, to meeting a man who was so old he'd forgotten his age, to enjoying dinner with Sam's very own family, I don't think I have ever felt so immediately welcome anywhere – not even my own home.
To be sure, the profound light emanating from Taman Sari is the perfect foil to the darkness that surrounds the plight of Kawah Ijen's sulfur miners – and the perfect complement to the blue flames that drew me here in the first place. I hate telling people that they "haven't been to [insert country name here], if [they] don't do [describe attraction here], so I'll just finish up saying that I really, really hope you make it to Kawah Ijen if you come to Indonesia.
How to Get to Kawah Ijen
Kawah Ijen, which literally translates to "Ijen Crater," is located in far eastern Java island. To reach Ijen, take the train from Yogyakarta or Surabaya to Karangasem station or, alternatively, the ferry from Bali to Ketapang. Due to the danger involved in entering the crater, hiring a guide is highly advisable. Entrance to the park costs Rp. 15,000 as of February 2014, which does not include a Rp. 30,000 camera fee.
I recommend Sam Kawah Ijen, whom I mentioned in this article, not only because his rates are fair and his service is great, but because he is a lifelong member of nearby local community Taman Sari, to whose betterment he dedicates a portion of his business proceeds.
Share: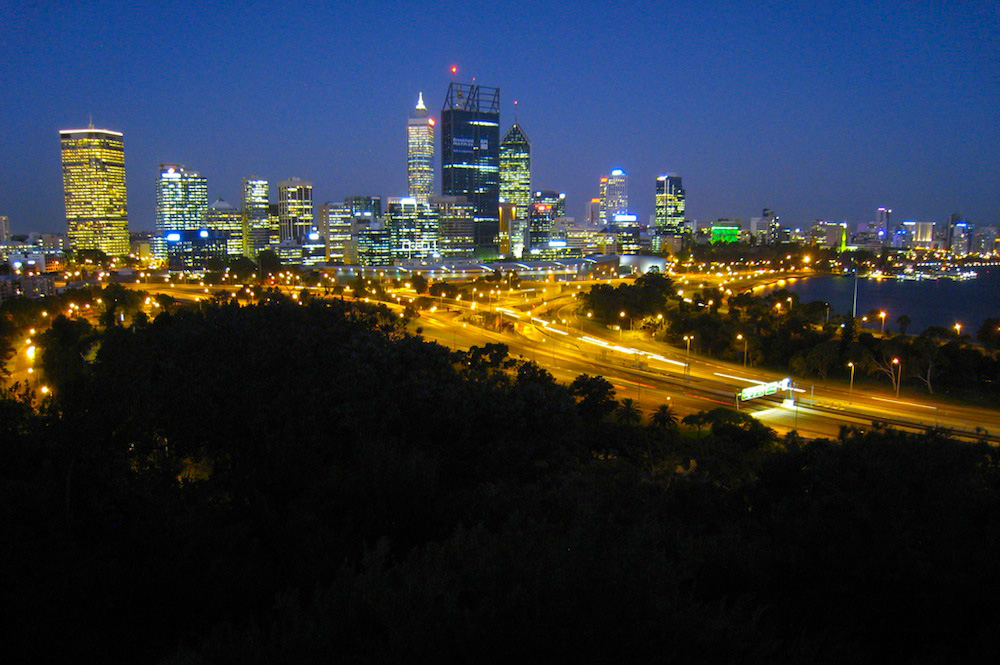 Perth is far.  Not just far from other countries.  It's far from everything – in fact, it's the most isolated city in the world. Since Perth has also seen a lot of money pumped into it over the last few decades, mainly because of mining, Perth has become unique in spite of its isolation.
Like most coastal Australian cities, Perth has beaches, the most famous of which is Cottesloe Beach.  No matter which of the city's dozens of beaches you choose, however, Perth's hot (30 degrees+) year-round weather means there's no bad time to soak up some sun.
On that note, however, a word of warning: The sun in Australia is strong, and coupled with 40 degree weather in summer, it can be very easy to get burned badly. Make sure you pack some sunscreen with you, and get some shade – it's hot.
The lure of mining money has brought many businesses to Perth, where the food scene has flourished.  Top-rated restaurants like 1907 on Queen st, Shiro Izakaya or Nobu show the finer side of Perth, but you have to pay a premium. For a simpler palate, and to get a better feel for Australian culture, grab some fresh fish and chips, and just bake on the beach.
The nightlife in Perth is thriving, too. Perth lights up at night, with Crown Perth (formerly Burswood) the hotspot, with bars and nightclubs aplenty (they also have the pick of Perth hotels, which make it convenient after a big night out – no long commute).
Depending on how late your night goes, you can head back up to Cottesloe for some late night grub, and watch the sunrise over the waves.  Perth is something different – able to be so quiet and peaceful, but still grab you with the lights of the city, and then dump you back on the beach.  But in the end, Perth is what you make of it.  Beach vacation in the sun, party destination, foodie's paradise, or a combination of the three.  Like nowhere else.
Share: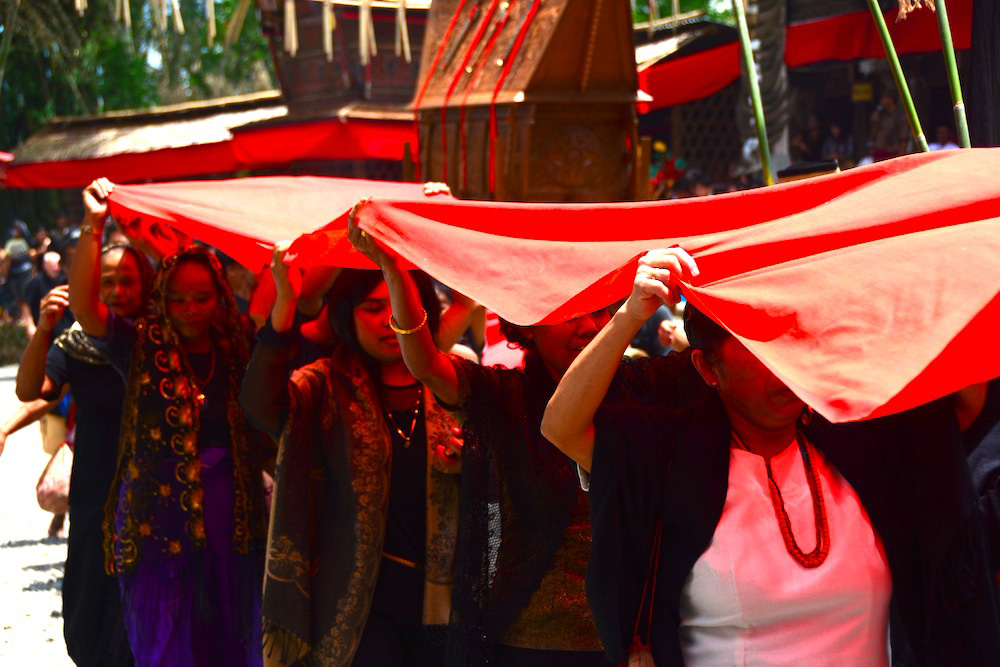 The journey to Tana Toraja, located in the highlands of Indonesia's Sulawesi island, is not an easy one. Known locally as "The Land of Heavenly Kings," Tana Toraja is 10 hours by bus from the nearest airport (Makassar) on a good day – the day I arrived was not such a day.
Or, maybe it was.
"You're in luck," the short, smiling man informed me, after I'd selected him from one of the dozens of tour guides who harangued me upon disembarking from the bus. I hadn't slept much the night before, thanks as much to bumpy road conditions as to howling infants, so I was intrigued to hear why he thought I was so lucky.
"There is a very big funeral today – one of the biggest we've had in months," he continued, removing a paper map of the region from his pocket to denote its location relative to where we were, in the town of Rantepao. "But if you want to make it, we must leave now."
(Funerals, it might surprise you, are the reason most people visit Tana Toraja.)
Tana Toraja Funerals
As we sped off by motorbike, I was surprised at how quickly the industrial clamor of Rantepao gave way to the tranquility of the Torajan countryside. With towering limestone karsts and emerald rice fields, the landscape was strangely similar to the one you find in Laos, although traditional boat-shaped houses gives Tana Toraja a distinct flavor.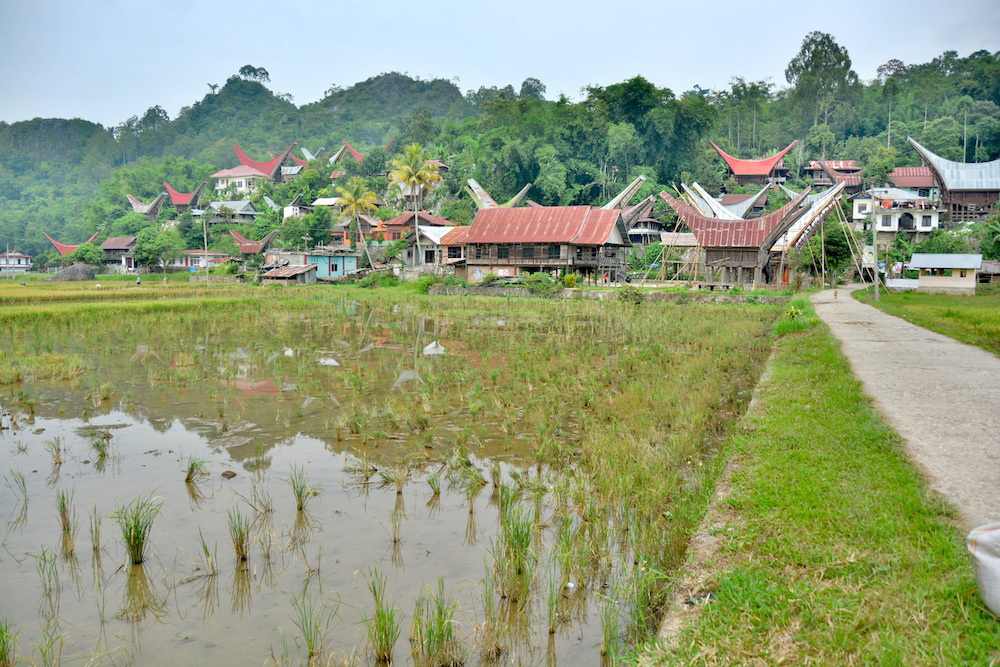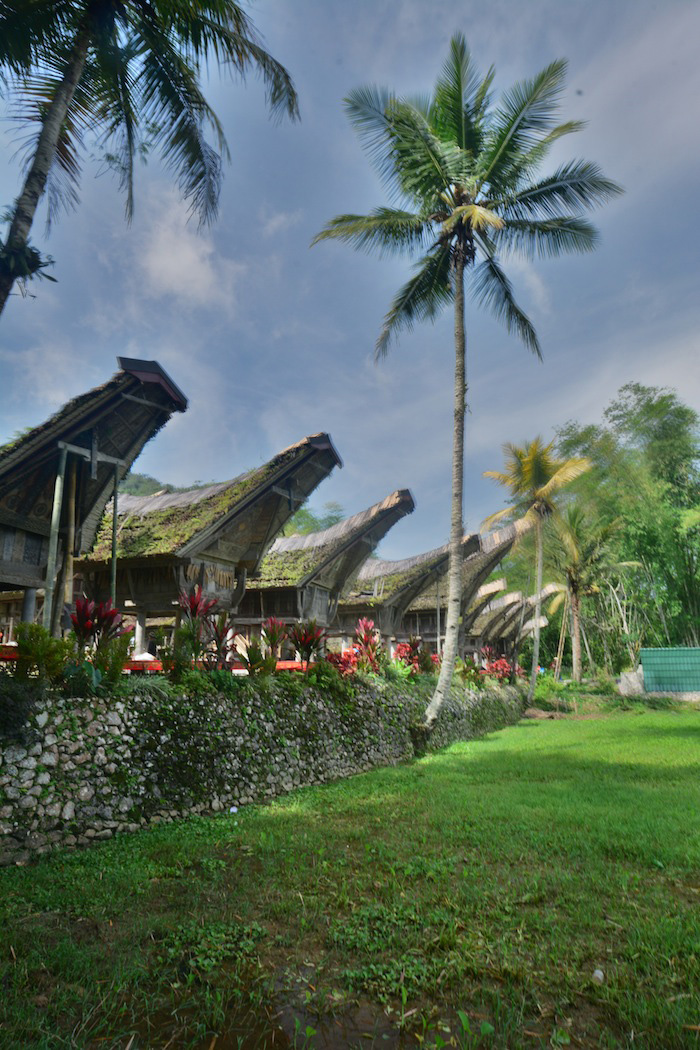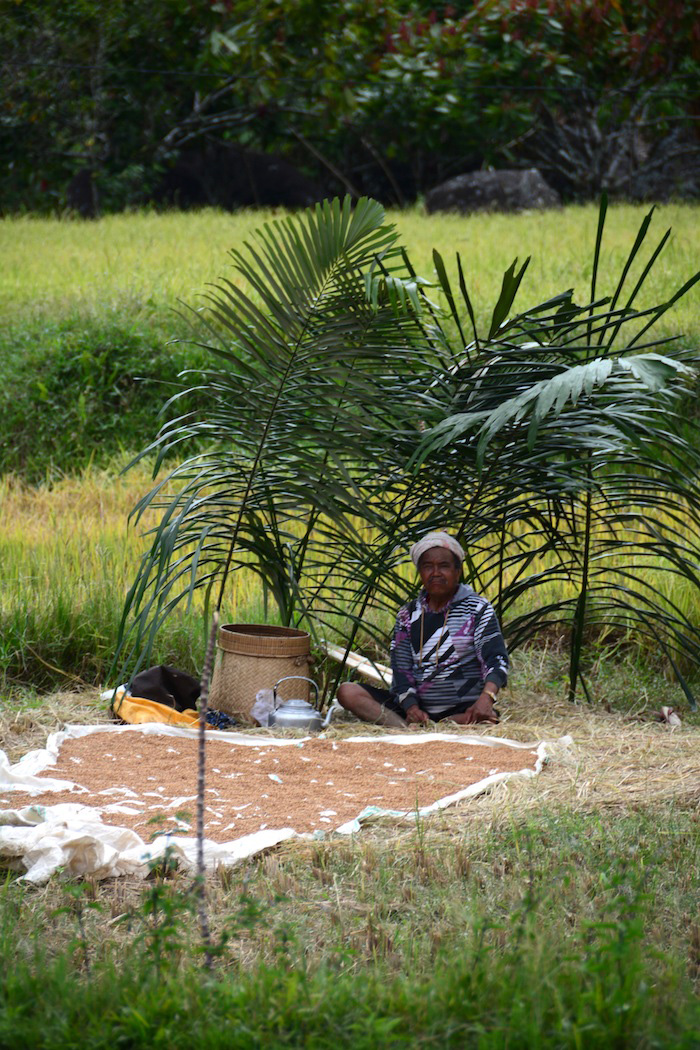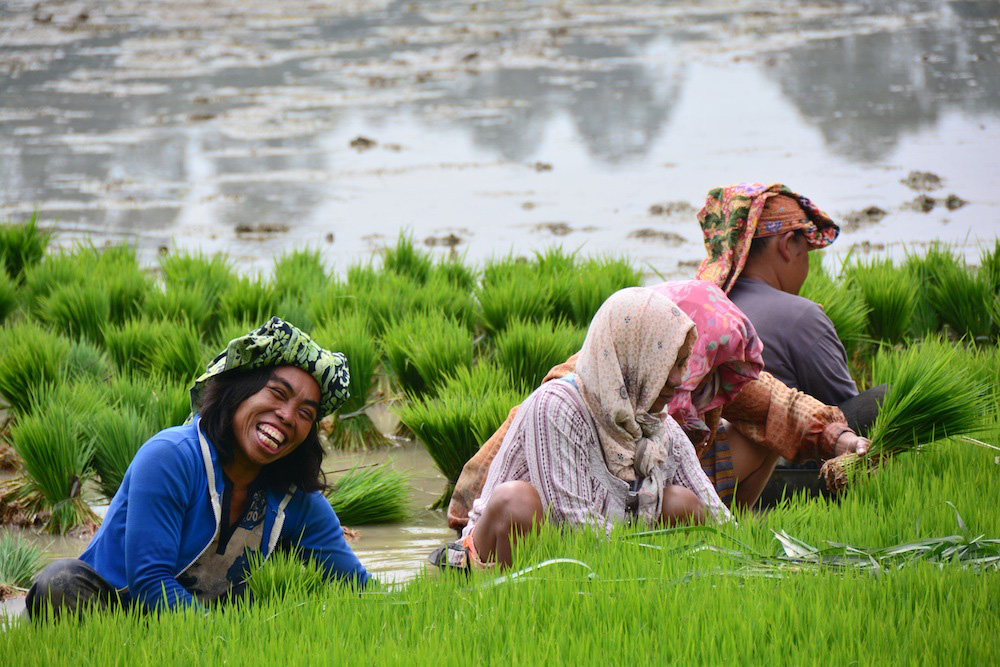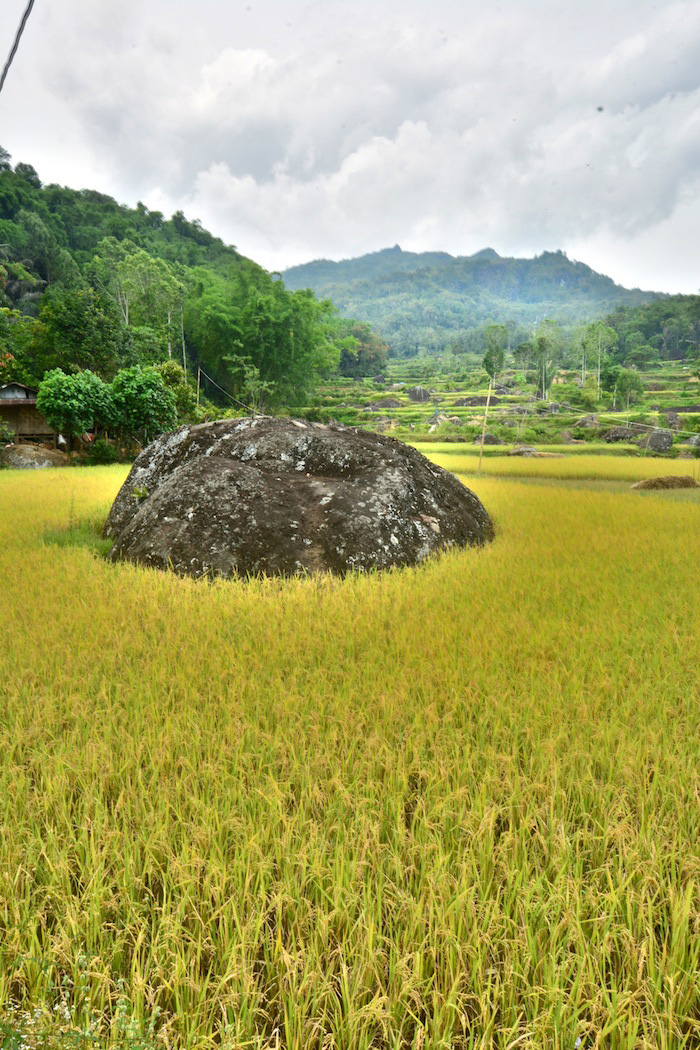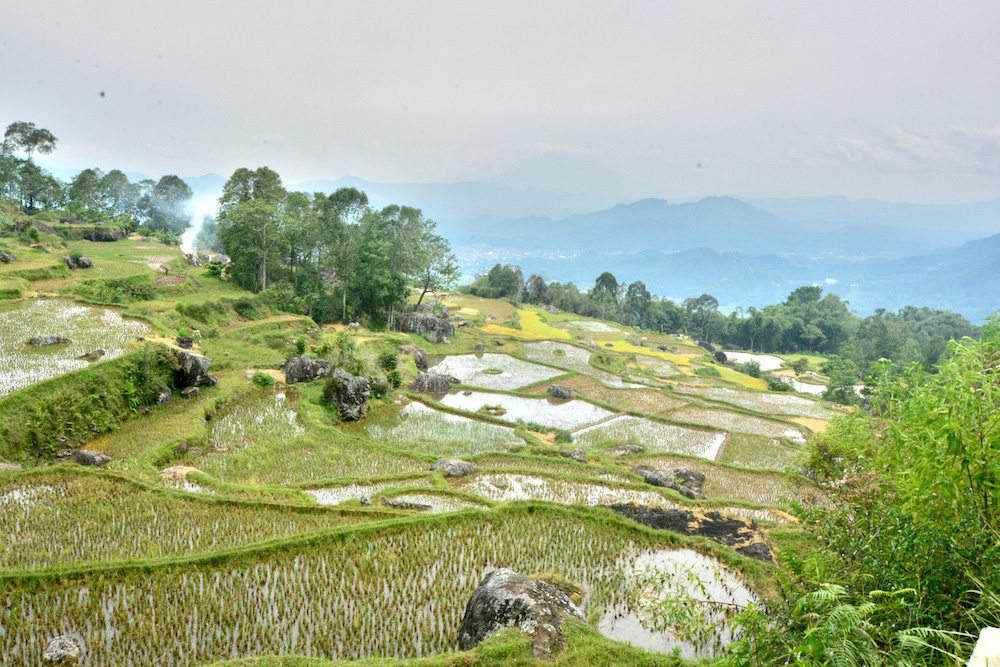 My guide hadn't been joking about the size of the funeral. When we arrived, approximately two hours before the beginning of the festivities, no less than 100 people were already in attendance, from "VIP" guests lounged in cabana-style waiting areas underneath the traditional rice barns on-site, to commoners (including me) who enjoyed simple food and tea in temporary buildings constructed especially for the funeral.
"In Torajan culture," my guide explained, as he handed me a juicy piece of bamboo-cooked pork, "families may wait several months or even years after a person dies to bury them. During this time, the family preserves the body, either using modern chemicals or more traditional methods. Until the burial, the person is technically considered 'sick.'"
"How long has this one been dead?" I pointed toward the eerily life-like effigy that had been placed in front of the elaborately-carved coffin at the center of the funeral site.
He excused himself to ask one of the hostesses to clarify. "One year," he answered. "Exactly one year. But be quiet for now – it's starting."
After a lively circle dance performed men dressed in royal blue and a "rice pounding" ritual performed by local women dressed in purple, the procession began. A long line of no less than 100 women formed, holding up a long, red cloth which symbolized the deceased person's path to the afterlife. Once they began walking down into the town, men carrying the coffin and the effigy followed.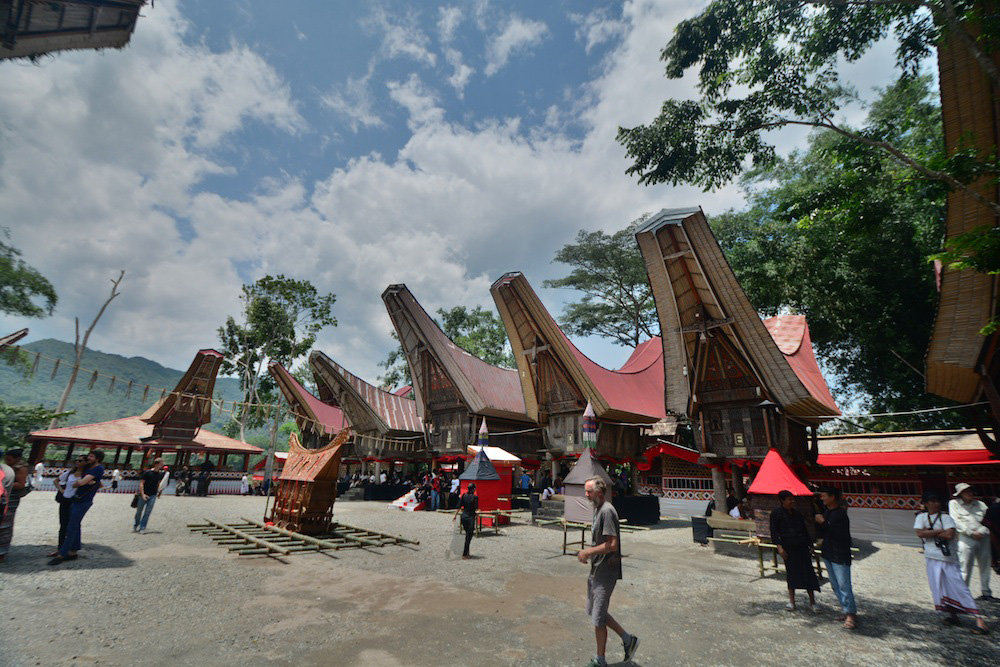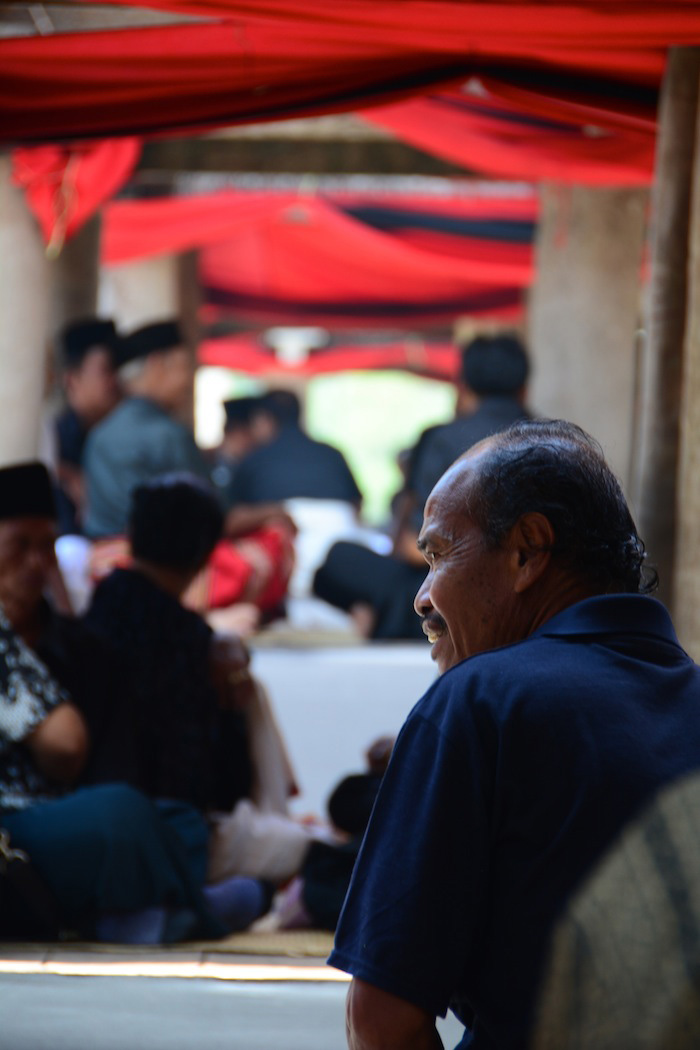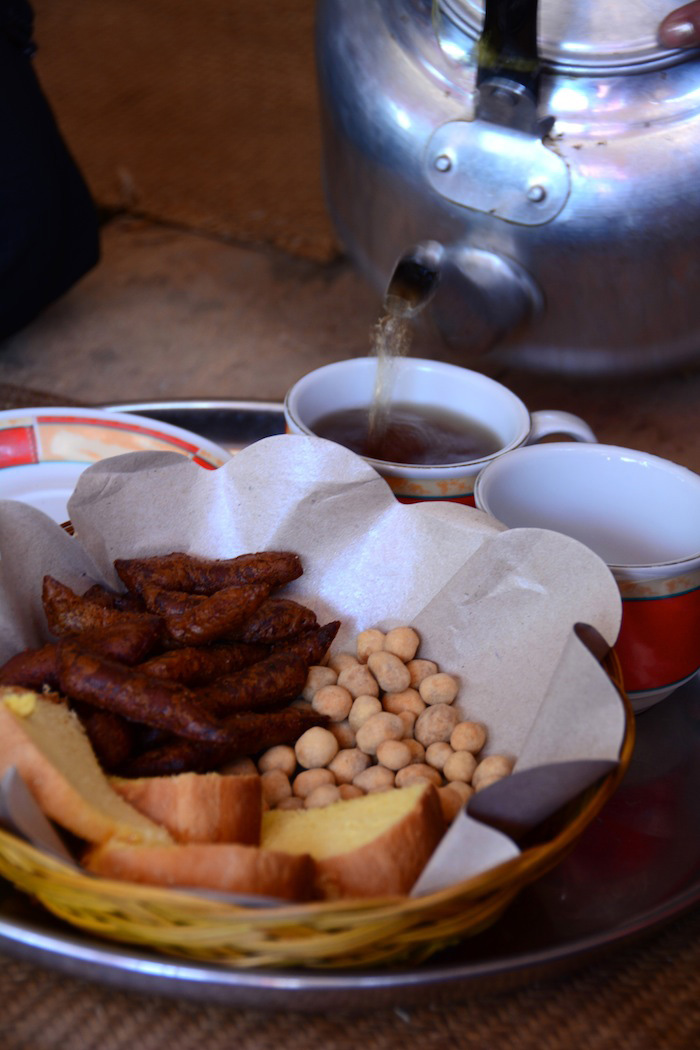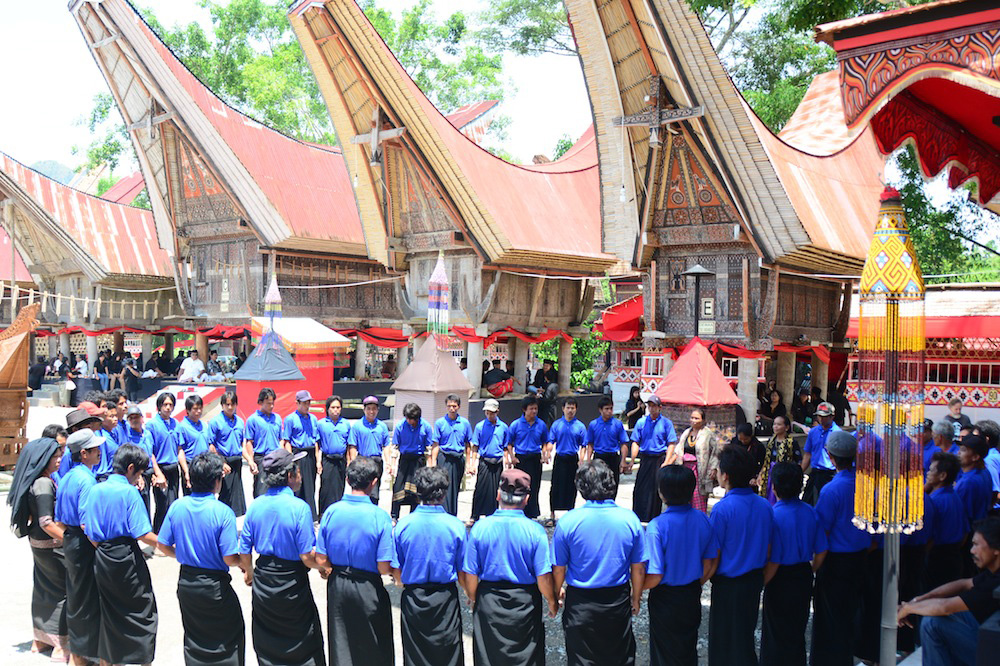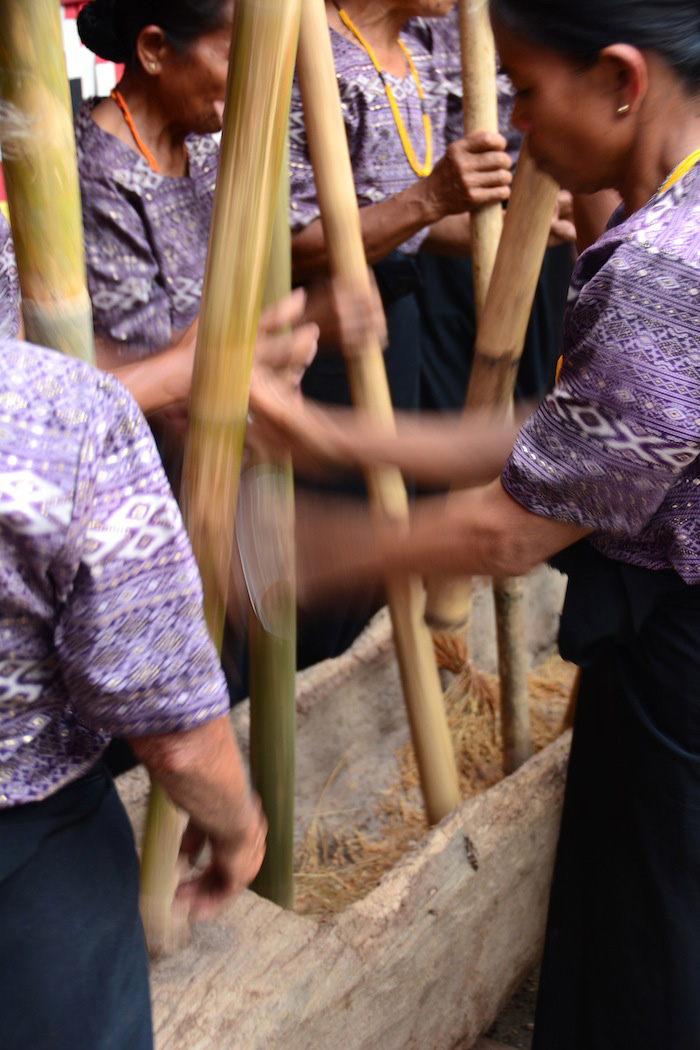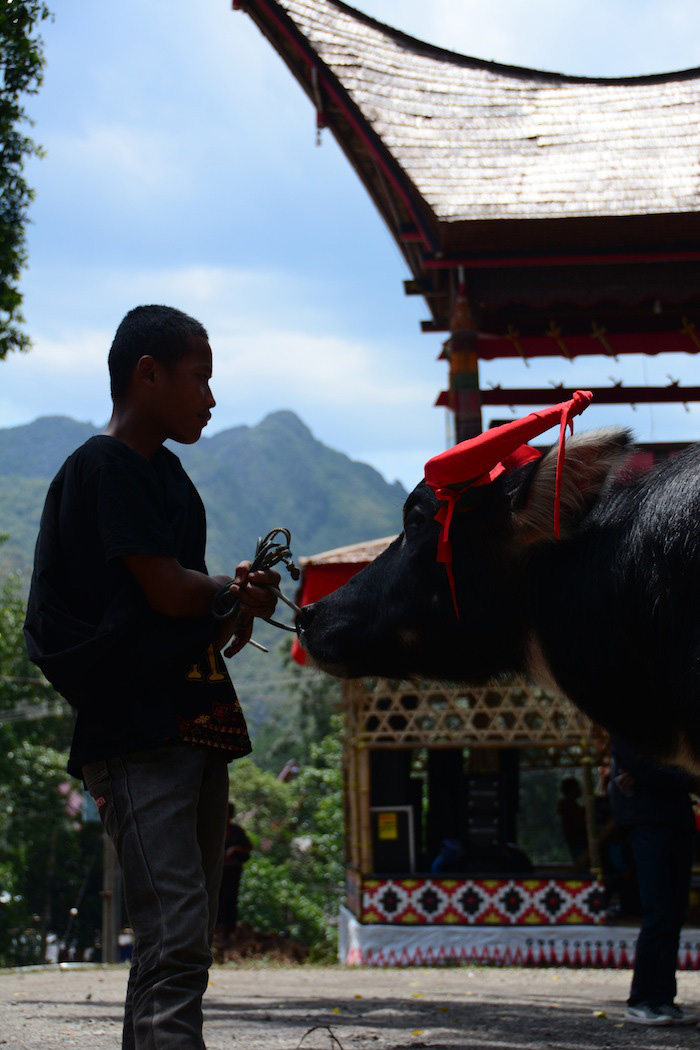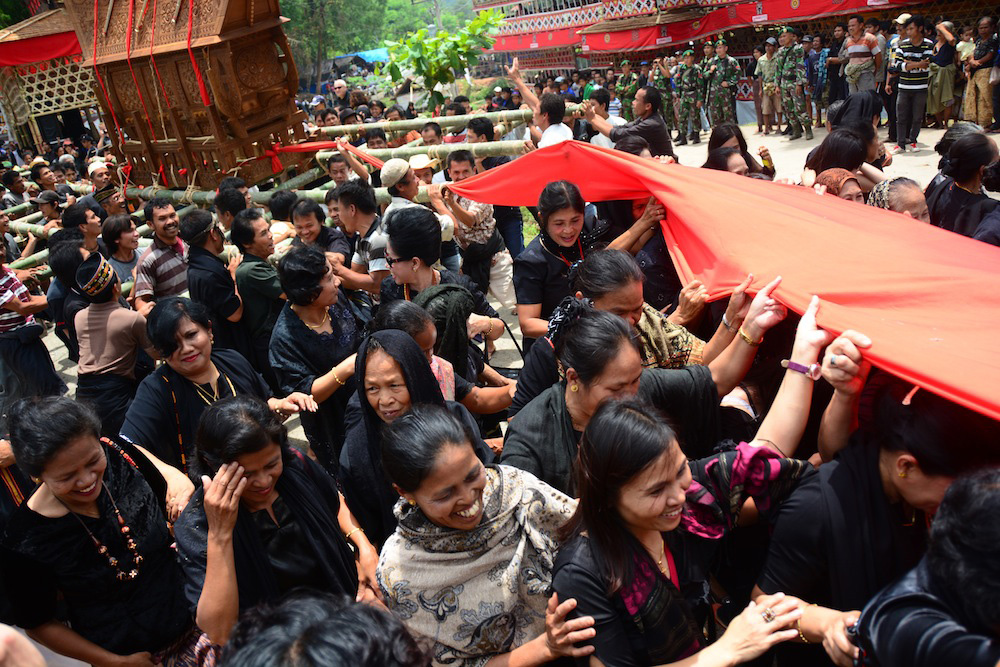 From the drum beat that signaled the commencement of the funeral to the moment that coffin was placed in a "sky cabin" above one of the houses, the mood the event was festive, perhaps even joyful. The pallbearers would occasionally hoist the coffin up, and then rapidly down, to symbolize the launching of the deceased person's soul into the next life; the women underneath the red cloth, in spite of its harsh color, were smiling and laughing widely.
Unfortunately, not all aspects of Tana Toraja funerals are positive. Depending on the wealth of the family, as many as 24 buffalo are slaughtered; some pigs and other animals are occasionally sacrificed as well. The buffalo who are lucky enough not to die during the funeral are subjected to fighting after the burial, which I personally skipped – ain't nobody got time for animal cruelty!
Baby Graves in Tana Toraja
The good news is that not all of the burial rituals in Tana Toraja involved barbarianism. Some are even sweet! This includes the "baby graves," which I must admit sounded rather macabre when my guide first told me we were going to visit them.
"Inside this tree," my guide explained, pointing up to the crude palm coverings papering the behemoth arbor's trunk, "are the bodies of several babies, some buried centuries ago. Now, you're probably wondering why someone would want to bury their child in a tree."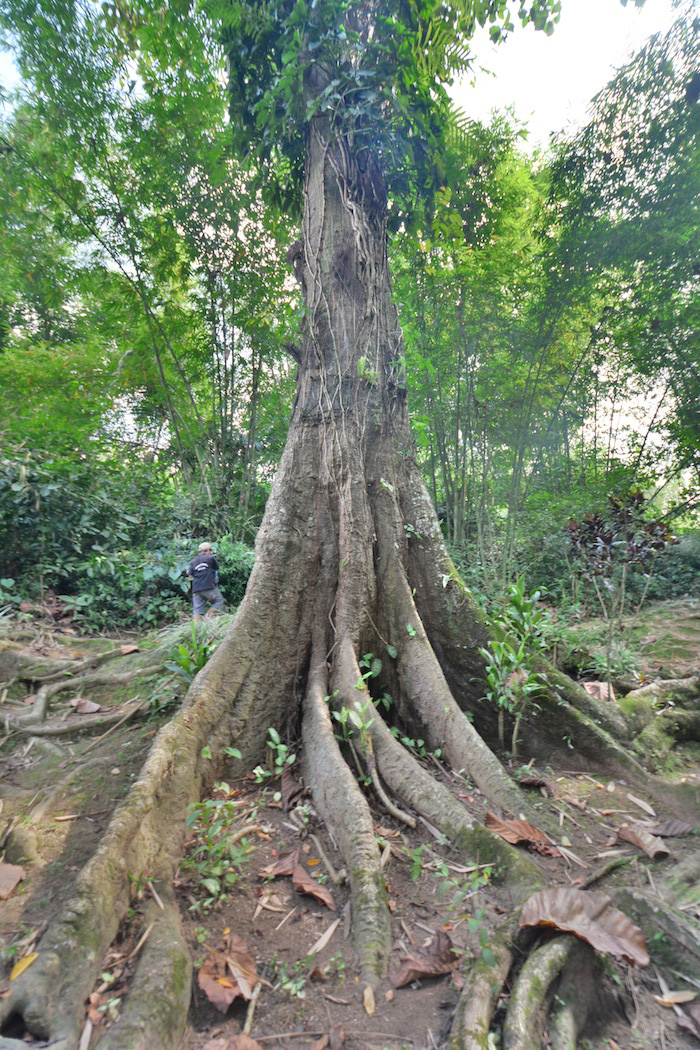 I nodded.
"Well, ancient Tana Toraja people, with their animist beliefs, considered trees to be the ultimate symbol of life. By burying their young children – only those without teeth – inside a tree, the tree would act as the child's new mother, the sap her milk. As long as the tree lived, the child would continue to have a new life inside."
Tana Toraja Hanging Graves
Another interesting Tana Toraja burial tradition is the hanging graves you find dangling from cliffs in the region. Arranged based on social class – the rich were hung higher, i.e. closer to heaven, while the tombs of the poor often rested directly on the ground – the hanging graves of Tana Toraja are stunning not so much because they seem misplaced, but because they blend into the scenery so effortlessly.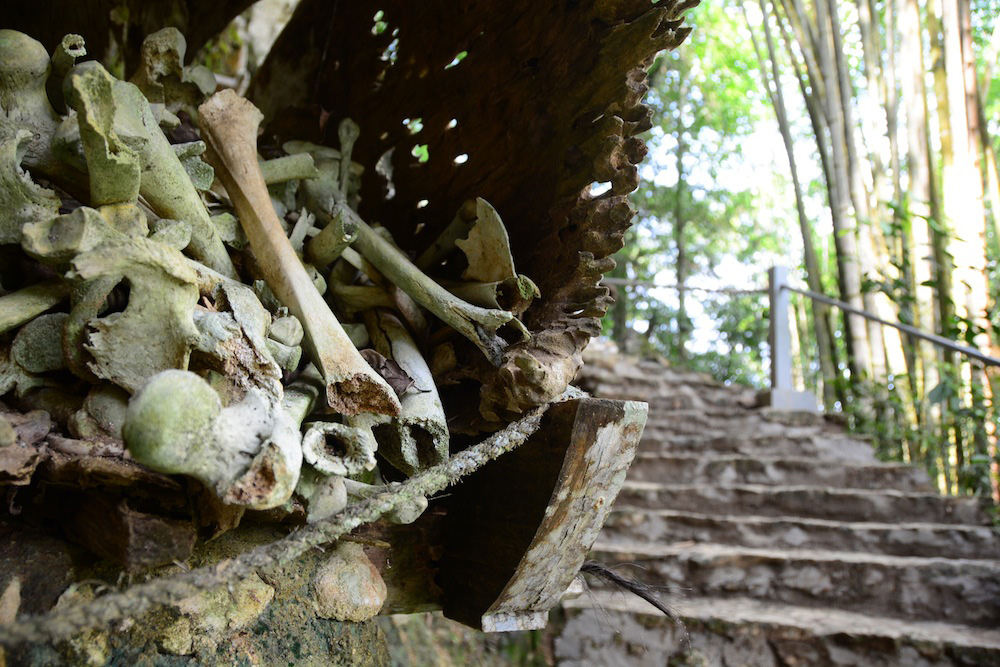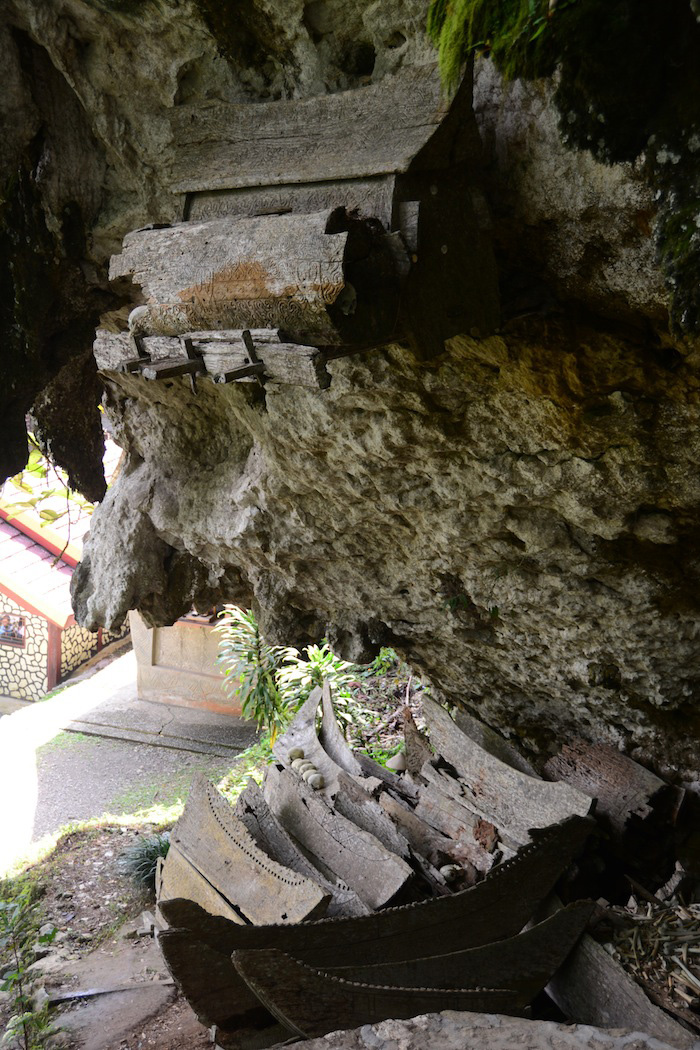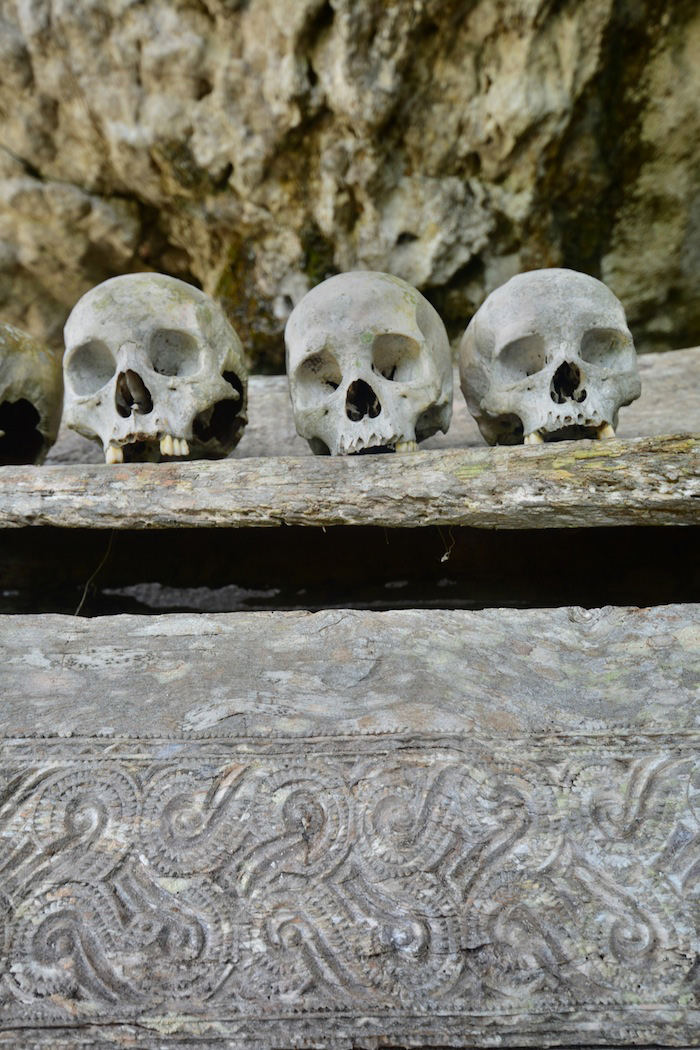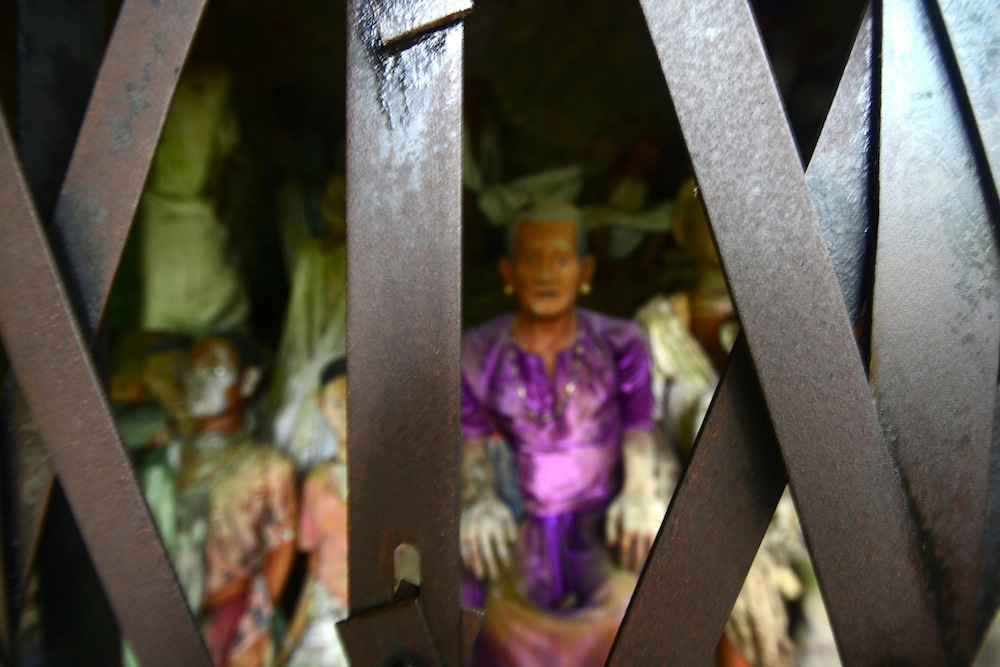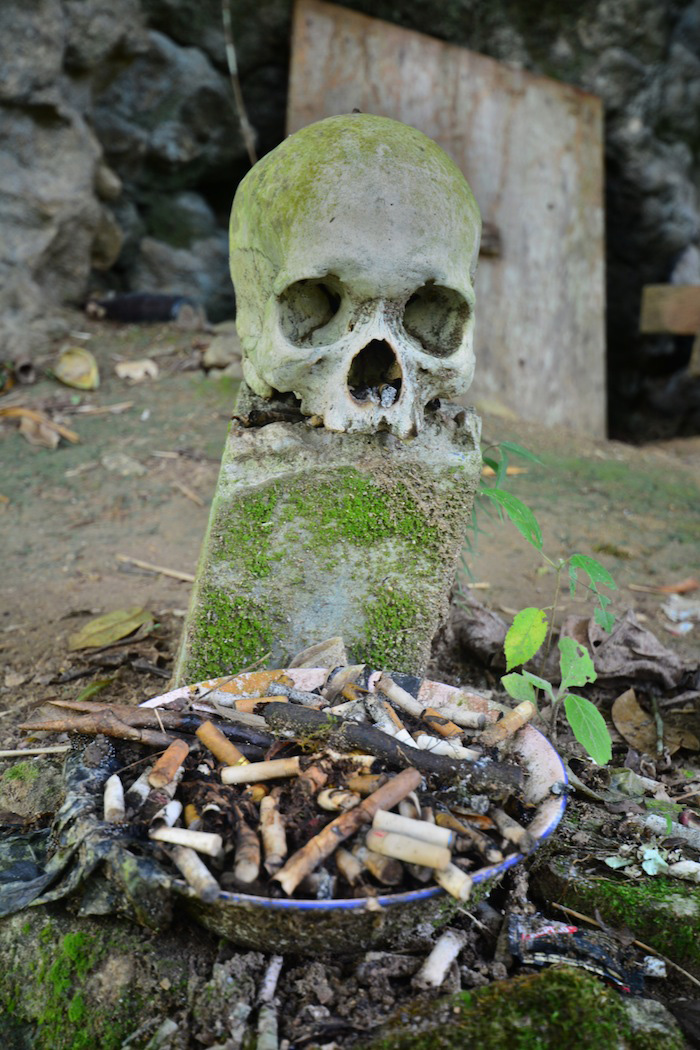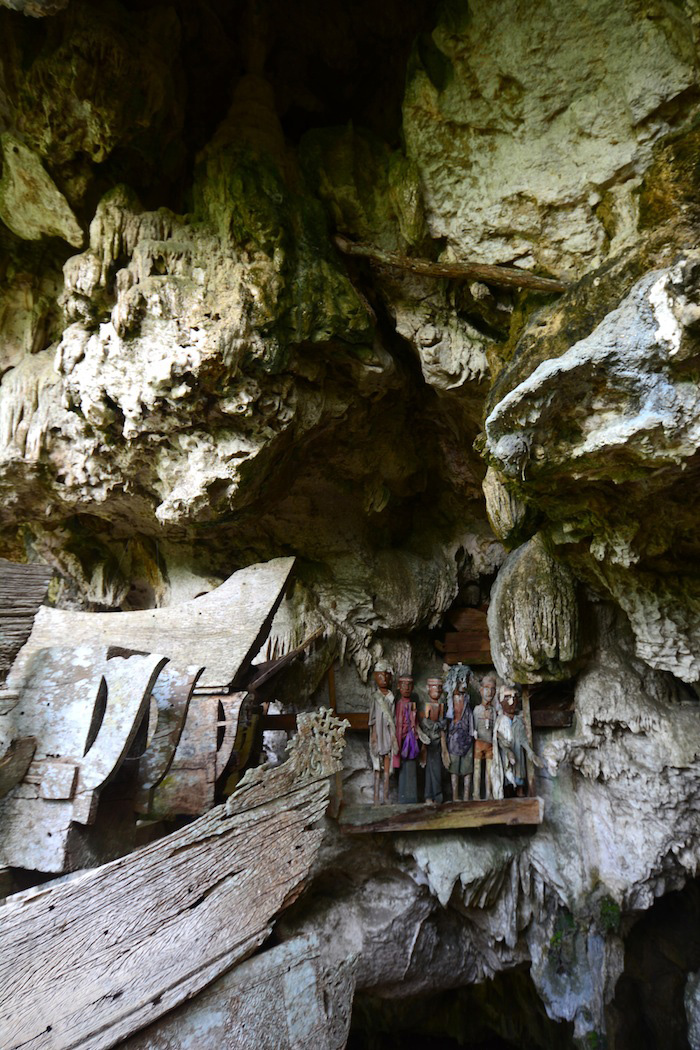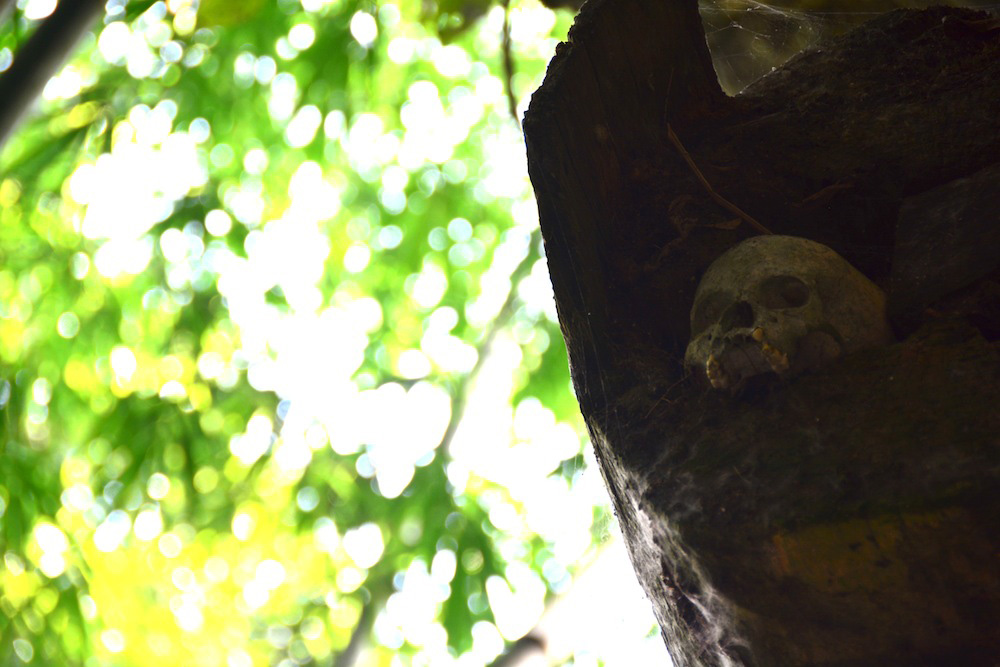 Some of the hanging graves, particularly those of wealthy residents, come with their own effigies, like the ones you'll see at a Tana Toraja funeral ceremony. Others are unmarked and are literally overflowing with skulls and bones. While rich Torajans might only be placed two bodies to a coffin, several generations of the poor are often crammed inside a single casket.
How to Get to Tana Toraja
Rantepao, the gateway to Tana Toraja, is located approximately 300 km northeast of Makassar, capital of South Sulawesi province. No flights exist between the two airports as of February 2014, which means that the only way to reach Tana Toraja is by bus.
Several buses depart Makassar's Daya bus terminal by both day and night. Bus amenities vary, but most large buses offer AC and reclining seats – some even offer Wi-Fi. Prices vary by operator, so shop around at the station before you leave, but you can expect to pay at least 100,000 rupiah one-way.
If you don't arrange a tour guide before arriving in Tana Toraja, don't worry – there will be plenty waiting for you. As you should do with buses, shop around with guides to determine which offers the best price and most extensive tour. I cannot personally recommend you a guide, as the one I ended up with was mediocre at best, but staff or fellow guests in your hotel or guest house should be able to advise you.
As of February 2014, the standard Tana Toraja guide fee is 300,000 rupiah per day, which does not include the fee for a motorbike (~50,000 IDR) or car (~300,000 IDR), gasoline, entrance fees, lunch for your guide or, if you attend a Tana Toraja funeral, a gift for the family, which is customary, but not mandatory.
Share: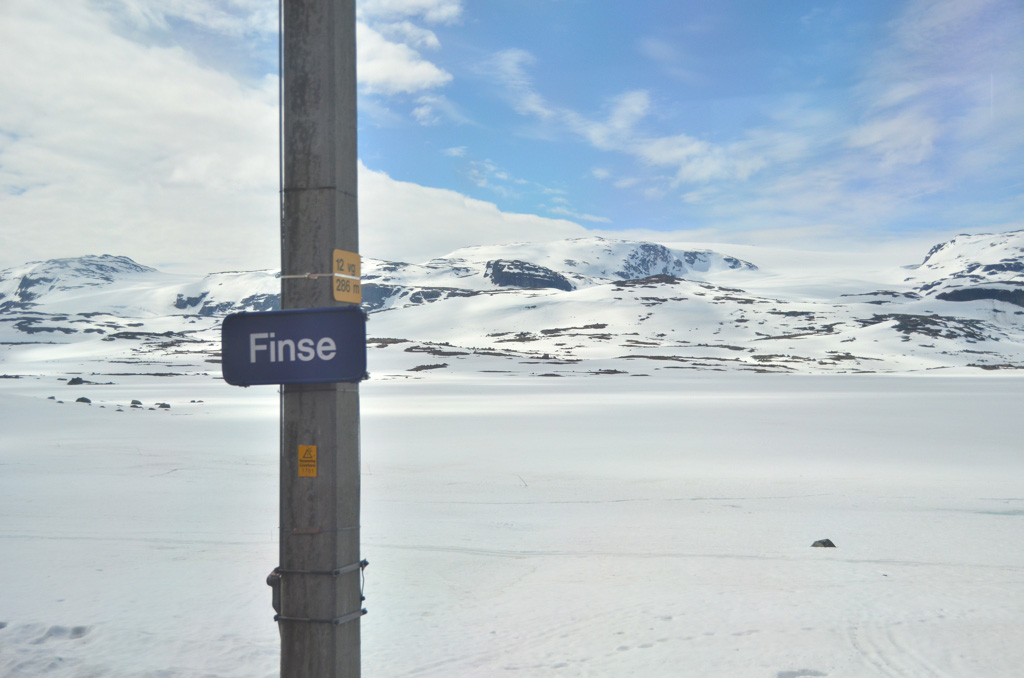 Even though Lapland is most famous for being the home of Santa Claus, this beautiful arctic wilderness in Northern Finland has plenty of other distinguishing features and characteristics. From skiing on the snow to mountain biking and hiking in the forest, adventurous travellers have a plethora of adrenaline pumping activities to choose from.
But in spite of these exciting leisure pursuits, perhaps the most enjoyable part of Lapland breaks is experiencing the distinctive change in seasons and being amongst all that outstanding natural Scandinavian beauty. Throughout the year, Lapland's landscape changes quite dramatically and can even be described as the land of eight seasons. While this variable weather affects the native wildlife, it also brings about a noticeable change in the daily lives of Lapland's inhabitants.
Lapland during wintertime
The winter usually lasts around half a year and goes through various stages including First Snow, Christmas, Frosty Winter and Crusty Snow. During this time, Lapland experiences a twilight period, where the sun stays below the horizon and there is no real daylight.
With snow beginning to fall as early as August, visitors to Lapland have plenty of time to indulge in their favourite winter activities, most notably skiing. However, springtime is perhaps the best time to enjoy the snow, as warmer temperatures and excellent skiing conditions are on offer from late March through to mid-May.
But for a quieter and more magical experience, jump on a sleigh pulled by huskies or reindeers to glide through sparkling white snowscapes. If you're lucky, you'll be able to witness the spectacular Northern Lights making an appearance against intense dark skies.
You may also want to hire a snowmobile and explore a network of tracks through the wilderness, enjoy a traditional wood heated sauna or bore a hole through the ice and catch some fish.
Lapland in the warmer months
As the sun begins to shine more light on Lapland throughout the spring, the snow begins to melt and nature awakens. Although it is not uncommon to experience snow in early June during a period called Back Winter, the summer is a time when Lapland becomes a place for lovers of the great outdoors.
In stark contrast to the winter, summer in Lapland is the time of the nightless night where the sun stays above the horizon. Therefore, a wealth of pastimes can be taken advantage of next to a backdrop of breathtaking fell highlands and crystal-clear waters.
Popular pursuits include traversing the waterways by raft and canoe, trekking and orienteering in giant woodlands as well as cycling and rowing at vast national parks.
Culture vultures might also be interested in attending the Midnight Sun Film Festival in Sodankylä and the Simerock Concert in Rovaniemi.
The year-round aesthetic of Lapland is constantly impressive, even as the seasons morph into the next. Whether you want a springtime sojourn on the lake or an exciting voyage into wintry territory, no two visits to this stunning Arctic land are ever the same.
Images both by Heather Sunderland, used under Creative Comms license.
Share:

Some places you travel just feel good immediately – for me, Yogyakarta, Indonesia was one of them. Known locally as Jogjakarta (or, more often, simply "Jog-ja"), Yogyakarta is one of Indonesia's most-visited cities  in spite of its relatively small size, due to the wealth of attractions that exist in and around it.
The number of things to do and see in Yogyakarta can make deciding how much time to spend here intimidating, to say the least. If you're headed to Indonesia and haven't laid out a specific Yogyakarta plan, use this three days in Yogyakarta itinerary as a starting point for your exploration of central Java.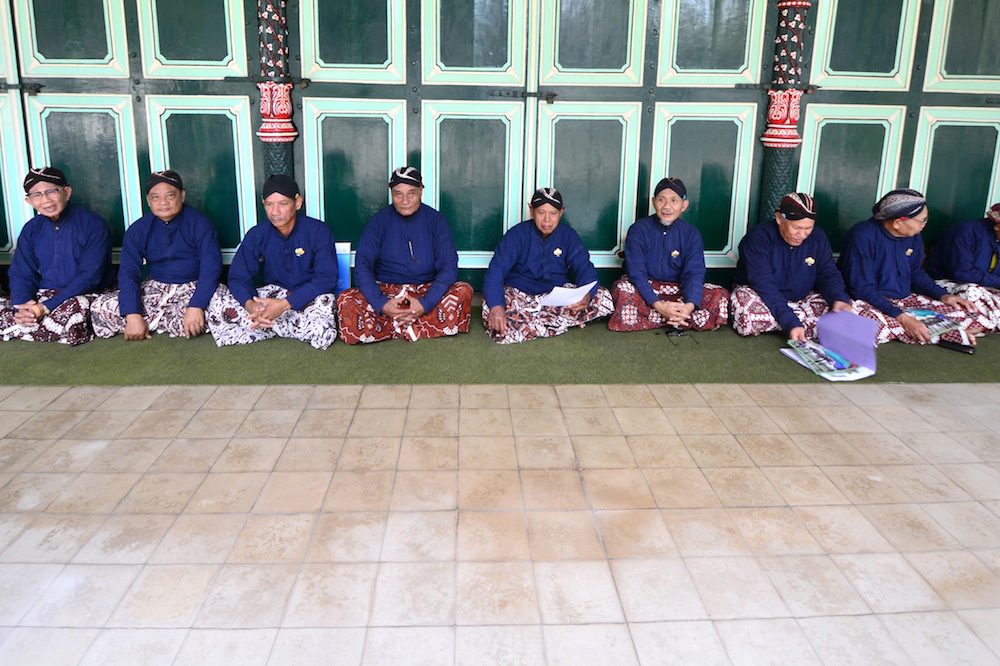 Day 1: Welcome to Jog-ja
No matter where in Indonesia you're coming from, you'll feel a unique sense of arrival upon getting to Yogyakarta, which most locals call "Jog-ja." This is as much because of the incredible energy here as it is Yogyakarta's status as a special region, a fact that has its roots in the Dutch colonial period and the local sultan – but more on him in a minute!
Use the first of your three days in Yogyakarta to settle in with the vibe of the city. Check in at cozy Hotel Ampoeng Djawa, a boutique guest house built in a traditional Javanese style, then explore delicious local eateries along Prawirotaman Road, the backpacker-friendly street where it sits.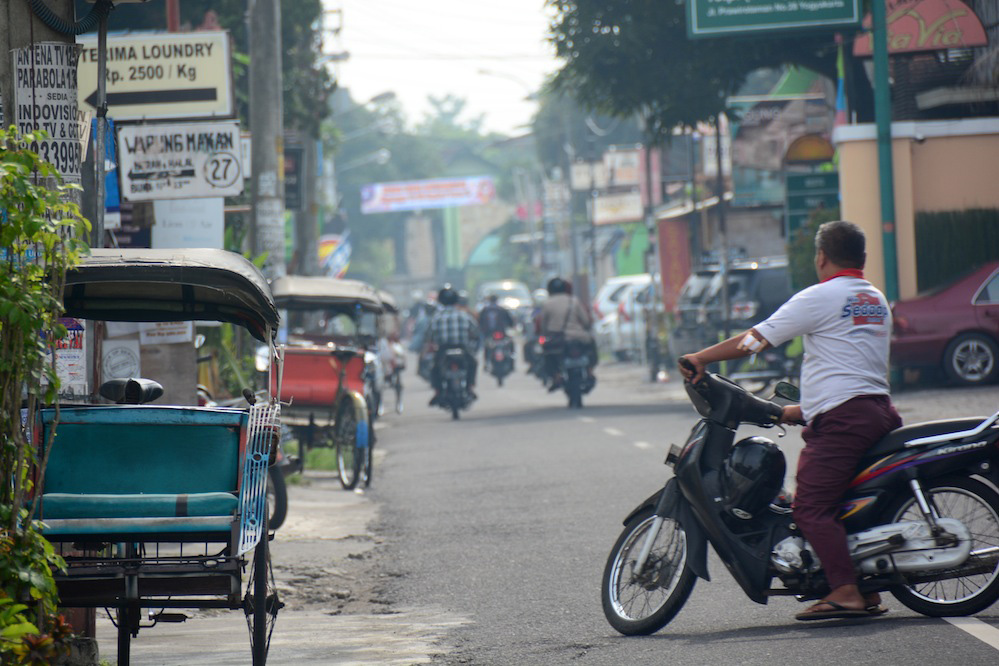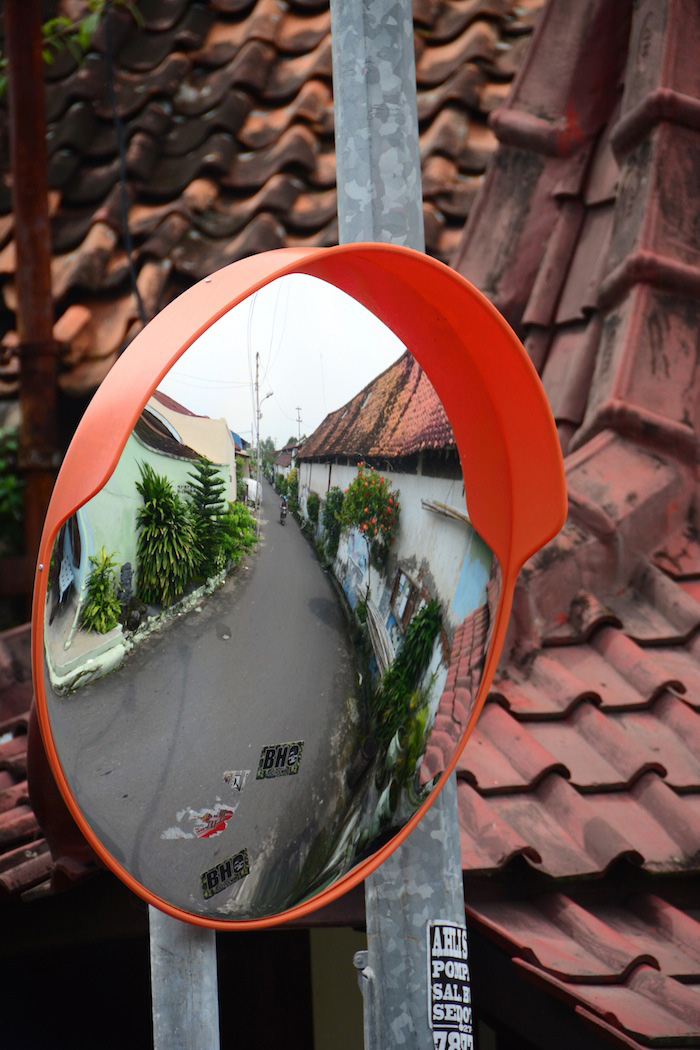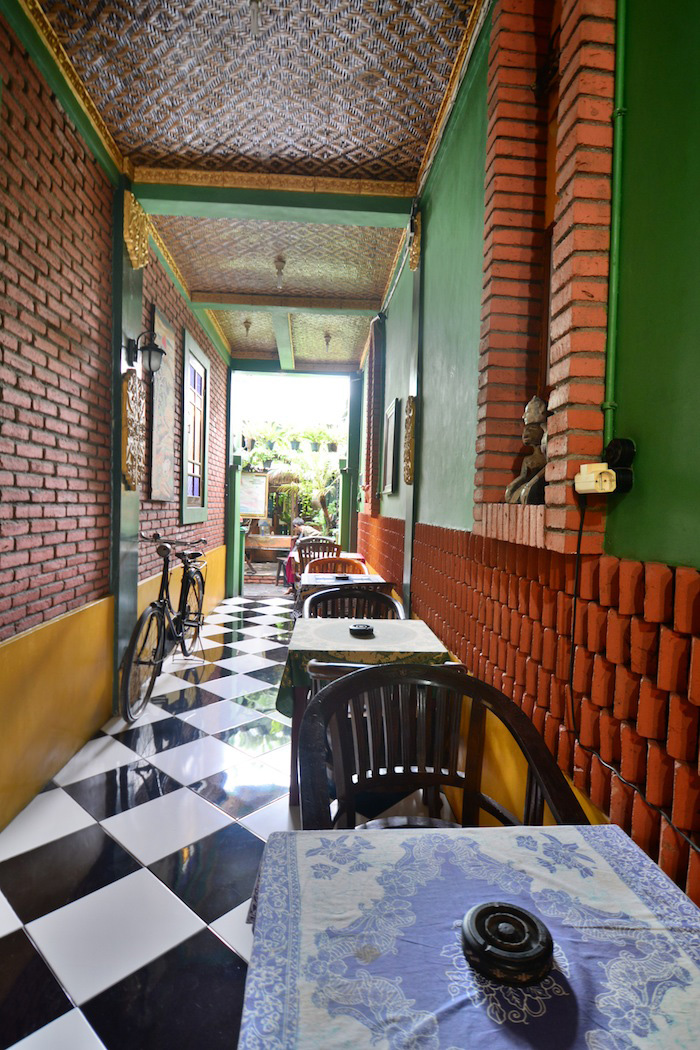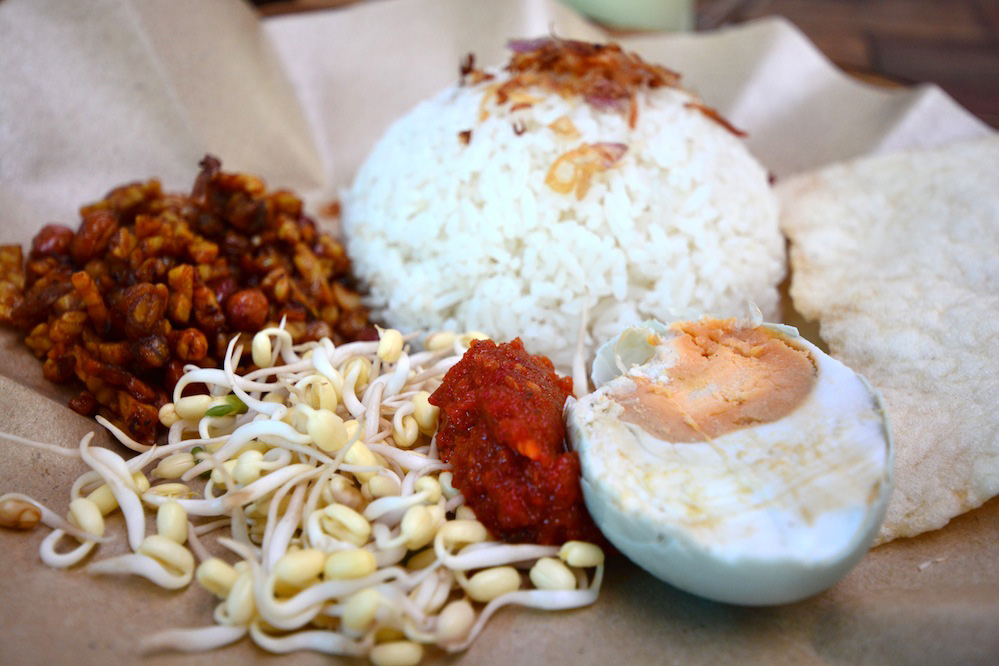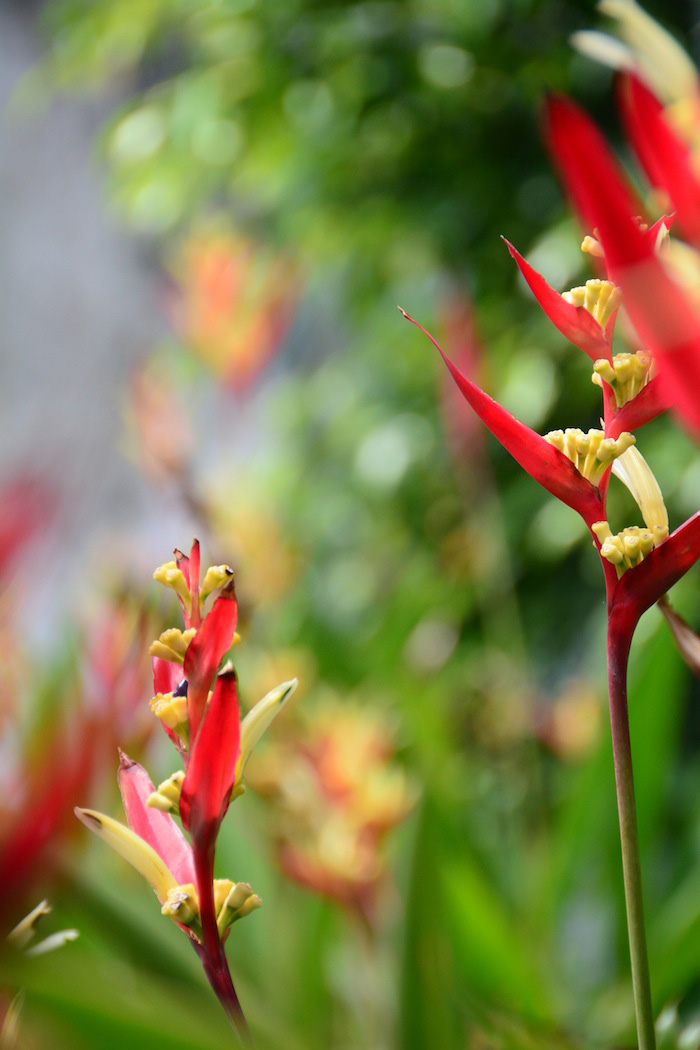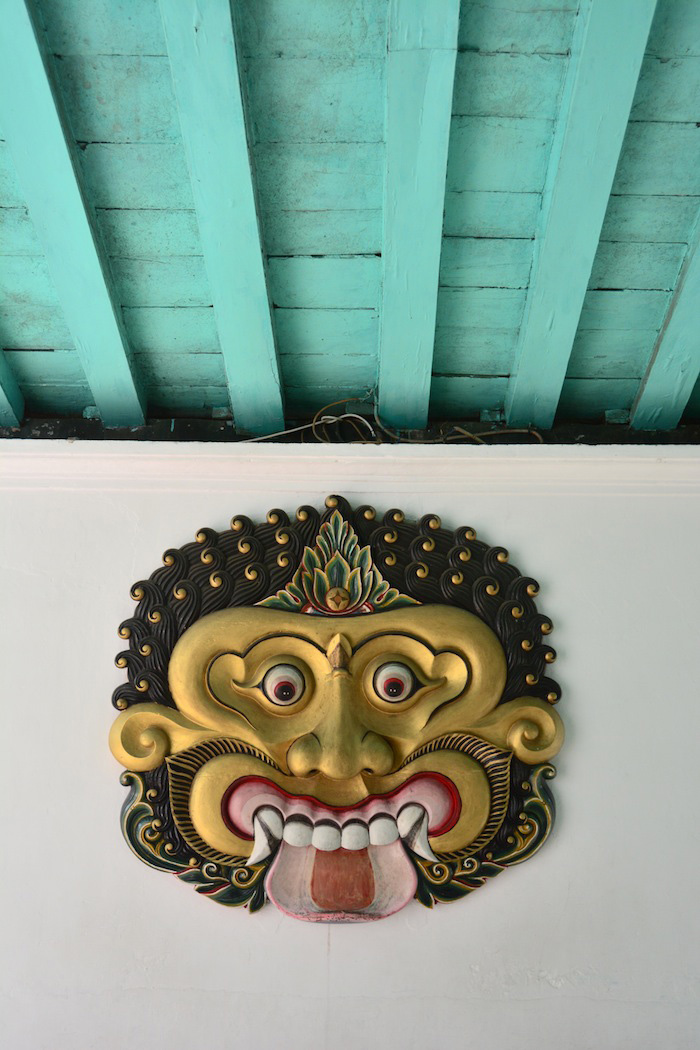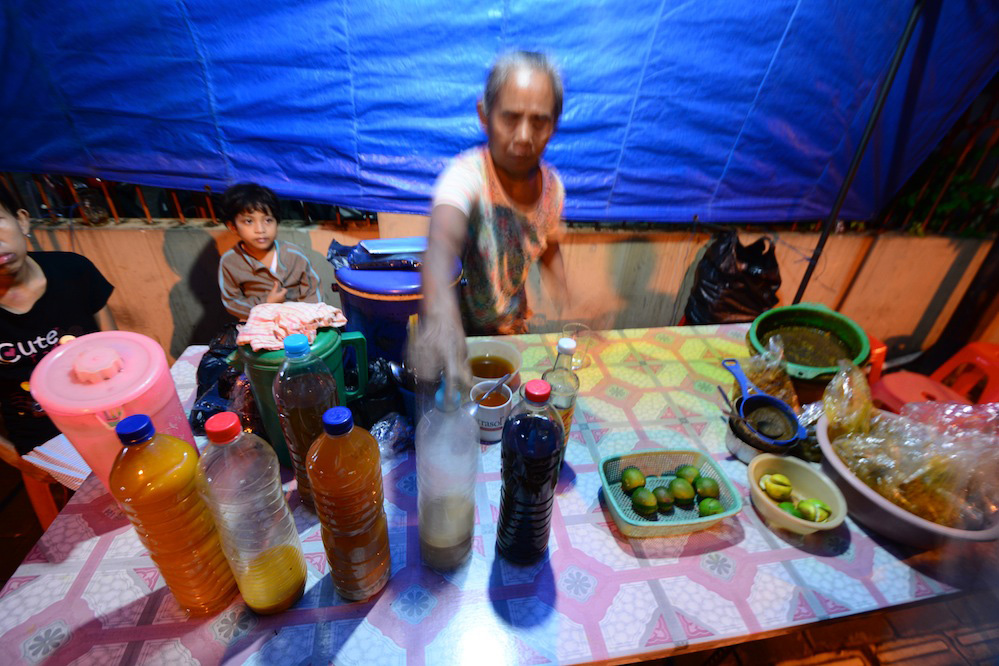 My favorite restaurant on Prawirotaman Road is Warung Heru, which serves up Javenese specialties like Nasi Rowan, a rich beef noodle soup, as well as pan-Indonesian favorites like Mie Goreng. Make sure and chat with the restaurant's owner, a woman who told me to call her "Wahyu" (she insisted her actual name was too long for me to remember), who's got a lot of interesting stories to tell, particularly about her son, a local rockstar.
If you're feeling especially adventurous, ask a local to direct you to the nearest Jamu stall, where a medicine woman will prepare a healing, herbal elixir for you. Try and get to sleep as early as possible though – you've got a lot to see on your second of three days in Yogyakarta!
Day 2: Live Like a Sultan
Remember how I mentioned earlier that Yogyakarta is ruled by a sultan? His residence, the Sultan's Palace or Kraton, is also the central attraction of Yogyakarta – the city is literally built around it! Hire a becak cycle rickshaw (call my friend Rubio at 087 8484 51076 if you want a really awesome guide!) and head for the palace starting from 8:00. Make sure and take your time exploring – it's huge!
After you're finished at the palace, take a walk over to the Taman Sari water palace, which served as the sultan's holiday getaway in the 18th century. Home to sparkling baths where sultans of centuries past frolicked with as many as 100 virgins at a time, an open-air mosque known as the "Stairway to Heaven" and a 27-mile tunnel that leads all the way to the sea, it's definitely a can't-miss spot.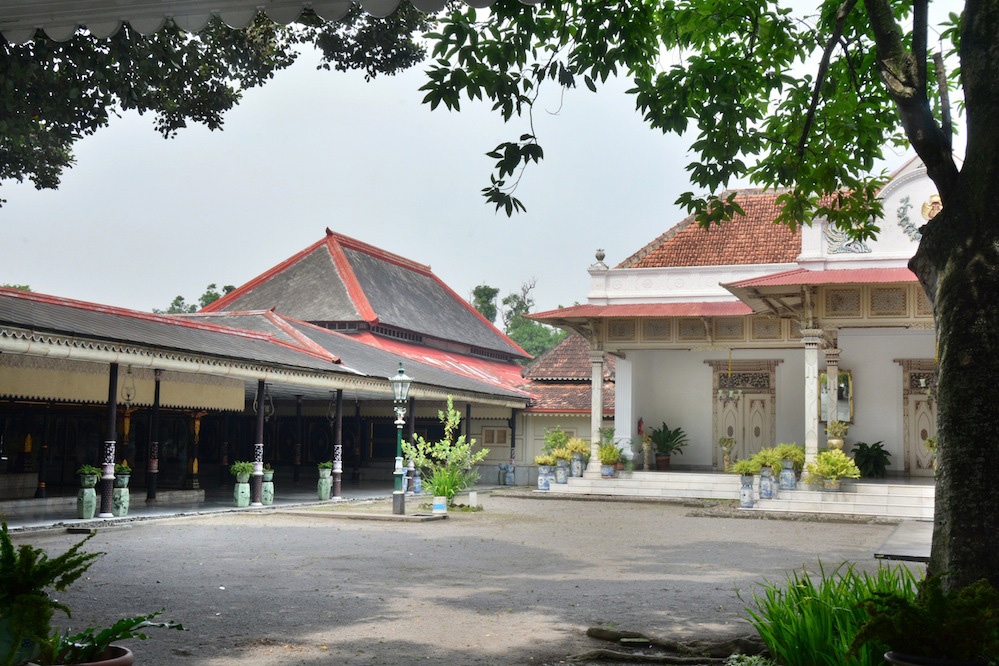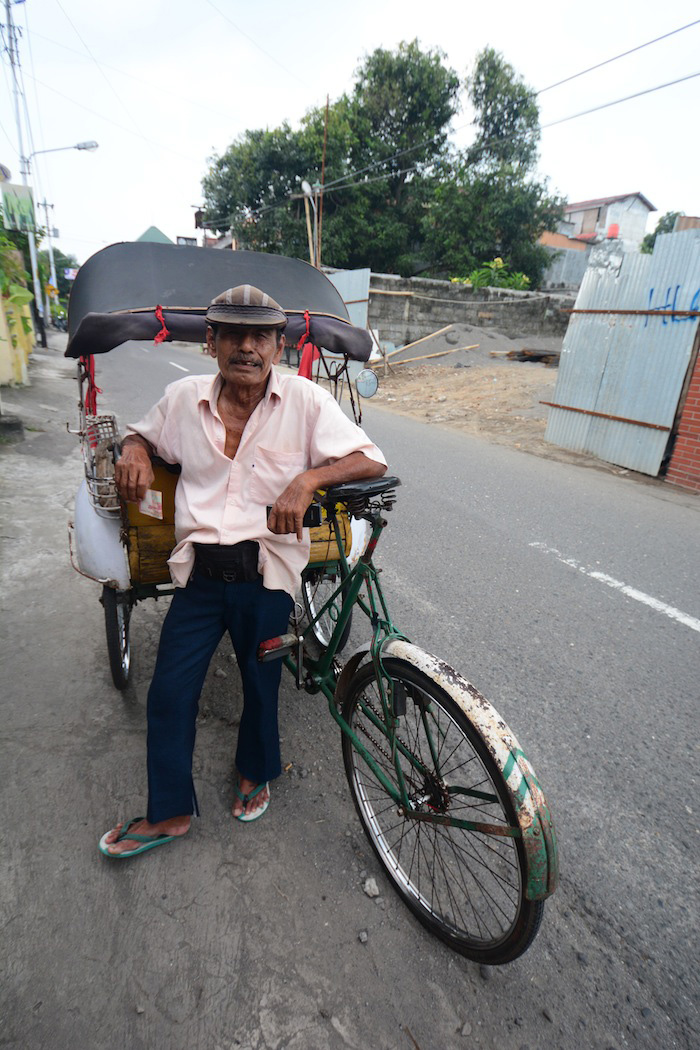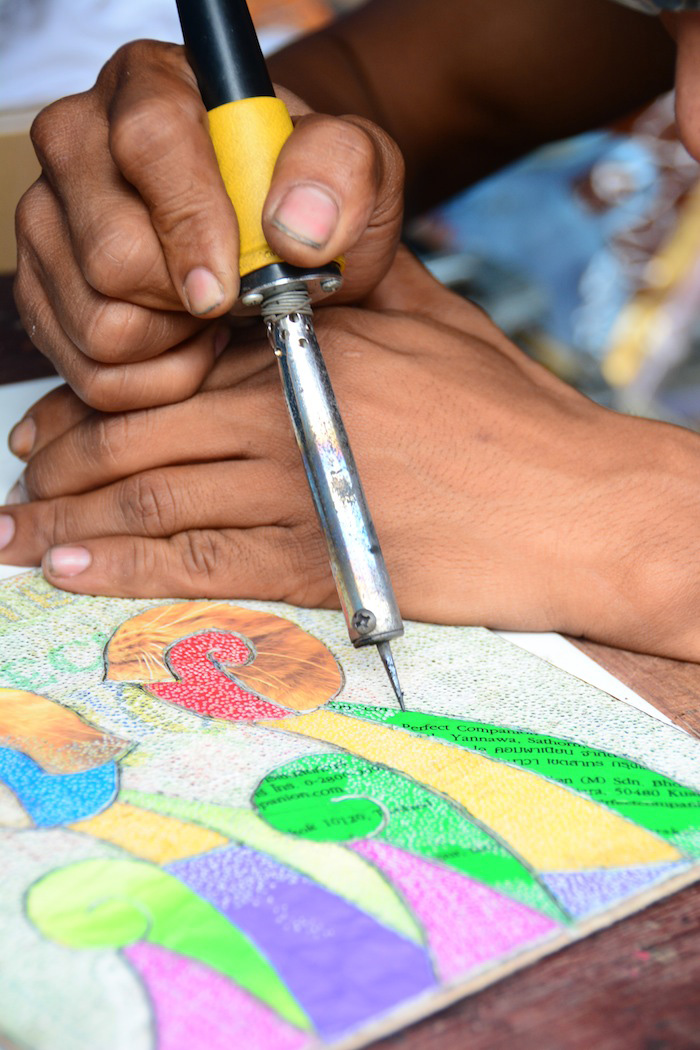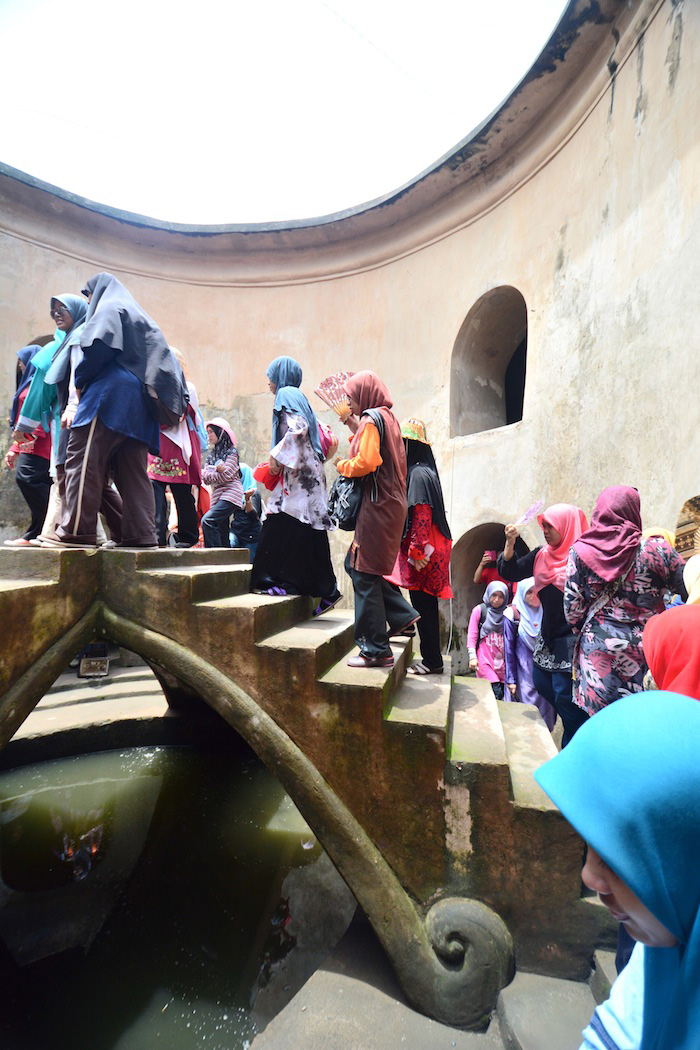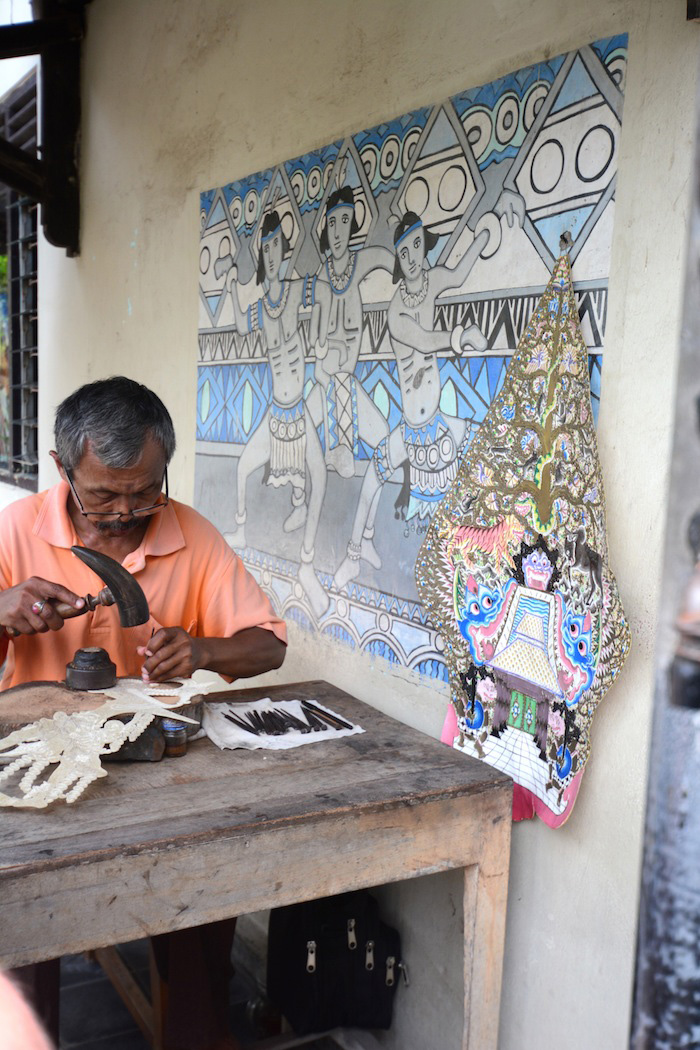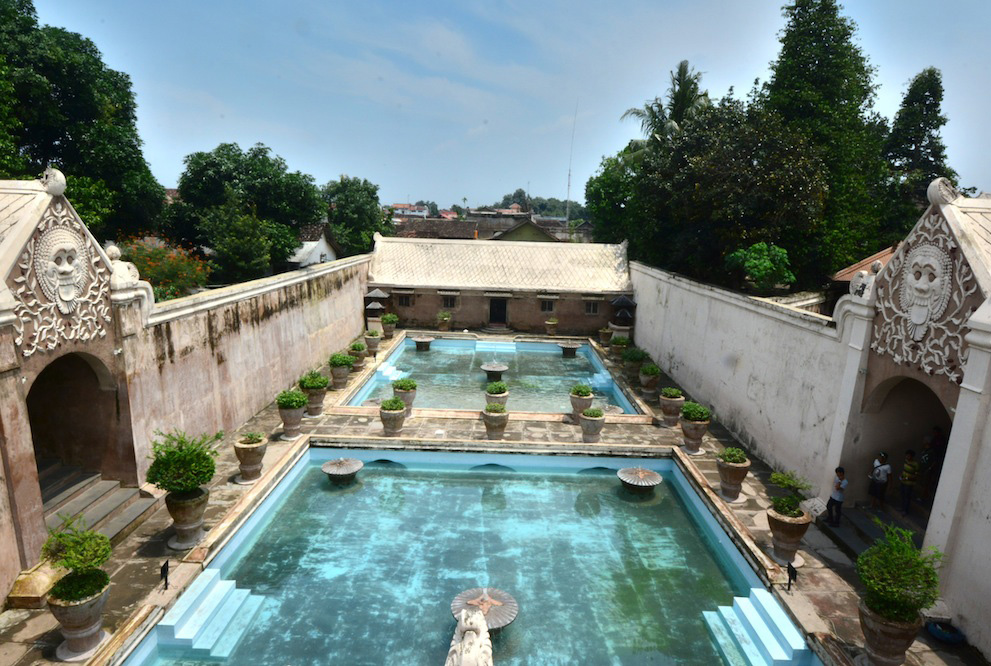 Speaking of things you can't miss in Yogyakarta, you'll also want to make sure and ask someone to direct you to Taman Kt I/240 Rt. 42 Rw. 10, where a man named Uwuh and his wife are taking on Indonesia's trash problem with a decidedly artistic solution.
Or, if you're into more traditional local art, have your becak driver take you to the Kota Gede silver village. This area of the city is huge (and, if you explore it extensively, you'll realize there's a lot more to it than handmade silver), so make sure your driver waits for you while you're there.
Day 3: The Wayback Machine
Yogyakarta's city center is filled with history that's impressive and, by any stretch, pretty darn old. But if you want to get the full story on Central Java's past, head out to Prambanan and Borobudur, a pair of temples that are each about an hour away from the city center. (Hotel Ampoeng Djawa, or wherever you choose to stay, can organize a very affordable transfer for you.)
Although both temples date to the ninth century, their stories are decidedly different. Prambanan, which is also a great spot to take in a traditional Ramayana ballet if you have the time, was built to honor the principle Hindu gods, while Borobudur is one of the world's largest Buddhist temples. Both are UNESCO world heritage sites and are absolute must-sees in their own right.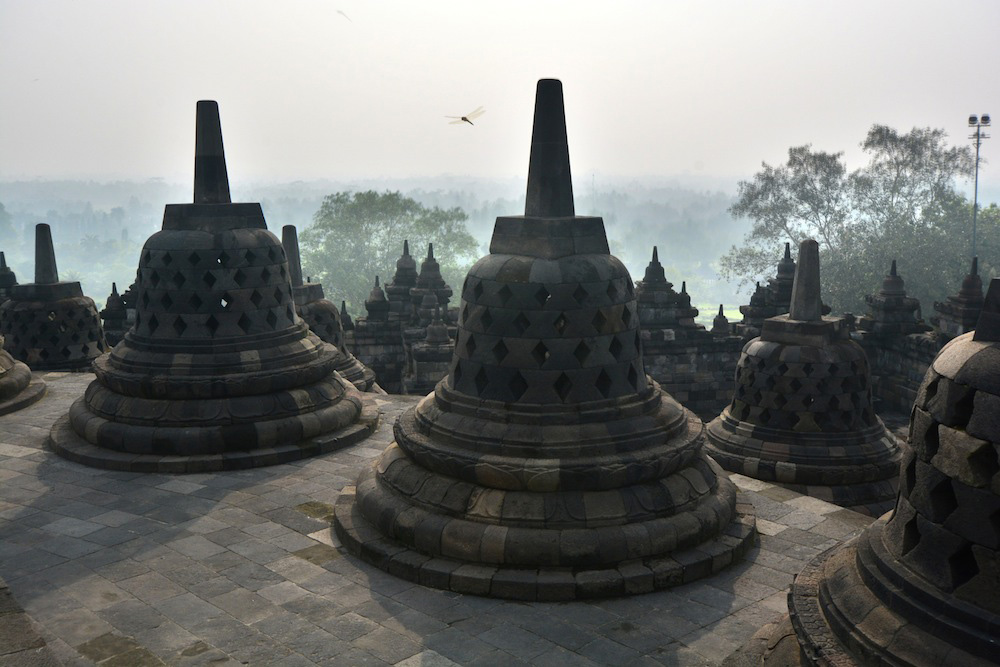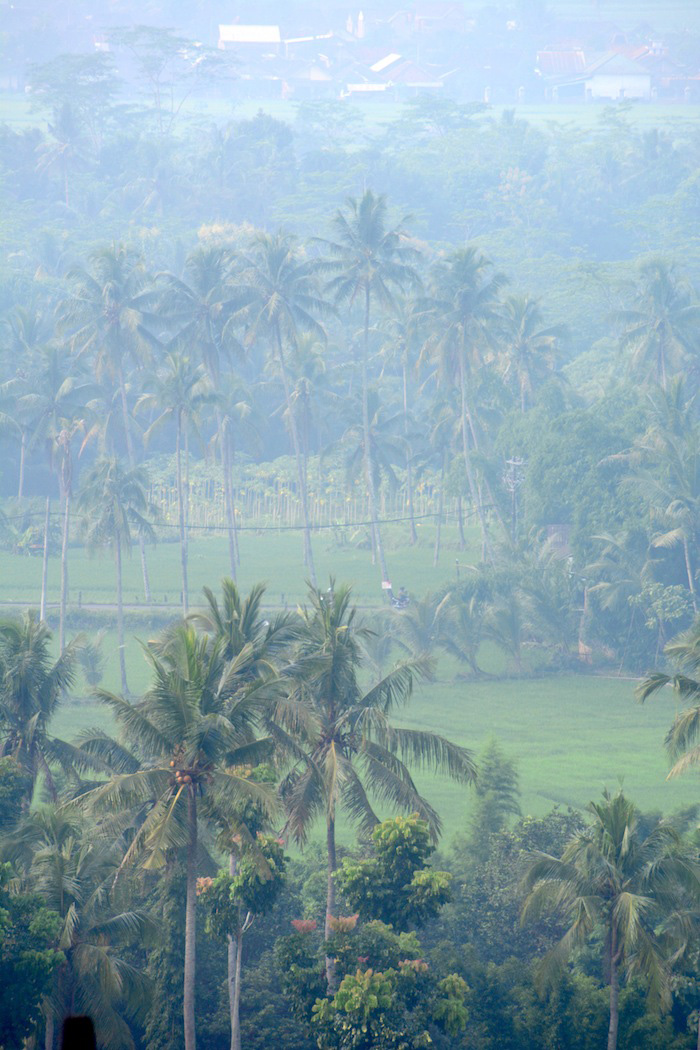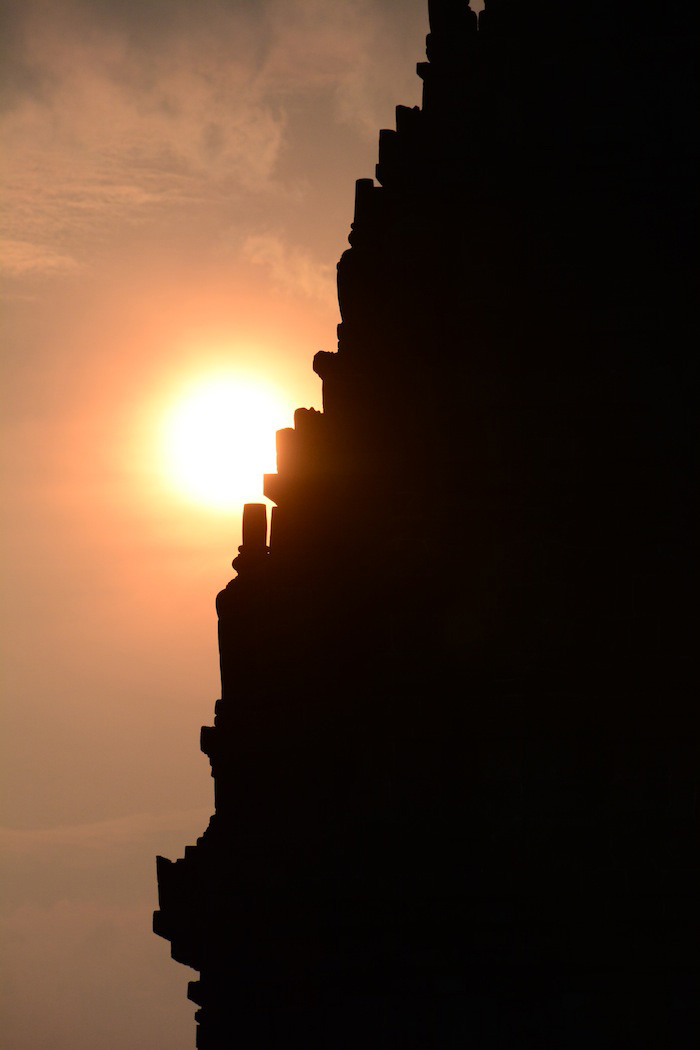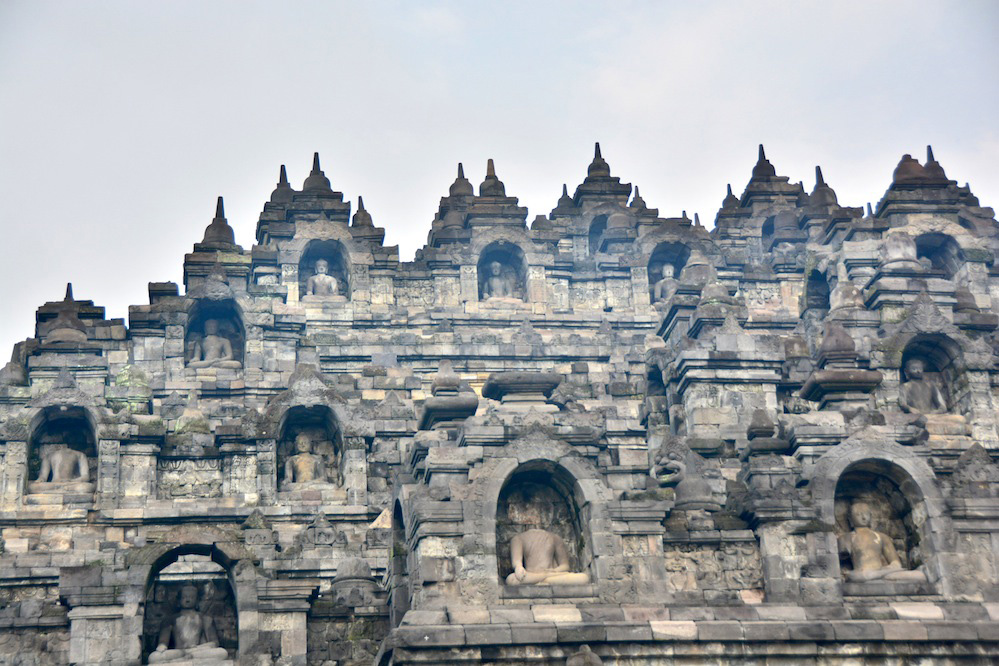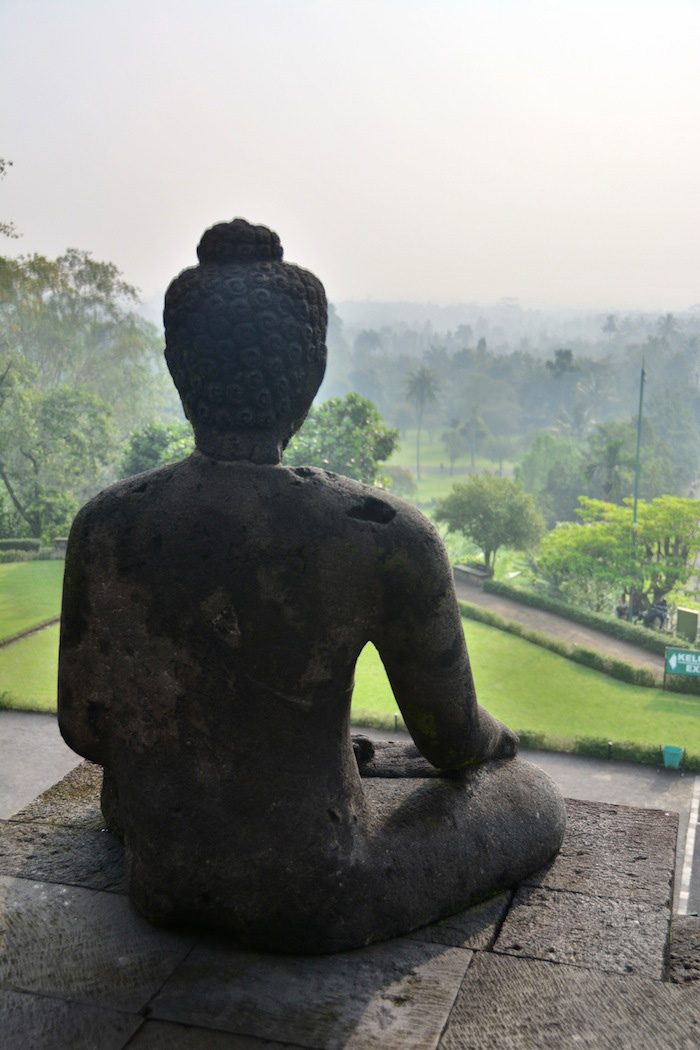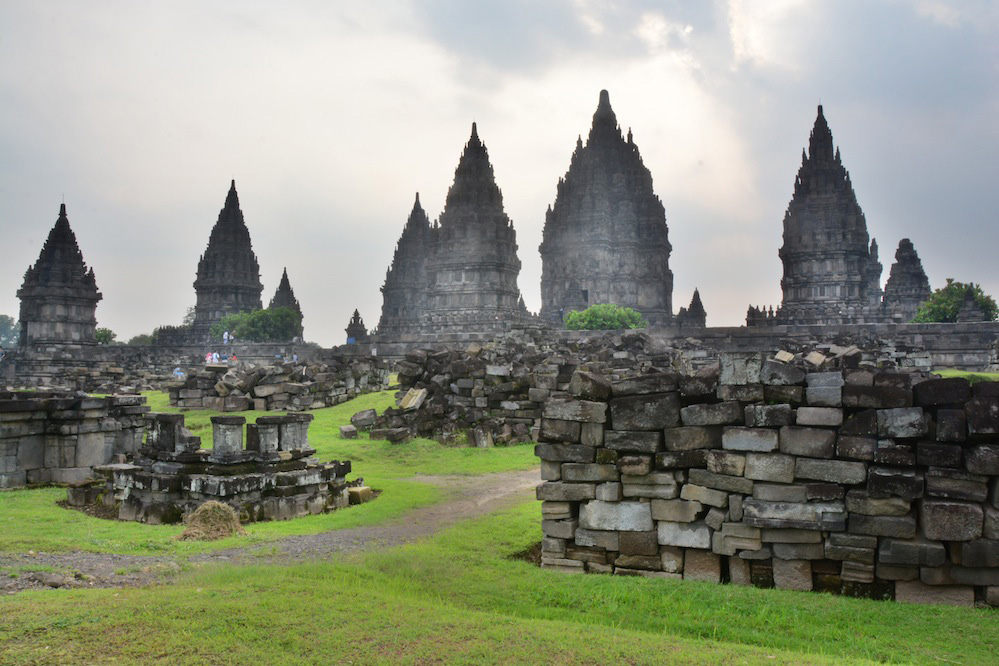 If your interest in local history around Yogyakarta also includes that of the geological short, pay a visit to nearby Mount Merapi, an active volcano that last erupted in 2011. Click here to read about another nearby volcano that erupted during my three days in Yogyakarta!
Alternatively, If you want to continue exploring Indonesia's Dutch colonial past, take a stroll around Bebteng Vredeburg in the city center, which is full of buildings that could just as well have been built in Amsterdam. However you spend your three days in Yogyakarta, you're sure to leave wishing you had three more. There's something about this place that's impossible to resist!
Share:

"Excuse me," the unassuming man tapped me on the shoulder as I snapped a picture of the lush mountain rising in front of us. "My name Muslianto – your guide." That was right before we went into the misty and luscious rain forest.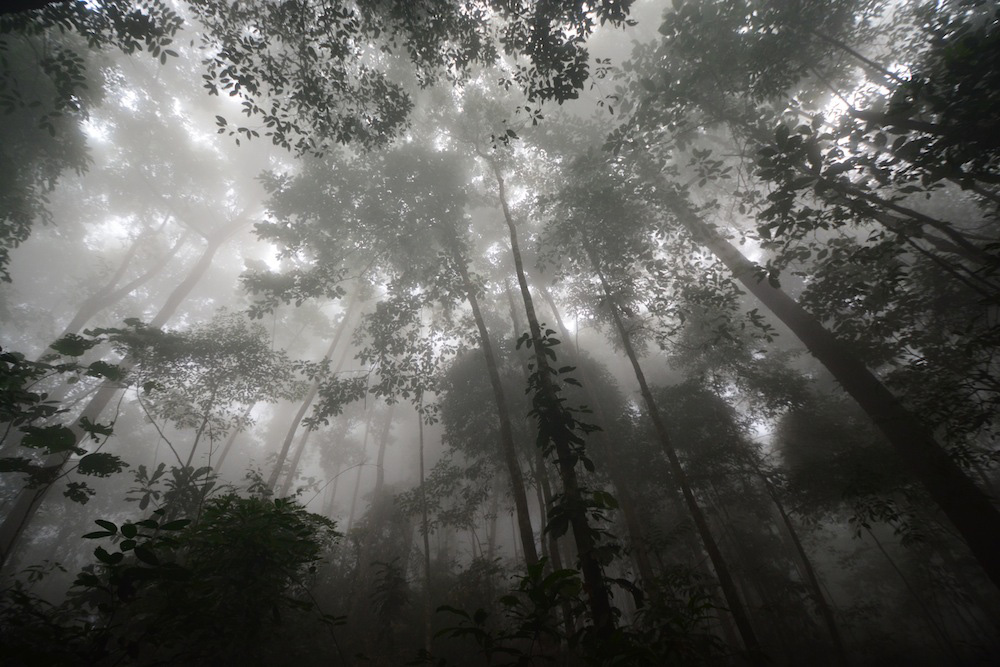 I switched my camera off and turned around to shake his hand. It seemed difficult for him to pronounce the full version of my name, so I shortened it. "Rob," I said. "You can call me Rob."
"You speak Indones-i-a?" he smiled.
I shook my head. "Maaf," I apologized. "Do you speak English?"
"Little," he smiled even wider, and motioned for me to follow him across the river.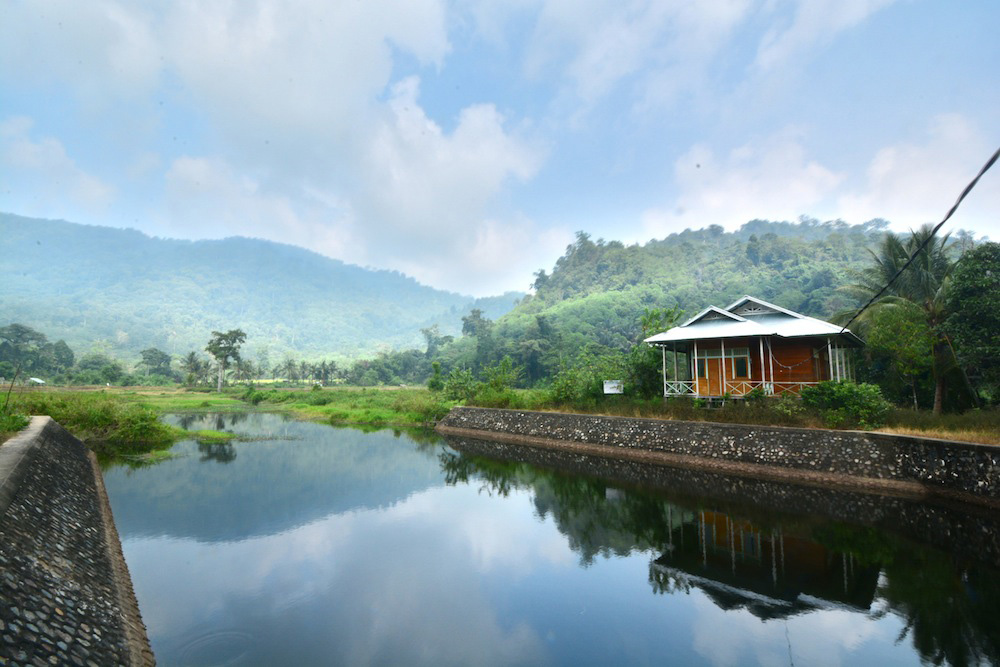 The first couple hours of the hike into the jungle were strenuous enough that me and Musli, as I soon found out he liked to be called, didn't say a lot. Then, we took our first break, which found us perched on the side of a high waterfall that emptied into a crystal-clear pool above.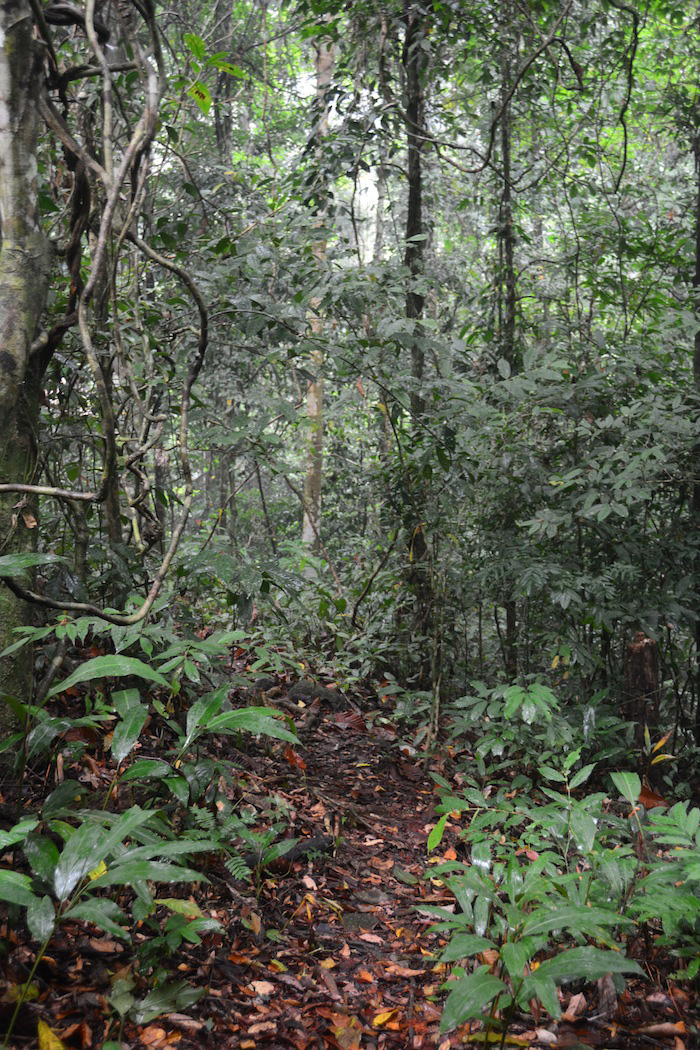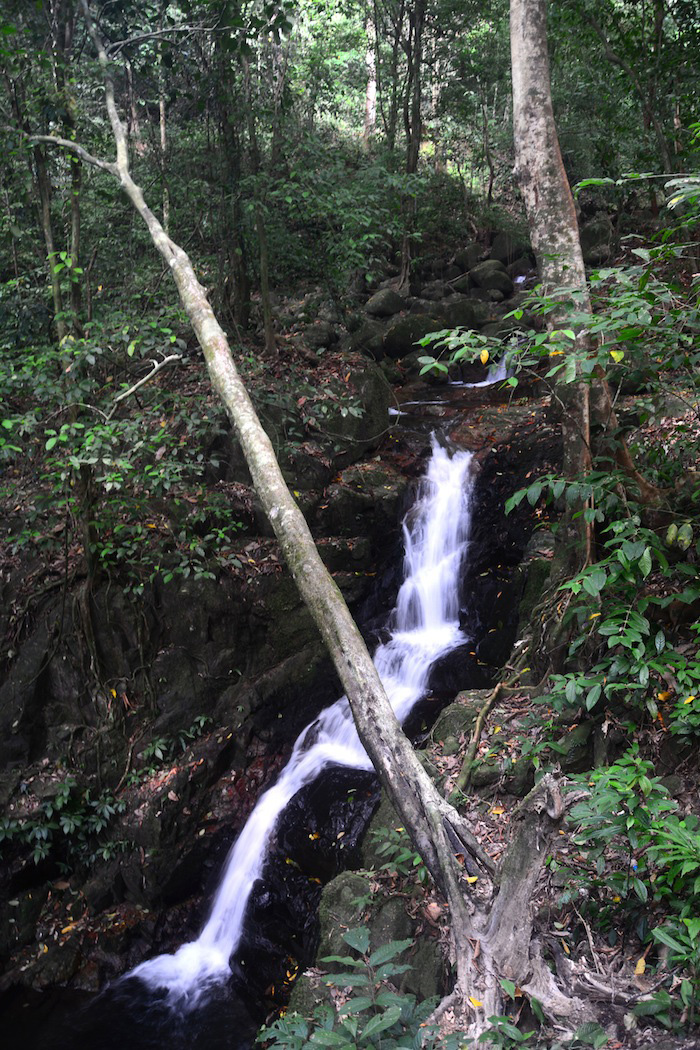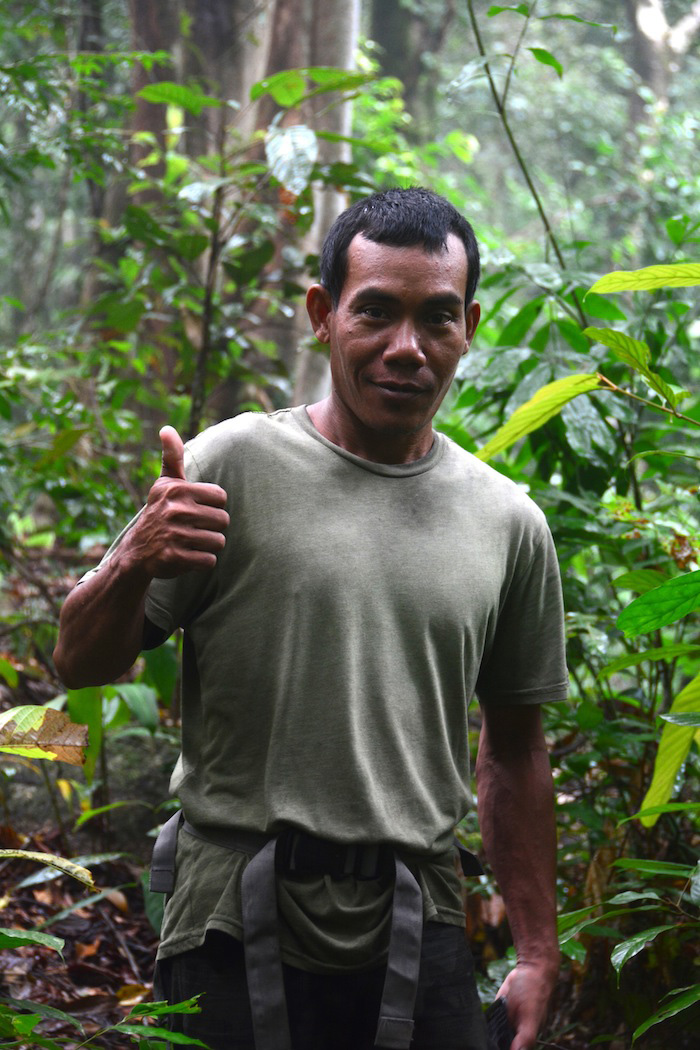 "Swim here?" I asked, and made a swimming gesture.
"No," he said. "Berbahaya – Indonesia word for 'not safe.'"
"Dangerous?" I confirmed, and pretended to slice my own throat. "Die?"
"Yes," Musli laughed. "Dangerous – die!"
This is how our communication began to develop – a little bit of Indonesian here, a little bit (well much more, to poor Musli's chagrin) of English there. It moved slowly, to be sure, but by the time we arrived at camp, about three hours after we set off, Musli had already communicated the most important piece of information to me: That I could trust him.
I knew, as soon as I selected my orangutan tour, located in western Borneo, that I would be embarking on a trek called "Lubuk Baji." It was only when I stumbled upon a campsite of the same name, which I only knew on account of the sign posted on its front side, what a delightful decision I had made.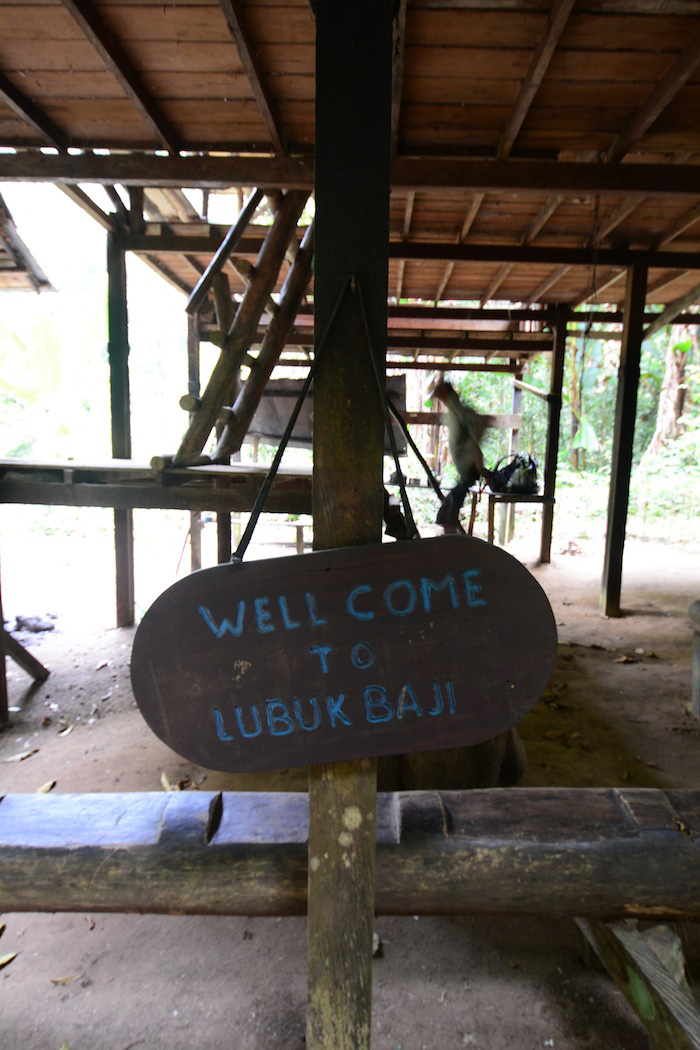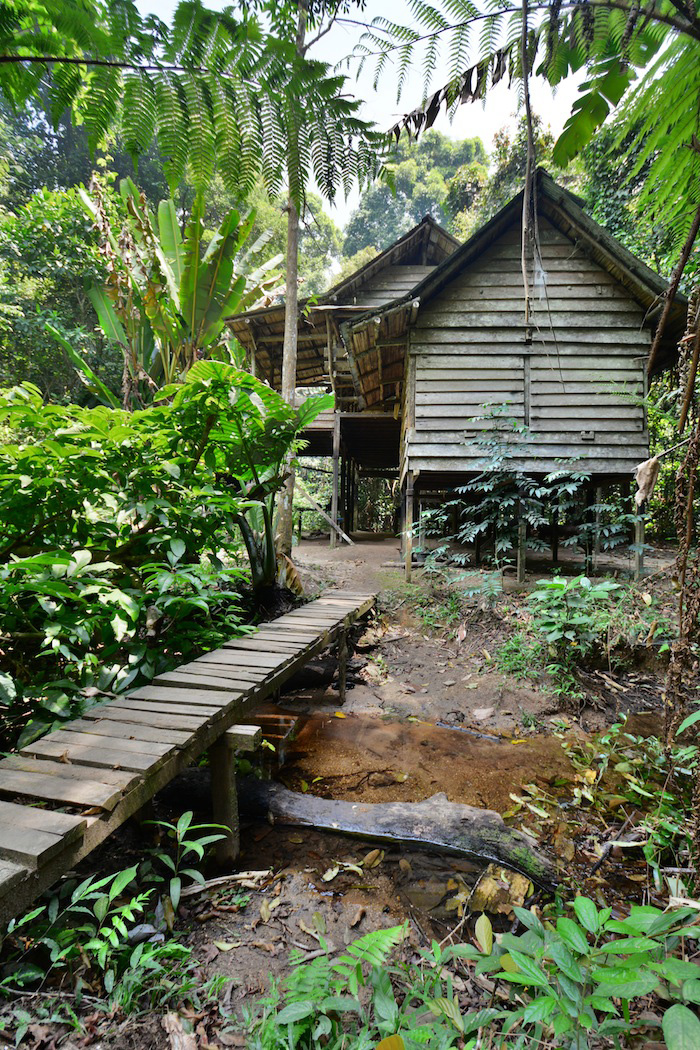 Lubuk Baji is the treehouse you dreamed of your entire childhood, a two-story dwelling built right into the middle of the jungle, flanked to the east and west by small creeks, with a lush banana grove to its north. It is at once in the middle of everywhere and the middle of nowhere.
Lubuk Baji is not actually a treehouse; although it is surrounded on all sides by trees of every sort you could possibly imagine, it is built into the ground. And yet it is minimalist enough in its construction – and open enough it its design – that climbing up to its second floor gives the same impression that climbing any of the trees around it – and many of them are ideal for climbing – would do.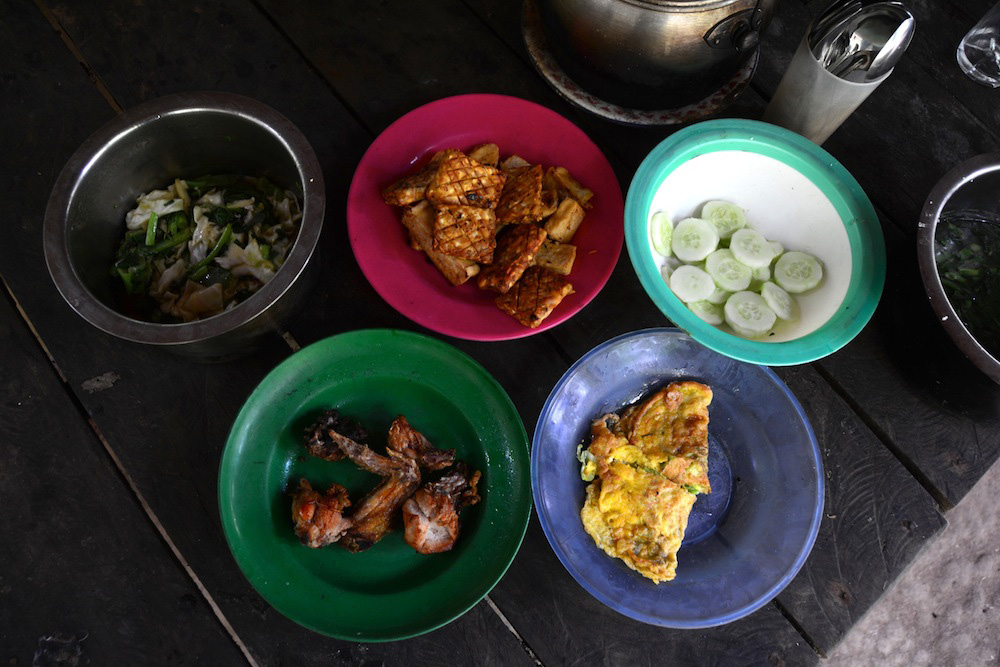 It was difficult to remember, after relaxing for hours with Muslianto's home-cooked nasi goreng with fried tofu, chicken and tempeh, that the purpose of my trip was not to chill in the middle of the jungle, but to comb every inch of said jungle I could until I found what I'd flown all the way to Borneo to see: wild orangutans.
And I would need to scour quite a bit of the jungle before I saw my first orangutan.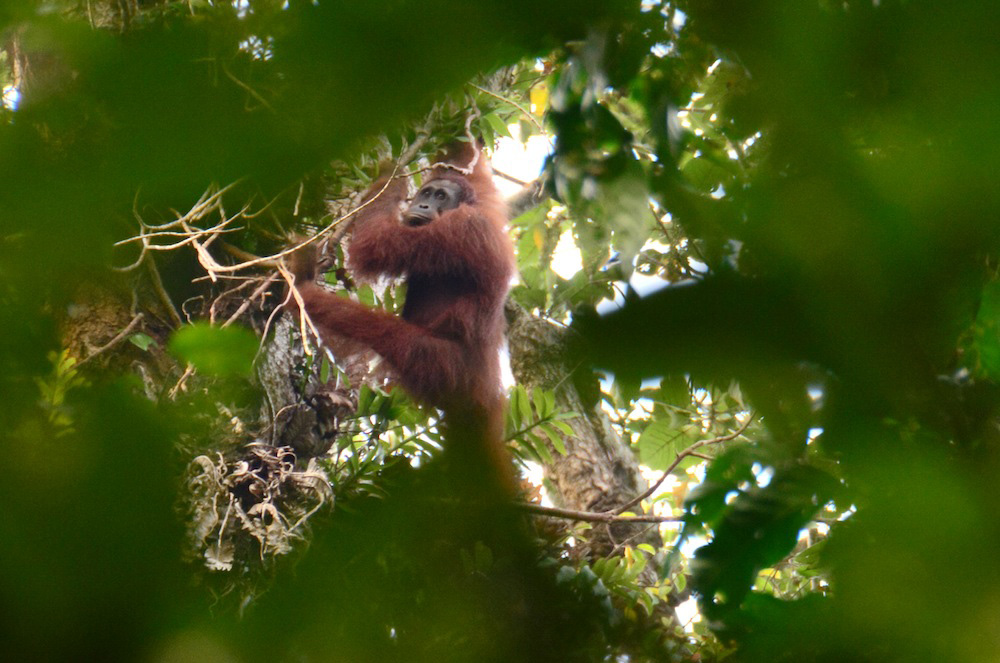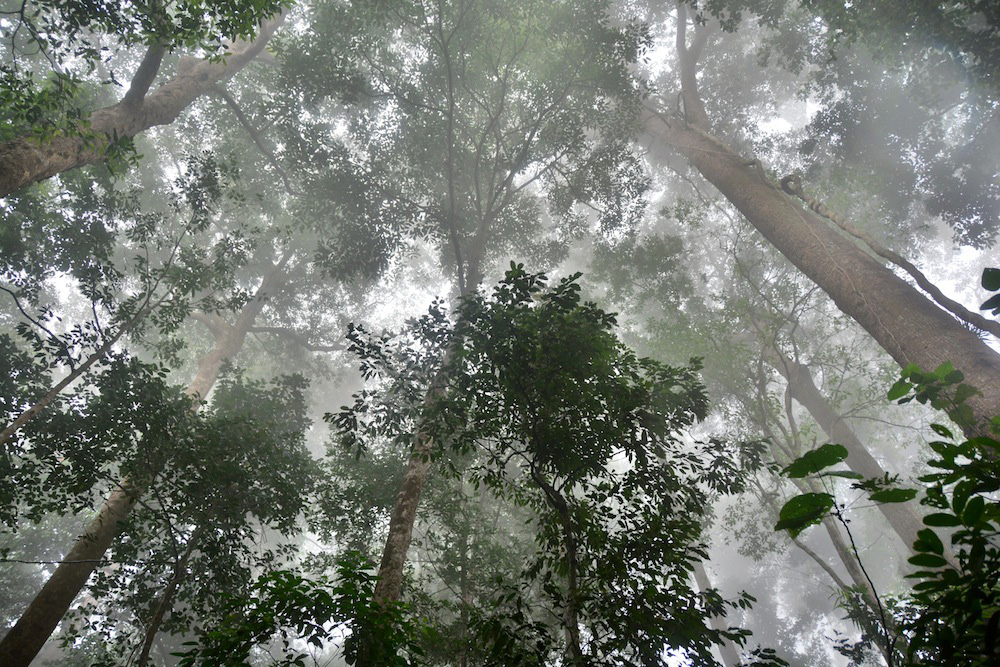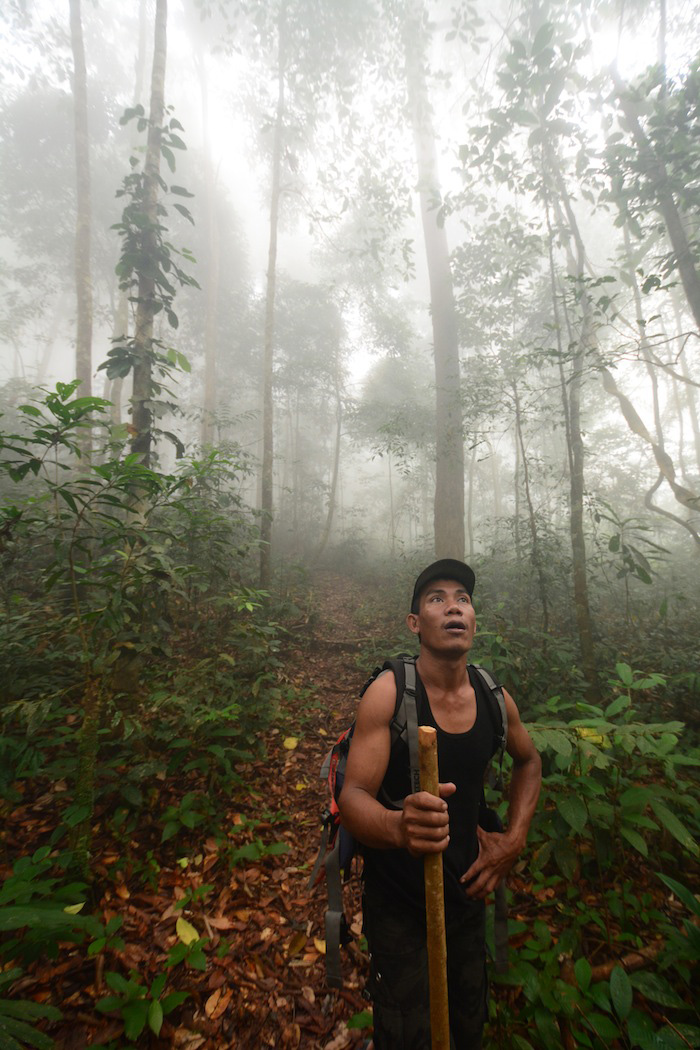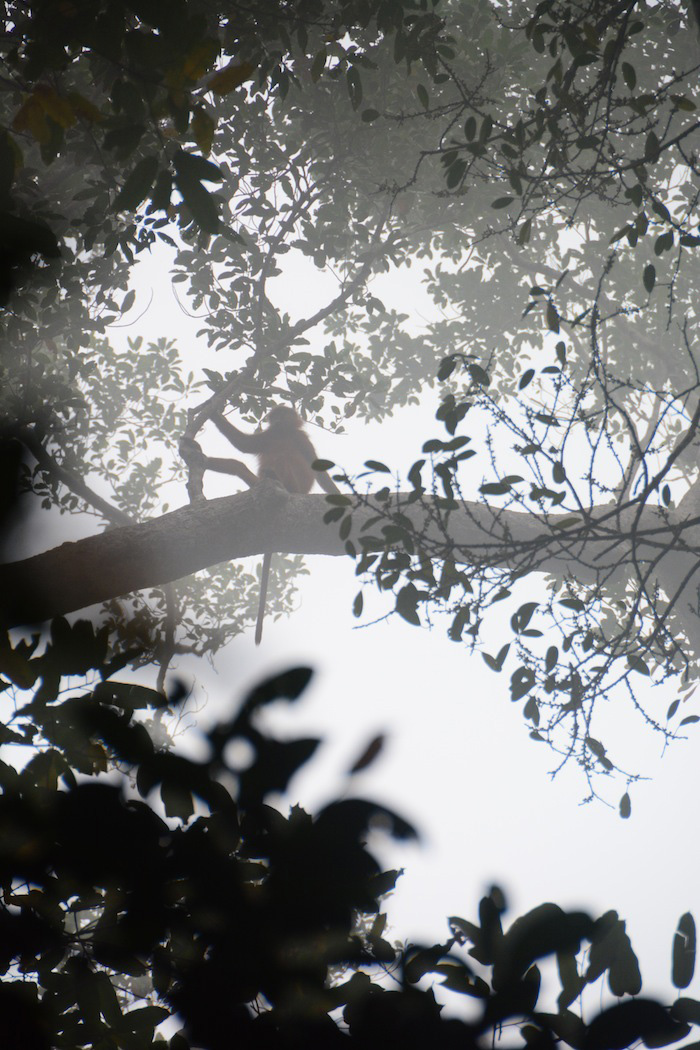 "When Rob no see orangutan," Musli said after our morning hike on the second day, which had brought us up to the magnificent Batu Bulan viewpoint and then back to camp, "Rob no happy."
I shook my head. "No Musli, that's not true. I am very happy. You showed me beautiful jungle and beautiful view. We saw macaques and gibbons." I put my hand on his shoulder to reassure him. "I am very happy – very senang."
And I was happy. Thing is, the prospect of seeing orangutans was far and away the number one reason I'd happily forked over 1.6 million Indonesian rupiah two days before, so of course my disappointment that we hadn't seen any yet, with less than 24 hours to go, was probably manifesting itself on my face.
When Musli and I returned to Lubuk Baji, a Swedish traveler named Colin (as well as two additional guides named Santo and Ali) had come to join us. I chatted with Colin, who is only 20 but is already in the middle of his first six-month trip, as the guides prepared lunch.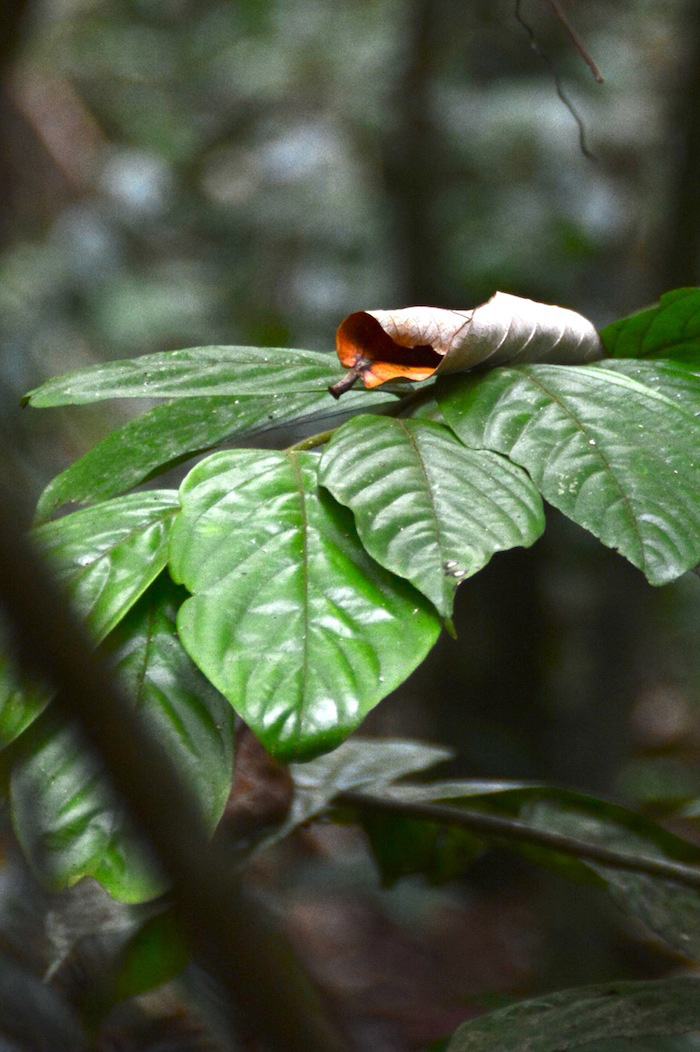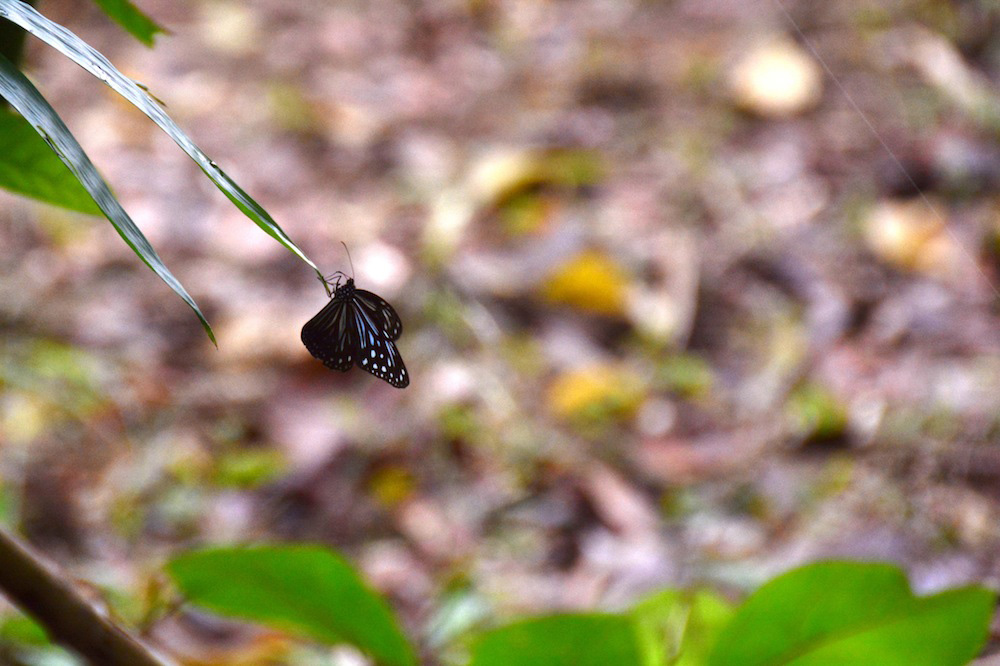 "Of course we can all go trekking together," I said. "Five pairs of eyes looking for orangutans is way better than two."
Then again, five pairs of feet stray far more than two, especially considering that there aren't any real "trails" around Lubuk Baji: You simply walk wherever the old-ish growth forest is light enough in its coverage for you to pass, looking out for spiders, wasps and ratan thorn wands to the best of your ability as you go.
"Hati-hati," Musli whispered back to me as we inched toward the lip of a ravine we hadn't been to yet. I passed the message back to Colin, who passed it on down the line to Santo and Ali. Musli had also gestured that we should be quiet, in addition to being careful, although he hadn't said exactly why.
It took both Colin and I several minutes to see the huge orangutan sitting in the tree in front of us. To our credit the creature, big as it might have been, was no less than 100 meters off in the distance; then again, Musli is nearly as old as both of us combined and he still managed to see it without a camera's zoom lens to aid him.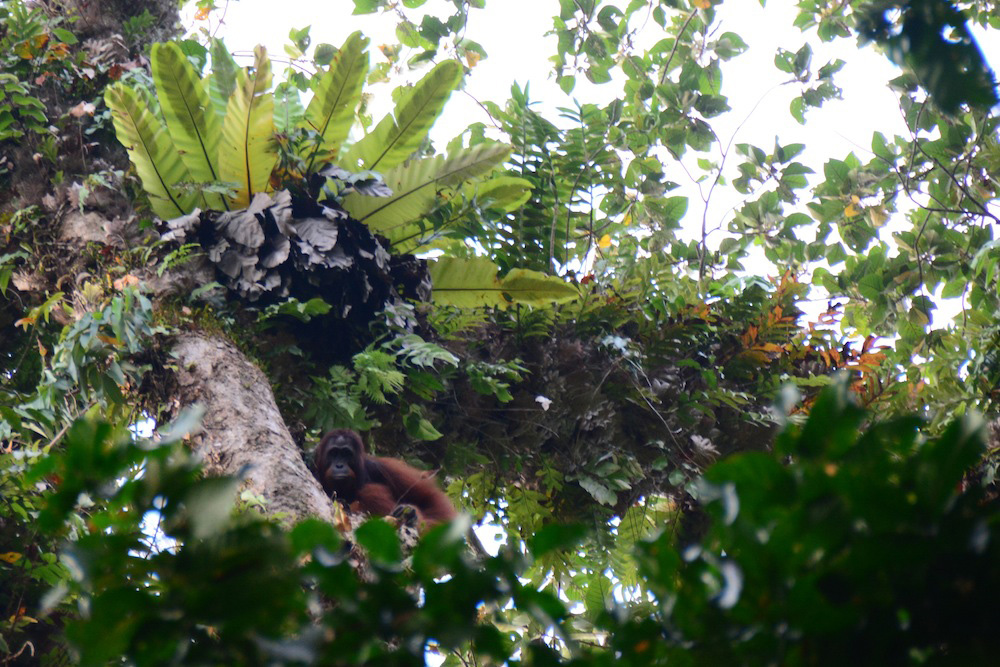 Musli, Colin and I then sprinted for about a half hour, over relatively treacherous, extremely wooded terrain, only to find that the large orangutan had lifted itself up in the tree and out of sight – that was the bad news.
The good news? We spotted its baby, albeit at a vertical distance that was probably almost as long as the lateral distance that had previously separated us.
This is the most frustrating thing about choosing to see wild orangutans in Indonesia, as oppose to hitting up, say, Tanjung Puting National Park and seeing semi-tame ones: You will probably not get very close to the orangutans. Even if you do, as I did the morning of day three, you will likely have to contend with thick layers of foliage and condensation as you attempt to take acceptable pictures.
But to me, the trade-off of seeing wild orangutans in Indonesian's Gunung Palung National Park is more than worth it. I've had as few experiences so satisfying as watching a majestic great ape swing 100 feet overhead as I've stayed places as wholly wonderful as Lubuk Baji camp.
And I have certainly never felt as thankful to a single person I met while traveling as I did toward Muslianto, who is truly a master of the jungle if one exists. He not only helped me see orangutans and became my friend in spite of a massive language barrier, but kept me completely safe in a place where I would almost certainly have injured or killed myself without him.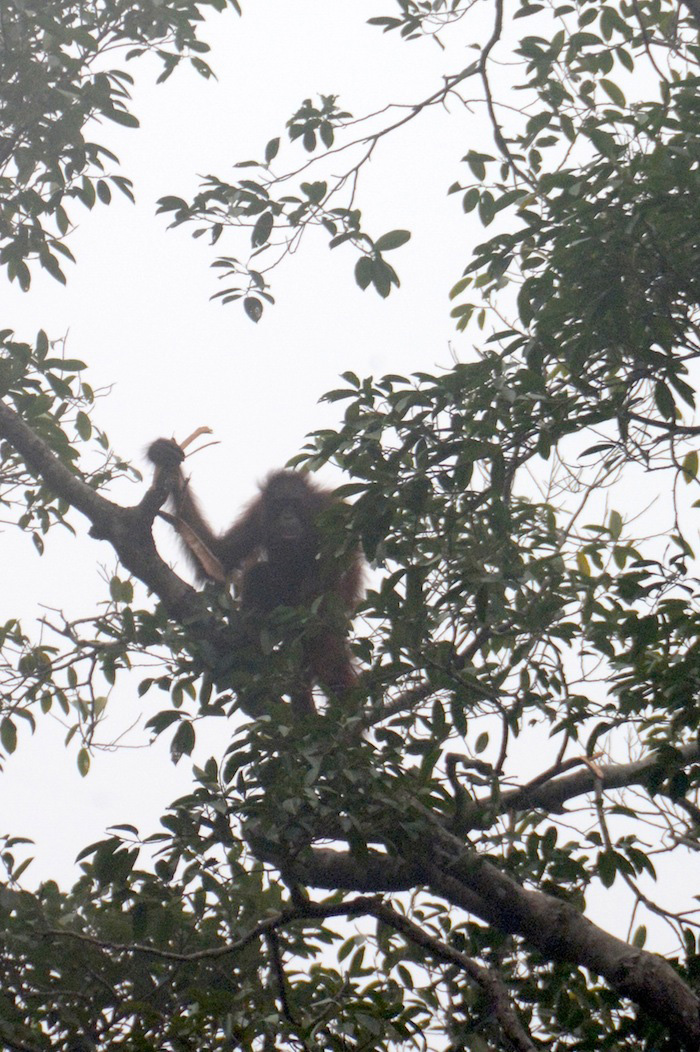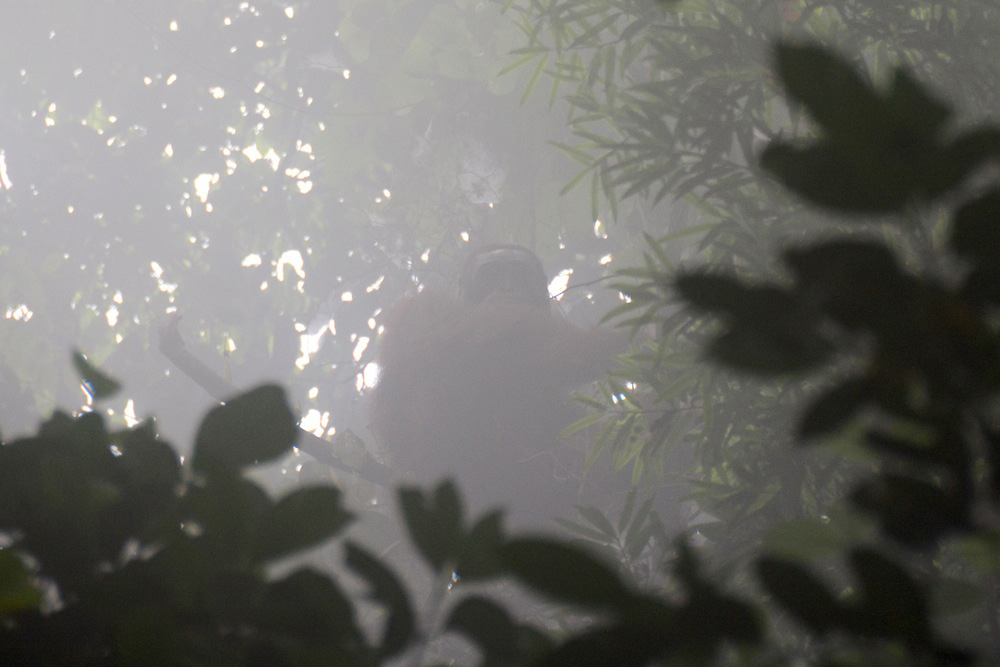 "Rob happy?" Musli asked as we exited the jungle into the durian groves near his home just outside of Sukadana, the town closest to Gunung Palung Park.
"Rob happy," I nodded, although I was sad that my journey would soon be over. "Rob very, very happy."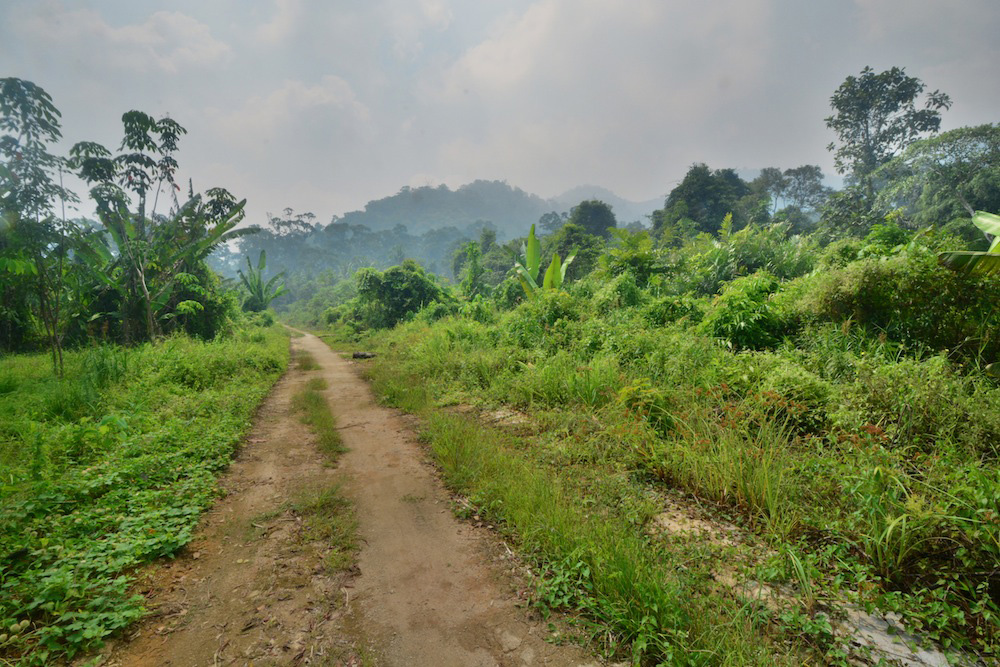 Share:

I was nonchalant last night when Harry, an Indonesian friend I was having dinner with here in Yogyakarta, asked me about me feelings on the many active volcanoes nearby. "The likelihood of one erupting during the three weeks I happen to be here is almost zero," I laughed arrogantly. "And if it did? C'est la vie."
Imagine my surprise upon walking onto my balcony this morning and seeing this: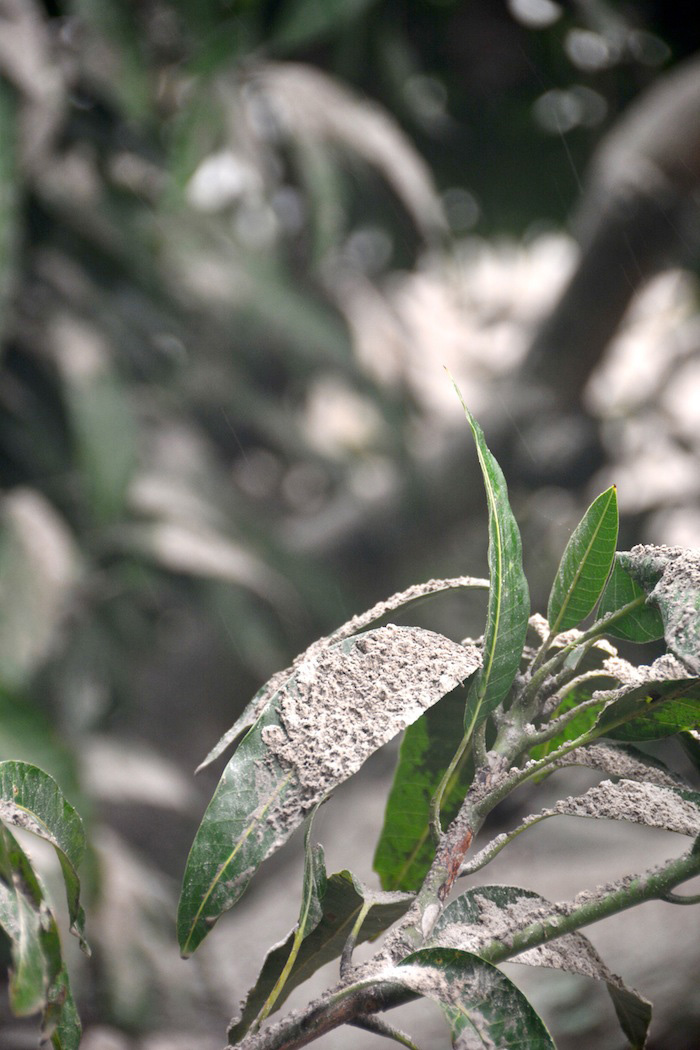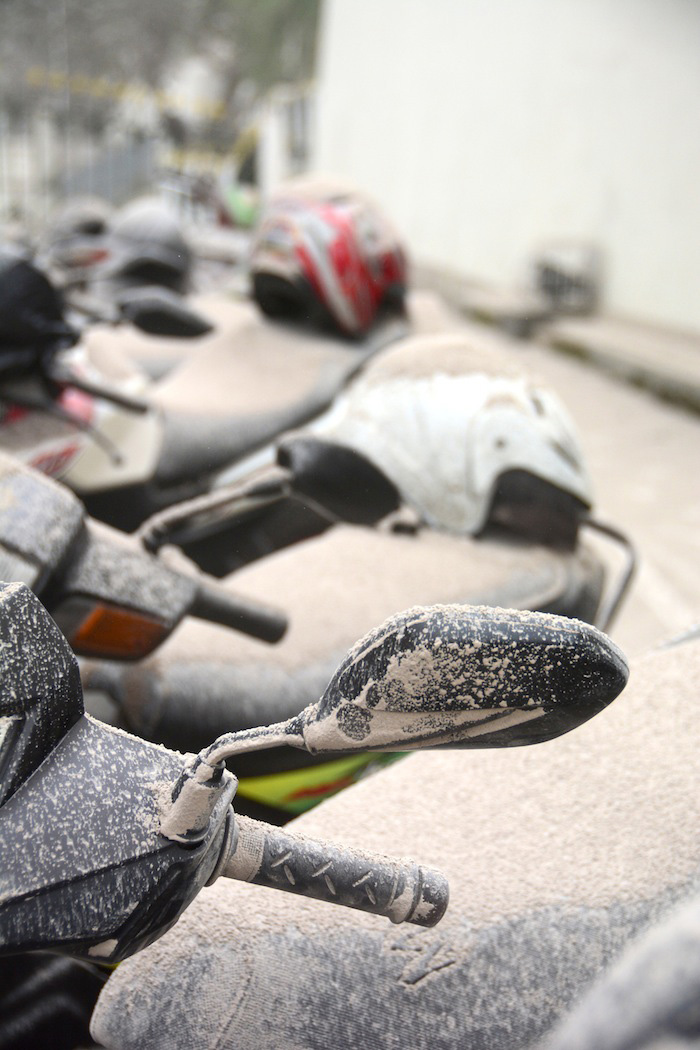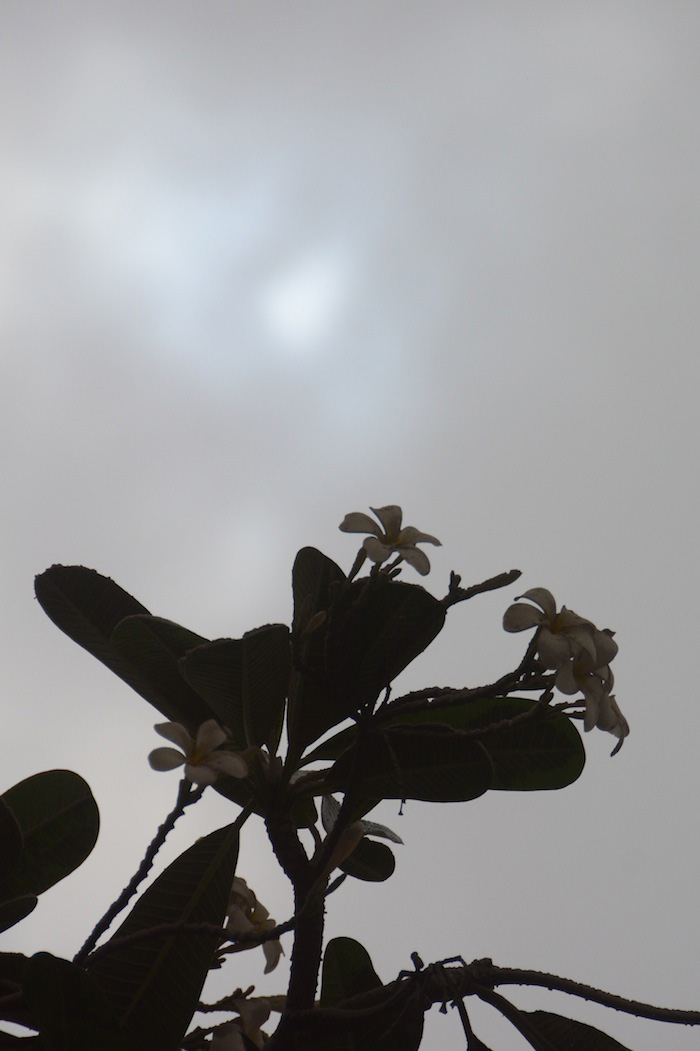 It seems that Mt. Kelud, a volcano located approximately 300 km (180 miles) from here in the eastern part of Java island, erupted while I slumbered. And so, after pinching myself several times and realizing that I was not, in fact, still asleep, I did what any semi-insane travel journalist would do: I bought a face mask, grabbed my camera and headed outside into "Ashmageddon."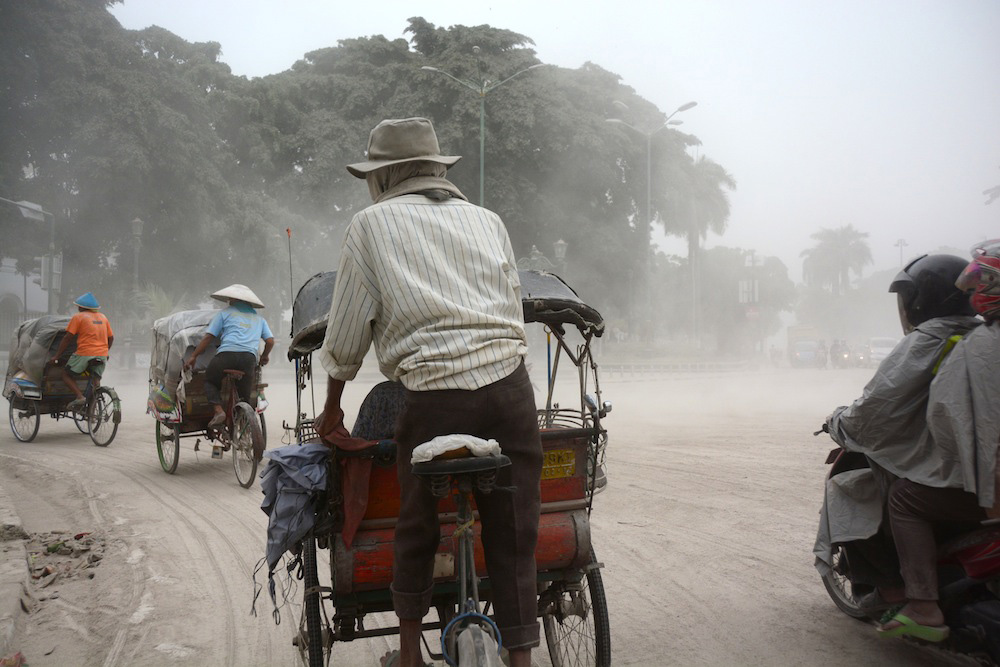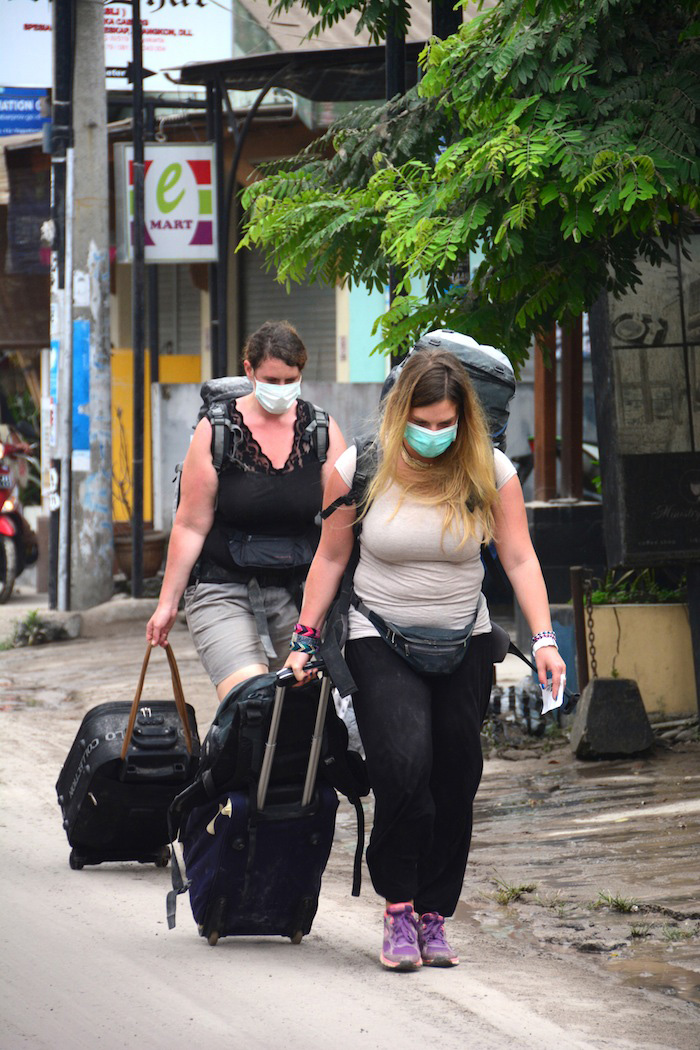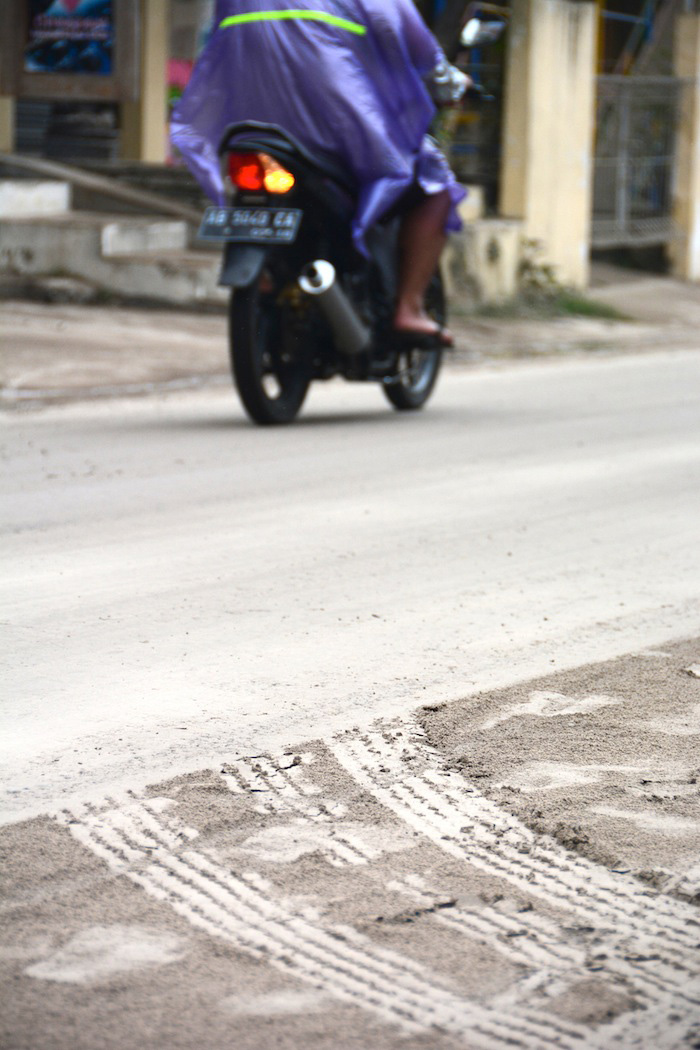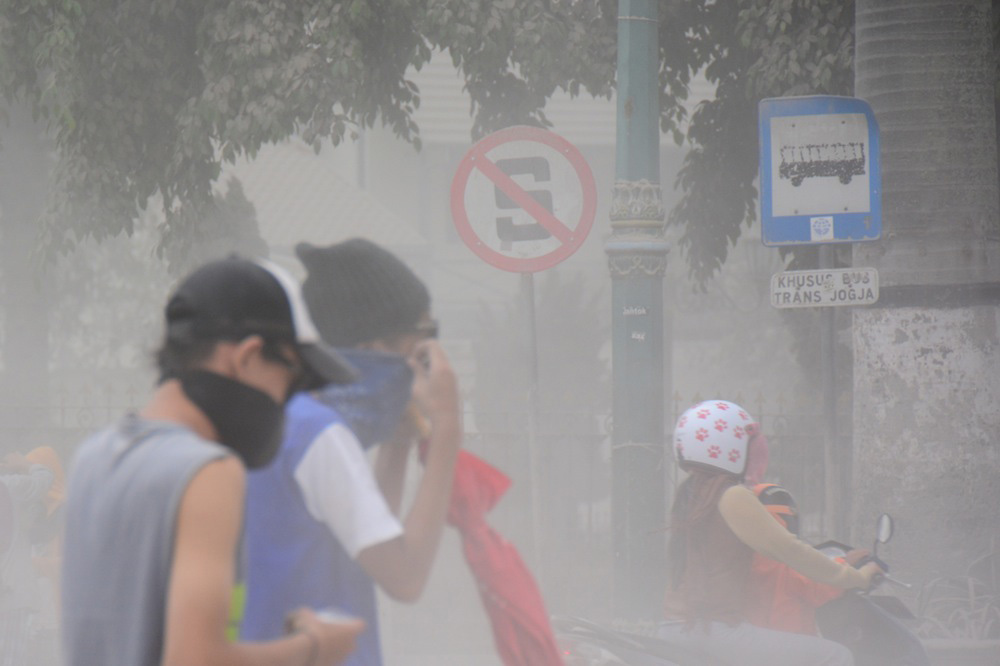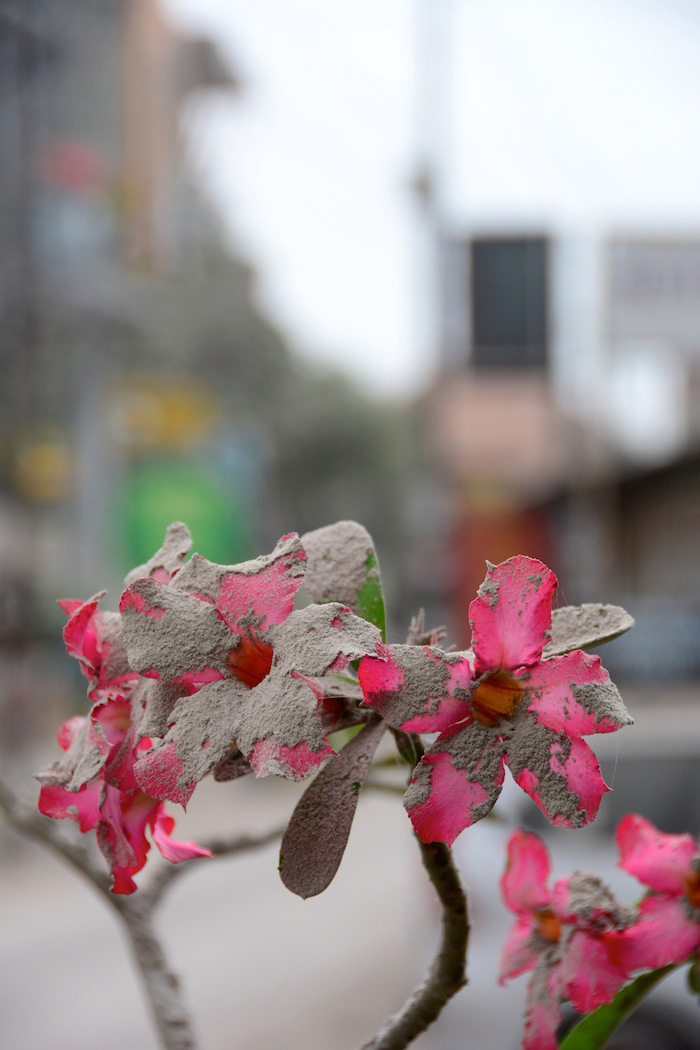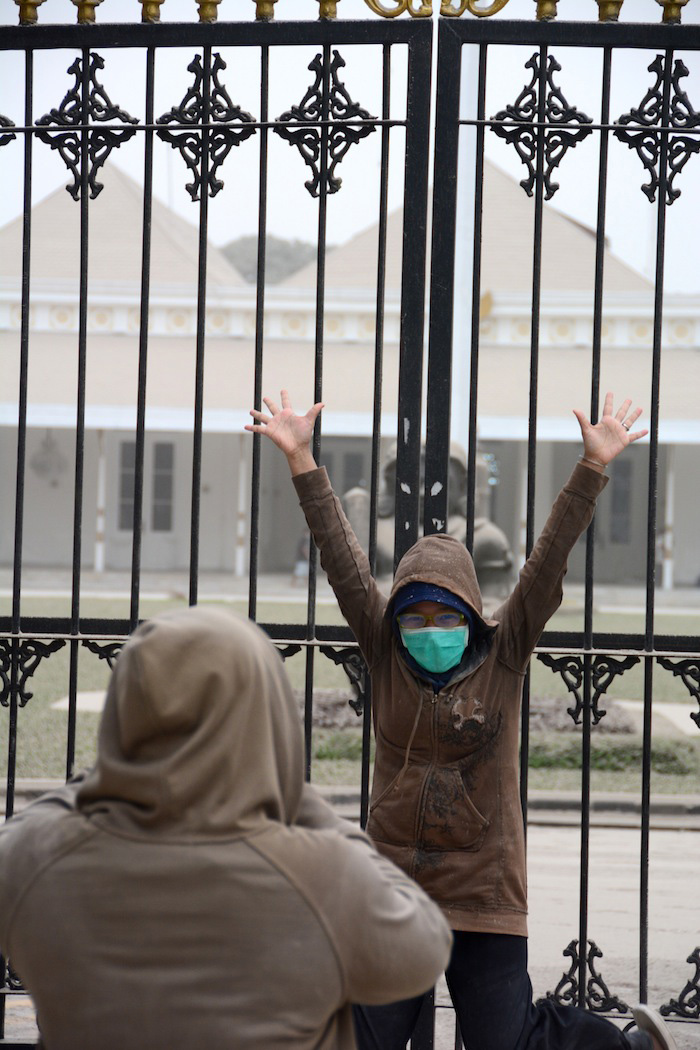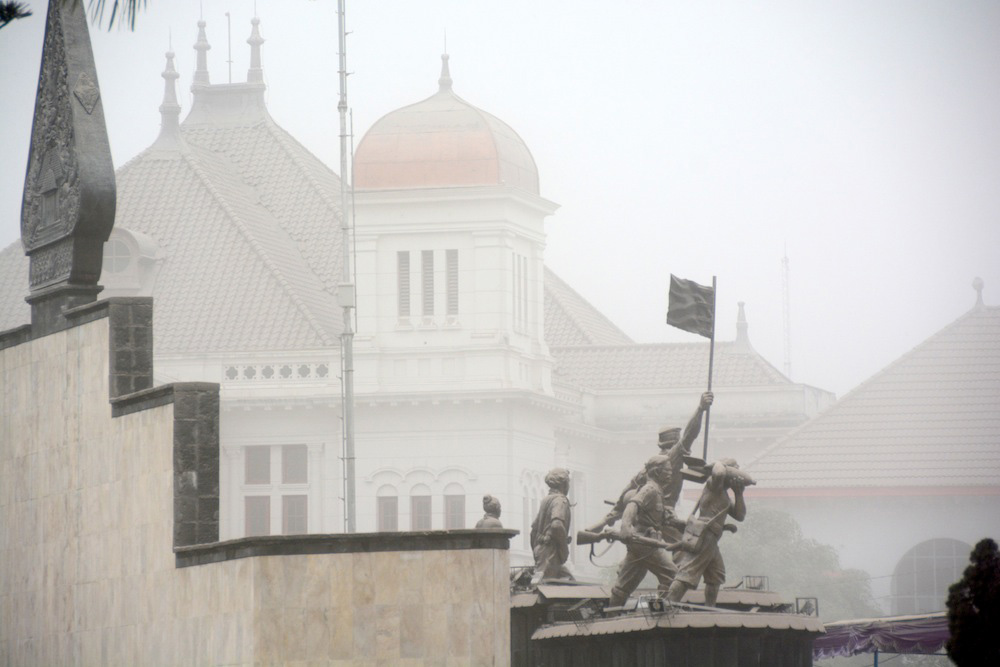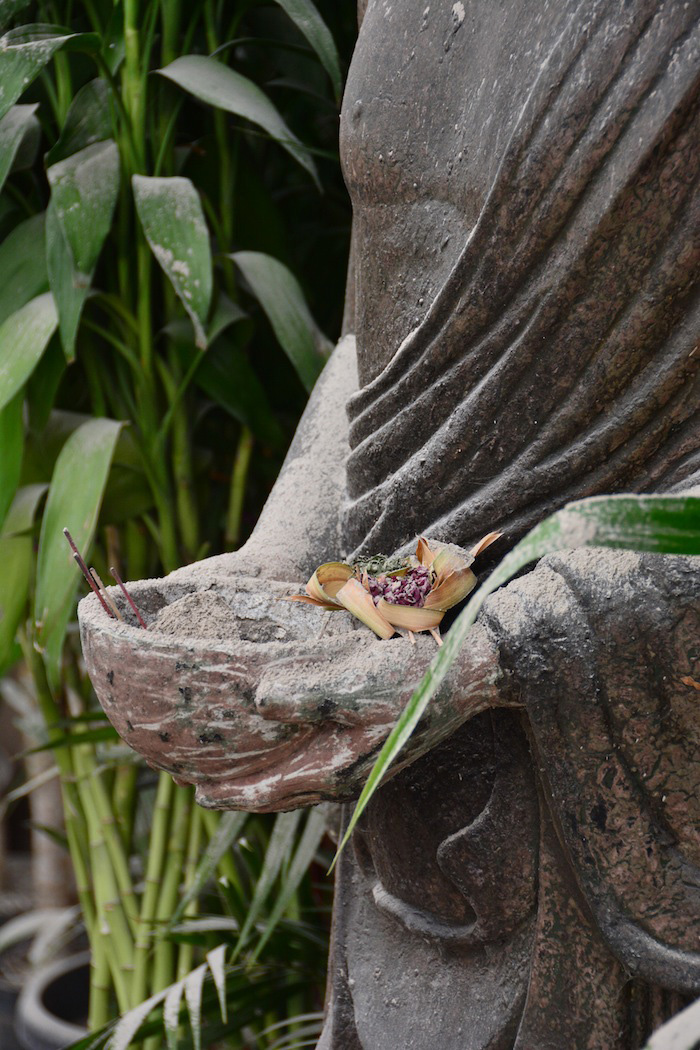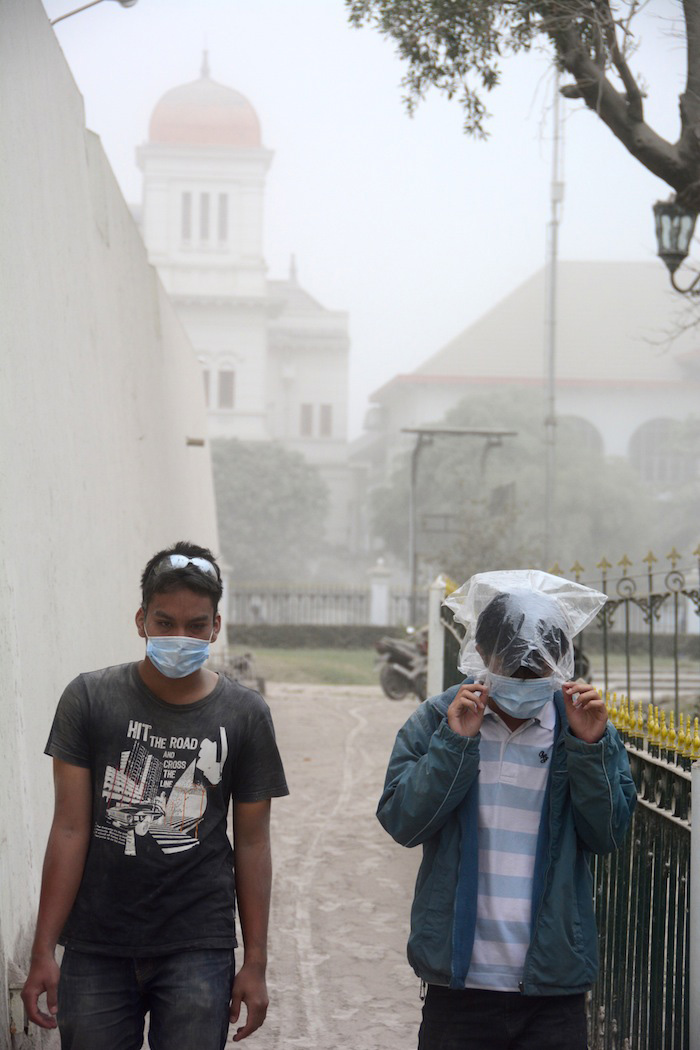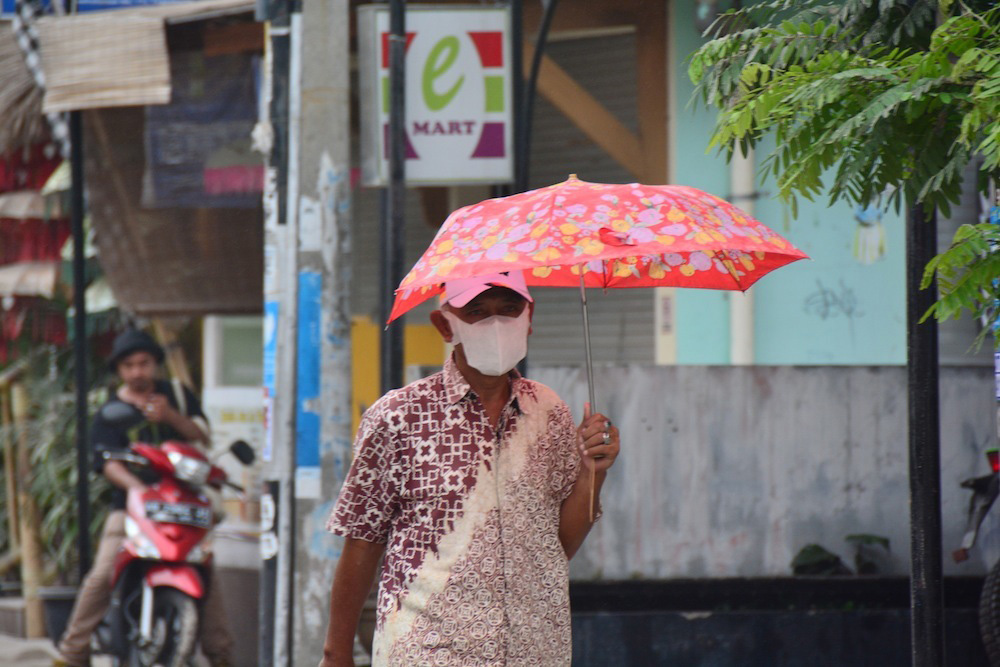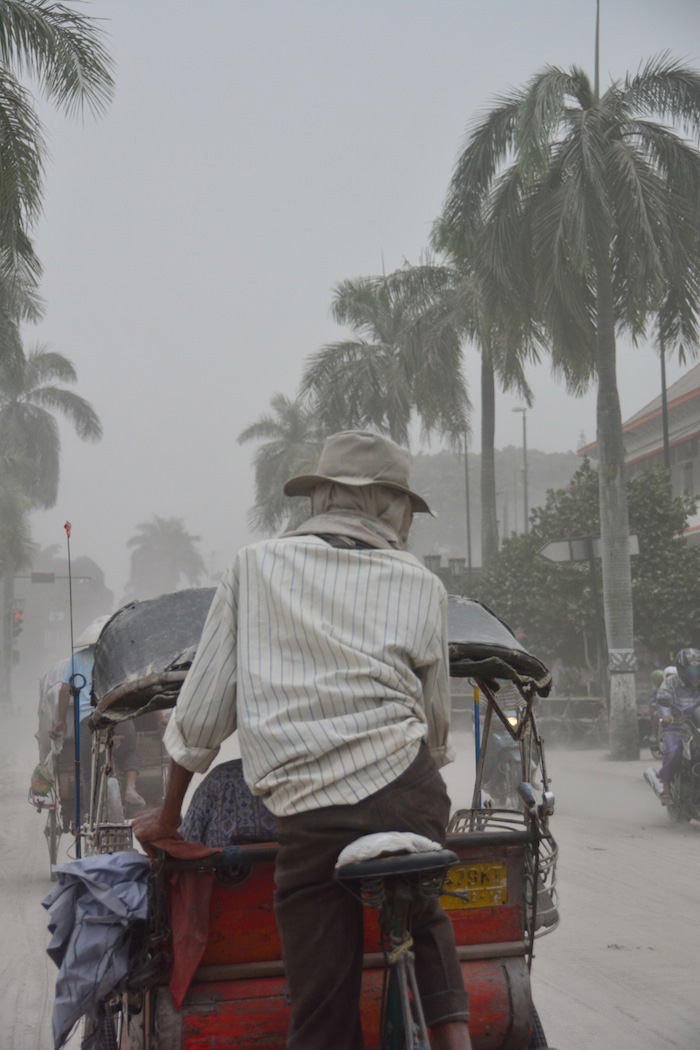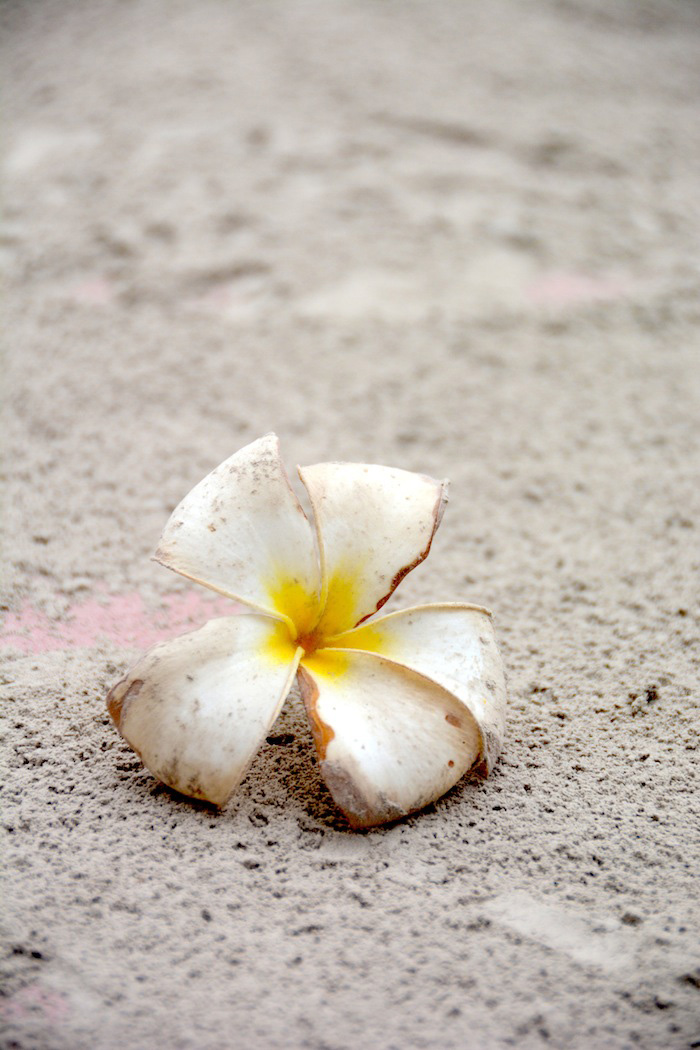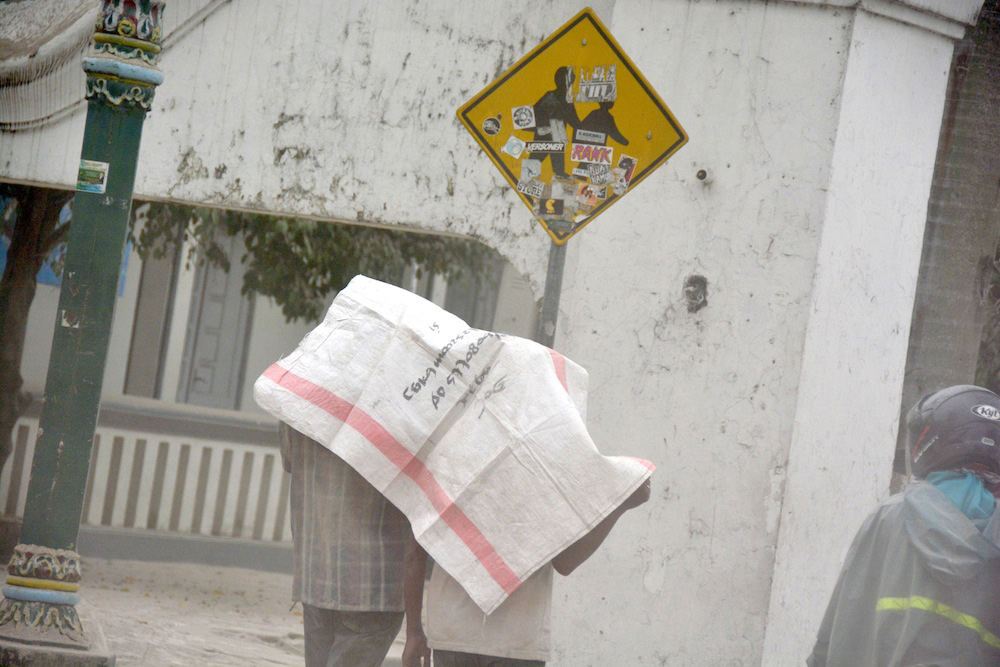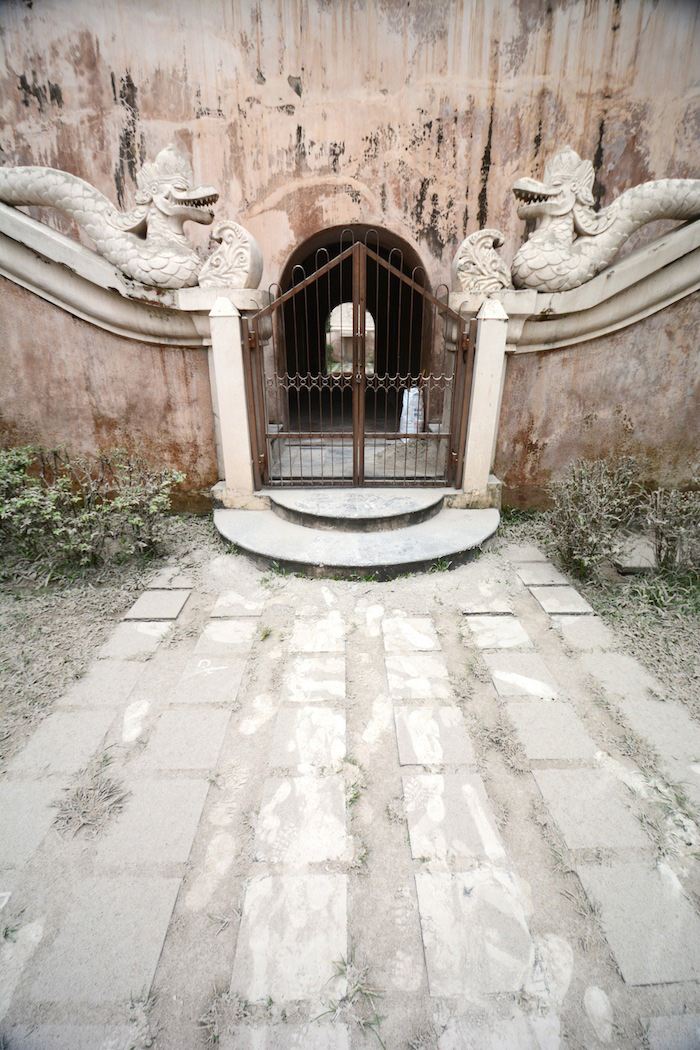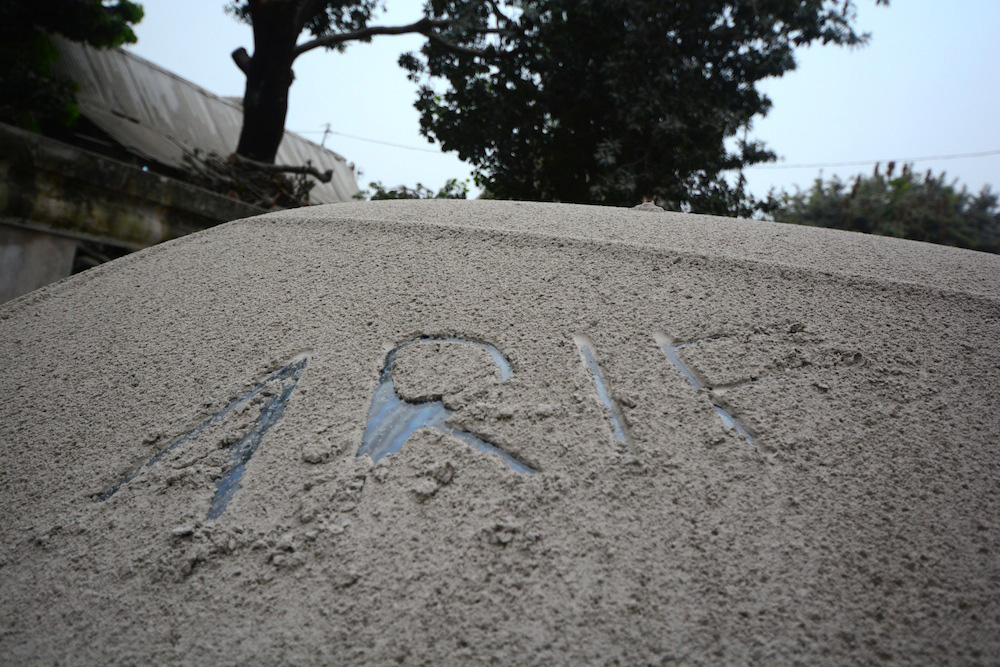 A special thanks goes to Brae, who is a total badass and drove me around on his becak (cycle rickshaw) so I could capture these shots. (Don't worry, I tipped him several times his average daily wage!)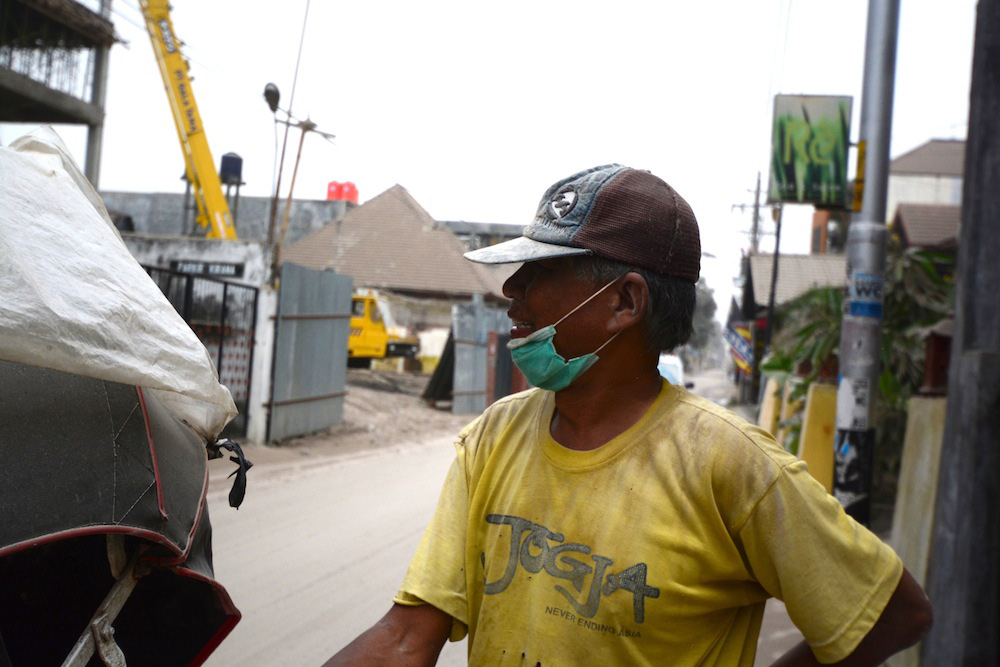 Share: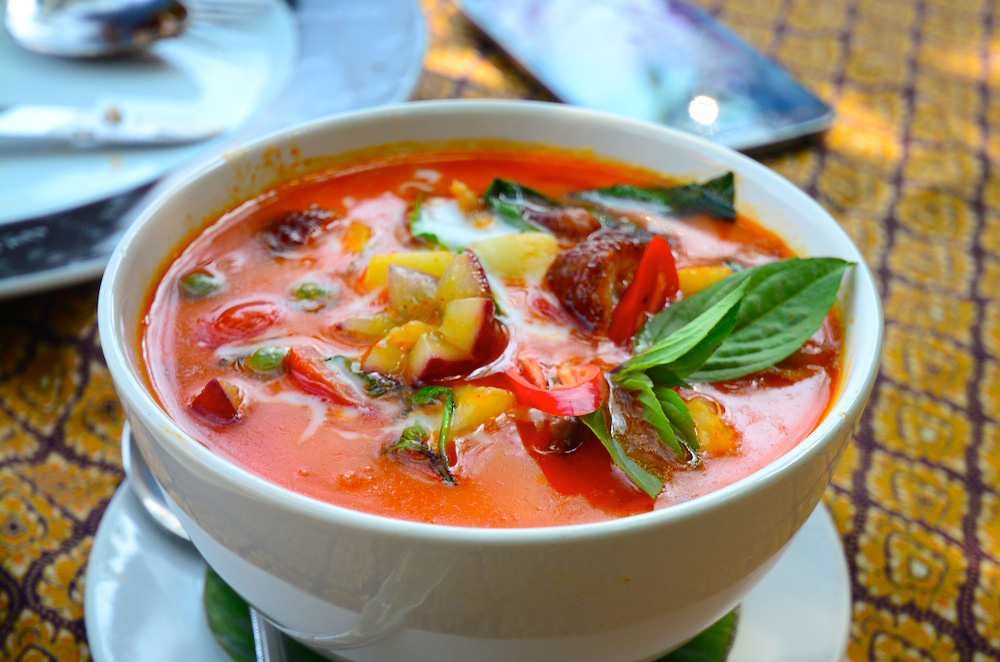 I love to eat.  One of the biggest ways cultures represent themselves is via their food.  Picture a Vindaloo with some Naan bread in India, Pad Thai in Thailand, Paella in Spain, Chicharon and Balut in the Philippines, Burritos and Cuervo in Mexico.  These are more than just nice, exotic local food – they give you an insight into people's lives and the history of the country.
Here are some tips that have helped me survive.
Research
Have a bit of a poke online and see what's available, information-wise.
Key points I like to look for:
Nice restaurants and restaurant reviews

Average pricing (apparently, sometimes foreigners get overcharged! Gasp!)

Quality of street food

Other options for emergencies
Have a look for restaurants online, finding places that are recommended (check for locals, not for tourists!).
Street food, have a look at the quality.  It's very easy to get sick from street food, if you're not used to it or have a weak stomach.  I'm not good with spicy food, so I make sure I learn the local word for "not spicy" before I get street food.  Also, check for anything you're allergic to (luckily, I can eat most things easily enough).
If you're only in an area for a short time, or during awkward times (I was in Sydney from midnight til 6am, airport curfew time), have a look for some options online before you get there.  I hate airline food, no matter how much better it's gotten recently.  I'm also not a fan of walking around aimlessly when I'm starving hoping somewhere is open – you'll either not find anything, or get some terrible food – this very rarely ever turns out well.  For example, in Sydney I checked online and found got some late night Chinese Food via Eatnow, which was easier because it actually had customer reviews, I had something to put it into context.  Lifesaver.
Street Food
I deliberately put this after the last point, because you should check some stories about it.  There can be some horror stories (namely, hygiene), so be a bit careful.
This is not to say you shouldn't sample street food – try it! Eating street food is the best way to get the feel of a country.  You not only get to eat what the locals eat – you see and experience how they live, as oppose to reading about it in some fancy restaurant menu.
Go for it
You may not be in a particular country for long, and chances are you'll never go back.  This may be literally your only chance to try snake, or starfish or crickets!
Will you love what you eat? Maybe or maybe not, but you're probably not going to die by trying it once (Disclaimer: if you die, I take no responsibility).  At the least, it's a great cocktail party story!  Who else can say they've eaten live octopus?  Or a half fertilized egg in Manila?  You go traveling for the adventure, not to play it safe.  Eat up!