About Robert Schrader
Robert Schrader is a travel writer and photographer who's been roaming the world independently since 2005, writing for publications such as "CNNGo" and "Shanghaiist" along the way. His blog, Leave Your Daily Hell, provides a mix of travel advice, destination guides and personal essays covering the more esoteric aspects of life as a traveler.
Latest Posts by Robert Schrader
Share: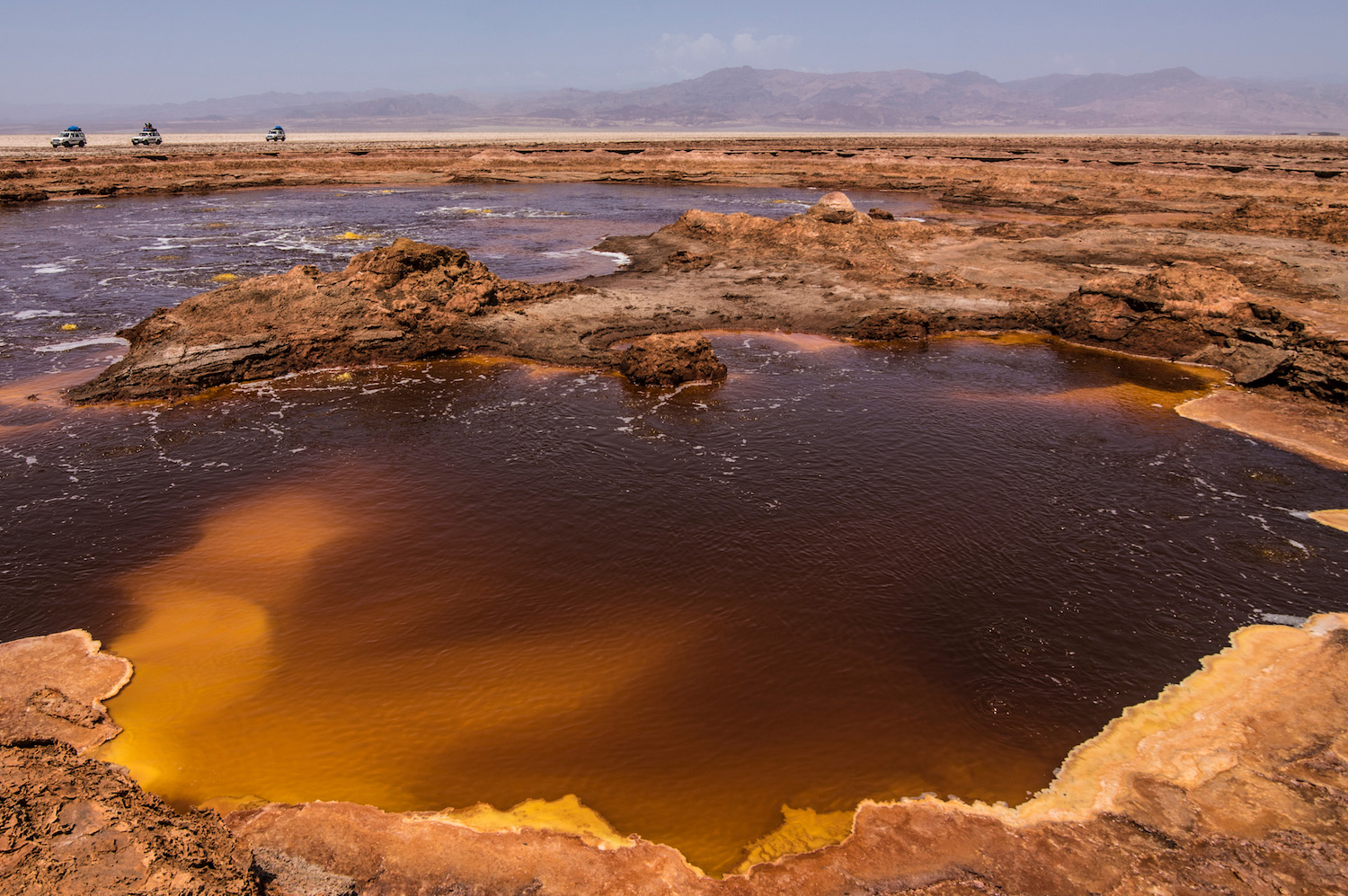 On the map, Ethiopia doesn't seem like a massive country, with a land area approximately equal in size to the U.S. state of Alaska. But traveling around the country, particularly by land, makes you feel as if you're in a much more sprawling piece of territory.
The good news is that Ethiopia has decidedly modern elements to its infrastructure (namely, a robust domestic air network), and is working hard to modernize its roads and rails. The better news? My Ethiopia transport guide helps you navigate the good, the bad and the ugly of traveling through the birthplace of humanity.
Buses and Train—Yes, There's Just One—In Ethiopia
Actually, that's a lie. In addition to the Ethiopia-Djibouti train line that runs from Addis Ababa to the city of Djibouti, Addis Ababa is also in the process of building a metro system, parts of which have already been opened. In general, however, rail is not a practical form of travel in Ethiopia.
Indeed, the only realistic way to travel by land in Ethiopia is by bus—and, more often than that, the minibuses that travel both long and short distances throughout the country. Buses regularly run from Addis Ababa to destinations like Bahir Dar and Dire Dawa and even as far away as Lalibela, although I recommend a different sort of transport for traveling there.
Ethiopian Airlines
I'm a bit of an #AvGeek, so I knew prior to visiting Ethiopia that Ethiopian Airlines is one of Africa's largest, most modern airlines. What I didn't realize until reading their inflight magazine was how long they've been flying intercontinental (since the dawn of the jet age) and how intertwined their history is with that of the country as a whole.
In any case, I bring the airline up not to recommend its long haul services, but its short haul ones. The airline efficiently and (if you purchase the tickets inside Ethiopia, not outside) affordably connects all major destinations in Ethiopia, easing the pain traveling by land more often than not incurs.
Other Transportation in Ethiopia
Some people choose to travel by private car in Ethiopia. Car and drive, I should say. I didn't encounter any foreigners in Ethiopia who rented a car, nor do I know if it's even practical or possible. Traveling by private car, like most "luxury" in East Africa, is rather expensive. I remember paying about $75 for a transfer from Axum to Mekele—not the entire tour of the rock-hewn Tigray Churches; just the ride!
As far as other alternative transportation is concerned, I suppose you could hitchhike, although I think it would be tacky at the very best to bum rides in a poor, black country as a visitor from a rich, white one.
Two Weeks in Ethiopia: A Sample Itinerary
I've talked a lot in this post about how to travel in Ethiopia, as well as some of the destinations I enjoyed visiting in Ethiopia. If you're curious about the entirety of my trip to Ethiopia, and how you can take a similar one, click here to view my itinerary for two weeks in Ethiopia.
Share: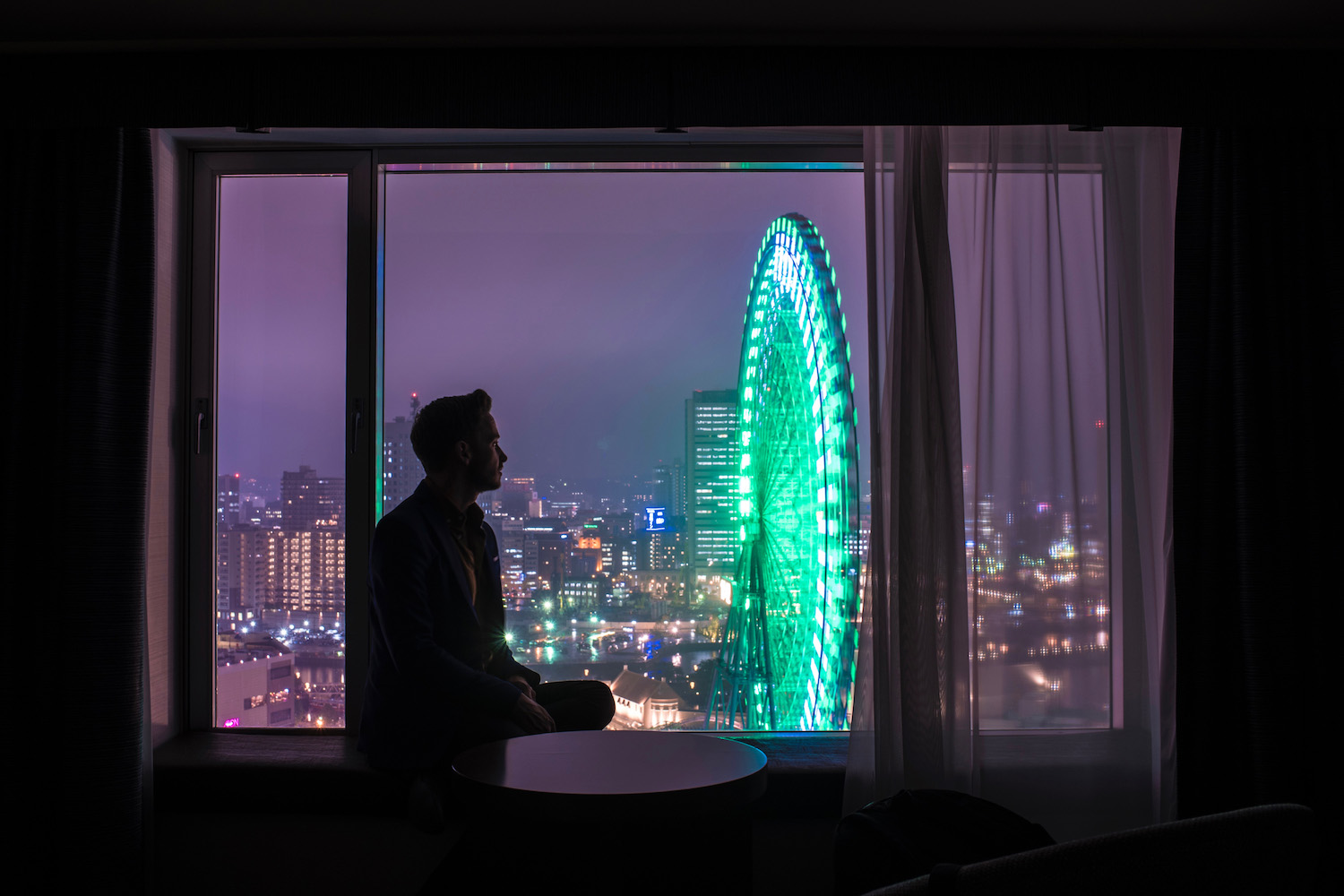 As one of the largest, most complex cities in the world, Tokyo is simply not a place you can fully experience within a few days. You owe it to yourself to spend as much of your time in Japan as possible in Tokyo proper, whether you stroll under the neon of Shinjuku, go back in time in Asakusa or chow down on a sushi breakfast in Tsukiji.
On the other hand, Tokyo is also extremely well-positioned for day trips, many of the destinations for which seem farther from the city than their geographical positions suggest. Whether you enjoy views of Mt. Fuji in Yamanashi, bask in the warm sea breezes in Shizuoka or the straddle the boundary between past and future in Kanagawa, these excursions from Tokyo are trips through time, space and the very bounds of reality.
Yamanashi Prefecture
As the "Yama" portion of its name suggests, Yamanashi Prefecture sits at the base of Mt. Fuji (Fujiyama), and although all of the places to visit here don't directly relate to Fuji, they all offer amazing, scenic views of it.
Kofu
Kofu is the capital of Yamanashi prefecture and is a great place to base yourself, should you want to explore for a few days (more on that in a second!) The city sights notwithstanding, popular sights around Kofu include Shosenkyo canyon, the vineyards of Koshu and Erin-ji, a magnificent temple that should be a lot more popular than it is.
Kawaguchi-ko
Situated on the shores of Lake Kawaguchi, Kawaguchi-ko's most obvious attraction is the reflection of Mt. Fuji on the water, but those are only the beginning. Hike up to Chureito Pagoda, one of the most picturesque places to see Mt. Fuji (especially during sakura season) or visit Itchiku Kubota Museum, which pays homage to a Japanese textile artist who resurrected an ancient style of kimono dyeing in the late 20th century.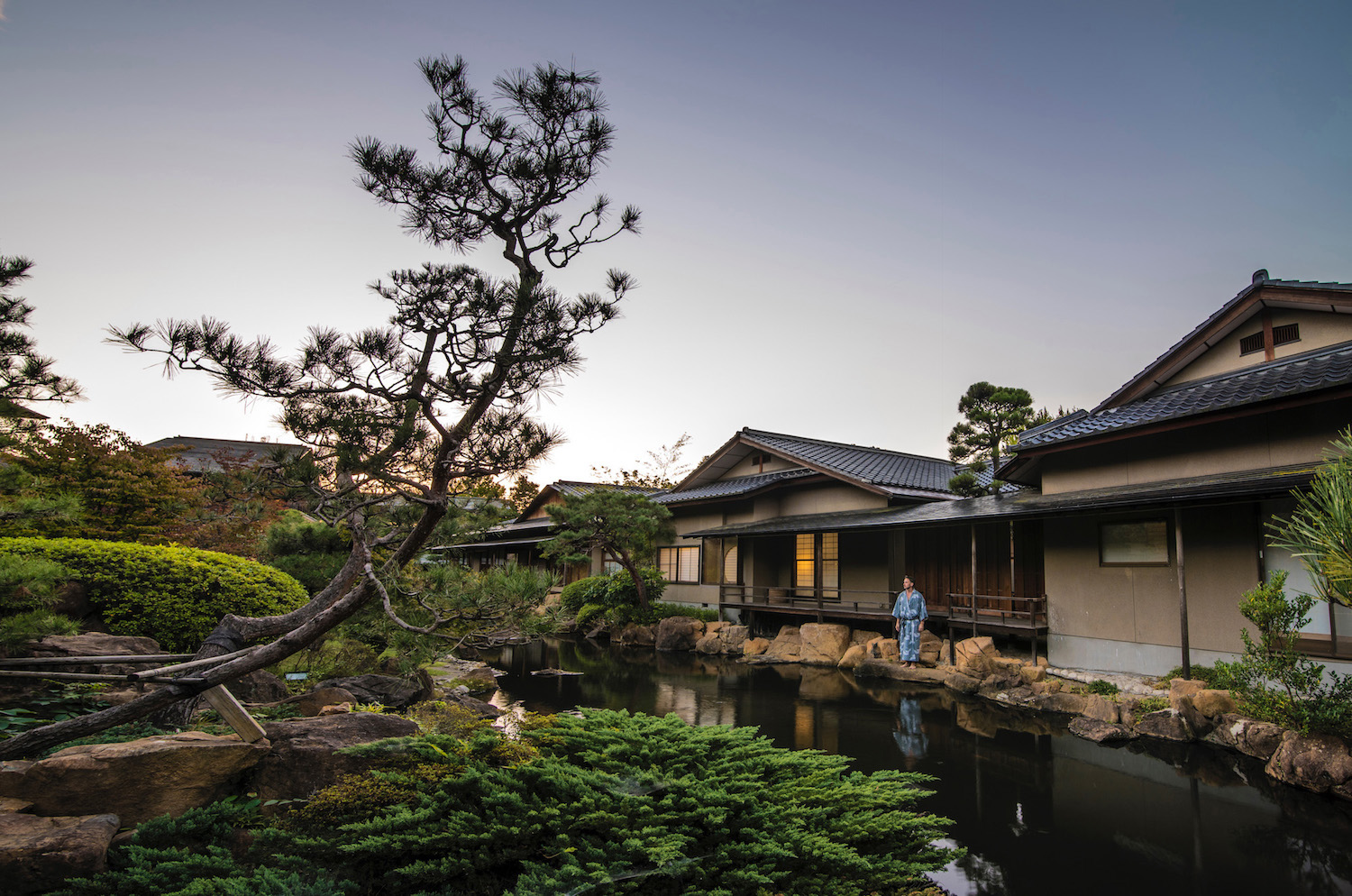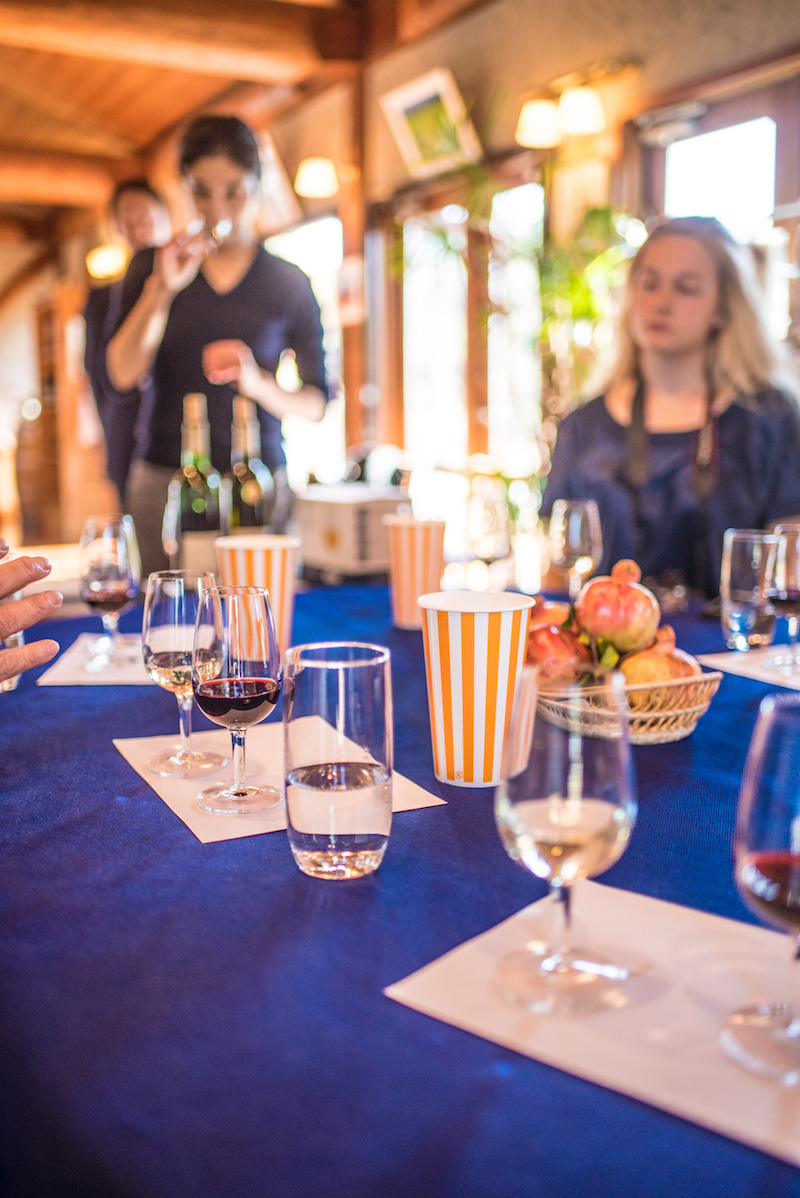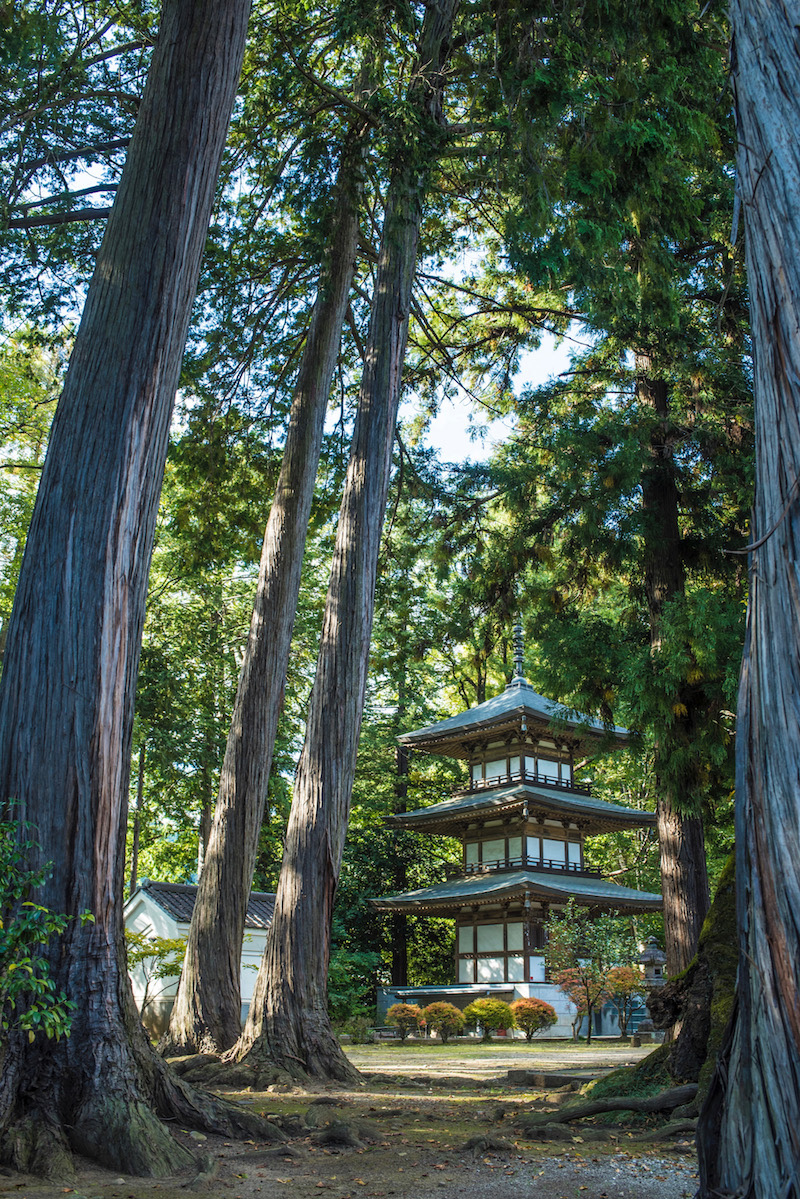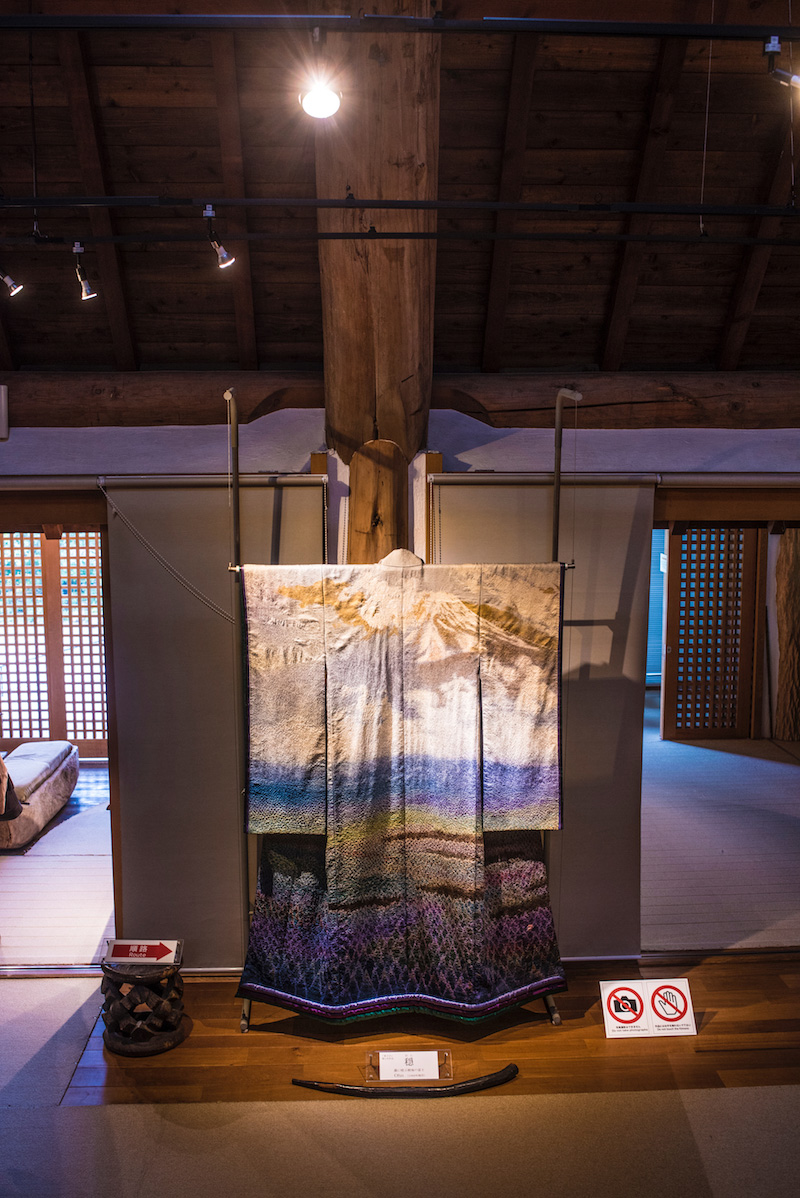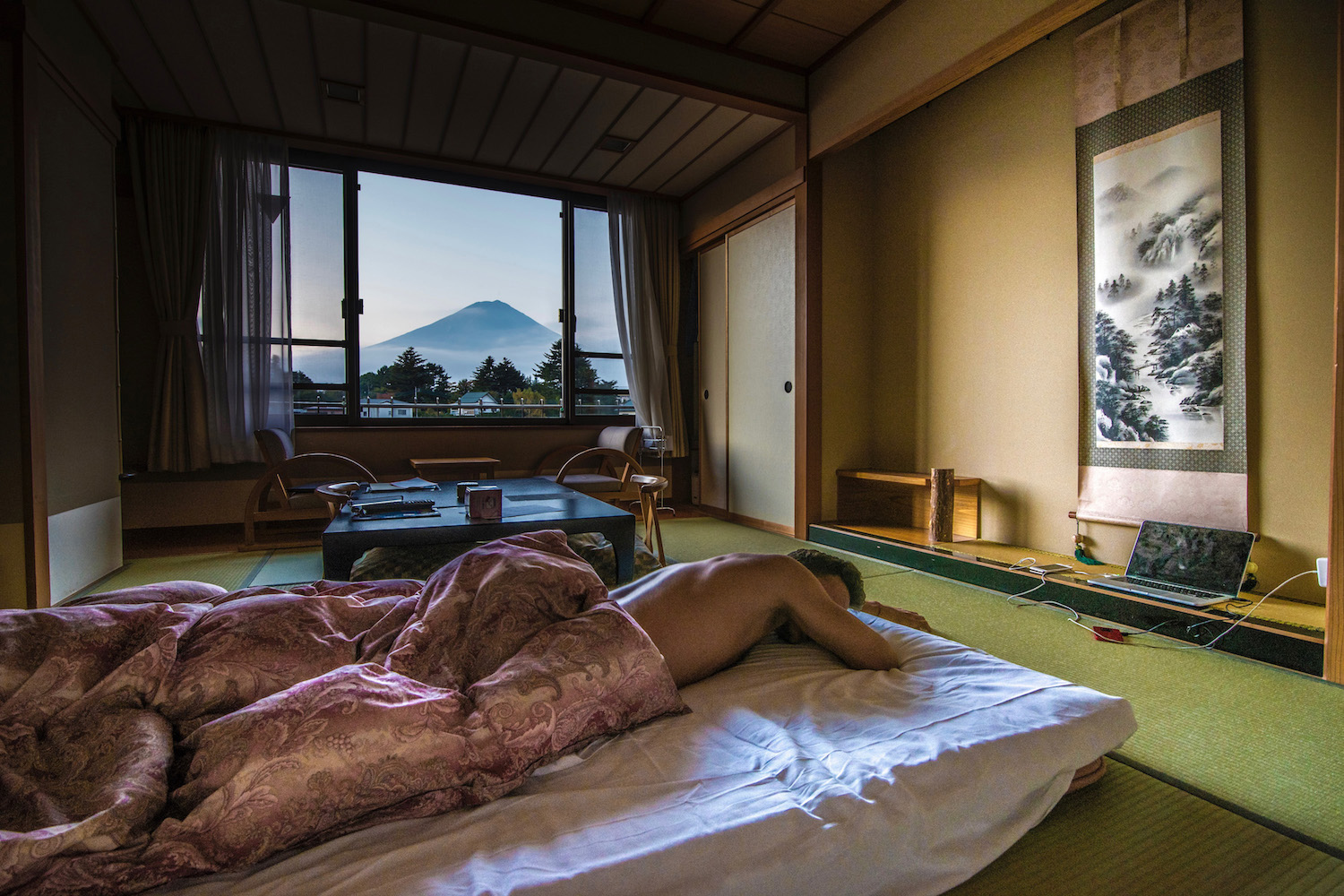 Fujiyoshida
The beautiful, metal torii gate that welcomes you to Fujiyoshida isn't just the entrance to the city, but to the path that leads you to the precipice of Mt. Fuji, if you're so inclined to hike it. If you aren't, enjoy the Fujisan Museum, which pays homage to the long lineage of people, Japanese and otherwise, who did endure the climb.
Make It A Weekend
The star attraction of Kofu City—and the best place to spend a night in Yamanashi prefecture—is Tokiwa Hotel. This traditional Japanese ryokan and onsen is not cheap, but you get what you pay for—there's a reason the Japanese imperial family has stayed here several times.
Shizuoka Prefecture
Shizuoka surprises a lot of people, among other reasons because the sea breeze that influences its climate comes all the way from Taiwan, resulting in year-round warm weather. This makes it a particularly good day trip from Tokyo during the chilly winter months.
Atami
Its scenic Pacific views notwithstanding, Atami's Kinomiya Shrine is home to one of the oldest trees in Japan, each walk around whose thick base is said to give you an extra year of life. Atami also sits a short distance from the impossibly idyllic grasslands atop Mt. Omuro, whose panorama is even more spectacular than what you see from Atami city.
Shimoda City
The city of Shimoda has a long and rich history, important for being birthplace of American trade with Japan, among other reasons. The sights of the city notwithstanding, Shimoda is a gateway to the Izu Peninsula, which includes the picturesque town of Higashi-Izu and the rock-hewn, Edo-period shrine at Cape Irozaki.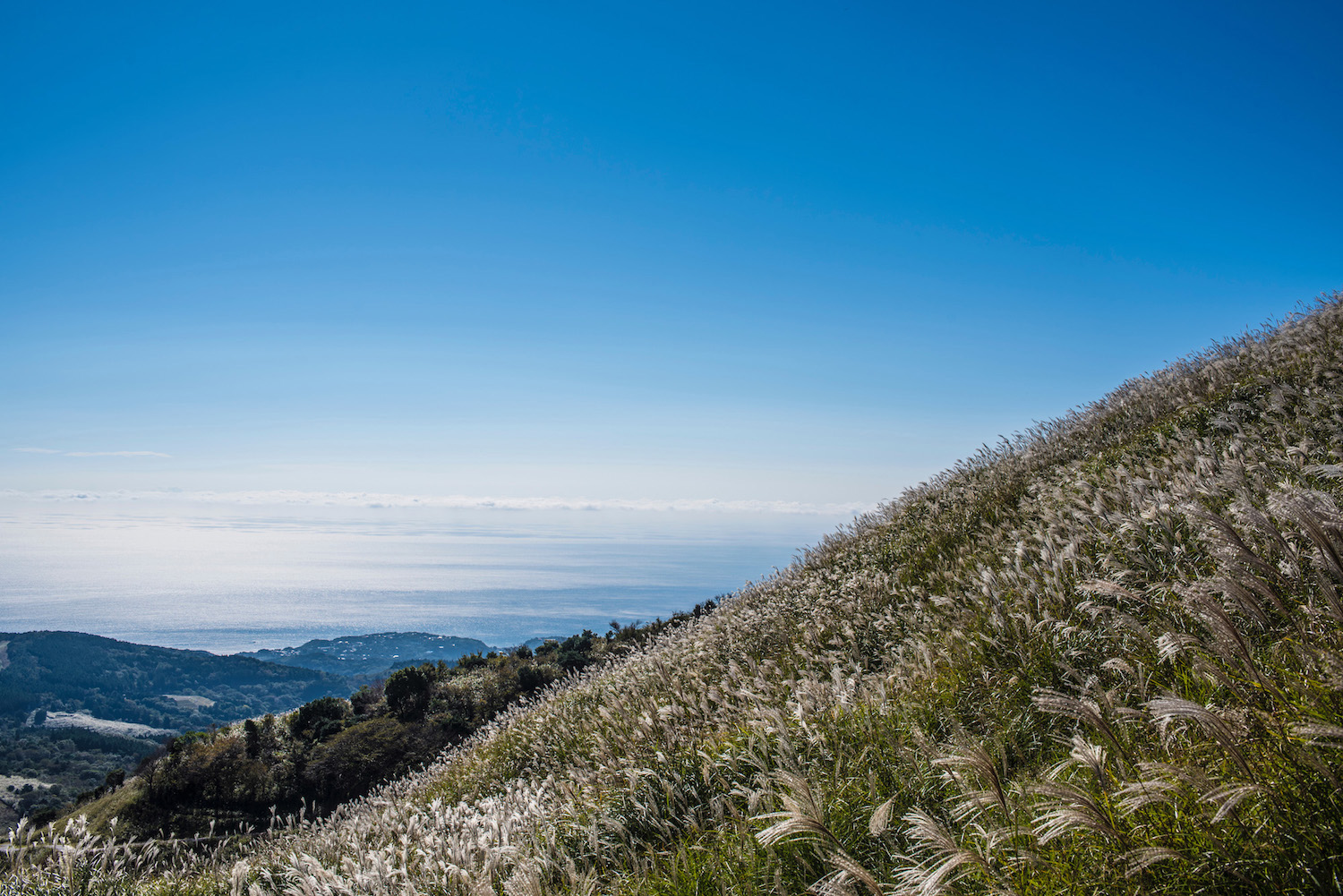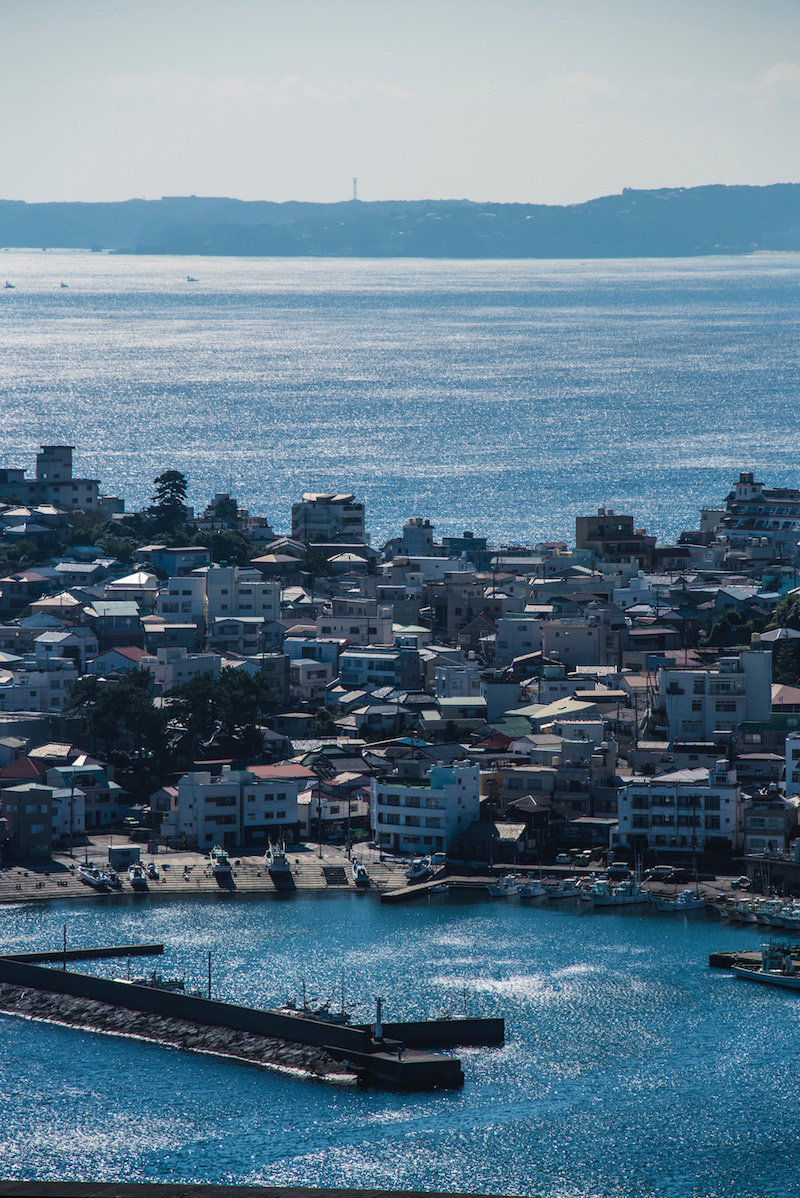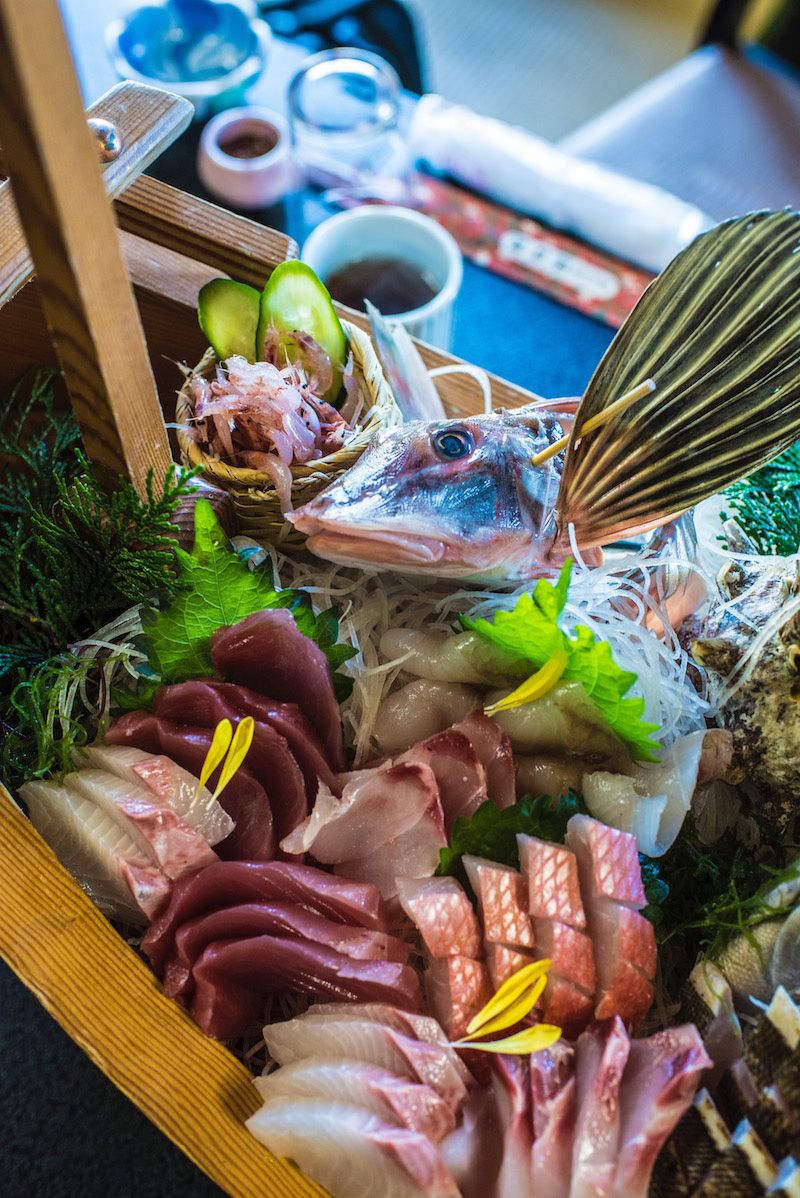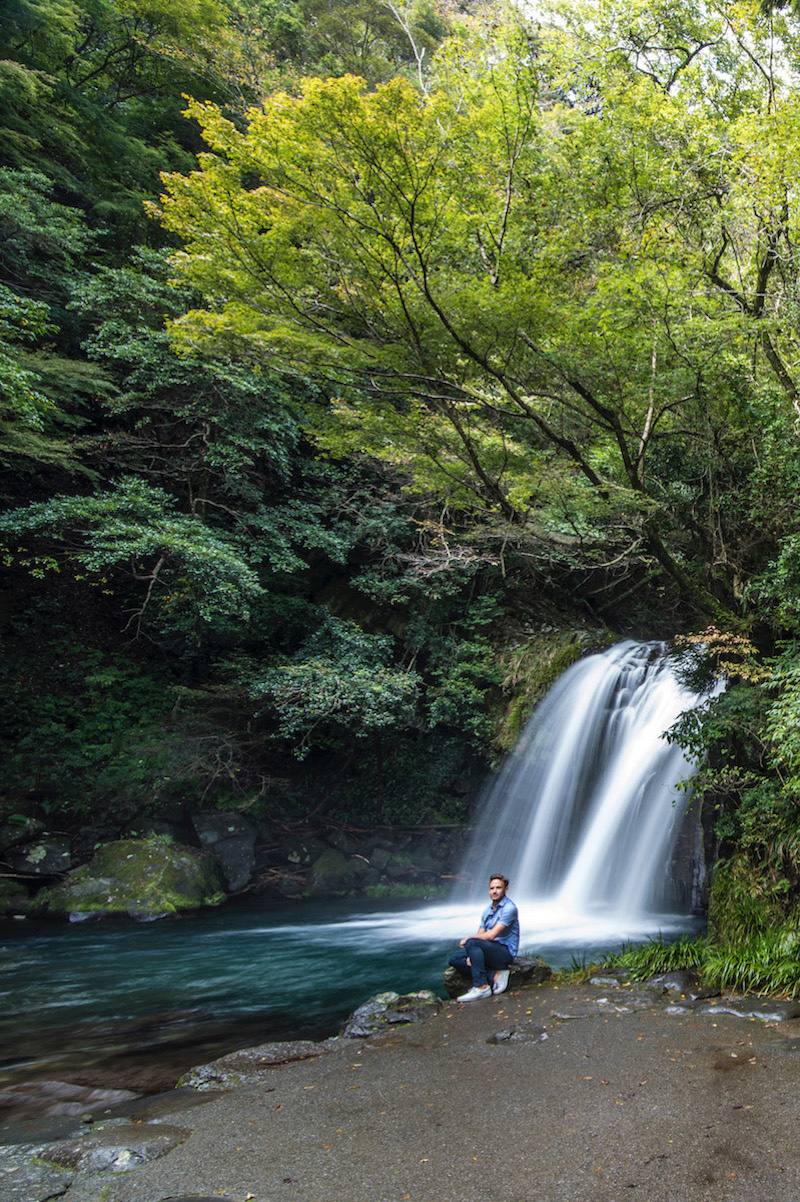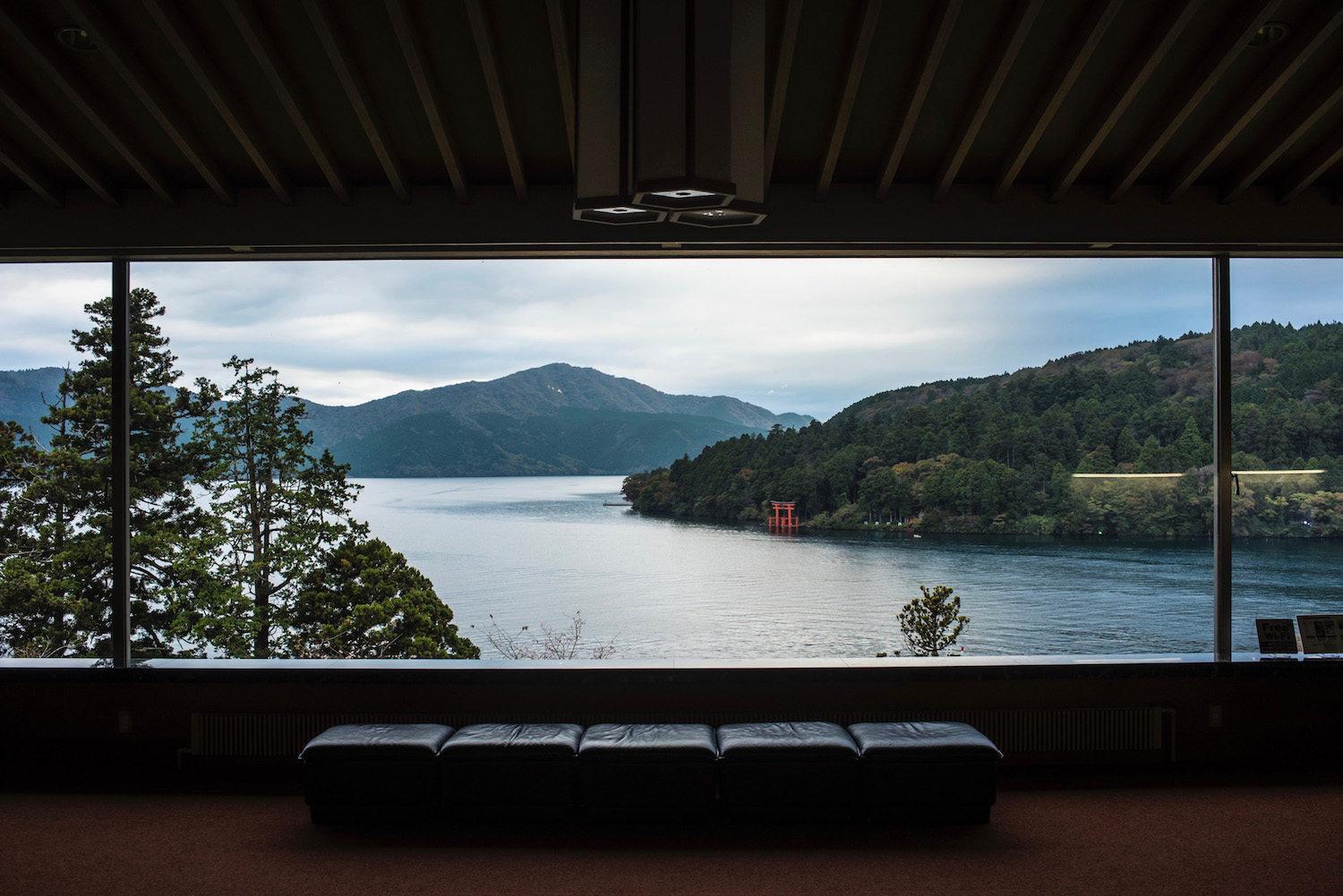 Kawazu
Kawazu is in close proximity to a number of treasures, including a trail that leads to the seven waterfalls of Nanadaru, picturesque scatterings of wasabi fields and the Mishima Sky Walk, which is an excellent place for Fuji views on a clear day. It's also not far from Hakone which, although it's technically in Kanagawa prefecture, feels more like Shizuoka due to its natural surroundings.
Make It a Weekend
The obvious attraction of Imaihama Tokyu Hotel is its oceanfront location, but while this property is not as overly luxurious as Yamanashi's Tokiwa Hotel, it exudes an 80s-fabulous decadence, Hawaii Five-0 tropicalia I've never seen anywhere else in the world.
Kanagawa Prefecture
Although Kanagawa is the closest of the prefectures in this article to Tokyo, in some ways it feels the farthest away, with both natural and urban sites that feel mystical and otherworldly.
Kamakura
One of Kamakura's attractions, the Great Buddha of Daibutsu, is among the most popular day trips from Tokyo. On the other, fewer people know the mysterious bamboo forest at Hokoku-ji, but it's just as worth the train or bus ride. Top your Kamakura adventure off with a lunch of traditional soba noodles at the picturesque Raitei restaurant.
Yokohama
Many people don't realize it, but Yokohama is actually the second-largest city in Japan. Another superlative for which it's famous is as the home of Japan's largest Chinese community, a fact that's beautifully evident in China Town. Take a break from Yokohama's bustling city center at the tranquil San-Kei-En, a garden that's as wonderful for a stroll as it is for a traditional matcha tea ceremony.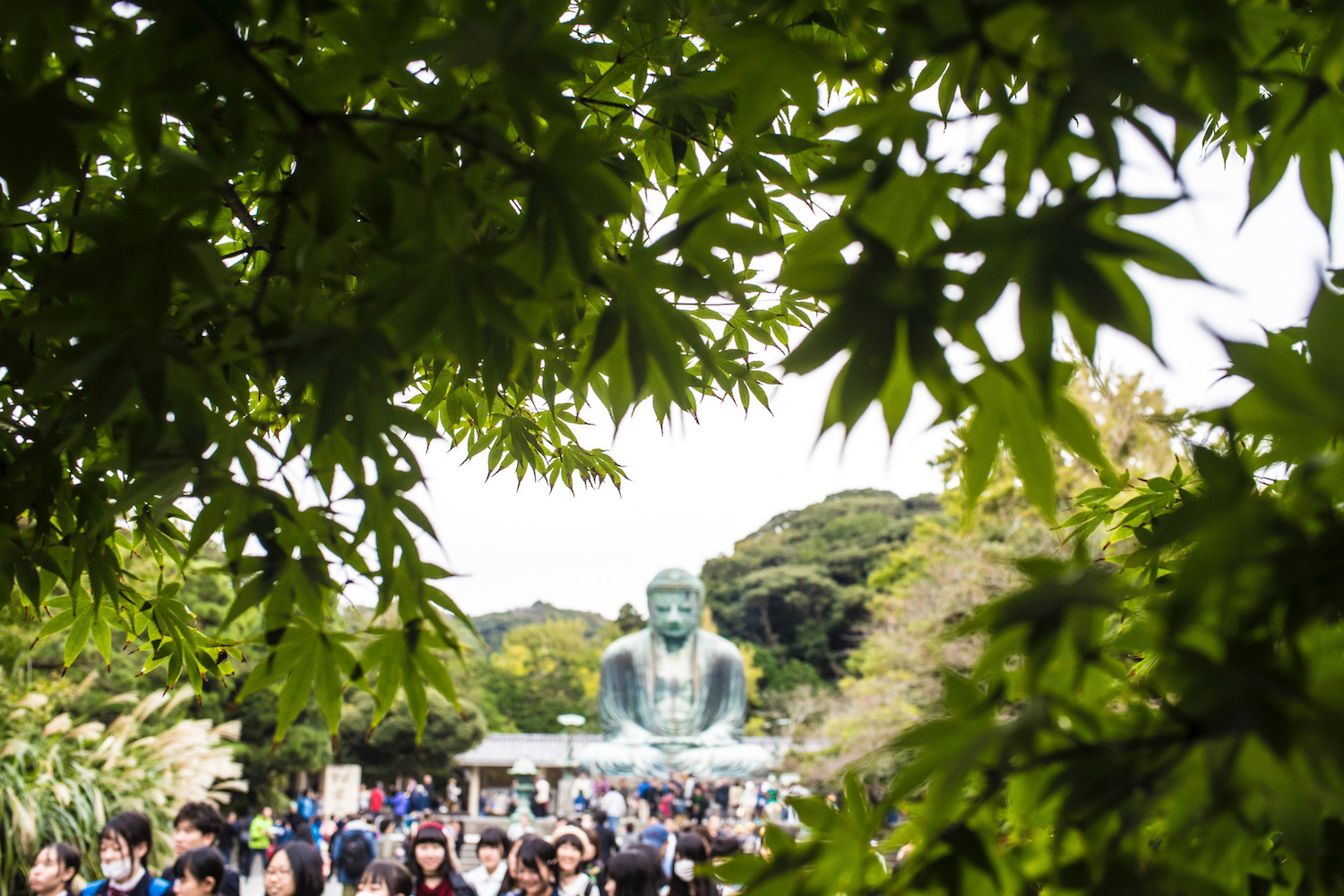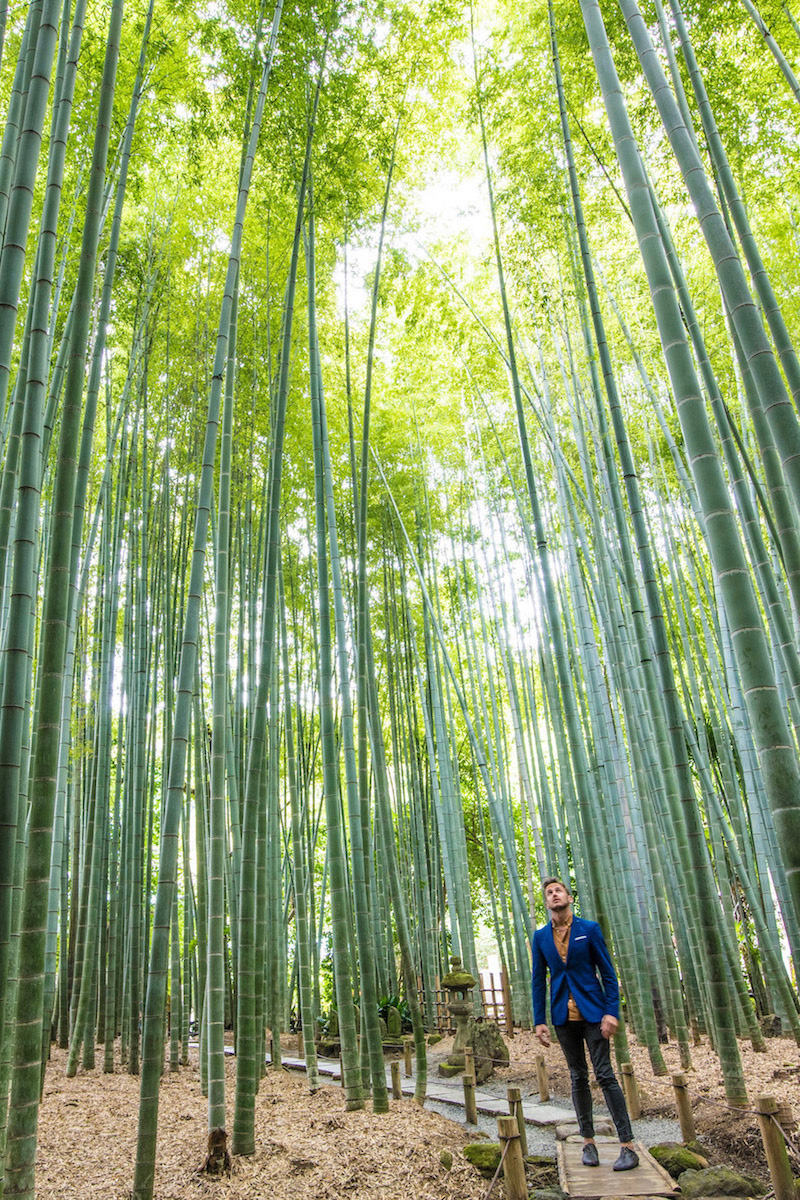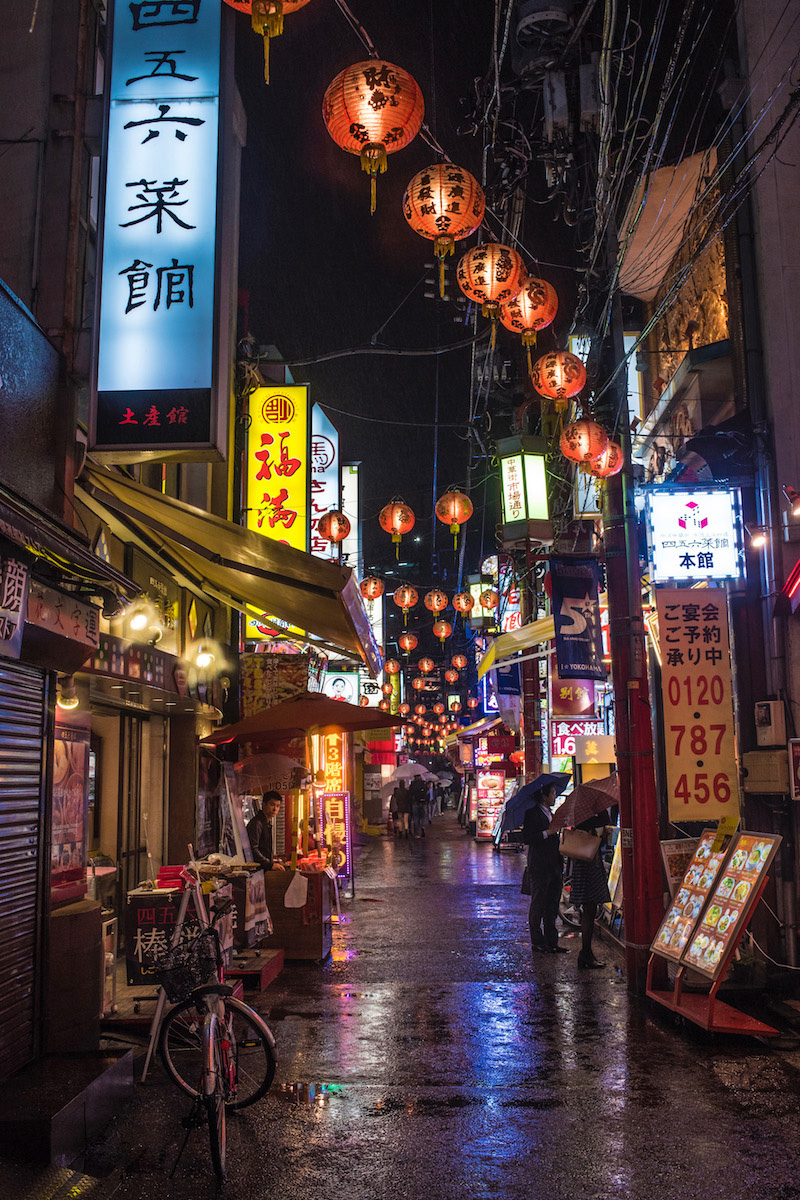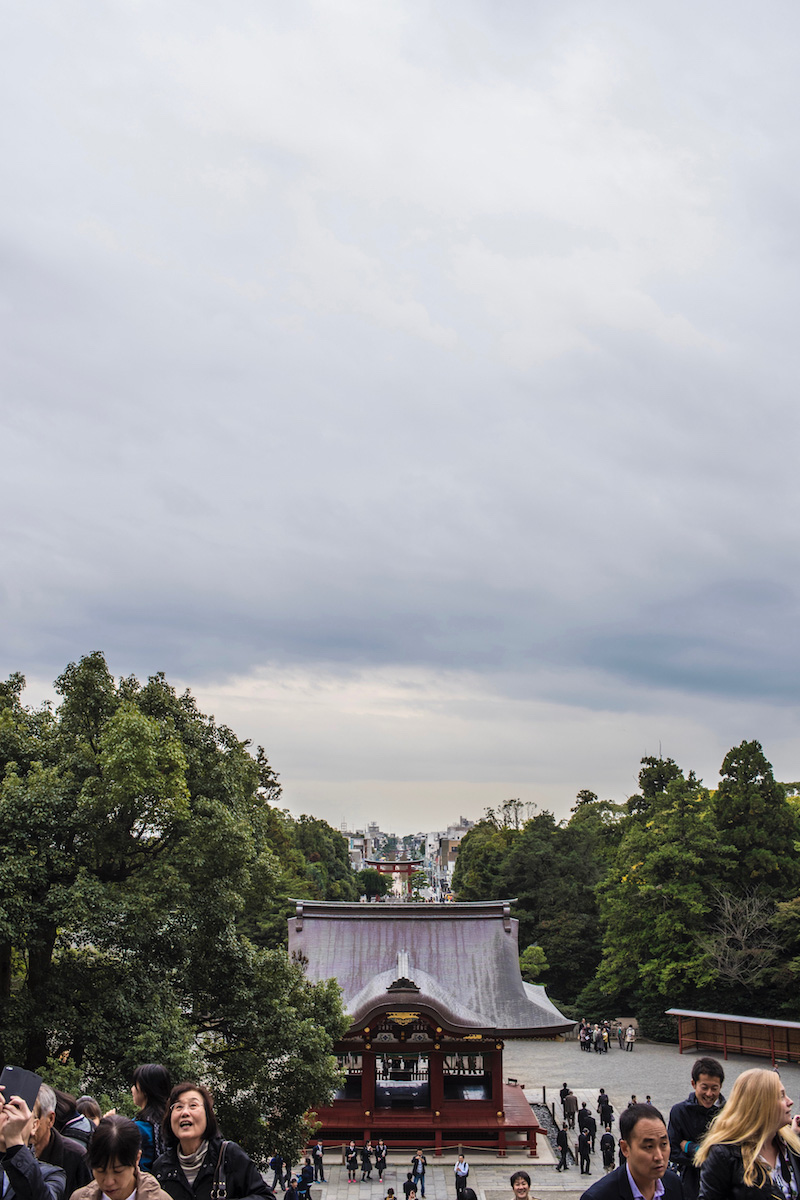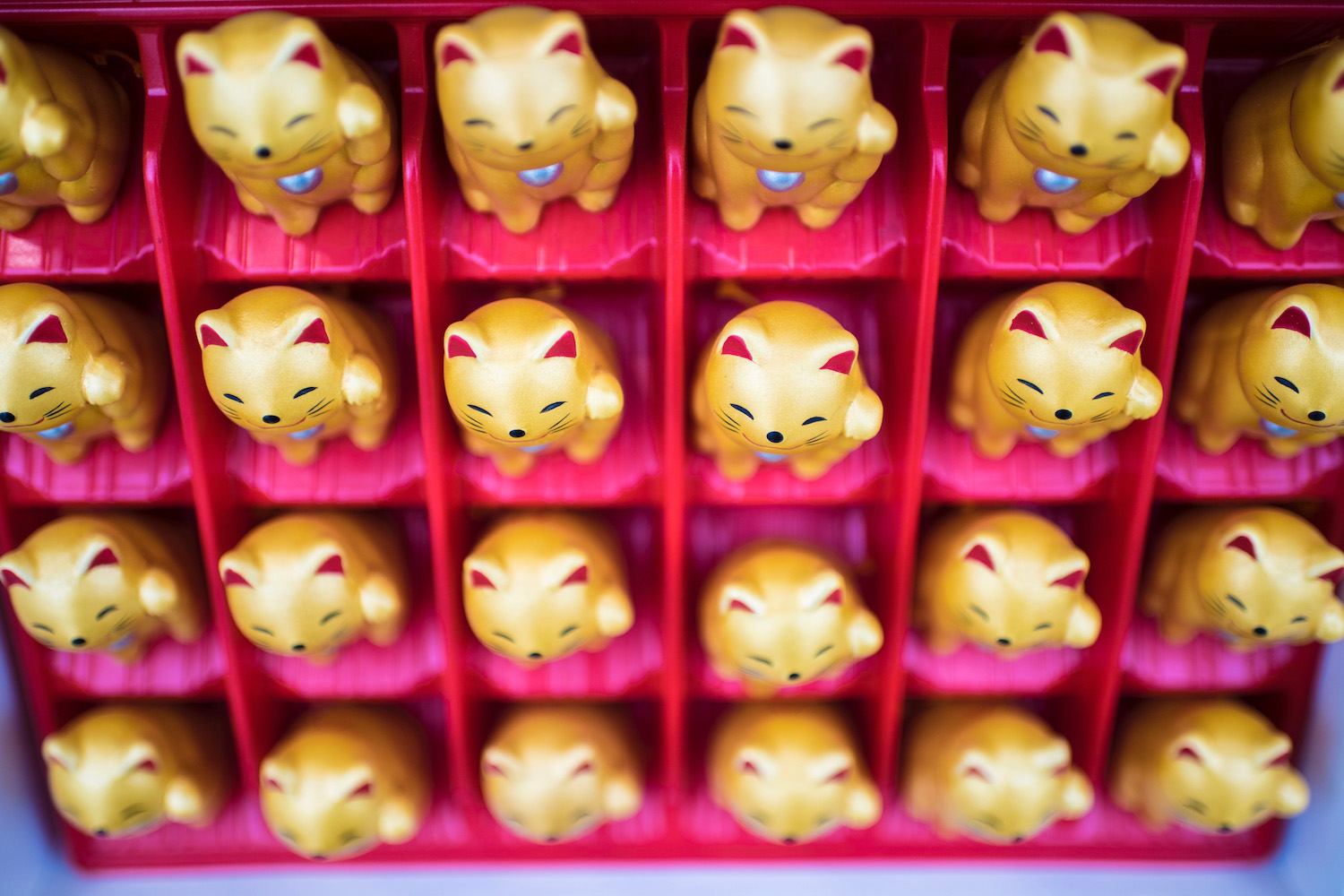 Kawasaki
Kawasaki is even closer to Tokyo than Yokohama or Kamakura, but in some ways offers an even greater sense of escape. In particular, the shrine of Kawasaki Taishi and the streets around it evoke a calmer, more authentic version of Asakusa in Tokyo, one that's as preferable for meditation and photography as it is for shopping and snacking.
Make It a Weekend
Although Yokohama is so close to Tokyo that many people lump the two together, it's worth spending a night or two there. A property of the IHG Group, the Intercontinental Yokohama Grand embodies an understated luxury, one replete with views of the city's skyline and harbor.
Other Tokyo Day Trips
Of course, destinations to the south and west of Tokyo are only the beginning of your opportunities to get out of the city. Head north and west, for example, to the ancient city of Nikko, a trip back in time you access, perhaps ironically, using an ultra-modern Shinkansen high speed train. Click here to read my article about Nikko.
Alternatively, if you're looking for a weekend getaway from Tokyo that's not located in the three prefectures I've highlighted above, travel to Jomo-Kogen, in the foothills of the Japanese Alps. There, board a shuttle bus to Takaragawa Onsen, a traditional Japanese ryokan cradled in a scenic riverbed that feels a million miles from Tokyo.
Share: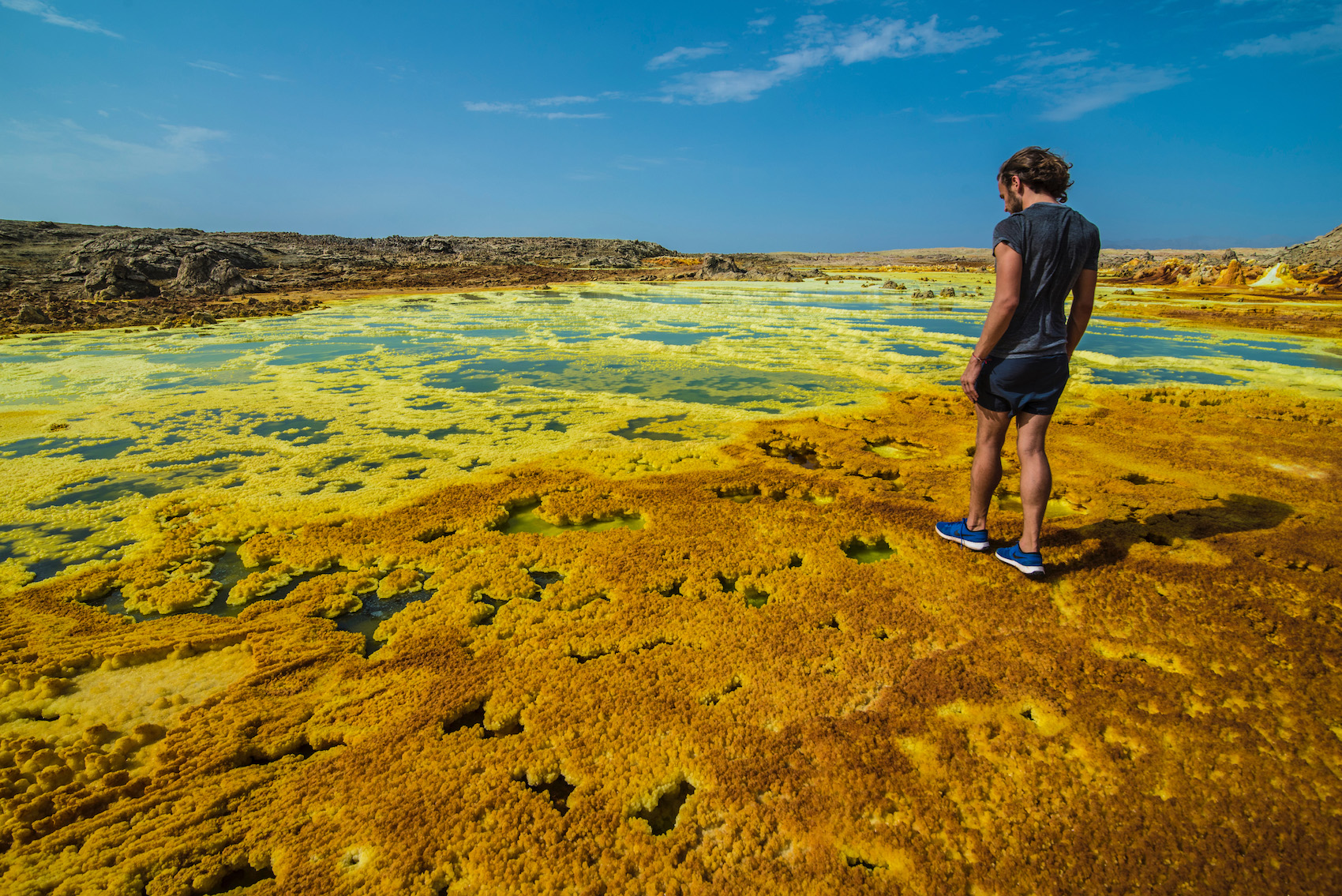 Officially, the phrase Erta Ale means "smoking mountain" in the Afar language native to northeastern Ethiopia. Colloquially, however, the volcano is known as The Gateway to Hell, a moniker that's especially accurate when you consider the appearance and geology of the Danakil Depression in which it sits.
It might seem hypocritical for me to post positively about this part of the world, given the name of my blog and the direction of the action I urge you to take in it. But trust me: Traveling into Ethiopia's land of fire and brimstone pays some very heavenly dividends.
Danakil's Salt Flats
After driving down into the Danakil Depression, which sets several thousand feet below the city of Mekele where most tours of it begin, your first stop will be the dramatic salt flats that sit just outside the "city" (more on why I use quotes here later) of Dallol. These formations are beautiful (albeit not as much so as, say, Bolivia's Salar de Uyuni), but they pale in comparison to the amazingness of sights farther afield.
Dallol: The Hottest City in the World
Officially, you see, Dallol is a ghost town. Many Eritrean refugees have temporarily settled here, however, but even their housing combined with (very basic) tourist dwellings aren't really enough to constitute a city. But I digress.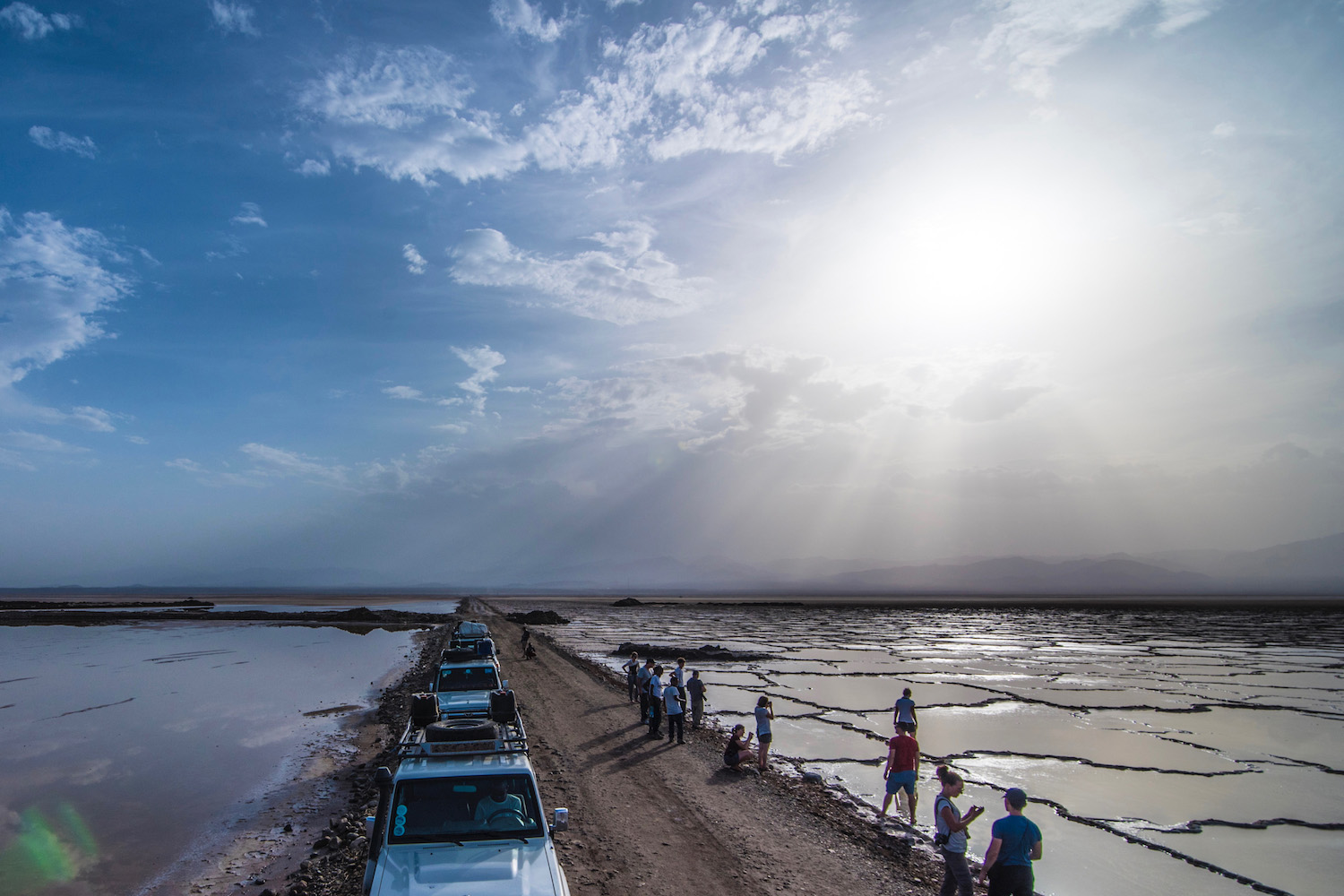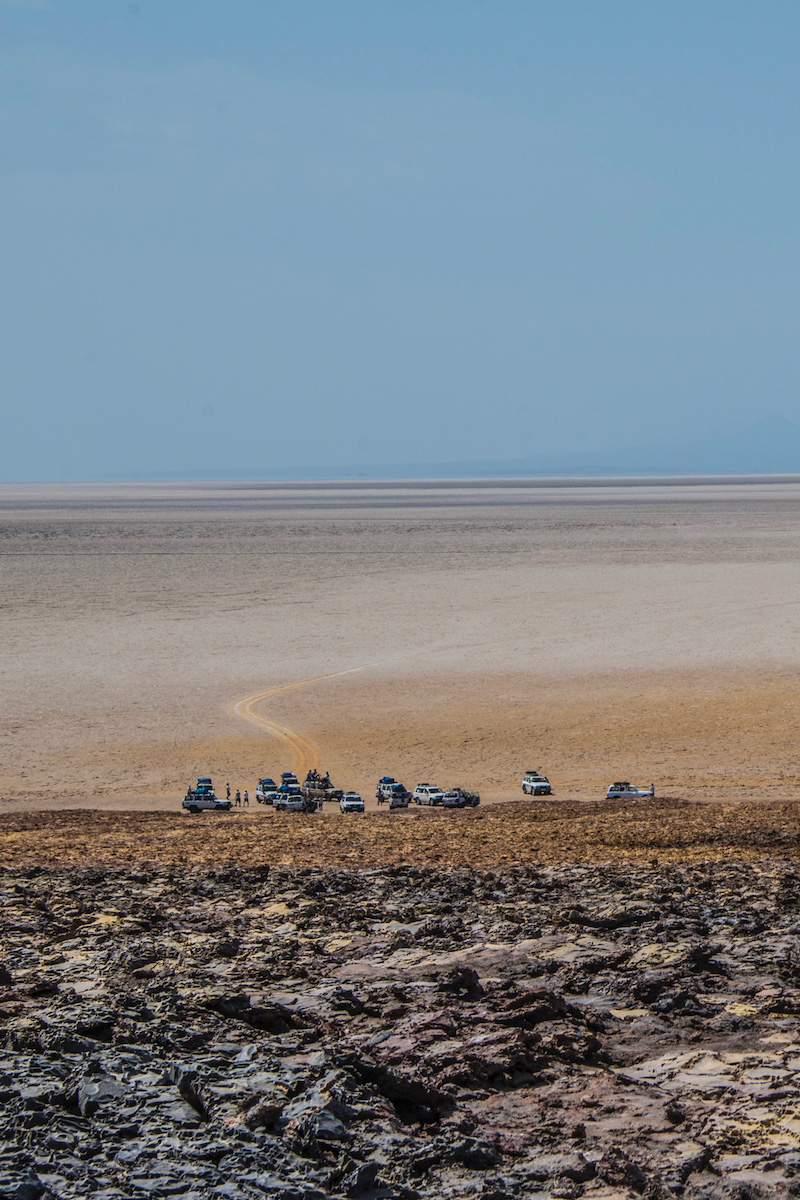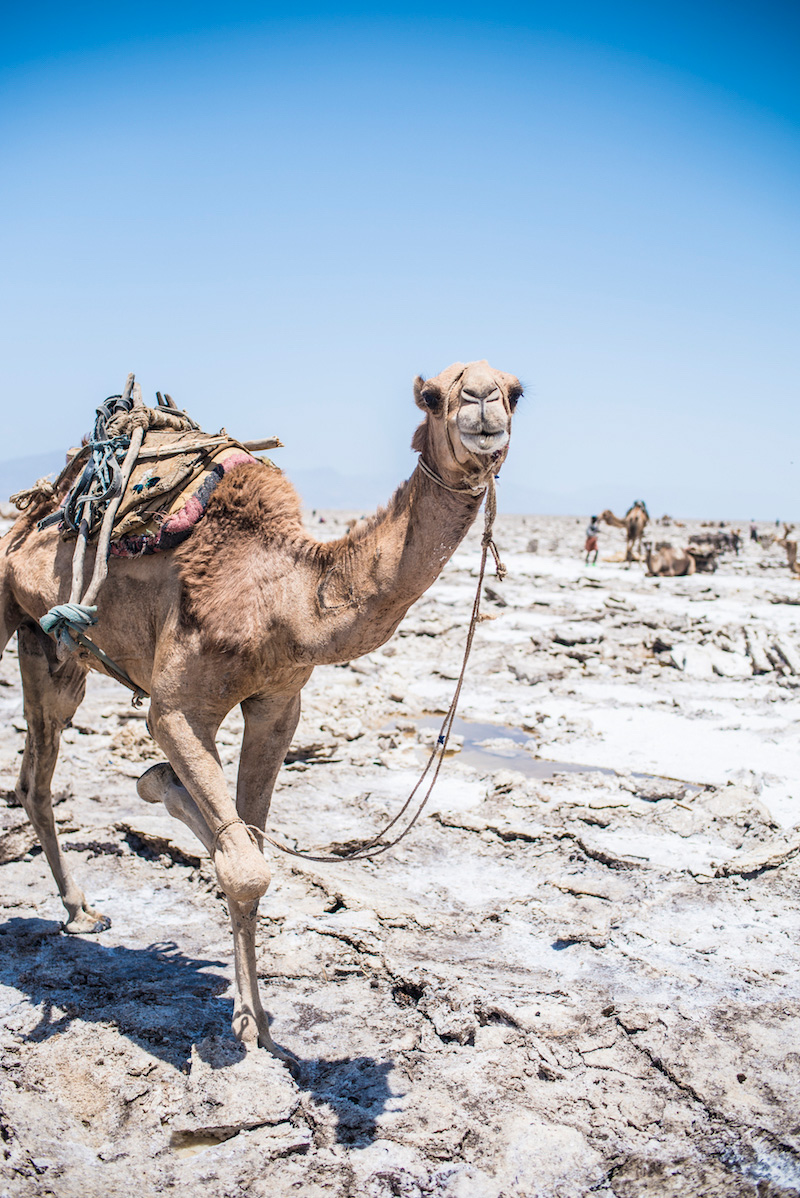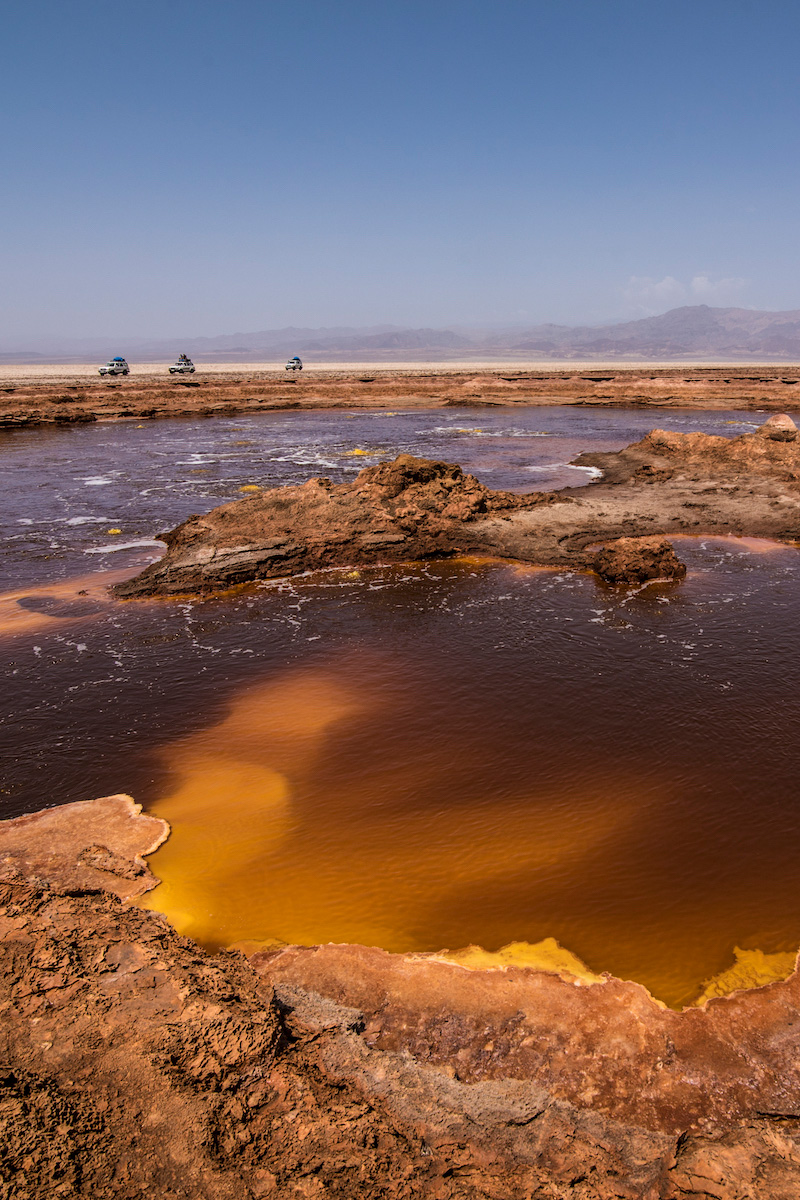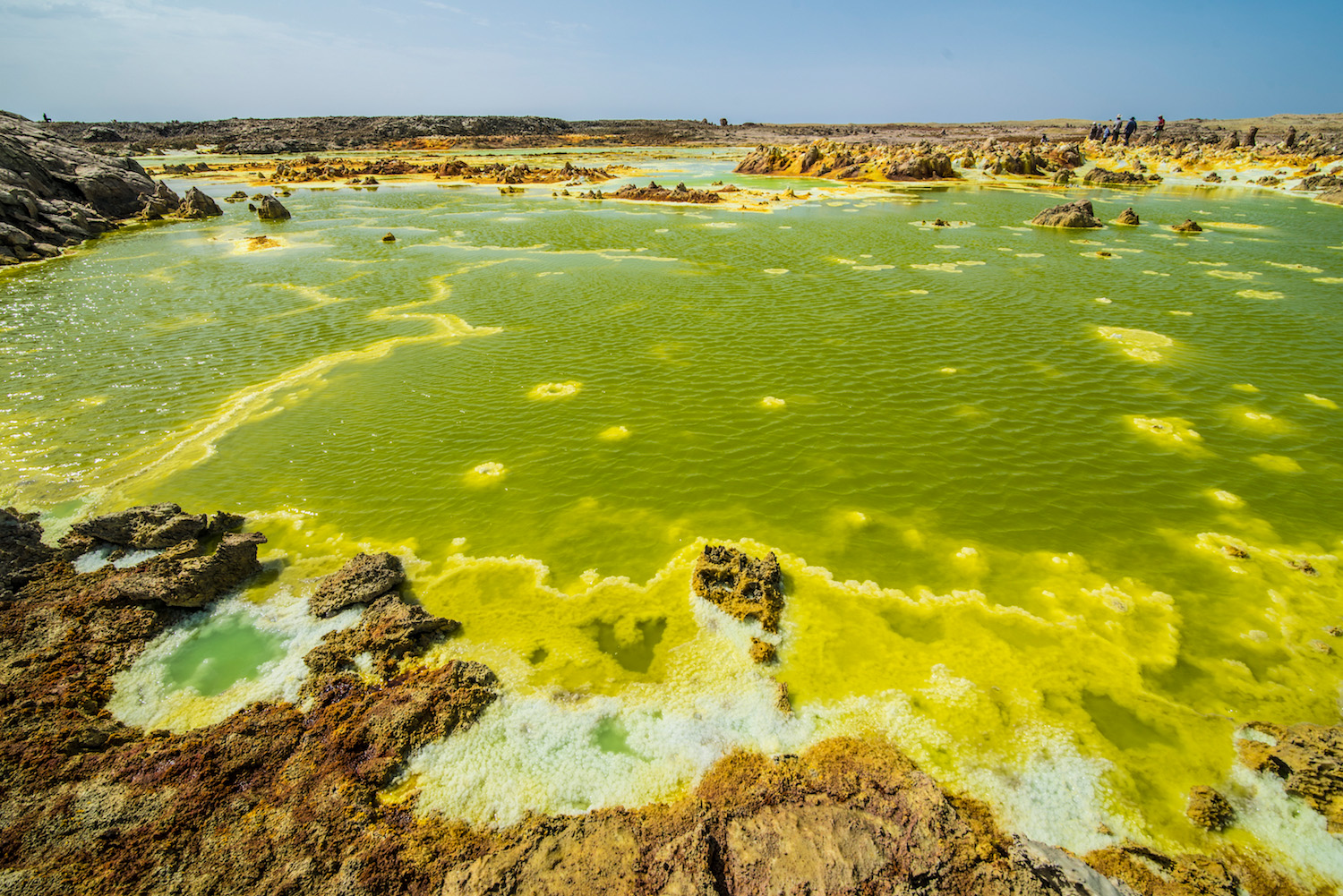 The relevant point about Dallol is two-fold. First, that it's one of the hottest places in the world, with temperatures regularly exceeding 50ºC. Secondly, that it's home to absolutely hellish landscapes, including bright yellow sulfur fields covered in pools of sulfuric acid, i.e. what I imagine a lake or beach scene on Venus would look like.
Hiking Erta Ale Volcano
Of course, "hell" doesn't truly begin until you reach the caldera of Erta Ale volcano. Actually, that's a lie—as I mentioned during the intro to this piece, the "Door to Hell" thing is colloquial, not official. But I again digress. (I'm doing that a lot, huh?)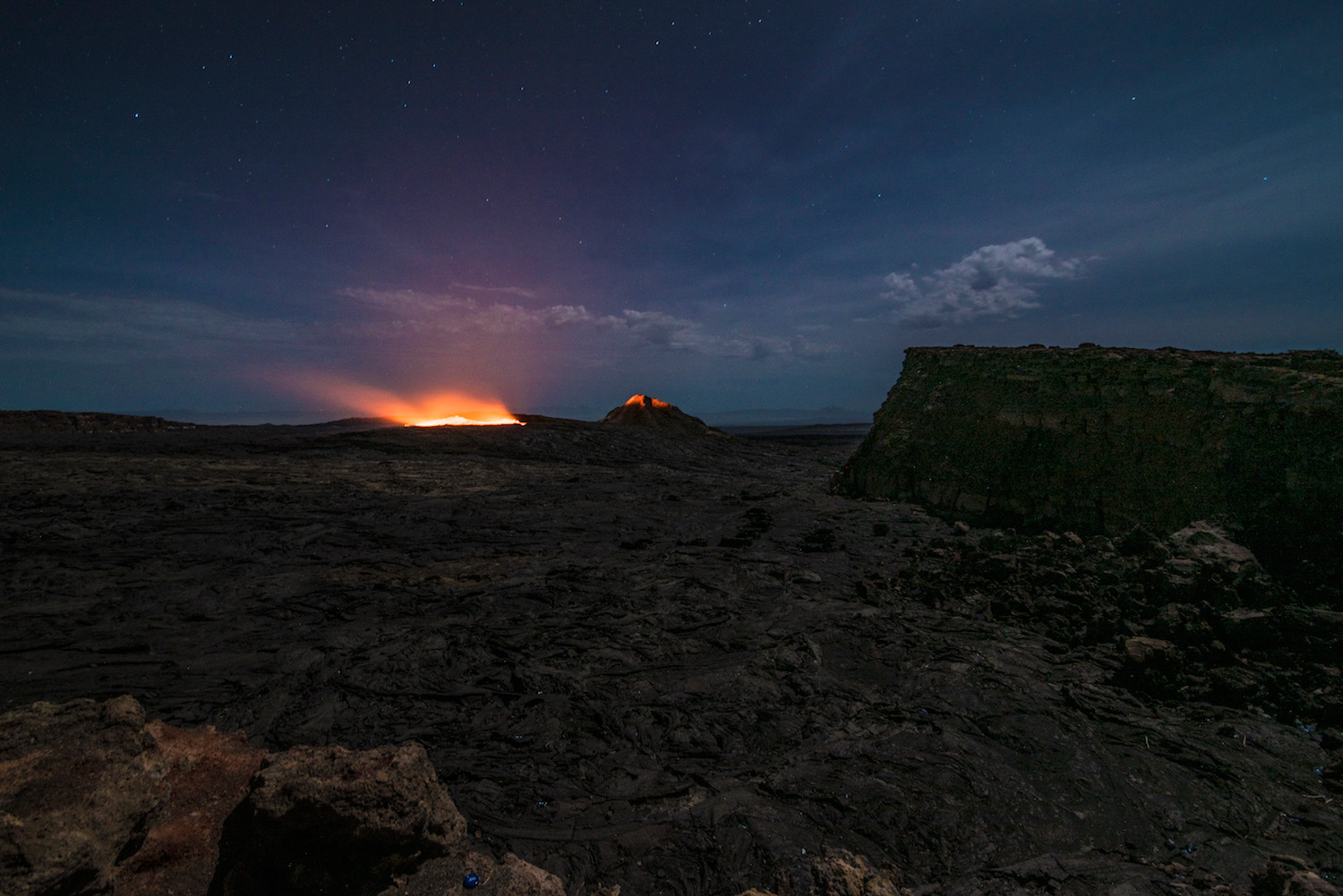 Anyway, the road to Erta Ale, from Dallol, is long, dusty and bumpy. When I was there, recent rains had made it almost impassable! Once we arrived at the base of the mountain, just before sunset, it took us about three hours to hike to the top.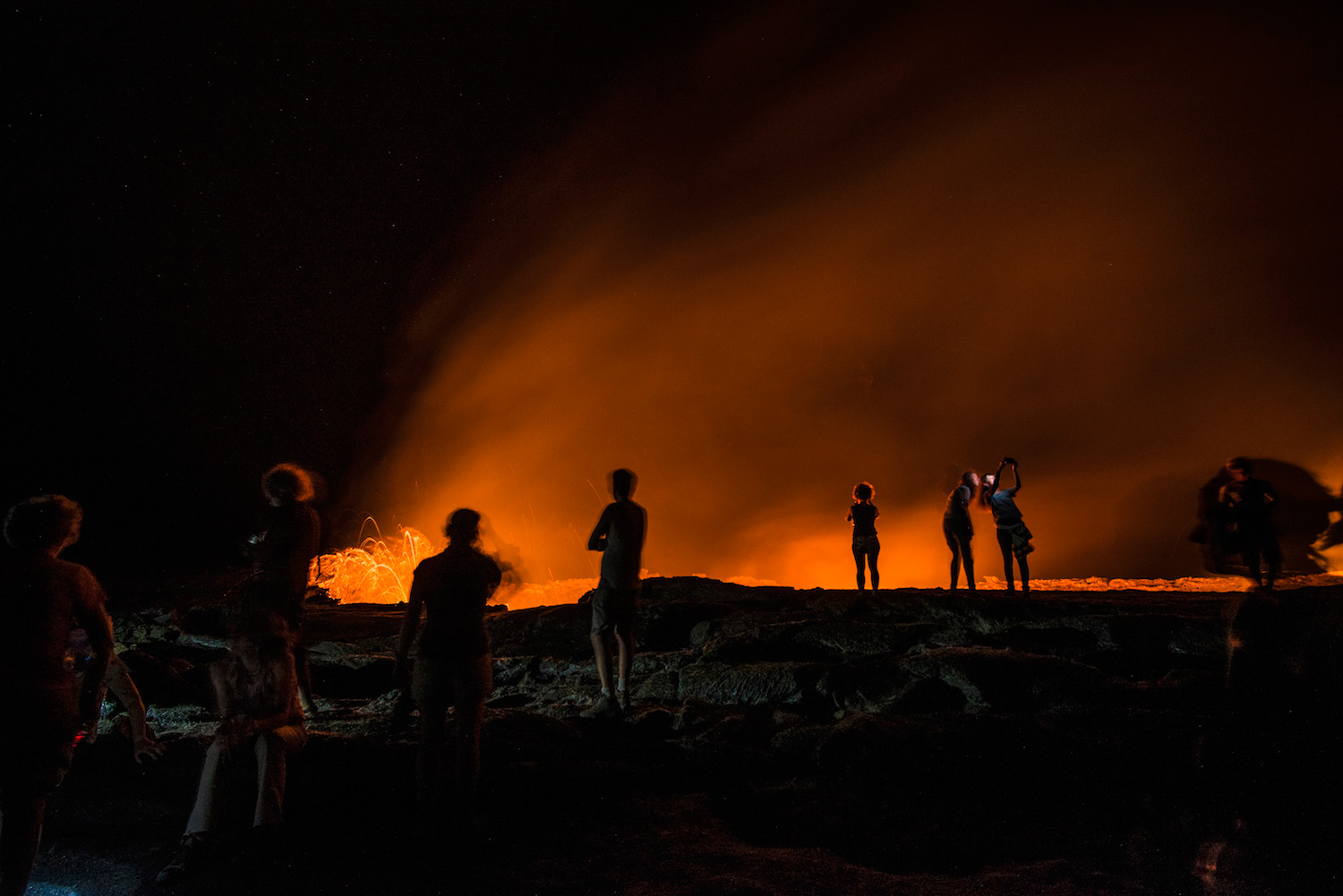 We got our first glimpse of Erta Ale's persistent lava lake (one of only about 6-7 on the planet, depending on who you ask) in pitch darkness, then slept on top of the volcano, under the stars. Before sunrise, we hiked down to the crater again, before heading down the mountain to begin the long journey back to Mekele.
How to Visit the Danakil Depression
All tours to the Danakil Depression leave from Mekele, the largest city in northern Ethiopia and the closest one to the Danakil Depression. You can book Danakil Depression tours in advance, but they're on plentiful offer throughout Ethiopia (and especially in Mekele), where you have more of a chance of bargaining down a high price.
How high? I paid 600 USD for a four-day, three-night tour, the shortest one on which you can see both Erta Ale and Dallol.
Share:

As I watched the sun rise over Phewa Lake and its ubiquitous row boats my first morning in the Nepalese city of Pokhara, a stray dog who exuded the same desperation I remember embodying as a child approached me. I kept him company for a long while, but was helpless to ward off the vicious pack of peers that stalked him as I walked away.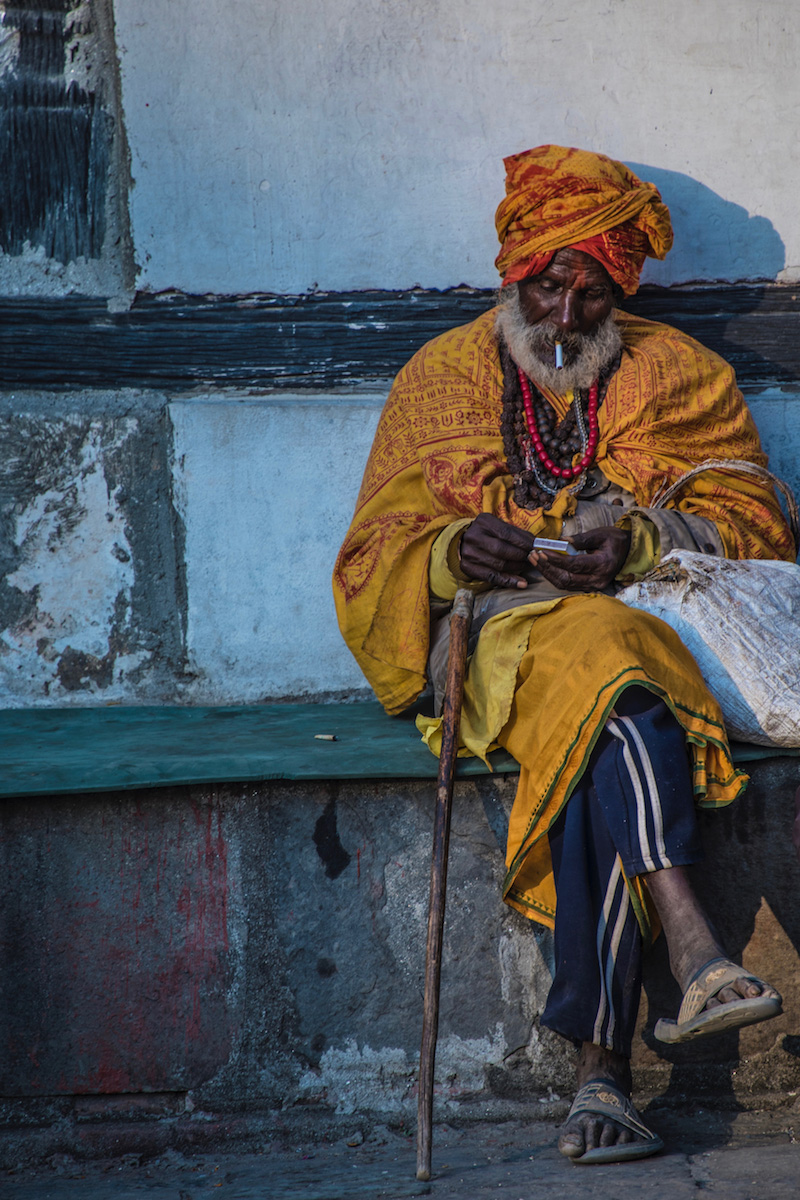 I guess they grow wild here? I wondered, noticing a poinsettia tree on the side of the road.
A few days before my 10th Christmas my father, upon my asking him if poinsettias were in fact poisonous, had pulled a petal from the one on our kitchen table and dared me to taste it. I accepted, not wanting to be seen as weak, but spent the hours that transpired until my mother got home (a single bite, she assured me, would not be lethal) panicked I was doomed to death.
Across the street, another sign. ROBOTIC MUSEUM, it read, above an image of a golden face cocked sassily to the left. Life and teachings of Gautam [sic] Buddha.
The first of my two weeks in Nepal was nothing short of magical, a long weekend amid the temples of Kathmandu followed by a six-day trek through the Himalayas with a sherpa, his wife, his young son and a man from Poland who always seemed to have chocolate bars on his person.
Week two, however, was different. Pokhara, for example, is without a doubt the most hyped destination in Nepal, and it did not even come close to living up to said hype.
"I'd like to ask you to close your eyes," the voice inside the first room of the museum pleaded, as a plastic Buddha sat atop a spinning, styrofoam globe moved its mouth. "And simply focus on your breath."
I've always seen pieces of myself in the various Siddhartha tales I've read, a tendency not even the ramshackle robots relaying this one could thwart.
Pieces, but not the whole picture: I'm down with Buddha's wandering ways, but I never seem to have the sorts of epiphanies he does; I avoid the pain he says is inevitable in life, but do little to ward off the suffering he insists is optional.
Although my subsequent trek through the jungles of Chitwan National Park was memorable because of my animated guide, a local Tharu man named Bharat who happened to be born the same year as my father, the high grass at this time of year obscure all but a few of the rhinos and elephants that inhabited the park; I saw zero tigers and countless deer.
It would take 10 hours to travel the 50 miles (as the crow flies) from the park's exit to Kathmandu, an agonizing journey that made me call my entire trip into question. When I departed my hotel to catch my flight home the following morning, I noticed a man in a nice suit standing on the corner of a rooftop.
"Don't jump," I mouthed through the window of the taxi, my hand pressed on the glass.
I had no reason to believe he was suicidal, but I do know that the line between a cliff's edge and a beautiful panorama is as narrow as the the Middle Path Buddha says we should walk along. As had been the case with my canine friend in Pokhara, I couldn't destroy his demons, but I hoped the goodness of my intent might make them reconsider.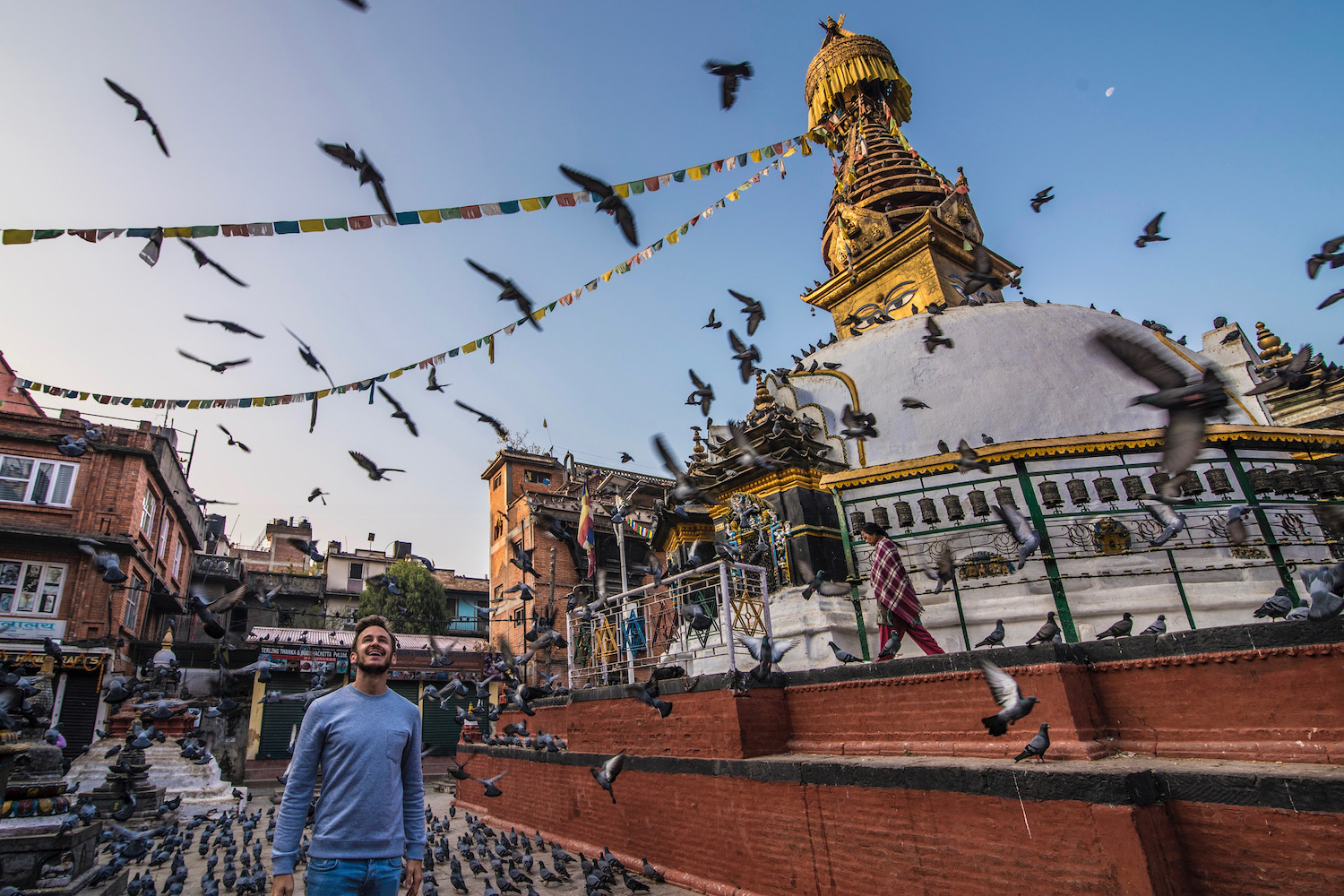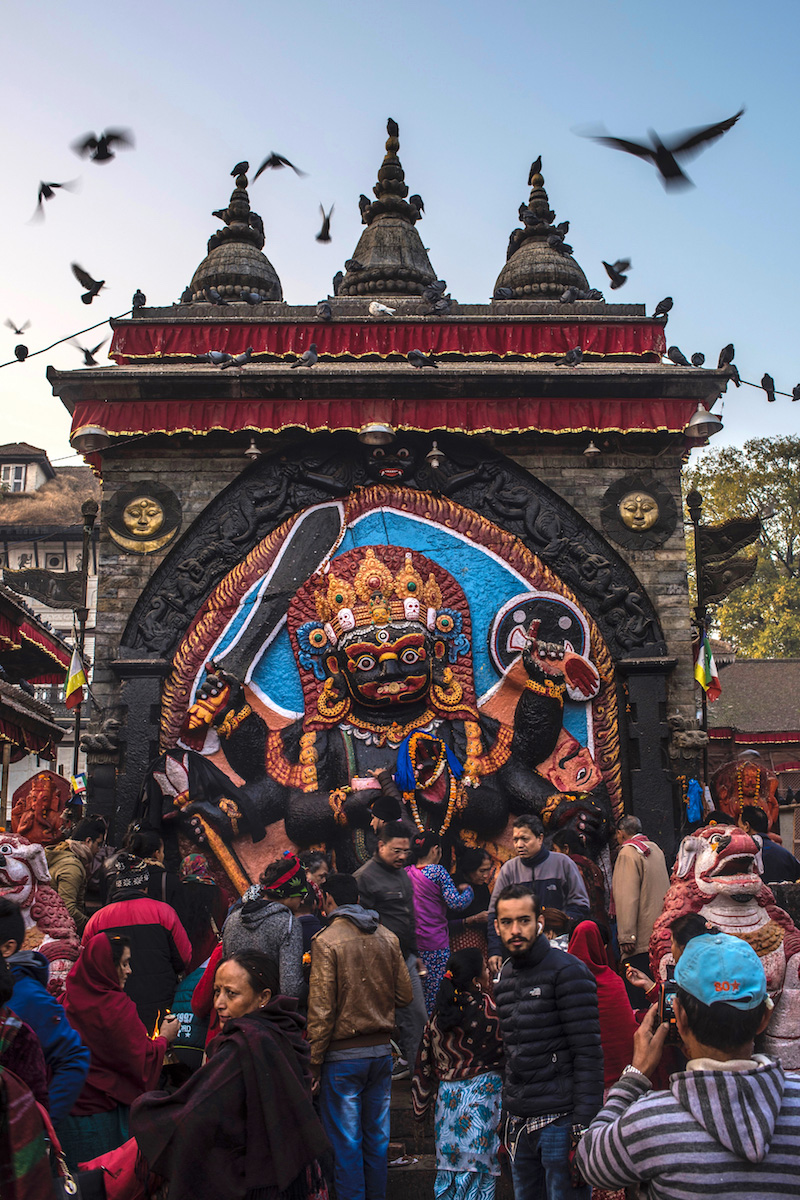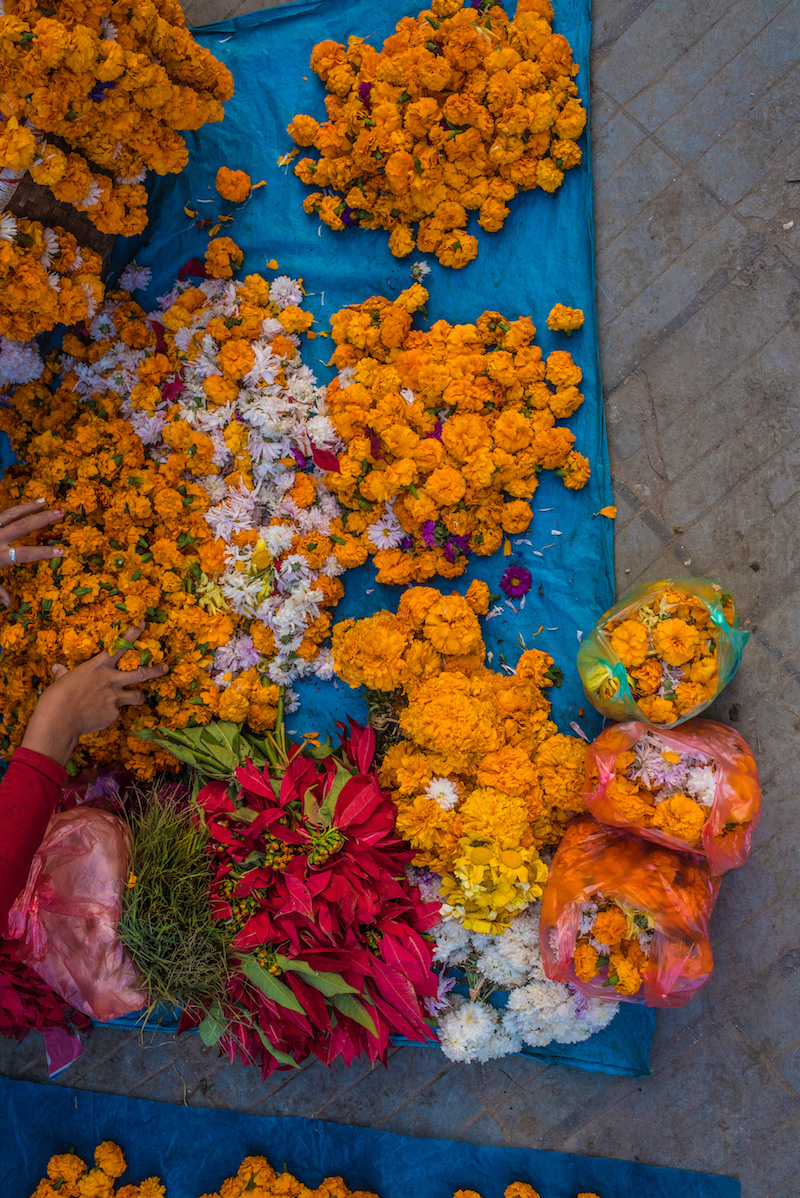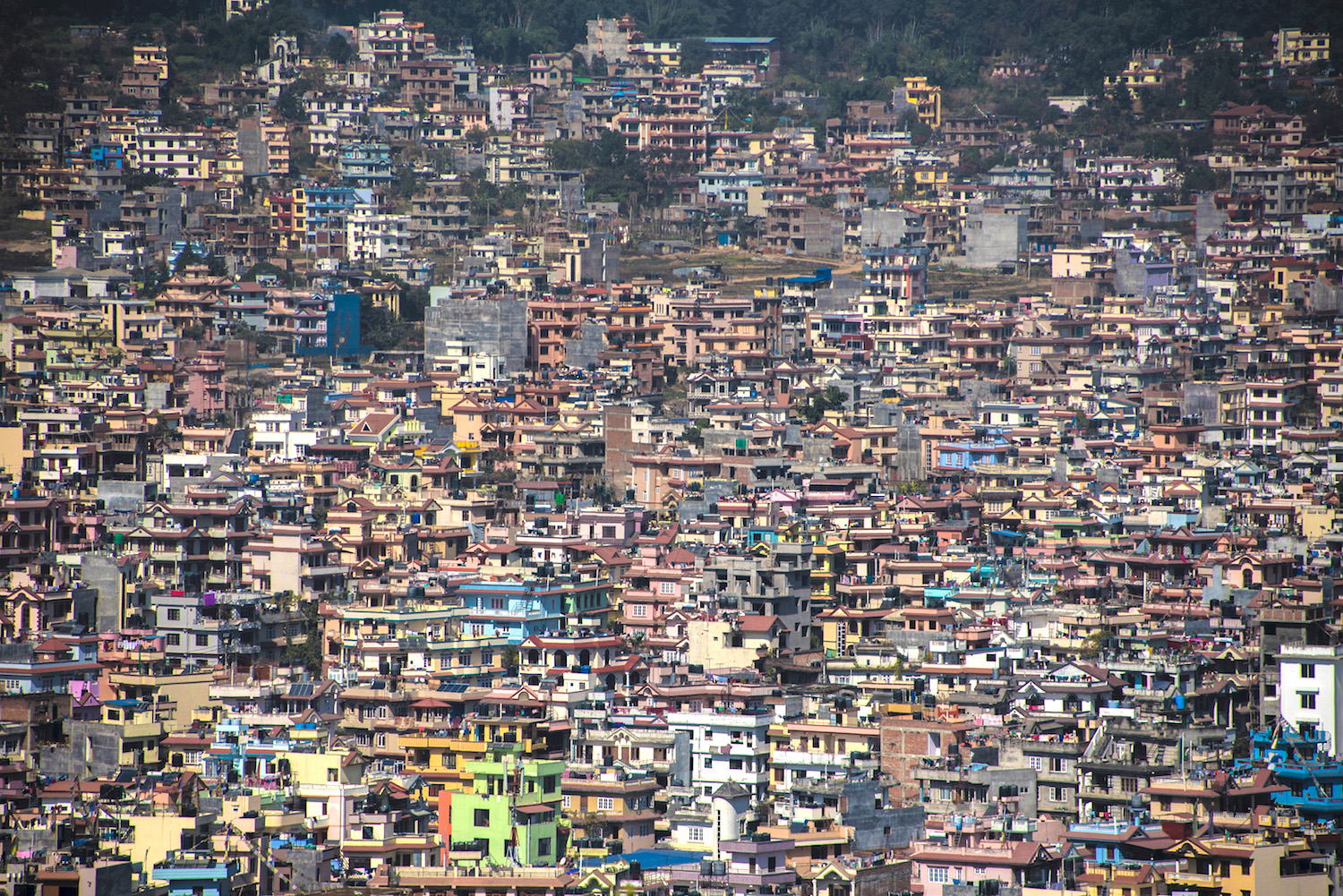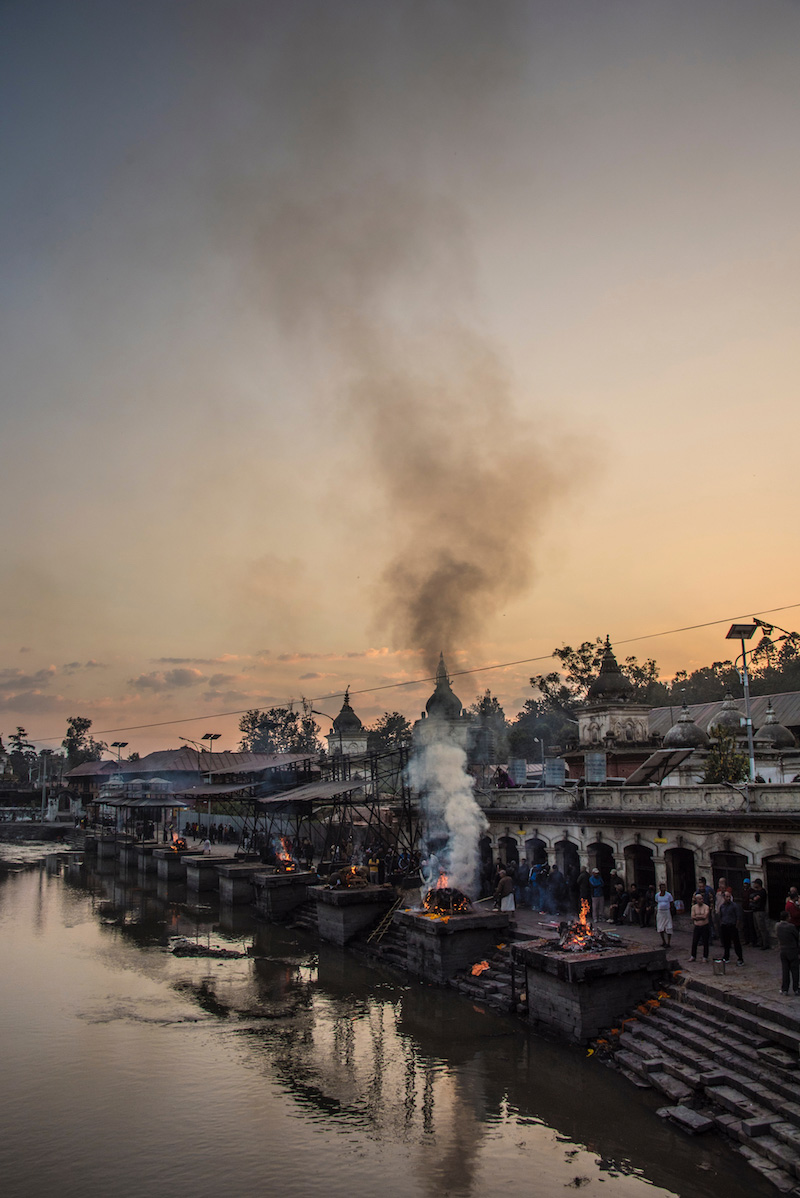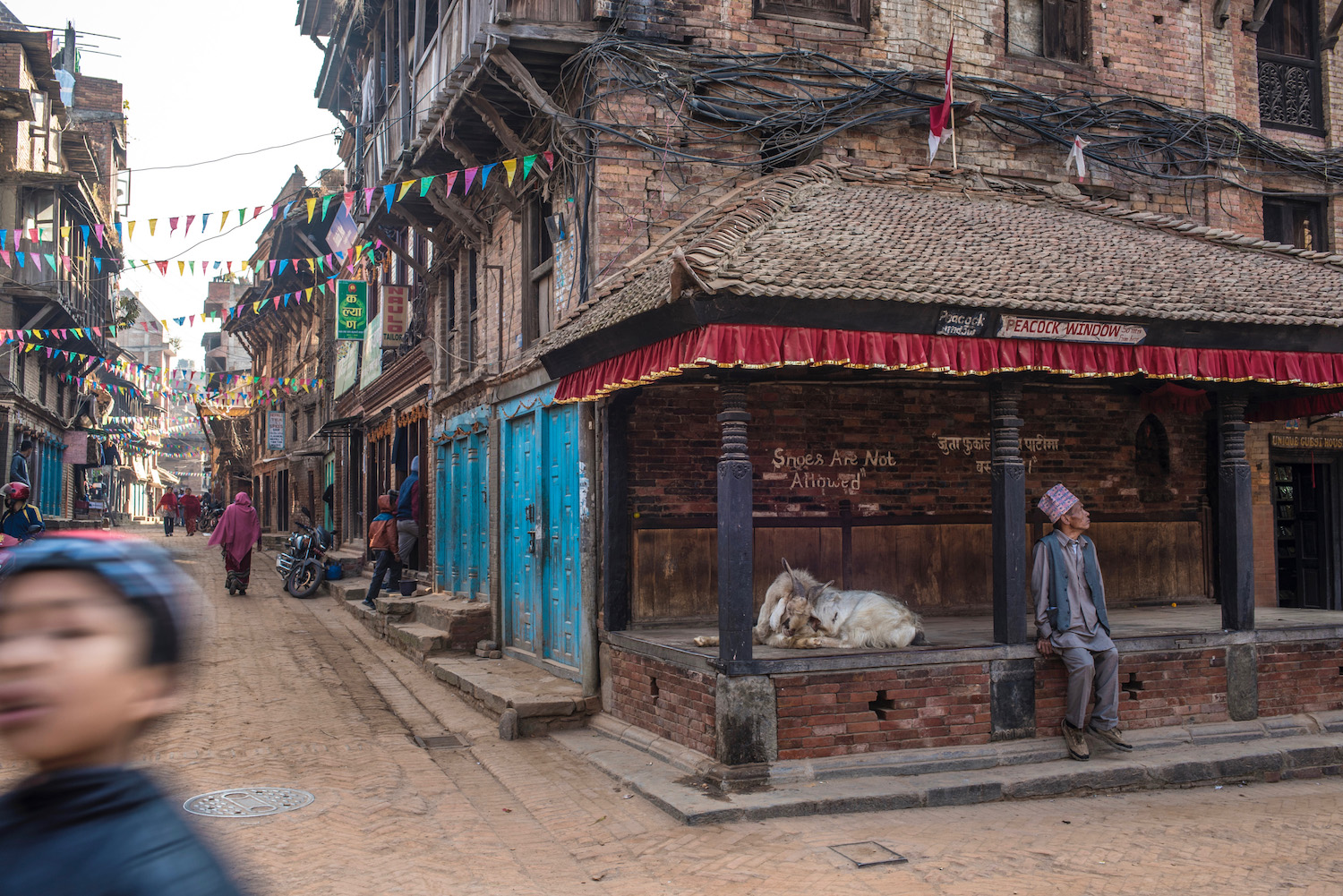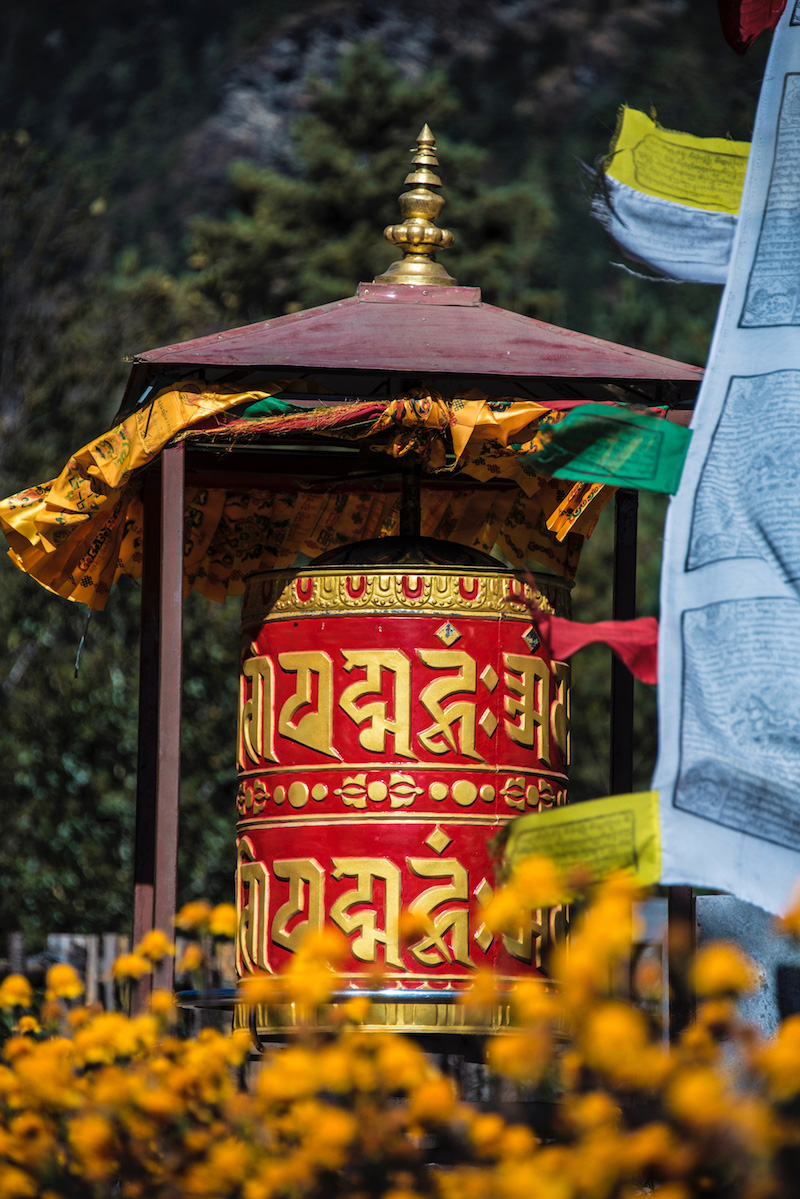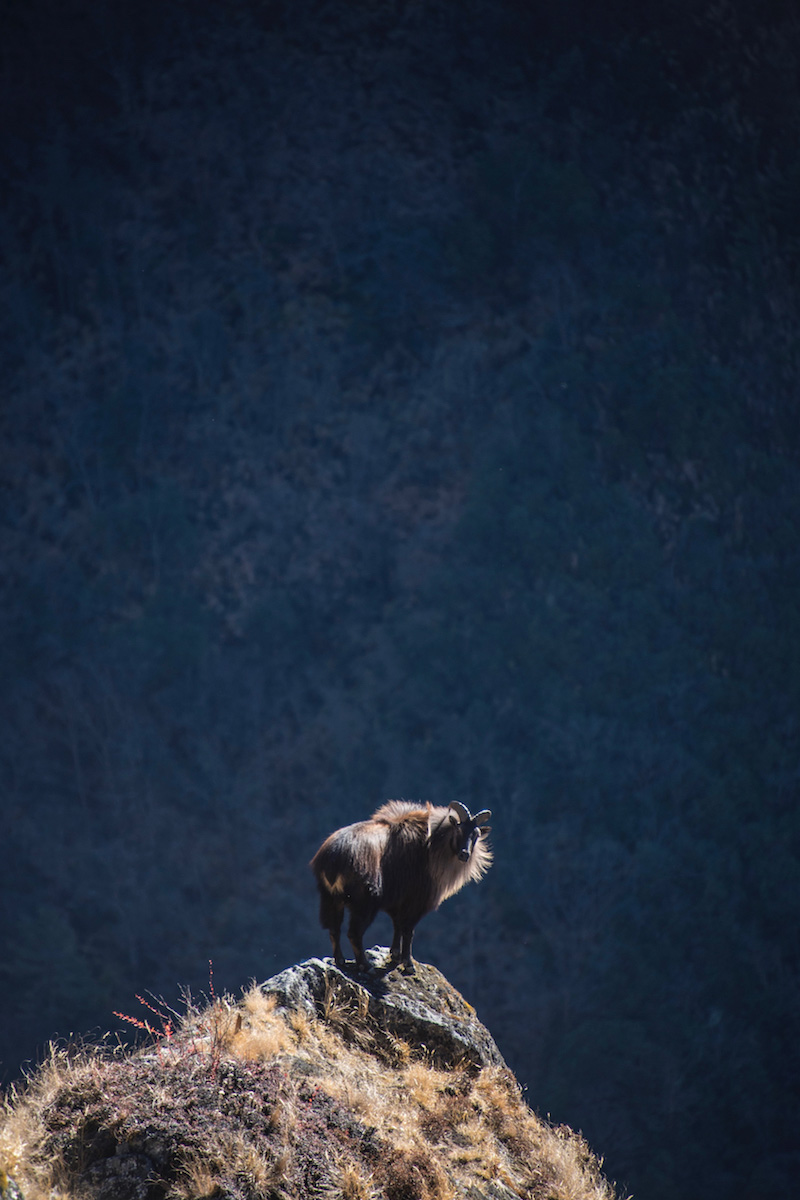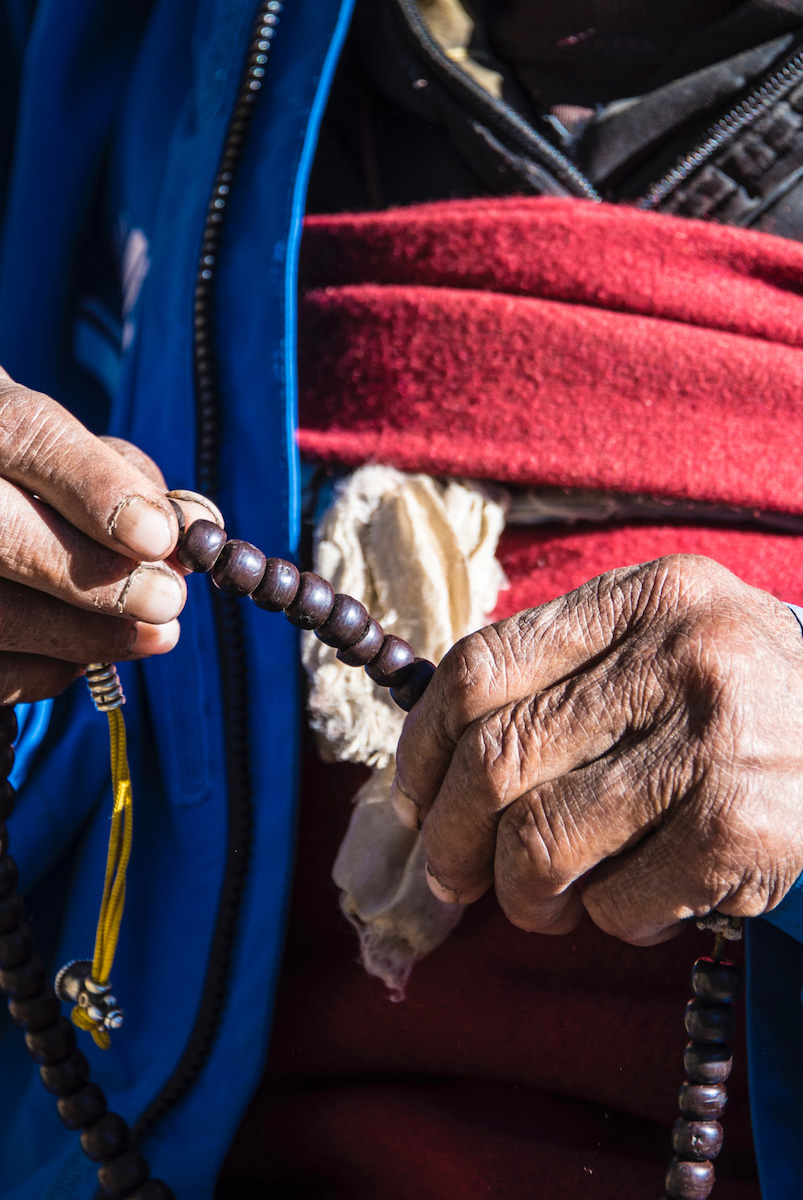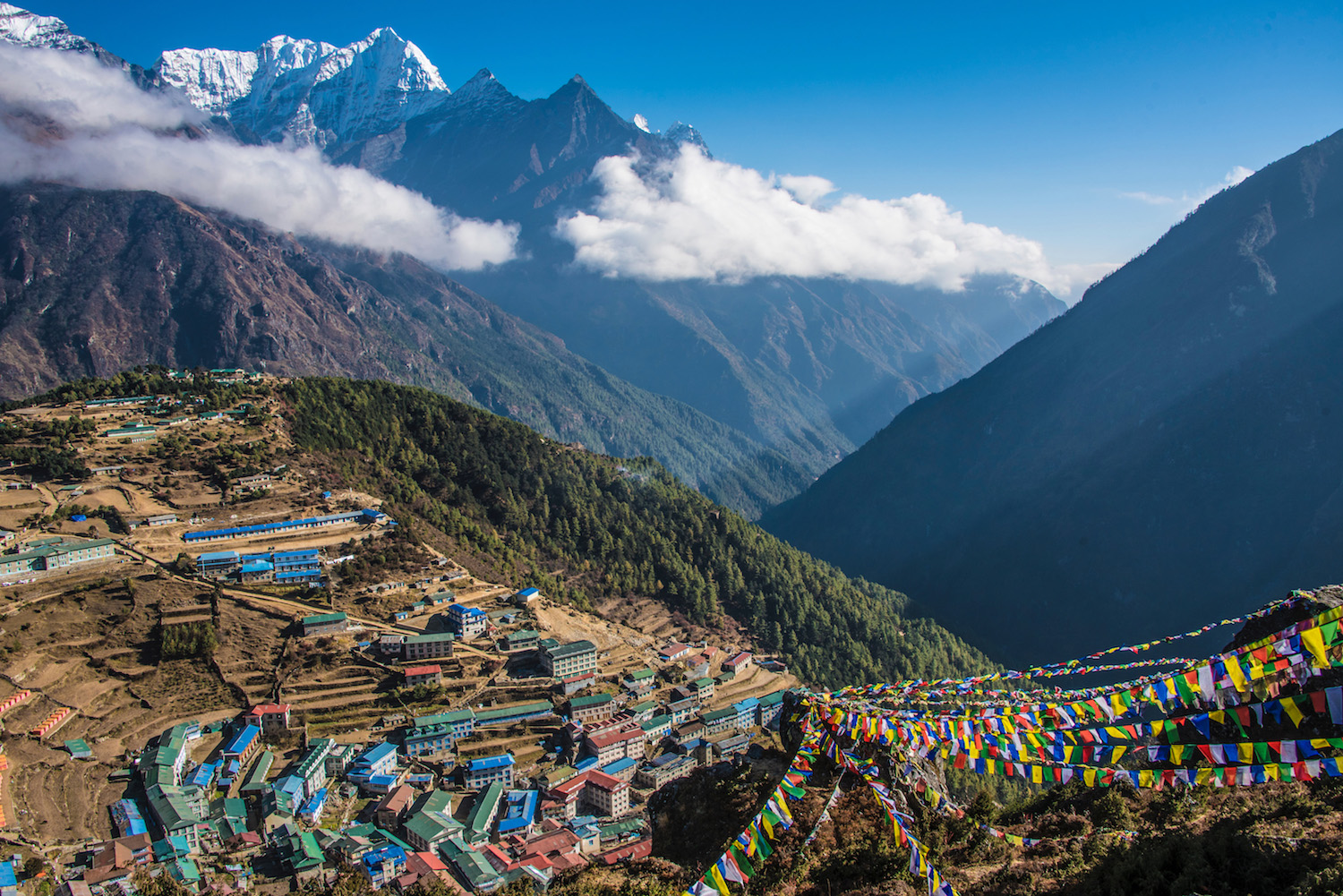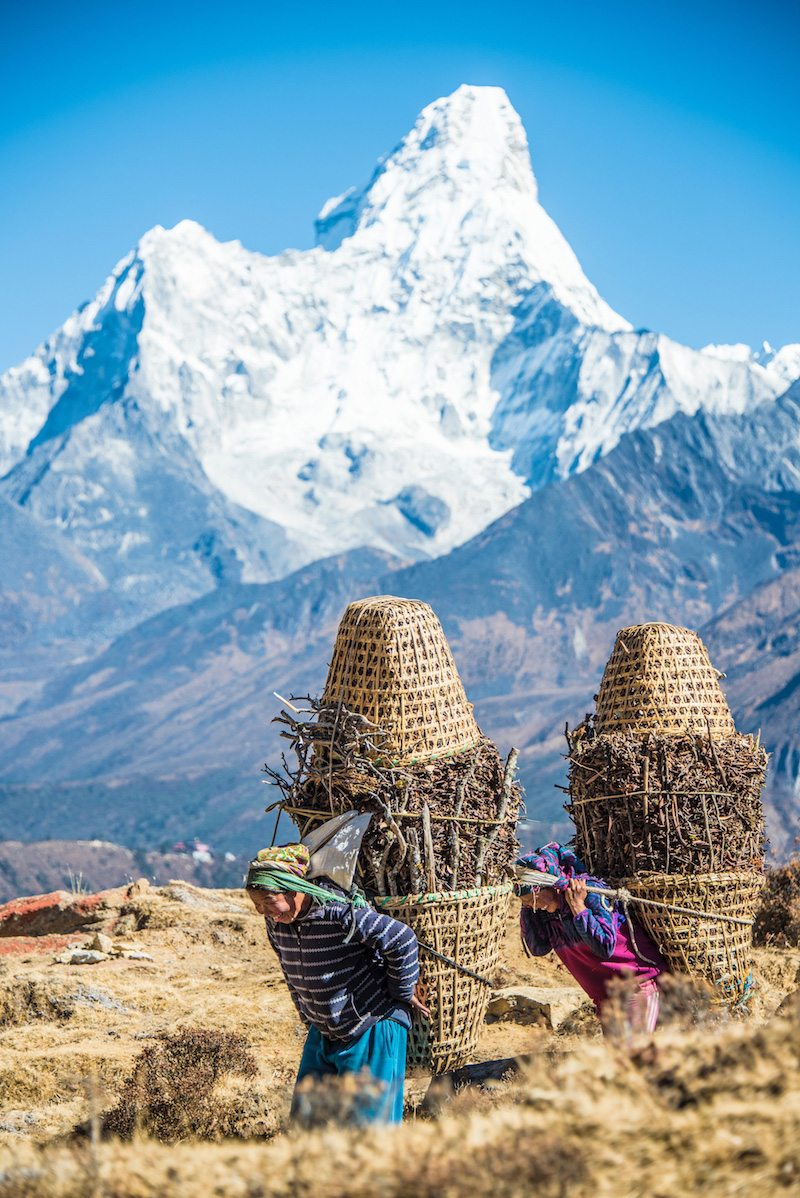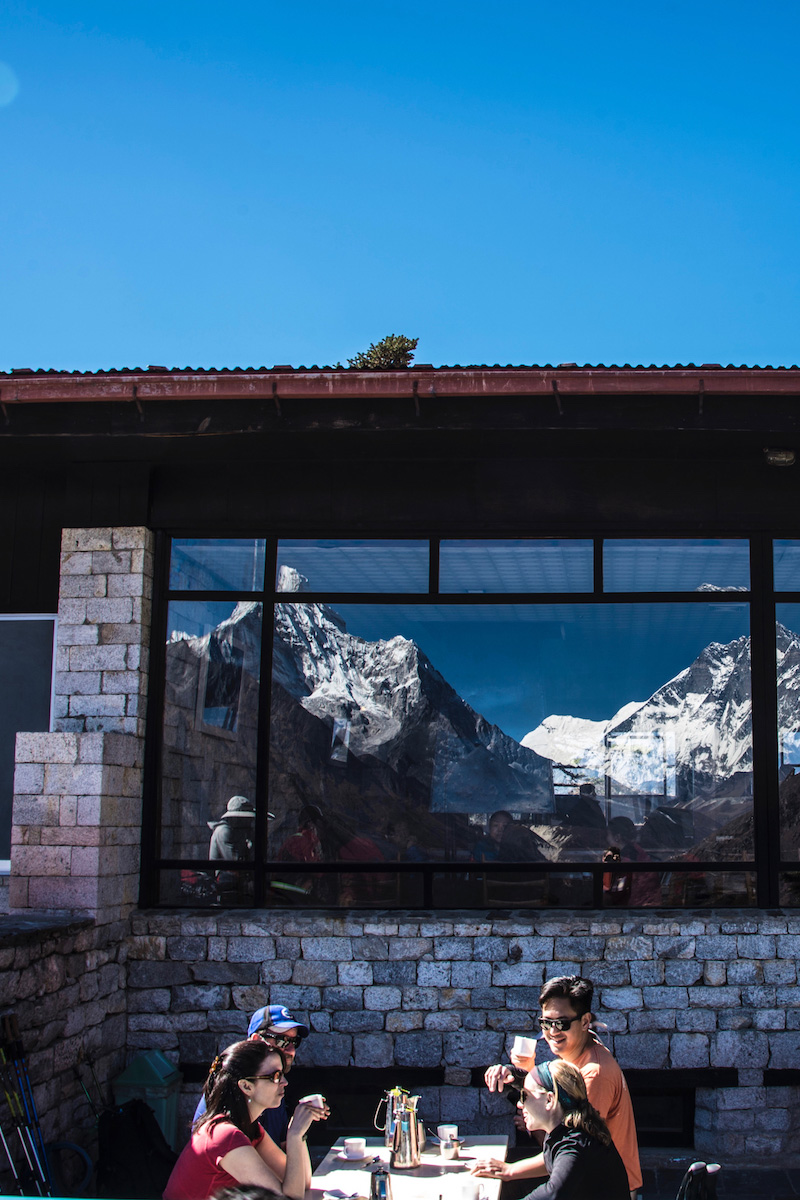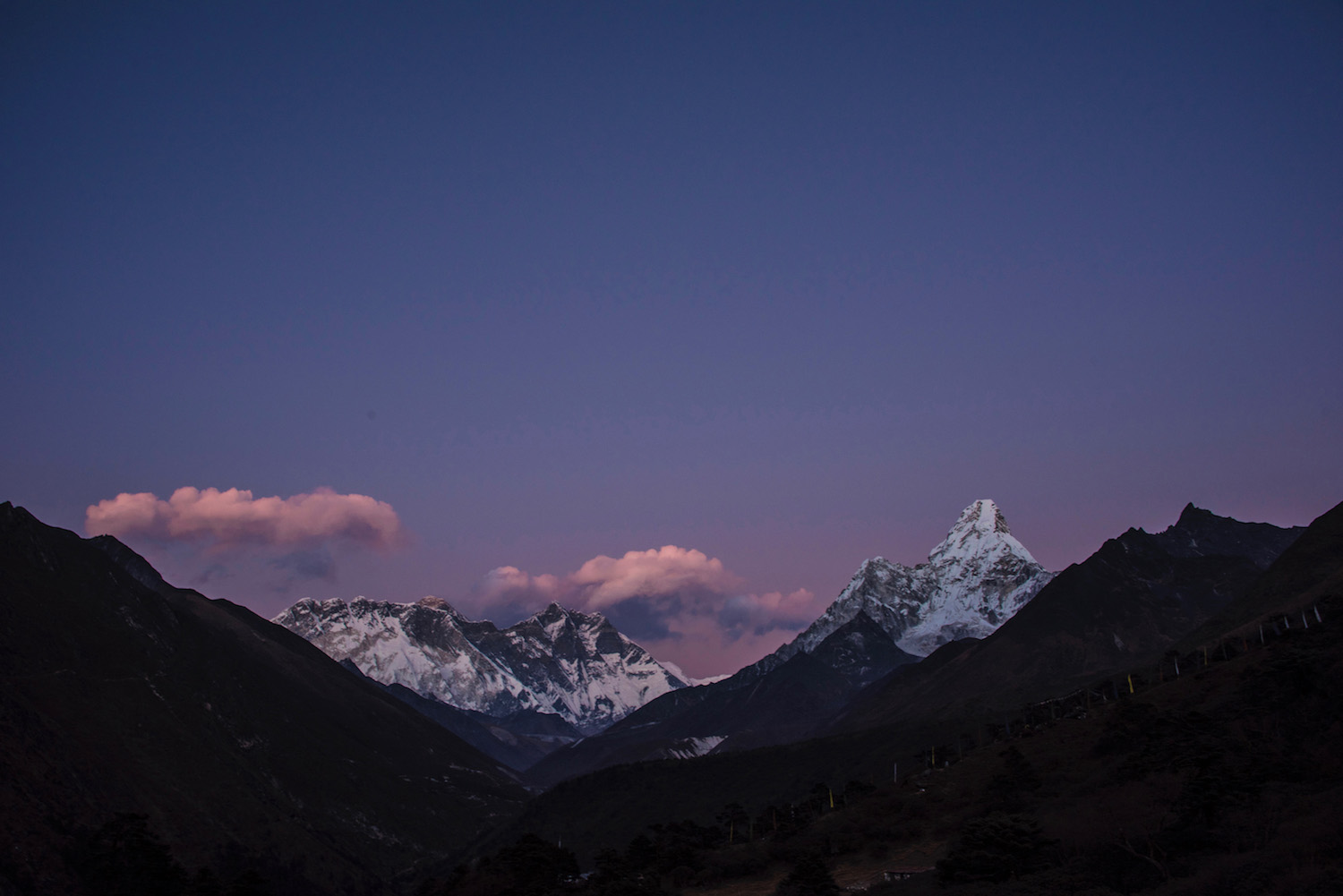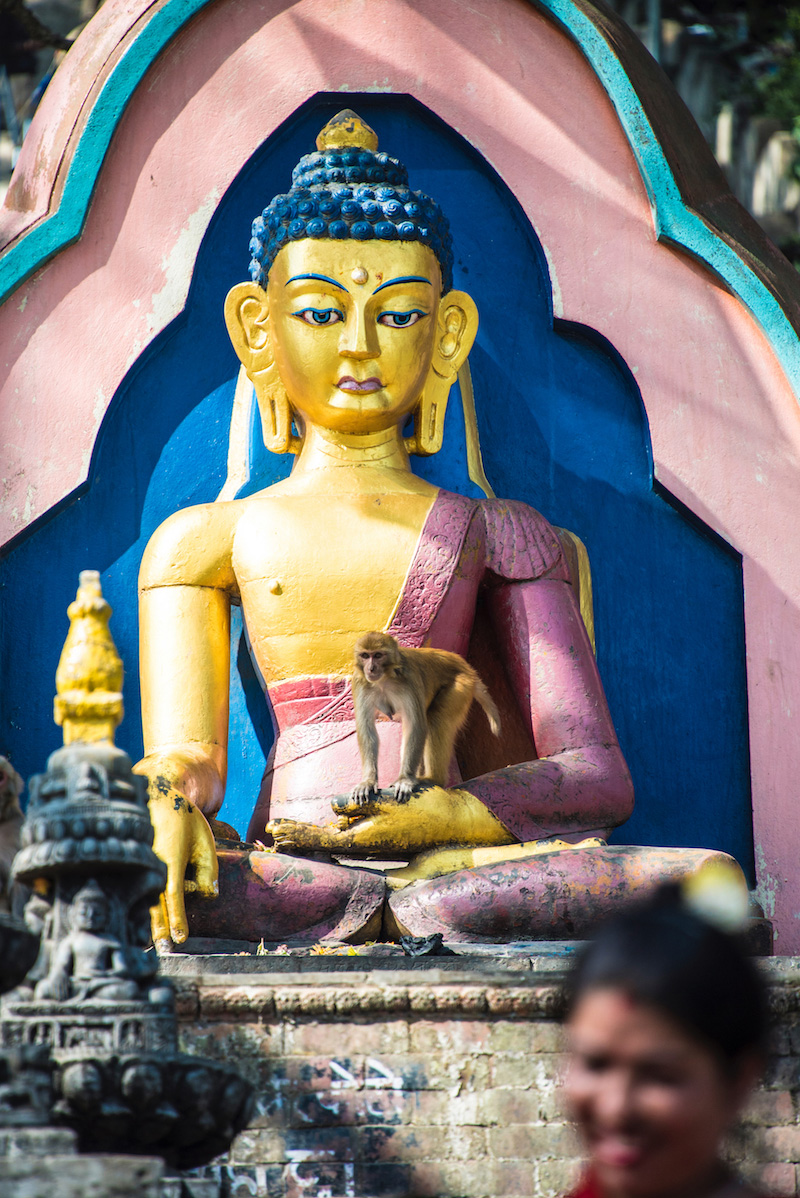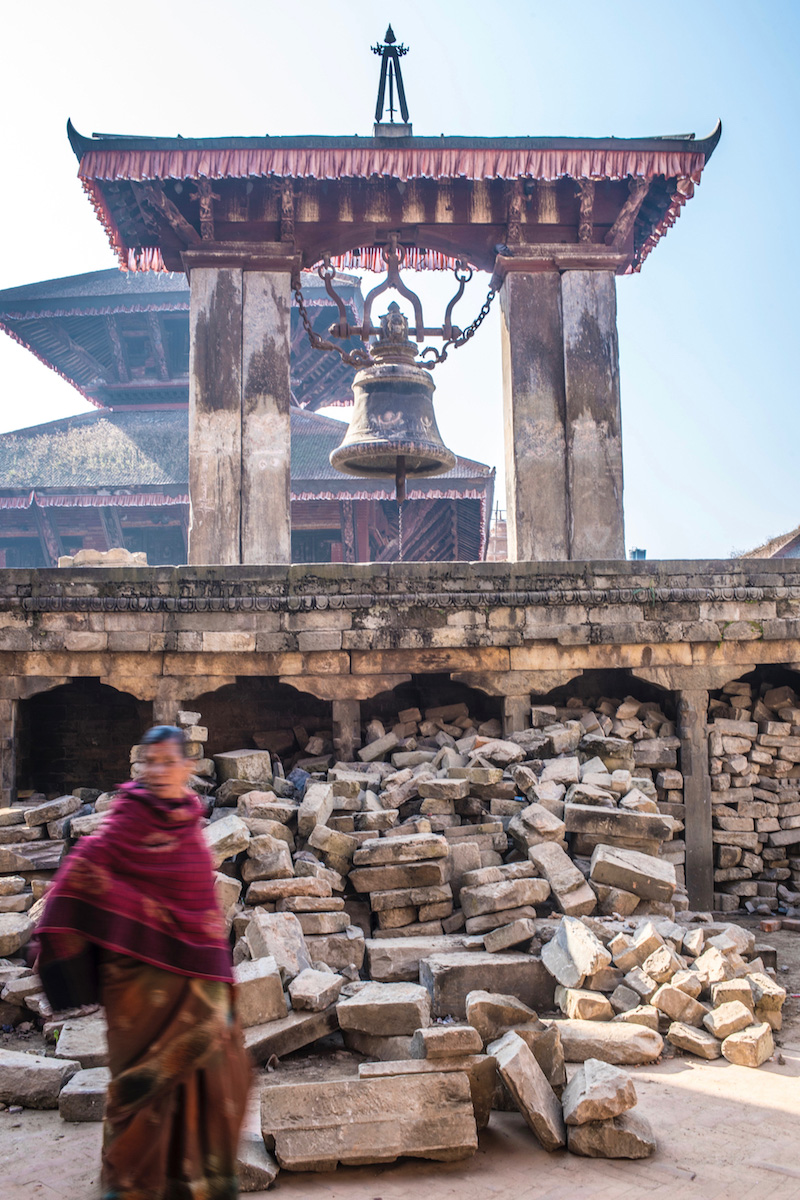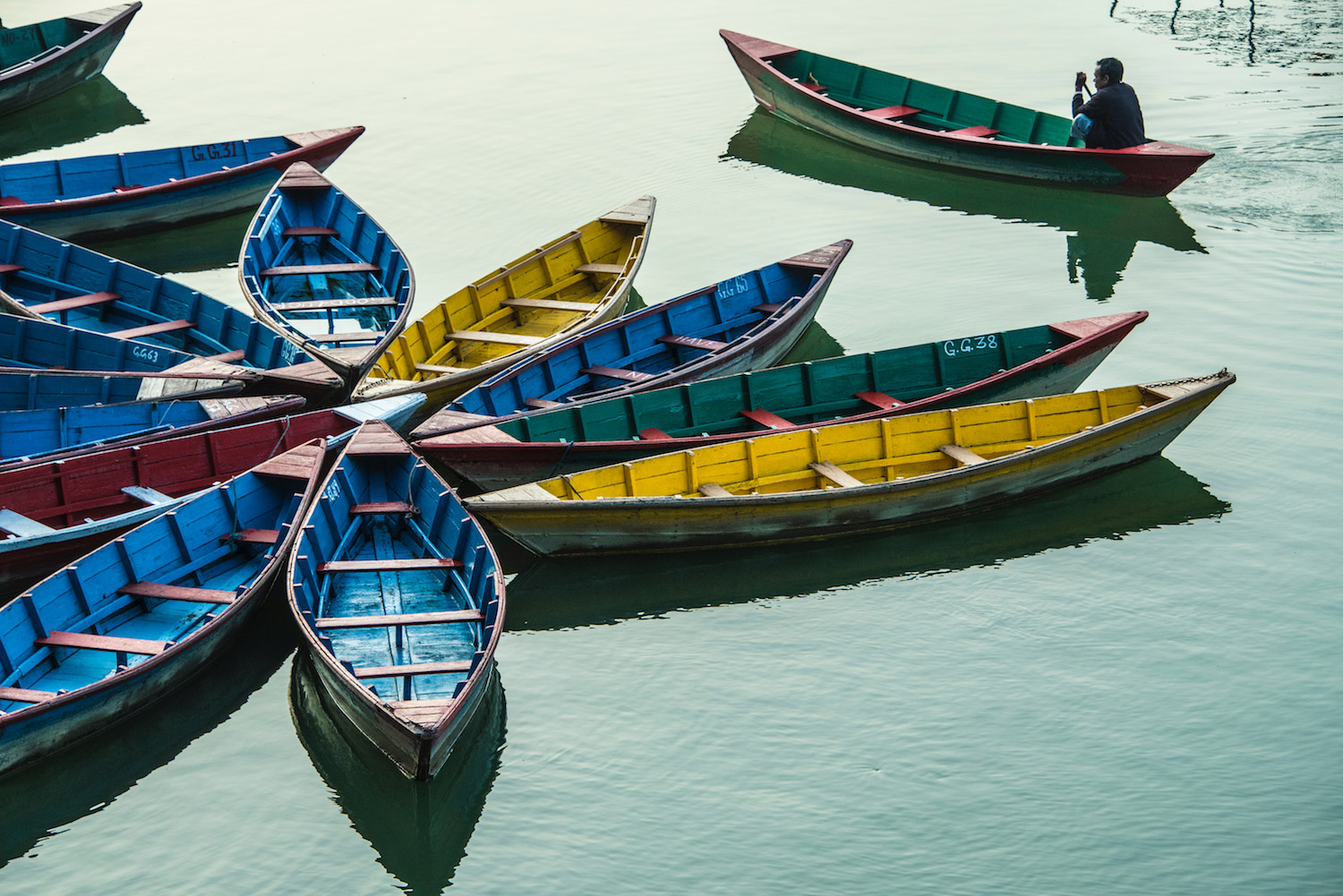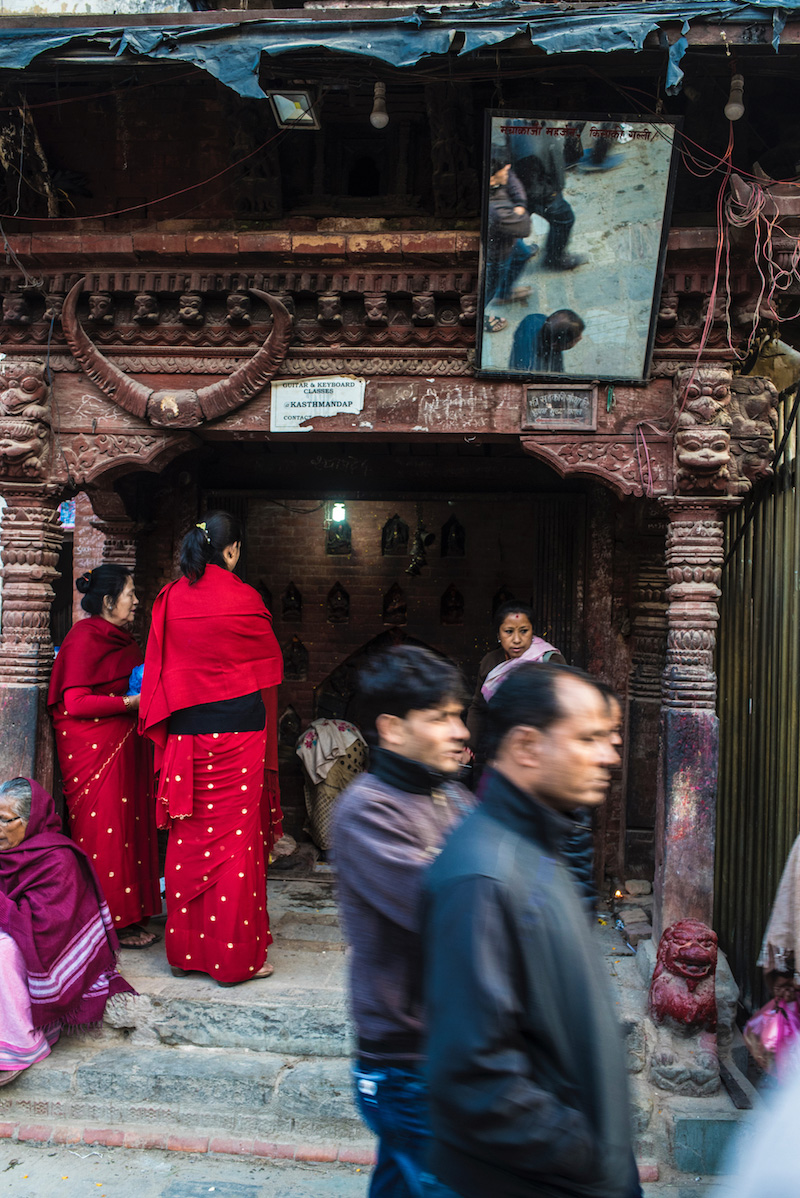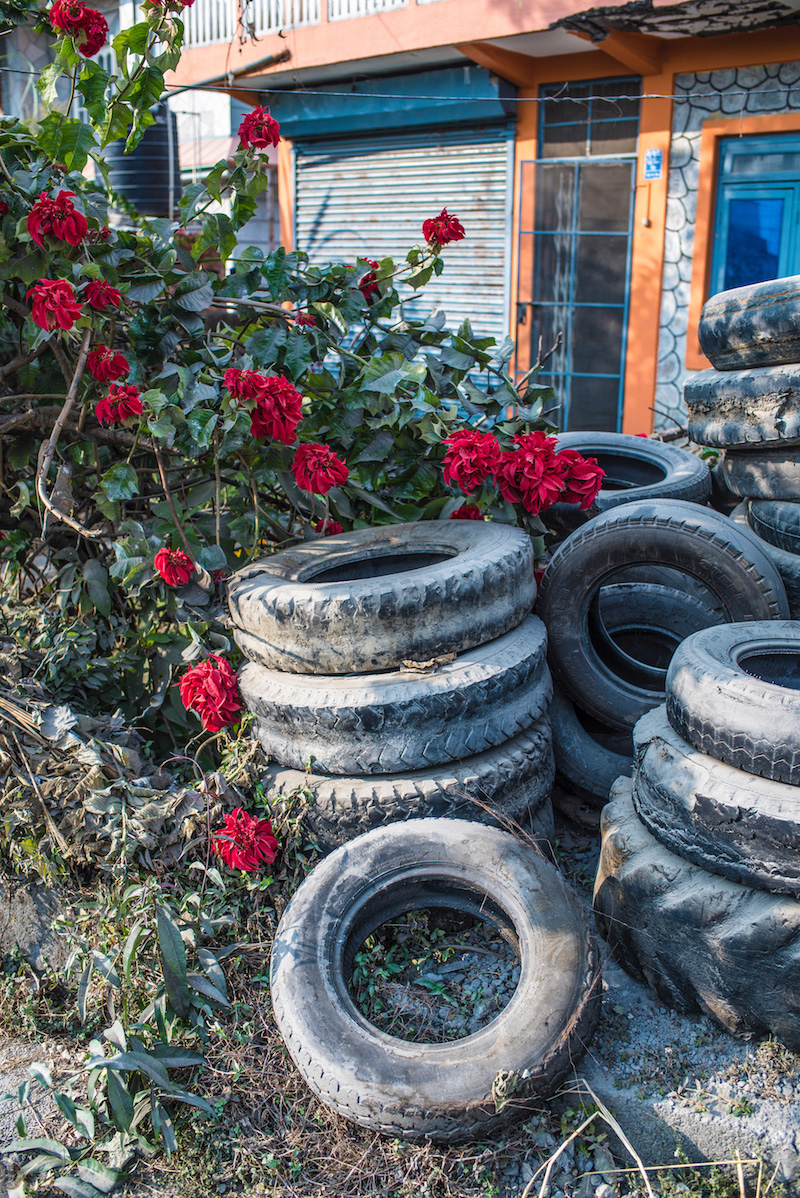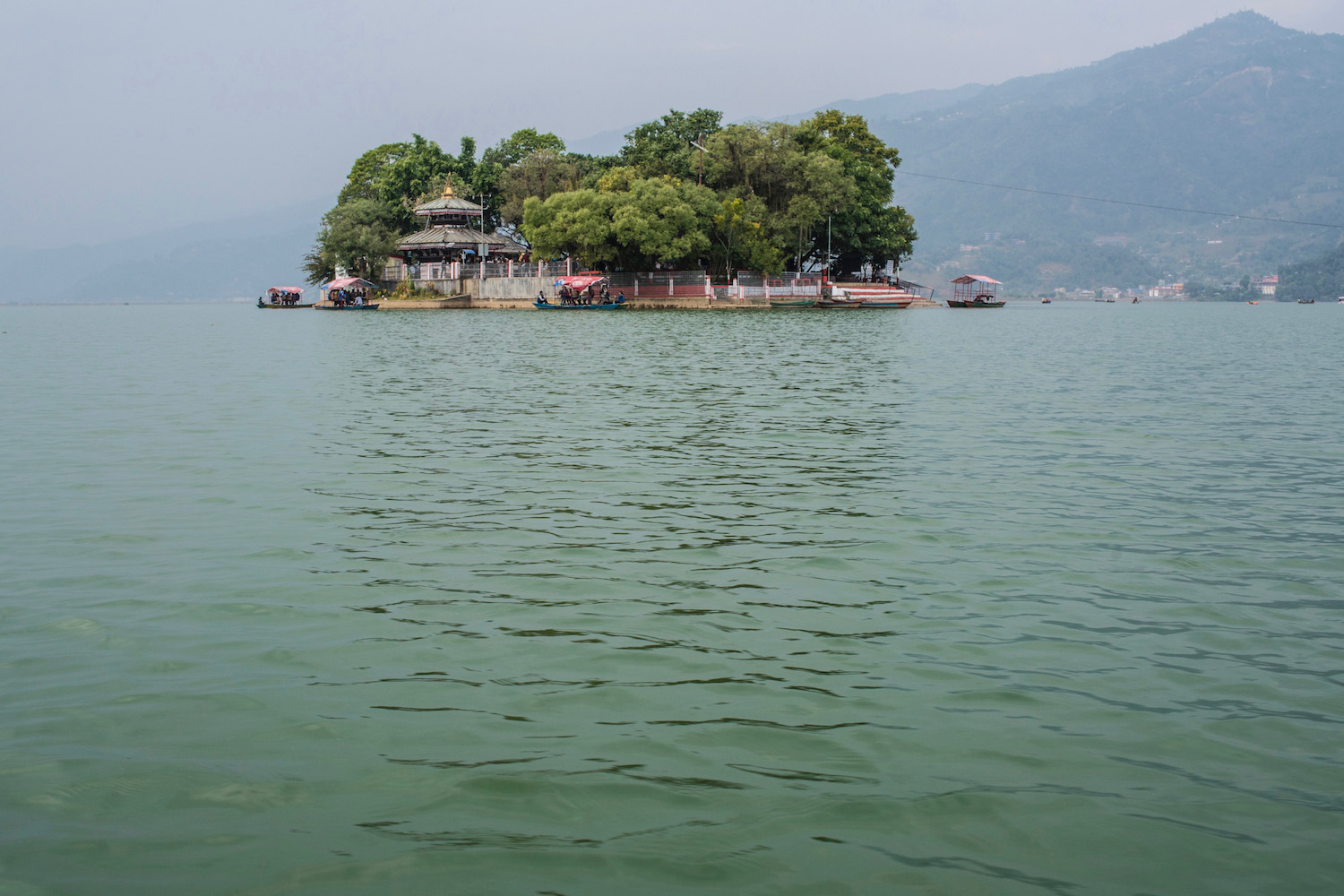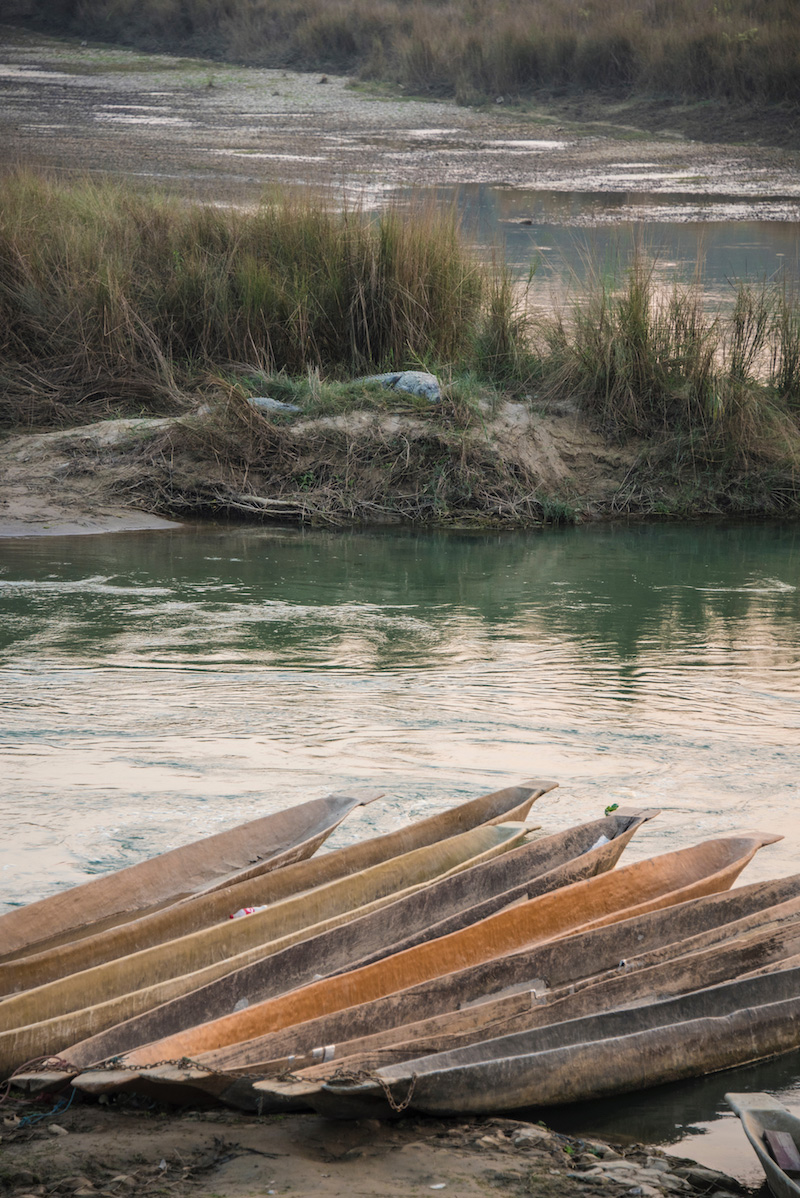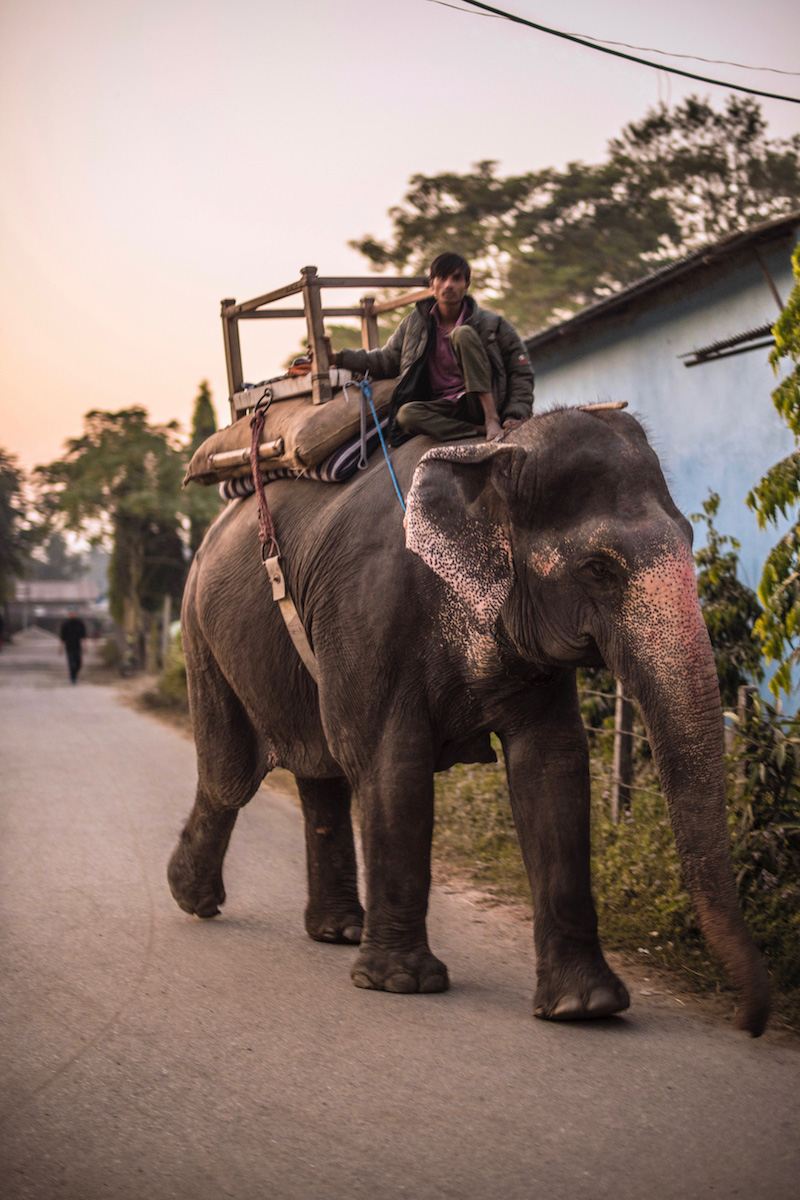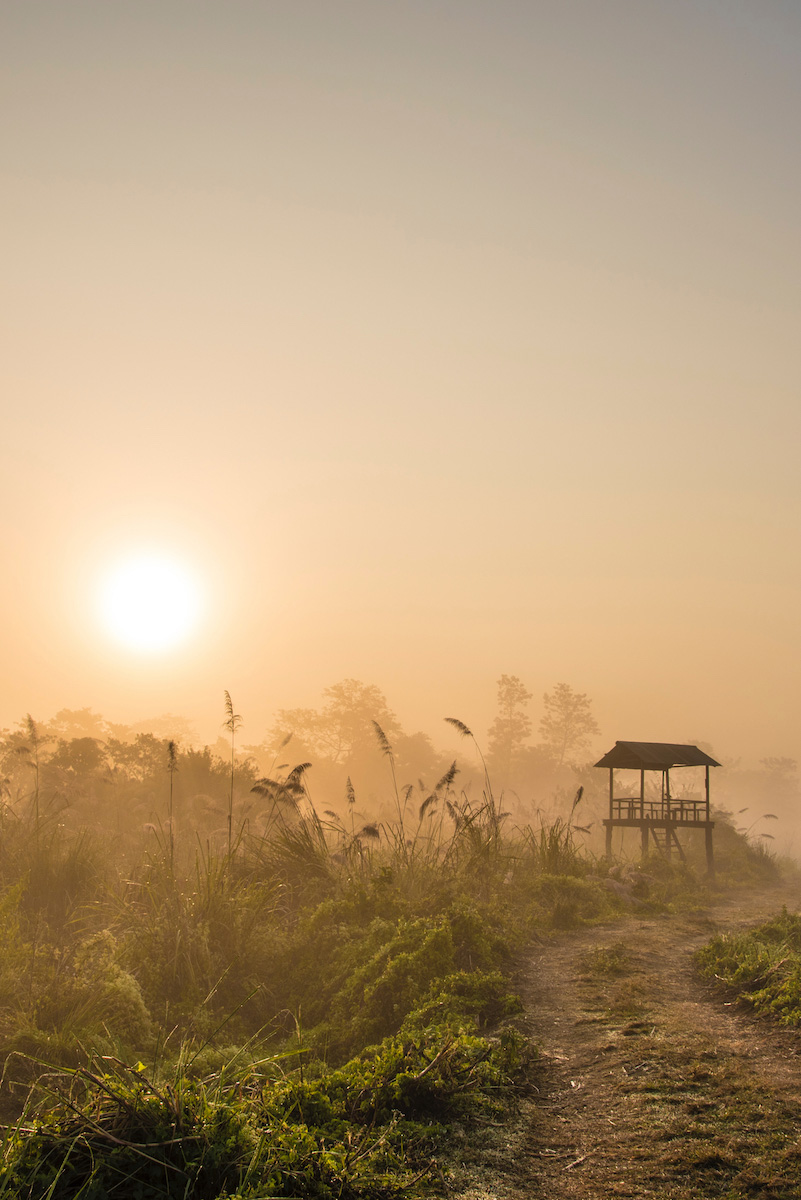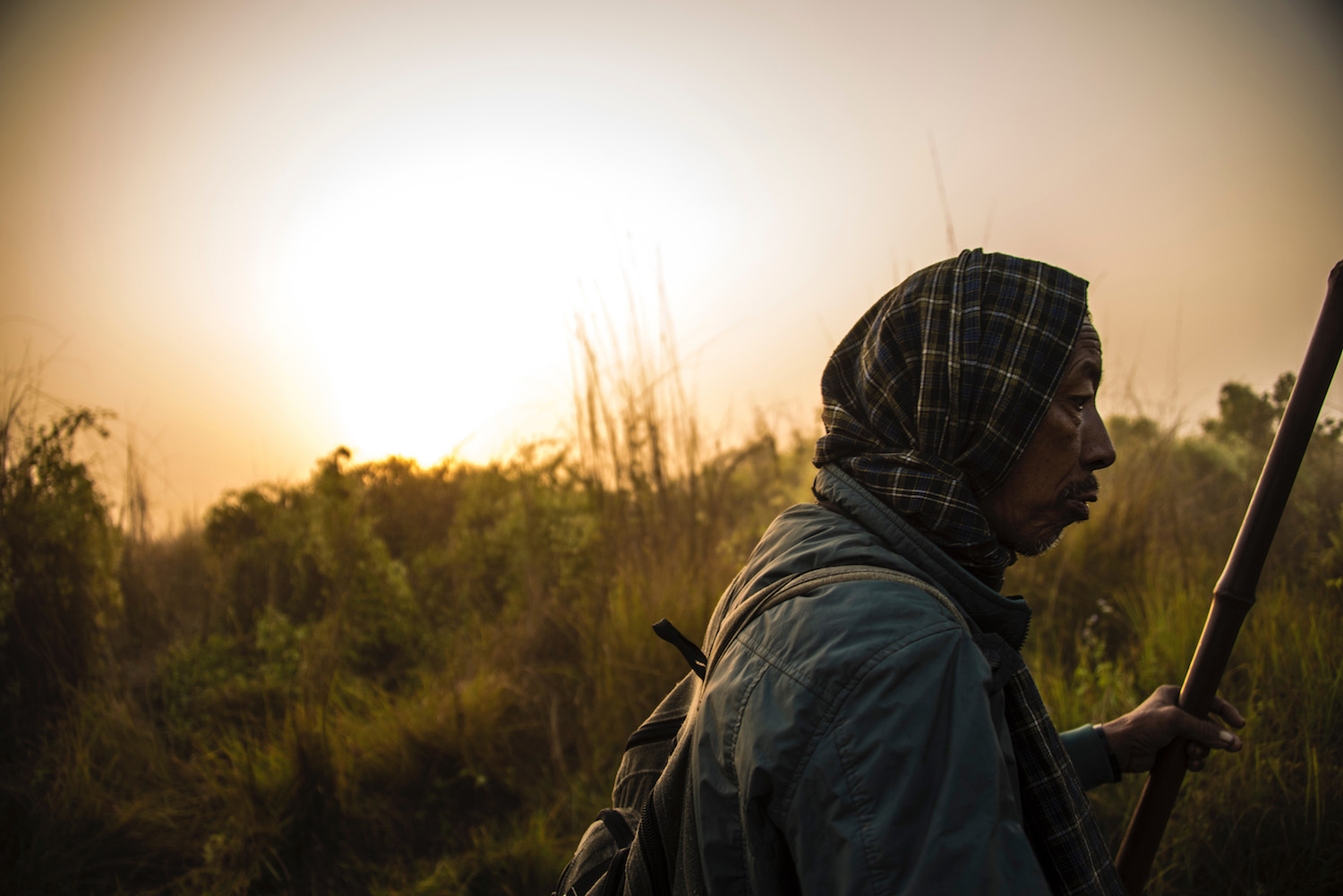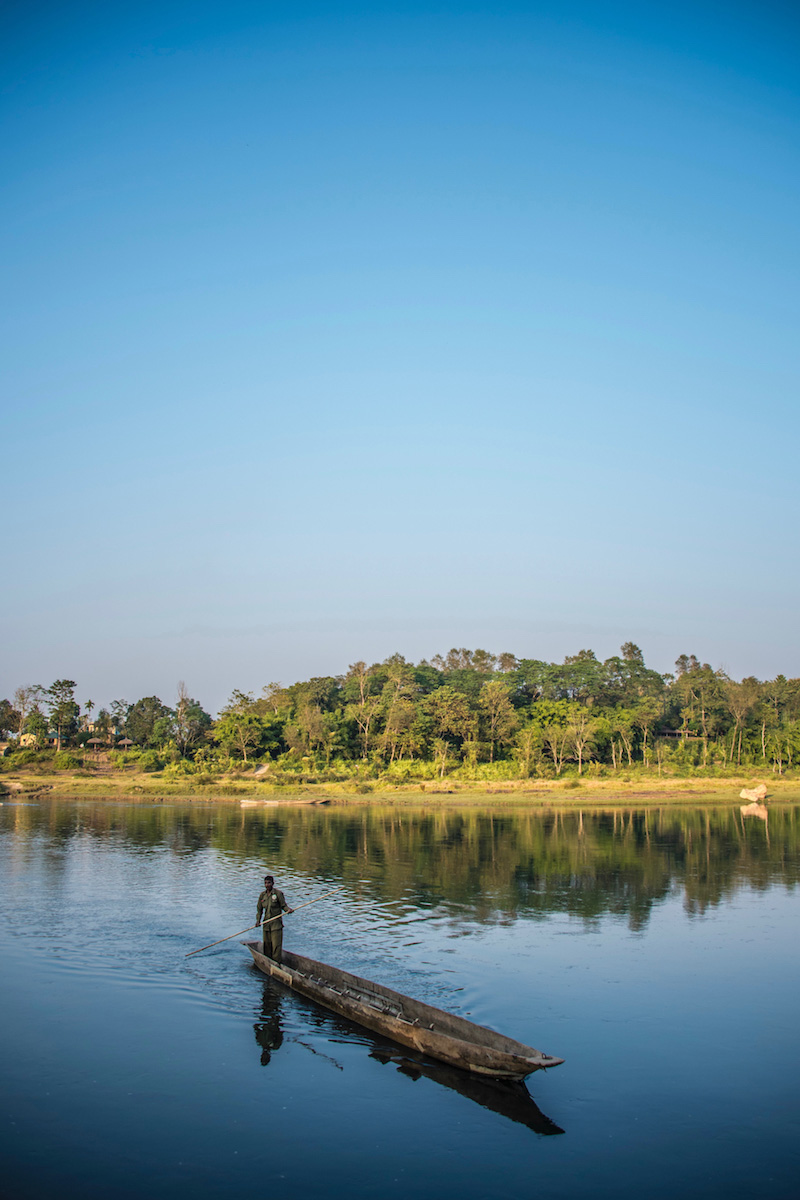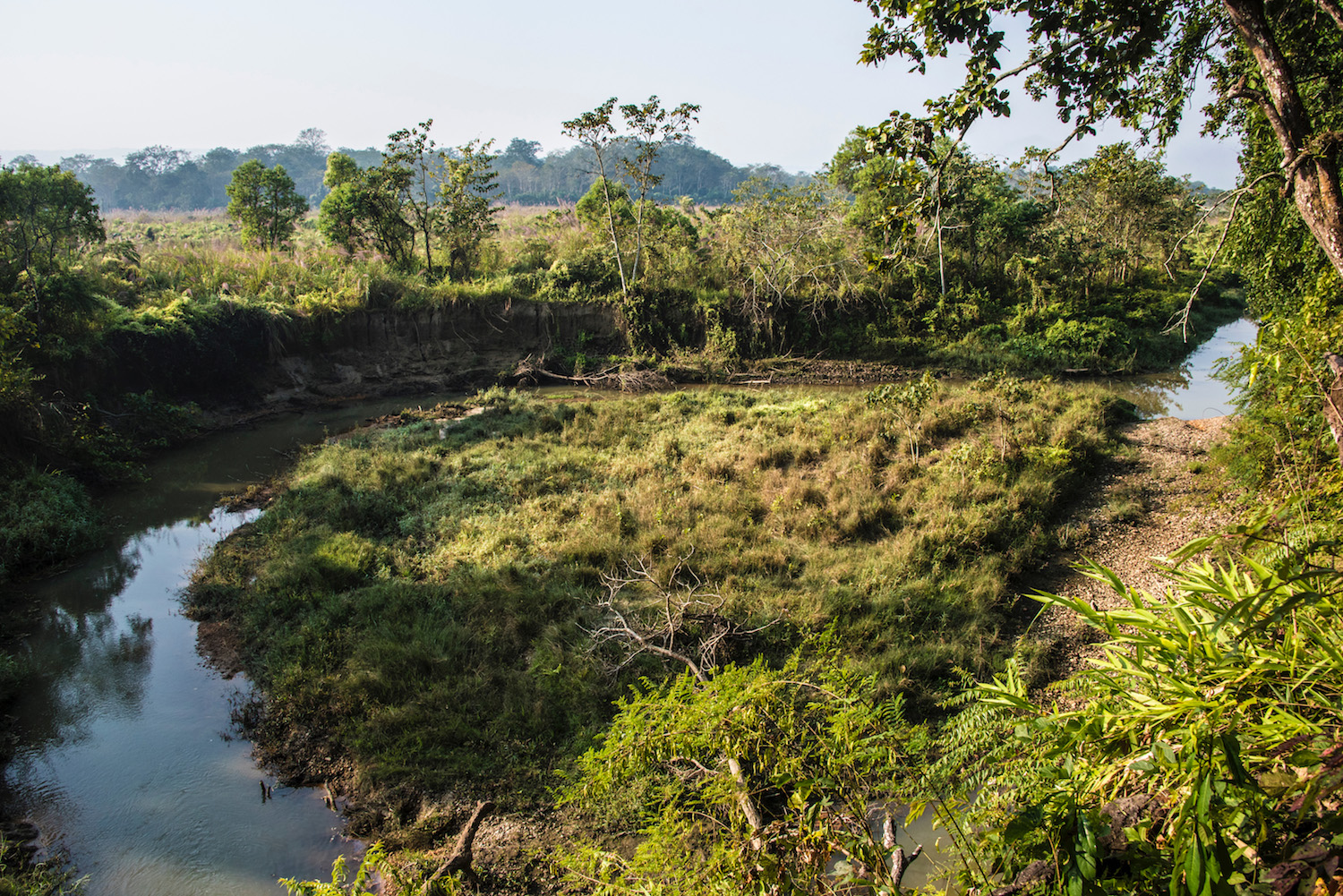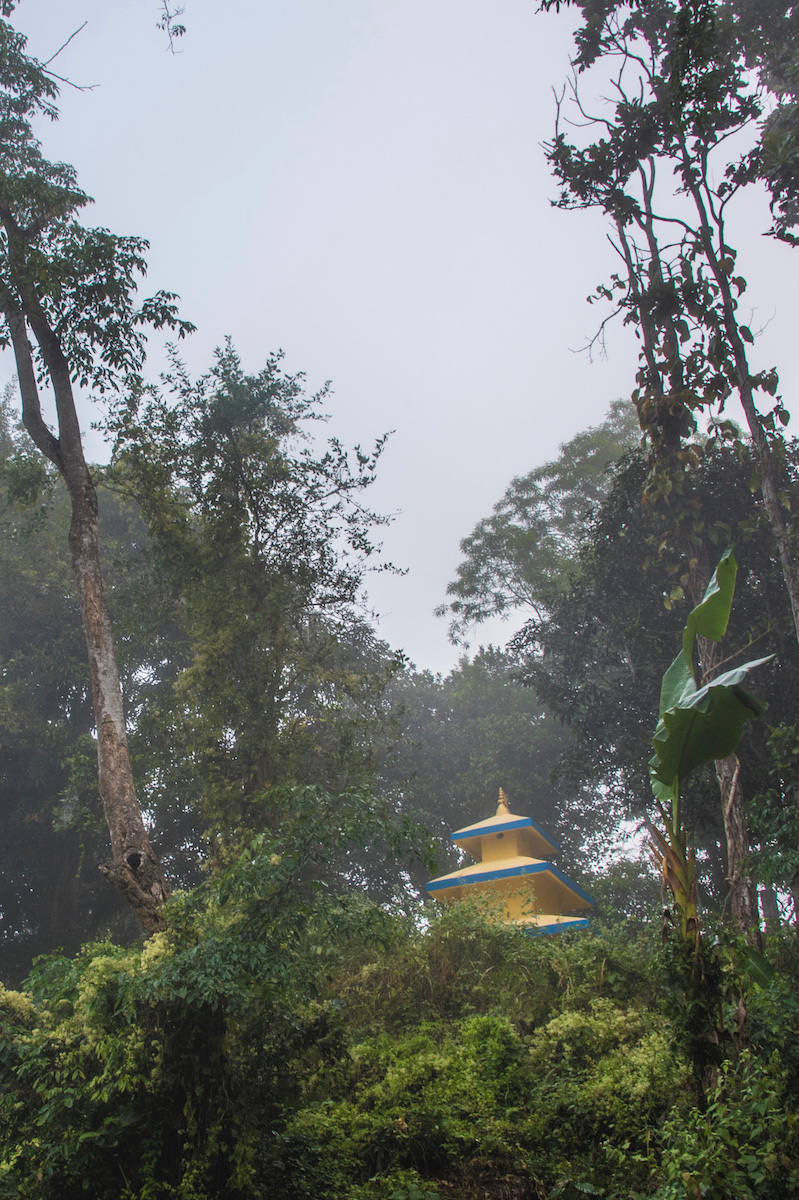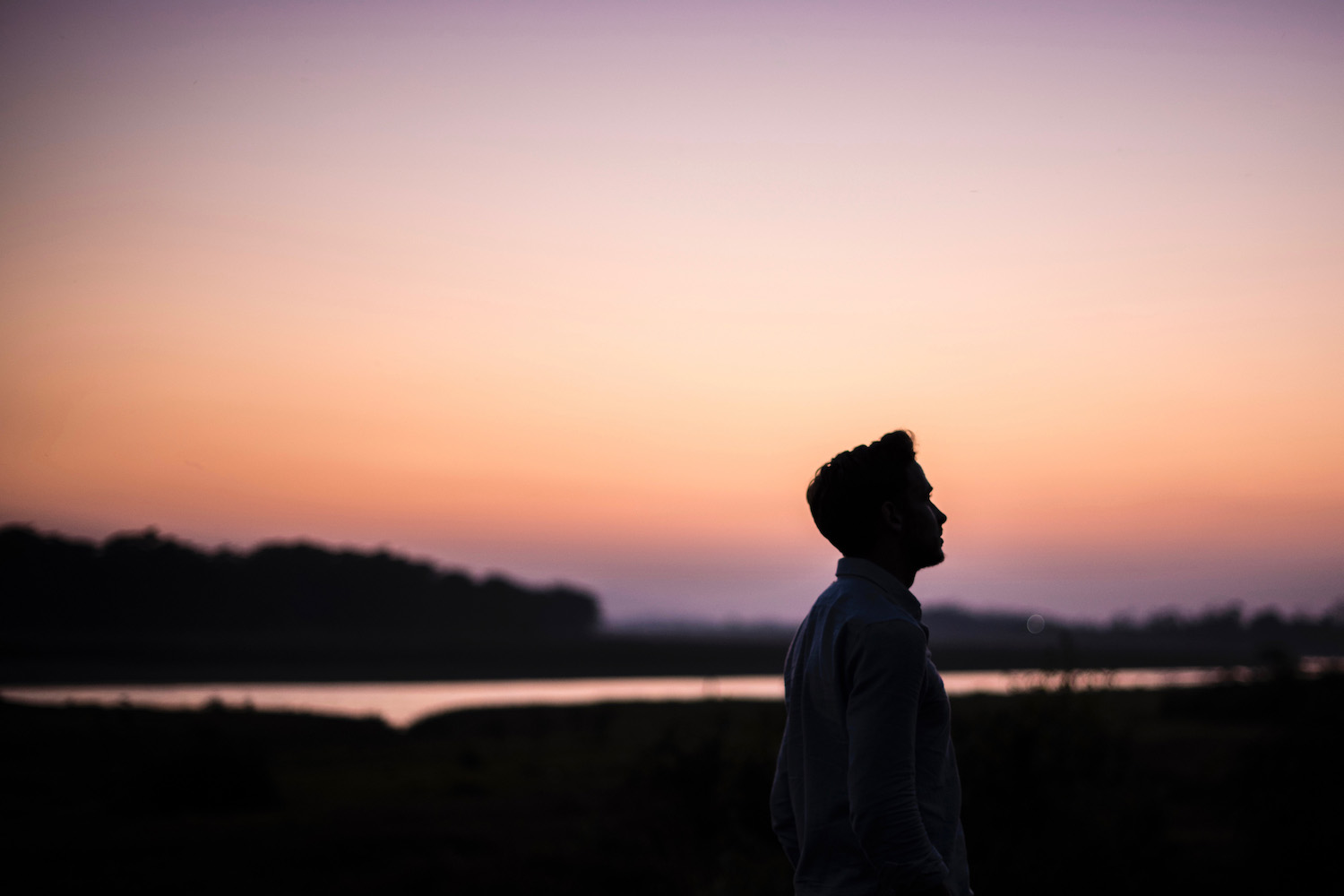 Share: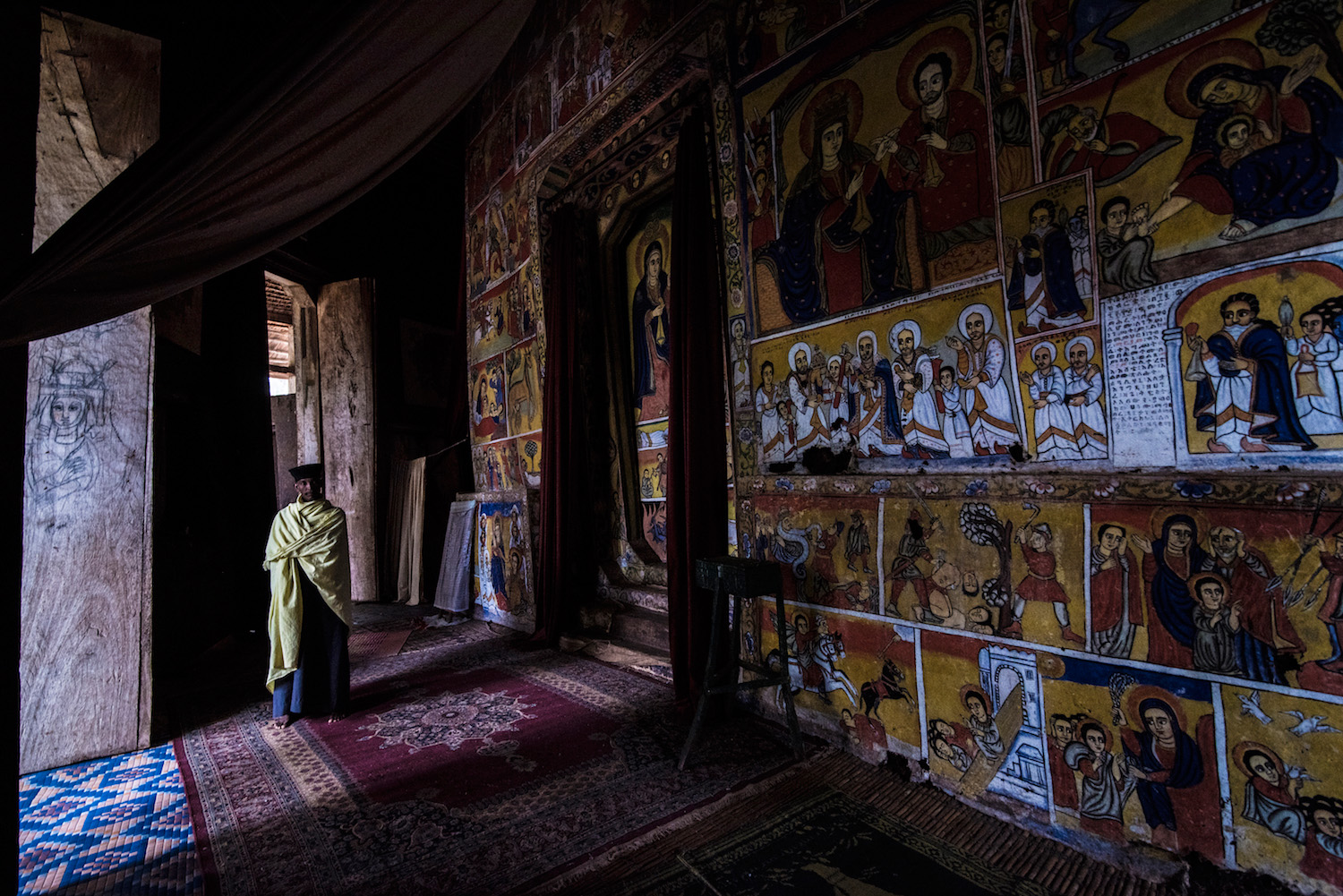 I was excited to arrive in the Ethiopian city of Bahir Dar—and not just because, after a rainy two days in Addis Ababa, the sun was shining and the sky was blue. Flying over famous Lake Tana, which was way bigger than I imagined it would be, I could see many island monasteries, i.e. the main reason tourists like me come to Bahir Dar in the first place. Plus, nearby Blue Nile Falls had been on my travel bucket list for a long time, to say nothing of how surprisingly nice my cheap hotel near Bahir Dar's rowdy city center ended up being.
Looking back, visiting Bahir Dar was a fulfilling, if not always fun experience. At the time, however, it was actually kind of miserable. If you're not sure whether you should visit Bahir Dar on your trip to Ethiopia, continue reading for my perspective.
Bahir Dar's Dustiness—and the (Often) Dry Falls
"Are you a rasta?" The man asked, as the van headed down the cracked, dirt road. I'm sure he meant his comment to be funny, but the bumpiness of the road had long since sent my sense of humor flying out my ear.
"An accidental one," I smiled, in spite of how annoyed I was. "I didn't wash my hair today and, since it's both humid and dusty here, it's become dreadlocked." (Side note: It was this moment when I decided it would be a good idea to cut my hair in advance of the coming summer.)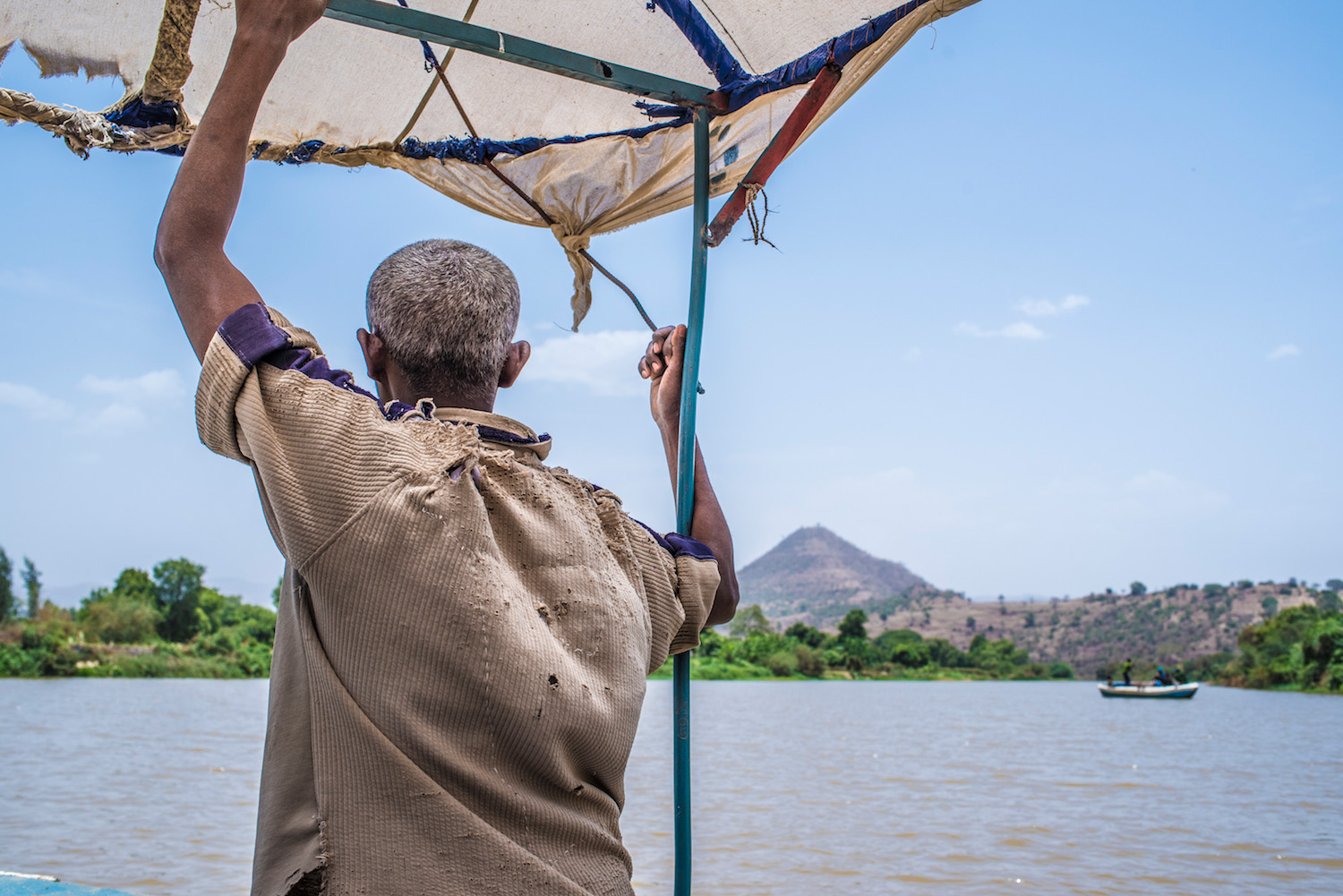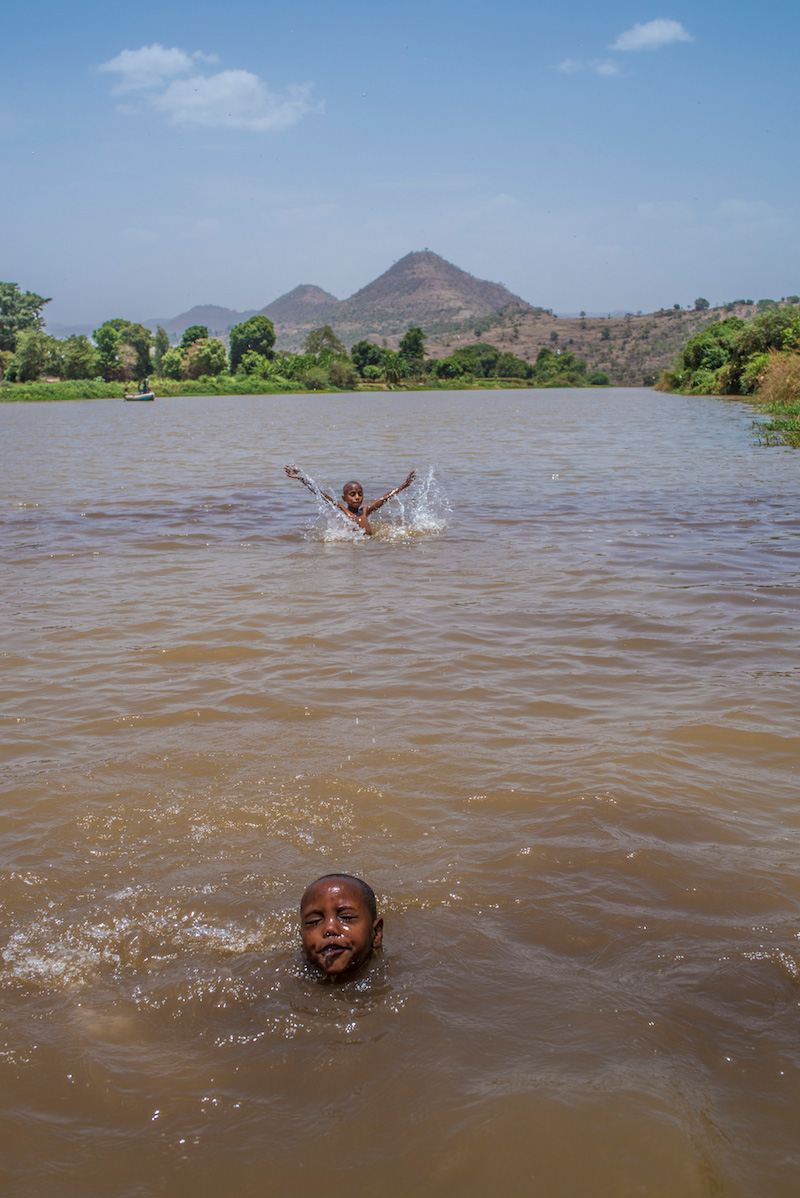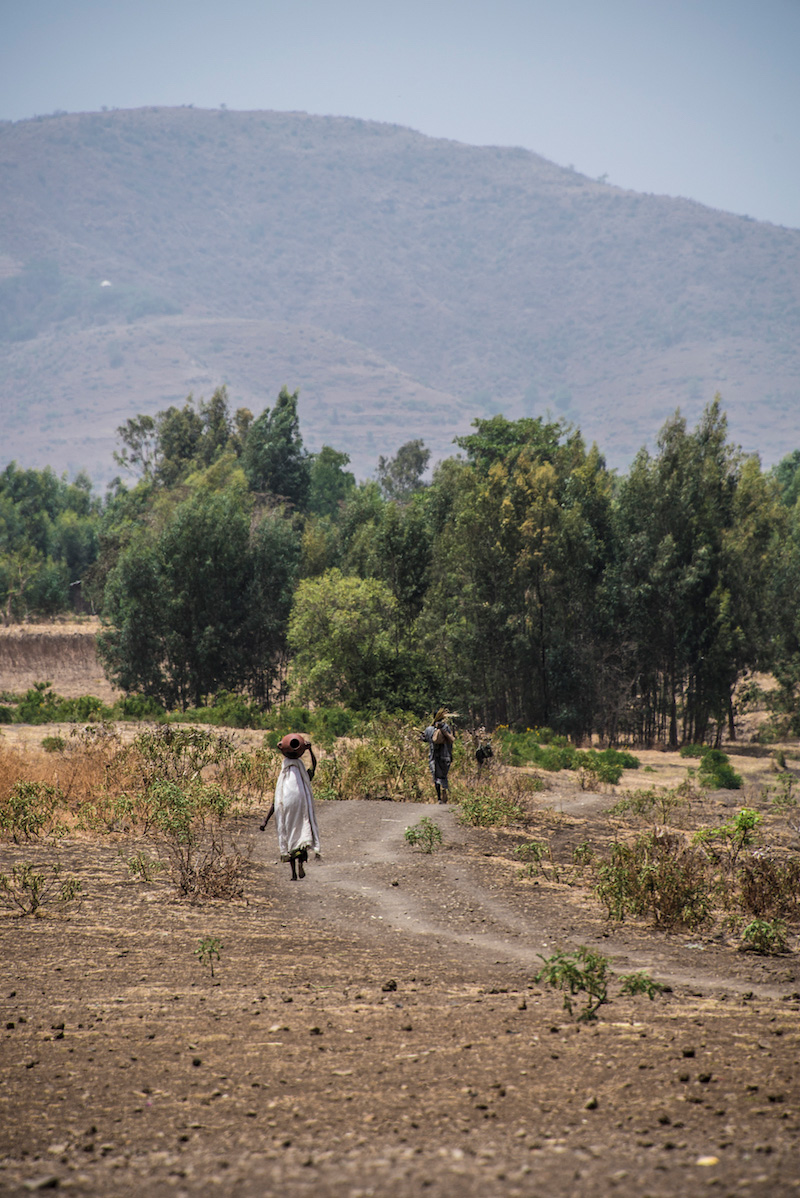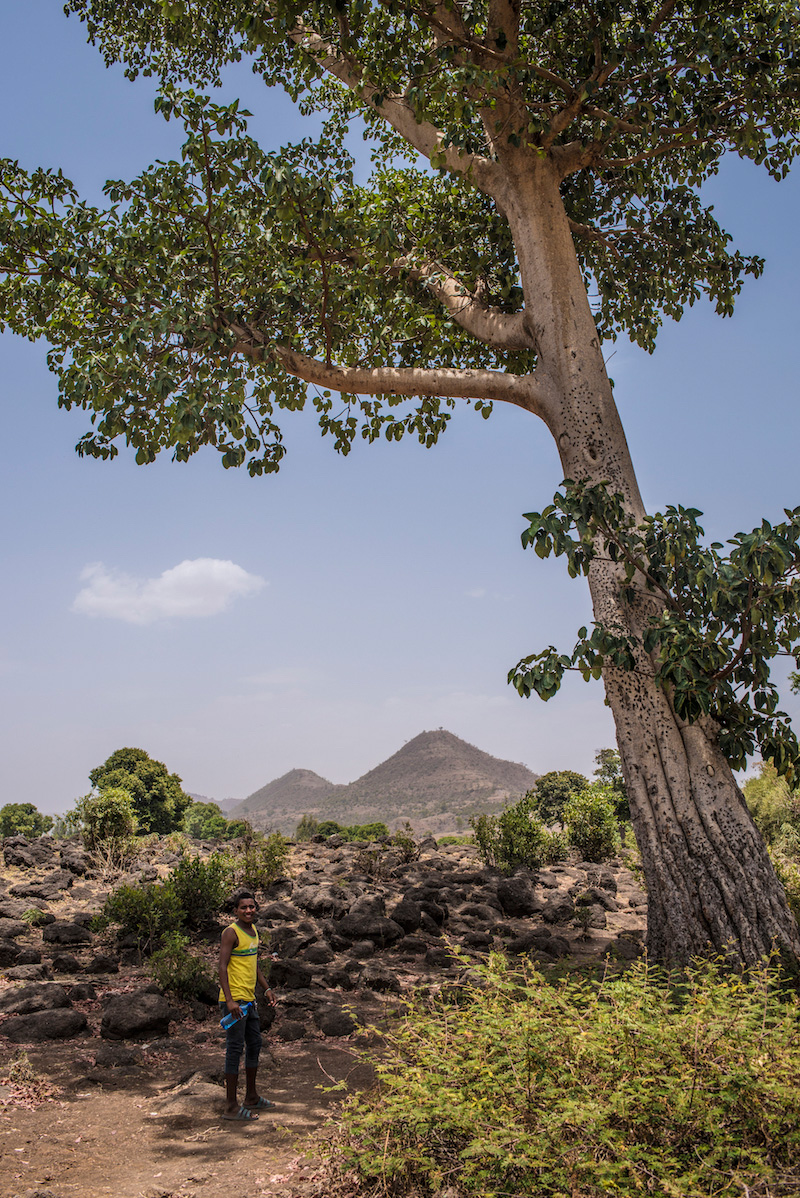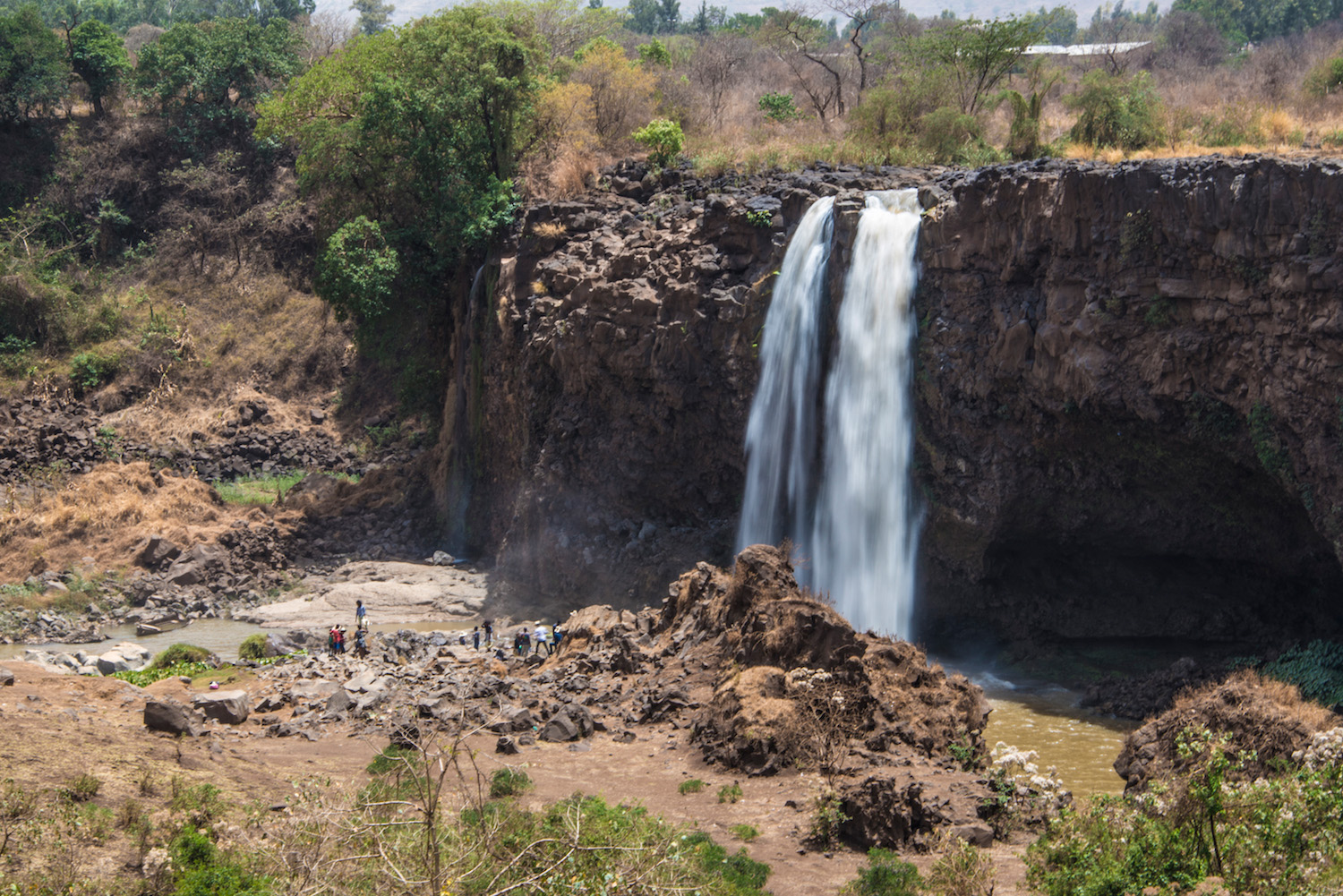 Bumpy road or not, hideous hair or not, we would soon arrive at the aforementioned Blue Nile Falls, with a couple caveats. First of all, we wouldn't be there "soon," thanks to the condition of the road. Secondly—and this, for as terrible as the ride was, is more important—it was the dry season in Ethiopia, which meant the Blue Nile "Falls" was more of a trickle.
"The hike and boat ride were nice," I remarked to the driver upon returning to the car. "Now, go as fast as you can so these hustlers leave me alone!"
Pros and Cons of the Lake Monasteries
Now, if you followed my Ethiopia trip live, you realize that my time in this country was defined by hustlers. Unfortunately, this wasn't just in the centers of large cities, but literally everywhere in the country. Including approaching and leaving the trail to Blue Nile Falls—and, yes, on each of the monastery-bearing islands in Lake Tana.
I remember one in particular (although not its name—I was too distracted by trying to fend off advances from hustlers to remember anything my "guide," who was also something of a hustler, told me), I got off the boat and a man told me I needed to pay a "preservation fee" in addition to whatever the price of entering the monastery was.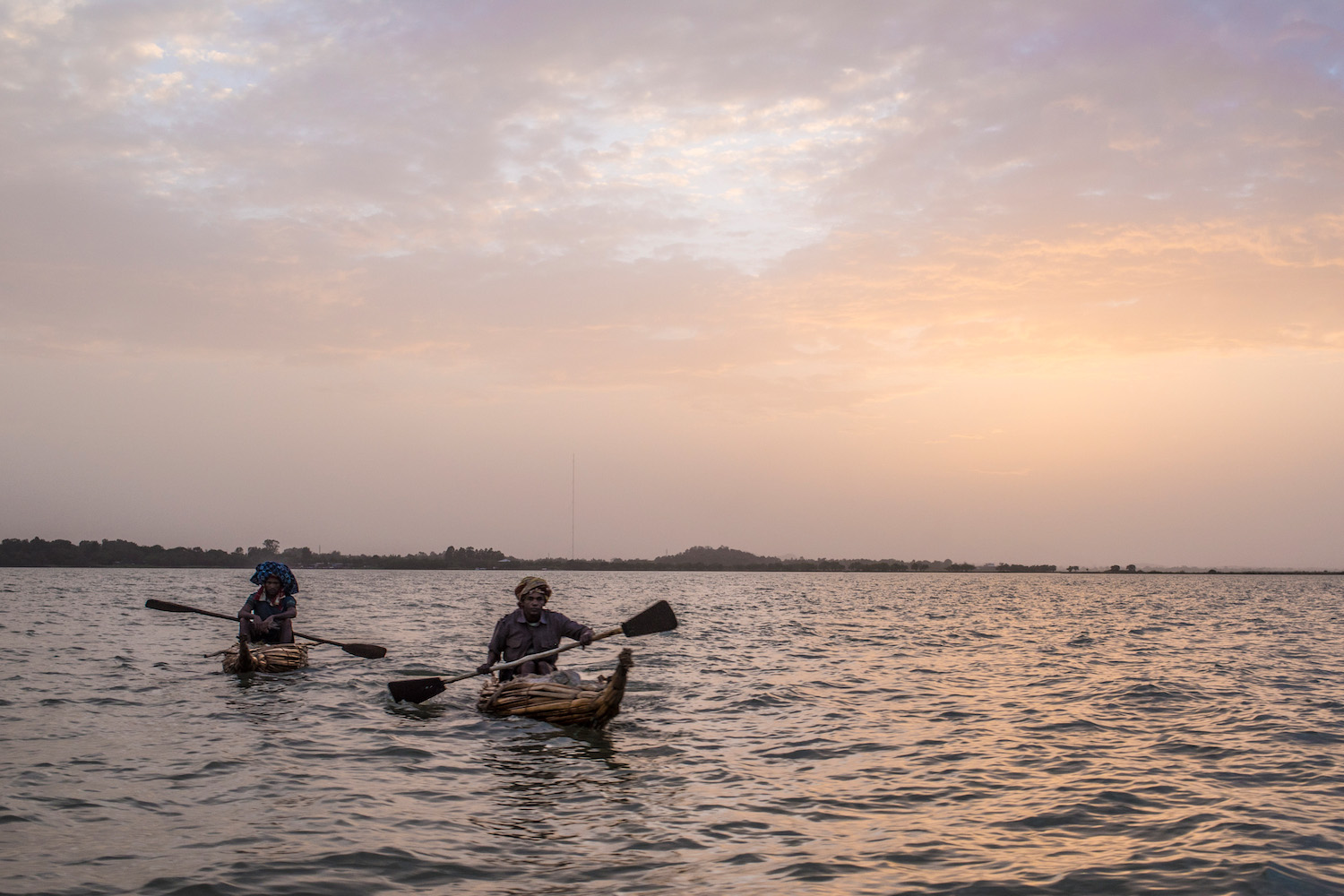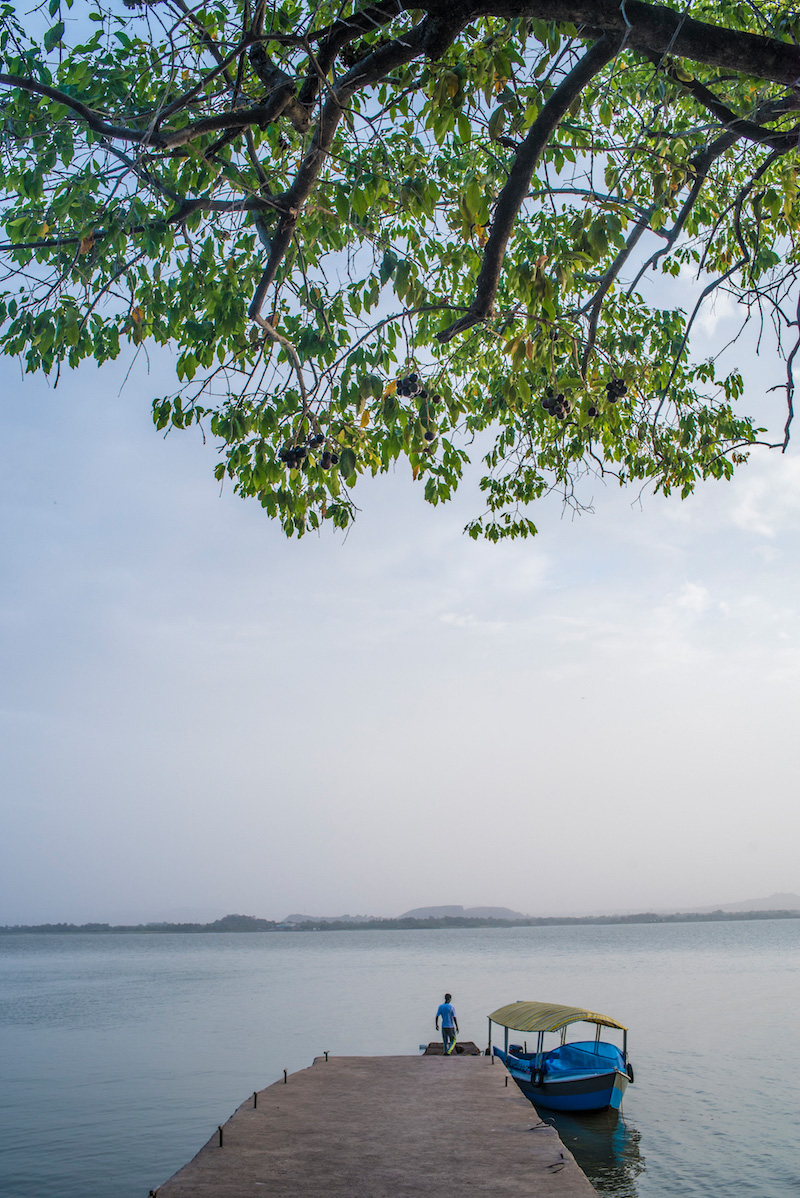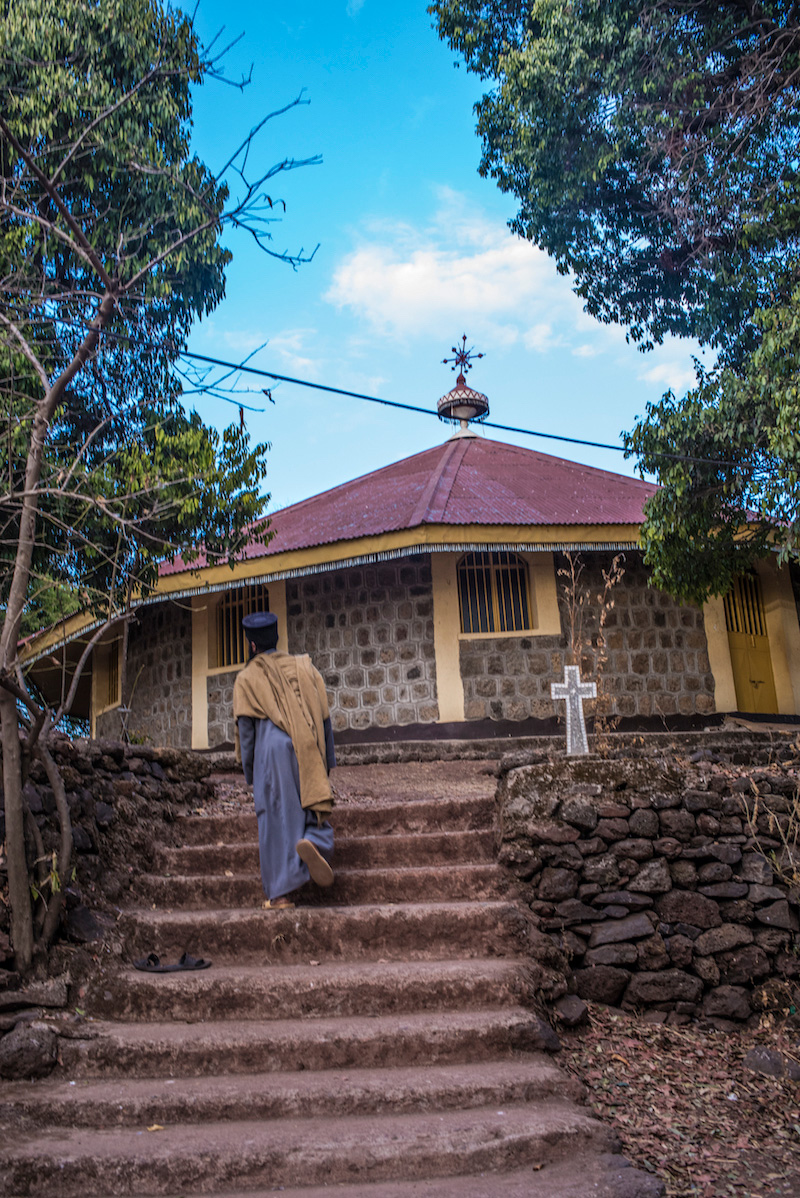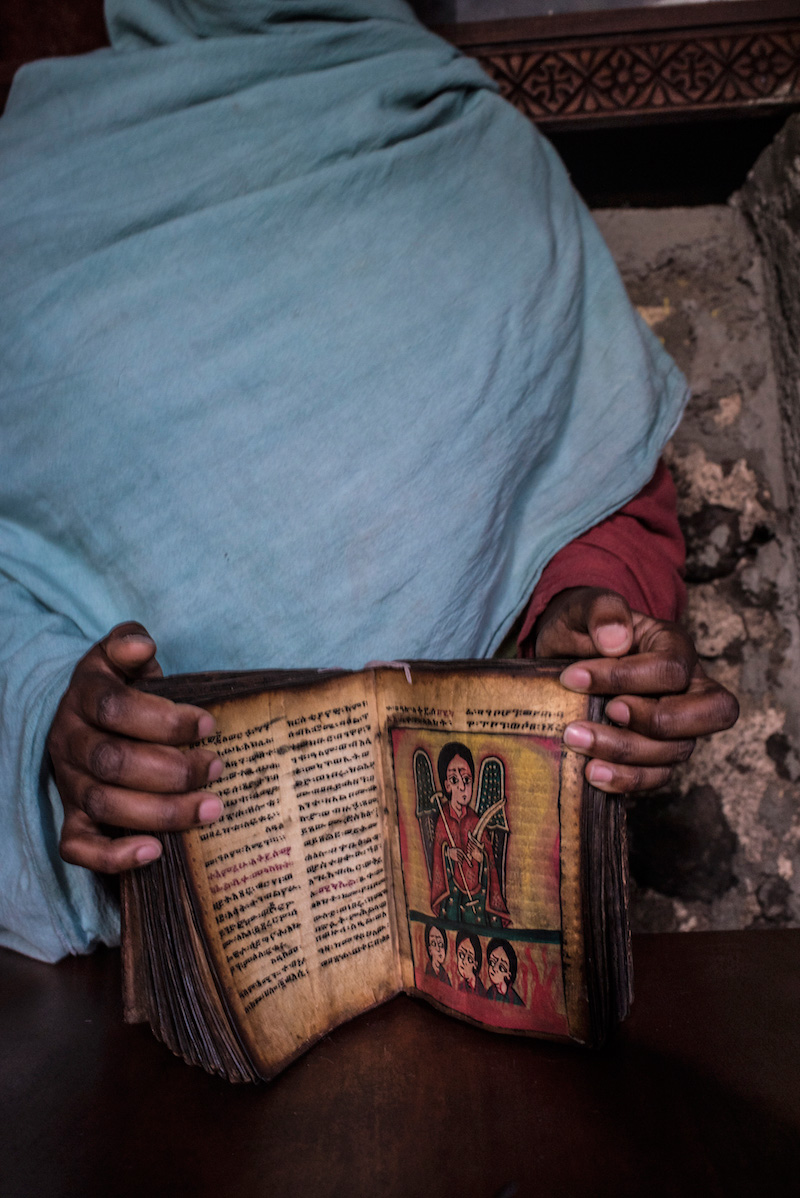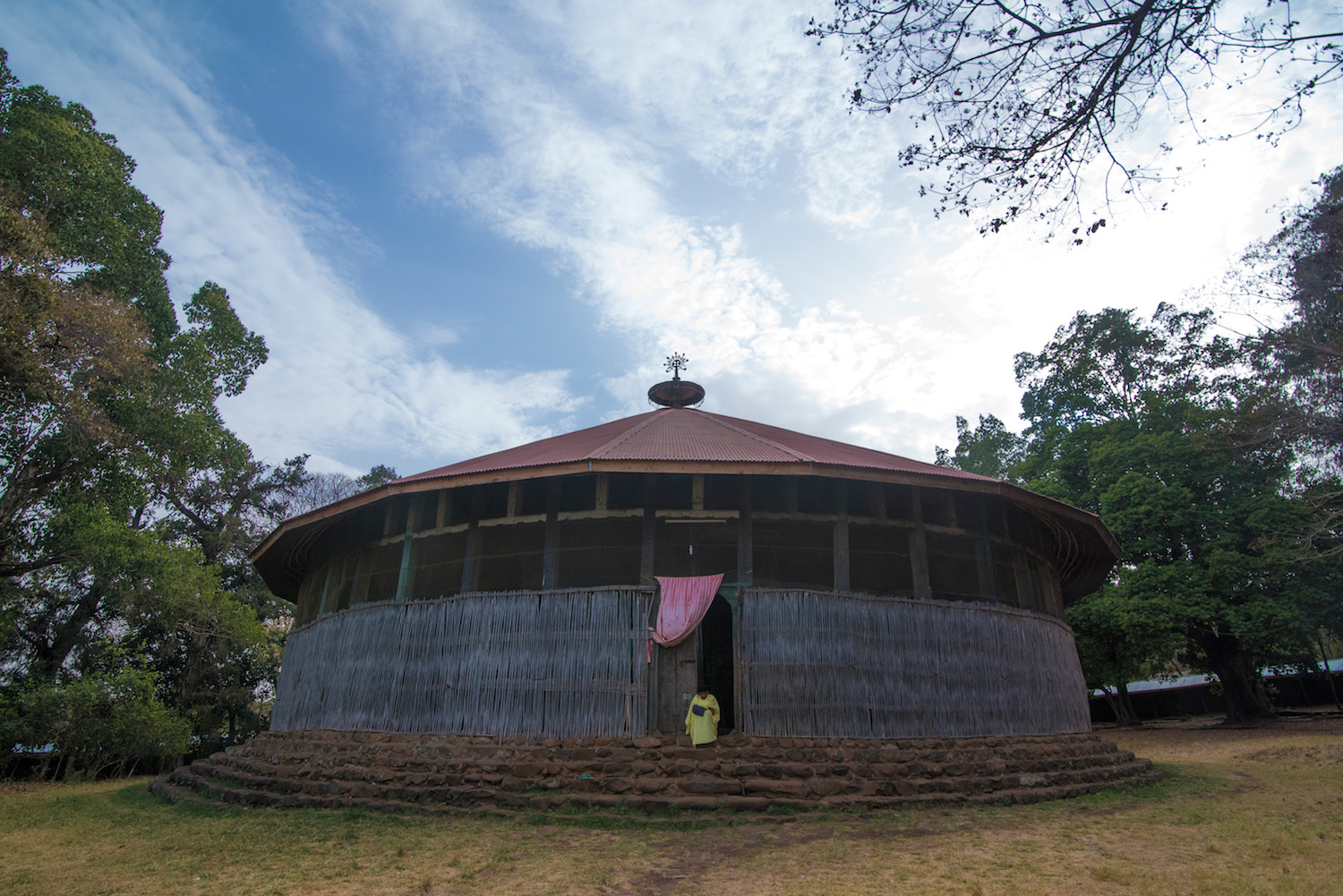 Now, on the boat ride, my guide had told me to ignore anyone who asked for more money on a given island. Unfortunately, faced with this reality, he sided with the hustler. "There's not really anything we can do about it," he said, and helped me make sense of the Ethiopian birr whose denominations I was still figuring out.
Now, make no mistake: The monasteries (and, in particular, this one) were outstanding. Also note, however, that women are not allowed inside them, so if you are a solo woman traveler or a group of women, a Lake Tana trip might not be worth the cost.
Prices in Bahir Dar
Bahir Dar itself isn't expensive. For $36, I got a deluxe room in a brand-new hotel with free breakfast and coffee and delicious, affordable Ethiopian food available via room service. The cost of tuk-tuks and taxis in the city center was negligible and, had I not gotten hustled en route to the bus to Blue Nile Falls, I could've gotten it for about 50 birr.
Unfortunately, as I've alluded to throughout this article, hustlers are everywhere in Bahir Dar, including inside my cheap hotel. In exchange for the sanity of being inside a vehicle (but not an air conditioned one, I should mentioned), I was willing to pay 1,300 birr (about $60) for a full-day tour that included both Blue Nile Falls and the Lake Tana monasteries. Not super expensive for East Africa, of course, but also not cheap.
Alternatives to Bahir Dar
As far as similarly-sized, nearby Ethiopian cities are concerned, I vastly preferred Gondar to Bahir Dar. In addition to the fact that the town itself was more pleasant, Gondar's main attraction (Gondar Castle, known colloquially as the "Ethiopian Camelot") was easy to explore independently, and not totally filled with hustlers. Furthermore, I found the Semien Mountains near Gondar more beautiful, nature-wise, than either Lake Tana or especially Blue Nile Falls had been.
But here's the thing: With two full weeks in Ethiopia, I wasn't necessarily pressed for time—and I'm glad I visited Bahir Dar, if only to provide you this perspective. If you have two or more weeks in Ethiopia, definitely go to Bahir Dar. Otherwise, substitute it with Gondar or, if you're feeling really adventurous, a trip into the Danakil Depression.
Share: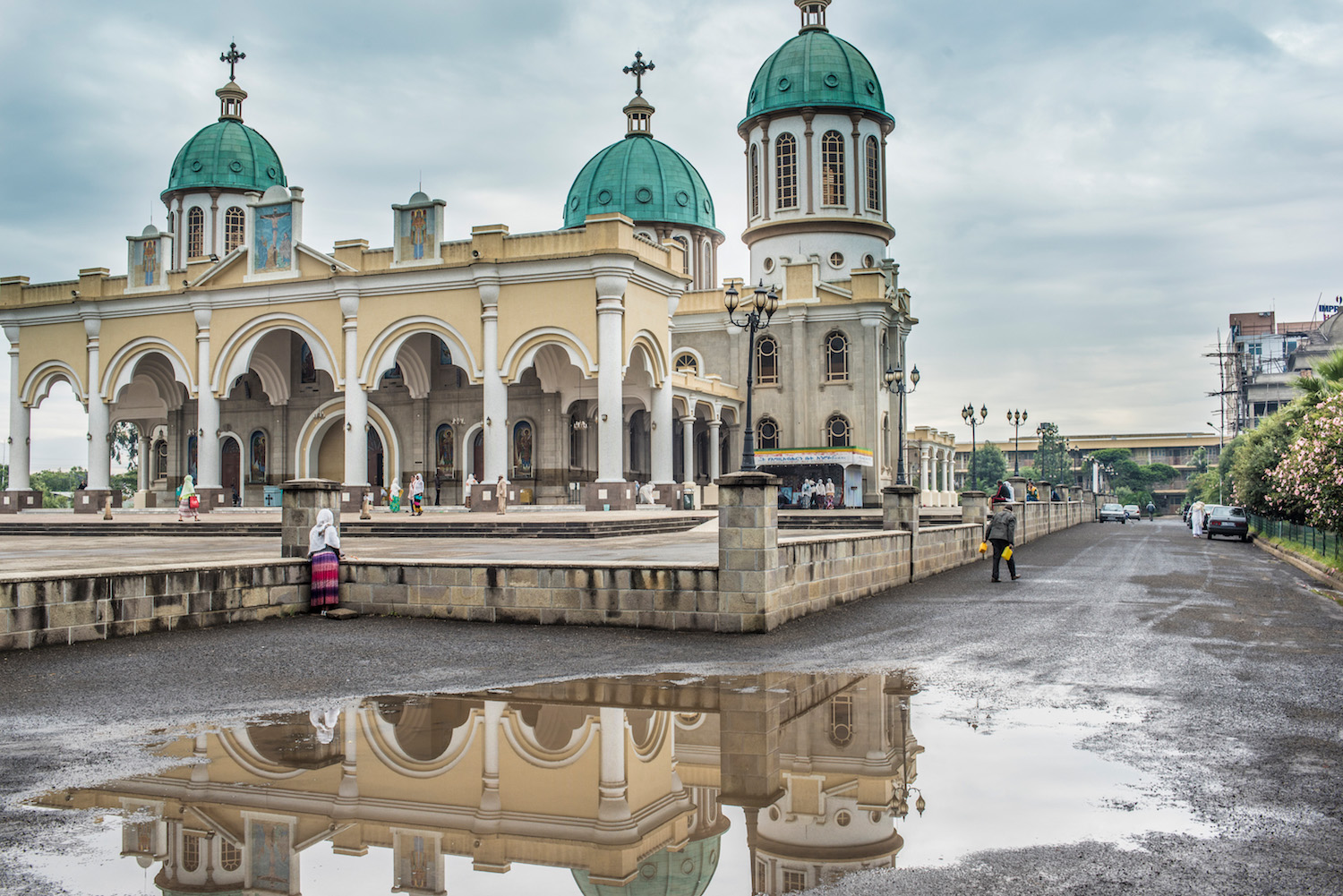 If you plan to visit Ethiopia, you will certainly pass through Addis Ababa, home to the country's—and one of the African continent's—largest international airports. On the other hand, with exciting activities like the Semien Mountains, the Danakil Depression and the medieval city of Gondar waiting for you, does it really make sense to spend a lot of time in Ethiopia's capital?
It doesn't, in mind opinion, although deciding how many days you should spend in Addis Ababa isn't quite that simple. Below, I'll attempt to make the decision easier for you.
Addis Ababa: The Good, The Bad, The Ugly
I had a good initial first impression of Addis Ababa—and not just because I happened to be wearing a t-shirt the same color as the Medhane Alem church nearby my hotel, affording me the ultimate travel selfie (see below). To be sure, although awesome photos definitely influenced my perception of Addis Ababa during my first few hours there, it was the vibe of the city that seemed great at first.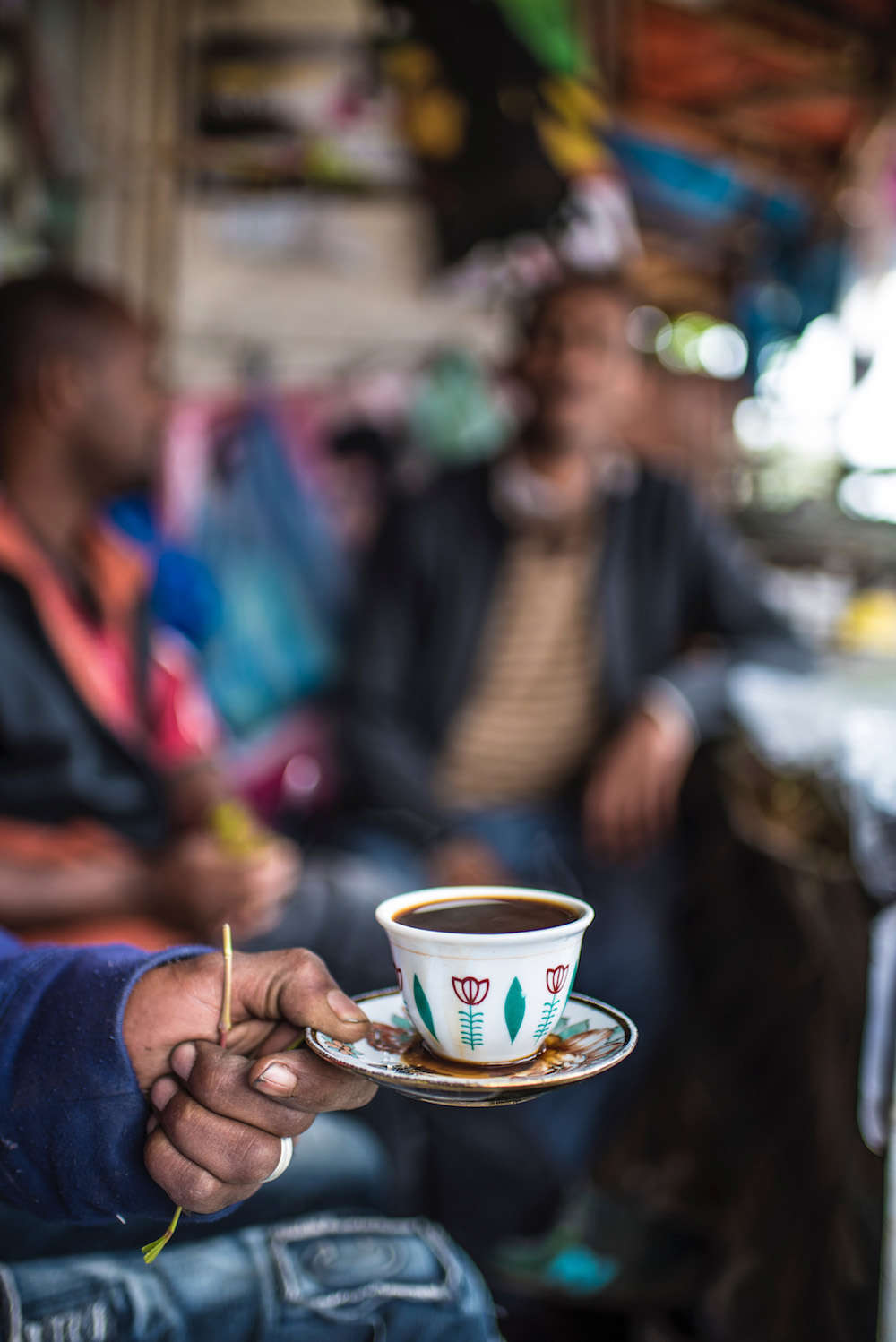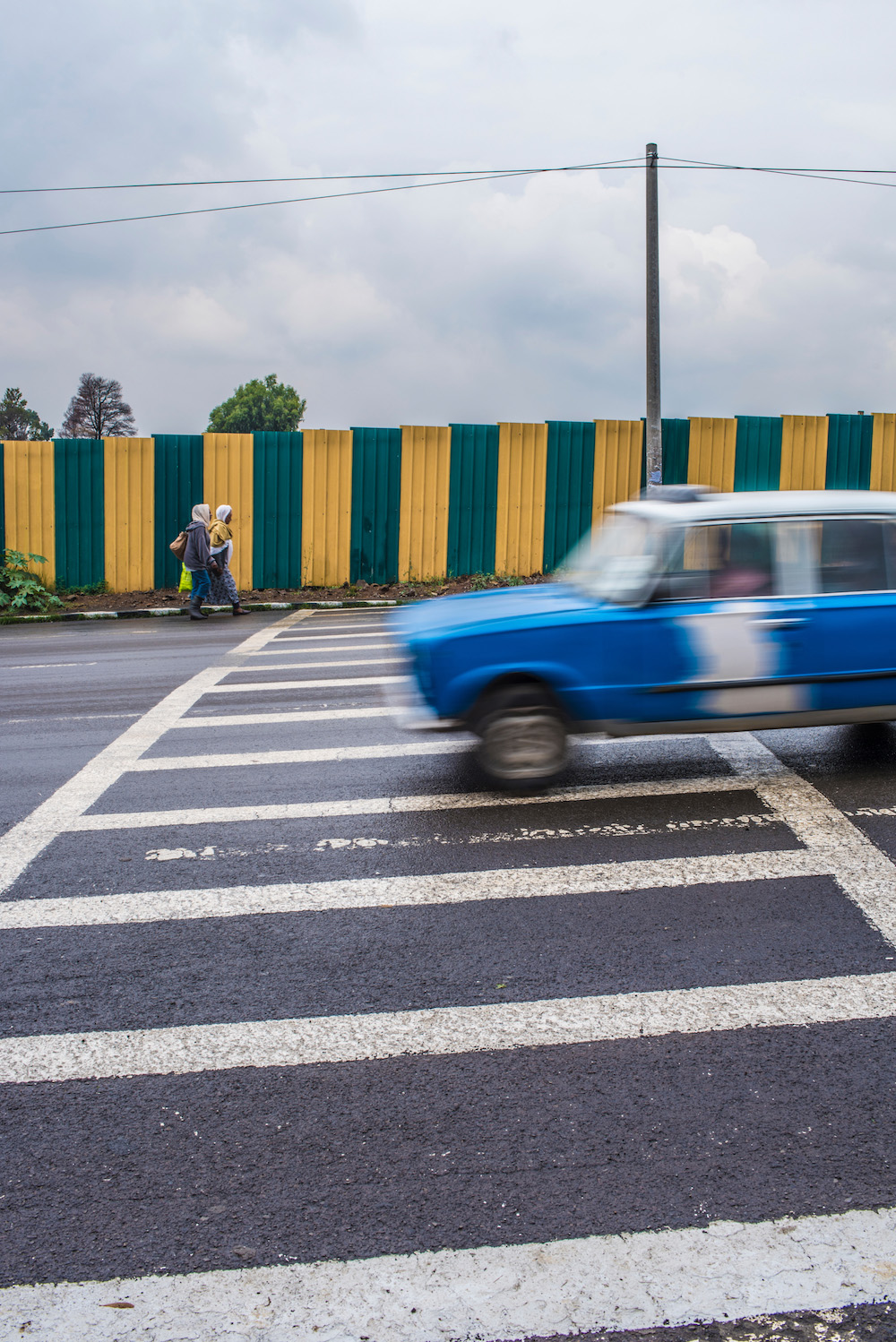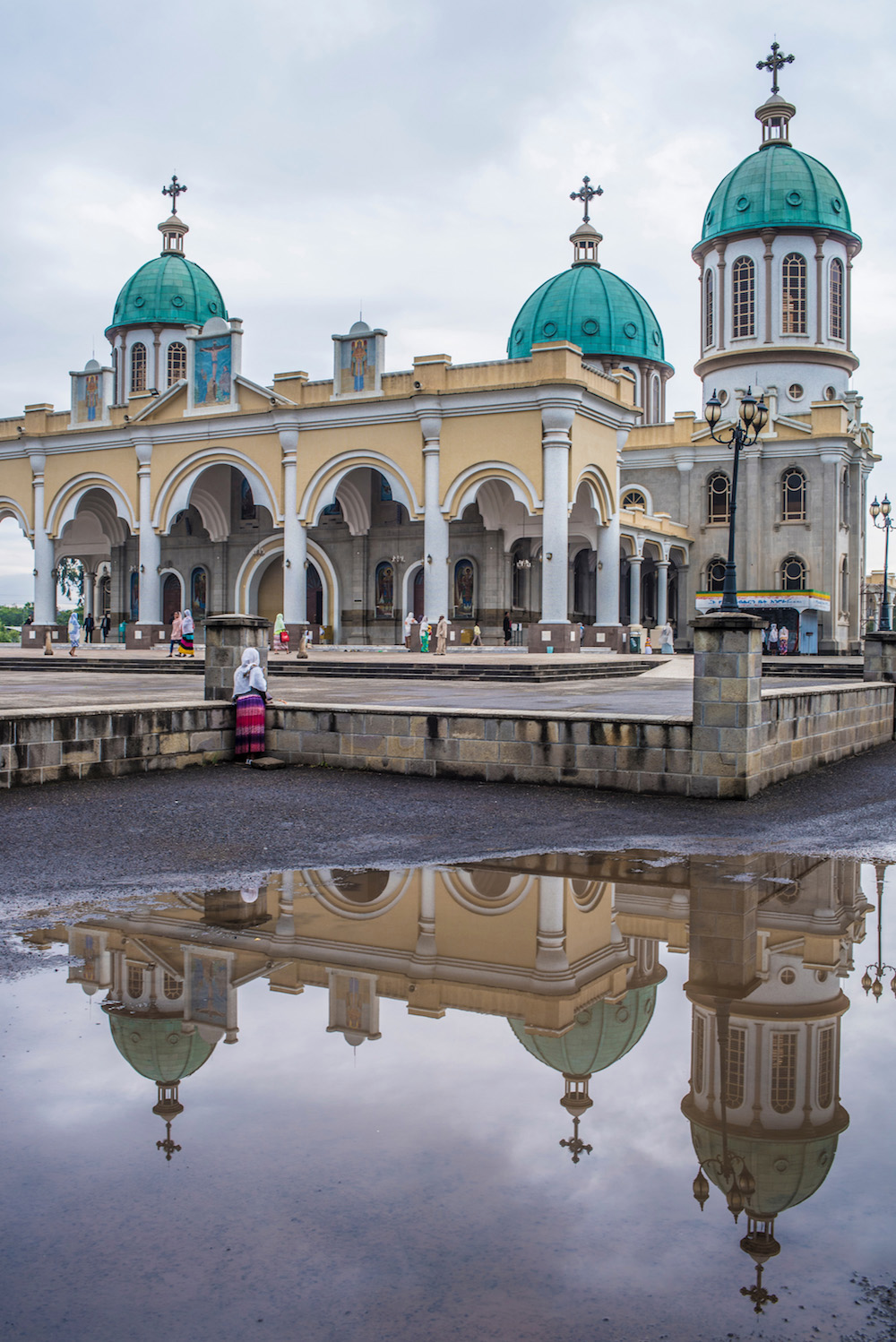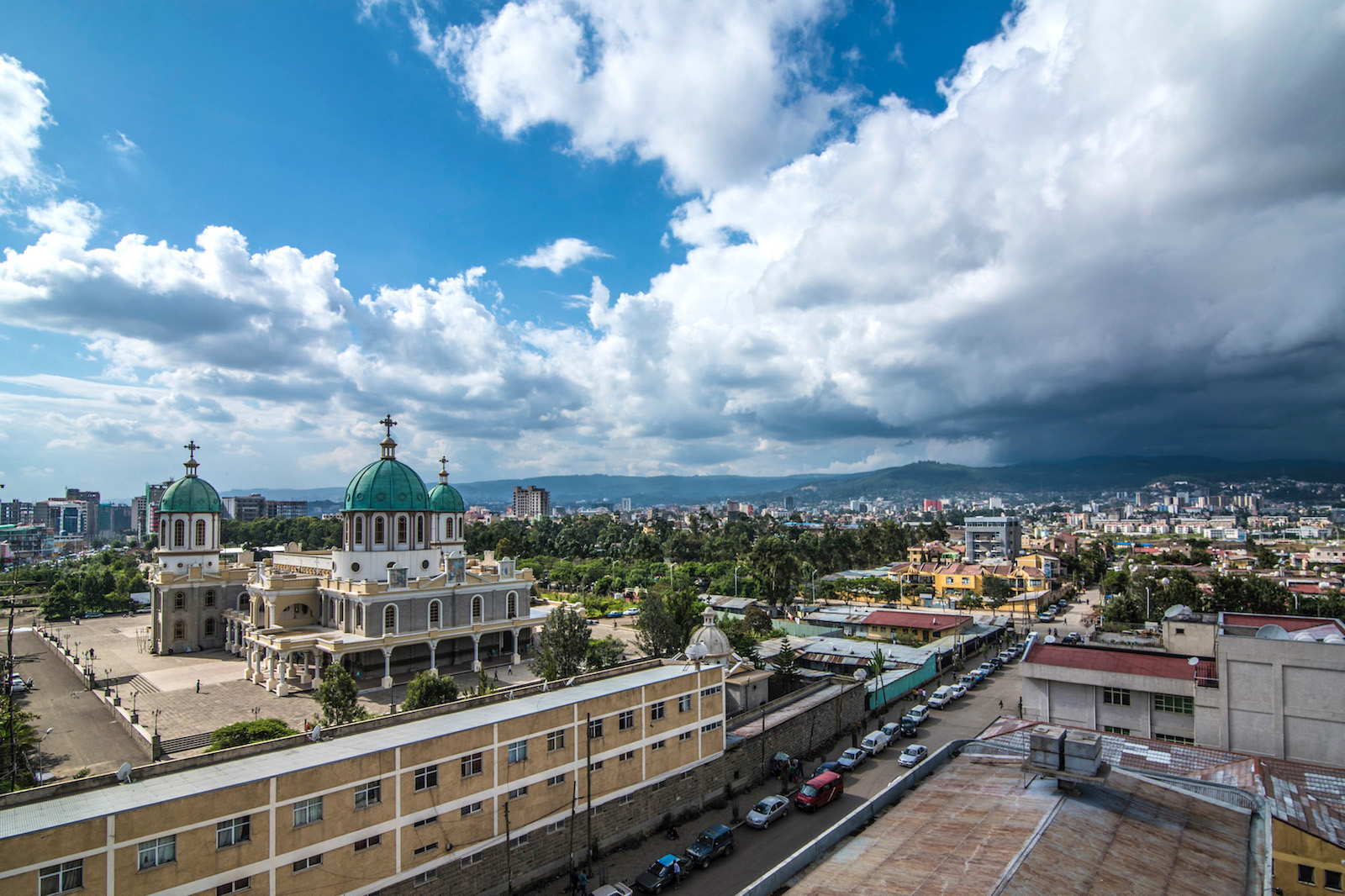 Unfortunately, by about lunchtime on my first day, I was in the process of being scammed by an apparently benevolent young Ethiopian man. Worse, I began to realize that apart from beautiful churches like the ones pictured above, Addis Ababa was aesthetically quite similar to most other big cities in East Africa—imagine a very large version of Kigali, the capital of Rwanda.
How Long, Total, Do You Have in Ethiopia?
I had decided I would only spend two days in Ethiopia, no matter what, because I only had two weeks in the country. I wanted to see all the places I mentioned in the intro to this piece, as well as the cities of Axum, Bahir Dar, Lalibela, and some "cave monasteries" en route to the Danakil Depression.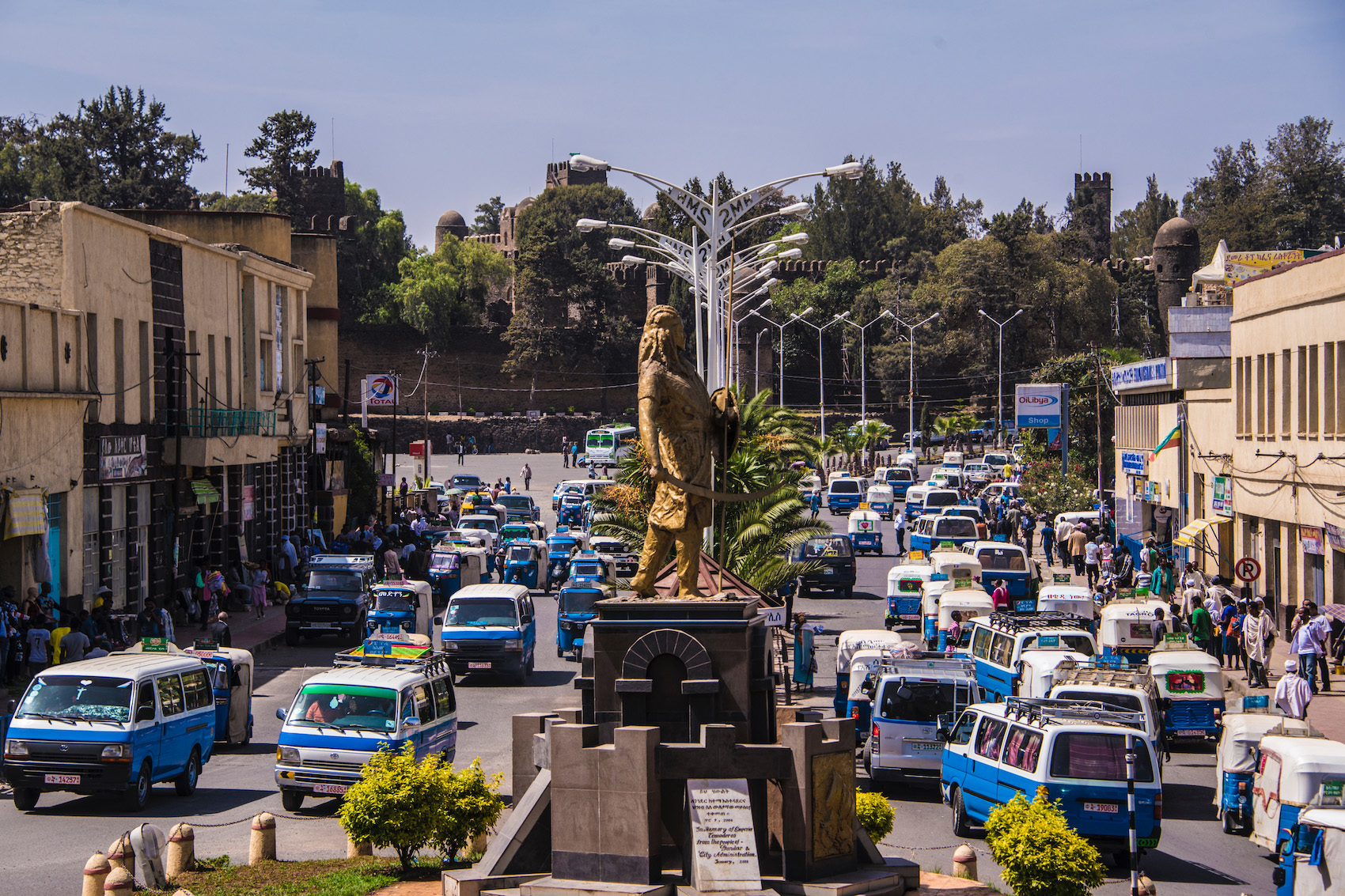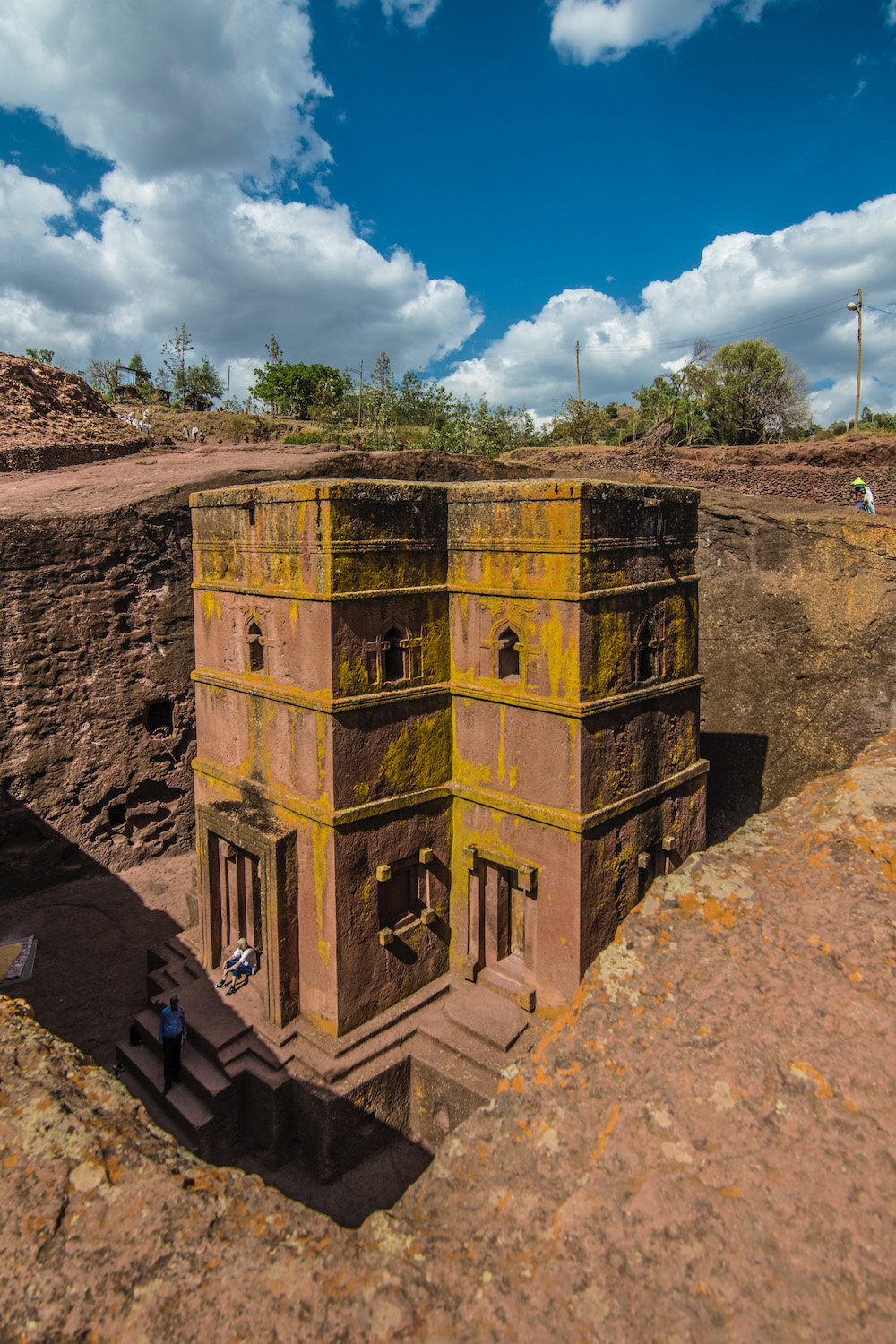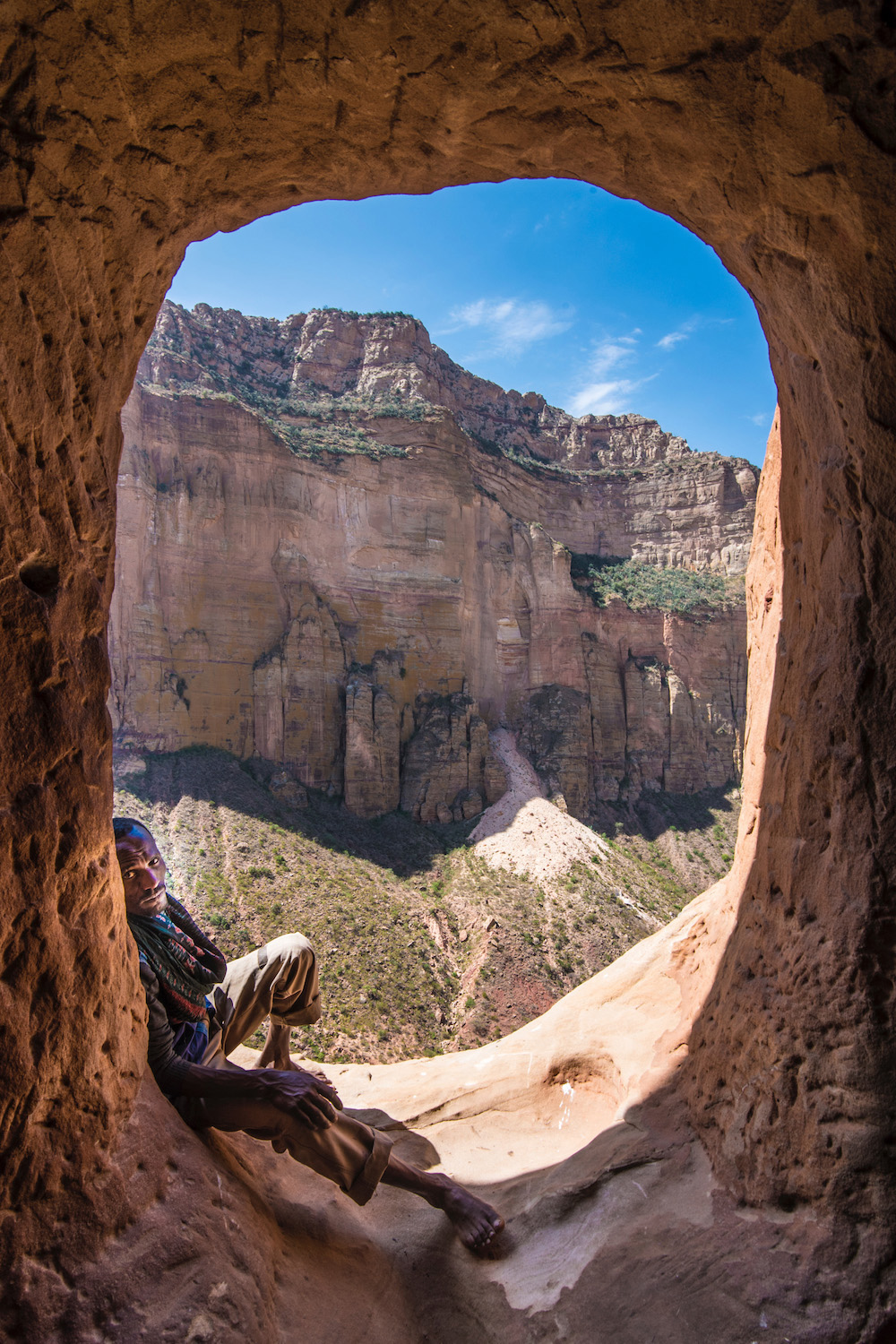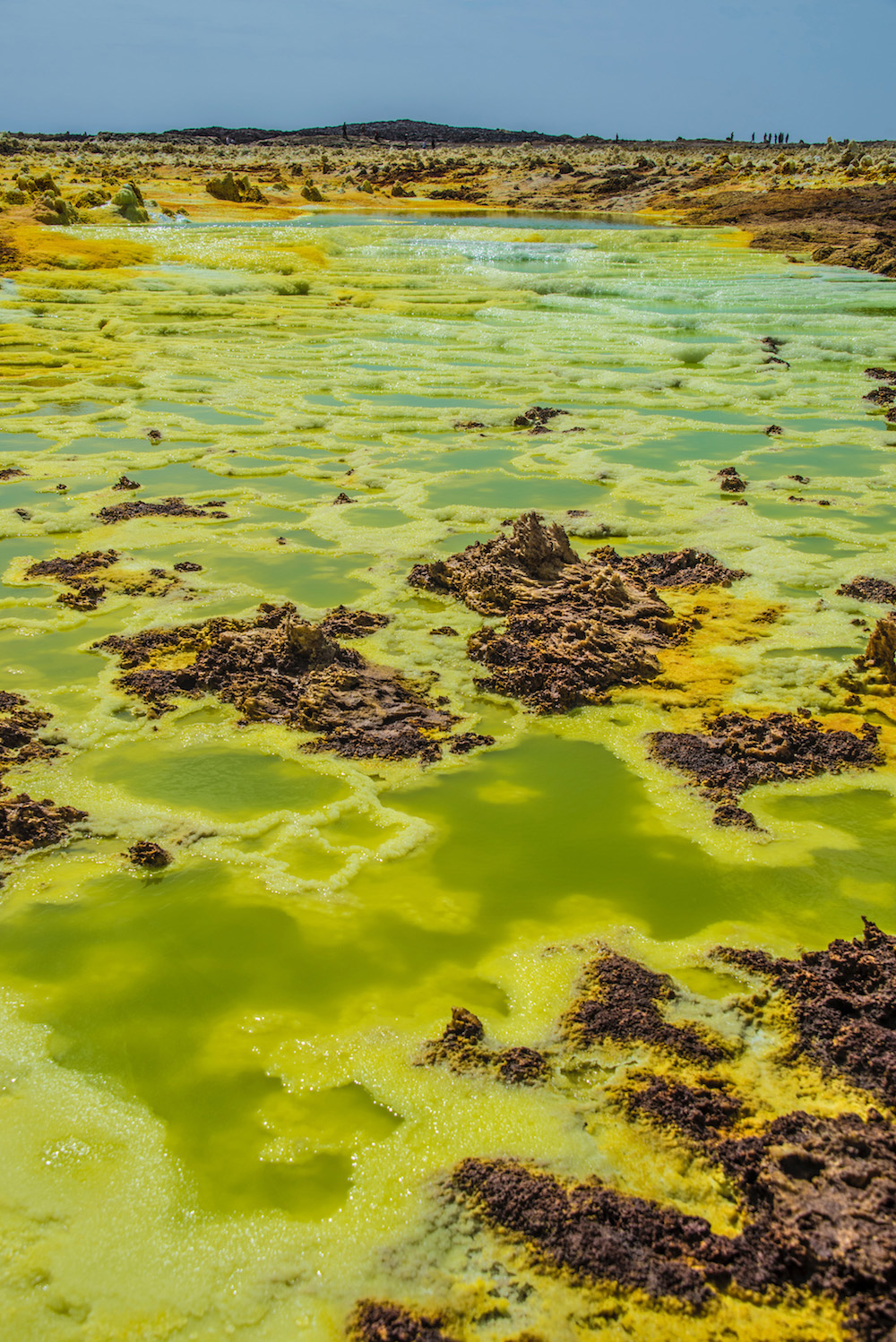 Infrastructure in Ethiopia is quite good via Africa standards (especially when you utilize the awesome domestic network of Ethiopian Airlines), but not enough to pack your itinerary too full. Unless you have a month (or longer) in Ethiopia, there's really no point in spending more than a two days in Addis Ababa.
Look At The End Of Your Trip, Too
I decided to acclimate myself to Ethiopia (culturally and physically—it's a country at relatively high altitude!) with two days in Addis Ababa at the beginning of my trip. Since you'll probably be leaving Ethiopia from there as well, however, why not split your days in Addis Ababa up?
Whether you spend a day in Addis Ababa at the beginning of your trip and another at the end, two and two, one or two, or whatever combination, this can prove not only to be a better time management strategy, but might in fact make you appreciate Addis Ababa more than I did.
Have you been to Addis Ababa? What do you think?
Share: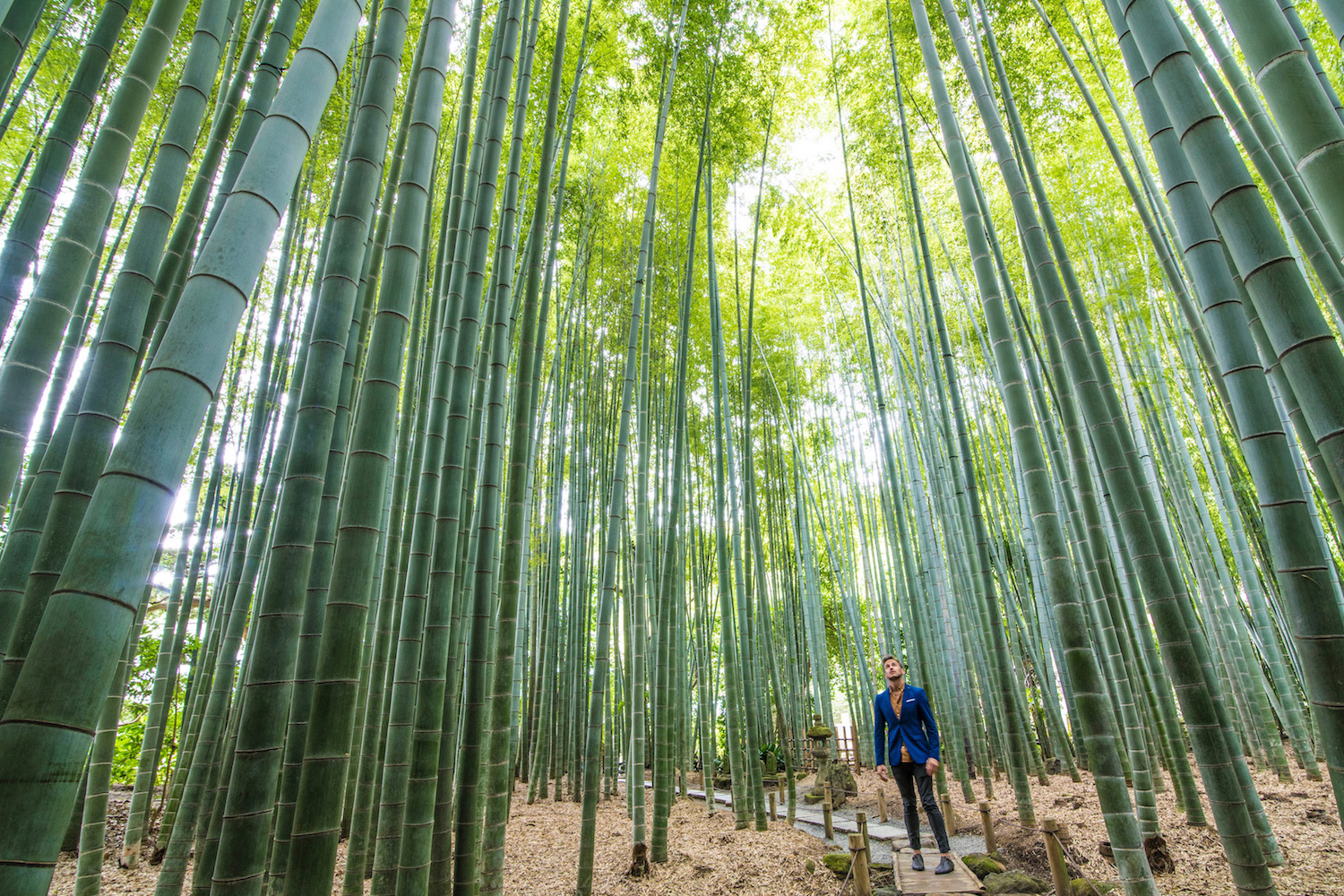 I knew the clock in the taxi was wrong the moment I looked at it, but I didn't know how. The sun had long since set by the time I'd hailed it at Kofu station, after all—it was too dark to see Mt. Fuji, let alone to extrapolate the hour of the day from the sky.
Upon disembarking at the Tokiwa Hotel, I pulled my phone out of my pocket to confirm: Sure enough, time inside the cab was 12 minutes behind the time outside. Twelve minutes to my detriment, given that I was almost exactly as late to dinner. Fifteen minutes, actually, after the walk to my room, then 18 by the time I took my first sip of sake.
"Long time no see," I said to Kristin, and set my ochoko down.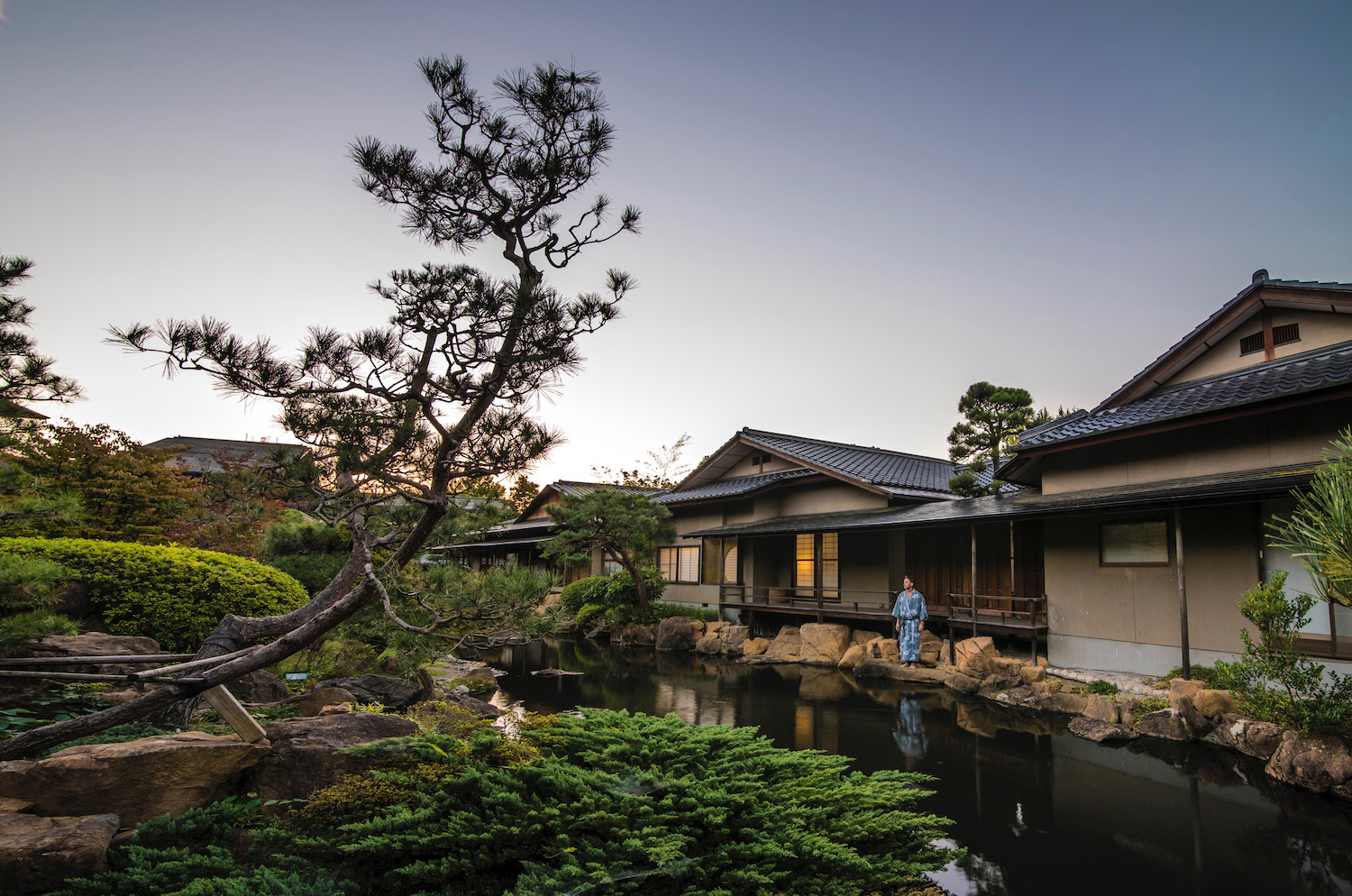 I should specify, before I really begin, that in this instance I'm talking about Kristin with an "i," a colleague of mine I first met at some terrible conference in Cancún two years ago, whom I again saw in Thailand the year after that and whose path I don't cross nearly as often as I should.
But one of the several "e" Kristens I've known throughout my life is also relevant to this story: The one I met in 2005, in some snobby literature class at the University of Tampa. She was much better-read than I was, and was always carrying a book I'd never heard of with her, in addition to all the garbage our professor assigned out to us.
One afternoon (I don't remember exactly which one, but I do remember it was the first time she pointed out that I looked different—handsome—in person than I did in photos—horrible) she placed a colorful tome called The Wind-Up Bird Chronicle on the table in front of her.
"What's that?" I asked her, knowing by this point that she wouldn't bother asking me if I'd read it.
"It's by Murakami," she said, as if I should know who he was, and not really answering my question.
I never did bother following up with her about the significance of the book, or even whether it was very good, or keeping in touch with her in any way besides occasionally liking her posts on Facebook from time to time. But I kept the name of this particular book in my mind for more than a decade, until one day a few weeks ago when I happened upon a copy of it someone had left in the laundry room.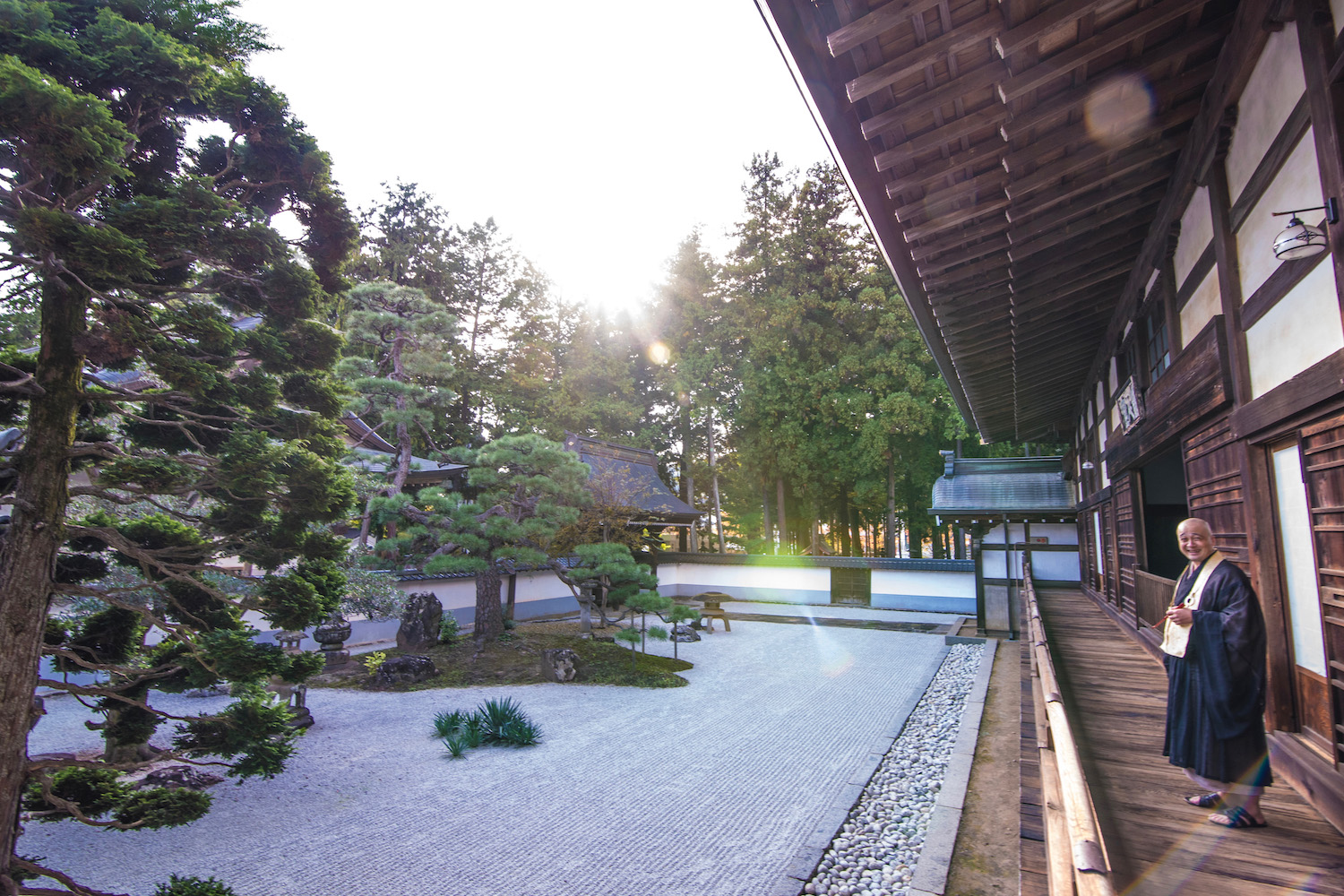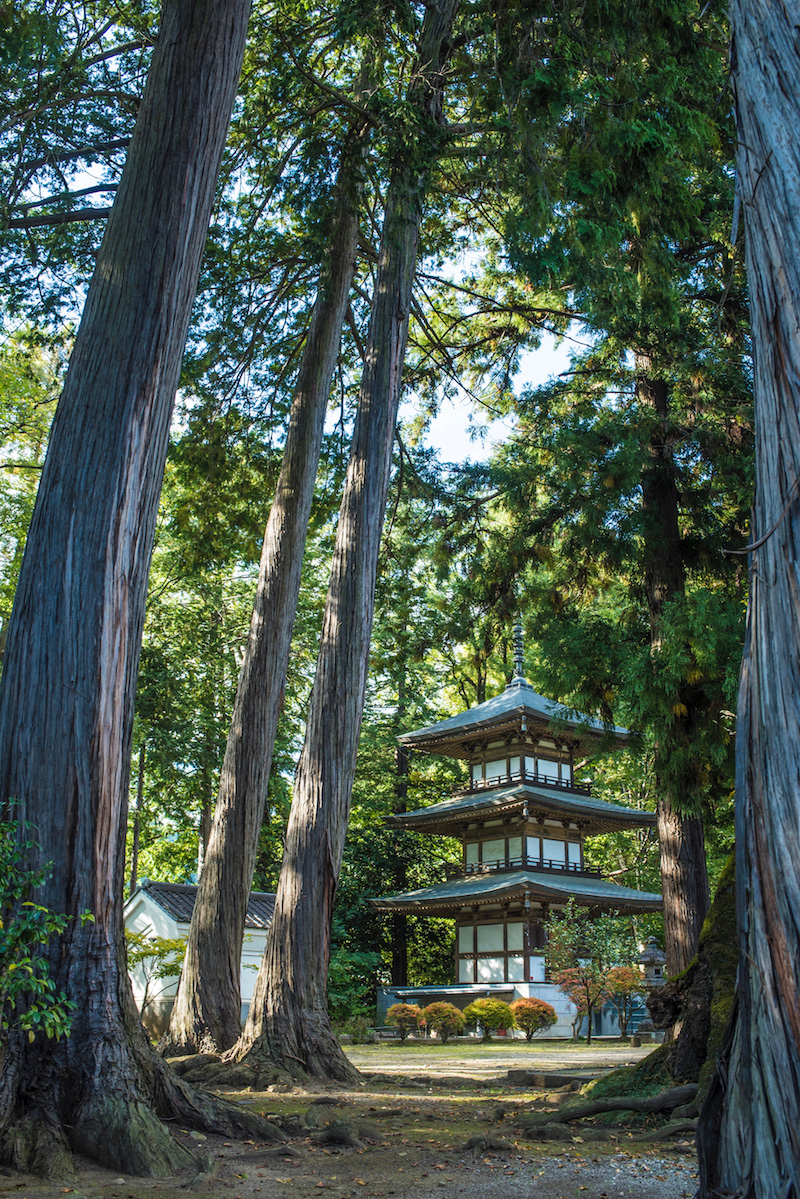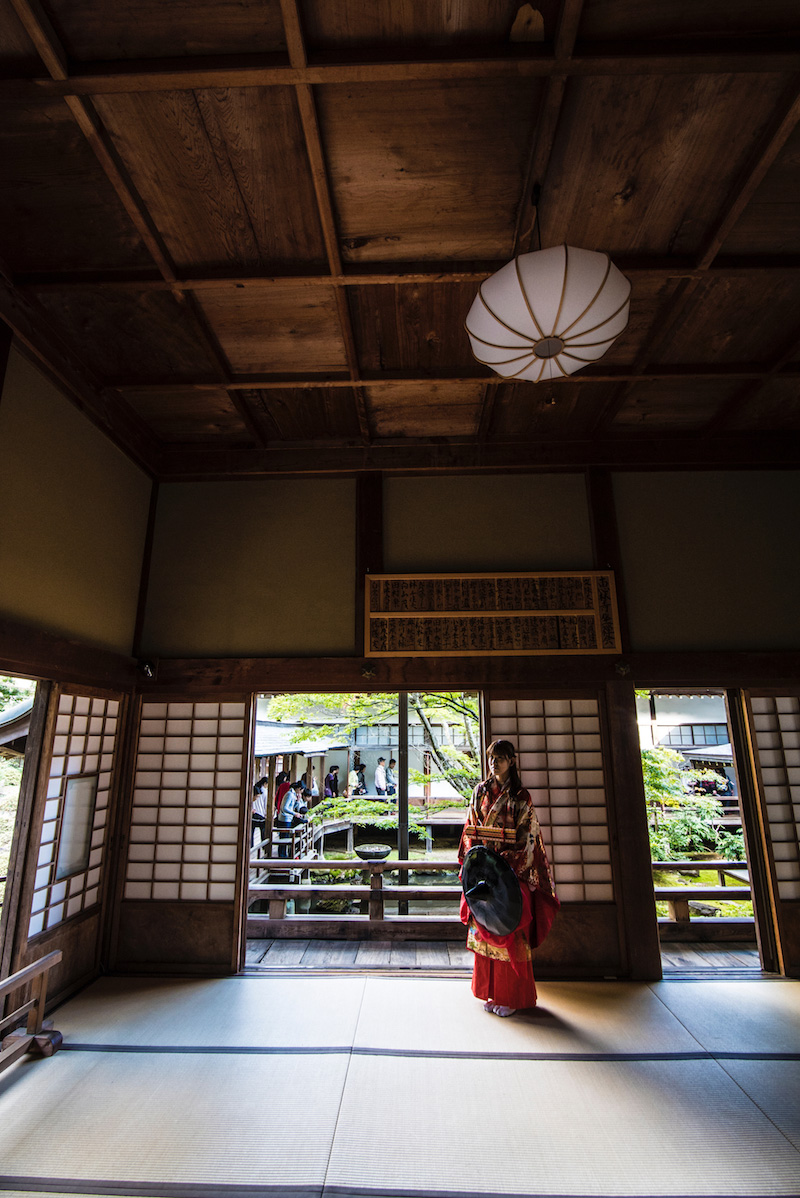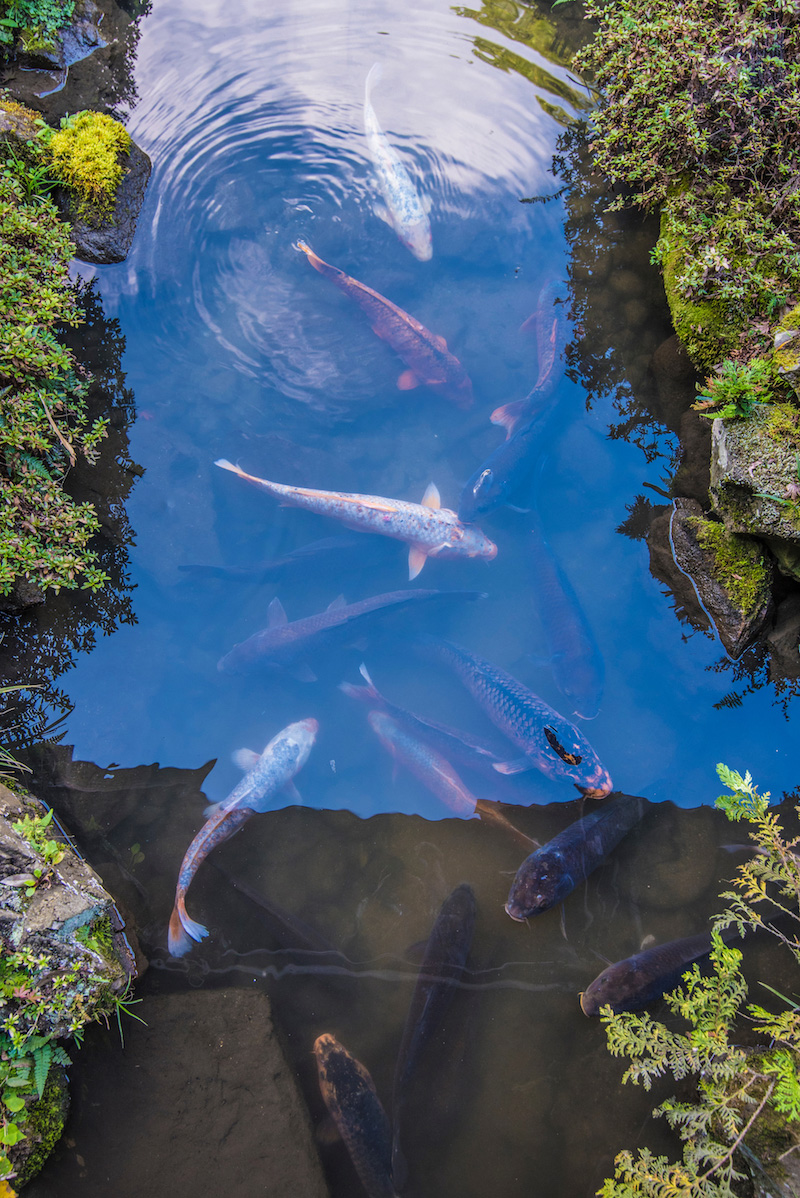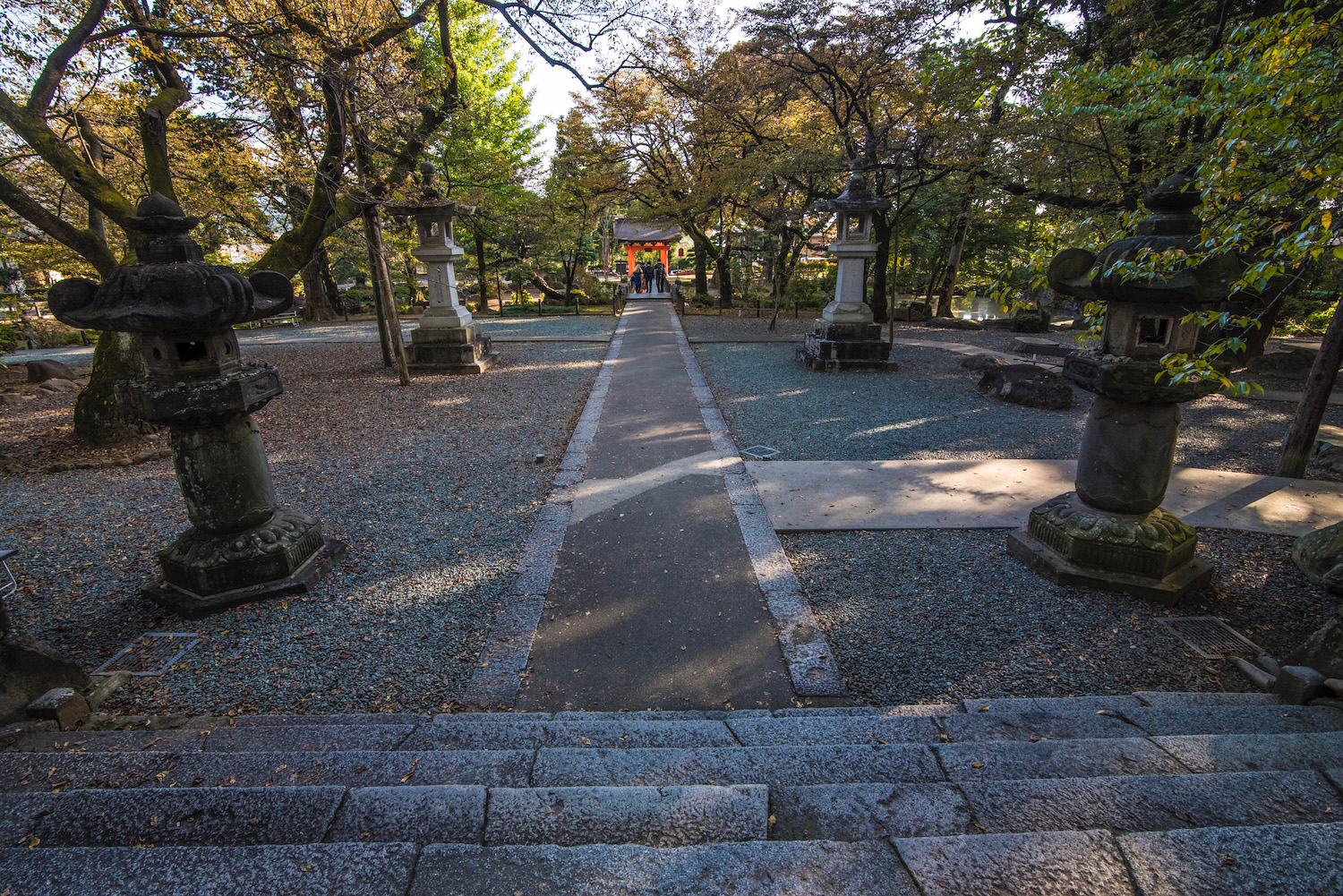 When my alarm went off Monday morning at five, I wished its time had been wrong, but then again 12 minutes isn't enough to get meaningful sleep, let alone to take a power nap. It's better to fight against sleep if you can't get at least 90 minutes of it, or at least that's what I've believed for most of my waking life.
The first three hours of the day passed as if they were only 12 minutes; it was as if I'd blinked my eyes only a dozen times before I was packed, dressed and ready to depart.
"Members of the Japanese imperial family have stayed here several times," the hotel manager (or president, according to his business card) announced during the spontaneous speech he decided to make as we were leaving.
I turned to the interpreter. "Can you ask him how many times they've stayed here?"
"And whether the emperor himself has come," Kristin joined in, "or just members of his family?"
He obliged and rattled off something in Japanese. "I'm afraid he doesn't know."
I never did learn the answer to this question, but I did learn three important things after we set off from the hotel to begin exploring Yamanashi, the prefecture that surrounds the northern slopes of Mt. Fuji. First, Japan produces its own wine and even has its own grape, Koshu, which arrived from Central Asia via the Silk Road many centuries ago. Second, the terrifying hornets I saw while walking the Nakasendo last autumn were just as ubiquitous to the southern Japanese Alps as they'd been to the central ones.
"And do you know," the Shinto priest asked me, as we looked out over the Zen garden at Erinji Temple, at precisely the moment the sun passed from the day half of the sky to the night one, "why the carp swims upstream?"
I shook my head and looked down to observe the seemingly foolish fish in action.
"He swims upstream so that he can become a dragon."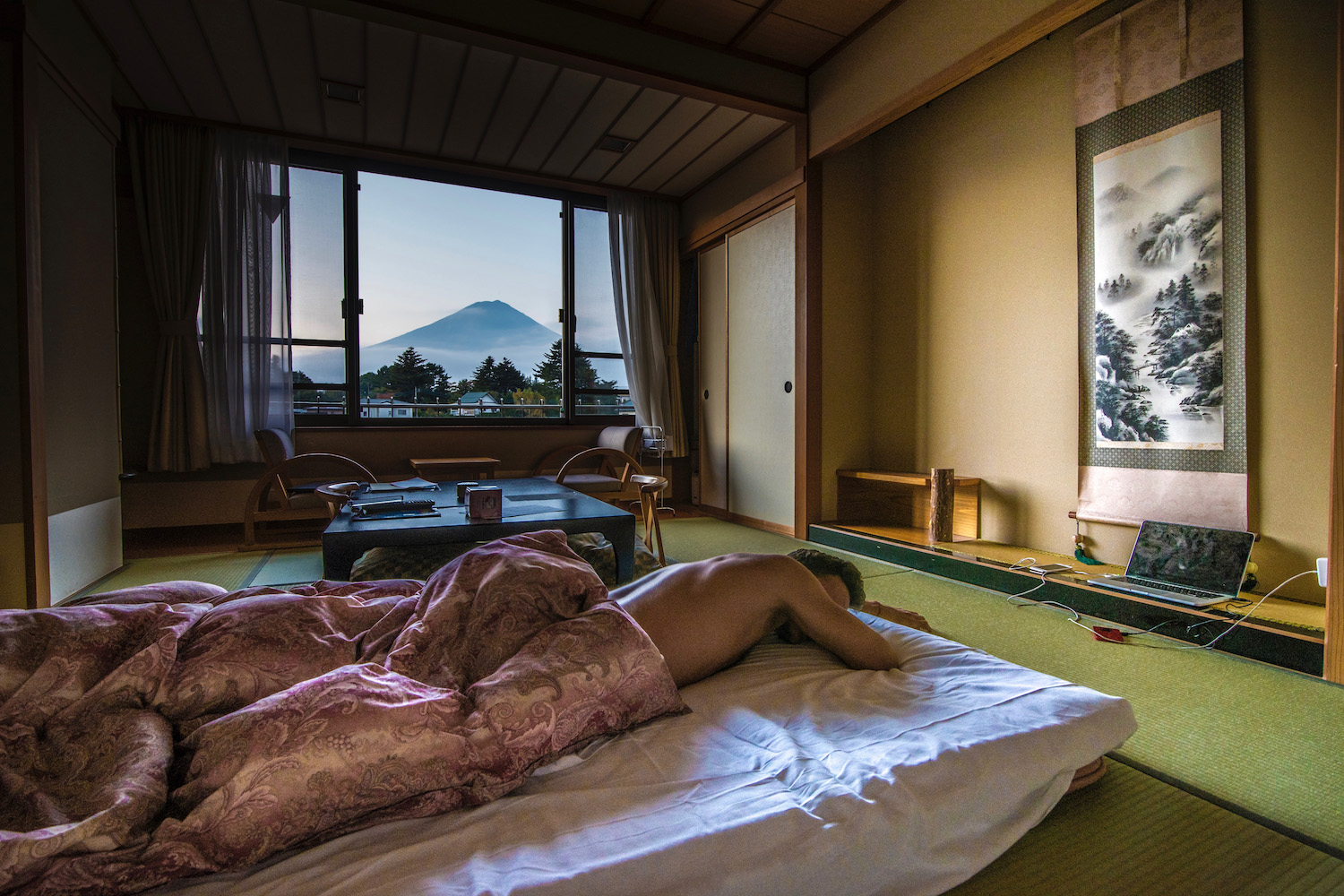 "If, before our eyes, we see someone who is truly suffering, we do sometimes feel his suffering and pain as our own."

-Haruki Murakami, The Wind-Up Bird Chronicle
A few days before my trip, I'd been walking in downtown Austin when I heard a thud on the ground. A homeless woman in a wheelchair had dropped her book and, without even a second's delay, I rushed over to pick it up and hand it back to her.
"That was very nice of you," she said, without qualification, and flashed me an extremely white smile. "Thank you."
She locked eyes with me as I walked past the corner again about an hour later, the sun having descending about 15 degrees toward the horizon, me having just sucked down a couple margaritas on the rooftop of the nearby W hotel.
"What's your name?" I asked and began approaching her.
She smiled, again surprising me with the brilliance of her teeth. "Colleen.
"That was really nice, how you helped me earlier," she continued, before I could tell her my name.
We chatted for a few minutes, although I don't remember any of what we said (or, to be sure, if we said anything of substance) on account of the buzz I had. I do remember thinking that the least I could do was bring her another book to read (specifically, then-unread copy of The Wind-Up Bird Chronicle), but never taking action to that effect.
"It was a simple error," the woman laughed, then hit the delete button, her smile the same brilliant white as Colleen's had been. "There, all better!"
I jolted up from the tatami mat and spent my first few seconds awake on the cusp of a heart-attack. No, I assured myself, a creepy cyborg version of the homeless woman you met did not just delete the entire world with a keystroke. No, you didn't spend last night in a smoky nightclub listening to an aging pop singer with the face of drag icon Divine belt out hits that topped charts that never existed. No, you didn't miss a call from Miami or receive a text message from a blocked number saying that your room was ready—your phone is in airplane mode.
But I can see Fuji this morning, I stood up and walked over to the window to marvel at it.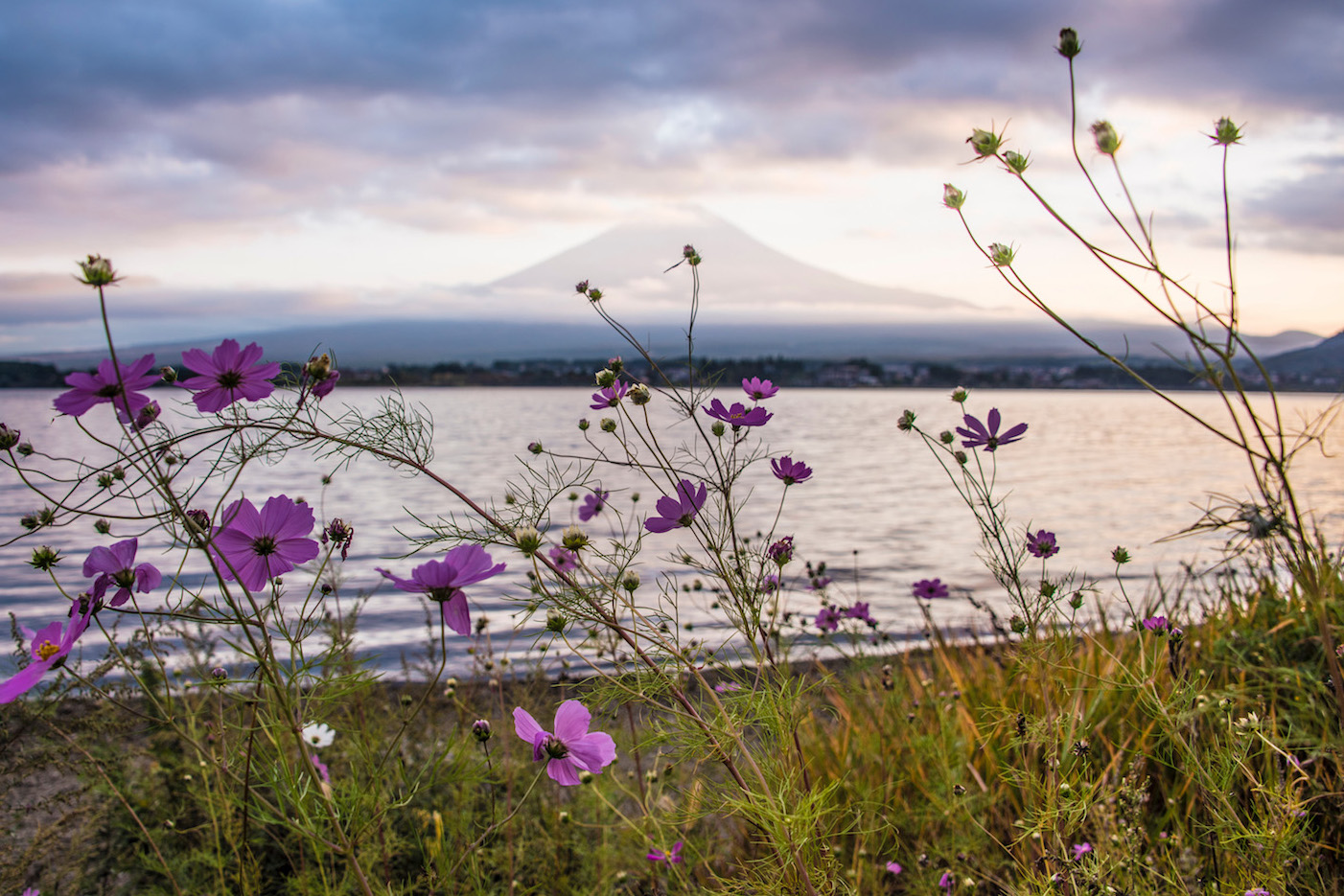 I've seen Fuji twice with my own eyes—well, three or maybe four or even five times if you count the times I've seen it from airplanes or Tokyo skyscrapers. I saw it Tuesday morning, upon waking up from my nightmare, and I'd seen it Monday evening, after Kristen and I convinced our driver to skip a planned visit to an art museum so that we could arrive on the shores of Lake Kawaguchi to catch sunset.
As is usually the case for me (I have very bad luck with sunsets), I hadn't seen anything resembling a sunset, but rather a slight pinkening of the grey sky above the mountain, which match, at least tonally, the petals of the flowers on the lake shore. These flowers made the scene look summery, but the wind told a different story.
I'd tried to see Mt. Fuji a third time (not counting the time I saw it from a plane) after walking the 400 steps that led up to Arakurayama Sengen Park later on Tuesday, but the clouds were so thick by this point that it was as if the mountain didn't exist and never had.
"Manchuria is not really part of China," the interpreter casually insisted as a video from World War II played on the monitor inside the van, no doubt referring to the short-lived Japanese puppet state of Manchukuo. He was always making outrageous, borderline racist statements, since almost the moment I met him.
By this point in the day, we had passed into Shizuoka prefecture, although in my mind I was in Manchuria, or Machukuo as it were. Not the real Manchuria, mind you, nor even the real Manchukuo, but the one from the mind of Murakami, who had vividly illustrated (among other imagined incidents) a spy being skinned alive on the banks of an icy river, left to rot in the tundra as an anonymous pile of meat.
Don't you find things that never happened are often scarier than things that did?
It was dark by the time I really got out of my head, the lit-up Kinomiya Shrine I was standing in front of the only light source of note. That and a large cypress tree, the second-oldest in Japan, according to the handsome, young Shinto priest who led us toward it. His silk sarong was the color of mint chocolate chip ice cream.
The rain was cold and heavy and I wanted to get back to the car, but Kristin decided to walk around the base of the tree a second time.
"Are you sure you don't want to join her?" The priest asked. "Every time you walk around the tree, a year is added to your life."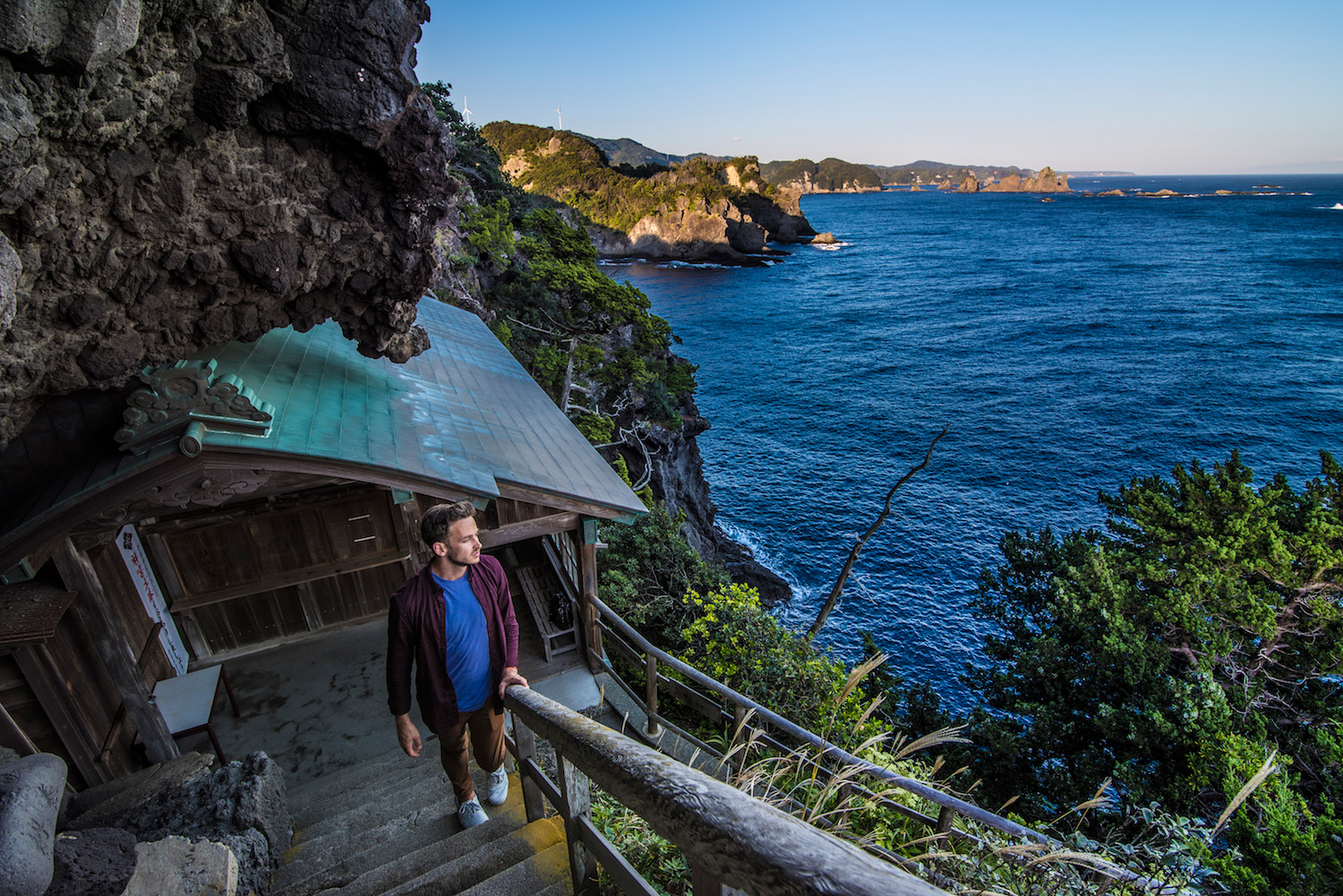 I'm in Dubrovnik, or Cinque Terre, or some dramatic hill above some sea on the opposite side of the planet. I'm crying and feeling desperate, having either just boarded or just gotten off the wrong train. I look at my hands to see skin darker than mine has ever been—black, in fact—but the memories coursing through my mind—of Danilo—are unmistakably my own.
This is another dream, of course. I always dream when I'm in Japan, which is strange because I almost never dream when I'm not in Japan.
When I escape from this particular sleep it's Wednesday morning or maybe Thursday morning—the days blew through me like the Pacific wind did as I stood on a perch over the Ishimuro Shrine, which people during the Edo period had apparently built in the days before concrete steps and metal handrails were a thing. I imagine many of them died during its construction, but no one could confirm that for me.
It's Wednesday morning or maybe Thursday morning in late October 2016, but the aging beachfront hotel I wake up in makes me feel like I'm Toru Okada in 1984. I'm go out into the hallway and I realize, for the first time, that the bird song I've heard in so many interior spaces in Japan is coming not from outside, but from speakers strategically placed in the ceiling.
I look down at my key and notice that it's labeled "512," which just so happens to be the area code for Austin.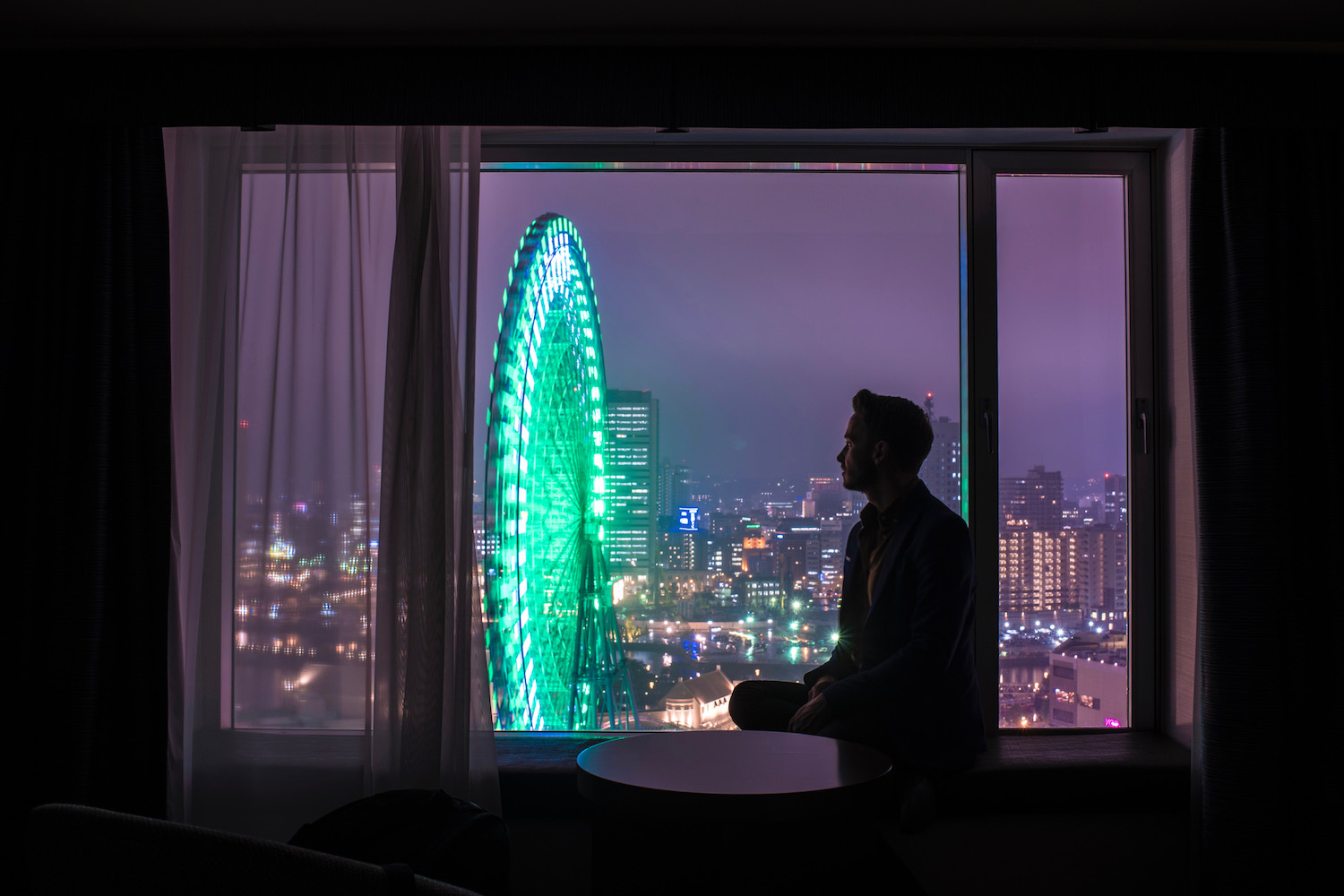 I arise Saturday in Yokohama not from a dream, but with a single, stinging thought: Two-and-a-half months? I questioned myself. Is that really all it takes to forget someone?
My disbelief that morning was not surprising, given that I'd fallen asleep the previous night pondering a similarly contentious, also unsubstantiated statement I'd heard the day before in Kamakura.
"Many snakes live in bamboo forests," the man had insisted as I followed behind him through the mint-colored one at Hokokuji Temple. "And nine out of 10 of them are vipers."
Thing is, as sparingly as I think about my former lover these days, I haven't forgotten about him, not in the least, even if it didn't dawn on me that it was his birthday until we arrived in Ginza that night—Ginza being more significant, in this instance, as the name of a ridiculous reggaeton song he and I used to listen to than Tokyo's ritziest shopping district.
But it wasn't just the lights of Ginza, or the strange way their bokeh evoked pounding Latin dance music, that made me remember I hadn't forgotten Danilo.
As Kristin and I walked through the basement of the Matsuya department store, searching for (among other things) an elusive ¥6,400 cantaloupe, the woman behind the fancy, French cheese counter was cutting red ribbons like the one he'd tied around my wrist in January.
Results aside, Murakami wrote, the ability to have complete faith in another human being is one of the finest qualities a person can possess.
Results aside, I laughed, and looked down at my red ribbon—yes, it was still there.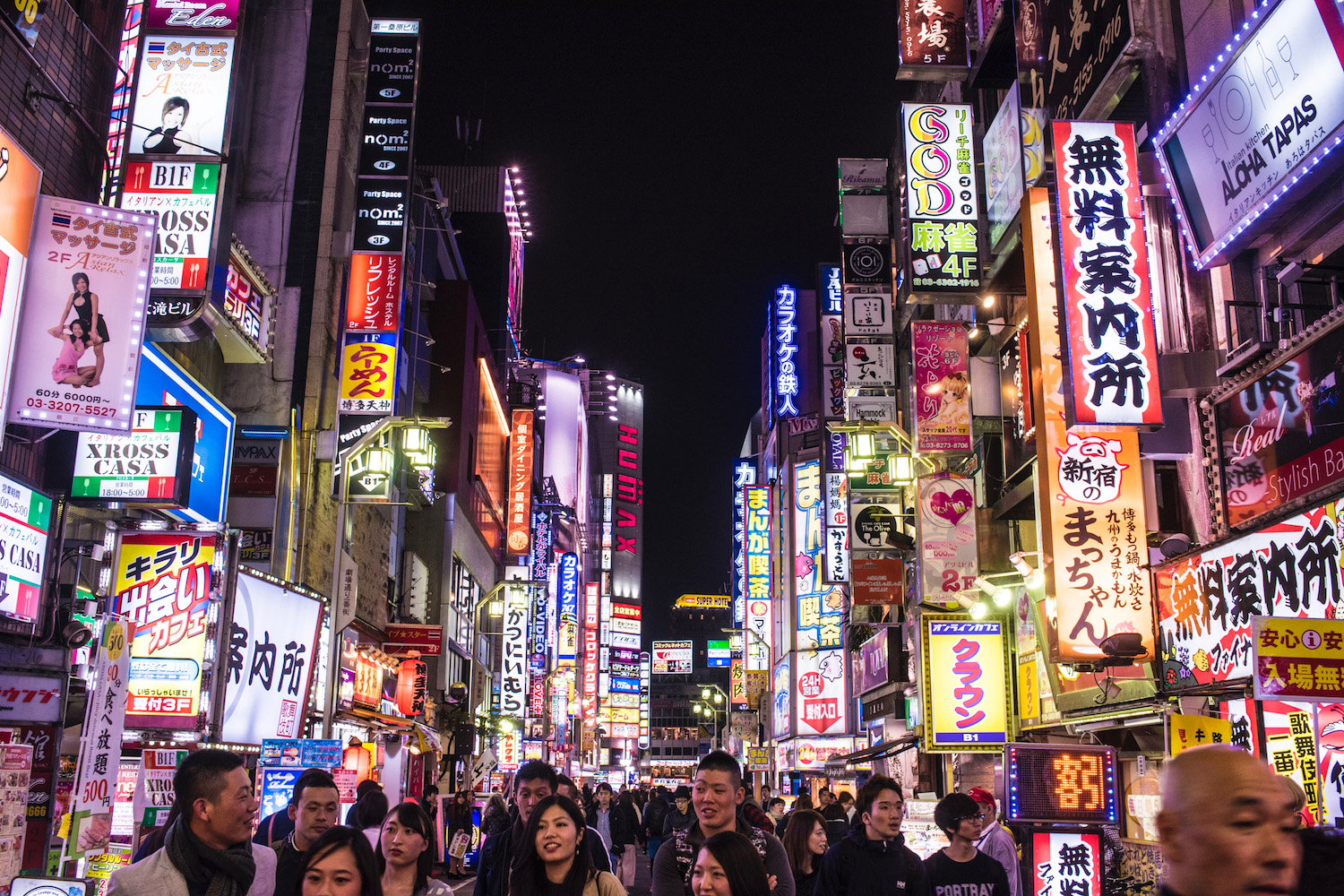 I wasn't in a great place in my life, tangibly-speaking, during my maiden voyage to Japan, but for some reason I always find myself trying to recapture the energy of that period in my life, when I'm in Japan and otherwise.
This isn't why I chose to spend the last evening of this particular trip traipsing through the neon streets of Kabukicho, which was where I'd immediately headed after touching down in Tokyo the first time nearly three years earlier, although I suppose it might've exerted some subconscious influence.
To be sure, Kristin and I had planned to looked out on the city from the Tokyo World Trade Center, but since our dinner had ended after the observation deck closed, I thought exploring Shinjuku (which she had never done) might make for a nice substitute. I also wanted her to experience the wildness of Shinjuku Station, although we technically had to travel via Shinjuku San-chome in order to ride the Toei Subway line back to where we were staying.
As we disembarked at Shibakoen, I heard a fake bird song blare out over the speakers that usually play Nintendo-sounding music. The same song—indeed, the same one that had played in so many places at so many points of my trip, so far as I could tell—played softly inside the halls of our hotel. I'm not sure if Kristin noticed either, which it also to say that I'm not sure if they were real.
Travel always seems to lock stretches of my life in parentheses, but I'm never sure whether I'm inside or outside them.
Maybe I wasn't in Japan at all. The sky this Halloween morning, after all, is quite similar to the foggy one that hung over Danilo and I as we said goodbye for the last time, way back in August. Maybe it's still that day, and maybe he's just left, and I'm sitting on my porch looking out on the lake and imagining how my October trip to Japan will play out.
Maybe Kristen will be there instead of Kristin, or both will be there together. Maybe I'll get carted around in a private van with a xenophobic interpreter, and meet shinto priests and hear fake birds singing and watch carp transform into dragons and navigate viper-filled bamboo forests. Or maybe I'll arrive on my own and go straight to Kabukicho and get lost in Shinjuku station.
Maybe Colleen is still down on the street corner beneath the W hotel, or maybe she was never there at all. I should go see her today and gift her with my copy of The Wind-Up Bird Chronicle, if I actually found it that day in the laundry room.
I wonder if the clocks in all the cabs in Kofu read the same as mine right now, the 14-hour time difference notwithstanding.
Share: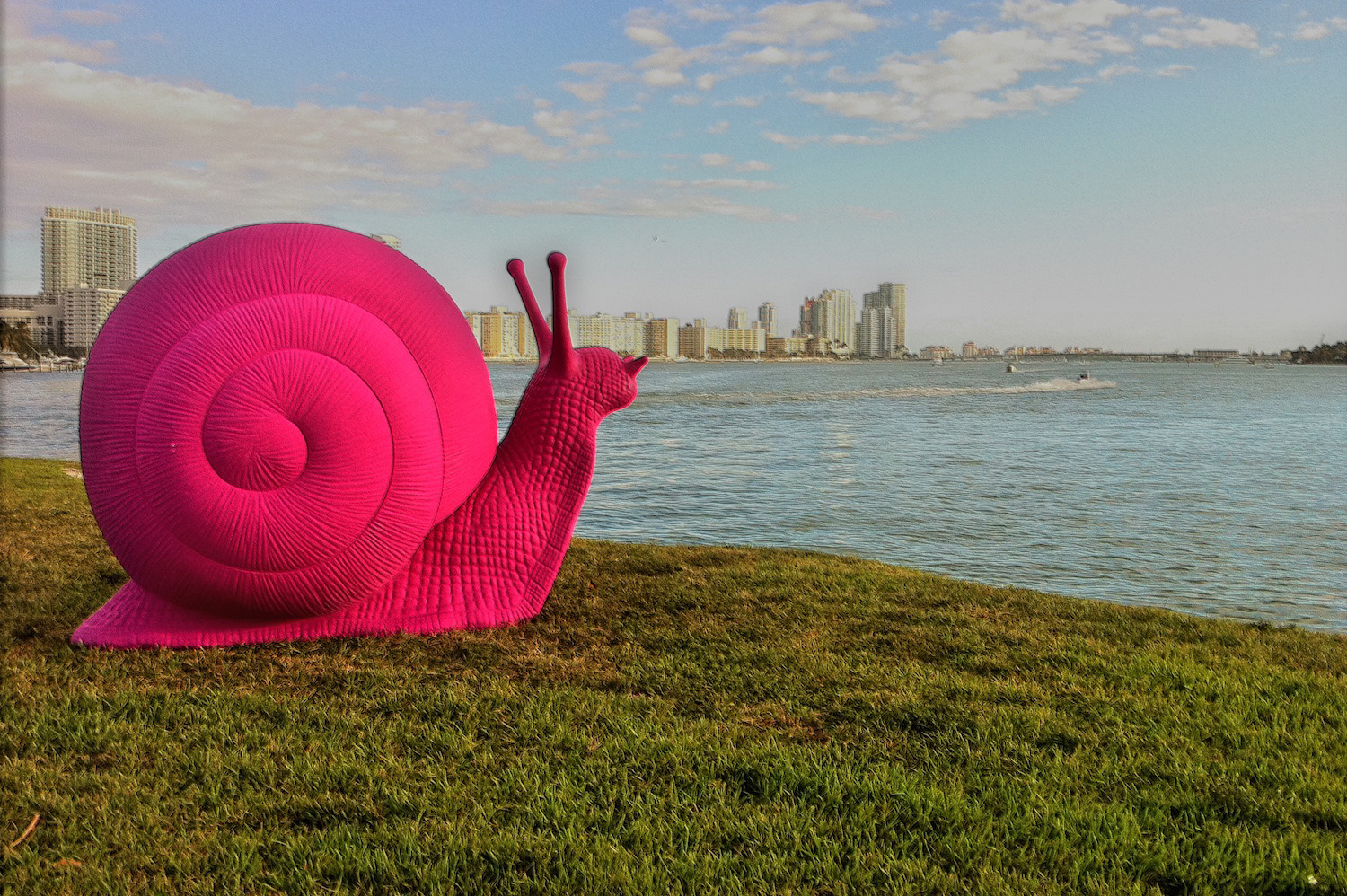 Image via Flickr user Ines Hegedes-Garcia
Every day — and night — in Miami is a party, which can make it difficult to remember the city is one of the top event destinations in the United States. In fact, nearly 1 in 10 of the 8 million visitors who came to Miami in 2015 came for an event, according to a recent report by the Convention and Visitor's Bureau. No matter which time of the year you plan a trip to Miami — and indeed, whether or not you plan to host your own special event after night falls — here are five Miami events you probably haven't heard of.
South Beach Comedy Festival
Miami's funny in a roundabout way, such as how you probably dance after a few too many drinks off Collins Avenue. The city's comedy takes a more official form each March, however, when the South Beach Comedy Festival rolls into town. The South Beach Comedy Festival boasts a mix of up-and-coming local comedians and established national acts, allowing you to enjoy both familiar and foreign humor.
International Ballet Festival of Miami
Speaking of dancing, it isn't just club-grinding that occurs along the South Florida shore. From late-August to mid-September, the Miami edition of the International Ballet Festival highlights the best ballet performers from around the world. Critics have called it the most important dance festival not only in Miami, but in the entire United States.
Miami International Dragon Boat Festival
As a de-facto hub of Latin America, Miami's most recognized international community tends to be those who've immigrated from Central or South America. However, while Miami is one of the farthest cities on the U.S. mainland from Asia, the Chinese community here is strong and proud. This is especially evident every November, when Cantonese-style Dragon Boats fill the city's waters, attracting tens of thousands of revelers.
White Party
South Florida is home to one of the most vibrant LGBT communities in the world, so simply highlighting Miami's (fabulous) gay pride event wouldn't be much of a surprise. What is astounding, however, is the massive White Party, a "circuit" party that takes over South Beach for an entire week at the end of November. Most people who come to Miami dance the night away, but if you come to White Party, you'll probably dance and stop to find a whole week has passed!
Art Basel
The art deco district of Miami's South Beach has long drawn in design snobs, but did you know that Miami hosts an annual art event that's one of the most prestigious in the world? Now nearing its 50th year, Art Basel attracts the globe's foremost artists, art critics, and art lovers to South Beach in early December, where pleasant "winter" temperatures combine with a deluge of art that everyone can enjoy.
Miami is more alive than ever during these events, which makes spending time here even more fulfilling. You should keep in mind, however, that prices on accommodations surge during these events, so you'll want to make sure you book your Miami hotel well in advance to avoid wasting all your party money on a place to sleep — who sleeps in Miami, anyway?