About Robert Schrader
Robert Schrader is a travel writer and photographer who's been roaming the world independently since 2005, writing for publications such as "CNNGo" and "Shanghaiist" along the way. His blog, Leave Your Daily Hell, provides a mix of travel advice, destination guides and personal essays covering the more esoteric aspects of life as a traveler.
Latest Posts by Robert Schrader
Share:

"I'm sorry to hear that happened," said the tall, lanky man who was waiting for me outside the Red Terror Martyrs' Museum in Addis Ababa. "But I don't want any money from you."
I smiled, not really knowing what to say. Joseph, the other Ethiopian man who'd brazenly begun conversing with me earlier in the day, had also seemed to have innocuous intentions, only to attempt extorting money from me within minutes.
It costs 500 birr, he'd insisted, holding up a bootlegged copy of Les Misérables clearly marked with a 20 birr price tag. And, I need it for school.
But I wanted to give this man the benefit of the doubt. Not so much because I trusted him, but because the subject matter of the museum—the systematic murder of nearly half a million political dissidents in the 1970s—had shocked me to my core.
"So what do you want?" I asked.
"Simply to introduce myself," he reached out his hand. "My name is Addis."
"Like the city?"
"Exactly," he laughed. "Do you know what it means?"
I shook my head.
"'Addis' means 'new'," he explained, "and I was my parents' first child, so that's what they called me."
"And what about 'Addis Ababa'?" I hailed down a cab, eager to retreat back inside, in spite of Addis' seeming honesty.
"It means 'New Flower,'" he answered.
That's an odd choice, I scratched my head as I opened the door to the taxi, I haven't seen many flowers here.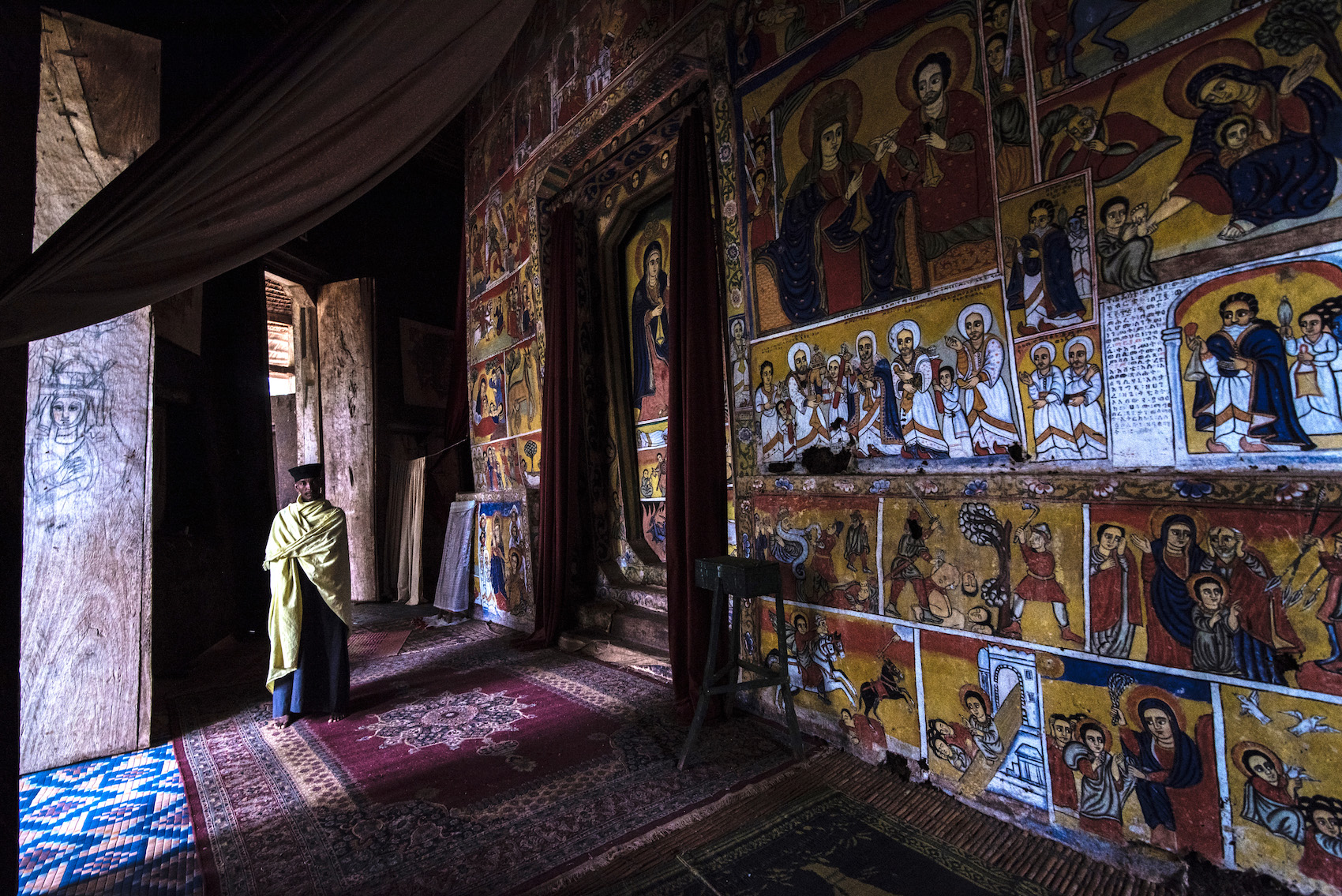 Rose petals under a mosquito net—this was my first impression of Delano Hotel and thus, of Bahir Dar itself. A dramatic appointment for an otherwise forgettable hotel in a completely forgettable city, no doubt, but a telling one.
And one I began to long for the moment I stepped into the dusty minibus station, where I was so immediately importuned by touts that I returned to the comforts of the hotel without so much as attempting to strike a deal with one of them.
"I'm sorry I doubted you," I conceded to the concierge, my trembling hands clutching a boiling cup of espresso—perhaps the only positive consequence of Ethiopia's brief Italian occupation. "I'll take you up on that organized tour."
I feel like a douche typing words like "concierge" and "tour," but the fact is that years of being hustled—and, more recently, deliberately avoiding countries where hustlers hang out—have left me wholly unable to cope with even the modest harassment I'd experienced in Addis Ababa, let alone the feeding frenzy that was Bahir Dar.
And I feel like even more of a douche in hindsight: The "organized" tour not only exposed me to at least as many con-men as I imagined I would meet on my own, but exactly zero sights of note, neither Blue Nile Falls (which was a mere trickle, on account of the river having been dammed) nor the monasteries of Laka Tana, except maybe the very last one.
Is this the best you have to offer, Ethiopia? I wondered as I looked upon a 14th-century take on the crucifixion, failing to notice its irony, given my martyred mood.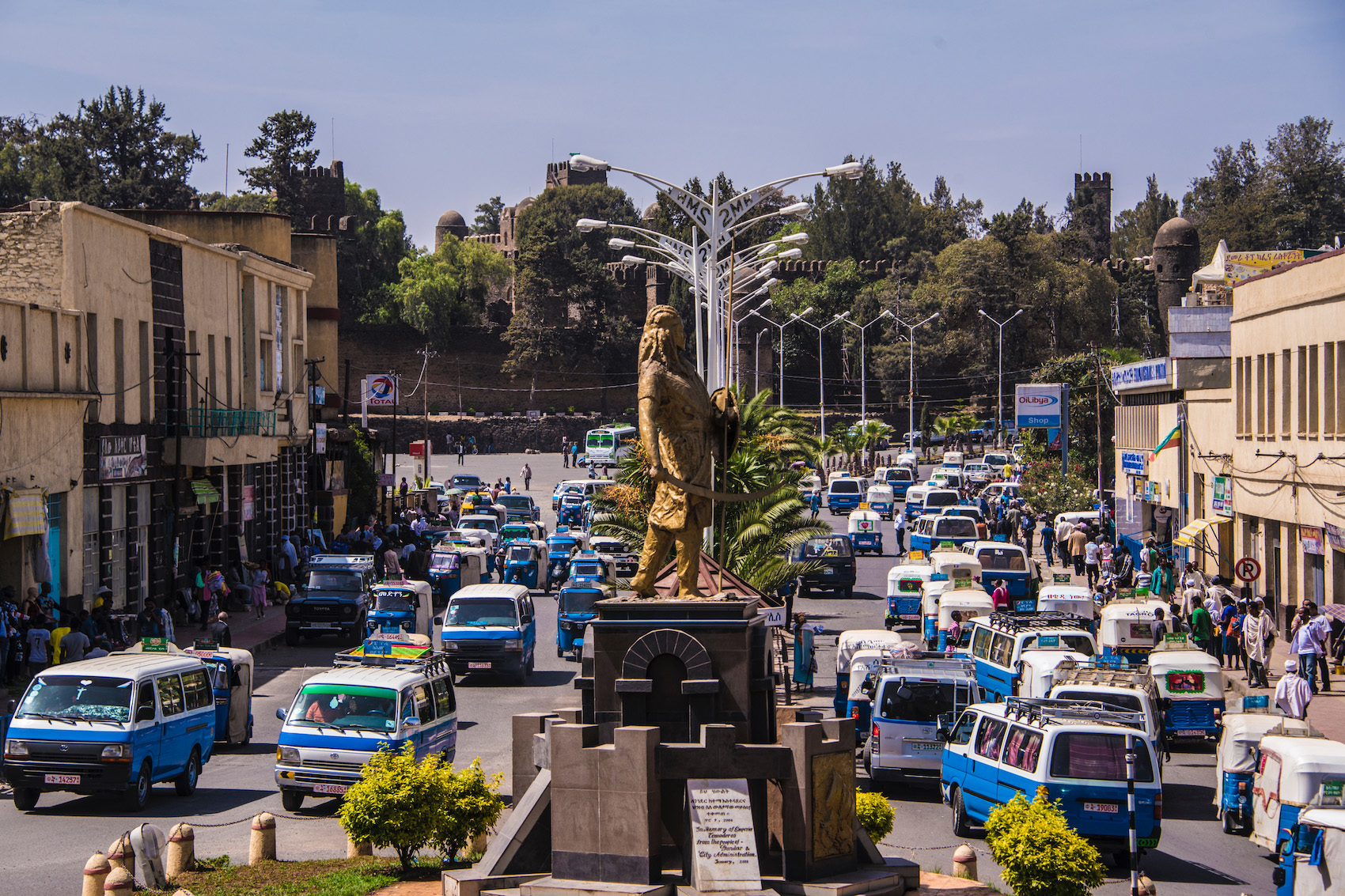 Although the man the gaudy statue in the center of Gondar immortalizes is remembered as an emperor, Téwodros II actually failed at realizing his dream of a reunified state during his lifetime.
Not because his leadership had been ineffective—many historians regard his reign in the mid-19th century as the beginning of modern Ethiopia—but because he committed suicide when he learned the British were coming.
Paul Revere he was not, I laughed as I walked away from the statue and toward Gondar Castle, which had once served as home to emperors like Téwodros, but is today one of the country's only bonafide tourist traps.
Hearing Téwodros' story (from a random street hustler—who else?) had struck a chord with me, given the state my first few days in Ethiopia had left me in. I extensively explored the castle, making no less than a dozen rounds through its relatively compact premises as I awaited the beginning of the golden hour, which left me in a sort of trance by the time the I saw the first star in the sky.
A king can't rule if he offs himself, I closed my eyes as the last ray of sun disappeared. Don't off your trip to Ethiopia just yet.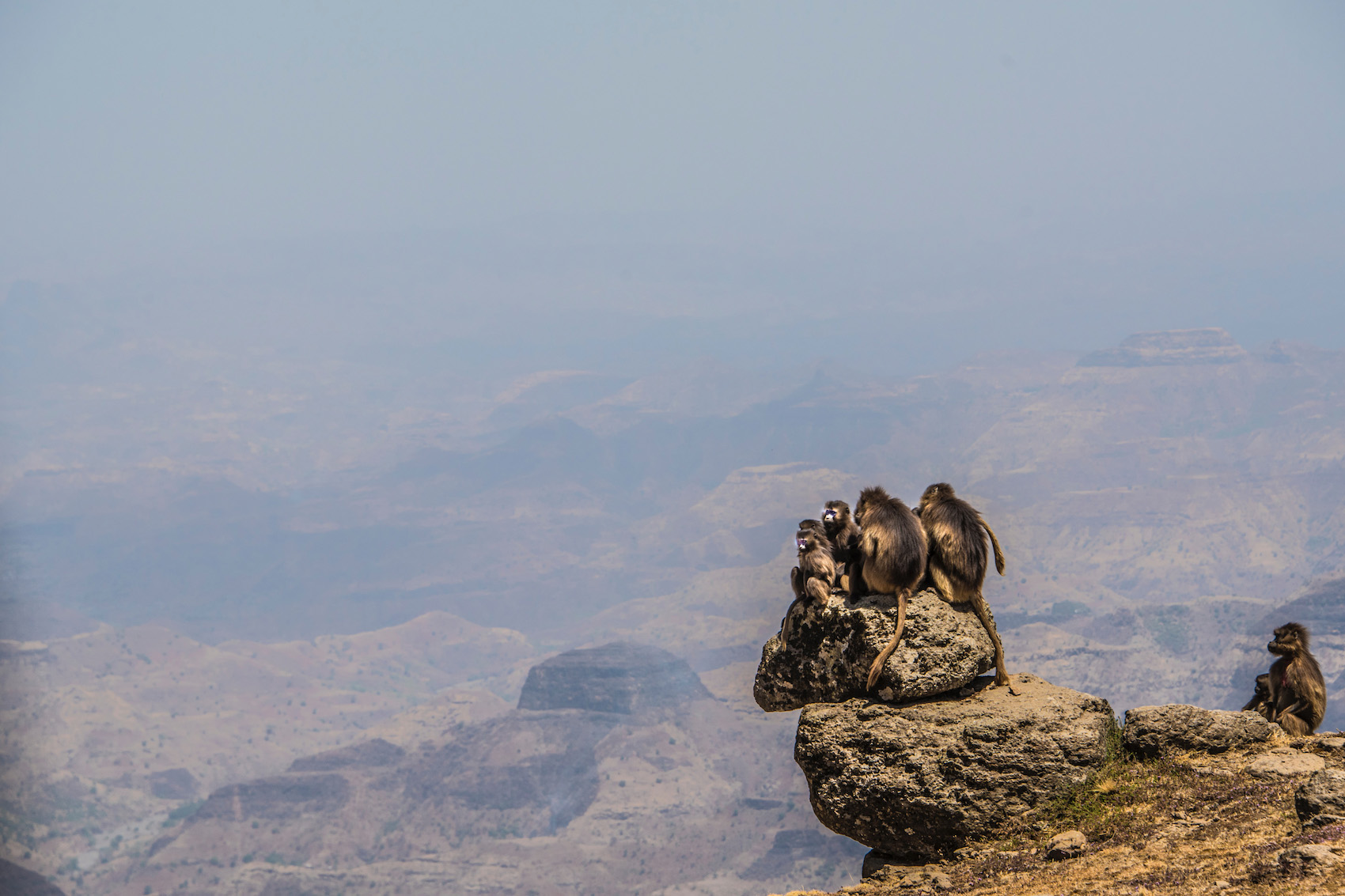 "I don't mean, like, actually commit suicide," the girl said in an East Coast accent, then laughed as she stood inches from a high cliff in the Semien Mountains.
Her friend, in a slight Southern drawl, chimed in. "Yeah, there's a psychological impulse," she explained, without further elaborating. "That makes you want to jump off the edge, even thought you know you'll die. I know it sounds like I'm bullshitting you, but it's real."
I nodded, even if our conversation evoked the terrible M. Night Shyamalan movie I'd watched on my way over to Ethiopia more than the circumstances of my trip thus far, their aptness notwithstanding.
One of the oldest mountain ranges in Africa, surpassed perhaps only by South Africa's Drakensberg, the Semiens show their age this time of year, their vegetation a parched yellow after months without rain. The mountains' endemic gelada monkeys are more visually striking than even sweeping panoramas of the peaks they roam.
Back in Gondar later that evening, having separated from my new American friends, I decided to have dinner at the Goha Hotel, famous for its own panoramic views. My chicken kabob, apparently "locally-inspired," had left me decidedly without inspiration.
As I walked out of the hotel, I noticed the bajaj driver who'd brought me up the hill was still in the parking lot. Ordinarily, I would've seen him being there as opportunistic, but something compelled me not to judge him so quickly. He probably doesn't get to see the city from this perspective very often.
Just then, he startled and turned around. "I take you home?"
"Yes," I hopped into his tuk-tuk. My heart feels soft, I put my hand on it.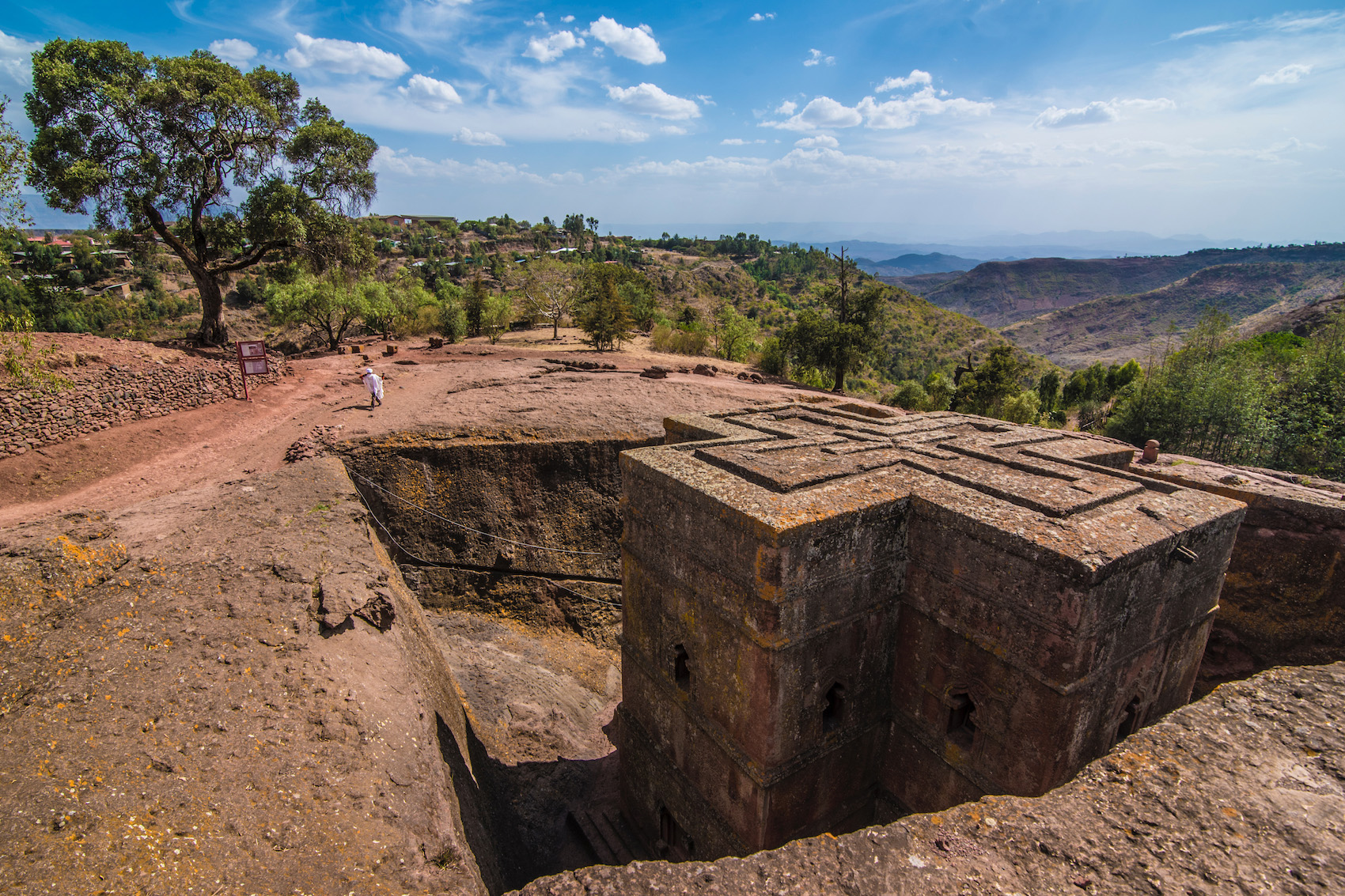 I briefly considered reprimanding the older man who was throwing stones at the young boys who approached my window, but before I could, my driver interrupted.
"Pay these boys to take you to the lion," he said, after having rolled down the window and shooed away their would-be assailant. "Maybe 10 or 20 birr each."
The stone-thrower, for his part, was undeterred. He stumbled away laughing, using his vintage Bet Giyorgis tee (he was something of a middle-aged hipster, albeit an unintentional one) to wipe the sweat off his face.
That's about how I felt about Lalibela, too, I laughed, reflecting not only the food poisoning that had marred my stay in what had previously been the most-anticipated city of my trip to Ethiopia, but also how fucking boring "Lali" was, save for the cross-shaped, rock-hewn church depicted on the shirt.
Soon, however, he was completely out of sight, and I was on my way through a forest of decidedly unhewn stones, my final destination—an ancient rock carving known as the Lioness of Gobedra—notwithstanding.
That was nice, I thought to myself as I began the journey back down from the carving, only moments after having reached it. More the hike than the lion, though—these boys are really fast! Say, where are they, anyway?
My escorts (and thus, my impetus to keep a certain pace) gone, I reached down to get my camera out of my bag and capture the rainbow that had appeared over the nearby city of Axum. But where was my envelope filled with money?
Just then, I spotted one of the boys, who must've known from the glare in my eye that I'd discovered his wrongdoing.
I'm gonna kill that little motherfucker if I find him, I screamed silently as I began running, wishing I had seen what had happened earlier as admonition, rather than abuse: Sometimes, throwing stones is a king's only recourse.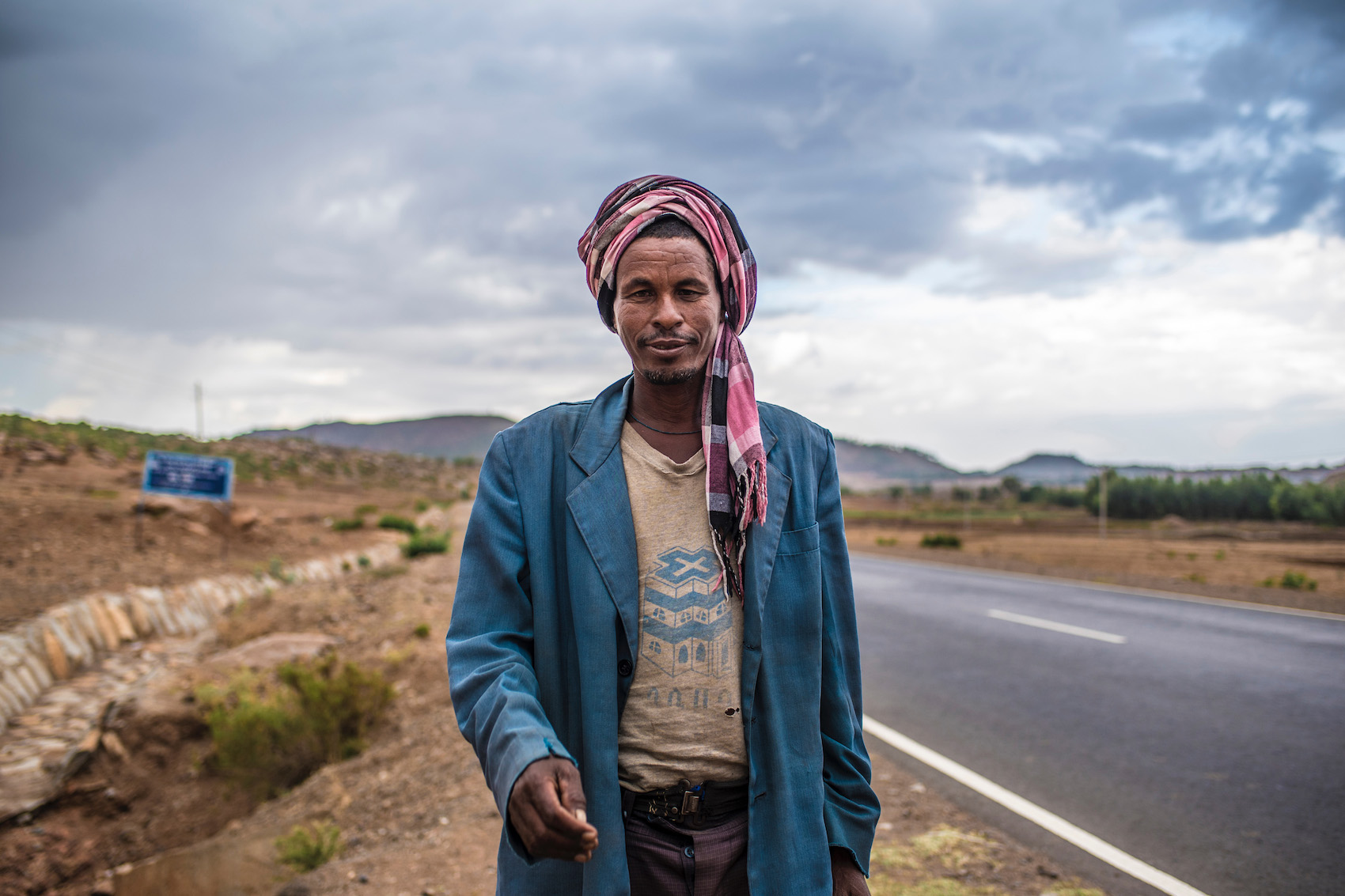 "You should tip him," my guide scolded me, referring to the man who'd given me a harness for the vertical, rock-scaling portion of the climb up to Abuna Yemata Guh, a 5th-century church carved into a cliff several hundred feet above a canyon in rural Tigray state.
"I paid $300 for this tour," I attempted to grin through my grinding teeth as I stepped out of the harness. "The least y'all can do is make sure I don't die for that amount."
"You're smart," he chuckled and handed the man a couple hundred birr from his own pocket. "Most tourists would've paid up."
I shook my head. "Ethiopia has definitely been a learning experience.
"Is that a priest?" I changed the subject as I noticed a robed figure mounting the final ascent up to the church.
"A monk," he corrected me. "Those guys can't marry—or fuck."
"I'm sure they do anyway."
"I would go crazy," he continued, clearly not having gotten my reference to Catholic shenanigans, and making a spinning gesture beside his ear.
In spite of his clearly advanced age, the monk glided up the side of the mountain with incredible ease and agility—although he'd only been a couple steps ahead of us on flat ground, he beat us to the summit by a good minute.
As I watched the him coast along the edge of the cliff, the grains of sand his feet eroded off the stone falling silently to the desert floor beneath, I realized how pointless it was to hold onto the resentment I'd built up on my trip: It is not the speed with which you climb a mountain, but the grace with which you look upon everything beneath it that makes you royal.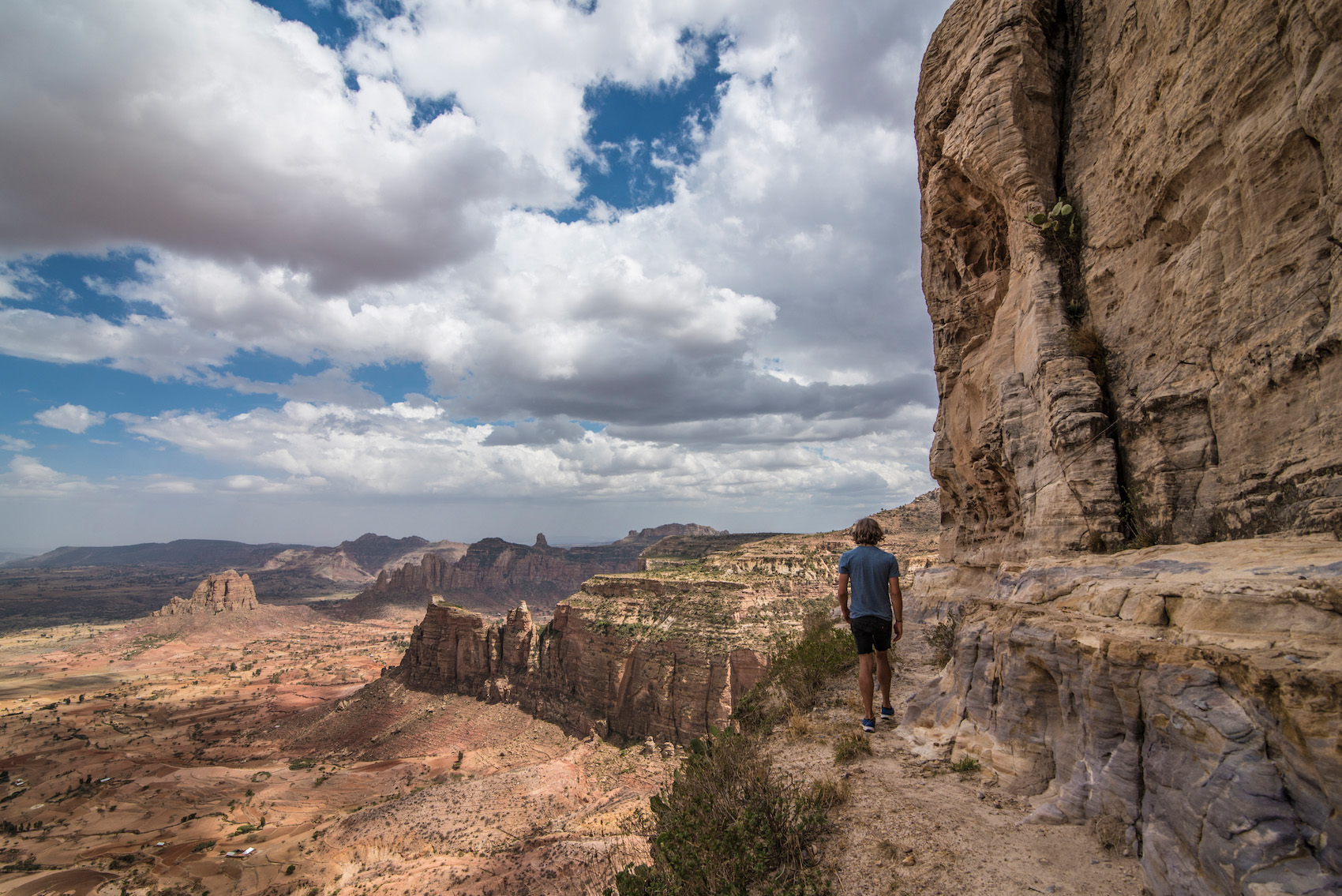 "What's your name, by the way?" I asked the young woman at the tour desk in Mekele, the final stop of the first leg of my trip to Ethiopia.
She smiled. "Ababa."
"Flower?" I clarified.
"Yes," she laughed. "Like—"
"Addis Ababa," I finished for her, recollecting on the conversation I'd had outside the Red Terror Museum.
She seemed perplexed. In a good way, but perplexed nonetheless.
I expected her to ask me how I knew the meaning of her name, but instead she simply handed me the itinerary for my Danakil Depression tour and bid me farewell.
I began reading it as I made my way up to my hotel room, which was just above the tour company office. This volcano, the page explained, is also known as the "Door to Hell."  I laughed, recalling the various times on my trip up to that point I'd felt like I'd been on satan's stoop.
I entered my room and walked out onto the balcony to admire the castle of Yohannes IV, a late 19th-century Ethiopian emperor who died as a result of the hubris with which he approached an ill-advised war with Sudan.
As the late evening sky went began turning from blue to black, I closed my eyes and imagined how Yohannes must've felt the moment the bullet that would take his life entered his body.
Yohannes gave up his crown to his own princes of darkness, I noted. Don't be like Yohannes.
Share: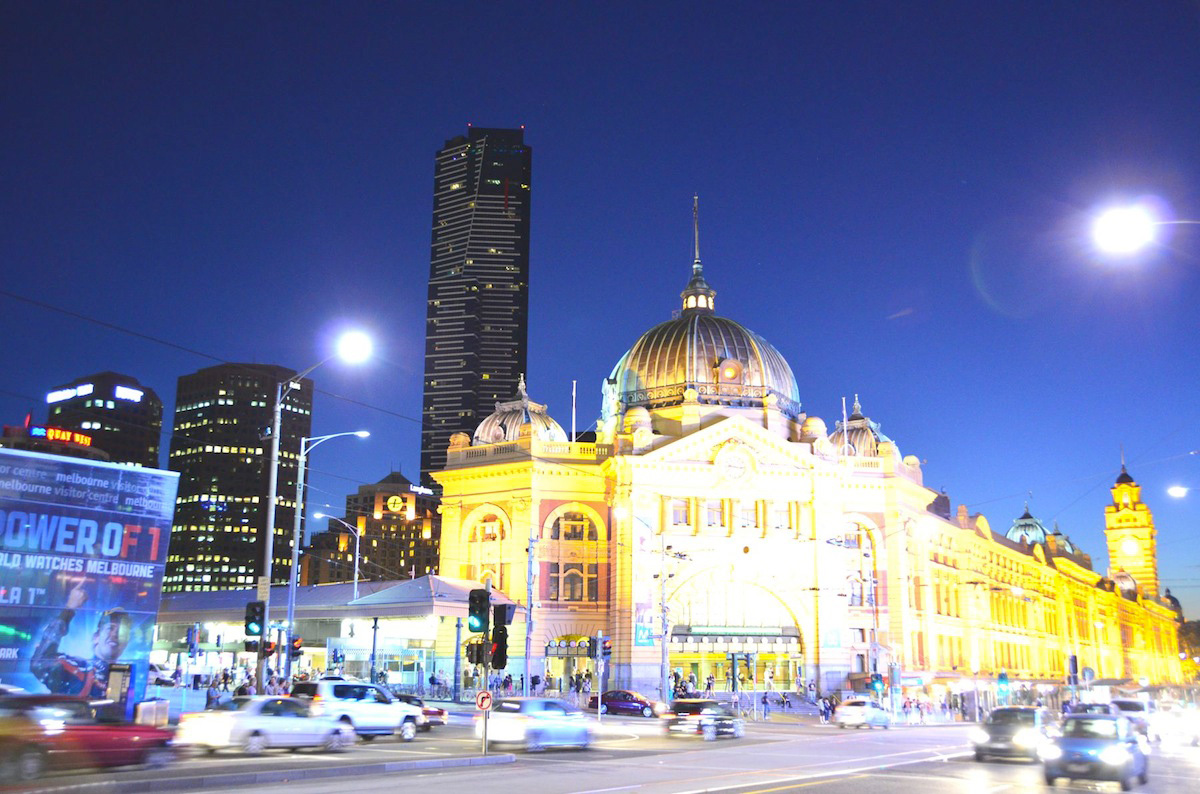 Melbourne is the home of Aussie rules football, the film and TV industries, and a major center for literature and street art. Those interested in exploring something unique to Melbourne, and not seen in many other cities, should consider spending a day exploring the various laneways of the city, also known as "arcadeways."
In the early days of the city, the laneways, which date mostly to the Victorian era, consisted of pathways for horses and carts, behind buildings, with roofs later added to protect from the weather. For decades, the untapped potential of these lanes remained dormant, until about 30 years ago when a change in Victoria's liquor laws spurred a laneway renaissance.
Architect and urban designer Craig Allchin noted in an interview about Melbourne's unique laneways that the then-newly created "small bar" licenses, originally set up to spur the development of a local casino, alow allowed enterprising Melburnians to set up small bars all over the city. Before the change in law, establishments were required to serve food to serve alcohol, with the operational cost of kitchens making most undertakings difficult.
Additionally, Melbourne's mid-1980s city center was mostly empty, with suburban malls poaching much of the retail out of the city. Allchin commented that, "State government strategists reasoned that specialist, one-off stores servicing the whole metropolitan population were important for the life of the city," and noting that a savvy state government created rent policies which encouraged small businesses to try their hand in the city center.
With an eye toward maintaining the historical character of the laneways, state policies also forced businesses to get creative in the existing small spaces. Today, the laneways, which vary in size from very narrow to comfortably accommodating outdoor seating and music, have been transformed into "hole in the wall" delights, with the various arcades, each with their own distinct personality, boasting acclaimed bars, al-fresco dining, unique shops, and urban art.
For music fans, AC/DC Lane located off Flinders Lane, is a must-see. Named for the legendary band, which filmed a video for their 1976 classic "It's a Long Way to the Top (If You Wanna Rock 'n' Roll" while riding a truck down Melbourne's streets), this laneway boasts the popular live music venue Cherry, host to many a rock band.
Walk 5 minutes away from AC/DC Lane, back down Flinders Lane, and turn onto Hosier Lane. The center of Melbourne's street art scene, this sprawling alley way features every kind of street art – colorful murals, stencil work, and classic graffiti "tagging." References to both popular culture and Australian politics makes a jaunt down Hosier both educational and entertaining.
In search of food? A 15 minute walk away from Hosier, down Collins Street and Elizabeth Street, will bring you to Hardware Lane, a foodie's delight with unmatched ambiance – outdoor seating beneath the facades of 1900s-era warehouses. At night, live music complements the food and drink. Try Amigos for tequila and tapas, Il Nostro Posto for pasta, and Aloi Na for Thai.
Finding a drink isn't difficult in Melbourne, but for a special experience, after dinner in Hardware Lane, walk 15 minutes down Little Bourke Street and into Meyers Place. There are several bars to hole up in, from modern cocktail bars to old-school style speakeasies, but make a point to stop by the city's oldest laneway bar, Meyers Place, which often has great happy hours deals.
These are just a smattering of the laneways of Melbourne – part of the fun is going on a walking tour of the city and discovering the hidden delights! There are group tours available, or, download your own map and see where the laneways lead you!
Share: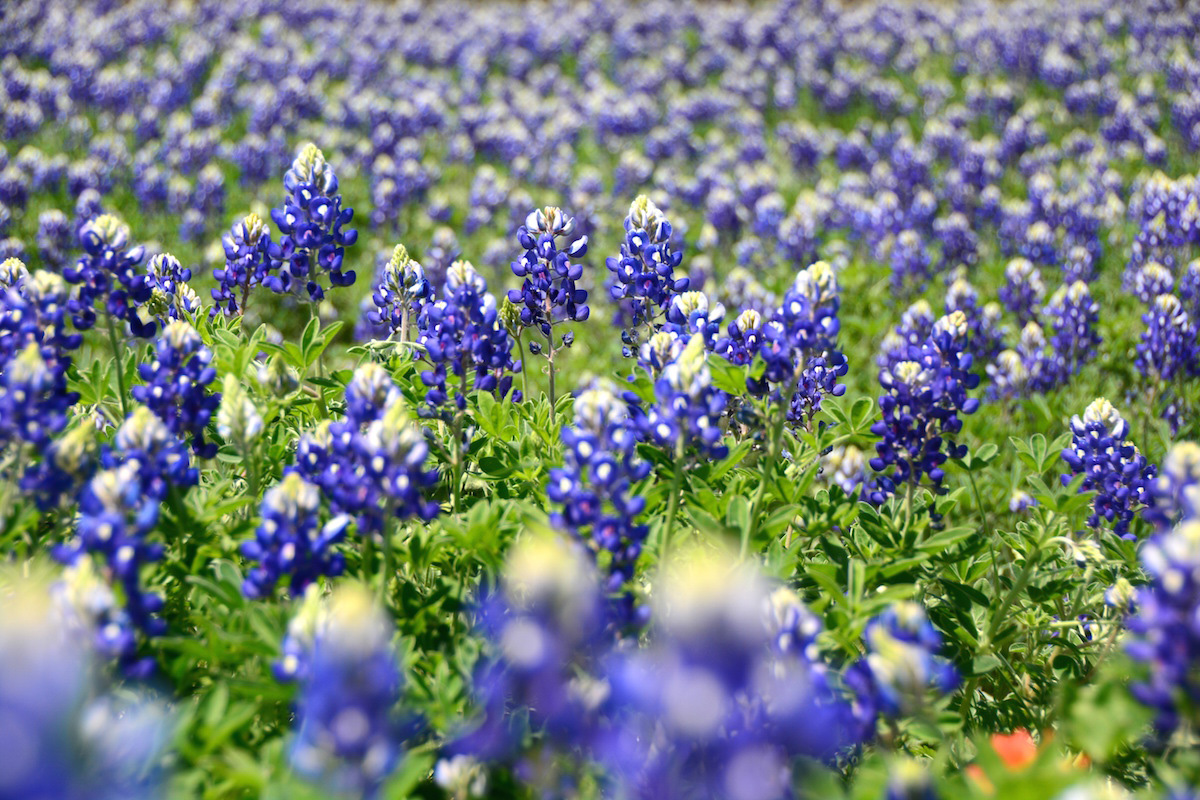 The bad news? Everything is not, in fact, bigger in Texas—I say that as a native Texan and passionate lover of my state. The good news? Texas' geography is definitely larger than life (and France!), a fact that makes travel here an absolutely massive pleasure.
This is particularly true when it comes to road trips through Texas: We've got nearly 700,000 miles of roadway, nearly twice as many as any other state in the Union. This list of amazing Texas road trips is, by default, far from comprehensive. But it does give you a good starting point for exploring the Lone Star State in the second-most Texan way possible.
(The first, of course, being by horse, like a real cowboy!)
The Texas Triangle
If you look at a map of Texas, you'll notice our three largest cities—Dallas, Houston and San Antonio—form a triangle in the central-eastern part of the state. Three highways—I-35, I-45 and I-10—connect the vertices of this triangle (plus state capital and my home Austin, which sits in-between Dallas and San Antonio on I-35), and you know what that means? Road trip!
The best part about this Texas road trip? Well, it only requires three turns on your part (it's a triangle), which means that all you need is your vehicle, decent car insurance (it's Texas after all—you don't want to break down in the middle of nowhere) and a clear sense of how to get back to whatever highway you're on after you've exited.
Hill Country Adventures
When you think of Texas, you probably think of cowboys. Although you might see some cowboys (or, at least, cows) on these road trips, one thing you probably don't anticipate about Texas is subtle yet dramatic beauty. Case in point? The Texas Hill Country.
Located about an hour west of I-35 approximately halfway between Austin and San Antonio, the Texas Hill Country is defined by otherworldly watering holes like Hamilton Pool and Jacob's Well, hilly landscapes that are at once arid and lush and, if you happen to visit during March and early April, seemingly endless carpets of bluebonnets, the Texas state flower.
Halfway to Los Angeles
A lot of Texas folklore, such as the bit I mentioned during the intro to this piece, is…well, folklore. One oft-cited fact that's actually true, however, is that El Paso, the western-most city in Texas, is halfway to Los Angeles if you're driving from Houston.
This Texas road trip is epic, and not just due to the distance (745 miles) and time (11 hours, even with Texas' generous highway speed limits) it requires. To be sure, even though most of the highlights once you pass through San Antonio are of the natural sort (mountains, desert and, yes, the possibilities of cowboys), the journey is impressive enough to best the destination, even if you divert from El Paso to magnificent Big Bend National Park.
Bonus: Historic Route 66
Speaking of places that are halfway between one place and Los Angeles, the panhandle city of Amarillo is the midpoint of historical Route 66, which ran between Chicago and—you guessed it—Los Angeles in the not-so-distant past. Although only a small portion of the now-defunct highway ever sat in Texas, you could drive the stretches that still exist and, having passed through Texas, claim your journey as a sort of Texas road trip.
Can you think of any epic Texas road trips I've missed? Leave them in the "Comments" section below or via social media where you found this post.
Share: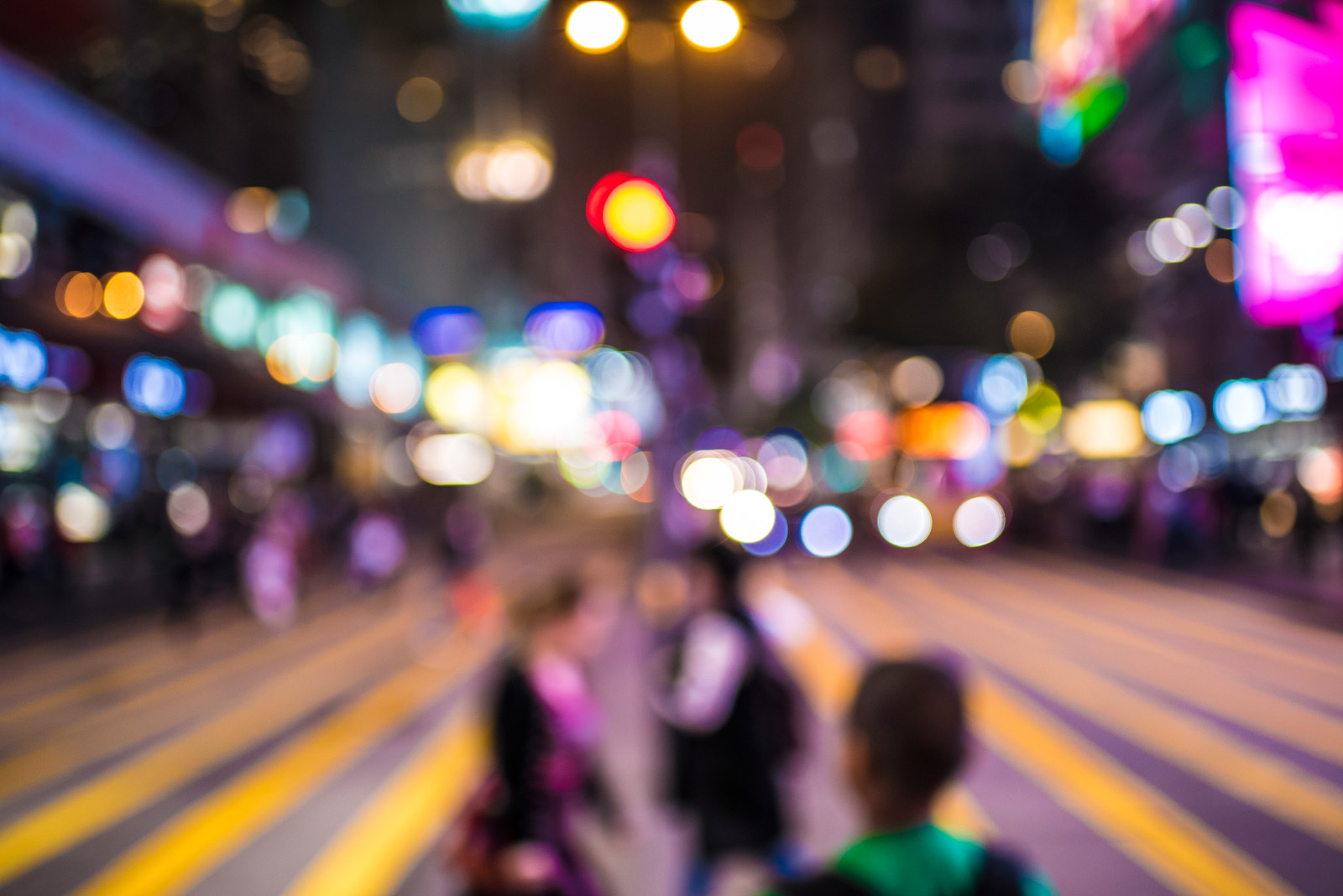 It's not an exaggeration to say that my maiden voyage to Hong Kong six years ago inspired me to follow my own advice when I set off to English in Shanghai—and hit the road—less than a month afterwards.
But it's also not a coincidence that I've used seafaring terminology to describe this period in my life. I was drifting then, not unlike the red-sailed junk boats of Victoria Harbour. And my first Hong Kong trip had been just as entropic, the way I bounced around the city drawing energy and inspiration from seemingly random nooks and crannies, like the Super Mario Brothers ramming their heads into bricks in search of magical coins.
Indeed, if there's one thing that demarcates my recent second trip to Hong Kong from my first, it's the idea of intent. I manifested many different intentions this time around, from seeing a wide range of specific attractions, to giving the people I met up with my full attention and presence, to giving my photography the time and patience it deserved.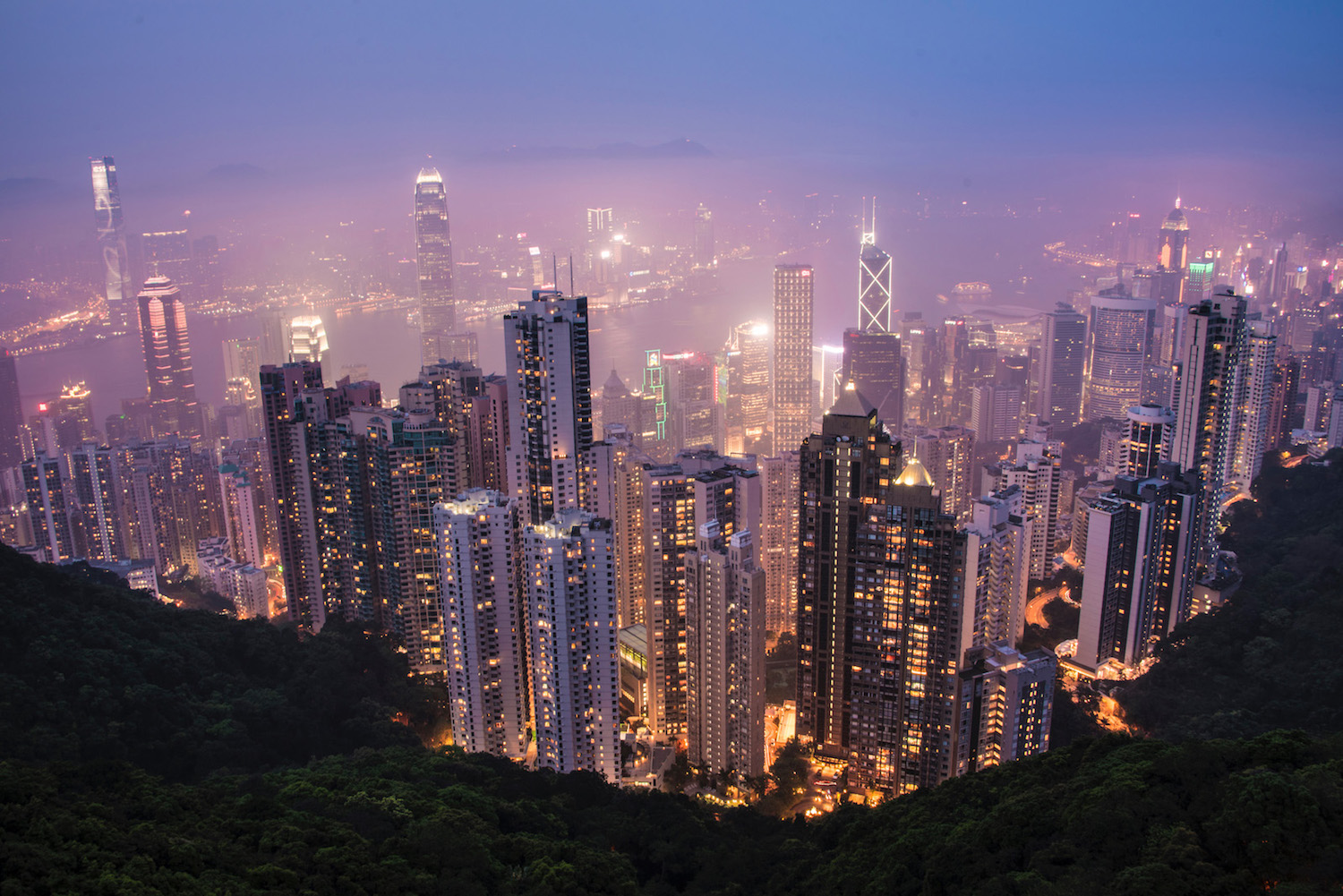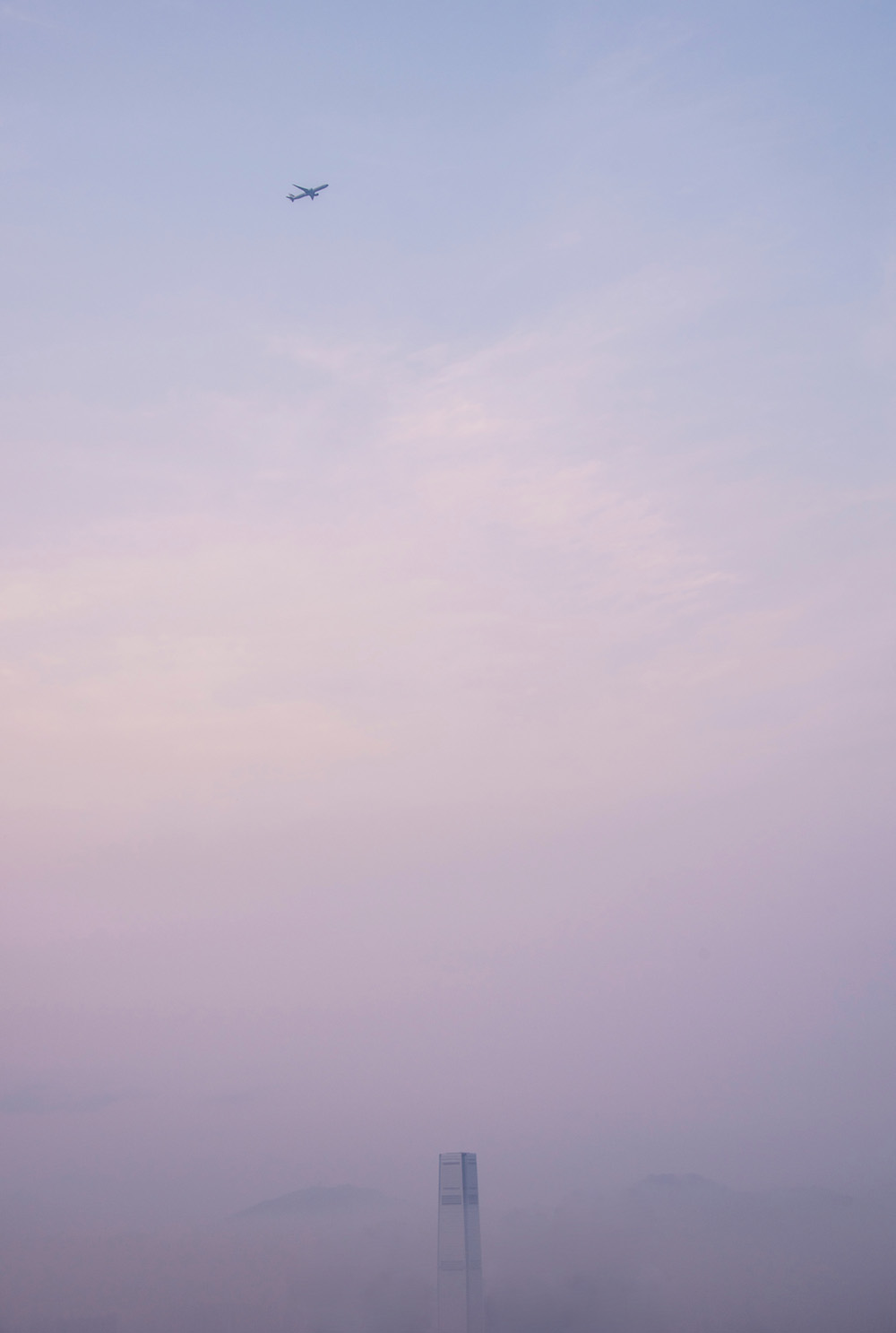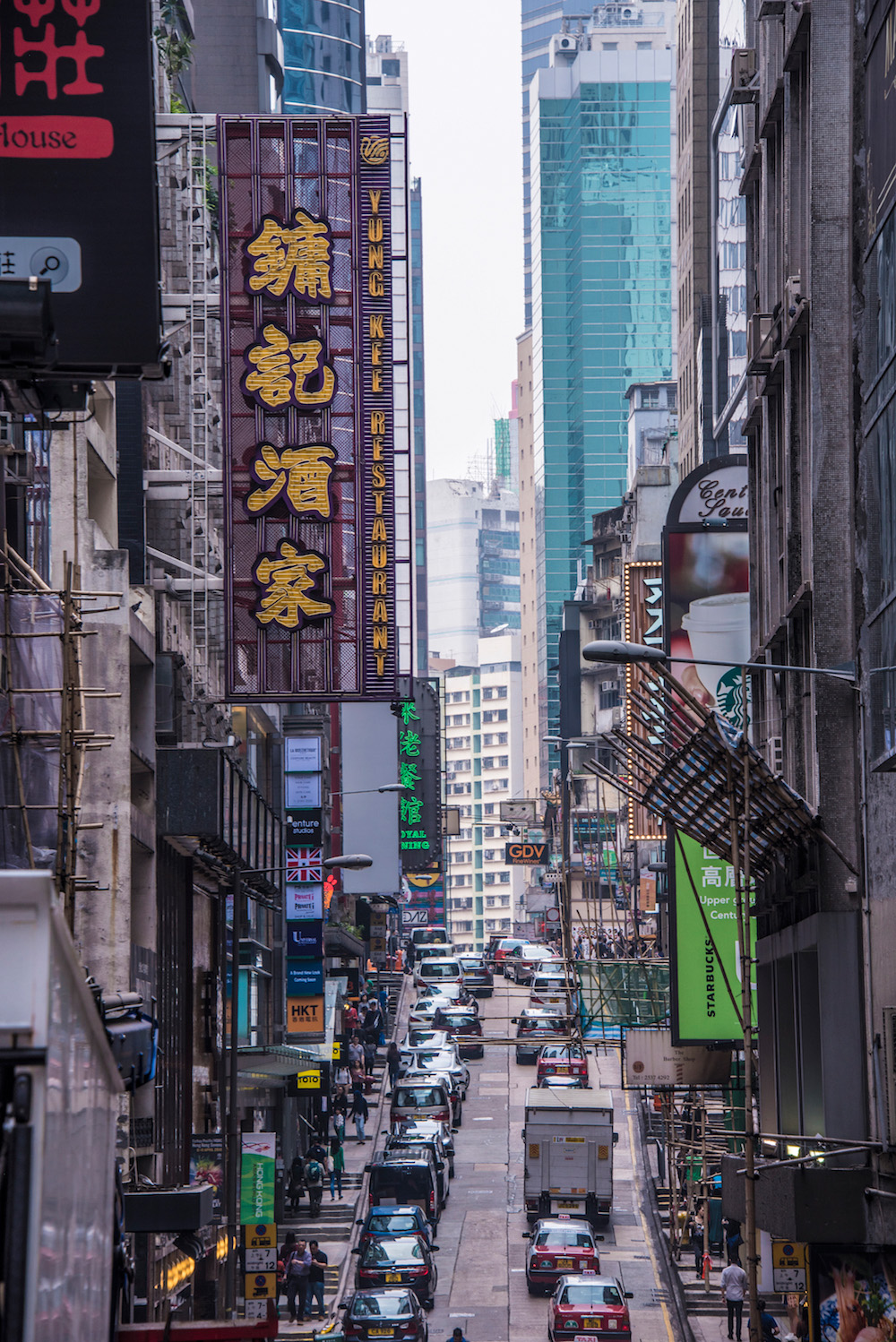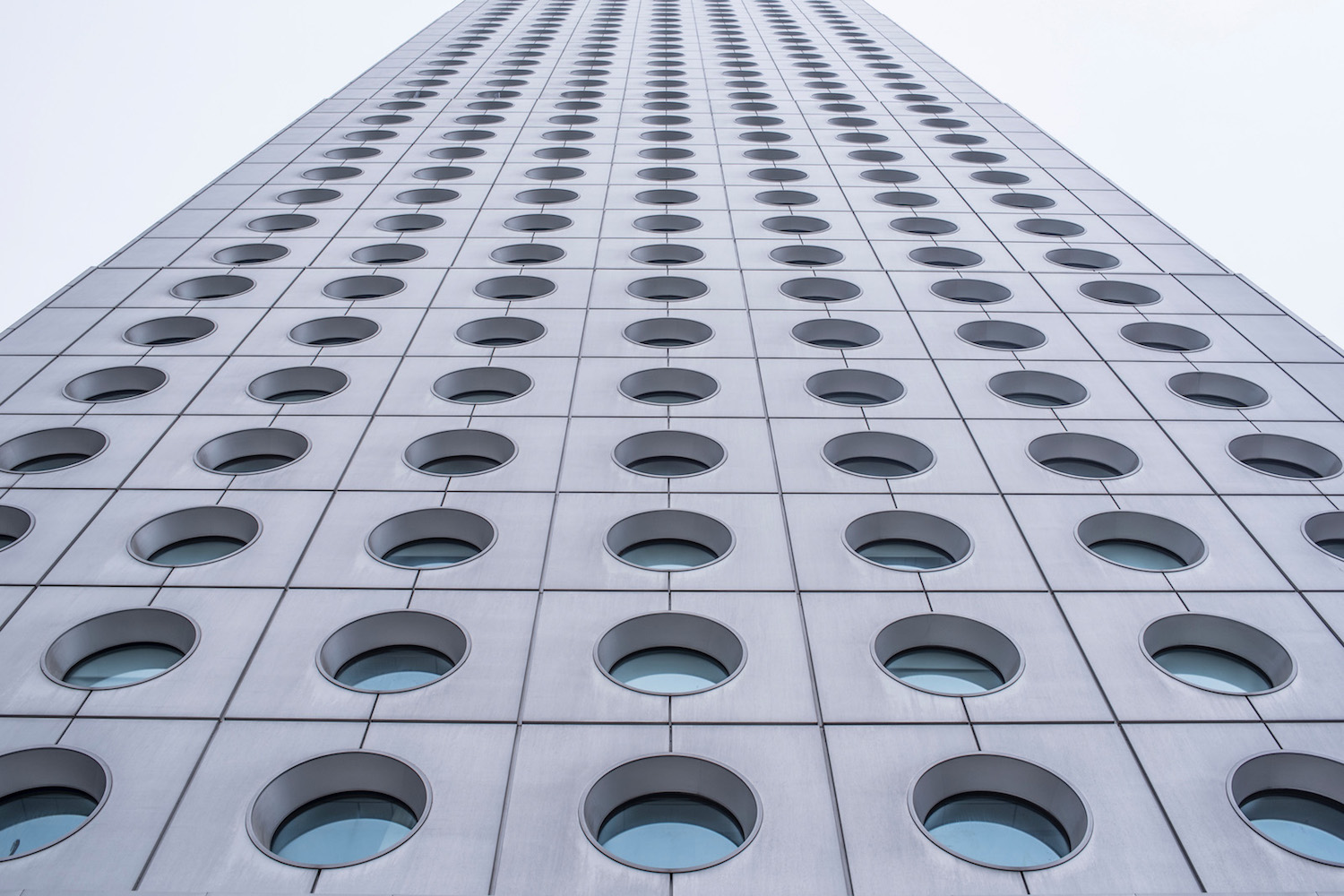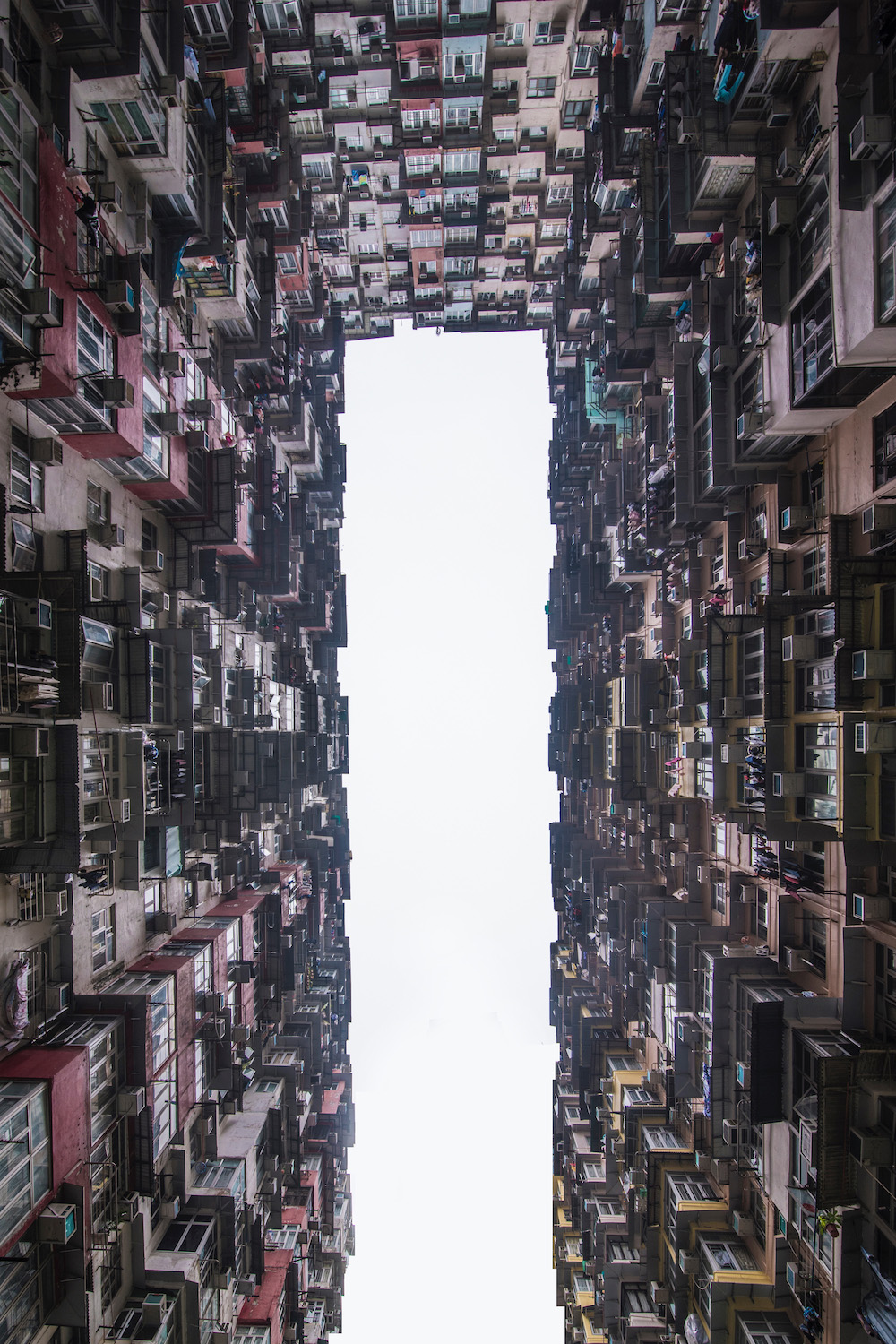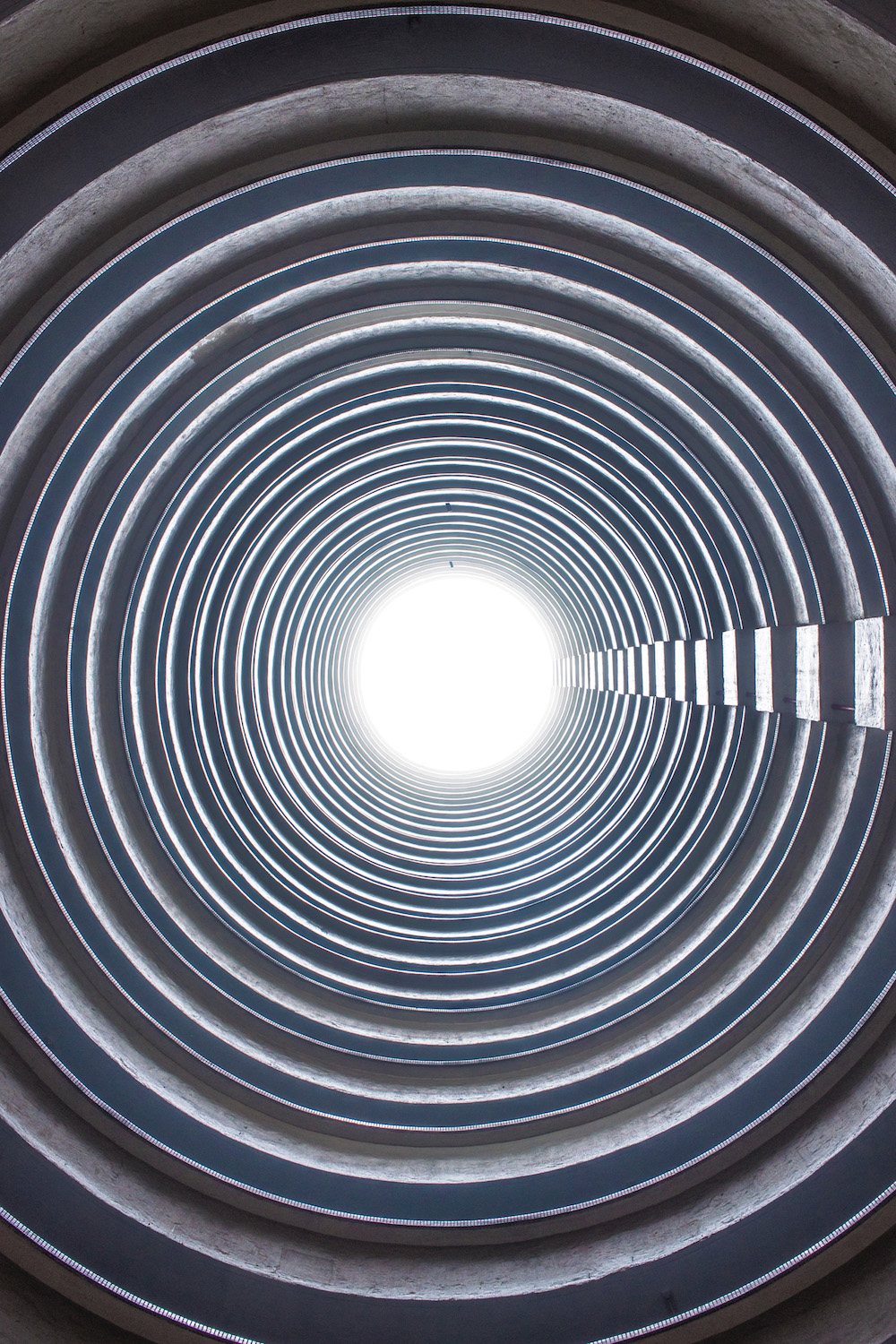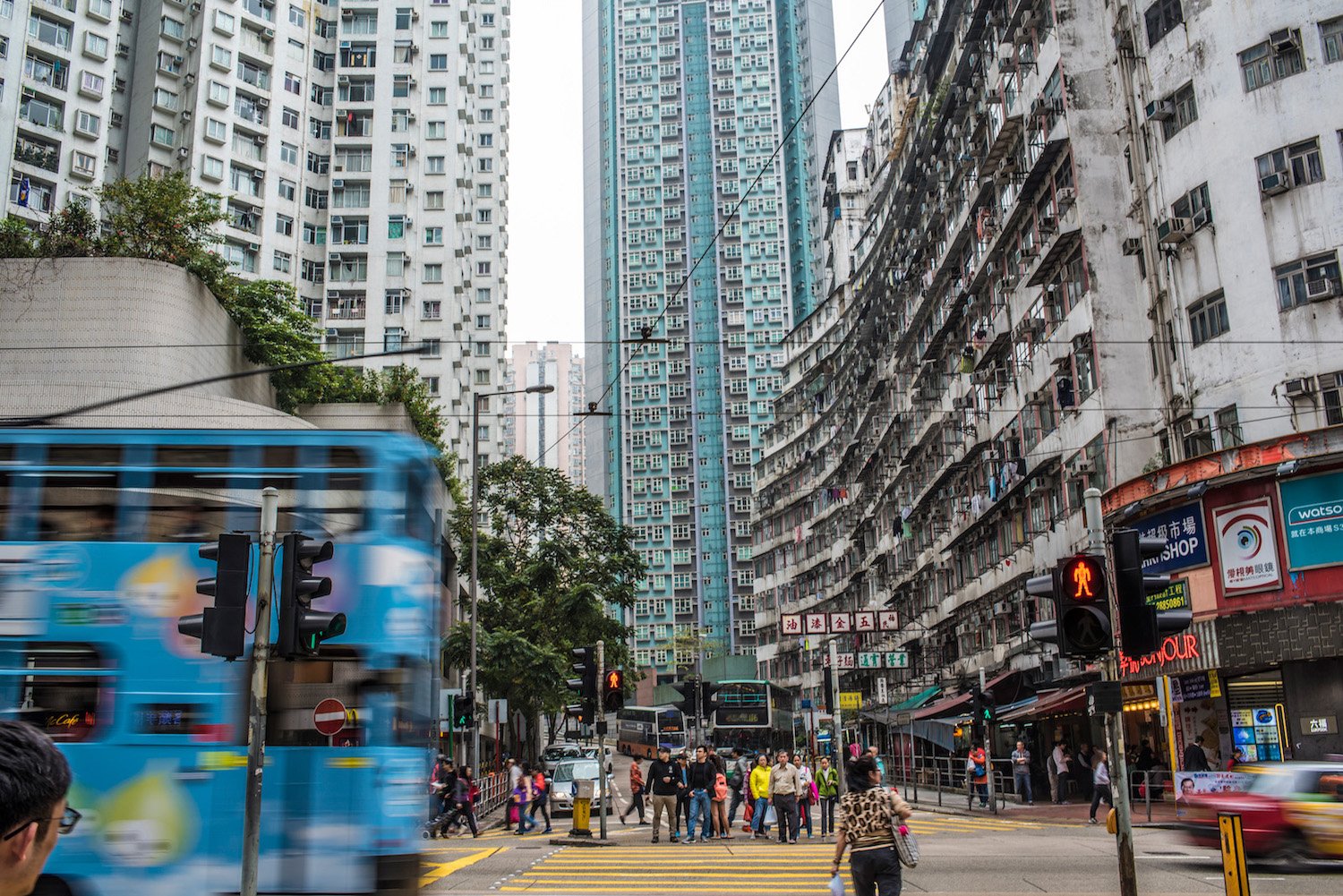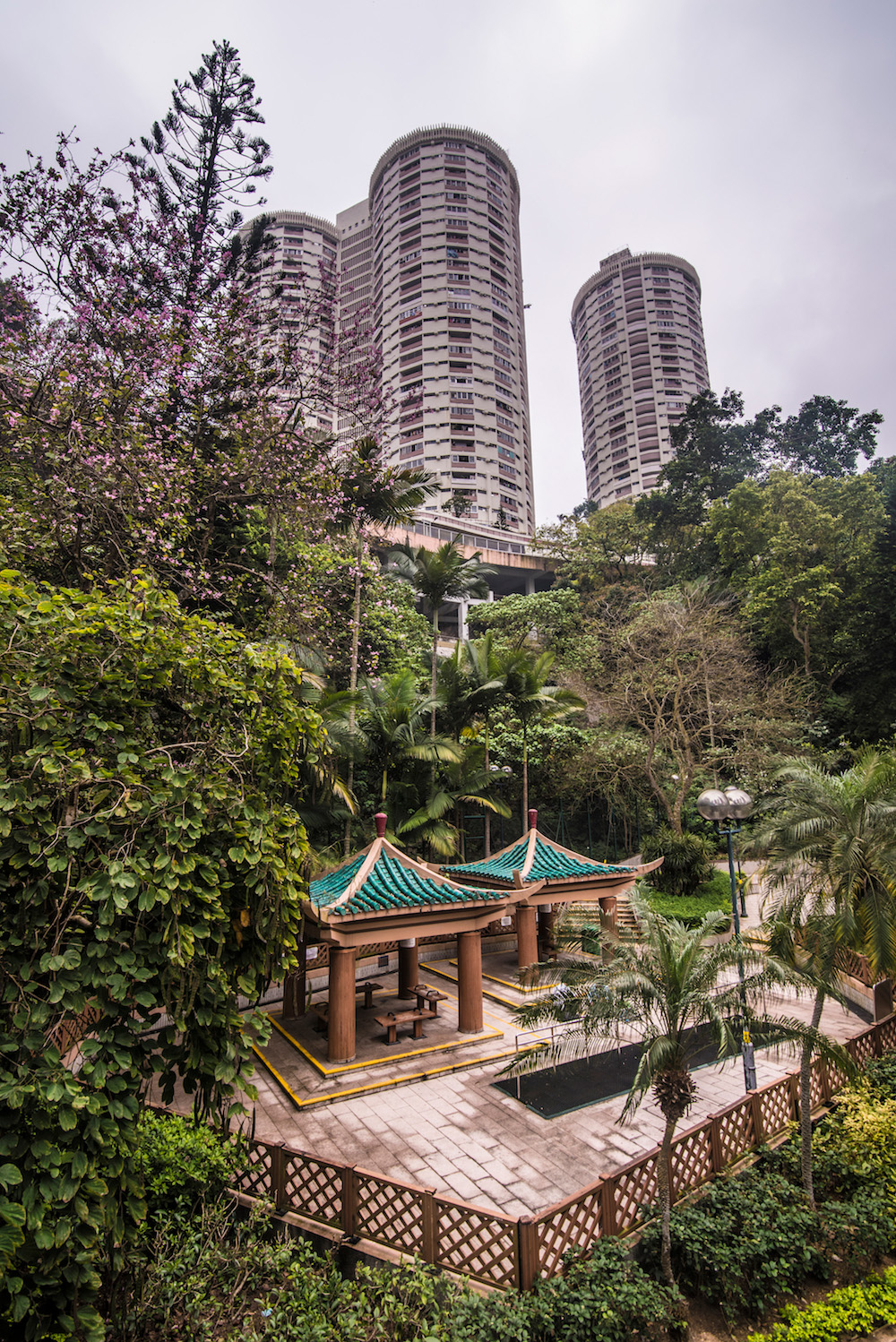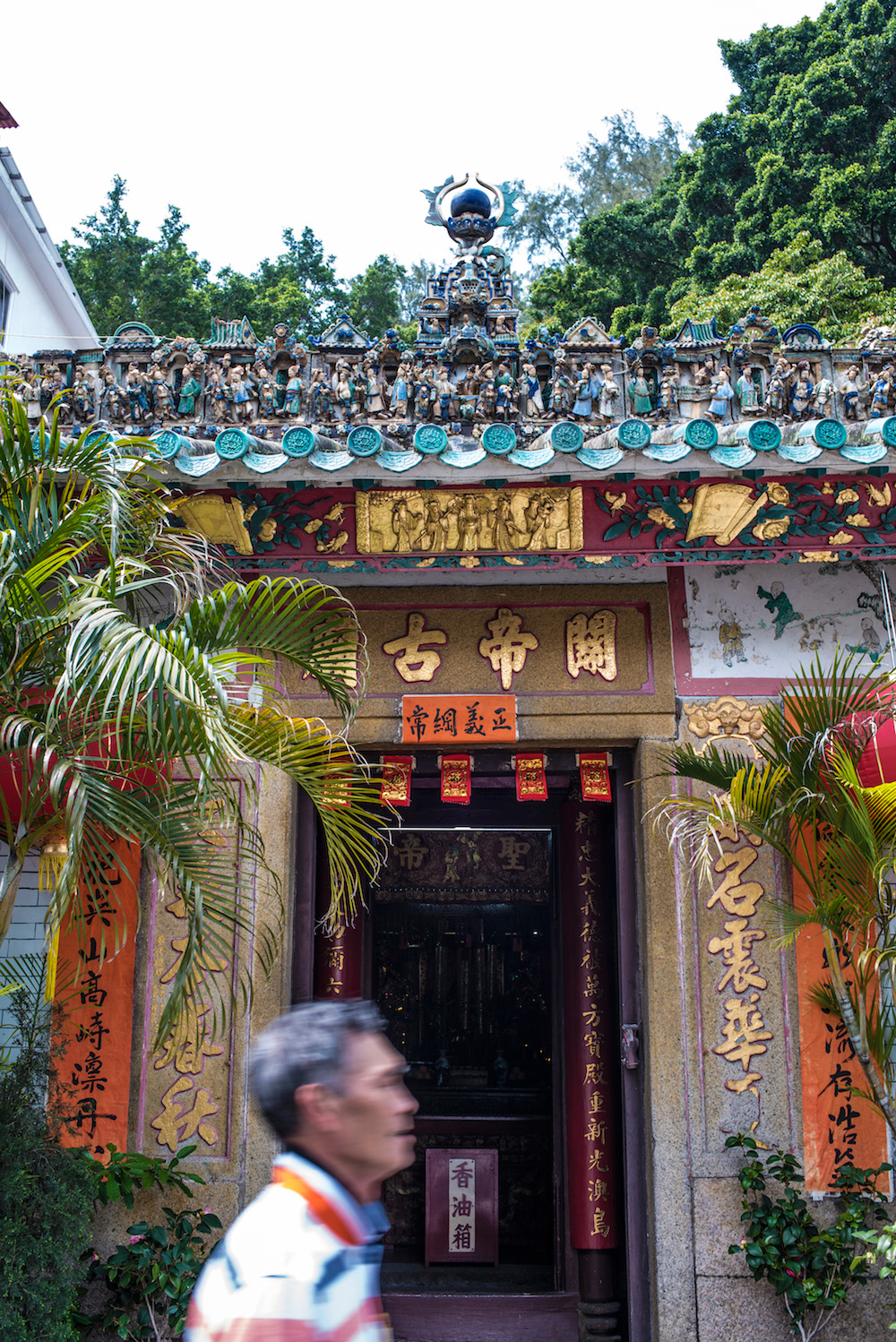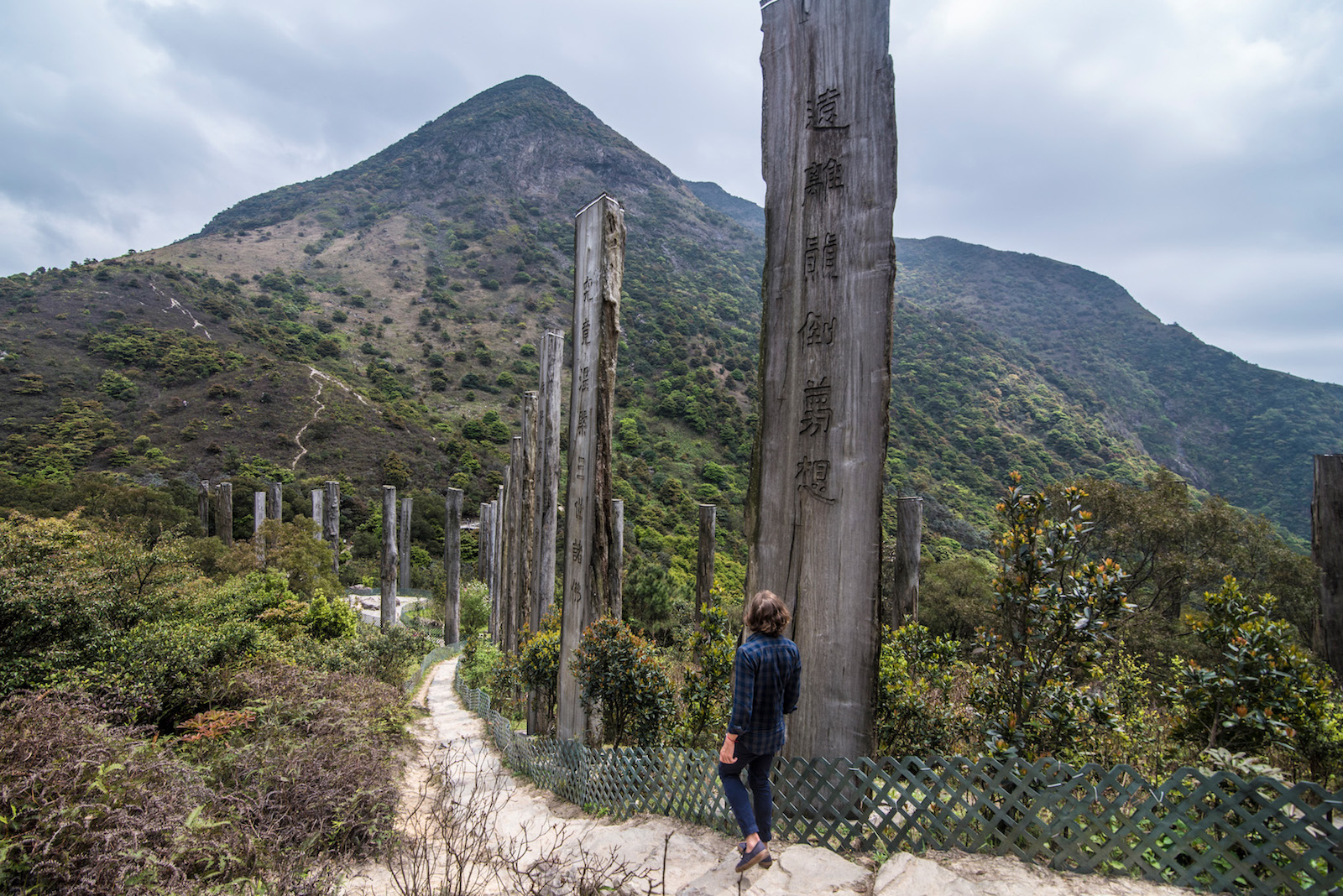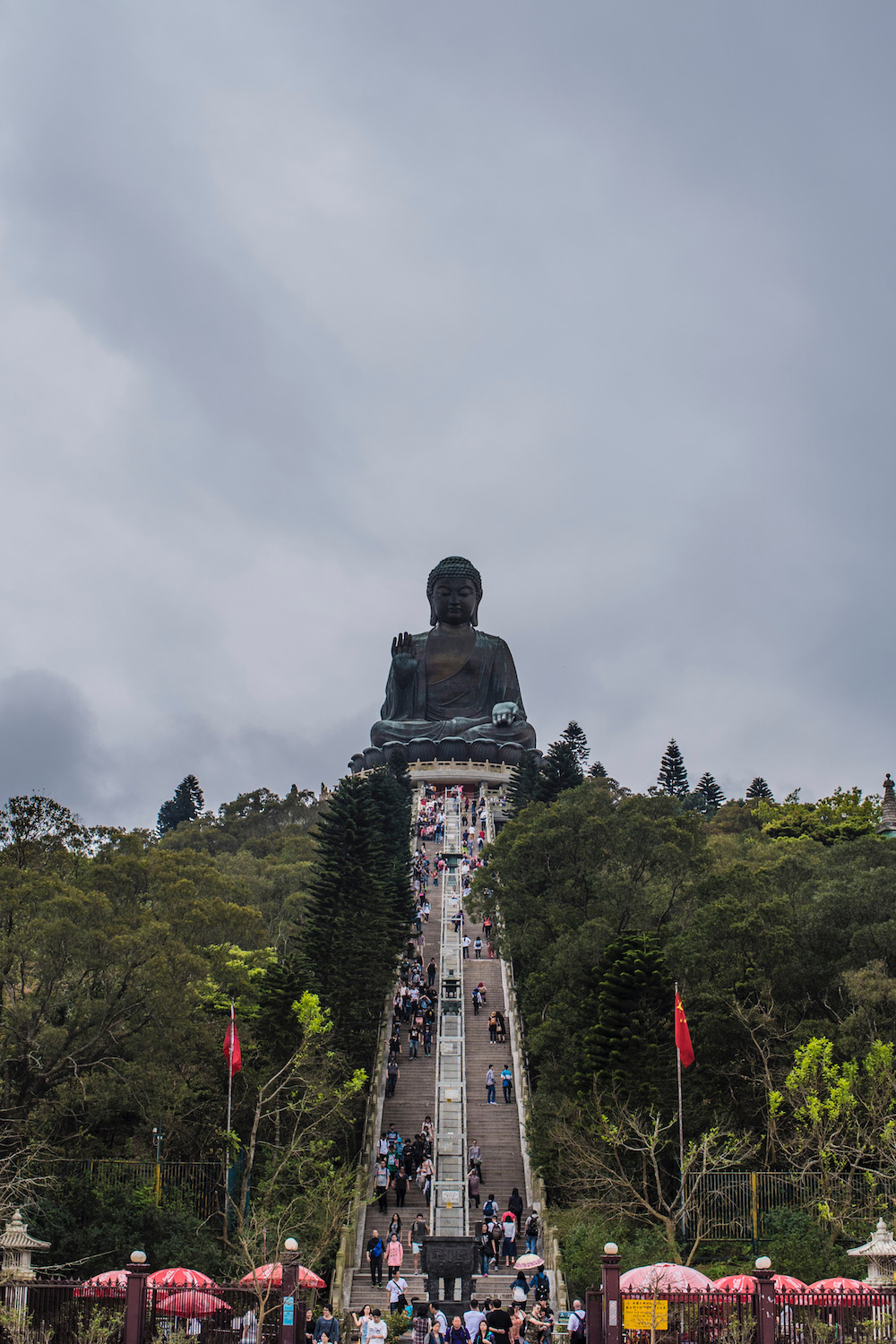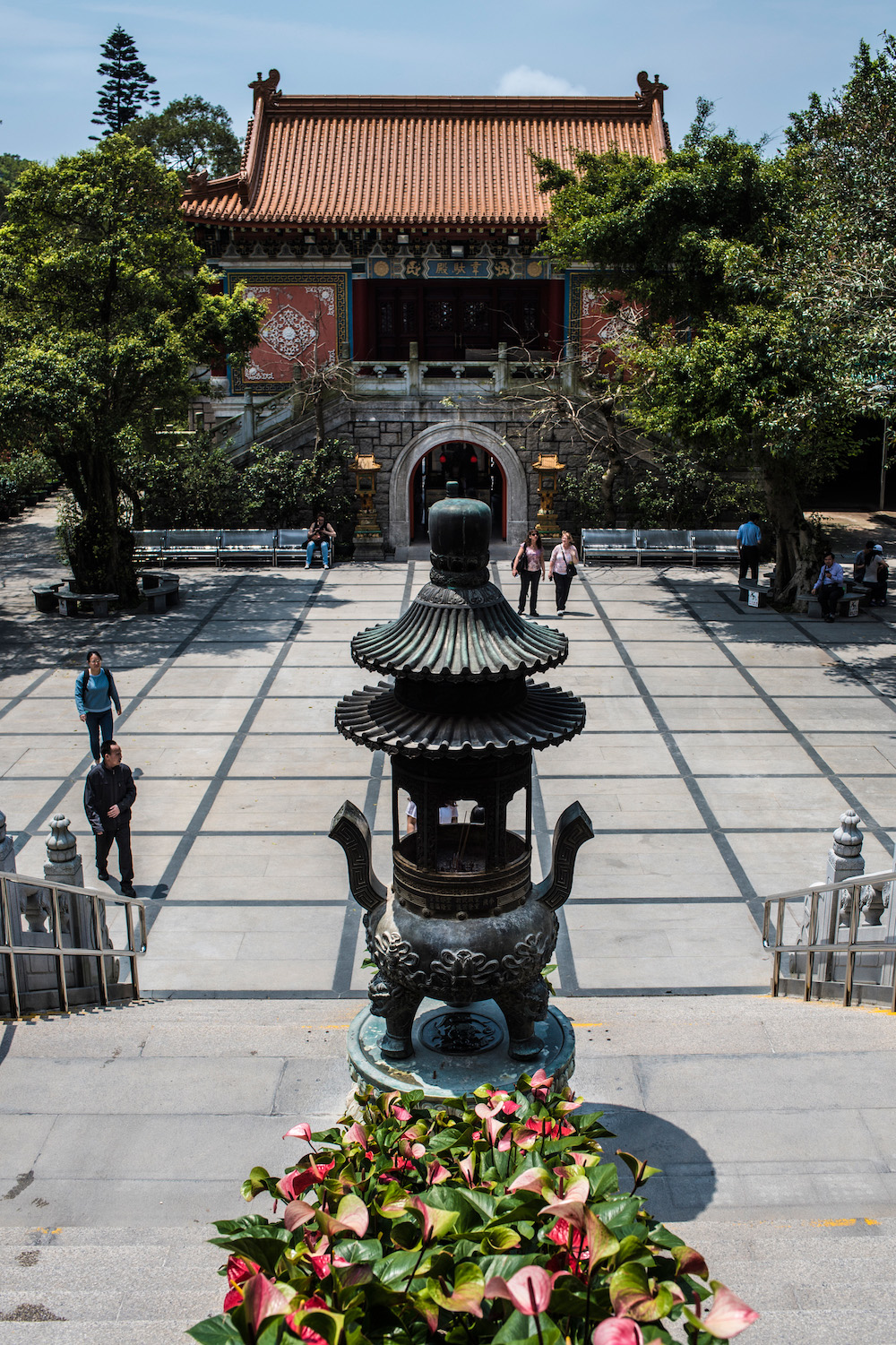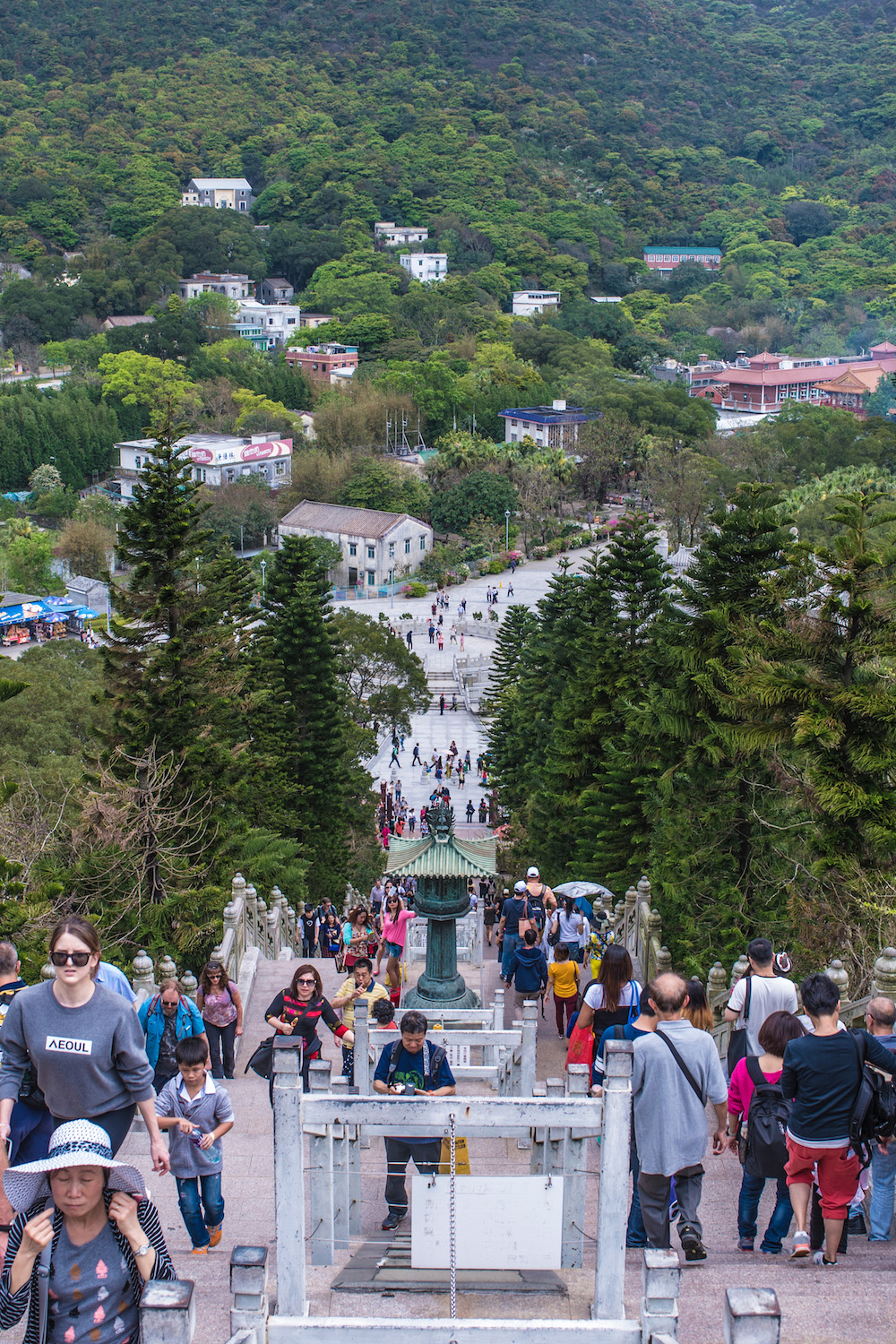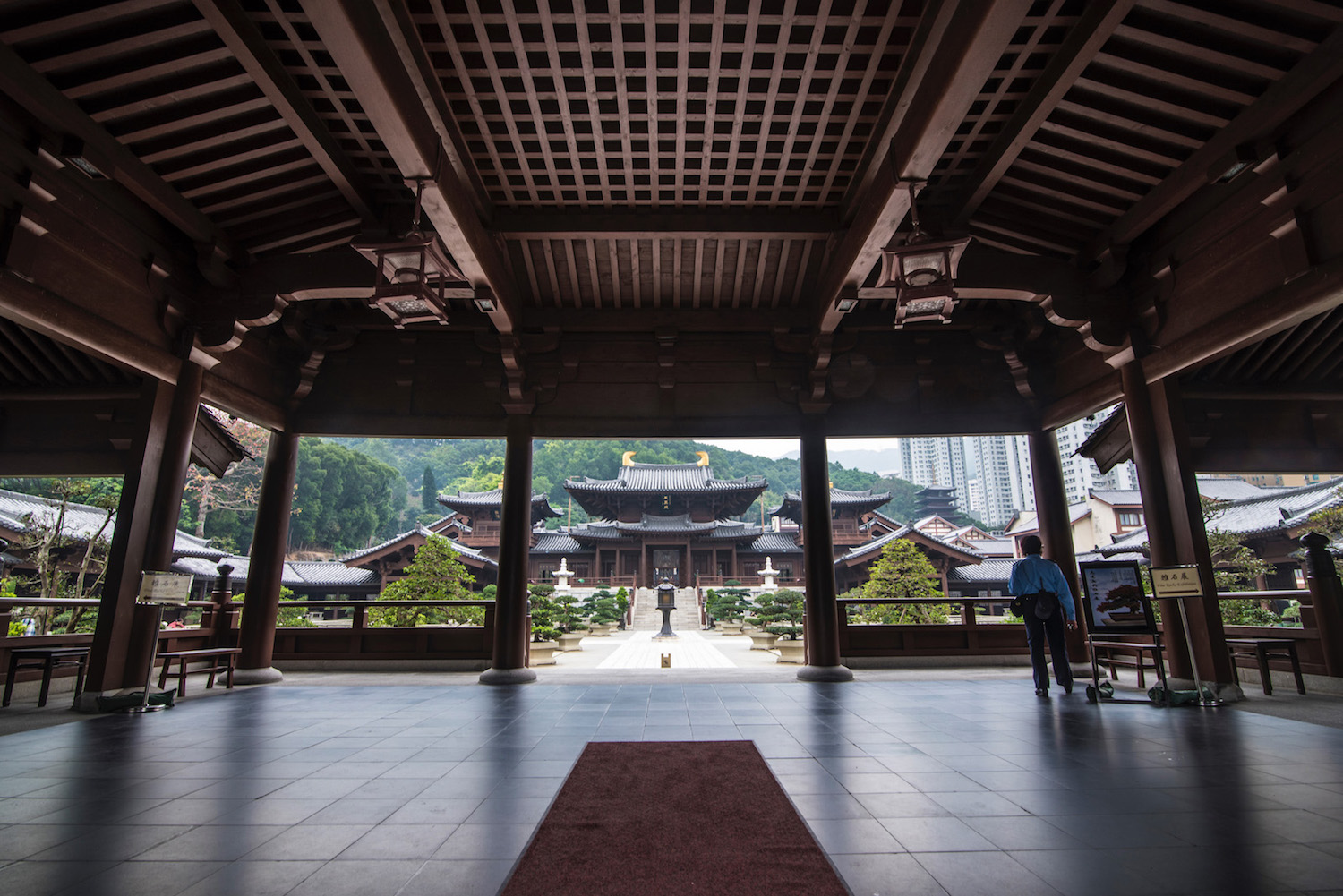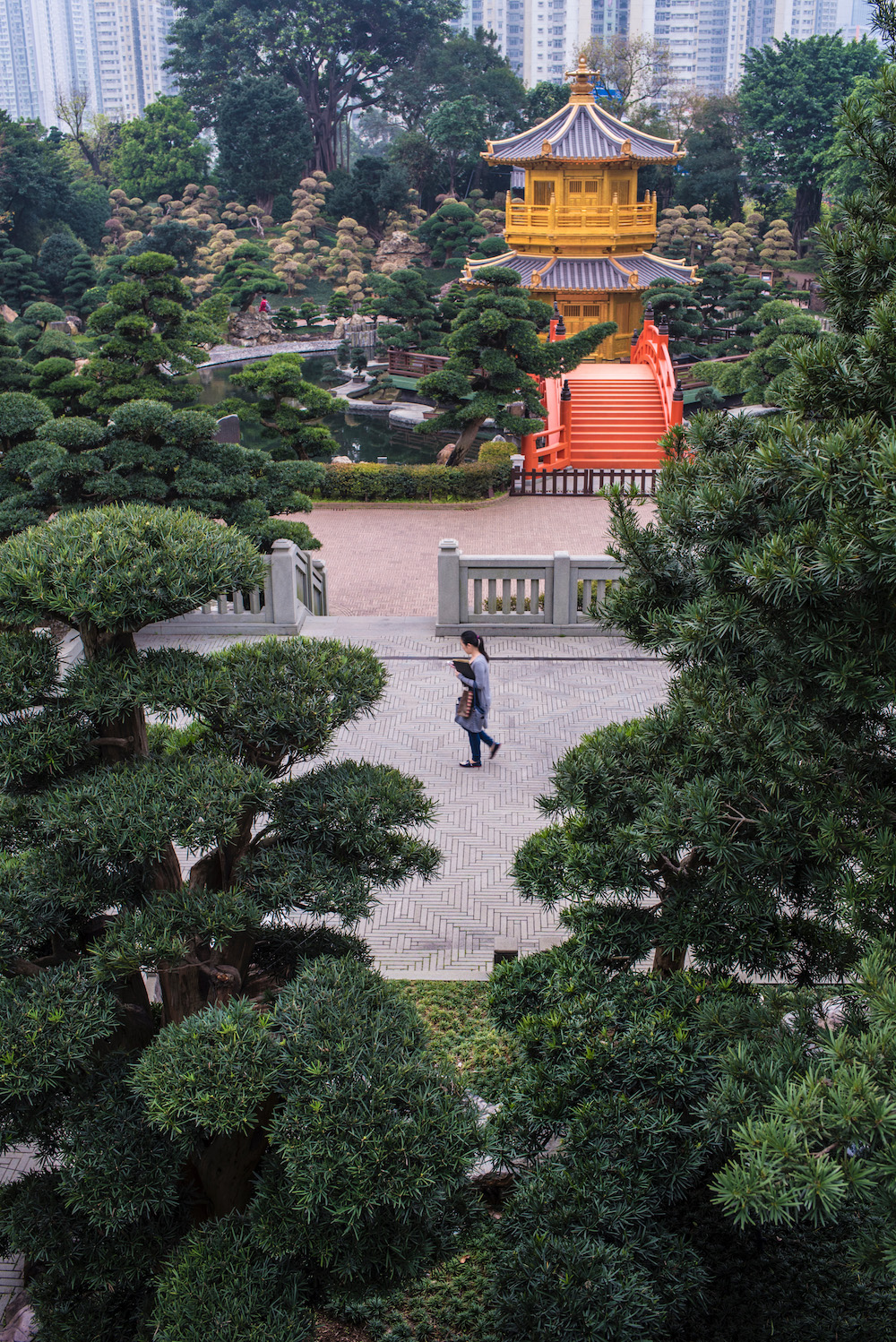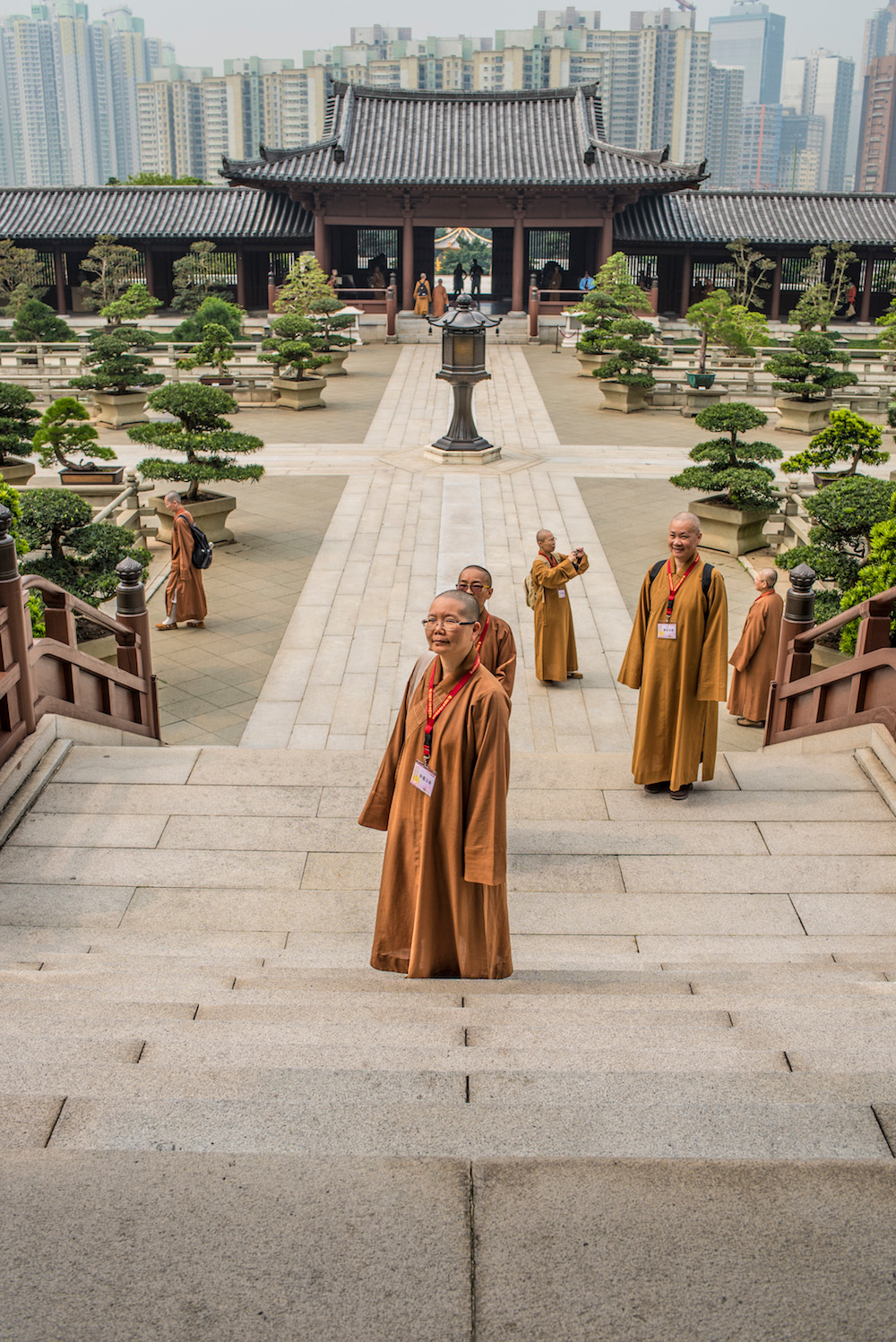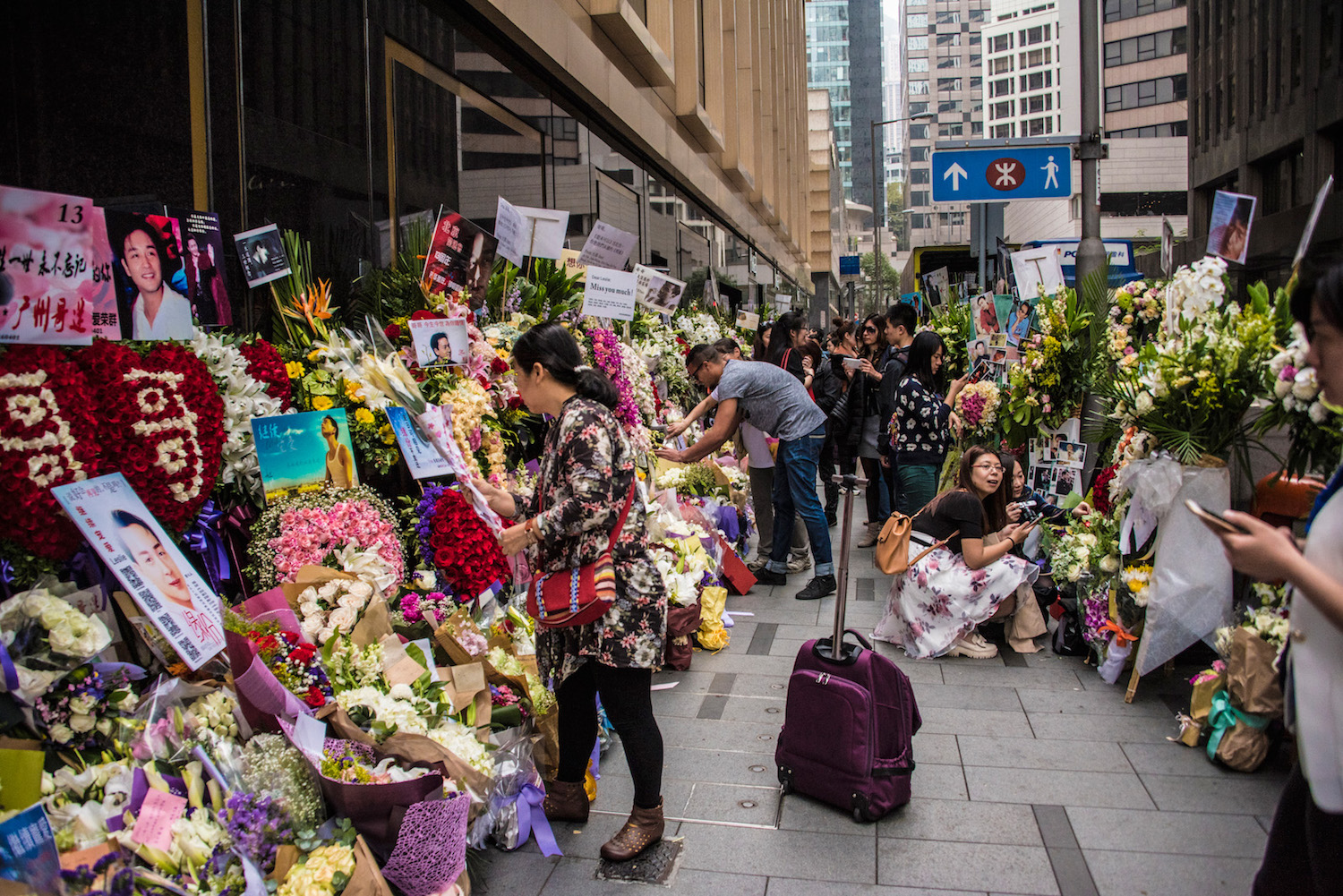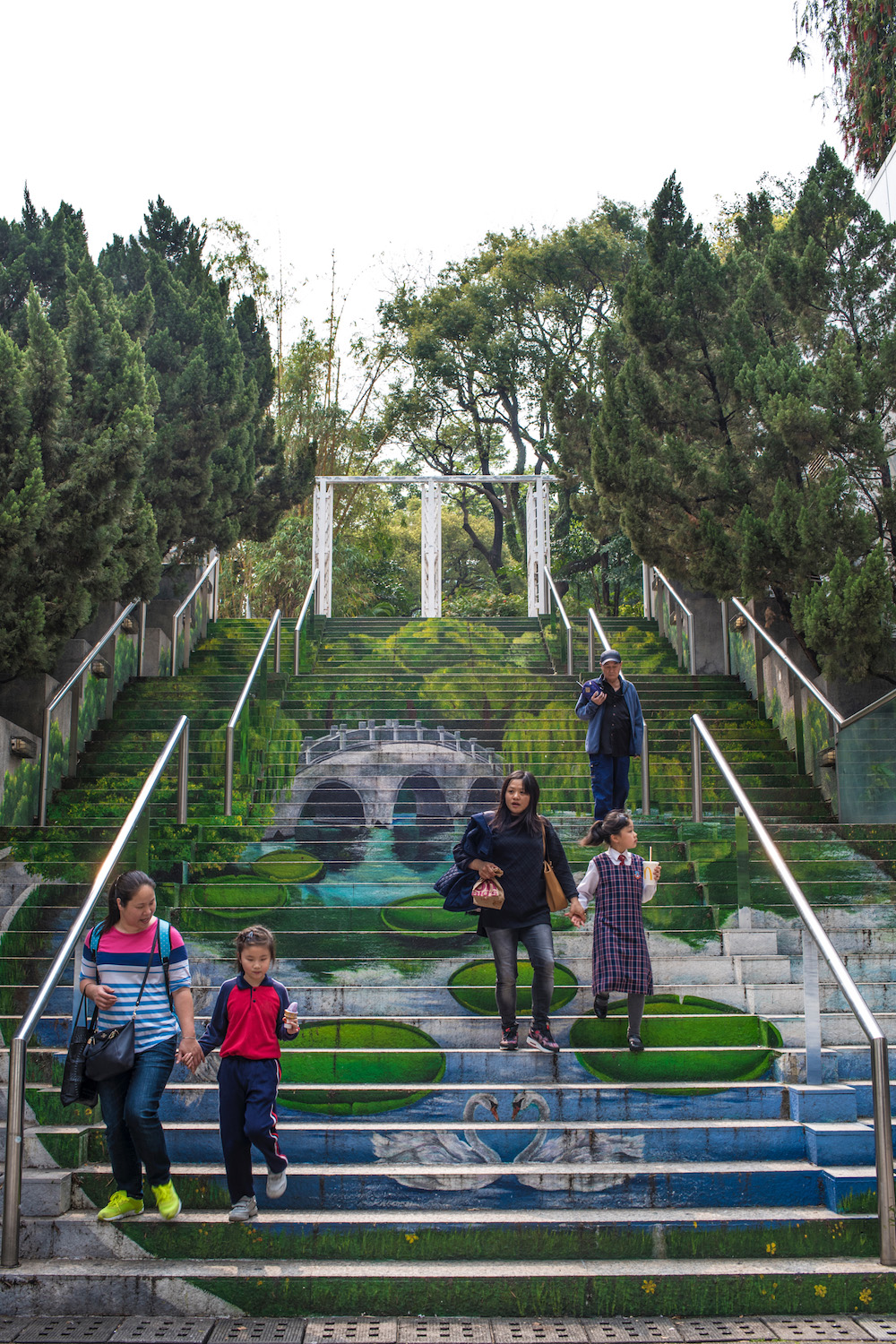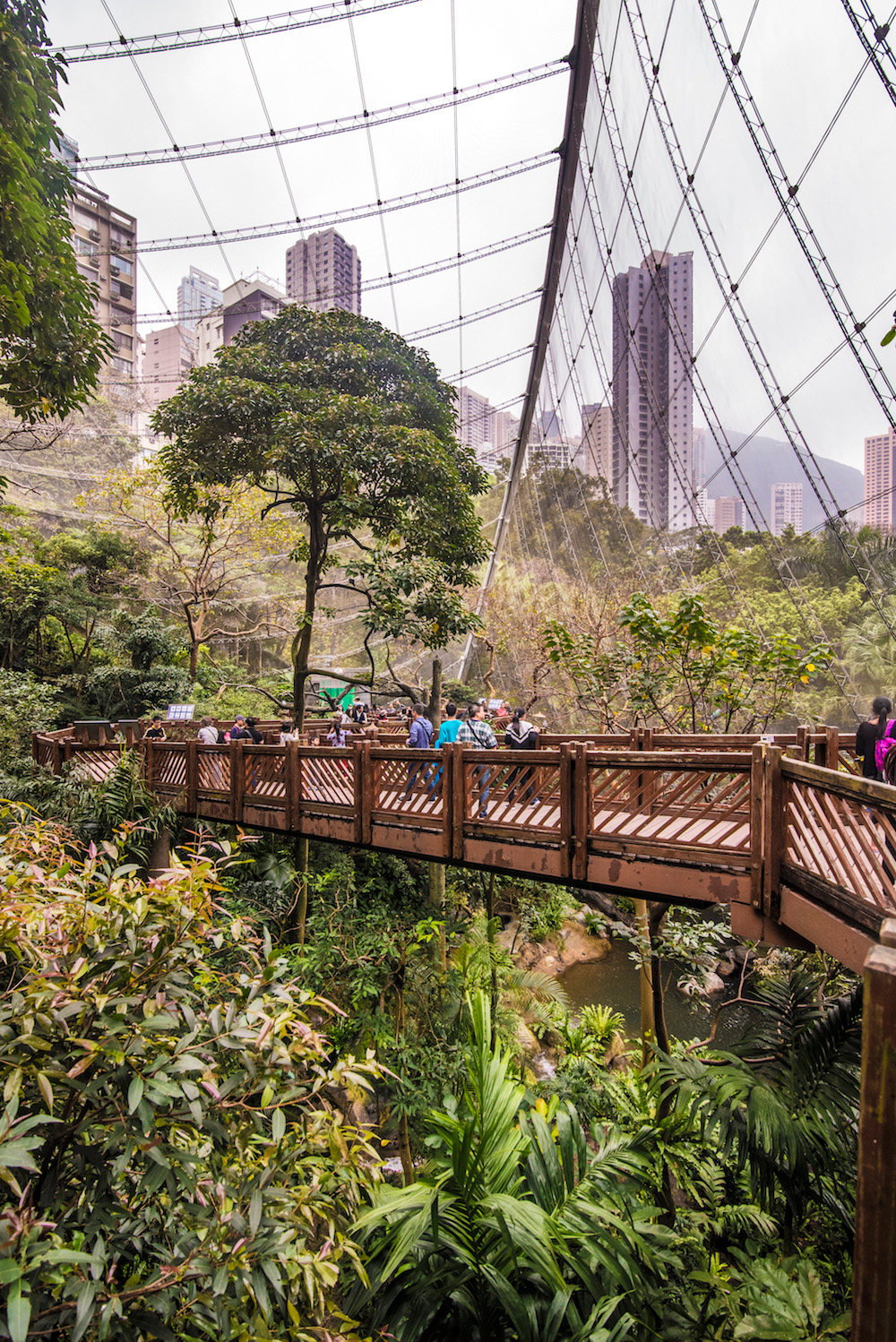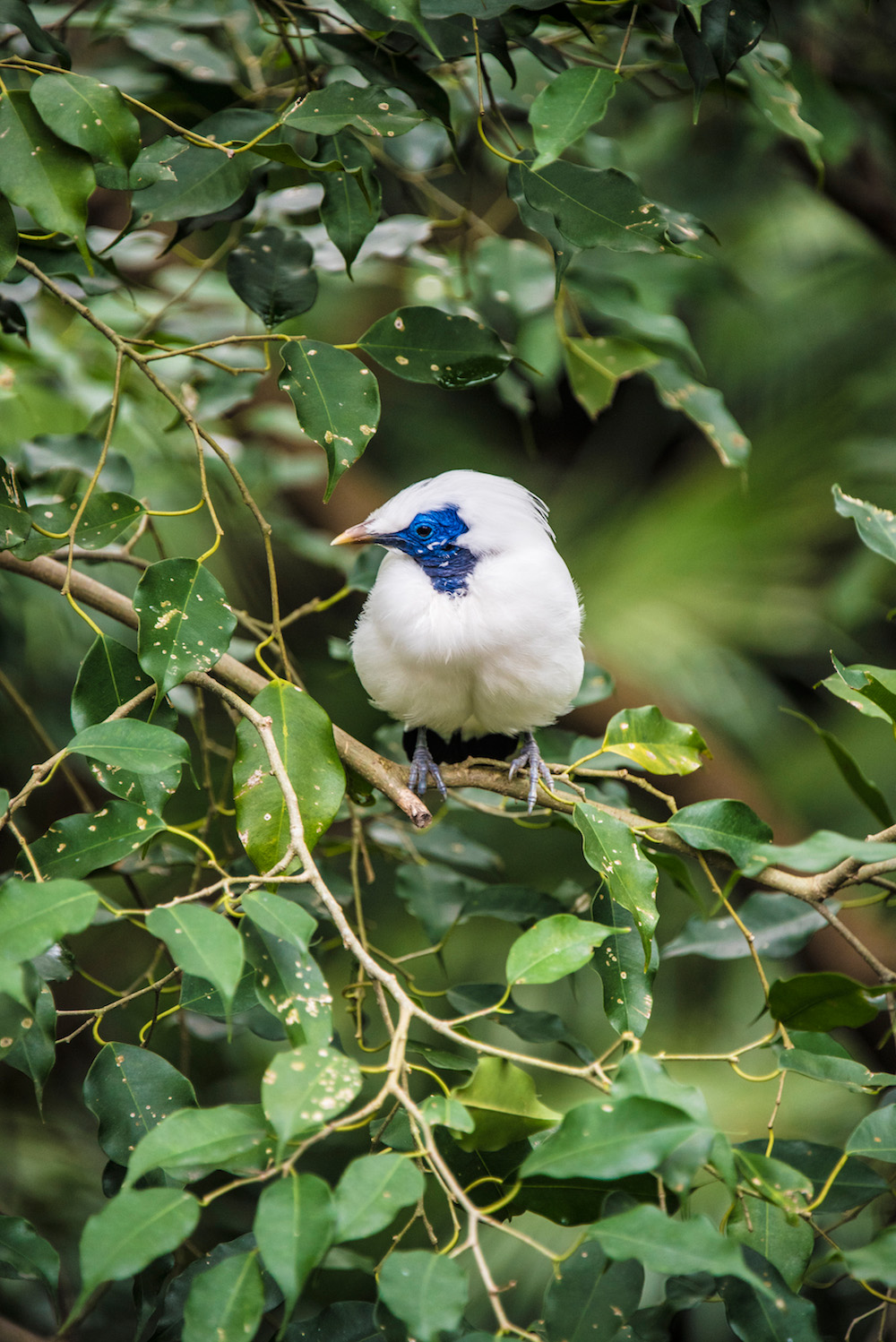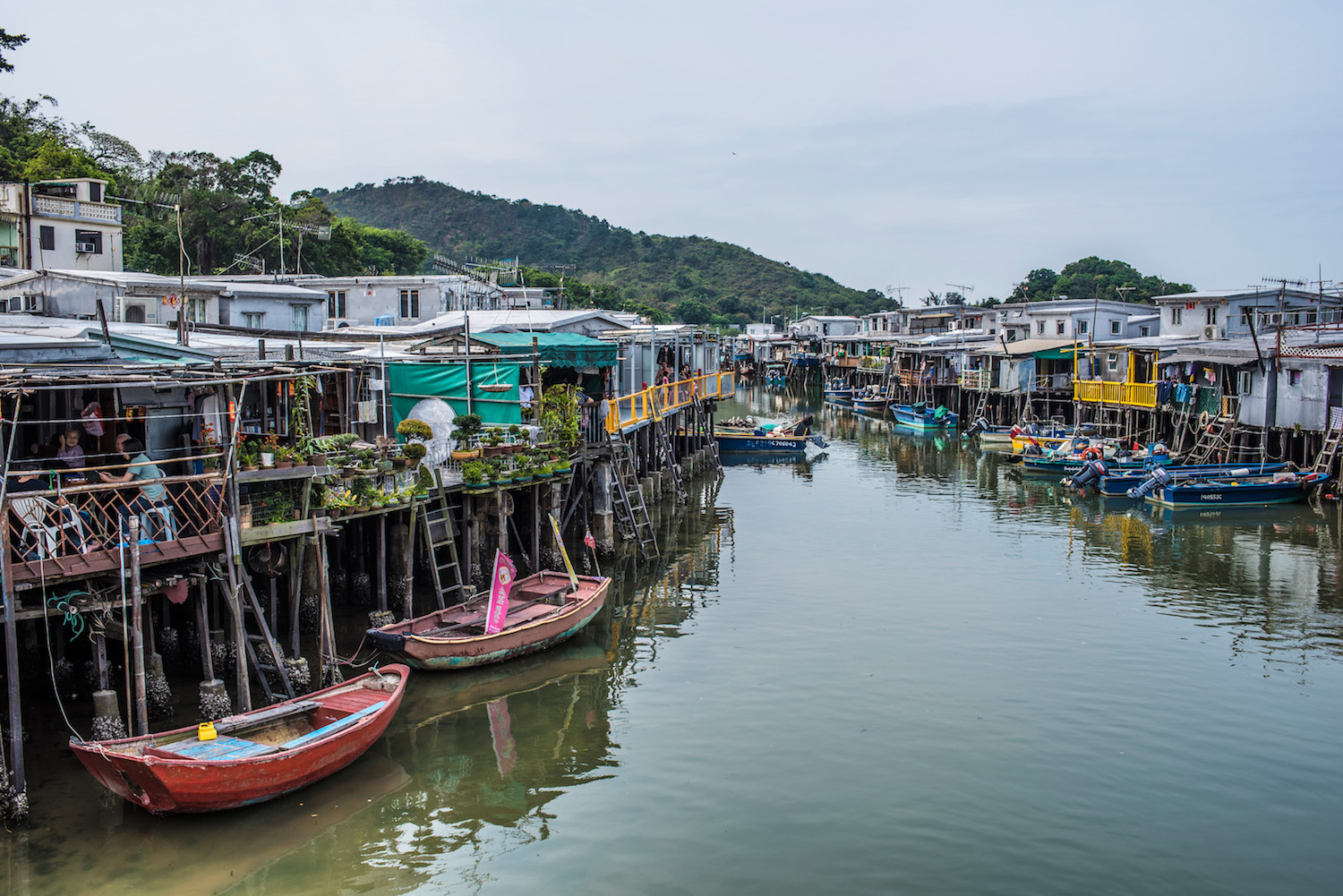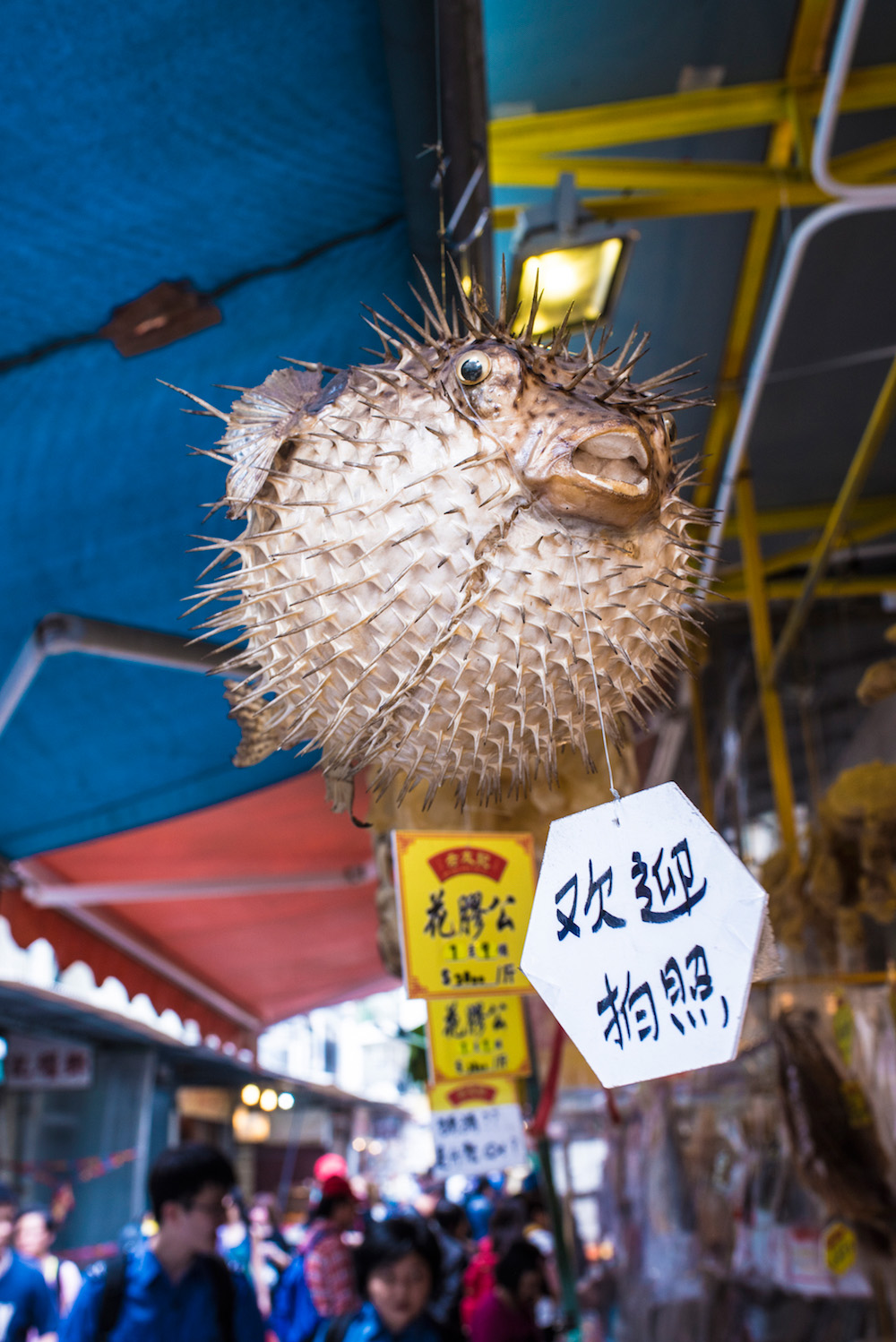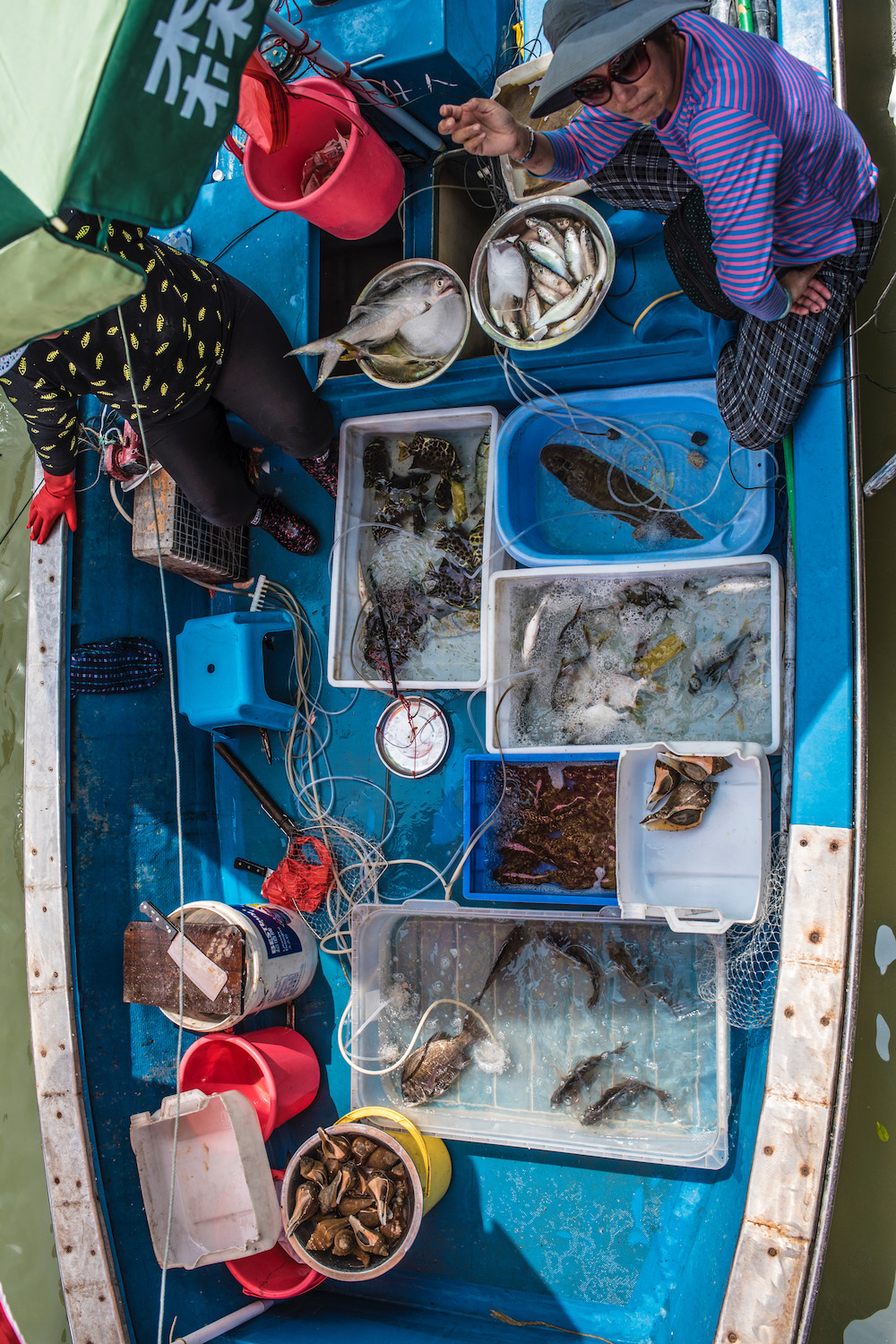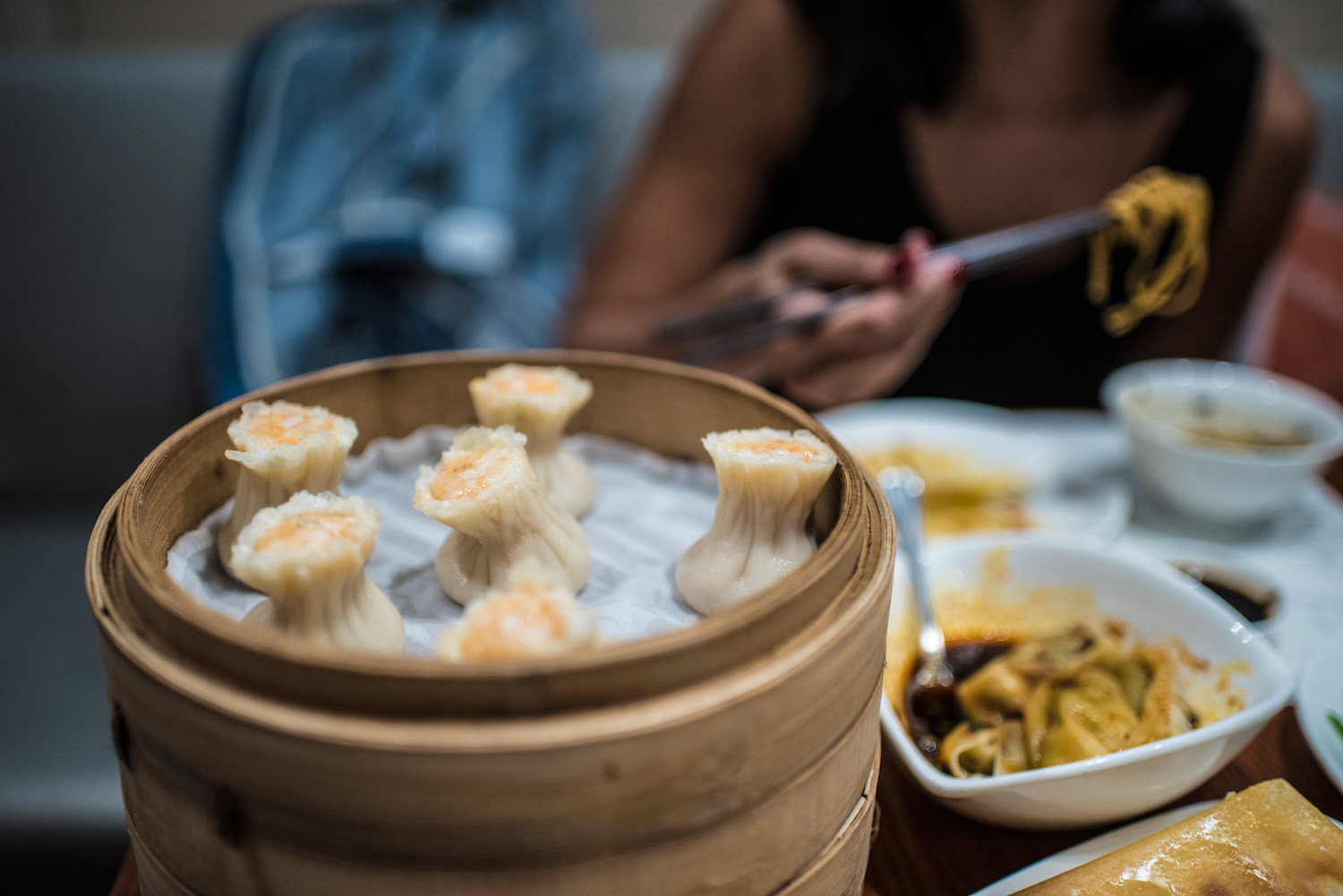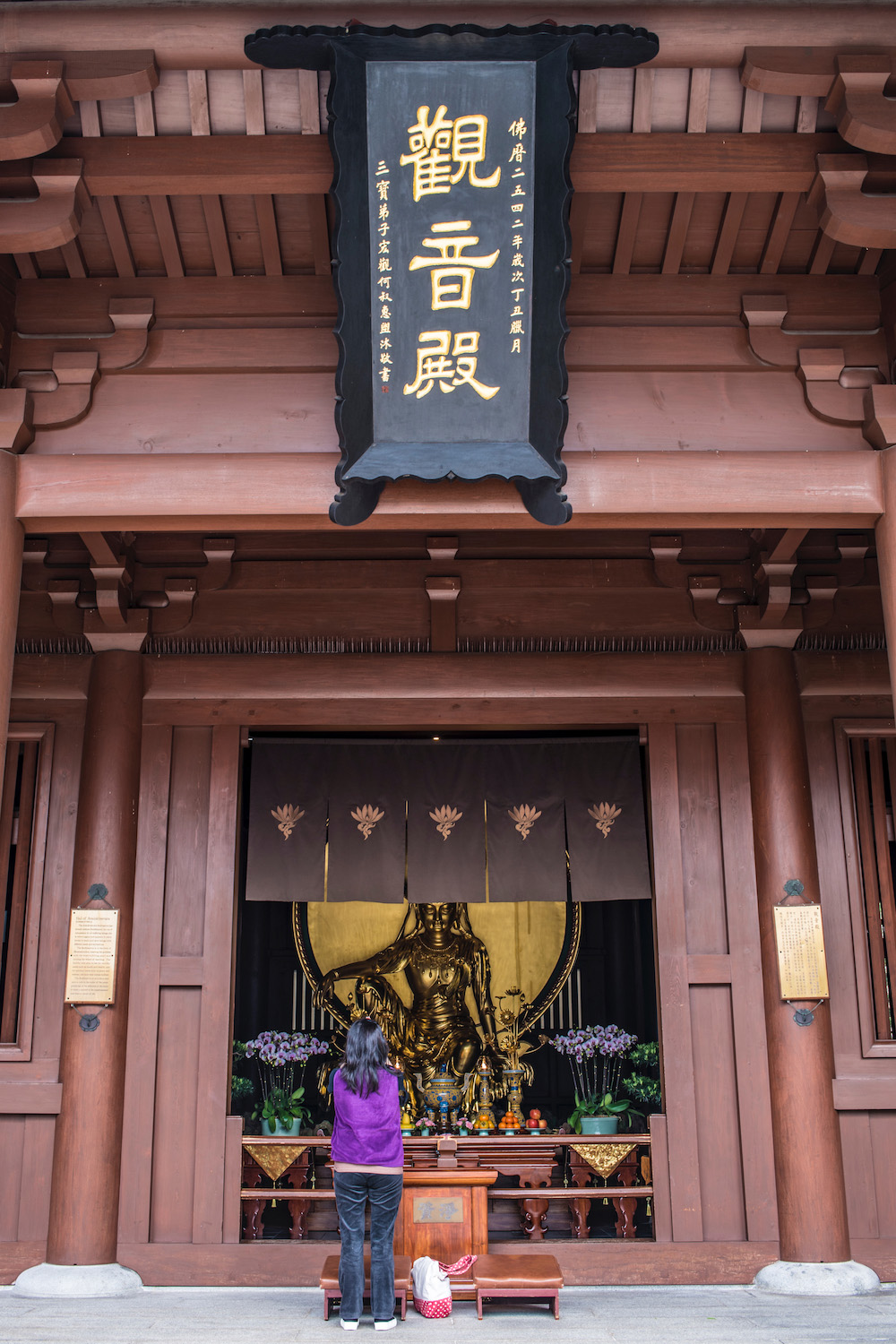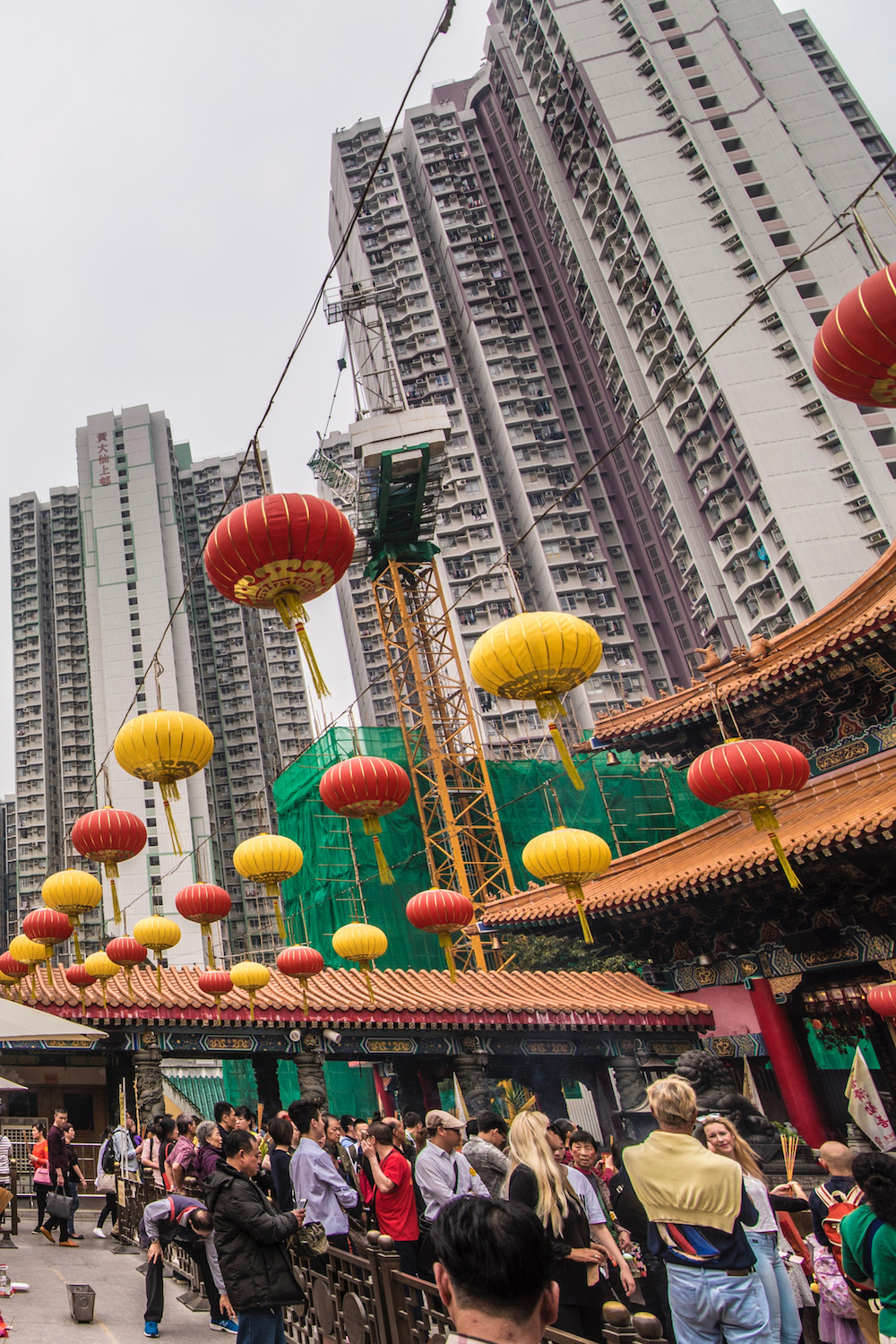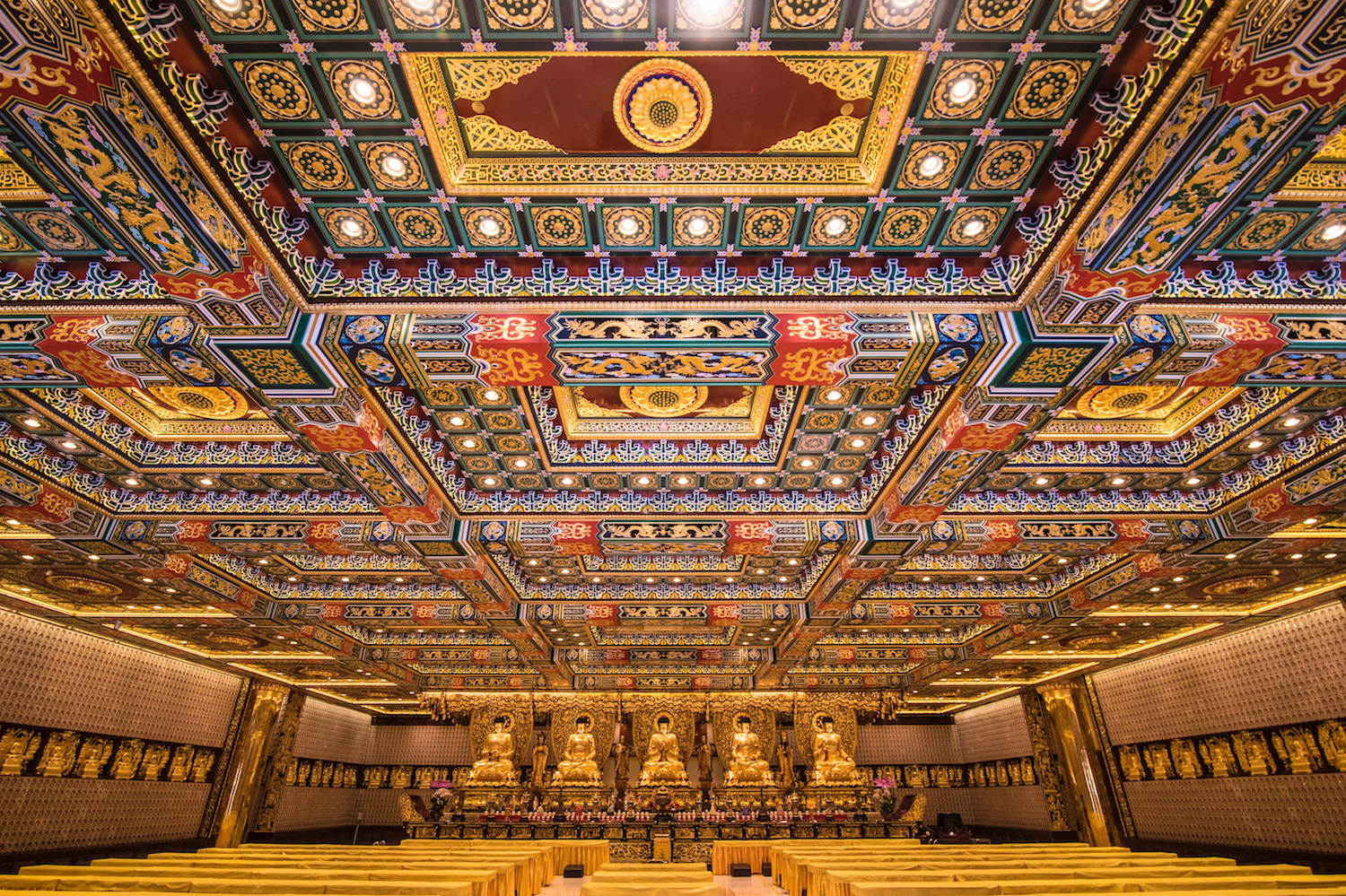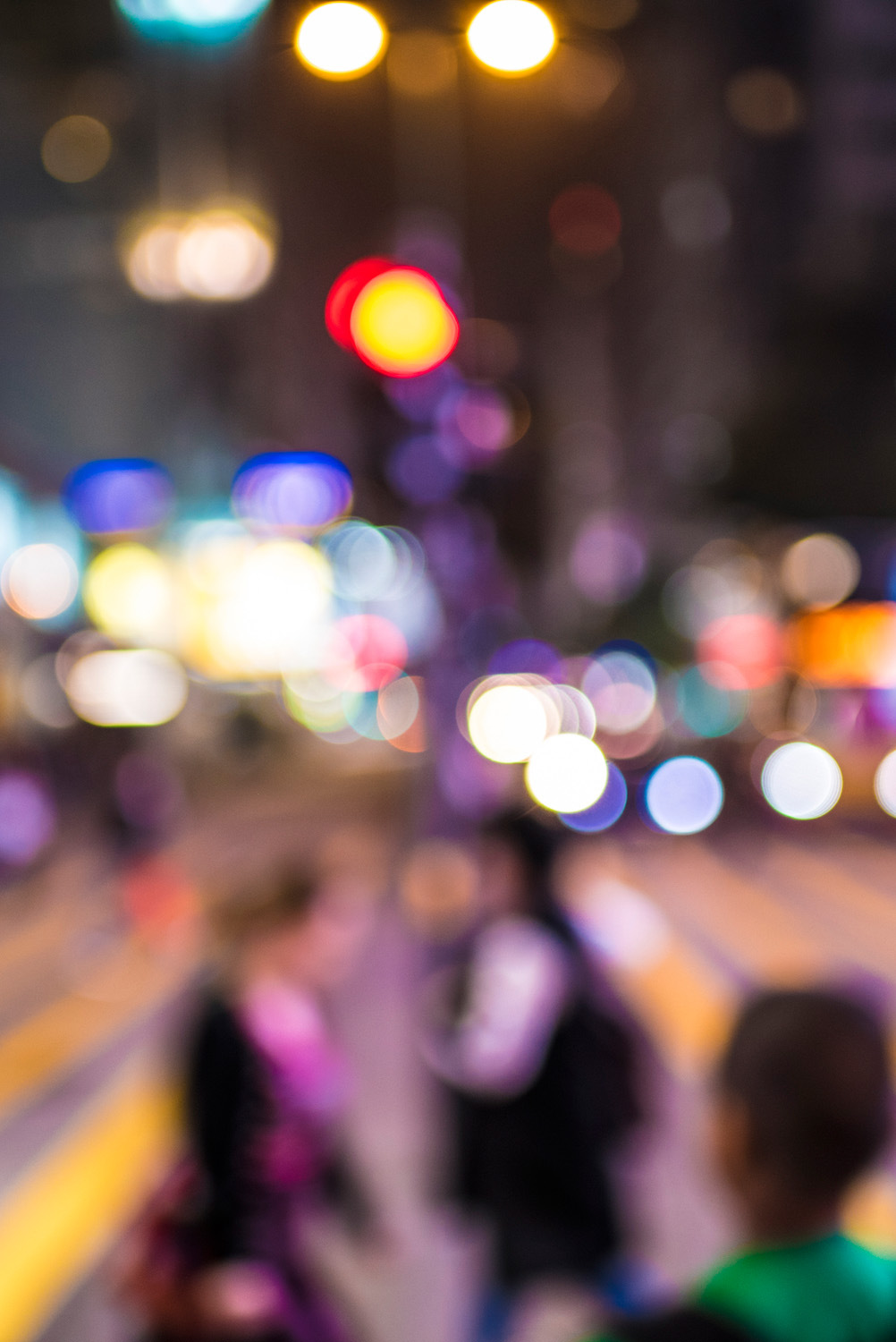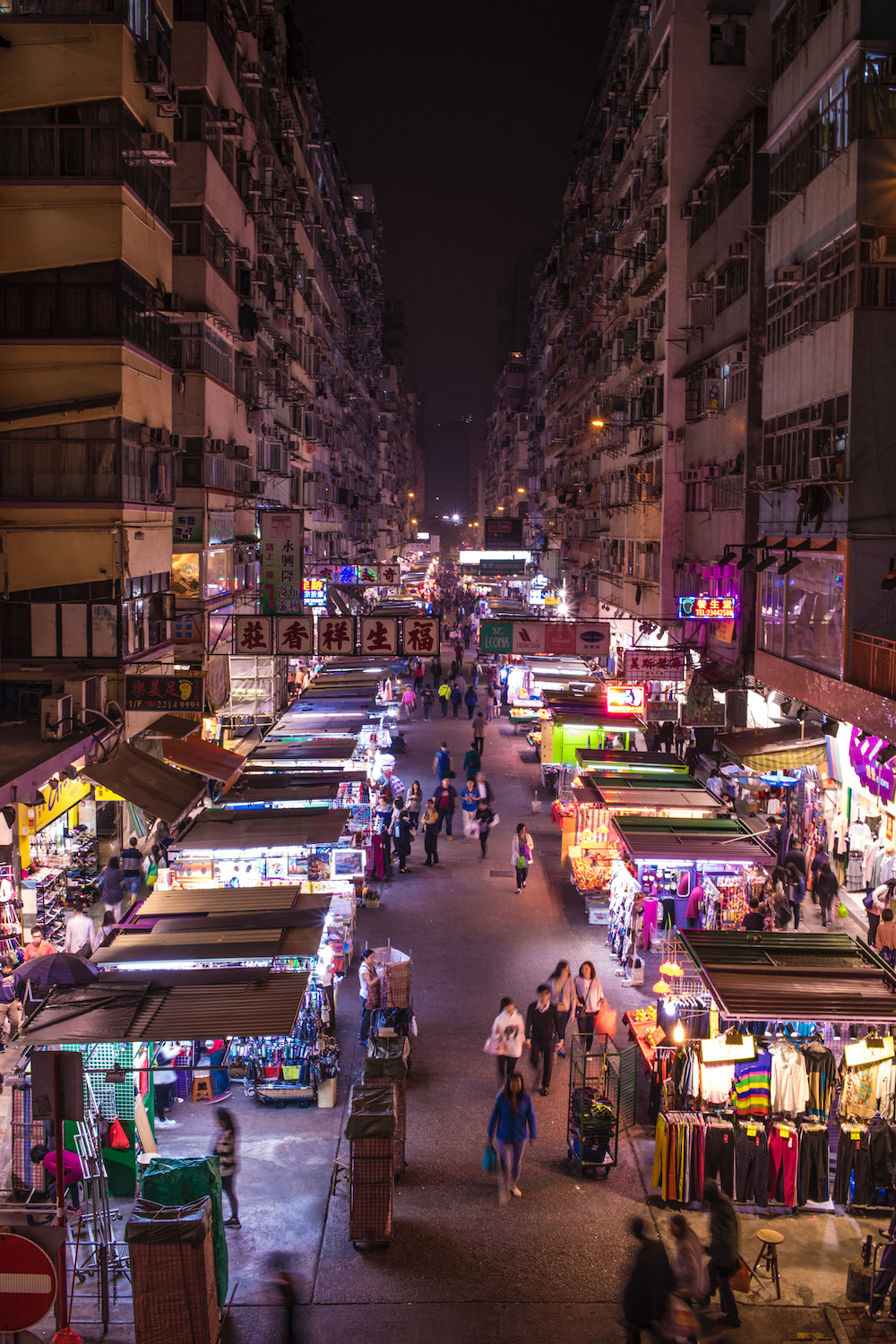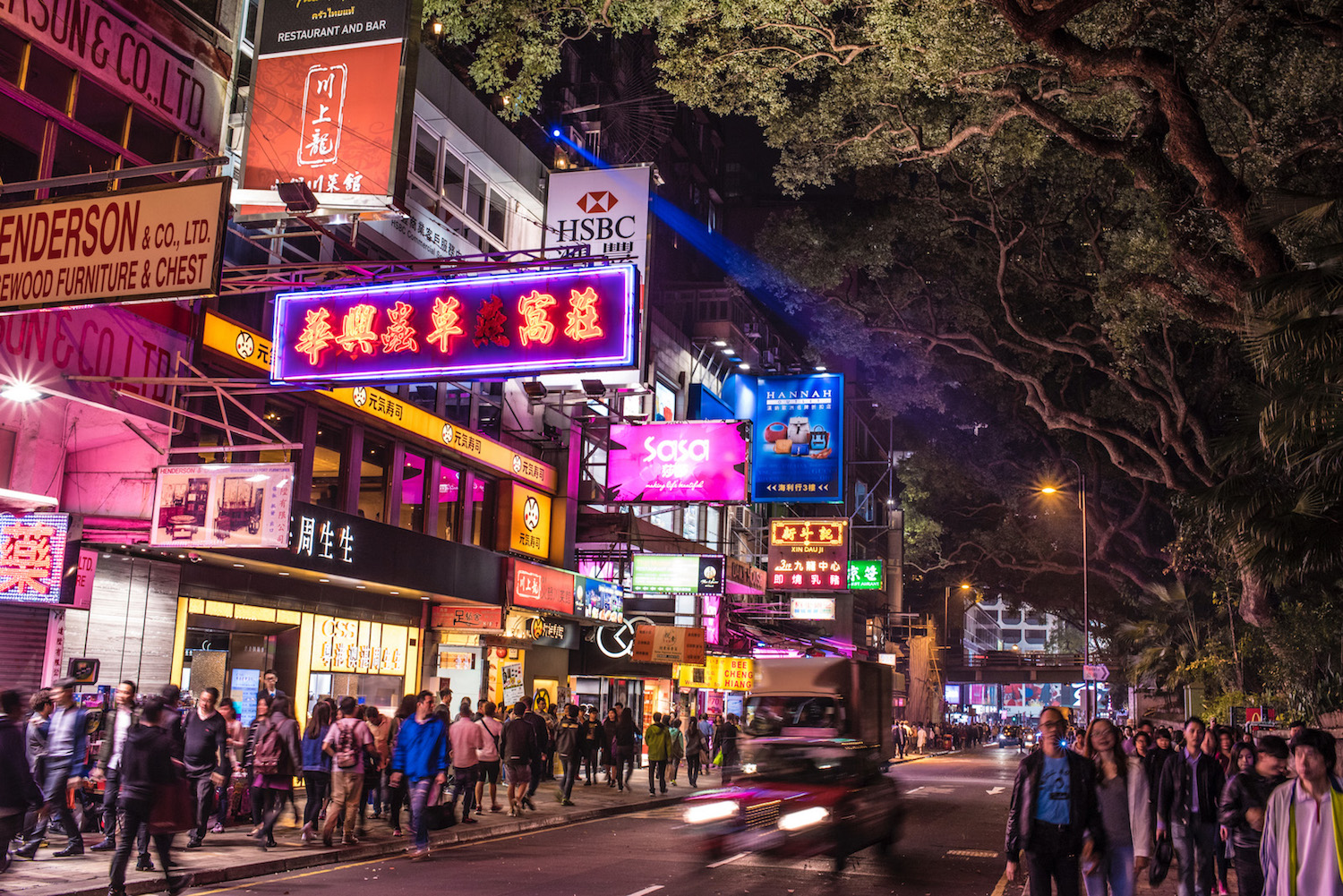 Share:

It was nearly 9 p.m. by the time I checked into my charming but un-noteworthy Hong Kong hotel. This was both fitting—Hong Kong is at its most colorful by night and I'd returned there, among other reasons, to take the most colorful photos possible—and frustrating: I'd just gotten off a 17-hour flight which, coupled with a 13-hour time change, left me feeling as haggard as I probably looked.
Those circles are as dark as the night sky, I cringed as I looked at my face in the bathroom's magnifying mirror. And this definitely isn't helping your case. I pulled a long, white hair out of my scalp, then grabbed my backpack and made my way out the door, then down the elevator and into the sea of neon lights and Indian watch hawkers that was Nathan Road.
This is where we were all standing, I closed my eyes as I arrived at the Victoria Harbour waterfront and flashed back six Junes. Dora, then me, then Rick.
Then Rick, I repeated as I forced myself back into the present moment. My flashbacks were vivid enough not only to to erase the half decade that had passed since my best friend, her cousin and I first visited the city together—and, for a moment anyway, that Rick had been dead for nearly half that time.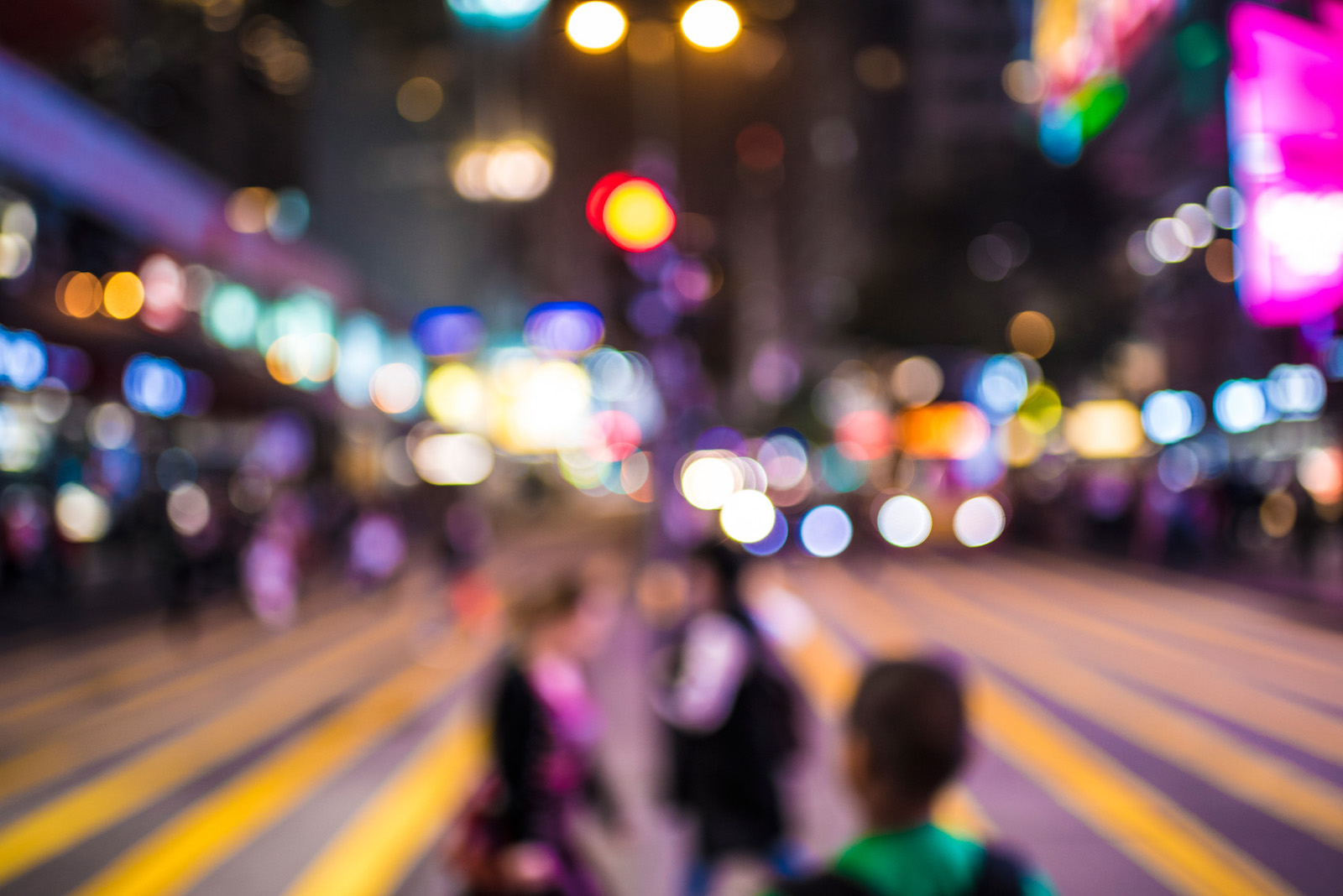 Siena had been one of my supervisors (the nice one) at the English institute I'd resigned from just two days before I embarked on my tour of China with Dora and Rick. We'd hoped to reconnect much sooner, but the dramatic turns both our lives took—I became a travel blogger and Siena became a wife and mother—allowed six years to pass like grains of sand through an hourglass.
"How has your time in Hong Kong been thus far?" She grabbed a steamed shrimp dumpling with her chopsticks.
"A fucking hot mess," I dipped a potsticker into the ramekin of soy sauce and vinegar I'd mixed up. "After staying up past midnight and waking up at dawn for a sunrise that didn't happen, I decided to power through my jet lag by strolling through Chi Lin Nunnery and Nan Lian Garden."
"The two most tranquil places in Hong Kong," she chuckled. "Nice."
We spent the rest of our dim sum lunch reminiscing about our shared past, albeit a highly embellished version of it. Butterflies, after all, cannot allow themselves to be weighed down by memories of life inside the chrysalis.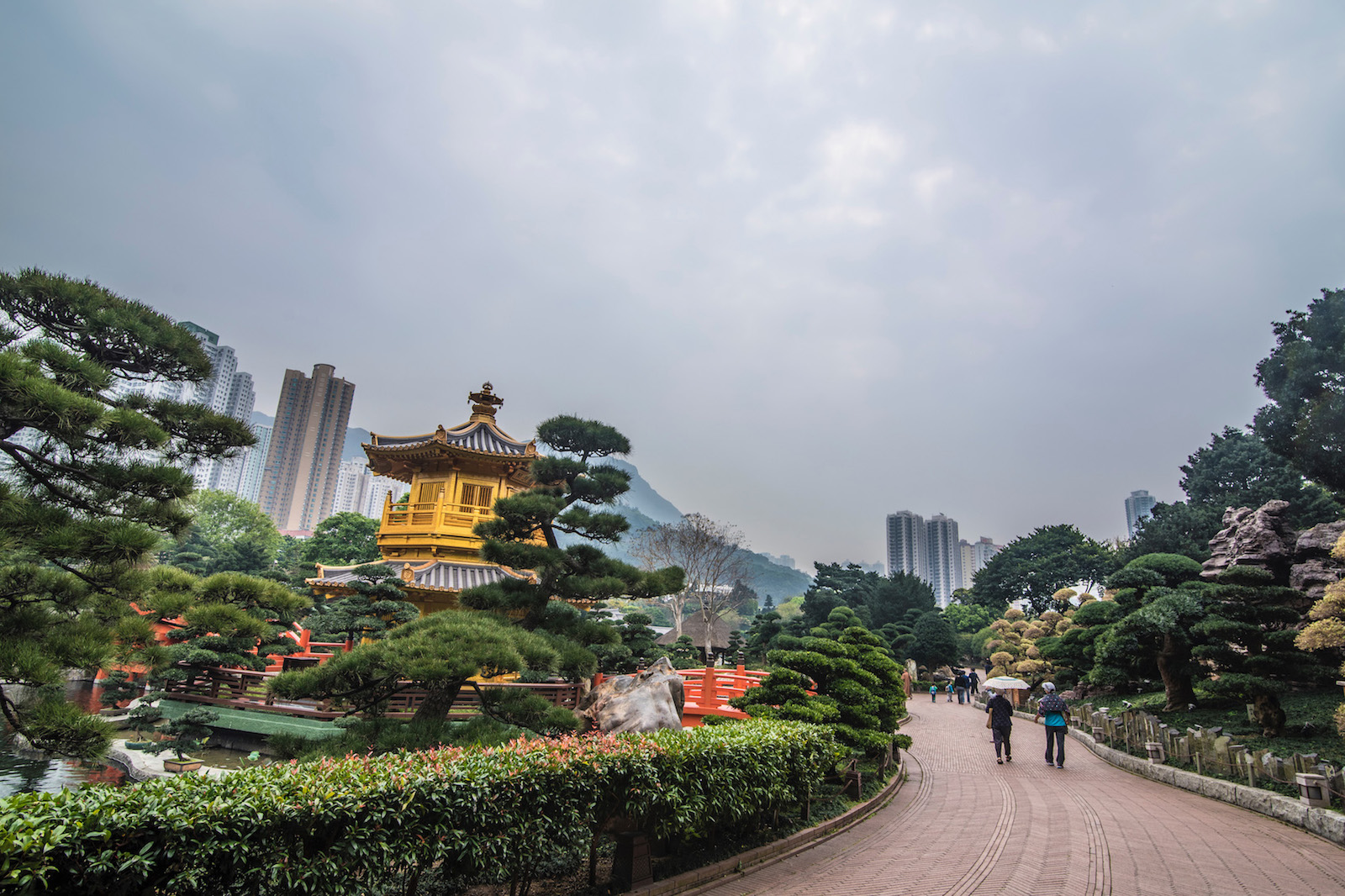 The Yick Fat building, located in Quarry Bay near Tai Koo MTR station, is the closest thing to a human beehive I think I've ever seen. As I stood across the street from it the next morning, I attempted several times to count the number of windows dotting its façade like honeycombs, but never made it to the end of even a single row.
Just then, someone tapped me on the shoulder.
"You should go inside," he pointed. "It's really cool."
I smiled. "You know, that's a really good suggestion."
Of course, that had been my plan all along. Both Yick Fat and Lak Tai Tsuen, in nearby Tin Hau, were on my list of places to explore that day. Incidentally, both were public housing tenements, although the local man's encouragement had quelled my one remaining reservation about photographing such places—that thousands of people make their homes there—in one fell swoop.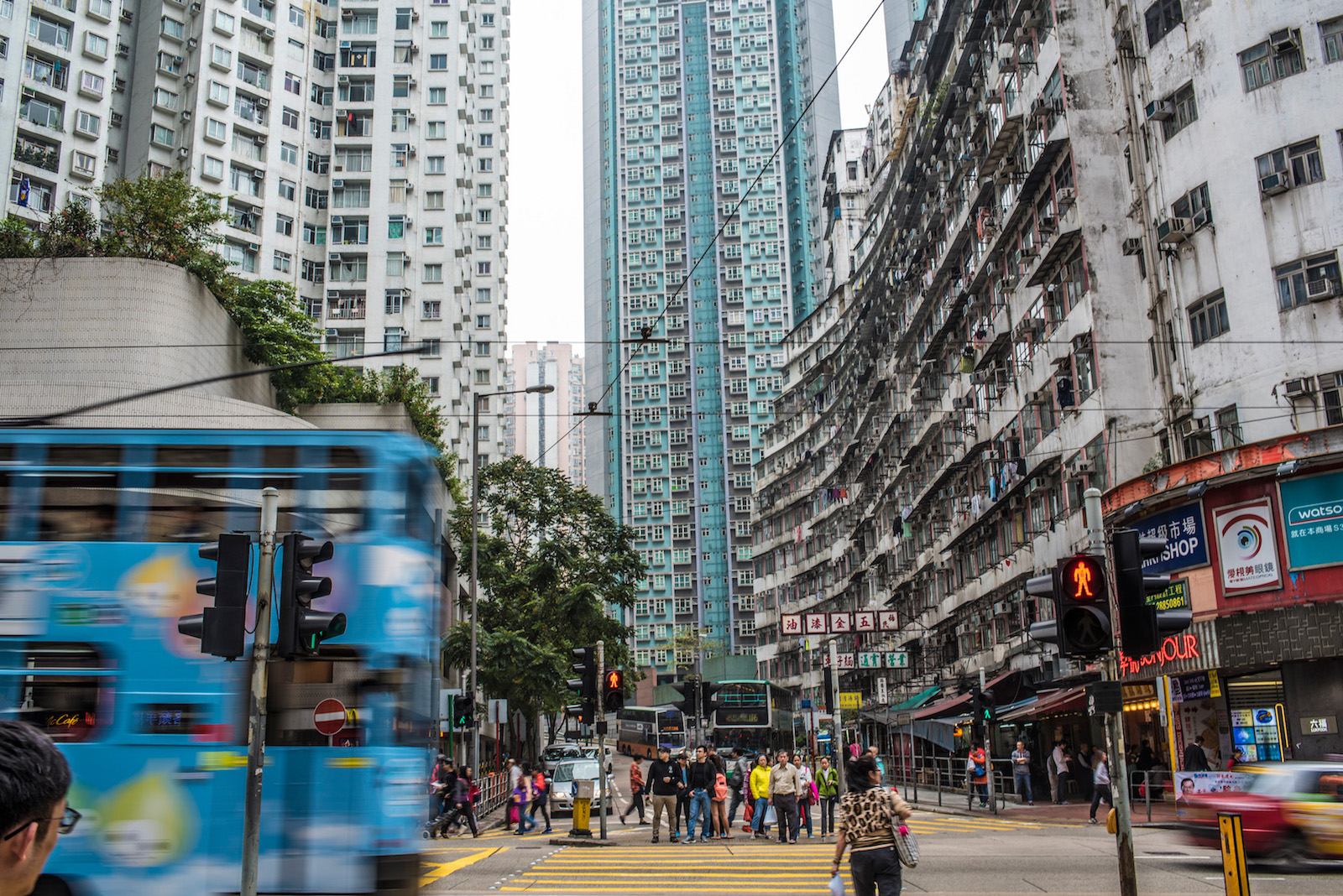 My second visit to Hong Kong has been decidedly more intentional than my first, although this hasn't always manifested as you might expect. Case in point: My afternoon at Po Lin Monastery on Lantau Island.
As I stood outside the Hall of 10,000 Buddhas, I noticed the majority of Asian tourists circumventing the "No Photos" sign displayed just inside the temple with a convenient hack: Standing just outside. I followed suit, but nonetheless drew the ire of one fellow visitor.
"That's really disrespectful," the European tourist, who sounded German and appeared to be no older than 20, scolded me. "You should delete that picture."
I rolled my eyes. "And you should mind your own damn business."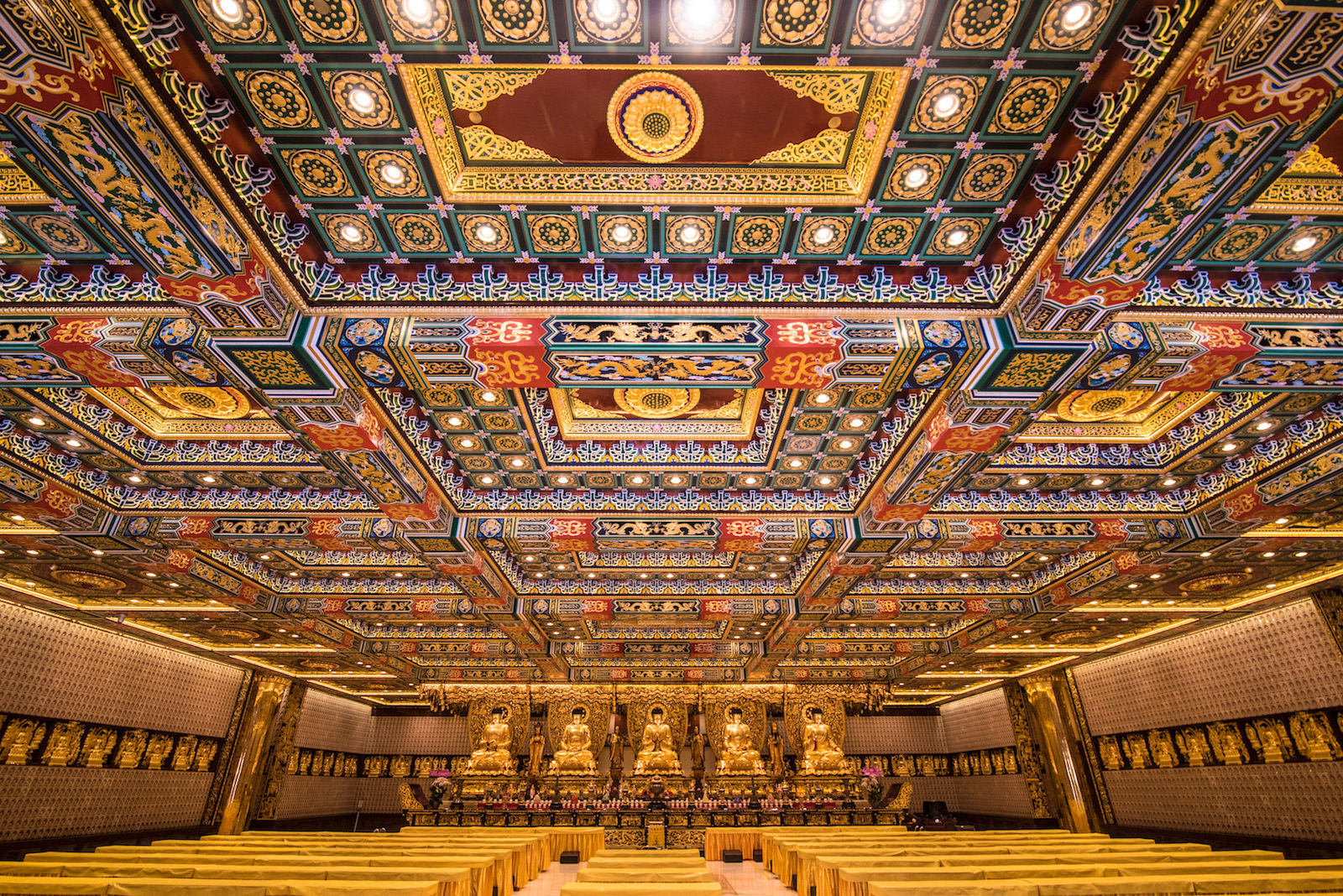 He proceeded to lecture me about morality and cultural sensitivity, all the while oblivious to the dozens of non-Caucasian people doing exactly the same thing I was doing. I briefly considered telling him to fuck off—or, at the very least, to remind him how ironic his bit about "respect" was, given that he had his back to the Buddha—but instead packed up my camera and conceded his point to him.
"I guess you're just a better person than me."
"Obviously," he shook his head self-righteously, and sauntered off as if he'd saved Palmyra from destruction by ISIS.
Poor kid, I thought. He travels the world with a little of Daddy's money, and all of a sudden he thinks he's Gandhi.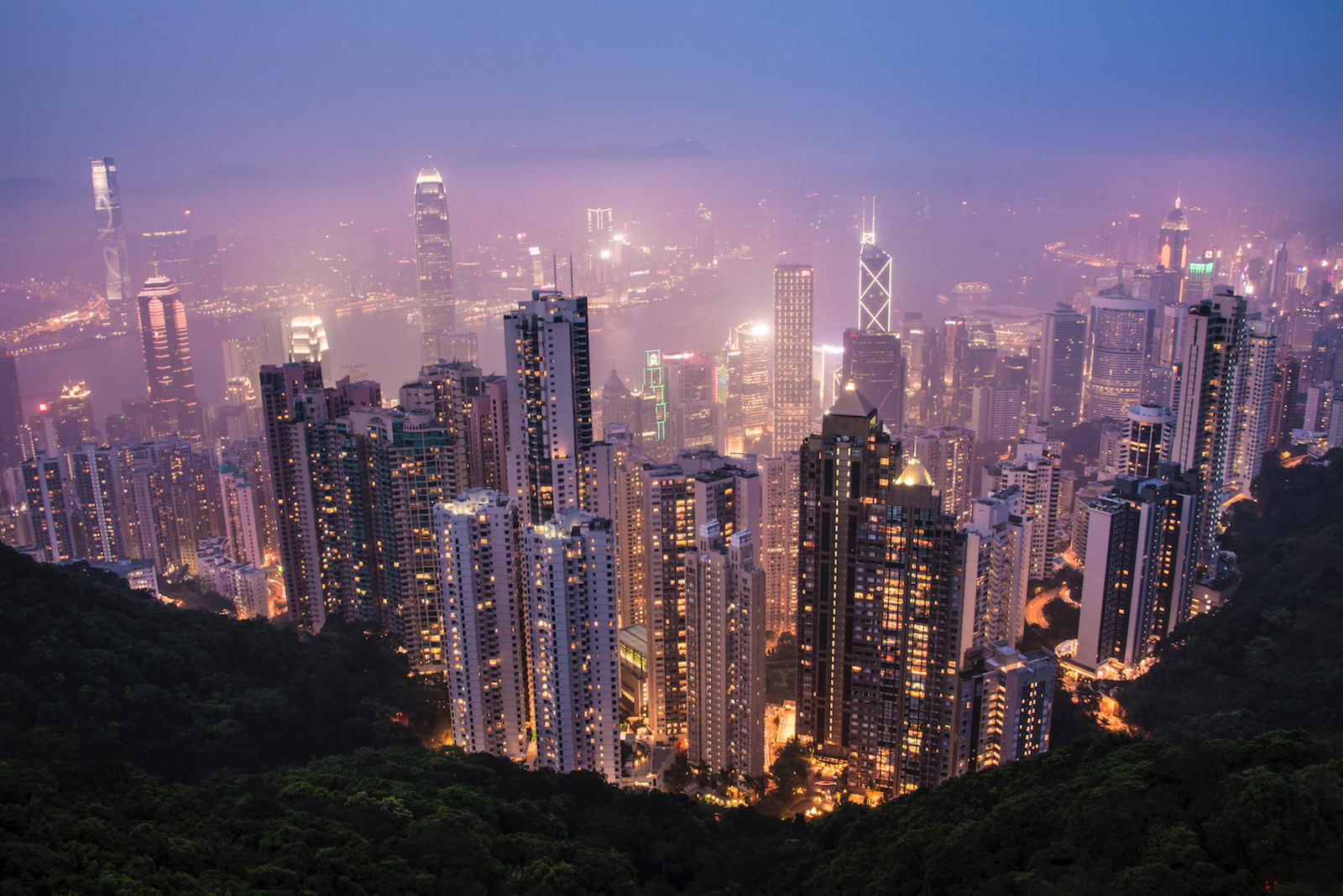 On my last night in Hong Kong, I met Siena for drinks on the charming terrace of an un-noteworthy bar in Hong Kong's Mid-Levels. It was only 9 p.m., but both of us were exhausted: Me from my marathon weekend in the city, Siena from having two small children.
She raised her drink. "To drinking in our 30s."
"Here, here!" I said and clinked my glass against hers.
Just then, an iconic red taxi parked in front of us, and out came a conga line of barely-legals who each appeared to be from a different continent. Hong Kong's international flavor is generally my favorite aspect of the city, although this particular meeting of the United Nations turned its nose up as it brushed past us.
"Imagine how lame they'll be when they're our age," I giggled.
"Indeed," she sipped her mojito. "But then, the 'popular' people always do peak early. It's comeuppance."
"I'm sorry," I set down my wine. "What word did you just use?"
"Comeuppance," she repeated. "You know, people getting what's coming to them."
I nodded. "I know the meaning. But I mean, what made you choose to use that word?"
"No particular reason," she replied. "Why?"
"Well, it's just that when I was planning my trip last week, it randomly popped into my head—I even wrote it down." I opened the note in my phone to show her. "But the funny thing is that I'd only seen the word in literature a couple times and had never actually heard it spoken until you said it a few seconds ago. Isn't that serendipitous?"
"Maybe this trip is your comeuppance?" She shrugged her shoulders. "Positive comeuppance, of course."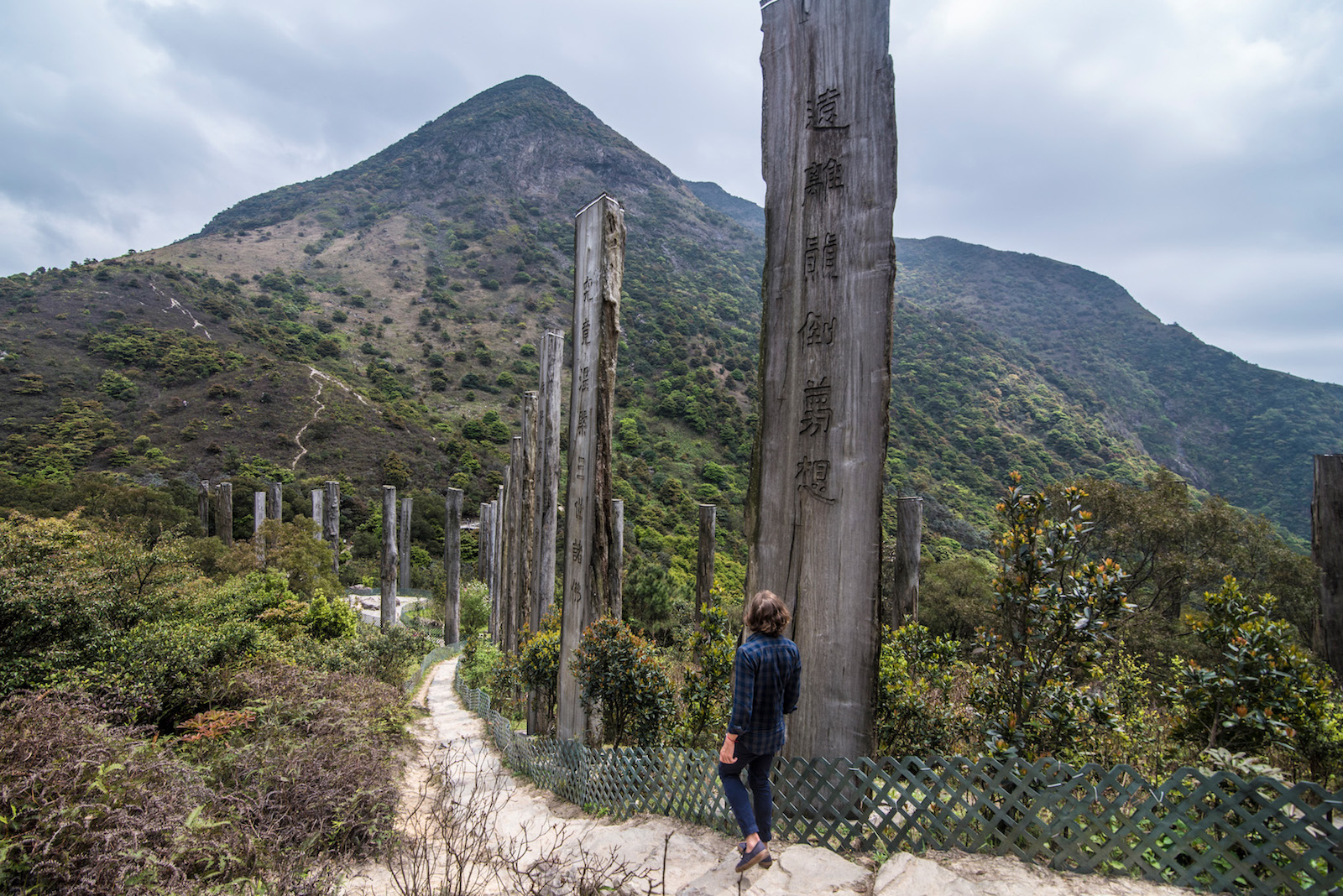 Share: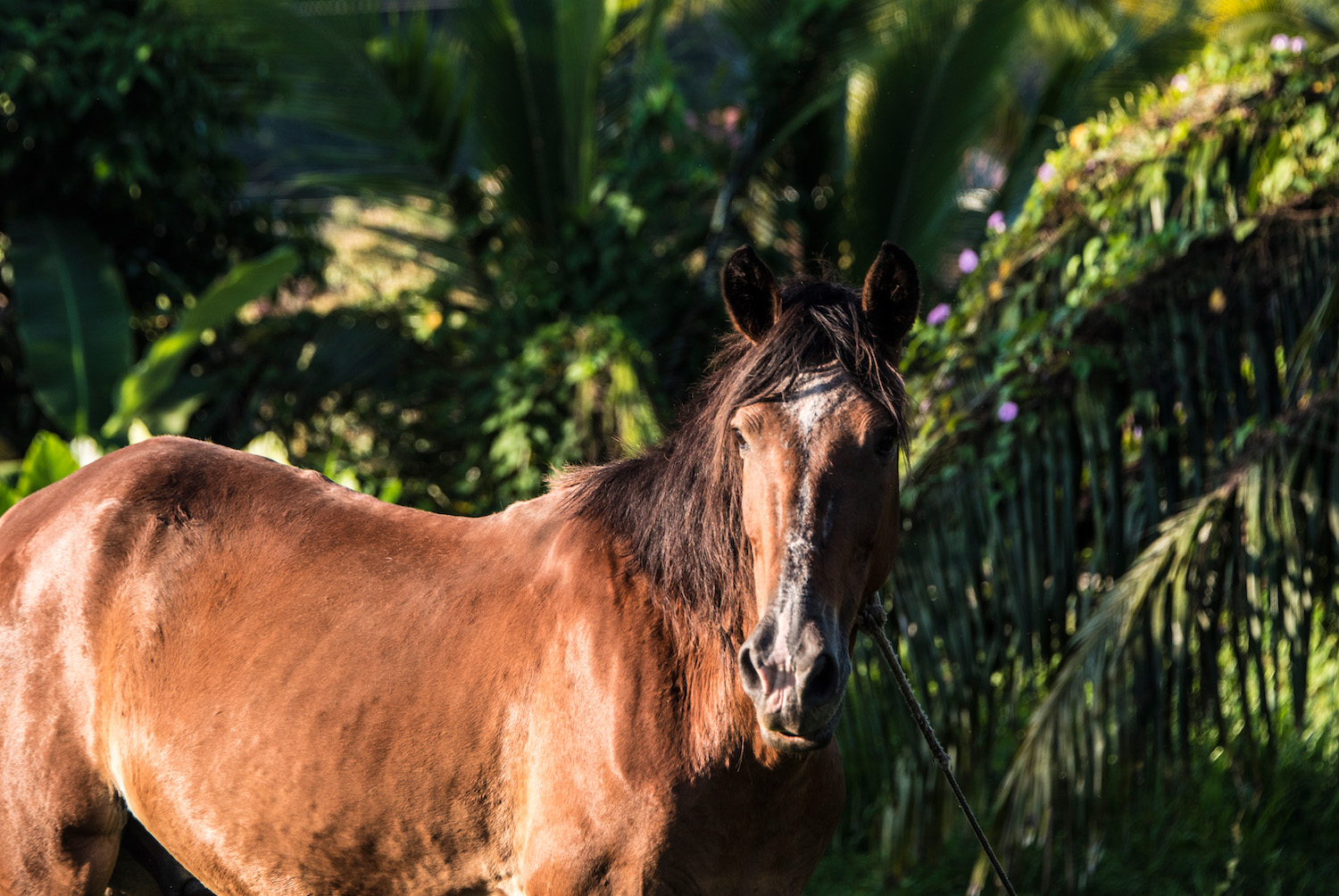 When you think of horse racing, you think of the Kentucky Derby, particularly if you're American. After all, is there a more quintessential horse race than the annual event held each spring in the Bluegrass State?
On the other hand, the world is a big place, and horse racing is not a uniquely American past time. Even if you never visit any of the fabulous horse race locations on this list, check out the Grand National horse races & winners to stay in on the action.
Melbourne Cup in Melbourne, Australia
Melbourne is an amazing city (the best in Australia, in my opinion), so even if there wasn't a legendary horse race here, you'd be wise for traveling there. Of course, the Melbourne Cup has occurred annually since 1861, so you don't have to worry about that. Horse racers (and horses!) from all over the world come to Melbourne each year to compete and also, to enjoy the city. There's even a fashion competition, which awards prizes to the best-dressed male and female jockeys.
Prix de l'Arc de de Triomphe in Paris, France
Speaking of amazing cities, Paris doesn't need an introduction on that front. Indeed, while it's not difficult to imagine horse races occurring in Paris during the long, car-free portion of its history, it is quite remarkable that one could take place in the middle of the metropolis it is today. If you plan to be in Paris in October, considering attending this event, which occurs at the Seine-overlooking Longchamp Racecourse. Fun fact: The race is sponsored by the state of Qatar and the track includes a replica of a Qatari souk.
Dubai World Cup in Dubai, UAE
Dubai's got everything—you can even ski there now!—so it probably isn't a huge shock that there's a relatively huge horse race here. Like the city itself, the Dubai World Cup enjoys a newfound notoriety: It only started in 1996; it's enjoyed most of its fame since 2010, when a new race track opened adjacent to the luxurious Jumeirah Meydan Hotel. Novel or not, the Dubai World Cup is just as fabulous and decadent as the city for which it's named.
Nakayama Grand Jump in Funabashi, Japan
When it comes to the Nakayama Grand Jump in Funabashi, Japan, there's good news and bad news. The bad news is that, unlike so many things in Japan, Nakayama Grand Jump isn't particularly weird. It doesn't feature riders (or horses!) in flamboyant costumes, or strange snack foods that dance when you pour soy sauce on them. The good news? Nakayama Grand Jump isn't very crowded, which means that tickets are cheap and easy to come by. Better still, it's very close to Narita Airport, which is Japan's main international gateway.
Of course, even if you don't visit any of these international horse races, you're bound to come up a winner. Horse racing is a fun, exciting sport—the destination is simply a backdrop for something that's always awesome! Have you ever been to a horse race location that isn't on this list?
Share: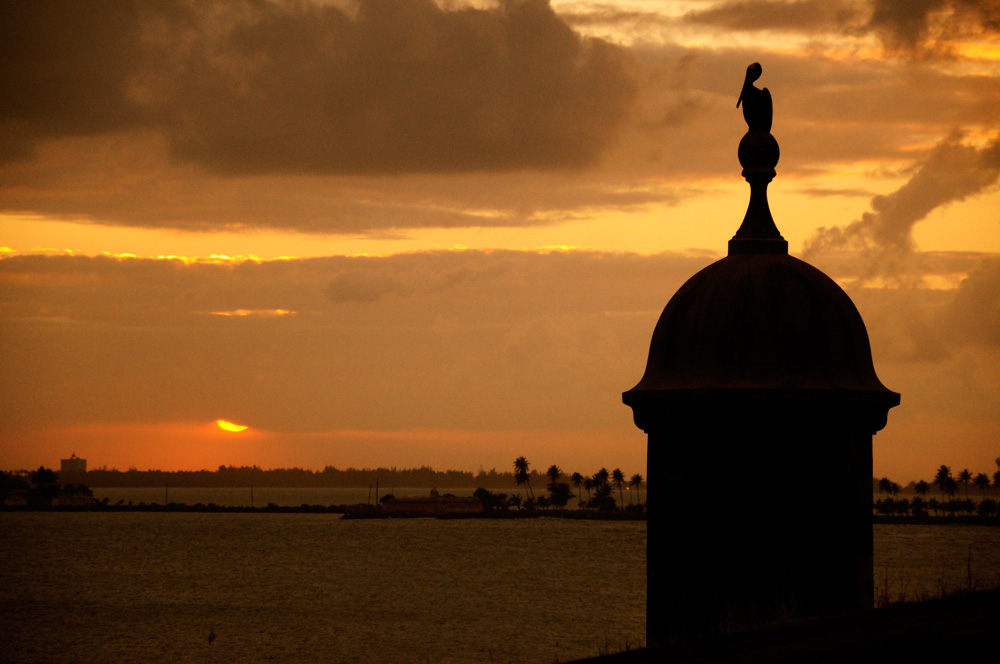 The Puerto Rican sun peaks through your window at Casa Sol Bed & Breakfast, and although the homey feeling inside is matched in warmth only by the bright, yellow façade of the building, outside is where true romance awaits you. It's time to wake up.
After a plate of sweet quesitos and piping-hot café con leche for two, you've hit the brick streets of Old San Juan. Walking along Paseo de la Princesa, a local artists notices how inseparable you are from one another, and asks if he can sketch you—the historic San Juan Gate looms welcomingly in the distance, but it's early yet, so why not?
Once he finishes (and you buy it from him, of course) you arrive, amazed, at San Juan Cathedral, where another couple is celebrating their own bond. You hope it's a good omen as you continue your stroll, this time along Calle Cristo toward Castillo San Felipe del Morro.
Before you know it it's mid-day and looking out over the sparkling Caribbean, hand-in-hand, hoping your love is as timeless as the castle walls. You're as starved as you are lovestruck by the time you've walked the entire perimeter of the fortress, so you descend to sea level and end up beachside at Oceano, where you tear into modern takes on Puerto Rican classics, like king snapper ceviche and mahi mahi chicharones, with lapping waves just steps from your sand-smoothed toes.
A reminder: The sun is just a few hours from setting, and you haven't yet gone for a swim. You could wait a few minutes for your food to digest and walk right out into the water from your table—Oceano, after all, sits right on San Juan's iconic Playa Condado.
Alternatively, grab your partner's hand and make a beeline for the picturesque Ocean Beach Park, or for Isla Verda Beach which, as its name suggests, flanks water so green and sparkling you'll think you happened upon a sea of turquoise.
Then again, you could shop for actual turquoise, at the aptly-named Turquesa, and save the splendor of Puerto Rican nature for tomorrow. (El Yunque Rainforest is just 45 minutes by car from San Juan and makes a perfect day trip.)
As the sky sings with shades of purple, pink and orange, head back to El Morro and join the hundreds of kite flyers, many of them also couples, and watch your love soar as the sun sets behind you.
Dine simply tonight—a satisfying paella at the charmingly local Pelayo's should do. After all, your infatuation with Puerto Rico is brand new, even if the adoration you feel for one another is of a more mature sort. Enjoy a piña colada or two, or even try your luck at the iconic "La Bomba" dance before you retreat inside the warm, yellow walls of Casa Sol, preparing to feel Puerto Rico's seduction on your skin again tomorrow.
Even if you're still searching for "The One," you can still live your own 5-star vacation story in Puerto Rico—you might even find him/her there! To learn more about Puerto Rico, visit SeePuertoRico.com and tell me below: Romance or not, where in Puerto Rico do you most want to check out?
Share: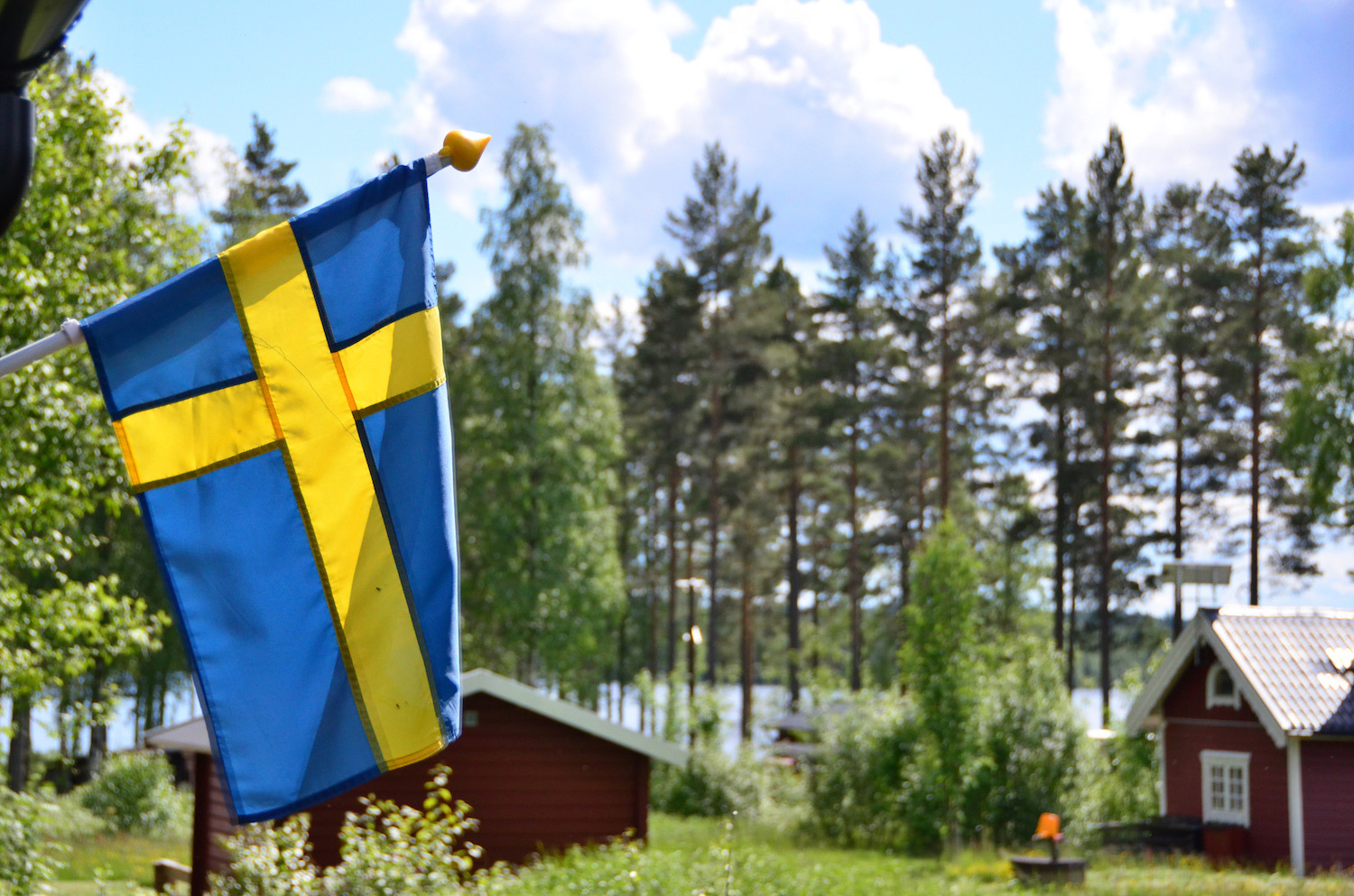 For a country of less than 10 million people, Sweden has a disproportionate influence on the world's culture, one that largely results from the quantity of amazing pop singers the nation produces. Since the 1970s, when ABBA won the Eurovision competition and became one of the most popular musical acts of all times, it's been tempting to think there must be something in the Swedish water that spits out pop stars. Maybe not in the water, but traveling through this former Viking land, it's easy to understand where the inspiration comes from.
ABBA
Upon landing at Arlanda airport near Stockholm, you'll be within miles of where ABBA achieved international fame, even if you aren't necessarily near the birthplaces of all the band's members: Only Benny (one of the B's) was born in Stockholm. Bjorn (the other B) was born in Gothenburg, while Agnetha and Anni-Frid were born in Jönköping and in Norway (that's right—she's not Swedish!), respectively.
Listen to "Dancing Queen" as you saunter your way into the city, or perhaps during a walk through Stockholm's Gamla Stan Old Town. Then, put on "Waterloo" as you surrender to Stockholm's inescapable charms, or hum the chorus of "Take a Chance on Me" as you take the chance to wait for the changing of the Royal Guard.
Ace of Base
The case of Ace of Base, which was probably the most popular Swedish pop act within the decade after ABBA broke up, is a little bit simpler: Basically all its members are from Gothenburg, Sweden's second-largest (but oft set aside) second city. Take a boat trip out into the Gothenburg archipelago, or shop for seafood at the Feskekôrka Market—"All That She Wants" is to eat some lobster! It's a "Beautiful Life" in Sweden, that's for sure, and you'll never be "Living in Danger."
Then, since you're on the west coast anyway, travel down to cities like Helsingborg or Malmo, where you can cross by land into Denmark over the Oresund Bridge, a connection hundreds of years in the making. Wait a minute—wasn't Ace of Base's second album called The Bridge? Curious.
Robyn
Travel through Southern Sweden, stopping in cities such as Lund, before heading back to Stockholm, an "Indestructible" city that also happens to be the birthplace of Robyn. "Who's That Girl?", you might ask? Well, you'd be hard-pressed not to know Robyn, whose meteoric success is unique even among Swedish artists: She's had not one, but two periods of international fame.
The first, you might recall, was as a bubble-gum pop artist in the mid-1990s with hits like "Show Me Love." In 2010, on the other hand, Robyn was back as a hipster dance-pop queen, and the worldwide smash "Dancing On My Own." You can probably hear it playing in discotheques in Stockholm's trendy Södermalm district.
Indeed, whether you prefer "Dancing Queen," "Dancing On My Own" or any of Ace of Base's dozens of hits, Sweden is as unique and beautiful as the glorious pop music the country's artists have produced within most of our lifetimes. I saw "The Sign"—and it looked an awful lot like a Swedish flag.