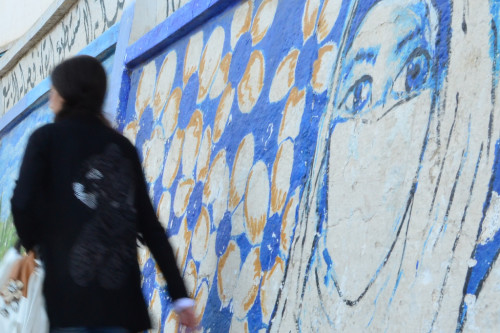 When you take a bunch of Europeans on inexpensive all inclusive holidays and drop them into an impoverished, conservative Muslim desert country, you'd expect some friction. But when we went there – just two girls – we were truly well behaved.
We covered ourselves, loosely, from head to foot, stayed in a traditional riad in central Marrakech, observed as many politeness's as we could, didn't get drunk once — and yet we were still hassled wherever we went.
The European girls we met out there were baring far more skin than we did (we also saw many Moroccan girls wearing much less, and tighter), but they dreamily recounted the wonderful time they were having. Until, said one, her boyfriend went back inside the hotel to fetch his keys – whereupon the hasslers descended.
Most of the reveller-types we met tended to restrict themselves to their hotel complexes, anyway, where they could obtain cocktails with ease and relax in the sun without worrying about offending anyone. Perhaps it's different in the seaside towns – you read tales of sunburnt scantily-clad Brits offending Agadir's residents – and we visited in September, so the summer holidays were over.
Sadly, the most off-putting people we encountered in Morocco were the Moroccan men, who either had a very strange generalised opinion of what European women are like, really off-target senses of humour… or they just didn't want us there at all.
Morocco is beautiful. The arid fields, agricultural boundaries demarcated by lines of little rocks, dusty pink mountains in the distance and hazy blue sky above. Crumbling French-Moroccan hotels in windy Essaouira, clinging to the fame bestowed on them when Hendrix stayed there, in the 1960s. A new generation of beach-niks drifts there now, kite-surfing and windsurfing the Atlantic that buffets Essaouira's remarkably long, flat sandy beach.
Essaouira was also where the "Berber" man screamed in my face that he was going to hunt me down and rape me after dark, because I warned my friend off the scam he was trying to pull on her – just one of those standard ones you're warned off in the guidebooks, where you're asked to write a UK address in English on a parcel, which, its contents unknown, you're subsequently persuaded to carry back to Britain in your luggage.
It was also where we were pursued down the street by a group of young men unsmilingly shouting "you want sex?". We were wearing white linen trousers, long-sleeved high neck tops, and headscarves. When we told the police about the Berber man, they shrugged, their eyes focused fifty metres or so behind us.
The female scammers were pretty nifty, too. The woman who smoothly diddled my friend out of £30 for a henna tattoo did it with such skill that I actually felt respect for her, although my friend, travelling on a tiny budget, was deeply upset at the loss.
And yet, I'm yearning to go back. Where we did encounter kindness and hospitality, it was astonishingly warm. So many women I know who've visited with male chaperones, of one sort or another, have only good things to say about the country, apart from the poverty they encountered there. The buildings, the food, the landscape – I feel like I missed Morocco's best bits because I spent so much time scampering away from its bad side. That was seven years ago, now. Perhaps things have changed. Perhaps it'll work out better if I take my man-friend with me.
This was a contributed post from TravelZoo.