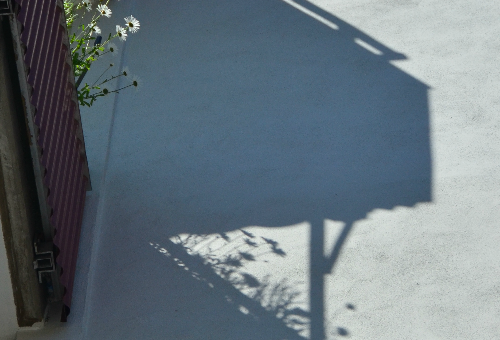 A key problem you run into as that most apartments require one-year leases. Although it's possible that I might stay that long, I'm not quite ready to commit at this point.
Regardless of what happens, the dilemma I'm going through now in Bangkok had me thinking about my first apartment hunting experience in Shanghai three years ago. If you're also looking for an apartment in a foreign country, learn from my experience to make your search easier.
Where to Search for Apartments
I made an appointment with one of the real estate agents my company recommended me literally my first day of work in Shanghai. A real estate agent? I thought to my happy self. That'll make my life a lot easier!
I'm guessing it's easy to become a "real estate agent" in China, because none of the ones I met helped me much. In fact, one of them left me waiting for an hour in the rain, only to show me apartments that matched exactly zero of the parameters I set.
Ultimately, I ended up finding my apartment in Shanghai the same way I've found apartments everywhere I've lived: Via the Internet. I simply used Craigslist, but chances ar the city where you're planning to live has one (or more) local classifieds pages that may be more specific. Try typing "(city name) expat apartments" into Google .
Another tip is to ask for advice. You have to be careful here, though. Although locals may be able to provide you with more detailed information on finding apartments abroad, you might not want to live like a "local." In this instance, ask another expat.
Take Your Time and Weigh Your Options
By the time I finally took to Craigslist, I was so sick of being stood up by real estate agents and seeing trashcan apartments that I would almost say I was desperate. As a result, a tiny apartment on the 23rd floor of a pink mid-rise seemed like it would be the perfect home, even if it wasn't yet furnished when I saw it — I signed that very day.
Unfortunately, the apartment looked even smaller the day I moved in, once all the furniture was inside. To make matters worse, the Internet was shit, the elevator (mostly) didn't work and there was no heater. And the landlord was an idiot, but more on that later.
The point is that I rushed into my apartment overseas, and I paid the price of having to live there. Unless your company has set a specific deadline for you to find a place to live, take your time when finding an apartment, even if it means having to stay extra days in a hotel.
Drive a Hard Bargain
Even though my Shanghai apartment was small, I thought 2,800 yuan (~$400) per month was a fair price for it, given its location on swanky Hengshan Road. Laughter and gawking from my colleagues who saw the apartment after I moved in suggested this was not the case.
This tip goes hand-in-hand with the last one: The fewer apartments you see and/or the more desperate you are to move in, the less bargaining power you will have. The more educated you are about what your money can get you in the city where you're living, the more likely you are to end up on top.
Regardless of how flexible you are, however, you can assume (in Asia anyway) that you're going to be quoted a higher price than the landlord and/or agent expects you to pay. If they quote you $1,000 per month (as an example), counter with $750 or even $700, and see if they'll meet you in the middle. If they won't, walk away — and see if they chase you, as people in Asia tend to do.
Are Foreign Leases Binding?
I mentioned earlier that my landlord was an idiot, and I'm not saying that to be mean. In fact, his English name ("Ben"), when said in falling-tone Mandarin, means stupid. Fitting! To make matters worse, I'm pretty sure he was boinking my loud-ass neighbor and her even louder child, which is why he never did anything about their loudness.
It all came to a head one day when he changed the lock on the door. This would've been fine if he hadn't, you know, installed the lock on the wrong side of the door, barracading me inside the apartment. He attempted to pay me off with 10 Chinese yuan (about $1.50) when he came to my rescue two hours later, but I was fucking done. I was gone that weekend!
If you're in a bad apartment lease abroad and thinking about breaking it, my advice is that you should do it, particularly if you've tried to work things out with the landlord. The worst thing that can happen, so far as I know, is that you lose your security deposit.