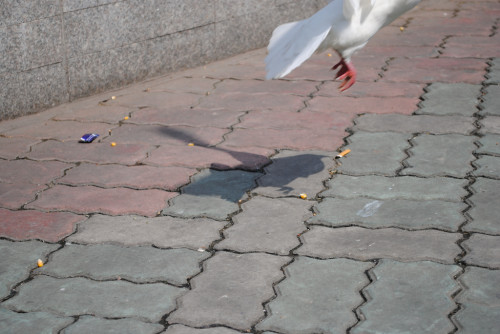 The plan had always been to arrive at Bangkok's Hua Lamphong Railway Station far enough in advance of the scheduled 5:55 a.m. departure that I would fall asleep before the train left the station, arriving at the border station of Aranyaprathet well-rested but oblivious.
But by the time the wake-up call came at 4:30, I was already up and stirring. As the taxi sped through the dark and mostly-deserted streets of central Bangkok, I found myself longing not for shut-eye, but for a narrative thread.
I was as eager to document the story of my travel to Cambodia as I was to go in the first place, even if the landscape the slowly-rising sun revealed seemed as unchanging in its composition as its expanse seemed endless, all the way to the border station.
"I couldn't help but notice your southern accent," I said to the busty blonde in front of me as I exited Cambodian immigration. I extended my hand. "I'm Robert."
"I'm Amber — from Arkanses," she smiled. "And this is my boyfriend Kale."
He, too, shook my hand. "I'm from Texas."
"No way! Where?"
"Tyler," he said. "Do you know where that is?"
I laughed. "You're an East Texas swamp boy, huh?" Speaking of swamps, the scene in front of us as we walked into Cambodia seemed particularly murky. "I wonder which of these cars is a 'taxi'?
"And by the way, I know we just met, but would you mind if I went in on a taxi with you?"
"Are you kidding?" Kale and Amber looked at each other and giggled. "We're fucking English teachers, dude," Kale said. "Do you think we'd pass up an opportunity to save a buck?"
We very quickly realized that the "taxis" travel websites had instructed us to take to Siem Reap were simply private cars with industrious owners. We also learned that the once-treacherous road from the border into the country had been freshly paved, and spent the 90-minute journey mostly in comfort.
Amber and Kale, I would discover as our car sped toward Siem Reap, were teaching English in Taipei. Like me, they had flown over the Pacific with travel goals.
Only they had planned theirs out extensively. "Our contracts are until August," Amber said as we made our way toward the dusty main road. By this point we'd all checked into our hotels, showered and were trying to hail a taxi — or a "tuk tuk" auto rickshaw — to Angkor Wat. "But I doubt we'll make it that long."
Kale successfully flagged down the first tuk tuk that passed. "We're not sure exactly when we're going to leave, but we fly from Kuala Lumpur to Bali on August 21." He haggled with the driver. "Three dollars — one for each of us?" He signaled to Amber and I. "This guy's good, let's get in."
Amber picked up where Kale had left off. "Then, we fly from Bali to Sydney on September 5, spend a day in Australia, and then continue on to New Zealand. We're gonna buy a car and do farm work there for three months, then stop in Fiji on the way back to Texas."
Angkor Wat is located just 4 km north of Siem's Reap's city center, if you can call it a city, but within minutes it feels like you're in the middle of nowhere, even consider the slow speed of the tuk tuk. Produce and textile stalls line the dirt road, from which empty, barren fields extent outward in all directions, as far as the eye can see. Well, except for due north, where the landscape is decidedly more wooden. It is in this sudden forest that the Angkor complex sits.
I traveled from Bangkok in the morning, you will remember, so I didn't actually get to Angkor Wat until late in the afternoon. So late, in fact, that I had only 30 minutes to enjoy there my first day — the park closes promptly at sunset.
We had planned to return to the temple the next day at sunrise, but since we were staying in opposite ends of Siem Reap, the logistics proved too difficult for us. We instead spent our morning exploring Ta Phrom, where the Tomb Raider film franchise was shot, and enjoyed a lunch of traditional Cambodian fish amok.
By the time we got back to Angkor Wat it was mid-afternoon, which is probably the worst time to take photos. But as happy as suddenly having travel buddies had made me feel, it had stood in the way of my blog-related activities.
After Kale and Amber had gone into a portion of the temple to explore, I found myself fixated on a lone magenta flowers in a field just a few feet away. My goal was simple: To focus on the flower and make the background blur. As someone who'd always shot with an automatic-mode point and shoot, the idea of a short aperture was novel.
Kale laughed at as he walked up. I can't blame him — I must've looked ridiculous lying on the ground, fiddling with my camera's knobs and buttons in a seemingly haphazard manner.
"Do you need help with that?" Kale also shot with a Nikon DSLR, and was pretty significantly further up the learning curve than I was.
"I'm good," I said with one eye squinted shut, trying desperately to frame the shot right as I teetered with light- and focus-related settings. I hit the "Shutter" button and looked at the LCD screen — success! "Yeah, I got it.
"So where exactly do you guys plan to head, you know, whenever you finish up in Taiwan?"
"Vietnam, I think," he said. "Then probably Laos, and maybe Thailand again, Like I said, we just have to make it to KL by the 21st of August."
"Can I ask you a crazy question?" I slung the camera around my neck, and got up off the ground. "You know, I think we have the same idea about this teaching thing, but I don't really have an exit strategy yet.
"Would you, mind if I tag along with you. I mean, initially?"
Kale blew a kiss at Amber as she approached. "Hey babe, what do you think about Robert joining up with us in Vietnam?"
"That sounds great," she said. "We can all say 'fuck China' together."
I laughed. "So it's a date?"
"It's a date," Amber said. "We'll be in touch."
By the time we parted ways back at Hua Lamphong the following evening, we had already exchanged the requisite information to stay in contact, even with the Facebook blockage in mainland China. Although no date had been set and I didn't know what kind of adventure might await me in Vietnam, I felt confident that I had found my way out.
I had two days left in Bangkok before returning to Shanghai. I spent most of the first one blogging about the resolution of my Cambodia adventure, and responding to comments I'd received about the entries I made on the go — even though my readership was as paltry as my graphic design at this point, I had already gotten into my first travel blogging war.
A heavyweight who shall go unnamed, you see, took exception with my having called out his snobbery. (A few years ago, he'd lamented in an entry to which someone else linked me, Angkor Wat was nothing short of an archaeological site. Now it's like Disneyland.)
My utter adoration for the process of travel blogging notwithstanding, I was already noticing a tendency that would eventually become a fact of life: Blogging well — and, more importantly, generating publicity for your blog — meant staying locked inside for longer than was probably healthy and, more tangibly, missing out on travel experiences out of sheer time limitation.
But I also quickly realized what an important part of the equation balance was, and thus vowed to spend my entire second day exploring.
And I really mean explore — I walked southward, away from Bangkok's infamous Khao San Road backpacker district, and literally happened upon some of the most important sights in Bangkok. Suthat Wat temple and relics of Bangkok's 17th century "Golden Age," such as the Giant Swing and Golden Mountain, which I happened to scale just minutes before the sun set over Thailand's vast "City of Angels."
By the time night fell, I had wandered all the back to Hua Lamphong Railway Station for the third time in as many days, only I was much deeper in love with the Thai capital. I'd experienced something of a past life regression as I strolled past noodle slingers and Thai iced stalls and even Bangkok's strange street of gun shops.
Whether or not I had "been" in Bangkok in a different life, I knew that I was meant to be there right at that moment. I mean, a bird shit on me for only the second time in my life — what greater sign of serendipity is there?
Truly, the entire 10-day trip had affirmed my decision to move to Asia in the first place. The recurrence of the camera malfunction had not been an unresolvable, existential slight from the Universe; it was a referendum on the growing importance of photography in my professional life.
And photography was important: Even if I had to return to Shanghai for an unspecified amount of time and pretend I wanted to teach, and even if I wouldn't be traveling or blogging much until I met up with Kale and Amber again, travel blogging was surely my "job" as I stepped onto the China Eastern Airlines flight.
The evening air was warm when I emerged from the Shanghai taxi onto Hengshan Road and walked toward my garish, pink apartment building. I can do this, I thought. It's going to happen. It's actually going to happen.
***
"Robert is like a black cloud over the office," Greg said, presumably reading directly from a statement someone else had written. "When he enters the office, the fun disappears."
It was mid-March at this point, approximately three weeks after I'd returned from Southeast Asia. Work hadn't been going particularly well — with a general escape trajectory planned, I found myself more often than not antsy and anxious — but I hadn't expected my quarterly review to be a Haterade session.
I wasn't personally bothered by the fact that the vast majority of co-workers didn't like my office demeanor.
But Greg seemed determined to make me so. "Are you getting the point yet, Robert? Your team doesn't consider you a valuable member. How does this make you feel?"
I couldn't tell him the candid truth, for fear of being let go on the spot, but I didn't actually lie. "I think they just don't get me," I said. "With all due respect, I perform all aspects of my job outstandingly. Students respond to my teaching; my classes are full; and I do all of my paperwork immediately. I guess I don't see why my lack of desire to participate in the office 'game' is such a big deal."
He sighed. "Your lack of participation is not the problem — it's that you view it as a game. We are all very serious about our jobs, Robert. All aspects of our job. And being a part of the team is a part of that job."
"And so I guess –" I was going to make mention of the fact that most members of said "team" were ineffective at all the most important aspects of their performance, and that Greg himself was obviously more concerned with being the top dog than teaching his students what idioms such as that mean, but I bit my tongue. "So I guess I have a lot to work on."
A half-smile came over Greg's face. He stood up and held the door open for me. "I'm glad we agree."
I needed at least three more months of income from the school, and couldn't afford to be too defiant but in fact, Greg was right: I wasn't cut out (or particularly inclined) to be a member of his team, just as Dora had reminded me was the case with Progressive Insurance a year before.
It is almost poetic that my first glimmer of hope in the wake of my disastrous review came from Dora herself.
"I bought my ticket," she said, as I made my way up Goa'an Road toward Shanghai Library one Monday afternoon in late April. "The date is June 8."
"I'll be there," I said, "with bells on! But I gotta go now."
I was ecstatic as I hung the phone up, but I was also scared. I had gotten, it seems, exactly what I wished for: My forthcoming escape to Vietnam notwithstanding, I had a tangible idea of when I might quit my job.
The brevity of the phone call was not without reason: I was on my way to a meeting with a woman named Jessica, the editor of CNNGo. Yes, that CNN. CNNGo is an online-only segment of the network that caters to foreign expatriates in Asian cities and, to a lesser extent, wealthy locals.
One day at work, I'd come across the site between blogging and doing paperwork, and had sent my résumé and a writing sample on a whim. To my surprise and delight, the editor took an instant liking to me, and invited me to chat about potential topics.
Therefore, when I handed Greg my 30-day notice on May 8, I felt not as if I was quitting my job, but simply that I was transitioning into another one, even if my income at CNNGo — and indeed, the acceptance of my pitches — was far from guaranteed.
Although the weight of a working among people who disliked me as much as I disliked them had been lifted, leaving me freer to devote even my "working" office hours to blogging and, increasingly, writing for CNNGo, my fate was far from sealed. Kale and Amber, after all, had not yet decided when they would be leaving Taiwan.
Likewise, my personal life had intersected with my other professional past-time: Fed up with the tiny box of an apartment I lived in, I had taken up my Shanghaiist editor Kenneth's offer to move into one of his home's three bedrooms. I had also made the mistake of sleeping with and, by proxy, falling in love with him.
Paradoxically, I had taken exactly as many steps toward staying in Shanghai as I had leaving: I quit my job and abandoned my apartment; I buried myself in freelance work and moved in with one of my freelance bosses.
The idea, of course, was to cut out of Shanghai as soon after Dora left as possible, but if an arrival date in Vietnam hadn't been set that would be difficult, particularly if I continued to develop feelings for my new roommate-cum-lover.
***
"So tell me," Dora said, as we waited to board our Beijing-bound night train a few days after her arrival in Shanghai, "what is your long-term strategy?"
"I have two, actually," I said. "The ultimate goal is to flee Shanghai for Vietnam, hopefully by the end of July, to meet two fellow disgruntled teachers I met in Cambodia in February."
"And the other?"
"To hold down the fort in Shanghai." I'd lost my residence permit when I quit my job, and had just weeks left on my visa. "I'll apply for a visa renewal in Hong Kong, then continue freelancing indefinitely."
Dora sighed. "And stay with Kenneth?"
"What is that look for?"
"You know how this is going to end." Dora, you will remember, had fallen head-over-heels for a pussy-hungry personal trainer (named Dane) the year before. "With you alone — Kenneth is your Dane."
An announcement of our train's arrival blared over the loudspeaker, and because we had booked sleeper compartments, we paused our conversation relatively immediately.
I had never been to Beijing before, so I used the opportunity to take my mind off my unhealthy sort-of relationship and get back into the travel blogging groove. Of course, it was more about the groove than actual travel blogging at this point — without (reliable) access to social media, properly promoting the early incarnation of Leave Your Daily Hell was next to impossible.
To be sure, tales of my maiden voyages to cliché destinations like the Great Wall and Forbidden City, and secondary sites like the Summer Palace and Lama Temple, were interspersed with candid details from my personal life.
One post in particularly did this well: It juxtaposed the idea that Beijing's traditional hutong water houses have been maintained only to attract tourists with the fact that I hooked up with a Chinese-Russian boy named Lucas, who lived inside one of them, and who subsequently fell in love with me.
"You know, the good news," Dora said we traipsed through the so-called "Muslim Quarter" of the Western Chinese city of Xi'an later that week, "is that we both have working cameras now." She took a perspective shot of a long alley lined in neon signs.
"Right," I said, quickly snapping a candid photo of a girl who was selling dumplings. "And my personal drama doesn't concern you one bit."
She let her camera fall to her side. "So this Lucas nonsense, it throws another wrench into your decision-making process, yeah?"
I sighed. "Not actually. I mean listen, here's the thing: I know, in my mind, what I need to do. I need to remove myself from Kenneth completely — that's the only way to break the spell. Lucas is nice and all, but that's just infatuation.
"I just need a reason to leave."
After a brief stop back in Shanghai, we traveled to ultra-modern Hong Kong, which would be Dora's last stop on the trip. Even though Kale and Amber had set a July 24 meeting date in Saigon, and I was tentatively planning to meet them, I had to renew my Chinese visa in order to re-enter Shanghai: Mine expired the day I left.
The fine print of the new visa, however, incentivized my leaving China for good. "What do you mean I have to exit the country every 30 days?" I asked the beady-eyed man behind the counter at the "Official Visa Agency" in the China Services Buildings.
"It said this on the application, sir," he said, and held up the poorly photocopied sheet of paper I'd filled out the day before.
I was going to put up a fight, but then resisted: I had found, it seems, my reason to leave Shanghai.
"So you're really going to do it?" Dora's eyes were tearing up, but not because she was sad to be leaving: Something in the Hong Kong air had triggered her allergies.
I nodded. "I think. I mean, I have to leave China by the end of July anyway, for immigration reasons. I think once I'm gone, I won't want to come back — leaving will be the hard part."
She smiled as the Airport Express train arrived at the platform. "I'll see you when you're back in Austin?"
"You will."
With the exception of Kale and Amber, Dora was literally the only person who knew of my plans to flee Shanghai. I went about my last day in the city as if it was a normal one, waking up semi-late and even giving a private English lesson.
When I returned to the apartment to gather my things, Kenneth was thankfully not there. I knew I wouldn't have a chance to get something to eat as I divided my belongings into "Take" and "Leave" piles, so I broke my cardinal Chinese eating rule and ordered take-out.
I bid the cleaning lady goodbye as I headed out the door with two very-packed bags, and walked briskly toward Shanghai's Jing'an Temple, which is where the airport bus departs. I boarded the last bus that would get me to the airport in time for my flight literally one minute before it left — I was completely out of breath.
My heart, too, was racing. I told myself that a possibility of returning to Shanghai still existed. But I knew, as the bus sped east toward Pudong Airport, the city's skyline becoming long and flat like the lateral view of galaxy the further away I got from it, that this was at least a semi-permanent "zai jian" (goodbye) not only to Kenneth, but to China: The first phase of my transition to travel was complete.