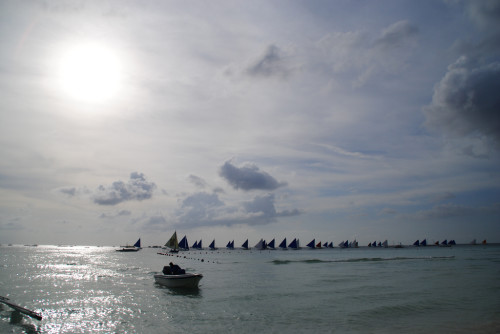 Famed for its roaring waves which rival those found in Hawaii, Pagudpud is beginning to attract surfers from all over the world. In fact, it's quickly becoming one of the hot spot destinations of Southeast Asia.
But it's not only a surfers' paradise — Pagudpud has many hidden treasures to enchant even the most avid traveler.
Away from the never ending stretch of powder-white sand and crystal blue sea are lush forests, dramatic mountainous landscapes and secluded waterfalls waiting to be discovered. Pagudpud offers a holiday with something for everybody, so make sure you pack your suitcase ready for relaxation, adventure and everything in-between.
A Surfer's Paradise
The strong waves generated by winds blowing in from both the South China Sea and the Pacific Ocean make Pagudpud an ideal destination for surfers. There are plenty of hotel resorts dotting the coast offering lessons, surfboard hire and even a number of resorts run by Hawaiian locals themselves who have moved to the area to enjoy the rifts which are at their best between the months of July and October.
Pagudpud is a great place for keen surfers and beginners alike, away from the usual crowds that accumulate at other popular surfer destinations such as Australia, California and, of course, Hawaii.
The Blue Lagoon
If you're after calmer waters, visit the once-secret beach at the "Blue Lagoon." Despite becoming more popular in recent years, the beach still offers a private feel. Spend your day lazing in the sun, taking a dip in the deep blue waters and watching the stunning sun set over the back of the mountains.
The sea at the Blue Lagoon has often been compared to a tropical pool, due the deep drop of the ocean floor not far off of the shore.
Laoag City
If the laid back atmosphere of Pagudpud leaves you craving a little hustle and bustle, then Laoag City is the place to visit. A two-hour drive will find you in the more commercial capital of the Northern Province of 'Ilocos Norte,' where tourists are attracted by the Philippine-baroque churches, Spanish colonial buildings and vibrant night life.
If you don't fancy the drive, a local plane can cut your travelling time and add to the adventure.