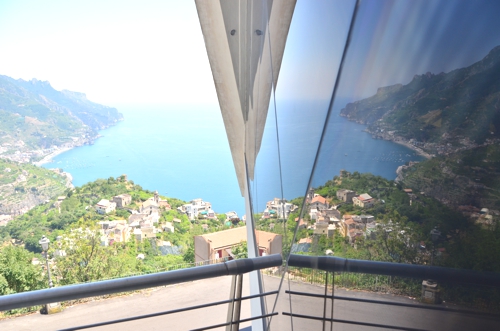 I've always wanted to visit Italy's Amalfi Coast. With its sun-kissed, coast-hugging highways, lush lemon groves, and port cities dating back to the Renaissance, it's the closest thing to paradise that currently exists in Europe.
But the Amalfi Coast, for all its charms, is not what I would call a "budget" destination, so I assumed I would have to hold off on visiting until later in life. Until I arrived in Naples that is.
He had good news. My sister's going to let me use her car, so we can see the Amalfi Coast!
The Amalfi Coast, perhaps better than any place I've ever visited, embodies a common travel paradox: That we often know the least about places that are the most hyped. The moment our car turned onto the beginning of the Amalfi Coast highway near the city of Salerno, everything I thought I knew about the Amalfi Coast flew out the window.
If there are two words I can use to describe the Amalfi Coast, they're "color" and "light." Electric blue water, terra cotta-colored roofs, emerald green hillsides and stark white beaches, all bathed in some of the brightest sun I've ever seen. The light is so bright, in fact, that it immediately gave the entire experience a dream-like feel.
One drawback to driving along the Amalfi Coast — as oppose, I guess, to sailing? — is that stopping can be difficult. The road isn't particularly wide and parking, when it is available, is expensive. Francesco and I lucked into a free spot (the garage was unmanned) in the town of Ravello, located high atop a hill about halfway between the ends of the coast. Nice view, huh?
"The best antidote to this sun and heat," Francesco explained to me as we walked into the café next to the Ravello performing arts center. "Is a fresh lemon juice."
"You mean lemonade?" I gave him a worried look.
"No," he laughed. "Lemon juice. No water; no sugar. You'll see!"
Amalfi is the namesake of the Amalfi Coast, and although it is now little more than a town (albeit one whose charm belies its tiny size), it was once much more important. In fact, alongside Venice, Pisa and Genoa, it was one of the four most important republics in Italy — at this point, Italy was not unified — around 1400.
One of Amalfi's most charming features are its narrow, serpentine "streets." I initially thought these were pathways of some kind, but Francesco, a professional architect, informed me they were actual, veritable streets.
Although much of the actual Amalfi Coast is inaccessible to people who are on the road, the town of Amalfi has its own beach. It's not exactly what I would call a "relaxing" place, even if the waters are beautiful.
Before we exited the Amalfi Coast highway and headed back to Naples via Sorrento, Francesco had one last surprise for me. "This is what we call a 'Mediterranean fjord,'" he explained, as we walked down the stairs from the highway into this cozy cove. "It's name is Furore."