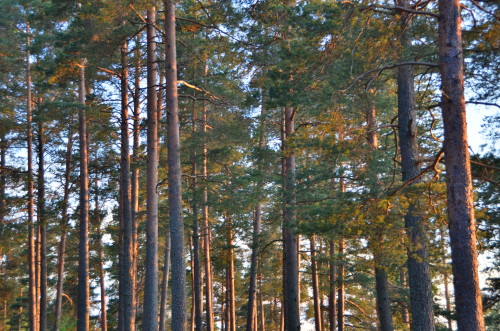 After a dramatic trip to Norway, I was excited to meet my friend Anna at the railway station in Karlstad, Sweden.
I was even more excited by what she told me as we pulled away from the station. "I don't live in the city. Like, at all."
Over the two or so hours we spent in Anna's silver Subaru, the landscape became increasingly wild. The only breaks in the vast thickets of evergreen were glassy lakes, which reflected the big, thick skies above them.
Although I spent just two full days in a place I lovingly call the "Middle of Nowhere," 48 hours in the majestic forests surrounding Hagfors, Sweden were just what I needed to recharge and restore myself for the next phase of my trip.
Even though I was supposed to be working, I couldn't keep the shade down for long as my train sped east from Oslo, toward the mysterious forests of western Sweden. I had no idea exactly what to expect upon arrival in the land of Robyn, H&M and IKEA, but landscapes like these seemed to be a good omen.
"Locals call it Manhattan," Anna said of the grouping of mid-rise buildings in Hagfors, the closest thing to a city that exists in this part of Sweden. "I live here," she said as I set my things down in her utilitarian (but nice) apartment, "but we're not going to be staying here." Rather we headed even deeper into the forest to sleep, specifically on a small plot of land owned by Anna's friend Oscar.
After a relaxing night in Oscar's magical forest dwelling, we set out to explore the incredible part of the world Anna calls home. I met Anna in bustling Beijing, so it was strange for me to be spending time with her at her rural summerhouse, whose lake looked almost like a painting, an endless mirror rimmed by pine trees.
Sweden (especially this particular part of Sweden) is freezing cold most of the year, so the extent to which the Swedish countryside becomes lush and colorful during the summer was surprising to me. From the pink and purple lupines that line nearly all the roads to these technicolor pansies (which I spotted, of all places, on someone's gravestone), Sweden is very much in bloom right now.
My visit to Sweden coincided with the local holiday of "Midsummer," and although I was in Hagfors a few days prior to the actual celebration, Anna's friend Mina was nice enough to invite us to her pre-celebration. After a hearty smorgasbord of boiled potatoes, grilled cheese and pickled herring, we hiked to the nearby Laggen lake to gaze in awe upon the midnight sun.
"I've saved the best for last," Anna said the next morning, as we enjoyed a picnic brunch of Swedish meatballs, eggs and beer. "I won't go into specifics now, but the place you see tonight is probably the most beautiful in this whole area."
We had to pass back through the center of Hagfors in order to get to this fabled beautiful place, so I was a bit skeptical for most of the ride over there. Anna's attempt to explain what this "thing" was, however, got me excited. "It's from the Ice Age," she said. "I don't know how to translate the Swedish word, but you'll get when I'm talking about when we're on it."
The word, it seems, was "ridge," but a ridge isn't the half of what exists in the place called "Mana," which is an old growth forest that's so old I felt like I was in a galaxy far, far away a long, long time ago. Yes, that's right: I just invoked Star Wars. I would not have been at all surprised to find Yoda and his pals lurking here.
I ended my last night in Hagfors by scaling the viewpoint at the top of the town's ski mountain. "I don't even know if it's safe to be up here," Anna said as the tower creaked beneath our feet. I doubt they maintain it." Hagfors, you see, is a town that's becoming increasingly older — people like Anna tend to leave; and those who stay usually retreat into the forest like Oscar.
If you ask an anthropologist, in fact, Hagfors might be one of Europe's "disappearing" towns, places where old people are dying much, much faster than new ones can be born, where school houses go out of commission almost as fast as nursing centers replace them. It isn't certain whether anyone will even live here in 100 years, but I know I was very much alive when I was here.