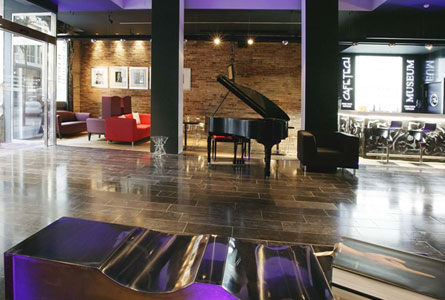 Looking for a place to stay in Barcelona? Whether you're travelling to Barcelona for a local festival like Sonar (dance music), La Merce (a huge street fiesta) or Primavera Sound (indie music), or you just want to get a load of this cool city's cultural sights, historic architecture and sun-kissed beach, here are a few hotels you can choose from.
To the left is Petit Palace Museum.
Petit Palace Museum connects you with loads of Barcelona's most awe-inspiring places to visit – including the Paseo de Gracia, Gothic Quarter and Plaza Catalunya.
Take time to stroll the Paseo de Gracia and marvel at its unusual and beautiful modernista/art nouveau architecture by the city's most famous son, Antoni Gaudi (like the Casa Batlló).
At the hotel itself, you can enjoy sleek and modern interior design and a luxurious, intimate atmosphere. Rooms have treats like iPod docks, a free laptop to use and free Wi-Fi. There is an elegant coffee and cocktails bar downstairs too.Barcelona D-guesthouse.
Below is the Barcelona D-Guesthouse. Occupying a charming neoclassical residential building from the 1850s, the Barcelona D-guesthouse is one of a kind. It's located at the end of Barcelona's most famous shopping-and-sightseeing street, Las Ramblas, next to Barcelona Port.
From here, Barceloneta Beach with its bars, loungers and volleyball is a 15-minute walk away. If you're feeling peckish, however, walk the other way up Las Ramblas and go shopping for chorizo, manchego and exotic fruit in Spain's most famous covered market La Boqueria. Rooms at the hotel are beautifully decorated in a traditional style with high wooden ceilings.
All come with free Wi-Fi and an in-room fridge and microwave.

AAE Rey Don Jaime Hotel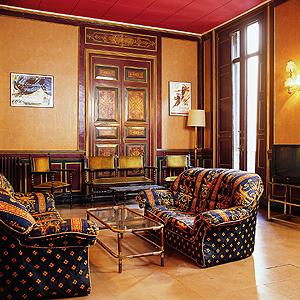 Situated in Barcelona's Old Gothic quarter, with beautiful and traditional Spanish décor inside, the AAE Rey Don Jaime Hotel is a totally unique place to stay. There are lots of sightseeing attractions a short walk from the hotel, including la Sagrada Familia, the Picasso Museum and main thoroughfare Las Ramblas.
It is also a peaceful stroll to Barceloneta Beach (around 20 minutes), where you can soak up the sun and dip your toes in the surf. At the hotel itself, enjoy sipping drinks on the roof terrace, tucking into local cuisine at the restaurant and hiring bikes at the front desk (Barcelona is a fantastic and safe city for cycling).
The Praktik Hotel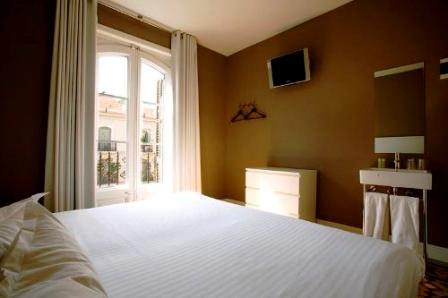 Found in Barcelona's cool and central Eixample distric, the Praktik Hotel is an ultra-modern place to stay for those who want style on a budget. Rooms are spacious, with king-sized beds and generous showers, and luxuries in-room include flat screen TVs and Wi-Fi.
The décor throughout the hotel is smart and futuristic – this is definitely the kind of address you'll boast about staying in. A daily breakfast is laid on for you in a restaurant three blocks from the hotel. The area is big on nightlife – take advantage and go bar-hopping, smug in the knowledge you've got a bed to roll back to within 15 minutes' walking.
This is a guest post from blogger Leah.