Arts
Share: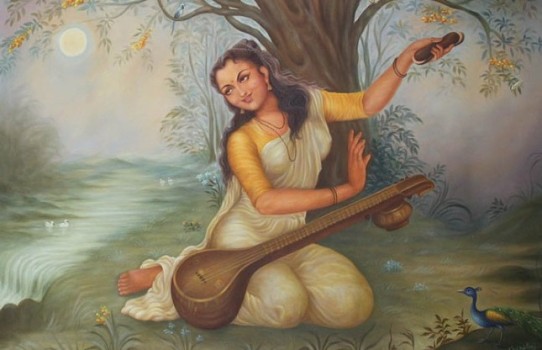 Painting of Mirabai by GR Sharma
Cultural expedition to walk in the footsteps of Mirabai
Mirabai was a 16th century Rajasthani princess, a composer of devotional songs and a mystic who fought against convention to give voice to her spiritual yearnings. She travelled widely in Rajasthan, Gujarat and Uttar Pradesh in north India, and I will be tracing her life through her journeys. Mirabai's life has relevance today because her story parallels the struggle many women have to live a fulfilled, creative life — when society pressures them to settle down, marry and devote their lives to their domestic obligations and "duties."
A Symbol for Women Trying to Gain Their Voice Today
Mirabai was  known for the incomparable beauty of the poems and bhajans she composed and sang in devotion to her beloved god, Krishna. Born in Rajasthan in 1500 AD, she was married against her will to a prince of Chittor, near the fabled city of Udaipur. Her life was marred by persecution as she struggled to manifest her ardent desire to compose, sing and pursue spiritual studies. Though she was renowned for her talent, her family…
Read more…
Share:

The oldest fine arts festival in Atlanta, Georgia, celebrates that spring beauty — the dogwood tree. This year's Dogwood Festival — the 78th — takes place April 11 through 13, 2014, in Piedmont Park. Everyone fervently hopes the
Cornus florida
planted throughout the area will be in full bloom — but, if not, there's still an artists' market, music, gourmet and festival fare and stage performances. The juried fine art market features 260-plus artists selected from over a thousand entries. Works included range from painting to jewelry, from fiber arts to sculpture. The International Stage welcomes hundreds of performers from the many countries making up Atlanta's multicultural community. Piedmont Park, Atlanta's "Common Ground" since 1904, is located approximately two miles northeast of downtown Atlanta. The park runs along 10th Street (a block west of 10th & Monroe Avenue to a block east of 10th & Piedmont Avenue) and Piedmont Avenue (12th & Piedmont to just before 15th & Piedmont) in midtown Atlanta.
Share:

There will be a
Music Hackathon
at South by Southwest (SXSW) in Austin Texas this year. For the first time, d
evelopers, designers and musicians, can participate in the first ever
SXSW Music Hackathon
 where they will present in front of a judging panel. The event is no-charge and open to the public!
The Hackathon will be March 12th- March 13th,  2:00 PM- 2:00 PM (24 hours), Hilton Austin Downtown Championship Awards will be March 14th, 6:30 PM + afterparty, Base at the old La Zona Rosa.
Using their programming know-how and a collection of music-tech APIs, teams will have 24 hours to work on their prototypes and compete for the 
AT&T Grand Prize of $10,000
 plus a grand prize package; 2nd prize of $2,500 and 3rd prize of $1,000. The Hackathon Championship Awards Show will be held on 
Friday, March 14th from 6:00PM – 8:00PM
 at 
Base
 (formerly La Zona Rosa). Judges will include 
Shawn Fanning
 (founder of Napster and Destroyer), 
Ian Rogers
 (CEO of Beats Music), 
Alex Ebert
 (frontman for Edward Sharpe and the Magnetic Zeros), 
Jermaine "Mack Maine" Preyan
 (rapper and President of Young Money Ent.), and 
Stephen White
 (President of Gracenote). The Music Hackathon Championship is proud to have AT&T U-verse with GigaPower as the event's presenting sponsor.…
Read more…
Share:

Carnival in Brazil's sprawling
Rio de Janeiro
took over its streets for its annual event from February 28 through March 4, 2014, another year, we sadly missed being there directly. That said, we've been watching it from the road and was excited to see people packing the streets for parades, dancing and raucous open-air parties that began at daybreak the night before the kick off and pulsated throuhout the week.
The 
Carnaval in Rio
is a world famous festival held before Lent every year and considered the biggest carnival in the world with two million people per day on the streets. The first festivals of Rio date back to 1723. Above is from this year and the below shot is from 1999.
Every year, the carnival parade is filled with revelers, floats and adornments from numerous 
samba schools
 which are located in Rio (more than 200 approximately, divided into 5 leagues/ divisions). A 
samba school
 is composed of a collaboration of local neighbours that want to attend carnival together, with some kind of regional, geographical common background.  
One of the many main purposes of the Rio carnival parade is for samba schools to…
Read more…
Share:

Japanese culture, cuisine and tourism comes to Grand Central Terminal with
Japan Week 2014
, a three-day festival organized by the Japan Tourism Agency and Japan National Tourism Organization and supported by the Consulate General of Japan in New York. Japan Week will spotlight unique features of Japanese culture from the last 100 years to the present in Vanderbilt Hall March 6-8, 2014.
Japan Week offers programs for the entire family. 
The west half of Vanderbilt Hall will transport visitors 100 years back in time when the Industrial Revolution had just begun. At that time, there was great influence from Western culture, which fast-forwarded modernization in Japan.  
The Visit Japan booth will include representatives from 23 different organizations ranging from travel agents and hotels to Japanese local governments. Among other things you can learn about and sign up for are the
 Kintetsu International's exclusive private sake tour, a cruise with IACE Travel of Hokkaido or Kyushu, or working with Nippon Travel Agency on the road from Tokyo to Kyushu. .
Sadaharu Ishiwari
is an Amezaikushi, an artist exclusively trained in traditional Japanese candy craft who will sculpt detailed animals out of sugar. Today there are…
Read more…
Share: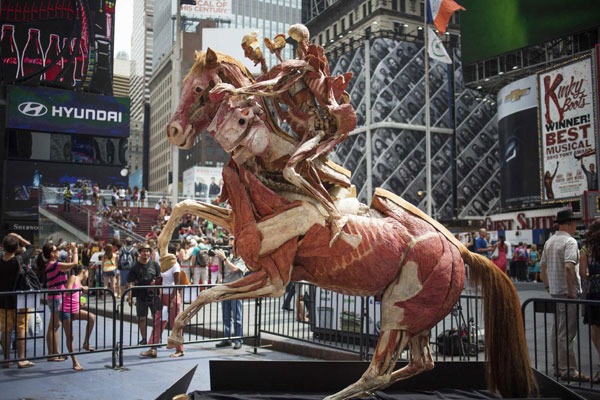 One of my roles as a parent is to serve as a guide and partner in learning. Through this partnership, we discover new ideas within the context of travel and explore how these experiences relate to our own lives. Additionally, I continue to be an integral part of his feedback loop, allowing him to process and express his own reactions to the world around us. This has become one of the milestones of our parent-child relationship and has contributed to our close relationship.
We were recently talking about the experience and with a little research, we realize there is a new exhibit right now in New York called Body Worlds: Pulse which we are considering attending later this year.
Throughout the exhibit's history, it has been fought against, heavily criticized, and widely protested. It may even be an exhibit some parents may choose to shy away from, Miro and I are excited to explore it once again. The Body Worlds exhibit offers an intense (educational) experience that people of any age can find inspiration from.
The Body Worlds in the Making
Meet Gunther von Hagens, creator of the…
Read more…
Share:

I was recently invited by Gaurav, an active volunteer of the Delhi Photography Club and I was invited by him for a weekend photo walk with the group members at 
Lodhi Garden
 and these photos reflect that historical and cultural walk.
Bara Gumbad
Lodhi Garden
 as the name suggests is a famous park spread over 90 acres and embraces the architectural bravura of 14th and 15th century's dynasties of Sayyids and Lodhis. The garden proudly exhibits the Mohammad Shah's Tomb, Sikandar Lodhi's Tomb, Bara Gumbad, and Sheesh Gumbad.
Three domed mosque adjacent to Bara Gumbad Our photo walk began with 
"Bara Gumbad"
 (Big Dome) and the adjacent three domed mosque. It is accompanied by a wide platform outside in front and one can view pigeons all over area especially the small edges of dome being their favorite and listen to their continuous gurgling. The architecture is in good conditions, however, it is crumbled at some ends. As per the information board, the purpose of constructing the dome along with the mosque is widely disputed among the historians. I did not bothered for the disputed history of the dome and quickly armed myself with…
Read more…
Share:

Delhi has no dearth of surprises for its admirers and its keeps on presenting with new ones every time. It has so much to offer with so much diversity that the
"bucket list"
of its admirers continues to get stretched with each visit. This time, I had a chance to visit the massive temple complex of the famous 
Shri Adhya Katyani Shakti Peeth Mandir. 
Most of us would get puzzled by the name as it might be unheard but I am very confident that everyone must have heard of "Chattarpur Mandir" (also a metro station on the yellow line). I have seen the temple complex countless times while going towards Gurgaon from metro and also bowed my head before the almighty from the metro itself (most of the Indians do the same while passing by any holy place).
Outer view of Katyani Temple
Goddess Katyani Temple However, for a change this time, I moved out of the metro to visit this temple complex in reality and get acquainted with its history. I am well aware that everything pertaining to Chattarpur Mandur  is readily available on the…
Read more…