Creativity
Share:

Carnival in Brazil's sprawling
Rio de Janeiro
took over its streets for its annual event from February 28 through March 4, 2014, another year, we sadly missed being there directly. That said, we've been watching it from the road and was excited to see people packing the streets for parades, dancing and raucous open-air parties that began at daybreak the night before the kick off and pulsated throuhout the week.
The 
Carnaval in Rio
is a world famous festival held before Lent every year and considered the biggest carnival in the world with two million people per day on the streets. The first festivals of Rio date back to 1723. Above is from this year and the below shot is from 1999.
Every year, the carnival parade is filled with revelers, floats and adornments from numerous 
samba schools
 which are located in Rio (more than 200 approximately, divided into 5 leagues/ divisions). A 
samba school
 is composed of a collaboration of local neighbours that want to attend carnival together, with some kind of regional, geographical common background.  
One of the many main purposes of the Rio carnival parade is for samba schools to…
Read more…
Share: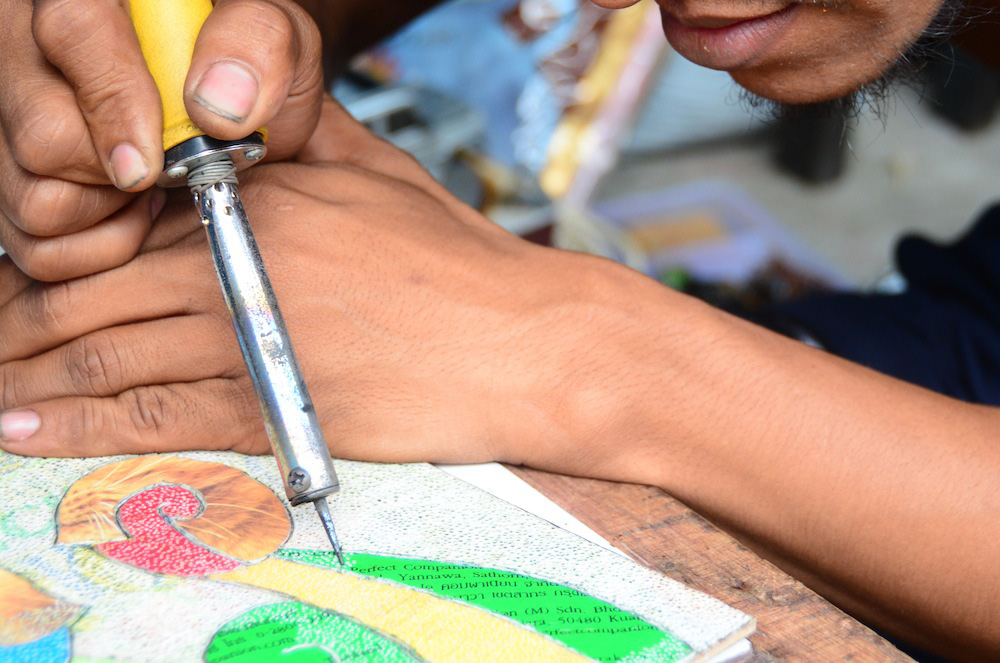 If you've ever traveled in the developing world, you've probably noticed piles of trash strewn everywhere. I know I have, which is why it came as such a surprise to me to see plastic bottles, painted in the colors of the Indonesian flag, arranged decoratively on a fence while heading toward a popular tourist attraction in the city of Yogyakarta earlier today. About halfway down the street, I noticed an unassuming man holding a needle, only he wasn't using it on his skin. "What are you doing with that?" I asked. "Is this a tattoo gun?" He nodded. "Yes, with added heat to melt the plastic." Just then, I noticed the menagerie of artwork behind him, which appeared from far away to be ultra-modern paintings of some sort. But a closer look at his current work-in-progress revealed otherwise. "I take plastic I've found on the streets and in the countryside," he said, taking a break from his task, "and turn it into art. "The process of getting people to care about the problem of waste disposal is slow," he continued, "but every person I meet who sees my art is forever changed. I…
Read more…
Share:

In January, the Delhi Tourism organized the 
"3rd International Kite Festival"
 at Golden Jubilee Park near Old Yamuna Bridge. I had no clue about the festival but I randomly met a gentleman on one of my 'heritage walks' in late January with Delhi by Foot. After finishing the walk, I along with the gentleman with a mixed feeling excitement and delight proceeded to the Golden Jubilee Park to witness the Kite extravaganza.
Kites or "
Patang"
has always been an essential part of Indian culture and many festivals across India are celebrated with kite flying. Kites represent a gesture of freedom and enjoyment among the masses. Our own 
"Dilli" 
itself has a great tradition for kites flying and the skies are conquered by the vivid colours of kites in different shapes and sizes during Independence Day, Republic Day, 
Makar Sankrant, Rakshabandhan 
and many other festive occasions
. 
The Delhites indulge in several kite flying competitions organized locally to showcase their great affection and passion for the sport.
The three day kite festival (24-26th January 2014) is a progressive initiative taken by the Delhi Tourism to encourage the sport among the new techie generation which rarely sees a world beyond…
Read more…
Share:

Many of the cool neighborhoods are not within walking distance of downtown Nashville so I definitely recommend renting a car or at splurging on a taxi to visit at least one of these areas while in town. Exploring Nashville's innovative art hubs was a major highlight of my trip and completely altered my perception of the city as a whole. Here are five neighborhoods to shop for everything from handmade crafts from local artists to vintage designs from generations past.
Hillsboro Village
This area is one of Nashville's hipster hangouts, especially for young and stylish urbanites. When I first arrived to Hillsboro Village I was slightly underwhelmed because for whatever reason, I pictured a large network of interwoven streets rather than a single street with very little foot traffic. Fast-forward about five minutes and I realized I'd judged this place way too soon. I immediately gravitated toward the downtown, alternative vibe going on and began popping into the different shops. There are three main types of stores here: cafes, fashion boutiques and used bookstores. There are also a few restaurants, a beauty salon and a few artisan shops selling flowers, handmade soap and other items. Try Fido for coffee and The…
Read more…
Share:

This year, the event took over Barcelona on the campus of The Cultural Centre Born in Born from January 27-31, 2014.
080 Barcelona Fashion Week was born in July 2007
 in order to give visibility to independent designers and become a benchmark of design and fashion forward internationally. It is much more than a fashion show.
In the
 080 Barcelona Fashion Week 2014 had 34 parades of designers and brands
. It also highlighted the return of Sita Murt, which after a stage parading in the Mercedes Benz Fashion Week Madrid return to the Catalan catwalk. Brands participants in 080 Barcelona Fashion Week 2014 included  Aldomartins, Boboli, Condor, Custo Barcelona, Desigual, Scorpio, Mango, Naulover, Punto Blanco, Slazenger, TCN, Torras and Yerse. A new feature also returned this year Txell Miras and parade for the first time in 080 designers Isabel Toledo and Manuel Lebor Gabala Cruzcastillo, which will add to Albéniz, Brain & Beast (winner of the 080 Barcelona Fashion Award last edition), Celia Vela, Georgina Vendrell, Josep Abril, Justicia Ruano, Krizia Robustella, Manuel Bolaño, Martinez Lierah, Miriam Ponsa, Natalie Capell, Oscarleon, Selim de Somavilla, Ssic & Paul and Zazo & Brull.
…
Read more…
Share:

We spend our time trying to get closer to animals and nature, to photograph them and to see the intricate details they possess. We can sometimes become so focused on getting in close that we tend to lose sight of the bigger picture. More often that not, I have failed to capture and animal in its natural environment and put some perspective into the lives these wild animals lead. This post will hopefully help us step back, and take a look at the scene: manage lines, contrasts, natural light and scale. Just a few aspects to keep in mind when using a wide angle lens to photograph wildlife. I recently purchased a wide angle lens, the Canon 10-22mm EFS. It was my goal to get into some sort of landscape photography, but when exploring through the reserve and testing the lens, I was amazed at the types of images popping up on my screen. However, there is much to a wide angle lens, and it is not as simple as point and click. But by doing a bit of research one can slowly get to grips with certain aspects that will make using a wide angle lens so much more…
Read more…
Share:

As a relatively late convert to the latest BBC adaptation of the Sherlock Holmes stories (I'm now a mad Cumberbatch fan, too), I thought I'd have a look at where some of the most famous "Sherlock" filming locations.
221B Baker Street
187 North Gower Street & Sherlock Fans The address, which made its first appearance as the famous fictional detective's residence in the book "A Study in Scarlet", doesn't appear in the recent BBC1 series. The actual 221B Baker Street is occupied by the Sherlock Holmes Museum, a small institution with a waxworks room, a drawing room well laid out in Victorian style, and a gift shop. For the purposes of the new series, a nearby street location serves for exterior shots – 187 North Gower Street in Bloomsbury. The current resident copes very well indeed with the  crowds of tourists taking selfies outside his door (all day at the weekend); and was amused to receive a letter addressed to the actors who the Sherlock fan letter-writer believed lived inside. Interiors are shot in film studios in Cardiff.
Speedy's Café
Read more…
Share:

We are entering the Christmas season, a time of tradition and families. Below is is a painting of my grandparent's barn in Keystone, Oklahoma who came to Oklahoma before it had even became a state. My grandfather was a country doctor but never earned much money as people had little cash to pay him. A lot of his services like so many back then, were done on a barter basis. My grandmother was a teacher but then ran the family farm to support the family, which mostly consisted of orchards and dairy cows. They drilled five dry wells on the land but many of his neighbors struck it rich with oil.