Creativity
Share:

My mind is still reeling from my recent trip to Colombia – so much creativity and so much color. If you didn't get a chance to check out my Fashion Guide to Medellín, I highly recommend giving it a glance. There are so many talented local designers that are shaping the city into a fashion capital and the same can be said about the local artists that call Medellín home. Thanks to the insider knowledge I gained by being a guest at The Charlee Lifestyle Hotel, I learned that the street art scene is quite vibrant, even in comparison to other graffiti "capitals" throughout South America. In fact, the Charlee commissioned several artists to create graffiti-esque murals along the stairwell of the hotel and in their outdoor parking garage. There's even a mural of a monkey on the building's facade. Today's post, however, is all about Comuna 13. Comuna 13 might be one of the poorest neighborhoods in Medellín but it's full of personality and spirit. A lot of the deterioration started during the reign of drug lord, Pablo Escobar, thus causing many people to head to the hills…literally. Overpopulation led to other problems like electricity outages, sewage leaks and the like. That, and the…
Read more…
Share:

I was blown away by Medellín's fashion scene and hopefully, you will be too after reading this style and glamour guide. During my stay at the ultra cool and eco-luxe
Charlee Hotel
, we trotted around town with one of Colombia's top fashion influencers, Laura of Fashion Lessons. Since the Charlee is an upscale, boutique design hotel located in the heart of
Medellín Colombia
, it seemed fitting that we explore some of the independent designers who have helped shape the city into an emerging fashion capital. Whether you're shopping for a new wardrobe or simply scrounging around for one-of-a-kind souvenirs, here are
8 must-know Colombian brands
that are dominating Medellín's fashion scene.
For Special Occasion: Andrés Pajón
Let's start with the ultra-luxe label of the bunch. 
The
Andrés Pajón brand was established in 2008 by Pajón and Cartagena, two highly creative designers and fashion enthusiasts, and they've been making fashion dreams come true ever since. Pajón is definitely inspired by elegant glamour like the type of gowns you'd see at the Oscars. Their Spring/Summer collection pays tribute to Medellín, as seen in the bright garment colors and intricate flower patterns. Well-designed and expertly executed, one of his gowns is well-worth the splurge. As gorgeous as his evening wear…
Read more…
Share:

In late March, we visited our friend Tom Rook at his art exhibit at HaoHaus in Taipei.  His original series of hand-drawn maps of cities in Taiwan are gaining a lot of attention from art lovers all over Taiwan, but his newest series of insect and city drawings have created a real buzz in the city lately. In fact, his "Dragonflies" illustration is being exhibited at Art Revolution Taipei between April 21st and 25th. It has been chosen as a finalist for the International Artist Grand Prize at Art Revolution Taipei! This is the second show we have attended to see Tom's work. Both exhibits have been a wonderful way for us to learn about someone who has been in our lives for a long time. I have written about Tom before. He was one of the very first teachers I worked with in 2010 when I joined Reach To Teach and we have become good friends over the years. Tom is a British cartographer and self-taught artist who creates mostly in pencil, pen, and ink. His drawings of cities and urban changes in Taiwan and from his homeland are incredibly detailed. You can get lost in his artwork. Every time I look at…
Read more…
Share:

Many of us who grew up in Western countries were brought up to believe in a very narrow definition of beauty, and the media pounding us with images of skinny, fair top models with long hair hasn't helped. But really, what is beauty? The Mursi people help us redefine beauty — a multi-faceted word which can mean different things to different people.
Mursi woman wearing the clay plate she is most famous for in Minisha Village Determined to grasp the concept a little better, I decided to set out on a journey to the Omo Valley in Southern Ethiopia where the Mursi reside to find out more about what beauty means from the women who are most famous for wearing clay plates in their lower lips. It took me a couple of days to reach the Mago National Park — home to their villages. Considering Ethiopia's very rich historical and cultural heritage and stunning natural landscapes, every second of the trip was worth it.
Natural landscape around Arba Minch In Arba Minch, I met my driver and local guide, Solomon Gezu Haileameriam – the young and ambitious founder…
Read more…
Share:

There's something about this Made in Germany road trip that feels cathartic. It's stirring so many memories of my childhood and my trips to my grandparent's homes. At times it feels like I'm getting the missing pieces to a puzzle I started 40+ years ago about my upbringing and family. Little things jarred memories – like the brass candle holder with paper skirt found on a table at a restaurant in Triberg. We had something similar on our dinging room table in my childhood home. The strawberry preserves I had in Bad Nauheim reminded me immediately of my Grandma Ott's strawberry sauce she canned to put on ice cream. The taste was the same. I started to wonder if I was just imagining it. Was this my brain running wild with memories? And then there was the wooden cabbage slicer hanging at the Black Forest museum which was exactly like the one my dad used in our basement when he spent the day making sauerkraut; a day I hated as it made the whole house smell. Our family heritage and how we grow up shapes us, it becomes a tightly
…
Read more…
Share:

Putting a dent in the future — isn't that a compelling idea? And, what's even more compelling is that it means such different things to different people and why the eclectic
DENT Conference
in
Sun Valley Idaho
, is so unique. From technologists, entrepreneurs and scientists, to artists, astronauts and Olympic Gold medalists, people gather around to hear radical new ideas, learn from the
best of the best
and share their best practices, all under the roof of the Sun Valley Inn, a stone's throw from
Baldy Mountain
and incredible skiing, even in the Spring. The brain child of Seattle-based
Steve Broback
and
Jason Preston
, DENT is now in its fourth year and my third year of attending, DENT's format is a mix of educational, interactive and thought provoking, with un-conference break-out sessions, fireside chats and general talks.
Since the backbone of the conference stems from the technology community, it seemed fitting that American futurist and author
Amy Webb
would speak. As the Founder of the Future Today Institute and an Adjunct Professor at New York University's Stern School of Business, she dabbles in a lot of projects. She asks us wryly: "
What happens
…
Read more…
Share: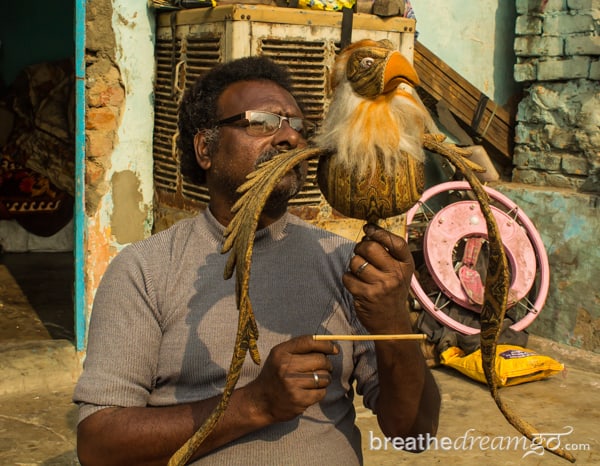 How renowned puppeteer Puran Bhatt saved his home, the Kathputli  artist's colony
WE WALK THROUGH narrow, twisting alleys, stepping carefully over open sewer drains, as we try to keep up with the young man who is leading us to the home of Puran Bhatt, one of the most well-known puppeteers in India. This is a place where neither GPS nor Google can guide you. It's the Kathputli colony – the artists' ghetto of Delhi – and we are most definitely off the map.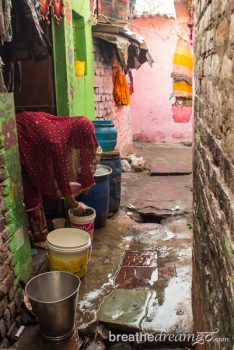 I notice the astonishing narrowness of the lanes, a rising stench from the open sewers, the cramped quarters that force women into the alleys to cook and clean and children to play in crumbling and dilapidated structures. It's a cool-ish, sunny winter day in Delhi, and I wonder what it would be like here in the heat of summer or during the monsoon rains. I try to reserve judgment, but the thought comes to me: I wonder how hellish…
Read more…
Share:

The table is filled with drinks; pints of beer, German diesel (beer and coke), and glasses of wine. There's music in the background, it sounds familiar to me as it echoes throughout the empty bar. My brain suddenly places it – Edelweiss from Sound of Music – a grin creeps across my face as I consider how appropriate the song is for where I am. The grin quickly disappears as I look across the table at my opponents and am reminded of why I'm here at this German bar on a Sunday afternoon. Mr. Sosic is holding his hand close to him. He has a serious look on his face as if he's concentrating on solving the world water crisis. He intimidates me. Young Clement has a big smile on his face watching my every move. He looks innocent, but I wonder if I should trust him. And then there's silver-haired Edith with her glass of wine and flighty demeanor; she may be 90 years old, you want to trust her…but I just don't know. I look at my hand and wonder what is the right play?
Follow the playing
…
Read more…