Creativity
Share:

No discussion of innovative products would be complete without touching on Google Glass. Despite being made of unobtanium, you have to score one this holiday season for tge innovators among us. But word has it you'll be able to shop for it on a boat. Or eBay perhaps?
Now why go through all this hassle for a pair of four-eyes? Because devices like Google Glass, or "heads-up displays," are the wave of our three-dimensional future. If you've ever played with Layar's augmented reality browsing app, you know what we mean:
Heads-up display – Like a smartphone, Google Glass displays information in a hands-free format, and it's voice-activated so you can communicate with the internet via voice commands.
Record your experience – Google Glass features a five-megapixel HD camera, with the ability to record 720p videos or capture images.
Ins and outs – A 640×360 display, Bluetooth, Wi-Fi, 16GB storage, 682MB RAM, ambient light sensing, and tri-axial gyroscope, accelerometer and compass round out its bleeding-edge feature set.
Interface — Naturally since we're talking Google, it's the Android operating system, and you control and manage Google Glass via an app called MyGlass.
Unfortunately, Google Glass is not yet…
Read more…
Share: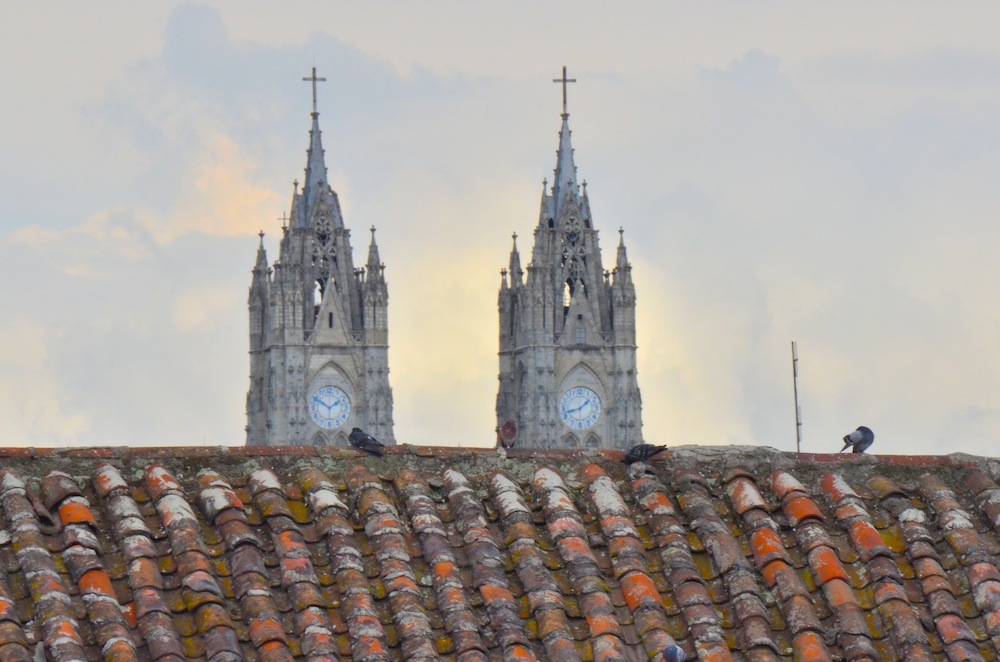 I knew Quito in Ecuador was going to be huge, because although my bus driver said I was still more than an hour from my hotel, the signs along the road were labeled with "Quito" insignia. Volcanoes towered around the bus in all directions, and as I traveled further northward, I became more and more enchanted by the city splayed out in the bowl-shaped valley between them.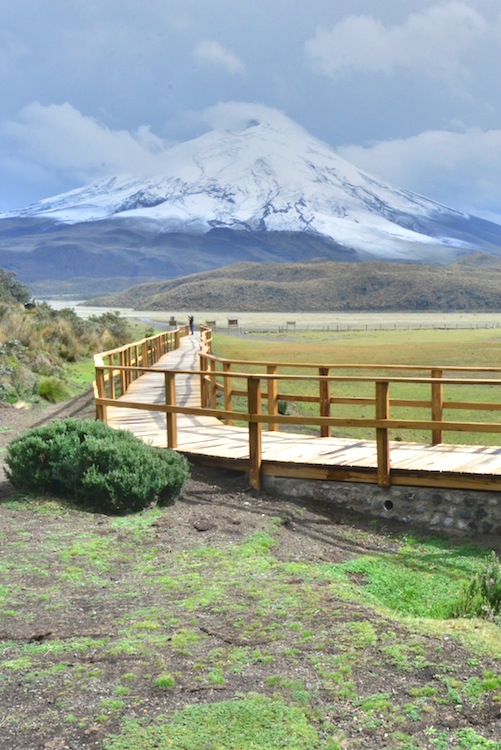 Speaking of volcanoes, it is at the most ubiquitous of Quito's many nearby volcanoes, Cotopaxi, that the story of my short love affair with the city actually begins. After having left Ecuador's adventure capital, Baños, early in the morning, I enjoyed a picnic lunch on the shores of a lake in the shadows of Cotopaxi, the world's third-highest active volcano. If you have ever traveled to South America, you know that virgin statues are a dime a dozen. But as my bus sped away from Cotopaxi and ever closer to Quito, I couldn't take my eyes off the one that rises above the Ecuadorian capital, which the signage I mentioned above designated as "La Mejor Ciudad del Mundo"…
Read more…
Share:

In a world where many jewelry designers offer just three approaches to ring design: traditional, very traditional and ultra-traditional, it's refreshing to see that some manufacturers are not satisfied with the status quo.
That's good news for the $100 billion global jewelry industry, which, like any consumer product, is under continuous pressure from a host of other "buy me" comers. In fact, rings' share of diamond jewelry has slipped, which makes cutting-edge designs even more critical:
Danish design – Danish manufacturer and design trendsetter, Georg Jensen, turned to designer Nina Koppel to create its new Fusion line of jewelry, which includes pendants, earrings and rings.
Customization – What makes the Fusion collection so groundbreaking is the ability to create your own unique version, which fuels the global "bespoke" trend.
Gold blend – The Georg Jensen Fusion ring ($1650-$4850; Georg Jensen boutiques only: 1-800-546-5253) is available in three kinds of 18-carat gold — white, rose or yellow — any of which can be jazzed up with brilliant-cut diamonds.
Diamond ring trend – That suits another growing trend, the diamond-ring-on-the-right-hand, mirroring the growing spending power of single women.
Once you have chosen desired elements to make a two-,…
Read more…
Share:

Mauritius is not only beautiful, a great side trip if you're heading to South Africa or Mozambique, but it's an incredible melting-pot of cultures. Nearly every month, you'll find interesting festivals you can explore, from Hindu, Christian, and Buddhist. 
A number of Hindu Festivals such as
Holi
(the festival of colors),
Diwali
(the festival of lights), and
Maha Shivratri
(the festival of Lord Shiva) are celebrated alongside the Chinese New Year, Christmas, and Easter.
Holi:
Just as the many other major Hindu festivals, the large Indian majority, (about 63 per cent) celebrate Holi with a lot of enthusiasm in the island of Mauritius.   It is an official holiday in the country and therefore people get all the time to make merry and drench themselves in the spirit of Holi and of course, colour water. Hindus, here duly perform the tradition of Holika Dahan or lighting of bonfire on the eve of Holi and celebrate the victory of good over evil. Next day people revel and play with colours and drench everybody with water jets called pichkaris. While in the evening they greet each other with tilak…
Read more…
Share:

The smell of trofie pasta, topped with basil pesto kisses the Mediterranean air. Delizioso! The fast chit-chat of the local Italians tickles your ear. Ciao, Ciao! The brightly colored, pastel houses cling to the cliffs, overlooking the deep, blue sparkling sea. Bellissima! This is the land of the Cinque Terre. No doubt your taste buds will be spoiled by the Ligurian cuisine and wine in this rugged stretch of coast; however, it is the rich landscape that will spoil your eyes and steal a piece of your heart, begging you to return. High above the villages, steep trails run along the coast and connect the villages of Monterosso al Mare, Vernazza, Corniglia, Manarola and Riomaggiore. Trekking into the hills, you meander through vineyards and olive groves. Stop at the highest point and admire the glistening Mediterranean Sea down below, as well as the terraced vineyards lining the hills, dry walls setting the land in place, charming stone houses dotting the countryside, and delicious lemon trees. Hiking in the Cinque Terre, Italy, is an incredible experience; however, one can make the scenic hike even more memorable by adding an unusual twist.
Trekking In Your
…
Read more…
Share:

After the Kite Festival in Guatemala, we were headed toward Antigua where we intended to stay the night, when traffic suddenly stopped. Slightly annoyed at the interruption in our journey, I figured I would at least go check out what was going on (we could hear music blaring.) I walked up with some of the kids, but as we approached, the music was so loud that Atlas was scared and wanted to go back to the truck with dad (the speakers filled up the back of a large flat bed truck!) Suddenly we saw a bunch of costumed dancers in the street. I don't know what it represents, or why they do it, but I do remember seeing a similar performance in Panajachel the year before.
It was so hot, the dancers must have been sweltering in those costumes, especially with all the movement they were doing. I kept wondering what kind of dehydration issues they might be facing later. They weren't going anywhere, so we kept watching…
And watching…
And watching…
I wondered if they…
Read more…
Share:


If you love dance and nature, you must try to make it to see one of San Francisco's most interesting and creative shows during the month of December. The show is called
Okeanos
and was developed by 
Capacitor,
a group which uses a laboratory-style creative process, called Capacitor Lab. For each new work, they assemble a cross-disciplinary team of the world's leading artists and scientists to explore a specific concept, find common threads, and create a shared vocabulary. From this collaboration, a performance is born. Their dance performances often have a theme around nature, sustainability and the ocean. Often what we fail to remember is that the ocean covers 
99% of Earth's living space, and while it equally terrifies and excites us, it's an integral part of our lives even if we don't know that much about it. The ocean as we know it is being destroyed by growing human demands. Coral extinction, plastic trash contamination, over-fishing, oil spills, climate change – our immense impact on the ocean is undeniable. What once felt vast, endless, and overwhelmingly deep is now vulnerable to our increasingly destructive ways of living.
Okeanos explores the ocean artistically and beautifully; their awe-inspiring…
Read more…
Share:

Walking through the vibrant streets of the Mission is like walking through a vivid art gallery. Instead of hushed tones and lofty rooms, the artwork here lives on the walls of alleyways and parking lots, on garage doors and children's playgrounds. It is woven into the fabric of the community, like a bold and evocative backdrop, around which their lives unfold.
The Mission is a neighborhood filled with colorful, heartfelt murals. Some are contemporary artistic expressions; others are iconic emblems of a past rooted in the struggle for equality. Collaboratively they tell the story of a heritage in a way that is meaningful and accessible, bringing art into people's everyday lives.
For much of its history, the Mission grew as a "city within a city" with a diverse culture and a distinct identity. It is the center of Latino culture in San Francisco; a haven for counterculture. Historically, San Francisco's culture of public art has its roots in the tradition of post-revolution Mexican murals. This was the foundation of the Mission's Chicano Mural Movement in the 60's. When the Chicano Civil Rights movement took hold, murals became an important medium…
Read more…