Culture
Share:

Big cities are often known for a special local dish, and Chicago's specialty is pizza. Everyone has a favorite, and every restaurant has its own twist. Below are some fan favorites. Try them all and pick your own:
1. Deep-Dish Number 1: Uno/Due
Just a couple of blocks off the Magnificent Mile, Pizzeria Uno and Pizzeria Duo are perfect pit stops after a day of shopping. Back in 1943, Uno was one of the first to serve the deep-dish-style pizza that has become a favorite among Chicago natives, and continues to offer a family friendly atmosphere over 70 years later. The menu also contains burgers, sandwiches, and salads to make any guest happy.
2. Deep-Dish Number 2: Gino's East
Gino's East is another oldie but goodie in the deep-dish pizza scene. Started in 1966, the original location off Superior Avenue has a casual, nostalgic atmosphere where you can add your name to the graffiti on the walls. The location over by South Loop offers more of an upscale, sports bar atmosphere. Along with pizza, it also serves a variety of local craft beers.
3. Pizza Potpie: Chicago Pizza and Oven Grinder Co.
If you…
Read more…
Share:

While there's much to explore in the Azores — hiking, bird watching, surfing, UNESCO World Heritage Sites, history — one of the focuses of my recent trip there was local artisan culture.
After visiting the islands of São Miguel, São Jorge and Pico, here are what I found to be the most worthwhile artisan experiences for culture carnivores:
Sorting black tea by hand at Gorreana Tea.
Gorreana Tea fields
Old fashioned machines used to process tea on Sao Miguel
1. Visit Europe's Only Tea Plantations
São Miguel boasts being the only place in all of Europe where you'll find tea plantations. There are actually two on the island, both within a 10-minute drive of each other. I visited Gorreana Tea, a family-operated business since 1883 that takes pride in growing organic tea leafs. Visitors can wander the plantation and factory free of charge, learning how the machines work, sampling tea (the green has a floral, non-bitter flavor) and perusing a gift shop showcasing local products like homemade jams and fruit liqueurs. They make both…
Read more…
Share:

Greece is one of my favorite travel destinations. In fact, I've gone every year for the past three, always starting in Athens and then choosing different islands to travel to. On my last trip, Mykonos was one of these islands. I'd heard so many great things about it — numerous friends had told me it was their favorite; however, when wandering I was surprised to find how completely overrun with tourists and chain stores, not to mention how expensive, it was. That's not to say there weren't things to love about Mykonos. Along with the whimsical windmills and secluded beaches like Panormos and Agios Sostis away from the port, I found a bit of serenity in this photo. Oddly enough, when I took this picture I was standing right on the waterfront, in the belly of the hustle and bustle of Mykonos cruise visitors and island hoppers; however, in this moment peace was a mindset. Despite the roar of diners at nearby restaurants, the bellowing of cruise ships and constant shutter sound from cameras, I was able to find serenity in Mykonos' beauty. Seriously. Just look at this photo. The bright turquoise waters contrasting…
Read more…
Share:

Whether it's for freedom, adventure, spiritual experience, confidence, independence, or community, women are taking to motorcycles with an increased voracity. Three years ago, Debra Teplitz, 44, decided to silence the voice in her head that said, "Nice Jewish girls from the North Shore of Chicago don't ride motorcycles." Like so many women who are learning to ride in their 30s, 40s, 50s, and beyond, Teplitz has confronted personal challenges, societal stereotypes, and cultural expectations to embrace the freedom and independence of motorcycling. For many female riders, mastering a motorcycle has served as a catalyst for other long-awaited life changes. While their riding is at an all-time high, women on motorcycles are nothing new. We've been riding longer than we've been voting. Nonetheless, there are a lot more of us now. Women are one of the fastest growing demographics in the powersports industry.
Why Women Ride: The Faces of Female Motorcycling
Freedom
After her divorce in 2007, Wendy Lamparelli, 51, was ready to buy a bike to fulfill a lifelong dream. Fearing for her safety, Lamparelli's mom and kids begged her not to, so she ended up with a convertible instead. But the dream…
Read more…
Share:

For this year's
TEDxBerkeley
's event whose theme was 
Compassion, Connection and Wisdom
, over 2,000 attendees showed up to hear 57 speakers and performers at the University of Berkeley's
Zellerbach Hall
on February 28. Below are highlights from some of our thought provoking speakers, several of whom flew over from Africa to join us thanks to this year's Diamond Partner
Fetzer Institute.
Performers nailed it out of the park, which included the upbeat Japanese drum performance by
Cal Raijin Taiko
, the energetic
Cal Bhangra
 dancers whose goal is to keep Punjabi dance alive
(below),
and the
UC Berkeley
Men's Octet
who added humor to their doo-wop, barbershop and pop songs, acapela style of course.
Dr. Prasad Kaipa
, who kicked off the first session on Wisdom, has committed his life to driving innovation and leadership. The bulk of Prasad's work has revolved around getting people to realize their full potential, most known for his work advising companies like Disney, Adobe, Apple, Boeing and others. His talk began not with lessons learned in corporate America however, but with a single, startling fact: Malnourishment kills 1,500 children in India every day. He reminds us that malnourishment happens…
Read more…
Share:

It was an honor to be invited back to
GourmetFest 2015
, a weekend-long event in Carmel by the Sea, with some heavy-hitting Relais & Chateaux chefs from around the world, along with top winemakers and sommeliers from France, Italy, and more. I drove down early Saturday morning, in time for the outdoor cooking demo with chef
Olivier Roellinger
(Les Maisons de Bricourt), who gave an interesting talk about the history of spices and…
Read more…
Share:

While most people know wine has terroir, I was surprised on a recent trip to the Dominican Republic to learn that cigars are also affected by the region the tobacco is grown in, as well as body, aroma, flavor and aging.
This was a foreign concept to me as I stepped in the Westin Puntacana Resort & Club's Don Queco Cigar & Rum Bar, opened in December 2013 and named after the father of one of Puntacana's founders.
It was created in order to commemorate and personify the harmonic relationship between spirits and tobacco. While the centerpiece of the room is the expansive mahogany bar, bottles of local and international spirits illuminated behind, to the right is a glass enclosed cigar room that also deserves your attention.
Don Queco Cigar Bar cigar rooms To me it feels more like a museum, as a staff guide named Victor escorts me inside, pulling out individual cigars for me to smell. For each, he explains the characteristics, and why one person might prefer it over another. Body, shape, size and taste are…
Read more…
Share: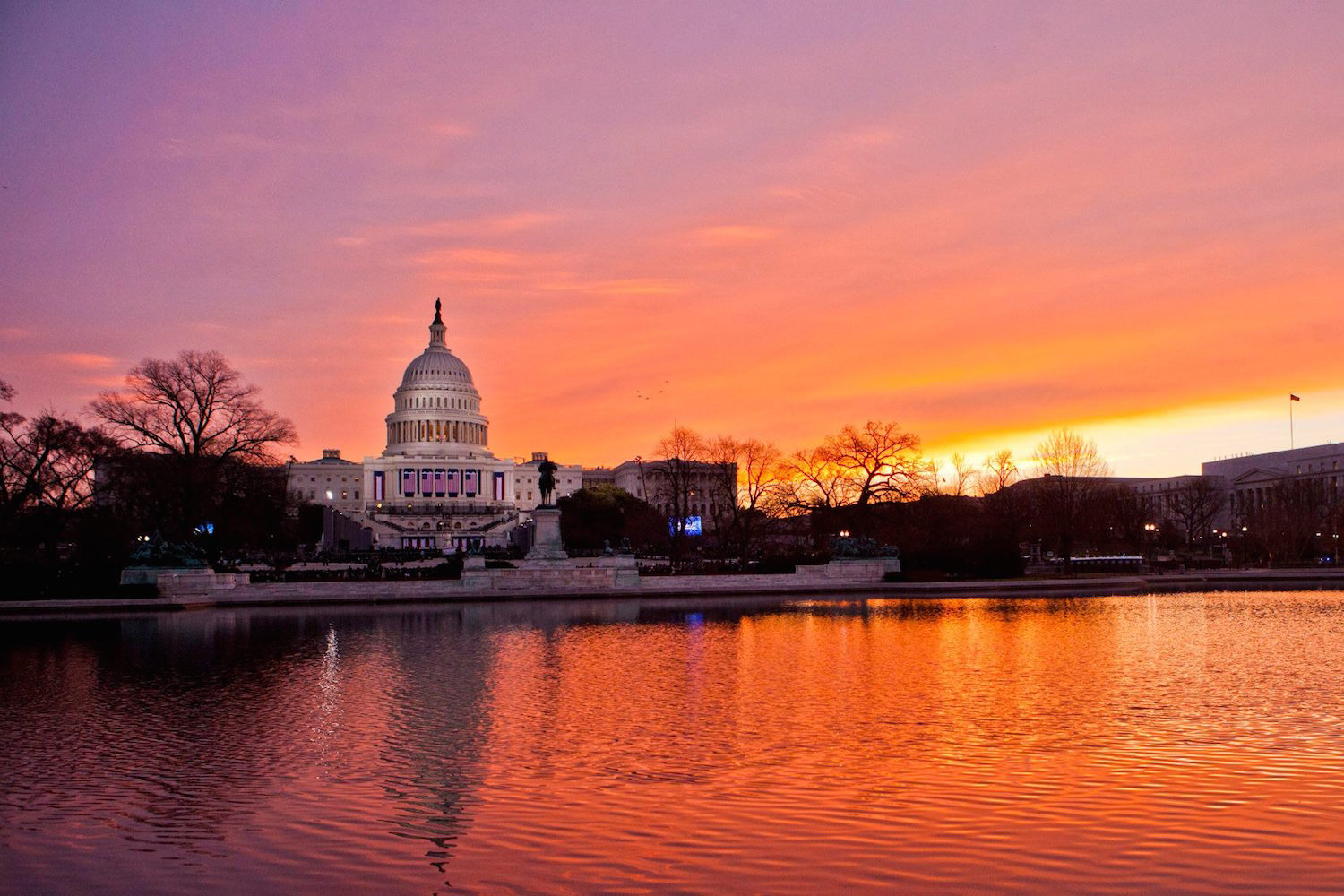 It's been more than two centuries since Washington D.C. was founded and if you've ever been there, you'll agree: It would take at least that long to get to know the city properly, from its timeless architecture and monuments, to its exquisite natural sites, to the culture that seems to be lurking around every corner. The bad news is that it doesn't look like an immortality elixir will be passing through the National Institutes of Health anytime soon. The good news? Mere mortals can see the best our nation's capital has to offer – or at least, a tantalizing tease of it – in just one day.
Sunrise Over Capitol Hill
Be sure you get yourself down to the National Mall just before the crack of dawn – the spectacular sunrise over the monuments of Capitol Hill is definitely worth the early rise. Reward yourself with breakfast at Pete's, a divey yet delicious local treasure. With day fully broken, enjoy a stroll in the dramatic shadow of the National Monument, or pay your respects at the Lincoln Memorial.
Museums at Mid-Day
Your morning in D.C. is sure to stir your heart…
Read more…