Food/Wine
Share:

"I feel like we've been transported to Italy," I remark to my dinner companion, Alex. Impeccably-dressed waiters in black suits carry bottles of Tuscan wines and parmesan cheese rolls, while instrumental music sets the mood. Near the host stand, Italian ingredients and housemade liquors are displayed. "Your table is ready," says the dining room captain, as he leads us into the dimly lit dining room, the romantic ambiance immediately enveloping us. As I pick up the wine list to begin perusing, a waiter comes to the table carrying an enormous Parmesan cheese wheel and hand cuts a generous chunk onto our plates. From there, we're brought Italian tapas of bruschetta, mussels, sopressata, marinated zucchini and a sumptuous bread basket containing white and wheat baguettes and freshly made foccacia crisps. We immediately dig in, trying to act reserved and classy but not being able to contain our eagerness to savor the flavors — the fresh garlic of the mussels, the sweetness of fresh tomatoes on the bruschetta and the salty pork of the sopressata — in our mouths. It's also always a plus when free food is brought…
Read more…
Share:

"Here's your 'Dirty White Hoe'," Brady winks, passing me a large glass filled with half Double White Ale and half Black Raspberry Wheat. I'm already giddy to order another, just because I like saying the name. I'm at Southampton Publick House in Long Island's exclusive Southampton village. It's the unofficial hub for the affluent and the beautiful. Settled in 1640, Southampton is actually the oldest English settlement in New York, named after the English Earl of Southampton. It had a prosperous history in terms of agriculture and industry, which has continued into today with beautiful, fertile land and many notable designers and socialites. Walking around the village, the ritzy ambiance is palpable as you pass perfectly coiffed families and peruse $400 belts. However, that's not what you'll find here. An affordable menu, award-winning beers and a comical bartender who lovingly teases his guests is more like it. I grab my camera and snap a photo of the bar (above). Brady runs over to me. "Redo! I wasn't looking!" Then he smiles and winks. "You know, I also do nudes."
Read more…
Share:

Before visiting Hocking Hills, Ohio, I wasn't quite sure what to expect. While I'd heard the state was flat with not much to do, I also heard there were some quirky and adventurous activities to be experienced.  After visiting for myself, the latter view won by a landslide. I went on a hike that started with an informative forest and cave hike, and ended in a session of storytelling led by Wehyehpihehrsehnhwah, a native Shawnee Indian. While I knew the journey would be interesting, I didn't realize what a live-changing affect it would have on me.At first Wehyehpihehrsehnhwah speaks his native language until he realizes we don't understand him. It's odd that with 100 miles of hiking trails, not many people know about Saltpetre Caves Nature Preserve. That's one of the reasons company owner Jim Stratton and naturalist guide Joe Brehm love to lead their tours here. We walk through Hemlock, White Oak, Greenbrier, mushrooms and the fun-to-say, Sassafras, which is known for its medicinal purposes as well as being an additive to beer. We shimmy through slots and caves, walk by lichen-covered trees and honeycombed sandstone, learning about local flora and fauna…
Read more…
Share:

One of my favorite ways to get to know a culture is through their national and regional drinks. Here, I share some of my favorite libations from around the world, so you can bring them from abroad to your home.
Caipirinha
- Brazil Literally translated, caipirinha translates to "country bumpkin", although people of all classes drink this popular cocktail. Interestingly, it was originally made for medicinal purposes. In a Brazilian caipirinha, the main ingredient is Cachaça, which was once prescribed with honey and lime to cure colds and sore throats. To make it, you'll need:
1/2 lime, quartered
1 teaspoon white sugar
2 1/2 fluid ounces cachaca (Brazilian sugarcane rum)
1 cup ice cubes
Muddle the lime wedges in a glass, fill with ice, pour in the cachaca and stir.
Pisco Sour 
- Chile/Peru While the two countries argue over who really owns the Pisco Sour – although Pisco is said to have originated in Peru – both are excellent places to enjoy the sour yet sweet concoction. To make it, you'll need:
…
Read more…
Share: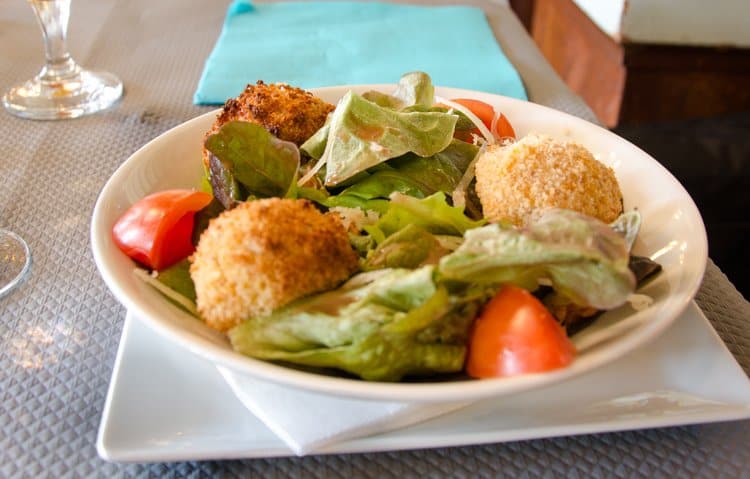 Aside from being France's wine capital, Bordeaux is also a premier gourmet city. We found so many restaurants on offer that it was difficult to choose. Not to mention the fine food shops and gourmet staples like canelé cakes, lamb, oysters, foie gras and cured meat. It's just as easy to get excited about the food in Bordeaux as it is the regional wines. Here's a quick guide on where to eat well in Bordeaux (it won't be difficult!)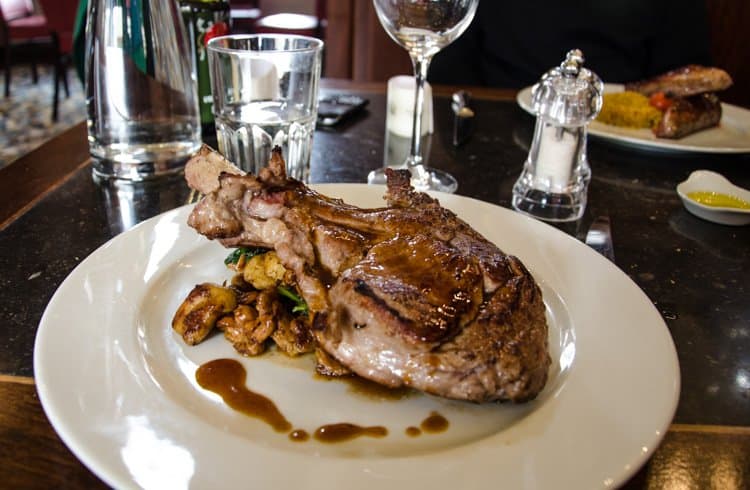 Roasted veal from Cafe Lavinal in Medoc
What To Eat
If it's authentic dishes from the region you are after, be sure to enjoy a rib steak (entrecote) with Bordelaise sauce or any of the fresh fish and shellfish on offer. Near Bordeaux are important meat producing regions like Bazas (for beef) and Pauillac (for lamb). Traditional French fare like snails, tripe, foie gras, duck confit and, of course, cheese are plentiful and everything is fresh. Vegetable lovers are…
Read more…
Share:

While there are many places to enjoy apres ski in
Park City, Utah,
High West Distillery and Saloon takes the idea to a whole different level. In fact, the establishment is the world's first and only ski-in gastro distillery. Built in 1914, the two-story Victorian style pyramid house was originally a livery stable used to service the workhorses that pulled heavy ore carts to the mines. This is where the distillery's logo comes from, an old horseshoe found during renovation. After being a stable, it turned into a garage business until 1942. And despite the burning down of the nearby Silver King Coalition Mines Company building in 1981, the old livery stable still stands today as a heritage-listed site, opening as a distillery and restaurant in 2007. As soon as you walk inside the venue, you're transported to an authentic old west saloon. Old bottles plaster the walls behind the hostess, while a General Store is located directly near the entrance selling glasses, soaps, signs and, of course, whiskey. Countrya and bluegrass music fill room while the scent of wood chips and whiskey permeates the air. This isn't surprising, as…
Read more…
Share:

Enter meet someone obsessed with mushrooms? If not, head to
Lithuania
to discover that a large percentage of the country is in some way shape or form obsessed with mushrooms. Enter into the
Mushroom Kingdom
. Says my quirky and amusing guide, "if there were no mushrooms in the forest, the girls would be naked." Huh? I learn that the majority of residents in more rural areas know which mushrooms should be picked and which ones are poisonous. They're either picked to consume themselves or they sell them to stores and vendors….or simply set up a small stand on the side of the road just like New Englanders do to sell corn and blueberries.
Mushrooming is a popular pastime from mid-summer to autumn. As a staple, mushrooms are usually harvested in the forest and where you are most likely to find mushroom tables or stands set up on the side of the road is in the
Dzūkija
region from
Druskininkai
to
Vilnius
. Despite its status as a delicacy in Lithuania, mushrooms are thought of by locals as hard to…
Read more…
Share:

MerMer
, situated in the old fishing village of Kolga-Aabla on the Juminda peninsula, serves delicious food made with local ingredients accompanied by some excellent French and Italian wines. In summer months, they seat diners in their summer house, while in winter you are seated in the cosy house of the couple who runs it: Merrit and Jaan and of course their American bulldog Hummer.
Only three-quarters of an hour's drive from Tallinn (directly over the sea can come up with a boat when a storm is, can the seawall next to the anchor keeping) a Juminda peninsula was fifty years of a closed border zone. Many did not know until today what a wonderful natural pearl sixty kilometers away from the hustle of the capital. Here lies MerMer, the place to go for home cooking on your trip to Estonia.
Head out of Tallinn early and take a drive around the Juminda peninsula which takes in the historic fishing villages Kirkkonummi Aabla, Kiiu-Aabla, Leesi, Tammistu, Juminda, Tapurla, Virve and Pedaspea. Nowadays, there are a lot of new houses in these villages, but they also blend in with the old village milieu so it feels on some levels, as
…
Read more…