Food/Wine
Share:

Many of Spain's main museums, located in major cities such as Madrid, Barcelona, Bilbao and Valencia, are also home to restaurants whose menus are pure imagination. Come and discover galleries where the works of art are not only to be found on the walls. One destination not to be missed is Madrid, the Spanish capital and one of the world's most important artistic centres. The Thyssen-Bornemisza Museum is situated in the so-called "art triangle". A walk around this gallery, which covers the history of European painting, is a wonderful experience in itself, while savoring a dish at its café-restaurant, set in a beautiful garden, is something simply not to be missed. Can you imagine trying dishes such as "Majorca Abstraction" or "Catalonian Landscape"? These are the names of two dishes that the restaurant created for an exhibition on Miró. We would recommend a visit to this museum in summer, because on June, July and August nights you can also discover its "Mirador" – a wonderful rooftop terrace where you can sample delicious Mediterranean cuisine whilst enjoying stunning views of the city. Also in Madrid, and just a few minutes' walk…
Read more…
Share:

Tulips in wine bottles. Photo courtesy of Joseph Hernandez. Want to know where to experience the best food and wine in the United States? Joseph Hernandez, Assistant Editor at Wine Enthusiast Magazine, dishes on budget-friendly vinos, lobster pies, Detroit's culinary revival and where to savor the country's most delicious epicurious journeys.
1. What's one foodie city in the U.S. that you think lives up to its hype?
I'm going to demure, because I honestly don't think there's just one. "Second" cities—those cities that exist in the burning star orbit of larger metropolises—are really coming into their own these days. Look at Detroit's current, slow-but-inspiring revival, or Philly's own emergence, as cities attracting talent and passion. Hell, Charleston and Asheville are Southern cities with huge foodie cred. As for the Big Guys, New York (particularly Brooklyn) and Chicago shouldn't be ignored by gastronauts.
2. What's one underrated food/wine city in the US you wish more travelers explored?
I recently had the pleasure of visiting Burlington, Vermont, and man, can that city cook. The Green Mountain state's bounty is seemingly on every table, and every restaurant has an established relationship with the region's farmers. They truly…
Read more…
Share:

They had so much fun last year, they're gonna do it again. The second annual Epicurience Virginia is set for Labor Day Weekend, August 29 through September 1, 2014. It's centered on Morven Park, Leesburg, Virginia. The Grand Tasting August 30, 2014, is at the heart of the event. This day-long edible showcase brings farm-to-table food, Virginia wines, notable chefs, live bands and lots of other delicious diversions to the grounds of Morven Park. Note: no kids. You must be 21 or older and have government issued photo I.D. to enter the event.
(Photo courtesy of Epicurience Virginia)
Share:

The
Triple Threat Barbecue Festival
takes place April 11 and 12, 2014, at at the Delaware State Fair, 18500 South DuPont Highway, Harrington, Delaware. As a Kansas City Barbecue Society sanctioned event, the Triple Threat is every bit a competition as it is a good time for visitors with live music, carnival rides, corn hole games and, of course, beer, wine and barbecue. BBQ competitions will offer prizes ranging from $100 to $2,500 for each category: beef brisket, pork ribs, chicken, pork. There'll also be a Grand Champion ($2,500), Reserve Champion ($1,300) and Delaware State Champion ($1,500).
(Photo courtesy of Triple Threat Barbecue Festival)
Share:

Remember, the seasons are reversed in the Southern Hemisphere. That's why the annual Grape Harvest Festival takes place mostly in March in Mendoza, Argentina. Core dates this year are March 1 through 11, 2014. It's said to be the country's biggest wine party, bringing together everyone from the field workers to the vineyard owners and wine-lovers from around the world. The Fiesta Nacional de la Vendimia is a celebration of wine and the winemaking industry that begins with the Benediction of the fruit on the last Sunday of February. Although its roots are in the 17th century, the festival wasn't formalized until 1936. These days, there's dancing, fireworks and all sorts of fanfare in addition to wine-centric events. One of the tour companies taking visitors to the Fiesta is Mendoza Wine Tours and Travel. The Mendoza province in the Cuyo region of Argentina is responsible for 70 percent of the country's wine production. Its best known varietal is Malbec, but don't overlook the Tempranillo, Cabernet Sauvignon and Chardonnay.
Share:

D
espite warnings of violent crime and terrifying conditions, I booked a trip to Guatemala — and loved it! Not only did I find the country to be safe for travel, but also full of memorable experiences and natural beauty that could be explored on a budget. Want to know more? Here are 10 reasons why Guatemala should be your next trip.
1. It's Safer Than You Think
Obviously this will depend where you go — Guatemala City in particular is avoided by most tourists due to its high rate of violent crime; however, traveling through areas like Lake Atitlan, Antigua, Tikal and the Earth Lodge allow for a memorable Guatemalan experience without the worry. Of course, no matter where you go in the world you should always exercise caution. For some ideas, check out 17 Safety Tips for Solo Travelers (much of this is also applicable for non-solo travelers, as well).
This delicious and satisfying meal cost only $3.75 USD.
2. It's Affordable
For most western travelers, Guatemala's exchange rate allows for an extremely budget-friendly vacation. Think dinner and a beer for about $6, hostel dorms from $3, private rooms…
Read more…
Share:

One of the strangest foods I have surely eaten was on a cross-country trip from the Republic of Georgia's Kakheti wine region to its capital city of Tbilisi. Having spent the day visiting the village of Sighnaghi (Signagi) and its surrounding villages and stunning cathedrals, it was late afternoon by the time we got on the road and started heading back to Tbilisi. As we passed through small villages and communities, I noticed small groups of women hanging out on the sides of the road next to metal stands adorned with dozens of long candle-shaped objects swaying from twine. I asked our driver what the women were selling, and he said that they were selling a traditional type of Georgian candy. Churchkhela is a popular food in this area, and it combines two favorite Georgian ingredients – grapes and nuts. These long strings of dried nuts get their strange appearance from being repeatedly dipped in a thick, boiling mixture of fresh grape juice and wheat flour. Almonds, hazel nuts, walnuts, and even raisins are used in churchkhela recipes. The result is a healthy and delicious snack that locals commonly refer to as Georgian Snickers…
Read more…
Share: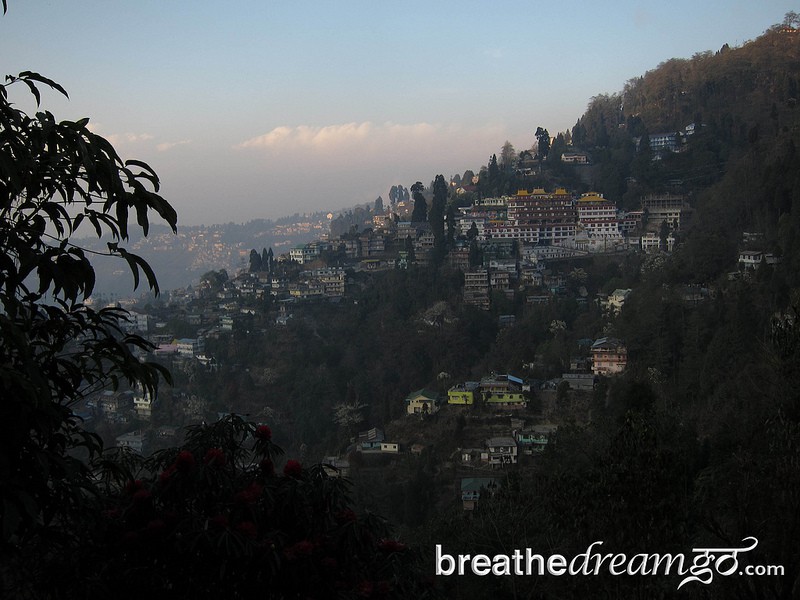 Darjeeling at dawn
Discovering the true nature of tea in Darjeeling
TEA HAS A MAGICAL effect. It instantly refreshes and soothes the soul. But, for me, it also carries an aroma of nostalgia — as if the past is steeped into the leaves, along with hope and optimism. Is it the nature of tea leaves to impart this effect, I wondered, before I made my pilgrimage to Darjeeling? Or did I feel this way about tea because of tender memories of tea parties with my Nana when I was a child? This is what I travelled to Darjeeling to find out. I wanted to ascend to the heights of one of the world's great tea growing regions, the home of the "champagne of teas," and to experience the spirit of tea first hand.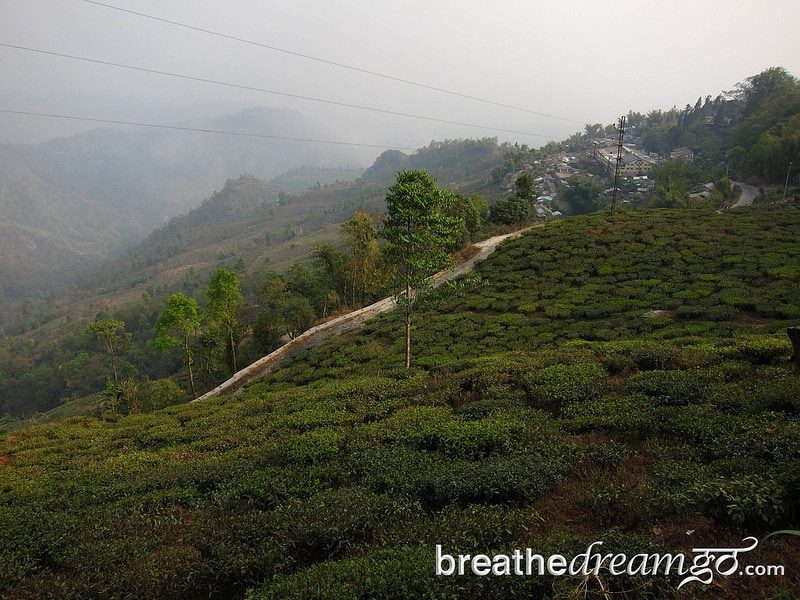 Tea gardens of Darjeeling
Tea with the Thunderbolt Rajah
I stand in anticipation before the row of white porcelain teacups. The King of Tea, Swaraj Kumar "Rajah" Banerjee – known in Darjeeling as the Thunderbolt Rajah – flourishes his arms as he speaks excitedly about silver tips, muscatel flavours, the movements of…
Read more…