Food/Wine
Share:

Alas, the Big Apple for great food. Most people know that New York is foodie heaven but with cool cafés and funky restaurants on every corner the options can get more than a little overwhelming.  I've been exploring the city like a local and sampling New York's top restaurants following some great recommendations from family and friends. Here are some of the top superstars:

Joseph Leonard, Greenwich Village
Stepping in to bite-size Joseph Leonard in Manhattan's leafy Greenwich Village sort of feels like dining in your grandma's front living room. With only a handful of tables and a bar, it's an intimate spot with quirky adornments like a wall of vintage mirrors and crystal cut-glass bowls filled with rock salt. For brunch try the asparagus and parmesan omelette with baby lettuce and brioche or the avocado toast.
Rosemary's, West Village
Clutching the accolade of being probably my favourite restaurant in the world, Rosemary's has the combination of great food and vibrant atmosphere mastered. The doors are folded back as tables spill onto the pavement, Parisian twinkly lights dangle from the ceiling and Sam Cooke and his band of soul brothers pour from the speakers.  On a…
Read more…
Share:

Did you know that elephant garlic (Allium ampeloprasum) isn't actually garlic?
According to
Wikipedia, it's a variant of the garden leek that tastes a whole lot more like garlic than it does like a leek. In any case, it's the star of the
Elephant Garlic Festival
. The celebration's 17th year is set for August 8, 9 and 10, 2014, in Jessie Mays Community Park, 30975 NW Hillcrest Street, North Plains, Oregon. During the parade August 9, candy — and garlic cloves — are tossed to spectators. There's a pancake breakfast to start the day from 7 to 10 a.m. on both August 9 and 10 (one hopes there's no garlic involved there).
(Image courtesy of Elephant Garlic Festival)
Share:

Opened in 2010 Chef Justin & Michelle Beckett launched a 'new' vision including 'old' favorites.  Nestled between the elegance of the Biltmore area and the hip and trendy Arcadia neighborhood, Beckett's Table is an upscale dining experience with a comfortable casual feel.  The restaurant owners and Chefs strive to support local farms and the culinary community by creating gastronomic dishes inspired by the soul food of the south using local Arizona produce and other ingredients, right down to regional vino on their extensive wine list. The restaurant décor has a modern and cozy feel, with an inviting brick-lined bar, block walls, subway tile, distressed concrete floors, and leather-capped, comfy cushioned chairs.  In the cooler months of the year, the patio has an inviting fireplace for guests to gather around to share their stories.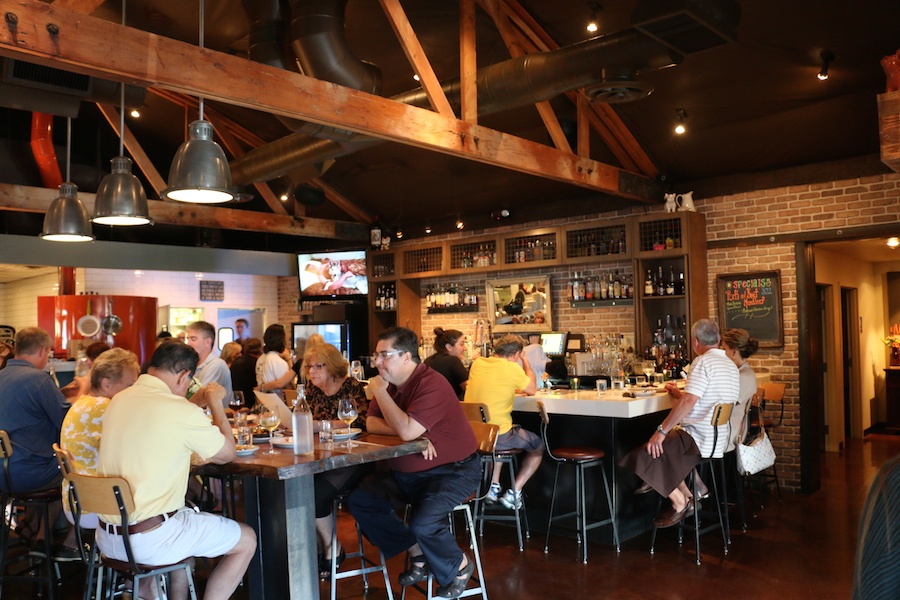 We began our soulful culinary journey with a few cocktails and wine, then we moved on to several tantalizing appetizers and salads…eventually savoring several mouth-watering entrées and finishing with a couple signature desserts. DRINKS
Legend City Cocktail- A tribute to Phoenix nostalgia named after the long-gone amusement park! This was a wild ride of
…
Read more…
Share:

Beer & Buns "Indulgence Burger" In March 2014, The Court, a St Giles Premier Hotel, unveiled possibly New York City's most interesting burger joint: Beer & Buns (B&B). Forget beef patties with lettuce, tomato and pickles, as these burgers are made with a variety of proteins, ingredients and accompaniments inspired by other culinary cultures, mainly Europe and Asia. "The inspiration for Beer & Buns came out of our desire to craft a creative, comfortable yet casual restaurant and bar in The Court Hotel and to also offer a new and unique food offering here in the Midtown and Murray Hill neighborhood," said Abigail Tan, Head of St Giles Hotels, U.K., Europe and USA. "In our food trial and tasting sessions with Chef Nok, we came-up with the idea of developing hearty, burgers and sliders with an international flair and pairing it with global and local craft beers – We intended for Beer & Buns to be affordable as well so that not only residents in the area could get great mouth-watering sliders at great prices, but people working in the area and an after-work hours crowd would have easy access to a burger-bar that…
Read more…
Share:

In the West Village, it's worth checking out the Gotham West Market, which I have been wanting to visit for a while now.
Our first stop was Ivan Raman Slurp Shop for some ramen noodles.
I had the veggie noodles and Chris got the Tokyo Shio with pork belly.
After lunch we moved on to El Colmado for some wine on their outdoor bar stools.
Finally, at Cannibal we took advantage of their 3 o'clock happy hour to grab some beer and cocktails. It was the perfect ending to the day.
Except that I wasn't done yet, because I had to grab some ice cream from Jeni's. A triple scoop with three different flavors. Do not come all the way out to Gotham West Market (which is pretty far out of the way if you live where we do) without picking up some ice cream. This alone would…
Read more…
Share:

You can take Slow Food tours of Tuscany, Venice, the Amalfi Coast and Sicily, Italy, with Sceptre Tours, which has three new Slow Food escorted vacations in Italy which focus on the regions of Tuscany plus Venice, the Amalfi Coast, and Sicily. Slow Food is a global grassroots movement linking the pleasure of good food with a commitment to local communities and the environment. Slow Food was founded in 1989 to counter the rise of fast food and a fast pace of life. The movement was ignited by the disappearance of local food traditions and people's dwindling interest in the food they eat, where it comes from, how it tastes and how food choices affect the rest of the world. (Photo
courtesy of Sceptre Tours)
Share:

A foodie is a gourmet, or a person who has an ardent or refined interest in food and alcoholic beverages. A foodie seeks new food experiences as a hobby rather than simply eating out of convenience or hunger. (Wikipedia)
I can't put my finger on an exact time when I realized that I was a foodie. It has come on slowly over the years as I learn about new foods. I adore learning about culture through food and how it is a part of their traditions. Here are 5 signs you might be a foodie. YOU FIND THE WEIRDEST THING ON THE MENU AND PROCEED TO ORDER IT. It may not even be unusual to some people, but maybe it's something you have never tried before. Case in point, one time while in Colorado, I ordered a Yak burger.
Yak Burger YOU TAKE A LOT OF PICTURES… OF YOUR FOOD Me: Hey, do you want to see a picture of this amazing dessert I had? Or how about this one with the alligator meat? You: Um, sure… Most people don't get super excited about what they put in their mouths, but a foodie…
Read more…
Share:

While Japan in General is known for its curative green tea culture, there is one place where the offerings are truly rich: Uji. Located in the Kyoto Prefecture, just on the outskirts of the city of Kyoto, Uji's plains and hillsides grow green tea in abundance, while its streets offer green tea ice cream, complimentary green tea tastings and green tea curry at every corner. The tea history of this city dates back to thirteenth century, when a Zen Monk named Eisai gave seeds to a local priest he had procured in Sung dynasty China — where green tea was highly regarded for its curative capabilities — to open a tea farm. Locals soon realized the conditions were perfect for planting green tea. On a recent trip to Kyoto, Japan, I had the chance to experience the green tea and other cultural offerings of Uji for myself, as well as artisan shops, traditional food, scenic views and one of the country's most famous temples.
Uji: Logistics
To reach Uji, I take the train from my hotel in central Kyoto to Uji Station, immediately greeted by…
Read more…