Products
Share: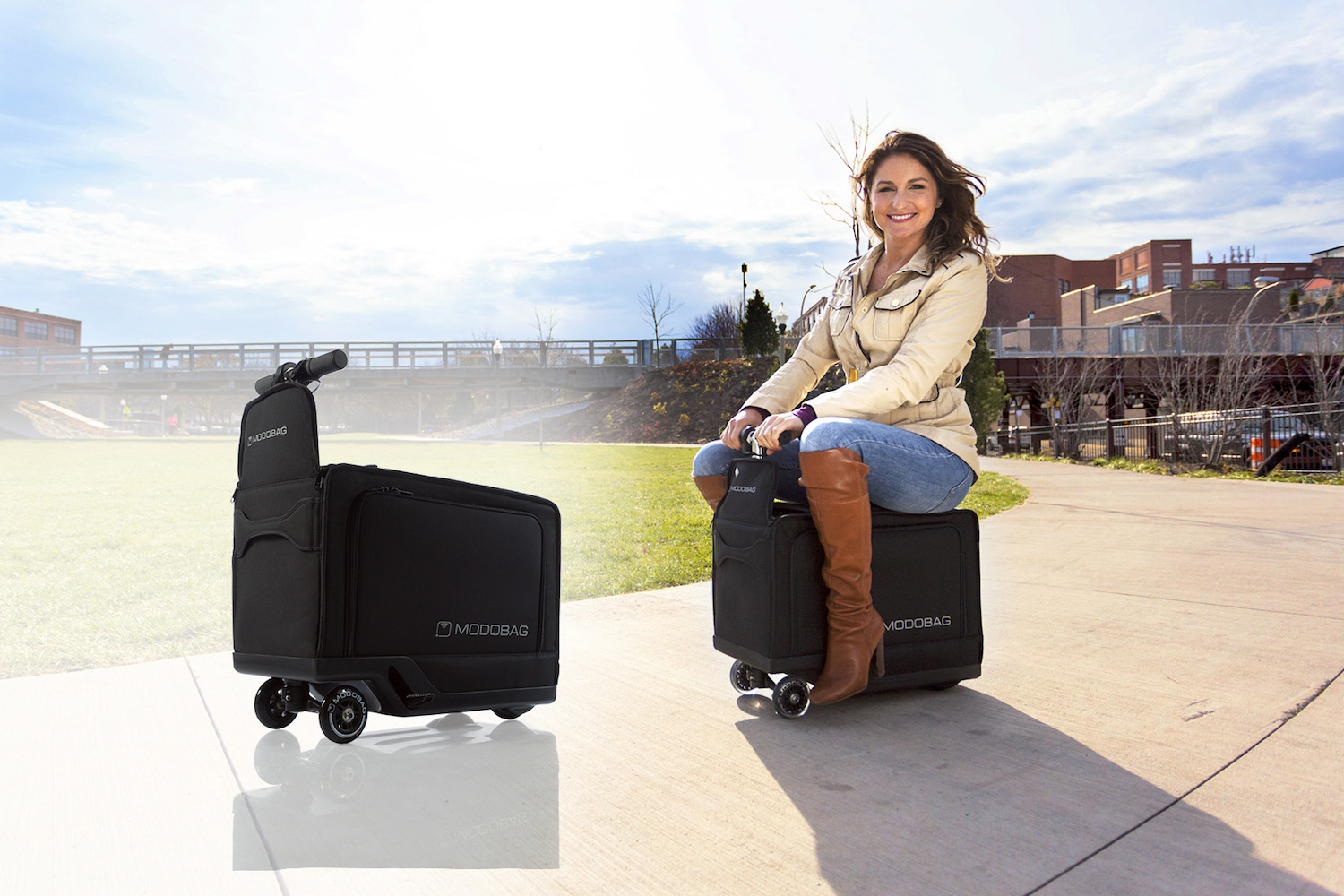 Technology is weird by definition and travel, as you can observe by clicking through the articles on this channel, can be pretty darn weird, too. It should come as no surprise, then, that travel tech is a decidedly weird sphere.
Then again, the following weird travel tech items are nothing, if not surprising. OK, perhaps occasionally a bit scary and mind-boggling, as well. You might find it difficult to pinpoint exactly which of these pieces of weird travel tech shocks and amazes you the most.
1.  The Suitcase You Can Ride
Are you too lazy to drag a rollaboard suitcase behind you, but too strapped for time to rent one of those motorized carts every time you visit an airport? If so, Modobag is the luggage for you. Although Modobag boasts a host of interesting features in addition to its ridability, its main selling point is that it allows fully-grown adults to play choo-choo in crowded public places. The epitome of laziness—and of fun!
2.  Movie Theater Glasses
More and more airlines are installing seat-back entertainment systems, but if you want the ultimate private viewing experience,
…
Read more…
Share:

You carry a cell phone around everywhere, right? It goes with you to work, to the gym and when you travel. While we're huge advocates of keeping them at bay when you talk and in another room when you sleep (use a safe
tubular earpiece connector
and put your cell phone on Airplane Mode when it's on your body — be sure to read our write up on
EMF concerns
), it's hard to do without our phones. Truth be told, we use them for Skype, messaging, surfing the web, watching videos, listening to music, email and more, so with a device that is that prolific in our lives, why not give it a luxurious looking skin? We discovered several brands we love where both the quality
and
design made our cut for top cell phone accessories in the oh so luxe and chic category!!
Piel Frama
This Spanish brand offers a number of stylish and elegant choices for your cell phone and for other items, like business cards, wallets and trinkets.In other words, they're not just about making your cell phone luxe, although I'd argue that this "carry all" leather case could also serve as a great carrying…
Read more…
Share:

We discovered a useful product find for avid travelers with smart phones. Meet
Phantom Glass
, a tempered glass screen protector designed for smartphones, tablets, and cameras. Phantom Glass is made using the most durable tempered glass, which ensures that Phantom Glass will resist most impacts and scratches, and ensures that your device is protected. The glass protector is also engineered so that in the event of breaking, it does so in a what that is 100% safe to the touch. There are no hazardous shards of glass or sharp edges. Bravo!
Their proprietary and patent-pending silicone nano-adhesion layer ensures that Phantom Glass installs in under 30 seconds, with no bubbles, liquids, or special techniques. To use, simply align Phantom Glass with your device, and Phantom Glass will install itself. The silicone nano-adhesion will never leave gross residue on your device when removed, which we found to be a great feature.
Unlike any other screen protector out there, Phantom Glass is treated with a specially engineered oleophobic nano-coating to ensure that fingerprints and residue wipe off with ease, another great feature as we've had "fails" with other products in the past. This coating is applied using a unique
…
Read more…
Share:

Meet one of my favorite products for the home since my
"falling in love"
moment with the
iRobot,
which I now can't imagine living without. We even called him Rocky – yes, really — we 
wrote about it back in February
. Meet the next best thing, but for grill lovers —
Grillbot
, which we now call RED!
While we obviously went for the RED one, Grillbot comes in four colors: blue, orange, black and red.  The grillbot is the world's first automatic grill cleaning robot and might I add, a godsend for  anyone who grills a lot, regardless of the season. The units are very compact, so easy to store and they fit inside most grills for easy cleaning without you even having to be there while it "takes over" your grill.
The concept is relatively new as Grillbot has only been around since 2014. Like the iRobot, you simply place the Grillbot on your grill, close the door and let him go! The grillbot does all the grill cleaning for you so you don't have to. We actually shot a video of the process (twice), however as we were checking…
Read more…
Share:

I love my new Reversible Navy and Cream Tote by
HButler!
  While it is not made of leather, it gives the illusion that it is with its sleek and chic style that is both elegant and functional. As avid travelers know, finding a bag you can take with you on a trip that will go with a variety of outfits can be hard. What's unique about this reversible tote is not only can you choose the cream side for dressier evening occasions and the dark navy blue that won't show dirt for all day city strolls, but this
Mighty Purse
features a concealed slimline battery to charge your Smartphone on the go. Tucked into the side of the purse, a small detachable purse has a charger that will give your cell phone life again when your juice is low, a godsend feature when you don't have access to a power outlet on the road.
It's made from Vegan Leather and its built in Slimline and lightweight rechargeable battery that can recharge a smartphone up to two times (4000 mAh). Their
"Auto-Power On"
Technology means nothing to ever switch on or off, another godsend feature for those frequently on the…
Read more…
Share:

I've been using essential oils for years and am a fan. Truth be told, I'm always trying out new brands and love discovering new scents I haven't tried before. On the discovery trail this Spring, we discovered
GURUNANDA
 and decided to try their oils naturally (aka breathing it while lying down and relaxing), as well as through one of their diffusers. They have a wide variety of choices, but given my hectic schedule lately, I decided to start with
Tranquility
, a blend specifically formulated to help relieve you of the tensions, aches, and pains and let's just say, I have no shortage of all three. The sweet, aromatic blend of Spearmint, Cedarwood and Patchouli have a calming effect on the skin, mind, and body.  
Lavender
is also known as having a relaxing effect and in fact, often when I have a massage, it's their "go-to" essential oil. When diffused, the effects are calming, relaxing, refreshing, toning and cleansing. We tested lavender out in our diffuser and within twenty minutes, I was fast asleep on the couch. When you're wanting the opposite effect, the 
Cinnamon
essential oil when added to a GURUNANDA ultrasonic diffuser, evokes refreshing, awakening, uplifting and normalizing benefits. Another one…
Read more…
Share:

As an avid traveler, I'm always looking for nifty backpacks with lots of nooks and crannies that are also stylish. While we love color and creativity around here, sometimes you just can't beat a classic black leather bag, whether that be a tote, weekend bag or a backpack and 
Würkin Stiffs
offers all of that and more. They also have a nice selection of Doppel bags and wallets. Known for crafting handmade bags from a combination of coated canvas and leather, there's a sense of ruggedness in the final product and yet its style couldn't be more elegant.  Some of their bags have RFID Protected Pockets and hidden umbrellas.  My favorite of their current product offerings? The 
Würkin Stiffs Classic Backpack
!
I tend to find that most backpacks don't have enough pockets and…they're either too large or too small.  This backpack has a Mobile Phone Holster that stretches to fit any phone, two RFID protected side pockets, a Notebook/Tablet zippered compartment on the side for quick access (this was too small for my MacBook Pro however), a Hidden Pocket Underneath with a Flat Umbrella (a very cool feature for frequent travelers), and the interior is all made from Microsuede, so…
Read more…
Share:

New on my radar is a skincare line from
Belli
, which offers a variety of washes, scrubs, moisturizers, serums and more. I opted to try the
Anti-Blemish Facial Wash
, their
Fresh Start Pre-Treatment Scrub
, the
Healthy Glow Facial Hydrator
, and an
Acne Control Spot Treatment
, which is the perfect size for a weekend getaway. I know I'm not alone in the adult acne category and truth be told, it's even more frustrating when you have breakouts on the road. When we travel, food, climate and humidity all change, which adds to the likelihood of a break-out, so let's face it — it's nice to be prepared.
It incorporates one of my favorite ingredients — lactic acid, which doesn't over dry or strip your skin. Its unique formula is formulated to cleanse the skin of oil, dead skin cells and impurities that can lead to bacterial overgrowth and ultimately, acne. Free of teratogens, its safe to use for pregnant women as well. Since they focus on gentle ingredients that would be safe enough to us during pregnancy, there's no salicylic acid, glycolic acid or benzoyl peroxide, which is known for drying out the…
Read more…