Products
Share:

Cocoon's GRID-IT!,
is a patent-pending organization system that helps you stay organized when you're on the road. It is now available in stunning aluminum, with a protective, rubber rim. The new aluminum GRID-IT! has two sides, giving you twice as much storage capacity for your chargers, devices, and accessories. GRID-IT!'s unique weave of rubberized elastic straps and new, sturdy design will hold all of your personal effects firmly in place to help you nuke that clutter inside your bag. There are various sizes and they range in price from $24.99 to $49.99.
The organizer also comes integrated into such products as sun visors, briefcases, and luggage. Cocoon's latest version — the Wrap — surrounds the inimitable Grid-It! board with a neoprene pouch designed to hold a 7- to 13-inch e-reader, tablet, or small notebook as well.
Second Photo credit: Mike Greisser
Share:

French designer François Lipovetsky is behind the Lipault Paris luggage collection. Lipault combines modern design and ergonomic functionality into a product that is fashionable and remarkably lightweight yet still durable. Lipault's collection of brightly-colored, lightweight trolleys and wheeled duffels are great for travelers since they fold down to something small and compact for easy storage. Their designs come in fabulously bright colors — oh so French, from purple, yellow, blue, and more.
While you can get the bags online, Europe's finest department stores including Galleries Lafayette, Au Printemps, and Selfridges also carry them. The products are also available at Lipault's flagship store on the prestigious Boulevard de Madelaine in Paris.
Now available on the Atlantic side, Lipault luggage can be found in top specialty luggage and department stores throughout the US and Canada as well as online of course. The soft-side collection is most appealing for travelers — the bags can be conveniently folded up when not in use for space-saving storage. Their hard-side collection is made from 100% polycarbonate for rugged durability.
It slides easily under the bed or in the back of a closet or…
Read more…
Share:

Here's a fun but slim and luxurious phone style that adds a little sophisticated to your world. It's a dual feminine flip phone, that allows you to output voice. It has bluetooth, an alarm clock and supports the ability to extend your TF card to 8 GB if you want more space. Both of the sim cards can work simultaneously online. Dual Cameras. It has a 79 metal shell with a 2.4 touch screen.
Share: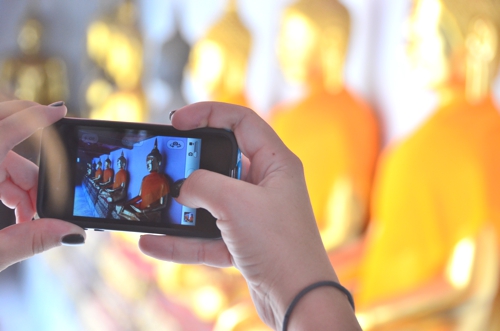 I'm a bit of snob when it comes to travel photography. Not because I believe my travel photography is objectively better than anyone else's, mind you, but because I believe that travel photographers should always prioritize detail, nuance and quality in the images they capture. Enter the iPhone. On the surface, it's a travel photographer's dream – small, lightweight and point-and-shoot. Sure, it's low quality, but it's got a bevy of filters, editors and other features that kind manipulate its photos into looking like they've been professionally shot. Well, kind of professional. And that's the thing about the iPhone when it comes to travel photography: It's kind of awesome. But it also kind of sucks! Unless something groundbreaking changes RE: iPhone design, you will never see an iPhone photograph on Leave Your Daily Hell, and here's why.
Technical Limits of the iPhone Camera
Although the iPhone 5 has the most sophisticated iPhone camera thus far – the cameras on the iPhones 4S, 4, 3Gs and (shudder) 3G  are much, much less capable – I'm going to analyze the tech specs of the iPhone 5 camera, for argument's sake. The iPhone's…
Read more…
Share:

If you have ever wanted Yelp and OpenTable to merge then you will be happy to hear about Kuyam. Kuyam is a new innovative online scheduling platform.  Essentially it allows busy people to find and have lifestyle appointments booked in just a few clicks.  Discovering anything from spa and hair salons, to health and exercise classes.  There is even options to discovering tutoring and babysitting for the kidos. Becoming a user is free, and after that you narrow down the service you want, what time you are available and how you plan on paying for it; then Kuyam does the rest.  Rather than you making calls and discussing availabilities.  Once your appoint is set it appears on a calendar on the Kuyam site.  Appointments are easy to change, adjust, or cancel as needed. A mobile app is on the horizon for Kuyam as well which will truly expedite the efficiency of a busy person's day.  Kuyam is working to make the connecting and discovering of local businesses easier than ever.
Photo Credit: Kuyam.com
Share:

Today's on the go lifestyle in the 21
st
century warrants the need to connect to public wifi on a fairly regular basis.  Whether you are out on a business trip, sitting in a coffee shop, or passing time in the airport, public wifi is everywhere and more often than not very easy to use. What a lot of people don't know is that public wifi puts your laptop at risk of being attacked by hackers.  There is actual evidence of wifi in hotels and US airports being hacked.  While this news is not that shocking to anyone who has ever received spam emails, or had an account of one kind or another broken in to, it can be stressful when you are relying on public wifi for your internet connection. There is a new product out that helps alleviate the stress, worry and risk of your laptop being hacked on public wifi.  This software is from wifisugar.com and protects people when they use a wifi connection on the go.  In addition to being more protected while checking your email, bank accounts, and everything in between while traveling; wifisugar also allows you to access US based sites…
Read more…
Share:

Kindle review takes a look at why DRM is still such a big thing in eBook markets:
DRM means permanent lock-in. Once you get permanent lock-in, readers don't switch. They don't switch because the cost of switching is losing all existing books bought from the vendor. Readers are locked-in – once again at the mercy of Gatekeepers. Authors too are at the mercy of the new Gatekeepers. If people don't leave the two biggest stores because of DRM related lock-in, then we've just replaced The Big Six with The Terrible Two. Authors have no means to get to readers without 'pleasing' these two big ebook stores. This is why Amazon never puts in that extra effort to make its hardware superb. It doesn't have to. This is why B&N never goes out of its way to match Amazon prices – it doesn't have to. This is why eReaders are evolving at a snail's pace. Amazon and B&N know that they could add ZERO new features in the next 5 years and their readers would still be reluctant to switch because they have $500 to $2,000 to $5,000 worth of books locked into the ecosystem. Photo credit: blog.adblaze.com.
Share:

There's a new design of folder from Filofax, and for a moment I got my hopes up:
Instantly recognizable, but with a twist. Iconic design with a simple one-piece thick leather cover, slightly rounded corners and strap with gel popper cap. Beautiful in its simplicity, with perfectly balanced proportions. Working with extra thick leather and using traditional construction techniques, these personal organizers are made by our UK factory who piece together the components by hand, using thick thread to carefully stitch them together.
Unfortunately it's still the 25mm (7/8 inch) ring size. I'm still waiting for a new Filofax with a Winchester sized 31mm (5/4 inch) ring size.
No doubt changes are taking place in design and otherwise, given the announcement in April. According to the Telegraph, a Canadian entrepreneur has teamed up with the current chief executive of Filofax to buy the leather organiser company for an undisclosed sum. The new tie-up is expected to help Filofax, which is based in Dalkeith in Scotland, benefit from "economies of scale", according to sources close to the deal.