Spas/Retreats
Share:

On the same premises as
La Tourelle Resort,
which is nestled on very pretty rural settings just outside the center of
Ithaca New York
, you'll find the luxurious French-influenced
August Moon Spa
, which offers all the services you'd expect from a destination spa, plus two Tranquility Rooms where you can relax and enjoy any of the offerings from the on-site restaurant
The Bistro.
I spent more time in the tranquility room with the fireplace, however the one pictured below is even more calming with lit candles, wooden statues, comfy pillows and soft lounge chairs. There are tea and water stations in both relaxation rooms where you can breathe it all in before or after your treatment. Even if you don't have a treatment, you can enjoy their on the premises sauna and steam rooms.
Consider their spa more of a sanctuary which will sweep you away from the stress and worries of the world. They offer an attentive blend of traditional Eastern therapies with Western knowledge. A haven for the senses, the spa is a fusion where East meets West. Many people may not realize…
Read more…
Share:

Refuge
is no ordinary spa. Located in the ever so relaxing town of
Carmel, California
, a lovely relaxing getaway option around an hour and a half from San Francisco, it is focused on what they refer to as
Thermal Cycle
: a hot and cold water process mixed with relaxation in between. While they do offer massages, don't expect pedicures, facials or other traditional spa treatments at this fabulous discovery, a must visit for anyone interested in wellness and mindfulness. First of all, it's a quiet sanctuary, which means no cell phones or talking – YAY! Secondly, it's co-ed, so you can experience it with your significant other if you wish.  While it's all about relaxation and shutting your mind down for awhile, there are apparently significant health benefits to the process. The Refuge experience helps to eliminate toxins from the body and improve your circulation, something I definitely need.
(I'm always cold!).
If you have high blood pressure, a heart condition, are pregnant or are under the care of a physician for any condition, they suggest checking with your physician first before going to Refuge.
Read more…
Share:

On a recent getaway to
Puerto Vallarta,
I had an opportunity to soak up some R&R time at Puerto Vallarta's
Ohtli Spa
(be sure to read the 
write-up on my STAY
).  With more than 22,000 square feet of space,
Ohtli
is slated to be one of the best spas in
Mexico.
They have Aromatic showers, steam and sauna rooms, dipping pools, a relaxing lounge area with cucumber and lemon infused water and teas, robes and an indoor relaxing pool area where you can also swim laps. One of the more unusual therapies they offer is 
Rebirth Therapy
, which is performed in water, and entirely focused on meditation and relaxation. Your therapist will guide you through a series of rhythmic movements that relax your mind, muscle tissue and joints, allowing you to gradually drift into a meditative state. With regular treatments, you should experience improved flexibility and a strengthened immune system.
Yelapa-Reiki Touch Therapy
is another service they offer, which is worth mentioning. It's a light touch therapy that integrates 
Huihol Shamanistic
meditation with western polarity therapy. As the rich scent of copal incense fills the air, your therapist guides you through conscious breathing and into deep relaxation. I…
Read more…
Share:

You've probably noticed that we've been writing about wellness travel more and more, and even have covered a few yoga retreat opportunities and getaways (my latest one being Jamaica). I believe in the power of yoga, the power of meditation, the power of stillness and the power of finding a space away from your technology and your daily grind where you can pause, reflect and get yourself back to center. You know…..the life balance thing.  It's vital to you thriving in the world and it's integral to the core of
We Blog the World
is all about —
Transformative Travel.
While India, Bali, the Caribbean and the South Pacific may be high on your list for trips of this nature, yoga retreats, meditation centers and R&R getaways are cropping up around the world. Eastern Europe is one such region where we're starting to see a lot more emphasis on wellness travel. With that in mind, join me on a journey to
Prague
 and the
Czech Republic
countryside.
Spa Culture in Prague
If you want to stay in and around Prague, the
Lily Wellness & Spa Center
in the
Hotel Hoffmeister
is a real gem. This incredibly elegant hotel is…
Read more…
Share:

I'm not a newcomer to
Saratoga Springs
New York, home of the infamous race track and spring water. In fact, I grew up in the Adirondacks as regular readers of this site know, so truth be told, I am biased (
in a positive way
) about the area. I know how locals think, tick, create, cook and sleep. As much as I understand upstate New Yorkers, I've never known or looked at Saratoga through editorial eyes. When I was a little girl, my Uncle Mel and Aunt Betty used to pick me up not quite an hour away and drag me to the race track in August, which Saratoga is most known for. My uncle was always dressed to the nines in his vibrantly colorful checkered suits — sometimes bright orange, other times, green, or more often than not, a combination of several wild colors no one else dared to wear. Aunt Betty was always adorned in traditional floral dresses, which seemed to be influenced by her Eastern European heritage.  On the way to the track, my Uncle Mel always had a lesson he
"needed"
to teach me; some of it was related to how to pick horses, but most of…
Read more…
Share:

There are certain destinations that truly "live up" to their hype and Aruba is definitely among them. I can't begin to tell you how many people I met on the island who return year after year. A special place for so many people, it didn't take long to understand the island's mass appeal. During my four days on Aruba, I made the most of my time while not outdoing myself (it happens). Whatever brings you to Aruba, whether the warm weather or the turquoise ocean waves, here are 5 soft-adventure activities for the wellness-minded traveler.
1) Snorkel in Clear Blue Waters
Aruba is a snorkel and scuba destination so this is a "must" activity in my opinion. As stunning as the turquoise water is, the vibrant fish below the surface are even more colorful. During our four-hour cruise with De Palms Tours, we stopped at three different snorkel sites: Catalina Bay, Arashi Reef, and the site of the World War II wreck aka the Antilla. This wasn't my first time snorkeling but I felt the same rush of excitement I always do whenever I'm about to dive into the ocean. I still think I'm part-mermaid! That, plus, this was my first time snorkeling with my very first…
Read more…
Share:

Yoga is a great way to enhance other sporting and fitness activities that you do – and it brings a mindfulness to your life. It's important to slow down and be present and aware, all lessons that we learn from yoga that can benefit other areas of our lives. Here are six great retreats you can do around the world.
1) Permaculture & Yoga Retreat (Costa Rica)
Spend some time with Rancho Delicioso and Anamaya in the jungle of Costa Rica and learn to plant a life-supporting garden. Modern consumerism causes the world to face many challenges from loss of habitat to environmental degradation and social disconnection. Rancho Delicioso believes it's time to educate and to cultivate opportunities for positive change. Permaculture — derived from the words permanent and culture – uses scientific design to mimic efficient patterns and relationships found in nature and promote self-sustainability. Permaculture is yoga for the land, as yoga is permaculture for the body. Their permaculture and yoga retreat includes daily yoga and permaculture gardening classes, aerial silk and archery classes and healthy cooking workshops.
Yoga in Aerial Silks in Costa Rica. Photo courtesy of Rancho Delicioso.
2)
…
Read more…
Share: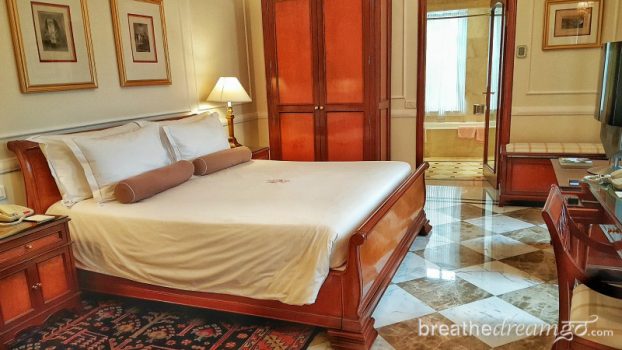 Have you ever been to a hotel that enchanted you? That enveloped you in an atmosphere completely apart from the world you left behind? That made you feel like a different version of yourself? That's how I feel about 
The Imperial Hotel
in
Delhi, India
. When I walk through the door, flanked by robust men wearing scarlet braid on their jackets and fantastic turbans, I feel different. I feel like the storybook version of me.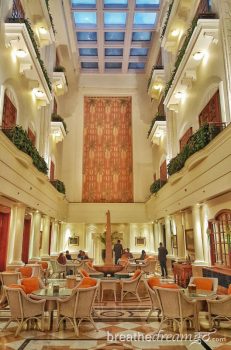 The Atrium lounge
The Imperial Hotel's elegant Art Deco-inspired architecture, sprawling green lawns and glamorous palm trees exemplify a bygone era. It's an integral part of the planned city of New Delhi, built by the British Raj between 1912 and 1931. This is the commercial and political centre of Delhi, where wide leafy boulevards, white colonnaded buildings and symbols of power predominate. The Imperial is my favourite hotel in Delhi because of its unique combination of historical significance,…
Read more…