Spas/Retreats
Share:

I'm pretty loyal when it comes to my massages, but in all honesty, trekking down to New York City's Chinatown in this bone-chilling cold just isn't happening for me.  A friend recommended Nina's European Day Spa, centrally located on 35th and 5th, and promised it would live up to my high standards of DEEP-deep tissue.  (I mean, I have a ridiculously tight back under normal circumstances, but the Polar Vortex conditions are magnifying that by a bijillion.  Just saying.)  Anyhow, Jess was impressed.
I started off with a facial, including cleansing, exfoliation, steaming, massage, AND a mask (when in a day spa, eh?), and particularly loved how the esthetician Natalie didn't try to up-sell at all during the process.  Any other place in the city I have tried has always done this (NO, I don't want gold flakes rubbed into my face, thank you very much!), and I really feel it takes away from the whole relaxing experience.  I was super pleased that there was none of this involved, along with the fact that I was left in my cozy cocoon to nap under the hot steam for a pleasant amount of time, warding off the chill…
Read more…
Share:

The
Windham Hill Inn
in Southern
Vermont
 is one of the most charming inns I've come across. Set amongst the rolling hills of the Green Mountains, the Inn enjoys spectacular undisturbed views down the West River Valley. In addition to the 160 acres of property, meadows and woodlands, their grounds include a network of hiking and skiing trails, a heated swimming pool, tennis court, gardens and many places to lounge and relax in the main house and the nearby barn, which has been renovated. Below is one of the lounge areas in the main house and yes, the black bear is as big as he looks.
Traditionally decorated in true New England style, it's as if you travel back in time as you meander from one room to the next.
As they say, it's all in the details and the team at Windham Hill Inn have mastered it.
The Inn is part of the exclusive Relais & Châteaux collection, which as luxury travel buffs know, is a directory of the finest hotels and gourmet restaurants in the world. It…
Read more…
Share:

The
Qua Bath & Spa
in Caesar's Palace along the
Las Vegas
strip has been ranked 28th in
Conde Nast Traveler's 2013 Reader's Poll
of the top 100 Resort Spas in the U.S., which is up from a ranking of #51 in 2012, making
Qua Baths & Spa
the top ranked resort Spa in Las Vegas! A traditional bathing ritual revered by Roman society, Qua's signature Roman Baths offer peaceful gathering spaces in private men's and women's areas. Featuring three pools of distinct temperatures, mineral-enriched waters help to restore natural elements of the skin while hot and cold water therapy work to improve circulation, remove toxins and reenergize the body. The Tepidarium pool has warm mineral-enriched waters, which helps to restore natural elements of skin; the Caldarium pool features hot mineral-enriched waters to release tension and soothe muscles and the Frigidarium pool offers icy, mineral waters to help to invigorate and detoxify.
Alongside the ever so cool Roman Baths, they offer a number of traditional massages and facials as well. Additionally, a few noted treatments include the following which jumped out at me as being unique in the traditional…
Read more…
Share:

Burke Williams Day Spa
 is more than just a spa, it is a relaxing yet invigorating experience that is worth taking an entire half day. As the largest day spa in San Francisco, the spa offers 
massage therapy, body wraps, facials,manicures and pedicures, baths, and an array of signature spa services.
Each Burke Williams Spa is equipped with a
 large co-ed lounge for socializing and sitting by the fire, seasonal teas, refreshing waters, and fresh fruit. Aside from my treatment, which was truly the best facial I've had in over a decade, my favorite part of the spa was there massive hot tub which sits in the middle of the women's locker room. Its size means that you're never without your own jet and only a minute from the steam room should you decide to go back and forth. In addition to the steam room and whirlpools, they also have a 
dry sauna, cool misting room and a cold deluge.
San Francisco is the newest addition to the Burke Williams family, located in the heart of the city at the Westfield Shopping Centre. This spa pays homage to the grand city of Paris with its striking black and…
Read more…
Share:

Half Moon Bay along the coast of northern California roughly an hour or less drive from San Francisco is a perfect place to spend a romantic weekend, or a solo weekend if you just want to get away for some rest and relaxation. Inside the Ritz Carlton along the ocean's edge sits a luxurious 16,000 square feet spa, which is adjacent to the hotel's Cybex gym, cafe and gift shop.  
Inside the spa, they have a host of traditional spa services that range from facials and massages to pedicures, however what's uniquely worth noting is their co-ed romantic jacuzzi in the middle of the men's and women's lockers rooms.
Facials include a half moon bay pumpkin facial, a deep cleansing organic renewal, a calming facial, an age regression facial, a luminous body facial and the one I opted for, which was a Transformational Facial, which includes a lot of anti-aging products. My facial gal was Anna Paula if you have a chance to request someone specific, however the entire team is fabulous, so you'll be in great hands regardless of who does your facial.
Their anti-aging products come from…
Read more…
Share: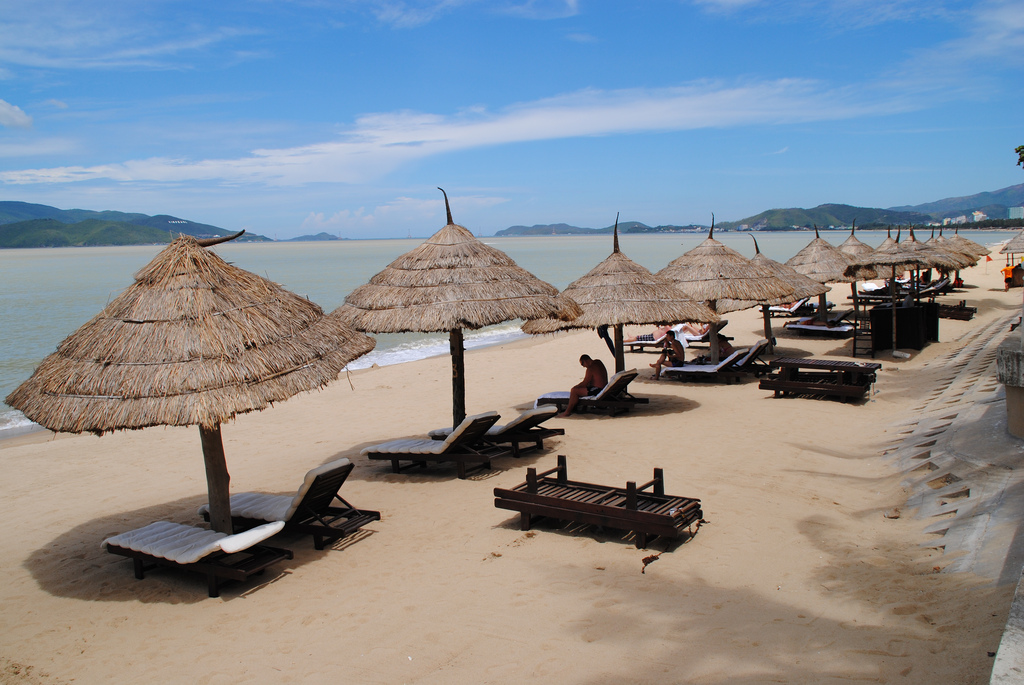 As a whole, South East Asia enjoys a reputation for being serene, colourful and exotic. Thailand and, to a lesser extent, Malaysia have used this to their advantage, as have parts of Indonesia, but other countries and regions are catching up fast. Vietnam, seen as a place where only the most adventurous would visit, has opened its doors to foreign visitors looking for something different. Vietnam is known for being a paradise for walking holidays, but the country is now seen as a mecca for those who want to visit a luxury spa and receive relaxing treatments using local remedies and methods. We take a closer look at some of the best spas that Vietnam has to offer and what you can do in between treatments if you have a few hours to spare:
Six Senses Con Dao
This spa hotel is among the most luxurious in the entire region and it's easy to see why from the list of treatments alone. Massages and local ingredients used for aromatherapy are what you can expect here, while the accommodation comes in the form of villas where you're never too far away from the beach.…
Read more…
Share:

In Central America, in Rivas, Nicaragua, there's a luxurious resort and spa named
Mukul Beach Resort
, which has quite the history. 
In 1875, 25-year old Francisco Alfredo Pellas Canessa came to Nicaragua to take over the family business, Caribbean Pacific Transit Co., founded by his father Carlos Napoleon. More than 135 years later and through five generations, the family business has grown into 16 
companies in more than a dozen countries – from transportation and computers to sugar, ethanol, Flor de Caña Rum and the world-class Vivian Pellas Hospital.
Now led by Don Carlos Pellas, named by America Economia as one of the 50 most influential persons in Latin America, has committed himself to creating one of the most exclusive boutique resorts in the world.  With it, Pellas is establishing his family legacy – a pristine natural sanctuary where you make authentic connections to the land, culture and people of Nicaragua. And in return, the surrounding community will benefit from the resulting improved quality of life.
It is part of a sprawling 1,670-acre remote beach community on Nicaragua's Emerald Coast. 36 options await you on a gorgeous and sprawling oceanfront. Think villas and…
Read more…
Share:

It's not often that I could spend my entire stay on hotel property. Let alone enjoying an entire afternoon in my room and its environs. But such is at the MacArthur Place in Sonoma. Located walking distance from tasting rooms and minutes from stunning wineries, it's a unique classic. A gem. Just 45 minutes from San Francisco, it's worth not just staying at, but also staying in.
After check in, I followed a narrow garden path on the way to my room where I discovered one whimsical nook after another. Art and sculptures emerged, all with a sense of humor.  Swings beckoned and sunny spots invited me to whittle away the afternoon reading a new book or record random musings in my journal.
MacArthur Place both impressed and inspired me. I felt my stay unlocked my creativity. Ideas flowed as I was both entertained and utterly spoiled. From feeling old-Hollywood glamorous in the outdoor cabana shower to the pure indulgence while sipping champagne in the morning on my veranda overlooking a garden full of oversized playful jacks. Like watching a good movie twice and…
Read more…