Spirituality
Share:

Delhi has no dearth of surprises for its admirers and its keeps on presenting with new ones every time. It has so much to offer with so much diversity that the
"bucket list"
of its admirers continues to get stretched with each visit. This time, I had a chance to visit the massive temple complex of the famous 
Shri Adhya Katyani Shakti Peeth Mandir. 
Most of us would get puzzled by the name as it might be unheard but I am very confident that everyone must have heard of "Chattarpur Mandir" (also a metro station on the yellow line). I have seen the temple complex countless times while going towards Gurgaon from metro and also bowed my head before the almighty from the metro itself (most of the Indians do the same while passing by any holy place).
Outer view of Katyani Temple
Goddess Katyani Temple However, for a change this time, I moved out of the metro to visit this temple complex in reality and get acquainted with its history. I am well aware that everything pertaining to Chattarpur Mandur  is readily available on the…
Read more…
Share:

Recently, my appetite for travelling has brought me closer to one of the most intrinsic community of our country i.e. Muslim or Islamic Community. My earlier encounters with the community has given birth to the inquisitiveness to acquaint myself more with the notions of the community and find answers to certain question which had been swinging in my mind for a long time.
My quest for fathoming the concepts and beliefs of the community made me sign up for a 
"Sufi Baithak" 
(A discussion on Sufism) organized by 
"Delhi By Foot".
 The "
Baithak",
 first of its kind, unlocked the heavenly doors of rich Sufi culture and traditions to general public (
Sufi Baithaks 
are usually held in private family gatherings, festivals, and parties in Muslim community) which have evolved over the span of several centuries. Although, it was a small gathering, but from where I perceive it, it's a start of new beginning of something good. The 
Baithak 
was led by Syed Ajmal Nizami, who is one of the descendants of relatives of Hazrat Nizamuddin Auliya and also the caretakers of Nizamuddin Auliya's mausoleum for centuries. He edified the gathering on the concept of Sufism and the spiritual legacy of Hazrat Nizamuddin Auliya. He was…
Read more…
Share:

The last day of last year found me at the dargah of Sheikh Ahmad Farooqi Sirhindi, a  Sufi mystic of the Naqshabandi order. An inexplicable, hard to ignore desire to experience first hand the sights, sounds, and flavors of an Urs
(death anniversary)
had played impetus.
Held annually, it attracts Sunni followers
(who look upon his dargah as the second Mecca)
 in their hundreds from world over, and is a buzzing three-day celebration. Celebration, because the passing of a Sufi saint, in Islamic thought, is looked upon as the long-awaited, longed-for union of a lover with his beloved; God, in this instance. Indeed the Arabic translation of the word Urs is 'wedding'.
Gloomy chill due day-long drizzle was no deterrent for worshippers, nor the curious.
For the sartorially adventurous.
Access to the inner courtyard and main tomb beyond is through that arch. Many moments of despair when politely informed women were not permitted during the Urs preceded a Eureka moment that comes with discovering the power of a sudden sulk. The management relented; just enough to usher…
Read more…
Share: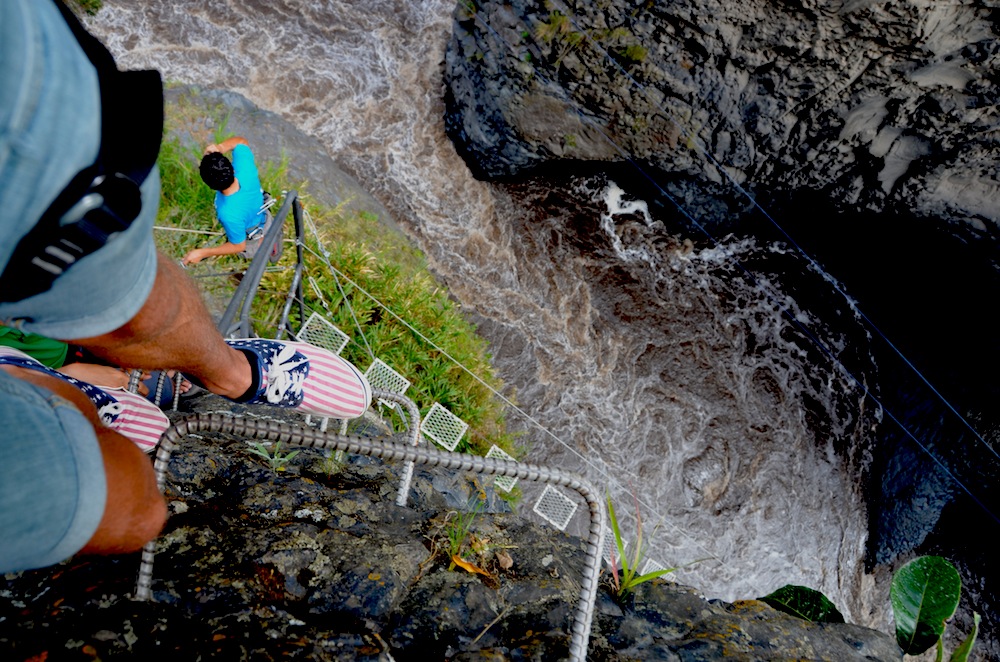 I've had death on my mind a lot lately. It all started last month, when I commemorated the anniversary of my dog's passing with writing about the impact her death had on my decision to pursue life full-on. In the days and weeks that followed, I felt myself constantly reminded of my own mortality, from that incident in New York where a man's wife got diagnosed with (and, eventually, died of) cancer, to an ad I saw one night, at my friend Kim's, for the Showtime end-of-life documentary series Time of Death, to fleeting (but frequent) dreams about every single person I love dying. Last Monday, as I careened 1,000 feet over an Andean canyon, kept alive only by a couple hundred dollars worth of zip-line equipment and the careful work of an engineer who obviously knew his shit, thoughts of the wire snapping, my harness breaking and the brakes at the end of the taut cable failing all crossed my mind. But in my heart of hearts, none of them scared me. I am dying. Not, so far as I know, in the immediate future. But day by day,…
Read more…
Share:

Translated as the Star Snow Festival,
Qoyllur Rit'i
is a spiritual and religious event, held annually in June, in the Sinakara Valley in the Cusco Region of Peru. Every year, more than 10,000 participants attend the festival strengthening their ties to their ancestors, ancient traditions and cultural connections.
Attending the festival is not for the faint of heart. There are no roads or vehicles to transport you to the festival site. Along with thousands of other committed pilgrims, I walked for six hours, in the high Andes altitude. We kept a steady pace, traversing up and down the sides of mountains and walking through the valley passes. It wasn't easy. Passing me on the narrow paths were entire families, children, old men and young mothers carrying babies tied in bundles on their backs. Dozens and dozens of horses, laden with contents to construct temporary villages made the trek as well. Dance troupes in full costumes playing instruments and singing effortlessly breezed up the mountain side, elated in spirit.

The festival site is at 4,600 meters or just over 15 thousand feet, & the glacier above, where many of the ceremonies take…
Read more…
Share:

On a recent trip to Johannesburg, South Africa, I had a truly local experience that not many tourists even know about: Visiting a traditional herbalist. Below: Kwa-Gumede in his traditional songoma attire. Known as a sangoma in South Africa, the herbalist is an important community figure, especially for the black population. This man or woman not only cures your illnesses using all-natural herbs, but can also help keep away bad spirits. It's not the sort of place you go and tell the sangoma what's wrong with you, as they use a special method of throwing bones and shells on the ground to do a reading. By doing this, they're able to tell you what's ailing you.
The sangoma I visited for traditional healing was in the upstairs section of Para Market in the Johannesburg township of Soweto. He was a man named Kwa-Gumede (phone: 724 54 2355) who didn't speak English, but is able to communicate through a translator or a local guide. When visiting a sangoma in South Africa you don't simply go up to the counter and order some herbs. Instead, you must perform a ritual…
Read more…
Share:

Monsoon rains flood Uttarakhand — the Dev Bhoomi, Land of the Gods
Sacred Uttarakhand in North India is home to soaring Himalayan peaks; the source 
of India's most sacred river, the Ganga (Ganges); a major pilgrimage circuit (Char Dham); and hundreds of ashrams, temples, communities and national parks  – as well as my spiritual home,
Aurovalley Ashram
. The state was ravaged by torrential monsoon rains in mid-June that have swept thousands of people, buildings and bridges away. 
 Photos of Uttarakhand flooding from IBN Live.
My heart goes out to all of the people who have suffered because of this tragedy. I have spent months in this region — at Aurovalley Ashram and at the sacred cities of Rishikesh and Haridwar — and part of me lives there always. I have felt Shiva's energy in the morning winds that howl down the valley in winter. In summer, I have dipped in the cool, green waters of Ganga as she emerges from her glacial source. I have meditated on the banks of the holy river, and gazed in the distance at mist covered Shivalik mountains. And I…
Read more…
Share:

Obon is one of the most important Japanese traditions. People believe that their ancestors' spirits come back to their homes to be reunited with their family during Obon and pray for the spirits. For the reason, Obon is an important family gathering time, and many people return to their hometowns during that time. The
Obon Festival
in Japan is held every August. People release floating lanterns into the water to represent their ancestors' spirits being sent off.
Obon was originally celebrated around the 15th day of the seventh month in the lunar calendar. Obon periods are nowadays different in various regions of Japan. In most regions, Obon is celebrated around August 15, and it typically begins 13th and ends 16th of August. In some areas in Tokyo, Obon is celebrated around July 15, and it is still celebrated on the 15th day of the seventh month in the lunar calendar in many areas in Okinawa. Japanese people clean their houses and place a variety of food offerings such as vegetables and fruits to the spirits of ancestors in front of a butsudan (Buddhist altar). Chochin lanterns and arrangements of flower are usually placed by…
Read more…