Spirituality
Share:

While a cemetery visit may appear to be a surprising "tourist" suggestion, we found the site fascinating, full of history, tradition and a great understanding of the Bolivian culture.  Our visit to the cemetery was accidental as we stumbled upon the site without prior knowledge.
One afternoon, Miro and I set out to explore the sprawling city of La Paz from above, riding the modern teleferico transportation system, built with precision by a Swiss company. Miro and I both were engaged in the the incredible birds-eye view of the grand city, peeking into the neighborhoods below. We sat speechless most of the time, drinking in the sites below, rooftop laundry lines, unfinished brick homes, dogs and children playing on the surrounding streets. We noticed the imaginary lines dividing the neighborhoods by class, illustrated by collections of structures and their state of completion.
Miro and I rode the yellow and green lines, and the last line we set out to explore was the red line. As we approached the "cementerio" station, we saw below us the enormous sprawling grounds filled with rows and…
Read more…
Share:

 Photo courtesy of Dave Bouskill, ThePlanetD.com
Last year, India's Prime Minister Narendra Modi declared June 21 to be International Yoga Day at the United Nations General Assembly and 177 nations supported the resolution. Modi said, "Yoga is an invaluable gift of India's ancient tradition. It embodies unity of mind and body; thought and action; restraint and fulfillment; harmony between man and nature; a holistic approach to health and well-being. It is not about exercise but to discover the sense of oneness within yourself, the world and the nature. By changing our lifestyle and creating consciousness, it can help us deal with climate change. Let us work towards adopting an International Yoga Day." WHEN I STARTED TO attend yoga classes in Toronto more than 20 years ago, I couldn't bend my back. I remember trying in vain to do basic poses, like "downward dog," but it was when I attempted cobra, a back bend, that I knew I was in trouble. I could not lift myself more than a few inches off the floor, while everyone around me were floating up in graceful arcs. So, in the beginning, my…
Read more…
Share:

Some people's idea of the perfect vacation involves sea, sun and beach life. Others prefer culture; cities, dining and museums. Still others live for adventure travel, abseiling and white water rafting their way through the world. But one of the most rejuvenating kinds of vacation is one focussed on relaxation, on calming the mind and centring the body. You've probably read about the many yoga retreats available around the world, but have you ever thought of paying visit to an ashram? While the term once referred only to a spiritual retreat or monastery, the term 'ashram' is now used for a range of Hindu or Buddhist cultural centers where you can study and practice meditation, yoga and music. These oases of meditation and spirituality are a balm for the mind, body and soul.
Here are ten of the world's best ashram experiences:
Photo courtesy of Sacred Earth Journeys.
1. Explore Sacred South India
Venture into the lush, colorful lands of Southern India with this 15-day Sacred Earth tour. Blending yoga, spirituality and sightseeing, the trip features a visit…
Read more…
Share:

I remember holding the big red hymnal as a child in church, trying to follow along with the somber song. I was horrible at singing and therefore mainly just murmured the words and followed along the best I could equivalent to shuffling my feet and letting my mother pull me along when I didn't want to go to the Doctor. As a congregation, we'd stand, we'd sit. We'd repeat our 'lines' in the hymnals in a well-orchestrated mass. In fact, the word that best describes my memories of church is "follow" – Lutherans are good followers. Above, Legal double parking in Harlem – a special perk from God himself. Have you ever been in church and had the urge to scream out, then I may have the place for you – Harlem. There seems to be a church on every corner in Harlem and on Sundays you are allowed to actually double park in the city due to the number of church services and lack of parking. I'm not sure what I'm more astonished about – the fact that God is calling the parking shots instead of NYC police or that people…
Read more…
Share:

The Delhi Sultanate (1206-1526CE) is collectively credited for welcoming into its centuries-long fold Sufi intellectualism even as the Mongols were busy trouncing it back home in Central Asia. Eventually, the Mongols too pushed their way into Hindustan but by then this mystical tradition of Islam, drawn no doubt in equal part by the spiritual mystique of Bhakti thought, had found a firm foothold. The Sufis of yore were philosophers, scholars and poets of immense note, as much as they were itinerant knowledge seekers who established a number of silsilas (orders) in their adopted homes.
The Chishtiya order founded by Moinuddin Chishti who set up his khanqah (hospice) in Ajmer was the first such and may I add most resilient of those that followed or preceded. His successor Qutbuddin Bakhtiyar Kaki lies entombed in Mehrauli while Fariduddin Ganjshakar who came next is buried in Pakpattan (earlier Ajodhan) in neighbouring Pakistan, and is inextricably linked with Punjab and the Sikh faith. For the most part considered the first major Punjabi poet, over a hundred hymns composed by Baba Farid (as he is also known) form an integral part of the Granth Sahib. The city of Faridkot,…
Read more…
Share:

I wake in Vrindavan. I wake with two problems on my mind: money and food. I slept without dinner and no breakfast is available; and the day before, I tried two ATMs and both were out of money. So, with a mixture of hope and trepidation, I haggle for an auto and go straight to the ATM. The sound of the money dispensing is more delightful to me than all the temple bells in this moment. Even in a holy city like Vindravan, money is necessary.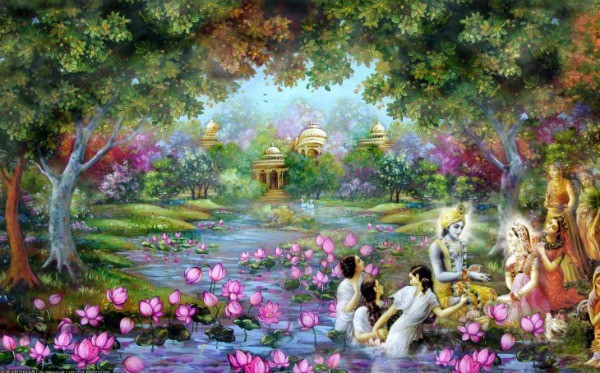 Above, Krishna and his gopis in the Vrindavan of myth and legend. From there I go directly to Govinda's Restaurant at the ISKCON Temple for breakfast. As it is an "ekadasi day" — a day without grains — I have a strange breakfast of fruit, juice, a mango lassi and kind of potato dosa. Then I have their thick herbal tea and a coconut laddu. With money in my wallet and food in my tummy, I feel so much better about life and about the day. These things do matter, and I don't agree…
Read more…
Share: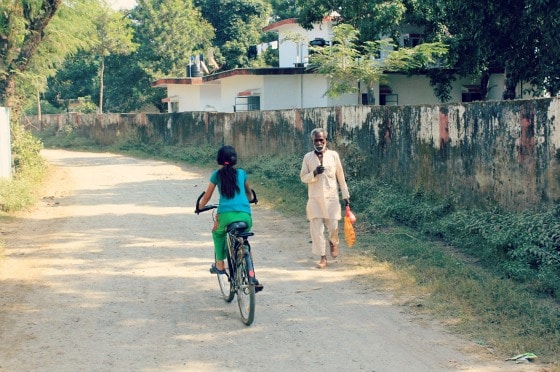 Over the past several years, I've been traveling extensively and achieved some great milestones and goals. This year, while things seemed to be going great, something felt wrong and I couldn't put my finger on it until I had a revelation at Aurovalley Ashram in November. Above, on the road to Raiwala Village, outside Aurovalley Ashram.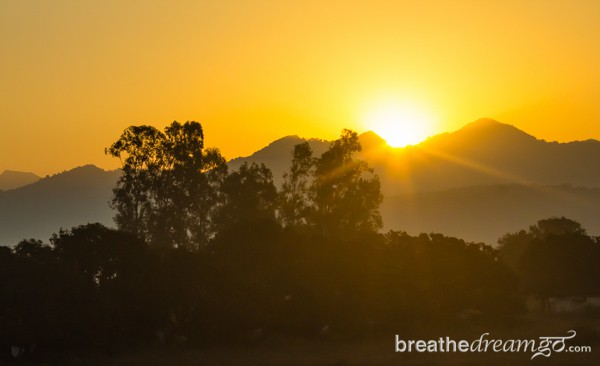 Sun rise from the roof of the World Temple, Aurovalley Ashram
Warmed by the Sun
The sun glows gold behind the Shivalik Hills of Rajaji National Park before it appears to shine its life-giving rays on the meadows and fields, villages and ashrams of Rishidwar. It's a profoundly peaceful time at Aurovalley Ashram, with only the sounds of temple bells and bird songs in the air. The ashramites wrap themselves in shawls to keep away the fresh, morning chill as they walk in silence to the circular meditation hall. It is here at this garden-like ashram, in the foothills of the Himalayas, where I unplug from worldly life, and plug into spiritual energy, each…
Read more…
Share:

I wouldn't call myself a classic gospel music lover — in other words, I don't listen to gospel CDs or go to gospel concerts on a regular basis….in fact, it's rare that gospel falls on my radar and yet when I hear it, I always find my spirits uplifted immediately. It's not hard to see why since its enthusiastic, happy and peppy and when it's not, a gospel version of Amazing Grace with a little blues and jazz thrown in, can be life changing. Since I've been trying to cover other New York City boroughs and less traveled to areas in recent months, I found myself taking in some of the best brunches in Harlem and exploring the foodie scene in the Bronx. On that adventure, I discovered the Harlem Gosepl Choir, which is touted as the top gospel choir in America. Who knew? I then learned not long after that discovery that they were performing in a week's time at BBK Blues in Times Square, and so, we got tickets and off we went. Imagine an invigorating performance that is a cross between a musical, a jazz and blues performance and the hippest church service you can imagine attending.…
Read more…