Tech
Share:

When you're traveling with friends or even family, chances are someone may pick up the bill for something where you're sharing the costs, such as train tickets, dinner or activities. Many people I know use PayPal for this kind of quick transaction between friends but fees for transferring cash between each other exists and they're annoying — after all, it's a digital transaction and your money — why should you have to pay for something that should be free? With Square Cash, you can transfer cash quickly and seamlessly and yup, there's no fee.
Available for both Android and iPhone, it's simple and quick to do in real time while you're on the road. Square Cash on-the-go makes it easy for one person to book a group's flights, hotels or other activities at a destination and be immediately reimbursed without having to deal with it later.  If you're traveling with family, the same thing applies, whether you're using it to transfer cash to a family member while on a trip or at home for a product or service you took care of for a parent or relative. Also think about the same scenario for that
…
Read more…
Share:

Ever since the earliest of days of
Wisdom 2.0
, the San Francisco-based event that brings together the brightest of minds and thinkers in the world of consciousness and technology, I was drawn to it, and not just because I personally happen to know several of the speakers they bring in every year. When Silicon Valley was starting to be too driven by money and flipping companies
(again)
,
Wisdom 2.0 entered the scene at a time when we were being flooded by the same speaking heads who seemed to be center stage at all the same events.
Photo credit: Wisdom 2.0 was a welcome and inspiring newbie to the scene and while start-up culture and technology is embraced, the core of Wisdom 2.0 is about being grounded, being guided by your heart and innate 'knowing', making balance an integral part of your life and following a life of conscious thinking, whether that be at home, while riding your bike, on a walk, having dinner with friends or yes, in the boardroom. The event brings together leaders in the intersection of wisdom in the digital age and while past speakers have included the founders of Facebook, Twitter, and…
Read more…
Share:

If you read our site regularly, you know that I've become a big fan of Buick cars over the last few years. We've tested various models, such as
Buick LaCrosse
we drove in New England in February during the dead of winter and last year's
Enclave model
which we took to the Adirondacks last summer. I've had the great pleasure of being able to drive them on some of our
family travel
escapes, so we were thrilled to be able to test out the latest and greatest from Buick – their 2017
Buick Enclave
, one of the best choices in their line for families in the luxury category.
The above shot was taken during our tour of the Finger Lakes in August in upstate New York
This mid-sized SUV can actually fit up to 8 people although we only needed it for four on this particular trip. That said, the extra space was a godsend for all the luggage we had on our summer getaway, which covered upstate New York, New Hampshire and finally Newport.  The first thing you'll feel in the even more spacious 2017 Enclave is a sense of openness,…
Read more…
Share:

The
SAND Conference
(aka
Science and Non Duality
for those new to the event or concept) is one of my favorite events of the year. The event weaves in dialogue around consciousness, mind/body balance and meditation with science, art and technology all in one place — you are bound to think about the world in a new way by the end of the weekend. From experiential classes on sound, art, meditation, Qigong, yoga, breathing, and tantra, to lectures on Quantum Physics and everything in between,
SAND
brings together an incredible group of smart and caring thinkers that will leave you more than just a little transformed. Held every year in San Jose California, be sure to read up my recap of
SAND 2015
,
SAND 2014
and
SAND 2012
.
Speakers range from Middle East-born
Hameed Ali (A. H. Almaas)
who is an author and founder of the
Diamond Approach
, a spiritual teaching that utilizes a unique kind of inquiry into realization, where the practice is the expression of realization, world renowned guru
Deepak Chopra
who has published more than 70 books on consciousness and spirituality,
Matthew Fox
, an internationally…
Read more…
Share:

Since we're planning on expanding our technology coverage on the site in the upcoming months, from mobile and gear to laptops, cameras and more, I thought I'd get a sense of what's happening on the monitor scene lately as there have been so many advancements and for the first time in years, I missed CES this past year. I've never used any of Acer's products, so thought I'd start with one of their flatscreen large external monitors to see how it performs, particularly with clarity and vivid colors in mind. After all, when I return from a trip, what's the first thing I do? Edit photos and upload, so having my photos really pop from the screen is a top priority.
The more photography I do on the road, the more important it is to view those images on a monitor that truly makes them shine. We opted for the
Acer XB270HU
to start with for a myriad of reasons. First, I wanted a monitor that was at least 27 inches, preferably 32 inches, which is a great size for an external monitor, especially if you're keen on watching movies or doing anything in the creative…
Read more…
Share:

While it's still hard for me to understand astrology on an intellectual level, I've had enough mystical experiences with both top astrologists and everyday people who've looked me in the eye just to say "you're definitely a Scorpio." At this point I've accepted that astrology is a part of our lives and has, in my opinion, some sort of imprinting on our personality, countenance, and our relationship with both ourselves and the world at large.
While nothing is written in stone, I've found that is can serve as a good compass to explain things that otherwise seem much more confusing than they need to be.
Time Passages
has, for me, been a very entertaining and enlightening app on my iPhone that I use sometime as a powerful tool and other times simply as a form of entertainment. The app provides detailed information about your birth-chart and any other cohorts you may decide to program in – the best part is the chart comparison – chart compatibility is rated from 1 to 10 in different arenas such as relationship longevity, sexual attraction, money, and communication.
While I may not always want to agree…
Read more…
Share:

If you happen to be a serial techie, you probably think of Logitech or Microsoft when you think of keyboards and mice and likely know that both offer ergonomic solutions as well. I often find that lesser known brands have unique offerings that are a little more tailored and offer features that the big players don't for a myriad of reasons. Recently, we discovered an interesting brand that has a wealth of offerings in the ergonomic space — meet 
Goldtouch
, whose range is broad enough that there are plenty of smaller more versatile options that make great choices for travelers. First up is a super stylish wireless mouse that is oh so comfortable — the 
Goldtouch Bluetooth Comfort Wirele

ss Mouse

. 
Designed to mirror your hand in a weightless environment, the unique shape of this ergonomic mouse helps to keep your wrist at a natural 24 degree angle to alleviate pressure on tendons and joints. Truth be told, I am on a keyboard often and unlike my developer friends, it's not coding — it's everything from search, surfing and uploading photos to writing, editing and a little magic from ordinary photos. After days of this, especially on the road, my hands and…
Read more…
Share: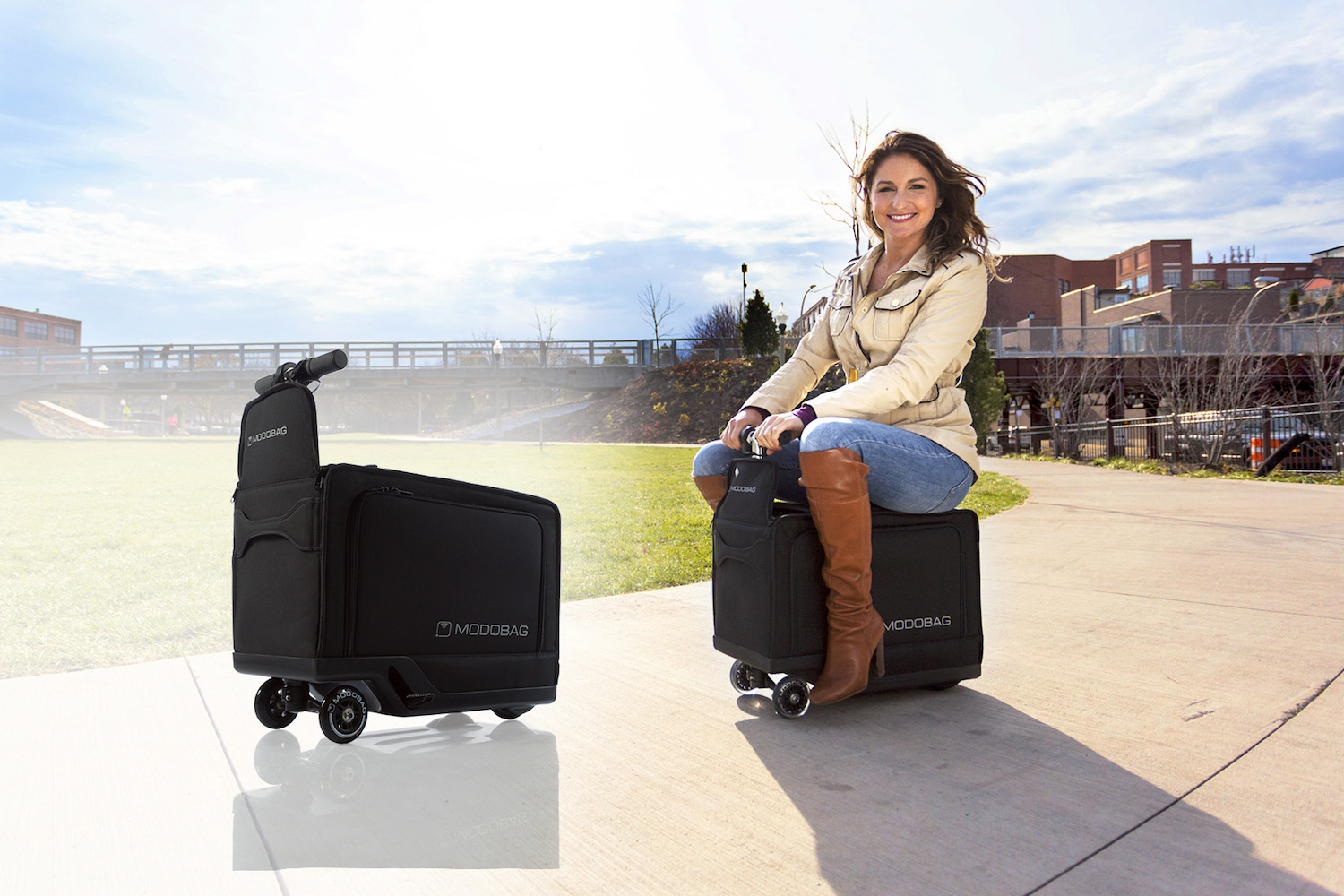 Technology is weird by definition and travel, as you can observe by clicking through the articles on this channel, can be pretty darn weird, too. It should come as no surprise, then, that travel tech is a decidedly weird sphere.
Then again, the following weird travel tech items are nothing, if not surprising. OK, perhaps occasionally a bit scary and mind-boggling, as well. You might find it difficult to pinpoint exactly which of these pieces of weird travel tech shocks and amazes you the most.
1.  The Suitcase You Can Ride
Are you too lazy to drag a rollaboard suitcase behind you, but too strapped for time to rent one of those motorized carts every time you visit an airport? If so, Modobag is the luggage for you. Although Modobag boasts a host of interesting features in addition to its ridability, its main selling point is that it allows fully-grown adults to play choo-choo in crowded public places. The epitome of laziness—and of fun!
2.  Movie Theater Glasses
More and more airlines are installing seat-back entertainment systems, but if you want the ultimate private viewing experience,
…
Read more…