Tech
Share:

Electronic musician Steve Aoki releases his new music video, showing in an eerie and surreal way what life might be like when we get to choose whether we want to live forever….or not. Ray Kurzweil is part of the video where he asserts that the meeting of minds and machines are part of our not so distant future.
At a time when technology and biology walk down the aisle and exchange vows, life will never be the same as we now know it. This
– our future reality –
may not be one our brains can wrap around today, but it is a notion that the likes of Futurists and Singularians attest is coming whether we want it to or not….and sooner than we think. Non-biological and biological visuals aside, the music is upbeat and more mash-ups like these are going to be inevitable. Experience that neon future life in the world of Aoki and his collaborators below. The video is produced by Gille Klabin and produced by Josh Shadid and Maxwell Riesberg.
Share: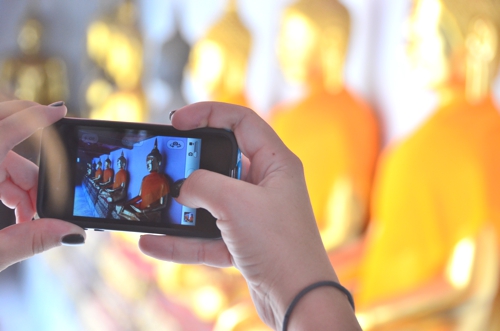 I'm a bit of snob when it comes to travel photography. Not because I believe my travel photography is objectively better than anyone else's, mind you, but because I believe that travel photographers should always prioritize detail, nuance and quality in the images they capture. Enter the iPhone. On the surface, it's a travel photographer's dream – small, lightweight and point-and-shoot. Sure, it's low quality, but it's got a bevy of filters, editors and other features that kind manipulate its photos into looking like they've been professionally shot. Well, kind of professional. And that's the thing about the iPhone when it comes to travel photography: It's kind of awesome. But it also kind of sucks! Unless something groundbreaking changes RE: iPhone design, you will never see an iPhone photograph on Leave Your Daily Hell, and here's why.
Technical Limits of the iPhone Camera
Although the iPhone 5 has the most sophisticated iPhone camera thus far – the cameras on the iPhones 4S, 4, 3Gs and (shudder) 3G  are much, much less capable – I'm going to analyze the tech specs of the iPhone 5 camera, for argument's sake. The iPhone's…
Read more…
Share:

Today's on the go lifestyle in the 21
st
century warrants the need to connect to public wifi on a fairly regular basis.  Whether you are out on a business trip, sitting in a coffee shop, or passing time in the airport, public wifi is everywhere and more often than not very easy to use. What a lot of people don't know is that public wifi puts your laptop at risk of being attacked by hackers.  There is actual evidence of wifi in hotels and US airports being hacked.  While this news is not that shocking to anyone who has ever received spam emails, or had an account of one kind or another broken in to, it can be stressful when you are relying on public wifi for your internet connection. There is a new product out that helps alleviate the stress, worry and risk of your laptop being hacked on public wifi.  This software is from wifisugar.com and protects people when they use a wifi connection on the go.  In addition to being more protected while checking your email, bank accounts, and everything in between while traveling; wifisugar also allows you to access US based sites…
Read more…
Share:

Kindle review takes a look at why DRM is still such a big thing in eBook markets:
DRM means permanent lock-in. Once you get permanent lock-in, readers don't switch. They don't switch because the cost of switching is losing all existing books bought from the vendor. Readers are locked-in – once again at the mercy of Gatekeepers. Authors too are at the mercy of the new Gatekeepers. If people don't leave the two biggest stores because of DRM related lock-in, then we've just replaced The Big Six with The Terrible Two. Authors have no means to get to readers without 'pleasing' these two big ebook stores. This is why Amazon never puts in that extra effort to make its hardware superb. It doesn't have to. This is why B&N never goes out of its way to match Amazon prices – it doesn't have to. This is why eReaders are evolving at a snail's pace. Amazon and B&N know that they could add ZERO new features in the next 5 years and their readers would still be reluctant to switch because they have $500 to $2,000 to $5,000 worth of books locked into the ecosystem. Photo credit: blog.adblaze.com.
Share:

I discovered
(and used)
an interesting new GPS app from a Lithuanian company when I was in Vilnius Lithuania recently.
They call it
GooGPS,
and the model is data for travel and tourism for visitors. Imagine a Samsung like tablet PC that is loaded with all the best of a city – main attractions, festivals, events, museums, churches, restaurants and hotels, that is light enough to hang around your neck while you meander through a new city. Then, imagine along side of that data, you have access to all your social apps like Foursquare, Twitter and Instagram, a video camera for easy capturing and a browser to check email….
all on a device that is connected 24/7 and limited for E10 a day.
UAB is a global pioneer that is successfully developing a new business model – rent of tablet PCs for travelers. These guys have created a set of programs called
"interactive travel guide"
that works with a modified Android operational system. In the system which is within a portable 7-inch tablet, you have 3D navigational maps, connected to their controlled interactive guide with places of…
Read more…
Share:

There's a story that George W. Bush once said, "The problem with the French is that they have no word for 'entrepreneur.'" It's more of a Yogi Berra-ism because it's kinda true, the French culture has seemed very anti-entrepreneur and suspicious of anyone trying to make money and build a business. If you are running a startup your own mother might keep it under wraps  – she'd be far prouder if you had a job at a big corporation such as French Telecom. But things have changed quite a bit over the past five years or so. 
Liam Boogar, a reporter for 
Rude Baguette
, which focuses on the Paris startup scene, makes a good case for reminding the world that, "entrepreneur" is still very much a French word.
I held my tongue during my fireside chat with Soundcloud CEO Alexander Ljung as he said the only cities he thinks anyone should start a company in are Berlin & London – I get it, Paris isn't the most connected city. I even nodded politely during my 30 minute interview with Gary Shapiro as he told me fake facts about French labor laws,
…
Read more…
Share:

Some days it seems as if the universe is conspiring to provide me with exactly what I need, in the right amounts,  and at the right time. Johnny Marr, the former guitarist of The Smiths, playing just down the street from me at The Fillmore — was concrete proof of this conspiracy. He started off with the first track from his new solo album "The Messenger," demonstrating his guitar genius by playing just the one sustained note that opens "The Right Thing Right." The title of the song is also its best description. There's no need for Johnny Marr to prove himself with flashy guitar licks, and theatrical moves, as his mid-gig special guest, Billy Duffy from The Cult, did. Johnny Marr's singing was very good, and so was the performance of the young backup band touring with him. And he's a very modest man, far from a rock and roll stereotype, but totally absorbed in the roots of the music. And he finished the set with what must be the best guitar intro ever: The Smith's "How Soon Is Now?" The venue was hot and everyone was dripping, and…
Read more…
Share:

Albert Hoffman, the discoverer of LSD died at the age of 102 on this day five years ago. LSD has been more influential in Silicon Valley than Ayn Rand.
Albert Hoffman, the discoverer of LSD died at the age of 102 on this day five years ago. LSD has been more influential in Silicon Valley than Ayn Rand. Steve Jobs found it very "profound" and John Markoff, senior reporter at the New York Times has written about LSD use by early Silicon Valley companies. He spoke recently at the San Francisco Psychedelic Society (above):
The Steve Jobs Way: Intersecting Psychedelics And Technology -SVW
Here is what Steve Jobs said about LSD:
"Taking LSD was a profound experience, one of the most important things in my life. LSD shows you that there's another side to the coin, and you can't remember it when it wears off, but you know it. It reinforced my sense of what was important—creating great things instead of making money, putting things back into the stream of history and of human consciousness as much as I could." Quote by Steve Jobs:
…
Read more…