Tech
Share:

While it's still hard for me to understand astrology on an intellectual level, I've had enough mystical experiences with both top astrologists and everyday people who've looked me in the eye just to say "you're definitely a Scorpio." At this point I've accepted that astrology is a part of our lives and has, in my opinion, some sort of imprinting on our personality, countenance, and our relationship with both ourselves and the world at large.
While nothing is written in stone, I've found that is can serve as a good compass to explain things that otherwise seem much more confusing than they need to be.
Time Passages
has, for me, been a very entertaining and enlightening app on my iPhone that I use sometime as a powerful tool and other times simply as a form of entertainment. The app provides detailed information about your birth-chart and any other cohorts you may decide to program in – the best part is the chart comparison – chart compatibility is rated from 1 to 10 in different arenas such as relationship longevity, sexual attraction, money, and communication.
While I may not always want to agree…
Read more…
Share:

If you happen to be a serial techie, you probably think of Logitech or Microsoft when you think of keyboards and mice and likely know that both offer ergonomic solutions as well. I often find that lesser known brands have unique offerings that are a little more tailored and offer features that the big players don't for a myriad of reasons. Recently, we discovered an interesting brand that has a wealth of offerings in the ergonomic space — meet 
Goldtouch
, whose range is broad enough that there are plenty of smaller more versatile options that make great choices for travelers. First up is a super stylish wireless mouse that is oh so comfortable — the 
Goldtouch Bluetooth Comfort Wirele

ss Mouse

. 
Designed to mirror your hand in a weightless environment, the unique shape of this ergonomic mouse helps to keep your wrist at a natural 24 degree angle to alleviate pressure on tendons and joints. Truth be told, I am on a keyboard often and unlike my developer friends, it's not coding — it's everything from search, surfing and uploading photos to writing, editing and a little magic from ordinary photos. After days of this, especially on the road, my hands and…
Read more…
Share: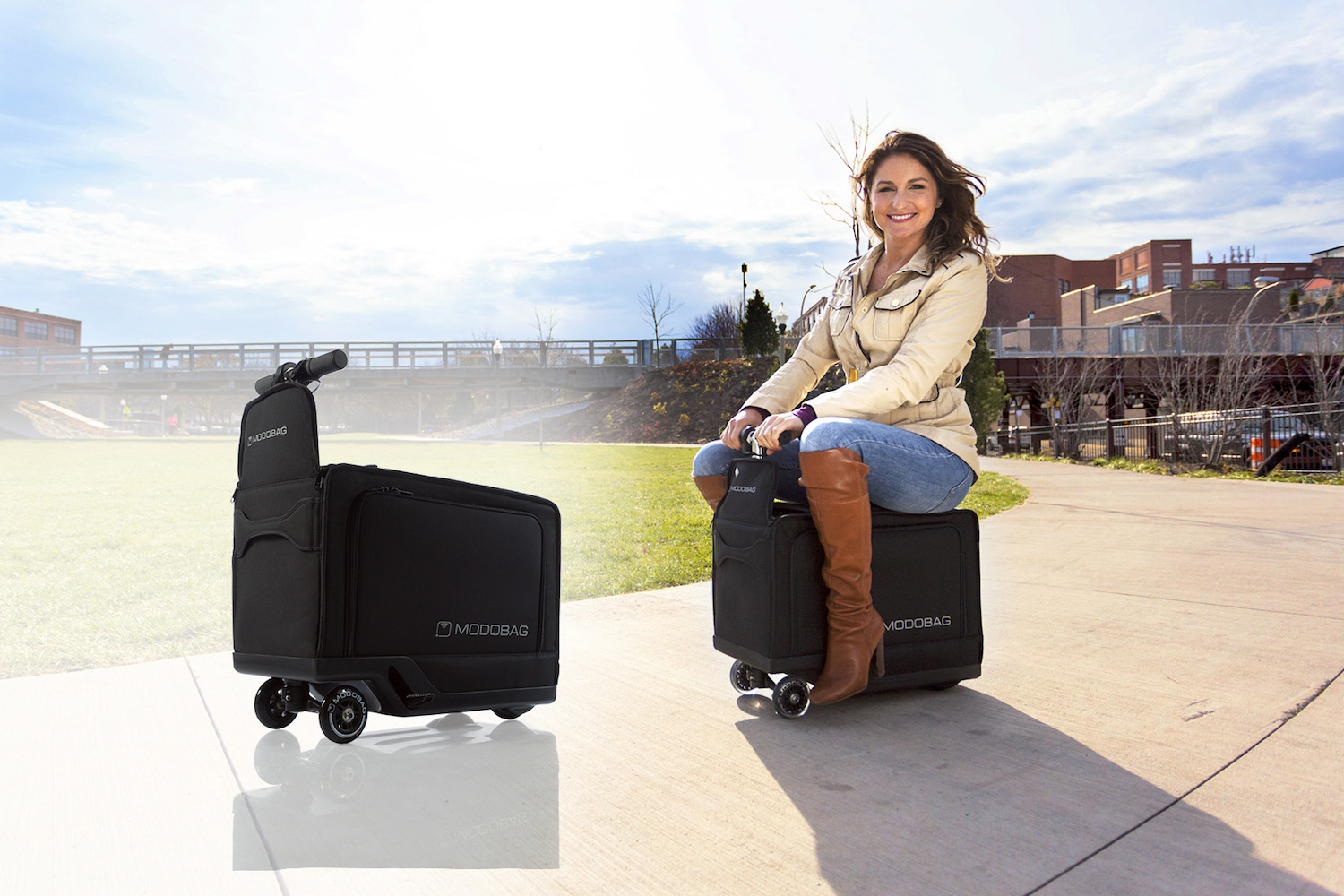 Technology is weird by definition and travel, as you can observe by clicking through the articles on this channel, can be pretty darn weird, too. It should come as no surprise, then, that travel tech is a decidedly weird sphere.
Then again, the following weird travel tech items are nothing, if not surprising. OK, perhaps occasionally a bit scary and mind-boggling, as well. You might find it difficult to pinpoint exactly which of these pieces of weird travel tech shocks and amazes you the most.
1.  The Suitcase You Can Ride
Are you too lazy to drag a rollaboard suitcase behind you, but too strapped for time to rent one of those motorized carts every time you visit an airport? If so, Modobag is the luggage for you. Although Modobag boasts a host of interesting features in addition to its ridability, its main selling point is that it allows fully-grown adults to play choo-choo in crowded public places. The epitome of laziness—and of fun!
2.  Movie Theater Glasses
More and more airlines are installing seat-back entertainment systems, but if you want the ultimate private viewing experience,
…
Read more…
Share:

You carry a cell phone around everywhere, right? It goes with you to work, to the gym and when you travel. While we're huge advocates of keeping them at bay when you talk and in another room when you sleep (use a safe
tubular earpiece connector
and put your cell phone on Airplane Mode when it's on your body — be sure to read our write up on
EMF concerns
), it's hard to do without our phones. Truth be told, we use them for Skype, messaging, surfing the web, watching videos, listening to music, email and more, so with a device that is that prolific in our lives, why not give it a luxurious looking skin? We discovered several brands we love where both the quality
and
design made our cut for top cell phone accessories in the oh so luxe and chic category!!
Piel Frama
This Spanish brand offers a number of stylish and elegant choices for your cell phone and for other items, like business cards, wallets and trinkets.In other words, they're not just about making your cell phone luxe, although I'd argue that this "carry all" leather case could also serve as a great carrying…
Read more…
Share:

We discovered a useful product find for avid travelers with smart phones. Meet
Phantom Glass
, a tempered glass screen protector designed for smartphones, tablets, and cameras. Phantom Glass is made using the most durable tempered glass, which ensures that Phantom Glass will resist most impacts and scratches, and ensures that your device is protected. The glass protector is also engineered so that in the event of breaking, it does so in a what that is 100% safe to the touch. There are no hazardous shards of glass or sharp edges. Bravo!
Their proprietary and patent-pending silicone nano-adhesion layer ensures that Phantom Glass installs in under 30 seconds, with no bubbles, liquids, or special techniques. To use, simply align Phantom Glass with your device, and Phantom Glass will install itself. The silicone nano-adhesion will never leave gross residue on your device when removed, which we found to be a great feature.
Unlike any other screen protector out there, Phantom Glass is treated with a specially engineered oleophobic nano-coating to ensure that fingerprints and residue wipe off with ease, another great feature as we've had "fails" with other products in the past. This coating is applied using a unique
…
Read more…
Share:

I love my new Reversible Navy and Cream Tote by
HButler!
  While it is not made of leather, it gives the illusion that it is with its sleek and chic style that is both elegant and functional. As avid travelers know, finding a bag you can take with you on a trip that will go with a variety of outfits can be hard. What's unique about this reversible tote is not only can you choose the cream side for dressier evening occasions and the dark navy blue that won't show dirt for all day city strolls, but this
Mighty Purse
features a concealed slimline battery to charge your Smartphone on the go. Tucked into the side of the purse, a small detachable purse has a charger that will give your cell phone life again when your juice is low, a godsend feature when you don't have access to a power outlet on the road.
It's made from Vegan Leather and its built in Slimline and lightweight rechargeable battery that can recharge a smartphone up to two times (4000 mAh). Their
"Auto-Power On"
Technology means nothing to ever switch on or off, another godsend feature for those frequently on the…
Read more…
Share:

How cool is this? A vehicle finder and smart car charger wrapped into one product. We recently learned about
ZUS
(it sounds a bit like a super hero), a small black device that plugs into your car. The first cool thing about it is that can use it to charge two devices (phones or tablets) at the same time. Anthony and I are always fighting for the car charger juice on longer road trips — as soon as one of us is at 70%, the other one plugs in.
That's no way to take a trip in the year 2016 — things should be simpler and faster. What's nice is that not only does the ZUS have two plugs so we can charge our phones at the same time, but the charger works twice as fast as normal car chargers.
Part 2 of the cool feature set of the ZUS is that it is also a car finder, so you have some assistance when you're tired after a long event and can't remember where you parked your car in that massive parking lot where each section all looks the same. Here's how it…
Read more…
Share:

Putting a dent in the future — isn't that a compelling idea? And, what's even more compelling is that it means such different things to different people and why the eclectic
DENT Conference
in
Sun Valley Idaho
, is so unique. From technologists, entrepreneurs and scientists, to artists, astronauts and Olympic Gold medalists, people gather around to hear radical new ideas, learn from the
best of the best
and share their best practices, all under the roof of the Sun Valley Inn, a stone's throw from
Baldy Mountain
and incredible skiing, even in the Spring. The brain child of Seattle-based
Steve Broback
and
Jason Preston
, DENT is now in its fourth year and my third year of attending, DENT's format is a mix of educational, interactive and thought provoking, with un-conference break-out sessions, fireside chats and general talks.
Since the backbone of the conference stems from the technology community, it seemed fitting that American futurist and author
Amy Webb
would speak. As the Founder of the Future Today Institute and an Adjunct Professor at New York University's Stern School of Business, she dabbles in a lot of projects. She asks us wryly: "
What happens
…
Read more…