Travel
Share:

Welcome to Morocco, the land of colour and light.
Giant lanterns, bright rugs, dimly lit restaurants with low tables and belly dancers, candles, snake-charmers, mountainous sand dunes shaded burning orange and dusty hairpin roads stretching as far as the eye can see: Morocco is an experience not to be missed. TRAVEL: Morocco is easy to get to. From London, easyJet operates flights most days to Marrakech. My personal favourite though, depending on what end of the Morocco you're planning on starting your trip from, is to fly to Madrid for a cheeky tapas-infused stopover and then hop over to Tangier and from there an a short plane ride. Once in the country, you can hire a car (the roads are generally very good but beware crazy drivers in Marrakech) or take trains and buses throughout the country; check out this site for brilliant travel logistics.  The transport infrastructure is impressive and the trains are wonderful.  Book your own carriage for the ultimate experience. WEATHER: In the summer months (July to September) Morocco gets very hot but the temperature varies widely from place to place.
…
Read more…
Share:

When visiting Palampur last summer, at the urging of those at Norwood Green I found myself headed for a day-trip to village Gunehar, hitherto unheard of. Located in close proximity to Bir, largely known as a paragliding destination when twinned with Billing - an activity I have not yet had the desire (read courage) to experience. You see, my sense of adventure extends far beyond the pale, to the palate. Wolfing down meals at all sorts of dubious places works just as well for me, if not my innards. Indeed my aim even that day last year was to locate this cafe, supposed haven of culinary treats that its owner Frank Schlichtmann created himself. In that sense, it was a wasted effort; a hot coffee and hurried chat across the cab boot was all I got. On a repeat visit this year I discovered there was a lot more to this sleepy Himalayan hamlet. Listing here, in no particular order, the 4reasons why it is worth every minute of the near-eight-hour drive from Chandigarh. For one, the 4tables Cafe dishes out some truly divine, home-cooked, wholesome fare in order to justify its worth and popularity. I confess the conjurer had me at first bite…of a delicately herbed baked chicken in…
Read more…
Share:

I am sure you've all had those moments, where, for whatever reason we are prompted by the inner working of our minds to face our fears, accept our failures and forgive our faults. I wasn't expecting these emotions to sweep through me while in Jamaica but as I watched the sun set on my last day in Montego Bay, I realized the tides were shifting, both externally and internally. Maybe the waves of emotion I'd been experiencing the last few months were because I was moving forward, not backward. Jamaica brought everything to the surface, exposing the truths I had too long forgotten.
On Happiness
I guess it all started on our first day in Negril, where we volunteered with some local children. Assuming that I was a burden to them, sent there for my own amusement, I approached the students timidly. How was it that a 27 year-old seasoned traveler felt intimidated by these young, vivacious children? Well, that was just it actually. As I watched the students during their recess break, my mind drifted back to my years in elementary school. I went to a private Catholic school in a pretty building, with pretty teachers and pretty classmates. During recess, I'd…
Read more…
Share:

At first morning light hundreds of swallows fill the hazy blue sky where the softened sun glows as if covered by frosted glass. Over the roofs of varying shades of terracotta they swoop and swoosh, chasing one another and lapping up the coolest part of the morning.
On the terrace of Dar Habiba Riad you'll find me, lying on the cushions under the shaded iron awning, the curtains slightly pulled to block out the sun's heat but allow the breeze to filter through. Around me are the roofs and terraces of the surrounding Marrakech riads; cacti adorn a side of one, an elaborate canola-topped temple and palm trees protrude from the middle of another. I admire a skinny cat leaping from ledge to ledge in search of scraps or the perfect spot to sunbathe.
Dar Habiba is a tranquil and elegant place to stay in this exciting, vibrant city. The staff are caring and helpful and although fairly small, the rooms are carefully thought out and beautifully decorated. Above the beds intricate lamps hang casting beautiful shadows on the wall and as you enter the…
Read more…
Share:

Alas, the Big Apple for great food. Most people know that New York is foodie heaven but with cool cafés and funky restaurants on every corner the options can get more than a little overwhelming.  I've been exploring the city like a local and sampling New York's top restaurants following some great recommendations from family and friends. Here are some of the top superstars:

Joseph Leonard, Greenwich Village
Stepping in to bite-size Joseph Leonard in Manhattan's leafy Greenwich Village sort of feels like dining in your grandma's front living room. With only a handful of tables and a bar, it's an intimate spot with quirky adornments like a wall of vintage mirrors and crystal cut-glass bowls filled with rock salt. For brunch try the asparagus and parmesan omelette with baby lettuce and brioche or the avocado toast.
Rosemary's, West Village
Clutching the accolade of being probably my favourite restaurant in the world, Rosemary's has the combination of great food and vibrant atmosphere mastered. The doors are folded back as tables spill onto the pavement, Parisian twinkly lights dangle from the ceiling and Sam Cooke and his band of soul brothers pour from the speakers.  On a…
Read more…
Share:

Opened in 2010 Chef Justin & Michelle Beckett launched a 'new' vision including 'old' favorites.  Nestled between the elegance of the Biltmore area and the hip and trendy Arcadia neighborhood, Beckett's Table is an upscale dining experience with a comfortable casual feel.  The restaurant owners and Chefs strive to support local farms and the culinary community by creating gastronomic dishes inspired by the soul food of the south using local Arizona produce and other ingredients, right down to regional vino on their extensive wine list. The restaurant décor has a modern and cozy feel, with an inviting brick-lined bar, block walls, subway tile, distressed concrete floors, and leather-capped, comfy cushioned chairs.  In the cooler months of the year, the patio has an inviting fireplace for guests to gather around to share their stories.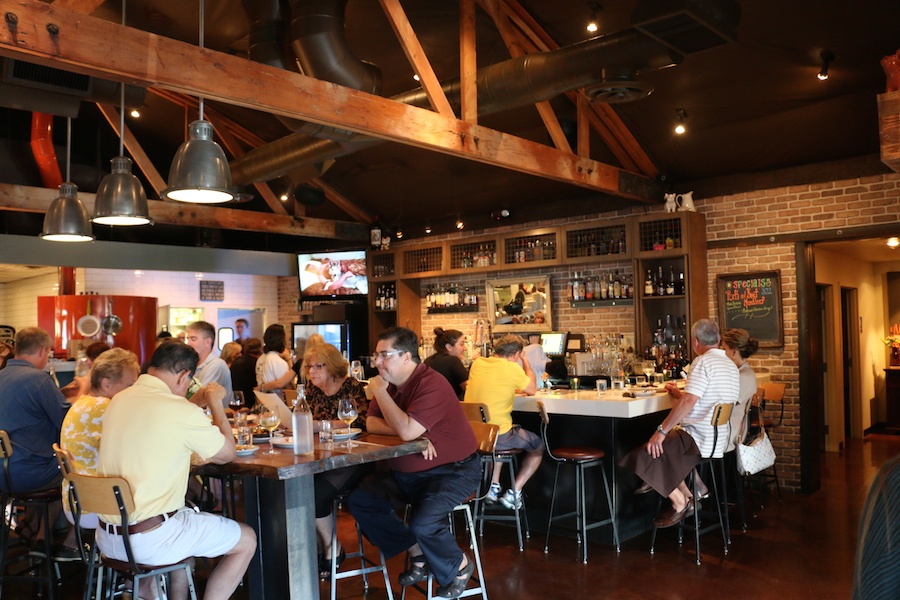 We began our soulful culinary journey with a few cocktails and wine, then we moved on to several tantalizing appetizers and salads…eventually savoring several mouth-watering entrées and finishing with a couple signature desserts. DRINKS
Legend City Cocktail- A tribute to Phoenix nostalgia named after the long-gone amusement park! This was a wild ride of
…
Read more…
Share:

Often, I joke around that I'm "staying on the island for the summer"…meaning the island of Manhattan, of course.  But there's another island right next door that's super quick and easy to get to (no car needed!), and offers a lot of quiet, solitude, and nature that we're not necessarily swimming in on the island of Manhattan.  No, I'm not speaking of the Hamptons…I'm talking Roosevelt Island!
Getting There
My favorite way of getting to Roosevelt Island is taking the RI Tram from 59th Street and 2nd Avenue (video of the ride below!)  If heights aren't your thing, you can hop on the F train and take it underground to the Roosevelt Island stop.
What To Do
When you disembark the tram, you'll see the teeny tiny Visitor's Center right in front of you.  The folks manning the desk are super helpful and knowledgable about anything you might want to know about the island, so I'd definitely suggest popping in for a chat and to get yourself orientated.  If you're into history, ask lots of questions!  Roosevelt Island has a fascinating past, including hospitals, asylums, and correctional institutions.
Read more…
Share:

The pitter patter of light summer rain on a hot tin roof and the slap of bare feet against a wooden dock are sounds that take me back to my childhood. As a young child, there wasn't anything I liked better than spending my summer up at the family cottage on Lake Nipissing in North Bay, Ontario. My parents were both teachers, and come the last day of school, we'd pack our bags up the night before and hightail it out of town the next morning at the 'early' hour of 8am with cats and dogs in tow. It was usually closer to 9am, though, because my dad likes to sleep in. We learned that lesson well from him when we were kids. To this day, my mother is still the only early riser in our house.  We three kids would spread our pillows and blankets out in the back of it, and we'd lie there in the sun and count cars and sing along to my Dad's ZZ Top tape. ABBA, Dire Straits, and Wilson Philipps were also frequently played during those journeys, so much so that we knew those albums front and back. It was during those long summer road…
Read more…