Travel
Share:

How united are the United States of America? Many Americans believe that they live in a diverse yet culturally unified nation that shares a common language, history, and values. But dig a little deeper, and ask someone about the America* they live in versus other Americans, and you may get some interesting responses. While most are familiar with "red states" and "blue states", the cultural differences between North, South, East, West, and Middle America are vaster than we realize. Above, The Americas are a medley of different cultural regions, influenced by their unique histories. This interesting piece on the Washington Post blog delves into the cultural observations of journalist and author, Colin Woodard. "Our continent's famed mobility has been reinforcing, not dissolving, regional differences, as people increasingly sort themselves into like-minded communities," he wrote in a Fall 2013 issue of the Tufts University alumni magazine. Check out his map above to see just how many different "like-minded" regional cultures exist in the US and other northern regions of the New World. Here's how Woodard explains cultural regions within North America, particularly in the US: Yankeedom: Founded by Puritans, residents…
Read more…
Share:

Olive oil is a super ingredient with the ability to enhance the flavors of a dish while also adding antioxidants and heart-healthy benefits. That being said, there are many misconceptions that exist on the product. That's why — with the help of head agronomist Marco Soldani of Castelfalfi and Silvia Bottelli, public relations director for Tuscan olive oil producer Castello di Gabbiano — we're debunking some of olive oils most common misconceptions. Use the following facts to help you choose a top-of-the-line olive oil: Tip: The best way to understand olive oil harvesting and production methods — and to taste some for yourself — is to visit a working olive oil mill. During a recent trip to Tuscany, I was able to visit the production spaces as well as enjoy cooking classes incorporating the ingredient at both Castello di Gabbiano and Castelfalfi. These are both highly recommended experiences that will leave you more enlightened on the topic of olive oil and Tuscan culture.
Olive trees. Photo courtesy of Castelfalfi.
1. You Can Cook With Extra Virgin Olive Oil
One common misconception when talking about olive oil…
Read more…
Share:

Mauritius is not only beautiful, a great side trip if you're heading to South Africa or Mozambique, but it's an incredible melting-pot of cultures. Nearly every month, you'll find interesting festivals you can explore, from Hindu, Christian, and Buddhist. 
A number of Hindu Festivals such as
Holi
(the festival of colors),
Diwali
(the festival of lights), and
Maha Shivratri
(the festival of Lord Shiva) are celebrated alongside the Chinese New Year, Christmas, and Easter.
Holi:
Just as the many other major Hindu festivals, the large Indian majority, (about 63 per cent) celebrate Holi with a lot of enthusiasm in the island of Mauritius.   It is an official holiday in the country and therefore people get all the time to make merry and drench themselves in the spirit of Holi and of course, colour water. Hindus, here duly perform the tradition of Holika Dahan or lighting of bonfire on the eve of Holi and celebrate the victory of good over evil. Next day people revel and play with colours and drench everybody with water jets called pichkaris. While in the evening they greet each other with tilak…
Read more…
Share:

In Central America, in Rivas, Nicaragua, there's a luxurious resort and spa named
Mukul Beach Resort
, which has quite the history. 
In 1875, 25-year old Francisco Alfredo Pellas Canessa came to Nicaragua to take over the family business, Caribbean Pacific Transit Co., founded by his father Carlos Napoleon. More than 135 years later and through five generations, the family business has grown into 16 
companies in more than a dozen countries – from transportation and computers to sugar, ethanol, Flor de Caña Rum and the world-class Vivian Pellas Hospital.
Now led by Don Carlos Pellas, named by America Economia as one of the 50 most influential persons in Latin America, has committed himself to creating one of the most exclusive boutique resorts in the world.  With it, Pellas is establishing his family legacy – a pristine natural sanctuary where you make authentic connections to the land, culture and people of Nicaragua. And in return, the surrounding community will benefit from the resulting improved quality of life.
It is part of a sprawling 1,670-acre remote beach community on Nicaragua's Emerald Coast. 36 options await you on a gorgeous and sprawling oceanfront. Think villas and…
Read more…
Share:

I stood on the street corner early one morning in Saigon with my camera.  As the next wave of motorbike traffic sped by I was ready – the camera viewfinder was up to my eye and I was ready to get in sync with the traffic whizzing by me.  I'd catch a motorbike through my viewfinder and move with it essentially twisting until I could no longer keep up.  Then I would twist back around and find another one to follow.  Many of the riders looked at me perplexed trying to figure out what I was doing swiveling back and forth (maybe a new dance?), but there was a good reason for doing this twist – I was practicing my panning. In photography it's great when you can connect with your subject, but when it comes to panning, you must be in complete sync with your subject. Panning is when you move your camera in synchronicity with your subject creating a beautiful blurred motion background and a clear, crisp, in-focus subject.  Now it's not just about movement and keeping up with your subject, it's the settings on your camera that make this…
Read more…
Share:

The smell of trofie pasta, topped with basil pesto kisses the Mediterranean air. Delizioso! The fast chit-chat of the local Italians tickles your ear. Ciao, Ciao! The brightly colored, pastel houses cling to the cliffs, overlooking the deep, blue sparkling sea. Bellissima! This is the land of the Cinque Terre. No doubt your taste buds will be spoiled by the Ligurian cuisine and wine in this rugged stretch of coast; however, it is the rich landscape that will spoil your eyes and steal a piece of your heart, begging you to return. High above the villages, steep trails run along the coast and connect the villages of Monterosso al Mare, Vernazza, Corniglia, Manarola and Riomaggiore. Trekking into the hills, you meander through vineyards and olive groves. Stop at the highest point and admire the glistening Mediterranean Sea down below, as well as the terraced vineyards lining the hills, dry walls setting the land in place, charming stone houses dotting the countryside, and delicious lemon trees. Hiking in the Cinque Terre, Italy, is an incredible experience; however, one can make the scenic hike even more memorable by adding an unusual twist.
Trekking In Your
…
Read more…
Share: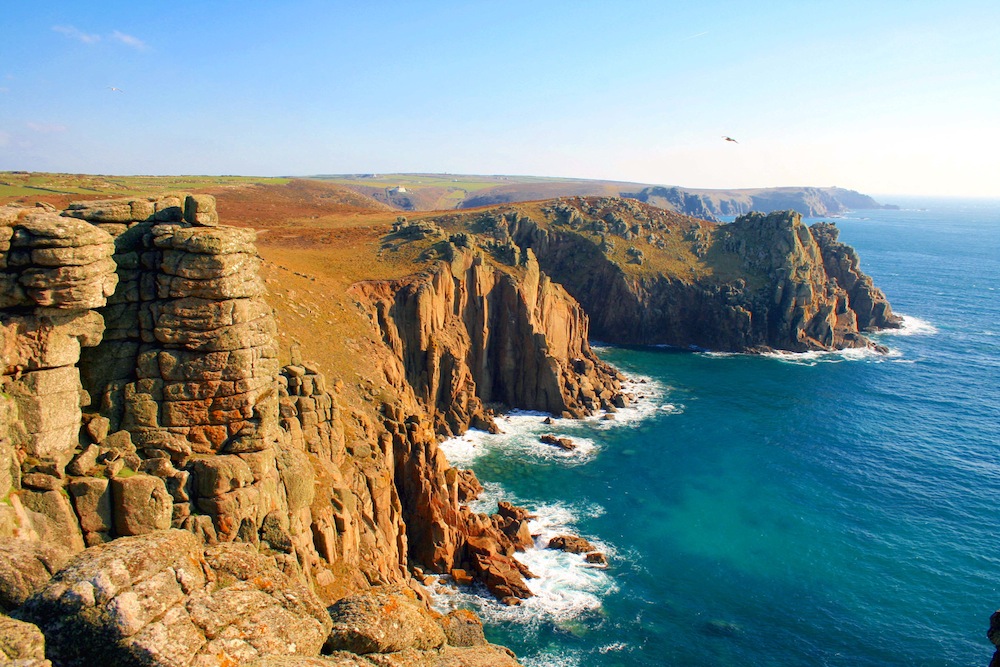 England's southwest is one of the most geographically and culturally stunning regions of the world, let alone the U.K.  Along the coast, a long drive from London lies Cornwall where you can also learn about the legend of King Arthur. Here an entirely different world awaits you. And, well there's also 
Tori Amos.
Something not everybody knows about me is that I used to be a big Tori Amos fan, maybe her biggest. Her music, in fact, was the reason I started traveling. Beginning in 2001, I traveled throughout Europe and the states to see her perform at her concerts, which are famous for setlists that change every nights and legendary, dramatic performances that inspire love and hate of different magnitudes in different people. Although Tori is American born and bred, she has based herself in Bude, a town in Cornwall, since 1998, when she and her husband bought an old farmhouse there and converted it into a studio. Her comments about the magic of Cornwall – not to mention the beautiful video for her song "China," which was filmed there – have made me keen to visit Cornwall…
Read more…
Share:

If I was offered a free trip to an unspecified destination, I would accept without hesitation. It doesn't matter to me if it was a third world country, a tropical paradise, a hiker's haven or a futuristic city, as all travel destinations have something to teach you. For me, one city that really got me thinking about positive changes I would love to put my efforts toward in the United States was Copenhagen. As someone who is passionate about sustainability, I was enamored with the city's love of biking, their carbon-neutral hotels, their eco-friendly New Nordic Food Movement, their focus on green shops and experiences, and their goal to be the world's first carbon neutral capital by 2025. Copenhageners make going green look effortless, but I think what really helped was a mixture of concern for the environment as well as a well-planned infrastructure that allowed for such things to exist. For example, while I bike around Brooklyn back home, I avoid going long distances, mainly because there are rarely any bike lanes, meaning you'll inevitably find yourself two centimeters from a speeding bus at any given moment. If we had the types of…
Read more…