Travel
Share: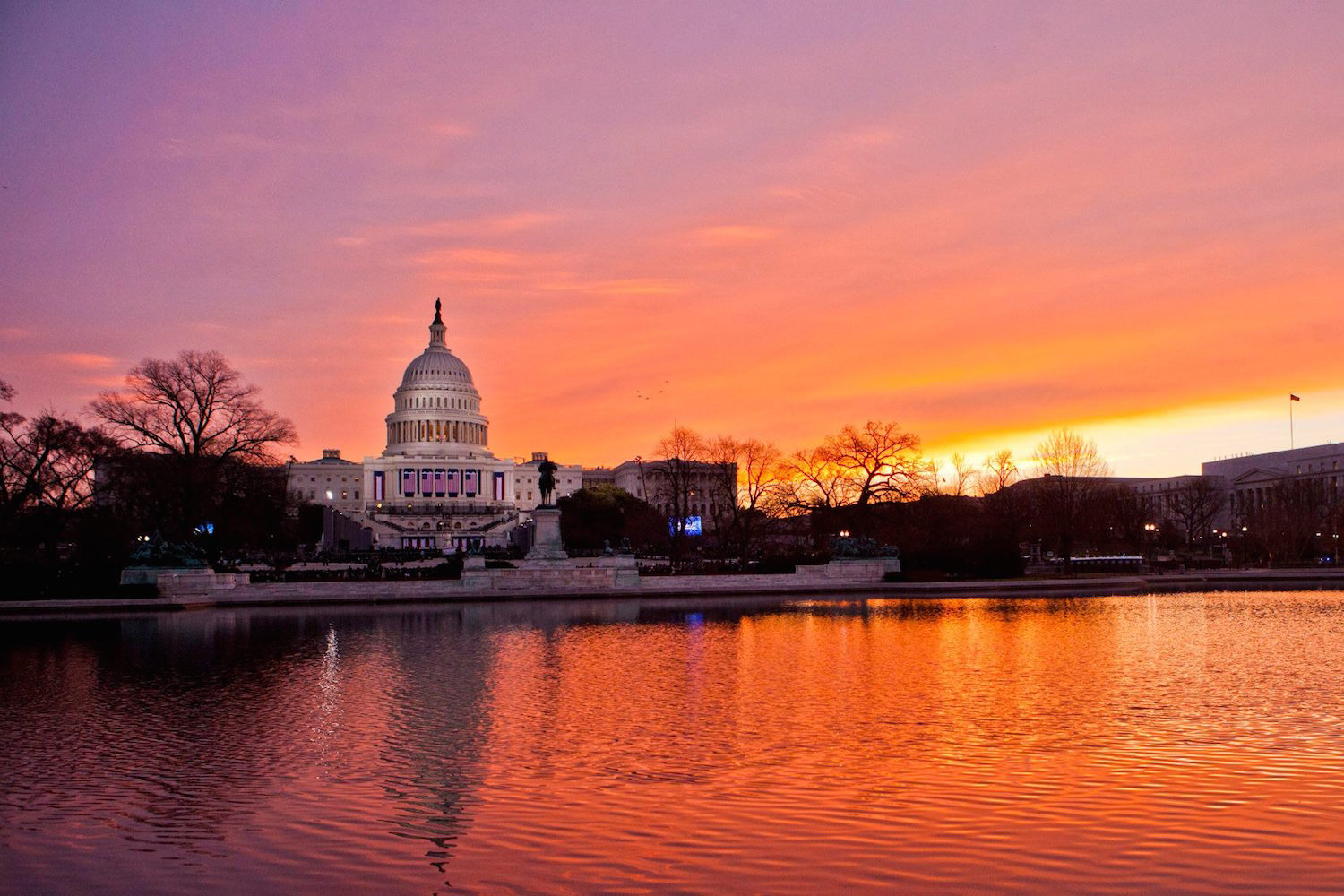 It's been more than two centuries since Washington D.C. was founded and if you've ever been there, you'll agree: It would take at least that long to get to know the city properly, from its timeless architecture and monuments, to its exquisite natural sites, to the culture that seems to be lurking around every corner. The bad news is that it doesn't look like an immortality elixir will be passing through the National Institutes of Health anytime soon. The good news? Mere mortals can see the best our nation's capital has to offer – or at least, a tantalizing tease of it – in just one day.
Sunrise Over Capitol Hill
Be sure you get yourself down to the National Mall just before the crack of dawn – the spectacular sunrise over the monuments of Capitol Hill is definitely worth the early rise. Reward yourself with breakfast at Pete's, a divey yet delicious local treasure. With day fully broken, enjoy a stroll in the dramatic shadow of the National Monument, or pay your respects at the Lincoln Memorial.
Museums at Mid-Day
Your morning in D.C. is sure to stir your heart…
Read more…
Share:

Travel Writer Paul Theroux at the Jaipur Literature Festival. MY LONG TIME DREAM to attend the Jaipur Literature Festival came true this year. I pitched Conde Nast Traveller India on interviews with Eat, Pray, Love's Elizabeth Gilbert and travel writer Paul Theroux, and arrived in Jaipur with a media pass in hand on a cool, late January day. Also wanted to meet and interview Devdutt Pattanaik, well known in India for many books on mythology. A week before the JLF started, Gilbert had to cancel due to medical reasons. I was disappointed, but held out hope for interviewing Theroux. On the first day, I saw him on the media terrace and introduced myself. He seemed stern but reasonable. He was talking to a train enthusiast about taking trains in India, and we chatted about The Great Railway Bazaar, one of my favourite travel books.
Me, a train enthusiast and Paul Theroux at JLF I waited. Newbie mistake. The next day, I was in the front row for his travel writing talk…
Read more…
Share:

Located just 52 miles south of Sydney, Wollongong or "The Gong" as it's affectionately referred to by residents, tends to be overshadowed by its larger, hipper neighbor. But this city's laid back coastal lifestyle and natural beauty makes it a great place to visit or live, and it's even been heralded as the happiest place in Australia. When it comes to adrenaline-fueled sports, though, Wollongong is in a league of its own. After all, how many places are there in the world where you can do everything from surfing to snowboarding? If you still need convincing, here are seven of the best reasons to put Wollongong on your bucket list.
1. It's One Of Australia's Top Skydiving Locations
Skydive the Beach in Wollongong has Australia's highest skydiving altitude at 14,000 feet, where you'll experience a hair-raising 60-second freefall at over 100 miles per hour. This is followed by a much more peaceful 5 to 7 minute canopy ride which allows you to take in the spectacular views of Wollongong, its beaches and the surrounding nature while soaring through the sky.
Photo courtesy of Joschko Hammermann via Unsplash
2.
…
Read more…
Share:

Don't let the rain stop you – there's plenty to do and stay dry at the same time in Ireland's Wild Atlantic Way. I wake up slowly feeling rested and relaxed after a deep sleep. I turn and curl up in a fetal position soaking in all of the warmth under the covers as the light of day starts to illuminate the curtains of my hotel room. Then I hear it – pitter patter, pitter patter on the glass window. My brain slowly flickers on and makes sense of the sounds. Damn…it's raining, now what I am going to do? Ireland will throw all sorts of weather at you so it's pretty likely that during your holiday time in Ireland it will rain, blow, and downpour at some point – probably many times. So it's great to have a few ideas in your itinerary for what to do on a rainy day along Ireland's Wild Atlantic Way.
Tour Old Homes
While it rained sideways outside I went inside the Bantry House and Gardens in County Cork and was greeted with a warm crackling fire. The Bantry House established around 1765…
Read more…
Share:

Our latest camping adventure in Taiwan was in Guoxing where we used a brand named Adisi, which is a Taiwanese home grown brand.
The tent structure remains attached to the quick-setup frame, so you don't have to take it down.
These very clever joints fold and lock into place, making it very easy to set up the frame with the tent attached.
After the frame is set up, all that remains is to install the frame components for the foyer, and then put on the rain fly.
This is the tent and additional frame in the front for the foyer, awaiting the addition of the rain fly.
Notice the die-cast aluminum feet on the frame.  The inner strap is the tent.  The rain fly cleverly snaps into a connector on the outside of the foot.  To be…
Read more…
Share:

While growing up in Morocco's Casablanca, chef Bo Bendana was warned that every girl had to learn how to cook, or no one would marry her. "But I don't want to get married!" 12 year-old Bo told her mother. In spite of her resistance, Bo's mother taught her to cook. That early introduction to savory ingredients and exotic spices contributed to the success Chef Bo is enjoying in Mexico's Baja California. Her "Moroxican" (Moroccan-Mexican fusion) restaurant, Mi Casa Supper Club, with its airy Mediterranean-style décor and oceanfront location less than an hour's drive from San Diego, is drawing patrons from both sides of the border for open-to-the-public dinners, private parties, and holiday festivals. And her annual white-tie food and wine pairing celebration, Sabor de Baja, held at the famed Rosarito Beach Hotel, has celebrities like Sam the Cooking Guy jumping to be a part of it. California transplant, Bo Bendana, is putting Rosarito's cuisine on the foodie map.
Mi Casa Supper Club at sunset
Mi Casa Supper Club Is Born
In 2006, Bo Bendana and husband Dennis Sein moved from their home in Newport Beach, California to Rosarito Beach. Rosarito…
Read more…
Share:

The influx of diverse cultures into the area during Chicago's history has made the city's food some of the best in the nation. The historic Chicago Union Stockyards once produced most of the United States' meat, and the railroads brought grain through Chicago from America's heartland. The stockyards aren't there anymore, but their legacy lives on in the plentiful, robust, hardy fare that the immigrants brought to this land of plenty.
1. The New Maxwell Street Market
The New Maxwell Street Market is where you come on Sundays to shop the outdoor stalls and get great tacos and hotdogs. The all-beef Chicago hot dog was created at the old Maxwell Street Market. Now visitors can get an authentic taste of Mexico here with cuisine of Mexican states from Oaxaca to Jalisco available at the outdoor vendors' stalls.
2. Frontera Grill
In 1987, Rick Bayless started a food empire by introducing authentic Mexican food to North Americans. Ever since then, Frontera Grill has been winning awards and pleasing visitors and locals alike. Try street fare like Mushroom/potato huaraches, wood-grilled duck, pork, or catfish tacos.
3. The Publican
The Publican features rustic dishes and international beer…
Read more…
Share:

Aurovalley Ashram in north India is a place for seekers to find peace. Aurovalley founder Swami Brahmdev describes the ashram as an experiment in consciousness living. It's also an experiment in conscious eating and sustainable food production. Three times every day, several of the women who live and work at Aurovalley Ashram line up behind the counter and ladle mild, vegetarian food, like rice, dal, and sabzi (vegetable) onto the stainless steel thali (plates) each person carries. The basic fare is usually enlivened by the addition of things like fresh salad, fruit, home made curd (yoghurt), hot ginger tea, buttermilk or home made pickles.
Fresh, healthy, vegetarian lunch at Aurovalley Ashram It's not food that's going to win any awards, and it's not what foodies dream about, but it is simple, healthy, nutritious and vital. At Aurovalley Ashram, food is part of the spiritual life. People are expected to eat in silence, and clean their own plates afterwards. Aurovalley Ashram founder Swami Brahmdev explains that eating in silence gives ashramites…
Read more…