Travel
Share:

"When doing the Japanese onsen you'll bring a small and big towel to the locker room where you can leave the big towel in a locker or basket. The baths are separated by male and female. You'll then remove your clothes and bring your small towel with you to the public bathing area to wash yourself with soap, shampoo and conditioner. You'll be sharing the mineral waters with other people, so please make sure to do this. The onsen isn't for cleaning yourself, it's for relaxation. Also, don't bring the small towel you used to wash yourself into the public baths."
Naked. Onsens are an important part of Japanese culture. They are geothermally-heated public baths — although you don't actually wash yourself in the baths, but before you enter them — heated to at least 25°C / 77°F. They can be located either indoors or outdoors and, by definition, must contain at least one of 19 possible elements, including radon, gypsum and metabolic acid. There are over 3,000 of these public baths in Japan. While in my home of Brooklyn, New York, I love flaunting my glittery body piercings and body mural…
Read more…
Share:

The privately-held
Darang Tea Estate,
roughly midway between Palampur and Dharamsala, is synonymous with warmth, hospitality and heavenly home-grown, home-cooked organic food. For pretty much every ingredient that goes into your meals comes freshly produced from their farm:  fruits, vegetables, juices, dairy products, you name it. The gracious hosts, Neeru and Naveen, leave no stone unturned to ensure your stay is
completely comfortable. They are assisted in no small measure by their three friendly canines: Layla, Simba & Brandy. And that lovely
machaan
that Naveen has built for his grandchildren is bound to be a big draw for other kids, too. All meals are served in the family dining room in the main house, though guests are welcome to enjoy a cuppa in the veranda, or snacks around a cosy fireside. Neeru's finger-licking cakes, sandwiches, jams, pickles, preserves and cereals are the kind legends are made of. As accommodation, the 70-acre estate offers two quaintly rustic cottages with two bedrooms each, as well as, one room in the main house that justifiably claims heritage status. A tiny old-fashioned factory, woodlands, forested hillsides, tea-gardens, and…
Read more…
Share: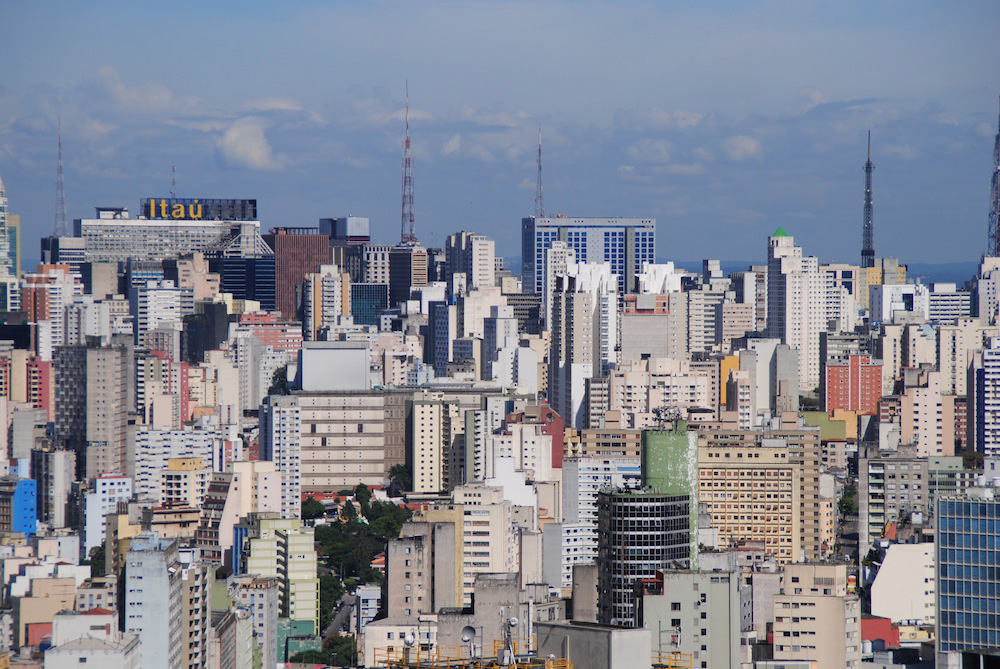 Brazil is an intimidating country to visit, owing to its size, its linguistic homogeneity and its questionable level of personal safety, to name just a few factors. In fact, after my most recent visit there, I can say it's one of the most difficult places I've ever traveled, for these reasons and many others. On the other hand, most if not all the difficulties I experienced traveling in Brazil would've been much worse had I not been so adept at setting and executing travel goals so, using combined experiences from my two trips there, I've assembled a sample itinerary for three weeks in Brazil. Follow it exactly for a standalone three-week trip to Brazil, or use it as a framework for the Brazil portion of your larger South America trip.

São Paulo
São Paulo has the worst reputation of all the cities in Brazil among foreigners – and a fair few Brazilians as well. Although I understand complaints about the city, which begin with the level of crime there but also include pollution, climate and overcrowding, I can't help it: I absolutely love São Paulo. (top photo)
 Stay along Avenida Paulista, a cosmopolitan boulevard whose skyscrapers, swanky cafés
…
Read more…
Share:

Sure you can have a breakfast taco or a breakfast burrito or huevos rancheros, but why not opt for a dish that's a favorite from Tex-Mex restaurants north of the border and all the way south into Old Mexico? Yes: chilaquiles. Its what Mexican moms have been serving up every morning that leftover tortillas and salsa have turned up in their larders. The basic ingredients are these: sliced or quartered corn tortillas, salsa (green or red), queso blanco, maybe some onions, fresh coriander and sour cream — all topped by scrambled or fried eggs. Try the
La Cueva del Chango
in Playa del Carmen, Quintana Roo, Mexico in the Riviera Maya. Their chilaquiles (pictured) hits all the right taste markers with the added fillip of avocado slices. Heaven! Especially when served with a cup of their signature cappuccino.
Share:

In the heart of fashionable Soho The James hotel protrudes into the skyline in all its tall and shiny glory. I stroll in past the bowls of organic dog food and water as the handsomely rugged doorman greets me G'day ma'am from the chic stone and glass-clad lobby and directs me up to the reception a level above.
The glossy elevator slides upwards, chilled house music pumping from the speakers, and pings excitedly as I'm immersed into the tastefully decorated reception lounge with a sophisticated-beach feel. The lights look like they are made from tubes of softly-lit melting cotton wool, the gold-ish curtain panels resemble fishing net and the cushions and chairs are covered with gauze. It's very nicely done. I'm welcomed by the helpful and friendly receptionist who takes my Amex in return for a tan leather wallet holding my key card and informs me the lounge serves tea, coffee and fruit during the day; wine and cheese in the evening and cookies before bed.
Ten minutes later I enter my home for the next few nights with a simple…
Read more…
Share:

The sun was just starting to peak out around the reddish rock. I pulled down the brim of my baseball cap to shade my eyes as rays of light shot out of the clouds and onto my path. The path around the base of Uluru was nearly empty in this section. Not many tourists venture out around the perimeter when visiting Uluru; instead they seemed to stay to the main points of interest and then get in their car and drive to the next one. But my Longitude 131 guide, Mark, suggested I go for a walk and get a better 'feel' for Uluru. Uluru is Australia's most sacred site for the aboriginal people called Anangu.  Believed to have been formed by the activities of ancestral beings in creation time (aka Dreamtime), Uluru includes caves, waterholes, and ancient rock paintings. The traditional name for the sandstone rock, Ayers Rock was the name given by European explorers, however it is now referred to as it Anangu name, Uluru.   After hearing Mark's countless stories about Uluru and how the Anangu people used the rock to tell stories of their creation, I did long…
Read more…
Share:

Hell's Kitchen may not be Manhattan's quietest neighborhood; however, one venue offers the chance to transport yourself to authentic Italy. At Tavola, regional farmhouse cooking — mainly focusing on Puglia, Sicily and Rome — and a simple but high-quality wine menu delight guests' senses, while a 7,000-pound wood burning double oven cooks pizza in one and entrees like fresh catch fish and smoky artichokes splashed with lemon and vinaigrette for a salad in the other. Crafted from Vesuvio volcanic clay, you won't find anything else like it in Manhattan — or the country! "When dining at Tavola, New Yorkers feel that they can eat in New York City the same way they ate during their travels throughout Italy," explains Chef and Owner Nicola Accardi. "It is making New Yorkers more adept in the traditions of Italian dining as it is in Italy, as opposed to Italian American food."
Located in the former 120-year-old Manganaro's Grosseria Italiana space, this under-the-radar restaurant was inspired by Accardi's agriturismo (farm-stay) travels throughout Italy, where he was influenced by the different regions and their fresh, local cooking. Through opening Tavola, Accardi has been able to…
Read more…
Share:

I was first introduced to the Santa Fe School of Cooking in 2012, as it was a stop on my culinary tour of Santa Fe, New Mexico for the USA Today and Rand McNally's "Best of the Road" rally. (By the way, Santa Fe ended up winning the "Best Food" category in small town America) A year later, I was excited to have an opportunity to go through a complete class, and, enjoy a wonderful meal indicative of the region. The Santa Fe School of Cooking (SFSC) is a state of the art facility where classes are taught by some of the best local chefs.  The demonstrations are not only entertaining, but educational, informative…and, the meals you prepare, are amazingly delicious.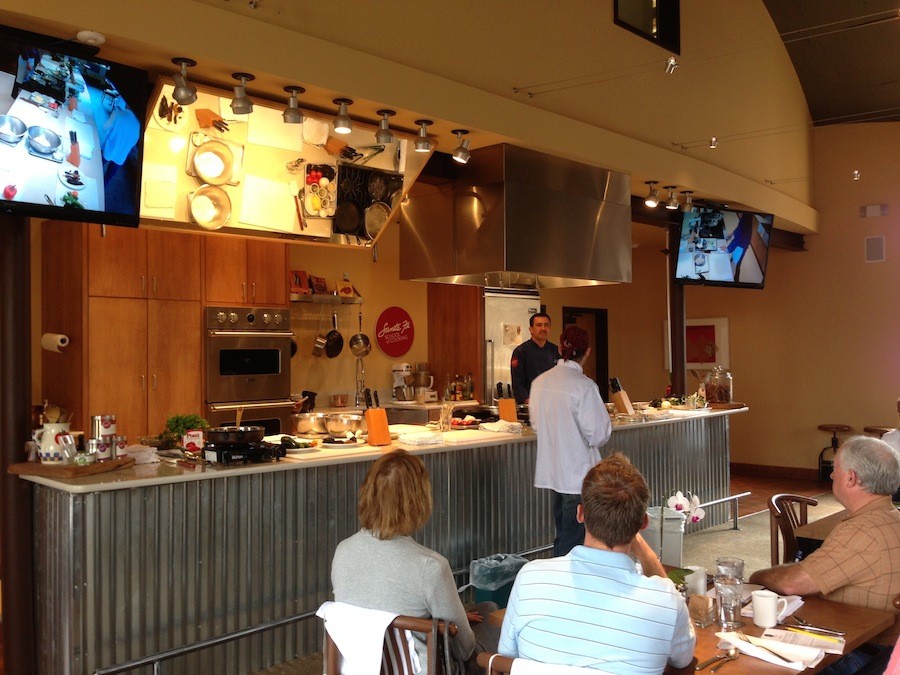 Santa Fe has a strong culinary identity that encompasses, Spanish, Mexican and Native American traditions. When you attend one of the classes, you'll learn a great deal behind the cultural mix that is truly distinct to the region. The venue at SFSC almost makes you feel like you're on the set of a cooking show—large mirrors overhead provide different vantage points, with great lighting and…
Read more…