Women
Share:

Whether it's for freedom, adventure, spiritual experience, confidence, independence, or community, women are taking to motorcycles with an increased voracity. Three years ago, Debra Teplitz, 44, decided to silence the voice in her head that said, "Nice Jewish girls from the North Shore of Chicago don't ride motorcycles." Like so many women who are learning to ride in their 30s, 40s, 50s, and beyond, Teplitz has confronted personal challenges, societal stereotypes, and cultural expectations to embrace the freedom and independence of motorcycling. For many female riders, mastering a motorcycle has served as a catalyst for other long-awaited life changes. While their riding is at an all-time high, women on motorcycles are nothing new. We've been riding longer than we've been voting. Nonetheless, there are a lot more of us now. Women are one of the fastest growing demographics in the powersports industry.
Why Women Ride: The Faces of Female Motorcycling
Freedom
After her divorce in 2007, Wendy Lamparelli, 51, was ready to buy a bike to fulfill a lifelong dream. Fearing for her safety, Lamparelli's mom and kids begged her not to, so she ended up with a convertible instead. But the dream…
Read more…
Share:

WHAT DO YOU THINK about women explorers? It is my view that men and women have have a different approaches to exploring. While men seek to conquer, women seek to understand. Perhaps this is the reason that women explorers traditionally get short shrift. I didn't discover my "inner explorer" until I was in my 40s. After several personal losses left me feeling depressed, I packed up my apartment, lit out for India and spent six months traveling from one end of the subcontinent to the other. Since then, I've been back to India six times, and many other places, too. What I discovered is how alive traveling and having adventures makes me feel. And I'm not the only woman who feels this way. There's a scene in the second Lord of the Rings movie, The Two Towers, when Aragorn asks Eowyn, "What do you fear, m'lady?" and she answers, "A cage." Laura Dekker, who sailed around the world when she was 16, said in her blog she was far more haunted by memories of Dutch social services threatening to lock her up than she was scared of pirate kidnappings, treacherous seas or being shipwrecked.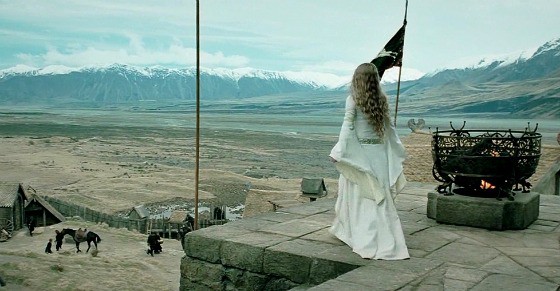 Read more…
Share:

I wake in Vrindavan. I wake with two problems on my mind: money and food. I slept without dinner and no breakfast is available; and the day before, I tried two ATMs and both were out of money. So, with a mixture of hope and trepidation, I haggle for an auto and go straight to the ATM. The sound of the money dispensing is more delightful to me than all the temple bells in this moment. Even in a holy city like Vindravan, money is necessary.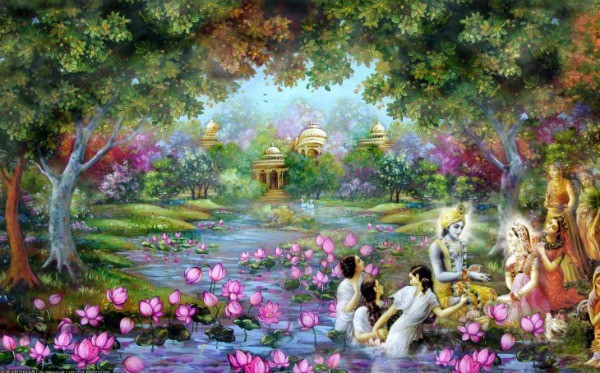 Above, Krishna and his gopis in the Vrindavan of myth and legend. From there I go directly to Govinda's Restaurant at the ISKCON Temple for breakfast. As it is an "ekadasi day" — a day without grains — I have a strange breakfast of fruit, juice, a mango lassi and kind of potato dosa. Then I have their thick herbal tea and a coconut laddu. With money in my wallet and food in my tummy, I feel so much better about life and about the day. These things do matter, and I don't agree…
Read more…
Share:

What do opera and beer have in common? Not much, other than the fact one of the world's leading beer experts used to be an Opera singer. Mirella Amato, a Canadian native, is the first non-US resident to earn the title of Master Cicerone. After enduring a 14-hour exam to achieve the coveted Master Cicerone certification, she can now claim a title only seven other people in the world hold. While Amato got started with her foray into beer drinking when she was a child, taking a few sips here and there from her father's cup and thinking it didn't taste very well, her opinion as she got older changed completely, from objection to obsession.
Above, Mirella Amato, First Non-US Resident to Earn the Title of Master Beer Cicerone.
The exam took place over the course of two days. During this time, students were tested in five areas of beer service: Keeping & Serving Beer, Beer Styles, Beer Flavor & Evaluation, Beer Ingredients & Brewing Processes and Pairing Beer with Food.
Basically, becoming a Master Cicerone is no easy feat.
While the certification…
Read more…
Share:

LADAKH IS THE NORTHERN most region of India, a high-altitude desert of stark beauty, arid landscapes, Tibetan influenced culture and mountain passes that can get snowed in almost all year round. Below, is the Tibetan Buddhist temple at Matho Monastery.
It's a dream destination for photographers, Buddhists, trekkers, motorcyclists, people interested in Tibetan culture and those on the hippie trail. The landscapes are vast, the sky moody and the international borders loom. It's place that gets seared into the souls of many who make the effort to visit.  Below, the Matho Monastery is home of the Matho Museum project.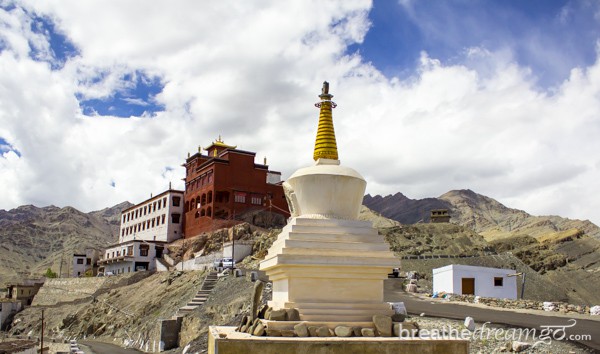 Here, I learned how a French Thangka restoration export, a Buddhist nun and the founder of a women's fair trade store were reviving Ladakh's Culture. I went to Ladakh in September, just at the end of the tourist season, with my eyes open — to witness the beauty of the landscape and discover another face of India. I toured the monasteries and markets, visited chortens and chai shops. Though I loved what I saw of Leh and Ladakh, it was the women who interested me.…
Read more…
Share: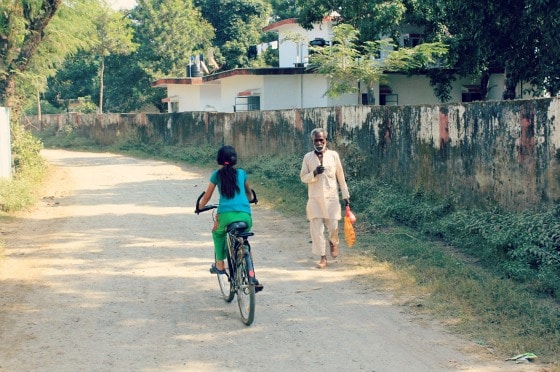 Over the past several years, I've been traveling extensively and achieved some great milestones and goals. This year, while things seemed to be going great, something felt wrong and I couldn't put my finger on it until I had a revelation at Aurovalley Ashram in November. Above, on the road to Raiwala Village, outside Aurovalley Ashram.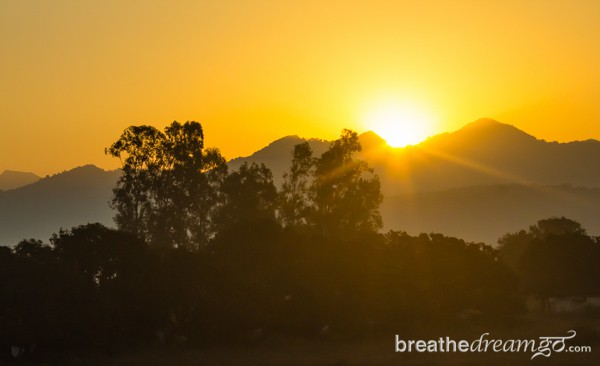 Sun rise from the roof of the World Temple, Aurovalley Ashram
Warmed by the Sun
The sun glows gold behind the Shivalik Hills of Rajaji National Park before it appears to shine its life-giving rays on the meadows and fields, villages and ashrams of Rishidwar. It's a profoundly peaceful time at Aurovalley Ashram, with only the sounds of temple bells and bird songs in the air. The ashramites wrap themselves in shawls to keep away the fresh, morning chill as they walk in silence to the circular meditation hall. It is here at this garden-like ashram, in the foothills of the Himalayas, where I unplug from worldly life, and plug into spiritual energy, each…
Read more…
Share:

I've always been a fan of natural herbs for as long as I can remember and that includes recipes of natural things that are known to have curing or healing properties. It could be in part from the magic wonders that my grandmother's concoctions seemed to have when I was a child, usually created from a wive's tale passed down from her grandmother or so the story goes. One of them was used when my cousins and I got the "winter croop" which we always seemed to get at the same time. She would use a variety of mint oils and her magical concoction was stored in a glass bottle, the kind you'd find in old fashioned pharmacies in the sixties and seventies and today, only see in photos of early brands advertisements before plastic would take over every consumable we'd ever digest over the next several decades. When I started to hack up a storm, she'd get her glass bottle out of the cabinet, put it in a small pot filled with water on the stove and there it would sit until near boiling before she'd slap a third of it on my chest and back. By morning, I…
Read more…
Share:

I almost never post a video that touts a corporate award in it, however truth be told it is big business who often sponsors awards, and whether it's entirely a PR play for them or they really want to change the world, bottom line, change can happen as a result. That said, I still wouldn't have posted it, however I have a personal story connected to South Africa, women and education and am passionate about change for all three. As someone who has lived in South Africa a couple of times, and attended her 12th grade year there, I have a soft spot for the country. I ran across this video through one of our RSS feeds and rather than post it as it was, I decided to write about it through my eyes. I learned about the deeds of the Good Work Foundation (GWF), which helps 185 rural adults qualify for their International Computer Driving licenses. What's even cooler is that 81% of the students are women, as is the CEO Kate Groch. Go girls and go South Africa!
A staggering 7,394 online hospitality modules were completed and for the first year ever, 139 adults…
Read more…