Israel
Share:

At last, I found a café in the center of Tel Aviv without air conditioning, without English menus and without an English speaking waitress. Now in my silence, I can think. I can hear. I can see. I can absorb and I can feel. I taught my waitress the word straw in English. We laugh. She yearns for more interaction as do I. This is a different side of Tel Aviv, the side of town where tourists and trendsetters don't hang out. I'd love to spend many more afternoons watching people pass by this little café, over an iced coffee, the kind with thick frothy milk on top. For about a week, I've been traveling with nine other bloggers throughout northern and central Israel in an air conditioned van to visit companies and organizations in air conditioned rooms. In my travels abroad, I rarely have to deal with cold fabricated air like I do at home and its almost always a pleasure. People here seem to love refrigerated rooms and buses as much as the yanks do. What I realized today was how little I've traveled in a group setting inside or outside the U.S. in the…
Read more…
Share:

Up until college I attended Catholic school, yet, it wasn't until my senior year of high school that I was lucky enough to have a teacher who encouraged us to question our faith. He explained to us that instead of having the blind faith that our parents and grandparents were taught to have, we should question everything. He taught from a philosophical background and by the end of the year, I felt more solid in my beliefs than ever before. Regardless of one's religious affiliation, traveling opens our eyes to all religions. I've always believed that one cannot truly understand his own faith unless he studies the faith of others. One of my favorite things about traveling to other countries is experiencing their local traditions. In my opinion, there are way more similarities among faiths than there are differences but so many people fail to view it that way. Religion is something that becomes an integral part of one's identity and when that identity is challenged and there's no way to prove something one way or another, trouble often ensues.
Anyway, as I went to take my seat at Easter Sunday mass,…
Read more…
Share:

I'm a fan of spas these days because of my belief in the power of integrated health and motion…..meaning the body must be in motion in order to be healthy. Motion means fitness, exercise to keep acidic build up in the body at bay. Massage also helps stimulate glands and move toxins out of the body, so while massage and everything in its peripheral is never a good substitute for exercise, its an incredible supplemental and oh by the way, spas can be incredibly relaxing. And, balancing. Conde Naste Traveler did a write up on their top 35 spas in the world for 2012. They cover nearly every continent. Here's their list. And, of course, I have included my wish list after reading the list. I base the wish list on my own experience with traveling to and research on the country's culture and way and thinking and/or if I've been there personally. And of course, I've included my favorite photos as well….enticing ones that will want you to jump on an airplane sooner rather than later. Europe wins hands down in the number of spas who make the list.
Photo: Nira Spa in Switzerland
…
Read more…
Share:

Condé Nast Traveler
has come up with its list of the
best new bars in 20 cities
. Have you ever been to one of these? Which is your favorite bar? 1.
WTF
, Bangkok, Thailand: Nope, the name doesn't mean what you think it does — in this case, it's Wonderful Thai Friendship which inexplicably combines a cozy bar and two floors of gallery space for art, poetry readings or dancing. 2.
Zajia
, Beijing, China: Old-school Houhai. Built as a temple a half-millennium ago, it's now a bar and music venue. 3.
Kater Holzig
, Berlin, Germany: So much more than "just" a bar. 4.
El Bembé
, Bogotá, Colombia: A bar (think: mojitos) with salsa dancing (of course). 5.
Oasis Clubhouse
, Buenos Aires, Argentina: A lounge, terrace, two bars, pool and garden in a former four-story residence. 6.
Tjing Tjing
, Cape Town, South Africa: A rooftop terrace bar. 7.
Butler
, Hong Kong: A Japanese cocktail bar pouring meticulously mixed drinks. 8.
Ca'D'oro
, Istanbul, Turkey: On the entrance floor of Garanti Bank's Cultural institution…
Read more…
Share: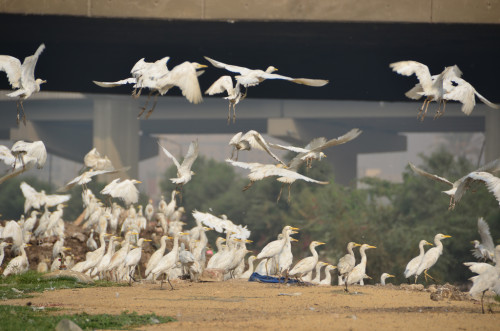 Last year,  the only thing I craved more than my next overseas adventure was a reason to stay in one place.
January: Sniffed Out. When the bell struck midnight on January 1, 2011, I had only been back in the United States for three days. I'd seriously weighed remaining in Southeast Asia long-term, by decided against it in the 11th hour, fearing I would become complacent and fail to achieve the travel goals I'd set.
February: A cinematic score.
March: Top of the world. From Peruvian treasures like the Colca Canyon, Machu Picchu and the Sacred Valley of the Incas, Bolivia's Uyuni Salt Flats (above) and two weeks in long, narrow Chile,…
Read more…
Share:

I've always loved perfume but not everyone feels that way. When I was a teenager, I used to pour on some of the perfume from my mother's dresser before we went to a family event and my uncle, who was blinded in the war, used to bark when I walked in the door -
'who's wearing the perfume?'
He never liked perfume to begin with and after he was blinded, his sense of smell may have become more acute. She was a fan of some of the heavier perfumes and like most women from that time, she had Chanel No. 5 in her collection, which remains a favorite to this day. What many people may not realize is that men wore perfume in ancient times, where it was used, how and why. So, where does perfume hail from? The use of perfume and scent is mentioned as far back as the bible and in ancient manuscripts, with references to production sites in ancient Egypt, the land of Israel, India, Mesopotamia and in the Far East. The importance that incense and perfume gained exceeded in many cases that of silver, gold, and precious stones. Yes, even for men.…
Read more…
Share:

Jerusalem is undoubtedly one of the world's most historical cities and while each person has a different motivation for visiting, this guide highlights some of the attractions that is sure to interest the bohemian traveler.
Local Market
There are a few different markets throughout Jerusalem but the most notable are The
Old City market
and 
Mahane Yehuda
market. During the day, the bazaars are uncomfortably crowded but foot traffic dies down in the evening. Many of the vendors sell similar items and of course some are classically touristy souvenirs but it is possible to dig a little deeper to find more authentic items. For fresh fruits, vegetables, baked goods, fish, meat, cheeses, spices, wines and clothing, Mahane Yehuda is your best bet.
Garden of Gethsemane
Whether you are religious or not, the Garden of Gethsemane, located near the Mount of Olives is a peaceful and beautiful garden where one can reflect on his surroundings or contemplate the
history of the Old City
. If you are traveling solo, it might be worth it to find a friend or two to either split a taxi up there or walk together to the garden. I…
Read more…
Share:

During my trip to Israel, I decided to stay a few extra days to explore more cities. I figured that since I didn't know the next time I'd be in Israel, this was the logical thing to do. However, after a whirlwind trip full of thrilling adventures, I was beyond exhausted but eagerly trudged along. I checked into a hostel in Jerusalem and planned a day trip to Bethlehem and Jericho. Since Palestine requires a border crossing, I decided to make things simple by taking part in an organized trip. I chose to go with Vered Hasharon, one of several tour companies offering daily and multi-day trips throughout Israel. The driver explained to me that since he held an Israeli ID card (he was born in Israel and currently lives there) but was technically Palestinian, by default he was given a Jordanian passport. This allowed him to cross between both Israel and Palestine.
Bethlehem
I met my tour guide Abu once we passed to the Palestinian territory and we immediately went to
Church of the Nativity
, which is the oldest church still active today. Most tourists visit here to see ancient mosaics, the birth cave (where Jesus is said to have been…
Read more…