About Renee Blodgett
Renee Blodgett is the founder of We Blog the World. The site combines the magic of an online culture and travel magazine with a global blog network and has contributors from every continent in the world. Having lived in 10 countries and explored nearly 80, she is an avid traveler, and a lover, observer and participant in cultural diversity.

She is also the CEO and founder of Magic Sauce Media, a new media services consultancy focused on viral marketing, social media, branding, events and PR. For over 20 years, she has helped companies from 12 countries get traction in the market. Known for her global and organic approach to product and corporate launches, Renee practices what she pitches and as an active user of social media, she helps clients navigate digital waters from around the world. Renee has been blogging for over 16 years and regularly writes on her personal blog Down the Avenue, Huffington Post, BlogHer, We Blog the World and other sites. She was ranked #12 Social Media Influencer by Forbes Magazine and is listed as a new media influencer and game changer on various sites and books on the new media revolution. In 2013, she was listed as the 6th most influential woman in social media by Forbes Magazine on a Top 20 List.

Her passion for art, storytelling and photography led to the launch of Magic Sauce Photography, which is a visual extension of her writing, the result of which has led to producing six photo books: Galapagos Islands, London, South Africa, Rome, Urbanization and Ecuador.

Renee is also the co-founder of Traveling Geeks, an initiative that brings entrepreneurs, thought leaders, bloggers, creators, curators and influencers to other countries to share and learn from peers, governments, corporations, and the general public in order to educate, share, evaluate, and promote innovative technologies.
Latest Posts by Renee Blodgett
Share:

Here's a fun but slim and luxurious phone style that adds a little sophisticated to your world. It's a dual feminine flip phone, that allows you to output voice. It has bluetooth, an alarm clock and supports the ability to extend your TF card to 8 GB if you want more space. Both of the sim cards can work simultaneously online. Dual Cameras. It has a 79 metal shell with a 2.4 touch screen.
Share:

Electronic musician Steve Aoki releases his new music video, showing in an eerie and surreal way what life might be like when we get to choose whether we want to live forever….or not. Ray Kurzweil is part of the video where he asserts that the meeting of minds and machines are part of our not so distant future.
At a time when technology and biology walk down the aisle and exchange vows, life will never be the same as we now know it. This – our future reality – may not be one our brains can wrap around today, but it is a notion that the likes of Futurists and Singularians attest is coming whether we want it to or not….and sooner than we think. Non-biological and biological visuals aside, the music is upbeat and more mash-ups like these are going to be inevitable.
Experience that neon future life in the world of Aoki and his collaborators below. The video is produced by Gille Klabin and produced by Josh Shadid and Maxwell Riesberg.
Share:

A magical part of Muhu Island off the coast of Estonia is its rural charm and the people.  Koguva Village, the best preserved 19th century village in Estonia, is located on the Kuivastu, a place where all the buildings are architectural landmarks. The oldest buildings, which date back to the 18th century, are in the middle of the village.
A typical farm from that time consisted of a threshing barn/dwelling house, storehouses, a sauna, stables for animals, and a summer kitchen. Very often the farm also had a smithy. There were separate storehouses for grain, meat, fish and clothing and of course the number of storehouses one had depended on the wealth and size of the farm family.
The stone fences found throughout Koguva village are over 200 years old however the beginnings of the village can be traced to 1532. Now a museum, it was originally named after writer Juhan Smuul and was opened for the first time in the early 1970s. How's this for an odd fact? During the 1930′s, over 150 people lived in the village, and more than 100 were of those 150 were named Schmuul.
Since 1990, the museum has been called Muhu Museum and is an institution of Muhu parish. People come here for its charm yet etnographers marvel in the village's uniqueness, which they say is a remarkable example of Estonian peasant architecture.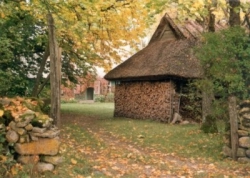 It was usual for unmarried girls in Estonia to sleep in the clothing storehouses during summer months, and so special "sleeping barns" were built for them.  Saunas were also common, with the most common one on Muhu being a 'manure sauna', which was also the sheep barn. When the family wanted to have a sauna, the sheep were chased out, straw was spread over the manure, and the sauna stove was fired up. The manure made the 'manure' sauna especially warm…a little different than how we experience a sauna in modern times.
I managed to get lost in the village since I ventured off the main narrow gravel road. Suddenly I realized I was walking in circles and not a soul was around…no one to greet me but the wind, a few birds and some hovering trees which promised to protect me from the cold should I end up needing them for the night.
Having been lost before, I realized that tracing my steps wouldn't work because in this case, I let just one eye do the leading, largely through the lens of my Canon 7D. The place was so charming and so full of history, I felt like a child being read a fairytale for the first time. As it was being read, a princess pulled a 3D version of the story from her book and displayed it on a platter, one large enough for the child to walk into….and there I was.
The only difference was that I wasn't ten, it wasn't my first fairytale and the village was real, as was the growing wind which reminded me how foolish I was not to be paying better attention.
Dirt paths wove in the shadow of towering ancient trees between protected buildings and stone fences, most of which were covered in green moss. Farmyards full of apple trees, bright flower beds and flowing leaves whisked about. Further down the road, a coastal meadow scattered with junipers presented me with a view of a windmill, the symbol of Muhu and Saaremaa.
What was most remarkable was how despite the cold, the place had a way of bringing you back a century in time while simultaneously promising a glimpse of what a holiday could be like during warmer summer months. The houses bleached by the Baltic sea wind and the sun and the worn out and weathered wooden boats were a stark reminder that life here at the turn of the century was likely a harsh one .
I couldn't get enough of it. The moss. The barren trees. The farmhouses. The giant boulders which fenced off living areas. The boats. The emptiness.
Then, I ran into a woman who was hanging clothes on the line and learned that she was a curator of the property.
Her English was impeccable and it was she who led me to a clearing where I found my eager-to-leave and hungry colleagues who were wondering where I had landed.
A place stuck in time.
A reminder of how life was.
Things and people deserted.
A warm and yet rich mustard coats the endless birch trees which lie scattered throughout the property.
One massive sculpture for good measure, perhaps to remind us that its no longer the 1800s and this place isn't just a dream? As if Juhan Smuul was still lingering around the property, to ensure it was well preserved?
Wood and signage meets sky and clouds. This post didn't help me find my colleagues nor did it paint a clue as to where I had already been or where I needed to end up.
The wind engulfed me and while it was cold and my hands were losing feeling, the energy of the place kept me warm, like a fairy princess on her way to her long awaited kingdom.
I wondered how often these boats were ever used, if ever.
New ones were being built inside a large structure that sat near the sea's edge.
The smell of damp wood and sawdust was prominent.
I found myself wanting to add a new coat of fresh paint to this sad overturned fishing boat.
The place makes you want to dive in and go to work. Tethering. Planting. Sawing. Building. Sanding. Shoveling.
Before I left, I ran into a family. The little one had me at "hello" and while they barely spoke English, they welcomed me into their little shop where you could buy honey, handcrafted wooden boards, juniper jam and wool mittens. Around them and their isolated cottage with nothing but a table, bench and fireplace outside, not a soul could be seen, heard or…found.
Things to do in Koguva include the Manniku Handicraft Barn Weaving studio, the Koguva Art Gallery and hikes along nature trails. Other things worth taking in on Muhu Island include the Muhu Museum and Pallasmaa beach, the only small sandy beach in Muhu. Additionally, explore:
Tupenurme Bluffs: Located on an old shore bank of the Ancylus Lake, located where the Baltic Sea is today some 7,500 to 8,500 years ago.
Rinsi Orthodox Church: Built in 1873, after a time when many people in Muhu and Saaremaa started to convert to orthodoxy.
Vahtna Old Harbour Site: Vahtna was the place of main boat connection from Muhu to Saaremaa from the 16th century to the opening of the causeway over the Vaike Vain Strait in 1896.
Uugu Cliff: This cliff is the largest and most attractive of Muhu's bluffs, and is located about two kilometers from Nommkula and somewhat inland from the shore.
Kesselaid: The islet is situated in the Suur Vain straight, between Muhu and the mainland.
Rannaniidi Bluffs: Five larger and an entire group of smaller bioherms, where the surrounding stone has been worn away is here. The force of ice at work can be seen on the banks, where much of the stone has been polished smooth. The banks are of interest to geologists because here, the various layers of rock and their formation can easily be reconstructed, which is why it is a protected area.
Hellamaa Orthodox Church: As a result of the faith-changing movement in the 19th century, there are a lot of orthodox people on the island. The church was built in 1866.
Kuivastu Tavern: Built in 1840, it is located in the seaward chamber of Kuivastu's old pub house.
Kuivastu Harbour: The way to Saaremaa from the mainland goes over the Suur Vain strait from Virtsu to the Kuivastu Harvour on Muhu.
Rassa Village: This is an old village on the coast with stone fences, thatched roofs and narrow streets.
Laasu Ostrich Farm in the Natse Village: Here, you can see ostriches – African ostriches, South American nandu, Kangaroos and Australian emu.
St. Catharine's Gothic Style Fort in Liiva: One of the oldest in Estonia, it was built in the 13th century. The structure is a great example of early Gothic style and Byzantine-influenced mural decorations.
Uku Stone: It is one of the numerous sacred stones that have been preserved on the island, a stone which has been devoted to an ancient deity Uku. It has 23 artificial cavities which are used for ritual sacrifices. Older recordings even list blood sacrifices.
Eemu Windmill: The windmill was rebuilt on the historic Eemu farm windmill site. It is a working windmill, now operated as a museum.
All Photo Credits: Renee Blodgett, We Blog the World and Magic Sauce Media and for more on Estonia in general, visit our Estonia page.
Share:

Here's a visual of what its like to eat and walk through Honolulu's Chinatown in Hawaii.
Share:

Trakai-based Kybynlar in Lithuania, isn't an ordinary eatery. Run by a Karaim family, they serve tasty Kibinas, in a Turkish like style. In the establishment along a not so busy road in small town Lithuania, there is language on the wall that apparently only 535 people speak. According to the ethnostatistical data collected in 1997, there were only 257 Karaims living in Lithuania at the time.  
Artuur is a natural storyteller as he tells us about Karaim heritage, history and culture. He teaches us a few words in Karaim, including Tabu (hello) and Savuka (Cheers) as we toasted with our beers and Krupnik….that was before we devoured our Chenach, a stew made with chicken, potatoes, garlic, carrots, garlic and onions. And, in traditional Eastern European style, it was served with a dollip of sour cream. SKANOUSH, he says. Huh? Bon Appetit, of course.
His Story of the History:
During the 600 years that they have lived in Lithuania, this small Turkic people have preserved a strong national consciousness. A rather inward-looking community life, firm moral principles based on the teachings of the Karaim religion, and steadfast adherence to tradition have all contributed to the survival of the people, of their basic characteristics, such as language, customs, and rituals, and ultimately of their national identity. What also helped the Karaims of Lithuania survive under difficult conditions was the tolerance and respect for them expressed during all those centuries not only in the everyday contacts between people but also in the official state documents of various periods.
The still living

Karaim language

, which belongs to the West Kipchak subgroup of the Turkic family of languages, receives the most attention. It is being studied from several angles – as a language that has preserved rare old forms and words that have disappeared from other languages of the Turkic family and also as one that has borrowed and in its own way adapted some features of vocabulary and syntax from neighboring languages (Lithuanian, Russian, and Polish). According to our host Artuur (like Arthur he says with a smile), Latvian is the closest language in the region.
The dishes are influenced from many regions, including Turkey, Russia, Lithuania and others. We had a soup broth with a pastry, filled with your choice of chicken or beef. They also dished up a yummy beet salad (see above). The Turkish influence in their food comes from their historical connection to the Turks. From a linguistic and ethnogentic point of view, the Karaim people belonged to the oldest Turkish tribes – the Kipchaks. Their connection to Lithuania however dates back as far as 1397. Their religion is based on the Old Testament and th moral foundation of their religion is the Ten Commandments.
The story goes, says our host Artuur, is that the Great Duke of Lithuania Vytautas, brought a few hundred Karaim familes with him from Crimea in the late 1300s and they settled in the Trakai area (where this restaurant is housed), between two castles of The Great Duke, which today is simply Karaim Street. 
Their cuisine, like in Turkey, includes a lot of meat and paste dishes. Most famous is the kybyn, a leavened half moon shaped paste cake stuffed with lamb or beef and baked in an oven. We tried them here, together with a soup, desserts and coffee. Their culture tends to use a lot of herbs and spices, particularly muscat nuts, cinnamon and cloves. They also served Kiubeten (pastry filled with meat) and Canach, which is a soup with a pastry across the top, served with butter.
Like most Eastern European eateries, there's plenty of beer on tap to choose from, from dark beers and ales to lighter lagers.
Later, he brings us all a shot of Kruptic, which is an alcohol drink in a shot glass that tastes like cinnamon. The drink includes natural roots, herbs, cardimon and cinnamon. Ahhh, down it goes and with it, a whole lotta warmth!
Karaimų 29
Trakai, Lithuania
+370) 528 551 79
 www. kybynlar.lt
Note: the meal was sponsored by the Lithuanian Tourism Board but all opinions expressed are my own.
Share:

Estonia isn't just about the city of Tallinn, which albeit a beautiful and historical stop, won't give you the rich textures and diversity of Estonia's culture or people. Enter the natural and beautiful destination of Muhu Island. Those who are flying in straight from New York City and operate at a fast pace most of the time, may need a stop between urban life and this small island, a short ferry ride away. Things do not move quickly on Muhu, although that is precisely it's beauty, its charm and the reason to spend time there.
While Muhu Island is largely about fishing villages, nature and rural settings, there is a pocket of luxury tucked away on the southern tip of the island, a small resort known as Pädaste Manor, once the home of Barons' riding-horses and caleches.  The property which dates back to the 16th century, has a handful of seaside buildings, a small spa and the renowned Alexander Restaurant. (see our write up on the Alexander Restaurant, which is in the Estonia Food & Wine Section of WBTW).
You can choose to stay in the Manor House, the Carriage House or rent out the entire Farm House (ideal choice if you're a family or traveling with friends). Frankly, it would even make a great corporate retreat. Four rooms and eight suites adorned with antique furniture are renovated into a countrified style, complete with Eastern throw rugs on hard wooden floors.  I stayed in the Carriage House, which had a small living room seating area on the lower level with the bathroom and on the upper level was the bedroom, carpeted and cosy, the bed couching below slanted off-white washed walls.  Every split-level suite can accommodate two extra guests on a pull-out couch on the first floor.
If you opt for a suite in the carriage house, you'll enjoy a private balcony overlooking the park and sea. While there isn't a kitchen downstairs to make yourself a cuppa tea, you can call for a delivery to your room or choose to sip away while relaxing in their quiet lobby area, which has a working fireplace and grand piano, which I took great pleasure in playing the moment arrived. Others took off on bikes and country walks for a stint before we re-convened in the sauna, which we reserved for our group.
While the spa is small, they offer most of the traditional services you'd expect, such as facials, massage and access to a steam room and sauna. There is a sea water hot tub as well, however it is a bit of a walk from the main house, as it is located down by the sea. Not as tempting when the weather is cooler, however, that distance also provides more seclusion from the main buildings, making it a more romantic alternative whether you're with a partner or simply want to take in the starry sky above you.
For the more adventurous, they have a Siberian cold tub to freshen you between sauna visits. I for one, chose the shower, but it's there for the taking for all of my cold weather loving friends.
At the spa, they also have something called the Muhu haybath, which is a special oatmeal and yogurt scrub or you can choose one of their mud treatments. They plaster your body with mud, and then wrap you in plastic so that you're completely covered. Once this process is done, they lower you into warm water while the mud does its detoxification magic, leaving you feeling relaxed and renewed. After a treatment, I'd recommend taking in the Roman steam bath, which has natural herbal extracts or the wood burning sauna, which I didn't want to leave since the smell was so lovely – fresh birch and juniper keg make their way through your senses.
Below is the main house, which is where the main restaurant is housed, as well as small lounge and bar area at the entrance of the house should you want to hang out with friends and family before bed.
We love this place and would recommend it to those wanting a quiet and relaxing getaway in natural surroundings. While the Estonia Tourism Board hosted me for my stay, all opinions expressed here are entirely my own.
Check out our other sections on the region, such as Estonia Food & Wine and Estonia Lodging. You will find other stories in culture, travel, music and arts as well.
Photo credits: Padaste's website and Renee Blodgett.
Share:

The Cartoon Art Museum and Art RockX! are throwing an "Expose your Super Power" Show this week in San Francisco, encouraging people to come dressed as their favorite superhero or just to "bring that superpower you always wanted to possess."
The event itself is being hosted by Lyn Williams and DJ Lamont Young and will be at the Robot City Brewing (you knew them as Last Exit Brewing). Three Bay area Celebrity Photographers – Robert Silver from GET LIVE, Michael O'Donnell photographer to the SF Stars, and Shilofivecoat will be shooting all night. The photo challenge is to capture the crowd in a series of poses and positions all around Superpowers and Superheroes. Art RockX! style, the photos are showcased at the show, and the audience votes on their favorite.
A Cat Woman Fashion Show, includes a line up of San Francisco's Loveliest dressed in a variety of Cat Woman Looks. The Museum's brand new Superman exhibit is their very fitting backdrop, and with the Superman movie coming in June 2013, a special prize for the best Superman. TV cameras roll for this Art RockX! Show!!
Share:

I love instruments, especially ones I haven't seen or heard before. In rural Lithuania when I ventured to Eastern Europe in April, I was mesmorized by the soothing sound of the Kanklės, which is a Lithuanian plucked string musical instrument from the zither family. The instrument is similar in construction and origin to the Latvian Kokle, Russian Gusli, Estonian Kannen and Finnish Kantele.
On a misty day where rain finally presented itself, I found myself in a rural village named Miciunai, where pastures went on for miles and green was plentiful. Farmland. Birch trees. Windmills. Nearby there's a museum in a small cottage called Rumšiškės, which is about 20 kilometers from Kaunas, and in between the capital city of Vilnius and Kaunas.
With a sweet voice and dressed in traditional clothing, Lithuanian born Lorita sang softly as she played her Kanklės. Lorita's main mission of course was not to dive deep into Lithuanian music history but to teach us about breadmaking.
Being the musician that I am, I had to learn more about this unusual musical instrument which looked like it came from another century. Apparently there are three basic regional types of kanklės, although there are variations within each type and each has its own distinct style.
Northeastern Aukštaitija: The simplest and most ancient form, most frequently having five strings, and having a rounded bottom like a boat.
Žemaitija and Northwestern Aukštaitija: Somewhat larger than those of Northeastern Aukštaitija, usually having between eight and twelve strings. They have a flat bottom, and in some cases, the shortest end is carved with the stylized figure of a bird or fish's tail.
Suvalkija and Northwestern Žemaitija: Usually the most highly decorated type, and often used in concert performances, the most prominent identifying feature is the addition of a carved spiral figure. Typically these instruments have between nine and thirteen strings.
"Traditional Lithuanian folk songs are very simple," says Lorita. Folk songs were traditionally written and sang to create a mood to get people through a hard work day….there are songs about seasons, calendar songs, love songs, children's songs, songs about shepherds, often sung during games and family events. People typically link arms and sit around the table, as if you're creating a human chain.
Before and after music played, we learned about bread. Gathered around a heated stove, we sowed and kneaded dough, something that is considered a Lithuanian tradition and ritual. We had an opportunity to make and decorate our own loaf of bread. "Tasting bread is like tasting life," they say.
The breadmaking process starts when the oven is already heated and the pastry is tanned in kneading-trough. We were given an opportunity to scrabble the ember with a rake and sweep the oven with a pine-brush.
While the bread bakes, we learn how bread was baked in the past, which wood was used for the bread baking and why. On a wooden platter rests "sweet flag," which is a plant that is typically found on the shores of lakes and ponds. In Lithuania, Sweet Flag leaves are used to add a special flavor to dark bread, however I later learn that the plant is now becoming an endangered species.
While the bread bakes, we talk more about Lithuanian traditions, including how language has played a part. Apparently in more rural areas, where peasants lived and worked, the language didn't really progress. "Lithuania was like a stone age language that doesn't ever change," she says. "Just like Latin didn't develop since the 5th century since it was so rarely used, peasants didn't move and their communications needs were simple. As a result, the language remained relatively primitive and didn't evolve."
I ask Lorita other questions, such as where she lives and what she does when she's not educating children and foreigners about breadmaking. She lives in a village nearby and points to the car she used to drive herself to Rumšiškės.
While she says her English isn't fluent, we're able to communicate just fine, enough to learn that she does have Internet access at home and pays 20 Lithuanian Litas per month for the privilege, about $7.50. While it may not be as lightning fast as Comcast claims mine is, its a far cry from my $60+ a month bill for unreliable service that is down or unsuitably slow more than it's not. And yes, she has email but doesn't tweet or participate in social media, yet neither do my sisters who live in a small New England town.  I learn that Rumšiškės only has about 1,700 people, sits on the Kaunas Reservoir and can claim the birthplace of well known Lithuanian poet Jonas Aistis.
As she returns to her music, we head out on a walk before the rains start tumbling down. While the day isn't particularly cold, the soft candlelit room in this small breadmaking cabin is a welcome retreat after the mist coats our bodies.
Quaint, rustic and welcoming, the room awaits as the bread finishes baking. Heavier than what we are accustomed to finding on most American shop shelves, you don't need much to be full especially with the creamy warm butter they serve it with, which has just a touch of sea salt on the top.
I couldn't seem to remember which loaf I decorated and by that time, it didn't matter all that much for the collection of them together was what you wanted to dive into even though it felt tragic to cut into such a beautiful display.
Is there anything quite as inviting as freshly baked hot bread?
Below is a video I shot of our experience:
Note: this experience was hosted by the Lithuanian Tourism but my opinions expressed are entirely my own. For more on Lithuania, visit our Lithuania page.