About Renee Blodgett
Renee Blodgett is the founder of We Blog the World. The site combines the magic of an online culture and travel magazine with a global blog network and has contributors from every continent in the world. Having lived in 10 countries and explored nearly 80, she is an avid traveler, and a lover, observer and participant in cultural diversity.

She is also the CEO and founder of Magic Sauce Media, a new media services consultancy focused on viral marketing, social media, branding, events and PR. For over 20 years, she has helped companies from 12 countries get traction in the market. Known for her global and organic approach to product and corporate launches, Renee practices what she pitches and as an active user of social media, she helps clients navigate digital waters from around the world. Renee has been blogging for over 16 years and regularly writes on her personal blog Down the Avenue, Huffington Post, BlogHer, We Blog the World and other sites. She was ranked #12 Social Media Influencer by Forbes Magazine and is listed as a new media influencer and game changer on various sites and books on the new media revolution. In 2013, she was listed as the 6th most influential woman in social media by Forbes Magazine on a Top 20 List.

Her passion for art, storytelling and photography led to the launch of Magic Sauce Photography, which is a visual extension of her writing, the result of which has led to producing six photo books: Galapagos Islands, London, South Africa, Rome, Urbanization and Ecuador.

Renee is also the co-founder of Traveling Geeks, an initiative that brings entrepreneurs, thought leaders, bloggers, creators, curators and influencers to other countries to share and learn from peers, governments, corporations, and the general public in order to educate, share, evaluate, and promote innovative technologies.
Latest Posts by Renee Blodgett
Share:

I'm a huge fan of essential oils and think that they can be very calming, especially when you're overly stressed which can happen when you're on the road a lot. I wrote about Gurunanda Essential Oils back in May and we also tested out one of their diffusers which we use quite regularly at night, most often with the Lavender scent, which I love. Most diffusers work by heating the essential oils and the Aroma 360 folks take a different approach. Since essential oils are very delicate and volatile, they tout that the therapeutic benefits are destroyed when they are heated, as well as their ability to disperse well in large areas. The molecules fall as they come in contact with the cool air, shortening the life of the scent.
We've been playing around with one of the Aroma 360 diffusers, which uses cold air diffusion.
They offer a variety of models, so you can select one that best works for the amount of space you have and they come in both silver and black. Their Mini 360 is sleek and compact, a great solution for a smaller apartment or one room. The Picasso 360 is larger and the most robust solution is the one they call Museum which will scene every square inch of space via a HVAC system. We tested out the Mini 360, which works with open areas of up to 600 square feet. It is compact enough to put anywhere, especially since it's tall and slender — only 2.5 inches in diameter and 12.2 inches tall.
Cold air diffusion is the latest technology in the scenting industry, and it works by using high amounts of air pressure to compress oils into a dry mist of nano particles. This cold air diffusion technology is used in all Aroma 360 diffusing systems and is meant to ensure consistent and subtle scenting without high or low points in the scenting process. Below is an idea of where and how you can set it up in the house — we happen to love using it in the bedroom before we go to sleep as a way to calm our spirits and take in the relaxing aromas of calming essential oils.
We tested the diffuser roughly 80% of the time before going to bed and 20% in the late afternoon when we were winding down on a weekend to get an idea of how it works in an "awake state" and right before a "sleep state." In both cases, we found it to have a calming effect and of course, this depends on the type of oils you select.
The Aroma 360 folks offers a variety of essential oils to choose from. What's really cool is that you can choose by scent or by the benefit it provides, such as Beauty Sleep, Focus, Fresh, True Romance, Social Butterfly (gotta love the name), Inner Peace (great one), Signature Scents and more.  Counting Stars is one of my favorites, which is French lavender with Nordic pine (Purple Rain and Take a Bow are also great choices if you like Lavender), Dancing Queen has  lilies and zesty coriander and Beautiful Day which is a combo of succulent honeydew, zesty lemon and lemongrass with bamboo and sage.
Green Eyes is a bit like a fragrant Asian garden brimming with fresh green tea, aromatic lemongrass, sweet Valencia oranges and plum wine, Moondance gives the fragrance of an  ocean breeze with notes of citrus zest and sharp musk and When Doves Cry is meant to help with circulation and cluttered air with thyme and calming mimosa. They have a very impressive collection of scents and the bottles are much larger than most you'll find out there. What else is nice is that they have a lot of scented candles to choose from as well.
We went with Purple Rain as mentioned above (I absolutely love the power of Lavender), California Love, which gives off a scent of crisp, clean lemongrass and refreshingly smooth green tea. There is also a touch of soft jasmine and serene lilies that comes through as well. The third scent we went with is something they call Across the Universe which is a crisp, clean therapeutic scent of eucalyptus to help clear your mind and awaken your space.  Another very relaxing choice is one they rightfully call Serenity, one of my favorite words and states of being (just look at my Instagram feed). Their Serenity oil gives off wild bamboo stalks and fresh water lilies, and is balanced with notes of lotus blossom, vetiver and dark amber.  Bravo and oh so lovely!!
I'm not a doctor of health practitioner so full disclosure that I am merely speaking from personal experience using it and not advising diffusers or essential oils for any particular ailment. I do find that having those lovely relaxing essential oil scents in the air, particularly before sleep, helps put me in ultra relaxation mode pretty quickly. Two thumbs up. More info at http://www.aroma360.com. 
Share:

On my recent trip to Chattanooga Tennessee, I had the opportunity to hang out for an afternoon at the local Tennessee Aquarium. I love spending time in Aquariums, largely because I learn so much about another world, the underwater world, so foreign to our own. Although land-locked, the Aquarium here is definitely worth visiting. Want to know what mesmerized me the most? The fascinating and oh so colorful SEA NETTLES, which is a common free-floating scyphozoan that lives in the East Pacific Ocean from Canada to Mexico. Sea nettles have a distinctive golden-brown bell with a reddish tint. Their scientific name? Chrysaora Fuscescens, which is a whole lot harder to remember.
Pacific sea nettles (also known as West Coast sea nettles) are in the class Scyphozoa, that of the jellies called true jellies. The genus name of sea nettle jellies,Chrysaora, comes from Greek mythology. Chrysaor, reportedly a giant, was the son of Poseidon and Medusa. His name translates as 'golden falchion'. A falchion was a commonly used curved fighting sword that could cut through armor, a reference to the stinging ability of these jellies. The West Coast sea nettle's species name, fuscescens, means dusky or dark referring to the dusky color of the nettle's bell. This jelly uses light-sensing organs (ocelli) to migrate daily from dark, deep water to sunlit surface water. Bell can be up to 30 inches wide, and their tentacles can be as long as 16 feet on giant specimens.
Their predators? Sea turtles and other jelly-eating animals, such as tuna, sunfish, butterfish, and spiny dogfish, keep the jelly populations in balance. All seven species of sea turtles include them in their diets. The largest sea turtle species, the leatherback, depends on jellies for food. Because jellies are more than 90% water and an adult leatherback can weigh more than 2,000 pounds, one turtle can consume a lot of jellies. Fascinating right? I couldn't stop watching them — they're relaxing to watch as their motion is so fluid, delicate and seamless.
Below is a quick video I shot to give you an idea of just how relaxing their energy is — meditative and free-flowing. Let's just say that they made my day!
As for other creatures of the sea, the Tennessee Aquarium, which has been around since 1992 and sits on the banks of the Tennessee River in downtown Chattanooga. You'll be taken below the surface in the Aquarium's two buildings and be able to tap into the Aquarium's IMAX 3D Theater and River Gorge Explorer as well. Join me on a visual journey.
Share:

Sure, you can stay at one of your favorite decadent and luxurious chain hotels or resorts around the world, like the St. Regis, a Four Seasons or a Ritz Carlton (and we love them all), but when you want something highly unusual and decadent and luxurious and creative and way off-the-beaten path, here are some great options for romantic or luxe family travel getaways when planning your next trip to Europe.
Headfort House, Ireland
Let's now move to Kells Meath, Ireland where you can rent out a ten bedroom, eight bathroom estate, a great option for family getaways or for businesses wanting to whole facility for themselves. Other ideas? Weddings or big deal anniversary celebrations where you want to invite others along. In that regard, you can take advantage of their formal ballroom that fits one hundred twenty individuals — imagine having a dance here?
The house has a whole bunch of fun features as well, such as a sports field, swimming pools, a theater, and stables, which is lovely for those who like to go horseback riding. The other nice thing about this property is that it is less than an hour's drive from Dublin — you can rent it out via AirBNB actually and it's under $1500 a night for the whole property.
St Pancras Clock Tower Guest Suite
Imagine sleeping in a British clock tower? This apartment which can sleep up to four (2 beds) has an ensuite bathroom and a connecting kitchen and is in the heart of London at St. Pancras Station.  It is a part of St Pancras Chambers, the name given by British Rail to the building formerly known as the Midland Grand Hotel.
The building was originally constructed between 1868 and 1873 as the flagship hotel for the Midland Railway Company. Designed by the architect George Gilbert Scott as the accompaniment to the railway station shed by Henry Barlow, the hotel operated only until 1935 before being turned into railway offices and allowed to enter a general state of degradation. On the very top of the Tower, stands the statue of Britannia, the only statue on the building. Curiously, stone niches adorn the rest of the building, appearing to await the addition of dozens of missing statues, abandoned as part of the railway's cost-cutting measures.
The building is remarkable for being constructed largely from materials brought by rail from the Midlands, including the sandstone, red brick and the ironwork of the station roof and staircases. Carved stone capitals and bosses show a remarkable variety of high quality work, with granite columns gracing many of the arches. Taking inspiration from such buildings as the Cloth Hall at Ypres, Scott's work harked back to a medley of periods in gothic architecture.
The original mechanical winding mechanism was so large it needed its own winding room half-way up inside the Tower Room, from which a pulley system drew the weights up inside a tall box (still preserved) running the height of the room. The need for a long weights box seems the only practical excuse for the height. The room benefits from secondary glazing to minimise any external noise and keep the room warm in winter. As well as the Tower Room, the apartment consists of a Kitchen/Dining Room and two double bedrooms with en suite bathrooms. The bedrooms are available to rent on an individual basis through Airbnb, although most s need to be made at least three months in advance.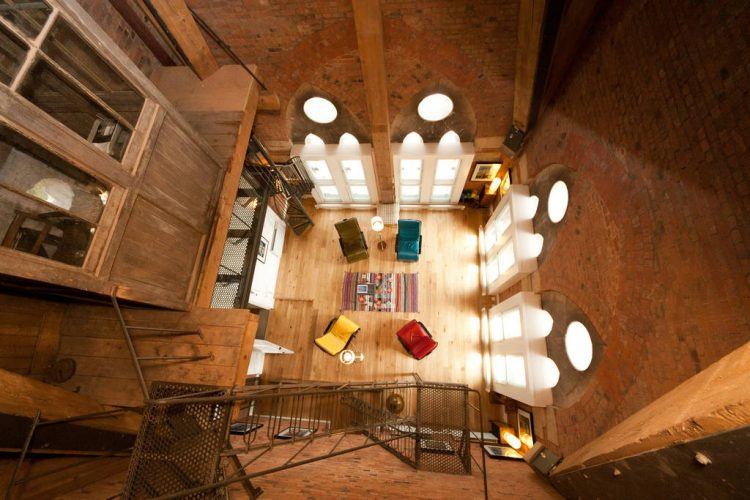 http://www.stpancrasclocktower.co.uk/accommodation.html
 Villa San Gennariello B&B
At the foot of Mt. Vesuvius, this bed-and-breakfast in an 18th-century villa with a garden is 11 km from both the Naples National Archaeological Museum and the Royal Palace of Naples. This lovely villa is located in Portici, Campania and is a must for historians who love classic architecture and old antiques. Think B&B more than large resort which means that the owner is on-site and can help with recommendations for things to do in the area. Oh so authentic and oh so Italian.
I haven't been to Naples in two decades so it's on the list to try out on the next trip to Italy due to its closeness to the city as well as the Herculaneum and Pompeii excavations. This would also be a great choice for families as it sleeps up to nine people with private bathrooms and WiFi and the price is a steal at under $100 a night.
This property is a splendid eighteenth-century villa set in leafy grounds with palms, rare plants and trees over a hundred years old. This remarkable place, which was once part of the old Bourbon pheasant-shooting retreat connected to the Royal Palace in Portici, is still as beautiful and impressive today as it was when Portici was the favourite destination of eighteenth-century noblemen. Today the town is attractive in itself and also a good starting-point for those wishing to explore the area and visit sites of archaeological interest and great natural beauty. The coast, dominated by the brooding Vesuvius, looks across to the enchanting islands of Capri, Ischia and Procida.
More info here: http://www.villasangennariello.com/engl/.
Houseboats in Paris
You can stay in a houseboat on the Seine in the heart of Paris, such as the renovated Houseboat Concorde, a spacious floating home with hardwood floors, sundeck, three bedrooms, 2 baths, office space and fully appointed kitchen area.  There's not much missing in this houseboat with high speed internet, flat screen TV, and washer dryer.  Another option is Houseboat Louise situated in the heart of Paris on the Seine within walking distance of the Jardin des Tuileries, the Louvre, Musée d'Orsay, Place de la Concorde and the Champs-Élysées complete with sundeck and two bedroom with sleeping room for up to 5 persons.  This houseboat is over one hundred years old and is located right under the Eiffel Tower. It has a good bit of space and has a private deck overlooking the Seine river and the Eiffel Tower. The facility features a bunk bed for two people and a private bathroom and shower. There is also a great pedestrian path leading right to the houseboat. A great romantic getaway, the price ranges are oh so reasonable at around $200 or less per night and can actually be booked on AirBNB or France Homestyle Rentals.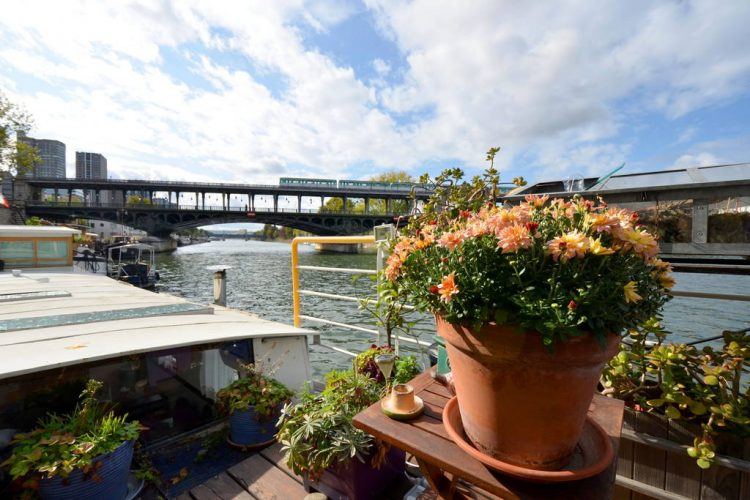 Aegean Island Villa in Greece
Nestled on a Hillside With a Breathtaking Aegean Sea and Village Views, this villa combines character, history and modern comfort, with antique furniture of mid-19th century in 4 bedrooms where sleeps up to 8 (4 Bedrooms). There's a private Swimming Pool with Jacuzzi and the Spacious Areas with Sunloungers and Parasols.
You can enjoy alfresco dining and Barbecue outside, on their large wooden deck Terrace, a complete living area, with a dining table. Villa Molova is a Traditional Rental Self-catering House in two levels, which has a tranquil and relaxing feel, situated above the fishing picturesque Port of Molyvos Village on Greek Island of Lesvos – within a short walking distance to local taverns, beach and amenities. The setting offers breathtaking views of the glistening waters of the Aegean Sea. In the distance the medieval Byzantine Castle is situated on the top of a rocky hill, and in summers varied cultural events take place in its inner yard.
There are striking views of the Aegean Sea and there is also a barn conversion that sleeps up to eight additional guests. This villa rents for roughly $600 a night.
Share:

I'm typically not a fan of chains, even high end ones, largely because I often feel that there's very few unique characteristics to a property. Of course, I have been proven wrong on this view point a number of times, most notably at one of our favorite Ritz Carlton properties: Dove Mountain in Arizona, which we reviewed last year and has a big wellness focus, which is very integral to WBTW's focus: Transformative Travel. Earlier this month, we had an opportunity to experience the Hyatt Carmel  Highlands property in Carmel California, a lovely oasis nestled into a mountain and surrounded by trees, all while also boasting epic views of Big Sur and the Pacific Coast. What we love most about this Hyatt is its natural surroundings and the fact that it looks out onto the ocean — a mix of large hotel amenities with the charm of a unique hotel getaway. This lovely oceanfront hotel is 3.2 miles from Carmel River State Beach and less than ten miles from Cannery Row, which for those who haven't been, is a must do for shopaholics. Also here are great cafes and restaurants as well as beautiful ocean walks.
What We Loved
The natural wood burning fireplaces are one of the features we loved the most, so it rises to the top of the list. Other unique add-ons that are noteworthy include their complimentary mountain bikes and for families, they offer on-site babysitting services, so you can get the R&R you need, even with kids in tow. Note that while they do not have a spa on the premises, they do offer in-room spa services, which we didn't take advantage of, so can't speak to the quality of the services offered or the experience.
There's also a Les Clefs d'Or Concierge on the premises and for those trying to escape from the pressure of day-to-day work but still need to be connected, they offer ATT 3G a cell phone network host. If you want to escape from wifi and the connected world, it's also very doable — you can get lost in the nearby mountain and go on hikes or bike rides or take a walk along the beach. Also worth raising is their 3 outdoor Jacuzzis. I'm always astonished at large properties that only have one hot tub for far too many people many of them close early. Who doesn't want to soak in a tub after dinner?
Speaking of flexibility, their StayFIT fitness center is open 24 hours and they even offer private yoga classes upon request.
For later lounging about, their Lobos Lounge offers great day and evening views.
They have a great outdoor heated pool as well btw, which is a relaxing way to spend an afternoon. Since we experience so much June and July gloom in the Bay Area, Carmel makes for a great early summer getaway when it's cloudy, foggy and cool and….it's only about an hour and fifteen minute drive.

The Rooms
The Hyatt Carmel Highlands has 48 non-smoking guestrooms, which include eleven suites, 32 Ocean View King rooms, and five Garden View rooms. As you'd expect, they have fridges in all the rooms, some have kitchenettes and there's daily newspaper delivery. For those traveling with families or are there for extended stays, they offer dry cleaning upon request. High-tech amenities include a flat screen TV with cable and satellite channels, iHome stereo with iPod docking station, dataports and high-speed DS3 wireless Internet.
For folks who live in the San Francisco Bay Area, it's worth noting that they have 5,000 square feet of indoor and outdoor meeting space, private dining, a dedicated wedding coordination team and special catering upon request. Activities nearby include several golf courses, including Pebble Beach, Spy Glass Hills Golf Course, Blackhorse Golf Course, Bayonet Golf Course and Rancho Canada, all within ten miles or less. For tennis lovers, the Mission Tennis Ranch is only 5 miles away and there's horseback riding, wine tasting  and kayaking nearby. If you are traveling with children, you should definitely visit the Monterey Bay Aquarium (it's wonderful) and historians will appreciate the Carmel Mission Museum and the Maritime Museum.
Nature On & Around the Property
The hotel is surrounded by nature on all sides, which is oh so glorious!

Below is the view from our room in the 300 block — you can also get rooms closer to the ocean for more grandular views and ocean breezes.
They have fire pits around the property where you can relax with your family or a group of friends. They also have BBQ pit areas where you can cook on the premises as well, making it a great addition to a Family Travel Stay Listfor the Carmel and Monterey Bay area.  A bird visits as we finish lunch on the patio of their more casual dining establishment, which has fabulous views of the ocean below.
The outdoor gazebo area where they hold private events and weddings.
They offer complimentary bikes where you can take rides up or down the hill – both sides offer breathtaking views.
The Lounge Areas
The public areas are also very relaxing, from the fireplace that greets you in the main lounge, a spacious area with big couches, tables and a tea/coffee display. They offered us complimentary bubbly when we arrived which was a nice way to begin our Hyatt stay. In the evenings, they have live music four nights a week, including one of the nights we were there. It was a solo piano player who takes requests and yes, we danced.
Casual and Fine Dining
California Market is their casual restaurant on the premises — I'd suggest dining here for a casual lunch or brunch on their outside patio. There are fabulous views of the ocean and a lovely breeze. You can opt for something more traditional like pancakes with bananas or one of their healthier salads. Both the Caesar (with shrimp or chicken) or their Seared Tuna salad are delicious! Add to it one of their freshly made lattes, a Margarita or glass or Chardonnay and you'll be relaxed for the rest of the day!
For fine dining, head to their elegant and award-winning restaurant Pacific's Edge, which has views from three windows facing the Pacific Ocean – wow! Suggestion: get a 7 pm reservation so you have plenty of time to take in the views before and after sunset.
We had oysters to start with — who wouldn't if they're available?
Some of our suggestions include an unusual preparation of Yellowfin Tune Tartare, which they serve with avocado, chilled potato yuzu puree, crispy quinoa, lime aioli and they sprinkle the plate with seaweed powder.  My favorite app which I ended up having as my dessert, is their Burrata, which they serve with yummy burrata cheese of course, heirloom tomatoes and Opal Basil blossoms (it was so divine!!!)  Also on the "to-die-for" list is their Scallop Ceviche (third photo below) made with coconut milk (OMG), ginger, lime juice, red onion,green chilies and cilantro.
A great choice for vegetarians is their Zucchini Carpaccio or their Wild Mushroom soup, which they make with locally foraged mushrooms, crispy mushrooms and ramp oil. They also offer a traditional Caesar which I would have liked to try. For mains, if you're in the meat mood, they have Short Ribs, a Colorado Lamb Loin, an Aged Ribeye or a Filet Mignon from Niman Ranch. Since we were on the ocean and had ordered Chardonnay and Pinot Grigio, we went for the Yellowfin Tuna served with cumin crust, bok choy, fennel salsa, watermelon, pistachios, and Enoki mushrooms as well as the Pacific Wild King Salmon, which they serve with a lentil salad, cilantro oil and crispy leeks. (both pictured below).   Other seafood options include Dayboat Scallops with grilled asparagus, romensco sauce and shishito peppers with crispy basil and the Chilean Seabass with almond gazpacho, basil oil, grapes and sun chokes. YUM!!!
Have a sweet tooth? Then, be sure not to miss out on their chocolate cake with a nice hot cappuccino. We took ours to go so we could head to the bar for some live music, which I'd encourage. Two thumbs up! It makes for a great romantic getaway from the San Francisco Bay Area or Los Angeles and if you have kids in tow, there's plenty of outdoor activities to do in the area, including bike rides, nature hikes and of course swimming.
DETAILS:
HYATT CARMEL HIGHLANDS
120 Highland Drive
Carmel-By-The-Sea, CA 93923 
Note: we were hosted by the Hyatt but all opinions expressed are entirely our own.
Share:

Festivals can be transformative when you choose the right ones and are in the right mindset. Let's start with a top 10 List for the rest of the summer around the world. Let's take a look at some of our top picks this summer!
The International Balloon Fiesta in Bristol England
This is Europe's largest ballooning event, Bristol's International Balloon Fiesta. More than 150 balloons take off from Ashton Court Estate at dawn, and linger in the air until evening, when they illuminate the skies. he Bristol International Balloon Fiesta is held annually England. Teams from the UK and other parts of the world bring their hot air balloons to the site and participate in mass ascents where as many as 100 balloons may launch at a time. For more information, visit www.bristolballoonfiesta.co.uk.
Photo credit: Heart.co.uk.
The Helsinki Festival
The Helsinki Festival is all about film, music, dance, and circus acts, as well as a series of hildren's events. For more information, visit www.helsinginjuhlaviikot.fi.
Summer Sonic in Japan 
One of Japan's leading music festival takes place in both Tokyo and Osaka. Each city has its own amped-up selection of performers playing, with last year's line-up including Arctic Monkeys, Pixies, Metronomy, The 1975, Azealia Banks, Ellie Goulding and Little Mix. Other attractions are yet to be announced, but in previous years have included a silent disco and dedicated art and kids' areas. For more information, visit www.summersonic.com.
The Horseracing Festival in Lithang and in Nagchu/Nakchu
This is a fun Tibetan event with large numbers of locals displaying extreme horsemanship, that has some fun folk songs and and plenty of dance.
 

Burning Man in Nevada
Burning Man conjures up all kinds of outrageous images for the uninitiated. Yes, the Playa (the desert stage location where the Man, the temple and much of the art is) is a culturally curious place, one part hedonistic, one part idealistic. But, amidst the hippies and Silicon Valley CEOs that populate this pop-up town, the common thread is an appreciation of the life-affirming nature of the artistic spirit.
At its heart, Burning Man is a celebration of artistic self-expression for those who have a utopian vision of the world. For some it's about creating a spiritual sense of oneness in an intentional community based upon 10 principles . For others, it's about all-night parties and dancing, riding around naked on bikes and participating in the Slut Olympics (yes, this is one of hundreds of events). But no matter what archetype defines you and your experience, anyone who has done the pilgrimage to the desert is known as a Burner, and this may truly alter the course of your life.
Rainforest World Music Festival
This is an annual music festival in early August every year in Kuching Sarawak Malaysia. It spans for three days in the Borneo jungle, and features both international and local artists. Think fabulous tribal music and dancing in the mud and tropical rain.
The Havana Carnival
This fabulous festival in Cuba may not be as big as of Santiago de Cuba, but it's a great festival that shines of Cuban culture with music, dance, costumes, parades, fireworks and party scene
The Wilderness Festival
Ahhh yes, the Cotswolds in England, one of my favorite places. Think barefoot, flower-garland-toting bohemians prance about the woods and skinny-dipping in the lake at Cornbury Park while live music from up-and-coming artists plays. Metronomy and London Grammar took the stage last year, whilst this year's line-up includes Björk and Ben Howard. There are also massive banquets and menus by chefs Nuno Mendes, Raymond Blanc and Angela Hartnett. There's also thought-provoking talks and symposiums by professors, philanthropists and The School of Life. visit wildernessfestival.com.
Þjóðhátíð in Iceland (The People's Feast)
Located in Heimaey, Westmann Islands, Iceland, in early August, bonfires are lit and vodka is shared to celebrate the ratification of the country's constitution in 1874, but Heimaey hosts the mother of all parties. Some 10,000 people make like the local puffins and flock to the only inhabited Westmann island for a music festival on the edge of the world.
'
Heimaey 'by quinet. Creative Commons Attribution-ShareAlike
The Soundwave Festival
This festival is held Ibiza where there's plenty of music, beaches, sun and the great dance music. Imagine three stages just round the bay from the pretty fishing village of Tisno. The daily boat parties, where DJs and record labels put on a show to a sunset backdrop with an after party at the open-air club Barbarella's.  For more information, visit www.soundwavecroatia.com.
The Boardmasters Festival 
The UK's surf capital of Newquay, in Cornwall, does beachside, sea-and-salt fuelled fun with the annual Broadmasters Festival, a five-day celebration of music and surf. There are surf competitions at Fistral Beach, skate and BMX ramps for the less aqua-inclined. For more information, visit www.boardmasters.co.uk.
Sziget Festival in Budapest
This monster of a music festival spans seven days and the full 266 acres of the River Danube's Obuda Island. Spend your days on the beach and party by night to the 1,000+ acts – from heavy-metal rockers to boy bands – performing over the course of the week. For more information, visit www.szigetfestival.com.
Credit: allnightcrash.com.
South West Four in London
Clapham Common annually hosts the South West Four, one of the biggest electronic music festivals in the UK. The visual effects are just as impressive as the world class DJs spinning the decks with past acts including Deadmau5 and Alesso. For more information, visit www.southwestfour.com.
Victorius Festival in Portsmouth
This festival brings in 40,000 people to the same sound on one tiny island off the south coast.. Victorius takes place over the weekend; there's no camping but the party continues down Albert Road in bars and pubs with live music and special events. Past headliners have included Dizzee Rascal, Seasick Steve and Tom Odell. This year will be the biggest yet, with The Flaming Lips, Tinie Tempah, Primal Scream, Ella Eyre and Basement Jaxx confirmed. For more information, visit www.victoriousfestival.co.uk.
Qi Xi (Seven Sisters Festival)
Qi Xi is the Chinese equivalent of Valentine's Night. In a tradition that pre-dates Christ (not to mention speed dating), single girls carry out tasks to impress potential lovers. Also called Night of the Skills, the event sees girls showing off their talents at domestic duties such as embroidery and melon carving. They throw a sewing needle into a bowl of water and, if it floats, that indicates the girl is an accomplished knitter. Read more.
Nathan road, Kowloon' by JoopDorresteijn. Creative Commons Attribution.
Il Campo Festival in Siena, Tuscany, Italy
Il Palio is a bareback horse race that lasts for about a minute and a half. During the short dash around central piazza Il Campo, which is covered in packed dirt for the occasion, jockeys are allowed to do anything to their opponents other than tug their reins. The winning steed is often riderless.  A great and fun-filled event in the heart of Tuscany that must not be missed.
Piazza del Campo' by razvan.orendovici. Creative Commons Attribution
Mezinárodní Dudácký Festivalu (International Bagpipe Festival)
In Strakonice, Písecko, South Bohemia, Czech Republic, there's an event dedicated to bagpipes and bagpipe blowing. You can get a sense of this variety at the stop-start opening procession, in which the enthusiastic players regularly pause for a toot, and take hours to cover the 1km to the castle.
'
Rožmberk 'by dorena-wm. Creative Commons Attribution-NoDerivs
La Tomatina (Tomato-throwing Festival)
Located in Plaza del Pueblo, Buñol, Valencia, Spain, this annual event is a vibrant and interesting cultural event that involves tomato throwing – yes, really. Not only are the streets full of red, but so are people in this tomato-throwing craziness.
'
La Tomatina: In Uniform' by dahon. Creative Commons Attribution-NoDerivs
Osheaga Festival Musique et Arts
In Parc Jean-Drapeau, Montréal, CA, you'll hear the Red Hot Chili Peppers, Lana Del Rey, Radiohead, Disclosure, The Lumineers, M83, Haim, Future, Grimes, Flume, Bastille, Passenger, Walk the Moon, Leon Bridges, Daughter, Elle King, Years & Years, Half Moon Run, Beirut, Mac Miller, St. Lucia, MØ, The Last Shadow Puppets, Bloc Party and more.
Hinterland Music Festival
In early August in St. Charles Iowa, you'll hear Willie Nelson, Ray LaMontagne, Grace Potter, Cold War Kids, Lake Street Dive, Shovels and Rope, Houndmouth, and more.
Share:

Let's face it – if you're a foodie, regardless of your preferences, you can't deny that the South has so many unique specialties and dishes to make your mouth water. On our trip across country last year, one of our favorite restaurant picks was located in Tennessee as was a memorable dish we nearly didn't order: waffles with deep fried chicken, blueberry honey, blue cheese and yogurt. Oh so delish and to die for is the best way to sum up this artery hardening experience!
Returning to Tennessee after months of a very low carb diet was nerve wracking. After all, I put on a lot of weight after several weeks of cross country restaurant reviews – read my write-up about how I took it off again and how I kept it off.  

So, what do you do if low carb dining is an integral part of your lifestyle and you're a foodie? And, what do you do when faced with a fabulous restaurant you're dying to try that has a lot of high carb dishes on the menu?
Of course, you must try some of them (how much fun would travel be if you didn't?) but remember that a healthy life is all about balance and as hard as it is when heavy cream and fatty deep fried specialties are staring you in the face, go for the one choice you can't live without and get a salad to balance it out.

While Anthony and I feel more energized and "lighter on our feet" with a high protein, high veggie and "almost" Paleo diet at home, we don't deny ourselves unique cultural tastes when we travel. While the South is classically known for its Shrimp & Grits, Biscuits & Gravy, Black Eyed Peas, and bacon on everything, some of the more modern influences integrate a lot more greens and are less sauce heavy than their predecessors. That said, did I try have some grits and bacon in Chattanooga? You betcha! And, it was oh so scrumptious.
Let's start with a few restaurants I had a chance to try during my most recent stay in June or were strongly recommended to dine at:
Easy Bistro & Bar
Located off Broad Street in what was formerly the world's first Coca-Cola bottling plant, the soaring dining room and dramatic décor serves as a backdrop for an inspired meal – all served by friendly, attentive servers dressed in black and white. The backlit bar features a national recognized cocktail program and wine list of 250 bottles from around the world, with a focus on France and California.
They're known for their oysters apparently — fresh and delicious.
Order the chilled corn soup if you get a chance; listen to how they prepare it — it's made with saffron custard, cucumber and sorghum popcorn! Oh so WOW! I'd also recommend their steak tartare, served with anchovy, cornichon, shallot-garlic sauce, cured yolk and Jimmy red chips and they offer a great array of seafood options as well, both cooked as a main course or as an appetizer. Imagine a combo of red snapper, mussels, shrimp, m.s.m andouille sausage, fennel, dutch potatoes, tomato and okra.
"Easy Bistro's chef Erik Niel grew up in south Louisiana so he knows a
good shrimp when he sees one." 
Other delicious options worth mentioning are their Crawfish-Artichoke Dip, Shrimp and Grits for those who love Southern Cuisine (served with peppers and fennel, my favorite), old fashioned Brisket, Garlic, confit potatoes and string beans, Pork Belly with peace, creamed corn and jalapeno,  Pei Mussels with garlic and fries, and their Gnocchi with peach, Benton's Ham and cherry tomatoes.
Clyde's on Main
This is a fairly new establishment in the heart of downtown. Young and hip, it has a great bar scene as well as outdoor tall picnic table-style eating areas which make it a great choice for groups. A great low carb but oh so decadent and southern choice on their menu are their briskets. YUM! I love smoked meat from the south — at Clyde's, they smoke low and slow and serve their meats straight off the pit, all day long. The result is a very smokey and tasty brisket, whether you go for the beef, pork, chicken or ribs. They also offer a pork and wing combo with baked beans and slaw, another favorite of my mine. The Southern restaurants seem to make creamier coleslaw than any I've had anywhere else in the country.
They do a Texas style smoked brisket with sweet and spicy marinated and it is served with Texas toast, baked beans and a choice of slaw, which is either a straight Mayo slaw or a hot mustard slaw. Memphis Style Ribs are slow smoked St. Louis cut spare ribs served wet or dry with baked beans and your choice of slaw. Oh so delish!
For those who care less about carb reduction, the Mac Daddy Mac'n'Cheese dish is most definitely a southern specialty – they serve it with Smoked chicken and southwestern spiced veggies, roasted cauliflower, poblano, red pepper, corn and bacon in a creamy chipotle cheese sauce or you can opt for the Fried Shrimp Dinner which is brined with buttermilk and served with mayo slaw and a baked potato.
Another dish I'd put on the "to die for" list is their Smoked Bison Meatloaf, which is slow smoked, southwestern-spiced ground bison and pork. They glaze it with a Chipotle barbecue sauce and serve it with Gouda mashed potatoes and grilled asparagus.
 
This is a fun restaurant for apps and there's no shortage of scrumptious options, from Smoked Brisket Nachos and Vietnamese Spare Ribs St. Louis style to Boiled Peanuts, Beer Cheese Pork Rinds, homemade soft pretzels and something they refer to as Clyde's Pork Candy. Let's just say that I could have eaten the whole thing though we ordered it as a plate to share thankfully. The pork "candy" refers to the way they serve it — it is thick cut slices of their homemade candied glaze bacon. OMG!!
 
There's a whole page of sandwiches to choose from as well, from a grilled pimento cheese sandwich with bacon, to Choo Choo Hot Fish which is spicy fried cod, creamy slaw, tomatoes, house pickles and a Louisiana hot sauce. You can also get a Smoked Cubano sandwich with Applewood smoked ham, hickory smoked pork, house pickles and melted cheese, a Philly Brisket or Pulled Pork sandwich, a Surf & Turf Po Boy, which they prepare with Creole fried shrimp, slow roast beer and mushroom debris gravy or a Loaded BTL. (Bring it on!!)
Hennen's
Located on Chestnut Street, this fun eatery offers a lovely variety of options for both lunch and dinner. Wine lovers will be happy to know that they have a varied choice even by the glass, which isn't common at every Chattanooga restaurant where local beer, whiskey, margaritas and bourbon may be a higher priority.
Sipping my very buttery northern Toad Hollow Chardonnay, I decided to go a little healthier for our first official lunch in Chattanooga, so I ordered their Baby Spinach salad with dates, goat cheese confetti, spiced walnuts, pears and strawberries tossed in a sweet seed vinaigrette. That said, the better choice for something a l'il different is their Chopped Salad which comes with arugula, freeze dried corn (cool, right?), couscous, trail mix, marinated tomatoes and buttermilk pesto. The pesto was so good I ordered a side of it for my own salad – creamy and delish! You could get any salad with smoked salmon or grilled chicken and there were plenty of healthy choices at this trendy lunch spot.
Had it not been my first lunch, I very well may have gone for my colleagues choice — their traditional French onion soup (just look at their decadent presentation!)
Other colleagues went for burgers, a pan seared crab cake, sweet ginger calamari, seared ahi tuna with pickled cucumber salad and the white bean hummus dip. They also offer a mean cheese tortellini with asparagus, tomatoes, mushrooms and pesto, and classic Low Country Style shrimp and grits with peppers, onions, Andouille sausage and spicy gravy.
Below, their hummus dip which comes with a fresh warm flatbread, cucumbers and warm tomatoes. I loved their presentation!
Want something a little more classic? They have that too – a prime rib with fries, a Sliced Sirloin with herb-mashed potatoes and grilled asparagus (note how often asparagus is on the menus in Chattanooga), or the Delmonico Ribeye served with any side. Their sides were fun as well, from veggies and roasted mushrooms to wilted spinach, grits, green beans and fries.
Hennen's also offers a wide range of interesting cocktails for both lunch and dinner, including selections like a Pomegranate Martini, a Jalapeno Rita (imagine Jalapeno Infused Avion Silver Tequila with St. Germain Elderflower Liquor), an Orange Peel Manhattan, a Peach-Mango Martini and something they refer to as a Moscow Mule, which is made from Absolut Vodka, House made Ginger Syrup and fresh squeezed lime juice. YUM!
Taco Mamacita
Now, why on earth would you do Mexican fare in Tennessee you might wonder?  While Taco Mamacita feels and behaves like a fast food eatery in so many ways, the joint was founded by locals who have a passion for the cuisine. They use locally sourced food food whenever possible and now have three locations – what's great is that they offer "naked burritos" and salads for those who are either gluten intolerant or favor lower carb diets like me.
Think nachos, salsa and fresh guacamole. Think of sloppy nachos which they call their secret recipe, which includes spiced ground beef, diced tomatoes, jalepenos, monterey jack cheese, sour cream and Fritos piled on top of a single layer of tortilla chips. Whoa mama, oh so delicious!
For the carb watchers among you, they also have great Cobb Salads, or a Grande Chopped Salad which comes with roasted chicken and your choice of dressing. Then, there's the fresh Chicken Tortilla Soup, which is made from roasted chicken, diced tomato, freshly sliced avocado, queso fresco, lime and chopped cilantro and served hot pot style with a flavorful house-made broth topped with tortilla strips. I loved their dressing choices — Honey Lime Vinaigrette • White Balsamic Vinaigrette • Jalapeno Ranch and a Smoked Chili Vinaigrette. It's a great choice if you have kids in tow.

The Flying Squirrel
Head here for a funky hangar-like space with locally sourced food and handcrafted cocktails. What I love about this place is their upstairs lounge area where you can also get a great view of the bar below. It's also a late night place that has occasional live entertainment. I'd also recommend the cheese and meat platter and their garlic fries. Yum!! Ambiance is trendy and chic here and their food selection is bar style and fun! Take a look at their open nacho plate below, which if you didn't want the carbs, you could just go for the meat, onions and veggies — it was very tasty!!
Beautifully presented was their cheese and cold meats platter on a large wooden platter — it includes Tennessee beef salami, dry-cured chorizo, Olympic Provisions Etna, accoutrements and their cheese is Sequatchie Cove Nickajack & Shakerag and Sweet Grass Green Hill. BTW, although we didn't try them, they offered Fried Green Tomatoes as well with maque choux (yum!!)
Our table did order the house cut fries however, which they offer with classic garlic (loved them) or spicy.  For the healthier among you, you can opt for the Broccolini with golden raisins, white wine and paramesan or the Panzanella Salad with Sandabama Farms heirloom tomatoes, cucumber, pomodoro, micro basil and parmesan cheese. If we had more time there, I was curious to try their Wagyu Tartare Sandwich which they preparedw ith B&B pickles, red onion, capers, pickled mustard seeds, sunny egg, local lettuce and local Niedlov's bread.
Great to share are their Cuban Tacos, with smoked pork belly and shoulder, red dragon cheese, mustard and pickles of their Duck Carnitas Tacos,  made with crispy duck confit, cabbage, radish, tomato, pickled red onion, avocado purée and cilantro. Vegetarians will be happy to know that smoked tofu tacos are an option and as I mentioned above, they have plenty of salads. The presentation? Top notch!
St. John's Restaurant 
This is a must visit for the fine diners and wine lovers among you. Located on Market Street, seasonal, elevated American fare is served in a vintage space with modern decor.  It is housed in a building that went up at the turn of the twentieth century so it has a great deal of history. The flatiron building evolved over the years from hotel to brothel to abandonment. After being condemned and nearly torn down in the 1990′s, local architect and preservationist Thomas Johnson restored it. Today, there are luxury apartments above the restaurant and the ambiance is oh so chic!
Menu options won't disappoint, from chilled asparagus soup, fava bean salad with beets and feta cheese, Ranch Trout and Lamb Loin to start to plenty of fish, steak and chicken options for mains. For example, I was thrilled to see a Wagyu Beef Zabuton Steak and Braised Cheek on the menu, which they serve with potatoes, green beans and cipollini onions. There's also a local Maple Leaf Farm Duck Breast and Confit with spring onion and strawberry crudo and fiddlehead ferm-ramp risotto – WOW!
From Ashley Farms, there's a free range chicken with homemade gnocchi, a Heritage Farm Pork Shank with a panzanella salad (seems to be popular on many Chattanooga restaurant menus) and a Broken Arrow Ranch Axis Venison with grits from Riverview Farms, asparagus, oyster mushrooms, swiss chard pesto and cipollini onions. The venison definitely would have my vote! They do offer a wild Alaskan Halibut with Alabama Lump crab and creamed corn for fish lovers.
Oh so fresh and dedicated to using many ingredients from local farms, something we always applaud!

Daily Ration
This fabulous brunch plac e is always busy on weekends apparently.  Technically still Chattanooga, it's located at the end of a residential street on Dartmouth Street. You can sit outside here, in the back room if you happen to be a group, or at the bar, which has a fun ambiance. Their coffee is to die for — while the coffee may not be what is most unusual, how they prepare a cappuccino with Almond Milk is the best I've ever had.
Southern style is where it's at here, however they also offer some modern ethnic dishes you wouldn't expect to find on the menu, like the Asian Breakfast Bowl, which is served with Rice, Glazed Pork Belly or Tofu, House Kimchi, Pickles, sesame seeds and a soft boiled egg. I had to laugh when I saw one of my staples, but without the bread on the menu….something they call a Boring Breakfast, which is two eggs, choice of meat, roasted potatoes and a house Buttermilk biscuit.
Avo Toast served with Roasted Beets and Chilli Lime Salt, was ordered by our group as was the Asian Breakfast Bowl, Flapjacks with Bourbon Maple Syrup, and the Alibi Burger with tomato jam, lettuce, pimento cheese and pickles. I also ordered a side of Kale and a couple in my group went for the Cheddar Grits (how could you not when in Tennessee?). The house sausage was fresh and delicious as was the bacon.
For the healthier minded among you, they offered a Granny's Chicken Salad with grapes, lettuce, and tomato and a Cous Cous and Goat Feta Cheese Salad. They serve a mean and oh so delish Bloody Mary with a Chilli Lime Salt around the rim that was so good, I ordered a side of it for other dishes. Grandma's Special is a fun one for the kids — house buttermilk biscuits, cruze sausage gravy and two eggs cooked any style. They have a veggie breakfast option as well for the vegetarians among you, an omelette, which could also be made with only veggies and The Seuss, which includes Benton's Country ham, two eggs, roasted potatoes and a Granny Smith Compote.
STIR
Adjacent to the Chattanooga Choo Choo Hotel where we stayed sits STIR, a bustling and fun eatery and bar with exquisite seafood, salad and soup options as well as a wide array of cocktails, wine and entrees. When I saw oysters on the menu, I had to oblige. What's great about dining with a large group is that you can sample a variety which we did — they had oysters from Washington state, holbolk golds from California, bluepoints from New York State and Alligator Harbors from Florida.
For those not into raw on the half shell, you can be a l'il more decadent and btw, I also tried these and they were my favorite among all lunch and dinner choices all week! We sampled both the Baked Cheddar Bacon Oysters (heavy but oh so worth ordering) and the Oysters Rockefeller, which is served with spinach, shallots, pernod and parmesan. They also do a baked crab stuffed oyster option as well. YUM YUM YUM!!
Appetizer options included salmon cakes with citrus dill yogurt, parmesan white truffle fries (WOW!), Tillamook sliders with cheese and garlic mayo, Seafood Ceviche (always worth ordering), fish tacos, Crab Bisque and a variety of salad options, including a seared tuna salad with carrots, cucumbers, cherry tomatoes, avocado, kale chips and a cilantro miso vinagrette.
I went for the Seared Tuna entree which they serve with kale, bacon, red onion, farro, basil and sriracha potato crumbles in a citrus soy sauce. Shrimp and grits was on the menu of course, but so was traditional steak and frites, seared scallops, fried shrimp, chicken caprese, and grilled salmon with a scrumptious citrus dill sauce, pickled red onions, farro and roasted vegetables.
Two thumbs up for the cuisine, drink choices and the ambiance!
Ocoee Dam  Deli & Diner
This diner is technically not in Chattanooga, but we stopped here on our way back from white water rafting along the Ocoee River, an hour or so outside the city in a place called Benton. En route back near the Parksville Dam, we experienced a family-owned diner with plenty of traditional Southern dishes on the menu alongside traditional sandwiches, wraps, desserts and salads.
Sure, you can get a classic wrap but why would you want to when there's fried Tilapia, Country Fried Steak, Ocoee Dam meatloaf, Black and Blue burgers (that'd be the blue cheese crumbles), and so many southern delicacy sides to choose from, such as Mac-n-Cheese, fried okra (below), pickled beets, sweet potato fries, turnip greens (below), white beans, buttered corn, black eyed peas and creamy coleslaw on the menu.
And, how about those classic Southern style deep fried green tomatoes?
OR, deep fried pickles (I LOVE LOVE these and always order them when I head south).
They had plenty of desserts to choose from as well, including traditional pastries, brownies and ice cream — this traditional styled deli in oh so many ways, is a great choice for families.
Other recommendations include…..
Tremont Tavern
This spot is known for their legendary burgers. Every now and then, it's amazing what a juice medium rare burger with caramelized onions can do to my mood.
BrewHaus 
More for the meat lovers among you. This joint has German sausage on the menu as well as a wide variety of German beers to choose from.
TerraMae Appalachian Bistro
For something a little different, head to this delicious and recognized bistro on East 10th Street.
Lakeshore Grille on Lake Resort Terrace
This spot is a great spot to go to for American cuisines right on the lake – the views and drinks are the bigger reason to give them a try.
Sticky Finger's Smokehouse
This spot has apparently been voted as having the best ribs in Chattanooga for six years – if you're a rib lover, put this spot on your list. Famous Dave's is another popular place in town that serve BBQ ribs and smoked meats.
212 Market Restaurant
I'm a fan of sustainable and organic cuisine and those sourcing from local farms. Across from the Tennessee Aquarium, which I'd strongly recommend visiting, 212 Market is a great sustainable choice in town.
The English Rose
It is a unique place in Chattanooga and a must visit for tea lovers. Yup, it's a classic tea room that offers British lunches and they also have a gift shop on site.
Hair of the Dog Pub
I like this choice for beer lovers since they offer craft beer pairings using local ingredients in a traditional pub atmosphere.
Puckett's Grocery and Restaurant

 
This place came up a few times and locals recommended it. It is also on our music and entertainment list as they apparently offer authentic and delicious southern comfort food.
Public House

 
I mentioned this establishment in my article on the Chattanooga Music Scene but in addition to live music, they offer basic American fare such as burgers, sandwiches and salads.
Boat House Chattanooga
This is a popular down to earth place among locals, this great seafood restaurant runs along the river and yup, they have oysters, which I have a weakness for… 
Root Kitchen and Wine Bar

 
While I didn't try this place out, it was recommended by two reliable sources in town when we moved into a food and wine conversation. Chattanooga really isn't a wine city but some of the finer restaurants will offer you enough well-known options to choose from that you won't have to resort to spirits or beer with dinner.
Rodizio Grill

 
Who doesn't love a Brazilian steakhouse experience when they're incrediby hungry? This is also a fun place to go with a group.
Tupelo Honey Café

 
This cafe is known for their elevated down-home dishes made from scratch and gelato and Clumpies and Cupcake Kitchen are the stops to make for those with a sweet tooth and can't pass up homemade ice cream on a hot summer night.
Sekisui or Totto

 
Okay, sushi lovers, you might be surprised that you can find fresh and elegant choices in the South. Totto offers an all you can eat sushi lunch from Monday to Saturdays. 
Alleia
Who doesn't love Italian? This chic trendy restaurant on East Main Street does a top notch job at Rustic Italian cuisine in a modern and sophisticated atmosphere. There's also a beautifully lit outdoor patio that oozes romance where you can dine during warmer months.
To make your mouth water a bit, how about a braised veal papparadelle or one of my favorites: angel hair with tomatoes and shrimp? There's also a ravioli with herbed ricotta and pomodoro on the menu for pasta lovers and meat lovers will love the quail breast with fig (OMG), a wood-fired pork shoulder with strawberry mostarda and balsamic or a classic New York Strip steak with balsamic onions. My kinda place, food curation, ambiance and all!   
Additionally, a relatively new and fun opportunity for foodies heading to Chattanooga is what's known as the Scenic City Supper Club (SCSC). SCSC is a dining series aiming to shed light on Chattanooga's emerging restaurant scene and its dedicated community of chefs, farmers, and producers.  Launched in April 2015 by Erik and Amanda Niel of Easy Bistro & Bar and Nooga.com, the series hosts four dinners annually (one per season) to celebrate local talent and bring in chefs from across the Southeast and nationally. The Scenic City Supper Club is a unique opportunity to build an awareness and community around all that Chattanooga has to offer – locally and beyond.
The last thing worth mentioning is Chattanooga's weekend market, which has a lot of local farmers touting their latest and freshest offerings, from jams, jellies, breads and cheese to organic vegetables, fruits and tea.
Share:

Heading to Mexico for some R&R would make sense to most people. Images of cruises, beaches, vibrant colors and top grade Tequila would all come to mind, as would resorts with pools and swim up bars. You may not think of Mexico in the wellness travel escape category, however, particularly Puerto Vallarta.
While I didn't spend a whole lotta time this past trip meditating, doing yoga or even taking in the area's spa culture, I did spend a lot of time on the water. I also learned some interesting quirky facts about Mexico that we can learn from — I've love to return to Mexico for a solely focused wellness trip at some point in the future.
1. Chocolate and Chillies
Did you know that Mexico introduced chocolate, chillies and corn to the world? I did not. Chocolate was discovered in Mexico and was made by the Meso-American people into a sweet beverage using natural sweeteners. The word 'chocolate' derives from the language of the Aztecs, Náhuatl (xocolatl : xoco, bitter + atl, water). Ixcacao is the Mayan Goddess of chocolate. Corn (Zea maiz) was first cultivated in central Mexico. Most chillies come from Mexico, the word derived from the Náhuatl word chilli. Vanilla and red tomatoes are also on that list apparently.
Chocolate is made from tropical The obroma cacao tree seeds and its earliest use dates back to the Olmec civilization in Mesoamerica. It has antioxidant benefits, and in some studies, has been shown to lower cholesterol levels, prevent cognitive decline and reduce the risk of cardiovascular problems.
2. Bio-Diversity
I also didn't know that Mexico is one of the World's Top 5 most bio-diverse nations on Earth. More than 30,000 plant species, 1,000 bird species, and 1,500 mammal, reptile, and amphibian species are native to Mexico. They cherish nature and it shows, particularly when you talk to an elder. On your next trip, get into listening mode and you'll be surprised by what you take away.
3. A Commitment to More Women in Politics
Last year, Mexico approved a political reform package that, among other things, includes new measures aimed to ensure the greater participation of women in politics.  The law now requires gender parity, which means that at least 50% of the candidates fielded by a political party in either federal or state legislative elections must be female.  More details at https://www.wilsoncenter.org/article/mexico-seeks-to-empower-women-politics
4. Healthy Eating
They care about what they eat and that it remains as natural as possible. Last year, opponents of 
genetically modified organisms
 (GMOs) claimed victory after Mexico's Supreme Court blockeda move that would allow the cultivation of GMO soy in the Mexican states of Campeche and Yucatan. In a separate appeals court decision, a federal judge upheld a 
2013 ruling
 that barred companies such as Monsanto and DuPont/Pioneer from planting or selling their GMO corn within the country's borders. Bravo!
Additionally, in the west, far too many people are consuming a diet that is detrimental to our spiritual growth.  Fast food, sodas, microwave dinners, sugars are negatively impacting our health. Our bodies are designed for our blood pH balance to be between 7.35-7.45. Too much acid in the blood causes imbalance and eventually, diseases and further calcification of the pineal gland. Whenever you eat something that is incomplete (not wholesome) and acidic, your body has to pull the nutrients out of your body's minerals to try to neutralize the acidity.
A high level of spiritual growth through pineal gland decalcification can be gained by eating more alkaline foods which can help boost our energy levels, creativity and overall health. Many daily staples, including spices in Mexico fall into the positive alkaline list, such as Chili Pepper, Cinnamon, Curry, Ginger and Sea Salt.  Below, I'm about to order a freshly cut coconut from Caesar's Coconut Stand in Puerto Vallarta, which has been in business for three generations.
There's also a lot of fresh fish in the oceans and when I was there, I was regularly ordering Ceviche, salads, tons of avocado, limes and cilantro.
5. Low Suicide Rates
Mexico is ranked fairly low on the suicide list globally, whereas countries with other high veggie and fish diets like Japan are ranked very high. While the rates did go up slightly in recent years, they're still listed in the lower 25% of countries from around the world.
Share:

If you're an entertainment fan, especially of unusually interesting and creative performances, you'll love the alternative Cabaret mash-ups that Misfit Cabaret puts together in San Francisco. We recently went to their latest show, which is held at Great Star Theater. Located on Jackson Street in the heart of China Town, there are 14 local Chinese and Asian restaurants on the same block, making it easy and fun to grab a bite to eat before or after the show.
Misfit Cabaret is a splendiferous variety show centered around magical music with a rotating cast of eccentric performers. Each show is completely different– with changing themes such as the cult filmed Cinepheilia and the naughty nautical Whimsea. From burlesque to drag to circus to magic, you never know what you're going to see.
I love the concept and we had a boat loada fun. Some people get dressed up to match the theme and later, a couple of dozen people get dragged up onto the stage to dance to the last song with the rest of the crew and performers. For each new Misfit Cabaret, emcee Kat Robichaud writes two original songs keeping with the theme of the evening and plays them with her Darling Misfit band, as well as a special medley to kick off the evening and welcome in the spirits of San Francisco's saucy past. There's comedy, romance, and bawdiness around every corner. We loved her tribute to David Bowie song which she sang at the performance last week.
There's Prosecco, beer and wine on-site as well as popcorn to add to the evening's festivities and later, beach balls were thrown into the audience just to mix things up a bit and add to the fun. Another fun factoid to note is that the very old and very authentic Great Star Theater, a local underground miscreant, is meant to be haunted.
For more info, go to http://www.katrobichaud.com/ and click on Misfit Cabaret or simply google Misfit Cabaret. They're having a "bloody" themed one in October so be on the look out!