About Robert Schrader
Robert Schrader is a travel writer and photographer who's been roaming the world independently since 2005, writing for publications such as "CNNGo" and "Shanghaiist" along the way. His blog, Leave Your Daily Hell, provides a mix of travel advice, destination guides and personal essays covering the more esoteric aspects of life as a traveler.
Latest Posts by Robert Schrader
Share:

Last week, I traveled to one of the coldest places on the planet, completely on my own free will. It was a surreal, magical experience – and not just because it broke one of my life's most debilitating existential barriers.
Exploring China's Harbin Ice and Snow Festival brought me indescribable joy – three days here made up for all the "winter wonderland" magic I've missed most of the rest of my life and, believe it or not, it's even made me eager to explore more wintry destinations. After you've finished enjoying my photos, continue reading to get the 411 on how you can visit the Harbin Ice and Snow Festival.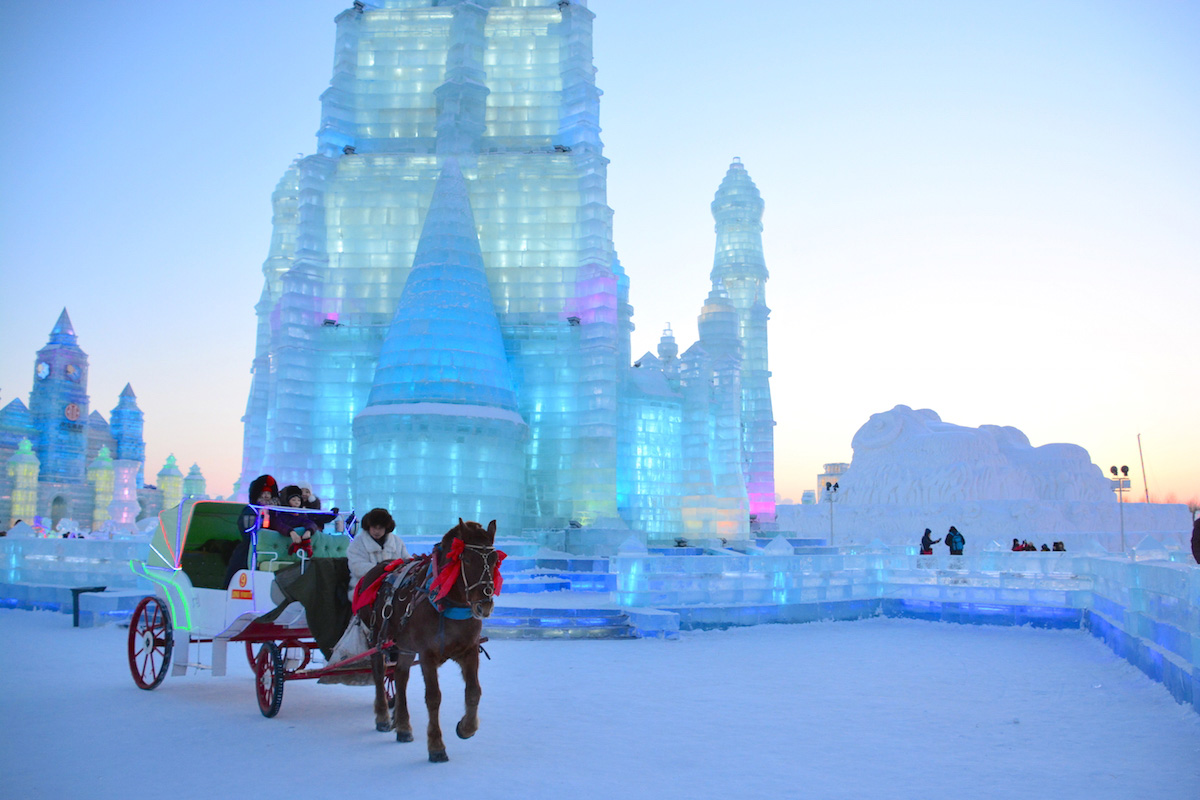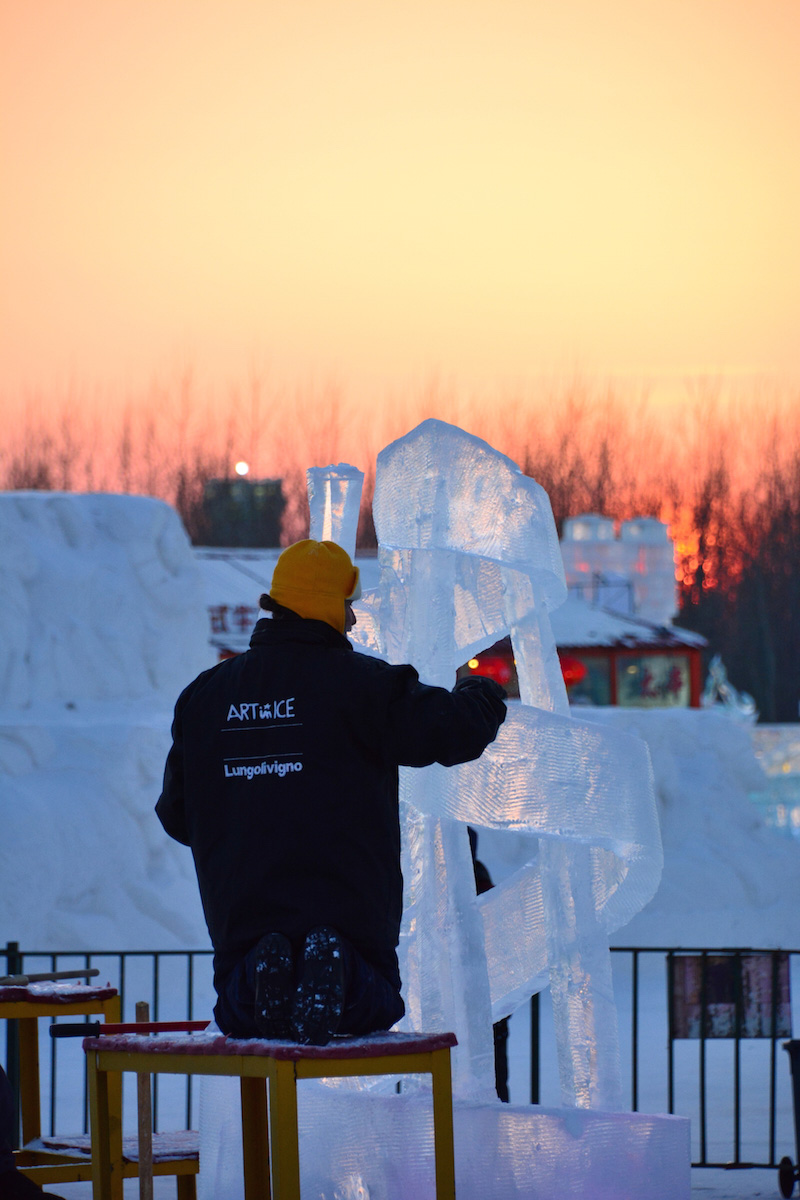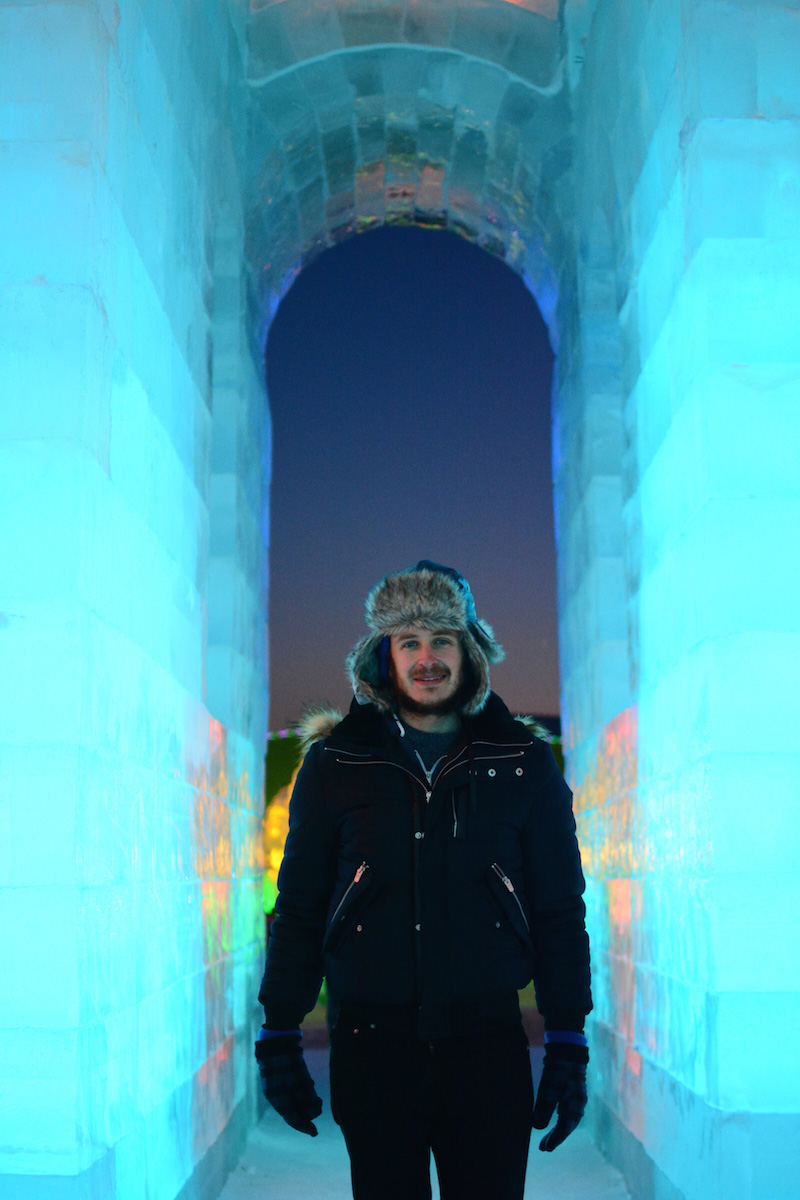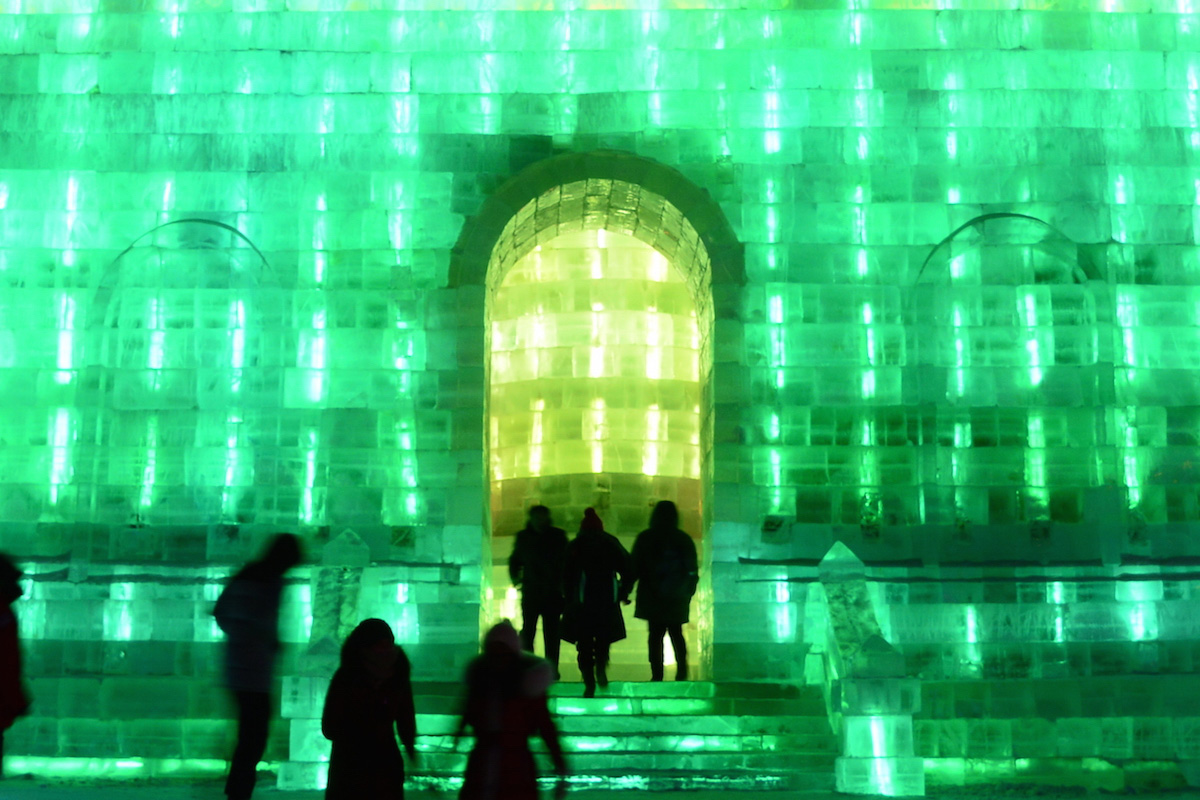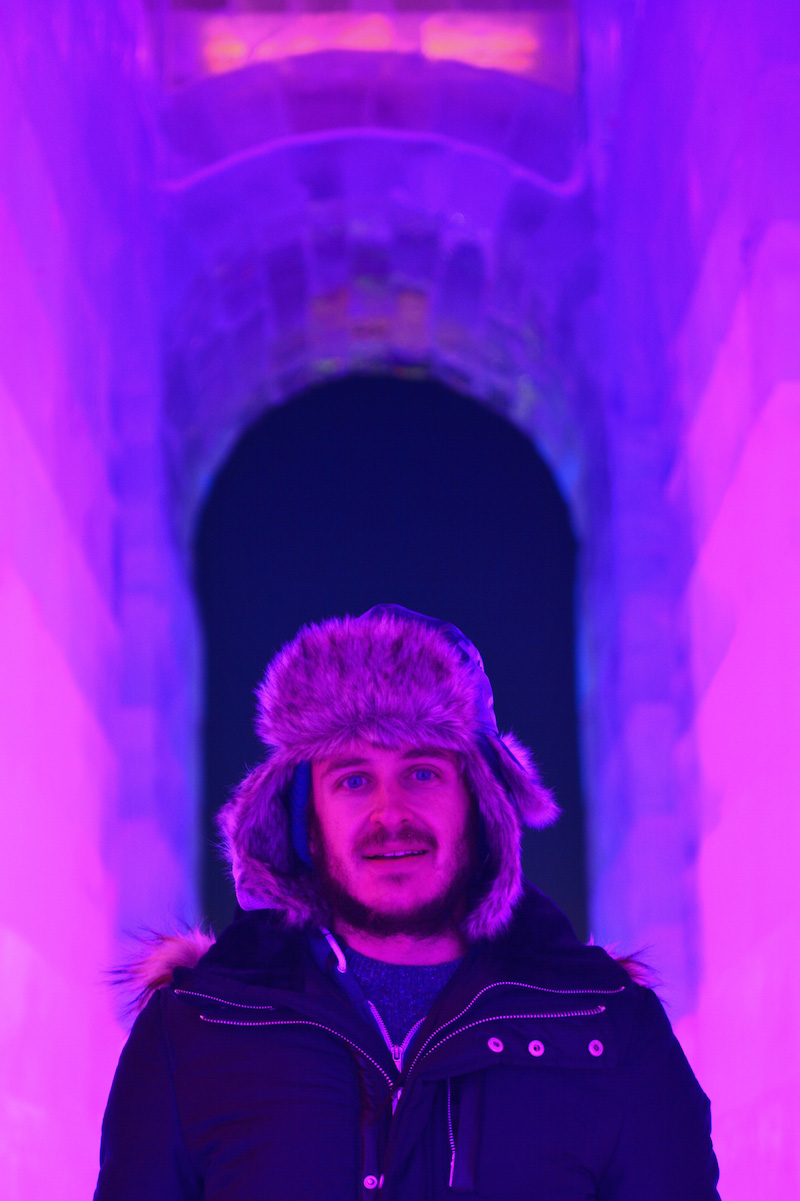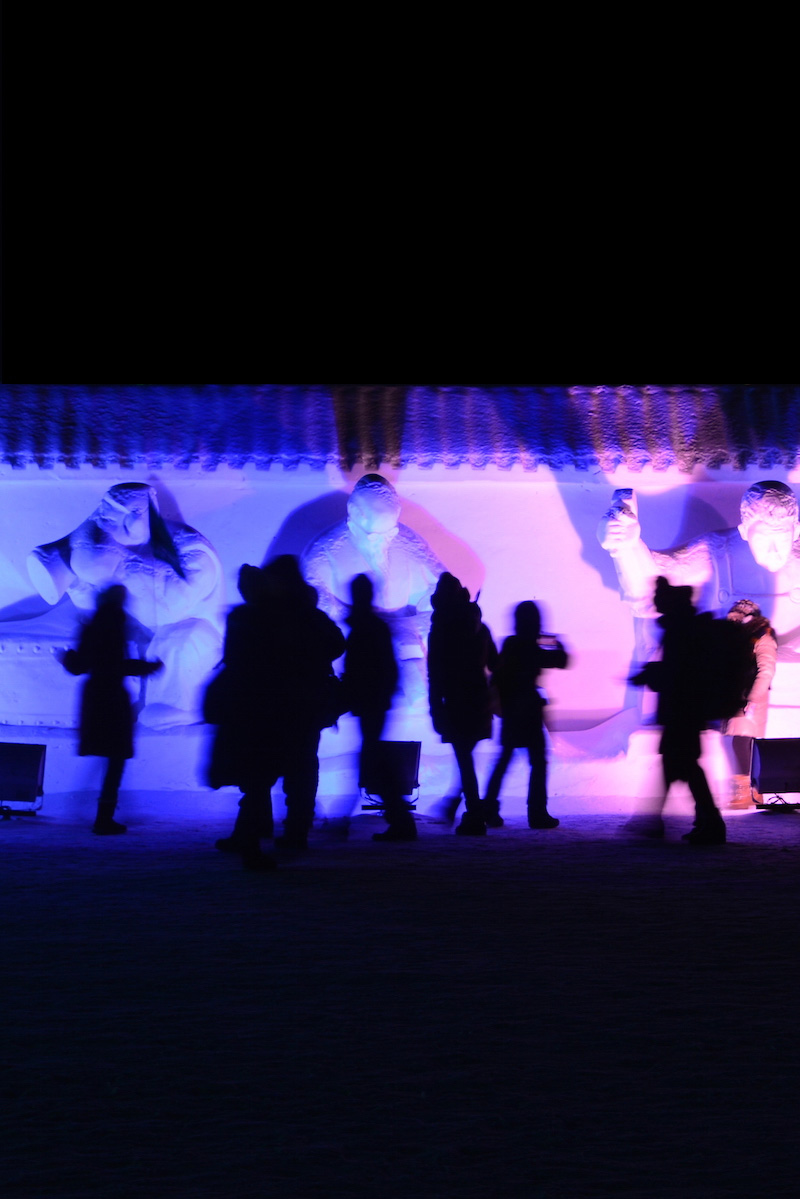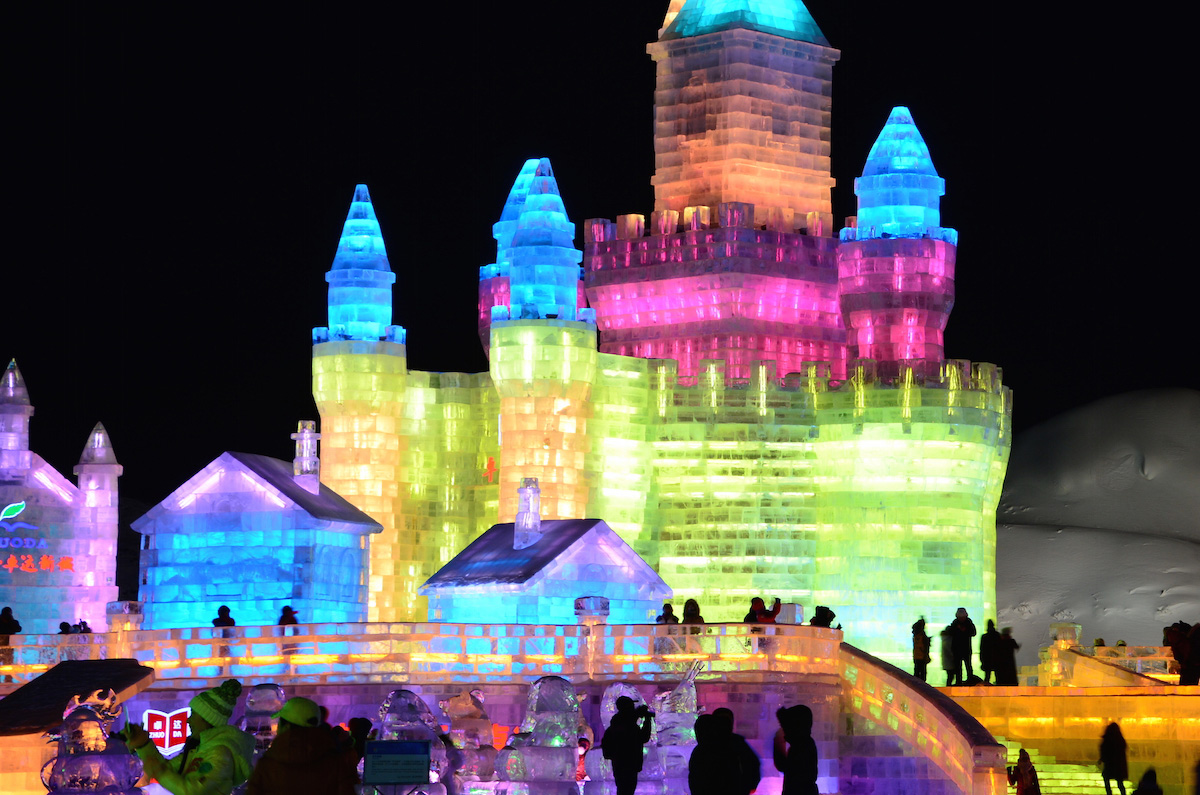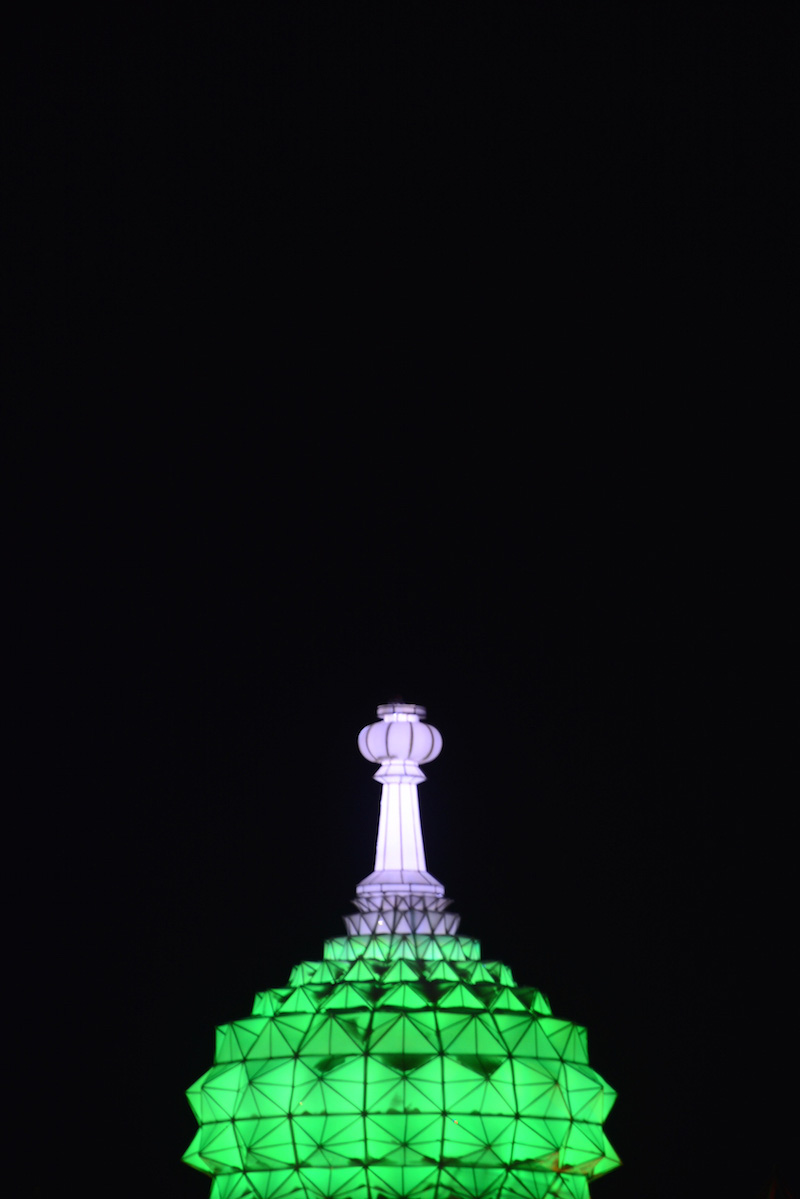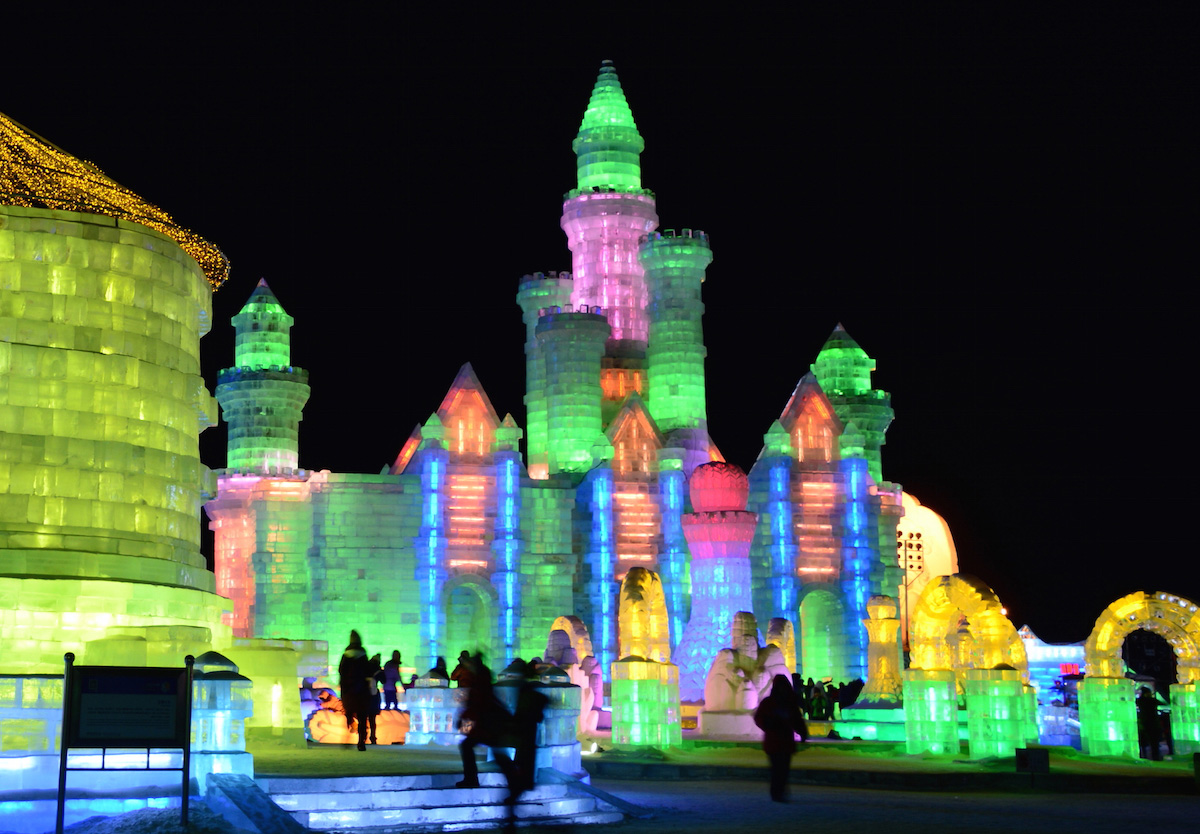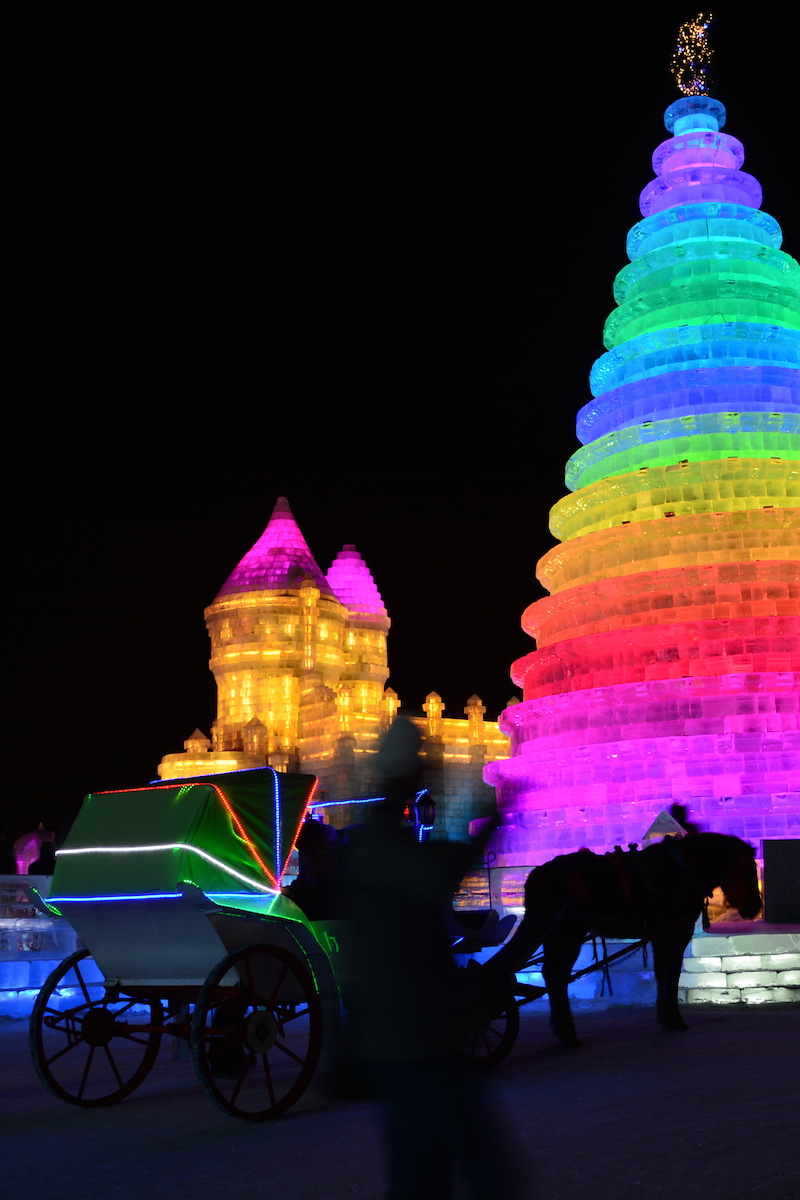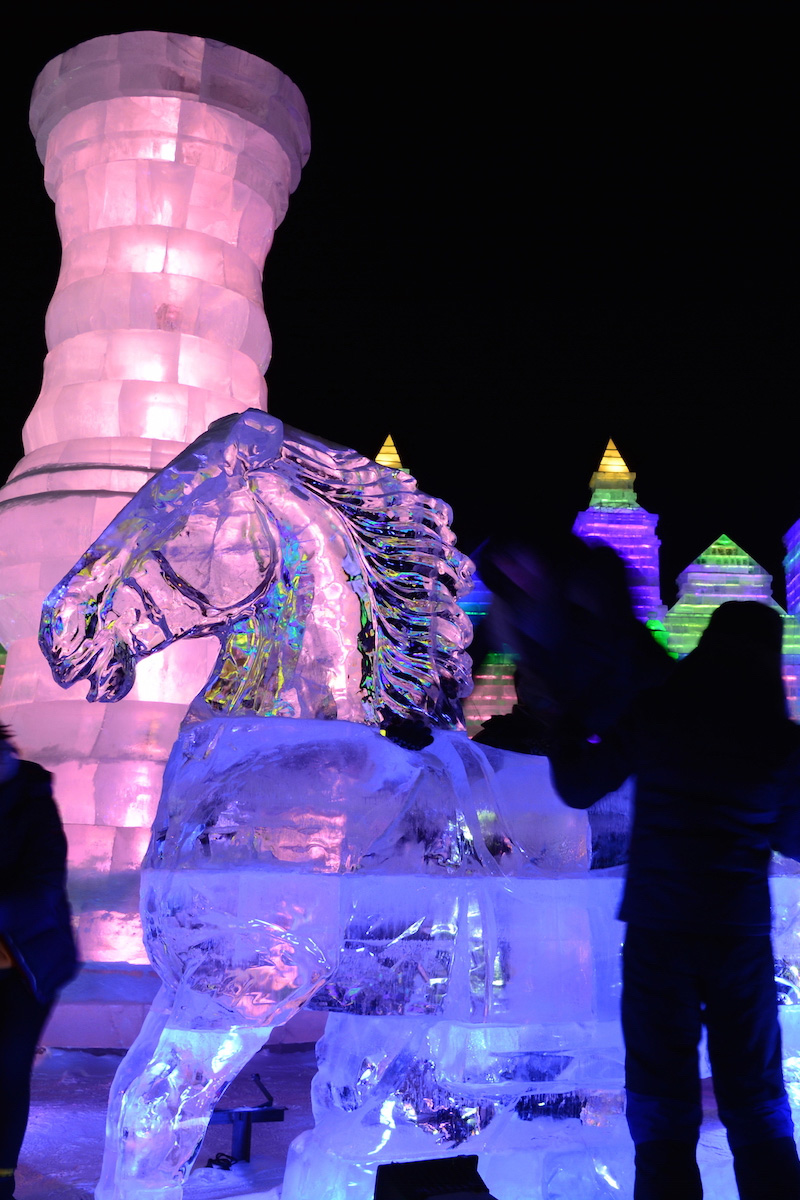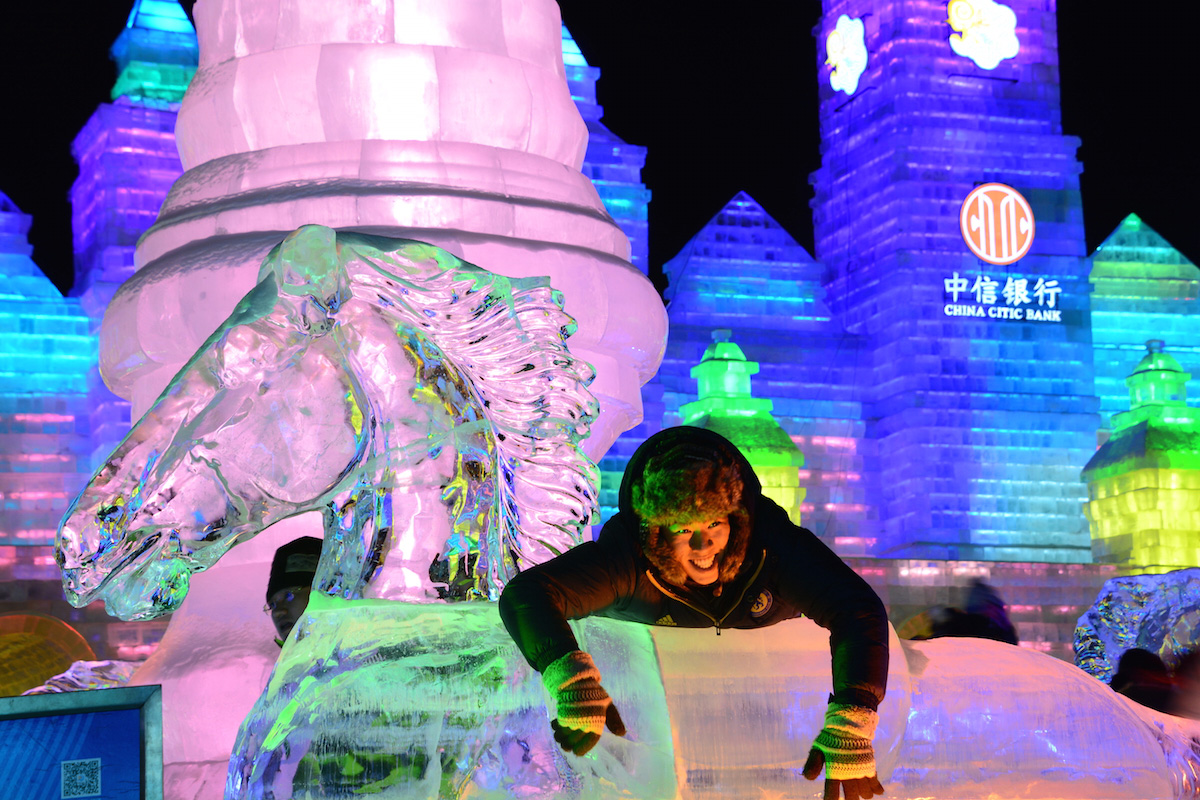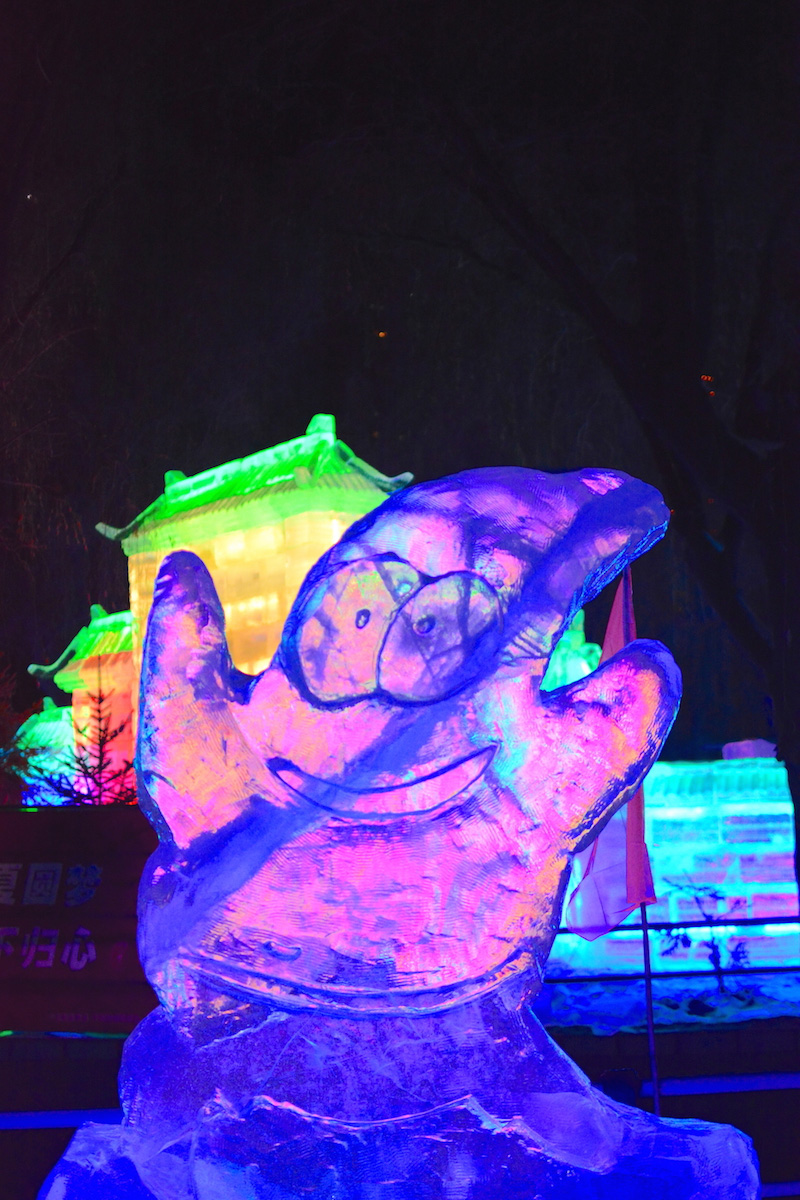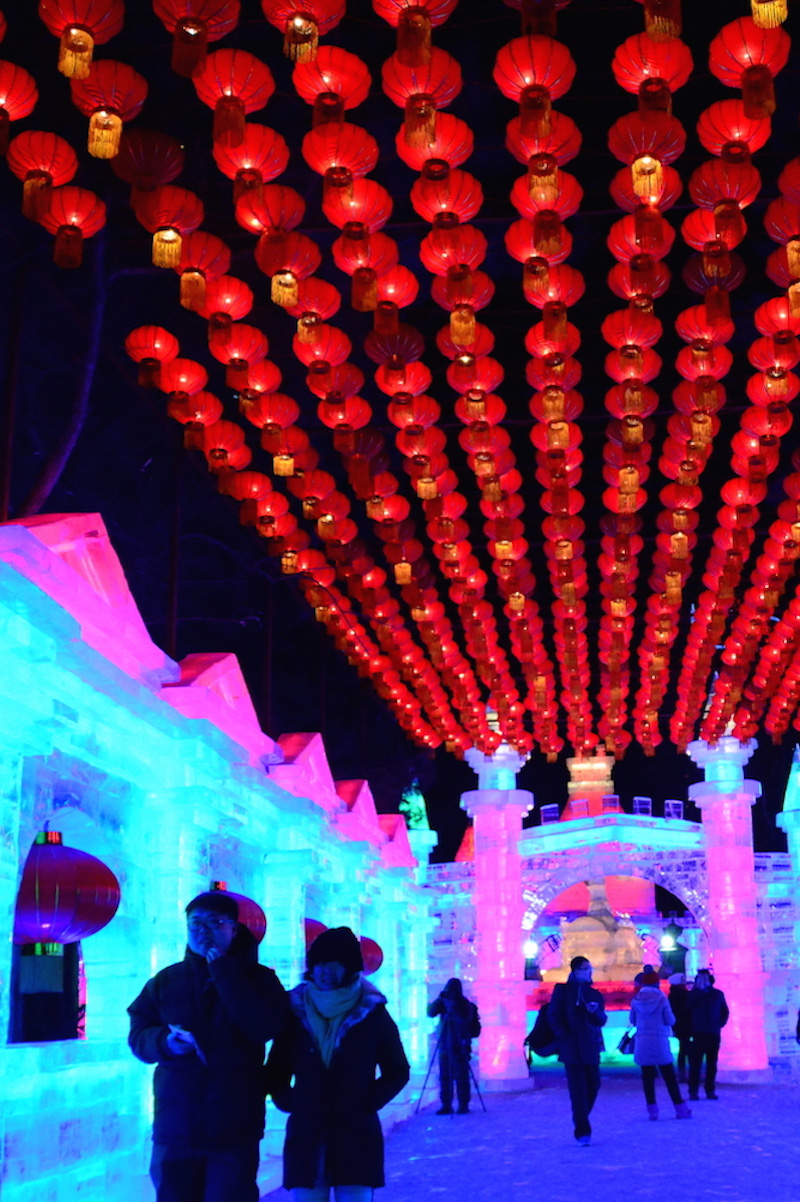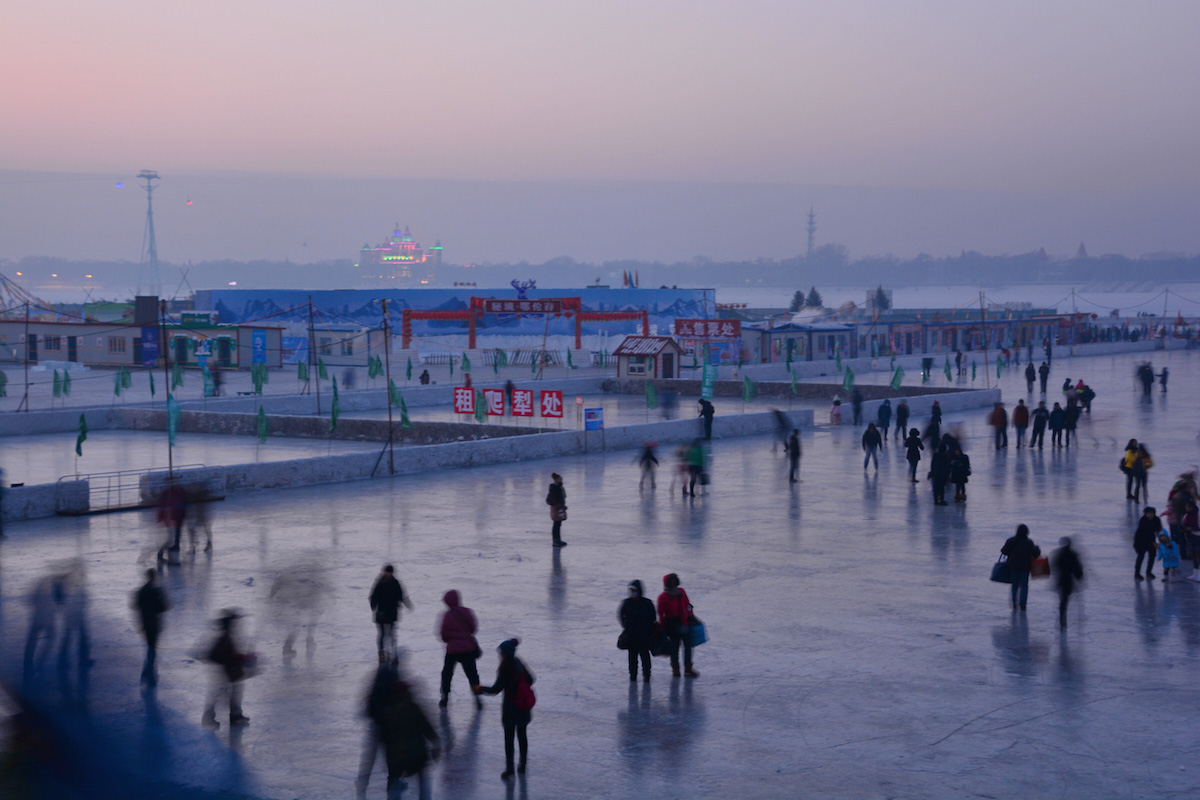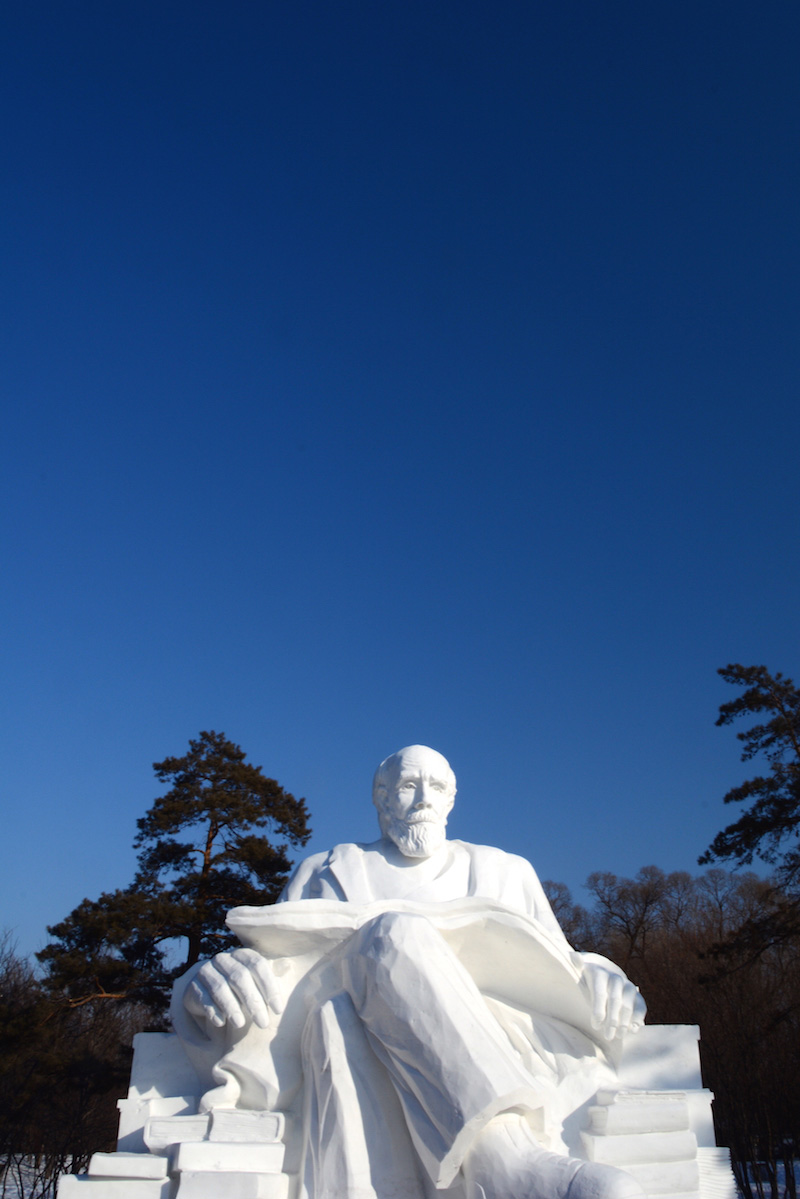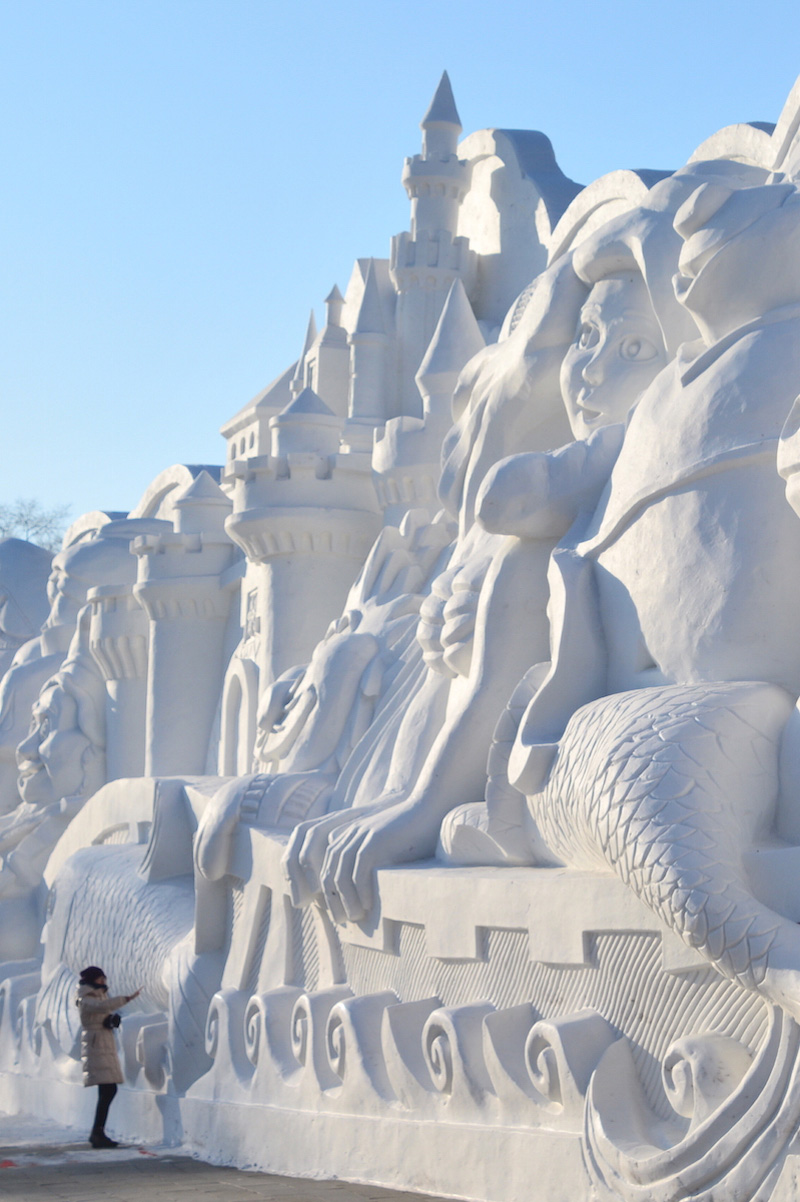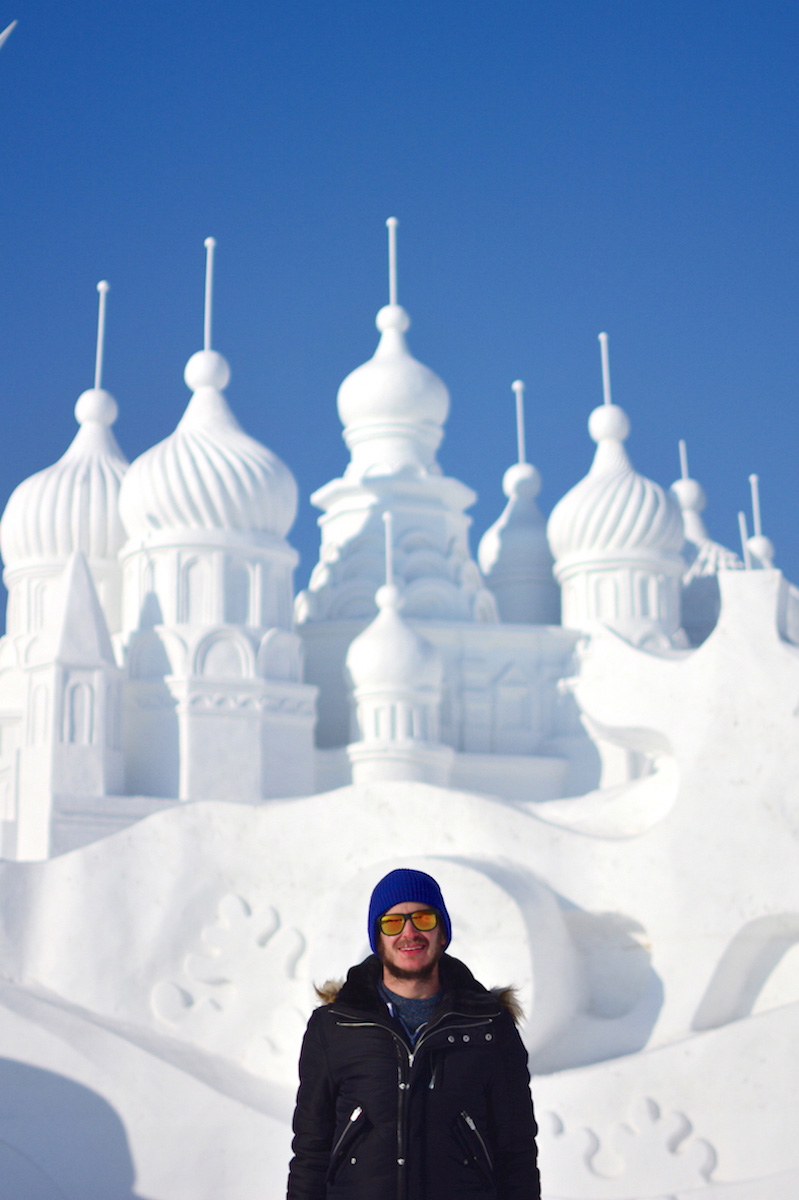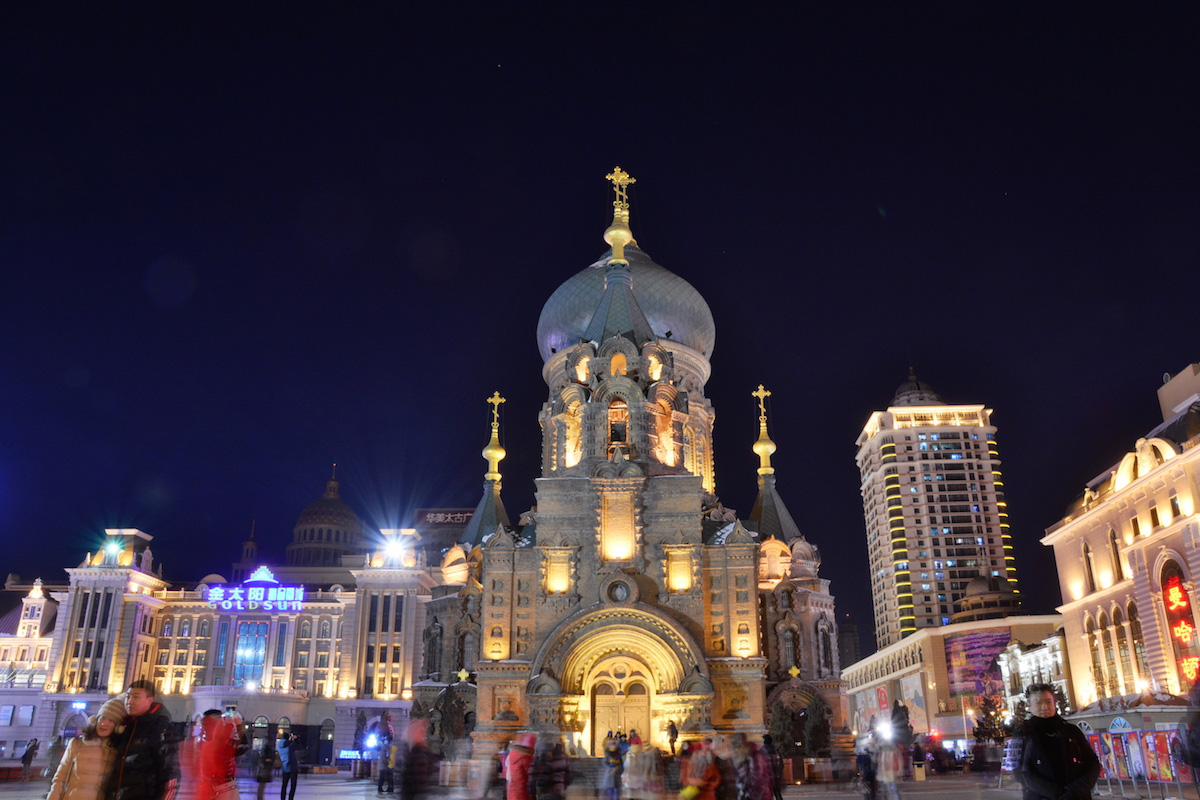 How to Visit the Harbin Ice and Snow Festival
The Harbin Ice and Snow Festival takes place every year, starting on January 5 and lasting until sometime in February.
The Harbin Ice and Snow Festival consists of two main exhibitions: Harbin Ice and Snow World, which takes place in a park of the same name on the north bank of the Songhua River (and carved from ice blocks hauled out from it!) and the Harbin International Snow Sculpture Competition, which takes place on nearby Sun Island.
Many snow and ice sculptures can also be found within Harbin itself, particularly along the city's central Zhaoyang Road and in Zhaolin Park, which is the site of the smaller Harbin Ice Lantern Fair.
Most of the online resources devoted to the Harbin Ice and Snow Festival will try to sell you tours, but don't waste your time or money: It is completely possible to visit the Harbin Ice and Snow Festival on your own. After flying from to Harbin from Beijing, Shanghai or any of several other Chinese cities, navigating the festival is a matter of hailing a few taxi cabs and paying entry fees, which range from 150 yuan to enter Zhaolin Park to 300 yuan at Harbin Ice and Snow World.
(Hint: If you don't speak Chinese, print out the paragraph below and show it to your taxi driver to reach your intended destination.)
Sun Island – 太阳岛 (Tai yang dao)
Harbin Ice and Snow World – 哈尔滨冰雪大世界 (Ha'er bin bing xue da shi jie)
Zhaolin Park – 兆麟公园 (Zhao lin gong yuan)
How Cold Does It Get in Harbin?
My existential fear of the cold notwithstanding, I really psyched myself out before arriving in Harbin. It was very cold, of course, but it was surprisingly easy to deal with. Depending on the day, you can expect temperatures in Harbin to range from 0º to -20ºF (-15º to -30ºC).
Most of the reason I was fine was because I packed well. In addition to a warm coat, I recommend getting yourself some high quality long underwear (Smartwool is great!), as well as at least two pairs of gloves (I ended up having to use three!), a warm hat and scarf and some fleece-lined snow boots.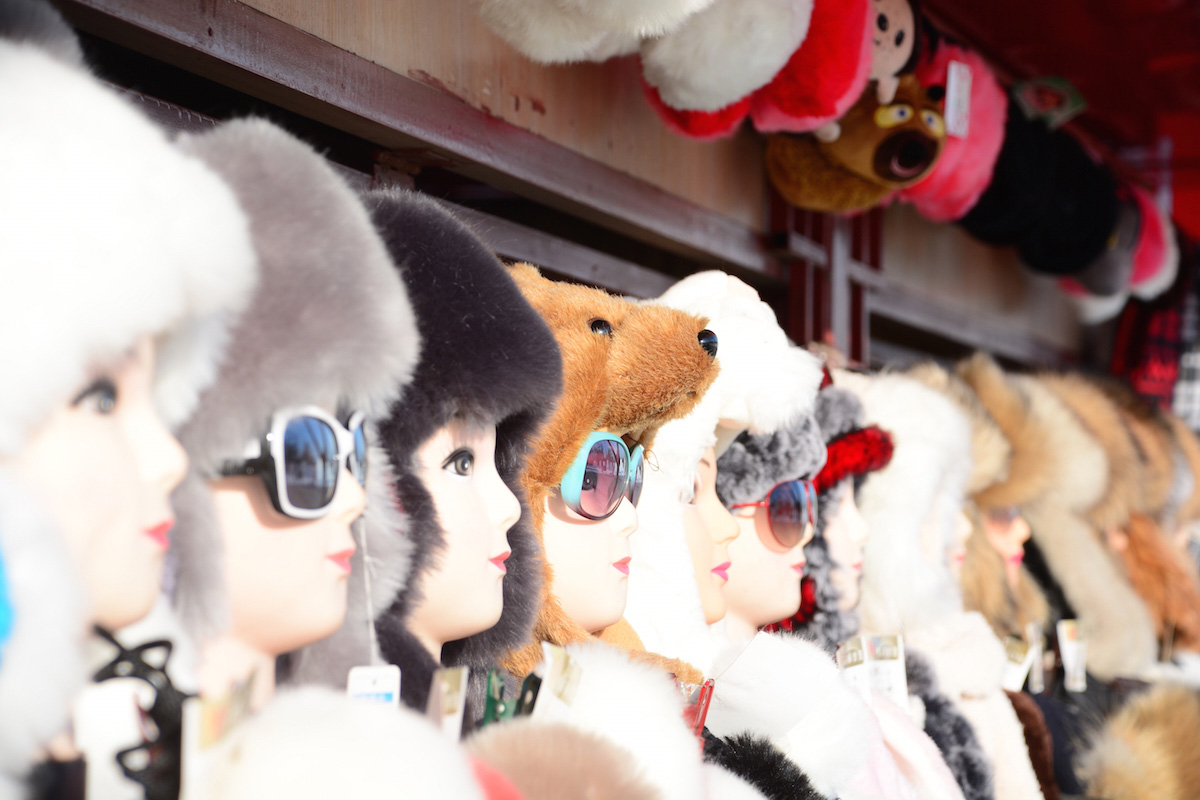 If you don't have any of these items, of still find yourself feeling cold when you arrive in Harbin, you can of course buy additional cold weather gear at the festival itself, likely for much cheaper than in your home country.
Another reason not to worry about the cold weather at Harbin Ice and Snow Festival is that a heated, indoor place is never far off. All of the festival venues boast dozens of food and drink stalls, which allow you to escape the cold as frequently and for as long as you like. The merchants realize how desperate you'll be, and prices are higher than you might pay in the city, but trust me, it's worth every penny.
Share:

"Teacher Robert?" the voice asked, barely audible amid the cacophony of shoes, spitting and speeding trains at Beijing South Railway Station.
I couldn't believe who was standing in front of me as I spun around: It was one of my students from English First, a job I had quit just days before. "Daisy! What are you doing here?"
"I'm visiting my family for the summer holiday," she replied. "And you?"
"My friends from America came to visit me," I explained to her as she began walking alongside us, "and we're traveling around China together, starting here in Beijing."
More than five years later, I'm still overwhelmed by the serendipity of having run into someone I knew in a transit hub that handles 30,000 passengers per hour. And I can't forget Daisy's final words as she bid us farewell at the exit, just moments after our extremely unlikely meeting.
"It's like we're still in Shanghai," she said, and galloped toward her family. She'd obviously meant it in a positive way, as if running into her teacher during her summer vacation made the blow of leaving school friends behind more tolerable, but we definitely weren't in Shanghai anymore.
And that was the fucking point.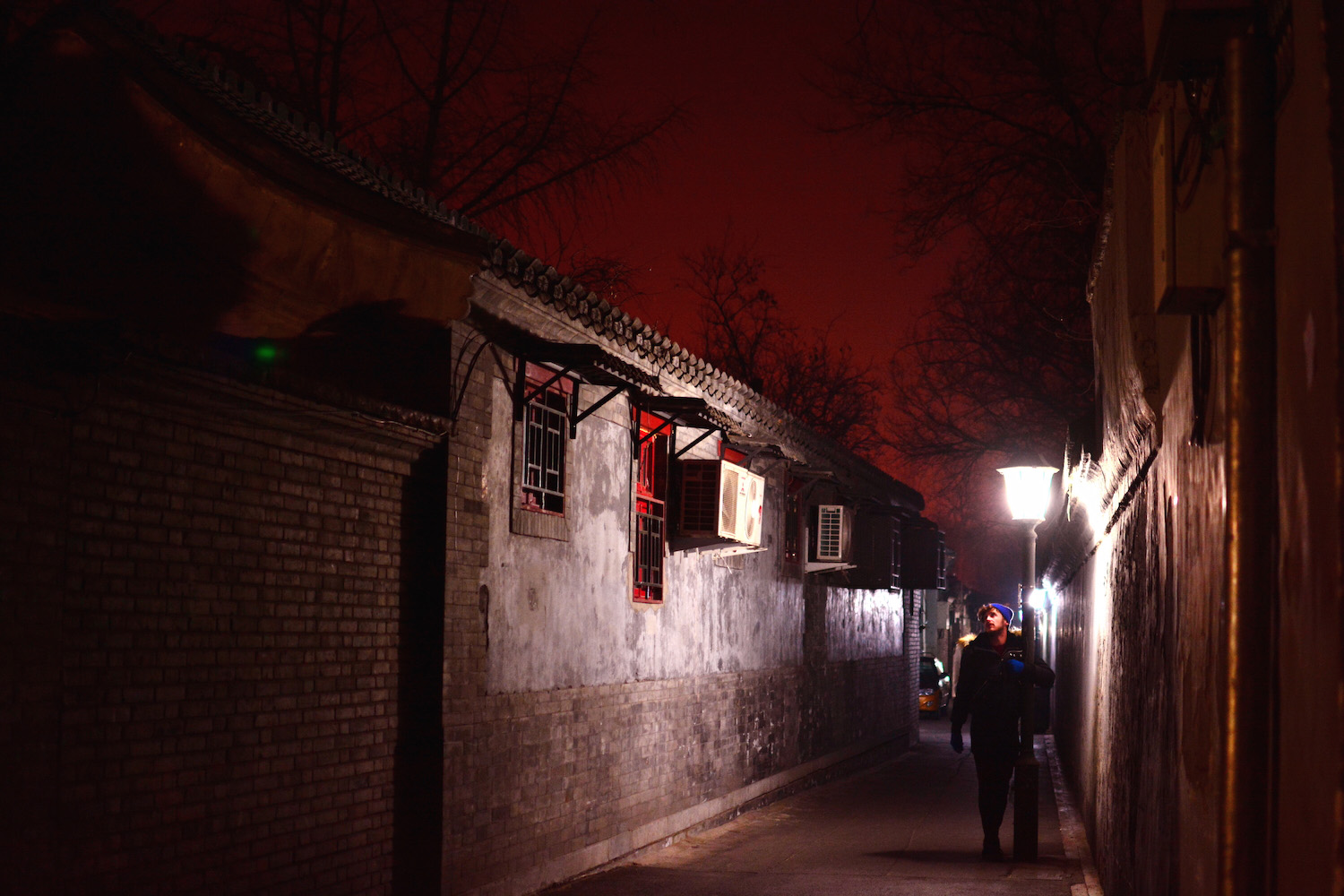 Here goes nothing, I thought as I slipped out the door of my hotel Sunday morning. It was least two hours before the sun was scheduled to rise over Beijing, the smog layer notwithstanding. I can sleep when I'm dead, right?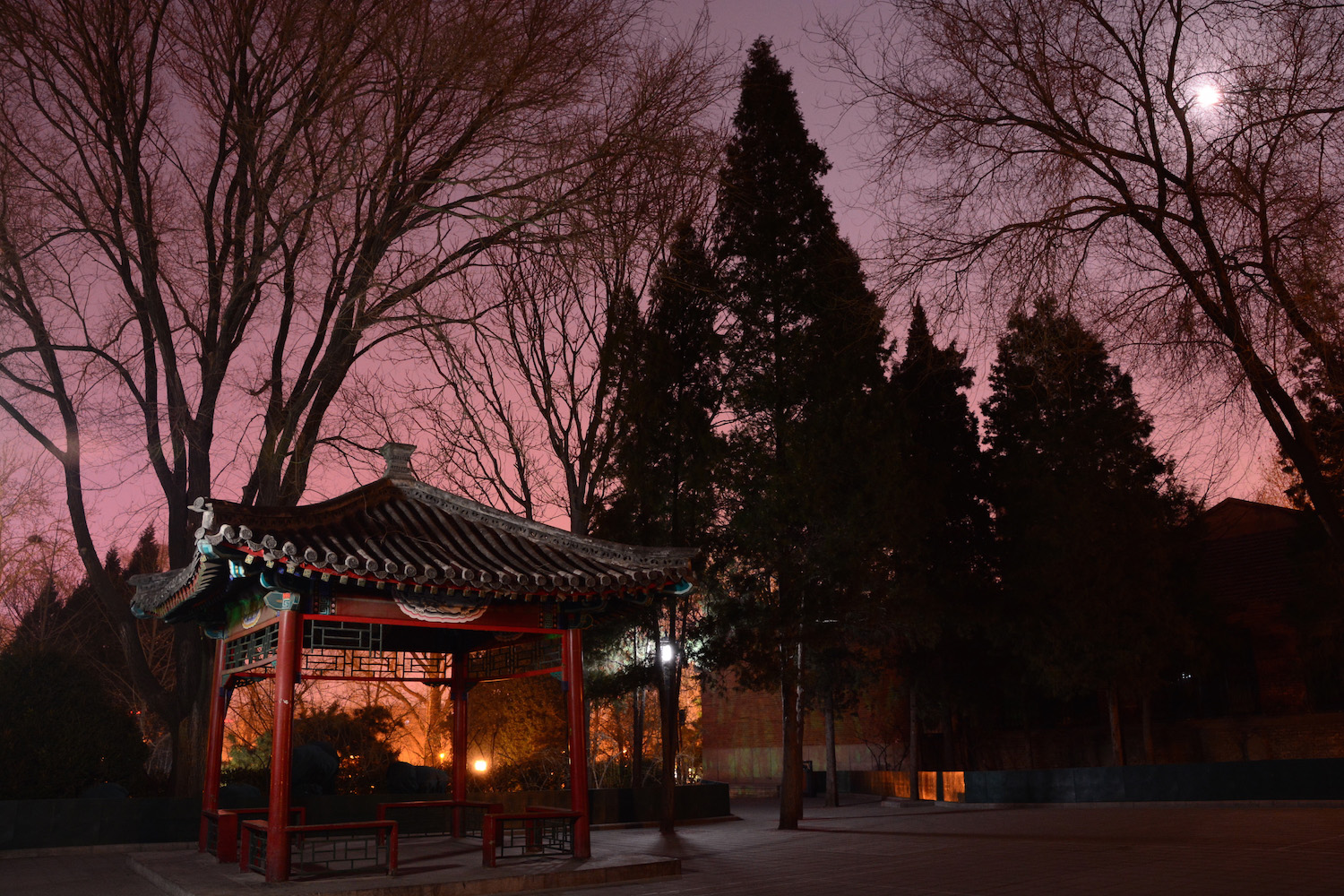 I'd sprung awake at around 3:30 a.m., still jet-lagged from my flight the day before. Tather than toss and turn as I usually do when restlessness befalls me early in a trip, however, I decided to hit the streets by the light of the moon and take the scenic route to the spot where I planned to watch the aforementioned sunrise – which, in spite of the haze that had obscured the runway until just seconds before my plane landed the previous afternoon, I was still confident would be magnificent.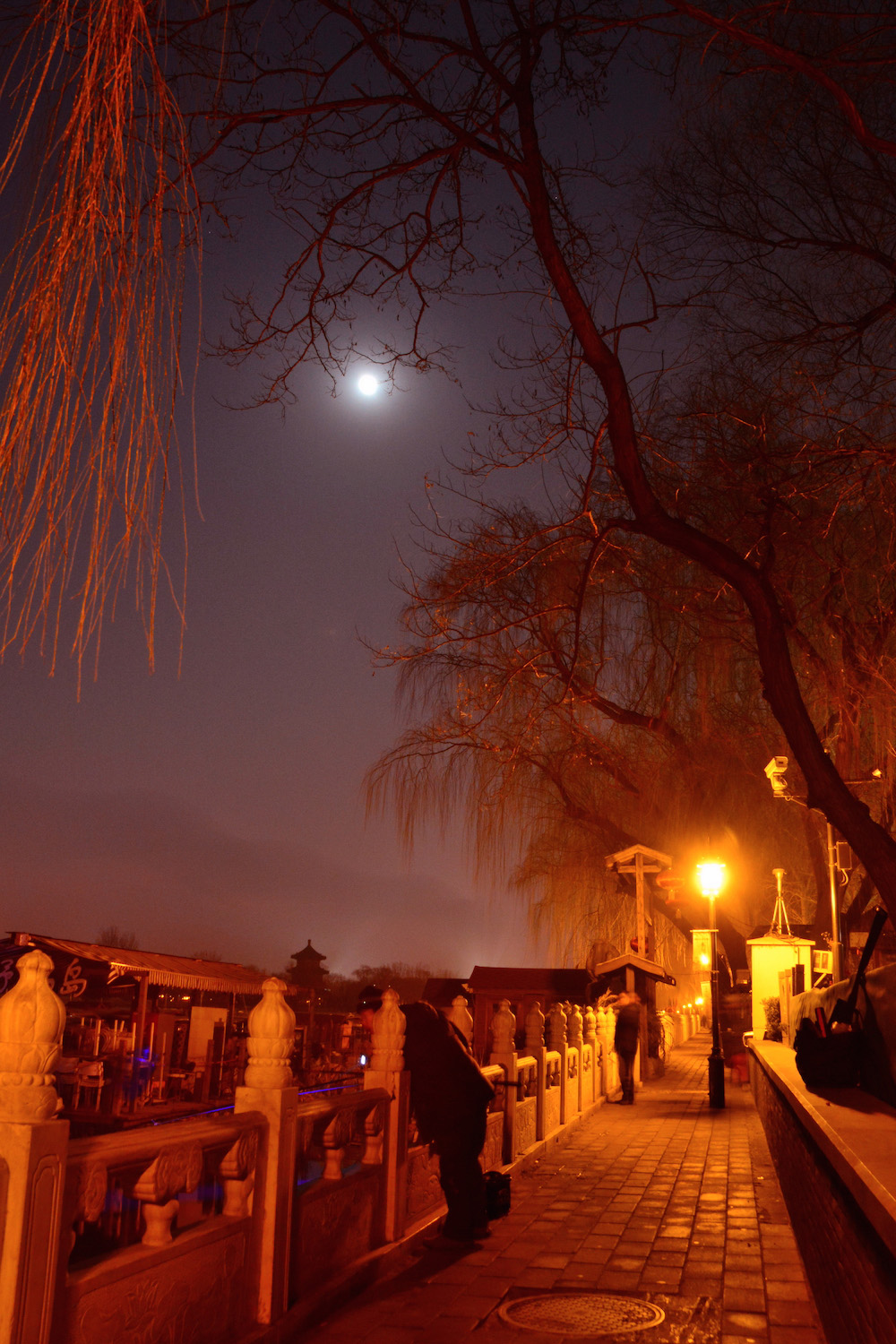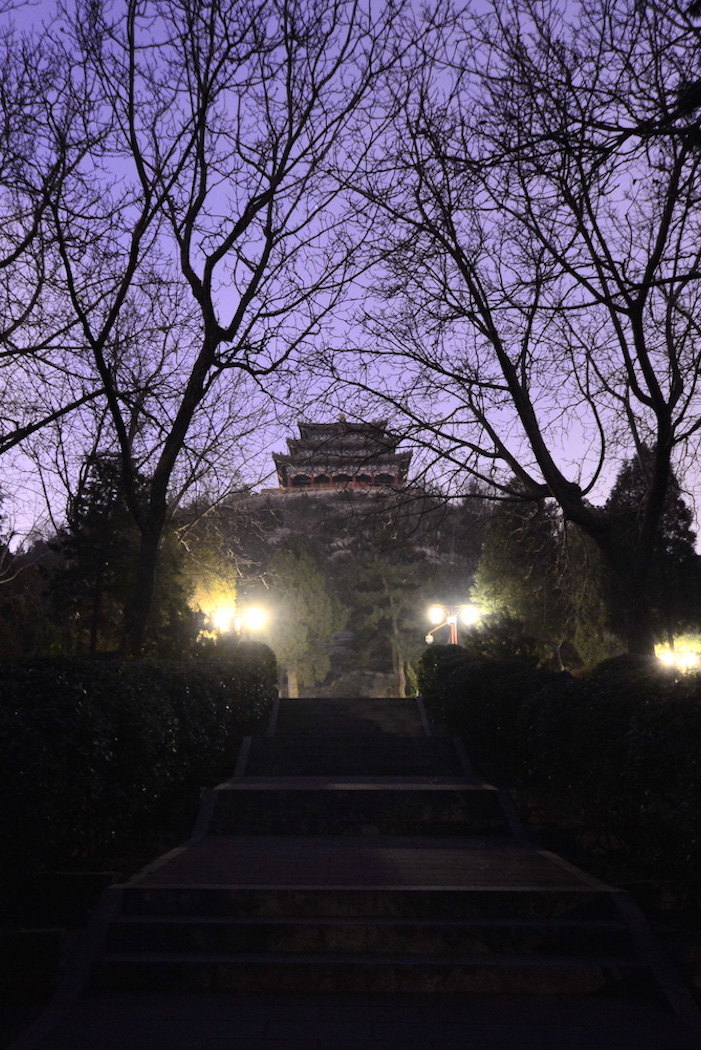 How could it not be, in a city like this? I was positively jubilant as I made my way along the willow-lined shores of the now-frozen Houhai Lake, exceeded in my joie de vivre only by the dozens (or maybe hundreds) of octogenarians getting in their pre-dawn exercise. I was warm inside and out, in spite of the bitterly cold air, which I suppose might've been due to the aforementioned smog layer.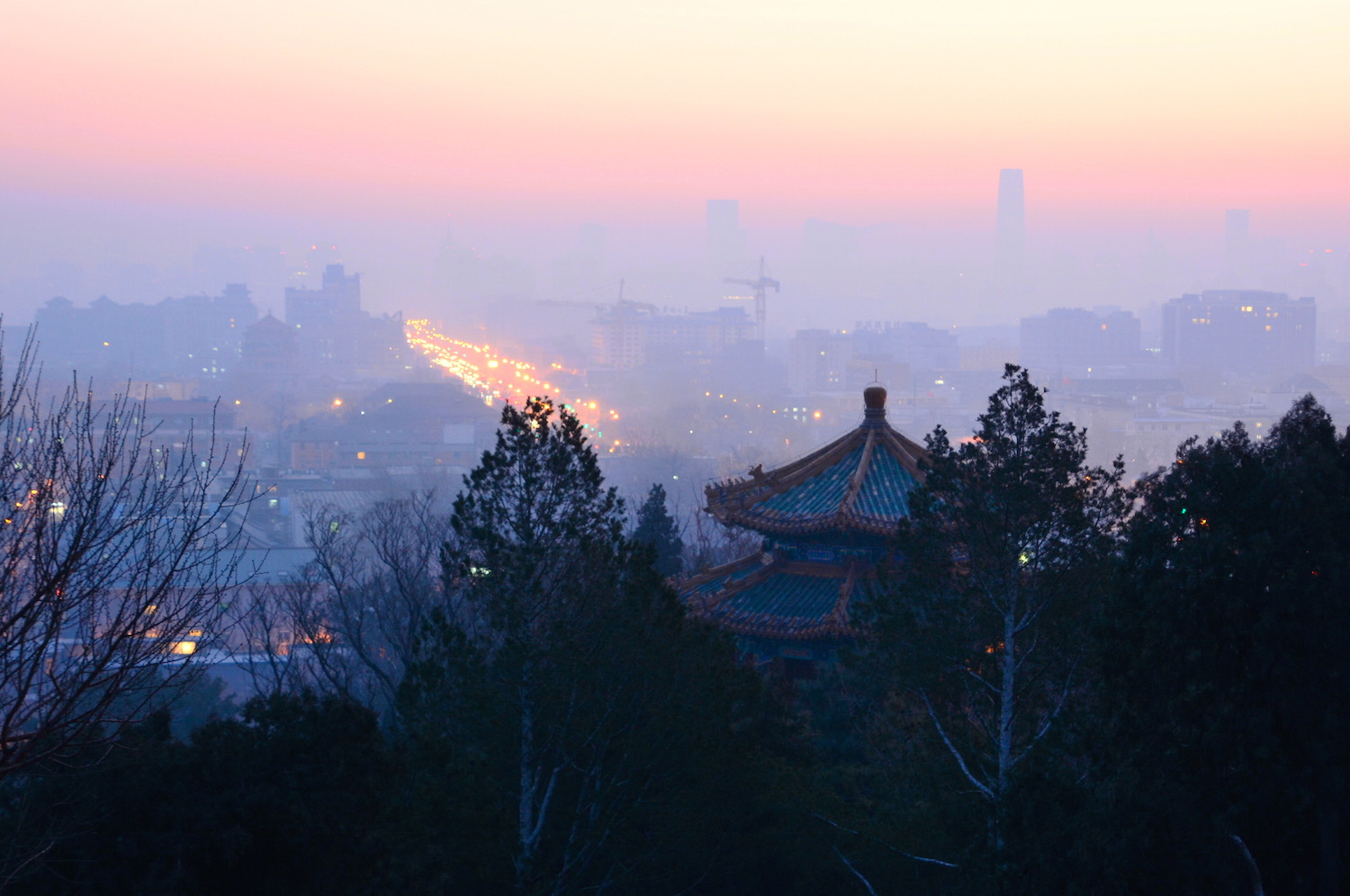 Or maybe not. I mean, apologies to my alveoli and bronchial tubes, but not during a single moment I've spent in Beijing have I ever thought to myself, "You know what? It's so smoggy here I can't enjoy myself."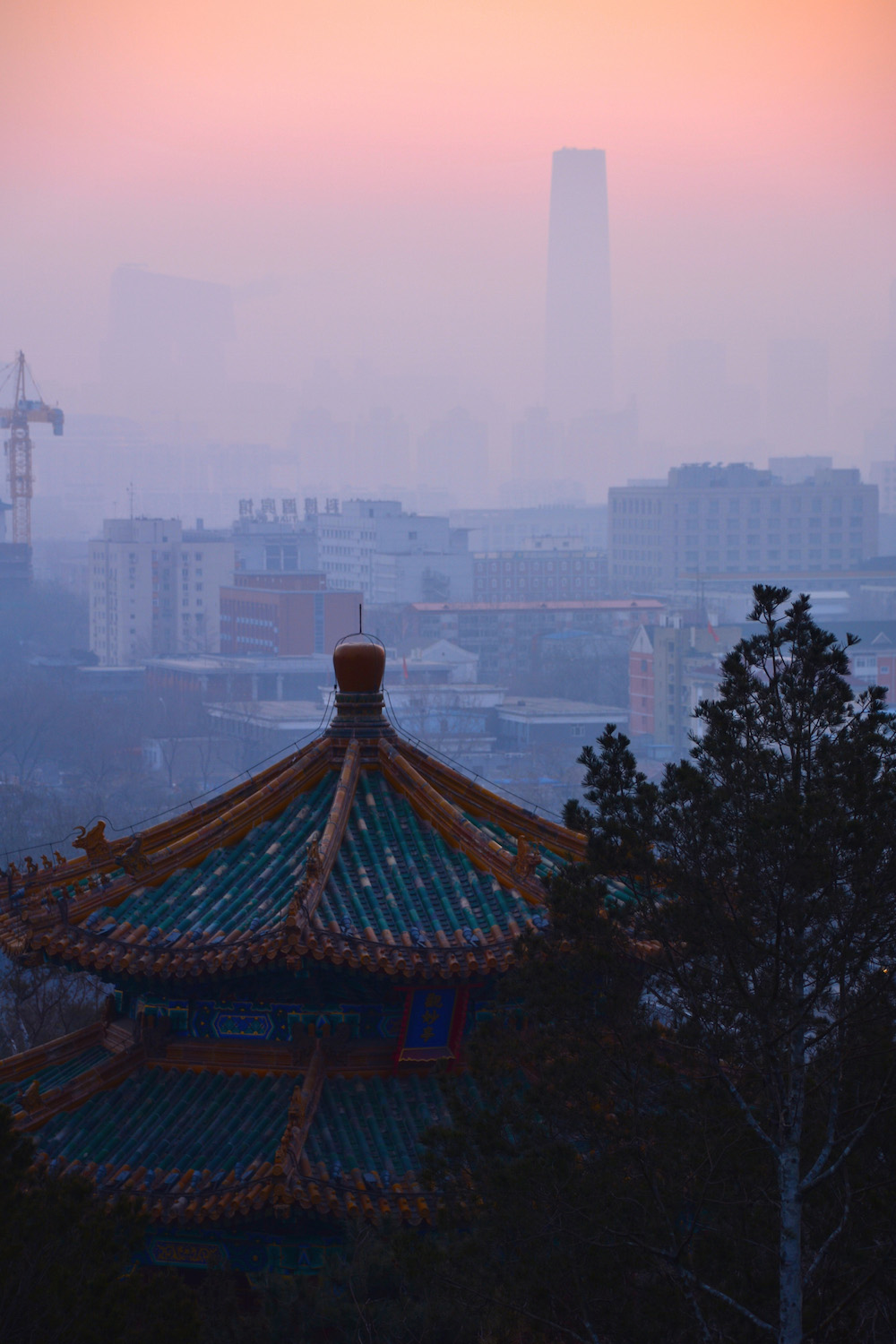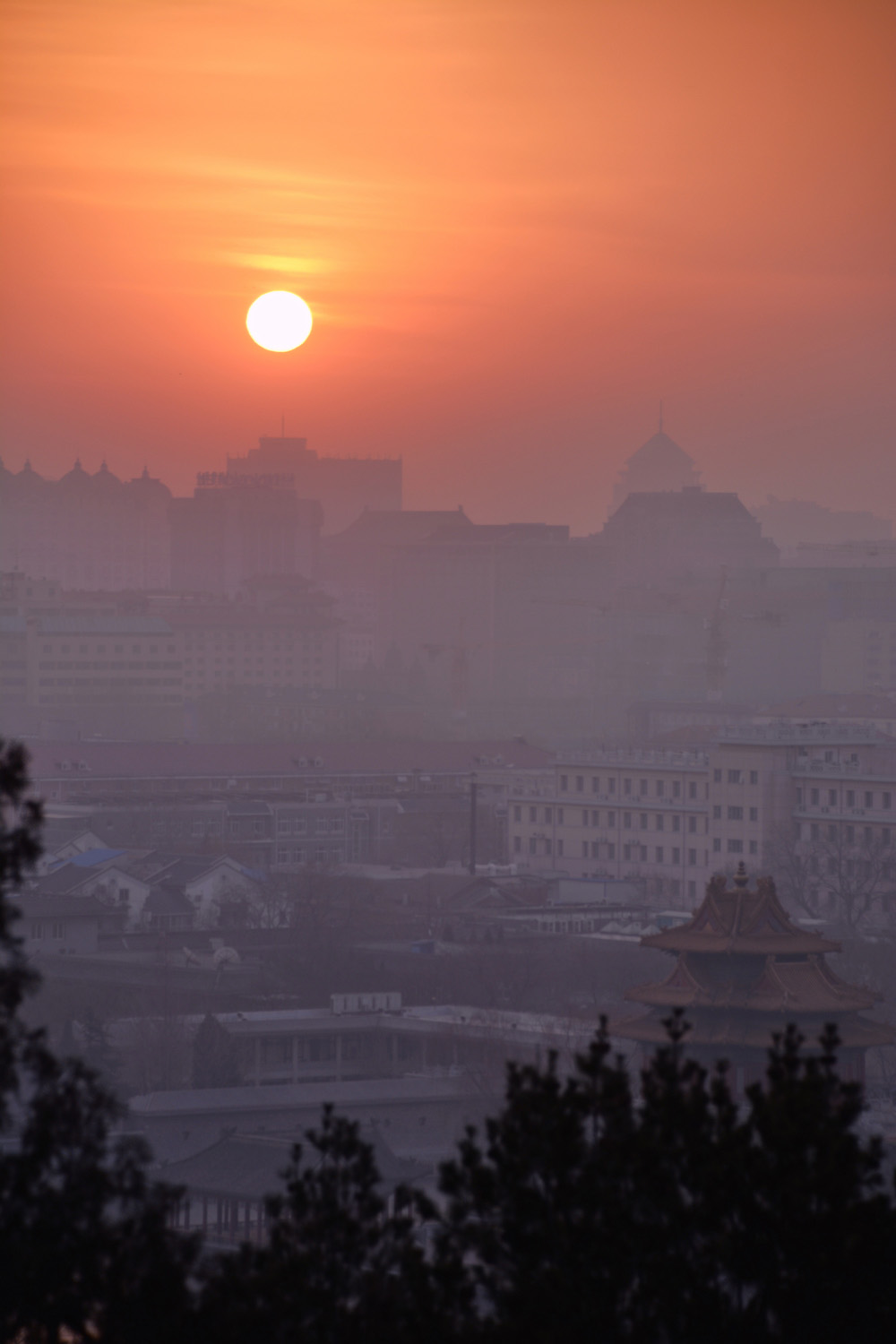 Indeed, dwelling on mortality seemed frivolous as I approached the timeless pagodas of Jingshan Park, to say nothing of how joyful I felt when the guard at the entrance gate let me in for free. It only saved me two yuan, but that wasn't the point. The guard emanated joy as he waved me inside (well, as much joy as someone whose job it is to restrict entry to a public place can emit, anyway) and I carried that joy with me all the way up to the park's precipice, and it beamed out of me like the sun as it burned the morning haze away with a dazzling spectrum of pinks, purples and blues to complement its blinding orange hue.
I was absolutely overflowing with joy, which isn't surprising if you learn the story of how I came to know Beijing.
The post I made upon my return to Shanghai a couple months ago explains how much my love-hate relationship with the city tended toward "hate" during the eight months I lived there. When I arrived in Beijing just after having quit my job, about a month before leaving China for good, I assumed the calm that came over me when I stepped out of the station (after the shock of seeing Daisy wore off, obviously) had less to do with the fact that I was in Beijing, and more to do with the fact that I wasn't in Shanghai.
As the minutes passed and turned to hours, which then turned to days and nearly a week, however, I developed a genuine love for China's capital, a city most everyone I knew loved to hate.
I loved the rose bushes that lined its congested boulevards, even if I knew their appetite for CO2 was significantly less than the amount in the air. I loved the juxtaposition of Tian'anmen Square and the Forbidden City and then, upon further consideration, realizing how much the magnificent structures actually had in common with one another; and I loved knowing that just a few miles down the road sat Beijing's gargantuan central business district, filled with monuments to the power and excess that make it the perfect 21st-century cognate to its sister constructions to the west.
I loved that every time my feet hit the ground, whether amid Beijing's iconic Hutong water houses, ashes from the fire ceremony at Lama Temple or the ghosts of resettled peasant farmers on the promenade at the Bird's Nest Olympic Stadium, they picked up the story – and soul – of what had been there before. I loved knowing that hundreds of millions of people had walked these streets before me, and that they had, at least in this way, lived to tell about it.
I of course loved that Beijing wasn't Shanghai, but that fact was superfluous: My heart was full of love when I was in Beijing, and that was what mattered.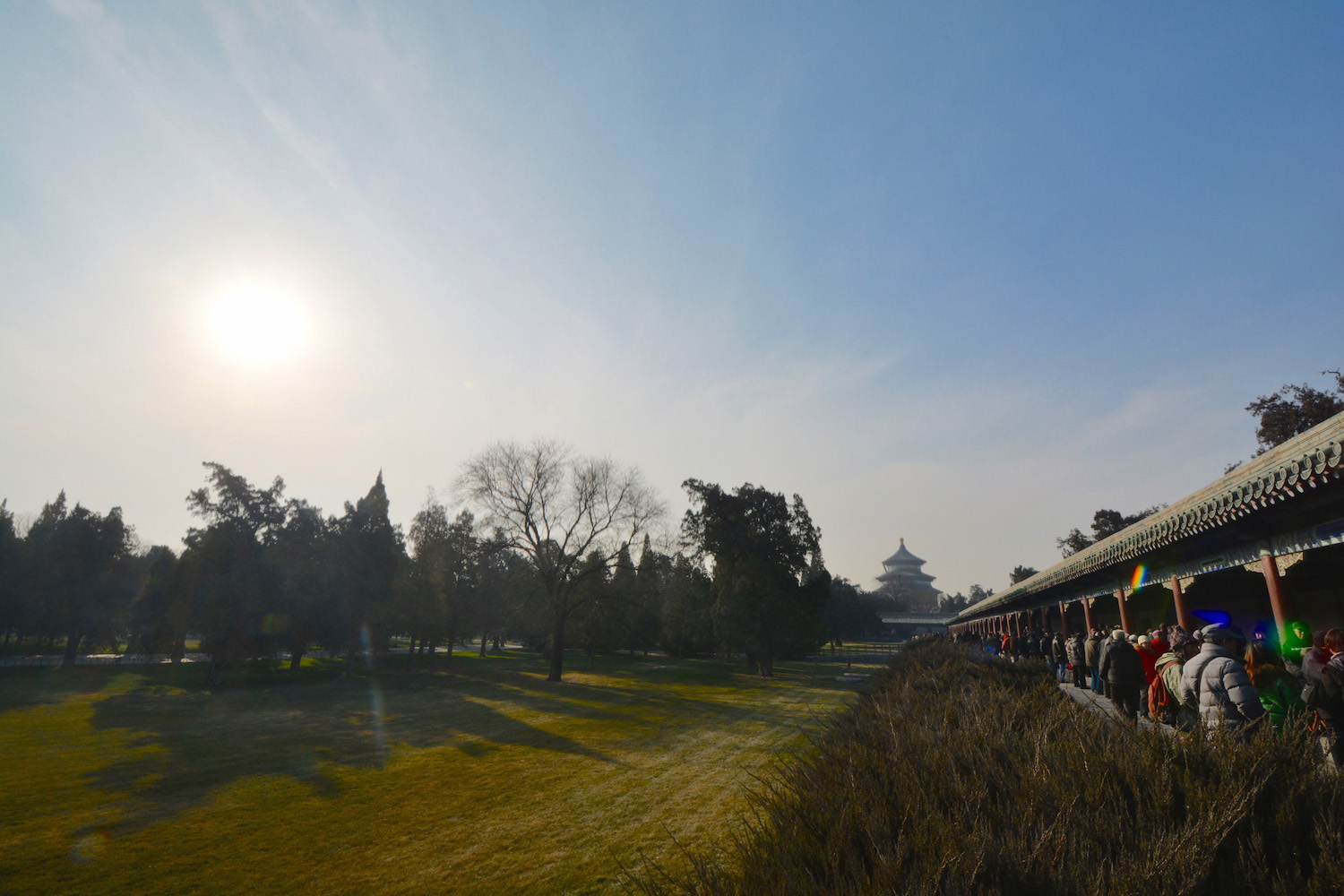 Most foreign tourists, many Chinese people from other cities and regions and even a good percentage of Beijingers love to hate on Beijing. But their grievances, while understandable, all stem from a lack of perspective.
Well except for the smog, maybe, but even then I could point to its brilliant impact on Beijing's sunrises and sunsets (when you can see them, this is) as a positive counterexample of its effect on the city.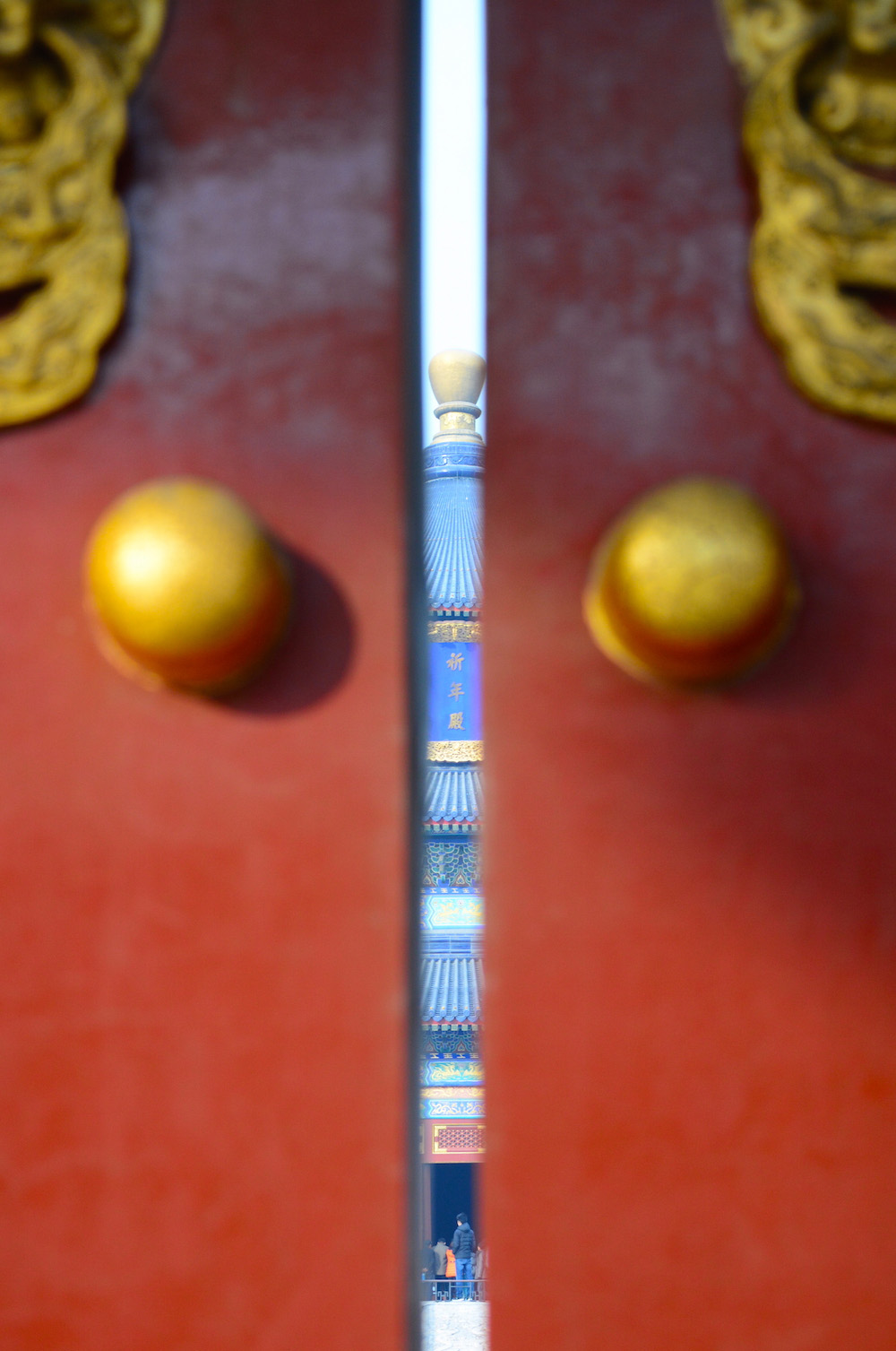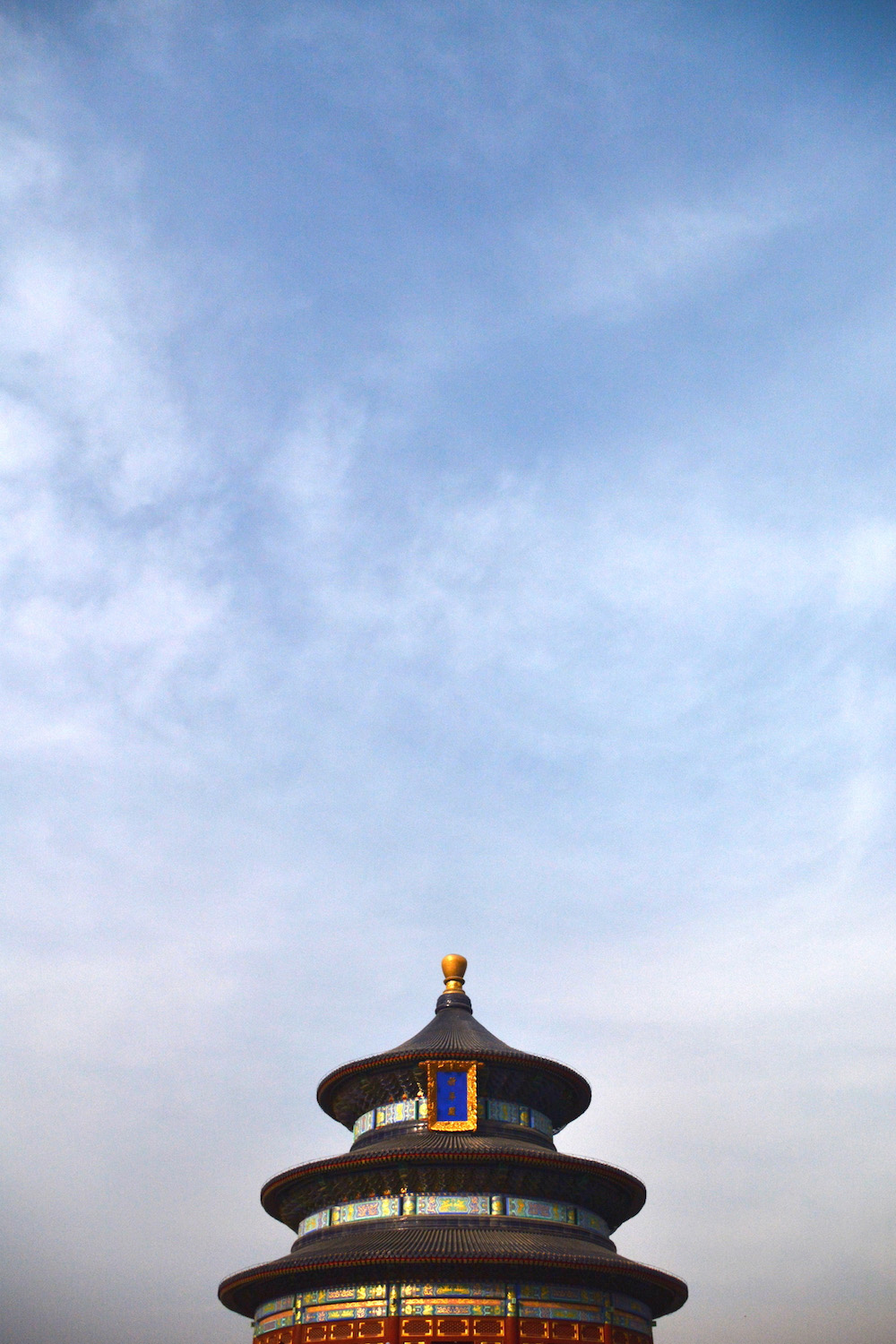 You see, as I was making my way to the Temple of Heaven the other day, grin as wide as the boulevard I was about to cross over, binthangulu in hand, I laughed to myself as I pondered people's preoccupation with Beijing's traffic – smog, again, notwithstanding.
I mean, not only was I walking on a well-built flyover bridge, which offered beautiful views of the, um, well aside from the temple there wasn't a lot to see in this part of town. But the point is that the traffic was literally beneath me, to say nothing of the fact that I had traveled the entire way to where I was using Beijing's metro system, which for my money is the best in China.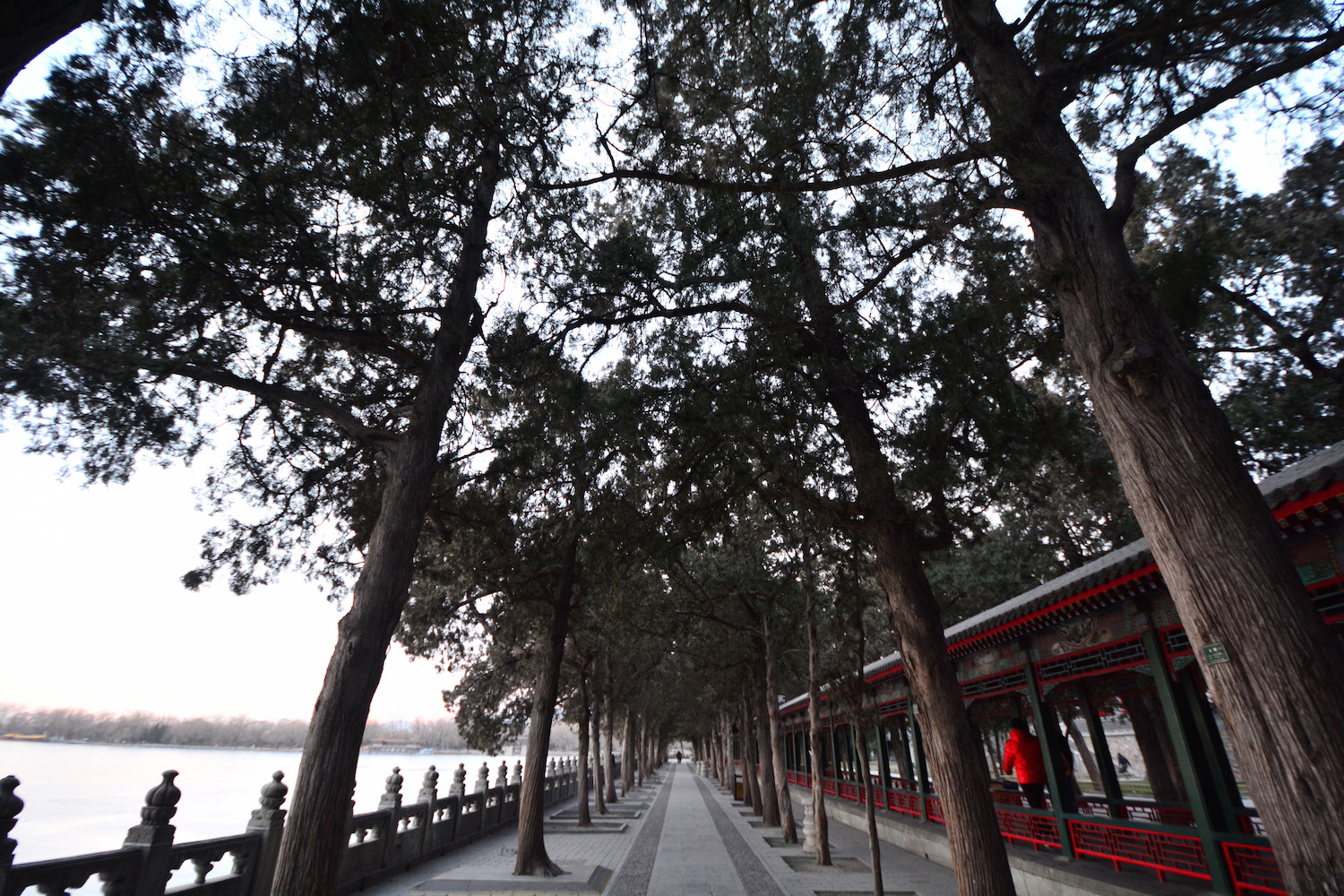 Which is to say that it takes you to more worthwhile places than the one in, say, Shanghai. I mean sure, Shanghai's metro – I hate to pit the two cities against each other again – can take you everywhere, but you quickly run out of "everywhere" unless you live or do business there. In Beijing, on the other hand, you could get out at a different metro stop every day of the year, and still have some piece of undiscovered (to you, naturally) world heritage waiting to be unearthed.
And that's assuming you only want to see every place once. I visited the Summer Palace again on this trip, for example, because last time my tight time schedule only enabled me to stay for around an hour, which isn't very long considering that it covers almost 300 acres and also, that it was the summertime resort of an empress – they're hard to please, so you know your time is well-spent here.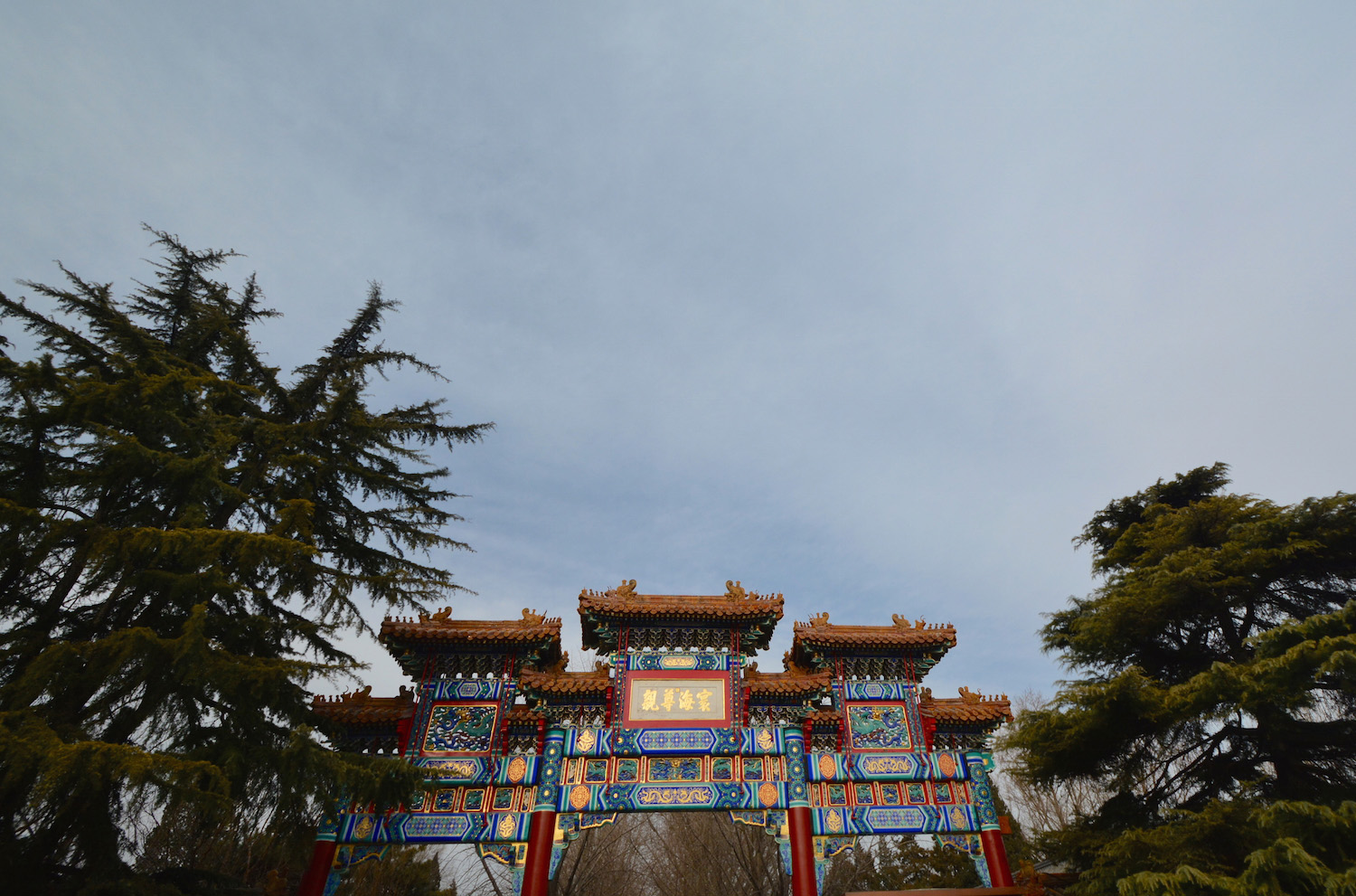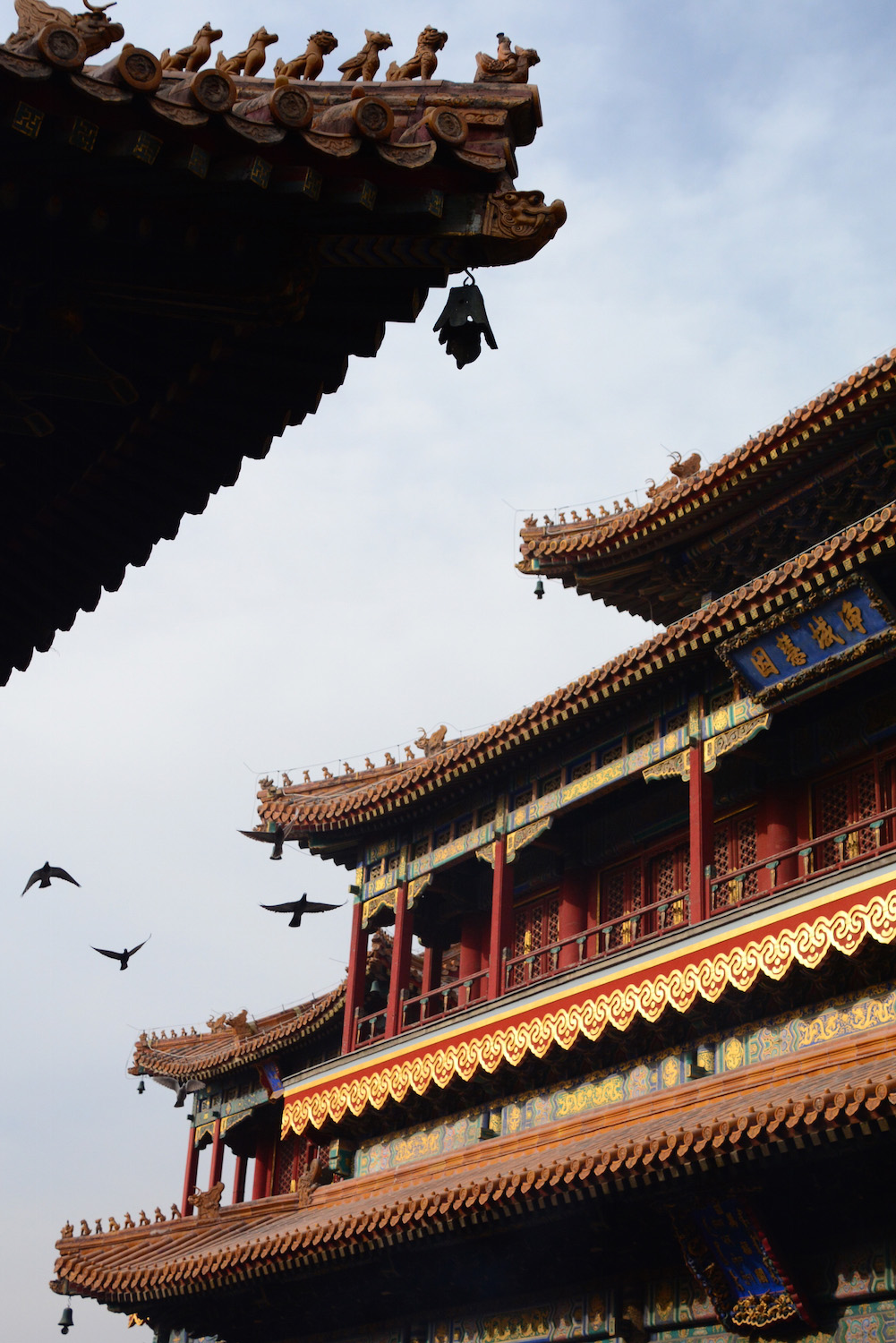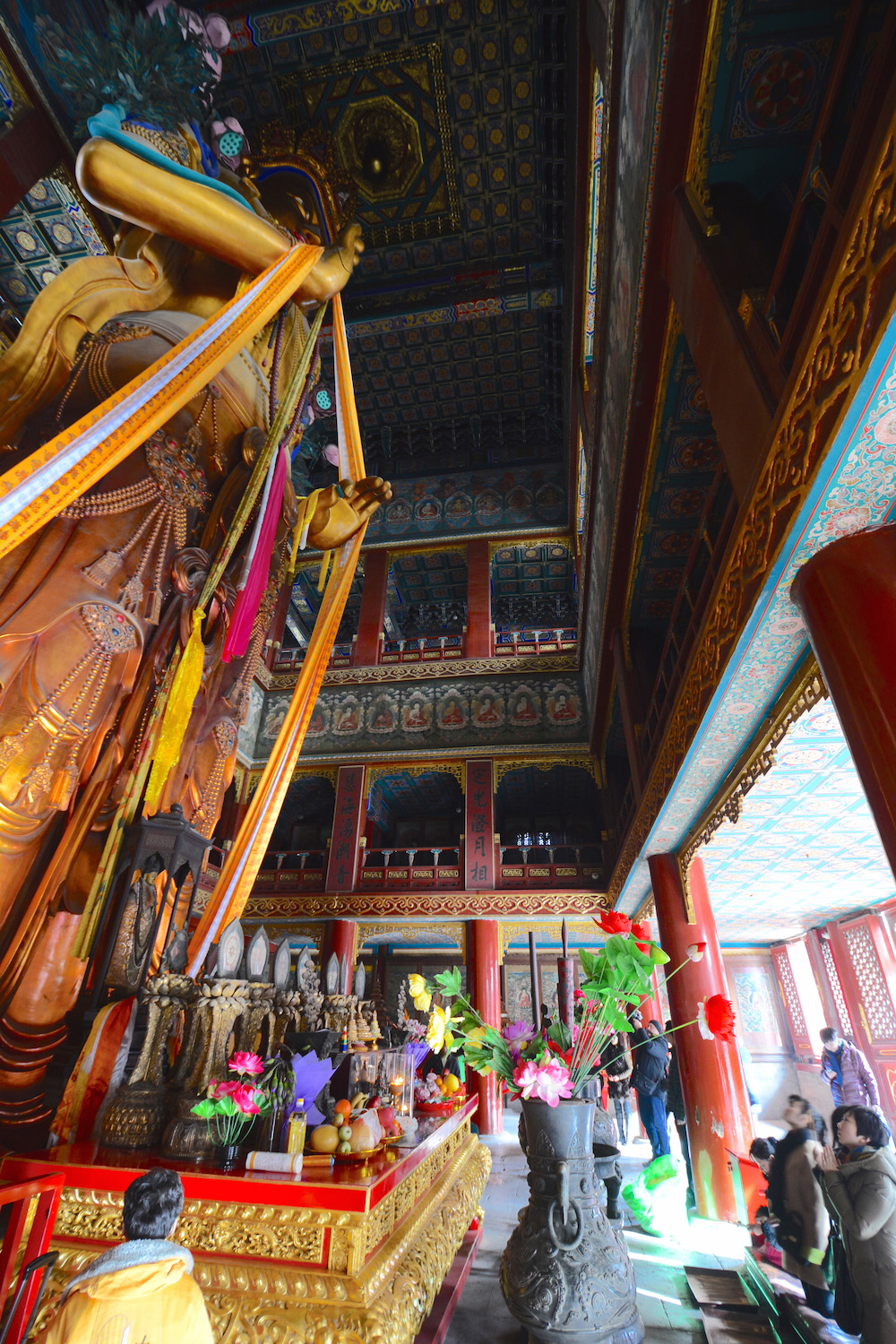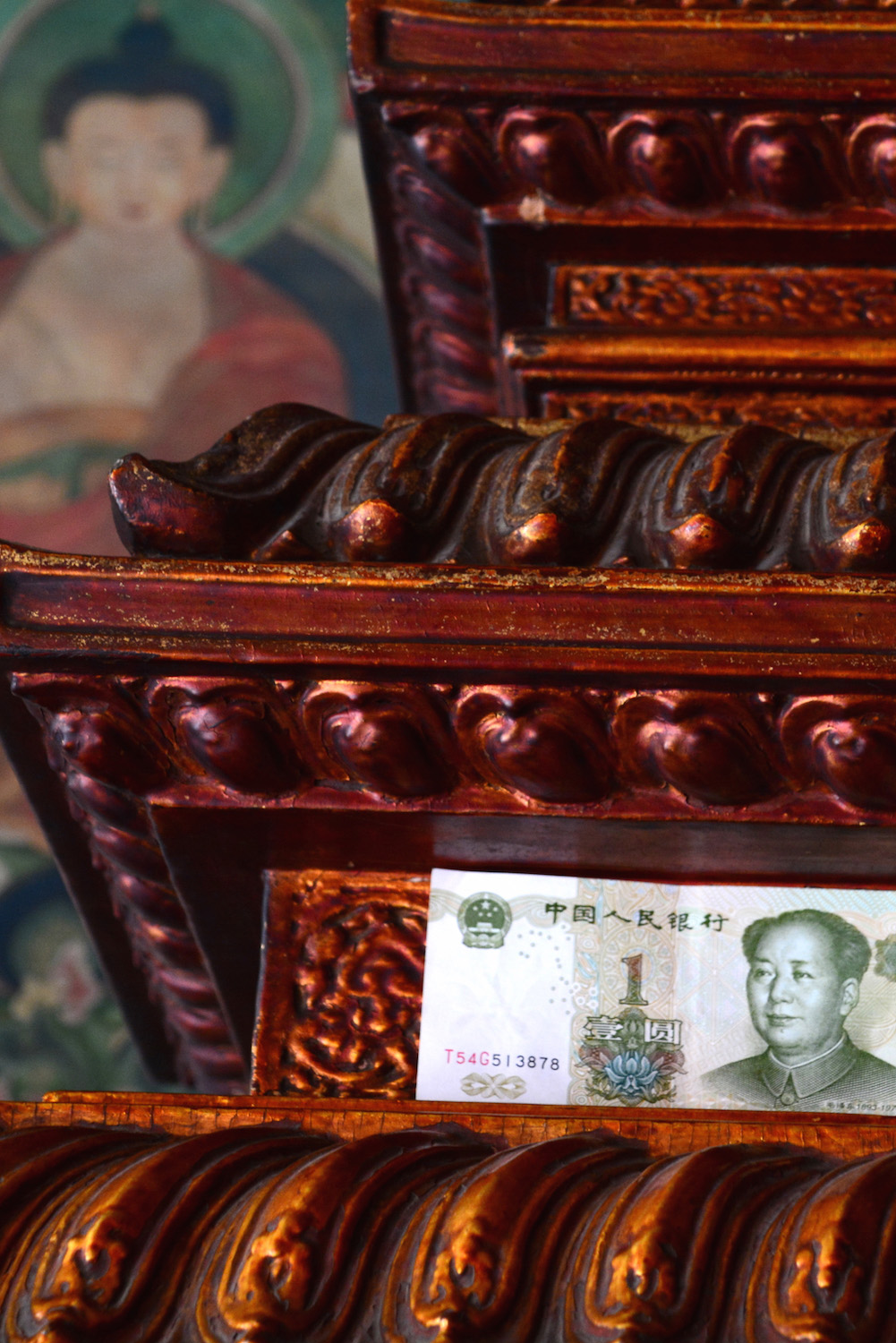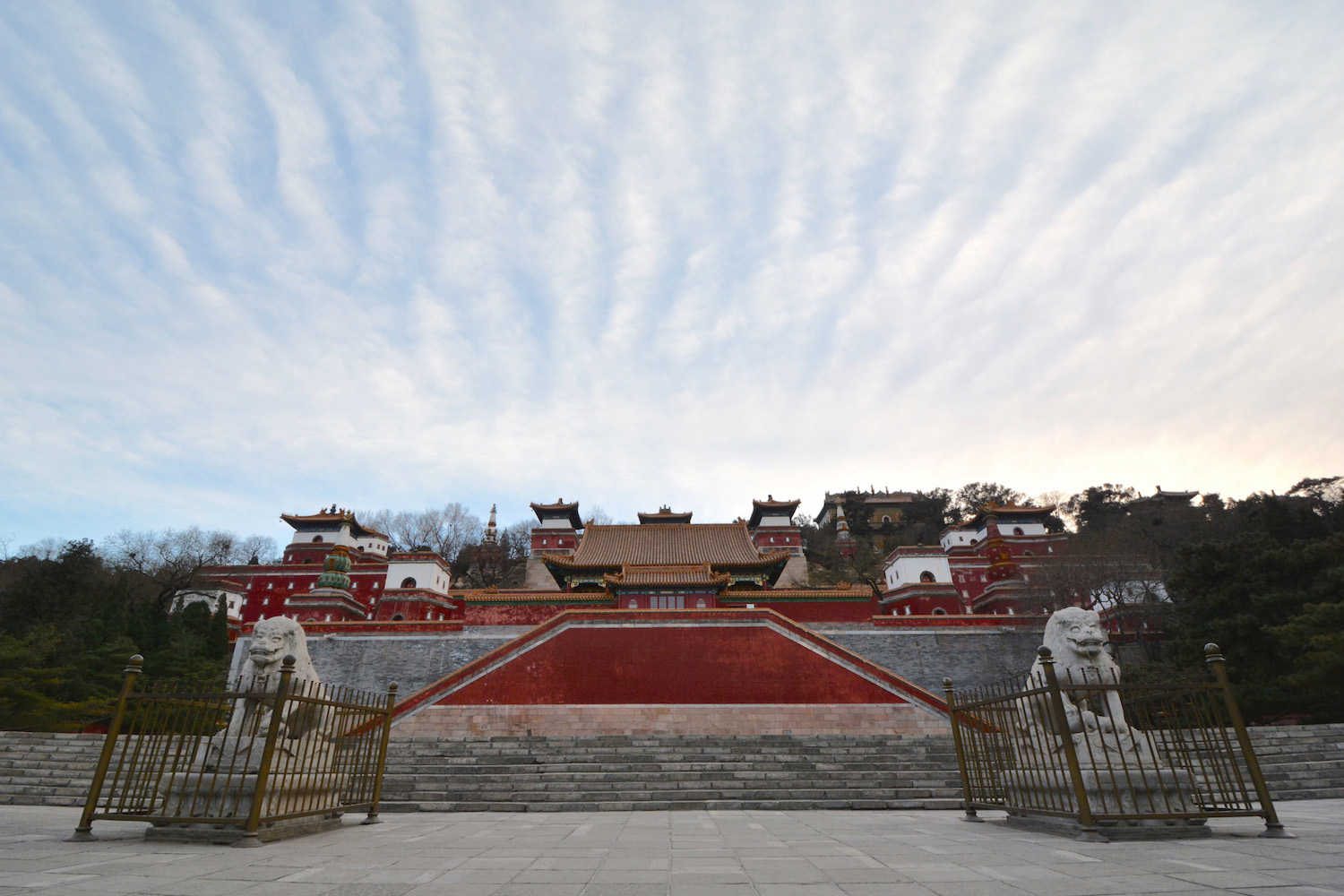 This time, I fixated most of my energy (maybe too much) on a Tibetan-looking portion of the former Sumeru Temple: I don't know if I will ever make it to Tibet, known as "Xizang" around these parts, due to tight restrictions on entry for foreigners, which is also the reason I decided to pay Lama Temple, in the heart of the city, another visit on this trip.
(The irony of seeing Tibetan monks tending a temple in Beijing, and Chinese yuan pressed up against ancient Tibetan relics in hopes for good fortune, is also not lost on me.)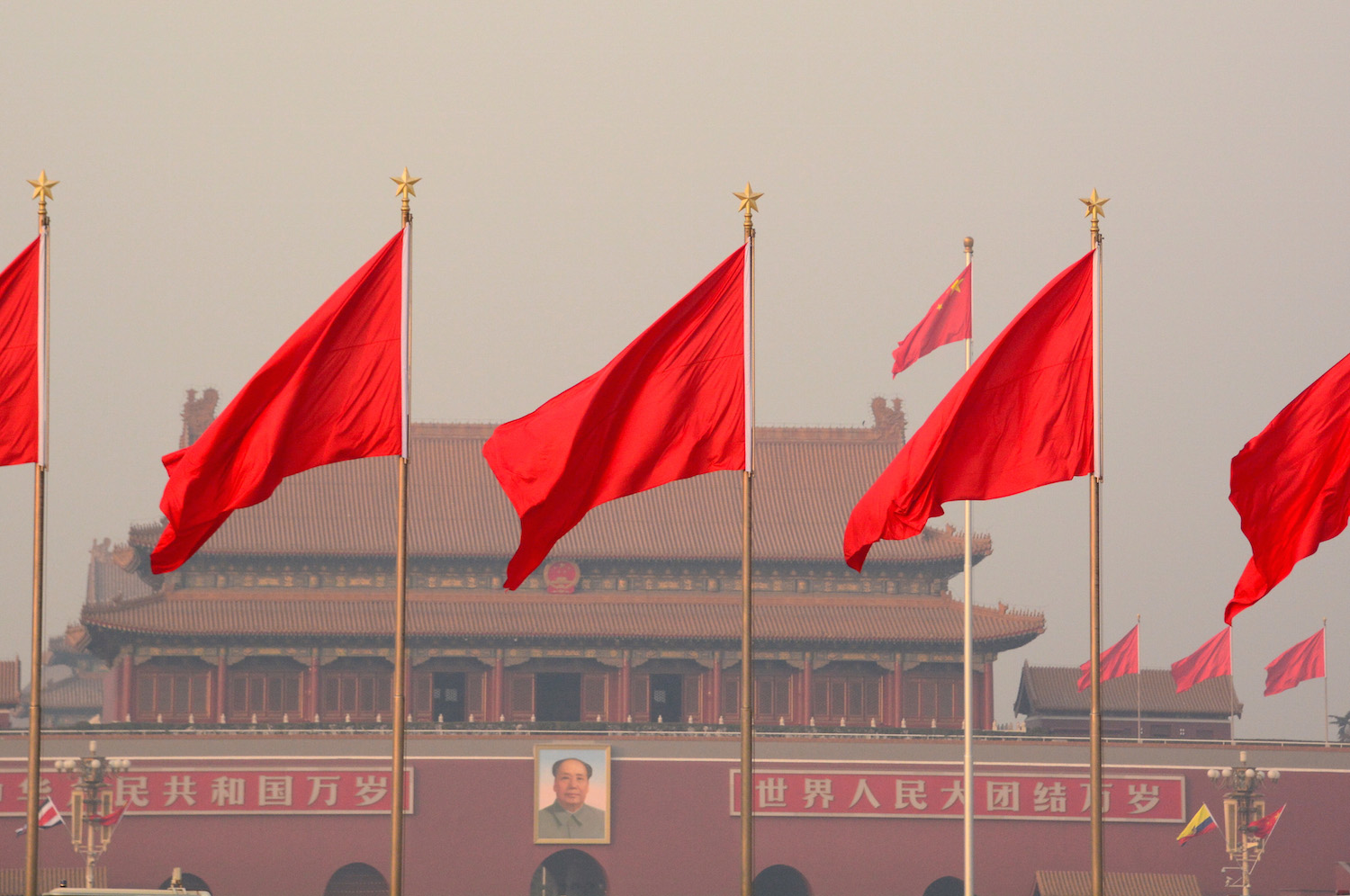 And then there's Tian'anmen Square and the Forbidden City, which of course really need no introduction and no disclaimer: There's no grander national monument in the world, even if Mao Zedong's face totally hijacked the Forbidden City, and even if you can't see from the north end of the Forbidden City to the south end of Tian'anmen on all but the clearest days.
(I also happen to love Beijing's globally detested spitting, or at least the freedom to hock a loogie anywhere I want.)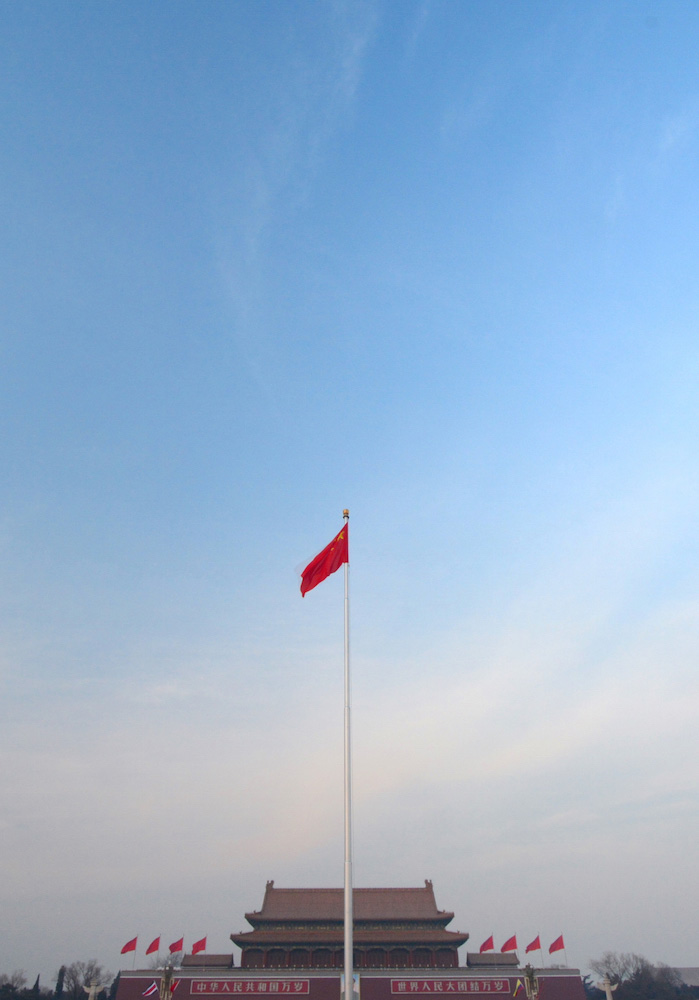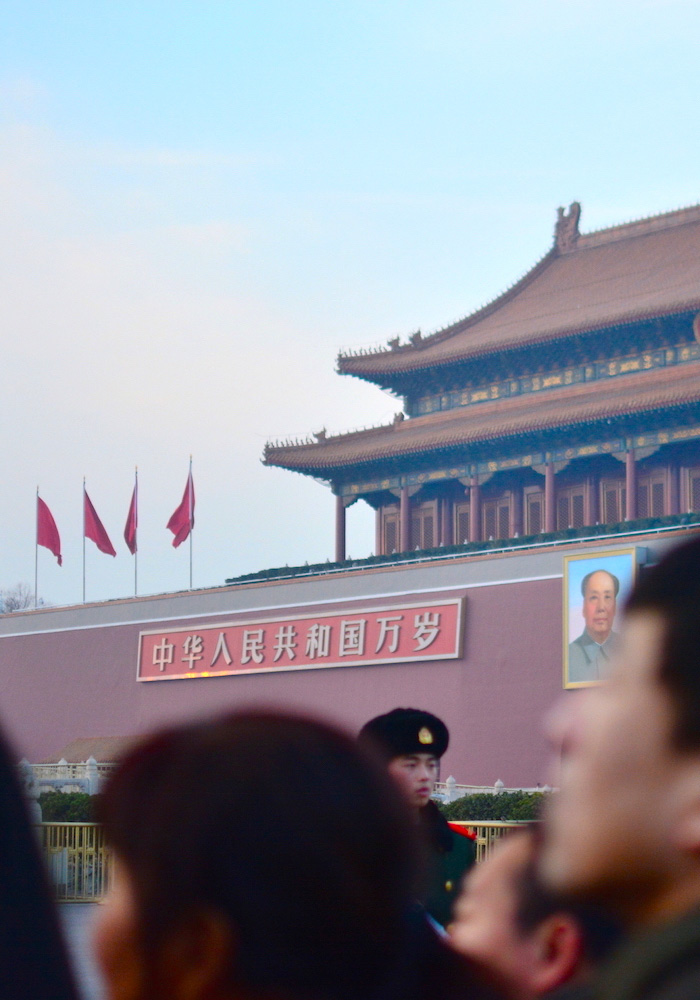 At the end of the day, there are literally infinite reasons to love (or, at least, to want to get to know) Beijing, compared to only a few major reasons people list for hating it. It makes me sad to see people so lazily dousing such an overwhelmingly amazing place in Haterade, but then again I can't really say I'm innocent when it comes to doling out undeserved negativity.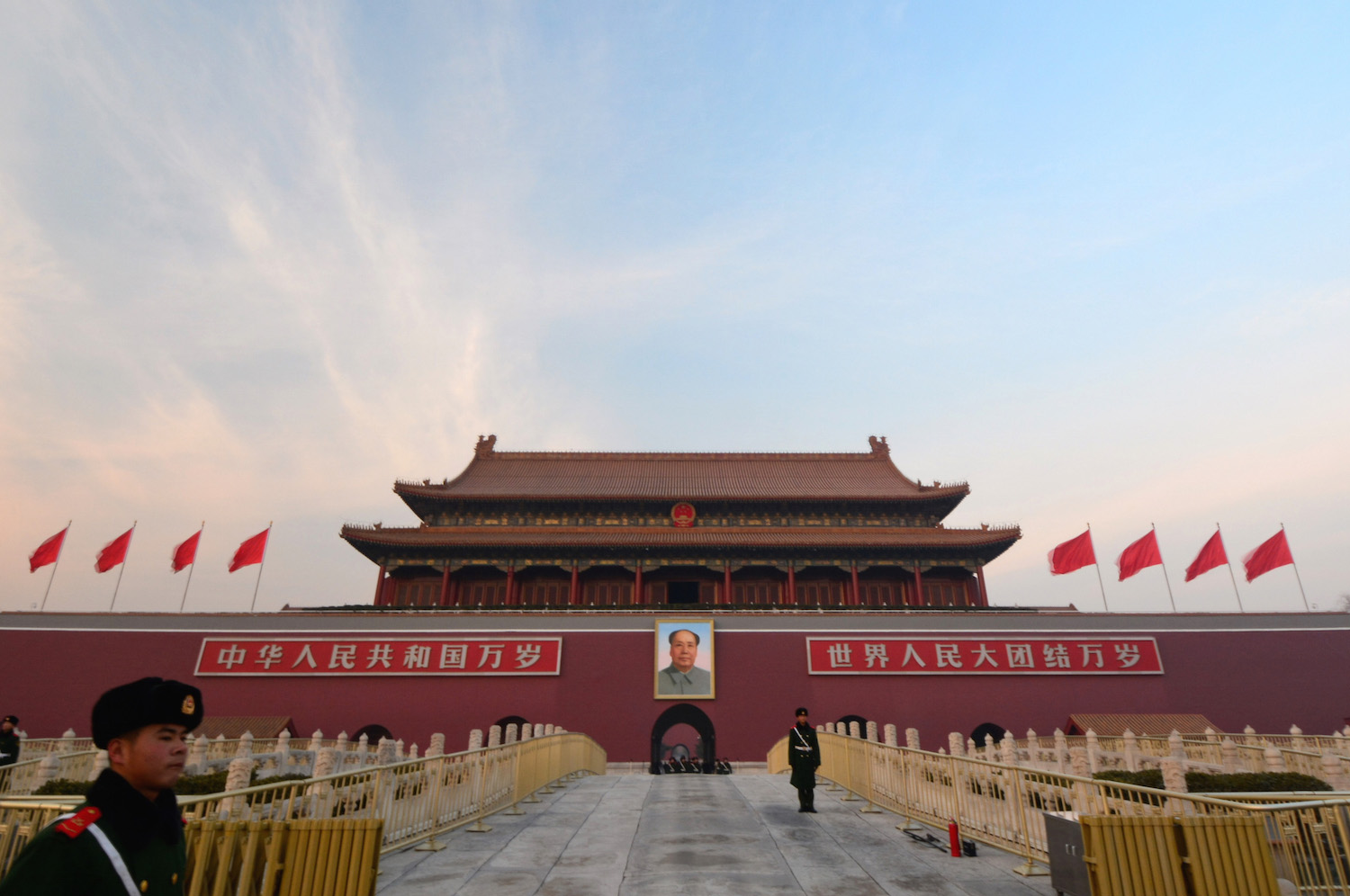 I arrived in Beijing just after having quit my job, about a month before leaving China for good, which occurred on a hazy July afternoon I now consider to be this blog's birthday.
As you can imagine, one of the most common questions the name "Leave Your Daily Hell" has elicited is "What exactly is the hell you're leaving?" which sometimes morphs into "What are you running from?" or simply "Why are you running?" I've shirked these questions every time someone posed them to me, but today, I'm going to let you in on a little secret: I was absolutely running and at times, I feel that I still am.
Of course, back in 2009/10, I had reason to run. The 2008 economic crisis had paralleled my own professional apocalypse, and while teaching English in China had lifted my cash reserves from the depths of bankruptcy, the experience depleted me on the whole. Even though I had most of the tools I needed to begin this crazy journey when I quit my job, just days before departing to Beijing, you can probably understand why I needed to "leave" China to sculpt my life with them.
The problem with running, however, is momentum. And just as it's extremely difficult, past a certain point, to stop a snowball running down a hill from becoming an avalanche, I've struggled to slow my pace as I've circled the globe the last half-decade, or to stop at all really, even to catch my breath.
It makes sense, I suppose, given the way I've learned to motivate myself over the years, both as my father's son and, let's face it, an American. Never at any point during my country's existence, let alone the nearly 30 years I've been alive, have we been able to move forward as a people, except for in reaction to some enemy image, some existential darkness that threatens to extinguish the light within us.
As you can probably also imagine, I've won enough battles by this point that my "enemies" (and I hesitate to use that word) have significantly decreased in number. And yet that old reactive mechanism, seemingly implanted in me at birth, has proven almost impossible to defeat: I've turned a lot of friends into enemies in the name of moving forward.
It's ironic that I'm working through what I hope are the last stages of letting go of this behavior in Beijing, a city that's bathed in the red shadow of Chairman Mao, who was perhaps the most notorious American enemy of them all during the years preceding my birth.
But of course it's also fitting, given how irrationally happy being in Beijing makes me, that I should re-affirm my claim to my life's happiness here, history – and the hatred generally heaped upon the city by most of the world – be damned.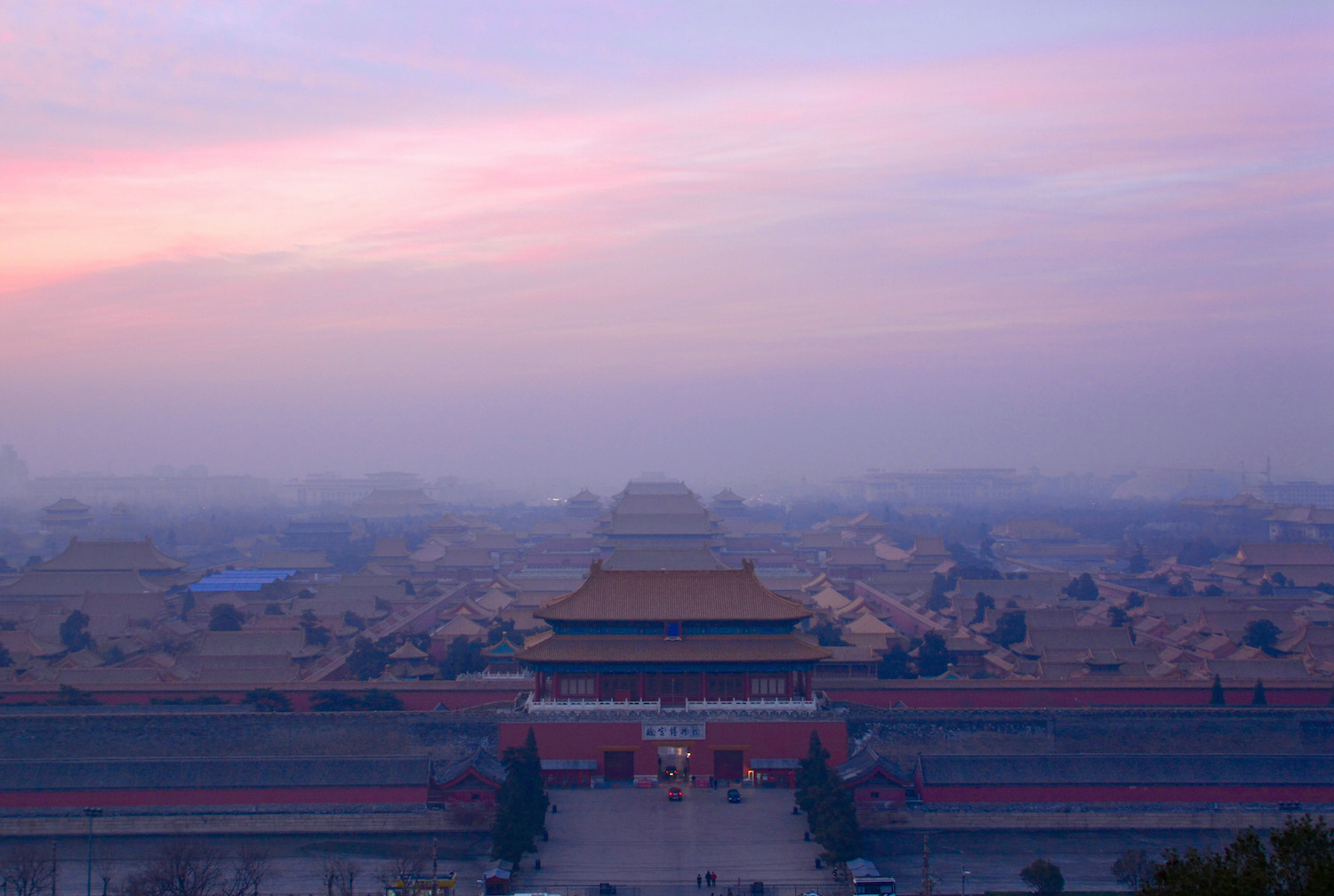 The last time I was in Beijing, before this time that is, I wasn't just running: I was training for a marathon, one that is by some counts still going on nearly five years later.
If there's one thing circumnavigating the planet a couple times a year has taught me, it's that there is always a more distant horizon. But I do feel myself now, more than ever, happy to stand in place and watch the sunset, rather than running off into it.
I feel the same way about Beijing as I walk its streets now as I did back then – the city is a sort of barometer of how I feel in general. And on the whole, I suppose you could say the main change that's occurred is that I no longer have a hell to leave. In fact – and I don't think I've ever said this publicly – I cry inside a little every time I say goodbye to my friends in Austin and my family in St. Louis.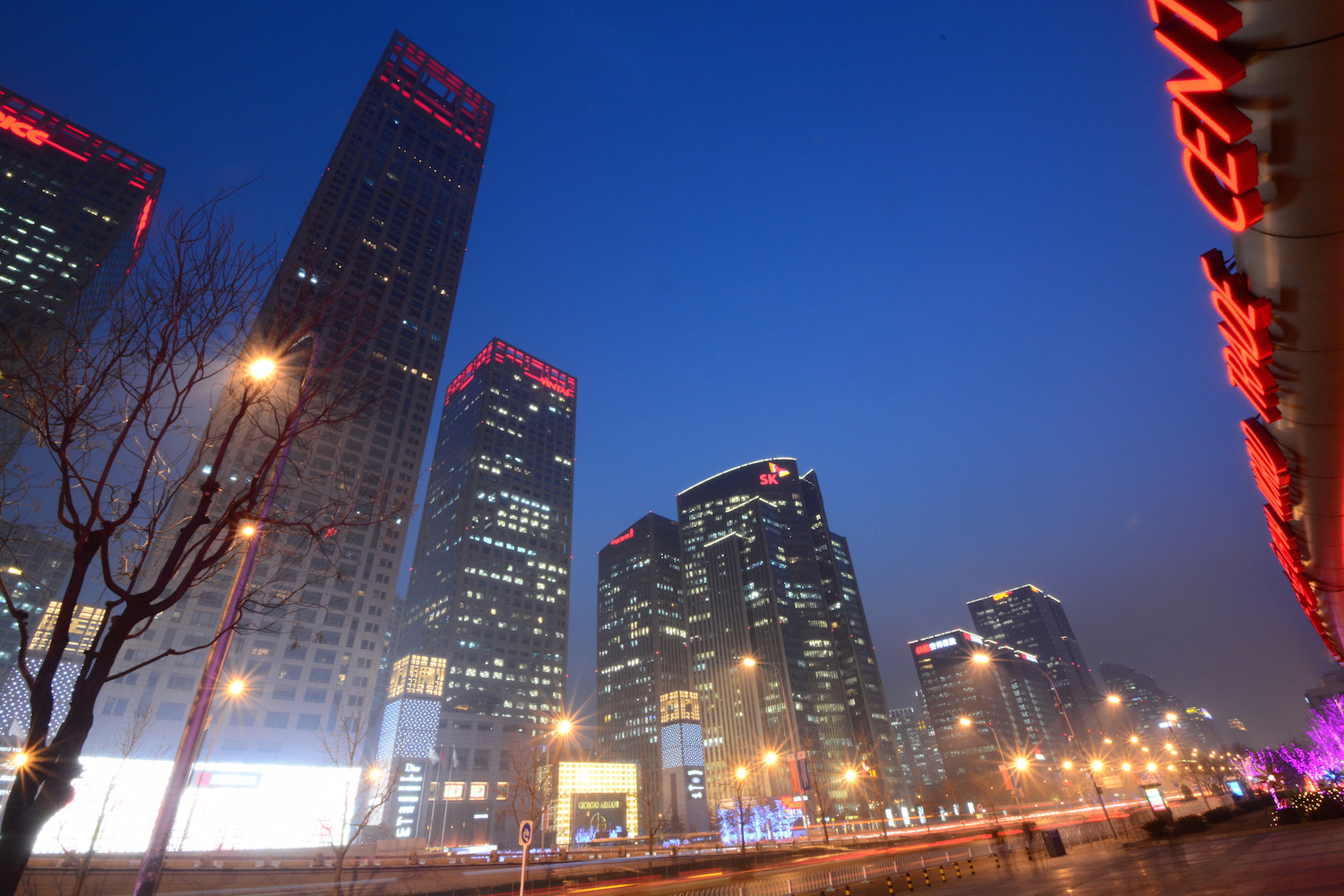 Of course I also cry (sometimes outwardly, too) when I'm made to say goodbye from the new friends and family I meet on each subsequent trip, and while all tears are not created equal, they are all made from the same stuff: I'm not surrendering my passport anytime soon.
But I will tailor my travel schedule more to favor trips with friends – and, for friends in far lands who can't or won't travel, trips to friends. I'll begin to prioritize experiences that warm my heart over ones that will make for good clickbait. And I will certainly change my mind 1,000 times in the process, as tomorrow's discoveries make me call today's truths into question.
But for now, my focus is not on the uncertain lens through which I look out onto my future, but on the very air I'm breathing. You see, upon closer inspection, it is not Beijing's notorious smog that has given today's sky its strange color: I seem to have left a trail of gold dust behind me as I made my way around the world and only now, as I return to one of the first places I ever allowed myself to feel unbridled joy, do I realize how much of it I've kicked up.
Share: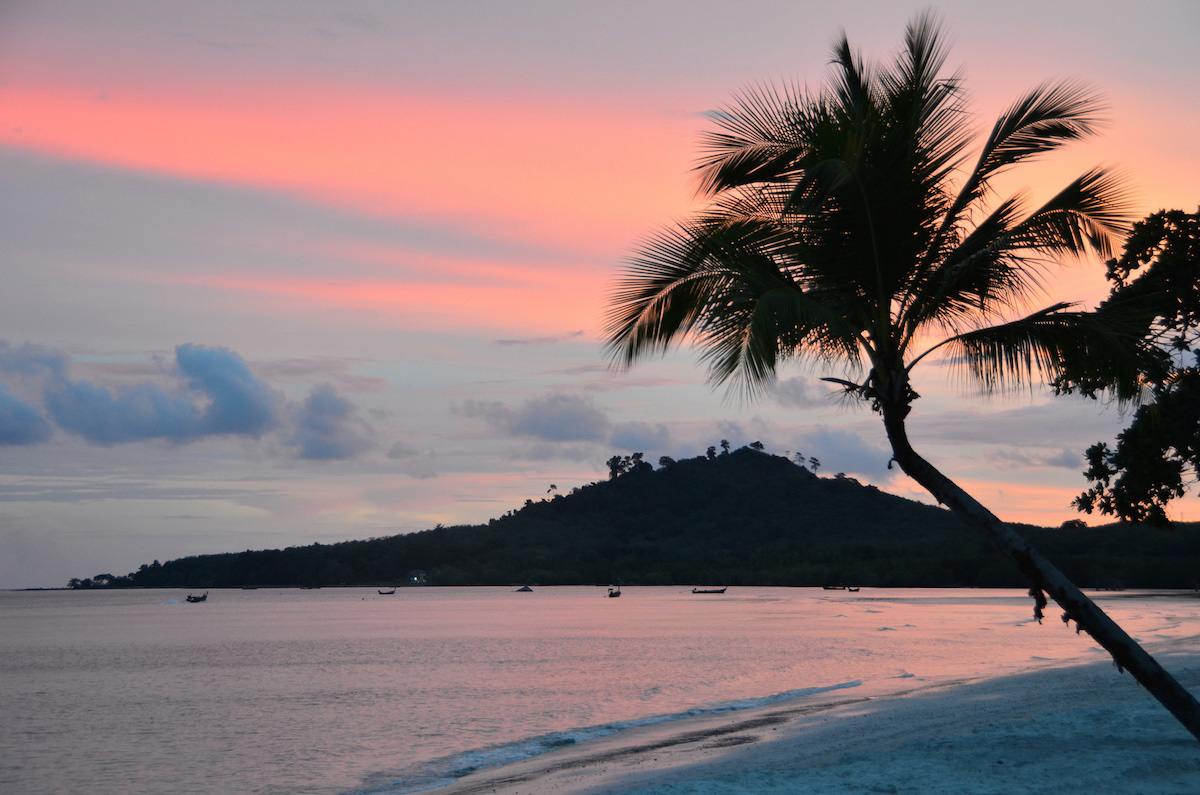 On the surface, there isn't a whole lot that separates Koh Samui from Thailand's other paradise islands. Sure, it's less crowded than Phuket, but while it sits across the peninsula from Southeast Asia's party paradise in the Gulf of Thailand, the ambiance here feels slightly more exotic and castaway than on other Gulf islands, such as Koh Chang or even Koh Mak in the southeast – but only slightly.
If you've heard the name "Samui" thrown around and aren't sure whether it's the right choice for your next beach vacation in Thailand, continue reading to learn some facts about the island you might not have known.
It's Thailand's Second-Largest Island
While you've probably heard the name if you've ever been to Thailand, Koh Samui simply doesn't have the same international recognition as, say, Phuket. In spite of this, Koh Samui is second only to Phuket in terms of land area, at nearly 90 square miles, although the former boasts only half as many annual tourist arrivals as the latter.
No One's Really Sure What Its Name Means
Puzzled when you hear the words "koh" and "Samui" together? You're not the only one. Although the first word of its name – "koh," which means "island" in Thai – is rather quotidian, the origin of "Samui" is unclear. Whether it's an extension ofthe local "mui" tree or a mangled version of the Malay word for "safe haven," you could drive yourself crazy figuring of what "Koh Samui" actually means.
Not All The Water on Koh Samui is Crystal Clear
Koh Samui has risen to international fame on account of the crystalline waters that lap at its shores and check out a place called The Library — the water in its pool is blood red, or at least it appears that way. Dive down to the bottom of the pool, and you'll realize that it's the combination of tiles – which are mostly, you guess it, red! – and not the actual color of the water that's so shocking.
They "Fight" Buffalo on Koh Samui
When you think of fighting livestock, you probably think of Spain, which is just one reason the buffalo fights that take place on Koh Samui every April for Songkran, the Thai New Year, are so surprising. Even more incredible is the fact that these matches, which are organized by monks, aren't particularly violent, which is of course a surprise of the very best sort – especially if you happen to be a buffalo.
Most of the Food on Koh Samui Isn't Thai
Koh Samui is one of Thailand's top tourist draws, but your stomach might not feel like it's in the Kingdom after a few meals here. Owing to its maritime location, which led to a somewhat promiscuous relationship with foreign vessels, KohSamui serves a cuisine that's more reminiscent of traditional Malay or Indian fare, rather than Thai, although you can of course get your curries and pad Thais at most tourist-friendly restaurants.
Share: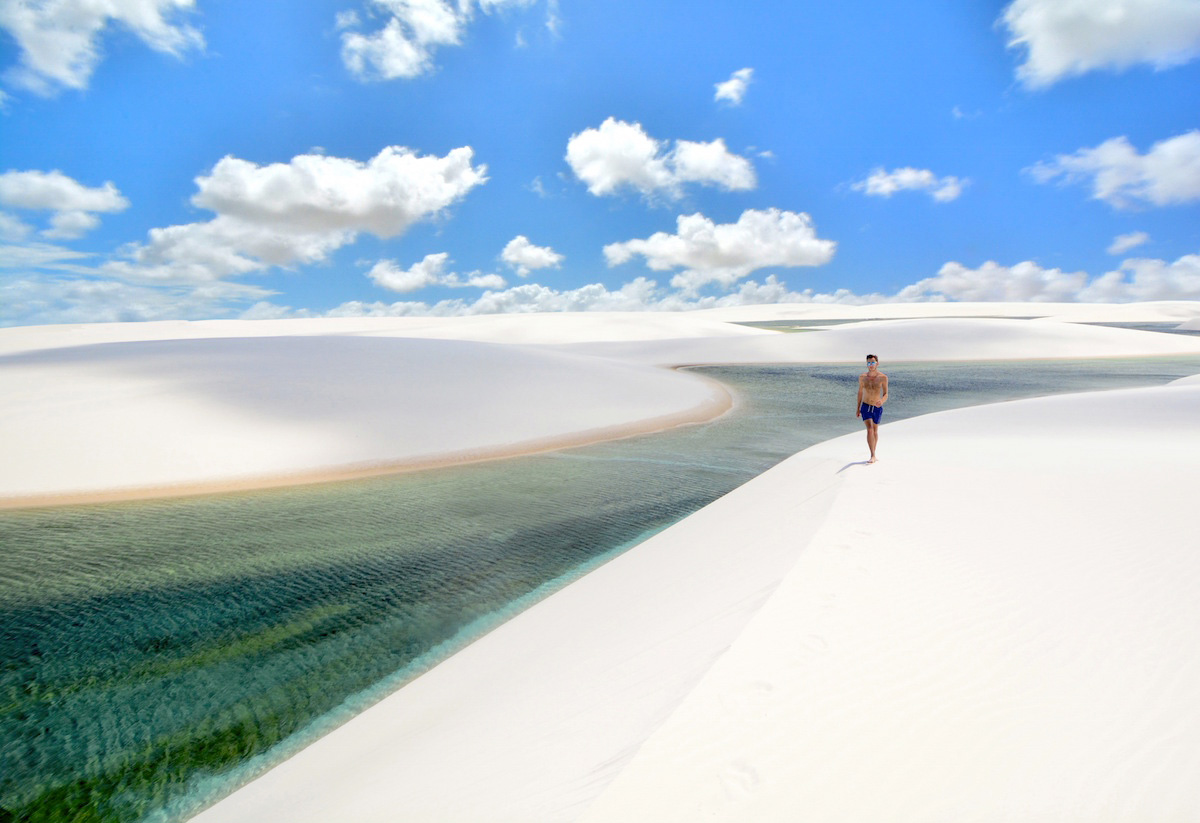 Welcome to 2015 and another year of incredible travel choices. Every time I write an article, I go to great lengths to avoid publishing what I call Typical Travel Stories.
While it would arrogant (and, likely, inaccurate) for me to say that the list of great destinations below is better than any other list, here's my top picks regardless and I welcome your feedback on the choices as well as your picks.
Which of these unique destinations would you most like to visit in 2015?
Kazbegi
Where it's at: About two hours north of Tbilisi, Georgia (by bus).
Why you should visit: The hike to Gergeti Trinity Church, which sits in the shadows of Mt. Kazbeg, Europe's second-highest peak.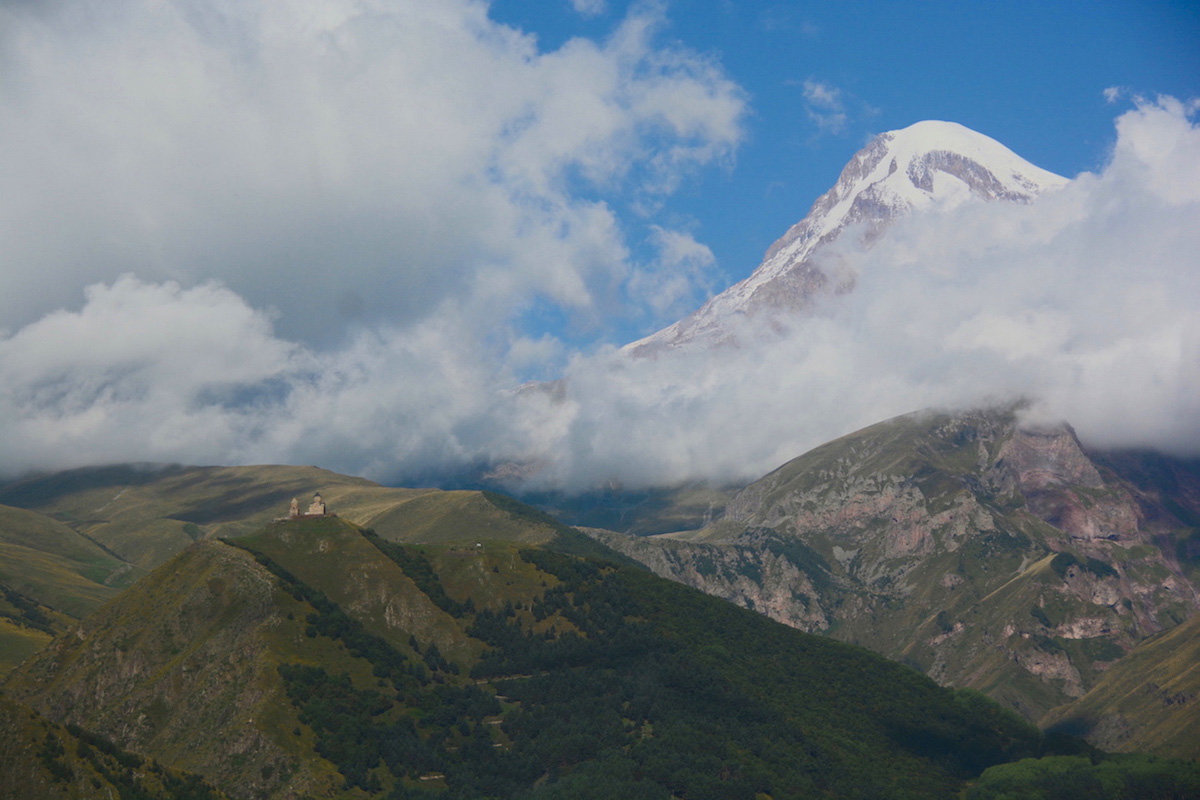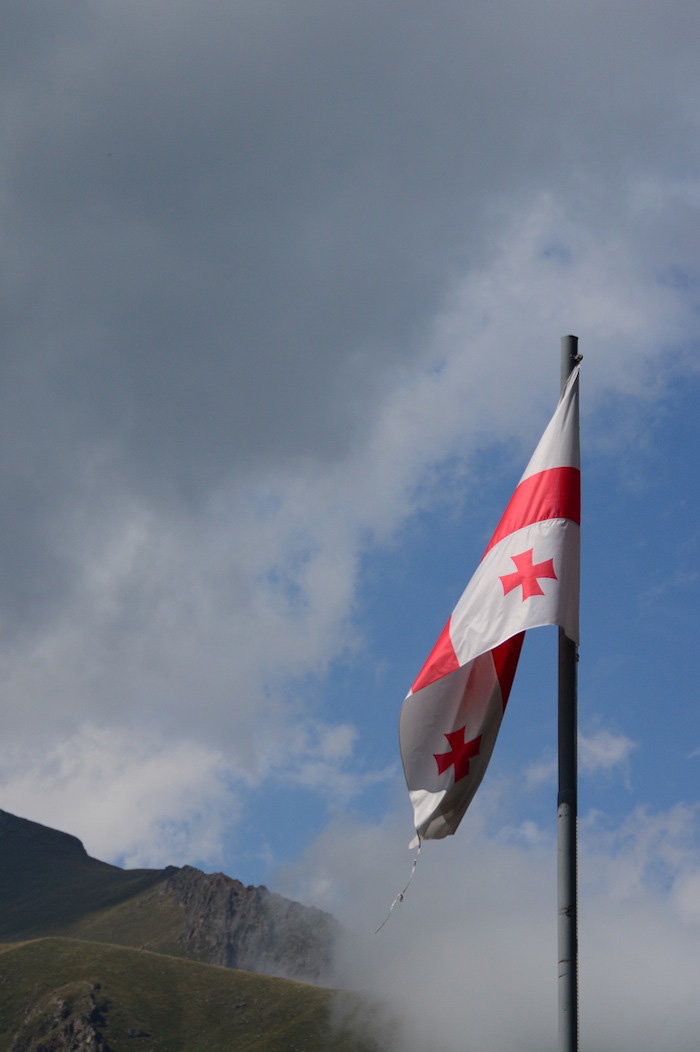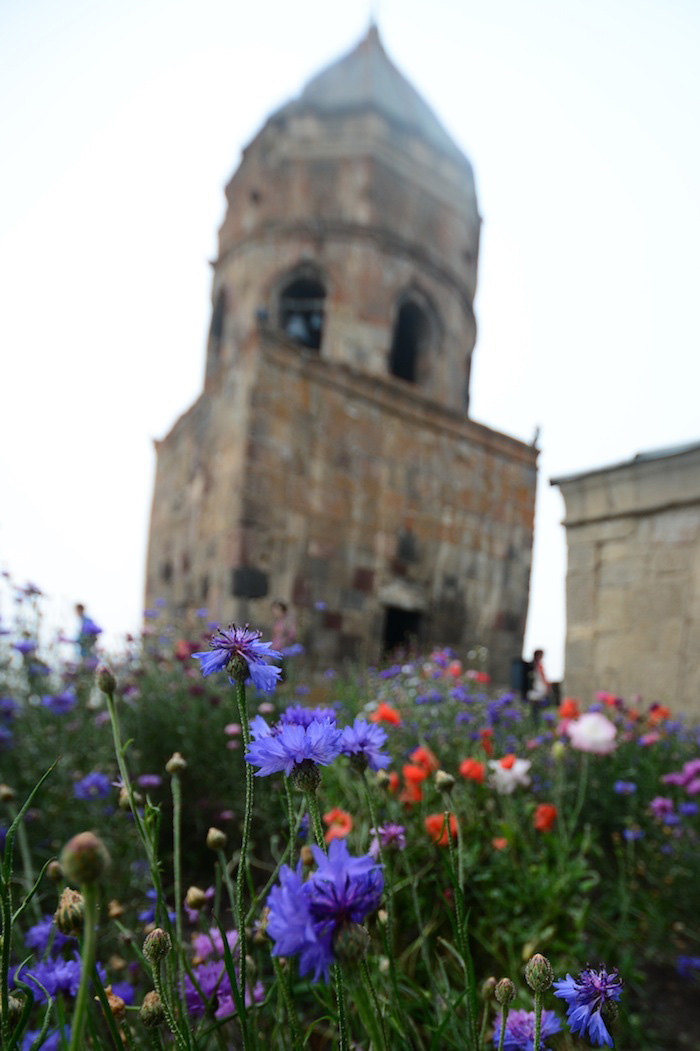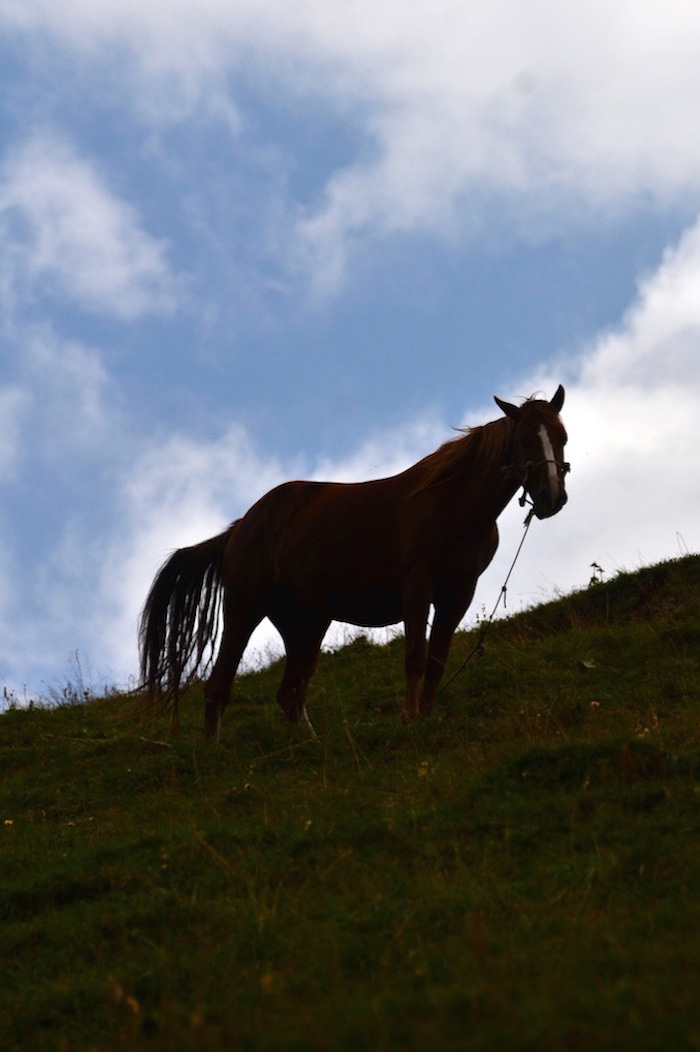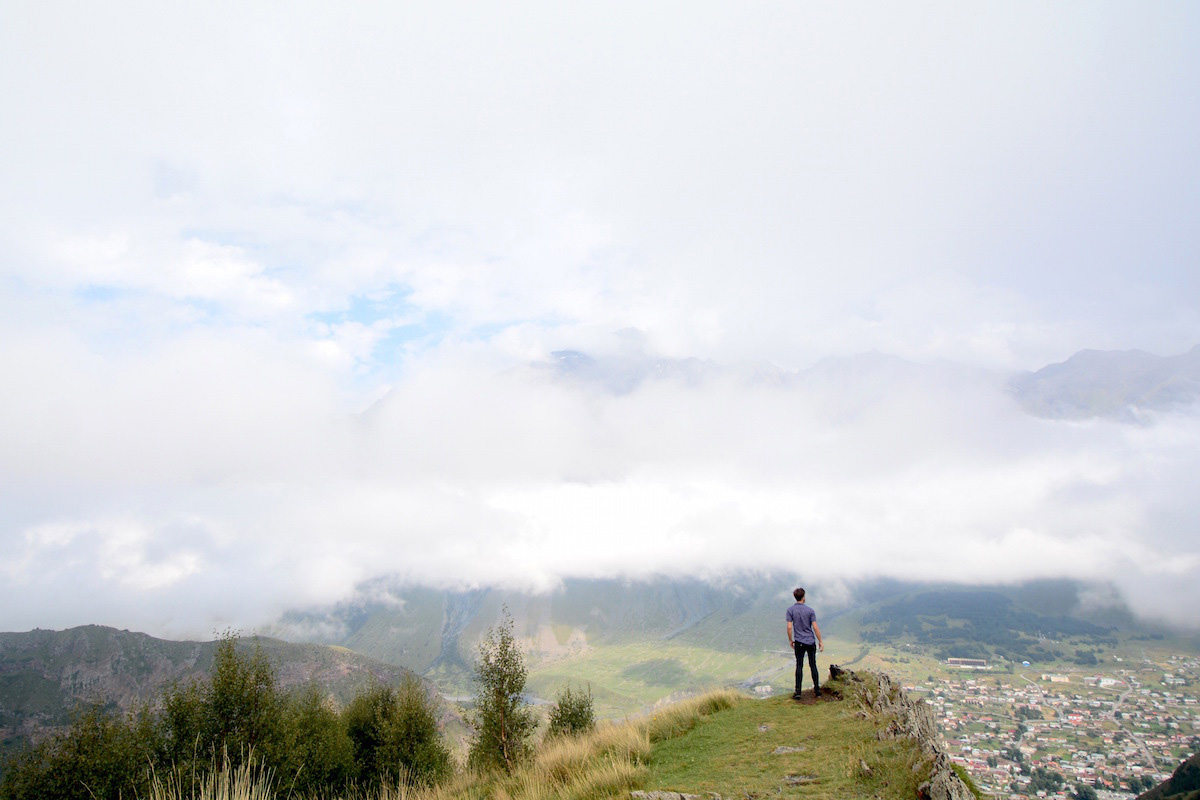 Nikko
Where it's at: 90 minutes from Tokyo, Japan (by train).
Why you should visit: Nikko is just a short distance from ultra-modern Tokyo, but its vast collection of ancient temples set amid an imposing forest make it feel trapped in the distant past.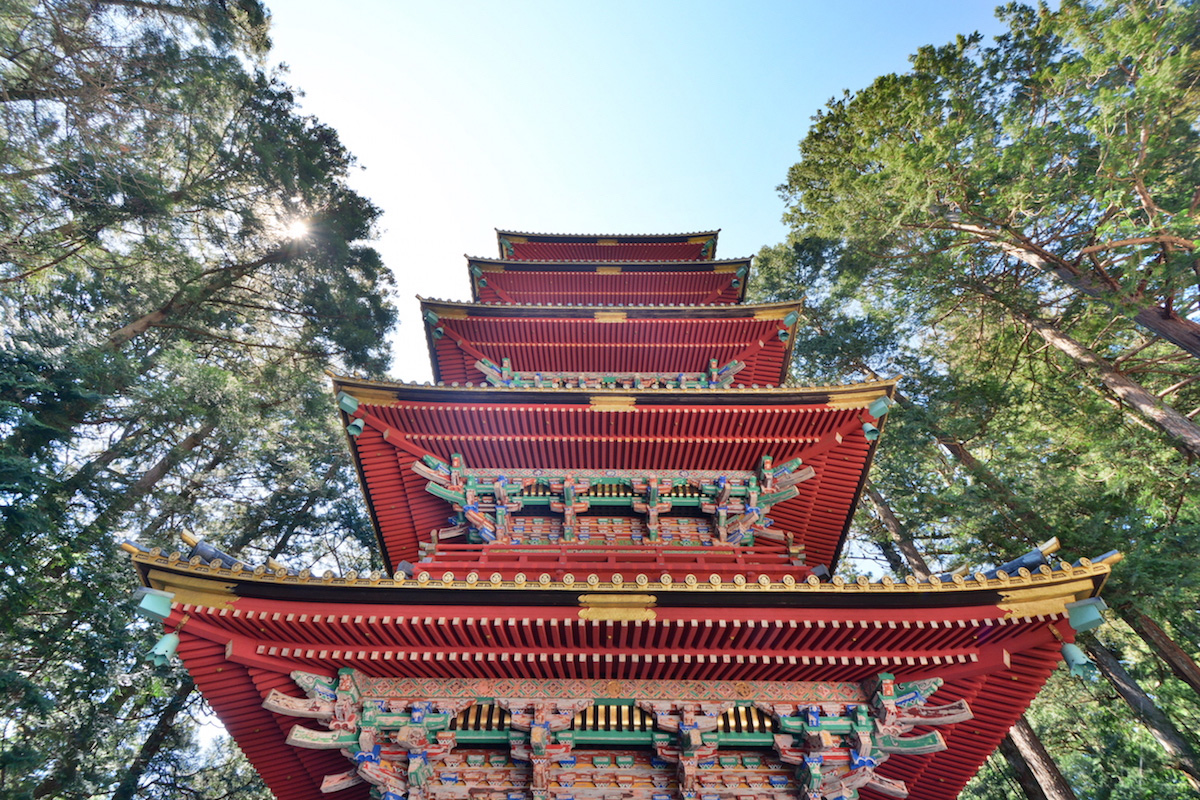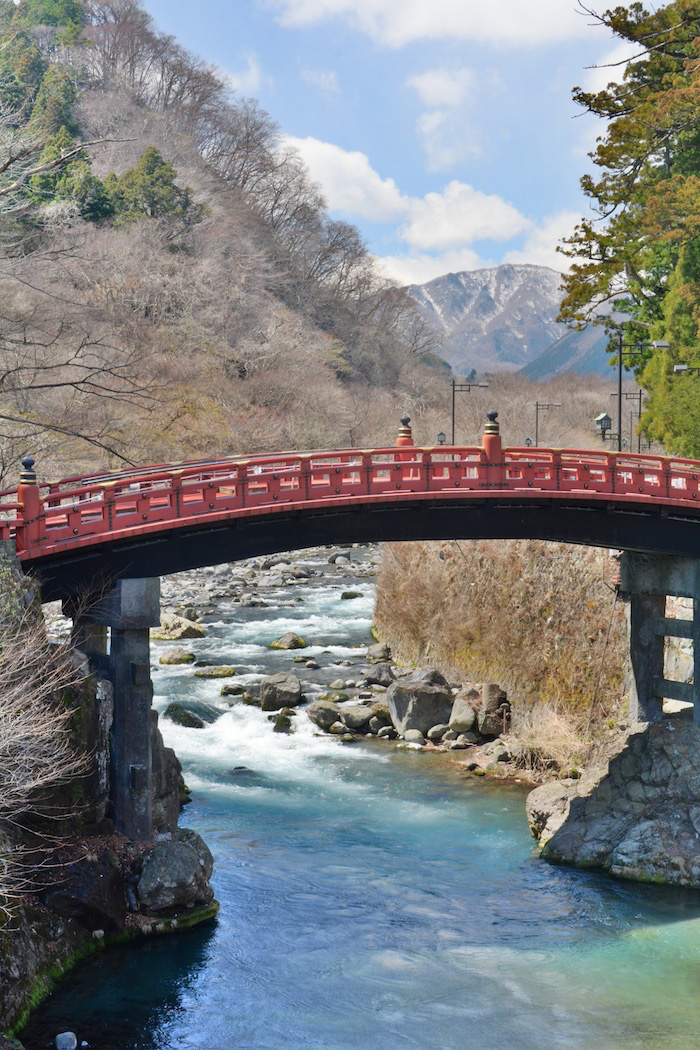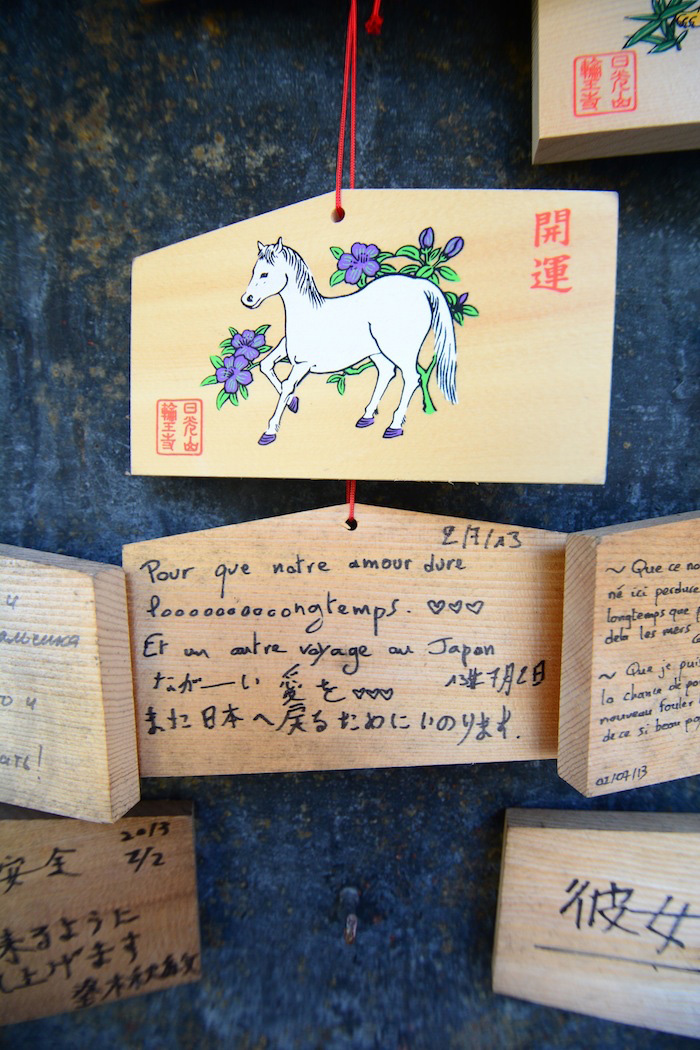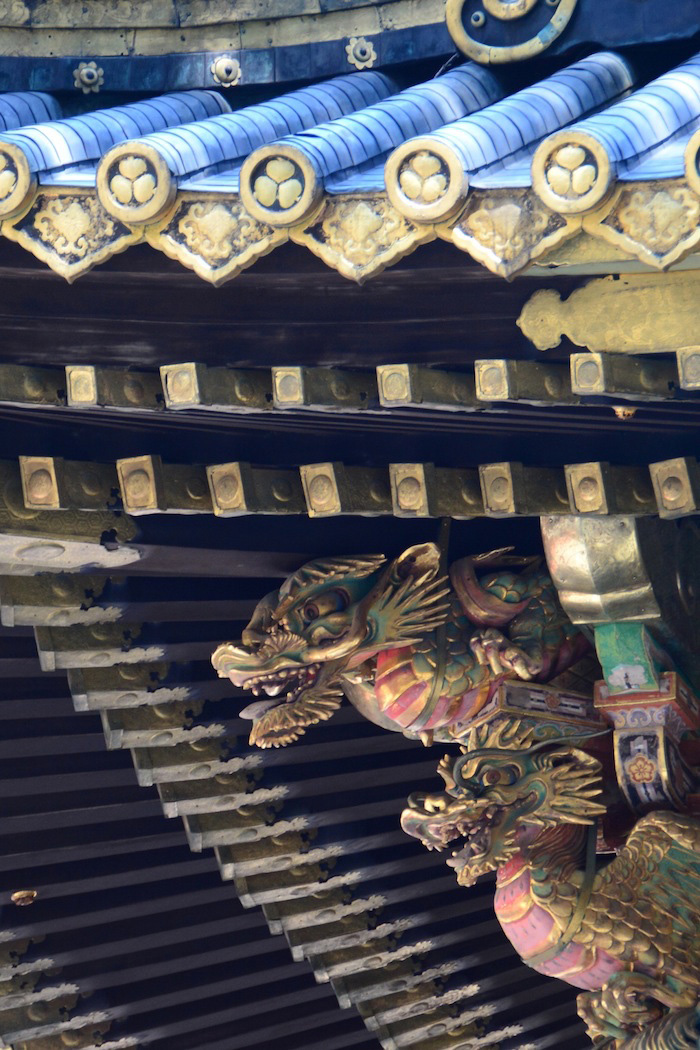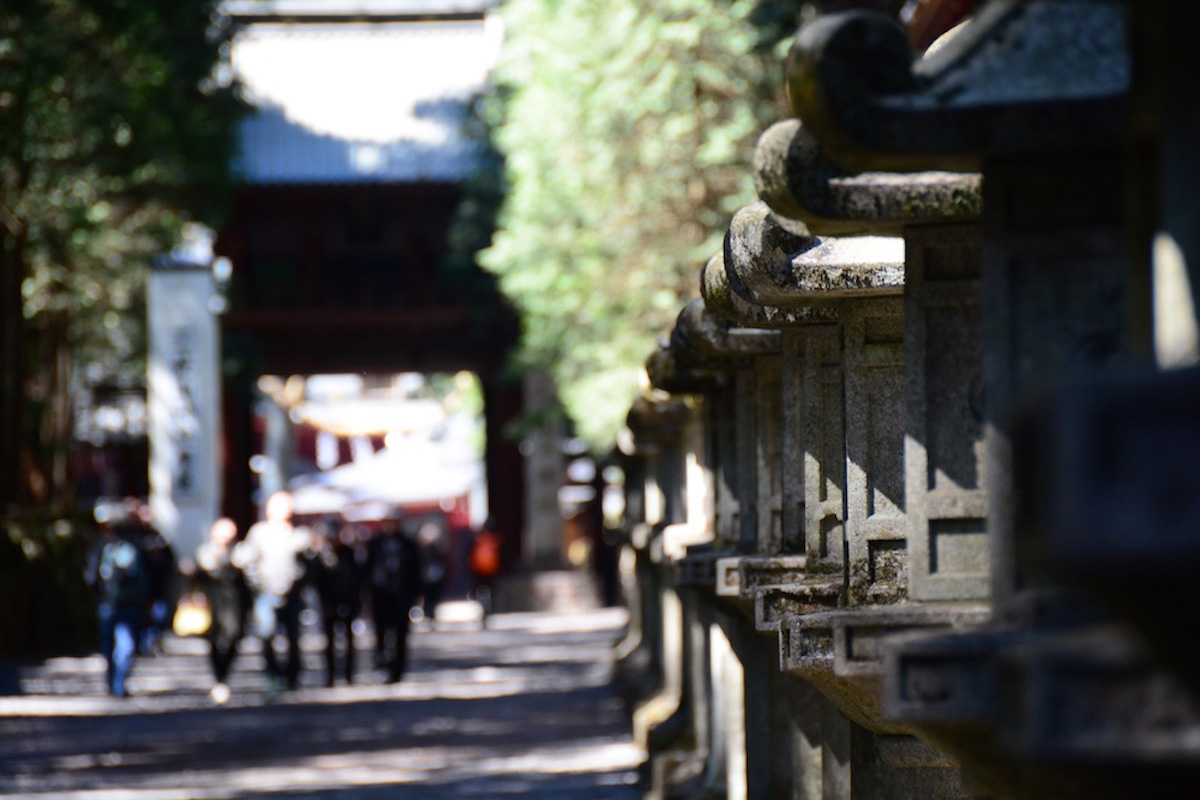 Lençóis Maranhenses
Where it's at: 5-8 hours from São Luis, Brazil by bus/4×4.
Why you should visit: See below…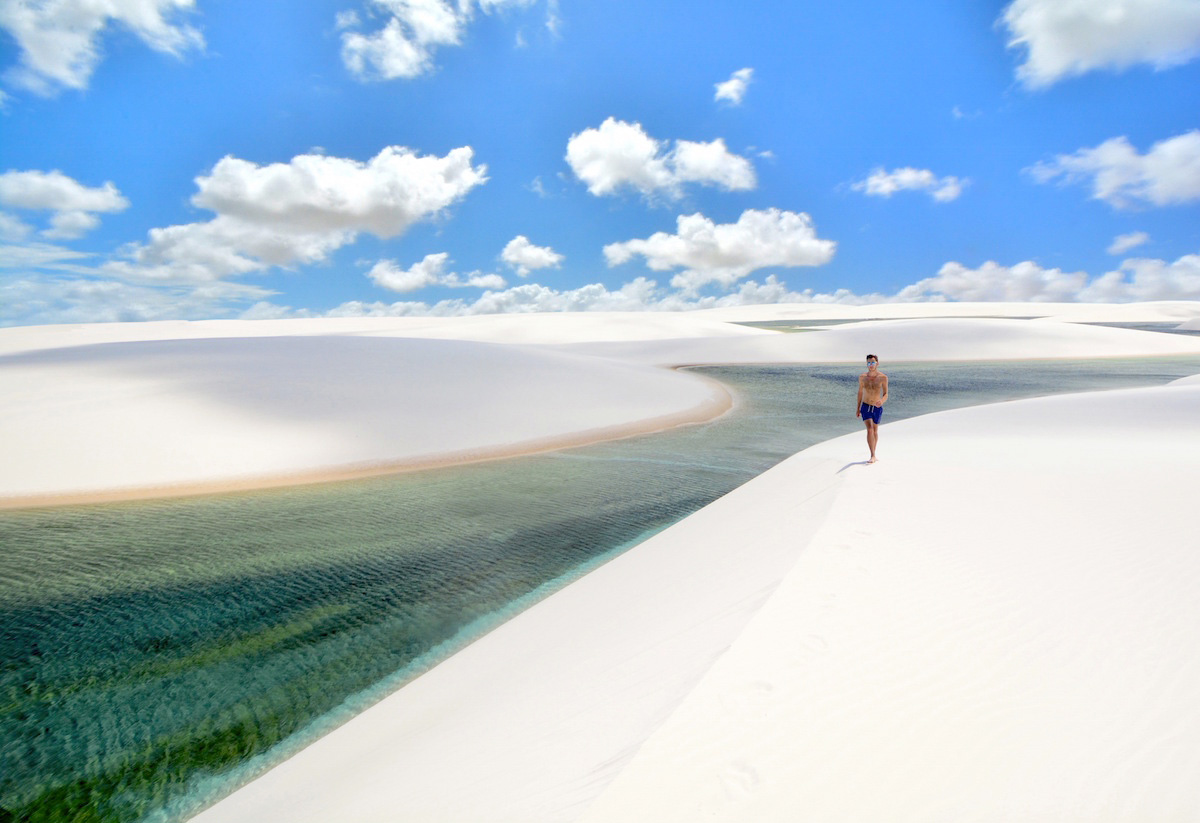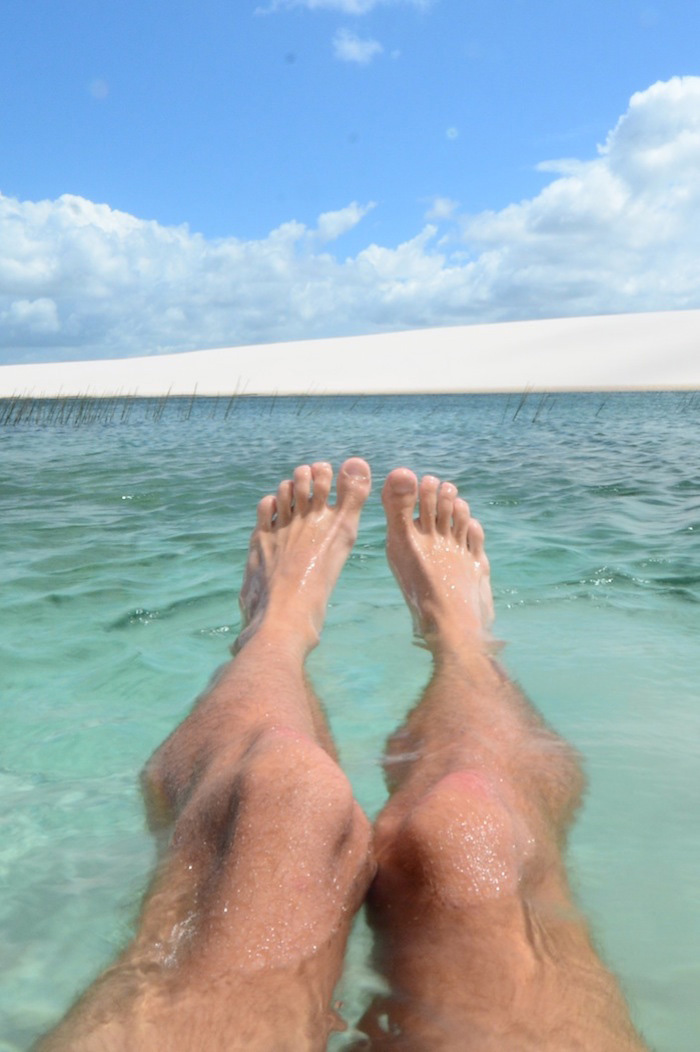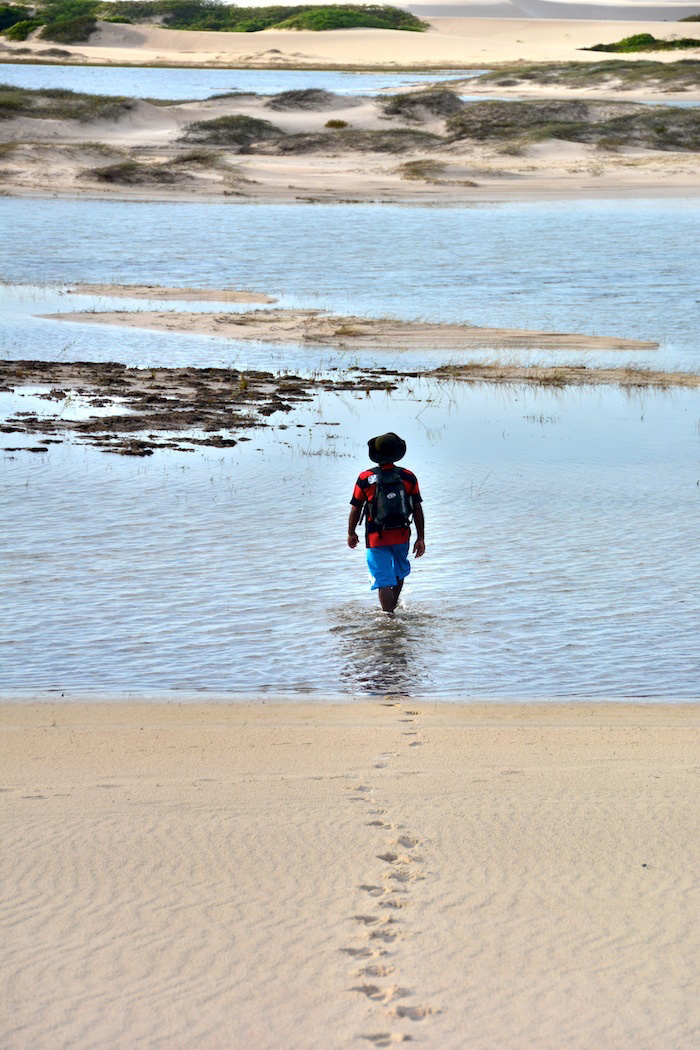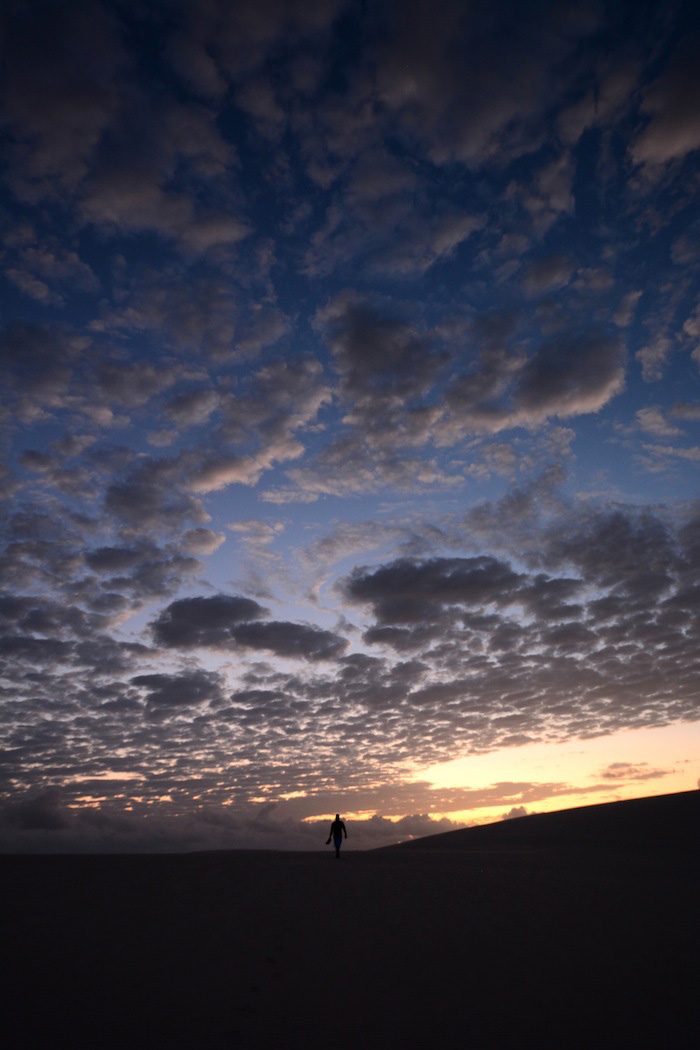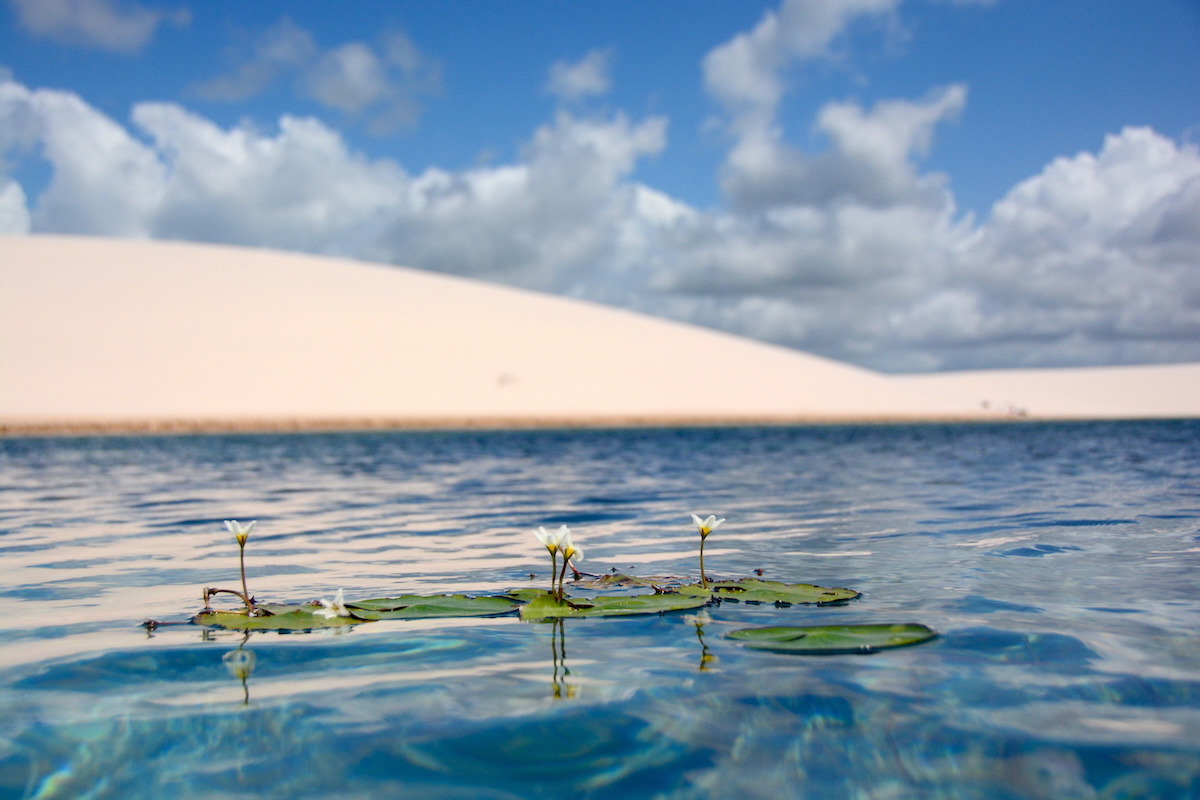 Palestine
Where it's at: That's a controversial question.
Why you should visit: In spite of their difficult history and present situation, the Palestinian people are among the kindest and most gracious in all the world, to say nothing of the beauty of their land.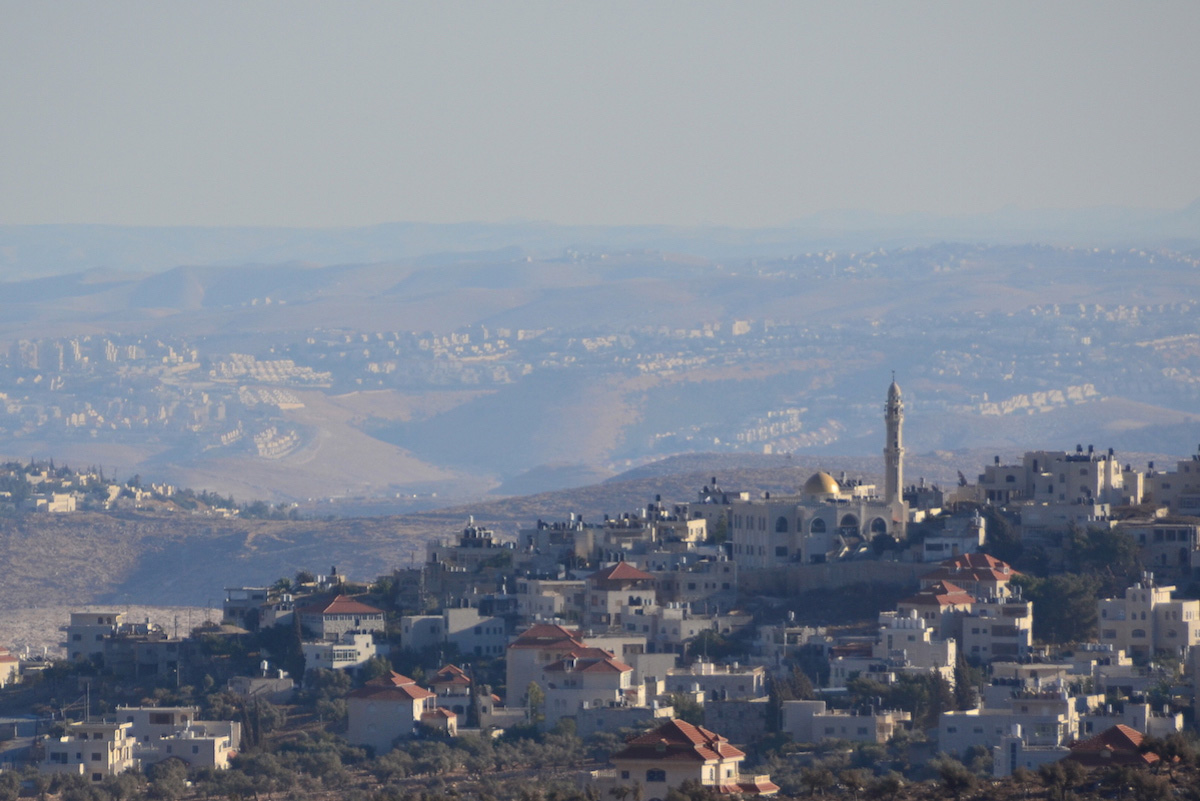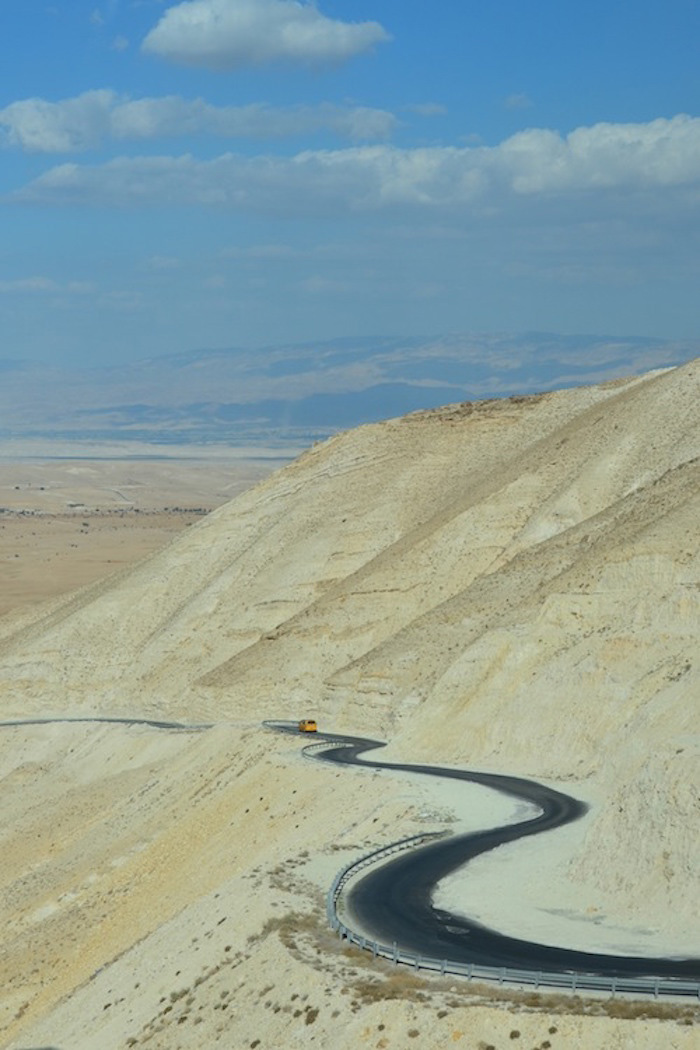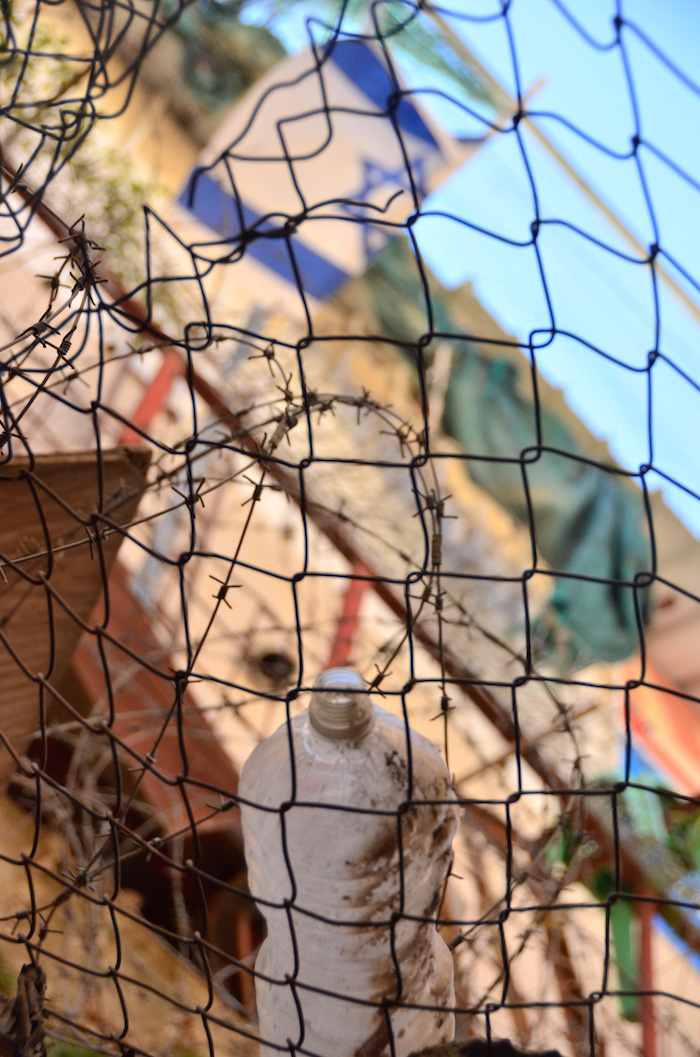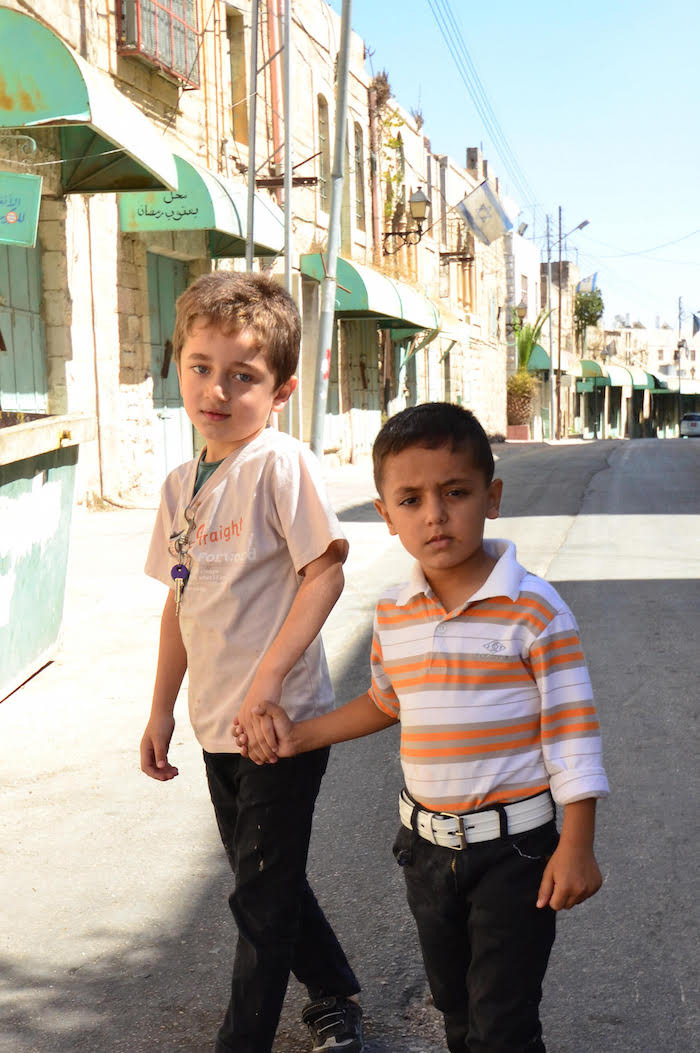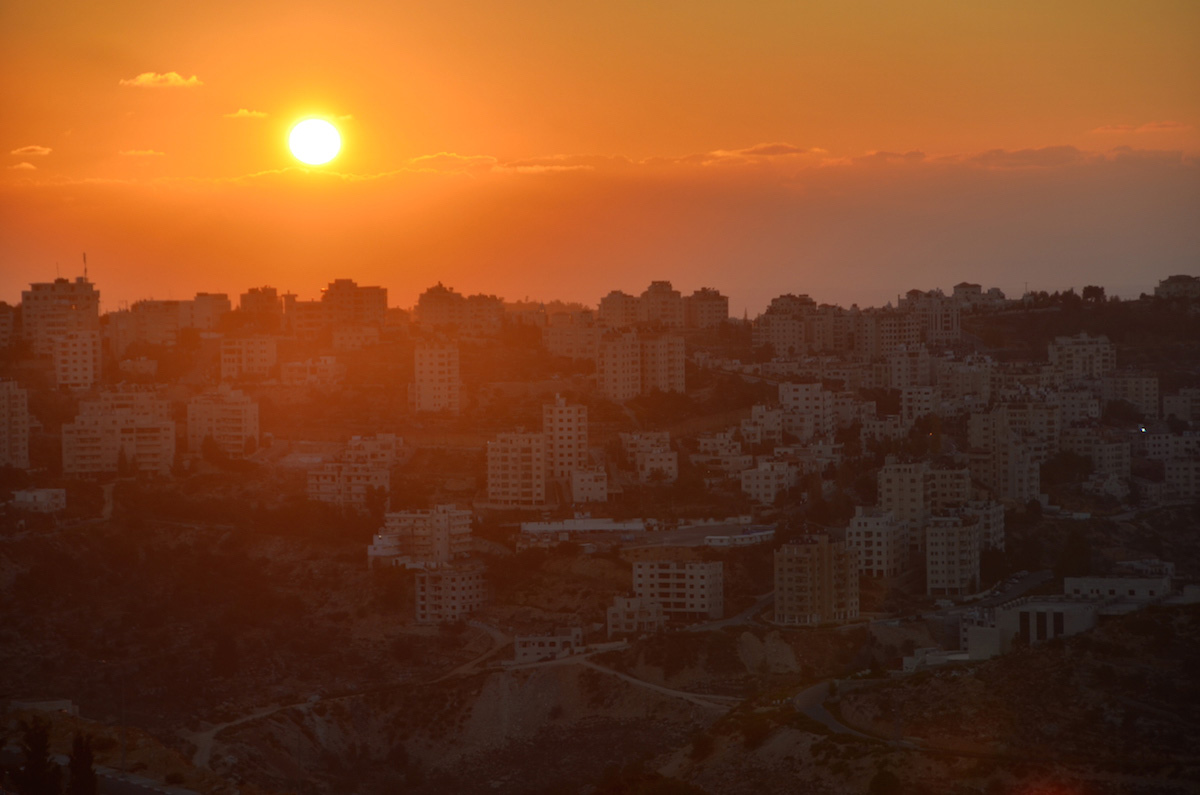 Anuradhapura
Where it's at: About 5-6 hours from Colombo, Sri Lanka (by bus).
Why you should visit: Unlike many of Asia's other ancient capitals, Anuradhapura is practically devoid of tourists – at least for now.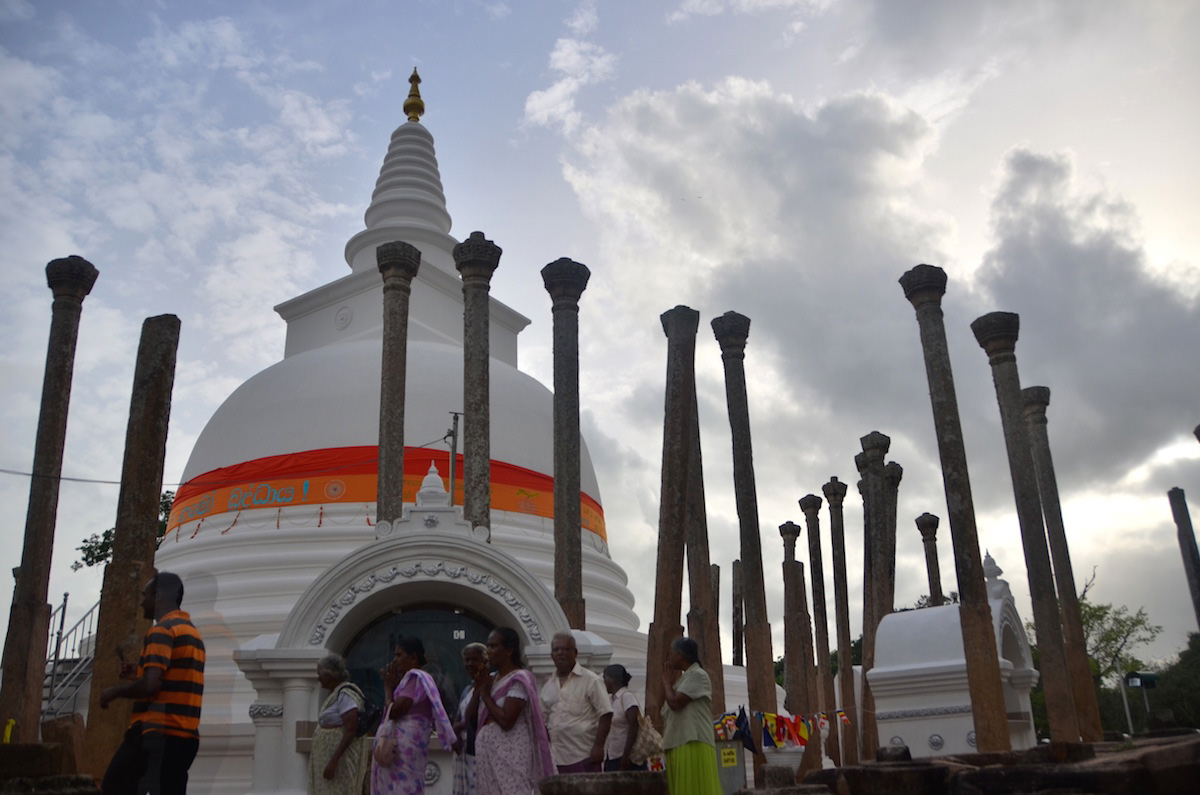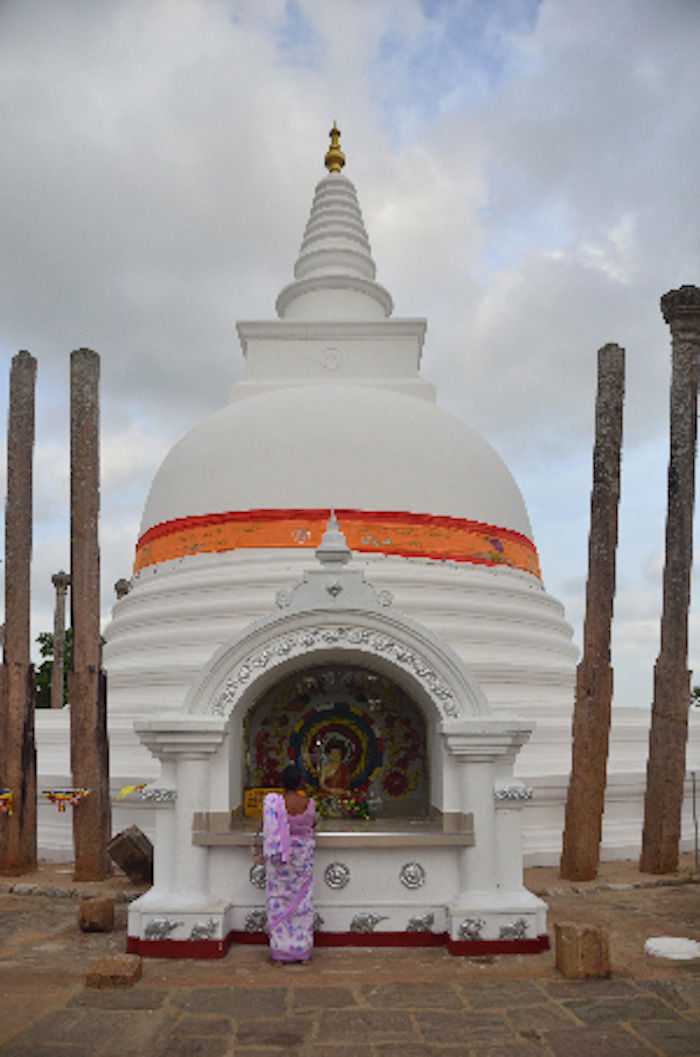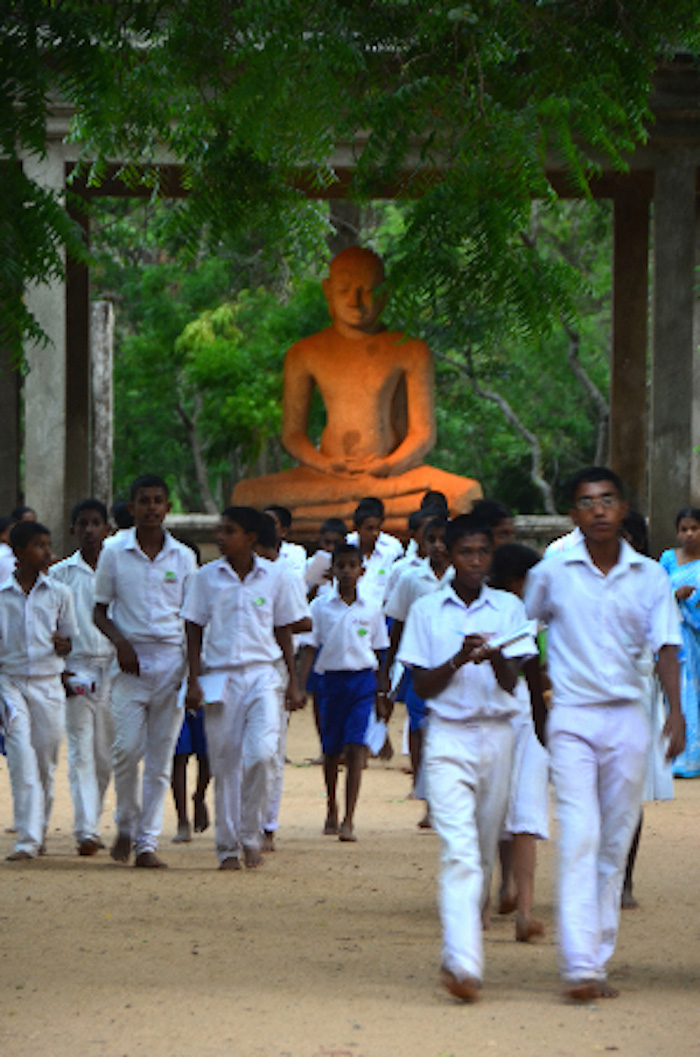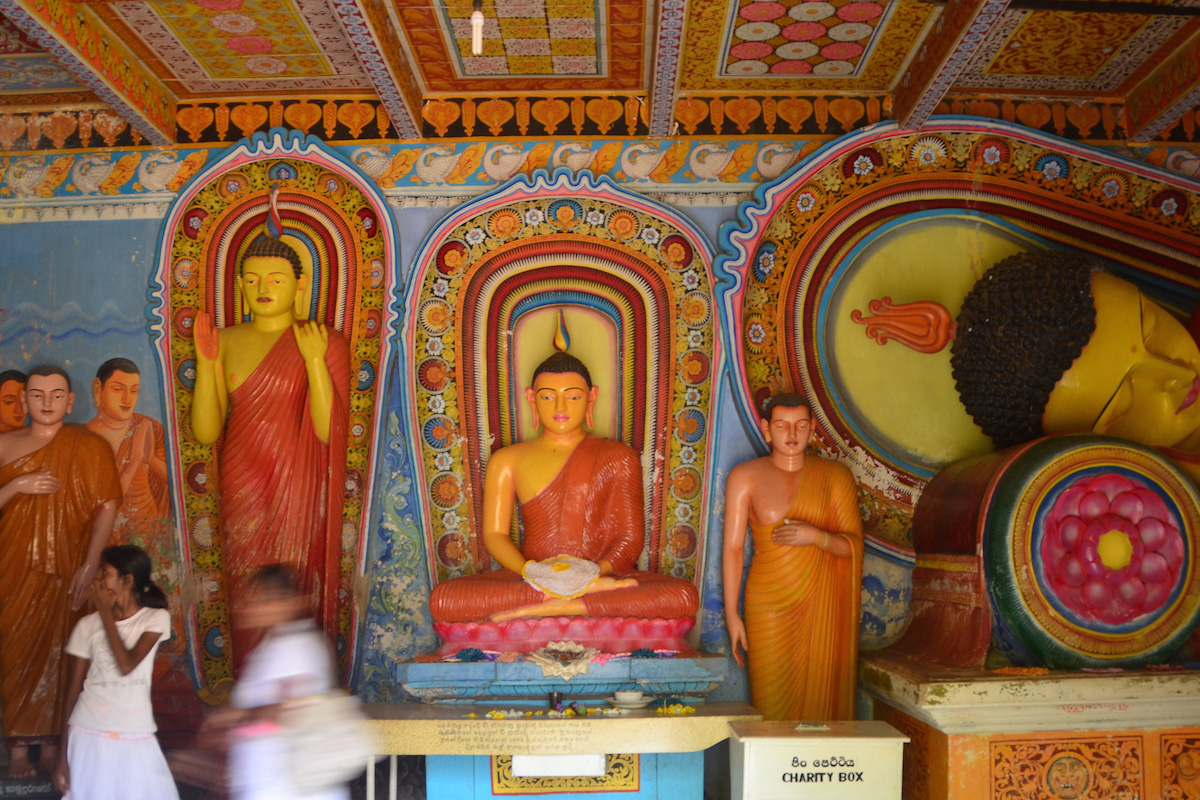 Raja Ampat
Where it's at: In the middle of fucking nowhere.
Why you should visit: See below.
Located off the northwest tip of Bird's Head Peninsula on the island of New Guinea, in Indonesia's West Papua province, Raja Ampat, or the Four Kings, is an archipelago comprising over 1,500 small islands, cays, and shoals surrounding the four main islands of Misool, Salawati, Batanta, and Waigeo, and the smaller island of Kofiau.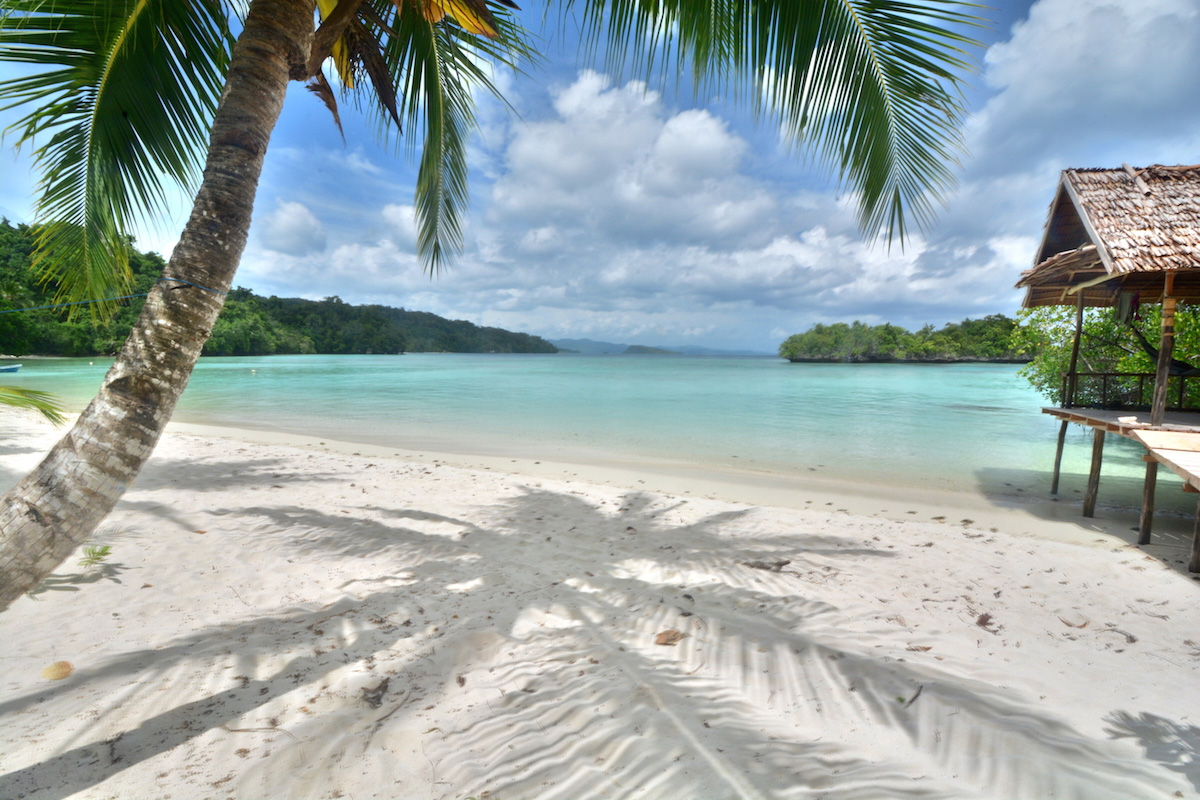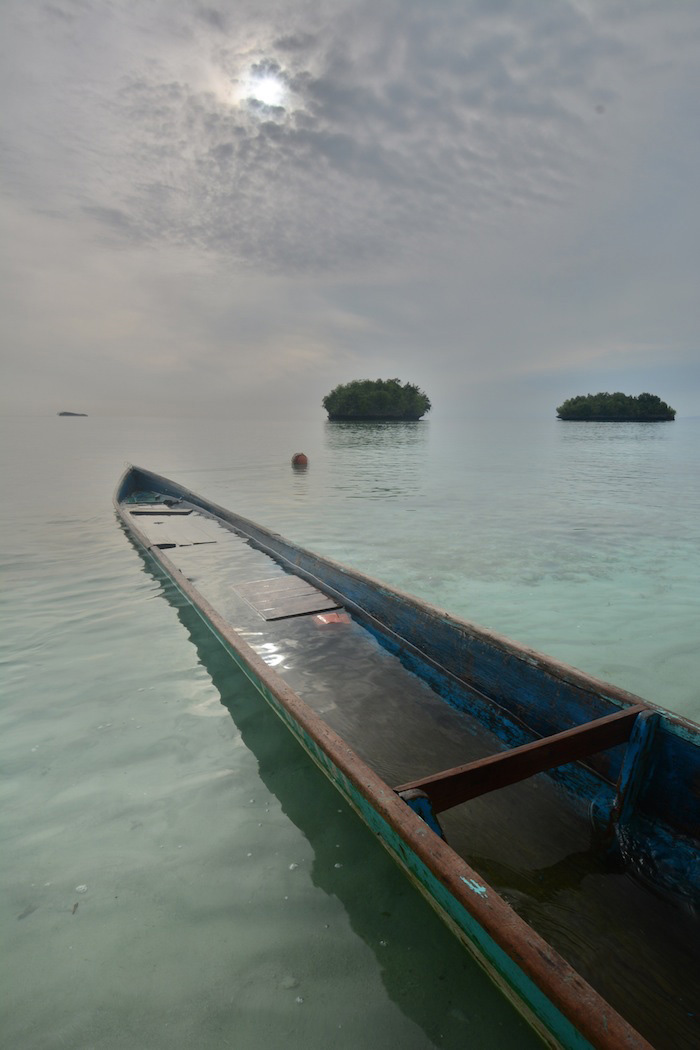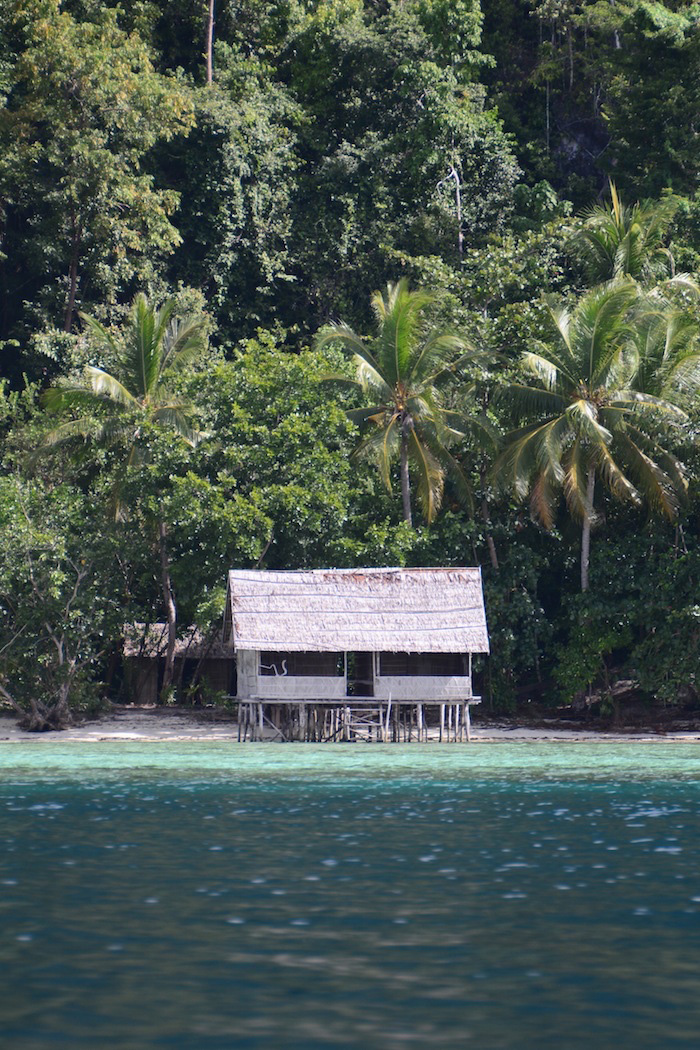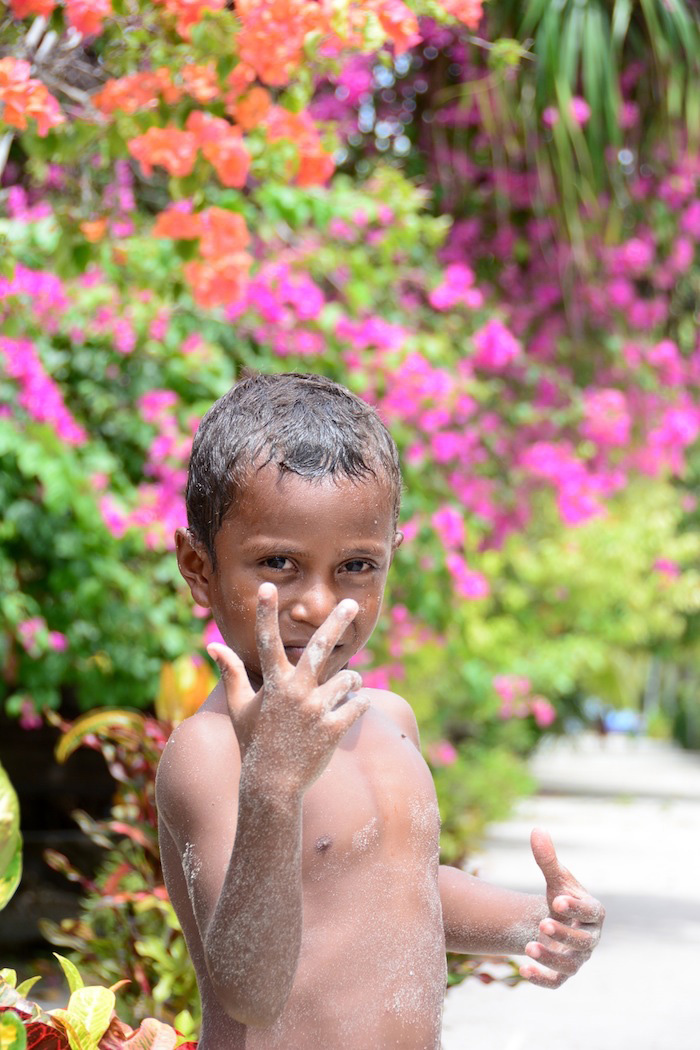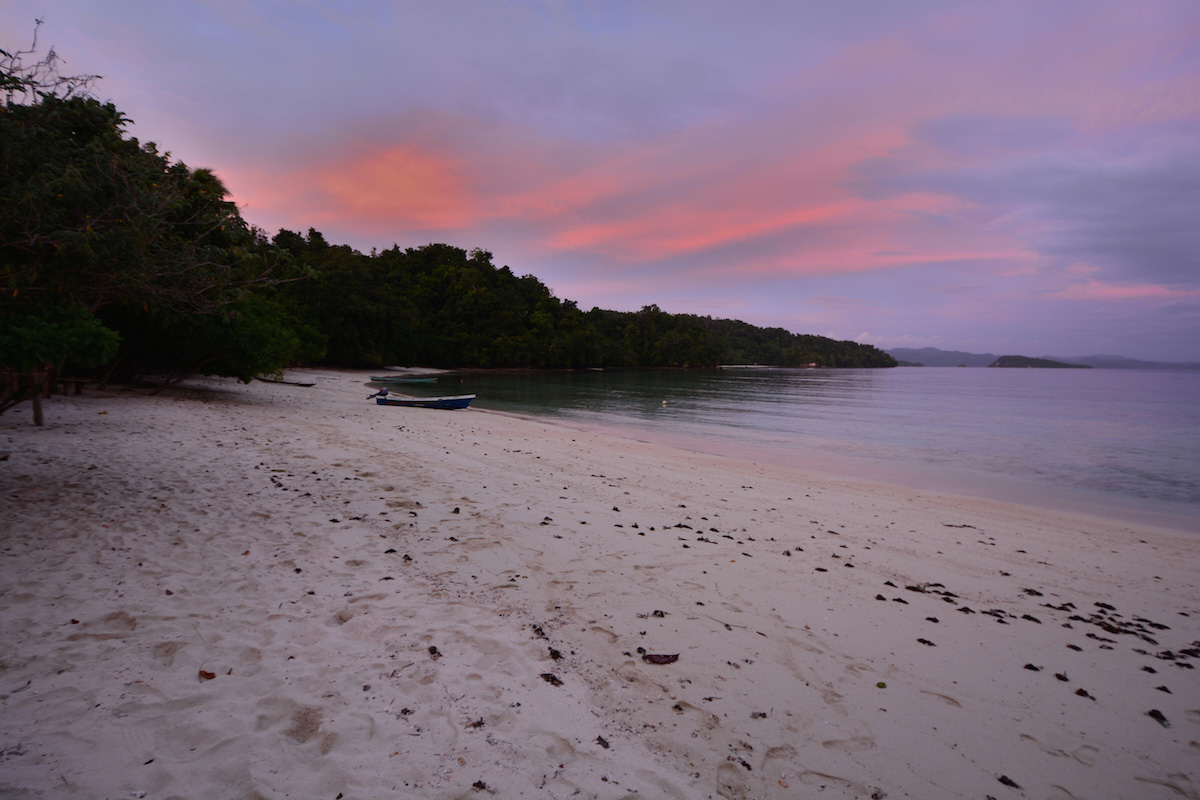 Musanze
Where it's at: About two hours north of Kigali, Rwanda (by bus).
Why you should visit: Most people come here to see mountain gorillas – and you should too – but the opportunity to become part of a local East African community is the true highlight.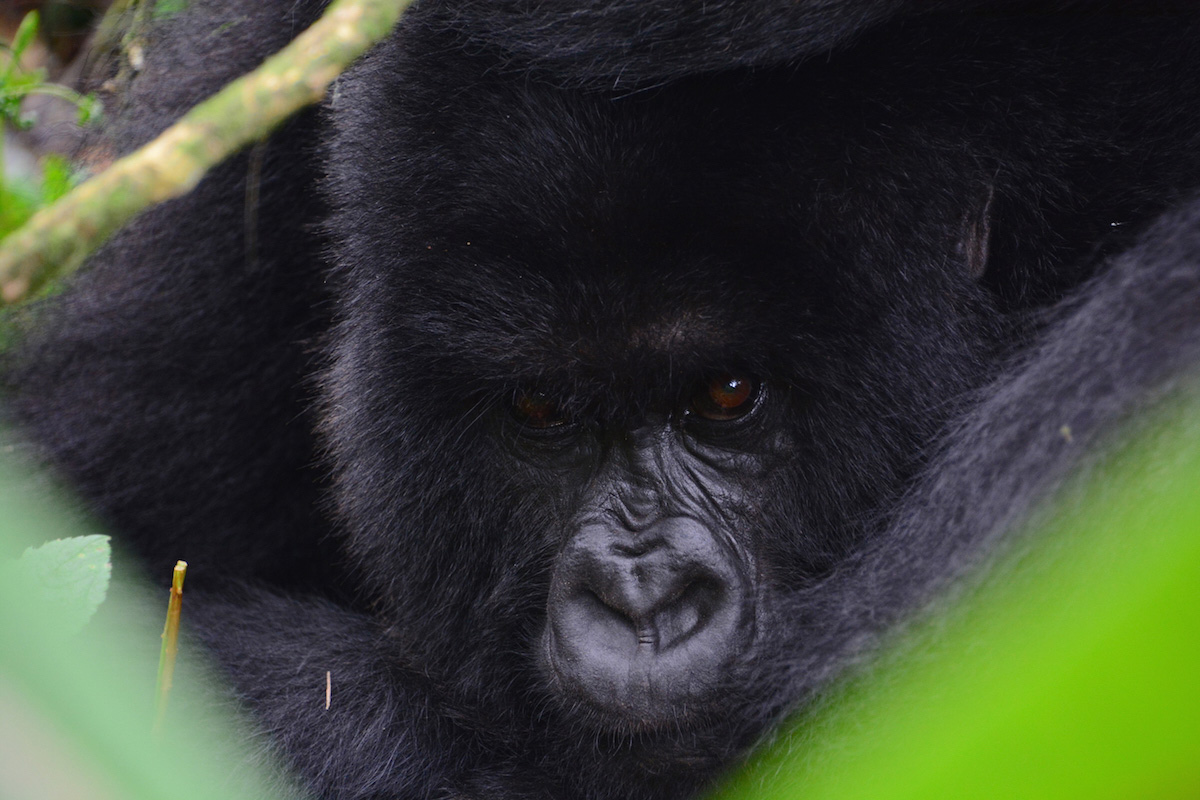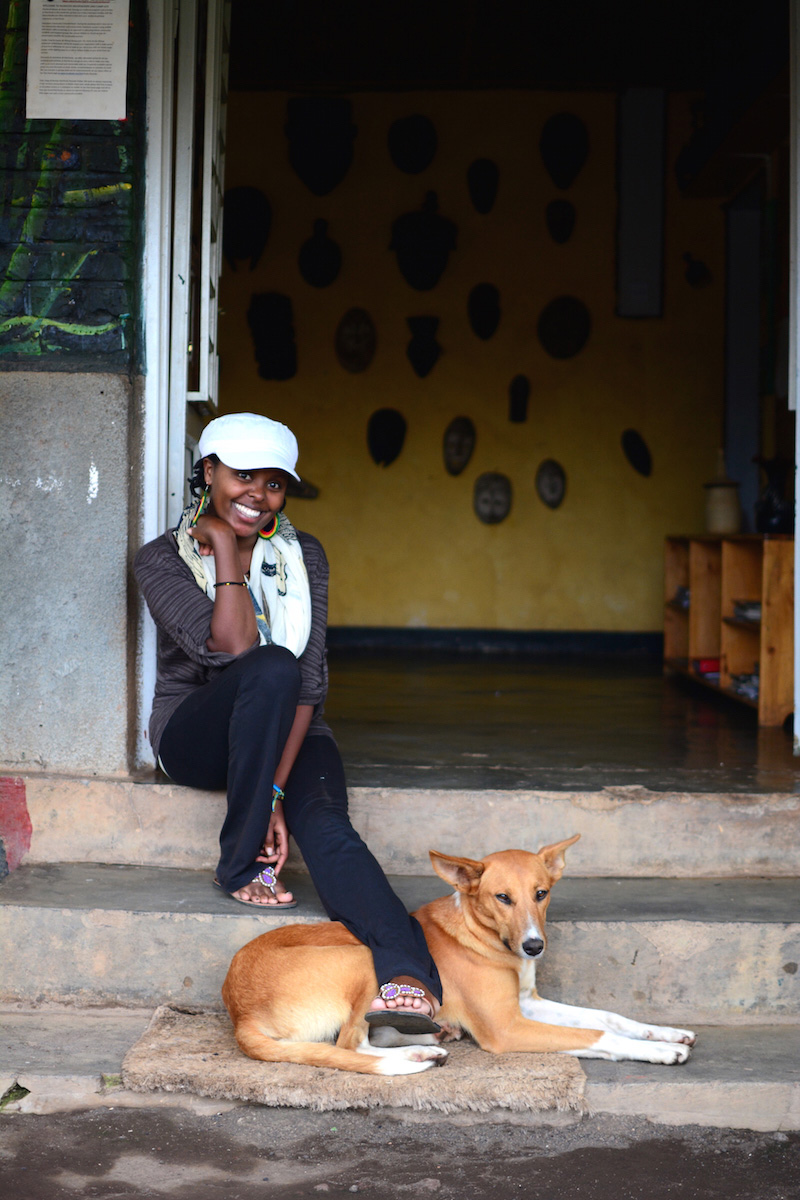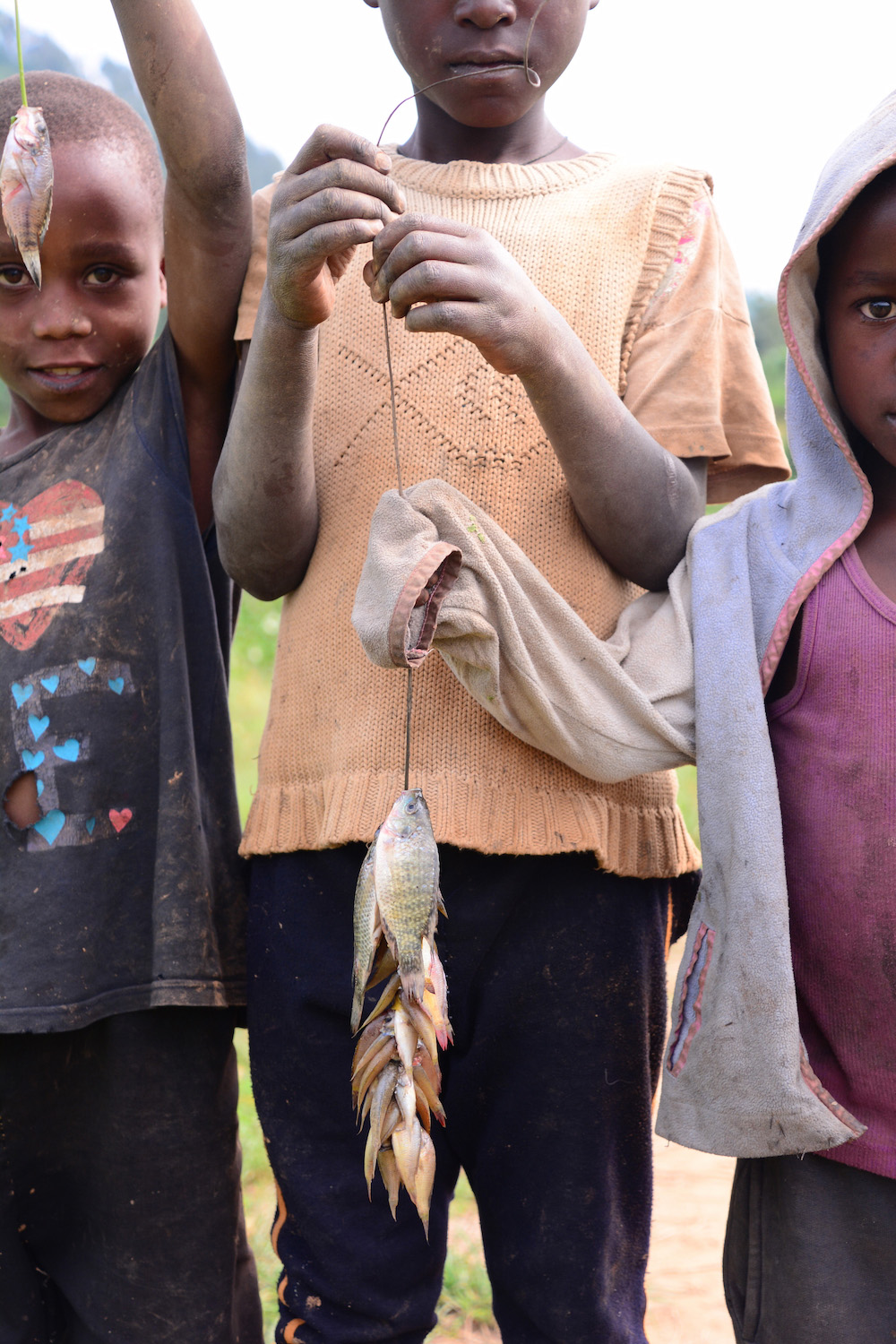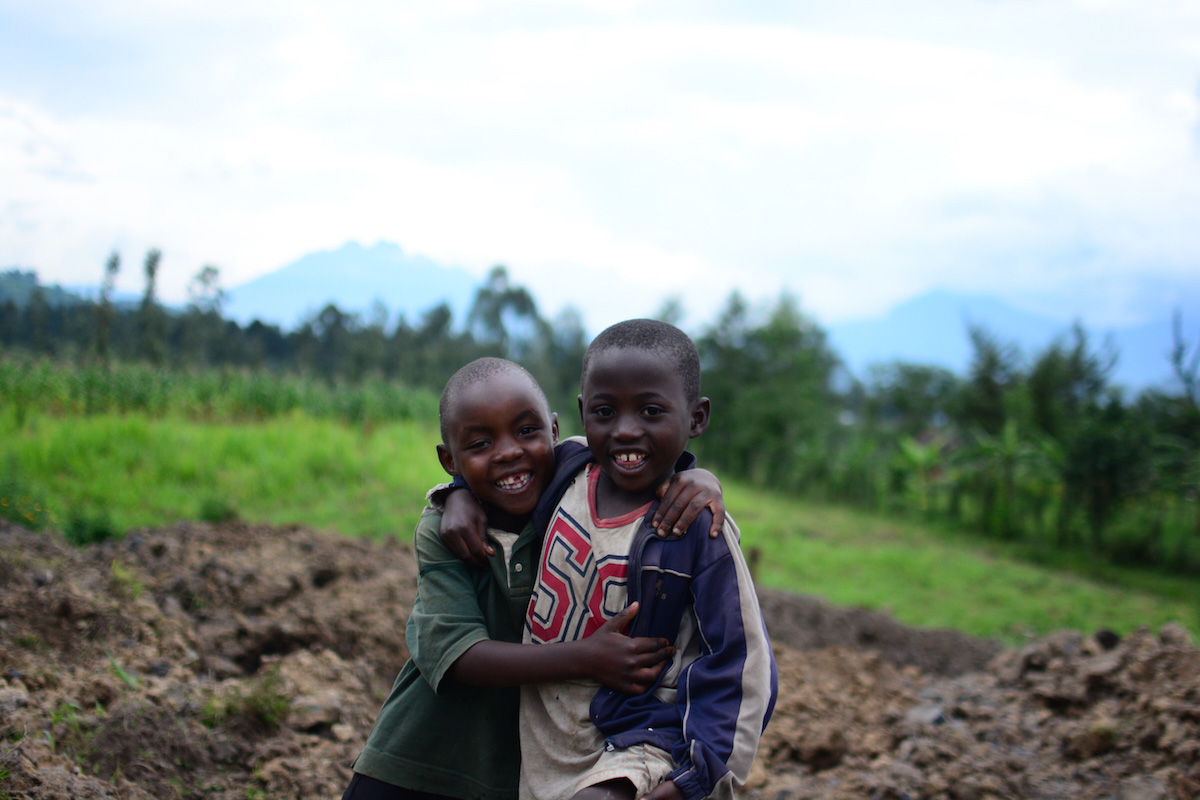 Brașov
Where it's at: About 3-5 hours north of Bucharest, Romania (by train or bus).
Why you should visit: Although the importance of the Dracula legend is misunderstood by tourists and overplayed by certain locals, Brașov is the best place to discover Transylvania, even if you can't be bothered with vampires.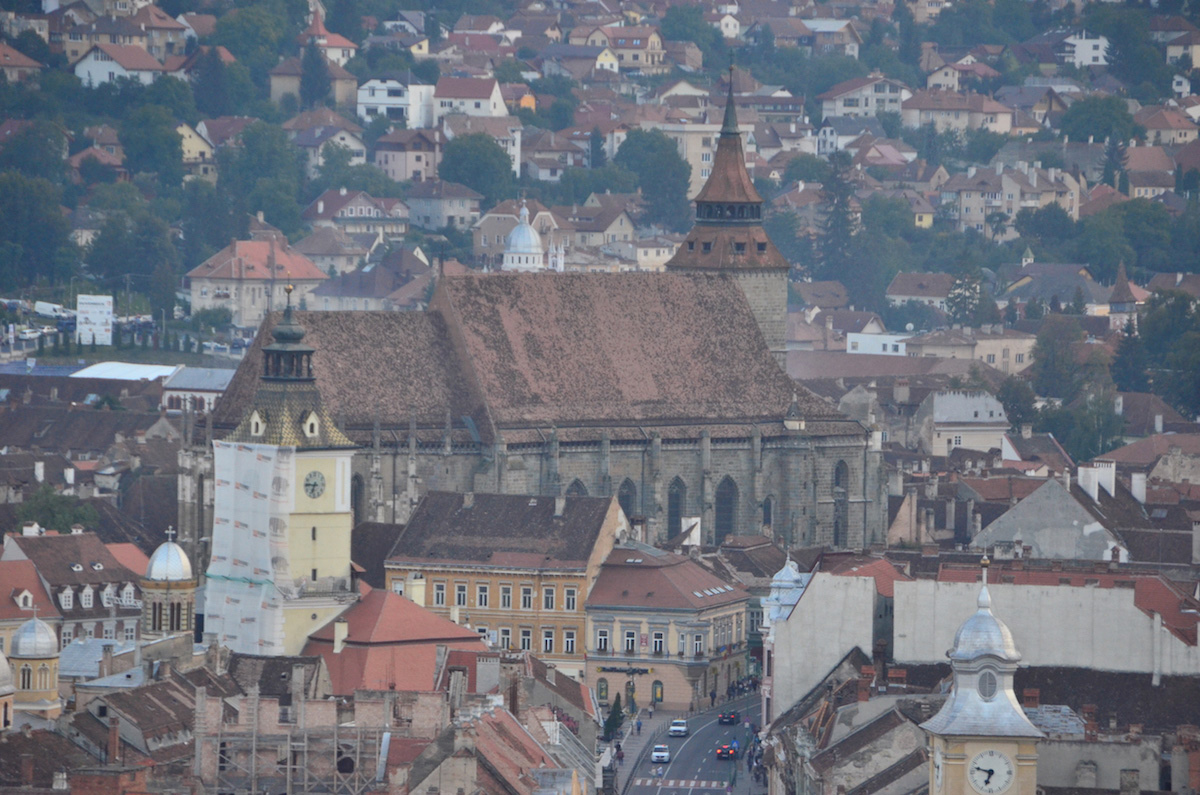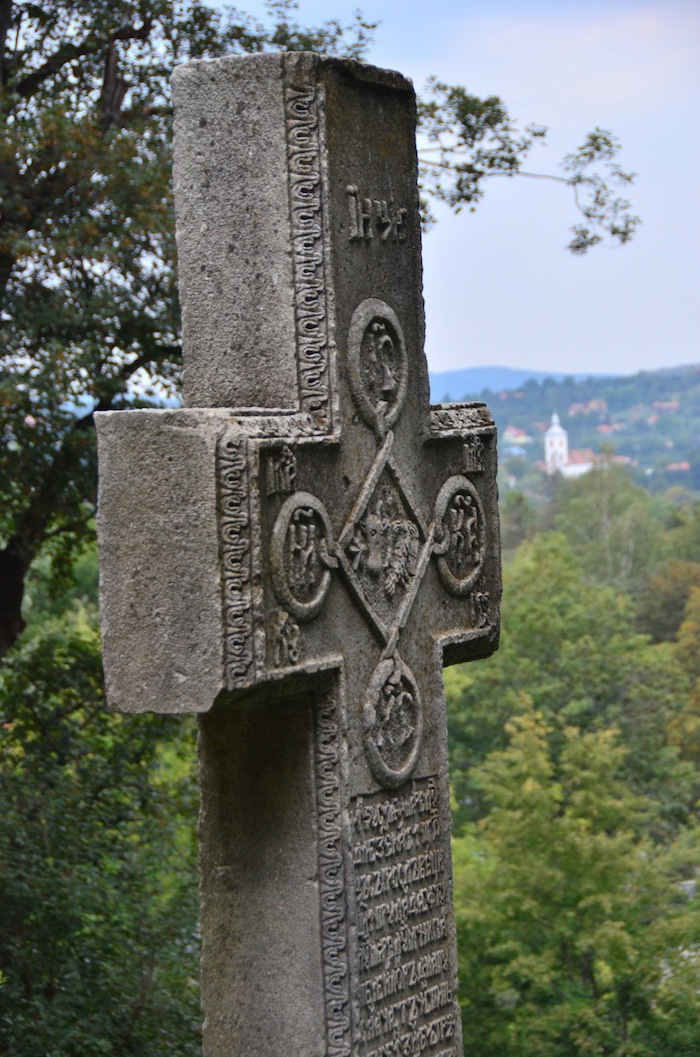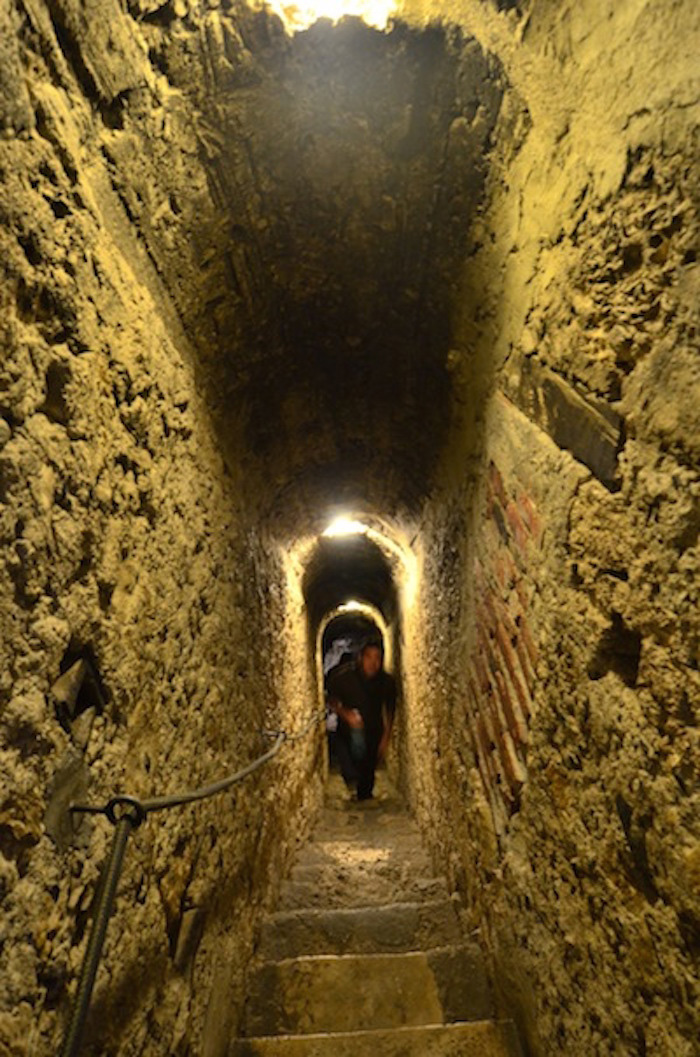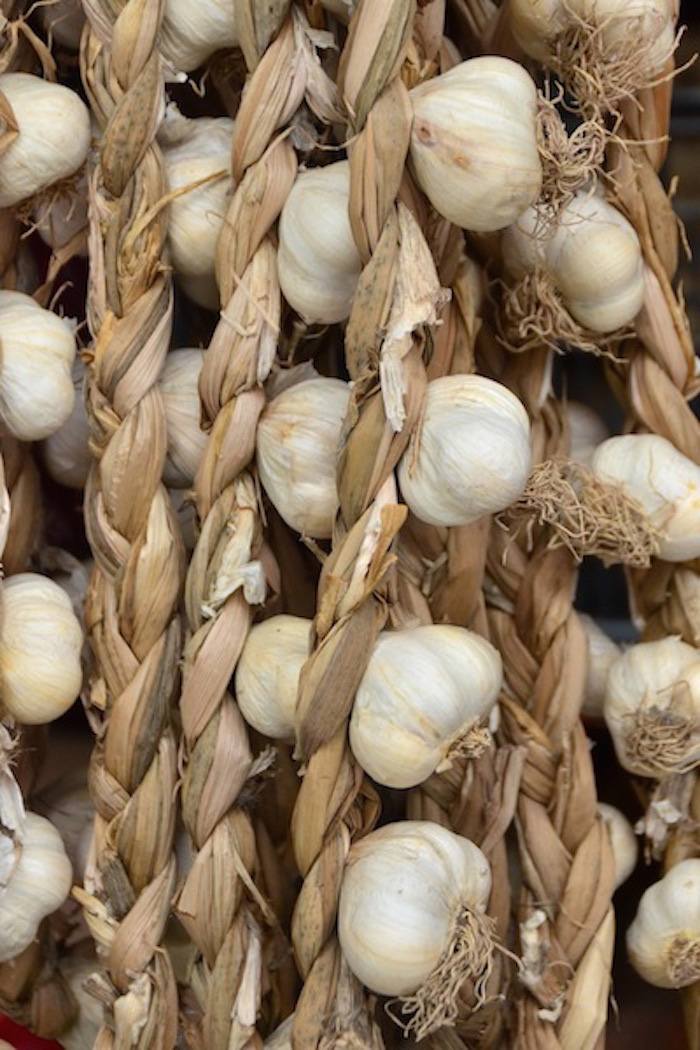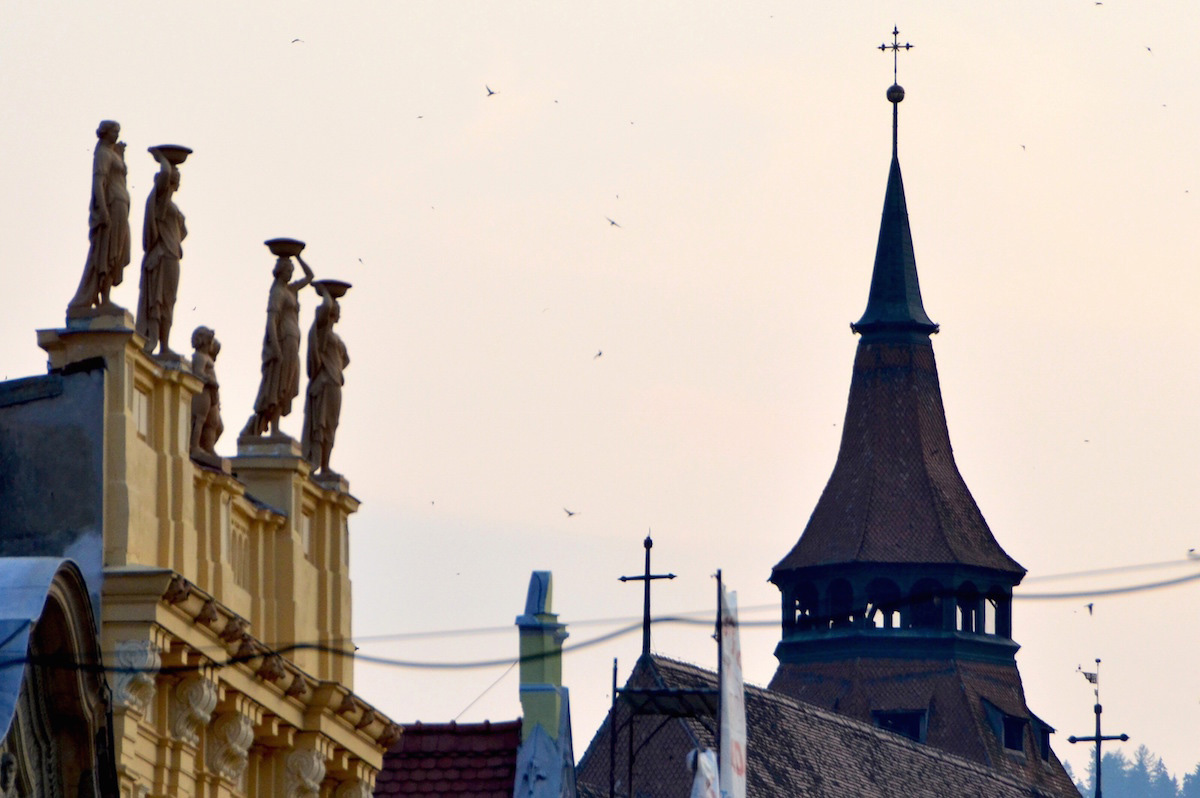 Kawah Ijen
Where it's at: About an hour from Banyuwangi, Indonesia (by motorbike).
Why you should visit: It's a volcano that spews blue fire in the middle of the night.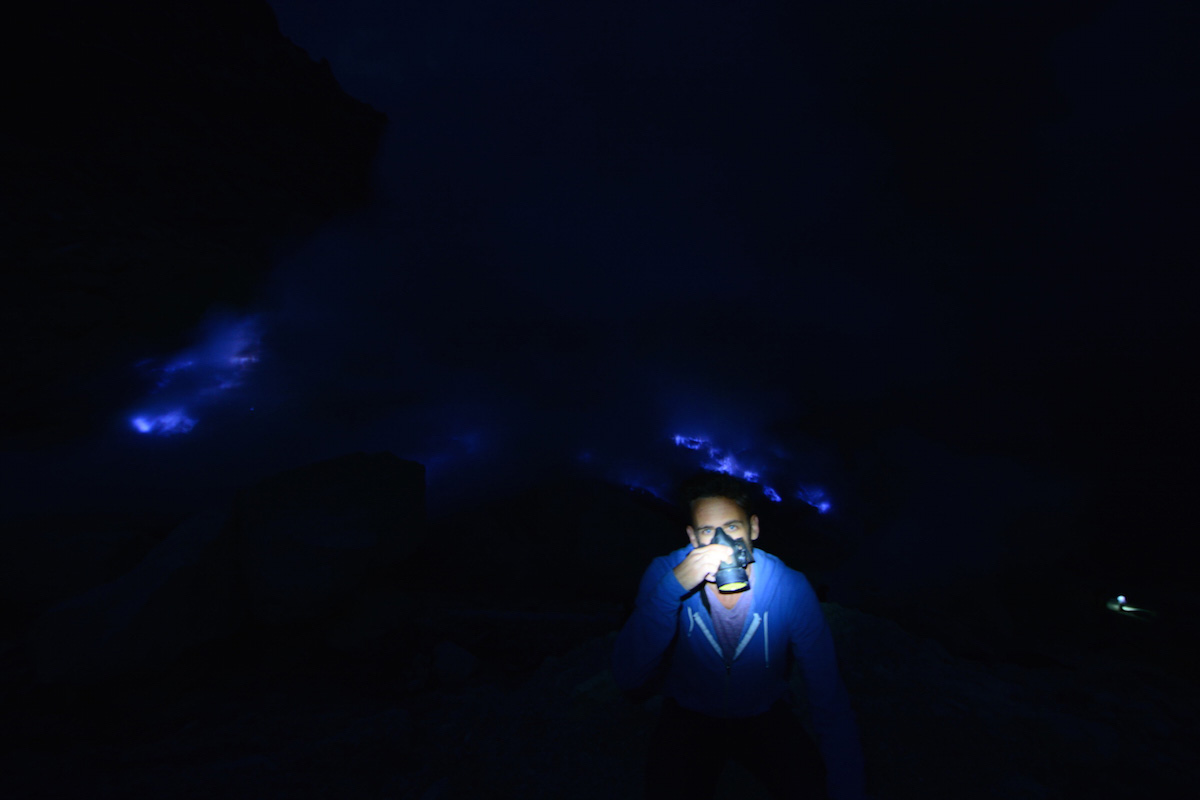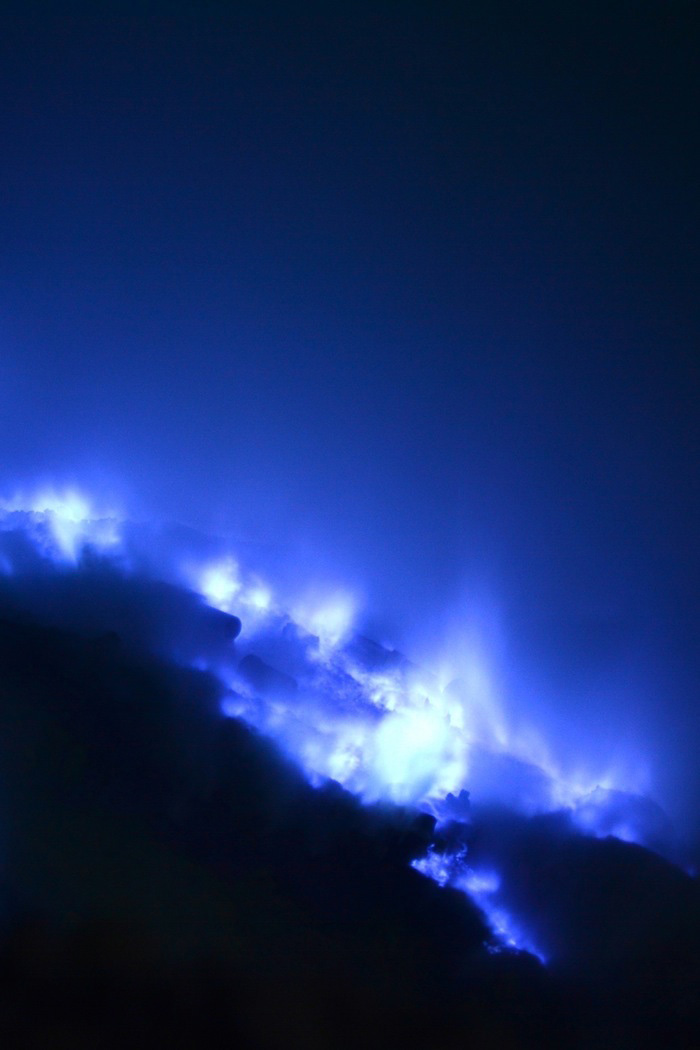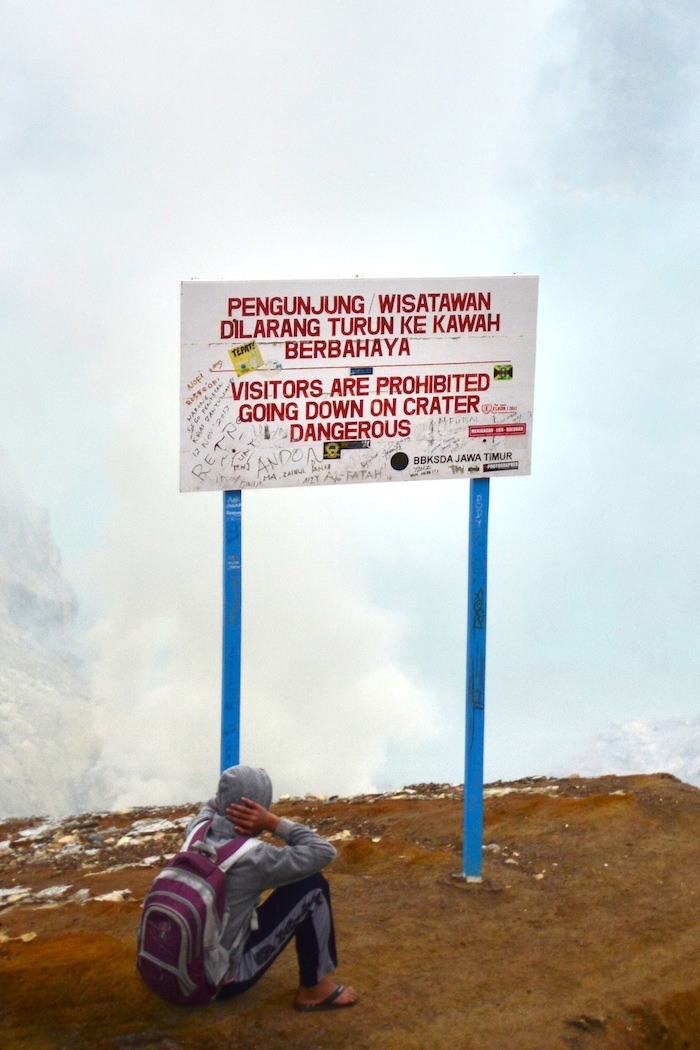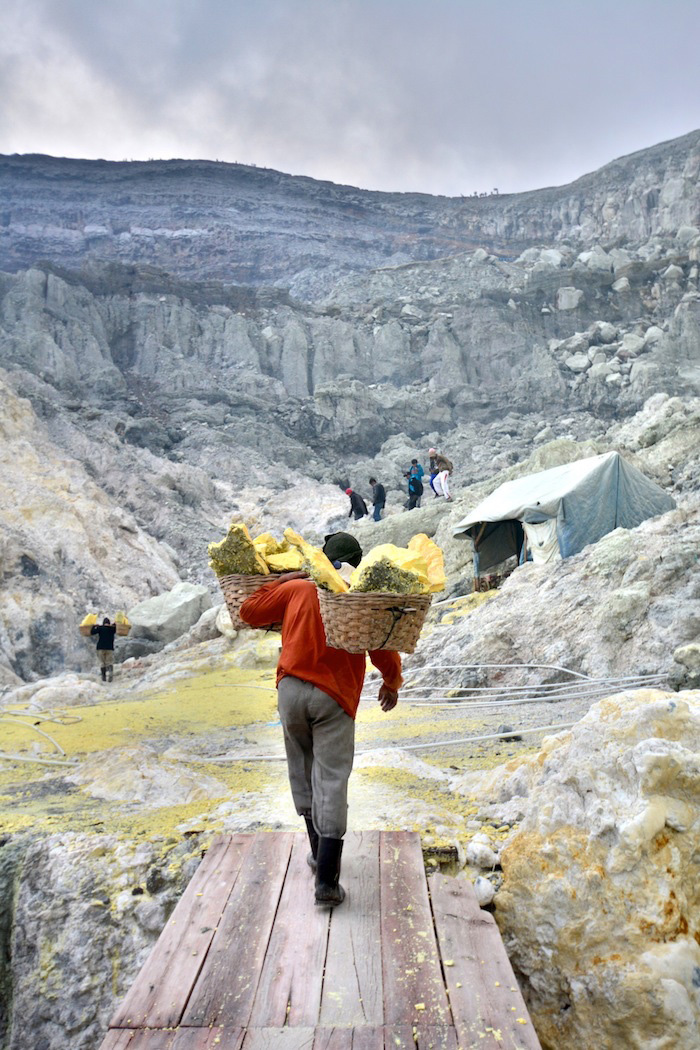 Valle del Cocora
Where it's at: About two hours from Salento, Colombia (by collectivo).
Why you should visit: Buried in the heart of Colombia's Coffee Triangle, this is one of South America's most scenic and invigorating hikes.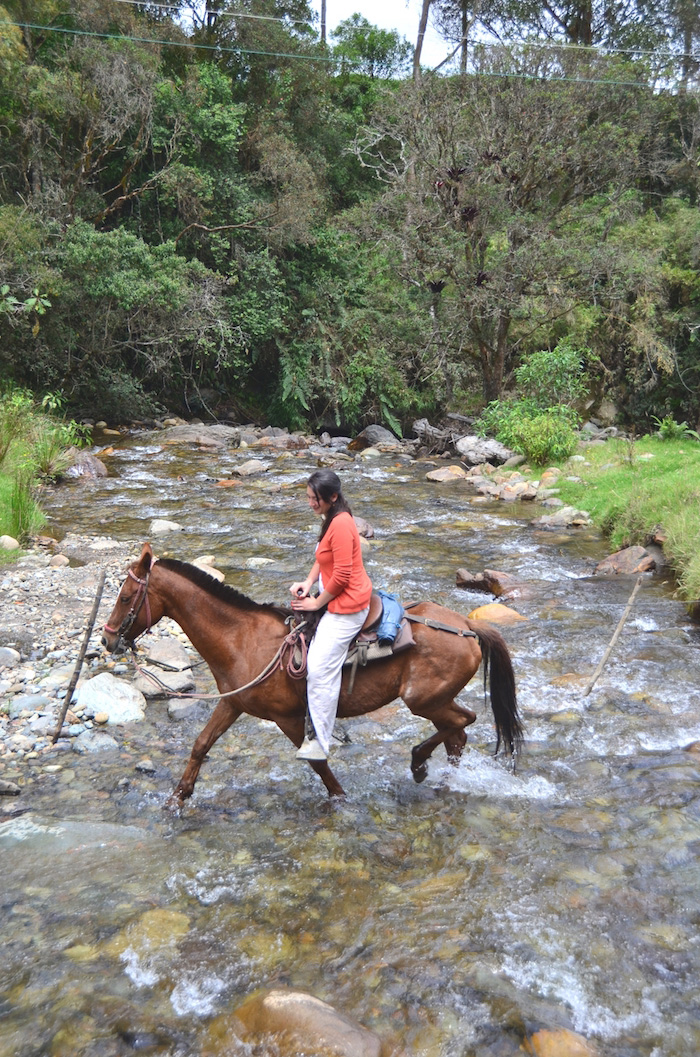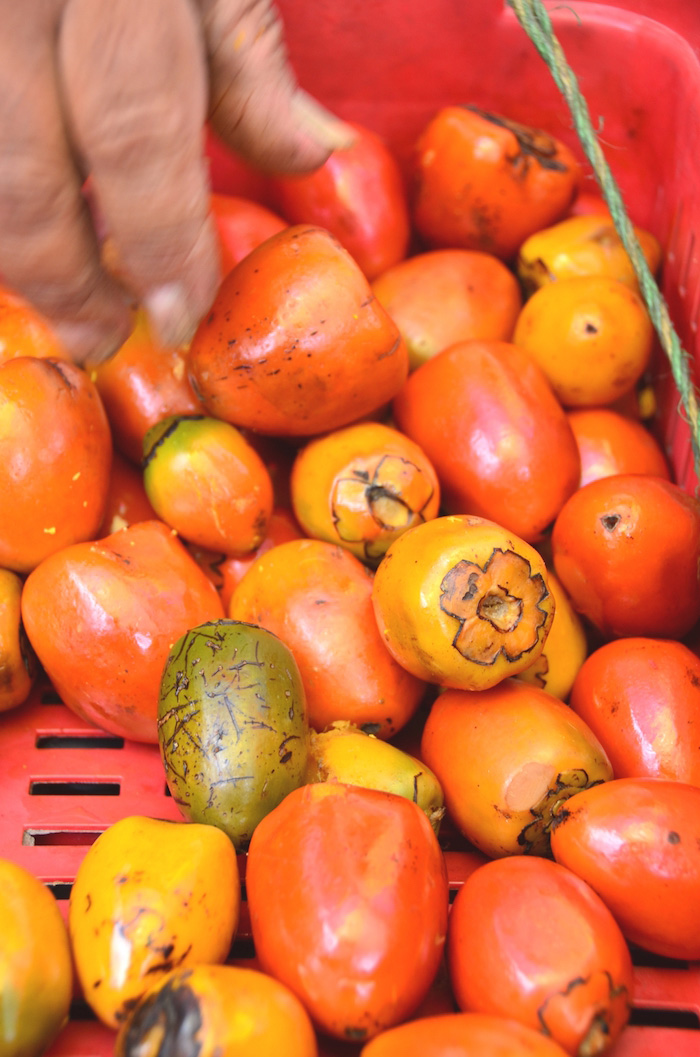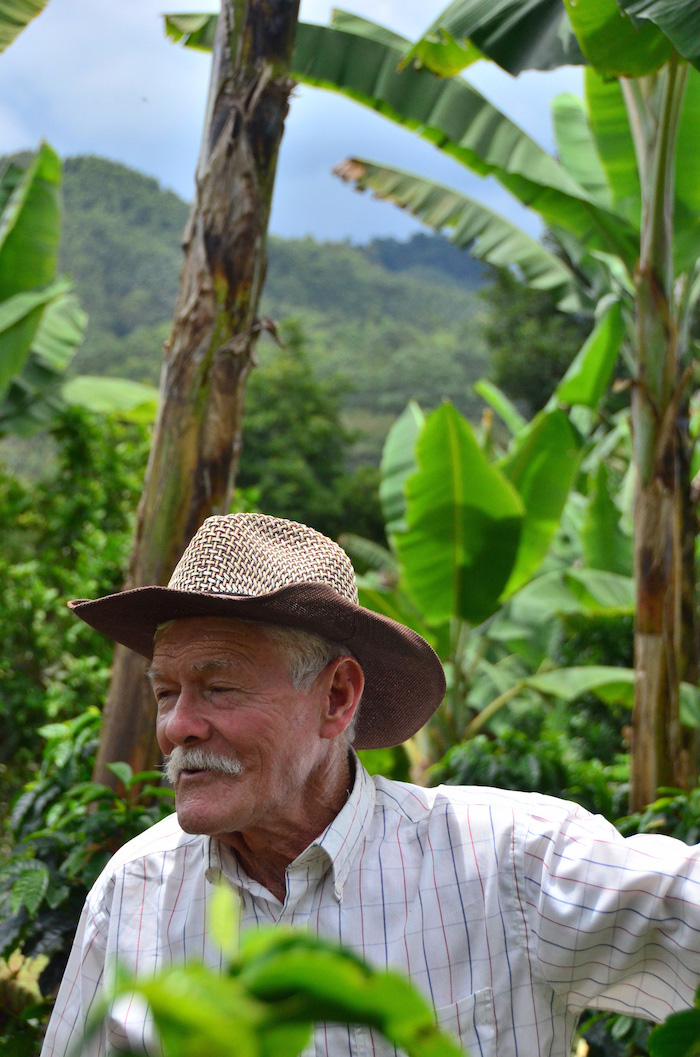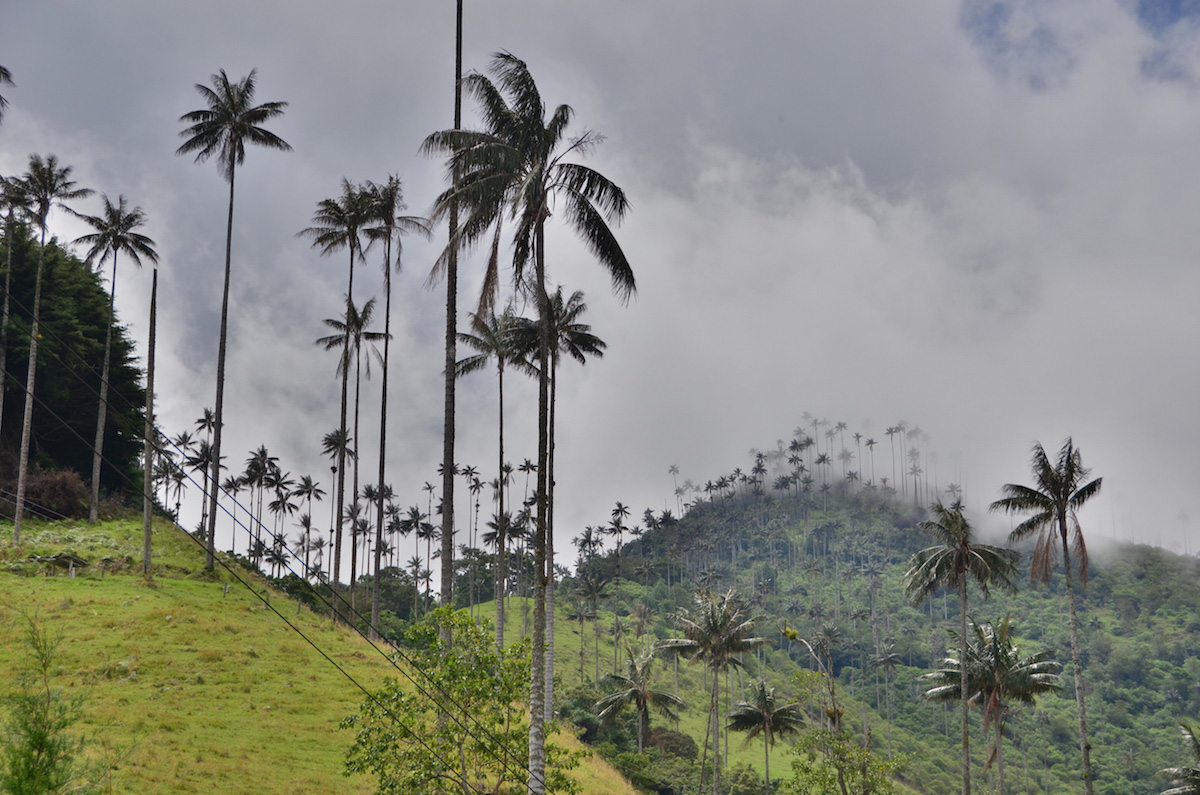 Gaspé Peninsula
Where it's at: About one hour from Montréal, Québec by plane.
Why you should visit: Lobster, seabirds and evergreen forests that go on forever, to name just a few reasons.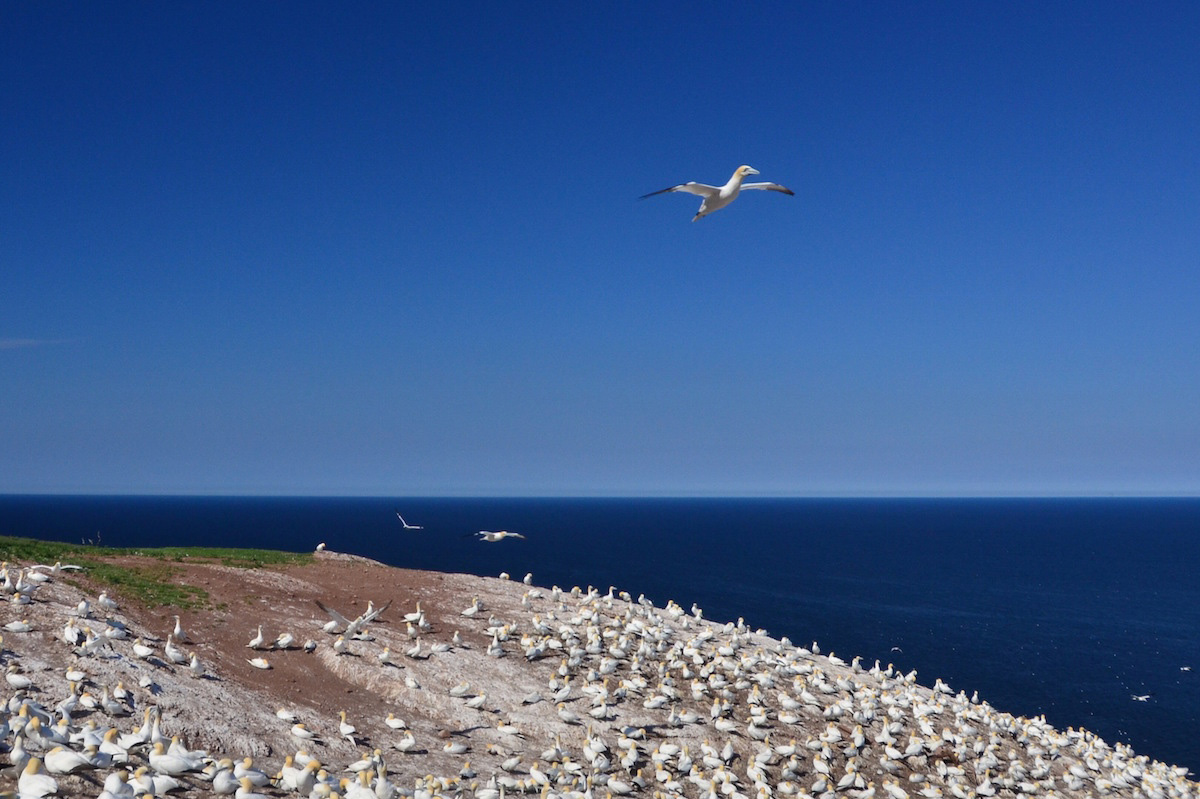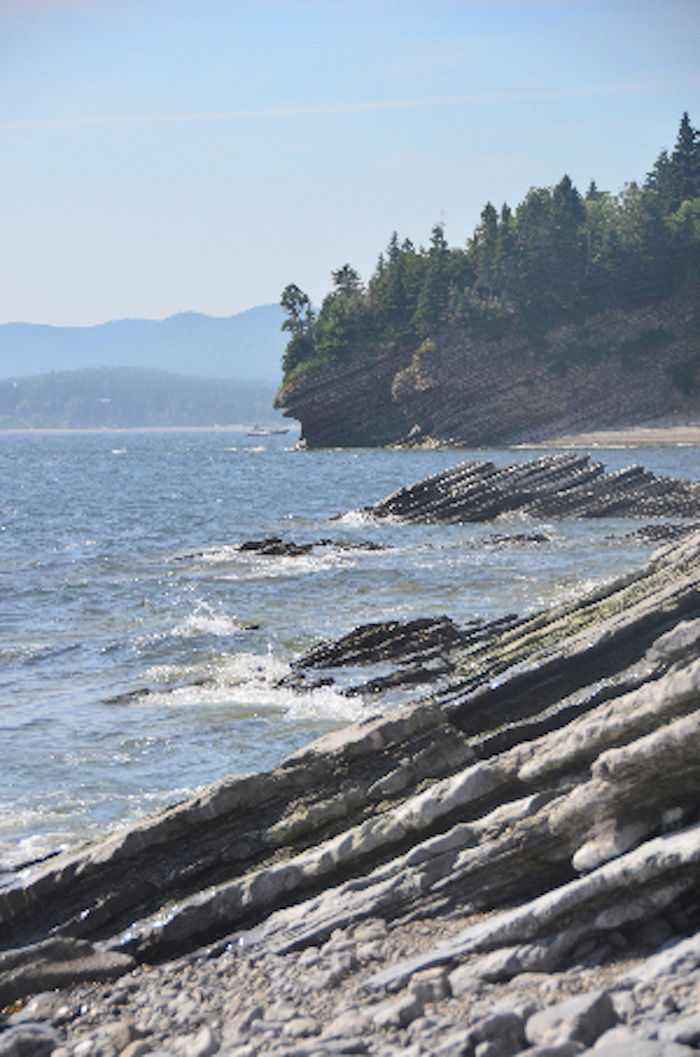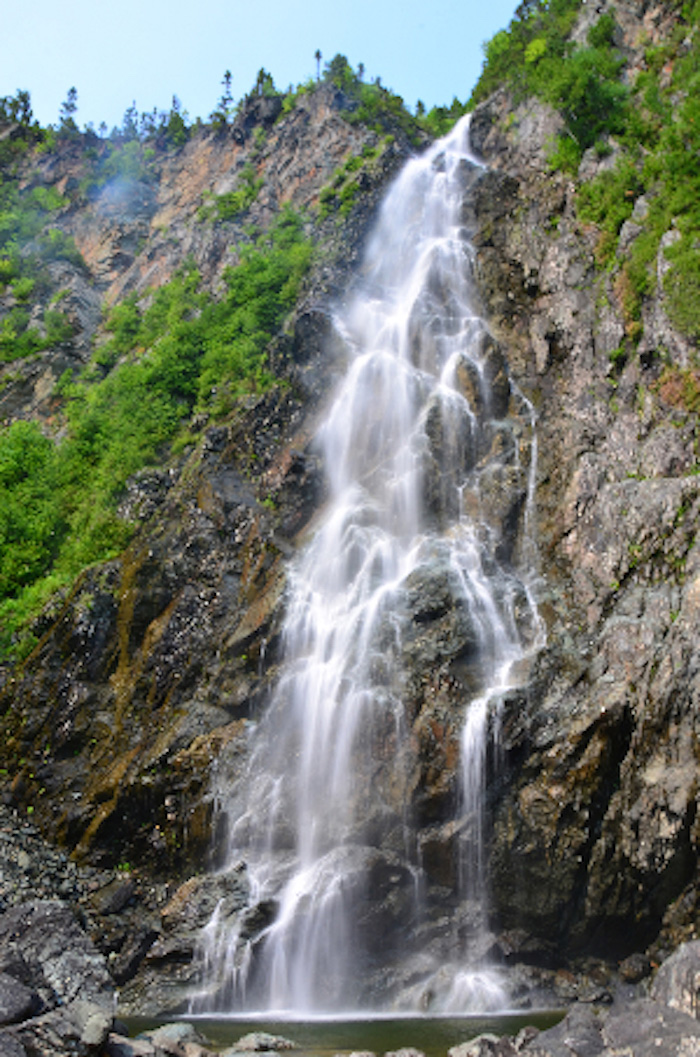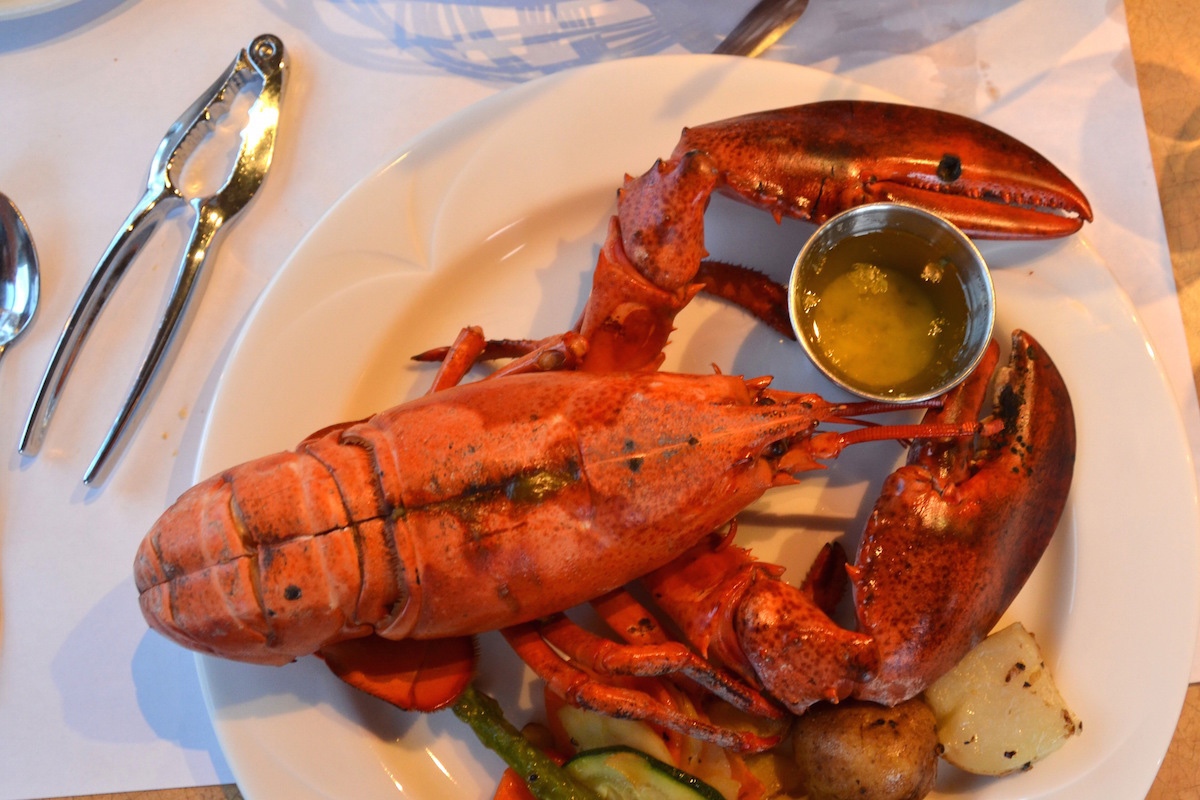 Baku
Where it's at: On the shores of the Caspian Sea, less than 4 hours by plane from most of Europe. It is the capital and largest city of Azerbaijan, as well as the largest city on the Caspian Sea and of the Caucasus region.
Why you should visit: Although the capital of Azerbaijan bills itself as the next Dubai, this eclectic city evokes dozens of other iconic places around the world, particularly Paris.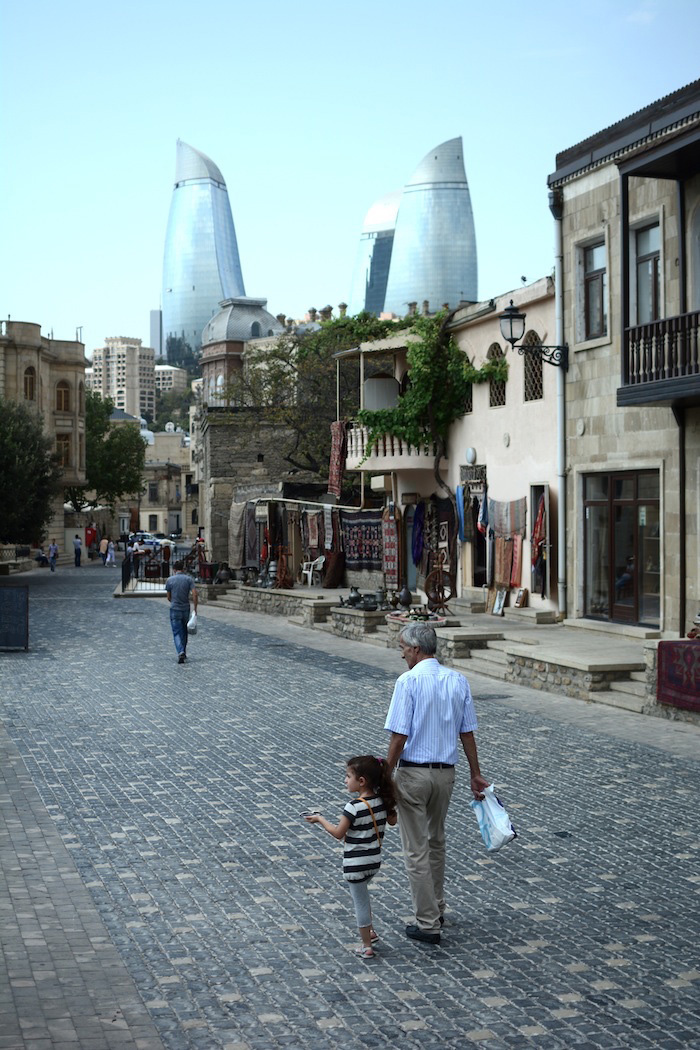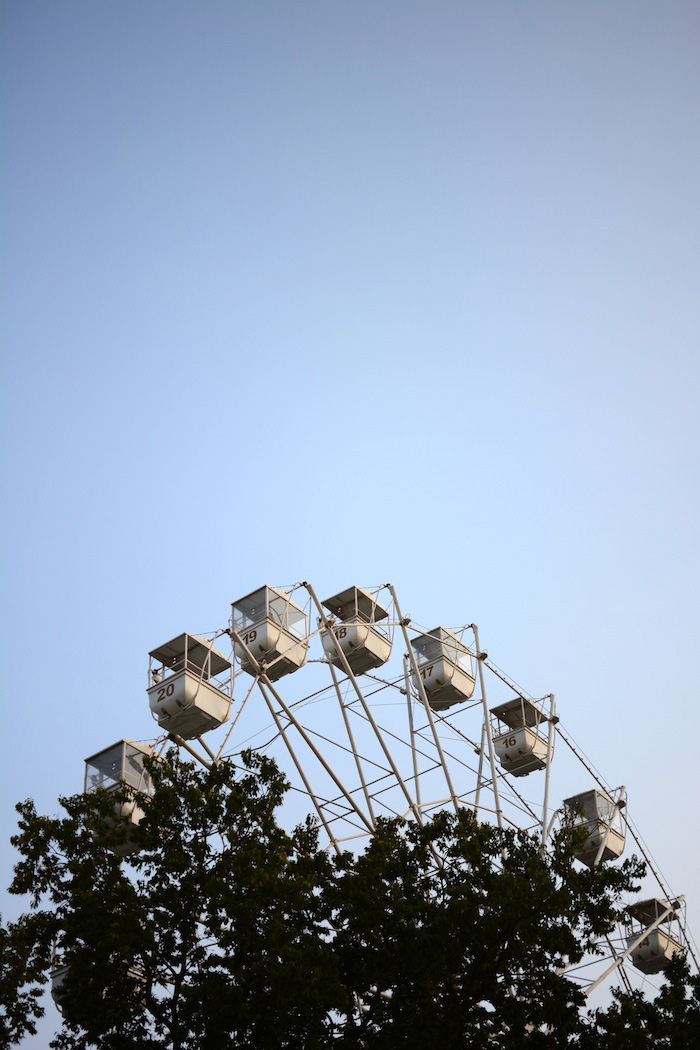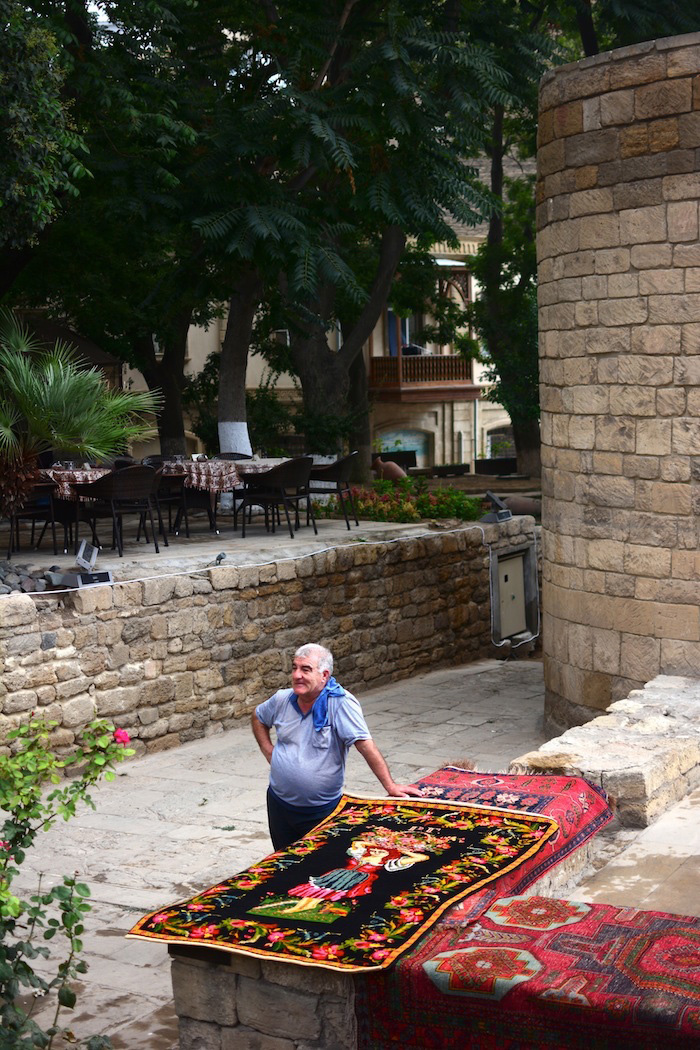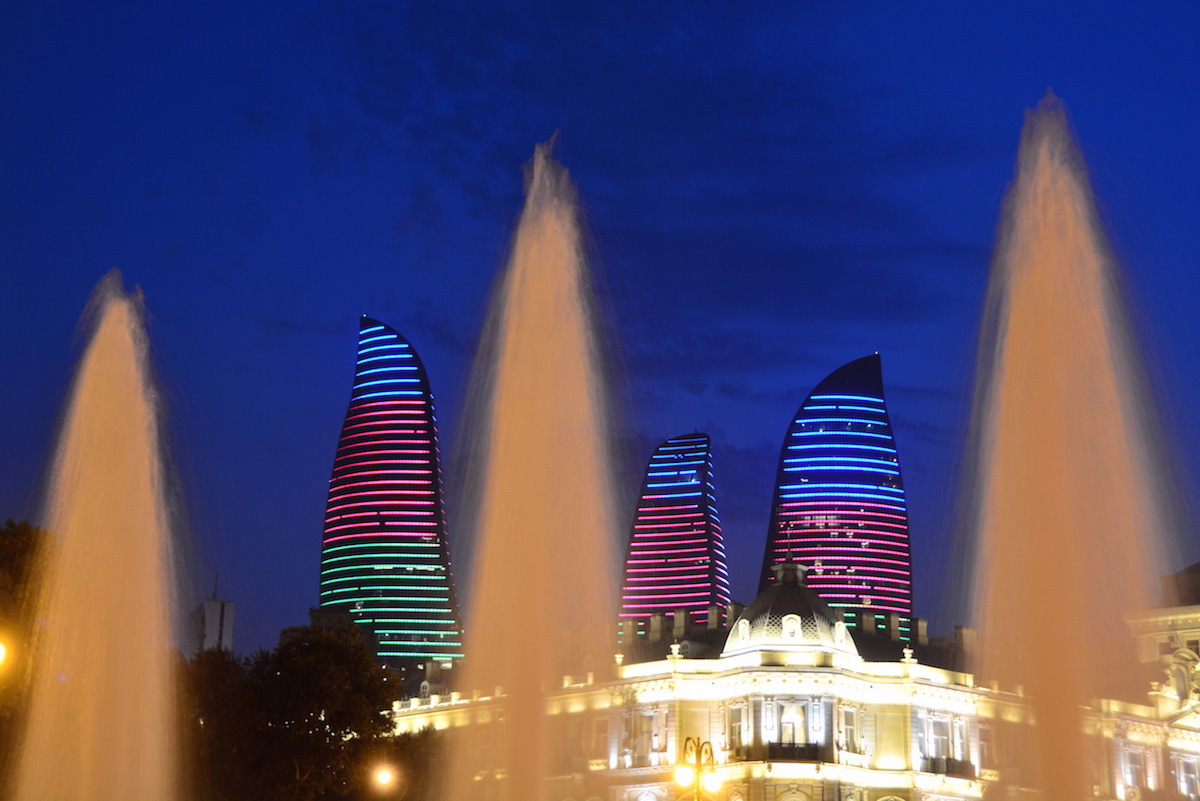 Lapland
Where it's at: About two hours north of Helsinki, Finland (by plane).
Why you should visit: You can buy land there for next to nothing.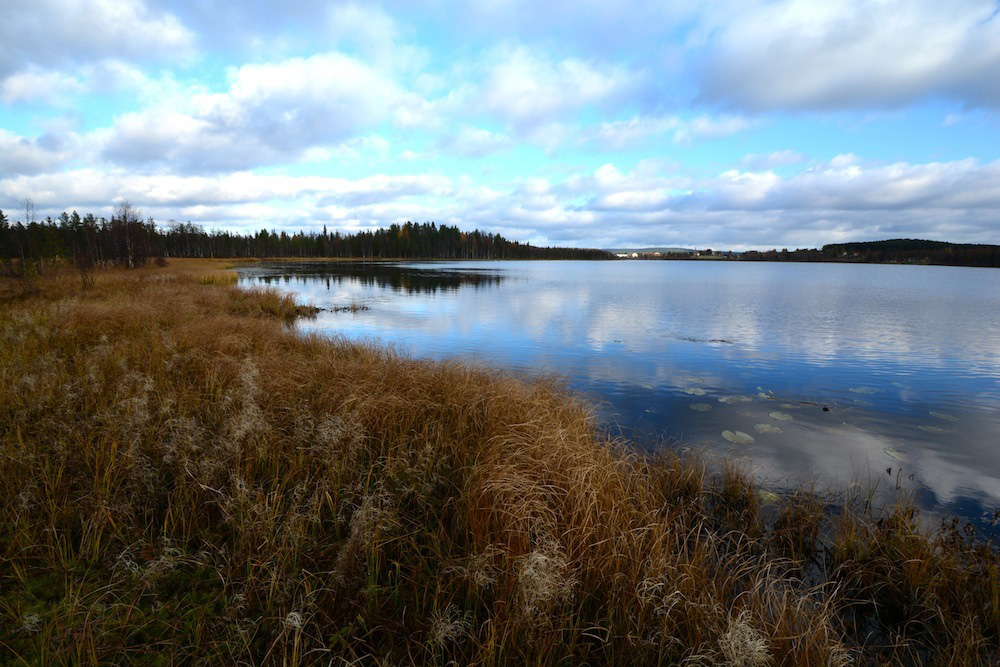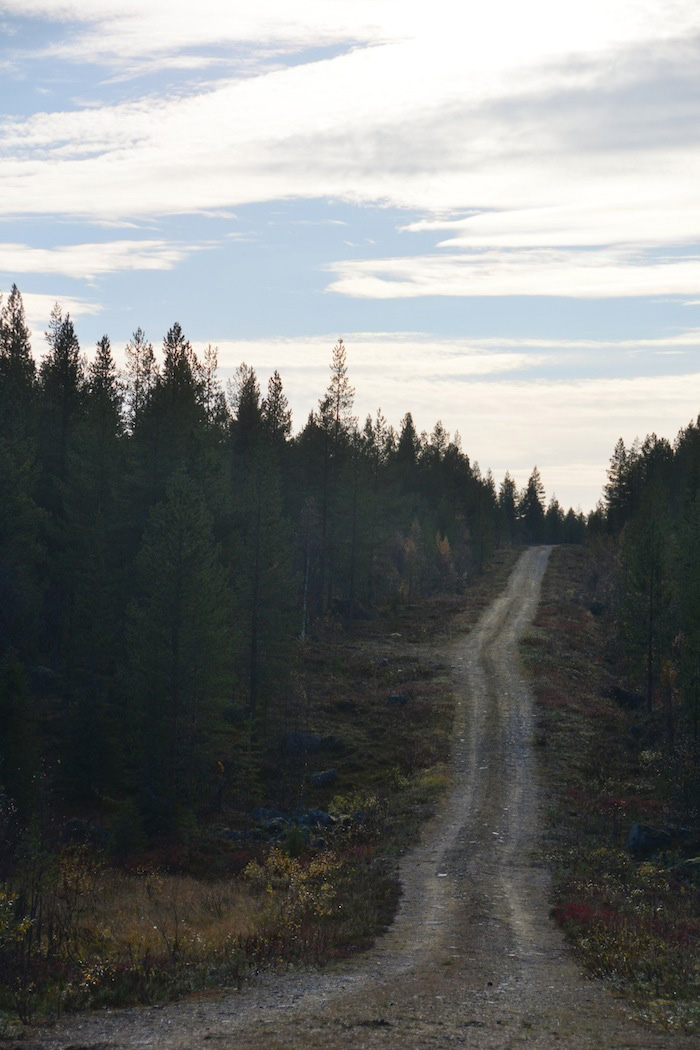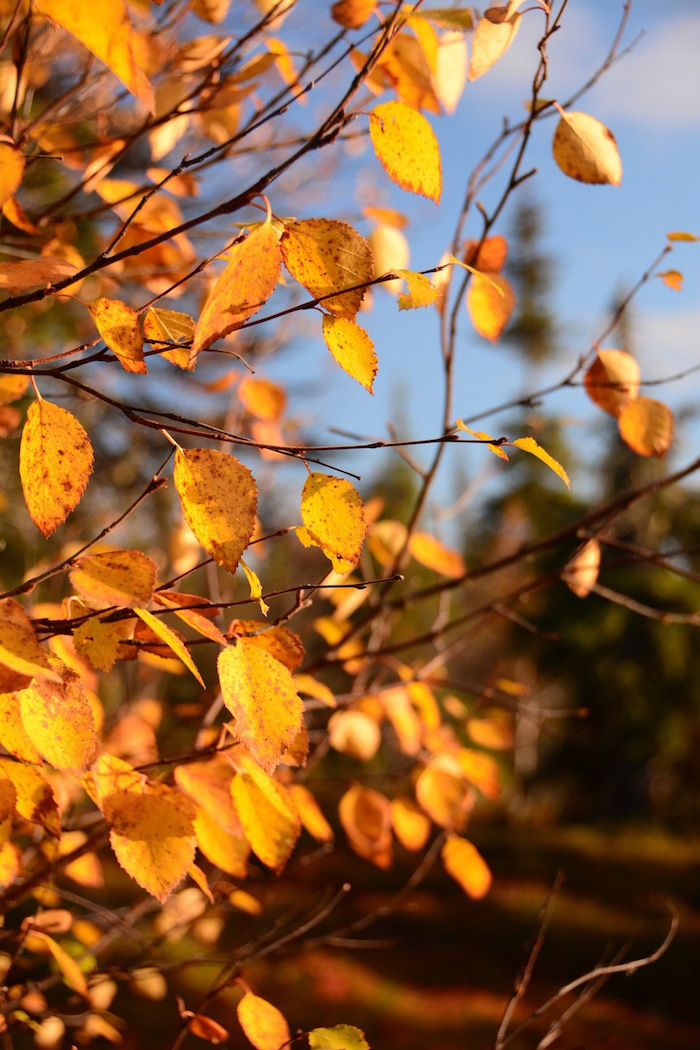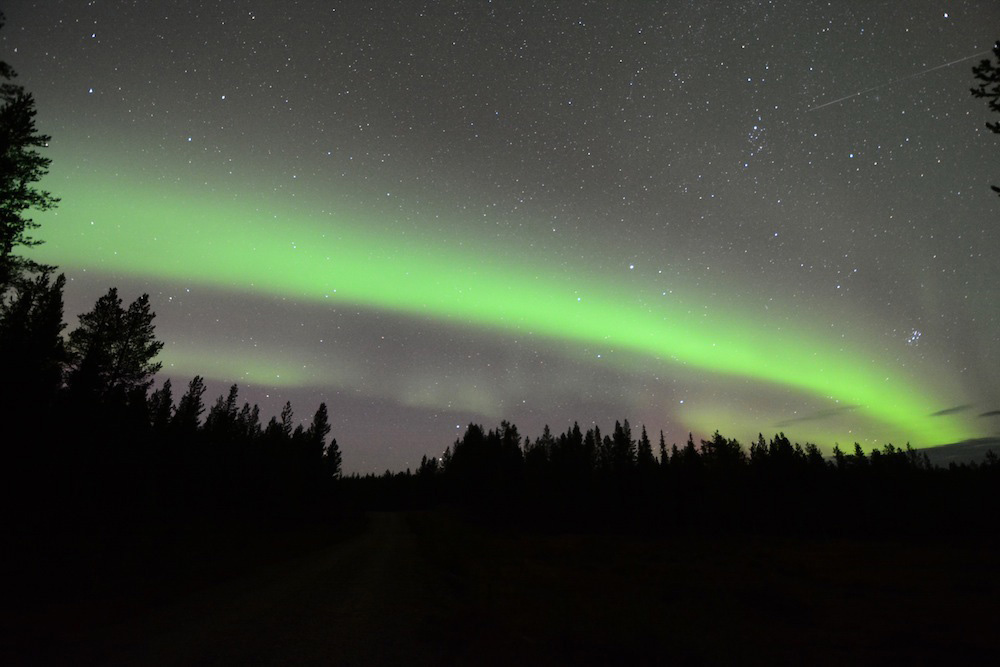 Alausí
Where it's at: Halfway between Guayaquil and Quito, Ecuador (by train or bus).
Why you should visit: The Andes Mountains, namely the Nariz del Diablo, a.k.a the Devil's nose.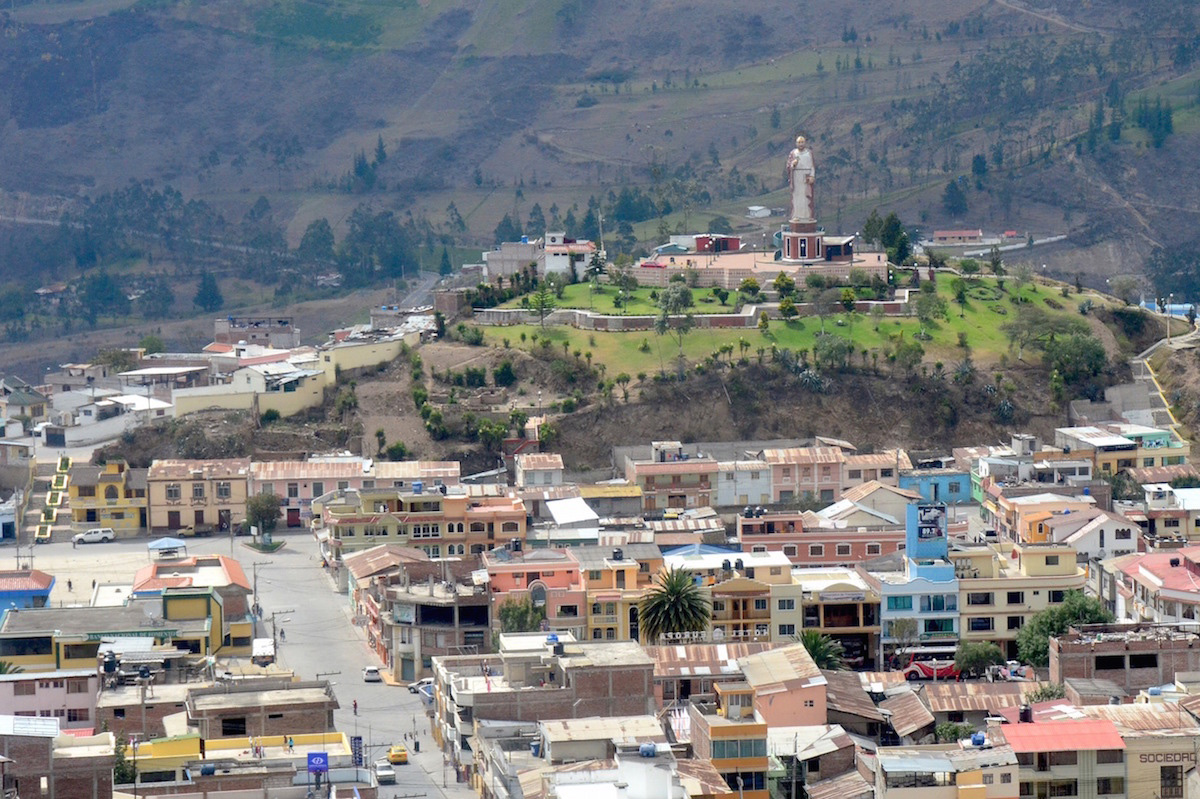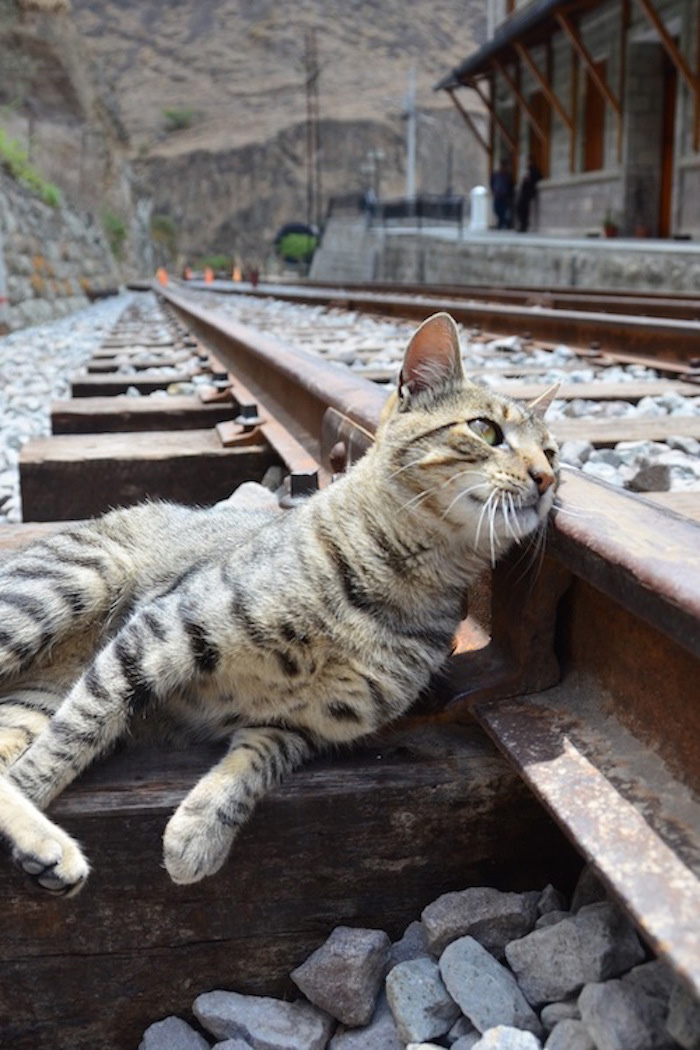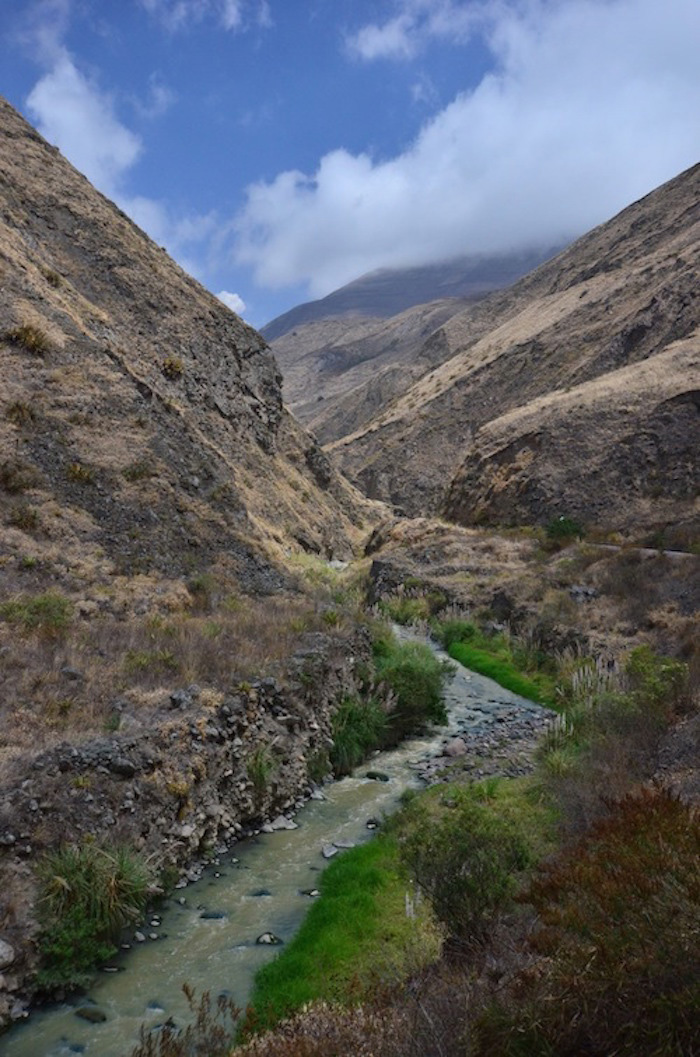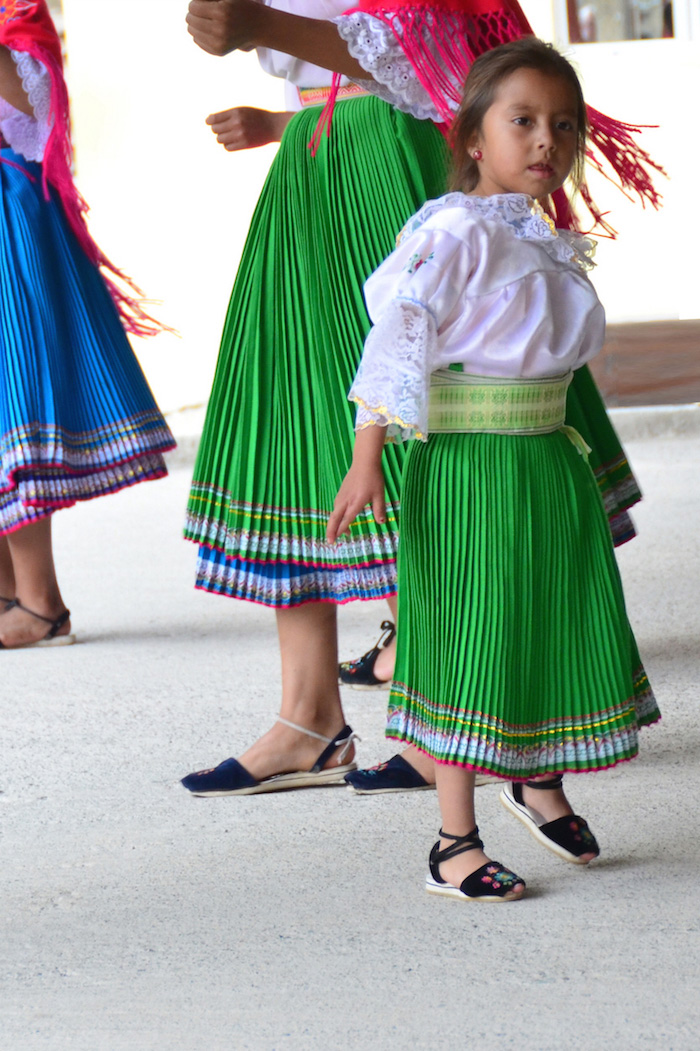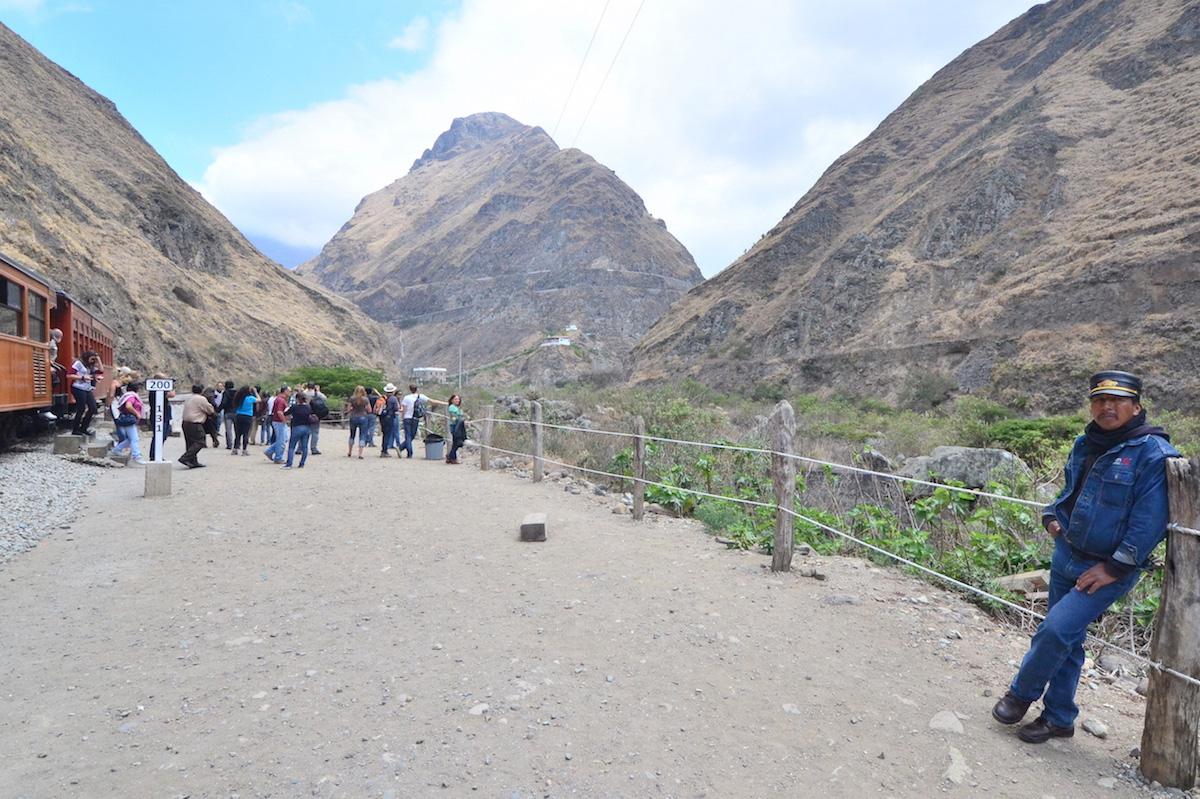 The Texas Hill Country
Where it's at: Just to the west of Austin or San Antonio, Texas.
Why you should visit: I'm way too biased to answer this since I'm from Texas.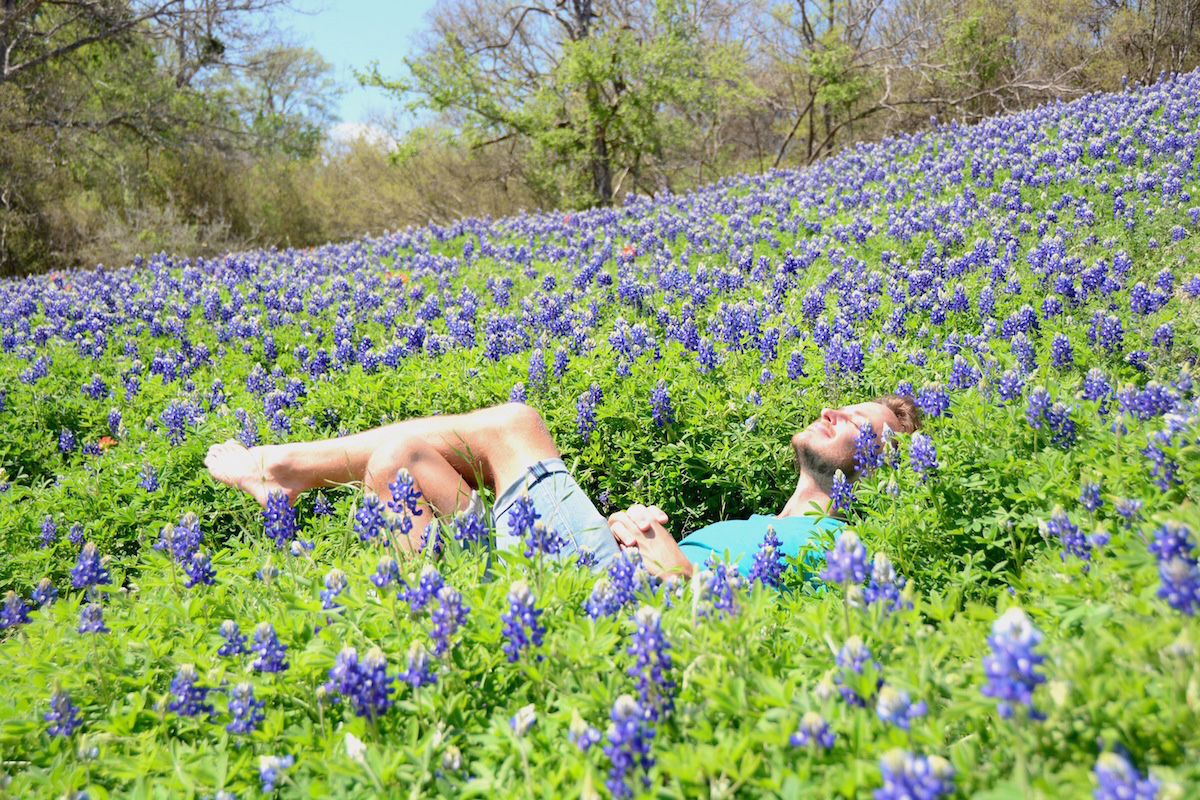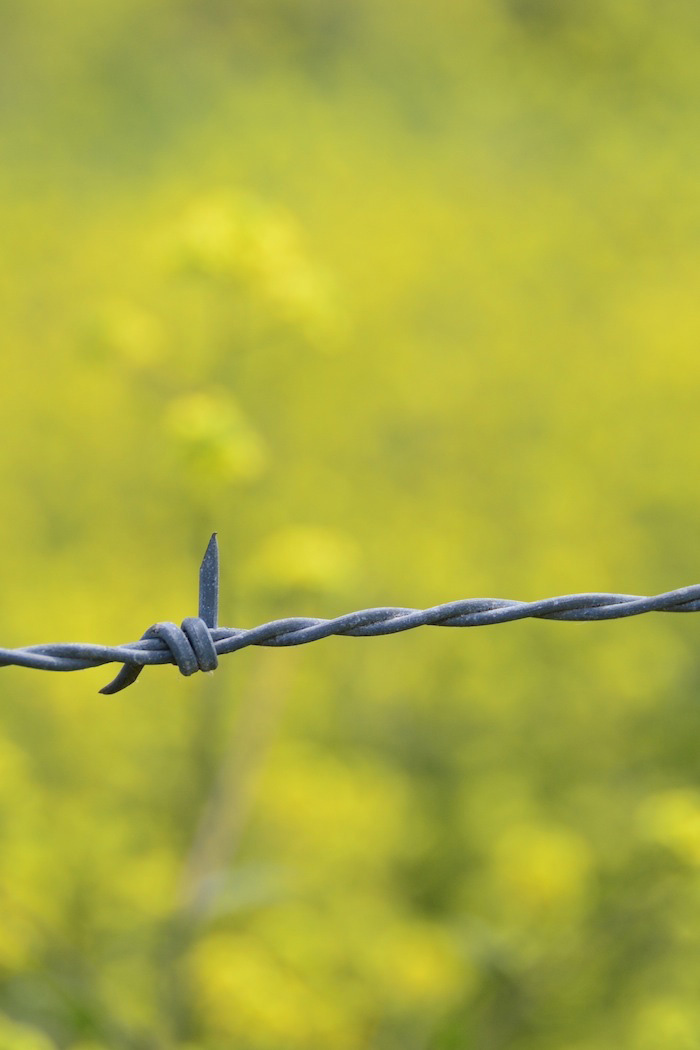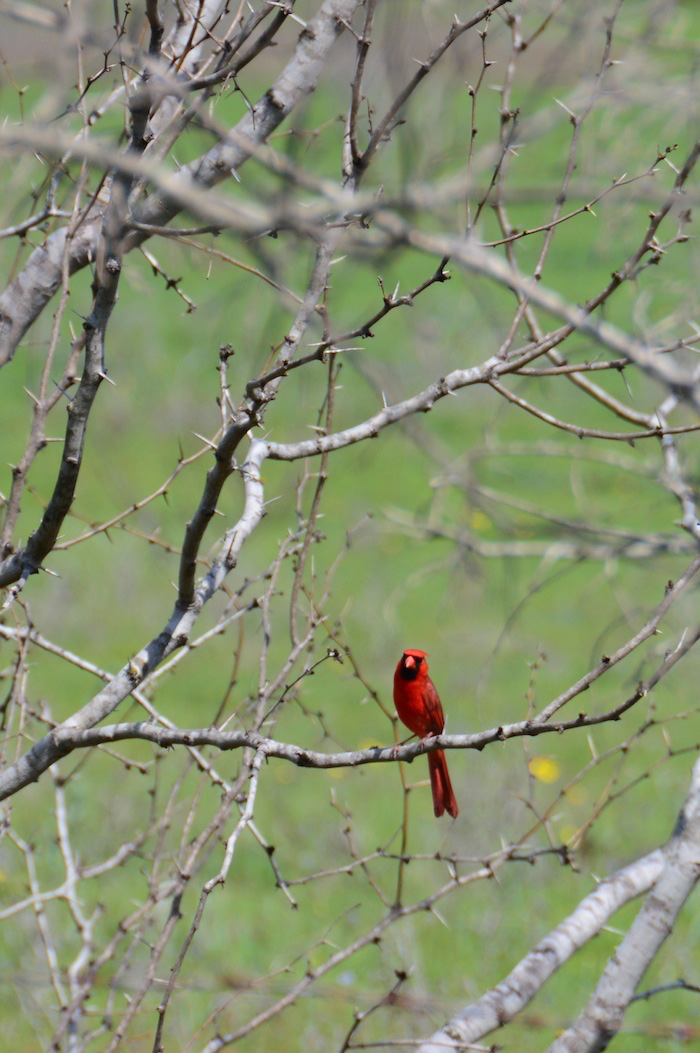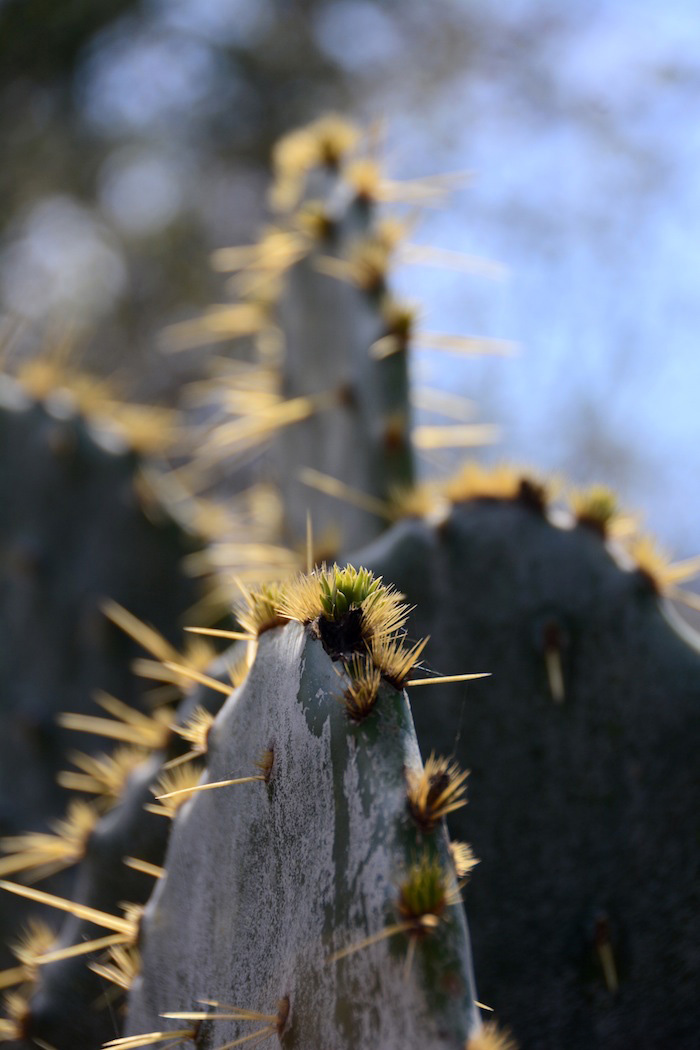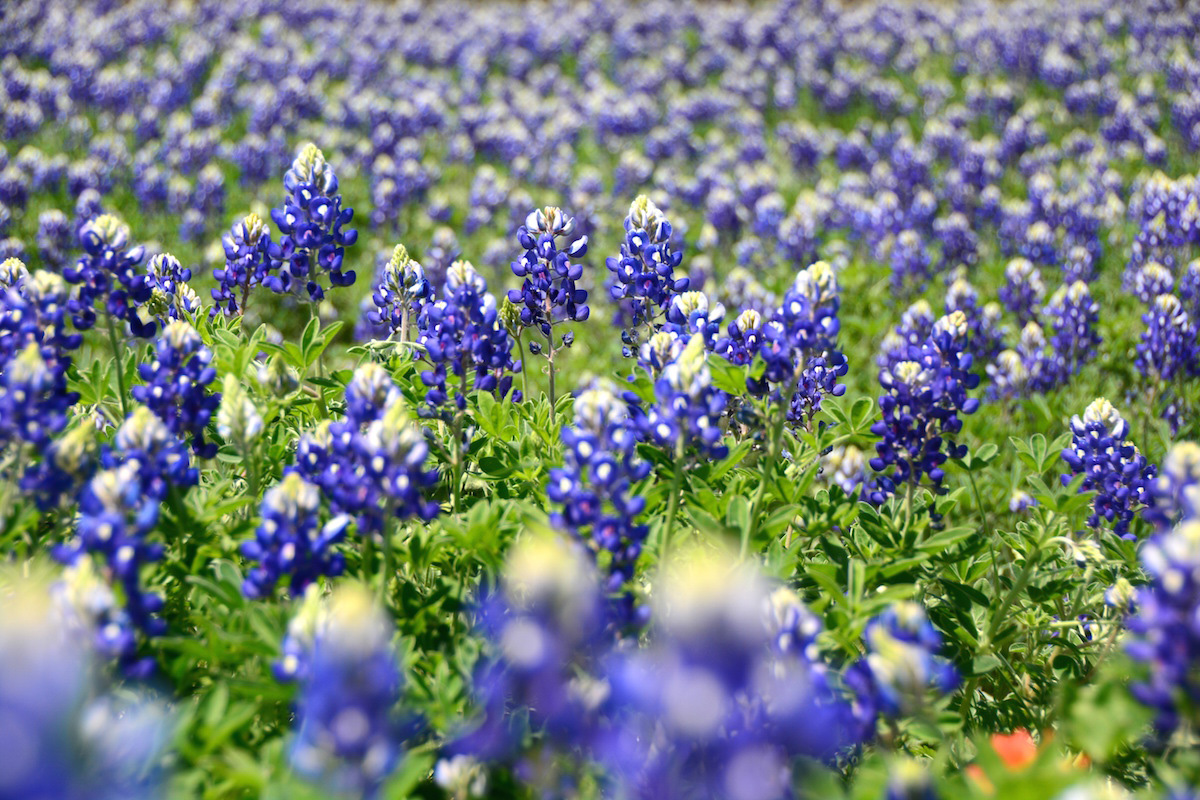 Share: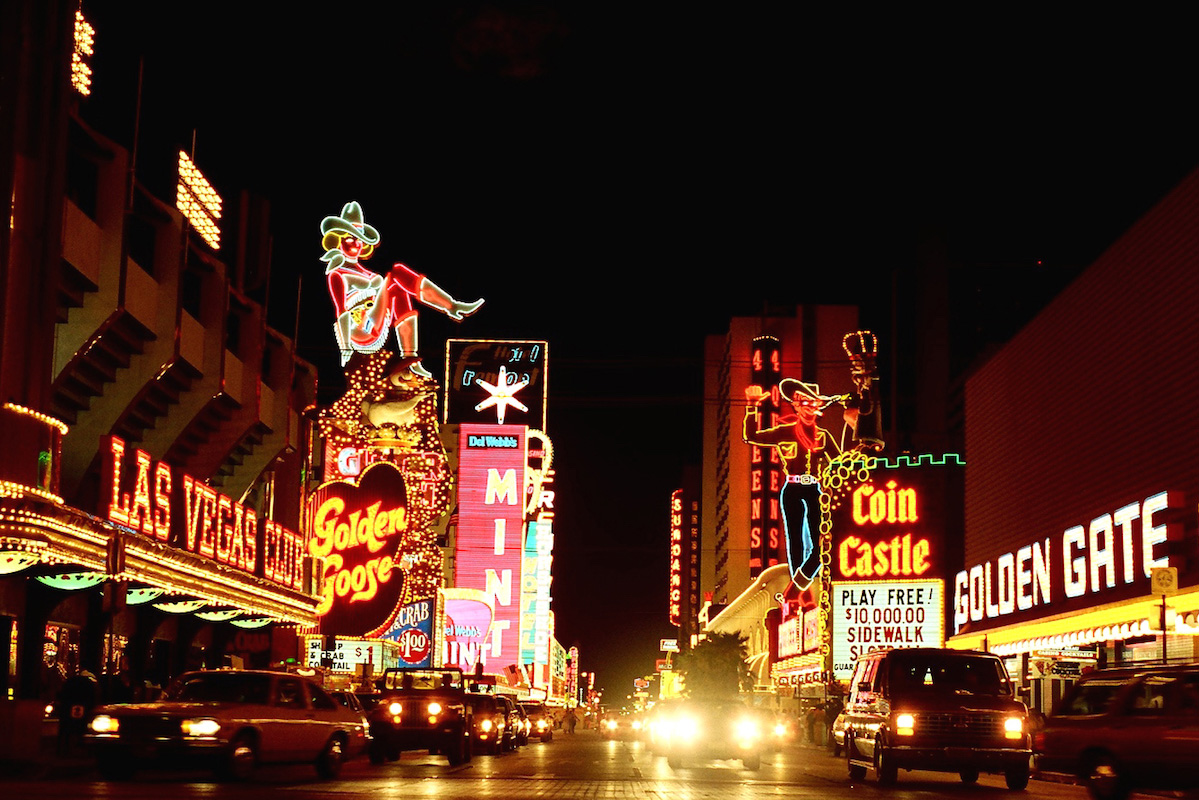 You probably know Las Vegas for its party scene and potentially, even for the incredible nature that surrounds the city. You might have visited Las Vegas and explored some of its lesser-known neighborhoods, from its burgeoning, tech-fueled downtown re-development, to the hip, trendy University of Nevada Las Vegas area.
One thing you probably don't realize about Las Vegas – certainly not if you come solely for the purpose of partying – is that several world-class museums call Las Vegas home. No matter what reason you have for wanting to see a less hedonistic side of Sin City, continue reading to learn about some less-celebrated Las Vegas destinations than are just as fabulous as the glitzy, glamorous strip.
Las Vegas Art Museum
At over 60 years of age, Las Vegas Art Museum has existed for almost as long as the city itself, even if it has been less celebrated. As you traipse through the 6,000 square feet of exhibition space, which showcases local, national, and even international artists, you might forget you're in a city best known for gambling and nightlife. Las Vegas Art Museum is also a great place to take your children if you're on a family trip, as it features a special children's section.
Neon Museum
If there's one museum you're probably not surprised to find in Las Vegas, it's the Neon Museum. Indeed, rather than focusing on neon gas or even on neon signs in general, Las Vegas' neon museum showcases specific signs from throughout Las Vegas' history and tells you the story of their design, legacy and even the people who created them. Keep in mind that due to popular demand, you'll need to book an organized tour to visit the Neon Museum.
Las Vegas Natural History Museum
Before Las Vegas was the world's top tourist destination, it was part of the breathtaking natural landscape that now surrounds the city, so if you don't have time to drive out into the desert and explore, there's no better way to appreciate Las Vegas' past than by visiting the Las Vegas Natural History Museum. With exhibits that cover the present geology, vegetation and wildlife of the Las Vegas area from today all the way back to prehistory, Las Vegas Natural History Museum will make you appreciate Las Vegas even more than you do already.
Las Vegas isn't just a neon-filled city in the middle of the desert – it's a neon-filled city in the middle of a desert with an exciting history that spans literally millions of years!
Lied Discovery Children's Museum
If there's one place that proves Las Vegas can be a family travel destination, it's the Lied Discovery Children's Museum. Ongoing exhibits here will keep your children just as stimulated as Las Vegas' casinos keep you, with mock festival stages, an interactive laboratory for aspiring scientists, and even a futuristic eco-city that highlights the importance of sustainable design and infrastructure.
But let's face it: It's not like Lied Discovery Children's Museum – or any of these museums – should really be that shocking. After all, Las Vegas has won the hearts and minds of the world by surprising us. Who said all the surprises had to be R-Rated?
Image credit is from wikipedia.org/wiki/Vegas_Vic#mediaviewer/
Share:

If you have Rwanda on your list, chances are you want to head to to northern Rwanda with one goal in mind: Trekking into Volcanoes National Park in search of mountain gorillas. I have good news for you, and I have better news for you.
The good news is that seeing gorillas in Rwanda is an extremely straightforward process. Once you book your gorilla permit and travel to Musanze, in the country's northern province, go to the headquarters of Volcanoes National Park at around 7 a.m. on any given morning, where you'll be paired up with a guide who will accompany you on your trek to meet with your designated gorilla "family." After 2-3 hours of trekking, you will spend up to one hour with the family, a once-in-a-lifetime experience that more than lives up to the hype.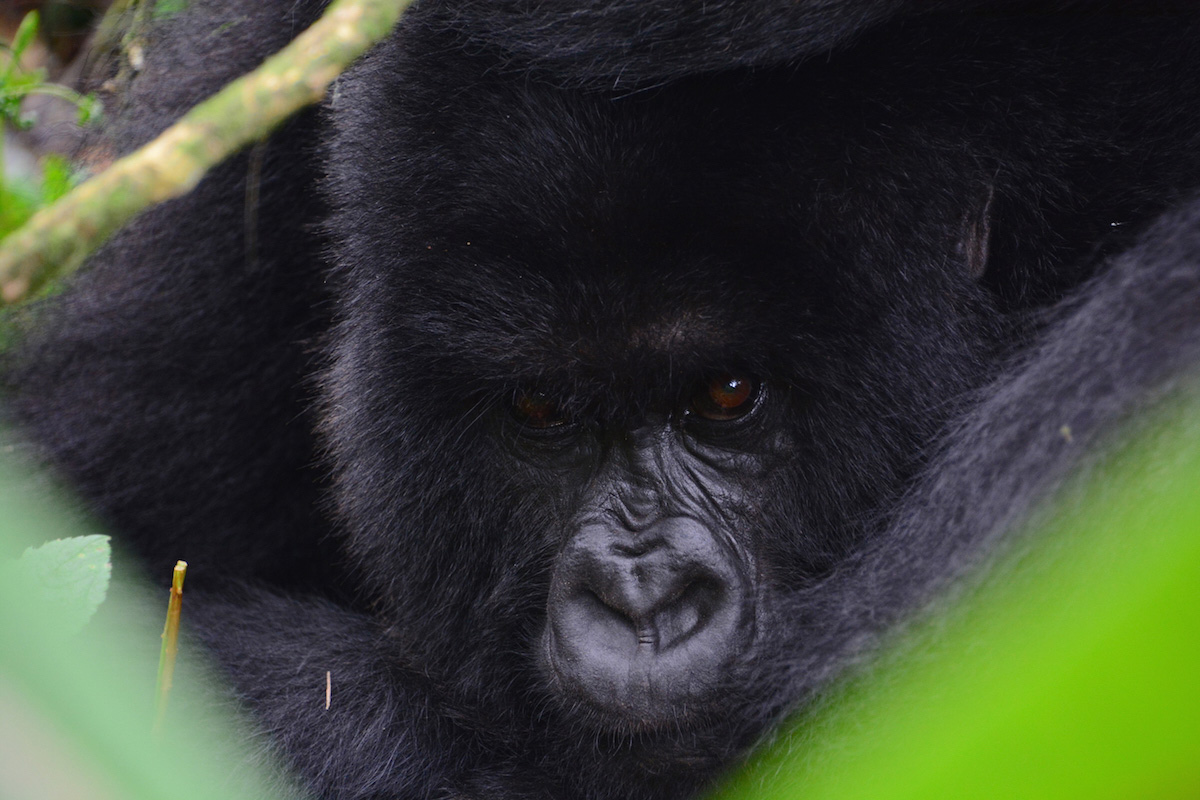 The better news is that while gorilla trekking is the most ubiquitous activity in Rwanda, it is not the best. Or at least, it was not my favorite.
You see, as much as I loved getting up-close-and-personal with the great apes, I felt totally detached from the local community. I was hiking through fields, but wasn't allowed to stop and talk to the farmers. I was driving through small towns and waving to villagers, but couldn't get out of the car and give them hugs. I was in Rwanda, but the only Rwandans I came in contact with were people employed exclusively for the purpose of entertaining me. I felt detached which removed all the things I love most about travel.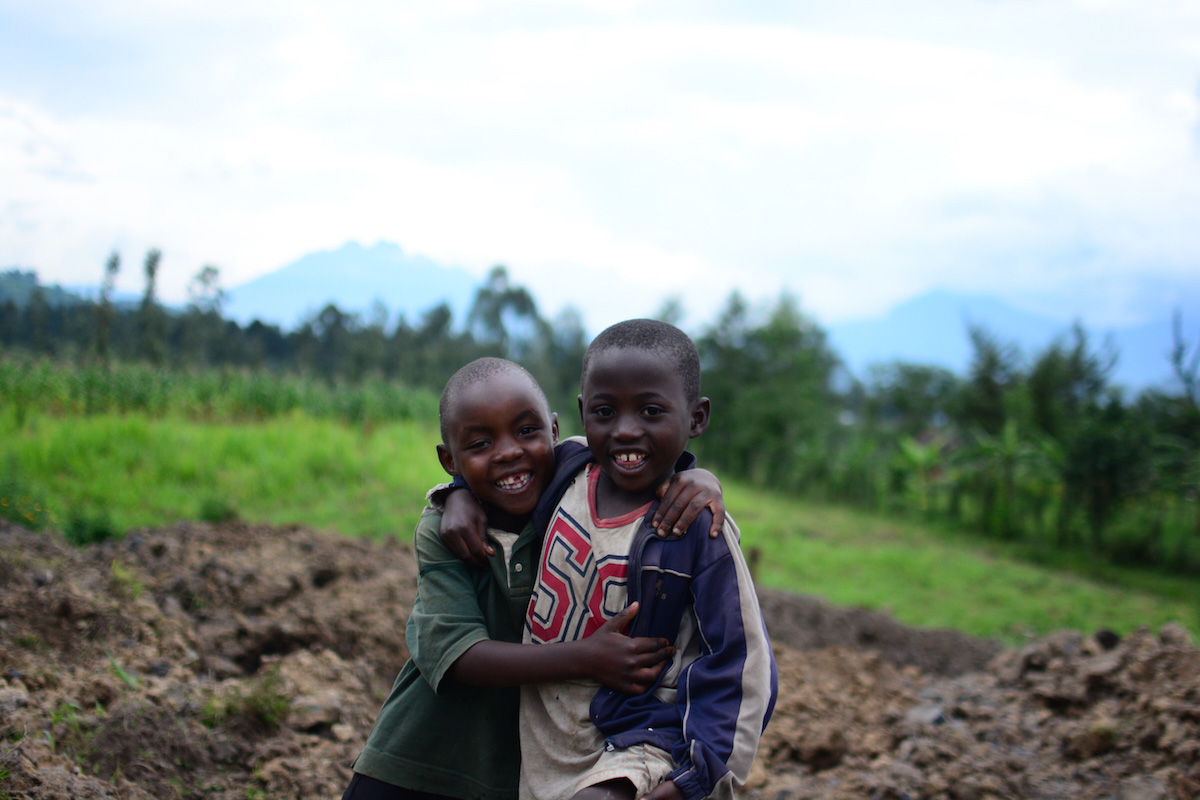 I stayed at Red Rocks and the array of activities I did during my time there was incredible, even on paper. I learned how to weave baskets from a woman named Veronica – and I wasn't half bad at it! Then, in no particular order, I peeled (and chowed down on) a raw sugar cane, helped prepare a traditional Rwandan meal, went fishing in a swamp, visited a banana beer factory and taught Rwandan high schoolers yoga for the very first time in their lives, to say nothing of the emotional connections I formed with every single person I met. And I do mean every single person!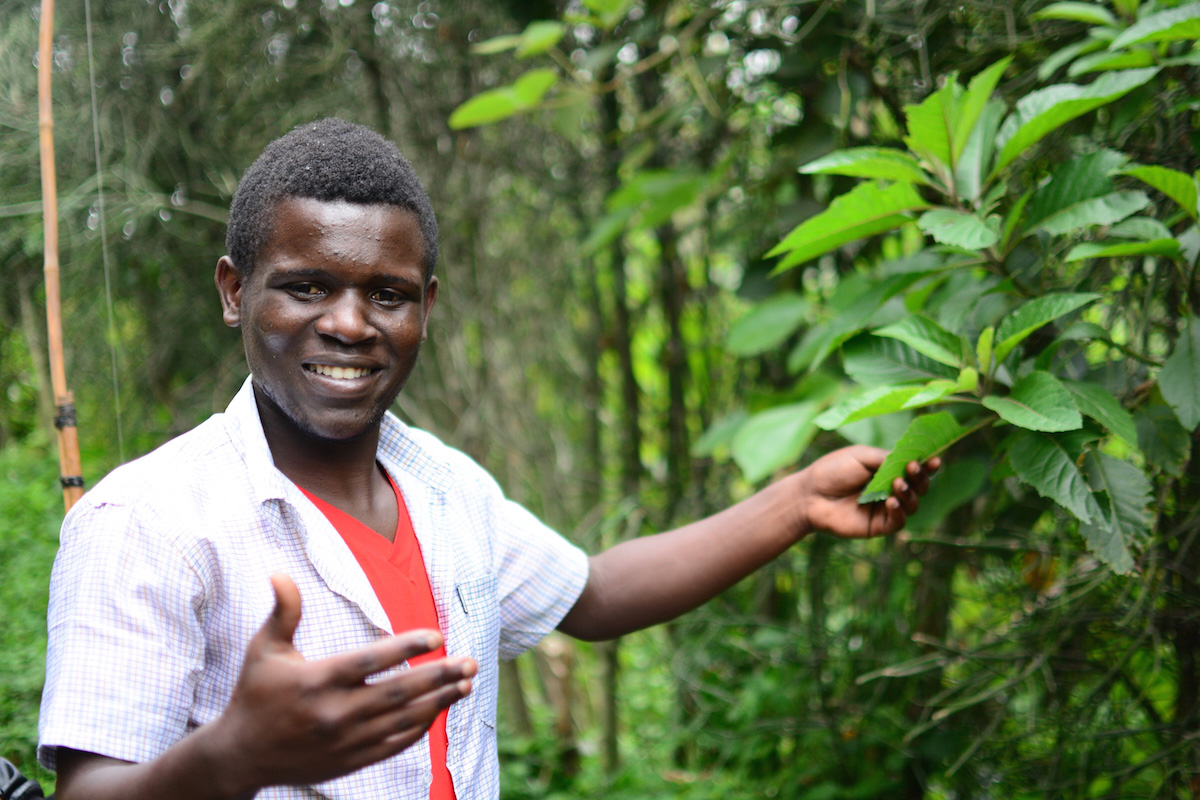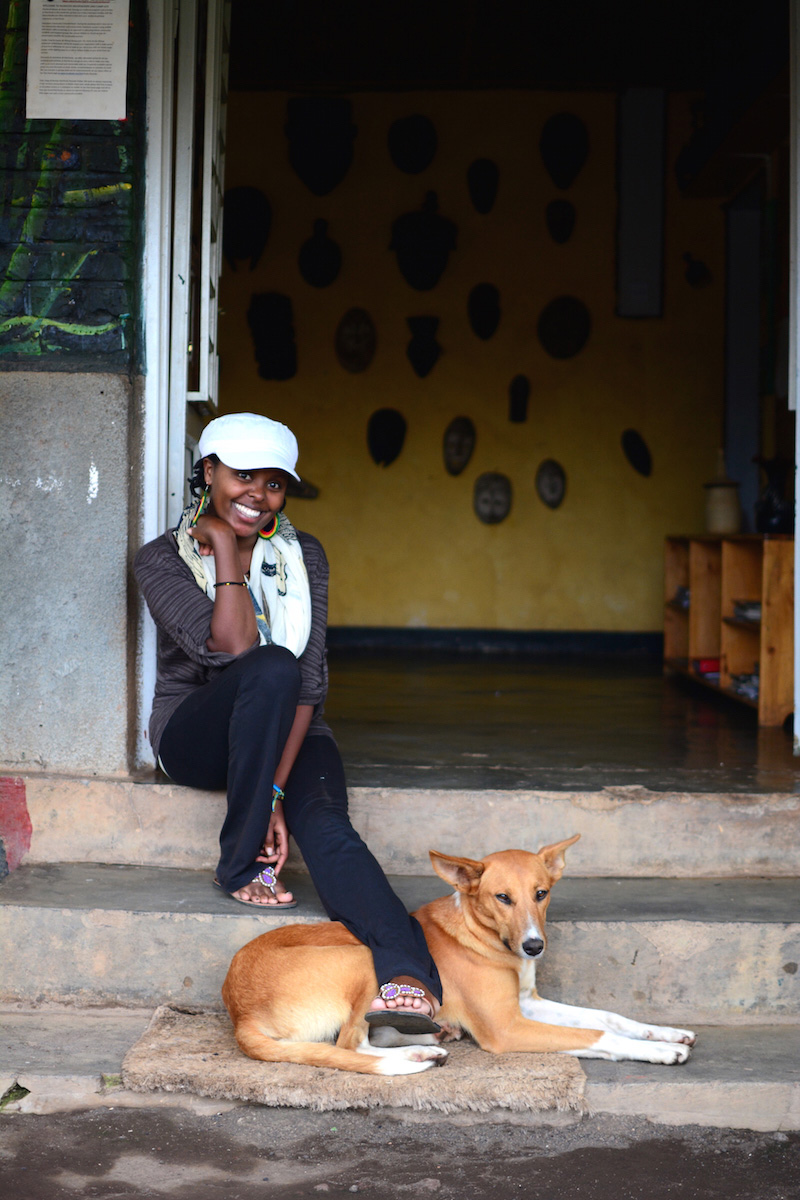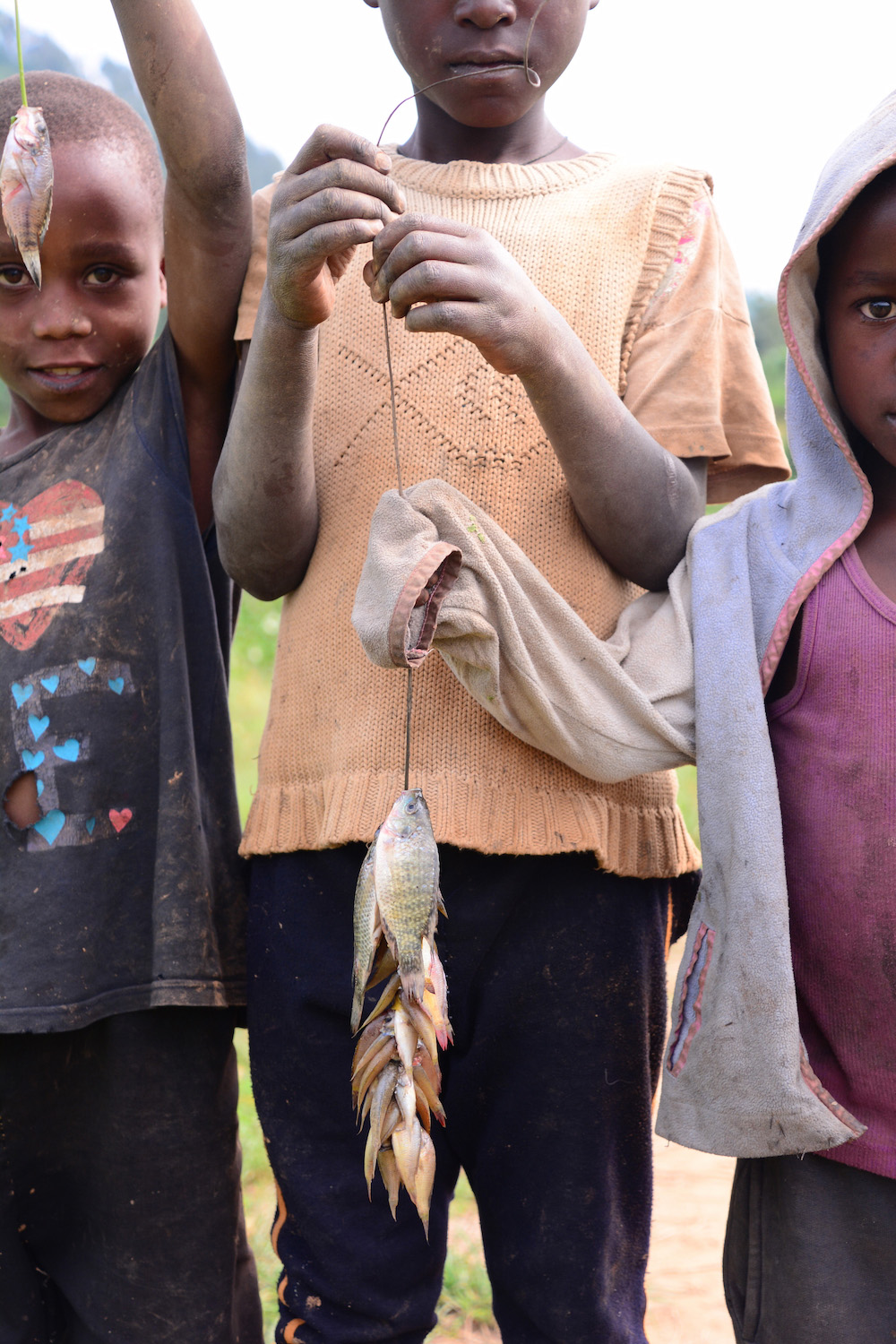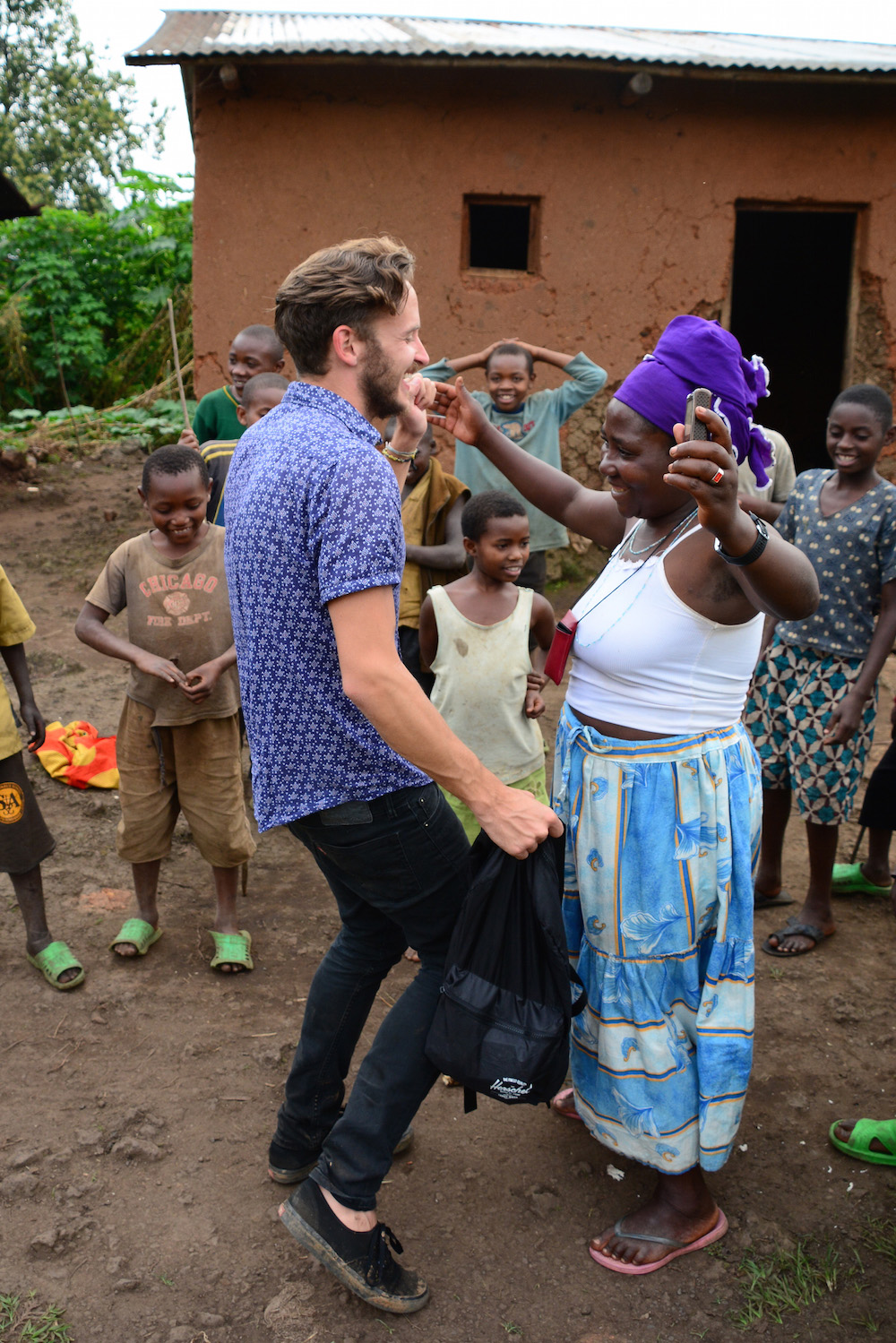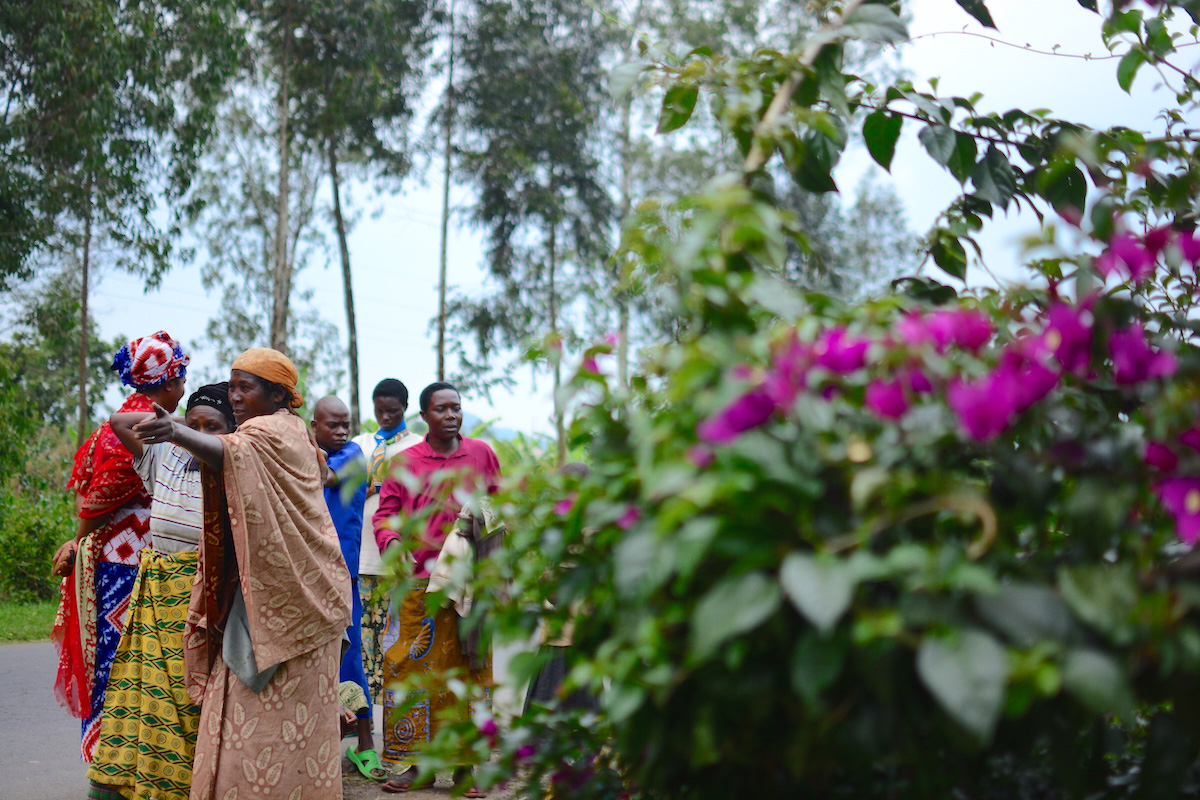 A decade of traveling around the world has taught me to know magic when I see it, but I didn't realize just how magical Red Rocks was until I said goodbye to it. As I mentioned in my photo post on Rwanda last week, I spent much of the taxi ride from Musanze to Kigali airport worrying that I had made the wrong decision in leaving and in fact, I still wonder what might've happened had I stayed.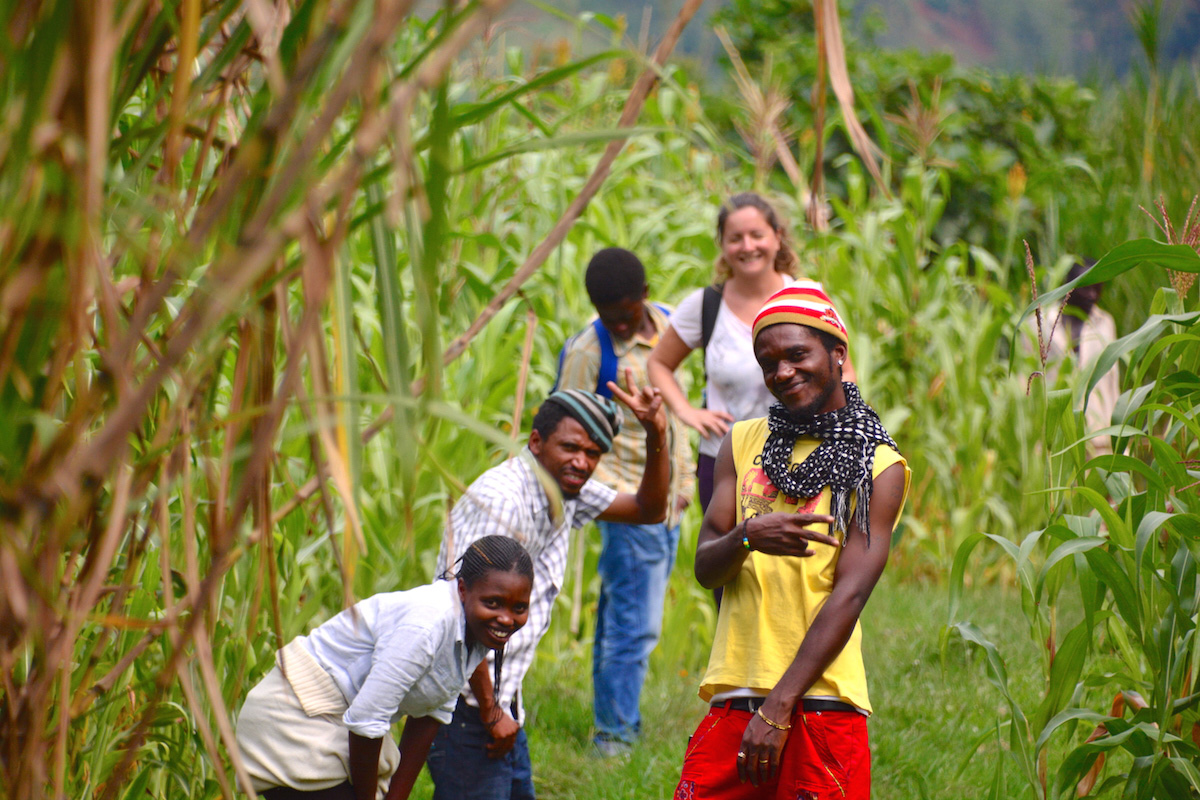 Regardless of what type of traveler you consider yourself to be, and even if you've got the cash to burn on a luxurious mountaintop villa, try to stay a night at Red Rocks. Gorillas are exciting and scenery is spectacular, but there is absolutely no experience like feeling at home in Rwanda.
Note: Red Rocks' parent company Amahoro Tours sponsored my accommodation and transfers in northern Rwanda, but all opinions are my own. My experience here was absolutely priceless – I say this from the bottom of my heart!
Share: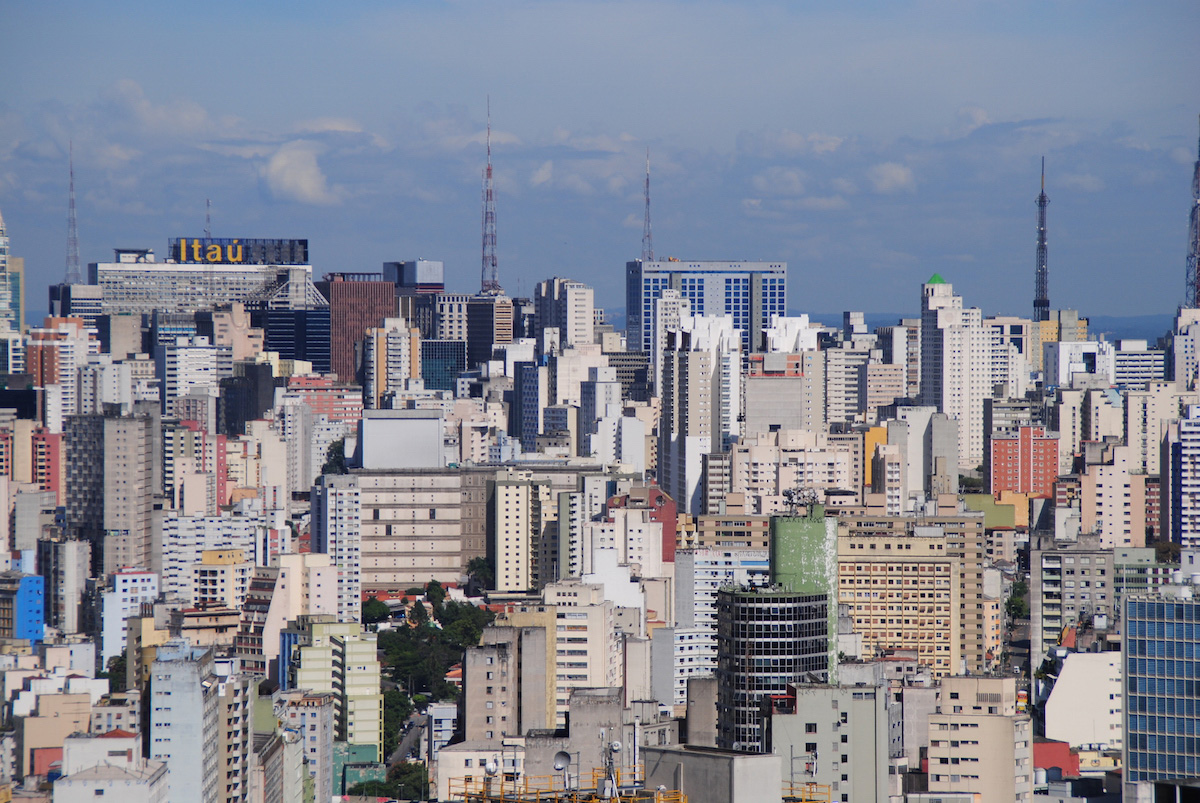 São Paulo might be the commercial and cultural heart of Brazil, but the city is plagued by a questionable reputation that causes many travelers to stay away completely. If you're unwilling to believe the hype – and, for the most part, I believe you should be – São Paulo is one of the most rewarding cities you can visit, in Brazil or anywhere else. You could spend your whole lifetime exploring São Paulo and still not wrap your head around it, but here are five must-see spots to get you started.
Avenida Paulista
With hundreds of highrises lining its well-manicured sidewalks, Avenida Paulista gives you the impression of New York city or Hong Kong much more than what you expect to find in Brazil. The charms of Avenida Paulista aren't just the most obvious ones, either. The Museum de Arte de São Paulo, colloquially known as "MASP," is a work of art in and of itself, a stilted building that frames the city behind it like a real-life painting. Likewise, some of São Paulo's best nightlife is just minutes off the avenue, on streets like Rua Frei Caneca and Rua Augusta.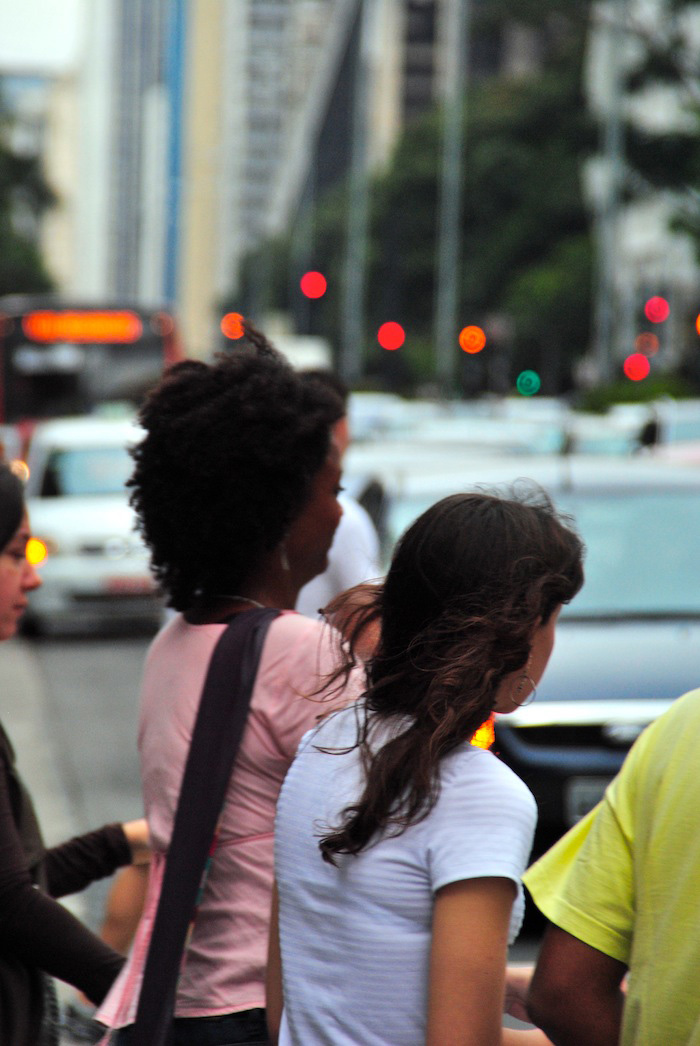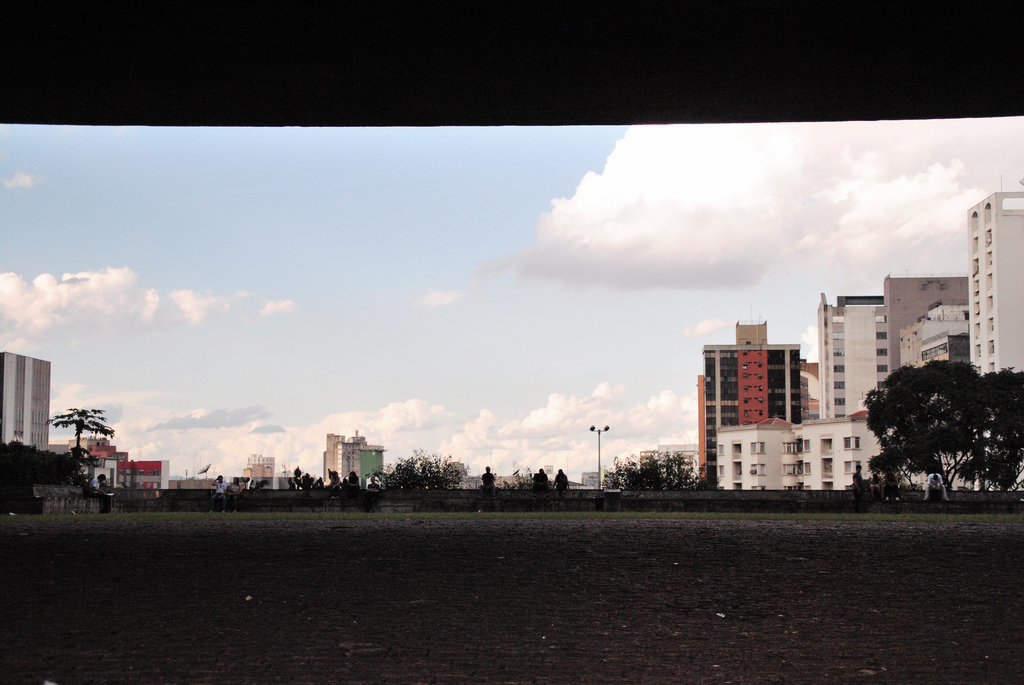 Mercado Municipal
It might sound unappetizing at first, but one dish you absolutely have to try in São Paulo is the pastel bacalhau – cod pie. You can enjoy the local specialty all over the city, but the most picturesque place to do so is the Art Deco MercadoMunicipal de São Paulo, which is a foodie's paradise in general. You can sample sweet, refreshing Brazilian açaí here, and São Paulo's signature dinner dish, feijoada. Mercado Municipal is also right around the corner from São Paulo's Portuguese Language Museum, one of the most celebrate cultural institutions in Brazil.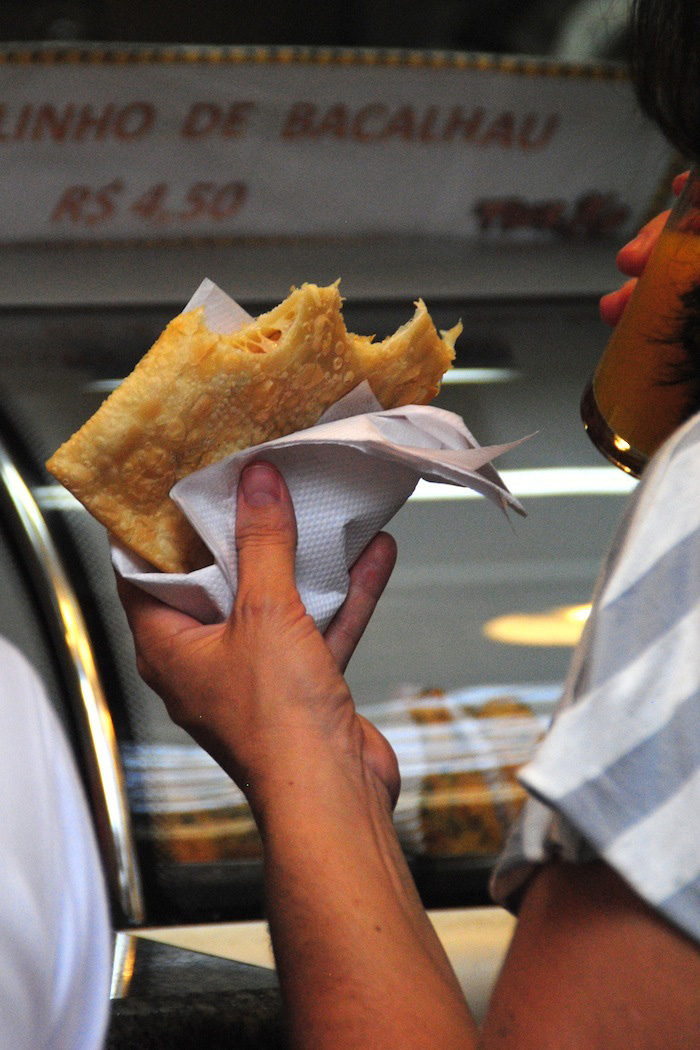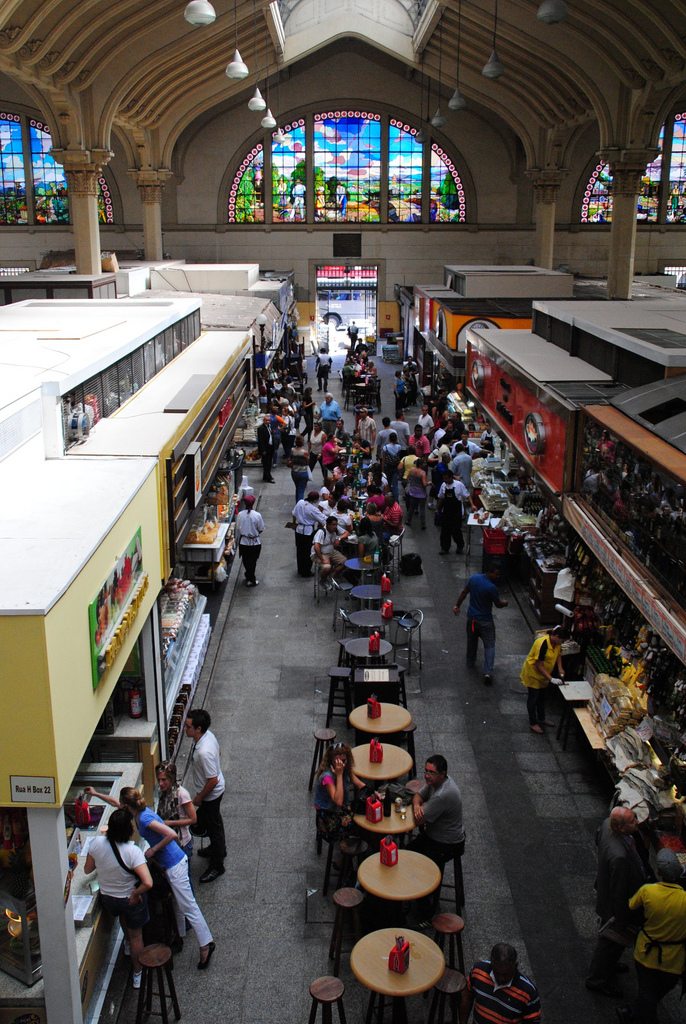 Sé Cathedral
São Paulo's so full of skyscrapers that it can be hard to imagine any historical architecture existing here, the 1930s-era Mercado Municipal, of course, notwithstanding. Another impressive exception to this rule is Sé Cathedral, whose Neo-Gothic construction style evokes the Middle Ages, even though it was built just a century ago.
The cathedral, whose official name is "Catedral da Sé de São Paulo" in Portuguese, also happens to sit in close proximity to some of São Paulo's best hotels, as well as the Banco National de São Paulo (BANESPA) building, the tallest manmade structure in Brazil – and one with a free observation deck.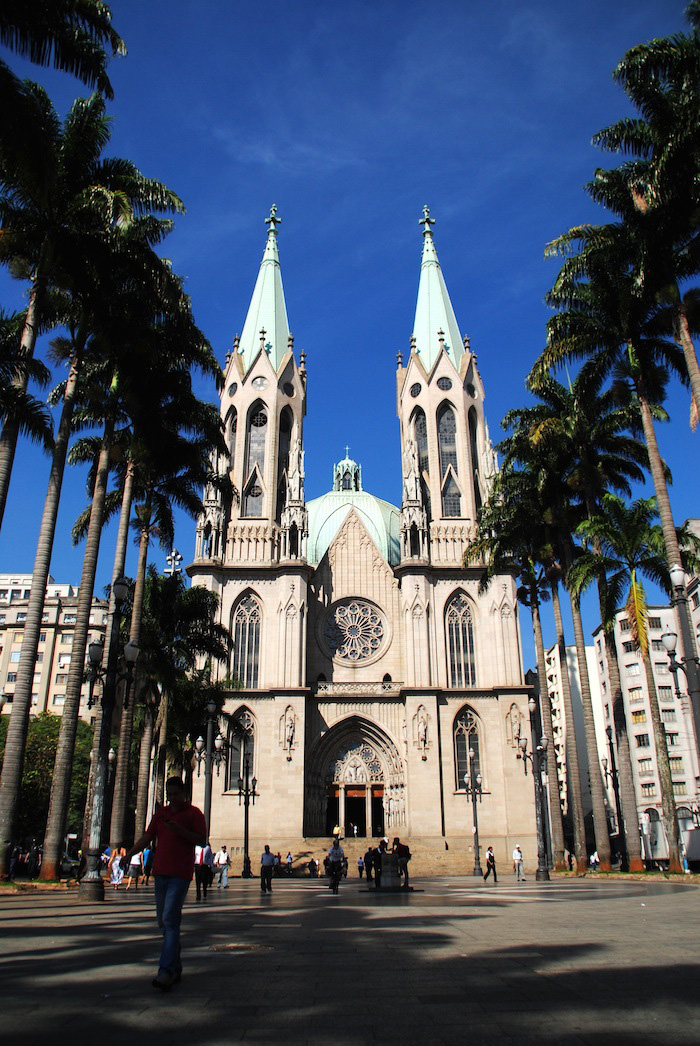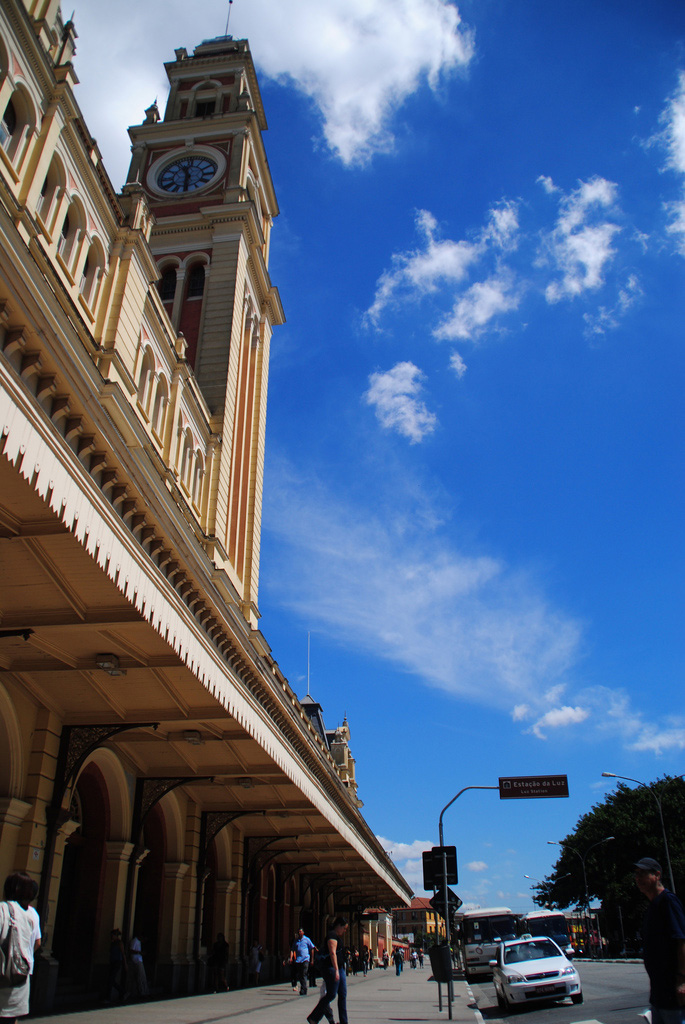 Liberdade
Brazil is incredibly multicultural, with influences from Europe, Africa and the native cultures of the Amazon, but did you know that it's also home to the world's largest community of Japanese expatriates? One stroll around Liberdade might have you feeling like you're in Tokyo, from sushi and ramen restaurants, to Oriental Gardens, to a tranquil hospitality that's totally – but beautifully – at odds with much of the rest of the city around it.
Ibirapuera Park
If São Paulo is Brazil's answer to New York, the Ibirapuera Park is its answer to Central Park. In addition to the beauty of the green space, which occupies more than 500 acres in the heart of São Paulo, its huge shade trees make it the perfect respite from the hot weather that can occur in São Paulo, where locals anticipate "four seasons in one day," year-round.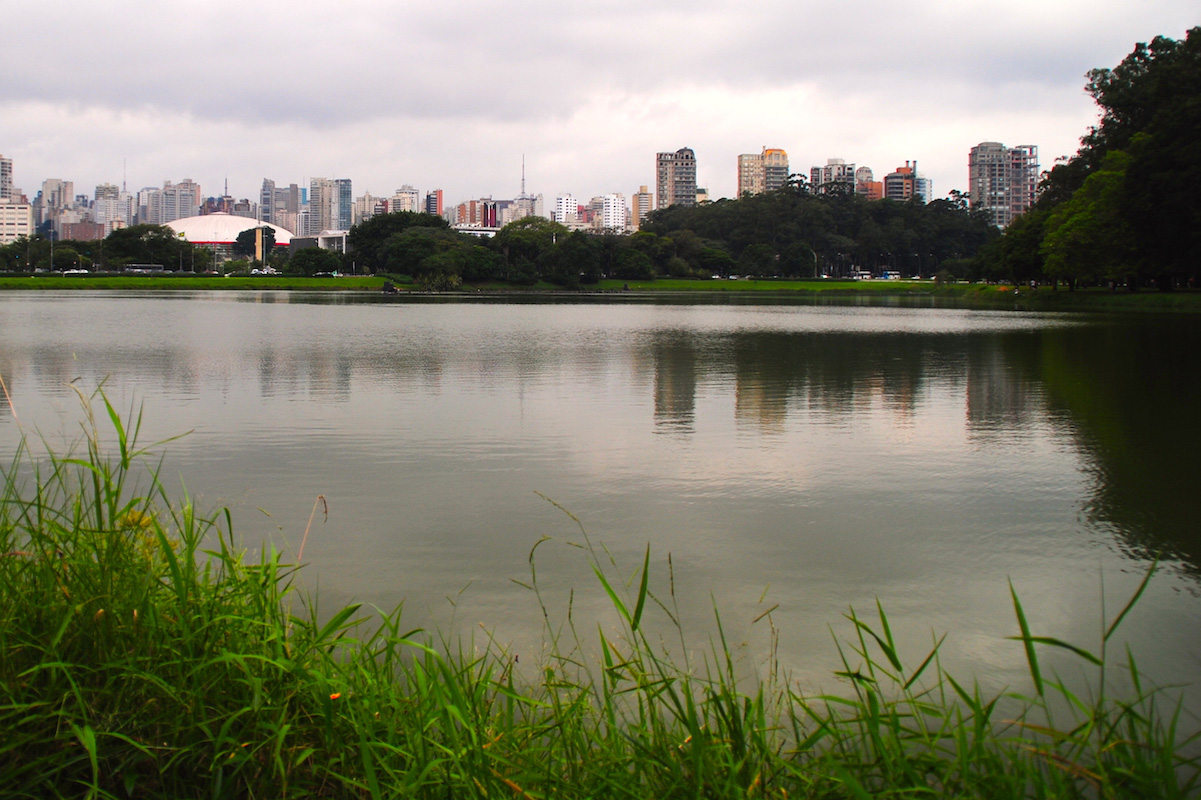 Indeed, São Paulo is the very picture of an evergreen city, so no matter how you spend your time here, you're sure to feel refreshed and inspired on the sad day you have to leave.
Share: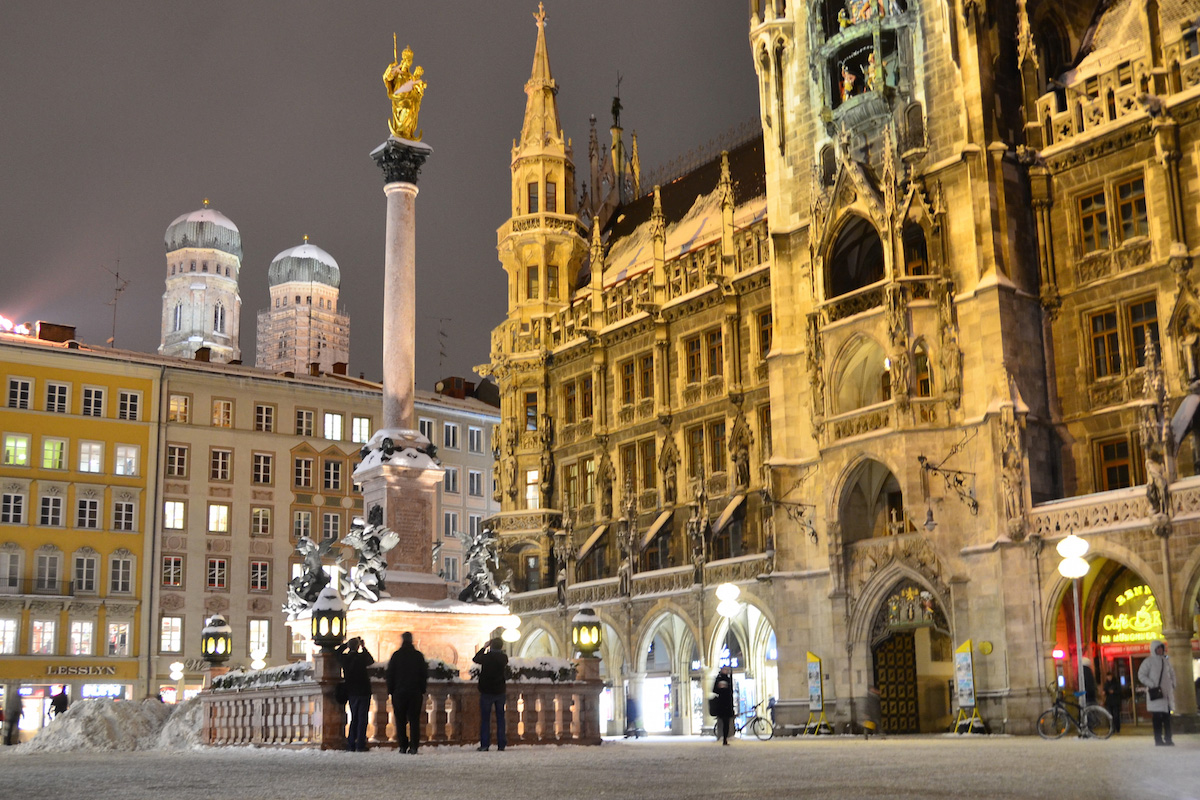 With a population of nearly two million, several high-profile annual events, and a history spanning centuries, it's not hard to understand why planning a trip to Munich can be an imposing task. Even if you simply visit during Oktobefest (which actually takes place mostly during September), there are dozens of variables to consider. No matter what made you choose Munich in the first place, follow these tips to plan the ultimate trip.
Don't Limit Yourself to One Season
Munich is infamous for its ambiance during the early autumn, when beer buffs from around the world gather in its Old Town to give a collective "Prost," but the Bavarian capital is blessed with four seasons – you owe it to yourself to take advantage of them. Indeed, you could argue that frothy German lagers are even more refreshing during Munich's hot summers, while there are few experiences more relaxing than a spring day in the Englischer Garten, Munich's largest green space.
Winter is also an amazing time to visit Munich, for a few reasons. First and foremost, because heavy snows give Munich attractions like Frauenkirch and the Neues Rathaus an almost ghostly quality, to say nothing of the Bavarian Alps that surround the city, which are the perfect place for a ski trip. Plus, Munich's winter prices are as low as its temperatures, offering you the best bang for your euro.
Give Yourself a Little Wiggle Room
Munich isn't as heavy on tourist attractions as other German cities like Berlin and Hamburg, but there's nonetheless plenty to discover – don't needlessly limit yourself on time. This is especially true if Munich is your first stop in Europe after arriving from overseas, in which case you should give yourself a couple days simply to relax.
In general, an ideal amount of time to spend in Munich is three full days: One to explore the museums and historical buildings in the Old Town, another to sample food, beverage and to relax amid nature; and one more for a day trip to somewhere else in Bavaria.
Plan to Take a Day Trip
One day trip, or many – there's so much to do in Bavaria you could easily spend a few weeks exploring it. The most popular day trip from Munich is undoubtedly Schloss Neuschwanstein, a medieval castle perched on a bluff in the Bavarian Alps, which seems culled right out of a fairy tale, especially when it's covered in winter snow. Speaking of winter in the Alps, there are few better times or places to test of your skiing or snowboarding skills, or simply to relax with your friends and loved ones.
Stay a While, If You Can
Munich Airport is one of Germany's largest international gateways, which makes it the perfect place to begin your trip to Germany, or Europe as a whole. Even if you only stay in Munich itself for a few days, use the city as a jumping off point for a train trip through the Fatherland, or an adventure across the European continent.
No matter how you decide to structure your trip to Munich, the most important thing is to go with a sense of adventure, an open mind and a resolve to be present in every moment. Prost!