About Robert Schrader
Robert Schrader is a travel writer and photographer who's been roaming the world independently since 2005, writing for publications such as "CNNGo" and "Shanghaiist" along the way. His blog, Leave Your Daily Hell, provides a mix of travel advice, destination guides and personal essays covering the more esoteric aspects of life as a traveler.
Latest Posts by Robert Schrader
Share:

Overwhelming urban sprawl — that's what it feels like when you hit Seoul! Seoul's staggering size intimidated me before I even really got there.
After getting off the plane, I had to descend four escalators, take a train to another building, then go up several more escalators just to get to the immigration area. Once I exited the airport (which, to be fair, is in neighboring Incheon, rather than Seoul proper), it took more than an hour by train to get to Seoul station.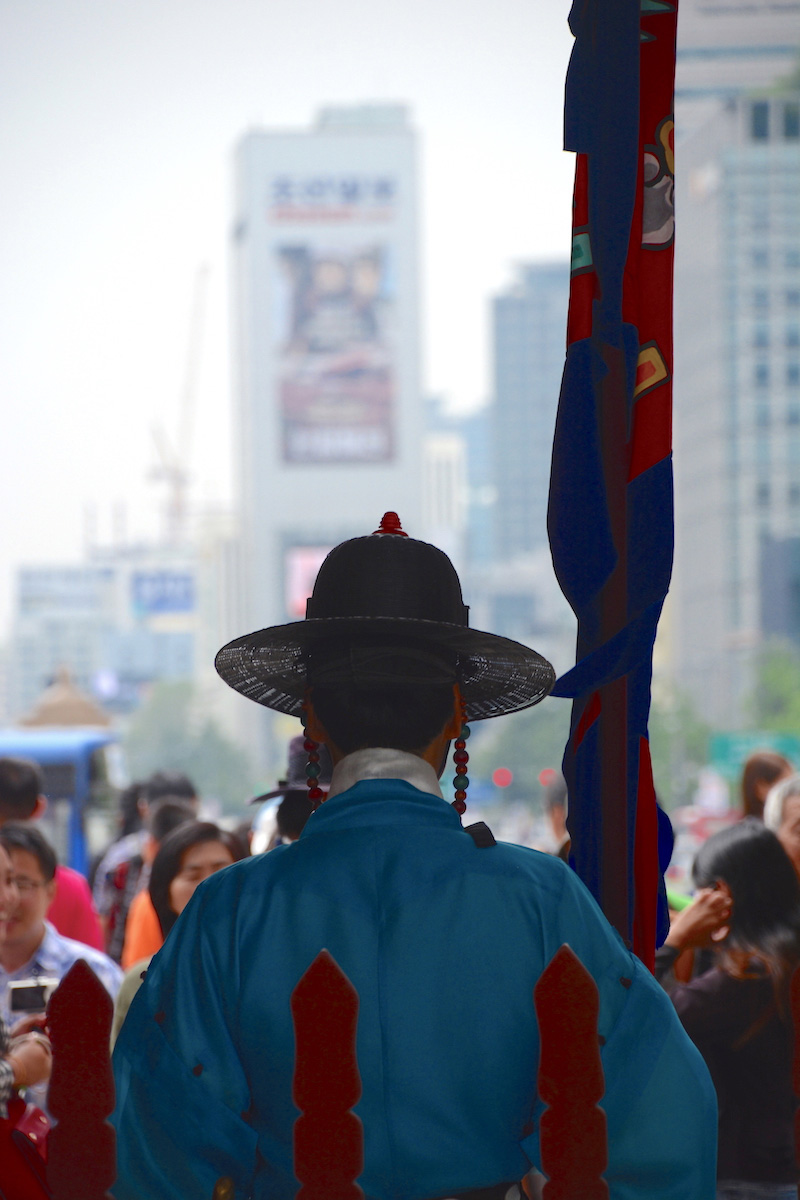 Then, it was a 15-minute walk to the metro, which took another 20 minutes to drop me off at the entrance to the historical Bukchon Hanok Village, from which it was still another 10 minutes by foot to where I was staying.
I mention all this not to intimidate you, but to put what I'm about to outline – how to see the very best of the Seoul, which among its markers of hugeness is the 10 million people who call it home, in just three days – in perspective.
To be sure, three days in Seoul will provide you with mere impressions of the city: Panoramas of skyscrapers rolling over hills like waves of concrete and steel; flashes of neon light reflecting in rivers and streams; and aromas of Korean BBQ in the air all around you.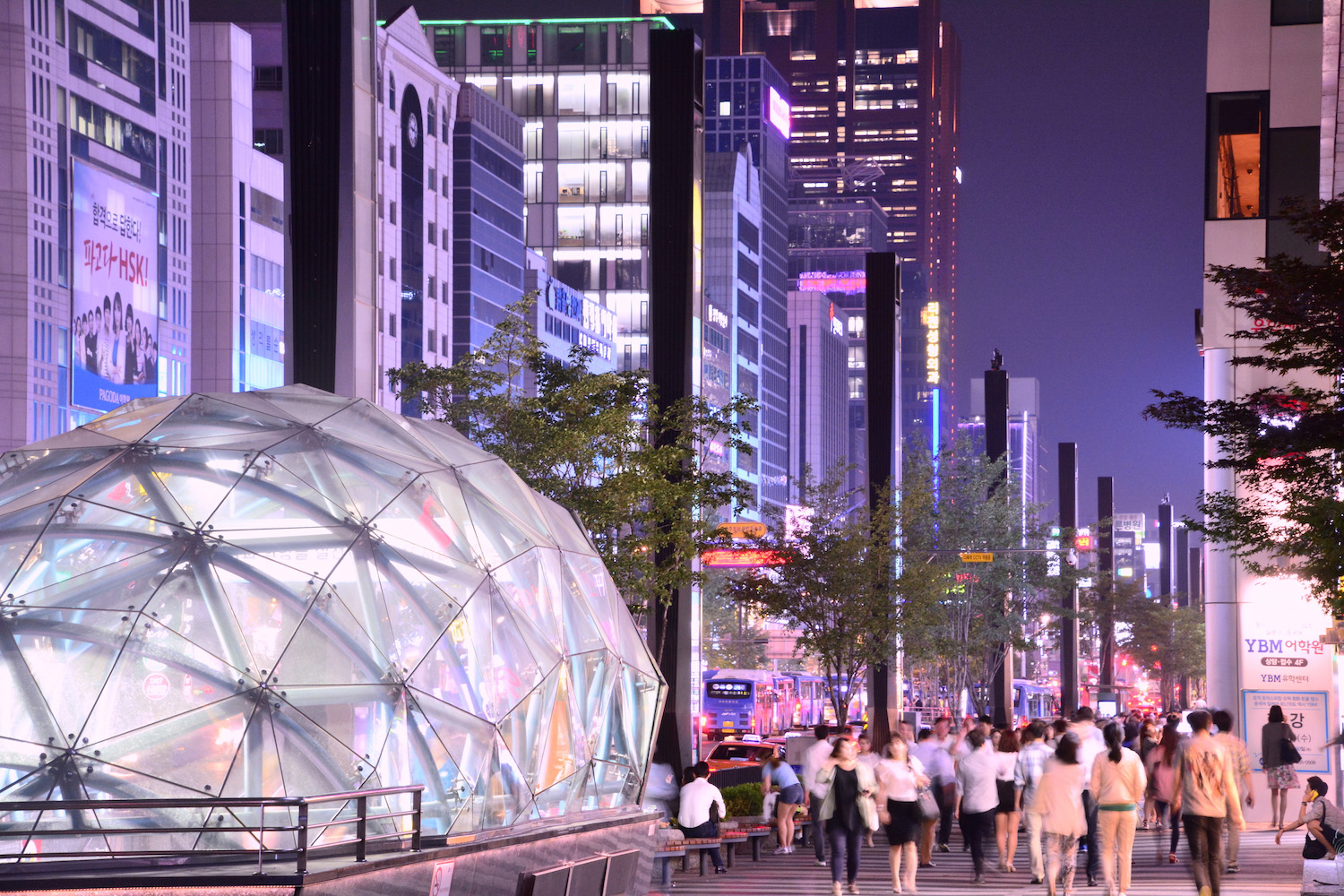 The Best Place to Sleep in Seoul
The bad news? Accommodation prices in Seoul are uniformly high. The good news? They are also rather uniform, which means the same price as a sterile hotel room in one of Seoul's downtowns or a Airbnb apartment that might very well suck, you can sleep in a traditional Korean Hanok in Seoul's Bukchon Hanok Village, a UNESCO World Heritage Site. I personally slept at Dahyun Hanok Homestay Guesthouse, but there are dozens of others nearby of similar quality at at a similar price point.
Day One: The Ghosts of Imperial Korea
Traditional experience notwithstanding, one very good reason to stay in the Bukchon Hanok Village is that it's the perfect place to start exploring Seoul. For one, it's walking distance from Seoul's most famous pair of palaces: Gyeongbokgung, which dates back to the 14th-century Joseon Dynasty period and Changdeokgung, which the Joseon emperors built in the early 15th century.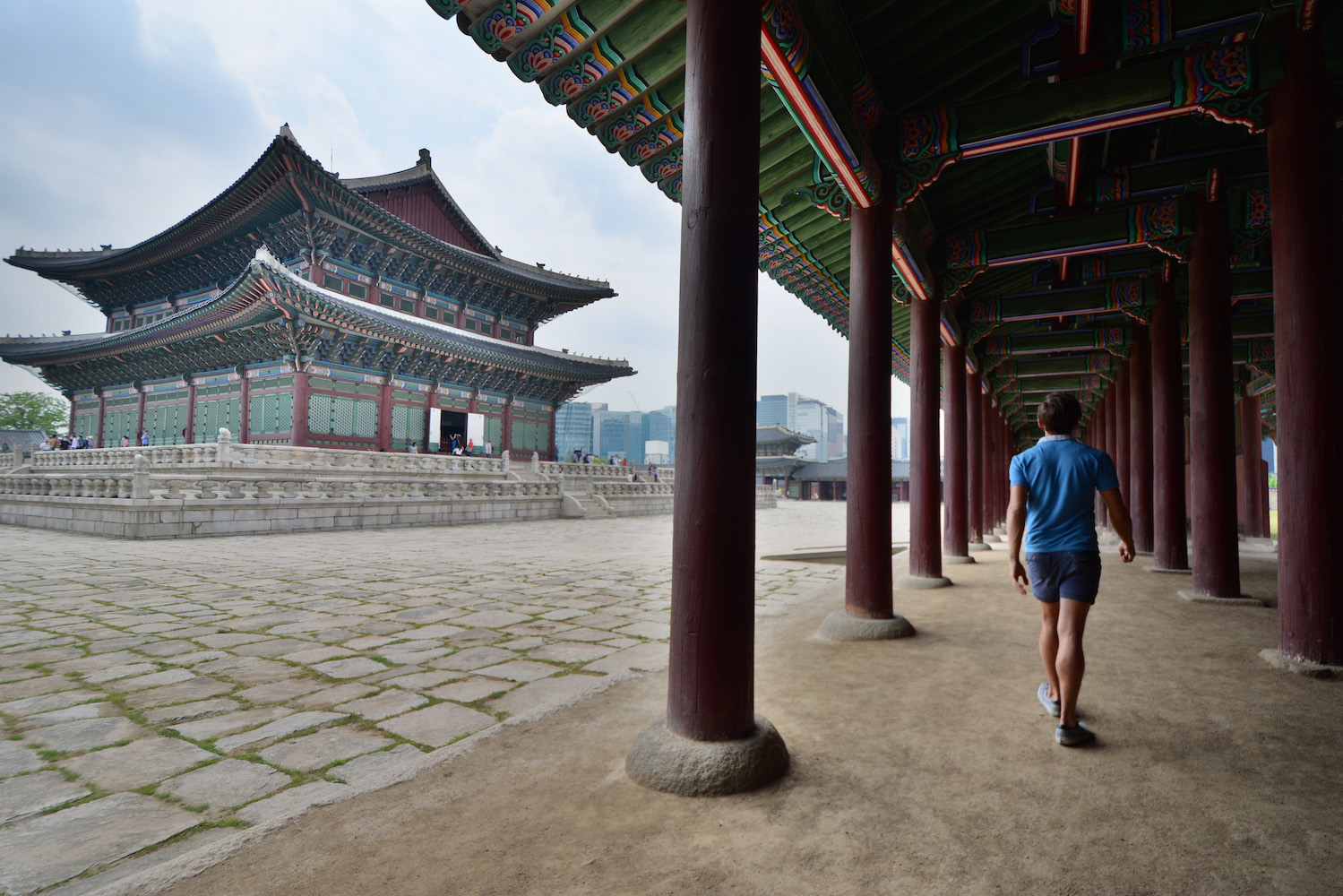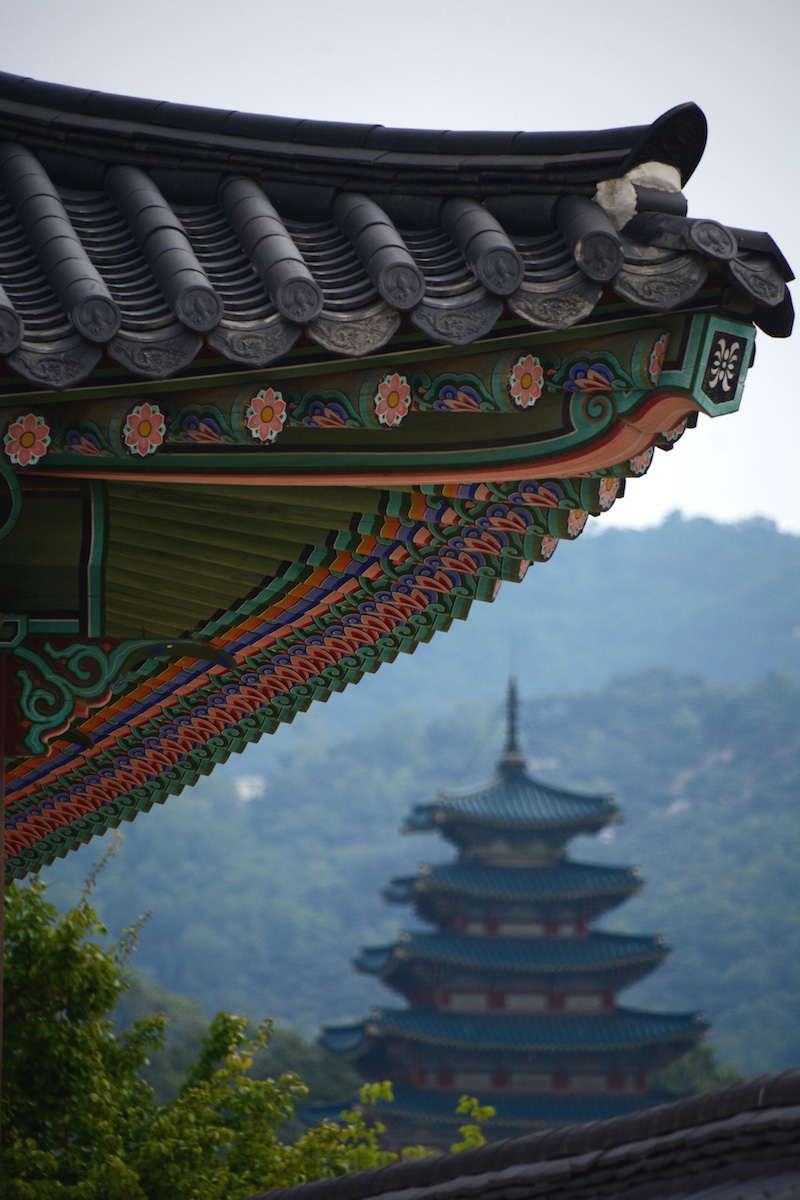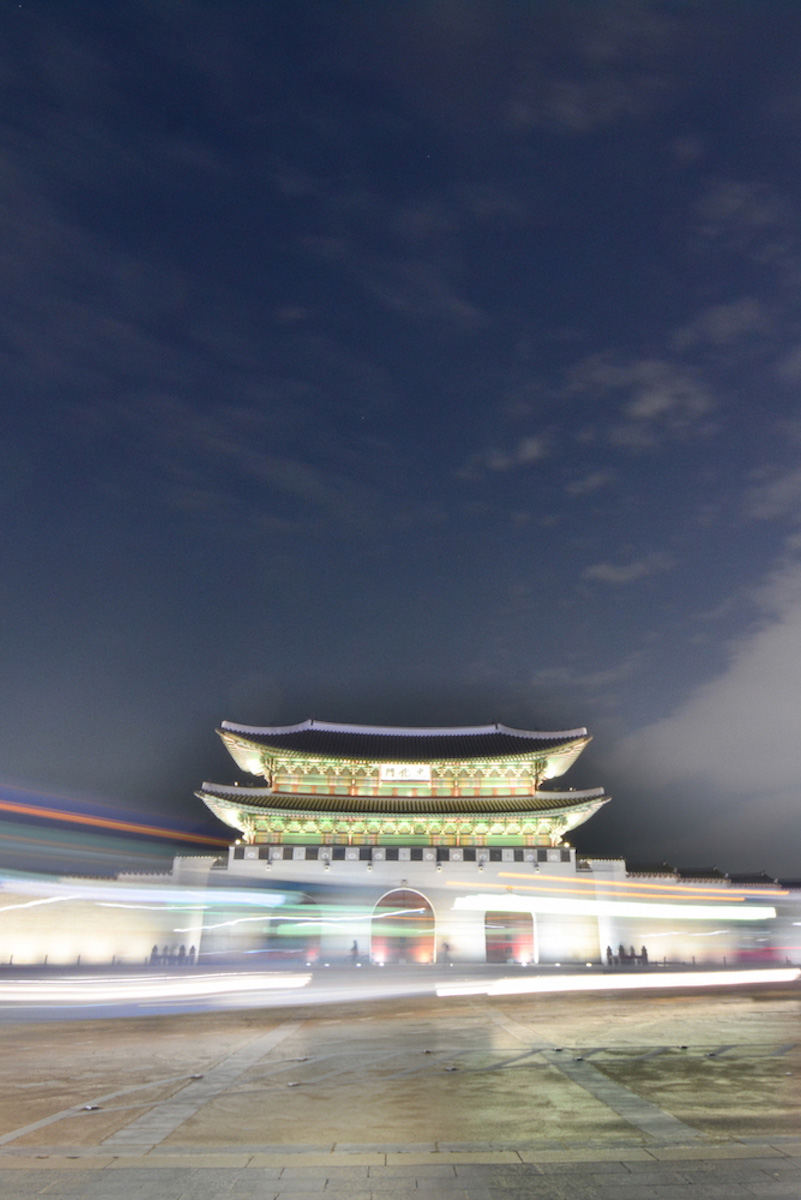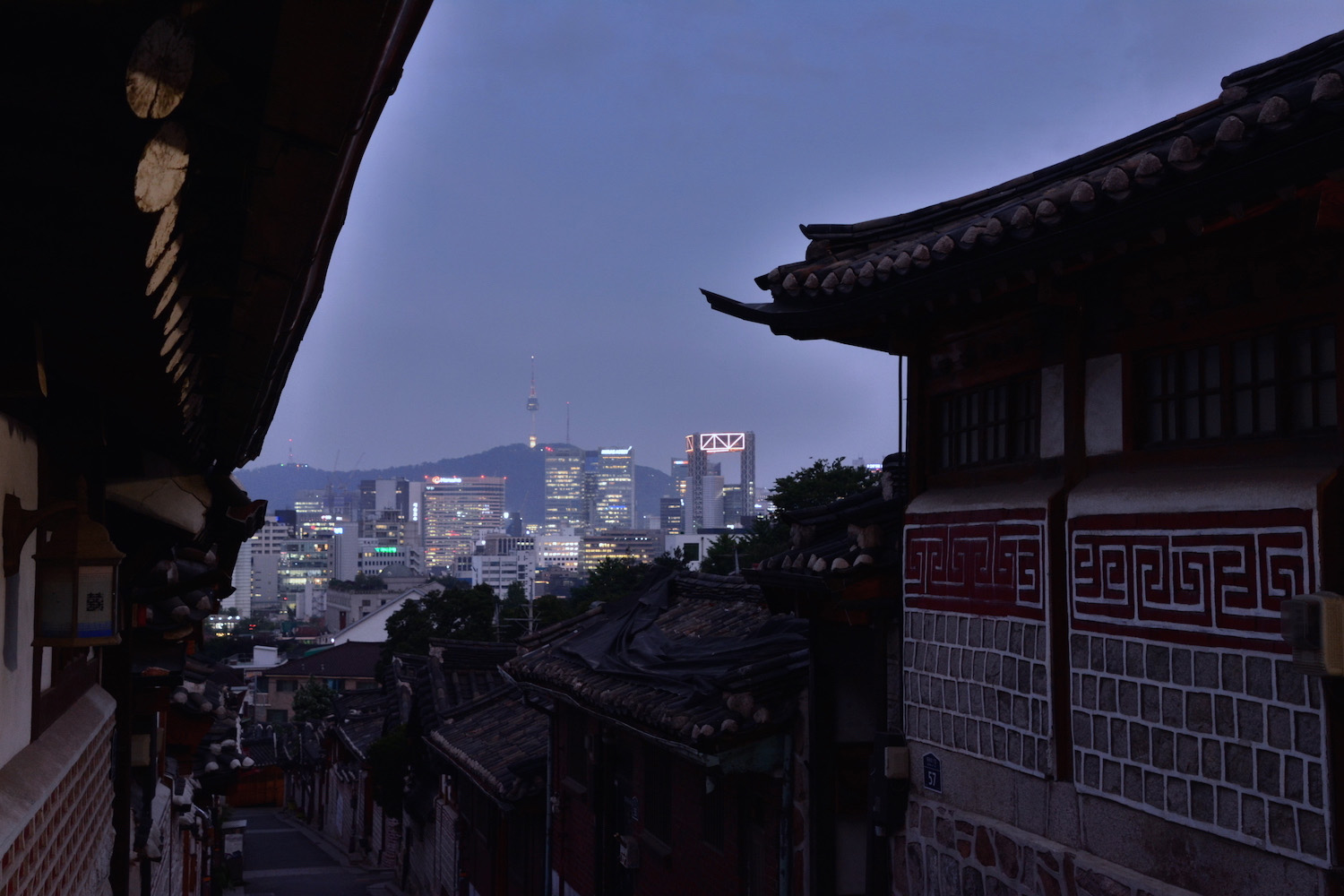 The palaces sit on either side of Bukchon Hanok Village, which is itself replete with traditional Korean architecture, on both sides, so you might begin your day with a walk to Gyeongbokgung, then explore your way back through the Hanok Village to Changdeokgung, then heading back into the village to enjoy sunset from one of its high hills, whose traditional houses frame Seoul's modern skyline, which towers in the distance.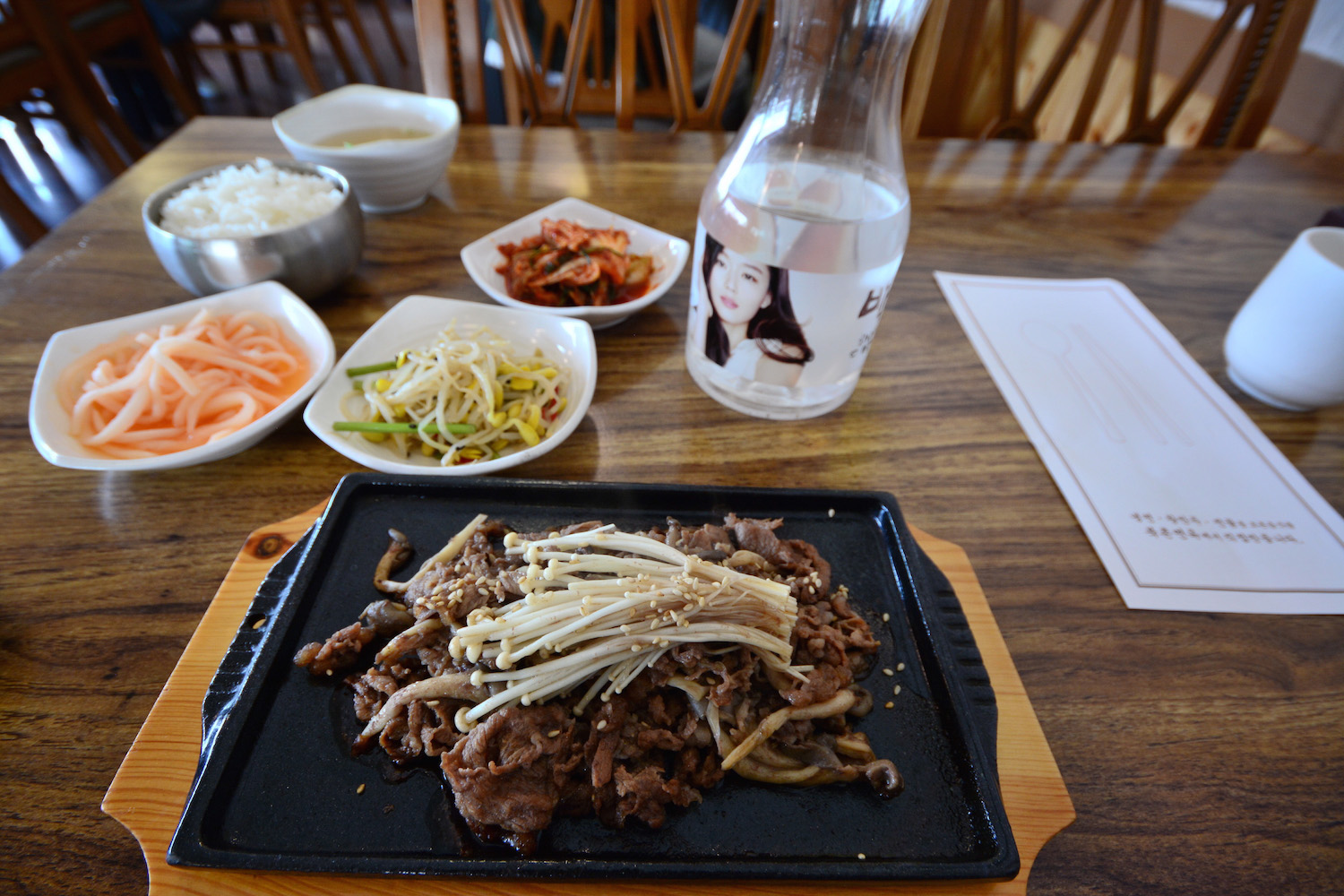 As you might imagine, Bukchon Hanok Village is a great place to grab traditional Korean food, from barbecued beef and pork bulgogi, to eclectic bibimbap bowls, to deliciously spicy kimchi, whether you enjoy them homestyle in your hanok, or at the countless restaurants that dot the streets and alleys. One thing that might surprise you, however, is how many coffee shops there are in this part of town – they make up at least half of all businesses on some streets.
Day Two: Ain't No Mountain High Enough
Feel free to take a twilight stroll through old Seoul, which is mostly lit up at night, but go to bed early so that you can make the hike up to the Seoul City Wall, which borders the city on the north side, before the daylight gets too harsh – and, in the summer, the temperature too high. Seoul City Wall affords you a panorama or both ancient and modern Seoul and, on clear days, South Korea's presidential residence, the Blue House.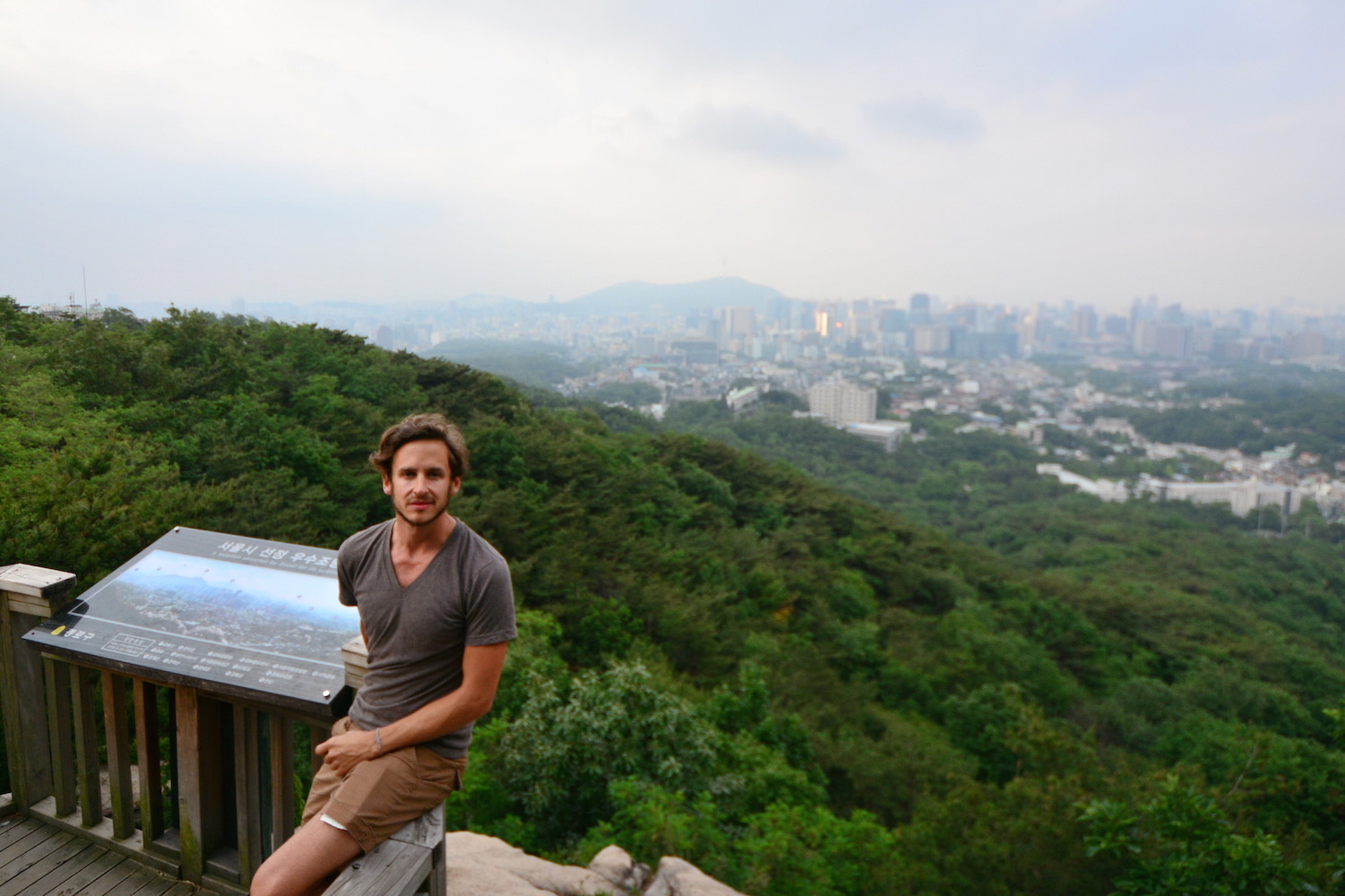 This section is about climbing mountains – and I'll get to another one in a minute – but since I referenced a classic song, I should also invite you to explore some valleys (albeit not particularly low ones) and rivers (even if only one of them is ride). Spend mid-day biking along Seoul's Han River (this is the wide one), which is best reached by taking the Seoul Metro to Yeouinaru station. Then, ride the metro to Seoul Forest station to visit the city park of the same name – no rivers or valleys here, unfortunately.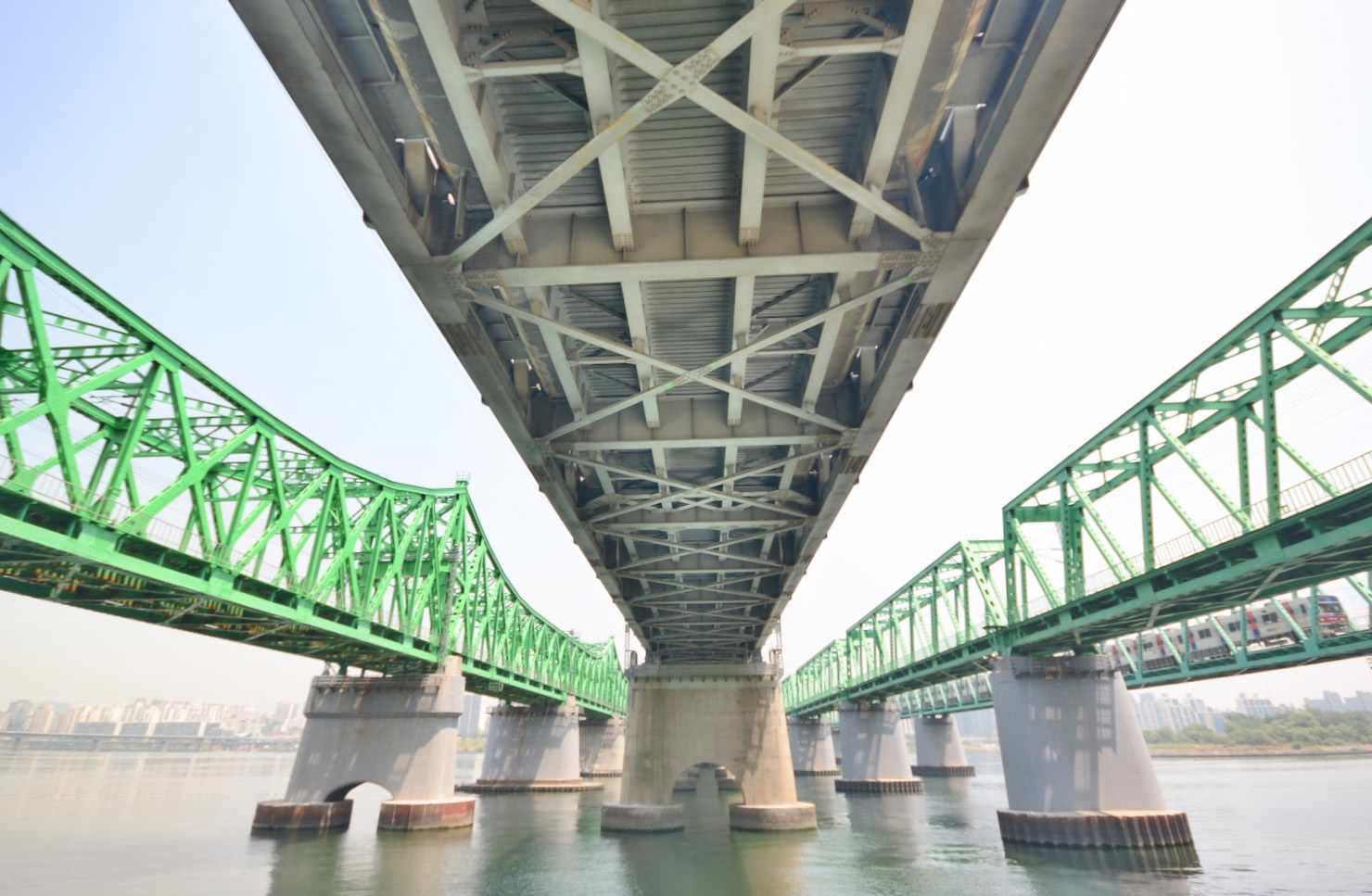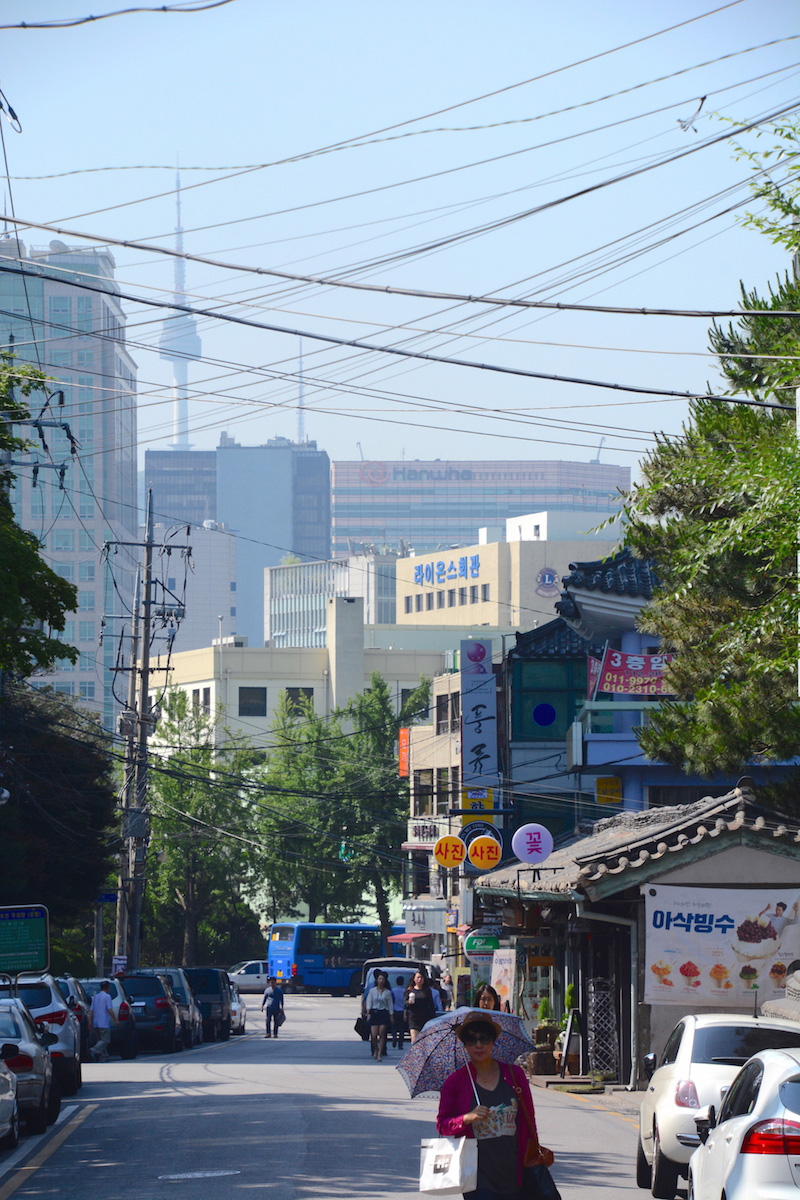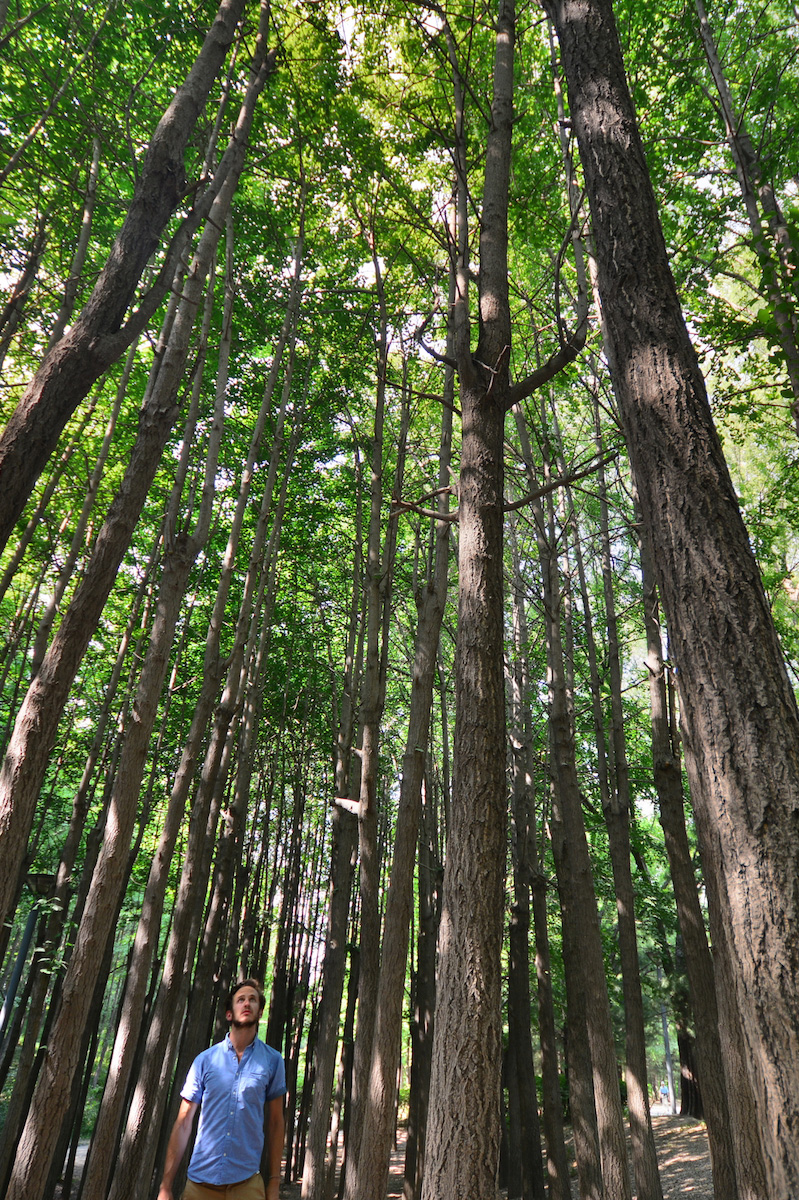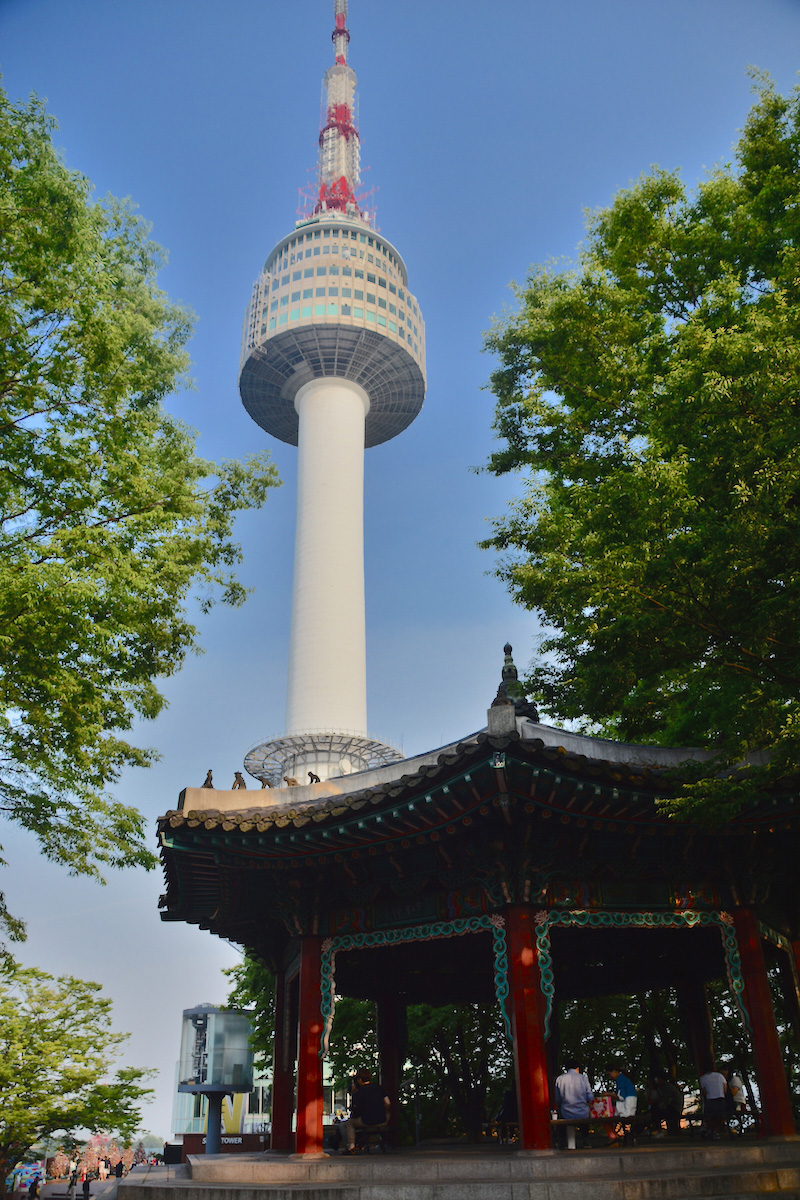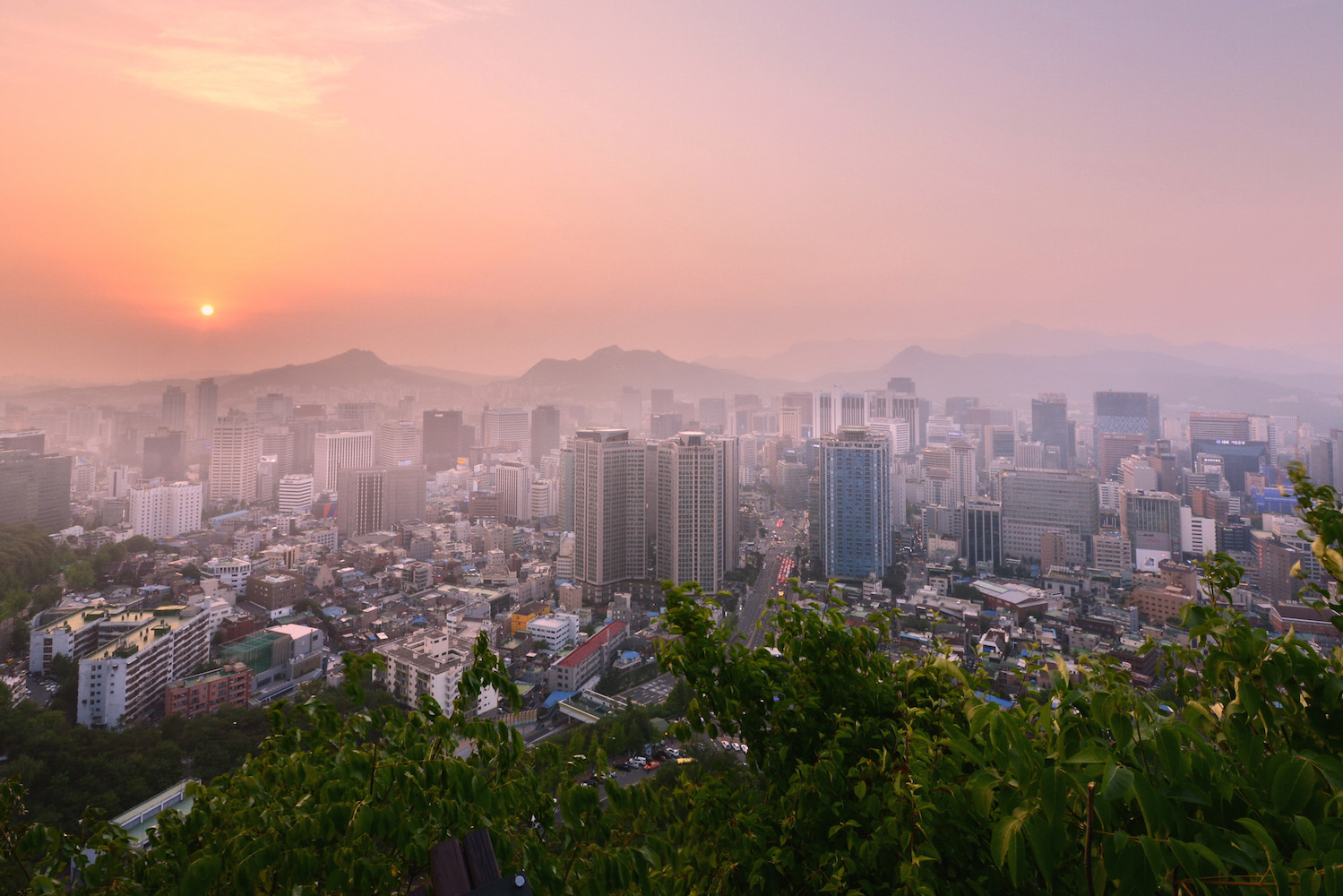 First, however, we're headed back up a mountain: Namsan Mountain, to specifically, home of Seoul's iconic N Seoul Tower. But rather than ride the cable car up to the tower's base (I mean, you could if you were feeling lazy!), take the metro to Hoehyeon station, then hike along (a different part of the) Seoul City Wall until you reach the top. Ideally you'll arrive just in time to enjoy a beautiful sunset over Seoul, which will take you to my next suggested destination right as night falls.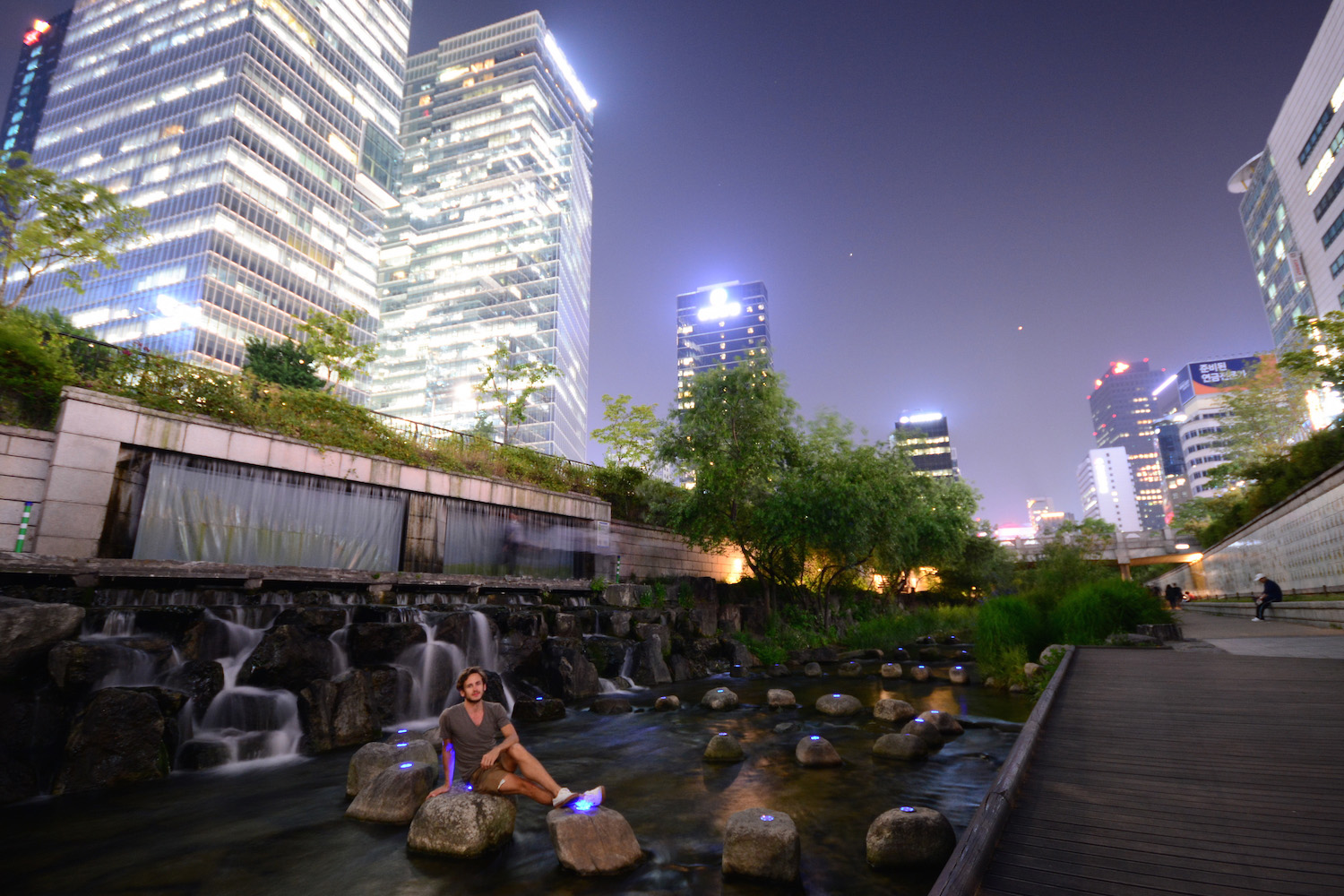 Back at valley/river level sits Cheyonggyecheon, a reconstituted stream that flows through Seoul's Jongno district, juxtaposing futuristic skyscrapers with an idyllic (if slightly artificial) stream. To get here, take the metro to Eujiro-3 Ga station, then walk back to the Bukchon Hanok Village or, depending on your energy, take the metro back to Anguk station and walk from there.
Day Three: Gangnam (et al) Style
Of all the places to explore in modern Seoul, Gangnam is by far the most famous,  but I would argue that it's not very exciting, especially considering how far it is, relatively speaking, from everything else there is to see in Seoul.
If you find time on your third night in Seoul, then by all means take a stroll through Gangnam, but if you want to stay closer to the action, you've got plenty of alternatives as well. The neon lights of Insadong, for example, evoke Tokyo's Shinjuku, whereas Itaewon is filled with foreigners and expats and has a decidedly international vibe and youthful Hongdae sits nearby a large university.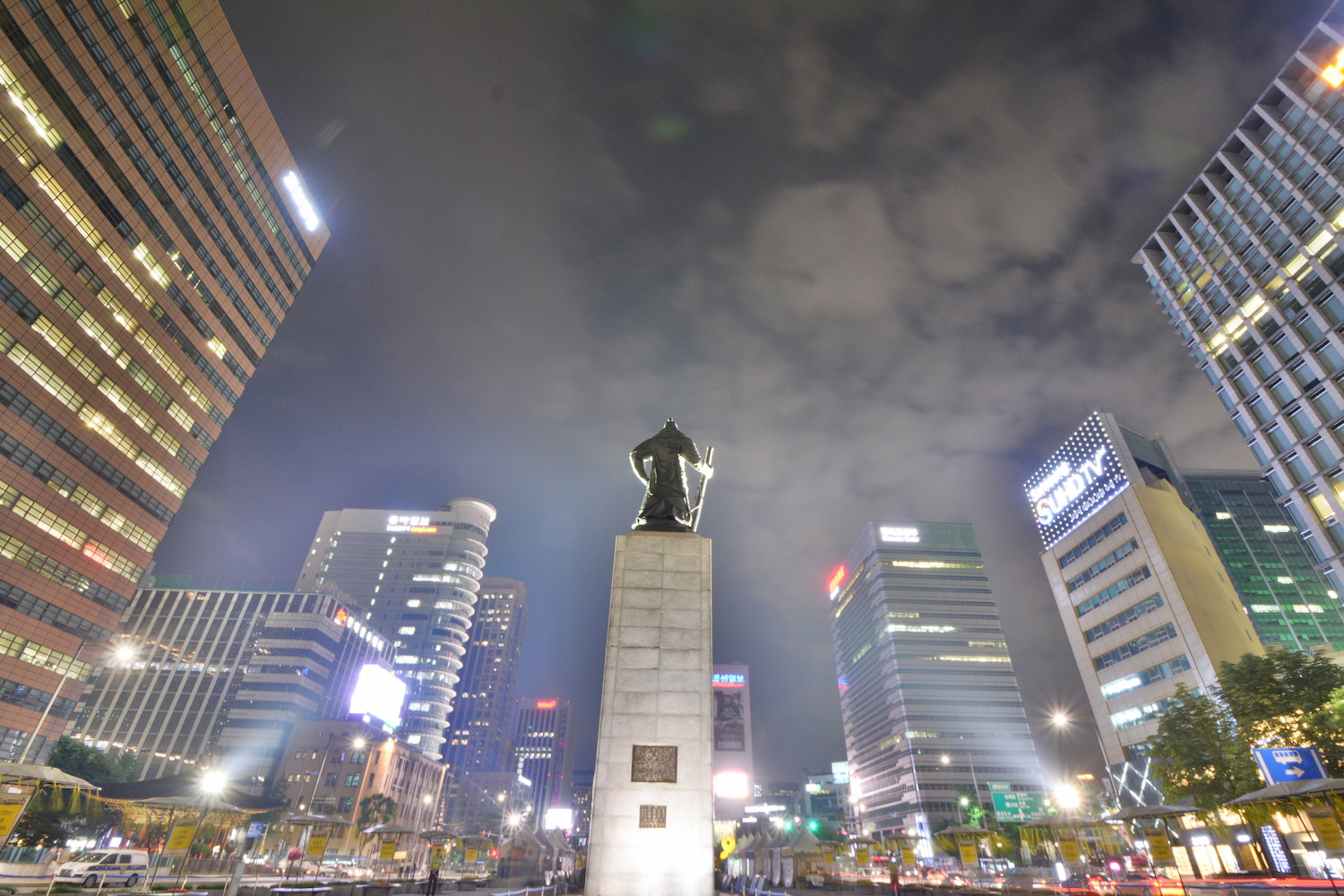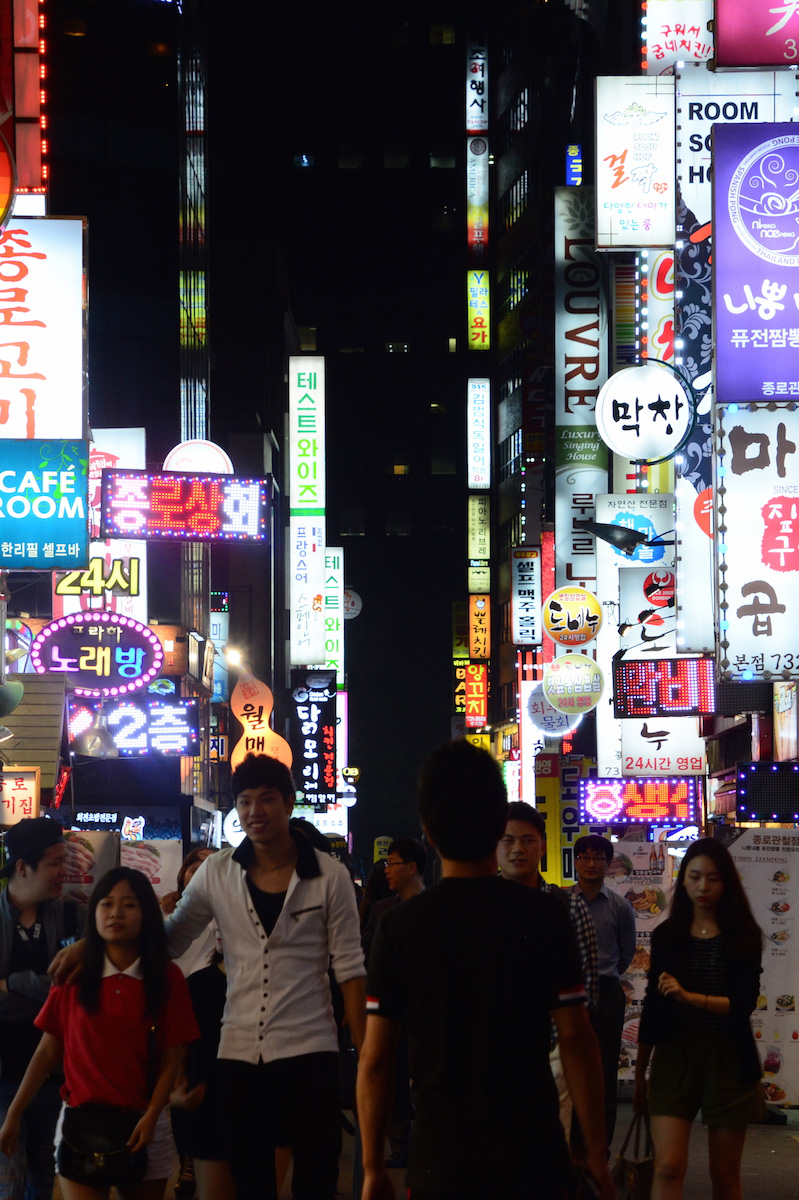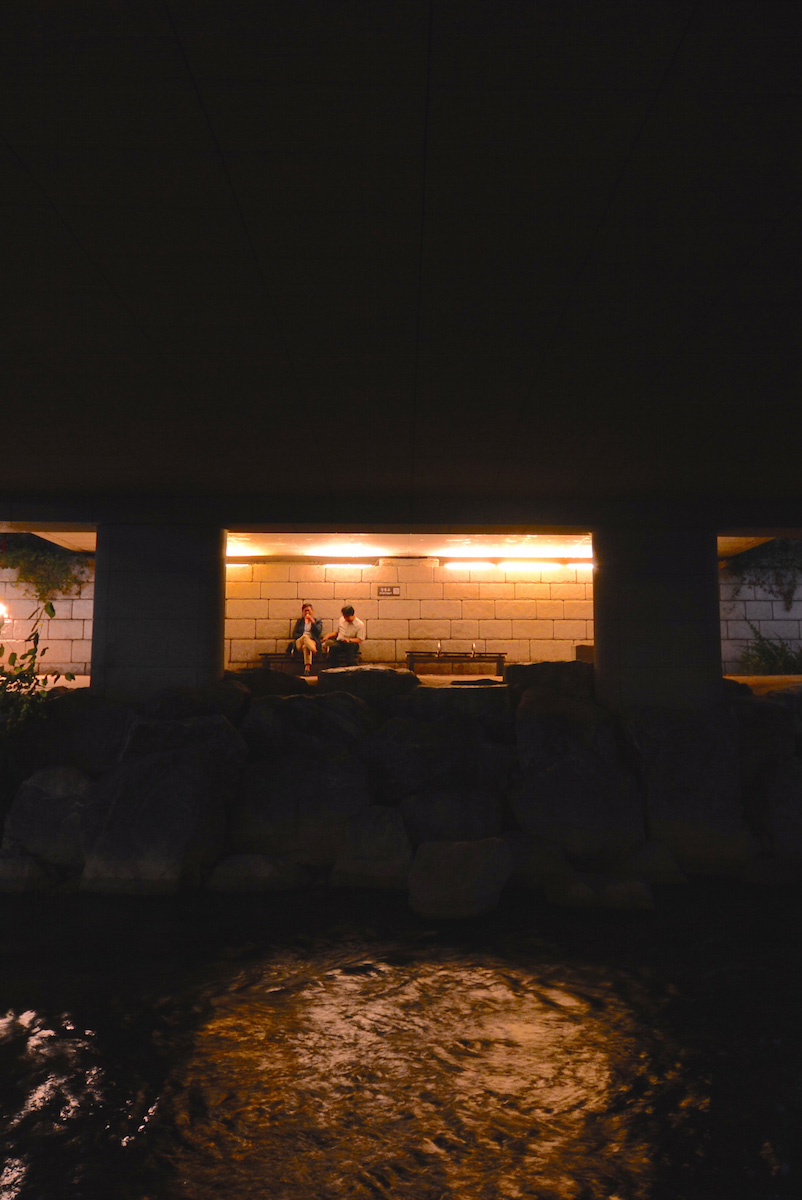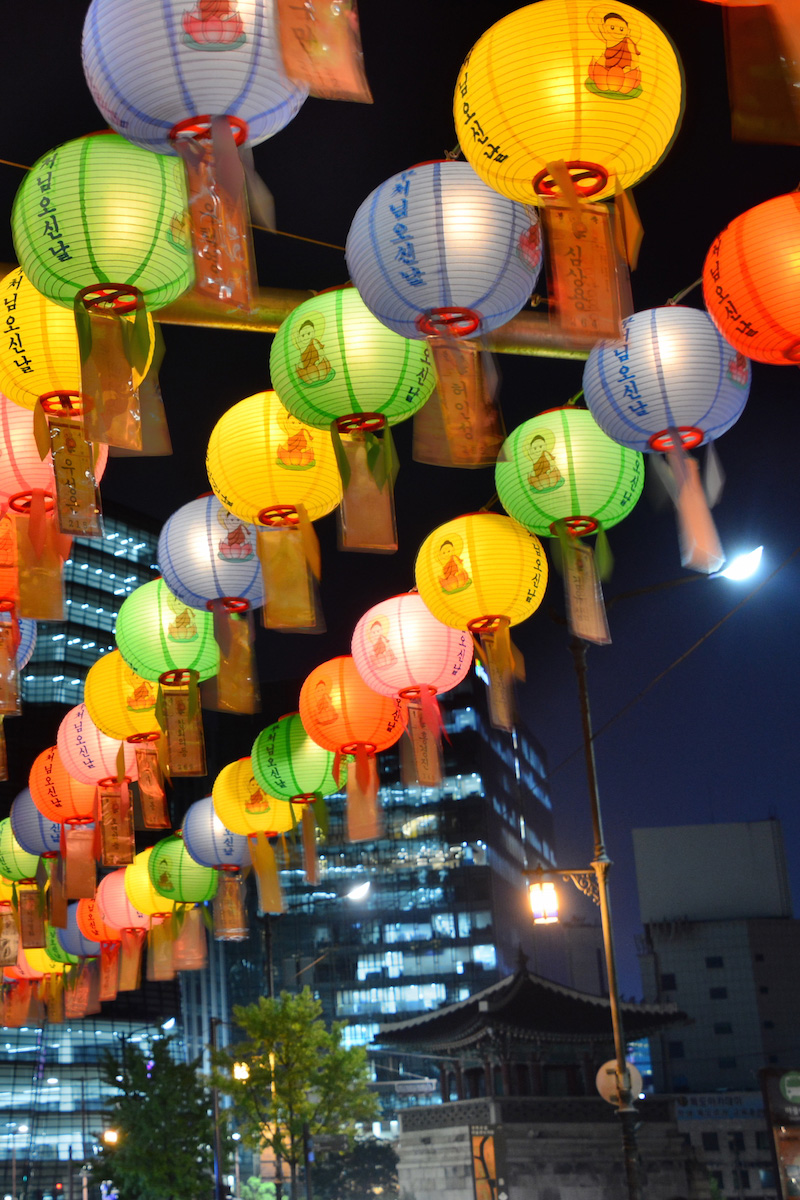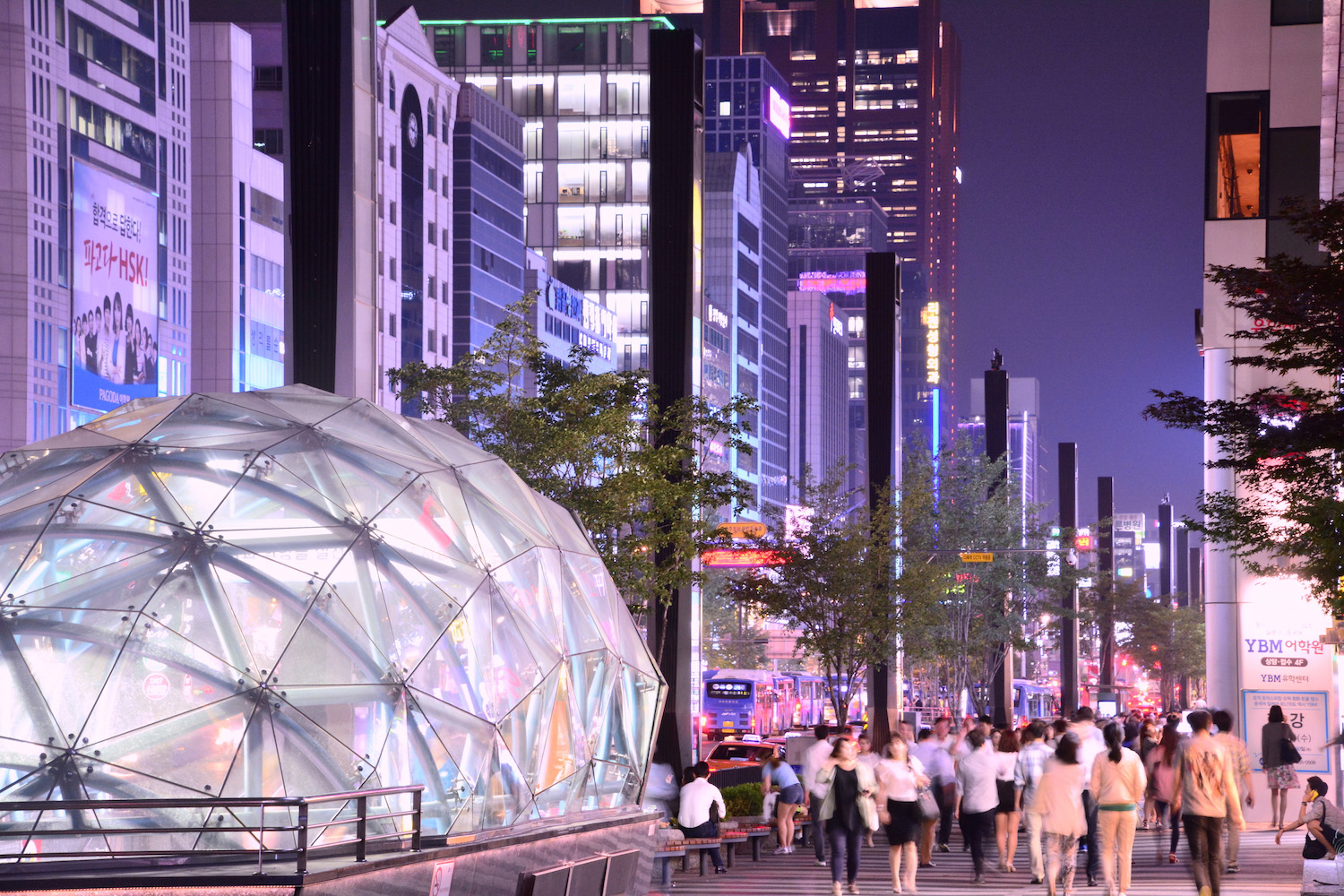 All of these areas are best explored at night, however, so you've got some options on how to spend the daytime of your last of three days in Seoul. You could take a day trip – the DMZ (de-militarized zone) with North Korea is a popular option, although I can't comment on it personally since it was closed when I visited, thanks to MERS. Or, you could explore anything you missed during the first two days.
(Because God knows there will be a lot!)
Share: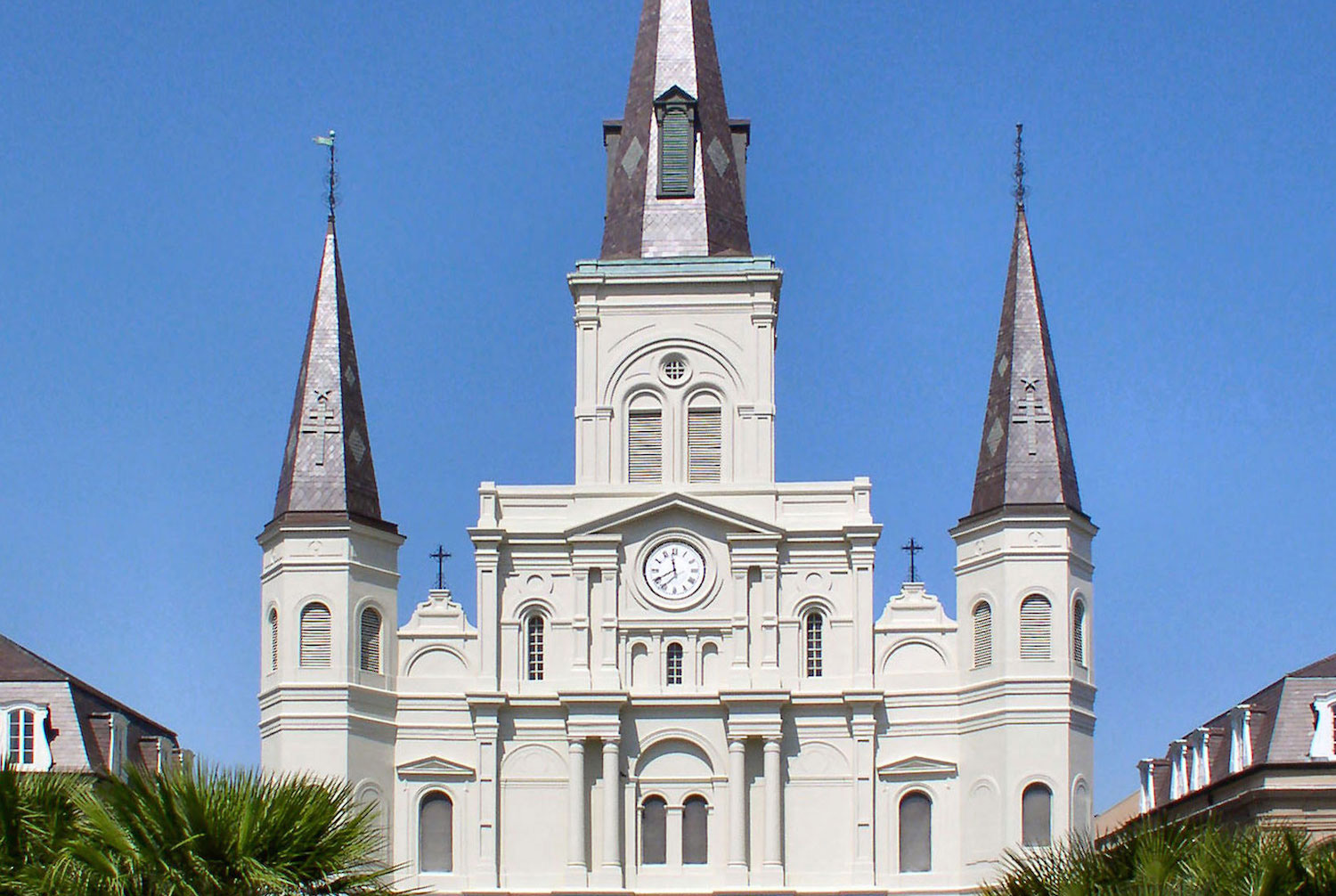 New Orleans is world-renowned for many reasons, from its abundant French-colonial architecture and Creole culture, to its legendary party scene, to its triumphant rebound after the tragedy of Hurricane Katrina. One fact about New Orleans many travelers don't consider is the fact that New Orleans is a great place to visit any day of the year, thanks to its mild, dry winters. Here are some ideas on how to best enjoy New Orleans in each season. Above photo credit: Image credit: Wikipedia.org/wiki/Roman_Catholic_Archdiocese_of_New_Orleans.
Winter Parties
On the surface, the idea of visiting New Orleans during the winter might seem strange, until you realize that New Orleans' most famous tourist draw occurs right in the middle of it – Mardi Gras draws hundreds of thousands of travelers to New Orleans every February.
Even if you're not a heavy drinker and aren't a fan of beads, however, you can still enjoy a trip to New Orleans before the leaves return to the trees. New Orleans' winter temperature hovers around a balmy 50ºF, while precipitation is low, so whether you're exploring spooky cemeteries or enjoying Christmas on the Gulf Coast, there's no reason not to visit New Orlenas during the winter season.
The Colors of Spring
New Orleans is quite literally blooming in spring, with fragrant magnolias and fluorescent azaleas lighting up street corners from the French Quarter to the shores of Lake Pontchartrain. Springtime in New Orleans is also a fruitful time to visit if you happen to be a fan of jazz, since that's when the annual New Orleans Jazz and Heritage Festival occurs – specifically, late April and early May.
Spring is also when the French Quarter Festival occurs, celebrating the same streets where Mardi Gras takes place months earlier, albeit in a more restrained fashion. Although parties do occur during this festival, it serves as a much better opportunity to appreciate the architectural heritage of the French quarter, owing to the lack of drunk spectators everywhere.
On Labor Day Weekend, when the annual Southern Decadance occurs. Even if you don't attend the festival, which is one of the largest alternative lifestyle parties of the year, you can expect the city to be pricier and busier during this period.
Autumn Escapes
One thing that surprises many travelers about New Orleans is that it does enjoy some fall colors, in spite of its low latitude – the city's cypress trees burn a brilliant orange, to say nothing of the delightfully crispy air you enjoy during the months of October and November.
Another reason to visit New Orleans during autumn is that the city's spookier quarters – namely, its cemeteries – lend themselves to Halloween celebrations, something that's especially true for the aptly-named Voodoo Music Experience.
Share: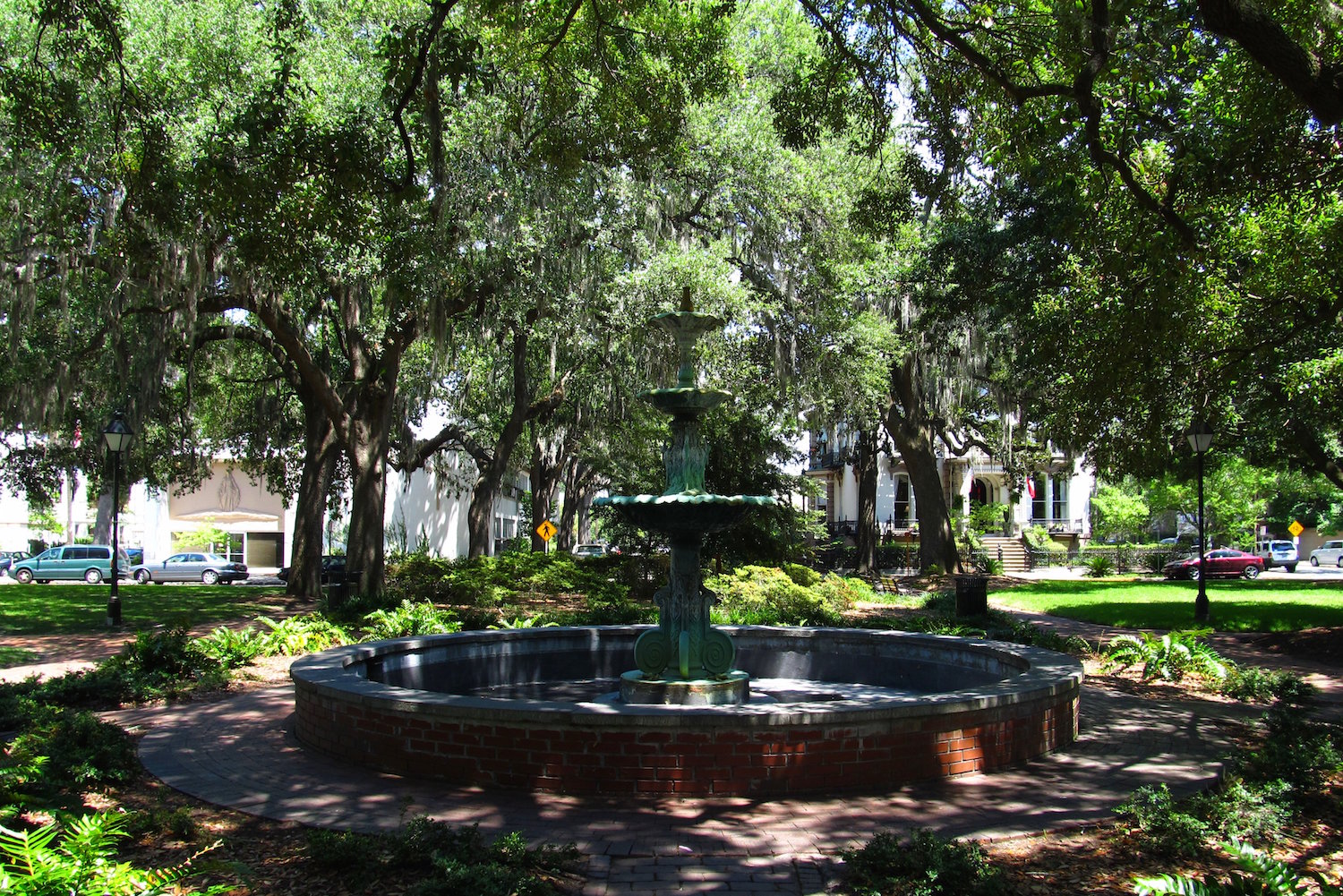 Savannah has long been on the map for travelers, because of its rich Southern heritage, haunting Spanish moss and, well, its haunting in general. But one thing you might not realize is that the city has also become a hub for events. From MICE (meetings, incentives groups, conventions and exhibitions), to film festivals, to showcases of the city's exquisite homes, Savannah is arguably as much an event destination as it is a tourist one. Whether you come to Savannah to attend them, or plan your ordinary vacation around them to avoid high prices, here are Savannah's most exclusive events.
Savannah Film Festival
The Savannah Film Festival occurs during the last week of October each year, when the heat of summer begins to cool, the sunsets begin to come earlier, and the city's iconic Spanish moss begins to blow a bit more dramatically in the ever-so-stronger wind.
A production of Savannah College of Art and Design, the Savannah Film Festival draws celebrities — and thousands of tourists – to the city, which means prices can skyrocket during this time. If you're not in town to enjoy the festival, whether as a spectator or a participant, you might want to avoid Savannah during this time, as you'll have to deal with huge crowds upon arrival.
Savannah's Homes & Gardens
Like the Savannah Film Festival, the Savannah Tour of Homes & Gardens are outside Savannah's scorching summer, but on the opposite site of it – during the last week of March and into the first week of April, when the azaleas are blooming and when the only thing more present in the city than the scent of flowers is the color green. A ticket to the tour of homes and gardens affords you an intimate look at some of Savannah's most celebrated properties, from historical homes that reflect the pre-Civil War Antebellum style, to marvels of a more modern sort.
Savannah LGBT Pride
Savannah prides itself on welcoming travelers from all walks of life, which is why the popularity of its annual pride festival for the lesbian, gay, bisexual and transgender (LGBT) community should come as no surprise. Occurring in September, a few months later than the official pride month of June (and the larger festival in nearby Atlanta), Savannah Pride takes place in Forsyth Park, one of the city's most celebrated green spaces, within walking distance of its most stunning attractions.
Rock 'N' Roll Marathon
Savannah invites you to relax, from its tranquil natural scenery, to its down-home Southern cooking, to nearby Tybee Island, one of the most idyllic spots on the Georgia Coast. If you have a fitness mindset, however, don't think Savannah is off limits to you. Every year, the city hosts a "Rock 'N' Roll Marathon," which draws runners from all over the country, from professionals to enthusiasts to amateurs.
Savannah's Rock 'N' Roll Marathon occurs each year in November, and mercifully so: If there's one aspect of Savannah no passion for exercise can overcome, it's the city's oppressive summer heat and humidity.
Share: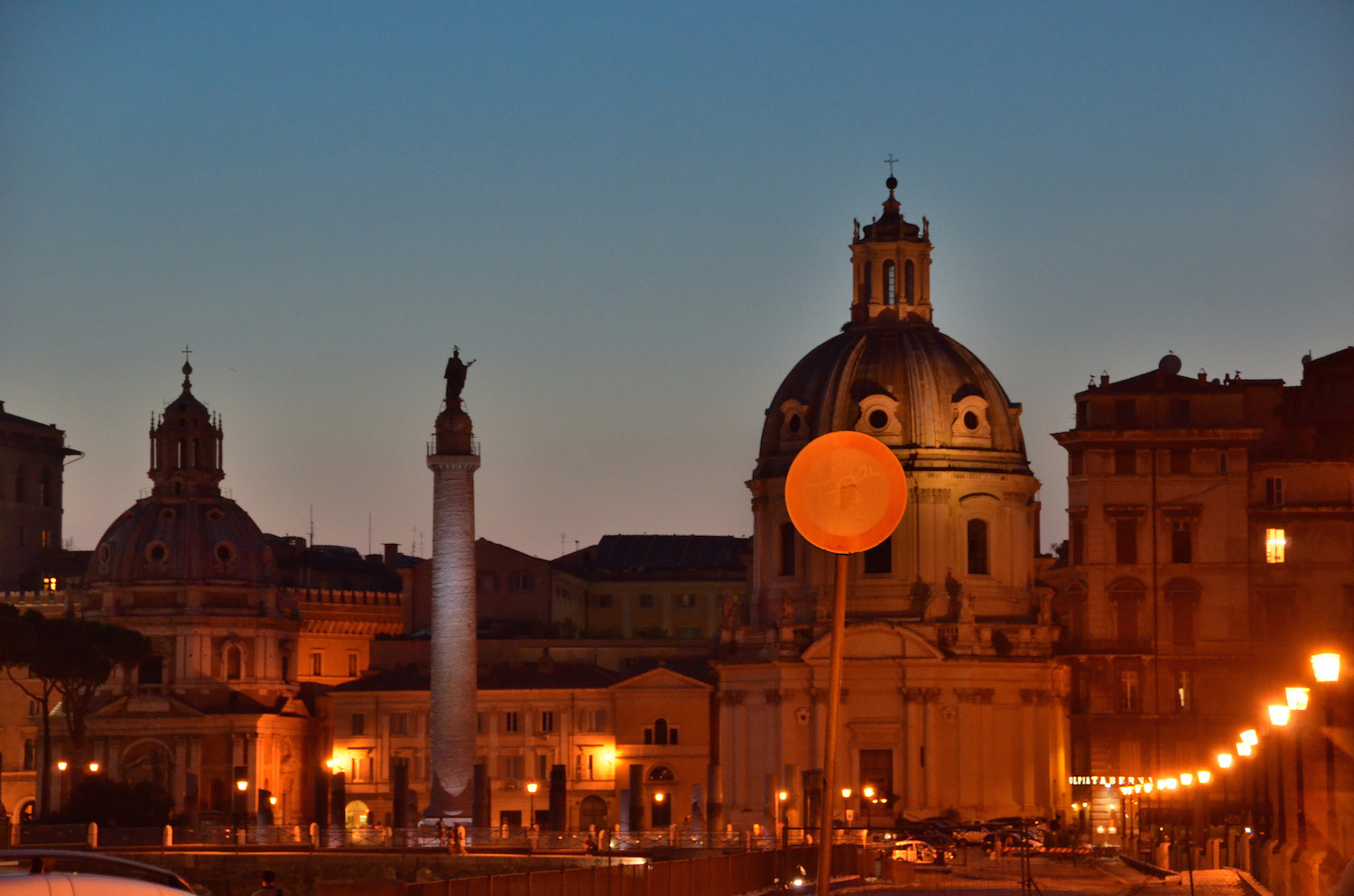 Rome is not only the Eternal City, but a city of infinite opportunities for exploration. While you can experience the highlights with just three days in Rome, the fact is that you could spend three weeks, three months or even three lifetimes in the city and still not fully grasp the three (plus!) millennia of civilized society that have blossomed here. Rome's periphery also offers a wealth of destinations to discover, and since attempting to see everything within Rome's city limits would ultimately be in vain, you might as well set your sights slightly outside them.
Ostia Antica – The Ancient Port
Rome is about as landlocked as you can get, the Tiber river that divides the city notwithstanding, which is why it might sound strange that a port would be one of the best day trips from Rome. Indeed, Ostia Antica dates back to the time of the ancient Romans, so the idea of Rome as a port city is certainly alien to anyone alive today. In addition to the ancient ruins and mosaics you find at Ostia Antica, the port offers you a chance to catch a fresh Mediterranean sea breeze – a welcome respite from Rome's red-hot summer days.
The Medieval Villages of Sabine Hills
The most stunning heritage in the heart of Rome relates to the Roman Empire, and while the city has buildings and cultural icons that represent every part of its history, it's ultimately best to head out of the city to appreciate medieval Rome – specifically, to the Sabine Hills, located around 90 minutes due east of Rome by bus or private car.
As you stroll along cobbled streets, with castles from the 9th and 10th century towering over you, you'll feel transported back in time, perhaps even moreso than in the city.
Renaissance Gardens in Tivoli
If the Sabine Hills are the perfect place to take in the ambiance of Medieval Rome, then you'll want to head closer into the city, specifically to the village of Tivoli, to appreciate the Renaissance, in the form of  dramatic flowers, trees and waterfalls at Villa d'Este. Even here, however, you get to appreciate the splendor of ancient Rome, as you traipse through the corridors of Hadrian's Villa, the residence of the Roman emperor of the same name.
A Beach Day in Sperlonga
Just as the idea of a port seems strange on a hot day in Rome, so too does the thought of relaxing on the beach. When you head to the coastal town of Sperlonga, however, that's exactly what the task of the day is. Of course, if you're not feeling like a beach bum, there's plenty to explore in Sperlonga, whose geography evokes Cinque Terre in Italy's northwest, and which is home to some seaside Roman ruins.
No matter which of these day trips you take from Rome, you'll find your time in the Eternal City enhanced, even if it means you have less chances to explore the trodden paths of central Rome.
Share: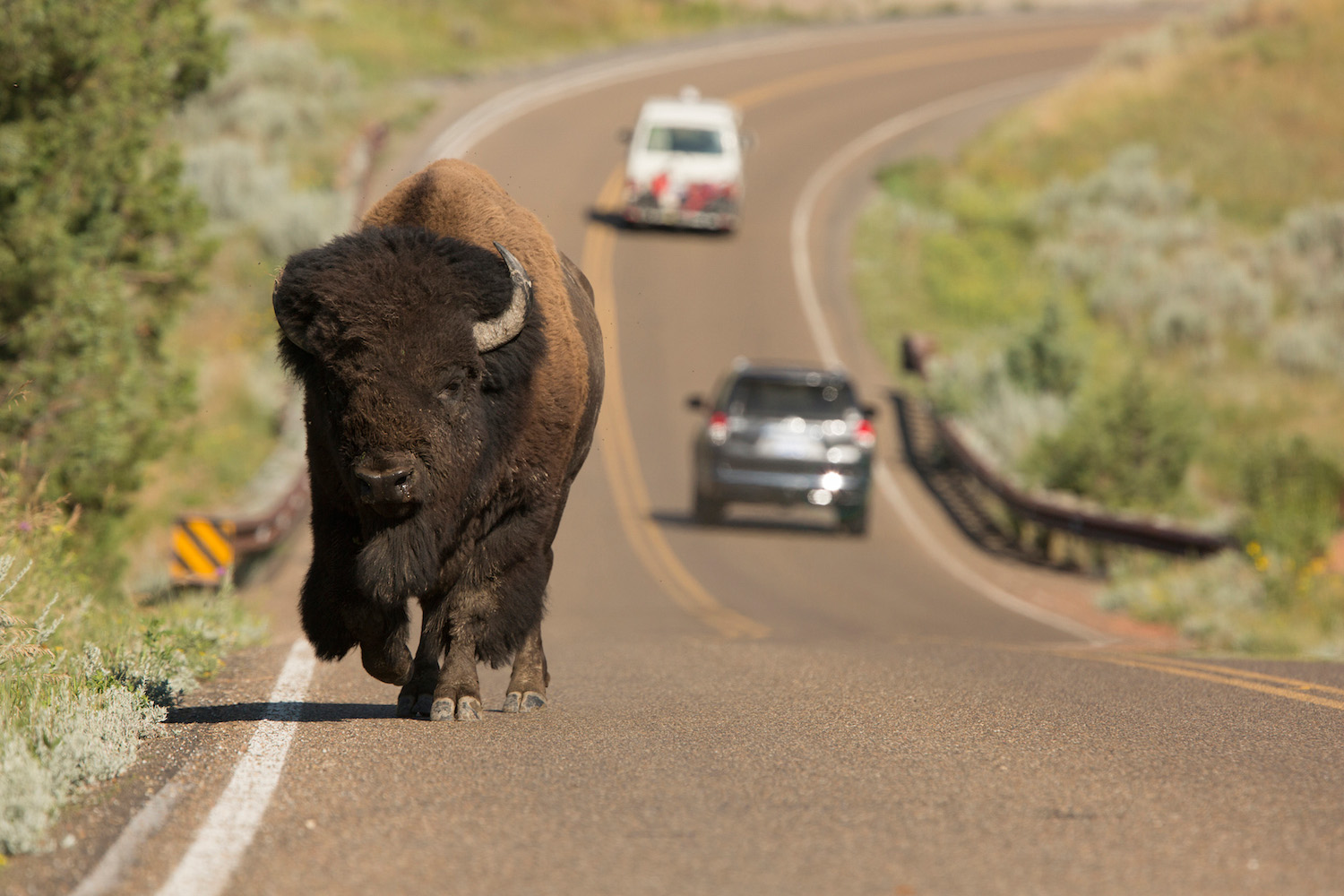 I was chatting with my friend Sergio on Facebook a few weeks ago, when I noticed his location. Sent from Fargo, North Dakota.
"Why on Earth are you in Fargo?" I asked. Sergio was visiting the U.S. from Mexico – North Dakota seemed like a strange choice.
"There's a conference here," he replied, "but this is actually my second time to Fargo. There's such a great vibe here and such amazing people. I would've come back again anyway, even if this conference hadn't happened."
Sergio and I chatted until another one of his conference sessions began, at which point I took to the Internet to research exactly why he loved Fargo so much – and what else might await me if I ever get to North Dakota.
I think you'll be as surprised by what I found as I was.
1. Fargo is one of the most exciting small cities in the country
The Conference notwithstanding, Fargo is quickly gaining a reputation as a hub for creatives, entrepreneurs and high-tech types, whom you can find chatting in its coffee shops, biking along its charming streets and shopping in its quirky boutiques.
2. North Dakota is a center of Native American culture
Fargo is becoming emblematic of 21st-century America, but North Dakota is also where you'll find the original America. Whether you visit the reconstructed Hidatsa "earth lodge" at Knife River Indian Villages, or marvel at the native-inspired at Plains Art Museum, it doesn't get more American than North Dakota, no matter how you define the term.
3. The state's economy is exploding
It's no secret that North Dakota has benefitted disproportionately from the American shale boom, but did you know that that's just one of the many industries that state leads in? North Dakota is one of only six domestic test sites for Unmanned Aircraft Systems technology, for instance, and has played an active part in driving that technology's growth.
4. But it's mostly uninhabited
By humans, anyway. North Dakota is home to just 740,000 people, or slightly less than Charlotte, North Carolina, but has an area of more than 70,000 square miles, much of which is just waiting for you to camp on it.
5. Which means that landscapes like this: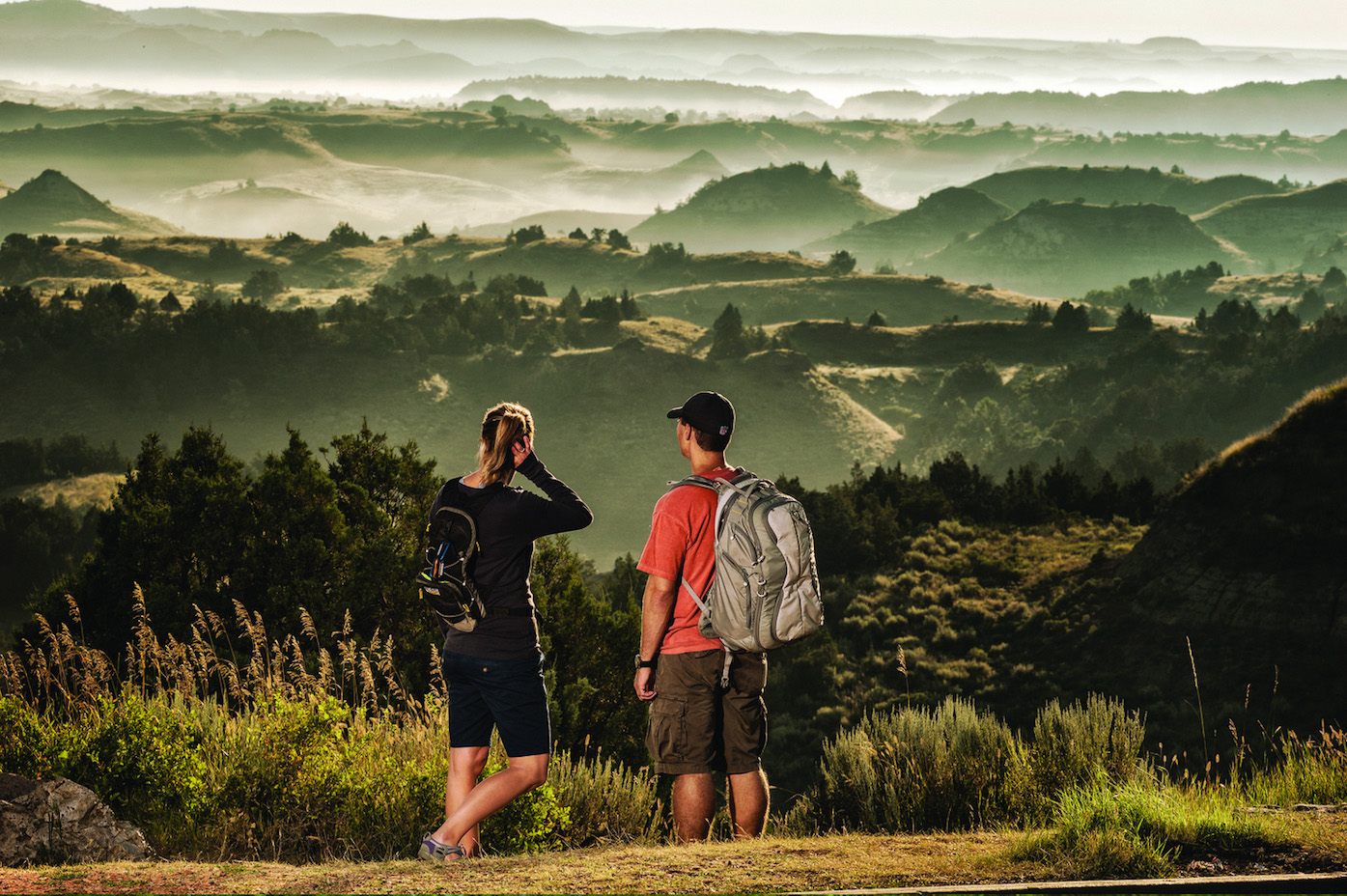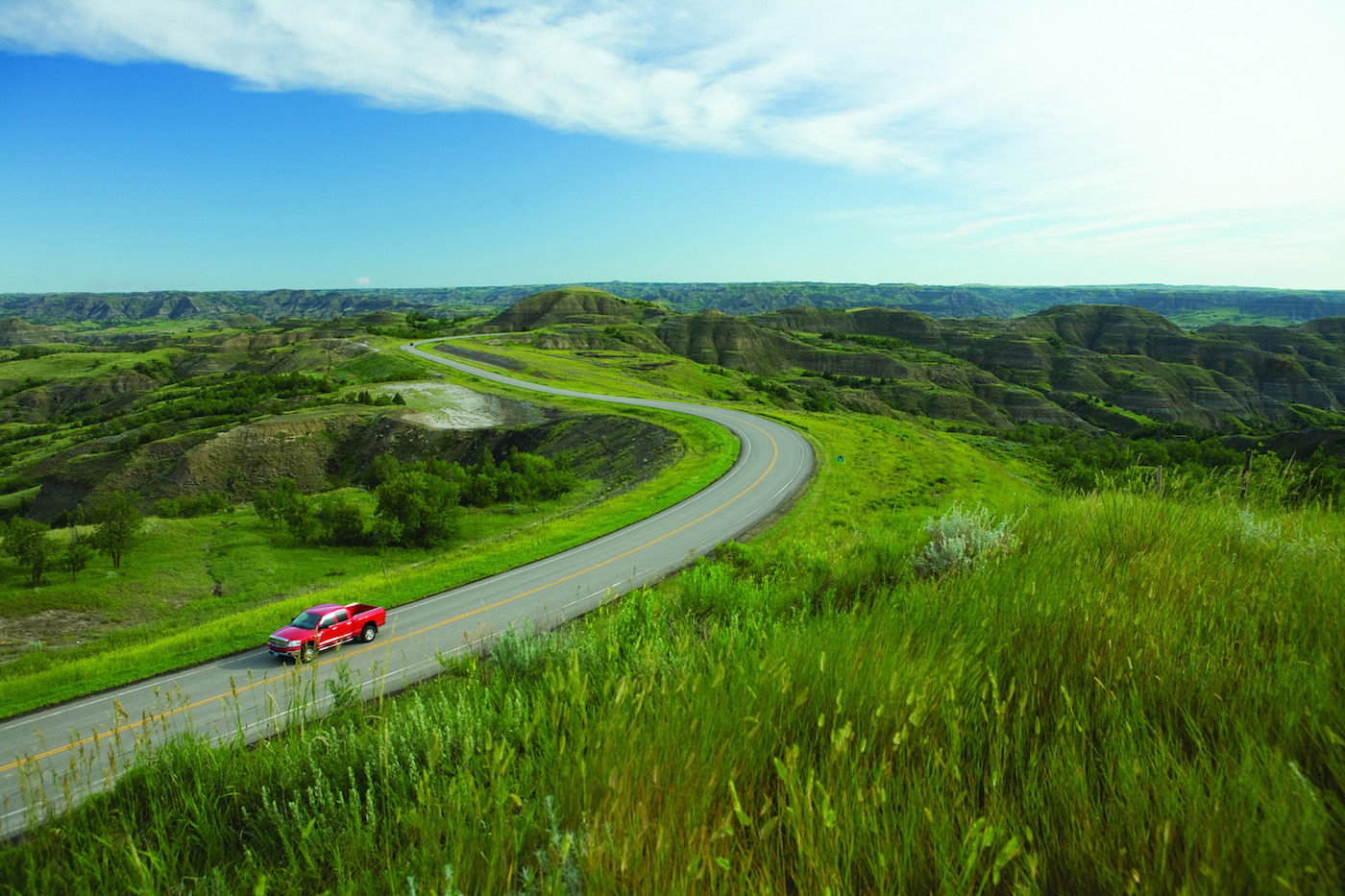 Theodore Roosevelt National Park
6. And this: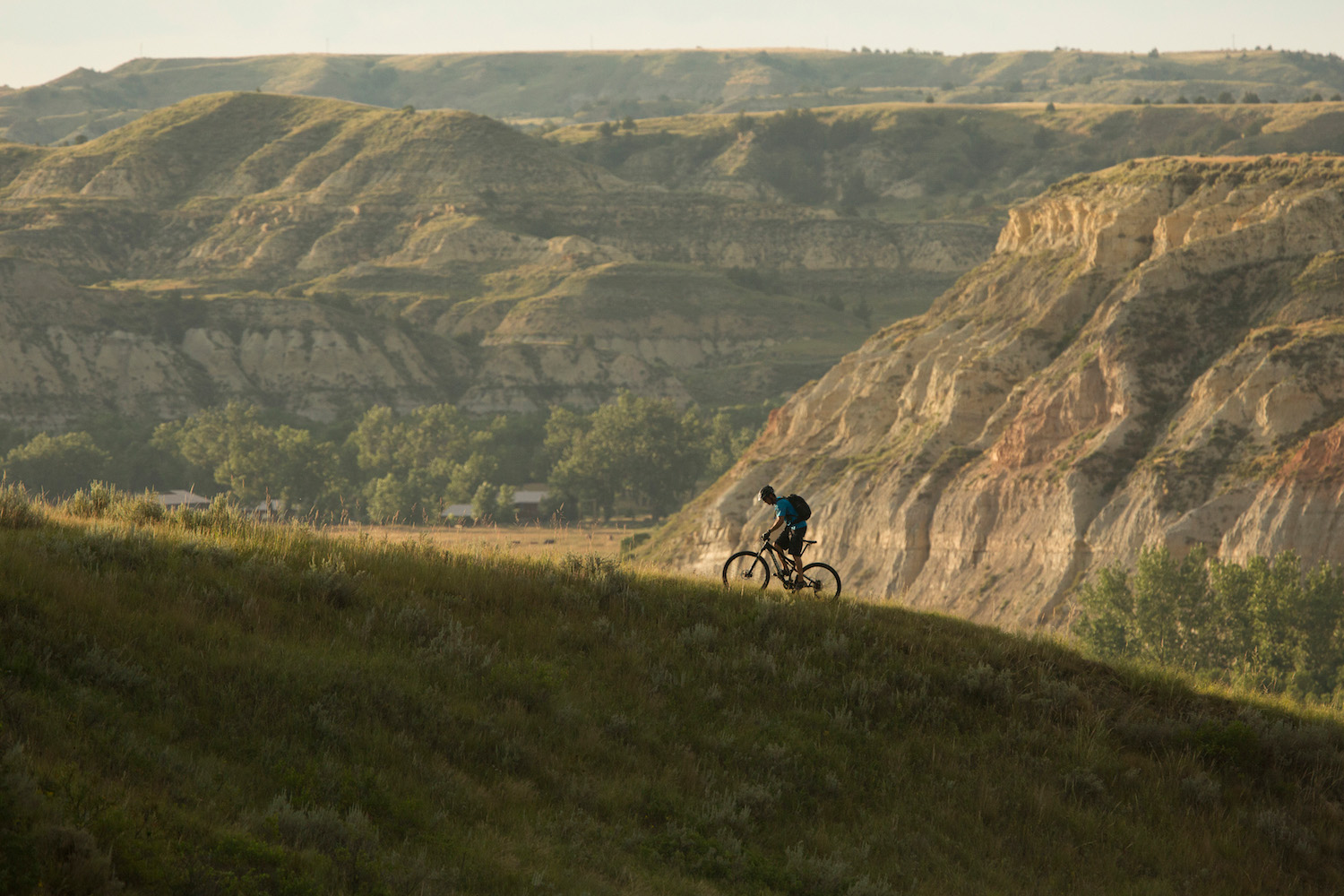 Mountain Biking – literally!
7. Are everywhere. So are the Northern Lights: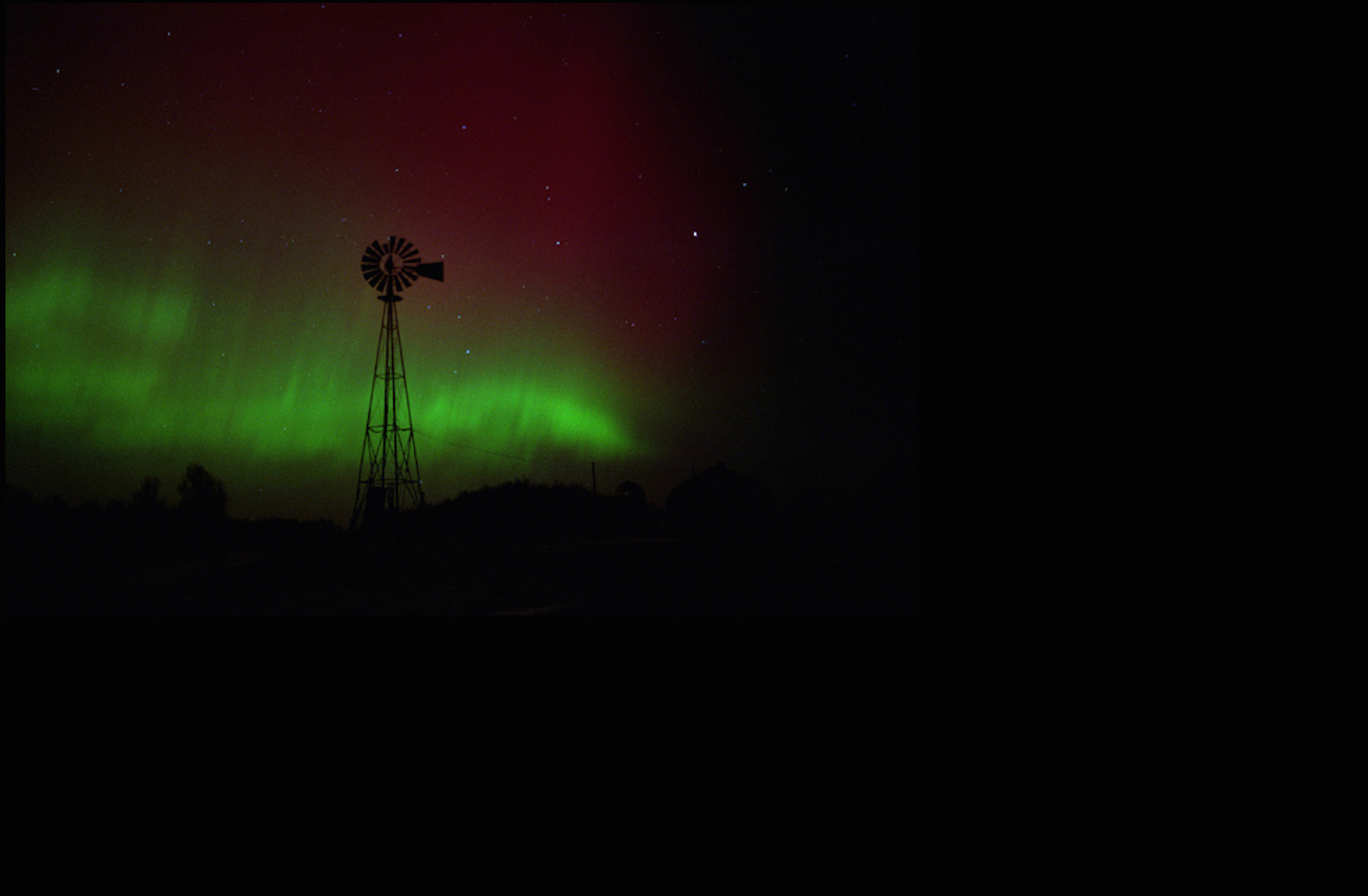 Northern Lights
8. Cowboys, too
My home stay of Texas has a reputation as being the cowboy capital of the U.S., but North Dakota is not far behind. Visit the North Dakota Cowboy Hall of Fame, for example, to get an inside look into the lives of North Dakota's cowboys, from ranchers to rodeo riders.
9. It's like the real-life Oregon Trail
You won't die of dysentery traveling in modern-day North Dakota, but you can still feel like you're in the Oregon Trail computer game at Bonanzaville USA, which aims to re-create life as it existed during the time of the settlers, complete with a log cabin, general store and even a saloon. Yee haw!
10. Which means that it's waiting for you to discover it
North Dakota isn't on the radar for many travelers yet, but that's bound to change soon. Get yourself to North Dakota now, before everyone else does!
All images used with permission of the North Dakota Tourism Division who sponsored this post.
Share: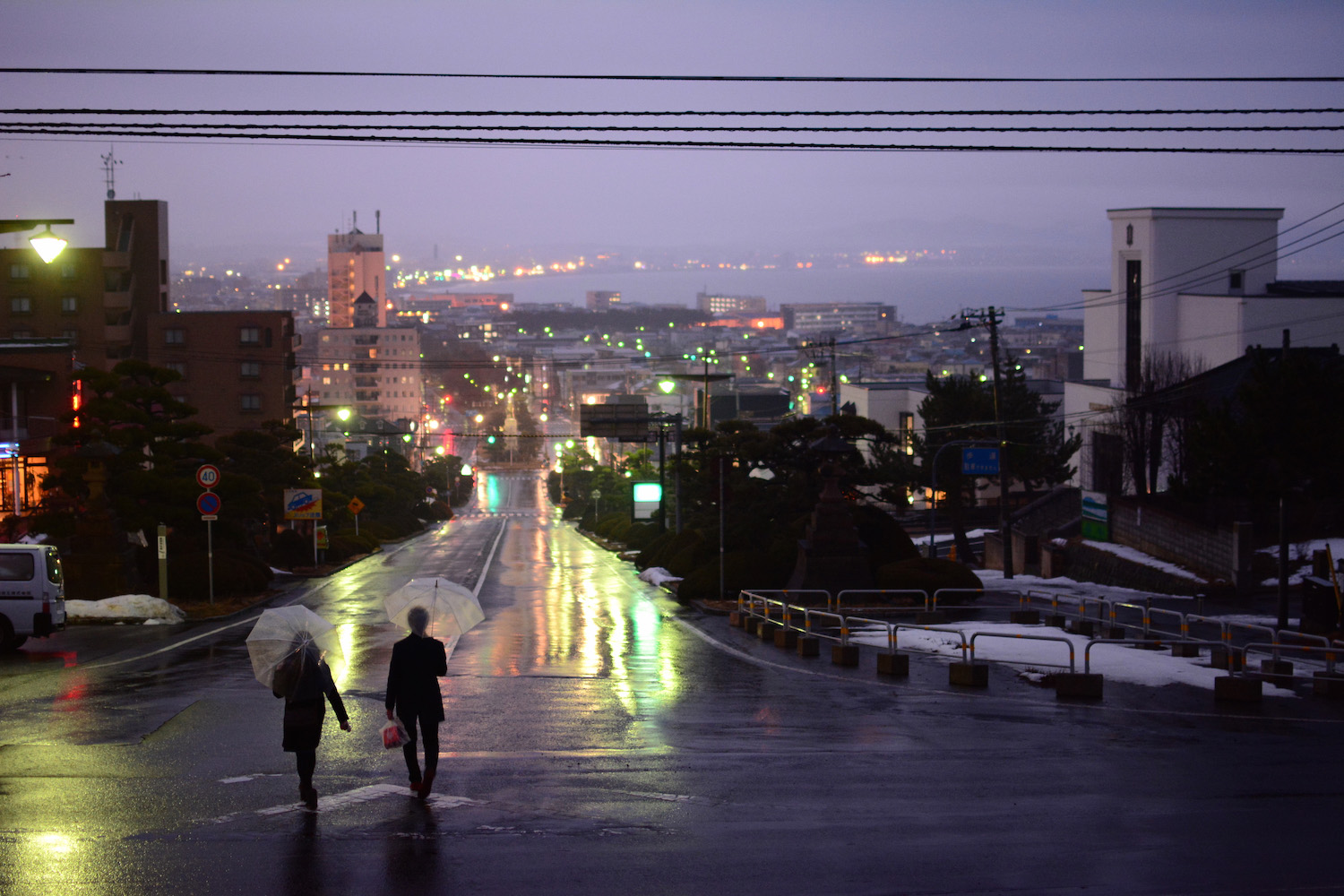 Earlier this year I visited Hokkaido, Japan's northernmost island. Poorly curated (by the Hokkaido Tourism Board, no less) and marred by the general travel fatigue I was experiencing at the time, my trip was an incredible disappointment, with one major exception: The city of Hakodate.
On the surface, Hakodate is less than impressive. A city of around 300,000 clustered on an isthmus along the coast of southwestern Hokkaido, Hakodate is easy to miss on most maps of Japan; thanks to Hokkaido's less than modern rail infrastructure, Hakodate is around four hours by train from Sapporo and New Chitose Airport, which will more than likely be your entry point into Hokkaido.
But what Hakodate lacks in conspicuousness and convenience, it more than makes up for in character and charm. Below are just a few reasons why you should visit Hakodate on your next trip to Japan.
Hakodate Morning Market
If you like exploring markets, love eating seafood and don't mind getting up at the crack of dawn, Hakodate's Morning Market is going to be an instant favorite. Located along the city's western seaboard just a few minutes' walk from Hakodate station, it's an easy walk from anywhere in the city, even in the dead of winter (which is when I visited).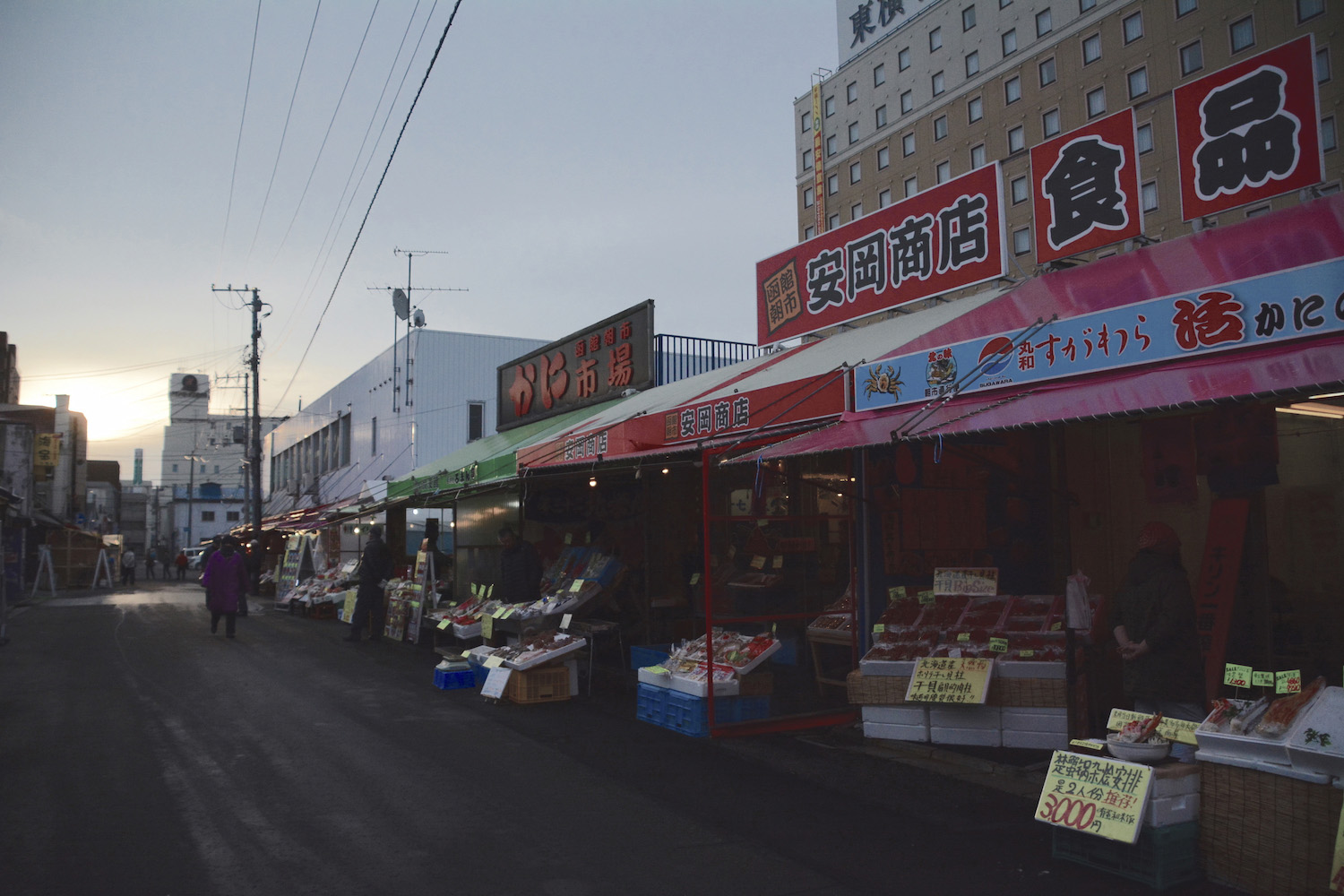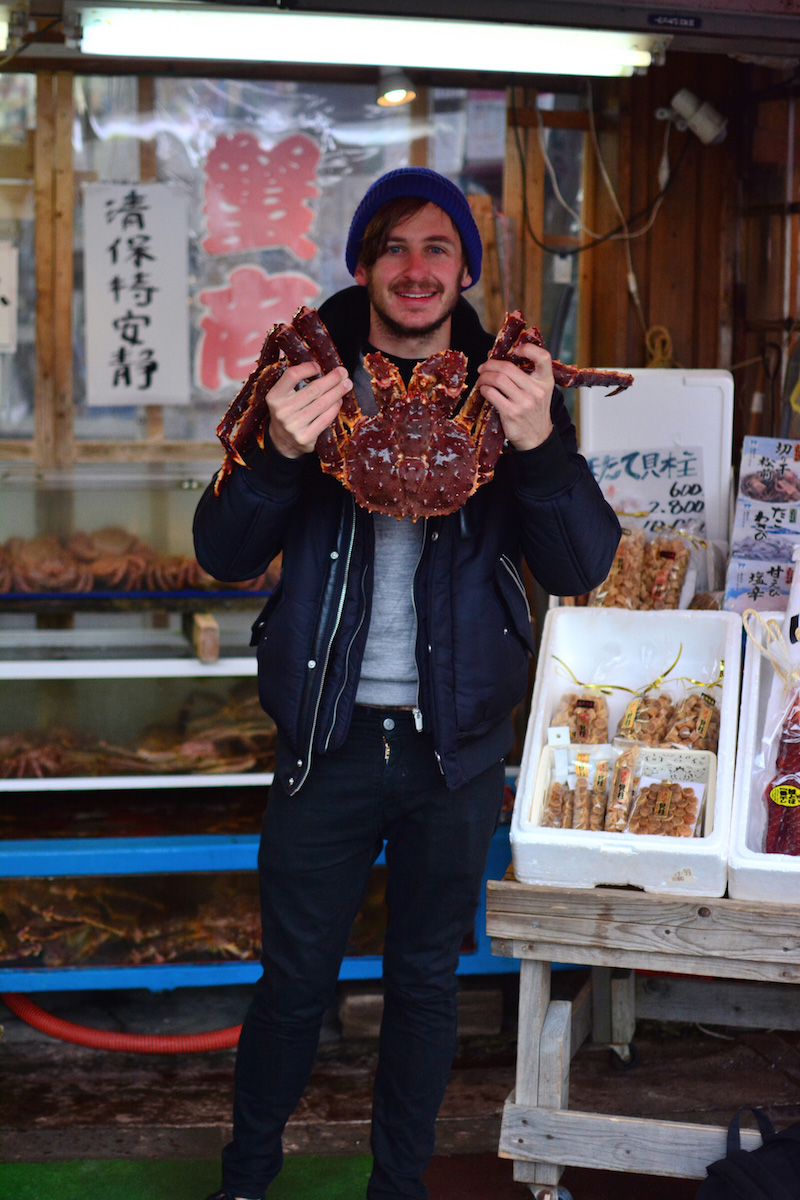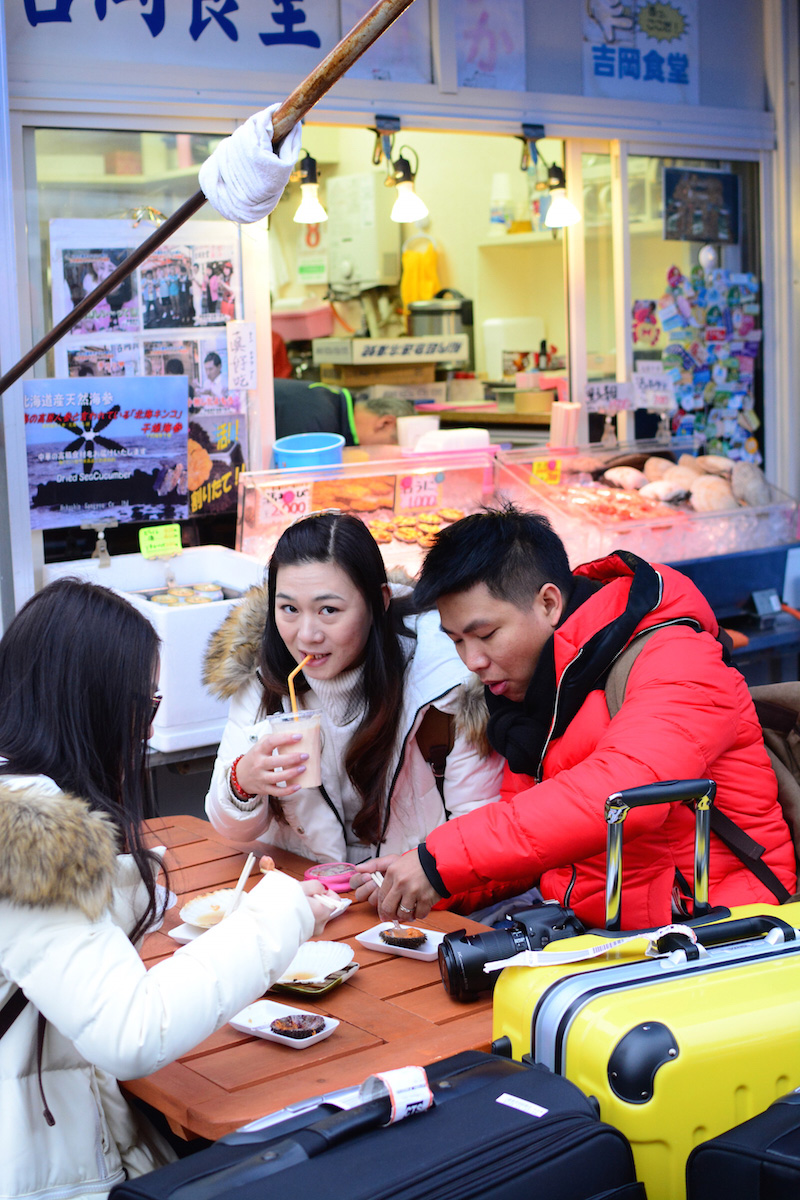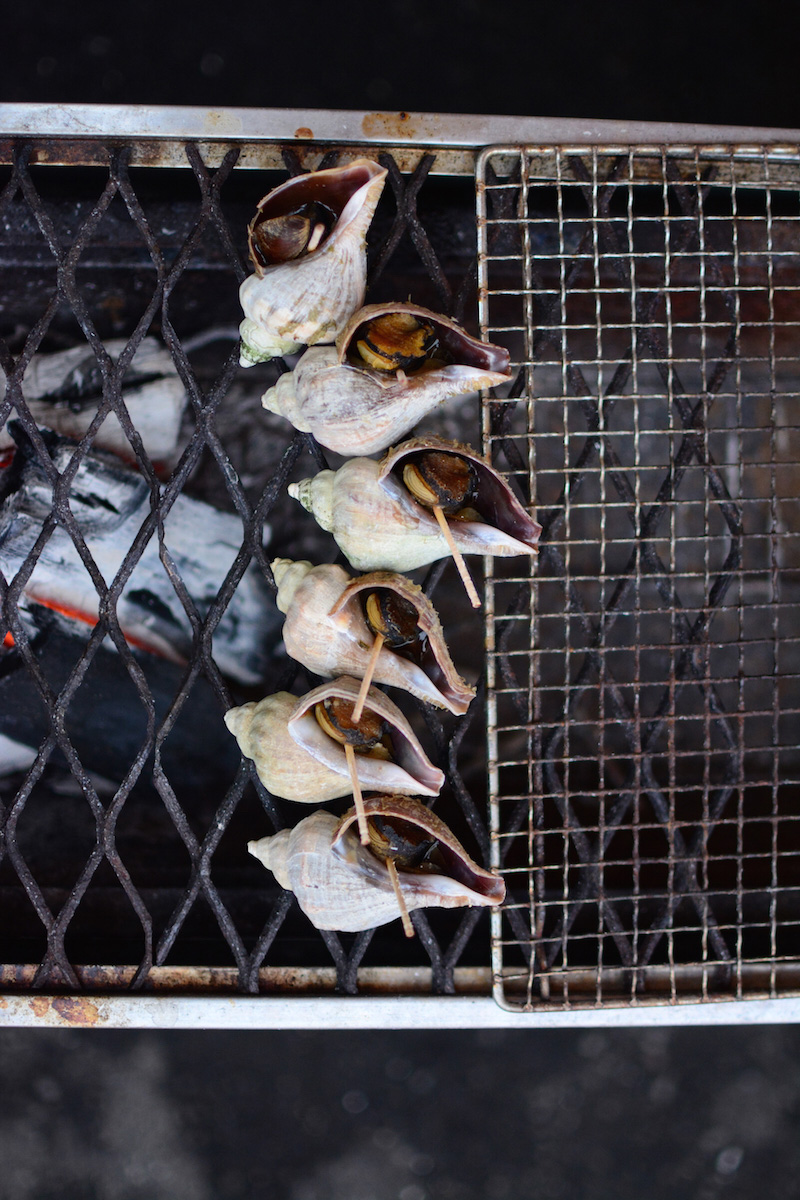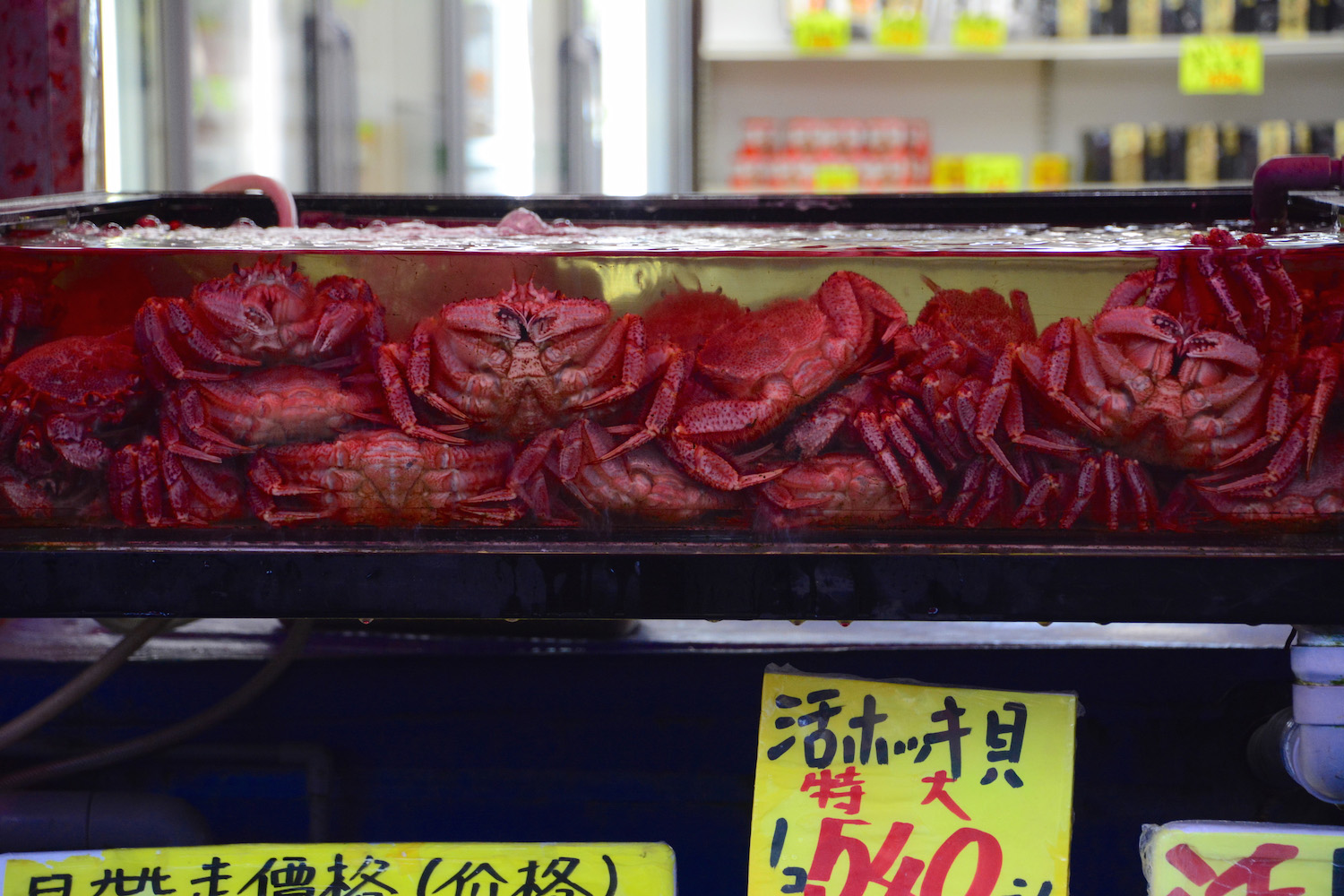 Don't go too hungry, however. With dozens of stalls, hundreds of different types of fish and crabs as big as your head, Hakodate Morning Market is as much a feast for your camera as it is for your belly. Basically every shop owner will try to get you to eat at his or her stall,  but if you want to enjoy a real Hakodate breakfast, ask if they have Odori-Don, or "dancing squid."
Hakodate's Unique Geography
Hakodate Morning Market is open until noon, so why did I say you need to be up at the crack of dawn for it? Simple: You need to experience a Hakodate sunrise, which is possible 365 days per year thanks to the city's unique geography.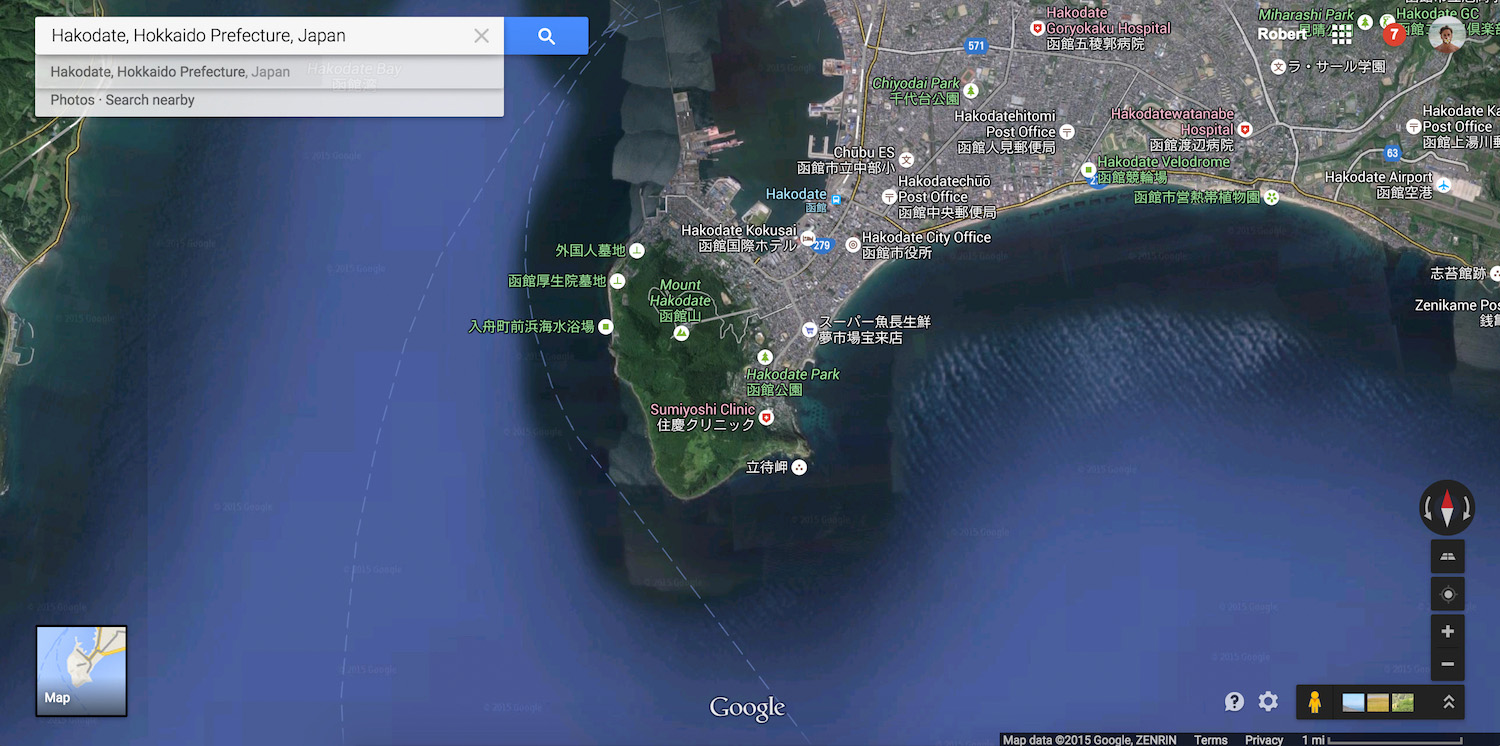 As I mentioned in the introduction to this piece, Hakodate is situated on an isthmus that juts off the coast of Hokkaido – an extremely narrow isthmus, to the tune of a dozen of so city blocks at its most narrow point. This enables you to enjoy both sunrise and sunset from a coastal perspective, to say nothing of having two separate oceanfronts to marvel at.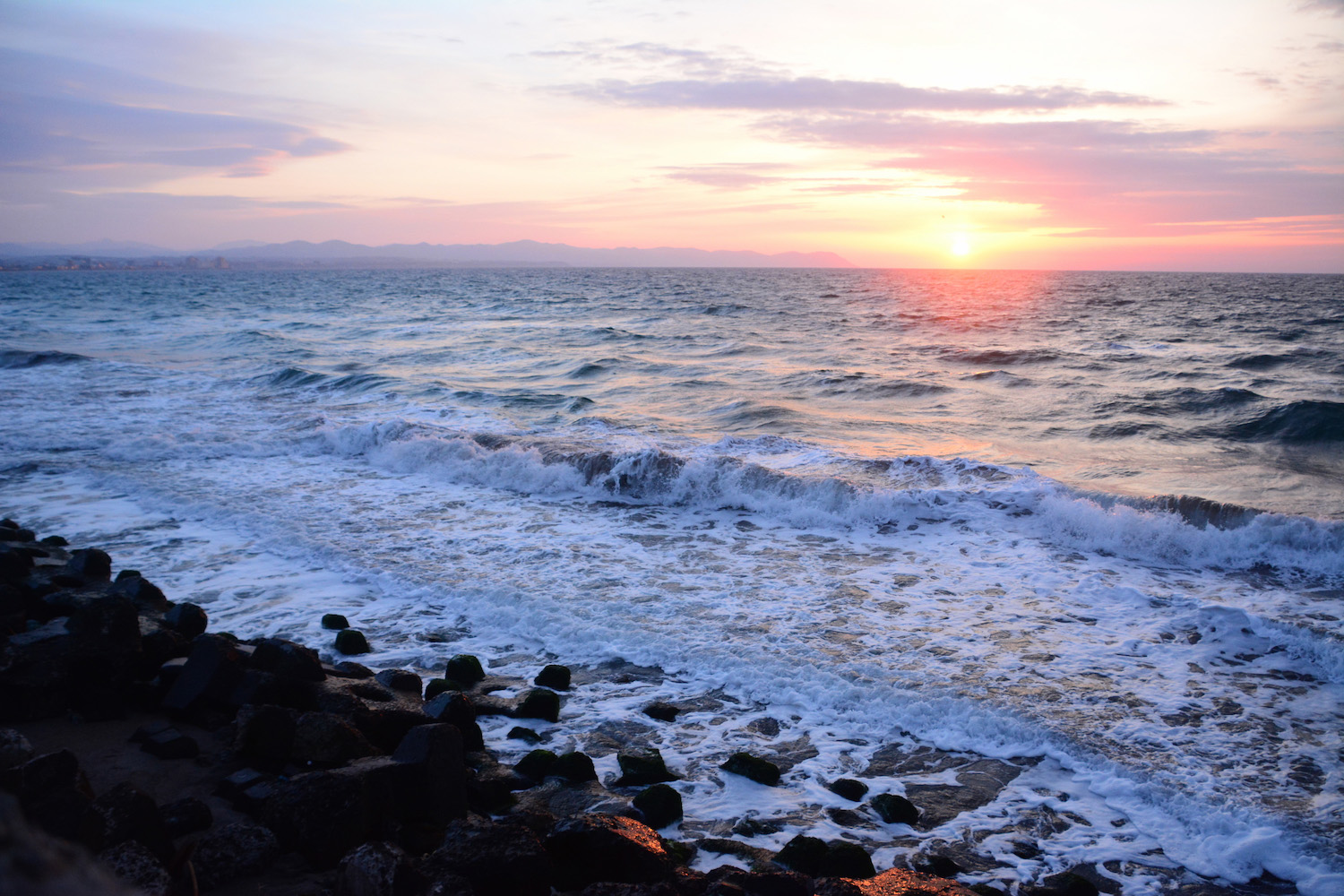 Goryokaku
Hokkaido is Japan's newest territory – its integration into Imperial Japan occurred less than 150 years ago, as a result of the Boshin War between the forces of the emperor of the Tokugawa Shogunate. Prior to the war, the Tokugawa built a star-shaped fort called Goryokaku to defend against a possible Russian invasion, not knowing that the threat to their continuity was much closer to home.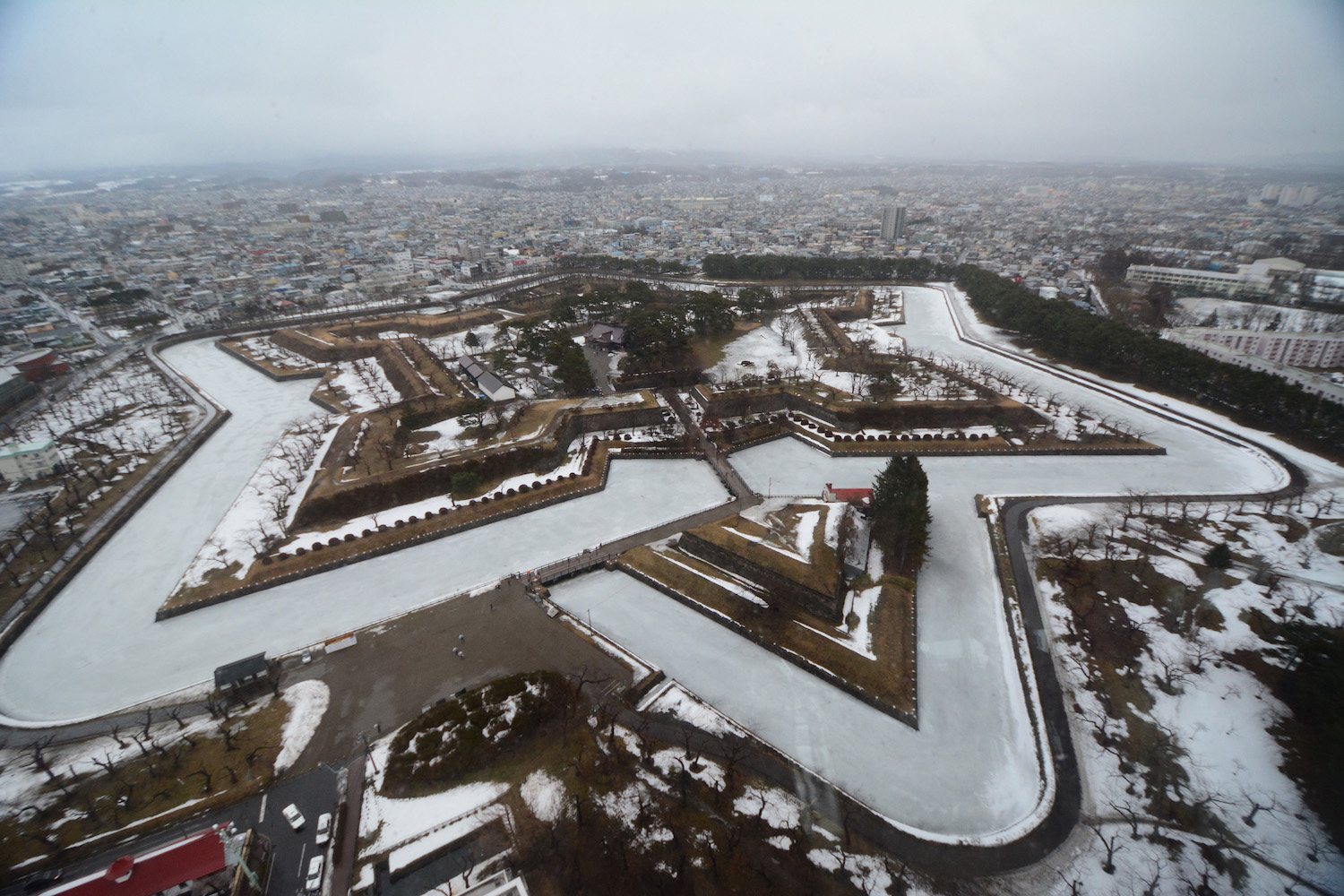 These days, Goryokaku is a public park, which makes the perfect mid-day retreat from Hakodate – it's located just to the north of the city center. Or, if you want to see Goryokaku (and Mount Hakodate, which I'll talk about in just a moment) from the air, ascend the behemoth Goryokaku Tower, which you literally can't miss.
Mount Hakodate
Hakodate is not only interesting in terms of its geography but also, its topography. Namely, Mount Hakodate, which rises 1,096 feet (334 m) above the city at the southern tip of the isthmus, standing as an imposing, awe-inspiring symbol of the city.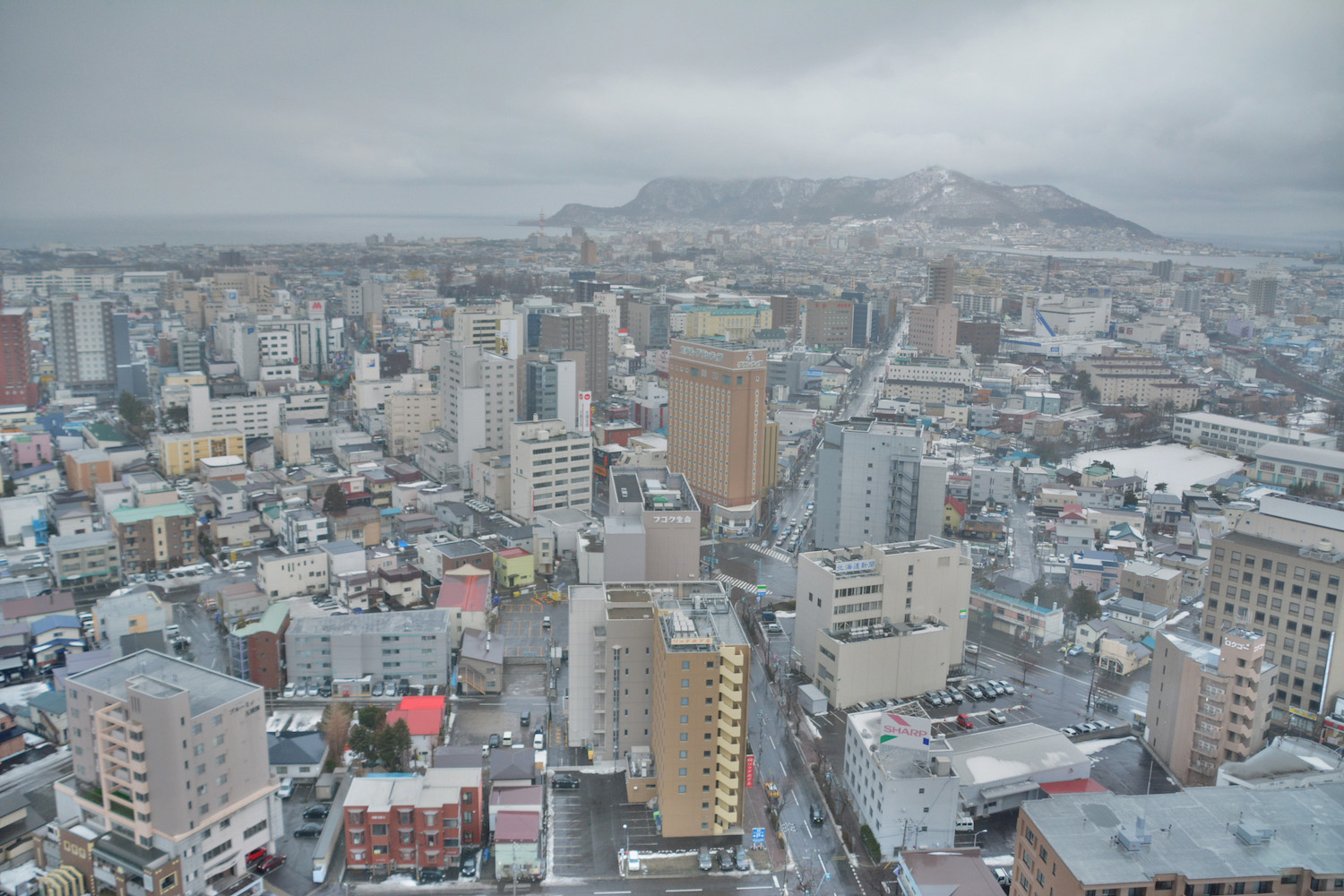 What Mount Hakodate is most famous for, however, is the night view from the top, which allows you to see the truly unique shape of the city from a bird's eye perspective. Unfortunately, the weather didn't allow me to see much when I ascended – I'm actually embarrassed to share the one picture I did get!
Motomachi
The ancient leaders of Hakodate might've been terrified of foreign invasion, but the modern city of Hakodate is nothing if not a celebration of East meeting West. A multitude of influences are evident as you walk the streets of Hakodate – you might say it's Japan's answer to San Francisco, its geography notwithstanding – but it's most pronounced in the Motomachi district, located at the foot of Mount Hakodate near the Mount Hakodate Ropeway.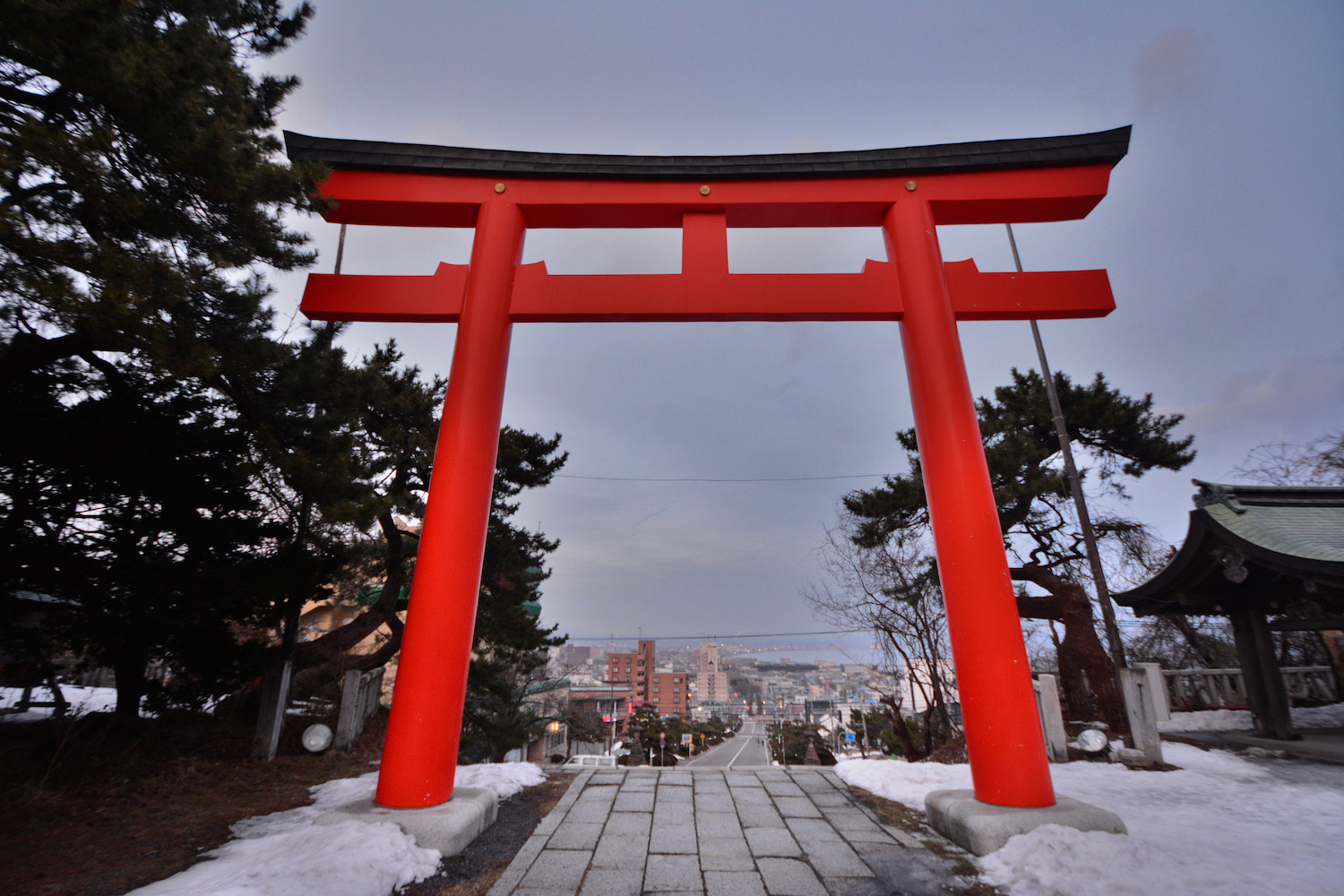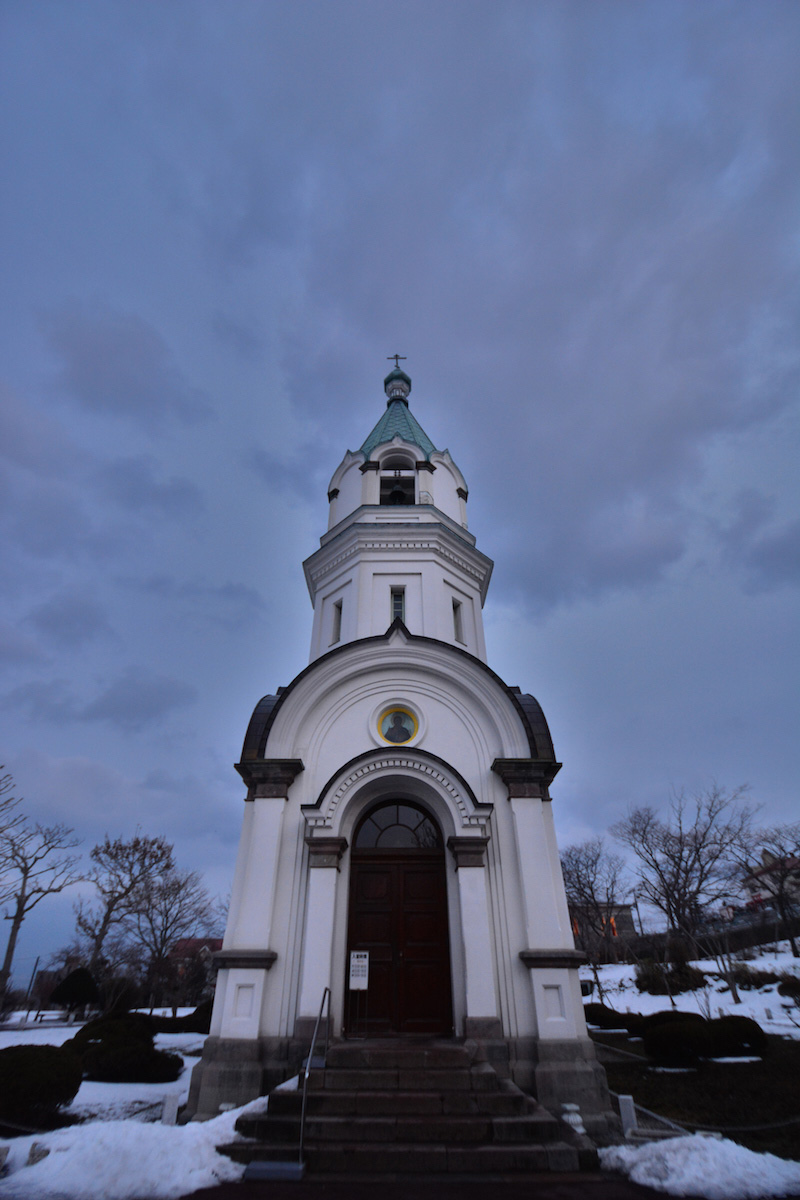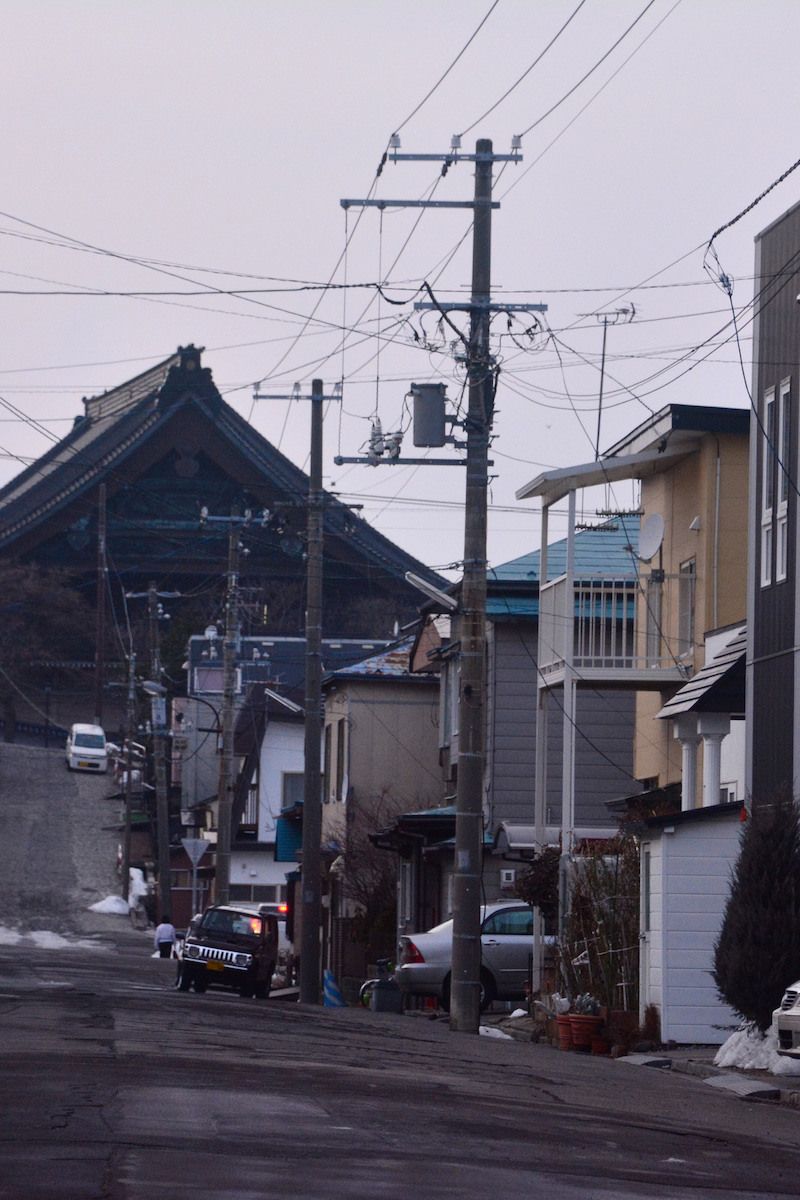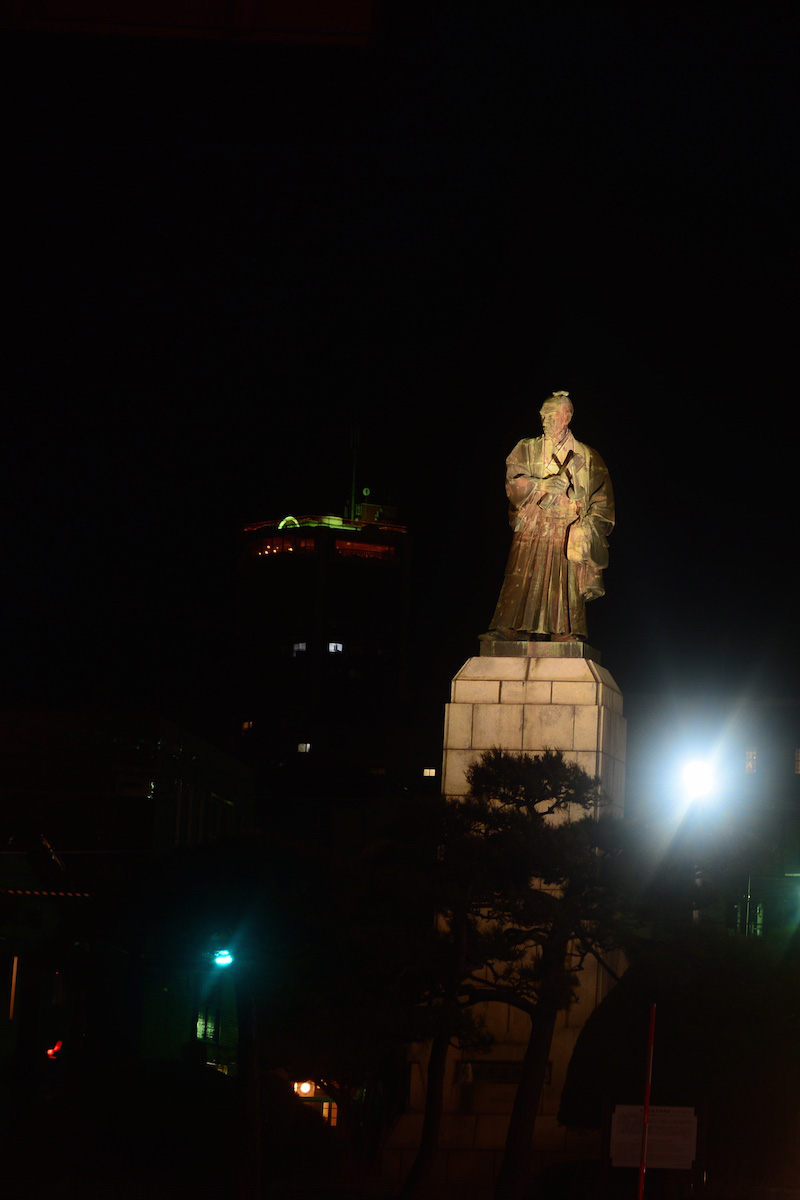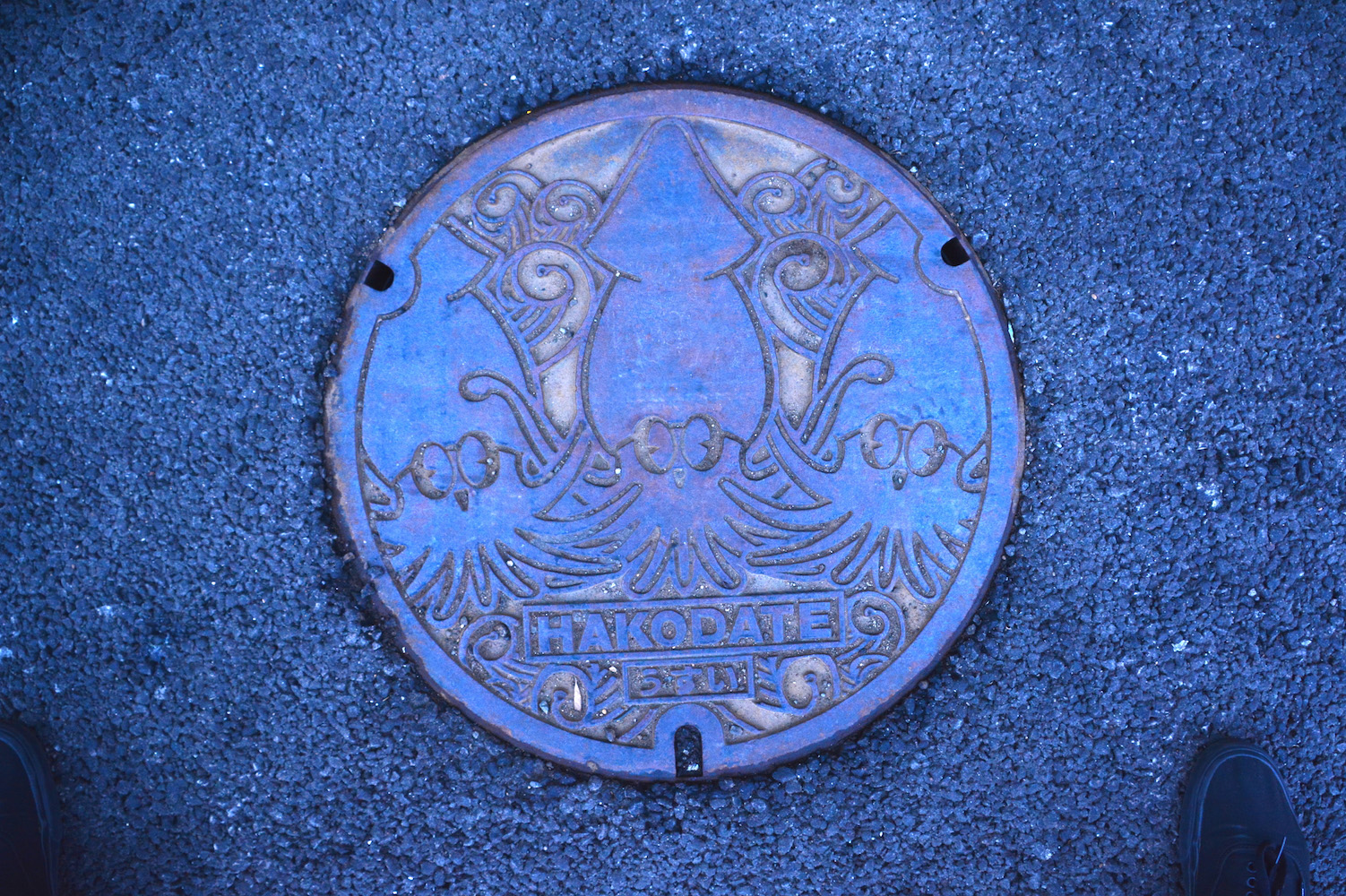 The most impressive (and obvious) structure in Motomachi is the Russian Orthodox Church, but you can also see British (British Consulate) and Chinese (Chinese Memorial Hall) influence as you walk the narrow streets of the district.
Share:

One summer morning in Taipei, Taiwan, I had a loose itinerary for the day in mind. After an early morning stop at Longshan Temple, I would get a crash course in Taiwanese history at the Chiang Kai Shek Museum, then gorge myself on the best xiaolongbao in town at Hangzhou Xiaolong Tangbao, before heading up Xiangshan Mountain to watch Taipei's glittering skyline – namely, Taipei 101 – come to life as night fell on the city.
But Taipei had other ideas.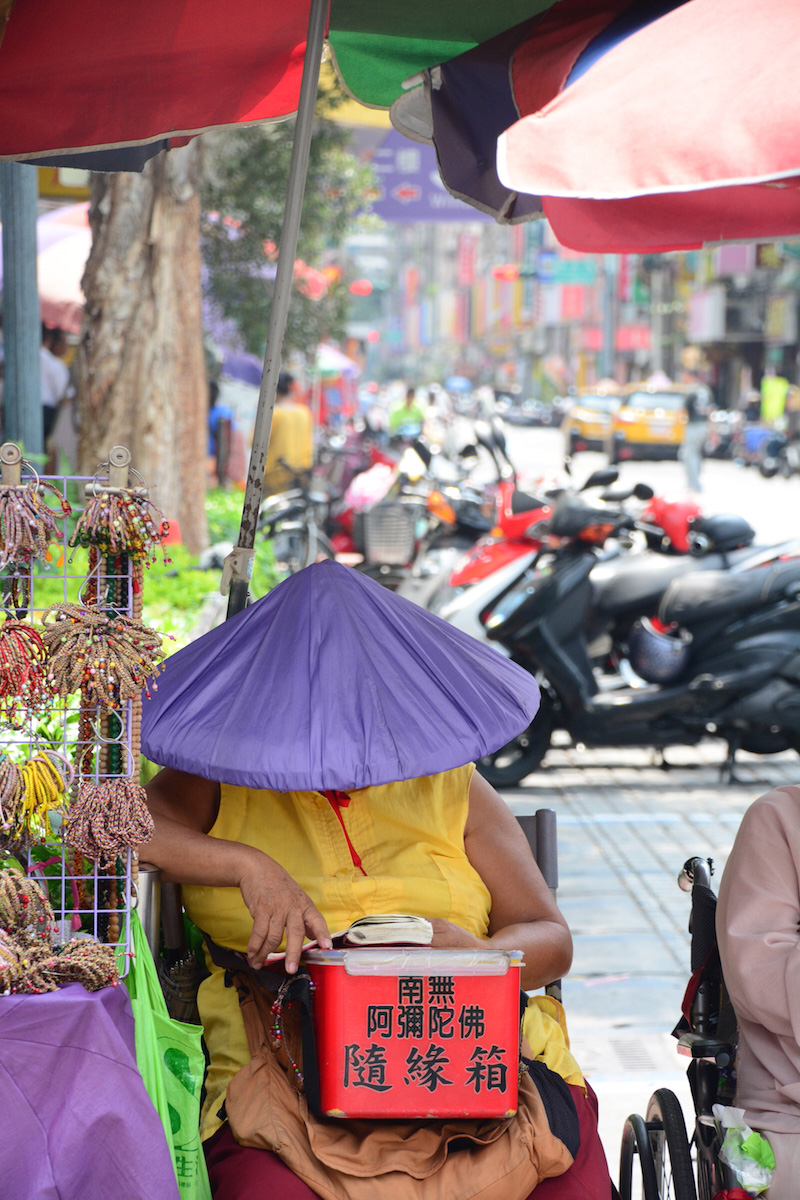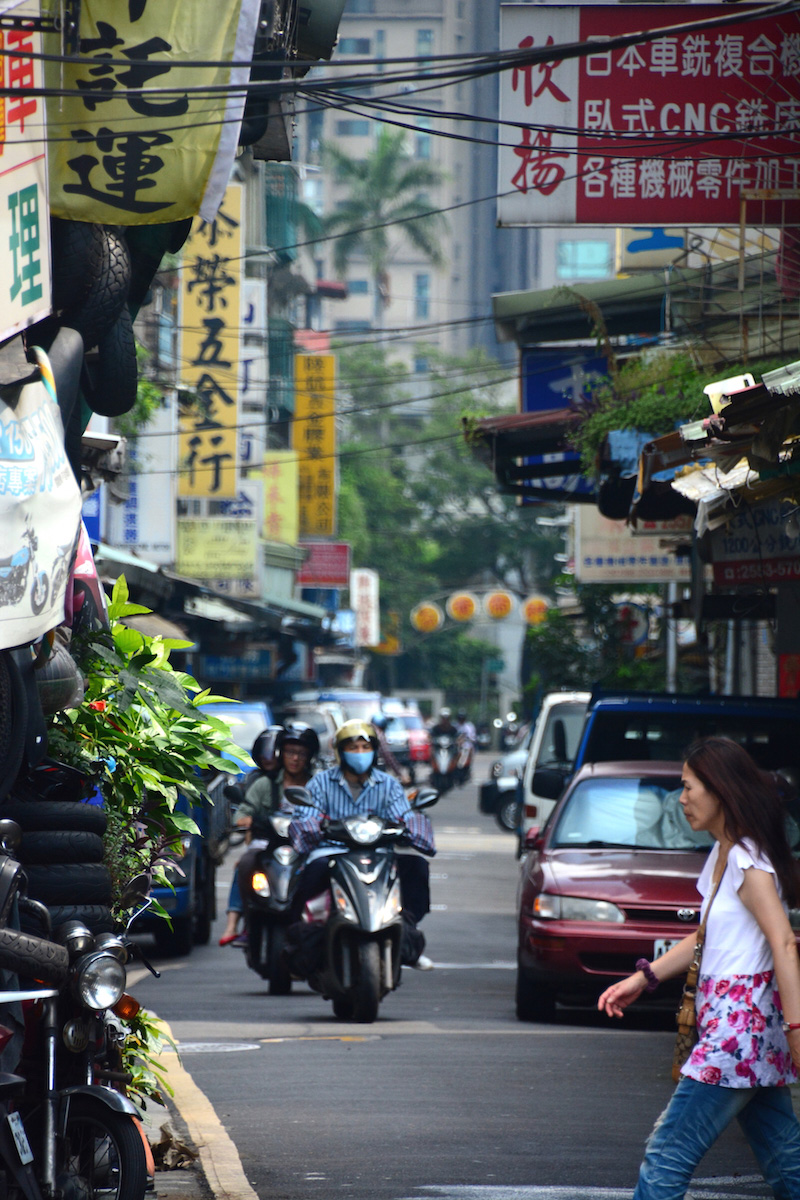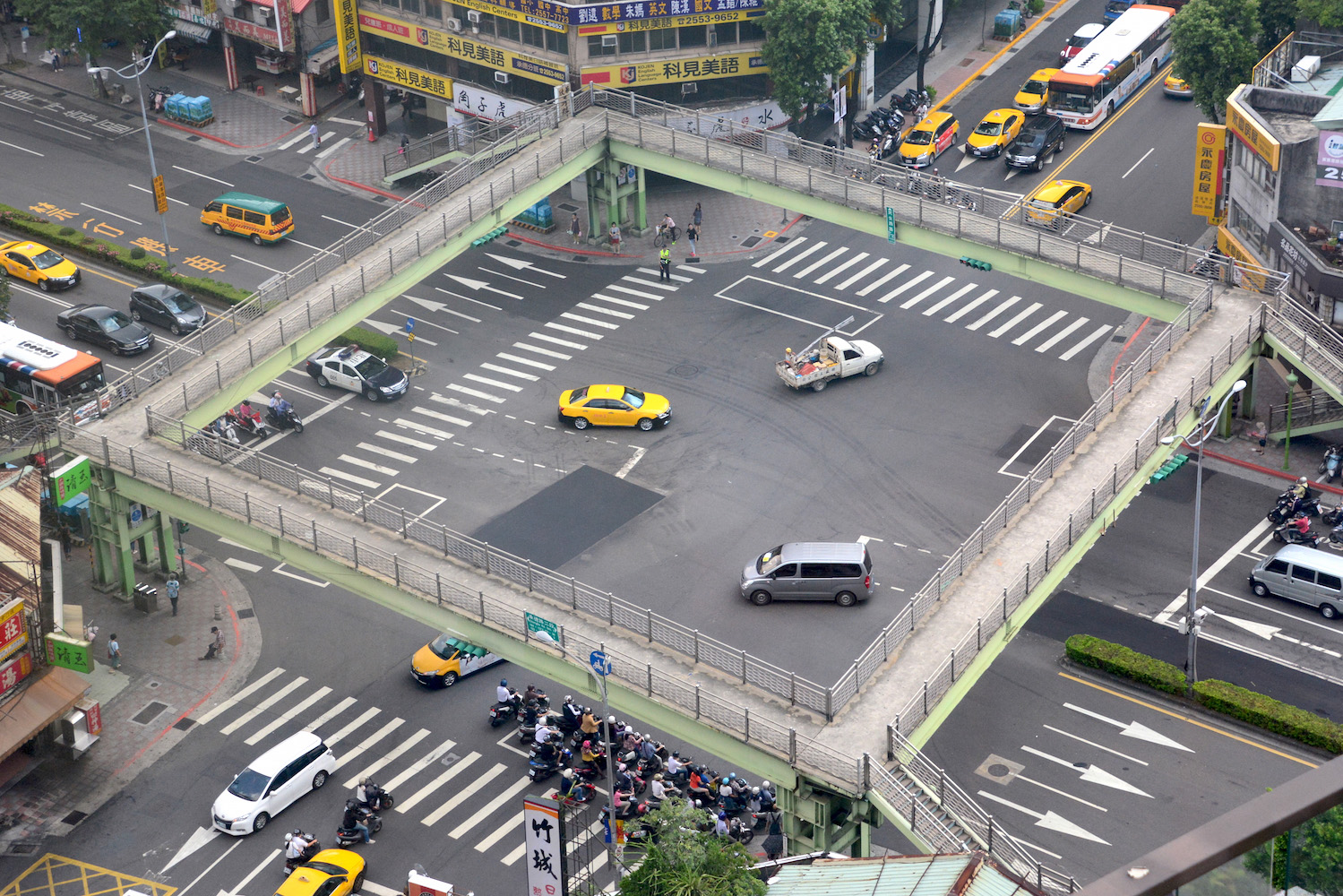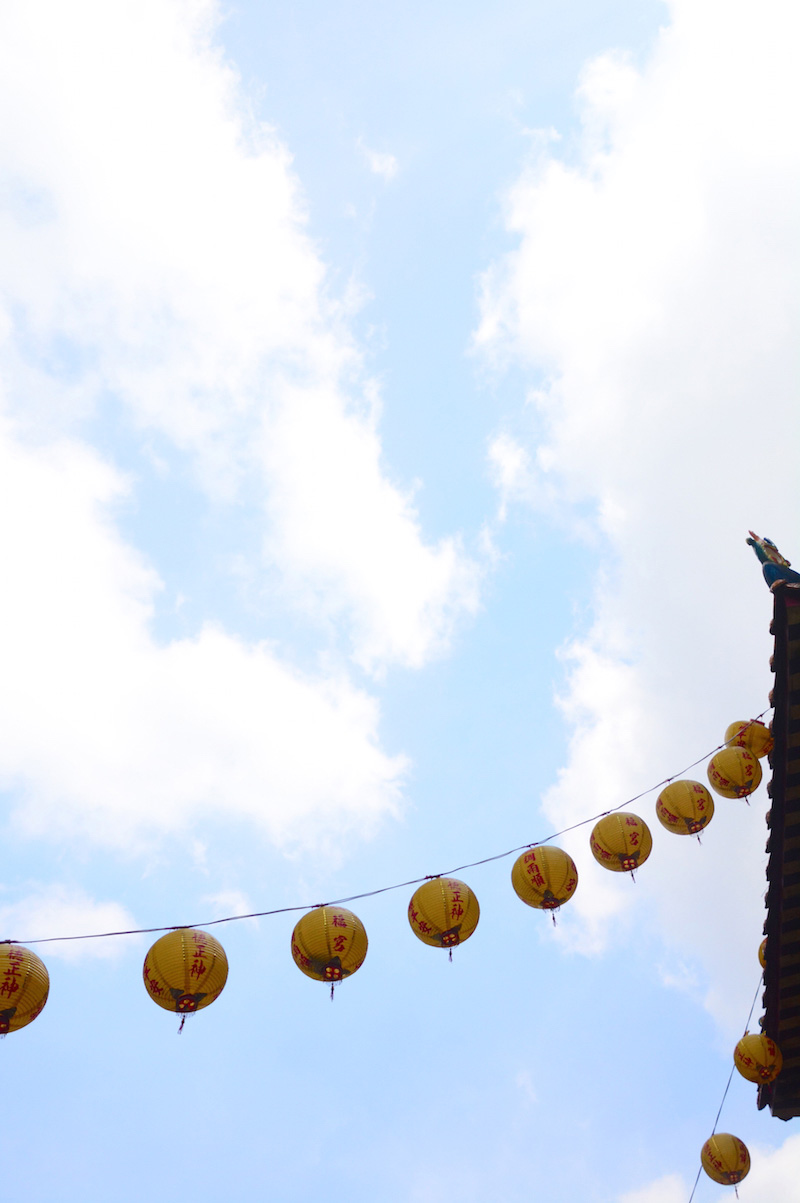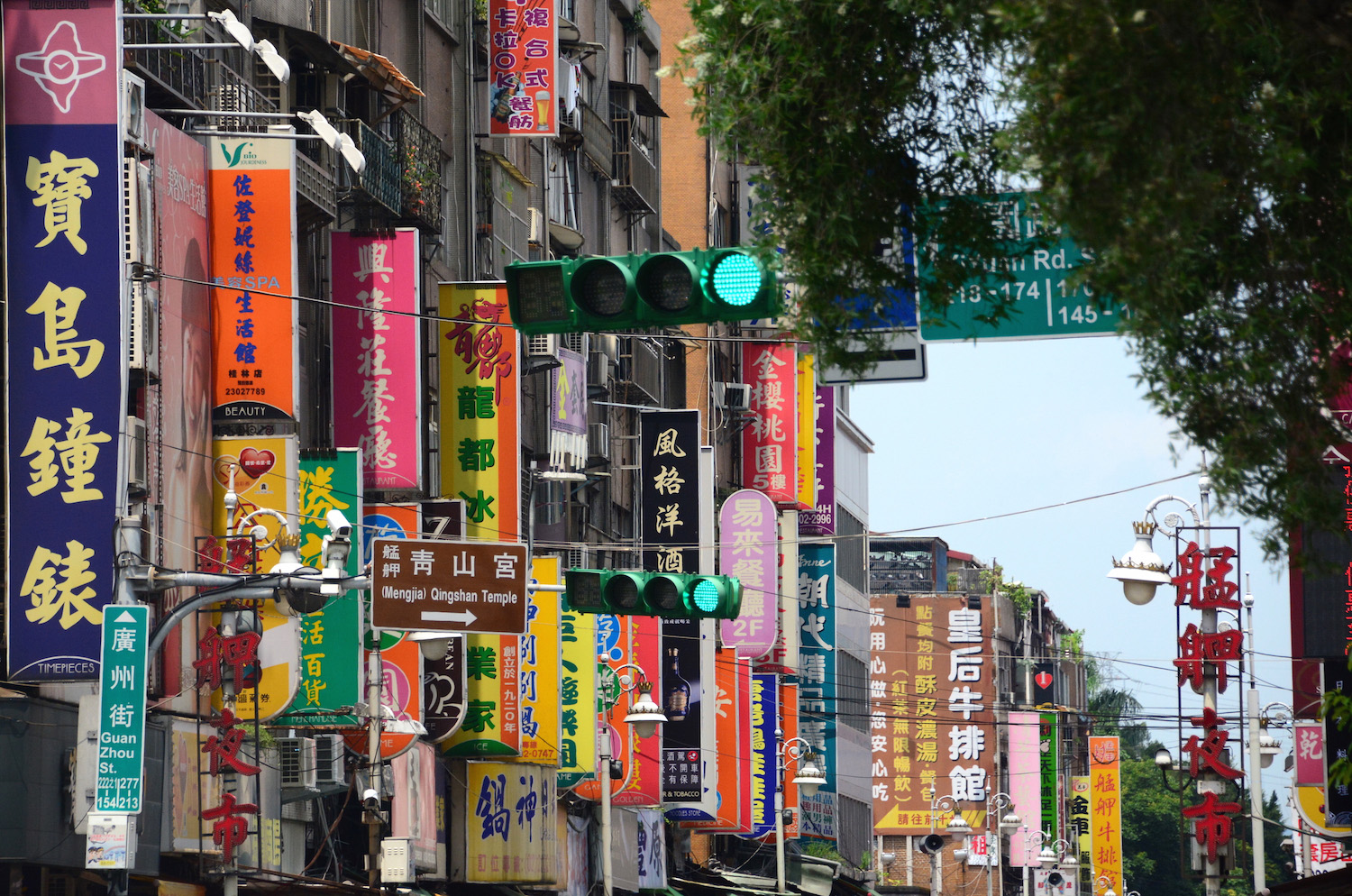 As I was walking along Minsheng Road toward Shuanglian station, I began to notice the small streets and alleyways I was passing were extraordinarily photogenic. Think random temple facades, colorful paper lanterns, food stalls as far as the eye can see – and nary another laowai.
For lack of a better word, Taipei was far more Chinese than I expected such a huge, cosmopolitan city would be. And a great deal more Chinese than anywhere I visited during my extensive stays in mainland China. But more on that in a second.
To be sure, although I ended up accomplishing all of my stated aims of my day, it was ultimately my subconscious decision to get lost in the bowels of the neighborhood where I was staying that made me so immediately decisively in love with Taipei. Or perhaps it was Taipei's otherworldly, magical magnetism that took me so far off course for so long.
Chicken or egg – there are plenty of both to go around here.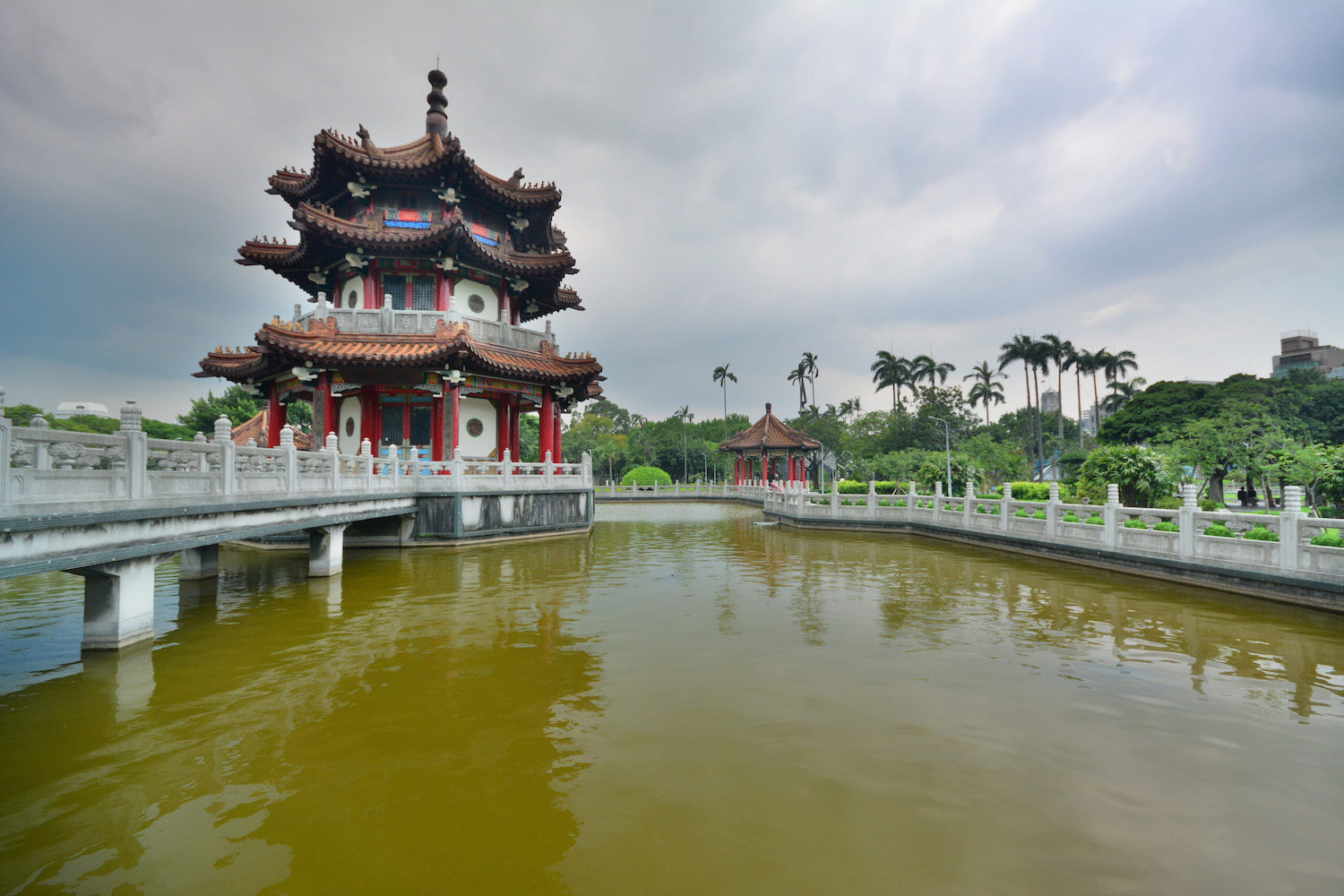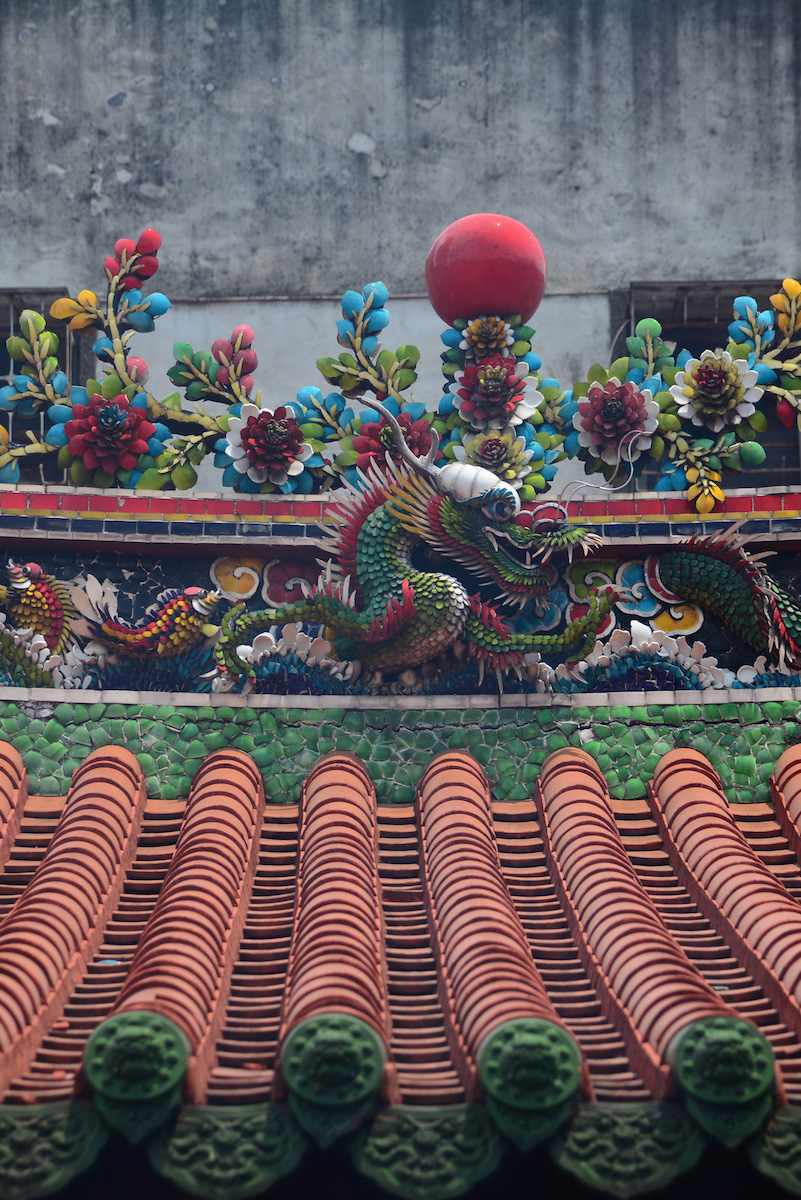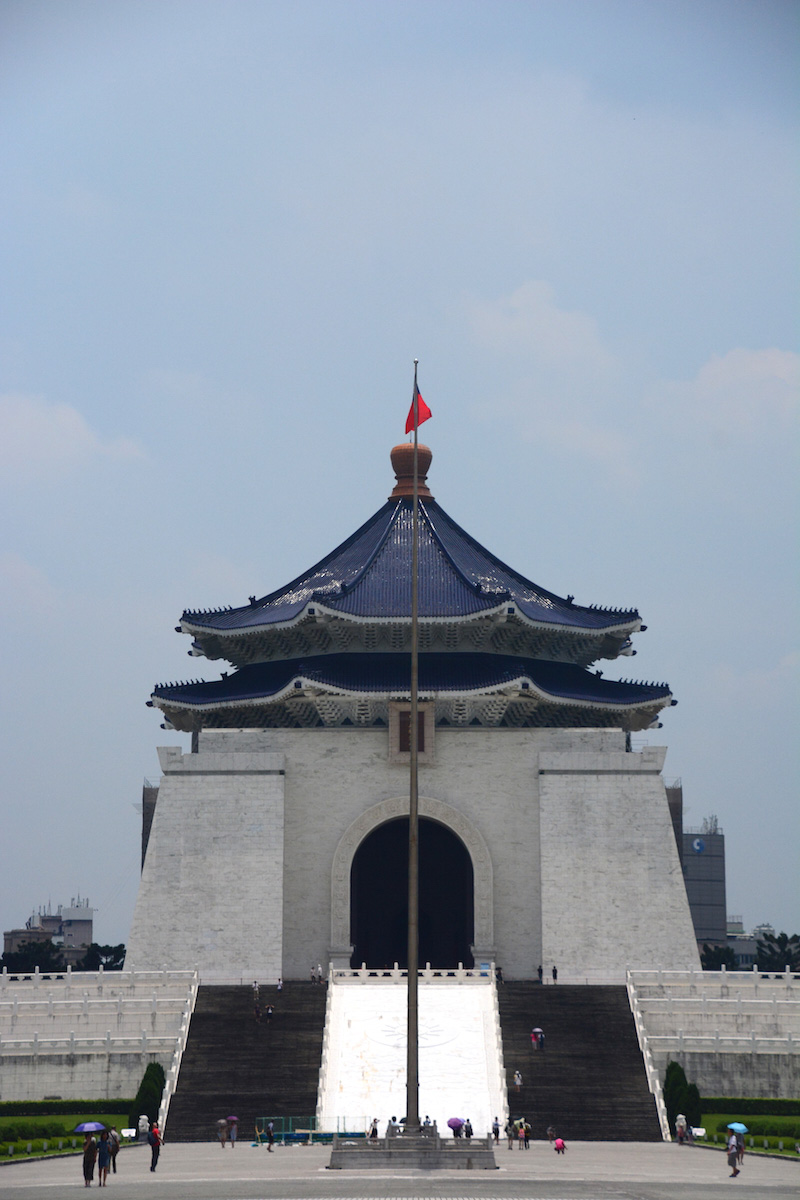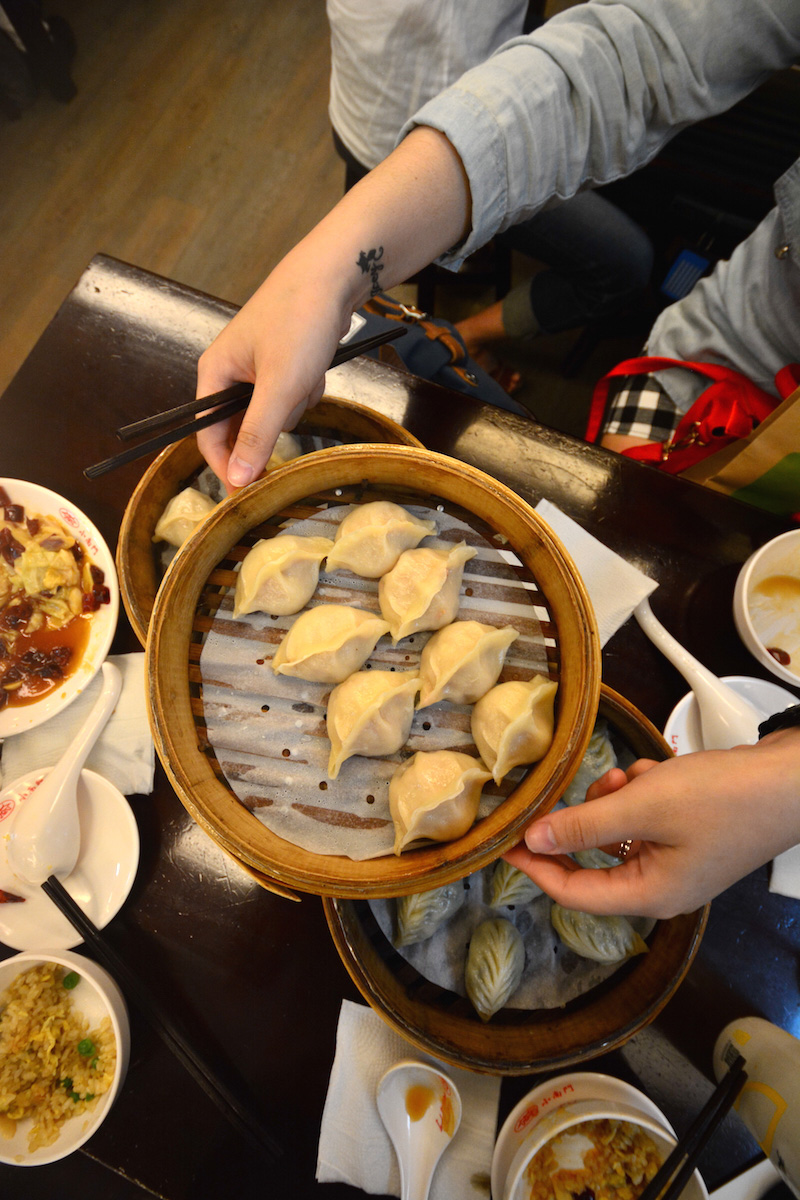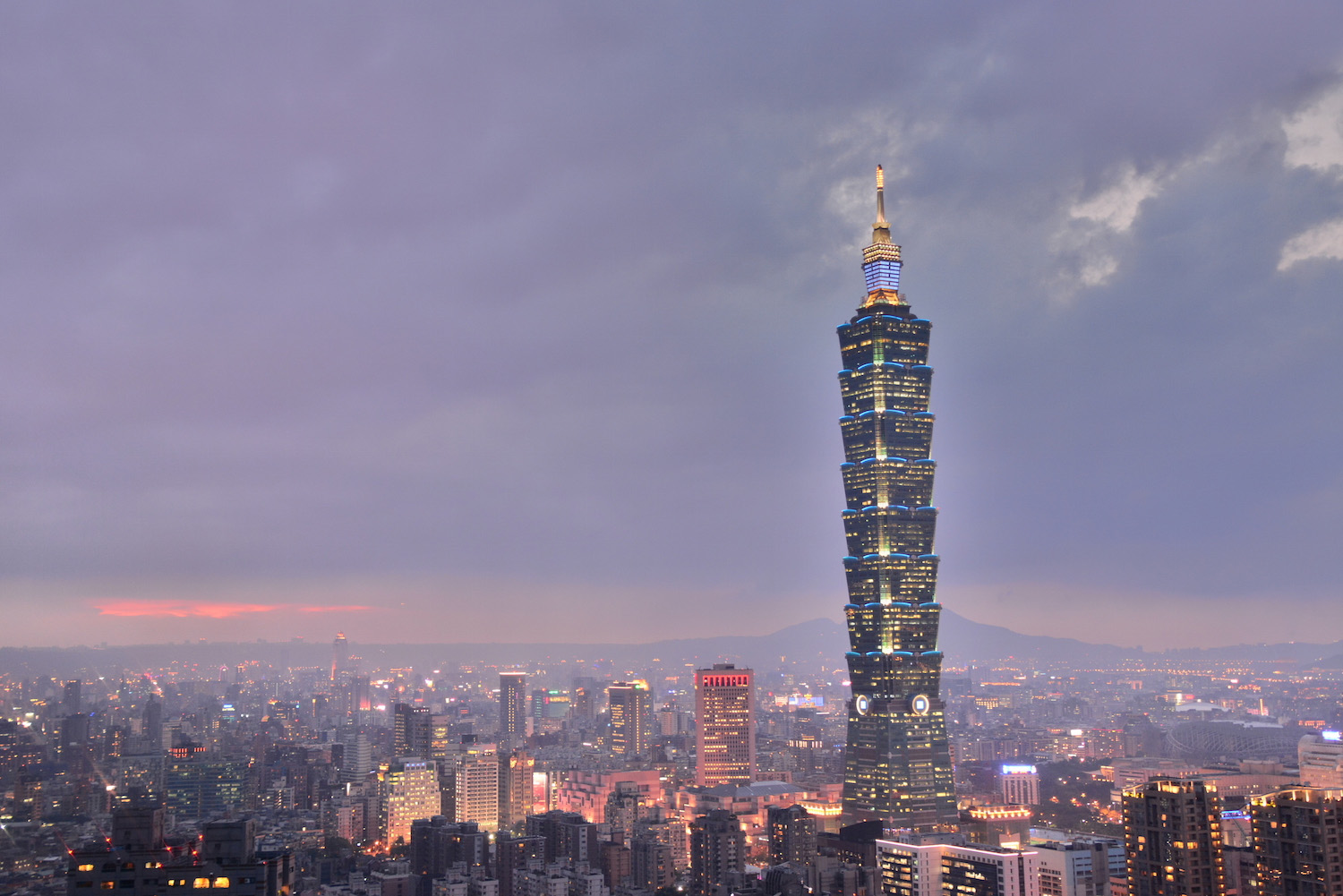 I mentioned earlier that I find Taipei to be a great deal more Chinese than anywhere I've visited in mainland China, which is to say that Taipei corresponds more closely with the images I had of China before I ever traveled there, from its architecture, to it culture, to its cuisine.
This makes sense, of course, given Chiang Kai-Shek's goal of Chinese national restoration in Taiwan following the exile of the Republic of China there, to say nothing of Mao's goal of destroying most things traditionally Chinese during the Cultural Revolution in the People's Republic of China.
(Incidentally, I was almost fired from my job teaching English in Shanghai – and deported from the PRC – upon attempting to confer upon my students that Taiwan was a sovereign nation, but I digress.)
I use the word "Chinese" here in a decidedly positive sense but unfortunately, having lived and traveled in mainland China for as long as I have, I can unfortunately say that contemporary associations of Chinese ethnicity, particularly in the travel sphere, are not entirely good ones.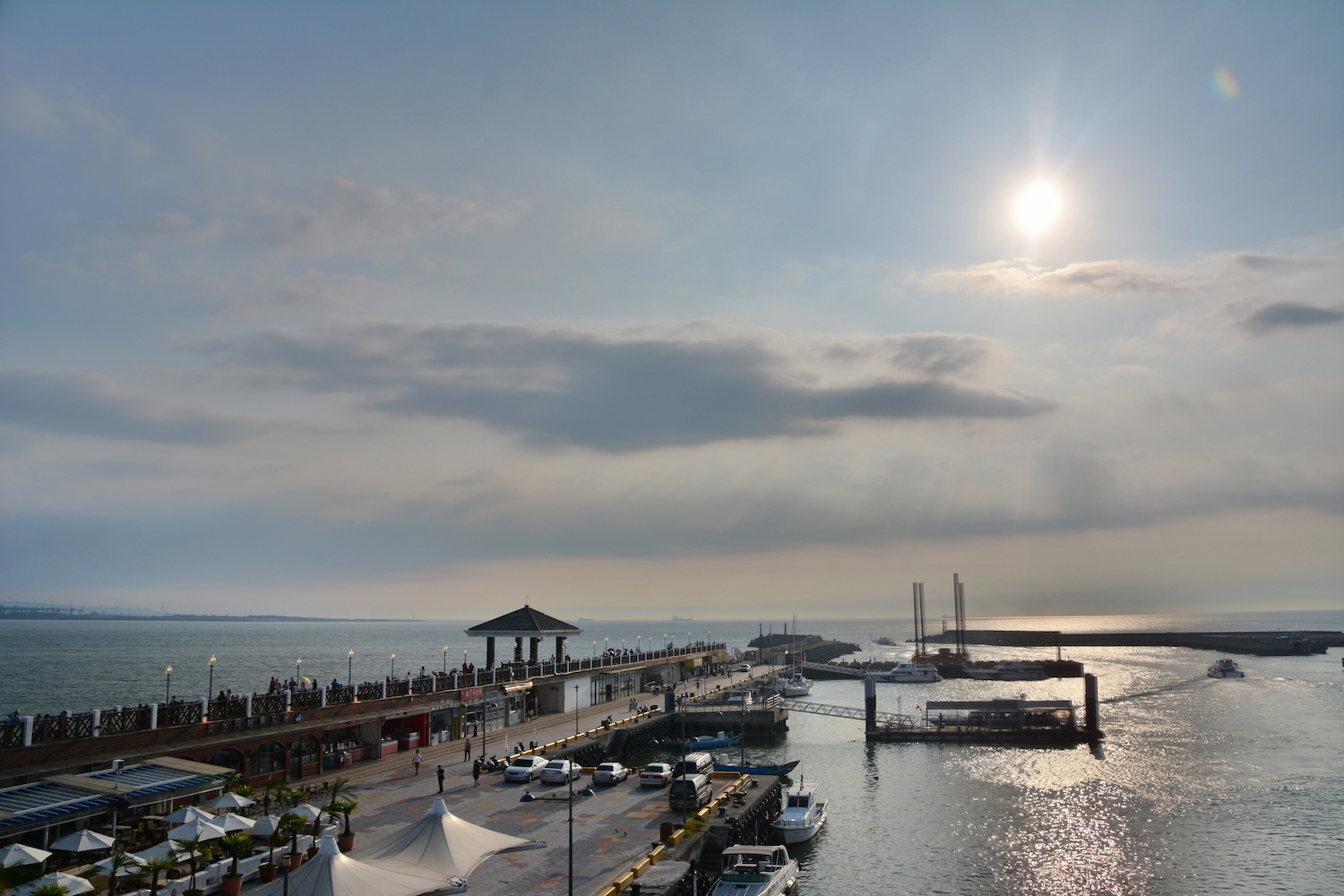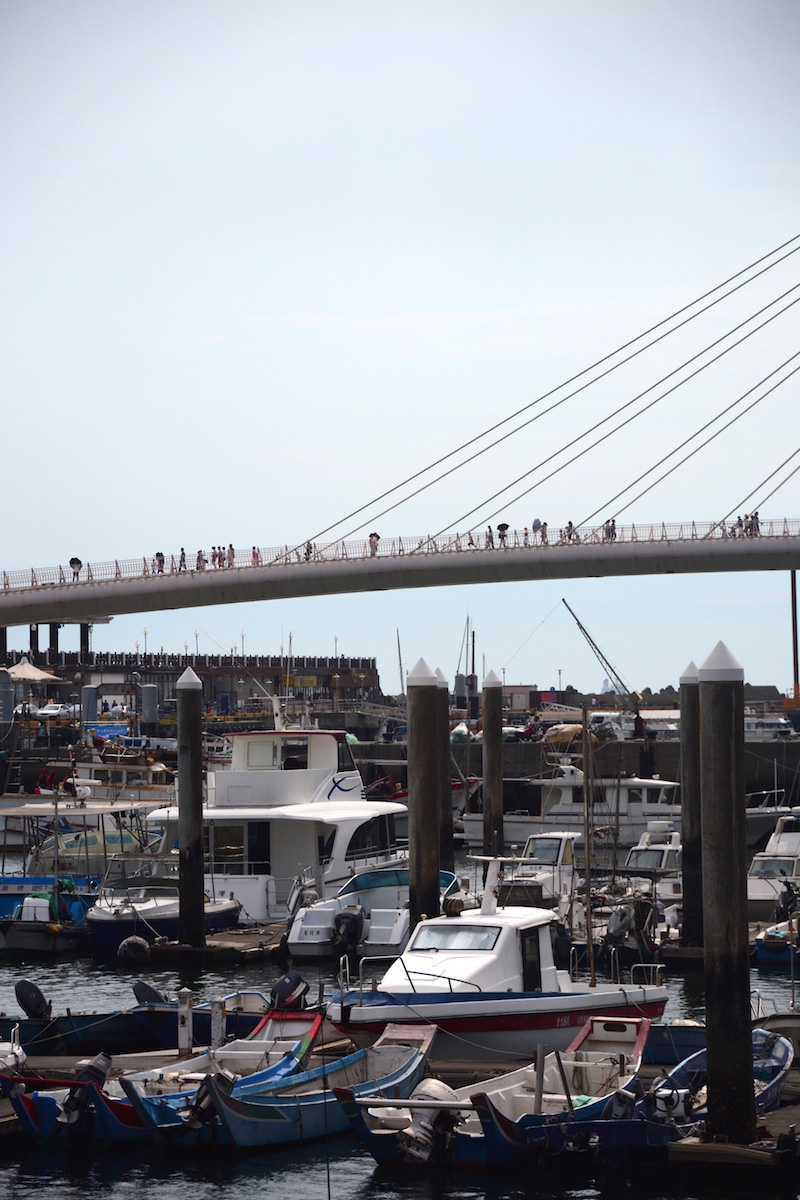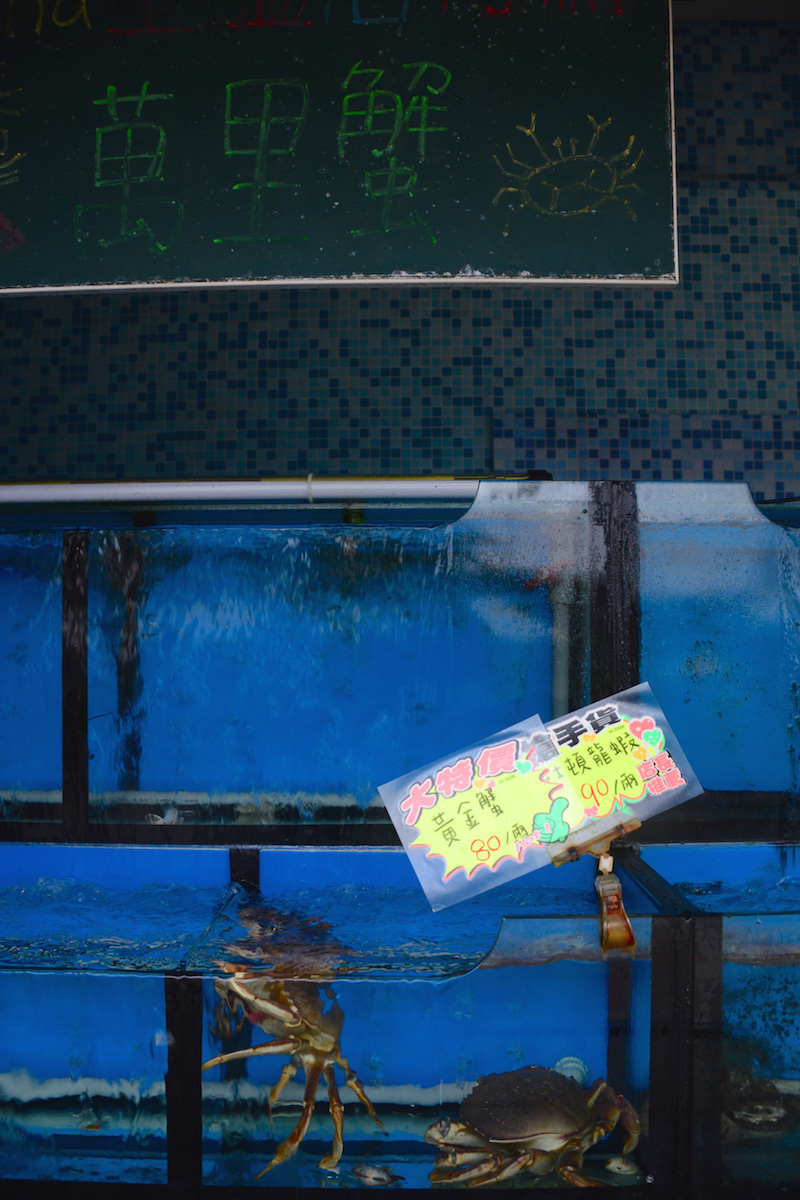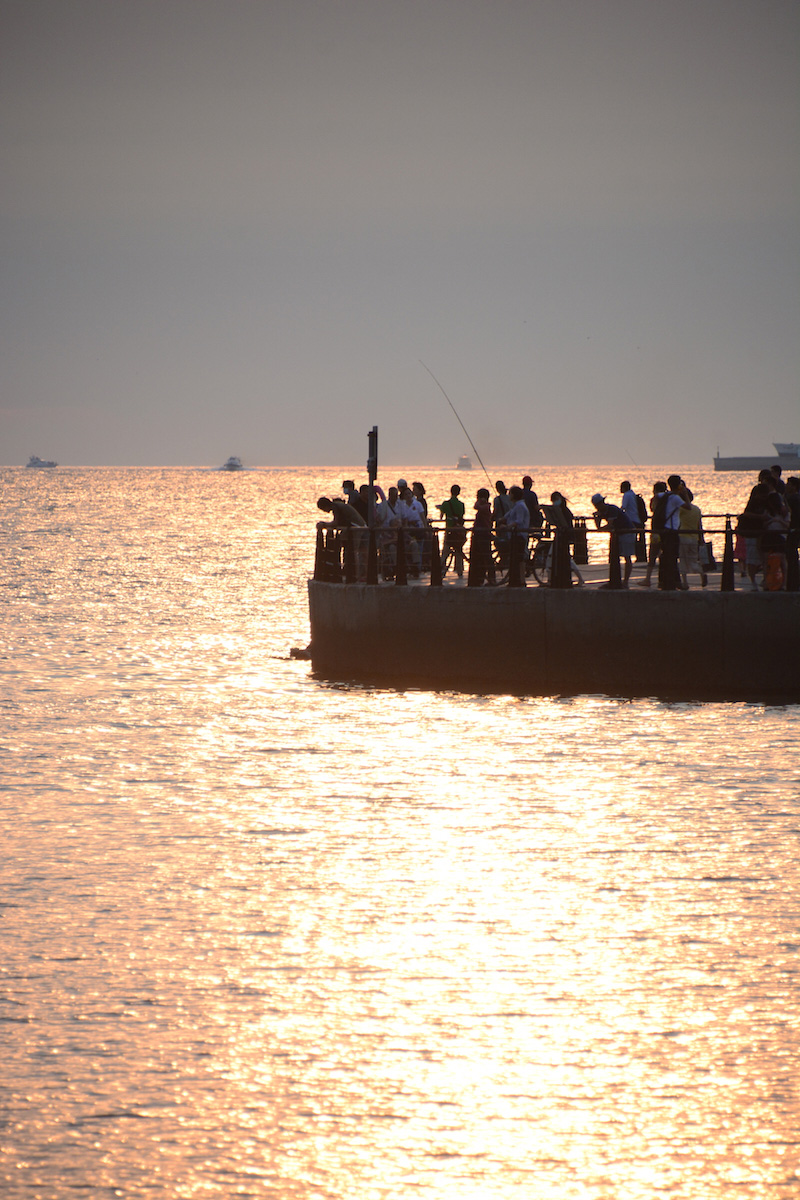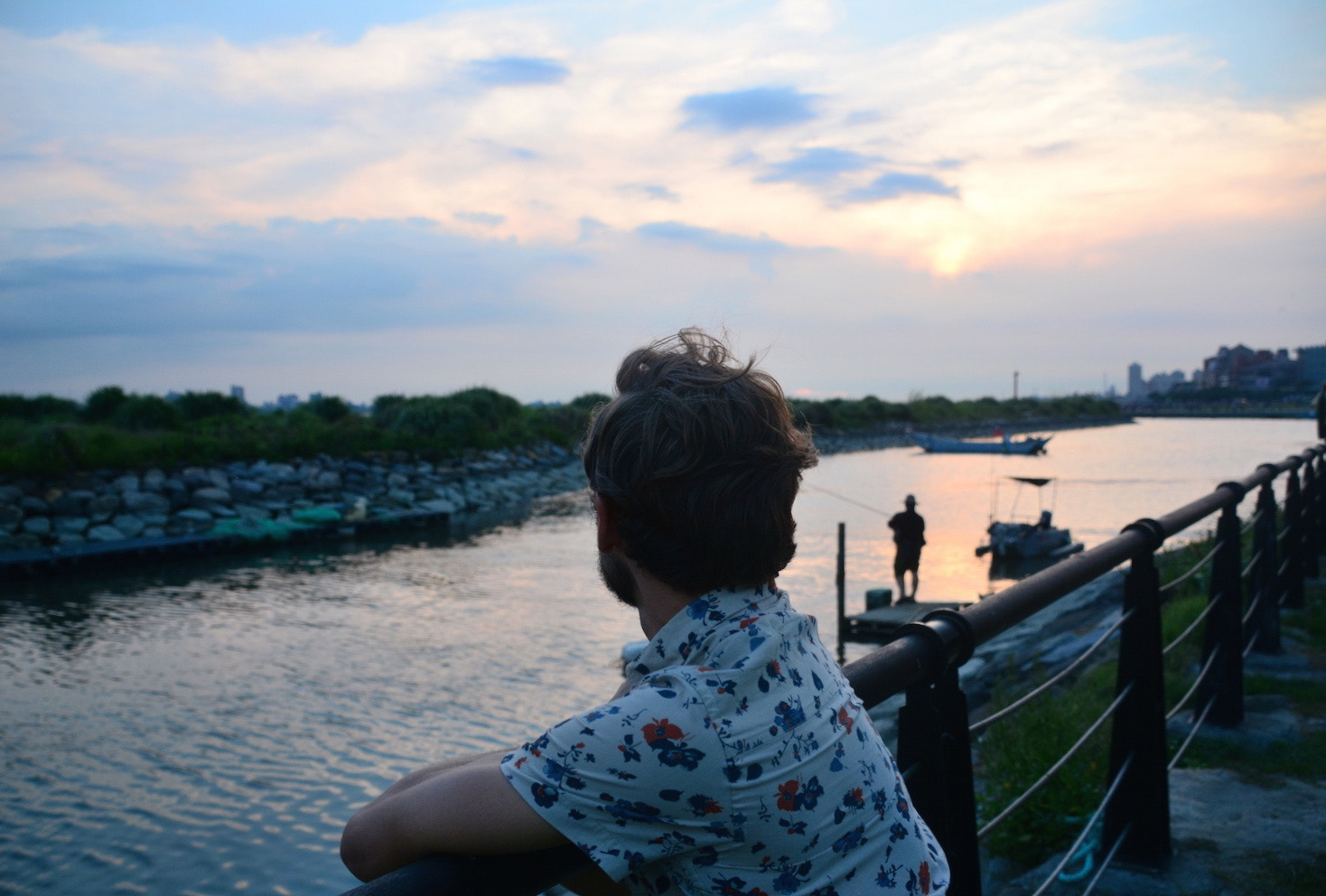 At the advisement of a local I met during my first adventurous day in Taipei, I decided to spend my second at the fisherman's wharf in Tamsui, at the northern terminus of MRT Line 2 – the San Francisco Fisherman's Wharf it is not.
Here's where the potentially pejorative connotation of the term "Chinese" comes in: I'm obviously not talking about racial or even behavioral issues here.
I'm talking about questionably (but seemingly lauded) architecture and design. I'm talking about fried food and sugary beverages of a magnitude that make McDonald's look macrobiotic. I'm talking about a sickening disregard for the natural environment and an unbelievable array of plastic products in places you would never want to see plastic.
I suppose you can't restore the good things without restoring the bad ones. (See also: Fulong Beach.)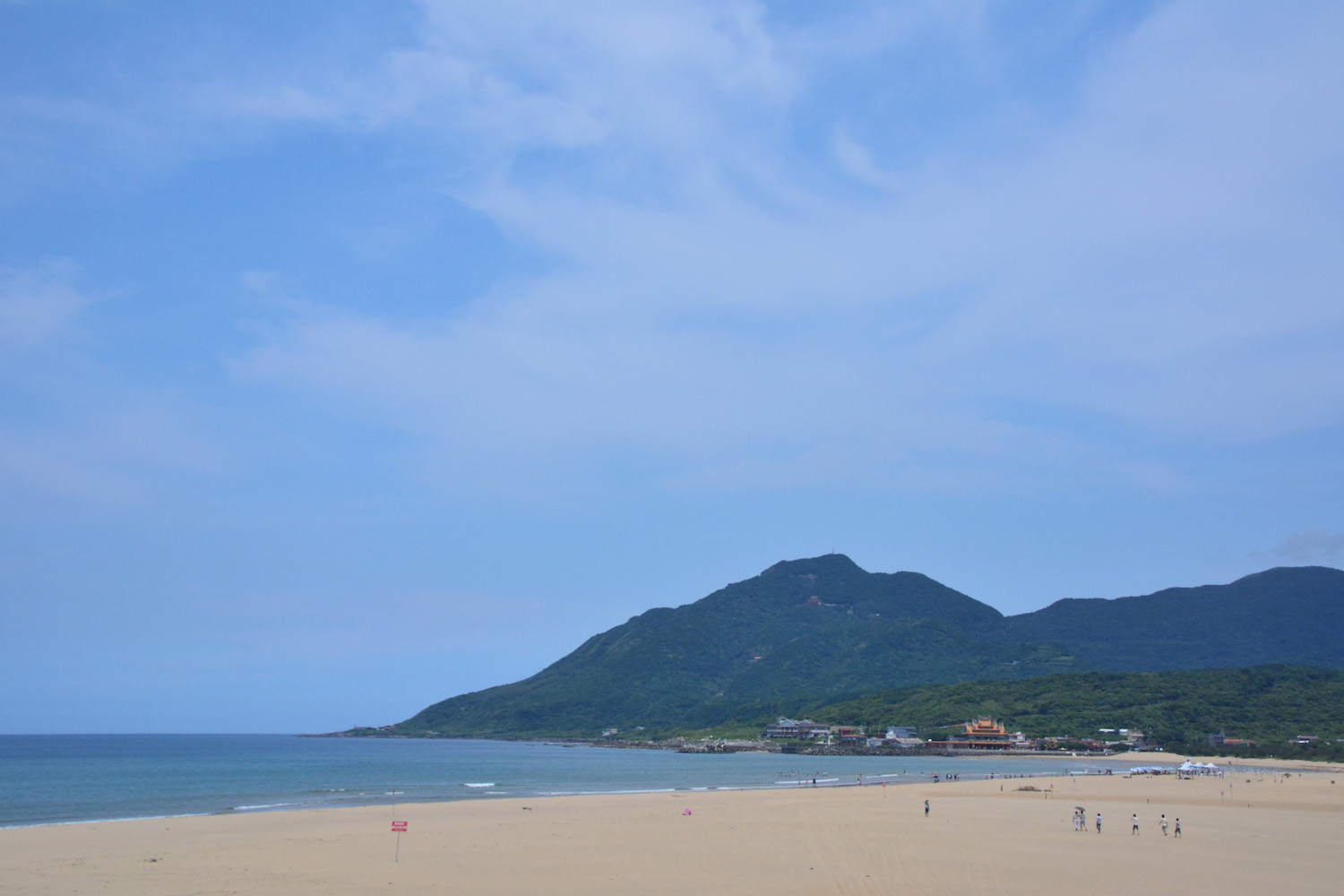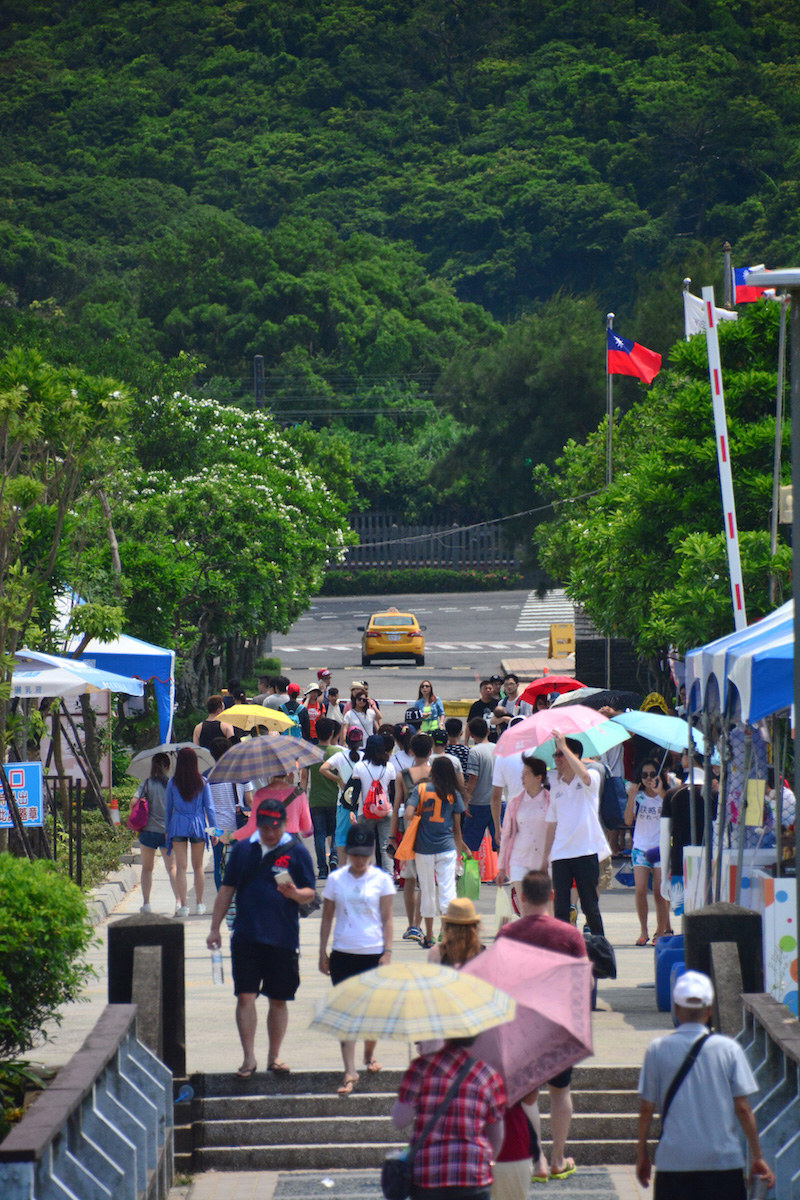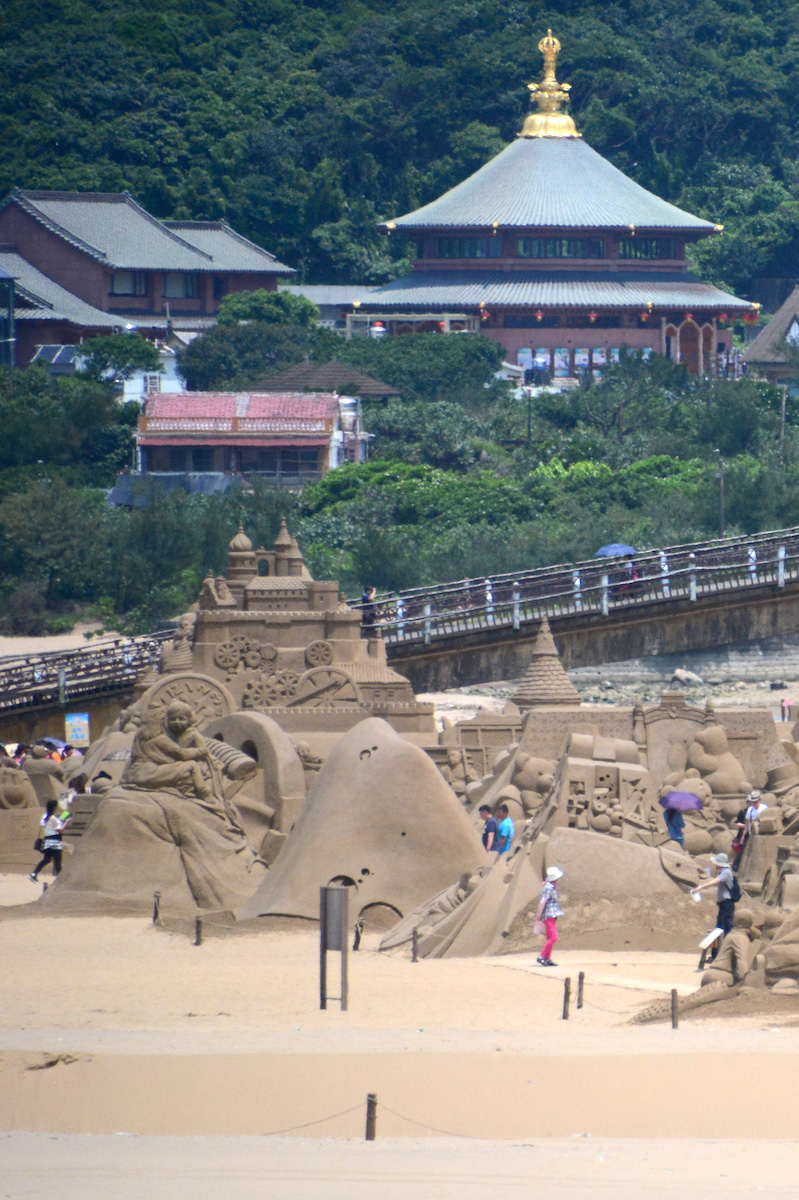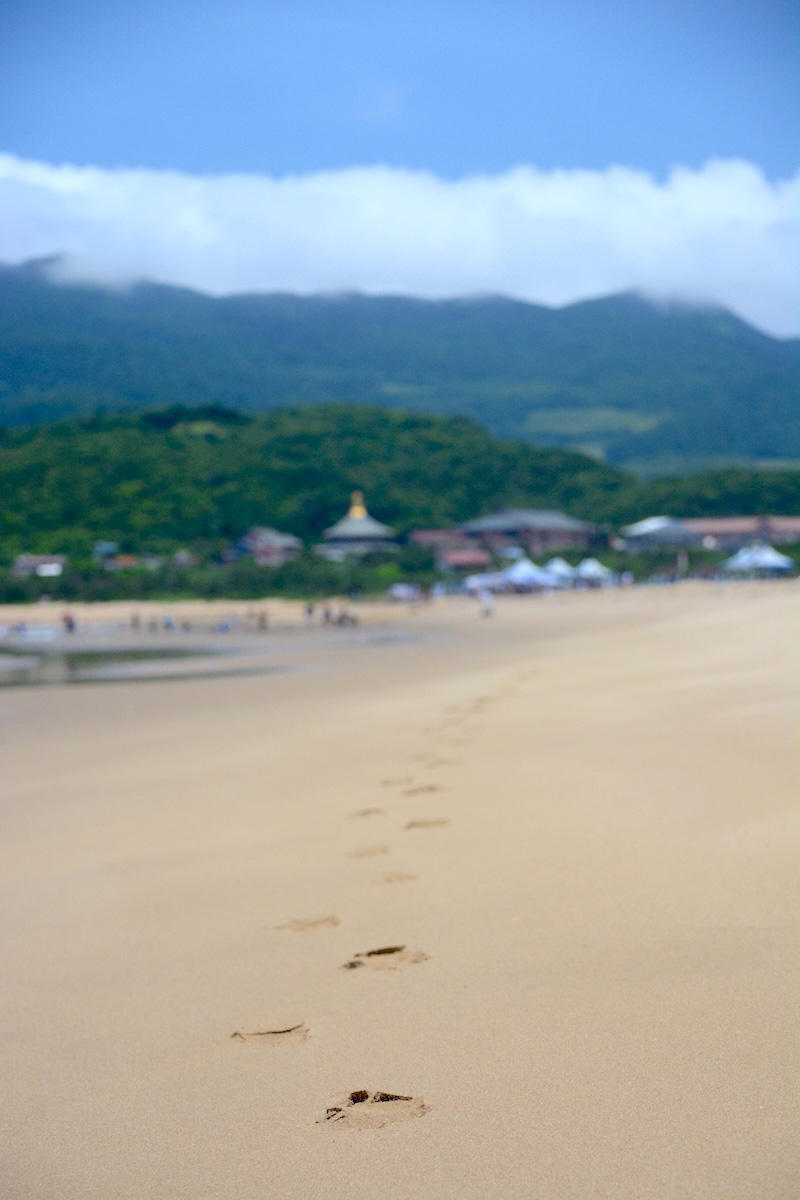 This is not to say Taipei – and certainly, not Taiwan on a larger scale – is as ecologically devastated as mainland China, where I quite literally saw streams flowing fluorescent green. And, as you can see from the photos of both Fulong Beach and the Tamsui Fisherman's Wharf above, both boast more than their fair share of natural beauty.
Indeed, the whole of Yangmingshan National Park, which is only a short bus ride from central Taipei, is a lush, unspoiled wilderness of hiking trails, volcanic vents and hillsides covered in bushes covered in butterflies.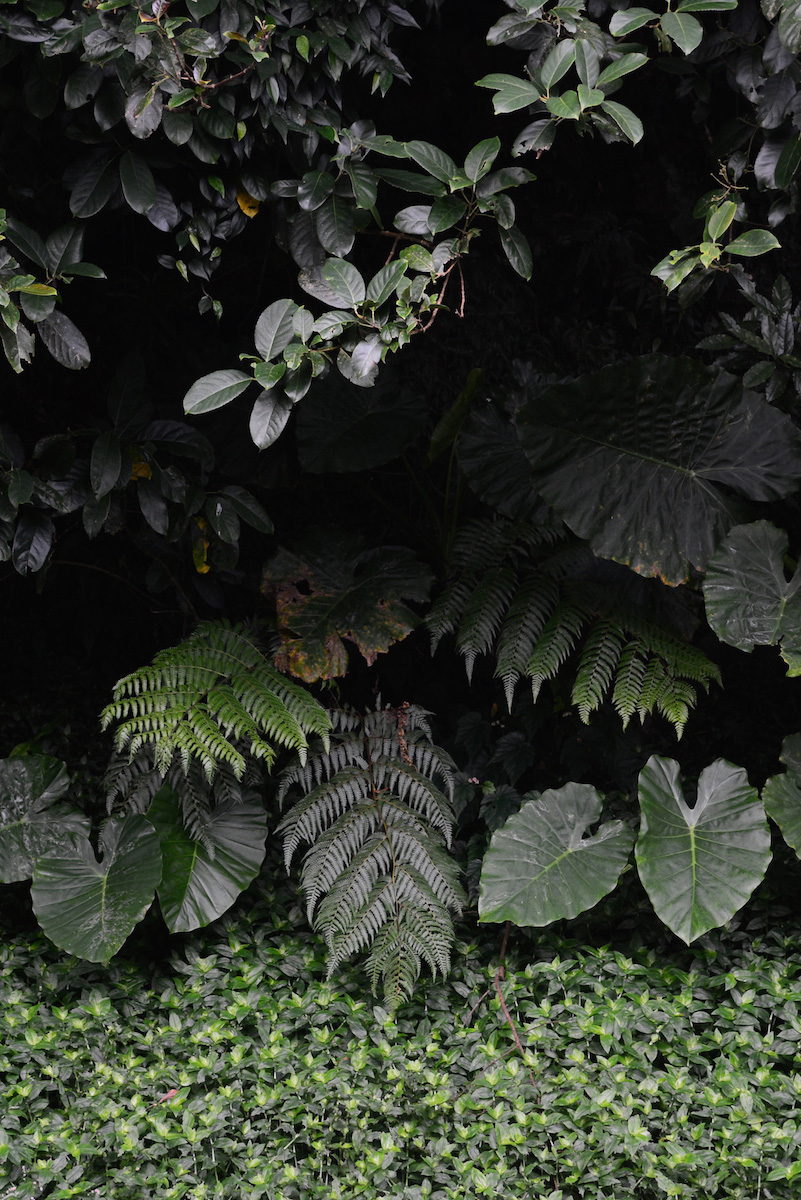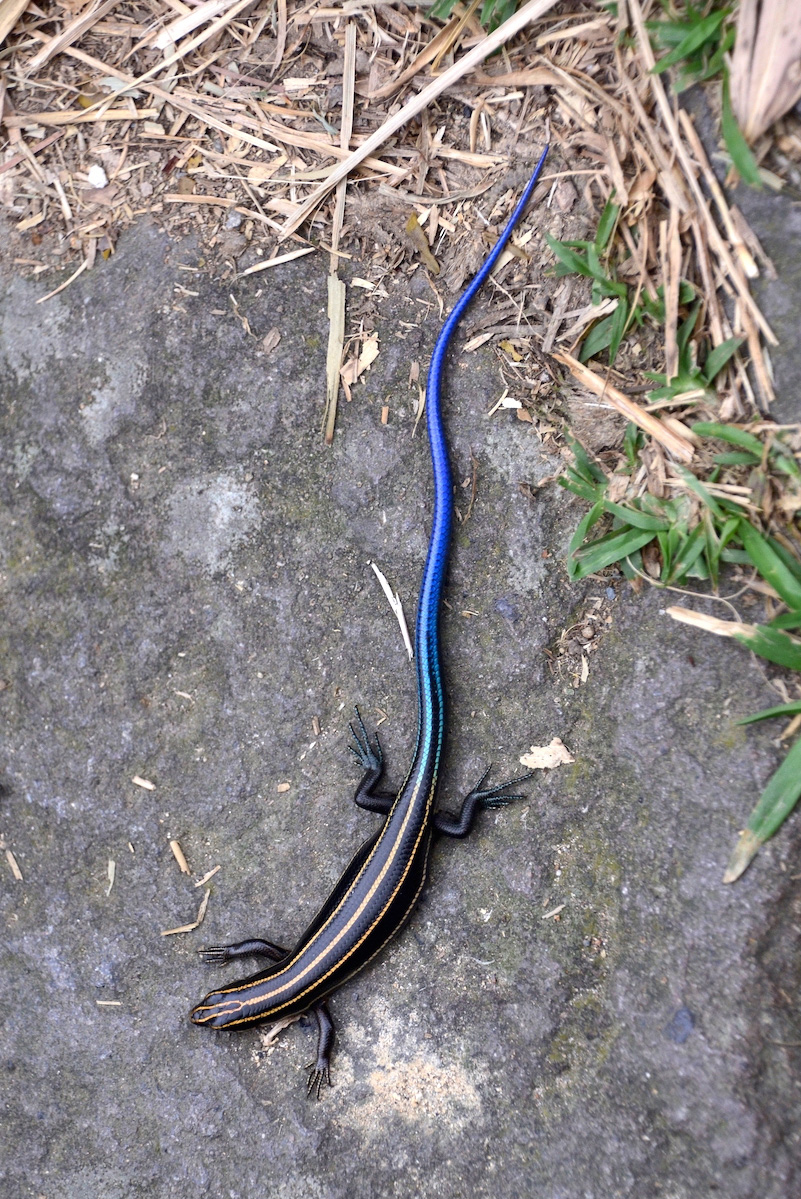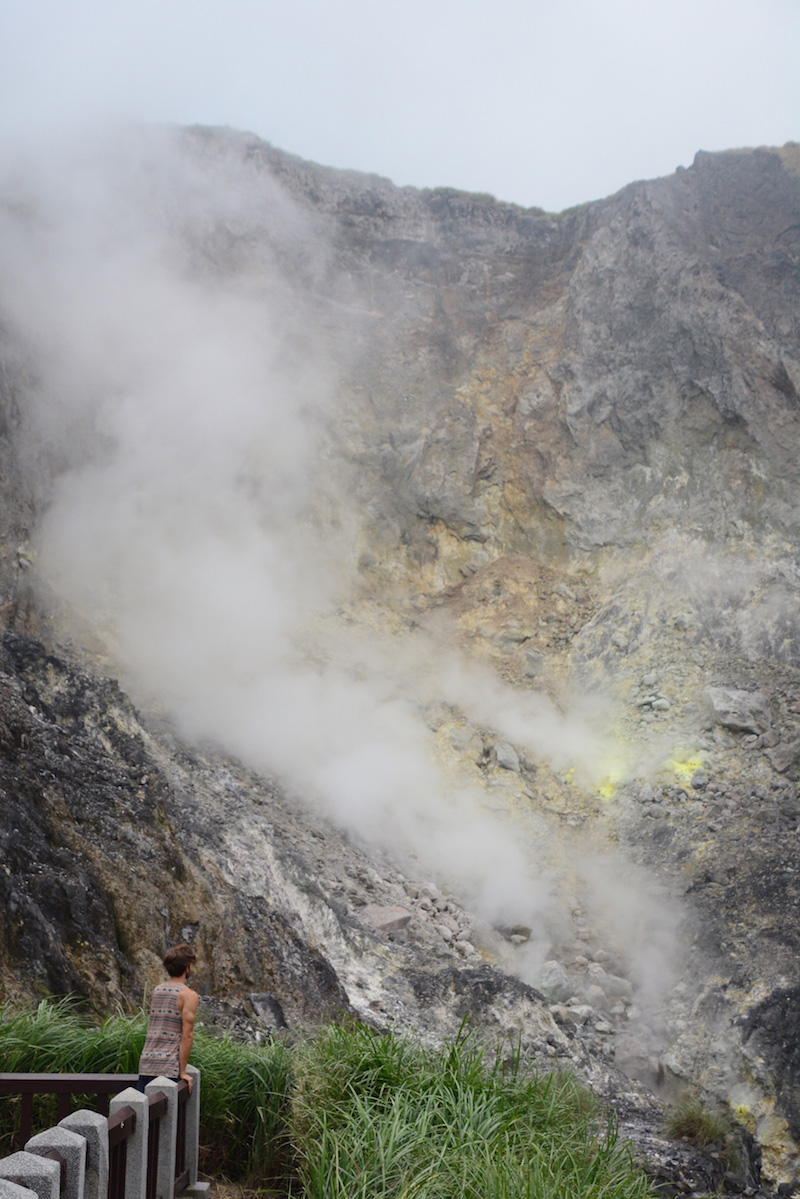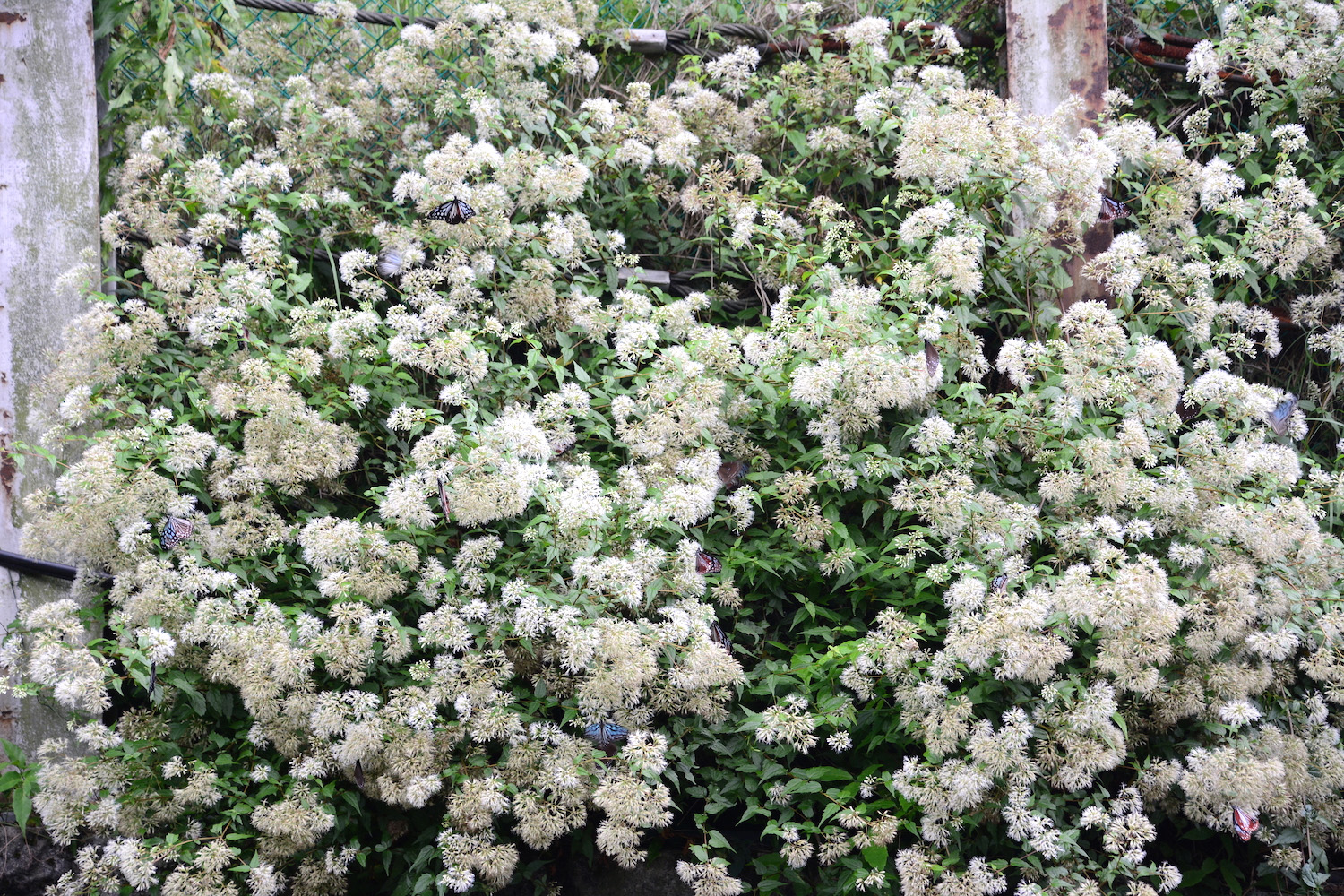 Right within the city, the Taipei Botanical Garden is an utter oasis, even if it does need some TLC. If anything, the less than ideal funding (and, thus, marketing) the garden receives ends up enhancing the rejuvenating effects of strolling past its lotus ponds and under its towering palms.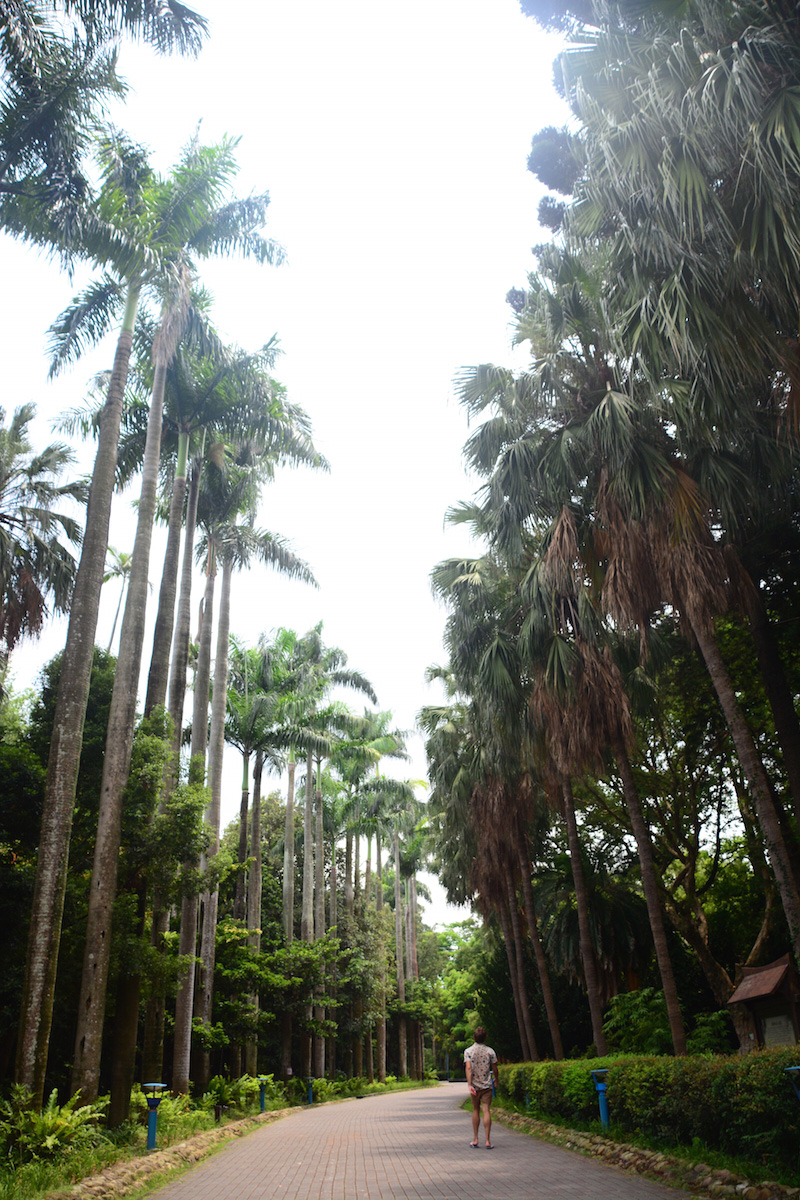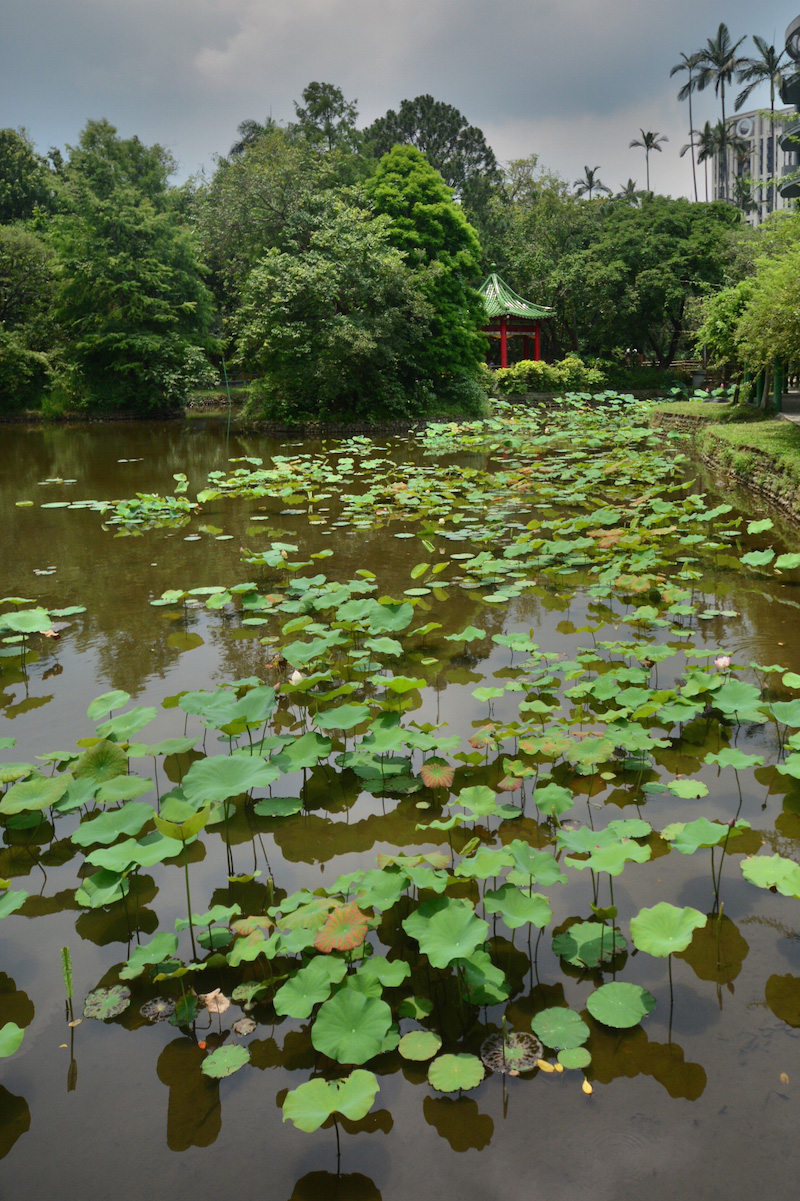 And again, Taipei is so much more than meets the eye – I would argue, in some ways, that it exists exclusively of what meets the eye: The morning market by Shuanglian Station and the Raohe Night Market, near Songshan Station; Tianhougong Temple, which is quite literally sandwiched between a coffee shop and a women's clothing store on busy Chengdu Road in the heart of the modern city.
Watching the steps of the Chiang Kai-Shek Memorial transform into a waterfall, which also transformed the ordeal of being trapped in a monsoon thundershower into an exhilarating adventure; serendipitously meeting a local man while passing through a crowded MRT station my first day and being treated like a lifelong friend every moment we spent together.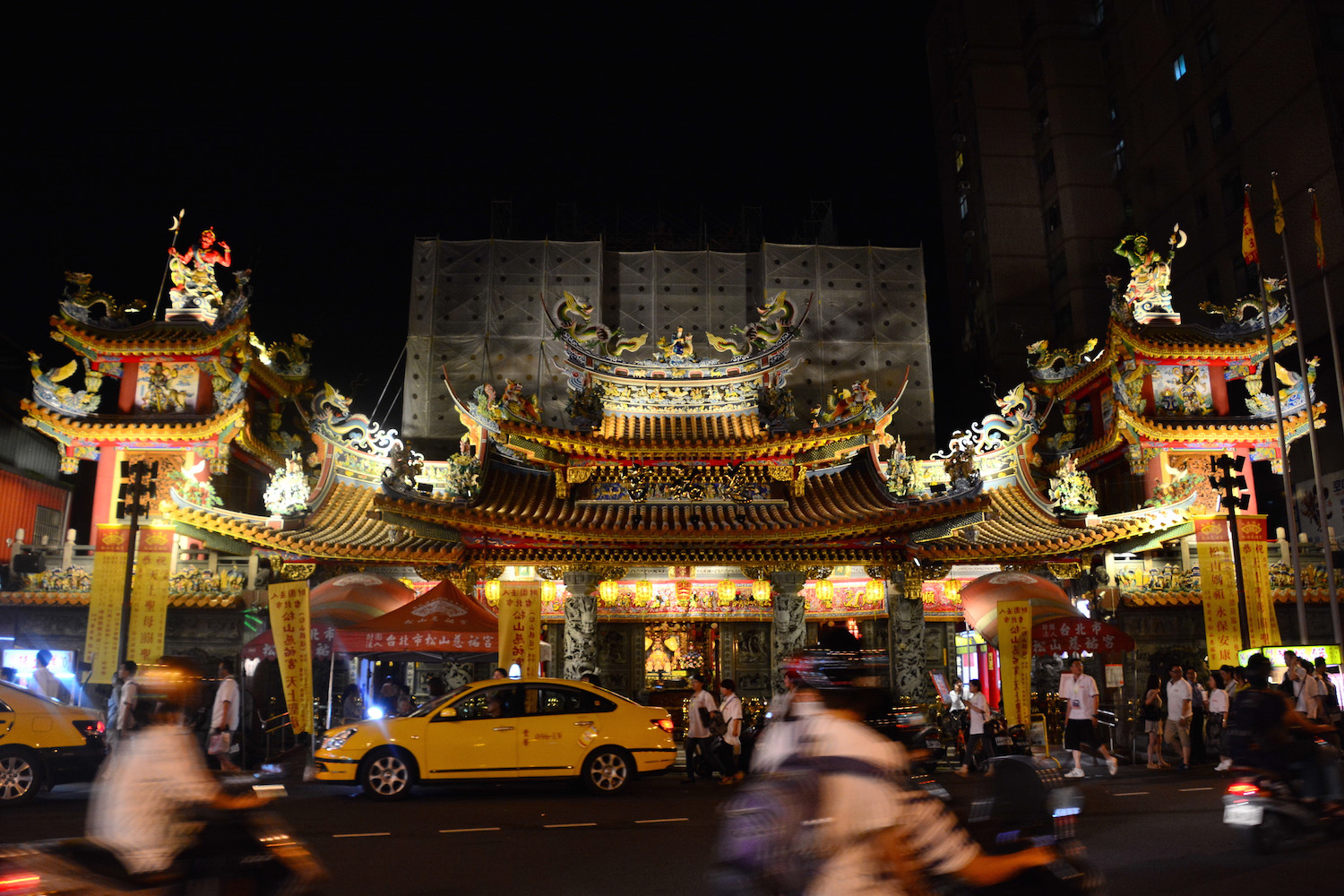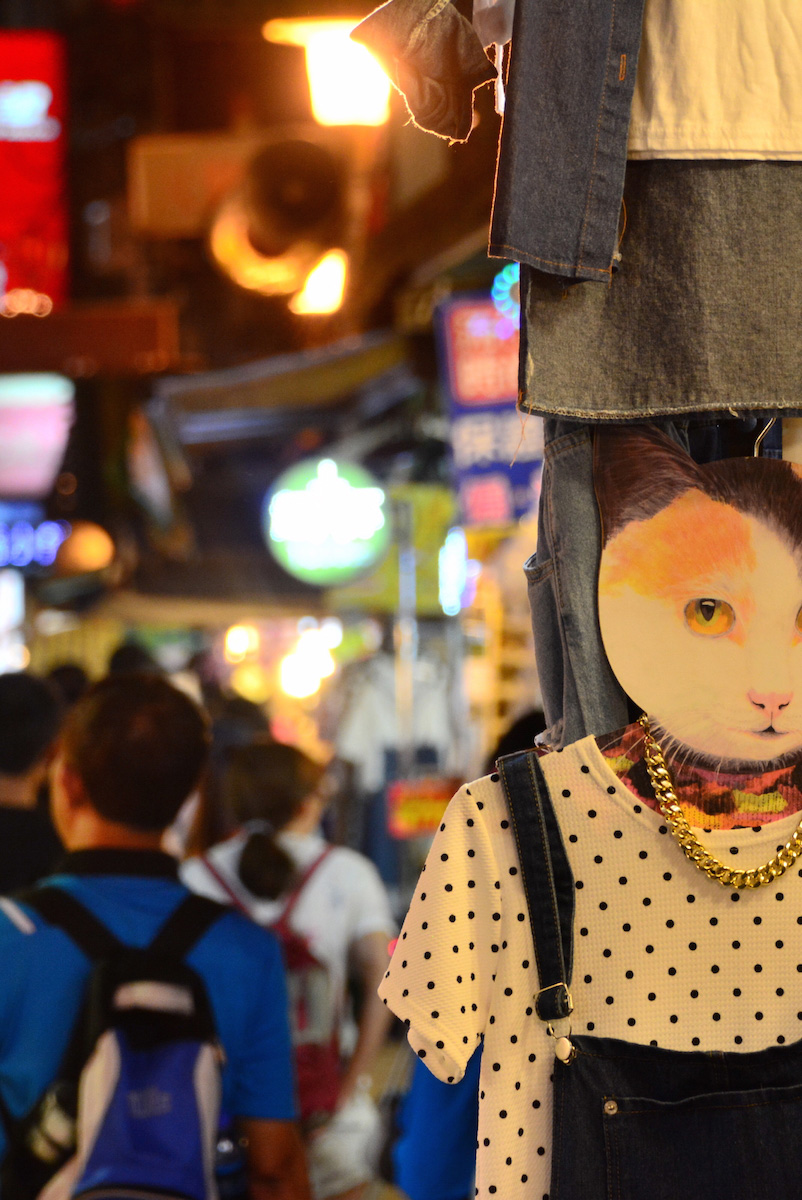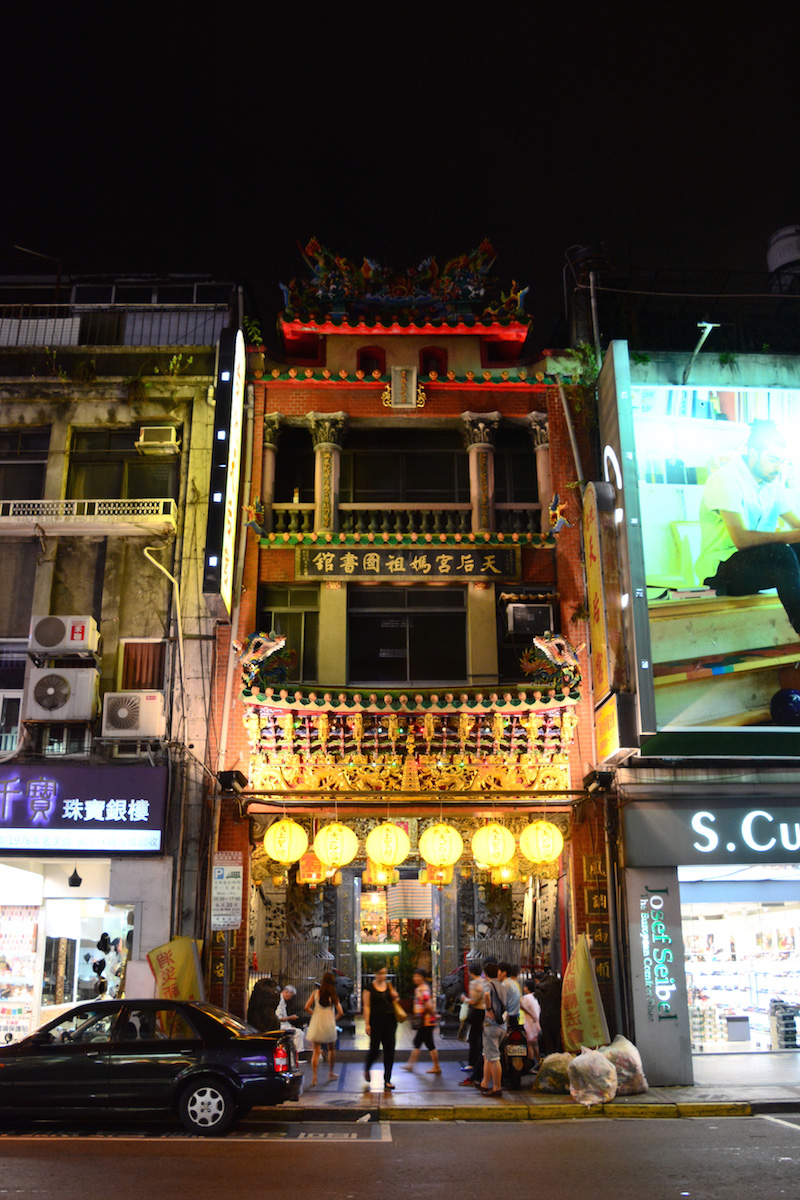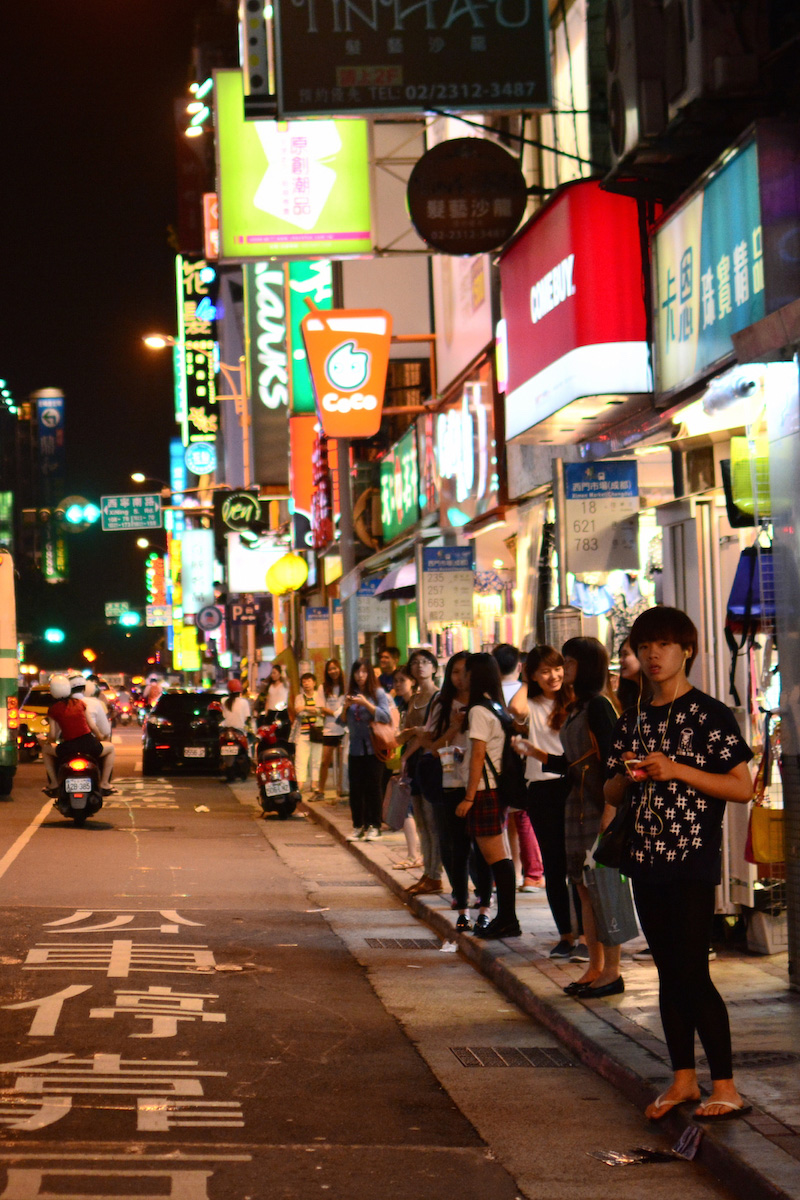 The magnificent paifang I stumbled upon wandering just north of the underwhelming sands of the aforementioned Fulong Beach, on my last full day in Taiwan.
It was almost too perfect, the scene playing out in front of my eyes: A towering Chinese gate; an old man in a paddy hat drying seaweed in front of it; his trusty dog and his motorbike on opposite sides of him. It was a perfect photo and as I crossed the street to walk into it, I also assumed it would be the perfect opportunity to continue the sort of playful exploration that had made my time in Taiwan so enchanting up to that point.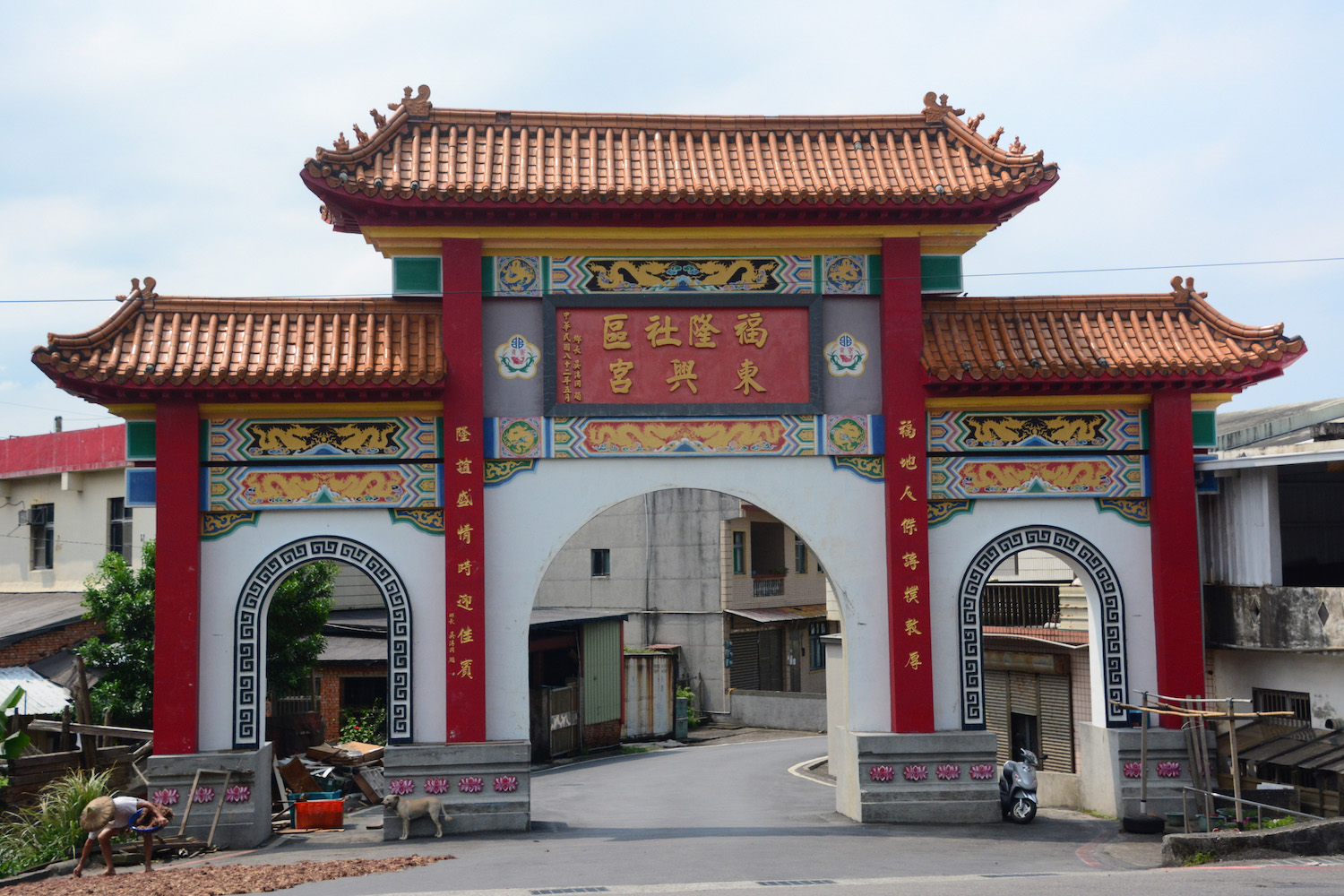 The old man's dog, however, had different ideas.
I backed away from the snarling animal, but he refused to place his teeth back inside his mouth, no matter how unthreatening I attempted to make myself seem – I wasn't welcome off this particular stretch of the beaten path.
I guess there's always next time, I conceded, and walked back toward the train station, dreams of my next trip swirling through my head like motorbikes in the narrow alleys of the city and country I've grown to love so much – the real China, in so many ways. Zài jiàn, Tái Wān.
Share:

I travel to the Far East a lot as you can tell from the volume of articles I have published about the region. Whether I'm in Japan, China or any of the other countries that make up this region of the world, I love the friendly people, the delicious food, the impressive technology and interesting culture, to name just a few features. As far as my own travels are concerned, I have a simple rule: When it doubt, head east. Here are five fabulous Far East cities for you to enjoy.
Osaka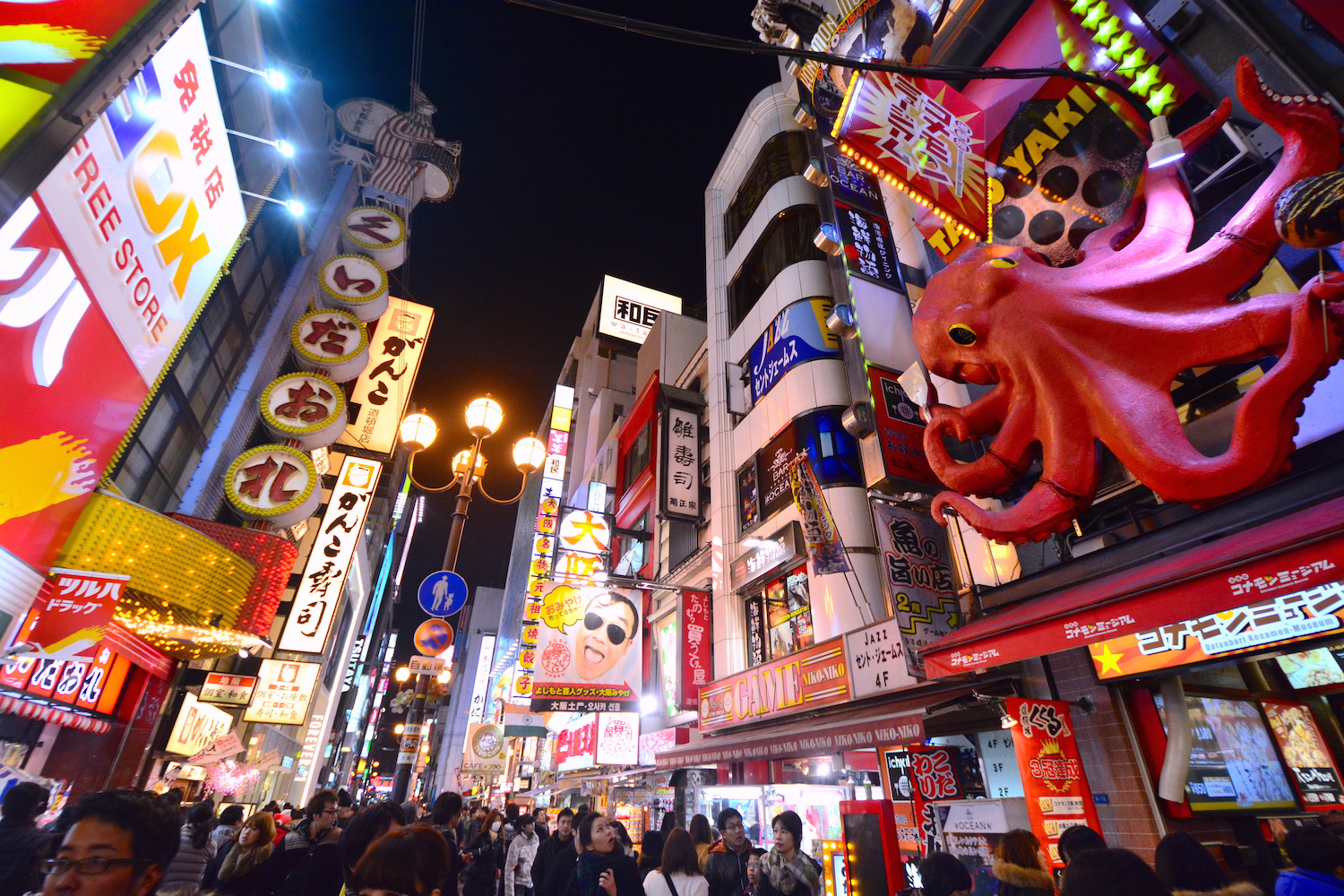 Osaka is probably my favorite food city in the world, particularly local street food like takoyaki and okonomiyaki. Great eats are literally everywhere in Japan's third-largest city, from the restaurants and food stalls that line the Dotonbori pedestrian street, to makeshift markets set up in alleyways and even at shrines! Osaka is not only a great destination in itself, but is also within easy day trip distance of nearby treasures like Kyoto and Nara.
Beijing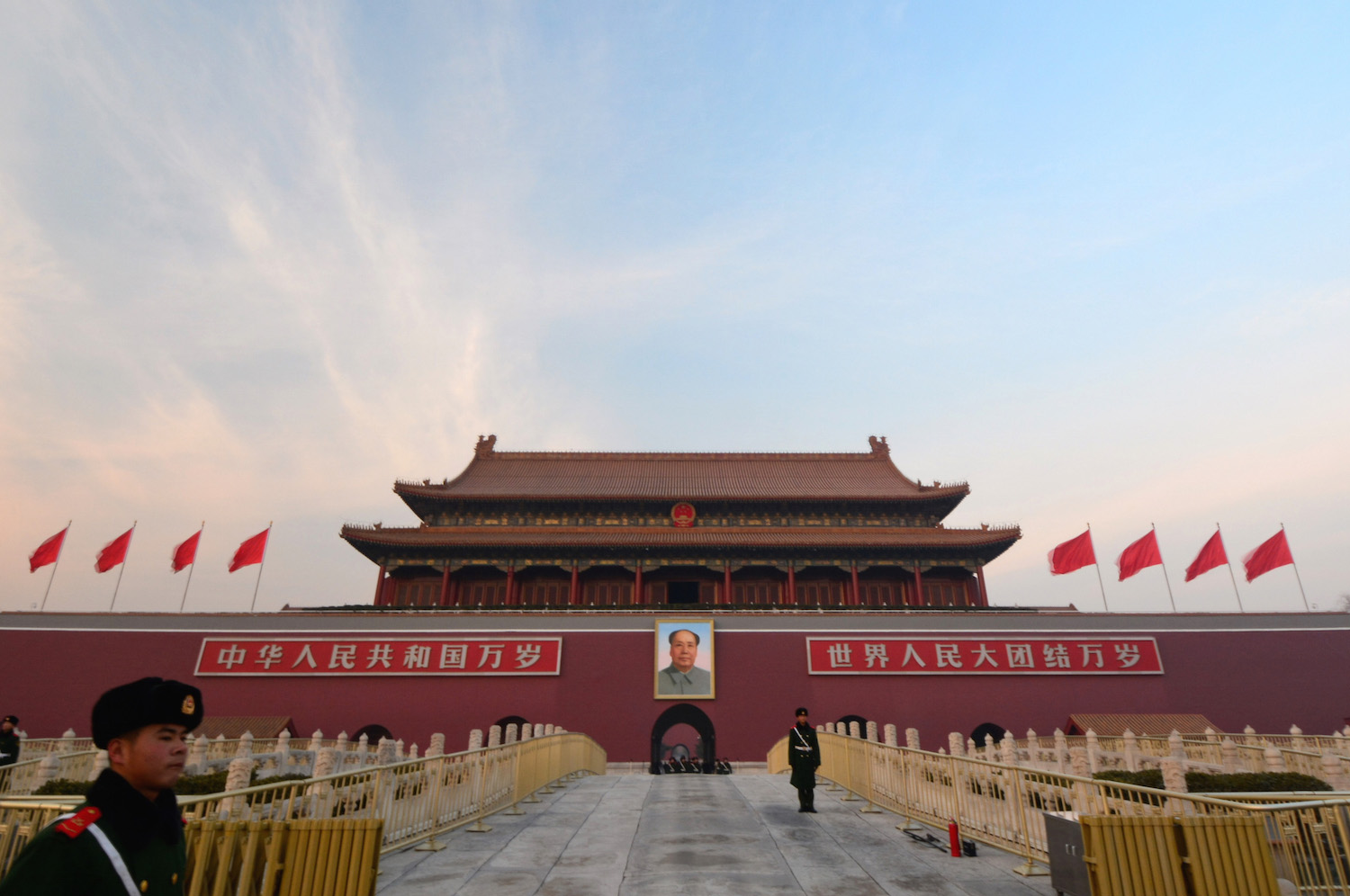 Beijing is a city many people love to hate, but not me. Even if you ignore the fact that the Great Wall of China is just a couple hours away by car, Beijing is one of the few places in the world that truly has it all: Ancient places like the Forbidden City and Lama Temple; Tian'anmen Square, the world's largest public plaza; and the skyscraper-filled Guomao District. What's more is that in spite of its reputation as a polluted place, Beijing has plenty of green space, from the central Jingshan Park to the sprawling Summer Palace.
Shanghai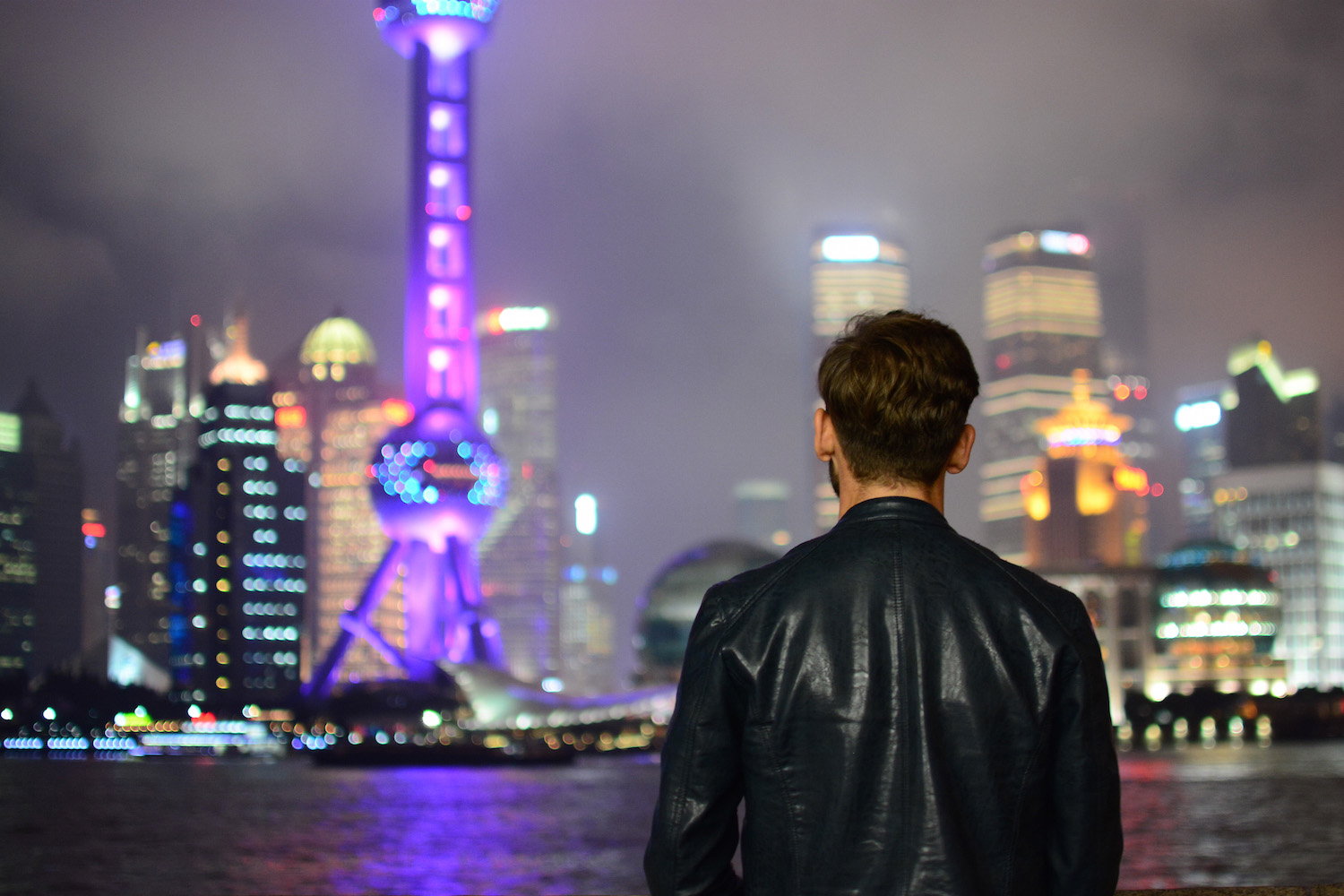 Although Shanghai is just a quick flight from Beijing, it couldn't be more different. Here, the emphasis is decidedly on the modern, with architectural marvels like the futuristic Oriental Pearl Tower and the new Shanghai Tower, which is one of the tallest buildings in the world. Of course, in spite of its contemporary sheen, Shanghai's got plenty of heritage. Step into Shanghai's past at spots like Jing'an Temple and Yuyuan Gardens.
Tokyo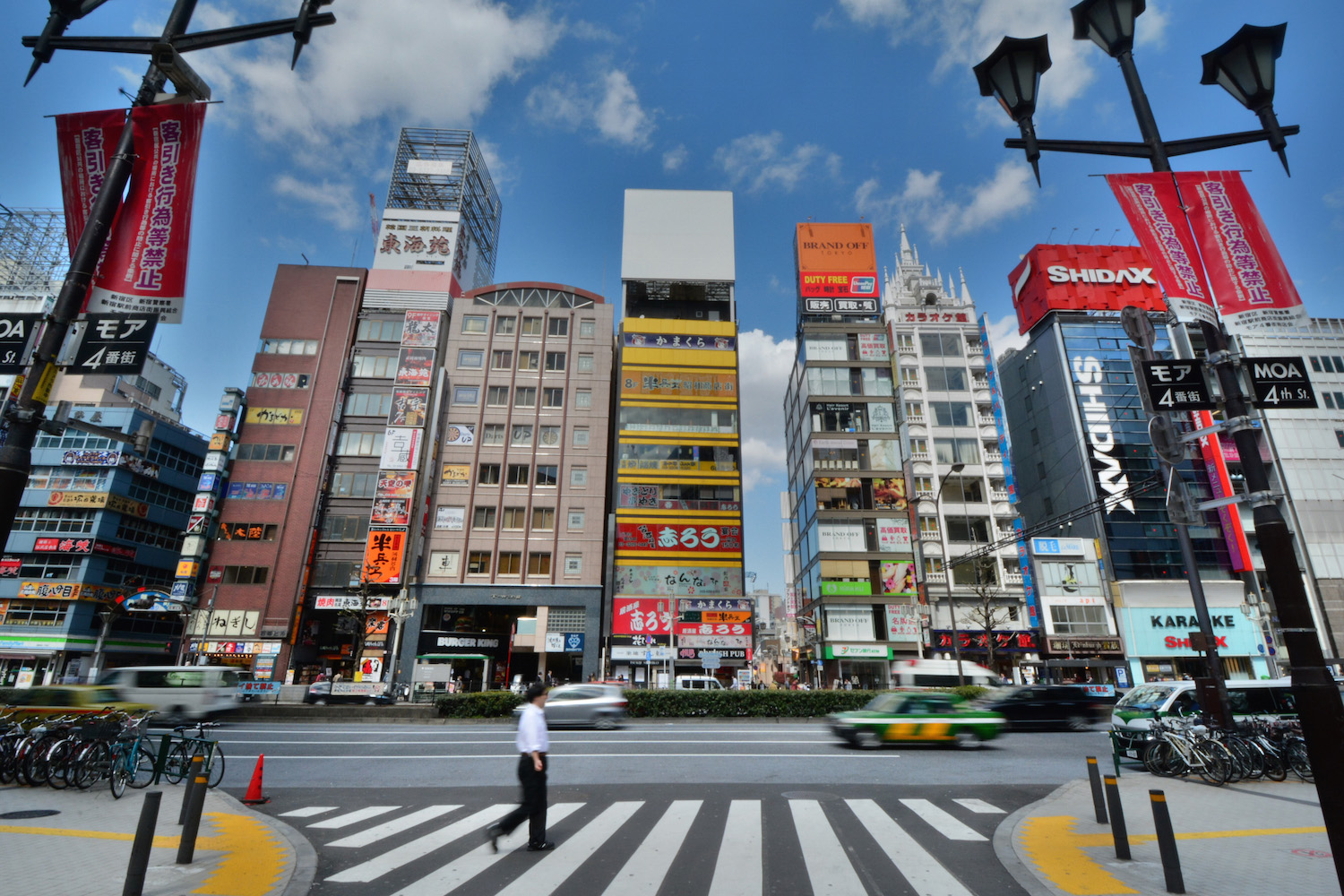 Move over, New York – Tokyo is the true city that never sleeps! Whether you chase neon signs in Shinjuku, cross the world's busiest intersection in Shibuya, spot crazy fashion in Harajuku, overload on anime in Akihabara or watch a tuna auction before dawn at Tsukiji Fish Market, Tokyo is 24 hours of fun. Tip: For priceless views of Mt. Fuji towering over Tokyo, ascend the Mori Tower in Roppongi Hills just before sunset.
Seoul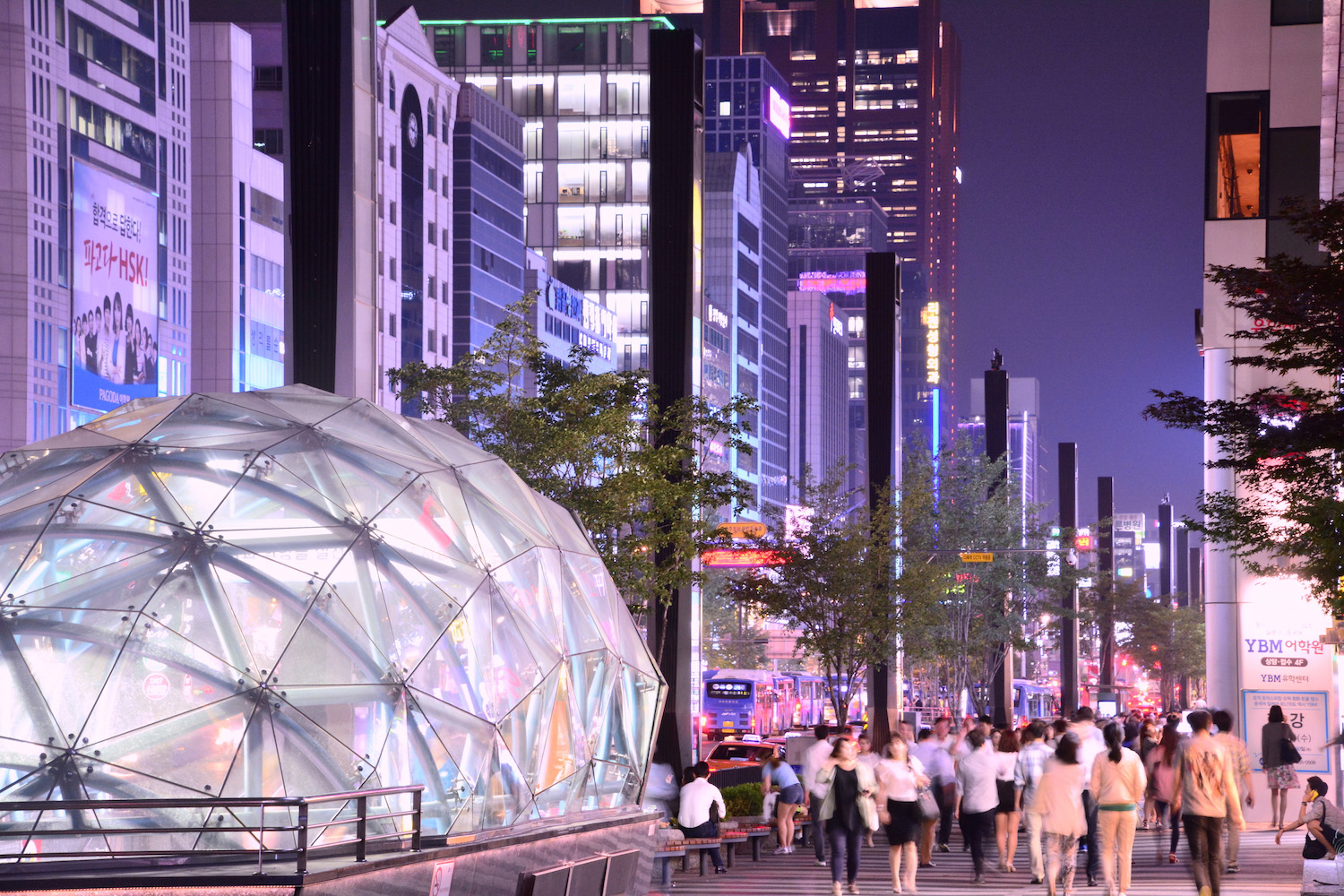 Seoul gained international fame in 2012 due to Psy's massive hit "Gangnam Style," but K-Pop is only the beginning of all there is to love about the capital of South Korea. Trace the steps of Korean emperors at Gyeonbukgung Palace, step back in time in the Bukchon Hanok Village, ride bikes beside the Han River, watch sunset from Mount Namsam or relax along Cheonggyecheon, a natural stream that flows through the heart of Seoul's skyscrapers.