About Robert Schrader
Robert Schrader is a travel writer and photographer who's been roaming the world independently since 2005, writing for publications such as "CNNGo" and "Shanghaiist" along the way. His blog, Leave Your Daily Hell, provides a mix of travel advice, destination guides and personal essays covering the more esoteric aspects of life as a traveler.
Latest Posts by Robert Schrader
Share: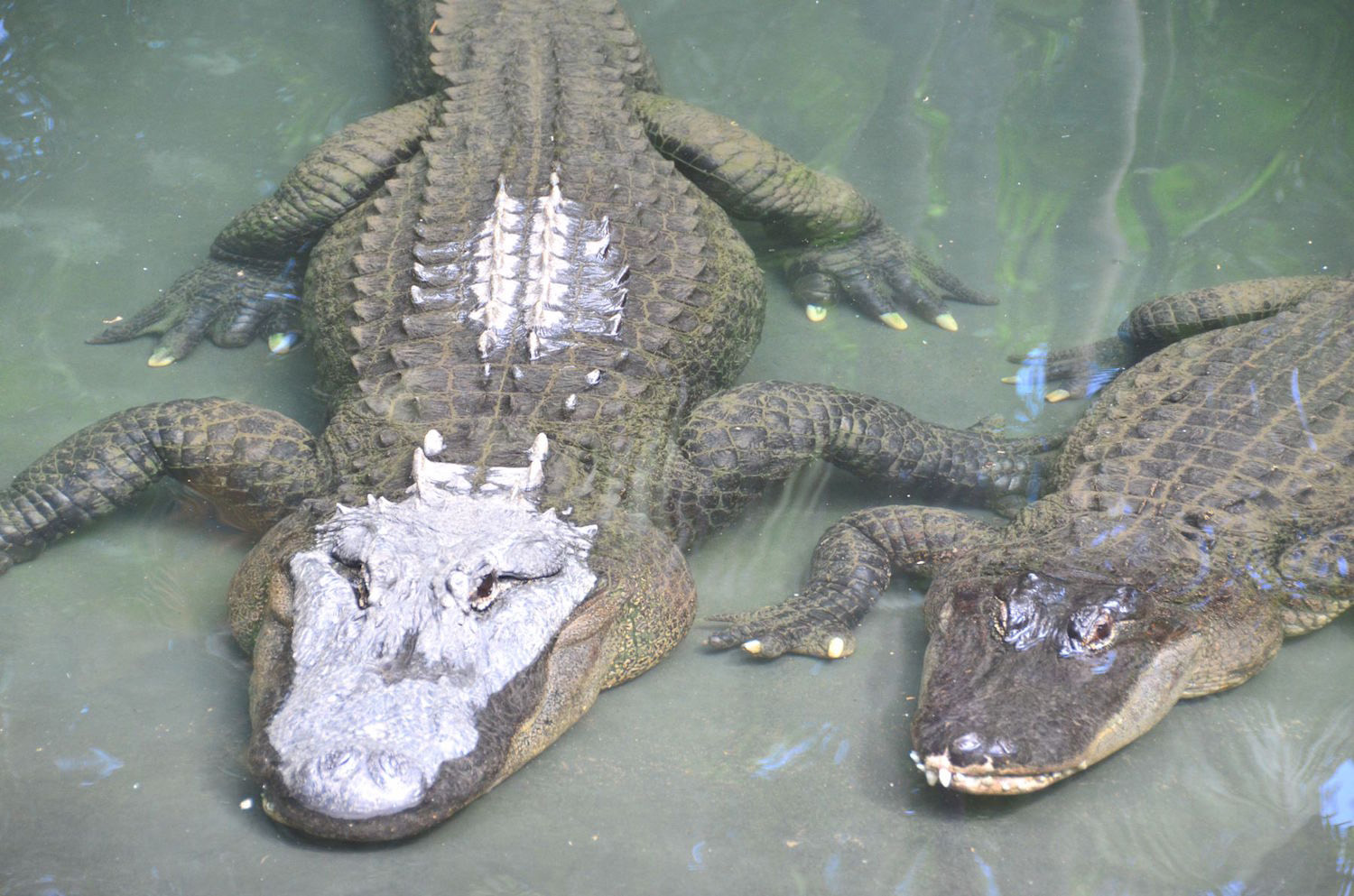 With a name like "Surfers Paradise," its difficult to imagine wanting to leave the glittering surf town at the heart of Australia's Gold Coast, even if you aren't the world's most talented surfer. Surfers Paradise is much more than paradisical beaches and massive waves, whether you're in search of world-class shopping or delectable dining.
If you do need a break from Surfers Paradise, however, you needn't worry – plenty of amazing day trips are available, whether you're in search of alternative beaches, rugged hikes, or the convenience of a big city.
Visit (Another) Surfer's Paradise
The idea of taking a day trip from one Australian beach town to another might seem strange, but you also have to consider that Surfers Paradise, as time passes, is less of a town and much more of a city. If you want a more private version of paradise, then, you might head to nearby Queensland beaches such as Mermaid Beach, Kirra and Broadbeach.
Hike in the Gold Coast Hinterland
Most of Australia's population lives along the coast – and most of Australia's spectacular nature exists inland, away from this. One area that illustrates this perfectly is the Gold Coast Hinterland, a massive rainforest that dates back to the time when all of Earth's continents were one.
Even if you don't do the aptly-named "Great Walk," a 20-or-so mile trail that requires an overnight stay – and a lot of stamina! – you can access the Gold Coast Hinterland at Binna Burra, which is less than an hour's drive from Surfers Paradise.
Hit the Big City of Brisbane
The only thing crazier than the fact that an ancient rainforest sits an hour away from Surfers Paradise is that driving an hour in a slightly different direction takes you to Brisbane, Australia's third-largest city. The more Surfers Paradise develops, the less advantage there is in coming to Brisbane for modern conveniences and creature comforts, but Brisbane is nonetheless a great city trip destination. Ride the ferris wheel in Southbank, catch a theater show at the Queensland Centre for the Performing Arts (QPAC) or see what's hot at the Gallery of Modern Art at the Queensland Art Gallery.
Go Wild at the Australia Zoo
The Australia Zoo is about an additional hour north of Brisbane, but it's definitely worthy of the two-hour trip from Brisbane, even if you're too afraid of crocs to get up-close-and-personal with them. The brainchild of Steve Irwin, whose memory lives on in images, videos and the very existence of the place, the Australia Zoo is a particularly smart choice if you're traveling with children, who will enjoy the large variety of animals there and the ease of getting to know them.
The best thing about taking a day trip from Surfers Paradise? You never really have to leave the idea of paradise, even if you leave your surfboard behind.
Share: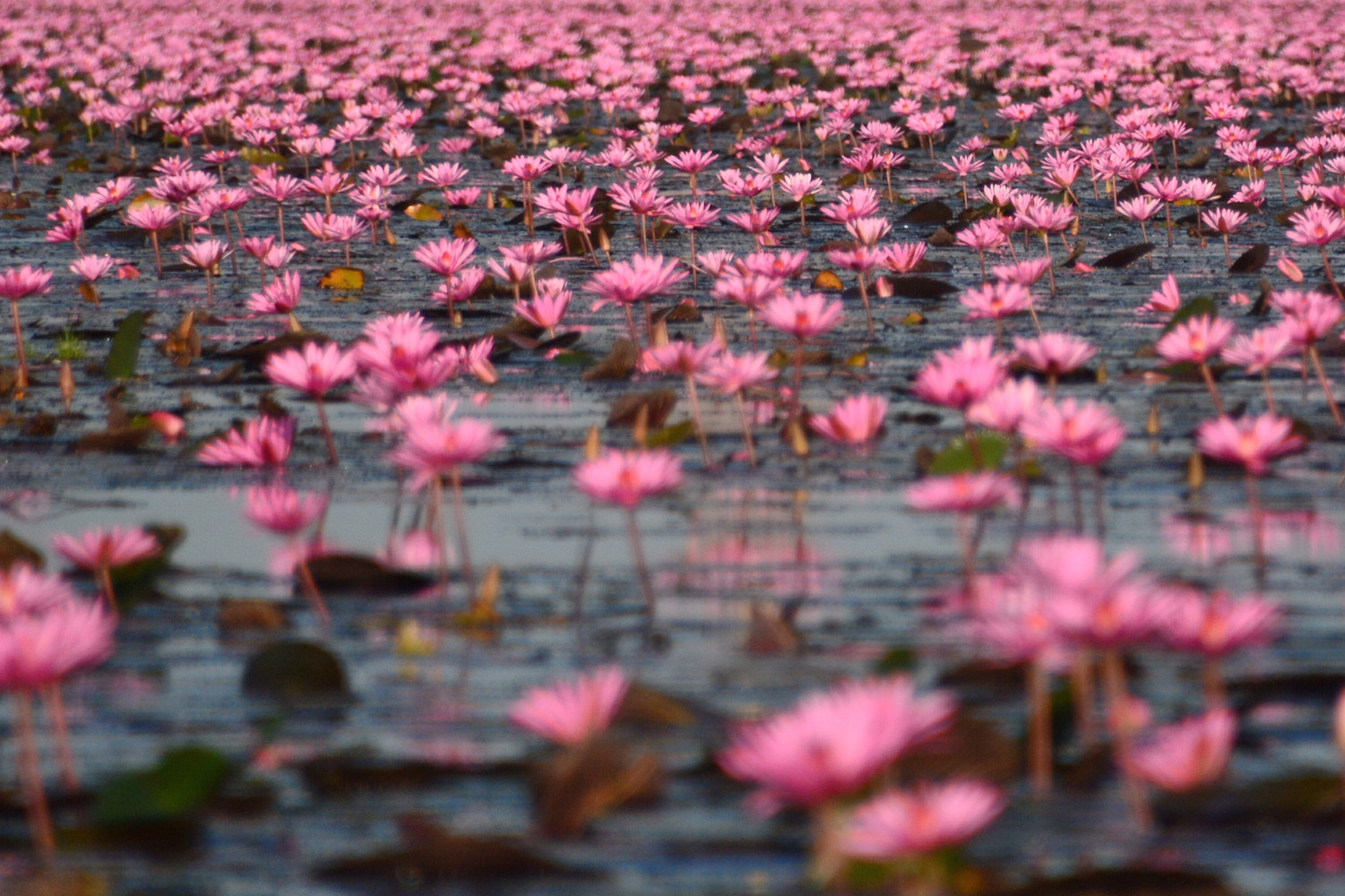 I was surprised last week, after having teased my uncharacteristically luxurious route to Asia on Facebook, at the reaction some people had to my destination. Thailand, again? Weren't you just there a few months ago?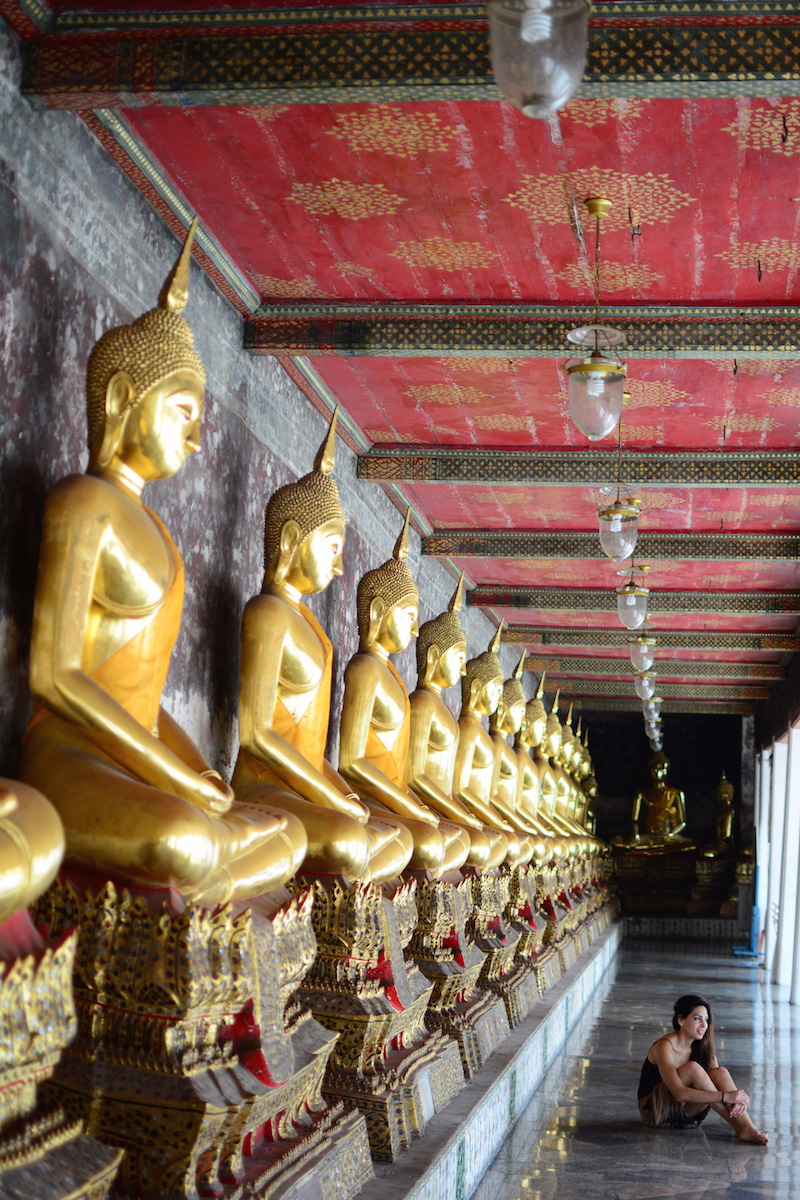 All my trips to Thailand have been special, but this particular one had two very unique elements. The first was that my friend Dora (with whom I traveled to India in 2009 and who came to see me in China in 2010, when I was living there) accompanied me this time. It was her maiden voyage to Thailand and it was an honor to be able to walk beside her as she discovered the Kingdom for the first time.
The second unique element of this trip (and the one that perhaps best dispels the notion that my frequent returns here are somehow un-exciting) was the so-called "Red Lotus Sea" (Talay Buadaeng in Thai), a flower-filled lake just outside the northeastern city of Udon Thani, near the Lao border.
A surreal landscape not entirely different from Indonesia's Kawah Ijen or Brazil's Lençóis Maranhenses in its otherworldliness, the Red Lotus Sea (whose flowers are actually pink and are technically water lilies) is the antithesis to the idea of Thailand being ordinary. And, well, I guess I'll let my photos do the rest of the talking when it comes to that.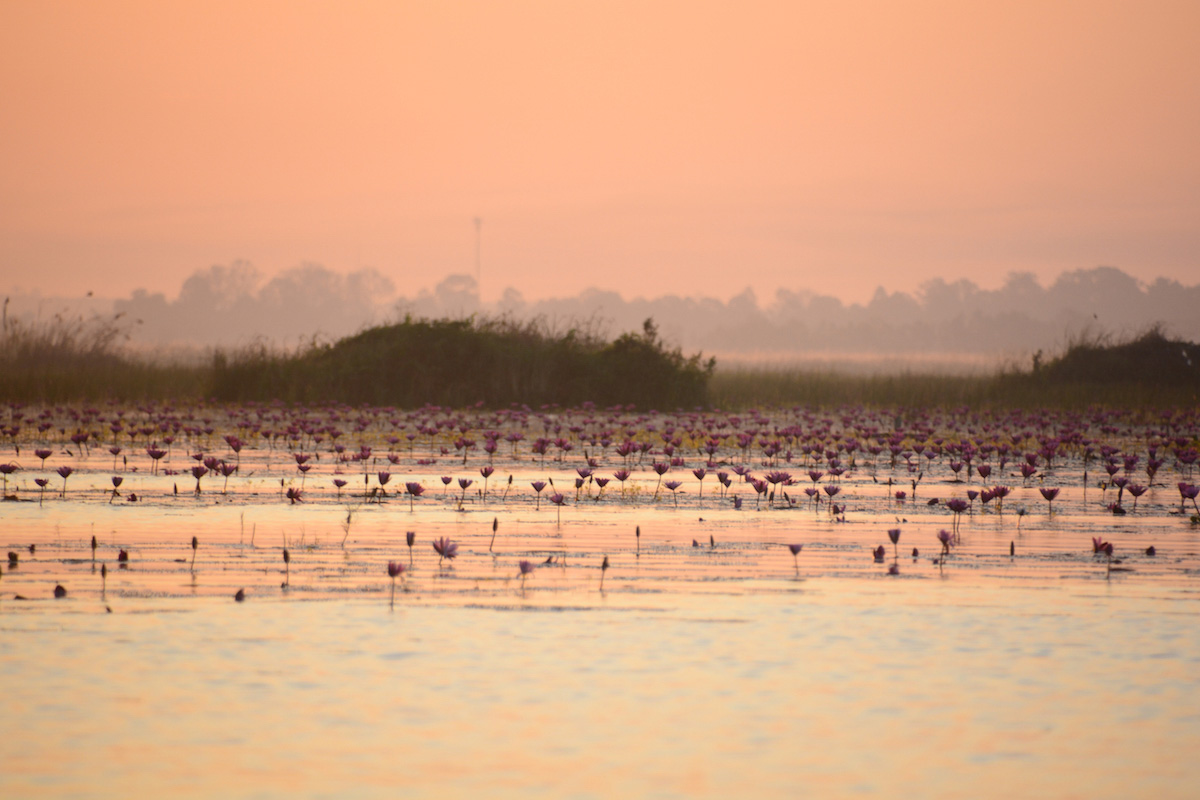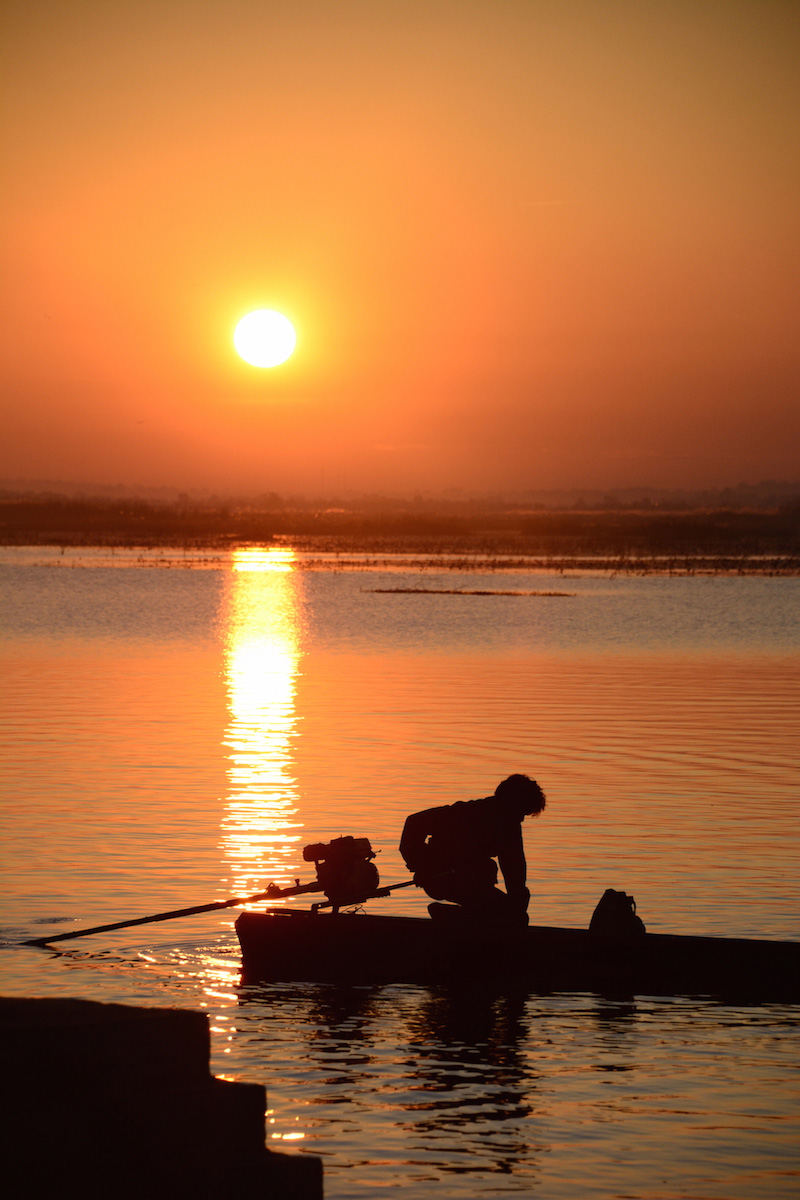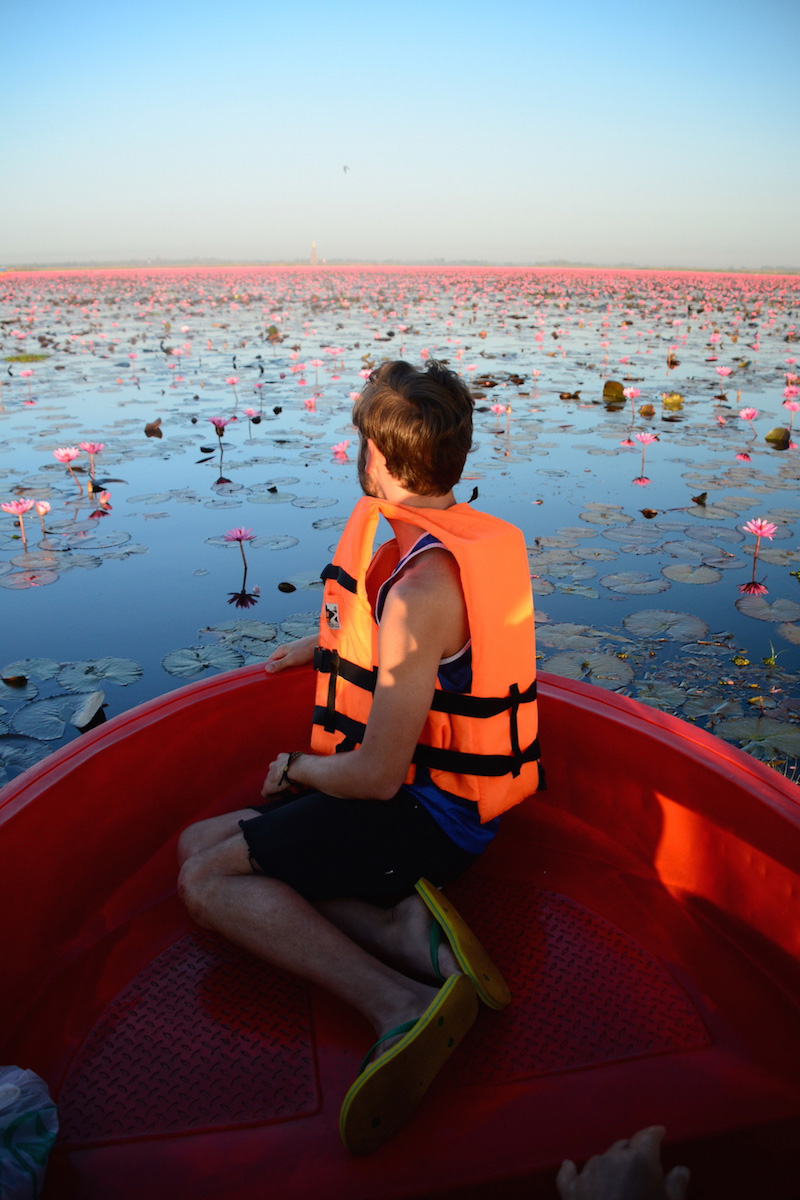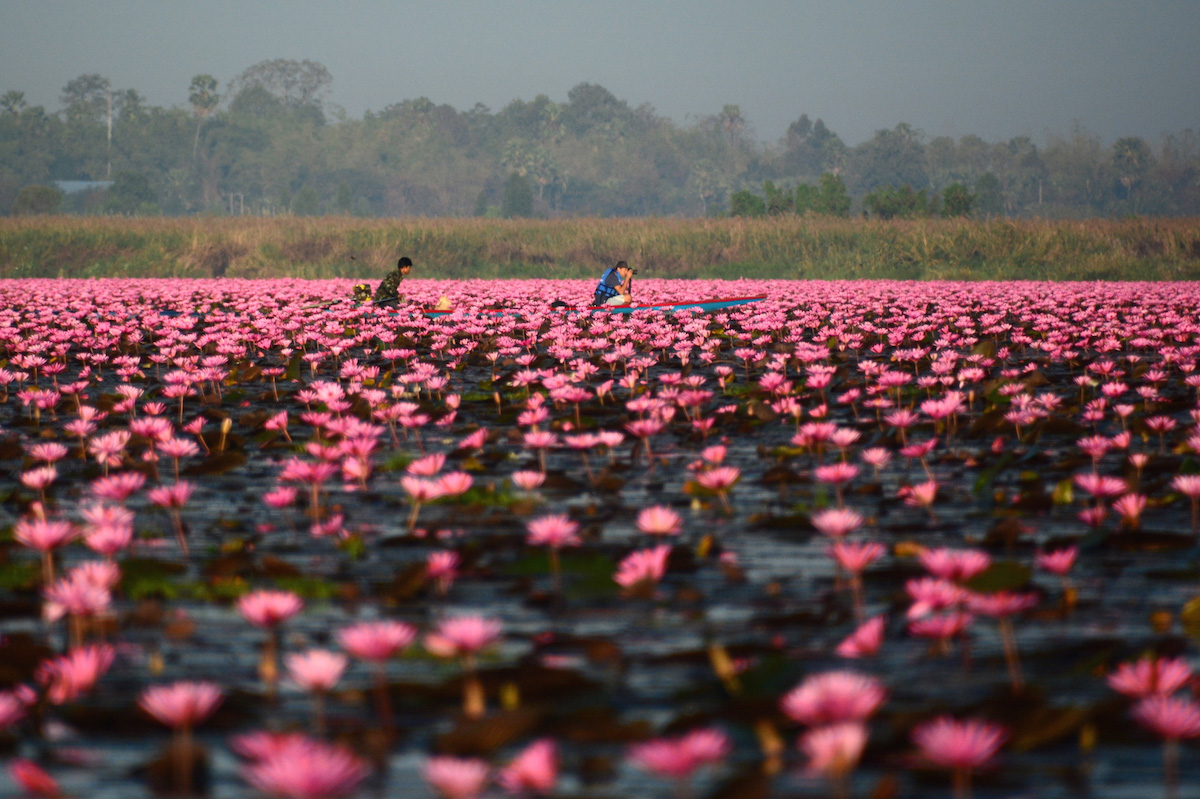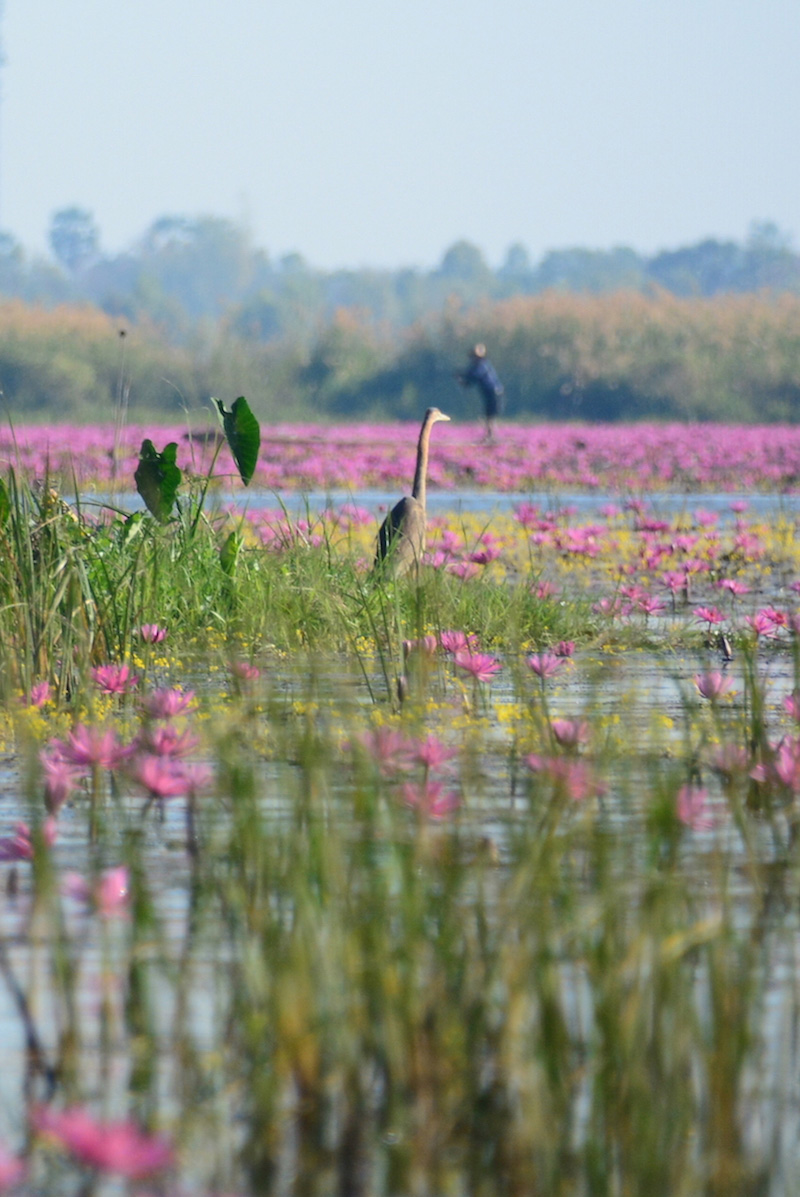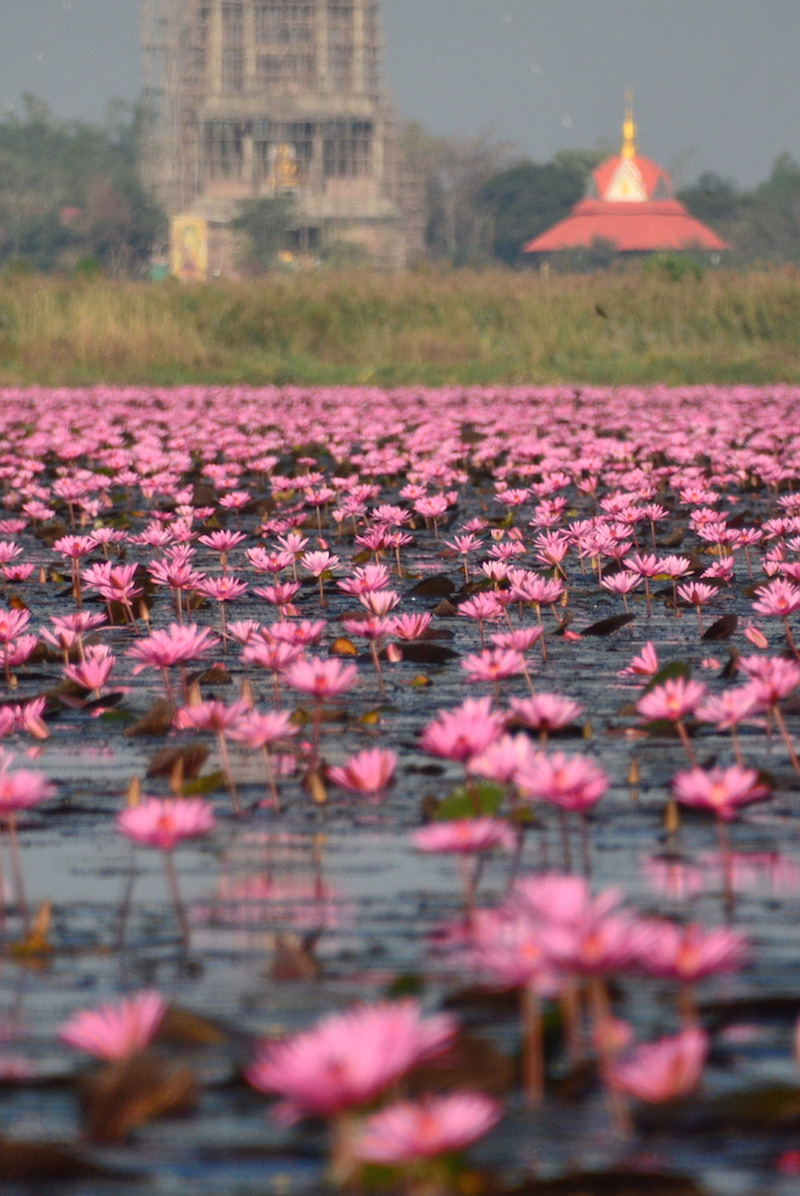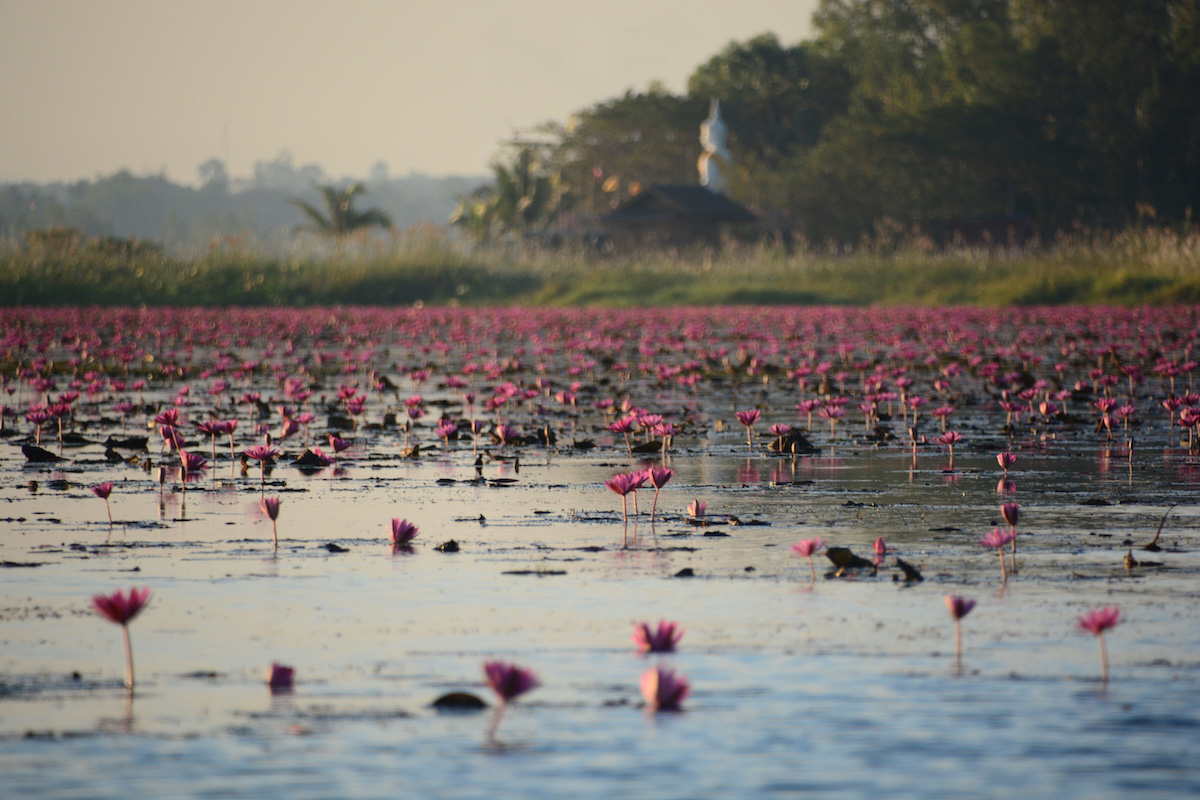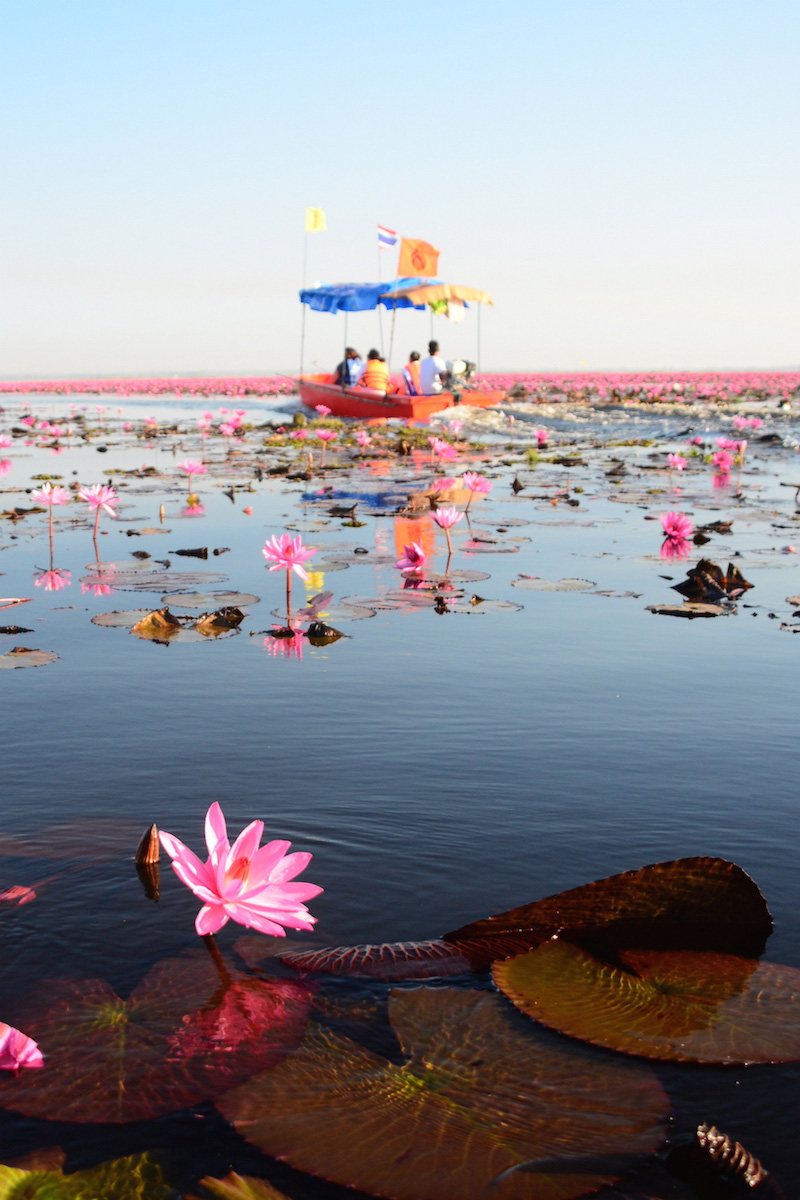 How to Visit the Red Lotus Sea
If you want to see the Red Lotus Sea, the first thing you need to do is come in the right season. January (when the official "Red Lotus Sea Festival" occurs) and February are the only months of the year where flowers cover the surface of the lake enough to replicate the experience you see in the pictures above, although you can go out on the lake whenever you wish.
To reach the Red Lotus Sea, fly or take a train to the northeastern Thai city of Udon Thani (airport code UTH), from which Nong Han Kumphawapi Lake is about 30 minutes away by taxi. Unless you've practiced speaking Thai and its many tones, I recommend you simply screenshot a picture of the Red Lotus Sea, rather than trying to tell its official name – again, Talay Buadaeng – to your driver.
You can visit the Red Lotus Sea anytime of day, but I recommend going just before sunrise (leave Udon Thani no later than 6 a.m.) for the best lighting and most manageable crowds. A taxi for return journey will cost you between 1,000-1,500 THB, while a 90-minute boat ride on the lake costs 50 THB as of February 2015.
Share: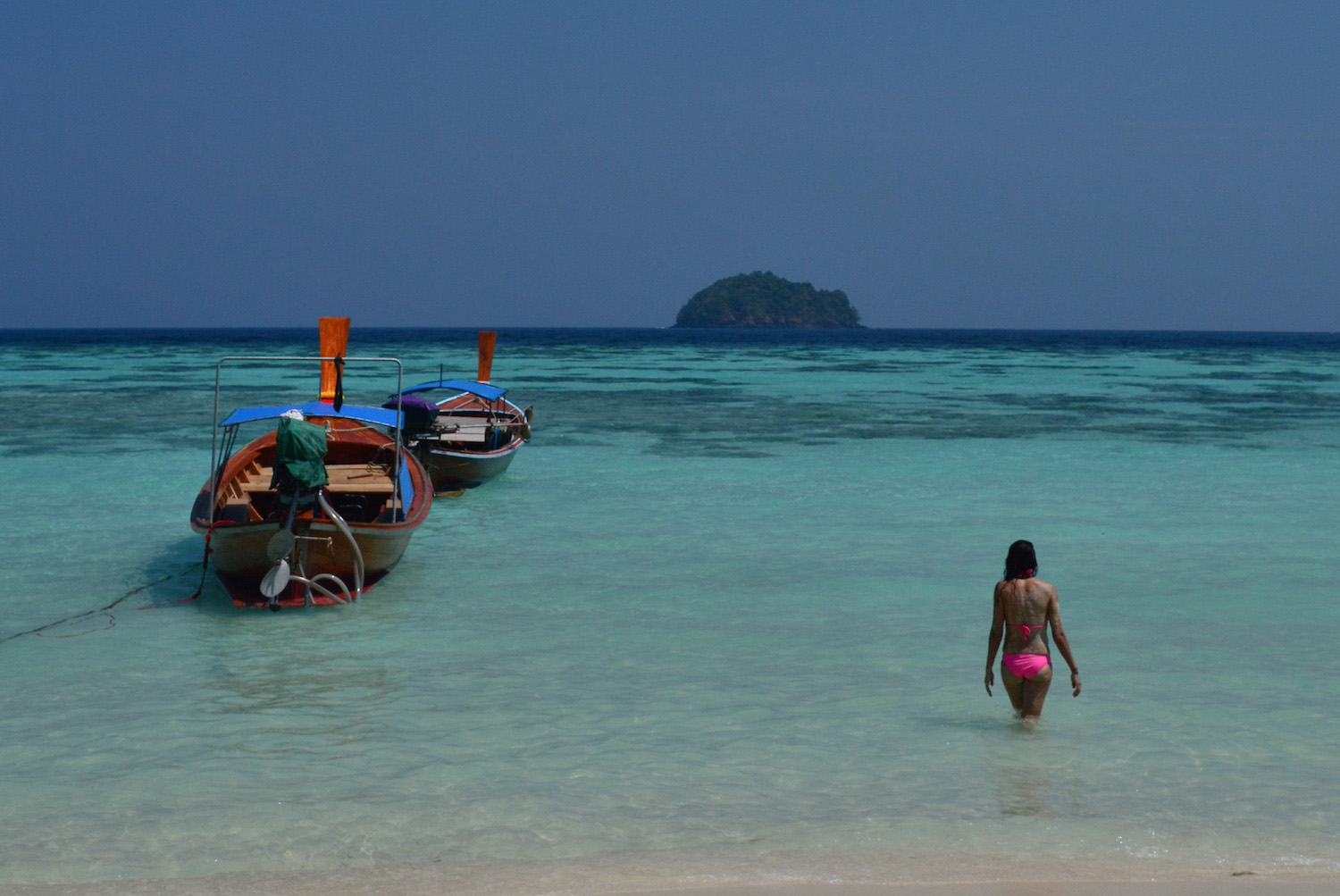 With white sand beaches, swaying palms, and unobstructed access to the Gulf of Thailand, Koh Samui seems like paradise 365 days a year. Depending on your travel preferences, however, there's probably a certain period of the year that's better for you to visit than others. If you know you want to visit Koh Samui, but aren't sure when, continue reading to help you decide when to hit Koh Samui's shores.
Koh Samui's Peak Season
Did you know Koh Samui's local population of 63,000 swells to more than a million every year? That might sound like a lot of people to squeeze on an island – even if it is the second-largest in Thailand – but thankfully, if you go at the right time of the year, you can mostly avoid the crowds.
Irrespective of the seasonal monsoon, the majority of foreign visitors to Koh Samui come during the Christmas holiday, when it's cold in Western countries like the U.S. and U.K., where the majority of Thailand's visitors come from.
Avoid the Monsoon – or Don't
Like much of the rest of Southeast Asia, a seasonal monsoon influences Koh Samui's climate, so if you're not a fan of rain at the beach, you'll need to take this into consideration. If you want to avoid Koh Samui's monsoon, don't travel to the island between September and November, which is when most of the rains arrive from the north.
With this being said, you should also realize that Koh Samui's monsoon is not as inundating as monsoons can be elsewhere in the region – it doesn't rain all day, or even every day. Additionally, coming during the monsoon, which is a sort of "calm before the storm" of the busy season, can come with a fairly significant cost incentive, albeit with a less convenient ferry schedule as well.
Consider Your Overall Trip
If you're planning a larger trip to Thailand or even Southeast Asia, consider where Koh Samui fits in the context of the trip before deciding when you'll come. If you're island hopping, for example, Koh Samui will occupy a less unique place in your itinerary than if you're trying to juxtapose its calm surf with the chaos of hectic cities like Bangkok or Kuala Lumpur, the wild jungles of Borneo or the Mekong Delta, or the towering volcanoes you find in Indonesia and the Philippines.
Then again, Koh Samui is about as close to paradise as you can get on planet Earth. So, even if you have a rainy day or two during your trip, and even if the only time you can visit is at the peak of peak tourist season, regrets have no place in the shadows of the coconut palms that tower over Koh Samui.
Share: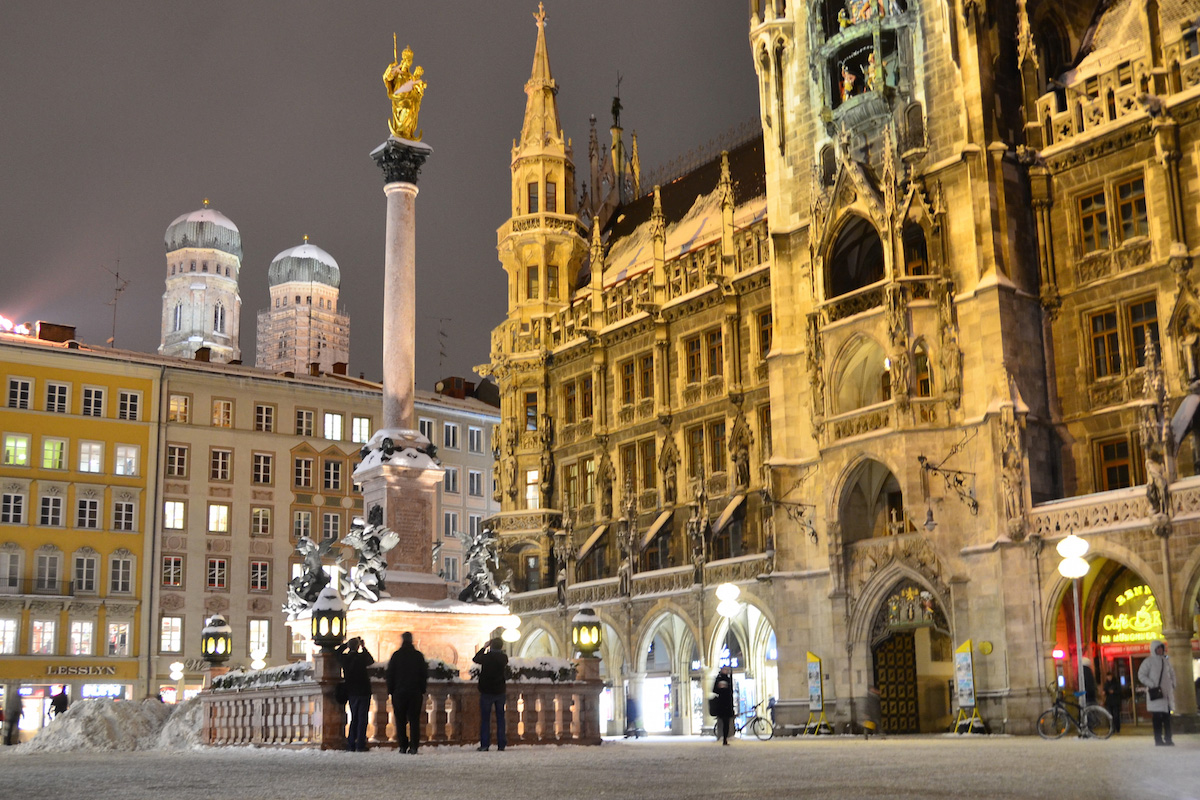 With a population of nearly two million, several high-profile annual events, and a history spanning centuries, it's not hard to understand why planning a trip to Munich can be an imposing task. Even if you simply visit during Oktoberfest (which actually takes place mostly during September), there are dozens of variables to consider. No matter what made you choose Munich in the first place, follow these tips to plan the ultimate trip.
Don't Limit Yourself to One Season
Munich is infamous for its ambiance during the early autumn, when beer buffs from around the world gather in its Old Town to give a collective "Prost," but the Bavarian capital is blessed with four seasons, and you owe it to yourself to take advantage of them. Indeed, you could argue that frothy German lagers are even more refreshing during Munich's hot summers, while there are few experiences more relaxing than a spring day in the Englischer Garten, Munich's largest green space.
Winter is also an amazing time to visit Munich, for a few reasons. First and foremost, because heavy snows give Munich attractions like Frauenkirche and the Neues Rathaus an almost ghostly quality, to say nothing of the Bavarian Alps that surround the city, which are the perfect place for a ski trip. Plus, Munich's winter prices are as low as its temperatures, offering you the best bang for your euro. Whichever season you choose to visit, don't forget to do a bit of research on cheap hotels in Munich before your trip.
Give Yourself a Little Wiggle Room
Munich isn't as heavy on tourist attractions as other German cities like Berlin and Hamburg, but there's nonetheless plenty to discover – don't needlessly limit yourself on time. This is especially true if Munich is your first stop in Europe after arriving from overseas, in which case you should give yourself a couple days simply to relax.
In general, an ideal amount of time to spend in Munich is three full days: one to explore the museums and historical buildings in the Old Town, another to sample food and beverages and to relax amid nature, and one more for a day trip to somewhere else in Bavaria.
Plan to Take a Day Trip
One day trip, or many – there's so much to do in Bavaria that you could easily spend a few weeks exploring it. The most popular day trip in Munich is undoubtedly Schloss Neuschwanstein, a medieval castle perched on a bluff in the Bavarian Alps, which seems culled right out of a fairy tale, especially when it's covered in winter snow. Speaking of winter in the Alps, there are few better times or places to test your skiing or snowboarding skills, or simply to relax with your friends and loved ones.
Stay a While if You Can
Munich Airport is one of Germany's largest international gateways, which makes it the perfect place to begin your trip to Germany or Europe as a whole. Even if you only stay in Munich itself for a few days, use the city as a jumping-off point for a train trip through the Fatherland or a backpacking adventure across the European continent.
No matter how you decide to structure your trip to Munich, the most important thing is to go with a sense of adventure, an open mind, and a resolve to be present in every moment. Prost!
Share: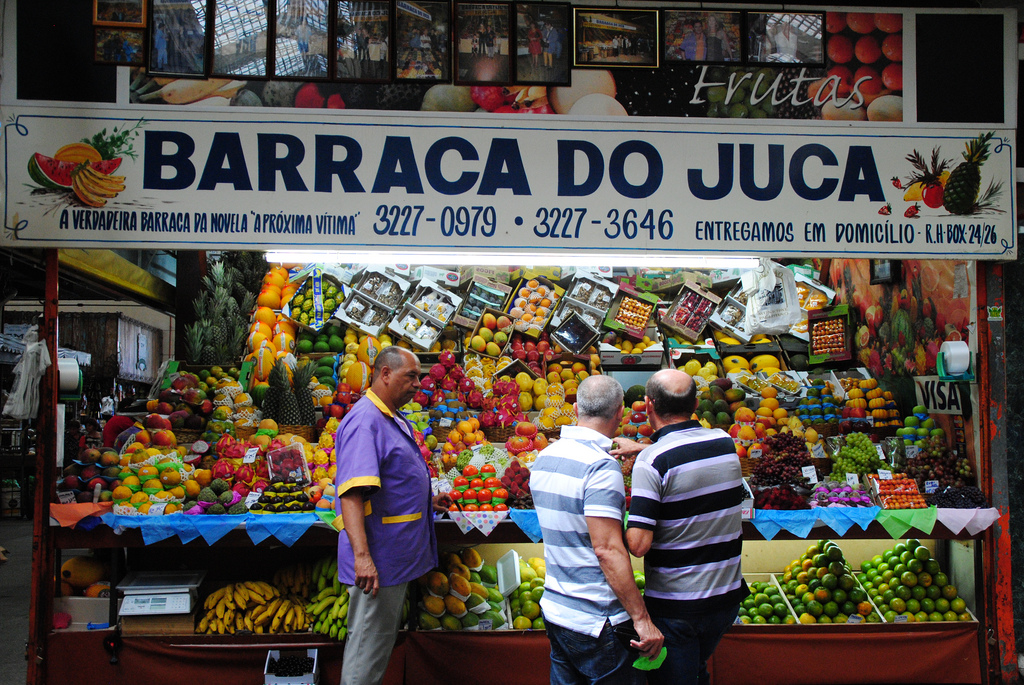 São Paulo, Brazil is one of the largest cities in the world, with a population of more than 11 million, so if you want to experience everything São Paulo has to offer, you'll want to spend a few days there. If you've only got one day in São Paulo, however, or if you've got many days and just want to get the ball rolling, continue reading to learn how to have the perfect day in Brazil's largest city.
Start Your Day With Açaí
The sweet, purple Amazonian açaí (pronounced ah-sy-ee) berry is synonymous with Brazil all around the world, and there's no better place to enjoy some than in São Paulo. Stop in at any açaí shop along cosmopolitan Avenida Paulista and order Açái Tradicional, served in a bowl with bananas and granola.
Take a Morning Walk in the Park
São Paulo is Brazil's answer to New York City, so why not finish off your morning with a walk through Ibirapuera Park, Sao Paulo's answer to Central Park? Whether you enjoy a walk along one of the largest lakes in the park, have a small breakfast picnic under a tree, or simply marvel at the way the greenery frames the skyline, Ibirapuera Park is like a slice of the jungle in the middle of the city.
Eat Your Way Through Mercado Municipal
Although São Paulo is a decidedly modern metropolis, it's got a lot of history as well. One of the best places to experience this is at the Municipal Market, or Mercado Municipal. Housed in a 19th century building in the heart of the old city center, it's the perfect place to sample São Paulo specialties like pastel bacalhau trout pastries and feijoada, an irrisistible pork and bean soup.
While you're in the neighborhood, take a stroll through the Portuguese Language Museum (Museu de Lingua Portuguesa), which brings to life the entire history of Brazil's official language. If you visit on a weekday, ascend to the top of the Banco do Estado de São Paulo (BANESPA) building for a panoramic view of the São Paulo's impressive skyline.
Go Japanese in Liberdade
Speaking of food, after finishing up your afternoon, head to São Paulo's Liberdade neighborhood to end your day on a decidedly Japanese note. Home to the largest Japanese population outside of Japan, Liberdade is the perfect place to sample sushi, sake, and soba noodles, to say nothing of Liberdade's picturesque Japanese garden.
Share: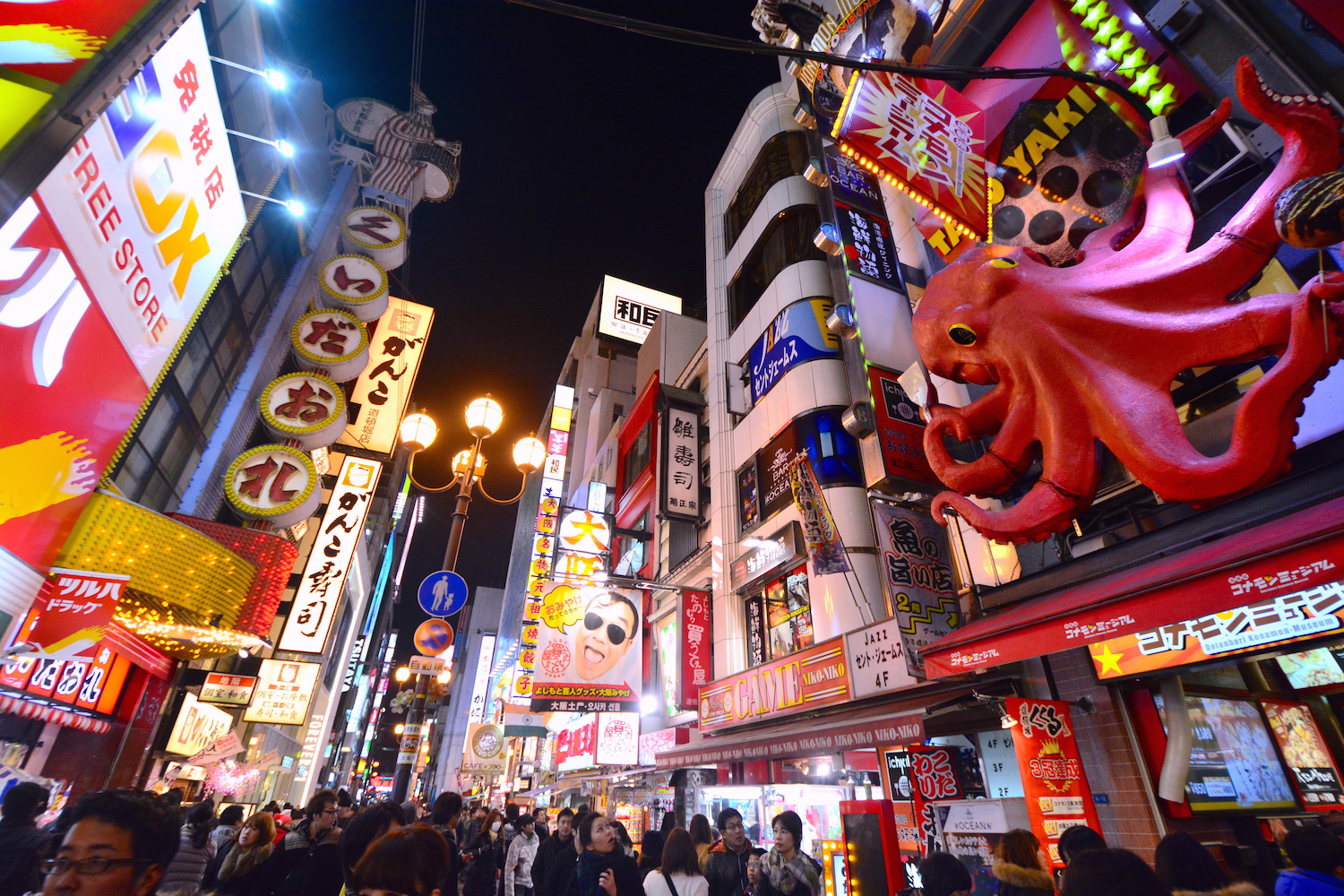 I covered a lot of ground during the three weeks I spent in Japan last April, but one place I missed was Osaka. I tried to rationalize my decision to skip Japan's third-largest city by scouring Google for evidence that it was somehow boring or not worth visiting, and although I found plenty, I knew in my heart that I would eventually need to visit Osaka.
"Eventually" came last week – and I must say, I really do regret my decision not to have visited Osaka sooner.
Only about 24 hours passed between my arrival in the city on a train from Kyoto and my departure from Kansai Airport back to the United States, but my day in Osaka was one of the most delightful, transformational days of my life – I say this without the slightest hint of exaggeration.
As I snacked on some of the best food I've ever had and traipsed through ancient temples, my affection for Osaka and its people swelling the whole while, I felt as I'd lived through all of "Eat, Pray, Love" within one city's limits and the span of two sunsets.
Why the hell, I thought to myself as I snacked on takoyaki octopus fritters in the shadows of a 1,700-year old shrine, didn't Elizabeth Gilbert just come here?
The World's Best Food City
The one thing people told me about Osaka, even the Tokyoites who talked mad shit about their smaller neighbor to the southwest, is that the food was amazing. Knowing I would have only one day in Osaka, at least this time around, made me fear I wouldn't be able to experience the city's culinary scene.
What if I can't find any good spots? I worried, as I stepped out of the railway station.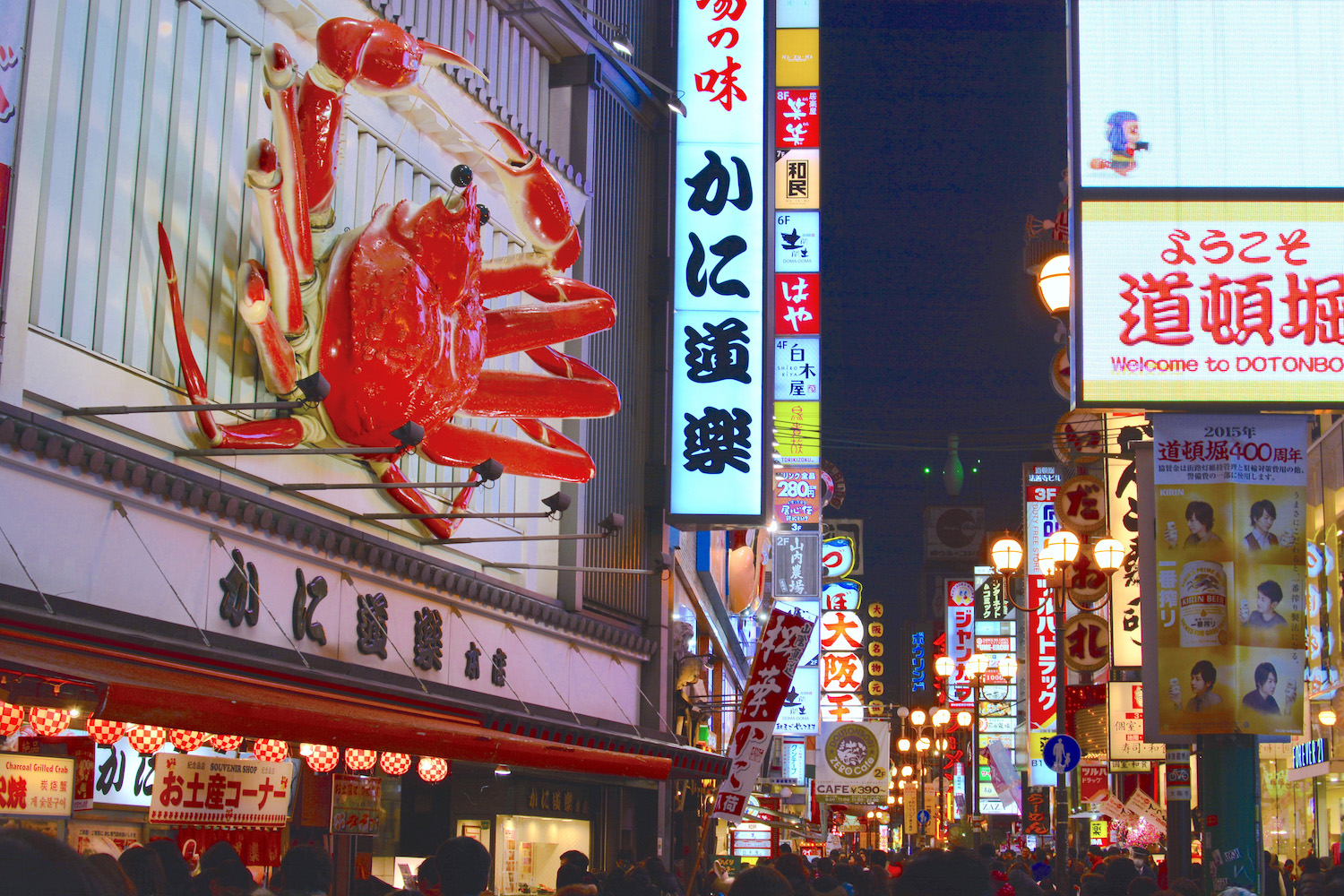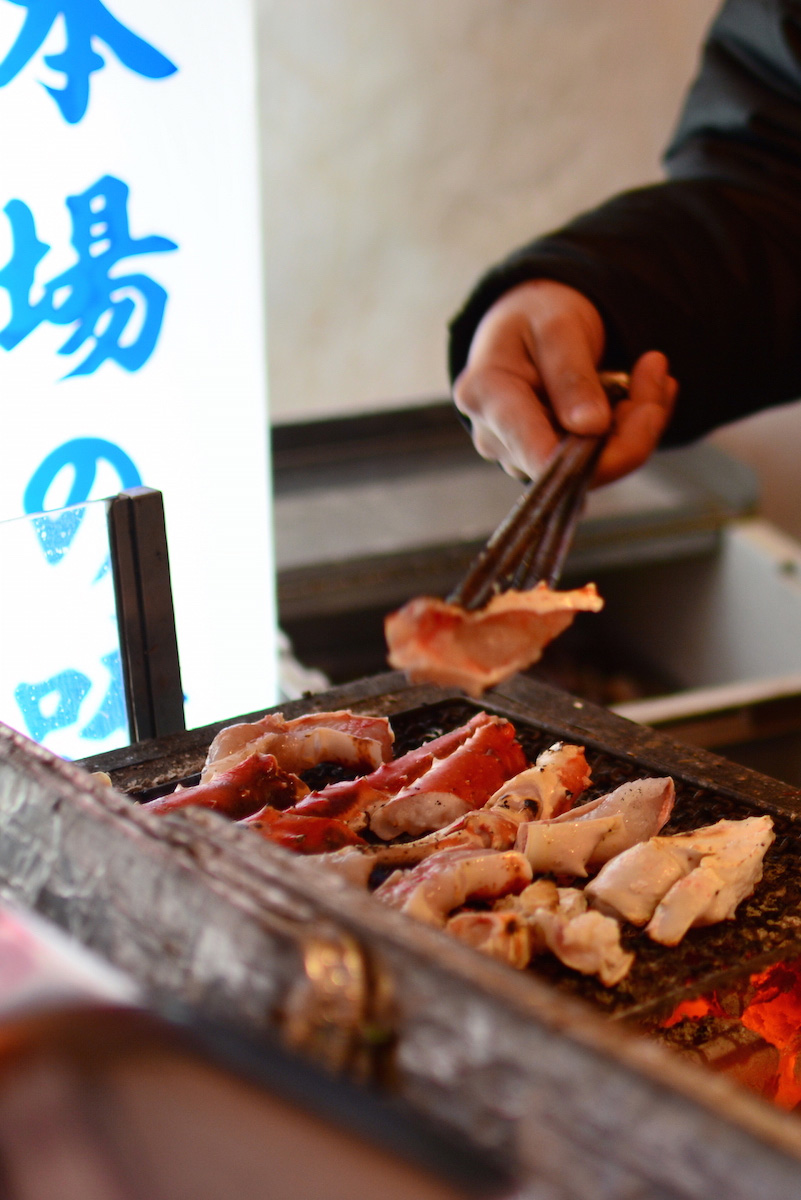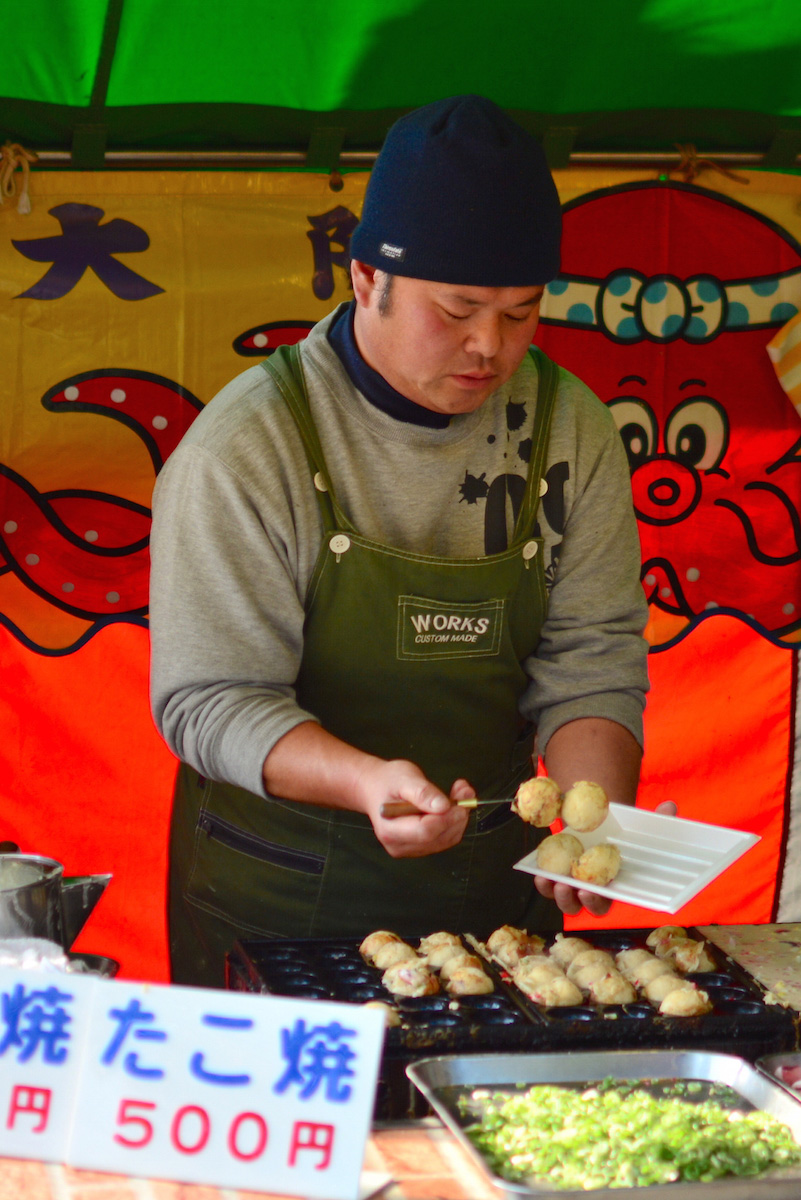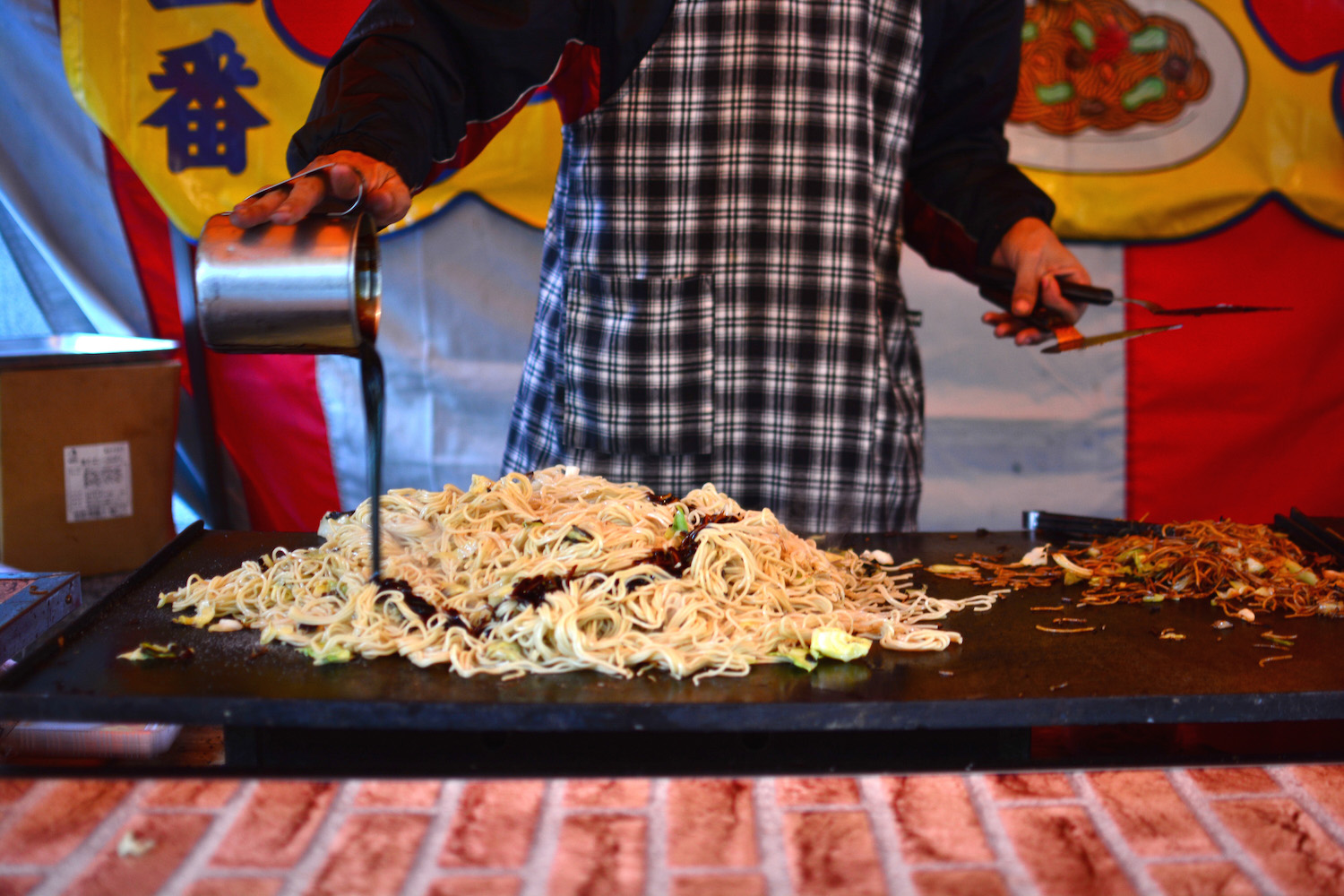 Looking back, of course, this seems ridiculous: Delicious food is literally everywhere in Osaka, from the Dotonbori pedestrian area, whose restaurants use massive 3D signage to direct you to Osaka classics like takoyaki (octopus fritters), gyoza (fried dumplings) and kani (crab); to food trailer parks in the shadows of 16th-century Osaka Castle; to random eateries in subway stations, alleys and other places you wouldn't necessarily think to eat.
Trust me: You'll find a amazing meal in Osaka, even if you aren't looking for one.
Spiritual Eating
Osaka is conspicuously modern, which is why my highest priority, after eating of course, was seeking out ancient spiritual sites. My first stop was Tennoji Temple, which is the first and oldest Buddhist temple in all of Japan. Centered around a five-story pagoda, the structure itself reminded me of what I'd seen in Nikko last April, while the juxtaposition of the ancient temple with the modern city made me think of Sensoji Temple in Tokyo.
It was a pleasant experience, although not as transcendental as I'd hoped. As I made my way back toward Tennoji station, past some bizarre love hotels and onto Osaka's last surviving streetcar line, I had a feeling my experience at Sumiyoshi Taisha, a 3rd-century Shinto shrine that is currently the most important one in all of Japan, would be much more impactful.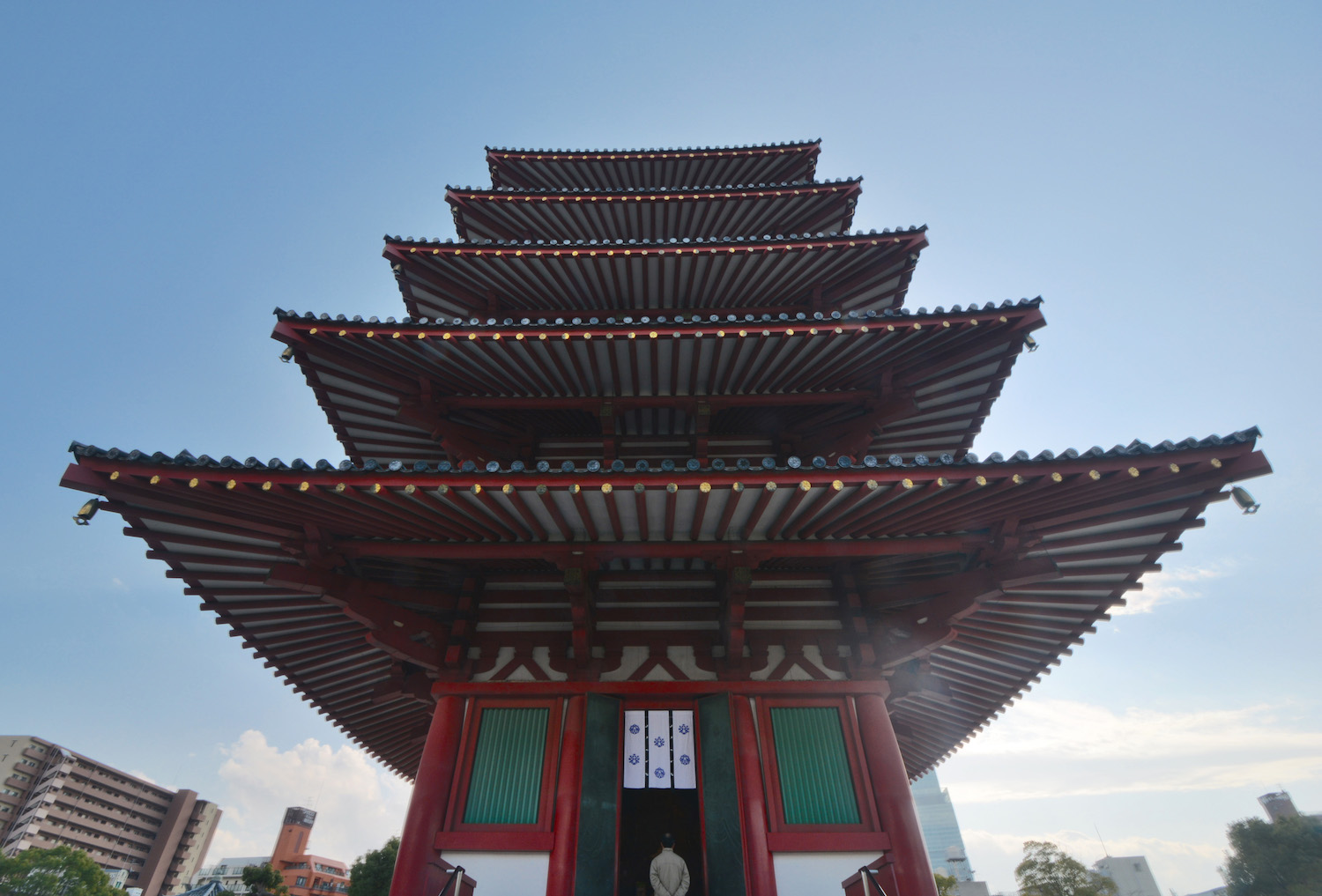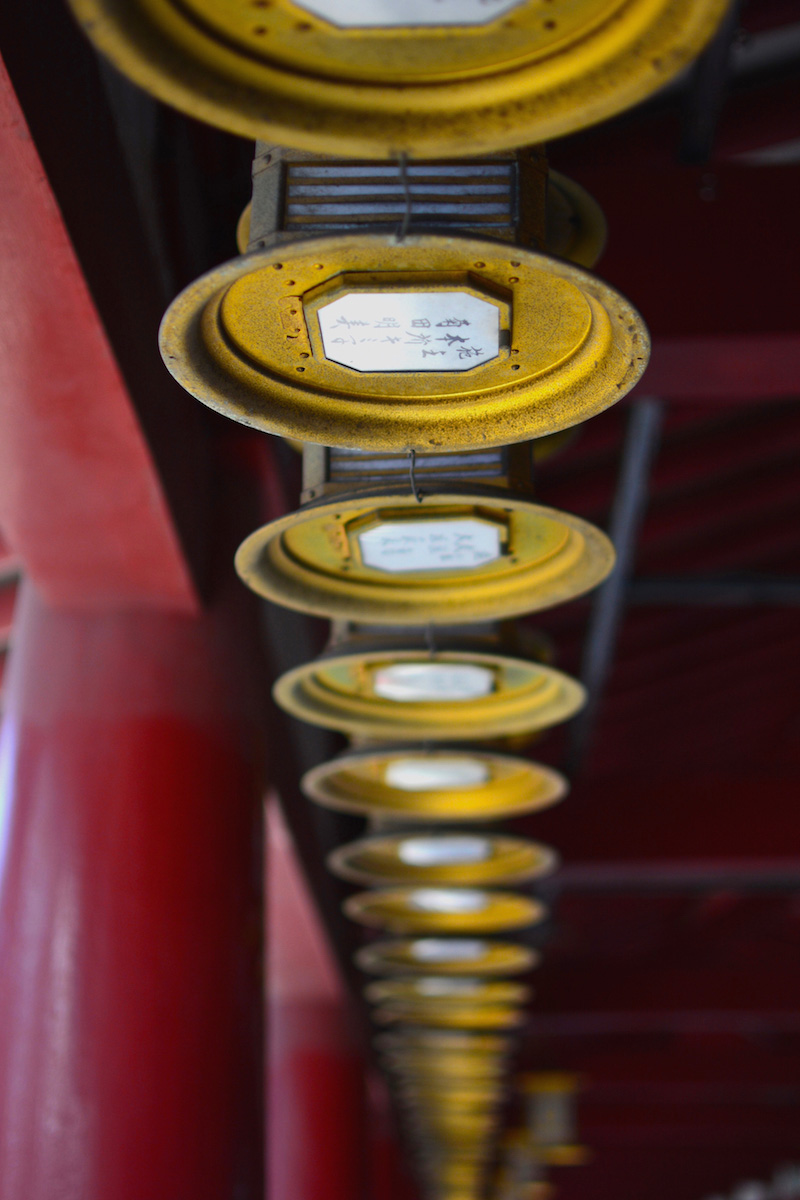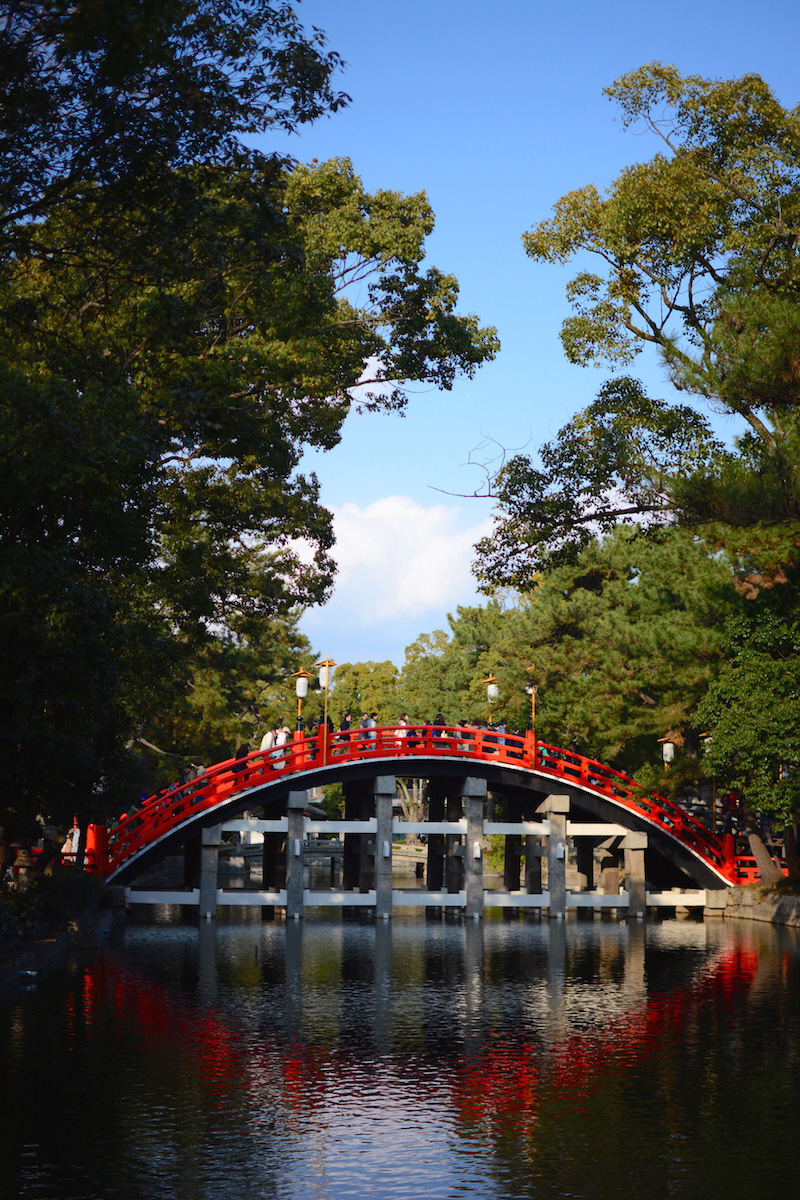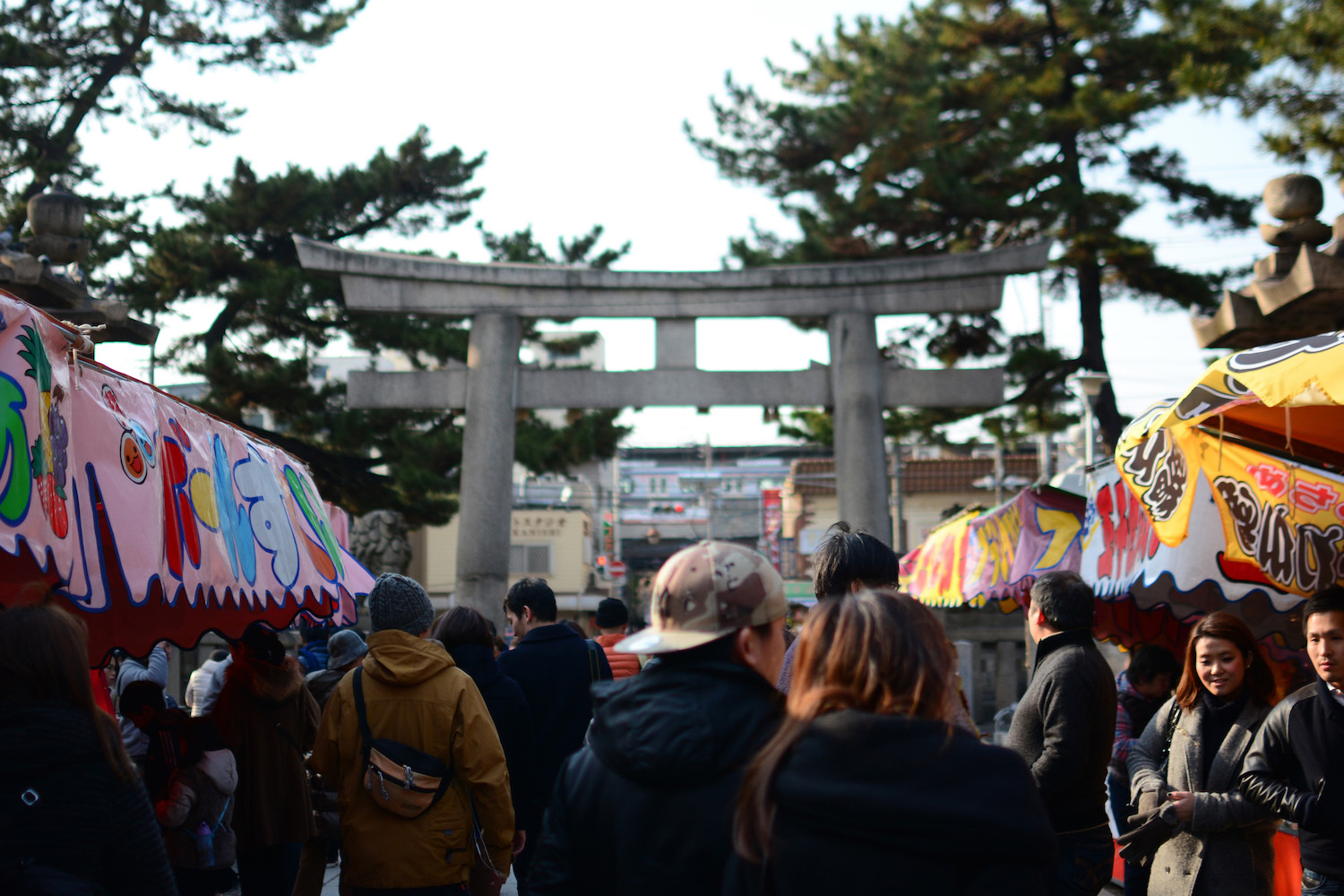 The first thing I noticed as I got off the streetcar, however, was not the massive stone torii signaling my arrival at the shrine's entrance, nor the glorious, orange bridge the led to the shrine itself. It was the makeshift food market that had been set up there, which literally held me up for more than an hour as I sampled in all of its delights.
I'll eventually get in there, I promised myself as I looked in the general direction of the shrine, a tray of soba buckwheat noodles in one hand and an okonomiyaki pancake in the other. But I've already had my spiritual experience for the day.
Love in Japanese
OK, so I suppose you probably feel deceived now. I mean, my "eat" experience in Osaka was arguably as rich as the one Elizabeth Gilbert had in Rome, but I didn't "pray" the way she did in India. Frankly, I was praying that the 57 meals I ate in Osaka wouldn't make me as big as the city by the time my flight left the following evening.
Indeed, the "love" I experienced in Osaka didn't take the form of a hunky Brazilian biking through rice paddies, but an all-encompassing sense of peace and satisfaction that culminated with me looking out onto the sparkling skyline from the top of the Umeda Sky Building. I was in love with the city. I was in love with myself. Hell, I was in love with the whole world! I felt so damn happy.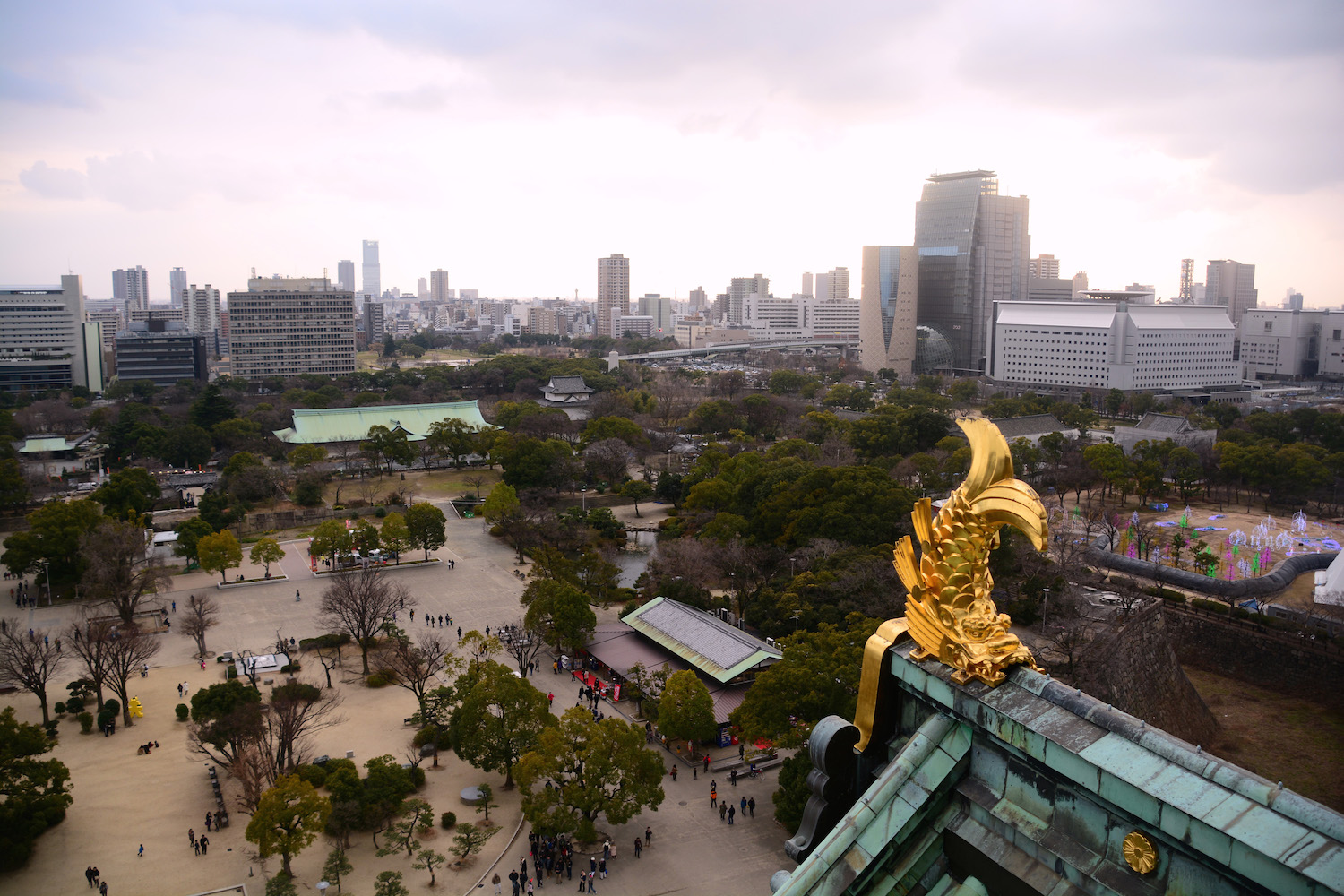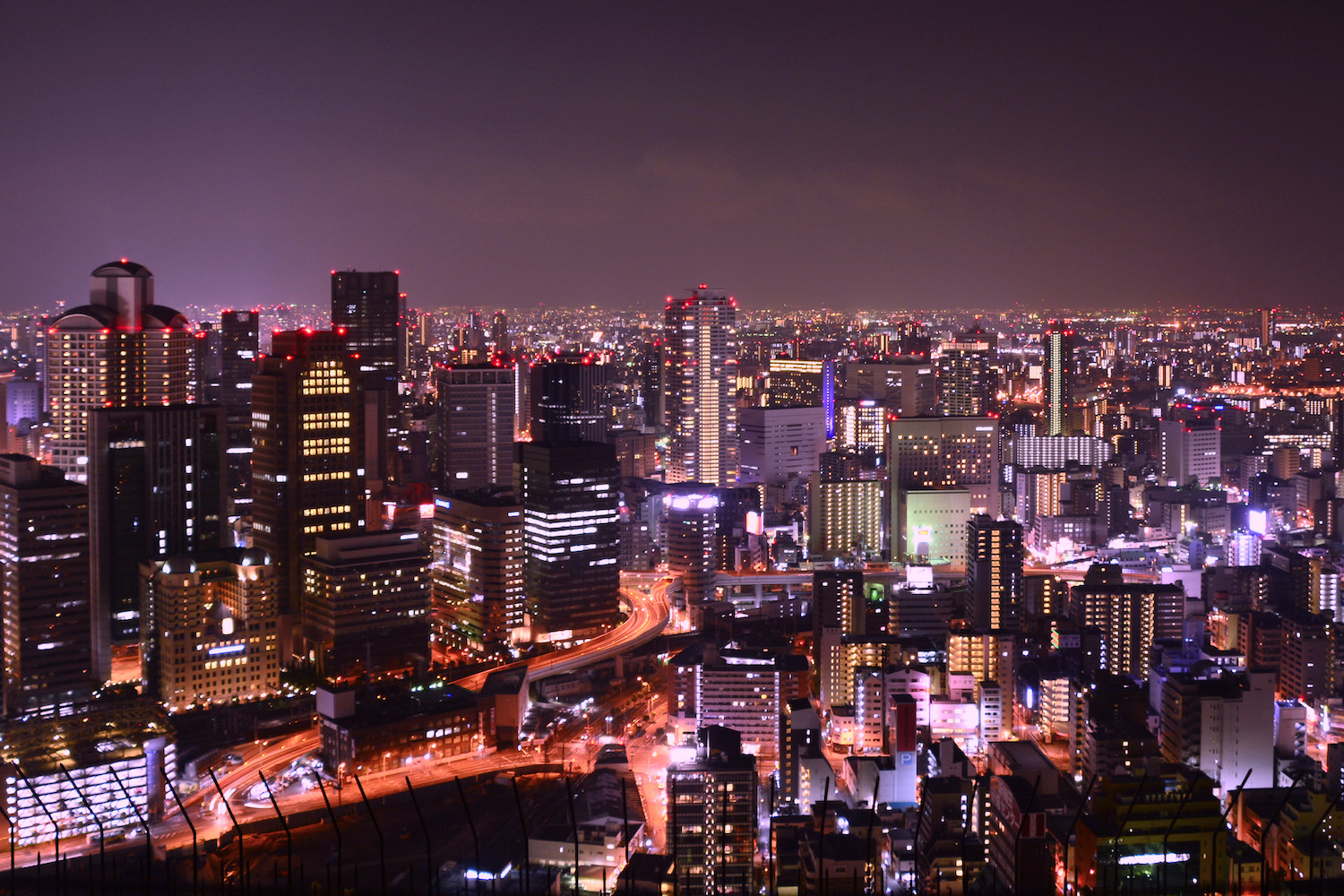 So, regardless of how long you plan to spend in Japan or your reasons for going there, here's my advice: Get off the train in Osaka when it stops there, whether you're on a shinkansen between Tokyo and Hiroshima, or a local express from Kyoto or Nara. Spend the whole day there, even if you can't afford a hotel or just don't want to get one, and go out into the city without much of a plan, like I did.
You'll be a few pounds heavier when you leave, but you'll run so fast to get back to Osaka in the future it will all melt away.
Share:

When you think of Munich, you probably think of Oktoberfest, which is why it might surprise you to learn that the city's visitor arrivals in September (which is when Oktoberfest mostly occurs) aren't, on average, much higher than the rest of the summer and autumn months. Just as the vast majority of tourists come to Munich outside of Oktoberfest, a whole world of other activities exist in the Bavarian capital, no matter where your travel interests lie.
Take a Trip Back in Time
You'll come face to face with history as you walk the streets of Munich – and not just girls in traditional Bavarian outfits serving beer. As you stroll past Munich landmarks Frauenkirch and the Old Town Hall, which date all the way back to the 15th century, or traipse through the regal 14th-century Residenz Palace or the stately 17th-century Nymphenburg Palace, you'll feel like you've stepped back to another time entirely.
The most imposing structure in old town Munich is the Neues Rathaus, which dates back to the mid-19th century, and towers over the city's central square. Several of the heritage buildings around the Neues Rathaus also house fine Munich hotels, allowing you to quite literally make your Munich home amid history.
A Walk in the Park(s)
Munich during Oktoberfest is anything but relaxing, so use your next trip as an opportunity to enjoy the city's impossibly tranquil green spaces. You could easily spend a whole day just exploring the Englischer Garten, which occupies a larger footprint than other famous city parks like Hyde Park in London or Central Park in New York City. Have a picnic lunch – or a beer, since you're in Munich – along one of the park's peaceful lakes or streams.
Another option for enjoying some green time in Munich is the city's zoo, Tierpark Hellabrunn. Connect with nature in one of Europe's largest zoos, one that prides itself on animal welfare – the zoo has worked hard to reproduce animals' natural habitats, allowing them to roam cage-free whenever possible and safe.
Feel Like the King of the Alps
If you felt charmed as you walked past Frauenkirch and the Old Town Hall, you'll feel positively enchanted as you approach Neuschwanstein Castle, a fairytale fortress that once served as home to German Kaiser Wilhelm II, located just outside Munich near the town of Fussen. Visit in winter to see the surrounding Bavarian Alps (not to mention the castle itself) covered in snow, adding to the feeling that you've traveled back in time.
Return to Munich the same day via hourly trains, or use your sojourn to the castle as a springboard for sightseeing in the Alps, from helicopter tours and hiking in the summer, to skiing and snowboarding in the winter. No matter how you end up spending your time in Munich – and even if you have a German beer in your hand the whole time – you'll leave knowing there's so much more to Bavaria's capital that just Oktoberfest.
Share: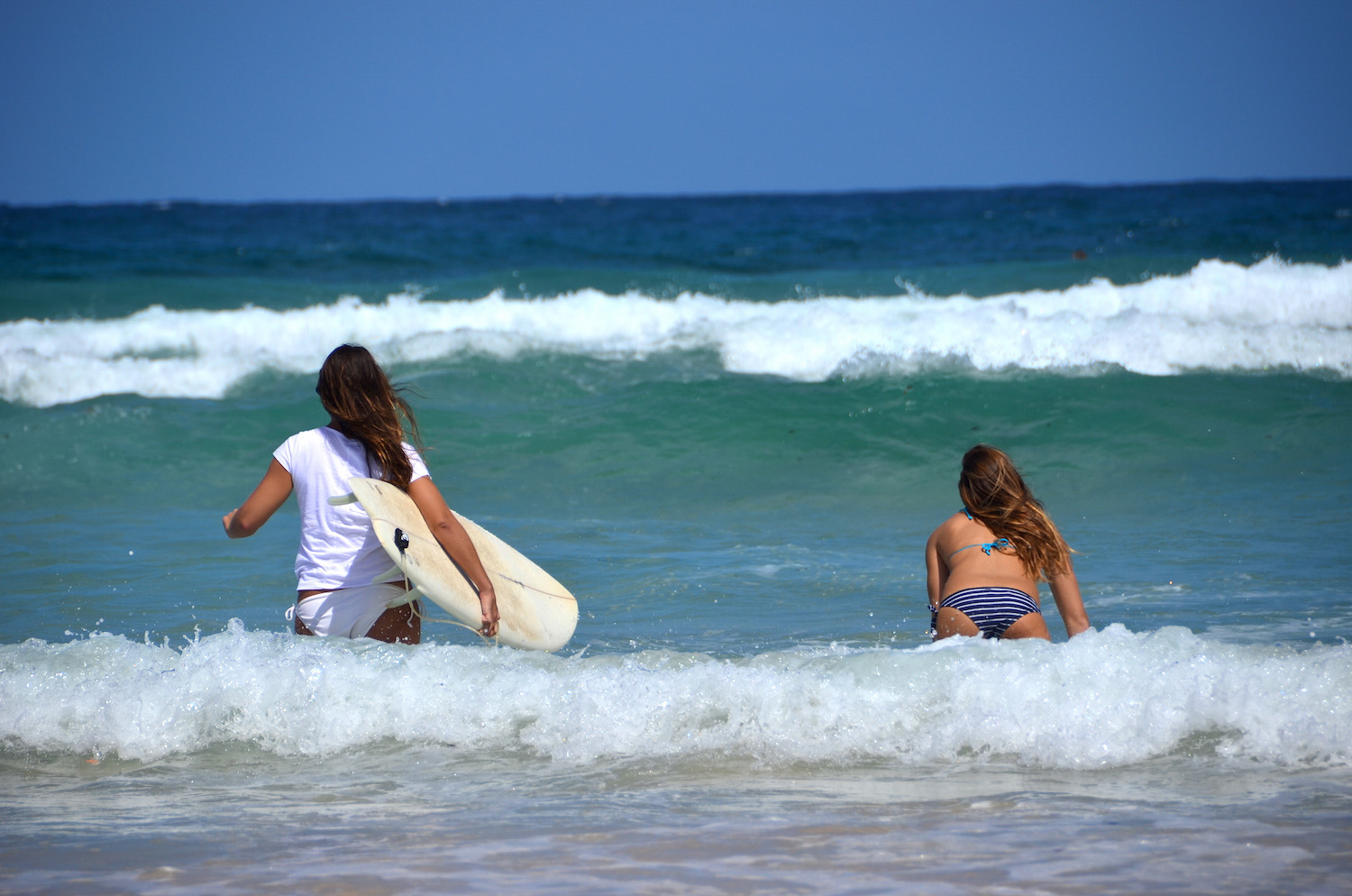 If you aren't a surfer, the thought of visiting Surfers Paradise, Australia might not have ever crossed your mind. The city's name, after all, doesn't leave a lot of room to the imagination, to say nothing of the massive waves lapping at its sandy shores. Surfers Paradise is much more than just, well, a paradise for surfers, no matter what brings you to Australia's Gold Coast in the first place.
Bars and Nightlife in Surfers Paradise
It's no secret that surfers love to party, but even if you've never managed to ride a wave all the way to the shore, you can still take advantage of the incredible nightlife in Surfers Paradise. From techno dance bars, to risqué Las Vegas style bars, there's a little bit of everything for everyone in Surfers Paradise, no matter which type of nightlife you usually prefer.
If you want to go out but don't necessarily want to party, hit up a late-night establishment that serves food or coffee, from award-winning coffee shop, Black Coffee Lyrics, to Beer Garden, which in spite of its German name is most famous for its Brazilian churrascaria offerings. Likewise, you'll enjoy the standard pub fare at Waxy's Irish Pub just as much as you do its Irish beer selections, which of course feature Guinness.
A Shopper's Paradise
There's no better way to show off your sunkissed skin than with new clothes – and Surfers Paradise gives you plenty of options on the shopping front. You'll find more than 100 stores in The Paradise Centre, for example, which boasts everything from big international labels, to local Australian brands, to high-end luxury. Another mall to do your Surfers Paradise shopping is Centro Surfers Paradise, which sits right in the heart of the city off Cavill Avenue.
You don't have to go to a mall to do your shopping in Surfers Paradise, but you should keep in mind that many of the low-priced "designer" goods you see for sale at street markets in Surfers Paradise are actually fake, which means that you might actually be overpaying, rather than getting a bargain. Beyond being a huge ripoff, it can actually be illegal to import fake goods into certain countries, so make sure you don't willfully buy them to avoid breaking the law.
Where Life is Always a Beach
With some of Australia's most pristine coastline, Surfers Paradise is an amazing place to enjoy a beach vacation, even if you don't get in the water, let alone surf. Find a Surfers Paradise hotel or take advantage of the apartment rentals and timeshares in the highrise towers that line the beach, such as the sparkling Q1 Tower, whose height of more than 1,000 feet makes it Australia's tallest building.
No matter where you make your home in Surfers Paradise, use your time on Australia's Gold Coast to kick back, relax and enjoy the views – of the paradise that sits in front of you, or of the city's namesake surfers themselves.