About Robert Schrader
Robert Schrader is a travel writer and photographer who's been roaming the world independently since 2005, writing for publications such as "CNNGo" and "Shanghaiist" along the way. His blog, Leave Your Daily Hell, provides a mix of travel advice, destination guides and personal essays covering the more esoteric aspects of life as a traveler.
Latest Posts by Robert Schrader
Share: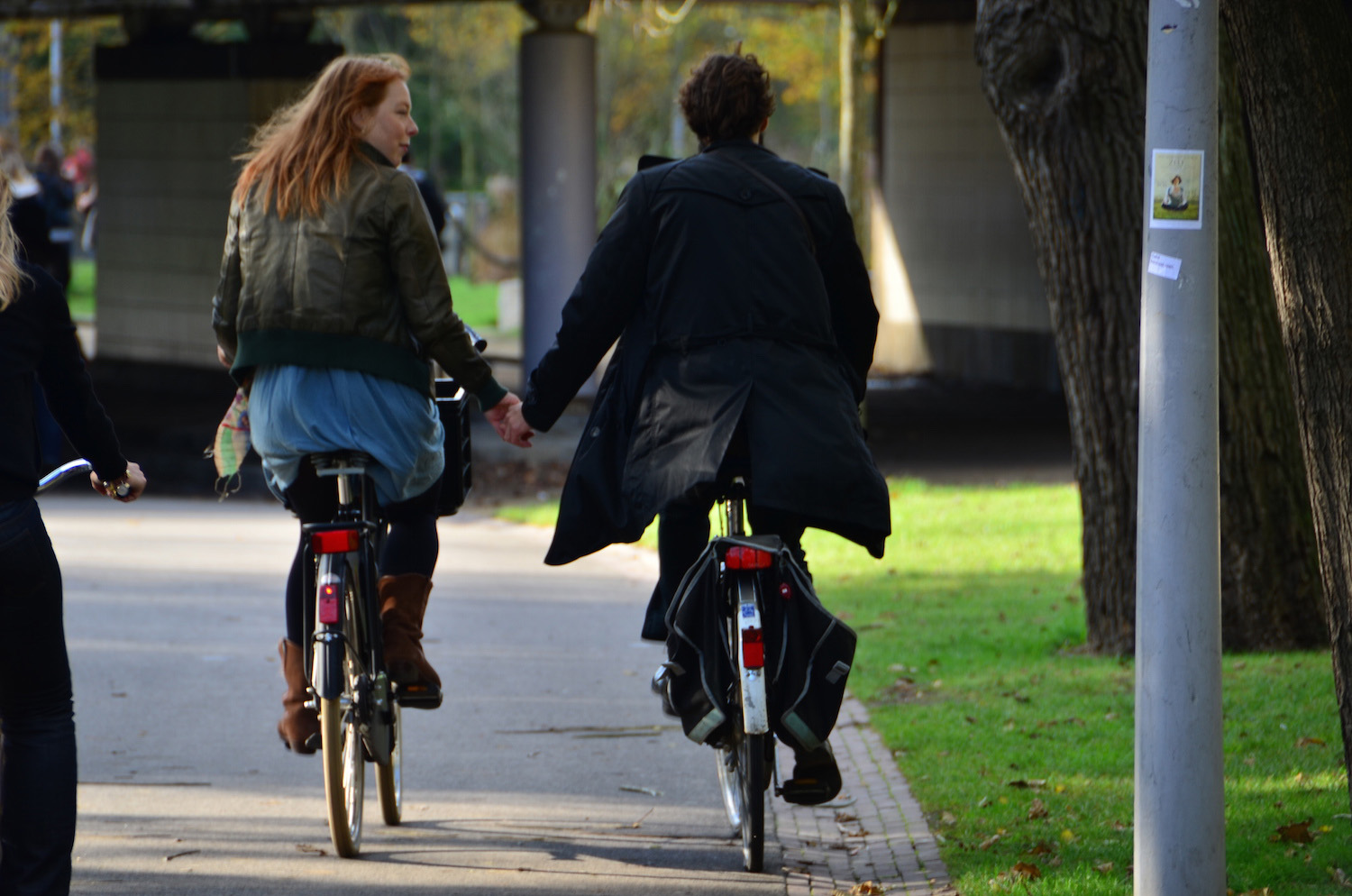 Walkers and bikers, this is the city for you! Amsterdam is perhaps the best city in the world for cycling and for walking – it's flat, it's never too hot or too bitterly cold, and its center city is extremely compact. This is not, of course, to slight Amsterdam's extremely efficient tram and bus network, or the boats that cruise its charming canals.
It's just that you have to take your time exploring Amsterdam, whose richness belies its small geographical footprint. Whether you're on a romantic trip to Amsterdam, solo or on business, here are some of the best walks in Amsterdam.
Bloemenmarkt
If there's one thing people associate with Holland (and, by way of that, Amsterdam), it's the tulip. While you might, if you time your visit correctly and give yourself enough time, venture out into the Dutch countryside and frolic amid tulip fields, this is unfortunately not possible for many trips.
One way to get your tulip fix without venturing outside the city is to walk toward just past the innermost canal ring surrounding Amsterdam and visit Bloemenmarkt which, as its name suggests, is a flower market that's full of tulips. The Dutch urban architecture rising around you on all sides is no match for the windmills you might see out in the countryside, but it's extrordinarily charming nonetheless. Bloemenmarkt also happens to be the world's only floating flower market.
Vondelpark
After tulips and windmills, bicycles are probably the symbol the world most associates with Holland – when it comes to Amsterdam itself in fact, bikes almost certainly supersede these other two.
Located in the southwestern part of Amsterdam's city center, not too far from Bloemenmarkt in fact, Vondelpark is a lush and beautiful green space that would make a welcome reprieve from the (relative) chaos of the city even without bikes. Add in the bells and whoosh of bike wheels – and the occasional hand-holding, bike-riding couple – and, well, I dare you not to leave enchanted.
Westerdok
Upon arriving at Amsterdam Centraal station, the vast majority of travelers head south – it's where all the action is, after all. Or at least most of it.
To be sure, walking north from the station doesn't immediately seem like a good idea, particularly if you've still got your bags. A stroll along the large canal you find there, toward the Westerdok Marina, is extremely calming, particularly because the throngs of tourists you find elsewhere in town are nowhere to be seen.
Damrak
Of course, walking south from Amsterdam Centraal is a good idea too. While you definitely won't be alone as you walk down Damrak, which as its name suggests eventually leads you to Dam Square, you'll immediately understand why so many millions of people come to Amsterdam each year, the moment you look out in front of you.
No matter which of these perfect Amsterdam promenades best suits your fancy, one thing is for sure – it's going to be very difficult for you to walk away from Amsterdam.
Share: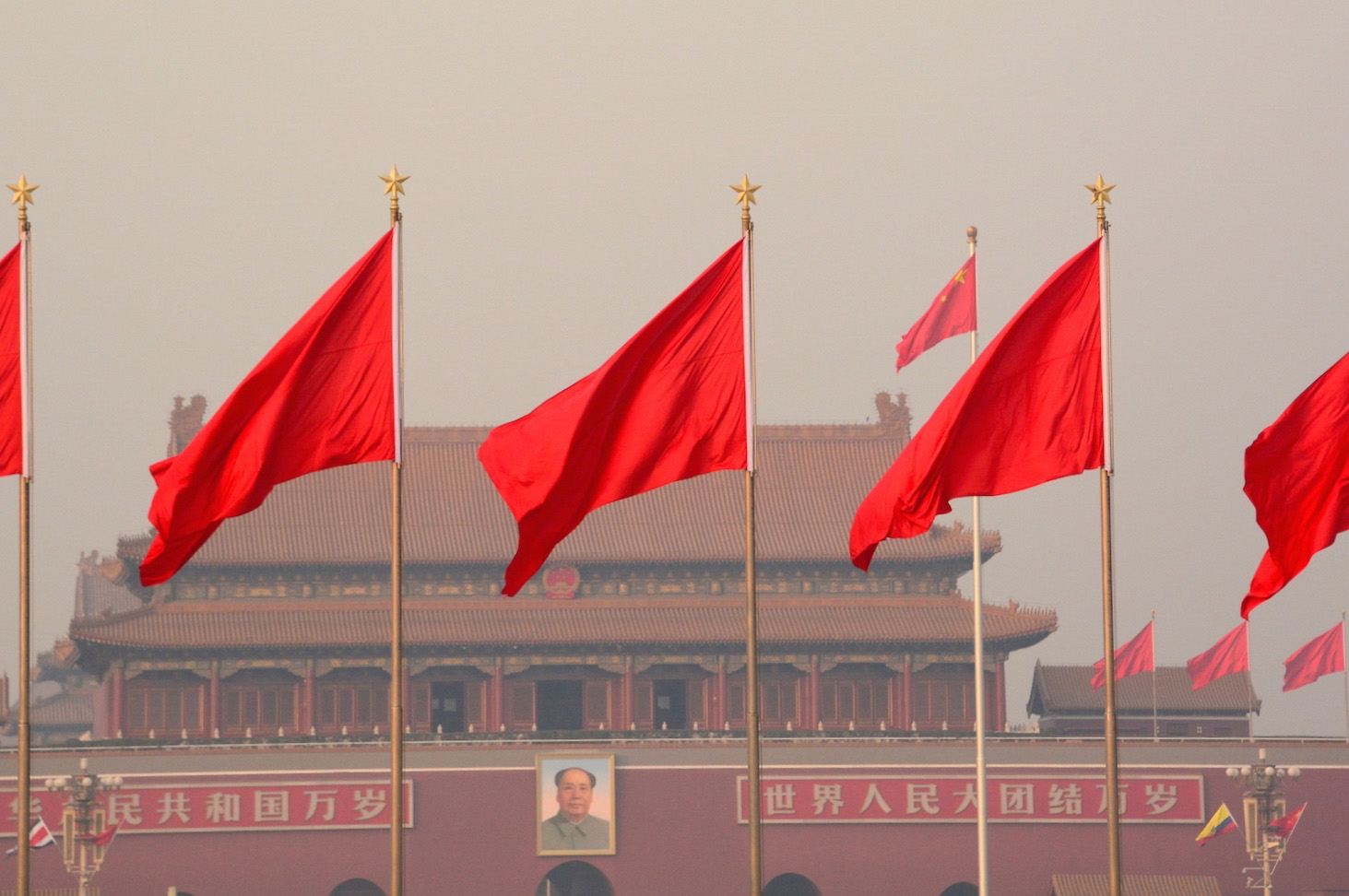 Smog, sprawl and the ghosts of the Tian'anmen Square protestors be damned: Beijing is one of my favorite cities on the planet.
It isn't priceless world heritage – the Forbidden City, Temple of Heaven or the nearby Great Wall of China – although that helps; nor is it the towering skyscrapers lurking in their shadows. It isn't the way Beijingers over-enunciate their "r" sounds like pirates; and it is certainly not their penchant for spitting at any time, any place and for any reason.
Frankly, my love for Beijing isn't something I'm going to attempt to explain now. Today's post is for the indoctrinated Beijing-o-phile and, absent that, for the traveler curious about becoming one.
All you need to find out if Beijing is your type of city is a taste – and you can get a sumptuous sampling of China's capital in just a few days.
My Pick for the Best Beijing Hotel
I've sampled lots of hotels in Beijing, but my very favorite was the one I stayed at this past January, Shichahai Shadow Art Performance Hotel. Situated amid rows of hutongs, the old-style water houses that made up the majority of Beijing up until a few decades ago, this hotel mixes a great location – it's just steps from Beijing's picturesque Houhai Lake, as well as the Beijing Metro – with boutique style.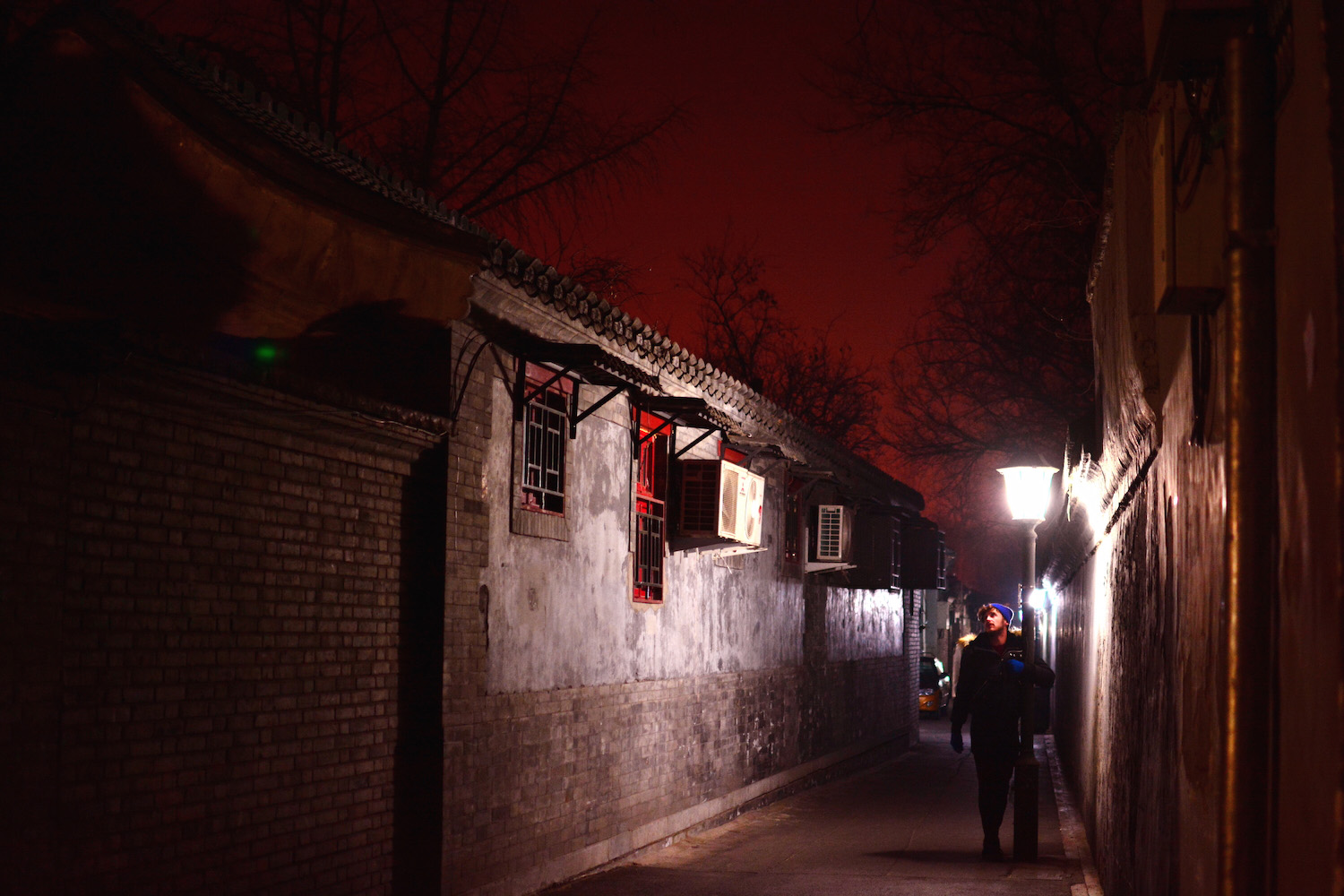 Day One: Beijing's Timeless Past
Begin the first of your three days in Beijing before the crack of dawn. Take a taxi (or, if you're awake and directionally inclined enough, walk) to Jingshan Park (Chinese: jing shan gong yuan), which is located just to the north of the Forbidden City, and whose pagoda-crowned hill is the perfect place to catch your first Beijing sunrise. (Hint: The pollution in the air makes these extra brilliant.)
Hang a right out of Jingshan Park's main gate and walk north through the hutongs, where you'll find dozens of vendors selling jian bing, an egg pancake that's a classic Beijing breakfast. Walk to the nearest Beijing Metro station (which should be Nanluoguxiang) and take it to Tiantandongmen station, which is where you'll find the Temple of Heaven, a prayer hall that dates back to the early 15th century.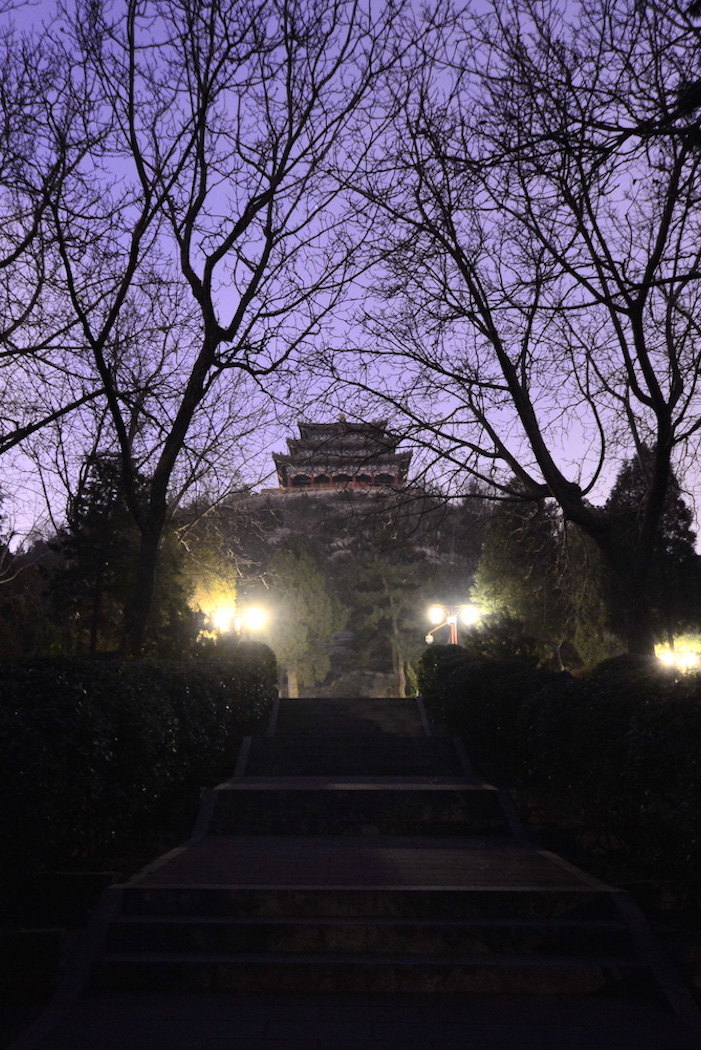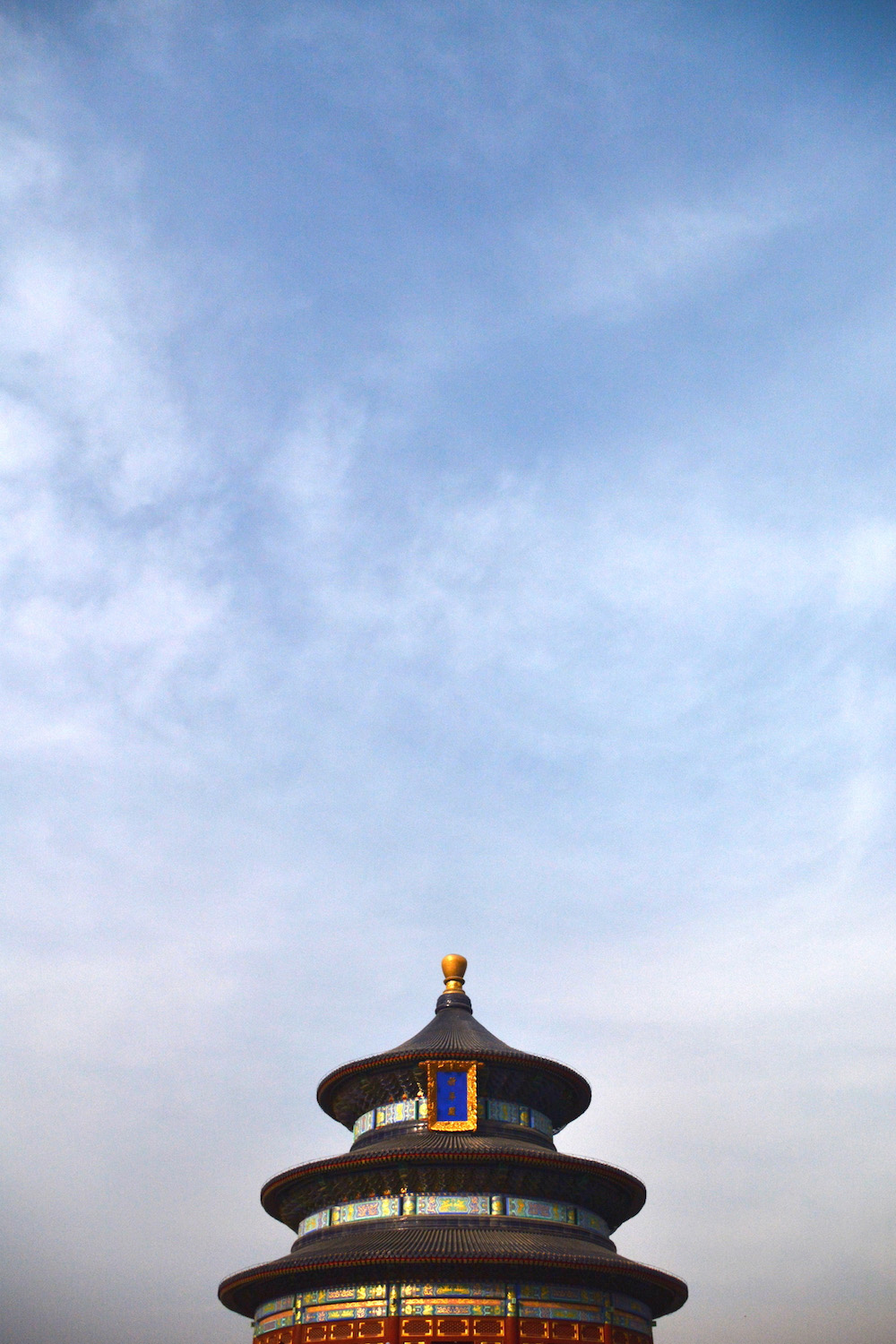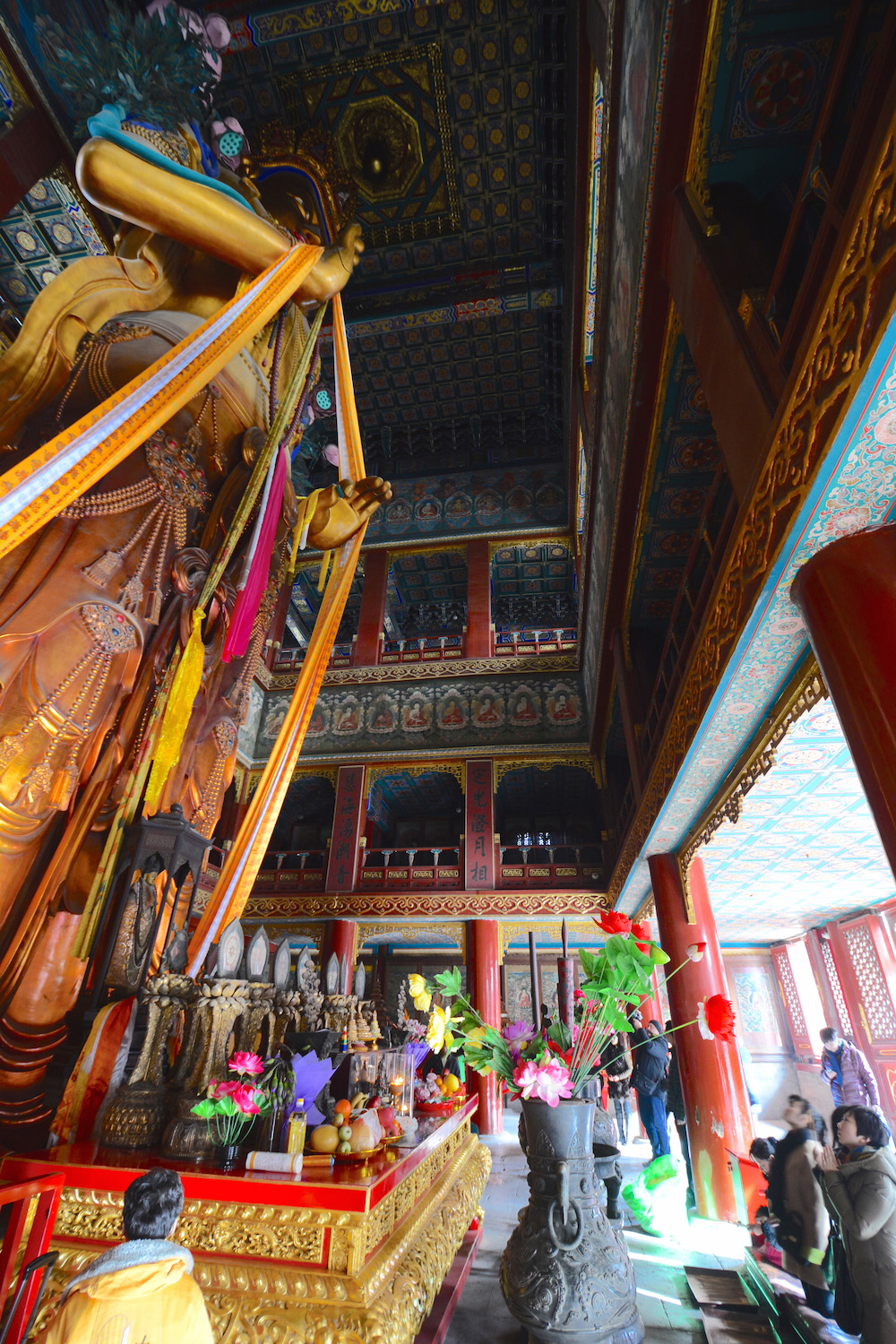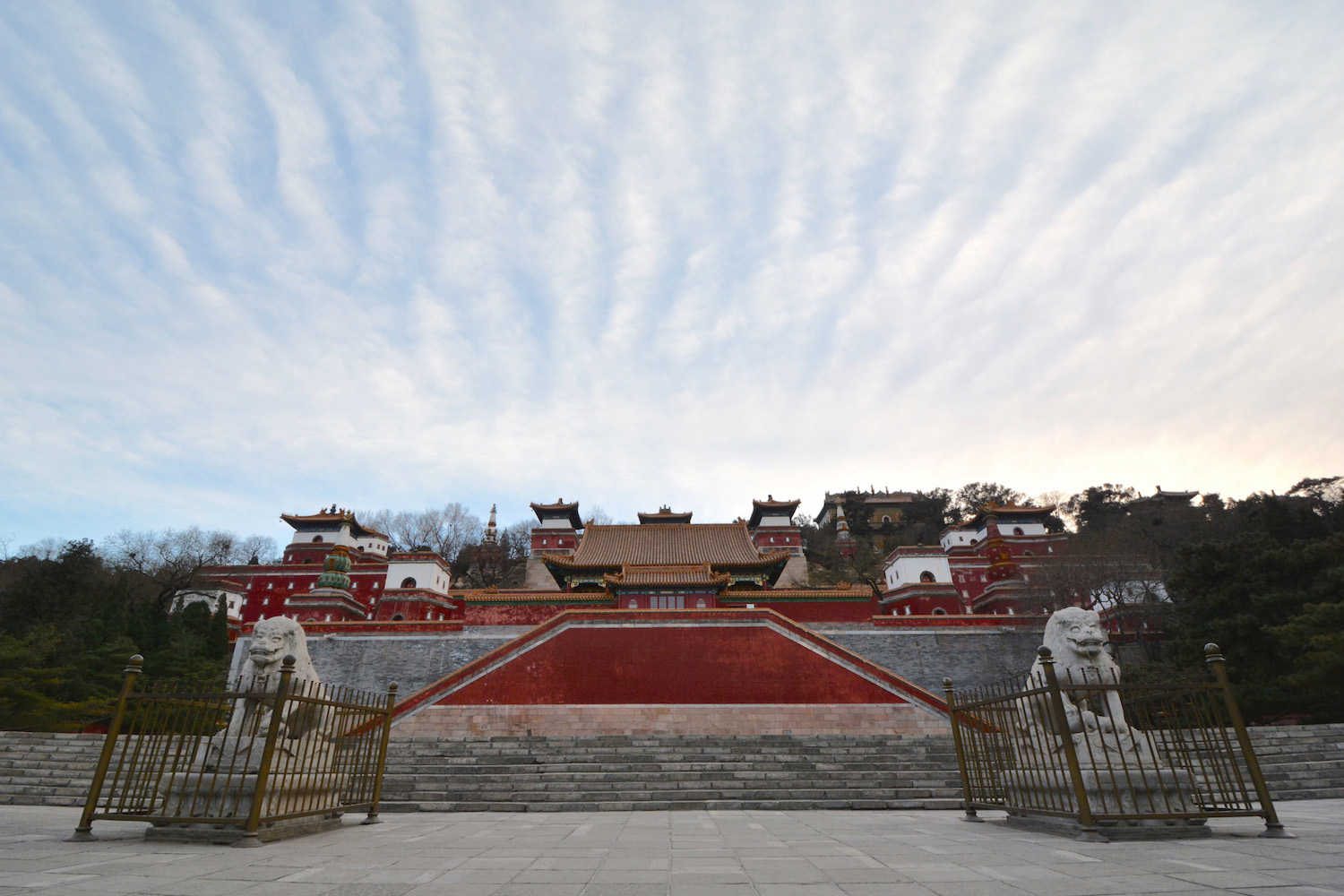 Once you've taken your fill of selfies at the Temple of Heaven, head back to Tiantandongmen station and ride the metro to Yonghegong station, which is just steps from the Lama Temple. A Tibetan temple (no, you're not imagining the irony here) from the 17th century, Lama Temple's main attraction is a 75-foot Buddha carved from a single piece of sandalwood.
Enjoy lunch at one of the many nearby restaurants – I particularly like the buffet at Xu Xiang Zhai vegetarian restaurant, located just across the street from the temple exit – before getting back in the metro once more.
Your next journey, to Beigongmen station, will be the longest of your first day in Beijing, but the destination that awaits you – the Summer Palace, a former imperial retreat – is also the most spectacular. Watch the sunset here and take your time getting back to your hotel, where you can enjoy a free shadow puppet show and, if you've got some energy left, an evening stroll around Houhai.
Day Two: Chinese Capitalism
If you know anything about Beijing, you'll realize I left what is perhaps its most important attraction – the Forbidden City – off the list of activities on day one. There are many reasons for this, but the main one is that for me anyway, the massive Forbidden City (which I recommend entering right when it opens at 8:30) foreshadows the huge-scale greatness of modern China. To get here, take the Beijing Metro to either Tian'anmen East or Tian'anmen West stations.
Of course, you won't immediately make the connection between ancient and modern, at least not literally. Instead, you'll cross the street from the Forbidden City to Tian'anmen Square, whose Mao-era grandeur both contrasts with and compliments the imperial pomp and circumstance of its neighbor.
It's easy to get distracted taking photos (and, depending on your age, reminiscing on the dramatic events that went down here a few decades ago), but please don't fall for the "Do you want to go get a coffee?" scam that several pairs of pretty girls will no doubt try on you. You should, however, grab lunch before heading back into the metro, which you will ride to Guomao station.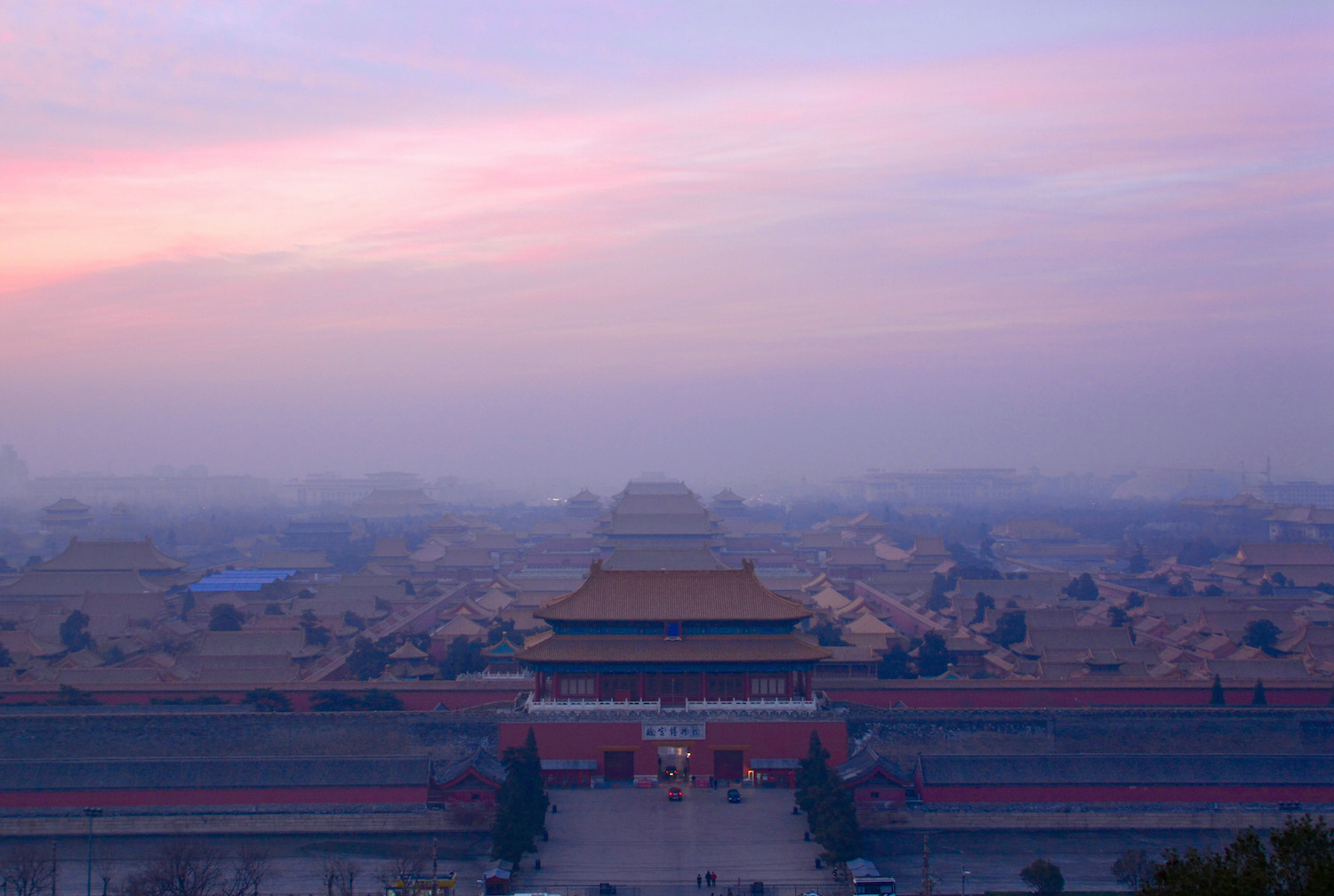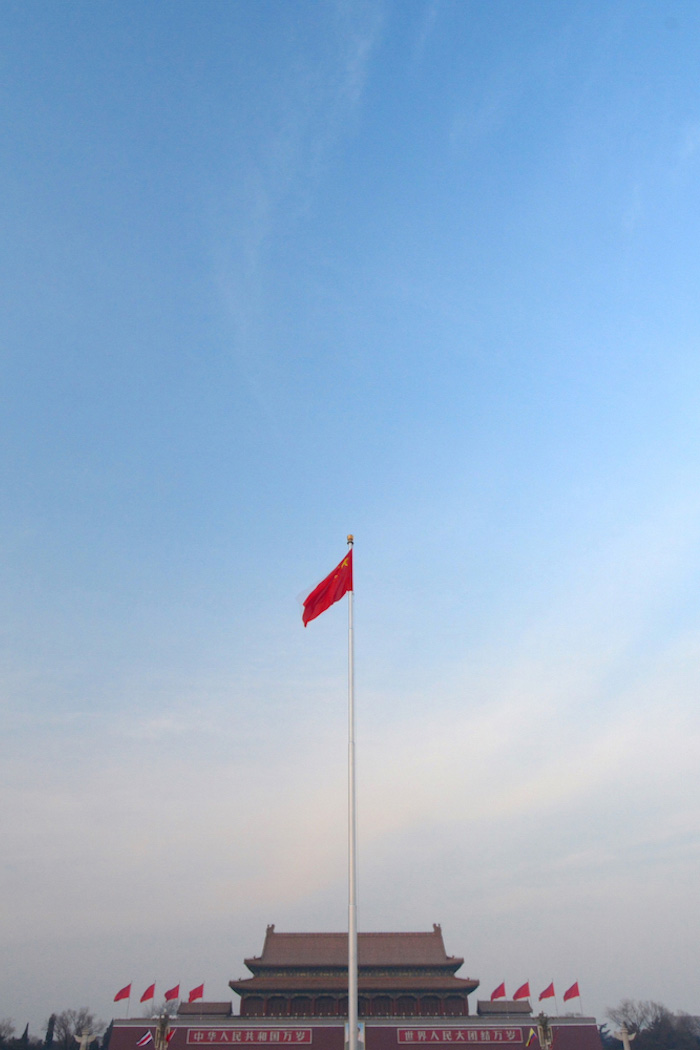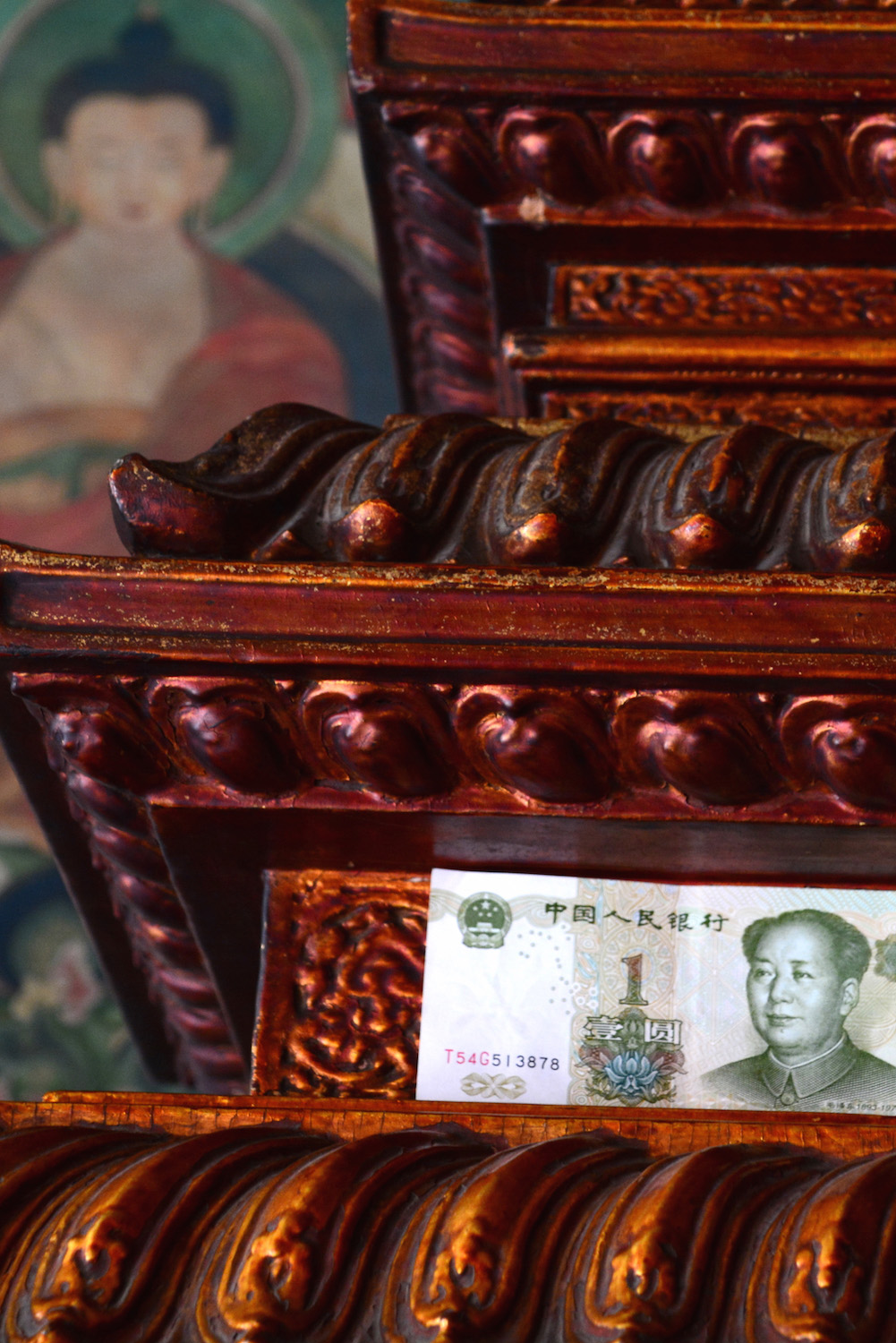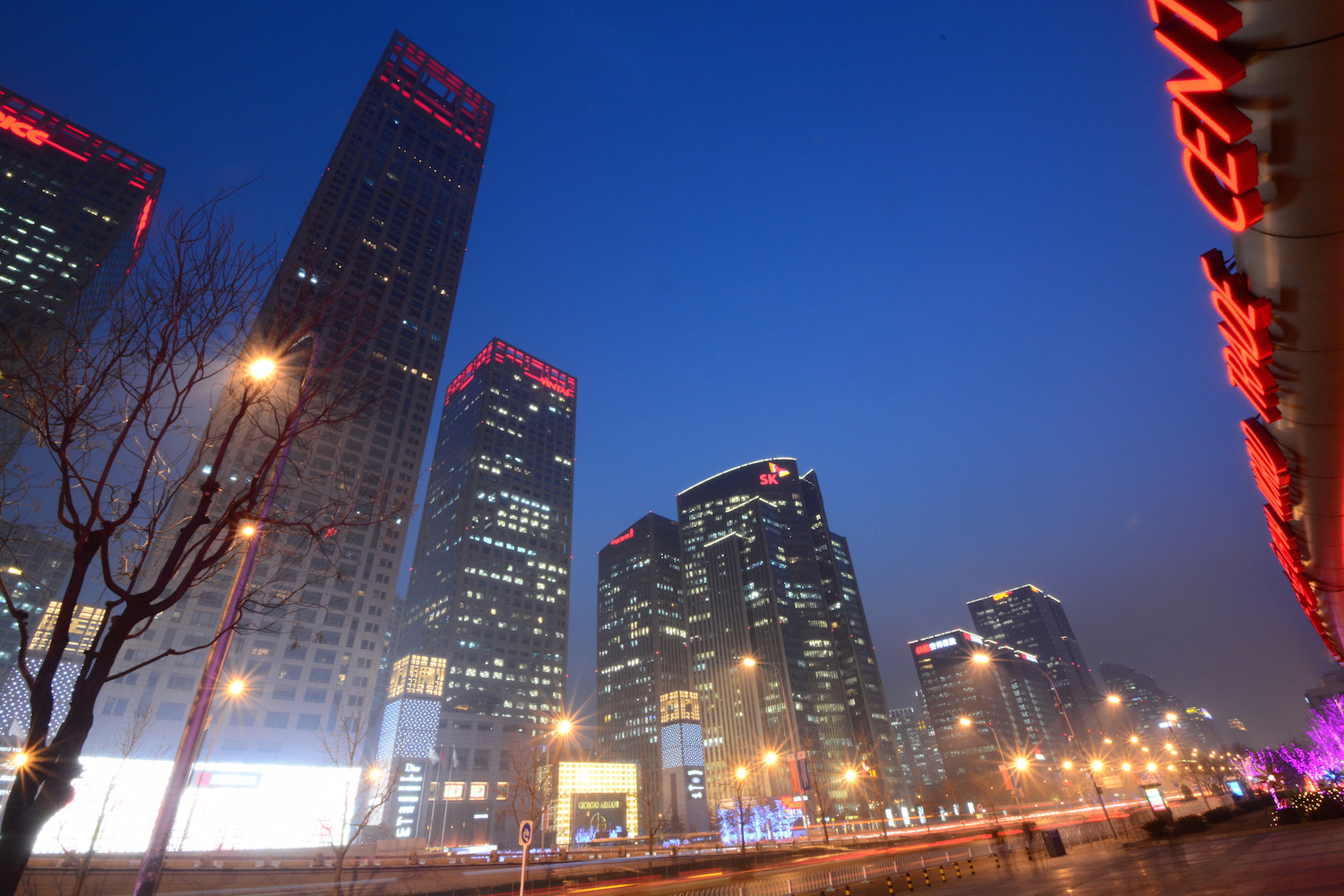 You'll only have traveled for 15 minutes by the time you re-emerge from the underground, but the world around you will be completely different. Beijing's massive central business district, with iconic structures like the CCTV Building and the China World Trade Center rising around you, making you feel – appropriately – that you have moved forward in time several thousand years.
It should be evening by this time, so enjoy dinner at one of the upmarket noodle or dumpling restaurants inside the China World Trade Center Mall, and end the evening with cocktails on the observation deck of the China World Trade Center Tower III.
Alternatively, if it's still pretty early when you finish up at Tian'anmen Square, you could get off at Silk Street Market (Metro: Yong'anli) and try your hand at bargaining. (Hint: the phrase tai gui le, which means "That's too expensive!", is a handy one to know.) Or, you could explore the grounds of the 2008 Beijing Olympics, which are located at Metro stop Olympic Green.
Day Three: The Great Wall of China
It's a given that you will spend one of your three days in Beijing at the nearby Great Wall of China. What isn't so simple is where you will choose to see the wall, which of course stretches thousands of miles and has several viewing points in the Beijing area alone.
If you want to have the easiest experience seeing the Great Wall, take a train from Beijing North Railway Station to Badaling, which departs every two hours and takes about 90 minutes. Badaling isn't my favorite portion of the Great Wall – it's filled with tourists – but it gets the job done.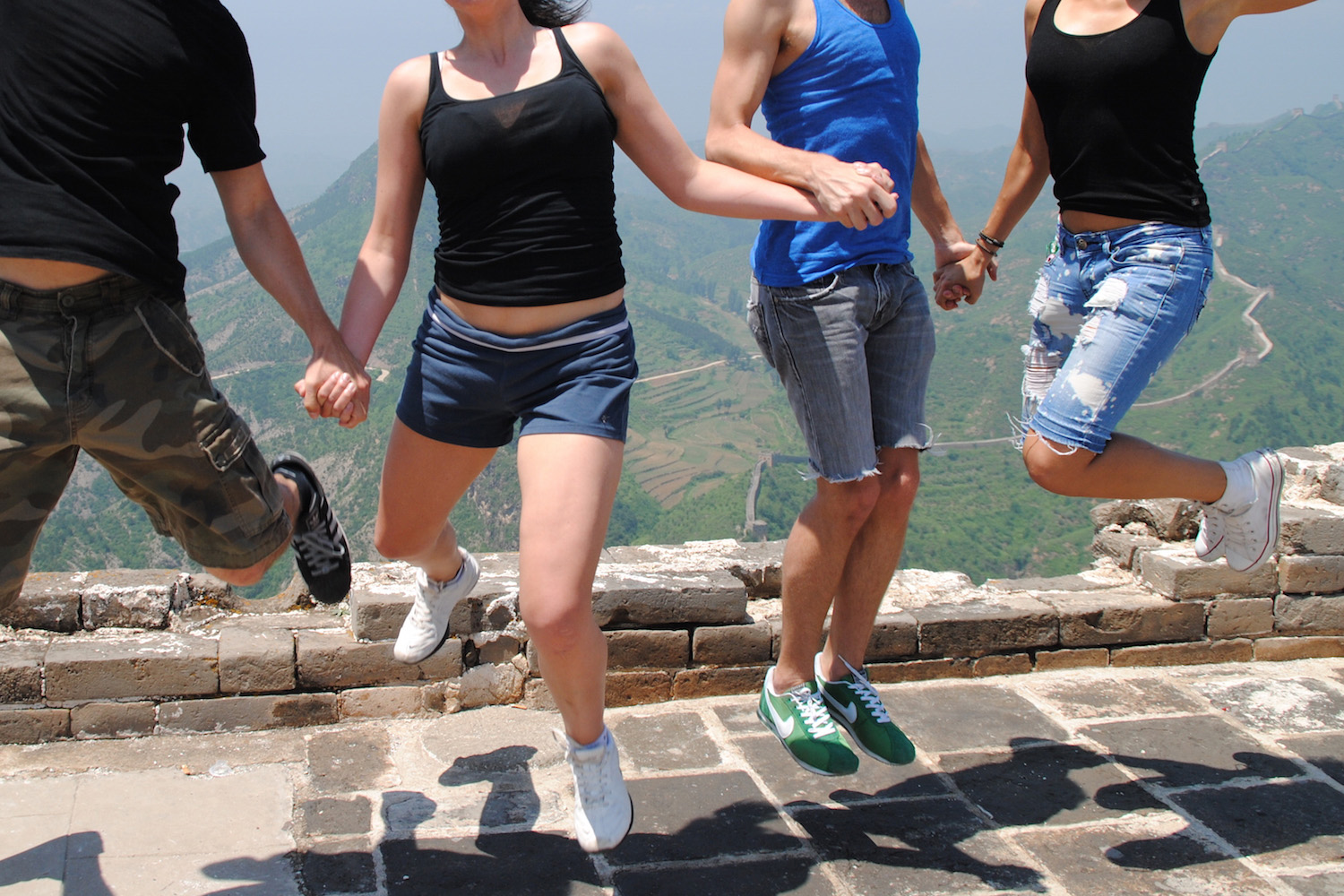 Instead, I recommend you hire a taxi and visit Simatai, which is close enough to Beijing to do on a day trip, but far enough away that it isn't totally infested. How much you pay for the taxi will depend on how much your receptionist likes you and, beyond that, on your haggling skills, but you should really pay no more than 100 USD for your car, which means that if you're traveling alone, you should see if other hotel guests want to come with you.
As to how you should wrap up your three days in Beijing? That's up to you. You could return to one of your favorite Beijing attractions to see it lit up at night, or you could simply enjoy a stroll around Houhai lake, taking in the ambiance of the hutongs. It doesn't really matter, though – unless your mind is completely closed, you should plan on returning to Beijing at some point in the future.
The Bottom Line
My guide to three days in Beijing is meant to be used as a starting point, not (necessarily) a Bible: You could easily spend three weeks in Beijing or three months in Beijing and not see everything. Shit, Beijing has had more than three millennia to figure itself out and it's still evolving.
Indeed, when deciding how many days to spend in Beijing, the best strategy might instead be to take a larger look at your trip to China (my one month in China itinerary is a great place to start for that) and go from there.
Share: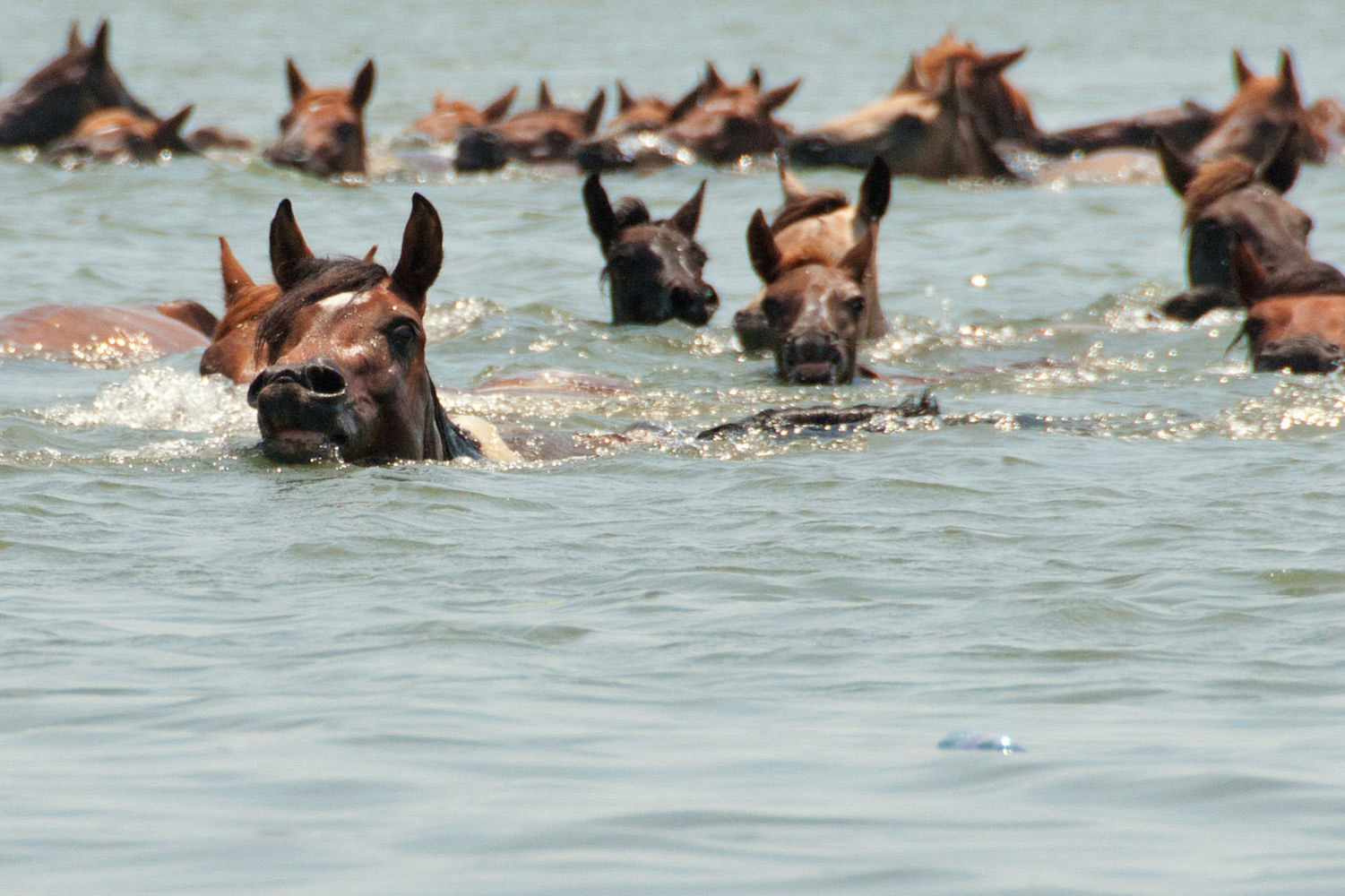 With more than two centuries of history, architecture and culture on offer, Washington D.C. is one of the most rewarding U.S. cities to discover. In spite of this, its land area of just 68 square miles can make it feel claustrophobic, even if you're only visiting for a couple of days.
Thankfully, Washington D.C.'s location on the highly-populated eastern seaboard of the United States puts it in easy reach of several incredible day trip destinations. Whether you want to explore another city for a day, or just want to connect with nature, consider these ideas for your next D.C. day trip.
Baltimore, Maryland
Baltimore is close to Washington, D.C. both in proximity – it's around an hour by car or train – and in the general feel of the city, but a day trip to Baltimore is more rewarding than you think. Whether you catch an Orioles game at Camden Yards, visit the National Aquarium or walk along the picturesque Inner Harbor, it's difficult not to feel charmed as you explore Maryland's aptly-named "Charm City."
Civil War Battlefields
History in the D.C. area extends much deeper than than Washington's many museums. Several Civil War battlefields are around an hour away from our nation's capital by car or bus, and make the perfect counterpoint to stately monuments like the Lincoln Memorial, Reflecting Pool and the Washington Monument. Whether you visit Antietam, Fredricksburg, Spotsylvania or even iconic Gettysburg, you'll gain a new appreciation for all the sacrifices that went into making our union a more perfect one.
Shenandoah National Park
Speaking of iconic places near D.C., few words ring out a note as quintessentially American as "Shenandoah." If you don't find yourself humming the classic tune during the 70-minute drive to the park from Washington, D.C., I imagine you will once you begin hiking into the waterfall-filled forests of Virginia's Blue Ridge Mountains. The virgin scenery on offer in Shenandoah National Park is as far from the neatly-arranged streets of Washington as we are today from the days of Pocahontas and John Smith.
Assateague Island National Seashore
"Beach" probably isn't the first word that comes to your mind when you think of Washington, D.C. Indeed, while the shores of the Potomac River are beautiful enough, they're nothing compared to the idyllic beaches of Assateague Island National Seashore, a barrier island just off the coast of the Delmarva Peninsula, less than two hours from D.C. Oceanside beauty notwithstanding, the star attractions of Assateague Island are the dozens of wild horses that roam its sandy beaches.
No matter where you select for your day trip, spending time outside the capital won't diminish from your Washington, D.C. experience. If anything, the sheer variety of amazing activities within a short drive of D.C. simply highlights what a rich and fulfilling place it is to visit, whether it's your first trip or your fiftieth.
Main image credit
Share:

It may be hard to get to Nepal, but it's even harder to leave this wonderful country. We had only 10 days there, so we had to organize our time precisely, to be sure to enjoy the place as much as possible. And we did!  I hope it will inspire you to discover this fantastic country! Namaste.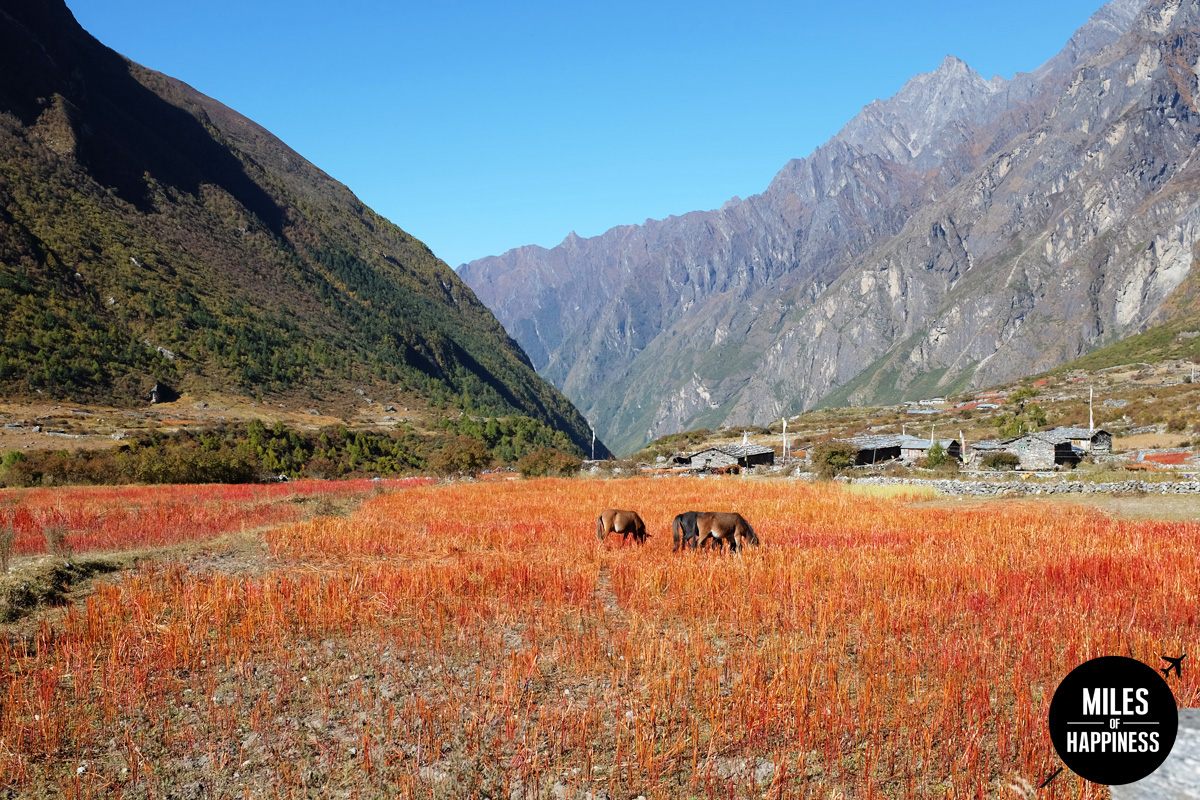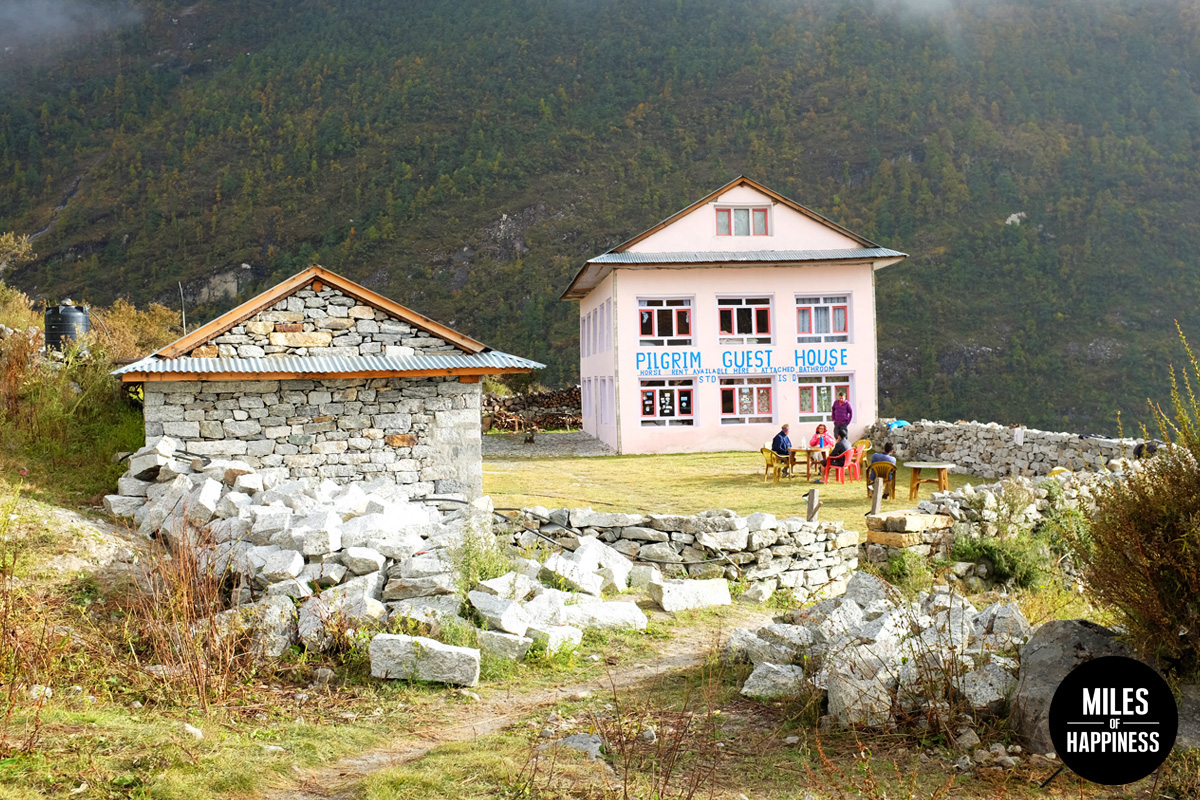 We stayed two days in Kathmandu, where we found a guide and got our trekking permits for the Himalayas. Then we took a eight-hour, dangerous (mental?) bus ride to Syabrubesi, the trek starting point.
On our fourth day in Nepal, our trek in Langtang Valley was starting, from Syabrubesi to Kyanjin Gompa, up to 4800m, then back down to Syabrubesi. It was a five-day expedition. Then we had to take a ride back to Kathmandu, plus a day visiting the city – you always need a buffer day, so you don't miss your flight!
Ten days in Nepal is short. But it's enough to get an idea of the country, to discover Kathmandu and see the beauty of the mountains. Among all our beautiful discoveries, here are the highlights of our trip.
Stroll in Katmandhu's beautiful chaos
The moment you exit the airport, you're already immersed in the chaotic atmosphere that's so unique to Nepal. Kathmandu is a super intense city. It's big, polluted, traffic-jammed, colorful, authentic, busy, noisy, all cheered up by some stunning old temples and gorgeous traditional markets.
To observe all its beauty, you have to look up, down and all around –watch out for the crazy taxis or scooters crossing your way full speed. Two eyes and two ears are not enough to enjoy this city. You'll probably feel like a kid: impatient, excited, afraid sometimes, and amazed. All. The. Time.
We stayed in Thamel district, where all the tourists & expats are. It's very convenient, well-centered, close to the trekking shops, markets, lots of nice restaurants. It's not traditional, but when you don't have time, just think practical.
Eat up some momos
I heard a lot about the Nepalese food before going – the trekkers I've met told me there's nothing interesting to taste there. I was glad to see how wrong they were!
There are maaany delicious things to try! First, start with a plate of momos accompanied by a local beer. It's a kind of dumpling filled with cheese, veggies or anything else. And it's delicious, especially after a seven-hour hike in the cold!
Take a nap in the Garden of Dreams
In the middle of busy Thamel, there is a hidden paradise that deserves its name well: the Garden of Dreams. Leave the traffic behind you and enter the tiny door of the garden – you'll find yourself in a peaceful, green, serene place, where time is literally stopped. It's superbly restored, flowery, colorful, quiet. Quiet. Silence is priceless in Kathmandu! It's the perfect spot for a nap in the shade of a tree…
We tried the restaurant of the garden to celebrate our arrival in 'the promised land'. It's not cheap, but it's absolutely delicious, and the perfect place to gather strength before the expedition !
Circle Boudhanath Stupa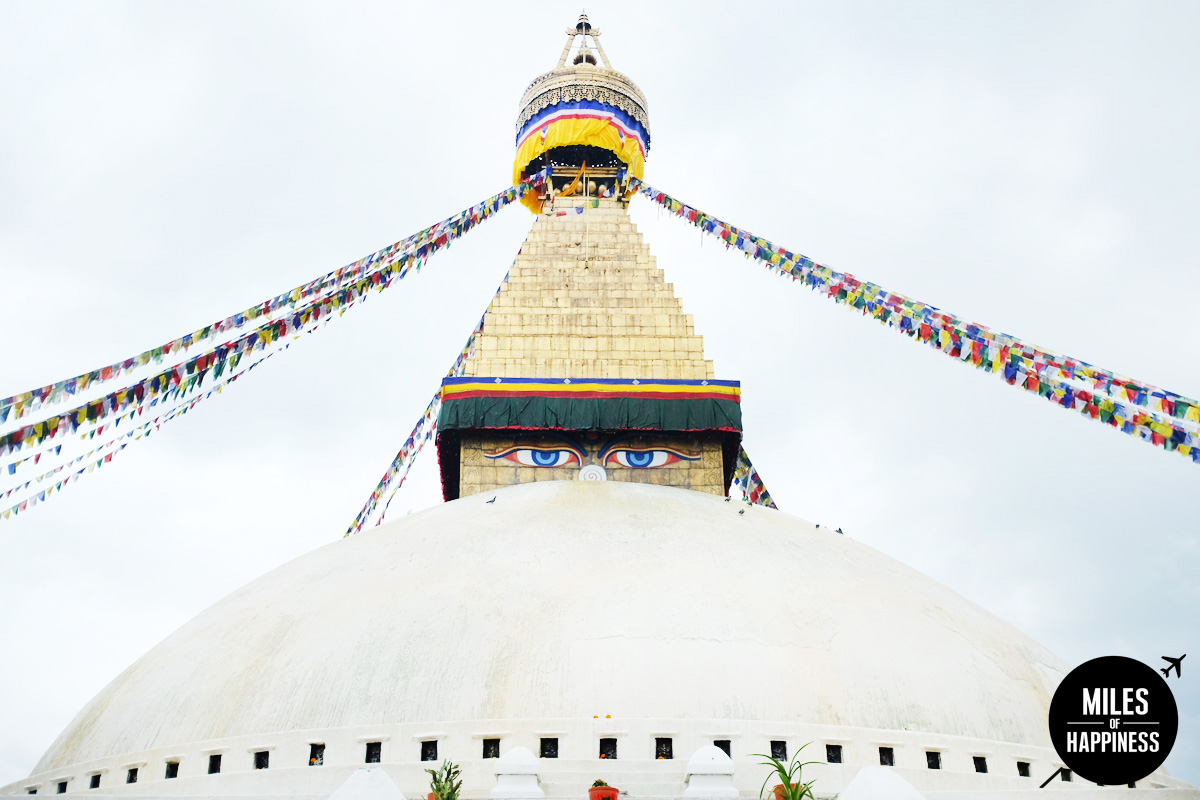 This is one of the strongest symbols of Nepal. There is something unreal about being there. Like if this place only existed in books and movies. But no. It does exists, and it's huge. A pure beauty with a sense of calm and spirituality. It's very special.
Many Buddhists take pilgrimages to Boudhanath. It's one of the holiest Buddhist sites in Kathmandu. Everyday, you can see monks and people ritually walking around the stupa, engrossed in their prayer while circling clockwise. As everyone circles clockwise, it creates energy spirals.
Walk on the Roof of the World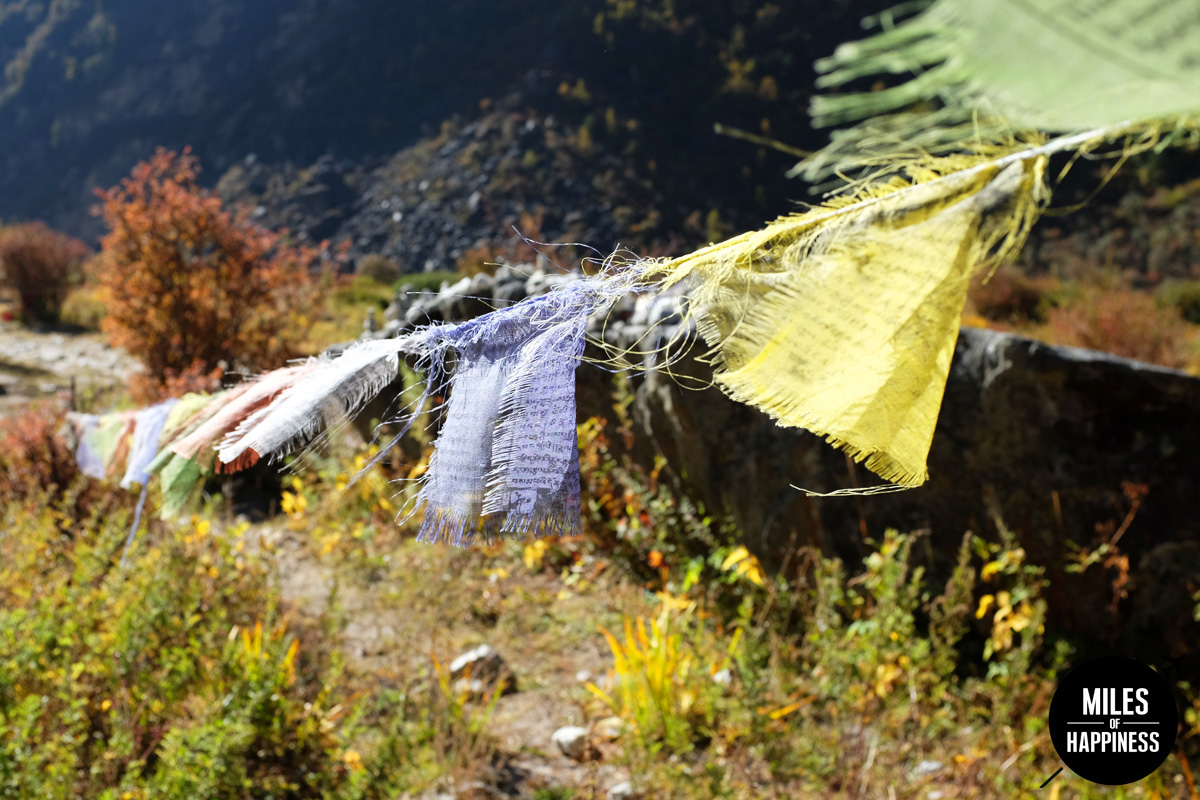 Nowadays, it's very simple to organize a trek in the Himalayas. There are plenty of options, from three days to three months. Of course, the more time you have, the more remote you can go.
We chose the Langtang Valley for many reasons: it's one of the closest treks from Kathmandu; it's not too crowded yet; and it's neither too hard or too easy. It was beautiful. And the Himalaya Chain itself is a natural wonder anyway.
I have no words to describe what I felt up there, at 4800m high – it's a very unique experience, something everyone should live once in his life.
Run After Pigeons in Durbar Square
Durbar Square's medieval architecture is spectacular – you can easily spend hours there, strolling from a temple to another, taking unique pictures and meeting local people. I love that place. Red brick walls, art exhibitions on the streets, thousands of pigeons, many tuk tuks, a beautiful cultural mix, colorful saris: Kathmandu as you pictured it.
Take your camera and get lost in this incredible atmosphere – in Durbar Square and everywhere in Nepal.
Contributed by Marie Pottiez
Share: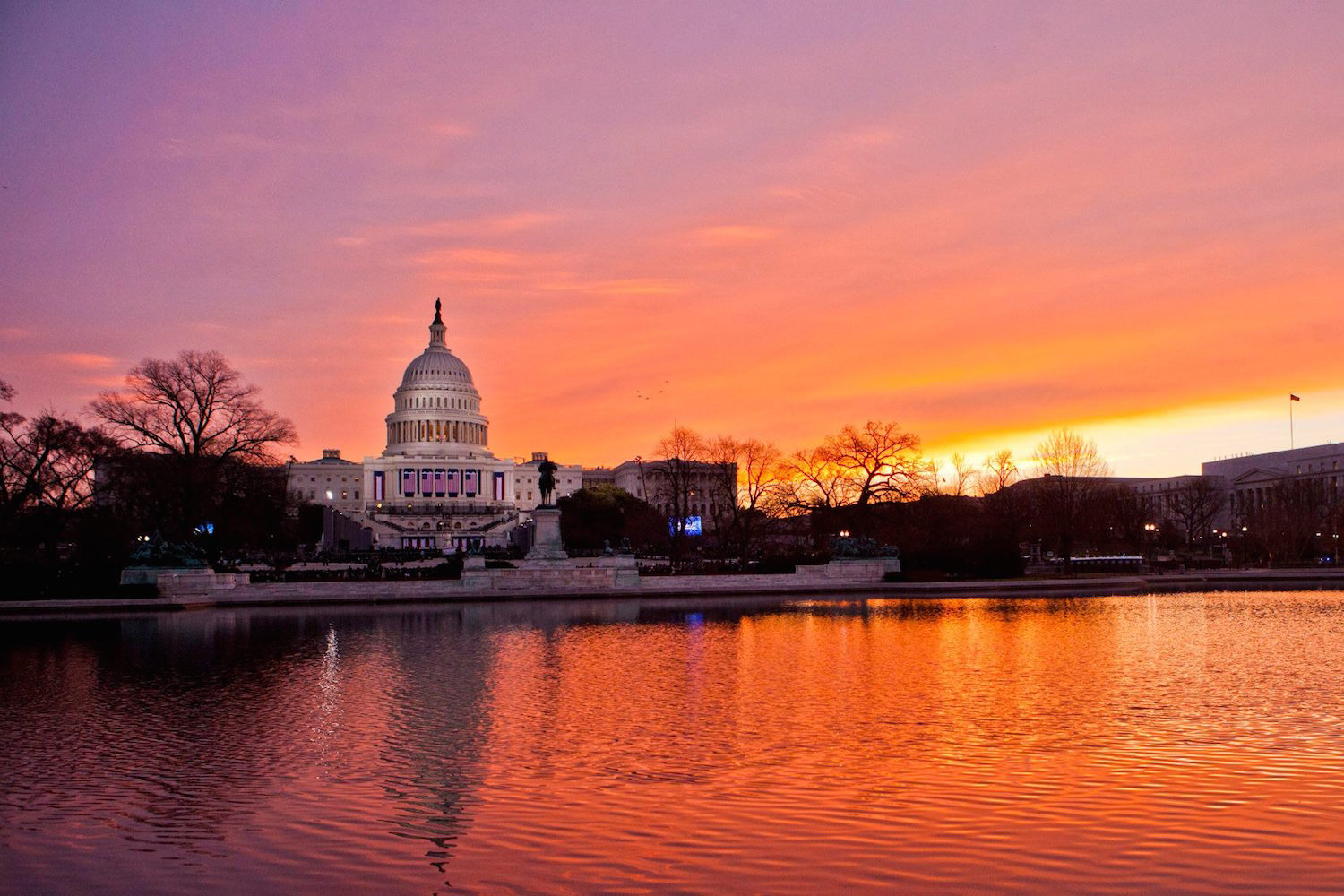 It's been more than two centuries since Washington D.C. was founded and if you've ever been there, you'll agree: It would take at least that long to get to know the city properly, from its timeless architecture and monuments, to its exquisite natural sites, to the culture that seems to be lurking around every corner.
The bad news is that it doesn't look like an immortality elixir will be passing through the National Institutes of Health anytime soon. The good news? Mere mortals can see the best our nation's capital has to offer – or at least, a tantalizing tease of it – in just one day.
Sunrise Over Capitol Hill
Be sure you get yourself down to the National Mall just before the crack of dawn – the spectacular sunrise over the monuments of Capitol Hill is definitely worth the early rise. Reward yourself with breakfast at Pete's, a divey yet delicious local treasure. With day fully broken, enjoy a stroll in the dramatic shadow of the National Monument, or pay your respects at the Lincoln Memorial.
Museums at Mid-Day
Your morning in D.C. is sure to stir your heart and soul, so get your mind going at mid-day. Spend at least a couple hours at the Smithsonian Institute, located just steps from the Reflecting Pool, then pick one or two other nearby museums to tide you over until lunch time. You could choose the National Gallery of Art or the United States Holocaust Memorial Museum.
Enjoy a light, late sushi lunch at Momoyama then, as the afternoon light begins to creep in, make a beeline for the United States Botanic Garden. Then, head back over to the National Mall to watch the sunset in the same place you saw it rise.
A Night at the Opera
Take in a Night at the Opera – check the schedule a few weeks before your trip, so you can snag tickets to whatever show is in town during your visit – whether you take in a classic like "Cinderella" or an avant-garde piece such as "Dialogues of the Carmelites," you can't find a more quintessential Washington D.C. cultural experience than a night at the National Opera.
Paint the Town – Georgetown
Grab a bite to eat near the National Opera, or start your evening in trendy Georgetown with dinner – the New American fare at 1789 and the charming French cuisine at Bistrot Lepic are standouts, historically appropriate ones at that. Whether you wet your whistle at the watering holes of M Street, or take a breather along the picturesque Georgetown canal, there's no better place to end your short stay in Washington D.C.
In an ideal world, this itinerary would be the beginning of a larger trip in our nation's capital. Even if you have to come back at a later date to experience the rest of what Washington has to offer, your dynamic day in D.C. is just the beginning.
Top photo credit: https://www.flickr.com/photos/quintanomedia.
Share:

Paris is known as the "City of Lights," but there are so many ways to occupy your day in the French capital that it's easy to exhaust yourself before night rolls around.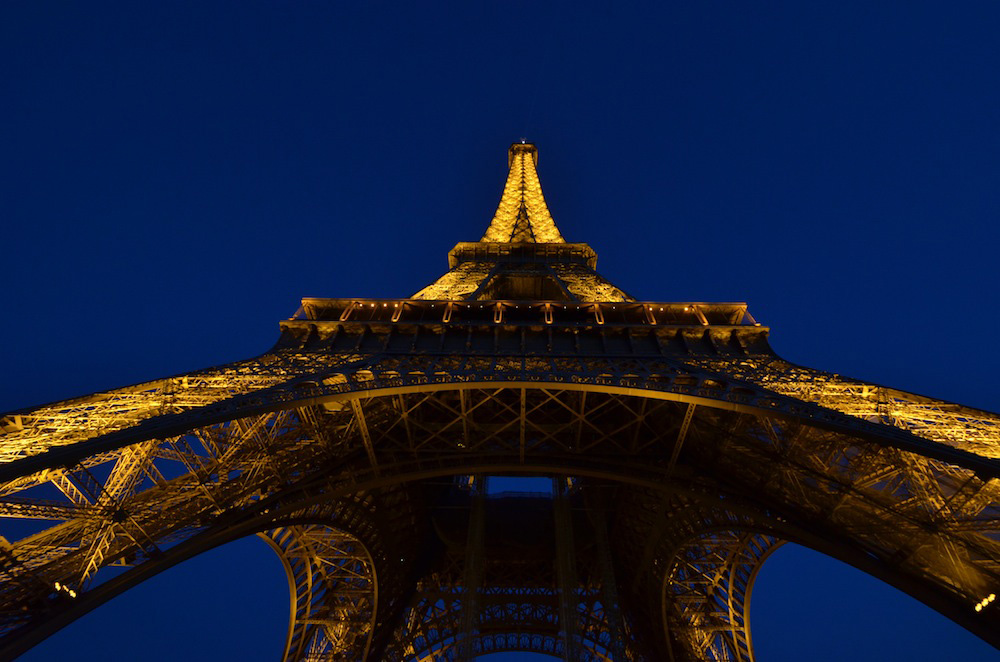 Regular visitors know about the renowned attractions like the Eiffel Tower and Louvre Museum, relaxing in city parks like the Tuileries and Jardin de Luxembourg or exploring enticing neighborhoods like Montmartre and Le Quartier Latin. Here's a few other fun options.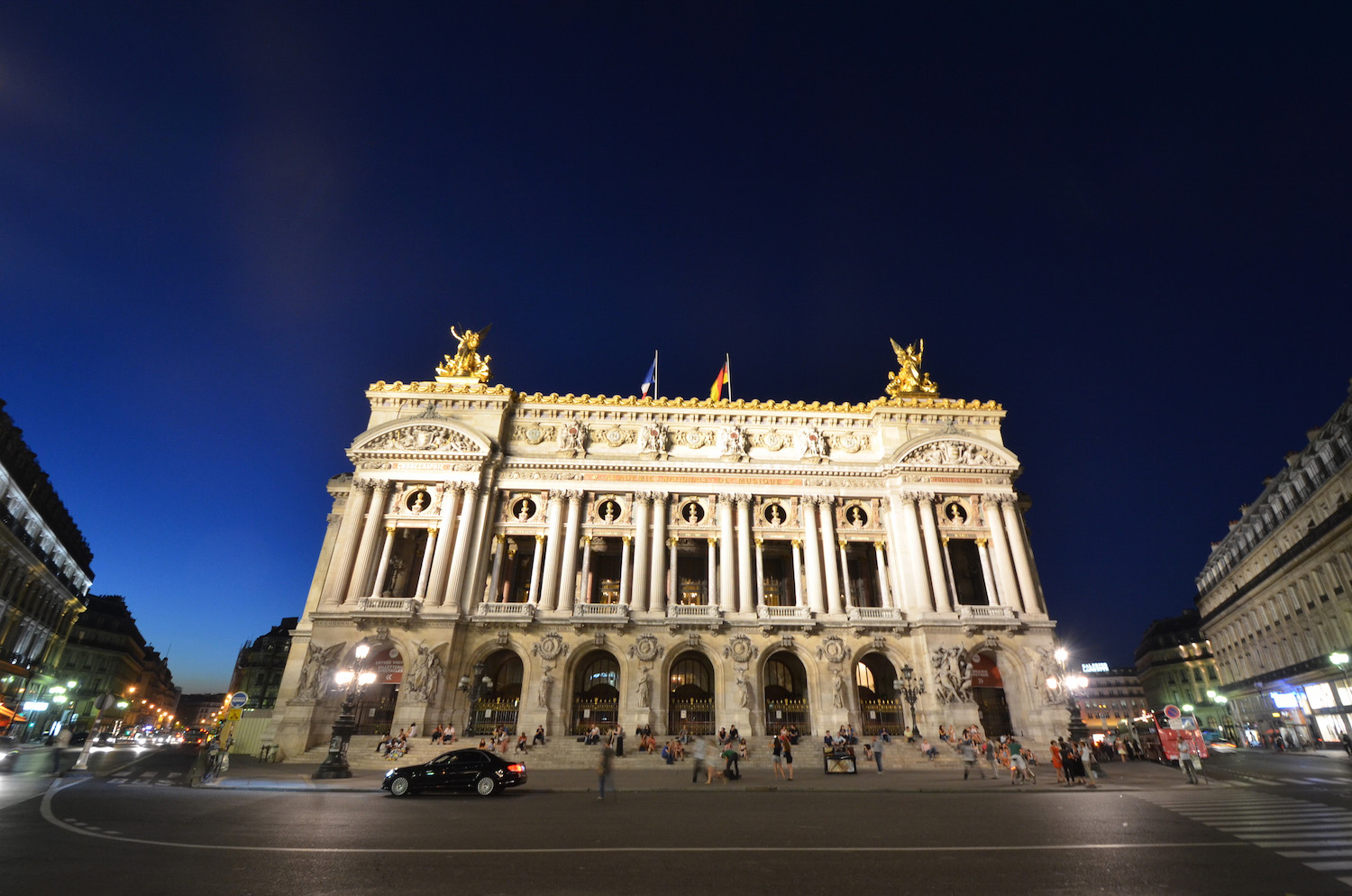 Yet I implore you to save some energy for an evening out in Paris, even if you can only manage just one during your next trip. Whether you book on HallSt or find your fun organically, many of the most unforgettable things to do in Paris only illuminate after night falls on the city.
Watch Sunset from Sacre Coeur
The Basilica of the Sacred Heart (more commonly known as Sacre Coeur) is one of Paris' most famous landmarks, but two facts about it always surprise me. First and foremost that it is relatively young, having opened just over 100 years ago in 1914; and secondly that it is the highest place in Paris, perched at an elevation of 83 meters above sea level.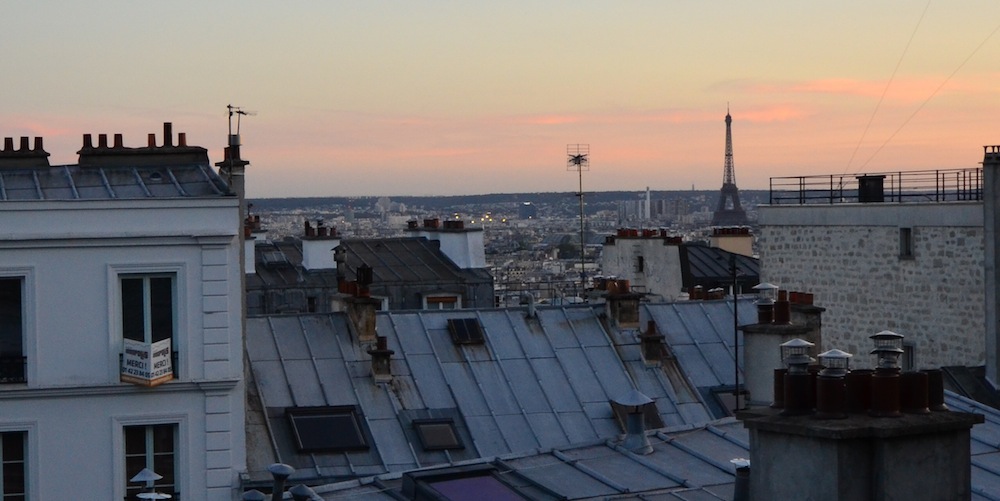 The first of these facts is relatively useless on its own, but the second is good to know, particularly if you plan to wet your whistle in Montmartre, where the church is located. Walk up to Sacre Coeur just before the sun disappears beneath the horizon for one of the best sunsets in Paris.
Drink and Dine Like a Parisian
Going out in Montmartre is a fun experience, but it is ultimately rather touristy. The good news is that you don't need to travel far to have a more authentically Parisian dining and drinking experience. In fact, your first stop is right around the corner from one of Paris' most ubiquitous attractions.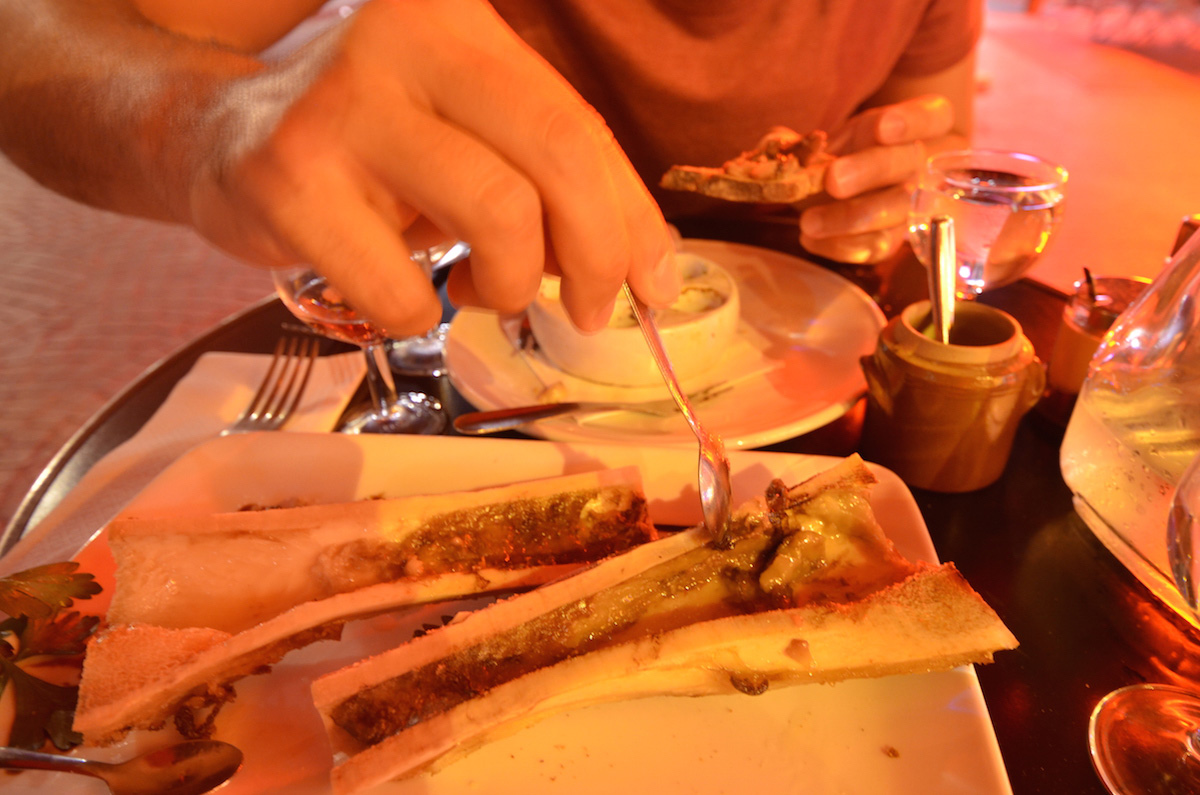 When you disembark the Paris Métro at Etienne Marcel station, you might be able to see the pyramid of the Louvre in the distance, but it's doubtful you'll find any tourists inside Café Etienne Marcel, my favorite place in Paris for a glass of unforgettable champagne. Le Tambour is just a short walk away (which feels even shorter if you're tipsy from the bubbles), but authentic French fare like entrecôte, escargot and os à moelle (bone marrow) take you to another planet, culinarily speaking.
Ascend the Eiffel Tower
For me, seeing the best Paris has to offer involves alternating between typical experiences and surprising ones – "typical" experiences are often more surprising when placed in context of more non-traditional ones. Case in point: Ascending the Eiffel Tower by night with a belly full of French food and champagne.
I was lucky enough to have romantic company in tow the last time I looked out over Paris by night, but if you're doing things right, the most important love story in your heart when you get to the top of the tower is with Paris itself.
A Royal Way to End Your Night
The best way to end your evening in Paris – if you can manage to find the energy, this is, after the exhilarating sunset, sumptuous food and beverage and breathtaking night view from atop La Tour Eiffel – is with dancing at Queen, a discothèque right on the Champs-Elysées.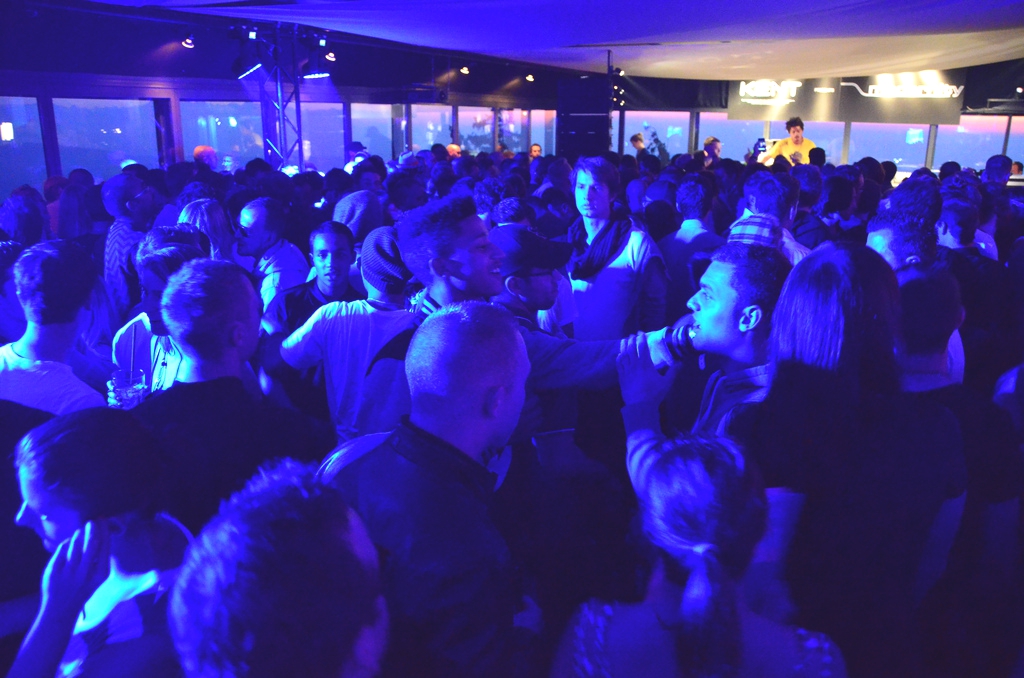 Partying like royalty in Paris doesn't come free (it's €10 for a beer here), but feeling like a king or queen after a regal night in the City of Lights is priceless, if you ask me.
Share:

My friends Bianca and Anthony hadn't been gone five seconds when the first swarm of teenagers descended upon the ski bar. Before half a minute was up they had infested both of the tables adjacent to the one where I was sitting. 15 or so seconds after that, they'd helped themselves to the free seats next to me, without even asking – I could hardly see majestic Mt. Titlis above me anymore, let alone the far end of the table.
Who raised these animals? My initial defensiveness soon gave way to a more insecure line of thinking. I bet I look like an alcoholic – Bianca left her wine and Anthony his beer.  And then, as a straggling barbarian took the last free seat next to me, without so much as making eye contact or breathing in my general direction, paranoia. They know who I am – that's why they don't bother saying anything.
When I was growing up, my father's job made us move a lot, a fact to which I credit not only to my perpetually itchy feet, but my perpetual status as the "new kid" which, during grade school, made me a perpetual target for ridicule. I had mostly transcended this archetype by the end of high school, but you'd be surprised how easily – and, sometimes, how unexpectedly – I fall back into it.
You're not a kid anymore, I reminded myself, as I looked off into the snowy distance, silhouettes of the hellians half my age indistinguishable from the evergreen trees that carpeted the mountainside. Get the fuck over it.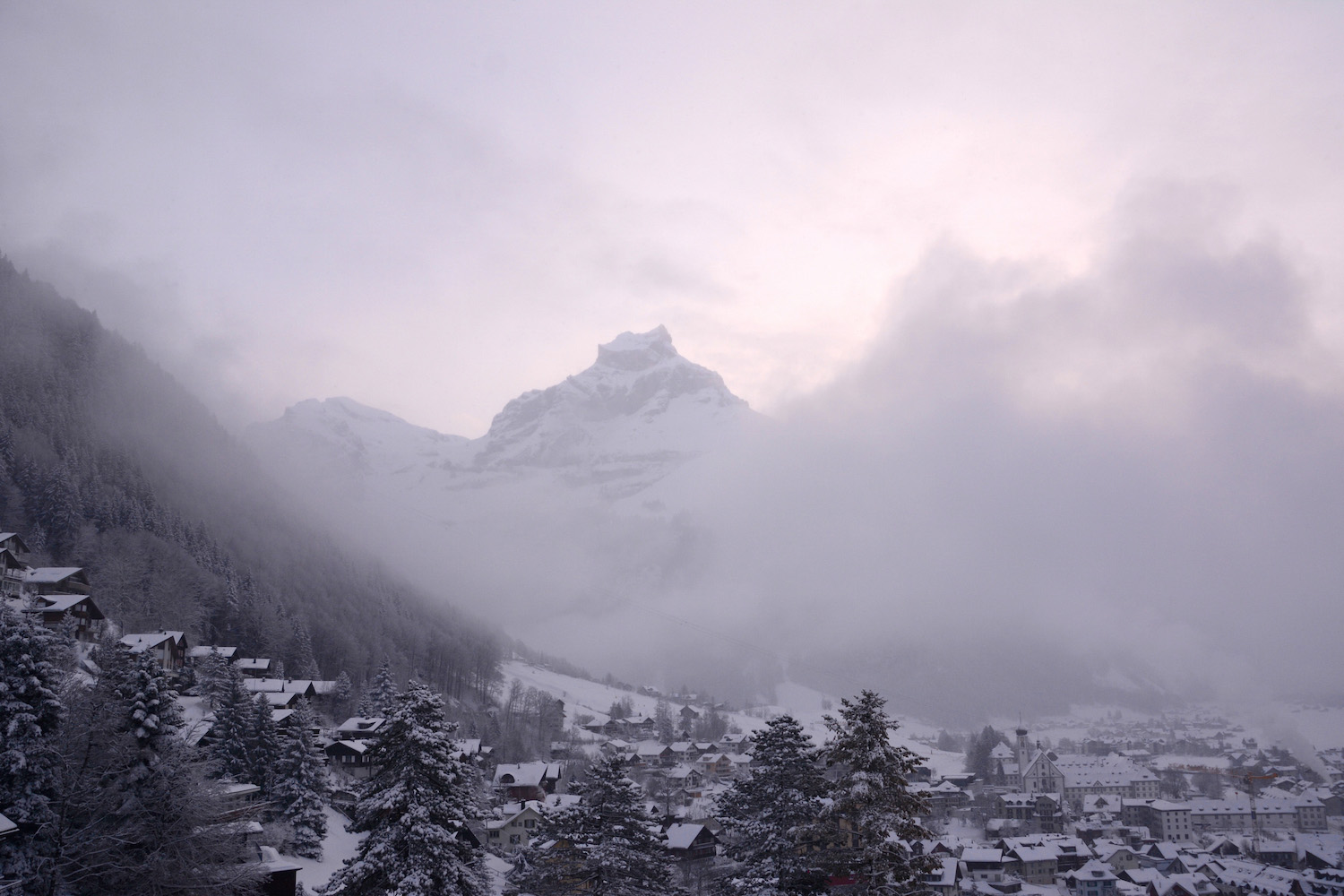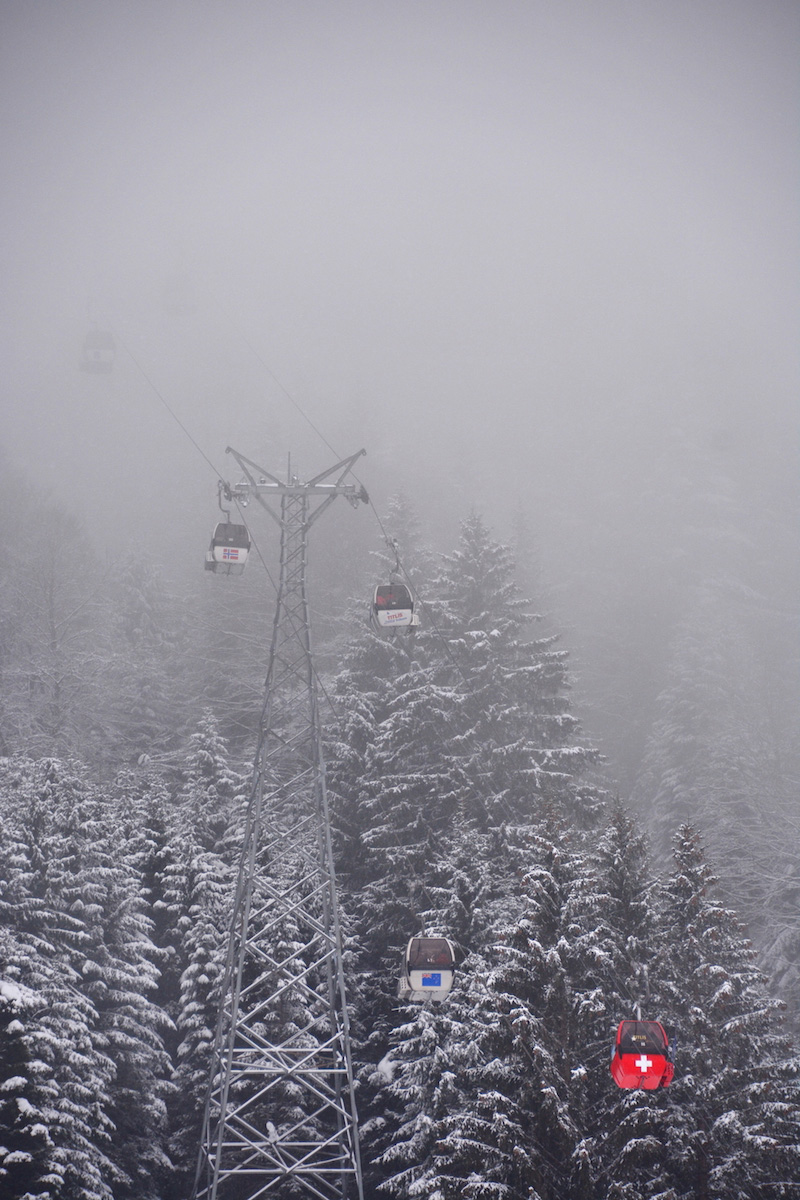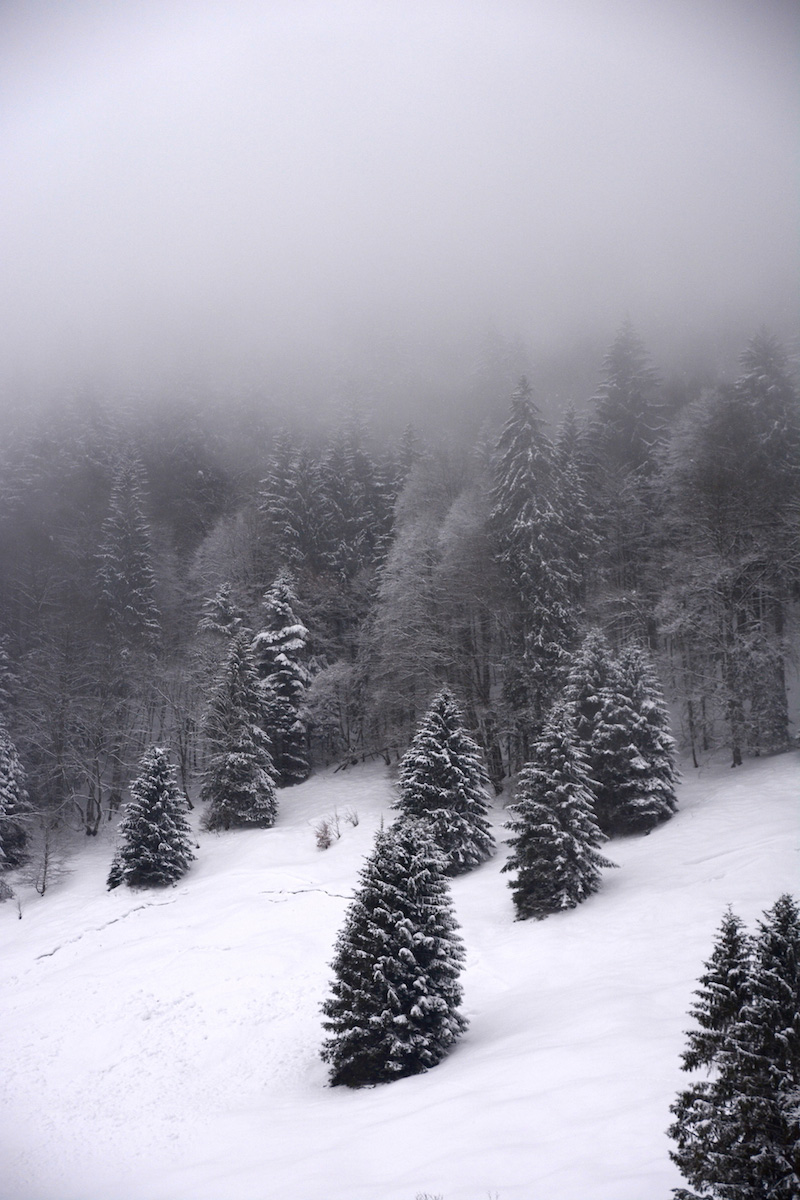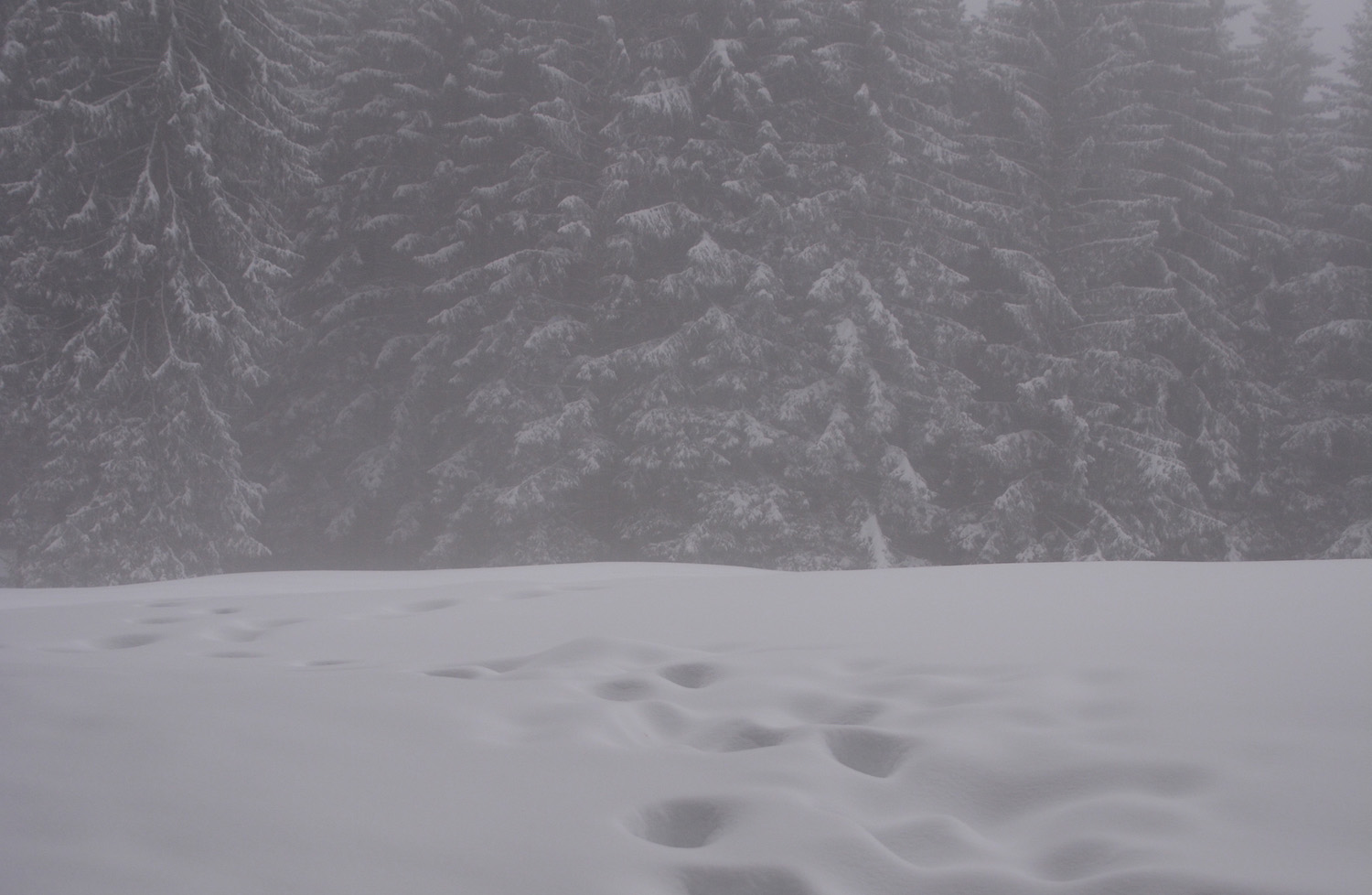 I've taken a big trip for each of my past several birthdays, and each time I've had some demon to conquer, some existential crisis to manage.
One year, I was aboard a train from Thailand to Cambodia, where I took inventory of my progress in life up to that point – I was in a state of denial. But it was this denial that catalyzed my transformation from disgruntled English teacher to full-time traveler, so I guess denial is not always a bad thing.
It was hatred, not love, that sat beside me a few years later, which I spent surfing on a kangaroo-filled beach in Australia. I don't hate kangaroos, but I harbored a great deal of resentment for several people in my life – namely, my roommates at the time and a close friend of mine who gave me the silent treatment for six months – and the vast emptiness of the Pacific Ocean proved a great place to let go of it all.
I found myself south of the equator for the third year in a row a year later and one of the world's most elaborate funeral celebrations served as a backdrop to m y last birthday, which I like to think parallels the death/rebirth that occurred in me by the time I departed Indonesia a few weeks later. I had long since transcended the ordinary life I once felt confined to; I had extensively explored my relationships with love and hatred; and I had come to terms with the consequence of both lacking and excessive vulnerability.
My decision to celebrate this birthday in the Swiss Alps broke with tradition for many reasons,  first and foremost that it was a cold place (which was of course a big trend for me this winter, with trips to Manchuria and Hokkaido under my belt). It was also the first birthday in many years I spent in the company of others – my best friend Bianca and her husband Anthony, whom I hadn't seen since their wedding (which I photographed) in late 2013.
It's about accepting that yes, in spite of my independent spirit, I don't really love to be alone; that I don't hate winter; that I don't need to visit a completely new country (I've been to Switzerland five times before) to have a new and worthwhile experience.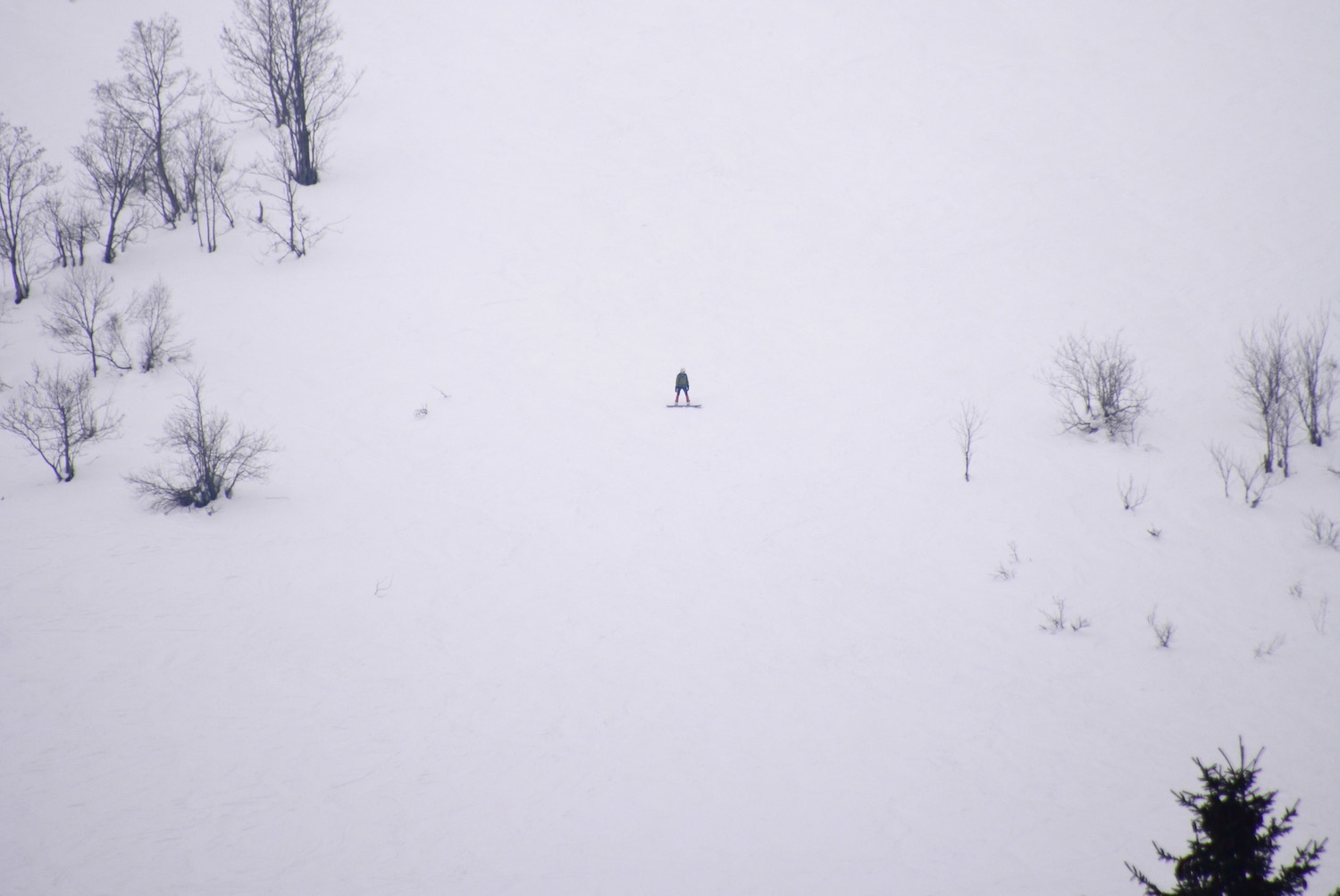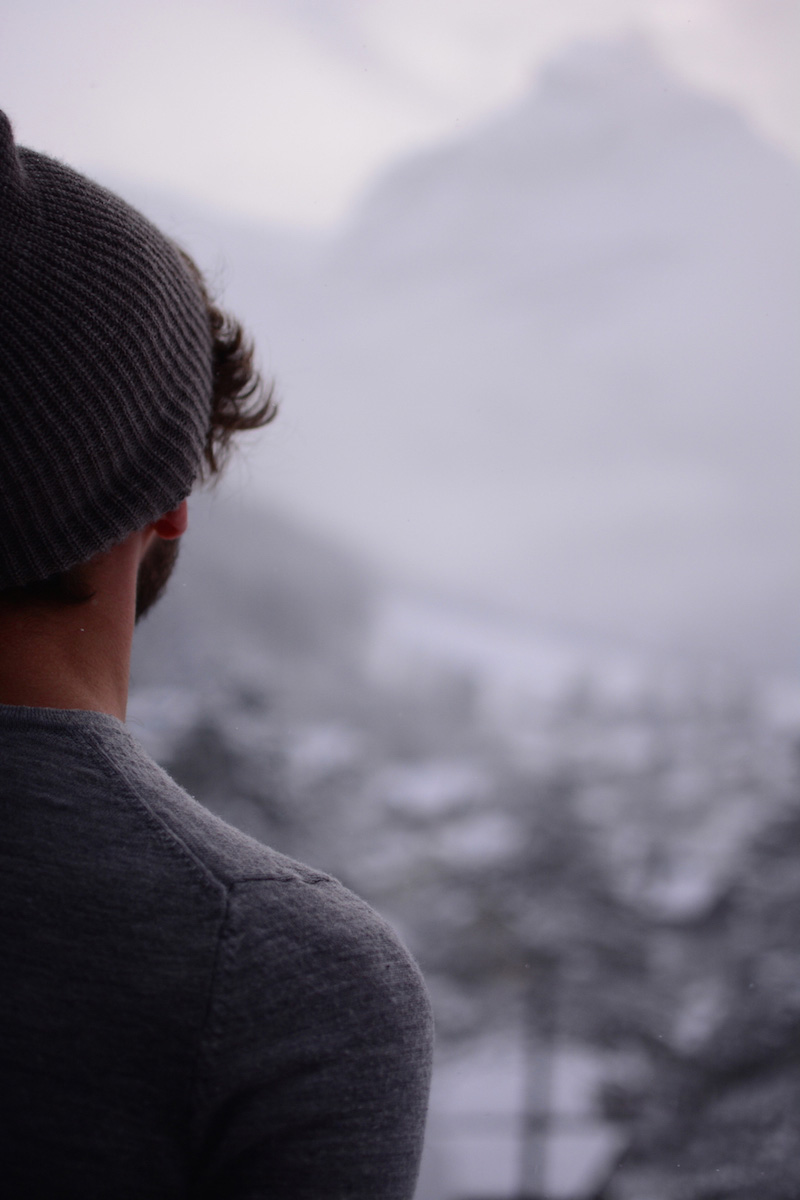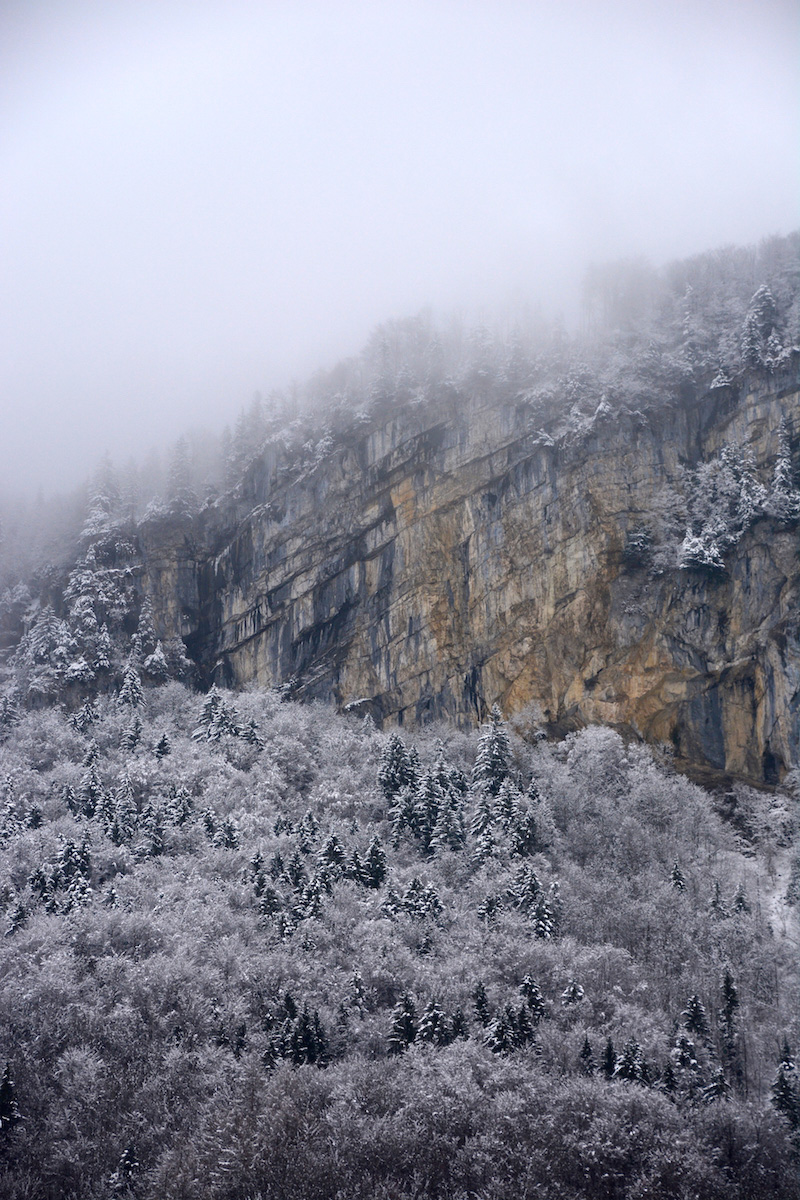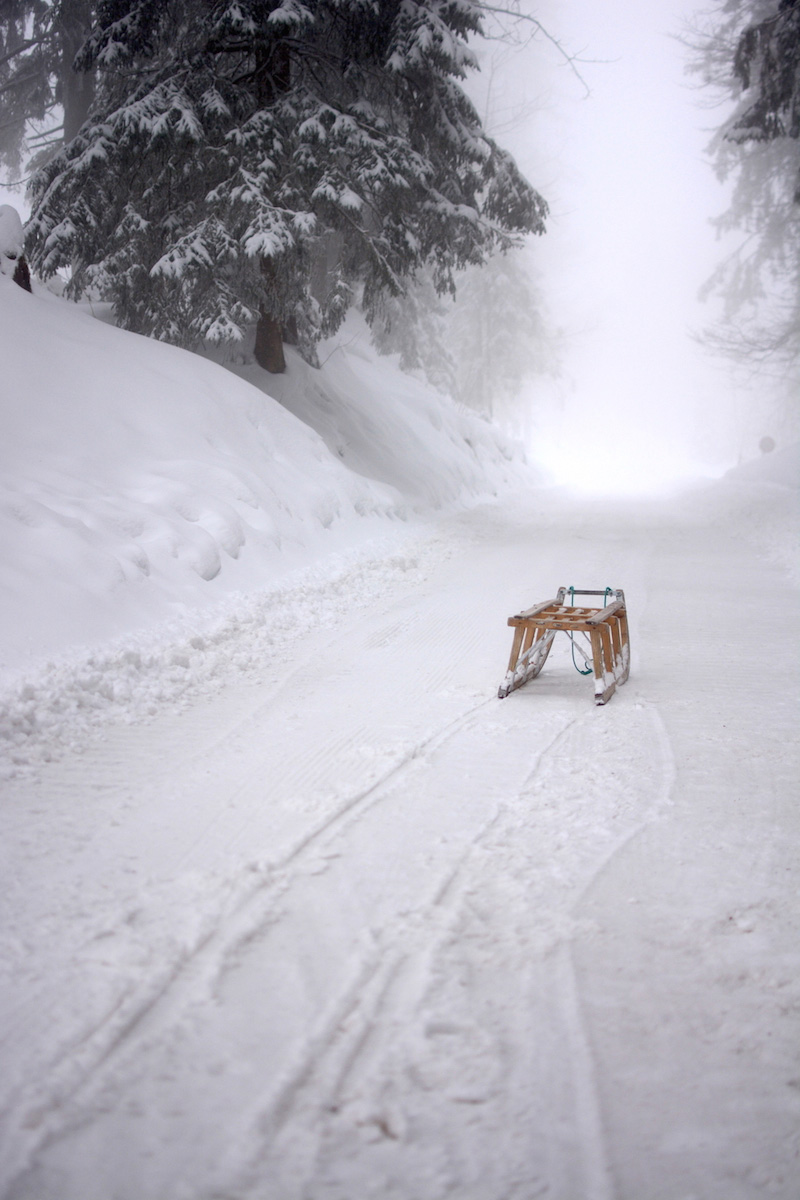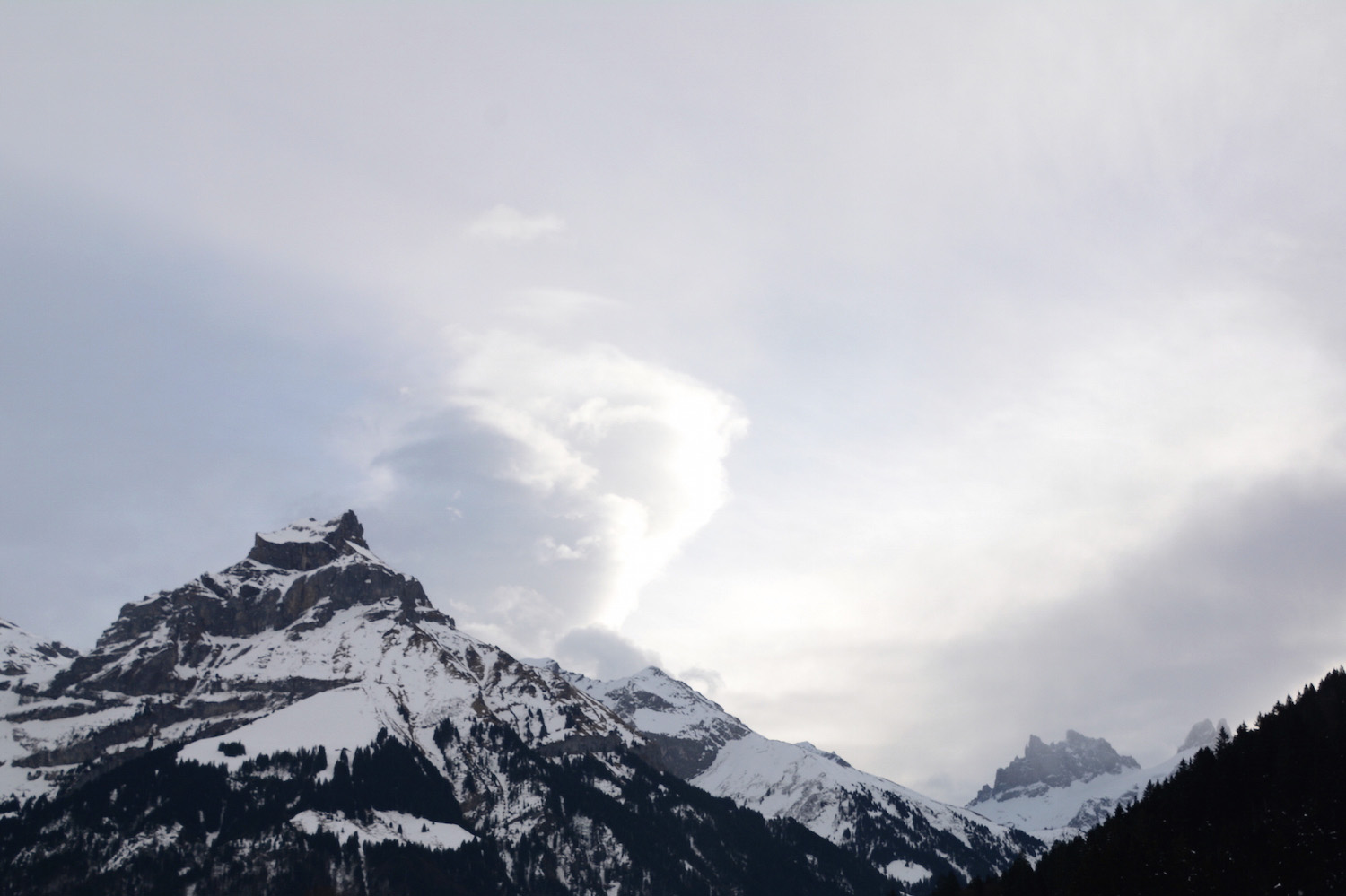 Turning 30 has been about accepting – but it's also been about achieving.
Achievement has always been a coping mechanism of mine. During my school years, I counteracted my perpetual outcast status with a 4.0 GPA. Teaching English in China a decade later, I shielded myself from (valid) criticism that I was using the job as a springboard into something greater by becoming the most productive, charismatic and sought-after teacher at the school.
Skiing was a skill I lacked not due to a lack of ability, but a lack of availability – I'd never lived closed to mountains, let alone in a place that experienced a sustained winter. I knew I wasn't going to be the next…fuck, I can't even think of a famous skiier. I didn't know shit about skiing, but I was determined to learn.
It was a decidedly uncomfortable experience, and not just because of the blisters my ski boots were coaxing out of my feet, or because of how little I seemed to be improving between each trip down the lilliputian hill, or because said hill was flanked by wooden cut-outs painted like storybook characters.
Struggling so profoundly and so openly, as dozens of confident adults (and children!) zoomed past me, took me right back to being the new kid, the one everyone judged and excluded and doubted.
As I reached the top of the ski lift, and squinted to find the distant finish line where I was expected to end up, I remembered something a very dear friend of mine had told me. Don't fight the mountain.
And so, without a moment of hesitation, I coasted over the edge of the hill, and as the evergreen trees and ski lifts and snowy hillsides in my periphery began to blur and warp, it suddenly wasn't about the toddlers skiing circles around me, or the teenagers who'd swarmed my table earlier, or the ghost of the person I used to be.
It was about me and the mountain – like it's always been.
Share: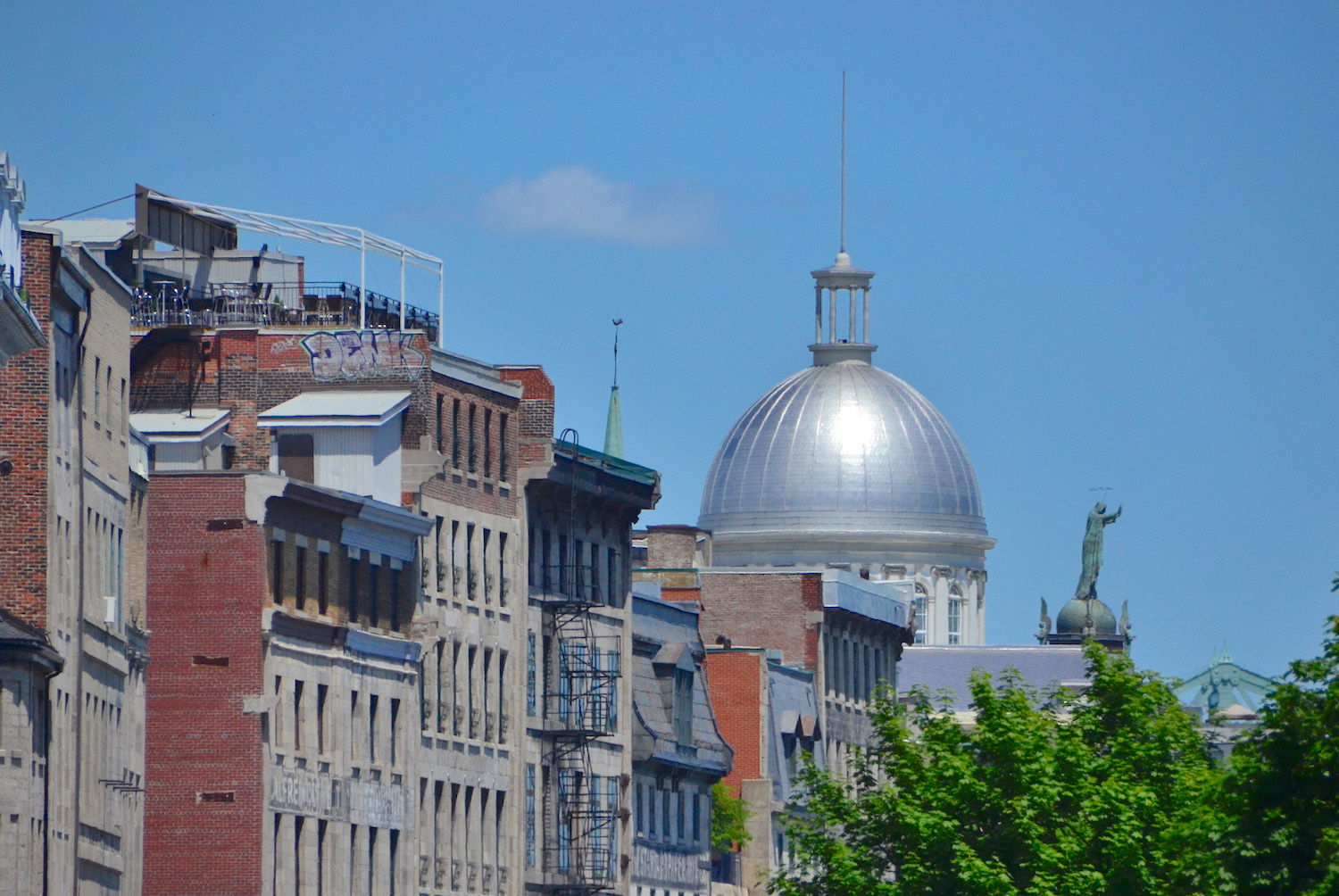 The first time I visited Montréal, I was shocked by how modern it was. I'd pictured a somewhat contemporary city in my head, of course, but I'd imagined the sleek skyscrapers and mid-century midrises would be dotted amid French-colonial buildings – not the other way around.
For better or for worse, Old Montréal makes up a rather small sections of the city's St. Lawrence River waterfront. Stay in a hotel in the heart of Montréal's historical district to fully immerse yourself in the city's storied past.
Hotel Gault
A four-star hotel housed in a Baroque era building just steps from the St. Lawrence, Hotel Gault allows you to say "Bonjour" to Old Montréal from the moment you check in. Request an upper-floor room to enjoy a sweeping panorama of the historical district and make sure to visit Montréal History Centre, which is only a few blocks away, regardless of how long you spend in Hotel Gault itself.
LHotel Montréal
LHotel Montréal might situate you a short walk away Montréal's picturesque Old Port, but the modern amenities inside this 18th-century building are a delectable reminder you're in the 21st century. Stay connected with free, hotel-wide WiFi, stay strong in the state-of-the-art fitness center, stay productive in the 24-hour business center and stay spoiled with the designer toiletries and stylish decor in every room.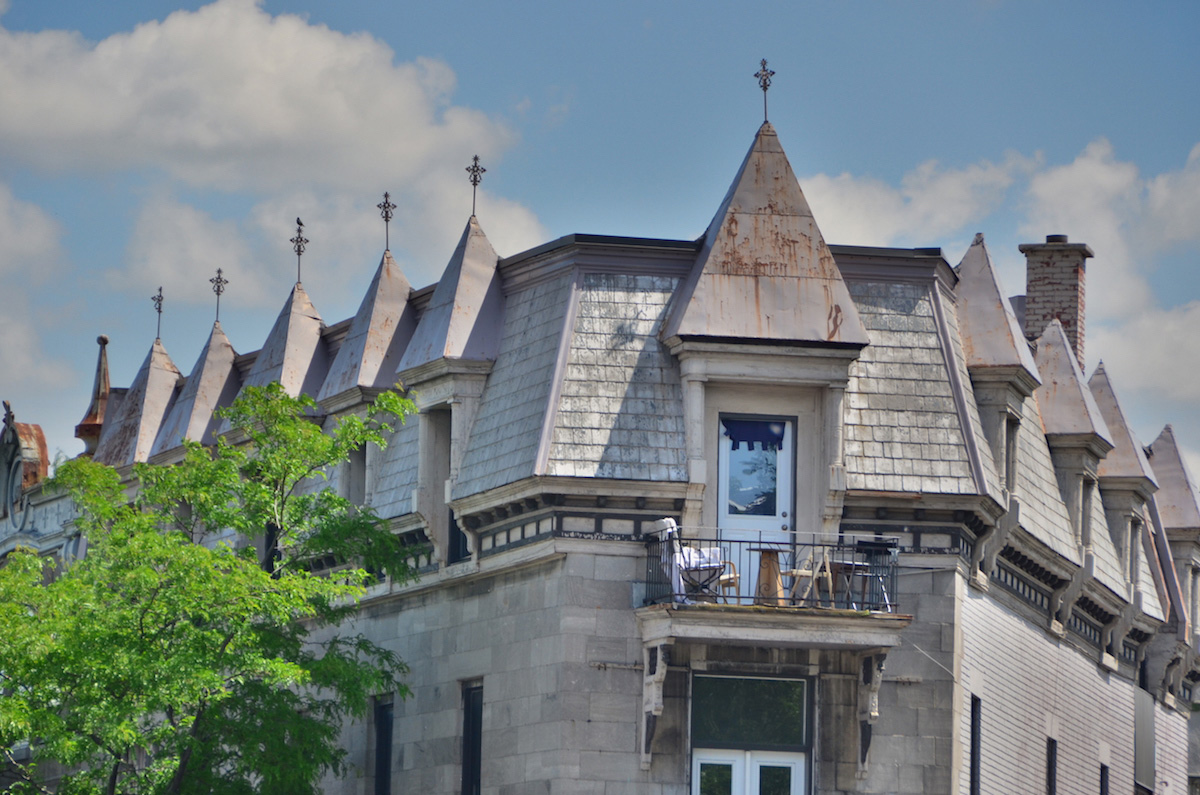 Le Westin Montréal
When in Rome, do as the Romans do – and when in old Montréal, live it up like a royal. Le Westin Montréal is without a doubt the most luxurious property in Old Montréal. After enjoy a chef-cooked breakfast delivered right to your room (careful of the Egyptian cotton sheets!), explore nearby landmarks such as Notre Dame Basicilia and St. Joseph's Oratory, before returning to the hotel in time to enjoy a refreshing evening sauna.
Auberge de la Place Royale
The Auberge de la Place Royale is a simple guest house right near all the action. Shop nearby at Bonsecours Market, whose shiny silver dome is quite literally the star of Old Montréal's skyline, or to enjoy an indulgent outdoor lunch on nearby Rue St. Catherine, the gateway to Montréal's world-famous gay district.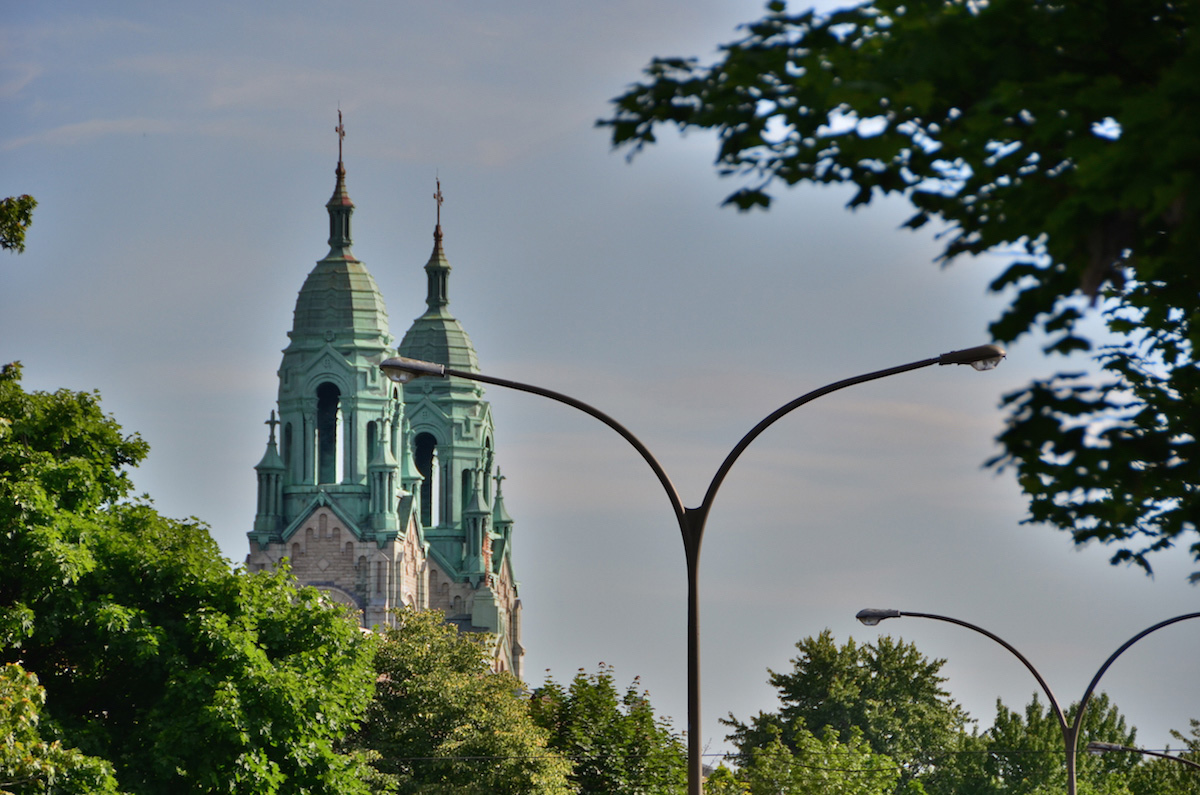 No matter which of these old Montréal hotels you stay in, you'll have hundreds of years of history at your fingertips. Even if you're totally fluent in French, I'm willing to bet you'll have a difficult time saying "au revoir" when it's time to leave!