About Robert Schrader
Robert Schrader is a travel writer and photographer who's been roaming the world independently since 2005, writing for publications such as "CNNGo" and "Shanghaiist" along the way. His blog, Leave Your Daily Hell, provides a mix of travel advice, destination guides and personal essays covering the more esoteric aspects of life as a traveler.
Latest Posts by Robert Schrader
Share: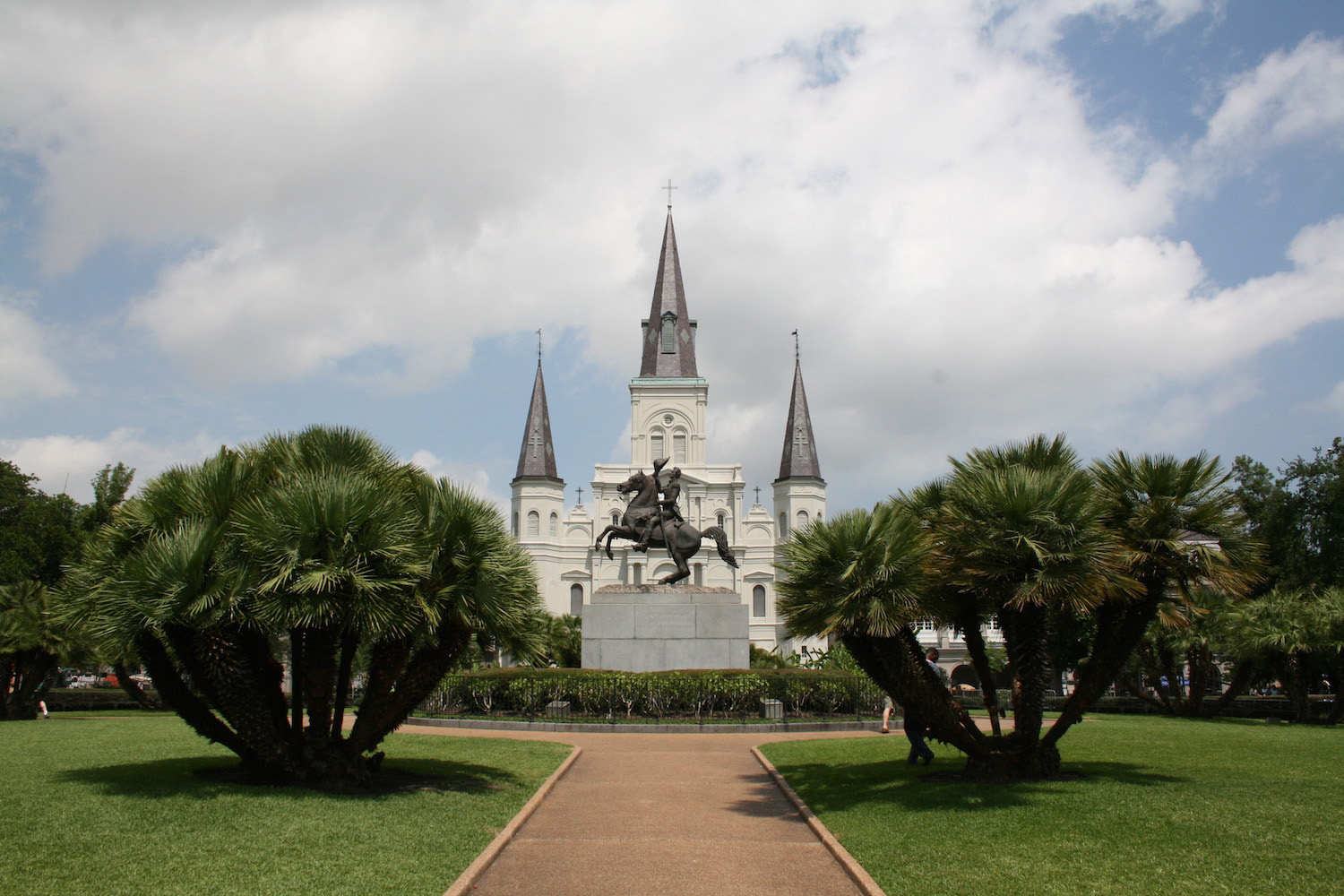 With colonial architecture, creepy cemeteries and, yes, legendary parties, New Orleans is one of America's most well-rounded tourist destinations. Although you could easily spend a week in New Orleans and not see everything, dozens of destinations just outside the city limits beckon you to explore them. From natural habitats to heritage of a specifically human sort, here are the best day trips to take from New Orleans.
Enjoy a Beach Day in Mississippi
New Orleans gives you plenty of reminders that the ocean is near – namely, palm trees and sky-high humidity. If you want to have a laze on an actual beach, however, you'll need to take a road trip to nearby Mississippi, whose shorelines boast white sands and turquoise waters.
One option is to head to Gulfport, a resort city that's become as famous for its world-class beaches as it has for its casinos. To be sure, you could opt to gamble and get a tan and make your Mississippi day trip into a one- or two-day excursion. Another popular option for New Orleans travelers who want to hit the beach is the town of Ocean Springs, MS, which is something of an artist's commune, its beautiful coastline notwithstanding.
Meet Louisiana's Wildlife
If you're not familiar with the area around New Orleans, you might be asking yourself "Why can't I just visit some of Louisiana's beaches?" The answer is that Louisiana's coastline consists not of beaches, but of marshy wetlands that are more conducive to wildlife than human hedonism. What this part of the state lacks in beach umbrellas and sand, however, it makes up in stunning biodiversity– landscapes you won't find anywhere else in the world.
For example, take a boat tour through Bayou Lafourche, a national wildlife refuge just south of New Orleans, where you not only get up-close and personal with the swampy landscape – you might even chance upon an alligator! If you're not into seeing reptiles, even from a safe distance, you might alternatively take a fishing trip in Plaquemines Parish, which is also a great place to spot local birds.
Visit Picturesque Plantations
New Orleans is the very picture of "The South," but if you want to delve even deeper into Southern culture and heritage, get in your car and drive the Great River Road, which not surprisingly runs along the Mississippi River. Here, you'll find a variety of stunning plantations, riverboats and other iconic symbols of this region's past. While some of the plantations are open to the public and will welcome you in, others only allow you to enjoy them from the road, so use your best judgment.
New Orleans and its surroundings are not so much a metropolitan area as a conglomeration of many different worlds.
Image via Wikimedia Commons user Pocoapoco.
Share:

The old house intoxicated me, from its ceilings, which seemed to stretch all the way up to the pristine skies above Havana; to rocking chairs that made me want to take up cigar smoking; to dramatic arches between the rooms, painted exactly the same shade of turquoise as the jewelry the lady of the casa particular was wearing when she offered us a welcome beverage.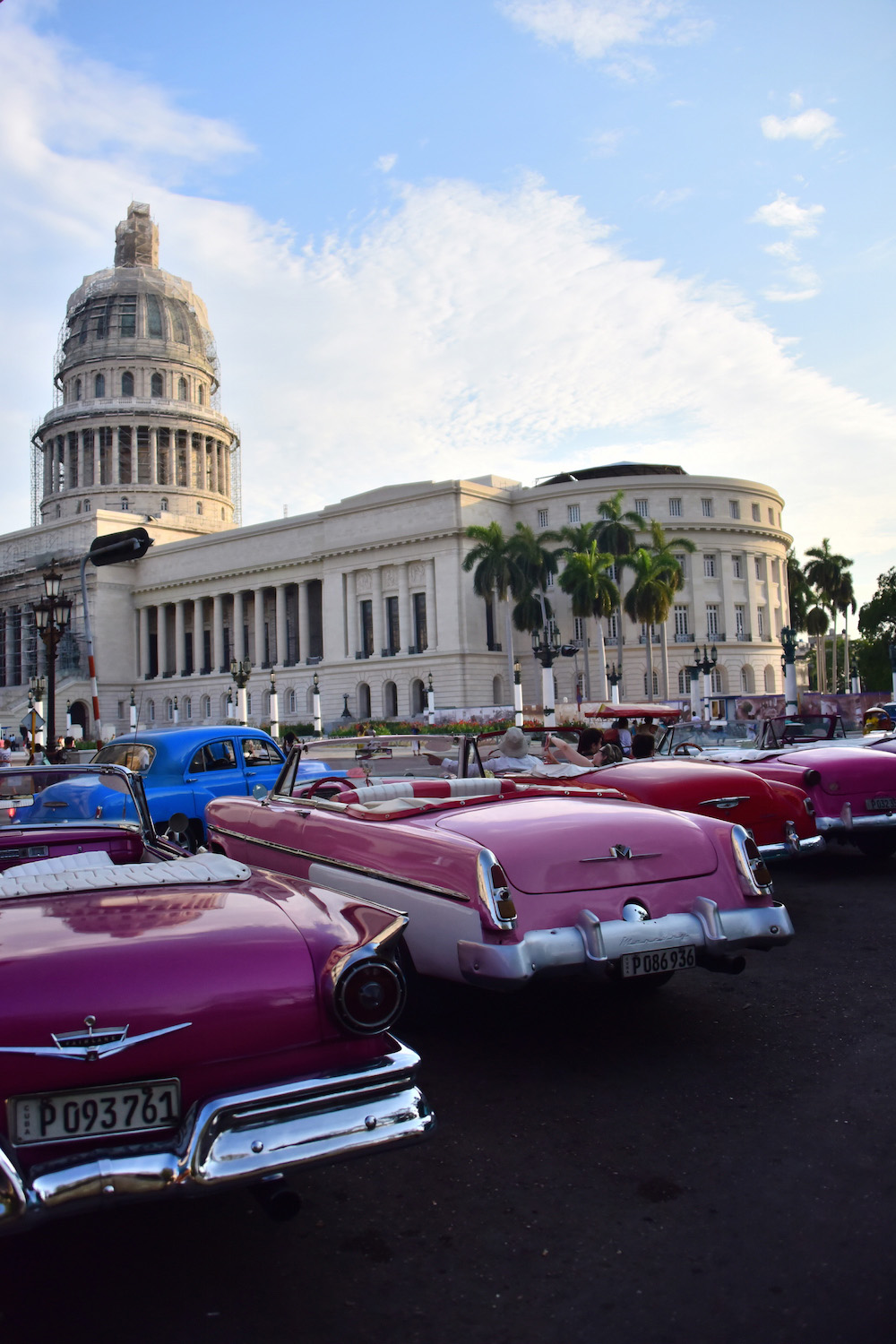 It took a moment after she appeared in the kitchen – I was admiring the intricate pastel palette of the floor tiles – for me to register her presence.
"You have such a beautiful home," I spit the words out, too distracted to speak properly. "How has your day been so far?"
"I tried to tell you" She sighed, and set the guava juice on the table. "But you didn't listen.
"Mira," she continued, "el jugo no tiene azucar."
She disappeared from the kitchen before I could explain myself.
Havana is screaming at me, Lourdes, I would've said, gazing over the balcony to gaze down Avenida Brasil at the monolithic Capitolio building and the classic cars speeding past it. I was listening, I just couldn't hear you.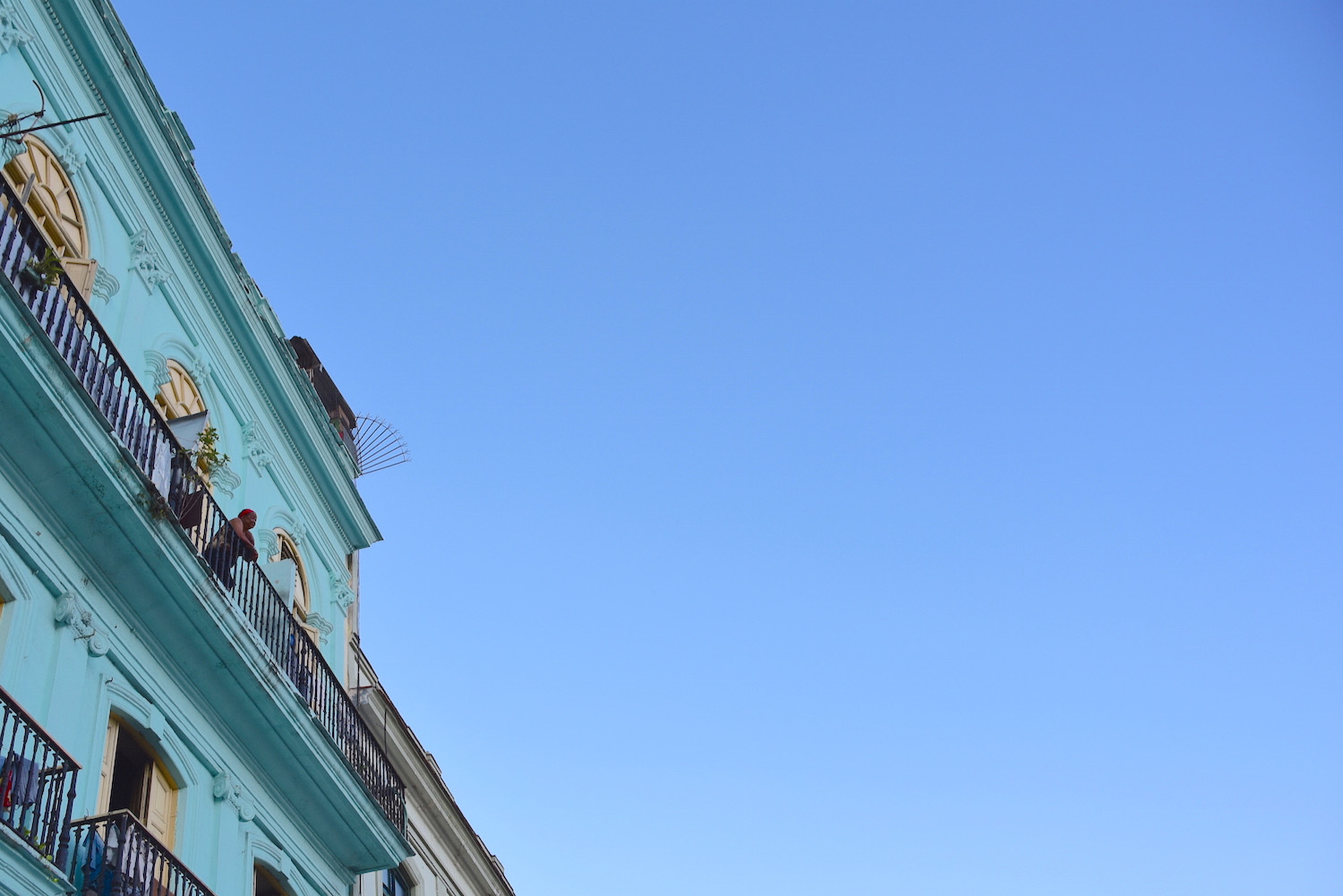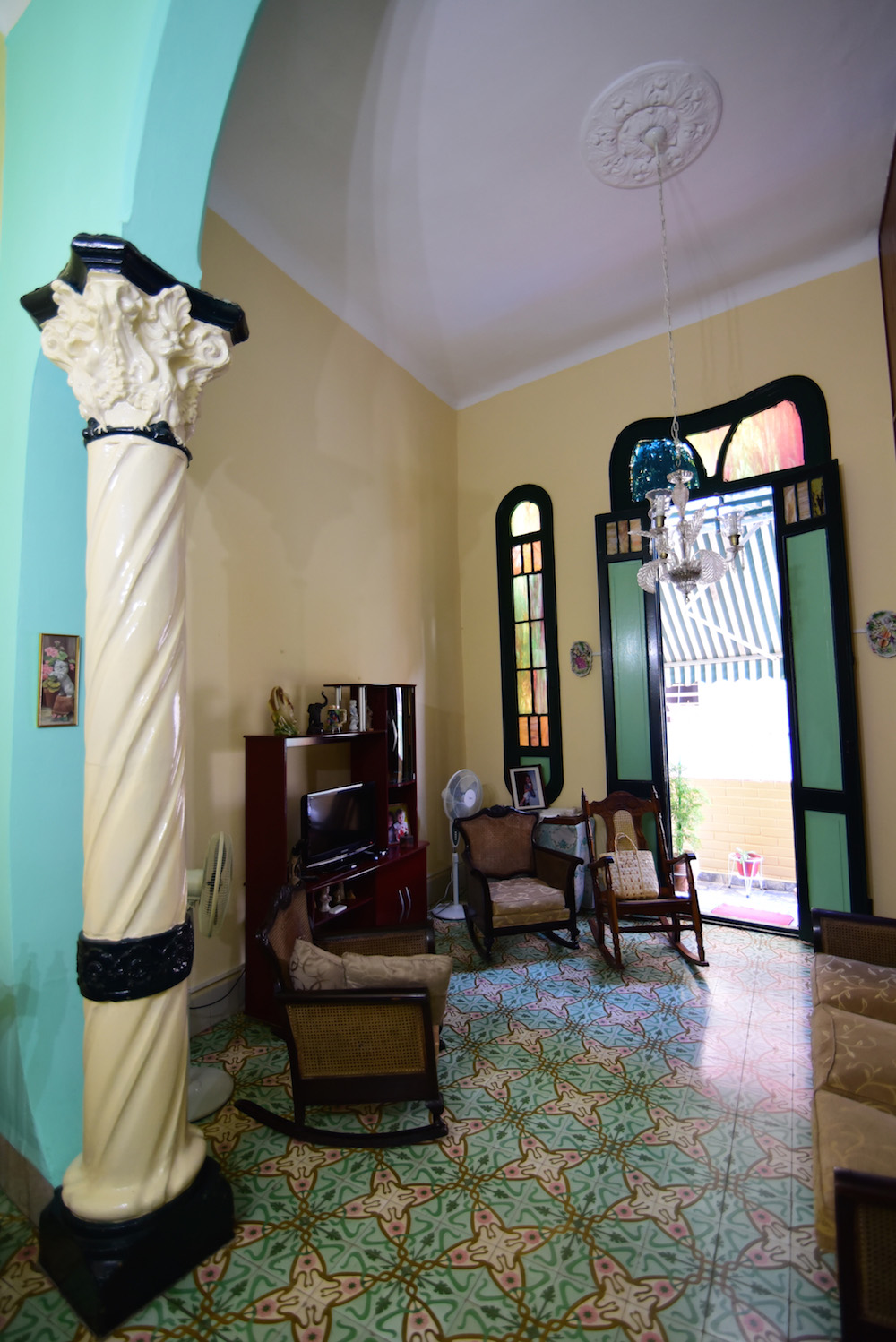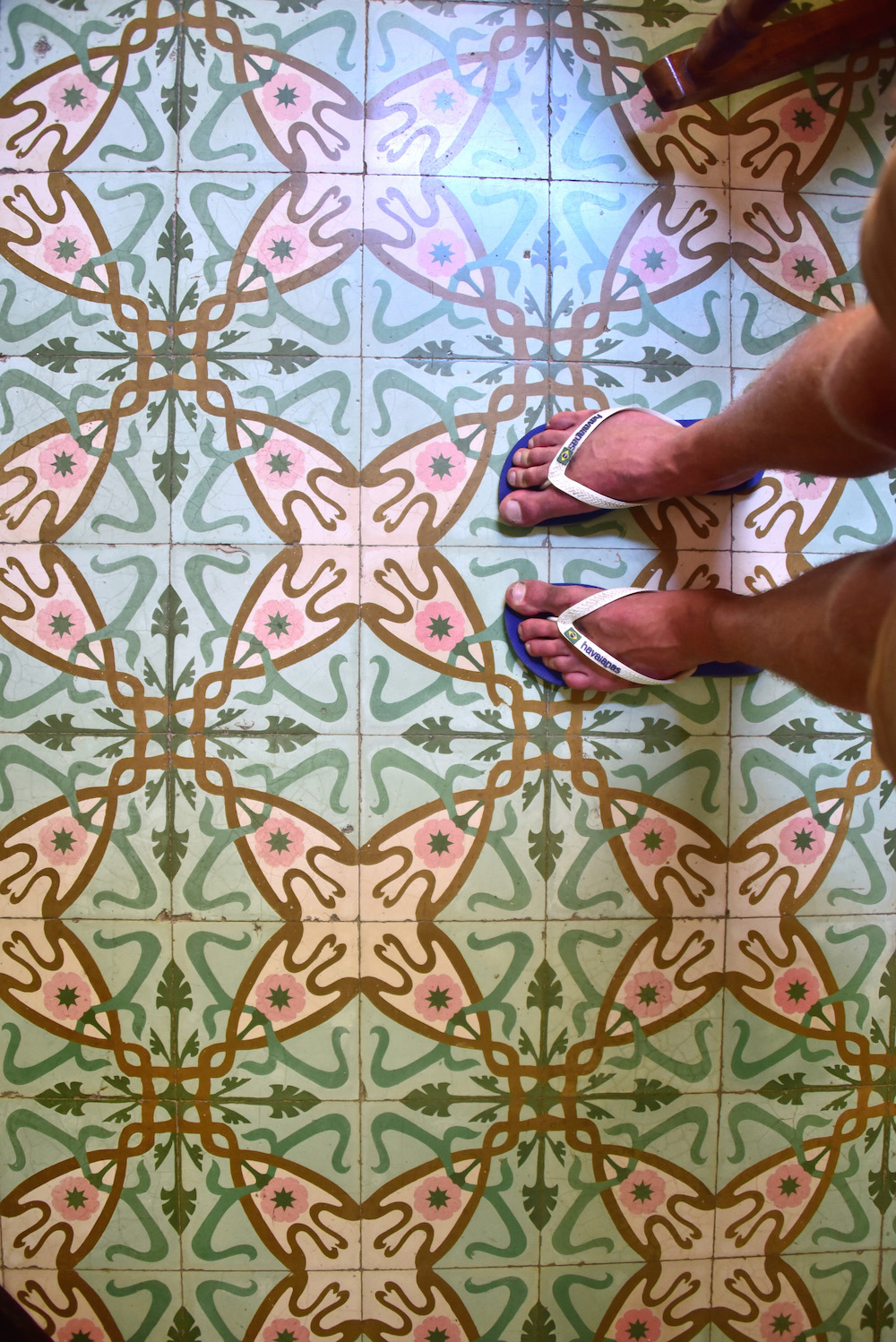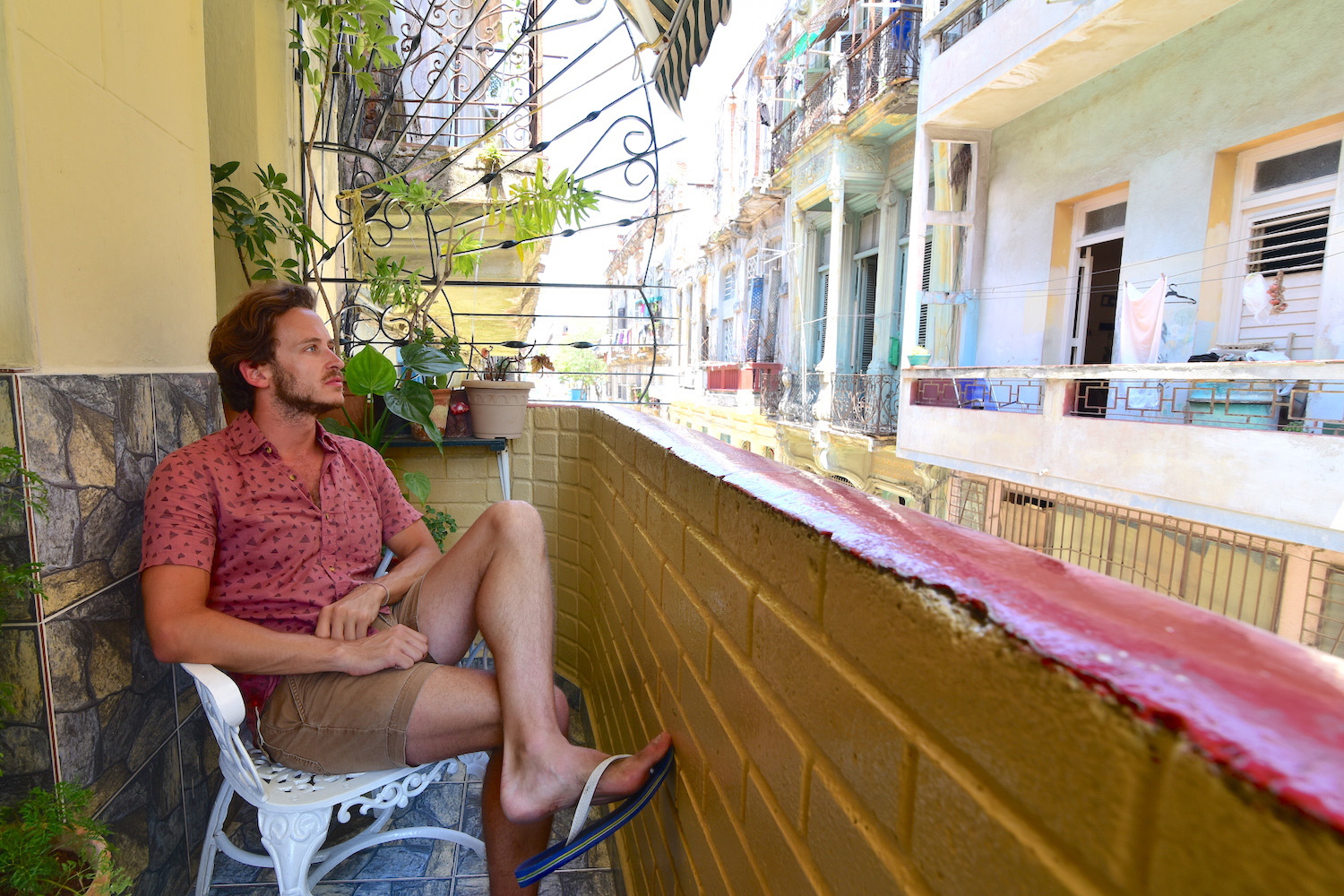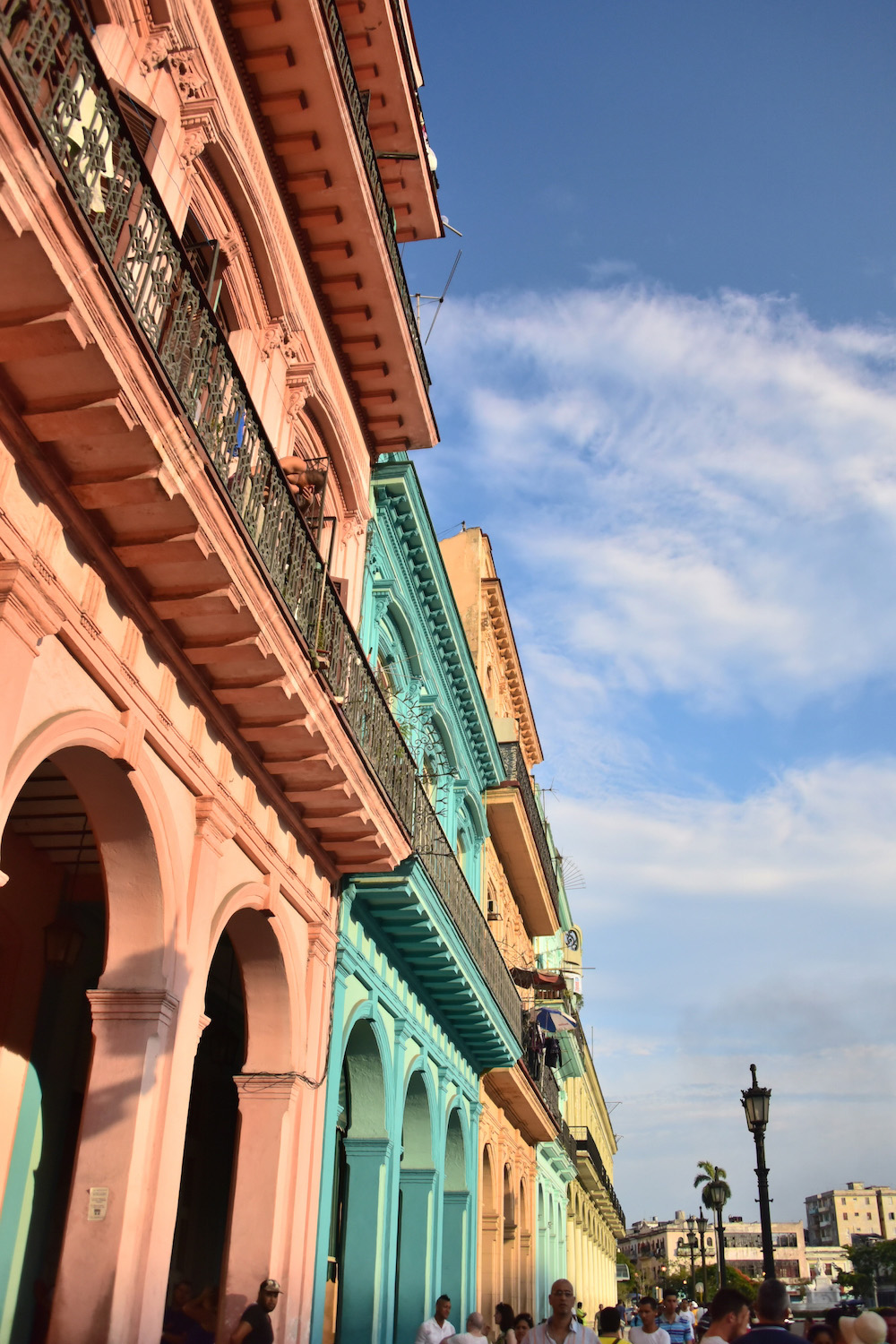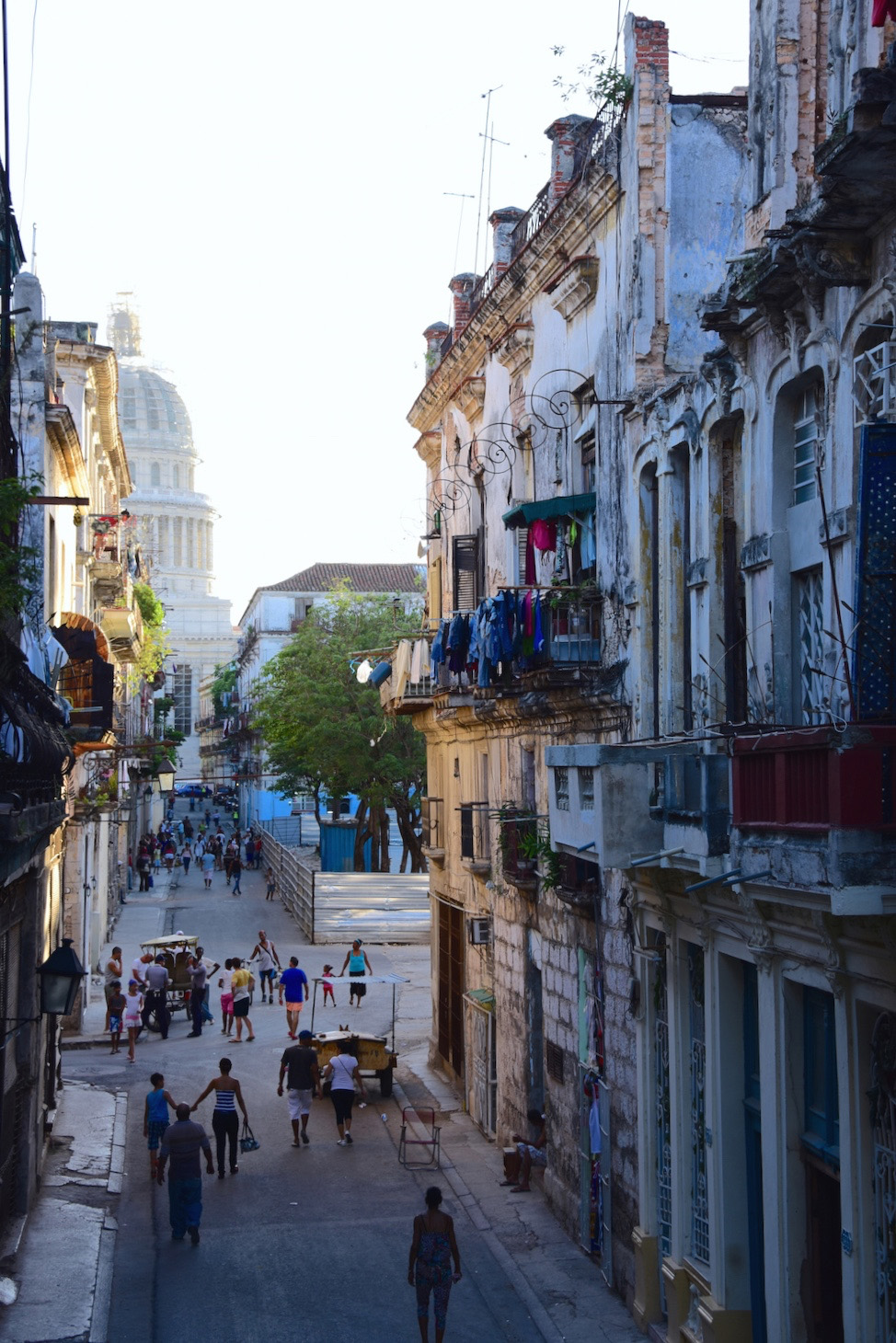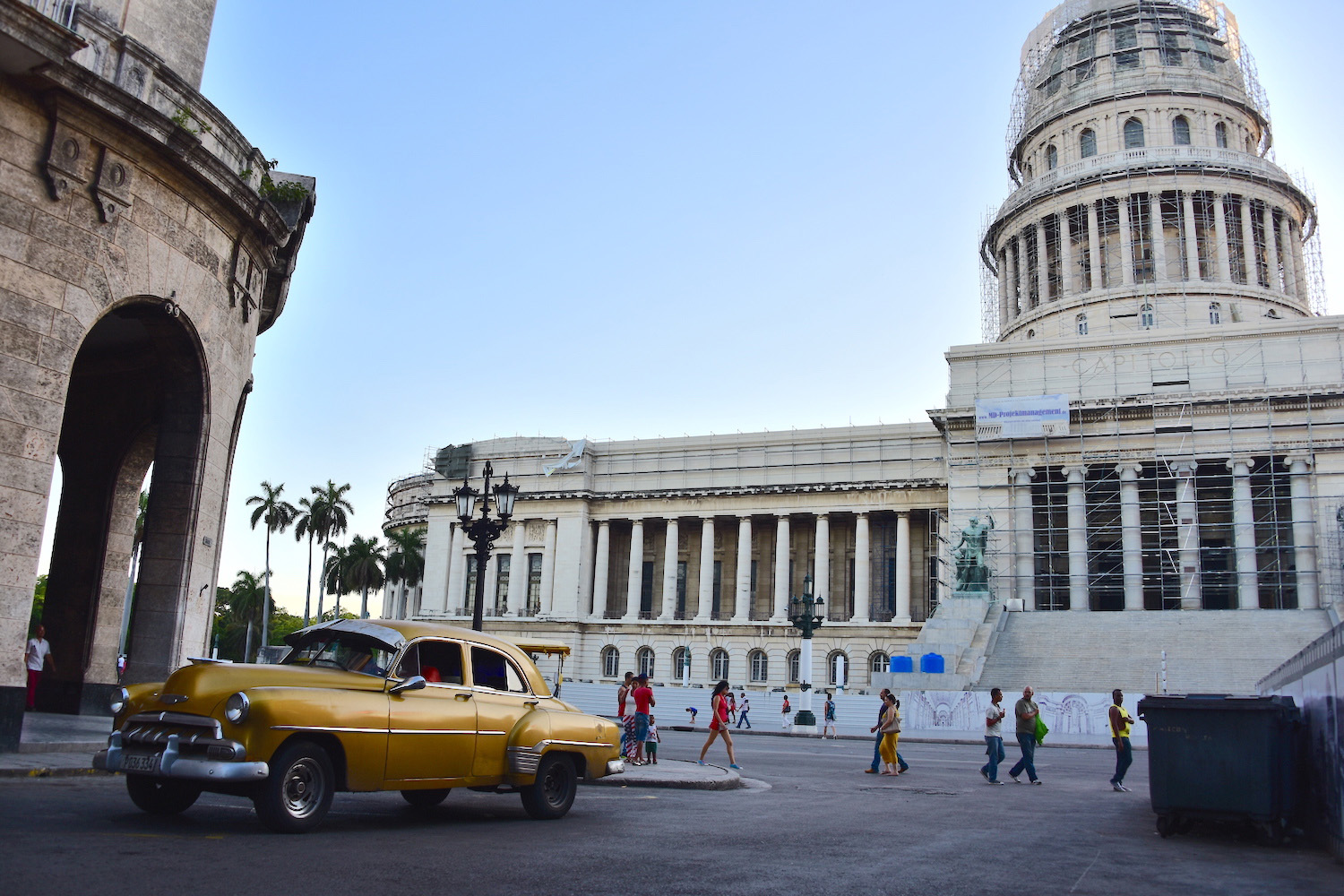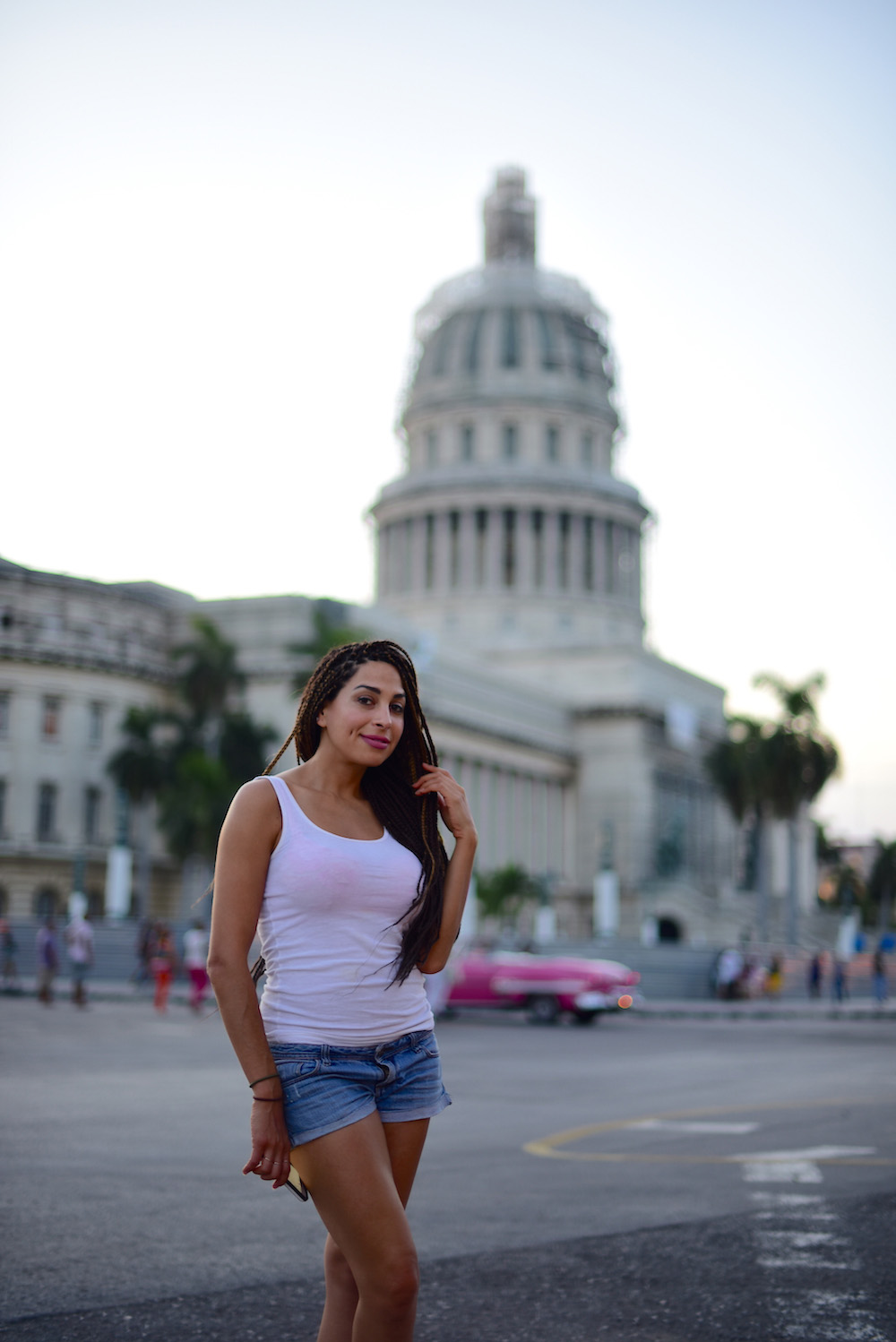 Dora and I have been friends for seven years, during which time we've traveled to China, India and Thailand together, so it seemed natural that we should visit the forbidden land of Cuba together. We found ourselves equally mesmerized by the vintage Chevys, Fords and Chryslers rolling down the street, their half-century old paint and chrome gleaming as if it was brand new.
"I could literally watch this all night," she said, alternating between shots of the endless classic car parade and sultry selfies.
"Yourself or the cars?" I laughed, and busted out my wide-angle lens.
She pouted at her phone's front-facing camera. "Both, of course."
As for me, I was scampering for the right spot to take in the widest landscape as the sky teetered on the edge of changing color, the sun nearly set behind a patch of palm trees.
It's gonna be 24 hours before I can get a shot like this again, I thought and hit the shutter button as many times as I could before as the wispy clouds in the sky turned orange, then purple, then fluorescent pink.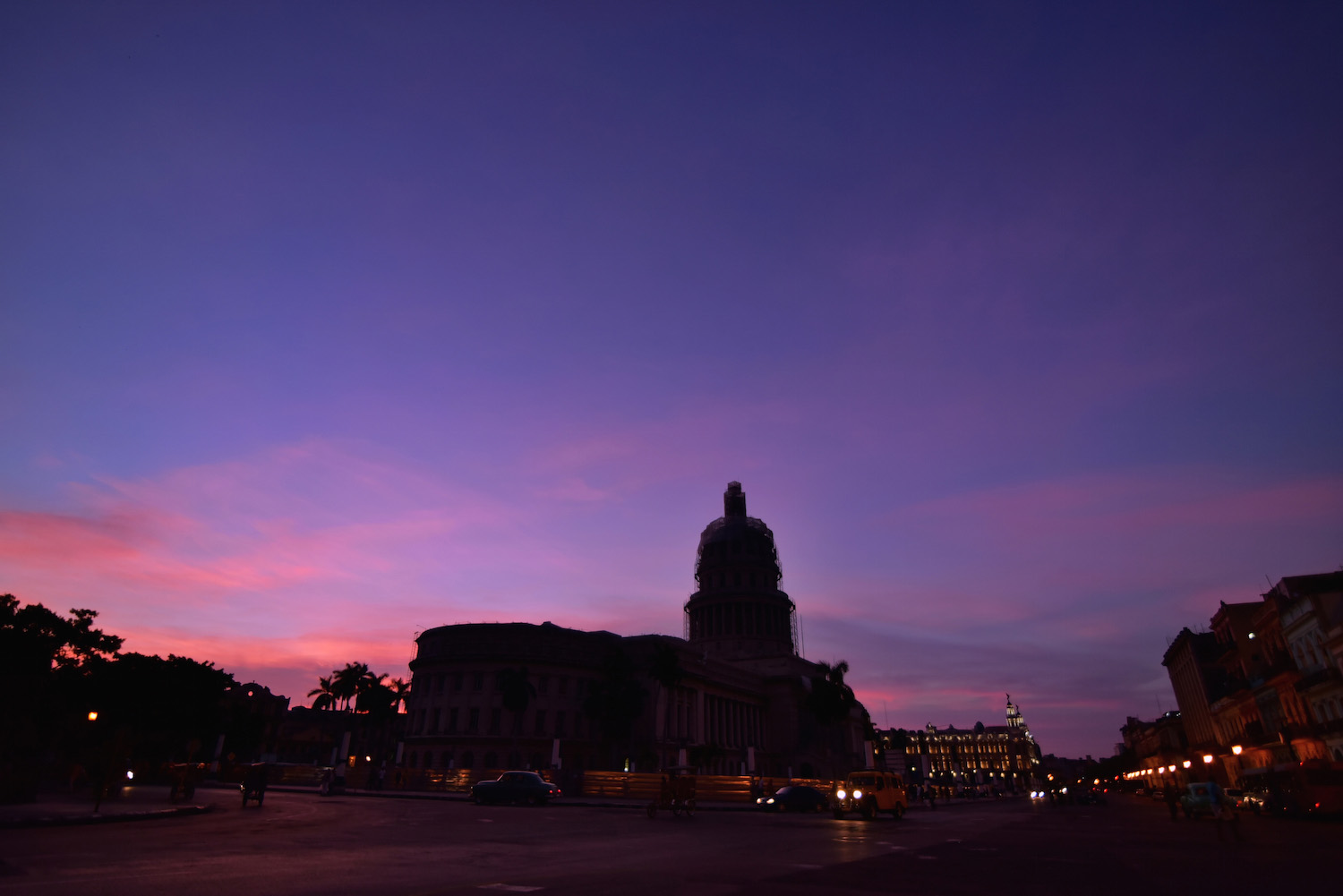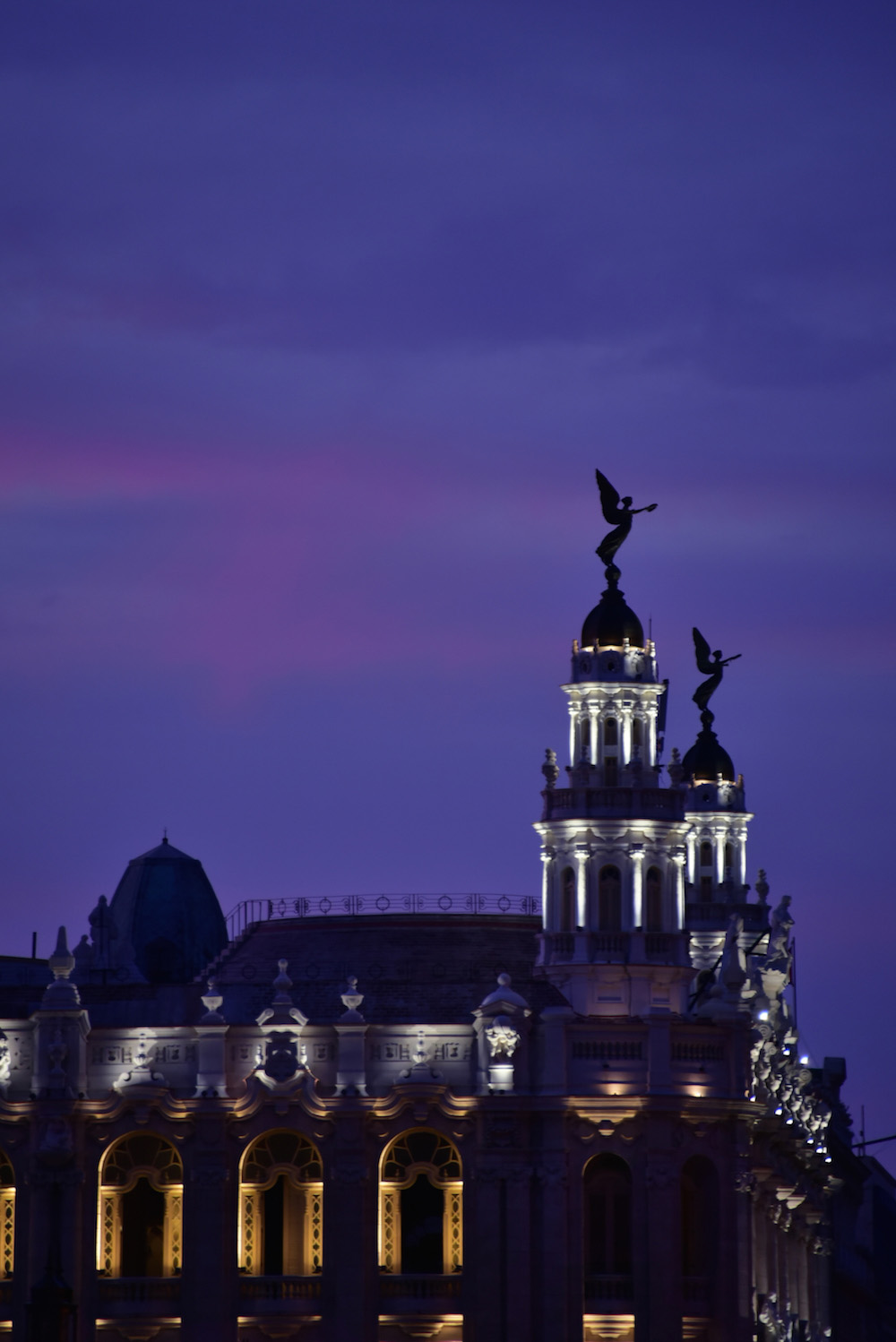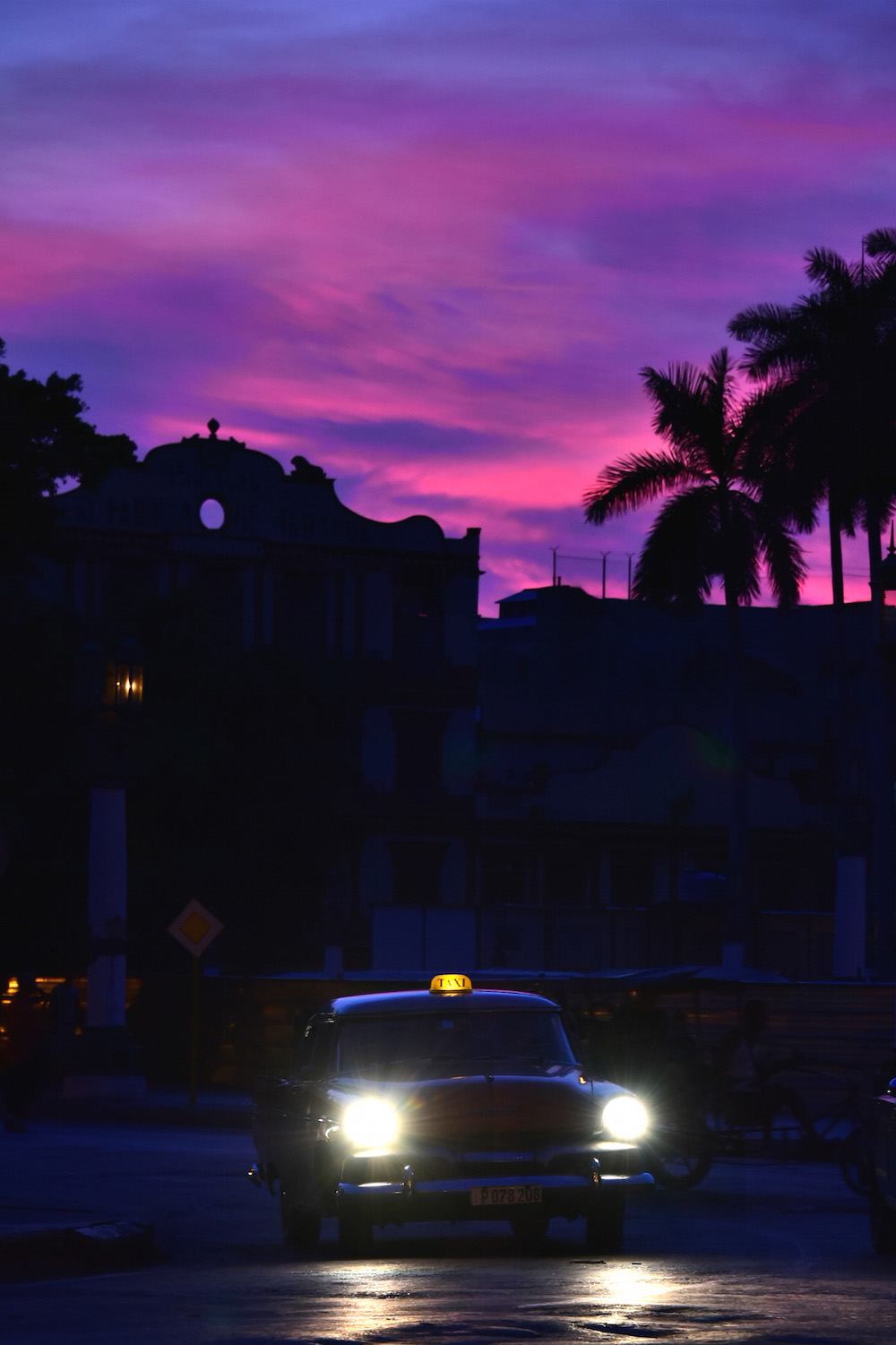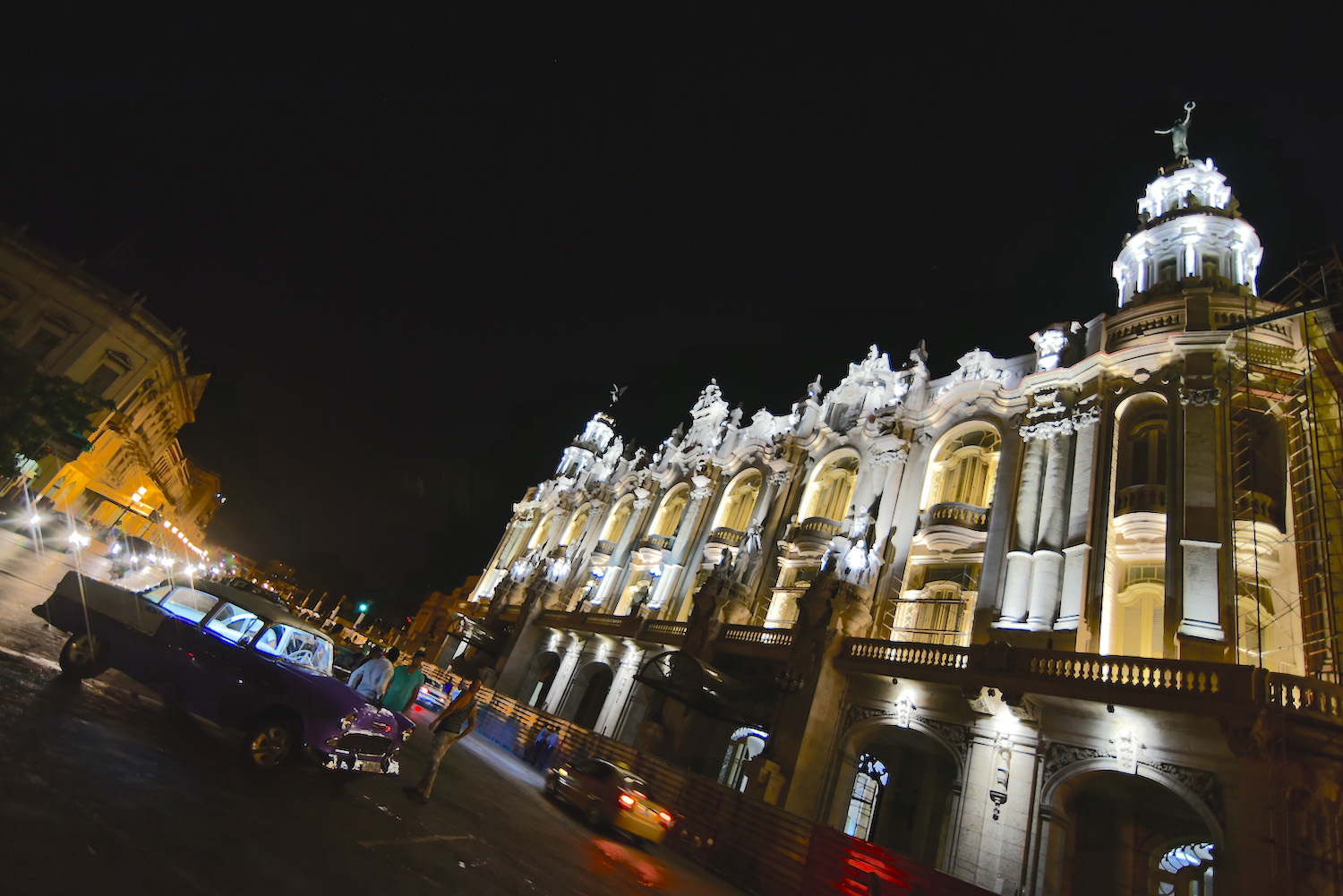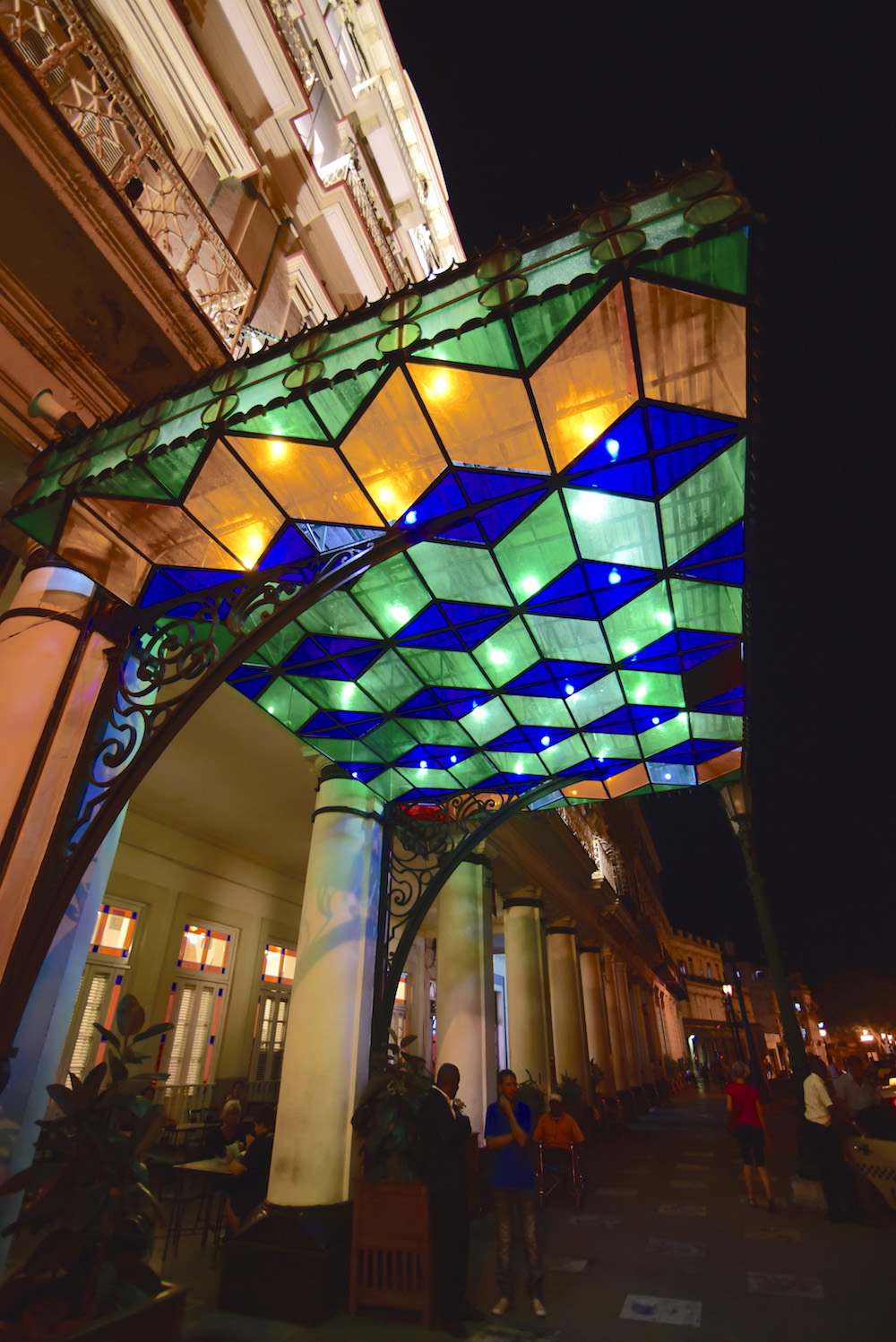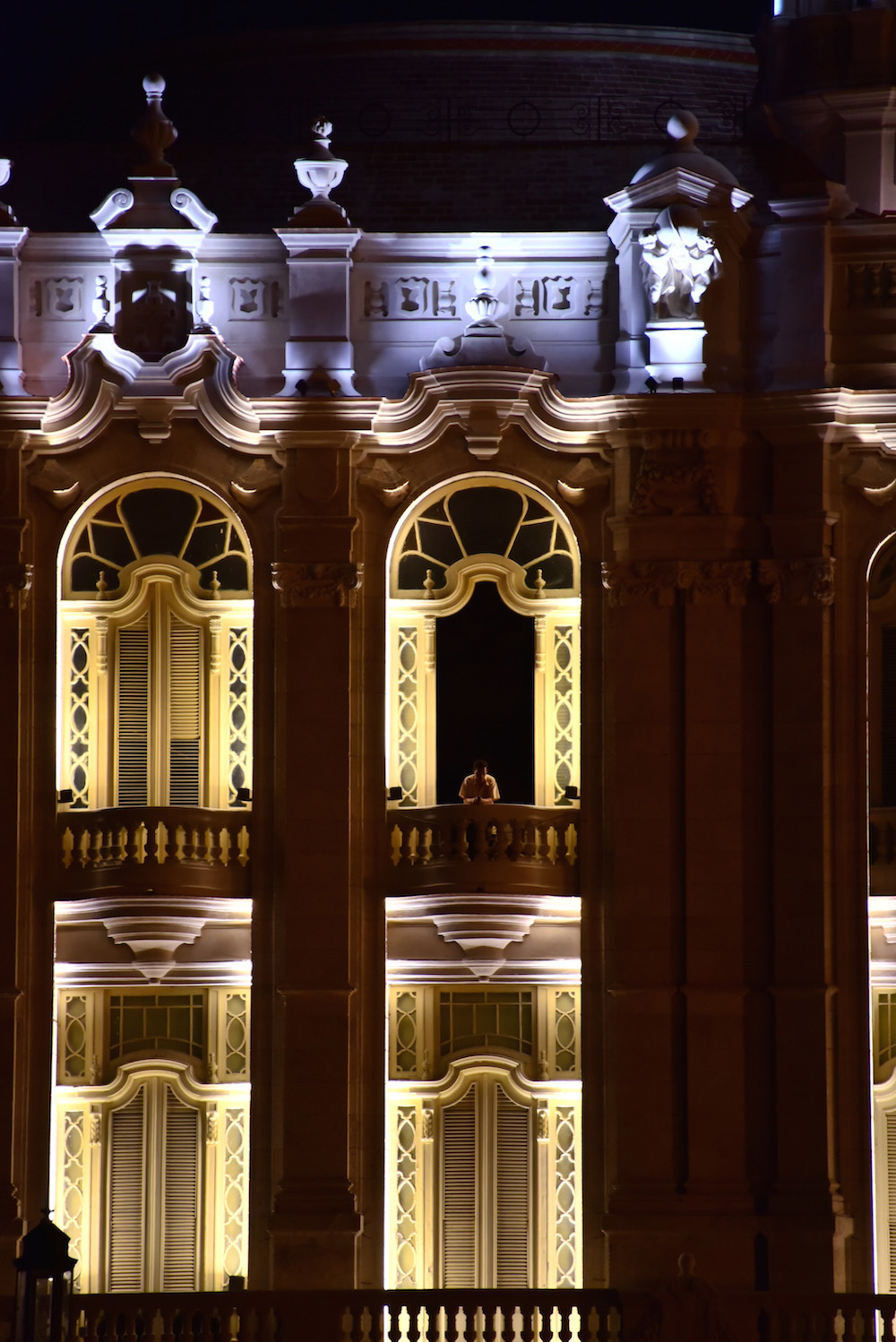 After the kaleidoscopic sky had faded completely to black, I made my way toward the next-most colorful thing I could see: The stained glass awning in front of Hotel Inglaterra – Cuba's oldest – which I immediately regretted not having booked a room at.
Dora immediately bummed a cigarette from an Australian Jew, whose orthodoxy was the only alien thing Havana's idiosyncrasy seemed unable to penetrate.
"Why not?" Dora asked, when she asked if she could shake the hand of the man who helped her break her no-smoking vow.
"You're a woman," he said, without a hint of sarcasm.
"I am," she removed her phone and admired herself using its front-facing camera. "You're very right about that."
The ice broken, their conversation quickly devolved into typical smoker's chat, which is good, because I didn't want to have to insult anyone's religious beliefs that night.
Instead, I began walking back toward the Capitolio, which was now dark and almost indistinguishable from the rest of the night sky. But on my way there, I became distracted by a lilac car with an interior so white it glowed in the dark.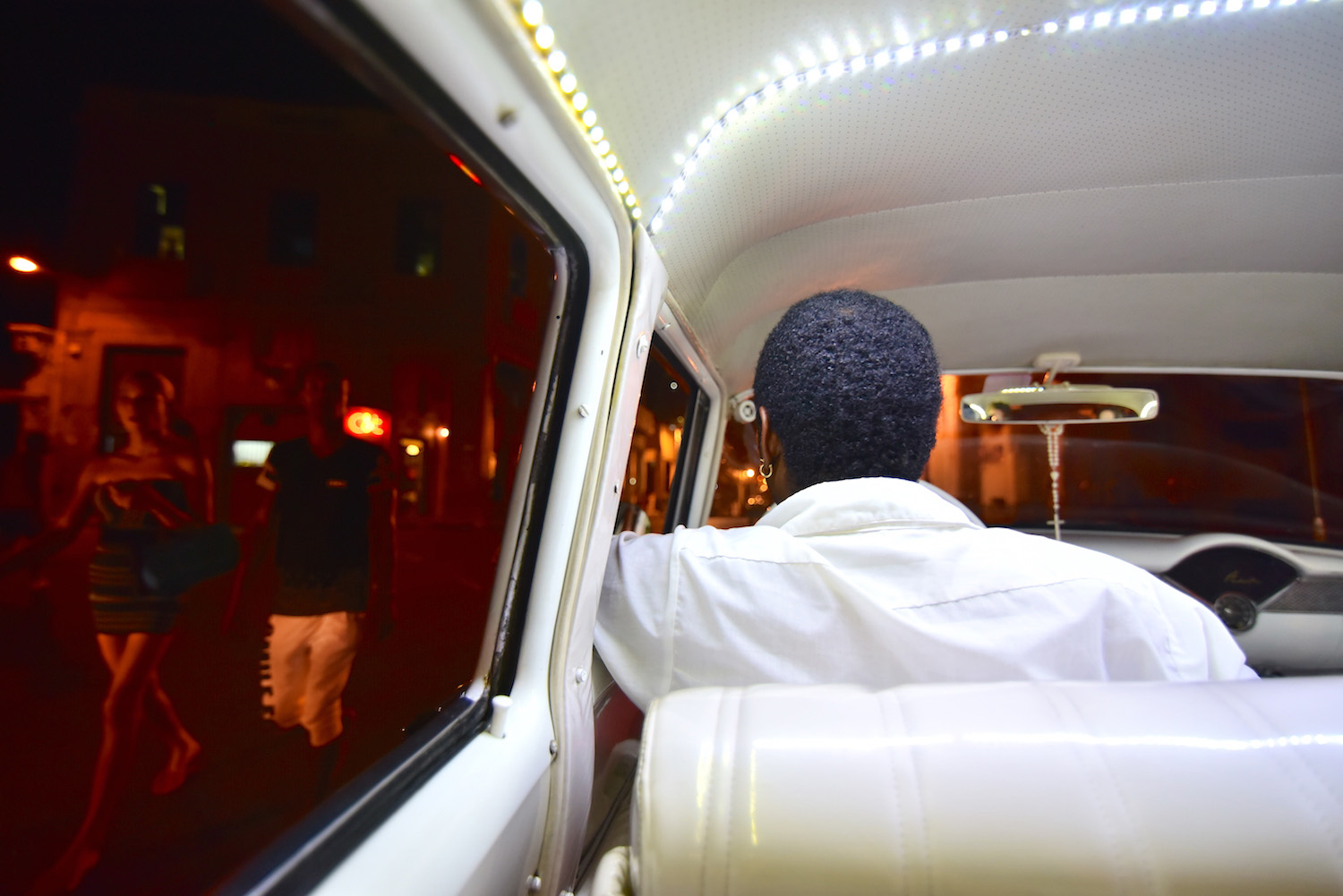 Before I knew it, Dora and I were cruising Havana's Malecon waterfront, our driver voguing to Michael Jackson's "Billie Jean" as if he'd performed a hundred drag routines to it.
As the track faded out into "Human Nature," we passed the nondescript building where the U.S. Embassy would be opening in just a few days, out of Habana Vieja and into Habana Nueva, and I asked him if we could stop and snap a photo, even out the car window.
"Es muy peligroso," he insisted, his body not missing a beat of the song, as if we had never asked, or at least as if we shouldn't have.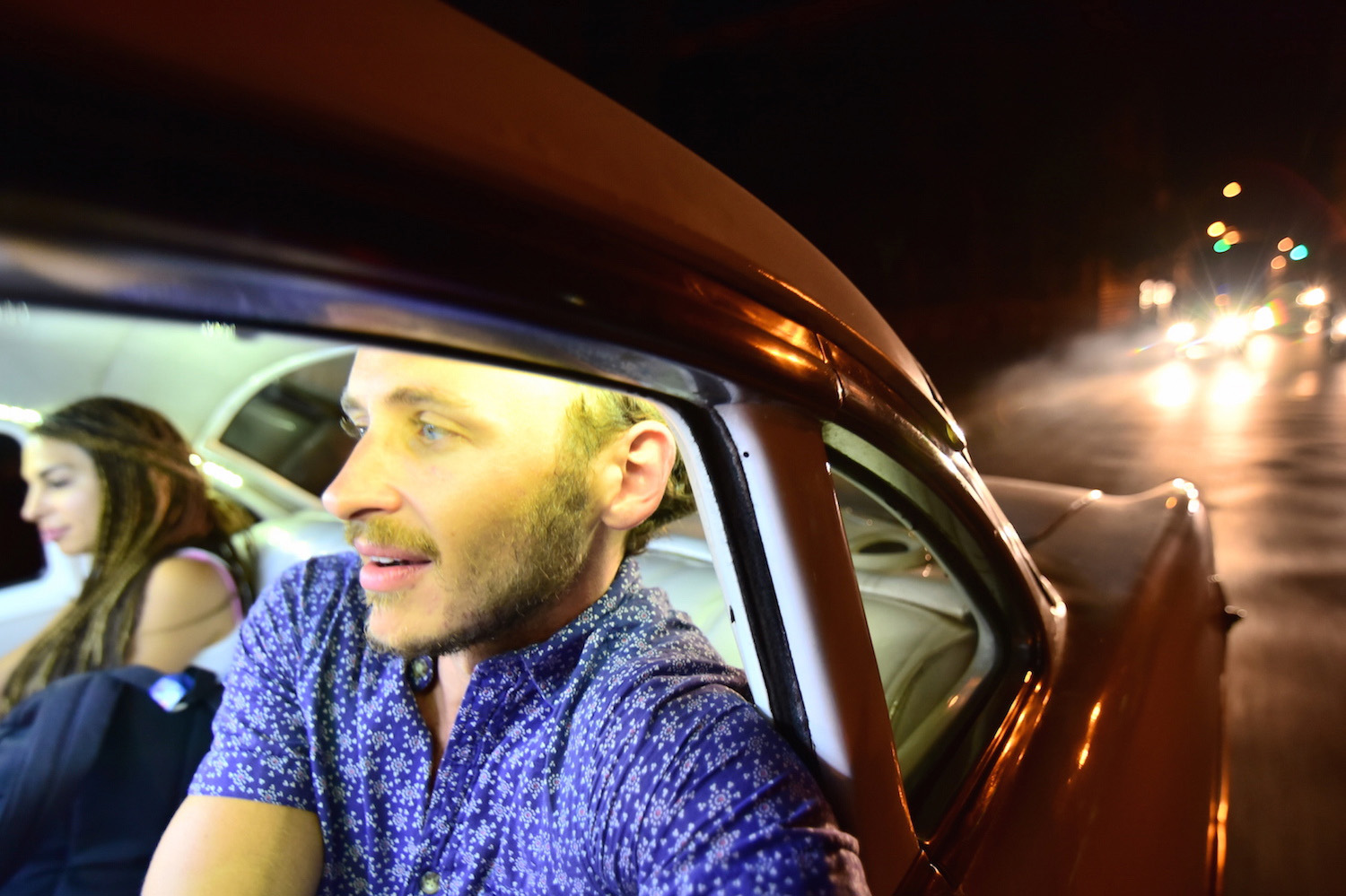 I wanted to tell him that I saw other foreigners, copious numbers of them, walking along the Malecon, and even crossing its chaotic lanes of traffic, but by the time I thought to speak I realized it would be on deaf ears.
So, I sang along. If this town is just an apple, then let me take a bite.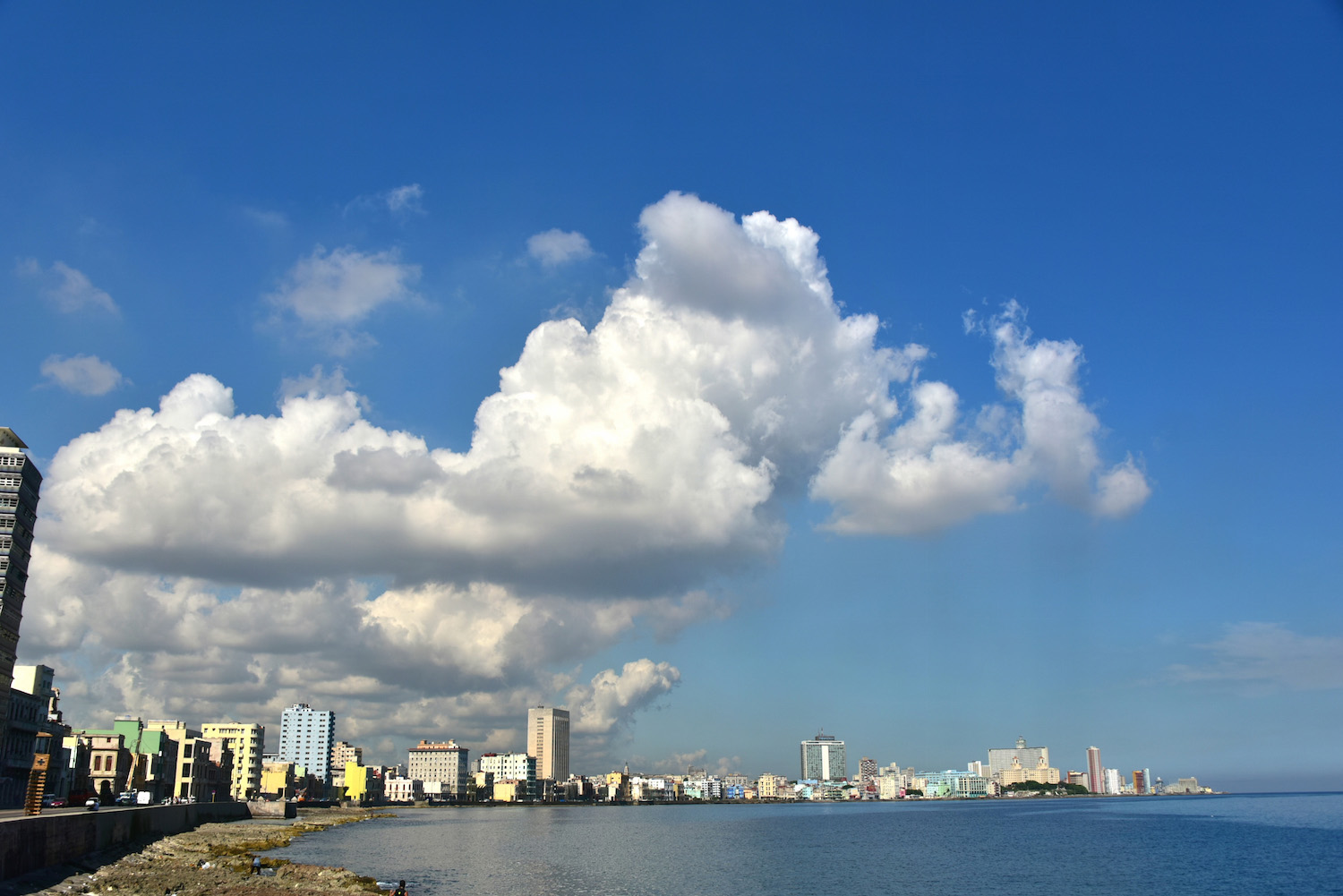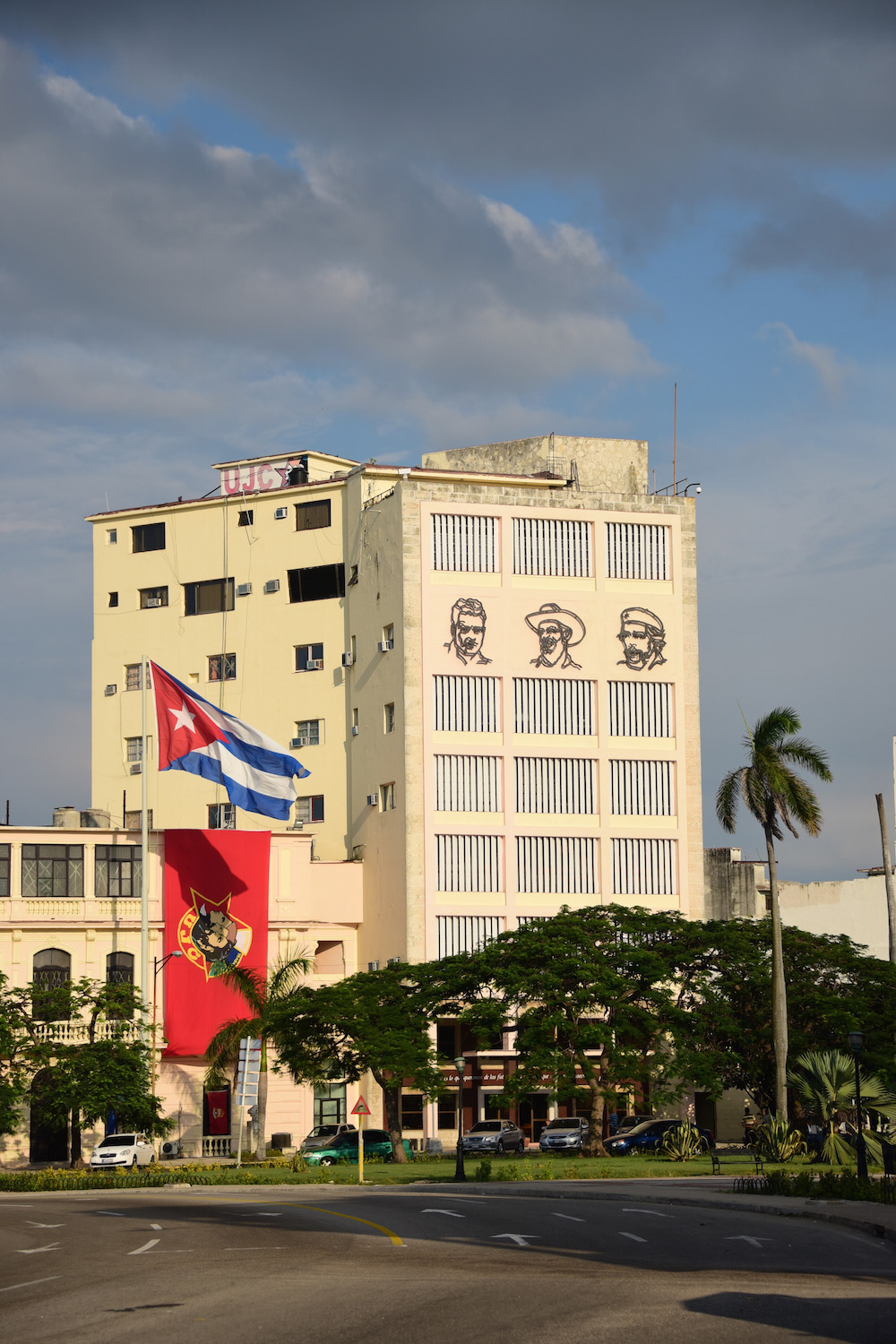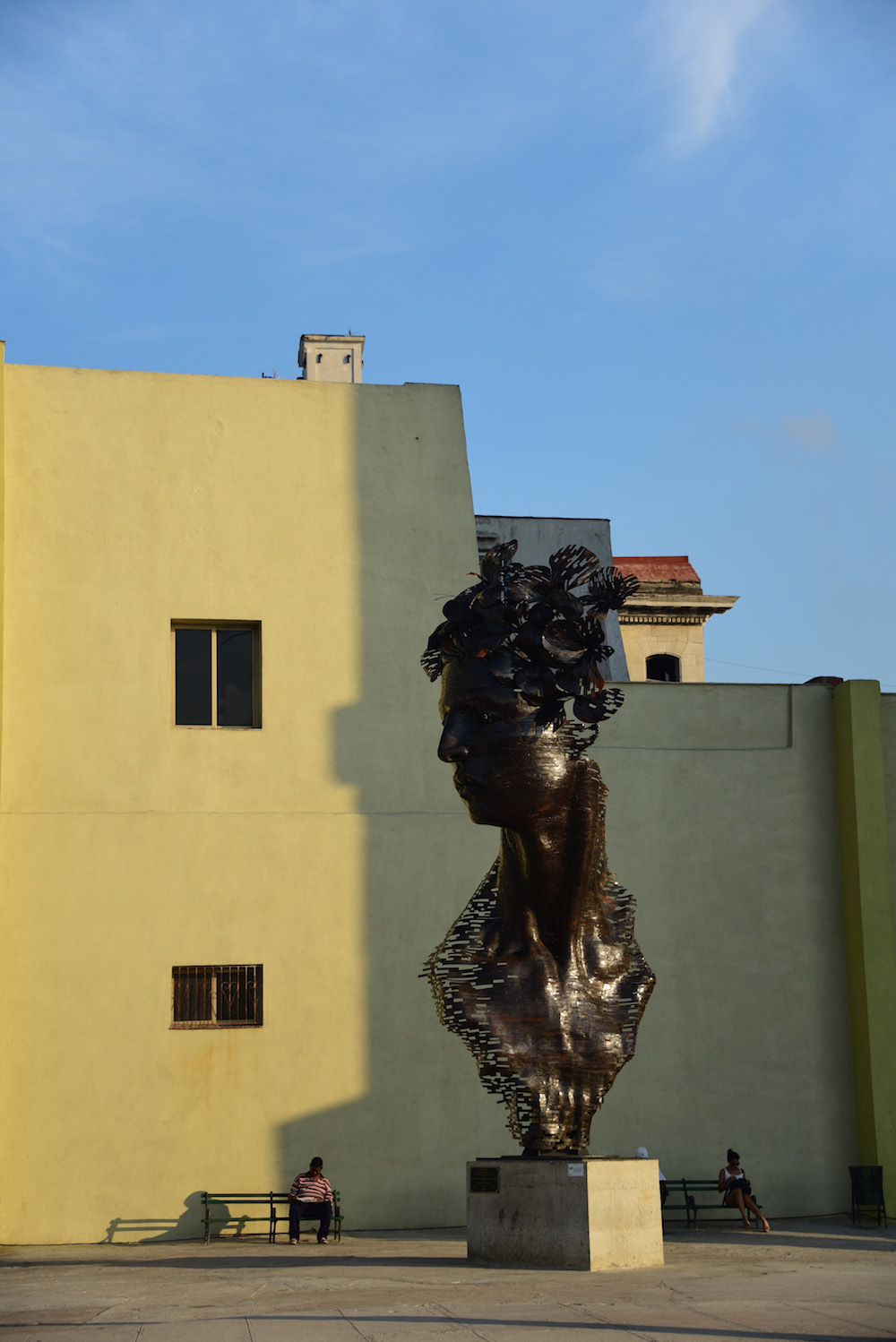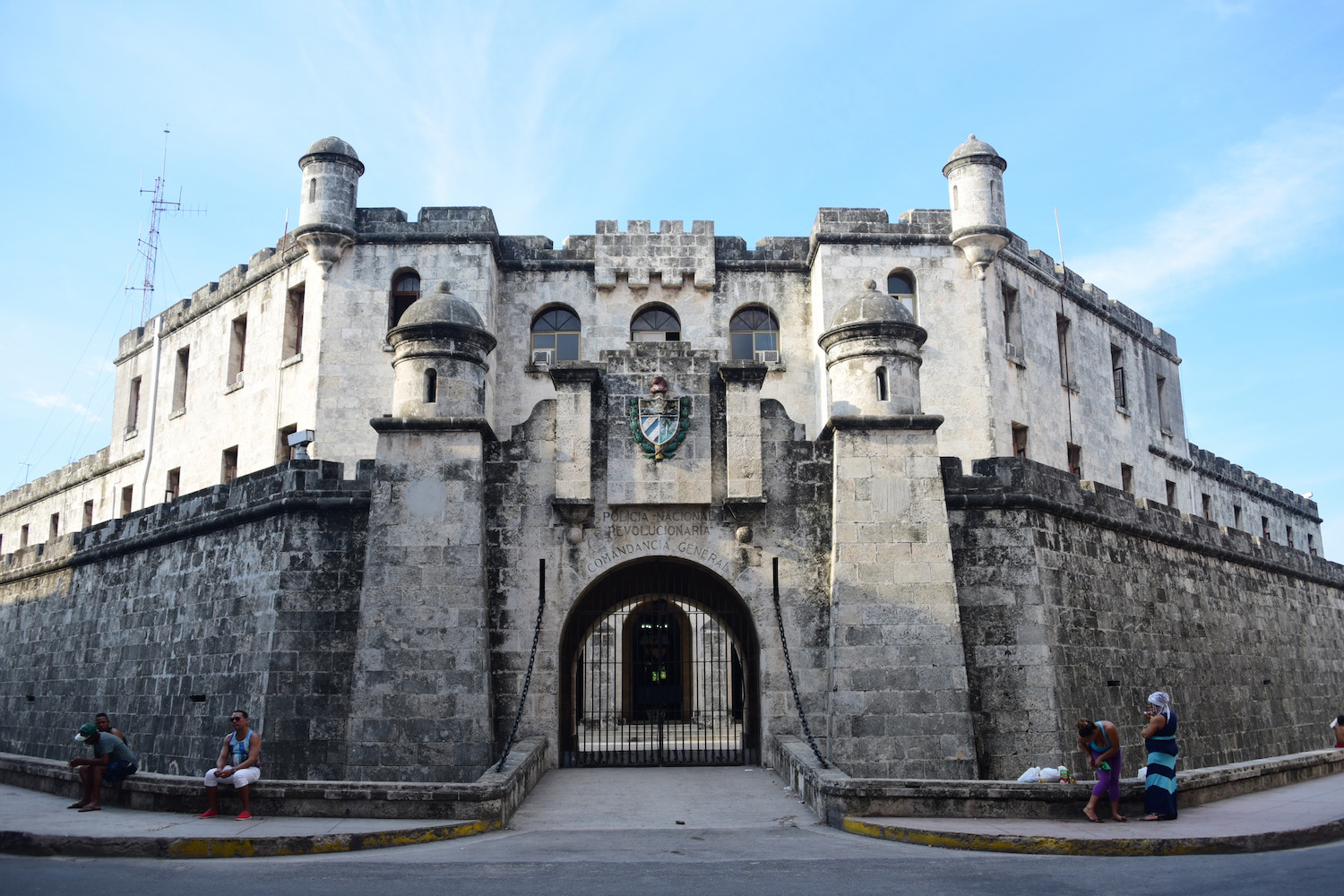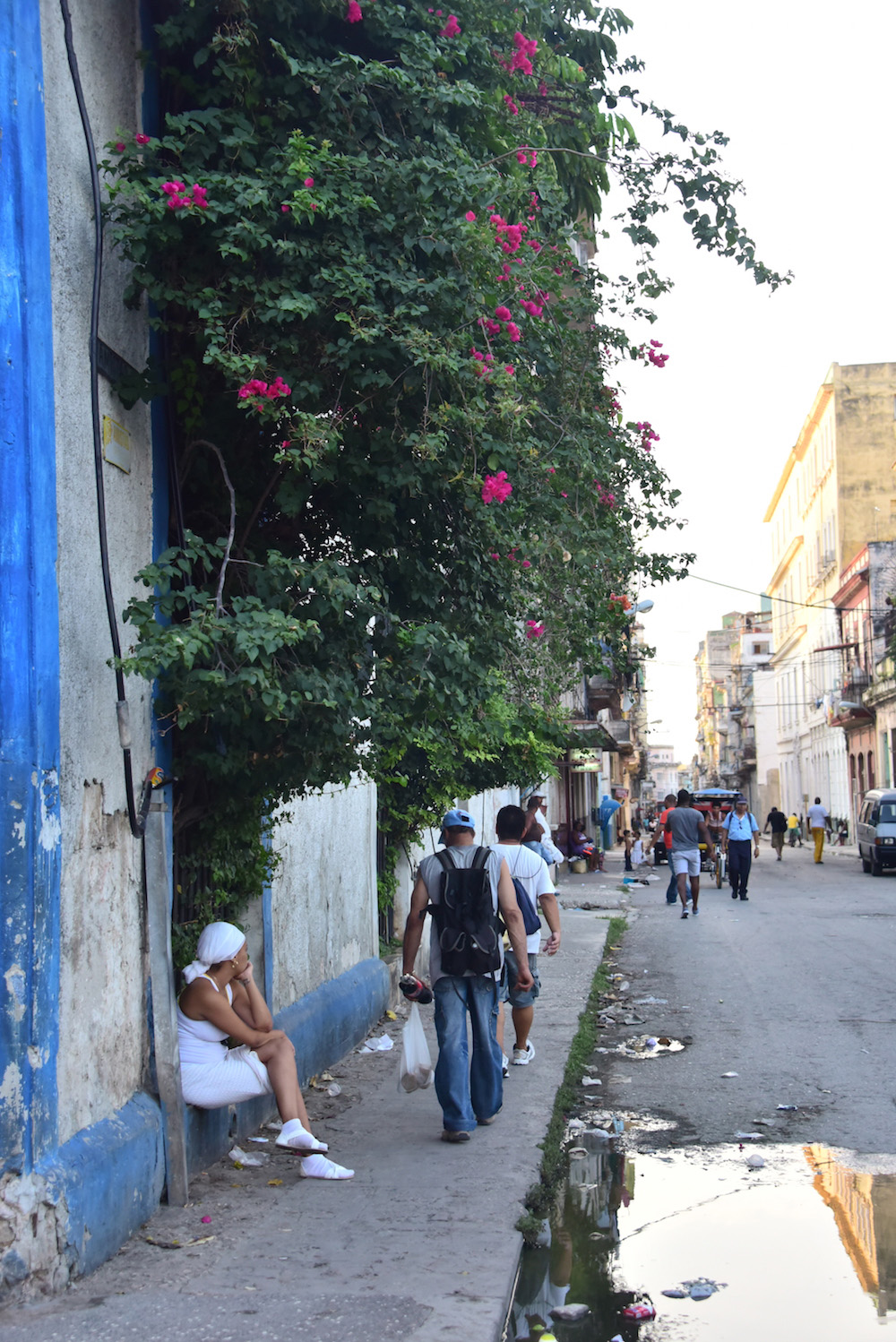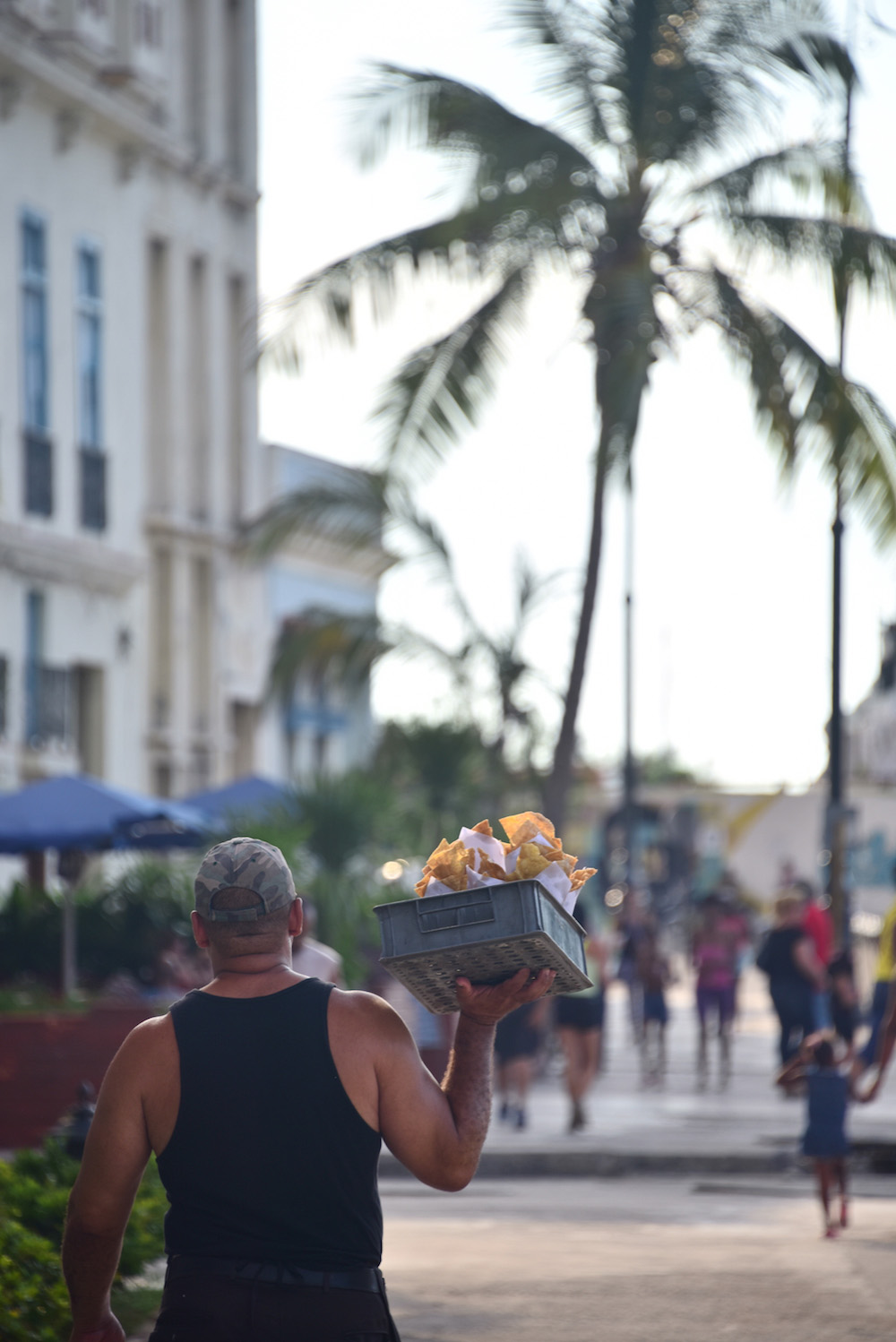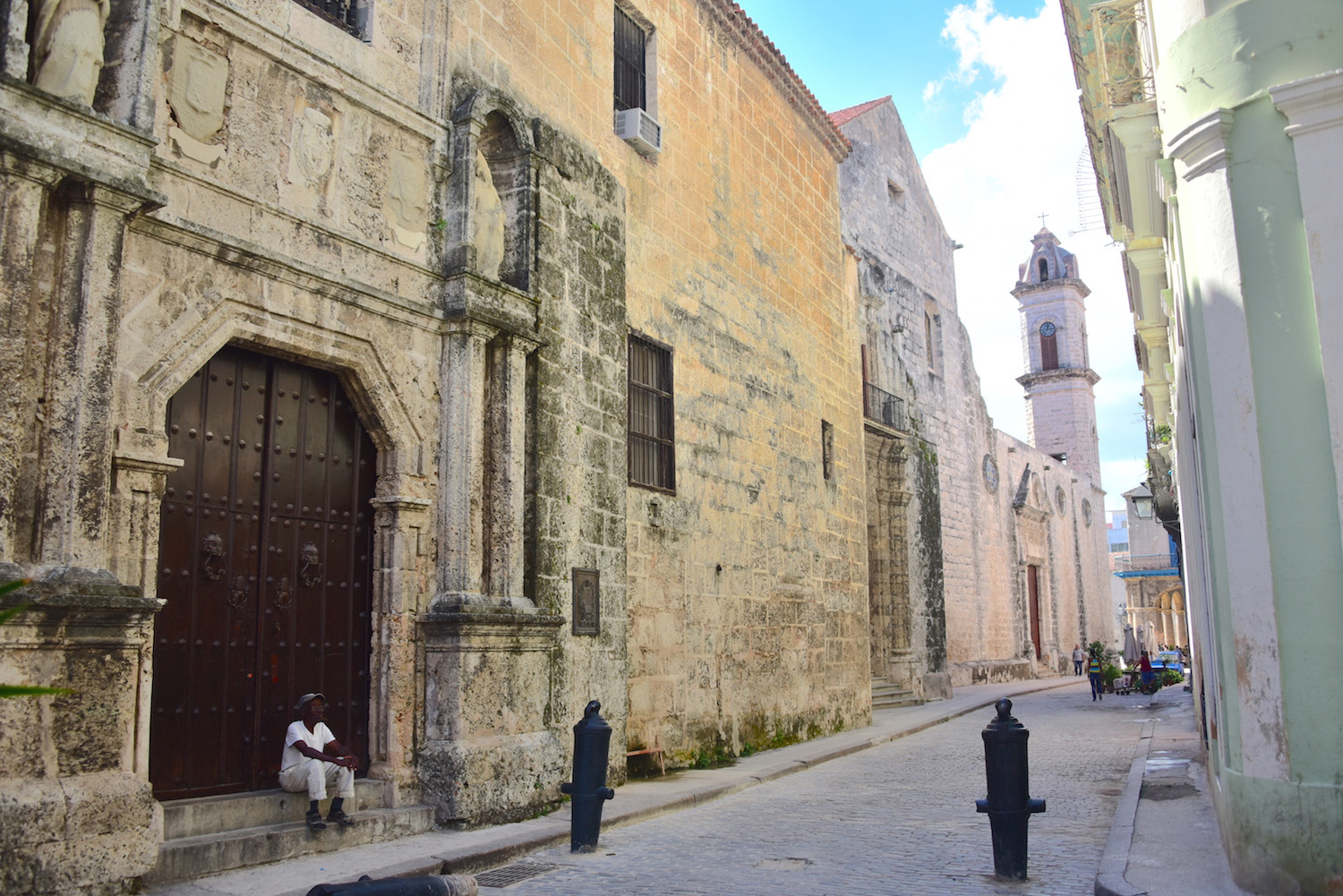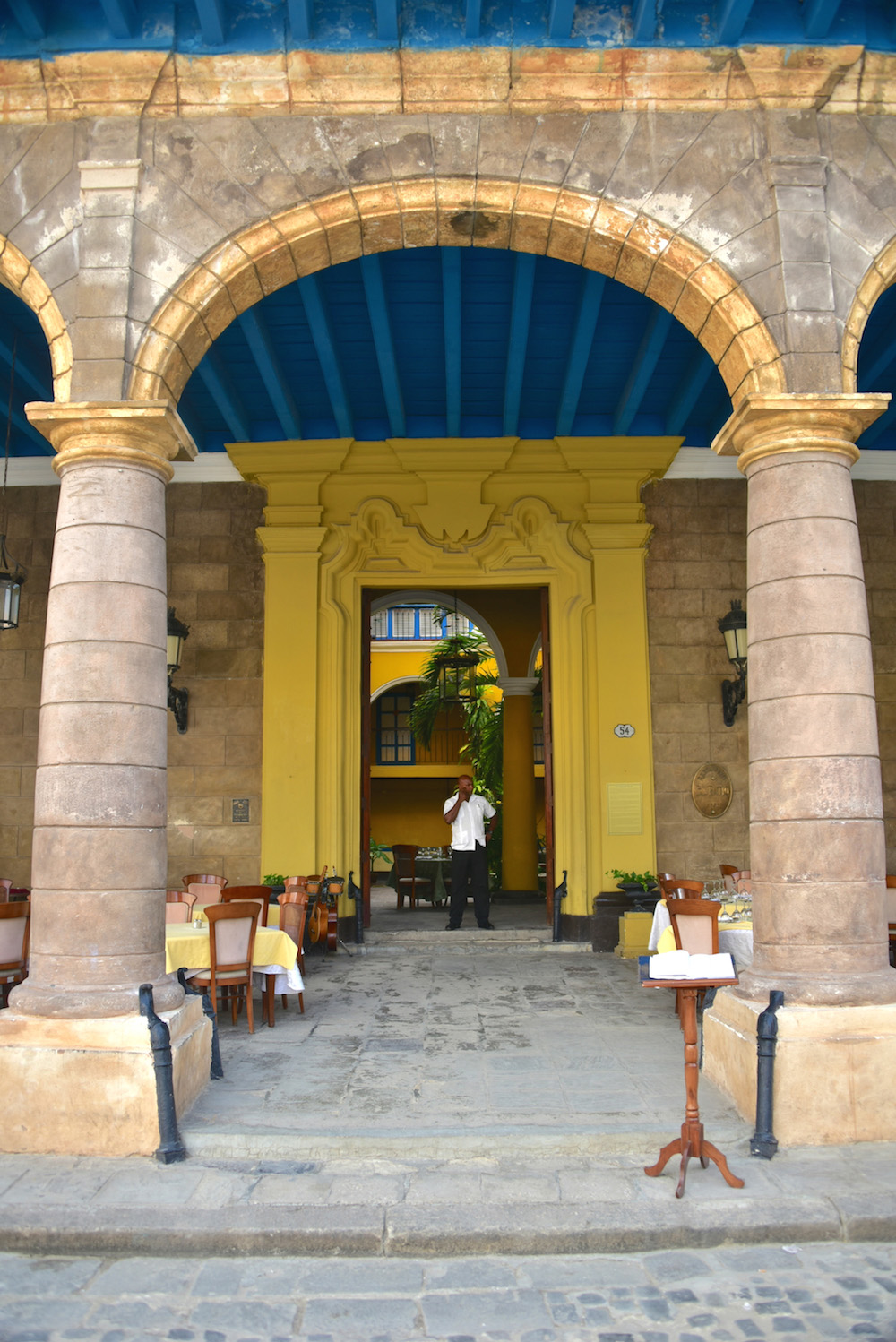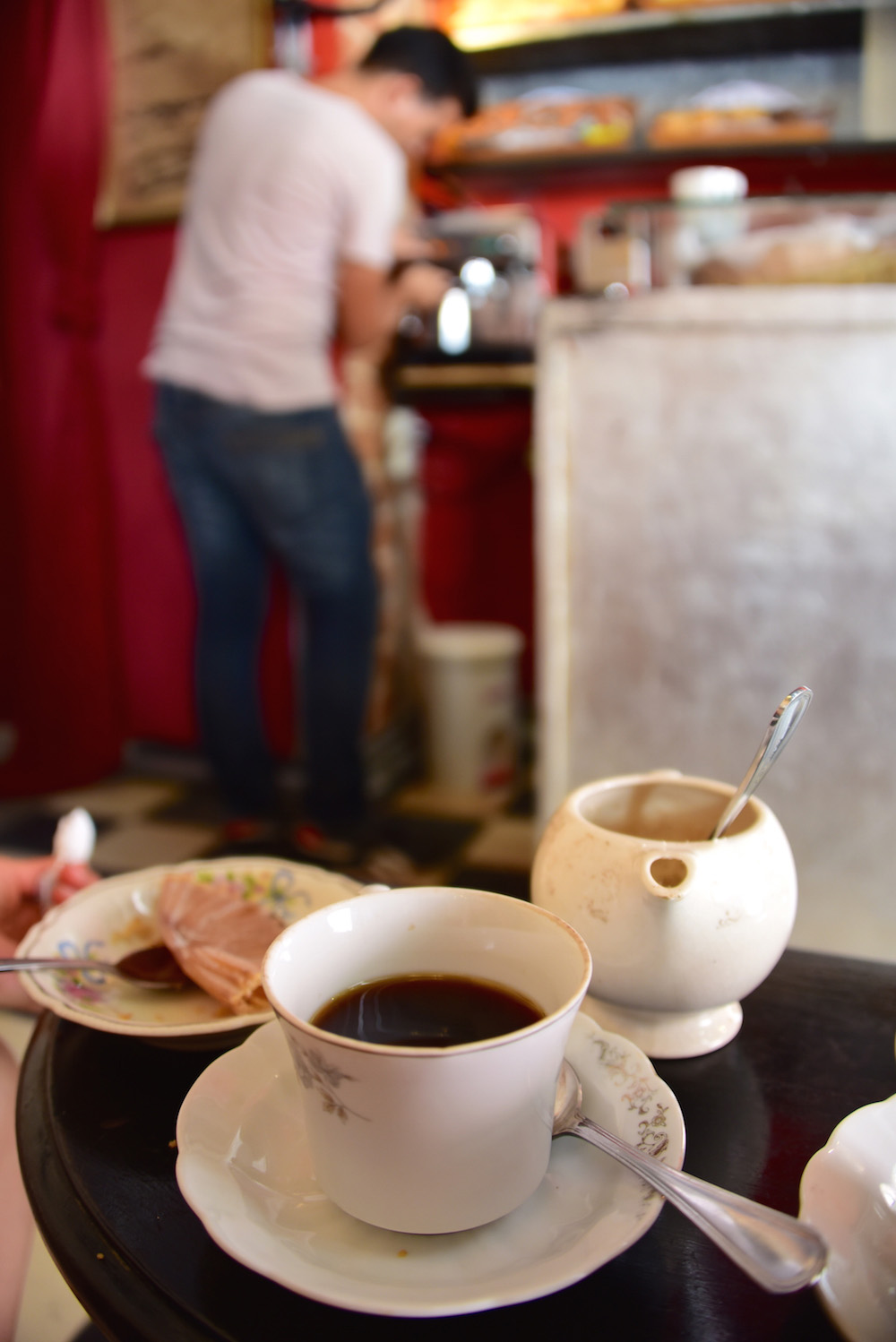 Our second day in Havana was long, hot and full of walking, so as the sun began to lower in the sky, Dora and I ducked into the first air-conditioned café we could find. Its owner, a man who was also named Robert, embodied the truth about Cuban people that surprises me the most: How connected they are to the rest of the world, in spite of their technological isolation.
"My friend owns a Cuban restaurant in Austin," he explained, as he delivered our coffees, "and I hear they do extreme sports there too – The X Games?"
I nodded, shocked that he knew about the X-Games – I barely did.
"I would love to visit Austin."
"Really?" Dora set down her coffee cup. "I never thought I would hear someone here say that."
"Oh yes," he said, "I've been doing a lot of research, for when things open up – a lot of young of Cubans want to discover America."
Before we could respond, he put a huge plate of diabetes-inducing pastries in our face. "Would you prefer a gluten-free chocolate muffin, or a piece of cake make with organic coconut?"
I was dumbfounded – the gluten-free movement has caught on here? – so I waited for Dora to answer for me.
"We'll take both," she said, grabbing the chocolate muffin for herself. "But can we get them to-go? We're trying to make it to the Malecon for sunset."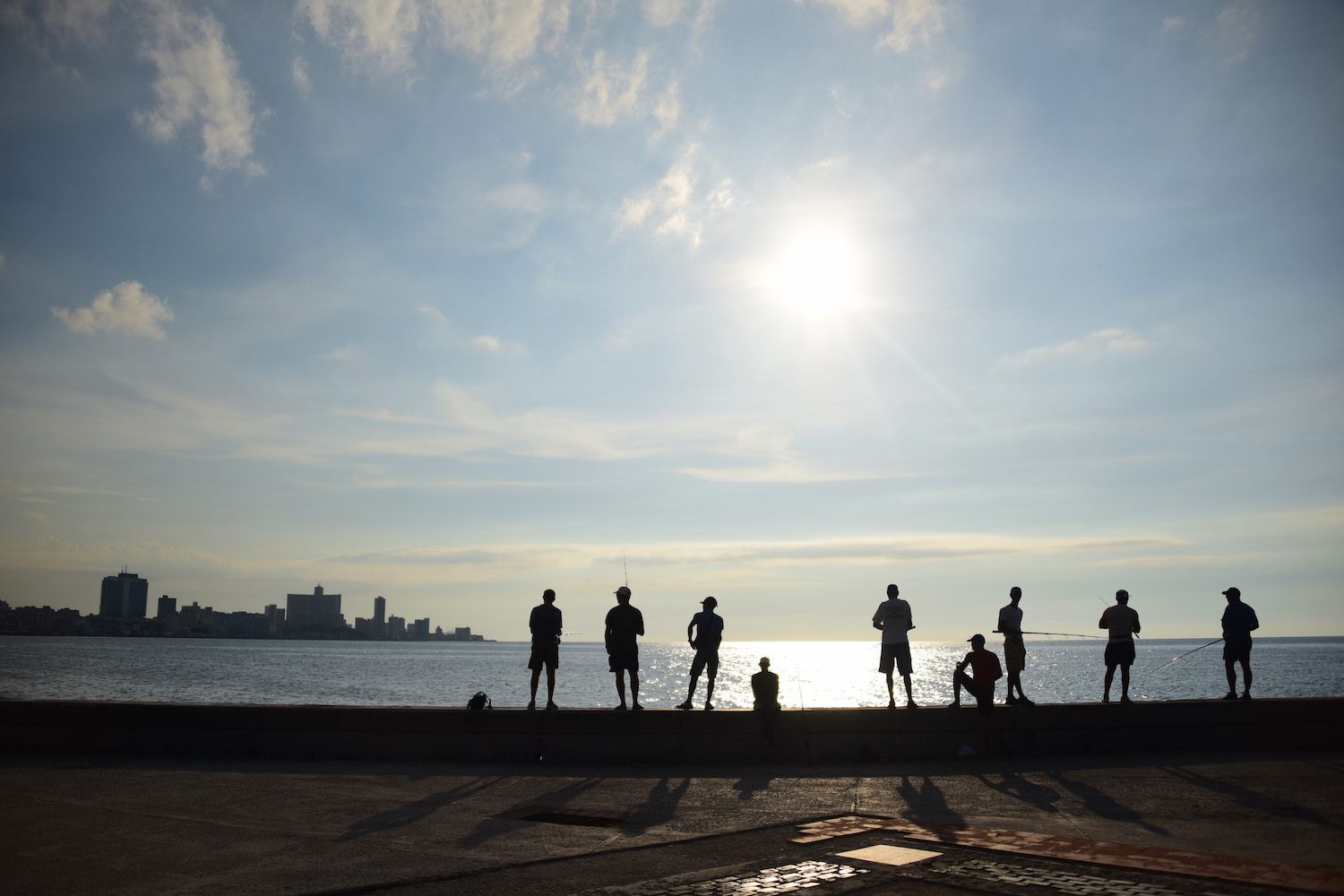 Not long after we said goodbye to Robert, Dora and I were digging into delicious seafood at a Pablo Neruda-themed restaurant along Havana's waterfront.
"I would let you taste mine," she said, as she scarfed down the second-to-last bite of her pescado a la plancha, and then the very last one, "but it's already gone."
I shoved one of my own garlic shrimp in my mouth, then pushed the plate toward her and got up from my seat. "Thankfully, I'm a nicer person than you – you can have as many of these as you want."
"Where are you going?" she asked with genuine concern, then began attacking the plate of shrimp.
I turned around and held my camera up. "To watch the sunset."
Or at least that's where I thought I was going.
I'd tried to walk past the older man as he approached me, less because I feared he would ask me for money – I've tried to stop making assumptions like this the more I've traveled – and more because the sun was setting. Time was precious!
But he came at me anyway. "De qué país?"
"Estados Unidos," I smiled, looking for a break in the steady stream of classic cars so that I could cross over to the oceanfront.
"Eres muy hermoso," he said, and put his hand on my shoulder.
I was flattered, but I removed it.
"Tengo 58 años," he said, in somewhat of a surprising change of subject. "Hoy es mi cumpleaños."
"Oh," I said, only half-caring at this point – the sun was sinking further toward the surface of the sea. "Feliz cumpleaños. Cual es su nombre?"
"Humberto," he said. "Y tú?"
"Robert," I was about to make a run for it. "Roberto, en español."
But just then, he put his hand not on my shoulder, but on my rear end. "Yo puedo hacerte muy feliz," he said, squeezing. "Si tu me pagas unos pesos cubanos."
This time, I wasn't nice as I removed his hand. In fact, I neither made eye contact nor said anything – I just rushed across the street and immersed myself in my sunset selfies.
But the discomfort still lingered. I'd heard the boys on the Malecon were prostitutes, I shuddered, nervous that Humberto had also crossed the street and would soon find me. But I didn't know the old men were, too.
Back at dinner, Dora had not surprisingly finished my shrimp.
"How were they?"
She was using the toothpicks the waiter had brought with the bill to clean her teeth. "Better than my fish, actually – maybe it's not so bad you didn't try it."
"How was sunset?"
I gulped. "You don't wanna know."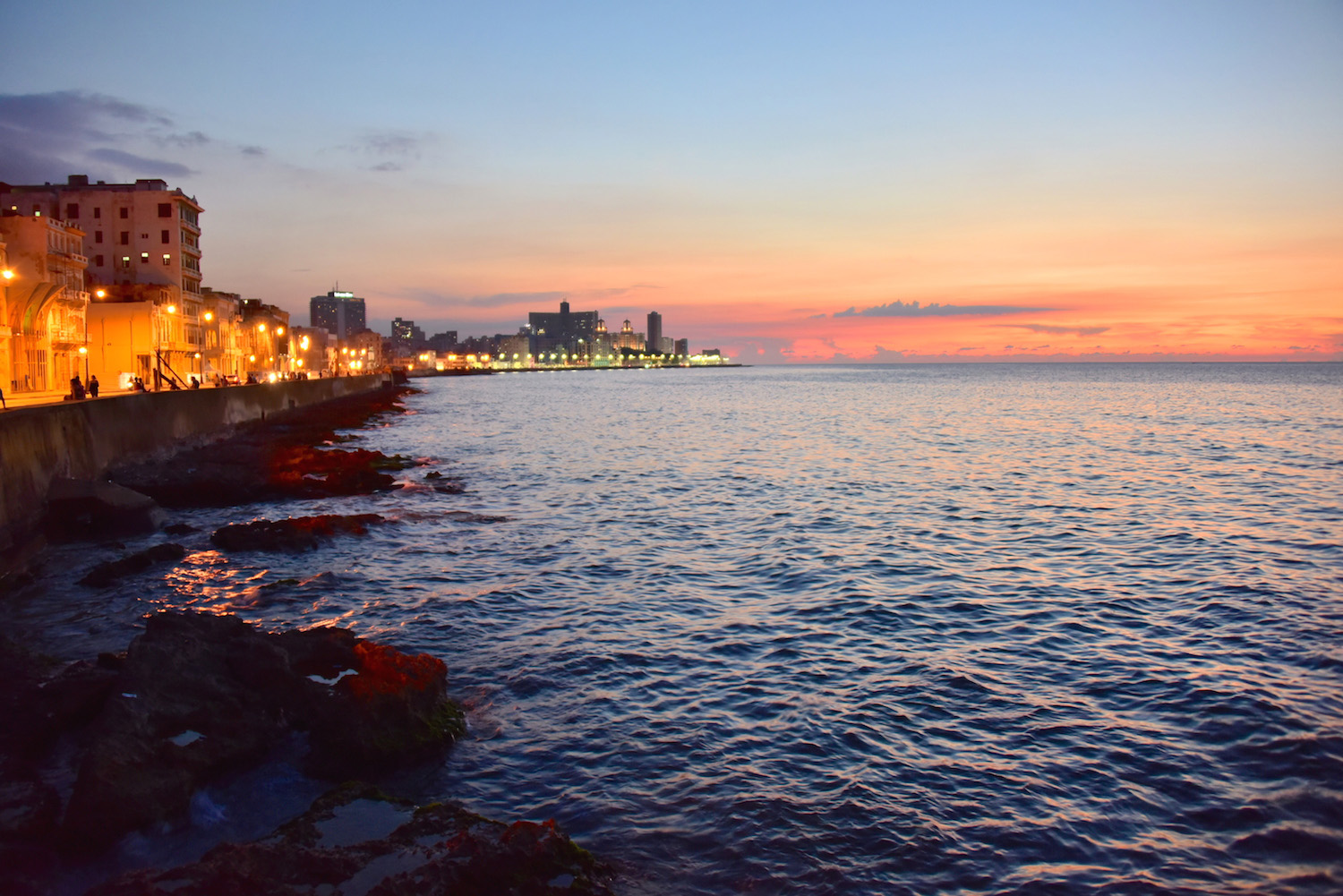 Cuba is going to change drastically and permanently, especially Havana, probably very soon.
Pretty soon, taxi drivers won't have to warn foreigners about the presumable dangers of the Malecon – that's where they're all be sleeping, eating and entertaining themselves. No locals will be left, save for hotel and wait staff and, of course, taxi drivers, who will no longer drive classic cars.
Gluten-free muffins with be the rule, not the exception; the X-Games might even take place here one day. I doubt older men will be asking foreign boys who could be their sons for money for sex. Or, maybe more will.
One thing Cuban communism seems to have produced is an egalitarian – if rather poor – social order, and while I don't doubt enterprising gentlemen like Humberto will do well when they can sell things besides their bodies, I do worry that increased competition will stratify society, with violent consequences.
If the majority of the architecture – and the casa particular industry – survives the inevitable arrival of Hilton, Hyatt and JW Marriott, then the most superficial aspect of the country will remain intact, so that the photos the people who visit in the future take will reflect the same sort of Old World splendor they do now, provided they are not too high in quality, their observers not too scrutinizing.
Yet in my current state – sweaty and sticky from the joy and the madness and the frustration of my time in Havana – combined with my simultaneous longing (for places that make me feel like I've actually gone somewhere) and contentment (to settle for slightly more exotic versions of the creature comforts I enjoy at home), I cannot answer definitively whether the new Havana – let alone the new Cuba –  will be better or worse, for travelers like me or for local Cubans.
But the city I am leaving behind now, as my bus crawls toward Cuba's cigar country, will certainly not exist as it is for very long, maybe not even for the 10 days that will pass before I return to Havana.
Havana is screaming at me, Lourdes.
Share: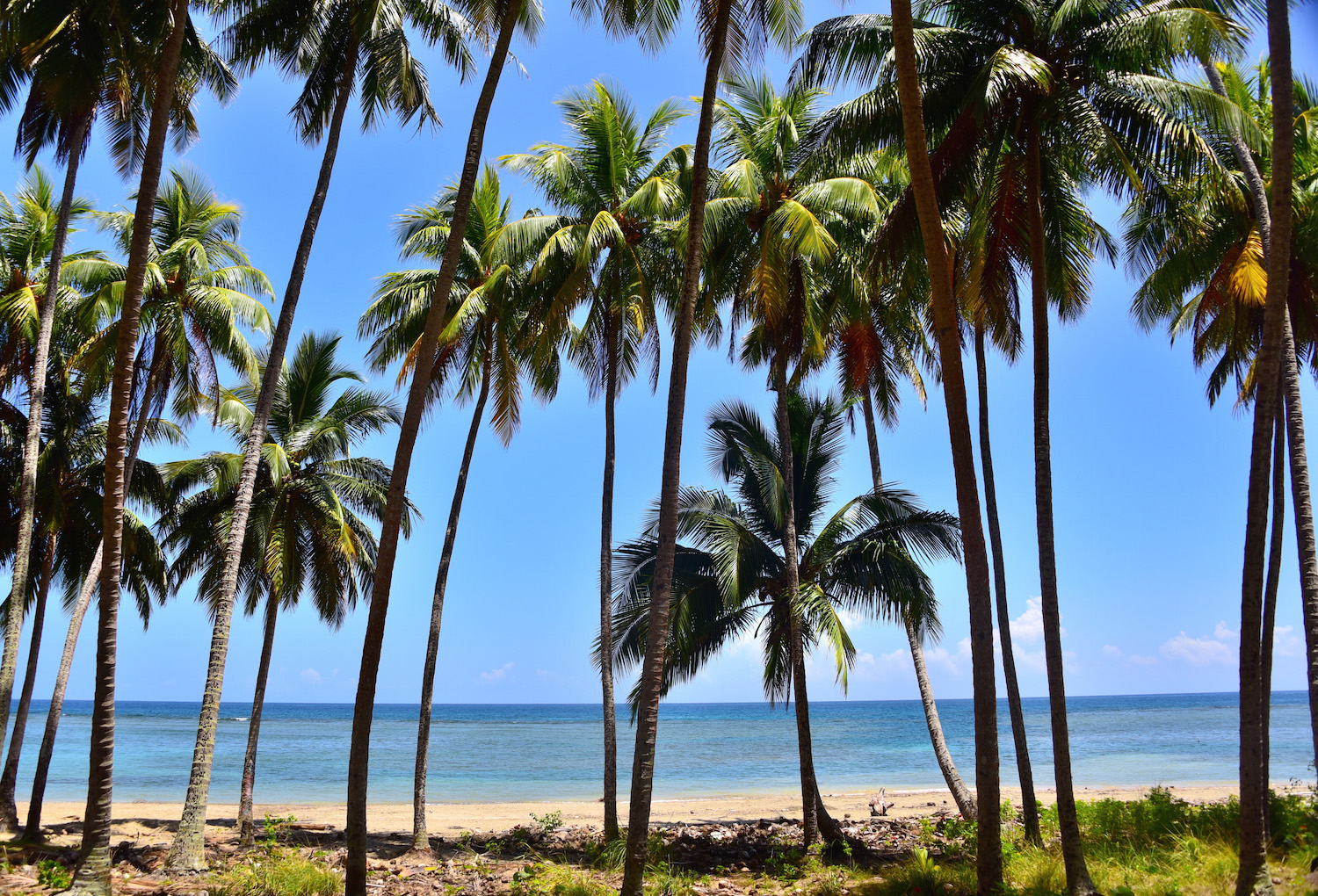 "Quieres hacer un foto aquí?" The driver stopped the car in front of Baracoa's very own secadera de madera.
Dora and I looked at each other, then I answered. "No, gracias." I placed my hand on the back of his seat, then continued, a bit more emphatically this time. "Ahora, preferemos ir directamente a la playa."
"Claro," he pressed the gas, although not very hard – road conditions aren't the best near the eastern tip of Cuba.
Pepino, who said he was a personal friend of Sonia, the woman who manages our casa particular in Baracoa, was clearly trying to act as more of a tour guide than a chauffeur as we sped – as much as you can around these parts – toward Playa Manguana.
While I won't deny that my eagerness to reach the beach contributed to my lack of patience, the fact is that I generally don't like tour guides.
Actually, that's too harsh – I respect the tour guide profession and indeed, the fact that many travelers find their services indispensable. I just don't like it when their bullshit rants of facts I could find on Google in a few seconds prevent me from discovering a destination on my own terms.
I mean, it's possible at least one of the other bloggers on my May trip to Turkey enjoyed being lectured for an hour inside the unremarkable "cave city" we visited in the Cappadocia region. Or perhaps I was just being dramatic when I asked my guide in Israel in April not to visit anymore archaeological sites when we arrived at our third in as many days.
Pepino, to be sure, was hardly so overbearing in his descriptions, his bizarre choices of local sights notwithstanding. I was half-expecting him to suggest a visit to Guantánamo Bay, which is a very short distance from here.
And anyway, his words would've fallen on deaf ears had he continued speaking when we finally did arrive on the beaches of Baracoa: This place definitely needs no introduction.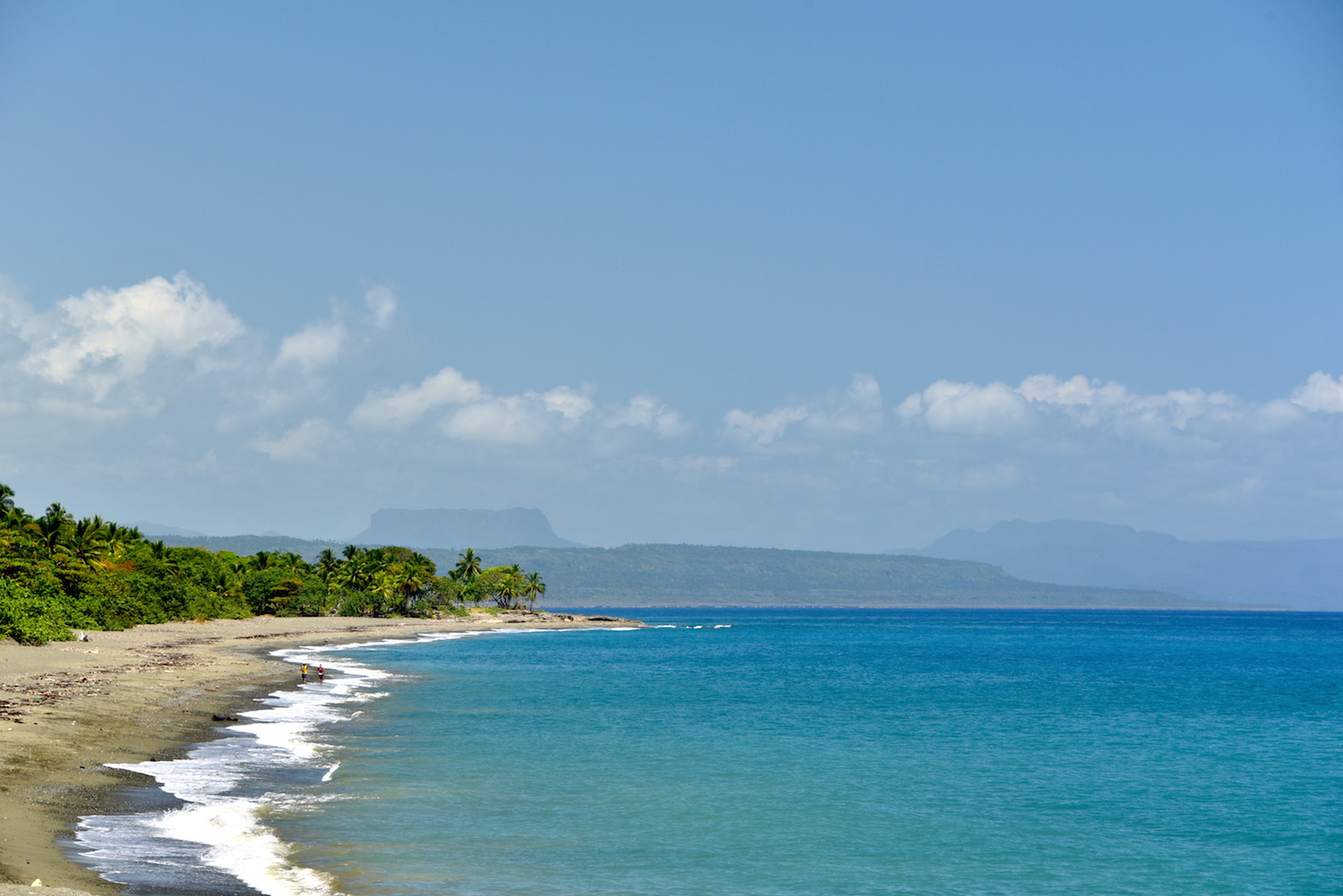 My trip is almost over, and I'm starting to slip into the strange territory between devastation and relief, when you're not sure if the prospect of sleeping in your own bed outweighs the daily experiences that remind you what it means to travel, to be human, to be alive. When I spied the waters of Playa Manguana through the palms that separate it from the road, well let's just say my bed was the furthest thing from my mind.
Dora and I stepped onto the sand during that magic hour of mid-morning, when the sky has turned a deep enough shade of blue that you can appreciate how fluorescent the turquoise water is, yet when the sun is low enough in the sky that you can appreciate the subtle spectrum of greens each palm frond displays as it glistens.
It's the sort of light that puts me nearly into a trance as a photographer, as I frantically snap and frame and compose and adjust until I've gotten a spate of excellent shots, then critique, delete and re-take all of them, with one magazine-worthy shot in total if I'm lucky.
"Sí," I said to the mother-daughter team of beach vendors – I wasn't sure which one had spoken to me – who shoved a plate of honey-covered almonds in my face literally the moment I set up my tripod to take some selfies. I handed them a three-peso note. "Gracias."
"Quieres almorzar en el restaurante de nuestra hermano?" They asked, neither offering change for my purchase, not specifying how many the amount I gave them would buy.
"Estoy ocupado ahora," I explained as I clicked my remote button, then attempted to mask how annoyed I was in the two seconds it took for my shutter to fire. "Pero es possible."
Naturally, my explanation was not good enough for them – no answer but yes is ever good enough for people who push products and services on idyllic beaches in developing countries – but after a few minutes, my silence spoke for itself.
Maybe my bed won't be so bad, I thought, and resumed my work.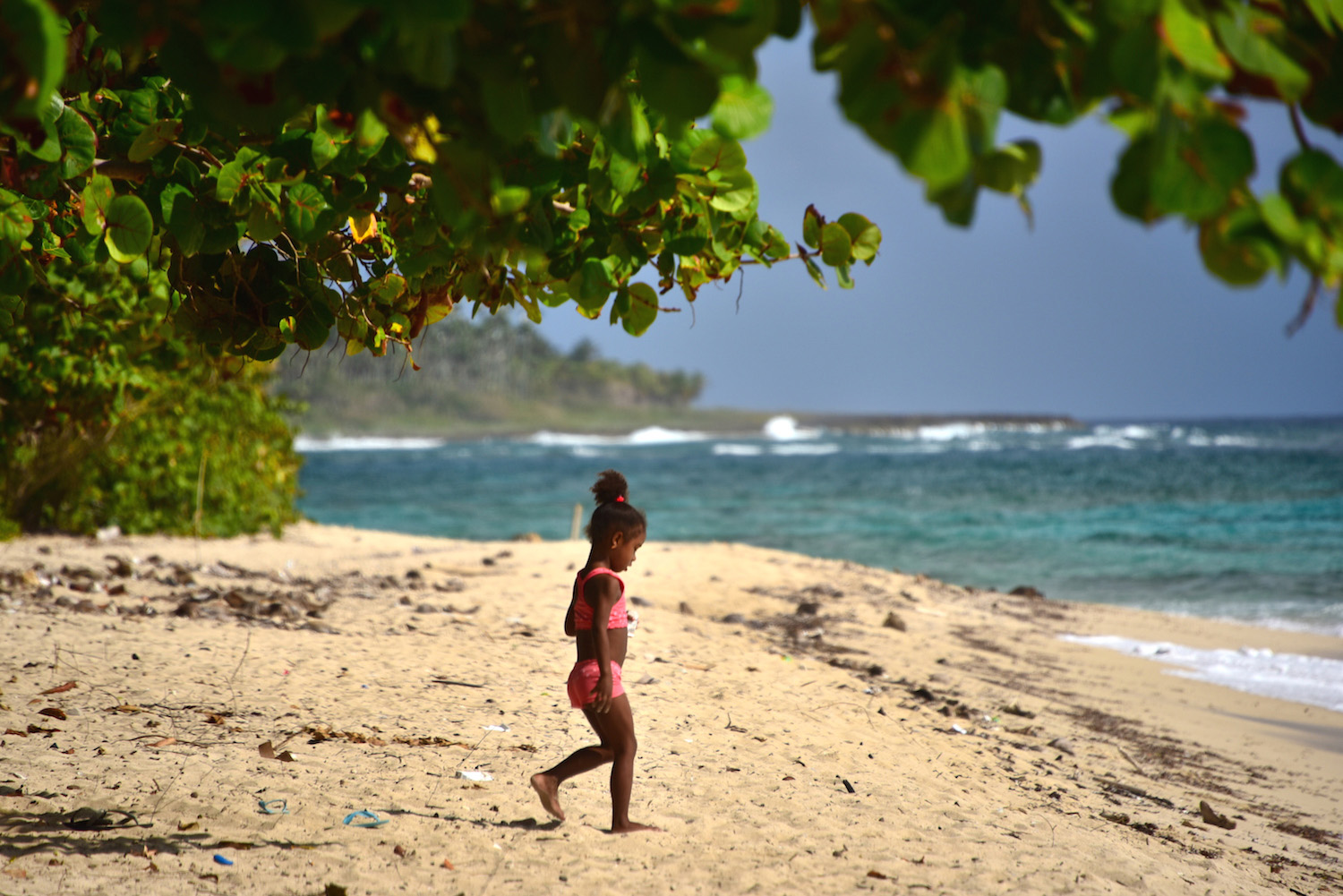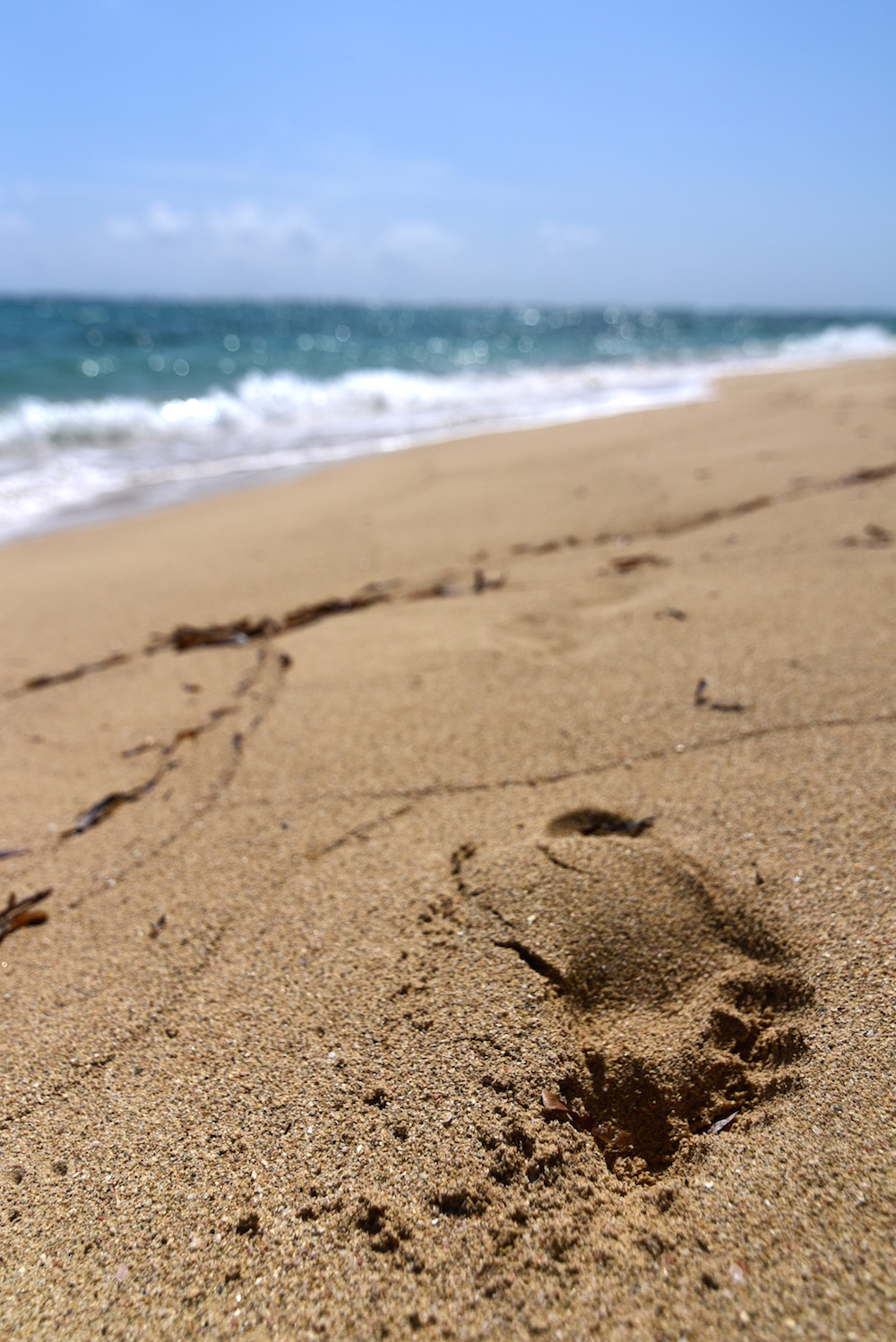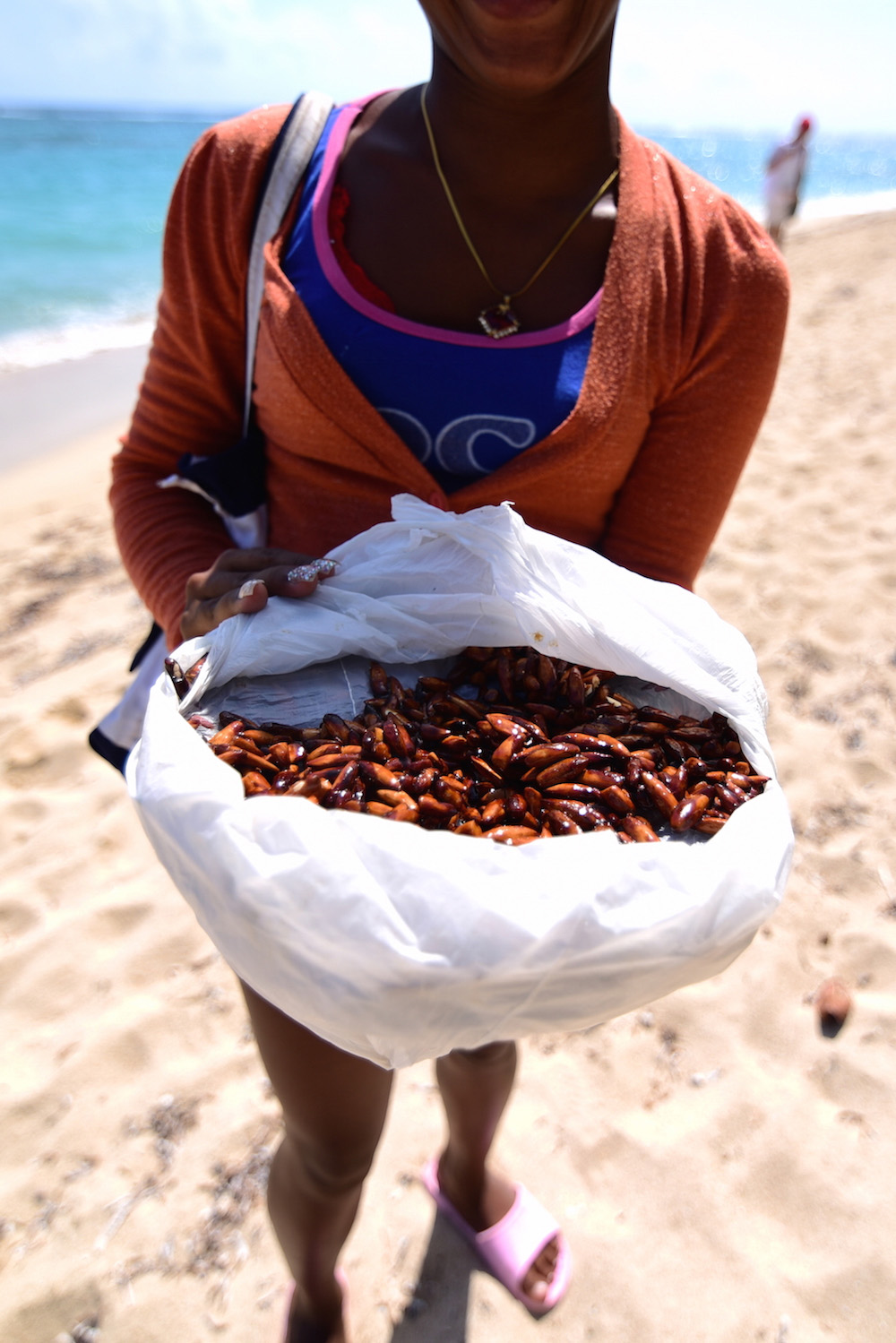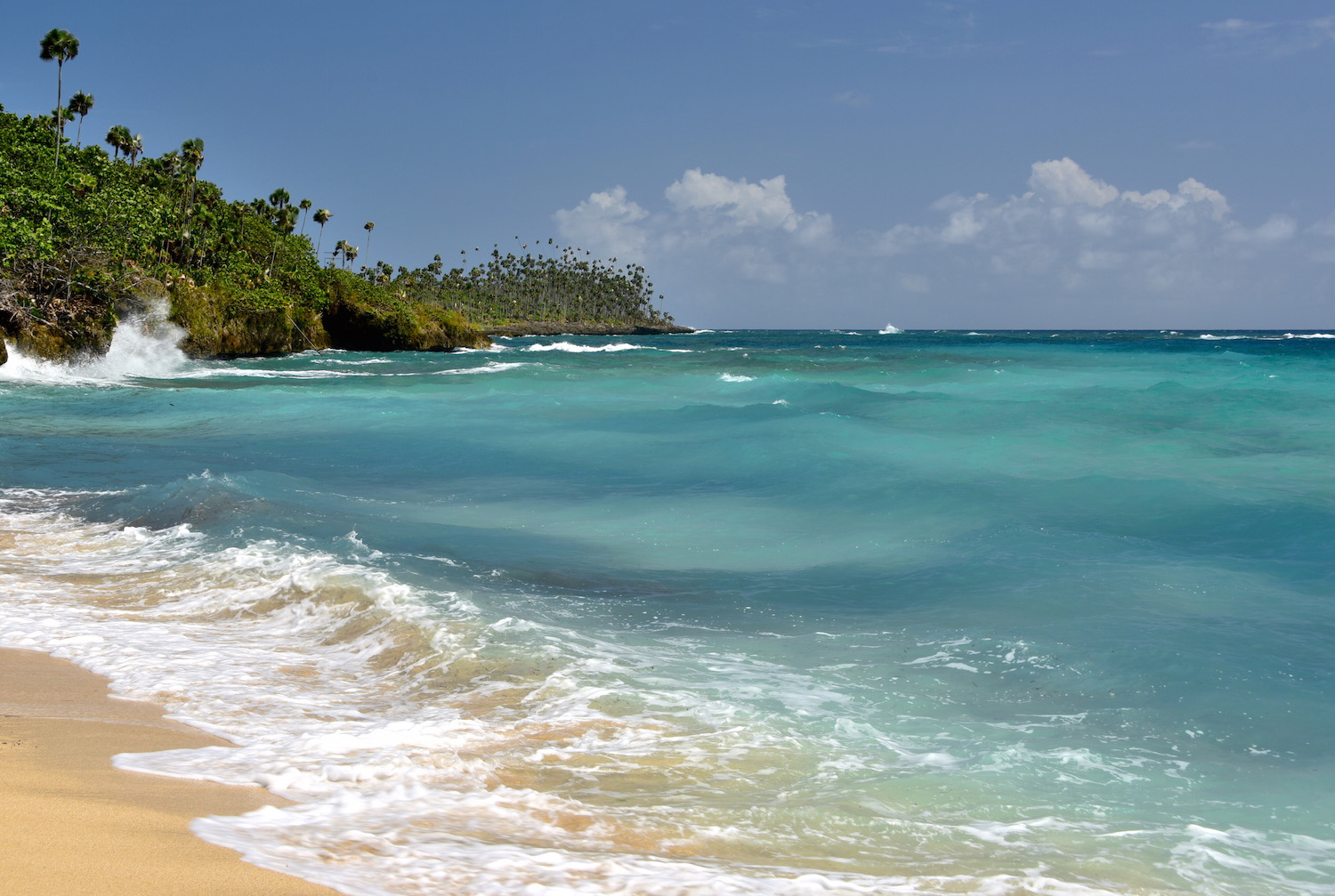 "I think that's the guy who asked me," Dora said as we approached the hut, which aside from its bright pink color was indistinguishable from the half-dozen or so others underneath the palm forest just back from the beach. "The first one, I mean – I lost track of how many people asked me to have lunch at their restaurants."
I did my best to avoid making eye contact with the other restaurateurs, who were all beckoning us to eat with them, in spite of our obviously having made a choice. "I would hope they're in some kind of revenue-sharing program, given how much they're competing for so few customers."
"It's whatever," Dora sat down as the man – I guess he was the right one? – pulled out her chair and set a menu down in front of her. "This beach is so amazing I almost don't care."
I laughed. "It's definitely no Cayo Jutias."
Dora lifted her leg up to show her lingering sand-fly bites. "Thank God for that."
Just then, the waiter approached. I'd intended to order the grilled fish but not surprisingly, he up-sold me to the lobster.
For a bunch of communists, I unfolded my napkin, These people sure do know how to hustle.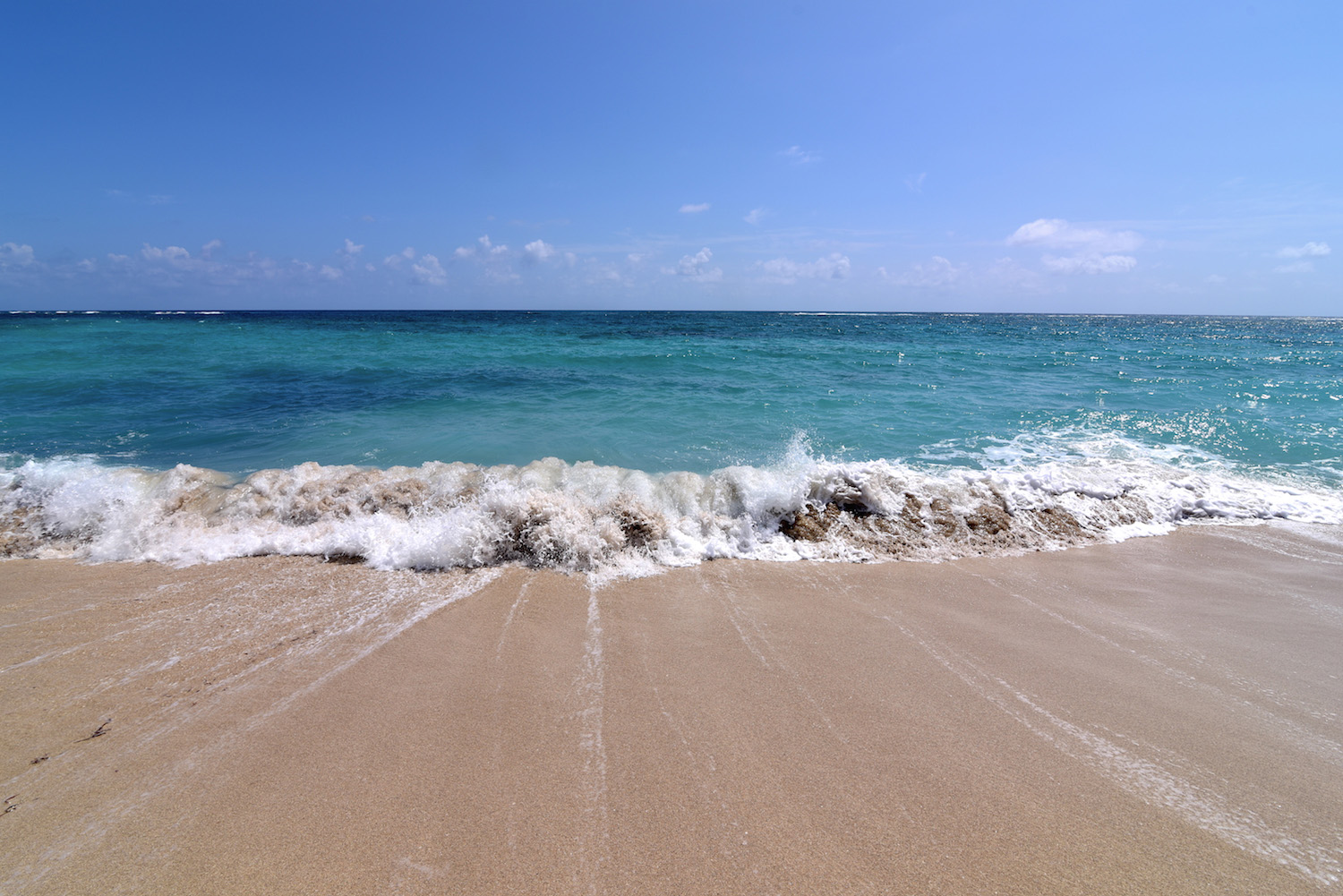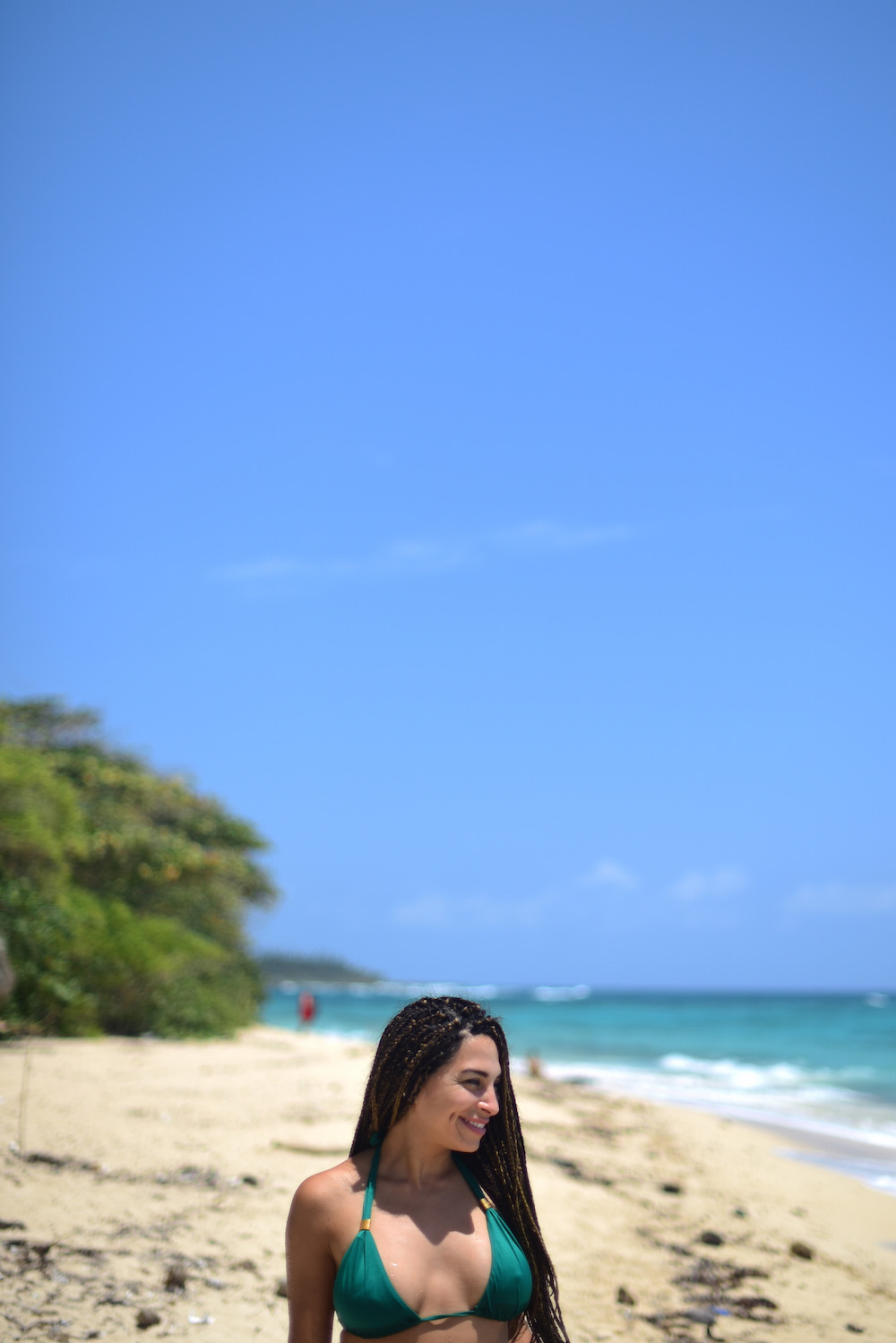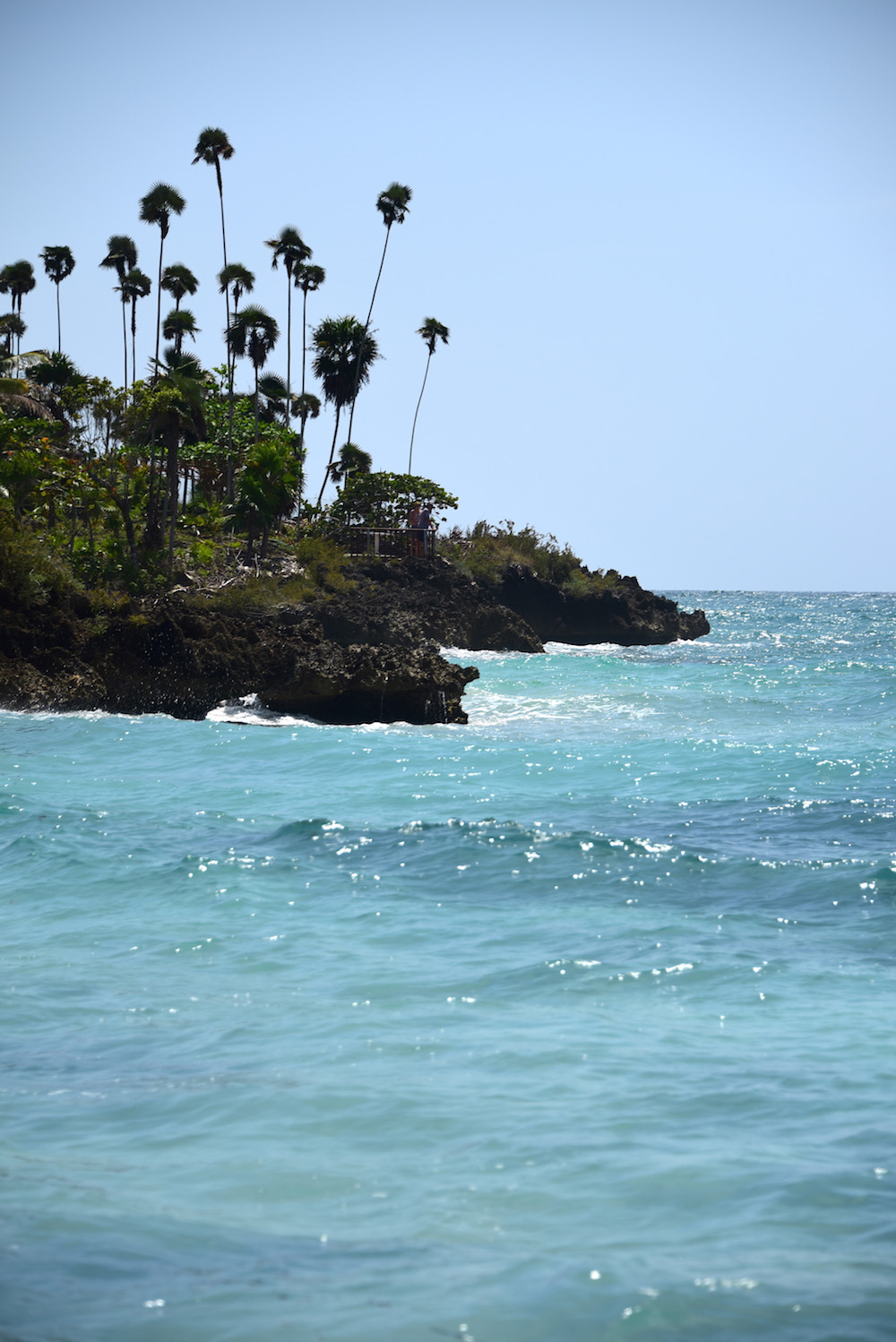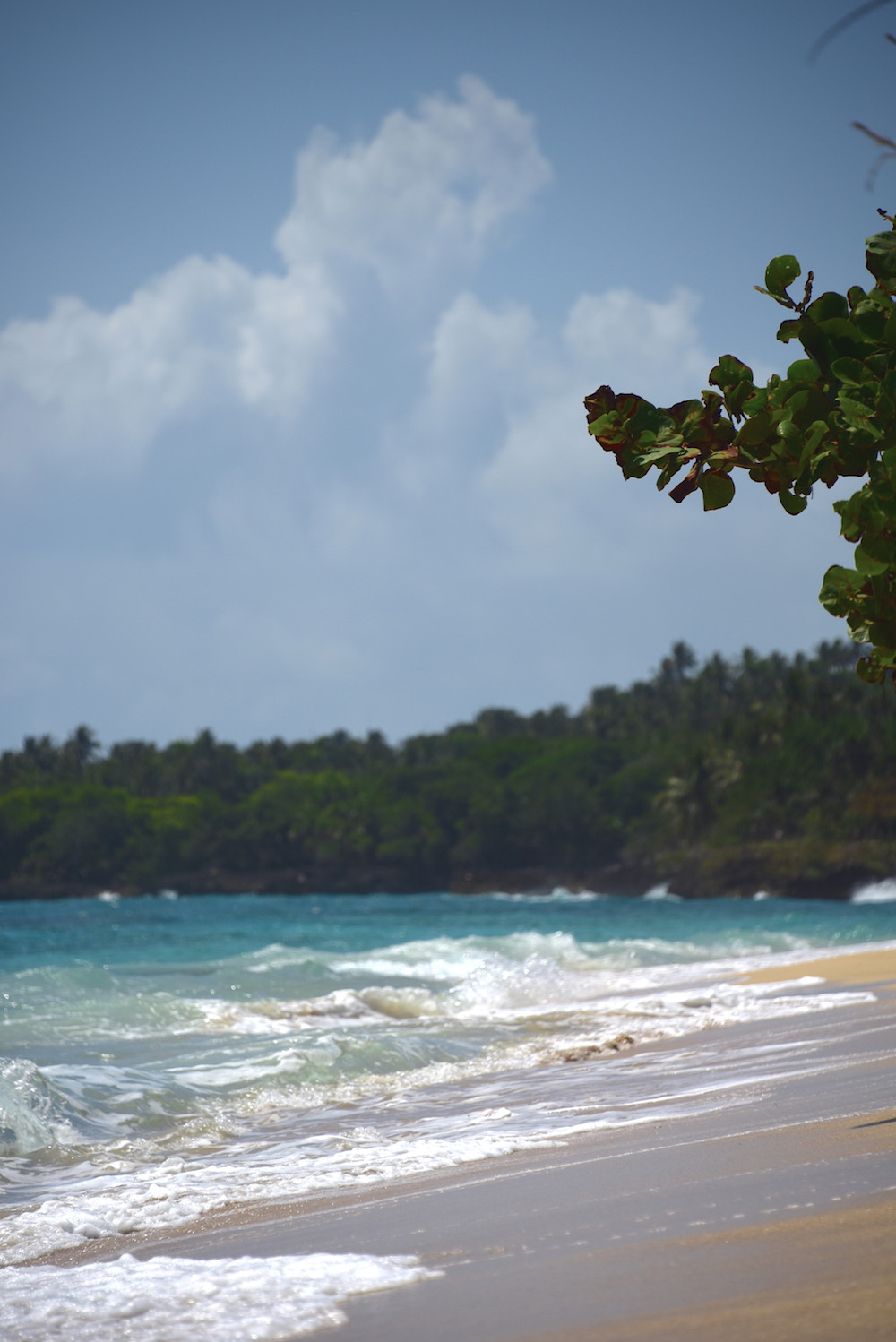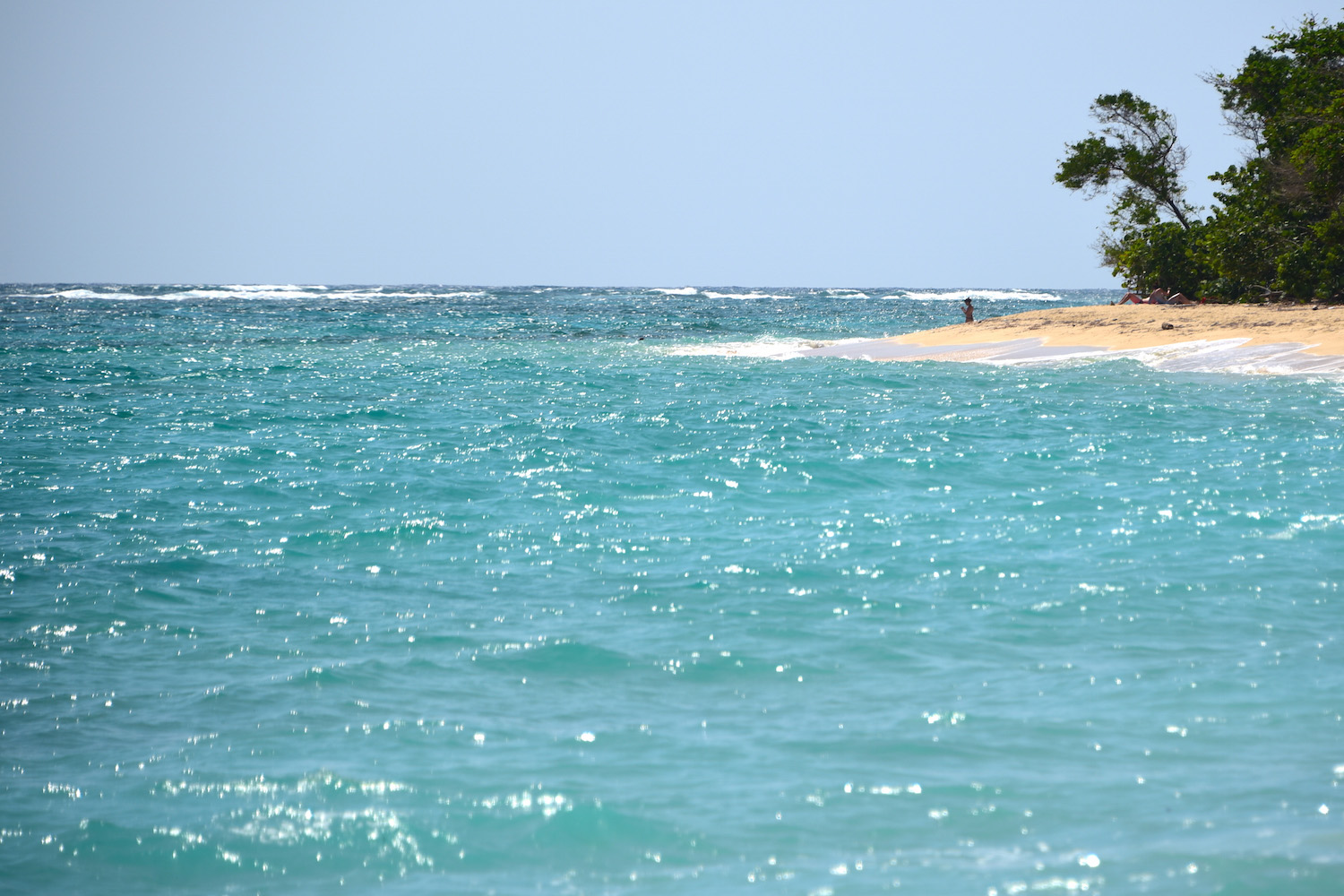 We had wanted to head directly back to our casa after the beach, but Pepino had other ideas.
"Esta es un finca de cacao," he explained as we parked our car, then walked us inside to explore the farm.
I say "farm," but it appeared to be nothing more than someone's home, with a table set up to explain the stages of the chocolate-making process. As far as I could tell, only one of the dozens of trees that rose above us was a cacao tree.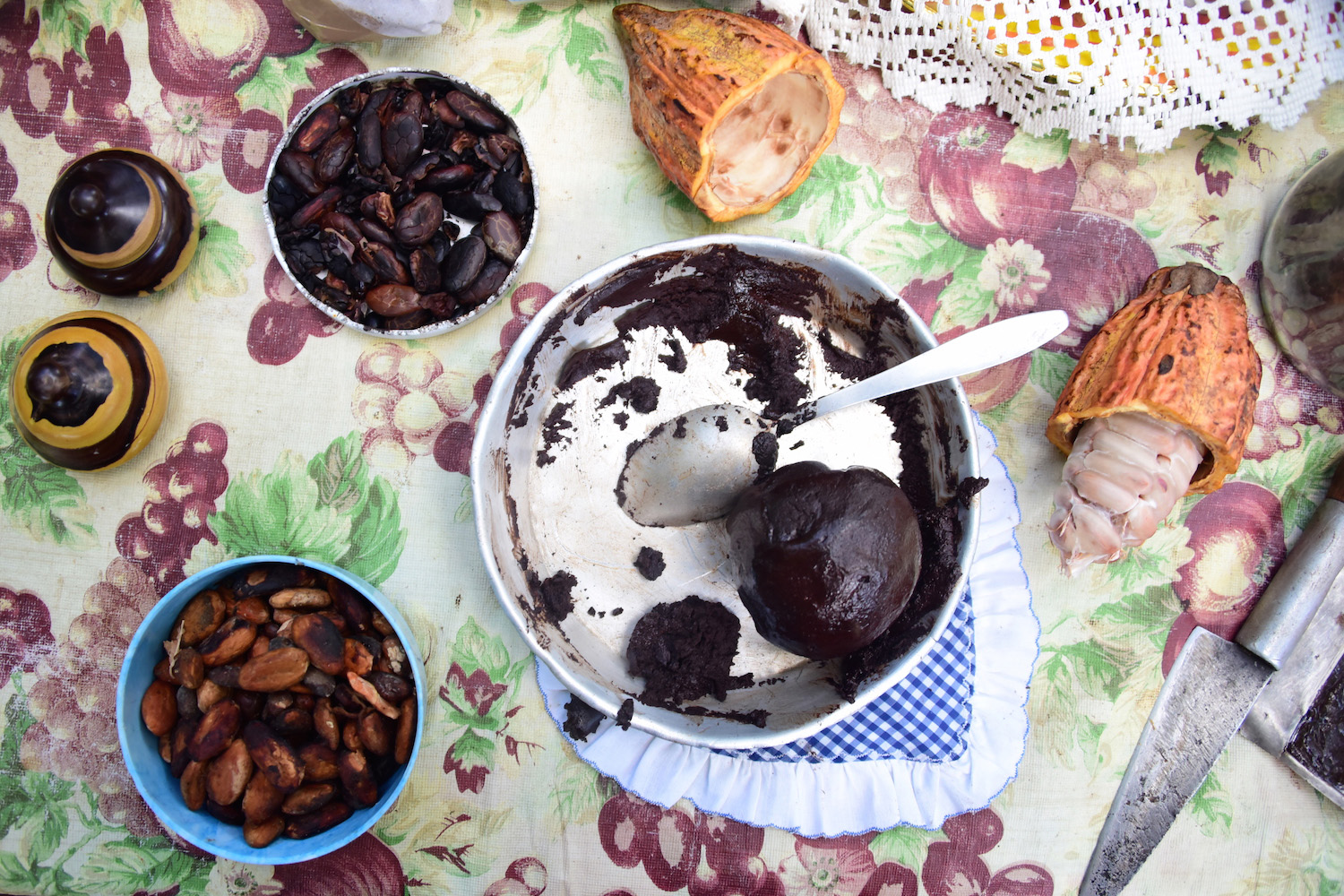 It was boring, but it was innocuous. The elderly woman who explained the process to us, who'd introduced herself only as the "mujer de cacao," seemed almost reluctant to sell us chocolate, and casual about the ambivalent about the amount we should pay for it.
"Dos pesos," She handed me three bars and five bon bons from the plastic bag on the table – not, surprisingly, the chocolate she'd pressed into the mold minutes earlier, presumably for us to eat. "O tres. No es importante para mi."
I handed her three pesos – in my mind, a reward for her non-demanding demeanor.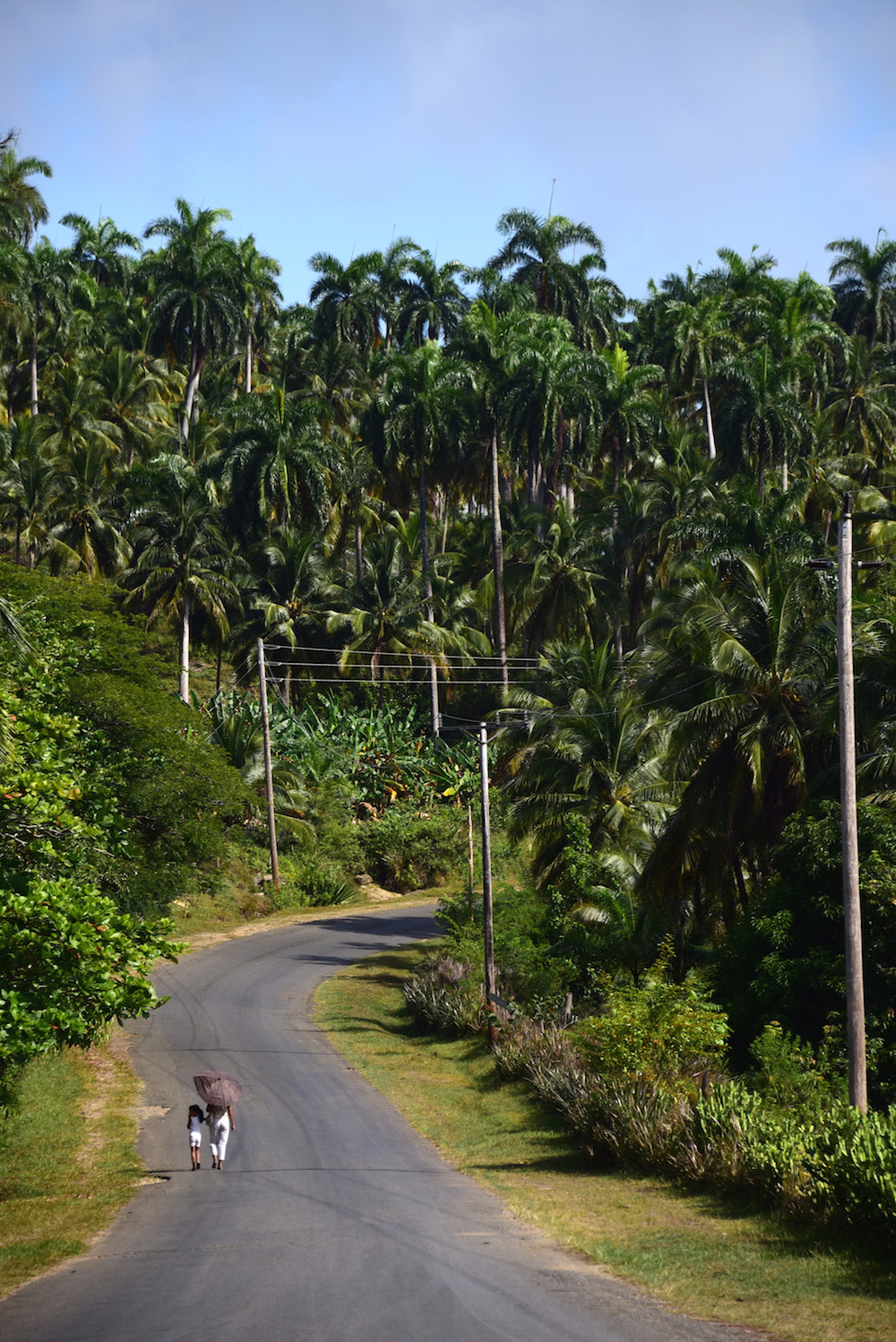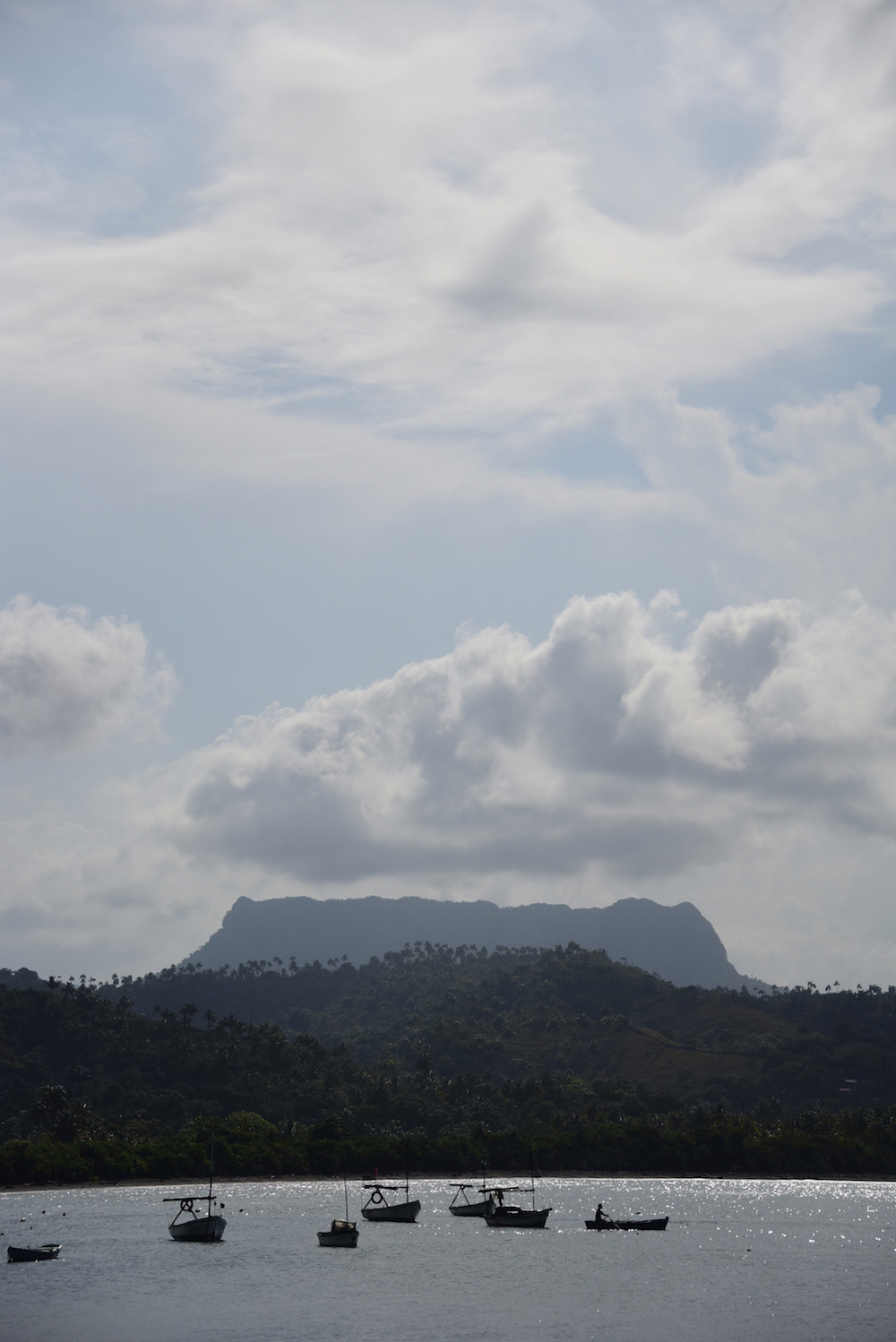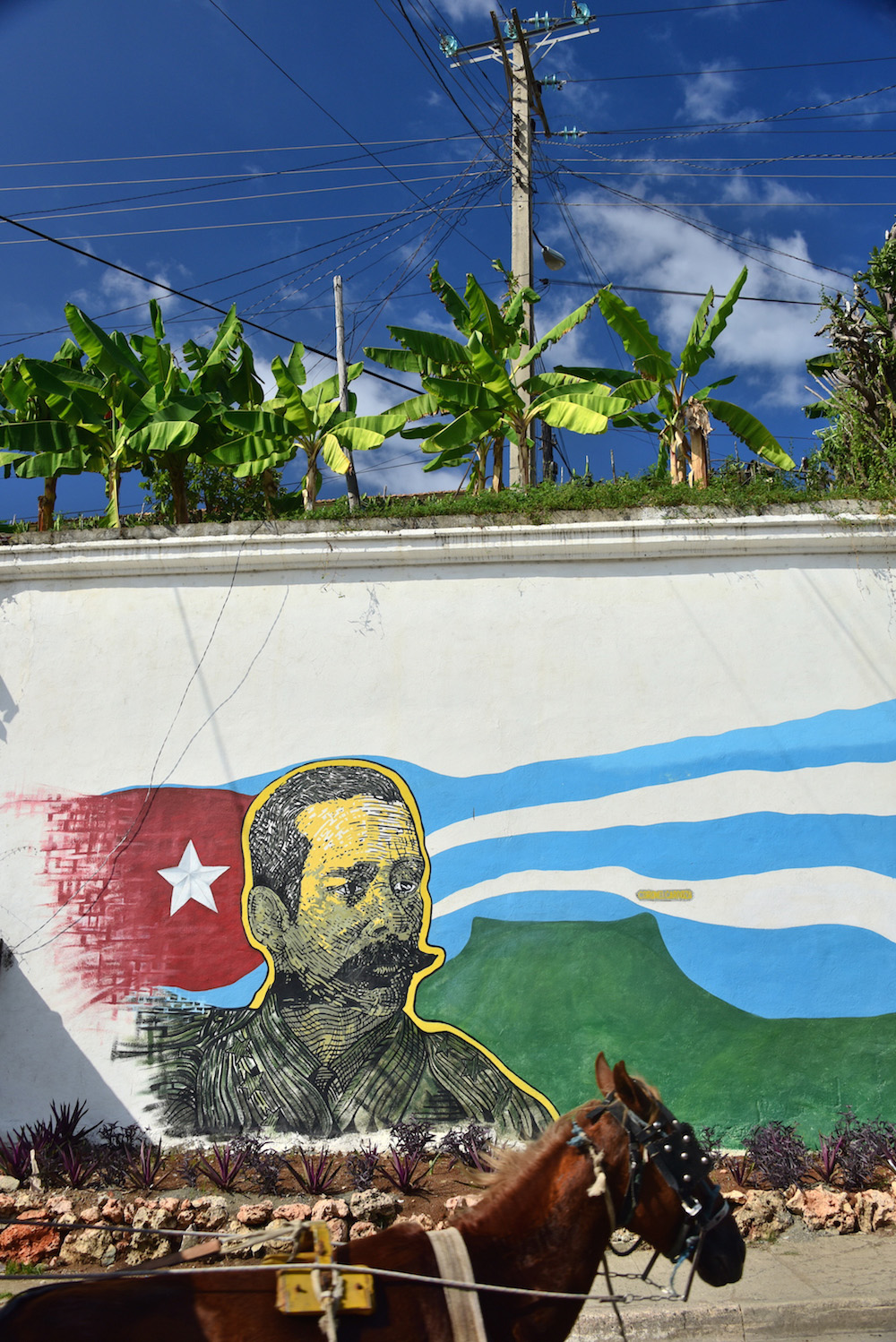 After we finished up at the cacao farm, I explained very specifically to Pepino that we didn't want to take anymore excursions on our journey home. He had obliged, without so much as a question.
"This bodes well for tomorrow," I handed half of a chocolate bar to Dora, who had just finished confirming with Pepino the details our visit to Boca de Yumuri, another of the region's most famous beaches, the next day. "Our driver is the one man in Baracoa who's not a hustler."
Dora laughed as the car sped back toward town. "I wouldn't say that too loud."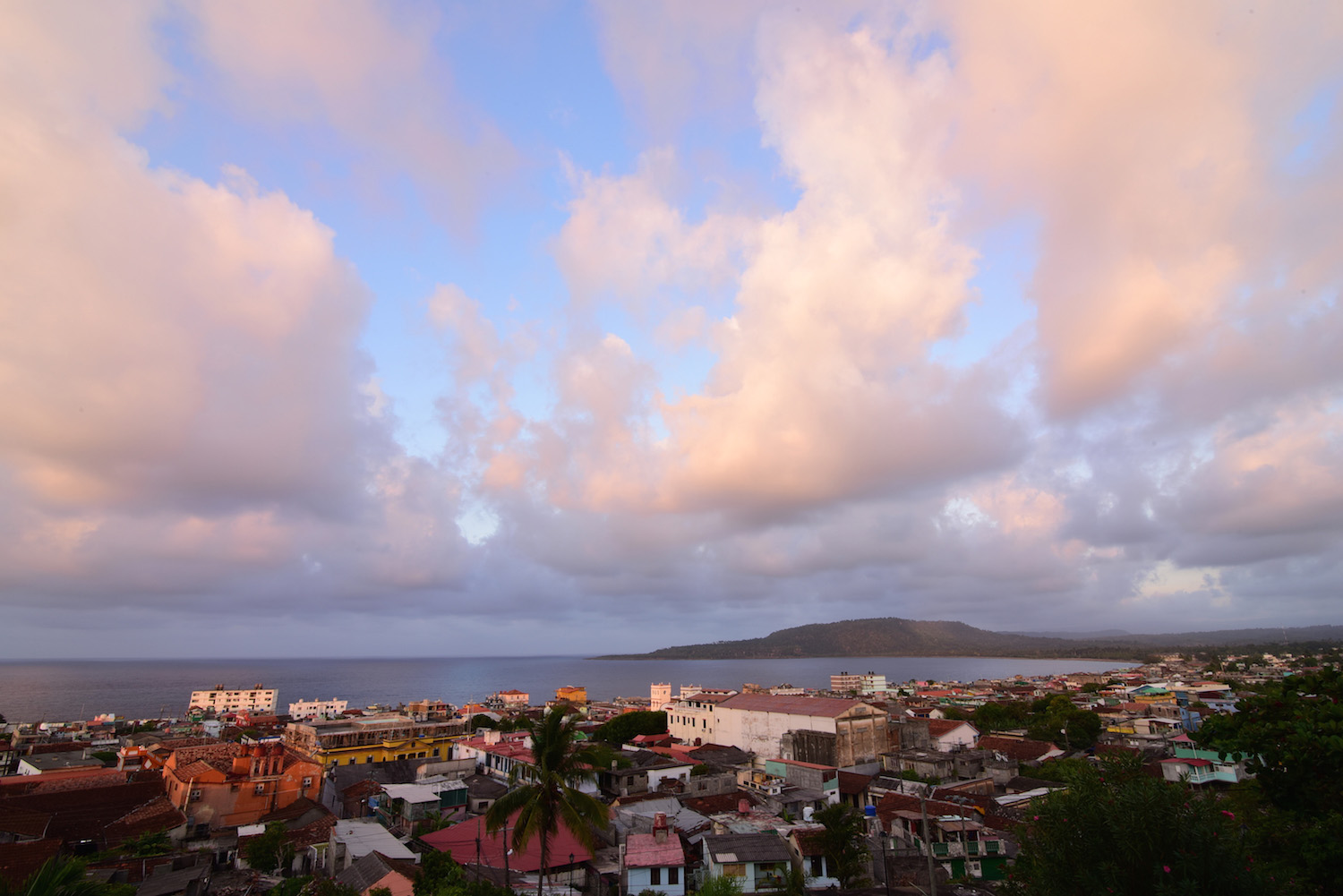 Pepino arrived at our casa the next morning at 9, just as he'd promised, and just as he'd done the day before, started the day by stopping at a superfluous roadside attraction.
"Esa es un finca de miel," he explained, then pointed to a truck full of beekeepers (and, naturally, bees).
As Dora had a cigarette on the side of the road, I'd tried to practice my Spanish by engaging Pepino in a conversation about the mass deaths of bees around the world and the widespread belief that Monsanto (and companies like it) bears responsibility for it.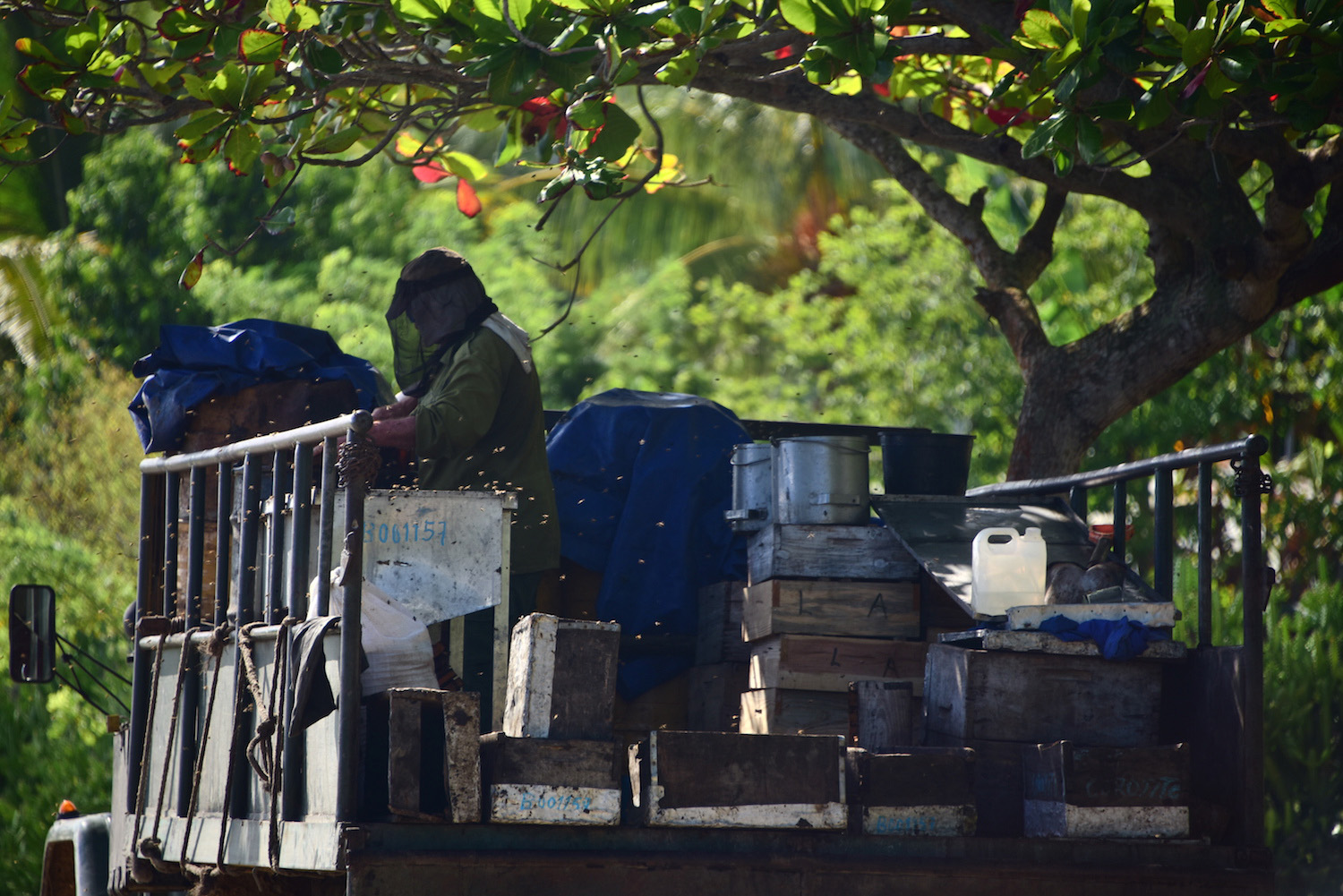 But it fell on deaf ears. "Monsanto?" Pepino asked with a puzzled face. "No conozco."
You will one day soon, I laughed to myself, and imagined how little time Monsanto would waste in establishing a Cuban presence once the embargo was lifted.
I imagined what Baracoa would look like once average American tourists learned about it, and once regular enough flights served its airport that a day-and-a-half bus journey from Havana wasn't necessary to get here.
Then, of course, I stopped laughing.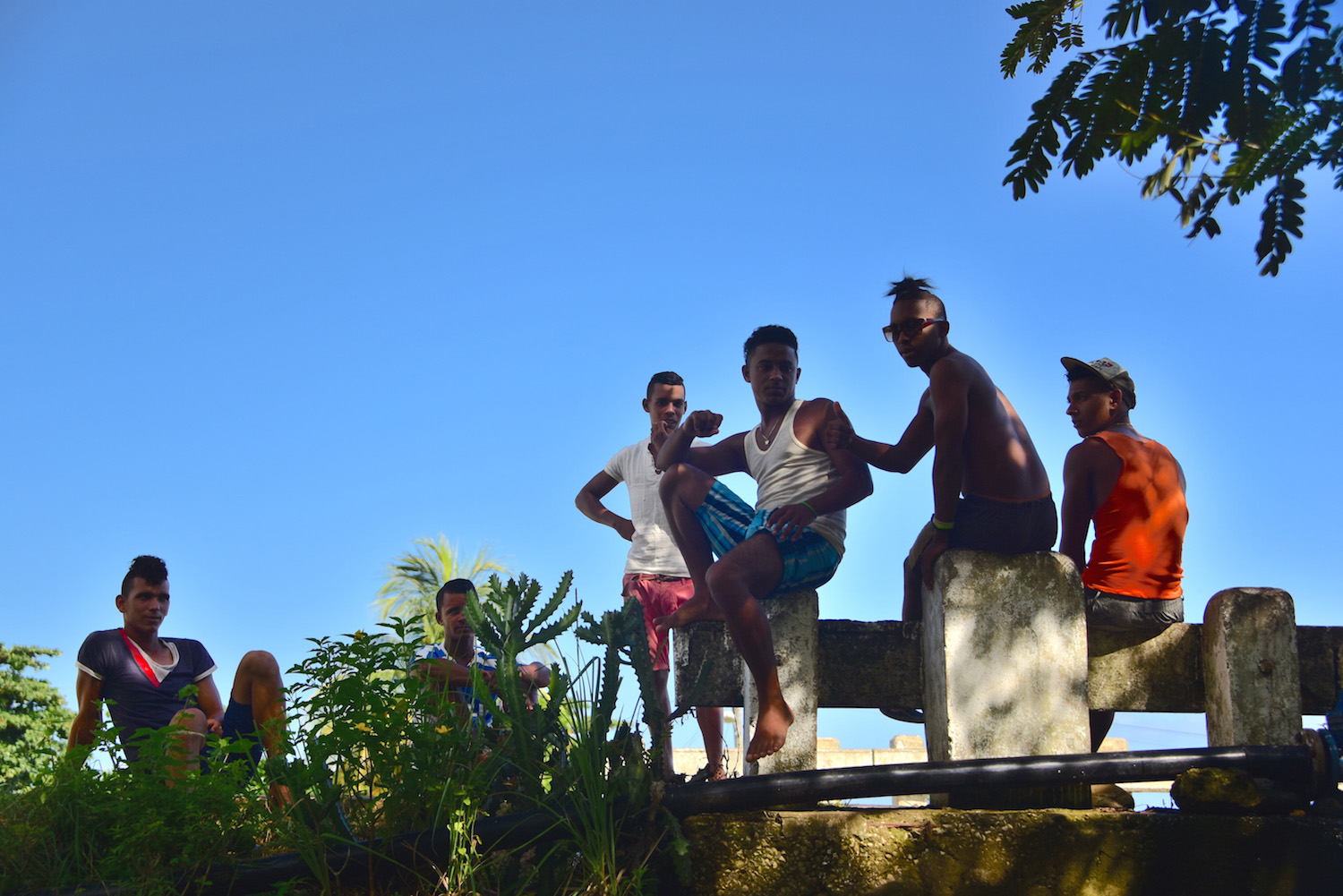 "I wonder what those cuties are doing here?" I asked Dora as we made our way toward the boat dock at the mouth of the Yumiri river – Boca de Yumiri, for which the nearby beaches are named.
"They're probably just enjoying the view," Dora said, and pointed to the dramatic cliffs that rose above the river as it moved inland, where it seemed our boat would be going – Pepino had never clearly told us what our excursion would entail.
Only the price: Three dollars per person, per direction in the boat, with a guide fee to be negotiated – that should've been our warning.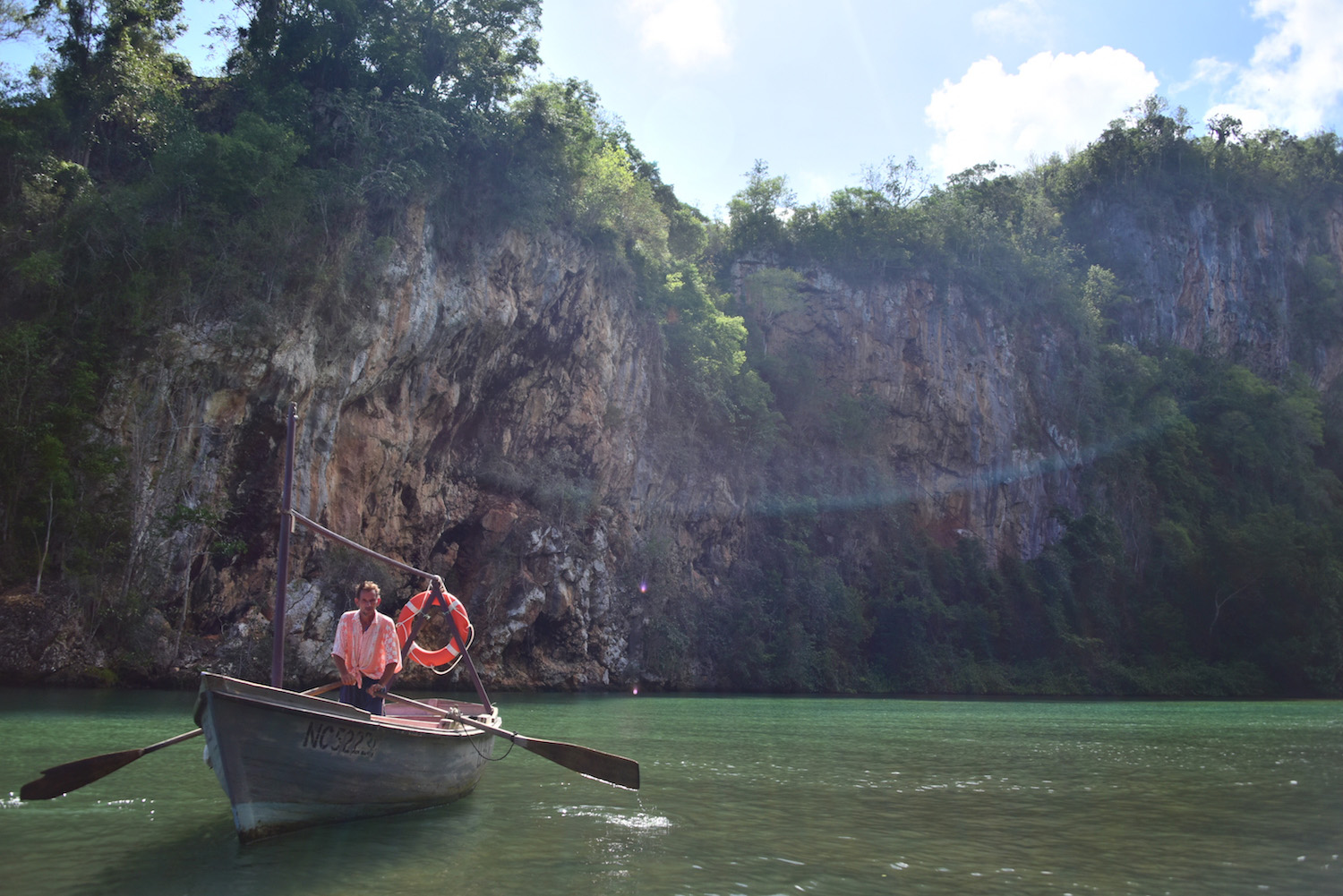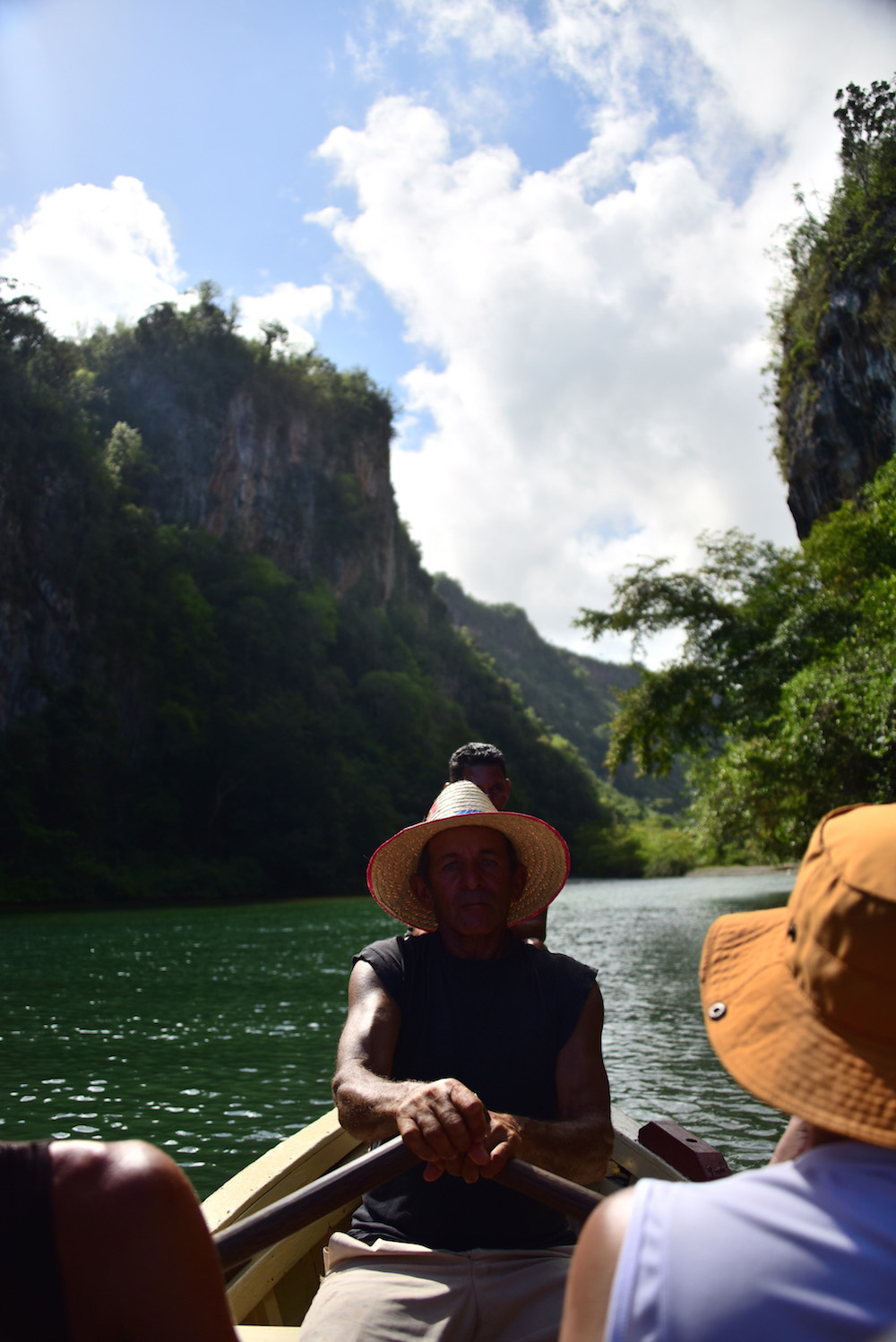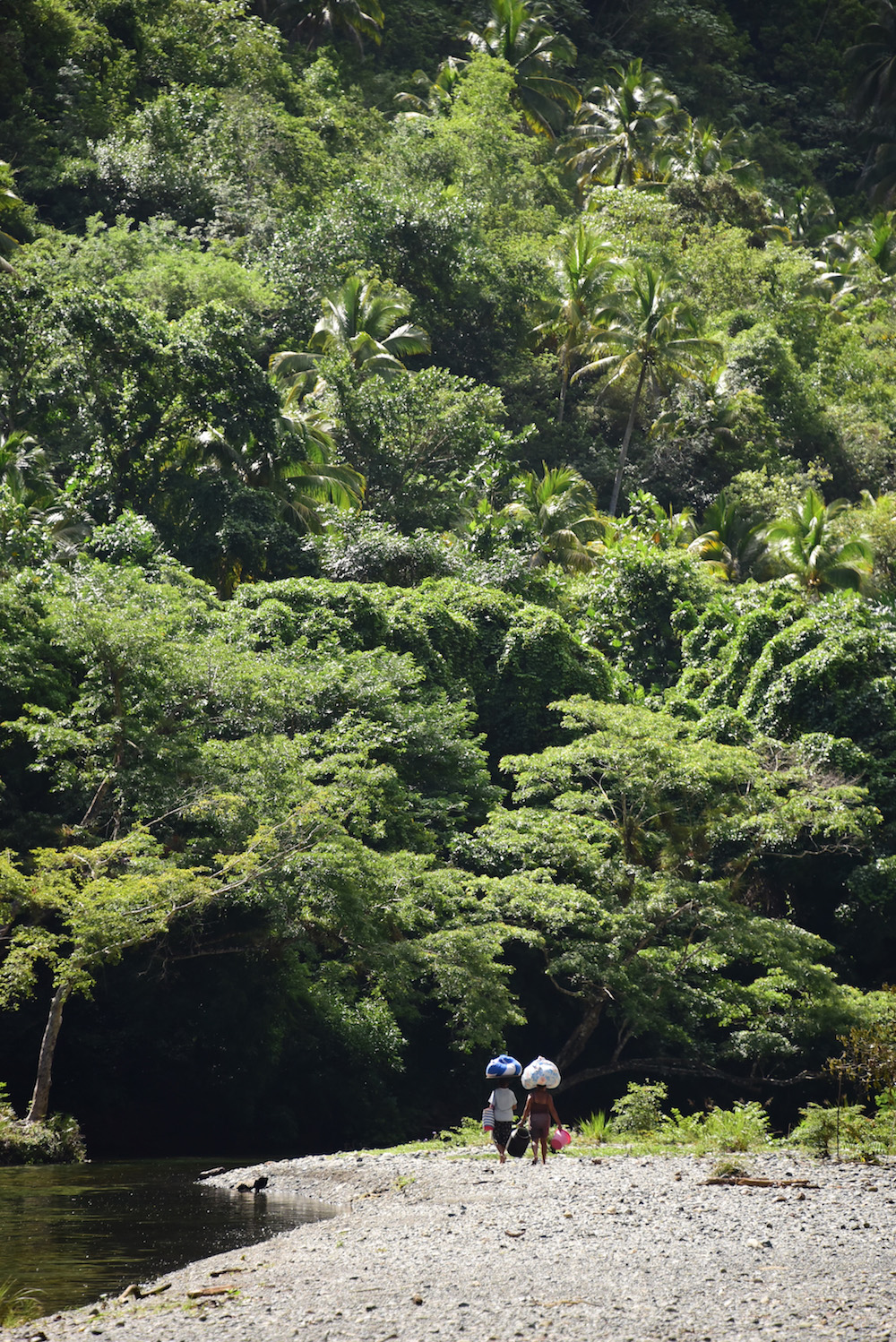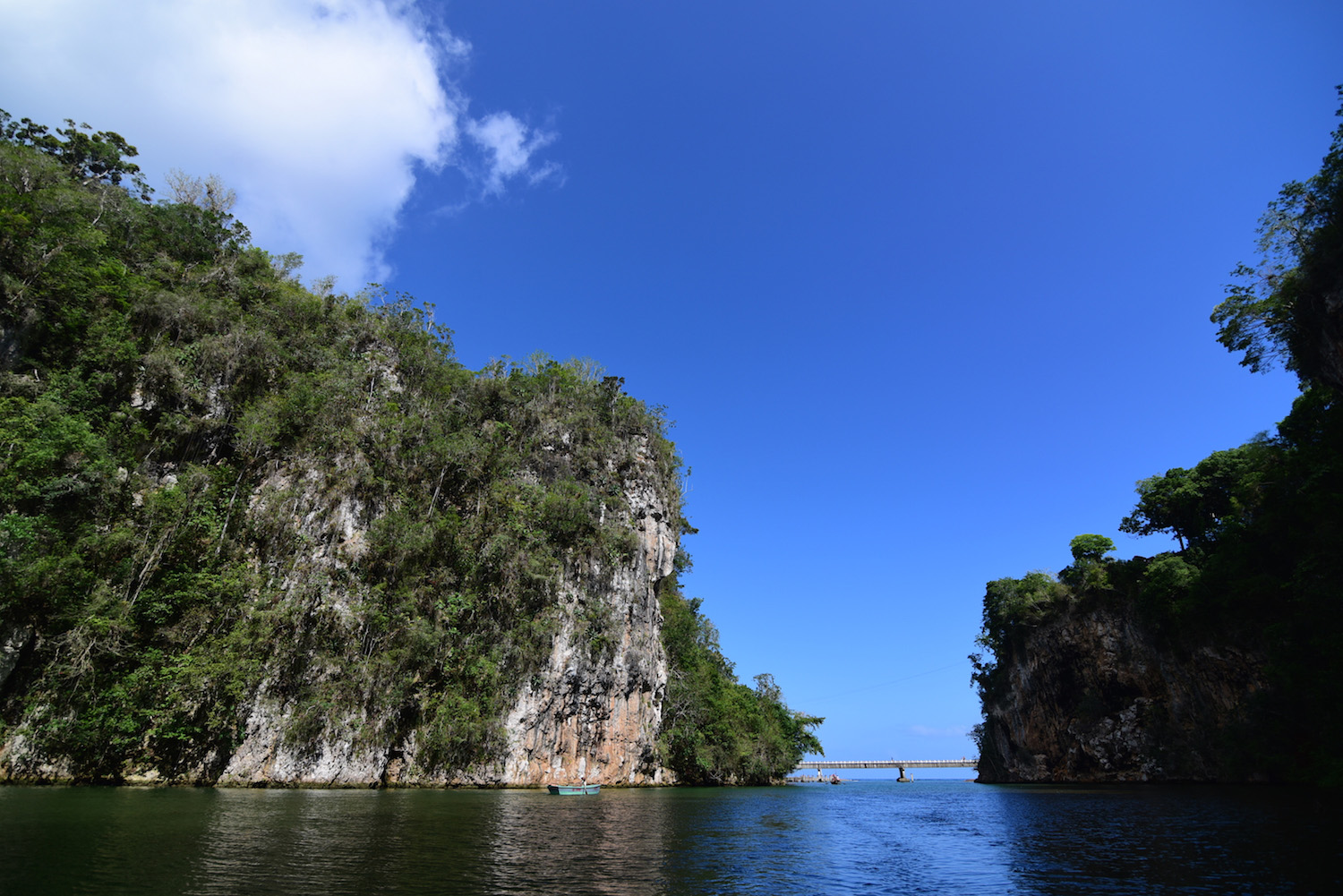 Like our visit to the cacao farm, our boat ride and subsequent landing on a river island seemed like a harmless addition to the beach time that had been the focus of our day.
Our guide, whose name was also Robert(o), introduced us to various medicinal plants and fruit trees as we hiked along the island's rocky shoreline and stayed out of our way once we reached the swimming spot, chatting with two local women, one of whom had a baby clinging to her.
Just then, I noticed three of the young men from earlier appeared, with large coconuts in tow.
"Quieres tomar un coco fresco?" The cutest one asked, a huge machete in his hand.
It was difficult for me not to swoon visibly, let alone to speak, so I just nodded.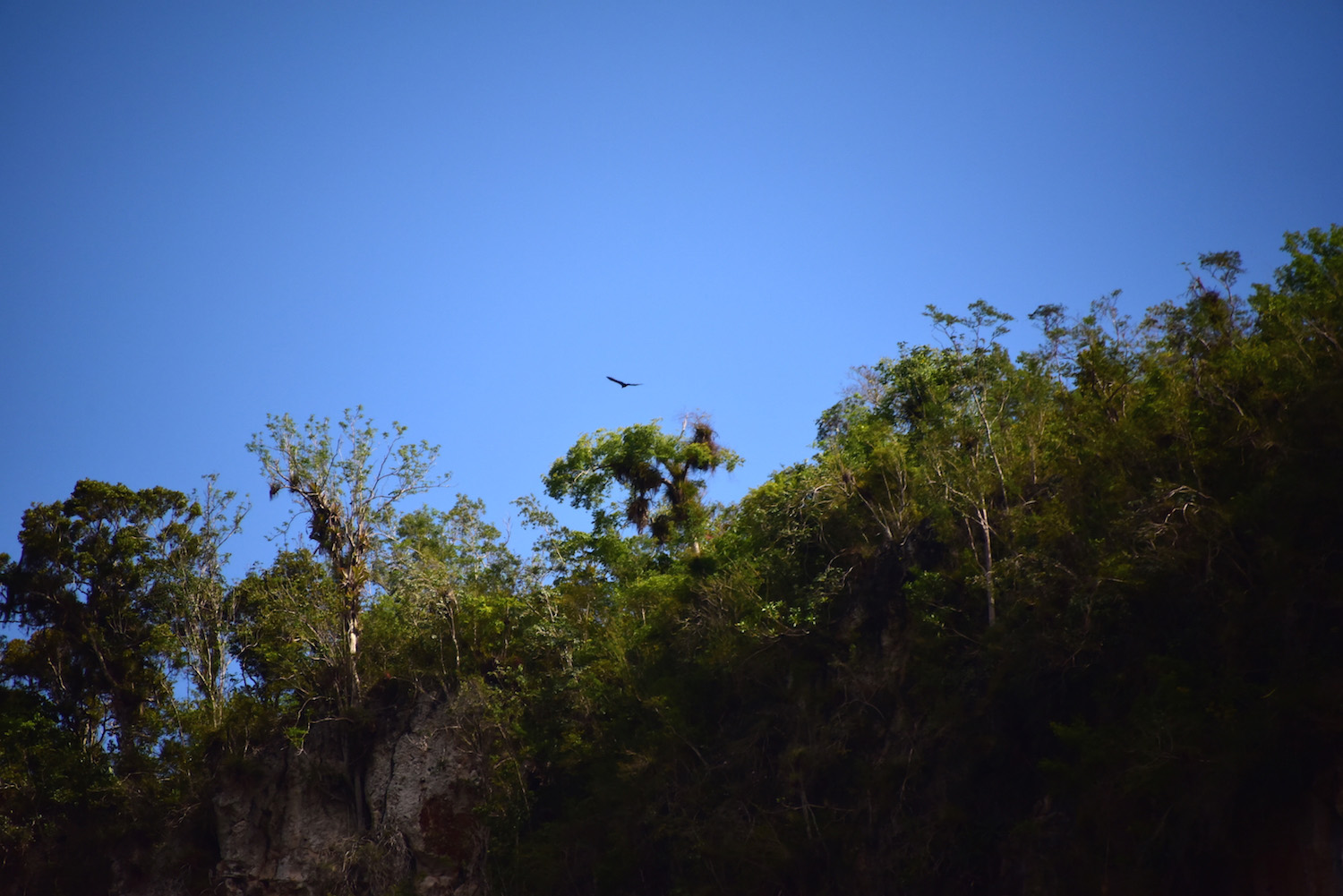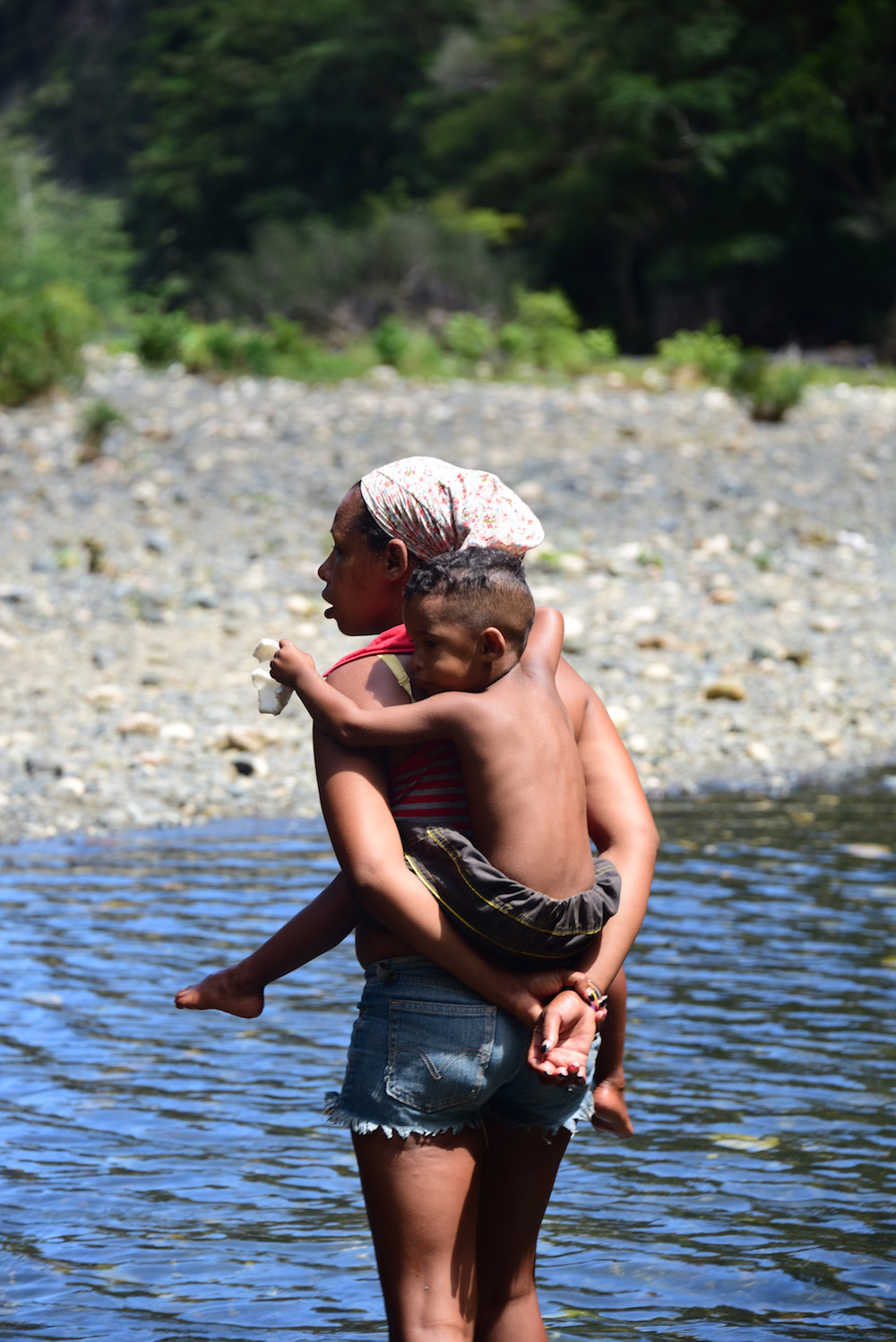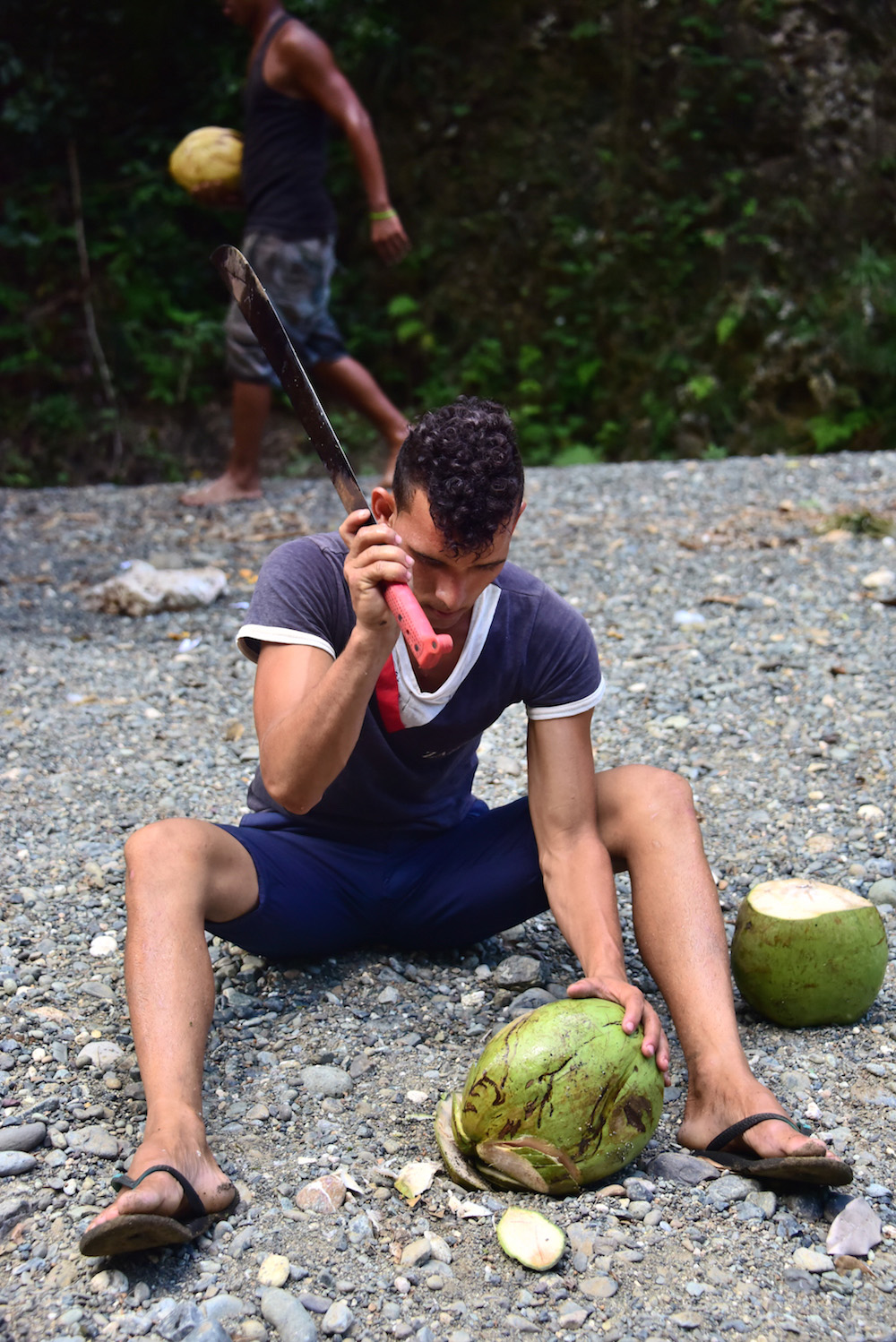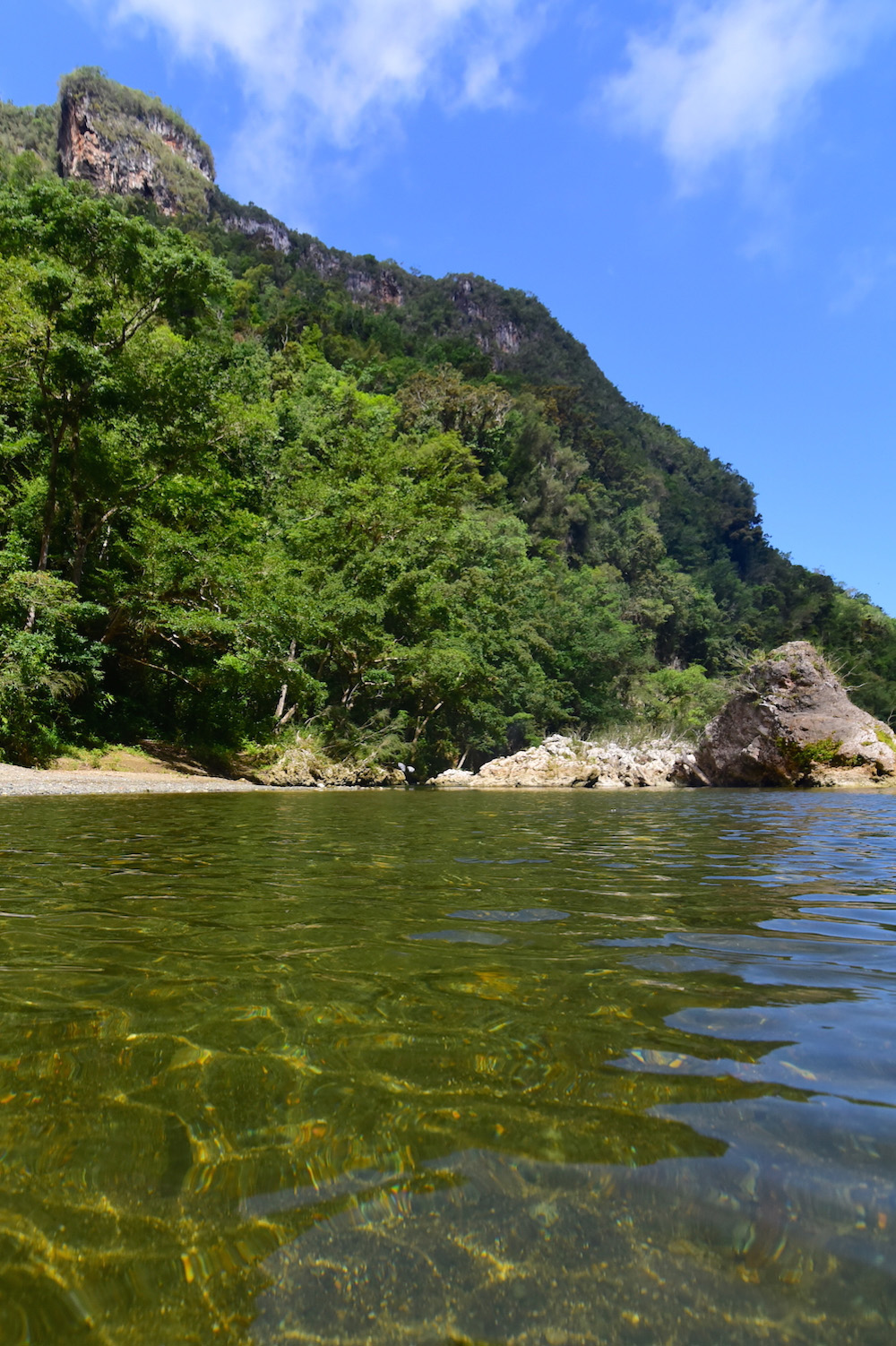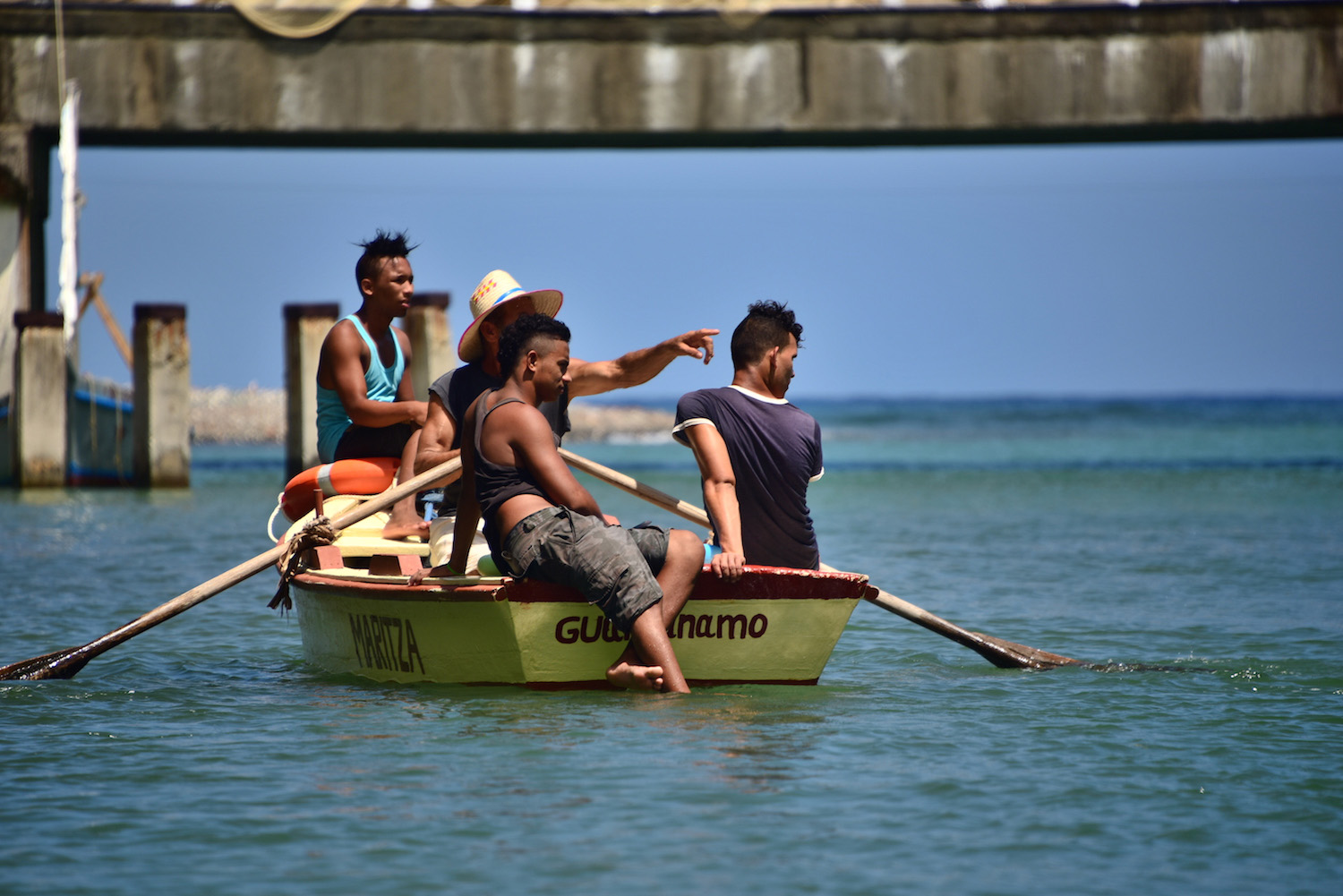 As Dora and I put our clothes on and followed Roberto back toward the car, I felt profoundly satisfied. I'd enjoyed a good swim and had not only hydrated with some coconut water, but had snacked on its tender meat – whatshisname had cut the fruit open once I finished drinking. It seemed almost too good to be true.
And it was.
After buttering me up with compliments about my horrid Spanish, the woman with the baby pivoted the conversation toward her. "Mañana es su compleaños," she explained as she pointed to her son – I assume her was her son. "Pero no tengo dinero por un regalo, ni ropa, ni zapatos."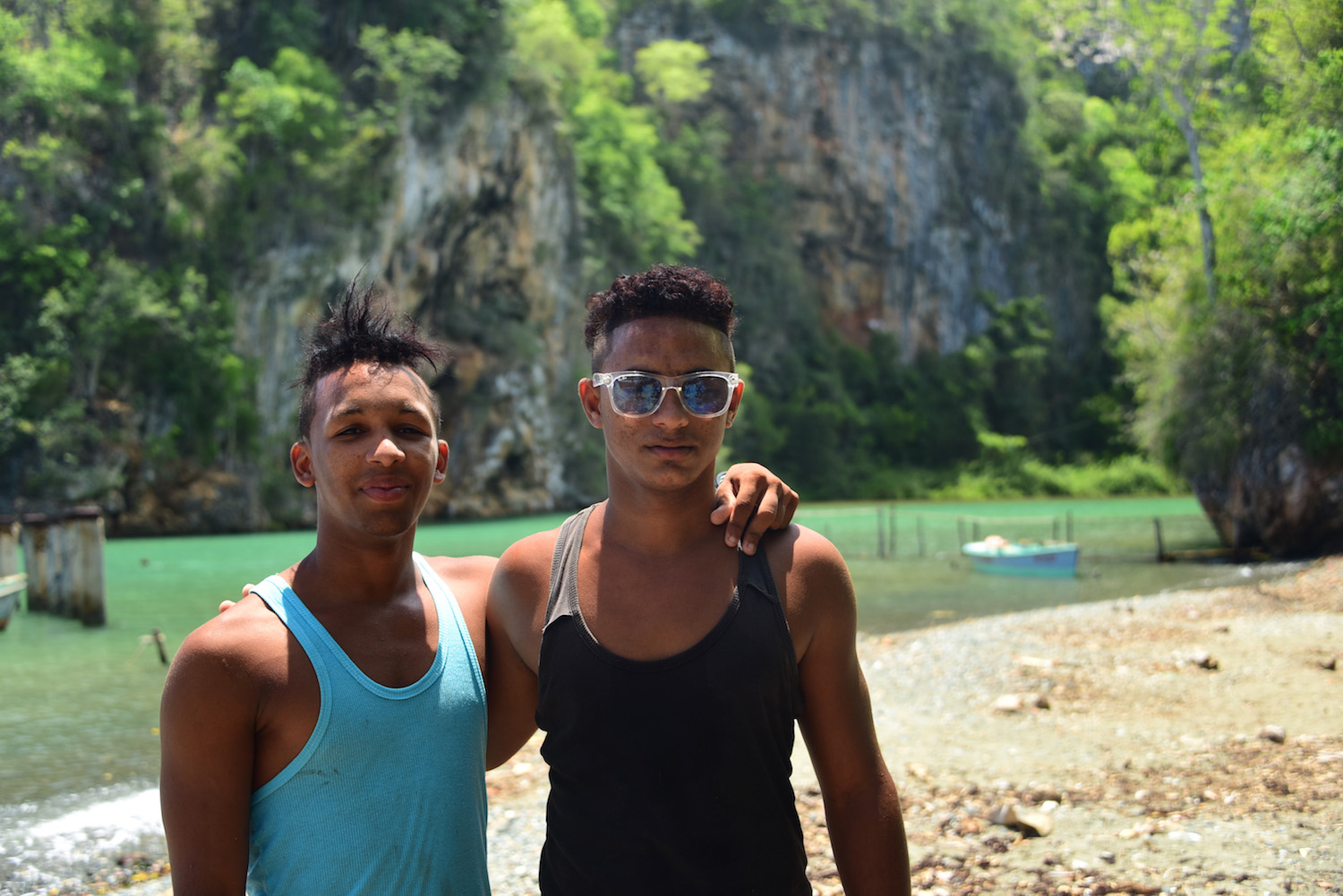 You had money for a manicure, I rolled my eyes, taking note of her shiny, red nails.
I attempted to dissuade her from harassing us by conversing exclusively with Dora, and exclusively in English, but my indifference to her made-up plight was no match for her tenacity: By the time we got back to the car, we'd each been shamed into giving the woman five pesos.
(My donation of a pair of sunglasses to the muchachos, however, was voluntary, maybe ever selfish – I just wanted to see how cute they looked in them.)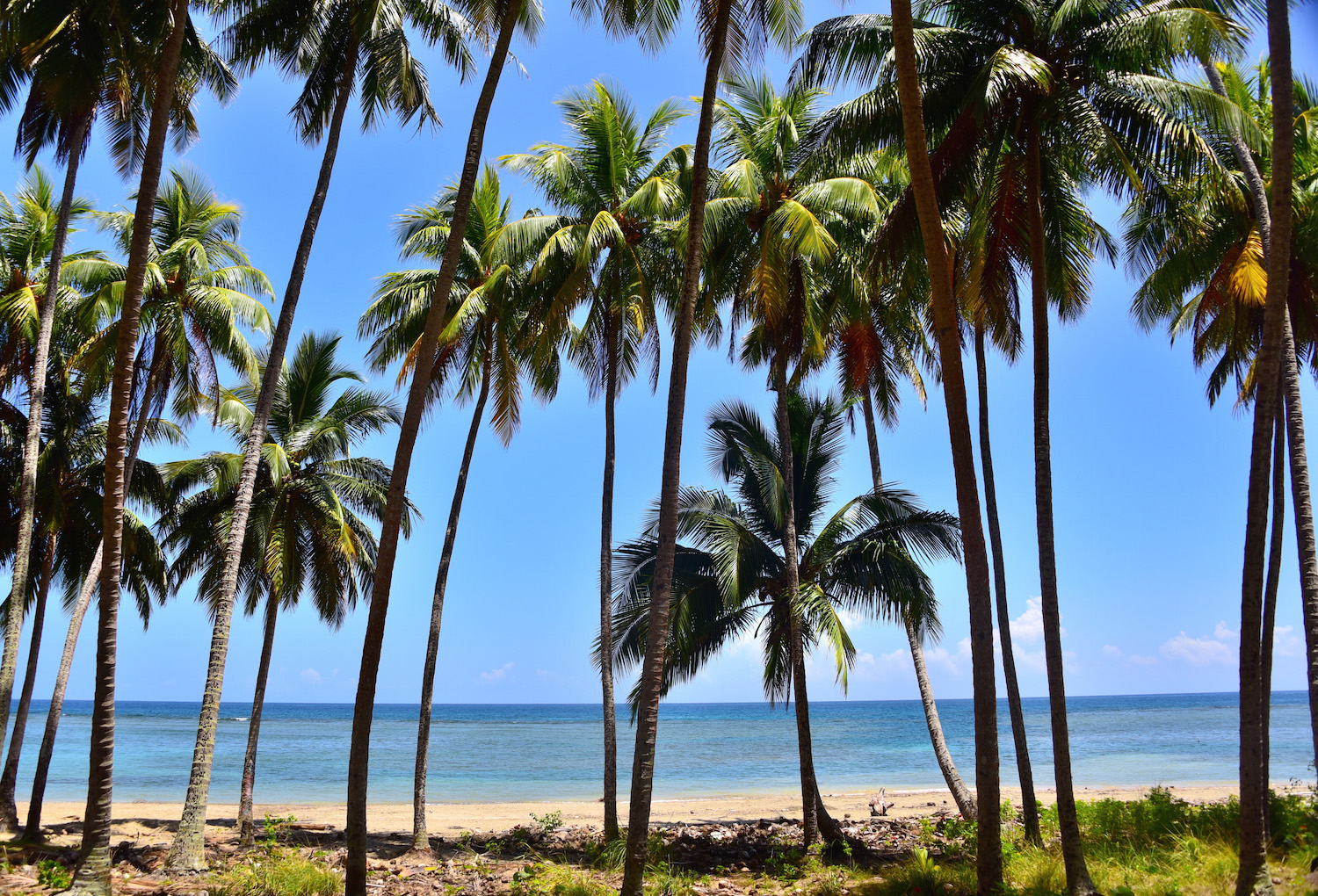 By the time we arrived at sleepy Playa Manglito, which I might add had been the only destination we actually wanted to visit during our excursion to Boca de Yumuri, we'd come to the unfortunate realization that even Pepino was not innocent when it came to hustling.
Although he'd made us believe the guide fee for the excursion (which lasted no more than an hour) would be negligible, cunning Roberto had attempted to charge us 30 pesos for his time, and it was only by begging Pepino to intervene – and ignoring how angry we were knowing he was certainly in on the heist – that we were able to negotiate a fairer rate.
Not surprisingly, the haranguing continued the moment we sat down on the black, volcanic sand.
We purchased two coffees to get the women who first approached us off our backs (and I got a massage – it's been nearly two weeks since I've felt the touch of another man), but when all was said and done, we enjoyed maybe five minutes completely alone at the beach – and that was only while we were far enough out in the water not to stand up anymore.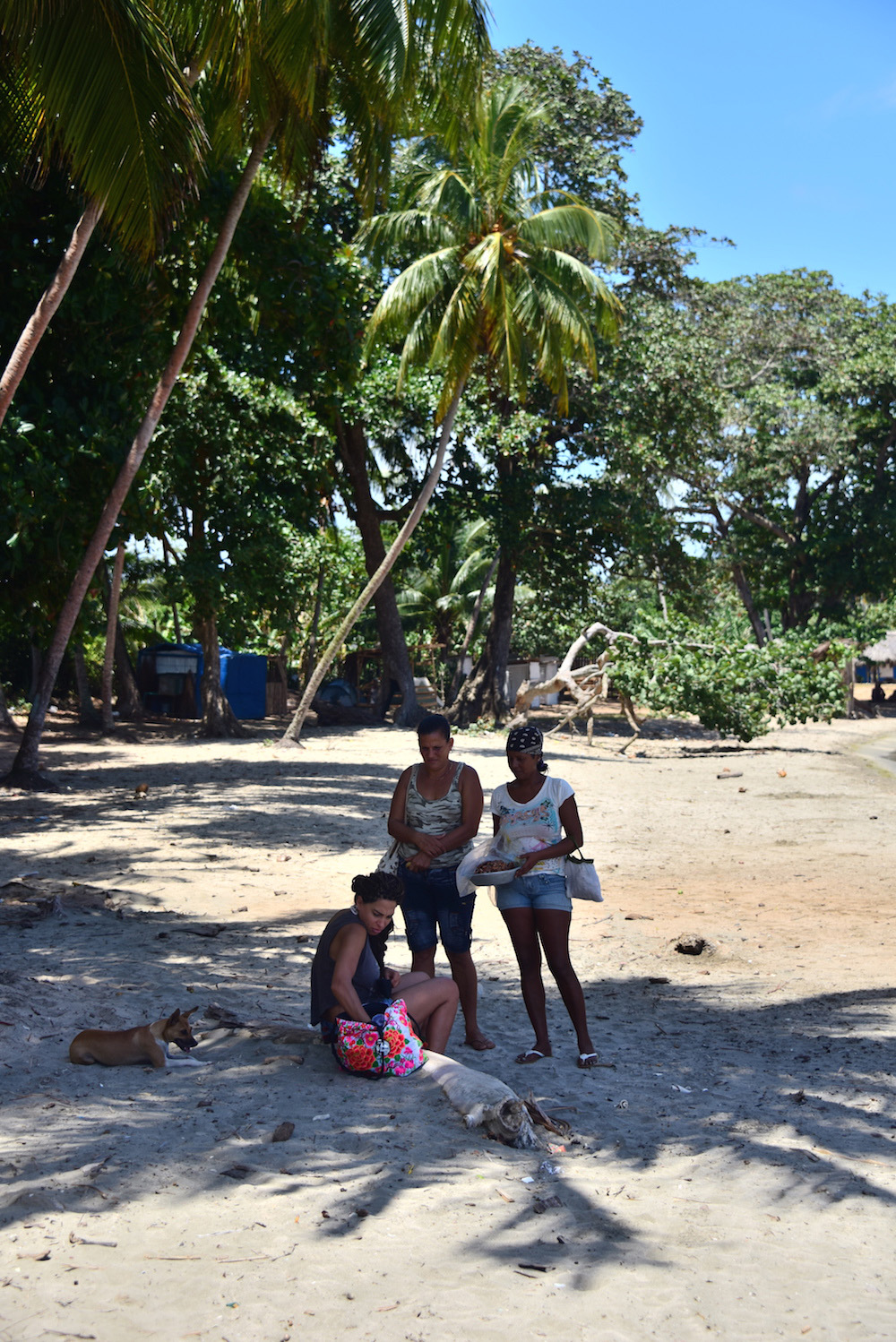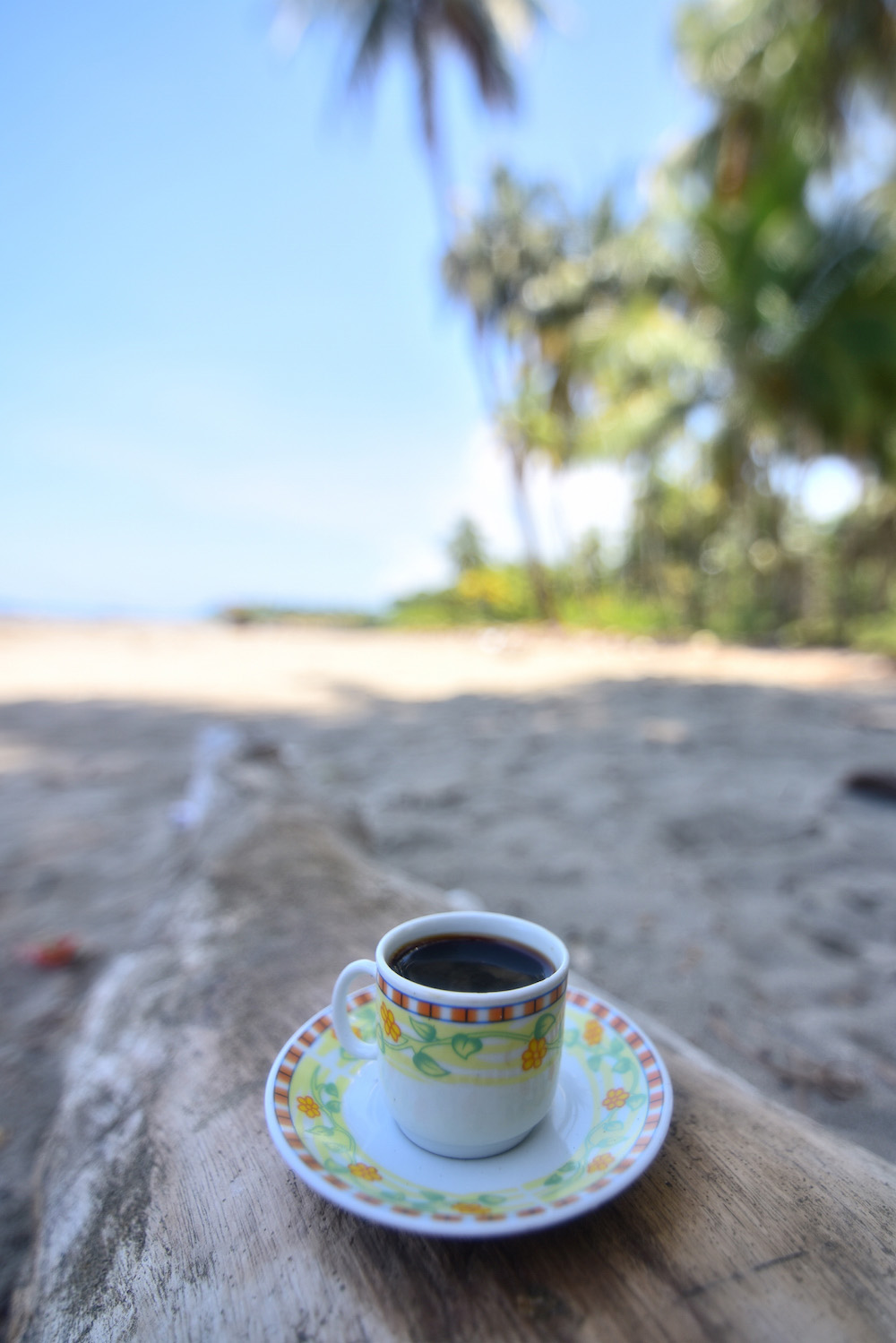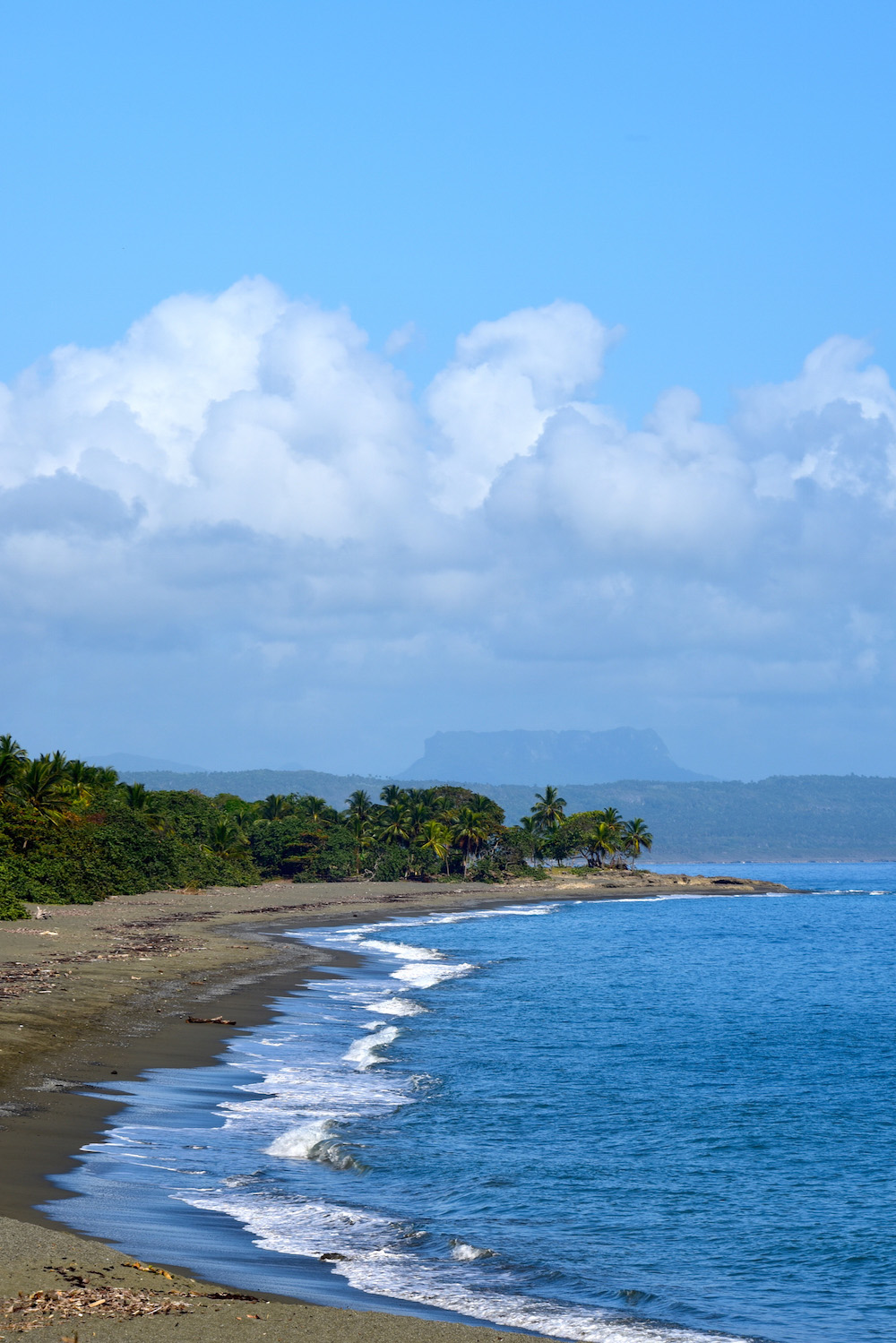 I don't begrudge the people of Baracoa for wanting to make a living – I certainly admire their grind. I empathize with their circumstances, too: In this part of Cuba, where the economy centers largely around coffee and chocolate products, families need to earn enough to live all year during a three-month growing season.
While I echo my earlier sadness at the thought of what Baracoa (which is presently among the most unspoiled places I've ever visited, with the exception of perhaps Indonesia's Raja Ampat) might become in the months and years following the arrival of Americans in Cuba en masse, I do know that the locals will welcome my fellow countrymen with open arms.
Baracoa might be the most remote part of Cuba, where Che Guevara's memory blazes as brightly as the sun above it, but as Castro's communism begins to crack, it seems to have the country's clearest economic forecast: Capitalism, with a hundred-percent chance of success.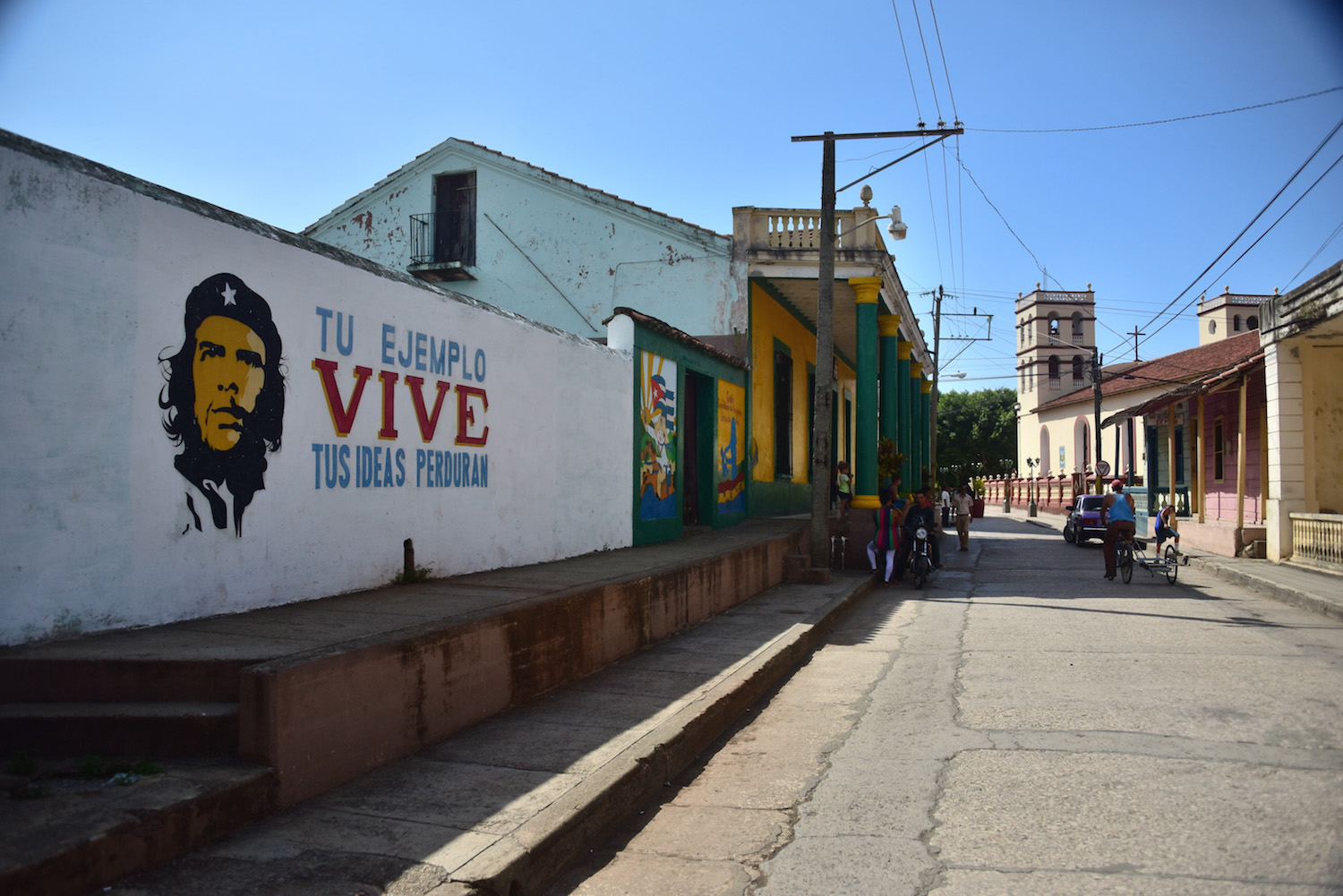 Share:

I had just feigned a perfect pout when the pudgy Frenchman grunted at his wife – he was clearly not satisfied by how long I was taking in the bell tower window.
"You should've seen how long I waited for the last guy," I mouthed off. "You can be patient."
The interaction left such a bad taste in my mouth, however that a grimace was the only expression I could muster in my self-portrait. I vacated the space immediately, hoping all three of us could forget the conflict.
But it wasn't three seconds into my next photo shoot, in the adjacent window, that the woman contributed her two cents. "Is this professional," she pointed to my tripod set up, which was likely the most complex in the entire city of Trinidad that day, "or are you just playing?"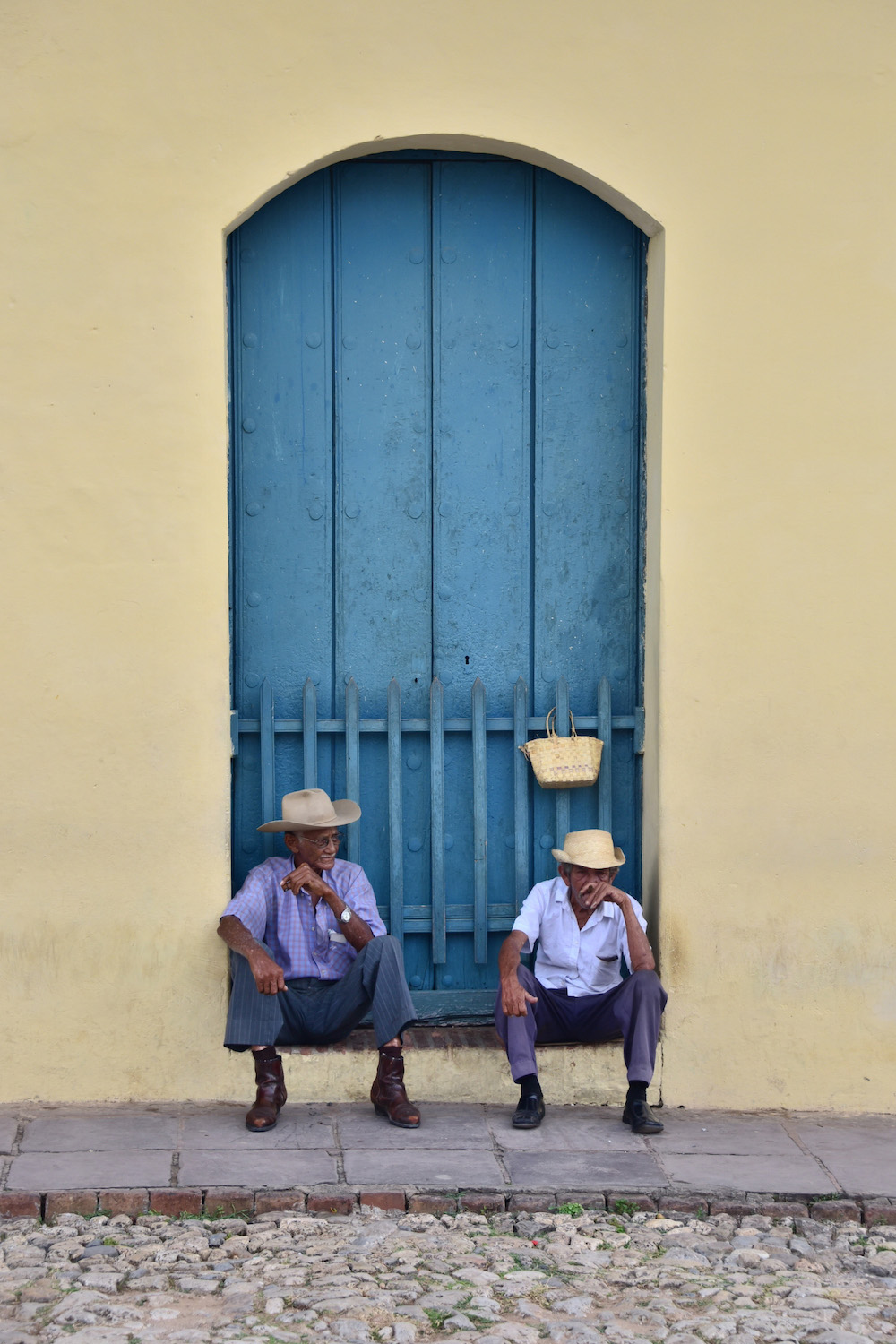 I rolled my eyes. "I am a professional," I explained, annoyed less by what she was saying, and more by the fact that my selfie had once against been interrupted. "But I carry a tripod and remote because members of the general public generally don't know how to use cameras like these."
She recoiled. "Oh, I wouldn't dare suggest me helping you out."
I felt like a genuinely shitty person in that moment, a fact that the moment or so of silence that followed it – and the woman's impossibly kind goodbye after that – compounded. It was such a stupid thing to get upset over, and an even stupider one to get mad about. It was a stupid situation and I felt like a stupid person.
"I think it's because this is a tourist town," I explained to Dora as we sipped coffee on one of Trinidad's rooftops, breathtaking panoramas around us in each direction, "and we're all 'competing' for the same thing, as it were."
"Selfies?" she snapped one with her iPhone.
"Well, that too." Just then, I noticed the couple – that couple – was walking up the stairs toward our table.
Once I was certain they weren't going to confront me, I continued. "But I mean yes, we all want postcard-perfect pictures – and selfies – and evidently, we all want to have coffee on the same rooftop restaurant, with the same traditional Cuban band playing.
"And Trinidad's tourist potential, unlike in Havana or even Vinales, is being fully capitalized on," I concluded. "Which means that the stuff in the city everyone wants is finite – the more people there are here, the less there is to go around."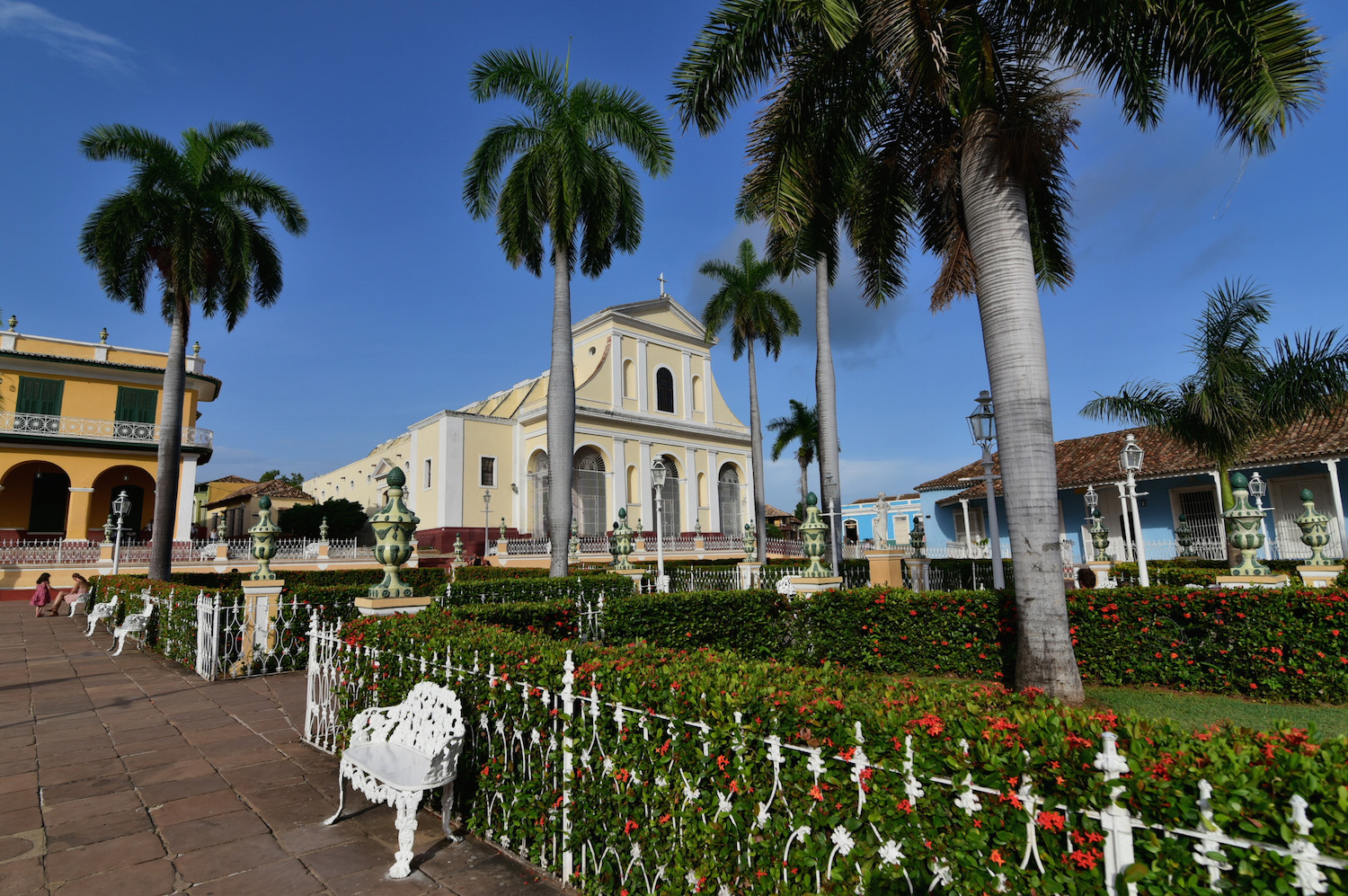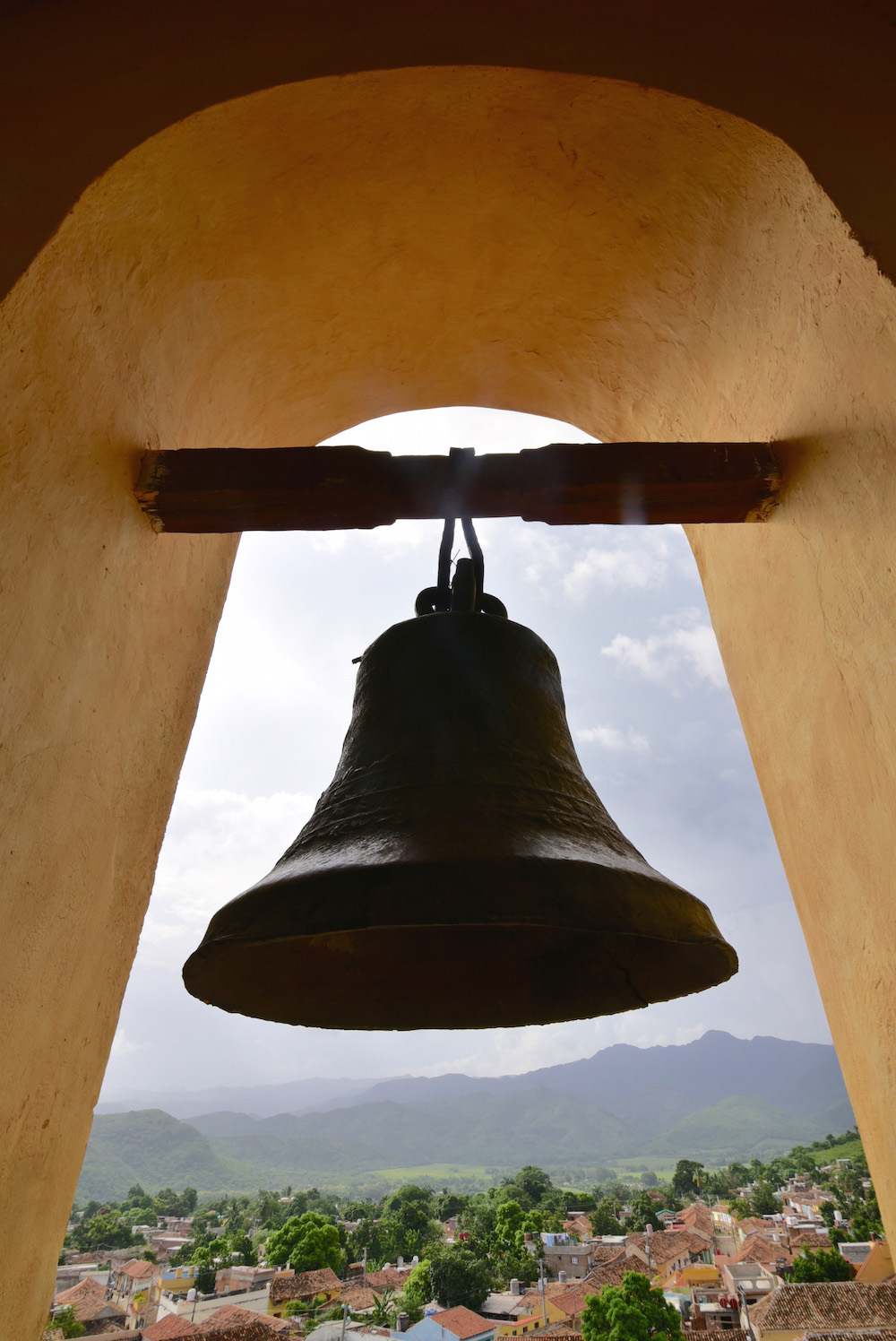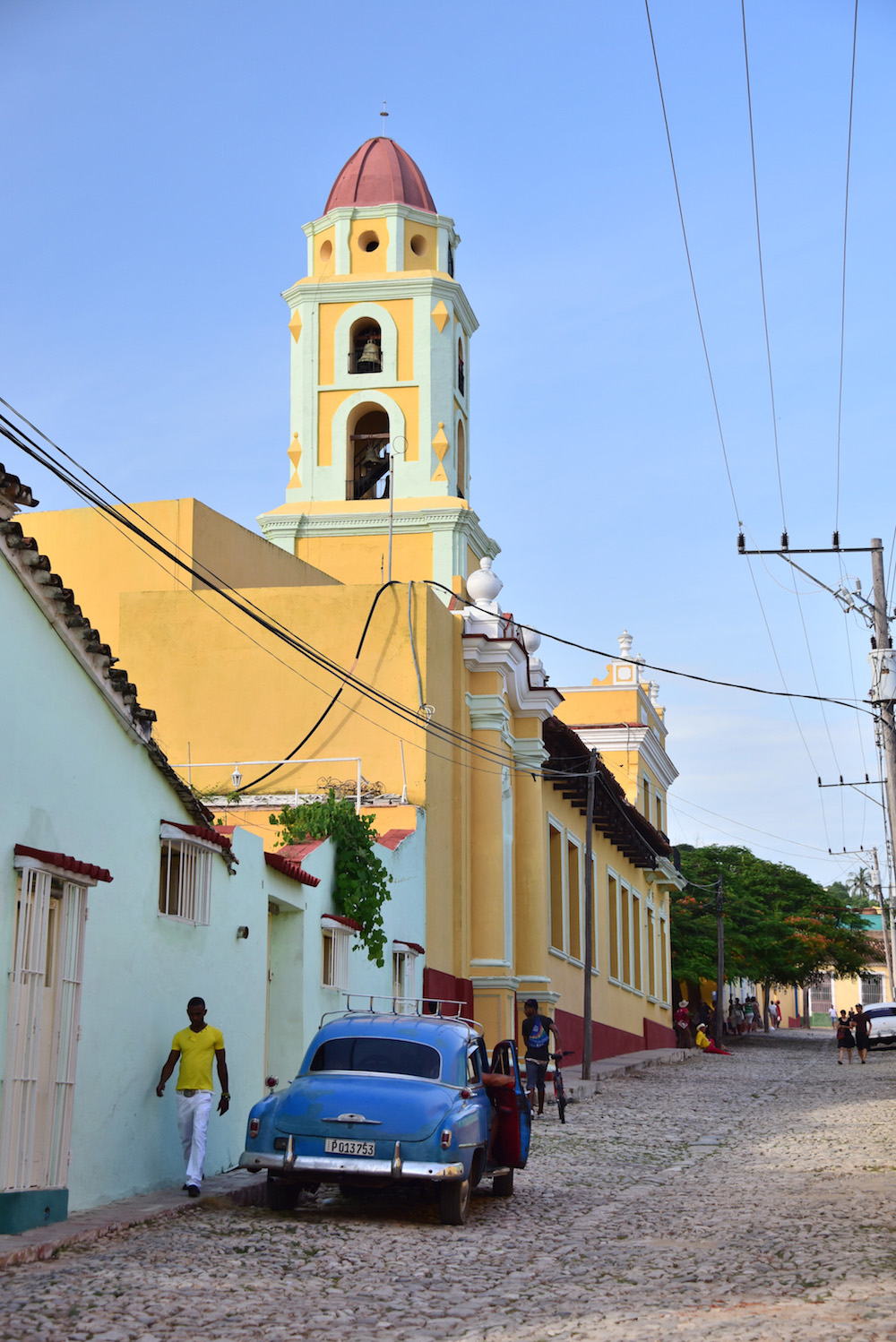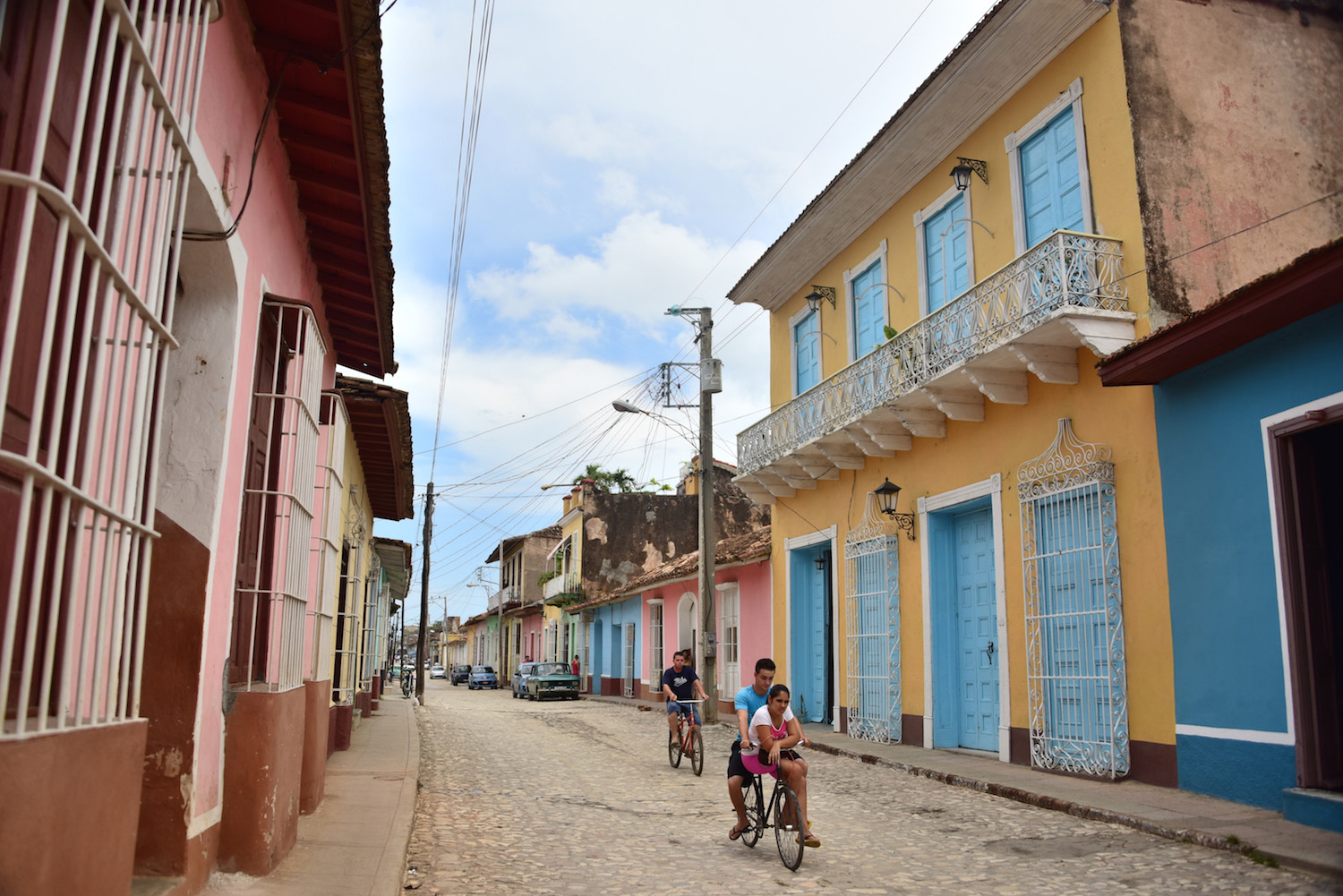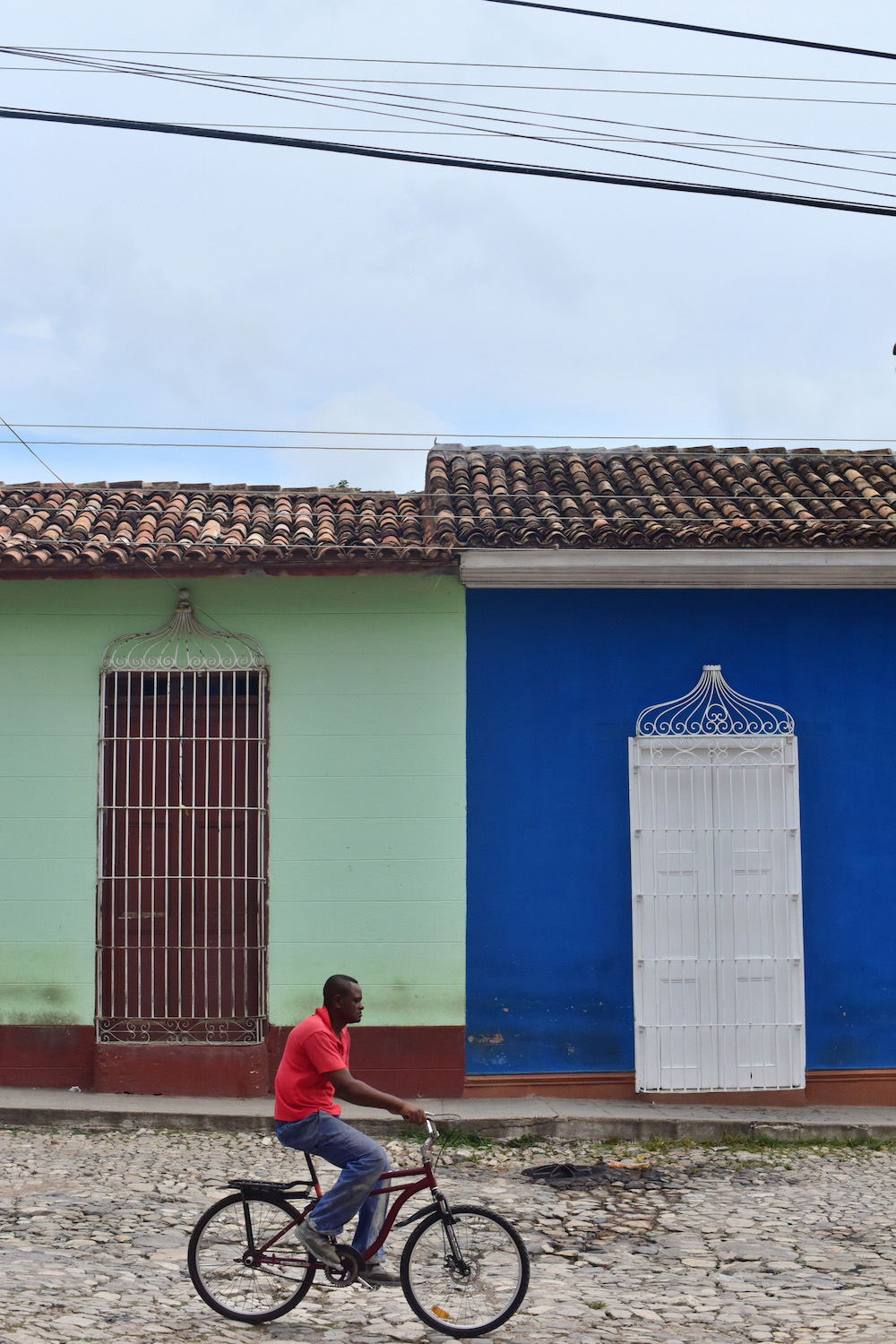 That's no excuse for the way you reacted, I scolded myself, as Dora returned to her own selfie.
I considered walking over to the couple's table at many points during the course of the several coffees Dora and I downed, but couldn't summon the courage.
Especially, I noted, as they disappeared and I lost the chance to right my wrong, since you aren't actually sorry.
"You've spent a lot of time by that tree," Dora said, as she puffed her cigar and turned the page of Jonathan Franzen's Freedom, which she's been attempting to get into for our entire trip. "Did you get any good shots?"
I fiddled with my tripod's height, then moved it to an ever-so-slightly different spot in the sand. "I'm having a difficult time composing it in an interesting way," I flipped through the last few selfies I'd taken. "The palm fronds aren't framing me quite right."
After a long walk down Playa Ancon, located about 15 minutes south of Trinidad on a narrow peninsula of the same name, I'd been intrigued enough by the stubby palm to decide it was where we should make our home for the day. But something about the beach just wasn't impressing me.
It wasn't nearly as disappointing as Cayo Jutia, to be sure, nor was the weather bad, even if the sky wasn't yet as vivid and dramatic as I'd hoped it would be.
"I just need to wait for better lighting," I concluded, and flagged down the man who'd been harassing us to buy fresh coconuts from him. "In the meantime, let's hydrate."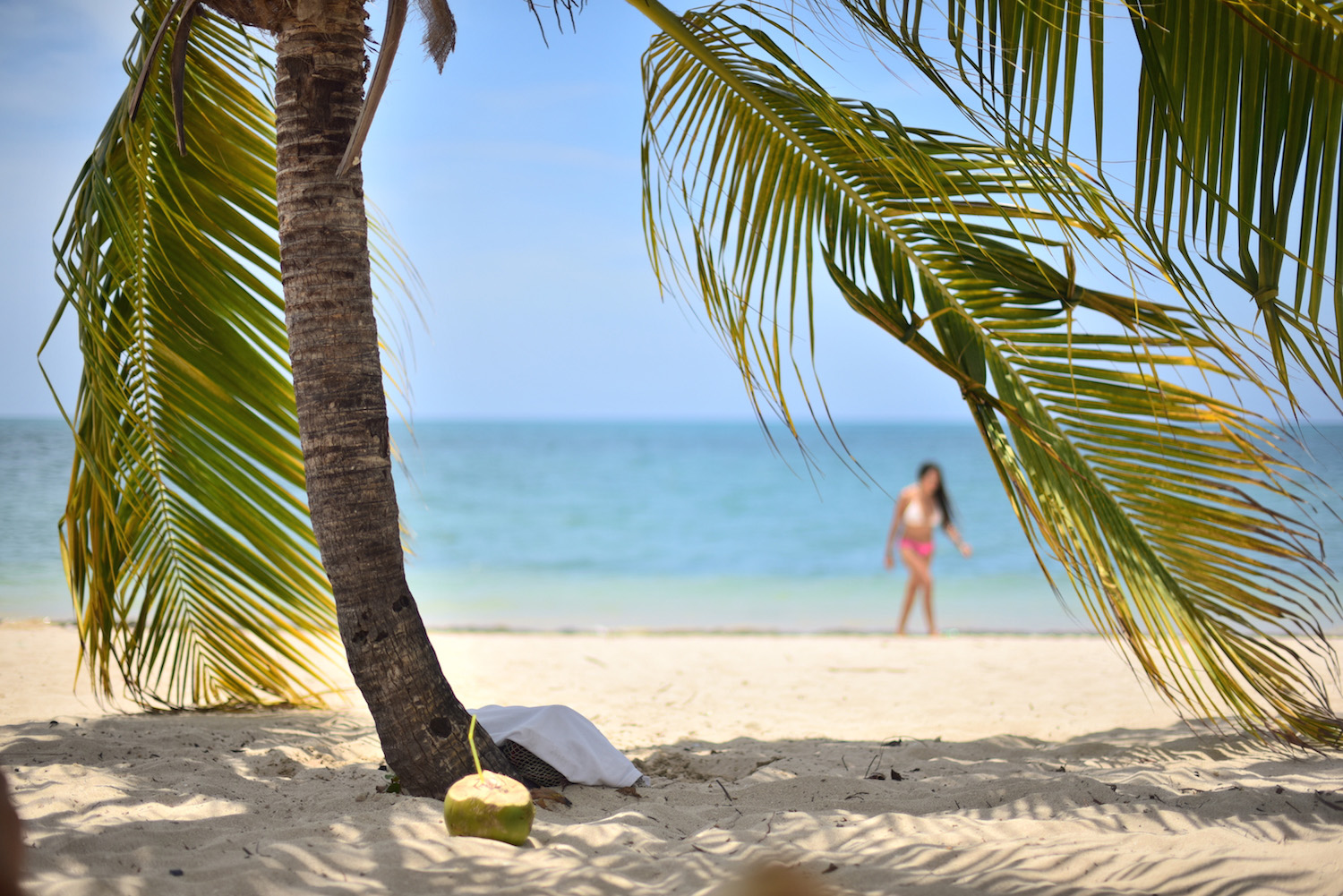 The coconuts in Cuba aren't terribly juicy, which means they only last one or two good sucks on the straw. By that time it was barely 10 a.m., which means that I had at least two hours before the sun would be at the position in the sky where I wanted it. So, I took a walk.
One thing that has surprised me during this trip, on the rare occasions Dora and I have split up for any length of time, is how differently I'm treated as a single traveler, rather than part of a "couple," which is what most people assume we are.
My decision to walk down the beach with my camera in tow clearly weirded out the majority of Cuban beachgoers – and this was Saturday, so there were a ton – even though I was clearly never zooming in on any one person, or people in general. I had my wide-angle lens on, although I suppose it's foolish of me to expect anyone to realize that.
Contrast this with how little mind anyone paid me as Dora and I had first made our way down the beach, however, and it's clear that it wasn't just my imagination. It's unfortunate that the sight of a single man (read: not a boy) with a camera makes so many beachgoers uncomfortable, seeing how this – a single man with a camera – is my favorite travel costume.
Oh well. Fuck them.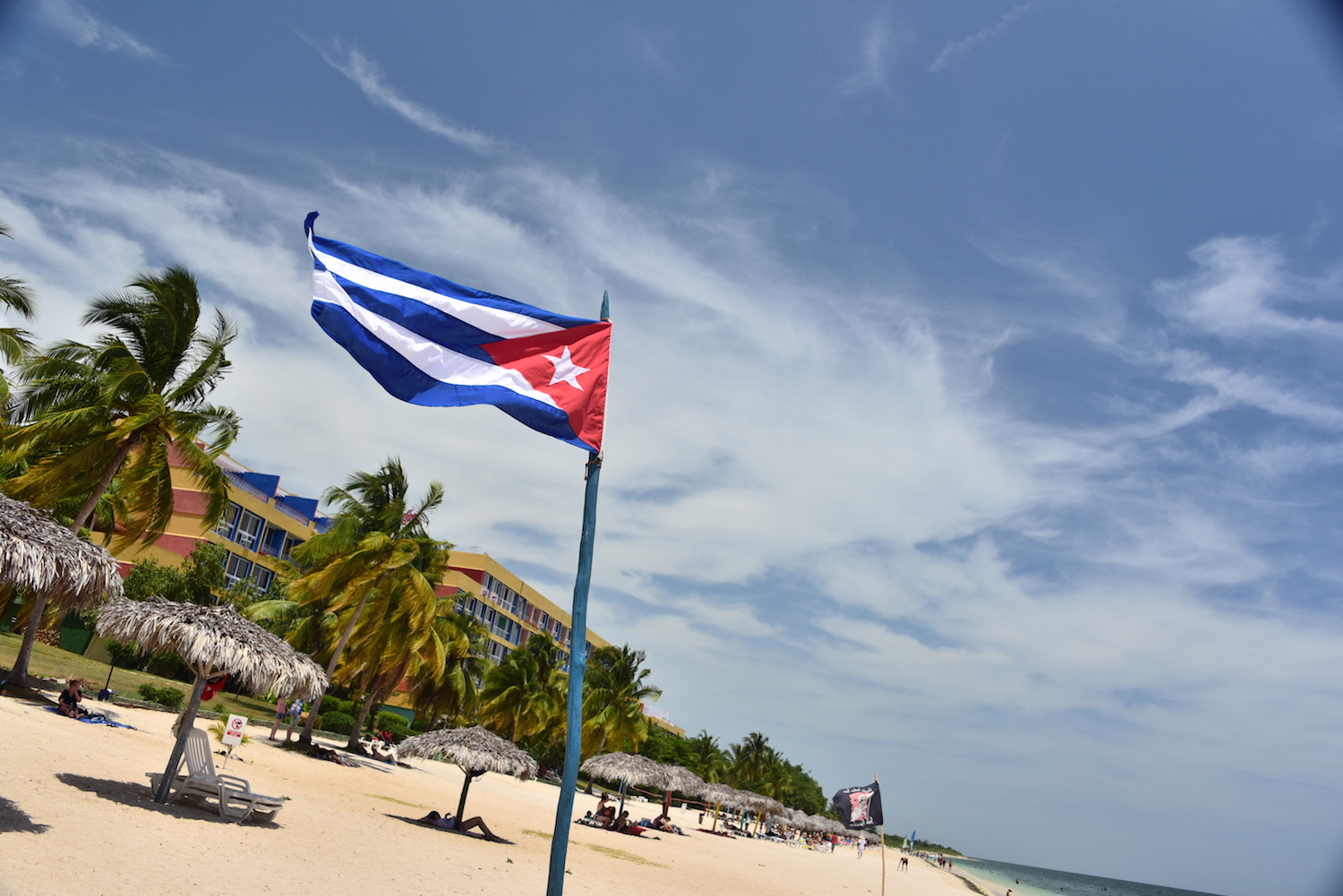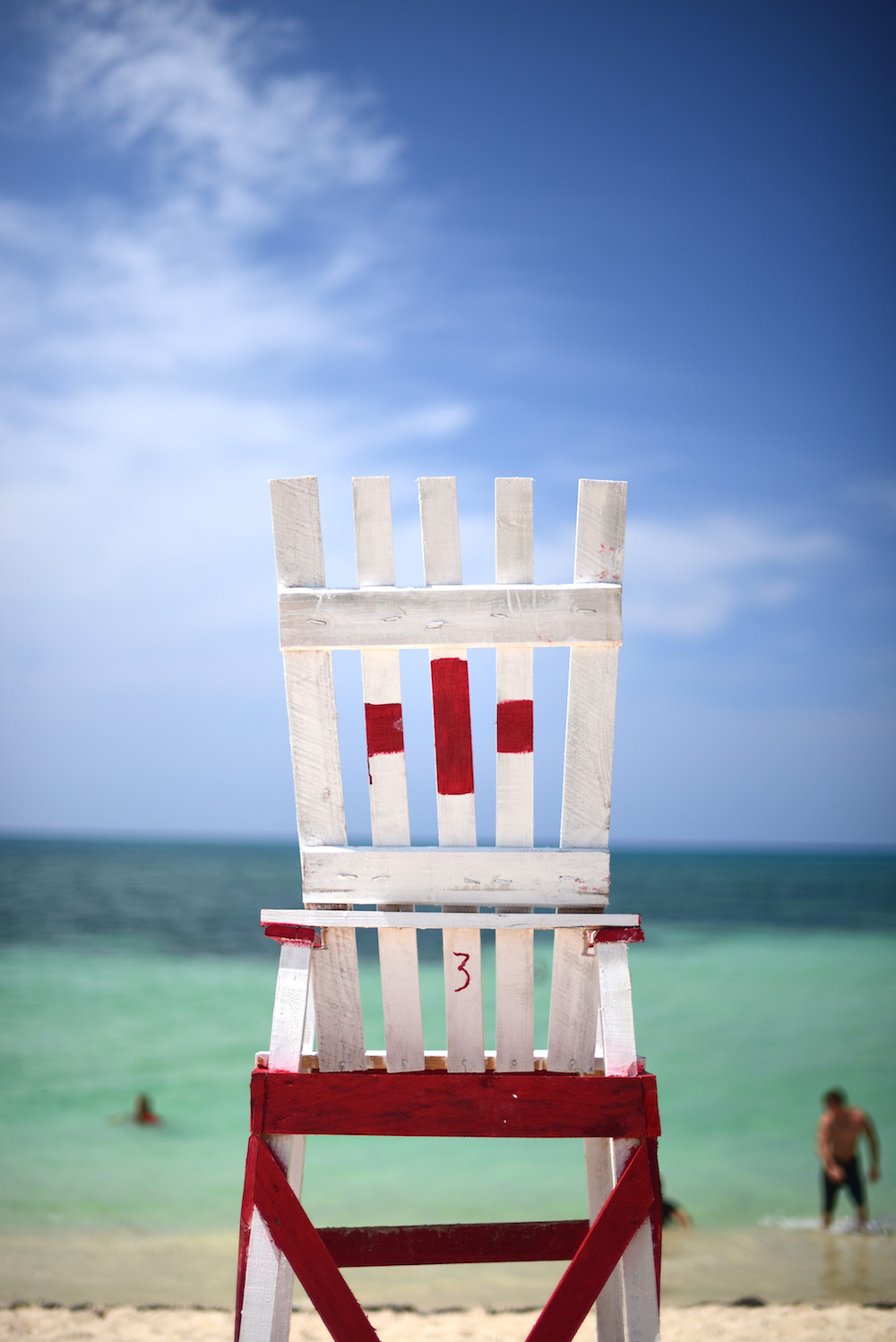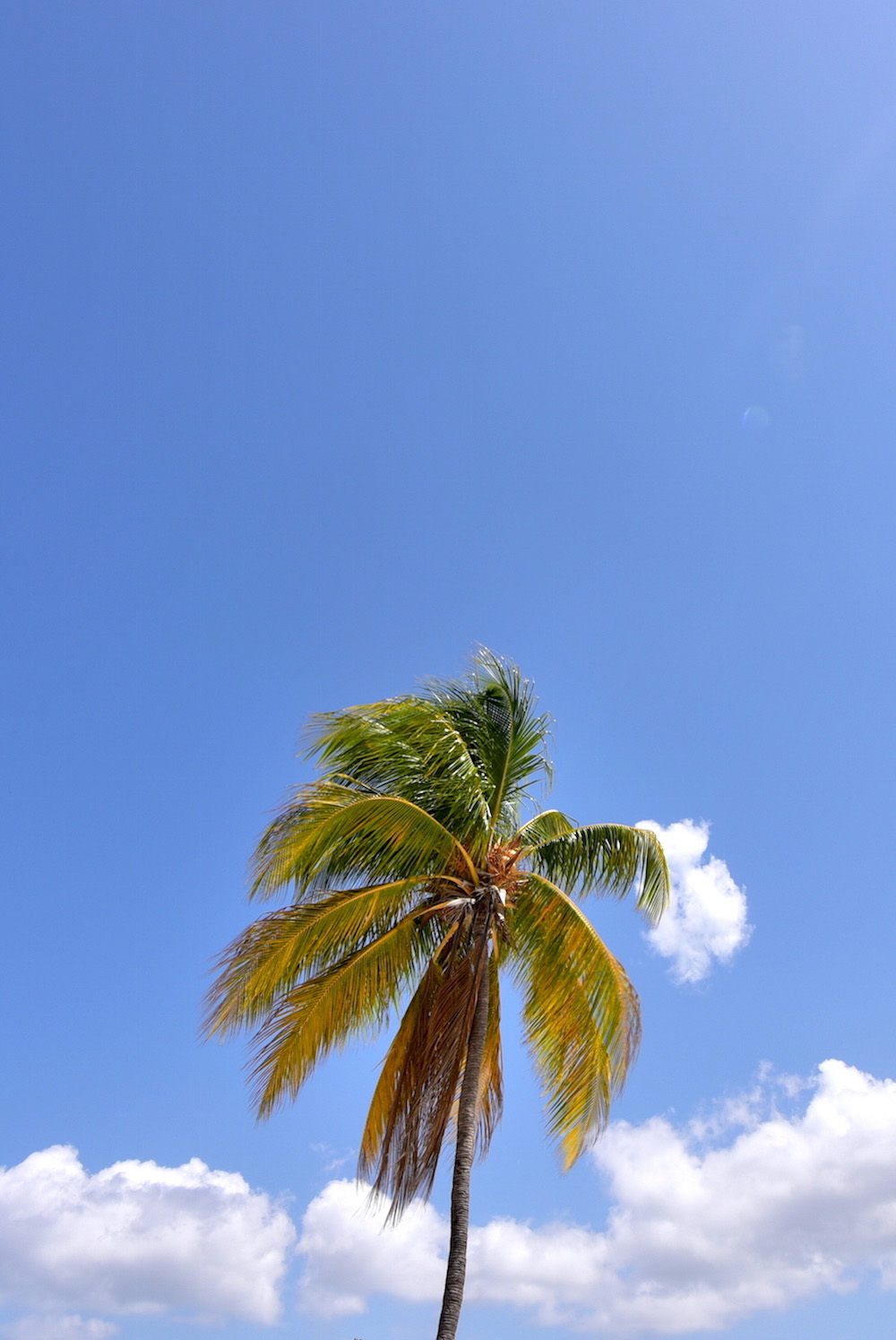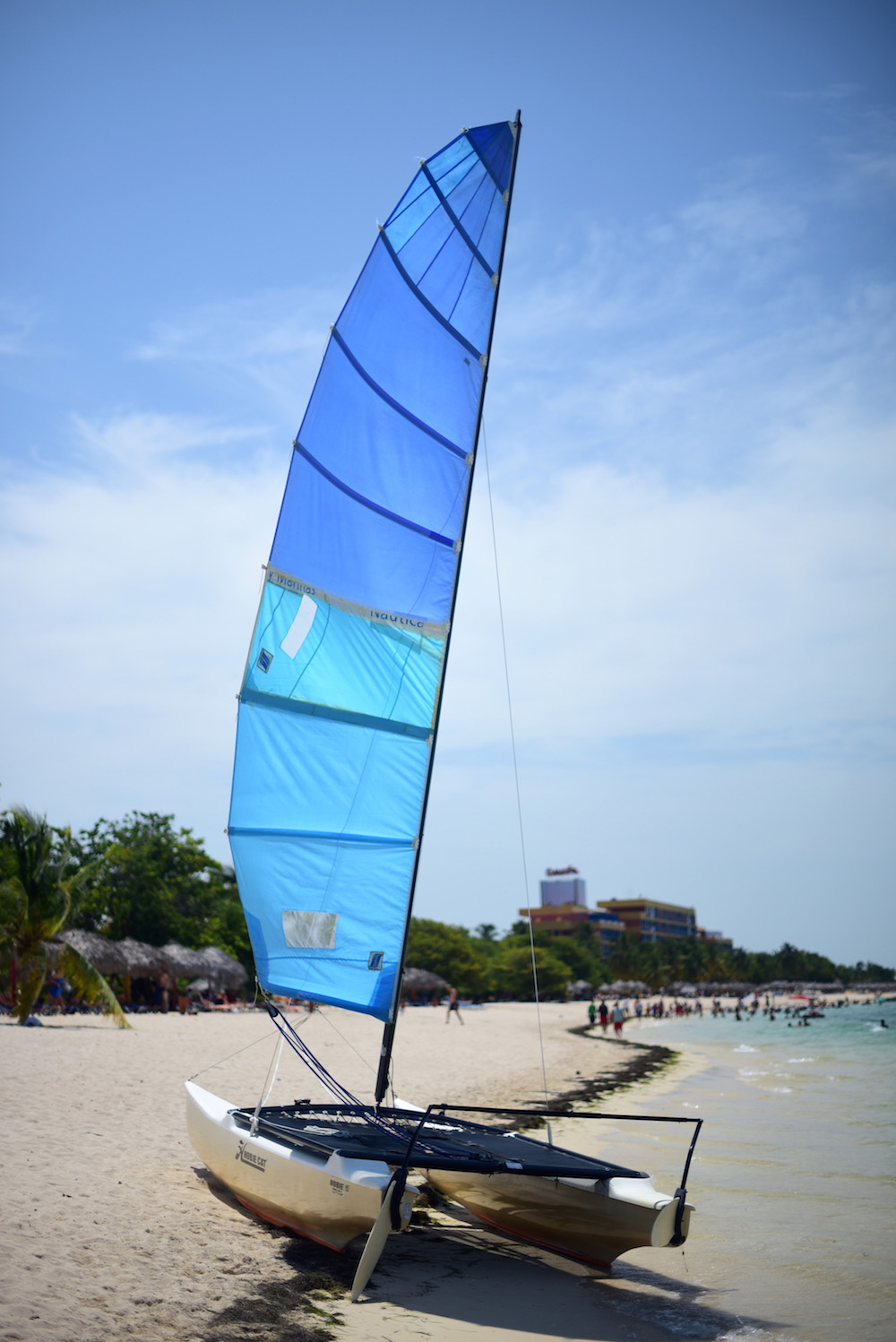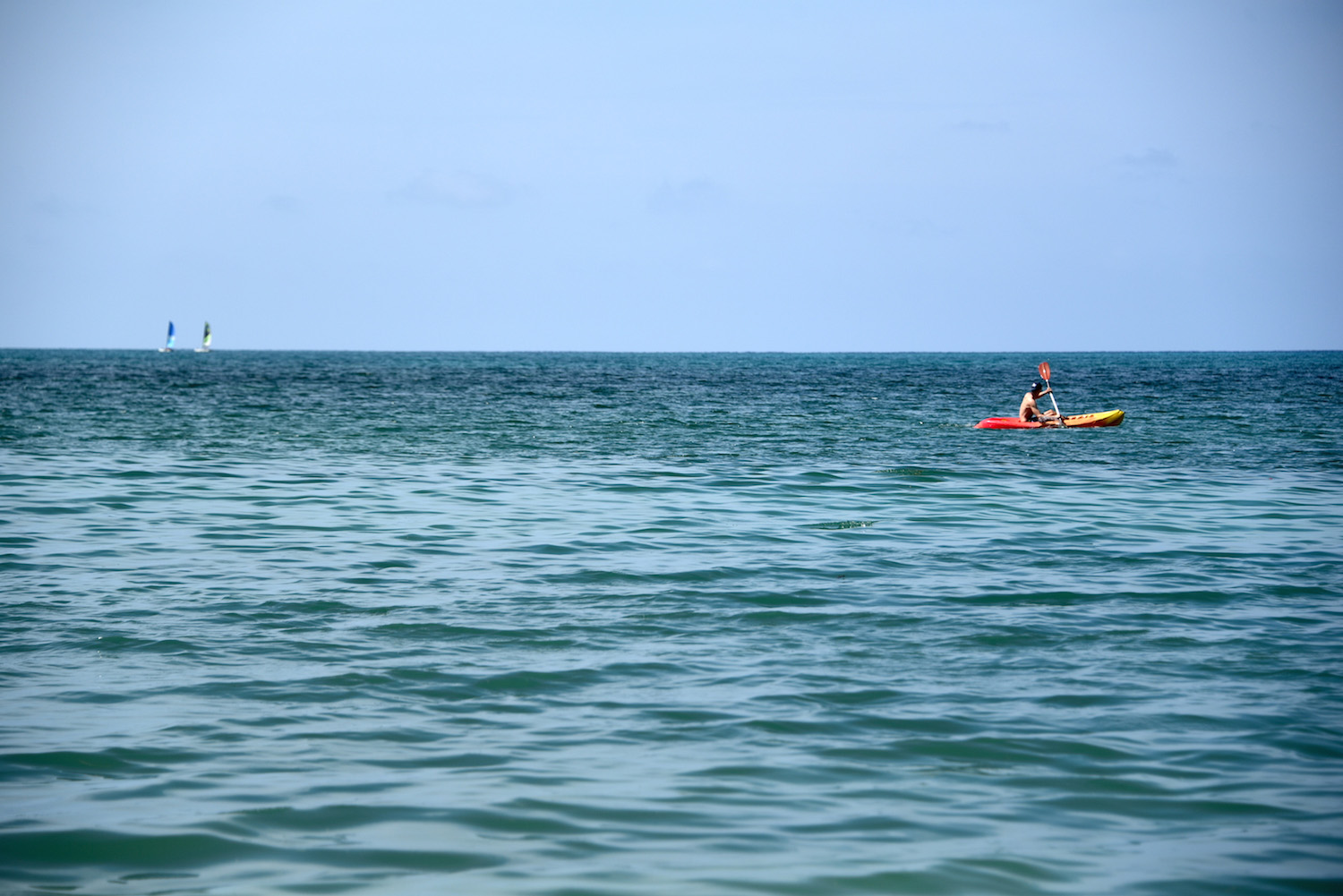 Literally, in some cases. Who the fuck is that? I thought I was going to literally start salivating as the God-like man strutted by in his black speedo, the only thing more magnificent than his beard his pectoral muscles, the only thing more magnificent than those…well, didn't I just get finished decrying the label of "creepy guy with the camera"?
In any case, I was back at the palm tree, whose fronds the improved lighting had made glow near-neon green, a hue that perfectly complemented the water, which was now practically incandescent, and the deep, indigo sky.
"Any luck now?"
"Almost," I said, setting the focus and pressing the shutter button to start the self-timer. "I just need my pose to look more natural in this one," I put myself into position, "and I'll be good."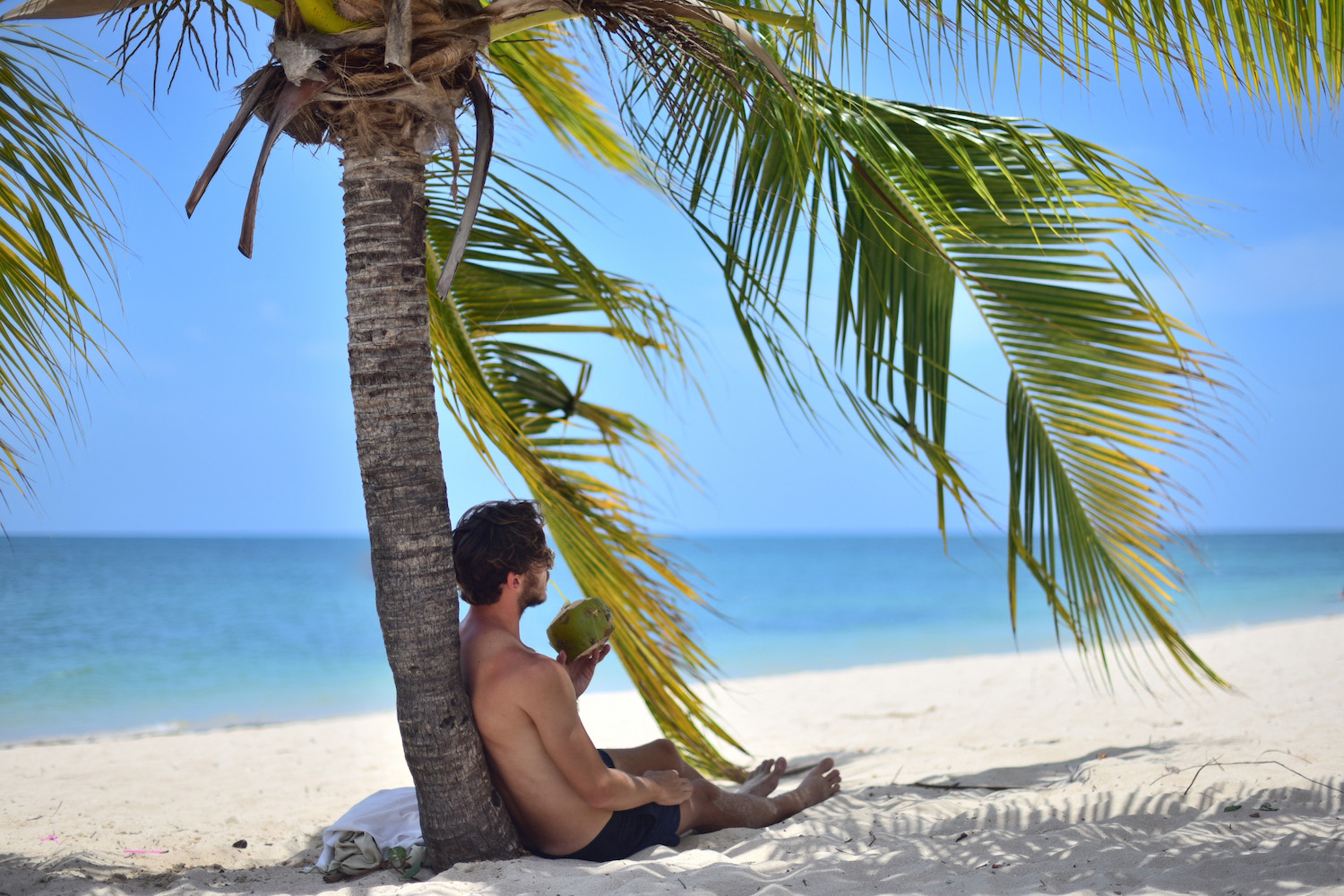 The shutter went off six times as I sat under the palm tree, pretending to drink from my long-depleted coconut, and looking off into the distance toward the man I wished I had the balls to approach.
The good news is that he probably wasn't Cuban, news that's only "good" due to Cuban's obsession with machismo – even more, in my experience thus far, than in any other Latin American country I've visited, which is saying something – and aversion to any male sexuality that doesn't totally objectify females.
The bad news, his banana hammock and his keen awareness of his sexiness notwithstanding, is that he probably didn't play for my team. I based this assumption less on any solid facts I had and more on mathematics: The vast, vast majority of men in the world are completely straight – it's one of the most unfortunate things I've discovered traveling the world the past decade.
Even though I knew I wouldn't so much as make eye contact with the man, I decided to swim out to where he was floating, on the off chance he felt like approaching me.
Who the fuck am I kidding? I sighed and begin paddling back toward the shore. That man wouldn't look at me if I was up in his face.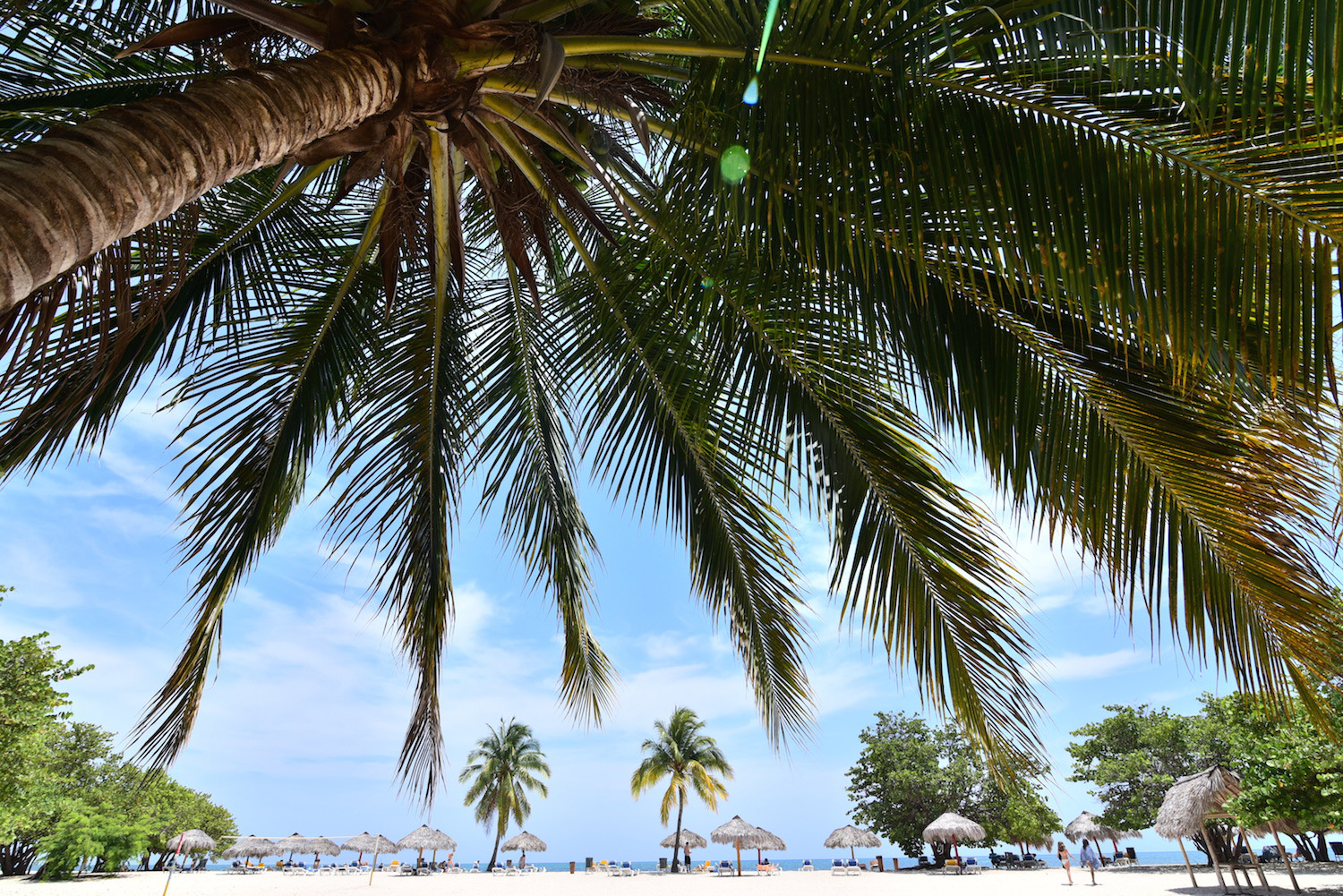 "You don't need to pay now," the young waiter said as he cleared away our empty glasses of sugar cane juice. "After the waterfall, when you come back for lunch."
Dora put away her cash. "That's nice of him – you don't hear that a lot around these parts."
I don't think he's just being nice, I thought as he winked back at me, not that I dared mention that out loud. "Yeah, especially considering how many tourists pass through here."
We were on our way to a waterfall the owner of our casa in Trinidad had been going on about for days and days, a caballo, as he suggested.
Unfortunately, the horseback ride left something to be desired.
"I hate to compare this to the ride we took with Domingo," Dora said as she was mounting her horse.
I made my on to mine. "But it's inevitable – the excursion he took us on was better in every way – certainly more special.
"I mean it's beautiful here, don't get me wrong," I continued. "But this horse isn't even comfortable."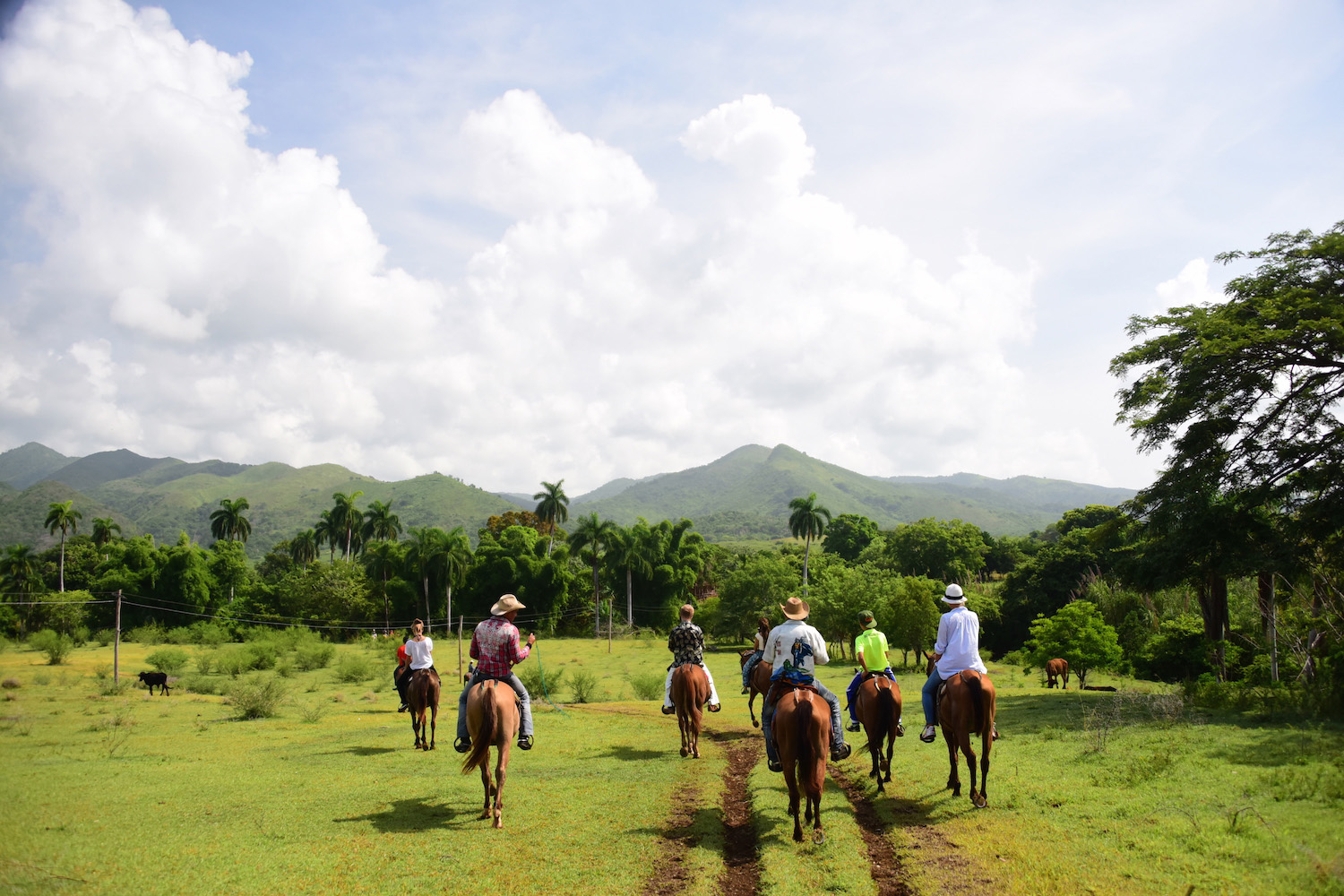 Dora cringed as her horse began to gallop at a decent pace, her breasts bouncing up and down like coconuts from a shaking palm tree. "At least you're not a girl."
I might not be a girl, but riding a horse – this horse, in particular – evokes a certain something some of you ladies might be familiar with.
How do I put this in an un-crude way? It's like, for those of you who've been penetrated by someone else, imagine a partner who's really poorly endowed. Ever had one of those? You can barely feel anything, except his public bone crashing up against your pelvis.
That was what this horse felt like, to say nothing of the slavery horseback riding constitutes, for horses, anyway. People have criticized me for visiting tiger temples and elephant orphanages but for me, the indentured servitude of horses is a much more serious offense, if only because of its ubiquity.
It was especially disappointing, and not just because the pain of riding the horse prevented me from fully appreciating the splendid scenery around me: Rolling mountains carpeted in emerald; colorful farmhouses and wild livestock dotted all around; and strange, colorful flowers I've never seen anywhere else.
Those I'll remember especially: They were covered in thorns and one cut me.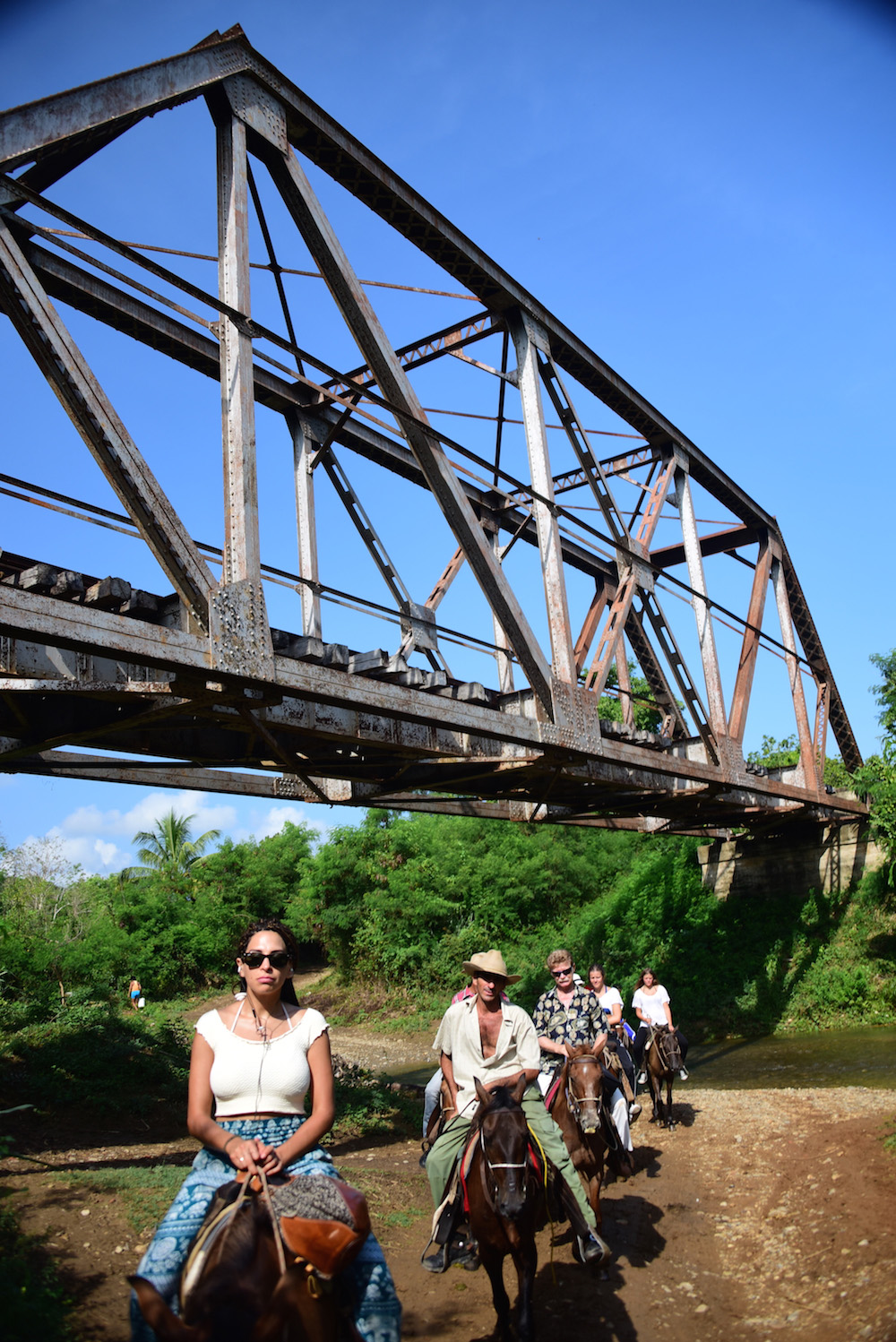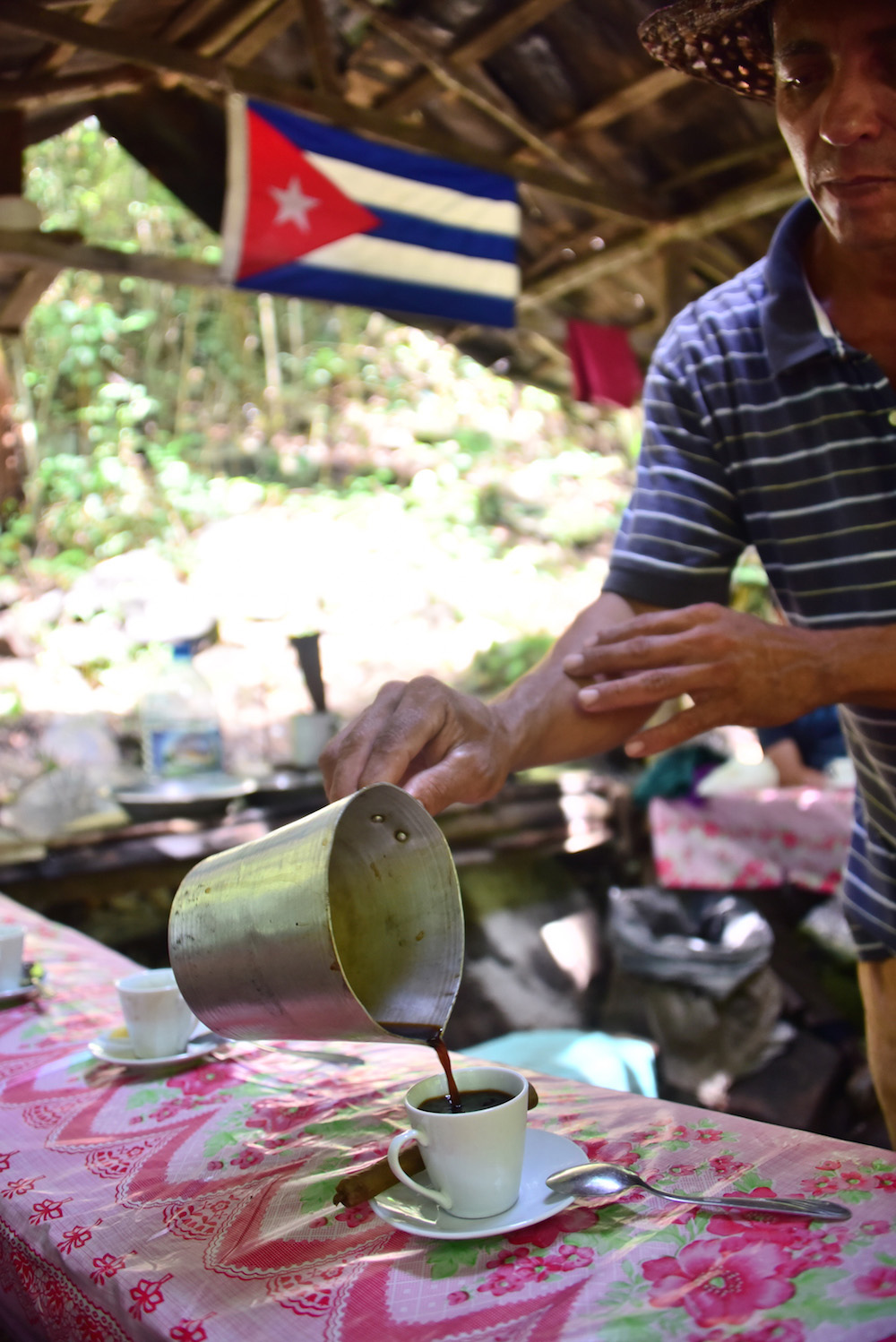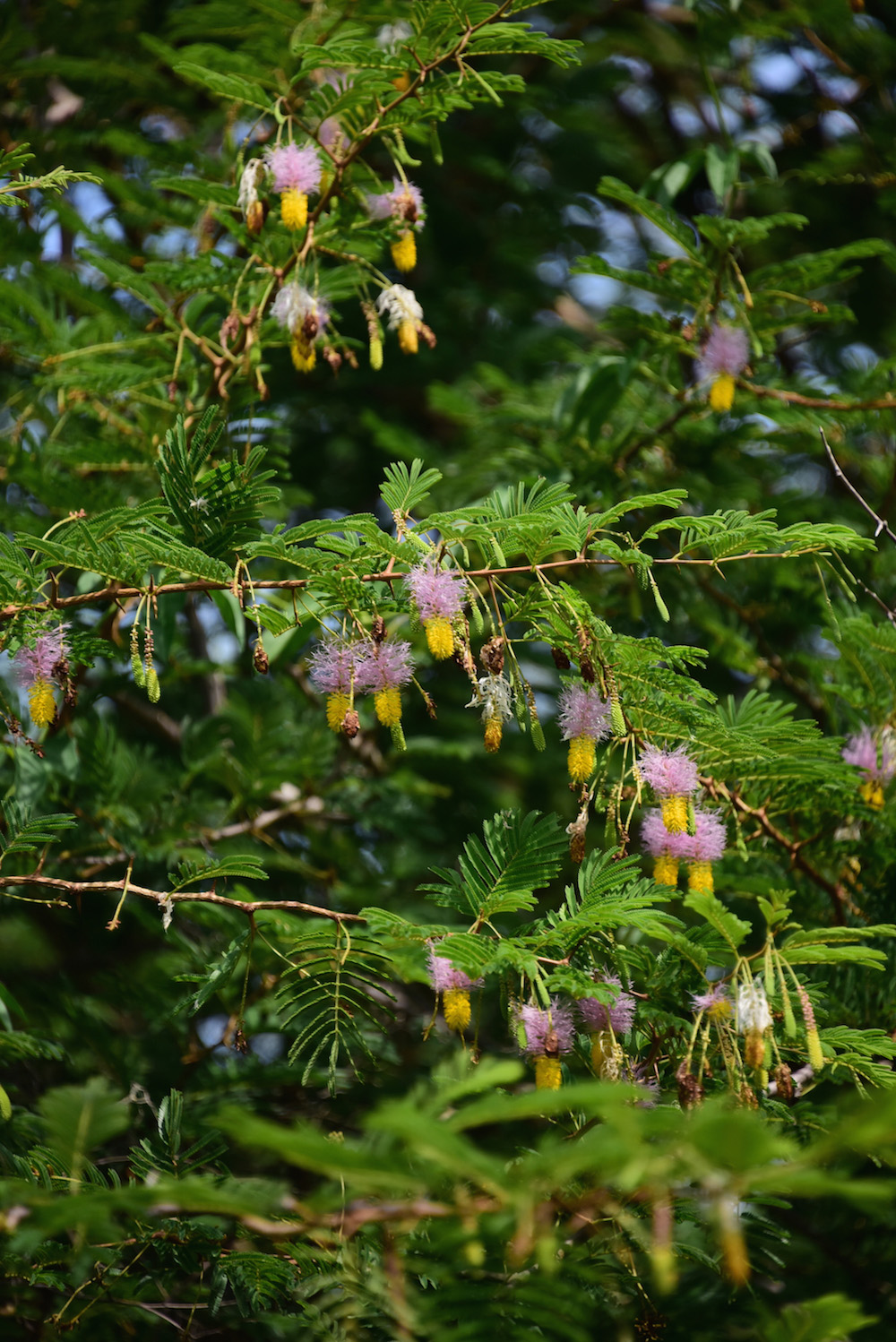 When we finally arrived at the waterfall, Dora sat down on the first rock she could find a lit up a cigar. "That's the cascada Jorge hasn't been able to shut up about?
"It's not terrible," I removed my shoes and shirt, then made my way toward the pool at the bottom of the waterfall.
"It's definitely not worth all the hype he built up around it," Dora said, taking a deep puff and blowing out plumes of smoke.
I splashed her. "Are you going to get in?"
She got our her book. "I'm good."
The waterfall was beautiful, two-tiered with a brilliant turquoise pools at the bottom of each cascade, with dramatic cliffs covered in lush vegetation around it on all sides. Was it the most spectacular waterfall I'd ever seen? Absolutely not. But it was fucking beautiful, and that's always enough for me.
Indeed, it wasn't so much the waterfall or the surrounding scenery that soiled the experience – at least not the natural scenery. It's that there were no less than 100 tourists crowding the pools, most of them totally wasted off rum drinks from the stand one of Cuba's countless communist entrepreneurs had set up.
It presents an interesting picture of what more-developed tourism in Cuba might look like, especially considering my previous experience in Trinidad itself. I imagined the special excursion Domingo had taken us on back in Viñales marketed and commoditized and became deeply sad.
I swam for about 15 more minutes, at which point Dora was more than ready to go. Just as we began walking back toward the area where our horses were parked, I noticed a familiar – and extremely sexy – set of eyes.
I tapped Dora on the shoulder "Did you see who that was?"
She shook her head.
"It was that hot guy from the restaurant on the Malecon in Havana the first night."
She chuckled. "You mean that night the senior-citizen tried to pick you up?
I didn't laugh.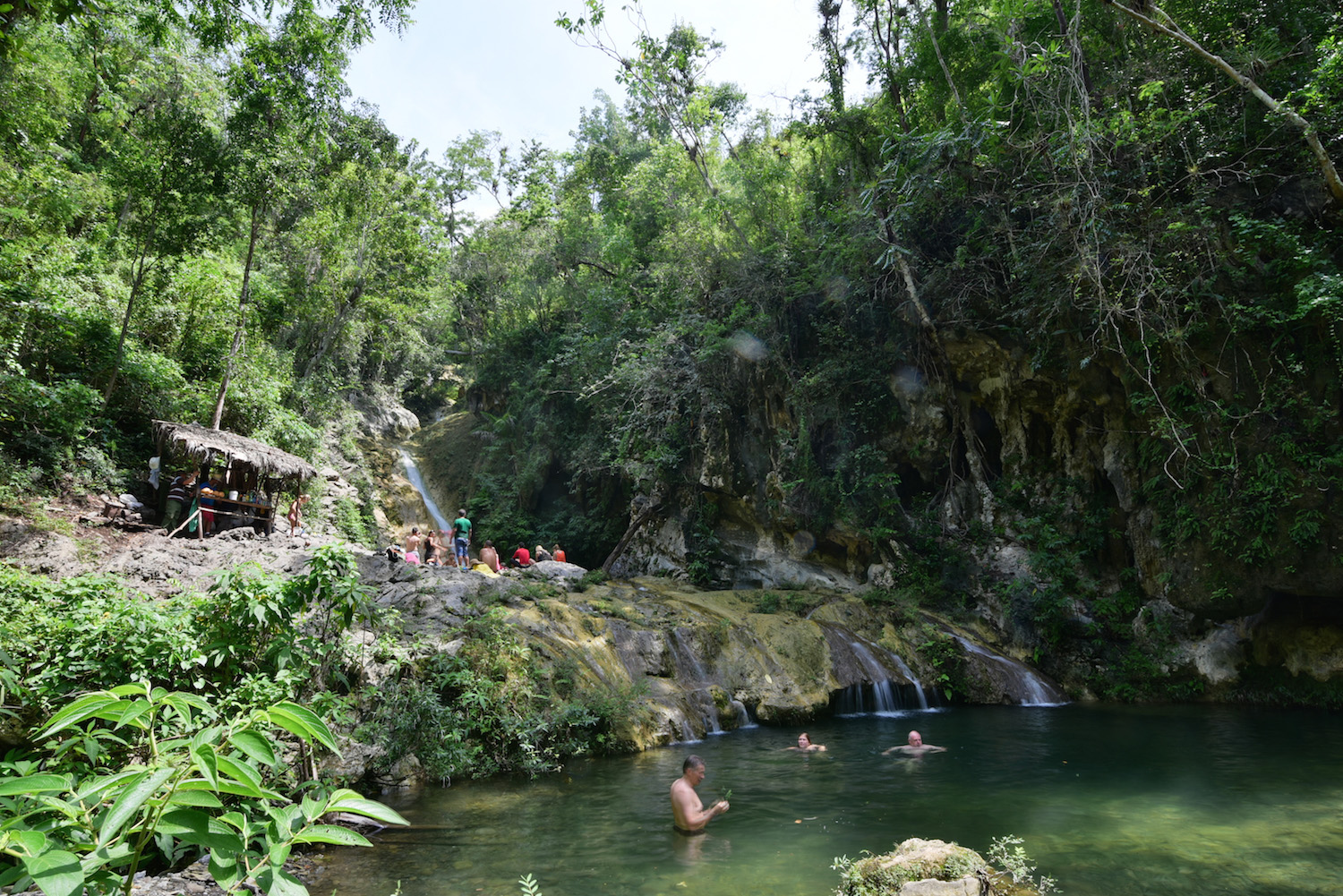 The waiter had been making eyes at me throughout our lunch, although he didn't say much outside taking our order and asking us how our food tasted. At one point, I made sure to very conspicuously smile back, at which time he stopped what he was doing and changed the music from the cheesy 80s Cuban songs that had been playing the entire time we were there.
I don't remember the exact lyrics to the song – other than that they were in English – but I do remember that it was one of those cheesy surfer-dude-to-valley-girl love songs you might've heard on The O.C. back in the day. It made me blush a little bit if I'm honest, if only because of how conspicuous it was.
But then, I became deeply sad.
I mean, how much must it suck to be young and gay and live miles and miles outside a small city in a provincial country where every element of a man's worth is based on his ability to get pussy? I felt endeared by the gentle flirting – though certainly not turned on, he was way too young – but I also felt sad that I wasn't going to be able to provide anything else for him.
I briefly toyed with the idea of giving him my business card, on the off chance that he had semi-regular Internet access and wanted to see the pictures I took of his country, but even that made me think twice.
Sure, he could've been really happy to make an online penpal out of the (much older) man who made his heart flutter when he was riding past his home in the middle of nowhere. But he could also grow sad knowing how far away I was and pine for me to come back – I know this from experience. It might hurt him to think of how far away he is from a place where he can truly be himself.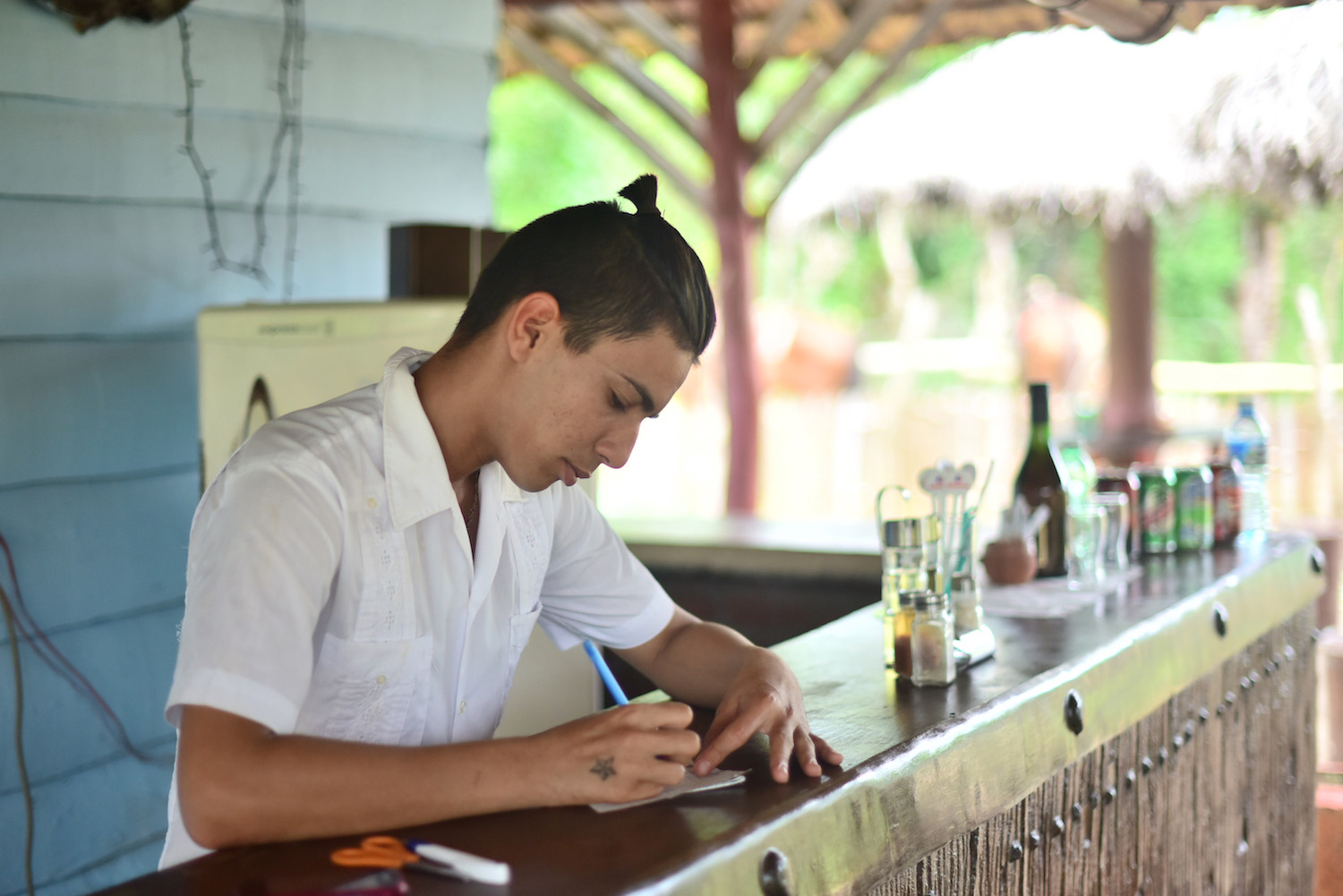 So, I kept it simple. "What's your name?" I asked as I set down some Cuban pesos to pay my bill.
"Mario," he smirked, and make change for me. "And yours?"
"Robert," I took my change. "Roberto."
He laughed. "Hablas español?"
"Not really," I sighed. "Only when I have to.
"Anyway, thanks for the delicious meal," I put my bag on and smiled at him one last time. "Good luck to you, Mario."
He didn't say anything else to me as I walked back toward my horse, but I felt satisfied. my good work was done for the day – and indeed, that I had counteracted some of the shade I'd thrown at tourists during my time in Trinidad.
I did look back over my shoulder, just briefly, as the horse's saddle began pounding at my tailbone, but then I remembered the advice friends had given me so many years ago.
I guess I should stick to the rivers and the lakes that I'm used to," I signed, and rode off toward the town.
Note: Trinidad is a town in the province of Sancti Spíritus, central Cuba. Together with the nearby Valle de los Ingenios, it has been one of UNESCOs World Heritage sites since 1988
Share: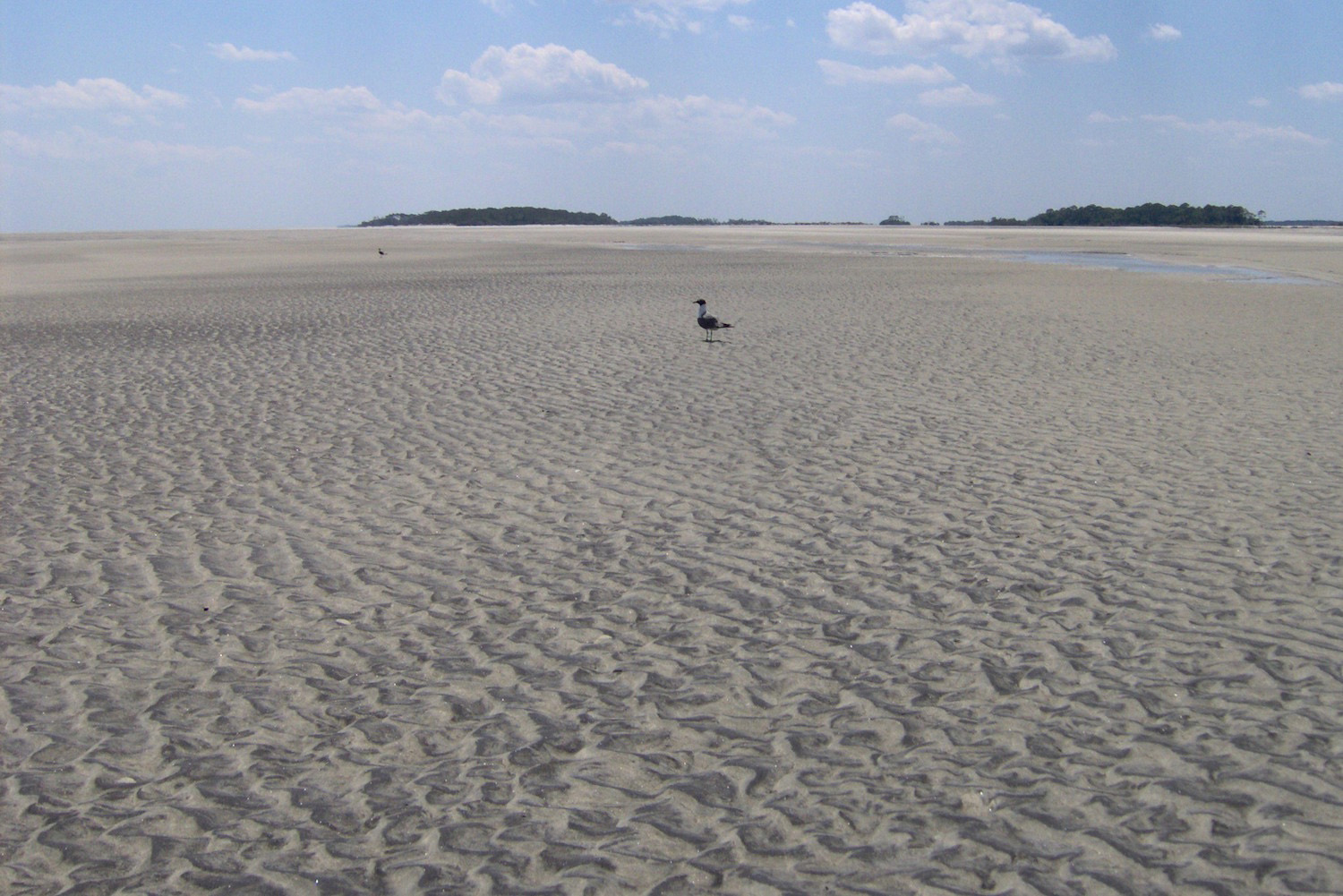 Image via Wikimedia Commons user Brian Stansberry
Savannah, Georgia is a captivating enough city that the idea of taking a day trip, at least on your first or second trip to the city, might seem unnecessary, or even ridiculous. If you happen to visit during the summer, however, when high temperatures soar into the 90s and humidity nears 100%, a palm tree might seem a more appealing place to lay under than trees draped in Savannah's spanish moss, as charming as there are. Here are some of the best beaches to help you beat Savannah's summer heat.
Tybee Island
Tybee Island is not only the most popular beach for Savannah's summer visitors, but is also the most convenient to the city, located less than 20 minutes to the east of downtown. In addition to its white sands and bright, turquoise waters, Tybee Island is also home to a quaint town center. Make sure to visit the Tybee Island Lighthouse for an especially picturesque vista.
Tybee Island is most refreshing during the summer, and perhaps most popular during Spring Break, when local students flock there to enjoy the beach, but one of the best times to visit if you prefer lighter crowds is during the winter, when highs are mild enough that you only need to wear a light jacket.
Wassaw Island
Unlike Tybee Island, Wassaw Island isn't home to any permanent human habitation, which gives it a much wilder feel than its more popular cousin. Wassaw Island has more than seven miles of beaches which, in addition to being delightful for swimming or watching the sunset, are paradise for birdwatchers.
Wassaw Island is more calm and desolate than Tybee Island, but it's also a bit more difficult to get to. To reach Wassaw Island, located southeast of downtown Savannah, take Highway 204 until you dead into the entrance of Skidaway Island, at which point you'll need to continue by boat, either your own or one you hire.
Hilton Head Island
If you're comfortable crossing state lines to get to the beach, head to Hilton Head Island, located just up the coast from Tybee and Wassaw Islands in nearby South Carolina. Keep in mind, however, that the drive is just a mere 45 minutes, so even though you're technically in another state, you're still close enough to Savannah to due Hilton Head Island as a day trip.
Although Hilton Head Island requires more of a trek than either of its cousins in Georgia, the reward is a larger selection of hotels and resorts, including a number of luxury brands. Additionally, while the village on Tybee is simple and offers little in the way or dining and entertainment, Hilton Head Island boasts what is practically a small city, filled with restaurants, bars, shops and all your other favorite creature comforts.
Share:

Initially, I wanted nothing more than to photograph the cigar-smoking man, whose royal blue jersey was the perfect foil to the green mountains behind him, and the red path he walked upon. But I abandoned my usual M.O. – to snap my picture as discreetly as possible, then to stroll past my subject as if it had never happened – and spoke to him.
"Va usted a Viñales?" I let my camera fall to my side.
He nodded.
I smiled and bid him farewell, when I stopped to consider an important possibility. Maybe he made that cigar himself?
He turned around, as if he'd read my mind, then removed the cigar from his mouth to speak. "Quieren cigaros frescos?"
The speed with which Domingo made the cigars was so quick that the stages of the process blurred together, a fact the impossibly picturesque setting where we sat and watched him compounded: A tiny table tucked inside a tiny hut the exact color of his jersey, where he rolled tawny tobacco into cigars for us to smoke.
"Cuando estoy en Cuba," I answered, when he asked me if I liked smoking cigars – I was too ashamed to tell him it was my first time, even if my anxious demeanor made this clear. Dora smiled confidently: She was a pro. Chanel fell somewhere in-between us.
I suppose I should introduce you to Chanel at this point. A fellow travel writer I've known online for years, Chanel just so happened to be waiting for the same Havana-bound Cubana flight as Dora and I in Cancún. We got along famously, and while we didn't spend a lot of time together in Havana, we did venture to Viñales as a group.
Speaking of which, I hope you won't mind if I continue my story.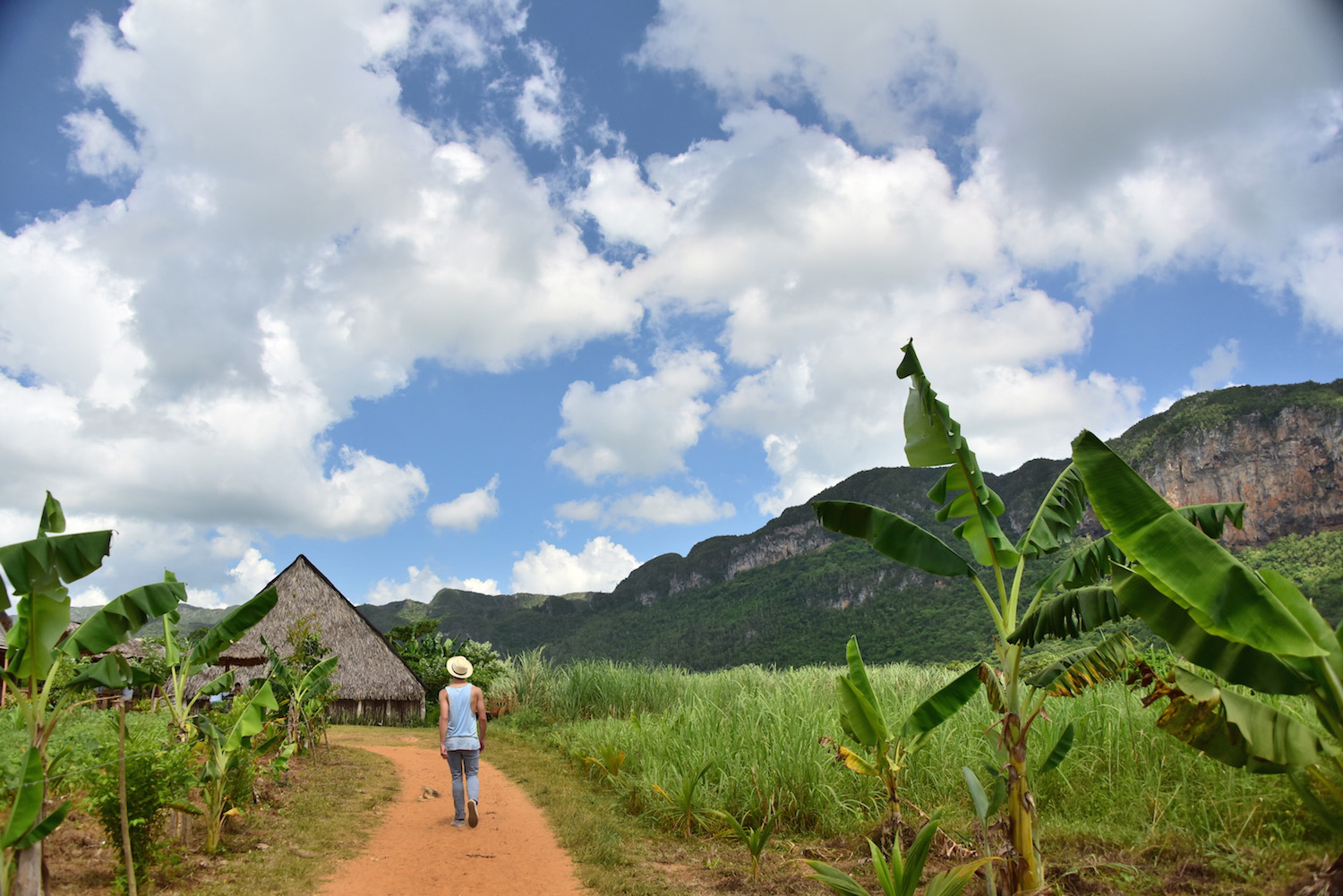 "Tranquilo," Domingo insisted, as his wife poured us cups of fresh coffee, grown on his family farm like the tobacco and, I presumed, the bananitas we enjoyed as we waited for him to finish all of our cigars. "Fumar es para tranquilate – y necesitas estar tranquilo si quieres bien fumar."
But it wasn't just the coffee that had me feeling so wired.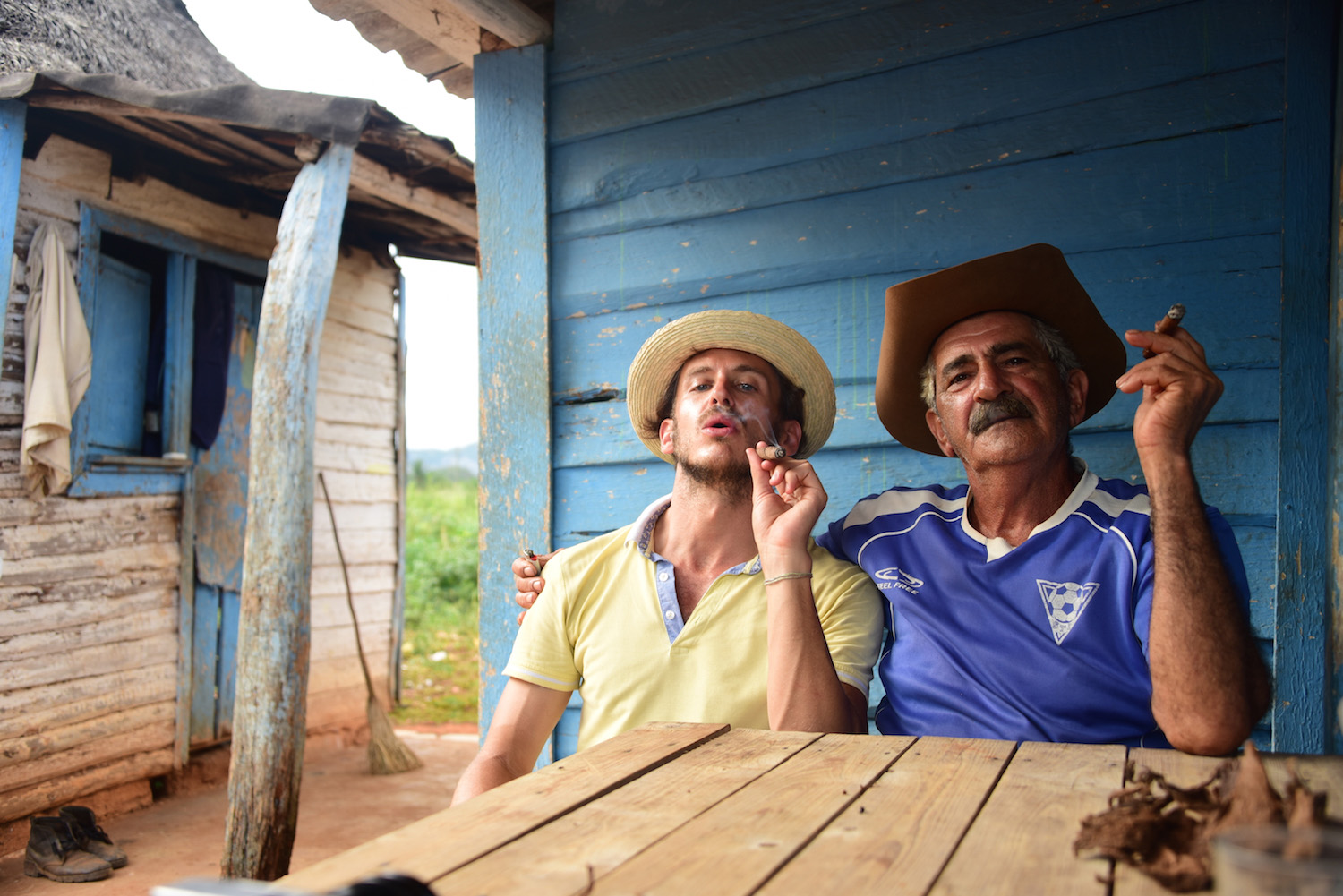 I hadn't imagined I would smoke the first cigar of my life in Cuba, let alone one freshly-made by a tobacco farmer. Truth be told, I hadn't imagined I would ever smoke a cigar at all, which is likely why my deflowering rendered me nauseous and unable to sit upright.
Thankfully, we were on our way out, until the next morning anyway.
"Mañana a las 9?" Domingo confirmed, as we paid – against his wishes – for our refreshments, so that we could get back to our casa particular before dinner.
A nod was all I had in me – I was far too lightheaded to respond with the word "sí."
I hope this subsides before we get back in town, I said to myself, afraid to ruin Chanel's and Dora's moods ahead of the three of us exploring Viñales. I seriously think I'm going to pass out.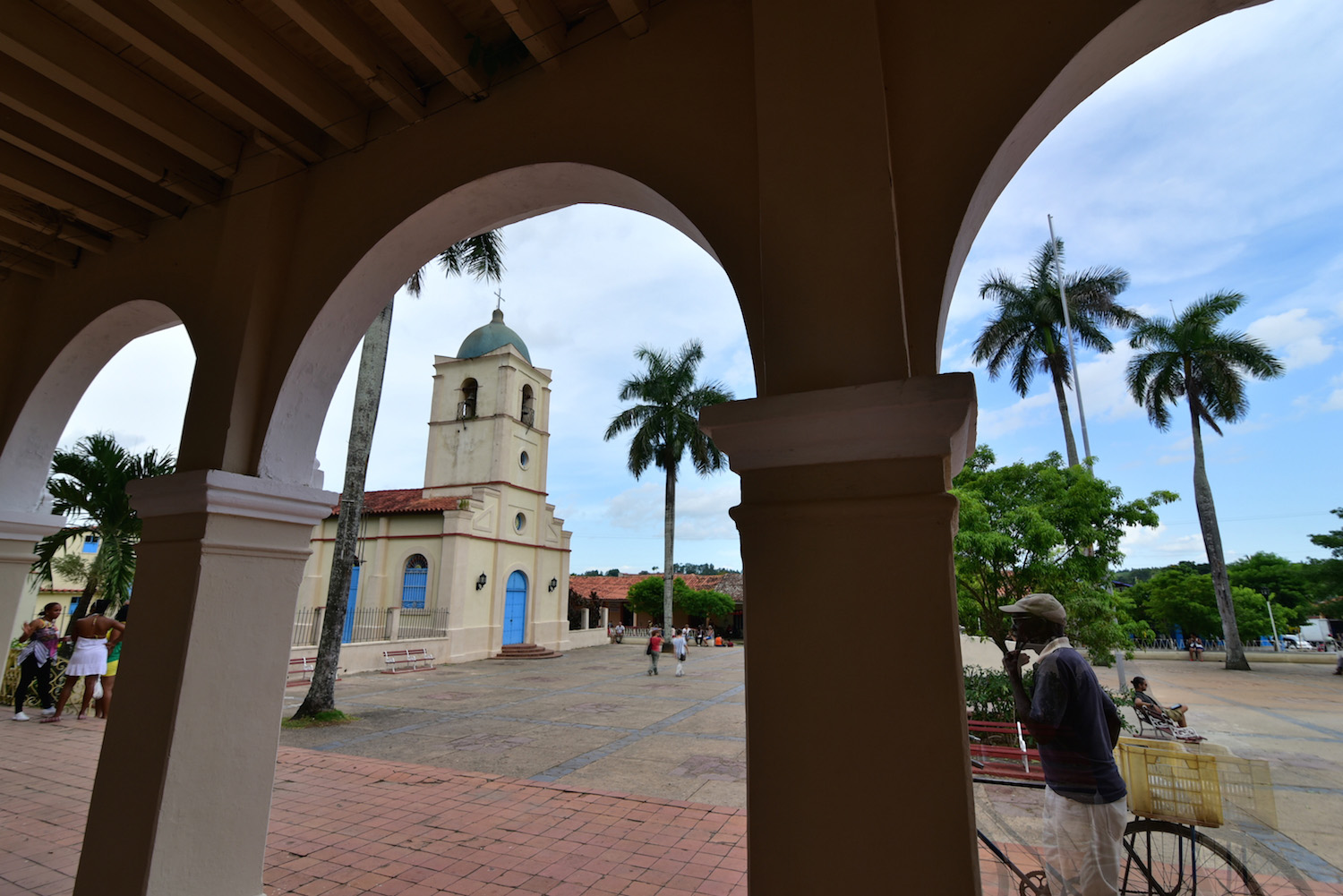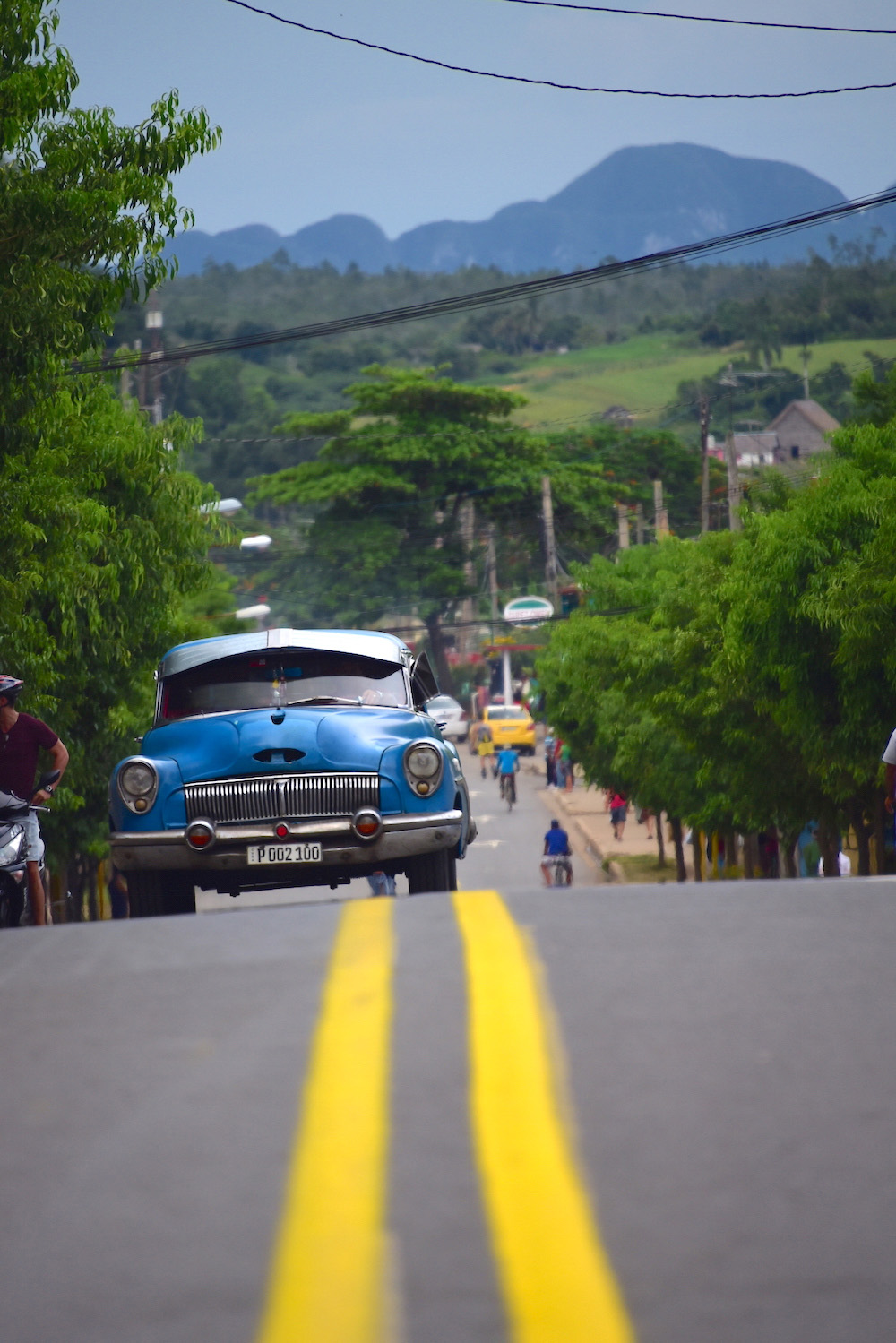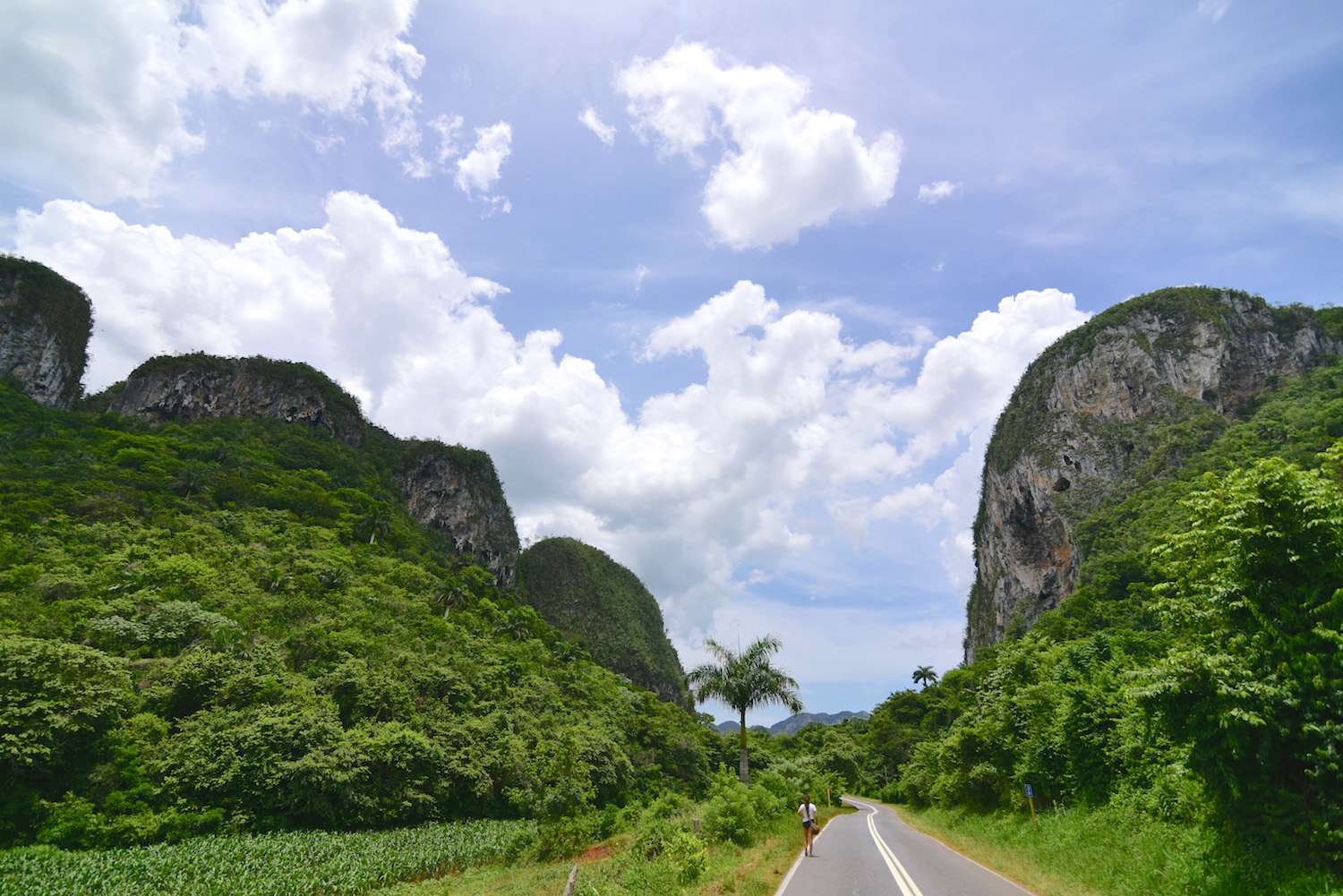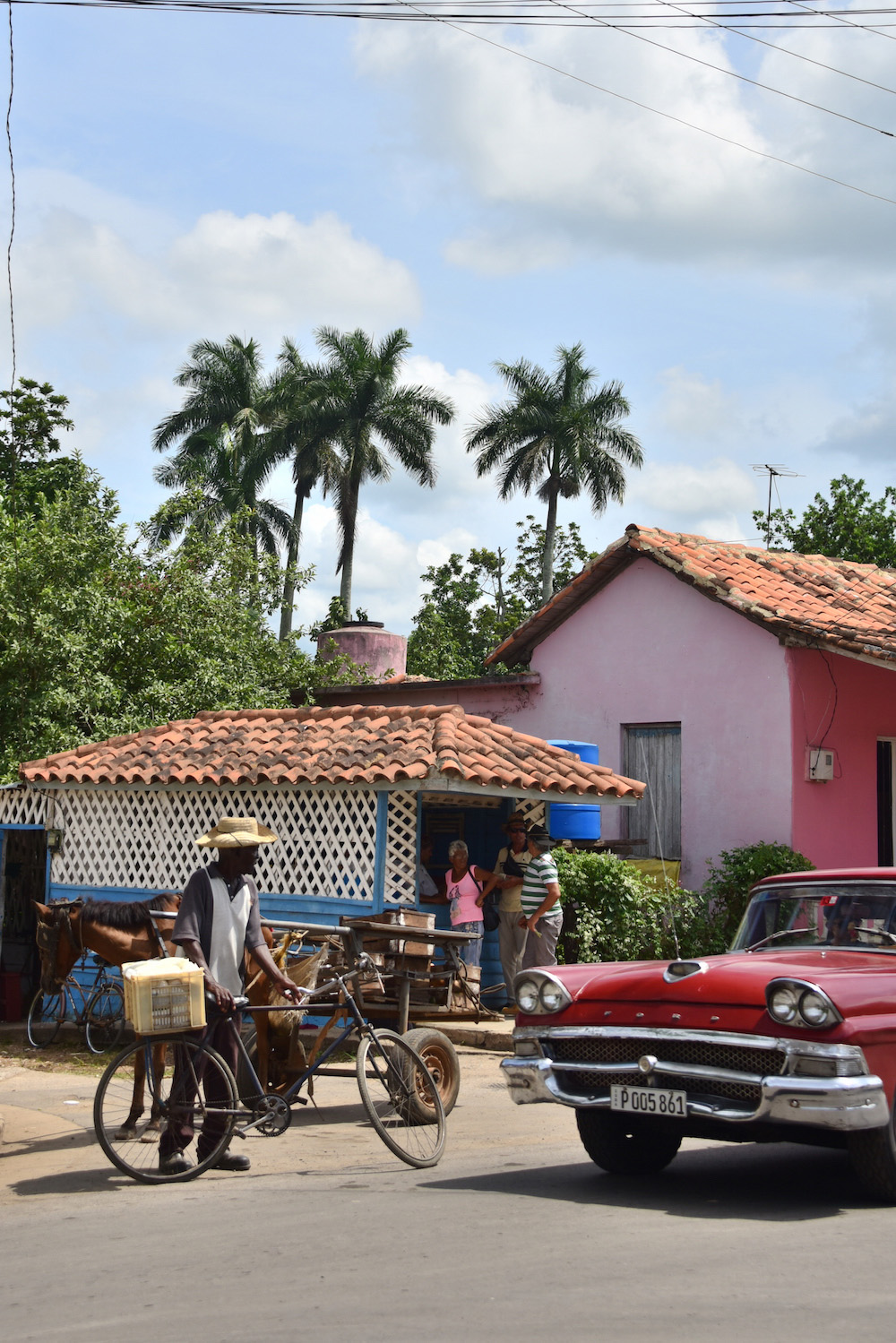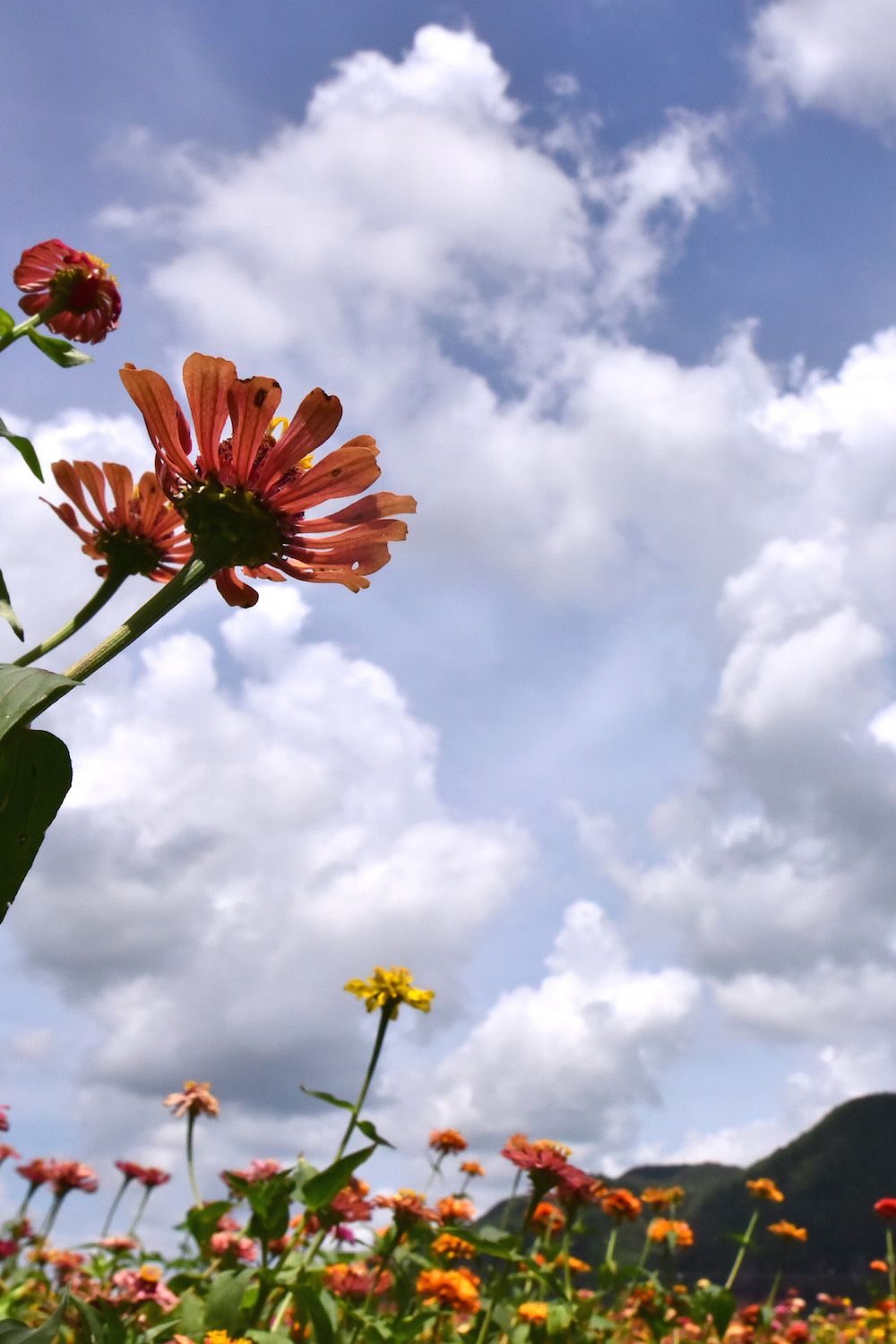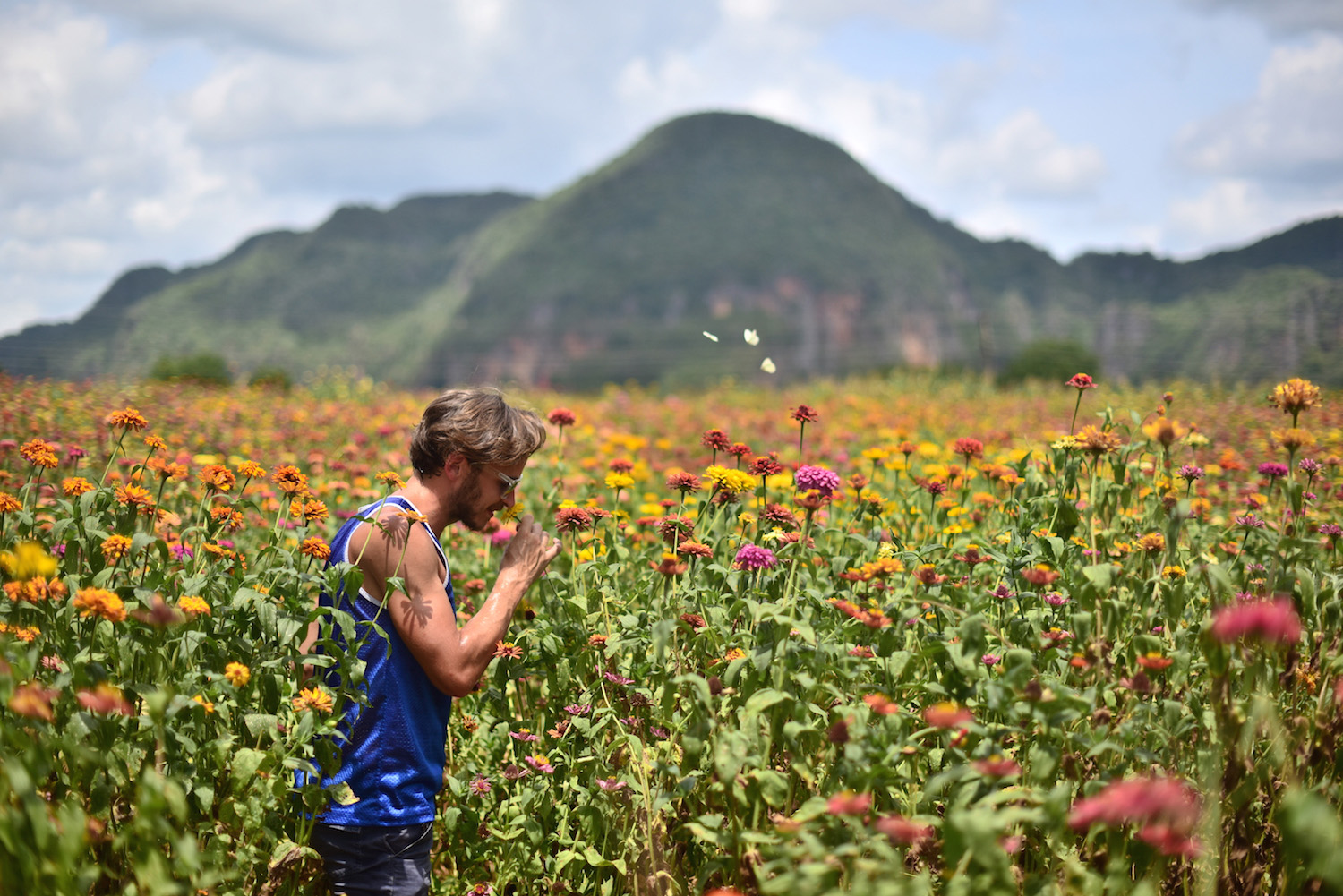 The town of Viñales is classic Cuba, even if the very classicism of Cuba is extremely novel to me. Old cars not unlike those in Havana slowly rolled up the hill into town, the mountains of cigar country blurred in the background.
"It seems like every casa here is a casa particular," Dora laughed. "Guess that explains all the white people."
"They might be socialists," Chanel laughed, as we crossed the street to the town's picturesque cathedral, "but they practically invented Airbnb."
After a few group shots in front of the church's gorgeous blue door, Chanel and Dora began chatting with some local men about a salsa performance would be taking place there later that evening. Well, that's what the two girls were talking about – the men clearly had other things on their mind.
In my head, which was thankfully un-fogged from the tobacco haze I was in, I was back at Domingo's house, albeit smoking my cigar much more carefully this time.
It all seemed so surreal to me: Cuba is like a movie, only everyone's the star, including you.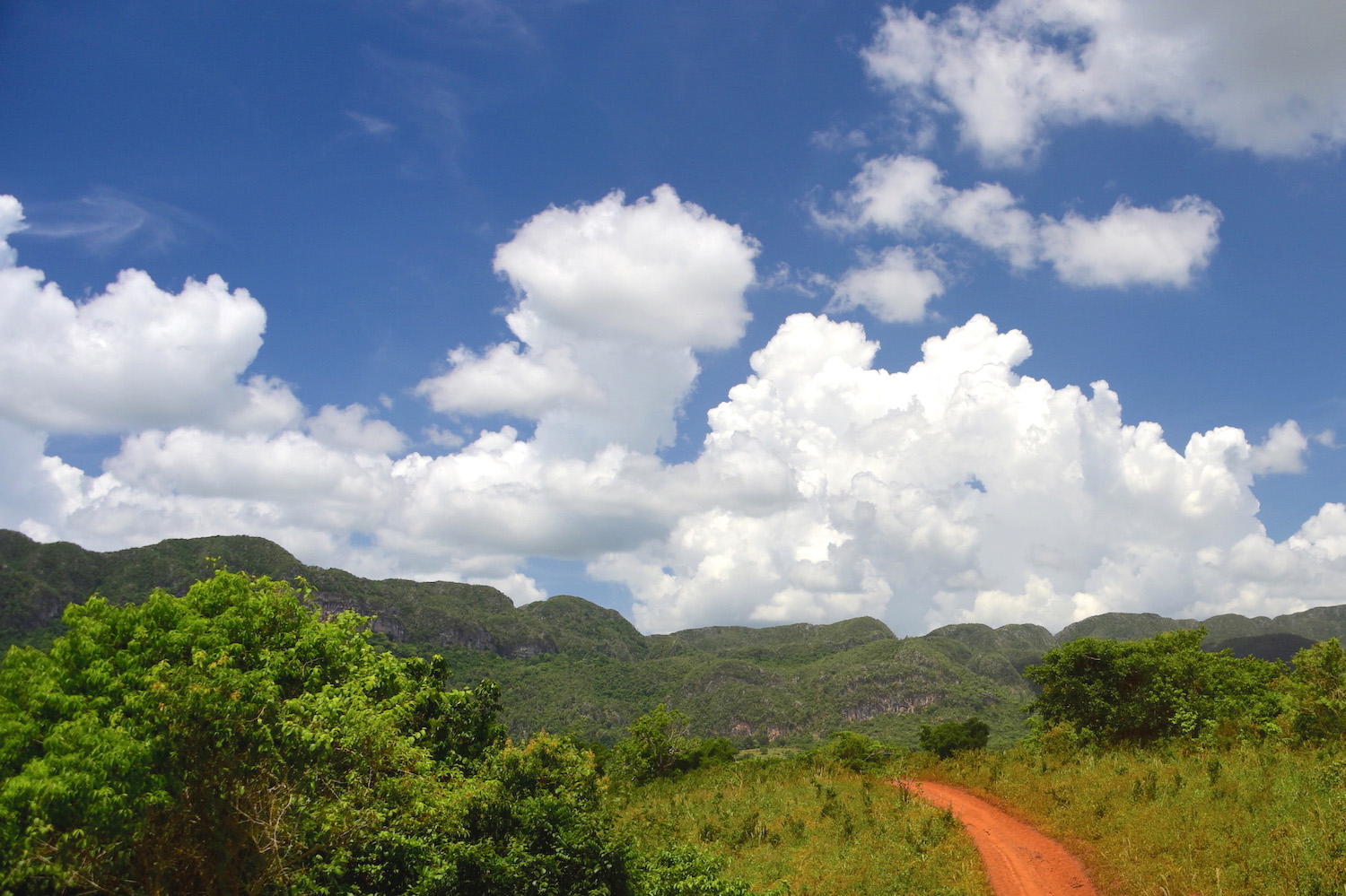 "Como eso?" I said, and hoisted myself up on the horse in one go.
I was shocked at how easy it was – I hadn't ridden a horse in…well, aside from one or two church carnivals during my childhood, I'm not sure I've ever really ridden a horse. Camels, yes, but not really horses.
It was early enough in the morning that the sun had not fully come over the mountains just to the south and west of Viñales, and Dora and Chanel were still drinking the coffee Domingo's wife had made for the three of us in advance of our ride into the cigar country.
The lighting proved perfect to showcase the beauty of the area: The cobalt of the sky, the jade of the mountains and the palms that plastered them and the rusty red of the road our horses trotted upon.
Over each hill, the rest of the world seemed less and less like it actually existed, as if the only task I would have for the rest of my life was to reach the end of the path I was on. Each progressive church-shaped Secadera de Tobacco seemed more and more house-like, as if some undiscovered native tribe slept inside it, alongside the drying tobacco.
Actually, I laughed to myself as I peered inside one to test my hypothesis, That's probably not too far from what most of my fellow Americans actually think about Cuba.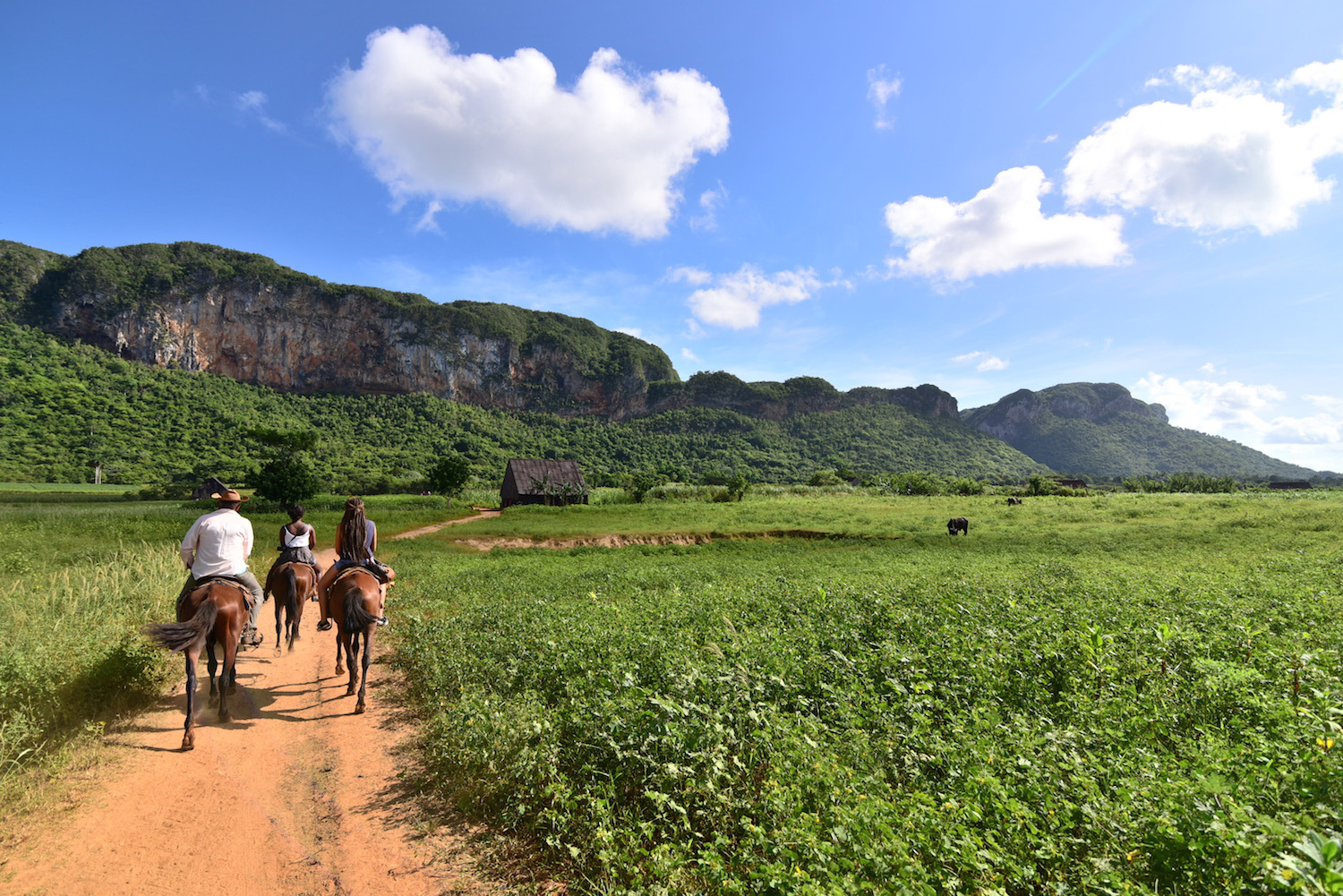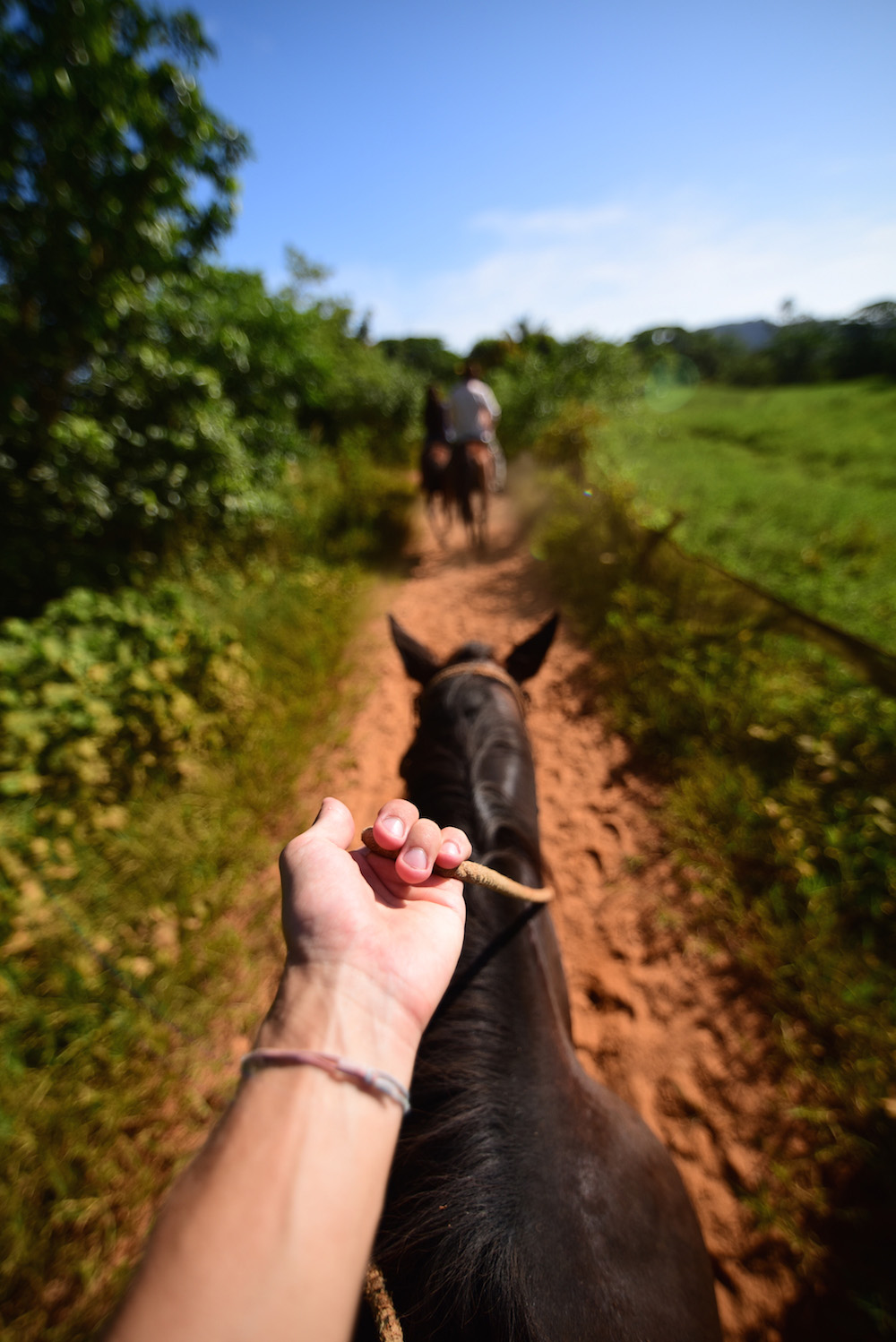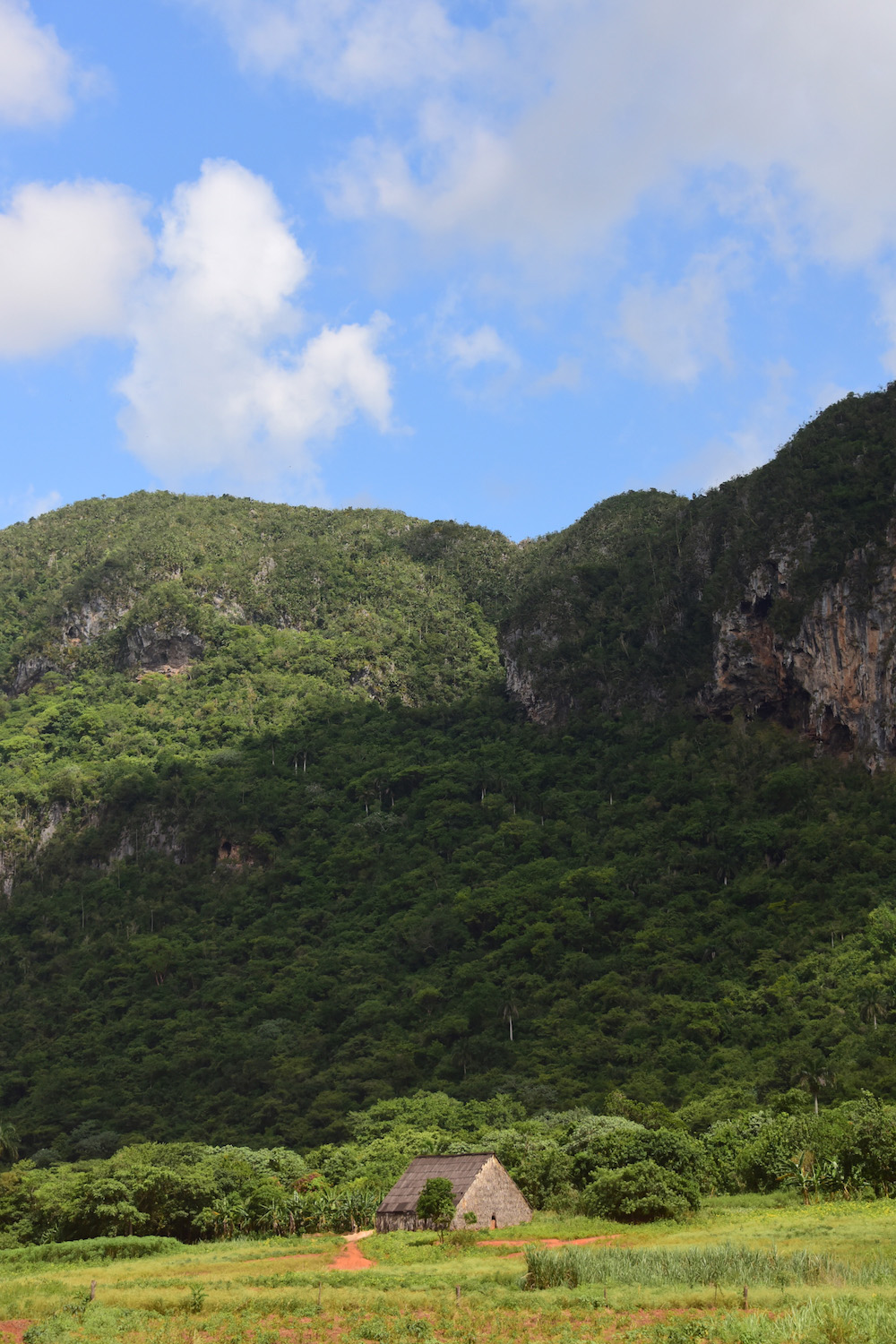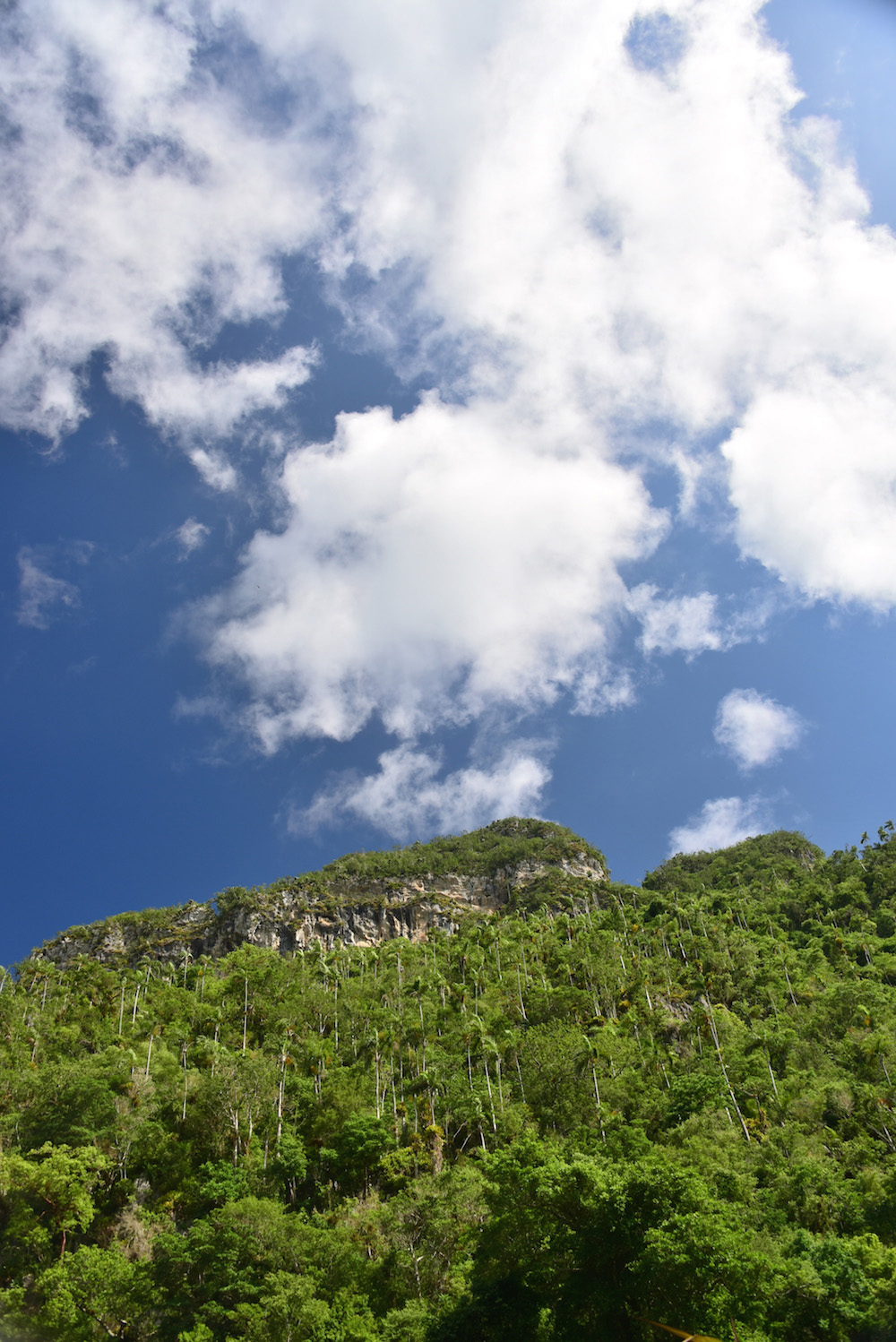 The journey back seemed longer, as every journey always does, and it also seemed sadder, and not only because the clouds were becoming larger and the blue parts of the sky were becoming smaller.
"Y las bananitas," Domingo instructed his wife, after she'd laid out fresh mangos and pineapples to herald our return, and their daughter was once again pouring us fresh coffee to compliment the cigar we were lighting up. The mood should've been congratulatory, maybe even celebratory, but I felt like mourning.
"Claro que sí," I reassured Domingo as he asked if I would share his information with any of my friends who were coming to Cuba, and clutched the chit of paper with his address and his phone number in my hands.
"And we'll come back, too," Dora smiled and hugged him, Chanel translating for her.
I was telling Domingo the truth – I will give any of you who are interested his information, in the comprehensive Cuba guide I'll be publishing in a couple weeks – but I was also cramping in the pit of my gut. Did I really want such an incredible, real person to become a stock commodity for greedy tourists?
I mean, just as Cuba's government portrays the country as being in the penultimate phase of the Revolution, here we were near the apex of what it means to travel.
Wandering down a dirt road you've never seen before, getting to know a man you never would've met if you'd been wandering a second earlier or a second later and exploring a true paradise with him for no other reason than his kindness, which reaches higher than the peaks of all the mountains and the tops of all the clouds around you.
But then, I thought. It would be pretty shitty for someone to keep all the rainwater for themselves, even if it is precious.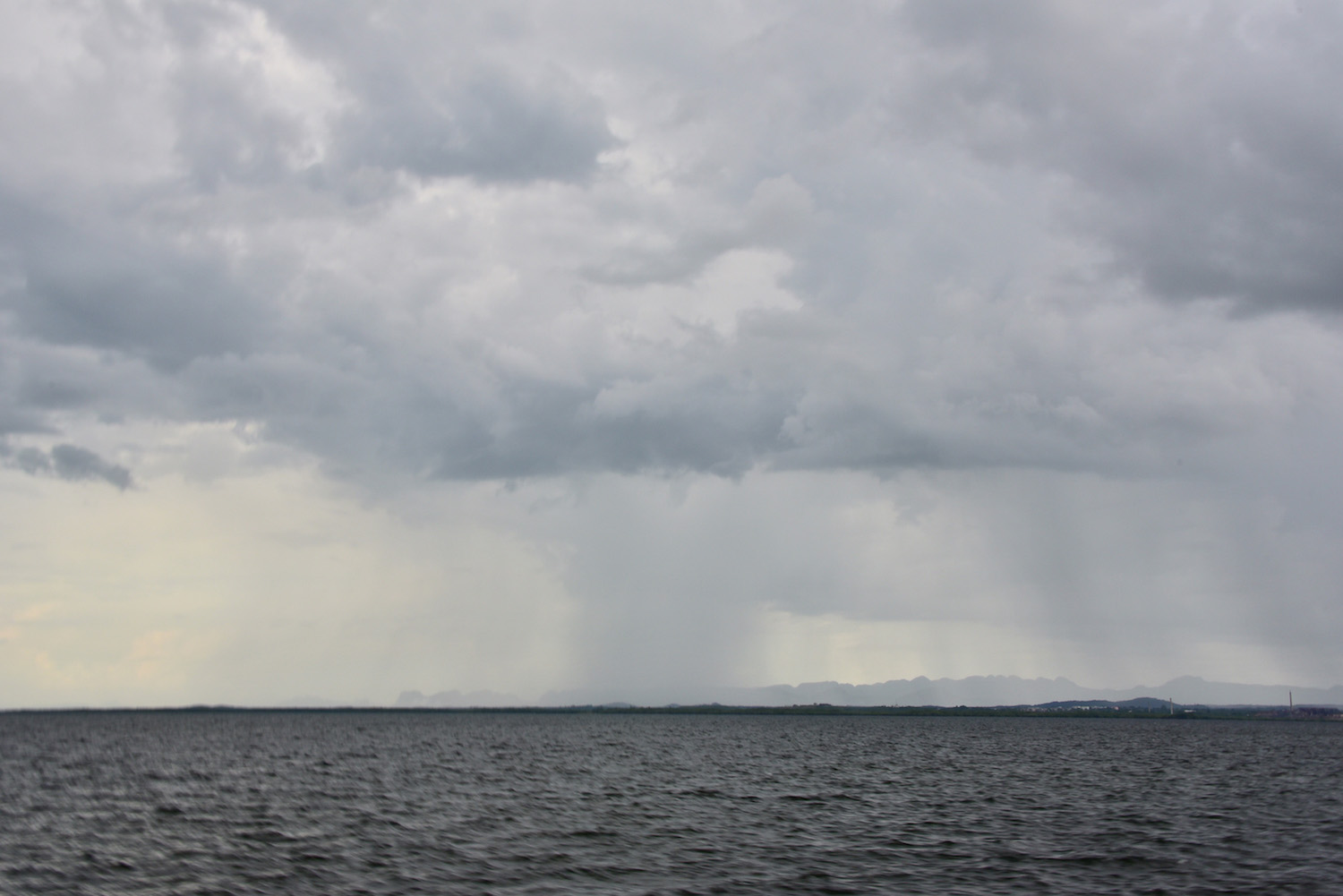 It seemed questionable that the car, a 1950s Chevy, was going to make it up the hill, even without the chilly gusts of wind through the fragile-looking pine trees, which threatened to kill the aging engine for good.
Lightning crashed first to the east, then to the west, then to the north, but not to the south; only a small patch of blue sky remained. Despair dripped down the face of every person we passed – they were mostly loggers and they were all about to get soaked.
We were on our way to the beach.
If the car hadn't been as loud as it was, I'm sure some half-cynical banter with my compañeras would've allowed to me to put into perspective the horrible luck that seemed to have shat all over our sojourn to idyllic Cayo Jutias. But with only the insides of my skull to bounce off of, my harmless thoughts quickly reached the potential energy of day-dooming delusions.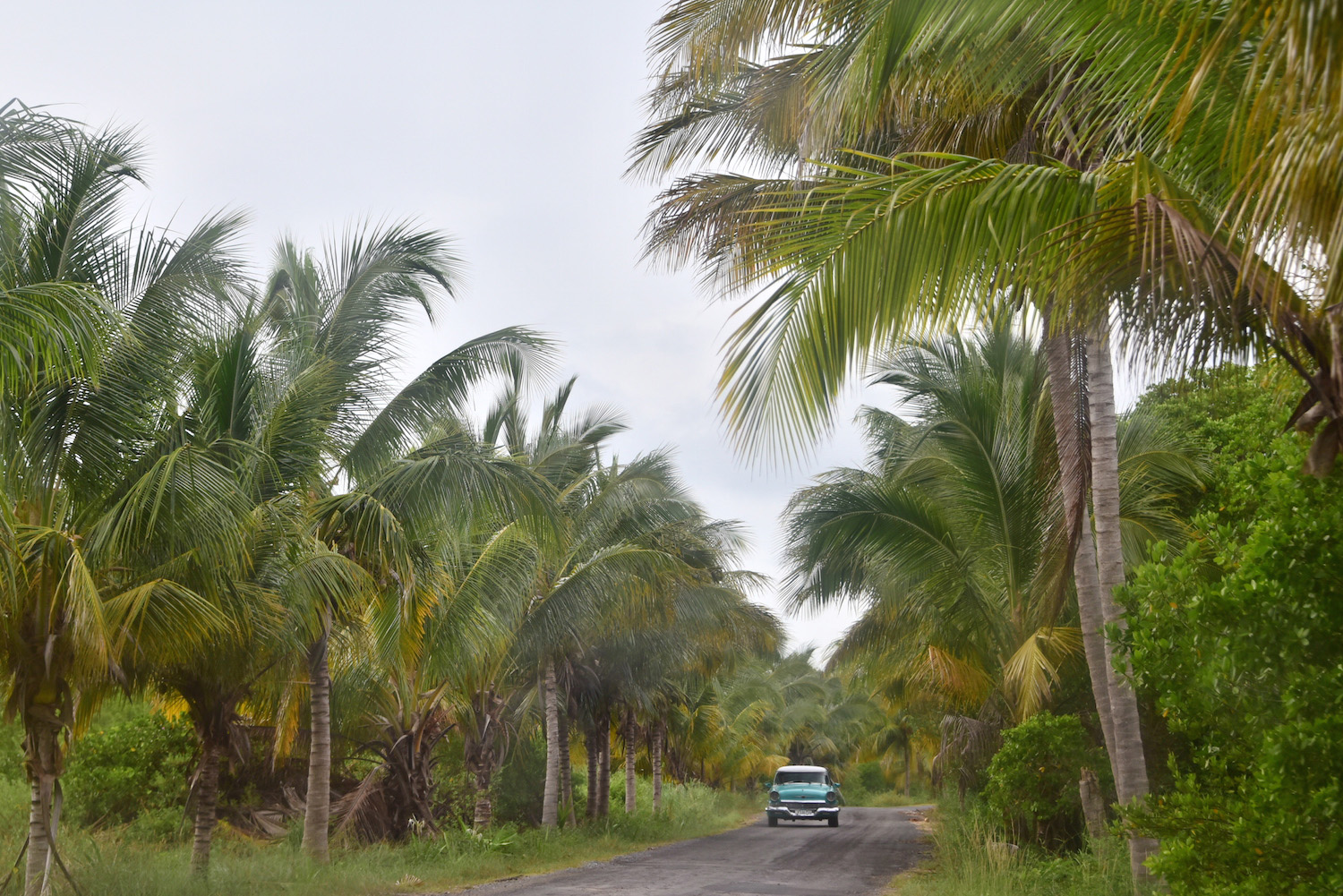 My first impression of the beach was that it was hideous, and that's if I'm being very nice. No less than half a dozen tour buses and two dozen cars of various ages crowded the tiny parking lot, and those tourists intelligent enough not to swim in the grey water as lightning struck not so far offshore (not many, I'm sad to report) were picking at unappetizing rice-based dishes in a restaurant where I absolutely did not want to eat.
To be sure, it was for lack of anything better to do – we hadn't driven two hours on pothole-covered roads to head immediately back – that Chanel, Dora and I each ordered an Especialidad de Dia, which appeared to be a plate of yellow-colored feces and vomit seasoned with paprika.
The cute Brazilian sitting next to us rolled his eyes when we asked him if I tasted better than it looked. "Welcome to Cayo Jutias."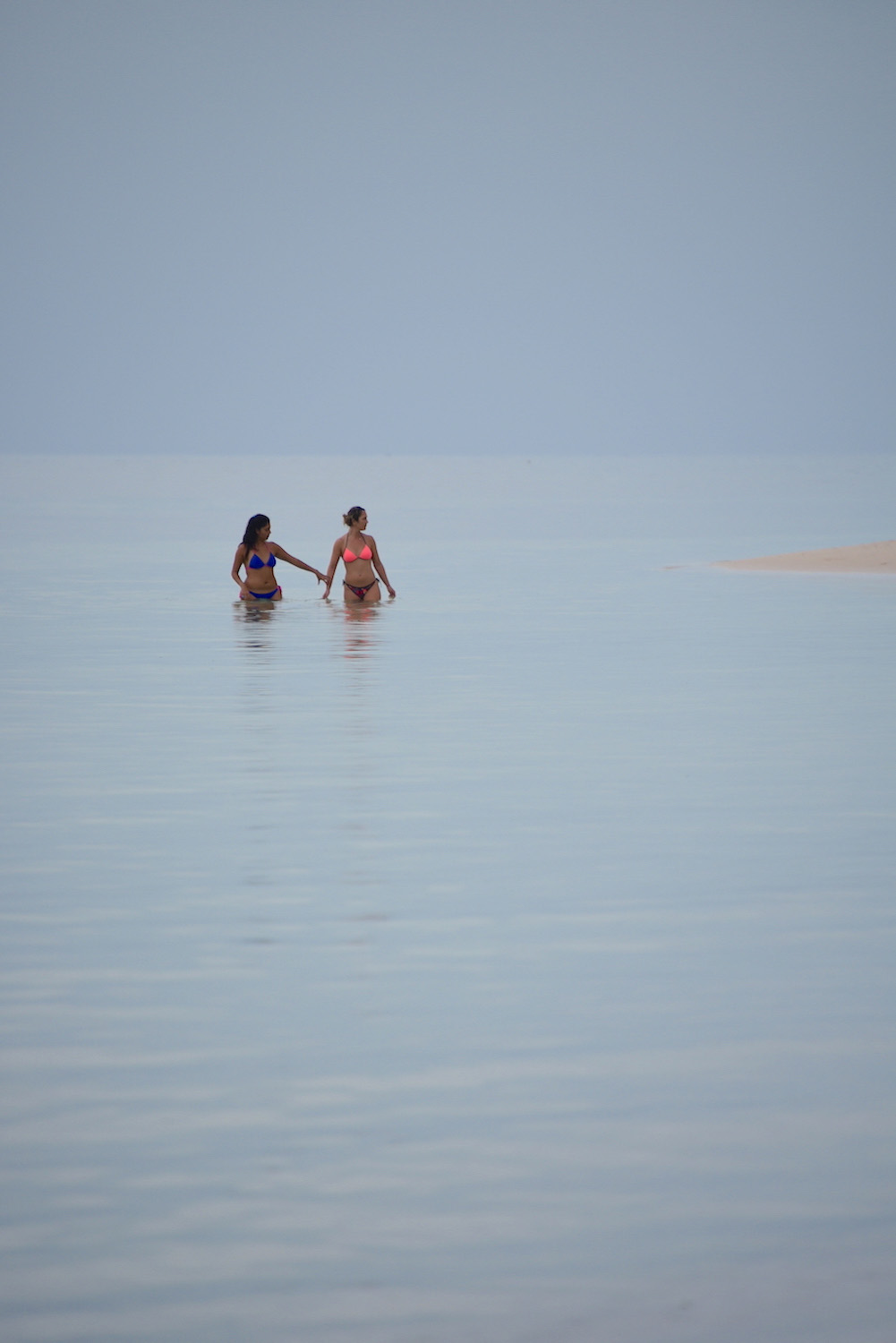 When the sun made its first attempt to shine through the thick blanket of clouds, it was still raining. The sky and the sea were literally the same color – can you imagine being able to swim up into the heavens?
The strange monochrome offshore made the shore itself seem much more intriguing than it otherwise might've been. Although a scattering of palms had been planted between the restaurant and the lounge chairs, the prevailing landscape was part mangrove swamp, part pine forest – not what you expect when you think of a Cuban beach.
Eventually, the sky and sea diverged – the sky cooled to periwinkle and the sea cleared to turquoise – and although my dreams of becoming a space sailor vanished along with the threat of rain, I felt strangely inspired: If the Earth itself could replace charcoals with pastels in a matter of hours, why couldn't I?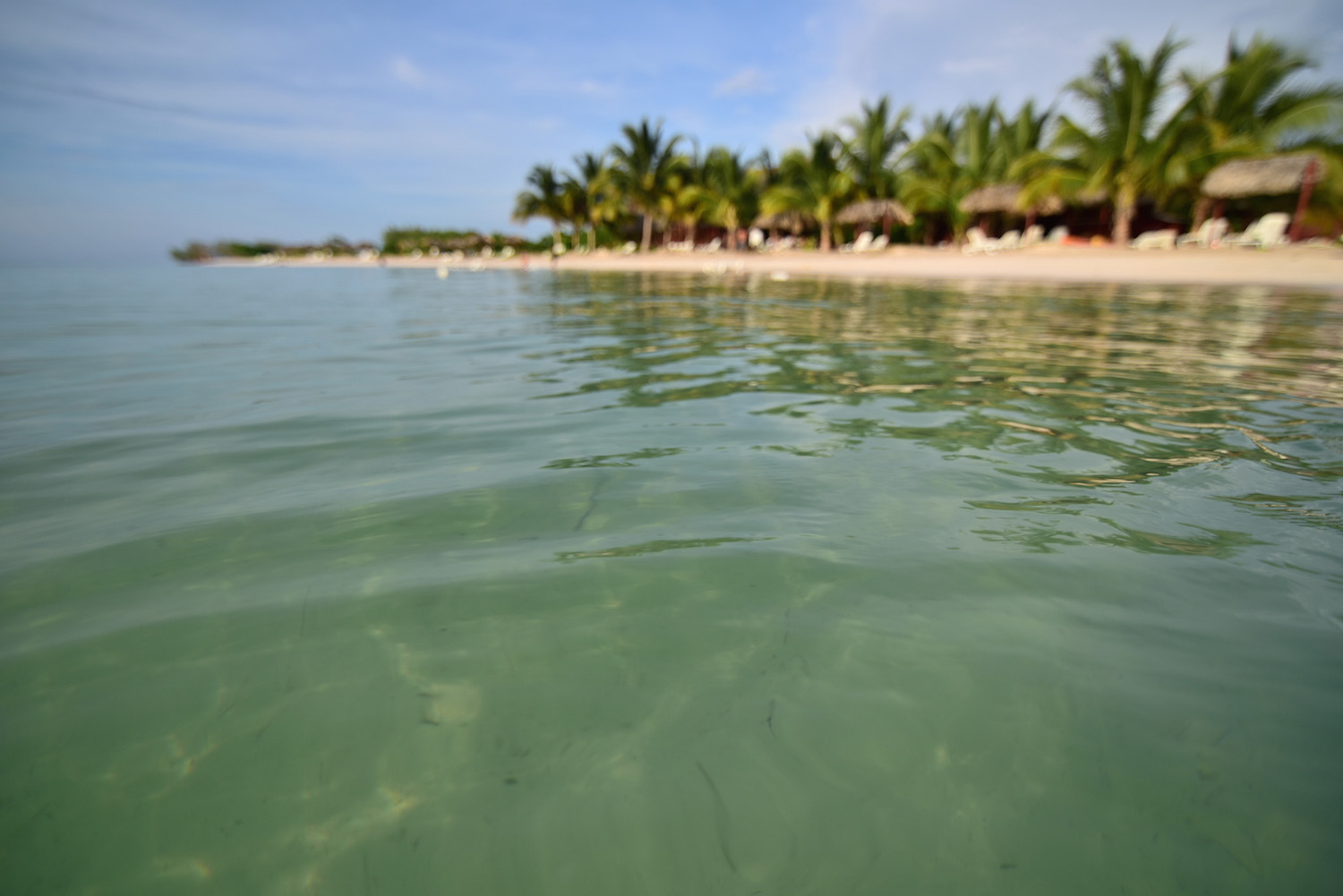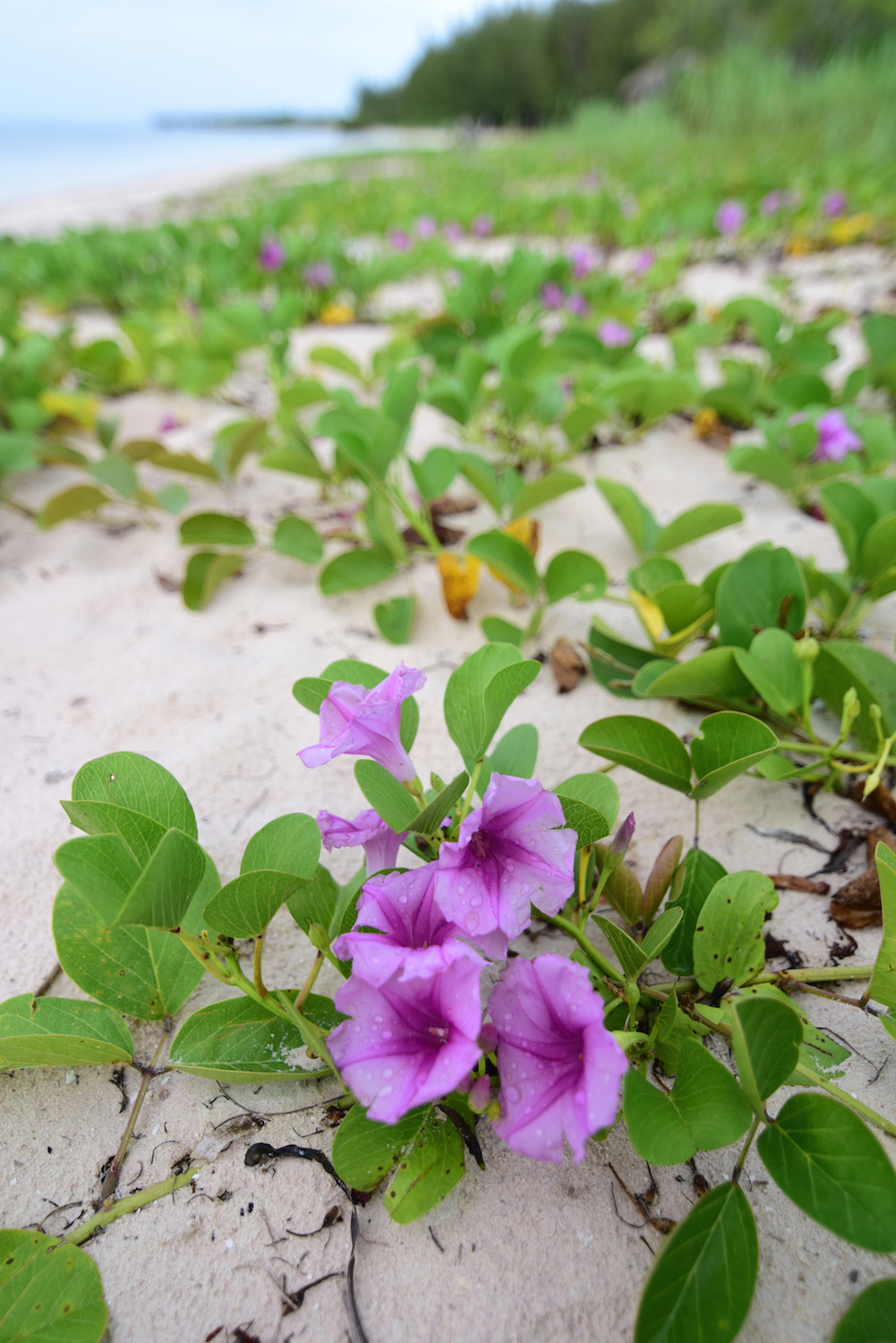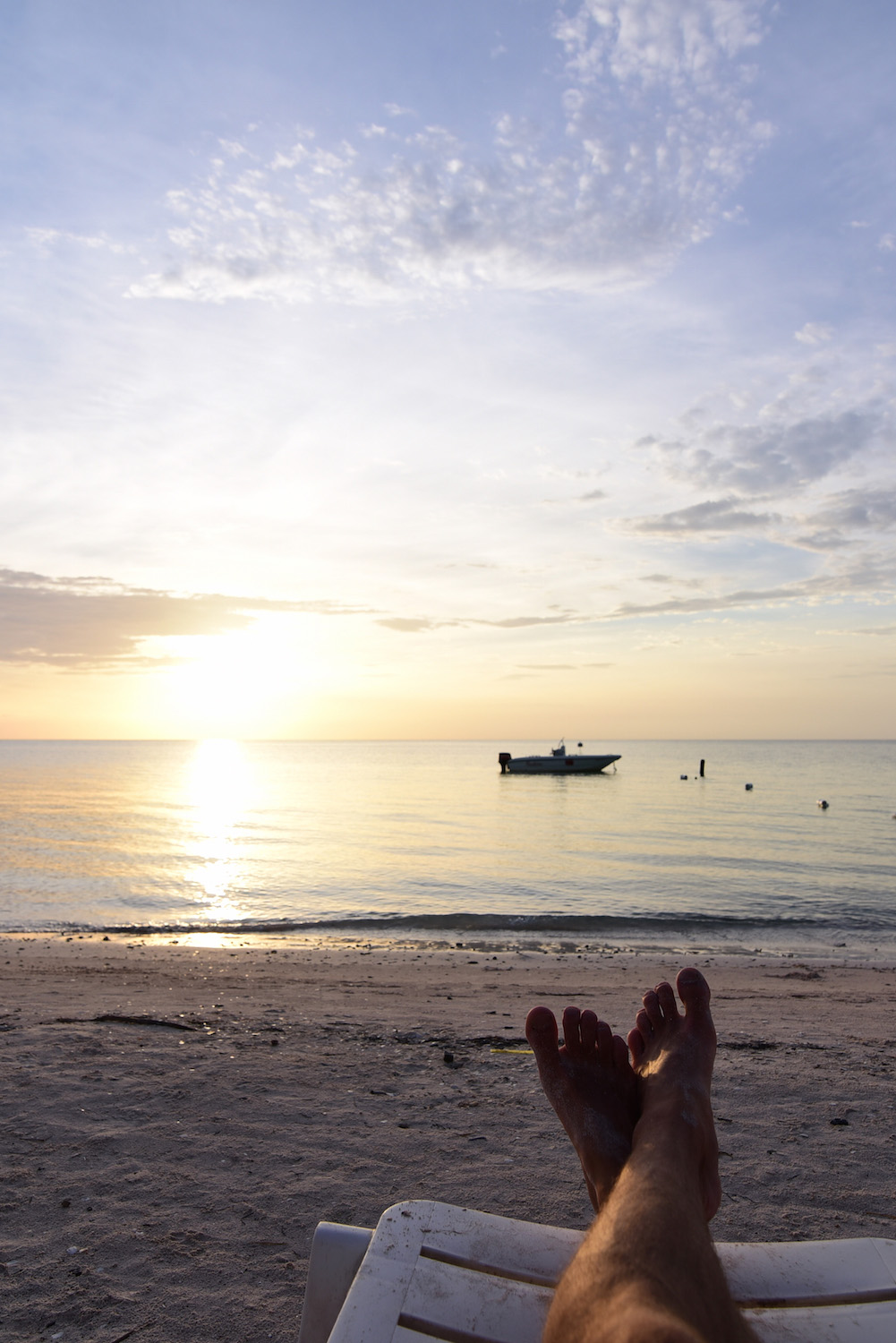 As the sun began its freefall toward the surface of the sea, the palms of the beach resplendent and reflective in its light, I remembered what Domingo had told us about Cayo Jutias at his house the previous day.
"Es una playa muy linda," he'd smiled, puffed his cigar and solicited affirmation from his wife. "Muy limpia, como paradiso – la playa la mas bonito de la Cuba."
For all I knew, Domingo had never been to Cayo Jutias, in spite of how jubilantly he sung its praises. In fact I'm almost sure of it, given his life's simple circumstances – he had simply wanted us to carry the joy that covered our faces like the film of red dust on our shoes with us, to the sea.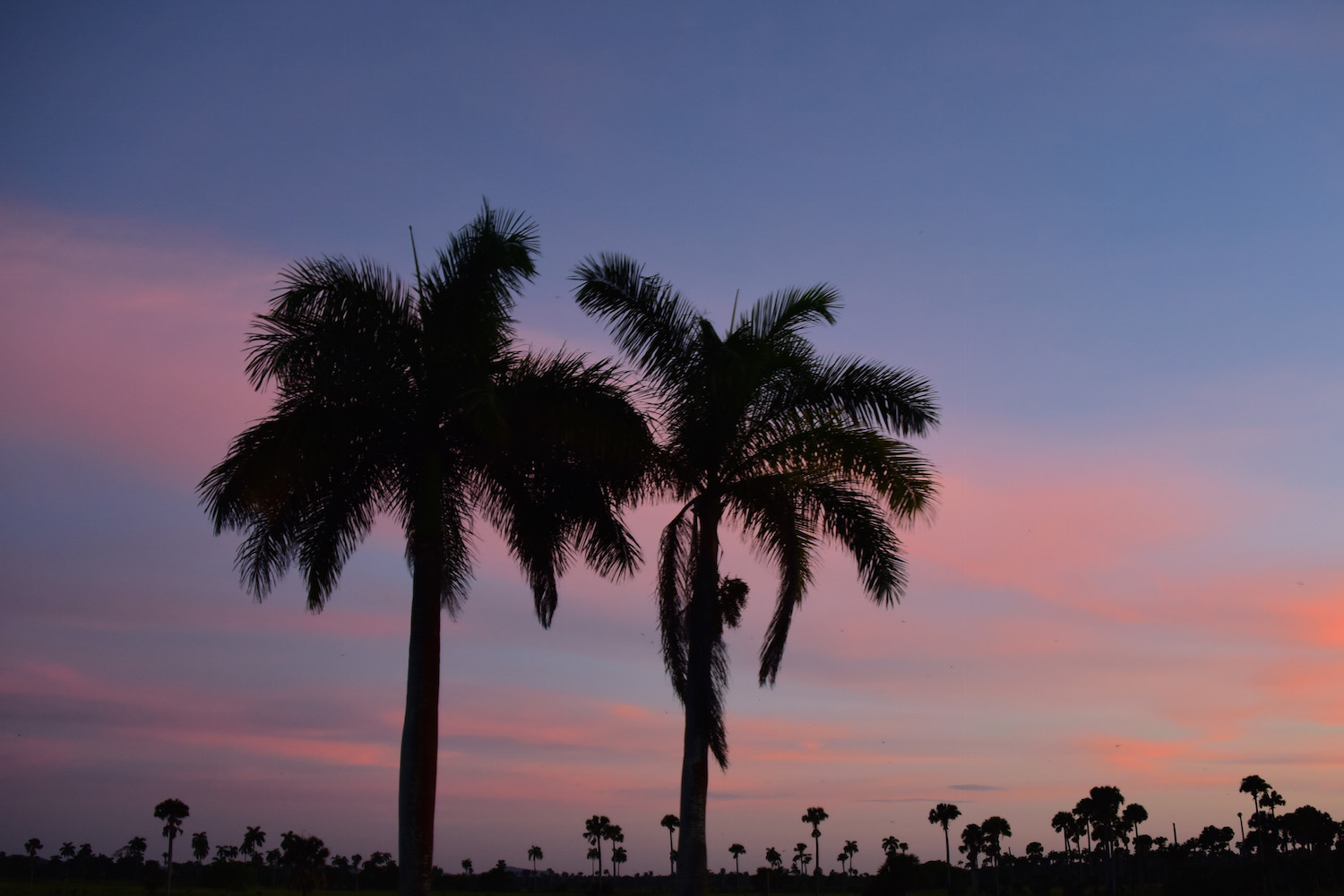 On our way back toward Viñales, I saw the remnants of the storm clouds that had almost ruined our day at the beach directly above us, now painted a brilliant coral – among other things a fitting goodbye to Chanel, who would be headed back to the U.S. the following day.
It seems no matter how many times I write a chorus for the fat lady to sing, only to have her collapse and die just before going on stage, I try my hand at another infectious hook, intent on dominating the charts.
But as the sun finally sank beneath the horizon, memories of the rain as shallow as the puddles in the potholes along the road, the truth was clear like the night sky: Domingo had written the song of today.
Share: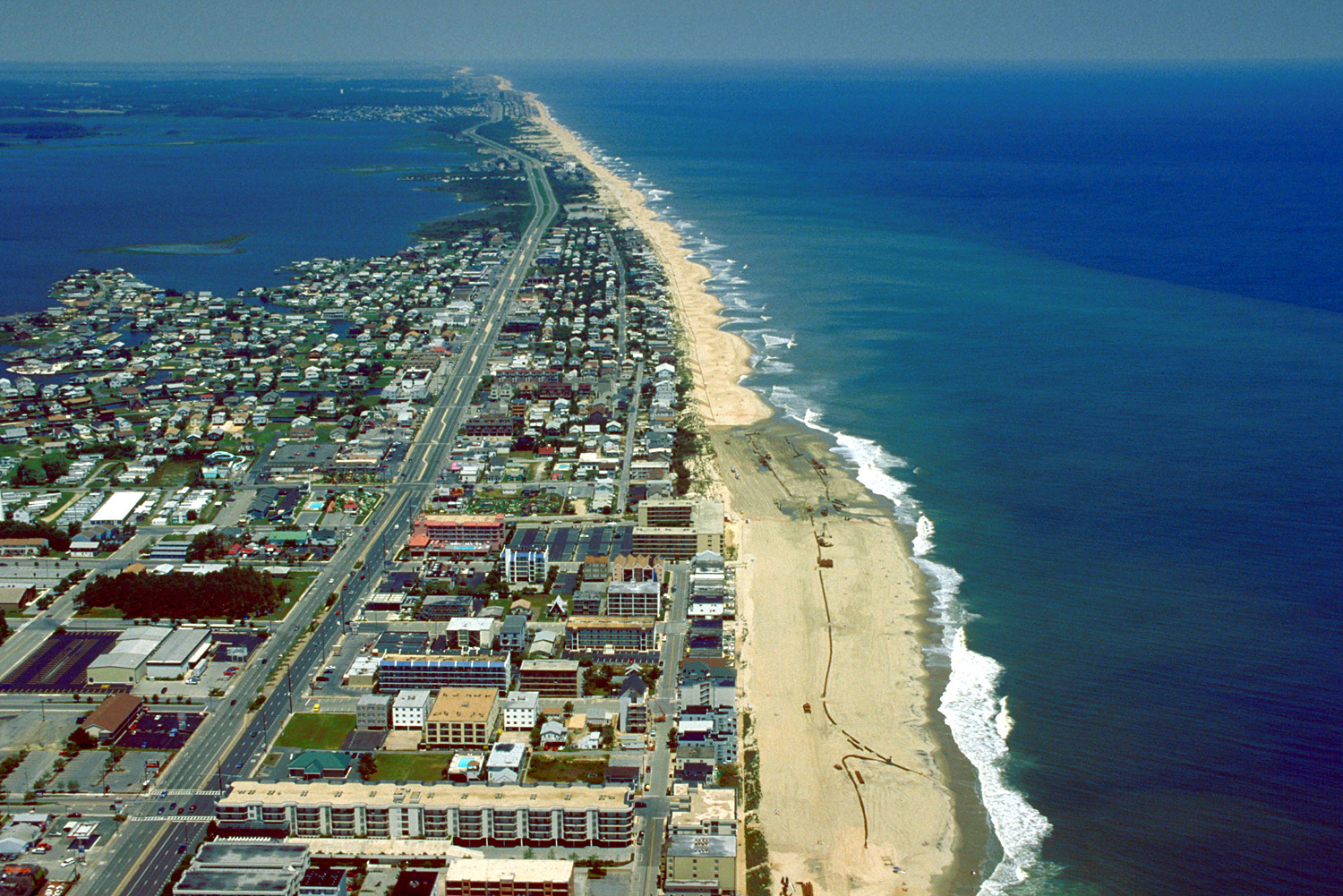 Ocean City Maryland is one of the top summer respites along the mid-Atlantic seaboard, whether you're coming from cities like Baltimore and Washington, DC, or parts of surrounding coastal Maryland. While Ocean City's temperatures vary considerably throughout the year, the city's – and beach's – natural beauty remains constant, so no matter when your travels take you to the region, make a day on the sea part of your plans. Here are some ideas on how to best enjoy Ocean City in all four seasons.
Ocean City in Summer
With an average summer high of around 85ºF, Ocean City certainly lives up to its name. Even if you don't swim it its beautiful water or lie on one of its Golden Beaches, Ocean City just screams "summer," whether you stuff your face with funnel cakes or hot dogs on the Ocean City Boardwalk, take in a show at the Ripley's Believe It Or Not Museum or simply enjoy the balmy summer breeze.
Fall Colors Near Ocean City
Aside from the occasional palm imported from Florida or the scrubby brush you find everywhere, Ocean City isn't most tree-filled part of Maryland, so it's difficult to see fall colors when you're actually on the beach. Just a short drive from the city center, however, you'll find Assateague Island, a state park Maryland shares with Virginia to the south.
While Assateague Island is most famous for the wild ponies that swim off its shores, visit during late October and early November to see the island's forests ablaze in fall colors. Alternatively, if temperatures on the island are too balmy for fall colors to appear, consider taking State Highway 90 back onto the Maryland mainland, for a day trip through the brightly-hued towns and cities just on shore.
Winter Camping at Assateague Island
Speaking of Assateague Island, another fun activity to partake in here, particularly if you want to spend a night away from Ocean City rather than take a day trip, is to camp. One thing that might surprise you, especially if you've ever spent a winter in coastal Maryland, is that many of the island's campgrounds are open during the winter. Temperatures aren't bitterly cold here, and hover in the low 50s most days due to the jet stream just off shore, but you should still take care when camping in the winter, particularly at night.
Beat Ocean City's Crowds in Spring
With the exception of spring break, which falls during early-to-mid March, Ocean City itself receives extremely light crowds throughout much of the spring, which means it's the perfect time to enjoy everything the city has to offer. While you might need to wait until April or even May for the water to warm up enough for swimming, you can enjoy sunbathing, as well as Ocean City's famous sunrises and sunsets, without (usually) wearing more than a light jacket.
Main image credit - https://en.wikipedia.org/wiki/Fenwick_Island_(Delaware–Maryland)#/media/File:Ocean_City_Maryland_aerial_view_north.jpg
Share:

Overwhelming urban sprawl — that's what it feels like when you hit Seoul! Seoul's staggering size intimidated me before I even really got there.
After getting off the plane, I had to descend four escalators, take a train to another building, then go up several more escalators just to get to the immigration area. Once I exited the airport (which, to be fair, is in neighboring Incheon, rather than Seoul proper), it took more than an hour by train to get to Seoul station.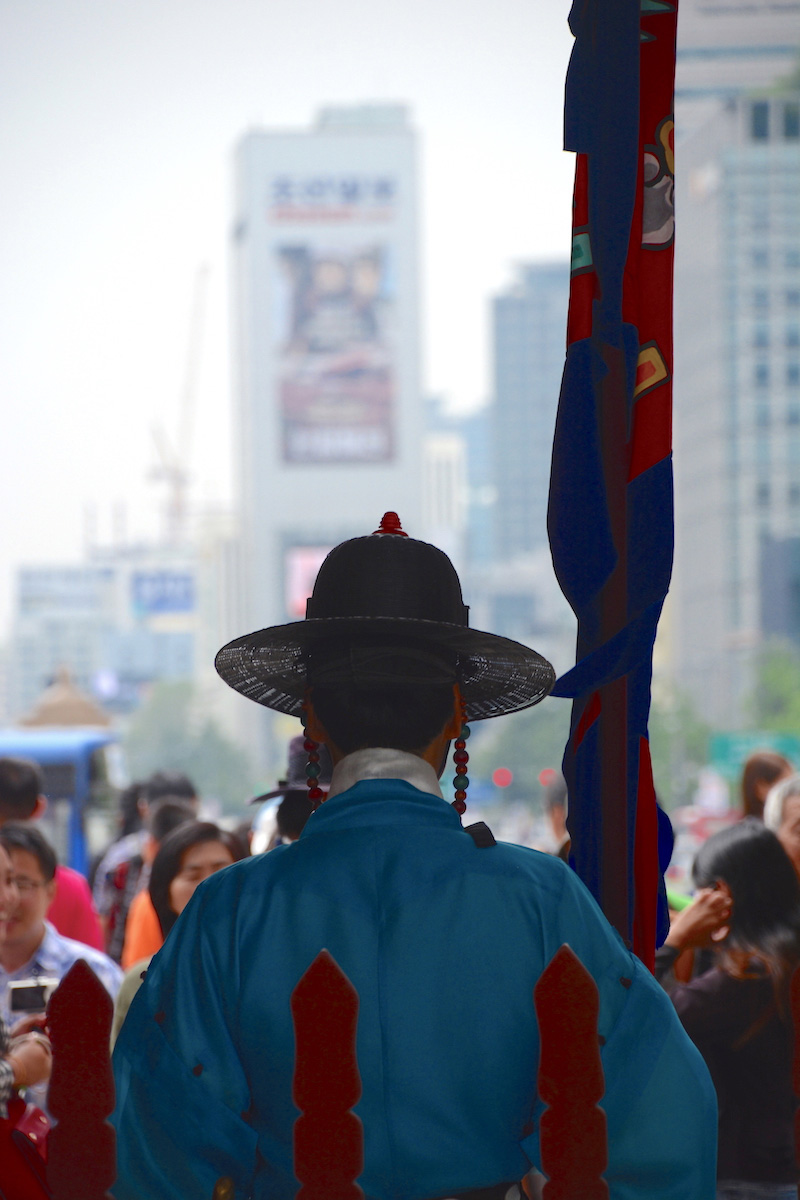 Then, it was a 15-minute walk to the metro, which took another 20 minutes to drop me off at the entrance to the historical Bukchon Hanok Village, from which it was still another 10 minutes by foot to where I was staying.
I mention all this not to intimidate you, but to put what I'm about to outline – how to see the very best of the Seoul, which among its markers of hugeness is the 10 million people who call it home, in just three days – in perspective.
To be sure, three days in Seoul will provide you with mere impressions of the city: Panoramas of skyscrapers rolling over hills like waves of concrete and steel; flashes of neon light reflecting in rivers and streams; and aromas of Korean BBQ in the air all around you.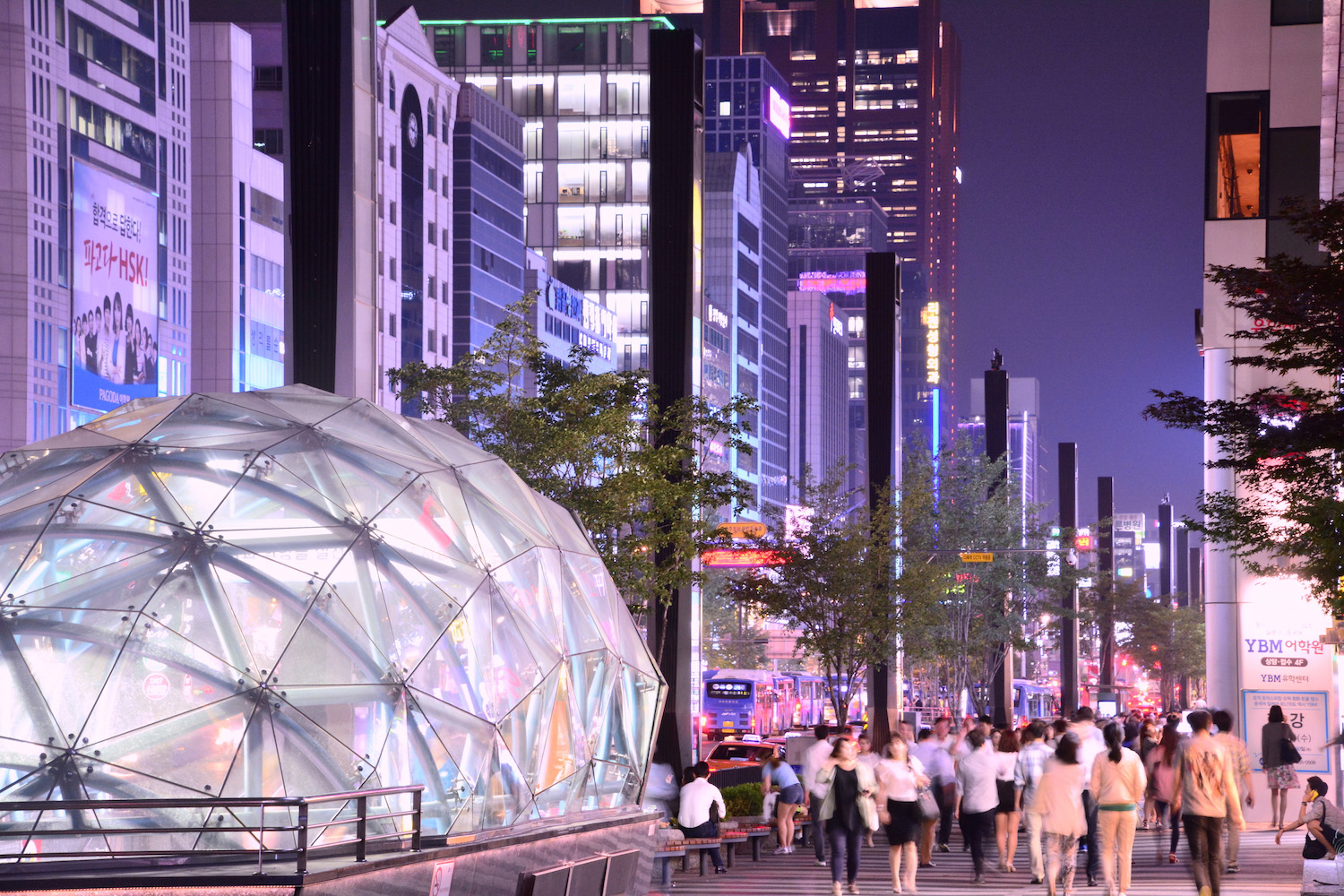 The Best Place to Sleep in Seoul
The bad news? Accommodation prices in Seoul are uniformly high. The good news? They are also rather uniform, which means the same price as a sterile hotel room in one of Seoul's downtowns or a Airbnb apartment that might very well suck, you can sleep in a traditional Korean Hanok in Seoul's Bukchon Hanok Village, a UNESCO World Heritage Site. I personally slept at Dahyun Hanok Homestay Guesthouse, but there are dozens of others nearby of similar quality at at a similar price point.
Day One: The Ghosts of Imperial Korea
Traditional experience notwithstanding, one very good reason to stay in the Bukchon Hanok Village is that it's the perfect place to start exploring Seoul. For one, it's walking distance from Seoul's most famous pair of palaces: Gyeongbokgung, which dates back to the 14th-century Joseon Dynasty period and Changdeokgung, which the Joseon emperors built in the early 15th century.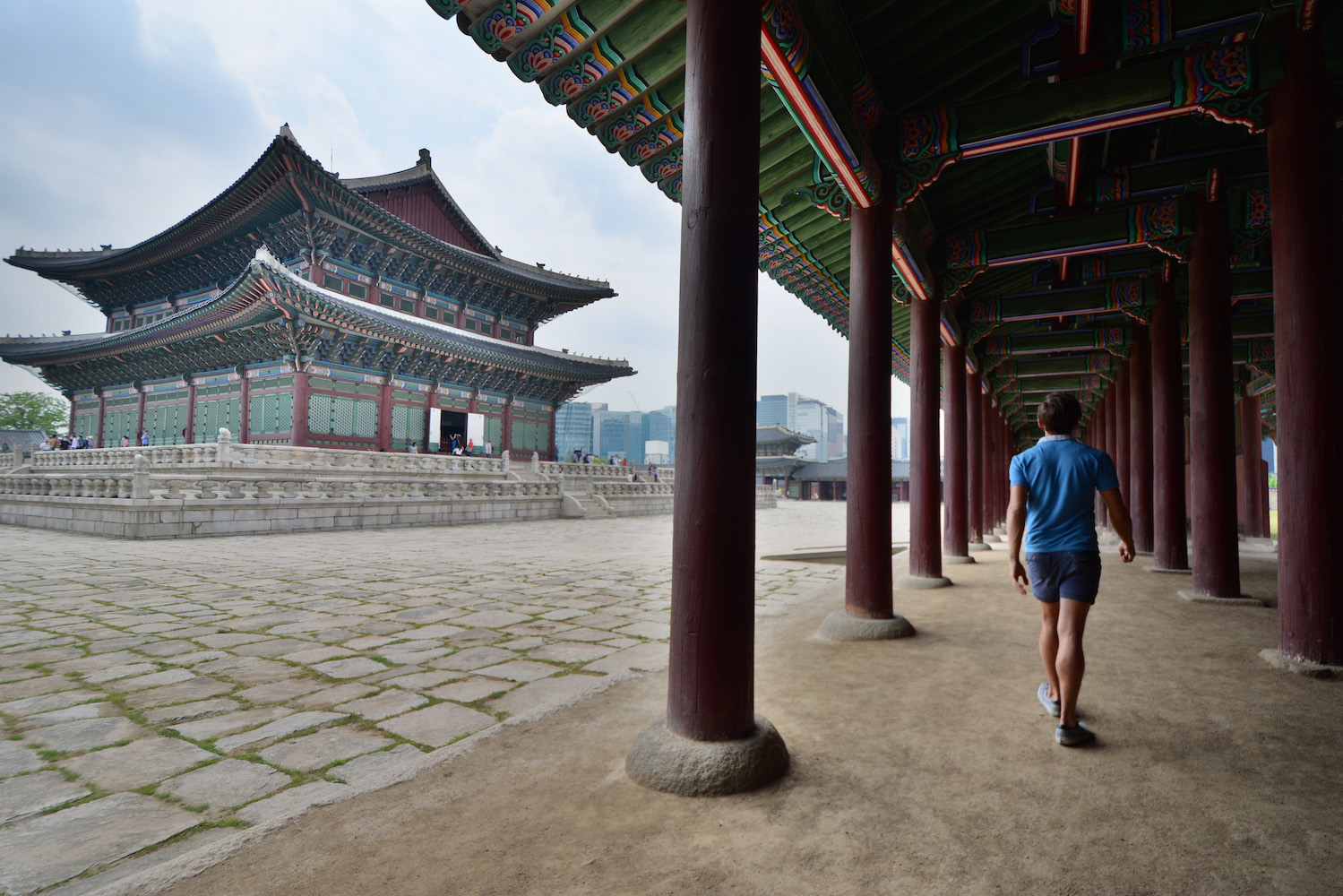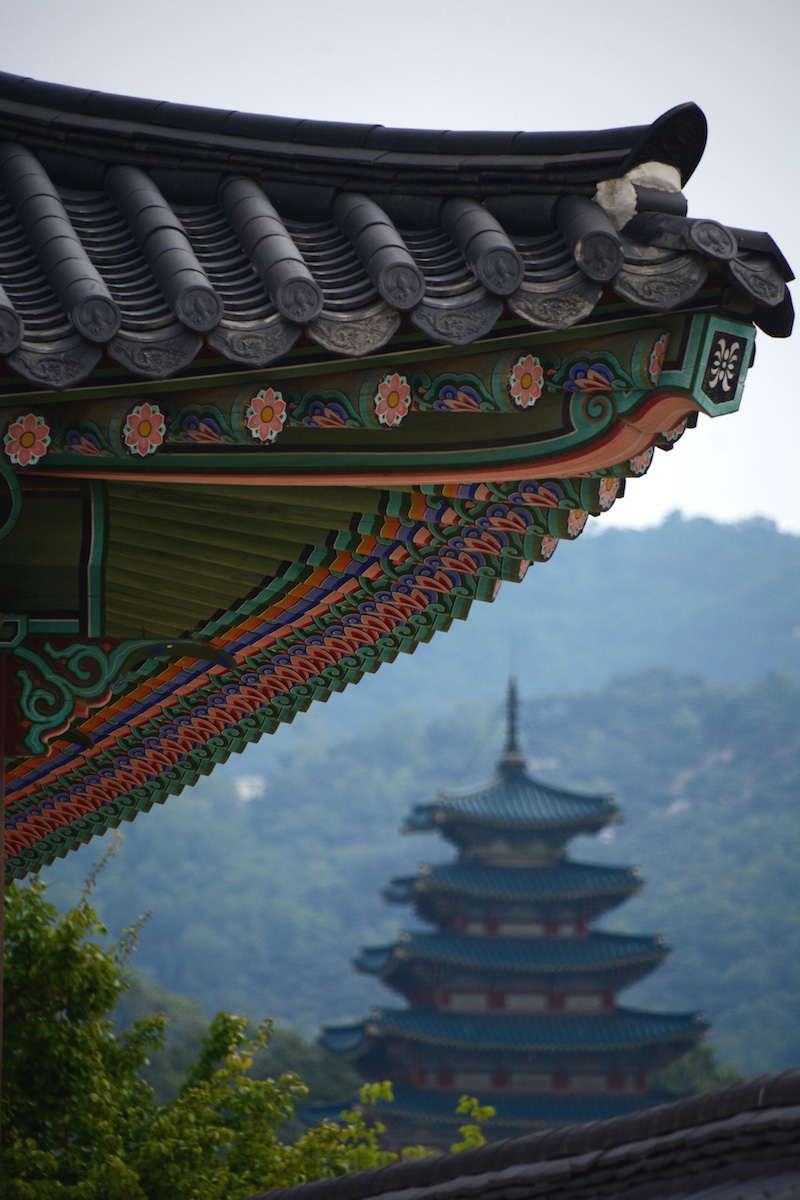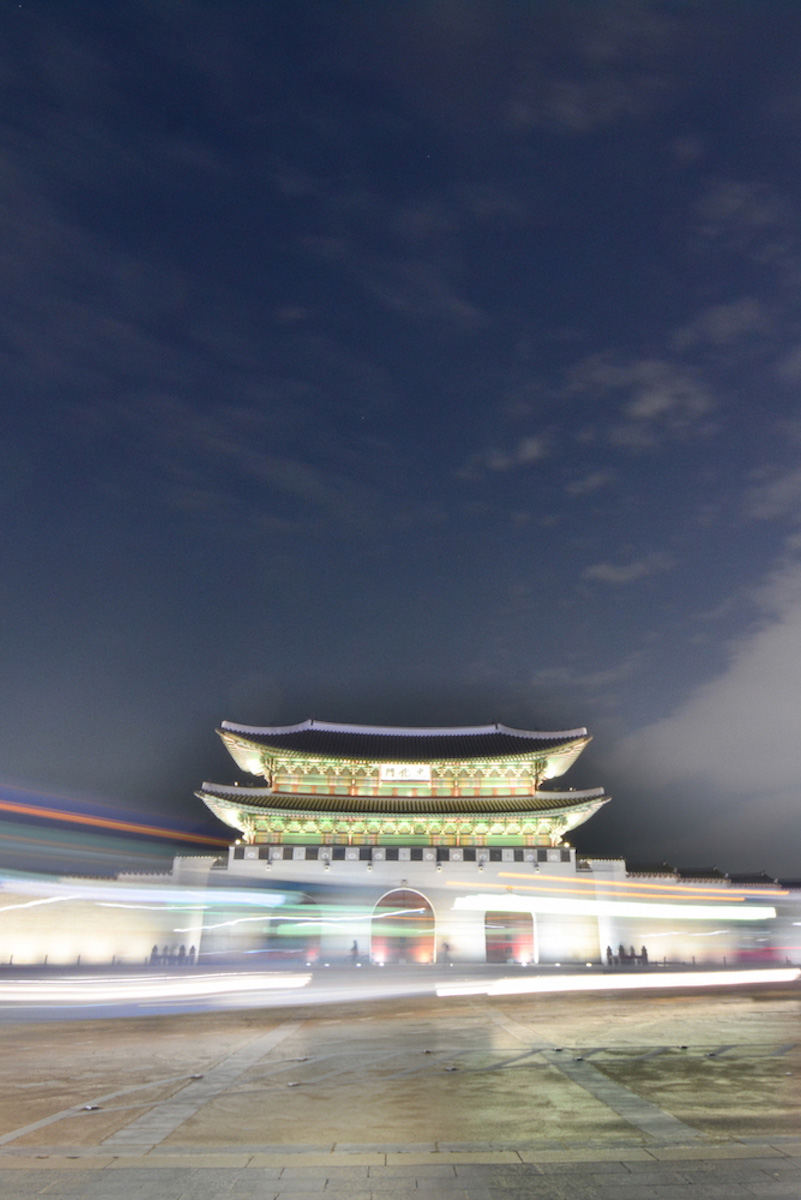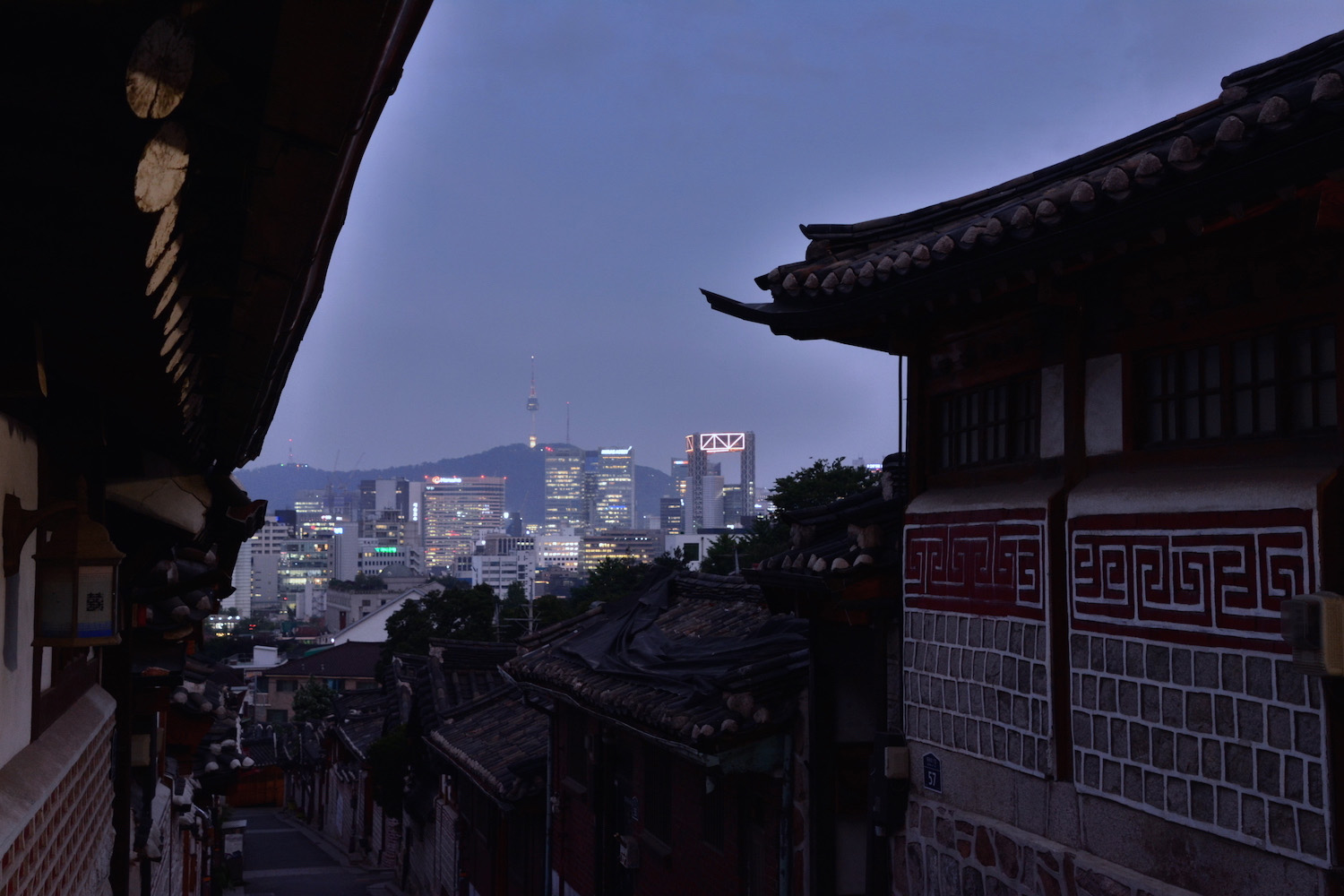 The palaces sit on either side of Bukchon Hanok Village, which is itself replete with traditional Korean architecture, on both sides, so you might begin your day with a walk to Gyeongbokgung, then explore your way back through the Hanok Village to Changdeokgung, then heading back into the village to enjoy sunset from one of its high hills, whose traditional houses frame Seoul's modern skyline, which towers in the distance.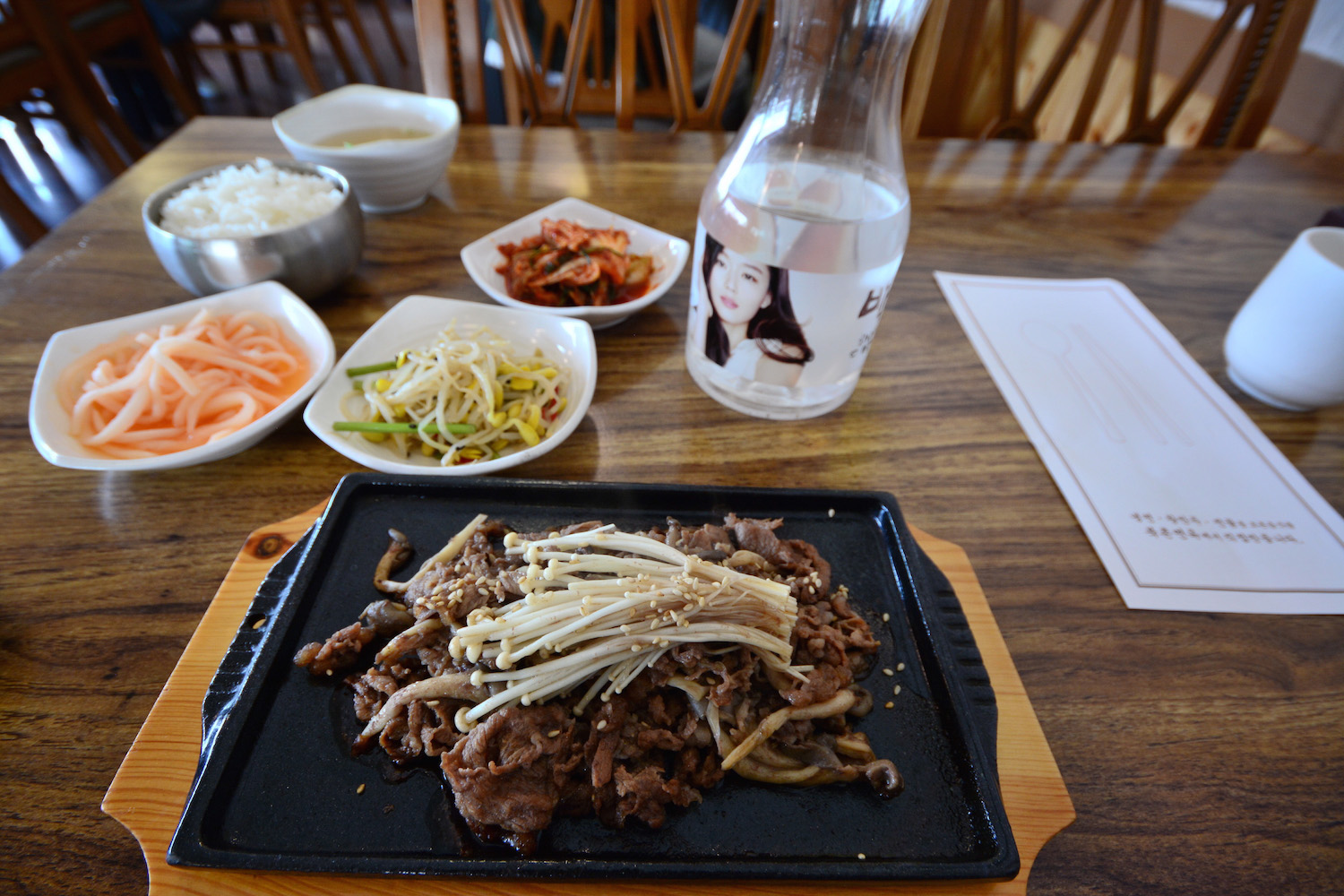 As you might imagine, Bukchon Hanok Village is a great place to grab traditional Korean food, from barbecued beef and pork bulgogi, to eclectic bibimbap bowls, to deliciously spicy kimchi, whether you enjoy them homestyle in your hanok, or at the countless restaurants that dot the streets and alleys. One thing that might surprise you, however, is how many coffee shops there are in this part of town – they make up at least half of all businesses on some streets.
Day Two: Ain't No Mountain High Enough
Feel free to take a twilight stroll through old Seoul, which is mostly lit up at night, but go to bed early so that you can make the hike up to the Seoul City Wall, which borders the city on the north side, before the daylight gets too harsh – and, in the summer, the temperature too high. Seoul City Wall affords you a panorama or both ancient and modern Seoul and, on clear days, South Korea's presidential residence, the Blue House.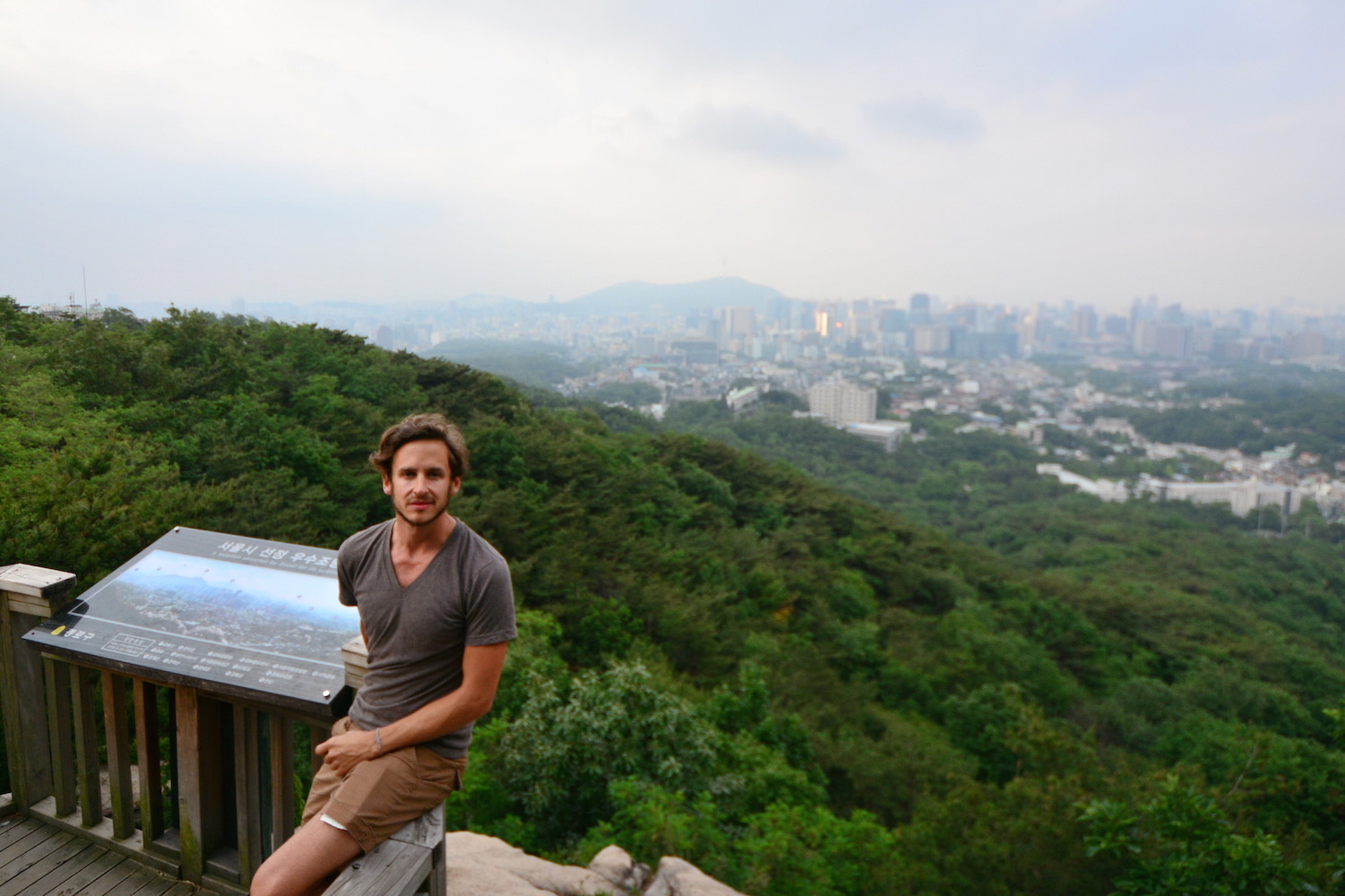 This section is about climbing mountains – and I'll get to another one in a minute – but since I referenced a classic song, I should also invite you to explore some valleys (albeit not particularly low ones) and rivers (even if only one of them is ride). Spend mid-day biking along Seoul's Han River (this is the wide one), which is best reached by taking the Seoul Metro to Yeouinaru station. Then, ride the metro to Seoul Forest station to visit the city park of the same name – no rivers or valleys here, unfortunately.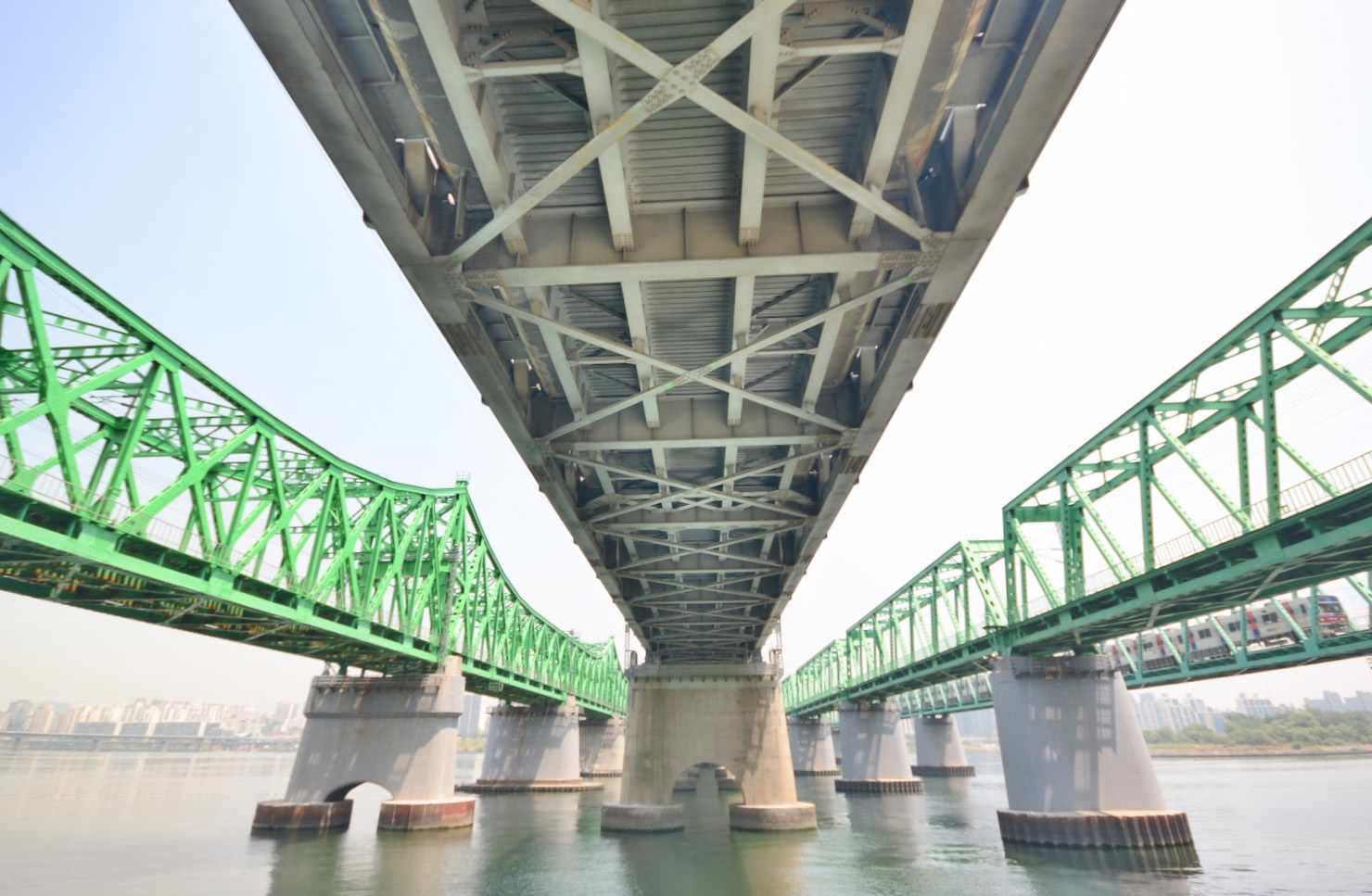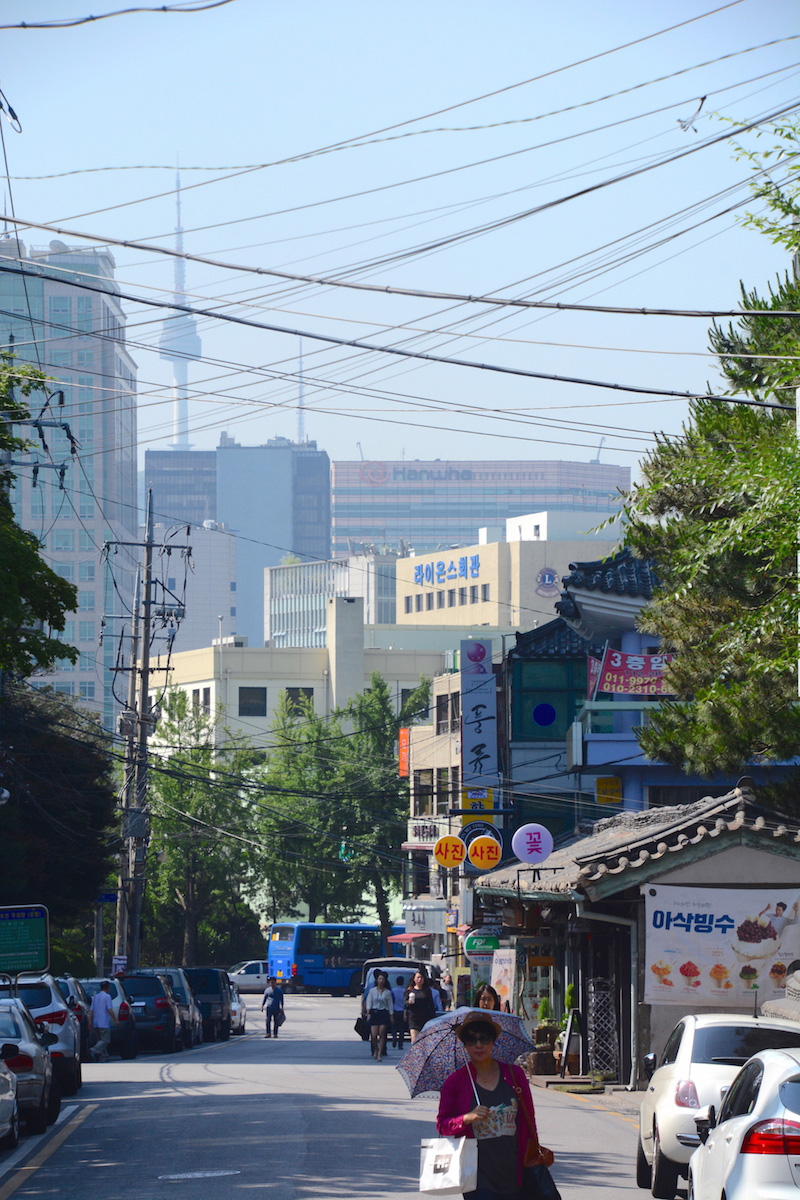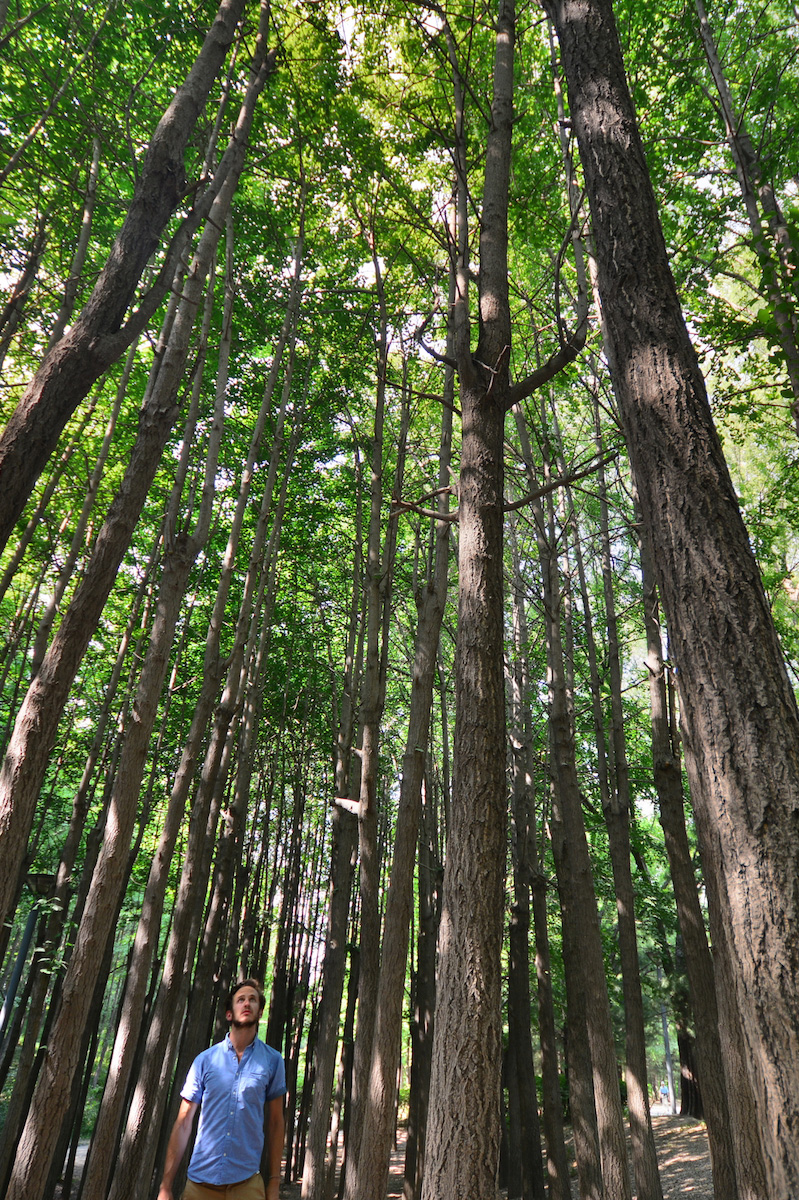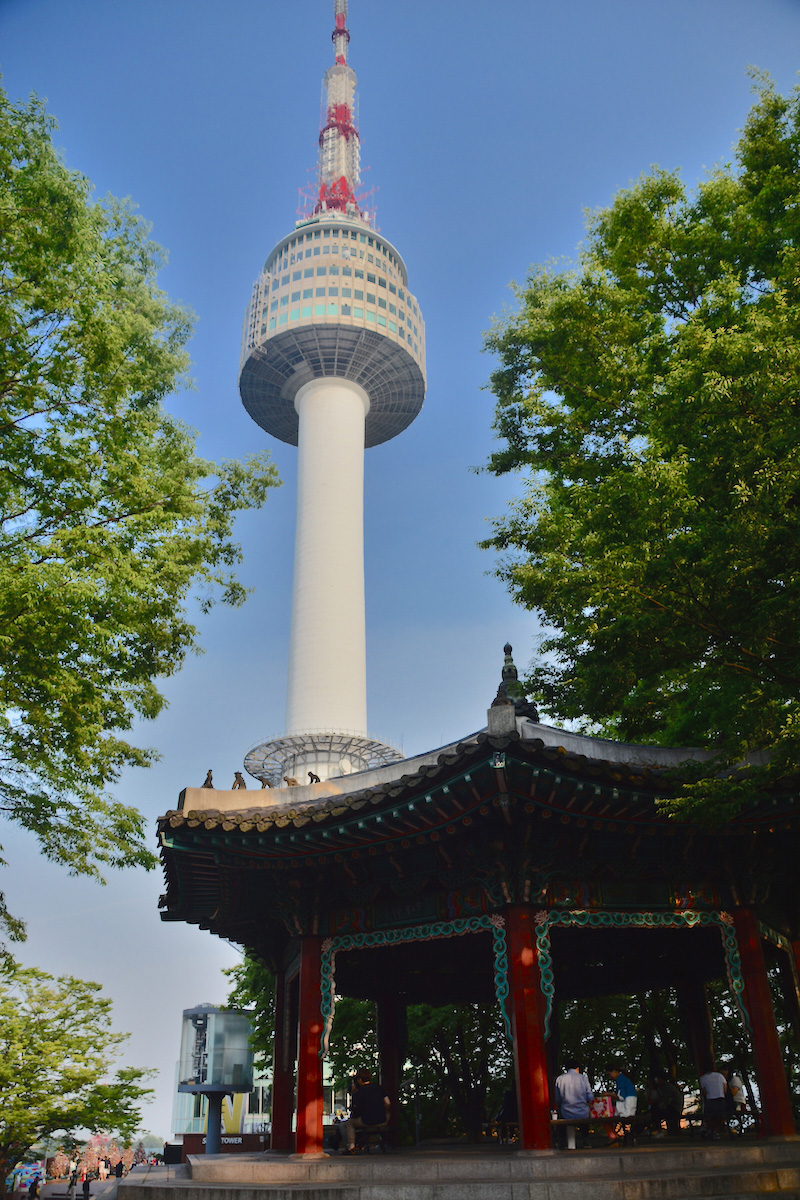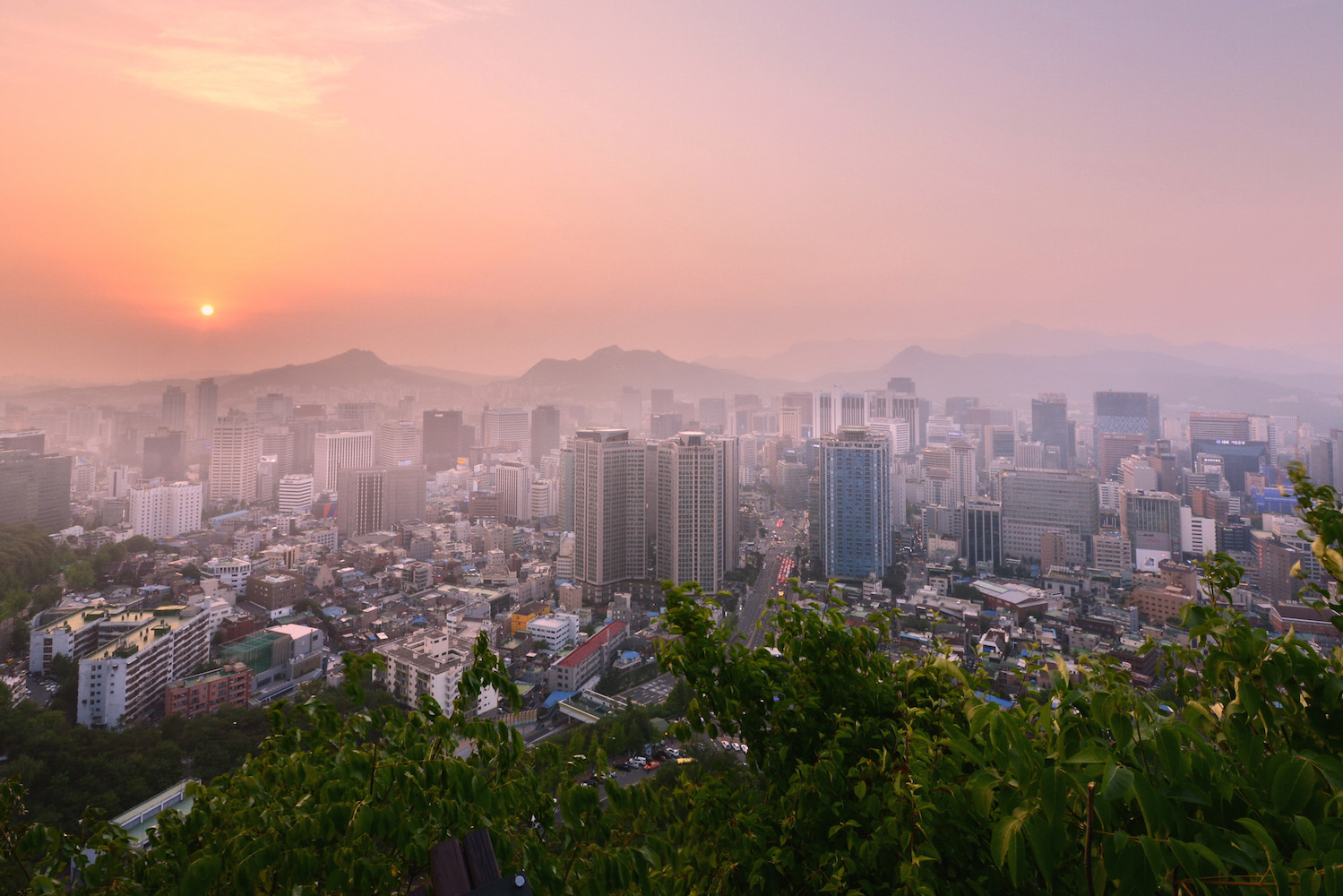 First, however, we're headed back up a mountain: Namsan Mountain, to specifically, home of Seoul's iconic N Seoul Tower. But rather than ride the cable car up to the tower's base (I mean, you could if you were feeling lazy!), take the metro to Hoehyeon station, then hike along (a different part of the) Seoul City Wall until you reach the top. Ideally you'll arrive just in time to enjoy a beautiful sunset over Seoul, which will take you to my next suggested destination right as night falls.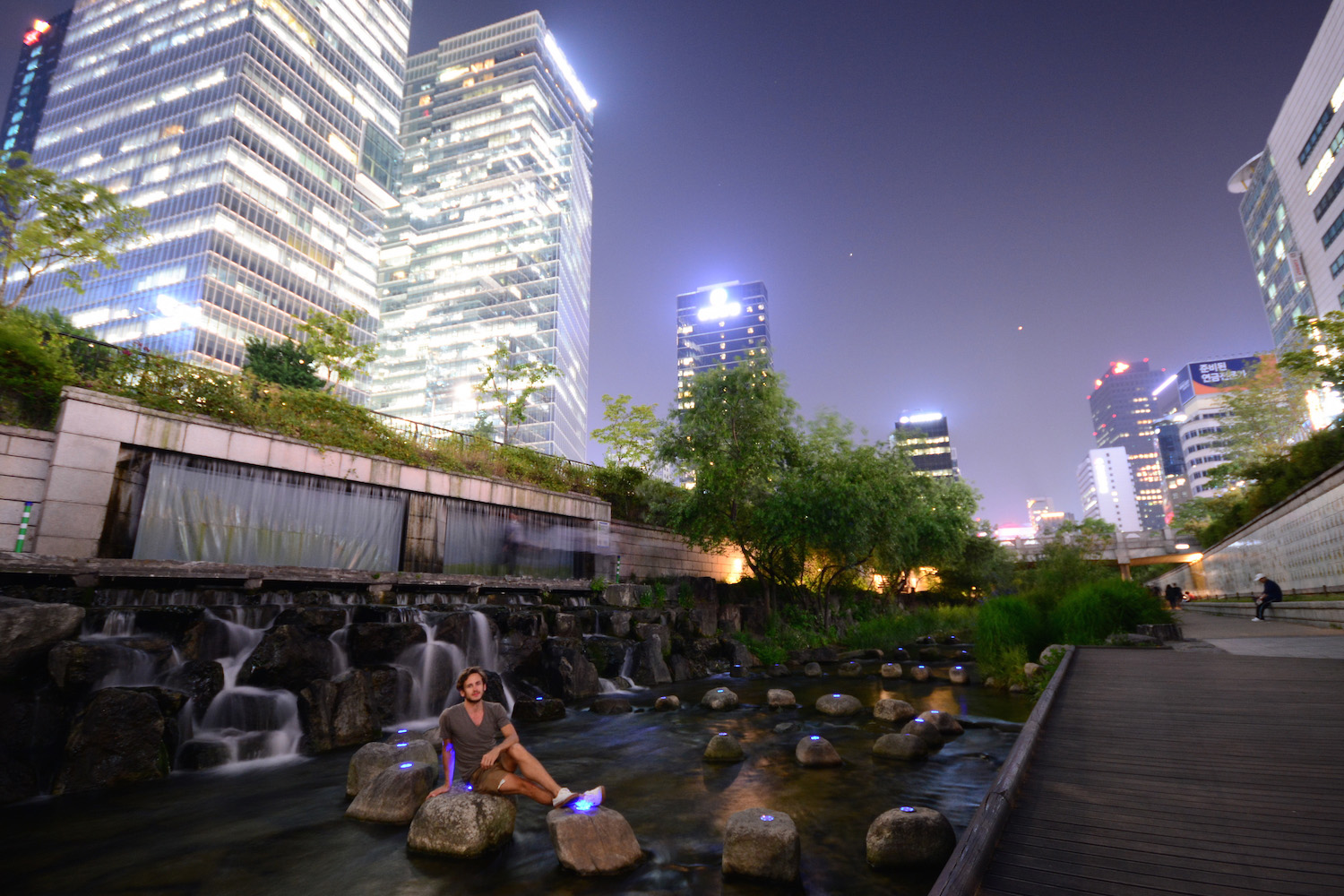 Back at valley/river level sits Cheyonggyecheon, a reconstituted stream that flows through Seoul's Jongno district, juxtaposing futuristic skyscrapers with an idyllic (if slightly artificial) stream. To get here, take the metro to Eujiro-3 Ga station, then walk back to the Bukchon Hanok Village or, depending on your energy, take the metro back to Anguk station and walk from there.
Day Three: Gangnam (et al) Style
Of all the places to explore in modern Seoul, Gangnam is by far the most famous,  but I would argue that it's not very exciting, especially considering how far it is, relatively speaking, from everything else there is to see in Seoul.
If you find time on your third night in Seoul, then by all means take a stroll through Gangnam, but if you want to stay closer to the action, you've got plenty of alternatives as well. The neon lights of Insadong, for example, evoke Tokyo's Shinjuku, whereas Itaewon is filled with foreigners and expats and has a decidedly international vibe and youthful Hongdae sits nearby a large university.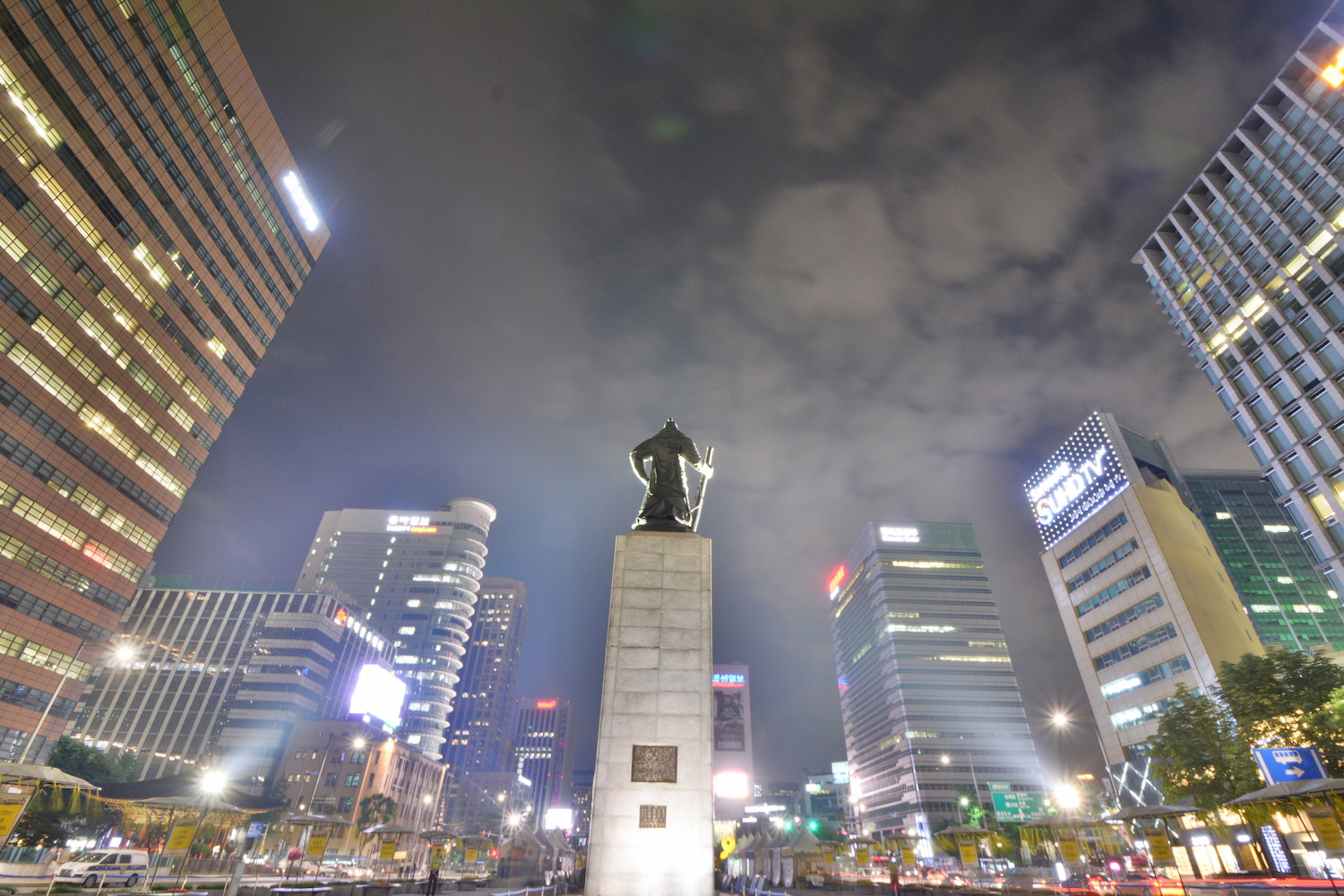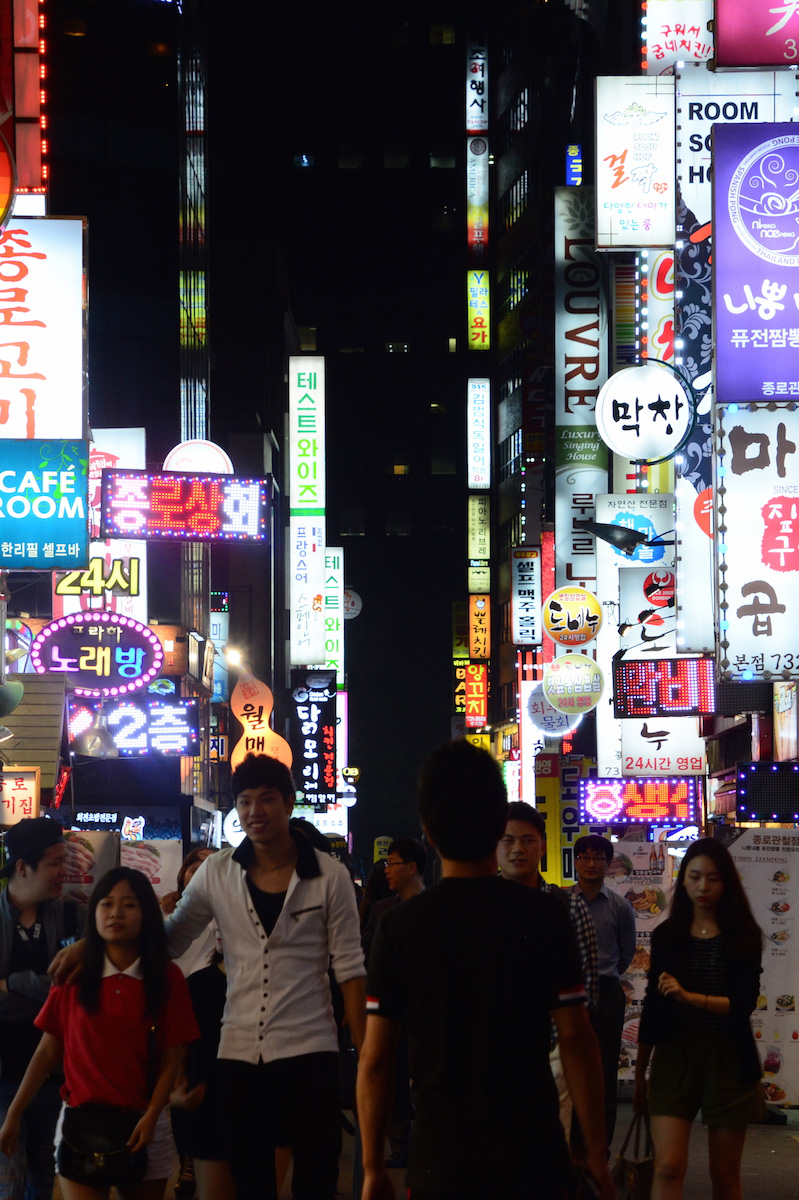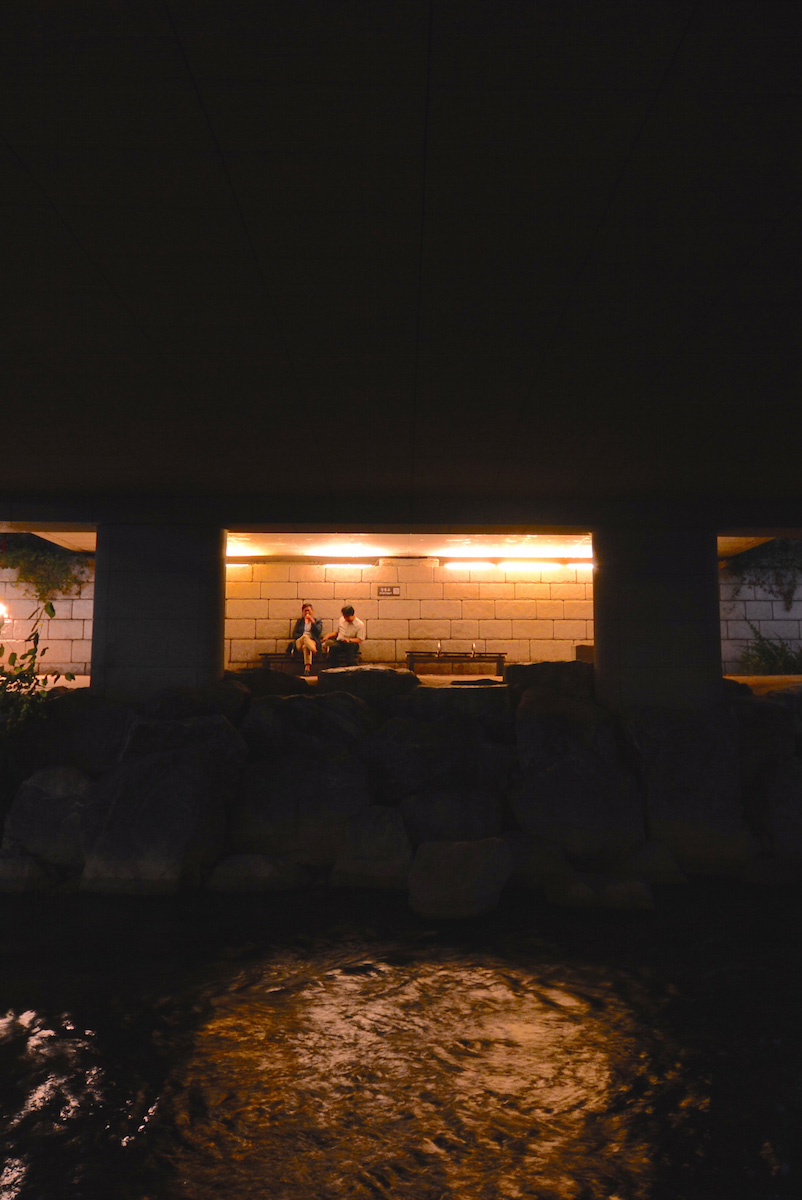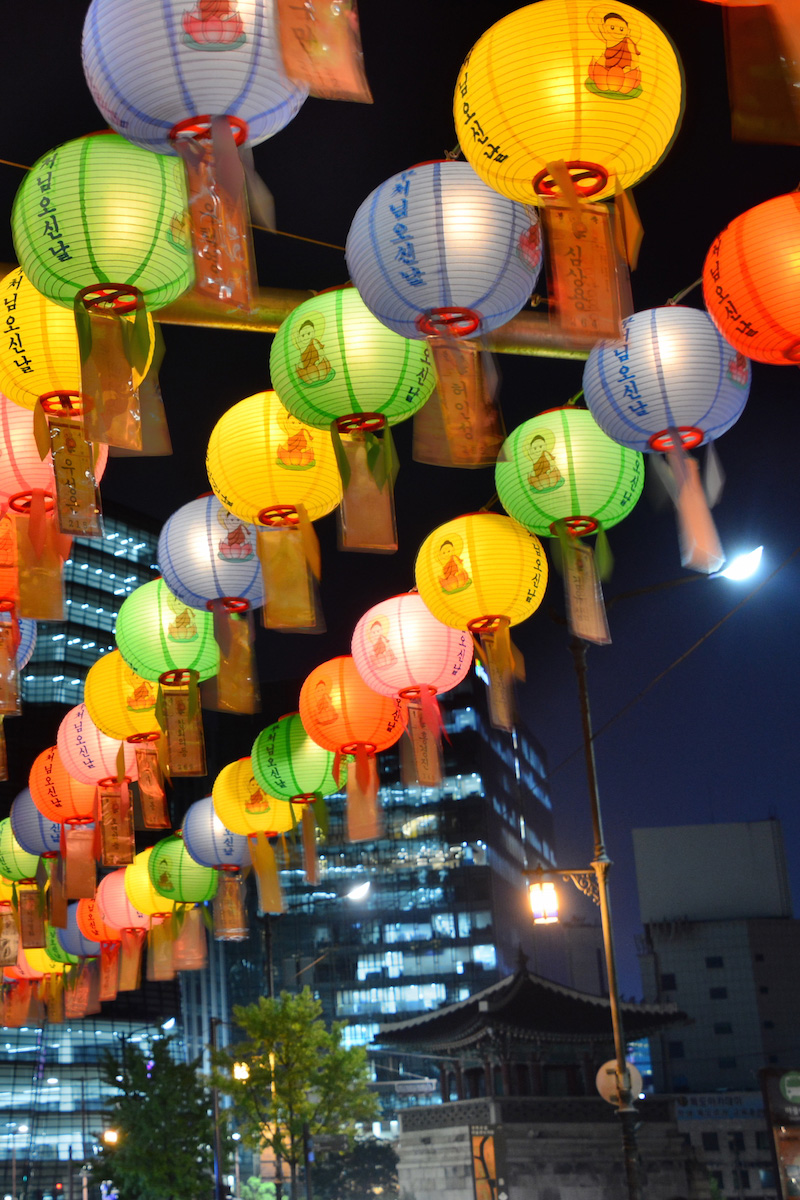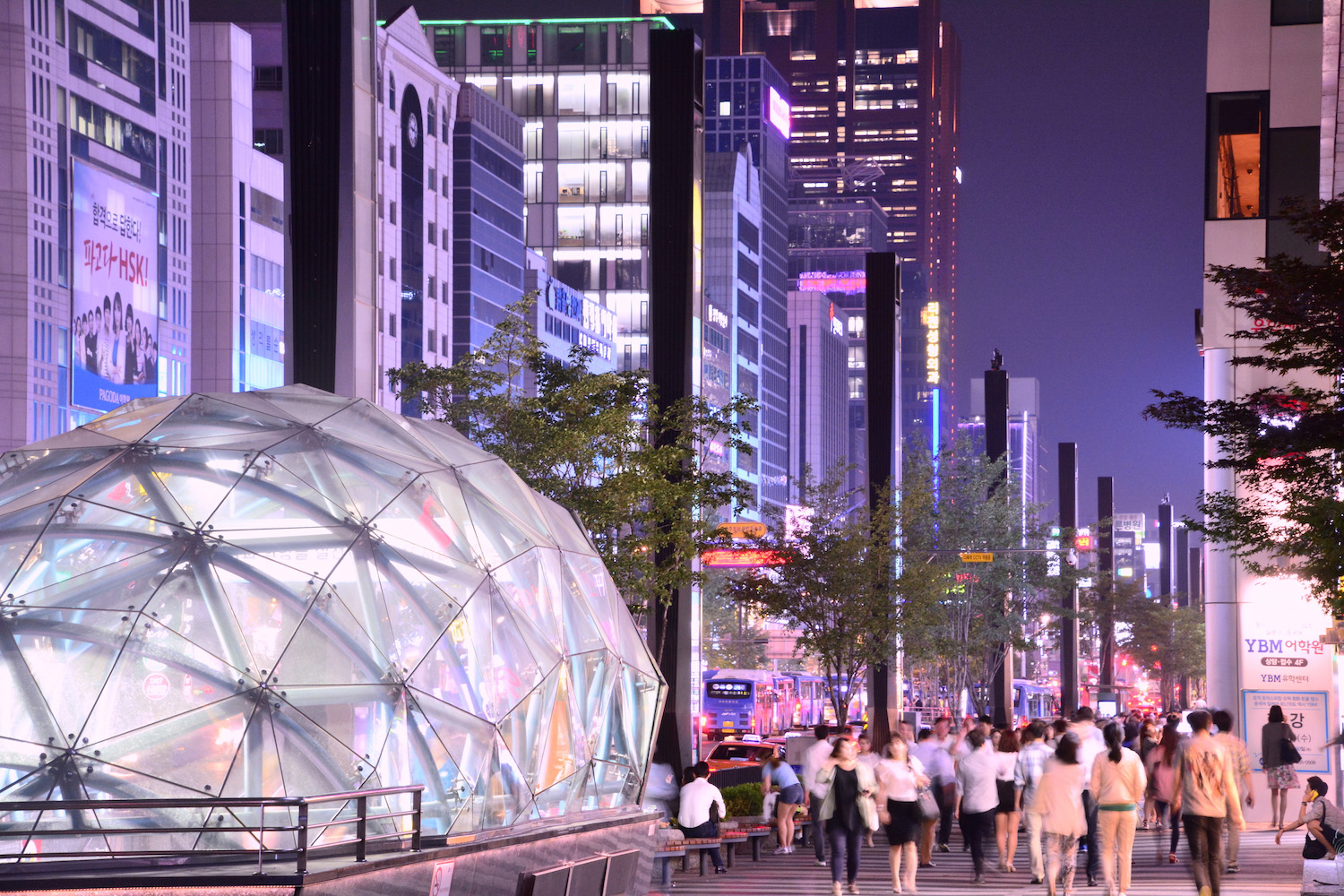 All of these areas are best explored at night, however, so you've got some options on how to spend the daytime of your last of three days in Seoul. You could take a day trip – the DMZ (de-militarized zone) with North Korea is a popular option, although I can't comment on it personally since it was closed when I visited, thanks to MERS. Or, you could explore anything you missed during the first two days.
(Because God knows there will be a lot!)