About Robert Schrader
Robert Schrader is a travel writer and photographer who's been roaming the world independently since 2005, writing for publications such as "CNNGo" and "Shanghaiist" along the way. His blog, Leave Your Daily Hell, provides a mix of travel advice, destination guides and personal essays covering the more esoteric aspects of life as a traveler.
Latest Posts by Robert Schrader
Share:

It was nearly 9 p.m. by the time I checked into my charming but un-noteworthy Hong Kong hotel. This was both fitting—Hong Kong is at its most colorful by night and I'd returned there, among other reasons, to take the most colorful photos possible—and frustrating: I'd just gotten off a 17-hour flight which, coupled with a 13-hour time change, left me feeling as haggard as I probably looked.
Those circles are as dark as the night sky, I cringed as I looked at my face in the bathroom's magnifying mirror. And this definitely isn't helping your case. I pulled a long, white hair out of my scalp, then grabbed my backpack and made my way out the door, then down the elevator and into the sea of neon lights and Indian watch hawkers that was Nathan Road.
This is where we were all standing, I closed my eyes as I arrived at the Victoria Harbour waterfront and flashed back six Junes. Dora, then me, then Rick.
Then Rick, I repeated as I forced myself back into the present moment. My flashbacks were vivid enough not only to to erase the half decade that had passed since my best friend, her cousin and I first visited the city together—and, for a moment anyway, that Rick had been dead for nearly half that time.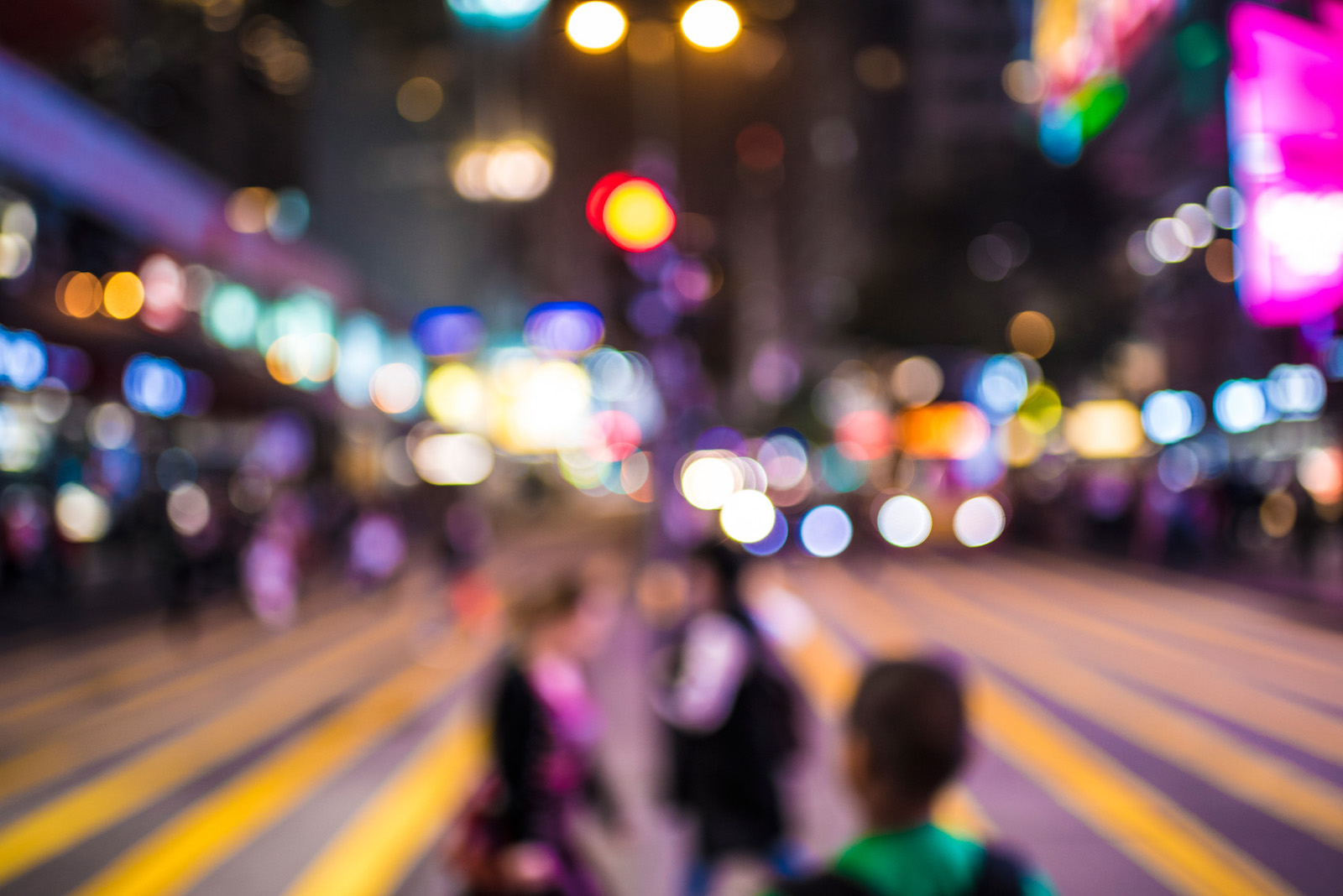 Siena had been one of my supervisors (the nice one) at the English institute I'd resigned from just two days before I embarked on my tour of China with Dora and Rick. We'd hoped to reconnect much sooner, but the dramatic turns both our lives took—I became a travel blogger and Siena became a wife and mother—allowed six years to pass like grains of sand through an hourglass.
"How has your time in Hong Kong been thus far?" She grabbed a steamed shrimp dumpling with her chopsticks.
"A fucking hot mess," I dipped a potsticker into the ramekin of soy sauce and vinegar I'd mixed up. "After staying up past midnight and waking up at dawn for a sunrise that didn't happen, I decided to power through my jet lag by strolling through Chi Lin Nunnery and Nan Lian Garden."
"The two most tranquil places in Hong Kong," she chuckled. "Nice."
We spent the rest of our dim sum lunch reminiscing about our shared past, albeit a highly embellished version of it. Butterflies, after all, cannot allow themselves to be weighed down by memories of life inside the chrysalis.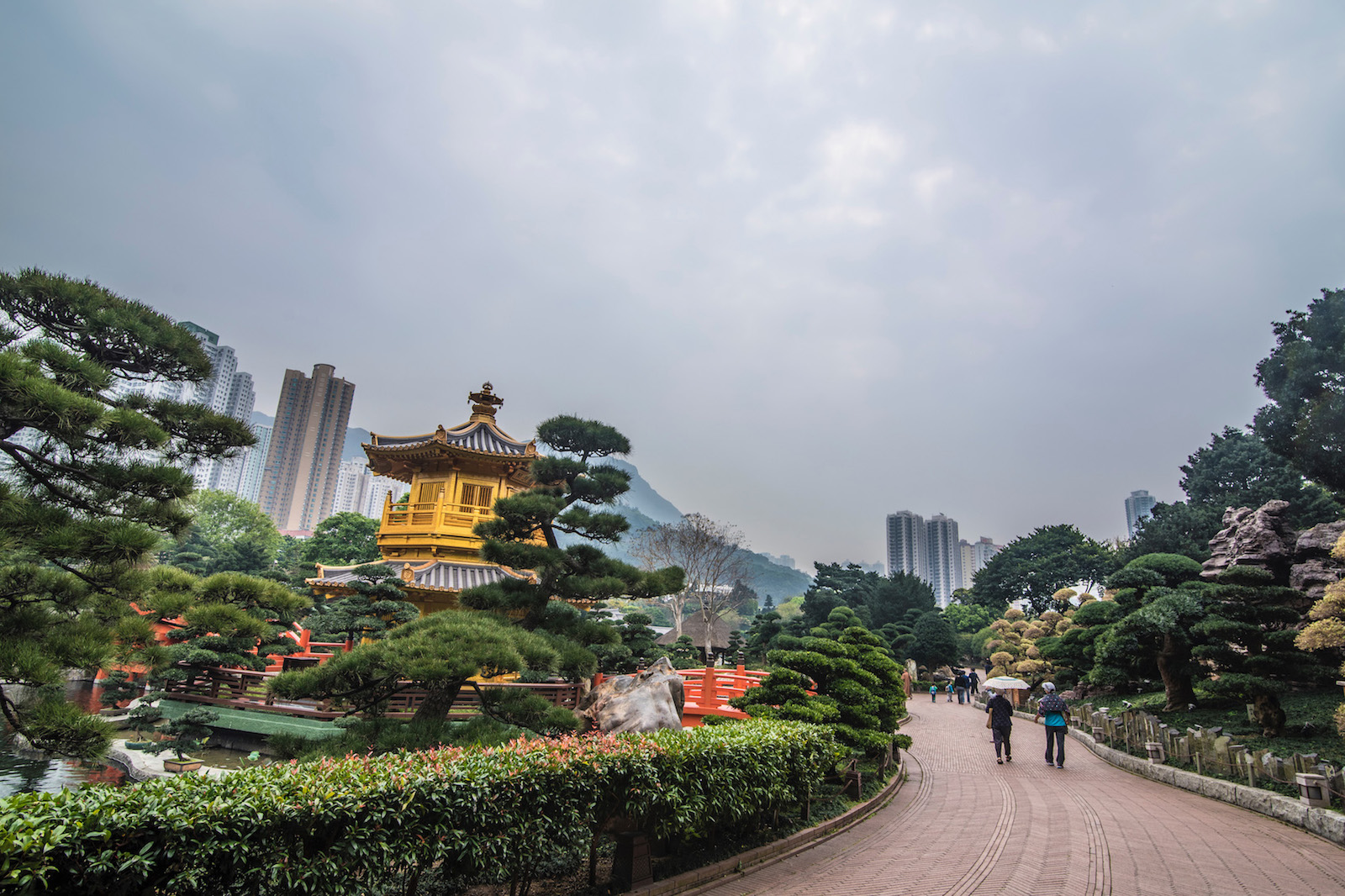 The Yick Fat building, located in Quarry Bay near Tai Koo MTR station, is the closest thing to a human beehive I think I've ever seen. As I stood across the street from it the next morning, I attempted several times to count the number of windows dotting its façade like honeycombs, but never made it to the end of even a single row.
Just then, someone tapped me on the shoulder.
"You should go inside," he pointed. "It's really cool."
I smiled. "You know, that's a really good suggestion."
Of course, that had been my plan all along. Both Yick Fat and Lak Tai Tsuen, in nearby Tin Hau, were on my list of places to explore that day. Incidentally, both were public housing tenements, although the local man's encouragement had quelled my one remaining reservation about photographing such places—that thousands of people make their homes there—in one fell swoop.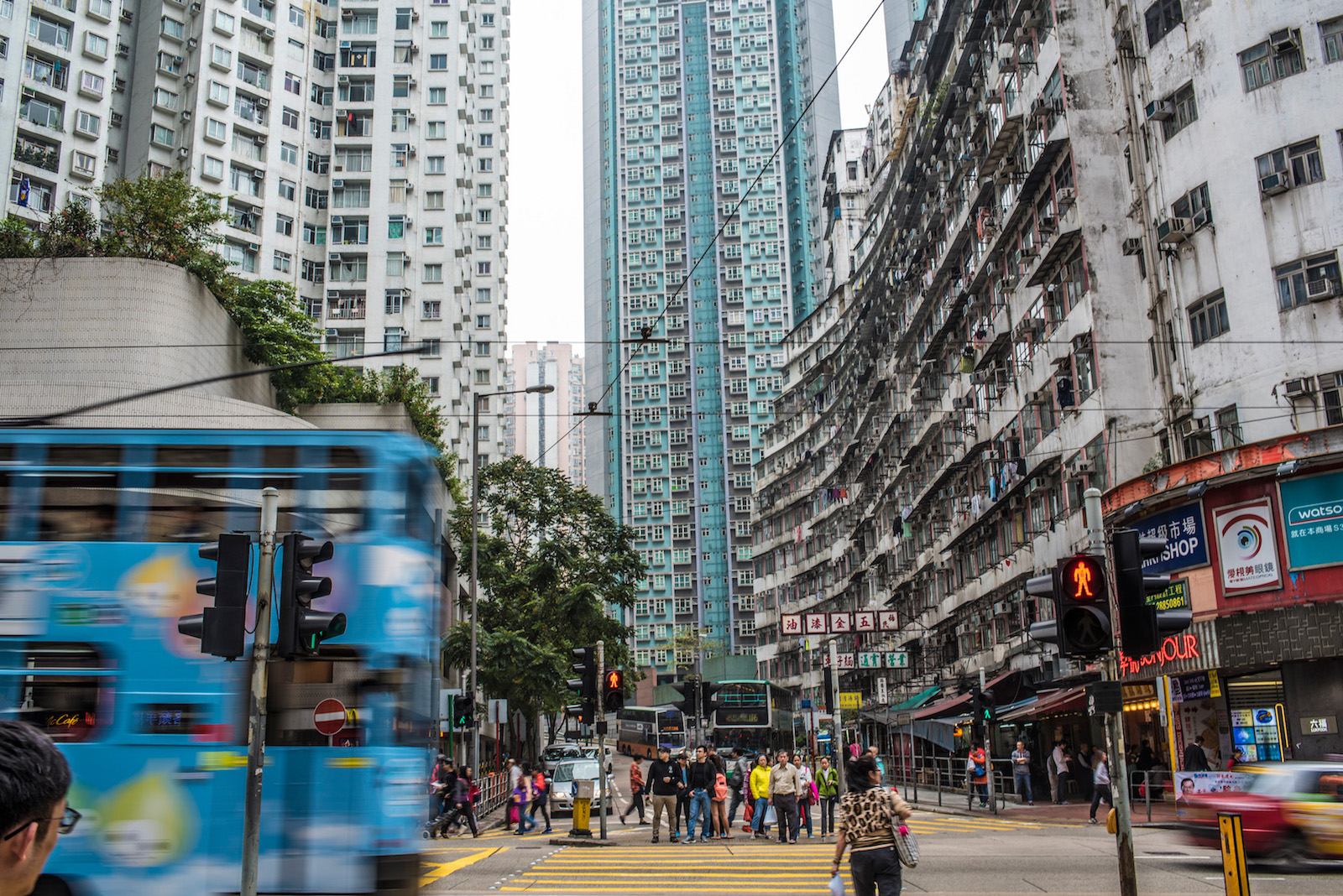 My second visit to Hong Kong has been decidedly more intentional than my first, although this hasn't always manifested as you might expect. Case in point: My afternoon at Po Lin Monastery on Lantau Island.
As I stood outside the Hall of 10,000 Buddhas, I noticed the majority of Asian tourists circumventing the "No Photos" sign displayed just inside the temple with a convenient hack: Standing just outside. I followed suit, but nonetheless drew the ire of one fellow visitor.
"That's really disrespectful," the European tourist, who sounded German and appeared to be no older than 20, scolded me. "You should delete that picture."
I rolled my eyes. "And you should mind your own damn business."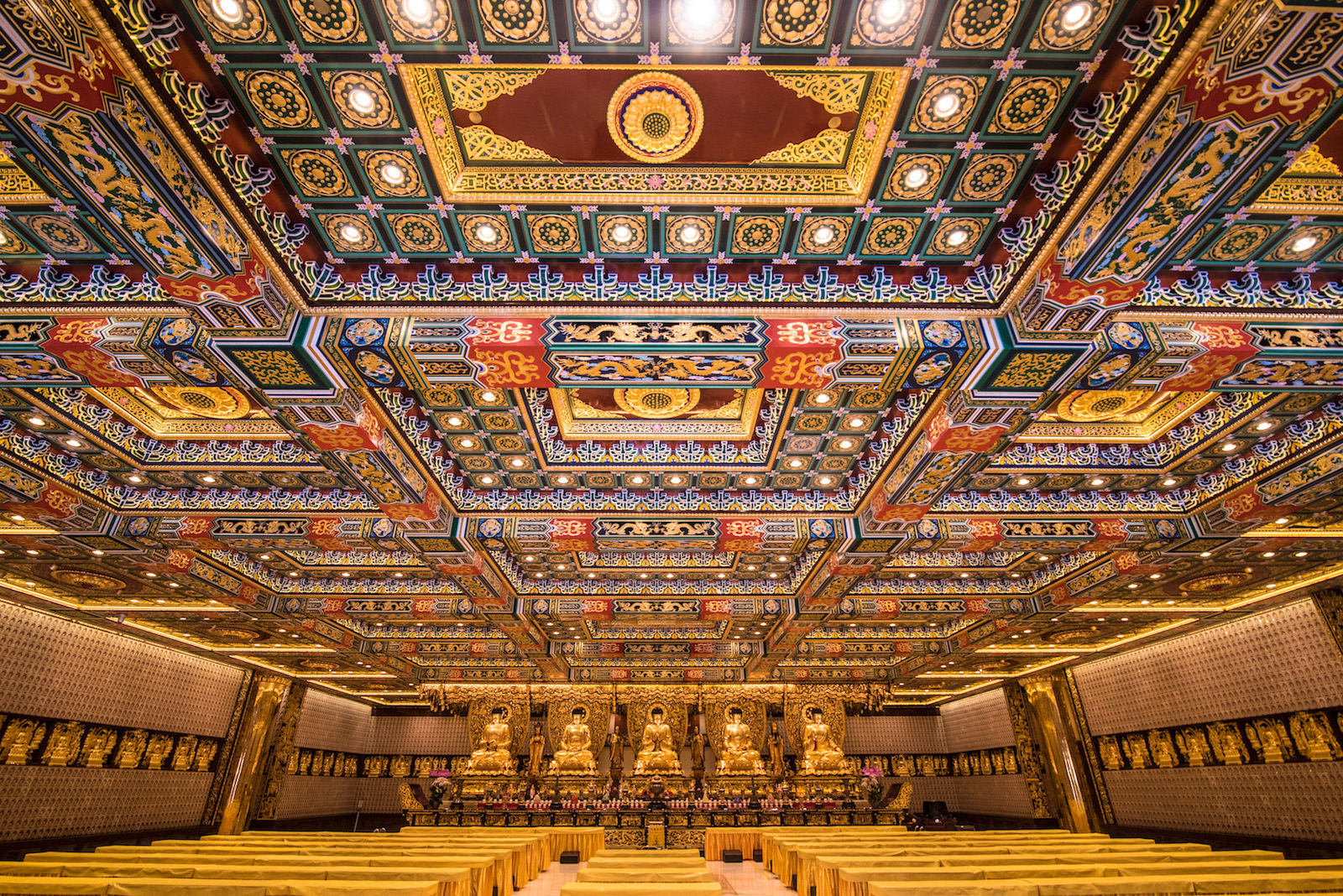 He proceeded to lecture me about morality and cultural sensitivity, all the while oblivious to the dozens of non-Caucasian people doing exactly the same thing I was doing. I briefly considered telling him to fuck off—or, at the very least, to remind him how ironic his bit about "respect" was, given that he had his back to the Buddha—but instead packed up my camera and conceded his point to him.
"I guess you're just a better person than me."
"Obviously," he shook his head self-righteously, and sauntered off as if he'd saved Palmyra from destruction by ISIS.
Poor kid, I thought. He travels the world with a little of Daddy's money, and all of a sudden he thinks he's Gandhi.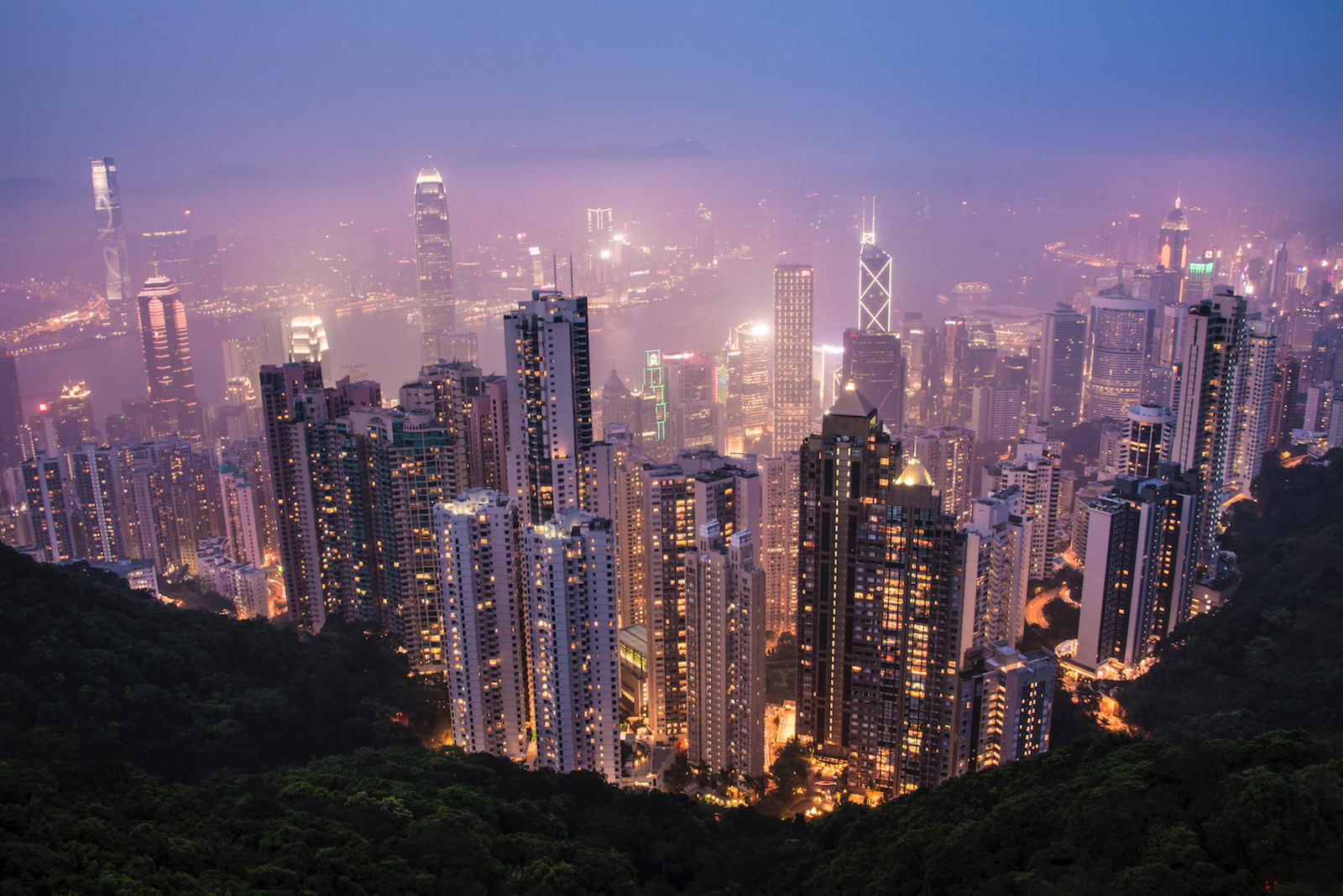 On my last night in Hong Kong, I met Siena for drinks on the charming terrace of an un-noteworthy bar in Hong Kong's Mid-Levels. It was only 9 p.m., but both of us were exhausted: Me from my marathon weekend in the city, Siena from having two small children.
She raised her drink. "To drinking in our 30s."
"Here, here!" I said and clinked my glass against hers.
Just then, an iconic red taxi parked in front of us, and out came a conga line of barely-legals who each appeared to be from a different continent. Hong Kong's international flavor is generally my favorite aspect of the city, although this particular meeting of the United Nations turned its nose up as it brushed past us.
"Imagine how lame they'll be when they're our age," I giggled.
"Indeed," she sipped her mojito. "But then, the 'popular' people always do peak early. It's comeuppance."
"I'm sorry," I set down my wine. "What word did you just use?"
"Comeuppance," she repeated. "You know, people getting what's coming to them."
I nodded. "I know the meaning. But I mean, what made you choose to use that word?"
"No particular reason," she replied. "Why?"
"Well, it's just that when I was planning my trip last week, it randomly popped into my head—I even wrote it down." I opened the note in my phone to show her. "But the funny thing is that I'd only seen the word in literature a couple times and had never actually heard it spoken until you said it a few seconds ago. Isn't that serendipitous?"
"Maybe this trip is your comeuppance?" She shrugged her shoulders. "Positive comeuppance, of course."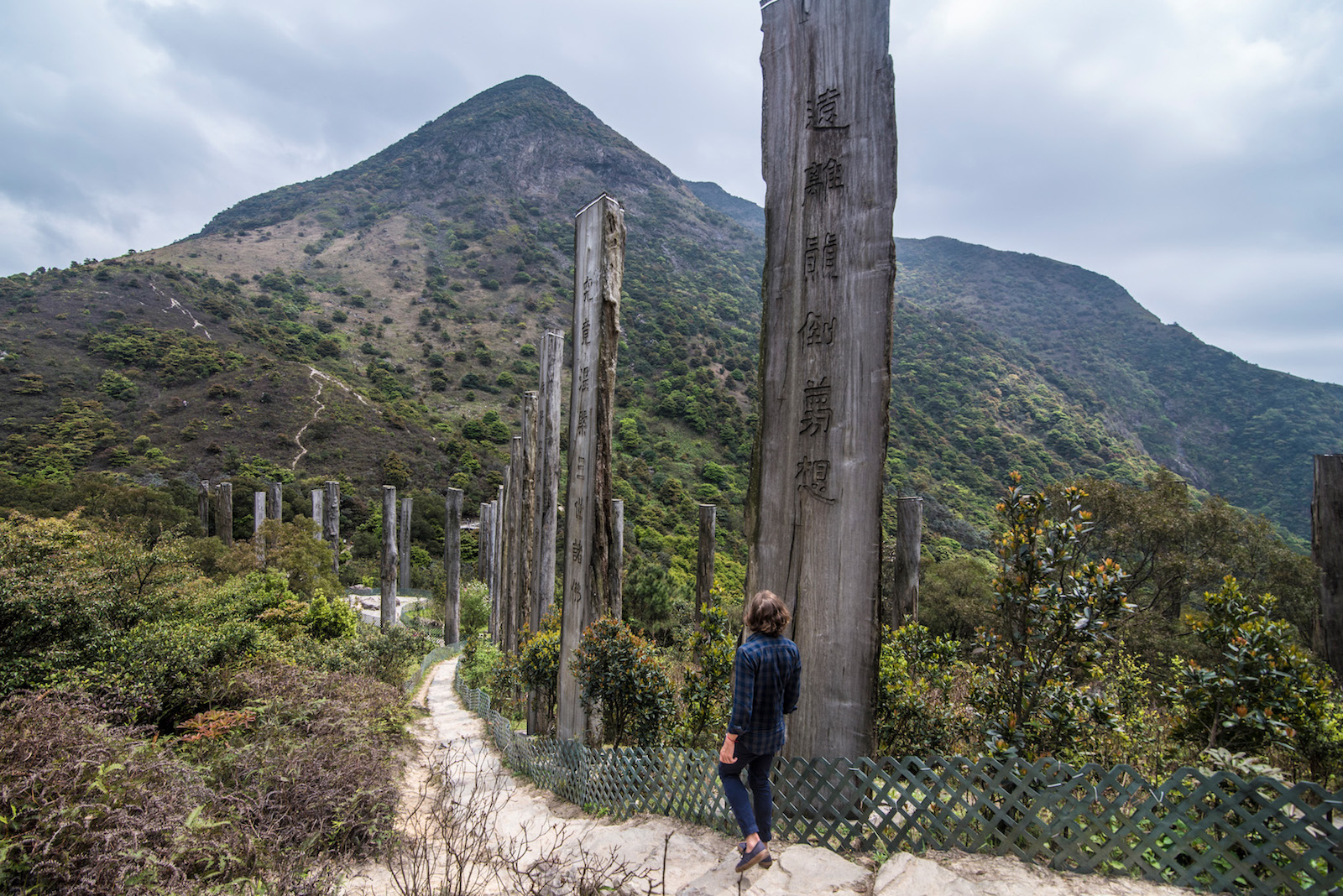 Share: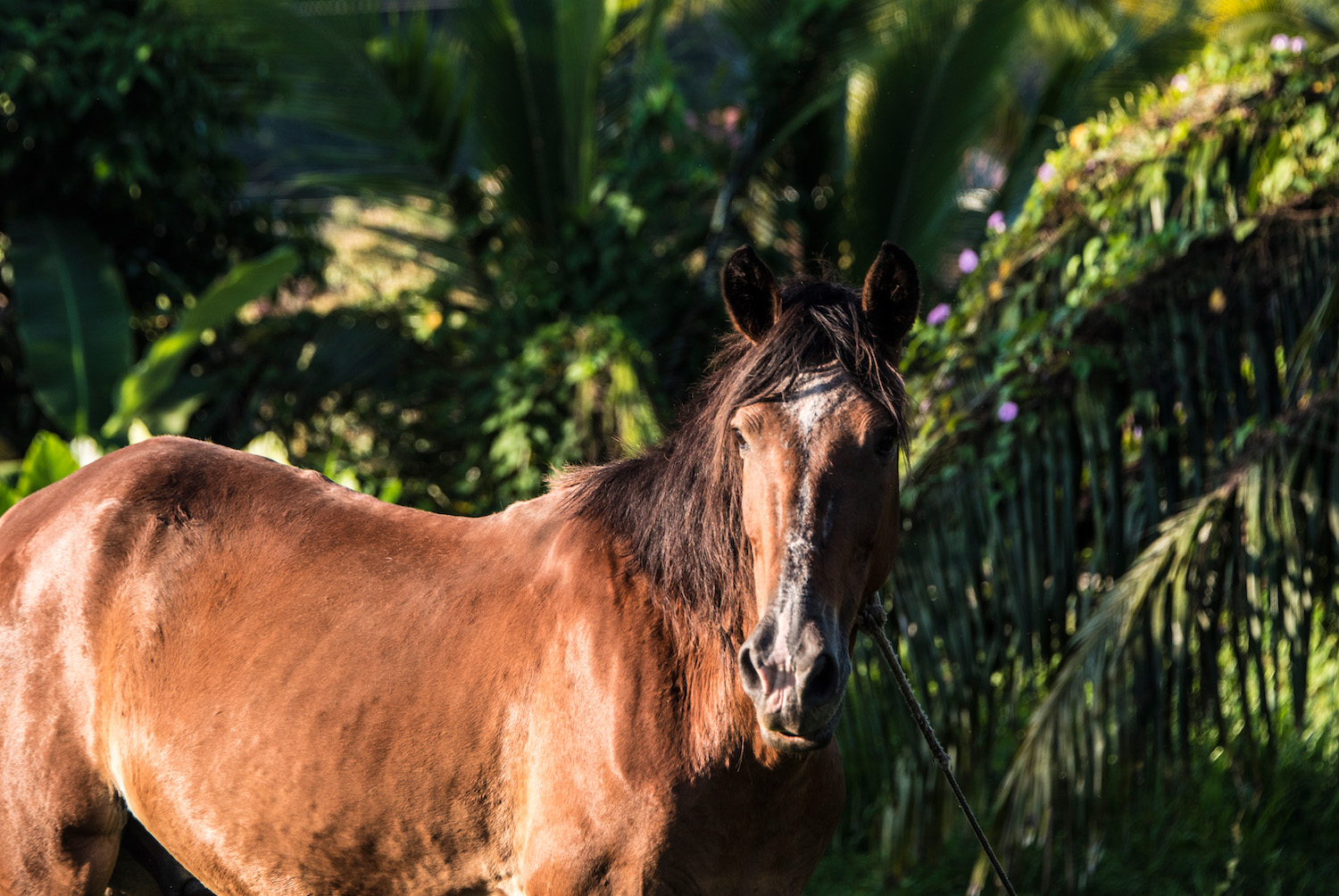 When you think of horse racing, you think of the Kentucky Derby, particularly if you're American. After all, is there a more quintessential horse race than the annual event held each spring in the Bluegrass State?
On the other hand, the world is a big place, and horse racing is not a uniquely American past time. Even if you never visit any of the fabulous horse race locations on this list, check out the Grand National horse races & winners to stay in on the action.
Melbourne Cup in Melbourne, Australia
Melbourne is an amazing city (the best in Australia, in my opinion), so even if there wasn't a legendary horse race here, you'd be wise for traveling there. Of course, the Melbourne Cup has occurred annually since 1861, so you don't have to worry about that. Horse racers (and horses!) from all over the world come to Melbourne each year to compete and also, to enjoy the city. There's even a fashion competition, which awards prizes to the best-dressed male and female jockeys.
Prix de l'Arc de de Triomphe in Paris, France
Speaking of amazing cities, Paris doesn't need an introduction on that front. Indeed, while it's not difficult to imagine horse races occurring in Paris during the long, car-free portion of its history, it is quite remarkable that one could take place in the middle of the metropolis it is today. If you plan to be in Paris in October, considering attending this event, which occurs at the Seine-overlooking Longchamp Racecourse. Fun fact: The race is sponsored by the state of Qatar and the track includes a replica of a Qatari souk.
Dubai World Cup in Dubai, UAE
Dubai's got everything—you can even ski there now!—so it probably isn't a huge shock that there's a relatively huge horse race here. Like the city itself, the Dubai World Cup enjoys a newfound notoriety: It only started in 1996; it's enjoyed most of its fame since 2010, when a new race track opened adjacent to the luxurious Jumeirah Meydan Hotel. Novel or not, the Dubai World Cup is just as fabulous and decadent as the city for which it's named.
Nakayama Grand Jump in Funabashi, Japan
When it comes to the Nakayama Grand Jump in Funabashi, Japan, there's good news and bad news. The bad news is that, unlike so many things in Japan, Nakayama Grand Jump isn't particularly weird. It doesn't feature riders (or horses!) in flamboyant costumes, or strange snack foods that dance when you pour soy sauce on them. The good news? Nakayama Grand Jump isn't very crowded, which means that tickets are cheap and easy to come by. Better still, it's very close to Narita Airport, which is Japan's main international gateway.
Of course, even if you don't visit any of these international horse races, you're bound to come up a winner. Horse racing is a fun, exciting sport—the destination is simply a backdrop for something that's always awesome! Have you ever been to a horse race location that isn't on this list?
Share: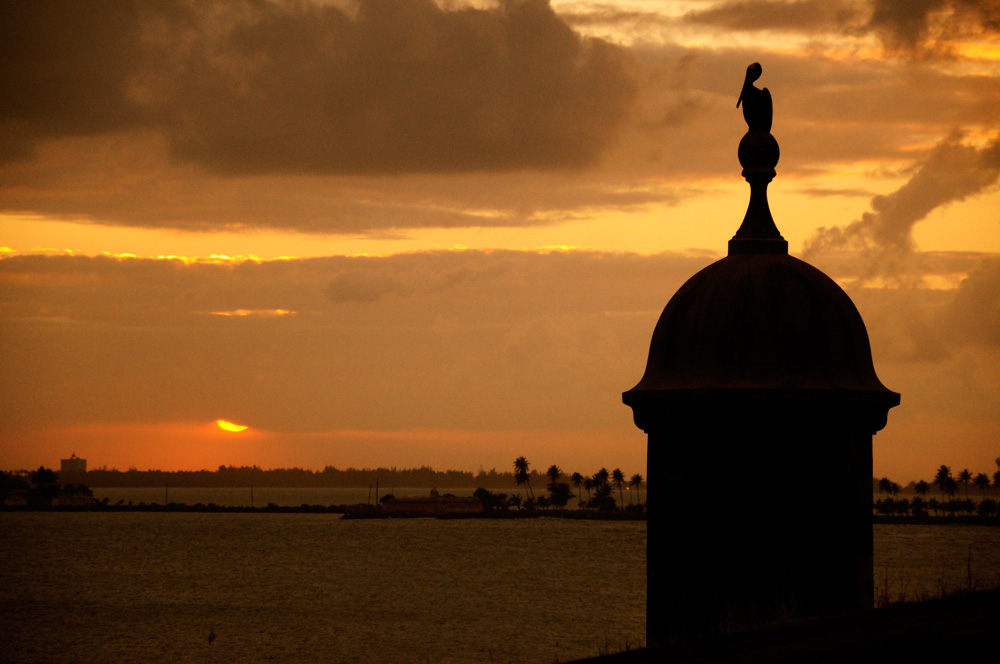 The Puerto Rican sun peaks through your window at Casa Sol Bed & Breakfast, and although the homey feeling inside is matched in warmth only by the bright, yellow façade of the building, outside is where true romance awaits you. It's time to wake up.
After a plate of sweet quesitos and piping-hot café con leche for two, you've hit the brick streets of Old San Juan. Walking along Paseo de la Princesa, a local artists notices how inseparable you are from one another, and asks if he can sketch you—the historic San Juan Gate looms welcomingly in the distance, but it's early yet, so why not?
Once he finishes (and you buy it from him, of course) you arrive, amazed, at San Juan Cathedral, where another couple is celebrating their own bond. You hope it's a good omen as you continue your stroll, this time along Calle Cristo toward Castillo San Felipe del Morro.
Before you know it it's mid-day and looking out over the sparkling Caribbean, hand-in-hand, hoping your love is as timeless as the castle walls. You're as starved as you are lovestruck by the time you've walked the entire perimeter of the fortress, so you descend to sea level and end up beachside at Oceano, where you tear into modern takes on Puerto Rican classics, like king snapper ceviche and mahi mahi chicharones, with lapping waves just steps from your sand-smoothed toes.
A reminder: The sun is just a few hours from setting, and you haven't yet gone for a swim. You could wait a few minutes for your food to digest and walk right out into the water from your table—Oceano, after all, sits right on San Juan's iconic Playa Condado.
Alternatively, grab your partner's hand and make a beeline for the picturesque Ocean Beach Park, or for Isla Verda Beach which, as its name suggests, flanks water so green and sparkling you'll think you happened upon a sea of turquoise.
Then again, you could shop for actual turquoise, at the aptly-named Turquesa, and save the splendor of Puerto Rican nature for tomorrow. (El Yunque Rainforest is just 45 minutes by car from San Juan and makes a perfect day trip.)
As the sky sings with shades of purple, pink and orange, head back to El Morro and join the hundreds of kite flyers, many of them also couples, and watch your love soar as the sun sets behind you.
Dine simply tonight—a satisfying paella at the charmingly local Pelayo's should do. After all, your infatuation with Puerto Rico is brand new, even if the adoration you feel for one another is of a more mature sort. Enjoy a piña colada or two, or even try your luck at the iconic "La Bomba" dance before you retreat inside the warm, yellow walls of Casa Sol, preparing to feel Puerto Rico's seduction on your skin again tomorrow.
Even if you're still searching for "The One," you can still live your own 5-star vacation story in Puerto Rico—you might even find him/her there! To learn more about Puerto Rico, visit SeePuertoRico.com and tell me below: Romance or not, where in Puerto Rico do you most want to check out?
Share: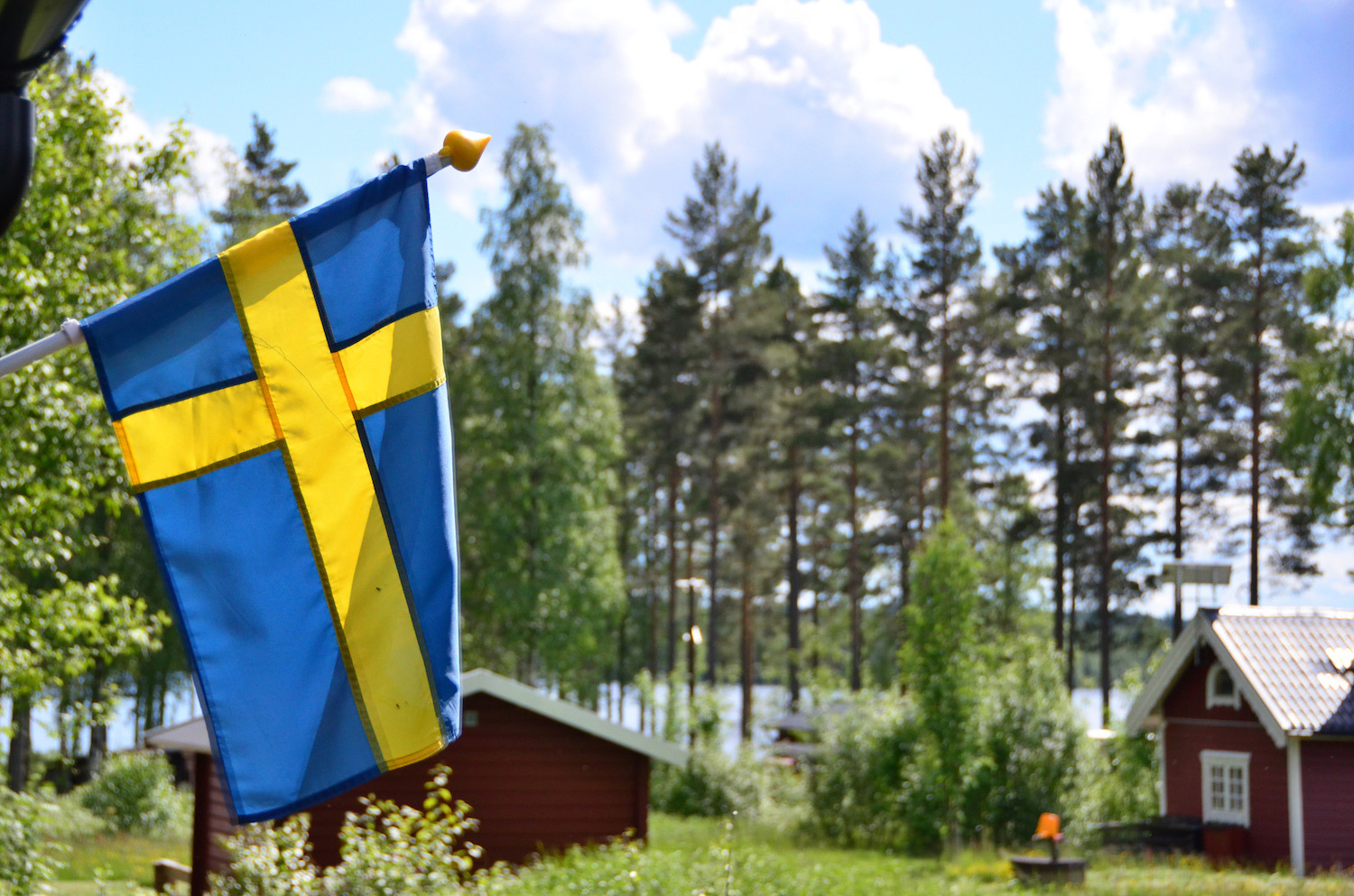 For a country of less than 10 million people, Sweden has a disproportionate influence on the world's culture, one that largely results from the quantity of amazing pop singers the nation produces. Since the 1970s, when ABBA won the Eurovision competition and became one of the most popular musical acts of all times, it's been tempting to think there must be something in the Swedish water that spits out pop stars. Maybe not in the water, but traveling through this former Viking land, it's easy to understand where the inspiration comes from.
ABBA
Upon landing at Arlanda airport near Stockholm, you'll be within miles of where ABBA achieved international fame, even if you aren't necessarily near the birthplaces of all the band's members: Only Benny (one of the B's) was born in Stockholm. Bjorn (the other B) was born in Gothenburg, while Agnetha and Anni-Frid were born in Jönköping and in Norway (that's right—she's not Swedish!), respectively.
Listen to "Dancing Queen" as you saunter your way into the city, or perhaps during a walk through Stockholm's Gamla Stan Old Town. Then, put on "Waterloo" as you surrender to Stockholm's inescapable charms, or hum the chorus of "Take a Chance on Me" as you take the chance to wait for the changing of the Royal Guard.
Ace of Base
The case of Ace of Base, which was probably the most popular Swedish pop act within the decade after ABBA broke up, is a little bit simpler: Basically all its members are from Gothenburg, Sweden's second-largest (but oft set aside) second city. Take a boat trip out into the Gothenburg archipelago, or shop for seafood at the Feskekôrka Market—"All That She Wants" is to eat some lobster! It's a "Beautiful Life" in Sweden, that's for sure, and you'll never be "Living in Danger."
Then, since you're on the west coast anyway, travel down to cities like Helsingborg or Malmo, where you can cross by land into Denmark over the Oresund Bridge, a connection hundreds of years in the making. Wait a minute—wasn't Ace of Base's second album called The Bridge? Curious.
Robyn
Travel through Southern Sweden, stopping in cities such as Lund, before heading back to Stockholm, an "Indestructible" city that also happens to be the birthplace of Robyn. "Who's That Girl?", you might ask? Well, you'd be hard-pressed not to know Robyn, whose meteoric success is unique even among Swedish artists: She's had not one, but two periods of international fame.
The first, you might recall, was as a bubble-gum pop artist in the mid-1990s with hits like "Show Me Love." In 2010, on the other hand, Robyn was back as a hipster dance-pop queen, and the worldwide smash "Dancing On My Own." You can probably hear it playing in discotheques in Stockholm's trendy Södermalm district.
Indeed, whether you prefer "Dancing Queen," "Dancing On My Own" or any of Ace of Base's dozens of hits, Sweden is as unique and beautiful as the glorious pop music the country's artists have produced within most of our lifetimes. I saw "The Sign"—and it looked an awful lot like a Swedish flag.
Share:

Winter blues got you down? Even if you live somewhere warm—hell, even in Australia!—these words and images from will have you wanting to head to Western Australia.
1. Perth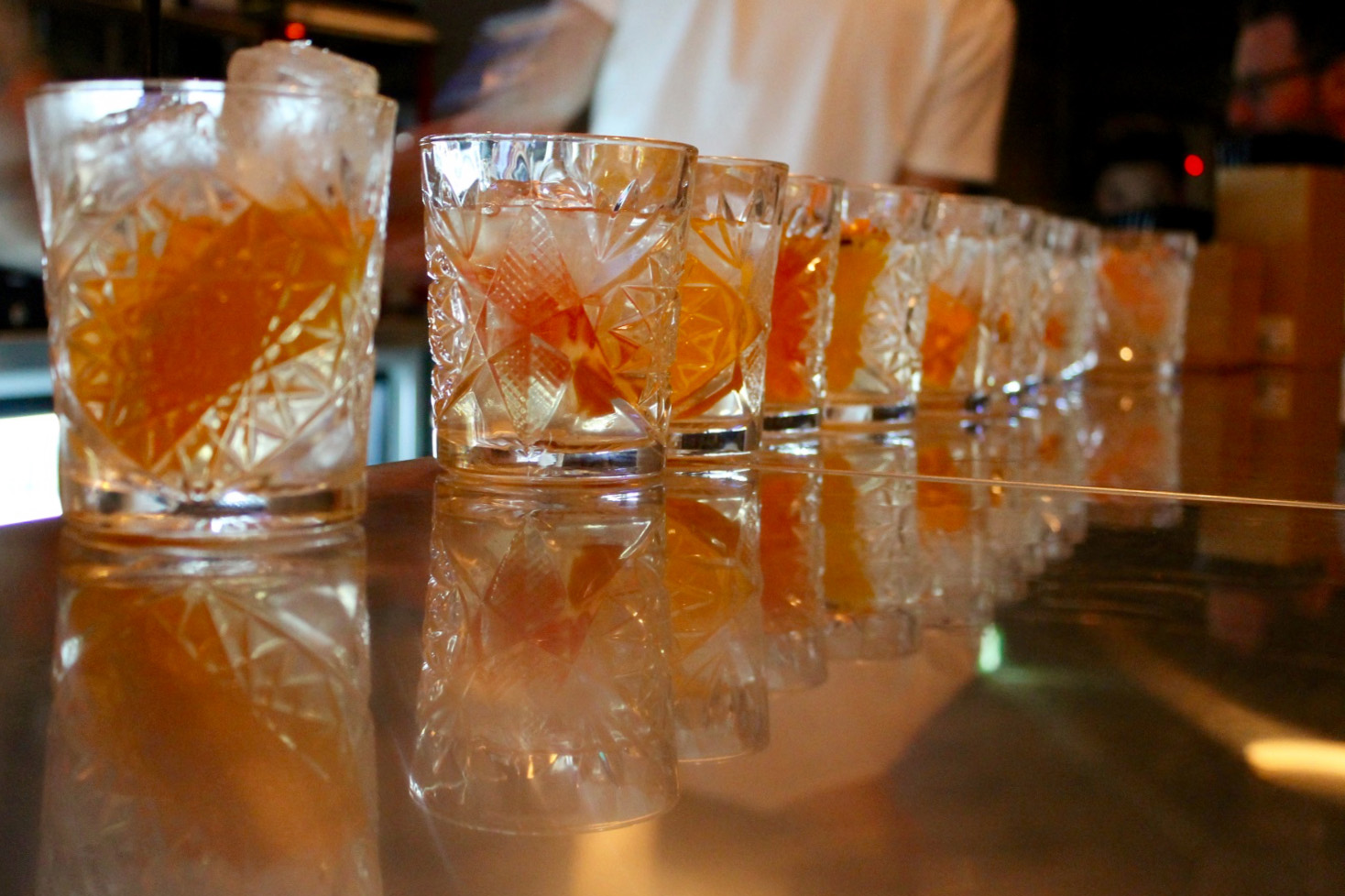 The capital city of Western Australia may be the most isolated in the world, but is still incredibly interesting and entertaining. The ultra-modern city district and adjoining neighbourhood of Northbridge is perfect for party animals, whilst the coastal suburbs of Scarborough and Cottesloe are a beach bum paradise. Perth is rather small compared to most cities, so getting around is very easy and transport links are well operated.
2. Fremantle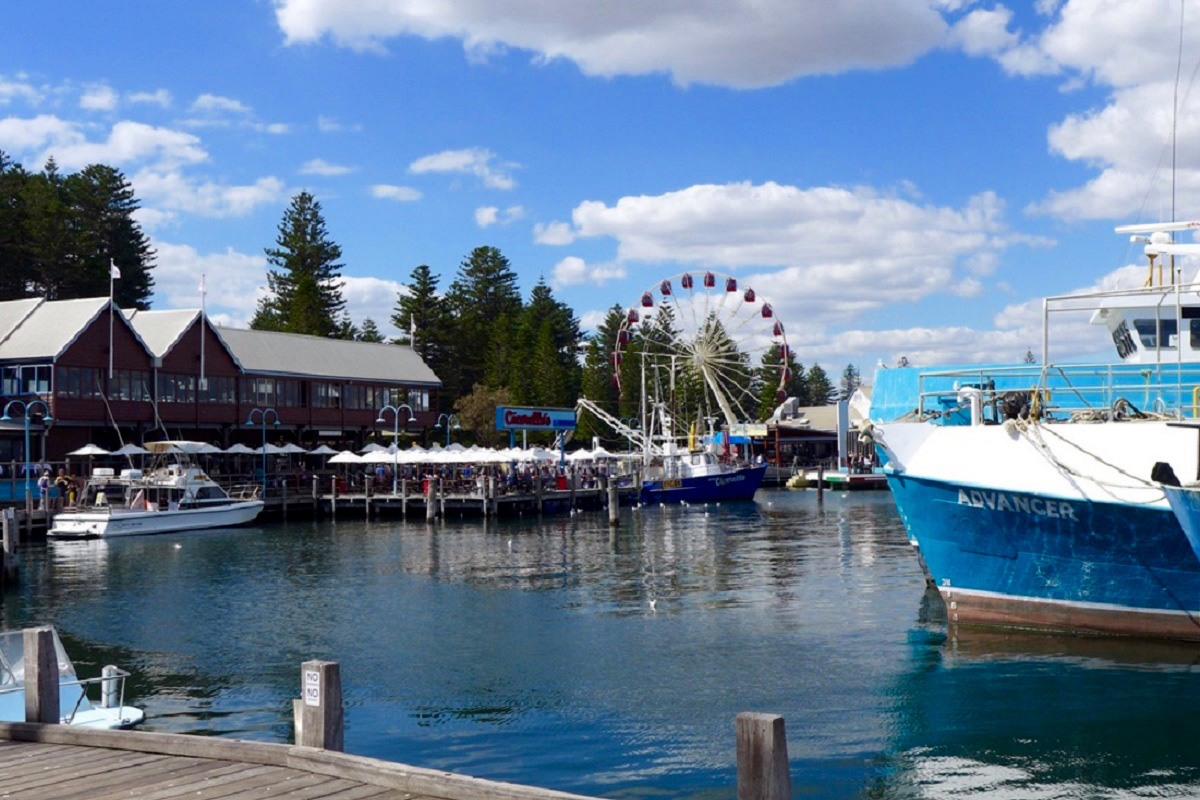 Dubbed the hottest place in Australia 2015, Fremantle is an artistic, cultural gem located to the cities south. The harbor and heritage listed streets are an ample place to stroll around on a weekend while the towns restaurant and bar scene is always buzzing.
3. Rottnest Island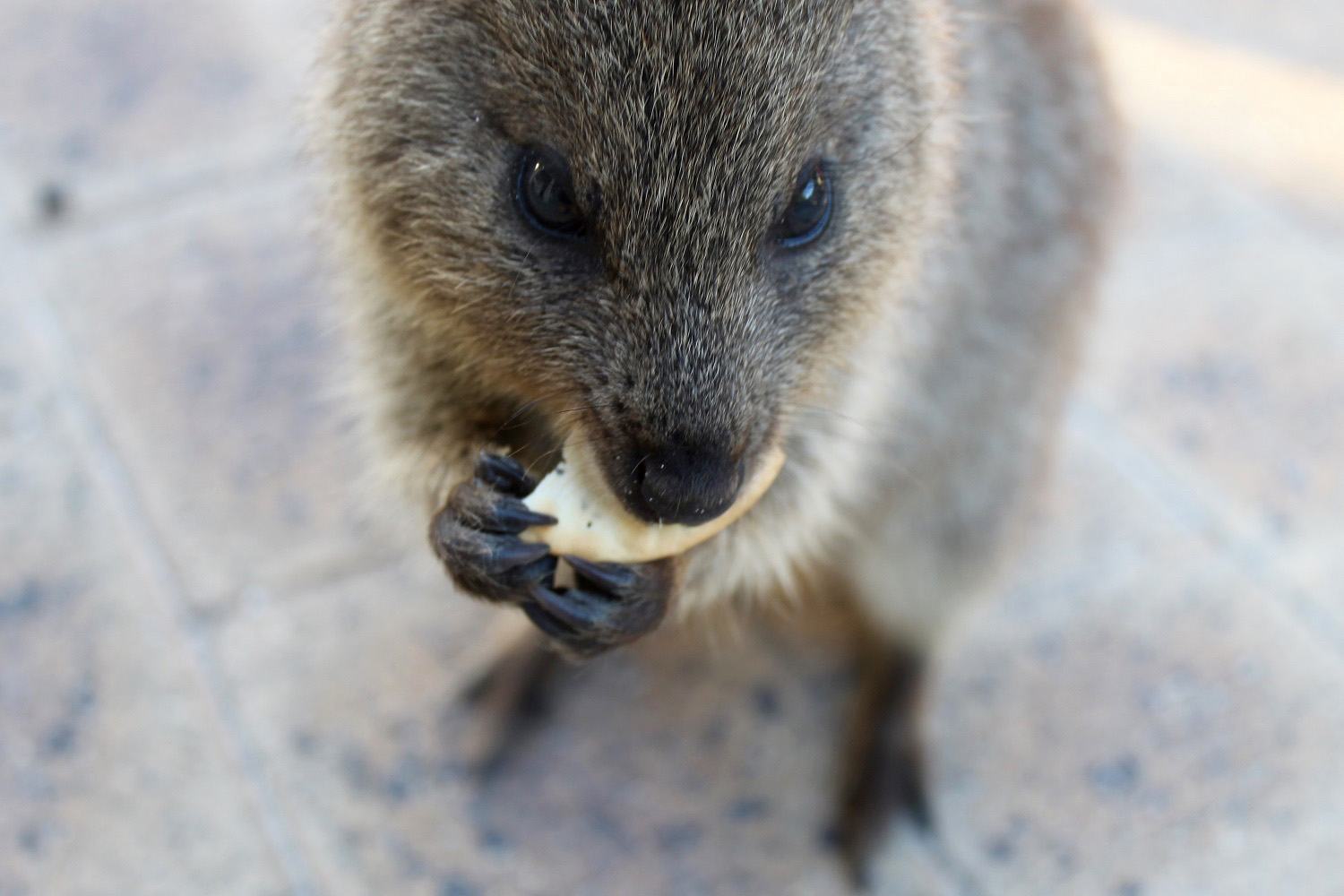 Got an extra day in Perth and need a bit of R&R? You simply MUST head over to Rottnest Island and get a quokka selfie! With stars like Hugh Jackman heading over for a summer break, you too can bath in rock pools, hike up to the lighthouse or rent a bike and seek out private secluded bays.
4. Kalbarri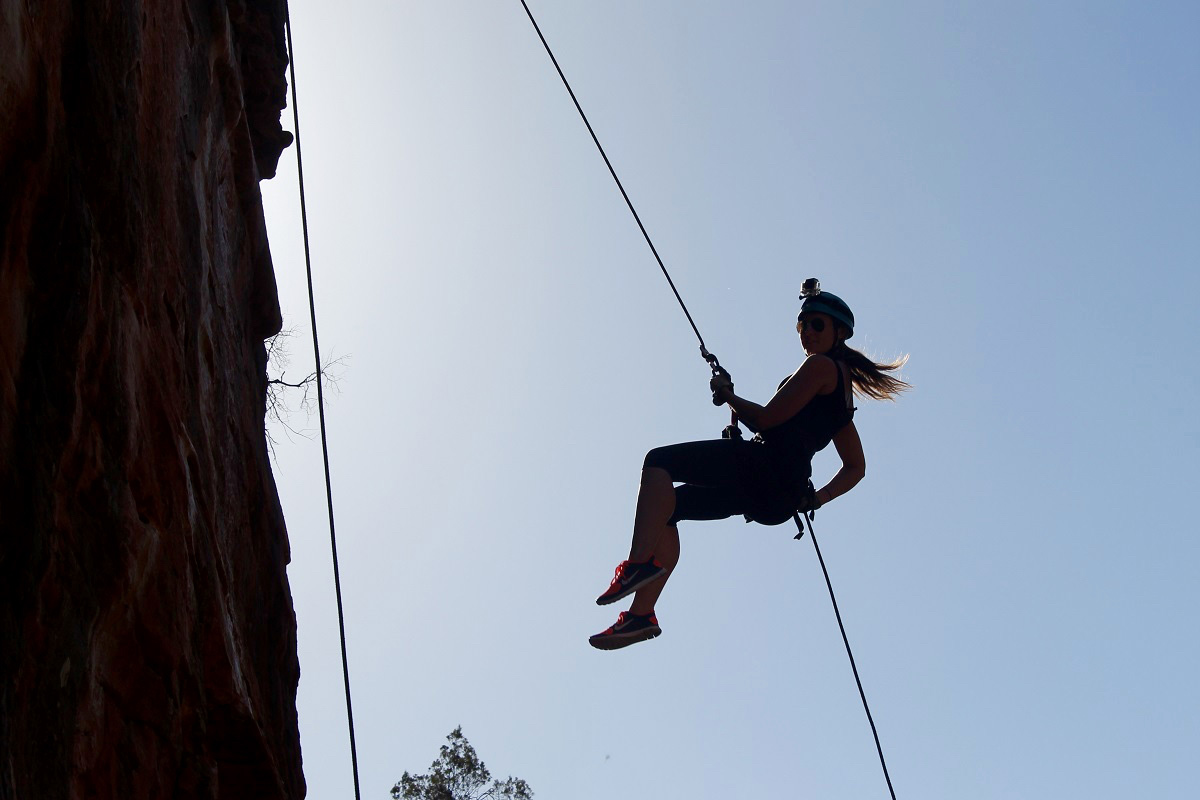 Whether it be hiking through the Kalbarri National Park and admiring Nature's window or stopping by the beach for a cool-down, this is a textbook outback experience. Covered in native flora and fauna, Kalbarri is a top destination for adrenaline junkies, with abseiling, skydiving and rock climbing all popular activities.
5. Monkey Mia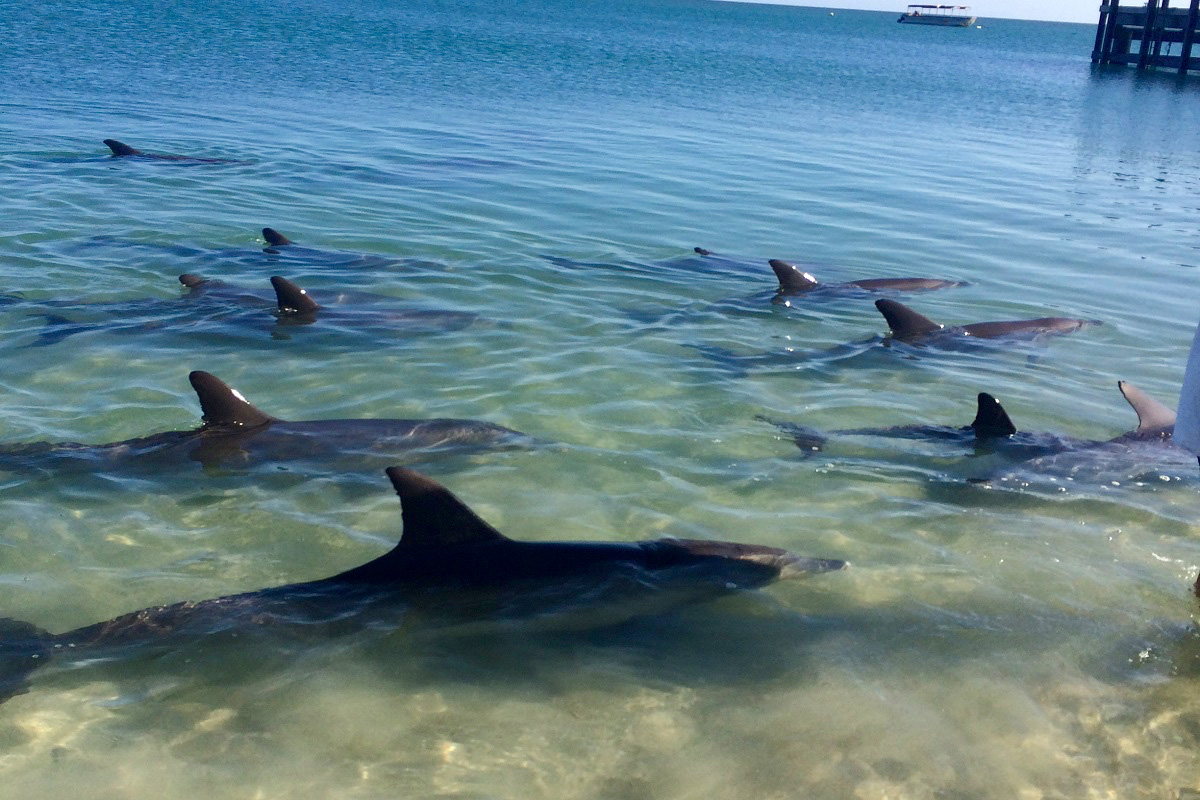 Dolphins swimming at your feet, while families of emu's walk on by? Yep, welcome to Monkey Mia Dolphin Sanctuary. The protected coast is run by volunteers and the local bottlenose pod come into play every day. Listen to the guide's stories about the majestic animal, or relax on the white sandy beaches. A great one night or even day-trip stopover while heading north!
6. Coral Bay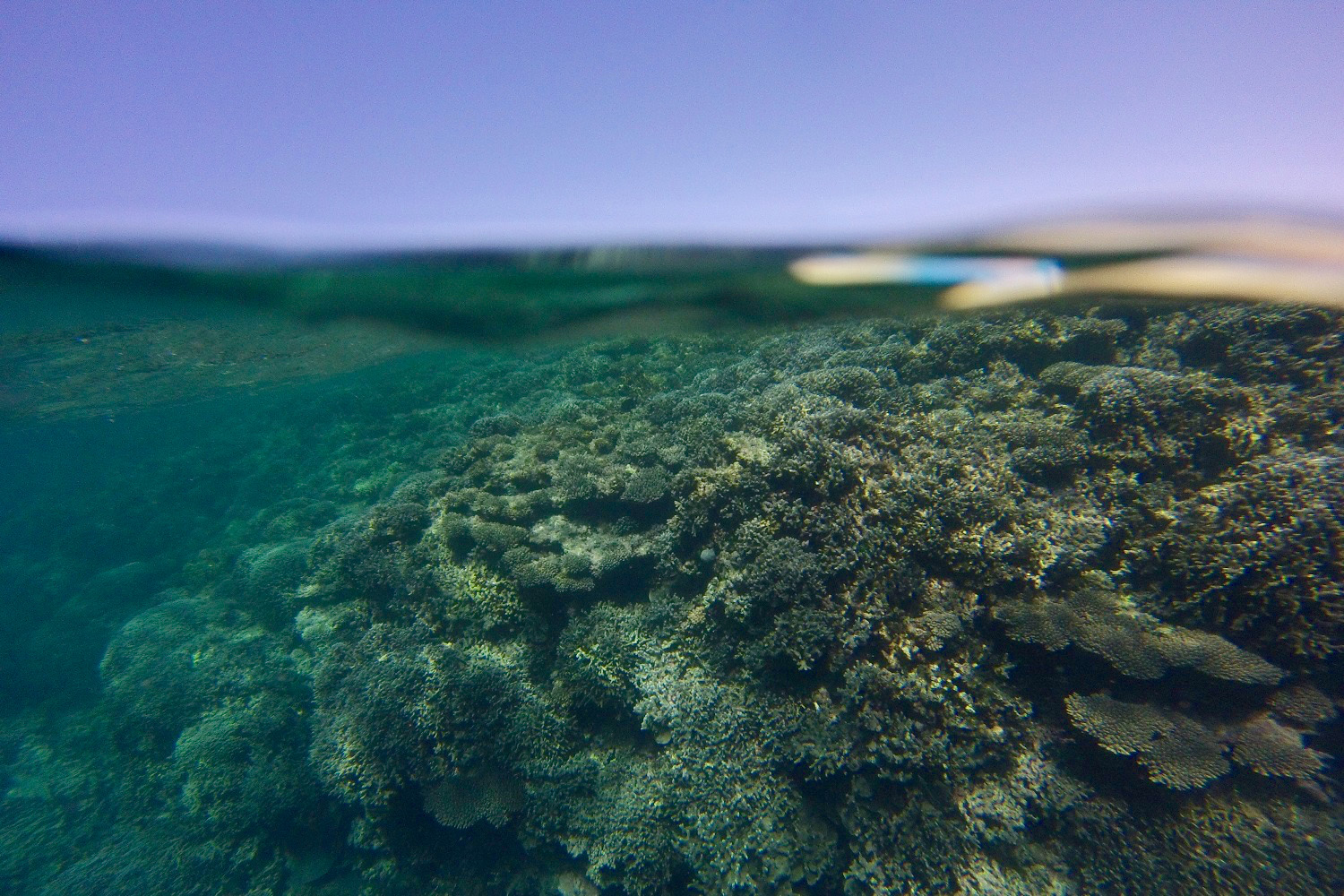 My favourite place in all of Western Australia- Coral bay is the jewel of the north-west coast. The Ningaloo Reef, one of the most colourful and animated reefs in the world, begins here and it is a sight that must be seen. Parrot fish, manta-rays, turtles and dolphins just meters from the shore and the coolest laid back beach town around. The locals are super friendly, with hundreds of backpackers in town every day of the year. It is never cold, it is never boring and there are hundreds of adventures waiting for you.
7. Exmouth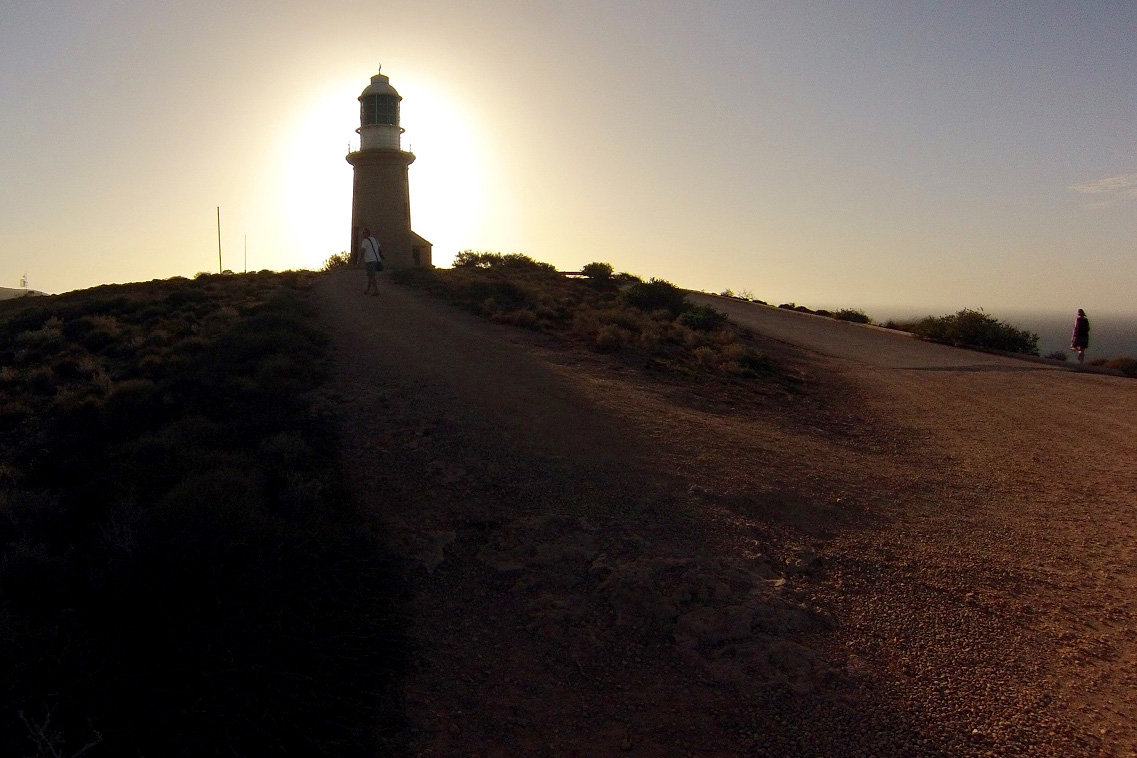 A little further north, this is a true outback town and the prime region of the Ningaloo to snorkel. Exmouth is one of the larger towns in the west and is well supplied, so a great stop to have after a long drive. The beaches are a short drive from the town itself, with picture-perfect aqua waves, hundreds of kilometres of white sand and an array of marine wildlife.
8. Broome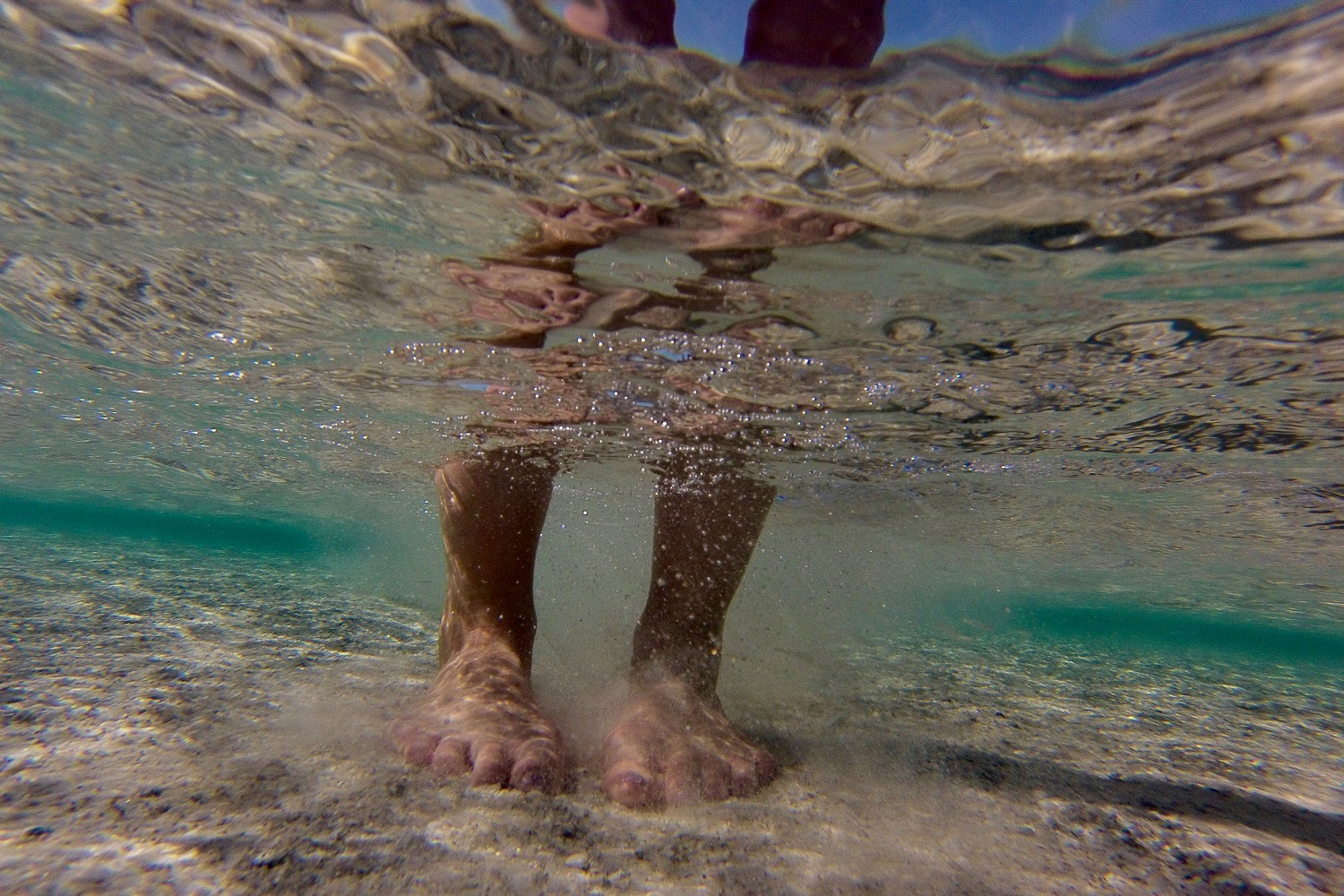 The most northern township in W.A, Broome is fast becoming a tourism hub. With big names including Oprah and Ellen DeGeneres choosing Broome's Cable Beach to vacay, it is a bucket list item for most visiting Australia. The camel back sunset tours, yacht parties and aboriginal culture are what bring most into town, or you can sit back and enjoy its vast palm tree lined shoreline.
9. Margaret River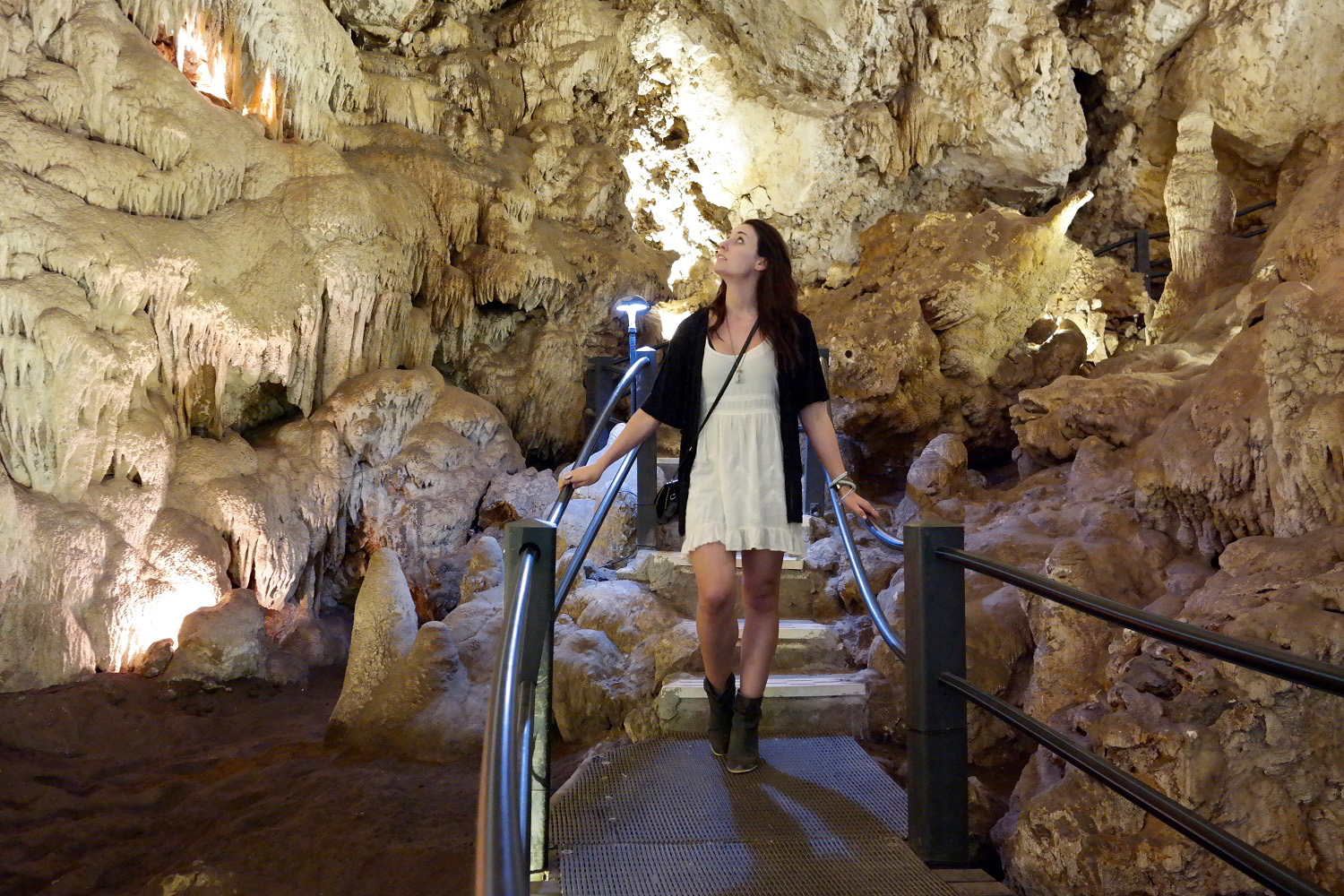 The surfers' paradise of the west, 'Margs' is located in the south-western wine region and a perfect place to wind down. The funky little town is full of handicrafts and hippie vibes, and the locals are always happy to say hello. Head down to Yallingup or Smiths beach and get some waves, tan on the beach and enjoy the laid back Aussie lifestyle.
10. Busselton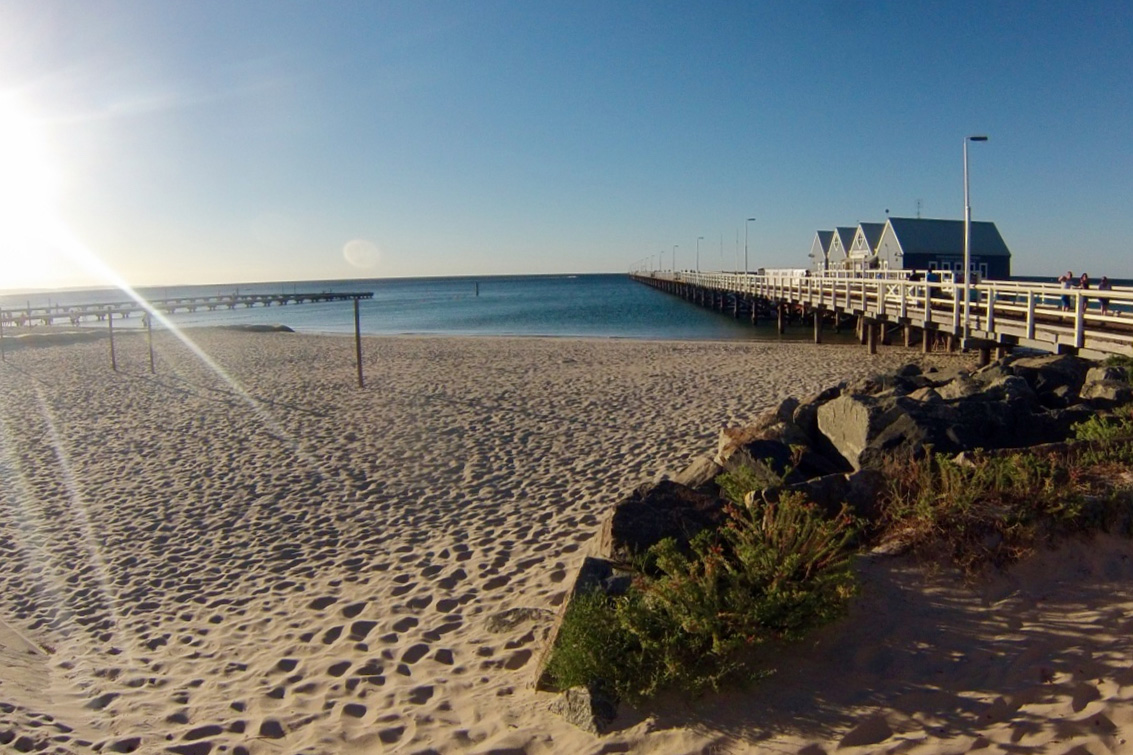 Another coastal town, Busselton is fast growing into a city itself. The boardwalk and jetty, the longest in the southern hemisphere, are a sight to see. Summer holidays bring many families down to enjoy the sun and play on the beach- but you can also learn a little about the shipping and fishing history of the region.
CONTRIBUTED BY Rachel Pedreschi 
Share: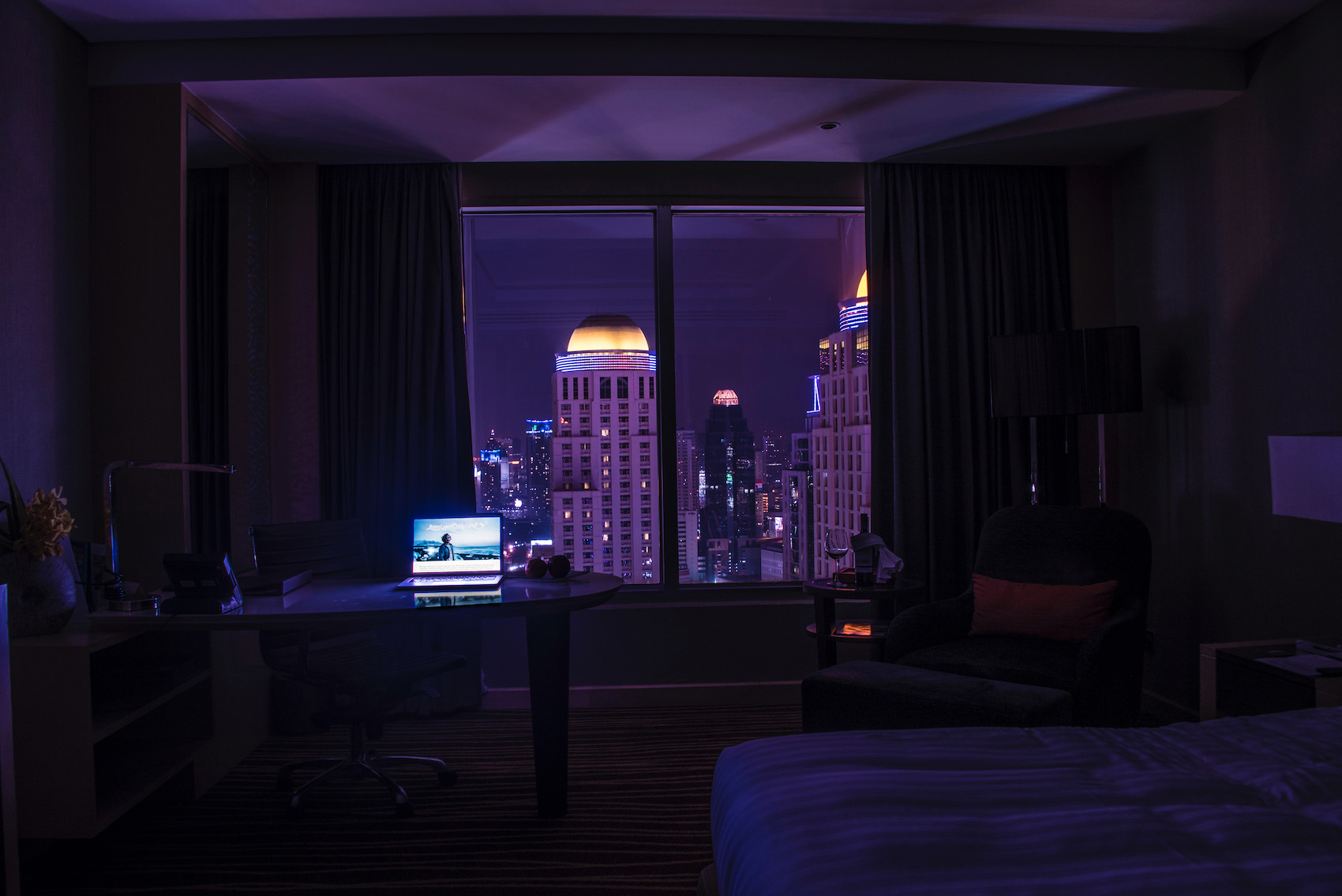 Bangkok, as many of you know, is my favorite city—I've visited the Thai capital on 14 separate occasions, or at least twice per year since my first visit in 2010. During this time, I've stayed in literally dozens of accommodations in Thailand's proverbial City of Angels, some of them among its very finest.
Turns out, I missed one.
To be sure, my stay at Amari Watergate had been a long time in the making. Last February, when I stopped in Bangkok on my way back to the U.S. from the spellbinding Red Lotus Sea, I met my friend Nid for a drink in the hotel's lobby. She'd just transferred to the Amari Watergate from another top hotel in the city, and wanted me to try her new digs on for size.
So, when I returned to Bangkok last month after my boat trip through Myanmar's Mergui archipelago, I did just that. Here are five takeaways from my experience at Amari Watergate.
1. Location, Location, Location!
Amari Watergate sits at the intersection of Ratchadamri and Phetchaburi Roads, two of Bangkok's most important thoroughfares, which makes it convenient to reach from anywhere in the city. More tangibly, the hotel is within walking distance of important Bangkok malls like CentralWorld, Siam Paragon and Platinum Fashion Mall, and is just 10 minutes by foot from Siam, the central station of the BTS SkyTrain.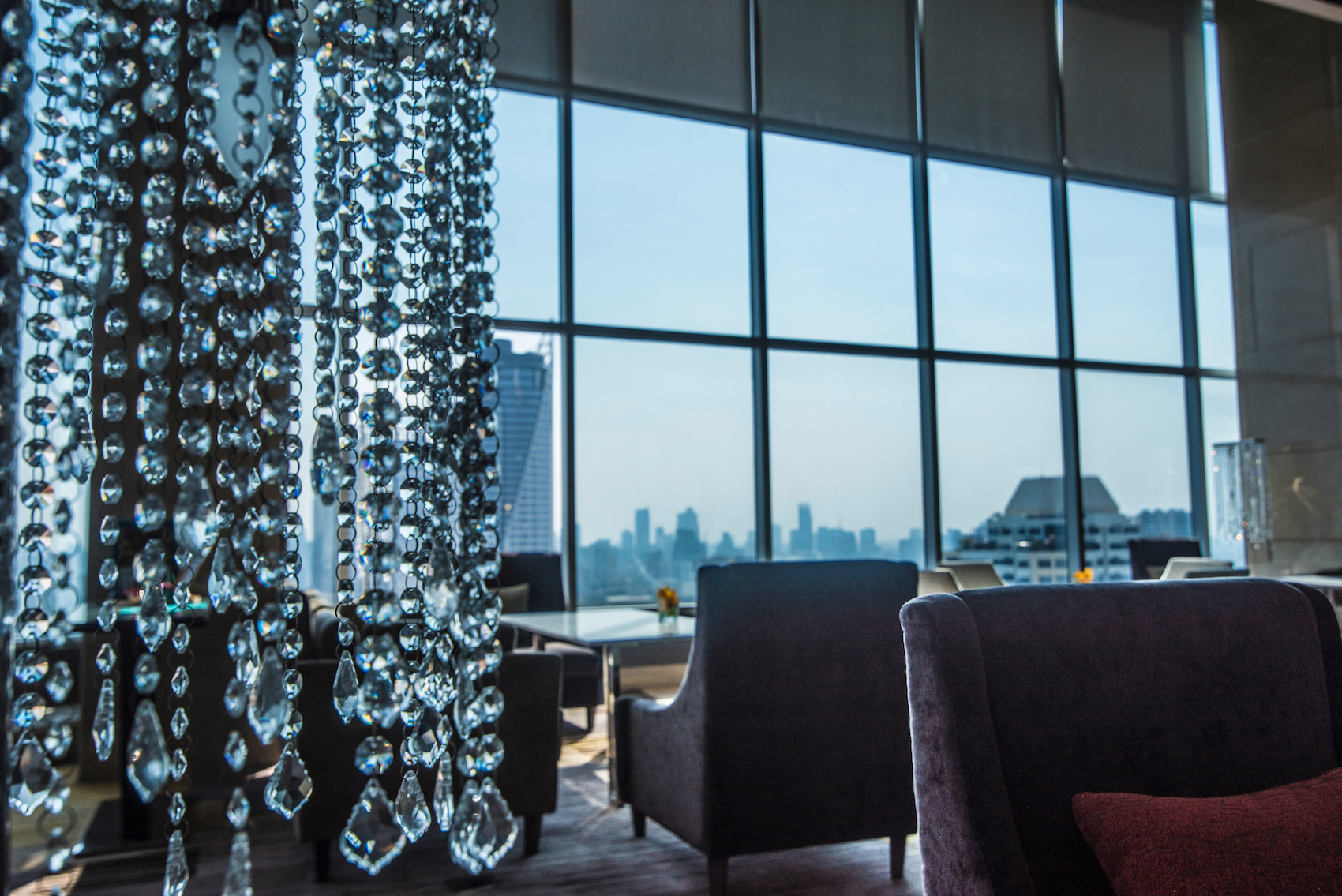 2. Business and/or Pleasure
Nid was kind enough to book me a room on Amari Watergate's Executive Floor (more on that in a second), so my initial impression of the hotel was that it was best suited for business travelers—its plentiful event and meeting space did little to curb this feeling. On the other hand, the hotel's aforementioned location and dozens of non-executive floors makes it very attractive to leisure travelers as well.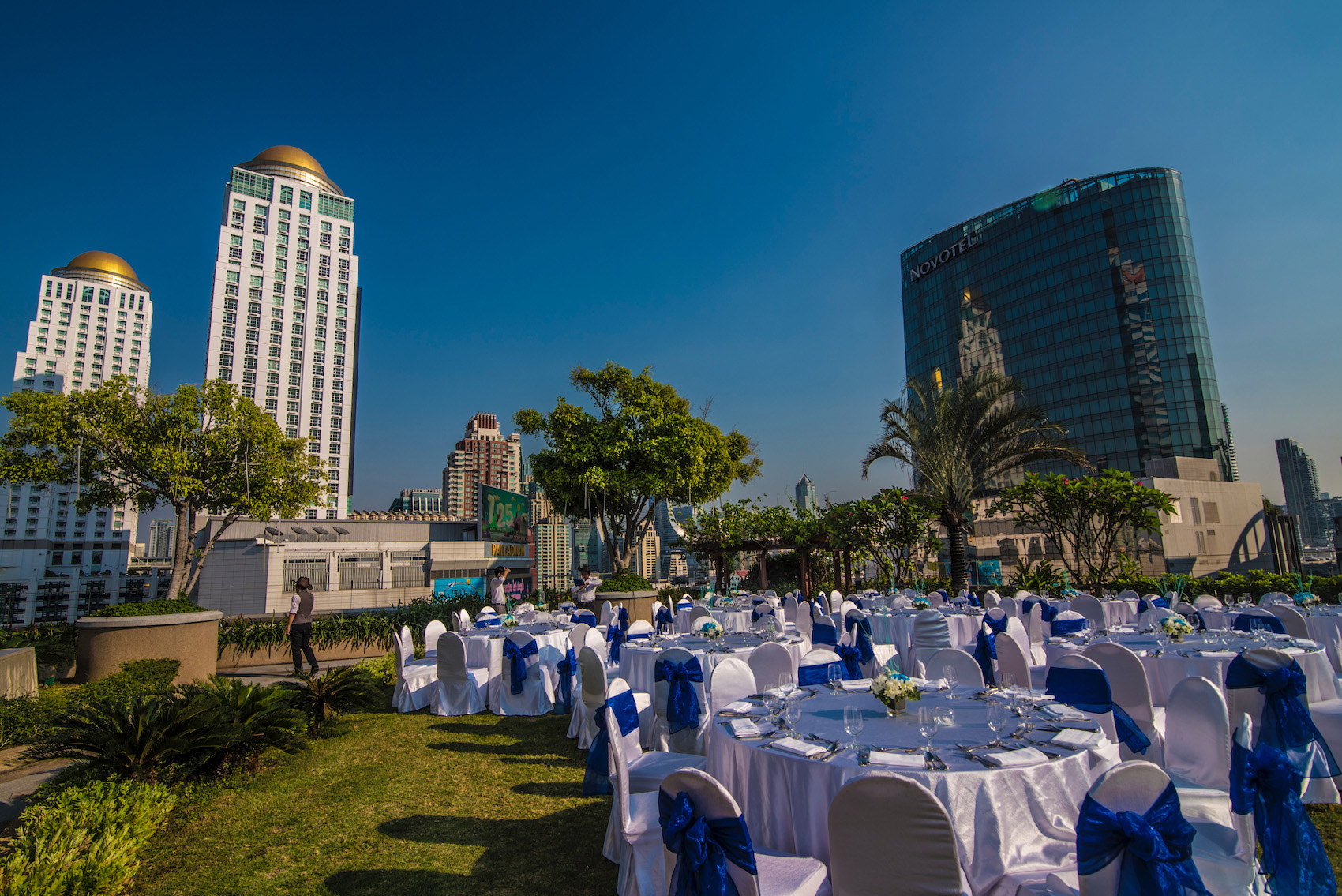 3. A Formidable VIP Treatment
Back to the Executive Floor—or, I should say, below it. After all, it was the moment I entered into the hotel's main lobby that my VIP experience started: The receptionist personally escorted me to the Executive Check-in more than 30 stories above the ground, where I waited in the swanky Executive Lounge before being whisked away to my spacious suite.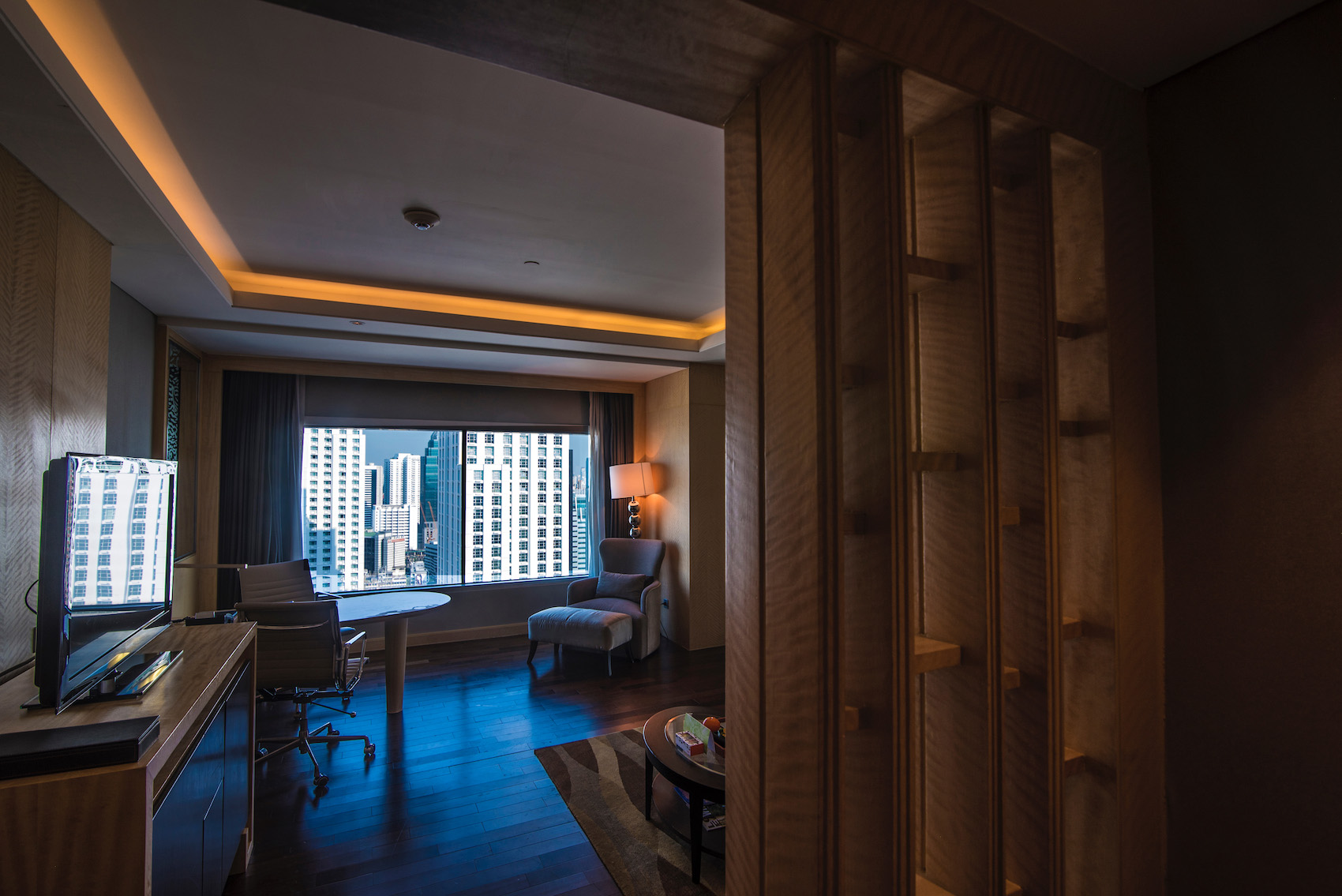 4. Did I Mention the View?
I think this pool speaks for itself: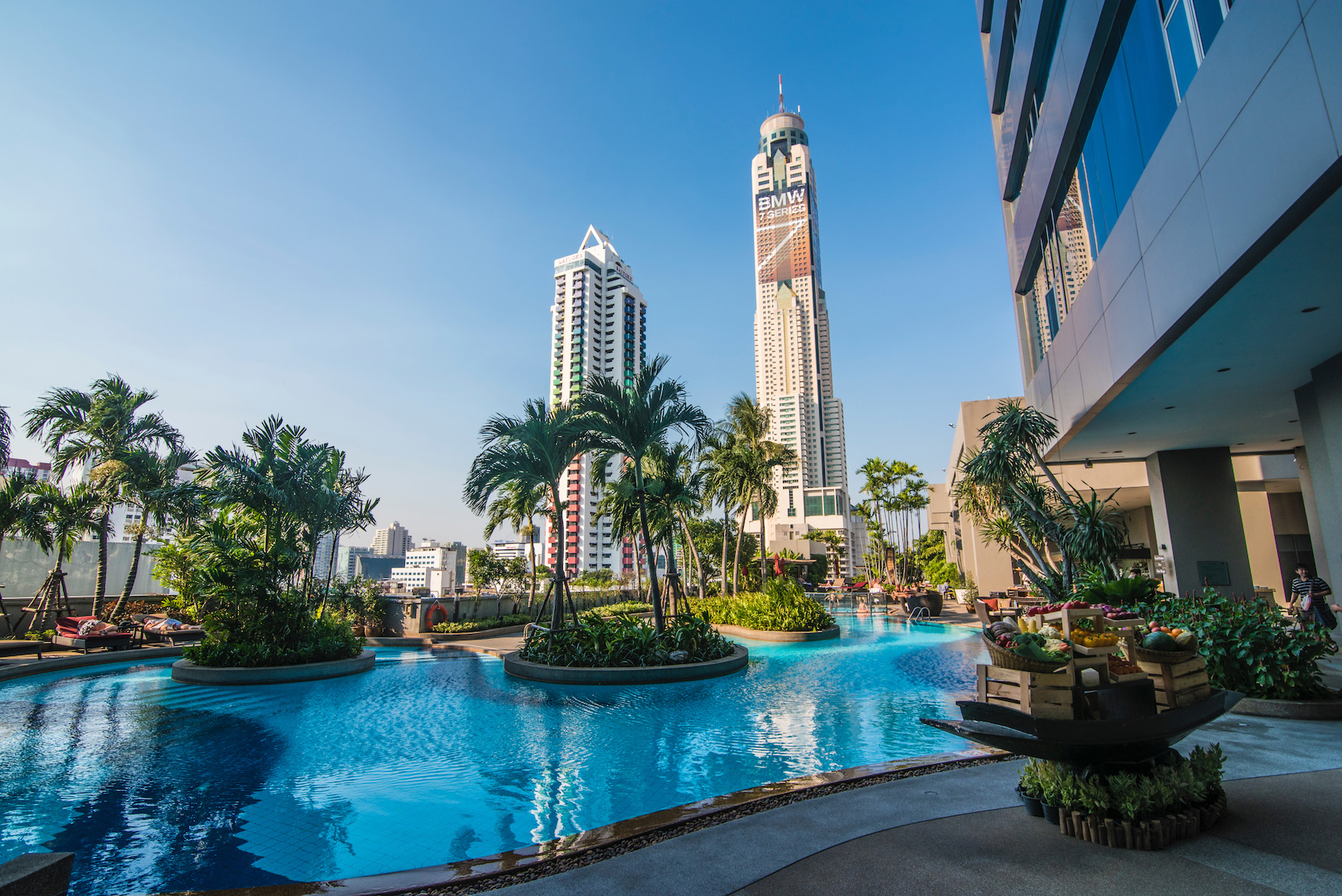 5. Amari's Just Getting Started
In its current form, Amari Watergate is a great Bangkok hotel, even when you discount the fact that it is in the midst of major renovations. Most notably, the hotel's lobby is being totally re-imagined, which will create an even better first impression for guests.
Although Amari was nice enough to offer me a complimentary stay, I'm still a reputable source on what's good and what's not in Bangkok—and Amari Watergate is a very, very good hotel.
Share:

Although the beach shines a blinding white from hundreds of yards away, the gently lapping waves appear dark and colorless until I'm gliding on top of them, when the two o'clock sun refracts through the shallow water as if it's liquid emeralds.
The exposed sand burns the soles of my feet with the fire of a thousand hells, so I do an about-face and wade out into the viridescence. By the time I'm half-submerged, the sea has blued almost to cobalt and the sand is bubbling under my heavy footsteps, a proverbial jacuzzi salty enough to cleanse my skin, but not to burn my open eyes nor desiccate my pursed lips.
This is Paradise, or as close as I've ever come to it. And I've forgotten how I got there, until the imposing yacht in the distance begins to come into focus.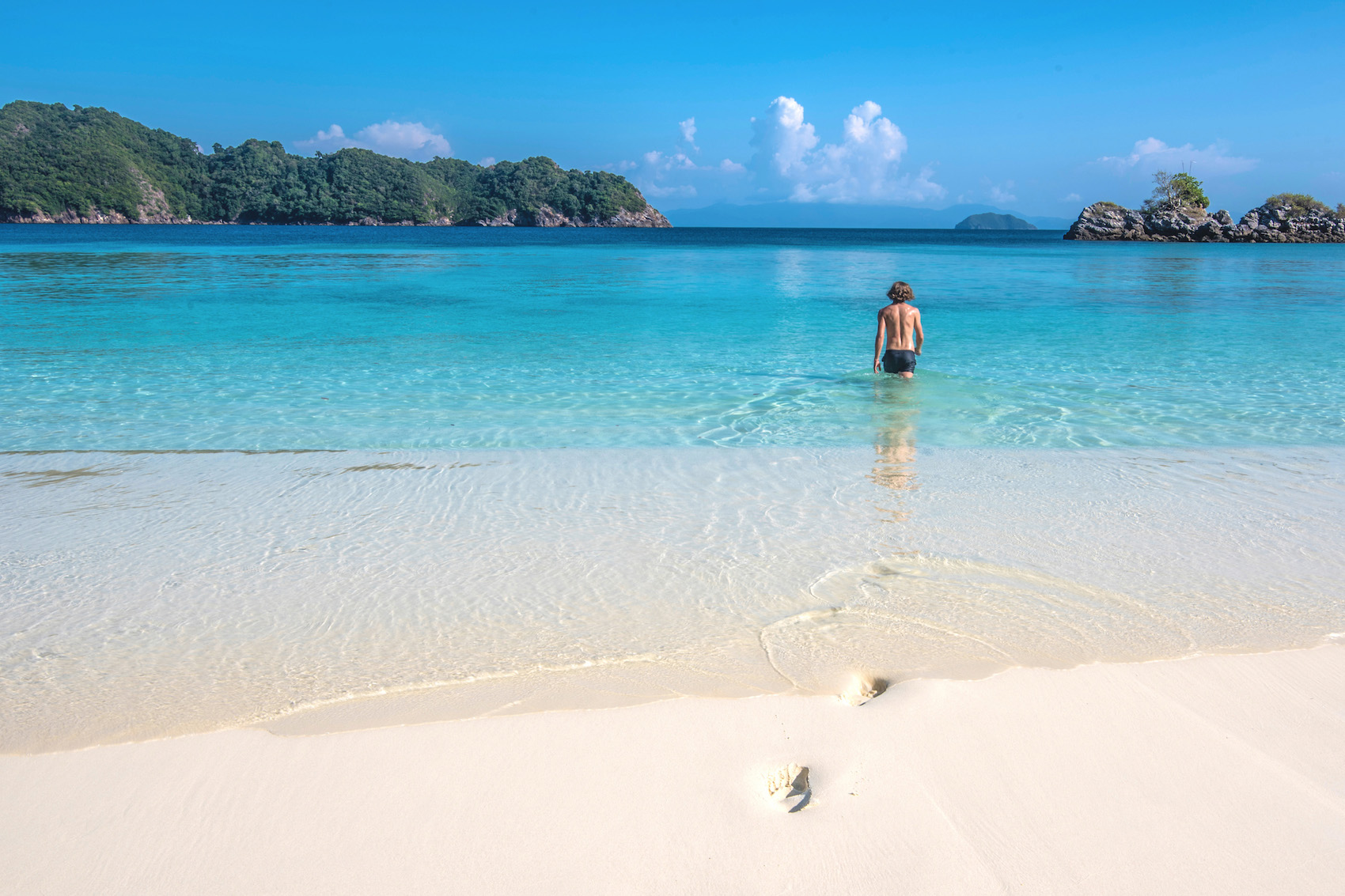 As I descend toward Kawthaung Harbor, which separates the Andaman coastlines of Myanmar and Thailand, the air fills with a generalized odor of fish, somewhere between drying and rotting. I board a waiting dinghy just seconds before I think I'll succumb to the redolence and before I know it, the charming captain of the SY Raja Laut is welcoming me aboard his boat.
There's a palpable awkwardness between the 10 other travelers and I until we began tearing into the same whole fish, whose crimson sauce sparkles like the pagodas on the verdant hills that rise around us.
"I actually declined Burma Boating's initial offer to sail with them," I explain, once the mood is sufficiently intimate for introductions—and the deserved gasps that follow my revelation. "I quickly realized what a mistake I'd made—I was positively fervent in my apology email—but media cabins were booked solid."
"Three years later," I conclude, as the crew ceremoniously releases an injured sea eagle that's fallen on deck, and the boat begins motoring toward the setting sun. "My desire is finally quenched."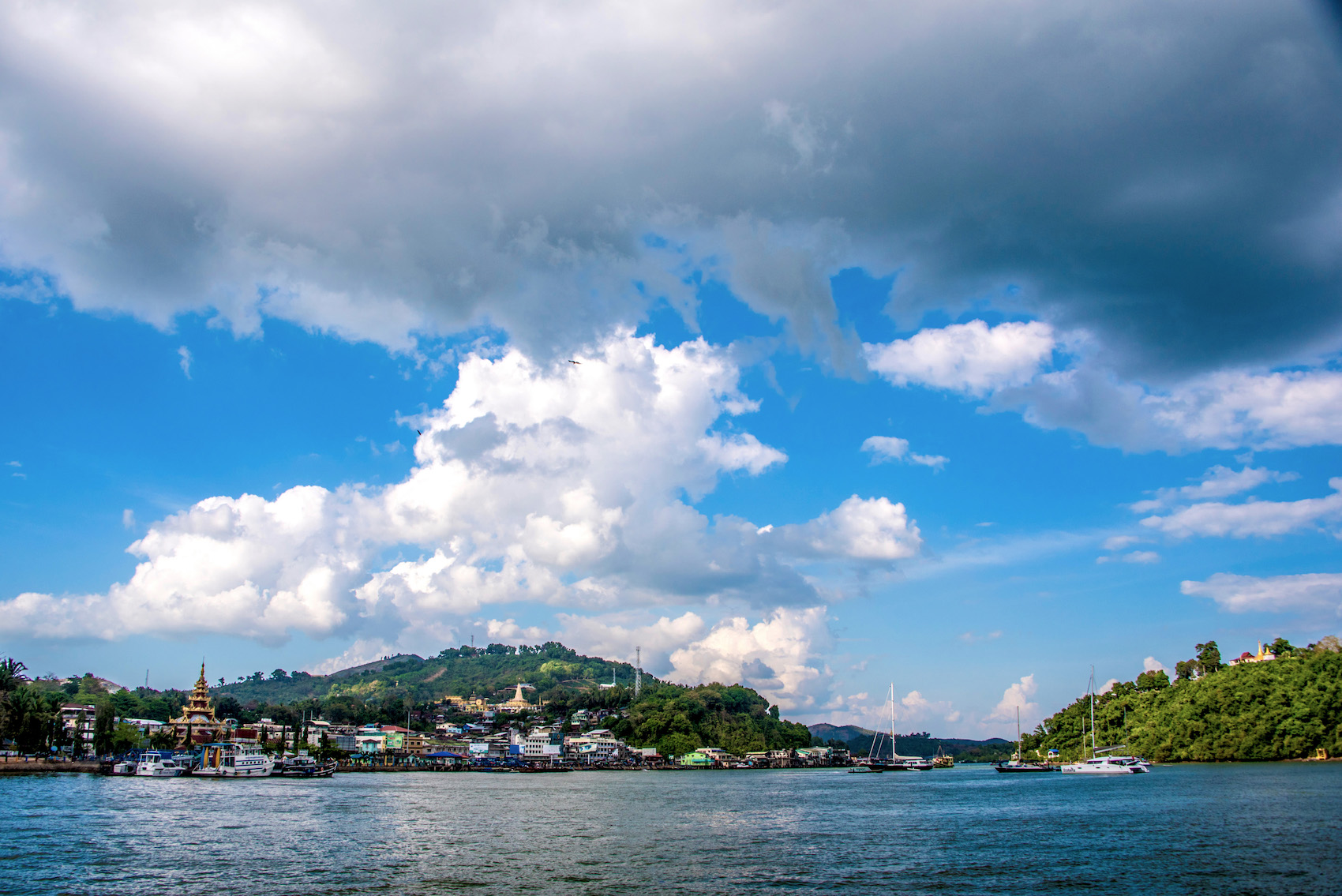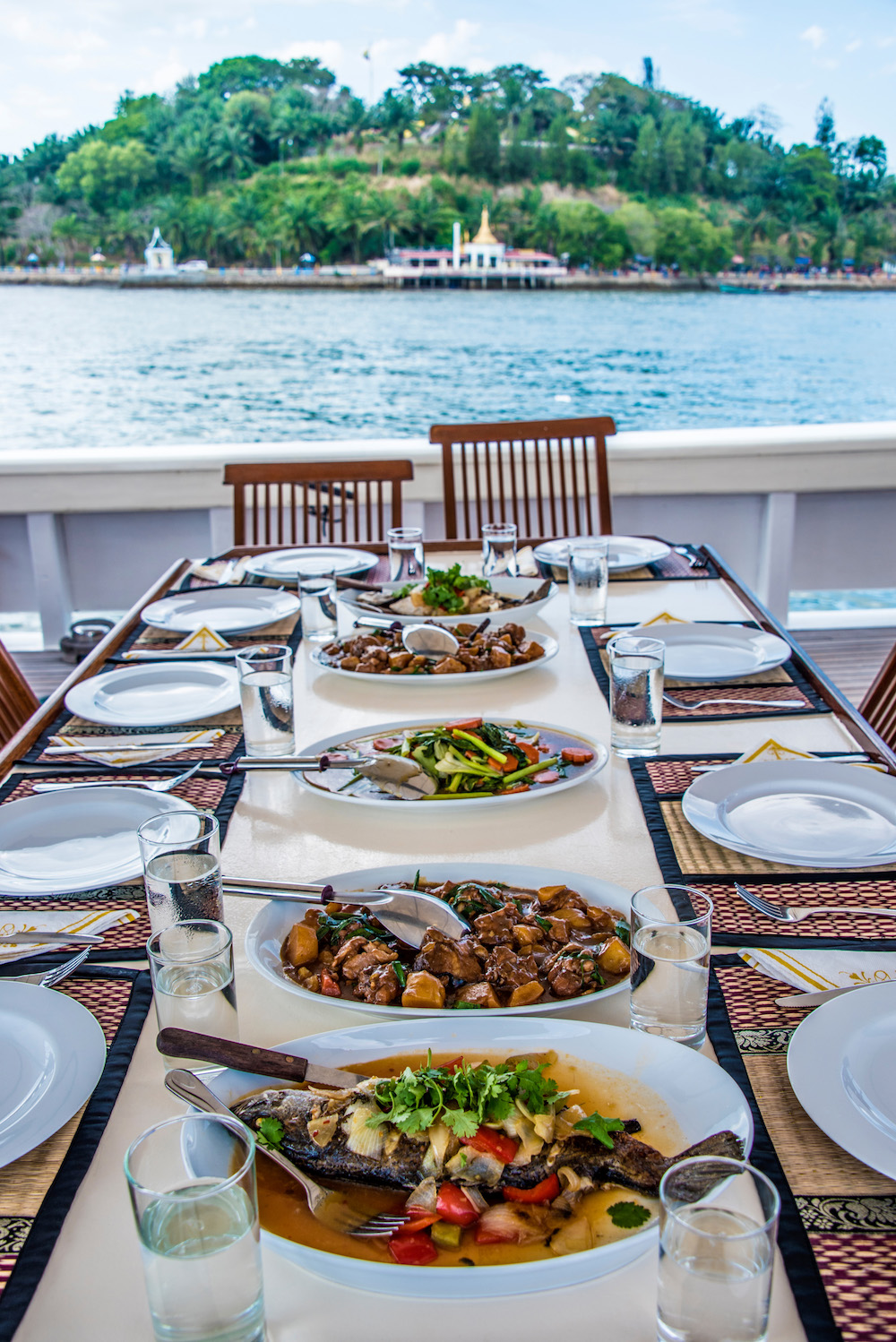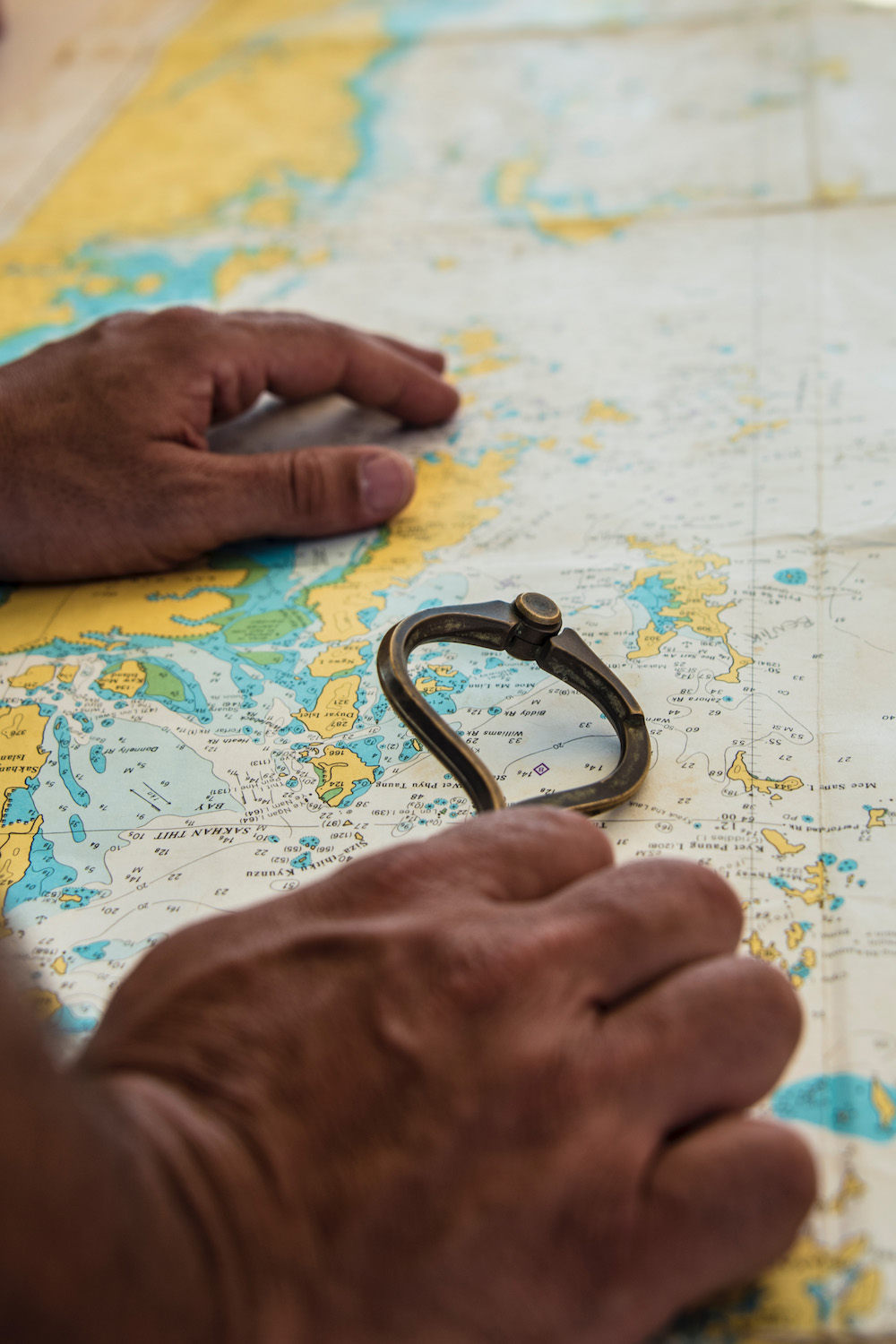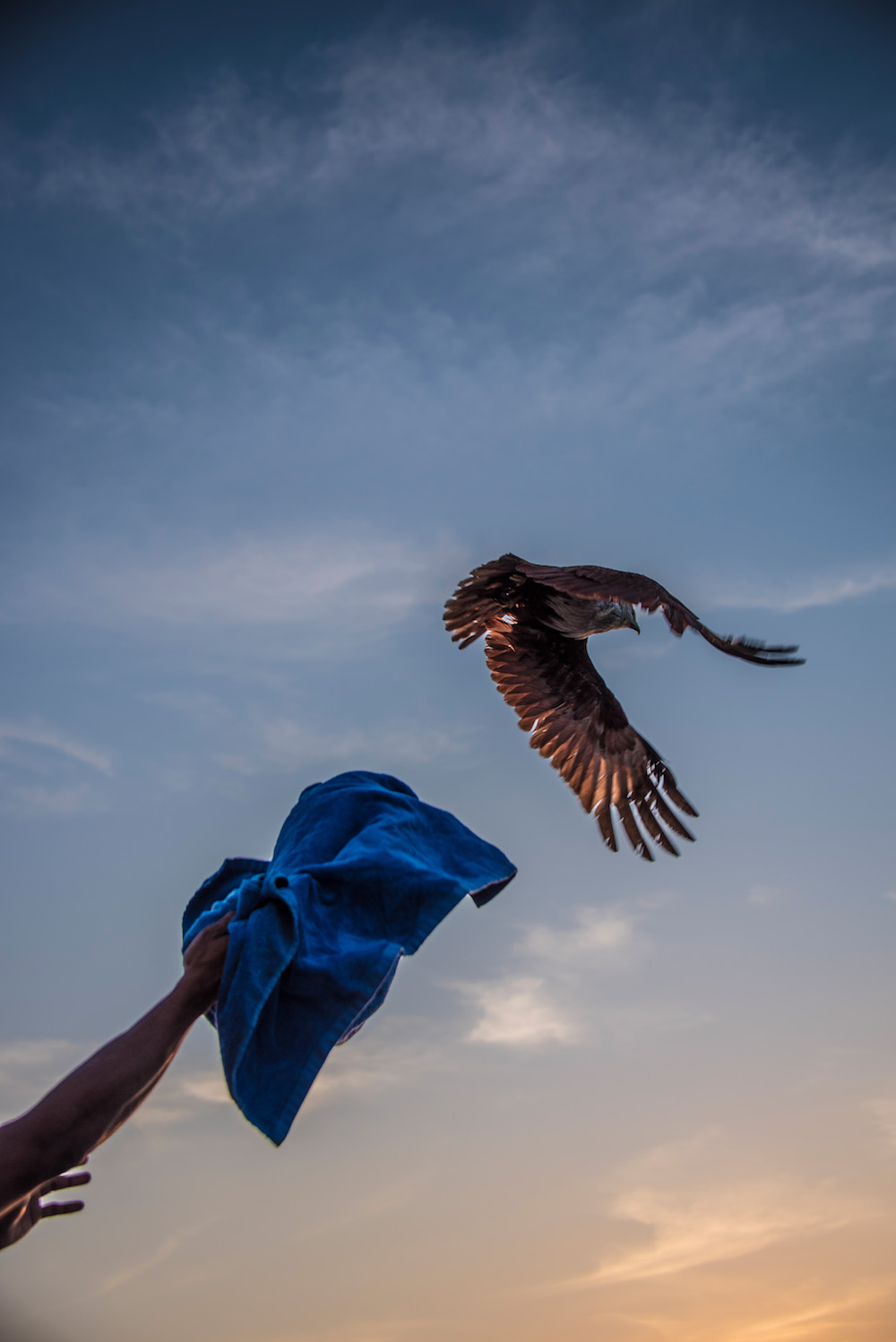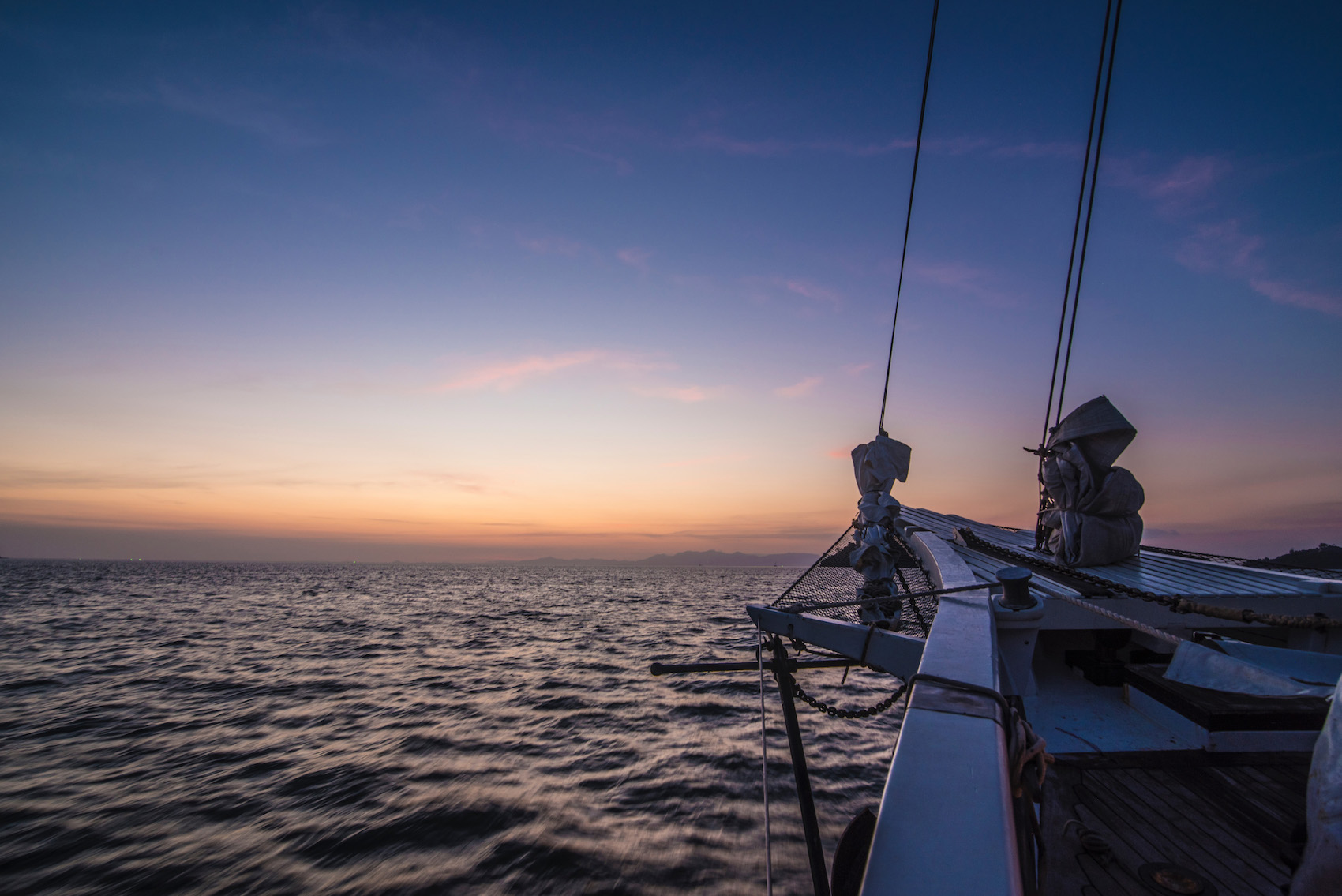 The crack of trees as I pull myself up the vertical mountainside with ropes as thick as their gangling trunks. The simultaneous sting of fresh bug bites and the way the mud they live in soothes my newly broken skin as I slide through it. The hot fire of my breath racing in and out of my air passages.
One, two, three. One, two, three. One, two, three: The sequence feels infinite until the first ray of sunshine breaks through the jungle canopy. A solitary thought interrupts the flow.The precipice must be near.
Years ago, around the time Burma Boating first contacted me in fact, I stood frozen, halfway up Lion's Head in Cape Town, as small children and their grandparents raced up the vertical cliff face behind me, totally unintimidated by the chains and grips they needed to do so. I eventually reached the summit, of course, but only after excessive misapprehension. This time, I just ascended.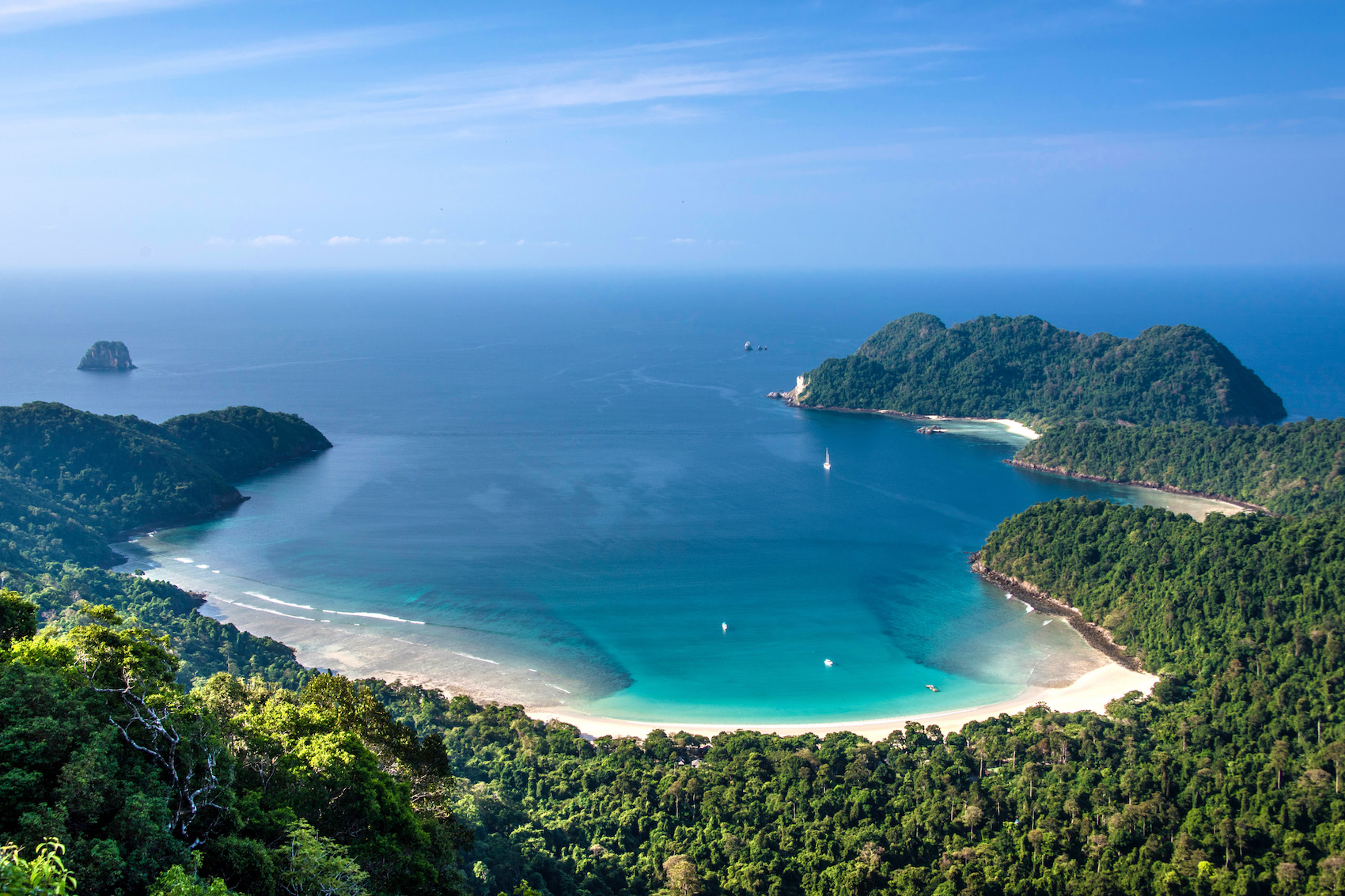 I marvel at the aquamarine bay beneath me, the majestic Raja Laut as imperceptible from this distance as a nautilus shell, and it's no wonder to me that most of the Internet refers to the islands of the Mergui Archipelago collectively rather than individually: The idyllic scene stretching out before me could just as well be Barwell as Poni as Macleod Island.
Heaven, you see, requires neither classification, nor qualification, nor demarcation—these tactics are only useful in the netherworld.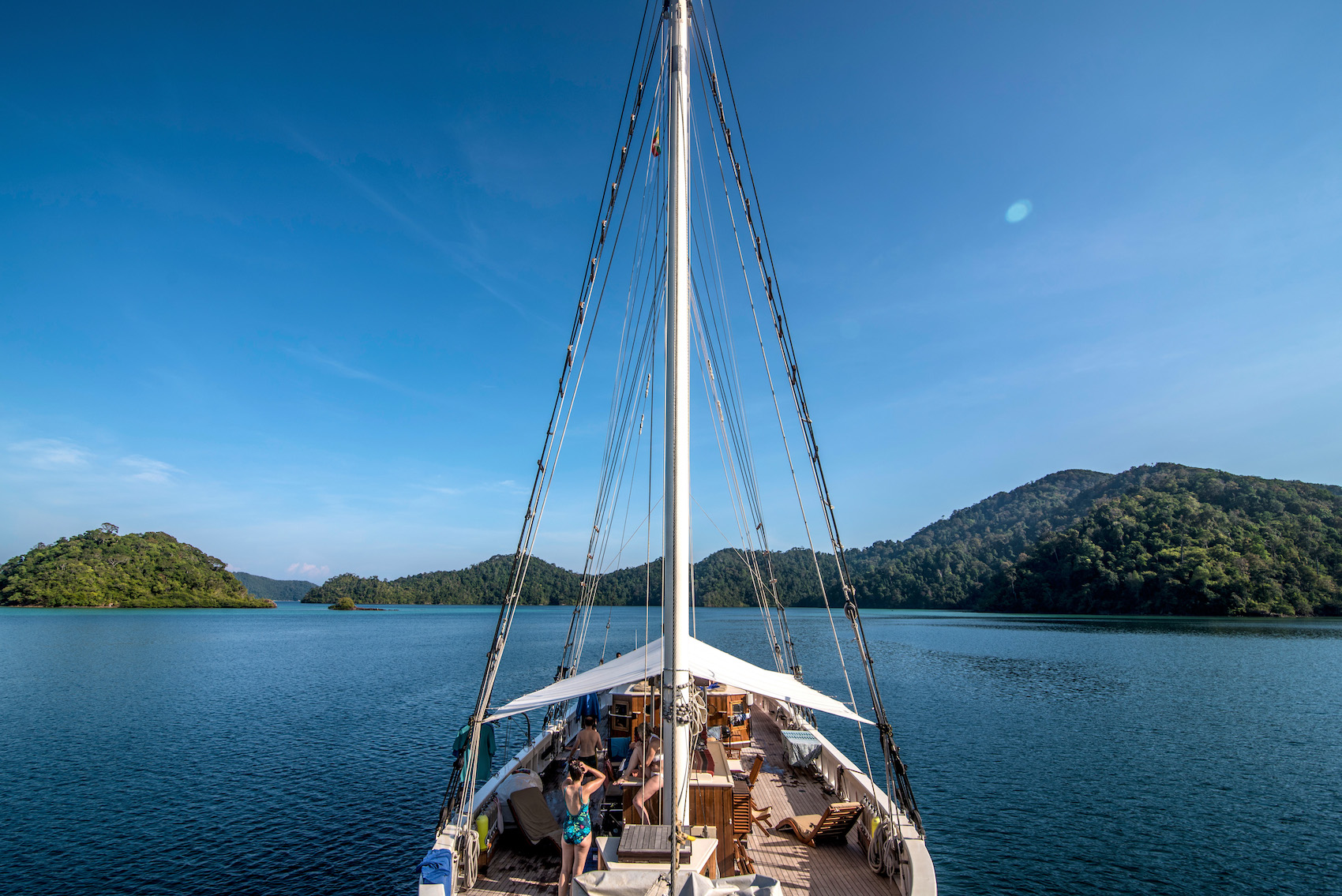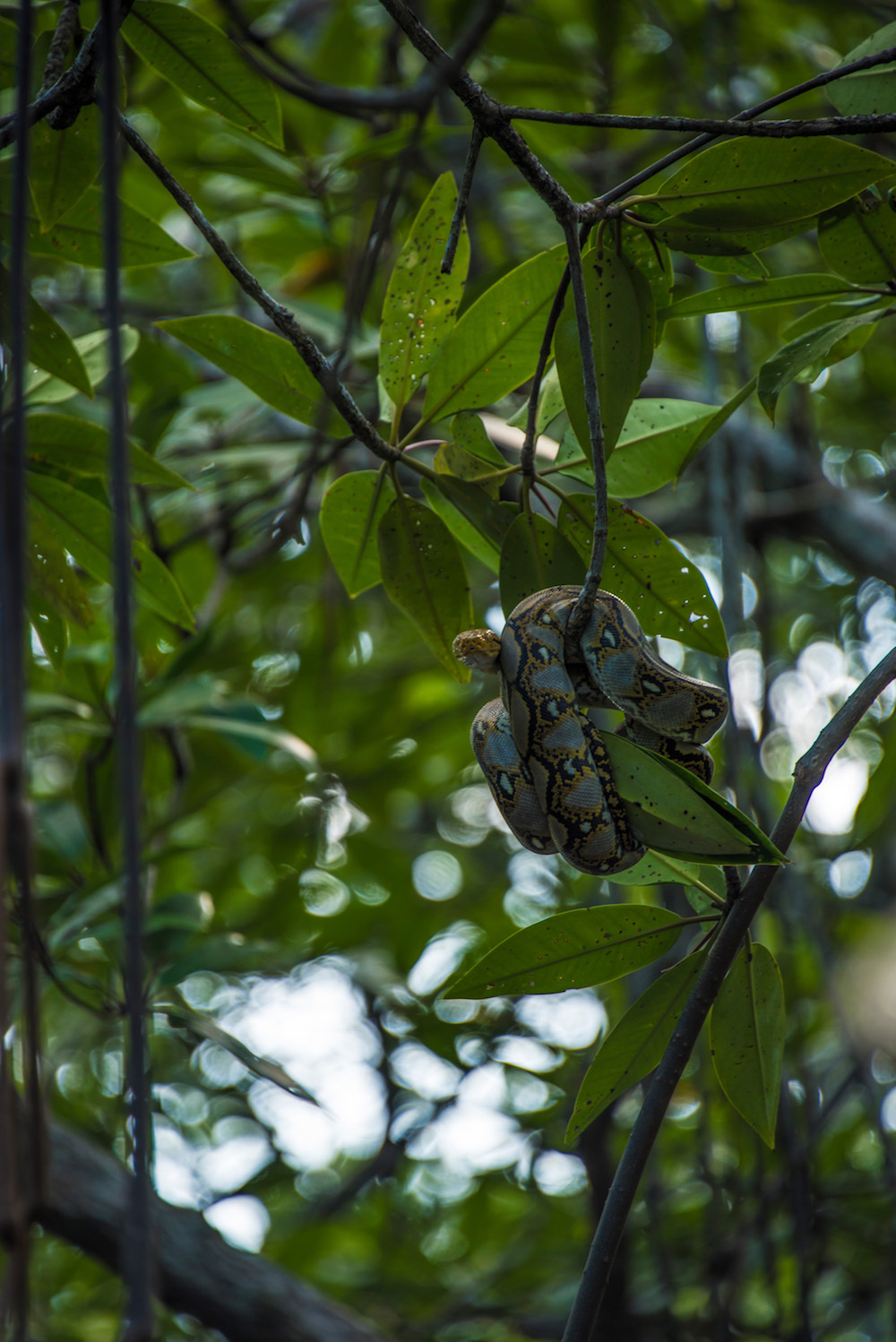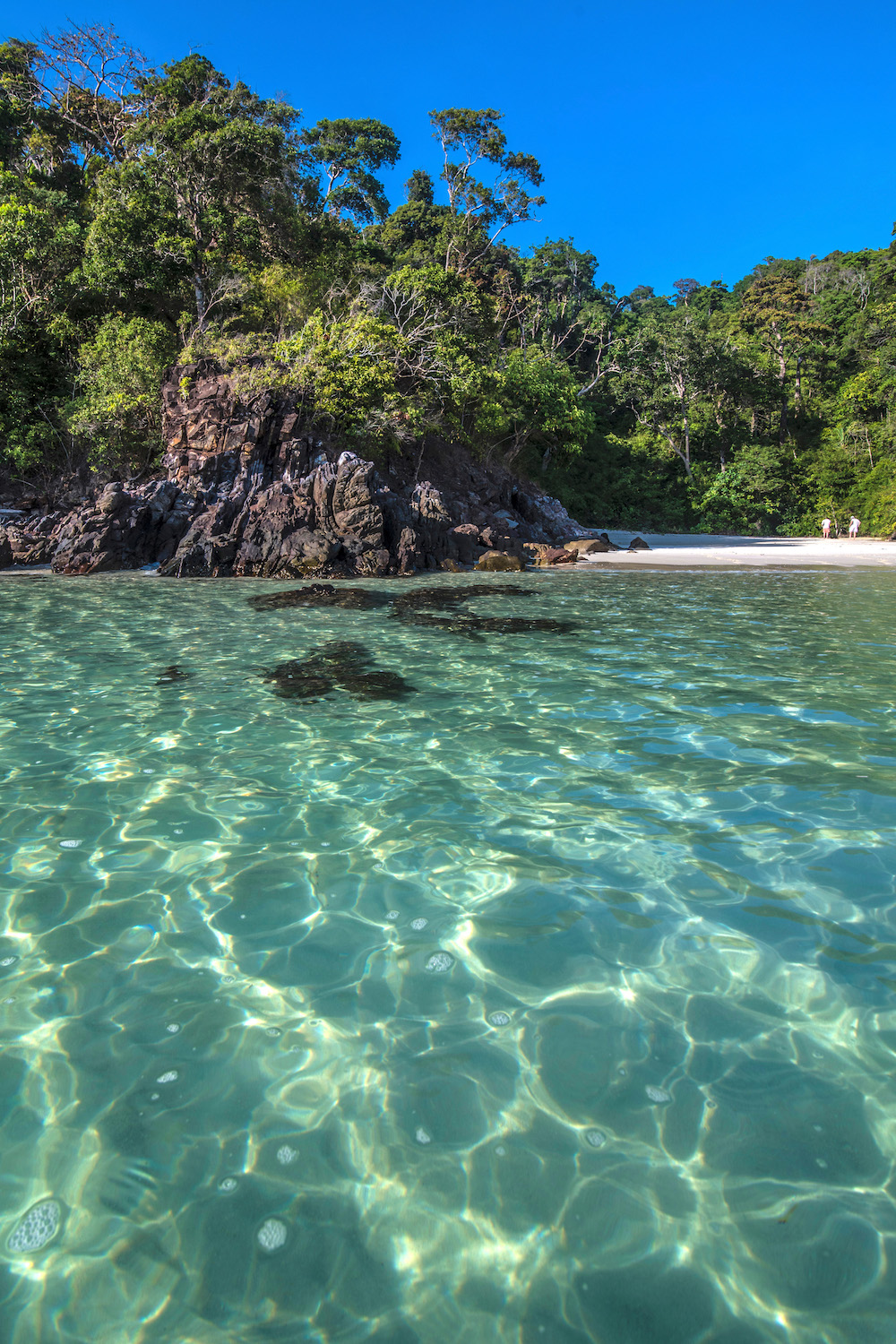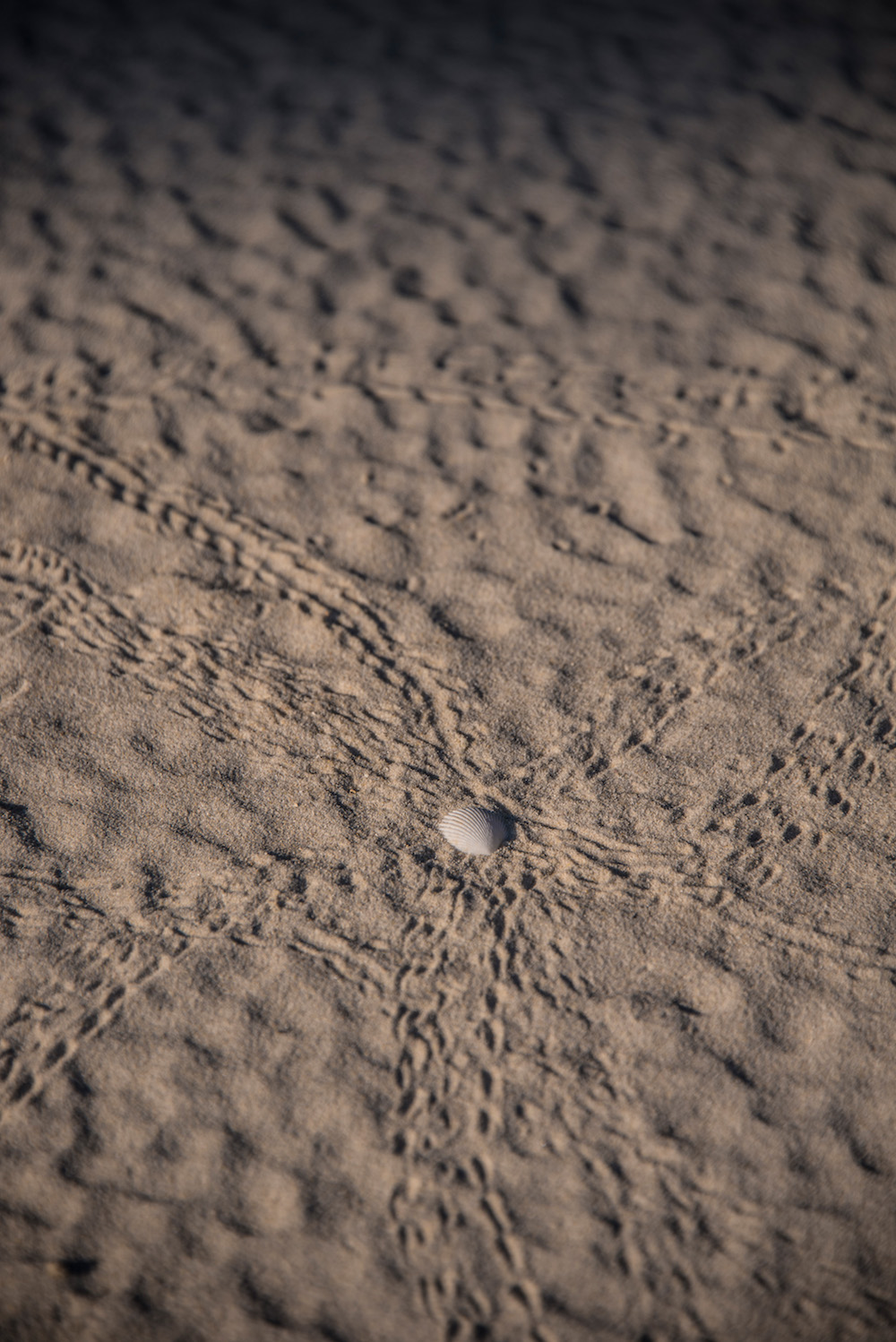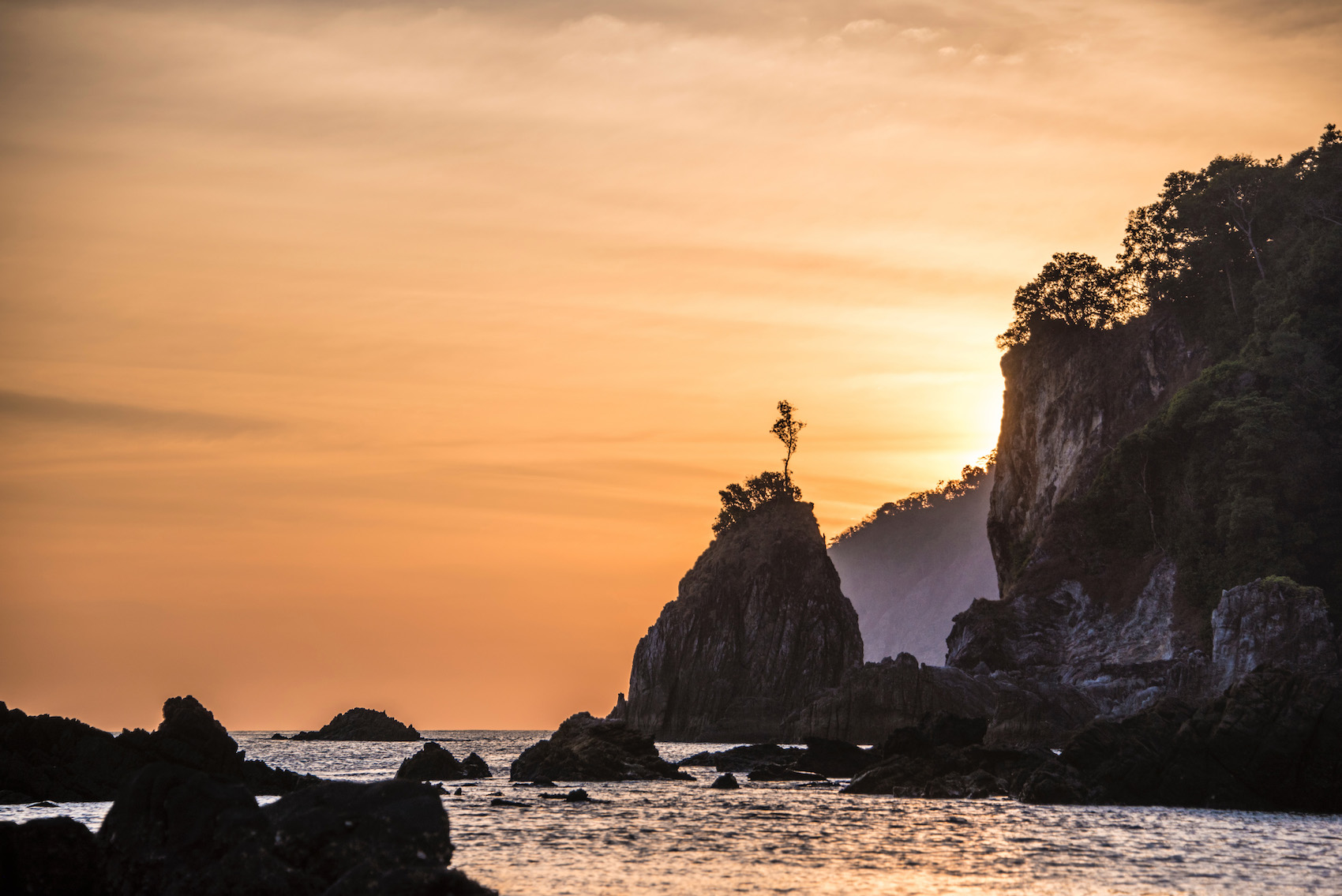 I'm walking through a "sea gypsy village" on the shores of Jaran Island, and the first thought that occurs to me is how paradoxical it seems for gypsies to be living in a village.
The second is how immediately packaging from the cookies and sodas we gave to village children ended up in the water they swim in, or perhaps my best guess at the age they'll develop diabetes.
I mean, it's quite obvious that the construction of the massive temple that overlooks the cacophony of tin-roofed shacks is intended purely for the tourists the Burmese government hopes will flock here one day. Is this place even real? Are these people just holograms?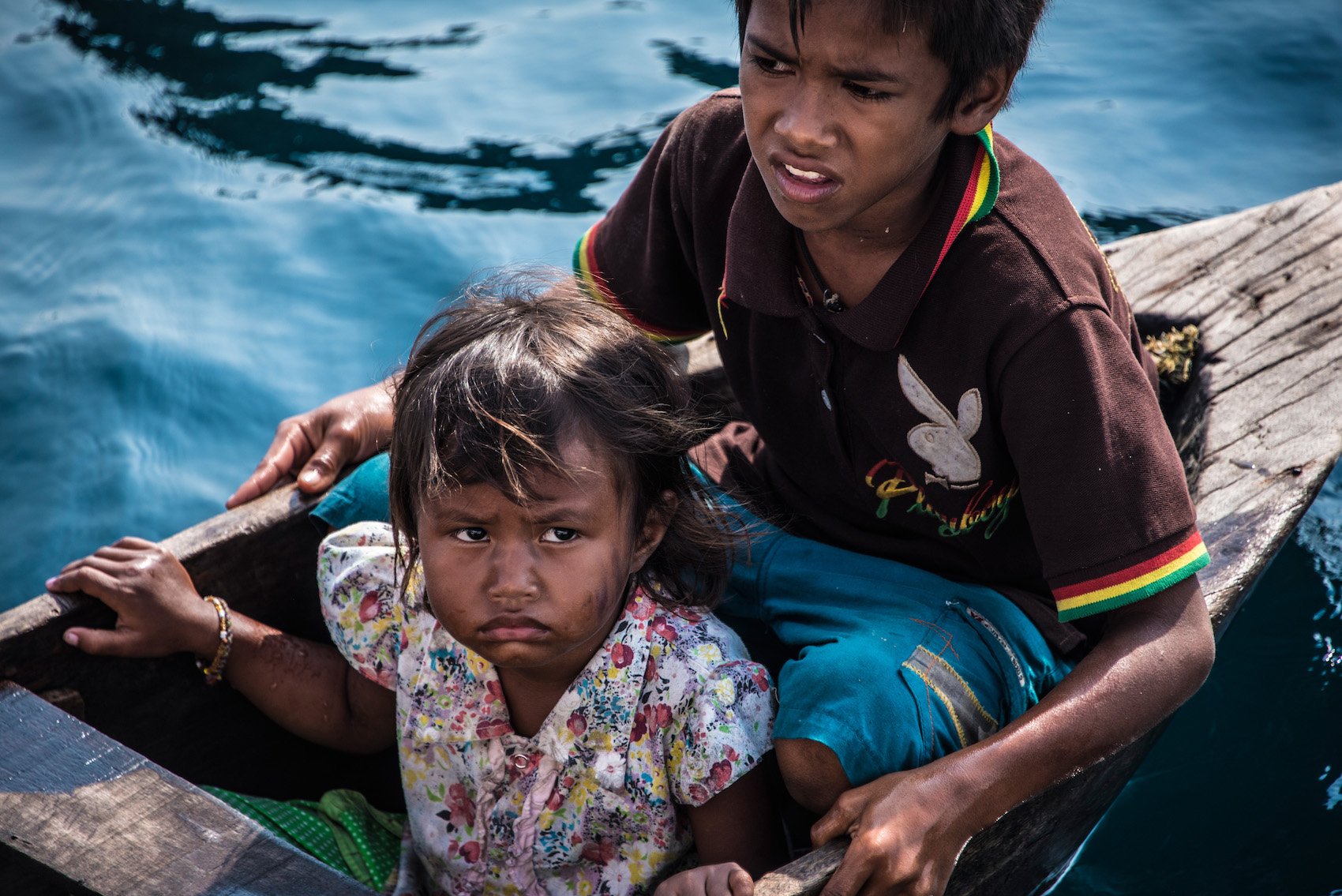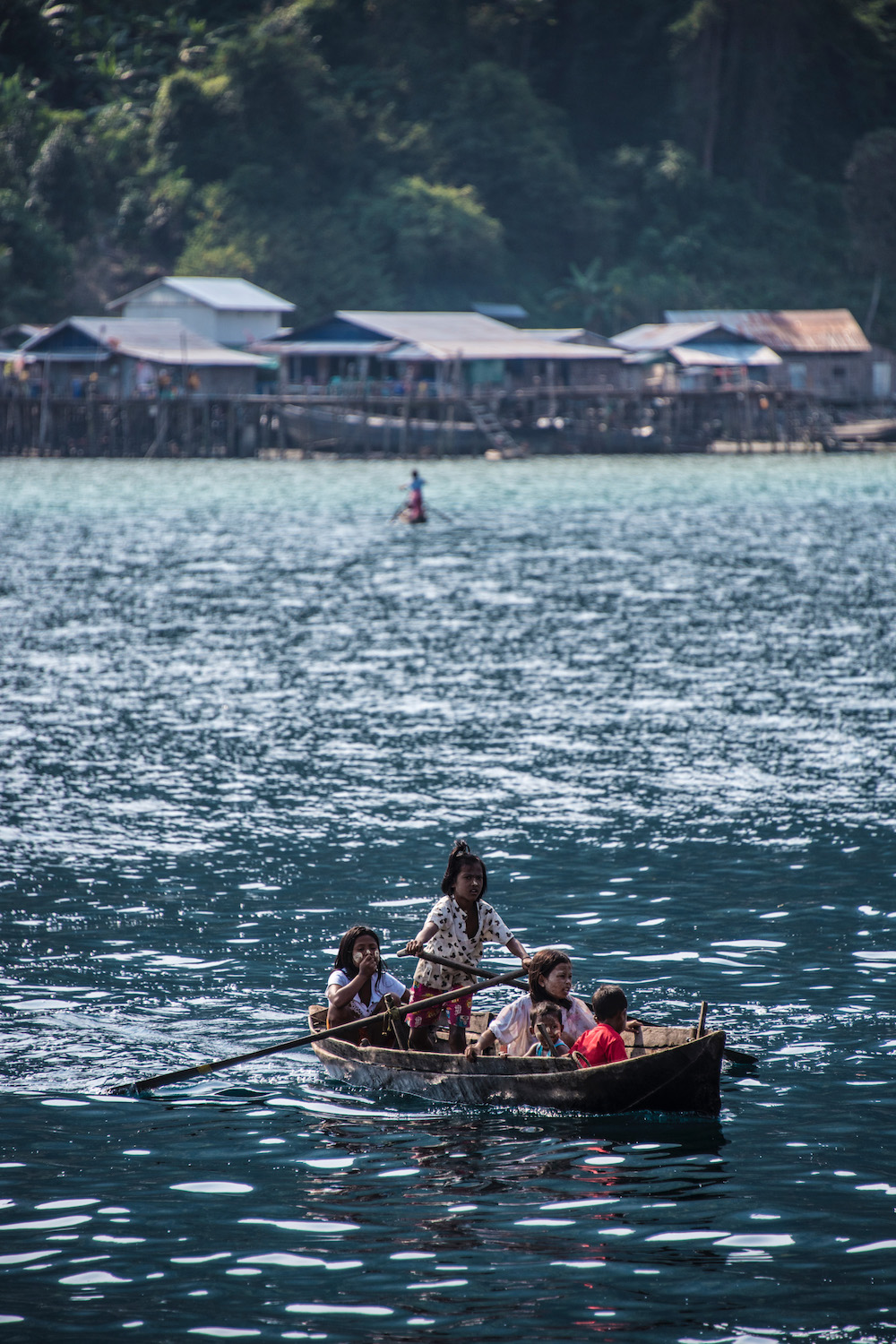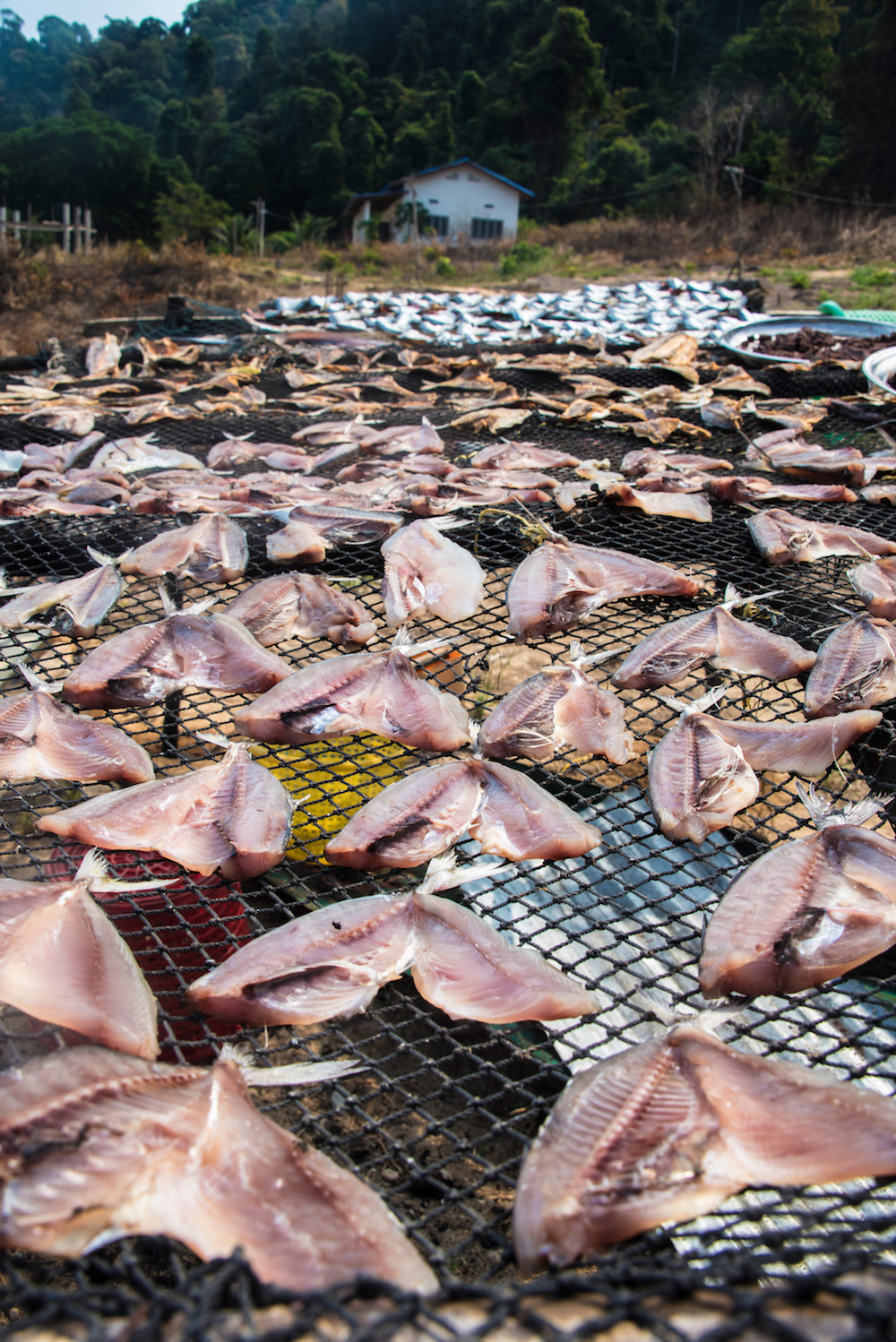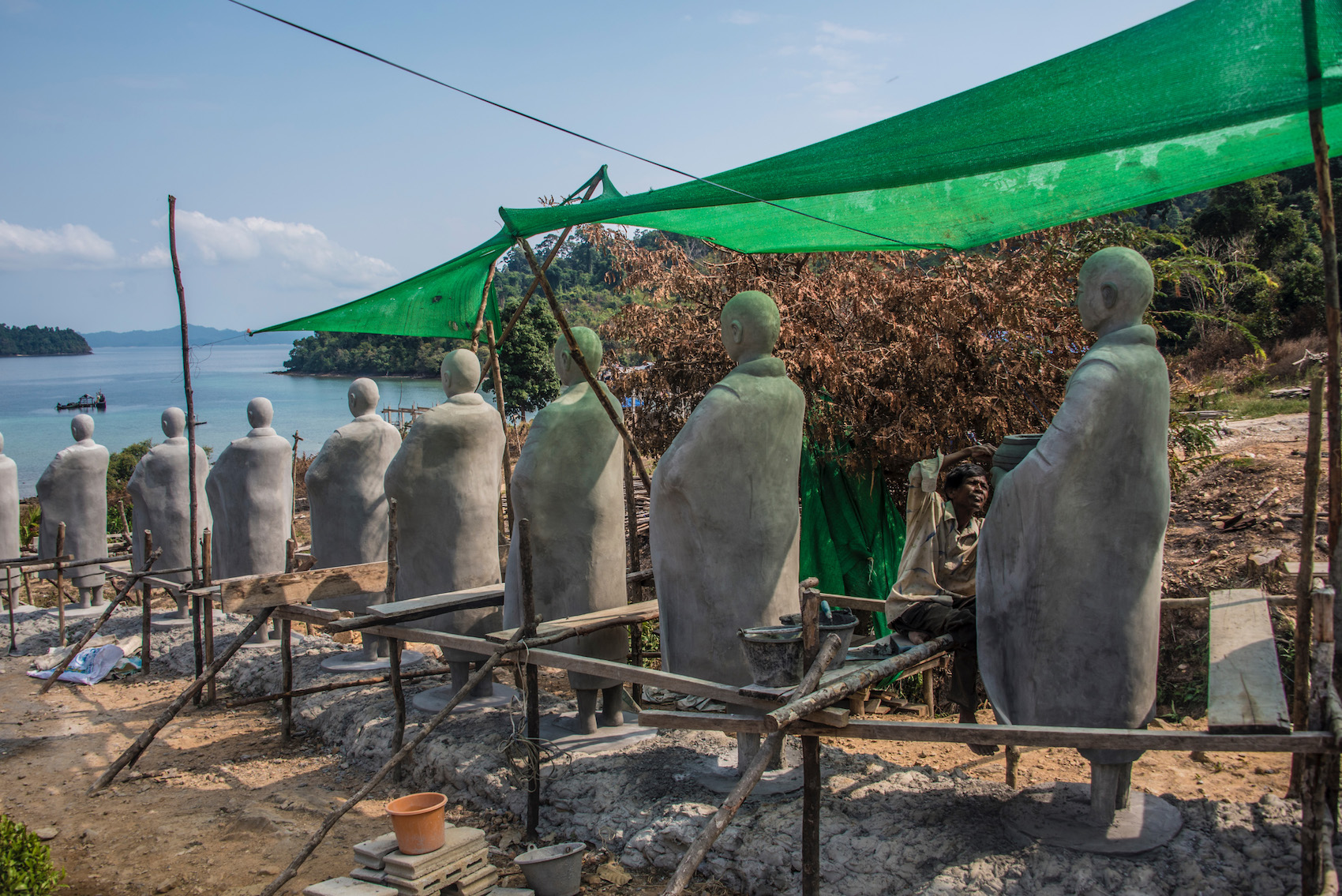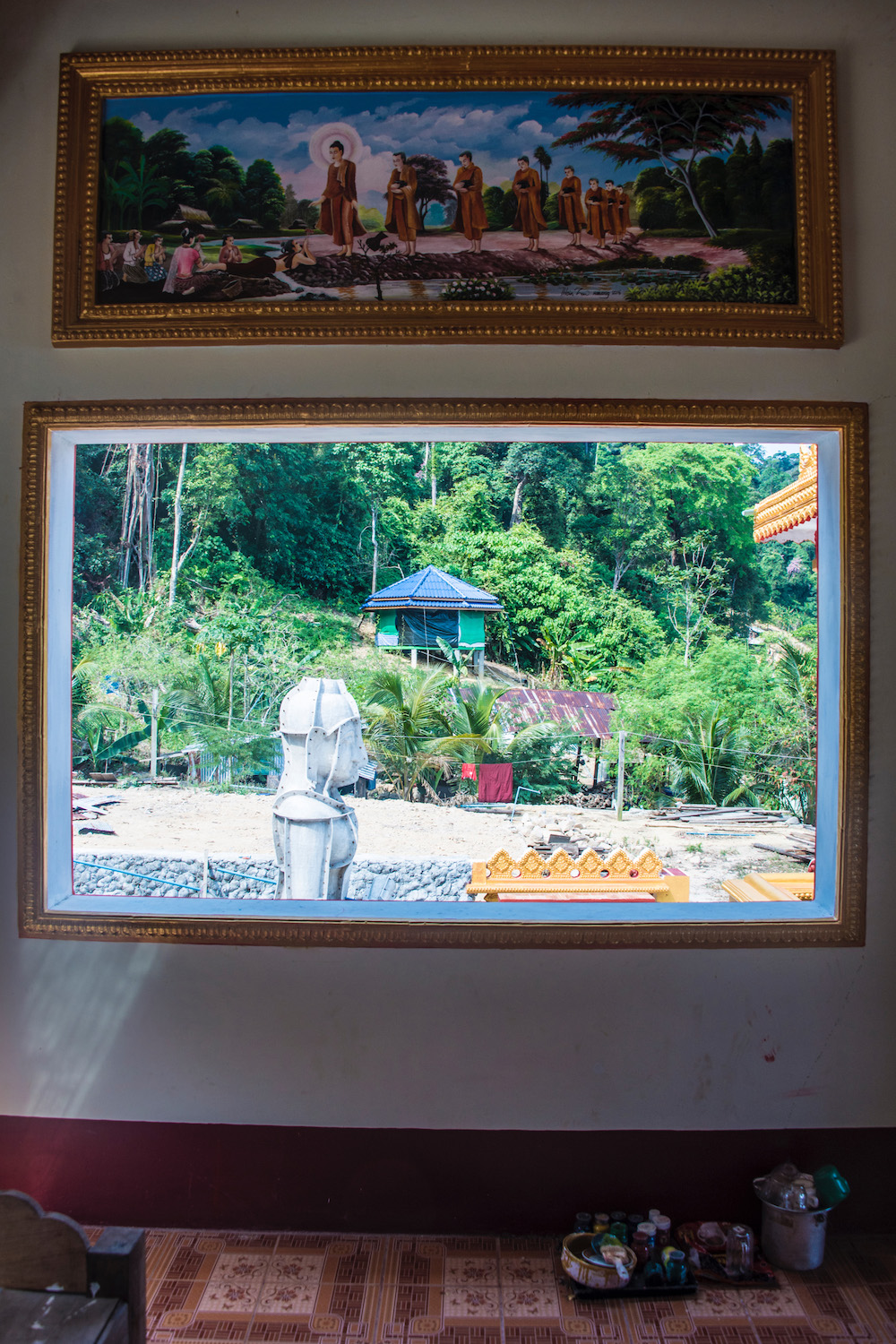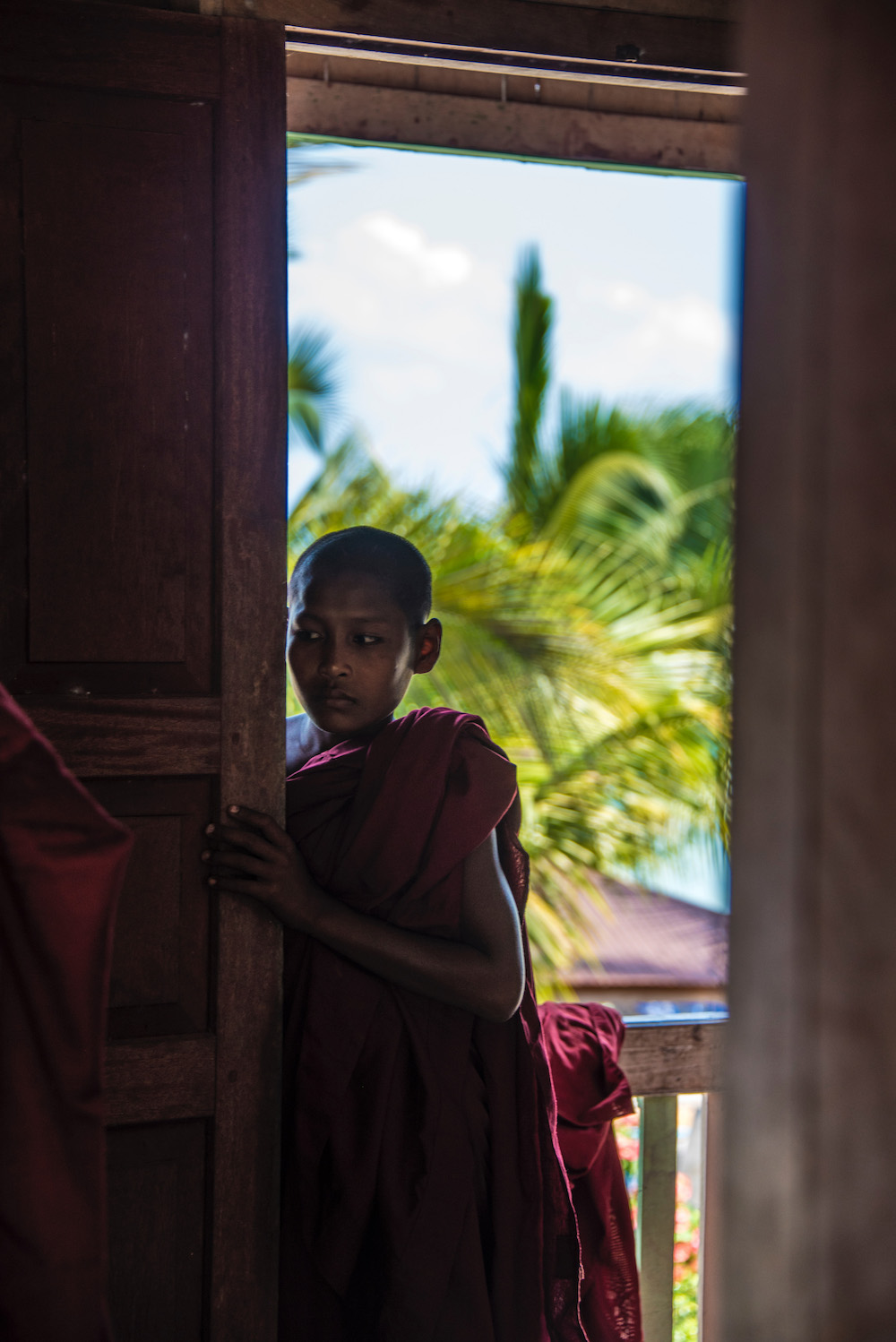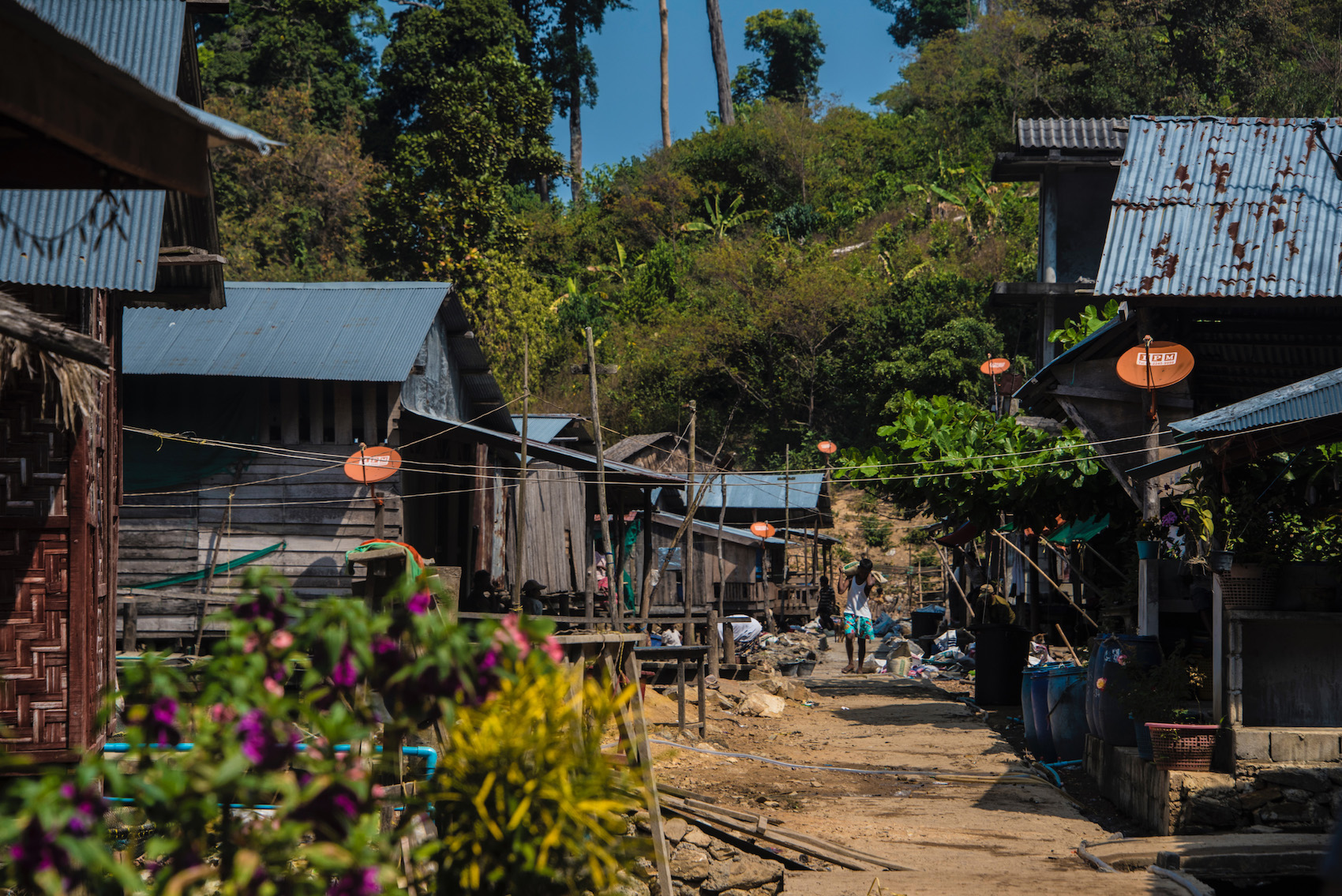 Somewhere between marveling at a man who's sculpting concrete into Buddhas images and feeling mesmerized by the fact that satellite dishes seem to be as numerous here are stray animals, I hearken back to the conclusion I reached in the wake of my last trip to Myanmar.
It's none of your God-damned business how these people behave, I remind myself, making an exception for whomever prepared the ice cream that nearly killed me in Mandalay. If you truly believe they're not smart enough to leverage your money, voyeurism and sugary snacks into self-determination, get your condescending ass back to Thailand.
I decline the water the monk pours into the dirty, plastic mug in front of me, but happily deposit a 5,000-kyat note into his collection box.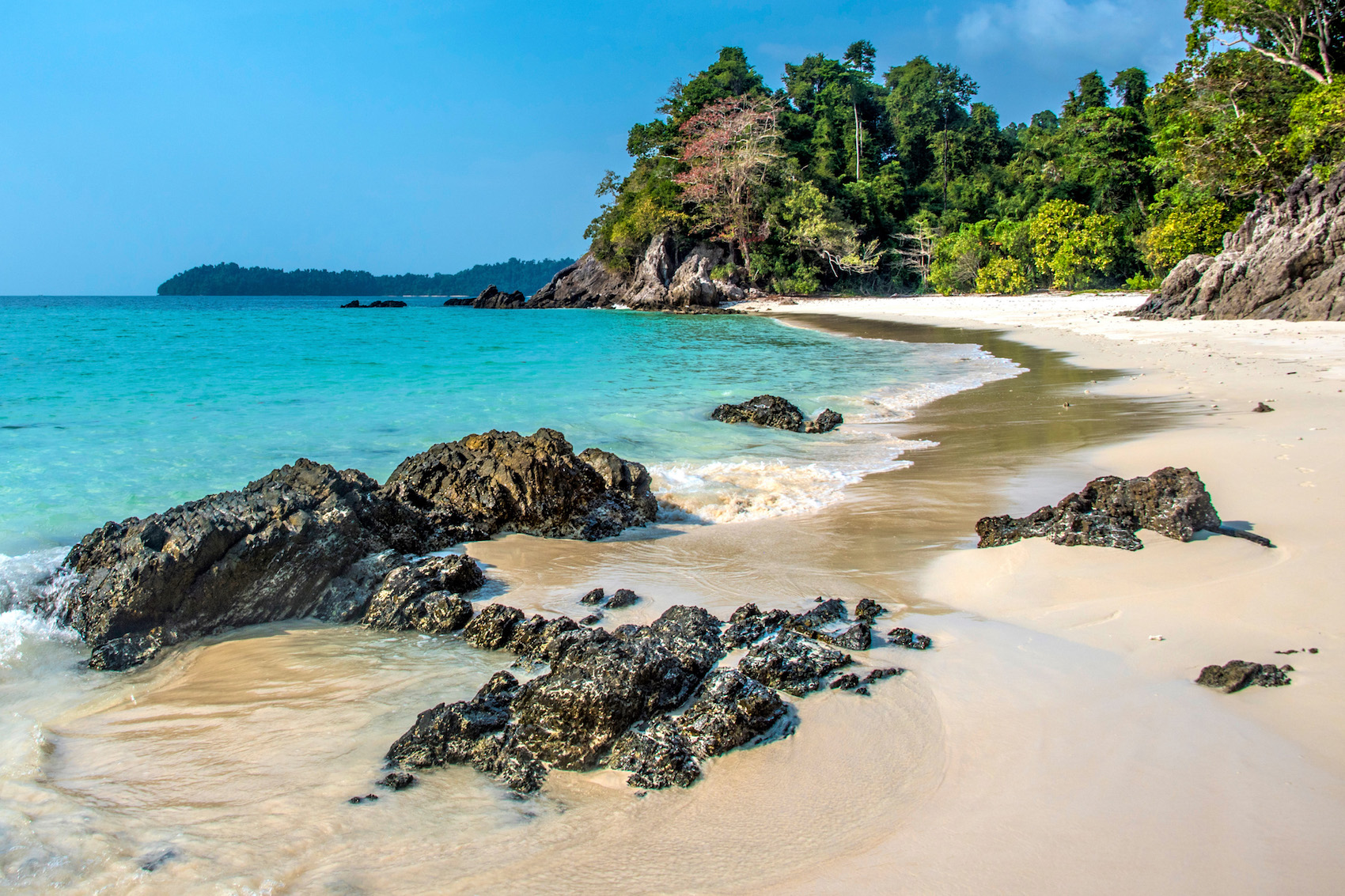 "It's bizarre, I know," the charming captain concedes, as we gaze upon the landscape, the most tropical that at least I have ever seen, the decidedly red tree that flanks the beach on one side notwithstanding. "But it is, in fact, a sort of autumn."
Although I've experienced four sunsets and four sunrises by this point in my trip, it's difficult to believe that any time has passed—that nearly all of the time has passed, at least as far as the souls aboard the Raja Laut are concerned.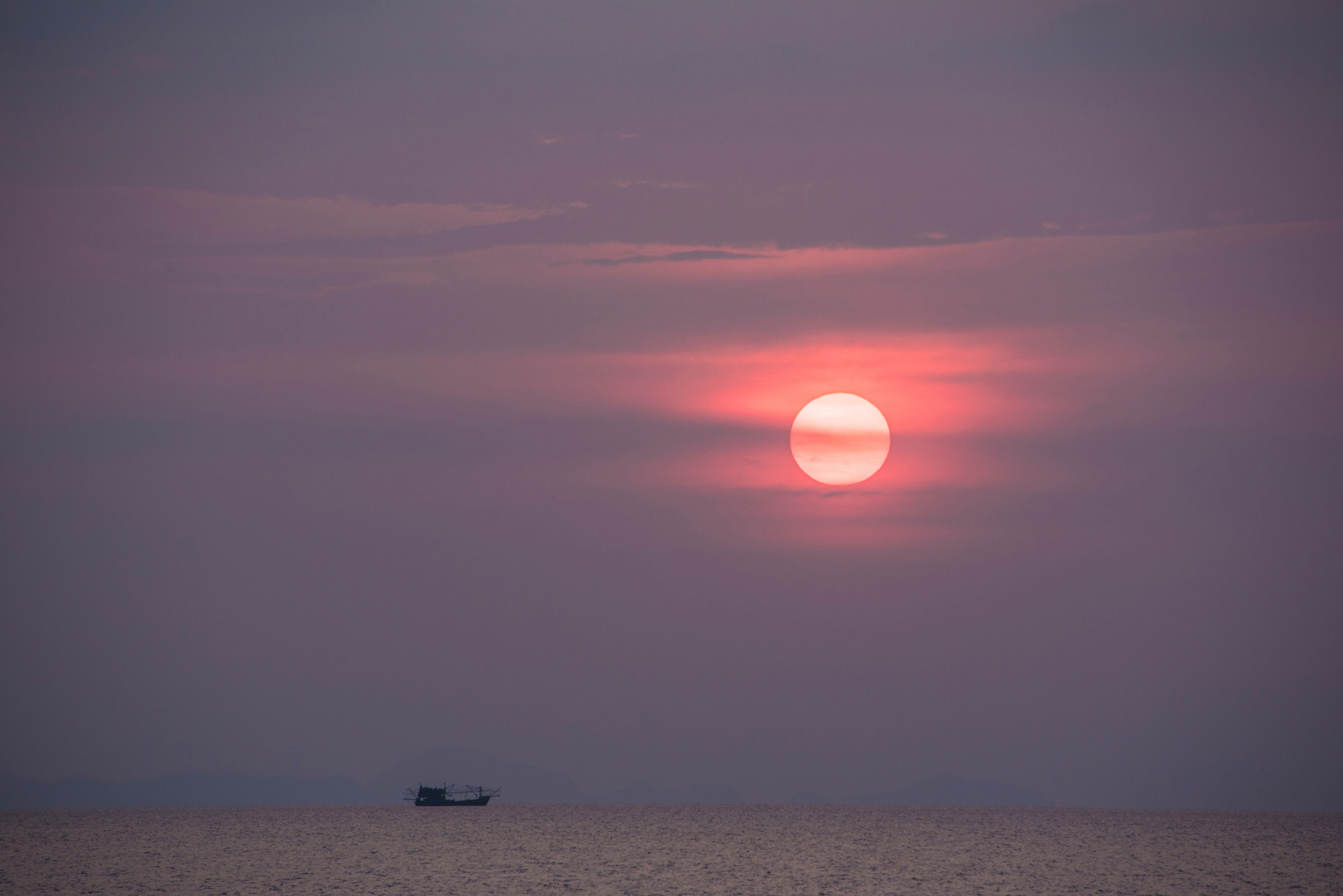 Nightfall erases the contrast between the bold, blazing leaves and the reliably jade-colored ones, excepting the makeshift lanterns the sweetest two members of the crew have fashioned into lanterns, assembled on either side of a sand path leading to a bonfire and a barbecue pit like an implied red carpet. This makes me feel as special as it does undeserving: I can never repay their kindness.
I share seared squid with my fellow passengers, in a crude, communal way not unlike how we devoured the whole fish that forced down the invisible barriers the 10 of us, like all "strangers" these days, insist on putting up. Our somber dance of fond reminiscence seems at once to last an eternity and a single instant, and ends at the waterfront.
The Chinese lanterns we light are nothing more than metal, paper and paraffin, but in my mind they embody desire, aversion and delusion as we release them into the sky, the SY Raja Laut gleaming on the dark horizon.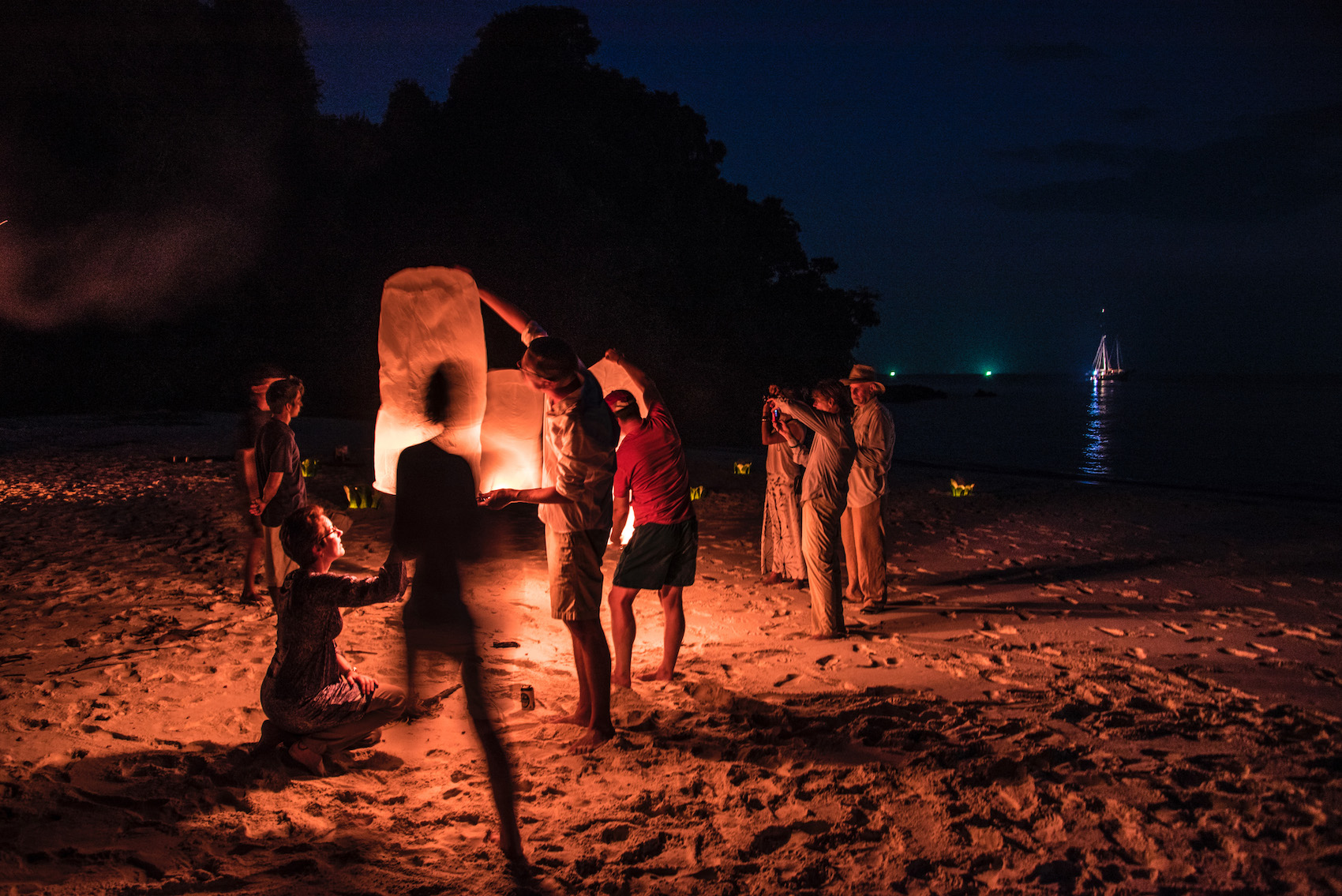 Burma Boating was kind enough to sponsor my trip through the Mergui Archipelago but as usual, all opinions are my own.
Share: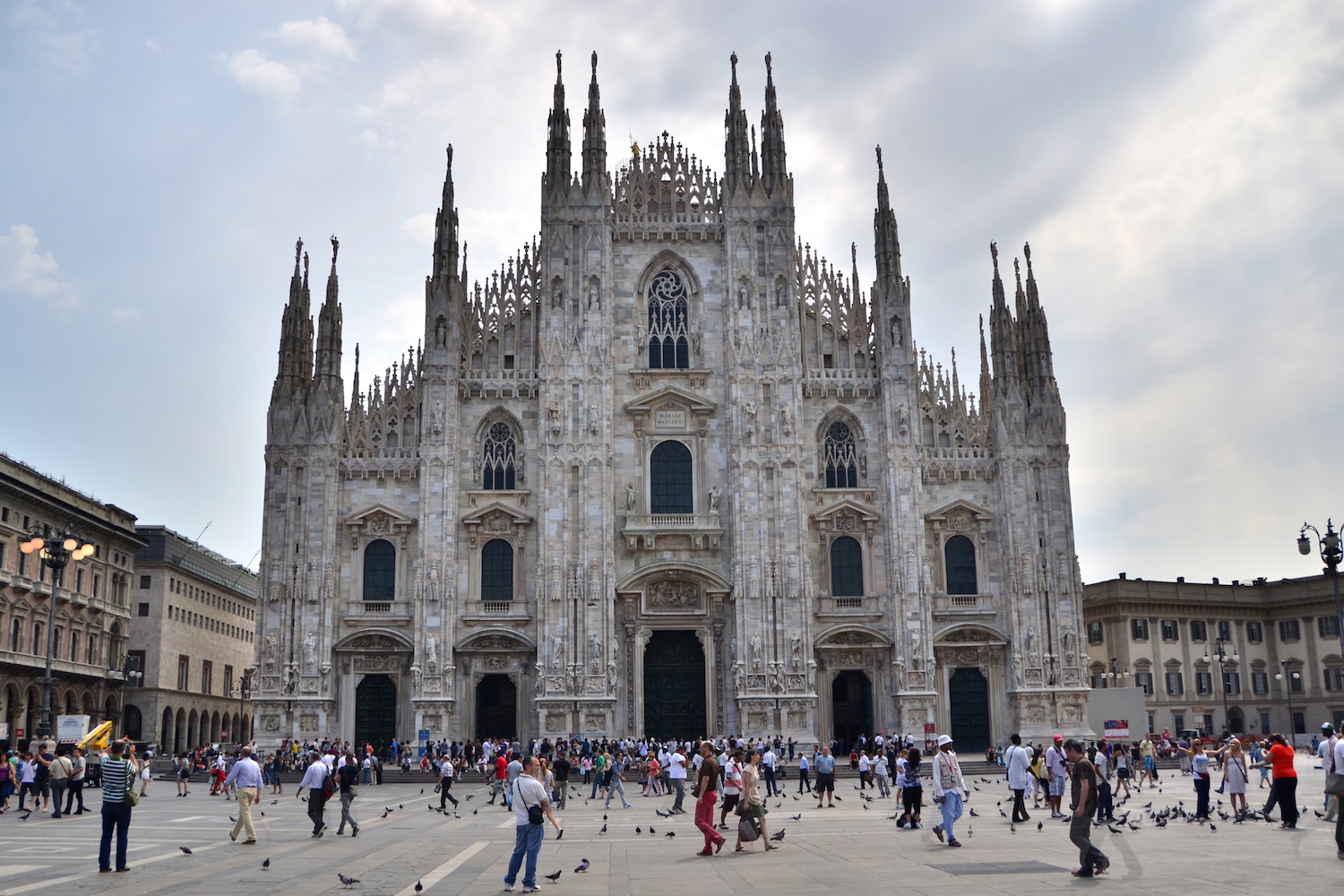 It's been four years since the last time I was in Milan, and several years before that.  I haven't spent a lot of time in Italy's most cosmopolitan city, to be sure, but it has always intrigued me. Perhaps those two statements are linked—I'm not sure.
What I am sure of is that I'll be returning to Milan this year. Like my previous visits, it'll be a touch-and-go trip—just one day, on my way back to the United States from other destinations in Italy—but I'm nonetheless excited, both for my third time and the charm I'm certain will come along with it. Here are five reasons I can't wait to get back to Milan.
1. My photography has improved by leaps and bounds
During the past year, for example, I've upgraded to a full-frame DSLR and begun shooting in RAW, to say nothing of the continually evolving way in which I see the world around me. I'm excited to compare my old and new perspectives on Milan.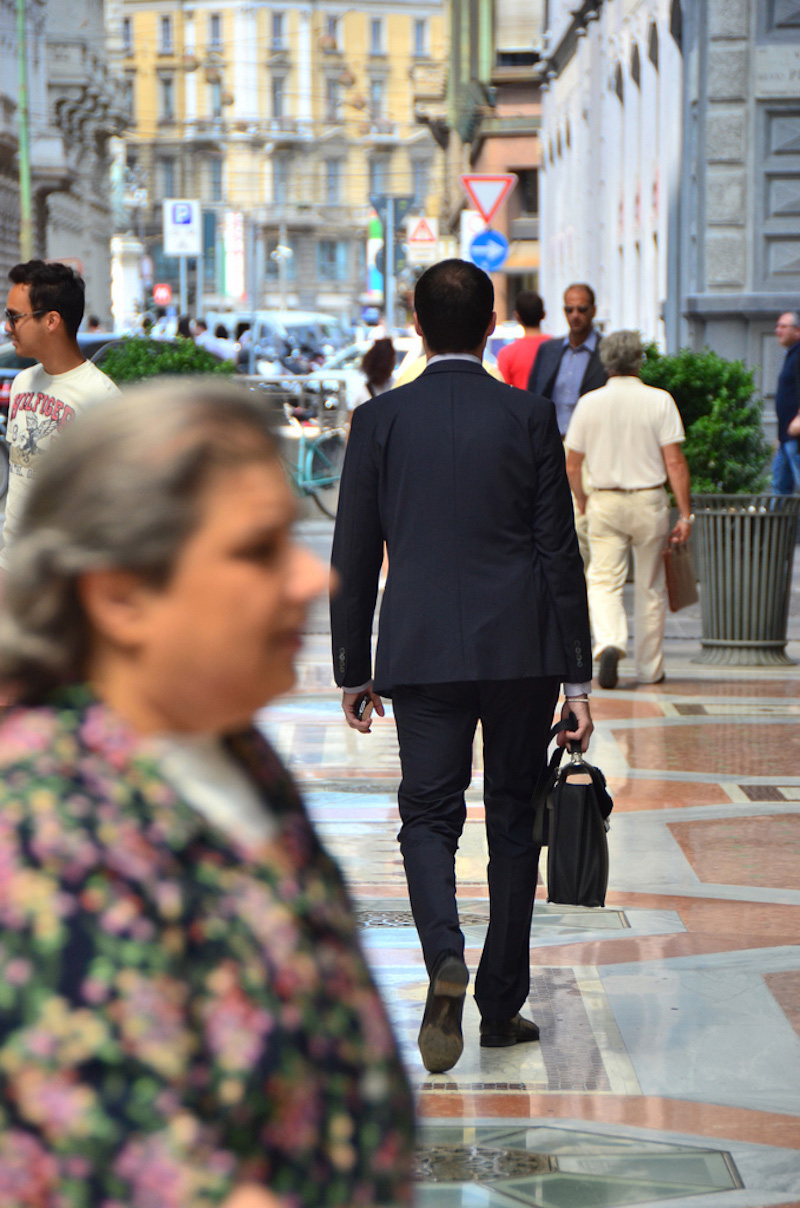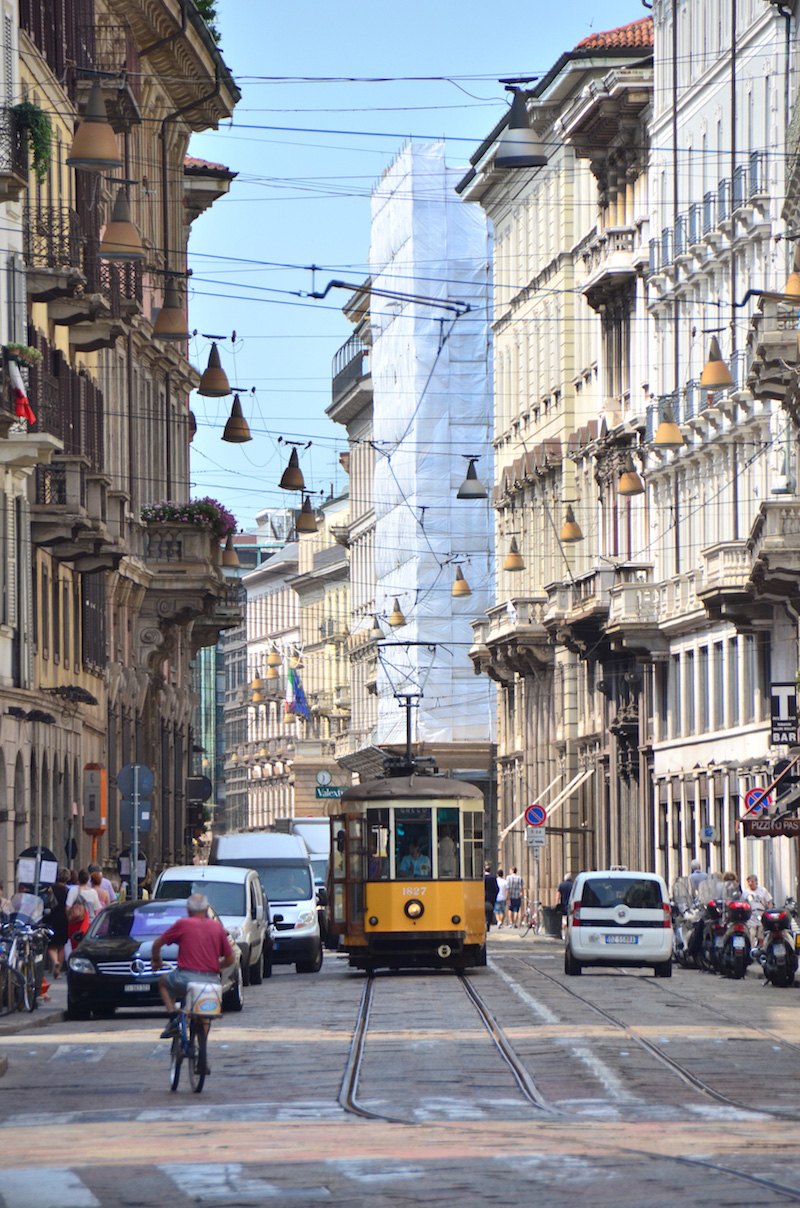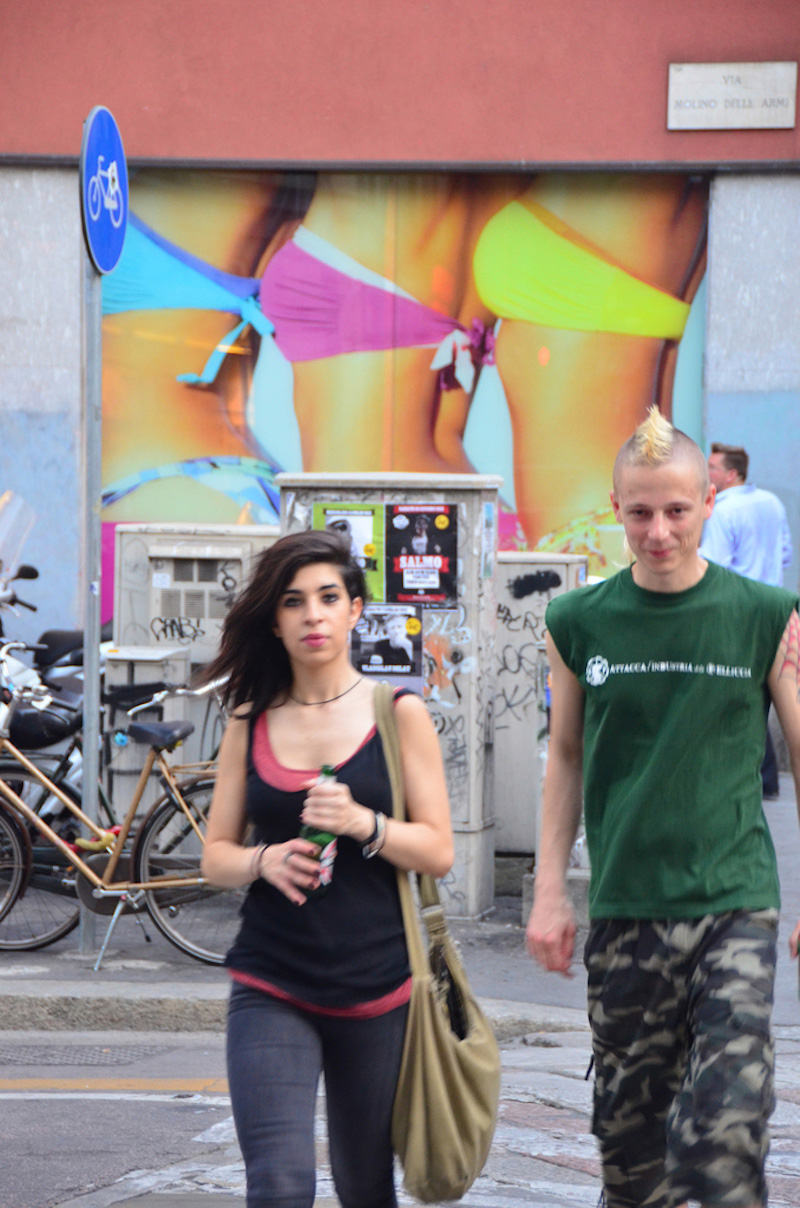 2. My selfies, too
I only have one picture of myself from my last-trip to Milan: A grainy, crooked smartphone selfie of me enjoying an aperol spritz in Colonne di San Lorenzo during the blue hour. Since then, I've perfected the art of taking DSLR selfies with a tripod and remote. I'm excited to compose myself into my favorite Milan street scenes!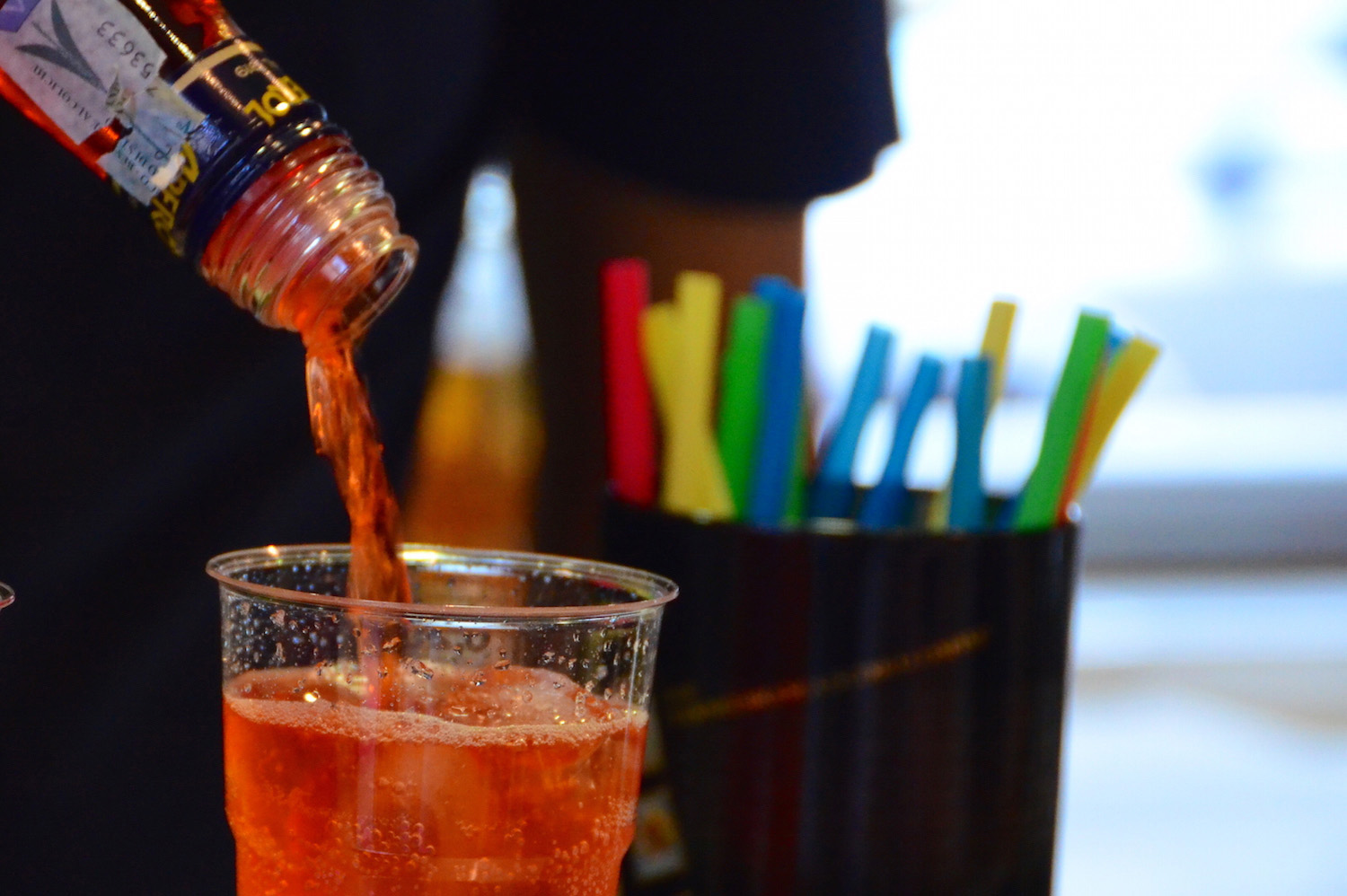 3. I've got friends in Milan
Every destination is better when you get a local perspective on it—and this time, I plan on finding local things to do in Milan—a very good friend of mine recently moved from Rome to Milan for work. Here's to hoping he'll show me around—and that he won't be upset I'm only staying a day!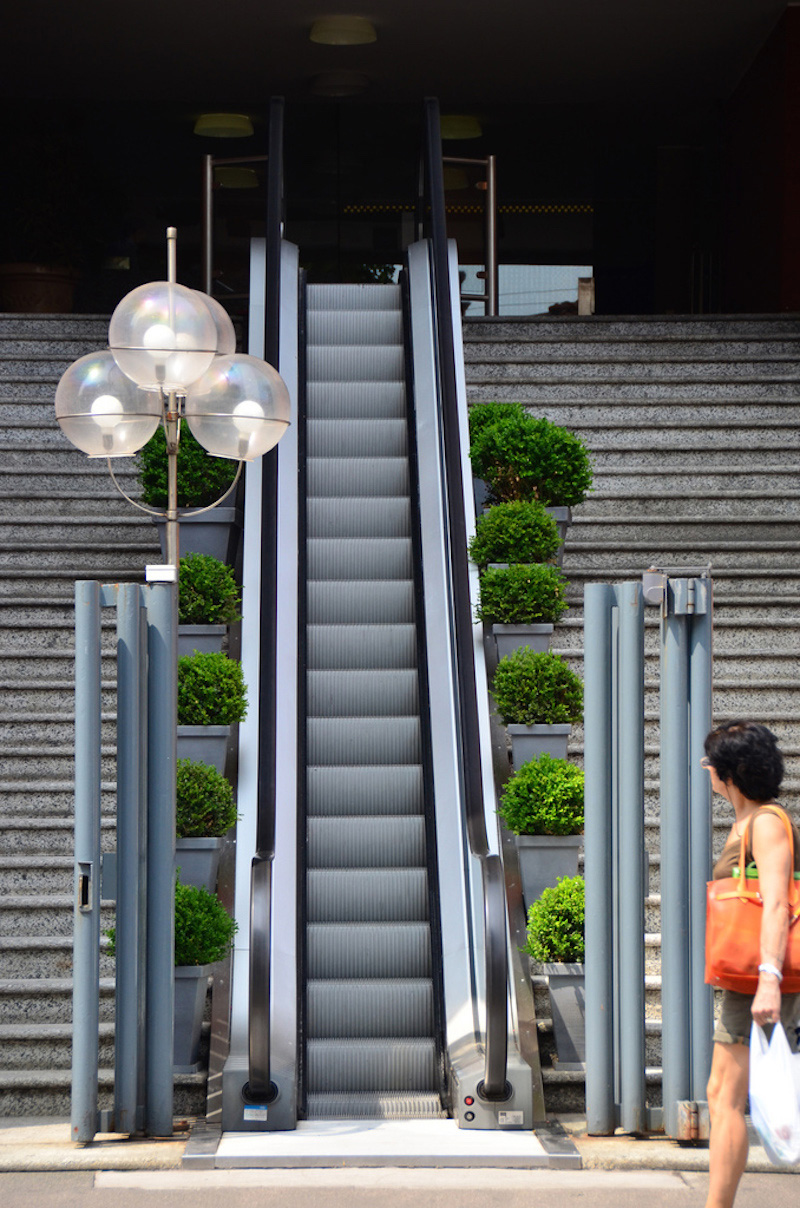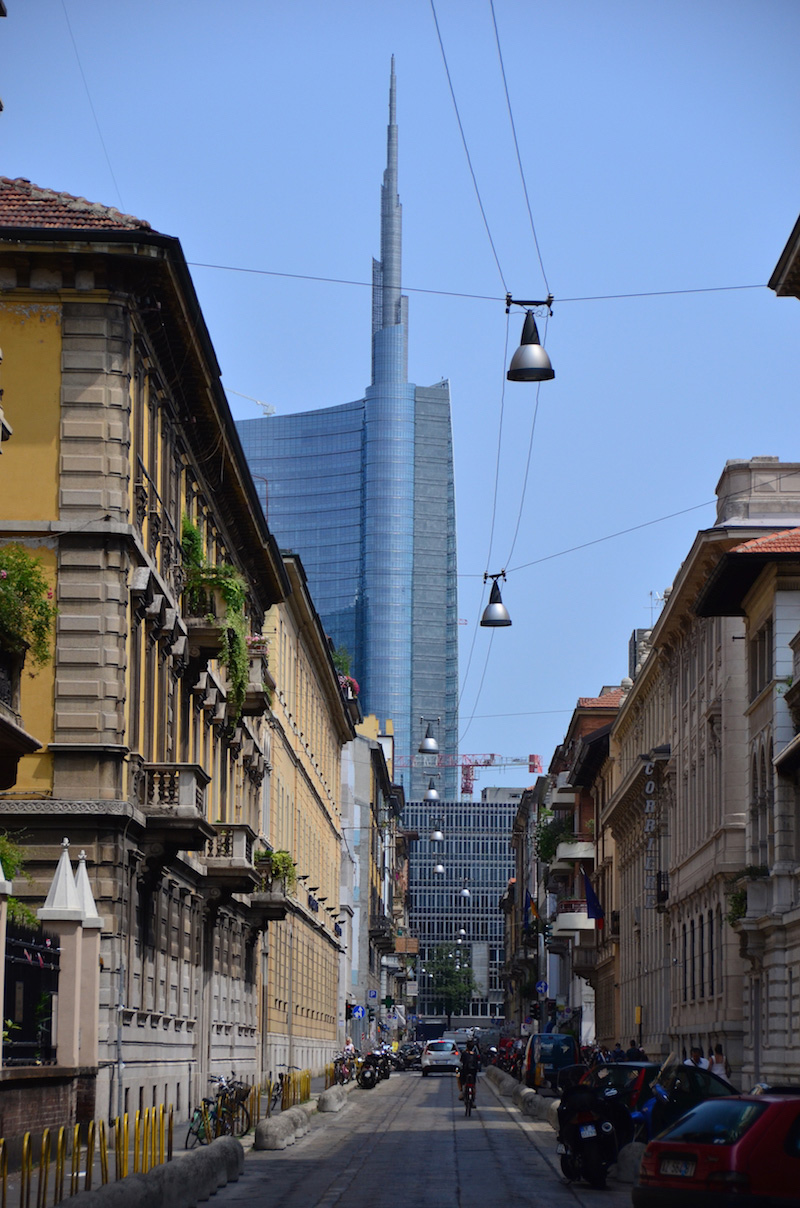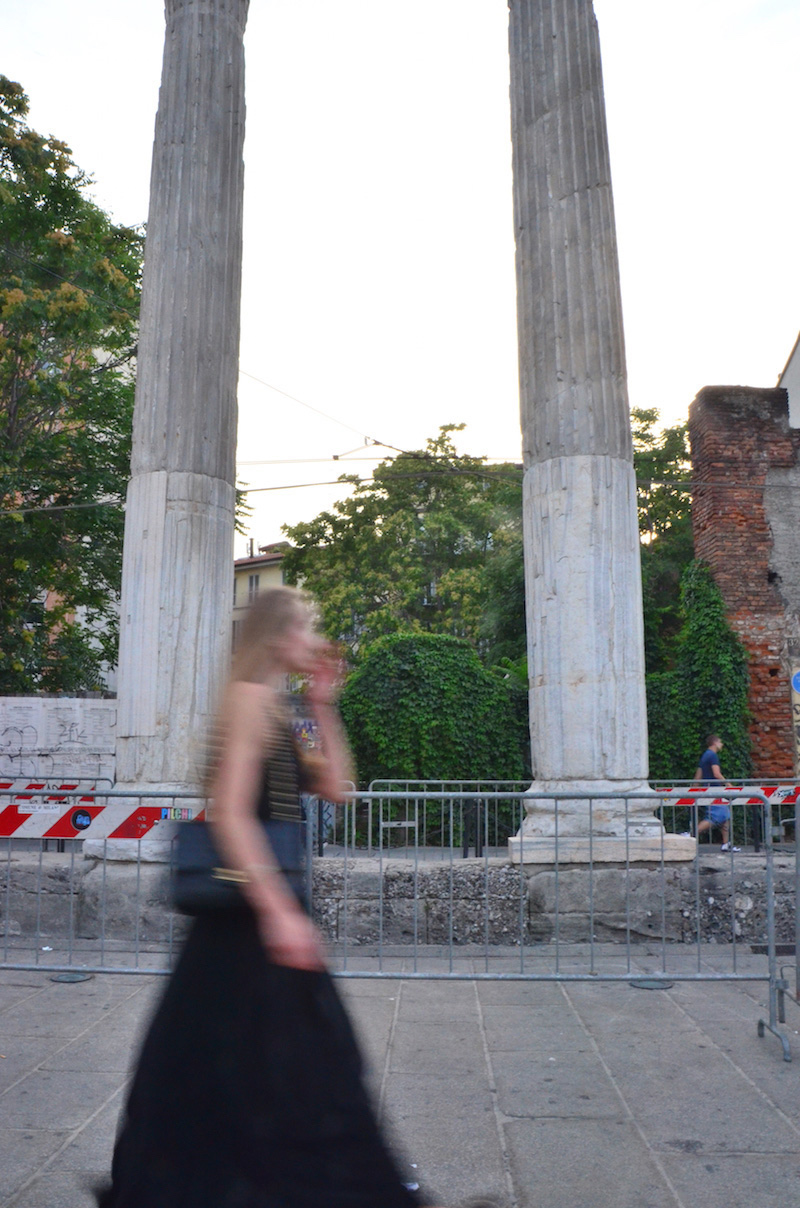 4. I'll have a broader perspective on Italy as a whole
Although I've been to Italy three times, I feel like I've barely scratched the surface. Sardinia and Sicily, the main destinations of my trip this summer, are the two largest holes. I'll return to Milan having completed four trips in Italy that hit, at least superficially, every region of the country, which will allow me to appreciate the unique amalgam of Milan on an even deeper level.